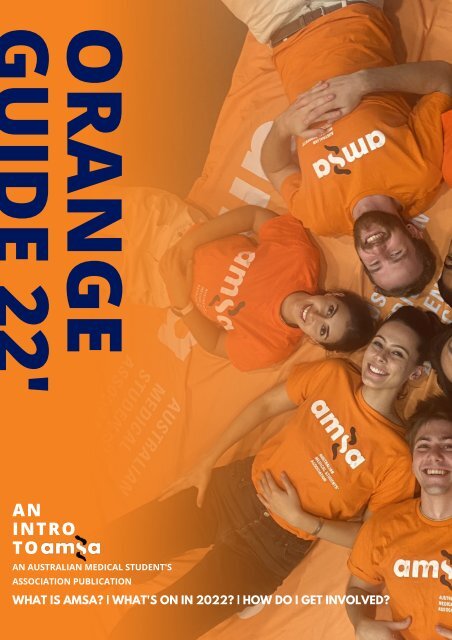 AMSA ORANGE GUIDE 22'
This is AMSA. A diverse group of medical students with one thing in common: a passion for representing, advocating for, listening to and bettering the lives of medical students across Australia. Click through this year's Orange Guide to have all your questions answered about what AMSA is, what we do, how to get involved and how to stay updated. What are you waiting for?
This is AMSA. A diverse group of medical students with one thing in common: a passion for representing, advocating for, listening to and bettering the lives of medical students across Australia. Click through this year's Orange Guide to have all your questions answered about what AMSA is, what we do, how to get involved and how to stay updated. What are you waiting for?
SHOW MORE
SHOW LESS
You also want an ePaper? Increase the reach of your titles
YUMPU automatically turns print PDFs into web optimized ePapers that Google loves.
ORANGE

AN

INTRO

TO

AN AUSTRALIAN MEDICAL STUDENT'S

ASSOCIATION PUBLICATION

WHAT IS AMSA? | WHAT'S ON IN 2022? | HOW DO I GET INVOLVED?
---
Special thanks to the AMA for

their ongoing support!

Copyright 2022, Australian Medical Students' Association

Publication Design Officer: Reece Martis

Acknowledgements:

Thank you to the contributors to previous Orange Guides on which this guide is

based, and to the following people and their teams who contributed to this year's

Orange Guide:

Contributing Authors: Terra Sudarmana (Vice President Internal), Guy Jeffery

(Advocacy), Ashraf Docrat (Policy), Peumike Dissanayake (Vampire Cup), Angela

Frentiu (AMSA Mental Health), Elif Gungor (AMSA Global), Tajwar Ali Khan (AMSA

International), Egynne Lim (AMSA Med Ed), Irene Roy (AMSA Rural Health), Flynn

Halliwell (AMSA Queer), Laura McDuff (AMSA Gender Equity), Mevni Fonseka

(AMSA International Student's Network), Amealia Turner (AMSA Indigenous Health),

Palak Gupta and Shreya Achar (Crossing Borders), Gabrielle Dewsbury and Julia Goh

(Code Green), Kirsten Arnold and Yahan Xu (Healthy Communities), Mansi Tiwary and

Afreen Akbany (Sexual and Reproductive Health), Tish Sivagnanan (Events), Rahil

Ajmera (AMSA Reps), Jeff Ma and David Tan (advertisement)
---
Welcome

Advocacy

Policy

Initiatives Groups

Representative Groups

Global Health Projects

Events

Publications

National Executive

AMSA Representatives

5

6

7

8-13

14-19

20-24

26-33

34

35

36
---
WELCOME TO AMSA!

Welcome to the Australian Medical Students' Association (AMSA)! Whether you have just

started medicine (in which case, congratulations!) or if you've been around here a while,

AMSA welcomes you with open arms!

Medical students are a diverse bunch - we've all got our own passions, interests and what

we want to get out of our degree. Whatever your interests are, the Australian Medical

Students' Association has a platform to help you pursue it.

Passionate about global health? Want access to more educational resources? Keen to

meet new people at some of the best student-run events in the world? Looking to learn

skills in health policy? Keep flipping through to see how we can foster your passions.

AMSA has a range of opportunities set up to make your student experience the best one

possible. Whether you find something in AMSA that piques your fancy today or not, stay

in touch with us through Facebook and Instagram, and sign up to become an AMSA

member on our website!

/youramsa @youramsa amsa.org.au

WHAT'S AMSA?

The Australian Medical Students' Association is the peak representative body for the

17,000 medical students around the country. Our chief mandate is to represent, connect

and inform medical students like you! We do this through:

Advocacy - We provide medical students a voice on issues such as internship regulation,

public health issues and medical information.

Events and projects - Foster connections through our uniquely large scale events and

effect change through the community with our impassioned projects.

Committees - Our committees are made up of passionate volunteers who work towards

projects or advocacy issues they are passionate about. Keep an eye on their social media

pages to find out how you can get involved!

Publications and media - Stay informed and up to date on pressing issues and all of

AMSA's work through our social media, our guides and other publications.
---
ADVOCACY

AMSA endeavours to harness the voice of 17,000+ medical students to represent you at the

highest forums and push for change in order to make your medical school experience better!

AMSA advocacy happens at multiple levels. At the federal level, AMSA engages with the

government and key medical stakeholders such as the Australian Medical Association (AMA), the

Medical Deans of Australia and New Zealand (MDANZ) and the Australian Indigenous Doctors'

Association (AIDA); often working in concert to create a more powerful voice on issues requiring

thought and leadership from a federal voice.

At the state, university and local level, AMSA liaises closely with university medical societies

(MedSocs) and state Medical Student Councils (MSCs) to provide support and resources to

advocate on issues relevant to your state and university. These could include sexual harassment,

mental health support systems, internship availabilities and quality medical education,

placements and clinical schools.

2022 ADVOCACY PRIORITIES

Improving medical culture by reducing bullying, harassment, and racial discrimination.

Ensuring the medical training pipeline is sustainable and tailored to community needs.

Improving the internship application process and ensuring all Australian medical

graduates have an internship.

Maximising medical education quality, clinical placements and research opportunities.

Improving and destigmatising mental health amongst the medical community and the

Australian population.

Improving Indigenous public health alongside support and representation for Indigenous

medical students.

Striving towards equitable health for women and LGBTQIA+ individuals.

Promoting stronger climate action and mitigating health impacts of climate change.

GET INVOLVED!

None of this advocacy is effective without the contribution of medical students like you!

Stay informed through your University's AMSA rep, and watch out for opportunities through the

AMSA website and Facebook to contribute, and find how you can ensure your voice is heard on

issues that are important to you!
---
POLICY

Policy is the beating heart of AMSA's advocacy, serving as a fundamental guide to how we

represent Australia's 17,000+ medical students. Spanning a multitude of issues that affect

medical students and the communities they live in, AMSA policies combine the latest evidence

with the views of medical students to codify our positions. Each policy is written by a team of

Australian medical students and voted on by your representatives at AMSA National Council,

ensuring that we take robust and representative positions to external stakeholders.

Getting involved in a policy team gives you as medical student a valuable opportunity to develop

your policy skills. AMSA has a proud history of providing medical students with their first start in

policy and helping them develop the skills to be the change-makers of the future.

In 2022, we will develop policies on diverse topics such as mental health, organ donation, and

interprofessional education. We will also be working hard to create more opportunities for

medical students to help shape our policy during the review process and Council discussion.

GET INVOLVED!

Policies are written, reviewed and presented at AMSA National Council by medical students just

like you! No experience is required to be involved with AMSA policy. Here's how you can get

involved:

Keep tabs on the AMSA Facebook page to respond to callouts to join a policy team in

January, April or August.

Talk to your AMSA representative about how to get involved in policy review and ThinkTanks

at your university.

Attend the AMSA National Council to get involved in the policy discussion.

Check out our policy base on the AMSA website.

Get in touch with the National Policy Officer, Ashraf Docrat (ashraf.docrat@amsa.org.au) to

suggest a new policy idea or to ask any questions you have about AMSA policy.
---
AMSA HAS A NUMBER OF INITIATIVES GROUPS MADE

UP OF PASSIONATE VOLUNTEERS. VARIED AND WIDE

REACHING IN THEIR SCOPE, THEY CONTRIBUTE

GREATLY TO THE LOCAL AND NATIONAL WORK OF

AMSA.

FROM VAMPIRE CUP (OUR NATIONAL BLOOD DRIVE

COMPETITION), TO AMSA INTERNATIONAL, GLOBAL

HEALTH, AMSA MENTAL HEALTH AND MED ED, OUR

INITIATIVES GROUPS HOLD EVENTS, RUN

COMPETITIONS, CREATE RESOURCES FOR YOUR

LEARNING, AND ADVOCATE ON IMPORTANT MEDICAL

STUDENT ISSUES. THEY ARE A GREAT WAY TO START

YOUR INVOLVEMENT WITH AMSA AND TO DEVELOP

YOUR PROFESSIONAL SKILLS.

WE ALSO HAVE FOUR GLOBAL HEALTH FOCUSED

PROJECTS WHICH INCLUDE CODE GREEN, HEALTHY

COMMUNITIES, CROSSING BORDERS AND SEXUAL

AND REPRODUCTIVE HEALTH.
---
VAMPIRE CUP

WHAT IS IT?

AMSA's most heavily competitive initiative is back again for another massive year in 2022!

Facilitated by the Red Cross Lifeblood service, Vampire Cup is AMSA's annual blood donation

drive that sees medical students and their local communities battle it out over 8 weeks to see

who can donate the most blood, plasma and platelets.

2021 MILESTONES

In a record-breaking year, 2021 saw the Vampire Cup breach 3500 total donations and inspired a

new generation of blood donors. That amounts to roughly 10,500 lives saved and many more

impacted. In 2022, JCU claimed the top gong of Most Donations at 492 with 94.9% coming from

plasma donations (the highest in the competition!), whilst Newcastle won the title of the highest

percentage of cohort that donated at 45.6%. Incredibly, Monash University improved the most in

terms of raw donations and had the largest number of new donations as well - a remarkable

achievement! Meanwhile, Notre Dame Fremantle had the largest percentage increase in

donations at 366.7%!

2022 KEY PRIORITIES

Achieve 3600 total donations throughout the Vampire Cup competition.

Expand the scope and reach of the Organ & Bone Marrow Donation

Portfolios through extended campaigns

Foster a culture of life-long blood donation following the Vampire Cup

GET INVOLVED!

Talk to your local university representative

Donate blood by booking an appointment at www.lifeblood.com.au

and don't forget to join your university team

Can't donate? Don't worry - you can still get involved! Get a friend to

donate for you and look out for our exciting prize giveaways.

KEY DATES

The Vampire Cup competition will be held between April 2nd to May 31st 2021. So get ready

to roll up your sleeves and donate! Any questions? Contact the VC National Coordinator

Peumike Dissanayake peumike.dissanayake@amsa.org.au

@amsavampirecup

vampirecup@amsa.org.au

www.amsavampirecup.com.au
---
AMSA MENTAL HEALTH

WHAT IS IT?

AMSA Mental Health advocates for the wellbeing of medical students across Australia and

spreads awareness on issues and conditions impacting on people's mental health. We continue

to educate students on mental health, support those living with mental health conditions, and

destigmatize the struggle of living with mental illness. AMSA Mental Health aims to create an

open and supportive environment for students to engage in the discussion around mental health

topics to acknowledge mental health as an important aspect of our lives.

2021 MILESTONES

Increasing awareness of Mental Health Issues through collaborations

with other groups in AMSA such as the MH x Healthy Communities

"Food for Thought" challenge

Creation and implementation of Mental Health Mondays

Growing engagement across Australia through social media

campaigns such as RUOK day, CrazySocs4Docs and Humans of AMSA.

2022 ADVOCACY PRIORITIES

Promoting Mental Health education and advocating for the inclusion of

Mental Health First Aid Training for medical students

Working together with other ASMA portfolios to advocate and raise

awareness for issues that are faced by individuals of different communities

Continuing to raise awareness for a variety of mental health issues that can

impact students

GET INVOLVED!

Our aim is to create a safe environment where we can share our stories and support one another

through our Mental Health journeys. If you have a story to share or any thoughts, you want to

raise we would love to chat to you. Follow us on our Instagram and Facebook to stay up to date.

AMSA Mental Health is aiming to build our network to better support universities and improve

advocacy outreach. If you are a wellbeing officer, reach out to us through our social media or

email our Chair at angela.frentiu@amsa.org.au. We would love to collaborate with you on our

events throughout the year!

KEY

DATES

3rd June: Crazy Socks 4 Docs

9th September: RUOK day

10th October: World Mental

Health Day

October: Blue Month and

Humans of Medicine

Campaign

/amsamhc

@amsa.mentalhealth

www.amsa.org.au/

amsa-mental-health
---
AMSA GLOBAL HEALTH

WHAT IS IT?

Want to save the planet? Work with the WHO, UN or MSF? Passionate about refugee health or

reproductive rights? Then AMSA Global Health is the new med fam you've been looking for.

We're AMSA's largest special interest group and we engage, represent and empower medical

students to take effective action on global health.

Since 2005, we've been connecting like-minded students and getting them ready to be the global

health leaders of tomorrow. Our members have represented Australia at UN forums and the

World Health Assembly; organised rallies across the country; written submissions to

parliamentary inquiries; appeared in national media -- and made friends for life while doing so!

GET INVOLVED!

Whether you're a passionate advocate, an IT whiz, a social media superstar or an events guru --

or just really keen on saving the world -- we'd love to welcome you to the AMSA Global Health

family. Here's what you can do:

Apply to join our team: 2021 subcom callouts in February and 2022 Management

Team/Executive callouts in August-September;

Join the global health group at your uni, and get in touch with your AMSA Global

Representative;

Keep an eye on our Facebook page;

Sign up to the Bulletin;

Come to an AMSA Global Health Forum;

Come find us at AMSA Global Health Conference.

KEY DATES

AMSA Global Health subcommittee callouts: February

AMSA Global Health Forums: March and September

AMSA Global Health Conference: August

AMSA Global Health Management Team and Executive callouts: August-September

/AMSA.global.health

www.amsa.org.au/

amsa-mental-health
---
AMSA INTERNATIONAL

WHAT IS IT?

Keen to be directly invovled with the World Health Organisation, the United Nations and MSF? Or

maybe you're more a 'travel globally and meet medical students from every nook and cranny of

the world' kind of person? Perhaps working with global health issues at the international level is

more your speed? Then AMSA international is the right place to be - and more.

Join us as we waddle into the world of the International Federation of Medical Students

Association (IFMSA) and work with the 1.3 Million medical students that it represents worldwide.

2021 MILESTONES

Established the Western Pacific Network, which looked to tie together Medical Schools from

Australia, New Zealand and the Island nations of the Pacific

Engaged with IFMSA on the global stage through March Meeting 2021, August Meeting 2021

and the Asia-Pacific Regional Meeting 2021

Adovcated on behalf of medical student advocacy for COP26

Collaborated with various AMSA portfolios, notably including AMSA Crossing Borders, and

IFMSA National Member Organisations, including MSAI-India, CIMSA-Indonesia, IFMSA-Brazil,

IFMSA-Egypt

Had an Australian representative at the 72nd WHO Western Pacific Regional Meeting.

2022 ADVOCACY PRIORITIES

Advocate for and run initiatives on matters of global health, with a focus on Environmental

Health, Refugee Health, Sexual Health and Rights and Medical Education

Restart our international Exchanges program

Build lasting relationships with NMOs worldwide and key external stakeholders, like the WHO

and the UN

GET INVOLVED!

Follow us on our Facebook for ALL our amazing opportunities, just some of which

include:

Delegation to the Asia-Pacific Regional Meeting 2022 (Malaysia)

August Meeting 2022 (TBA)

Delegations to the WHO and UN Meetings (Geneva, New York, Others TBA)

Collaborations with medical students worldwide

/yourAMSAintl

@yourAMSAintl
---
AMSA MED ED

WHAT IS IT?

AMSA Medical Education (Med Ed) was founded in 2016 with the vision of providing a targeted

avenue for AMSA to improve medical education within Australia. We seek to achieve this goal

through Med Ed's two branches: Resource and Research.

RESOURCE DIVISION

Med Ed Resource produces free, peer-reviewed,

open-access educational resources for medical

students in four streams:

AMSA Question Bank: the first national

question bank created by Australian medical

students, with hundreds of available MCQs

and quizzes.

AMSA Fact Sheets: succinct summaries of

conditions, approaches to clinical

presentations and Australian management

protocols.

AMSA Academy: an online learning platform

consisting of modules and professional

development courses across multiple

disciplines.

AMSA OSCEs: detailed practice OSCE

scenarios and marking guides.

RESEARCH DIVISION

Med Ed Research increases medical student

participation in research through two streams:

Research Projects: students conduct

research, under the guidance of a

supervisor, on the status quo of medical

education in Australia to supplement

AMSA's advocacy to improve medical

education.

Research Resources: creates fact sheets

to help medical students conduct

research.

EVENTS

Follow our social media to keep up to date

with our events throughout the year

OSCE Nights

Research Symposium

MCQ Cup

GET INVOLVED!

Callouts for our Research and Resource teams will occur in two rounds: March and June 2022.

Follow our Facebook (@yourAMSAMedAEd) and Instagram (@amsameded).

Take 1 minute to create a Moodle account to access hundreds of study resources

(https://amsamoodle.org.au).

/yourAMSAMedEd

@amsameded

amsamoodle.org.au
---
REPRESENTATIVE GROUPS WORK TO

MOBILISE THE COLLECTIVE POLITICAL

CAPITAL OF THE EMERGING HEALTH

WORKFORCE TO ADVOCATE ON ISSUES

THAT ARE IMPORTANT TO MEDICAL

STUDENTS. THESE GROUPS BRING

DIVERSE LIVED EXPERIENCE TO THE

AMSA COMMUNITY AND SUPPORT

SELF-DETERMINATION IN HEALTH AND

EDUCATION POLICY AND STRATEGY.
---
AMSA RURAL HEALTH

WHAT IS IT?

AMSA Rural Health is the peak representative body for students of rural origin, rural clinical

school students and rural communities, with the goal of improving healthcare outcomes in

country Australia. Our goal is to support and facilitate medical students' engagement with rural

health through publications, events and projects, highlighting the opportunities rural and remote

practice has to offer. We also engage with key stakeholders to advocate for greater stability and

support of the future rural health workforce.

2022 ADVOCACY

PRIORITIES

Rural Clinical School Support

Specialist Training Pathways in rural areas

Review of End to End Medical School

Programs

Review of the Bonded Medical Places Scheme

Greater equality for rural students in Medical

School Entry Schemes

Greater opportunity for International Student

Placements in rural areas

Addressing stigma around Rural Health

GET INVOLVED!

2021 MILESTONES

30 Words of Wisdom

#Gorural Internship Campaign

An AMSA Report: John Flynn Placement

Program Scholars

Australian Rural Clinical School Support

Survey (ARCSSS)

GPSN X AMSA Rural Mentoring Program

Stop Beating Around the Bush

Day in the Life Instagram Highlights

RACGP Rural Elective Bursary

NLDS Rural Presentations

2 incredible editions of Frontier!

Keep an eye on our Facebook page and other socials for more info about the below opportunities!

Get involved in our publications as a writer, photographer/artist or as a member of our Frontier!

editing team!

Participate in ARCSSS if you're a rurally-placed student

Apply for the RACGP Rural Bursary

Stay tuned for more information about the Rural Health Summit

Reach out and share with us your rural health experiences

/yourAMSArural

@amsarural

@yourAMSArural

rural@amsa.org.au

www.amsarural.org.au
---
AMSA QUEER

WHAT IS IT?

AMSA Queer (QAMSA) represents, connects and advocates for LGBTQIA+ medical students

across Australia. This includes fostering a queer community group where everyone is welcome –

no matter how you identify, or whether you are 'out' or not. If you're queer, we're here. AMSA

Queer also use our platform to advocate for the health and wellbeing of Australia's queer

community broadly. Through proactive and reactive advocacy, as well as promotion of queer

health education at grassroots and institutional levels, AMSA Queer aims to ensure that

Australia's future medical workforce is well-equipped to meet the needs of the queer community.

2021 MILESTONES

Advocacy efforts included affirming the SOGICE Survivor Statement, participating in a

Transgender Health Working Group, chairing national Queer Leaders Network meetings, as well

as contributing to and reviewing of AMSA policy and position statements. Education efforts

included producing educational infographics, surveying on medical society queer representatives,

and collaborating with AMSA MedEd and AMSA SRH. In the social domain, QAMSA maintained

the private AMSA Queer Network Facebook group for queer medical students to connect, held an

online social trivia event, and provided input on other AMSA events, such as NLDS.

2022 ADVOCACY PRIORITIES

Queer medical student safety, wellbeing, connectedness and visibility.

Queer health education and representation in medical curriculum, particularly transgender

and gender diverse health, as well as intersex health and human rights.

Responsive advocacy to health inequities faced by Australia's queer community, such as

access to inclusive health services and gender affirming care.

KEY DATES

Pride Month: June

Keep an eye out for callouts to join the team in early 2022!

/AMSAQueer

/QAMSA

queer@amsa.org.au

www.amsa.org.au/

amsa-queer-project
---
AMSA GENDER EQUITY

WHAT IS IT?

AMSA Gender Equity is here to inspire, advocate and educate on all things gender in medicine!

AMSA recognises the impact that gender bias, power differentials, discrimination and harassment

have on health outcomes for women, trans and gender diverse people. Our role in Gender Equity

is to advocate for change in these areas to improve the culture of medicine. Despite the fact that

60% of medical students in Australia are women, we are still massively underrepresented,

especially in surgery and leadership roles, and continue to be subject to sexism and sexual

harassment. Transgender, non-binary, intersex and gender diverse people face different and often

greater levels of discrimination, both within our community and within the medical field. We aim

to break down the stereotypes and barriers that exist and acknowledge the incredible work that

women and gender diverse people do as doctors both for their colleagues, future generations

following in their footsteps, and for medicine itself.

2021 MILESTONES

In 2021 advocacy efforts included responsive advocacy to the Brittany Higgans case, AMSA

volunteer upskilling, and a Gender Equity events guide. Education efforts included infographics,

'What we aren't taught in med school' online event, and gender-safe sexual history taking. In the

social domain, AMSA Gender Equity joined instagram and shared content on our Facebook and

instagram.

2022 ADVOCACY PRIORITIES

Internal AMSA audit of gender equity

Medical school curriculum review

Intersectional focus on gender equity within medicine

Workshop on personal advocacy and gender bias during

medical school and placements

GET INVOLVED!

KEY

DATES

AMSA Gender Equity Team

applications open early 2022

International Women's Day

Mar 8

Women's Health Week

Sept 6-10th

Apply to become a member of the AMSA Gender Equity Team (dates below)

Talk to your university's gender equity officer (or equivalent) - they have a direct link to us at

AMSA! If your university doesn't have a representative on your MedSoc, email us at the email

address below and we can help you start advocating for gender equity in your university!

Apply to become a mentor or mentee with AMSA Empowers Women in Leadership Program

Join the community of like-minded individuals by following our facebook and instagram (links

below)

/AMSAGenderEquity

laura.mcduff@amsa.org.au

www.amsa.org.au/

amsa-gender-equity
---
AMSA INTERNATIONAL

STUDENT'S NETWORK

WHAT IS IT?

The International Students' Network serves as a powerful advocate for matters pertaining to

international students in Australian medical schools. In Australia, 1 in 5 medical students are

from overseas, and the ISN strives to represent every one of these students as effectively as

possible. We provide a voice for international medical students at a national level. The goals that

have been set out as foundations for the ISN include:

1. To advocate for all international medical students studying in Australia

2. To provide support for graduating international students seeking internship in Australia

3. To develop an inclusive and engaged international student community

4. To connect current and future international medical students and to inform them of the issues

currently facing international students in Australia.

2021 MILESTONES

Secured the successful refunding of the Commonwealth Medical Internship programme by

the Department of Health

Worked closely with AMSA Central, medical students' councils in individual states and the

Department of Health to maximise internship opportunities for international medical

graduates

Supported graduates who didn't receive a round 1 job offer by keeping them informed of

opportunities all around Australia

Assisted international students with their return to Australia in the midst of the pandemic

Hosted an inaugural JDTP information session night for upcoming interns

Organised an information seminar with Greenslopes Private Hospital

2022 ADVOCACY PRIORITIES

Producing a detailed Internship Guide

ISN visa review and ongoing support for Commonwealth Medical Internship

Ongoing policy writing in collaboration with AMSA Central

Collaborating with relevant organisations, to address the mental health issues experienced by

many international medical students.

Establishing a strong foundation for the North American Subcommittee which will he in its

first year of running

/ISNAMSA

@AMSA.ISN
---
AMSA INDIGENOUS HEALTH

WHAT IS IT?

AMSA Indigenous is a key representative group within AMSA that represents and connects with

Indigenous identifying medical students across Australia, and increases the opportunities

available to them. Our team is led by Indigenous and non-indigenous medical students,

advocating for improved First Nations health outcomes and a culturally safe healthcare system.

AMSA Indigenous provides invaluable advocacy guidance and contributions on topics pertaining

to First Nations health and people. To reflect these priorities, our team consists of a national

coordinator, education officer, research and publications officer, events officer, policy officer, and

general member.

2022 ADVOCACY PRIORITIES

In 2022, AMSA Indigenous will continue expanding their successful initiatives including AMSA

policy writing and review, and hosting informative Q&A panel nights. This will continue to engage

Indigenous medical students with AMSA and ensure that our policies are truly robust and

representative.

AMSA_Indigenous
---
IN ADDITION OT

REPRESENTATIVE AND

INITIATIVES GROUPS, WE

ALSO HAVE FOUR GLOBAL

HEALTH FOCUSED

PROJECTS WHICH INCLUDE

CODE GREEN, HEALTHY

COMMUNITIES, CROSSING

BORDERS AND SEXUAL

AND REPRODUCTIVE

HEALTH.
---
CROSSING BORDERS

WHAT IS IT?

Crossing Borders is a subset of AMSA Global Health, specifically interested in the health

outcomes of refugees and people seeking asylum. We stand in solidarity with refugees, people

seeking asylum, current detainees and ex detainees in the fight for justice. Crossing Borders

facilitates opportunities for medical students to get involved in pre-existing grass root initiatives

and community engagement projects. We work with experts to produce educational materials for

students, supplementary to medical curricula. We advocate, in line with our policy, for the

abolishment of detention centres and equity in health outcomes for refugees and people seeking

asylum.

2021 MILESTONES

In 2021, Crossing Borders continued our reactive advocacy efforts by writing media releases on

potent issues pertaining to refugee health. As a committee we participated in the Palm Sunday

Rally through online and in person activities. The online campaign was successful in bringing

together students across Australia to stand in solidarity of our friends in detention and demand

that they be given a fair go. We also held 3 symposia across the year discussing climate change,

policy reform and the forgotten children of detention.

2022 ADVOCACY PRIORITIES

Critical assessment of current health, political, corporate structures and bodies;

which contribute to indefinite and arbitrary detention, buoyancy of temporary

protection and bridging visas and more

Standing in solidarity with and increasing visibility of pre-existing, self-determined

projects

Leverage our voice to advocate for better health standards

GET INVOLVED!

Join us in our annual symposia and participate in our advocacy efforts by attending the Palm

Sunday Rally. AMSA Crossing Borders has satellite committees at most medical universities

across Australia - so if you're passionate about the health outcomes for those seeking asylum and

wish to express your solidarity, attend local events and initiatives organised by your university. You

can reach out to your local Crossing Border representative or us at AMSA, through Facebook. Stay

connected with us by following our Facebook where we will post further on any opportunities for

you to get involved.

/amsacrossingborders

@amsacrossingborders
---
CODE GREEN

WHAT IS IT?

With the impacts of climate change more tangible than ever, it has become indisputable how

intertwined people's healths are with the environment. As a subset of AMSA Global Health, Code

Green aims to take a stance on the protection of our environment, viewing it as an indelible

resource for the maintenance and improvement of global health around the world. As future

doctors, it is paramount to understand that protecting the environment that sustains us is

essential in promoting the health of our communities and patients.

2021 MILESTONES

Greening Hospitals Hackathon. A National event that saw students from a wide range of

universities and academic backgrounds develop strategies to combat unsustainable hospital

practices.

The Divestment Guide is a thoroughly researched and neatly presented document that allows

students, doctors, and universities to divest with ease and confidence.

Climate strikes were held in partnership with School Strike 4 Climate, Fridays for Future, and

Doctors for the Environment, allowing medical students to demand effective climate policy

and learn more about the intersectional nature of health and climate.

2022 ADVOCACY PRIORITIES

Providing practical upskilling opportunities for medical students who

wish to advocate for environmental health now, and in the future.

Progressing and sharing resources to help guide students and

societies to lower their impact on climate change and champion

positive change in our environment

Ensuring that the stress of climate change on human health is heard in

the upcoming election.

GET INVOLVED!

Follow our social media accounts to keep updated with

events and releases

Join the Code Green Team! Keep an eye out for call outs

in early February!

/AMSACodeGreen

@amsacodegreen

codegreen@amsa.org.au

@amsacodegreen
---
HEALTHY COMMUNITIES

WHAT IS IT?

According to the WHO, NCDs are responsible for 71% of premature deaths around the world,

making NCD control and prevention a global agenda. AMSA Healthy Communities is an AMSA

Global Health Project which focuses on promoting a healthy lifestyle and preventing NCDs on an

individual, community and national level. Our work spans across advocating for healthy diets and

physical activity, combating substance abuse, and achieving planetary health and sustainability.

Through advocacy, education and event planning, AMSA HC platforms a variety of issues from

fatphobia in medical school to indigenous health on a national level.

2021 MILESTONES

In 2021, we started with an open letter calling for sustainability to be considered in Australia's new

dietary guidelines and speaking out against Dan Murphy's superstore proposal. In June, we held the

2021 Virtual Trek Competition to promote physical activity, where participants' footsteps collectively

count toward a virtual trip from Sydney to Brisbane. In August, we collaborated with AMSA Mental

Health on the "Food for Thoughts" Eating Disorder Awareness Campaign and social media series. As

a part of our planetary health campaign, we launched the Hungry for Change Webinar with Doctors

for Nutrition which covered a variety of topics ranging from dietary consultation to environmental

sustainability and, last but not least, we wrapped up the year with our "Fact or Fiction" series.

2022 ADVOCACY PRIORITIES

Combating Non Communicable Diseases in a sustainable and effective way such as:

Promoting a healthy relationship with food and exercise

Promoting risk reduction strategies such as safe injecting rooms

Pushing back against fatphobia and fat shaming in medical school and the wider

healthcare profession

Indigenous health

Healthy relationships with food and exercise

GET INVOLVED!

Subcommittee applications opens in January. If you are passionate about promoting healthy

lifestyles on an individual, community and national level, make sure to apply!

We are in the process of planning a variety of events and initiatives for 2022 including webinar

series, park run teams, AMSA policy reviews and many more!

Follow us on social media to stay up to date with recruitment opportunities as well as many

recipes and informative posts.

/youramsahc

@youramsahc

@youramsahc

healthycommunities@amsa.org.au
---
SEXUAL AND

REPRODUCTIVE HEALTH

WHAT IS IT?

AMSA Sexual and Reproductive Health (SRH) is an AMSA Global Health initiative that aims to

engage medical students on the subject of sexual and reproductive health. Our goal is to raise

awareness about subjects including HIV/AIDS, STIs, reproductive rights, sex worker health, female

genital mutilation and intimate partner violence. By doing so, SRH hopes to encourage medical

students to be aware of sexual health issues affecting their patients and therefore be better

clinicians in the future.

2021 MILESTONES

Our annual campaign, Sexual Health September, proved successful, with >50 people attending

our Sex Worker Panel and Female Sexuality webinars and >70 people participating in our

Instagram competition

We saw a significant improvement in social media engagement, finishing the year with >600

followers on Instagram and >1000 likes on Facebook

We were able to convert an internal AMSA survey regarding abortion education in medical

school curricula into a legitimate research project in collaboration with researchers from La

Trobe University

We set our advocacy project, the #RenamingRevolution, into motion by publishing the article

"Lucy's legacy: why Sims' speculum needs a different name" in RANZCOG's O&G Magazine

2022 ADVOCACY PRIORITIES

Expanding the #RenamingRevolution to phase out the usage of other outdated and/or

problematic SRH terminology

Continuing our abortion education research

Carrying out more proactive advocacy in the area of SRH with the help of our subcommittee

GET INVOLVED!

We would love to have you on our team! Keep an eye out for subcommittee callouts, which will

be posted later in January. We have roles in areas including education, research, advocacy,

publicity and projects.

Attend our events and participate in our competitions! We have a lot of exciting online and inperson

upskilling events planned for 2022. We will also run competitions as part of Sexual

Health September with exciting prizes to be won.

Follow us on social media! This is the best way to stay up to date with AMSA SRH.

/AMSASRH

@youramsasrh

@yourAMSASRH

srh@amsa.org.au
---
National Council

Location TBA, April 1st - 3rd

National Leadership Development

Seminar (NLDS)

Canberra, September

National Convention

Newcastle, July 4 - 9th

Global Health Conference (GHC)

Melbourne, Aug 26 - 30th

Rural Health Summit (RHS)

Mackay, May 6 - 8th
---
NATIONAL COUNCIL

WHAT IS IT?

AMSA National Council convenes three times each year and brings together representatives from

all the Australian medical schools to engage in various facets of AMSA. This year's Councils will

provide numerous opportunities to: network with like-minded medical students; be upskilled

through mentoring programs and multiple breakout sessions; debate on policies that will directly

affect the medical student experience; and hear about all of AMSA's advocacy, events, projects

and committees happening across Australia. Council is a great way to begin or continue your

AMSA journey, offering exposure to all of the wonderful opportunities that AMSA has to offer.

GET INVOLVED!

There are plenty of ways to get around council this year !!! We are currently in the process of

building up the council team for 2022. If you are interested in being part of the incredible team

that will create this event keep an eye out for opportunities to get involved in our January callouts!

KEY DATES

Council One: March 25 - 27, Location TBC

Council Two: TBC

Council Three: TBC
---
NATIONAL LEADERSHIP

DEVELOPMENT SEMINAR (NLDS)

WHAT IS IT?

The National Leadership Development Seminar (NLDS) is the premier leadership and advocacy

event in the AMSA calendar. Bringing together 100 medical students in Canberra, the political

heart of our country, NLDS is a sensational platform for fostering world-class skills in medicopolitical

advocacy and health leadership. NLDS is a four day conference featuring an array of

speakers and workshops, thought provoking discussions, unparalleled networking opportunities

and an all-around great time.

GET INVOLVED WITH NLDS '22

We are currently in the process of building the team that will lead this incredible event in 2022.

Therefore, if you are interested in being part of creating this unique event follow our social media

pages to keep up to date with opportunities !!!

Callouts for an event convenor will be open from the 6th-20th of January and following this, a

callout for the wider team will go out in early 2022.

/NLDSAustralia
---
NATIONAL CONVENTION

WHAT IS IT?

AMSA National Convention is the largest student-run conference in the world and brings together

over 800+ medical students from across Australia and New Zealand. Convention is a week of

academic lectures, seminars and group discussions on topics ranging from tips to survive

medical school, to pathways to follow post-graduation, social events, sporting events and

workshops. Convention is the perfect event to grow as a student and as a future doctor all while

making connections and having a lot of fun.

CONVENTION '22

In its 63rd year, Convention will arrive in Newcastle from July 4 to July 9 2022. Over the week,

students will enjoy a rewarding academic and social program, enhanced by intervarsity

competitions, field trips, workshops and a trade show. Convention embodies the core values of

AMSA and continues to be the highlight of the Association's calendar every year. Newcastle 2022

Convention aspires to host an event that connects, inspires, and empowers delegates by creating

extraordinary experiences, and giving them new perspectives.

GET INVOLVED!

We are currently recruiting and auditioning people to be part of our opening and closing

ceremony acts! Follow our Facebook page at www.facebook.com/amsanationalconvention or

our Instagram @amsaconvention to stay updated!

/amsaconvention

https://new22.org/
---
GLOBAL HEALTH CONVENTION

WHAT IS IT?

This event unites a unique cohort of medical students passionate about pressing issues in Global

Health. GHC is comprised of plenary speeches, workshops and challenges that will enable you to

upskill and be educated on crucial topics such as the link between climate change and health,

refugee health, gender equity in medicine and more. Additionally, you are bound to meet like

minded people who will inspire, challenge, and aid you to become the best doctors, advocates

and leaders within your chosen field. Global Health Conference is perfect for those who already

have an appetite for these issues but also for those keen on learning more.

GHC '22

In 2022 Melbourne will host GHC from the 26-30th of August. Attendees will be enlightened to a

host of impressive academic presentations and workshops and unforgettable social events.

Whether its your first GHC or your fourth GHC you are bound to have an incredible experience

tackling the issues of tomorrow while mingling with incredible minds from all over the nation.

GET INVOLVED!

Follow us on our social media platforms and keep an eye out for any exciting new opportunities

that come up as we hit the homestretch of our events !!!

/GHC22

GHC2022
---
RURAL HEALTH SUMMIT

WHAT IS IT?

AMSA Rural Health Summit is a showcase of the adventures, challenges and the future of rural

medicine in Australia. It annuly unites hundreds of medical students who are passionate about

practicing rurally and are eager to learn more about a life outside of the big smoke.

You will be inspired by leaders at the forefront of the rural medicine, skilled clinicians and creative

innovators through a series of keynote presentations, breakout sessions, workshops and the rural

rescue challenge.

RHS '22

Are you a budding rural generalist in the making? Do you enjoy a challenge, clinical experience

and inspirational lectures from renowned doctors? Is a holiday on the gorgeous coastal town of

Mackay something you would enjoy? Then RHS22 is for you! RHS is a weekend long rural health

experience. There will be unique, fun social events, networking opportunities with rural doctors

and our immersive rural rescue challenge where you get to be the doctors putting the skills you've

learnt to action.

GET INVOLVED!

Follow our social media pages on instagram and facebook to find out more! Keep an eye out as

we will be recruiting volunteers and releasing information about this exciting event.

/RuralHealthSummit2021

RHS_AMSA
---
PUBLICATIONS

Each year, AMSA releases numerous publications to keep you in the loop, provide you with

plentiful resources and showcase the works of medical students like you!

Our National Publications Subcommittee, Global Health team and Rural Health Committee work

tirelessly to research, write, design, format, edit, and release publications that are not only visually

engaging but also useful for our readers. See our guides, journals and magazines below - you will

surely find one that appeals to you!

Embolus

Embolus is our e-newsletter providing updates on all you need to know from advocacy successes,

call-outs, and more! Sign up when you register for AMSA.

Starting Med Guide

Starting Med Guide is our concise guide on how to kick off your years at medical school.

Internship Guide

Internship Guide is our most popular guide which provides up to date information on internship

numbers for the upcoming year.

AMSA Journal of Global Health

AJGH is our unique bi-annual Global Health Journal that publishes peer-reviewed articles on

various global health topics.

Frontiers

Frontiers Magazine is our annual Rural Health magazine, released in September. Read for a

variety of pieces on rural health issues and academics in addition to creative pieces.

Panacea

Panacea is AMSA's student magazine which showcases a large range of creative and academic

pieces from medical students around Australia.
---
a s e e b R i a z

H

r e a s u r e r

T

s h r a f D o c r a t

A

a t i o n a l P o l i c y

N

i s s h a p a a

T

i v a g n a n a n

S

a t i o n a l E v e n t s

N

f f i c e r O

e r r a S u d a r m a n a

T

i c e P r e s i d e n t

V

a t y a K

v o z d e n k o

G

u b l i c R e l a t i o n s

P

f f i c e r O

e e c e M a r t i s

R

u b l i c a t i o n s &

P

a s m i n e D a v i s

J

r e s i d e n t

P

i h a n D e S i l v a

M

o l u n t e e r

V

n g a g e m e n t

E

f f i c e r O

i c h e l l e B o r g

M

e c r e t a r y

S

u y J e f f e r y

G

i c e P r e s i d e n t

V

a n c y W e i

N

t u d e n t S

n g a g e m e n t

E

f f i c e r O

a v i d T a n

D

a t i o n a l N

p o n s o r s h i p

S

f f i c e r O

a r l X i n g

C

T O f f i c e r

I

a h i l A j m e r a

R

a t i o n a l N

e f f M a J

a t i o n a l N

p o n s o r s h i p

S

f f i c e r O

NATIONAL

EXECUTIVE '22

I n t e r n a l

E x t e r n a l

O f f i c e r

C o o r d i n a t o r

D e s i g n O f f i c e r
---
2022 AMSA REPS

University of Adelaide

Alison Teubner

amsa@amss.org.au

Australian National University

Reuben Caudell

reuben.caudell@anu.edu.au

Bond University

Henry Tregilgas

henry.tregilgas@student.bond.edu.au

Curtin University

Kurtis Gray

20611631@student.curtin.edu.au

Deakin

Alan Lin

amsa.clinical@medusa.org.au

Flinders University

Kosta Antolis

anto0106@flinders.edu.au

Griffith University

Alexandra Wilson

alexandra.wilson3@griffithuni.edu.au

James Cook University

Stephanie Sullivan

stephanie.sullivan@my.jcu.edu.au

Macquarie University

Nilma Leelarathne

nilma.leelarathne@students.mq.edu.au

Monash University

Jade Guitera

amsa@mumus.org

University of Melbourne

Emily Bugeja

amsa@ummss.org.au

University of Newcastle

Amealia Turner

amsa@unms.org.au

University of New England

Anagha Kanive-Hariharan

anagha.kanive@amsa.org.au

University of New South Wales

Jonathan Greenberg

amsa@medsoc.org.au

University of Notre Dame Fremantle

Sacha Alexiou

sacha.alexiou@my.nd.edu.au

University of Notre Dame Sydney

Sanjna Vijayakumar

amsa@mandus.org.au

University of Queensland

Connor Ryan

amsa@uqms.org

University of Sydney

Edward Cairns

ecai9982@uni.sydney.edu.au

University of Tasmania

Leon Latt

amsa@tumss.org.au

University of Western Australia

Sachin Boniface

amsa@wamss.org.au

Western Sydney University

Aleksandra Yates

aleksandra.yates@amsa.org.au

University of Wollongong

Amy Hargreave/Mattea Lazarou

ah764@uowmail.edu.au/

ml021@uowmail.edu.au

Charles Sturt University

Hewen Leathbridge

hewie1993@gmail.com
---
CONNECT, INFORM, REPRESENT