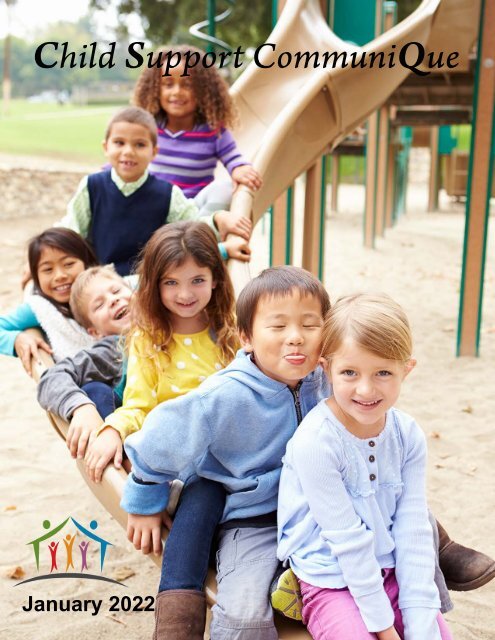 Create successful ePaper yourself
Turn your PDF publications into a flip-book with our unique Google optimized e-Paper software.
ChildSupportCommuniQue
---
Table of Contents

January 2022

Executive Director's Message……………………………………………………….… 3

Community Corner: PEP Pressure in a Pandemic Environment…………….………..5

NCSEA 2022 Policy Forum Preview…………………………………………….…........7

A Guided Tour of IV-D Videos and Live Interaction…………………………….……..10

Intergovernmental Hot Topics …………………………………………………………..19

NCSEA U Spotlight……………………………………………………………………….27

Don't Stand Up If You're Not Wearing Pants……………………………………….....29
---
Ann Marie Ruskin

NCSEA Executive Director

As 2021 came to a close, I was determined to focus post-pandemic,

looking beyond the limitations and challenges we have lived for almost

two years. But alas, here we are dealing with the new omicron variant,

and again we are adjusting to current conditions. I am very pleased that

NCSEA will be in-person in Washington, D.C. next month for the Policy

Forum. We have missed opportunities to exchange and interact in

person. So much of our conference experience is engagement with

others outside the scheduled agenda—over breakfast, catching a snack

during a break, a chance meeting waiting for the elevator, or having a

drink at the bar in the evening. It is those spontaneous interactions that

allow us to expand our professional network, meet new colleagues, and

learn more about other State, County, and Tribal programs.

While we've missed the in-person events, the pandemic has also

required us to think outside the box, rethinking how we engage our

members, share content, and interact virtually. With that in mind,

NCSEA introduced new initiatives such as the Idea Exchange,

expanded current programs such as NCSEA Connects, and introduced

virtual conference options. The upcoming Policy Forum is an example of

the new opportunity, providing a virtual and in-person option for

attendees. It's the first time we are offering live streaming in addition to

the live, in-person event, and is introducing a new audience to the

Policy Forum, a unique conference. If you are not able to join us in

person in Washington, D.C., please consider virtual attendance.

Sessions will be live, and recordings posted shortly after the session.
---
In addition to the Policy Forum, we hope you will take advantage of our

extensive Web-Talk schedule, NCSEA Connects meet-ups for specific

categories of child support professionals, Idea Exchanges, and of

course, the 2022 Leadership Symposium, to be held in August in

Charlotte, North Carolina. We are proud to offer a variety of events and

programs designed to enhance your professional development and

networking and provide important services to the child support

community.

As 2022 begins, we wish all our members and families a very happy

and healthy new year. It is a pleasure working with all of you.

Ann Marie Ruskin has served as NCSEA's Executive Director since January, 2018.

She first joined NCSEA in 2010, leading professional development and programs.
---
PEP Pressure in a Pandemic

Environment

by John Hurst, Georgia Division of

Child Support Services

At 11:59:59 p.m. on September 30, 2020, Federal Fiscal Year 2020 (FFY

2020) ended. In the child support community, this date marks the end of

the reporting period for annual performance. Normally this is a routine

event for states; however, not much about FFY 2020 was routine due to the

onset of the COVID-19 pandemic in March 2020.

For many states that typically perform well in paternity establishment

percentage (PEP), the restrictions to in-person activities brought on by the

pandemic resulted in states not reaching the 90% federal benchmark for

this performance requirement. In Georgia, we finished FFY 2020 with an

84.11% PEP, which meant we needed to finish FFY 2021 at 86.11% or

higher to avoid a 1% to 2% penalty to our TANF block grant.

I had two major challenges awaiting me when I became Georgia's IV-D

director in December 2020: the ongoing pandemic and the potential penalty

if we did not improve our PEP by at least 2% in FFY 2021. Our agency was

very responsive at the onset of the pandemic and had implemented

temporary operating procedures that enabled us to continue to provide

services while keeping our customers and employees safe. Obtaining the

2% PEP increase as the pandemic continued through FFY 2021 was a

daunting target that would require an "all hands on deck" effort from our

team.

It was clear that the challenge we had in front of us had captured the

attention of our department commissioner and her team. The support we

received from them was helpful, as it enabled us to tap into some

resources for assistance that we may not have otherwise been able to
---
access. We received help from the Administrative Office of the Courts,

Council of Superior Court Judges, Office of State Administrative Hearings,

and Attorney General's Office in spreading the word and putting short-term

processes in place to drive paternity.

After a year of intense focus,

monitoring, projecting, brainstorming,

worrying, and outstanding performance

by our team, I am happy to say that as

of 11:59:59 p.m. on September 30,

2021, our PEP was 87.95%. This is a

3.84% increase over FFY 2020. This is

both good news and bad news. While

we improved by more than the required

2% threshold to avoid a potential penalty, we are still under 90% and must

go through this process again this year as the pandemic continues.

There may be relief to this pressure soon. On October 19, 2021, the

Paternity Establishment Percentage Performance Relief Notice of

Proposed Rulemaking was published, which proposed to modify the PEP

requirement from the 90% performance threshold to 50% for FFY 2020 and

2021 for a state to avoid a financial penalty. The adoption of this proposed

rule would bring much-needed relief to many states that have shared the

same experience as my state in the last year.

John Hurst is the Asst. Deputy Commissioner, Georgia Dept. of Human Services. He

has more than 28 years in the child support program, serving in various roles. John was

appointed to his current position and in this role, he serves as the IV-D Director of the

Georgia DCSS program. John earned a Bachelor of Business Administration degree in

Management from Georgia State University.
---
2022 Policy Forum Preview: Focusing On Our

Vision…Recognizing Our Perspectives

by Margot Bean and Connie Chesnik

Co-chairs, NCSEA 2022 Policy Forum

Child Support and Human Service professionals from across the country

will come together in person this February for the 2022 NCSEA Policy

Forum. This year's theme, Focusing On Our Vision – Recognizing Our

Perspectives, reflects our shared vision that every child receives reliable

financial and emotional support. Over the course of three days, we will

focus our perspectives—no matter how different—to work together on

behalf of children and families and to advance and promote best practices

in the child support program.

Ten plenary sessions will offer attendees a variety of perspectives on topics

trending in the child support community. Additionally, as we continue to

"think big," attendees will see short videos from several think tanks that

perform child support-related research and advocacy, discussing their

experiences building the child support program and their insights into the

program's evolution.

Thursday's sessions will open with a parents' panel that will enhance

attendees' understanding of how parents experience services across

human service programs and how we can better align those services to

serve young families more effectively. Participants will also hear from
---
program leadership on how they are approaching change in their states to

better promote customer participation and engagement.

The 2022 Policy Forum will build on the diversity, equity, and inclusion

(DEI) work begun during last year's Policy Forum with a session that will

challenge participants to "live what we are learning." As attendees sharpen

their equity lens, they will also have the opportunity to review existing child

support policies from a domestic violence perspective with a session that

focuses on incorporating trauma-informed practices into our service

delivery.

Friday's plenaries will open with a session that focuses our perspectives on

how we measure our program's success. As the child support program

evolves to center families in our discussions and to incorporate DEI and

trauma-informed care principles, a panel of child support program leaders

will explore how performance measures can evaluate the program's

success in these areas. The remainder of the day will focus on a variety of

operational aspects of the child support program, beginning with the

evolution of child support enforcement tools over time. This session will

feature panelists with different perspectives on enforcement remedies and

how their approaches have evolved to adapt to changes in the program.

Friday's program will examine the evolution of policy related to paternity

establishment over the past century with a focus on current issues,

including mandatory genetic testing and the implications of paternity

policies on the LGBTQ+ population. This will be followed by a critical

examination of whether recent changes to state child support guideline

requirements have improved child support outcomes for low-income

families. The day will conclude with a discussion of intergovernmental hot

topics, including interstate payment processing, case closure regulations,

$0 orders, limited services, and more. A panel of experts will explore these

topics to identify possible recommendations for change.

You will not want to miss the final programs on Saturday morning. The day

opens with a focus on system modernization, a key component in the

evolution of the child support program. Representatives from states with

recent experiences in modernizing their systems will discuss how to build

systems that can adapt to changes in both policy and customer needs.

The 2022 NCSEA Policy Forum will conclude with an interactive session

designed to bring our different perspectives together to provide actionable

steps attendees can take back to their states to continue working toward
---
our shared vision. We look forward to reconnecting with you in Washington,

D.C., from February 3-5, 2022!

Margot Bean is a Managing Director in Deloitte Consulting's Human Services

Transformation Practice, focusing on helping child support programs improve their

outcomes by providing effective and efficient data driven customer-focused services.

She helps child support programs develop human centered case management systems

that streamline business processes, effectively analyze their caseloads, and allow case

managers to execute case strategies based on customer needs. Margot's wide variety

of government experience prior to joining Deloitte provides her with deep understanding

and insight: Commissioner of the federal Office of Child Support Enforcement, IV-D

Director of the New York State Child Support program, IV-D Director of the Guam Child

Support Program, and child support attorney. She is a current member of the NCSEA

Board of Directors.

Connie M. Chesnik received both her undergraduate and law degrees from the

University of Wisconsin-Madison. As an attorney for the Wisconsin Department of

Workforce Development, Connie advised the child support program for many years and

has spoken frequently on Wisconsin's child support guidelines and Wisconsin's tribal IV-

D program. She is currently the Administrator of the Division of Family and Economic

Security in the Department of Children and Families where she oversees Wisconsin's

child support, refugee and employment programs. Connie is a member of the State Bar

of Wisconsin, and the State and National Child Support Enforcement Associations. She

currently serves on the NCSEA Board of Directors.
---
A Guided Tour of

IV-D Videos and Live

Interaction

by Christopher Breen, Massachusetts CSD &

Mary Ann Wellbank, Mary Ann Wellbank, LLC

OVERVIEW AND COVID-19

According to an April 2021 report of the U.S. Census Bureau, Computer

and Internet Use in the United States: 2018, 92% of U.S. households had

"at least one type of computer and 85% had a broadband internet

subscription." A March 2021 survey conducted by the Pew Research

Center found that "85% of Americans say they go online on a daily basis"

and "44% of 18-to 49-year-olds say they go online almost constantly." Child

support agencies have leveraged these trends by offering more information

and services through their websites.

COVID-19 provided an additional catalyst for IV-D agencies to find new

ways to deliver IV-D services remotely. This led to both a surge in digital

communication and realization that cloud-based services are essential to

engage customers into the future. As of December 2021, most IV-D

services were back on track, although in many cases the method of service

delivery changed permanently because of COVID-19. State websites offer

new services such as self-service portals for customers and colleagues,

online chatbots, centralized email addresses, and text notifications.

In its April 2021 article Social Media Use in 2021, the Pew Research

Center found that 81% of Americans and 95% of adults ages 18-29 say

they use YouTube. A November 2018 Pew study, Many Turn to YouTube

for Children's Content, News, How-To Lessons, found that 51% of

YouTube users use YouTube to learn new things. Research conducted by
---
video marketing firm Wyzowl, and frequently cited by news and technical

media, indicates "when asked how they'd most like to learn about a product

or service, 69% said they'd prefer to watch a short video. This compares to

18% who'd rather read a text-based article, website, or post." While those

statistics do not necessarily translate to clicking on links to governmentcreated

videos on IV-D websites, they do indicate that short, well-produced,

and conspicuous videos can successfully engage customers.

With this information in mind, the authors explored the IV-D websites of the

54 states and territories to identify innovations that agencies incorporated

into their web offerings, with a focus on the use of video to reach

customers. Numerous IV-D programs have uploaded state-produced

videos to their websites or added links to YouTube videos produced by

external partners such as the Office of Child Support (OCSE), fatherhood

programs, and Sesame Street. An increasing number of states maintain

department YouTube channels independent of IV-D websites where video

content is posted. A smaller percentage of states offer live interactions via

telecommunication, discussed later in this article.

The authors' review consisted of eyeballing and testing links to videos and

reviewing the offerings to see what is out there and what might be of

interest to other states and IV-D agencies. The approach was subjective

and unscientific, but hopefully useful to IV-D agencies that wish to adopt or

compare best practices from other programs.

Subject to the limitations of the review, the observations of the authors are

categorized and summarized below. Links to the websites and videos have

been inserted in this article so that readers can just click a link to view the

content.

INTRODUCTION TO CHILD SUPPORT VIDEOS

The Administration for Children and Families (ACF) has its own YouTube

channel with hundreds of informational videos targeted to health and

human services professionals and consumers of other programs. This

channel contains an OCSE video (in English and Spanish) that is geared

toward IV-D parents and can be linked to state websites:

• What is Child Support?
---
• ¿Qué es el sustento de menores?

A number of states including Alaska, Arizona, Kentucky, Maryland,

Massachusetts, Michigan, Montana, North Carolina, West Virginia, and

Wisconsin link to this video.

California has an extensive Video Resource Library with an introductory

video and nearly 60 other videos that it maintains on both its social media

pages and on the state website itself. The 60-second videos posted for

customers are particularly effective.

On its Contact Us page, Colorado links to its YouTube account, which

offers a variety of resources to various stakeholders.

Connecticut's Judicial Branch has a strong YouTube presence with several

videos to assist parents.

Florida links to its YouTube page, which has a video that explains how to

apply for services.

Illinois has several videos on its website under "How-To Videos", including

an introduction to child support services, paternity establishment,

modifications, license suspension, and parenting plans.

Indiana Department of Child Services has a YouTube presence with videos

on how to apply for, receive, and pay child support and more.

Maryland has a Vimeo channel that includes a second introduction to child

support (in addition to the ACF/OCSE video) and a license suspension

video for noncustodial parents.

New York has a 20-minute YouTube Video, What You Need to Know About

Child Support Hearings and Services in New York State, that provides a
---
detailed explanation of the hearing process for each type of petition, the

documents to bring, and the services the IV-D program can provide.

At the bottom of its home page, North Dakota has a short video entitled Do

You Need Help with Child Support? It contains some North Dakota specific

references but would be easily adaptable to other states' programs.

Vermont's 21-minute video, Overview of the Vermont Office of Child

Support, details services provided by its IV-D program, answers frequently

asked questions, and describes the legal process.

Virginia has text and a pictorial video accompanied by music: Child Support

Without Court - Five Fast Facts about Child Support.

VIDEOS INTRODUCING USEFUL FEATURES, INFORMATION, AND

APPS

Florida has a video explaining its new eServices website.

Georgia's website links to the GA DHS YouTube page, which contains a

video on its new mobile app, and other videos related to the child support

program.

Massachusetts provides a helpful tutorial that encourages self-service

through its online Case Manager.

Michigan offers a useful video for its customers explaining how to navigate

the MiChild Support site, while also linking to the ACF video through its

MiChildSupport login page.

Montana has text and a video about a new law that allows continued

assistance to a custodial parent responsible for the care of a disabled adult

child.

Louisiana has a video explaining how to use CAFÉ, the Louisiana selfservices

portal.

Ohio's home page contains a video, Introducing Ohio's Child Support

Mobile App, along with links to the Apple App Store and Google Play Store

to download the app.
---
South Carolina's homepage includes a video, Child Support Portal

Demonstration, to show parents how to use its portal to access case

specific information.

PATERNITY AND PARENTAGE VIDEOS

A number of states have relatively generic, easily adaptable videos on their

websites about paternity acknowledgment, which can serve as prototypes

for other states.

District of Columbia has a video on its site detailing how to acknowledge

paternity for mothers and alleged fathers.

Illinois has two videos explaining the parental acknowledgment of

parentage process, Paternity 101 and How to Establish Paternity. Its How-

To Library also includes videos explaining business activity for obligated

cases such as review and adjustment, license suspension, and bank levy.

Illinois Child Support Services also maintains a YouTube channel that

shares much of this content and some independent content.

Louisiana features several paternity videos on its YouTube page.

Massachusetts has a helpful video in both English and Spanish,

"Establishing Paternity", that explains the many benefits to the noncustodial

parent, custodial parent, and the dependent in establishing paternity.

Minnesota has a paternity video on its YouTube page at Minnesota

Paternity, and a second video on community engagement with child

support customers at Minnesota Engagement.

Missouri features a video on its department's YouTube page explaining the

paternity acknowledgment process and free paternity testing.
---
On its "Establishing Paternity" page, Oregon has a video, Statement of

Rights and Responsibilities, Voluntary Acknowledgment of Paternity, which

is an oral version of the information found on the back of the state's

Voluntary Acknowledgment Form.

New York hosts a video on YouTube, Acknowledgment of Parentage in

New York. This 11-minute video is also in Spanish and covers natural

reproduction as well as assisted reproduction and surrogacy.

Tennessee's video offerings include on-line training programs for hospital

and health department staff, VAoP guide for Hospitals, and A Guide for

Health Departments, respectively. There is also an animated parent

education video in English and Spanish for Voluntary Acknowledgment of

Paternity.

Texas has a comprehensive 17-minute video on acknowledging paternity.

Washington's 5-minute Acknowledgment of Parentage video is in both

English and Spanish. It describes the process while emphasizing the

acknowledgment form is a legal document that comes with consequences.

The video also explains how to get genetic testing and how to deny or

rescind the Acknowledgment of Parentage.

INTERGOVERNMENTAL CHILD SUPPORT

As part of their recent Intergovernmental Case Processing Innovation

Grants, at least two states have posted videos for parents on their

websites:

• On its home page, North Carolina has a 26-minute PowerPoint

presentation, What is An Intergovernmental Child Support Case?,

which explains the process and helps set expectations for parents

who have cases involving anther state, territory, or tribal land.

• Under the heading of "Services>Intergovernmental>Outgoing

Intergovernmental Cases," North Dakota has two PowerPoint

presentations:

• Intergovernmental Child Support, which provides an overview of

the process when parents live in two different jurisdictions; and

• The Completing Forms video, which discusses the forms that

customers must complete in order to refer a case to another
---
jurisdiction. Along with the video are sample forms in an e-learning

format for General Testimony and Declaration Establishing

Parentage with text bubbles containing specific section-by-section

instructions. The sample forms would be useful not only for

intergovernmental customers, but also for child support and

customer service professionals to help their customers complete

these complicated federal forms.

With respect to state-tribal intergovernmental cases, the Iowa Child Welfare

Research and Training Project features videos dedicated to

intergovernmental child support with Iowa DHS and its ongoing relationship

with the Meskwaki Nation tribal IV-D program.

MODIFICATION VIDEOS

Massachusetts posted a modification video on its Massachusetts

Department of Revenue YouTube channel (in addition to several other

helpful videos).

Texas has a text-only presentation accompanied by music, Apply for a

Modification, that explains the 8 steps involved in a modification.

PARENTING VIDEOS

On its home page under "Related Resources," Connecticut links to the

John S. Martinez Fatherhood Initiative, which features a powerful video,

Connecticut Dear Dad, on the importance of paternal engagement with

their children.

Maine's website links to a YouTube video regarding the HOPE program

that offers resources to parents seeking pathways to employment.
---
Oregon has links to two videos for parents interested in parenting time:

• Custody and Parenting Time: What's the Difference?; and

• Parenting Plans⎯Why would you want one? (also available in

Spanish)

Texas has a page dedicated to co-parenting with a 22-minute video on the

topic, For Our Children: Learning to Work Together, and a downloadable

sticker calendar for parents and children to plan and track the time spent in

each parent's home. There is also a 21-minute presentation targeted to

Incarcerated Parents.

TRAINING

The Texas Parenting and Paternity Awareness (p.a.p.a.) curriculum is

designed to be used by schools and other educational and communitybased

organizations to teach young adults about parenting. It is entirely

online and readily accessible to educators as well as the general public. It

encompasses 10 sessions of approximately one-hour duration, and

includes handouts, teacher resources, group activities, workbook

exercises, and videos. See the introductory video, Section 1a-What is

P.A.P.A?, here.

Oklahoma has created Child Support Quest, a learning library for

Oklahoma child support professionals and a way for employees to submit

bright ideas that will improve child support performance, budget savings, or

program efficiencies. Child support workers access information on this site

daily from their offices, court, teleworking from their homes, or while on the

road, and call center employees often direct their customers to the site for

more information. A search for videos on the Quest website reveals a

number of short and useful videos for child support professionals to learn

about pertinent topics.

LIVE FORMS OF ENGAGEMENT

The Delaware IV-D Director answers questions live once monthly on the

Child Support Connection, which is streamed on Facebook for one hour.

Past discussions are posted in the Facebook Video File. Director Mermigos

also has a standing commitment to a radio talk show for an hour each
---
month. (Note: Many states may not permit readers to access social media.

See the Delaware website for more information.)

Massachusetts is promoting its Virtual Counter. In addition to facilitating

virtual meetings with customers, the Virtual Counter allows IV-D colleagues

to discuss and resolve reciprocal UIFSA cases using Zoom breakout

rooms.

The Mississippi DHS conducts Town Halls that are available on its

YouTube page. This one covers child support.

As of the date this article was written (December 2021), New York offered

an online Employer Conference scheduled for December 8, 2021. The

purpose was to help employers understand their legal obligations and

obtain guidance on topics such as new hire reporting and processing

income withholding and medical support orders.

DISCUSSION

States have generally posted very comprehensive and useful information,

particularly in the areas of intergovernmental and paternity

acknowledgment. Many states also have videos on establishment and

enforcement, which are not covered in this article due to limited space and

less applicability to other states; however, they can be found on state

websites and YouTube channels.

States have also linked to a plethora of outside services that can be useful

to parents with child support cases. In addition to its videos on divorce and

incarceration, Sesame Street in Communities offers a number of clips on

other topics of interest to families. Several states host their own YouTube

channels, which makes it easier for parents to search state-specific videos

rather than the overabundance of videos created by attorneys or angry

parents on how to fight child support.

While visiting the websites, the authors also noted some areas that could

benefit from improvement. For example, some great videos are buried in

state websites or just reside on YouTube without links from webpages, and

there are also some broken and mislabeled links. However, each website is

unique and different, some more comprehensive, or more easily navigable

than others, but all offer practical information for parents and many have
---
approaches, videos, and information that can be adapted or imitated by

other states.

Christopher Breen is in his 29 th year of child support enforcement, his 18 th in a

managerial capacity. Chris currently serves on multiple NCSEA committees. He is the

Deputy Director for the Northern Region of the Massachusetts Department of

Revenue's Child Support Enforcement Division. Chris has also acted as project

manager for several significant implementations, including Massachusetts' recent

Virtual Counter implementation that leverages Zoom breakout rooms to provide online

customer service. He possesses a B.A. from Providence College with a focus in

English, and an M.A. from the University of Massachusetts. Chris previously completed

a certificate program at Suffolk University, as he begins to pursue his M.B.A.

Mary Ann Wellbank is an NCSEA past president, honorary life member, and Kathy

Duggan Memorial Award Recipient. She is also a past president of the National Council

of Child Support Directors (NCCSD), and honorary life member of the Western

Intergovernmental Child Support Engagement Council (WICSEC). Mary Ann is the

longest serving member of the CSQ Editorial Committee. She has over 30 years'

experience in the child support program in the public and private sectors beginning with

a decade of service as Montana's IV-D Director. As president of her company, Mary

Ann Wellbank, LLC, she specializes in consulting, writing, and research.

GO TO NCSEA.ORG

AND LEARN ABOUT NCSEA BENEFITS & RESOURCES
---
Intergovernmental Hot Topics!

by Rob Velcoff

Intergovernmental Support Services

If you're one of those rare and special people who considers

intergovernmental child support hot topics—including interstate payment

processing, enforcement of "dead" cases, and $0 orders—exciting, then

read on. This article is for you. At the National Council of Child Support

Directors' (NCCSD) 2021 conference, a session was held where these

issues and others, including intergovernmental limited services, interest,

and interstate case closure regulations, led to a lively discussion. Many of

these policies are controversial, crying out for change. What specific

changes should be recommended are debatable, and there is not always a

one-size-fits-all answer. Still, solutions often start with discussions detailing

the problem areas. So, let's start with the following issues.

Interstate Payment Processing

Currently four different types of child support cases with orders, or

accounts, exist. They might be called by different names across

jurisdictions, but they are basically the following:

1. IV-D Cases

2. Non-IV-D Cases

3. Limited Services Payment Forwarding Cases

4. Arrears Balance Accounts

Everyone knows the most common case types, the IV-D and Non-IV-D

cases, so there is no need to provide details about those. The third type is

the Limited Services Payment Forwarding case. As often happens under

these circumstances, the criteria under which this type of case is used

varies greatly across jurisdictions. Limited Services Payment Forwarding

cases occur when the initiating jurisdiction requests payments be

forwarded from the responding jurisdiction's State Disbursement Unit
---
(SDU) to their own SDU, and nothing more. While this type of case should

be initiated by the requesting jurisdiction sending a Child Support

Enforcement Transmittal #3 to the Central Registry of the responding

jurisdiction, many states never make such a request, and instead use the

Child Support Enforcement Transmittal #1 - Enforcement (Box 3.A.) to

request the opening of a full IV-D interstate case. This occurs when the

initiating jurisdiction simply wants the responding jurisdiction to enforce the

order and send payments to the initiating jurisdiction. Previously called

Redirection of Payments, this action is now titled "Child Support Agency

Request for Change of Support Payment Location Pursuant to UIFSA §

319." Again, some states never request a Limited Services Payment

Forwarding case, probably because they do not have the ability to create

such a case on their own system. These jurisdictions have the ability to

create only full IV-D or Non-IV-D cases, not the other two limited types, so

they do not request this limited service from other states.

The fourth type of case is the arrears balance only case. Each jurisdiction

probably has a different name for this type of account. This type of case is

created when a state/territory/tribe had a IV-D case open at one point, but

the case met federal and/or state case closure criteria and was closed. Still,

that jurisdiction had established a child support order that remains ongoing,

so the controlling order state is still required to maintain the official

determination of arrears, regardless of whether or not payments are

directed through their SDU. Even if other states are currently receiving and

disbursing payments, the controlling-order state is required to maintain the

official payment record, including interest if applicable. Therefore, the

disbursing state must periodically inform the controlling-order state of
---
payments made, and the controlling-order state must maintain the official

payment record. This is outlined in OCSE's AT-17-07, Interstate Child

Support Payment Processing, and is a must-read for all child support

workers involved in interstate casework. As with Limited Services Payment

Forwarding cases, the majority of states currently do not have the ability to

create this type of accounting system for closed cases.

One should note that AT-17-07 was published four and a half years ago.

One would think that if child support programs wanted to create this type of

accounting, they would have had ample time to do so by now. Also, federal

financial participation is generally not available for this type of case, further

dampening states' desires to spend the time and resources necessary to

update their systems to do so. That last sentence apparently sums up the

way that many different jurisdictions seem to feel about these last two types

of cases. They have survived since AT-17-07 was published without their

involvement with these types of accounts, so what is the incentive to create

them now? A very limited number of cases exist where this type of scenario

is even applicable. Controlling-order states frequently close their cases with

no official payment record from that point on, and the other states who are

working the case manage just fine. And it appears the majority of states are

operating in this fashion. If they have not created these two limited types of

accounts after all this time, it's a safe bet to assume they have no intention

of doing so now.

If the majority of states are loath to make

the changes necessary for limited services

payment forwarding cases and arrears

balance only cases, perhaps we really need

to consider changing the requirements for

these types of accounts. The entire concept

that the state that issued the controlling

order must maintain the official payment record is something that came

about during the creation of the 1996 and 2001 versions of UIFSA. Still,

that concept is not found in UIFSA itself, nor is it found in any federal law,

rule, or regulation. It was only added into the official commentary to UIFSA,

which is not officially binding. OCSE took that 20+ year-old concept and

built federal policy around it.

The original idea was a good one, as states would often disagree on the

arrears amounts in their two-state cases, even after comparing payment

histories. So a tie-breaker was needed. If there were an interstate case

between, say, California and Florida, and California had the arrears on the
---
case at $6,000 but Florida showed the arrears to be $5,000, the best way

to settle things was that the state that issued the controlling order had the

official determination of arrears, and both states were bound by this. So in

the preceding scenario, if the court order was issued by California, the

arrears on the case were officially $6,000 and both states had to use this

amount. This was especially helpful for states that charged interest. This

concept was never meant to require states to keep their cases open

indefinitely, especially in limited form, after federal and state case closure

criteria applied. Controlling-order states should be able to close their cases

under appropriate criteria in CFR § 303.11, and the disbursing state can

then be charged with maintaining the official determination of arrears from

that point on. This would require the creation of an "Arrears Calculator" to

determine other states' interest rates, which is an extra step, but once such

a tool is created it should be simple enough to maintain and periodically

update. This seems much simpler than having two separate types of

accounts that are seldom (and in many states, never) used.

Enforcement of "Dead" Cases

Child support workers in responding jurisdictions really dislike when they

are asked to register and enforce a child support order from another state

when the noncustodial parent has no income or assets. Workers

understand that the case doesn't

have to be an easy one: the NCP

can be self-employed, or have

hidden assets or a spotty work

history. Difficult cases can be

successfully managed. However,

if the case was 100%

unenforceable in the state that

issued the order, what makes the

issuing state think that the NCP's

current state of residence will have any better chance of success in

However, if the case was 100%

unenforceable in the state that issued the

order, what makes the issuing state think

that the NCP's current state of residence

will have any better chance of success in

enforcing the order at this time?

enforcing the order at this time? If the initiating jurisdiction has a "dead", or

completely unenforceable case in their state, and they have located the

NCP in another state but no new income or assets were found, should they

attempt to register their child support order in that new jurisdiction for

enforcement?

The easy answer is "no", why bother? But wait, perhaps there is some logic

to doing so after all. This reasoning comes from the fact that it is not always

clear as to whether an order is enforceable or not. Even if it's currently
---
unenforceable, will it be enforceable in the (near) future? The main reason

to register a court order for enforcement in another state is for judicial

remedies. One-state enforcement tools are currently so thorough and allencompassing

that the initiating jurisdiction can do almost all administrative

enforcement that the responding jurisdiction can do. The initiating

jurisdiction can issue an IWO, do federal tax offset, passport denial, most

bank levies, many property executions, the national Driver's License

Compact, multi-state FIDM, limited services cooperation between states,

multi-state lottery game intercepts, and a myriad of other administrative

enforcement tools that can be done by the controlling-order state without

the need to involve a second state's child support agency. This means the

main reason to register an order is judicial enforcement by bringing the

NCP into court for contempt. Since the 2016 Final Rule, before this action

can take place, the child support agency is required to prove the NCP has

the ability to pay the support obligation but failed to do so. So, for those

cases where the obligor simply does not have the ability to pay the support

order, there is no logical reason to register that order for enforcement in

their state of residence. Registration of the child support order should only

occur if the NCP has the ability to pay. And if the ability to pay exists, the

administrative enforcement tools at the disposal of the initiating jurisdiction

are generally sufficient for enforcement. Right?

Well, maybe. The obligor's current state of residence can enforce the order

in ways that the initiating jurisdiction cannot. In addition to judicial

enforcement, some local administrative enforcement tools exist. Location

efforts are easier by the responding jurisdiction. Many employment

programs and similar courses that are local to the NCP must be set up by

his or her in-state jurisdiction. It can be easier to monitor sporadic

employment by a local agency than by one halfway across the country. So

there is no clear and simple answer to this one; it must be a case-by-case

decision. Still, some common sense should be used when determining

whether to register an order in another state for enforcement. The key is

the "enforceability" of the order. If a realistic chance of successful

enforcement exists, then registration is the answer. However, if no

enforcement action can be taken on the case by the registering jurisdiction,

what is the point of wasting everyone's time and effort and limited

resources in registering an unenforceable order?
---
$0 Orders

During these difficult economic times, more jurisdictions are establishing

child support orders with a $0 obligation amount. These are not court

orders that do not list a child support obligation or pend the establishment

of a financial amount for a future time. These are not "non-financial" orders.

These are actually child support obligations for zero dollars. Not all states

use this option, as some have minimum wage orders as the lowest support

obligation amount they can establish. Still others have minimum needs of

the child orders. That being said, more courts are establishing $0 court

orders, or are modifying child support obligation amounts to $0 when the

obligor does not have the ability to pay. Can anything be done with these

orders if the case is interstate? Should these cases have been brought into

court in the first place? Aren't they the same as the "dead cases" discussed

previously?

They are definitely different and serve a purpose. First, parentage

(paternity) may be adjudicated based on the establishment of such an

order. Second, a child support order is created, setting legal terms such as

age of emancipation as well as jurisdiction for future modifications. Medical

support might even be tied to such orders. While establishment of these $0

orders serves many functions, interstate implications should be considered.

Can such an order be registered for enforcement? Technically, yes.

Realistically, these appear to be "dead cases" as previously discussed. It is

doubtful that most states would even accept such orders for registration.

One could argue that these $0 orders should be

registered and monitored for employment

programs or possible future modifications. In

theory, that might work. In reality, this may not be

a good use of limited resources. However, that

would be up to the registering state. Before

attempting to register a $0 order the initiating

jurisdiction should contact the responding

jurisdiction and simply ask them about it.

Communication is the key, as it is in much of the

intergovernmental case-processing world. Is there anything the responding

jurisdiction can do with such an order? Would they even accept the case

for registration in the first place? Is the NCP employable? Is the initiating

jurisdiction registering a third state's order that the responding jurisdiction

can be asked to modify at a later time? Again, the answer will vary, so it
---
ends up being a case-by-case decision. A conversation should certainly

take place between the two child support agencies before any type of twostate

action on a $0 order is attempted.

Final note: Additional topics will be covered in a future article. Also, please

remember that all of the suggestions in this article are simply that – ideas

for future consideration. Until and unless these recommendations are

enacted, the existing federal policies should still be followed by all

jurisdictions. These are simply theories for potential upcoming changes and

are definitely not the author's way of granting permission for anyone to try

to avoid the well-written and thought-out policy guidance scripted by our

OCSE colleagues.

Rob Velcoff is an independent child support consultant with his own agency,

Intergovernmental Support Services. Before starting his own agency, Mr. Velcoff

worked for the New York State Division of Child Support Services for over 30 years. In

May 2011 he became President of the Eastern Regional Interstate Child Support

Association (ERICSA). Mr. Velcoff has received several awards, including ERICSA's

Felix Infausto Award (President's Award). An individual member of NCSEA, Mr. Velcoff

received a BS in Criminal Justice from the State University College of New York at

Brockport and an MA in Criminal Justice from the State University of New York at

Albany.
---
Is NCSEA U For You?

NCSEA U was chartered in 2013 and currently has

more than 135 alumni. NCSEA U provides a unique

premier educational and professional development

opportunity. It is structured for learning leaders in the

child support community, and it complements NCSEA's

other educational initiatives and strategies. The

program is taught by nationally recognized child

support leaders, offering a variety of informative and

strategic topics. Classes are structured with an

emphasis on group discussions that include work/life balance and best practice initiatives

with real-time work environment scenarios.

Whether for yourself or your staff, NCSEA U offers a transformative learning experience

and is a catalyst for networking opportunities. NCSEA U alumni would love for you to

become a part of this unique group. Because we are proud of NCSEA U, we will be

featuring Alumni in upcoming CSQ articles. Their stories will highlight why NCSEA U is for

you.

Meet Our NCSEA U Alumni

Beverly C. Murphy, Esq. - Class 2019

New Jersey Administrative Office of the Courts

Chief of Child Support Client Services

What would you like others to know about NCSEA U?

Provides good networking opportunities with peers from other states who are experiencing similar

challenges.

NCSEA U @ Leadership Symposium focuses on the emerging and learning leader. How do you

define leadership?

Influencing, inspiring, and helping a group of people to act towards achieving a common goal.

Do you have a favorite quote that you refer to periodically?

"Unless you're continually improving your skills, you're quickly becoming irrelevant." Stephen Covey

Do you have a favorite author in the leadership space and/or would you recommend a specific

leadership book? Why?

The Seven Habits of Highly Effective People by Steven R. Covey. An enduring classic that remains relevant

decades after it was first published.
---
Ashley Dexter - Class 2016

Deloitte Consulting LLP

Senior Specialist

What was the most valuable aspect of the NCSEA U experience?

The most valuable aspect of the NCSEA U experience for me was getting to meet new child support

colleagues from across the country. To this day, I am still friends with many and look forward to visiting with

them at conferences and on committee calls. The networking opportunity is invaluable.

Since attending NCSEA U, what opportunities (personal and professional) have you experienced?

Since attending NCSEA U, I helped initiate and lead the first NCSEA Connects group which has developed

into a sub-committee. I was elected to the NCSEA Board of Directors and asked to co-chair the Leadership

Symposium planning committee three years in a row. Now, I get to give back by co-chairing the NCSEA U

committee in 2021-2022. I really see NCSEA U as a launching pad for my NCSEA involvement and growth

throughout the past several years.

What is a key leadership attribute that you appreciate in others? Why? Servant Leadership:

empowering your team because "The company owner doesn't need to win. The best idea does." John

Maxwell

Stacy Sharon - Class of 2019

Virginia Division of Child Support Enforcement

District Administrator

What would you like others to know about NCSEA U?

This provides an excellent opportunity to expand leadership skills and knowledge through firsthand

experiences shared by child support colleagues throughout the United States.

NCSEA U @ Leadership Symposium focuses on the emerging and learning leader. How do you

define leadership?

The ability to lead a team in a manner that fosters trust, professional growth, commitment, and dedication

for the purpose of achieving a common goal.

Do you believe that attending NCSEA U helped to shape this definition? How or how not?

It did not shape the definition, but it definitely provided ways to accomplish the goal through the shared

experiences and knowledge of accomplished leaders.

Why would you recommend NCSEA U to others?

NCSEA U will stretch you beyond.
---
Don't Stand Up if You Aren't Wearing

Pants and Other Stories Beyond the Pale

by Mary Ann Wellbank, CSQ Editorial Committee

When the CSQ Editorial Staff put out a call in the Rapid Read for tips and

experiences using videoconferencing, we thought the title, Don't Stand Up

if You Aren't Wearing Pants, would encapsulate the most outlandish

experiences NCSEA members had with virtual meetings. Not by a long

shot! Your contributions have exceeded our expectations.

Once it is seen, it cannot be unseen!

Under the category "Yuckiest Moments" are customers who have attended

hearings from their beds or bathrooms. These are true stories from the

child support annals:

"A client showed up on video lying on his bed without a shirt, eating chili

and a grilled cheese sandwich. The judge told him to put a shirt on as it

was a court hearing, and the guy stated he didn't have to."

"Last December, one party showed up for a divorce hearing lying in bed

with revealing Christmas PJs."

"A 35-year-old… father was sitting in the bathroom bare chested. He was

told to put a shirt on to continue. He started yelling for his mommy to get

him a shirt…."

"One of the attendees was using computer for voice and audio and

apparently needed to … go to the bathroom, taking the laptop with him,

without turning off the microphone or camera."

"Meeting from his bedroom, lying on his bed, with the laptop on his chest,

pillow in plain sight."
---
"My workstation is in my bedroom. My husband sat on the bed to change

his clothes and the camera had him in the upper left corner."

"Enjoyed hearing someone flush the toilet once. Thankfully, I couldn't hear

what happened prior to the flush. "

"During a conference, someone had their camera phone with them when

they went to the bathroom… oh what did I

see (and hear)! The messy bathroom with

towels all over the floor. If I wasn't shocked

about him taking the phone to the potty, I

was shocked at the grown person still

leaving towels on the floor."

Remember the mute button!

Another frequent and annoying occurrence is failure to correctly use the

mute button.

"A person… started making a fast-food breakfast order without knowing

they weren't on mute⎯a sausage Egg McMuffin®, hashbrowns, and a

large diet coke meal."

"During the roughest part of the pandemic, (a) teenager interrupted the

training to ask to go eat lunch outside at the park. The (external) trainer

thought she had muted herself (but didn't) and ended up lecturing her child

about why it wasn't safe to be around people at that time. It was awkward

and a train wreck and I couldn't look away."

"A person talking to their kids about how to cook eggs when they thought

they were on mute."

"I was hosting a virtual meeting and thought my sound and video were off

while I was waiting to start the meeting. Wrong! I had been singing with the

radio for about 3 minutes before anyone told me I wasn't on mute. . . .

Luckily, my video was off because I had been chair dancing, too!"
---
Pets, Children and Spouses. Oh my!

One individual observed, "Pets, children, and spouses can always be

counted on for the unexpected." Indeed!

"My Pitbull Terrier tried to get in my lap to see my boss on my computer

screen and knocked me out of my chair."

"While I was busy listening (and taking notes) during a video call, my cat

jumped up… (and) tapped the web cam cord just enough to move the

camera so it was focused on the stove vent and cupboard above it (vs.

focused on the pretty door behind me)."

"At a Zoom Court hearing, a judicial officer had a green screen (essentially

a green bed sheet) up behind her with her official court seal projected

virtually. In the middle of the hearing, her cat jumped on the sheet and tore

it down making the judicial officer all flustered.… Fortunately, it was just a

blank wall with some family pictures behind that sheet and not her bedroom

or something worse."

"At the start of the pandemic … whenever my 8-year-old grandson came

into the living room where I would telework, he would easily see that I'd be

on a video call… a year later, COVID restrictions were loosened and my

family and I attended our local county fair … wearing masks was still

required. As we were about to sit down in a large picnic area … my coworker

called out to me. I asked her how she recognized me with a mask

on. She pointed to (my grandson) and said, 'Your grandson took off his

mask and I recognized him from the times he would pop up in our

meetings.'"

That's not all, Folks!

Yes, there are more anecdotes, some humorous; others serious.
---
could see me."

"I forgot I had my night scarf still on."

"When we first started using Zoom, I

thought that when the presenter shared the

screen, it meant no one could see each

other. The presenter shared the screen. I

had an evening meeting and I was starved

so started eating a bowl of spaghetti in a

barbaric manner (which I would never do in

public) … I later found out that everyone

"I had a call with a participant who decided to run some errands.… Her

camera clearly showed her driving down the freeway in her car."

"The NCP thought the (virtual hearing) had ended and he was on with just

the CP, but the case manager was still on the call. The NCP made some

pretty threatening statements about the CP. It caused the case manager to

activate the DV (Domestic Violence) Training and warn the CP about the

comments. The CP had muted the NCP so she didn't hear what he said.

We were able to get an order of protection."

Best Practices

Survey respondents suggested best practices for hosts and participants,

summarized below. Video conferencing experts agree.

Host Responsibilities

• Start the meeting on time and admit participants promptly.

• Set up conferences to default to mute. This will help ensure that

unintended audio is not heard by the participants. Participants must

purposely unmute in order to speak.

• Create a virtual seating chart for regular meetings, if available.

Zoom, for example, allows the host to create a fixed seating

configuration. This feature is especially useful for activities that

involve calling on people to speak in a specific order or putting

participants into virtual groups.
---
• Conduct a roll call from a list. It is easier and takes less time than a

"shout out."

• Know all the platform's features and enable those you want to use to

customize the experience.

• Allow time for people to network or use an icebreaker (check out

"MUTE-iny") to facilitate conversation, and engage people during the

meeting.

• Use the video but forewarn participants so they can prepare to be on

camera. Video conferencing helps people connect, especially when

they work remotely.

• Disseminate an agenda for each meeting and stick to it! Keep the

length⎯and frequency of⎯

meetings manageable. Beware of

video burnout: too many hours a

day in virtual meetings can cause

physical and emotional fatigue.

Schedule breaks.

• If you plan to grant other individuals

permission to present, know how to

share the screen, and verify they know how to give an online

presentation.

• Ask a co-worker to serve as co-pilot when running a large meeting.

• Communicate your expectations and ground rules in advance. This is

especially important for first-timers and parties to hearings. Spend the

first few minutes reviewing the rules and explaining the

teleconferencing features.

Participant (including Host) Responsibilities

• Familiarize yourself with the platform prior to the meeting.

• Test the device's speakers and microphone before the call and, if

possible, use headphones to minimize external noise.

• Update your name; otherwise, it might default to a previously used

moniker or your device name, e.g., iPhone.

• For video meetings:
---
• If you use an external camera, position it so that you face it

directly. This can be tricky with dual monitors. Check the

external camera before each video call to ensure it is at eye

level.

• Check the camera angle too so that your whole face is visible,

and that the audience is not looking up your nostrils.

• Your background should be tidy and appropriate. Staging your

area is important to creating a professional image. We've all

seen messy rooms, open closets, or, as one colleague

observed, towels all over the bathroom floor! Most platforms

allow participants to blur their screens or add virtual

backgrounds, which are simple solutions, however these

features often cause your on-screen image to quiver. Some

agencies have created their own backgrounds. Other options

are to purchase a green screen or an office-themed backdrop.

Backdrops are inexpensive and clever ways to hide

workspaces that are set up in laundry rooms, garages,

bedrooms, or kitchens.

• Dress for the workplace or court, and make sure you are wellgroomed.

Like it or not, your attire sends a silent, possibly

inaccurate, message about you and your job skills.

• Wear pants! Fishbowl, a semi-anonymous networking app,

conducted a 2020 Coronavirus Survey that revealed nearly 10

percent of people wear only underwear below the belt during

video conference calls! They didn't ask how many men didn't

wear shirts, or how many people video-called from the

bathroom, but our own informal NCSEA CSQ survey exposes

this practice.

• Safeguard your privacy: avoid displaying items that could reveal

your location or personal information to the public.

• Turn on your camera while speaking.

• Turn off your camera if you encounter issues with bandwidth,

but first turn off your robot vacuum and ask the kids to stop their

video games or streaming.

• Lighting is important. Experts recommend facing a light source

and optimizing natural lighting. To minimize eye glass glare, try
---
to light your face from the top and the side, and if possible, tilt

your spectacles to avoid reflection of the computer screen.

• Make sure your device battery is plugged in or sufficiently

charged and your computer does not fall asleep!

• Know the rules about eating, drinking, and smoking. In formal

setting, such as hearings or meetings with community

members, drinking water might be okay, but eating is generally

impolite and probably taboo! On the other hand, a snack or

sandwich may be perfectly acceptable for an intra-office

meeting with your peers. Best advice: Investigate before you

masticate!

• If you will be presenting, close all other windows and make sure you

know how to share your screen. This can be particularly challenging if

you have dual monitors. Rehearse your presentation using the

teleconferencing platform so you know which screen to display. Exit

other systems to avoid accidentally disclosing confidential data. Also,

turn off your email so that viewers do not see pop-up messages.

• Be present and remain engaged. Avoid multi-tasking. Some platforms

can detect inattentiveness.

• Ask household members not to interrupt you and post a sign to

remind them. Develop a plan to keep children and pets occupied so

they don't require your attention during the call.

• Know how to use the mute button and use it when you are not

speaking in order to minimize background noise. Double check it

before you yell at pets or family members or start clicking away on

the keyboard! Remember to unmute as well.

• Use the hand-raising feature, if available, in larger meetings to

indicate you'd like to speak.

• Be careful when using a "chat box" to ensure your conversation is

directed to the right recipient, otherwise it defaults to "everyone."

• Don't leave the conference⎯even for a quick break⎯without letting

people know.

• And the best advice of all: Handle mistakes with grace.

Most contributors agreed that video should be on during meetings but be

cognizant of what people are seeing⎯and be mindful of the mute button!
---
Where to go from here

Thanks to those who shared their best practices and personal experiences

with teleconferencing. They were spot on!

A plethora of useful resources is on the internet as well. Search and you

can find conferencing advice and how-to videos. Suggestions range from

best colors to wear, using meeting rooms, must-have technology,

icebreaker games, closed captioning, live transcription, meeting etiquette,

teambuilding, etc. Let your fingers do the walking!

And, finally, a little poem to convey our wishes for you in 2022:

May your conferences go smoothly with everyone clothed.

May there be no videos of hairs in your nose.

May the mute button work with flushes suppressed,

And no man present baring his chest.

May the beds be made and the kitchen be clean

With no cluttered background destroying the scene.

No cats, dogs, or kids' noise to be heard,

And nobody says a disparaging word.

And, if you dread the next video call,

Merely click on "Zoom," then hit "Uninstall."

Mary Ann Wellbank is an NCSEA past president, honorary life member, and Kathy

Duggan Memorial Award Recipient. She is also a past president of the National Council

of Child Support Directors (NCCSD), and honorary life member of the Western

Intergovernmental Child Support Engagement Council (WICSEC). Mary Ann is the

longest serving member of the CSQ Editorial Committee. She has over 30 yearsexperience

in the child support program in the public and private sectors beginning with

a decade of service as Montana's IV-D Director. As president of her company, Mary

Ann Wellbank, LLC, she specializes in consulting, writing, and research. She possesses

a B.A. in English and an M.B.A. in finance. Mary Ann and her colleague, Jeff Ball, coauthored

a book, "The Insiders' Guide to Child Support: How the System Works," a

valuable resource for parents and child support professionals who need to know the

nuts and bolts of the IV-D program.