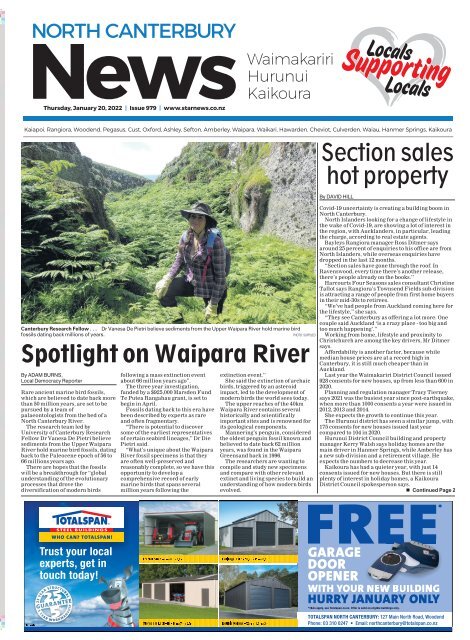 North Canterbury News: January 20, 2022
You also want an ePaper? Increase the reach of your titles
YUMPU automatically turns print PDFs into web optimized ePapers that Google loves.
Locals

Supporting

Locals

Thursday,January20, 2022 | Issue979 | www.starnews.co.nz

Section sales

hot property

By DAVID HILL

Canterbury Research Fellow ... Dr Vanesa De Pietri believe sediments from the Upper Waipara River hold marine bird

fossils dating back millions of years.

PHOTO: SUPPLIED

Spotlight on WaiparaRiver

By ADAM BURNS,

Local Democracy Reporter

Rare ancient marine bird fossils,

which are believed to date back more

than 50 million years, are set to be

pursued by ateam of

palaeontologists from the bed of a

North Canterbury River.

The research team led by

University of Canterbury Research

Fellow Dr Vanesa De Pietri believe

sediments from the Upper Waipara

River hold marine bird fossils, dating

back to the Paleocene epoch of 56 to

66 millions years ago.

There are hopes that the fossils

will be abreakthrough for "global

understanding of the evolutionary

processes that drove the

diversification of modern birds

following amass extinction event

about 66 million years ago".

The three year investigation,

funded by a$925,000 Marsden Fund

Te Putea Rangahau grant, is set to

begin in April.

Fossils dating back to this era have

been described by experts as rare

and often fragmentary.

"There is potential to discover

some of the earliest representatives

of certain seabird lineages," Dr Die

Pietri said.

"What's unique about the Waipara

River fossil specimens is that they

are often well­preserved and

reasonably complete, so we have this

opportunity to develop a

comprehensive record of early

marine birds that spans several

million years following the

extinction event."

She said the extinction of archaic

birds, triggered by an asteroid

impact, led to the development of

modern birds the world sees today.

The upper reaches of the 40km

Waipara River contains several

historically and scientifically

important sites and is renowned for

its geological components.

Mannering's penguin, considered

the oldest penguin fossil known and

believed to date back 62 million

years, was found in the Waipara

Greensand back in 1996.

The researchers are wanting to

compile and study new specimens

and compare with other relevant

extinct and living species to build an

understanding of how modern birds

evolved.

Covid­19 uncertainty is creating abuilding boom in

North Canterbury.

North Islanders looking for achange of lifestyle in

the wake of Covid­19, are showing alot of interest in

the region, with Aucklanders, in particular, leading

the charge, according to real estate agents.

Bayleys Rangiora manager Ross Ditmer says

around 25 percent of enquiries to his office are from

North Islanders, while overseas enquiries have

dropped in the last 12 months.

''Section sales have gone through the roof. In

Ravenswood, every time there's another release,

there's people already on the books.''

Harcourts Four Seasons sales consultant Christine

Tallot says Rangiora's Townsend Fields sub­division

is attracting arange of people from first home buyers

in their mid­30s to retirees.

''We've had people from Auckland coming here for

the lifestyle,'' she says.

''They see Canterbury as offering alot more. One

couple said Auckland 'is acrazy place ­too big and

too much happening'.''

Working from home, lifestyle and proximity to

Christchurch are among the key drivers, Mr Ditmer

says.

Affordability is another factor, because while

median house prices are at arecord high in

Canterbury, it is still much cheaper than in

Auckland.

Last year the Waimakariri District Council issued

928 consents for new houses, up from less than 600 in

2020.

Planning and regulation manager Tracy Tierney

says 2021 was the busiest year since post­earthquake,

when more than 1000 consents ayear were issued in

2012, 2013 and 2014.

She expects the growth to continue this year.

The Hurunui district has seen asimilar jump, with

175 consents for new houses issued last year

compared to 104 in 2020.

Hurunui District Council building and property

manager Kerry Walsh says holiday homes are the

main driver in Hanmer Springs, while Amberley has

anew sub­division and aretirement village. He

expects the numbers to decrease this year.

Kaikoura has had aquieter year, with just 14

consents issued for new houses. But there is still

plenty of interest in holiday homes, aKaikoura

District Council spokesperson says.

Continued Page 2

Trust your local

experts, get in

touch today!

Tractor Shed - 7m x 6m x 3.6m

Heritage Barn - 10.5m x 11m x 2.7m

GARAGE

DOOR

OPENER

WITH YOUR NEW BUILDING

HURRY JANUARY ONLY

*T&Cs apply, see Totalspan.co.nz. Offer is valid on eligible buildings only.

HC TLS2151

Storage & Lock-up - 16m x 7m x 2.7m

Double Garage - 7.5m x 10.5m x 3m

TOTALSPAN NORTHCANTERBURY: 127MainNorth Road, Woodend

Phone: 03 3100247 •Email: northcanterbury@totalspan.co.nz
---
NEWS

2 The North Canterbury News, January 20, 2022

Grow

customers,

salesand

profits

with North

Canterbury's

bestread

newspaper

Readership: 51,000 weekly

Circulation: 30,150copiesdelivered

to EVERY farm, RD, lifestyle block

and home inWaimakariri, Hurunui

&Kaikoura every Thursday.

news

Robyn Bristow

Managing Editor

027 312 1581

robyn.bristow

@ncnews.co.nz

Reporters

David Hill, Shelley Topp.

advertising

DaynaBurton

Sales Manager

027 312 0089

dayna.burton

@ncnews.co.nz

AmandaKeys

Advertising

027 536 6224

amanda.keys

@ncnews.co.nz

JillianDickie

Advertising

022 024 3092

jillian.dickie

@ncnews.co.nz

getintouch

Editorial

info@ncnews.co.nz

Advertising

sales@ncnews.co.nz

Graphic Design

heather.hood@ncnews.co.nz

Distribution/Deliveries

03 314 8335

Rangiora: 03 313 2840 /03314 8335

14 Ashley St, Rangiora

Christchurch: 03 364 7460

www.starnews.co.nz

Following in his hero'sfootsteps

By SHELLEY TOPP

ASefton boy, whoisinspired

by English broadcaster,

conservationist,natural

historianand authorSir David

Attenborough, has written a

natural historybook.

JamesRyan's book Nature's

Wildlife Weapons will be

launched at Christchurch's

Canterbury Museum next

Thursday (January27) to tie in

with the museum's Fur, Fangs

and Feathers exhibition.

''SirDavid is one of my

absolute heroes,''James said.

''I watch his programmesall

the time.''

The Nature's Wildlife

Weapons book began as a

school project in 2019 when

James, now aged 12, was a

student at Sefton School.

Whilecompleting the

assignmentaboutanimals with

special physical qualities,

Jamesbecame so excited about

the infomation he was

discovering thathewanted to

shareitwith other children his

age. With thisinmind he sent a

copy of his completed

assignment, which was in book

form,toBateman Booksin

Auckland.

They loved hiswork and

decided to publishit.

''They corrected some of my

spelling and have done an

awesome job with the book,''

Jamessaid.

The book'stargetreaders are

thoseaged six to 12, but James

is hoping adults willalso read

his book, which includes

sectionsabout ''special

Woodend builds attractive

From Page 1

Woodend is leadingWaimakariri's

building boom with 214 consents, on the

backofthe growing Ravenswood subdivision.

Kaiapoiwas not far behind with194

consents as the Silverstream subdivision

continues to attract buyers.

Afurther 161 consents wereissuedin

Rangiora, led by Townsend Fields, 147 in

Pegasus and 155 in rural areas.

Just three consents wereissuedin

Oxford.

While there is abuilding boom,itisnot

getting anyeasier for people on low

incomes andthose stuck in the ''rental

trap''.

Mr Ditmer says Canterbury'shousing

stock is ''very low'', with only athird of

the propertylistings there were afew

years ago.

animals''like the

therizinosaurus which lived in

Asiaabout 70 million yearsago

and ''had clawsaslong as my

arm'', and the megalodon, an

extinct species of mackerel

shark which had teeth the size

of aman's hand.

Eachanimal featured in the

book, including New Zealand's

extinct Haast's eagle, which is

believed to havebeen the

largest eagle to haveexisted,

has an accompanying image.

The Haast's eagle image, one of

James's favourites, was

suppliedbyNickKeller, senior

concept artist at Wellington's

WetaDigitalWorkshop.

The book also includes a

section on Joan Wiffen aselftaught

palaentologistwho

called herself ''an amateur''

but found the first evidence

thatdinosaurs had once

existed in New Zealand.

James spent manyhours

researching information for

his school project at the

CanterburyMuseum, which

has been afavouriteplace to

visit sincehis early childhood.

''I was granted behind­thescenes

access to see moa bones

and other itemsthat the public

do notget to see, so that was

pretty special,'' he said.

The foreword for his book

was writtenbyCanterbury

Museum director Anthony

Wright, who recognised his

own,youngself in Jamesand

generously gave his time to

support him.

Nature's Wildlife Weapons is

afine book, full of science and

history, but what shines

Properties arescarce in the Hurunui

district, with just three properties for

saleinHanmer Springslast week, he

says.

Rentalproperties arealsoscarce.

Last week there were just five rental

propertieslistedinRangiora, and 23

across theWaimakariri district, Mr

Ditmersays.

Just afew yearsago there were

regularly up to 50 rental properties listed

in Rangioraalone.

Waimakariri DeputyMayor Neville

Atkinson says the councilwillbetaking a

closer look at the rental market this year.

''AnecdotallyIhave heard of someone

who applied for 34 rentals before finally

getting oneand I'vehad another two or

three asking questions,soweneed to do

somework to find out what's changed in

the last few months.''

THE SUMMER HEAT

HAS ARRIVED!

During summer there are often regional

fire bans and water restrictions.

Keep an eye on your local council's website

for any water restrictions.

For fire restrictions go to www.checkitsalright.nz

BE FIRE SMART AND

WATER WISE THIS SUMMER

Natural history captured ... James Ryan, the author of Nature's

Wildlife Weapons,outside the Canterbury Museum. PHOTO: SUPPLIED

through is passion,'' Anthony

said.

''James' story of collecting

specimensfrom an earlyage, of

spending countless hours

combing the collections of this

museum, is afamiliar one for

many curators.''

James also received help

and support from the

museum's communications

and marketing manager Vicki

Blyth.

She is alsothe Word

Christchurch Festival's

chairwoman and recognised

James's writing talent.

The young author will

donate the proceeds from his

booktothe museum''to give

something back''tothe staff for

their help and support.

Lost &found

The following property has been

reported to the North Canterbury

policeasbeing lost:

Have you seen it?

An 18ct engagementring with a

princess cut diamond, ablack

men's leather wallet, ablack

three foldColorado wallet, a

brown men's shoulder bag, ared

and white patterned wallet, a

Samsung phone,acomputer bag

containing Mac Pro and an iPhone

8+, and aToyota remote and other

keys.

The following property has

been reported to the policeas

being foundinNorth Canterbury:

AHuawei tablet (Kaiapoi).

The Widest

Music

Variety

Friday 6pm &

replayed at 12pm

Sunday

Tune in nowtolisten on

104.9 for North Canterbury

103.7 for Hanmer Springs

andKaikoura
---
Police seek road sign vandals

By ROBYN BRISTOW

Roadsignshave been pushed

overand defacedbyvandalsin

North Canterbury's high

country, hittingthe pocketsof

HurunuiDistrict Council

ratepayers and visitors.

The council is workingwith

the policetoidentifythe

culprits whodamagedroad

and information signs

belongingtothe council and

Department of Conservation

(DOC) over theChristmas /

New Year holidayperiod in

Molesworth Station.

Signs on the Clarence

Valley, Tophouse and

Molesworth Roaduptothe

AcheronAccommodation

House weretargetedbythe

vandals.

Two signsprovided an early

alert to roadusersthatthere is

no accessfromthe northern

end of theAcheron Road, in

Molesworth Station, outto

Blenheim via the Awatere

ValleyRoad,due to storm

damage lastJuly.

Flattened ... One of the victims of vandalism.

Many visitorswere

inconvenienced,and forced to

turn backbeforerealising they

could nottravel on to

Blenheim.

Council'steamleader for

roading, KaitMurray, says

thereisalistofprojects in the

works programmethe council

would really like to spend

money on.

''It is abig shame it has to be

wastedonmopping up the

mess of thoughtlessactslike

this.

"TheseCouncil­owned signs

arenot replacedorfixed for

free.

''Thefunds come straight

from our ratepayers,"she says.

DOCSenior Heritage and

Visitors RangerJames

Gilmoursays the DOC signs

providevaluableinformation

forvisitors to Molesworth.

"It's frustratingthat

someone has deliberately

damaged signsthat are helpful

to peoplewhen makinga

holiday tripintoMolesworth."

Some signscan be reerected,

but some signswill

need to be replaced.

If anyonehas any

NEWS

The North Canterbury News, January 20, 2022

PHOTO: SUPPLIED

information, please contact

the council on 03 314 8816or

Doc at 0800 DOCHot/ 36 24 68.

MP says bill process is undemocratic

By SHELLEY TOPP

WaimakaririMPMattDoocey has

criticised theundemocratic process

behind theCanterbury Regional

Council (NgāiTahuRepresentation)

Bill.

The bill is beingpromotedbythe

Environment Canterbury Regional

Council (ECan) andwas putforward

by LabourMPRino Tirikatene.

It seeks to enable Te Runangao

NgāiTahu to selecttwo members to

be appointed to ECan,withthe same

votingrightsasthe democratically

elected councillors,after October's

local bodyelections.

The bill passed itsfirst reading in

Parliament on December 8last year.

It is now before the parliamentary

selectcommitteeand is openfor

public submissions which close on

February 2.

Speaking as leadspeakerfor the

NationalPartyduring thebill's first

reading,MrDooceysaidhis party

disagreedwiththe billbecause there

wasnoreason whyNgaiTahu

candidatescould notbe

democratically electedontothe

regional council.

He also criticisedthe lackof

opportunity forpublic consultation

on the billbefore the first readingof

it in Parliament.

''Thisisactuallyaradicalchange to

local bodyelectoral laws that have

stood thetest of timefor 150 years.''

Manypeople in Canterbury were

concernedthat there had been no

publicconsultationonthis bill before

the select committee stage, he said.

''Why was therenopublic

consultation? Where wasthe public

consultationdoneatanECan level?''

The wordinginthe commentaryon

the bill, whereECansaid''direct

appointment'' waspreferred, was

alsocriticised by Mr Doocey.

''Well, what does thepublic prefer?

We don'tknow, because therewas no

publicconsultation,'' he said.

Mr Doocey also reminded the

Labour Government that it had

''screamed black and blue''in2010

whenthe National Government

sackedECan's democratically

electedcouncillors andreplaced

themwith anew team of Governmentselected

commissioners ledbyDame

Margaret Bazley.

The movewas described by Labour

MPs at the timeasanoutrage to

democracy.ECan was restored to a

fulldemocraticcouncil at local body

elections in 2019.

The Canterbury RegionalCouncil

(NgāiTahu Representation) Bill had

been defeated in Parliament

previously (onApril 32019) andstill

posed someimportant unanswered

questions, Mr Doocey said.

''It is about enactingvotingrights,

butitisactually bypassingthe

democratic rule of beingelectedto

come in to castthat voteonbehalf of

people, and thenthere was no

consultation.What precedentisthis

goingtobeset?Are we going to start

appointing peopleatlocal body level

that havenot sought or gonethrough

theelectoralprocess, who havenot

been elected? Whereisthe view of

thepublic andwhere is the mandate

of thepublic in thisbill?''

Mr Dooceyalsonoted thatNgai

Tahu already had ECan

representation.

Two NgaiTahu representatives,

withoutvoting rights,but on asimilar

salaryasanelected ECancouncillor

of about $63,000annually, were

appointed to the ECancouncil in

2020.

ECan chairwoman Jenny Hughey

hassaidshe is thrilled that the bill

haspassed itsfirst reading.

''This hascleared theway forthe

bill to movetothe selectcommittee,

whichhas now openedthe

submissions processsopeople can

comment on it,''she said.

MASTER BUILDER

LocaltoNorth Canterbury.

arthur@robertsonbuilding.co.nz

www.robertsonbuilding.co.nz

3

CALL ARTHUR 027 2451601

BARNS/FARM BULDINGS•RIB RAFT FLOOR SYSTEM INSTALLATION

PROJECTMANAGEMENT•ADDITIONS•NEW HOMES

HOME MAINTENANCE•EQC REPAIRS•ALTERATIONS

FREE QUOTES

LAWNMASTERESTATE ESTATE SPECIAL

Save $100 on the Lawnmaster

Estate range *

Check

Out These

Features:

• Ball Bearing Wheels ESTATEECO READYSTART

• Ready Start Engines (no priming)

• Quality Alloy Chassis with LIFETIME Warranty

• 5Year Engine Warranty

• Oiled &Fully Assembled

*Excludes the Estate 400

109 th Kaikoura A&P Show

26 th February 2022

Schedule out now

Entries and trade site bookings at

www.showdayonline.com

kaikourashow@gmail.com

(Show arena irrigated)

All Entries Close January 28 th 2022

Grand Parade: 2pm

Admission: $8, Children 12yrs &under

&cars free

Entertainment for Everyone

Introducing... Silly Billy roving clown

and PEDAL MANIA

Trades • Horses • Produce

2434806

Was$849

Now $749

360 FlaxtonRoad,Rangiora

Ph 03 313 5563

www.kingsmowersheating.co.nz

...and much more!

President –Colin Nimmo

Proudly sponsored by the team at Driftwood

Eco Tours www.driftwoodecotours.co.nz

2021055

2419884

2187722

Kaiapoi Mill, Ranfurly Street,

Kaiapoi

Ph 03 327 0576

Monday –Friday 9am –5pm

Saturday 10am –1pm

Closed on Public Holidays

and long weekends

2441706
---
NEWS

4 The North Canterbury News, January 20, 2022

Vax policies vary at NC councils

By ADAM BURNS,

LOCAL DEMOCRACY REPORTER

The Hurunui District Council is not

recording the vaccination status of its

180­plus employees and is not requiring

vaccine passes at its facilities.

But council bosses say it is consulting

on an internal vaccination policy for its

staff, contractors, and volunteers which

is still at the draft stage.

The approach differs from the other

North Canterbury councils where

restrictions are in place for the

Waimakariri and Kaikoura districts.

The Government's traffic light system

is set to be reviewed this week as the

threat of the Omicron­variant of Covid­

19 looms large.

The system which replaced the alert

level framework in early­December has

accentuated freedoms for the

vaccinated.

Hurunui District Council chief

executive Hamish Dobbie says

government guidelines have not

determined vaccine passes needed to be

implemented to date.

''The exception to this is where

facilities are not situated on council

property and central government has

mandated vaccination and the use of

vaccine passes,'' he says.

There is 187 staff employed by the

council, including 129 who were fulltime,

or full­time equivalents.

''A draft vaccination policy has been

developed, and is being consulted on

with staff, contractors and volunteers,''

Mr Dobbie said.

Orange settings under the traffic light

system require tougher restrictions for

organisations who were not enforcing

vaccine passes.

However, the Ministry of Business,

Innovation and Employment (MBIE)

confirmed there were no restrictions on

Hamish Dobbie

the number of workers, nor

requirements for vaccinations in

industries ''not captured by specific

restrictions in the Covid­19 Protection

Framework''.

''Workplaces should consider how

they are managing Covid­19 as part of

business continuity and health and

safety, and take steps they deem

appropriate for their specific situation,''

an MBIE spokesman said. Council says it

is utilising the one metre spacing rule

and a''high level of sanitisation''.

Mr Dobbie said it was not recording

the vaccination status of staff but it was

being "contemplated" in the draft

policy.

''Health and safety of our facilities for

the whole council team and the

members of the public who use our

facilities is monitored on an ongoing

basis and adjustments made as

necessary to ensure risks are adequately

managed.''

The council­owned Hanmer Springs

Thermal Pools and Spa however has

enforced vaccine passes at the popular

attraction.

The Hurunui district is 92 percent

fully vaccinated according to latest data

from the Ministry of Health.

Some staff have been affected by the

Waimakariri District Council's vaccine

requirements for "high risk" positions.

Atotal of five casual employees who

are yet to confirm their vaccination

status are no longer being rostered, a

council spokesman says.

Afurther two permanent part­timers

are also being treated as unvaccinated

by council and aspokesman says it is

looking at ''redeployment options'' for

these individuals. There are more than

380 fixed­term and permanent council

staff members.

Vaccine passes are required to access

aquatic centres, libraries and service

centres throughout the district following

acouncil meeting prior to Christmas.

Council says the vast majority of

feedback received from residents has

been positive.

Further north, the Kaikoura District

Council said it had lost none of its 36

staff due to vaccine requirements. The

council did not confirm if any staff were

unvaccinated, due to the small number

of staff.

''We will not be releasing details, as

staff might be identified,'' council

corporate services senior manager

Murray Dickson says. ''Staff are

overwhelmingly vaccinated.''

All staff working within the council

building, which includes the museum,

library, council chambers and

Environment Canterbury offices, are

required to hold avalid vaccine

passport.

Avaccine mandate was confirmed for

all 2791 Christchurch City Council

employees earlier this month. Questions

remain, however, around the

vaccination status of more than 500

employees.

Brush strokes

Oxford's Main Street toilets are in for a

spruce up.

The toilets have sported amural over

many years, which even won the town a

Keep New Zealand award in the late

1990's as atourist attraction.

The mural on the inside and outside of

the concrete toilet block was painted by a

local artist and community volunteers.

However, in recent times the

Waimakariri District Councils has

painted over the mural and now

committees of Keep Oxford Beautiful

and Oxford Promotions, are looking for

an attractive artwork for the concrete

block building.

Co­ordinator of the project Shirley

Farrell says the committees want the

artwork to reflect the native fauna and

flora of the area.

''We are looking for adesign that is

bright, fun and appealing, but

incorporates native birds and native

plants,'' she says.

Waghorn Builders has offered the free

services of apainter to clean, prepare

and paint the front exterior to give the

artist aclean, clear canvas to work on.

''We just can't paint amural on apublic

building like we used to.

''The design has to be approved by the

Waimakariri Public Arts Trust, the local

community board and ultimately the

council, so there is aprocess to go

through.

Mrs Farrell says there are some great

artists in the area and the committees

would like to use their talent in creating

something at that reflects ''our birdlife in

an interesting way for our community

and travellers to enjoy''.

If you are an Oxford artist and would

like to develop aconcept idea and

express your interest in painting the

mural please email

oxfordmuraltoilets@gmail.com or

phone/text 0213124382 for acopy of the

brief and information.

Referafriend and you'll both receive$200 New World Vouchers

Iraisedmychildren in North Canterbury,and Ihave lovely familieslookinginour area.

Simplyrefer someone interestedinsellingtheir home, and afterthe sale Iwillgiveyou both

New Worldvouchers to thevalue of $200!

Fora"No surprises" real estateexperience, contact KirstynBarnett today.

KirstynBarnett Residential/Lifestyle/Commercial Sales Consultant

M 021 312 230 E kirstyn.barnett@pb.co.nz

Property Brokers Ltd Licensed REAA 2008

PB056717
---
IN BRIEF

Bookgiveaway

Seftonauthor, James Ryan, aged12, is giving away

afree copy of his book Nature'sWildlife Weapons

to a North Canterbury News reader.

People interestedinwinningasignedcopyof

James' book can enter by emailingthe North

CanterburyNews editor RobynBristow:

robyn.bristow@ncnews.co.nz, with your name

and phonenumber by Friday,January28.

The winner of the bookwill be notified by

phone.

New weighbridge

New weighbridge softwarehas beeninstalled at

the AmberleyTransferStation.

The software will improveefficiency for

customers andstaff.

Weightrax includes vehicle recognition

cameras setupatbothends of the weighbridge

which record avehicles registration.

When acustomer returnstoweigh out, their

vehicle registration will be recognised, andtheir

transaction willautomaticallyappear on the

screen for payment.

The system,which wassignalledinthe Hurunui

DistrictCouncil's Long­Term Plan, willreduce

the timerequired to process accounts andreduce

queuing.

Kaiapoi CommunityGarden burglary

Police and Kiwi Rail are investigating aburglary

at the Kaiapoi Community Garden.

Theburglars entered the back of the garden by

crossingthe railwayline from Fuller Street.

AKiwi Railspokesperson said crossing the

railwayline at that unauthorisedpoint

constituted trespassing and if caught the burglars

would be fined$10,000.

''The only place you are permitted to cross

railwaylines is at authorised crossingpoints,''he

said.Thereare two signsnear agap in the fence

running paralleltothe railway line on Fuller

Street at the back of the garden warningpeople to

keepoff the tracks.

The burglary, which occurredlatelast year,left

volunteers at the garden feelingdisheartened

afterthe garden shed was damaged and the

lawnmower stolenduring the break­in.

Anyone nopticing anything suspiciousatthe

gardens should contact the Kaiapoi police.

NEWS

The North Canterbury News, January 20, 2022

Flexible policy for blood donors

The New Zealand Blood Service

(NZBS)has aflexible policy

regarding Covid­19 vaccination

passports for people donating blood.

The NZBS nationalmanager of

marketing and communications,

Asuka Burge says thatNZBS fully

supports the Government'scall for

all eligible New Zealanders to be

vaccinated, but underthe Ministry of

Health's guidance, NZBS is

classified as ahealth provider, like

hospital services, and as such,

cannotrequire donorstoshow a

vaccine pass.

However, all blooddonors mustbe

healthy, feeling welland free from

respiratory illnesssymptoms to be

eligible to giveblood.

''Our donor centres are safe places

to visit and we are taking all

necessary steps to ensurethat stays

the case,'' Asuka says.

However, some venues where the

mobileblood drives are held require

donorstoconfirm theirvaccination

5

status beforeallowing them on the

premises to donateblood,and some

do not.

''Thisisadecision thatrests

squarely with the venueitself, not

NZBS,''says Asuka.

''Covid­19 is arespiratory virus

and there is no evidence it can be

passed on throughablood

transfusion. However, we do askall

donorstoattendonly if they are

feeling well and havenorecent

known exposure to aCovid­19 case.''

Disappointment at mandate

The Canterbury Country Cricket

Association (CCCA) has issued a

Covid­19 double vaccination

mandate to those who use its

Rangiora Mainpower Oval and

McAlpines Pavilion facilities.

The mandate has disappointed

some members of the Rangiora

Photographic Society which uses

the McAlpines Pavilion as its club

rooms.

Society president Dave Woodcock

said he was ''very sad for the few

people who will have to be excluded

from club meetings because they

are not vaccinated.''

There is also one club member

who is double vaccinated but

doesn't have avaccine pass and will

not be attending meetings because

they don't agree with the vaccine

mandate.

The society's committee met last

Thursday to discuss the mandate

and ''the general consensus was of

considerable disappointment that

CCCA felt it necessary to impose

this requirement'', Mr Woodcock

says.

''We are aware and deeply

concerned that this will impact

negatively on some members of our

fellowship, and therefore the

society, due to segregation and

exclusion.

''We just want to do the best for all

our club members,'' he says.

The committee considered

seeking alternative venue options

for meetings, but realised that any

new facilities would most likely be

subject to the same mandate.

CCCA executive director Peter

Devlin says Covid­19 double

vaccinations and vaccine passports

were now afact of life.

''Anywhere you go now, cafes,

shops, sporting events, you have to

have avaccine passport.

'' Iwent to afuneral last Thursday

and had to flash my vaccine

passport to get into the chapel. At

the recent cricket test at the Hagley

Oval in Christchurch avaccine

passport was required. It is just

something we have to live with,'' he

says.

''As asports facility we have to

respect and abide by all the health

and safety requirements including

those around Covid­19.

''We certainly don't want to

exclude anybody, but the

requirements are just something we

are required to abide by.''

Last year, the Ministry of Health

told the CCCA that all children

playing in its childrens' teams had

to be double vaccinated against

Covid­19.

''That mandate went down like a

cup of cold sick,''Mr Devlin says.

''But in the 28 teams we had playing

in various tournaments around the

South Island only ahandful, or five

or six players hadn't been double

vaccinated and some of those had

had one vaccination shot.''
---
NEWS

6 The North Canterbury News, January 20, 2022

Honours reflect support of conservation

By DAVID HILL

Supporting conservation has become a

wayoflife for Kaikouracouple Ted

Howardand Ailsa McGilvary­Howard.

TheHowards achievedarare feat,

withboth receiving Queen'sService

Medals in this year'sNew Year's

Honours list.

''It seemstobeunusual, but then we

areareasonably unusual couple,'' Ted

says.

Originallyfrom theNorthIsland,

Tedhas beenfascinated by

biochemistry,ecologyand zoology

most of his life.

Afterdropping outofWaikato

University, Ted worked in commercial

fishinguntilhegot intoanargument

with management.

This promptedhim to enrolat

Auckland University, where he studied

marine ecology.

''I've always been fascinated by

trying to find systemsthat workgiven

thevastrange of ecosystemsand

people in theenvironment,'' Ted says.

''Theideathat we areseparate from

theenvironment is anonsense.

''So we needtofindaway to keep it

going andgive ourselves areasonable

amount of freedom. It'sdoable, butit's

seriouslycomplex.''

Tedwas diagnosed with autism just

twoyears ago,which has helped to him

to understandwhy hisbrain works the

wayitdoes.

He says he can do maths and science,

''butpeople are atotal mystery''.

When Iwas at school, oneofhis

teachers eventold his parents he was

''retarded''.

Ted's connection to Kaikoura dates

back 31 years,when he met Ailsa.

Ailsawas originallyfrom Dunedin

andstudiedbotanyatOtago

University.

Drawnbythe mountains, she moved

Working together ... Ailsa McGilvary­Howard and Ted Howard are passionate about supporting Kaikoura's birdlife.

to Kaikoura at age 27 to workasa

weather forecaster, butlosther job

afterthreeyears.

''Imovedtodoing odd jobs, but I

knew Iwanted to be herebecause it's

so diverse even thoughit'sasmall

town,'' Ailsa says.

''It'sdrivenbythe recreationaland

fishingelements,and poets and artists

aredrawnhere by the great diversity

andwonder.''

WhileTed's passionhas become the

Hutton's shearwaterbirds, Ailsa's

focushas beenthe banded dotterel

birds.

''But we support each other,'' Ted

says. ''Wehave verysimilar,yet

divergent interests.

''I helpAilsa withIT. Idevelop

technologytohelpher and to help

others.''

Bothhavebeenactive in Forest and

Birdand theHutton's Shearwater

Trust, while Tedwas afounding

memberofbothTeKorowaiote Taio

Marokura and the Kaikoura Marine

Guardians.

He has also served on theKaikoura

District Council andchairs the

Kaikoura Zone Committee.

PHOTO: SUPPLIED

Ailsa haspresentedher research on

thebanded dotterels to various

organisationsand wasafounding

member of the Kaikoura YouthTrust.

Tedwas diagnosed with terminal

melanoma 12 years agoand the

doctors' prognosis was ''grim'', Ailsa

says.

Ted did hisown researchtotry and

beatthe dreadeddisease, imposing a

strict vegan dietand exploring the

benefits of vitaminC.

''Hesticks to hisprotocols. It drives

the rest of us battybecauseit'squite

harsh,'' Ailsa says.

Omicron may kick-start Kaikoura'svax stagnant rate

By ADAM BURNS,

Local Democracy Reporter

The arrival of Omicron could be the

markerastowhether Kaikoura's

stagnant vaccination rates are

kickstarted.

Mayor Craig Macklebelieves the

inevitable emergenceofthe latest

variant threat of Covid­19 mayserve as

an indicator as to whether community

concern willbumpupthe vaccination

numbersinthe district, which at one

point servedasanationalbenchmark.

With88per cent of the district's

McALPINES MITRE 10 MEGA RANGIORA -OCEAN WATCH

This

Week

Sun

Fishing

Guide

Moon

Wind

Good

Thursday Friday Saturday Sunday Monday Tuesday Wednesday

Jan 20 Jan 21 Jan 22 Jan 23 Jan 24 Jan 25 Jan 26

Rise 6:13am

Set 9:05pm

Best

Times

2:59am

3:22pm

Set 7:49am

Rise10:44pm

Moderate Sturning

SE

Good

Rise 6:15am

Set 9:04pm

Best

Times

3:46am

4:09pm

Set 8:56am

Rise 11:09pm

Moderate SW turning

SE

applicable population double

vaccinated,Kaikoura now has the lowest

rates of any of the territories in the

South Island.

It was previouslytouted as the top

performing town in New Zealand in

early October, accordingtothe Ministry

of Healthwith 55 per centofits

population receivingboth doses.

''Itwas asolidstart and then it just

stalled,'' Mr Macklesays.

The town copped aslight scare last

weekwhenasupermarketand a

hardware store,visitedonWednesday

January5,were listed as locationsof

Good

Rise 6:16am

Set 9:03pm

Best

Times

4:31am

4:54pm

Set 10:04am

Rise 11:32pm

Gentle SW becoming

moderate SE

Good

Rise 6:17am

Set 9:02pm

Best

Times

5:16am

5:38pm

Set 11:11am

Rise 11:53pm

Gentle SE

strengthening

Good

Rise 6:18am

Set 9:02pm

Best

Times

interest by theMinistryofHealth.

Kaikoura Health(Te Ha oTeOra) says

the development had sparked onlya

minor increase in testing,and Mr

Mackle agreed there had beenlittle

cause for concernamonglocals.

''Tobefair it was nothing much,''he

says.

''Itdoes alert you and makes you

concentrate on what you'resupposedto

be doing.

''Obviously it was just someone

passingthroughand nothing further has

rearedits head.''

Mr Macklewas at aloss as to why

6:01am

6:23pm

Set 12:20pm

Gentle E

strengthening

Good

Rise 6:20am

Set 9:01pm

Best

Times

6:46am

7:10pm

Rise 12:16am

Set 1:30pm

Gentle Ebecoming

moderate SE

Good

Rise 6:21am

Set 9:00pm

Best

Times

7:35am

8:00pm

Rise 12:40am

Set 2:43pm

Gentle SW becoming

moderate SE

vaccination numbershad stalled.

''I'dlike to see anyone who can be

done,done,'' he said.

''There'samultiudeofreasons that

people believe theydon'tneed it.

''Butyou can't change the way some

peoples' minds work.''

Howeverheremained confident that

the rates wouldrampuponceOmicron

surfaced in the district.

''I betitwill stepuponce it appears

here,asittendstoinother places.You

get theoneswho don'tliketobetold

whattodo...they'll be the firstones to

jump.''

Swell

Pegasus Bay

Tide Chart

3

2

E1.2 m E0.8 m E0.7 m SE 1.0 m SE 1.1 m E1.0 m E0.9 m

3 6 9 NOON 3 6 9 3 6 9 NOON 3 6 9 3 6 9 NOON 3 6 9 3 6 9 NOON 3 6 9 3 6 9 NOON 3 6 9 3 6 9 NOON 3 6 9 3 6 9 NOON 3 6 9

1

0

Highs Lows Highs Lows Highs Lows Highs Lows Highs Lows Highs Lows Highs Lows

Waimakariri 7:21am 2.3 1:10am 0.7 8:02am 2.3 1:51am 0.6 8:46am 2.3 2:32am 0.6 9:31am 2.3 3:16am 0.6 10:18am 2.3 4:03am 0.6 11:08am 2.3 4:53am 0.6 11:59am 2.3 5:47am 0.6

Mouth

7:43pm 2.1 1:38pm 0.7 8:27pm 2.1 2:19pm 0.7 9:12pm 2.2 3:02pm 0.7 9:58pm 2.2 3:46pm 0.6 10:45pm 2.2 4:33pm 0.6 11:35pm 2.3 5:23pm 0.6

6:14pm 0.6

Amberley 7:21am 2.3 1:10am 0.7 8:02am 2.3 1:51am 0.6 8:46am 2.3 2:32am 0.6 9:31am 2.3 3:16am 0.6 10:18am 2.3 4:03am 0.6 11:08am 2.3 4:53am 0.6 11:59am 2.3 5:47am 0.6

Beach

7:43pm 2.1 1:38pm 0.7 8:27pm 2.1 2:19pm 0.7 9:12pm 2.2 3:02pm 0.7 9:58pm 2.2 3:46pm 0.6 10:45pm 2.2 4:33pm 0.6 11:35pm 2.3 5:23pm 0.6

6:14pm 0.6

7:30am 2.3 1:19am 0.7 8:11am 2.3 2:00am 0.6 8:55am 2.3 2:41am 0.6 9:40am 2.3 3:25am 0.6 10:27am 2.3 4:12am 0.6 11:17am 2.3 5:02am 0.6

5:56am 0.6

Motunau 7:52pm 2.1 1:47pm 0.7 8:36pm 2.1 2:28pm 0.7 9:21pm 2.2 3:11pm 0.7 10:07pm 2.2 3:55pm 0.6 10:54pm 2.2 4:42pm 0.6 11:44pm 2.3 5:32pm 0.6 12:08pm 2.3 6:23pm 0.6

7:32am 2.3 1:21am 0.7 8:13am 2.3 2:02am 0.6 8:57am 2.3 2:43am 0.6 9:42am 2.3 3:27am 0.6 10:29am 2.3 4:14am 0.6 11:19am 2.3 5:04am 0.6

5:58am 0.6

Gore Bay 7:54pm 2.1 1:49pm 0.7 8:38pm 2.1 2:30pm 0.7 9:23pm 2.2 3:13pm 0.7 10:09pm 2.2 3:57pm 0.6 10:56pm 2.2 4:44pm 0.6 11:46pm 2.3 5:34pm 0.6 12:10pm 2.3 6:25pm 0.6

7:26am 1.7 1:12am 0.5 8:08am 1.8 1:54am 0.5 8:52am 1.8 2:37am 0.5 9:38am 1.8 3:22am 0.5 10:25am 1.7 4:10am 0.5 11:16am 1.7 5:00am 0.5

5:54am 0.5

Kaikoura 7:51pm 1.6 1:44pm 0.5 8:34pm 1.6 2:27pm 0.5 9:18pm 1.6 3:10pm 0.5 10:03pm 1.7 3:55pm 0.5 10:50pm 1.7 4:41pm 0.5 11:39pm 1.7 5:28pm 0.5 12:08pm 1.7 6:18pm 0.5

*Not for navigational purposes. Wind and swell are based on apoint off Gore Bay. Maori Fishing Guide by Bill Hohepa. www.ofu.co.nz www.tidespy.com Graphic supplied by OceanFun Publishing Ltd.

2118223
---
HUGE

Ferris

Shipment

HUGE

HAS ARRIVED!

FREE

FREE Trailer &Tow Hitch

(Valued at $385)with any newFerrisorCub Cadet

Hurry finishes31Jan '22

FERRIS 400S Series FERRIS IS Series

IS600

FERRIS IS Series

$11,850

$16,350

IS700

$17,950

ISX2200

$22,650

IS3200

$26,000

SAVE $3,100

23Hp Briggs V-Twin engine

48"3Blade Side Discharge Deck

12.8Km/hGround Speed

342KgDry Weight

25Hp &27HP Briggs V-Twin engine

48" &52" 3Blade Side Discharge Deck

16.0Km/h Ground Speed

430Kg&480kgDry Weight

28Hp & 37HP Briggs V-Twin engine

61"&72"3Blade Side Discharge Deck

16.0 &19.0 Km/hGround Speed

634Kg&717kgDry Weight

$5,799

$8,599

CUB CADETLX42 CUB CADET 1023 XT2 CUB CADET ULTIMA

46"

$8,599

54"

$9,999

NEWMODEL

24Hp Kawasaki V-twin Engine

42"Side discharge deck

Foot OperatedHydrostaticTransmission

FREE 1st Service Check *

(Ferris Only)

23Hp Kohler V-twin Engine

42"Reardischarge catching deck

Foot Operated Hydrostatic Transmission

23Hp Kawasaki V-twin Engine

46"or 54"Side discharge fabricateddeck

Lever Steer ZeroTurnHydrostatic

Transmission

FREE12-month Interest Free Finance * FREE Tip Trailer &Tow Hitch *

All Prices

GSTInclusive

*Conditions

Apply
---
Motoring

Guide

Your local motoring professionals

NEED TYRES?

• Punctures

• Balancing

• New tyres

• ATV tyres

• Motorbike tyres

(on and off road)

• Barrow tyres

• Mobility scooter tyres

• Bicycle tyres

Give usacall or come

and see us in store!

ARTHUR BURKE LTD

Markham St, Amberley

03 314 0137

FOR ALL YOUR LIGHT

AND HEAVY

TRANSPORT REPAIRS

Breakdown &

After Hours

Service

Available

Vacancies Available

2Full time Mechanics wanted

Phone 03 313 6361

0275 200 711

307 Flaxton Road, RANGIORA

brooktrucks@xtra.co.nz

2388559v4

Petrol &Diesel

Use your SuperGold card or

supermarket docket for 12

cents off Petrol &Diesel only

COMPLETE AUTO REPAIR SERVICE

WOF

Light Engineering

Tune-ups

Repairs

Lube-Oil changes Ride-on Mowers

Full Diesel Service Pick up &Delivery

Brakes &Clutches

Sell &Sharpen

Motor Work

Horse Clippers &

Warranty Work

Sheep Shears

Oils &Automotive Accessories, Postal

Services, Hot Pies, Sandwiches, Rolls,

Groceries and Sweet Treats

For your convenience

Sefton Garage

571 Upper SeftonRoad, Sefton

NorthCanterbury.Ph03 312-9713

Under the bonnet ... Les Summerfield has been fixing motor vehicles for more than 40

years and he likes nothing more than working on classic cars.

PHOTO: SUPPLIED

Fixing cars apassion

Fixing cars is more than ajob for theteam

at Autotech Services in Rangiora.

It is apassion, with the staffatthe Ivory

Street business ensuring customersenjoy

afriendly, andefficient motoring

experience.

Autotech Services has been servicing

cars in NorthCanterbury since 1993.

If your car needs aservice, oil change or

repair, the team at Autotech Services can

help.

The dedicatedteam can service

everything fromclassic cars to the latest

European models,and also has the latest

diagnostictools and technologytofix and

repair the most modern cars on New

Zealand'sroads.

Autotech Services aims to make the

workshopvisit as easy as possible, offering

loan cars, and free pickupand deliveryin

Rangiora, allowing youtoget on withyour

busy life.

Today, it has nine staff,who each have

theirareas of expertise.

Nicole Summerfield, who looks after

clients on reception, saysAutotech offers

Warrant of Fitness to aservice and engine

We Do It All!

Your One Stop Mechanical Shop

swap and ''everything in between''.

The workshop contains adedicated

warrant of fitness laneand wheel

alignment bay.

Autotech offers factory warranty

servicingtosave local car owners from

havingtomake the tripinto Christchurch.

It is also alocalsupplierofKumho and

Good Ridetyres, supplying tyres for all

types of vehicles at prices to meet

everyone's budgets.

It also stocks Fuchs Oil.

Owner Les Summerfield says all staffdo

regular training in the latest technology

and most are involved in motorsport and

4WD off­roading.

''We all livefor cars.''

Autotech Servicessupportsthe local

rally scene, sponsoring the Canterbury

Rally heldinNorthCanterbury. Nicole

codrives for her brother Matt and they

have becomeapair to watchonthe

national rally scene.

Contact Autotechon(03) 313 5802, or

email office@autotechservices.co.nz.

Farmlandscards are accepted, and Gold

Card holders can get a10percent discount.

One Stop WOF Shop

All MechanicalRepairs and Servicing, Tyres,

Exhausts, Automatic TransmissionService

Burbidge Automotive

325 Flaxton Rd |Ph03313 3344

Ample carparking! Courtesy Cars, Van, Automatics Available

2387427v1

2387322v7

2389102v4

WE ARE THE

SERVICINGEXPERTS!

No Need To Commute To Christchurch

-WeCan Do It All! We can use genuine parts, so

yourvehicleisstill covered under warranty.

We have the latest DiagnosticComputerSystems

that are compatible withmost vehicles.

Wheelalignments&tyresatverycompetitive prices.

CALL US NOW TO BOOK YOUR SERVICE

Discounts to Superannuates

77 IvoryStreet, Rangiora Ph 313-5802

Monday -Friday 8am-5.30pm

Best Brands

-Best Prices

5Star Service

ROTATION /BALANCE

AND WHEEL ALIGNMENTS

FREE

Pressure check on

Cars, Utes, 4WD &

Trailers

COLLISION REPAIRS RANGIORA

Support Local

Businesses

Recommendusfor Paint&Panel

requirements

Make an insurance claim and choose North

Canterbury Collision Repairs Rangioraas

your repairer. Your Car,Your Choice.

Crash repairs, bumps &scrapes to major

smash work

Commercial&fleet repairs,Buses,Caravans &

Motorhomes, Trucks,Trailers, Buses &Boats

Quality

workmanship &

fastest

turnaround

Fleet of courtesy cars available

Contact John 3136966

639LinesideRoad, Southbrook | www.nccrc.co.nz

FROM $89

Bookings recommended, ts&cs apply.

346a Flaxton Road

Phone 03 310 6666

0800 226 324 for 24/7 Service

2318082v7
---
FREE DELIVERYTOKAIKOURA -OVER300 CARSONLINE-WWW.MORRISONCARS.CO.NZ

$

15,494

$

7,495 $

12,494

$

24,999

$

10,494

2018 SUZUKI SWIFT

2010 NISSAN TIIDA

64000kms, 1200cc,Great Safety 1498cc

Package, 6AirbagsLDW,Cruise

Control, LDW,FullAlloys, Automatic

2013 HONDA FIT13GS

80000kms, 1300cc, Automatic,

2WD,Reversing Camera

2016 KIA SPORTAGE EX

2359cc, Alloys, Bluetooth

Connection,Chain Drive, Reversing

Camera,Towbar,ParkingSensors

2010 HONDA ODYSSEY MAERO

95,000km, 2400cc, 7seater,practical

leather,alloys, electric windows, room

for all including the furryfriends!

$

11,394

$

12,990

$

13,994

$

13,494

$

15,894

2016 NISSAN MARCH12C

29000kms, 1200cc, Automatic,

Full Electrics,Smartwee car!

$

19,194

2012 TOYOTA COROLLA

FIELDER 1.5G

1500cc,automatic, great fuel

economy,rearcamera

$

14,494

TOYOTA VITZ

full electrics, push-button start

and what agreatcolour,87000km

$

36,999

2014 HONDA FIT 13G

50,000km, 1300cc, electric

windows,keyless entry, very

reliablevehicle

$

10,994

2013 TOYOTA COROLLA AURIS

44000kms,1500cc, Automatic, Full

Electrics, Impeccable Condition!

$

19,999

2016 SUBARULEVORG1.6GT

EYESIGHT

1600cc,Cruise Control, Eyesight,

ReverseCamera

$

11,794

2010 MITSUBISHIRVR G4WD

1800cc,alloys,full electrics,great

colour

$

15,494

2014 TOYOTA HIACE

3-BERTH CAMPER

1990cc, automatic, petrol, in very

good condition

$

19,494

2013 NISSAN NOTE XDIG-S

BODYKIT

72000kms, 1200cc, Push Start,

Reverse Camera,I-Stop

$

14,383

2013 HOLDEN COMMODORE

SV6 Z

6airbags,alloys, cruise control,

dualair conditioning,electric

windows

$

13,494

2012 TOYOTA RACTIS X

SMARTSTOP

30,000km,1300cc, great fuel

rating, keyless entry,traction

control.

2017SUZUKI BALENOXG

62000kms,1200cc, CruiseControl,

Push Start

2013 SUBARU FORESTER

2.0I-S EYESIGHT

2000cc, Alloys, Cruise Control,

Traction Control, HeatedSeats

All prices include on road costs, 12 month registration and new WOF

2010 MITSUBISHI OUTLANDER

G

2400cc,7Seater,4WD

2009 HONDAACCORD VTI-L

93770kms, 2400cc, Alloys, Cruise

Control, Dual AirConditioning,

Keyless Entry,ReversingCamera

*Safety ratings are from year of manufacture*

2445472
---
BIGLOUNGESALE

Enjoy your post holiday slumpfor less.

Bremen Fabric 6SeaterReclinerLounge Suite

Available in Graphite (Pictured)and Smoke

9045665

$3999

lessthan

$20 perweekfor

50 months on

interest free*

Validuntil 15th February 2022

was

$6299

ModenaFabric 5SeaterLounge Suite

Available in Grey (Pictured),Midnight,and Oatmeal

SyrosLeather 5Seater LoungeSuite

Available in White(Pictured),Midnight, LightGreyand Cement

9060173 Validuntil 15th February 2022

was

lessthan

$2399 $3999 13 interest

$13 perweekfor

50 monthson

interestfree*

9060418 Valid until15thFebruary 2022

$3599

was

$5999

less than

$18

perweekfor

50 months on

interest free*

Ahh the newyear.Itwas made forgettingsomething new.

Air FryCrisp'n BakeToaster Oven

9060751

$149

was

$199

Matrix MKII Medium Queen Bed

9070936

$2599

was

$3859

Turin 7PieceDining Suite

Available inDarkOak/Pumice and Oak/Gunmetal

9054007

$2699

was

$3859

65"4KAndroid idTV

9068597 TH65JX700

$1449

lessthan

$16 perweekfor

24 monthson

interest free*

Aspire 114" HD 4GB 128GBSSDLaptop

9070217

$649

less than

$8 perweekfor

24 months on

interest free*

Matte Black488L

FrenchDoor Fridge

$1799

lessthan

perweekfor

24 months on

$19 interest free*

9071339 SRF5500B

50

months 24 months

INTERESTFREE

INTERESTFREE

on beds &furniture$999 &over* on everything $499&over*

Offervaliddates vary.Pleasesee individual productpages onlinefor details. Some products on display in selected stores only -pleasecall 0800764 847tocheck availability.*Apple, selected computers, game consoles,giftcards,clearance

itemsand somepromotionalitems arenot available in conjunctionwith interest free offers.Flooringavailable on amaximumof18months interest free.Exclusions, fees, terms, conditions andcreditcriteriaapply. Equalinstalmentamounts

includeone-off establishment fee of $45.00,amaintenancefee of $3.75per month andexclude anyinsurance premium financed.Currentinterestrateof23.95%appliestoany unpaid minimumpayments during theinterestfreeperiod, and

anybalance afterthe expiry of (any)interestfreeperiod. Seein-store or visit smithscity.co.nz/interest-freefor details. #Discount is offour full retail price. Notavailable in conjunctionwith anyotheroffer.
---
STAGE2

available now!

OPEN DAY

Sat 29 Jan

We're offering public tours of our new showhome.

Villas available from

$545,000

To register your attendance visit

www.thesterling.co.nz, email hello@thesterling.co.nz

or call on 0508 783 754.

(Covid traffic light restrictions apply).

Mon–Sun

11am–3pm

VISITS BY

appointment

only

SHOWHOME

OPEN

VISIT us

Cnr Silverstream Blvd

&Island Rd, Kaiapoi

TALK to us

0508 783 754

hello@thesterling.co.nz

LEARN more

thesterling.co.nz
---
PREMIUM retirementliving

Designed with you

IN MIND

At The Sterling, Kaiapoi we are raising the bar

on village living.

Designed with your privacy, independence

and happiness in mind, The Sterling offers

the best in modern village living, thoughtfully

designed and exceptionally appointed villas,

5-star amenities and support, all integrated

into the vibrant and thriving Silverstream

community.

Whatever you are looking for in alifestyle

village, you'll find it at The Sterling, Kaiapoi.

THEBEST

of bothworlds

We know that no two residents are the

same, solife at The Sterling can be as

unique as you are. Looking for more

independence? Ordiscreet, on-demand

support? Or perhaps alittle of both?

The Sterling provides you with the

best of both worlds -all the support

you need, with all the privacy and

independence you expect.
---
RETIREMENT LIVING

in the

HEART of the COMMUNITY

Welcome home to

THE STERLING, KAIAPOI

Apremium experience in independent,

connected retirementliving in Kaiapoi

STAGE 2

selling now

Selling from

$545,000

Community,Connection, CHOICE

Set in the heart of the vibrant semi-rural Silverstream

community, The Sterling, Kaiapoi brings auniquely

multi-generational approach to retirement living

in Canterbury.

Our philosophy is very simple: empathy, respect and

self-determination for all, delivered within a

fully-appointed five-star community.

There is space and aplace for everyone at

The Sterling, Kaiapoi.

VISIT us

Cnr Silverstream Blvd

&Island Rd, Kaiapoi

TALK to us

0508 783 754

hello@thesterling.co.nz

LEARN more

thesterling.co.nz
---
BESPOKE

living

MODERN VILLAGE living

Architecturally designed and

exceptionally appointed, all our

villas feature open-plan design,

floor-to-ceiling windows and

beautiful outdoor living spaces.

With varied floor plans and

features and achoice of colour

schemes, The Sterling's spacious

open-plan villas bring variety,

accessibility and pleasure to later

life community living.

2

Bedroom

2

Bathroom

1

Laundry

1

Cargarage

120m 2 (approx)

Floor area
---
RANGIORA

100% LOCALLY

OWNED&OPERATED.

RANGIORA

*Ifyou find alower priceonanidenticalin-stock product, we will beatitby15%.

Excludes special quotes,onaccount(credit and cash) purchases,stock liquidations and commercial quantities.The same in-stock product

must be availabletoyou forsame daydeliveryorcollection. Includes GST and deliverycharges.Ifyou find the same productcheaper

from another Mitre10store or online at www.mitre10.co.nz we'll matchthatprice.The in-storeprice maybelower than thatadvertised.
---
RANGIORA

BE IN TO

WIN

PLENTYOFROOM

FOR THE FAMILY?

SORTED.

12

MONTHS

INTEREST FREE

onpurchases $299 -$798

FINANCE OPTIONS

AVAILABLE

20% deposit

Paycash priceonly

No booking or insurancecharge

or 24 MONTHS INTEREST FREE on purchases $799 &over

Terms,Conditions &Credit Criteria apply
---
FEATURE

PIECE FOR

THE GARDEN?

SORTED.

100% LOCALLY

OWNED&OPERATED.

RANGIORA

*Ifyou find alower priceonanidenticalin-stock product, we will beatitby15%.

Excludes special quotes,onaccount(credit and cash) purchases,stock liquidations and commercial quantities.The same in-stock product

must be availabletoyou forsame daydeliveryorcollection. Includes GST and deliverycharges.Ifyou find the same productcheaper

from another Mitre10store or online at www.mitre10.co.nz we'll matchthatprice.The in-storeprice maybelower than thatadvertised.
---
Fresh Start.

FRESH ICE CREAM

ICE CREAM

$

3 .00

EACH

See the Good Sports.

$241.03

PER WEEK

$79.41

PER WEEK

$147.98

PER WEEK

$59.82

PER WEEK

2018 Mazda CX-8 LTDDSL

2.2DT/4WD 2191cc with 51,220kms, Auto

Tiptronic, 5Star ANCAP, Alloys, ESC, Climate Air

Con, AUX/Bluetooth/USB, ISOFIX, Heated Leather

Seats, NZ New, Smart Key,

Radar Cruise, Reverse

Camera, Turbo Diesel.

$48,990

2018 Suzuki Swift GLC 1.2P/CVT

1242cc with 55,940kms, Auto, 5Star ANCAP, ESC,

Air Con, 6Airbags, Android Auto, Apple CarPlay,

AUX Input, Bluetooth, Cruise, Factory Privacy Glass,

ISOFIX, Multi Functional

Steering Wheel, Remote

Central Locking.

$15,990

2019 Mitsubishi Eclipse Cross VRX

1499cc, 72,605kms, CVT Auto Tiptronic, NZ New, ESC,

360° Camera, 5Star ANCAP, 7Airbags, Blind Spot

Monitoring, Android Auto, Apple CarPlay, Bluetooth,

Heated Leather Seats, Turbo,

ForwardCollision Mitigation.

Balance of New Car Warranty!

2015 Nissan Micra ST-L1.2P

1198cc with 25,483kms, Auto, Alloy Wheels,

6Airbags, Air Conditioning, AUX Input, CD Player,

Centre Shoulder Belt in Rear, Electric Mirrors, Electric

Windows, ISOFIX, NZ New,

Remote Central Locking,

$29,990 Reverse Camera. $11,990

$100.47

PER WEEK

$169.04

PER WEEK

$192.06

PER WEEK

$84.31

PER WEEK

Clean Car

Discount

2014 Audi A3 Sportback 1.4 TFSi

1400cc with 42,821kms, Auto Tiptronic, Alloys,

Centre Shoulder Belt in Rear, Cruise, Dual Zone

Climate Control, Electric Windows, ISOFIX, ESC,

High Grade 4.5, Idlingstop,

Leather Wrapped Steering

Wheel, Turbo.

$19,990

2018 Nissan Leaf G40KW

Auto with 32,304kms, 360˚ View Camera, Alloys,

Auto Lights, ESC, Bluetooth/CD/USB, Fog Lights,

Climate A/C, Factory Privacy Glass, Heated Seats,

High Grade 4.5, ISOFIX,

Smart Key with Push Button

Start, Reverse Camera.

$33,990

2019 Peugeot 3008 ALLURE

1.6PT 1598cc with 39,798kms, Auto, ABS Brakes,

5Star ANCAP, Alloys, Android Auto, Apple CarPlay,

Auto Air Con, Auto Lights, Bluetooth, Cruise, ESC,

Half Leather Seats, ISOFIX,

Lane Keep, Smart Key,

Reverse Camera, Turbo.

$38,990

2019 Hyundai Accent 1.4

1368cc with 6,225kms, Auto, 5Star ANCAP Safety

Rating, Air Con, Bluetooth, Centre Shoulder Belt in

Rear, Electric Mirrors, ESC, ISOFIX, Multi Functional

Steering Wheel, Remote

Central Locking, USB Input,

Trip Computer.

$16,990

$345.35

PER WEEK

$192.06

PER WEEK

$157.77

PER WEEK

$162.67

PER WEEK

2019 Toyota Landcruiser Prado

TX-Limited 2800cc with 25,759kms, Auto

Tiptronic, 4WD, 9Airbags, Alloys, Auto Lights, ESC,

Climate Air Con, Cruise, Fog Lights, Factory Privacy

Glass, Heated Seats, ISOFIX,

Leather, Smart Key, Traction

Control, Turbo Diesel. $69,990

2018 Jeep Compass Trailhawk

2.4P/4WD 2359cc with 30,080kms, 9Airbags,

Auto Tiptronic, 5Star ANCAP, Alloys, Android Auto,

Apple CarPlay, Auto Lights, AUX/Bluetooth, ISOFIX,

Heated Seats, Lane Keep,

Leather, NZNew, Radar

Cruise, R/Camera, Towbar.

$38,990

2019 Nissan X-Trail ST 4WD

2488cc with 44,842kms, Auto Tiptronic, 5Star

ANCAP, 6Airbags, Alloys, Bluetooth/CD/USB, ESC,

Air Con, Cruise, Daytime Running LED's, ISOFIX,

NZ New, Reverse Camera,

Selectable 2or4WD,

Smart Key, Trip Computer.

$31,990

2012 Toyota Highlander 3.5P

LTD4WD 3456cc with 97,056kms, ESC, Auto

Tiptronic, 7Airbags, Alloys, Auto Lights, Bluetooth/

CD, Climate Air Con, Cruise, Electric Seats, Factory

Privacy Glass, Fog Lights,

Heated Leather Seats,

NZ New, Traction Control.

$32,990

$100.47

PER WEEK

$294.90

PER WEEK

$177.36

PER WEEK

$211.64

PER WEEK

2013 Mazda Atenza 20S

2000cc with 74,116kms, Auto Tiptronic, 6Airbags,

Alloys, Auto Lights, CD Player, Chain Driven, Cruise,

Dual Zone Climate Control, ESC, Factory Privacy

Glass, Fog Lights, ISOFIX,

I-Stop, Paddle Shift, Smart

Key, Traction Control.

$19,990

2020 Mercedes Benz X-Class

X250 Power 4WD 2298cc, 27,289kms,

Auto Tiptronic, 5Star ANCAP, 7Airbags, Alloys,

Auto Lights, Bluetooth, Climate Air Con, ESC,

ISOFIX, Leather, Smart Key,

R/Camera, Tonneau Cover.

$59,990

Balance of New Car Warranty!

2016 Nissan Navara ST 2.3D

2298cc, 5Star ANCAP, 7Airbags, Auto, Air Con,

AUX Input, Bluetooth, CD Player, Canopy, Chain

Driven, Cruise Control, ESC, Nudge Bar, NZNew,

Remote Central Locking,

Roof Rack, Running Boards,

Towbar, Turbo Diesel. $35,990

2017 Mazda BT-50 GSX 4WD

3.2D 3198cc with 70,261kms, Auto Tiptronic,

6Airbags, Alloys, Auto Lights, AUX/Bluetooth, ESC,

Chain Driven, Cruise, Dual Zone Climate Control,

Fog Lights, Multi Functional

Steering Wheel, Traction

Control, Turbo Diesel.

$42,990

Stadium Cars Rangiora 03 310 7940 | stadiumcars.co.nz

609 Lineside Road, Waimakariri, Rangiora OPEN 6DAYS

*Conditions apply. Not available with any other offer. Finance offer subject to credit and lending criteria.

Finance calculation based on 60 month term. No deposit with an annual fixed interest rate of9.95%,

includes an establishment fee of$225. See our website for full disclosure.

*On road costs may apply to some vehicles
---
Food bank meets growing need

By DAVID HILL

One month on from arecord Toot for

Tucker haul, the shelves are nearly bare

at Kaiapoi's food bank.

Community Wellbeing North

Canterbury supported more than 200

families in the lead up to Christmas

through the Kaiapoi Community Support

office.

That compares to 60 families who

needed support the previous year.

Kaiapoi Community Support coordinator

Gabi Barlow says Toot for

Tucker normally stocks up the food bank

for two or three months.

It means the food bank is heavily

reliant on Satisfy Food Rescue to

continue supporting families in need.

She says there were ''a mixture of

reasons'' for the increase, with the

impacts of Covid­19 high on the list.

''We have families with reduced wages

and reduced hours and there was no

Waimakariri Community Christmas Day

Dinner, which was cancelled due to

Covid­19.

''And we worked with alot more

agencies this year, so we had awider

net.''

Volunteers also found there were a

number of grandparents who had

recently gained custody of their

grandchildren.

''It really has been different this year,

there's adifferent need,'' says Ms

Barlow, who took over as co­ordinator in

August after serving as avolunteer for

five years.

''We traditionally saw beneficiaries in

here, but now 'middle class' people are

coming in and we saw that over

Christmas.

''It wasn't just the level of need, the

emotional side was alot different this

year and the gratitude from the people

does effect you.''

Supplies are running low ... Kaiapoi Community Support volunteers Sasha Crawford (left),

Jackie Ward and Janice Cassidy sort through the remaining supplies in Kaiapoi's food bank.

Ms Barlow recalled one instance

where alittle boy's Christmas wish of a

bike was met thanks to the generosity of

the community.

She says Christmas giving trees at

Blackwells, Kaiapoi New World, the

Kaiapoi library, Pak'n Save Rangiora,

Rangiora Toyota and the local Ray White

Real Estate offices were well supported.

One resident donated $1000 worth of

Summer Loving

OUR TOWN KAIAPOI

The North Canterbury News, January 20, 2022

PHOTO: DAVID HILL

groceries and presents.

Kaiapoi Community Support offers a

''wrap around service'' to meet people's

needs.

Most clients only need support for one

or two weeks. After four food parcels, Ms

Barlow will sit down with clients to

assess whether budget advice, advocacy

with the Ministry of Social Development

or other support is needed.

15

Blackwells'

second go

at marking

150 years

Blackwells will makeasecondattempt

to celebrate150 years in styleover the

next two months.

The iconic Kaiapoidepartment

store's planned 150thanniversary

celebrations werepostponed as the

countrywas thrust into lockdownin

August last year.

Managing director Andrew Blackwell

says the main anniversary dinner will

be held for invitedguests at the end of

this month, whilewinter fashions will

be promoted in­store.

''We willberejigging ourin­store

promotions for mid­March witha

fashionshow andspecial promotions.

''Mid­Marchiswhen all the new

season winter fashioncomes out, so it's

the ideal time.

''Weare workingonhow we keep our

numbersdown so we can manageit if

something crops up.''

Covid­19 restrictions will apply and

vaccinepasses willberequired to

attend the fashion show under the

Covid­19 traffic light system.

Mr Blackwellsays the store

experienced astrong trading periodin

the lead up to Christmas and there has

been plenty of interestinthe summer

fashion.

''There's certainlyalotmore

Christchurch people coming out here

than there usedtobeand it's not just

our storeseeing the benefits.''

Follow Blackwells Department

Store's 150thcelebrationsonFacebook.

2450681v1

Cnr. Williams Street &Raven Quay, Kaiapoi

Open 7Days

Phone: 03327 8029

www.blackwellsdeptstore.co.nz
---
OUR TOWN KAIAPOI

16 The North Canterbury News, January 20, 2022

PAINTERS

RegTradesman • Interior,exterior.

North Canterbury Painters

specialising in decorating for

over 65.

Discounts

for Seniors

Free quotes.

Covering North Canty,Oxford,

Kaiapoi, Rangiora, Amberley.

Ph Rob 03327 7899

or 027 432 3520

2423683

The Widest

Music

Variety

Friday 6pm &

replayed at 12pm

Sunday

Tune in nowtolisten on

104.9 for North Canterbury

103.7 for Hanmer Springs

andKaikoura

Kaiapoi has diversity to thrive

By DAVID HILL

Kaiapoi's diversified economy has

placed the town in astrong position,

Neville Atkinson says.

The Waimakariri Deputy Mayor says

Kaiapoi has come through the effects of

Covid­19 well, but it doesn't need another

lockdown.

''I think Kaiapoi can look forward to a

busy year with it's diversification.

''There's new projects sitting there

which will go through our processes to

see if they will work and that's hugely

positive for the town.''

Mr Atkinson says Kaiapoi is well

established as adestination for ''day

trippers'' from Christchurch with its

boutique shops, cafes, restaurants and

''unique attractions''.

''We have been talking for many years

about Kaiapoi changing.

''Well, Ithink it has changed and rather

than just being anormal retail town,

we've got specialist, quirky shops and our

river attractions.''

Attractions like the Kaiapoi River

Queen and the Kaikanui Aqualand NZ

aqua play park are providing new

attractions and adding to the Kaiapoi

River as the heart of the town.

Clothing stores such as Blackwell's

Department Store and unique retailers

such as the cobbler offer apoint of

PLASTERER

Matt Smith

PAINT FINISH • CORNICE

• GIB COVE

New Homes, Renovations

and Extensions

FREE QUOTES

Ph 027 436 1112

www.mattsmithplastering.co.nz

2324007

UPHOLSTERY

SPECIALISTS

•All furniture Recoveries &Repairs

•Squabs, Cushions &Fabric Sales

•Antique and Loose Covers

•Cars, Boats, Caravans, Motor Homes

•Custom-made Bed Heads &Ottomans

2321966

FREE QUOTES, PICK UP AND

DELIVERY

32 years experience

03 327-0266

0274 840 159

72 Otaki St, Kaiapoi

recoveries@xtra.co.nz

difference in the retail space, Mr

Atkinson says.

Kaiapoi has some long­established

family businesses, such as Blackwells,

which celebrated 150 years last year,

Sutherland Timber, which has marked

100 years, and Blakeleys of Kaiapoi,

which all add to the town's unique

appeal.

''There's some pretty old businesses

along with the new businesses. Generally

speaking we are moving forward very

well,'' Mr Atkinson says.

The town is continuing to expand with

194 consents for new houses issued last

year, as people look to the appeal of the

North Canterbury lifestyle.

The Silverstream sub­division is

leading the way, including offering

retirement living for the town.

New developments such as the

proposed marina development and the

aqua sports park on former red zone land

offer further growth opportunities for the

town, should they proceed.

Over the next 12 months Mr Atkinson

sees three waters and sustainability as

the biggest issues facing Kaiapoi and the

Waimakariri district.

''It is my view that we need to be

moving forward on sustainability and

climate change.

''We've done aheap of stuff behind the

scenes, but we need to start putting those

Neville Atkinson

More Hot Water,

More Often.

Less cost.

Faster, easier gas hot water installs for

Waitaki District, North & Mid Canterbury

words into action.''

He says there will need to some

considerable spending over the next

decade in the sustainability space.

The challenge will be spreading costs

out in abid to keep rates down.

Thrills and spills ... The Kaiapoi River Carnival is expected to be back next month.

Town gears up for events

Kaiapoi has shaken off the effects of

Covid­19 and has abusy couple of months

of events in store.

Events group All Together Kaiapoi is

kicking off the year with the Kaiapoi

Garden Competition on Friday, January

28, and the Waitangi Day Family

Celebrations on Sunday, February 6.

Looking ahead, the Kaiapoi Fun Run

and the Kaiapoi River Carnival are

expected to return in March.

While most of All Together Kaiapoi's

events last year managed to go ahead, the

annual Spring Festival Party in the Park

and the inaugural 3x3 basketball

competition were casualties of Covid­19.

''We were pretty lucky because we got

enough of our events off the ground,'' All

Together Kaiapoi co­ordinator Linda

Dunbar says.

''It was pretty challenging with the

uncertainty last year, but now that

there's alittle bit more clarity there's

also more paper work.

''But it does mean these events can

happen.''

The Kaiapoi Promotions Association

was not so lucky, with the Kaiapoi

Christmas Carnival and Santa Parade

cancelled due to Covid­19 restrictions.

But the KPA is hoping for more luck

when it looks to bring back the Kaiapoi

River Carnival, after the event had ayear

off in 2021.

Keep an eye on Facebook for updates

on these events.

Visit
---
Waitangi Day to be celebrated

By DAVID HILL

After some initial uncertainty, Kaiapoi's

Waitangi Day Family Celebrations have

been given the go ahead.

All Together Kaiapoi co­ordinator

Linda Dunbar says the Waimakariri

District Council has approved the

group's health and safety plan, which

meets the requirements of the Covid­19

orange traffic light restrictions.

This means the free, annual event will

go ahead as planned on Sunday,

February 6, at Trousselot Park in Charles

Street.

Asection of Trousselot Park will be

roped off, with one entry /exit point and

vaccine passes will be required.

Aface covering is also encouraged.

''We thought fencing off the park was

going to cost thousands of dollars, but it

was much easier than we thought,'' Linda

says.

''As long as we put some signs up and

rope it off we can make it work and it's an

opportunity to get alocal contractor

involved.

''It's still apublic park, so we can't stop

people from gathering outside the roped

off area or sitting on the bank and

enjoying the music.''

Linda says there are afew changes to

the usual format this year with a

different range of cultural entertainment

and new people performing.

''It was getting alittle bit stale, so we've

decided to change it up,'' Linda says.

New this year will be paint ball target

shooting, with people encouraged to

have ago.

What hasn't changed is that there will

be free entertainment on offer and

speakers, including Kaiapoi High

School's 2022 head students, who will be

attending their first official engagement

of the year.

The day's proceedings will be opened

Kapa haka ... The Kaiapoi High School kapa haka group performs during last year's

Waitangi Day Family Celebrations.

PHOTOS: FILE

by Ray Harper playing the bagpipes at

10am.

''It's quite acool experience opening

the event with alone piper,'' Linda says.

Sharon Williams will be back to MC the

event and will be performing with her

family band ''Family Affair''.

''It just wouldn't be the same without

Sharon,'' Linda says.

Joining Sharon on the stage will be up

and coming musician Jaydin Shingleton.

Kaiapoi High School's kapa haka group

will once again organise ahangi

fundraiser, with participants able to

preorder from the Kaiapoi iSite for $10

per person (cash only) before the event.

It will be limited to 140 tickets.

There will also be plenty of market and

food stalls to keep people entertained

and fed.

Pony rides, face painting, airbrush

tattoos, aphoto booth and flip out air

tracks will also be available.

All together ... Hamish Bain (left) and

Angus Watson taste test the All Together

Kaiapoi barbecue on Waitangi Day last year.

For more information on the Waitangi

Day Family Celebrations, visit the All

Together Kaiapoi page on Facebook.

OUR TOWN KAIAPOI

The North Canterbury News, January 20, 2022

17

Search on

for Kaiapoi's

best garden

The Kaiapoi Garden Competitionis

back.

Gardeners are encouraged to gettheir

entries in now, before judging in the

annual gardeningcompetitionisheldon

Friday,January 28.

All Together Kaiapoico­ordinator

Linda Dunbar saysentries have been

slowcoming in,but thereisstill time.

Categoriesinclude''walk around'',

''viewfrom thestreet'', town house,

garden underthree yearsand

structured landscape(built features

combined withplantselection).

A''community pride''categoryallows

individual gardenersorgroups to

present agarden outsidetheirboundary

forotherstoenjoy.

Theenvironmentally conscious can

enter thesustainability section and

there is alsoa''best street'' category.

Acommercial or business premises

category also allows businessestoenter.

Atrophy andcertificatewill be

awarded to the winner of each class,

with certificates for secondand third.

The''supreme garden award'' will be

presentedtothe garden whichreceives

themost points overallacross each of

thecategories.

Entry is free, but competitorscan

enter only onecategory.

Once againthe competition is being

sponsoredbyChristine Watton of Ray

White Kaiapoi.

Peoplecan getentry formsonATK's

page on Facebook,byemailing

alltogetherkaiapoi@gmail.comorby

phoning ChrisGreengrass on (03)

3277818 or 021­781939.

Having aBBQ or social gathering?

Preparingforthekids to go back to school?

We're here to assist youwithall of your essential needs

Fresh Quality

Produce and Meat

for your summer

BBQs

Tasty Fruit

for

School Lunches

Increased range

of Gluten Free

Products

Ecostore

Refill Station

now in store

Onlineshopping alsoavailable.Visit www.newworld.co.nz/shop/signup

2438240v2

The teamatNew WorldKaiapoi wish you and your families aHappy New Year

52 Charles Street, Kaiapoi

Proudly 100% locally owned&operated

Phone: 03 3755180

Kaiapoi@newworld-si.co.nz
---
EARLY YEARS

18 The North Canterbury News, January 20, 2022

Weaving together ... The award winning mural celebrating the Little Pepper Tree Preschool's place of belonging in its community.

Award winning mural at Little Pepper Tree

Little Pepper Tree Preschool in

Rangiora is one of 10 winners in the

Keep New Zealand Resene Wall Worthy

competition.

Its award­winning mural titled Whiria

Te Tangata,was one of 10 winners

announced by Keep New Zealand

Beautiful late last year.

The mural features aflax weaving

design and celebrates the school's

tūrangawaewae, place of belonging, as

well as the crossing paths and weaving

together of the local community. The

project was initiated by parent Mel

Easton who painted the mural with help

from the school's teachers, children and

their whānau.

Mel says the mural celebrates the

2441004

ENROLLING NOW

20 HOURS FREE ECE

Pre-school and nursery 0-6 years

Excellent child/staff ratios

Exciting and caring environment

Hours 7.00am-6.00pm

Welcome Special for new enrolments,

where the first 4weeks are FREE

48 Church Street, Rangiora

Phone (03) 313 5675

www.firstlearners.co.nz

surrounding landscape of the Rakahuri,

and also the community of tamariki,

whānau and kaiako at the preschool.

''Much like the braided river, our

different paths cross and weave

together.

''The harakeke weaving symbolises

the weaving together of our community,

with different generations of family and

friends all contributing to growing our

preschool community,'' says Mel.

The Resene Wall Worthy Competition,

which is part of the Paint New Zealand

Beautiful programme, ran from

February to April 2021, with schools,

early childhood centres and youth

groups around New Zealand asked to

submit amural design which celebrated

The First Years Are Forever

Taking enrolments for 2022

their local history or anature

conservation theme. This could then be

painted in their local community.

From all of the submissions received,

15 designs were chosen as finalists and

put to public vote at the start of April.

Over 6900 votes were received, and the

10 winners were chosen.

The winners received a$750 Resene

voucher for paint and materials, adrop

cloth and high vis vests as well as a

donation of $500 for murals completed

by the end of Term 4, last year.

Keep New Zealand Beautiful CEO,

Heather Saunderson says the Wall

Worthy competition is growing in

popularity.

She says it is inspiring to see the

PHOTO:SUPPLIED

calibre of mural designs from schools,

early childhood centres and community

groups from around the country, each

showcasing either their local heritage or

an environmental message.

'''Research shows the positive impact

mural art has on surrounding

communities –from increasing civic

pride to reducing anti­social behaviour

such as littering and graffiti.

Congratulations Little Pepper Tree

Preschool on completing your mural ­

we love to see the winning entries come

to life and your little part of New

Zealand painted beautiful.''

Kaiapoi High School with Belonging

Matters,was also aprize winner in North

Canterbury.

Take time selecting an early learning service

Thereare anumber of options to chose

from when you are looking for an early

learningservice.

To narrowthem down make of list of

what you need, visitthose you thinkcan

deliver them, check the Education Review

Office review of prospectivecentres, and

don'tbeafraidtoask opinionsofother

users.

Asking other parentsabout early

learningservices and kōhanga reo in your

area,toget first­hand knowledge, is often

very helpful.

Parents and caregivers havefirst­hand

experience, and can be agreatsource of

information. Asking friends and family,

and researchingonline can also help you

make achoice.

Spaceatthe centre, the location to

ensure yourlittleperson is not too far from

your work, home, or where you study, the

styleofcare, and the servicesoffered, are

all important questions to have answered.

Your queriesmight include if meals,

drinks,and nappies are provided.

The centre'sfees are alsoabig

component, and if theyare open during

school holidays, and the Christmas/New

Year period, are alsoconsiderations.

Affording the fees is important,

remembering even with the government's

20 hours bolster, costisparamount.

You also need to find out about the

educators or parents running the early

learning serviceorkōhanga reo, their

qualifications and experience,along with

how many children attend, and how many

adults work there.

Your children's wellbeing should also

feature, therefore discuss howmuch

individual attention the childrenget, the

daily routine and activities, and when the

children sleep.

Behaviour management at the centreis

also important,along with accidents and

sickness, and the allimportant

communication withparents.

Lastly visitingthe centretoget the feel

of it is important. Is it awarm,encouraging

and supportive environment, withgood

supervision?

ERO'sreports provide information for

parents andcommunitiesabout strengths

and next steps for development for each

earlylearningservice or kōhangareo.

The reports cover things likethe

learning environment, processes and

procedures, how educators relate to

students, the commitment to bicultural

practicesand how theysupport Māori

learners, how they review andmonitor

themselves, and their vision and

philosophy. Early learning services and

kōhanga reo are reviewed on average once

every three years.

ERO reportsare available free on the

ERO website, along withabooklet, Early

Childhood Education: AGuide for

Parents.

For further information you can

download the Ministry of Education

booklet, Choices, from its website.

Annabel's Educare

Arlington

Opening Hours: Monday -Friday, 7am -6pm

50 weeks ofthe year.

Annabel's Educare –Arlington

provides anurturing,creative, challenging and learning

focused environment forchildren aged 0-6yrsold.

Annabel's Educare –Arlington

is an innovative, purpose built, Early Childhood Centre

that has been specificallydesigned to meet the learning

and careneeds of all children.

Choose Kindercare

Rangiora for allyour

childcareneeds.

26 Sandown Blvd Arlington

Ph –03313 6346

www.annabelseducare.co.nz

2431843

Ph: 03 310 6631

www.kindercare.co.nz
---
SECURE YOUR

TODAY

There's no mistaking the muscular front of Triton

as it breaks through the bush or powers down

the highway.

There's a Triton model for you, visit Rangiora

Mitsubishi to find your perfect Triton.

*Prices listed are for Triton 2WD GLXR double cab, Triton 4wd GLSB double cab and Triton 2WD

VRX double cab.Prices exclude on road costs which includes WoF, registration, 1,000km road user

charges and afull tank of fuel.

FROM

GLXR

$39,990 +ORC

• Side Steps

• 7" Touch Screen Smartphone

Link Display

•18inchAlloyWheels

2WD VRX

$44,990 +ORC

• Factory-fitted black body kit

• Black 18 inch Alloy Wheels

• Leather-Appointed Interior

$48,990 +ORC

• Factory-fitted black body kit

• Black 18 inch Alloy Wheels

• Front and rear parking sensors

RANGIORA MITSUBISHI

29 Southbrook Road, Rangiora | 03 941 3175 | rangioramitsubishi.co.nz

10 year /160,000kmPowertrain Warranty(whichever comes

first) (non transferable). 5year/130,000kmNewVehicle

Warranty(whichevercomes first) (non transferable).

4WD

4WD

*Finance offer available on new Nissan Navara and SUVs. Approved applicants of Nissan Financial Services New Zealand Pty Ltd (Nissan) only. Fixed Interest Rate 1% p.a. available

on loans with a 36 month term. No deposit required. Terms and conditions apply. This offer includes an establishment fee of $375, PPSR fee of $8.05 and $10 per month account

keeping fee. All lease and some fleet purchasers excluded. X-TRAIL & Navara ORC of $1,495 includes initial 12 month registration & WOF, fuel and vehicle delivery. Nissan reserves

the right to vary, extend or withdraw this offer. Not available in conjunction with any other offer. Valid from 01/10/2021 to 31/01/2022. Units must be registered by 31/01/2022.

RANGIORA NISSAN, 321 High Street, Rangiora

Ph: 03 941 3175

www.rangioranissan.co.nz

rangioranissan.co.nz
---
NEWS

North Canterbury News, January 20, 2022 21

Sculptures at Kaiapoi Mill

Sculptures by thelate Cole Bellette will

feature at an open day at the Kaiapoi Mill

on Saturday, January 29, at 35 Ranfurly

Street.

People wishing to view or purchase his

works can visit from 10amto1pm.

Cole, who created, designed and made

house and garden sculptures at his

@rtizani studio, diedlate last year.

He was in his early­50s.

Cole drewinspiration for his

sculptures from the natural world

around him, both in designand

materials.

His worksoften echoedthe formshe

saw in ferns, pungas, bull rushes and

grasses.

Although his sculptures were made of

stainless steel, corten steel and stone,

their form and construction often

retained soft curves and flowing

movement found in nature.

Cole's works featured atmany

exhibitions, and he contributed worksto

the LauraFergusson Brain Injury Trust,

and other organisations to help them to

raise funds.

Cole set up his studio in the former

Kaiapoi Woollen Mill about eight years

ago and many of hisworksfound an easy

placeinthe gardens and landscape of the

Rangiora and Kaiapoi area.

Guinea Pig Show

NorthCanterbury GuineaPigs are

holding ashow at 36 Rangiora­Woodend

Road on Sunday, February 13. Doorsare

open from 10amto2pm. Entries will be

takenfrom 10amat$5ananimal, and

therewill be grooming demonstrations

and animalsales. BYO lunch,

refreshments provided. Enquiriesto

021­1457245.

MundiTrio

The Mundi Trio, will performatthe

Balcairn Hall on Saturday, February 12,

7.30pm. The Mundi Trio comprises

Brazilianpercussionist RicardoStuani,

guitarist ChrisDabinett andflautist,

vocalist, along withcomposer Tamar

Smith. Tickets to the ArtsonTourNew

Zealand event are $25from SallyMacs,

Amberley,Stan'sPharmacy, Rangiora,

and the Sefton Garage. Theycan also be

bought via balcairnhall.com. Vaccine

passand mask required.

Big BrothersBig Sisters Big Bounce

Big Brothers Big Sisters of North

Canterbury is hosting The Big Bounce,

thanks to Fun HQ. Join the Big Brothers

crewatRangiora'sVictoria Park next

Thursday, January 27, between1pm and

6.30pm for hours of fun with mega

obstaclecourses, big slides,water

rollers, paddleboats, bounce houses and

all things inflatable. Therewill be a

sausage sizzle, ice blocks, donuts and

other treats available to keep tummies

happy. Tickets are $10 eachfor two and

halfhours of fun, with the proceeds going

to support North Canterbury's youth

mentoring programme. Tickets are

limited,follow the Big Brothers Big

Sisters of NorthCanterbury page on

Facebook for more information.

Transport Manager -Bulk

GVT is based in Waipara, North Canterbury. We operate asuccessful, well established rural transport

company with 21 trucks (4 bulk, IHiab, 3spreaders and 13livestock trucks). An opportunity has arisen

to join our team, due to the impending retirement of along serving Manager.

The Bulk TransportManager looksafter the day to day operations of thebulk fleet, hiab and the consignment

fertiliser store. The role reports directly to the ManagingDirector and has plentyofscope to grow

Key Tasks &Responsibilities:

• Schedule dayswork for the department

• ManageBallanceConsignment Store

• Monitorstaff performanceagainstcompany

standardsand performance criteria andensure

an appropriatelevel of training which is

regularly assessed

• Coverall Bulk after hours related enquiries

• Liaisewith key contacts; agents, reps and

customers,toincrease the profile and

profitabilityofGVT.

• Ensure your department is working together

with other departments, in particular maximising

use of our labour force.

• Maintain and enforcethe companystandards /

rules and regulations.

• Maintain health andsafetystandards.

• Ensure the fleet is well maintained by

schedulingmaintenancefor entirefleetweekly

and liaisingwithworkshops, driversand other

departments

• To promote self and GVTtoensure growth of

the business.

Key Skills and Experience:

• Greatcommunication skills with staff and

customers

• Computer literate

• Abilitydrive atruck from time to time

• Ideally asimilar position in acurrent or previous

role

• Abilitytotrain drivers

• To lead by example andmaintaincompany

standards.

Position Requirements:

• Class5licencefor aconsiderable length of

time and be medically fit

• Mustbeabletowork flexible hours and cover

afterhours enquirers

• Abilitytolead by example.

• To model andmaintain staff standardsof

communication.

• Rural transportexperience

Remuneration:

• GVT offers competitive remunerationand the

use of acompany vehicle for workand personal

use.

GVT is an established rural transport operator we are committed tohealth and safety which includes a

comprehensivedrugand alcohol policy.Weaim to provideasafe workingenvironment

If you have the experience, skills and desire to join our team please apply with your

CV and acovering letter to the Managing director marco@landline.co.nz. or call

Marco on 027 496 5850.

2450054
---
BACK TO SCHOOL

22 The North Canterbury News, January 20, 2022

Office opens

Monday 24 th Jan 2022

for enquiries and

enrolments

Years 1-8 and Leaders

on Wednesday 2 nd Feb

All students to return

on Thursday 3 rd Feb

Phone: 03-315-8233

www.amuri.school.nz

2433218

RANGIORA BOROUGH SCHOOL

Nau Mai, Haere Mai

Welcome to Rangiora Borough School

for 2022

School commences at 8.55am on

Thursday 3 rd February

All stationerywill be provided and

available on day 1.

Uniforms are available from The Warehouse.

Forenrolment enquiries and enrolment procedures,

please visit our website -www.rangiora.school.nz

under 'Enrolment'

2438368

Aspecial

Welcometoall our new and

returning students in 2022!

Our office opens on:

Monday 31 January

Our first day for students:

Tuesday 8February

Enrolment queries (in zone only)

can be made through

office@tematauru.school.nz.

Please note email and phone enquiries will

be replied to from 27 January 2022.

Celebration ... Oxford will celebrate 150 years of education in the town at Labour weekend.

celebration in Oxford

By DAVID HILL

Oxfordisset to celebrate 150

years of education in the

area duringLabour

Weekend.

While Oxford AreaSchool

was established in 1978, the

Bay Road site was formerly

home to the OxfordDistrict

High School, whichwas

established in 1872.

''At this stage it's about

marking the datewhile we

plan out the weekend,''

principal Mike Hartsays.

In the lead up to the

LabourWeekend

celebrations, studentswill

be learningaboutthe

school's historyaspart of

bringingAotearoa New

Zealand history intothe

curriculum, he says. ''Itwill

giveour youngpeople the

opportunity to explore the

history of Oxford.''

As the school reflects on its

past, it will also look to the

future, with the biggest

redevelopment on the site in

150 years taking shape.

''Itcould be abuilding site

at the time of the jubilee as

we make way for two

significant buildings on site,

replacing almostall of our

older classrooms,'' Mr Hart

says.

The redevelopment not

only replaces old

classrooms, with most

buildings pre­dating Oxford

Area School, but also caters

for growth.

Of the presentschool roll

of around 600, more than 300

are in the year7to13end of

the school, Mr Hart says.

''At the momentwehave a

bulge in the year 9to13s and

probably our biggest ever

cohort,particularlyinthe

year 9and 10s.And we have a

really healthy numberof

students in year 13, who

celebrate their graduation

after 13 years at the school.''

Jubileecommittee

chairpersonMary Chisnall

PHOTO:FILE

served on the 125th jubilee

committeein1997, while her

mother served on the

centenary committeein1972,

Mr Hartsays.

''We havestaff who were

students here and now

they're teaching here. ''And

we havegenerations of the

same family who havecome

through the school(s), so

when we have our 150th

jubilee it will be quite

exciting to see those

generations come together.''

To register an interest in

the reunion at Labour

Weekend, October 22 to 24,

email:

jubilee@oxford.school.nz.

Cheviot to encourage budding farmers

Cheviot'sbudding youngfarmers are

hoping to test their skills nextmonth.

Cheviot Area School students have

formed aTeenAg cluband are hopingto

compete in theJunior Young Farmer of

theYearTasman regional final being

held at LincolnonFebruary 19.

Thegroup wasformedtohelplocal

students to engagemore in theprimary

sector. Since itsformation, the students

have been busyfundraisingtoattend

the Junior Young Farmerfinaland

planning fieldtripstolearnabout

different aspects oftheagriculture

industry.

Theclubiskeentohearfrom anyone

who would like to help. Contact the

supportteacher KellyFletcher­Jones at

Cheviot Area School on (03)3198787or

email:

kfletcher­jones@cheviot.school.nz.

C A S

www.cheviot.school.nz

W2022

Nau mai haere mai, new enrolments welcome

for 2022 -Years 1to8

Free Kai in Schools Programme

Dual Learning Integrated &Small Class Sizes

4th February course confirmaon(Y11-13)

4thFebruary new enrolments

7th February Waitangi Dayobserved (school

closed)

8th February first Day alllevels (Y0-13)

Funded Uniform and Stationery for 2022

Contact our office for avisit orenrol online at:

https://hapuku.school.nz/for-matua-whanau\#enrolment

School year commences Wednesday 2Feb 2022

Contact and enquiries to03 319 5228 oroffice@hapuku.school.nz

559 Kincaid Road, Hāpuku, Kaikōura 7371

All information isonour website: https://hapuku.school.nz

Ki Uta kiTai -From the Mountains to the Sea

Best ofBoth Worlds

2443433
---
2430024

BACK TO SCHOOL

The North Canterbury News, January 20, 2022

23

TUAHIWI SCHOOL

Year 0-8. Noenrolment zone.

Twolearning pathways -TeReo Māori andEnglish

Exciting, innovative, personalised learning programmes

High qualitykaiako,genuine whānau participation.

February 2 nd -Goal Setting

February 3 rd - All students in attendance

School office will be open on 31 st January

&1 st Febuary 10am -3pm

Enrolments byappointment:

Contact the school office

03 313 8521 or021 184 9344

office@tuahiwi.school.nz

www.tuahiwi.school.nz

New build ... Final preparations are being made to Hurunui College's new junior block.

We would like to wish everyone a

Happy New Year!

Welcomes pupils back to school on

Monday 31 st January 2022

at 8.50am.

The School office will be open on

PHOTO: SUPPLIED

Classrooms renewed

Hurunui College's juniorpupils can

look forward to new classrooms when

they return to school this year.

Principal StephenBeck says the

school's year1to4staffare excited at

the prospectofmovinginto anew

classroom block.

The new block featuresfour teaching

spaces, workspaces and ajunior

technologyhub.

It replaces fourprefabricated

buildings which are thoughttodate

back to the 1970s ''and probably had a15

year life span''.

''It'sbeen along time coming and

greatly needed,'' Mr Beck says.

''Those prefabshad poor insulation

and were hard to heat,soitwill be nice

to havefit for purpose buildings.

''The workhas been goingfor nine

monthssofar, and it will change the

look of our junior end of the school.''

The prefabs were due to be moved offsite

lastweekend, withthe final sign off

of the new buildings likely to happen

this week.

The $2 million buildwas made

possible when the Ministry of

Education agreed to chip in some extra

funds to extend the school's 10­year

property budget, afteraperiodof

negotiation.

Mr Beck says there was talk of moving

prefabsfrom the former Shirley Boys'

and Avonside Girls'High School sitesin

Christchurch.

''But Isaid 'if they'renot good enough

for town,they're not good enough for

us'.

''We wantedbuildingswhich were fit

for purpose.''

With the redevelopment of the school

finallycomplete, Mr Beck saysHurunui

Collegehad the infrastructure to serve

for the next30years.

Mr Beck, who is the New Zealand

Area Schools Associationpresident,

says rural areas are often neglected

compared to larger urban schools.

The recoveryfrom the Canterbury

earthquakes had also led to extended

delays for schools which werenot

directly impacted, he says.

''The urban areas have had massive

population growth, whereasthe rural

schoolshave stayedrelatively

consistent overthe last20years.

''And then we had the earthquakes

which meant the energywent into

rebuildingthose schools.

''But it's good to see we haven'tbeen

left out altogether.''

Our school office will be open from Tuesday1 st February.

Thefirst day back forstudents is Wednesday 2 nd February 2022 startingat8:55am.

Forall enquiries please phone the school office on 314 9444.

Wednesday 26 th January 12-3pm

for new enrolments and

general enquiries

If you wish to contact the school prior

to enrolment day, please email

admin@ashgrove.school.nz

Phone: 03 313 8552

2438050

2438048

2431145

27 th -28 th January Office open for enquiries

31 st January -1 st February Teacher Only Days

2 nd February Y11-13 students only

3 rd February Y1-10 students only

4 th February Full School Y1-13

Mihi Whakatau 9am

School Hours 8.45am -3.00pm

Phone (03) 314 4430 •office@hurunuicollege.school.nz

Stephen Beck —Principal

Rangiora High School

Te Kura Tuarua o Rangiora

Start Dates for 2022

Nau mai haere mai.

Welcome to the new school year.

27 January New Enrolment Day, 9.00am to 10.45am

(for all new non-enrolled students at all year levels)

28 &31January Teacher Only Days

1February First day for Years 11-13 (who return on 3Feb)

2February First day for Year 9 (Year 9Orientation Day)

3February First day all levels are at school (Years 9-13)

4February House Sports Day (Years 9-13)

7February Waitangi Day observance

More detailed information onour 2022 start dates

is available onthe 'News &Events' page at:

www.rangiorahigh.school.nz
---
BACK TO SCHOOL

24 The North Canterbury News, January 20, 2022

Youth being well supported in Kaikoura

Kaikoura's youthleaders are gearing

up for abusy year.

The Kaikoura Education Trust,

knownasTeHaoMatauranga, offers a

variety of education programmes,

youthgroups and activities, and

supports the Kaikoura Youth Council.

The trustisin its second year of

delivering the Mayor's Taskforce for

Jobs programme and is on track to

exceed its targets, employmentcoordinator

Sean Maddensays.

The criteria is to place50youth

impacted by Covid or with disabilities,

but ''we don'tturn anyone away'',Mr

Madden says.

In the firstnine monthsaround130

people were placed in jobs, including

60 placements underthe criteria.

Mr Madden says around 80 have

been placedinjobs since July.

In the last six months threefirstaid

courses, aclass 2trucklicence course

and defensive driving courses have

been offered, with more in the

pipeline for 2022.

Work preparation courses are

offered for high school students and

Winz clients, including CV and cover

letter writing and interviewskills.

Food safety and basiccoffee skills

courses are offeredaspreparationfor

jobs in hospitality.

''We support workplaces to upskill

staffaswell.One of our mandates is

supportinglocal businesses,'' Mr

Madden says.

Localstudents are supported to gain

NCEA credits andqualifications

through correspondence school and

otherdistanceand online providers,

with staff onsite to help themstudy,

trustco­ordinator Vicki Gulleford

says.

The trusthas taken over the

management of the former Scout Hall,

whichhas receivedearthquake

reports.

''The outside work is complete and

now the community is fundraisingfor

the insideand the plumbingand

storage,''MsGulleford says.

''It'sreallygood to havethis

community space back againaswe've

been filled to the brim for space,

particularly foryoungpeople.''

The Kaikoura Youth Council is

preparing for arecruitment drive as it

gears up for abusy year.

''It'sasmallgroupbut they're really

committed,'' Ms Gulleford says.

''We always haveafew drop off each

year as they head awaytotertiary

study or for employment, so it will be

good to get the numbers backupto

take the pressure off.''

The trust is running summer

activities including aMtFyffe forest

walk and clay pigeontarget shooting,

so keep and eyeonthe Te Ha o

Matauranga page on Facebook.

Supporting Kaikoura youth ... Te Ha o

Matauranga co­ordinator Vicki Gulleford,

and employment co­ordinator Sean

Madden are gearing up for abusy 2022.

PHOTO: DAVID HILL

Back to School Dates 2022

Tuesday 1February Year 13 Peer Support Day 10.00am-3.00pm

Wednesday 2February Year 9Powhiri 8.45am-3.00pm

Vaccination Passes required for parents to attend Powhiri

Thursday 3February

Full school day

Friday 4February

House Challenge Day

Ohoka Road, Kaiapoi

Phone 03 375 5004

e-mail: learn@kaiapoi.school.nz

All Welcome

producinginnovative, well-balanced, lifelong learners

2444835
---
New tech frontiers at

Rangiora New Life

Covid­19 hasopened up new

technologyfrontiers for schools,

RangioraNew Life Schoolprincipal

StephenWalters says.

Likemanylocalschools, Rangiora

New Life Schoolmoved its annual

prizegiving onlinetoallow families to

watch theevents,amidCovid­19

restrictions.

''Welivestreamed prizegivingthis

year.

''But it still doesn't takeawayfrom

the fact our parentscouldn't be there,''

he says

However, theschool hadlearntthat

by streaming the prizegiving, it had

allowedfamily members in other parts

of New Zealand andoverseas to watch

it in realtime.

Mr Walters saysthe pandemic

accelerated some of the developments

thatwere probablyalreadyinthe

pipeline.

For him, it is justone more

''paradigm shift in education''.

''Mytime in education has traversed

fromwhere computerswere oddities

and nowwehavephones which are

morepowerful thanthe computerswe

had back then.''

RangioraNew Life School

introducedBYOD (bring yourown

devices) six years ago,somovingto

onlinelearning for thelast twoyears of

lockdownshas been arelatively

seamless transition.

''We're usedtohaving devices as part

of our teachingand learning, it just

meant goingfrom face­to­face to

screen­to­screen learning wasthe only

realchange,'' Mr Walters says.

These daysthere are 400­odd pupils

and staffusingmultiple devices at

school.

It hascreated atechnological

challengewhich allschools havebeen

forcedtomeethead on, to createa

systemtocopewillall that data, he

says.

Mr Walters saysschools havea

valuable roletoplayinprovidingfaceto­face

contact and facilitating student

learning.

''Thecrucial person in thelearning is

theteacher.

''They're the personwho takes what

needstobelearnedand adaptsitfor

each student to achieve the learning

outcome.''

Thebenefitoftechnology, besides

allowing learningtocontinueina

lockdown environment, is in enhancing

individualisedlearning ratherthan a

moretraditional ''one size fits all''

approach,hesays.

''Students are notgettingbored

because they'vefinished earlier and

havingtowaitfor therestofthe classto

catch up, because there's

opportunitiesfor them to carry on

individually.

''Evensomethingassimpleasa

video,inthepast youcouldonlyshow it

to the class once. But nowwedistribute

video resources to student devices so

theycan watch it multiple times at

schoolorathome.''

Mr Walterssaysthere seemstobeno

limitsonwhat learningispossible with

technology. Having dabbled in virtual

reality, he says, it hasthe potentialto

simulate experiences whichmight

otherwisebeunavailable in the

classroom. ''It seems real. Iwill

certainlynot be riding any more virtual

rollercoasters.''

JULIA EVANS-BRANT School of Music

Phone A/H 03 312 0904 Mobile 027 251 0123

............................................................

Specialist in Individual One on One Tuition -get more

out of your lessons and learn individually at your pace

Woodwind Specialist (Classical, Jazz,

Rock and Pop)

Fully RegisteredMusic Teacher

Scholarships /SmallGroups /Jazz Bands

Offering AssociateBoard and TrinityCollegeof

London Exams:Initial-Diploma Level

Graduated in Cambridge, England -Qualifications: BA

(HONS),LLCM(TD), ALCM, AIRMT,DipTeach (Sec)

Flute, Saxophone, Clarinet, Recorder and Music Theory.

Beginner Voice and keyboard, NCEA Assistance Music

Discover the Magical Sounds of

SAXJULS-TONE Professional Performer

1950S TO CURRENT

WEDDINGS –CHURCH, SIGNING REGISTER AND

RECEPTION

FUNCTIONS AND SPECIAL OCCASIONS

Phone A/H 03 312 0904 Mobile 027 251 0123

2444038

Dates for 2022

Friday 28 th January 2022

Course Confirmation (Old Library)

1.30pm -2-30pm, Year 11

2.30pm -3.30pm, Year 12 &13

Wednesday 2 nd February 2022

All Students Year 1-13

9.00am Start

11.30am: Mihi Whakatau

(Welcome) GP Hall

Welcome to the new school year and

to new students, staff and parents.

Buses run from Wednesday

2 nd February

BACK TO SCHOOL

The North Canterbury News, January 20, 2022

2442281

2430665

25

WOODEND SCHOOL

We welcome all families

and students back to school

with astart date of

Wednesday 2 nd February 2022.

The office will be open from

Wednesday 26 th January

from 9.00 am to 12.00 noon for

enrolments and enquiries.

Adrienne Simpson -Principal

Ph: 03 312 7808 or (0274) 430 451

WAIPARA

SCHOOL

commences on

Wednesday

2 nd February 2022.

Please remember to bring sunhats

and swimming togs.

Enquiries and new enrolments to

Di Officer, Principal

Ph 03 314 6814

waipara@xtra.co.nz

www.waipara.school.nz

Waipara School

Loffhagen Drive, Waipara

2432499

Accepting enrolments for 2022 from young parents

or expectant parents aged under 21 years

The on-site ELC has spaces available for children

aged 6weeks to 6years

Monday 24 January 2022, 9am to3.30pm

Early Learning Centre open for new enrolments.

Transport available. Whānau welcome.

Tuesday 1February 2022, 10.30 to12noon

Young Parents' College enrolment for

new &returning students

For all YPC enquiries please contact:

Ruth Robertson P: 3278386 M: 022 0742326

Robert Coup Road, Kaiapoi 7630

E: ypc@kaiapoi.school.nz

For ELC enquiries please contact:

Jacinta McInerney P: 3278315 M: 027 8165388

E: karangamai@wellbeingnc.org.nz

2444324
---
BACK TO SCHOOL

26 The North Canterbury News, January 20, 2022

2431956

Rangiora New LifeSchool

Te kura oranga hou oRangiora

ACommunity that Cares

Startdates for 2022!

Students who Achieve

Monday 31 January 9.00 am Office open.

Surnames A-L (+ Peer Support Leaders)

Tuesday 1February:

Wednesday 2February:

Course Confirmation (Yrs 11-13)

(Church Auditorium)

11.00 am Surnames M-Z: Course Confirmation

(Yrs 11-13) (Church Auditorium)

12.00 pm All NetNZ students

10 –3pm Peer Support Leader Training (Rm 29)

Smith Block

Teacher Only Day

Teacher Only Day

Thursday 3February: 8.50 am Yr 1-8 students (inclusive inuniform) to

classrooms

Yr 9&Peer Support Leaders to Events

Centre (Gymnasium)

Friday 4February: 8.50am Start for whole school

9-9.30 am Mihi Whakatau welcome for all students at

Events Centre.

Monday 7February

Waitangi Day observance –school closed.

More detailed information including stationery, bus routes etc. is available at

www.rnls.school.nz

Enrolments for 2022 are now closed.

PROVIDING QUALITY CHRISTIAN EDUCATION FOR YR 1-13

STUDENTS IN NORTH CANTERBURY

Denchs Road, Rangiora ph (03) 313 6332

admin@rnls.school.nz

www.rnls.school.nz

Musical at Ashgrove

By DAVID HILL

Leon Van't Veen­Gibbon is looking

forward to seeing his pupils shine this

year.

As the Ashgrove School principal,

known to his students as ''Mr V'', gears

up for his second full year at the school,

he is excited at the prospect of awhole

school production of ''a blockbuster

musical'' he wrote.

''It will bring the school community

together with singing and dancing and

allow our students to shine like

superstars.''

The details of the musical are being

kept under wraps for now, but Mr Vsays

it is aproduction not to be missed.

After ''a year of firsts'', Mr Vsays he is

excited about the future at Ashgrove.

''Even though it's been hard to connect

with the community with the Covid­19

restrictions, Ifeel we have done well this

year and I'm looking forward to next

year,'' he said, just before the 2021

school year ended last month.

Among the highlights in 2021 were

hosting aMihi Whakatau to welcome the

new pupils with karakia, waiata, haka

and traditional greetings, participating

in the National Jump Jam competition

and introducing the William Pike

Challenge.

''The William Pike Challenge creates a

safe place for students to get used to

stepping outside of their comfort zone by

engaging them in new, challenging and

rewarding experiences,'' Mr Vsays

For the first time this year the school

has utilised social media to showcase

''moments of pride within our school to

the wider community''.

Anew initiative has been ''Ashgrove

Angels'', which was introduced by staff

two years ago and extended to students

last year, Mr Vsays.

Superstars ... Ashgrove School principal

Leon Van't Veen­Gibbon shows some of his

pupils the ''blockbuster musical'' which will

be performed as awhole school production

in term three.

PHOTO: FILE

''It was an activity that saw staff

anonymously celebrate our appreciation

of one another by leaving small gifts or

notes of appreciation for afellow staff

member, without them being aware of

who their admirer was.

''This brought joy and enhanced our

overall wellbeing.

''Each class has had avisit from 'Ash­

Grovy' or 'All Might', kindness

superheroes who lay down the challenge

to be kind to someone or agroup of

people by performing acts of service,

creating gifts and gestures of kindness.''

Youare warmly invited to contact Wendy at our Office

to meet our Principal Trish McKendry, and have a

guided tour of our Catholic school.

We have just completed asuccessful renovation

project of all of our classroom spaces into attractive,

inviting places to learn.

We offer acaring and supportive learning

environment which caters for individual learning

styles, offers arange of different learning

programmes, before and after school care and a

dedicated Intermediate School for Year 7&8students.

We also have asmall number of places available for

children who are not Catholic. We look forward to

meeting you and your family.

2376490

Address: 61 Fuller St, Kaiapoi Email: office@stpatkai.school.nz

Phone: 03 327 7700 Website: www.stpatkai.school.nz
---
STYLE & QUALITY

FOR LESS

STOREWIDE SALE

CHRISTCHURCH'SMOST AFFORDABLE

NZ MADE LOUNGE SUITES

SUPER

SALE

Manatee Corner Recliner Suite

ExtraSectionAvailable $299

WAS $2299

$

1999

Storage

Cup Holder

SUPER

SALE

WAS $519

$

479

Lennox Dining Chair

Ackley Dining Table

Ash

Acacia

Birch

WAS $139

$

129

500

DAYS

Lending criteria, $50Annual Account Fee, fees, Ts&Csapply. Standard Interest Rate

(currently 25.99%p.a.) applies toany outstanding balance at end of interest free period. Offer

ends 31 January 2022. Min spend and exclusions mayapply, $55 Establishment Fee or

$35Advance Fee applies to Long Term Finance Purchases.

SUPER

SALE

FROM

$

449

LiftUpBase

Mattress not included

Single $489 $449

King Single $509 $459

Double $689 $629

Queen $739 $659

King $899 $759

SUPER

SALE

FROM

$

449

Sumata Fabric

Headboard

Queen $479 $449

King $489 $459

California King $589 $539

SUPER

SALE

M o eraki

egg chair

SUPER

SALE

Raglan Egg

Chair

East Cape Table

Piha Extension

Outdoor Table

Black or White

WAS $999

$

779

WAS $699

$

649

Available in: Black, White

WAS $2699

$

2499

Marley

Outdoor Dining Chair

W A S $ 17 9

$

149

WAS $1899

$

1729

Marley

Outdoor Dining Chair

WAS $179

$

149

SUPER

SALE

Akaroa Lounge Setting

NEW

OUTDOOR

ARRIVED

SUPER

SALE

Palm Beach Lounge Setting

WAS $2699

$

2599

LIMITED STOCK

WAS $3299

$

2999

FREE

CARPARKING

SOUTHCITY

BATH ST

WE ARE

HERE

255MOORHOUSE AVE

REBEL SPORT

COLOMBOST

MON-FRI9:30AM–5:30PM

SAT-SUN 10AM–5:30PM

0800 268 264

500DaysInterest free terms: In-storeonlypurchases $499 &over. Ends 31 January 2022.Exclusions may

apply.Lending criteria, $50AnnualAccount Fee, fees, Ts&Csapply.StandardInterest Rate (currently 25.99%

p.a.) applies to anyoutstanding balanceatend of interest free period.$55 Establishment Feeor$35 Advance

Feeapplies to Long Term FinancePurchases. See in-storefor full T&C's
---
Nature does herpart

when nurturehappens first

Caring for your crop atkey times ensures its future takes care ofitself. Exirel ® uses clever chemistry toprotect fodder brassicas

from destructive pests like Diamond back moth, Leaf miner, Cabbage white butterfly and Aphid at the key stages of growth.

It's gentle on key beneficial insects. And ahealthier crop can lead to quality stock.

So protect your crop with Exirel ® and give Mother Nature the head start she needs.

Visit www.fmccrop.nz for more information.

ALWAYS READ AND FOLLOW LABEL DIRECTIONS. Copyright ©2020. All rights reserved. Exirel ® is aregistered trademark of FMC Corporation or its affiliates.

FMC New Zealand Limited

Phone: 0800 658 080

www.fmccrop.nz
---
RURAL LIFE

North Canterbury News, January 20, 2022

Familiar feel to the season

By DAVID HILL

NorthCanterbury farmers could be

excused for feelingasense of deja vu.

The grass is green and feed supplies

are strong, meat schedules and the milk

priceremain steady.

The scenario was similar 12 months

ago, untilthe ''tap was turnedoff'' and the

region was thrust into adrought.

''We saidthat last yearas2021 started

very similarbeforegoing very dry till

May,'' says Federated FarmersNorth

Canterbury meat and woolvicechairperson

Stu Fraser.

He says consistent summer rain means

Hurunui Riverlevels are holding well, so

therehave been no irrigationrestrictions

for keepingcrops watered.

It also means farmers have struggled to

get hay baledontime.

''Thelambs are growing wellwith some

good,fine, warmweather,'' Mr Fraser

says.

But concerns remain around freezing

worksspace, should therebeaCovid

outbreak.

Federated Farmers North Canterbury

presidentCaroline Amyessays therehas

been consistent rain so far this summer

and the grass is still growing.

''Talking to Daniel Maxwell at Cheviot,

he sayshe's got more grass than he's had

for anumber of years so he expects to

makesome money this year.''

Whatever the weatherholds in the

coming weeks and months,MsAmyes says

thereare some ''storm clouds'' on the

horizon.

Covid­19 and uncertainty around

regulations continue to causeheadaches,

whilehigh fertiliser pricesare pushing

up the costsofproduction.

''Fertiliser pricesare high and we don't

see that price dropping anytime soon, so

whileweare getting agood production

season,farmers are not making as much

as theywould like.''

2410273

29

The He Waka Eke Noa primary sector

climateactionpartnership roadshow will

be touringthe country nextmonth and Ms

Amyes encourages farmers to get along

and express their views. The roadshow

willstop off at the AmberleyPavilion on

February22from 12.30pmto2.30pm.

Ms Amyes says while thereisarisk of

Covid­19 getting on farm,the biggest

concernisthe disruption if freezing

works or milk processing plants are

forced to close due to an outbreak.

''But they have reallygood plans in

place if somethingshouldhappen. It's

about reducing the risk of exposure,

while still trying to livealife.''

She is hopefulthe traffic lightsystem

willallow A&P showstogoahead and

provideaboost to ruralcommunities in

an uncertain time.

''Big events take alot of effort to plan

and it alladds another layer of

complexity, but it wouldbereallygreat if

we could get afew of them happening.''

ECan offers irrigation tipsfor summer

Summer is here and that means irrigation

could become more widespread across

North Canterbury.

Irrigation cansupport bettergrowthin

paddocks, providing more feed foranimals

andbetter conditionsfor growing crops.

Water is aprecious resource in the

Waimakariri,Hurunui and Waiauareas

particularly in dry periods.

EnvironmentCanterbury's Waimakariri

andHurunui­Waiau Zone delivery lead,

Marco Cataloni, says people are

encouragedtoirrigate efficiently and

considertheir overallwater use.

More than 500,000 hectares of land is

irrigated in Canterbury.

Mr Cataloni saysone key factor people

should consider whenchoosingtheir

irrigationsystem,isits efficiency.

''Youshould look for one which will

maximise the amountofpasture grown

whileusing as littlewateraspossible.

''Well managed irrigation systems

protect water qualityand quantity,saveon

pumpingcostsand protectsoil structure,

ultimatelyretaining valuablenutrients.''

One key consideration for those

irrigatingismakingsure it staysoff the

road.

''It's vital irrigation systems only water

withinpeople's property boundaries and

not on the roads whereitcauses ahazard,''

Mr Cataloni says.

ONLINE MEAT SALES

MEAT2U.NZ

HOME KILL

&WILD GAME

MEAT PROCESSING

313 0022

•Lifestyle blocksupto

largepaddocks

•Spread up to 24m

•Tracmap proofof

placement

•Autosteer GPS for

accurate placement

•Widerange of

productsapplied in

one pass

•Deliverytruck available

Reduce your

urea cost by

applying your

nitrogen in

liquid form

Phone Eric 027 699 6763

lfscanterbury@gmail.com

Add us on

Liquid Fertiliser Solutions

FARMBIKE SPECIALISTS

Servicing North Canterbury for over 25yrs!

•Sales, Servicing &

Parts

•All Makes &Models

•Qualified Motorcycle

Engineers

(NCME, TRADECERT)

•Electrical &Mechanical

fault testing

•Quality 2nd Hand Bikes

&UTV's

•Repairs &Dismantling

•Insurance Repairs

2177981

163 Stokes Road, Balcairn

Ph (03) 312 9844 or 027 205 5724 (AH)

farmbikesnc@orcon.net.nz

www.farmbikeservices.co.nz

Big picture solutions to

match big

Innovation isatthe root of everything we do. Talk to your local Zimmatic ZIMMATIC dealer today

www.zimmaticanz.com Built for today to

Talk to your local Zimmatic irrigation dealer today to find

keep pace with tomorrow.

out how they can help make every drop count.

Zimmatic ® is aregistered trademark ofthe Lindsay Corporation. ©2021 Lindsay. All Rights Reserved

www.lindsay.com/irrigateanz
---
North CanterburyNews

PROPERTY

Live in your own Resort...

17 Oakgrove Drive, Rangiora

It's hard to believe our owners could even contemplate leaving this amazing place but it is time to downsize. Last year they stumbled upon and

purchased apropertythat will be perfect and keep them busy renovating for the next few years. What the next lucky owners of No. 17 will obtain

is the first home established in this amazing one-of-a-kind, lakeside lifestyle community,along with all its many benefits.

"Northbrook Waters" is one of New Zealand's only private slalom ski-lakes where one can walk outside their door to their own beachfront, and

wade into their own private lake. Whether you are askier or one of the many families who reside in this private community,everyone who enters

the gateway, simply falls inlove with the setting. Youdon't need to be askier to appreciate that this is arare haven -where you equally share in

all the facilities which include part ownership of the lake, clubhouse, and the ski-boat, the extras to living here are just the icing on the cake to

residing and buying in this oasis!

The home is substantial, along with four generous bedrooms, within the home over two levels, there is another living room upstairs that is currently

used as the home gym/study, this room is versatile and could be used for avariety of options. Along with the main house, aself-contained

apartment with private access is on the ground floor, complete with its own off-street parking at the end of the house overlooking the lake; a

perfect place for B&B or extended family to live independently away from the main home. The photos give you asmall tempter of what this home

has to offer,but viewing and experiencing will have your heartracing, immaculate presentation, all you need to do is move in and startliving.

While they'll be sad to leave 17 Oakgrove Drive, their loss could be your gain in this beautiful lakeside paradise that you're sure to love for years

to come.

Price on

application

5 4 3 1 3

Phone or text for viewing times

Sue &Gemma Roberts

027 440 1282 |027 223 6471

sue.gemma@harcourts.co.nz

View online @harcourtsfourseasons.co.nz

ID# BF36656

Four Seasons Realty 2017 Ltd

Licensed Agent REAA 2008

Four SeasonsRealty

2441708
---
YOUR LIFE

your way

RELAX or adventure

With arange of amenities and attractions always available, no

two days are the same at The Sterling, Kaiapoi.

You're free to explore, adventure, orsimply relax and recharge.

Socialise with friends and family or enjoy the peace and quiet.

Either way, the choice is yours.

AMENITIES

on your doorstep

There is much to see and do at The Sterling and new

amenities are rolling out all the time. Inthe future our

residents will be able to visit the village cafe, club

lounge or bar. Workout at the gym, swim afew laps

of the pool or unwind in the spa or sauna.

Choose to pass the afternoon in the games room or

strategise on the oversized outdoor chess set. The putting

green, bowling green and croquet lawn will keep any sports

enthusiasts busy, while the community garden will ensure

green thumbs will be well provided for.

And being only 20 minutes from the city centre via the

Northern Motorway, the best of Kaiapoi, the city and rural

Canterbury is always nearby.

Retirement living in the HEART OF THE COMMUNITY
---
SHOWHOME

now open

now open

STAGE2available now

Getintouch today

FIRSTRESIDENTS moved in!

Last month we welcomed our

veryfirst residents to

The Sterling, Kaiapoi!

Thiswas an excitingtimefor us,

and ourresidentshave enjoyed

their experience of settlinginto

their new lifestyle andmeeting

their neighbours.

Hear from acouple of our

residents and how they are

enjoying life at The Sterling.

Sharon Kearns and Ray Lewis –residents atThe Sterling

"When we came toThe Sterling we immediately liked what we

saw -even though it was still being built. We just knew 'this is for

us', so it was an easy decision to make.

The house is terrific. Everything we want ishere. It's spacious,

it's bright and it's secure. It's everything we want.

We don't feel isolated in any way. Weoften have friends drop

in, or we can walk down the road and see people we know and

say hello. The coffee shop is just down the road, so Ican meet a

friend there on aFriday and it's just easy."

We have no regrets about moving in.

We're very happy. Wewould definitely

recommend The Sterling for those in

the market for aretirement village.

Get in touch with Michelle by emailing hello@thesterling.co.nz or call on 0508 783 754 and talk about your plans.

VISIT us

Cnr Silverstream Blvd

&Island Rd, Kaiapoi

TALK to us

0508 783 754

hello@thesterling.co.nz

LEARN more

thesterling.co.nz
---
Four Seasons Realty

Four Seasons Realty

AUCTION
---
Four Seasons Realty

Four Seasons Realty

AUCTION

AUCTION
---
Four Seasons Realty

Four Seasons Realty

2021

RESULTS

OVER$16 MILLIONINSALES

AVERAGEOF33% ABOVERV

100% SOLD

Results speak for themselves!

Asolid 2021 and I'mlooking forwardtoevenbetterresults formyclients in 2022.

WHATMYCLIENTSARE SAYING

"Karen has been ouragent foranumber of property deals.Wehaveloved how sheoffers soundadvice. We

have found Karen to be an agent that goes theextra mile to provideanexcellent servicetobothher vendors

andpurchasers. We wouldn't useanyoneelse." Robyn &Paul

SOLD SOLD SOLD SOLD SOLD SOLD SOLD SOLD SOLD SOLD SOLD

SOLD SOLD SOLD SOLD SOLD SOLD SOLD SOLD SOLD SOLD SOLD

The sign youwant –the agent you canrely on! Call foryour free no obligation market appraisal.

Four Seasons Realty

Four Seasons Realty 2017 Ltd|Licensed AgentREAA 2008

KarenW

WARD

021 221 7027 |03313 6158

karen.ward@harcourts.co.nz
---
STOREWIDE

anniversary

anniversary

SALE

Chia Single/Single

Trundler

Bunk Bed

WAS $

1299

NOW

$

1099

NOW ON. ENDS 07.02.22

ALL LOUNGE, DINING, BEDROOM, OFFICE, OUTDOOR ON SALE!

Primavera 3Seater

WAS $

3499

NOW

$

2299

1 Seater

NOW $

1299

Kenzie 3Seater –Light Grey

WAS $ 1599

NOW

$

1399

Kenzie 2Seater –

Light Grey

WAS $ 1299

NOW

$

1099

MELVE WHITE

ON SALE

Dining Table –W190

NOW $

649

Bookcase

NOW $

699

Dario Egg Chair

WAS $

1099

NOW

$

699

Seychelles

Queen Mattress

WAS $ 599

NOW

$

449

HEAPSof HOTDEALS!

SCANQRTOSHOP

Dining Bench –W180

NOW $

275

Riva 3Seater

Electric Recliner

WAS $ 2699

NOW

$

2299

Antoni 3Piece

Outdoor Dining Set

–W140

WAS $

1399

NOW

$

999

Scantofindstore

250 Moorhouse Ave, Christchurch

0800 TARGET (0800 827438)

targetfurniture.co.nz

Offers and product prices advertised here expire

07/02/22. Sale Excludes Accessories.
---
SPORT &CLASSIFIED

North Canterbury News, January 20, 2022

35

Golf croquet in schools

GOLF CROQUET

By LINDSAY KERR

Followingthe success of recent

primary school Golf Croquet

tournaments,Rangiora Club member

Howard Pettigrew has takenthis

challenge to anotherlevel at the club's

River Roadfacility.

Golf Croquet has proven to be

popular with many of the students

from the four schools that have taken

part in the tournaments.

It has encouraged in particular,

those who do not necessarily have a

reasonable athletic ability and those

who like to think strategically.

North Loburn, Loburn, Ashley and

Ouruhia schools have taken part in the

annual tournament following coaching

sessions received from Howard.

The popularity has resulted in

combined sessions on Thursday

afternoons.

Recently this extended to Sunday

mornings whereparents have also

been invited, to witness the children's

progress and to also try the game for

themselves.

John Lundy (12) says he intends to

carry on playing, eventhough he will

soon begin secondary school.

''I like playing cricket too, but Ialso

like chess andthat is strategic, just like

Croquet,'' he says.

John's parents Manita andJames

tried their hand at the game ona

recent Sundayand also expressed

positive thoughts.

''We arefarmersand Ican't believe

Taking ashot ... Liam Jones shoots the

hoop while Tim Huffadine and Hayden

Jones watch on.

PHOTO:SUPPLIED

we are here playing when the sun is

shining at this time of the year.

''We do not do familythings very

often really, but we had breakfast out

today and now we are here playing

ourselves. It's home to dosome baleage

soon though.''

Stu Jones was with his two children,

who very quick to say they were now

playing on the lawn at home.

Tate Huffadine (12) plays several

sports including basketball and

cricket. Like the others, he loves the

strategic side of croquet.

With the soon to be opened

extensionstothe Rangiora club's lawn

facilities, there will be room to

adequatelycater for all ages and

perhaps reserve oneevening for a

business house type league to

commence.

Te Wiki Tūhura

Discover how toget the

skills you need for the job

you want.

27 January

to 3February

Fordetails visit ara.ac.nz

Public Notices

Road Stopping

Portion of the unnamed unformed legal road adjoining Costellos Road tothe north

and the unnamed unformed legal road to the south in Hawarden, Hurunui District.

Public Notice is hereby given that, pursuant to Section 319(h) and 342(a) of the Local

Government Act 1974, the Hurunui District Council proposes to stop part of the road

described inthe schedule hereto:

SCHEDULE:

PURPOSE:

The portion of road when stopped shall be amalgamated pursuant to Section 345(1)

(a) of the Local Government Act 1974 with adjoining land as follows:

The above-mentioned plan may be viewed at the Hawarden Community Library or

the Hurunui District Council Offices at 66 Carters Road, Amberley during normal

office hours or on the Councils website www.hurunui.govt.nz under Have you Say -

Consultations.

If you would like to object to this proposal you must lodge your objection in writing to

the Hurunui District Council Attn: Liz Atkins either in person to 66 Carters Road,

Amberley, orposted to POBox 13, Amberley 7441 or email

liz.atkins@hurunui.govt.nz to arrive no later than 5:00pm 22 February 2022.

Dated atHurunui District Council, Amberley this 2day of December 2021.

This is the second publication of this notice.

H Dobbie

Chief Executive Officer
---
What's happening in your

community…

Orange traffic light restrictions are in place. Visit waimakariri.govt.nz for further info

Roadworks Across the District

Fernside Road

The work relaying and surfacing Fernside Road is

progressing well. This was programmed for what

is generally aquiet time in the summer holidays

however, we are aware that this is causing some

traffic delays.

The roadisexpected to be reopened to two-way

traffic in approximatelytwoweeks' time-depending

on the weather. TheCouncil hashad an electronic

sign boardinstalledonthe northern motorway

encouraging people to use Rangioravia Woodend to

try and help with delays.

Woodend Road

Work started onMonday toinstall anew sewer

main at the intersection ofWoodend Road and SH1.

The road will beclosed eastbound between

Gibbs Drive and SH1 with traffic diverted

through Bowie Road and Hewitts Road or

Gibbs Drive and School Road.

This means that the number 97bus will detour from

its usual route. Buses travelling eastbound towards

Pegasus will detour from Woodend Road, onto

Bowie Drive, right on Hewitts Road, before turning

le on to Main North Road to the normal route.

King Street

The upgrade to Rangiora Sewer continues to

snake its way down King Street with contractors

on site now. Parking has been reduced with two

traffic lanes being maintained for the initial

stages of work.

As the work progresses, King Street will be

reduced to one lane with one-way traffic

southbound from the Queen Street roundabout.

Traffic will be detoured via Church and Murray

Streets. This will start approximately four to

eight weeks into the project and there will be

signage in place.

Muscle Car Madness

Areminder that The Muscle Car Madness car show

is this weekend at Rangiora Showgrounds. The

roads in and out will be especially busy so plan

ahead and drive carefully.

Scooter Trial

We're aware of afew complaints about e-scooter

use in our towns, especially around underage riding

and misuse. Remember that e-scooters are only for

riders 18+ and that you should never drink and ride.

It would alsobegreat if youcould be considerateand

park your scooter safely whenyou have finishedwith

it -rememberthat otherpeople usethe footpaths

too andobstacles can make access difficult for

wheelchair usersorpeople on mobility scooters.

English Language Classes

Is English your second language?

Come along toourour classes to improve

your speaking and listening skills.

We cover some interesting topics in afriendly

and welcoming space with opportunities to

socialise with your classmates too.

When

Every Saturday, 5February to 26 March 2022

10am-1pm

Where

War Memorial Hall

Cnr Albert and High Streets, Rangiora

Cost

Classes are free

ABOUT GAMBLING

Tell us what you think about gambling in

our district.

The Council adopted our Gambling VenuePolicy

and Board Venue Policy in 2016, and nowit'stime

to review these policiestoensuretheystill make

sense forour community.

Help us understand what Waimakariri residents

currentlythink about Class 4gamblinginthe District.

Complete the short survey and share your

experience before Monday 21 February 2022.

Have your say waimakariri.govt.nz/letstalk

For more information or to register

Julie Cloughley |Tutor

Email: cloughju@hotmail.com

Phone: 027 403 8245

For more info

waimakariri.govt.nz/migrants-and-newcomers

Free Digital

Skills Classes

Introduction to SmartPhones

Kaiapoi Library

Monday 24January • 10am -12pm

Rangiora Library

Thursday 27January • 10am -12pm

IntroductiontoApps

Kaiapoi Library

Monday 31January • 10am -12pm

RangioraLibrary

Thursday 3February • 10am -12pm

Bookings essential

steppingup.nz

03 311 8901

Atip to

makesure

your bin is

emptied…

Over packing your bin

and squashing everything

down may stop items

falling out when it's

emptied –make sure

they're loose, especially

green waste.

—

Find out more

collection tips at

rethinkrubbish.co.nz

rethinkrubbish.co.nz
---
CLASSIFIED

North Canterbury News, January 20, 2022

37

Upcoming Council

meetings

Thefollowing meetings will be held

in Januaryand February 2022.All

meetings will be heldinthe Council

Chamber, 215HighStreet,Rangiora,

unless otherwisestated.

CWMS Waimakariri Water Zone

Committee

Monday 31 January at 3.30pm.

Council

Tuesday 1February at1pm.

Council Annual Plan Budget Meeting

Wednesday 2February at9am.

Oxford-Ohoka Community Board

Wednesday 2February at7pm in the West

Eyreton Hall, 3Earlys Road, West Eyreton.

(The Public Forum section of the agenda

will occur from 7pm to 7.20pm.)

Council Annual Plan Budget Meeting

Thursday 3February at9am.

Mahi Tahi Joint Development

Committee

Tuesday 8February at9am.

Rangiora-Ashley Community Board

Wednesday 9February at7pm.

Audit and Risk Committee

Tuesday 15February at9am.

Land and Water Committee

Tuesday 15February at1pm.

Community and Recreation Committee

Tuesday 15February at3.30pm.

Woodend-Seon Community Board

Tuesday 15February at6pm at the Seon

Public Hall, 591 Upper Seon Road, Seon.

Kaiapoi-Tuahiwi Community Board

Monday 21 February at5pm in the Kaikanui

Room, atthe Ruataniwha Kaiapoi Civic

Centre, 176 Williams Street, Kaiapoi.

District Planning and Regulation

Committee

Tuesday 22February at1pm.

Utilities and Roading Committee

Tuesday 22February at3.30pm.

Allmeetingsare open to thepublic.

However, please note that vaccinepasses

will be required to attend meetingsat

the Woodend Community Centre and

Ruataniwha Kaiapoi Civic Centre.

Agendas areavailable twoworking days

priortothe meeting.

Agendas and minutes for meetings

can be found atwaimakariri.govt.nz

SarahNichols,GovernanceManager

Wanted To Buy

$$$

Amalgamated Scrap Metal

Ltd. Specialists in farm

machineryand farm clean

ups, old vehicles etc.

100% locally owned.

Ph 0800 030 712 or

027 695 0480.

2312759

For Sale

WANTED

ANTIQUE FURNITURE

and good quality

second hand furniture

Happytotravel

Phone Rick 021 376883

or email photo to:

hall.coffey@xtra.co.nz

Garage Sales

OHOKA 246 Whites Rd,

Saturday 22nd January,

9am, 45 year accumulation,

all must go, strictly cash

only, junk &stuff, household,

workshop, horse gear,

lifestyle block. Enquiries

03 312 6630.

Public Notices

PUBLIC NOTICE

DISTRICTPLANCHANGE 5–

HANMERSPRINGS DESIGN STANDARDS

Plan Change 5–Hanmer Springs design standards to

the Hurunui District Plan will become operative on28

January 2022.

The Hurunui District Plan isavailable toview online:

https://dp.hurunui.govt.nz/eplan/

Forqueries,please contactthe Duty Planner on

03 314 8816 or planning@hurunui.govt.nz

2451600

We provide free confidential budgeting assistance to

individuals, families and whānau of the Waimakariri

and Hurunui communities

December office closure

We're taking awell-earned break over this

Christmas holiday season.

The office will be closed from

midday,Thursday 23 rd December and

re-opening on Monday 17 th January 2022.

Our Committee, Volunteers and Staff wish you

astressfree Christmas.

Don't spend more than you can afford.

Stick to your shopping list.

Spend time with family and friends.

Covering the Waimakariri and Hurunui districts

Phone 03 313 3505 anytime

Email: servicemanager@bsnc.org.nz

www.bsnc.org.nz

Affiliated member of the National Building Financial Capability

CharitableTrust. Registered Charity Number:CC10710

ART AUCTION at Leithfield

Pub, now cancelled.

Gardening

A+ GARDEN hedges cut

to perfection. Tree &arbor

work. For aquote. Phone

021 111 4322.

LAWN MOWING,

spraying and lawn maintenance.

Pegasus, Woodend,

Kaiapoi, Rangiora. Ph 027

349 7986.

Religious Notices

NEW CHURCH Sunday

10am, His Presence

Church, Pipe Band Hall,

New World carpark, Rangiora.

For enquiries, phone

Susan 022 494 5540.

MILKING SHEEP 15

plus lambs, East Friesian,

best offers over $200 plus

gst. Phone 03 312 8693.

SHEEP HANDLER, tips

sheep upside down, $200

plus gst. Ph 03 312 8693.

WarMemorial Hall

1Albert Street, Rangiora 7400

PO Box 351, Rangiora 7440

www.bsnc.org.nz

2427308

½PRICE

DOG FOOD

MEAT2U.NZ

313 0022

2424357

Livestock

FOR HIRE portable cattle

yards & ramp, Loburn.

Phone 027 540 0027.

HOMEKILL & Wild

Game meat processing. Ph

313 0022. www.meat2u.nz.

Pets

BICHON HOMESTAY

for smaller dogs. We look

after your dog in our home.

"No kennels". Phone today

03 314 6110.

GOING AWAY? Pet

minding service. Phone

Karen 027 733 4892.

Situations Vacant

Sutton Tools NZ Ltd

Cars Wanted

ANY old cars, anything pre

1990, unfinished Hot Rods,

Classic Cars. Please call

027 258 8366.

CASH 4CARS

and 4WD'S

Phone

Automotive

Parts

03 313 7216

CARS, vans, 4WD's

wanted for dismantling or

repair. Phone 027 258

8366.

FALCONS &

COMMODORES

WANTED

Suitable for

dismantling or repairs

Ph 313 7216

We are adrill manufacturing company

based in Kaiapoi.

We are looking for staff in our

Production Line.

You will need to be mechanically

minded, attention to detail and

willingness to learn. Training will be

provided. All safety equipment will be

provided.

Hours of work

7.30am to 4.00pm Monday -Friday

Email your CV to

bmccallum@suttontools.co.nz

2412522

WANTED to buy Ford,

Holden, Chrysler or

Chev's, Classic cars. Any

other types considered, any

condition. Please phone

Tony 027 313 5000.

Automotive Services

CARAVANS &

MOTORHOMES.

Interior &exterior repairs,

maintenance & upgrades,

based in North Canterbury.

Solar, satellite, awning

installations. Sheetmetal,

light engineering &welding

services. Professional

coach builder specializing

in the RV industry 25 years.

Call Darryl @ Advanced

Auto Homes 027 220 6566.

Personal

A SEXY BLONDE talk

live or listen. Ph 0900 44

666. $3.99 +GST pm. R18.

CARING LADY in her

early seventies, would like

to meet agenuine gentleman

between 66 & 70

years. No smokers, light

drinker. For genuine

relationship please. Reply

to 03 313 2918.

EASY going and engaging

single man living on own, I

am indep, aNSand aSD,

5ft 11 with no baggage. I

seek a modern well presented

slimmish lady with

some spunk in her 60s or

close to. Why not start 2022

with anew man in your life,

one who is fun witty tactile

and interesting. I have a

wide variety of interests,

and would like to share

them with you as Iwould

yours. Ph/txt 027 659 4425.

Flatmates

FLATMATE wanted, living

with professional male,

on lifestyle block in Cust,

$240pw inclusive of Wi fi

& power. Please phone

Mark 027 240 9004.

2450299

Situations Vacant

Trade Drive Thru Team Members

Needed!

Do you love construction and all things DIY? Are you able

to offer some working knowledge or experience from the

building industry? Is your customer service second to none?

Our business is growing! We are seeking 2motivatedteam

players to join our hard-working Drive Thru team. This is a

fast paced, fun environment that relies on teamwork and the

ability to multi-task.

Both roles will include weekend days.

Aforkliftlicense would be useful but is notcritical.

Theideal candidates will require:

• A passion for providing excellent customer service,

helping customers with their projects or with their trade

enquiries

• Knowledge of timber,hardware andbuilding products

• Tobefitfor often demanding physical work as heavy

lifting is adailypart of this job

• A willingness to learn, with great time management

and areal "can do" attitude

• A strong health and safety focus, ensuring company

policies are followed at all times

Work local. Save yourself all those hours in the car each

week.

McAlpines have an active drug &alcohol policy, apreemployment

drug test and medical will be required.

Written applications including your CV should be

forwarded to:

Trade Drive Thru Team Member Position,

McAlpines Mitre 10 MEGA,

Private Bag 1003, Rangiora 7440

or email applications@mcalpines.co.nz

SAWMILLER /

FABRICATOR

2449660

Afull-time position has become available

with our Oxford based sawmilling and

timber packaging manufacturing team.

The position requires:

• Reliability,punctuality and self motivation

• Ahigh level of physical fitness

• The ability to work as partofateam

• Attention to detail and accuracy

Timber industryexperience is advantageous

but not essential as full training will be

provided.

Applicants for this position should have NZ

residency or avalid NZ work visa.

Pre-employment medical and drug testing

will be required.

If you believe you possess the right skills

and attitude for this position please email

your cv and covering letter to

admin@ais.co.nz, or contact Amy or Leith

on 03 312 3341.

Ashley Industrial Services Ltd

8Mill Road, Oxford

Entertainment

BALCAIRN HALL welcomes

the Mundi Trio an

Arts On Tour NZ event,

7.30pm, Saturday 12th

February 2022. Free supper,

alcohol free event,

raffles, CD sales. Tickets

$25 from Sally Macs,

Amberley, Stan's 7 Day

Pharmacy, Rangiora, Sefton

Garage and via

www.balcairnhall.com.

Vax certs required, scan

and mask.

Educational

2451033

TUITION available. Primary

and secondary up to

NCEA level 3. In centre

(Rangiora) or interactive

online from your home.

Each student onanindividually

tailored programme.

Kip McGrath Rangiora has

been serving the local community

for 30 +years. Give

us acall (03 313 3638) or

book your free assessment

online https://www.kipmcgrath.

co.nz/rangiora
---
CLASSIFIED

38 The North Canterbury News, January 20, 2022

CAR GROOMER

YARD HAND

Required for busy

dealership.

Must be reliable,

hard working with afull

clean drivers licence.

Agood sport mentality

is essential.

To apply send your CV to

craig@stadiumcars.co.nz

609 Lineside Rd, Rangiora

We need you !

We have opportunities available now!

We are seeking applications from outgoing, friendly and enthusiastic people to join our team for the following Positions

Retail Assistants

• Upto40 hours including 1weekend day

• Mustbecustomer focused.

• Working inside and outside.

• Mustbephysicallyfitand strong.

• Required to climb ladders and use lifting equipment.

• Required to pick, carry,assemble products.

• Work as part of ateam.

• Beable to think proactively.

• Work hard and smart.

• Familiarity ineither Powertools, Powergarden or

Bathroom products preferred.

Situations Vacant

CHEFS REQUIRED

We arelooking for Junior /Senior Chefs to join

our team in Clyde, Central Otago, as our busy

summer season continues

Full time &Part time positions available

Youwill need great customer service skills,

and energy and motivation to provide agreat

experience for our guests.

Wearea7day aweekbusiness so you will be

required to work on arotating rostered basis.

Applicants must have NZ residency or acurrent

NZ work visa.

If you would like to enjoy agreat lifestyle in

our beautiful part of New Zealand, please

send your CV to recruit@olivers.co.nz

Customer Service Checkout

Team Members

Experienced customer service people preferred but

full training provided.

• Weekend work required.

• Upto40hours.

• Mustbecustomer focused.

• Mustbephysically fit.

• May be requiredtocollect trolleys.

• May be requiredtoassist customers with purchases

to their vehicles.

• Work as part of ateam.

• Beable to think proactively.

• Work hard and smart.

• Able to take aturnonany ofthe various roles in these

positions.

• Confident to act as our "greeter"

McAlpines have an active drug &alcoholpolicy in place, apre-employment drug test and medical will be required.

If any of these positions sound like you, send your application and CV to:

Seasonal Fixed Term Roles

McAlpines Mitre 10 Mega

PO Box 1003

Rangiora 7440

or email applications@mcalpines.co.nz

PLEASE SPECIFY WHICH POSITION YOU ARE APPLYING FOR

CLYDE

CENTRAL OTAGO

2451253

2445690

Due to increasing demand, Kip

McGrath Rangiora is seeking

an experienced, qualified and

enthusiastic teacher able to teach

maths up to NCEA level 1.

Teachers will work with no more

than 4students on individual

programmes and must be excited

about making adifference.

All qualified applicants welcome,

including vibrant retired teachers.

Looking to make appointments

now for 2022.

Govt. vaccine mandate will apply.

Further information from,

and brief resumes to:

rangiora@kipmcgrath.co.nz

or by calling the centre Director,

Dr. Grant Dykes (03) 313 3638.

Trade&Services

A PAINTER WITH

PASSION! Local painter

with 30 years of quality and

integrity in all aspects of

painting. Phone Mike on

021 0903 8546.

ABEL &Prestige Chimney

Cleaning. Nth Cant owned

& operated. Covering all

areas from Waimak to Hanmer.

Professional, guaranteed,

service. Firebox

repairs, carry most parts. Ph

0800 661 244.

ALL TREE SERVICES,

arbour work, pruning, tree

removal. Affordable &

friendly service. Telephone

021 111 4322.

ARBORIST qualified.

Copper Beech Tree

Services. Tree removal,

pruning, height reduction,

hedge trimming, shaping,

tree planting, firewood.

Free quotes. Contact Angus

Edwards 027 259 6741

copperbeechtreeservices@gmail.com

BRIAN'S Tree Services.

Tree felling, topping,

shaping, firewood cut, rubbish

removed, stump grinding,

branch chipping.

Affordable rates. Phone 03

327 5505 or 021 124 4894.

BUILDERS Father &son

team. Amac Builders are

available to help you with

your building needs. High

standards, low overheads,

no job too small. Check us

out on fb. Amac Builders

Ltd. Phone 027 318 4400.

Firewood

Trade&Services

CHIMNEY

Time to service your fire.

Accumulation of soot seriously

affects performance.

Latest rotary brush technology.

Free moisture check

on wood. Safety inspection.

All work insured and guaranteed.

From $70 single

story. 0800 SWEEPME or

021 0277 1927. Visit

www.sweepnz.co.nz.

DIRTY TILES &Grout?

Professional tile cleaning,

tiled shower restoration,

mouldy silcone, shower

glass & we can even

recolour your old grout!

For all your tile and grout

issues call Grout Pro for a

free, no obligation quote.

Ph Darryl 0800 882 772.

DRESSMAKING Bev's

Sew Good Services. For all

your alterations, repairs,

dressmaking, curtains.

Phone 327 5535.

METAL WORX. Flashing,

Sheetmetal Fabrication,

Wrought Iron,

Welding, Custom Trailers,

General Metalwork. No job

too big or too small. Ph 021

265 5428 or 03 314 6908.

Find us on facebook/

Glenmark Metal Worx.

glenmarkmetalworx.ltd@gmail.com.

PAINT & wallpaper

services. Wayne Bryant,

exterior, interior. Qualified

tradesman. Free quotes. Ph

313 5337 or 027 654 4568.

Trade &Services

PAINTER & Decorator.

25 + years experience.

Interior /exterior, roofs &

waterblasting. For a free

quote, please ph Steve 03

314 4620 or 027 477 1930.

PAINTER. Qualified local

professional, Int / Ext,

roofs, wallpaper. Call or

text Corban 027 846 5035.

POWER TOOLS repairs,

parts &sales for over 40

years. All main brands serviced.

Grossman Trade

Tools, 23 Watts Road,

Christchurch. Ph 389 9230.

ANTHONY SYMONDS

Forall your painting &

plastering requirements

Local with 30 years

experience

All workmanship

Guaranteed.

Phone 021 344 023

Trusted Trades &

Professional Services

2220615

RANGIORA Rubbish

Removal and RRR skips.

Wheelie bins any frequency

and skips from 1.5 cube to

9cube. Skips and wheelie

bins for any use, rubbish,

greenwaste, building sites

or just cleanups. Give us a

phone call 313 6957 or for

skips 021 313 255.

SCREEN PRINTING.

For all your printing

requirements. T-shirts,

Hoodies, Hi-Vis vests and

polos, Overalls, Caps etc.

Please phone Heather 03

313 0261 or email heather.

norstar@gmail.com.

SHEARER. Hap's Farm &

SWEEPS Lifestyle Services. Shearing,

crutching, drenching,

tailing, feet trimming &

health check. — Ph. 03-

423-3713 or 021-267-4025.

SHEEP SHEARING,

drenching, feet trimming.

For Lifestyle blocks. Call

Stu 027 315 6916.

SMALL MOTORS

Replacement engines &

parts, 6.5HP-27HP, petrol /

diesel 027 262 2266

www.SMALLMOTORS.nz.

2451621

SPILT old man pine, 3.7

$260. Ph 021 993 497.

Pride &Quality Painting

&Decorating Services

20 yrs exp, fast and friendly

service. For all your painting

needs, phone: Martin 310

6187 or 021 128 9867

SEPTIC TANK

CLEANING

Bill's Liquid

Waste

You dump it...

Blair pumps it...

Blair Tavendale

Ph 03 314 9371

0275 379-694

CRAIGS Trees

(03) 327-4190

TREE REMOVALS

THINNING &PRUNING

STUMPGRINDING

FELLING &TOPPING

FULLYINSURED

QUALIFIED ARBORIST

Free Quotes

027 2299 454

craigstrees@xtra.co.nz

TRUCK WASH. Mobile

touchless on-farm foam

wash solutions. Telephone

027 262 2266

www.CLEANFLEET.nz.

VALUATION -

Specialising in North Canterbury.

Contact Geoff at

Maxwell Valuation. Phone

03 310 8541 or email

geoff@maxval.co.nz.

WATER PUMPS Trash,

clean water, Honda or Rato,

parts &accessories. Telephone

027 262 2266

www.BLAX.nz.

WORKSHOP FANS Portable

air Con, drum, wall,

Pedestal ventilation fans

Telephone 027 262 2266

www.BLAX.nz.

WINDOW TINTING

tintawindow

advanced film solutions

99% uv block

fade protection

heat control

reduce glare

25 Years Experience

privacy films

frosting designs

non-darkening films

Workmanship Guaranteed

Lifetime Warranties on Most Films

UV

block

Free Quotes Canterbury and Districts

03 365 3653 0800 368 468

Guide

2225862

2434390

To book your spaceinthis guide,phoneAmanda Keys 313 2840 or email amanda.keys@ncnews.co.nz

2434425

Air Conditioning

Stay cool this summer

Call us now for your free quote

03 310 6087

18 Albert Street, Rangiora

Design |Installation |Servicing

Appliance Repairs

•REGISTERED TECHNICIAN

•AUTHORISEDLOCAL SERVICE

F&P, Bosch, Smeg,

Ariston,LG, Classique,Haier,

Samsung andmore....

"Forbestresults be sure to useauthorised service"

NORTHCANTERBURY APPLIANCE SERVICES

Rangiora: 03 313 4420 Kaiapoi: 03 327 3810

2332343v2

Butchery

OxfordButchery

Shane and Leanne Frahm

We cankill&process yourstock

FourGenerations of Frahms

since 1957

Ph 312 4205

Oxford

Number one

old-fashioned bacon

&ham curing.

A/H 312 4709

WE ARE OPEN, WEARE AESSENTIAL SERVICE

2227889v2

Computer Repairs

Bruce Evans

131 Ohoka Road

Kaiapoi

03 327 3111

021 293 6331

compucare@xtra.co.nz

www.compucare.co.nz

Computer Repairs &upgrades

Prompt professional services

2276525v2

Virus &malware removal

New &UsedPC's4Sale
---
Trusted Trades &

Professional Services

Guide

To book your spaceinthis guide,phoneAmanda Keys 313 2840 or email amanda.keys@ncnews.co.nz

Character Boats &Marine

North Canterbury's

specialist boat and leisure

repair, maintenance and

restoration service.

2450273

•Fibreglass &timber repairs

•Gelcoat &paint repairs

•Grooming &buffing

•Classic boat restoration specialist

•Jetboat maintenance &servicing

•Boat fit out all watercraft

Qualified boat builder with 20 years

experience in marine industry.

Enquiries welcome.

Phone: 027 226 2656

characterboatsmarine@gmail.com

2397712v5

Glass &Windscreens

pet doors installed

from only $165

Construction &Concrete

All Construction & Concrete Work

•Driveways, patios &paths

•Bridges and Culverts

•Floors, foundations

•Sheds and buildings

•Dairy Sheds, Herd homes

•Silage pits, effluent ponds

•Excavation and cartage

•Precast concrete

•Insulated panels

Landscaping

Daryl Power

027 230 9401

concretepower@scorch.co.nz

www.concretepower.co.nz

For all your landscaping needs

All Landscaping, Retaining Walls (Engineered and

Non-Engineered), Timber Fences, Landscape Structures

and more...Lifestyle Block, Rural and Residential.

Phone Jeremy 021 169 9394

www.blackhill.co.nz

www.facebook.com/blackhillltd

2372616v2

2273277

Denture Clinic

AFFORDABLEDENTURE

CLINIC

(Formerly Riccarton Denture Clinic)

1843944

New Dentures

Relines

Repairs

BRYCE JWARD NZCDT

Kaiapoi

Ph (03)327-0077

Gold Card

Discount

AMPLIFY YOUR

BUSINESS

AND BE THE

NAME THEY

REMEMBER

FIRST

Advertise with

us and get

noticed

today!

Phone us today on 03 314 8335 or email

sales@ncnews.co.nz to find out how we can help!

KAIAPOI VILLAGEARCADE,

123 WILLIAMS STREET

Landscaping

STEWART CONTRACTING

Landscaping -Fencing

& Earthworks

ENJOYABLE STRESS FREE LANDSCAPING

03 313 9375 •027 369 3974

www.stewartcontracting.co.nz

contact@stewartcontracting.co.nz

2136148

Allan Pethig

For all your electrical needs. Residential &Commercial

Phone 03 313 7144

027 432 1534

Fax 03 313 2144

rgrantelectrical@gmail.com

PO Box 69, Rangiora

2269236

2420841

Electrician

Engineering

For your Engineering needs

187d Ohoka Road, Kaiapoi

Phone 03 327 5246 |027 495 2821

toppeng@xtra.co.nz

▪ Painting ▪ Gardening

▪ Fencing ▪ Lawn mowing

▪ All General Maintenance

Performed to the highest

standard by a straight up,

honest, Handy Guy

No job too small!

Flat hourly rate, no hidden surprises!

Quarry Supplies

QUARRY SUPPLIES

2426159

THE

HANDY

GUY!

Handyman

Call Guy "The Handy Guy" Now

0275 040 658

●CAP 65 ● CAP 40

●CAP 20 ● Pit Run

●Large Soakpit Boulders

●Crusher Dust

●Screened Sand

●Horse Arena Sand

Dean Hurley0274 336 993

hurleyexcavation@xtra.co.nz

2064 Tram Road

•17metre spray

booth

•FullPaint

Panel Service

•Insurance Work

Panel &Paint

If it stands still

long enough we

will paint it

•Fullcoachbuildingservice, fabricating

doors, lockers, windows, tanks

•PaintingMotorhomes, Caravans, Boats,

Trucks,Tractors&Cars

Now moved to 8Seven Mile Drive, Belfast

Phone (03) 323 4115

www.autobodyrepairs.co.nz

&

2445460

Tools &Equipment

SALES

PARTS

SERVICE

ACCESSORIES

ON-FARM VISITS

Water Blasters, Log Splitters, Generators,

Air Compressors, Water Pumps, Air Tools, Spray

Equipment, Replacement Ag Seats, Small Motors.

Free local machinerydelivery.

Richard Black www.BLAX.nz

North Canterburyowned &operated

2435547v2

Scrap Metal

CASH PAID FOR SCRAP

•Car Bodies •Scrap Steel•Specialists in Farm

Machinery•All non Ferrous

MAINLAND

METALS LTD

Ph (03)338 7000

Mike0274 818544 •Robbie 0274818 027

Locally owned and operated

1902273

Skip Hire

100% locally owned and operated

Hardfill |Green Waste |General Waste |BuilderSkips

Various sizes to suit all needs

Commercial placement at competitive rates

Call us directly on 021 280 1132

wastecontrolskips@gmail.com

www.wastecontrolskips.co.nz

Get 5% off your first skip order, use code WASTE5

Windows & Doors

WINDOW MARKET PLACE

• New & Used

• Timber & Aluminium

• Windows & Doors

8am-5pm Weekdays

8am-2pm Saturday

2431576

215 Waltham Rd, Sydenham

Ph (03) 379 6159 info@windowmarket.co.nz

Fax (03) 962 1012 www.windowmarket.co.nz

ncn1242200aa

CAP 65

CAP 40

CAP 20

Shingle

SHINGLE SUPPLIES

Quarry Prices

DRAINAGE CHIP

from $40 per cube

from $23 per cube

from $25 per cube

from $30 per cube

all +gst

Plus all excavation and truck hire

house excavations, driveways, subdivisions

CONTRACTING

Ph: KEN 027 201 3302

Email: stress@xtra.co.nz

2009594

To book your spaceinthis guide,phone Amanda Keys 313 2840 or email amanda.keys@ncnews.co.nz
---
RangioraToyota

PASSENGER

Signature

CLASS

2007 Toyota BladeHatch

•2.4LPetrolAuto, 7-Airbags

•Camera, Alloys, Half Leather

•80,300kms

$

12,995

2005 Toyota Echo

•1.2LPetrolManual,3-Door

•5-Seater, NZ new

•Only 94,200kms

$

4,995

2019 CorollaGXHatch

•2.0L Petrol, Auto,Camera, Bluetooth

•5-Star Safety

•Only 25,300km

$

26,995

2015Yaris GX Hatch

•1.3LPetrol5-speed manual

•Camera, Bluetooh

•NZ-new

$

10,995

2017 CorollaGLXHatch

•1.8L PetrolAuto, Alloys,

•Camera, FogLights

•Only 47,700kms

SUV

$

23,995

2014 CamryGLSedan

•2.5LPetrolAuto

•Cruise Control, Bluetooth

•7Airbags

$

12,995

2011 Toyota Avensis

Wagon

•2.0L PetrolAuto, Alloys, Camera

•Bluetooth

•Keyless $

14,995

2015Toyota Ractis

•1.3LPetrolAuto, 45,550km

•CD/AUX/USB

Connectivity

WAS$15,995

$ NOW 14,995

2010 Mitsubishi Lancer

VRX

•2.4LPetrolAuto, Alloys

•Leather

•80,750kms

WAS$12,995

$ NOW 11,995

2017 Toyota C-HR 5-Door

•1.2LPetrolTurboAuto, AWD

•5-Door,Alloys, Satnav,Camera

•Only 44,700kms

2018 Toyota C-HR Hybrid

5-Door

•1.8L PetrolHybrid, Alloys

•Half Leather,Satnav,Camera

2015Ford Kuga Ambiente

•1.5LPetrolAuto, 2WD,Alloys

•ParkingSensors, Keyless,Bluetooth

•Only 51,750kms

2015SubaruForester I

Premium

•2.5LPetrolAWD,Satnav, Camera

•Keyless,Sunroof, 86,000kms

$

•Only 41,750kms

26,995 $ $

•NZNew

36,995 35,995 19,995

$ 26,995 36,995

2019 LandCruiser

PradoVX

•2.8L Turbo Diesel, Leather 7-Seater

•NZnew,360 camera, Satnav

•Only 31,450kms

COMMERICAL

$

82,995

2014 Toyota Highlander

GXL

•3.5LV6Petrol, 7-Seater Leather

•Camera, Towbar

•Bluetooth

$

27,995

2016 Rav4 GXL

•2.5LPetrolAWD,Camera

•Keyless,Towbar,Bluetooh

•88,900km

$

31,995

2009 Toyota Wish Z

•2.0L PetrolAuto, 6-seater

•Alloys, Keyless

•88,500km

WAS$14,995

$ NOW 13,995

2018 Toyota Rav4 GX 2WD

•2.0L PetrolAuto, Alloys, Camera

•Satnav,SafetySense

•Only 18,200kms

$

39,995

2015HiluxTRD

•3.0L TurboDiesel Auto, 4WD

•Leather,Camera, Satnav

•Roof Racking, Alloys

2017 LandCruiserPrado TX

•2.8L Turbo Diesel, 7-Seater, Keyless

•Camera, Leather

•Only 37,150kms

2016 HoldenTrailblazer

Colorado 7

•2.8L Turbo Diesel 4WD

•Leather,7-seater

$

42,995 $

•63,800km

63,995

$

44,995

2015Ford RangerXLT

•3.2LTurbo Diesel Auto, 2WD

•Alloys, Bluetooth, Tonneau

•Rear Sensors

$

29,995

2018 HiluxSR54WD

•2.8L Turbo Diesel Auto, Camera

•Bluetooth, Satnav, ClimateAir

•Only 64,700kms

$

53,995

2016 HiluxSR5 Limited

2WD

•2.8L Turbo Diesel, Leather,18"Alloys

•SportsBar

•Tonneau.

$

42,995

2013Hilux2WD

•3.0L TurboDiesel,5-Speed manual

•Bluetooth, SportsBar,Tonneau Cover

•Towbar,Alloys

$

29,995

2018 Hilux SR5 Cruiser

•2.8L Turbo Diesel, leather

•18" alloys, Tonneau

•Only 37,250km

$

60,995

2010 Toyota Alphard

•2.4LPetrolAuto, 8-Seater,

•Twin AutoSliding Door,Sunroof

•Camera, 99,950kms

Percival Street,Rangiora • Ph (03) 313-8186any time • www.rangiora.toyota.co.nz

Signature

CLASS

$

18,995

2445475

FINANCE &INSURANCE AVAILABLE
---
COME HOME TO TheSterling

Selling from

Selling from

$545,000

STAGE2VILLAS

available now

Following the exceptionally successful Stage

One release, wenow have 16 stunning new villas

available, offering residents apremium experience in

retirement and village living, in the heart of the thriving

Silverstream community in Kaiapoi.

Act quickly to

SECURE YOUR VILLANOW

All 18 villas in Stage One were snapped up very quickly and

we are anticipating an equally high demand for Stage Two.

Register your interest today by emailing us at

hello@thesterling.co.nz or call Michelle on

0508 783 754 to discuss your plans.

Retirement living in the HEART OF THE COMMUNITY
---
Sellingfrom

Selling from

$545,000

STAGE2availablenow

SHOWHOME now open

Come and view inside our newly opened

Showhome, located inthe heart of the thriving

Silverstream community in Kaiapoi, by making an

appointment today!

Contact Michellebyemailing hello@thesterling.co.nz

or callon0508 783 754 to makeanappointment.

COME &SEE

for yourself!

OPEN

DAY

29 JAN

10am -2pm

Register your attendance today

We invite you to register to attend our Open Day.

Join us at our new temporary clubhouse for acoffee,

sausage sizzle and live music, and atour of our

recently opened showhome.

To register your attendance visit

www.thesterling.co.nz, email hello@thesterling.co.nz

or call on 0508 783 754. (Covid traffic light restrictions apply)

VISIT us

Cnr Silverstream Blvd

&Island Rd, Kaiapoi

TALK to us

0508 783 754

hello@thesterling.co.nz

LEARN more

thesterling.co.nz