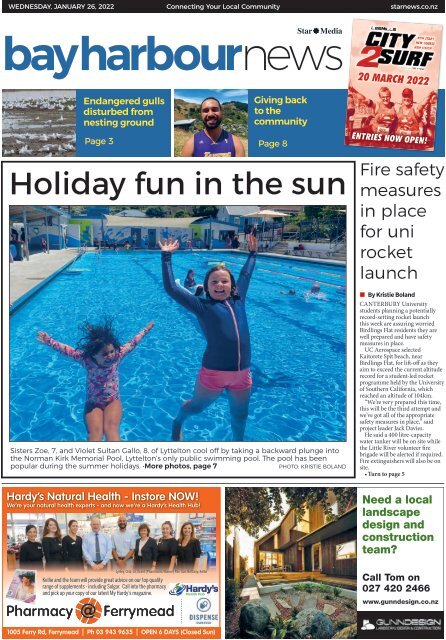 Bay Harbour: January 26, 2022
You also want an ePaper? Increase the reach of your titles
YUMPU automatically turns print PDFs into web optimized ePapers that Google loves.
WEDNESDAY, JANUARY 26, 2022

Connecting Your Local Community

starnews.co.nz

20 March 2022

Endangered gulls

disturbed from

nesting ground

Page 3

Giving back

to the

community

Page 8

EntriEs now opEn!

Holiday fun in the sun

Sisters Zoe, 7, and Violet Sultan Gallo, 8, of Lyttelton cool off by taking a backward plunge into

the Norman Kirk Memorial Pool, Lyttelton's only public swimming pool. The pool has been

popular during the summer holidays. •More photos, page 7

PHOTO: KRISTIE BOLAND

Fire safety

measures

in place

for uni

rocket

launch

• By Kristie Boland

CANTERBURY University

students planning a potentially

record-setting rocket launch

this week are assuring worried

Birdlings Flat residents they are

well prepared and have safety

measures in place.

UC Aerospace selected

Kaitorete Spit beach, near

Birdlings Flat, for lift-off as they

aim to exceed the current altitude

record for a student-led rocket

programme held by the University

of Southern California, which

reached an altitude of 104km.

"We're very prepared this time,

this will be the third attempt and

we've got all of the appropriate

safety measures in place," said

project leader Jack Davies.

He said a 400 litre-capacity

water tanker will be on site while

the Little River volunteer fire

brigade will be alerted if required.

Fire extinguishers will also be on

site.

• Turn to page 5

Hardy's Natural Health - Instore NOW!

We're your natural health experts - and now we're a Hardy's Health Hub!

Lynley, Orla, Lil, Grant (Pharmacist/Owner) Pav, Sue, Brittany, Kellie

Kellie and the team will provide great advice on our top quality

range of supplements - including Solgar. Call into the pharmacy

and pick up your copy of our latest My Hardy's magazine.

Health Hub

1005 Ferry Rd, Ferrymead | Ph 03 943 9635 | OPEN 6 DAYS (Closed Sun)
---
Kid friendly

2 Bay Harbour News Wednesday January 26 2022 Latest Canterbury news at starnews.co.nz

Advertise locally and

target customers most

likely to shop with you!

Effective Ad packages start from just $85

(inclusive full colour ad, creative setting,

photography and proofing).

No contracts required.

Your local community newspaper connects

neighbours in the following suburbs

Brookhaven • Heathcote • Ferrymead

Redcliffs • Mt Pleasant • Sumner • Lyttelton

Diamond Harbour • Governors Bay • Akaroa

9,668 homes every week.

NEWS

Kristie Boland

Ph: 021 911 576

kristie.boland@starmedia.kiwi

from the reporters' desk

THIS WEEK Canterbury

University students are

planning a potentially recordsetting

rocket launch at

Birdlings Flat, in an attempt

to exceed the altitude record

for a student-led rocket

programme, currently set

at 104km and held by the

University of Southern

California.

Residents are hoping this

news

will not be a blast from the

past – there was a botched

launch in 2019.

However, the students

have assured residents safety

measures are in place. Read

more on page 5.

Also this week, we profile

Lyttelton resident Jordan

Paulsen, who talks about

his commitment to the

community – how the portside

town has shaped who he is

today, and why he's motivated

to give back. Turn to page 8.

Meanwhile, more of our

community spirit can be seen

on page 7, with Lyttelton locals

making the most of the town's

swimming pool over summer.

– Kristie Boland

kristie.boland@starmedia.

kiwi

Scholarship programme expands

More opportunities are being provided by the Sumner Ferrymead

Foundation to ease the financial pressure on students.

ADVERTISING

Jo-Anne Fuller

Ph: 364 7425

jo.fuller@starmedia.kiwi

Page 12

Rob Davison

Ph: 021 225 8584

rob.davison@starmedia.kiwi

GENERAL INQUIRIES Ph 379 7100

CLASSIFIED ADVERTISING Ph 379 1100

www.starmedia.kiwi

news

Do you love to sing?

The Christchurch City Chorus is keen to recruit new voices and invites

singers to join the group for an audition.

Page 15

Turn everyday

essentials into

SuperGold

The souTh island lifesTyle magazine

July 2021

i'm yoUrs | JUly 2021

June 2021

Wood works

old becomes New

iN arrowtowN

i'm yourS | June 2021

Plenty to see here

Start your engineS

in tauranga

The souTh island lifesTyle magazine

I'm YOURS

The PeoPle, The Places,

The Trends

Wild & free

a chef's JoUrNey from

loNdoN to dUNediN

the people. the places. the treNds.

The perfect pour

a canDle company

with no DiviDe

recipe help for the

school holidays

the people. the placeS. the trenDS.

Major developments

the family act

Shaping communitieS

NUMBER ONE SUPPLIER

TO THE NZ JET BOATING

COMMUNITY FOR OVER

50 YEARS

• Part Boats & Hulls

• Turn Key Packages

• New Jet Units

• Custom Fabrication

• Expert Advice

SERVICING

• Spare Parts Retailer

• Jet Unit Refurbishment

• Engine Tune-Ups

• Insurance Repairs

• Impellor Reconditioning

stylemagazine.co.nz | @StyleChristchurch

Peter Tonkin

03 962 0505

peter.tonkin@hamiltonjet.nz

GRENADIER

Find all the ways you could

stretch your money further.

Visit www.supergold.govt.nz or download

and check the SuperGoldNZ app.

SG_180x130_grocery

more homes wanted for

strong summer buyer demand

Summer is the time of plans and projects! If your

plans include buying or selling your home/investment

then I am ready to help!

Demand is high for 'As Is Where Is' properties to brand

new family homes. If you want to know the latest

value of your home call Chris today for a free appraisal

and market update.
---
• By Kristie Boland and

Fiona Ellis

AN UNKNOWN disturbance

has caused a bird species in

serious decline to flee from their

nesting ground at Charlesworth

Wetland Reserve.

Black billed gulls were showing

signs of nesting on a gravel

island at Charlesworth, where

they have nested successfully in

the past, but they are no

longer there.

Avon

-Heathcote

Estuary Ihutai

Trust manager

Tanya Jenkins

said she didn't

know what

had happened

to the birds,

but it was possible

predators

had disturbed them.

"There were some 53 birds

there starting up a colony and

then all of a sudden about two

weeks ago, gone, no idea why.

There's been a disturbance of

some sort," Jenkins said.

Black billed gulls have

previously been discovered

nesting on mooring piles in a

completely marine environment

at Diamond Harbour.

One colony has also found a

temporary home in a partially

constructed stormwater retention

basin in Belfast.

tree trouble?

call us 384 9630

www.thetreepeople.nz

t h e t r e e p e o p l e

f o u r s e a s o n s t r e e C a r e

However, the black billed

gulls' choice of accommodation

has pushed the completion of

work at the Blakes Rd site in

Belfast back by several months.

Earthworks at the site were

scheduled to be completed in

December last year, but are now

set to finish in May, with planting

to follow in September.

The gulls took up residence

last August when work on the

site had to stop because of the

Covid-19 lockdown.

It seems the native wetland

birds mistook the partially constructed

stormwater basin for a

braided river and began nesting

in the area.

At its height, there were about

750 black billed gulls in the

colony, and up to 30 pied stilts

have also been nesting there.

WANT TO HAVE A POOL PARTY THIS SUMMER

BUT YOU DON'T HAVE A POOL?

Back to

School

ShoeS

47c Garlands Road, Woolston

Phone 389 3431

www.thefootwearfactory.co.nz

A STAYCATION

DOESN'T MEAN YOU

HAVE TO FORGO

GREAT FOOD, WINE

& SERVICE...

OR A PLUNGE INTO

A 30 DEGREE

SALTWATER POOL.

THE ŌTOROMIRO HOTEL, GOVERNORS BAY

OPEN 7 DAYS/7 NIGHTS

Ascent &

McKinlays

from $79.95 - $149

THE ŌTOROMIRO HOTEL, GOVERNORS BAY HAS THE ANSWER

www.otoromirohotel.co.nz

www.otoromirohotel.co.nz

Latest Canterbury news at starnews.co.nz

Gulls nesting ground disturbed

Tanya

Jenkins

City council stormwater and

waterways team leader Keith

Davison said the gulls were

classed as critically endangered

at the time of their discovery.

City council contractor Fulton

Hogan stopped all work and

site access was prohibited while

the legally-protected birds were

nesting and new chicks were

hatching.

The status of the species was

re-classed to 'At Risk – Declining'

in a December review of

the New Zealand Threat Classification

System.

"We've had to monitor water

levels in the stormwater basin

very carefully while the birds

have been nesting there,'' Davison

said.

"We could not let the water

levels drop too low because

the shallow muddy water was

a habitat for insects, which the

birds fed on.

"The water also acted as a

moat, stopping other predators

from attacking the nests. At the

same time, we couldn't let the

water level rise too high because

we did not want to flood the

nests and drown the chicks.''

City council regional park

rangers assisted with setting

up a protective trapline around

the site to stop rats and other

predators threatening the young

chicks' chances of survival.

A city council ornithologist

has advised it is unlikely the

gulls will return to nest at the

site.

By the time the next breeding

season starts, the environment

will have changed.

Care &

Compassion

We pride ourselves on the

very highest level of service

If you are thinking about the future, we can help

you explore pre-payment and pre-planning options.

Contact us for a Free Information Pack.

We offer funeral information talks to groups.

Please call us for a speaker to come to you.

(03) 379 0196 | www.simplicity.co.nz

Wednesday January 26 2022 Bay Harbour News

PROTECTED:

Up to 750

black billed

gulls have

delayed

construction

of a partially

completed

stormwater

retention

basin in

Belfast.

PHOTO:

NEWSLINE

NEWS 3

In Brief

ASBESTOS TESTING

COMPLETE

Asbestos testing at Godley Head

is complete and planning for

the required remedial work is

being finalised. Department of

Conservation Acting Mahaanui

operations manager Janine Sidery

hoped work would begin in autumn

or winter, but it was too early to

say when the campsite and gun

emplacements would reopen. The

main carpark has reopened as the

one small, affected site there has been

successfully capped. The carpark

toilets are also open and drinking

water is available.

BIKE TRAILS REOPEN

The Living Springs mountain bike

tracks are open again after an

18-month closure for tree felling.

There have been track changes to the

link from the carpark up to the main

loop, with a new climb. A map and

signage is still to come.

COMMUNITY BOARD

PRIORITIES

Last week Bay Harbour News

reported on the Banks Peninsula

Community Board priorities for

2022. Deputy Mayor and Councillor

for Banks Peninsula Ward Andrew

Turner had this to add: "[The board]"

is using the downtime caused by

disruption to travel and tourism by

COVID to look at how we represent

tourism priorities and outcomes

for Banks Peninsula. This relates to

the work being done on the visitor

strategy and the Banks Peninsula

Destination Management Plan."

Mark Glanville

Manager &

Funeral Director
---
4 Bay Harbour News Wednesday January 26 2022 Latest Canterbury news at starnews.co.nz

Primavera 3 Seater

WAS $

3499

STOREWIDE

anniversary

SALE

NOW

$

2299

NOW ON. ENDS 07.02.22

ALL LOUNGE, DINING, BEDROOM, OFFICE, OUTDOOR ON SALE!

Queen Bed

NOW $

699

Lowboy

NOW $

799

Kenzie 3 Seater – Light Grey

WAS $

1599

NOW

$

1399

ON SALE

PARKLANE BEDROOM

Kenzie 2 Seater –

Light Grey

WAS $

1299

NOW

$

1099

MELVE WHITE

ON SALE

Dining Table – W190

NOW $

649

Bookcase

NOW $

699

Dario Egg Chair

WAS $

1099

NOW

$

699

Kendal

Office Chair – Rose

WAS $

249

NOW

$

199

HEAPS of HOT DEALS!

Dining Bench – W180

NOW $

275

Lennox 3 Seater – Light Grey

WAS $

1699

NOW

$

1199

Lennox 2 Seater

– Light Grey

NOW

WAS $

1499

$

999

SCAN QR TO SHOP

Antoni

3 Piece

Outdoor

Dining Set

– W140

WAS $

1399

NOW

$

999

Scan to find store

250 Moorhouse Ave, Christchurch

0800 TARGET (0800 827438)

targetfurniture.co.nz

Offers and product prices advertised here expire

07/02/22. Sale Excludes Accessories.
---
Wednesday January 26 2022 Bay Harbour News

Latest Canterbury news at starnews.co.nz

Launch caused fire in 2019

• From page 1

Davies said obtaining the

necessary clearances from

organisations including the

New Zealand Space Agency,

Civil Aviation Authority of

New Zealand and Maritime

New Zealand took longer than

constructing the actual rocket.

"(We're) very excited. It's

been three years of work up to

this point, we're really looking

forward to it," he said.

THe rocket will splash down

about 100km offshore and will

not be recovered.

In spite of safety assurances,

locals are wary, remembering a

botched launch caused a fire in

2019 after the rocket landed in a

paddock.

"THat spit is tinder dry and if

a flame takes off and the wind

gets up . . . the reaction time is

limited for them to sort it before

the fire takes hold," concerned

resident Douglas Peek said.

"A bunch of people playing

with rockets in a tinder dry

area, we could have a serious

fire on our hands. It will be like

taking a water pistol to a major

blimmin' inferno if a fire takes

hold."

Fire and Emergency New

Zealand senior risk adviser

Bruce Janes was satisfied

appropriate safety measures

were in place.

"THey have to jump through

a lot of hoops so they contacted

me from a fire safety point of

view.

"Rockets are a bit unique, yeah

there's a lot of fire and drama

but the fuel, the propellant, is

very flashy, very flammable but

it's got a really short dwell time.

It goes 'woof, woof' and it's

gone.

"Yes, it can cause a fire but

they're launching on sand and

the rocket will be leaning and

fire towards the sea. They're as

safe as they can be."

Meanwhile, some residents

welcomed the launch.

Roger Cook was against a

commercial enterprise but

supportive of UC, which has

used the site to launch rockets

for several years.

"(I'm) just happy they can

continue and encourage young

people with new opportunities,

I'd love to watch it," said Cook,

a workshop engineer at Lincoln

University.

POWER: The team at UC

Aerospace hope to launch

their rocket this week at Kaitorete

Spit beach, targeting

an altitude of 140km.

NEWS 5

Power pole left

hanging after

teens flee crash

• By Kristie Boland

TWO TEENAGERS panicked

and abandoned their car after

crashing into a power pole in

Akaroa last week.

Emergency services were called

to the crash on Old Coach Rd last

Thursday at 9.50am. The crash

had taken place the night before.

The Toyota car had been abandoned,

leaving a live power pole

snapped at the bottom but still

intact, hanging at a 45deg angle

over the road, Akaroa Fire and

Emergency chief Mark Thomson

said.

The driver, a 17-year-old female

and her passenger, a 16-year-old

female, were not injured and had

called someone to pick them up

and fled back to Christchurch.

The pair had been staying at a

local campground.

They had left enough documentation

in the car to be easily

identifiable for local police.

"They were a bit scared and

panicked I think," Senior Constable

Tim Johnson said.

The driver, who was on a restricted

driver licence, told police

she lost control and hit the pole.

Johnson said the car was

likely to be a write-off and the

driver would probably receive an

infringement notice for breaching

her licence conditions.
---
6 Bay Harbour News Wednesday January 26 2022 Latest Canterbury news at starnews.co.nz

new school year...

new school gear

SuppORT YOuR LOcAL BuSINESSES

juST

$1.99

EAch

fROm

$2.99

EAch

juST

$5.99

pAck

ExERcISE

BOOkS

fROm

9 cENTS

EAch

fROm

$2.49

EAch

GREAT READS INSTORE

1005 Ferry rd

Ph 384 2063

while stocks last (see instore for terms and conditions)

Barry & kerry
---
Wednesday January 26 2022 Bay Harbour News

Latest Canterbury news at starnews.co.nz

Families have been cooling off at the outdoor Norman Kirk Memorial

Pool in Lyttelton these school holidays. Reporter Kristie Boland captured

these images

NEWS 7

Violet and

Zoe cool off

in the water.

Christchurch brothers Oliver, 6, and Harper Leong, 8, spent

time at the pool on Wednesday afternoon.

SELLING

YOUR HOME

IN 2022?

COASTAL AUCTION SERIES

YOUR PROPERTY - OUR EXPERTISE

Our Coastal Auction Series is specifically designed to maximise your property results.

outstanding property exposure - fabulous package offer - multiple properties - exciting auction action

CALL NOW TO FIND OUT MORE

and be part of this exciting auction event

FERRYMEAD

AUCTION #1

THURSDAY 3 MARCH 2022 @ 5PM

Sumner Surf Life Saving Club - 301 Main Road, Sumner

T H I N K I N G - P R E P A R I N G - S E L L I N G - D E A L I N G - S E T T L I N G

Phone (03) 384 4179 | Email. prier.manson@raywhite.com

Ray White Ferrymead rwferrymead.co.nz /RayWhiteFerrymead

Prier Manson Ltd. (Licensed REAA 2008)
---
Bay Harbour News Wednesday January 26 2022

8

NEWS

Latest Canterbury news at starnews.co.nz

'I'm in a position now where I can give back'

• By Kristie Boland

JORDAN PAULSEN is a

Lyttelton man through and

through.

A hard worker, volunteer and

coach, Paulsen has a connection

that runs deep with the port-side

town and its community.

Born and bred in Lyttelton,

with both Ngai Tahu whakapapa

and Norwegian ancestry, the

32-year-old is committed to

contributing where he can.

"My commitment and my

love for this community is unmatched,

I wear that with pride,"

said Paulsen.

"For me, growing up in Lyttelton,

it's always been a hardworking

blue-collar town, everyone

looks out for one another."

Paulsen had leadership instilled

into him from a young

age, being the eldest of five

siblings.

When he was old enough, he

caught the bus to Linwood High

School. At 15, he left school for

his first job at Stark Brothers on

the dry dock.

"I didn't really have a choice

when I was younger, I had to

start working . . . I wasn't cut

out for the classroom. I had the

education of life," he said.

Growing up, Paulsen would

spend every Friday night at the

Lyttelton Youth programme.

"As a kid that was always so

exciting for us, that we could go

there on a Friday night and be

safe."

"There was a lot of guys going

down different paths where I

guess having sports and having

good leaders kept us together, on

the right track," he said.

Paulsen sees his time with the

Lyttelton Youth programme as

instrumental in shaping who is

now.

"I would speak on behalf of a

lot of boys from my generation,

we were fortunate that we had

good role models that kept us in

line."

One of those role models and

youth leaders was his cousin,

Joseph Tyro, now director for

Māori Health at the South

Canterbury District Health

Board.

"When Joey talks you listen,

CONTRIBUTING: Now that he's returned to Lyttelton, Jordan Paulsen is giving back to the

community he loves through volunteering and coaching rugby. PHOTO: KRISTIE BOLAND

when he walks you follow, I've

always admired that and wanted

to be like that," said Paulsen.

"If I can be half that man, I'd

be pretty happy."

Tyro has been Paulen's biggest

advocate, describing him as a

natural leader.

"Jordan has a genuine love and

commitment to the people and

community he was raised in.

He has a great relationship and

connection with the young and

older generations," Tyro said.

At 18, Paulsen decided it was

time to leave his beloved town

and go and see the world.

"It becomes quite a cycle in a

small town, you're very sheltered

and a lot of it becomes head

noise, you start making bad

decisions. I was at that point at

18 that I knew I had to leave."

Paulsen lived in Sydney for 10

years where he started his own

carpet and flooring business

before returning home to

Lyttelton in 2019.

"To see the world through

different lenses is invaluable

[but] I think I had a calling to

come home.

When Paulsen returned, he

continued his carpeting business

until an opportunity to work

at the Lyttelton Port Company

arose.

"To be fair, it was probably

inevitable. I'm a generational

wharfie, my father, my grandfather,

my great-grandfather

they've all been there."

Growing up with a community

of volunteers, coaches and leaders,

Paulsen felt it was his duty to

do the same.

"I always wanted to fulfil

the duty of what I had in front

of me as a kid – good people,

volunteers, rugby coaches, youth

workers – and I'm in a position

now where I feel I can give back."

Paulsen believes that is what

the foundation of Lyttelton is all

about.

"Volunteering and helping

the community, that's been

the pillars of this town, which

has been installed in me to

continue," he said.

Paulsen volunteered for the

Lyttelton Youth programme

and still helps out there when

he can. He also volunteered at

the local fire brigade and now

does a weekly round of Meals on

Wheels for the elderly.

"That's something that my nan

and grandad did. I promised my

nan when she passed away that I

would continue doing it."

Paulsen is also part of Rāpaki

tangata tiatki, a group that

looks after the preservation and

conservation of the ocean for

Lyttelton.

But his biggest passion is

coaching the under-15 Lyttelton

rugby team.

He is there for the team both

on and off the field, just as his

coaches were for him.

"I understand boys of that

age, there's no point shouting at

them, you have to get down on

their level and get involved."

"That's the beauty of sport,

I want these boys to continue

playing for Lyttelton and I want

to be with them on that journey."

THEN and NOW: Jordan

Paulsen stands outside

Lyttelton Primary School in

1995 and 2021.

Paulsen has settled in Lyttelton

now and has no plans to leave.

He has been encouraged by

both Tyro and his uncle, former

National MP Nuk Korako, to

consider working towards a

future in local council or the

community board.

"In the two years that I've

been able to do all these things

it's made me think maybe I

could push for a position in that

environment. It's just an interest

at the moment," said Paulsen.

Tyro said that more Māori

needed to be supported and

encouraged into leadership and

local government positions.

"I don't think we have any

Māori on the local community

board. If this is something

Jordan would like to pursue – I

would support him 100 per

cent."

Korako said: "Jordan works

hard to understand the Māori

world and is on a journey to

understand his heritage.

"This manifests itself within

his life through the community

service that he performs for his

rūnanga at Rāpaki, Lyttelton and

the surrounding areas."

Fall in love

with your favourite

furniture all over again!

• Recover your chairs and couches

and save money!

• Excellent range of fabrics

• Quality workmanship guaranteed

• Free quotes available

• Over 30 years experience

before

Somerfield Upholstery welcome you to email a

photo for a quote online: somerfielduph@gmail.com

after

Summer fun

that won't

hurt your

feet, Archies

Jandals

Somerfield Upholstery Ltd

FURNITURE RECOVERY SPECIALIST

6/47 Sonter Road, Wigram | Ph 021 251 6200 | 349 0456

Fashionable • Functional • Footwear

Unit 3, 355 Riccarton Rd, Upper Riccarton

P. (03) 929 0927 E. info@theshoeroom.co.nz

www.theshoeroom.co.nz

FASHIONABLE FUNCTIONAL FOOTWEAR
---
Latest Canterbury news at starnews.co.nz

Wednesday January 26 2022 Bay Harbour News 9

free luxury

underlay

on selected products

Windsor Twist

/Cable bay

• 36oz • Solution Dyed Nylon

• Cut Pile • Extra Heavy Duty

• 11 Colours

with

FREE

UNDERLAY

Grange Fell

• 50 oz

• Solution Dyed Nylon

• Cut Pile

• Extra Heavy Duty

• 8 Colours

with

FREE

UNDERLAY

$129.90 per metre

$149.90 per metre

Luxury

Engineered

Timber

Flooring

now

1/2 price

Vega Vinyl

Planks

• 5 Stock Colours

• Commercial Grade

• Commercial Wear Layer

from $60.00 per m 2

$39.90 per m 2

Vinyls

• 2 metre wide

Carpet

Remnants

Hundreds of small to large

lounge size pieces available

from $49.00 per metre

Half price

Manufacturer's 2nds Must Go!

from $59.90 per metre

1000s of metres

just arrived...

312 Wilsons Road North, Waltham Phone 366 0070

Mon to Fri 8am-5pm and Sat 10am-1pm

Check out our website! www.carpetkingdom.co.nz
---
10 Bay Harbour News Wednesday January 26 2022 Latest Canterbury news at starnews.co.nz

summer gardening!

With the warmer

temperatures it's important

to stay on top of watering

your plants. Water early in

the morning or in the evening

to avoid water loss from

evaporation.

It's a great time for

succulents because they love

the sun! They tend to thrive

in dry and rocky conditions.

Feed your succulents with

Tui liquid succulent food.

Lavender adds a great

scent to your garden

and also helps out the

bees, which pollinate

your garden.

It's a good time to add

instant colour to your garden.

Use sun soaking plants like

daisies. Buy semi-mature

plants so you can plant them,

and they will bloom instantly.

Big range, low price, local advice

veges to plant Flowers to plant succulents things For the garden

Growfresh Pot

Capsicum

Sweet Conical

Yellow 100mm

Easy to grow with

great yields.

188002

$6.79 each

3 for $ 18

Growfresh

Celery

Tendercrisp

2000 Pack

of 6

Easy to grow.

Perfect for

garden beds.

188464

$3.98 each

3 for $ 11

Growfresh

Lettuce

Combo

Pack of 6

Easy to grow.

188481

$3.98 each

3 for $ 11

Growfresh

Beetroot

Pack of 6

Easy to grow.

188437

$3.98 each

3 for $ 11

Zealandia

Geranium

10cm

Large,

vibrantly

coloured

heads of

attractive

blooms.

148175

$5.94 each

3 for $ 16

Harmony

Federation

Daisy Sugar

Candy

Harmony 1 Litre

Will grow around

60cm. These are a sun

soaking plant.

246205

$9.97 each

3 for $ 29

Lavender Meerlo

1.5 Litre

One of the most heat,

humidity and drought

tolerant lavenders. Prefers

full sun. Grown mostly for

stunning foliage.

375427

Super Six

Marigold Antigua

Pack of 6

Very tolerant of hot

weather. Easy to grow.

Long flowering period.

188652

Aloe Vera

1.3 Litre

An easy care, low

maintenance

succulent.

Requires very

little attention by

way of watering

or feeding.

319395

Was $16.97

now

$ 5

Gardening Solutionz

Portulaca ColourBlast Tangerine

Succulent-like foliage. Vibrant coloured blooms. Easy

care and drought tolerant. 1.5 Litre.

308448

Tui

Enrich Pour & Feed

Cacti and Succulent

Fertiliser 1 Litre

Ready to use - no mixing

required. Encourages

optimum flowering and

healthy plant growth.

351249

Trents

Succulent 14cm

Thrives in hot, dry areas.

149662

Number 8

Compost 40 Litre

Suitable for a wide range

of plants. 100% weed

free. Soil conditioner and

a source of organic matter

to replenish garden beds.

246152

$5 99

Number 8

Fitted Hose 12m

Comes with fittings required to start watering immediately.

UV resistant.

236445

$10 39 $13 98

$13 76 $16 49 $11 98

Fiskars

Nyglass Hand Tool Set

Ideal for your gardening needs. Each tool can lift up to a

35kg load. Tools are 100% recyclable.

213208

Nouveau

Metal Perched

Owl Garden

Décor

Suitable for outdoor/

garden use. Add a

touch of elegance to

your garden.

354702

$8 29 $11 97 $199

Prices valid until Feb 2nd or while stocks last.

mitre 10 mega Ferrymead

1005 Ferry Road. Christchurch

Phone: 366 6306

Find us at: /MEGAFerrymead

opening hours:

Monday – Friday:

7am – 7pm

Saturday, Sunday & Public Holidays:

8am – 6pm

www.mitre10.co.nz/local/megaFerrymead

Ferrymead
---
Wednesday January 26 2022 Bay Harbour News

Latest Canterbury news at starnews.co.nz

Treasures from the past:

The Rangatira stowaway

NEWS 11

THis week, Treasures of the Past

features seven-year-old Ralph

Elen of Wellington, being gently

escorted by a local policeman

across London St in Lyttelton,

presumably in the direction of

the police station on Sumner Rd.

He holds the distinction of

being the first stowaway on the

Rangatira.

His story was widely covered

across New Zealand - he had apparently

gone on board in Wellington

with his grandparents

"and decided to stay and have a

ride. He was not noticed until the

vessel was at sea. Ralph is happy

and well pleased with himself. "

The TEV (turbo-electric vessel)

Rangatira was an inter-island

express steamer commissioned

in 1930 and in service until 1965,

being finally scrapped in 1967.

She was the fifth Union

Steam Ship company vessel to

carry that name and was much

admired for her sleek, elegant

lines and attractive timber

and brass lined interior, well

fitted out for the comfort of

passengers.

With a maximum service

speed of 23·9 knots and an

average of 17.5 knots, she held

the record for fastest interisland

journey covering the 280km

between Wellington and

Lyttelton.

The ship had a colourful

career, including but not

confined to ploughing into the

crane ship Rapaki in Lyttelton in

1933, pushing that vessel beneath

the wharf.

In 1936 she survived a severe

storm and grounding at Wellington

Heads akin to that which

resulted in the Wahine tragedy;

thankfully the slow speed she

was travelling meant that the

ship was able to be reversed

off the rocks with no injury to

passengers.

In 1940, foggy conditions

resulted in her grounding at

Pigeon Bay and the necessity to

rescue 750 passengers, until she

was freed with the assistance of a

tug and a steamer.

The war years saw her in

service carrying troops to Fiji.

Christmas Day 1959 saw another

grounding – this time in Tory

Channel and again requiring

the disembarkation of passengers.

Notwithstanding these events,

the Rangatira completed 3500

crossings of the Cook Strait,

connecting many thousands of

LONG SERVICE: The sleek,

elegant Rangatira had a

colouful career, including

having a seven year-old

stowaway in 1931.

travellers with their destinations.

With a capacity for 956

passengers and 112 crew per

voyage, that equates to nearly

four million individual journeys.

Kōrero mai | Have your say

Akaroa Wharf

replacement

We're replacing the iconic Akaroa Wharf

because it's reaching the end of its viable

life and costing too much to maintain.

We want to rebuild a new wharf in the

existing wharf's location.

To find out more and give your feedback

on what we are proposing, before Monday

31 January 2022, visit:

ccc.govt.nz/haveyoursay
---
The biggest range of vehicles

in one location!

h tp: /kaywa.me/8aVDQ

Download the Kaywa Qr Code reader (A p Store &Android market) and scan your code!

my Kaywa Qr-Code

w.valuecarswarehouse.co.nz

Bay Harbour News Wednesday January 26 2022

12

NEWS

IN 2021 the Sumner Ferrymead

Foundation successfully

launched its scholarships

and awards programme, and

this year the programme has

expanded to provide even more

opportunities for residents in the

foundation's catchment area.

Last year the foundation

offered a range of academic

scholarships, outward bound

scholarships and an environmental

award. This year there are

two further opportunities – an

apprentice award and an academic

scholarship that includes a

paid internship.

Jane Paterson,

Sumner

Ferrymead

Foundation

chairwoman,

said the

scholarships

and awards

CHRISTMAS

BARGAINs

York Street

programme

was a great example

of locals

helping locals.

"Many of the scholarships and

awards are sponsored by either

local residents or businesses in

the local area. Its particularly

gratifying to see former sponsors

staying involved and new sponsors

coming on board.

"We would love to continue to

expand the programme, both in

the range and number of scholarships

and awards. Imagine if

we had four apprentice awards

Save over $100m

Autex Pin Board

– for those training to be carpenters,

plumbers, electricians and

motor mechanics for example

– instead of one. Mind you, we

are thrilled we have at least one

award this year thanks to the

generosity of our patron Allan

Williams.

"We'd love people in the

community who have successful

By Feltex Carpets. 100% New

Zealand Wool carpet, extra heavy duty

contemporary natural sisal look, one

outstanding natural colour. Export

overruns.

Unbelievable value, $129m

(that's $35.25m 2 ) Only while stocks last

Here's a great idea for the kids' room,

or family notice board, Autex Vertiface

Composition Pin Board, we have

numerous ends of rolls 1.2m wide and

huge variety of colours.

Out they go at $39m 2

Only while stocks last.

Commercial quality vinyl planks.

Exceptional value and two great colours

in stock now, Harper Oak and Zane Oak.

Normally planks of this quality sell for

$59.00m 2 .

Kenzie Our price $29.95m 2

Only while stocks last.

Latest Canterbury news at starnews.co.nz

Local scholarships and awards programme expands

Jane

Paterson

Recipients of 2021 scholarships and awards programme with Allan Williams, patron of

the Sumner Ferrymead Foundation.

businesses to offer an award

because we have frequently been

told how young apprentices need

to buy a range of not inexpensive

tools soon after starting their

apprenticeship.

"An exciting development this

year is the offer of a scholarship

plus paid internship with FANZ

Private Wealth. This is another

Incorporating

ISSUE 667 | FrIday 20 novEmbEr 2020

concept we would like to develop

further; it would be a great

opportunity for other businesses,

such as legal and accounting

firms, to attract key talent,'' she

said.

John Christensen, a trustee of

the foundation, has been a driving

force in the scholarships and

awards programme.

The South Island's leading motoring

resource, filled with news, reviews

and dealer listings.

From family cars to work trucks, and supercars

to SUVs. No matter what you're looking for,

you can find it all with Drivesouth.

free

best motorbuys

drivesouth.co.nz

CONTENT MARKETING

Locals helping locals

Academic scholarships

Outward Bound

scholarships

Apprentice Award

Environment Award

Go to www.sumner

ferrymeadfoundation.co.nz

for more information

Contacts

Jane Paterson 022 657 3206

John Christensen

027 246 0541

John

Christensen

We've got your

Motoring

"When I

look at the

calibre of

the students

who won the

academic

scholarships

last year, well

it's impressive.

They have

submitted

their 2021 exam results – which

are outstanding – to claim their

$5000 grants,'' he said.

"If the foundation, via the

sponsors, can take some financial

pressure of a student, it's got

to be a good thing."

Eligibility criteria and

applications forms for the

scholarships and awards can be

found on the Sumner Ferrymead

Foundation website www.

sumnerferrymeadfoundation.

co.nz

Applications close on April 15,

2022.

Covered!

FREE

magazine

out every Friday

at pick up

points near

you!

PLUS

MUCH

MORE

INSTORE

See inside for this week's

4WD feature!

113 sherborne st, edgeware

Incorporating

ISSUE 668 | FrIday 27 NovEmbEr 2020

www.drivesouth.co.nz

One Owner!

2015 IsuZu D-mAX

4WD Ls D/CAb

NZ new, 3.0 intercooled turbo/dsl,

auto, rare flatdeck with ladder/pipe

racks, reverse cam, service history.

$34,995 $192pw

free

best motorbuys

www.drivesouth.co.nz

For more see their advert on page 31

See inside for this week's

2011 Jaguar

XF Premium

47 Gasson Street • Ph 353 8899 • Hours: 8.30am-5pm Mon-Fri

www.theflooringwarehouse.co.nz

$18,999

32 Moorhouse Ave | P: (03) 366 7768 | www.valuecarswarehouse.co.nz

See page 4 for more info!

275 Colombo street, Christchurch

For more see their advert on pages 6 & 7

Ce l 021 855 884

Incorporating

ISSUE 669 | FrIday 4 dEcEmbEr 2020

See inside for this week's

Classic Car feature!

PH 03 web

40 Years Finance

Experience

Cannot be Beaten!

• Talk to us about finance for your next

motor vehicle purchase

Specialising in Finance for Private Purchases

Very quick approvals, sensational interest rates

• From no deposit (terms & conditions may apply)

Hiace spares

Cnr Main South Rd and Epsom Rd, Christchurch

Ph: 03 348 4129 | avoncityford.com

Now Available @ NZ Van Sp

marine feature!

free

best motorbuys

The biggest range of v

in one locat

2.4 au

www

2
---
Latest Canterbury news at starnews.co.nz

RUNOUT

OUTLANDER LS 2.4L 2WD

$32,990+ORC *

Wednesday January 26 2022 Bay Harbour News 13

JANUARY IS THE BEST TIME TO BUY

As Mitsubishi Motors NZ are increasing the price due

to increased shipping costs on 1st Feb to $33,990+orc.

The 7 seater Mitsubishi Outlander

brings everything you would need in a

family SUV: safety, technology, comfort,

unrivaled economy and that all important

space, plus a 10 Year Powertrain Warranty † .

Call 03 379 0588 or visit

christchurchmitsubishi.co.nz

RRP WAS $41,990 +ORC

*Price listed is for Outlander LS 2.4L 2wd and excludes on road costs which includes registration, WoF and a full tank of fuel. Available while stocks last.

†

Visit mmnz.co.nz for full Diamond Advantage warranty conditions.

CHRISTCHURCH MITSUBISHI

386 Moorhouse Avenue, Christchurch | 03 379 0588 | christchurchmitsubishi.co.nz

4WD

4WD

*Finance offer available on new Nissan Navara and SUVs. Approved applicants of Nissan Financial Services New Zealand Pty Ltd (Nissan) only. Fixed Interest Rate 1% p.a. available

on loans with a 36 month term. No deposit required. Terms and conditions apply. This offer includes an establishment fee of $375, PPSR fee of $8.05 and $10 per month account

keeping fee. All lease and some fleet purchasers excluded. X-TRAIL & Navara ORC of $1,495 includes initial 12 month registration & WOF, fuel and vehicle delivery. Nissan reserves

the right to vary, extend or withdraw this offer. Not available in conjunction with any other offer. Valid from 01/10/2021 to 31/01/2022. Units must be registered by 31/01/2022.

CHRISTCHURCH NISSAN, 380 Moorhouse Avenue, Christchurch

Ph: 03 595 6820

www.christchurchnissan.co.nz

christchurchnissan.co.nz
---
14 Bay Harbour News Wednesday January 26 2022 Latest Canterbury news at starnews.co.nz

STYLE & QUALITY

FOR LESS

WWW.AFFORDABLEFURNITURE.NZ

CHRISTCHURCH'S MOST AFFORDABLE

NZ MADE LOUNGE SUITES

SUPER

SPECIAL

Lacando

Collection

3 Seater $1089 $999

2 Seater $779 $719

Sofa Bed $1539 $1419

Charcoal

Black PU

SUPER

SPECIAL

WAS $259

$

229

Matai Chair

Rattan Seat

available in

Natural &

Black

SUPER

Available in

Black, Natural,

Walnut, Oak

WAS $279

$

249

Kaiwaka

Dining Chair

LOUNGE QUALITY SUITES

FURNITURE

IN-STOCK

SPECIAL SUPER

SPECIAL

Affordable

IMMEDIATE

PRICE TAG

DELIVERY

WAS $799

$

679

Bradman

Lifter Chair

SUPER

East Cape Table

SPECIAL SUPER

Marley

Outdoor Dining Chair

SPECIAL SELL OUT

Willis Chaise

Outdoor Set

SPECIAL SUPER

SPECIAL

Raglan Egg

Chair

WAS $2699

$

2499

WAS $179

$

149

WAS $2199

$

1499

WAS $699

$

649

SUPER

Palm Beach Lounge Setting

500

DAYS

SPECIAL SUPER

SPECIAL

Akaroa Lounge Setting

Available in: Black, White

WAS $3299

$

2999

Lending criteria, $50 Annual Account Fee, fees, Ts&Cs apply. Standard Interest Rate

(currently 25.99%p.a.) applies to any outstanding balance at end of interest free period. Offer

ends 31 January 2022. Min spend and exclusions may apply, $55 Establishment Fee or

$35 Advance Fee applies to Long Term Finance Purchases.

WAS $2699

$

2599

FREE

CARPARKING

SOUTH CITY

BATH ST

WE ARE

HERE

255 MOORHOUSE AVE

REBEL SPORT

COLOMBO ST

MON-FRI 9:30AM – 5:30PM

SAT-SUN 10AM – 5:30PM

0800 268 264

500 Days Interest free terms: In-store only purchases $499 & over. Ends 31 January 2022. Exclusions may

apply. Lending criteria, $50 Annual Account Fee, fees, Ts&Cs apply. Standard Interest Rate (currently 25.99%

p.a.) applies to any outstanding balance at end of interest free period.$55 Establishment Fee or $35 Advance

Fee applies to Long Term Finance Purchases. See in-store for full T&C's
---
Latest Canterbury news at starnews.co.nz

Wednesday January 26 2022 Bay Harbour News 15

CONTENT MARKETING

Sook Hwang Stitched

Emotion II exhibition

Friday-Sunday, 10am-

4pm

In Stitched Emotion

II, textile artist Sook

Hwang uses fabric dyeing

and freehand machine

embroidery to process and

narrate human emotions

and feelings. She uses her

work to express extreme

opposites of emotional

states; juxtaposing optimism

through her regular

use of rich colours, with

the harsher complexities

of feeling suggested by

coarse-grained materials,

such as raw silk. She uses

the stitches of her intricate

embroidery to bring these

forces together in "a point

of magical fusion".

Stoddart Cottage, Diamond

Harbour

Rangahau a Iwi - Iwi

Research

Thursday, 10am-2pm

Interested in iwi history

and research? Head

along to the iwi research

event where they use the

Ngā Pounamu Māori

Collection to learn more

about Ngāi Tahu. Pou

Kohikohinga Māori will be

around to share insights,

resources, key texts,

and tips and tricks for

researching this local

iwi.

Akaroa Library

JP Clinic

Saturday, 10am-noon

A justice of the peace

will be available to members

of the community,

to witness signatures and

documents, certify document

copies, hear oaths,

declarations, affidavits or

affirmations as well as sign

citizenship, sponsorship or

rates rebates applications.

There is no charge for this

service.

Matuku Takotako:

Sumner Centre

Tea and Talk

10.30am-11.30am

Sumner Bays Union

Trust host Tea and Talk.

Join others for a social

morning with free hot

drinks and snacks. Make

yourself comfortable and

spend some time talking

to other members of the

community and your local

librarians.

Email kristie.boland@starmedia.kiwi by

5pm each Wednesday

Brick Your Book – International Lego Day, All day Friday. Do you love

Lego? Build and play, and celebrate International Lego Day at the popup

imagination station. Not sure what to build? Brick Your Book and be

in to win. Matuku Takotako: Sumner Centre

Matuku Takotako:

Sumner Centre

Twilight Bowls

Friday, 5.30-7.30pm

(recurring event)

All members of the community

welcome to bring

a team for lawn bowls.

No previous experience

required.

Diamond Harbour and

Bays Bowling Club, 20a

Purau Ave

Lyttelton craft

and treasures market

Saturday, 9am-1pm

Jewellery, timber

craft, clothing, woollen

handcrafts, toys, natural

body products and much

more. Meet the makers.

Collett's Corner, next to

the Lyttelton Farmers

market

Tai Chi

Monday, 2.30pm

Described as 'moving

mediation' Tai Chi will

improve your balance,

strength, memory and

stress levels. First class is

free. All welcome.

Mt Pleasant Community

Centre

We have a

creative design

solution for you

Star Media Creative are an

experienced team with a range of

creative skills, we create compelling

branding with thoughtful and creative

design to make you stand out from

your competition.

Get in touch to discuss your project!

creative@starmedia.kiwi

Do you love to sing?

CHRISTCHURCH City

Chorus is a group of

vibrant women from all

backgrounds and of all ages

who love to sing a cappella

and barbershop music.

The group explores a

broad and varied repertoire

that includes jazz, contemporary,

traditional swingtime

arrangements and

choral works.

The Christchurch City

Chorus as the group has

won every national competition

it has entered.

Consistently ranked in

the top-10 Sweet Adelines

International competitions

the group has performed

at Carnegie Hall in New

York – a dream of every

performer. Could this be

the future you?

Singing alongside others

in their preferred vocal

range (high, medium or

low) you will learn all about

singing posture, breath

management, phonation,

resonation, articulation and

more.

By week eight you

will have the opportunity

to audition to join the

chorus.

The chorus is especially

keen to recruit alto voices

but welcomes anyone who

would like to experience

the thrill of performing in

SING WITH US

a world-renowned a capella

group.

If you would like to meet

new friends, enjoy glorious

harmonies, and pursue

your passion for singing

and performance, then

give Christchurch City

Chorus' deal a try.

The offer includes:

• Up to 26 weeks of

group singing lessons for

one person (women only)

• Starting 6.30pm,

Wednesday, February 2, 9

or 16.

• Practising with the

chorus every Wednesday

from 7-10pm.

• Learning a range of

songs and moves from the

chorus' repertoire

LOVE TO SING?

6 months of Group Singing Lessons

Share your talent and enthusiasm with us! Sing alongside

others within the award winning Christchurch

City Chorus, and learn all about singing posture,

phonation, resonation, articulation & more.

Session times:

Wednesdays 7-10pm | Cashmere High School

Starting 2nd, 9th, or 16th Feb

2022. Ending 3rd Aug 2022

For more details:

• If you pass an audition

to become a member of the

chorus, having the opportunity

to attend additional

training weekends and

also perform in shows and

competitions

All sessions will be

held at the McCombs

Performing Arts Centre,

Cashmere High School, 61

Barrington St. No classical

training is required – just

turn up with your Treat

Me voucher and join in the

fun.

•For more details

visit www.treatme.

co.nz or email

love2sing@ccchorus.

co.nz

www.treatme.co.nz

love2sing@ccchorus.co.nz
---
16 Bay Harbour News Wednesday January 26 2022 Latest Canterbury news at starnews.co.nz

REAL ESTATE

Endearing Classic-Deceased Estate

119 Main Road, Governors Bay

Deadline Sale: Thurs 17 Feb 4pm

(unless sold prior))

5 bedrooms, 1 bathroom, 230m² Floor

9491m² Land - Listing No. PD5073

Open Homes: Sundays 1:00 pm - 1:30 pm

Immerse yourself in the utter magnificence

and tranquillity of this old-world beauty, set

in a paradise location with luscious leafy surrounds

and amazing vistas overlooking

Governors Bay. The property, potentially

also with subdivision ability, is being sold as

a deceased estate, going to Deadline Sale.

The home, elegant with early-century charm

boasts high ceilings, bay windows, timber

panelling detail and stone features. Large roomsizes

and an abundance of space provides

options for the family, with 5 x bedrooms, 2 x

separate living areas - and great ability to

refresh or redesign to tailor to a new family's

needs. A log-fire and 4 x heat-pumps throughout

the home are available for warmth.

The very well-established grounds are a

magic wonderland resplendent with greenery,

creating an amazing private oasis that can be

enjoyed in its natural state, or pared back for

a more defined effect. On-site additional

buildings include the 3-bay barn, an

additional shed and an old-chapel currently

being used as a workshop (great potential for

use as a hobby / recreation space!).

5 x Bdrms

2 x Living areas

Log-fire + 4 x Heat-pumps + electric-heater

Carport

Veranda

Established & private gardens

3 x Glasshouse + mist-house

3-Bay barn + gig-shed

Old chapel / workshop

Approx. 1910's (Property Guru)

Approx. 228m2 (Telfer Young)

Approx. 9,491m2 Land

A home for the heart with great family

living options, in an idyllic location.

Situated having easy access off Main Rd,

within the idyllic environment of Governors

Bay with spectacular native surroundings

and views - in close proximity to Governors

Bay Settlement, Governors Bay School &

Harbour House, whilst only 8kms from

Cashmere and 9kms from Lyttleton.

Mitchell Roberts

Mob. 027 413 0797

Mana Tai

Mob. 027 626 2824

Harcourts Four Seasons

Realty 2017 Ltd,

The Palms (Licensed Agent REAA 2008)

ADVERTISING FEATURE
---
Latest Canterbury news at starnews.co.nz

Wednesday January 26 2022 Bay Harbour News 17

Highlander hybrid worth the wait

I WAS LOOKING forward to a

Toyota Highlander hybrid drive

with much enthusiasm.

The fact it was delayed due to

the most recent Covid-19 lockdown

made the wait much longer

and only served to heighten the

anticipation.

That may seem like an odd

statement for someone who has

often admitted it took some time

to warm to the hybrid concept,

but Toyota's most recent technology

and the inclusion of the

Highlander into the hybrid programme

here is most intriguing.

It's no surprise that has happened,

Toyota has long offered

hybrid options in most of its

domestic market models, and

the Highlander, even though it is

sourced from the United States, is

no exception.

Toyota New Zealand has just

landed a new Highlander. I

evaluated the model most buyers

would relate to in the past – the

naturally-aspirated petrol V6

variant – in these columns in

October. This evaluation focuses

on a high grade hybrid Limited,

it comes in at $66,990, an extra

$3k over the Limited V6. Bear

in mind that there are three

hybrid models and two V6s, the

entry-level GXL hybrid starts at

$63,990 and finishes at $74,990

for the ZR variant.

If there is one car that has

changed my perception on hybrids

it would be Toyota's Camry

of the late-2000s onwards, it just

seemed so normal to drive and

if you didn't look at the energy

consumption gauges you would

hardly tell there was a hybrid

driveline under the bonnet. Bear

in mind as well, it is much the

same driveline that is fitted to

Toyota's ever-popular RAV4 and

several Lexus models.

The Highlander hybrid is one

smart piece of kit. Of course, the

fact it is a seven-seat sport utility

vehicle hasn't been compromised,

it is a big car and welcomes its

occupants in family-friendly

manner, and if you have the rear

row of seats folded flat there's a

cavernous load carrying area.

Of course, in Limited specification

the Highlander is loaded

with goodies, it is plush with its

leather trim (heated front seats),

satellite navigation, keyless entry

and ignition, radar cruise control

and electric tailgate. It also shares

a five-star Australasian New Car

Assessment Program safety rating.

Toyota's hybrid driveline hasn't

changed much in concept since

it first arrived in Prius, of course,

development over the years has

meant is has become far more

adaptable, more powerful, more

economical and the petrol/electric

process far more seamless.

Effectively there are three

petrol combinations for Toyota's

hybrid series – its Yaris Cross gets

a 1.5-litre petrol engine, the Prius

as we have known it from day one

INFORMATIVE: Comprehensive display graphics are well

integrated into the centre dash.

TOYOTA HIGHLANDER HYBRID: The Limited model is joined by two other hybrid variants

starting at $63,990 and ending $74,990.

gets a 1.8-litre engine along with

Corolla and CH-R, the RAV4,

Camry and Highlander all have

a 2.5-litre petrol engine. All are

hooked to the Synergy Drive system

that effectively is what makes

it a hybrid.

One of the reasons I was fascinated

with the Highlander hybrid

concept was through wondering

if the combined output would

be enough to transport the big

vehicle and a load of occupants

without struggling. Well, I'm

pleased to report even with a kerb

weight of just over two-tonne and

a full load, the Highlander drives

without feeling burdened.

Toyota claims power outputs

of 142kW and 242Nm from the

2487cc petrol engine, add in all of

the power from the front and rear

motors and you'll find the outputs

are more than satisfactory.

Yes, the Highlander hybrid has

two electric motors, one which

works normally like it would in

two-wheel-drive hybrids, the other

sits over the rear axle providing

drive so that a traditional Highlander

buyer would keep in touch

with an all-wheel-drive set-up.

It works well, I didn't tackle any

off-road tracks, but I did drive

it in trail mode on a winding

shingle road near Coalgate to get

a feel of the system maintaining

grip on a loose surface. There was

never a point where I could feel

it working any differently to any

traditional SUV of this type with

• Price – Toyota Highlander

hybrid Limited, $66,990

• Dimensions – Length,

4950mm; width, 1930mm;

height, 1730mm

• Configuration – Fourcylinder,

four-wheel-drive,

2487cc, 142kW (+42kW),

242Nm, continuously

variable automatic

• Performance – 0-100km/h,

9.5sec

• Fuel usage – 5.6l/100km

just petrol power and standard

four-wheel-drive modes.

On the seal there is a feel that

power is just transferring out the

front, but that is something you

really have feel for and under

normal driving conditions I'd say

it's very difficult to detect.

The Highlander handles little

differently to that of its big V6

stablemate, it leans a little in a

corner due to its height (1.7m),

but movement over the suspension

is stable and controlled. The

spring and damper rates are a

good compromise between what

is needed for cross-country travel

and maintaining composure

when a tight corner is presented.

As much as the Highlander

hybrid clings to its grass roots

design, it excels in an area where

you wouldn't think imaginable

from a big SUV – that is fuel

economy. The standard V6 is

now rated with an 8.8-litre per

100km combined cycle figure,

that is about what you expect

from a 3.5-litre petrol engine.

The hybrid, on the other hand,

is rated by Toyota at 5.6l/100km.

That's easily achievable, when

I took the test car back to the

dealership after 250km, the dash

panel readout was registering a

7l/100km figure.

That was a good result and one

that came easily, I didn't drive the

evaluation car any differently to

that of its stablemate, I ushered

in acceleration vividly when

needed and drove to my normal

parameters which generally aren't

that fuel thrifty. On that subject,

the hybrid doesn't lose out much

in acceleration, it will scamper

to 100km/h in 9sec, about1sec

slower than the V6.

The talk around hybrids at the

moment is the Government's

Clear Car Programme discount

on plug-in vehicles. Of course,

the Highlander hybrid is not

a plug-in so it doesn't qualify,

which to my way of thinking

is a little nonsensical, if the

Government is serious about

getting new car buyers thinking

about fuel efficiency then all

hybrids should be in the mix for a

discount.

Nevertheless, the Highlander

hybrid is a giant step in Toyota's

hybrid programme, it will most

certainly make a big impression

in the Kiwi market.
---
Bay Harbour News Wednesday January 26 2022

18

PUZZLES

CRYPTIC CROSSWORD

1 2 3 4 5 6 7

8 9

10 11

12 13 14 15 16

17

18 19 20

21 22 23

28/1

Latest Canterbury news at starnews.co.nz

Across

1. From which to get in from poolside (6-5)

8. Cap, in tatters, causes wild alarm (5)

9. When about ten, deceit may get one

worked up (7)

10. Put it to one guests are upset about end

of evening (7)

11. In the Globe, seldom was it seen as too

big (5)

12. 'we see through a glass, __' said St

Paul (6)

14. How legislation is enacted, through extra

regulations (6)

18. Freshen it with nitrogen in a sort of ewer

(5)

19. Judge a part of it in the rear, anyhow (7)

21. Those who sail have their straw hats (7)

23. One could quote it as being a sort of hat

(5)

24. Record that men rent out shows taste

(11)

Down

1. One was removed from high station, so

bore witness (7)

2. May be given a right change from the

balsamic (7)

3. If there's space in the wall, it may be

busted (5)

4. It is the merest suggestion of what's drawn

by the living (6)

5. Fish: oh, any VC could provide that (7)

6. The point is, I need it when writing when

small (3)

7. Beg to see Democrat leader in prison (5)

13. Well, ass is disposed to be unruly (7)

15. There's something old and quaint about

the East (7)

16. Old wind instrument was present in the

Garden of Eden (7)

17. Indian immigrant from Persia would

spear first elephant like this (6)

18. Ornithological archer's murder victim (5)

20. Conductor waves it, so continue at the

wicket (5)

22. Also ampers take it on shortly (3)

SUDOKU

Fill the grid so that every column, every row and 3x3

box contains the digits 1 to 9.

24

QUICK CROSSWORD

1 2 3 4 5 6

7

8 9

10 11

12 13 14 15

16

17 18 19 20

21 22

23 24

Across

1. Emotional series of

events (5)

4. Disconnect (6)

8. Accelerate (5,2)

9. Decorate (5)

10. Conductor's stick (5)

11. Twinkle (7)

12. Become profound (6)

14. Hooligan (6)

17. Teach (7)

19. Highland dance (5)

21. Scold (5)

22. Tight bend (7)

23. Sugary flower fluid (6)

24. Ointment (5)

Down

1. Refusal to follow rules

(12)

2. Real estate professional

(5)

3. In cooking, firm to the

bite (2,5)

4. Remove from office (6)

5. Head adornment (5)

6. Bent (7)

7. Ability to apply

knowledge (12)

13. Knowledgeable (7)

15. Financial dealings (7)

16. Gentle breeze (6)

18. Proficient (5)

20. Drive forward (5)

CODECRACKER

QUICK CROSSWORD

Across: 1. Drama, 4. Detach, 8. Speed up, 9. Adorn, 10. Baton, 11.

Sparkle, 12. Deepen, 14. Vandal, 17. Educate, 19. Fling, 21. Chide, 22.

Hairpin, 23. Nectar, 24. Salve.

Down: 1. Disobedience, 2. Agent, 3. Al dente, 4. Depose, 5. Tiara, 6.

Crooked, 7. Intelligence, 13. Erudite, 15. Affairs, 16. Zephyr, 18. Adept,

20. Impel.

CRYPTIC CROSSWORD

Across: 1. Diving-board 8. Panic 9. Excited 10. Suggest 11. Obese

12. Darkly 14. Bylaws 18. Renew 19. Arbiter 21. Boaters 23. Toque 24.

Discernment.

Down: 1. Deposed 2. Vinegar 3. Niche 4. Breath 5. Anchovy 6. Dot 7.

Cadge 13. Lawless 15. Antique 16. Serpent 17. Parsee 18. Robin 20.

Baton 22. And.

TARGET

equal equalise EQUALISER

equals esquire quail quails

quale quasi queasier queer

queers queries quire sequel

square squeal squealer squire

MEDIUM HARD

EASY

TARGET

S I U

E Q E

L R A

Good 9

Very Good 13

Excellent 16+

ALL PUZZLES © THE PUZZLE COMPANY

How many words of four letters or more can you

make? There is at least one nine-letter word.

Each letter may be used only once and all

words must contain the centre letter.

No words starting with a capital, no plurals

ending in s unless the word is also a verb, e.g.

he fires the gun.

Mon-Thurs: 7am - 4pm

Fri-Sun: 7am - 5pm
---
Latest Canterbury news at starnews.co.nz

Wednesday January 26 2022 Bay Harbour News 19

Classifieds Contact us today Phone our local team 03 379 1100

Public Notices

Cass Bay Dinghy Shelter Storage

A review of the occupancy at the Cass Bay Dinghy Shelter has

highlighted that there are a number of vessels/dinghies stored in the

shelter without the relevant authorisation under the Council's Marine,

River and Lake Facilities Bylaw 2017. This is a breach of the Bylaw.

The Council has no records of the occupiers at spaces number 4, 13, 14,

26 and 28. These have been tagged on 8 January 2022 with a request

to contact the Council. Under section 164 of the Local Government

Act 2002, the Council may seize and impound property where that

property is materially involved in the breach of a bylaw. The Council

may dispose of this property at the owner's risk.

If this is your vessel/dinghy or you know who is using the space,

please ask them to contact Kathy.Jarden@ccc.govt.nz to arrange

a licence. The annual fee is $165.

Those vessels/dinghies stored without permission will be

seized and impounded.

Real Estate

CommerCial investment

ProPerty

Long term tenant (14 years).

$60k per annum rent. Future EQ

upgrade will be factored into price.

Would consider exchange for

rental property or land.

Phone Chris 021 757 358

Real Estate

A HOUSE WANTED

in Banks Peninsula,

Lyttelton or within 25kms

of Lyttelton. Private cash

buyer, full amount or can

swap for 2 bedroom house

in Rangiora plus cash

difference. Please phone

Yvonne 021 055 3751

WANTED Section / Clear

land from 400 sq to 20

ha on Banks Peninsula to

buy or lease (long term).

Looking to move Tiny

House (off grid) on to site.

Prefer site in Eastern Bays

area, but any assessable

site would be looked at

seriously. Contact Shane

021 381 765 or email

shanejohnvictor@gmail.

com

Business

Opportunity

moneymakingideas.co.nz

Adult Information

A SEXY BLONDE talk

live or listen. Ph 0900 44

666. $3.99 + GST pm.

R18.

Beds & Bedding

FOLD-ROLLAWAY

SINGLE BED. Mattress,

duvet & Pillows .In

Governers Bay $125. Ph

027 232 5593

Business

Opportunity

moneymakingideas.co.nz

Wanted To Rent

Looking to lease some

land for placement of tiny

home. Please call Janene

on 0276 196 470

One bdrm flat up to $250

p/w. Ph Natalie 021 0838

1112

Wanted To Buy

WANTED

ANTIQUE FURNITURE

and good quality

second hand furniture

Happy to travel

Phone Rick 021 376883

or email photo to:

hall.coffey@xtra.co.nz

AAA Buying goods

quality furniture, beds,

stoves, washing machines,

fridge freezers. Same day

service. Selwyn Dealers.

Phone 980 5812 or 027

313 8156

Character house wanted

for removal to my

section large single level,

1920's or earlier. Contact

kiwimg211@gmail.com

Situations Vacant

Reporter - Christchurch

Star Media is seeking an up-and-coming news breaker to join its

reporting team in Christchurch. Star Media is a division of Allied

Press Limited, which employs over 450 people on a permanent

basis across our 15 sites in the South Island. We operate across

multiple media platforms (print, on-line, digital) delivering news,

information and entertainment through our various regional and

city publications.

The successful applicant will have already made a mark in the

industry, particularly in the local body and political area.

You will also have:

• Excellent writing ability

• A high degree of initiative

• The ability to juggle tasks and meet regular deadlines

• A full NZ drivers licence

• Photography, video and website skills are desirable

• Relevant journalism qualification (or equivalent experience)

would be a distinct advantage

What we offer

• A great team environment and an opportunity to grow your

journalism skills in a competitive atmosphere

• Enjoy being part of a small, dedicated team

A copy of the full position description can be found at

alliedpress.co.nz/employment. If you would like more

information please contact:

Barry Clarke (Editor in Chief – Star Media) on 021 359 426

or barry@starmedia.kiwi

If you think this role is for you, please prepare a covering letter

and CV and apply via SEEK or email barry@starmedia.kiwi

Trades & Services

CARPET LAYING

Exp. Repairs, uplifting,

relaying, restretching.

Phone John on 0800

003181, 027 240 7416

jflattery@xtra.co.nz

CHIM

CHIM

CHIMNEY SWEEPS

We'll sweep your

logburner's flue, check

firebricks, baffles, airtubes

& controls. We're experts

on coal-rangers, and can

sweep any sized open fire.

We quote & undertake

repairs, flue extensions &

install bird netting. 0800

22 44 64 www.chimchim.

nz

ELECTRICIAN

JMP Electrical.

Experienced & registered..

Expert in all home

electrical repairs &

maintenance. Call James

027 4401715

Trades & Services

Atkinson Construction Ltd

• Local qualified builder

• Over 30 years experience

• Building alterations

• Maintenance

• No job too big or small

Dean: 021 480 093

atkinsonconstruction@xtra.co.nz

Trades & Services

ELECTRICIAN

Andrew Martin Electrical.

25 years experience.

Specialize in home

renovations, repairs and

maintenance. Call Andrew

0274 331 183

HOME

IMPROVEMENTS

Decks, fencing, retaining

walls, kitchens, sleepouts,

kitsets, renovations and

more. Greg 022 475 8227

Trades & Services

PAINTING SERVICES

Mature, reliable,

conscientious &

experienced, reasonable

rates, no job too small!,

call Ron 027 434-1400

PLUMBER

Do you need a reliable

plumber? Quality and

timely services. No job

too big or small. Phone

V Plumbing Ltd. 022 351

4125

Trades & Services

Your local professional

FOR ALL YOUR

PLUMBING,

GAS &

DRAINAGE

• Bathroom repairs

• Renovations

• Leaks

• Blocked drains

• Gas and drainage

Carol and Chris

Phone 376 5322 or email

chcheast@laserplumbing.co.nz

DIRTY TILES

& GROUT?

Our unique restoration

processes will make your

tiled areas look NEW again!

We specialise in professional

cost effective solutions for

all your tile & grout issues.

• Tiled shower makeovers

• Re-colouring old grout

• Mouldy silicone replacement

• Professional tile/grout

cleaning, sealing & repairs

Call today for a FREE quote on 0800 882 772

www.theprogroup.co.nz/dpc9385

WINDOW TINTING

tintawindow

advanced film solutions

99% uv block

fade protection

heat control

reduce glare

25 Years Experience

privacy films

frosting designs

non-darkening films

Workmanship Guaranteed

Lifetime Warranties on Most Films

UV

block

Free Quotes Canterbury and Districts

03 365 3653 0800 368 468

20 March 2022

EntriE s now opE n! sEcurE yours at city2surf.co.nz
---
20 Bay Harbour News Wednesday January 26 2022 Latest Canterbury news at starnews.co.nz
---
Latest Canterbury news at starnews.co.nz

Wednesday January 26 2022 Bay Harbour News 21

THE

SALE

28 JANUARY–6 FEBRUARY

TEN DAYS OF SAVINGS

ALL DEPARTMENTS

STARTS FRIDAY 28 JANUARY 10AM

WOMENSWEAR | LINGERIE | WOMEN'S SHOES | ATRIUM

CONTEMPORARY LOUNGE | ACCESSORIES | COSMETICS

CHILDRENSWEAR | TOYS | MENSWEAR | STATIONERY

ACTIVEWEAR | MENS SHOES | BED, BATH & SPA | PANTRY

HOME & LIVING | COOK & DINE | POTTERY BARN | WEST ELM

TERMS AND CONDITIONS APPLY
---
22 Bay Harbour News Wednesday January 26 2022 Latest Canterbury news at starnews.co.nz

SHOP THE SALE FOR 10 DAYS OF SAVINGS

50% OFF

SELECTED

WOMEN'S

CONTEMPORARY

LOUNGE

50% OFF

SELECTED

WOMEN'S SHOES

adidas, all saints, marle, american

vintage, assembly label, blak, c & m,

twenty seven names, g-star, huffer,

karen walker, kowtow, ksubi,

polo ralph lauren, salasai & more

50% OFF

SELECTED

WOMENSWEAR

acler, aje, trelise cooper, marc cain,

camilla & marc, coop, cooper,

ginger & smart, jac + jack,

juliette hogan, maison, see by chloÉ,

self portrait, taylor, ted baker & more

chaos & harmony, ted baker, kathryn wilson,

ara, rieker, bresley, eos, tommy hilfiger &

tommy jeans, lacoste, ecco, adidas, new

balance, sol sana, beau coops & more

50% OFF

SELECTED

HANDBAGS

yu mei, sans beast,

radley, saben,

see by chloÉ, oroton

& more

40% OFF SELECTED

COSMETICS

bobbi brown, m.a.c,

clinique, esteÉ lauder,

elizabeth arden,

clarins, guerlain,

dermalogica & more

50% OFF SELECTED

LINGERIE, NIGHTWEAR

& SWIM

calvin klein, berlei, hanro,

simone pÉrÈle, jockey,

triumph, saturday the

label, cottonreal, ginia,

la marquise, seafolly,

sunseeker, tommy hilfiger

& more

50% OFF SELECTED

BEAUTY

the aromatherapy co.,

real techniques, ethique & more

...AND SO MUCH MORE
---
Latest Canterbury news at starnews.co.nz

Wednesday January 26 2022 Bay Harbour News 23

SHOP THE SALE FOR 10 DAYS OF SAVINGS

50% OFF

SELECTED

MEN'S

CONTEMPORARY

LOUNGE

50% OFF SELECTED

ACCESSORIES

karen walker jewellery,

dyberg & kern, brixton,

edblad, pilgrim, brixton,

stolen girlfriends club

& more

30–50%

OFF

SELECTED

COOK & DINE

cookware & serveware

30–50% OFF

SELECTED

MEN'S SHOES

r.m. williams,

julius marlow,

ecco, armani

exchange, rieker

& more

50% OFF

SELECTED

BED & BATH

huffer, g-star,

ksubi, all saints,

assembly label,

ben sherman

& more

50% OFF

SELECTED

MENSWEAR

r.m. williams, tommy hilfiger,

joe black, ted baker, gazman,

cambridge & more

towels,

duvet covers,

sheets

& more

50% OFF SELECTED

TOYS

...AND SO MUCH MORE
---
24 Bay Harbour News Wednesday January 26 2022 Latest Canterbury news at starnews.co.nz

50% OFF

SELECTED

WEST ELM

& POTTERY BARN

30–50% OFF

SELECTED

CHILDREN'S,

BABYWEAR & TEEN

50% OFF

SELECTED

ACTIVEWEAR

SHOP THE SALE FOR

TEN DAYS OF SAVINGS

ALL DEPARTMENTS

28 JANUARY–6 FEBRUARY

EXTENDED STORE HOURS

FRIDAY 28 JANUARY / 10AM–7PM

SATURDAY 29 JANUARY / 9AM–6PM

SUNDAY 30 JANUARY / 10AM–5PM

NORMAL TRADING HOURS RESUME: TUESDAY 8 FEBRUARY

WWW.BALLANTYNES.CO.NZ/OPENING-HOURS

Stay energised during the sale.

Visit us on the ground floor

of the Lichfield Street Building.

Open 7 days a week.

Phone : 03 378 1960

www.ballantynes.co.nz

City Mall, Christchurch. PHONE (03) 379 7400