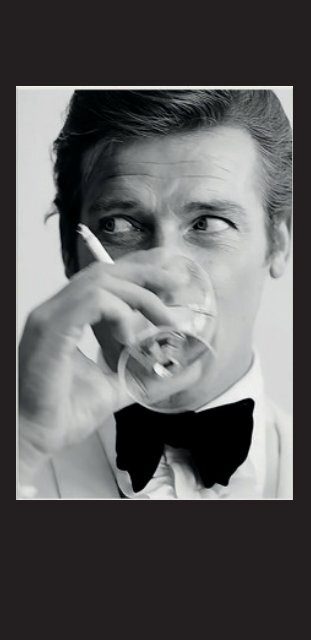 You also want an ePaper? Increase the reach of your titles
YUMPU automatically turns print PDFs into web optimized ePapers that Google loves.
AMERICANO

CASINO ROYALE

FROM RUSSIA WITH LOVE

A VIEW TO A KILL

The Americano holds the distinction

of being the very first drink James

Bond orders Bond, who stipulates

the use of Perrier, regards it as an

appropriate drink when dining at

an outdoor café.

1 measure Campari

1 measure sweet vermouth

Soda water
---
NEGRONI

FOR YOUR EYES ONLY

While waiting in the Excelsior Bar

in Rome, Bond orders an aperitif,

the Negroni, specifying Gordon's

gin. When in Rome…

1 measure Gordon's gin

1 measure Campari

1 measure Italian vermouth
---
OLD FASHIONED

THUNDERBALL

DIAMONDS ARE FOREVER

LIVE AND LET DIE

A classic cocktail forgotten in

Bond's cinematic outings. Likewise,

his desire for a Scotch and Soda

was lost in the film productions but

it is the mixed drink he has most

often in the books.

3 dashes Angostura bitters

2 measures rye whisky

1 sugar cube

Soda water
---
RUM COLLINS

THUNDERBALL

A variation of the Tom Collins,

Bond is served one of these by

his host, Emilio Largo. Refreshing,

it is the ideal afternoon cocktail

in the Bahamas. The drink owes its

moniker to a notorious hoax that

circulated in New York in 1874.

2 measures light rum

1 teaspoon superfine sugar

1/2 measure lime juice

Soda water
---
SAZERAC

LIVE AND LET DIE

When Bond momentarily forgets

the tradition of drinking 'locally',

CIA agent Felix Leiter tells Bond to

enjoy the official drink of The Big

Easy: 'Where's your sense of

adventure? This is New Orleans.

Relax!'

2 1/2 measures rye whisky

2 dashes Peychaud's bitters

1 dash Angostura bitters

1 sugar cube

Absinthe

Lemon peel
---
STINGER

THUNDERBALL

DIAMONDS ARE FOREVER

During the heyday of its popularity,

the classic stinger was considered

an ideal nightcap for a night out in

New York. Bond has one at the 21

Club in NY.

2 1/4 measures brandy

3/4

measure white creme de menthe
---
MINT JULEP

GOLDFINGER

Bond, an experienced traveller,

eats and drinks 'locally'.

On Goldfinger's stud farm he

accepts the offer of a Mint Julep,

the traditional and satisfying

drink of the Kentucky Derby.

Mint leaves

3 measures bourbon

2 teaspoons water

1 teaspoon sugar
---
VESPER

CASINO ROYALE

'This drink's my own invention.

I'm going to patent it when

I can think of a good name.'

3 measures Gordon's gin

1 measure vodka

1/2 measure Kina Lillet

1 large slice of lemon peel

shaken, not stirr
---
MOJITO

DIE ANOTHER DAY

One of the few cocktails not to

originate in Fleming's novels,

Bond's affinity for muddled mint

was a fitting choice for the

Cuban setting.

Mint leaves

2 measures white rum

2 teaspoons sugar

1/2 measure lime juice

Soda water
---
BLACK VELVET

DIAMONDS ARE FOREVER

After being briefed by M in

London, Bond stops by Scott's

for 'dressed crab and a pint

of black velvet'. Scaramanga's

choice of drink, it was first

served at Brooks's in 1861,

to mourn the death of

Prince Albert.

Guinness stout

Brut champagne