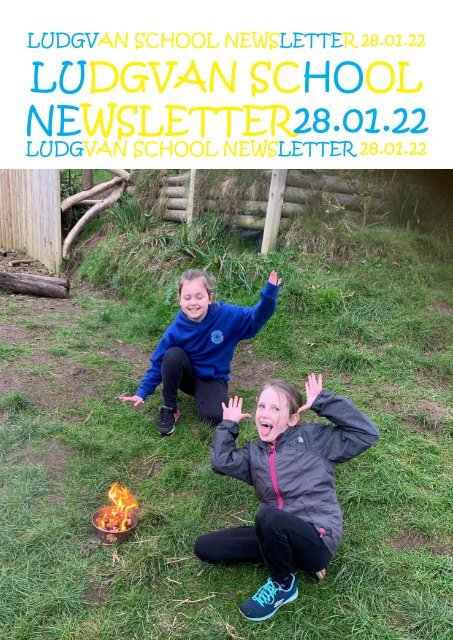 You also want an ePaper? Increase the reach of your titles
YUMPU automatically turns print PDFs into web optimized ePapers that Google loves.
LUDGVAN SCHOOL NEWSLETTER 28.01.22

LUDGVAN SCHOOL

NEWSLETTER28.01.22

LUDGVAN SCHOOL NEWSLETTER 28.01.22
---
A word from the Principal...

Welcome,

We thought we were through the worst of COVID, but unfortunately our numbers have begun to rise

again over the last couple of weeks! We have continued many of the measures that we had in place

to reduce the spread of the virus and have also temporarily stopped the mixing of bubbles for events

like whole school assemblies. To ensure we are able to keep our school operational, we would greatly

appreciate if you could test your children more often than usual until the number of positive cases

begins to decrease again. Thank you for your support.

There is an ever growing number of children achieving their Reading Karate bands every week with

a few children now proudly owning their orange bands to celebrate 75 reads at home. It is lovely to

present them on a Friday and we are so proud of how much reading is taking place. Daily reading at

home only need take a few minutes and has a huge impact on not only your child's reading ability,

but also how they view reading in terms of importance and enjoyment. All you need to do is sign

their reading record to show they have read and we will keep a record of the number of reads and

award the bands accordingly. Happy reading!

Kind regards,

Adam Anderson

Principal
---
Useful information...

Term Dates 21-22 and Important Events

Spring Term 4 Jan - 8 Apr (Half term 21-25 Feb)

Summer Term 25 April - 26 July (Half term 30 May - 3 June)

Inset Days: 25th July and 26th July.

Replacement Platinum Jubilee Bank Holiday: 6th June

World Book Day - 3 March

Pupil Progress Day* - 6 April

Queen's Platinum Jubilee Playground Celebration - 7 June

*Pupil Progress Day school is the chance for you and your child to meet

with their teacher and discuss their learning. Appointments are longer

than during during Parents' Evenings to allow a really in depth discussion.

School will not run as usual so your child will only come to

school for their appointment. Appointments will be between 0800-1800.

Breakfast Club

Keep an eye out for additional items on our breakfast menu over the coming

weeks. In addtion to the usual toast, fruit and cereal, we will adding

pancakes, egg on toast, beans on toast and bacon rolls to the menu!

Parking and JRSOs

You will have seen our Junior Road Safety Officers closing the gate at the start

and end of the day to stop stop traffic entering the site so it is safer for everyone.

Please support them in their role by being appreciative and not shouting at them or

showing your annoyance if you are running late.
---
KS1 Learning outdoors...

EYFS have been busy over the past two weeks in their outdoor learning sessions. We

have started to look at the art of whittling using potato peelers. We had a go at whittling

our own marshmallow sticks so we could toast the marshmallows on the fire. We

have also been looking at developing our shelter building skills, exploring basic knot

tying to make more efficient tarpaulin shelters.

KS1 have been navigating the world around us by developing their map reading skills.
---
KS2 Learning Outdoors...

Across KS2, the skills shown during outdoor learning sessions have been on fire...

literally! We've been exploring fire building and having a go at creating our own fires

using fire steels. We began with learning how to use fire steels to create a spark with

the challenge of setting alight a ball of cotton wall. This then developed to creating

slightly larger fires using a range of materials with the cotton wool being used for the

initial flame. Last week year 5 were able to make larger fires by relying on paper as

a fuel rather than wood. The issue they discovered was that this wasn't sustainable

for their fire which went out quite quickly and then needed relighting. This week their

challenge was to create a sustainable fire that burned for a period of at least 20 minutes.

I was really impressed by the difference from the previous session as they were

able to reflect on their previous mistakes and made sustained fires with very little difficulty.

They were then able to use this to boil up water to make some hot chocolate!

I've been so impressed with the resilience of all the children with the fire building, especially

those who found the fire steels tricky but were so determined and never gave

up, eventually being able to succeed!
---
Exciting and Engaging...

EYFS

The last two weeks in our class have been very exciting. We have been learning

all about the story of the gingerbread man. The CCTV cameras in the classroom

revealed that he had paid two visits to the classroom (and even brought his

friends with him!). We have been very busy trying to track him down - setting

traps, writing wanted posters and finding clues as to where he might be hiding.

We have had lots of fun baking gingerbread men, testing biscuits to see which

was the strongest, painting our own gingerbread man and making gingerbread

men out of playdough!
---
Exciting and Engaging...

Y1

Class 1 have been learning about Africa this week. We had to locate Kenya on

a map, and we discovered that there are many different languages in Kenya

because there are lots of different groups of people who live there. We looked

at the different wild animals you can find in Africa and used this as our art

focus. They explored mixing different colours together to form a sunset. They

then added a silhouette of an African animal.

The children really enjoyed making their beautiful African masks and beaded

necklaces. They then learnt an African 'call and response' song called Che Che

Kule.

In PSHE we have been learning about money and the children explored the different

values of coins and talked about how and where people got their money

from.
---
Exciting and Engaging...

Y2

In Year 2, we have had a real focus on our Computing and Art skills over the

last two weeks. The children have loved exploring and creating digital art, even

having a go at recreating famous pieces of artwork. They have developed skills

of creating Pointillism and Cubism using the program's 'shape' and 'fill' tools. In

Computing, they have also learnt some very important vocabulary. They created

Algorithms (a set of instructions) to help the Beebots smell flowers. They

also had to Debug (identifying and correcting errors) if they made a mistake

and had to adapt their Algorithms. Year 2 were also excited this week when we

made our own jam sandwiches, to practice sequencing a set of instructions in

English. Afterwards, they wrote such clear instructions as well as enjoying a

jam sandwich treat in the afternoon. Well done on being so creative and hardworking

Year 2!
---
Exciting and Engaging...

Y3

Year 3 have continued to enjoy learning about the Stone Age whether that has been

in class or remotely with their families. This week the children have learnt about

Stone Age ways of life and the culture at the time. They have discussed how to survive

the Stone Age as a hunter gatherer and the different roles of men and women at

different points throughout the Stone Age. With all of this new knowledge, they have

created their own Stone Age survival guides. They have also looked at the different

tools and weapons that were used during the Stone Age. The children then had a go

at making their own spears and Bow and Arrows.

Well done Year 3.
---
Exciting and Engaging...

Y4

We have been continuing with our science topic of states of matter. Last week we

investigated how atoms and molecules act differently when they are solids compared

to a liquid or a gas. We enjoyed acting this out around the playground. This led to

some artwork based on Nick Rowland's Volcanic Art. We created our own volcanos

and thought about the solids, liquids and gases involved in a volcanic eruption. The

pictures the class created are very eye-catching and many of them were extremely

proud of their art. This week we moved on to measuring temperatures using thermometers.

Thankfully, we only had hot water and iced water to measure rather than

lava! A lot of children also discovered they have very warm armpits!
---
Exciting and Engaging...

Y5

Class 5 have worked hard over the last two weeks to create moving toys using cam

mechanisms. They created, tested and refined them, producing some excellent toys.

After our trip to Geevor Tin Mine, we have had fun getting into the roles of miners using

the box of accessories that Geevor lent us. We then wrote diary entries of miners

using lots of great Cornish slang! They were proper job!

We have also been lucky enough to have a visitor in to teach us to play the ukulele.

After just 2 lessons, we were really impressed with how quickly the children were able

to learn chords and play along with music. Well done, Class 5!
---
Exciting and Engaging...

Y6

Year 6 have been very busy preparing for SATs, this week, but have also managed

to take part in some artistic learning within geography and art.

We have been exploring the Americas and identifying specific countries in both

continents. This has led to contrasting climates and biomes, such as the alaskan

and Southern American biomes and climates. We've refreshed our coordinate

reading abilities and some of us might even have the potential to become

explorers one day.

In art, we have begun a unit based on screen printing. Currently, we are designing

our simplistic images to cut out from a card template. There have been

lots of, 'Lightbulb' moments as the children had the freedom to explore through

trial and error, which designs they thought might be appropriate for the limited

resources we have.

Great effort this week year 6
---
Staff profiles...
---
A word from the Principal...