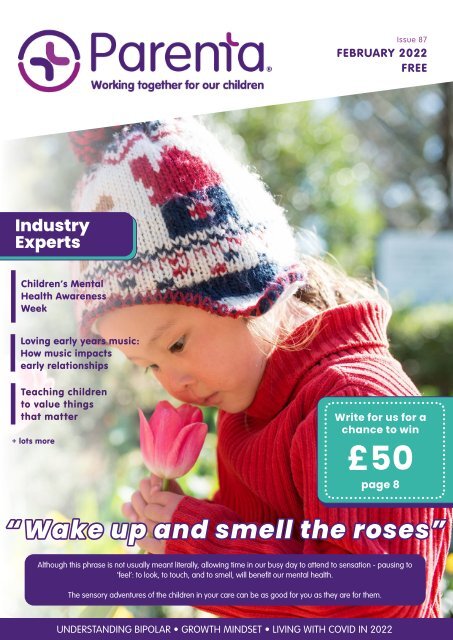 February 2022 Parenta Magazine
Create successful ePaper yourself
Turn your PDF publications into a flip-book with our unique Google optimized e-Paper software.
Issue 87

FEBRUARY 2022

FREE

Industry

Experts

Children's Mental

Health Awareness

Week

Loving early years music:

How music impacts

early relationships

Teaching children

to value things

that matter

+ lots more

Write for us for a

chance to win

£50

page 8

"Wake up and smell the roses"

Although this phrase is not usually meant literally, allowing time in our busy day to attend to sensation - pausing to

'feel': to look, to touch, and to smell, will benefit our mental health.

The sensory adventures of the children in your care can be as good for you as they are for them.

UNDERSTANDING BIPOLAR • GROWTH MINDSET • LIVING WITH COVID IN 2022
---
hello

welcome to our family

Hello and welcome to the February edition of the Parenta magazine!

In January, we reached a milestone: the second anniversary of COVID-19 arriving on UK shores. Who could

have predicted that we would still be conforming to pandemic restrictions, two years down the line? It is well

documented that this virus has had a negative effect on the mental health of so many people, and as adults, we

have the 'luxury' of being able to express our feelings.

But what about the children in our care? How have they fared over the past two years? Children's Mental Health

Awareness Week is this month and runs from 7th – 13th February. It not only aims to raise awareness of mental

health issues amongst children, but also offers invaluable advice and information regarding some of the work that can be done in this

important area to help all children develop positive attitudes towards their mental health, and that of others too. Turn to page 30 for some

advice and practical tips on how to get involved in your setting.

We welcome early years industry expert, Mona Sakr, to the Parenta magazine family this month! She starts her 'leadership' series with

a very topical subject – staff absences due to COVID-19 – and the significant challenge that brings with the day-to-day running of the

setting.

As always, the magazine is packed with a huge array of early years advice and guidance to help you with the efficient running of your

setting and to promote the health, happiness and well-being of the children in your care:

Gina Bale continues her series to encourage not only the children, but all of us, to keep moving in 2022, Stacey Kelly helps us to teach

children the value of things; Frances Turnbull explores how music impacts early relationships, Sonia Mainstone-Cotton looks at how we

can help children and ourselves understand more about bipolar; and Joanna Grace asks us to "wake up and smell the roses"!

Please feel free to share the magazine with friends, parents and colleagues – they can sign up to receive their own copy here!

Allan

FEBRUARY 2022 ISSUE 87

JUNE 2020 ISSUE 67

IN THIS EDITION

IN THIS EDITION

Regulars

8 Write for us for the chance to win £50!

22 Rainbow packed lunch idea

23 Sign language 'I love you' card

News

4 Childcare news and views

6 Short stories

35 Congratulations to our Parenta

learners!

Advice

10 Living with COVID in 2022

14 National Apprenticeship Week

26 Growth mindset and the theories of Carol

Dweck : Part 1

30 Children's Mental Health Awareness Week

38 Screen and technology addiction

Industry Experts

Helping children understand bipolar 24

Children's Mental Health Awareness Week 30

Living with

COVID in 2022

10

There is no doubt that the

world we knew in December

2019, bears very little

resemblance to the one we

find ourselves in February

2022.

Wake up and

smell the roses

12

The call to "wake up

and smell the roses" is a

comment on someone's self

awareness, a call to action.

Childhood can be 16

stressful - for all concerned

Stress and anxiety can affect us all,

even children too. The first step is

learning how to guide them!

12 Egg-cellent advice: wake up and smell the

roses

16 Childhood can be stressful - for all

concerned

20 Teaching children to value things that

matter

24 Helping children understand bipolar

28 5 ideas to get your children moving in 2022

32 What does leadership look like when ...

staff absence is high?

Leadership when staff absence is high 32

Screen and technology addiction 38
---
Childcare news

and views

The "exceptional circumstance" of

COVID-19 allows early years settings to

relax ratios

The DfE has confirmed that all early years

settings can relax their ratios - in line with

the EYFS – should they struggle with staff

absences, which have risen due to rising

cases of the Omicron variant of COVID-19.

The EYFS framework already has in place

a contingency for settings to temporarily

relax ratios in exceptional circumstances,

but this is the first instance that the

Government has openly stated that it

considers the current COVID situation to be

an 'exceptional circumstance'.

In its 'Covid-19 and the EYFS and staffto-child

ratios update', the DfE states, "It

remains a priority to continue providing

face to face education and childcare,

but we know that COVID-19 continues to

put early years settings under significant

pressure, particularly in relation to

workforce absence.

"Government considers Covid-19 to be

an exceptional circumstance in which the

staff-to-child ratios set out in the EYFS can

temporarily be changed if necessary, for

example to respond to COVID-related

workforce absences. This relates to

paragraph 3.31 in the EYFS.

"In some cases, providers may choose to

respond to staff and child absences by

temporarily mixing age groups of children

who would otherwise be educated or cared

for separately. Ratios should be guided by

all relevant requirements and by the needs

of individual children within the group.

For the purposes of meeting EYFS ratio

and qualification requirements, all staff

educating or caring for a mixed age group

of children can be considered "available

to work directly with" all the children who

have been grouped together.

"We will update guidance to reflect this

soon. In all circumstances, settings remain

responsible for maintaining the quality of

care, safety and security of children."

Read the full story on parenta.com here.

Ofsted cancels 'intrusive' guidance

requesting updates on childcare

workers' health

Ofsted has cancelled its guidance which

required that childcare providers reveal

health conditions, such as cancer, diabetes

and mental health issues, amongst their

staff and any 'significant' events in their

private lives. This follows a backlash from

early years professionals, national trade

organisations and industry experts.

In Ofsted guidance, published on 12th

January, childcare providers were told they

must inform the education watchdog if staff

are diagnosed with new health conditions

or changes to their mental health, such as

depression.

The controversial guidance sparked

outrage amongst early years professionals

who called it "intrusive" and "offensive",

resulting in Ofsted removing the guidance

less than 24 hours later to review it.

Examples of 'significant events' in nursery

workers', childminders' and nannies'

private lives - as well as changes to

health - were stated in the guidance, and

'significant events' that had to be reported

included anything that happens while a

childcare worker is off-duty that triggers

increased anxiety, hardship or emotional

problems including a bereavement, illness

or injury.

It also includes any incidents of domestic

abuse or an incident where a child may

have been at risk of harm, e.g. if a staff

member is not working but involved in a

car crash and police are investigating a

possible offence.

Neil Leitch, chief executive of the Early Years

Alliance, said: "The scope – and potential

intrusiveness – of this new guidance, which

details the kinds of health conditions that

might fall into this category, is extremely

concerning". Referring to the pandemic's

impact on workers' mental health, Mr

Leitch said: "The idea that the impact that

this may have had on their mental health

is now something that they would need

to report to Ofsted is both offensive and

completely counter-productive."

Purnima Tanuku said: "When nurseries

are recruiting, they ensure that people

working with children are suitable and

fit to practice and this is dealt with by

responsible employers on a daily basis.

However, this process, brought in without

consultation, risks being unworkable for

both providers and Ofsted. We have had

an urgent meeting with Ofsted about the

guidance document where we shared the

concerns of the sector. We welcome that

this guidance has been taken down while it

is thoroughly reviewed. We understand that

it will be made clearer that the guidance

will only apply to the registered person

whose suitability is checked by Ofsted at

registration."

When the guidance was removed on 13

January, June O' Sullivan tweeted: "Well

done to #earlyyears for putting a coherent

objection together. This is why we need to

pull together and become strong voice for

children and staff."

Read the full story, as reported by

daynurseries.co.uk here: https://www.

daynurseries.co.uk/news/article.cfm/

id/1663323/Ofsted

COVID virus turning children into fussy

eaters: University of Anglia

A growing number of children are turning

into 'fussy eaters' after they have caught

COVID, according to Fifth Sense, the charity

for people with smell and taste disorders.

Smell experts from the University of East

Anglia have joined forces with the charity

and want to raise awareness that some

children - after contracting COVID - may

be suffering parosmia, a symptom where

people experience strange and often

unpleasant smell distortions.

For example, instead of smelling a lemon,

people with parosmia may smell rotting

cabbage, or chocolate may smell like

petrol.

Prof Carl Philpott from UEA's Norwich

Medical School said: "Parosmia is

thought to be a product of having less

smell receptors working which leads to

only being able to pick up some of the

components of a smell mixture.

We know that an estimated 250,000

adults in the UK have suffered parosmia

as a result of having COVID. But in the

last few months, particularly since COVID

started sweeping through classrooms last

September, we've become more and more

aware that it's affecting children too."

He has found that in many cases the

condition is putting children off their food,

and many may be finding it difficult to eat

at all.

He continued: "It's something that until now

hasn't really been recognised by medical

professionals, who just think the kids are

being difficult eaters without realising the

underlying problem. For some children, and

particularly those who already had issues

with food, or with other conditions such

as autism, it can be really difficult. I expect

there are a lot of parents at their wits' end

and really worried."

The guidance aims to make parents and

health professionals, as well as schools

and nurseries, aware that children should

be listened to and believed. Parents can

help by keeping a diary to make a note

of foods that are safe and those that are

triggers.

The full research can be found here:

https://www.fifthsense.org.uk/covid-19-

research-studies/ and the story in full can

be read here.

4 February 2022 | parenta.com

parenta.com | February 2022 5
---
A round up of some news

stories that have caught

our eye over the month

Story source and image

credits to:

Daily Echo

Nursery World

Day Nurseries

NDNA

Daily Record

Eastleigh nursery holds open day

to show off refurbishment

Hopscotch Day Nursery invited families

to view their brand-new facilities after

spending over £100,000 on the project.

NHS Food Scanner app helps

families make healthier choices

In a bid to tackle childhood obesity,

the app enables families to scan item

barcodes and suggests healthier

alternatives.

George Perkins Day Nursery is

bought by Kids Planet Nursery

chain

This Birmingham nursery becomes the

95th setting to be owned by the Kids

Planet nursery chain…and they still plan

to expand.

Kids teach Children's

Commissioner the right way to

play

Nursery children teach the Commissioner

the best ways to play and learn about

nature and the environment, from their

fully outdoors nursery setting.

Number of COVID cases in

early years settings more than

doubles

The latest figures show a significant rise

in the number of early years settings

reporting COVID cases.

Three-year-olds have a wider

vocabulary if they are read to as

babies

A study revealed nine-month-olds

whose families read to them, showed

better vocabulary skills by the age of

three.

Nursery Children donate 300

trees as gift to nature

Boys & Girls Nursery helped

make Christmas special for all

Care Inspectorate report notes

'happy' and 'settled' kids at

Ayrshire nursery

Sunflower Day Nursery finds a

mural on their wall

Click here to send in

your stories to

hello@parenta.com

Butterfly Patch has donated one tree for

each child at its six nurseries, as part of

The Eden Project in Madagascar.

Families and team members from the

nursery donated an incredible number

of gifts to women and children in need of

the local refuge service.

Burns Bairns Under 5's Group has been

praised by the Care Inspectorate who

"observed happy and relaxed children

who were having fun".

A Banksy-style mural mysteriously

appeared on this nursery building's wall

overnight.

6 February 2022 | parenta.com

parenta.com | February 2022 7
---
Write for us!

We're always on the lookout

for new authors to contribute

insightful articles for our

monthly magazine.

If you've got a topic you'd like to write about, why

not send an article to us and be in with a chance of

winning? Each month, we'll be giving away Amazon

vouchers to our "Guest Author of the Month". You

can find all the details here:

https://www.parenta.com/sponsored-content/

Congratulations

to our guest author competition winner, Joanna Grace!

NEW BOOK RELEASE!

Supporting children with social,

emotional and mental health needs in

the Early Years

Congratulations to our guest author competition

winner, Joanna Grace! Jo's series called "Egg-cellent

advice" follows the adventures of her youngest son,

affectionately (and alternatively!) known as Egg and

looks at ways in which we can help the children

in our care with sensory needs. Her work focuses

on people with profound disabilities and sensory

differences but all her practical advice and ideas in

her articles will apply to all practitioners too. Well

done, Jo!

A massive thank you to all of our guest authors for

writing for us. You can find all of the past articles

from our guest authors on our website:

www.parenta.com/parentablog/guest-authors

www.soniamainstone-cotton.com

8 February 2022 | parenta.com

parenta.com | February 2022 9
---
Living with COVID in 2022

There is no doubt that the world we

knew in December 2019, bears very little

resemblance to the one we find ourselves

in in February 2022. The first confirmed

case of coronavirus came into the UK on

23rd January 2020, and we have been

fighting it on several fronts ever since.

The goalposts have shifted more than

once, as a number of new variants took

hold. At the time of writing, daily cases of

the Omicron variant are approximately

140,000 having topped 200,000 in early

January, and the UK was the first European

country to surpass 150,000 deaths. But

there have been other impacts. Our

children's education has suffered as

schools and nurseries closed, exams were

cancelled, and many had to resort to online

lessons in less-than-ideal home-learning

circumstances. And then there are the (as

yet unquantified) issues related to mental

health and the impact on our children's

social and emotional well-being.

However, it is not all 'doom and gloom'. As

we move forward into 2022, we do so from

a very different place to the start of 2021.

In December 2020, Margaret Keenan,

a nonagenarian grandmother received

the first dose of a UK-approved vaccine,

and this gave us hope. Vaccines have

cut the risk of severe illness and death by

over 85% and some are nearer 95%. The

booster programme in the UK was rolled

out at unprecedented speed in reaction to

Omicron, and whilst infection rates have

risen sharply, we can take some comfort in

the fact that death rates have not followed,

as they did at the start of the pandemic.

However, this is not the time to let our

guards down or become complacent. The

infection is still out there and there are

people who will die if they contract it. But at

some point, as many of our politicians have

suggested – we will have to learn to live

with the virus. So, what should we all be

doing to help our minimise risk and what

should we be doing in our settings to help?

There are several things we have now

which we didn't have at the start of the

pandemic, such as:

• More information and data on the

virus, how it spreads, what works and

what doesn't

• New treatments and drugs to combat

severe disease

• Experience of dealing with coronavirus

in the community and in hospitals

• Experience of how lockdowns,

restrictions, and social distancing work

• Track and trace

• Lateral flow and PCR tests

• Short-, mid- and long-term plans,

responsive to the current situation

• Better herd immunity

• A proven and effective vaccine

programme

• Protocols and procedures on how to

deal with cases and outbreaks

Prevention is better than cure

You should already have written risk

assessments for dealing with COVIDrelated

infections, but you need to update

these regularly in response to changes in

data and the law. Recently, for example,

the isolation period for fully vaccinated

people reduced from 10 days to 7 days, but

this was under the proviso that the person

could show 2 negative lateral flow tests on

day 6 and 7, taken 24 hours apart. This, no

doubt, will change again the future.

It is also important to remember that the

devolved administrations in Scotland, Wales

and Northern Ireland have independent

responsibility for healthcare and education

in their countries, so different rules apply

in each nation. Settings should keep

abreast of any changes in the law and be

prepared to react quickly. Therefore, check

your policies, procedures and protocols

to make sure they are in line with your

own government's current guidelines and

update them if necessary. Make sure too,

that you have communicated these well

to your staff, trainees and parents too

remembering any translations needed for

EAL children/parents.

How to reduce the spread of

disease

Whilst we know there are now more

positives, we also need to combat real

issues like 'pandemic fatigue' or 'vaccine

complacency', which can have a negative

effect. This could be 'forgetting' to wipe

down surfaces as often as we might or

being less vigilant with our hand washing.

Below are some ways to reduce the spread

of infection, and the HSE have a full list on

their website:

• Increase cleaning especially after

changes of room or venue

• Use antiviral products instead of

antibacterial ones

• Spread hand-sanitisers around the

venue and ensure they are fully

stocked

• Remove high risk items such as

cushions and soft toys, or increase

washing, or implement a quarantine

system

• Increase the availability of hand

washing stations and improve the

effectiveness of hand washing through

supervision

• Think about allocating areas to

different groups to minimise contact

• Social distancing – although not

required by law, limiting contacts

and seeing fewer people will have

the effect of reducing the spread of

disease

• Consider the use of masks, visors,

and other PPE which may be relevant

to your setting, the needs of your

children/staff and current regulations

• Limit visitors

• Implement regular testing

• Increasing ventilation by opening

windows and doors

• Consider bringing a change of clothes

Vaccination

The availability of a vaccine transformed

the pandemic and has undoubtedly saved

lives. Almost all of the people who are

hospitalised or have severe disease in

recent weeks are either unvaccinated or not

fully vaccinated. In the light of this evidence,

vaccination is currently recommended for

all people in the UK over the age of 12. Two

doses are recommended for children aged

12-15 years, and 3 doses for all those over

16. The recommendations have changed

over time as more data has become

available. Other countries are vaccinating

children as young as 3. Find the most upto-date

UK recommendations on the NHS

website, here.

Responding to an infection

If your setting experiences some cases,

it is important that you have up-to-date

policies and protocols that reflect current

guidelines. We have already mentioned

changes to the self-isolation period from 10

to 7 days, with conditions, but this may still

leave your setting short of staff if you have

an outbreak. You should make sure you

have:

• A protocol for dealing with staff

infections and any infections in

children and/or their immediate family

or close contacts

• Contingency plans for low staff levels

– consider recruiting temporary staff

or re-employing retired staff for cover

if needed

• A protocol for a temporary closure

of the setting including how this

will affect parents, how they will be

informed, any notice needed, and

any adjustments to finances that may

result

References

NHS coronavirus website

https://www.nature.com/articles/d41586-

021-03686-x

https://www.reuters.com/business/

healthcare-pharmaceuticals/

countries-vaccinating-children-againstcovid-19-2021-06-29/

https://www.bmj.com/content/376/bmj.o5

10 February 2022 | parenta.com

parenta.com | February 2022 11
---
Egg-cellent advice:

WAKE UP AND SMELL THE ROSES

I do not know how he came to acquire the nick-name Egg but ever since he came along, that's what my youngest son has been

called. I run The Sensory Projects www.TheSensoryProjects.co.uk (which should now really be called The Sensory Projects and

Sons!) My work focuses on people with profound disabilities and sensory differences, but my son's advice will apply to your work

too.

In this series of articles we are going to share his insights with you, if you are keen for more there is an ever growing collection on

my Facebook profile: come and make friends. www.Facebook.com/JoannaGraceTSP

This is article 4 out of a series of 10! To view the others click here.

We are often on the hunt for new and

novel resources to delight and engage the

children in our care, we can forget that the

everyday is full of wonder for them. We

think we need more money for resources,

we need the next new shiny thing. But

actually, to reveal the wonder all around us,

all you need is time and the willingness to

explore. Slow down, keep quiet, and follow

their wonder, go with them on their sensory

adventures.

The call to "wake up and smell the roses" is

a comment on someone's self awareness,

a call to action. It is not meant literally,

but if we took it literally (as my mind is

prone to do) it might mean that instead of

walking out of our house in the morning

and passing by the sensory experiences in

our gardens (if we are fortunate enough to

have them), we might stop to take them in.

Stopping to attend to sensation, pausing

to feel, to look, to touch, to smell, is good

for our mental health, it grounds us in

the present moment, brings us out of our

heads, away from our worries, and into our

bodies.

The sensory adventures of the children in

your care can be as good for you as they

are for them.

You might brush against this stuff without

even noticing. You probably know all too

well what it smells like from playing in the

garden or the park as a child.

I've never felt it before.

I've never smelt it before.

I need support to have access to it.

I need time to be taken for me to share

these experiences too.

Natural experiences hold particular value

to the senses. We are wired as creatures

of nature, we have only lived in concrete

boxes for the last 30 seconds of our

development as a species. Our sensory

systems are wired for the experiences

nature has to offer us.

Connecting with natural experiences helps

us to feel at home at a sensory level.

Feeling at home at a sensory level helps us

to feel safe.

When we feel safe we will open up to

engaging, learning and connecting.

There is so much to be gained from taking

a moment to stop and help someone to

sense nature.

(These words first appeared on Jo's

Facebook profile you are welcome to

send her a friend request to watch out for

more insight https://www.facebook.com/

JoannaGraceTheSensoryProjects

Joanna provides online and in

person training relating to sensory

engagement and sensory differences,

look up www.TheSensoryProjects.

co.uk/online-college for more

information.

To view a list of her books visit www.

TheSensoryProjects.co.uk/books.

Follow Jo on social media to pick up

new sensory insights, you'll find her

at:

@Jo3Grace on Twitter

www.Facebook.com/JoannaGraceTSP

www.Linkedin/In/

JoannaGraceTheSensoryProjects

Joanna Grace

Joanna Grace is an international

Sensory Engagement and Inclusion

Specialist, trainer, author, TEDx speaker

and founder of The Sensory Projects.

Consistently rated as "outstanding" by

Ofsted, Joanna has taught in

mainstream and special school settings,

connecting with pupils of all ages and

abilities. To inform her work, Joanna

draws on her own experience from her

private and professional life as well as

taking in all the information she can

from the research archives. Joanna's

private life includes family members

with disabilities and neurodiverse

conditions and time spent as a

registered foster carer for children with

profound disabilities.

Joanna has published four practitioner

books: "Multiple Multisensory Rooms:

Myth Busting the Magic", "Sensory

Stories for Children and Teens",

"Sensory-Being for Sensory Beings"

and "Sharing Sensory Stories and

Conversations with People with

Dementia". and two inclusive sensory

story children's books: "Voyage to

Arghan" and "Ernest and I". There is

new book coming out soon called '"The

Subtle Spectrum" and her son has

recently become the UK's youngest

published author with his book, "My

Mummy is Autistic".

Joanna is a big fan of social media and

is always happy to connect with people

via Facebook, Twitter and LinkedIn.

Website:

thesensoryprojects.co.uk

12 February 2022 | parenta.com

parenta.com | February 2022 13
---
National

Apprenticeship Week

This month sees the return of National

Apprenticeship Week (NAW), and this year

will be the 15th week-long celebration of

everything to do with apprenticeships. The

week runs from the 7th – 13th February

and is a great way to bring together

businesses and apprentices across the

UK to showcase how apprenticeships can

transform lives, help businesses recruit

and train the staff they need, and have a

positive impact on the wider community.

In 2019/20, there were 719,000 people

participating in an apprenticeship in

England, with 322,500 apprenticeship

starts and 146,900 apprenticeship

achievements.

There has been an 18% decline in the 2nd

quarter of 2020/21 due to the impact that

the pandemic has had on businesses

and the government are keen to see

the number of apprenticeships being

undertaken rise again, especially since

there has been a disproportionate negative

impact on those starting apprenticeships

who are aged under 19, and on those on

intermediate level schemes.

The theme of NAW for the 2022 week is

"build the future" to reflect not only how

apprenticeships can help people develop

their own knowledge and skills to build a

rewarding career, but also to emphasise

how apprenticeships can build a 'futureready'

workforce that has the skills that

businesses need. There has been much

made in recent years about the skills gap

that businesses are finding with some

graduates – that they may have academic

degrees or Level 6 and 7 qualifications, but

they do not have the skills and knowledge

needed in today's workplaces.

According to the London Councils' website,

despite the rising population, there are

skills gaps in many industries. They report

that:

"Many employers are facing skills gaps.

28,300 London employers report that not

all their employees have the right skills for

the job. Almost a quarter (23 per cent) of

all vacancies in London are due to a lack of

applicants with the right skills, while almost

half of firms (42 per cent) are not confident

they will be able to recruit people with the

higher-level skills their organisation needs

over the next five years."

What are apprenticeships?

An apprenticeship is a real job where

the apprentice works, earns money

and is an employee of a company with

a contract of employment and holiday

leave. During the apprenticeship, the

apprentice is given training (usually by a

relevant external agency working with the

employer) of at least 20% of their working

week to complete their studies, leading

to a nationally recognised qualification.

Apprentices can be school leavers,

university students or people who just

want to upskill or change their career, and

employers can offer apprenticeships to

existing or new employees.

Apprenticeships are usually a 30-hour

week contract and run for a minimum of

one year to four years, although some

extended apprenticeships for part-time

workers can take up to 6 years. They are

available in over 1,500 job roles including

childcare, project managers, social care,

retail, and advanced engineering and

construction. The Level 2 apprenticeship is

the 'intermediate level', which is equivalent

to GCSEs but there are also Level 3

apprenticeships equivalent to A' Levels, and

they go up to Levels 6 and 7, which are

equivalent to a degree. As an employer,

you can get funding from the government

to help pay for apprenticeship training.

Parenta has helped many childcare

businesses recruit and train a new

generation of professional childcare

practitioners at entry level and they go

up to management levels, so if you are

thinking about recruiting an apprentice

and would like some help, or just some

more information, check out our website at:

https://www.parenta.com/looking-for-anapprenticeship/

The benefits

There are many benefits to both

apprentices and employers which include:

As an apprentice

• You get a real job and 'earn while you

learn'

• No fees to pay off such as tuition fees

or student loans

• You can start aged 16 or over

As an employer

• Employers can adapt their training to

meet the needs of their business

• You gain a motivated workforce that is

eager to learn

• You can expand and up skill an

existing workforce

• Depending on the size of your

business, you can get financial help

to pay for the apprentice. This can be

95% or even 100% if recruiting younger

people under 19.

According to the government website,

86% of employers said that apprentices

helped them develop skills relevant to

their organisation; 78% said apprentices

helped them improve productivity and 74%

said apprentices helped them improve the

quality of their product or service. So there

really are many positives benefits for both

sides.

Apprenticeships working with

children

There are many apprenticeships available

working with children. Subject to the normal

checks on people working with children,

you could be an apprentice teacher,

teaching assistant or early years educator,

helping children get the most out of their

education in a school or nursery setting.

There are also specialised apprenticeships

available for working with children with

SEND or challenging behaviours so these

might be something that your more

experienced staff might be interested in.

How to support NAW 2022

Even if you are not ready to recruit an

apprentice, you can still join in with

National Apprenticeship Week and spread

the word about the good things that can be

achieved. The government have produced

a comprehensive tool kit which you can

download here. It includes ideas and

information about supporting the week

as well as logos and social media assets

ready to use to help promote it. There is

a section for people to browse currently

available apprenticeships, an events

listing of over 1200 virtual and in-person

events across the country, as well as many

real life stories and testimonials of how

apprenticeships have worked for many

people of different ages and starting points.

There are ideas from graduation

ceremonies to thank you days and on

Sunday 13th, you can join in with 'Selfie

Sunday'.

There is also an Apprenticeship

Ambassador Network (AAN). Ambassadors

are volunteers who "champion

apprenticeships to raise awareness and

increase engagement to meet the needs of

employers, communities, and individuals

across the country." There are 9 regional

AANs who are organising local activities

for NAW 22 so why not contact your

local network by emailing AAN.CHAIR@

education.gov.uk to find out more?

For more information, see:

https://www.apprenticeships.gov.uk/

influencers/naw-2022#

Apprentices in England

Apprentices in Scotland

Apprentices in Northern Ireland

Apprentices in Wales

National Careers Service

Which? guide to higher and degree

apprenticeships

14 February 2022 | parenta.com

parenta.com | February 2022 15
---
Childhood can be stressful - for all

concerned!

Stress and anxiety are a part of every life – sorry, but there it is. While we may want to alleviate excessive

stress and find ways of managing it, you will never eradicate it completely. And with the roller coaster of

events of the last few years, this is having an impact on us all. Affecting the decisions we make and the

ways in which we behave.

And this is as true for your children as it is for you. Unable to understand, or to have any real control

over the events going on around them, this is affecting children in ways we may not have experienced

previously. Even before they are born.

It used to be thought that during pregnancy

an unborn child was somewhat of a

passive bystander, protected from negative

influences of the physical and emotional

environment by the placenta. However,

recent studies show this is not in fact the

case. The mother's emotions and stress

levels are influencing the development of

their unborn child in ways that can have

long lasting effects. Preparing them for

a very different world to the one they are

about to experience.

This does not mean that every child

born from a stressful pregnancy will

automatically have problems. Within

a nurturing environment, a child has

enormous potential to change. But to do

so, they need your understanding; of their

development, of what their behaviours

may be telling you and the support you can

offer.

When we experience stress, cortisol, the

stress hormone, is released into the blood

stream as the body readies its reaction to

the perceived threat. Provided this is a rare

occurrence, this is a process children need

to experience, with few ill effects. However,

when repeatedly exposed to feeling

stressed, a child's cortisol responses adapt.

Equipping them to manage in a stressful

and potentially hostile world, it affects the

way they manage stress and anxiety.

If born into a hostile world, where a

heightened fear and readiness to react

with alert aggression is needed, these

adaptations could be lifesaving. However,

if instead, they have been born into a more

typical life, where they are required to

concentrate and pay attention with more

stable emotions, they are going to struggle.

These children are often found to react with

heightened emotions. They may be quick

to cry, to appear helpless or to react with

anger. This level of focus and excess energy

is exhausting. It can limit a child's ability to

concentrate and maintain attention and

may affect their behaviours in ways similar

to, and often confused with, the signs of

Conduct Disorder (CD) and Attention Deficit

Hyperactivity Disorder (ADHD).

Every child needs a safe environment in

which to grow; physically, emotionally and

socially as they gain a sense of who they

are. They need opportunities to explore

their own choices and to learn from their

decisions – and mistakes – within an

environment of calm understanding.

As children grow and mature, they may

behave differently than expected, or how

other children are behaving. Their interests

may differ from what was planned, or they

may take longer to master something that

others find easy. But these differences need

accepting and respecting.

Children respond best when they

have opportunities to experience their

natural reactions and learn to manage

their emotions. They will look to you for

guidance, but an overbearing 'helicopter'

style of support will take away a child's

ability to cope with change or adversity

when you are not there to take control.

So, what can you do to

guide them?

The first thing to remember within any

stressful situation, or when demands

become overwhelming, is that children

are children. They have immature social

skills, unmanaged physical responses, a

developing unfinished brain and confusion

about their needs and wants. Their

brain continually floods their body with

chemicals causing them to act in ways

that we may often read as quite irrational

and chaotic. And all of this must be

experienced and understood.

Working with young children can also

seem to come with enormous demands,

adding to your own stress. With information

coming at you from every angle, with

enormous potential for misinterpretation.

Try to keep a balanced perspective as you

re-examine and simplify the demands you

place on your day. Prioritise your actions

and concentrate only on what is important.

As you look to support your children, take

the time to get to know them. Watch their

behaviours and tendencies, the ways they

like to do things, to interact and engage

with their world. As you begin to really see

them, and their developments day by day,

you can observe their actions and hear

their words on a different level, free of the

expectations of what they "should" be

doing or saying.

Children live in the moment so do not

expect their actions or decisions to be

based on any consideration of the future.

Mistakes and accidents are normal,

and far more frequent when a child

feels pressured, rushed or managing

unexpected change.

As well as this, every child is their own

person, full of emotions, motivations and

liable to get things wrong. They are not

programmable machines, even when you

did "Exactly what the book said!" And I am

sorry to tell you – they will look to test your

boundaries too. But avoid inadvertently

pressuring them as they explore, grow

and develop. Instead, reassure them with

quiet voices and gentle tones that they are

valued and safe.

Children take all of childhood to grow.

Brains are developing, bodies are growing,

and the world can be a stressful place that

children are only beginning to navigate

their way around. So, guide them through

this tremendous period of rapid growth and

development. Nurture their well-being – as

well as your own. And most importantly,

enjoy them in the here and now, rather

than stressing about the future, or events

that are out of your control.

Embed your supportive practice with the

new Nurturing Childhoods Accreditation,

underpinned by the DfE professional

standards. Offering you CPD tailored to

the needs of your setting, and the children

and families you work with. Complete

with materials, guidance and resources

available for your parents. Join me as

we surround children with a unified

understanding of who they are and what

they need, and really begin developing the

potential of all children in their early years.

Kathryn Peckham

As Founder of Nurturing Childhoods,

Dr Kathryn Peckham is a passionate

advocate for children's access to rich and

meaningful experiences throughout their

foundational early years. Delivering

online courses, training and seminars, she

works with families and settings to identify

and celebrate the impact of effective

childhood experiences as preparation for

all of life's learning. An active campaigner

for children, she consults on projects,

conducts research for government bodies

and contributes to papers launched in

parliament. Through her consultancy

and research she guides local councils,

practitioners, teachers and parents all

over the world in enhancing children's

experiences through the experiences

they offer. A highly acclaimed author and

member of parliamentary groups, Kathryn

also teaches a Masters at the Centre for

Research in Early Years.

Get in contact with Kathryn by emailing

info@kathrynpeckham.co.uk

16 February 2022 | parenta.com

parenta.com | February 2022 17
---
The cheapest all-in-one,

easy-to-use, cloud-based

early years software

package you can buy!

No setup fee – save a massive £2395! | No hidden costs!

All inclusive | Limited time offer | Unlimited support

CPD courses….

Whether you're a manager looking to support your staff by enhancing

their knowledge, or looking at developing your own career, when you

study one of Parenta's online CPD courses, you study in your own time

and at your own pace – all from the comfort of your own home!

For only £99

per month

(paid annually)

with a MASSIVE

saving of £2395

(No setup fee)

What's included?

Book a Demo Today!

Improve staff morale

and motivation

Maximise individual

potential and promote

development

Allows you and your

team to gain brand new

qualifications in many

different policies,

procedures and

practices

Enables you to keep

abreast of industry

changes by constantly

updating skill sets

• Cloud-based Nursery Management

Software for easy and quick invoicing,

reporting & ratios - NEW features for

2022!

• User-friendly EYFS development

tracking software

• Daily Diary to record activities, naps,

meals and nappies

• Easy set up and user friendly parent

engagement app – maintaining

social distancing when needed

Monthly direct debit option available on request

• Go paperless and limit the spread

of germs

• Accurately record baseline

observations

• Photo Editing, Tagging & Blurring

Technology (GDPR compliant)

• Easy Ofsted reporting

• Unlimited phone & email support

plus videos and help files

By ensuring your team undergoes relevant, regular refresher training, they'll always be up-todate

with the latest policies, procedures and practices – and it doesn't need to be expensive!

With CPD courses from Parenta costing as little £7,

what are you waiting for?

Log on and learn today!

0800 002 9242 hello@parenta.com

0800 002 9242 hello@parenta.com
---
Teaching children to

value things that matter

Avoid material rewards and

consequences

It can be very easy to fall into the trap of

rewarding children with material items and

to also remove these items because of poor

behaviour.

When I think back to when I was younger,

there was so much less available to us. As

children, we'd choose playing out for hours

over watching TV (because let's face it, the

4 channels that we had on offer weren't

very enticing!). We'd make toys out of sticks,

and we'd love nothing more than spending

time with our family as we all sat together

at the table feasting on a traditional Sunday

Roast. Fast forward to today and the world

has changed immensely. In lots of ways, it's

amazing and has created so many more

opportunities for our children, but I can't

help but feel that the simplicity of life and

the contentment that comes with that may

be getting lost along the way.

When I cast my mind back 20 years, I

remember walking to a phone box at

the end of the street to ring my friends.

Nobody had a mobile and you had to wait

until someone was actually in their house

before you could contact them on their

landline telephone. We never thought twice

about it and it was the norm that people

weren't always available to us 24 hours per

day. Looking back, it was a good lesson

in patience and delayed gratification.

However, now we can contact anybody we

want at any time of the day and there is

nothing we can't access or buy with just the

touch of a button. In fact, most of us are so

attached to our phones and devices that

we go into absolute meltdown if we forget

them. It's like we've left a part of ourselves

behind!

There are so many advantages to the

world as it is today and in many ways

our children are lucky to be born at this

time because the world is so much more

accessible. However, I also feel that due

to social media, advances in technology

and the ability to get anything on your

doorstep 24 hours after you have bought

it through your mobile phone, we run the

risk of our children always getting instant

gratification and of them trying to live up

to a false sense of reality/perfection that

doesn't exist. I think now more than ever

we need to find ways to teach children how

to value time and attributes over material

things and we also need to find ways to

appreciate the simple things in life.

Here are 5 ways that I feel we can do this:

Practice gratitude

Toys, gadgets and devices are getting

bigger and better every year. They are

great and provide so much entertainment.

However, with all of us waiting for the

next big thing to launch, we run the risk of

always wanting more, rather than taking

the time to appreciate what we already

have.

By taking 5 minutes per day to practice

gratitude with our children it will ground

them and guide them to appreciate the

smaller things in life and to realise that they

already have a lot to be grateful for. Use

this framework to give thanks for all the

simple things in life (for example our eyes,

ears and legs, the clothes on our back, our

family and friends) and watch the smiles

appear on everyone's faces as they start to

feel a sense of contentment:

'Thank you for ________ because_______'

Practice generosity

Take time each week to do something nice

for someone else. However, try to focus on

giving time and effort over buying material

things.

Maybe bake buns for your neighbour, draw

a picture for a friend or help someone in

some way. By doing this, children will see

how nice it is to think of others and to give

back.

Spending quality time

together

Put time aside each week to spend time

together. Turn off the TV, put your phones

away and remove any devices.

Be totally present in each other's company,

play games, interact, talk and just have fun.

Sometimes we get so busy doing different

things and getting lost in technology that

we forget how nice it is to just be together

with no distractions.

However, the message that this gives on a

deeper level isn't necessarily one that will

benefit them long term. By doing this, we

place more value on 'things' and makes

these items more prevalent in their life. It

also teaches children to need or want a

reward for good behaviour, rather than

having an intrinsic desire to do the right

thing.

Spend time in nature

Technology lures children away from the

great outdoors and often they would rather

play games on their tablets, rather than

playing out. There are so many health

benefits mentally and physically to being

outside and surrounded by nature and it's

important for us to encourage children to

connect with the elements.

Go on a scavenger hunt, walk around the

woods on an imaginary bear hunt, have a

picnic or simply go for a walk and take time

to explore. The more that children love the

great outdoors, the more healthy they will

be and the more likely they are to have a

connection to our planet and be custodians

of it in the future.

At the end of the day, the world is forever

changing and moving forward.

Our children are going to face different

challenges to us and on the flip side, they

are going to experience way more things in

their lifetime than us too.

As wonderful as these technological

advances are in the world, they can take

us further away from our core values and

connection. It is therefore imperative

that we instil practices in our children that

will guide them to stay grounded and to

appreciate the small things in life as well

as enjoying all of the wonders that the

modern world has to offer.

Stacey Kelly

Stacey Kelly is a former French and

Spanish teacher, a parent to 2 beautiful

babies and the founder of Early Years

Story Box. After becoming a mum, Stacey

left her teaching career and started

writing and illustrating storybooks to help

support her children through different

transitional stages like leaving nursery

and starting school. Seeing the positive

impact of her books on her children's

emotional well-being led to Early Years

Story Box being born. Stacey has now

created 35 storybooks, all inspired by her

own children, to help teach different life

lessons and to prepare children for their

next steps. She has an exclusive collection

for childcare settings that are gifted on

special occasions like first/last days,

birthdays, Christmas and/or Easter and

has recently launched a new collection

for parents too. Her mission is to support

as many children as she can through

story-time and to give childcare settings

an affordable and special gifting solution

that truly makes a difference.

Email: stacey@earlyyearsstorybox.com or

Telephone: 07765785595

Website: www.earlyyearsstorybox.com

Facebook: https://www.facebook.com/

earlyyearsstorybox

Twitter: https://www.twitter.com/

eystorybox

Instagram: https://www.instagram.com/

earlyyearsstorybox

LinkedIn: https://www.linkedin.com/in/

stacey-kelly-a84534b2/

20 February 2022 | parenta.com

parenta.com | February 2022 21
---
Rainbow

packed lunch idea!

Sign Language

'I love you' card

You will need:

You will need:

• Lunch box

• Heart shaped cookie

cutter

• Yellow pepper

• Carrots

• Strawberries

• Kiwi

• Blueberries

• Bread

• Butter

• Cheese

• Cheese slices

• Healthy snack bar

(we used Nakd

blueberry muffin)

• Thick paper for the card (we have used white, but you can

use any colour you like)

• 2 colourful pieces of paper (we used red and pink)

• Glue

• Child friendly scissors

• Pencil

Instructions:

1. Pick up the thick pieces of paper and fold in half.

Instructions:

1. Wash your fruit and vegetables and cut them up to

your liking

2. Arrange your fruit and vegetables in the lunch box

starting from the lightest to the darkest

3. Use the cookie cutter to cut out a heart shape in your

bread and cheese

4. Butter the bread and arrange a sandwich

2. Now take one of the colourful pieces of paper to create

a hand print. Put your hand on the paper and using the

pencil trace your hand print and then cut it out. Put it

away for later.

3. Next, we create the heart. Use the remaining piece of

paper, fold it in half and cut out a half-heart shape.

4. Bring your thick piece of paper back to the table. First,

glue your heart shape to your hand print cut-out and then

glue the 3rd and 4th finger on top of the heart.

5. Secondly, glue the hand print onto the card.

6. You are done!

5. Cut up your healthy snack bar or leave it whole

6. You are finished!

You can let the little ones

help with cutting up the

ingredients using childfriendly

implements. It's a

fantastic way to not only

practice their fine motor

skills but to encourage

them to eat their fruit and

veg too!

We hope our childen will

love it as much as we did!

22 February 2022 | parenta.com

parenta.com | February 2022 23
---
Helping children

understand bipolar

This may seem a strange article to be

reading for an early years publication, but

as professionals, at some point in your

career, it is very likely that you will work

with families where an adult has bipolar

disorder. Around one in fifty people in the

UK have bipolar. According to Bipolar UK,

bipolar is one of the UK's most common

long-term conditions, with almost as

many people living with bipolar as cancer

(2.4%), it is more than twice as common as

dementia (0.8%), epilepsy (0.8%), autism

(0.8%), rheumatoid arthritis (0.7%) and

learning disabilities (0.5%).

Bipolar is a severe mental health condition,

often distinguished by significant mood

swings from manic highs to severe lows.

For many people with bipolar, they can

manage their condition with medication.

However, when they are having a low or

high episode this does have an impact

on the individual and the whole family.

Sometimes highs can involve people

spending lots of money, going on sudden

unplanned trips, talking lots, not being

able to sleep. Sometimes lows can involve

not being able to get up, unable to work,

unable to cook, clean, shop or look after

another and not wanting to see anyone.

I believe we need to understand bipolar,

what it is and how this can impact a family.

Because of the numbers, we will either

know or have known people with bipolar,

and although mental health is more freely

talked about now, in my experience there

can still be a stigma over a condition

like bipolar or other serious mental

health conditions. It is important that as

professionals we are informed, so that

we can offer support, understanding and

signpost to the families we work with.

Why do we need to tell our

children about bipolar?

At this point I will declare why I think this

is so important, my mum has bipolar. I

am now almost 50, when I was a child, it

was called manic depression, and it was

not talked about. Everyone knew my mum

was ill, they couldn't hide from it as she

regularly had long stays in hospital, but no

one really talked about it. When I had my

own children, I wanted them to know about

Granny, to understand why sometimes she

was very happy and bought lots of strange

presents and other times she was very

sad and couldn't leave the house. I didn't

want my children to be scared about it, but

I wanted them to understand this was an

illness, and what this illness looked like. I

felt it was important to explain and name

the illness to my children.

Children are amazing at knowing when

something is different. Adults often falsely

believe that children have no idea about

things, but they know. Children are not

able to name what is happening but they

know when something is wrong, when

something is changing. The problem is if

we don't inform children, they will create

their own story of what is happening,

and the story can be worse than what is

actually happening. It is so much better if a

trusted adult can inform a child about what

is going on.

So what can we do?

Firstly, we can find out about bipolar. At the

end of this article are some useful websites

where you can get further information. If

we have a basic understanding this will

help us to be more informed and hopefully

more compassionate.

If someone in a family you are working

with has bipolar, talk to the family about it,

ask them how their health is currently and

whether there are things you need to know

as a setting about what would help them.

If you notice a family are showing signs of

increased stress, don't be afraid to check in

with them, ask if they are ok, is their health

OK? You may need to signpost or refer

them to additional services, it is useful for

you to have a list of these e.g. health visitor,

GP, early help services.

Have resources to share with the child,

check with the parents first about this, but

have these resources in the setting that you

can share with the child and maybe share

with the family. A list of resources is at the

end.

Recognise that if a parent is having a

bipolar episode this will have an impact

on the child. They may struggle with

transitions, especially the arrival or leaving.

They may be needing more adult attention,

they may be sad or anxious or generally

struggling with or coping with the everyday

life in your setting. Expect the child's wellbeing

to be lower, they are likely to be have

higher social, emotional and mental health

needs at this time. They need trusted adults

around them in the setting who are calm,

regulated and able to offer the child

a safe, loving, calm space to be

themselves.

Key points

If you are unfamiliar with bipolar, take

a look at some of the links and become

informed.

Don't be afraid to talk to a family about

bipolar, and ask if there are ways your

setting can support them and their child.

Have resources about bipolar to share with

families.

Resources:

Websites to look at

Mind https://www.mind.org.uk

Bipolar UK https://www.bipolaruk.org

Young minds https://youngminds.org.uk

Heads together https://www.

headstogether.org.uk

Sonia Mainstone-Cotton

Sonia Mainstone-Cotton is a freelance

nurture consultant, she has worked in

early years for 30 years. Sonia currently

works in a specialist team in Bath

supporting 3- and 4-year-olds who have

social, emotional and mental health

needs. Sonia also trains staff across the

country she specialises in supporting

children and staffs emotional wellbeing.

Sonia has written 8 books including:

Supporting children with social, emotional

and mental health needs in the early years

published by Routledge, Supporting young

children through change and everyday

transitions, Promoting Emotional Wellbeing

in Early Years Staff and Promoting

Young Children's Emotional Health and

Wellbeing. Sonia is also the series advisor

for Little Minds Matter series of books

promoting social and emotional wellbeing

in the early years with Routledge.

Get in contact with Sonia via the below:

Website- http://soniamainstone-cotton.

com

email - sonia.main@icloud.com

instagram - @mainstonecotton

"Mummy's Got Bipolar" by Sonia Mainstone-Cotton. Published by Jonson - picture book aimed at 3-7-year-olds

"Can I tell you about Bipolar" by Sonia Mainstone-Cotton. Published by Jessica Kingely - publisher's book aimed

at 7-11-year-olds

"The Illustrated Mum" by Jacqueline Wilson - mum in the story has bipolar- aimed at 7- 11-year-olds

"The Wise Mouse" by Virginia Ironside. Published by Young Minds - mum in the story has a mental illness -

aimed at 7- 11-year-olds

"Mummy's got bipolar" animation - available on YouTube

24 February 2022 | parenta.com

parenta.com | February 2022 25
---
Growth mindset and the

theories of Carol Dweck: part 1

Carol Dweck may be a name that you have heard in recent years due to her prominent work on what she

termed "growth and fixed mindsets". But do you understand what she meant by those terms and what her

work has to do with early years? In this short series of two articles, we will look at her research, theories and

conclusions and see what relevance it has to looking after and educating young children.

Who is Carol Dweck?

Carol Dweck is a psychologist, born on

October 17th, 1946, in New York. She

graduated from Barnard College in 1967,

later completing a Ph.D. at Yale University

in 1972. She has worked at the Universities

of Columbia, Illinois and Harvard and is

now the Lewis and Virginia Eaton Professor

of Psychology at Stanford University. Dweck

is considered a pioneering figure in the

study of human motivation and is best

known for her research work on implicit

theories of intelligence, and how people's

mindsets can influence their motivation and

success.

She came to prominence in 2006 after the

publication of her book, "Mindset: The New

Psychology of Success". According to her

theories, individuals can be placed on a

scale according to their views about where

ability comes from, and she coined the

terms 'fixed mindset' and 'growth mindset'.

Fixed mindset

When people have a fixed mindset about

something, they tend to believe that their

success is based on their innate ability – i.e.

abilities they were born with/without and

they view these as fixed traits. This type of

thinking can be limiting, because people

tend to believe that once they have reached

their perceived potential, then they cannot

get better. Therefore, they have a 'fixed'

view of what is possible for them. These

people may say things like "He can play

the piano because he has a talent, but I

don't" or "I can do my times tables easily,

but I can't do Pythagoras." They often view

failing as something terrible which defines

the limit of their intelligence or abilities,

so they often have a strong fear or failing

which stops them from trying.

Growth mindset

People who have a growth mindset, think

that they can influence their success. They

tend to believe that success comes from

putting in effort, trying out and learning

new things, and practicing until you

master the task. These people believe that

progress can be achieved by improving a

little bit at a time and tend to view failure

as a stepping stone on the way to success,

seeing the learning opportunities in these

experiences, so are more likely to continue

when things don't go as planned.

In different research over many years of

study, Dweck has shown that having a

growth mindset can improve outcomes in

different ages of students and improve their

motivation to study or achieve. 1

Other researchers have since used growth

mindset intervention to show other

positive effects including improved grades

among lower-achieving students, and

increased overall enrolment to advanced

mathematics courses in a nationally

representative sample of students in

secondary education in the United States. 2

Praising intelligence rather than

effort

Another aspect that Dweck has warned

about is the effect of praise and how it

affects motivation. She argues that praising

intellect over effort can put children into

a fixed mindset and result in them not

wanting to be challenged for fear of

making a mistake and looking stupid.

This has had important repercussions in

our education system and has added to

the debate about the power and effect of

praising students, and how this should be

done by teacher, parents and caregivers.

Dweck says: "Praising children's

intelligence harms motivation and it

harms performance." 3 She advises, "If

parents want to give their children a gift,

the best thing they can do is to teach their

children to love challenges, be intrigued

by mistakes, enjoy effort, and keep on

learning.

That way, their children don't have to

be slaves of praise. They will have a

lifelong way to build and repair their own

confidence." We will discuss this aspect of

her work more in part 2.

Brain plasticity

In recent years, research into the plasticity

of the brain has given more weight to

Dweck's theories as researchers have

found that the brain can continue to

change and make neural connections even

in adulthood. It was previously thought

that our brains stopped changing and

developing once we became an adult, but

this has been refuted in recent years. New

research suggests that through experience

and with practice, neural networks grow

new connections, strengthen existing

ones, and build insulation (myelin) around

connections that speeds up impulse

transmissions. 4 Dweck argues that growth

mindsets can be fostered and developed

and that educating people about mindsets

can effect positive change.

As her research became more well known,

other researchers were also noticing how

teacher practice had a big impact on the

mindset of their students, the importance

of teachers giving feedback, and the best

and most effective feedback that they could

give. Educationalists began to understand

that teachers, parents and caregivers

could either encourage children to accept

challenges and overcome obstacles

leading to increased achievements and

better outcomes, or their feedback could be

less constructive, less specific, often giving

children a chance to accept their perceived

limitations and to stop trying to strive for

improvement. 5

In recent years, Dweck has also been

researching the effect of community

mindset on pupil outcomes and

achievement and has some preliminary

results suggesting that having a growth

mindset that is rooted in the community,

can help students overcome some

traditional barriers to learning such as

poverty and disadvantage. Although

this research is ongoing, preliminary

results suggest that "students' mindsets

may temper or exacerbate the effects of

economic disadvantage on a systemic

level". 6

There have been criticisms that some of

Dweck's research is difficult to reproduce,

but most researchers in the area have

agreed that mindsets can change

outcomes and her theories and ideas

have been instrumental in changing the

way we think about how children perceive

themselves, and what we, as practitioners,

can do to set them on a learning path to

greater success. In the next article, we

will look at what these theories mean in

practice and how we can develop a growth

mindset in the children in our settings.

References

1. List of Carol Dweck research whilst at

Stanford

2. https://www.nature.com/articles/

s41586-019-1466-y

3. "The words that could unlock your child",

BBC News

4. https://www.simplypsychology.org/

brain-plasticity.html#modern

6. 2016 research https://doi.org/10.1073/

PNAS.1608207113

Further information

5. https://educationendowmentfoundation.

org.uk/education-evidence/guidancereports/feedback

https://hbr.org/2016/01/what-having-agrowth-mindset-actually-means

https://www.psychologicalscience.org/

observer/dweck-growth-mindsets

https://www.mindsetworks.com/science/

26 February 2022 | parenta.com

parenta.com | February 2022 27
---
5 ideas to get your

children moving in 2022

2022 is the year to get your children moving as movement literally grows their brains.

But before we start, here is a little reminder

of the guidelines published by the UK

Chief Medical Officer in September 2019

Under-5s

Infants (less than 1 year):

• Infants should be physically active

several times every day in a variety of

ways, including interactive floor-based

activity, e.g., crawling

• For infants not yet mobile, this includes

at least 30 minutes of tummy time

spread throughout the day while

awake (and other movements such as

reaching and grasping, pushing, and

pulling themselves independently, or

rolling over); more is better

NB: Tummy time may be unfamiliar to

babies at first, but can be increased

gradually, starting from a minute or two

at a time, as the baby becomes used to it.

Babies should not sleep on their tummies.

Toddlers (1-2 years):

• Toddlers should spend at least 180

minutes (3 hours) per day in a variety

of physical activities at any intensity,

including active and outdoor play,

spread throughout the day; more is

better

Pre-schoolers (3-4 years):

• Pre-schoolers should spend at least

180 minutes (3 hours) per day in a

variety of physical activities spread

throughout the day, including active

and outdoor play. More is better; the

180 minutes should include at least

60 minutes of moderate-to-vigorous

intensity physical activity

UK Chief Medical Officers' Physical

Activity Guidelines Published 7

September 2019

Add a morning warm-up and end of the

day cool-down to your daily routine

Simple effective warm-up

A simple 5-minute warm-up will raise the

heart rate and get the blood flowing so you

are ready for the day ahead.

To make this fun, why not work together

creating the warm-up with the children.

This will give them ownership of the activity.

Your warm-up sequence should be very

simple, only consisting of jumps, runs

on the spot and claps. Once they have

mastered the sequence you can develop

it further and extend the warm-up time as

they progress. Don't forget this is also good

for adults!

Cool-down and stretch

Put on some relaxing music and practice

your yoga poses together followed by a

well-deserved nap, as you close your eyes,

listening to the calming music.

Get outside and go on a bear hunt

Get outside and go on a bear hunt! Take

the children out in the garden or the park

for an hour (if not too cold) and see how

many bears, birds, squirrels, and rabbits

you can find. Why not join in with the RSPB's

Big Schools Bird Watch?

For extra movement and exercise, get the

children to stomp like bears or even jump

in puddles like a baby bear. You can also fly

like birds and run with the squirrels hunting

for nuts.

On your return from the park or garden why

not make a den? A den is a perfect place to

have a teddy bear's picnic and the children

can take turns pouring the drinks and

getting the snacks.

Get out the trusty parachute

There are so many different games you can

play with a parachute, and it always brings

so much excitement to the room.

To get you started here are a couple of

activities that will get the arms moving and

raise those heart rates.

When everyone is holding the parachute,

place items (soft teddys etc.) in the centre.

The game is to see how many you can

shake or throw off.

Put one ball (soft) in the centre of the

parachute. Call out the name of one of the

children - everyone must try to get the ball

to roll towards that child.

A little bit of imagination

makes a giant jellyfish

Create a jellyfish from a large hula hoop

covered in dangly ribbons, wool or string.

Whoever holds the hula hoop is the jellyfish.

Pop on some fun music, Disney's "Under

the sea" would be perfect, and then stop

the music and freeze as the jellyfish swims

around between the children. If anyone

moves, they join the jellyfish (making him

bigger and bigger as he swims between

the children when the music stops again.

There are so many different sea animals to

meet under the sea to get them moving.

Create an obstacle course together

Get the children to help you create an

obstacle course indoors or outdoors using

any resources you have available.

If you create an indoor obstacle course,

you could make it even more exciting by

pretending to go through the Amazon.

You can take them to so many different

places with an obstacle course ranging

from the North Pole to the Amazon – it just

needs a little imagination. The added touch

of your amazing imagination and creativity

will make it more inviting and so much fun

for the children and means they will want

to join in again and again.

Don't forget to look after yourself

For good physical and mental health, adults

should aim to be physically active every

day. Any activity is better than none, and

more is better still.

Each week, adults should accumulate

at least 150 minutes (2 1/2 hours) of

moderate-intensity activity (such as brisk

walking or cycling); or 75 minutes of

vigorous-intensity activity (such as running);

or even shorter durations of very vigorousintensity

activity (such as sprinting or stair

climbing); or a combination of moderate,

vigorous, and very vigorous-intensity

activity.

UK Chief Medical Officers' Physical

Activity Guidelines Published 7

September 2019

Gina Bale

Gina's background was originally

ballet, but she has spent the last 27

years teaching movement and dance

in mainstream, early years and SEND

settings as well as dance schools.

Whilst teaching, Gina found the time to

create the 'Hi-5' dance programme to

run alongside the Australian Children's

TV series and the Angelina Ballerina

Dance Academy for Hit Entertainment.

Her proudest achievement to date is her

baby Littlemagictrain. She created this

specifically to help children learn through

make-believe, music and movement.

One of the highlights has been seeing

Littlemagictrain delivered by Butlin's

famous Redcoats with the gorgeous

'Bonnie Bear' on the Skyline stage.

Gina has qualifications of teaching

movement and dance from the Royal

Ballet School, Trinity College and Royal

Academy of Dance.

Use the code 'PARENTA' for a 20%

discount on Littlemagictrain downloads

from 'Special Editions', 'Speech and

Language Activities', 'Games' and

'Certificates'.

References

UK Chief Medical Officers' Physical Activity

Guidelines Published 7 September 2019

https://assets.publishing.service.gov.

uk/government/uploads/system/

uploads/attachment_data/file/832868/

uk-chief-medical-officers-physical-activityguidelines.pdf

28 February 2022 | parenta.com

parenta.com | February 2022 29
---
Children's Mental

Health Awareness

Week

Children's Mental Health Week is taking

place in the week of the 7th – 13th

February 2022 and is a time to not only

raise awareness of mental health issues

amongst children, but to also offer advice

and information and showcase some of

the work that can be done in this area to

help all children develop positive attitudes

towards their mental health, and that of

others too. This year's theme is "Growing

Together", and the aim is to encourage

children (and adults) to consider how they

have grown, and how they can help others

to grow.

According to the CMHW website, "Growing

Together" is about growing emotionally

and finding ways to help each other grow.

Challenges and setbacks can help us to

grow and adapt and trying new things

can help us to move beyond our comfort

zone into a new realm of possibility and

potential. However, emotional growth is

often a gradual process that happens over

time, and sometimes we might feel a bit

stuck."

The pandemic has had a negative effect

on the mental health of many people, and

two years after the virus first arrived on UK

shores, we may have developed strategies,

vaccines and treatments to tackle the virus,

but we are still many years away from

seeing the full impact of lockdowns, school

closures and changes to our everyday

patterns of behaviour. It is more important

than ever that we face up to the challenges

that have been created in our population's

mental health, and absolutely vital that we

find solutions to deal with the burgeoning

mental health issues in our children.

A 2021 report on the "Mental Health of

Children and Young People in England" has

highlighted some of the main problems

facing young people today reporting

that since 2017, rates of probable mental

disorders have increased in children aged

6 to 16 years from 1 in 9 (11.6%) to 1 in 6

(17.4%). In 17- to 19-year-olds, it increased

from 1 in 10 (10.1%) to 1 in 6 (17.4%).

This means that in most classes of 30

students in mainstream schools, there are

at least 5 students who are facing mental

health challenges.

Nearly 40% of children aged between 6

and 16 reported a deterioration in their

mental health since 2017, and this figure

rose to over half (52.5%) of those aged 17

to 23 years. The report also highlighted

an increase in possible eating problems

and sleeping disorders as well. Clearly,

the romantic, fictional notion of a carefree,

stress-free childhood is not the reality that

many of our children are living.

What is Children's Mental Health

Awareness Week?

In 2015, the charity, Place2Be, launched the

first ever Children's Mental Health Week

to "shine a spotlight on the importance

of children and young people's mental

health." Place2Be offers a variety of different

mental health and counselling services to

meet schools' needs, including in-school

support, expert training and resources, and

has over 25 years experience in helping

young people.

2022 will be the 8th year of the week-long

event and Place2Be are hoping that more

people than ever will join in and spread

the word. They are calling on everyone,

whether they are a parent/carer, childcare

professional, teacher, nursery practitioner,

youth worker, or just someone who is

passionate about children and young

people, to sign up and do their bit. And

they've made it easy to do as well. You

can sign up for more information on the

CMHW website, where you can find a lot of

free resources, lesson plans, social media

banners and suggested posts for the week.

The resources are designed to be used by

schools, online lessons, home-schooling or

independent learning and can be adapted

to help children and young people explore

the theme of "Growing Together".

How to get involved

There are many ways to get involved in this

year's event including:

• Adding your name and ideas to the UK

CMHW map by filling in a short online

form

• Posting your stories and images on

your social media pages using the

hashtag #ChildrensMentalHealthWeek.

You can also download a free social

media guide which includes template

posts, downloadable images, inspiring

idea

• Run a fund-raising event to raise

money

• Hold a "Dress to Express Day" in your

setting and encourage everyone to

wear whatever they want to express

themselves – you can run it as a mufti

day if you have a uniform or just ask

people to donate £1 to the cause and

dress up!

• Hold a 'fun' day to lighten the load and

bring a bit of fun and sunshine back

into everyone's lives. You could dress in

bright colours or decorate your setting

with things that make you and your

children smile, play games, have a

party or hold a laughter session

• Get out into nature and go for a walk.

This is an inexpensive and simple

way to help children reconnect to their

natural surroundings and exercise is a

well-known tonic to help combat stress

and mental health issues because it

stimulates the release of dopamine

and serotonin in the brain, which can

improve mood

The NHS have published advice on how to

improve mental well-being and suggest

5 easy ways which have been proven to

help, especially with mild to moderate

depression. These are:

1. Connect with other people

2. Be physically active

3. Learn new skills

4. Give to others

5. Pay attention to the present moment

(mindfulness)

You can find simple examples of how to do

these 5 things on the website here, where

you will find some simple suggestions of

things to do and things to avoid.

Remember that children can often find

expressing their emotions difficult and they

may be unable to express how they really

feel, especially younger children.

Often, when children are stressed or

anxious and unable to properly express

themselves verbally, they may present

with challenging behaviours, so always

be patient and remember that behaviour

is the child's way of communicating that

something is wrong.

Let us know what you are doing to get

involved in the Children's Mental Health

Awareness Week by sending us your

stories and pictures to hello@parenta.com.

References and more information:

Children's Mental Health Awareness Week

Mental Health of Children and Young

People in England, 2021 Wave 2 follow up

to the 2017 survey

NHS – Exercise and depression

NHS – 5 steps to mental well-being

30 February 2022 | parenta.com

parenta.com | February 2022 31
---
What does leadership

look like when … staff

With COVID at record levels across early

years (EY) settings, rates of staff absence

are through the roof. For leaders, this

represents a significant challenge that

can consume the day to day business of

leading the setting. Many leaders will share

the experience of Sarah Hinkin, manager

of the nursery at Oxford Brookes University

when she says:

"Staff absence is the single most stressful

aspect of my job. I have no control over

being able to guarantee staff attendance

and it has a huge impact on the quality

of our provision. When absences are

high for prolonged periods, it takes over

everything as it becomes my main priority

and challenge. Other important but not

essential work has to take a back seat".

EY leaders need a clear approach for

dealing with the challenge of staff absence

at the moment.

Learning from across the EY sector, I outline

here three principles of leadership in the

context of high staff absence:

• Know, as a setting, what is nonnegotiable

• Role model a positive approach

• Flip the script and look for development

opportunities

absence is high?

Know, as a setting, what is

non-negotiable

When staff absence is high, everyone

is forced to prioritise. But doing this

well depends on a clear and common

understanding of what the priorities are.

Leaders have an essential role to play

in supporting teams to understand and

commit to the non-negotiable elements

of early years practice. As Polly Crowther,

head of EY provision at Cobham Primary

School and Evidence Leader at the East

London Research School, explains:

"Educators want to do everything even

when it really isn't possible. If everyone

understands what is non-negotiable

in a setting, it helps to prioritise. Do we

need safeguarding, nurture and play?

Absolutely. Can we say the same of our

Tapestry observations? Probably not, but

every context is different. It is very hard for

educators and carers to say 'this is good

enough', but sometimes it has to be and it

is easier if people talk openly about that."

David Wright, owner of Paint Pots Nursery,

also reflects on this when he says: "We

must always consider the needs of children

first –

their safety, safeguarding and wellbeing.

We have to prioritise maintaining consistent

safe spaces for children, so that they are

shielded from the world of anxiety and

uncertainty".

What is non-negotiable in a setting will

depend on EY national frameworks

but it will also be about the particular

pedagogical values and approach of the

team.

Through leaders, these priorities come to

life both in relatively peaceful times and

times of crisis. Leaders at the moment will

want to find opportunities, working with

their teams, to identify the core priorities in

what is happening. 10 minutes at the start

of a team meeting might focus on 'what is

non-negotiable for us right now?' and use

this as the basis for current prioritisation.

Role model a positive

approach

There are no two ways about it: dealing

with staff absence is extremely difficult.

Even in the face of this difficulty though,

leaders have to make sure they are role

modelling the positive and dynamic

approach that they would like their staff to

take. As Sarah Hinkin explains:

"I need to be careful to not portray my own

worries or stress levels. I have to role model

the attitude that although this might be

a challenging period, we will get through

this together. It can be tough to maintain

this approach when sometimes your own

resilience might be dwindling, but it is key."

Leaders' role modelling is at the core of

any organisational culture. In his seminal

work, "Organisational Culture and

Leadership", Edgar Schein explains that role

modelling is the main way that leaders can

communicate the values of an organisation

to staff and particularly to newcomers. At

a time when staff absence is high, there

will be many new or cover staff who are

encountering the organisation for the first

time. They will be looking at and learning

from the behaviour of the leaders they see

and this will be far more important to their

learning than any explicit verbal messages

they receive. Hearing 'we're in this together'

is nowhere near as powerful as seeing

a leader covering on the floor when it is

required, or bolstering staff morale through

positive and empathetic conversations

during the day.

Flip the script and look for

development opportunities

No matter how difficult the context,

leaders celebrate the good things that are

happening in an organisation. Jacqueline

Lamb, CEO of Indigo Childcare in Glasgow,

explains the importance of celebrating

quality no matter what:

"As a leadership team, we've emphasised

praising and celebrating the people that

are in. we have to acknowledge that they

are stepping up and acknowledge that

things are tough at the moment. We've

arranged for team lunches to be delivered

or, when we can, let people get away a bit

early.

We've focused on publicly sharing

achievements of the team because often

they are so busy getting on with the job,

there isn't the chance to realise their

achievements and progress. It's up to us as

leaders to make sure that we carry this on,

even in difficult times."

Lamb goes onto explain that because

staff are having to step up and step in as

a result of staff absence, there might even

be new opportunities for professional and

leadership development. For example,

someone might provide cover as a room

leader that demonstrates their potential

for this and other leadership roles in the

future. In her guide "Leading for Change

in Early Care and Education", US Professor

Anne Douglass explains the need for a

leadership development ecosystem in EY.

This means that we need to pay more

attention to cultivating leadership among

EY teams and seeing the opportunities

for leadership development even in less

than perfect times. At the moment, leaders

need to turn towards the opportunities for

coaching and mentoring staff within the

organisation so that they can confidently

assume new responsibilities and open up

new leadership pathways.

References

Douglass, A. L. (2017) Leading for Change

in Early Care and Education: Cultivating

Leadership from Within. New York, NY:

Teachers College Press.

Schein, E. H. (2017) Organizational Culture

and Leadership. 5th Edition. Hoboken, NJ:

Wiley.

Mona Sakr

Dr Mona Sakr is a Senior Lecturer in

Education and Early Childhood. As a

researcher in Early Years (EY) provision,

she has published extensively on

creative, digital and playful pedagogies

including the books "Digital Play in

Early Childhood: What's the Problem?"

(Sage) and "Creativity and Making in

Early Childhood: Challenging Practitioner

Perspectives" (Bloomsbury).

Mona's current research is an

exploration of pedagogical,

organisational and community

leadership in EY and how leadership can

be more effectively developed across

EY. Current funded research includes a

Nuffield Foundation project looking at

online leadership development across

the EY sector, a BELMAS project looking

at leadership in the baby room of

nurseries and a BERA project examining

ethnicity in the early years workforce.

Forthcoming books (include an

introduction to social leadership in early

childhood education and care (written

with June O'Sullivan, CEO of London Early

Years Foundation), and an edited volume

on EY pedagogical leadership around

the globe.

Email: m.sakr@mdx.ac.uk

Twitter: @DrMonaSakr

32 February 2022 | parenta.com

parenta.com | February 2022 33
---
Testimonials

Congratulations

to all our Parenta learners!

Software

"We have used Parenta platform for a number of years. They have always

provided ongoing support and any questions regarding how to use the

services have been responded very quickly."

Amin Harish, Active kids Nursery

''You are the one organisation I don't mind contacting. You always respond

really quickly. Quite often I will call you so I can speak to one of your excellent

people. I get helpful and relevant advice at all times. Brilliant, Thank you ''

Fishbourne Preschool

Training

"Thank you so much. And thank you for today, you have been a breath of fresh

air from Parenta! Please pass on my compliments to your supervisor as you

have been very helpful!"

Megan Greenhalf, MonkeyMoos

Congratulations to all these Parenta learners who completed their apprenticeship

in December and have now gained their qualifications.

These range from Childcare Level 2, Childcare Level 3 and Team Leading

to Level 3 and Level 5 Management – that's a huge achievement in the

current climate.

All that hard work has paid off – well done from all of us here at Parenta Training!

MAIN STORIES

Did you know?... Parenta has trained over 20,000 apprentices within the early years sector!

Our Level 3 success rate overall is almost 10% higher than the national average.

That's down to great work from you, our lovely Parenta learners!

-

PENDING

If you have a learner with us who has recently completed their apprenticeship, please send in

a picture to hello@parenta.com to be included in the magazine.

Recruitment

"I am emailing to share some

feedback regarding my

interactions with Clare Bedford.

Clare has been a massive

support through the process

of signing up two apprentices

at my nursery site, she has

been prompt in her responses

and has gone the extra mile to

get me the answers I need so

wanted to share this with you

as she is a great asset to your

company. Have a lovely week."

Joelle Bergin

Manager, Each Peach Childcare.

December's wall of

fame!

A. Srom

C. Burvil

C. Rushbrook

T. Santana Vila

Nova Pereira

O. Guyatt

34 February 2022 | parenta.com parenta.com | February 2022 35
---
Loving early

years music:

how music impacts

early relationships

Daisy Daisy

Daisy, Daisy, give me your answer do

I'm half crazy, oh for the love of you

It won't be a stylish marriage

I can't afford a carriage

But you'll look sweet upon a seat

Of a bicycle made for two

This well-known ditty has a lovely bright

tone colour. From the falling musical

phrasing to rhyming couplets, this song is

full of visual imagery that could be used

and explored in many creative forms.

Baby Shafto

Baby Shark

Baby shark, du du du du du-du

Baby shark, du du du du du-du

Baby shark, du du du du du-du

Baby shark

Mummy shark, du du du du du-du

Mummy shark, du du du du du-du

Mummy shark, du du du du du-du

Mummy shark

Daddy shark, du du du du du-du

Daddy shark, du du du du du-du

Daddy shark, du du du du du-du

Daddy shark

February is the month of love, so this

month, we're talking about music and

relationships. Many songs are written

on the topic of love, especially within

adult contemporary music. Is it because

love, like music, is a universal way of

communication? We may never know,

but music certainly has a way of evoking

memories of time spent with important

people in our lives.

Children are no different. Experience has

shown and studies have proven that

babies can remember songs that they

have heard throughout mum's pregnancy.

Some children will even get upset at certain

songs that they remember from infanthood,

perhaps missing the special time they

had as a baby. Music can clearly evoke

memories in a subconscious way that we

may not even recognise.

In a Finnish study, Ruokonen et al (2021)

explored creative experiences in early years

settings in Finland. She and her colleagues

found that in a study of over 900 toddlers,

creative activities helped children to think

more creatively, express more emotion and

play, as well as develop cultural identity.

Music sessions included activities that

were spontaneous as well as pre-planned,

involving a wide selection of settings, both

private and state, within early childhood.

Analysing the sessions, music was found

to have a positive influence on social skills

in early years and improved emotional

development in primary years. This

suggested that sessions that focussed

on music specifically led to increased

self-regulation, needing less adult-based

interruption. Music also appeared to be

linked to empathy, movement, and the

development of complex locomotor skills.

Levels of delivery varied and depended on

the interest and skill level/expertise of the

teacher/responsible adult. Adults seemed

more involved with their children in musicbased

sessions, developing the children's

emotional listening behaviour.

The musical activities used involved volume,

duration, tone colour, pitch and form

and these worked together in all creative

activities. The songs below (available on

the Musicaliti YouTube channel) show how

these concepts can be used in everyday

singing sessions.

Love Somebody

Love somebody, yes I do

Love somebody, yes I do

Love somebody, yes I do

Love somebody, but I won't say who

Love somebody, yes I do

Love somebody, yes I do

Love somebody, yes I do

Love somebody, and it's you, you, you

This song is perfect for exploring volume

because of the way the phrases are set

out. "Love somebody" could be sung loudly,

while the "yes, I do" can be sung softer,

as if it's a bit of a secret. Being able to

manage volume in a playful way involves

a number of skills: apart from hearing and

responding, the way you sing quietly and

loudly involves breathing and projecting

differently. While the technical control could

be challenging and even unpleasant,

in a context like this song, it becomes a

fun game which happens to also teach

valuable vocal control techniques.

Mummy Loves

Mummy loves and daddy loves

And everybody loves little baby

Grandma loves and grandad loves

And everybody loves little baby

This Russian lullaby is great for exploring

duration. All the important people

have their titles elongated – the words

"mummy", "daddy", "grandma" and

"grandad" are sung for longer. Use this

song while rocking restless ones at nap

time, during co-operative games swinging

a toy in a blanket, or even modelling

care and empathy getting little ones to

cuddle dolls or teddies. And personalise if

appropriate – perhaps children have uncles

and aunts rather than grandparents.

Bobby Shafto's gone to sea

Silver buckles on his knee

He'll come back and marry me

Bonny Bobby Shafto

This traditional Scottish song is set in a

lovely pitch for young children. Notes are

nearby each other, which is important

while children's vocal chords are only just

developing. In addition, the gaps between

the notes are not too big, causing them to

strain.

These are important aspects to songs

where children are taught to join in, as

bigger notation jumps (e.g. "Humpty

Dumpty", "Somewhere Over The Rainbow",

even "Happy Birthday!") require experience

and accuracy that not all children learn at

home.

This approach allows children, and all

people, to be successful in singing.

This new "classic" has a simple form that is

common in folk music – repetition. Children

thrive on repetition, and the family aspect

gives young children something that they

can easily relate to: the special people in

their lives.

Although the strophic (non-varied) form

does not change, the beauty of this type of

music is that it can be easily personalised

and children can use their own experiences

– hence the additional verses of "let's go

hunt", "run away", "safe at last" and "it's

the end".

We may never know whether music

originated as an expression of

relationships, or whether it began as a

language and developed into a way to

express emotions in relationships.

We do know that music brings people

together, backed by the Finnish research,

where classes with more music

resulted in happier children that were

more accommodating, adaptive and

harmonious. And after all, isn't this what

we want for our children?

Reference:

Ruokonen, I., Tervaniemi, M., & Reunamo,

J. (2021). The significance of music in early

childhood education and care of toddlers in

Finland: An extensive observational study.

Music Education Research, 23(5), 634–646.

Frances Turnbull

Musician, researcher and author,

Frances Turnbull, is a self-taught guitarist

who has played contemporary and

community music from the age of 12. She

delivers music sessions to the early years

and KS1. Trained in the music education

techniques of Kodály (specialist singing),

Dalcroze (specialist movement) and Orff

(specialist percussion instruments), she

has a Bachelor's degree in Psychology

(Open University) and a Master's degree

in Education (University of Cambridge).

She runs a local community choir, the

Bolton Warblers, and delivers the Sound

Sense initiative "A choir in every care

home" within local care and residential

homes, supporting health and wellbeing

through her community interest

company.

She has represented the early years

music community at the House of

Commons, advocating for recognition

for early years music educators, and her

table of progressive music skills for under

7s features in her curriculum books.

Frances is the author of "Learning with

Music: Games and activities for the early

years", published by Routledge, August

2017.

www.musicaliti.co.uk

36 February 2022 | parenta.com

parenta.com | February 2022 37
---
Screen and technology

There was a time, when parents would

metaphorically tear their hair out at

the amount of time their children spent

watching TV. Nowadays, you often hear

the plea, "Why don't you put your phone

down and watch something interesting

on TV instead!" Every generation has

its own nemesis when it comes to how

children spend their time, and this current

generation is no different. But perhaps the

issues faced by the current generation are

slightly more complex than their parents

faced. After all, the risks associated with

watching too much children's TV pale

into insignificance compared to the risks

children face when using the internet, yet

there is also much to gain by using the

internet if used in the right way. We have

created a double-edged sword. We give

our children phones because we fear for

their safety and then we fear for their safety

because we've given them phones.

But it's not just teenagers and phones

which are problematic; some children in

primary school now have mobiles and

addiction

many more have electronic devices as

learning aids and entertainments.

But how long on a device is long enough?

And when does their use of technology

become a screen addiction which they

need help with?

Smart phone addiction is now a recognised

health condition and children as young

as 13 are being admitted to 'smart phone

rehab' and 47% of parents think their

children spend too much time in front of

screens.

The facts

According to recent research:

• 53% of children aged 3-4 go online for

nearly 8 hours a week

•

94% of children aged 8-11 go online for

nearly 13.5 hours a week

• 99% of children aged 12-15 go online

for nearly 21 hours a week

It's not just the time that children spend

online that is the problem however, as

there are many reasons that children use

the internet or screen-based devices, many

of which can be beneficial or educational.

The problem is that children can become

addicted to their devices and this

addiction can then cause health and other

behavioural and social problems. A study

from the University of Michigan found that

the bigger issue "is whether screen use

causes problems in other areas of life or

has become an all-consuming activity,"

If this happens, it's considered screen

addiction.

Many apps and games are cleverly

designed to hold our attention and use

'psychological tricks' to keep us using

them. These include things like scoring

and league systems, 'streaks' or reward

programmes, time-limited rewards, and

notifications that play on people's 'fear of

missing out' (FOMO).

Problems caused by screen and

technology addiction

Research has also identified that screen

and technology addiction can result in:

• Sleep deprivation – 70% of children

asked said they had missed out on

sleep due to their online habits, and

60% said they had neglected school

work. Sleep deprivation in children

can cause increased hyperactivity and

other behavioural problems, as well

as damaging physical and mental

development. Poor sleep habits from

an early age can lead to long term

sleep problems

• Obesity – there is a connection

between how much TV and video a

child watches, and the risk of being

overweight

• Behavioural problems and in some

cases, a desensitisation to violence

• Reduced interest in things that do

not include their device such as

homework, exercise or home activities

• Changes in academic performance

– children with TVs or screens in their

bedrooms tend to perform worse on

tests than those who do not

• Increased risk of cyber bullying and

exposure to inappropriate content and

behaviour

• Reduced time for active and creative

play

Signs that children are becoming

addicted to screens

There are several signs to look out for

which can indicate that children (even preschoolers)

are becoming addicted to their

devices: These include:

• An inability to control their usage or

accept screen time limits

• A preoccupation in everything screenbased

• Regular arguments about devices

• Inability to put devices down at

mealtimes or in social situations

• Anxiety when not using a device

• Neglecting personal hygiene

• A lack of interest in other things or

withdrawal from other activities which

they used to enjoy

• Lying about screen usage or being

deceptive

• Devices used as mood enhancers

It is obviously not within the remit of a

nursery setting to restrict a child's use of

a screen-based device when they are

at home, and many parents do limit the

amount of time that their children use

devices. However, many children are often

more familiar with hacks and ways to get

around these controls than their parents,

even at a young age, so vigilance is key.

In your setting, you should be aware of

some of the signs of screen addiction, even

in younger children and you could consider

running an information session for your

parents and older children to inform them

of some of the issues and dangers.

Top tips for overcoming screen

addiction

• Use screen time limits and discuss and

agree these with the child – remember

that children often need devices for

homework (older children) and many

children have been used to using

devices more often for school work

during the pandemic, so separate out

times for homework and other uses

• Remove devices from bedrooms at

night and set regular bedtimes to

encourage good sleep patterns

• Set a good example by limiting your

own screen use. You can set whole

family/household rules that adults

should abide by too

• Ensure that there are plenty of other

activities to do such as reading, going

to the park, talking, cooking, playing

with friends, swimming etc., and

remember that children love it when

adults join in their activities and spend

quality time with them

• Encourage mobile-free times and/or

days, such as mobile-free mealtimes

or 'phone-free Sundays'. You can

then do other things as a family. In a

nursery setting, you could limit the use

of screens on certain days or say in

the morning/afternoons to set a good

example

• Check your child's device regularly

to see what they are using it for and

educate them in age-appropriate

ways about issues to do with online

safety

If you are concerned about a child's

potential screen addiction, then you

should speak to your DSL who can arrange

to speak with their parents. If you are

seriously concerned about your own child,

then you should contact your GP to seek

professional help. The NHS recently opened

a National Centre for Gaming Disorders to

help young people with gaming disorders.

References and more

information

• https://www.norfolk.police.uk/sites/

norfolk/files/screen-addiction.pdf

• https://www.mayoclinichealthsystem.

org/hometown-health/speaking-ofhealth/children-and-screen-time

• https://www.sleepfoundation.org/

teens-and-sleep/screen-time-andinsomnia-for-teens

• https://www.nightingalehospital.

co.uk/technology-addiction/

• https://thesleepcharity.org.uk/

• https://www.cnwl.nhs.uk/services/

mental-health-services/addictionsand-substance-misuse/nationalcentre-behavioural-addictions/

National-Centre-for-Gaming-Disorders

38 February 2022 | parenta.com

parenta.com | February 2022 39
---
NON-LEVY CONTRIBUTION

Invest in the

5%

development of

your team...

Let us help you with your training needs - call us today!

By providing training

for your staff, you will:

Improve morale

Support children's safety

Enhance your

setting's reputation

Reduce staff turnover

We have secured funding available and are

enrolling learners on to our courses every day!

Take advantage for you or your staff!

Payment plan available for your 5% contribution

Did you know...

You can now access government funding for up to 10 staff members - instead of 3

- to help get your staff qualified and keep them motivated!

0800 002 9242 hello@parenta.com