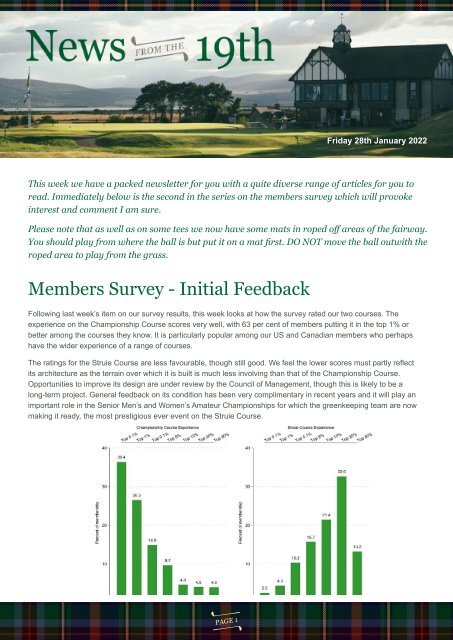 Members Weekly Newsletter 28-01-22
Create successful ePaper yourself
Turn your PDF publications into a flip-book with our unique Google optimized e-Paper software.
Friday 28th January 2022

This week we have a packed newsletter for you with a quite diverse range of articles for you to

read. Immediately below is the second in the series on the members survey which will provoke

interest and comment I am sure.

Please note that as well as on some tees we now have some mats in roped off areas of the fairway.

You should play from where the ball is but put it on a mat first. DO NOT move the ball outwith the

roped area to play from the grass.

Members Survey - Initial Feedback

Following last week's item on our survey results, this week looks at how the survey rated our two courses. The

experience on the Championship Course scores very well, with 63 per cent of members putting it in the top 1% or

better among the courses they know. It is particularly popular among our US and Canadian members who perhaps

have the wider experience of a range of courses.

The ratings for the Struie Course are less favourable, though still good. We feel the lower scores must partly reflect

its architecture as the terrain over which it is built is much less involving than that of the Championship Course.

Opportunities to improve its design are under review by the Council of Management, though this is likely to be a

long-term project. General feedback on its condition has been very complimentary in recent years and it will play an

important role in the Senior Men's and Women's Amateur Championships for which the greenkeeping team are now

making it ready, the most prestigious ever event on the Struie Course.

PAGE 1
---
150 Club

The January winner of £50 is Andrew Berry.

2027 - 150 Years of the Golf Club

In 1877 the Dornoch Golf Club came into existence primarily through the vision and endeavours of Secretary John

Sutherland and the Club has never looked back since.

In 2027 Royal Dornoch Golf Club will celebrate 150 years. To commemorate this milestone a committee has been

formed to write a comprehensive illustrated history of the Club.

The Archive will have a central role in the project. It has accumulated valuable documents, objects, books and

memorabilia from the lifetime of the Club but there are gaps in our rich history. We are asking that if you have anything

that you think may help develop the Archive and add to the history of Royal Dornoch (for example see the photo at the

end of the newsletter) we would love to hear from you at Archive@royaldornoch.com.

Member Properties Available

For Sale - 3 Bedroom Fractional Townhouse on golf resort in the Algarve, Portugal.

For Rent - 1 Bedroom flat in Dornoch.

You can read the full details of both of these on the For Sale of Exchange section of the Members Area of the website.

Gordon Lawson - His Favourite Rule

Our President, and qualified rules official, recently had a letter on the rules published in Today's Golfer Magazine when

they asked readers about using the rules to help your score. You can read Gordon's letter and his favourite rule here

and both he and I recommend you remember it as it could come in very useful when negotiating the plateau greens of

the Championship Course.

Annual Subscriptions

These are normally sent out around this time of year but as we are changing management software they will be sent

out during early March. Details of the subscription rates for 2022/23 are in the recent Winter Newsletter.

Winter Newsletter

On Thursday we sent out the Winter Newsletter. If you missed it then you can access the PDF version here, or the flip

book here.

PAGE 2
---
Social Events

I am delighted to say that with the relaxation of Covid restrictions we are going to run two social events to round off the

winter season.

On Saturday 26th February we will have the ever popular Curry Night. This will be run as a buffet and there will be 4

starters and 4 main courses for your to choose from - or you could have some of each, or even more of your favourites!

The price has been held at the 2020 level of £25 and, as always, you can use your Loyalty Card to receive the 10%

discount.

On Saturday 26th March we will have an Italian Night for which there will be more details nearer the time.

If you wish to book please contact the bar on 01862 810219 ext. 4 or catering@royaldornoch.com or in person.

Scottish Golf App

There have been some issues with the App recently and If, when you open the App, there is a message at the bottom

of the Home page which says "Golf Club Member?" just follow the simple instructions here to fix the problem,

We're Hiring!

With the prospect of a very busy season ahead then we need to add to the team so that we ensure we can look after

all the members, guests and visitors that will coming to Dornoch this year.

Currently we are looking for team members at all levels:

In the Kitchen - Sous Chef, Chef de Partie and Kitchen Porters

In Front of House - Team Leader, Supervisor and Team Members

In Golf Operations and Pro Shop - Meet & Greet, Starting, Ranger, Halfway House and Retail

In the Office - Admin

No experience necessary as full training will be given but golf knowledge is always useful.

Positions can be full or part time and if you would like to find out more information whether for yourself or on behalf of

someone else please contact the office on RDGC@royaldornoch.com

Covid 19

Almost all the restrictions have been removed but there are still some in place:

You MUST still book a tee time, check in with the Pro Shop and start from the 1st hole as Track and Trace remains

mandatory for everyone.

Signing in is still mandatory in the Clubhouse and you can do this using the NHS Scotland App or by writing your name,

phone number and time of arrival on the sheets provided. Please remember to CHECK OUT/SIGN OUT when you

leave the Clubhouse.

PAGE 3
---
Bonar Bridge/Ardgay GC - Highland Membership

As the season is about to start are you considering another course to play some golf with ours being so busy? If you

are, why not have a look at this offer from our friends along the road. If you have never played before it is a wonderfully

scenic 9 hole course that will test your game and as well as thrill your senses. You can read more about the club here

and the details of the offer are available here.

Pro Shop

The Pro Shop hours for February will be from 30 mins before the first tee time to 4pm 7 days a week but may close

earlier due to weather or playing numbers. Contact them on 01862 811924 or email proshop@royaldornoch.com.

Office

For February the office opening hours will be 8.30am to 5.00pm Monday to Friday. It is still closed to visitors so please

contact them on 01862 810219 or bookings@royaldornoch.com

Clubhouse Bar & Catering

Bar - 10am to 6pm Sunday to Thursday and 10am to 8pm on Friday and Saturday.

Catering - Closed Monday and Tuesday; 10am to 4pm Wednesday, Thursday & Sunday; 10am to 6pm on Friday and

Saturday.

Please note that the clubhouse may close earlier than these times if there are no customers.

Upcoming Club Events

• Sat 29th Jan - Championship Course Reopens; Whisky Stableford

• Sun 30th Jan - Sunday Roast

• Tues 1st Feb - Seniors Roll Up

• Thurs 3rd Feb - Pro's Stableford

• Fri 4th Feb - Pizza Night

• Sat 5th Feb - Whisky Stableford

• Sun 6th Feb - Sunday Roast

• Tues 8th Feb - Seniors Roll Up

• Thurs 10th Feb - Pro's Stableford

• Sat 12th Feb - Whisky Stableford

• Sun 13th Feb - Sunday Roast

PAGE 4
---
Golf Courses

It's been an unbelievably mild week this week so the team have been busy making the most of this great spell of

weather. We have been concentrating on the Championship Course before it opens tomorrow. We continue the turfing

of worn pathways at the 2nd, 6th, 9th and 17th, the greens have been sprayed with Iron Sulphate to check back any

disease that may appear due to the mild weather, the tees have been solid tined to help relieve compaction on the

surfaces, the bunkers have now all been trimmed/tidied and are ready to have sand replenished where needed, the

greens have been hand cut and rolled and we have also cut the fairways. On the Struie Course we have started to

aerate the tees with the Air2G2 air injection machine.

This week we were joined by Brad our Retail Manager as he wanted a feel for what the team do on the courses during

the winter period. I am glad to say that he was a great help and got stuck in with lifting and laying turf on pathways,

installing rubber matting and a few other tasks. He did help one of the team change the holes so if there is any weird

pin placements you know who to speak too!

Play from Mats - When you see a mat, on the teeing ground or in a roped off area, you MUST use this for your shot.

Bunkers - We have reinstated the Preferred Lie local rule for the time being.

Rakes - Please put rakes in the CENTRE of the bunker once you have exited and finished raking.

Pitchmarks - Please repair your own and any others that you see.

Thanks for reading.

Happy Golfing!

Neil D. Hampton, General Manager

Stay safe. Protect others. Save lives.