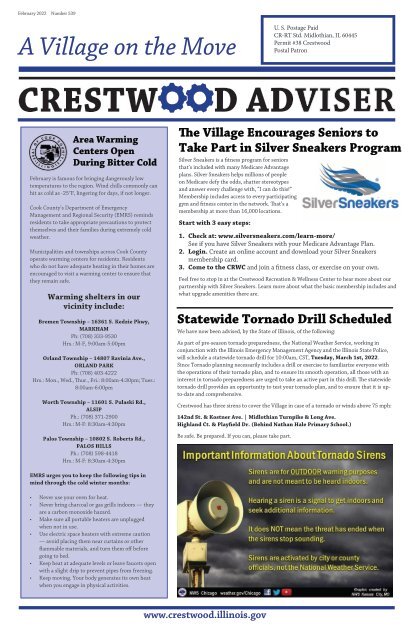 You also want an ePaper? Increase the reach of your titles
YUMPU automatically turns print PDFs into web optimized ePapers that Google loves.
February 2022 Number 539

A Village on the Move

U. S. Postage Paid

CR-RT Std. Midlothian, IL 60445

Permit #38 Crestwood

Postal Patron

Area Warming

Centers Open

During Bitter Cold

February is famous for bringing dangerously low

temperatures to the region. Wind chills commonly can

hit as cold as -25°F, lingering for days, if not longer.

Cook County's Department of Emergency

Management and Regional Security (EMRS) reminds

residents to take appropriate precautions to protect

themselves and their families during extremely cold

weather.

Municipalities and townships across Cook County

operate warming centers for residents. Residents

who do not have adequate heating in their homes are

encouraged to visit a warming center to ensure that

they remain safe.

Warming shelters in our

vicinity include:

Bremen Township – 16361 S. Kedzie Pkwy,

MARKHAM

Ph: (708) 333-9530

Hrs.: M-F, 9:00am-5:00pm

Orland Township – 14807 Ravinia Ave.,

ORLAND PARK

Ph: (708) 403-4222

Hrs.: Mon., Wed., Thur., Fri.: 8:00am-4:30pm; Tues.:

8:00am-6:00pm

Worth Township – 11601 S. Pulaski Rd.,

ALSIP

Ph.: (708) 371-2900

Hrs.: M-F: 8:30am-4:30pm

Palos Township – 10802 S. Roberts Rd.,

PALOS HILLS

Ph.: (708) 598-4418

Hrs.: M-F: 8:30am-4:30pm

The Village Encourages Seniors to

Take Part in Silver Sneakers Program

Silver Sneakers is a fitness program for seniors

that's included with many Medicare Advantage

plans. Silver Sneakers helps millions of people

on Medicare defy the odds, shatter stereotypes

and answer every challenge with, "I can do this!"

Membership includes access to every participating

gym and fitness center in the network. That's a

membership at more than 16,000 locations.

Start with 3 easy steps:

1. Check at: www.silversneakers.com/learn-more/

See if you have Silver Sneakers with your Medicare Advantage Plan.

2. Login. Create an online account and download your Silver Sneakers

membership card.

3. Come to the CRWC and join a fitness class, or exercise on your own.

Feel free to stop in at the Crestwood Recreation & Wellness Center to hear more about our

partnership with Silver Sneakers. Learn more about what the basic membership includes and

what upgrade amenities there are.

Statewide Tornado Drill Scheduled

We have now been advised, by the State of Illinois, of the following:

As part of pre-season tornado preparedness, the National Weather Service, working in

conjunction with the Illinois Emergency Management Agency and the Illinois State Police,

will schedule a statewide tornado drill for 10:00am, CST, Tuesday, March 1st, 2022.

Since Tornado planning necessarily includes a drill or exercise to familiarize everyone with

the operations of their tornado plan, and to ensure its smooth operation, all those with an

interest in tornado preparedness are urged to take an active part in this drill. The statewide

tornado drill provides an opportunity to test your tornado plan, and to ensure that it is upto-date

and comprehensive.

Crestwood has three sirens to cover the Village in case of a tornado or winds above 75 mph:

142nd St. & Kostner Ave. | Midlothian Turnpike & Long Ave.

Highland Ct. & Playfield Dr. (Behind Nathan Hale Primary School.)

Be safe. Be prepared. If you can, please take part.

EMRS urges you to keep the following tips in

mind through the cold winter months:

• Never use your oven for heat.

• Never bring charcoal or gas grills indoors — they

are a carbon monoxide hazard.

• Make sure all portable heaters are unplugged

when not in use.

• Use electric space heaters with extreme caution

— avoid placing them near curtains or other

flammable materials, and turn them off before

going to bed.

• Keep heat at adequate levels or leave faucets open

with a slight drip to prevent pipes from freezing.

• Keep moving. Your body generates its own heat

when you engage in physical activities.

www.crestwood.illinois.gov
---
2 Crestwood Adviser February 2022 Number 539

LETTER FROM MAYOR KEN KLEIN

Village Hall

13800 South Cicero Avenue | Phone: 708.371.4800

Be sure to visit the Village website at:

www.crestwood.illinois.gov

MAYOR

CLERK

e-mail:

TRUSTEES

e-mail:

e-mail:

e-mail:

e-mail:

e-mail:

e-mail:

Kenneth Klein

KKlein@crestwood.illinois.gov

Catherine M. Johnson

CJohnson@crestwood.illinois.gov

Patricia Theresa Flynn

TFlynn@crestwood.illinois.gov

Anthony J. Benigno

ABenigno@crestwood.illinois.gov

Linda M. Madlener

LMadlener@crestwood.illinois.gov

Kevin Wasag

KWasag@crestwood.illinois.gov

Frank Caldario

FCaldario@crestwood.illinois.gov

Brian Skala

Bskala@crestwood.illinois.gov

EDITOR IN CHIEF Bill Graffeo

e-mail: BGraffeo@crestwood.illinois.gov

ASSISTANT EDITOR Amy Roe

e-mail: ARoe@crestwood.illinois.gov

Publishing & Advertising

The Crestwood Adviser is published monthly for

the Village of Crestwood by

Fanning Communications, Inc.

4701 Midlothian Turnpike — Suite 4

Crestwood, IL 60418

For Editorial and Advertising Inquiries:

Phone 708.293.1430

Fax 708.293.1432

Website: www.fanningcommunications.com

Publication Staff:

Publisher

Managing Editor

Editor/Graphic Designer

Graphic Designer

Accounting/Billing

Web Developer

John J. Fanning

Karl J. Paloucek

DeAnna Clark

Robert Durkee

Karen Wrezzes

Jamal Mizyed

The Crestwood Adviser is dedicated to presenting as much as

it can about the Village of Crestwood so that the community

can have the information it needs to strengthen and enrich

the community of Crestwood.

Our goal is to report the news as fully, fairly and as accurately

as possible. Your comments and suggestions are encouraged,

by phone or in writing, whether or not you wish such

letters to be published.

Under no circumstances will the Crestwood Adviser be liable

for any misspellings, misprints, or damage caused by

a Subscriber's reliance on information obtained. It is the

responsibility of each Subscriber to evaluate the accuracy,

completeness or usefulness of any information, opinion,

advice or other content available through the Crestwood

Adviser. Please seek the advice of professionals, as appropriate,

regarding the evaluation of any specific information,

opinion, advice or other content.

Electronic feedback can be sent to:

info@crestwoodadviser.com

For advertising:

ads@crestwoodadviser.com

Dear Residents,

Happy February to all. I hope as you're reading

this your new year is starting off on a positive

note. We here at Village Hall and all of our Village

Departments are hard at work preparing for this

coming year, as well.

I recently had a department-head meeting with

all departments, and am pleased with the goals

and expectations set for the coming year. It is

extremely important to me and the Village Board

to continue to update citizens with current

information and awareness of social needs/public

safety needs, government actions and changes

in our community. I hope you're all utilizing the

Apex mobile app we have here in the Village.

As always, a big priority as Mayor is to focus on

economic growth through business attraction

and support of existing businesses within our

Village. We continue to welcome new businesses

here in the Village, and would like to feature new

businesses each month in the Adviser to keep you

in the loop.

We continue staffing our police force with full

time, fully trained and competent full time

Officers. We will continue to plan to rebuild our

fire and police stations along with our emergency

management building. Our Biela Center for our

seniors is consistently adding new trips and

programs to accommodate, entertain and educate.

You and your loved ones and friends would be

amazed at some of the great things happening

over there, and we urge you to take advantage of

all of the great activities available, including lunch

specials and a competitive game of bingo go on

there every Tuesday and Friday.

It is extremely important to me to continue to

provide a safe place for our children and residents

to go, to provide various classes, and resources

for our children to thrive and stay healthy. Our

Crestwood Recreation and Wellness Center goes

above and beyond to do that. We encourage you to

stop in and see what classes and events they have

to offer.

My door is always open. I want to hear your

questions and concerns. I am committed to

Crestwood reaching its full potential. It's a

privilege to serve the residents of Crestwood.

Sincerely,

Ken Klein

Ken Klein,

Mayor of Village of Crestwood

Village Meeting Schedule

Village Board Meetings - 8:00pm

Crestwood Civic Center | 13820 S. Cicero Ave | February 3rd and 17th

Committee of the Whole - 7:00pm

Village Hall | 13800 S. Cicero Ave | February 1st and 15th

Planning Commission – Zoning Board - 8:30pm

Crestwood Civic Center | 13820 S. Cicero Ave | February 14th and 28th

Village of Crestwood Parking

Crestwood Village ordinance prohibits parking on any village street between 2:00am and 6:00am. The

reason for this ordinance is so police will be alerted to abandoned vehicles or suspicious vehicles that require

investigation. This ordinance also ensures that all streets throughout the Village will be open to fire and rescue

equipment in the event of an overnight emergency. This is especially necessary in areas where narrow streets

can block large fire trucks. We will continue to enforce this ordinance. Thank you for your cooperation with this

ordinance. The initial fine for this violation is $75.00. This is a Village-wide ordinance. PLEASE BE SURE THAT

YOUR LATE NIGHT AND OVERNIGHT GUESTS ARE MADE AWARE OF THIS AS WELL!

Going Somewhere in Crestwood? Dial-A-Ride!

While we're all trying to stay in as much as possible

these days due to COVID-19, those needing to go out

and about in Crestwood still can take advantage of

the Pace Dial-A-Ride system. The bus will take you

anywhere within the corporate limits of the Village of

Crestwood. Ray, the best bus driver in Crestwood, has

been doing an outstanding job for more than 10 years

now. He will make sure that you will receive the best

service possible.

The fee for a one-way trip is $2.25 for adults and $1.00

for students. Senior citizens 65 years of age and over

can ride free at all times. The vehicle is wheelchair

accessible. You will be picked up at your home, and if

that is your return destination, you will be delivered

there accordingly.

Dial-A-Ride is in service Monday through Friday from

9:30am to 3:45pm. It is easy to set up an appointment

to take you where you need to go. Simply call the

Village Hall at (708) 371-4800 on the day you would

like to ride, then indicate the time you need to be

picked up and the approximate time that you will be

returning. The Village will do its best to accommodate

your time schedule, but many people use this service

and with COVID restrictions in place, capacity is lower,

so please give yourself a comfortable amount of time

to complete your tasks. You will travel in comfort, as

the bus is heated in the winter and air conditioned in

the summer. COVID-19 restrictions apply — you must

wear a COVID-19-appropriate mask and maintain

adequate social distancing while aboard.

Now you know how it works, so take advantage of the

service. When you need a ride, Dial-A-Ride!
---
February 2022 Number 539 Crestwood Adviser 3

Red Cross: National Blood Crisis May Put Patients at Risk

ILLINOIS — The American Red Cross is facing a national blood crisis —

its worst blood shortage in more than a decade. Dangerously low blood

supply levels are posing a concerning risk to patient care and forcing doctors

to make difficult decisions about who receives blood transfusions and who will

need to wait until more products become available.

Blood and platelet donations are critically needed to help prevent

further delays in vital medical treatments, and donors of all blood

types — especially type O — are urged to make an appointment now to

give in the weeks ahead.

In recent weeks, the Red Cross had less than a one-day supply of critical blood

types and has had to limit blood product distributions to hospitals. At times, as

much as one-quarter of hospital blood needs are not being met.

Pandemic Challenges

The Red Cross continues to confront relentless challenges due to COVID-19,

including about a 10-percent overall decline in the number of people donating

blood, as well as ongoing blood drive cancellations and staffing limitations.

Additionally, the pandemic has contributed to a 62-percent drop in blood

drives at schools and colleges.

"Winter weather across the country and the recent surge of COVID-19 cases

are compounding the already-dire situation facing the blood supply," said

Dr. Baia Lasky, medical director for the Red Cross. "Please, if you are eligible,

make an appointment to give blood or platelets in the days and weeks ahead to

ensure no patient is forced to wait for critical care."

Make an appointment to give blood or platelets as soon as possible by

using the Red Cross Blood Donor App, visiting RedCrossBlood.org or

calling 1-800-RED CROSS (1-800-733-2767).

The Red Cross and the NFL are partnering this January, during National

Blood Donor Month, to urge individuals to give blood or platelets and help

tackle the national blood shortage. Those who come to give blood, platelets or

plasma in January will automatically be entered for a chance to win a getaway

to Super Bowl LVI in Los Angeles. As an extra thank-you from the Red Cross,

those who come to donate will also be automatically entered to win a home

theater package and a $500 e-gift card. Terms apply. Visit RedCrossBlood.org/

SuperBowl for more information.

Who Donations Help

Kala Breder knows all too well how dire not having blood available can be. In

July 2020, hours after the birth of her son by emergency Caesarean section,

Breder developed a complication and began bleeding uncontrollably. As doctors

fought to save her life, they exhausted the entire blood supply at the hospital

as well as all available blood within a 45-mile radius. Ultimately, she was flown

to another hospital because there wasn't enough blood locally.

Breder credits the 58 different blood products she received with helping

save her life. "Without one of those, I probably wouldn't be here," she said. "I

needed every last unit."

Volunteers Needed

In addition to blood donors, the Red Cross also needs the help of volunteers

to support critical blood collections across the country. Blood drive volunteers

play an important role by greeting, registering, answering questions and

providing information to blood donors throughout the donation process.

Blood transportation specialists — another volunteer opportunity — provide

a critical link between blood donors and blood recipients by delivering blood

to hospitals in communities across the country. To volunteer to support Red

Cross blood collections, visit redcross.org/volunteertoday.

Blood Drive Safety

Each Red Cross blood drive and donation center follows the highest standards

of safety and infection control, and additional precautions — including face

masks for donors and staff, regardless of vaccination status — have been

implemented to help protect the health of all those in attendance. Donors

are asked to schedule an appointment prior to arriving at the drive.

Save Time During Donation

Donors can also save up to 15 minutes at the blood drive by completing a

RapidPass®. With RapidPass, donors complete the pre-donation reading and

health history questionnaire online, on the day of donation, from a mobile

device or computer. To complete a RapidPass, follow the instructions at

RedCrossBlood.org/RapidPass or use the Red Cross Blood Donor App.

To donate blood, individuals need to bring a blood donor card or driver's

license or two other forms of identification that are required at check-in.

Individuals who are 17 years of age in most states — 16 with parental consent

where allowed by state law — weigh at least 110 pounds and are in generally

good health may be eligible to donate blood. High school students and other

donors 18 years of age and younger also must meet certain height and weight

requirements.

Health Insights for Donors

At a time when health information has never been more important, the Red

Cross is screening all blood, platelet and plasma donations from self-identified

African-American donors for the sickle cell trait. This additional screening will

provide Black donors with an additional health insight and help the Red Cross

identify compatible blood types more quickly to help patients with sickle cell

disease who require trait-negative blood. Blood transfusion is an essential

treatment for those with sickle-cell disease, and blood donations from

individuals of the same race, ethnicity and blood type have a unique ability to

help patients fighting sickle-cell disease.

Donors can expect to receive sickle-cell trait screening results, if applicable,

within one to two weeks through the Red Cross Blood Donor App and the

online donor portal at RedCrossBlood.org.

Important Numbers

Village Hall ………………..……..…………....…..

13800 S. Cicero Ave.

Main: (708) 371-4800

Fax: (708) 371-4849

Hours:

Mon., Wed., Thu., Fri.: 9:00am-4:00pm

Tues.: 9:00am-8:00pm

Police Department ………………..………….........

13840 S. Cicero Ave.

Main: (708) 371-4800 x 5007

Fax: (708) 371-8307

Nonemergency (708) 385-5131 Emergency: 911

Fire Department ……………….……………….......

13840 S. Cicero Ave.

Main: (708) 371-4800 x4500

Fax: (708) 385-2836

Recreation & Wellness Facility ………………......

5331 w. 135th St.

Main: (708) 371-4810

Hours:

Mon.-Thu.: 5:30am-10:00pm Friday 5:30am-8:00pm

Sat.-Sun.: 7:00am-5:00pm

Library ……………….....…………….……….........

4955 135th St.

Main: (708) 371-4090

Hours:

Mon.-Thu.: 9:00am-8: 00pm

Friday: 9:00am-5:00pm

Saturday: 9:00am-4:00pm

Sunday: Closed

Worth Township ………………..…………….……..

(708) 371-2900 (Residents north of 135th)

Bremen Township ……………….........................

(708) 333-1591 (Residents south of 135th)

Republic Services.……………….........................

Call Village Hall first to be advised at (708) 371-4800,

before dailing Republic Services at (708) 385-8252.

IDOT………………..……………….………………...

(847) 705-4222

Cook County Highway Dept. ………………...…..

(708) 448-8006 or (847) 705-4228
---
4 Crestwood Adviser February 2022 Number 539

Crestwood First Responders

Adopt Premise Alert Program

The Crestwood Police Department, in cooperation with the Crestwood Fire

Department, has embraced a new safety program called Premise Alert. The program

notifies first responders of Crestwood citizens who have disabilities or special needs.

The information provides emergency responders the ability to immediately identify

anyone with special needs.

Further information on this program will follow in the coming weeks.

Don't Fall for Utility

Scammers — Be Aware

ComEd regularly receives reports of scammers posing as ComEd

employees. Sometimes they will falsely claim that they will

disconnect your electric service unless payment is made. Often, they

will suggest that you buy a prepaid debit or credit card and to call a

different number with your account PIN number or other personal

information. Others might use a "spoofing" tactic to manipulate

the Caller ID number so that it appears that the call is coming from

ComEd.

Be aware …

• ComEd will never call or come to your home or business to sell

you electricity, demand immediate payment with a prepaid cash

card or third-party banking app such as CashApp, Venmo, Zelle

or any other.

• ComEd will never ask for your PIN number or other personal

information such as your Social Security number or Tax ID

number.

• ComEd will never ask to see your energy bill — they issue your

bill, so they should have no problem referencing it, if needed.

• ComEd field employees will only ever knock on your door if your

help is required for them to access ComEd equipment, such as

your meter or pedestal transformer. All field employees wear a

uniform with the ComEd logo, as well as a safety vest, and will

carry a ComEd ID with their name and the ComEd logo.

If you have any doubts about a field employee visiting your home,

you can confirm by calling 1-800-EDISON-1 (1-800-334-7661).

Also be aware of cyberthreats

• Review any messages you may receive from ComEd to ensure

that they are legitimate — the name of the sender and business

should match the name and business in the actual email address.

• If you don't recognize the sender, call the individual or business

to confirm using a confirmed phone number, such as one from

the business's official website, or from your own records. Do not

use the number provided in the email.

• If there are website links in the message, hover over them to

confirm their legitimacy. If there's any doubt at all, do NOT click

on them.

If you have any hesitation or you're uncomfortable with any

transaction you're experiencing, call 1-800-EDISON-1 (1-800-334-

7661). If you feel immediately threatened, don't wait and call 911

right away.

Visit ComEd.com/ScamAlert to learn more.

Exercise Appropriate Caution in Winter's Coldest Days

February is often one of the harshest months the

entire year. Before winter starts to give way, it gives

us its worst. But if you're adequately prepared for

the hazards it brings, you are more likely to stay

safe and healthy when temperatures bottom out.

Take These Steps for Your Home

Even the warm and cozy indoors can become

unfriendly if things go wrong with your heating

system. Remember to take these steps to keep your

home safe and warm during the winter months.

Winterize your home.

• Install weatherstripping, insulation and storm

windows.

• Insulate water lines that run along exterior

walls.

• Clean out gutters and repair roof leaks.

• If you do not have a working smoke detector,

install one. Test batteries monthly and replace

them twice a year.

• Have a safe alternate heating source and

alternate fuels available.

• Prevent carbon monoxide (CO) emergencies.

• Install a CO detector to alert you of the

presence of the deadly, odorless, colorless

gas. Check batteries when you change your

clocks in the fall and spring.

• Learn symptoms of CO poisoning —

headache, dizziness, weakness, upset

stomach, vomiting, chest pain, and

confusion.

Don't Forget to Prepare Your Car

Make sure your car is ready to handle what

February can dish out — preferably in advance.

ice in the tank and fuel lines.

• Use a wintertime formula in your windshield

washer.

• Prepare a winter emergency kit to keep in your

car in case you become stranded. The kit should

include:

• cell phone, portable charger, and extra

batteries;

• blankets;

• food and water;

• booster cables, flares, a tire pump, and

a bag of sand or cat litter (for traction,

should you get stuck);

• a compass and maps;

• a flashlight, a battery-powered radio and

extra batteries;

• a first-aid kit;

• plastic bags (for sanitation).

Check your heating systems.

• Have your heating system serviced

professionally to make sure that it is clean,

working properly, and ventilated to the outside.

• Inspect and clean fireplaces and chimneys.

• Service the radiator and maintain antifreeze

level.

• Check your tire treads or, if necessary, replace

your tires with all-weather or snow tires.

• Keep your gas tank more than half full to avoid

Visit the CDC's Winter Weather page at

www.cdc.gov/disasters/winter/index.html for more

safety tips.
---
February 2022 Number 539 Crestwood Adviser 5

Take Action to Prevent Flu

With COVID-19 dominating the headlines and many of our lives these past couple

of years, it's understandable that flu might not be uppermost in your mind. But

keeping up with your regular vaccine schedule is no less important than in other years.

With that in mind, we encourage you to revisit the Center for Disease Control and

Prevention's (CDC) recommendations regarding the flu virus:

• The CDC advises most individuals 6 months or older to receive a flu vaccine every

year. This is the single most important thing you can do to help protect yourself

against flu, and to guard against its spread.

• Vaccination helps to remove some of the burden on hospitals, clinics and urgent

care facilities each year.

• This season, flu vaccines have been designed to protect against the four dominant

strains of flu that research indicated would be the most common.

• People of higher risk of flu complications — such as young children, pregnant

people, those with chronic health conditions like heart disease, asthma, diabetes or

lung issues, and those 65 or older — are especially urged to receive vaccination, as

well as health care workers and their families.

• Those younger than 6 months are of elevated risk, but cannot receive the vaccine

themselves. Anyone caring for infants should be vaccinated to shield them as

reasonably as possible from risk.

Beyond vaccination, common sense prevention goes a long way. If you feel symptoms,

do your best to minimize contact with others. If you are confirmed to have the flu, and

your doctor prescribes you antiviral drugs, take them as advised. Wash your hands

often with soap and water, or use hand sanitizer as needed. Avoid touching your

eyes, nose and mouth, as this is often how flu is transmitted. Cover your mouth and

nose with a tissue or the crook of your arm when you cough or sneeze, if no tissue is

available. (Using your hands puts you in a position to more readily transmit or receive

the virus.)

If you do experience flu, the CDC recommends that you stay home for at least 24 hours

after your fever has disappeared, without the aid of fever-reducing medication.

In these difficult times, we encourage everyone to do whatever is possible to inhibit the

spread of the flu virus.

Source: CDC

JOHN Z. TOSCAS

ZENO J. TOSCAS

Attorneys at Law

The show choirs from District 218 schools Eisenhower High School and Shepard High

School posed together after competing at Kankakee High School

Shepard, Eisenhower Show Choirs

Sweep Kankakee Invitational

The show choirs from Eisenhower High School and Shepard High School took 1st

and 2nd Place, respectively, at the competition hosted by Kankakee High School

on Saturday, Jan. 22.

NOVA, the show choir from Shepard, also won The People's Choice Award.

Tina Jacklin serves as choral director at Eisenhower and head coach for the show

choir Express. Roland Hatcher serves as choral director at Shepard and head

coach for NOVA.

Crestwood Residents

Former

State Prosecutor

Real Estate Closings & Contracts

Real Estate Tax Appeals

Traffic Citations

Wills & Trusts

Personal Injury

Worker's Compensation

Attorneys at Law LLC

448-0200

12616 S. Harlem, Palos Heights
---
6 Crestwood Adviser February 2022 Number 539

Small Businesses Benefit

Their Local Communities

Small businesses provide character and individuality to a community. It

is neighbors helping neighbors — friends helping friends. However, small

businesses are more than that. They benefit their local communities in many

concrete, quantifiable ways:

• Local businesses are more likely to utilize other local businesses such as

banks and service providers.

• For every $100 you spend at local businesses, $68 will stay in the

community.

• Independent retailers return more than three times as much money

per dollar of sales to the community in which they operate than chain

competitors. Independent restaurants return more than two times as

much money per dollar of sales than national restaurant chains.

• Small businesses employ 77 million Americans and accounted for 65

percent of all new jobs over the past 17 years.

In addition to helping build the local economy, there are also notable

intangible benefits that come from supporting businesses in your local

community:

• Local businesses are owned and operated by your neighbors! They care

about and are invested in the wellbeing of your community and its future.

• Local businesses are more accountable to their local communities and

donate more money to non-profits.

• Supporting local businesses is good for the environment because they

often have a smaller carbon footprint than larger companies.

• Entrepreneurship fuels America's economic innovation and prosperity, and

serves as a key means for families to move out of low-wage jobs and into

the middle class.

It isn't always the easiest or most convenient option to visit a local

independent business rather than a large national chain that might be down

the street. However, there are plenty of ways you can help support your local

economy in Crestwood by thinking local first:

1. Check out the menu of a local restaurant for lunch or dinner.

2. Purchase a birthday present at a local gift shop.

3. Join a local gym.

4. Visit a local nursery or hardware store for your lawn and garden needs.

5. Get your car serviced at a local mechanic.

6. Looking for home repairs? If you're looking for a contractor, call Village

Hall to get a list of licensed and registered area contractors.

So the next time you need to run out for some groceries or do a little shopping,

seek out a local business and see what they have to offer! You could discover

some great products and services while helping to build a strong and successful

community around you.

New Business: Crestwood Food

and Liquor

For its grand opening, Crestwood Food and Liquor brings a great selection

of beer, wine and liquors to the area at competitive prices. As part of its

celebration, Crestwood Food and Liquor will offer a raffle ticket to everyone

making a purchase of $25 or more. Raffle prizes will be awarded EVERY

SUNDAY at 5:00pm.

Location: 5593 W. 127th St., Crestwood

(708) 925-0065 | Hours: 9:00am-12:00am

New Business: Me-Ga Frappe

Come and enjoy the already-famous and delicious CARNITAS from Me-Ga

Carnitas! Get crazy with our amazing FRAPPES, or enjoy a delicious torta!

Come and check us out!!

Location: 13111 Rivercrest Dr., Crestwood, IL

Attention Veterans

If you were honorably discharged from the U.S. military

and believe you suffer from an injury or illness that you

contracted because of your service, you are invited to

attend a meeting of the Disabled American Veterans

(DAV) Chapter 84 in Crestwood to get help in filing a

claim for your injury or illness.

There is no charge or fee for this service. The DAV is a

national service organization comprising of veterans

dedicated to helping other veterans to receive the

medical attention and compensation they deserve.

DAV Chapter 84 meets on the first Friday of each month

at 6:30 p.m. at the Elks Lodge #1596 at 4428 Midlothian

Turnpike in Crestwood, Illinois. National and Chapter

Service Officers will be available to assist you in filing a

claim for compensation and medical assistance. Bring a

copy of your DD-214 to the meeting with you.

Again, this service and all subsequent services provided

by the DAV are free of charge. To learn more about the

DAV and its mission to serve disabled veterans, visit

their website at: www.DAV84.org.

ELKS LODGE #1596 | 4428 Midlothian Turnpike in Crestwood, Illinois.
---
GET UP AND GET OUT!

BAGS 'N' BREW WINTER CLASSIC

TOURNAMENT 2022

Saturday, Feb. 5th, 1:00pm

Crestwood Recreation & Wellness Center | 5331 W. 135th St., Crestwood

Gather some friends, register a team and see if you have what it takes to go toe to toe

with other area bean-baggers for cash prizes at the annual Bags 'n' Brew Winter Classic

Tournament at the Crestwood Recreation & Wellness Center. All ages are welcome. There

is a $25 registration fee for each team. Call (708) 371-4810 or visit the CRWC in person

to pre-register, or register onsite day of the event. (Code – 214210-E.) For questions or

more information, call (708) 371-4810, email crwcsports@crestwood.illinois.gov, or visit

the CRWC website at www.crestwoodfitness.com.

ANCIENT LIFE OF ILLINOIS: FOSSILS

Saturday, Feb. 12th, 1:00pm-3:00pm

Thorn Creek Woods Nature Preserve| 247 Monee Rd., Park Forest

Fossils, the preserved remnants of plants and animals, tell the story of life and the

landscape millions of years ago. This presentation by the Earth Science Club of Northern

Illinois explores the geologic forces that caused fossils to form and identifies the

diversity of species that once existed in Illinois. Participants will see actual fossils from

Illinois. Registration is required by Tuesday, Feb. 8th. Ages 10 and up. Call (708) 747-

6320 to register. Cost: FREE. This program is sponsored by the Jim Marzuki Fund of

Friends of Thorn Creek Woods.

BERNIE GLIM AND COUNTRY ROADS

Saturday, Feb. 12th, 1:00-3:00pm

The Carraig Pub, Chicago Gaelic Park | 6119 W. 147th St., Oak Forest

Bernie Glim and Country Roads is a seven-piece Country Rock band of master musicians

and songwriters led by Bernie Glim on guitar and vocals. The ensemble includes Tom

Gurney on guitar, Al Joseph on fiddle, and Karen Glim and Rachel Glim on vocals and

percussion. They perform 250-300 dates a year at clubs and festivals throughout the

Chicagoland and Midwest area. There is no cover charge for this event.

SNUGGLE HIKE

Monday, Feb. 14th, 1:00pm

Little Red Schoolhouse Nature Center | 9800 Willow Springs Rd., Willow

Springs

Love is in the air! Grab your loved one and hike the trails of the Forest Preserves while

discussing animals in love. Registration is required. For more information or to register,

call (708) 839-6897. Cost: FREE.

CHICKS WITH PICKS

Saturday, Feb. 19th, 8:00pm | The Brazen Head Pub

Chicks with Picks will be in the Brazen Head house playing classic to current hits

covering dance, reggae, country, rock, retro, rock ballads, and mash-ups by Journey, Bon

Jovi, Violent Femmes, and more.

BLACK HISTORY MONTH: UNDERGROUND

RAILROAD WALKS

Saturday, Feb. 26th, 10:00am-3:00pm

Sand Ridge Nature Center | 15891 Paxton Ave., South Holland

Take a self-guided journey that follows the Underground Railroad route connected to the

Calumet Region during the mid-1800s. For more information, call (224) 501-6634 or

email sandridge.naturecenter@cookcountyil.gov. Cost: FREE.

DEREK WARFIELD & THE YOUNG WOLFE

TONES

Sunday, Feb. 27th, 1:00-3:00pm

The Carraig Pub, Chicago Gaelic Park | 6119 W. 147th St., Oak Forest

Derek Warfield & The Young Wolfe Tones are known throughout the world for their

presentation of Irish patriotic songs and traditional music featuring top-class, fiery

introductions from lead singer, songwriter and storyteller Derek Warfield. Warfield is

a legend wherever Irish roots have been put down. He enjoyed phenomenal success for

some 40 years with the Wolfe Tones, including best-selling albums, number-one hits,

television appearances and shows in Carnegie Hall, New York and the Royal Albert Hall,

London. The Young Wolfe Tones feature some of the finest Irish musicians and singers

from a younger generation, and bring guaranteed excitement, fun and passion to every

performance. Tickets are $30 and can be purchased in the Gaelic Park front office or by

calling (708) 687-9323.

Department on Aging

Seeks Nominations for

Senior Hall of Fame

SPRINGFIELD, Ill. — The Illinois Department on Aging (IDoA) is now

accepting nominations for the Senior Illinoisan Hall of Fame, open to adults

age 65 and older who excel in the categories of community service, education,

performance and/or graphic arts, and the labor force.

The Senior Illinoisan Hall of Fame was established by the General Assembly

in 1994 to honor older adults' accomplishments and contributions to their

communities. Each year, four Illinoisans aged 65 or older are inducted into the

Hall of Fame for their work in community service, education, arts or the labor

February 2022 Number 539 Crestwood Adviser 7

THINKING ABOUT MAKING A

MOVE IN 2022? THEN

EXPERIENCE THE CLIFF RAGO

DIFFERENCE!

With over 32 years of experience and selling over 450

Crestwood homes and condominiums myself, 100 in

the last 4 years alone, I can help you get the

highest price from the sale of your property. Nobody

knows the Crestwood market better.

CRESTWOOD FEATURED PROPERTY OF THE MONTH

SITUATED ON ALMOST 3/4 OF AN ACRE THIS

PROPERTY IS OWNED BY THE ORIGNAL FAMILY

WHO BUILT IT. 3 BEROOMS WITH A BASMENT AND

A 1 1/2 CAR GARAGE ON FULLY FENCED LOT.

ASKING $189,700, FOR MORE INFORMATION OR TO

VIEW THIS PROPERTY CALL CLIFF AT 708-267-0758

CALL CLIFF AT 708-267-0758

FOR A FREE NO OBLIGATION MARKET APPRAISAL

LIFE TIME CRESTWOOD RESIDENT & FULL TIME REALTOR

NO ONE IN THE WORLD SELLS

MORE HOMES THAN RE/MAX AND

NO ONE HAS SOLD MORE CRESTWOOD

PROPERTIES THAN CLIFF.

RE/MAX 10 708-267-0758

THE CRESTWOOD EXPERT!

REMEMBER, THE MORE I SELL YOUR CRESTWOOD

PROPERTY FOR THE MORE MINE ARE WORTH!

Crestwood Real Estate Market

2021 Review

Despite year two of the COVID pandemic, the Crestwood housing market

continued to see property value increases just as it had during the last few

years. The number of single-family homes sold in 2021 increased by more

than 9 percent, and the average sale price increased by more than $35,000 per

single family home. That's more than a 16-percent increase.

We also had four homes sell for more than $400,000, and that is the most ever

in recent memory. The condominium and townhome market saw a 17-percent

increase in the number of sales, and more than a 10-percent increase in sales

price. The highest-priced condominium sold for $172,000, and the highestpriced

townhome sold for $297,000. I am expecting the Crestwood market to

remain strong in 2022. There are many factors that contribute to Crestwood's

success. I believe our growing commercial and industrial businesses create

a great tax base and good revenue stream, and our relatively low real estate

taxes, our tax rebate program and a fiscally sound financial plan by our Village

administrators are some of the many reasons we love to call Crestwood home.

Cliff Rago, Re/max 10

force. Nominations for 2022 inductees must be submitted by June 1. For more

information or to submit a nomination, please visit https://www2.illinois.gov/

aging/HallofFame.

"Most of us can think of an older friend or neighbor who has made an impact

in our life, and nominating that person for the Senior Illinoisan Hall of Fame

is a wonderful way to show your appreciation," said IDoA Director Paula Basta.

"I encourage everyone to help the Department on Aging recognize older adults

with a long history of helping and inspiring others."

IDoA serves and advocates for older Illinoisans and their caregivers by

administering quality and culturally appropriate programs that promote

partnerships and encourage independence, dignity, and quality of life. For

information about the Department's programs and services for older adults

and persons with disabilities, visit https://www2.illinois.gov/aging/programs

or contact the Senior HelpLine toll-free at 1-800-252-8966, Monday through

Friday between 8:30am and 5:00pm.
---
8 Crestwood Adviser February 2022 Number 539

Preserving Our Heritage: Eddie Durham

By Ken McClory

As part of the Tinley Park American Legion Post 615

Preserving Our Heritage initiative, we look this month

at the story and revelations of the valor and sacrifice

of Eddie Durham.

Durham, a World War II veteran, turned 100 years

old in December. On Saturday, Dec. 11th, 2021, a

celebration befitting a true role model and war hero

was held at the odyssey venue in Tinley Park. Dr.

W. Douglas Rasmussen III, Veterans Commission

Chairman of Tinley Park, gave remarks, and there

was a Presentation of Colors by VFW Post 2791, and

commemorative presentations from American Legion

Post 615 and Forest Park's Veteran Ministry Living

Word Christian Center. Eddie Durham also received

a special recognition letter from the president,

honoring him for his service during World War II and

acknowledging his 100th birthday. The event was

graciously hosted by Durham's daughter Mrs. Gytone

Glover, and included an inspirational invocation

offered by Rev. Debra Durham, and concluded with a

heartwarming toast of admiration by his son Ronald.

The Guest of Honor

Eddie Durham was born near Greenville, Miss., on

Dec. 8th, 1921. Raised in that place and at that time,

he came to know a lot about the Great Depression he

experienced as an 8-year-old boy. Many times, a child's

education did not extend into high school, but his

desire to learn to read and write held great importance

to his future.

Mississippi's recession of 1920 marked the start of

two decades of economic hardship for a declining

cotton industry. The Great Mississippi Flood of 1927

was the most destructive flood in United States

history. The flood broke levees along the river in at

least 145 places.

Greenville, in Washington County, is in the Mississippi

Delta area, noted for its blues musicians, fertile soil

and for being considered the catfish capital of the

world. During the 1927 flood, Washington County

was the hardest hit, with damages estimated at $350

million, equal to more than $5 billion today, and with

more than a half million African-Americans losing

their homes and jobs. The flood served as a major

motivation for the African-American migration to

Northern cities like Chicago. Eddie Durham's family

would follow that path.

During the summer of 1941, the draft was extended

to all men who had reached their 18th birthday up to

those who had not yet reached their 45th birthday.

The length of service was extended to 18 months, but

could be extended further if national security required.

Once the U.S. entered WWII, draft terms extended to

the duration of the war.

Durham was drafted into the Army on March 16th,

1943, as the war was raging. He completed extensive

training and shipped out, assigned to the 5th Army

headed to Italy on Feb. 1st, 1944.

Up till this point of his life, Durham's driving

experience was limited to a mule and plow in

Mississippi. The Army taught him how to drive,

and after serving in the the United States Army

Transportation Corps, Spearhead of Logistics,

eventually advancing to the position of "Tech

Corporal," and becoming a combat 2 ½-ton-truck

driver and machine gunner with the 5th Army. He

often drove nonstop in all types of weather conditions,

over poor roads, through landscapes filled with

landmines, under enemy fire, to transport personnel

and cargo to the fast-moving 5th Army.

In August 1944, the 5th Army, led by Lt. Gen. Mark

Clark, attacked through the Central Apennine

Mountains, successfully breaching the German Gothic

Line, but reached a stalemate to break into the Po

Valley before winter weather made further progress

impossible. Clark set out his battle plan on March

18th, 1945, with his objective to destroy enemy forces

south of Po and capture Verona, 65 miles west of

Venice. Eddie remembers crossing the cliffs of the

Apennine Mountains, saw-toothed mountains rising

up from the sea with their peaks hugging the East

Coast of Italy.

He drove in blackout convoys — an experience which

has caused lifelong emotional scars. "We drove in

the dark, and I saw some of my friends drive off the

cliff," he remembers. "It seemed like their trucks just

disappeared on the road."

Germany directed the construction of the Gothic

Line along the summits of the Apennines, drilling

into the solid rock to make gun pits reinforced with

concrete, forming more than 2,300 machine gun

nests. Allied planes bombed, and artillery blasted

it, but could not crack the Gothic Line. Gen. Clark

requested reinforcements. The Army sent in the 442nd

Regimental Combat Team and the 92nd Infantry

Division. The 442nd was an infantry regiment, best

known as the most-decorated unit in U.S. military

history, and a fighting unit of almost entirely

American soldiers of Japanese ancestry.

Another combatant in the battle for the Gothic Line

was the 92nd Infantry Division, the only African-

American division that saw combat in Europe during

WWII. The division was part of the 5th Army and

served in the 5th until the end of the war. A strong

and calculated strategy of courage and tenacity by the

Allied Forces broke through the Gothic Line, and by

September 1944, the eastern end of the Gothic Line

was breached, exposing the Axis Power to the 5th

Army's main invasion into Northern Italy, bringing

Germany ever so closer to their surrender and Victory

over Europe — V.E. Day.

"Tech Corporal" Eddie Durham was shipped back to

the United States Dec. 8th, 1945. One of his fondest

memories of the war was his ability to read and write.

Durham read many of his combat buddies love letters

and family letters, as being literate and in the war

was a precious skill. He was honorably discharged and

awarded three Battle Stars for campaign action in

Rome-Arno, Po Valley and the Northern Apennines,

the European-African-Middle Eastern Campaign

Medal, Good Conduct Medal, WWII Victory Medal,

and four Overseas Service Bars.

Shortly after the war, Durham met and courted the

love of his life, Miss Vernice Marie Whigham. Knowing

that Vernice adored the great actor Gregory Peck, he

took her to every Peck movie out at the time. Duel

in the Sun, Spellbound, Gentleman's Agreement,

12 O'Clock High — you name the Peck movie, and

Durham was sure to be there at the show with Vernice

sitting at his side. She was also very fond of dancing,

and the couple could be seen at every dance hall in

Chicago, cutting a rug to the tunes of Cab Calloway,

Count Basie, Duke Ellington, Benny Goodman and

Frank Sinatra.

Dancing to big band sounds, doing the jive, jitterbug

and foxtrot, Durham must have danced like any

accomplished hoofer at the Cotton Club. By now he

had won the heart of Vernice, and they married in

1949. They went on to raise five wonderful children,

Gregory — who was named after Peck — Alver-Wayne

and May (God rest their souls), Ronald ("Skip"),

Edward ("Bud") and Gytone ("Gigi").

Gytone went on to marry Tommie Lee Glover, who

was Durham's best friend. (God rest his soul.) Durham

was employed at General Motors for 24 years, working

on locomotive diesels. A man of many milestones,

Durham was married to Vernice for 50 years prior to

her passing.

Eddie Durham celebrated his 100th birthday in December.

Eddie Durham in his service years.

"I had the pleasure of meeting Eddie Durham on

Veterans Day and I shook his hand," said Walter

Smith, Veterans Ministry Leader at Living Word

Christian Center in Chicago, at Durham's centennial

celebration. "I felt like I was shaking hands with

history."

Durham says his secret to longevity is trusting in God.

He has overcome many health obstacles, including

a stroke, pneumonia, and many other challenges to

reach this very rare centennial milestone. According

to genealogyintime.com, just 0.0173 percent of

Americans reach that age. The chances are even

slimmer for African Americans. "He's had a lot of

things happen, but he just keeps going," said Gytone.

"He inspires me."

"My father has created a great legacy, even beyond

his service in the war," said Eddie's son, Skip Durham.

"My dad is my role model. He has always lived by

example. That example taught me how to be a husband

and father, and I am passing those values on to my

children who are passing it on to their children and so

forth."

The history book of our WWII veterans' generation

has turned its page to the final chapter. In a world

that appears to have far too few heroes, there is no

better way to say thank you to Mr. Eddie Durham for

his honorable character, unwavering patriotism and

his outstanding contribution to this Preserving Our

Heritage feature than to read and reflect on who this

brave man has been.

Special thanks to Gytone "Gigi" Glover for her

extraordinary contribution to her father's legacy.

Amy Roe also contributed to this story.

Ken McClory is a Tinley Park American Legion Post 615

member who authored the feature

and is currently taking the lead in his Post's "Preserving

Our Heritage" initiative. If you have a veteran in your life

whose story deserves to be told, please feel free to reach

out to Ken at (708) 214-3385.
---
Alan B. Shepard High School in Palos Heights proudly announces that the

students listed below qualified for honor roll in the first semester of the 2021-

2022 school year.

Students with a grade point average between 3 and 3.49 qualified for Honor Roll,

between 3.5 and 3.99 for High Honors, and 4.0 or above earned for Honors With

Distinction. It is possible to exceed a GPA of 4.0 with weighted grades offered in

honors and Advanced Placement courses.

Honors with Distinction

Freshmen – Kody Aguirre, Samih Ahmad, Ziyad Alhamayel, Juliana Almazan, Sarah Almeida, Guadalupe

Arreola, Marlene Avalos, Leena Bader, Hamza Ballout, Lucia Banaszak, Emily Baran, Evelyn Bernsee, Erich

Bieker, Jawaan Black, David Botello, Abigail Brouwer, Jacob Cachor, Nathan Caponigro, Mihail Cojocariu,

Patrick Corrigan, Anthony Crofton, Christian Dabney, Angelica DeGiulio, Layla DeLorenzo, Saidah Diab,

Michelle Diaz Diaz, Aryanna Elizondo, Nagla Farha, Geanna Felton, Diego Fernandez, Martin Foertsch, Allyson

Ford, Karl Freimuth, Rod Garcia, James Getty, Jacob Goebel, Gavin Gory, Gabriela Handzel, Spencer Harth,

Rylee Hassett, Diego Hernandez, Juan Hernandez, Kaleb Hernandez, Natalie Hill, Taylor Hite, Makenzie Hofer,

Owen Iwaniec, Keon Jenkins, Keturah Johnson, Nicola Kahoush, Paulina Karkoszka, Keira Kerkstra, Anastasia

Kladis, Karol Kos, Nathaniel Kowalkowski, Maisey Kuzmicki, James Las Cola, Dimitri Latka, Ayanna Love, Axel

Martinez, Derek Maxwell, Lilianah McCarthy, Grace McGlynn, Gabriel Middleton, Allan Millan, Victoria Miller,

Lazar Mirkovic, Ismael Musa, Meara Nicholson, Olivia Oblazny, Daniel Olisiewicz, Melanie Olisiewicz, Julian

Olivas, Alyssa Ortega, Lana Pantoja, Rishi Patel, Cody Peck, Christian Perez, Brooke Petrie, Brandon Phan,

Brady Quinlan, Ruby Quintana, Carlos Quiroz, Daniella Ramirez Prado, Michael Rantisi, Ahmod Regulus, Diana

Renteria, Skyler Rentschler, Enzo Restivo, Jacob Reynolds, Elizabeth Rodriguez, Christopher Rosales Ortega,

Molly Rossi, Elizabeth Ryan, Daniel Salgado, Yvonne Sanchez, Helena Santillan, Victoria Schlange, Madison

Sears, Kailey Selvage, Latifah Shaban, Nadeen Shaibat, Lacey Skala, Amelia Smith, Jasiya Smith, Brianna Spain,

Abbie Statham Ball, Matthew Stewart, Isabella Styrczula, Abigail Sutter, Wiktor Szwoch, Faith Serenity Talosig,

Atia Thomas, Paris Tolbert, Nathan Treat, Nathan Udal, Michael Vlna, Benjamin Whitney, Cayla Wordlaw,

Logan Wright, Rumzy Yassin, Ana Zarate, Ratib Zatar, Aldo Zavala, Sophia Ziobro.

Sophomores – Mahmoud Abdelal, Alora Akin, Lamyah Alafif, Ismail Alwahsh, Isaac Arriaga, Sireen Ashkar,

Macy Balabon, Olivia Barrera, Colin Blanks, Jacqueline Boersma, Christian Botello, Madison Brochum, Jaylin

Cabrera, Peter Calderon, Aimee Campos, Leslie Cardenas, Charlotte Cedergren, Livia Chase, Ethan Chua, Ella

Correll, Ellie Davidson, Atiana DeGiulio, Gianna Donato, Rebecca Esparza, Amilia Estrada, Julia Feldner,

Chantal Fierros, Olivia Flores, Samantha Flores, Iliana Garcia, Alexis Gezik, Jackson Gillono, Margaret Gleason,

Ava Gliva, Idaly Gonzalez, Benjamin Grady, Sundayu Graves, Emma Greene, Destiny Gudino, Isaac Guerrero,

John Harkala, Kayla Hedger, Samantha Heiden, Ernesto Hernandez, Stephanie Hernandez, Emmanuelle

Hounguevou, Fiona Jacobson, Sophia Jimenez, Nathan Juma, Jessica Justin, Jake Klein, Margaret Klingner,

Madeline Knies, Olivia Kot, Adrian Krzysiak, Sabrina Kuqo, Christopher Lafin, Jocelyn Leggett, Dulce Lopez,

Nathan Lowry, June Lyons, Angeline Macias, Jacob Madera, Brenda Marquez, Kelsie Marquez, Amelia Mastela,

Kayla McGrury, Corey Merrity, Abdul Mohammad, Brett Montoya, Amanda Muller, Maja Natan, Emily Nebus,

Jessica Nguyen, Jan Obrochta-Bartus, Roberto Olimpijev, Shaun Parker, Patrick Popowicz, Reed Powers,

Zakariya Qasem, Lujain Rabadi, Aidan Reilly, Jada Rodriguez, Dulce Rosales Ortega, Farah Safi, Erendira

Salgado, Bianca Sarabia, Giulia Scarnavack, Oswaldo Sereno, Noor Shadid, Alaina Simikoski, Juleaya Smith,

Kendell Spates, Ryan Sprandel, Daniel Staszel, Elizabeth Stepuszek, Benjamin Stewart, Maciej Stoch, Caprice

Stubitsch, Wendy Uribe, Morgan Walker, Payton Zahora, Zackery Zemeckis, Lana Zorba.

Juniors – Raad Abdelqader, Jenna Abuzerr, Othman Ali, Nagam Alkhatib, Adrian Amancha, Kamron Arnold,

Ashlee Arrambide, Madison Bajic, Megan Begley, Ava Brooks, Jessica Byrdak, Samantha Cabrera, Nicholas

Cachor, Madison Cantore, Gianna Carmenaty, Joshua Case, Sean Casey, Hannah Cichon, Dragos Cojocariu,

Miriam Cojocariu, Nahara Contreras, Alex Craig, Payton Crims, Sean Crofton, Elizabeta Dardovska, Alessandra

Diaz, Maura Diaz, Deztini Dickerson, Laith Elayyan, Francesca Escamilla, Maricruz Fernandez, Michelle

Fernandez, Maia Fitzpatrick, Tyler Florez, Bridget Fraider, Nora Fraider, Jessica Frye, Alyssa Fuks, Lauren

Gawel, Matthew Gilhooly, Amber Glader, Arianna Gonzalez Zuleta, Alondra Guerrero Calvo, Maggie Gumber,

Carlo Hernandez, Dua'a Idheileh, Jihad Judeh, Megan Kempczynski, Natalia Kiernia, Pavlos Kladis, Samuel

Kowalkowski, Emma Lonosky, Aliya Martinez, Gael Martinez, Kendra Martinez, Riley Massey, Brittany

McCarthy, Mikkel McCree, Owen McGovern, Holly McGrath, Brandon Mehring, Michael Meneghini, William

Monahan, Lisette Morales, Emma Morgan, Analise Mulvihill, Ian Murphy, Samantha Murphy, Tyler O'Sullivan,

LaMar Paige, Anthony Palmbos, Alejandra Penaranda, Sidra Penciak, Christopher Pickett, Ryan Plowman,

Ekaterini Polyzos, Kylie Puchalski, Alexa Ramirez, Kahlen Ranson, Nakoa Richardson, Brenda Rivera, Rachel

Robson, Emma Sacharian, Fernando Salgado, Isabel Salgado, Timothy Sanchez, Gabriella Scalzo, Danielle

Schabes, Macy Sera, Ava Serdar, Ariana Serna, Emily Sheppard, Allyson Skala, Ashlee Sluis, Dania Soriano,

Carson Steele, Avamarie Stout, Izabella Szwajnos, Ashley Torres, Crystal Torres, Jessica Tseung, Seth Vander

Weele, John Vasiliades, Lazaro Vigil, Vincent Wang, Brookalyn Woods, Aidan Wright, Amber Wysocki, Ariana

Zambrano.

Seniors – Godwilla Alsum, Julia Alvarez, Natalia Bafia, Tyler Bartczak, Taylor Becker, Samantha Boersma,

Kara Born, Jessica Budkowski, Kaila Butvilas, Saniah Calvin, Adriana Campos, Sofia Cerullo, Hisham Chaudhry,

Dominic Chillmon, Isaac Cieplak, Joseph Cinkus, Richard Cinkus, Faten Daoud, Chloe Dunigan, Christian

Dziadkowiec, Ciara Egan, Joseph Esparza, Arianna Esquivel, Margaret Evoy, Riley Evoy, Shea Fitzgerald, Jacob

Fraider, Skylar Galloway, Alondra Gamboa, Julian Garcia, Alexis Garfias, Liam Gayduk, Luis Gomez, Kiana

Gonzalez, Kelly Greene, Roxanne Habbal, Donavan Heard, Lillian Hogan, Abigail Horton, Olivia Jensen, Kaden

Johnson, Kassy King, Ethan Kingzette, Jonathan Kolosky, Kaylee Koschnitzki, Elizabeth Lappano, Anyrah Lee,

Madison Levickis, Stephen Lezon, Estefania Lopez, Quinn Lyons, Andrew Maddox, D Angelo Manzo, Linnea

Marsh, Briana Martinez, Celestia Martinez, Jessica Masias, Anthony McMillan, Adriana Mendoza, Abigail

Michaels, Ashley Miller, Nader Minyeh, Marissa Mishka, Maha Motan, Fernanda Munoz, Angel Navarrete,

Jacob Pahl, Angel Pantoja, Peyton Parrotte, Kaydence Pauls, Connor Perez, Janely Perez, Nicole Pietrucha,

Kamile Plavinskas, Abigail Potts, Angel Rabadi, Graciella Ramirez, Katelina Rantisi, Emma Reilly, Krysta Shaan

Reveche, Samuel Rizzone, Demi Sanders, Michael Sealy Bakos, Yunes Shilwa, Paiten Smith, Jeremy Soldan,

Gianna Spain, Colton Sterling, Calah Strohacker, Omar Talaat, Taylor Thomas, Laila Todd, Jozalynn Vawter,

Anthony Velez, Conner Vogrich, Myesha Weatherly, Kemora Wells, Addisin Whelehan, Lance White, Skielar

White, Kadin Wilson, Abdul Kareem Zatar, Jose Zavala Tinoco, Alison Zemeckis, Sylvia Zubek.

High Honors

Freshmen – Angelina Arreola, Omar Arreola Malagon, Edmund Artibee, Mohammed Awad, DeAja Baker,

Kaliyah Baker, Aiden Balderamos, Peyton Baltrusis, Aaliyah Bell, Lawrence Bowden, Brenda Campos, Jylene

Cedeno, Charday Chapman, Ryan Craig, Jason Crowe, Noelia DeLaRosa, Mia Diaz Diaz, Mohammed Elayyan,

Jireh Enriquez, Gianna Etapa, Sahara Figueroa, Sebastian Gamboa, Emily Gaytan, Diego Godinez, Skyler

Granger, Malaak Hamad, Josephine Hansen, Matthew Hicks, TaVayri Howard, Alexandrea Jensen, Alicia

Kramer, Jacob Longawa, Caylie Lyons, Melissa Madera, Aleck Martinez, Alex Martinez, Makenzie Martinez,

Chanaya Meadows, Brianna Mentz, Morgan Miles, Jason Montes, Kyla Motley, Liliana Munoz, Edgar Olivas,

Malaina Ortiz, Emma Partin, Ramona Pokrajac, Rafia Qureshi, Nataly Rios, Jordyn Ross, Emma Sass, Landon

Uelman, Luke Vancura, Chayah Washington, Diamond Wyre, Filip Zawodniak.

Sophomores –Africa Alejo, Omar Angulo, Adam Brandt, Wyki Coles Jr., Julia Danko, Razan Darhamad, Alexis

Delgado, Jacob Diaferio, Ukefi Enyinnaya, Edwyn Farias Nunes, Ronald Felder Jr., Embela Gashi, Isabelle

Gilbert, Joel Gomez, Payton Gonzalez, Adamaris Gonzalez Zuleta, Peyton Grenda, William Gumber, Feliciano

Guzman, Ahmad Hadad, Julian Hernandez, Osvaldo Hernandez, Ismael Herrera Jr., Brandon Holland, Jan

Jablonski, June Jones, Ryan Justin, Kayla Konopasek, Benjamin Lopez, Stacey Massey, Sandra Medina, David

Mendia, Cedrick Miller, Alexandria Mirabella, Reem Naser, Anthony Nicolas, Natalie Phan, Alfred Radz, Emma

Rodriguez, Sascha Rubens, Noah Rubio, Allesandra Sanchez, Abigail Santillan, Sara Sapit, Jack Siriann, Dylan

Stevens, Gracie Stevens, Kennedy Townsen, Naphis Valle, Xavier Velazquez Aburt, Enjoli Villarreal, Karrington

Wreza.

Juniors – Matalyn Alvarado, Mohamed Bajes, Jennah Ballout, Mazin Banimineih, Adam Banis, Emma Banis,

Alyssa Bronkala, Gelisa Burns, Katherine Cain, Amaya Carrero, Kentrell Carson, Alan Catalan, Emmanuel

Caxton Idowu, Dylan Cervantes, Ariana Chavez, Ashley Cole, Alejandra Davila, Brian Fuller Jr., Amanda Garcia,

Lilianna Gaytan, Janice Gbedo, Nicholas Giuseffi, Ryan Gregory, Lysa Guerrero, Alejandro Gutierrez, Dion

Gutierrez, Naseem Haleem, Raymond Hammerschmidt, Andrew Healy, Vanessa Hernandez, Eric Hornik,

Brian Kaptur, Julian Kosinar, Noah Krastin, Miftar Kuqo, Jakub Kusper, Cameryn Landers, Katherine Las

Cola, Piotr Maciorowski, Gannon Marin, Jonathan Marquez, Matthew McGlynn, Rylee Moar, Richard

Molony, Alexandra Moralez, Ryley Oganovich, Manuel Orozco, Francesca Paladin, Kaylie Pegues,

Elena Popovic, Chester Zam Riconalla, Ismari Rodriguez, Isabel Roman, Aidan Rubio, Ilir Shala,

Omar Shehadeh, Kassandra Shepherd, Rama Shuqeir, Carter Sima, Lauren Sinisi, Katie Smith,

Zander Soltysiak, Dina Stavrakis, Amanda Taglieri, Miyanna Tate-Vaughn, Cindy Trybunia, Camiron

Witkowski, Brandon Witzel, Liam Zaker.

Seniors – Mahmoud Alramahi, Julissa Anaya, Jennifer Arreola, Marra Bell, David Blanco, Makila

Byrd, Ayanna Campbell, Ava Campins, Brandon Cano, Tiffani Carlsen, Julian Carmona, Julianna

Castro, Lavonta Cobbs-Brown, Christopher Coleman, Maya Conners, Jaiden Constantino, Isela

Enriquez, Jack Evoy, Madeline Feldner, Brooke Figueroa, Gillian Figueroa, Sebastian Fitzpatrick,

Madelyn Ford, Paul Garza, Alessandra Gonzalez, Zariah Grayson, Stephen Harper, Kaitlyn Herrera,

John Hogan, Samuel Hrycaj, Charlye Hunt, Lidia Jablonski, Joshua Jones, Robert Jones, Ricky

MYCHAL J. TOSCAS

BROKER

15812 S. Wolf Road

Orland Park, IL 60462

708.431.3111

Fax 708.361.9618

Life-long Crestwood

Resident

E-Mail mtoscas@c21affiliated.com

February 2022 Number 539 Crestwood Adviser 9

Shepard Announces Honor Roll for First Semester

Kehoe, Marius Kerulis, Julianna Krzystyniak, Veronika Kusper, Kostandino Latka, Dominic Leon, James Liapis, Mason

Lietz, Reaghan McCarthy, Kaitlyn Mentz, Marisa Mercado, Giselle Montes, Keenan Moore, Bartholomew Myrda,

Marisa Pavoni, Byron Paxton, Kevin Plascencia, Amina Qureshi, Jerrel Reyes, Augustus Riconalla, Leah Rizzo, Matthew

Rodriguez, Danielle Sears, Braiden Sheehan, Madison Spass, Taylor Sprenkle, Christopher Stamos, Madison Stromsky,

Michael Tieri, Justine Trybunia, Nicholas Turner, Caitlin Tymm, Victoria Vinson, Roy Williams III, Megan Wilson,

Jamille Younger.

Honor Roll

Freshmen – Mario Acosta, Casey Adcock, Luai Albukaai, Derek Almonaci, Cesar Alvarado, Aritzel Alvarez, Anyae

Amariel, Kamil Antolak, Nicolas Arellano Landin, Hannah Brancato, Carlos Castillo, Adrian Chlebek, Kameron Cleveland,

Zion Coles, Alan Cortes, Thomas Curran, Luz Diaz Santoyo, Brianna DiFoggio, Tristan Galvez, Bianca Gandarilla, Nicholas

Gilhooly, Jackson Glaz, Isabella Gonzalez, Jae Hatchett, Celeste Hernandez, Arthur Irvine Jr., Zy'anna Jones, Nicholas

Kiebles, Adam Klikuszewski, John Lonosky, Jazlynn Lopez, Gianna Lozano, Leonardo Manzo, Andy Martinez, Jamie

McCarthy, Breunna McCutcheon, Jazmin Mendoza, Diane Merrity, Gabriela Moran, Damien Nava, Mariah Nevarez, Isaac

Orona, Kyan Owokoniran, Trinity Phillips, John Piana, India Pickett, Justyn Ponce, Jeremiah Porter, Cameron Quijano,

Ahmir Regulus, Bianca Rodriguez, Oscar Salinas, Muhammad Siddiqui, Gianna Sima, Conner Statham Ball, Conor

Steele, Amari Story, Peter Terry, Jamaia Thompson, Cynthia Tule, Arielle Tyson, Ricardo Uribe, Miroslava Vargas, Alanie

Velazquez, Anthony Wallace, Ewelina Wieczorek, Drumeka Wigfall, Evie Wrobel, Jenna Zayed.

Sophomores – Ahmad Abusafa, John Anthony Alvarado, Alexis Alvarez, Gavin Anderson, Candice Armwood, Brandon

Bello Crosley, Corinthian Briggs, Margie Bueso, Shaniece Bynum, Jabari Byrd, Javier Cano, Cristian Chavez, Amire

Cherry, Frank Criddell, Deja Culpepper, James Daniels III, Kylah Davis, Yaritza Delgado, Jakub Domaleczny, Taylor

Figueroa, Addison Furneaux, Ariana Galindo, Marco Gamboa, Davon Geiger, Kacper Gronski, Kiara Harper, Tracy Harris

Talbert, Jordan Haskett, Johnette Haskins, Omran Hazim, Cameron Hermanson, Jessica Holmes, Euniyah Howard,

Mariah James, Karolina Kisielewski, Brian Klikuszewski, Azalea Kozlowski, Sarah Kreamalmeyer, Peter Lehotsky, Kevin

Lejeck III, Anastasia Lunaburg, Carlos Martinez, Sara Martinez, Myles McDade, Alyssa McNeilly, Angel Miramontes,

Oscar Montiel, Vicente Moore, Devontrae Mosby, Israel Munoz, Liani Munoz, Aya Mustafa, Troy Myers, Rafael Nevarez,

Brooke O'Leary, Julianna Olivas, Thomas Paladin, Victoria Panici, Mit Patel, Stanley Plaza, Seth Quinlan, Victor Romo

Tenorio, Ignacio Salas, Jonathan SantaCruz, Olivia Scott, Brooklynn Sedlak, Curtaveon Sharp, Cassandra Shaughnessy,

Jamie Sheppard, Louis Smith, Aaliyah Spruiel, Danielle Stahl, Lily Stamos, Dylan Tracy, Aiyana Velasco, Gabrielle Wilson,

Alison Zable, Jack Zec.

Juniors – Alexia Acosta, Alexis Aguirre, Shayma Akarah, Karam Alhourani, Jacob Barden, Colin Berg, Alexander Bernsee,

Ivori Bowens, Amarion Brown, Probie Brown, Dominick Callahan, Antonio Canela, Donny Cardenas, Miranda Chacon,

Ava Corsi, Haroon Damra, Amaree Davis, John DiFoggio, Yamaja Echols, Abdelrahman Fahmi, Kayla Fitzpatrick, Kaitlyn

Flutman, Jahday Garrett, Bryan Gonzalez, Michael Gory, Kieran Haak, Jacob Hamid, Jabari Harvey, Olivia Hewson, Ryan

Hogan, Mariah Ingram, Matthew Jasudowicz, Arianna Jentel, Kabral Jordan Jr., Dominic Karkoszka, Rachel Kozicki,

Gabriela Leja, Jada Lockett, Jenna Longawa, James Lopez, Angelina Lozano, Benjamin Macovei, Julian Madera, Dzariya

McIlvaine, Bernardo Montiel, Kayla Nelson, Nina Nero, Deon Newton, Kayden Porter, Aeriana Rios, Kylan Rogers,

Christian Ross, Juliana Rubio, Adrian Samson, Julian Sanchez, Haylee Schaer, Caitlyn Schnur, Samuel Scoigletti, Andrew

Sima, Andwele Smith, Paul Smith, Jessilyn Sparks, Sarah St Clair, Victoria Swiatek, David Todd Jr., Faye Tovera, Hamiley

Truty, Elijah Tyson, Jaielle Tyson, Nicholas VanWitzenburg, Jarely Vergara, Felix Yance, Abdulla Zatar.

Seniors – Ameer Abusalim, Anthony Acosta, Mohammed Alasri, Angelina Alexander, Julia Antolak, Tamara Ashkar,

Sara Bahri, Phillip Barnes, Alan Barrera, Daniel Boudreau, William Brandt, Nikolai Bucio, Magdalene Burns, Katelyn

Cagney, Alexis Carbajal, Christopher Chapa, Noelle Chase, Emily Dominguez, Morgan Elliott, Johany Enriquez, James

Fehil, Andrew Furneaux, Katarzyna Geraszek, Ally Gillono, Giovanni Gomez, Serai Graves, Kamari Gray, Aniyah Griffin,

Pablo Guerrero, Jaime Herrera, Ja'Vone Ivy, Mackalynn Jarosz, Courtney Jatho, Angelyse Jones, Andrew Krzyzaniak,

Jaden Kuliczkowski, Nicholas LaRocco, Dan Leonard, Brandom Mencos, Nicholas Moran, Prince Nathaniel, James Panici,

Paresha Parker, Carlos Perez, Yousef Rashid, Taurean Rideau, Brooklyn Rodgers, Jeremy Rowlett, Omar Salem, Metztli

Salgado, Earlex Samson, Brittany Scott, Justin Scott, Jyrah Scott, Whittany Scott, Isabela Silva, Alana Smith, Wiktoria

Styrnik, Brianna Sweas, Chanel Talbott, Roselyn Torres, Heidi Venegas, Elise Werner, Berenice Zavala, Michelle Zelinski.
---
you are unable to attend a trip that you have paid

If

you will have the option to try and find someone

for,

there is a waiting list, you will not need to

**Unless

a replacement, and you will be issued a

find

is in place because we have to pay the facility's

This

prior to our trip. Which means they are paid

fees

in advance and your seat has already been

well

filled.

ask that all trips are paid 2 weeks prior to the

We

Someone from our office will contact you if you

trip.

10 Crestwood Adviser February 2022 Number 539

BIELA CENTER

4545 Midlothian Turnpike - Crestwood, IL

CALENDAR: FEBRUARY 2022

For more Information

708-371-4800 Ext: 6002

MONDAY, WEDNESDAY, FRIDAY | Fitness from 11am-12pm

TUESDAY | Bingo at 1pm

FRIDAY | Bingo at 1:15pm

Monday Tuesday Wednesday Thursday Friday

1 Bingo 12PM-3PM 2 Chair Fitness

Line Dance Lessons

3 4

Lunch Roast Beef Sandwich

11AM-12PM

Senior Club 12:15PM

1PM-2PM

Knit Wits

10:30 am-12:30 pm

Mexican Train 1-3 pm

Bunco 2-4 pm

Chair Fitness

11AM-12PM

Bingo 12:15PM

Lunch Chicken & Dumplings

7 Chair Fitness 8 Bingo 12PM-3PM 9 Chair Fitness 10

Line Dance Lessons

11

11AM-12PM

14 Chair Fitness 15 16 Chair Fitness 17 18

11AM-12PM

Lunch Taco Tuesday

Bingo 12PM-3PM

Lunch Cheese Ravioli

11AM-12PM

11AM-12PM

Senior Club 12:15PM

1PM-2PM

Knit Wits

10:30 am-12:30 pm

Mexican Train 1-3 pm

Chicago Crime Tour

8:30 am - 3:30 pm

Line Dance Lessons

1PM-2PM

Knit Wits

10:30 am-12:30 pm

Mexican Train

1-3 pm

Chair Fitness 11AM-12PM

Lunch Beef Stew

Bingo 12:15PM

Chair Fitness 11AM-12PM

Lunch Baked Pork Chop

Bingo 12:15PM

Line Dance Party

6:30PM-10PM

Bingo 12PM-3PM

Chair Fitness

Line Dance Lessons

21 22 23 24 25

President's Day

CLOSED

Lunch Chicken Bacon

Ranch Pasta

11AM-12PM

Evita

10AM-4PM

1PM-2PM

Knit Wits

10:30 am-12:30 pm

Mexican Train 1-3 pm

The Four Winds Casino

9:30 am - 4:30 pm

Chair Fitness 11AM-12PM

Lunch Chili with Hot Dog

Bingo 12:15PM

28

Chair Fitness

11AM-12PM

Look What's Cooking!!!

Tuesday, Feb. 1st: Roast Beef Sandwich

Friday, Feb. 4th:

Chicken & Dumplings

Tuesday, Feb. 8th: Taco Tuesday

Friday, Feb. 11th: Beef Stew

Tuesday, Feb. 15th: Cheese Ravioli

Friday, Feb. 18th: Baked Pork Chop

Tuesday, Feb. 22nd: Chicken Bacon

Ranch Pasta

Friday, Feb. 25th: Chili with Hot Dog

Pop is $.50 and Water is $1.00; please pay before grabbing your lunch.

Lunches are $5.00, served Fridays to 12:15pm, Tuesdays is 12pm. Bingo

played 1:00-3:00pm. Reservations must be made a week in advance — NO

EXCEPTIONS! All lunches are served with dessert. Reservations must be

made one week in advance. For cancellation, call 708-371-4800 Ext: 6002.

REMINDER REFUND POLICY

We would like to remind everyone about our

The Biela Center will be closed on Monday, February, 21 st

in observance of President's Day

No Refunds Policy.

to take your place.

refund**

No refunds will be given otherwise.

have not paid by the 2 week deadline.

If you have any questions, please call Ashley at

708-371-4800 Ext: 6002
---
into Chicago's underworld on a crime and mob tour with stops on-and-o f the

Escape

climate-controlled bus. Walking tour paths explore historic crime scenes with

luxury,

photo opportunities. True crime stories about Chicago Gangster Al Capone, The

great

The Chicago Mob, Prohibition, John Dillinger, Frank "The Enforcer"

Untouchables,

Cap George Streeter, Leopold & Loeb, H.H. Holmes & more. Visit historic

Nitti,

buildings: Biograph Theater, Holy Name Cathedral, Cook County Criminal

landmark

Harry Caray's Italian Steakhouse, etc. Tour famous Chicago

Courthouse,

Streeterville, River North, Gold Coast, Lincoln Park, Old Town, Loop

neighborhoods:

Magnificent Mile. Locals and tourists agree that this educational and entertaining

and

to do in Chicago is a unique cultural experience.

thing

January 3rd, 2022, guests 5 years of age and older are required to

Beginning

proof of COVID-19 vaccination.

provide

of vaccination card, digital record or app-printed record from

Photocopy

provider

vaccine

will start off by enjoying a marvelous tour of the historic Rialto

We

Theatre then return to the Rotunda for a delicious

Square

Then we will complete our experience with a mini-concert on

lunch.

world renowned Barton Grande Theatre Pipe Organ.

the

includes: Transportation, Theater Tour, Lunch & Organ

Cost

Concert.

your cowboy boots, cowboy hats and come on down to

Grab

Scootin' Boogie the night away!

Boot

on true events, Evita tells the story of Eva Perón's rags-to-ri ches life as she goes

Based

poor provincial child to First Lady of Argentina. A champion of the working-class

from

she uses popularity and politics to serve her people —and herself.

descamisados,

some of Tim Rice's and Andrew Lloyd Webber's most iconic songs, including

Featuring

Cry for Me, Argentina," this musical masterpiece won seven Tony Awards,

"Don't

Best Musical and Best Original Score. The 1996 film adaptation was

including

DATE: Wednesday, February 23, 2022

Lunch: Chicken Breast, Pork Medallions or Vegetable Kabob

Cost: $89.00 includes Theater tickets, Coach Transportation and Lunch

has presented our community with many complex challenges that we each manage on a

COVID

personal level. To ensure the safety and to uphold the individualized care of all our guests,

very

coverings are required for every guest age 2 or older when inside Drury Lane facilities.

Face

coverings are to be worn over the nose and mouth. They may be removed temporarily

Face

Drury Lane Productions employees are required to be fully vaccinated, and we regularly test

All

artists and staf to ensure their safety and yours. Our facility is cleaned and sanitized on a

our

appreciate your understanding and cooperation as our dedicated staf f work to create an

We

in which you are comfortable and can relax and enjoy amazing food, excellent

environment

is, as of May 27,2021, a message from the FourWinds Casino Shuttle. We have moved

This

the CDC recommendation on masks, so anyone who is vaccinated does not have to wear a

to

This will be done on the honor system as no checks will beperformed. We will still be

mask.

temperatures be taken before coming out to the casino.

requiring

Includes: $15.00 Instant Slot Credit, Up to $10 Food Credit that can be

Cost

toward the following food outlets: The Buffet, Timbers Fast Food & Deli,

used

Name:

Full

Address:

& State:

City

DOB:

on Fire ~ October 8, 1871

City

busy streets were taken over by flames for three days, overwhelming a city built of wood

Chicago's

causing severe destruction. After the fire died, recovery efforts exposed deep social and

and

inequalities when more than 100,000 people became homeless, and society placed blame

economic

the Irish immigrant O'Leary family. The devastation also sparked change and regrowth in

upon

by introducing new fire safety guidelines and rebuilding as the resilient city known today.

Chicago

hundred and fifty years later, City on Fire: Chicago1871 guides visitors through the crucial

One

and conditions before, during, and after the fire — many of which draw striking comparisons

events

today's social climate. This family-friendly exhibition features more than 100 artifacts from the

to

History Museum's collection, interactive and multimedia elements, and personal stories

Chicago

9:30am

Depart:

5:00pm

Return:

$70.00

Cost:

is due: April 8, 2022

Payment

choose what you would like for lunch:

Please

sandwiches include homemade chips, medium chef's choice cookie, soft drink or water .

All

Coast Veggie: Grilled Artichoke hearts, roasted bell peppers, sundried tomatoes, pesto,

Gold

provolone cheese, on tomato focaccia.

spinach,

Drive Tuna: Homemade Tuna salad, Cheddar Cheese, Lettuce, Tomato, on

Lakeshore

Croissant.

Side Turkey:Oven Roasted Turkey Breast, Smokehouse bacon, Avocado, Lettuce,

North

Mayonnaise, on multigrain.

Tomato,

February 2022 Number 539 Crestwood Adviser 11

WITH CERTIFIED INSTRUCTOR DIANA ESPARZA

FRIDAY NIGHT LINE DANCE PARTY!

Boot Scootin' Boogie!

We offer Line Dancing lessons on Thursdays!!

Date: Friday, February 4th &18th

February 3rd, 10th, 17th, & 24th

Time: 6:30pm-10:00pm

Time: 1:00pm- 2:00pm

Location: Biela Center

MONDAYS, WEDNESDAYS, & FRIDAYS

Location: Biela Center

4545 Midlothian Turnpike Crestwood IL

4545 Midlothian Turnpike Crestwood IL

11:15 AM- 12:00 PM

Cost: $5.00 per person

Cost: $20.00 for the month

$2.00 per class

***Enter through the back door entrance

***Enter through the back door entrance***

No Class on Monday, February 21, 2022

To reserve your spot please email:

THE BIELA CENTER

To reserve your spot please email:

LDAlearntolinedance@gmail.com

4545 MIDLOTHIAN TURNPIKE

LDAlearntolinedance@gmail.com

Men, Women, Guests of ALL AGES are welcome

CRESTWOOD, IL 60418

Men, Women, Guests of ALL AGES are welcome

All CDC COVID-19 guidelines are being followed.

708-371-4800 EXT: 6002

All CDC COVID-19 guidelines are being followed.

EVITA

CHICAGO CRIME TOUR

The Four Winds Casino

There is still a guideline we will have to follow. (This may change closer to our trip.)

Masks must be worn on the bus traveling to the casino.

for five Academy Awards, winning for Best Original Song.

nominated

New Date!!

Date: Thursday, February 10, 2022

Date: February 24, 2022

Depart: 8:30am

Depart: 9:30am

Please choose what you would like for lunch.

Return: 3:30pm

4545 Midlothian Turnpike Crestwood, IL 60418

Cost: $100

Must be paid in full by February 9, 2022

Time: 10:00am-4:00pm (Bus departs at 10:30am)

Cost includes: Transportation, Crime Tour, & Pizza Lunch

Return: 4:30 pm

Cost: $30.00 per person

Payment is due: Thursday, January 27, 2022

Call Ashley or Cindy to reserve your spot: 708-371-4800 Option #6

Call Ashley or Cindy to reserve your spot: 708-371-4800 Option #6

No refunds. You may transfer your seat to another person.

refunds, you may transfer your seat to another person.

No

Drury Lane- Covid-19 Policy

Grab N Go, Kankakee Bar & Grill.

●

COVID-19 GUIDELINES & TOUR PROCEDURES

Masks are required inside and on the bus. Please bring your own.

●

we adhere to the mandates by the CDC and State of Illinois.

Any questions please call Ashley 708-371-4800 EXT: 6002

Eating or drinking is not allowed on the bus.

●

If you would like to attend, please fill this out and return to Ashley.

while seated and dining in Lucille, or while enjoying a drink in The Lounge.

Valid proof of vaccination includes:

o Valid photo ID (age 16+)

o

regular schedule following CDC guidelines to assure a safe, clean environment for all.

Vaccination card

o

As of June 9, 2021 there will be a fee of 2.95% when using a credit card.

All other items being paid using a credit card, debit card or e-check will incur a 2.95% processing fee

(minimum of $1.95), assessed by Invoice Cloud, the Village of Crestwood's electronic payment processing

vendor.

and outstanding live entertainment.

service

As of June 9, 2021 there will be a fee of 2.95% when using a credit card.

All other items being paid using a credit card, debit card or e-check will incur a 2.95% processing fee

(minimum of $1.95), assessed by Invoice Cloud, the Village of Crestwood's electronic payment processing

vendor.

W- Club Card:

Current

As of June 9, 2021 there will be a fee of 2.95% when using a credit card.

All other items being paid using a credit card, debit card or e-check will incur a 2.95% processing fee (minimum

of $1.95), assessed by Invoice Cloud, the Village of Crestwood's electronic payment processing vendor.

Join Us!!

Do you like to play pinochle? Not sure how, but would like to

learn? Join us at the Biela Center!

Call Cindy at 708-371-4800 Ext. 6001, or Ashley at Ext. 6002

for more information.

Did you know the Biela has a pool table? Gather your friends

and drop in to play!

Senior Exercise Class

With certified instructor Rita Langer

8 classes for the month of February at $40

Tuesdays and Thursdays, 9:15am – 10:15am

Class Dates: February 1, 3, 8, 10, 18, 15, 17, 22 and 24

Please register and pay before the start of the first class by visiting us at:

Biela Center

4545 Midlothian Turnpike

Crestwood, IL 60418

Should you have any questions, please call 708-371-4800

Motivation is what gets you started. Habit is what keeps you going.

Are you looking for more ways to have fun, win some

prizes, and love to play Bunco?

The Biela Center has started hosting Bunco on the First

Thursday of every month, from 2pm-4pm.

Admission will be $5.00 every time in order to win select

prizes. We hope to see you there!

Please contact Ashley with any questions @

~ 708-371-4800 EXT: 6002 ~

Biela Center: 4545 Midlothian Turnpike Crestwood, IL

Let's Roll!

Bunco Players have talent. They can roll dice and talk at

the same time.

Rialto Square Theatre

Blue Chip Casino

from survivors of the fire.

Back by popular demand!!

We are heading back to The Blue Chip. The Blue Chip is

back to welcoming groups, they just no longer give group

incentives.

Date New

April 21, 2022

Date:

Wednesday, March 9, 2022

Date:

9:30am

Depart:

4:00pm

Return:

$70.00

Cost:

Payment is due: February 28, 2022

Ashley or Cindy to reserve your spot: 708-371-4800 Option #6

Call

refunds. You may transfer your seat to another person.

No

Date: Thursday March 24, 2022

Depart: 9:30am

Return: 4:00pm

Cost: $30.00

Cost includes: Transportation

Payment is due: Thursday March 10, 2022

Call Ashley or Cindy to reserve your spot 708-371-4800 Option #6

No refunds, you may transfer your seat to another person.

Cost includes: Transportation, Admission & Lunch

Street BLT: Applewood-Smoked Bacon, Lettuce, Tomato, Mayonnaise, on White

Clark

Bread.

Ashley or Cindy to reserve your spot: 708-371-4800 Option #6

Call

refunds. You may transfer your seat to another person.

No

As of June 9, 2021 there will be a fee of 2.95% when using a credit card.

As of June 9, 2021 there will be a fee of 2.95% when using a credit card.

Name:

Phone Number:

All other items being paid using a credit card, debit card or e-check will incur a 2.95% processing fee

(minimum of $1.95), assessed by Invoice Cloud, the Village of Crestwood's electronic payment processing

vendor.

All other items being paid using a credit card, debit card or e-check will incur a 2.95% processing fee

(minimum of $1.95), assessed by Invoice Cloud, the Village of Crestwood's electronic payment

processing vendor.

As of June 9, 2021 there will be a fee of 2.95% when using a credit card.

All other items being paid using a credit card, debit card or e-check will incur a 2.95% processing fee (minimum of $1.95),

assessed by Invoice Cloud, the Village of Crestwood's electronic payment processing vendor.
---
12 Crestwood Adviser February 2022 Number 539

IN SHEPARD SPORT NEWS

Shepard High School senior Tyler Bartczak signs to play baseball for

Concordia University-Wisconsin.

Shepard Senior Signs With

Concordia-Wisconsin

Shepard High School senior Tyler Bartczak has signed a National

Letter of Intent to play baseball for Concordia University-

Wisconsin.

"Everyone at Shepard is proud of you and wishes you the best,"

said varsity baseball head coach Frank DiFoggio. "Concordia-

Wisconsin, you are getting a fine young man."

Fifty Shepard

Students Qualify

as A.P. Scholars

Shepard High School proudly announces

that 50 of its current students or May

2021 graduates qualified as Advanced

Placement Scholars.

The College Board's Advanced Placement

program offers students the opportunity

to take challenging, college-level courses

while still in high school, and to receive

college credit, advanced placement, or

both for successful performance on AP

exams.

The College Board honors outstanding

performances on AP exams with several

levels of recognition. The following

students received recognition as A.P.

Scholars.

A.P. Scholar (scores of at least 3 on

three or more exams) – Ali Abdelrahman,

Mohammed Alramahi, Julia Alvarez,

Anthony Baffi, Natalia Bafia, Saniah

Calvin, Cristian Crofton, Stephanie Cuzco,

and Katherine Davila.

Also, Abderrahmane Elhoumaidi, Margaret

Evoy, Luis Gomez, Roxanne Habbal, Lillian

Hogan, Meadow Homa, Abigail Horton,

Lilly King, Daniel Kleina, Julianna Knies,

Celestia Martinez, Megan McGrath,

Abigail Michaels, Konrad Mierzejewski,

Gabriella Nimon.

Shepard High School proudly announces

that 50 of its current students and May 2021

graduates qualified as Advanced Placement

Scholars. Pictured are the current students

honored by the College Board for their performance

on AP exams.

Also, Natalie Nowak, Henish Patel, Jared

Puente, Alexa Ramirez, Alejandro Ruiz,

Adam Sada, Frandesca Serdar, Gianna

Spain, Mary Stepuszek, Gianna Vancura,

Olivia Wasag, Ella Wegrzyn, John

Zablotny.

AP Scholar with Honor (average score

of at least 3.25 on all exams, scores of 3

or higher on at least four exams) – Ashley

Miller, Omar Talaat, Anthony Velez.

AP Scholar with Distinction (average

score of at least 3.5 on all exams and

scores of 3 or higher on five or more) –

Kaitlyn Begley, Leah Bylut, Joseph Cinkus,

Eva Kozlowski, Linnea Marsh, Jessica

Marszalek, Meagan Ruger, Colton Sterling,

Abdulkareem Zatar, Alison Zemeckis.

More than 1,400 institutions award a

full year's credit (sophomore standing) to

students presenting a sufficient number of

qualifying grades.

The varsity cheerleaders from Shepard High School won 1st Place

at the South Suburban Conference tournament on Saturday, Jan. 22.

Felicia Marr coaches the team.

Shepard Cheer

Sweeps Conference

The varsity and junior varsity cheerleaders from Shepard High School

both won their South Suburban Conference championships hosted by

Reavis High School on Saturday, Jan. 22.

The Astros have produced a memorable season so far. Varsity won 1st

Place at the Lincoln-Way East and Andrew invitationals in December,

while JV also won 1st Place at Andrew.

Felicia Marr serves as head coach of varsity and Cecelia Welker as head

coach of junior varsity.

The junior varsity cheerleaders from Shepard High School won 1st

Place at the South Suburban Conference tournament on Saturday,

Jan. 22. Cecelia Welker coaches the team.

Astros Pledge

to 'Level Up'

During AP Rush

Although second semester had only just

started, staff members from Shepard High

School already asked students to consider

embracing bigger challenges for the next

academic year.

Through AP Rush, counselors and teachers

encouraged students to embrace the

rigor of honors, dual credit and Advanced

Placement courses.

In part, the campaign aspired to change

attitudes about taking on tougher classes.

Staff also designed AP Rush as a reminder

of the college credit opportunities of both.

AP Rush activities included teachers

recommending students for tougher

classes, students signing pledges during

lunch periods to enroll in honors, AP and

Assistant Principal Andrew Deines, teacher

Frank DiFoggio, and counselor Aminah Garcia

talk with Shepard High School students about

the benefits of embracing academic challenge

and enrolling in honors AP, and dual credit

courses for the 2022-2023 academic year. It

was part of the AP Rush campaign.

dual credit classes, and currently enrolled

AP students speaking to younger students

about the benefits of such classes, time

management, the amount of work

involved, and anything else they wanted to

know.

Currently enrolled AP students also

received T-shirts to wear as a show of

celebration for their efforts.

For more than a decade, Shepard and

District 218 overall have set new records

in AP enrollment, national exams passed,

and nationally recognized AP Scholars.

They also earn more dual credits than any

other high school district in the Moraine

Valley Community College attendance

area.
---
February 2022 Number 539 Crestwood Adviser 13

February Adult Programs

February Adult Programs

Adult Take & Make Valentine Craft Kits

Valentine Adult Lantern Take - Available & Make Valentine Monday, February Craft Kits7, 2022

A limited number Valentine of kits Lantern will be - Available available Monday, at the Front February Desk 7, 2022 while supplies last.

A limited number of kits will be available at the Front Desk while supplies last.

Stampin' Up Card Class!

e your own one-of-a-kind themed greeting cards! Limited Stampin' seating is Up available Card Class! in order to safely accommodate our patrons. If you're interest

joining Create your own in-person one-of-a-kind demonstration, themed greeting please cards! call Limited (708) seating 371-4090, is available or in visit order the to safely Front accommodate Desk to register. our patrons. Cost If is you're $5 interested per person. in

joining Monday, our in-person February demonstration, 14, 2022, please at 6:00pm. call (708) 371-4090, Face Masks or visit the will Front be Desk required to register. by all Cost who is $5 attend. per person.

Monday, February 14, 2022, at 6:00pm. Face Masks will be required by all who attend.

Adult Book Club

Join us on the first Wednesday of the month at Adult 6:30pm Book for our Clubpatron run book club! Read new or old favorites, and meet so

new friends! Title suggestions Join us the first are always Wednesday welcome. of the month Our at February 6:30pm for our Book patron Club run book will club! meet Read on Wednesday, new or old favorites, February and meet 2, some 2022, at 6:30p

new friends! Title suggestions are always welcome. Our February Book Club will meet on Wednesday, February 2, 2022, at 6:30pm

Scrabble Club

p by the library to join a game of Scrabble and meet some new Scrabble folks! (In-Person Club Program) Saturday, February 19th, 10:30am- 12:30p

Stop by the library to join a game of Scrabble and meet some new folks! (In-Person Program) Saturday, February 19th, 10:30am- 12:30pm

Needles & Yarn Knitting Club

Bring your knitting, crocheting, or sewing

Needles

projects

& Yarn

to the

Knitting

library and

Club

make some new friends while working!

Bring your knitting, Monday, crocheting, or February sewing projects 28, 6:30pm to the library (In-Person and make some Program) new friends while working!

Monday, February 28, 6:30pm (In-Person Program)

Chicago's Yesteryear

Historian Jim Gibbons will bring back all the fun and excitement Chicago's of the Yesteryear Chicagoland area past-- the theaters, museums, amusement parks,

Historian Jim Gibbons will restaurants, bring back all local the fun celebrities, and excitement television of the Chicagoland shows and area much, past-- the much theaters, more! museums, amusement parks,

Monday, restaurants, February local celebrities, 21st, television 6:00pm shows (Virtual and much, Presentation)

much more!

Monday, February 21st, 6:00pm (Virtual Presentation)

Illinois Libraries Present: An Evening with Jasmine Guillory

n us for a lively evening with one of romance's

Illinois Libraries

brightest

Present:

new voices,

An Evening

bestselling

with

author

Jasmine

Jasmine

Guillory

Guillory, as she discusses her newest nove

Join us for a lively evening with one of romance's brightest new voices, bestselling author Jasmine Guillory, as she discusses her newest novel,

While We Were Dating, and the modern rom-com.

While We Were Dating, and the modern rom-com.

Wednesday, February 16th, 7:00pm (Virtual Presentation)

Wednesday, February 16th, 7:00pm (Virtual Presentation)

February Library Events for Families and Youth
---
14 Crestwood Adviser February 2022 Number 539

Mr. Plumbing has

been a part of this

great community for

42 years!

Moraine Valley COVID-19 Testing

Sites Open to Community

Community members can get tested for COVID-19 at Moraine Valley

Community College. The Reverse Transcription Polymerase Chain Reaction (RT-

PCR) saliva test is being administered on the main campus in Palos Hills and at

the extension sites in Blue Island and Tinley Park. Testing is free.

Testing hours are as follows:

• Palos Hills campus, 9000 W. College Parkway, Fogelson Theater Lobby

in Building T: Mondays, Thursdays and Fridays, 9:00am. to 4:00pm, and

Tuesdays and Wednesdays, 9:00am to 6:30pm.

• Education Center at Blue Island, 12940 S. Western Ave.: Tuesdays, 9 to 11

a.m., and Wednesdays, 4:00-6:00pm.

• Southwest Education Center, 17900 S. 94th Ave., Tinley Park: Mondays,

9:00am to noon; and Tuesdays, 5:00 to 7:00pm.

Help us to give back to that community! We are

collecting non-perishable food donations in our

showroom to be distributed to Operation Blessing.

Operation Blessing is a not-for-profit food pantry

that has been serving our community since 1982.

We are located at:

14024 S. Cicero Ave. in Crestwood

(708) 385-8607

Appointments are not being taken; simply walk in to get a test. Individuals must

bring with them a valid picture ID and health insurance card (if they have health

insurance). Results will be sent to the email address provided at registration

within 12 to 24 hours of taking the test.

Masks are required inside all college buildings regardless of vaccination status.

Guests also should maintain social distancing while on campus.

JOB LISTINGS

MANAGER – BEGGAR'S PIZZA, HARVEY

We are looking to hire a hardworking, self-motivated

and high-energy individual. The manager must work

well under pressure, be organized, flexible, selfmotivated,

reliable and willing to work long hours,

nights and weekends.

ROLES & RESPONSIBILITIES:

• Manage overall operations under the guidance of

the owner

• Ensure excellent customer service

• Hire, train and supervise restaurant employees

• Create staff schedule to ensure appropriate staffing

• Track stock levels of food, supplies and equipment,

forecast needs, and oversee ordering as necessary

• Take ownership of budgets and cost control

methods to minimize expenses

• Address customer needs, comments and

complaints

• Adhere to and enforce employee compliance with

health, safety and sanitation standards

• Ensure all employees are working within outlined

operating standards

• Report on financial performance, inventory and

personnel

MEDICAL ASSISTANT – ALZEIN PEDIAT-

RICS, EVERGREEN PARK

JOB DESCRIPTION

COME JOIN US!!

We are known for our culture of excellence and delivery

of unrivaled experience for our patients, their families,

and the communities we service. A Friendly Pediatric

Practice, with multiple locations in Oak Lawn, we are

looking for a friendly, outgoing and self-motivated

individual to join our team as a Medical Assistant. Our

ideal candidate is passionate about delivering quality

healthcare to children, and has a strong commitment

to customer service. They are eager to learn, and have

previous experience working in pediatrics. A high level

of personal accountability, responsibility and positivity

are a must. This position will require a variety of clinical

and administrative duties within a dynamic work

environment.

We ask that applicants are flexible, and available to

work evenings and weekends, on a rotating basis.

JOB RESPONSIBILITIES:

CLINICAL DUTIES

• Prepare patients for exams. Room patients, record

vitals, collect patient histories and screenings, in

accordance with practice guidelines.

• Accurately update and maintain patient

information within EMR system

• Administer vaccinations to patients aged

newborn-21 years, accurately documenting the

immunizations in EMR.

• Perform in-house tests and prepare specimens to

send to labs for testing when needed.

• Maintain exam rooms, ensuring supplies are

stocked daily.

• Communicate effectively with physicians and other

staff members in order to ensure an excellent level

of patient care.

• Support current organizational initiatives, and

exhibit creative and flexibility in times of change.

• Observe and maintain clinical policies and

procedures.

• Other tasks and duties as assigned.

FRONT DESK DUTIES

• Warmly greet patients.

• Perform all duties/functions of the Front Desk

including, but not limited to, checking patients

in/out, scheduling appointments, registering new

patients, processing paperwork and payments, and

maintaining patient flow.

• Answer phones consistently and politely, assisting

with patients' questions and concerns, directing

calls to appropriate departments when necessary.

(i.e. referrals, billing, etc.)

• Complete patient forms and requests in a timely

and accurate manner.

• Scan documents in the EMR system.

QUALIFICATIONS:

• Graduate of accredited Medical Assistant program.

Certificate required.

• High School Diploma (or equivalent).

• Current CPR Certification

• 1+ years of experience working in a pediatric

setting.

• Working knowledge of Medical Terminology

• EMR experience required. eClinicalWorks

experience preferred.

• Schedule Flexibility – Ability to work evenings and

weekends as scheduled.

• Experience and comfort in administering injections

for patients aged newborn-21 years old.

• Commitment to high levels of customer service and

patient care are REQUIRED.

• Strong communication skills.

• Excellent interpersonal and organizational skills

BENEFITS:

• 401(k) • Dental insurance • Health insurance • Life

insurance

MEDICAL SPECIALTY:

• Pediatrics

SCHEDULE:

• 8-hour shift • Day shift • Evening shift • Weekend

availability

EDUCATION:

• High school or equivalent (Preferred) • CMA /RMA

Job Type: Full-time

Pay: $18.00-$21.00 per hour

Please send resume to: Nwidlacki@alzeinpeds.com
---
FREE CLASSIFIED ADVERTISING FOR

CRESTWOOD RESIDENTS!

CRESTWOOD RESIDENTS

are invited to place free

advertisements in the

Crestwood Adviser.

Free classified ads are

offered to Village of

Crestwood residents only

and are limited to 20 words

or less and can include

information related to the

following items:

Garage Sales

Lost and Found

Large Appliances

Automobiles

Motorcycles

Boats and Trailers

NON-RESIDENTS AND

AREA BUSINESSES

can place classified

advertisements for goods

and services for just $5.00

for twenty words under the

following categories:

Garage Sales

Appliance and Electronics

Sales

Transportation

(Cars, Boats, Motorcycles)

Homes for Sale or Rent

Apartments for Sale

or Rent

Employment Openings

Jobs Wanted

To place your classified ad

call 708-293-1430

FEBRUARY CLASSIFIED

FOR SALE

Large snowblower, Ariens make. Used only once. Asking $700

OBO. Call (708) 389-9448.

FOR SALE

Business year-end close-out – watches & clocks. All kinds, all

prices. By appointment only. Call (708) 388-8845.

FOR SALE

Natural gas Weber grill – stainless steel, older style – $125. Call

(708) 560-6034.

FOR SALE

New Hamilton Beach juicer – $65. New Amazon Fire HD8 tablet

– $30. Assorted collector's Barbie dolls – $20 each. New smokeless

12" x 16" portable grill – $60. Call (708) 371-0619.

Dubin, Linda (nee Patno), Hill. Born in Fort Benning, Ga., on Aug. 22nd, 1945.

Passed 76 years young. Mother of Tim (Suzy), Jenny (Gary) and Jamie (Suzanne).

Wife of Ron Dubin. Nana to Oliver, Connor, Parker, Jacob and Tyler. Stepmother

to Matt, Brian and Bob Dubin. Step-grandmother to Amber, Erin, Alex, Gina and

Samantha Dubin. Avid South Side Cubs fan. Owner/proprietor of Heavenly Ceramics

and Crafts located in Midlothian, and later moved to Crestwood. Funeral services

were private. Arrangements entrusted to the Becvar & Son Funeral Home, 5539

W. 127th Street, Crestwood. For more information, call (708) 824-9000 or www.

becvarfuneralhome.com

Kairis Maher Evers, Catherine, of Crestwood, passed away on Sunday, Jan.

2nd, 2022, at the age of 73. Beloved mother of Ann (David) Scoigletti, Christopher

(Patricia Trail) Evers, and Ryan (Nicholas) Loxas. Loving grandmother of Lucas,

Sam, Sophie, Jessica (Ian), Nathan, Nick, Nolan, Finnegan, and Atticus. Cherished

great-grandmother of Amelia. Dear sister of Tony (Pam) Kairis, Tim Maher, and Bob

(Nancy) Maher. Visitation was private and held at the Becvar & Son Funeral Home. A

funeral Mass was held for all family and friends Jan. 7th at 11:00 A.M. at Incarnation

Catholic Church, 5757 W. 127th Street, Crestwood. Cremation private. For more

information, call (708) 824-9000 or www.becvarfuneralhome.com

Thoms, Ronald M., of Crestwood, passed away Saturday, Jan. 8th, 2022, at the

age of 60 years. Beloved husband of Susan, née Topp. Loving father of Colleen

(Timothy) Sliwa and Melissa Thoms. Cherished grandfather of Hailey, Lily and Zoey.

Dear brother of Mary, Jimmy, Brenda, Bradley, and the late Susan and Wayne. Fond

uncle and cousin of many. Visitation took place Wednesday, Jan. 12th, with an

evening chapel service at the Becvar & Son Funeral Home, 5539 W. 127th Street,

Crestwood. Cremation private. For more information, call (708) 824-9000 or www.

becvarfuneralhome.com

OBITUARIES

Crestwood's very own ongoing strip...

94 South by Jim McGreal

Fun & Entertainment *Sudoku

SUDOKU

Fill in the grid with digits in such a manner that every row,

every column and every 3x3 box accommodates the digits

HoDoKu - v2.2.0

1 – 9, without repeating any.

Easy (318)

4 1

8 2 4 5

2 6

4 3 1 6

9 7 6 4 1

1 5 8 9

9 2

9 5 1 6

8 4

CROSSWORD

1 2 3 4 5 6 7 8 9 10 11

1 2 3 4 5 6 10 11

February 2022 Number 539 Crestwood Adviser 15

DOWN

and Crossword Answers appear in next issue

JANUARY

Sudoku Solution

JANUARY

Crossword Solution

Solution:

S T A G S

HoDoKu - v2.2.0

A L B U M

12 13 14 15

1 122 3 4 13 5 146 7 8 15 9 10 11 DOWN 1 West

West

by T

by

north A N N I N P U E B L O

north

16 17 18

12 16 13 14 17 15 18

2 Like Like

a wing Y

wing

R P R O F W I N E S I

1 2 3 4 5 6 7 8

19 20 21 22

1 West 3 Band by 9 north instrument 10 11

19 20 21 22

Band instrument L S D E DOWN V I D E N T I T S

16 17 18

2 Like 4 Lozenge a wing

12 13 14 15 Lozenge E A R N A L I A S F R E T

23 24

19 23 20 24 21 22

3 Band 5 Gourmet instrument chocolate brand 1 West by north

Gourmet chocolate brand

16 17

25 26 27 28

4 Lozenge 6 Time 18

L I E D M T V S E A R

period

2 Like a wing

25 26 2723 24 28

Time period

5 Gourmet 7 Seven chocolate P brand R E

19 20 21 22

3 Y Band S instrument E A T E N

29 30 31 32 33 34 35 36

Seven

25 2926 27 30 31 328

33 34 35 36 6 Time 8 Taiwan period V I 4 A Lozenge B E D

23 24

Taiwan

37 38 39

7 Seven 9 Holler D O G 5 M Gourmet A chocolate F R E brand E R

29 37 30 31 3832 33 34 39 35 36

Holler

25 26 27 28 8 Taiwan 10 Soaked

40 41 42 43 44 45 46

10 Soaked N O U N 6 Time N period F L P R E P

37 40 41 42 38 43 44 45 39 46

9 Holler 11 Compass point 7 Seven

29 30 31 32 33 11 Compass 34 E 35 E point 36 L S P I L A F S E L F

47 48 49 50

10 Soaked 13 Musician (3 wds.) 8 Taiwan

40 41 4742 4843 44 49 45 50 46

11 Compass

13 Musician (3 wds.)

15 Walked point A

quickly

C T A R

37 38 39

9 Holler

O U S E D F A O

51 52 53

15 Walked quickly

51 5247 48 53 49 50

13 Musician 20 Zeal (3 S wds.) T E B 10 O Soaked N K N I T N U

40 41 42 43 44 45

54 55 56 57

20 Zeal 46

15 Walked 22 Danish quickly

5451 52 53

E physicist A G L E 11 S Compass point D E A D E R

55 56 57

47 48 49 22 Danish physicist

58 59 60 61 62 63 20 Zeal 24 Rush 50 forth D R E F T 13 Musician (3 wds.) M I R T H

54 58 59 60 61 55 62 56 57 63 22 Danish 25

24

Big

Rush physicist hairdo

forth

15 Walked quickly

51 52 53

64 65 66

26

25 Cut

Big

closely

hairdo

58

64

59

65

60 61 62

66

63 24 Rush forth

20 Zeal

54 55 26 Cut closely

67 68 69

25 Big 27 hairdo Skulk 56 57

22 Danish physicist

64 65 66

67 68 69

26 Cut 31 27 Hydrochloric closely Skulk

58 59 60 61 62 and 63 nitric, 24 for Rush forth

www.CrosswordWeaver.com

67 68 69

27 Skulk 31 example Hydrochloric and nitric, 25 for Big hairdo

www.CrosswordWeaver.com

64 65 66 31 Hydrochloric 32 Really example cool and nitric, for 26 Cut closely

1 www.CrosswordWeaver.com

2 ACROSS

3 4 5 6 7 8 37 Free of 9 10 11 DOWN

32 Really cool

ACROSS

67 37 38 Free California of 68 example 34 Pencil 69 end

27 Skulk

(abbr.)

12 13 14 15

32 Really 34 Pencil end

1 Power unit

38 39 California Second day (abbr.)

35 Skirt cool

ACROSS

37 Free of

31 Hydrochloric and nitric, for

www.CrosswordWeaver.com

of the wk. 1 West by north

34 Pencil 35 Skirt

15 Power Israel's unit son

39 40 Second Z day of the wk.

36 Perceives end

16 17 with eye

38 California 18 (abbr.)

example

2 Like a wing

35 Skirt 36 Perceives with eye

59 Israel's Compass son point

40 43 Z

41 City

1 Power unit

39 Second Poem day of the wk.

32 Really cool

19 20 ACROSS 21 22

373 Free Band of instrument

36 Perceives 41 City

912 Compass Ad point

43 46 Poem

42 Air (prefix) with eye

5 Israel's son

40 Z

34 Pencil end

Shoshonean 384 California Lozenge (abbr.)

44 42 MGM's Air (prefix) leo

912 Compass 23 41 City

14 Ad Part of point

24

the eye

43 46 Poem 47 Shoshonean

35 Skirt

1 Power unit Extinguished 395 Second Gourmet day chocolate of the wk. brand

42 Air 45 44 (prefix) Fire MGM's leo

12 14 Ad 15 Part Loafer of the eye

46 47 Shoshonean

36 Perceives with eye

25 26 27 28 5 Israel's 49 son Extinguished

Verse meter 406 Z Time period

44 MGM's 48 45 Be Fire at leo a meeting

14 15 Part 16 Loafer Man of the of eye means

47 49 Extinguished

41 City

9 Compass 51 Verse Card point game meter 437 Poem Seven

29 30 31 32 33 34 35 36

45 Fire 50 48 Bar Be at over a meeting a letter

15 16 Loafer 17 Man Arrest of means

49 51 Verse 53 Card Soybean meter

42 Air (prefix)

12 Ad

game 468 Shoshonean

Taiwan

48 Be 51 50 at Underworld

16

Bar a meeting over a letter

37 17 Man 18 Arrest Peaks of means 38 51 53 Card 54 Soybean Isn't game

44 MGM's leo

14 Part of the eye able 39 to 479 Extinguished

Holler

50 Bar 52 51 Closed over

17

Underworld a letter

18 Arrest 19 Peaks Searched one's brains 53 54 Soybean

45 Fire

15 Loafer 55 Isn't Hits able the door to 49 10 Verse Soaked meter

40 41 42 43 44 45 46

51 Underworld 53 52 Atmospheres

18

Closed

19 Peaks 21 Searched Unceremonious one's brains 54 55 Isn't 58 Hits Chances able the to

48 Be at a meeting

16 Man of means door of winning 511 Card Compass game point

52 Closed 54 53 Monk's Atmospheres hood

19 21 Searched 23 Unceremonious

Handle 47 one's 48 brains 55 49

58 Hits 59 Chances Decorative the 50 door

50 Bar over a letter

17 Arrest

of needle winning case 53 13 Soybean Musician (3 wds.)

53 Atmospheres

56 54 Lotion Monk's brand

21 hood

23 Unceremonious

24 Handle Haughty

58 59 Chances 62 Decorative Set free of winning

51 Underworld

18 Peaks

51 52 53

needle case 54 15 Isn't Walked able quickly to

54 Monk's 57 56 Close Lotion hood off

23 brand

24 Handle 25 Haughty Athens' goddess 59 62 Decorative 64 Set Seven free days needle case

52 Closed

19 Searched one's brains 55 20 Hits Zeal the door

56 Lotion 60 57 Thai

24 Close brand

54 off

25 Haughty 28 Athens' Attention-Deficit 55

goddess

62 64 Set 65 Seven free Label 56 57

53 Atmospheres

21 Unceremonious days 58 22 Chances Danish physicist of winning

57 Close 61 60 Ref

25 Thai off

28

Athens' Attention-Deficit

Hyperactive goddess Disorder 64 65

Seven 66 Label Inroad days

54 Monk's hood

58 59 60 61 23 Handle 62 63 59 24 Decorative Rush forth needle case

60 Thai 63 61 Seed Ref bread

28 Attention-Deficit

Hyperactive (abbr.) Disorder 24 Haughty 65

66

Label

56 Lotion brand

67 Inroad Acid drug

625 Set Big free hairdo

64 61 Ref

Hyperactive 29 63 Seed bread

(abbr.) Day of the Disorder 65

week (abbr.) 66

67

Inroad 66

57 Close off

25 Athens' 68 goddess Acid Ducks drug

64 26 Seven Cut closely days

63 Seed bread

67 (abbr.)

2930 Day Knot of the week 68 (abbr.) 28 Attention-Deficit

67 Acid

68 69 Ducks African drug

60 Thai

69 river 65 27 Label Skulk

29 Day

3033 Knot Relaxes of the week (abbr.) Hyperactive 68 Ducks

61 Ref

69 African Disorder river 66 31 Inroad Hydrochloric and nitric, for

www.CrosswordWeaver.com

30 Knot

69 African river

63 Seed bread

33 Relaxes

(abbr.)

67 Acid example drug

33 Relaxes

29 Day of the week (abbr.) 68 32 Ducks Really cool

ACROSS

37 Free of

30 Knot

69 34 African Pencil river end

38 California (abbr.)

33 Relaxes

35 Skirt

1 Power unit

39 Second day of the wk.

36 Perceives with eye

5 Israel's son

40 Z

41 City

9 Compass point

43 Poem

42 Air (prefix)

12 Ad

46 Shoshonean

44 MGM's leo

14 Part of the eye

47 Extinguished

45 Fire

15 Loafer

49 Verse meter

48 Be at a meeting

16 Man of means

51 Card game

50 Bar over a letter

17 Arrest

53 Soybean

51 Underworld

18 Peaks

54 Isn't able to

52 Closed

19 Searched one's brains 55 Hits the door

53 Atmospheres

21 Unceremonious

58 Chances of winning

54 Monk's hood

23 Handle

59 Decorative needle case

56 Lotion brand

24 Haughty

62 Set free

57 Close off

25 Athens' goddess

64 Seven days

60 Thai

28 Attention-Deficit

65 Label

61 Ref

Hyperactive Disorder 66 Inroad

63 Seed bread

(abbr.)

67 Acid drug

29 Day of the week (abbr.) 68 Ducks

30 Knot

69 African river

33 Relaxes

Easy (308)

3 9 6 2 5 1 8 4 7

1 2 7 6 4 8 5 9 3

8 4 5 3 9 7 1 6 2

2 6 3 9 8 5 7 1 4

9 7 4 1 3 6 2 8 5

5 1 8 7 2 4 9 3 6

7 8 9 5 6 3 4 2 1

4 3 1 8 7 2 6 5 9

6 5 2 4 1 9 3 7 8
---
R E S T W O O D R E C R E A T I O N A N D

C

E L L N E S S C E N T E R

W

16 Crestwood Adviser February 2022 Number 539

5331 W. 135th | Crestwood, IL

60418 708-371-4810

Hello Residents,

The Crestwood Recreation and Wellness Center

Staff are ready for winter, and are gearing up for

the spring! Along with the activities listed here,

please visit www.crestwoodfitness.com to keep

updated on what is happening in the building and

community with the CRWC! Also, we are happy to

announce we have new, updated scoreboards for

our courts!

We are super excited to announce that we will be

starting Snapology classes on Wednesdays from

4:00-5:00pm, March 2nd-March 30th! Snapology

is a STEAM (Science, Technology, Engineering,

Art, Mathematics) LEGO-focused class. Come to

the CRWC to register for our Harry Potter-themed

5-week Snapology course! Enter the magical world

of Harry Potter, Snapology-style! Potions, wizard

sports, dark arts, wands and more are all wrapped

into this creative and enchanting camp. Let the

magic begin!

Divisions:

Pinto– Ages 6, 7, and 8 years old (Must be 6 by 5/1/22)

Mustang– 9 and 10 years old (Must be 9 by 5/1/22)

Bronco– 11 and 12 years old (Must be 11 by 5/1/22)

Pony– 13 and 14 years old (Must be 13 by 5/1/22)

The age that your child will be on May 1, 2022 is the division that you register them for.

Registraon Deadline: Before January 31st, 2022 for $150 or by March 1st, 2022 for $175

Crestwood Crush Baseball 2022

A birth cerficate will be required for all players.

Registraon forms are available at the Crestwood Recreaon and Wellness Center during business

hours.

Season: Runs late April through mid-June, weather perming.

Games and pracces: Playfield Park. Games hosted Monday through Thursday with potenal

weekend tournaments.

In –house league, teams, communies, and individuals welcome.

We will host games and are willing to travel within 30 minutes.

3 contact days a week (pracces and games).

Medals will be awarded at the end of season at our free Sports Picnic– families welcome.

Each level will play 20 games plus playoffs.

Starng in January, the CRWC will host open pracces free to registered individuals.

Volunteers, coaches and concession workers, are needed. Fees for the parcipant will be waived/

reduced for volunteers.

Cost: $150 or $175 (based on registraon date) for Crestwood Residents/Non-Residents

(Fee includes: Hat, Jersey, Game Balls, and Umpires)

(Crestwood Residents will be reimbursed at the end of the season if their child completes the entire season.

Reimbursement forms available at the CRWC).

For more informaon about the 2022 season, contact Cori Herbert or Rocco Mossuto at 708-371-4810 or

crwcsports@crestwood.illinois.gov

Crestwood T-Ball League—2022

Registration deadline

Tuesday, March 15th

Ages: 4-7 years old

Practices will begin at 10am Saturday, April 2nd, 2022 (indoor if needed)

Games will be played on Wednesday's at 6pm & Saturday's at 10am

Games will start on Wednesday, May 4th, 2022

Games will be played at Walker Park (139th and Laramie) or at the

CRWC

Fee: $85.00 (fee includes team shirt, hat, and pictures)

Player and Coach request will be accepted but Not Guaranteed

To register, visit the CRWC

For more information about the T-ball Season 2022, contact Rocco Mossuto or

Cori Herbert or email crwcsports@crestwood.illinois.gov

Address: 5331 W. 135 th St, Crestwood, IL

Phone: (708)-371-4810

Email: crwcsports@crestwood.illinois.gov

www.crestwoodfitness.com

Season

May 4th– June 29th

No game on May 28th

16 games

Believe it or not, summer is just around the

corner! Baseball registration is open for our

Crestwood Crush Pinto (6-8 years old), Mustang

(9-10 years old), Bronco (11-12 years old), and

Pony (13-14 years old) teams. Register your child

at the CRWC. The season will be held from late

April through mid-June. Crestwood T-Ball is also

available for kids 4-7 years old. The season will be

held from early May to late June.

Swim lessons will be starting a new session on

March 1st-April 9th, and open registration will

begin Monday. February 7th. To see what sessions

are available for your family, call 708-371-4810

or visit our website to see all our class dates and

times. Keep an eye out on our website for new

upcoming dates for our next session this spring!

We also will be the first pool in the Southside of

Chicago having ISR classes at our facility. ISR,

or Infant Swimming Resource, is a safety-based

program that teaches babies starting at 6 months

to rollback to float. Between the ages 1-6, children

are taught a Swim-Float-Swim Series. Classes are

5 days a week, 10 minutes a day, for an average

of 6 weeks. The goal of every 6-week session

is for children to independently find air and

security to the best of their abilities. Please email

nicole.doigmaguire@infantswim.com for more

information and to join the waitlist, or check out @

SouthChicagoISR on Instagram.

Saturday, February 5th we will be hosting our Bags

n' Brew Winter Class Tournament. Come out for

a day of bags, beer, food, music, and more! And

there will be a cash prize for the winners. The

tournament will begin at 1pm, and teams can preregister

at the CRWC or register for the event the

day of for $25 per team.

We'd also like to give a special shout-out to two

of our members, Liz Pritchard and Dawn Butler.

These two women lead the toy drive for the

Pediatric Oncology Treasure Chest that gives

kids and teenagers who have cancer toys and gift

cards for the holidays. They have been leading this

drive for over 10 years, and the members from the

CRWC are always some of the largest contributors

to the drive every year. Thank you, Liz and Dawn,

for your generosity through this and past holiday

seasons.

Rocco Mossuto

Location: Crestwood Recreation and Wellness Center

Date: Saturday, February 5th, 2022

Time: 1:00pm

Fee: $25.00 per team

Ages: ANY

Register: Call 708-371-4810 or visit the CRWC. Pre-register or register day of.

(Code– 214210-E)

Questions? Call– 708-371-4810, email crwcsports@crestwood.illinois.gov, or

visit our website Crestwoodfitness.com

Swim Lessons

Spring 2022

March 1st—April 9th

(6 weeks)

Our group swim lessons teach the children basic swimming skills

along with semi advanced stroke development and personal safety

in the water, while encouraging speed and fun through games.

Skills range from beginner to advanced and children will be

grouped together on the first day according to their swim ability.

Parent Child Water Bonding*

Ages : 6 months to 3 years old

Both parent and child must be in the water.

Day:

Thursday

Saturday

Date:

Mar 3—Apr 7

Mar 5—Apr 9

Preschool Swim Lessons

Ages: 3 years old to 5 years old

Time:

6:30—7:00 PM

9:30—10:00 AM

Fee: $51.00—Resident $56.00—Non-Resident

For children moving up from parent child or new to swim lessons.

Day:

Tuesday

Thursday

Thursday

Thursday

Saturday

Saturday

Dates:

Mar 1—Apr 5

Mar 3—Apr 7

Mar 3—Apr 7

Mar 3—Apr 7

Mar 5—Apr 9

Mar 5—Apr 9

Time:

4:00– 4:30 PM

4:30– 5:00 PM

6:00– 6:30 PM

6:30- 7:00 PM

9:30– 10:00 AM

11:30– 12:00 PM

Fee: $61.00—Resident $66.00—Non–Resident

Code:

131001-K

131001-L

Code:

131003– G

131003-H

131003-I

131003-J

131003-K

131003-L

5331 W. 135th Street

Crestwood, IL 60418

708-371-4810

Spring 2022

Open Swim lesson

registration begins

Monday, February 7th,

in person only.

* Illinois State Health Code

requires all children who are

not potty trained to wear

tight fitting rubber or plastic

pants over their swim diaper,

under their swimsuit.

~Please do not eat 30 minutes or less

prior to lesson, to avoid any upset

stomachs or cramps while swimming.

~ Swimmers may register for more

than one day of classes.

~ There are no refunds or make up

lessons for missed classes.

~ All swimmers need to bring a swimsuit

and towel to every class. Goggles

are encouraged.

Youth lesson

information on

Reverse Side

Snapology Harry Potter Class- STEAM Focused Lego Building

4-5PM

WEDNESDAYS

2ND- MARCH 30TH

MARCH

(5 WEEK SESSION)

Cost: $90 per child (Ages 5-14 years old)

Code: 399000-A

In this program, students will explore their favorite aspects of the

firm series by exploring all that makes Hogwarts and learning

magic so-- well, magical! Students will create the castle they love,

make maps to navigate it, be sorted into their house and

repeatedly express the prides of their house. This class will spark

their imaginations and encourage creative reasoning in new ways,

allowing them to build amazing things they have only dreamed of

before! They'll enjoy themselves so much, you might think we have

them under a spell!

Youth Beginner Swim Lessons

Ages: 5 to 8 years old

For children moving up from preschool lessons, or new to swim.

Day:

Tuesday

Tuesday

Thursday

Thursday

Saturday

5331 135th St Crestwood, IL 60418

Contact us at 708-371-4810 or crwcsports@crestwood.illinois.gov

Dates:

Mar 1—Apr 5

Mar 1—Apr 5

Mar 3—Apr 7

Mar 3—Apr 7

Mar 5—Apr 9

Time:

4:30– 5:15 PM

6:00- 6:45PM

5:00– 5:45 PM

7:00– 7:45 PM

10:00– 10:45 AM

Fee: $66.00—Resident $71.00—Non-Resident

Youth Intermediate Swim Lessons

Ages: 7 to 14 years old

Code:

131030– U

131030-V

131030-W

131030-X

131030-Y

Children 7 and 8 years old must have taken at least 2

sessions of the youth beginner class or have supervisor

approval in order to register for youth intermediate.

Day:

Tuesday

Tuesday

Thursday

Saturday

Saturday

Dates:

Mar 1—Apr 5

Mar 1—Apr 5

Mar 3—Apr 7

Mar 5—Apr 9

Mar 5—Apr 9

Time:

5:15– 6:00 PM

6:45– 7:30 PM

5:45– 6:30 PM

10:45– 11:30 AM

12:00– 12:45 PM

Fee: $66.00—Resident $71.00—Non-Resident

Code:

131030-AA

131030-BB

131030-CC

131030-DD

131030-EE

Questions? Call— 708-371-4810, email crwcsports@crestwood.illinois.gov, or

visit our website Crestwoodfitness.com

Parent/Child and Preschool lesson information on reverse side.