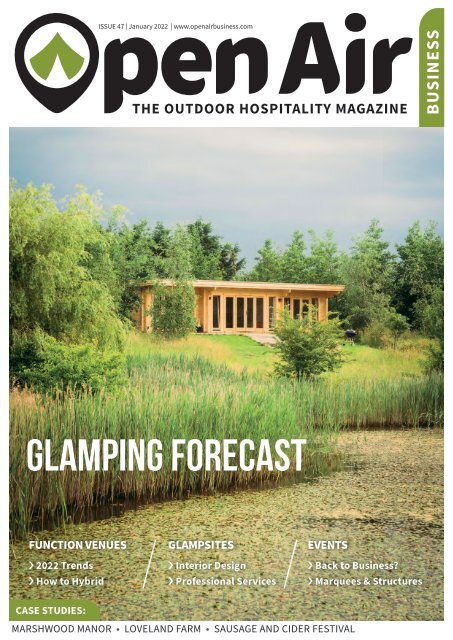 January 2022
The UK's outdoor hospitality business magazine for function venues, glamping, festivals and outdoor events
The UK's outdoor hospitality business magazine for function venues, glamping, festivals and outdoor events
SHOW MORE
SHOW LESS
You also want an ePaper? Increase the reach of your titles
YUMPU automatically turns print PDFs into web optimized ePapers that Google loves.
ISSUE 47 | January 2022 | www.openairbusiness.com

BUSINESS

GLAMPING FORECAST

FUNCTION VENUES

› 2022 Trends

› How to Hybrid

/ /

GLAMPSITES

› Interior Design

› Professional Services

EVENTS

› Back to Business?

› Marquees & Structures

CASE STUDIES:

MARSHWOOD MANOR • LOVELAND FARM • SAUSAGE AND CIDER FESTIVAL
---
ISSUE 38 | October/November 2020 | www.openairbusiness.com

ISSUE 35 | March 2020 | www.openairbusiness.com

BUSINESS

BUSINESS

ISSUE 39 | January 2021 | www.openairbusiness.com

ISSUE 33 | January 2020 | www.openairbusiness.com

FUNCTION VENUES

BUSINESS

/ /

GLAMPSITES

EVENTS

> Legalities

> Biophilic Design

> Seasonal USPs

> Bespoke Structures

> Wedding Insights

> Professional Services

CASE STUDIES: HEATON HOUSE FARM • BROOK MEADOW • DOGFEST

FUNCTION VENUES

OAB Gathering 2020 – Don't miss our very own conference this March!

Alfresco Dining

› Promoting Events

› Market Research › Testing Times

› Contingency Plans › Booking Channels › Necessary Change

CASE STUDIES:

SKIPBRIDGE COUNTRY WEDDINGS • TRECOMBE LAKES • WEEKEND AT THE ASYLUM

> Events Report

> Changing Diets

> Marquees

/ /

GLAMPSITES

CASE STUDIES:

FUNCTION VENUES

› Venue Searches

› Customer Excellence

EVENTS

STAYCATION

INVESTMENT

GLAMPSITES

› Tree Advice

/ /

› Glamping Show

CASE STUDIES:

FUNCTION VENUES

› Changing Habits

› Industry Taskforce

CHILLI BARN • MAD DOGS & VINTAGE VANS • HEVER CRAFT AND DESIGN FAIR

EVENTS

› Event Glamping

› Coping with Covid

/ /

GLAMPSITES

› Casual Excellence

› Planning Exemptions

EVENTS

THE ORCHARD AT MUNSLEY • HOLLY WATER HOLIDAYS • LANTERNS AT CHESTER ZOO

Customer

First

› 2021 Predictions

› Marketing Post-Covid

FUNCTION VENUES

› Delegation

› Instagram 1

› Start-up Venues › Small Space Design

CASE STUDIES:

HOUCHINS • THE PADDOCK RAMSBOTTOM • FRINGE BY THE SEA

/ /

GLAMPSITES

BUSINESS

EVENTS

› Placemaking

› Covid Insurance

ISSUE 40 | February 2021 | www.openairbusiness.com

SUPPLIER

SHOWCASE

BUSINESS

Spread the Word

Open Air Business is now £20 per year

If you know someone who would benefit

from a print subscription, please let them know!

With big thanks,

The Open Air Business Team

www.openairbusiness.com/subscribe
---
ISSUE 47 | January 2022 | www.openairbusiness.com

WELCOME

IT'S TRENDS and forecasts time as we look ahead to the new

season. Here's a quick summing up: Andrew White says summer

will be the new Christmas as business bookers get ready to

ramp up the face to face (page 31). Charlotte Winship says this

year's brides want outdoor opulence with statement style (pages

24-26) and Tom Dixon says you can't go wrong with an open air

bath in attracting back to nature staycationners (pages 38-40).

Looking around the events industry, Tom Hall reports it's back

to business, so long as Glastonbury or the Jubilee celebrations

haven't snapped up the infrastructure before you can say

"portaloo" (pages 52-54).

One thing is for sure – people want to be outside. They want to holiday in nature, party

in fields, make memories with loved ones, and reconnect with business colleagues in the

fresh air. We are blessed as a sector that we have come out of the pandemic with more

business than we can handle.

Perhaps my favourite aspect of open air hospitality is the creativity that drives it. From

designing small functional spaces for glampers, to transforming rustic backdrops into

places to celebrate, to conjuring immersive events from an empty field, it's a creative's

dream. Obviously there's the admin and office work that goes hand in hand with all of

the above, but time and time again I hear: "It's exhausting, but it's so worth it." Libby

Battaglia is a great case in point – read her insights as she takes us behind the scenes in the

organisation of Christmas at Cowdray (page 65-66).

I hope you all enjoyed your Little Black Book of Glamping sent at the beginning of the

year. I'm excited to see how our UK back to nature stays develop over the next 12 months.

UP FRONT

4 News

7 Product News

12 Event Production

Show Preview

14 Farm Business

Innovation Show

Review

17 Entrepreneur's Chat

– Katie Rixon, Blyth

Rise Stays

FUNCTION VENUES

20 Marshwood Manor –

rustic romance meets

Victorian elegance in

Dorset

24 2022 Predictions –

Charlotte Winship

consults her crystal

ball

28 How to Hybrid – get

your venue set up to

deliver hybrid events

31 The New Christmas?

– events will go

'through the roof'

says Andrew White

32 Heat, Power and

Lighting – products

in action

GLAMPSITES

34 Loveland Farm – an

eco-retreat created

by fashion designers

in Devon

38 The Glamping

Forecast – Tom

Dixon reveals this

year's trends

43 Interior Wins – why

interior design

should be a priority

for glampsites

46 Professional

Services – products

in action

Tally Rix

Editor / Publisher

Contents ISSUE 47 – JANUARY 2022

EVENTS

48 Sausage and Cider

Festival – a perfect

combination returns

to Catton Park

52 Back to Business?

– Tom Hall asks the

industry what event

planning in 2022 will

look like

56 A Better Year – Steve

Heap reflects on 2021

and instils confidence

for 2022

59 Marquees and

Structures –

products in action

62 Spotlight

63 Classifieds

65 Behind the Scenes –

Libby Battaglia, Light

Up Trails

PUBLISHERS

Steve Rix - steve@openairbusiness.com

Tally Rix - tally@openairbusiness.com

EDITOR

Tally Rix - tally@openairbusiness.com

SUBSCRIBE

ONLINE

ADVERTISING SALES

Marney Whyte - 01892 677743

marney@openairbusiness.com

David Hobden - 01892 677741

david@openairbusiness.com

ADMINISTRATOR

Kirsty Farrow – 01892 677740

kirsty@openairbusiness.com

DESIGN

James English -

www.jamesenglishdesign.co.uk

PUBLISHED BY

Coffee Shop Media Ltd

www.coffeeshopmedia.com

Milroy House, Sayers Lane,

Tenterden, TN30 6BW

01580 848555

OPEN AIR BUSINESS IS

NO LONGER FREE

To start a paid subscription, please visit

www.openairbusiness.com/subscribe

Find more expert advice online:

www.openairbusiness.com

GLAMPING FORECAST

/ /

FUNCTION VENUES GLAMPSITES

EVENTS

› 2022 Trends

› Interior Design

› Back to Business?

› How to Hybrid

› Professional Services › Marquees & Structures

CASE STUDIES:

MARSHWOOD MANOR • LOVELAND FARM • SAUSAGE AND CIDER FESTIVAL

COVER PHOTO

Bespoke timber lodges from Logspan at Blyth Rise Stays

(pages 17-19). Logspan is a family-owned business dedicated

to providing quality timber products that are affordable. The

range includes glamping pods, log cabin lodges, BBQ huts

and garden offices to suit your needs and location.

01389 734572, info@logspan.com, www.logspan.com

BUSINESS

WWW.OPENAIRBUSINESS.COM 3
---
KNEPP WILDLAND

Defra Launches

new Funds for

Nature Recovery

DEFRA HAS announced plans for two

new Environmental Land Management

(ELM) schemes aimed at restoring natural

habitats on up to 300,000ha of land.

The Local Nature Recovery (LNR)

scheme, is billed as a more ambitious

successor to Countryside Stewardship and

will pay landowners for locally targeted

actions which make space for nature in the

farmed landscape and countryside, such

as creating wildlife habitat, planting trees

or restoring peat and wetland areas.

The Landscape Recovery (LR) scheme,

meanwhile, will support more radical

changes to land-use change and habitat

restoration such as establishing new

nature reserves, restoring floodplains, or

creating woodland and wetlands.

Full details of the criteria for both

shemes and how they will be assessed

with guidance will be published shortly.

Projects will then have 16 weeks to

prepare their applications before the

application window closes. Defra will

confirm the chosen first round pilot

projects this summer.

To receive notification when the

Landscape Recovery first round pilot

applications launch, sign up to the Defra

e-alert, or subscribe to its Future Farming

blog.

Marquees Allowed

Permanently

LOCAL HOSPITALITY businesses no

longer need planning permission

to put up marquees on their land

as measures originally introduced

during the pandemic are made

permanent following public

consultation.

The government's Department

for Levelling Up, Housing and

Communities has also announced

that historic visitor attractions and

hospitality businesses operating in

listed buildings will be able to install

a gazebo for 120 days in a 12-month

period. This will provide additional

flexibility while minimising the

impacts to heritage sites.

Kate Nicholls, CEO of

UKHospitality, said: "Marquees and

other structures provided a lifeline

for some businesses during the

pandemic, evidencing the value of

covered outdoor spaces to hospitality

venues.

"The announcement is a really

positive move to rid businesses

of an administrative burden and

encourages better use of outdoor

space – for many venues it will

expedite future recovery and growth."

Cultural Explosion in Armagh

ARMAGH CITY will

stage the brand new

Fusion Festival over two

weekends in March and

April. The 2025 UK City

of Culture contender

intends to create a 'fire

and light' celebration of its

rich history, heritage and

culture using a variety of

iconic spaces, venues and

its famous apple orchards.

Billed as a "megafestival",

the event will comprise collaborations, big name musical acts, art,

craft, theatre, dance, poetry and more.

Backed by over 30 performers, groups and venues, Armagh Fusion Festival

promises cabaret-style circus performances and artistic light installations. The

event starts on Thursday 24 March and runs until Sunday 3 April.

EVENT IN A TENT

4 WWW.OPENAIRBUSINESS.COM
---
Rewilding

at Luxury

Wedding Venue

OVER 2,000 trees have been planted at

exclusive events venue Kinkell Byre near St

Andrews on the east coast of Scotland.

Using £27,150 from the Scottish

government's Nature Restoration Fund,

approximately 100 acres of former

farmland will be rewilded. Trees and

hedgerows will be planted and wetland

created on the site, which includes 70

acres of grass fields and 30 acres of cliffs.

Reversing the loss of biodiversity caused

by years of intensive farming, the planting

will encourage the return of native plants,

insects, bees, birds, and larger animals.

Rory Fyfe, project manager at Kinkell

Byre, said: "By rewilding Kinkell we hope

to bring back lost wildlife, enriching our

environment and providing multiple

ecological benefits.

"In addition, helping to create a richer

ecology near St Andrews will broaden

local opportunities for educational and

community engagement with nature and

will create green jobs."

The 2021 Nature Restoration Fund adds

to Scottish Government funding delivered

through the Biodiversity Challenge Fund,

Scottish Rural Development Programme

and other sources to support biodiversity

and help to deliver Scotland's Biodiversity

Strategy.

KINKELL BYRE

Tipi in a Tap Room

BOWNESS BAY Brewing in Kendal has installed a giant Nordic

tipi inside a redundant bottling plant to create a new venue

space.

Owners Richard and Kim Husbands saw the potential for a

private hire venue when the thriving brewery business needed

to expand into a larger area and the space became available.

Capitalising on the trend for industrial‐style wedding venues

and Scandi influences, the tipi can host 150 guests.

Richard said: "No one would guess from looking at this

building outside that we've managed to create this fantastic

interior. Everyone who comes through the doors is bowled over

by how it looks and how relaxed and friendly it feels."

MAC CABINS LIMITED

Modular • Artisan • Contemporary

Glamping Sites, Leisure Parks, Holiday Rentals,

Bed & Breakfasts (B&B), Hotels & Resorts, Golf Clubs,

Camp Sites, Holiday Retreats, AirBnB and Land/

Garden Owners.

Whether you are looking to start,

expand or diversify your own

existing holiday rental business,

MAC Cabins brings you the

perfect selection of the best

Timber Log Cabins, Glamping

Pods, Timber Lodges and Small

Homes Tiny Houses, collectively,

for you to choose from.

MAC Cabins actively supports and promotes the sustainable tourist industry.

0800 999 1564

maccabins.co.uk

WWW.OPENAIRBUSINESS.COM 5
---
WOW - FACTOR

Let us transform your garden to create memories

PROFESSIONAL & RELIABLE

www.tentickle-stretchtents.co.uk

0121 740 1385 or 07826 843 099

Stretch Tents, furniture, lighting, heating, flooring - short and long term hire - purchase

@TentickleUK

@Tentickle_UK

TentickleUK

6 WWW.OPENAIRBUSINESS.COM
---
PRODUCT

A Completely

Mobile Headset

Event Solution

SILENT DISCOS and other headset events

are well established in the world of outdoor

entertainment but with the mobile wireless

system from Silent Noize Events, you can

now take the silence anywhere. Running

entirely on battery, there's no need

for mains power meaning there are no

limitations to where your event can take

place.

Set up pre-made playlists for your silent

disco on mobile devices and talk to your

audience through the Silent Noize headset

microphone. You can even take people on

tours around the grounds.

Not just for silent disco either, these

headset systems are fantastic for fitness

classes, yoga, cinema and a range of other

entertainment. With no amplified sound,

there are no noise restrictions which can't

be bypassed. Think silent disco in an open

field or on a beach. silent yoga in the

middle of a forest or silent cinema on your

courtyard; the possibilities are endless.

Reimagine your event space and rethink

the way you can entertain your audience.

0203 727 5382, info@silentnoizeevents.com,

www.silentnoizeevents.com

Reusable Tableware to Rent or Purchase

GREEN GOBLET is proud to announce its new KIO selection of durable, reusable tableware. The range includes plates, bowls and containers

with optional lids that can be used by mobile food outlets at festival or event sites; basically anywhere that serves 'food on the go'.

These are perfect for vendors who want to make their business more sustainable and do not want to use single-use plastic containers. The

vendor can serve the food in reusable tableware charging a £1 deposit to encourage purchasers to bring their plate/bowl back. These containers

can either be washed by the vendor or sent back to Green Goblet to be washed/dried at one of its washing units ready for the next event.

All KIO products come with optional lids and are fully recyclable. KIO containers are available to rent or purchase.

01278 238390, info@green-goblet.com, www.green-goblet.com

WWW.OPENAIRBUSINESS.COM 7
---
PRODUCT

Offer Guests a

Hangover-free

Experience

CLEAN WINE, the

wine treatment

spray clinically

proven to reduce

and eliminate the

effects of hangovers

by removing

headache-inducing

preservatives

(i.e sulphites)

from wine, is

now accepting

wholesale orders,

having sold almost

exclusively online

for the last two

years.

Since launching

in March 2020, this wine treatment spray has developed

an avid following and received coverage in national press

including The Telegraph, The Sun, and The Daily Mail. With

a reported efficacity of 97% and a repeat customer rate of

over 30%, it comes as no surprise that Clean Wine has found

success. Clean Wine retails at £8.90 per bottle, which treats

approximately 100 glasses of wine, and wholesales at just

£2.90 per bottle.

01625 380080, info@cleanwine.co.uk, www.cleanwine.co.uk

Event Services for

Events and Venues

FRESH FROM its nomination in the Best Crowd Management/

Security category at this year's Festival Supplier Awards,

Newman Event Services is expanding into the whole outdoor

hospitality sector.

Already a leading provider of crowd management and event

safety services in Oxfordshire and the surrounding regions,

Newman Event Services is now also looking after several

speciality venues that cover weddings, glamping, mini festivals,

outdoor swimming and filming.

From a single member of staff to fully written and executed

crowd, security, stewarding and traffic management plans, the

team provides a bespoke one stop shop.

01295 722844, enquiries@newmanevents.co.uk,

www.newmanevents.co.uk

The New KABINA by Enchanted Creations

FOLLOWING CUSTOMER feedback, Enchanted Creations has relaunched

its KABINA cabin concept with three new models. Orders have been

secured in Isle of Skye, Oban, Gloucestershire and Cornwall, with

multiple planning applications pending approval in East Yorkshire, North

Yorkshire, Berwickshire, Perthshire, Wiltshire, Hampshire, West Wales

and South Oxfordshire.

Spring 2022 will see the first guests welcomed to a KABINA retreat and

the Enchanted Creations' show village will be completed near its offices

in Surrey for clients to visit. While each of these locations will feature

at least one KABINA, all of the sites will be unique to each client due to

customisable external and internal finishes, and bespoke experiential

add-ons.

One of the few pre-designed cabins in the holiday accommodation

industry, KABINA structures comply with full Building Regulations and

come with a building warranty. The substructure is manufactured from

a galvanised light gauge steel (80% recycled) with a 100+ year lifespan. Cabins are extremely well-insulated and thermally efficient, perfect

for year round use. The specification includes 'renewable ready' smart water heating systems, low voltage infrared heating and sustainably

sourced materials, all contributing to an 'eco-sympathetic' design.

When designing a KABINA 'village' for your retreat, the team at Enchanted Creations can help ensure cabins are set sympathetically into the

landscape, focusing heavily on the visitor experience and privacy. Reach out to the team to start designing your unique retreat.

01252 561060, sales@enchantedcreations.co.uk, www.enchantedcreations.co.uk

8 WWW.OPENAIRBUSINESS.COM
---
PARTNER

WITH US IN

2022 & 2023

Glamping Partnerships MADE MORE

START SOMETHING AMAZING

WE INVEST IN AMAZING GLAMPING

PARTNERSHIPS, SUPPORTING

MICRO-TOURISM

OUR PARTNERS RANGE FROM FARMERS AND PRIVATE

LANDOWNERS TO ESTATES AND TOURIST ATTRACTIONS.

What they all have in common is an interest in micro-rural

tourism, a motivation to offer great glamping hospitality,

and at least 1 acre of land with something special to offer.

OUR PARTNERSHIPS ARE BASED ON A 10-YEAR

SUPPORT PLAN. We retain ownership of our pods and you

retain ownership of your land.

WE'RE WITH OUR PARTNERS EVERY STEP OF THE WAY.

We invest in their journey and providing all of the tools

needed for sustainable success.

— Planning and architectural services

— Cloud based booking system

— Support with marketing and customer reservations

— Support with business admin

— An established brand presence and growing customer base

— Our high spec'd 4-berth, heated and ensuite pod

— Plus much more

Contact a member of our team today to find out how we could invest

in your glamping opportunity and for a complete list of our services.

PARTNERS@FURTHER.SPACE

WWW.FURTHER.SPACE
---
SPONSORED FEATURE

FULLY CUSTOMISABLE

LUXURY GLAMPING HABITATS

"It was a journey getting here,

but we knew Kabina's

reason for being."

LUXURIOUS

ADVENTURE

Luxury in the 21st century comes

in the form of having the space

and comforts to enjoy your

surroundings. Design for the

Kabina was dictated by ensuring

everything you need is at your

fingertips while adventuring

with attention paid to details

that aren't typically in glamping

pods.

INSPIRED BY NATURE,

FOR NATURE

Sympathetic integration into

multiple terrains, ecologies and

environments is important to us.

The rolling form and green roof

capabilities of Kabina draws

inspiration from open spaces

and rolling vistas, intended to

blend with landscapes.

A FRAME

FOR EXPERIENCES

We designed Kabina to create a

customisable, instagrammable

and memorable frame for

experiences with details that

people won't have in their

everyday lives.

COMFORT

CONSIDERED

We wanted to design Kabina

with a careful balance of comfort

and space, compared to many

other products. Consideration to

atmosphere, functionality and

operational maintenance is crucial

to us.

The inside story... the Kabina Starter and the Kabina

Boutique interiors.

Room to breathe...

the Kabina Grande offers

plenty of space for the

larger family.

10 WWW.OPENAIRBUSINESS.COM
---
THREE DESIGNS. MULTIPLE FINISHES. ONE STANDARD.

Whichever Kabina you

choose you will find a level

of choice and finish second to none.

KABINA MINI

Kabina is one of the few pre-designed cabins in the

holiday accommodation industry, which comply with

full Building Regulations and come with a building

warranty.

The substructure is manufactured from a galvanised

light gauge steel (80% recycled) with a 100+ year lifespan.

They are extremely well-insulated and thermally

efficient, perfect for year round use.

The specification includes 'renewable ready' smart

water heating systems and low voltage infrared heating,

and sustainably sourced materials, which all contribute

to the 'eco-sympathetic' design.

KABINA CLASSIC

The shower room now comes as standard with a flush

floor wetroom specification and a Kitchenette and built

in cabin bed, are also options that can be included.

KABINA GRANDE

KABINA UPGRADES

But it all starts with your dream. We can then configure

your Kabina build in our artisan workshop and install on

site.

The

choice

is yours

If you would like to find out

more about Kabina or

request a brochure

phone 01252 561060

or visit our website

www.enchantedcreations.co.uk

A whole host of materials available to customise

your interior and exterior finishes.

ENCHANTED CREATIONS IS PART OF LEISURE DESIGN PROJECTS LTD.

WWW.OPENAIRBUSINESS.COM 11
---
INDUSTRY OVERVIEW

Event Production Show

Picture the scene: it's 2022, events are back on, there's

inspiration in the air, writes Amelia Evans

OAB's Top Picks

THE EVENT Production Show (EPS) is

gearing up to deliver event inspiration

directly to you, bringing you back face-toface

with your industry colleagues. Discuss

the challenges and opportunities you face

as live events look to fully emerge from the

pandemic, rekindle customer confidence

and reward ticket buyers with remarkable

live experiences.

On 8-9 March at ExCel London, EPS

will be bringing together live event

professionals from every sector; event

promoters, festival organisers, production

companies, corporate event planners,

charities, experiential and marketing

agencies, local authorities, government

bodies and everything in between and

beyond. The best part? It's free to attend!

You can experience a showcase of the

latest products and services from over 120

exhibitors and find everything you need

to put on future events including staging,

AV, equipment hire, event technology,

temporary structures, security and much

more.

EPS will be host to several stages

offering free content: the Main Stage,

MEI / NOEA stage and the Event Foundry.

Panels will be exploring all the key

issues impacting our sector such as

sustainability, supply chain, creativity,

social responsibility, security, major

events and insurance as well as the

potential to futureproof it.

In The Foundry you will hear from

leading associations and practitioners

delivering practical sessions from which

you will receive key takeaways you can

put into practice on leaving the show.

This theatre will include updates from

industry associations LAEOG and NCASS

as they delve into the key issues including

working for and with local authorities,

how event organisers can work with

caterers to improve their events and the

latest updates on compliance.

Brand new for 2022 is Fanzone, an

experience-led zone packed full of

amazing aesthetics, spectacular sporting

moments and numerous networking

opportunities.

You will see, learn and meet more

people at EPS in two days than you can in

six months of research and calls from your

place of work, so register for your free pass

today at www.eventproductionshow.co.uk

SEE YOU THERE!

8-9 March

ExCeL London

www.eventproductionshow.co.uk

Tentickle

Stand: A50E

www.tentickle-stretchtents.co.uk

As the need for suitable outdoor spaces

increases, stretch tents are the perfect

solution. The flexibility of the technical fabric

allows tents to be installed in numerous

positions and spaces, creating unique

installations for each setting.

Size and colours can be chosen to suit

the venue's environment. These tents are

built to endure even strong storms and will

protect from direct sun thanks to the UV light

absorbing fabric which blocks rays and keeps

people comfortable underneath.

12 WWW.OPENAIRBUSINESS.COM
---
INDUSTRY OVERVIEW

Silent Noize Events

Stand: Sponsor

www.silentnoizeevents.com

Headsets from Silent Noize can now run entirely on

battery rather than mains power, meaning there are no

limitations to where your event can take place – they

are totally portable. You can even talk to your audience

through the Silent Noize headset microphone, making

the headsets perfect for fitness classes, yoga and guided

tours, as well as cinema and silent discos.

Reimagine your event space and rethink the way you

can entertain your audience.

Newman Event Services

Stand E65E

www.newmanevents.co.uk

With a highly experienced senior management team possessing over

60 years of combined expertise in event security, safety, stewarding

and crowd management services, Newman Event Solutions has

served some of the biggest events in the UK.

From a single member of staff to fully written and executed

crowd, security, stewarding and traffic management plans, the team

provides a bespoke one stop shop and has been nominated in the

Best Crowd Management/Security category at this year's Festival

Supplier Awards.

Hampshire Flag Company

Stand: H30E

www.hampshireflag.co.uk

The Hampshire Flag Company excels at bringing

products, services and brands to life in spectacular

colour. Established in 1981, this family-run business

produces everything from event flags and custom

gazebos to banners and fence scrim.

By having a combination of state of the art machinery

and a team of skilled professionals, Hampshire Flag can

provide a five-star all in one service. Artwork design,

manufacturing and installation are available all under

one roof.

Plant Designs

Stand: C30E

www.business.plantdesigns.co.uk

The Plant Designs events team can help design and supply live planting

displays for your event. From ambient planting to immersive jungles, for

one night or several months, they can bring it to life. A memorable and

sustainable event decor solution that will leave a lasting impression on

guests.

Live planting is a uniquely experiential type of event décor with

biophilic benefits, perfect for creating photo opportunities and branded

displays, plants can help your event gain significant social media traction.

WWW.OPENAIRBUSINESS.COM 13
---
INDUSTRY OVERVIEW

Farm Business

Innovation Show

Europe's leading event for diversifying landowners returned in-person to the NEC

Birmingham in November, writes Chloe Jackson

AFTER ITS long-awaited return, the

Farm Business Innovation Show 2021

transformed the NEC into a community of

like-minded professionals who share the

same passion for the rural economy.

The 2021 edition exceeded all

expectations and welcomed over 14,322

key individuals, 1,000 exhibitors and

500 expert speakers, all joining forces to

create the best show to date.

From industry awards, live demos and

innovative suppliers showcasing a diverse

range of products, the show brought

the solutions to the ever-changing

diversification sector and provided the

tips and tricks needed to stay ahead in a

competitive market.

The Farm Business Innovation Show

runs directly alongside five other

industry-leading shows collectively

forming Europe's largest event for rural

entrepreneurs to diversify into the leisure,

hospitality and tourism sector. Organiser

Fortem International has confirmed the

next edition of the will take place on 2-3

November 2022. Returning to the NEC

Birmingham, the show will provide all the

solutions you need to generate additional

income from your land.

OAB's Top Picks

Enchanted Creations

www.enchantedcreations.co.uk

Enchanted Creations designs and constructs imaginative habitats and retreats

for the staycation and luxury glamping market, from treehouse accommodation

to bespoke luxury cabins and hideaways which blend in with the landscape. Part

of the Leisure Design Projects Group, its turnkey, design-led approach focuses

on creating an extraordinary guest experience, from feasibility to design and

construction on-site.

It's relaunched KABINA cabin is a first in the industry – sustainably constructed,

thermally efficient and totally customisable.

Viva Lagoon

www.vivalagoon.com

A carefully curated collection of furniture

and accessories for commercial interior

or outdoor spaces, Viva Lagoon's web

collection includes designs by Vincent

Sheppard, Talenti and Gloster, and

features a choice of products to meet a

range of requirements and budget. Design

consultation is also offered.

Check out Viva Lagoon's project at

Battersea Power Station which has been

shortlisted for the 2021 SBID Award.

14 WWW.OPENAIRBUSINESS.COM
---
INDUSTRY OVERVIEW

FFC Landscape Architects

www.ffc-landscapearchitects.co.uk

Helping you to develop the best from your site,

creating a special place through landscape design,

improvements and visual enhancements. Services

include garden design, visual impact studies,

arboricultural surveys and tree impact appraisals,

pre-development landscape studies, landscape

mitigation proposals, landscape management and

development, historic garden conservation plans,

external works plans, hard landscape design and

expert witness reports.

Wildpoint

www.wildpoint.com

Wildpoint is the AirBnB of camping, empowering private

landowners to monetise their land and guests to discover and

book stays with ease.

In 2021, Wildpoint helped hundreds of first-time hosts

welcome campers onto their land, from basic wild camping to

unique and quirky glamping. With Wildpoint there's no upfront

fees, no initial investment, no exclusivity or hidden costs, no

registration or licences and a friendly and reliable support team

who's on your side.

Mudcontrol

www.mudcontrol.co.uk

Mudcontrol supplies durable, ecologically sound

products made of 100% recycled plastic, which

come with a 20 year warranty.

The slabs are heavy-duty, porous, removeable,

re-usable hard-standing, designed to go straight

onto the mud with minimal to no ground

preparation. For pathways, parking, anywhere you

have a mud problem, these are the solution.

The company also supplies 100% recycled

plastic fencing and associated products with a

commitment to customer service and sustainability

at the forefront of its ethos.

Direct Acoustics

www.directacousticsolutions.com

Direct Acoustics specialises in acoustic and

thermal solutions for marquees and temporary

structures in the events and film industries.

Their acoustic products control problematic

bass frequencies generated from amplified

music and environmental noise. This is

achieved through Kader fed mass loaded

acoustic linings and intelligent directional

speaker systems.

The team also assists in obtaining planning

and licensing permission for entertainment

venues in noise sensitive locations while

abiding by specific Institute of Acoustics

guidelines and environmental health law.

WWW.OPENAIRBUSINESS.COM 15
---
SILENT DISCO / SILENT YOGA

SILENT FITNESS / SILENT CINEMA

Silent Noize Events are the UKs leading supplier of silent discos and multi-channel

wireless headset systems. Provide your audience with a totally unique and immersive

experience through the power of headsets!

With dry hire and full packages available, contact the team at Silent Noize Events

to see how we can give your event the WOW factor.

0203 727 5382 / 0741 515 3137 • info@silentnoizeevents.com

www.silentnoizeevents.com

MAKE YOUR GUESTS AS SAFE AS THEY CAN

BE WITH OUR COMPLETE SERVICE OFFERING.

CROWD SAFETY

SECURITY

STEWARDS

TRAFFIC MANAGEMENT

01295 722844

WWW.NEWMANEVENTS.CO.UK

16 WWW.OPENAIRBUSINESS.COM
---
ENTREPRENEUR'S CHAT

Katie Rixon and Pam

and Mark Grinsted

A story of biodiversity and a family

pulling together to create a luxurious,

adults-only retreat. We talk to Katie Rixon

WWW.OPENAIRBUSINESS.COM 17
---
PEOPLE

aving spent their whole working life in

the fruit industry, Pam and Mark Grinsted

decided to retire and turn their attentions

to rewilding a 10 acre plot of land they had

been renting out for arable. Situated at the

origins of Suffolk's River Blyth, things started

on the site in 2008, many years before the

conception of Blyth Rise Stays, with the

creation of a two acre lake. Over the next 12

years, 2,500 trees and hedges were planted

and thoughts turned to what the newly

biodiverse land could be used for.

"The original idea was to create lodges for

long term let," says daughter Katie. "The plan

was for six lodges, one for the parents, then

one each for us five children."

Katie, who had worked in London in travel and marketing for 18

years, returned to Suffolk and started working with her parents on the

creation of Blyth Rise Stays. They quickly decided that short term lets

might be the better alternative. "We all loved travel and getting off the

beaten track, and looking around there really wasn't anything like that

in our area. Suffolk is popular along the coast, particularly in summer,

but we thought there was an opportunity to bring people here to enjoy

what Mum and Mark had created."

One initial idea was for shepherd huts dotted around the site, to

complement the yet-to-be-built lodges, but having visited the Holiday

Park & Resort Innovation Show, the family decided on a combination

of six timber lodges and six Igluhuts, along with two Igluhut saunas

"My brother James is an architect and helped design the lodges

with manufacturer Logspan. We wanted them to be as spacious and

light-filled as possible while maintaining the 'back to nature' vibe.

They feature floor to ceiling glazing at the front, two double bedrooms

and a living space with double doors to access a private terrace. We've

kept things really luxurious with underfloor heating in the bathrooms,

high quality furnishings and kitchens with dishwashers."

The Igluhuts complement the lodges, offering a quirky structure for

couples along with two saunas, which can be booked in the honesty

shop. Each accommodation also has a private terrace with a firepit,

BBQ and outdoor dining area.

"We are a child and dog free site," says Katie. "We are a huge family

with lots of kids between us and when we were first discussing this I

was worried we were cutting out a huge part of our market. However,

it has worked really well. We major on the fact we are a quiet site and

we have lots of young couples who leave their children at home and

come to enjoy genuine peace and quiet.

"We are so fortunate that we have very little light pollution, are well

away from the road and attract lots of wildlife. We ask people to keep

the noise down after 10pm, and we don't really have any problems.

We can be full, with 36 people on site, and you wouldn't know it – only

from the smell of the BBQs."

LOCKDOWN BUILD

"We always knew we'd be building in 2020 but lockdown didn't help

us," says Katie. "We had a very different lockdown to most as we were

allowed to be on site but Covid did delay us by about six months

thanks to availability of things like cement from builders' merchants

etc."

Most of the infrastructure was in place by the end of 2019, with a

1km track laid, all the trenches for the cabling and the connection to

the grid. "We made the decision to be 'on-grid' although we certainly

considered the alternatives. All our electricity is from sustainable

suppliers. We have an ethos of wanting to conserve heat and power,

and this is part of the reason why we aren't offering hot tubs. We are

considering sunken outdoor baths for the future, but have no plans

just yet."

18 WWW.OPENAIRBUSINESS.COM
---
PEOPLE

GETTING THE GUESTS

"We use Canopy & Stars – as a new site they have given us a

great start to help get our name out. We are also listed with Cool

Places, Cool Stays, Unique Hideaways and a great female-owned

business called Kip Hideaways. They hand-pick properties and

now have about 120 'small places with soul'."

As a marketeer, Katie has also created partnerships with

influential brands such as Whistles as well as small local

businesses. "I like what a partnership arrangement can bring and

am looking to work with other brands that reflect our ethos."

A FAMILY BUSINESS

The creation of Blyth Rise Stays has been a family affair, with all

five of Pam and Mark's children helping at some point – James

with the lodge design, Laura with site maintenance, Jake with the

website and Billy with events. Katie handles sales and marketing

and also runs on site yoga classes and retreats.

"I live about 20 minutes away and used to be on site all day,

five days a week in the office. But people just didn't need me!

Because of Covid, we set things up to be contactless. We have

electric gates with a code that's changed once a week, and each

lodge or hut has a coded key box outside. There is an emergency

24 hour mobile phone number that we take turns to man, but

we've only had that ring once!" There is always someone either

on site or nearby – it is still a seven-day a week business, but the

busiest days are changeover days, and a lot of the day-to-day

management can be done from home.

Changeover is managed with the help of a local cleaning

company and a local laundry.

The site closes after New Year and reopens at the start of

March. In this downtime, the family takes a well-earned rest

before attentions are turned to essential site

maintenance.

"We need this time to recharge," says Katie.

"Then it's back to site and a whole lot of

maintenance to keep things looking great – we

have a lot of wood to oil!"

DETAILS

Blyth Rise Stays, Station Road, Laxfield

Suffolk, IP13 8HF

www.blythrisestays.co.uk

"AS A MARKETEER,

KATIE HAS

CREATED

PARTNERSHIPS

WITH INFLUENTIAL

BRANDS

INCLUDING

WHISTLES AS

WELL AS LOCAL

BUSINESSES"

Build Your Own

Shepherd Huts

With Tithe Barn Shepherd Huts original parts.

Call 01262 470475 or

Visit www.shepherd-huts.com

and click on the 'self build' page

WWW.OPENAIRBUSINESS.COM 19
---
FUNCTION VENUES

CASE STUDY

Marshwood

Manor

A "mysterious, wild and magical" spot in deepest Dorset

We talk to owner Romla

Ryan about creating events

that go beyond a couples'

expectations with dedicated

planners, and achieving the

highest levels of quality with

a #nothingnew objective.

Tell us about your location

and site

Marshwood Manor is a 22 acre

estate crouched in the Vale of

Marshwood in West Dorset. This

Area of Outstanding Natural

Beauty, with ancient woodland

and small fields, has changed little

since the Iron Age. It is mysterious,

wild and magical yet hidden away

from the world. In its centre,

stands Marshwood Manor – the

perfect wedding venue for couples

looking for something special in an

idyllic rural setting.

We opened as an exclusive use

venue at the end of 2019, with six

spacious, pet-friendly cottages

in the grounds, sleeping a total

of 32 guests. From the moment

the wedding party drives through

the gates and down the sweeping

drive, they have total privacy. No

part of the venue or grounds is

20 WWW.OPENAIRBUSINESS.COM
---
FUNCTION VENUES

open to other guests or tourists

to intrude on celebrations and all

parties have the run of the venue

from 3pm on Friday to 12pm on

Sunday.

What facilities for outdoor

functions do you offer?

Our Woodland Bower might just

be the most magical space to be

married in the entire South West.

Couples cross the stream on a

living bridge to say their vows in

a Victorian bower in the heart of

ancient Dorset woodland with

family and friends seated in a

natural amphitheater created from

the trees themselves.

The meadow leading to the

woods is a fabulous spot to really

take in the panoramic views of

the Vale. Used as a destination for

picnics, banquets or festival style

celebrations, its space and beauty

transports guests.

Our Victorian courtyard, at the

heart of the venue, is very special

– spacious yet private, elegant yet

relaxed. The circular dais is perfect

for a band, a bar, a firepit or even

a place to be married in the round.

The courtyard can be covered by

a marquee and is beautifully lit in

the evenings. Gates allow access

for street food vans etc. for a

relaxed dining option.

We also have six cottages

that give guests everything they

would find in a hotel – luxurious

bedrooms and bathrooms,

beautiful linens and toiletries, plus

spacious sitting rooms, kitchens,

utility rooms and gardens. Because

the guests that stay together play

together!

What services do you offer?

As soon as a couple has booked

with us we send details of our

hand-picked personal wedding

coordinators who will be working

with them. After chatting to our

coordinators a couple can choose

which one will work best for them

(subject to their availability). Any

additional planning services can

also be arranged.

This service is included in the

hire cost and makes an incredible

difference to every aspect of a

wedding.

There are no packages at

Marshwood Manor. That means no

rules, restrictions or obstacles to

creating the wedding a couple has

their hearts set on.

Our flexible venue spaces,

paired with our list of amazing

cherry-picked local suppliers,

means couples can celebrate

the way they want. They can get

married in the woodland and

then revisit it for some morning

yoga or a film screening under

the stars. They can eat under the

trees, in the haybarn or the circular

courtyard, and dance wherever

they like!

Describe how you researched

and sourced your structures

Our woodland bower, as well as

many other parts of our venue,

was built with wood from our own

woodland. We work with local

suppliers for temporary structures

such as marquees and bell tents.

WWW.OPENAIRBUSINESS.COM 21
---
FUNCTION VENUES

How do you publicise yourself?

We are proud of our services and

this reflects in the testimonials and

recommendations that we receive

from not only couples but guest

and suppliers. We also work with

Hitched and have a great rapport

with wedding and consumer

editors and media outlets across

the board.

How would you describe your

style or unique selling point?

We are committed to being

a more socially responsible

business by continually looking

for ways to reduce our footprint.

We seek to care for and protect

our environment with lovingly

restored furniture, minimal use of

plastic, rustic antiques, the work

of local craftsmen and the use of

our own wood in building and

decoration. We achieve the highest

levels of quality and luxury with a

#nothingnew objective.

How has covid impacted you?

We were very lucky, being a new

venue we had space in 2021 and

2022 to move our couples' dates.

How large is your team – any

special people you'd like to

mention?

With many years' experience
---
FUNCTION VENUES

between us and a love of what we

do, our team is both professional

and fun. We are a small group –

myself, Chloe (wedding liaison

and bar manager,) Jo (head of

housekeeping) and Grazyna (PR

and marketing consultant).

What are your plans for next

season?

To maintain our highest standards

and to build our elopement and

proposal portfolio.

Describe your average day midseason

There isn't one. Every day is

different, as are each of our

couples!

What do you enjoy about the

business and why?

We love sharing our home with

people on one of the most

important days of their lives.

What are you most proud of?

Our team.

What advice could you give

to someone coming into the

industry?

Don't try to be all things to all

people.

ADDRESS BOOK

MARQUEES & FURNITURE

Marquees of India

www.marqueesofindia.co.uk

Rochester Event Hire

www.rochestershire.co.uk

Taddle Farm Tents

www.taddlefarmtents.co.uk

BELL TENTS

Honeybells www.honeybells.co.uk

DETAILS

Marshwood Manor

Bettiscombe

Bridport

Dorset, DT6 5NS

01308 867 440

www.marshwoodmanor.co.uk

WWW.OPENAIRBUSINESS.COM 23
---
FUNCTION VENUES

Predictions

Charlotte Winship's crystal

ball on trends for the 2022

wedding season

GETTY IMAGES

I AM determined to have fun in 2022! As

with all great eras of social, political and

economic change, we are in a renaissance.

Prohibition of freedom has helped us

recognise what brings us joy and we are

going to maximise every opportunity to fill

our buckets.

Nearly two years of lockdowns and

restrictions have stifled us and we want to

embrace freedom; dress up, gather friends

and family around us, hear live music, dance

and enjoy good food. And nowhere will

feel this resurgence quite like the wedding

industry.

2022 is predicted to be the busiest year on

record for UK wedding businesses with over

550,000 weddings in the pipeline, according

to the UK Weddings Taskforce. Two years

of lockdowns and uncertainty have created

a backlog of postponed weddings and

couples keen to seize the day leading to a

forecasted revenue of over £28 billion for

the UK economy.

But what will these weddings look like

and how can you prepare your wedding

venue to meet the expectations of couples

in 2022?

"2022 IS PREDICTED TO

BE THE BUSIEST YEAR ON

RECORD FOR UK WEDDING

BUSINESSES WITH OVER

550,000 WEDDINGS IN THE

PIPELINE, ACCORDING

TO THE UK WEDDINGS

TASKFORCE"

WEDDING STYLE IN 2022

The successful Netflix series Bridgerton has

led to a revival of the dramatic and vibrant

Regency-era style. Bright, bold colours,

voluminous dresses and big statement

floral arrangements. Spring and summer

gatherings for sumptuous feasts set at

formal tables with multiple courses, wine

pairings, rich flavours and aromas. Georgian

country houses, palaces, museum venues or

traditional white pole marquees for the win.

The BBC's The Pursuit Of Love also

fuelled our love affair with Roaring Twenties

decadence. Frivolous, multi-textured,

sensual style. Sharp Art Deco design in

silver and gold against dark reds, blues,

greens and black blended with luxurious

soft velvets, leather sofas, brocade, fringing,

pearls, palms and atmospheric lighting.

A woodland ceremony with an eccentric

celebrant, Champagne tea on the lawn

with a game of croquet then an evening of

frivolity. Theatrical bar tenders dishing out

inventive and imaginative cocktails, grazing

food stations, plenty of space for dancing to

the DJ's tunes and cosy nooks to rest your

weary bones and tired toes. Outdoor tipi

venues, converted barns and warehouses,

town and country stately homes and rural

idylls get ready.

Covid has left us feeling nostalgic.

Recollections of our lives BC (before

Covid) have seen couples incorporate

personal memories into their wedding day.

Meaningful places or objects from their

travels or childhood can be incorporated

into tablescapes, stationery design and even

outfits. Wedding locations will be chosen

according to the memories they evoke, of

happy holidays, childhood excursions or

family connections.

24 WWW.OPENAIRBUSINESS.COM
---
FUNCTION VENUES

CHANGES TO MARRIAGE LAW

A massive shakeup of how we marry is

also likely to occur later this year. The Law

Commission is expected to publish a report

in July 2022 with their recommendations for

how the UK government should reform the

1836 Marriage Law. It is widely recognised

that this outdated law is no longer fit for

purpose in the 21st century and couples

deserve more freedom to choose how and

where they wish to be married.

Currently couples have one of two

choices: marry in a church or conduct a civil

ceremony within a licensed building with

an official registrar. The proposed changes

will mean that couples have a lot more

flexibility. There will be less regulations,

increased choice, fairness and simplicity

making weddings more affordable and

equal for all. This opens the door to

outdoor weddings at home, on a beach, in

a woodland or even a boat, and weddings

conducted by independent celebrants with

or without religious ceremony.

WHAT COULD THIS MEAN FOR UK

WEDDING VENUES?

› The opportunity to utilise more of your

venue without having to obtain an

additional costly and time-consuming

wedding licence from your local council

› Providing more flexibility to meet the

changing expectations of couples

› A need to create idyllic outdoor spaces for

more personal humanist or celebrant led

ceremonies

› Seeking out more intimate indoor spaces

for popular micro wedding ceremonies

and elopements

› Getting to know your local independent

celebrants and creating a list to help

couples choose who they would like to

lead their wedding ceremony

› Offer an in-house celebrant service to

help couples save time and money.

SMALL, SUSTAINABLE, SUPPORTIVE

WEDDINGS

Maximalism may be our response to

stultifying Covid but climate change is also

top of the agenda for lots of us and couples

are increasingly mindful of the impact their

wedding may have on the environment.

Locally sourced seasonal food, vegan and

vegetarian menu options, second-hand

dresses or outfits that are timeless and

can be worn again, dried, homegrown and

seasonal flowers. What initiatives have you

introduced to lower your environmental

impact?

Smaller, micro weddings and elopements

are also continuing to be popular for

couples keen to celebrate with their closest

friends and family or just themselves.

Venues close to home lower the impact of

TIPI SPACES

travel and couples are keen to support local,

small businesses. Keep a list of trustworthy

suppliers who you have worked with and

can recommend to provide maximum

quality product, service and imagination.

WEDDINGS CLOSER TO HOME

Overseas destination weddings are still

unlikely as Covid continues to create

uncertainty for travellers. Continuous

changes at the borders and rules around

vaccination and Covid testing and

quarantine have made travel complicated

and expensive. It has also become very hard

to find insurance for overseas weddings.

Whilst there will still be couples prepared

to take a risk for the surety of a more exotic,

warm and sunny wedding day, there will

be many more who stay closer to home to

enable more family and friends to attend

and remove any fear of their wedding plans

being upended by zealous border officials.

This is a bonus for UK-based wedding

venues and suppliers and will further help

swell the number of UK weddings planned

for 2022.

Being forced to play roulette with the

British weather doesn't mean you can't

incorporate more exotic elements into your

wedding day. We have all the benefits of a

multi-cultural world right here, from food

to flowers, costumes and furniture. It might

involve a bit more imagination and effort

but there is no reason why you cannot

bring the Caribbean beach to Cornwall or

an Italian lake to Cumbria. Be flexible and

open-minded to support your couples to

have their dream wedding and keep your

fingers crossed for a balmy summer.

TIPI SPACES / VENETIA NORRINGTON

JEREMY WONG WEDDINGS

COVID-SAFE WEDDINGS

'It will be over by Christmas', they said in

2020. As I write this, the UK government is

discussing plans to lift Plan B restrictions

by the end of January 2022. But Covid

will linger and no doubt cast its spell of

uncertainty over us for a long time to come.

The best approach is to stay optimistic and

plan ahead. Paramount is keeping everyone

safe: you, your staff and your guests. Foster

good relationships with your couples and

suppliers. Keep in regular communication,

build trust and cooperation.

Regularly review your Covid policy and

your hire terms and conditions. Make it very

clear to your couples what plans you have

in place to protect them and their guests

and the expectations you have from them.

Follow the government guidance and seek

sound legal advice whenever necessary.

Be prepared for further cancellations and

postponements and have a process in place

when they arise.

FAMILY FRIENDLY WEDDINGS

Gone are the days when weddings were

for adults only. More and more couples are

getting married later in life and often have

children before they tie the knot. It is also

WWW.OPENAIRBUSINESS.COM 25
---
FUNCTION VENUES

much easier for families to be able to bring

their children to a wedding than to arrange

childcare, particularly if the wedding is

far from home and involves a night away.

That doesn't mean that parents want to

be encumbered by their little darlings.

Providing entertainment and supervision for

young children will be a godsend to parents

and enable them to fully enjoy the day.

Bored children also tend to become

troublesome children which can cause

disruption and even health and safety

concerns. What onsite facilities can you

offer to help parents? Is there a room you

could set aside for a creche? Do you permit

bouncy castles and garden games? Do you

offer a babysitting service or have a local

company who can? Do you or your caterers

offer child-friendly drinks and menus? Make

it one of your first fact-finding questions

at the venue visit to find out who's on the

guest list so you can support your couples to

help their guests enjoy their day too.

WEDDING INSURANCE

Advise all your couples to take out wedding

insurance but to check the policy wording.

Insurers are being very vague as to whether

couples will be covered or not in the event

of cancellation of their wedding due

to Covid 19. Insurers will often ask that

couples speak to their venue and suppliers

first to see if they can come to a suitable

arrangement before making a claim.

Wedinsure have said they will consider a

claim for cancellation or rearrangement

resulting from coronavirus.

Be as flexible as possible with your

clients. Postponement is usually the best

course of action for everyone though

couples may still be disappointed not to

get their preferred date or having to wait

longer for their special day. Emotions will

be running high so be mindful of this in your

conversations. Communicate closely with

suppliers too to help couples find a date

that is mutually acceptable for all. In the

event that some of the wedding party are

unable to attend, can you enable a live feed

of the ceremony from your venue to guests

isolating at home?

VALUE FOR MONEY

Budgets will remain high with average

wedding spend at £22,000, a quarter of

which will be spent on venue hire. Unlike

days of old, parents are less likely to foot

the bill for their offspring's nuptials. Young

couples are becoming increasingly budget

conscious and financially aware. They still

want to invest in a memorable wedding day

but they have other expenses on their mind

so are looking for best value for money.

Where does your venue add value?

Do you offer a full wedding coordination

TIPI SPACES / VENETIA NORRINGTON

"VENUES CAN SUPPORT COUPLES TO ENJOY THEIR OUTSIDE

SPACES BY ADDING AN AWNING, CREATING OUTDOOR

WARMTH SUCH AS FIRE PITS OR OTHER OUTDOOR HEATERS,

PRETTY GARDEN LIGHTING AND OUTDOOR GAMES AND

ACTIVITIES SUCH AS CLAY PIGEON SHOOTING OR MINI GOLF"

service? Busy couples will value as much

help as they can in planning their wedding.

Do you offer in-house accommodation?

Being able to stay on site and not travel is a

bonus for couples. Do you offer an in-house

bar? Many couples still prefer to bring in

their own wine for their wedding breakfast

but with a well-considered bar list you can

save couples the trouble of sourcing their

own wine and increase revenue at the same

time. Are you licenced for the ceremony as

well as the wedding reception?

Are you able to offer more than one

indoor space? Being able to hold the whole

wedding at one venue is the best value for

couples. Venues that can provide two indoor

spaces large enough to accommodate the

wedding party will be valued above venues

that only offer one indoor space. Changing

a room around from ceremony to wedding

breakfast to dancefloor is not ideal. It

can cause disruption for the guests and it

creates extra work for venue staff.

OUTDOOR WEDDINGS

The last two years have seen us all embrace

the great outdoors. Fresh air, the beautiful

and varying landscapes, wildlife and

changing seasons. Outdoors feels safe.

Clean air, natural UV and space to create

distance from one another. Walking,

camping holidays and wild swimming have

all seen a growth in popularity recently and

there is a natural inclination for us to weave

this newfound lifestyle into other aspects

of our lives including our wedding day.

Wedding venues with outside space will be

favourable as couples plan to spend at least

some of their day outside, depending on the

season and weather permitting.

Venues can support couples to enjoy

their outside spaces by adding an awning,

creating outdoor warmth such as fire pits

or other outdoor heaters, pretty garden

lighting and outdoor games and activities

such as clay pigeon shooting or mini golf.

Marquee weddings are expected to be

particularly popular as couples can plan to

enjoy all the benefits of outdoors with some

protection from the weather if necessary.

2022 is going to be busy for all of us

so take this time now to plan ahead and

prepare for the rest of the year. Discuss

workflow and be honest with yourself and

your team about work capacity. Do you

need to recruit a bigger team or outsource

work to help? Are your systems and

procedures as efficient as possible? This will

help you to maximise the opportunity the

next few years offer and help you enjoy the

wave.

ABOUT THE AUTHOR

Charlotte Winship has

over 20 years' experience

transforming good

wedding and events

venues into great ones. She

is an expert in helping venues

reach their ideal customers,

maximise sales opportunities, increase

profitability, establish effective teams and

streamline venue operations. 07493 350303 /

charlotte@charlottewinship.com /

www.charlottewinship.com

26 WWW.OPENAIRBUSINESS.COM
---
CWC Advert (Open Air Magazine).pdf 1 23/02/2021 12:04:51

Expert

advice to help you

achieve the most

from your venue

business.

C RE®

EVENT-STRUCTURES

UNIQUE OUTDOOR

MULTI-LEVEL STRUCTURES

C

M

Y

CM

MY

CY

CMY

K

• Increase

profitability

• Reach your ideal

customers

• Maximise sales

opportunities

• Streamline your

processes

CALL NOW FOR A FREE QUOTE

www.charlottewinship.com

07493 350303 / charlotte@charlottewinship.com

T: 0845 299 6499 - E: sales@core-eventstructures.com

www.core-eventstructures.com

WWW.OPENAIRBUSINESS.COM 27

ADVERT-EVENT-STRUCTURES.indd 1 27/01/2022 12:07:22
---
FUNCTION VENUES

How

to

Hybrid

Getting set up to deliver high

quality hybrid events at

your venue

GETTY IMAGES

WHEN THE pandemic forced event

planners to find alternatives to in-person

conferences, training and events, digital

solutions became their saviour. In 2020,

according to Forbes, there was a 1,000%

increase in virtual events.

However, as the world returned to

'normal' the many benefits remote

interaction and digital platforms offered led

to an explosion in hybrid events. This model

incorporates the best of both virtual and

in-person events.

Welcoming participants without the

need for travel saves time, money, carbon,

catering and allows control over exactly

who's 'in the room'. A virtual platform also

allows for a plethora of addons and apps –

from training, surveys, secret feedback, live

comment and related material, as well as,

in public facing arenas, advertising, product

showcases, paid content and huge amounts

of creativity around content provision.

On the other hand, no one can deny the

importance of in-person events, which is

why a mash up of these two formats is such

a powerful proposition.

The 2021 Virtual Event Guide reported

around 62% of planners said that the

future of events is hybrid, and 71% of the

companies with 5,000+ employees now

include hybrid events in their portfolios.

It isn't just in the business events space

that hybrid is relevant. Weddings are

making creative use of the technology,

livestreaming parts of the special day,

or patching in overseas guests in to give

speeches and enjoy the celebrations.

So what infrastructure should a venue

look to add in order to cater for the needs of

hybrid event planners?

A ROBUST INTERNET CONNECTION

This is the backbone of the whole digital

side of the offering. Check your internet

speed using speedtest.net, and if possible,

look out for a dedicated, hard-wired

ethernet connection and a minimum of

10Mbps upload and download speeds.

CAMERAS AND TRIPODS

A hybrid event may either be fully livestreamed

or use partially recorded video.

Event planners wanting multiple camera

angles and close ups will require multiple

cameras. These should support multiple

screen sizes as displays may be 4:3 or 16:9

depending on the devices being used to

watch.

If HD is something that your planners

want to offer, you need to check that the live

stream will support it.

MICROPHONES

High-quality microphones are essential.

Wireless lapel mics are preferable as they

appear better on camera and there is less

chance of shifting the mic which creates

ambient noise for the viewer. Using an audio

mixer is a good idea as different presenters

have different levels of voice. Wireless

handheld mics are essential for Q&As.

LIGHTING

Lighting will be required on any stage as

well as on in person participants. Lighting is

likely to need to include a set of stage lights,

spotlights and maybe some colour effects.

LARGE SCREEN

A large, LED screen for use in presentations

and, if really big, as a backdrop to the main

stage.

STUDIO

If you are really going to go the whole hog

and want to attract big budget organisers,

think about investing in a professional

studio space with broadcasting cameras

and green screens.

IN-HOUSE PRODUCTION TEAM

If you can offer an organiser assistance

with the technical elements of their event

28 WWW.OPENAIRBUSINESS.COM
---
FUNCTION VENUES

then you will likely win business over

a venue that cannot. A lot goes into

making sure that everything syncs, that

things sound great and that the content

being broadcast is of high quality and

being streamed to the right people.

If you don't have the resources in

house, think about working with a

dedicated external supplier.

POWER

It goes without saying that you need to

make sure that you have adequate power

and access points to accommodate all

the equipment needed.

FURNITURE

Think about furniture for a variety of

formats – comfy sofas for informal

discussions, high stools for panel

debates and lectern for formal

presentations.

ACCESS

There are often lots of large, heavy bits

of equipment needed for a hybrid event.

Make sure that the areas of your venue

you will use have good access should

your clients be bringing their tech in

themselves.

"A LOT GOES

INTO MAKING

SURE THAT

EVERYTHING

SYNCS, THAT

THINGS

SOUND GREAT

AND THAT

THE CONTENT

BEING

BROADCAST

IS OF HIGH

QUALITY

AND BEING

STREAMED

TO THE RIGHT

PEOPLE"

Learn from the Big Boys

TOBACCO DOCK, LONDON

The historic Tobacco Dock in London's east-end launched

its 'Live from Tobacco Dock' hybrid event offer in June 2020.

The 'plug and play' package features a 16-metre LED screen

and studio quality AV.

With multiple studio spaces, green rooms and catering

areas, as well as an experienced broadcast crew to harness

the energy and content, planners can build an event to their

own specifications.

ICC BELFAST, BELFAST, NORTHERN IRELAND

The aptly named 'Hybrid Studio' at ICC Belfast in Northern

Ireland launched in June 2020.

The facility features LED stage lighting, 4K broadcast

cameras, vision mixing and green screen effects, plus a full

PA system.

Events can be live, pre-recorded, in-person or fully online.

With multiple set-up solutions from high stools and comfy

sofas to a more formal lectern and top tables, planners can

deliver their message in an environment that suits them.

BRITISH MOTOR MUSEUM, WARWICK

Warwickshire-based venue, the British Motor Museum

teamed up with audio-visual specialist, Showman Event

Support to launch its hybrid offer.

The venue has opened a dedicated filming studio and

offers 1GB Wi-Fi, including a 100Mb hard-wired connection,

to allow for seamless virtual video conferencing.

"Whilst we identified a growing trend in hybrid events

pre-COVID, we anticipate the importance for venues to

have the right technology and infrastructure in place

to deliver these types of events moving forward. It will

become a key requisite for organisers," says senior sales

manager Charlotte Dawes.

WWW.OPENAIRBUSINESS.COM 29
---
S2T GRASS

REINFORCEMENT

PERFO

interlocking tiles - effective

protection for soft ground

SOUNDPROOF STUDIOS STRUCTURES

ACOUSTIC

LININGS

HIGHLY

DIRECTIONAL

SPEAKERS

THERMAL

LININGS

MANUFACTURED FOR PERMANENT &TEMPORARY

MARQUEES

Ideal for the reinforcement of

parking areas, access tracks,

pitches etc. at:

- camping & glamping sites

- open air event venues

- country & leisure parks

Tel. 01992 522797

www.perfo.co.uk

directacousticsolutions.com

+44 (0)1403 820846

30 WWW.OPENAIRBUSINESS.COM
---
FUNCTION VENUES

INDUSTRY COMMENT

Business Events

Summer is the

new Christmas

Events are about to "go through the roof", writes Andrew White

GETTY IMAGES

DECEMBER'S STOP start festivities

scuppered the corporate Christmas

market as events were postponed,

cancelled or migrated online. However,

2022's exit from Plan B is putting a more

buoyant air into the events sector and, if

the initial demand is anything to go by,

events are about to go through the roof.

Like everything brought about by

the pandemic we've learned new ways,

improved efficiencies and made work

arounds. It's the same scenario for the

events sector where in-person events will

return, and the value placed on face-toface

will be high.

We've proved we can work, learn and

reward online – we are now eager to get

back together.

The pandemic has taught the wider

hospitality industry a big lesson, we've

all learned to cook – restaurants can get

amazing food to us pretty instantaneously

and we've learned how to entertain in

our homes and gardens. If we go

out, we now want to go 'out

out'. We want experiences

and things we can't

replicate. Destinations that

bring together food, drink

and design is combined

with immersive and

theatrical entertainment.

Hoteliers and brands are having to go

beyond their traditional restaurant and

bar concepts and deliver 'moments' that

guests will talk about for months or years

to come. The same is true for the events

sector: we are happy to learn online, but

we are hungry to get together to network

and inspire new ideas.

Corporate hospitality such as tennis,

cricket, concerts and festivals is well

placed to benefit from the demand for

experiences. Corporates understand the

value of reigniting relationships that have

been lived out online and are willing to

spend as long as they get a return on

experience.

"CHRISTMAS PARTIES

WERE CANCELLED AND

POSTPONED IN THEIR

DROVES, BUT WITH THE

CALL TO RETURN TO THE

OFFICE THERE'S A

RENEWED CONFIDENCE"

Christmas parties were cancelled

and postponed in their droves, but with

the call to return to the office there's a

renewed confidence. Businesses want to

get their people and clients back together

but do remain nervous about large

groups. They want flexibility too in case

restrictions are reinstated. But most of

all they want to kick start the face-to-face

conversations and chatter.

The narrative is very different from 12

months ago, as should your sales and

marketing terminology. Capitalise on your

uniqueness – your location, your open

grounds, your heritage in entertaining

people – and you'll beat any hotel brand

hands down on theatre and creating an

amazing experience.

ABOUT THE AUTHOR

Andrew White is

MD of Triggerfish

Communications, a

specialist in helping heritage

venues and leisure attractions

build awareness and market share

in the business of events.

www.triggerfish.co.uk

GETTY IMAGES

WWW.OPENAIRBUSINESS.COM 31
---
FUNCTION VENUES

PRODUCT IN FOCUS

Heat, Power

and Lighting

Marquee Wedding at

Hawarden Castle Pavilion,

Flintshire

Service: Power and lighting

Supplier: Event Equipment, 01829 289888,

sales@eventequipmentltd.co.uk, www.

eventequipmentltd.co.uk

Details: Working alongside Hawarden

Castle Pavilion as preferred suppliers,

Event Equipment helped to deliver a

tailored lighting package. The pavillion

was used on this occasion for its WC

facilities and for food preparation, and

the team provided wireless LED uplighters

positioned inside to create a warm inviting

glow that matched the colour scheme of

the day.

Externally, the bridal party had opted

for a large sailcloth marquee as their

guest numbers were quite large. The brief

was to make the whole site an inviting

place to be after dark. High level festoon

lighting in front of the marquee provided

an illuminated an area for guests to sit

and talk on Event Equipment's bespoke

cable drum furniture. The company also

installed a low-level run of festoon as a

walkway which linked the pavilion with the

marquee.

Internally, the marquee was illuminated

with filament style festoon in the roof,

and uplighters around the perimeter.

Connecting these to a dimmer gives

greater control of light output, and really

helps to set the mood in the evening.

A combination of high-powered colour

changing LED fixtures were used to

illuminate the surrounding parkland's

trees along with more traditional HQI

floods. All the additional lighting was

powered using one of Event Equipment's

super silent generators.

Feedback: The bride said: "Lots of guests

commented on how pretty and magical

the marquee and grounds looked. The

team from Event Equipment were helpful

and extremely knowledgeable, giving

advice on how to enhance the look and

create a stunning marquee day and night."

32 WWW.OPENAIRBUSINESS.COM
---
FUNCTION VENUES

PRODUCT

SNAPSHOT

FirepitsUK

01873 840777

sales@firepitsuk.co.uk

www.firepitsuk.co.uk

Warmth, atmosphere and an

outstanding way to cook over

wood… this is what a FirepitsUK fire

pit can give your guests. Their range

has been created specifically for

cooking over, and they offer an ideal

dual-purpose solution for glamping

sites and outdoor hospitality venues.

FirepitsUK has created over 40

designs of fire pits, pizza ovens

and outdoor kitchens to suit all

types of spaces and they are handforged

in the UK from British steel.

Features such as the unique swing

arm BBQ rack allow superb control

over the heat and also enable easy

access to the fire to keep it fuelled

and managed. Furthermore, the

quality of the steel and exacting

construction methods means

these firepits can be left outside all

year round without affecting their

longevity.

Elani Lighting

07979 267507

www.elanilighting.com

Elani Lighting provides decorative outdoor lighting

systems for marquees, glamping and terraces with

elegant and fun lamps suitable for use in all weather.

Offering a diverse range of stylish Italian designed

light fittings and cables, lighting can be assembled to

your exact requirements.

Combine natural finishes, coloured cables and

elegant and/or fun lamps with components that

are IP65 water resistant, protecting them from the

weather whatever configuration you create.

Thermobile UK

02476 357960

andy@thermobile.co.uk

www.thermobile.co.uk

Essential Supplies

01752 817140

sales@essentialsupplies.co.uk

www.essentialsupplies.co.uk

Pretty much everything technical you need to run events from a

marquee. If you are a venue with your own structure then Essential

Supplies is your one-stop-shop for power distribution, audio and

lighting, as well as marquee rigging and accessories. You can order

online or over the phone, and next day delivery is free for orders over

£150.

For power, this company has a large range of temporary power

supplies using components from Mennekes and Eaton. As well as a

range of stock power distribution boards, it can create boards to any

specification, from 16A to 800A. They are lightweight, weatherproof and

feature a unique stacking system with sunken components.

Thermobile heaters are manufactured in Holland and

built to a very high quality. They have a minimum

efficiency of 90 per cent, which means that 90 per cent

of the fuel burned goes as useful heat into the heated

space and only 10 per cent via the flue. This is a very

high efficiency in comparison to other heaters on the

market.

The Thermobile ITA range is ideal for heating

marquees and other temporary structures. It

comprises small, mobile units with a 5-10m range for

ducting and 15hr integral fuel tanks. The larger IMA

units require a separate fuel tank and can be ducted

up to 40m.

WWW.OPENAIRBUSINESS.COM 33
---
GLAMPSITES

CASE STUDY

Loveland Farm

North Devon's most unique eco-retreat

When fashion designer Jeff

Griffin and his family took

a trip to Canada a seed of

an idea was planted. It took

several years but Loveland

Farm is the result, a glamping

retreat with sustainability at

the top of the agenda. Having

created a culture of design

and wholesome living, we

talk to Karina Griffin about

Loveland's development.

What's your back story – your life

before glamping?

My husband Jeff and I began our

fashion careers in Milan in 1994

before returning to London to set

up the menswear label Griffin (then

known as Griffin Laundry). Having

graduated from Central St. Martins

School of Art, we spent much of our

lives living in the city.

In 2001 we made the big move to

the Wiltshire countryside, moving

the family and design studio out

of Ladbroke Grove and into a

converted cowshed on the edge of

Salisbury Plain. Having consulted

for some of the fashion industry's

biggest brands, including Hugo

Boss, Kenzo, Mandarina Duck and

Converse, the move allowed Jeff

and the studio's design team to

think more freely, whilst offering our

family a chance to live a better and

more active life.

Now based in North Devon, the

Griffin Studio continues to design

seasonal collections which are

sold throughout the world and we

continue to consult for numerous

brands. All this happens at Loveland

Farm, as the lines between fashion

and lifestyle continue to blur to

offer our visitors a truly unique

experience.

What made you decide to

start offering glamping

accommodation?

The idea began back in 2007 when

the family took a trip to Canada.

While there we met a man who

hung wooden pods in trees. This

got us thinking – if we can combine

our love for the outdoors and our

passion for what we do across areas

other than fashion, we could create
---
GLAMPSITES

something really unique. In 2015 our

first pod opened.

How did you research the

business before entering it?

By looking at the market place what

was in existence and what would

work best. We thought globally not

locally through design.

Tell us about your location and

site

Once a working farm, Loveland now

comprises about 20 acres. On site is

the 19th Century farmhouse as well

as a number of barns which date so

far back no one knows exactly how

long they've been there for!

We are based in a UNSECO site

which is an AONB, created by the

dramatic Atlantic coastline. Just a

mile away from us you can find the

coastal path, which brings you to

many spectacular waterfalls and

Hartland Quay. There is also a pub

set into the side of the cliff face and

natural bay for sea swimming.

How did you tackle getting

planning?

We tackled planning by talking

with the local council and doing a

pre-meeting to get an indication of

their response. We then took on a

planning consultant who advised

us. We had to do a variety of surveys

prior to submitting any planning.

There were no real significant

compromises as we understood that

we need to work with our location

and embrace the environment

around us. We have planted 9,500

trees to help rewild the location

and truly respect the environment

around us.

"WE LOVE HIS

GEODOME

STRUCTURE

CONCEPT FOR

ITS SPACE,

MODERNISM

AND STRENGTH

AS THESE

STRUCTURES

STAY UP ALL

YEAR ROUND"

How did you finance the project?

We financed with our own personal

savings.

What glamping accommodation

do you offer and why did you

choose it?

We were inspired by Buckminster

Fuller, the American engineer,

architect, and futurist who

developed the geodesic dome.

We love his geodome structure

concept for its space, modernism

and strength as these structures

stay up all year round. We only

open seasonally for guests.

We have nine domes sleeping

from two to eight. Each pod

comes complete with its own

private shower, toilet facilities and

kitchen. Three of our pods are

dog-friendly. Space for camping in

conjunction with a pod booking is

also available.

What amenities do you offer

guests?

We have some wonderful hampers

on offer to guests and offer pizza

nights and Sunday roasts with

home-reared lamb or pork. Also

available is our range of organic

produce grown here at the farm,

including pork sausages, pork and

lamb chops, lamb mince, buffalo

burgers, sirloin steak, bacon, eggs

and seasonal vegetables.

We also offer guests a

complimentary private one hour

swimming session in our indoor

salt water eco pool, which is

heated with our own biomass.

WWW.OPENAIRBUSINESS.COM 35
---
GLAMPSITES

What occupancy levels and price

per night do you achieve?

Occupancy levels for the season

are high. We offer a three night

minimum stay and our prices vary

on the size of pod, from two people

up to eight person occupancy.

How did you work out your

brand and how do you publicise

yourself?

Our background in design helped

us create the concept of the brand.

We publicise though our online

social media platforms, blog posts,

influencers and through our design

business.

How would you describe your

ethos and unique selling point?

Loveland Farm offers modern,

luxury sustainable living designed

to inspire a lifestyle achievable in

today's society.

We seek to inspire a way of living

through design which people will

bring back with them through their

stay at Loveland.

How did you choose your interior

decoration?

We chose the interiors though

our experience, knowledge and

resources, through our luxury

clothing line Griffin.

Tell us about your sustainability

practices

We try, as a family, to be as green

as possible and dream of building a

sustainable future, so when it came

to developing the farm, this was

very much at the forefront of our

minds. Every decision was carefully

considered, questioning the ways in

which we could make it more green

using a mindful and considered

approach to our products and

energy consumption.

We have developed the campsite

using green technologies such as

our recycled wood chip 110kW

biomass system and solar panels.

We take recycling very seriously

but feel that reducing the amount

of waste we produce is our most

important factor.

All of the pods bar one now work

off a biodigester system for our

toilets which means clean flushing

water which is cleaned organically

through a system of organisms. The

system biologically digests organic

waste material, either anaerobic or

aerobically, through microbes and

other bacteria. The whole system,

is closed and the benefits of this

involve no odor from waste which

in turn eliminates flies and

rodents from our site increasing

hygiene. Biodigesters are

eco-friendly reduce the whole

sites carbon footprint

significantly.

"WE HELP

CURATE

A LOCAL

FARMERS'

MARKET AND

TAKE PART IN

LOCAL SEED

SWAPS TOO"

We grow most of our own

vegetables but also support many

local farmers and smallholders

in their endeavours to live selfsufficient

lifestyles. We help curate a

local farmers' market and take part

in local seed swaps too.

Our pigs, lambs and ducks are

bought locally and raised on the

farm and we sell the produce to our

guests.

What challenges have you faced?

It has been a steep learning curve as

we didn't come from hospitality. We

learnt fast.

What are your plans for next

season?

We are seeking to engage with more

local artisans to provide luxury

local products and workshops to

our guests. Plans for the future

evolve constantly, including more

geodomes and converted barns.

36 WWW.OPENAIRBUSINESS.COM
---
GLAMPSITES

Describe your average day midseason

The average day is always

different. Guests arrive at 4pm post

changeover, we offer luxury hampers

onsite, so picking veg and flowers

from the veg garden is a priority right

before guests arrive.

They are then shown into

their pod, given a tour and

offered recommendations for the

surrounding area. We are always on

hand in the studio for any requests

or requirements, ranging from

mending swimsuits to showing kids

the range of animals we have on the

farm.

Do you enjoy the business?

Yes, it's become a vocation and

very much a family business, with

everyone playing a key part.

What are you most proud of?

Creating something from nothing.

What other outdoor hospitality

sectors do you operate in?

We do integrate our fashion business

in through photoshoots, stylists,

fashion events and team workshops.

We also offer the site for select

events and retreats.

What advice could you give

to someone coming into the

industry?

You need to seek out your USP and

concept. Be ready to put in the hours

of hard work but it is worth it.

DETAILS

Loveland Farm

Hartland

Bideford

Devon EX39 6AT

01237 441894

www.loveland.farm

WWW.OPENAIRBUSINESS.COM 37
---
GLAMPSITES

Forecast

Canopy & Stars' Tom Dixon

reveals 2022's glamping trends

Silva Treehouse, Cumbria

2021 HAS been another bumper year for

holidays in the great outdoors. As one of

the UK's leaders in 'nature breaks' we can

reveal that the number of stays for the year

were up over 60% on 2020's record levels.

That's a 50% rise in people taking holidays

in nature since 2019, and the trend shows

no signs of slowing.

April 2022 is currently our most popular

month, and more people than ever are

planning ahead as we've seen an increase

in forward bookings as far in advance as

summer 2023. We're spending more on

staycations too; Canopy & Stars average

booking value in 2022 is already tracking

50% ahead of 2021.

So how will we holiday in 2022? The

Canopy & Stars team have deep dived into

the data and pulled out the biggest trends

for the year ahead.

LOW IMPACT REACHES NEW HEIGHTS

Fuelled by COP26 and the worldwide

focus on the environment, searches for

'sustainability', 'the impact of climate

change' and 'how to conserve' reached an

all-time high in 2021 (according to Google

Trends). Sustainable ways to travel are

more important than ever, and more and

more owners are taking 'low-impact' to

new heights.

At The Carn in Herefordshire, top

sustainability standards have been

combined with beautiful design, and it's

proved to be one of our most popular

new spaces in 2021. The timber is locally

sourced (from the same Herefordshire

woodland that the owners got married

in), with sheep's wool and recycled paper

insulation. The lights, sockets and water all

run off solar power and freshwater comes

straight from a bore hole.

Furnace Brook Lodge in East Sussex

is a lakeside cabin which is run as a

CIC (Community Interest Company) by

sustainability expert Alistair Gould. Every

part of the design has been considered

to help people connect to nature; there's

even a tree growing through the deck.

WE'RE MAKING UP FOR MISSED

CELEBRATIONS

2022 looks set to be the busiest year for

weddings in decades, and there are also

missed birthdays, anniversaries, and

celebrations to make for after two years

of restrictions and challenges. Booking a

getaway is one of the most popular ways

to celebrate, with over half of Canopy &

Stars bookings being made for special

occasions.

One of our most popular spaces for

special occasions, new for 2021, is Silva

38 WWW.OPENAIRBUSINESS.COM
---
GLAMPSITES

Lark, Yorkshire

"SOME OF OUR MOST-LOVED OUTDOOR BATHS INCLUDE

THE OLD PIGGERY IN DEVON, WHERE TWIN OUTDOOR TUBS

OVERLOOK DARTMOOR NATIONAL PARK. OR BACK AT THE

CARN, GUESTS CAN CHOOSE BETWEEN THE INDOOR ROLLTOP

TUB OR THE SUNKEN OUTDOOR BATH"

pressed to pull yourselves away from the duo

of outdoor rolltop baths.

PUSHING THE BOUNDARIES OF POP-UPS

Summer 2021 saw the '56-day rule'; the

extension of temporary uses of land without

planning permission, resulting in a summer

of pop-up accommodation and experiences

around the UK.

As we await news of whether this

will continue in 2022, various reports of

'disappointing' experiences in 2021 will see

pop-up glampsites needing to be much more

creative and quality-focussed in order to

keep up for the summer ahead.

Canopy & Stars inspects and selects every

space in its collection (and reject 80% of

places that apply), and some standouts from

2021 include the Instagrammer's dream

'Midsummer Meadow Bed'; a unique outdoor

bed in a wildflower meadow on Dartmoor

which sold out over the summer season.

Partnering with other brands can also

enhance the pop-up experience, such as the

Treehouse in Cumbria – a mammoth

treehouse sleeping six, complete with

everything you need to get the party

started, from a pizza oven and firepit to

hot tub and secret games room, reachable

via the slide.

Or round up a group and head to

Box Barn in Wales, where families and

friends can reunite at the outdoor bar,

with a bunk room and plenty of space for

everyone.

For more romantic celebrations for

two, Lark in Yorkshire is a cool Scandi

cabin; close to the pub but you'll be hard

• Super hygienic LDPE interior lining for quick handovers.

• Durable and classic Thermowood

exterior complements the glamping setting.

• Choice of Internal or External wood fired heaters.

• Two sizes available 4 person / 8 person.

Snowford Hill, Southam CV47 9QE t 01926 504067

e sales@glamptubs.com www.glamptubs.com

WWW.OPENAIRBUSINESS.COM 39
---
GLAMPSITES

BELOW: Ursabear, Devon, RIGHT: Silva Treehouse, Cumbria

"IN 2022 WE ARE PLANNING TO ADD A SIMILAR NUMBER OF NEW SPACES, WITH A FOCUS ON

QUALITY AND CREATIVITY OVER QUANTITY. THROUGH OUR CONSULTANCY SERVICE, WE ARE

HELPING TO DEVELOP NEW IDEAS FROM INCEPTION TO MARKET"

Canopy & Stars Camp Out collaboration

with Oliver Bonas, which saw bell tents

kitted out with summer interiors from the

high street favourite.

THE BATTLE OF THE BATHS

Outdoor bathing is consistently a top

experience for Canopy & Stars guests,

with our Hot Tub Collection being a

long-standing favourite collection. But

an internal battle has long been brewing

amongst the team; should outdoor baths

be included in the hot tub collection?

We reached out to our guests to help us

settle the debate, and the results were

unanimous: Baths are not hot tubs.

Midsummer Meadow

Bed, Dartmoor

But our guests still love them so we

created an Outdoor Bath Tub Collection,

which has fast become a favourite. Some

of our most-loved outdoor baths include

The Old Piggery in Devon, where twin

outdoor tubs overlook Dartmoor National

Park. Or back at The Carn, guests can

choose between the indoor rolltop tub or

the sunken outdoor bath.

IF YOU BUILD IT THEY WILL COME…

A whopping 145 new spaces joined the

Canopy & Stars collection in 2021, with

some of our most innovative and exciting

places yet.

An evergreen favourite, treehouses

remain the top-performing spaces. Cabins

also had a great year, with over 60 new

cabins joining the collection, making the

most of the trend for year-round stays and

a growth in travel in shoulder-months.

In 2022 we are planning to add a similar

number of new spaces, with a focus on

quality and creativity over quantity.

Through our consultancy service, we

are helping to develop new ideas from

inception to market.

Some of our most inspiring new places

to join Canopy & Stars this year included

Hinterlandes Hidden Hut in the Lake

District which taps into the latest trend for

moveable spaces. A cabin built on wheels

so that it can move around the area to the

most unique, hidden spots.

Another trend is for owners to inject a

shedload of their personality into their

space; take Ursabear in Devon where

owner Val has filled the cabin with

treasures from her adventures, including a

huge life-sized bear to welcome you!

MEET THE EXPERT

Tom Dixon is managing

director at Sawday's

Canopy & Stars, a

collection of selected and

inspected special places to

stay and experience the great

outdoors across Britain, France,

Spain, Portugal, Italy and Scandinavia.

Championing the small and independent, and

being an advocate of sustainable tourism, the

team genuinely cares about what they do and

how they do it. www.canopyandstars.co.uk

40 WWW.OPENAIRBUSINESS.COM
---
• Sewage Treatment Systems •

• Sales • Installation •

sales@theseptictankstore.co.uk

01295 236 101

www.theseptictankstore.co.uk

Bear Habitats

A portable twin toilet & shower block to

satisfy your glamping bathroom needs

bear@theseptictankstore.co.uk www.theseptictankstore.co.uk

WWW.OPENAIRBUSINESS.COM 41
---
Quality Glamping

Cabins and BBQ Huts

CALIFORNIAN GRILLS

OUR RANGE OF SANTA MARIA BARBECUES

The beauty of the Santa Maria

Grill is that the grilling grate can

be raised or lowered by a hand

crank mechanism to control the

temperature whilst cooking.

These steel barbecues are modular,

giving you a variety of different

ways to enjoy an outdoor fire.

Bespoke racks and standalone grills

can be made specifically for the

catering and hospitality sector

including outdoor built-in kitchens.

Visit our website

www.californiangrills.com

Phone 01732 321242

Finman

Sleeper Cabin

For all year round bookings, upgrade your bell tent or

yurt to a Finman Sleeper cabin. Available in 4m, 5m and

6m diameters. They are assembled on site so perfect

for hard to reach locations.

EN-SUITE AVAILABLE • OFF-GRID OR ECO OPTIONS

BESPOKE SOLUTIONS • FULLY INSULATED AND HEATING OPTIONS

01389 887205 info@logspan.com www.logspan.com

Join our dynamic portfolio of

unique glamping structures

Visit www.qualityunearthed.co.uk

or call 01348 830922

42 WWW.OPENAIRBUSINESS.COM
---
GLAMPSITES

TRADE SECRETS

Interior

Wins

Designer Zoe Hewett explains why interior

design should be a priority for glampsites

INTERIOR DESIGN for outdoorsy glamping

pods might seem a bit of an extravagance.

Isn't it all just chintzy floral patterns and

cushions everywhere? Well, interior design

can look like any of myriad different styles

but as one of your first opportunities to

impress and entice guests it has to represent

you and your brand in the best possible

light.

With online directory and booking

agency sites being the main source of

traffic for hosts, having fabulous marketing

photographs of your interiors is paramount

to success. Promotional interior photos are

your shop window on the web. Standing out

and getting noticed is more important than

ever and as the number of new sites opening

grows this can become more difficult

without investing in the interiors.

There's no requirement to simply choose

lots of bold, bright, and visually loud

furnishings in order to attract attention

though. Your interior design also needs to be

authentic to you, your brand, and the site.

People are done with identikit hotels that all

look the same which is precisely why they

are looking at you.

Perhaps you simply want an interior

scheme that is well presented, practical and

easy to clean that will appeal to city dwellers

who don't want anything extreme to stay

in, just a nice and tidy outdoorsy retreat for

the weekend. That is absolutely fine, but it is

worth noting there is so much opportunity in

creating a really rich interior design scheme

based on a sense of story – the story of the

structure, the site, the people who once

owned the land and so on. People just love

visiting spots with a sense of history, an

"PEOPLE JUST LOVE

VISITING SPOTS WITH A

SENSE OF HISTORY, AN

INTERESTING NAME OR

TALE ASSOCIATED WITH IT.

TALKING POINTS"

interesting name or tale associated with it.

Talking points.

Old farms and estates often have a wealth

of visual story-telling potential in the form

of unusual and highly patinated artefacts

lying around in the barns. Maybe it isn't so

much the location that is of interest but the

structure itself, for example a 1930s train

carriage – it would be almost criminal not to

stick to the era with decorating somewhere

as special as that. Places like this have the

hugest potential for looking eye-catching in

those essential publicity photographs that

will have browsers stopping mid-scroll.

Another benefit of really going for it with

interior design, particularly if you have

multiple structures to stay in, is that it keeps

guests coming back. Tried the green bell tent

already? Why not come back and experience

the blue hut this time? If you had 10 identical

off-the-shelf bell tents there would be

little gain from decking them all out in the

same way. There is great scope for creating

excitement with 10 different ideas to create a

buzz among the guests.

Kitting out numerous glamping pods can

get expensive quickly but if you set a budget

and stick to it by using design thinking

to make solid, confident choices and by

planning everything carefully before starting

you can save money in the longer term by

getting the design right first time.

Giving the interior design of your pod

a professional touch can also help raise

your prices and of course therefore profit

margins. Whether there is a focus on high

end luxury or that extra sense of the unique

or special (or perhaps a combination of

both), either scenario can enable the testing

of a higher price for a night's stay.

DOME MAKEOVER AT TRACTORS

AND CREAM

One site that sought professional design

input to give their glamping pods the edge is

Tractors and Cream in Somerset.

WWW.OPENAIRBUSINESS.COM 43
---
GLAMPSITES

Proprietors and YouTube stars

Vicki and Bryan were seasoned

glampsite owners having already

run two yurts and a geodome for

a few years, but when it came to

investing in a new, larger geodome,

Claas Dome, the stakes felt a

little higher. Wanting to create a

unique space that looked and felt

a little more luxurious than the

others, they set about choosing

the colours of the curtains and

insulation, and found it difficult to

settle on the right combination.

Asking their Instagram following to help

generated lots of comments which is

fantastic social media interaction but

ultimately did not elicit the concrete answers

they were looking for. These choices can't

be made by committee. Sometimes it is

better to show leadership too. The pressure

of investing considerable money in a new

structure can make it hard to be decisive, for

fear of getting it wrong.

Having already taken part in the BBC TV

show My Unique B&B, offering up their first,

smaller dome for a makeover treatment they

had already seen that other creative minds

would be able to generate ideas they most

probably wouldn't have. Vicki knew she

wanted the new Class Dome to feel more

elegant than the others, and less rustic.

Having settled on a neutral wall insulation

colour and navy blue curtains she felt

intimated by the rest being so plain and the

challenge of transforming it into something

'more'. So, we decided to work together.

Since lockdown rules were still in force at

the time we used online questionnaires and

email to capture all the information about

the new dome, its location and the brief.

My job was to research design possibilities,

compose a scheme, source and specify the

items required to make it and of course

to convey the ideas in my imagination to

Vicky and Bryan through the medium of

moodboards, fabric and paper samples,

design sketches, and a handy spreadsheet

with all the pricing and supplier information.

All sent by email.

Thinking about the blue curtains that

had already been chosen and the layout

which included a small bathroom behind

the obvious position for the main bed, the

decision was made to create a feature of the

flat wall as a headboard.

In a geodome, the sloping walls are not

conducive to being easily decorated, so an

attractive wallpaper was found with the

intention of it being the main interior focal

point, perfect opposite the window to the

lovely country view outside. With a blue

colourway to compliment the curtains and a

whimsical tree motif with gold stars, it spoke

to the outdoors surrounding the dome and

also a touch of magic that would appeal to

any children excited to be spending their

summer holiday there. Partnered with

uplifting yellow and easy going grey, the blue

based scheme made for a balanced colour

palette that is alluring and interesting but

not overbearing.

Vicki and Bryan followed the design plan

to the letter and worked very hard to get it

all done in time for the new season opening.

Happily they, and their guests, are pleased

with the results.

"Having an interior designer

massively reduced the stress when

it came to building our new dome,"

said Vicki. "I wanted the space to be

completely unique but a dome is a

such a blank canvas that the choices

for colour combinations can be

overwhelming. Zoe took the stress

out of that completely and came up

with a design that we and our guests

absolutely love. It has definitely enabled us

to increase our nightly rate as the dome has

been so popular and a lot of that has been

down to having a well thought out design".

Being such avid YouTubers, Vicki and

Bryan have put together a video of the whole

process from start to finish so you can see

how getting interior design input can help

with your transformations.

Many designers will offer a range of

services to cater to different budgets and

different appetites for DIY. If you are too busy

to take on a refurb or a new interior install

you can likely outsource the entire project. If

you don't mind getting stuck in yourself then

you might benefit from consultation instead

which would furnish you with the ideas and

information you would need to go forth and

finish your interiors with confidence.

MEET THE AUTHOR

Zoe Hewett is an interior

designer, founder

of boutique studio

Stylemongers Of Bristol,

and can be seen on the

BBC TV show My Unique B&B

designing unusual rural retreats.

Zoe also offers design resources to help

glampsite owners to create their own unique

spaces. www.stylemongersofbristol.co.uk

44 WWW.OPENAIRBUSINESS.COM
---
01453 767171

www.bondfabrications.co.uk

enquiries@bondfabrications.co.uk

British Design & Manufacture of Unique Canvas Safari Tents & Bespoke Structures

From our Gloucestershire factory Bond have served the British outdoor hospitality industry for over 30 years. With an emphasis on

client-led design we use only high performance technical fabrics, traditional British workmanship and structurally engineered frames

meeting British & European codes. Bond offer an unrivalled custom design process to create unique, beautiful structures. From high

luxury glamping locations to exclusive tents for outdoor event venues, we can offer full CAD design support, exceptional quality and a

personal service to create the vision and identity your location requires. Call us to discuss your own project.

WWW.OPENAIRBUSINESS.COM 45
---
GLAMPSITES

PRODUCT IN FOCUS

Professional

Services

Glenarm Castle Estate,

County Antrim

Service: Partnership to provide pods and

business service solution

Supplier: Further.Space, 07761 747212,

partners@further.space,

www.further.space

Details: Further.Space partnered with

Glenarm Estate in 2019 to complement

its events, walled garden attraction

and tea room by providing nine luxury

glamping accommodation pods at zero

up front cost. The four berth pods have

been graded as 4 Star by Tourism NI.

Each pod has its own fire pit with seating

and there is a communal picnic area

that provides stunning views across to

Scotland.

Further.Space brings a unique business

model to the glamping market, working

with landowners to create micro-tourism

partnerships. Pods are provided at zero

cost so partners only need to

invest in their site works. This

gives them a significantly lower

cost method to entry, with far lower

financial risk profile. Full support

with site layout, design, architectural

services and the planning process is also

provided.

Once the site is open Further.Space

manages the entire customer acquisition

process including TV, radio, press and

digital/social media advertising. It

provides a booking system, payment

processing and customer service. This

means that all a landowner needs to do

is focus on the customer experience once

guests arrive on site.

As a partner you are connecting with

a brand currently building a network

of sites across Ireland and the United

Kingdom. You benefit from a level of

marketing spend and promotion that

would be difficult to justify individually

and you receive a dedicated partner

relationship manager to support you.

You also benefit from a growing base

of existing loyal customers keen to

experience more Further.Space glamping

in new and unique locations.

Customer feedback: Adrian Morrow,

estate manager, said: "The pods have

been a fantastic accommodation solution

on our estate, bringing steady trade

throughout the year and opening up a

self-contained and easy way to stay with

us. The partnership with Further.Space

has also supported us as we continue

to diversify, even through challenging

times, creating employment locally and

bringing in more tourists to the area who

are exploring and spending locally."

46 WWW.OPENAIRBUSINESS.COM
---
GLAMPSITES

Copper Beach Glamping, Staffordshire

Service: Build consultancy and marketing services

Supplier: Quality Unearthed, 01348 830922, letting@

qualityunearthed.co.uk, www.qualityunearthed.co.uk

Details: With their children showing little interest in taking over

the family farm, Steve and Tabitha were concerned by what the

future held for their 86 acre estate. The physical toll of farming

combined with the uncertainty of future support led them to

explore their options for diversification. The tourism sector

provided the logical solution. After hours of extensive research,

they eventually settled on glamping, drawn by the emphasis on

nature along with the comparatively low set-up costs.

Copper Beach Glamping is now a boutique glampsite consisting

of three units of individual design. The site sits on part of an

existing grazing field with planted native hedging and a sowed

wildflower meadow.

Once their new venture neared completion, Steve and Tabitha

spoke to Quality Unearthed, one of the UK's few specialist

glamping agencies. They were able to provide the support and

platform to help their business hit the ground running. Utilising

their extensive range of agency services, not to mention their

expert guidance amidst a global pandemic, Steve and Tabitha

were left to concentrate on what mattered to them – the

experience of their guests – safe in the knowledge that their

financial future was secured.

Customer feedback: Tabitha Cartmai said: "Polly from Quality

Unearthed really supported us during the launch of Copper Beach

Glamping and the company has been great at providing us with

bookings and dealing with guest's questions pre-arrival.

"We have learnt that the type of stay that we offer is very

labour intensive. In the future, we would look at the possibility

of adding to the guest experience with short courses, lambing

visits and linking with other local businesses. We could not do this

without Quality Unearthed managing the marketing and booking

administration."

PRODUCT

SNAPSHOT

Friar Best Insurance Services

01394 383868

enquiries@friarbest.co.uk

www.friarbest.co.uk

With everyone still living with the effects of the

coronavirus pandemic, a positive outcome has

been the evident boost to the glamping industry.

Friar Best Insurance Services, first established

in 2003, specialises in arranging insurances for

the socially and environmentally conscious

sectors of life. Through its own equal passions,

Friar Best has the knowledge and expertise to

advise and arrange insurance covers for site

owners and has an exclusive, bespoke and

flexible insurance facility to meet the many

unique and diverse risks presented.

"It is paramount for site owners to be able

to speak to insurance professionals who

understand the glamping industry," says

company director and chartered insurance

broker, Julie Friar. "Arranging the right

insurance helps to protect site owners' longerterm

business aims and objectives and, if the

worst should happen, have claims dealt with

expediently."

WWW.OPENAIRBUSINESS.COM 47
---
EVENTS

CASE STUDY

Derbyshire Sausage

and Cider Festival

Sizzling food, drink and music festival with more

than 20 of the world's top tribute acts

The Midlands' favourite family

get-together, the Sausage and

Cider Festival is returning to

Catton Park, Derbyshire, for four

days in June. The event centres

around top notch food and

music from many of the globe's

best tribute acts. We speak to

Richard Halpin.

Describe your event and how many

people it attracts

The Derbyshire Sausage and Cider Festival

is the UK's largest tribute festival and a

huge celebration of UK sausages and cider!

The event was the first of its kind and takes

place at Catton Park in South Derbyshire

– this year it will run across four days from

23-26 June 2022. This year marks the

seventh year of the festival which attracts

a wide range of people but mostly families

with a passion for music, good food and the

outdoors.

Explain a bit about your venue and its

history

The festival will take place at Catton Park,

which has a long and rich history of hosting

festivals. The likes of Breaded Theory and

Bloodstock Festival have taken place on

the grounds over the years. Catton Park

is in a beautiful location in the middle of

the National Forest and is a very popular

location for a whole host of outdoor

activities.

What is the event's history and what

made you decide to run it?

The festival was created by James Dean

Events, who wanted to give people the

chance to experience a large scale festival

but who couldn't necessarily afford the high

ticket prices of places such as Glastonbury.

Also, what's not to love about sausages and

cider!? It's a winning combination and the

event is a fun way to celebrate these two

British culinary delights.

How does the relationship work with the

venue you hold the event at?

I live in Swadlincote which is where the

site is. I've been here for 12 years and the

landowner is like family to me. I respect

the land as if it was my own, and we have a

mutually respectful relationship. Everyone

works together really well and wants the

best for the local area.

How did you find applying for permission

to run the event?

The licence was already in place before

Covid, but we have worked alongside the

48 WWW.OPENAIRBUSINESS.COM
---
EVENTS

local authorities to create a safe

environment for all those attending

and working at the site.

How have you planned the layout

of the event?

The layout of the event has been

planned taking into account crowd

safety, the flow of people around

the site, and the practicality of what

fits best and where. This year we

will be sharing stage set up with

Back 2 Festival which takes place

the following weekend at the same

site.

What entertainment do you offer

and how did you choose and

source it?

Every year we offer a wide

range of musical and alternative

entertainment. We have acts of

all styles of music from pop, rock

and indie, including The Bootleg

Beatles, Whitney Houston Tribute

– Belinda Davids, Take That Rule

the World and Kings of Lyon. The

festival is always a big weekend in

the Derbyshire calendar for foodies

and music lovers alike.

Attendees can look forward to

a large selection of food stalls and

excellent street food including the

very best sausages as well as an

array of drink stands with over 20

varieties of cider to sample. There

will also be the return of fantastic

fairground rides, some for little

ones but some for the adults too –

so guests simply need to make sure

they're not too full of sausage and

cider to get involved!

What provisions do you make for

power, lights and sound?

With it being the height of summer,

lighting tends to not be a major

factor, because it usually remains

light enough until 10.30pm.

Power has made a tectonic shift

this year and unequivocally will be

the largest single increase in costs

for all festival organisers. This is

due to the government enforcing

festival organisers to use white

diesel and not red.

How do you manage admissions

and visitor safety?

We tend to stagger arrival times by

sending emails to ticket holders in

different postcodes. This ensures a

shorter queuing time, more space

and distancing and helps keep local

roads clear and any traffic moving

steadily.

Please detail the measures

you have taken specifically for

Covid-19

During the 2021 event, we

asked all our guests to provide a

negative LFT on arrival and we will

determine nearer the time if we do

the same this year. We will of course

do everything we can to protect

the health and safety of everyone

on site.

WWW.OPENAIRBUSINESS.COM 49
---
EVENTS

Last year we also had testing

facilities at the gates for anyone

who failed to do their LFT ahead

of arrival. Festivalgoers could only

access the site with a negative LFT.

We also purchased five million

millilitres of sanitiser which was

distributed all over the site.

What ground protection do you

use for cars and footfall?

This is exceptionally important to

the landowner and most people

assume the solution is to bring in

lorries and machinery to put metal

trackway around the site. However,

this can have a detrimental effect

on the ground and the habitat if

not done correctly. We also alter

the runways, i.e. we will move the

"WORD OF MOUTH HAS PLAYED A BIG

PART IN RETURNING GUESTS BRINGING

ADDITIONAL FRIENDS AND FAMILY WITH

THEM EACH YEAR"

entrances for lorries each day of

the festival so that we alleviate any

damage to the grounds.

How do you publicise the event?

The event has built up a strong

following locally and we get a lot of

return customers. Word of mouth

has played a big part in returning

guests bringing additional friends

and family with them each year. We

do a lot of social media marketing

and have recently taken on a PR

company, Plaster Communications.

What challenges have you faced?

Like a lot of people in the live

events industry we have faced

many challenges during the

pandemic. We had a lot of

contractor, vendor and supply

issues over the summer of 2021,

as many festivals did. Our saving

grace was the fact we own a lot of

our own infrastructure and we have

very good relationships with local

suppliers around Derbyshire that

kept the show running!

How have you financed the

event?

Blood sweat and tears!

What are your plans for

next year?

We want to expand the camping

areas and increase the number
---
EVENTS

of guests staying on site. Every

year we book bigger and better

entertainment, and this will

continue into 2023. We always

listen to our customers and the

feedback we get each year and

that helps shape the future of

the festival. So we will see what

they have to say after this year's

event!

What advice could you give

to someone coming into the

outdoor event industry?

Don't do it!

ADDRESS BOOK

MARQUEES

Trend Marquees

www.trendmarquees.co.uk

DÉCOR

Craft House Creations

www.crafthousecreations.co.uk

STAGES & LIGHTING

LD Light Design

www.lightdesignltd.co.uk

HEAT & POWER

Flying Hire

www.flyinghireevents.co.uk

BARS

James Dean Events

www.jamesdeanevents.com

FLOORING & GROUND

PROTECTION

Sun Belt Rentals

www.sunbeltrentals.co.uk

TOILETS

Excloosive www.excloosive.co.uk

TICKETING

On Tick www.ontick.co.uk

VISITOR MANAGEMENT

SAUK www.securityalertuk.co.uk

INSURANCE

Event Insurance Services

www.events-insurance.co.uk

DETAILS

Derbyshire Sausage and Cider

Festival

23-26 June 2022

Catton Park

Walton-on-Trent

Derbyshire DE12 8LN

www.sausageandciderfestival.com

WWW.OPENAIRBUSINESS.COM 51
---
EVENTS

Back to Business?

Tom Hall asks the industry what event planning looks like as we return to the 'old normal'

WHETHER INITIATED as a distraction

from his political scandals, or because

of the growing scientific consensus on

Omnicron's relative safety, PM Boris

Johnson recently announced an end to

his 'Plan B' Covid19 restrictions, signalling

a green flag for event organisers whose

livelihoods have been disproportionally

affected in recent years.

The demise of the Plan B measures

marked the end for mandatory NHS Covid

passes for entry into nightclubs and

venues, including unseated indoor venues

with more than 500 people, and seated

"I WOULD AVOID DOING

EVENTS WITH A LARGE

ATTENDANCE. LOOK AT THE

POWER OF THE PEOPLE

ATTENDING, VERSUS THE

POWER OF THE NUMBER OF

PEOPLE ATTENDING"

JASON SCOT, EVENT ENTREPRENEUR

BEN STREET,

WILD PATHS &

WILD FIELDS

FESTIVAL

outdoor venues with more than 4,000

people and any venue with more than

10,000 people. But is it time for the event

industry to celebrate?

The news certainly came as a relief to

Ben Street, director of Wild Paths & Wild

Fields Festival, who is no stranger to local

authority negotiation for both outdoor and

indoor events, having founded a 23 venue,

city-wide festival (Wild Paths) and sister

event (Wild Fields).

"2022 is off to a flying start. We've been

offered the opportunity to curate and aid

in the delivery of a number of fledgling

events, and that optimism seems to be

shared by audiences as sales have really

picked up across the board. I think event

organisers should be far more confident,

but there's certainly still a necessity to

work in contingency plans as the virus

hasn't disappeared and stricter regulations

could still be around the corner."

Event entrepreneur Jason Scott agrees,

adding that a U-turn is not off the cards,

should, for example, new variants arise:

"Government officials must abide by many

unique and complex legal and regulatory

restrictions. It's important to know what

52 WWW.OPENAIRBUSINESS.COM
---
EVENTS

"WE ARE EXPECTING

THE PM'S NEW PLAN

IMMINENTLY, WHICH

SUPPORTS MY VIEW THAT

THE DISEASE IS ENDEMIC

AND WE NEED TO MANAGE

THE DISEASE RATHER THAN

LET IT MANAGE US"

NICK MORGAN, WE ARE THE FAIR

TOM CLEMENTS, NOEA

have they done in the past as, unlike with

stock market predictions, the past is a

great indicator of future performance

when it comes to dealing with government

and local authorities. I would avoid doing

events with a large attendance. Look at the

power of the people attending, versus the

power of the number of people attending."

LOCAL AUTHORITY ATTITUDES

The last 24 months have changed the way

events, local authorities and increasingly

public health authorities interact and

will continue to do so throughout 2023,

GETTY IMAGES

according to Tom Clements, president,

National Outdoor Events Association

(NOEA). "The reality is that there is

increased scrutiny around outdoor events,

and the power remains in the hands of

either the local authority, or the public

health representative to 'pull the plug' at

incredibly short notice: and that includes

events put on by the local authority," he

adds.

"This leaves the industry highly

exposed. We have to remember that both

the organiser and the sizeable supply

chain have been without significant

income for 24 months. They have taken

on large bail out debt and have kept their

businesses alive through personal money.

This needs to be paid back and planned

for, and more disruption is the last thing

they need."

NOEA advocates for event decision

making to be put back into the hands of

those most qualified; event organisers.

"These can be private businesses or the

many outstanding professionals that work

within local authorities. They can assess

and mitigate risk through SAG meetings,

and take pragmatic decisions that keep

people safe, while still allowing people to

come together and boost local businesses

and commerce," Clement concludes.

Street shares this caution: "I'm still a

little wary when looking at prospective

large indoor events, as these represent

the highest risk and will be the first to be

sanctioned should we return to a higher

tier of restriction. It's important to have a

robust contingency plan in place should

new regulations come in."

He adds that it's more 'back to business'

than 'business as usual': "Working

collaboratively to dampen risk and

integrating a socially-distanced model into

event management plans are two ways to

ensure that you can press on regardless of

conditions."

For now then, at least, there's a

readiness to return to normal. Nick

Morgan, group CEO, We Are The Fair says

local SAGs have been receptive to his

planning protocols for the 2022 season:

"We are expecting the PM's new plan

imminently, which supports my view

that the disease is endemic and we need

to manage the disease rather than let it

manage us. He has been very vocal in

recent days supporting Sajjd Javid's view

that we must learn to live with Covid."

PRACTICAL SAFEGUARDS

Street recommends some practical

safeguards for planners: "There's far

more companies offering contactless and

Covid-safe services compared to 2020

and 2021, so organisers should have

these relationships in place ready for any

outcome. We've found local authorities

are predominantly just after a water-tight

Covid risk assessment document, and to

see that the management of human traffic

around festival sites is considered and

avoids pinch points and herding.

"With venues, the focus seems to have

shifted more toward good ventilation and,

of course, there is still the feeling that LFT

results should be provided for packed

indoor events. Keeping an open dialogue

with your council and local authorities is

the best way to avoid being subjected to

any draconian restrictions.

"Look to work on a series of events

where you can share site, infrastructure

and production costs with a number of

other promoters, and also share the risk!

Have alternative sites and contractors

lined up if there is a need to adapt quickly,

and for all your event locations and artists,

have those 2023 dates in the calendar, so

you can roll things over quickly should you

need to. Onward and upward!"

WWW.OPENAIRBUSINESS.COM 53
---
EVENTS

Outdoor events are at an advantage, given

their relative safety compared to enclosed

spaces, Craig Mathie, managing director,

Bournemouth 7s, says. His event got the

go-ahead last year thanks to a 'pro events'

local authority, and a host of safeguards,

primarily aimed at protecting staff. "Our

event was during a low Covid case period,

and we produced a very detailed Covid plan

with a lot of testing in place. However, it was

a struggle turning it around in just under 42

days. "

For Black Deer Festival co-founder

and director Gill Tee, the stress of Covid

restrictions are very much front of mind. Her

festival, which attracts more than 10,000

people, survived two closures in 2020 and

2021, and is now coming back in 2022 with

renewed confidence – partly due to the

relationship the event has already forged

with local authorities.

"We are very fortunate that there's a lot

of trust with our local authorities that we

will produce a safe event and adhere to

whatever restrictions are thrown at us,"

she says. "We are optimistic that, by June,

we will be relatively back to normal and

be able to operate with our normal safety

procedures in place. We will never, however,

take anything for granted. We will be ready

for any curve balls that could get thrown at

us."

Engaging with the local authorities,

and having them on your side is vital,

Tee adds. "They have a job to do, and as

event organisers we have to respect that.

It is invaluable to build up trust with the

individuals who ultimately could shut your

festival down if you're not meeting all the

licence conditions. I would never ordinarily

dissuade anyone from dipping their toes in

"WE ARE OPTIMISTIC THAT, BY

JUNE, WE WILL BE RELATIVELY

BACK TO NORMAL AND BE

ABLE TO OPERATE WITH OUR

NORMAL SAFETY PROCEDURES

IN PLACE. WE WILL NEVER,

HOWEVER, TAKE ANYTHING

FOR GRANTED"

GILL TEE, BLACK DEER FESTIVAL

the water of getting involved in our industry,

but I would say to anyone who is looking to

start a festival or large event this year, to be

very cautious.

SUPPLY CHAIN DECIMATION

"Covid might seem like a distant memory

during this summer, and the world is looking

a lot brighter, but there has been a massive

impact on the supply chain. This means

that there is a general shortage on the basic

infrastructure, and this is already having a

big impact on event organisers.

These wider concerns are echoed

by Morgan: "Supply chains have been

decimated, in the main, over the last 24

months and many don't have the funds or

appetite to reinvest, which means stocks

have been depleted further and this year

we have some significant events which will

pull on that supply chain and they didn't

operate in 2021, namely Glastonbury,

Commonwealth and the Jubilee

GETTY IMAGES

weekend. It's a huge concern and little is

being done to address it."

Continental Drifts CEO DJ Chris Tofu

agrees: "For all the celebrations over losing

the Covid restrictions, the supply chain

issue and Brexit is in some ways 'the next

Covid'. We've lost a heap of great stages we

programme that are smaller and supply gigs

for lesser than mainstage artists. Foreign

acts will eternally be plagued by ridiculous

laws that no one wants, and also again for

the underground acts, creating impossible

blocks to touring, in and out of the UK.

Despite this, Continental Drifts is taking

a cautiously optimistic approach that still

includes contingencies, should we have to

return to restrictions. "The knowledge event

teams have gained during the pandemic

will prepare them for what's to come,

should things go awry. The events sector

needs a joined-up approach and to share

knowledge. It's crucial that contracts still

have cancellation clauses, but also – out of

maybe 100 cancelled gigs – we only ever

saw a tiny trickle of cash returning for all the

work. Most events, as many of you will know,

try to reschedule. It seems it's going to be a

case-by-case scenario."

NOEA's CEO Susan Tanner outlines some

tips for managing risk. "Ask what is the

risk to the audience? What is the risk to

the event? What is the commercial risk to

the organiser? This approach means more

collaborative conversations with local

authorities while demonstrating where the

organiser sees their responsibilities lying.

"We shouldn't see local authority event

organisers as gatekeepers to events. They,

as much as anyone, understand the value of

events and want them to happen. It's about

us finding this common ground and looking

to find reasons why they can happen, not

just reasons why they can't."

2022 then is looking like a welcome return

to 'the old normal', but careful planning and

open dialogues will put planners in good

stead.

54 WWW.OPENAIRBUSINESS.COM
---
Hire, Sales and Service of voice and data radio

communication systems, bodycams and applications

By Appointment to

Her Majesty The Queen

Supplier of Two-Way Radio

Communications and Paging Systems

Direct Communications Radio Services Ltd

St Ives

TWO-WAY RADIO HIRE, SALES AND SERVICE

SPECIAL RATES FOR 2021/22.

Book with confidence as we offer

a no cost cancellation policy.

Terms Apply.

A simple solution for those who need

temporary communications. This solution

has proven to be invaluable for such sectors

as; event organisers, council teams, TV and

film crews, security and parking to name

but a few, with both short and long term

contracts available.

Organising any event or general on-site

communication requires total dedicated

support and at DCRS, there is always a

team on-call or on-site ready to assist you.

Call FREE: 0800 043 2688

email: sales@dcrs.co.uk

www.dcrs.co.uk

WE BOAST A COMPLETE HIRE

SERVICE INCLUDING:

Bespoke radio solutions for large,

wide area events

Motorola digital and analogue radios,

mobiles and repeaters

Wide area Nationwide coverage

WAVE and ICOM hand portables

A full range of audio accessories,

radio allocation systems and

voice recording available

Free radio licence or free programming

to your own frequencies

Delivery and collection to your

specified addresses

On-site support and out of hours

call-out, 24/7 if required

TOPCAT

BIGTOPS

T E N TS & MA R Q U E E S

TOP CAT BIG TOPS manufacture & hire

out colourful Big Big Top Top style style Marquees.

Staffed by a crew of highly experienced

personnel with many years of in experience the

festival, in the festival, local authority, local authority, educational educational &

corporate & corporate fields. fields. We We can can supply supply small small

to

to

large

large

colourful structures built

built

by

by

our

own craftsmen, that can withstand

our own craftsmen, that can withstand

extreme UK weather conditions.

extreme UK weather conditions.

01654 700030/07599 882654 Email: info@topcatbigtops.co.uk Web: www.topcatbigtops.co.uk

t: 01654 700030

07956 878157

e: info@topcatbigtops.co.uk

w: www.topcatbigtops.co.uk

DCRS Open Air Business Magazine Advert-90x132mm.indd 1 24/05/2021 18:05

WWW.OPENAIRBUSINESS.COM 55
---
EVENTS

INDUSTRY COMMENT

Steve Heap

A Better Year

GETTY IMAGES

Steve Heap

reflects

on 2021

and instils

confidence

for 2022

FOR THE last two years the

Association of Festival Organisers

(AFO), just like the rest of the industry,

has been suffering blow after blow.

Should we operate, should we not?

Will we be able to get the stocks?

Will the government give us some

insurance cover? Has the supply chain

collapsed? Can the Arts Council help

with funding? These and many other

questions have crossed my desk on

several occasions since the early days

of the pandemic.

COULD IT BE OVER?

There are some that say the pandemic

is almost over, others advise caution.

We will of course be living with it

probably for the rest of our lives, but

hopefully we will work out ways of

adapting and getting used to the virus

just like we have with flu. Bearing in

mind that flu tends to be a seasonal

virus, whereas Covid can hit us at any

time of the year.

For the outdoor events industry

to survive we certainly must get

used to it and that indeed is what

many festivals and events have

been doing for the last few months.

I attended only six festivals in July

2021, some with smaller numbers,

some socially distanced, some

with recommendations for wearing

masks, almost all insisting on proof of

negative lateral flow tests (I normally

attend around 15 festivals in a

season).

They were all successful in

their own way. Just to add to the

difficulties of Covid in 2021 some

were faced with torrential rain and

difficult ground conditions, but of

course we are used to that. I have on

many occasions described my festival

colleagues as creative, imaginative

and most of all resilient. There is a

will to survive the pandemic and keep

the UK festival scene up there as a

world leader, and that is certainly

what organisers, suppliers and indeed

many of our artists intend to do.

There are still issues to deal with, but

the dropping of Plan B will certainly

help.

HER MAJESTY'S GOVERNMENT IS

WOBBLING

The government appears to have

helped if you were to read the press,

but it must be said that in some areas

they are wobbling, and timing of

decisions has sometimes been a real

problem for our industry. Not least

of which the re-insurance scheme

that has been over a year in coming

and when it finally did arrive it really

didn't tick most of the boxes. So, I

think it is unlikely that very many

festivals will actually afford to take it

onboard.

What is starting to happen

is an alternative like

a community

contribution or support. A festival

sells a ticket and 30-40% of the

price is deemed to be a donation

to support the event's future in

case of further pandemics causing

cancellation i.e. the customer will get

a refund or a rollover of only 60-70%.

These figures of course are flexible

and to the personal preference of the

organiser.

This then gives the festival some

feeling of security when putting

plans in place for 2022 and the

longer-term future. More of this

from such festivals as Shambala,

Towersey and the ticket agency

TicketSellers. We hope of course

that it won't now be needed but who

knows what is around the corner?

When might the next pandemic hit

us? Have we learnt enough to cope?

Are we ready?

EQUIPMENT

The supply chain is struggling to

meet 2022 orders, that is clear, and

this is now becoming more and more

obvious as the season's planning

moves on. Earlier fears of this were

flagged up and are now proved to be

not ill-founded. Perhaps not to the

level we first thought but it is still a

problem.

Shortages of tentage, fencing,

security officers etc. are still out

there, mostly because these

suppliers and the people involved

have been busy working for the

NHS, the education system and the

booming wedding industry that is

trying to deal with twice as many

weddings in half as much time. The

supply chain I am sure will recover

56 WWW.OPENAIRBUSINESS.COM
---
EVENTS

in the course of time. I just hope

that in the meantime, not too many

companies are capitalising on the

difficulties by boosting their prices

beyond the norm.

DCMS and now the Cabinet Office

are in need of evidence of supply

chain difficulties, which of course

EIF, AFO, AIF, NOEA, LIVE and many

others are providing. Government

needs facts, figures and information,

though just what they intend to

do with that evidence is yet to be

revealed. We would of course be

delighted if they would just take

our word for it and understand that,

working at ground level, we know our

business.

At a recent meeting with MPs

I flagged up the issue of supply

chain shortages, to be asked what

we expected government to do.

My answer was, "It is government

that is asking for the information,

what do they intend to do with the

information that we are now readily

providing?" I have stressed, as I have

on many occasions before, that the

festival and outdoor events industry

is well capable of looking after

itself and keeping its own house in

order with the gratefully accepted

government support, furlough

scheme etc., we have survived so far.

There have of course been casualties,

but we will move on.

FUNDING AND FURLOUGH

The Cultural Recovery Fund (CRF)

from government via the Arts Council

sounded like our great saviour

alongside furlough. However, the

rules and the minimum amounts

allowed were somewhat dismissive

of the fact that most of the festivals in

the UK are community style with less

than a 5,000 capacity, making it very

difficult for many of them to make

any applications to CRF1. When CRF2

was introduced, the bottom line was

reduced for applications, but there

were still many out there who didn't

feel they really qualified or indeed

needed to apply.

Then we went into the second year

of cancellation, which led to a need

for further support. So along came

CRF3. Unfortunately, someone in the

Arts Council and/or Whitehall decided

that CRF3 applications would only

be accepted from those who were

successful in 1 and 2, so just like the

Titanic, the lifeboats were launched in

1 and 2, but if you were not on one by

the time 3 came along you drowned.

And that is where we and government

bank on the dedication and resilience

of festival organisers.

It must be said that during this

whole period Arts Council England

in particular has been seriously

overstretched in terms of staff and

selection panels. They have been

inundated with genuine requests for

funding from a wide range of grant

styles but have nowhere near enough

people or the knowledge to judge

the applications. Indeed, several

applications are known to have come

from organisations that either don't

exist or were somewhat stretching

the rules.

All the above has led to long

delays with several applications

falling down the cracks and funding

being delivered too late. Hopefully

in the next two or three years things

should start to level out and, subject

to government funding of the arts in

general, things ought to get back to

more of a normality. Several festivals

that received the funds have now

"HOPEFULLY

IN THE NEXT

TWO OR

THREE YEARS

THINGS

SHOULD

START

TO LEVEL

OUT AND,

SUBJECT TO

GOVERNMENT

FUNDING OF

THE ARTS IN

GENERAL,

THINGS

OUGHT TO

GET BACK TO

MORE OF A

NORMALITY"

For more

information about

the Association of

Festival Organisers

(AFO) see www.

festivalorganiers.org

found themselves 'back in 2020' with

no funds, a supply shortage and staff

absence.

BREXIT

Added to all the above we have all

been dealing with the repercussions

of Brexit which has in turn left us

with a whole wide range of problems

including visa charges, work permits

and on the export side, carnet

documents and European work

permits. There is also a shortage of

drivers, staff for the supply chain to

festivals and in particular SIA qualified

security guards.

UK CMA report of at least 30%

shortage in qualified security guards

for the season. Craig Stanley working

for LIVE with a team of experts in

the field of touring have shown

remarkable tenacity to sort the

problem for themselves and start to

make some inroads into European

touring and laying the foundations for

the reverse to happen.

ONWARDS TO 2022

The future 2022 season will be a better

year for festivals. It must be, and one

way or another the scene will bounce

back. For every festival that doesn't

make it another one or two will pop

up. Customers are desperate to get out

there into the outdoor events industry

and enjoy their spring, summer and

autumn of music, dance and general

entertainment. And I feel confident

that we, the industry, will provide.

With that message of resilience

AFO and EIF will continue to support

the industry in whatever way we can.

We will bring news, knowledge, facts,

figures, information, support, and

training for the festival and outdoor

events industry and all its satellites.

WWW.OPENAIRBUSINESS.COM 57
---
GET YOUR FREE

PASS TODAY!

Dedicated to the live events industry across sports, music and culture,

visitors can experience the latest products and services to find everything

they need to put on a spectacular event. From staging, AV, equipment

hire, event technology to security there's something for everyone... join us

on the 8th and 9th March at ExCel London!

WWW.EVENTPRODUCTIONSHOW.CO.UK
---
EVENTS

PRODUCT IN FOCUS

Marquees and Structures

The Game Fair 2021

(John Rigby & Co)

Product: Bespoke 9m x 12m safari tent

Supplier: Bond Fabrications, 01453 767171,

enquiries@bondfabrications.co.uk,

www.bondfabrications.co.uk

Details: Esteemed London gunmakers John

Rigby & Co approached Bond in early 2021

looking for a highly bespoke tent to use for

The Game Fair 2021 at Ragley Hall.

John Rigby & Co were very keen to source

a large custom designed tent to offer high

level hospitality to their guests and clients

while showcasing their handcrafted rifles.

Their brand identity is centred around the

core values of workmanship, quality and

exclusivity and the bespoke safari tent had

to reflect this.

After many conversations a variety of CAD

designs were created to suit the brief. The

result was a beautifully crafted 9m x 12m

custom safari tent. The overall specification

was highly bespoke with a variety of details

not typically standard – even down to a

custom stitched canvas logo!

The design team at Bond thoroughly

enjoyed the process. As a true British

manufacturer, serving the outdoor

hospitality industry for over 30 years, Bond

provides a full design and supply service and

offers the kind of detailing and workmanship

that helps clients really set themselves

apart.

John Rigby & Co have already placed an

order for four more bespoke tents.

Customer feedback: Simon Barr, of Tweed

Media, said: "We contacted Bond in early

2021 with a view to sourcing a large safari

tent that we could use at The Game Fair. As

a longstanding British producer of bespoke

rifles, John Rigby & Co was keen to create

a bespoke tent that would reflect its brand

and offer an opportunity to showcase its

products and services in a unique manner.

"We were thrilled with the safari tent and

the overall image we were able to achieve

at The Game Fair. As a British manufacturer

Bond provided a full design and supply

service and were more than happy to work

with us to create a bespoke structure with

the quality and attention to detail that

certainly sets them apart."

WWW.OPENAIRBUSINESS.COM 59
---
EVENTS

Mucky Weekender Festival,

Winchester

Product: Big top tents and staging

Supplier: Meerkat Marquees, 07966 402696,

info@meerkatmarquees.co.uk,

www.meerkatmarquees.co.uk

Details: The Mucky Weekend Festival offers music and

camping for 2,000 people. Meerkat Marquees supplied

the big top marquees and staging.

This was a challenging event as the largest tent was

new to Meerkat and was delivered to the site from its

storage yard in an 18 tonne truck. The other big top

came direct from another event and arrived on a 7.5

tonne lorry. The remainder of the tents and flooring

arrived on a 3.5 tonne trailer behind Meerkat's 4x4

Toyota.

By the time the lorries were unloaded it was after

midday on the Tuesday. Once the trusses were up, the

100 stakes were hammered in place. The crew was then

split so some placed all the side wall

poles around the tent while the rest of the 10 person

team marked out and erected the king poles for the

other big top. The team even managed to set up one of

the 6m x 9m backstage tents by 7pm on that first day.

On day two Meerkat was on site by 8am and laced up

the sheets to the main tent and did the same with the

smaller big top. Meanwhile three of the crew had gone

to collect the staging from another event in East Sussex,

arriving on site at 2pm.

Three extra crew were brought in to assist. The stage

was installed and again the team was split to set up the

three remaining 6m x 9m tents (one with a floor). The

walls were attached to the big tops and the stage decks

were in place by 7pm.

The derig was a less stressful affair and the kit was all

packed, transported and unloaded at Meerkat's yard by

the end of the day.

Feedback: Happy days! The client was happy

too and has now booked us for their 2022

event.

Launch Party for Tipi Spaces

Service: Tipi hire and event management

Supplier: Tipi Spaces, 01884 277306,

hello@tipispaces.co.uk,

www.tipispaces.co.uk

Details: At a party planned to celebrate the

end of lockdown and the beginning of a

new business venture, guests were invited

to view Tipi Spaces' new Nordic tipis; the

first tipi hire company in the West Country

to supply ivory-white tipis.

Due to late changes to the re-opening

of lockdown, but determined to celebrate,

the event changed from informal BBQ to a

more formal and intimate sit-down dinner.

The reduced guest list enjoyed canapés

and a three-course dinner cooked on an

open grill from Luck Vandore-Mackay,

English sparkling wine from Chapel Down

and paired wine.

Guests were wowed by the white

canvas giants which allowed the late June

sunshine to permeate inside the tipis. As

the sun set, the candlelight and fairy lights

reflected off the white canvas.

The three tents had been constructed

in a triangle formation, creating more

than enough space for 30 guests, but the

conical shape of the tipis wrapped around

to create a feeling of cosy intimacy rather

than vacuous space. The long, elegant

dining table, styled with seasonal pink

peonies, peach table runners, gold cutlery,

terrariums and rattan chargers, created the

perfect tablescape.

After dinner, guests stayed to enjoy

music and the warmth of the outdoor fire

pit or to relax in the lounge amongst the

potted palms and macrame hanging plants

on comfy sofas and armchairs, sampling a

late evening aperitif.

Customer feedback: Guest Stephanie

Stevens said: "Fantastic night! Amazing

food, company and venue!"

60 WWW.OPENAIRBUSINESS.COM
---
EVENTS

Bluedot Festival, Cheshire

Product: Unique outdoor, multi-level carbon fibre

double deck structure

Supplier: CORE Event Structures, 0845 299 6499, sales@

core-eventstructures.com, www.core-eventstructures.com

Details: The Bluedot Festival describes itself as an "intergalactic festival of

music, science, art, technology and the exploration of space" and takes place at

Jodrell Bank Observatory.

CORE was tasked with providing a double deck outdoor structure to

accommodate two bars, one on each level, from which the client, a major

international drinks brand, could serve their products to festivalgoers. CORE

designed a hexagonal structure with stairway access to the upper floor from

which a great view of the main stage could be enjoyed.

Feedback: The client had a great event, promoting a specific drink at the

festival and offering a delicious range of cocktails too. The view of the main

stage was superb and ensured a great experience for everyone involved.

PRODUCT SNAPSHOT

Creative Structures

+31 (0)76 2100 401

sales@creativestructures.nl

www.creativestructuresworldwide.com

Since 2009 Creative Structures has

been a global player in the production

and distribution of tent structures,

furniture and flooring within the

hospitality, leisure and event industry.

It offers distinctive, high-quality and

innovative products with an eye for

design and safety. Over the years

Creative Structures has grown into an

organisation operating in more than

60 countries. Many well-known brands

opted for Creative Structures during the

biggest events and festivals around the

world.

Structures are TÜV certified and offer

protection against the most extreme

weather conditions, being resistant to

temperatures from -20/-30ºC to +70ºC

and up to wind force 80/100 km/h.

Boost your brand by customising your

Creative Structure with a printed cover

and/or sidewalls. The quick assembly

and compact transport packaging

makes these structures ideal for

worldwide brand activation.

Top Cat Big Tops

01654 700030

info@topcatbigtops.co.uk

www.topcatbigtops.co.uk

Tentickle Stretch Tents

07826 843099

info@tentickle-stretchtents.co.uk

www.tentickle-stretchtents.co.uk

Tentickle offers stretch tents to purchase

or for short/long-term let and can be

installed in almost any location, creating

desirable spaces for public and private

events.

With a variety of sizes and colours in

stock, event attendees can enjoy the

flexibility a stretch tent provides, blurring

the lines between indoor and outdoor

events. The professional team provides

advice and expertise to help you design

the right solution for your venue, and

head engineer, Jorg, is looking forward to

assisting you.

Top Cat Big Tops is both a colourful marquee hire company as well as a team of

master craftsmen manufacturing marquees with expertise and love in its workshop.

One of our private commissions was featured on a Channel Four show where the

proprietor rigged the marquee himself in his chateau grounds, next to his orangery!

Top Cat concentrates on manufacturing over the winter months with a core local

crew, expanding the team during the hiring festival months. Clients vary widely,

from the well-known festivals, smaller niche events, corporate dos as well as funky

weddings and private parties.

WWW.OPENAIRBUSINESS.COM 61
---
Spot light

A roundup of products for the outdoor hospitality industry

UNFORGETTABLE 'SILENT'

EXPERIENCES

Silent Noize Events

02037 275382

info@silentnoizeevents.com

www.silentnoizeevents.com

Unforgettable 'silent' experiences

from the UK's leading supplier of

multi-channel wireless headsets.

From silent disco to silent yoga and

everything in between, immerse

your audience in the world of

Silent Noize Events!

We provide everything you need

to create a truly memorable silent

disco including a fantastic team

of DJs and event staff alongside

the little extras including lighting,

smoke machines and decor to give

your event the WOW factor.

Both dry hire and full service

packages are available and with

over 12 years' experience, you're in

good hands with the team at Silent

Noize Events.

MADE-TO-MEASURE ROPE-BRIDGES

Castles Carey

07714 754378

sales@castles-carey.co.uk

www.castles-carey.co.uk

Made-to-measure rope-bridges can

be a fantastic asset to landowners,

for public or private use. They are

proven to increase footfall in a

visitor attraction, improve views

and provide better access.

Castles Carey has created many

such bridges, the longest being

the very popular rope-bridges at

The Lost Gardens of Heligan and

Abbotsbury Subtropical Gardens

(pictured).

We use poly-hemp rope for

shorter bridges on private land; for

public use our bridges are made

from combi-rope – synthetic coated

steel rope with the appearance of

natural rope. We can also supply

a rope-bridge produced to your

specification for you to install

yourself, if preferred.

PERFO GROUND REINFORCEMENT

SYSTEM

S2T Group

01992 522797

www.perfo.co.uk

S2T Group's PERFO range of ground

protection products comprises

a system of interlocking, selfanchoring

permeable plastic

tiles which are embedded into an

existing surface, eg. a mature grass

area or prepared base consisting of

a layer of crushed stone chippings,

depending on the application.

A number of light to heavy duty

solutions are available to suit

varied ground conditions, traffic

profiles and loading requirements.

Unlike other geogrid systems,

PERFO tiles are usually installed

without the need for excavation,

being compacted directly into the

existing surface using rollers or

compactor plates. Installation is

therefore rapid and planning issues

less problematic.

LOG CABINS & MOBILE HOMES

Timberspecs UK

01580 211800

office@ecofriendlycabins.com

www.ecofriendlycabins.com

Timberspecs UK produces quality

timber log cabins and mobile homes

supplied anywhere in Europe. All

buildings are well insulated, double

glazed and have a range of roof

cladding options including felt

shingles, tiles and slate.

The team of professional

craftsmen design and build single

or double storey structures to

customers' own designs. All

buildings are pre-constructed at

the factory to ensure elements fit

perfectly and arrive on site with a

team of specialist installers.

The log cabins can be built in any

of a wide range of solid log options

with budget, self-build options

available.

62 WWW.OPENAIRBUSINESS.COM
---
EVENT EQUIPMENT HIRE

GT Trax

01487 823344

info@gttrax.co.uk

www.gttrax.co.uk or call

Established in early 2005, GT Trax

is one of the UK's leading suppliers

of temporary roadways, walkways,

flooring, seating, fencing and

structures. They offer a complete

delivery, install, uplift and collection

service, with fully trained and

experienced site personnel.

Their range encompasses heavy

duty trackway and hardwearing

non-slip walkways, alongside

picket and Heras fencing. They also

have a line-up of single and double

Starshades, with seating provided

by the unique Foldtable.

So, for your next event, get in

touch with the GT Trax hire desk

and see how their equipment can

enhance your visitor experience.

Classified Directory

TWO-WAY RADIO

SUPPORTING

YOUR EVENTS

Call FREE:

0800 043 2688

sales@dcrs.co.uk

www.dcrs.co.uk

DCRS Open Air Magazine Classified Advert.indd 1 06/12/2018 09:36

Finman

Glamping

Cabins and

BBQ Huts

From

£4,992

UNIQUE • QUALITY • CUSTOMISABLE

01389 887205 www.logspan.com

• Sewage Treatment •

• Sales •

• Installation •

TEAM

SEPTIC

01295 236 101

sales@theseptictankstore.co.uk

WWW.OPENAIRBUSINESS.COM 63
---
Classified Directory

UK COMPANY SUPPLYING LOG HOMES FROM LAPLAND

Bespoke Log Buildings

01228 577 385 / 07881 921 339

www.loghomesfinland.co.uk

d Your Own

pherd Huts

01654 700030

07956 878157

www.topcatbigtops.co.uk

Colourful

BIG TOP STYLE MARQUEES

MANUFACTURE

FOR SALE OR TO HIRE

Call 01262 470475 or visit

www.shepherd-huts.com

The Glampagon

A unique design for

luxurious Staycations

Use individually or

in clusters of 5.

JK Designer Builds

www.jointkit.co.uk

info@jointkit.co.uk | 07887 998 033

C RE®

BAR& EVENTHIRE

STYLISH CUSTOMISABLE BAR RENTAL

DRY HIRE OR FULL SERVICE

T: 0845 299 6499 - E: sales@core-barandeventhire.com

www.core-barandeventhire.com

Advert - small.indd 1 16/04/2021 16:04:43

01453 767171

www.bondfabrications.co.uk

enquiries@bondfabrications.co.uk

We design, manufacture

and install low carbon

impact, sustainable

luxury structures inspired

by nature for private

landowners and the

hospitality sector

www.urbanblossom.co.uk

hello@urbanblossom.co.uk

unique designs for unique experiences

64 WWW.OPENAIRBUSINESS.COM
---
PEOPLE

Behind the Scenes with…

Libby Battaglia

Light Up Trails' executive producer Libby Battaglia takes us

behind the scenes of Christmas at Cowdray

ABOVE Libby Battaglia (left) Lucinda Croft (right)

IT TAKES between nine to 12 months to plan

and deliver a winter illuminated trail. The

process starts in January/February with a

lot of site visits. The right venue is obviously

crucial and we look for somewhere that is

naturally dark so our illuminations excel. We

worked with Cowdray Estate for the 2021

Christmas at Cowdray event. We hired the

venue for the 30 day illuminations, producing

and promoting the event entirely.

Once we had agreement from the venue,

we started putting the concept and, of

course, the budget together. Our trails

usually centre around one main theme

and on this occasion it was 'joy.' This helps

when creating each of the different zones

that make up the trail and to keep cohesion

throughout when working with separate light

and sound artists.

For Christmas at Cowdray we worked

with a projection artist, a sound artist and

a production designer. We design and

manufacture many of our installations and

also work with suppliers to bring in hired

elements.

The team at Light Up Trails is a small

one, with only myself and business partner

Lucinda Croft working full time. Everyone

else is freelance. Lucinda and I had gone to

school together and both trained as classical

ballerinas. We even took our first dancing

job together when we were 18. Lucinda

then went on to become an actor and an

interior designer while my career took me via

choreography into production.

In 2018 I launched Light Up Poole, a threenight

festival of digital light. In February

2020, the event attracted 55,000 people.

Lucinda had come to visit and was so

amazed we decided to join forces and create

illuminations together. This was just before

covid hit!

DESIGNING WITH LIGHT

It's important that when you curate a light

event that you do so with the audience

in mind. Quite a lot of digital light events

will feature a number of different artists

who often have a social or political edge

to their work. This is important, but when

you are commissioning for a family-friendly

Christmas trail it isn't always appropriate.

This is why we started to design our own

installations, commissioning artists to work

with us.

A great example is the projection we

used on the Cowdray Heritage Ruins. We

storyboarded the whole thing around the

Christmases Henry VIII would have had.

He built the structure so we took the story

from there – apparently Tudor celebrations

were so lavish they would have spent the

equivalent of £11 million pounds on the

festive season!

A key consideration of anything we design

or commission is how to create memories.

Christmas at Cowdray is a family event and

involves generations, from grandparents to

babies. We make sure to create installations

that allow for interaction, which is always a

good memory maker. One zone was called

'Written in the Stars' where people could

write illuminated messages. We had several

proposals both here and in 'Star Drop Wood.'

One of the things that attracted me to light

festivals was that people are free to take

pictures so the event can live on long after

the production is over. You can't do this in

other high production, immersive experience

situations, such as in the theatre. The fact

people use their phones to record moments

gives an event a life beyond its duration and I

think about this during the design process.

THE EVENT

The three months leading up to opening

night is crazy. We have to create everything

from bare land – a whole 'world' – and of

course sell the event too.

I will have done a lot of site visits

throughout the year, looking at how people

will move around the site, accessibility

and where things should be placed. By

September it's all about budget control,

deposits etc. Things become heavily

administrative.

Seven to 10 days out, we get on site. The

venue is told what to expect but they still

can't believe it when six artic trucks roll up

with all the equipment. We have marquees,

bars, traders, car parks, flooring, generators

and cabling, tower lights, toilets, then the

tech for the illuminations and temporary

Wi-Fi.

This year we used perimeter intruder

detection systems (PIDS) for security.

They are like mini Daleks that will take an

intruder's photograph, announcing: "The

owner has been called, you have been

photographed." They are really loud and

have a very bright floodlight. I got caught out

by one myself as I passed a construction site

and I thought they were brilliant! It means

you don't need lots of personnel on site all

night, just someone monitoring what they

ELLIOTT FRANKS

Written in the Stars by

Light Up Trails

WWW.OPENAIRBUSINESS.COM 65
---
PEOPLE

RIGHT: Star Drop Woods by Light Up Trails

Winter Revels by The Projection Studio

ELLIOTT FRANKS

ELLIOTT FRANKS

capture. Apparently they were invented by a

Scottish lord who was fed up with people on

his land. We also use smart water on all our

equipment.

The lights are set up following our 'get in'

schedule, with everything up, running and

tested at least two days before the public

arrive. This way we can check everything

looks just right and make any adjustments.

On the event days, technicians walk around

site turning things on, and will turn things off

in the same order at the end of the night.

SUPPLY CHAIN AND COSTS

I knew to book our suppliers really early.

There has been a big increase in light

festivals and we have also lost suppliers

because of covid. Then there's the shortage

of staff as a lot of talented freelancers have

migrated into other industries. It's a similar

story with the traders as when events

were put on pause they found permanent

locations to trade from.

Perhaps the biggest impact to us was

shipping costs. We have many of our lights

manufactured in China. A 40ft container used

to cost £2,500 to ship. This went up to £7,500

in 2020, which was harsh, but when you are

suddenly told in May 2021 that it's now going

to cost £17,000, that's a disaster!

Winter Revels by The Projection Studio

It's the same once it's in the UK. An artic

used to cost £300-£400. Now it's as much as

£1,200. And there is no point trying to phone

around for quotes on anything. By the time

you phone back, you're slot's gone.

WEATHER STOPS PLAY

As with any outdoor event, we are entirely

reliant on the weather. Actually rain and

fog can enhance a light show, but wind is a

problem. We had all the elements in those

30 days, from full sun to snow to a raging

storm. The storm was a problem...

We could all see the forecast and the

wind that was coming our way. It got to the

point where we knew we had to start taking

things down or lose them, and when there

was five of us holding down a marquee I

realised we needed to make the decision to

cancel that night's event. It was one of our

biggest nights – a Saturday – and we had

lost two of the installations because of the

wind. It was a major, major decision and

the responsibility was huge because there

is so much at stake. Not only did we have

to tell the ticket holders, the marketing

company, suppliers, and traders but we had

to find two new installations to fill the gaps!

I was straight on the phone – who's

got what? How much is it going to cost?

When can they get it here? Can they bring

it tomorrow? Great, so we had a beautiful

projection on trees we had used in the past,

but now we needed to buy a shed to put it

in, build a platform for it, oh and agree with

the estate on a location very close to the

polo field to put it in. It's not just refunding

tickets when things go wrong; it's dragging

stuff from one end of the site to the other

in the mud and rain and 60mph winds to

make it work.

But I love it – adrenaline keeps us all

going through the event. And as we are

such a small team and know our event

inside out, it makes sense that it is us on

the phone last thing at night or first thing in

the morning dealing with customer service.

And when the public are in? You obviously

hope no problems arise, but someone will

always lose a child, fall over or not feel

well. And in England, people certainly don't

like mud. We tell our audiences to dress

appropriately yet you'll still have people

turning up in designer white trainers or

heels.

It takes all your energy and turns you

inside out. I'm not even half way through

the event's run before I'm thinking how

to get everything out, where it's all going

to go etc. I am exhausted afterwards and

need to sleep, as I probably won't have

had a decent night or less than an 18 hour

working day for weeks. But when you

receive those messages telling you just how

important those moments you have created

are to people you remember exactly why

you do it.

ELLIOTT FRANKS

ABOUT THE AUTHOR

Libby Battaglia is managing director and

executive producer of Light Up Trails. She

works with business partner Lucinda Croft

to design, create and produce experiences

that bring magic to inspirational places and

create lasting memories for the young and

old alike. www.lightuptrails.com

66 WWW.OPENAIRBUSINESS.COM
---
NO MORE MUD

THE ECO ALTERNATIVE TO CONCRETE THAT YOU

CAN INSTALL INSTANTLY, ANYWHERE

DRIVEWAYS • YARDS • PATHS • GATEWAYS • PARKING

ANIMAL FEED STATIONS • GLAMPING BASES AND MORE

60+ TONNES RATING • 20 YR WARRANTY • TEMPORARY

OR PERMANENT • 100% RECYCLED • D.I.Y. INSTALLATION

NO-ROT FENCING RAILS AND POSTS, GATES AND MORE

ZERO MAINTENANCE • UNPALATABLE • 100% RECYCLED

HUNDREDS OF OPTIONS • 20 YR WARRANTY

FOR REVIEWS & TESTIMONIALS,

FIND US ON FACEBOOK & YOUTUBE

WWW.MUDCONTROL.CO.UK

SALES@MUDCONTROL.CO.UK

TEL: 01536 669630
---
COMING

SOON

n Industry news

n Market trends

n Movers and shakers

n Opinions and comment

n Architecture and design

n In depth case studies

n Products in focus

ISSUE ONE

SPRING 2022

PRIVATE

EQUITY

INVESTMENT

Luxury Outdoors

The explosion of

boutique retreats

Resort & Retreat is Open Air Business's new sister

title created for the high-end boutique retreat and

larger scale resort businesses in the blossoming

back to nature leisure and wellness industries.

PLUS: DESIGNING

IN THE X-FACTOR

LANDAL

BARNSOUL

Landal GreenParks rewrites

the holiday park blueprint

Don't miss out - subscribe at www.resortandretreat.com/subscribe