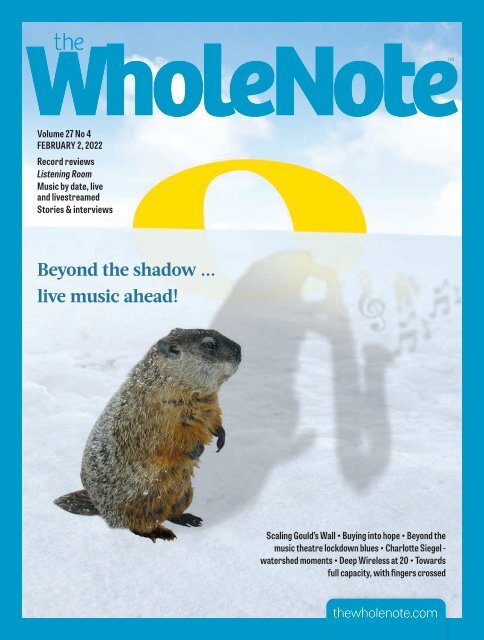 Volume 27 Issue 4 - February 2022
Gould's Wall -- Philip Akin's "breadcrumb trail; orchestras buying into hope; silver linings to the music theatre lockdown blues; Charlotte Siegel's watershed moments; Deep Wireless at 20; and guess who is Back in Focus. All this and more, now online for your reading pleasure.
Gould's Wall -- Philip Akin's "breadcrumb trail; orchestras buying into hope; silver linings to the music theatre lockdown blues; Charlotte Siegel's watershed moments; Deep Wireless at 20; and guess who is Back in Focus. All this and more, now online for your reading pleasure.
SHOW MORE
SHOW LESS
You also want an ePaper? Increase the reach of your titles
YUMPU automatically turns print PDFs into web optimized ePapers that Google loves.
Volume 27 No 4

FEBRUARY 2, 2022

Record reviews

Listening Room

Music by date, live

and livestreamed

Stories & interviews

Beyond the shadow ...

live music ahead!

Scaling Gould's Wall • Buying into hope • Beyond the

music theatre lockdown blues • Charlotte Siegel -

watershed moments • Deep Wireless at 20 • Towards

full capacity, with fingers crossed
---
An agency of the Government of Ontario

Un organisme du gouvernement de l'Ontario

Photo by Dahlia Katz

Digital

Pass

Buy a Digital Pass to explore the beauty

of our eight 2021/22 digital concerts,

on demand, wherever you live.

JUST $226—BUY A PASS TODAY

tafelmusik.org/digitalpass

Add our digital family concert for just $10

The Gull, the

Raccoon, and

the Last Maple

Composed by Abigail Richardson-Schulte

Story and text by Alexis Diamond

Amanda Cordner, narrator

Jordan Laffrenier, stage director

Special digital concert

Perfect for Family Day weekend!

STREAMS FEBRUARY 17–21, 2022

tafelmusik.org
---
presents

his first new solo piano

album in 20 years

OUT NOW
---
The WholeNote

VOLUME 27 NO 4 | FEBRUARY 2022

EDITORIAL

Publisher/Editor in Chief | David Perlman

publisher@thewholenote.com

Managing Editor | Paul Ennis

editorial@thewholenote.com

Recordings Editor | David Olds

discoveries@thewholenote.com

Blog/E-Letters | Sara Constant

editorial@thewholenote.com

Listings Editor | John Sharpe

listings@thewholenote.com

SOCIAL MEDIA

Danial Jazaeri, Colin Story

social@thewholenote.com

SALES, MARKETING & MEMBERSHIP

Concert & Event Advertising /

Membership | Karen Ages

members@thewholenote.com

Production & Operations / Advertising Art | Jack Buell

jack@thewholenote.com,

adart@thewholenote.com

Classified Ads

classad@thewholenote.com

WEBSITE / SYSTEMS

Kevin King

systems@thewholenote.com

CIRCULATION

Sheila McCoy & Chris Malcolm

circulation@thewholenote.com

SUBSCRIPTIONS

subscriptions@thewholenote.com

$64 + HST (8 issues)

single copies and back issues $8

*international - additional postage applies

ON OUR COVER

6

FOR OPENERS | No Straight

Lines | DAVID PERLMAN

STORIES & INTERVIEWS

8 NEW OPERA WORKS | Scaling

Gould's Wall - the mysteries of

collaboration | GLORIA BLIZZARD

10 CLASSICAL AND BEYOND |

Orchestras and others buying

into hope | PAUL ENNIS

18

Volume 27 No 4 | February 2022

If you are actually reading this issue on its launch date

(Feb 2, 2022) then it's already been six or seven hours since

your local meteorological groundhog (for us it's Wiarton

Willie) either saw their shadow or didn't. If a shadow

was seen, so the story goes, then our groundhogs took the

shadow to be some dangerously contagious lurker of some

kind, and fled back into their lairs, for a further six weeks of

hibernation. Not necessarily a bad thing, because, barring

further setbacks, that takes us to full reopening of live

performance venues!

— David Perlman, page 7

14 MUSIC THEATRE | Silver linings

to the new-year lockdown

blues | JENNIFER PARR

18 PROFILE | Charlotte Siegel

- transformative powers and

watershed moments |

VIVIEN FELLEGI

21 FITS AND STARTS | The stutterstep

reopening! Four stories of

discovery | ANDREW TIMAR

WholeNote Media Inc.

Centre for Social Innovation

503–720 Bathurst Street

Toronto ON M5S 2R4

Phone 416-323-2232 | Fax 416-603-4791

Instagram @the_wholenote

Facebook & Twitter @theWholenote

thewholenote.com

an Ontario government agency

un organisme du gouvernement de l'Ontario
---
24 IN WITH THE NEW | Radios,

pianos and weather - Deep

Wireless at 20 |

WENDALYN BARTLEY

26 MAINLY CLUBS, MOSTLY JAZZ |

Fingers crossed towards full

capacity | COLIN STORY

59 BOOKSHELF | Two takes on a

tumultuous time |

STUART BROOMER

60 REARVIEW MIRROR | Signing

up for variant Nu |

ROBERT HARRIS

62 BACK IN FOCUS | Previously

covered, topical again | STAFF

LISTINGS

28 Events by date

30 Available online

Blogs, pods & regular streams

31 In the Clubs (mostly Jazz)

32 Classified Ads

33

The WholeNote Online Directories (index)

Blue Pages for 2021-2022

Directory of Music Makers and Arts Services

DISCOVERIES:

RECORDINGS REVIEWED

34 Editor's Corner | DAVID OLDS

36 Strings Attached |

TERRY ROBBINS

38 Vocal

40 Classical and Beyond

44 Modern and Contemporary

49 Jazz and Improvised Music

54 Pot Pourri

55 Something in the Air |

KEN WAXMAN

57 Old Wine, New Bottles |

BRUCE SURTEES

58 Other Fine Vintages

58 New in the Listening Room,

INDEX

Paris 1847

LA MUSIQUE D'EUGÈNE JANCOURT

ACD2 2834

MATHIEU LUSSIER basson

CAMILLE PAQUETTE-ROY violoncelle

SYLVAIN BERGERON guitare

VALÉRIE MILOT harpe

Paris 1847, The Music of Eugène Jancourt

is the first recording entirely devoted to

this 19th century French composer.

Bassoonist Mathieu Lussier invites us

to discover these rarities and is joined

by Camille Roy-Paquette, cello; Sylvain

Bergeron, guitar; and Valérie Milot, harp.

QUATUOR SAGUENAY

ACD2 2846

FÉLIX MENDELSSOHN | Quatuor à cordes op. 44 n o 2

MAURICE RAVEL | Quatuor à cordes en fa majeur

GIOVANNI SOLLIMA | Federico II de Viaggio in Italia

Quatuor Saguenay's return with string

quartets by Felix Mendelsson, Maurice

Ravel, and Giovanni Sollima.

24

ACD2 2817

Original melodies by pianist and composer

Louis Dominique Roy get their first

airing on Rêves enclos, (Enclosed dreams)

a new ATMA recording with baritone

Olivier Laquerre.

JUST RELEASED

G R I G O R I A N . C O M
---
The WholeNote

VOLUME 27 NO 4 | FEBRUARY 2022

FOR OPENERS

IN THIS EDITION

Stories & Interviews

Wendalyn Bartley, Gloria Blizzard, Stuart Broomer,

Paul Ennis, Vivien Fellegi, Robert Harris, Jennifer

Parr, David Perlman, Colin Story, Andrew Timar

CD Reviews

Sophie Bisson, Stuart Broomer, Max Christie, Sam

Dickinson, Raul da Gama, Janos Gardonyi, Richard

Haskell, Tiina Kiik, Kati Kiilaspea, Roger Knox,

Pamela Margles, Lesley Mitchell-Clarke, Cheryl

Ockrant, David Olds, Ted Parkinson, Jennifer Parr,

Ivana Popovic, Allan Pulker, Cathy Riches, Terry

Robbins, Michael Schulman, Michael Schwartz,

Adam Scime, Andrew Scott, Sharna Searle. Bruce

Surtees, Andrew Timar, Yoshi Maclear Wall, Ken

Waxman, Matthew Whitfield

Proofreading

Karen Ages, Sara Constant, Paul Ennis, John Sharpe

Listings Team

John Sharpe, Gary Heard, Colin Story

Design Team

Kevin King, Susan Sinclair

Circulation Team

Wende Bartley, Jack Buell, Sharon Clark, Carl Finkle,

James Harris, Bob Jerome, Chris Malcolm, Sheila

McCoy, Lorna Nevison, Tom Sepp, Dave Taylor.

NO STRAIGHT LINES

DAVID PERLMAN

UPCOMING DATES AND DEADLINES

Free Event Listings Updates

6pm every Tuesday

for weekend posting

Volume 27 No. 5, March 2022

Publication Dates

Tuesday March 1 (online)

Friday, March 4 (print)

Print edition listings deadline

Midnight, Feb 14, 2022

Print advertising, reservation deadline

6pm Tuesday Feb 15, 2022

Classifieds deadline

6pm Saturday Feb 19, 2022

Printed in Canada

Couto Printing & Publishing Services

Circulation Statement - Dec 10, 2021

8,000 printed & distributed

Canadian Publication Product

Sales Agreement 1263846

ISSN 14888-8785

WHOLENOTE

Publications Mail Agreement

#40026682

WholeNote Media Inc. accepts no responsibility

or liability for claims made for any product or

service reported on or advertised in this issue.

COPYRIGHT © 2022 WHOLENOTE MEDIA INC

Red Pepper Spectacle Arts, Baldwin Street, Kensington Market

FEBRUARY 2, 2022: There's no automatic, straight-line connection between the

#blacklivesmatter poster above and the 2022 Black History Month poster on the next page.

Dutifully observing something officially called "Black History Month" for one month a

year, can even backfire: offering an excuse to get back to "business as usual", whatever we

think usual may be, for the rest of the year.

And the journey towards Black History Month has been a winding road too, from

its beginnings in 1926 when Harvard-educated African American historian Carter G.

Woodson proposed setting aside "a time devoted to honour the accomplishments of

African Americans and to heighten awareness of Black history in the United States."

The result was the establishment of Negro History Week in the USA the same year, with

Canada following suit shortly thereafter. It then took till the early 1970s for the week to

become known as Black History Week, after which it only took till 1976 for it to become

Black History Month.

After that, it took almost two decades (December 1995), for the House of Commons to

officially recognize February as Black History Month in Canada, thanks to a motion, carried

unanimously, by Jean Augustine, the first African Canadian woman elected to Parliament,

followed by a mere 13 years (lightning speed for them) for the Senate to make the decision

unanimous, largely at the initiative of Senator Donald Oliver, the first Black man appointed

to the Senate. It was March 4, 2008, when the Senate, unanimously, passed Oliver's Motion

to Recognize Contributions of Black Canadians, and February as Black History Month.

Publication in Hansard made it official, and the initiative entered a new phase.

LUCA PERLMAN

6 | February 2022 thewholenote.com
---
Make no

mistake, official

government recognition

brought

with it increased

momentum, clear

benefits and reliable

resources. It

also put official constraints on activities other than the educational

and celebratory. That being said, every February, millions of people

across Canada participate in Black History Month events and festivities

that honour the legacy of Black Canadians and their communities.

And then some, celebration over, or duty done, disconnect and turn

to their regular affairs.

It's a dilemma the organizers grapple with; you can see it in the

careful crafting of the particular theme attached to each year's event.

The theme for 2021 was "The future is now – a call to action." And the

2022 theme is "February and Forever: Celebrating Black History today

and every day."

Here at The WholeNote we have gone back and forth over the years;

there have been years we consciously sought out a Black artist to feature

on our cover in February, more than once leaving the individual in

question wondering if their Blackness rather than their art was the

reason for the story. Other times, perversely, we have held an obvious

February story over to a different month just so as not to be seen as one

of those organizations that pays dutiful once a year lip-service.

Reading and re-reading that #blacklivesmatter notice in the

doorway of a neighbourhood community arts organization I admire

and respect feels fundamentally different than reading it as some

kind of performative ritual. It's not a once a year thing, it's business as

usual. Hopefully the range of stories in this magazine will strike you

the same way.

When the best-laid plans go sideways

The original plan was for this issue to be published on January 20th

in flip-through digital format (kiosk.thewholenote.com), with print

distribution following over the course of the following three to four

days. But the December/January Omicron surge and lockdown here in

Ontario made that impractical.

Close to 800 places our readers were used to picking up the magazine,

pre-pandemic, had become unavailable to us (all in one swoop)

at the start of the pandemic two years ago. By last month we had

managed to reacquire around 300 of them, painstakingly, one by one,

as they became open to the walk-in public again.

But the Omicron surge was a huge setback, for them and for us. As

it was also for a music community, bloody but unbowed, faced (once

again) with having their best laid plans for the resumption of live

performance thrown into disarray.

So we decided to do two things: the first was to delay the publication

date from January 20 to February 2 a) to see if the province's

staged plan for reopening, albeit at severely reduced capacities, would

go ahead, and b) to buy a bit more time for the presenters and musicians

(whose art is the lifeblood in our pages) to figure out what to do

and what to say about it – to replace the divots from their latest pivots,

you could say. We are glad we waited, as you will see,

The second decision we made was way tougher. For the first time in

254 issues, dating back to September 1995, this issue is available only

via our various digital formats and platforms (see our back cover). A

detour we hope not to have to repeat.

Groundhog Day

I am not sure at what point

we also twigged to the fact that

our revised publication date

was Groundhog Day. But it

works for me!

If you are actually reading this

issue on its launch date (Feb 2,

2022) then it's already been six

or seven hours since your local

meteorological groundhog (for

us it's Wiarton Willie) either

saw their shadow or didn't. If a

shadow was seen, so the story

goes, then our groundhogs took

the shadow to be some dangerously

contagious lurker of some

kind, and fled back into their lairs,

for a further six weeks of hibernation. Not necessarily a bad thing,

because, barring further setbacks, that takes us to full reopening of

live performance venues!

And if no shadows were seen? Well, we're all in luck, then. "Oh well

it's a bit overcast," we get to say "but smells more like snowdrops than

digital snow!" And off we go, using the eclectic array of performances

on offer in this issue, live and digital, up to the middle of March, to get

our bums in shape for mid-March's full capacity array of seats.

But, really truly, only if you are good and ready! There's no shame

in, like our shadow-phobic groundhog, opting for another month and

a half of cautious digital dozing. It's ok. To each their own winding

path, in their own sweet time. At some point, take my word for it,

you're going to recognize the moment when (as the song sort-of says),

you are ready: to grab your mask and proof of vaxx and leave your

worries on the doorstep, as you meander on out in search of music,

live and sweet, carried by the air we share.

David Perlman can be reached at publisher@thewholenote.com

thewholenote.com February 2022 | 7
---
NEW OPERA WORKS

Scaling

Gould's

wall

The mysteries of

collaboration

GLORIA BLIZZARD

What happens when you combine a cornucopia

of talented musicians with a decidedly off-thewall

idea? A magnificent new work presented by

Tapestry Opera, titled Gould's Wall, featuring the talents

of director Philip Akin, writer Liza Balkan and composer

Brian Current.

Brian Current dreamed for years of creating a project using a wall

in the Atrium, the enclosed space that joins the Royal Conservatory of

Music (RCM) and Koerner Hall in Toronto. It took a conversation with

librettist Liza Balkan (followed by a few years of writing and workshopping)

to create the work, and the alchemical processes of director

Philip Akin to animate it into being.

Gould's Wall tells the story of a young artist as she struggles to

develop her career. For Balkan, the building itself was the inspiration.

The presence of pianist, composer, broadcaster Glenn Gould is everywhere.

His photograph is on the walls. The namesake Glenn Gould

School resides here. "The desire for mastery in music, the constant

practising and the revelling in music and the vibrancy of it – it seemed

that wall, what lives around it, through it, in it, behind it, is connected

to pursuing excellence," Balkan says.

I had the opportunity to sit in on an early rehearsal of the work. As I

arrived, Akin was leading the cast and crew through a physical warmup.

It ended. He turned and welcomed me. I heard bits of text and

music as the company blocked their scenes. There were three levels

Lauren Pearl plays Louise

of platforms to approximate the multiple levels of the windows in the

RCM's wall. There was a piano, the conductor, a second conductor

and, at a long table along one wall, most of the artistic and technical

crew from lighting to librettist.

Lauren Pearl who plays the lead, Louise, clambered into climbing

gear. (Throughout the piece, Pearl's Louise climbs the red-brick

wall several times, a feat that must be accomplished while singing.)

Meanwhile, Roger Honeywell, who plays Gould, sat stretched out,

head angled and fingers twirling, inhabiting the essence of his character.

"Tut tuts", sung by the cast, could be heard, fashioned after

Gould's way of verbalizing as he worked. And there was Akin, crafting

movement through space with a call to the actors to bring in their

whole selves to the moment. I was smitten by the sounds, the movement

and the process.

Says Akin, "Singers in opera are used to just being told what to do,

how to sing it. I refuse to work that way. I give a clue, the inspiration,

the breadcrumb trail and say, bring your best self to this. It gets

amazing results. Artists gain power and know that their contributions

are valuable. It is actually more interesting to me than sticking to the

boundaries of opera or musical theatre."

To that end, the artist's climb can be lateral learning or a deepening

of process as well as a vertical climb.

The Space

The location itself presents a significant additional artistic challenge.

For the five performances, the Atrium will house the 15-piece Glenn

Gould School's New Music Ensemble, multiple pianos, a catwalk and

DAHLIA KATZ

8 | February 2022 thewholenote.com
---
DAVID COOPER

"I give a clue, the

inspiration, the

breadcrumb trail

and say, bring your

best self to this."

— Philip Akin

harnessed performers leaning out of the wall's windows to sing to

each other on multiple levels.

The artistic wall can, however, evoke challenges beyond the

physical, particularly for Black artists and audiences.

"We need to speak of this," says Akin. As the founder of Obsidian

Theatre, Canada's first and perhaps only theatre that specializes in

work by Black writers, he has significant experience with the vagaries

of Canada's performance industry. "You also have to break down some

walls, to be able to acknowledge who else is in a rehearsal hall full of

predominantly white people. I have not seen another Black person

working in the building (RCM/Koerner Hall), not even a janitor.

However, everywhere I work is a Black space. I bring this to the table.

By inhabiting the space that does not include some, we bring them to

the table."

Michael Hidetoshi Mori, artistic director and Jaime Martino, executive

director of Tapestry Opera, are also engaged with broadening

what opera is, who does it and who hears it. Additional specificities

to the concept of artistic struggle for excellence have been woven

into the production process. Tapestry Opera's Women in Musical

Leadership program ensures that women conductors are mentored

and included in the process. Jennifer Tung and Juliane Gallant are

assistant conductors on this production. Akin has brought in Sheree

Spencer as assistant director and award-winning set and costume

designer Rachel Forges – two Black artists. "We have to bring others

along," he says.

Finding an Artistic Compass

Gould continues to serve as a guide for many musicians, not all in

a traditional way. Says Balkan, "There are those who can inspire, be

a muse, and support a climber. Gould's work can directly be that for

some. It can also be something to stand on, to launch from. It can be

a spiritual/practical mentoring – through memory/essence/naming."

Gould once spoke at a graduation ceremony at the Conservatory,

Balkan says. "After an extraordinarily long speech about art and

listening, and silence and creation and finding your own voice, he

said, 'If I could give you anything, it would be to remind you not

to rely on the advice of others.'" The quote is included in Balkan's

libretto.

Akin has a less elliptical experience of mentorship to draw on, both

as mentor and mentee. As a young theatre student at Ryerson, he was

recommended by theatre journalist Herbert Whittaker for a part in

the Shaw Festival's production of Caesar and Cleopatra. At that time,

there was little work for Black artists. He auditioned, won his first part

and was working six months after graduating from Ryerson's theatre

program. To later receive the Herbert Whittaker Award in 2019 for his

contributions to Canadian theatre was deeply meaningful.

His version of mentorship, particularly for Black artists, he refers to

as "radicalization." He gives an example: "You are a dark skin, black

woman, you have strong ideas. You know, the task is not just 50%

more difficult. You have to prepare for that. It is not the same as being

twice as good to get half as far. You need to be determined. You need

to be strong. You need to call out. You need to go and do whatever you

have to do to make your art happen. And you know you're not going to

get the same kind of respect because you're not a child. You grew up

POSTPONED

Thursday, February 3 at 8 pm

Ensemble

Made In Canada

Thursday, February 24 at 8 pm

Miró Quartet

Tickets: 416-366-7723

option 2

27 Front Street East, Toronto

| music-toronto.com

thewholenote.com February 2022 | 9
---
"So much of the

dialogue is inspired

by and informed by

Gould's work, …

a sort of contrapuntal

musical play."

— Liza Balkan

in this country. You know that dark skin, Black women have it tough.

Right? So, is that mentorship? I guess you can call it that. In my head,

I think of it as radicalization. It's about trying to find fearless artists

because I think there's too much accommodation going on."

Movement and Magic

In addition to writing, acting, directing and many other talents,

librettist Liza Balkan is also a dancer, she brings the essence of

motion, of movement to the text. "I feel the rhythm, in the language;

working on something like this project where so much of the dialogue

is inspired by and informed by Gould's work, [I am] constantly

hearing a sort of contrapuntal musical play – rhythm, speed and

rests," she tells me.

CLASSICAL AND BEYOND

Orchestras

and others

buying into

hope

PAUL ENNIS

"It's just a flesh wound!" says the Black Knight,

after King Arthur chops his arms off in

Monty Python and the Holy Grail.

DAHLIA KATZ

Brian Current – "A few years of writing and workshopping"

How it all turns out remains to be seen. The show was originally

scheduled for mid-January and has been postponed due to Ontario's

lockdown. In light of this new scenario, the idea of movement is even

more poignant. Philip Akin's martial arts influenced direction that

ensures connection between performers working on multiple physical

planes, is now translated into working with time as well. And to land

us firmly in the present, Brian Currrent conductor and prime instigator

of this enormous undertaking, will be on site, swaying and

guiding each step of the musical journey.

"I believe art is a freaking mystery," Akin says. "So things happen

serendipitously and my reaction when presented with a brick wall, a

cast and crew, a libretto is, 'Let's go! Let's make magic!'"

Just as it seemed live music was reasserting its

presence in the GTA and beyond, the Omicron

variant of COVID-19 forced the Ontario

government to pivot to new lockdown guidelines

that nipped reopenings in the bud, and effectively

curtailed live music for most of January. The new

guidelines however offer hope. If they stick, from

January 31 to February 21, live music attendance

can resume, albeit capped at "50 percent or 500

people, whichever is smaller" a measure impacting

disproportionately severely on the smallest and the

largest venues. After February 21, barring setbacks,

progress accelerates: 50 percent capacity, no matter

the venue size, until March 15; and then, barring a

further re-assessment, permission for a return to

live performance at full capacity.

Gloria Blizzard is a non-fiction writer, poet and penner of songs,

whose wordsmithing has appeared in numerous literary publications,

magazines and sound recordings. She is currently completing

her first full-length book, a collection of essays, and can be reached

at www.gloriablizzard.com .

10 | February 2022 thewholenote.com
---
Angela Hewitt

Available now at

bookdepository.com

RICHARD TERMINE

TSO

Unlike the ill-fated fall reopening, when the TSO waited for the

50percent capacity cap before resuming, this time they are in, boots

and all even at the 500-capacity cap. They have announced a full

slate of diverse live programming over the next six weeks, with music

director Gustavo Gimeno leading the orchestra, February 2, 3 and 5,

in Schumann's FIrst Symphony, "Spring," composed in January and

February of 1841 in anticipation of better weather ahead. Also on the

program is Scylla, Jordan Pal's concerto for trombone and orchestra

written as a showcase for TSO principal trombone, Gordon Wolfe.

Even before the February feast begins, there will be an appetizer

available: a performance of Gimeno conducting Beethoven's jovial

Symphony No.2 Op.36, to be streamed live on January 28 and available

on demand until February 4. In that concert, Beethoven's Second

proves to be a fruitful muse for Odawa First Nation composer Barbara

Assiginaak, whose Innenohr meditates on the German master's

storied love of nature. Missy Mazzoli's evocative Dark with Excessive

Bright also draws inspiration from the past, bringing Baroque-era

techniques into the 21st century through the skillful bow of TSO principal

double bass, Jeffrey Beecher.

There's something for everyone in the mix. On February 12, the TSO

and conductor Lucas Waldin celebrate Valentine's Day (well, close

enough!) with a selection of romantic songs from musical theatre and

the movies, including favourites from The Phantom of the Opera,

West Side Story, La La Land and the iconic "Love Theme" from

Tchaikovsky's Romeo and Juliet.

Then celebrated pianist Angela Hewitt takes charge on February 16,

17 and 19, leading a varied program from the keyboard. Two wellknown

concertos – Mozart's No.12 K414 and Bach's No.2 BWV1053 –

anchor the concert. Two lesser-known works complete the program:

Saint-Saëns' charming Wedding Cake Op.76, a valse-caprice for piano

and strings written as a nuptial tribute to pianist Caroline Montigny-

Rémaury; and Finzi's Eclogue for Piano and String Orchestra Op.10.

Chinese-born Xian Zhang leads the TSO on February 26 and 27 in

Beethoven's energetic Symphony No.4; principal flute Kelly Zimba is

the soloist in Nielsen's masterful Flute Concerto. Then, on March 9, 10,

12 and 13, 32-year-old American, Ryan Bancroft, the newly appointed

chief conductor of the the Royal Stockholm Philharmonic Orchestra,

thewholenote.com February 2022 | 11
---
Mark Williams

Gemma New

RUSSELL LEE

ROY COX

leads the TSO in a concert featuring crowd-pleasing works that were

shared digitally during the early days of the pandemic: Dvořák's

Slavonic Dance No.8; Beethoven's Violin Romance No.2; Mozart's

Symphony No.29 K201; Vivian Fung's Prayer; and Aaron Copland's

restorative Appalachian Spring.

Mark Williams: on the corporate side of things, the TSO has

announced the appointment of Mark Williams to be the orchestra's

new CEO as of April 2022. Williams has held positions at the San

Francisco Symphony and IMG Artists New York, prior to his current

role as chief artistic and operations officer at The Cleveland Orchestra,

where he oversees all aspects of artistic planning and programming,

touring and orchestra operations.

Williams, who holds a bachelor of music degree in horn performance,

is quoted in the announcement: "This is an orchestra with

immense musical gifts, big ambitions, limitless energy and a desire

to connect with its community through music. I look forward to

forging deep and long-lasting relationships with Torontonians,

and getting to know the Toronto Symphony Orchestra's dedicated

patrons, subscribers and donors. I have been privileged to work with

Gustavo Gimeno for many years as a guest conductor at The Cleveland

Orchestra, and I feel confident that our strong partnership will

achieve his artistic vision for Toronto's great orchestra. My husband

Joseph and I are eager to call Toronto, one of the world's greatest cities,

home," said Williams.

An interesting footnote on the relationship between the two

orchestras: onetime TSO interim CEO Gary Hanson, who preceded

Matthew Loden at the TSO in 2016, had been executive director of

The Cleveland Orchestra from 2004 to 2015 during the time Williams

was hired there; Williams, in turn, while at Cleveland, hired current

TSO music director, Gustavo Gimeno, for his Cleveland Orchestra

conducting debut.

"I have worked with Mark for many years," Gimeno added. "And I

am really thrilled that he will be leading our great orchestra. … I know

that I will have an ideal partner."

KWS

Andrei Feher

Also rejoining the live-concert

fray will be The Kitchener-

Waterloo Symphony (KWS)

performing for live, in-person

audiences once again on

February 11, after a 23-month

hiatus, within the window of the

difficult 500-cap capacity restrictions

in place until February 20.

The KWS solution? They have

added a second performance on Saturday, February 12 at Centre In

The Square. There will be plenty of space to keep patrons safe and

comfortable in the 2,000-seat concert hall.

"It is going to be an amazing atmosphere returning to the stage for

live audiences again for two shows that weekend," said music director

Andrei Feher. "We musicians feed off the energy in the building and

are beyond excited to perform for live audiences once again."

Feher is joined by Canadian superstar pianist Charles Richard-

Hamelin for Beethoven's Emperor Concerto. "It is an incredible piece

that was well before its time, a true gift that Beethoven gave the

world," said Feher. "Emperor is triumphant, filled with beauty, and

Charles is the perfect person to perform this concerto with us."

HPO

Touch wood, Hamilton concert-goers will also finally get the chance

to renew their acquaintance with Hamilton Philharmonic Orchestra

(HPO) music director, Gemma New, on March 19 for "Gemma

conducts Mendelssohn". Her previously scheduled appearance on

January 29, 2022 was cancelled, so this will be her first appearance

with the HPO since the pandemic began.

The March 19 Mendelssohn concert features Canadian violinist

Susanne Hou performing Mendelssohn's consummate Violin

Concerto. Also on the program is the premiere of a new work by

HPO 2021-22 composer fellow, Maria Eduarda Mendes Martins,

composed after six months of mentorship with music director New

and composer-in-residence Abigail Richardson-Schulte. That work

will be followed by Bizet's effervescent Symphony in C, a favourite of

legendary conductor Sir Thomas Beecham.

"I hold close the memories of our joyous concerts together prior to

the pandemic," said New. "I used to see live music performance as an

invincible art form. Now it feels like it is a rare and precious experience,

that I am so grateful to create when the circumstances make

it possible. I'm glad to have such a phenomenal team to work with

through these tough times, as we patiently hope, resiliently create and

carefully plan for better days."

Classical Music Festivals Canada (CMFC)

Meanwhile, Stratford Summer Music artistic director Mark Fewer

and James Campbell, artistic director of Festival of the Sound, have

launched Classical Music Festivals Canada (CMFC), a collaboration

among 11 Ontario festivals. The free online video chamber music

festival started with a bang on January 28, with each of the participating

Festivals, launching their contribution to the 11-concert slate.

All will now be available on demand online at classicalmusicfestivals.ca.

"As we approached our colleagues at different festivals," Fewer said,

"one thing was abundantly clear – we all feel more collaborative and

open than ever before, and the results show it! You'll find interviews

with each festival director and host Eric Friesen at the start of each

presentation, followed by a one-hour concert of music that showcases

just how world-class we are here in Ontario! You can click on

12 | February 2022 thewholenote.com
---
Canadian harpist Valérie Milot, at Westben, summer 2021, in

one of the CFMF's 11 "July in January" concert videos.

any festival link and listen to the musical offerings as often as you like

from January 28 until February 28. We're calling this first version (of

what will surely become a yearly event) July in January."

The nine other participating festivals are Collingwood Summer

Music Festival, Elora Festival, Music Niagara Festival, Ottawa

Chamberfest, Prince Edward County Chamber Music Festival,

Studio 'S' Series, Sweetwater Music Festival, Toronto Summer Music

and Westben.

QUICK PICKS

FEB 19 & 20: Backed by conductor Bradley Thachuk and the

Niagara Symphony, Sarah Slean sings her favourites from the songbook

of singer-songwriter and recent Kennedy Center honoree,

Joni Mitchell. niagarasymphony.com.

FEB 25 & 26: Confluence Concerts commemorates the 200th

anniversary of the death of the influential and whimsical

19th-century Viennese storyteller, E.T.A. Hoffmann, with music by

Schumann, Tchaikovsky, Offenbach and others. Curated by Larry

Beckwith. confluenceconcerts.ca.

FEB 25, 8PM: The Royal

Conservatory (RCM) presents

Angèle Dubeau celebrating the

25th anniversary of her ensemble

La Pietà. "Added to the music

of Olafur Arnalds, Armand

Amar, Ludovico Einaudi, Alex

Baranowski, Philip Glass and

Max Richter will be works from

my latest opus, Elle, an incursion

into the musical world of women, Angèle Dubeau

including Rachel Portman, Elena

Kats-Chernin and Rebecca Dale," says Dubeau.

See www.rcmusic.com/performance for information about other

standout February RCM events: pianist Stewart Goodyear, Feb 9;

Tania Miller conducting the Royal Conservatory Orchestra,

Feb 11; pianist Vikingur Olafsson, Feb 24; early music virtuoso,

Jordi Savall, Feb 27.

MAR 2, 8PM: Korean pianist Seong-Jin Cho – winner of the

2015 Chopin International Competition in Warsaw – makes his

Koerner Hall debut with an ambitious program of Janáček's Piano

Sonata 1.X.1905, Ravel's devilish Gaspard de la nuit and Chopin's

Four Scherzos.

MAR 6, 3PM: MacArthur "Genius Grant" winner, pianist Jeremy

Denk leads Les Violons du Roy in a program of Renaissance and

Baroque works by Hildegard von Bingen, Byrd, Morley, Monteverdi,

Biber, Purcell, Dowland, Gesualdo and anchored by two J.S. Bach

keyboard concerti, BWV 1052 and 1053.

Paul Ennis is the managing editor of The WholeNote.

thewholenote.com February 2022 | 13
---
MUSIC THEATRE

Silver linings to the new-year

lockdown blues

JENNIFER PARR

Melissa Morris in Sweetheart

When the rapidly increasing spread of the Omicron

variant and the new lockdown closed down

our performance spaces once again in January,

all kinds of theatre-going plans for the early new year

had to be tossed out. Luckily, resilient companies and

artists didn't stop creating; their new and growing ease

with filming and streaming, is still providing us with

many ways to enjoy good music theatre in spite of the

pandemic, and to cheer our souls during the coldest time

of the year.

Silver linings

Among these bright spots is the

opportunity to catch filmed versions

of live shows we might otherwise

not have seen. One of these is

prolific Canadian composer Dean

Burry's Sweetheart, a one-woman

musical about Canadian-born

Hollywood star and brilliant business

woman, Mary Pickford. Burry

is probably best known for his

operas, whether written for children

like The Brothers Grimm, or telling

Canadian stories such as the recent

Dean Burry

Dora Award-winning Shanawdithit, but he has also been a creator of

musicals from the beginning of his career.

GREG WANLESS

I have known Burry since directing his opera for and about teenagers,

Pandora's Locker, at the Glenn Gould School back in 2008, so I

reached out to him to find out more about this show.

It turns out that Sweetheart is one of his earliest works. "It was

first written in 1997," he told me, "just after I graduated with my

master's degree in composition from the University of Toronto, and

was working in the box office at the COC. I was reading all these biographies

of musical theatre composers for inspiration and came across

a mention of Irving Berlin at a dinner party with Mary Pickford.

Remembering that she was from Toronto, I investigated a bit further

and that led to the first version of the show." That early version only

got as far as workshops with friends, but in 2011 a revised version was

performed in the newly renovated 1920s setting of Toronto's Spadina

House, with a remount in Haliburton the following summer. That was

that for ten years, until the fall of 2021 when new workshops were

undertaken with director Greg Wanless and actor Melissa Morris,

resulting in a newly revised version that was performed in Kingston

last December.

But why a one-woman version of this story? Well, for several reasons.

"As a young Canadian composer," Burry told me, "'economy of means

was always in my thoughts – i.e. how can we do the most with the very

least? I imagined Sweetheart as a female version of John Gray's excellent

one-man show, Billy Bishop Goes to War. I also just love the theatricality

of this kind of show where one actor plays all the characters to

the point that we believe we see them talking to each other. There

is something magical about that." And to top it off, "usually, silent

movies [like Pickford's] were accompanied in the movie theatre by a

single piano and I wanted to create that kind of feeling."

There is also something meta-theatrical about this reconceptualized

version of Sweetheart: we, the streaming audience, will be watching

on our screens, captured on film, a live show that is itself being

14 | February 2022 thewholenote.com
---
PATRICK HODGSON

Ursa, the filmed version: from left: Sam Boer, Belinda Corpuz, Jake Schindler and Stephen Ingram

performed in front of a movie screen that can function as either a

projected backdrop, or moving picture that the actor will sometimes

interact with.

Burry praises both director Wanless and actor Morris for their contributions

to this new version of Sweetheart which is much tighter and

more streamlined, leaving behind the documentary detail that his

younger self, as he describes it, "had become obsessed with including."

Instead it focuses on the dramatic core: "[Pickford] always feeling

held back by her famous bubbly young girl film persona as 'America's

Sweetheart,' and then her fading celebrity with the advent of the

talkies." Her famous creation of film company United Artists with

husband Douglas Fairbanks and friend Charlie Chaplin also features

significantly, and weaving everything together is Burry's original score

inspired by the music of Irving Berlin and the Gershwins, evoking the

early days of Tin Pan Alley and the first moving pictures.

Sweetheart was captured live over several performances in Kingston,

Ontario and will be streamed online from January 27 to February 6.

"We want to create accessible versatile

shows that feel like folk concerts [and] tell

stories like musical theatre."

— Jake Schindler and Sam Boer

Ursa: A Folk Musical

Equally theatrical but even more experimental is The Uncommon

Folk Collective's theatre-concert hybrid Ursa: A Folk Musical which

will premiere as part of The Next Stage Festival. Ursa, like most

of the other shows in the festival was originally supposed to be

performed to live audiences, but from necessity has pivoted and is

in the final stages, as I write, of being filmed to stream online from

January 30 to February 7, with a possible extension to be confirmed

soon. I was lucky enough to catch a virtual (online) glimpse of Ursa

VERDI

APRIL 23–MAY 20

Live

opera

rETUrNS

Single tickets go on sale

February 22, 2022

coc.ca

thewholenote.com February 2022 | 15
---
Belinda Corpuz

Ursa poster designed by

Abby Nowakowski

in development as part of the

inaugural Watershed Festival last

spring, and was delighted with

its freshness, youthful energy and

experimental daring.

Ursa is truly a child of the

pandemic. It was written collaboratively

over weekly Zoom

sessions over the past two years

by Jake Schindler "a theatre lover

with a passion for folk music"

and Sam Boer "a touring folk

musician with a passion for

musical theatre" and is inspired

by the two friends' mutual love of

iconic Canadian folk music and

the transformative experiences

[they've] had at great concerts

which, they believe, "have a

distinct ability to bring people

together and create a sense of

belonging and inclusivity." In

their own words they "want to

create accessible versatile shows

that feel like folk concerts, tell

stories like musical theatre, and

invite our audiences to experience

something both familiar and

brand new."

Ursa draws on the universal

power of folklore by inventing its

own fantastical tale of a smalltown-Ontario

teenager who

runs off into the forest in search

of adventure only to meet an

anxious bear in the middle of

an identity crisis. As the girl and

bear become friends the audience

is taken on a whimsical journey exploring what it is like to be young,

want change and struggle to make it happen.

Margot Greve directs emerging talents Belinda Corpuz as Ursa and

Stephen Ingram as the Bear, with a live band backing up the fresh and

surprising folk tunes. As a fan of both folk music and musical theatre,

perhaps I am too much the ideal audience member, but from what

I have seen so far, I think this young ambitious team will meet their

goals of bringing new audiences of all ages to their new hybrid folk

concert-theatre creation.

INNERchamber Kindness

One of my favourite "silver linings" of the pandemic, as I have

written before, was discovering INNERchamber's concert series at

Stratford's Revival House. Before the pandemic I had never been in

town to catch their live performances, but because they had to pivot to

film and streaming in order to keep performing. I had the opportunity

to enjoy their intimate concerts online and fell under the spell of the

group led by artistic director Andrew Chung who, with their guest

artists, are constantly finding new ways to weave together words and

music in the concert setting. There was very little on their website

about the upcoming concert Kindness other than it was being curated

by well- known Stratford and Shaw Festival husband and wife musical

theatre performers Glynis Ranney and Mike Nadajewski, so I reached

out to them to find out more.

Ranney had appeared previously with IC in concerts as an actor

and singer but last January she told me, "Andrew Chung approached

us and asked if we had anything we might want to pitch as ideas

for a concert." Ranney had already, over the years, been compiling

a collection of stories about unexpected kindnesses, she explained,

and had been thinking of putting some kind of package together, "so

I suggested this to Andrew and he liked the idea." Over this past year

she and Nadajewski have gathered together various songs and stories

Mike Nadajewski and Glynis Ranney

"Andrew Chung approached us and

asked if we had anything we might want

to pitch as ideas for a concert …

[I suggested] unexpected kindnesses."

— Glynis Ranney

that pertain to the idea of kindness: "simple everyday acts or radical

unexpected acts by a community, within a marriage, by health care

workers, or even by an enemy."

While Ranney and Nadajewski found and compiled most of

the material, all the songs are arranged for the ensemble by core

IC member, cellist Ben Bolt-Martin, whom Ranney describes as a

wonderful composer and arranger. Bolt-Martin also arranged the text

and created underscoring for the key anchor story for the show, one

that had inspired Ranney to start collecting stories of kindness years

before. It was a real-life story from World War Two, of German fighter

pilot Franz Stigler who, instead of shooting down American bomber

pilot Charlie Brown, guided him safely back to England. Neither man,

of course, told anyone else what had happened until many years

later. "What is even more remarkable," Ranney said, "is that Stigler

later settled in Vancouver, was reunited with Charlie Brown, and they

became the best of friends."

Leading up to this story and a final song by Jacques Brel, is a collection

of six to eight songs interwoven with stories of kindness from

real life, balancing lighter fare such as Neil Bartram and Brian HIll's

comedic song Mrs. Remington about a teacher's kindness, with

heavier fare such as the shooting of young Amish girls in the Nickel

Mines community by a deranged gunman, and the remarkable

unexpected kindness shown by that Amish community afterwards to

the parents of the killer.

Ranney and Nadajewski complement each other well. "I am more

earnest," Ranney said, "but my husband has good funny bones. There

will even be a 'kindness lightning round' as he calls it, of quick

quotes." There will also be songs by Shirley Eikhard, Leonard Cohen,

Stephen Sondheim and others. Not what you would expect from a

classical chamber ensemble? Exactly.

16 | February 2022 thewholenote.com
---
QUICK PICKS & SHOW INFO

FROM JAN 16 ON: Sundays at 7pm, In-Home Concert

Series curated by Donavon LeNabat of Donavon's Anti-

Social Gathering, Porch Side Concerts and In-Home Open

Mic. Livestreamed Sunday nights, and available on demand

following the livestream. The first concert featured musical

theatre star Charlotte Moore with LeNabat at the piano. Other

guests booked include musical theatre artists, as well as jazz/

pop singers and musicians. FREE (tips welcome).

JAN 27 to FEB 6, 7:30: Sweetheart: A One Woman Musical

by Dean Burry. Sweetheart Productions. Recorded presentation

of the December 2021 production of Sweetheart.

Melissa Morris; Clare Marion (piano); Greg Wanless, director.

www.events.eply.com/SweetheartAOneWomanMusical.

$10. ONLINE

JAN 30 to FEB 7: (with possible extension TBC), Ursa: A

Folk Musical. The Next Stage Festival. Tickets $15 plus fees.

Festival passes also available.

Show will be available to view on demand once released.

fringetoronto.com/next-stage/tickets-passes

PRESENTS

Marie Bérard, violin

Winona Zelenka, cello

Rémi Pelletier, viola

With guest artists

Sheila Jaffé, viola

Amanda Goodburn, violin

February 20 th 2022 at 3pm

Trinity St.Paul's Center, 427 Bloor St. W.

Quintessence

Viola quintets by Mozart and Mendelssohn

Limited in-person audience-$40 (includes online access)

Concert on Demand, 2-week online access-$20

Questions? Contact admin@trioarkel.com

https://trioarkel.eventbrite.ca

FEB 11 to 19: The Quest, a new Canadian musical by Murray

Foster and Kieren MacMillan at the Canadian College for the

Performing Arts in Victoria, Live and ONLINE across Canada.

www.ccpacanada.com/the-quest

FEB 13, 7pm: Kindness, INNERchamber 7pm, Revival

House, pre-show chat 6:30 pm (free), Concert tickets $10-40.

innerchamber.ca

ONLINE (also live if allowed, please see website for updates)

FEB 16 to MAR 16:

Via Kanana, Harbourfront Centre in partnership with

Digidance. As a highlight of Kuumba, Harbourfront Centre's

longest running Black Futures Month Festival, Via Kanana is

a non-stop torrent of energy. The hour-long work condemns

the corrosive effects of corruption in South Africa and

expresses frustration at how little has changed for the better

for Black people since the end of Apartheid.

Video on Demand Streaming in Canada only. From $15 +

applicable taxes. www.harbourfrontcentre.com

CHRISTIAN-GANET

Via Kanana

Jennifer Parr is a Toronto-based director, dramaturge, fight

director and acting coach, brought up from a young age on a rich

mix of musicals, Shakespeare and new Canadian plays.

thewholenote.com February 2022 | 17
---
PROFILE

The Marigold Music Program, summer 2021, left to right:

Manasvi Naik, Nailah Padilla, Ali Loisy, Charlotte Siegel (behind), Jadzia

Elrington (in front), Kevin Mulligan, Vera Sevelka and Spencer Persad

Charlotte Siegel

Transformative powers and watershed moments

DANIELLE SUM

VIVIEN FELLEGI

Nineteen-year-old opera student Charlotte Siegel is

getting frustrated as she sings an aria from Mozart's

The Marriage of Figaro over and over again in a

cramped rehearsal studio at the University of Toronto. She

wants to impress her new teacher and is concentrating

hard on getting every element right. But the more she

tries, the more her body tenses and the notes get stuck in

her throat.

"[Singing] is not a gentle thing," says her teacher, Frédérique Vézina.

"It's like jumping off a cliff – you have to just let go."

Siegel takes a deep breath. She turns off her brain and lets her

instincts take over. The song's energy pumps from the ground to her

face; every part of her vibrates like a pitchfork.The pounding pulse of

the music takes over her being, annihilating her worries. The moment

shimmers. Times like these, when the "controlled scream" of opera

whisks her right out of herself, make all the effort worthwhile. "It's

the most luxurious feeling in the world," says the soprano.

Learning to immerse herself in the moment has benefitted Siegel

in both music and life. But it hasn't been easy. Like many musicians,

Siegel tends towards perfectionism, over-analyzing situations and

undercutting actions.

Letting go is another of many life lessons that music and her

mentors have taught her: learning to communicate and collaborate

have bolstered her confidence both in singing and in general. "I question

who I would be if I hadn't had those experiences," says Siegel.

Regent Park School of Music

Siegel's instruction in music began at Toronto's Regent Park School

of Music (RPSM), [rpmusic.org] which offers highly subsidized music

lessons for children living in the mostly lower-income and racialized

communities of Regent Park and Jane-Finch. From the age of nine,

when she began studying voice, Siegel says, she was transfixed by the

transformative power of music. She could be upset or frustrated or

tired – but the moment she started singing everything else faded away.

Later, when her classically trained teacher introduced her to opera,

Siegel learned to absorb her character's perspective into her own skin.

"I always try to imagine what the person I'm trying to portray was

going through in that moment, and breathe it in and fully become it,"

she says. These excursions into the minds of others have broadened

her vision. "Everyone wants to be transformed, to go outside of themselves,"

says Siegel.

As Siegel honed her voice at Regent Park School of Music, her

overall confidence bloomed in tandem. As a young child, Siegel says,

she was "bubbly but also self-contained. I lived in my own world

happily for a really long time," she recalls. Music, where she could

comfortably express her feelings, drew her out of her shell. "That's

helped me…communicate with people," she says.

18 | February 2022 thewholenote.com
---
An agency of the Government of Ontario

Un organisme du gouvernement de l'Ontario

Of course there were times when the magic went missing, and

that's when mentors like Zorana Sadiq jumped in. During one practice

session, Siegel recalls how sadness over some now-forgotten incident

seeped into the exercise. The uncharacteristic quiver in her voice

affected Sadiq so profoundly that she baked her struggling pupil a

batch of cupcakes to console her. Siegel remembers how touched

she was by the gesture. "It makes you feel seen," she says, "and like

someone cares about you." The former RPSM grad remains close with

many of her former instructors, who have become a "second family."

Performing also boosted Siegel's morale. From the age of nine, the

young girl was belting out solos in front of large crowds, and these

stints in the spotlight have, for the most part, immunized her against

stage fright. Her growing technical expertise in turn fuelled a sense

of competence that extended into other domains. "Feeling like you're

getting better at something is …a really big part of becoming more

confident," she says.

But perhaps her greatest gift from RPSM, she says, was the school's

cultivation of her speaking voice. In their youth groups, students worked

actively at exchanging opinions and taking a stance on social issues.

"That's the biggest thing that music gave to me as a youth," Siegel says.

When she embarked on her music studies at the University of

Toronto in 2013, though, Siegel was initially more bent on conforming

than crusading. The only Black person in a sea of white faces, she

recalls spending hours every weekend ironing out her thick, curly

tresses in order to blend in with her straight-haired peers. Her classmates

called her "Michelle Obama" (who sported a similar sleek bob).

Siegel didn't mind then, she says.

But her whole world view shifted on its axis the day George Floyd,

an unarmed Black Minneapolis man, was murdered by police officer

Derek Chauvin in May 2020. "I feel like a completely different person

after that moment," she says. While the former self-described "people

pleaser" once ignored minor racial slurs, her tolerance ground to zero

after that watershed event. "Things that you let slide before, there's

just not a place for

them anymore," she

says. Siegel the songwriter

poured her grief

into a composition,

The Dream, about a

world without prejudice,

performing it

online with Pacific

Opera Victoria.

But she did more

than just dream. The

pandemic gave her

space to reassess her

priorities. She had

always wanted to give

back to her old music

school, and, in the

fall of 2020, began

co-leading their youth

group, facilitating

delicate discussions

on both personal

Charlotte Siegel in the COC's

issues and current

Ensemble Studio Competition, 2019

events. She was a

natural. "The best part was seeing some kids start out quite shy then

open up a little bit."

Marigold

Revisiting Regent Park School of Music catalyzed another, more farreaching

opportunity for their former protégé. After a visit there, staff

connected Siegel to two other classically trained, like-minded musicians,

Khadija Mbowe and Kevin Mulligan. Two years ago, the trio

MICHAEL COOPER

ALL

IS

LOVE

TICKETS

ON SALE

NOW!

February 19, at 8:00PM

February 20, at 2:30PM

Koerner Hall, TELUS CENTRE

for Performance and Learning

Opera Atelier's

Valentine

Celebration!

A fully staged production of the

repertoire we love most, featuring

music by CHARPENTIER, DEBUSSY,

HANDEL, PURCELL, RAMEAU,

and much, much more!

Members of Opera Atelier's team Eric César de Mello da Silva, Rena Seeger, Julia Sedwick, Xi Yi / Photo by Bruce Zinger

TICKETS FROM $49

—BUY NOW!

OPERAATELIER.COM

Season Presenting Sponsor

Season Underwriter

Season Supported by

David Green &

Daphne Wagner,

Lita and Michael Green

All Is Love Executive Producers

Dalglish Family Foundation

Mr. & Mrs. Jerry & Joan Lozinski

Mr. & Mrs. William Lambert

Anonymous

Radio

Sponsor

Media

Partner

thewholenote.com February 2022 | 19
---
GAETZ PHOTOGRAPHY

SHANNON CARRANCO

L to R, Marigold co-founders Charlotte Siegel, Kevin Mulligan and Khadija Mbowe

co-founded Marigold, [marigoldmusicprogram.com] an initiative to

make community-based music education (both classical and other

genres), accessible to racialized youth from a wide spectrum of socioeconomic

backgrounds, with the goal of helping to build stronger,

more resilient communities. "It is important to show youth that

people who look like you do this kind of music," says Siegel, who

serves as the program's managing director.

Marigold's namesake brilliant orange flower, Siegel explains, sprouts

up anywhere but only thrives in a particular type of soil. Marigold

strives to supply each participant with their own uniquely enriching

environment tailored to make them thrive.

Co-founding Marigold was another leap of faith for Siegel. "What do

I know about running a non-profit?" she wondered. But the bolder,

braver Siegel forged ahead. "I believe in it," she told herself. "So let's

figure it out." (Marigold has already secured Ontario Arts Council

funding, as well as a Pillar Sponsorship from the University of Toronto.)

The program unfolds in two steps. The Summer Music Intensive,

staffed by professional musicians, targets the tools of music, including

composition, and culminates in a collective showcase partially written

by the youth. Afterwards, the participants are individually matched

to compatible mentors who meet with them weekly to flesh out their

aspirations, offer resources and accompany them on outings to shows

and other venues.

Marigold's philosophy, including its championship of accessibility,

echoes that of Siegel's own alma mater. Both RPSM and Marigold

inspire students to dig deep and take stock of their innermost feelings.

Monthly meetings at Marigold begin with a check-in, when every

participant gets the chance to tell whatever is on their mind. "[We're]

making sure they feel heard and valued," says Siegel. Marigold's egalitarian

staff-student relationships are also modelled on RPSM. Mentors

act as cheerleaders and advocates for their charges, providing a safe

space for mentees to learn to trust their instincts as they explore their

lives' directions. "It's not 'Do what I say,'" says Siegel. "It's believing in

yourself."

Like RPSM, Marigold hopes to build a sense of belonging and

community through participants' intense, shared adventure in music.

Regardless of their aspirations, everyone benefits from the connections

woven by exposure to the medium. "You're not alone, we have

shared experiences," Siegel says. "That's what the arts have to offer."

Ultimately, Siegel hopes that participants' immersion in Marigold

will empower them, whatever life path they find themselves on. The

discipline instilled through practice, the chance to experiment with

new possibilities and the opportunity to play games and have fun all

contribute to a heightened sense of agency, says Siegel. "I'm one of

those people who believe you can do anything you want," says Siegel.

"We're just hoping to show that."

It seems that Siegel and her team are succeeding. Members are

already forging a community. "They just love coming in to chat and

hang out and reconnect with the group." Recently, one trainee was

elated when she received a scholarship to Branksome Hall, the high

school of her dreams. "She never would have thought of applying

there before," says Siegel. But the interviewing and résumé skills

gleaned from Marigold, along with a renewed confidence in herself,

helped to clinch the coveted spot. "I am just so proud of what we have

been able to do in a year," says Siegel.

Siegel too is flourishing. Last August she was admitted into the

Canadian Opera Company's Ensemble Studio, a training program

combining elite level mentorship with challenging performance

opportunities, onstage and in recital. "I do feel quite supported,"

she says. Today Siegel takes vocal classes as well as master workshops

in breath work, diction and acting. She's also preparing for her

upcoming debuts in Fantasma and The Magic Flute. "And that I'm

very, very excited about," says Siegel.

Siegel continues to hone her musical craft, absorbing life lessons

along the way: a life coach at the Canadian Opera Company has

recently helped her recognize that she is happiest when balancing

hard work with reparative self-care and family time, Siegel says. This

discovery has been liberating "because if you are a full person outside

of music, then you need not dread making the inevitable musical

mistake." This knowledge continues to bust Siegel out of the bonds of

perfectionism and propels her towards a freer future.

Charlotte Siegel has come a long way from the hesitant 19-year-old

teetering on top of the metaphorical cliff. She's become a risk-taker,

taking the plunge, finding new possibilities outside her comfort zone.

It's never easy. "It's a scary feeling right before you go," says Siegel. But

the euphoria of jumping and surviving more than makes up for the

anxiety. "You do something and you don't die," says Siegel. "Yeah, it's

addicting."

Upcoming COC performances by Charlotte Siegel:

Fantasma (she plays Léa's mother, Manon) March 9,10,12,13 (2022)

The Magic Flute (she plays Second Lady) May 6,8,11,14,17,19,21 (2022)

To learn more about Marigold, see marigoldmusicprogram.com.

Vivien Fellegi is a former family physician now working as a

freelance journalist.

Digital Pass

Buy a Digital Pass to explore

the beauty of our eight

2021/22 digital concerts, on

demand, wherever you live.

tafelmusik.org/digitalpass

20 | February 2022 thewholenote.com
---
FITS AND STARTS

The stutter-step

reopening!

Four stories of

discovery

ANDREW TIMAR

Lamia Yared, with Labyrinth Ensemble, November 2021

After nearly two years unable to perform, the lucky

among us found it was possible in the latter part

of October 2021 and into November to begin

rehearsing with larger groups. We saw friends and

colleagues in bands and orchestras, large and small,

grinning in Facebook and Instagram selfies – duly masked

(except during the selfies) and double vaxxed of course.

But as Omicron swept through, lots of ground was lost

where live performance was concerned.

Here are four – I hope inspirational – stories from this particular

variation on the two-year musical rollercoaster ride.

Labyrinth Ensemble: Winter Launch, Spring Concert

Responding to venue closures, last year the multifaceted Toronto

music organization Labyrinth Ontario created a summer video

series in parks across the city, in several small-scale outdoor summer

concerts, and in October took part in the Music Gallery's X Avant

festival. More significant, perhaps, was the late year launch of its

14-musician Labyrinth Ensemble, long a dream of Labyrinth Ontario's

founding artistic director Araz Salek. Playing some 20 instruments

in more than a dozen "modal music" genres among them, LE musicians

were finally able to rehearse in-person in early November with

Montreal-based guest vocalist, oudist Lamia Yared. The ten-day intensive

focused on the study of the history, forms and other musical

aspects of classical Arabic music, learning repertoire and fostering a

sense of ensemble, culminating in a sold-out debut concert at the Aga

Khan Museum on November 13, 2021 that I was honoured to attend.

Under Yared's able on-stage leadership, the group unravelled a series

of elaborate classical Turkish and Arabic musical songs and instrumentals,

a notable few in complex metres. An impressively democratic,

if inherently risky, element was that each musician was given

a solo feature. You can view the entire concert on the Aga Khan

Museum's Facebook page.

This April and May LE has its second two-week Toronto intensive,

this time mentored by guest Egyptian music scholar and oud master

ONLINE FESTIVAL

FEBRUARY—MAY, 2022

UTNMF.MUSIC.UTORONTO.CA

thewholenote.com February 2022 | 21
---
LAUREN VOGEL WEISS

Mustafa Said

Russell Hartenberger

Mustafa Said, culminating once more in an LE May 6 concert, again at

the Aga Khan Museum.

Cross-Border Music-Making with NEXUS at 50

Having participated in dozens of international festivals for half

a century, they've been tagged "one of the world's most influential

percussion ensembles." They've also mentored and inspired several

generations of Canadian and American percussionists (some of whom

I've shared the stage with). But many more readers will recognize

renowned percussion ensemble NEXUS from their music on radio, or

from a TV or film soundtrack, even if they've not seen them in concert.

NEXUS gave its first, entirely improvised, concert in 1971.

Percussion Hall of Famers today, they continue to celebrate their

50th concert season this year despite the impediments imposed by

the pandemic. Being a cross-border, American-Canadian group, has

given NEXUS an additional handicap during the period under discussion

here: in-person rehearsals have for the most part been stymied by

group assembly and border restrictions.

Now that lifting those is on the horizon, they're once again planning

for resumption of in-person rehearsals in April. Even before that,

though, on March 15 their music will be front and centre, when the

percussion duo Escape Ten premieres NEXUS' Russell Hartenberger's

score Magic Time at the Eastman School of Music in Rochester, NY.

Hartenberger is staying busy. In June he is scheduled to be a featured

artist at the Tócalo Tucson Festival in Arizona – an appearance already

frustratingly postponed twice. He is also writing book chapters

sharing his career in percussion performance and teaching. One, with

the catchy title Learning Time, sounds bang-on for a lifelong percussion

educator.

NEXUS' 50th anniversary live events resume full force this summer,

kicked off in a July 2 concert headlined by American saxophonist and

world music pioneer Paul Winter in Woodstock NY, and followed by a

residency at the St. John's NL Sound Symposium XX later that month,

where the ensemble will premiere Hartenberger's multi-movement

work, Red River.

Finally, veteran Toronto-based contemporary music presenter

Soundstreams is programming a concert, also postponed for the last

two years, featuring works of American composer Steve Reich, with

NEXUS among the featured performers. I'm sure NEXUS is looking

forward to being able to honour Reich, their longtime friend and

music colleague, on this side of the border.

My First Gigs in Two Years!

Here's where it gets personal. It's not a secret to dedicated

WholeNote readers that I've long been an active participant with

Toronto's Evergreen Club Contemporary Gamelan: as a musician since

its 1983 founding; serving as its artistic director for five years; and

running its community and educational music groups. The ensemble

has been my primary musical home and extended family all this time

– also offering priceless opportunities to share the stage with a range

of other musicians and ensembles.

For all those reasons and more, ECCG's two-year lockdown has been

personally rough. I particularly missed playing suling (bamboo ring

flute) with my ECCG friends, collaboratively making some of the best

music of our lives on our beautiful bespoke bronze, bamboo, wood

and string gamelan degung. The long lockdown months have felt like I

was doing physical and emotional hard time.

Imagine the relief and exhilaration in the room when late in

November 2021 we stumbled on what now seems to have been an alltoo-short

sweet spot between the decline of Delta and the onset of

Omicron. Finally, an opportunity to roll up our sleeves to rehearse,

albeit mostly masked. Good planning meets sheer luck!

For several days we worked intensively interpreting four newly

commissioned compositions in our downtown Array Studio space. We

then travelled across provincial lines to Montreal to rehearse with the

virtuoso six-person Sixtrum Percussion Ensemble, finally realizing a

collaborative project four years in the making! On November 24, the

two ensembles gave a passionate performance at the salle Claude-

Champagne, Université de Montréal, then together crossed the provincial

border in the other direction, repeating the program in Toronto to

appreciative, physically distanced and masked audiences at the Music

Gallery on November 27 and 28.

Within the limits of current January and February Ontario restrictions

on larger group rehearsals, public workshops and concerts,

ECCG remains hard: reactivating our community music workshop

series Gamelan Meetup; collaborating with Indonesian collective

Jatiwangi Art Factory for the upcoming Toronto Biennial of Art in late

March; and actively planning a month-long June composer gamelan

workshop with partners Array Music and Canadian Music Centre.

Picanto, CMC's Canadian Music Online Video Portal

Last October 14, the Canadian Music Centre launched Picanto.ca,

a digital platform aiming to become a hub for the Canadian music

community and music lovers alike by providing an online platform for

"uncommon music from diverse genres through music videos, documentaries,

educational videos and live-streaming events."

With the world of conventional broadcasting and recording in

decline (especially in the CMC's wheelhouse genres of classical, jazz

and contemporary music), and at a time when the pandemic impacts

across all musical genres, the time was right, according to Glenn

22 | February 2022 thewholenote.com
---
Some of the musicians in the Fusion Point concert at salle

Claude-Champagne, Université de Montréal,, November 2021

7x Picanto Festival: Trichy Sankaran, Robin Layne and

Curtis Andrews, in The Offering of Curtis Andrews

Hodgins, CMC president, "for a cohesive digital dissemination strategy

for Canadian music." For the CMC's wheelhouse genres, yes, but for

all music with discovery at its heart in the way that discovery has

always been at the heart of the Canadian Music Centre."

So enter Picanto. With a mandate that dovetails neatly with the

CMC's role as a publisher, record label, and champion of Canadian

music, it (so far) showcases nine music categories: jazz/improvised;

Indigenous; inter-cultural; sonic exploration/musique actuelle; electroacoustic;

vocal/choral; chamber music; opera; and orchestral

music. Lots of doors marked push, I'd say!

What's in the name? According to its media release, Picanto is a

crafty blend of the words "piquant" (having a pleasantly sharp taste or

appetizing flavour) and "canto" ("sing" in Italian), with an additional

emphasis on the "can" for Canada. The service intends to provide a

place for enthusiasts who seek musical experiences beyond the shortform

and song-based music already available everywhere else.

At the fall virtual launch, the show hosts sampled some of Picanto's

diverse musical content: drumming from Uzume Taiko; music for

three trumpets and orchestra by Vancouver composer Anna Pidgorna;

and Soundstreams' All Could Change composed and performed by

Montreal-based jazz vocalist Sarah Rossy. A new work by Indigenous

composer Raven Chacon performed by Vancouver's Black Dog String

Quartet segued to a vibrantly coloured video serving as the visual

foil to composer Frank Horvat's A Little Loopy performed by harpist

Sharlene Wallace.

Then, literally the day of this story deadline I received an update

from the CMC – announcing its 7X Picanto Festival running

February 4 to 11, 2022. Sometimes life just works that way.

The Festival will showcase seven newly produced Canadian music

videos – which two of their nine Picanto music categories are missing,

I wonder? – the production of each sponsored by the CMC. This pilot

new music video creation project is promised to be the first of "many

such projects to support artists on the new platform," including

exploration of future initiatives such as pay-per-view video and

livestream performances.

Meantime, in the digital media, eyeballs are currency, so take yours

to the Picanto website. There's more about 7X Picanto there, along

with a slowly but steadily expanding universe of Canadian music

videos with discovery at their heart.

Andrew Timar is a Toronto musician and music writer.

Piano, Voice, Guitar, Harp

Strings, Woodwinds, Brass

Conducting, Composition

Awards, Prizes and Scholarships

Recitals, Concerts, Workshops

Career advancement

Marketing and promotions

InterMusic.ca | 905.604.8854 | office@InterMusic.ca

Choose between in-person or via recorded performance.

thewholenote.com February 2022 | 23
---
IN WITH THE NEW

Radios, Pianos and Weather

The Piano Travels - a transmission

art installation by James Bailey -

is featured in NAISA's 2022 Deep

Wireless Festival ( Feb 5 - Apr 4)

Deep Wireless at 20 WENDALYN BARTLEY

Radio art is a lesser-known creative medium yet is

perfectly designed for these concert-barren times we're

in. Deep Wireless is a festival of radio and transmission

art, plus encompassing installations, performances, radio

programs, symposiums and a series of CD compilations.

The festival is entering into its 21st year of activities, thanks

to the committed vision of New Adventures in Sound Art

(NAISA) and its artistic director Darren Copeland,

When I proposed this story to my WholeNote editor, he recalled that he

had performed the role of a live radio host at a very early Deep Wireless

event in 2002 held at Theatre Passe Muraille. One of the memories of

that event that stood out for him, he said, was a performance of Radio

Music by John Cage, a work written in 1956 for one to eight performers.

His mention of that event in turn jogged my memory – I too had been

involved in it. Later when I chatted with Copeland about this year's

festival, he was able to confirm that, not only was I involved, but that I

had actually conducted the Cage work. In fact, most of the performers

were students from my sonic arts class at OCAD who executed the

movements on the radio dials according to the notated score.

Now Deep Wireless is 20-years old and this year's festival opens

on February 3 with sound installations by James Bailey and Shaughn

Martle that will run for the duration of the festival, ending on April 4.

The events will be presented online and in-person and are described

not as concerts, but as Listening Parties or Group Listening events,

often accompanied by a Q&A.

One event in particular caught my eye because of recent stories

I wrote in this magazine: on February 5 and 6, a new work titled

Winter Diary Revisited by Claude Schryer will be presented as a

Group Listening event; it will also appear as an episode in Schryer's

ongoing conscient podcast series. The "revisiting" of the work's title

is a return to recordings Schryer made in 1997 with Murray Schafer in

rural Manitoba that Schafer used

in his radio piece commissioned

by Westdeutscher Rundfunk Köln

(WDR) in Cologne, Germany. For

the Deep Wireless event, Schryer

will remix sounds from this trip

along with some of Schafer's

writings and new winter soundscapes

he has recorded in Ontario

and Quebec in 2022.

Radio art, also known as

Hörspiel and Ars Acustica, has

been a prominent art form in

Europe over the last number of

decades largely supported by the

NAISA's Darren Copland

larger state radio stations such

as WDR in Cologne, who commissioned many different composers

to create full one-hour pieces or radio dramas. Canadian equivalents

have mostly arisen from CBC programs such as Ideas and Outfront

and productions by the Radio Drama department. In fact, for several

years, Deep Wireless partnered with Outfront to create shorter tenminute

radio-art pieces, assigning four artists from across Canada to a

CBC producer who provided mentorship and guidance in the development

of the story ideas. Wonderful pieces were created during this

time, many of which can still be heard on NAISA's SoundCloud page.

[soundcloud.com/naisa]. One that I recall often when riding the TTC,

featured the story behind recording the voice heard over the sound

system announcing the next stop.

Looking back, Copeland spoke about the creation of a Deep Wireless

Ensemble as being "a distinguishing feature" for the NAISA organization.

This initiative brought together disparate artists to create live

radio work. Copeland described it as being like a "four-way blind date"

combining artists from different disciplines and backgrounds, each

responsible for creating a piece with input from the others or alternatively,

all working together to create a larger collective work. These

interactions would often result in the start of a new direction for some

24 | February 2022 thewholenote.com
---
of the participants. One such recent collective work was Power Play

created for the 2021 version of Deep Wireless by Anna Friz, Christine

Duncan, Richard Windeyer and Richard Lee with contributions from

Gregory Whitehead. It can be seen on NAISAtube as part of the

20th anniversary collection.

Transmission art

Over time, both the field of radio art and Deep Wireless' objectives

have evolved and changed. Copeland explained: "In the early

days, public radio was certainly a destination or influence, but also

community radio in North America became an outlet, with NAISA

hosting a radio program on CKLN. With the beginning of Internet

broadcasting and CKLN closing down, we shifted to a podcast

format and also have an online radio station that streams 24/7 on

our website." As things moved to digital platforms, transmission art,

as it was called, became a more prominent way for artists to engage.

(Transmission art uses the conventions of broadcast technology to

create artwork incorporating the transmitters as a sound source. It is

even possible to work with the transmitter like a theremin, with body

movement affecting the nature of the sound.)

In this year's festival, the installation by James Bailey is a good

example of transmission art. Several transmitters will be placed onto

the strings of an upright piano, creating a type of prepared piano.

The difference in this case is that the physical activity of the string

vibrating on the transmitter itself is picked up and broadcast to a

radio. Bailey's piece –The Piano Travels – places multiple transmitters

on a series of piano strings so that the frequency of each string will be

broadcast to its dedicated transmitter without any microphone being

needed. "It will be like a piano radio," Copeland said.

Other events at this year's Deep Wireless Festival include the presentation

of British composer Trevor Wishart's The Garden of Earthly

Delights - A Comic Opera, an hour-long radiophonic journey through

the landscapes of the human predicament presented online and

in-person on February 13. Wishart's piece will be presented in a

new binaural audio version adapted from the 8-channel surround

version. As well, two opportunities to experience an electromagnetic

composition workshop given by Dan Tapper will happen on

February 20 and 27.

This year's Deep Wireless Festival coincides with the opening of

the newly purchased NAISA North Media Arts Centre in South River,

Ontario, an artist-owned dedicated space for the multiple projects that

NAISA produces. This facility, Copeland hopes, will help usher in a

new era for this ambitious arts organization, one of the few in Canada

dedicated to the ever-expanding field of sound art. A full listing of

festival events can be found on the NAISA website:

naisa.ca/festivals/deep-wireless.

Deep Wireless Ensemble: Jessica Thompson, Brandon Labelle, François

Girourd and Lisa Pijuan-Nomura, performing Thompson's Citizenband, 2009.

Rhubarb is back at Buddies

Buddies in Bad Times Theatre has

recently announced a return to mainstage

programming at Buddies, with

the return of Canada's longest-running

new works festival, Rhubarb, back for

its 43rd year from February 4 to 13. In

this year's version, curated by festival

director Clayton Lee, participating artists

will respond to a large-scale installation,

titled Calculus of an infinite rot, part 1,

being created by designer and architect

Andrea Shin Ling. Ling's award-winning

work, as described in this year's Rhubarb

Andrea Shin Ling

announcement, "explores how biological

and digital processes can intersect in design". In her conceptual

prompt to this year's participating artists, she asks, "What does it

mean after a year such as this, to regenerate one's practice? What

have we left to deteriorate, and what do we use as fodder and fuel for

new creation?"

The festival's 2022 programming includes, among many others,

work by generational duo Lara Kramer and Ruby Caldwell Kramer,

an impromptu sonic performance by New York-based Jesús Hilario-

Reyes and a performance lecture by Sarah Garton Stanley. The Buddies

website will be updated regularly to reflect changes and developments.

21/22

NMC Spring 2022

Live Concert Dates

Crossing Over

Concert Season

Announcement

Welcome back to live music. NMC is thrilled to embark upon

a bold new era of channeling the limitless power of music to

traverse all boundaries: between musical traditions, between

humans and technology, even between music and memory.

Save on ticket prices and reserve your season subscription now

by visiting newmusicconcerts.com or calling 416-961-9594.

50 th Anniversary Commissioning Series

Featuring a new work by John Oswald

February 17, 2021 Broadcast Online

Seth Parker Woods In Concert

March 10, 2022 @ Harbourfront Theatre

Imagined Sounds

Curated by Keiko Devaux

April 10, 2022 @ Steamwhistle Brewery

SWARA SUTRAS

A Toronto Śabdagatitāra

April 30, 2022 @ The Music Gallery

thewholenote.com February 2022 | 25
---
MAINLY CLUBS, MOSTLY JAZZ

Fingers crossed

Towards full capacity

COLIN STORY

Fragile Glim

'Tis the season, it would seem, for piano-and-weather-related art

works. One particular event, currently slated for February 4 ahead of

the festival's official start, caught my eye too – a composition, Fragile

Glim, by neo-speculative artist Stanford Cheung and poet Alvin Wong.

Described as a multi-form soundscape composition, it derives its

sound materials from an upright piano that has been exposed to the

weather elements over many months, becoming a "degenerative piano

that pushes against our human-centric ideas of what is considered

beautiful." The performance will also include free improvisation on

found objects such as stones, sand and tuning forks, field recordings,

electronics and spoken word.

QUICK PICKS

FEB 17, 8PM: New Music Concerts continues its series of

commissions for distanced ensembles in celebration of their 50th

anniversary with a performance of John Oswald's re-Refuse.

ONLINE: www.newmusicconcerts.com

FEB 25 to 27: Continuum and Jumblies Theatre + Arts. Small

Arms Inspection Building, Mississaugua. The Grounds for

Goodness collaboration brings together Continuum's contemporary

music practice and professional ensemble with Jumblies

interdisciplinary and community-arts practices, including many

diverse and mixed-ability community participants. Two newly

commissioned works by Robert Fleitz (NYC) and Christina Volpini

(CA) will be performed. The event is part of a Jumblies multiyear

interdisciplinary project "which presents works that artfully

explore and express why and how people sometimes behave in

good ways towards each other." Check www.groundsforgoodness.ca

for space updates and times.

MAR 6, 7PM: INNERchamber Ensemble. Revival House,

Stratford. This concert, titled Flow, will feature two contemporary

works: String Quartet No.3 by Kevin Lau and Strum by

Jessie Montgomery. Ravel's String Quartet in F will round out the

program. Performers: Julie Baumgartel, violin; Andrew Chung,

violin; Jody Davenport, viola; and Ben Bolt-Martin, cello. LIVE &

LIVESTREAM. www.innerchamber.ca

AND AT YOUR LEISURE: The Music Gallery has put together

a series of music documentaries to watch to get you through

February. Included will be favourites drawn from the Music

Gallery archives. Sign up to have their recommendations sent to

your inbox: Sign Up for Film Fridays

Wendalyn Bartley is a Toronto-based composer and electro-vocal

sound artist. sounddreaming@gmail.com

And so, here we are again, again.

If you're interested in the usual subject matter of this column,

you already know that as of January 31, musical venues in

Ontario will be permitted to operate at 50 percent seated capacity

or 500 people, whichever is less, then move to 50 percent on

February 21, and full capacity March 15 – just in advance of the twoyear

anniversary of Canada's lockdown restrictions.

It is impossible to say whether or not the province will end up

sticking to this schedule. It's also impossible to know for sure, at this

point, how quickly individual clubs will respond to what's allowed,

stage by stage. By the way, for most of the venues that I write about

here, "clubs" is a useful misnomer: the majority are restaurants/bars,

with diverse staffing needs that include kitchen staff, bartenders,

hosts, managers, music bookers, and more. As has been the case

throughout the pandemic, the hiring/rehiring process in this industry

is not simple, and takes time, training and money. The booking

process is also complicated: there are a number of decisions that have

to be made about artists whose shows have been postponed, artists

who are currently scheduled but who may not be ready to return to

the stage, and a number of other COVID-era scenarios.

All this being said, it is a good time to be cautiously optimistic,

to get out of the cold, and to enjoy some live music once again.

Here's a taste.

The Tranzac

At this point in the pandemic, most everyone – ages nine to 90 –

is familiar with Zoom, and has developed some kind of relationship

with it, for better or worse. Zoom has been a popular platform for

musical artists hosting conventional virtual performances, but it has

also had real utility as a vehicle for virtual recitals. Though any kind of

performance has the potential to be a nerve-wracking experience for

those new to the practice, a Zoom performance allows one to play in

the same place where one practices, to avoid the necessity of uncomfortable,

formal footwear, and – crucially – to know that one can

simply press command-Q if things really go south.

At The Tranzac, a new weekly series has emerged: Tranzac Open

Stage Mondays on Zoom. A virtual adaptation of their traditional

Monday-night open mic, the Zoom session typically goes for about an

hour, and guests are invited to join any time after 7:45pm, with two

songs per performer being the standard. While participation is 100

percent free, performers and audience members alike are encouraged

to "support the club by buying a virtual beer," "becoming a member

or renewing your membership online," or by "donating to the club."

(The Tranzac, as a member-run club, has a low-cost membership

option for those interested.) Whether you're an experienced musician

looking to try out new material, a casual musician who wants a

new goal to work towards, or an audience member looking to check

out some fun, community-based performances, Monday night is

your night.

The Jazz Room

In Waterloo, the Jazz Room at the Huether Hotel has a wealth of

impressive shows booked for February. On February 12, vocalist Eliana

Cuevas performs with her quintet, including drummer Mark Kelso,

pianist Jeremy Ledbetter, bassist Ross MacIntyre, and percussionist

Juan-Carlos Medrano. Originally from Caracas, Venezuela, Cuevas

26 | February 2022 thewholenote.com

26 | February 2022 thewholenote.com
---
Eliana Cuevas, the Jazz Room, Feb 12

Lorne Lofsky, the Jazz Room, Feb 19 Mark McLean, the Rex, Feb 23-26

has been based in Toronto throughout her career and has released six

albums of original music. Her newest, El Curruchá, is a collaboration

with famed Venezuelan musician Aquiles Báez, and was released on

Alma Records in 2021. Whether in the duo format of her new album,

or in the quintet format in which she'll be appearing at the Jazz Room,

Cuevas is a powerful, accomplished performer, whose vocal prowess is

matched by her deep melodic and rhythmic engagement.

On February 19, the Lorne Lofsky trio takes the stage. Lofsky is

one of Canada's pre-eminent jazz guitarists, with a long and storied

career that includes a coveted tenure in Oscar Peterson's quartet,

touring with Peterson in the 80s and 90s, and appearing on three of

Peterson's albums: The More I See You, An Oscar Peterson Christmas

and the live album Oscar in Paris. Though 2021 was a complicated

year for new music, Lofsky released a brand-new album: This Song

Is New, which came out in April on Modica Music. Featuring saxophonist

Kirk MacDonald, bassist Kieran Overs and drummer Barry

Romberg, the album sees Lofsky rearranging some standards (Seven

Steps to Heaven in 5, Stablemates in 7) and playing contrafacts over

others (Evans from Lennie, a Lennie Tristano-style adaptation of

Pennies from Heaven). At the Jazz Room, Lofsky will be joined by

Barry Elmes and Kieran Overs, for what should prove to be a night of

exciting, swinging music.

The Rex

At the Rex, live music is coming back strong in February. Their

Juno series continues, with four four-day residencies throughout the

month. The first, from February 2 to 5, features the Kirk MacDonald

Quintet, with MacDonald on tenor, Virginia MacDonald on clarinet,

Brian Dickinson on piano, Neil Swainson on bass and Terry Clarke

on drums. Up next, from February 9 to 12, the Dave Young Quintet

hits the stage, with Young on bass, Kevin Turcotte on trumpet, John

Johnson on saxophone, Terry Clarke on drums, Reg Schwager on

guitar (February 9 and 10) and Brian Dickinson on piano (February 11

and 12). From February 16 to19, check out pianist Bernie Senensky's

Quintet and, from February 23 to 26, drummer Mark McLean's

Playground project.

It's hard to say what February will bring, but – in both this column

and the club listings – I am assuming the best, and writing about

currently scheduled shows. Only time will tell whether or not these

shows will happen, so please be in touch with clubs directly to

confirm. Stay safe, support your local clubs and musicians, and here's

hoping that we all see one another in person soon.

For venue contact information, see In the Clubs (Mostly Jazz),

page 31/32.

Colin Story is a jazz guitarist, writer and

teacher based in Toronto. He can be reached

at www.colinstory.com, on Instagram and

on Twitter.

J u s t a n n o u n c e d ,

c a n c e l l e d ,

p o s t p o n e d ,

r e s c h e d u l e d f r o m ,

n e w d a t e T B A

INFO ON LIVE PERFORMANCE

CHANGES FAST THESE DAYS!

Sign up HERE for The WholeNote

weekly listings updates.

Kirk MacDonald and his daughter, Virginia MacDonald, with

Barry Romberg on drums, in a previous show at the Rex.

Straight to your email inbox.

thewholenote.com/newsletter

thewholenote.com February 2022 | 27
---
listings@theWholeNote.com

Event listings are free of charge to

artists, venues and presenters.

Readers are encouraged to check weekly for changes

and updates to existing listings, and for the numerous

new listings being added each week, both current and

further into the future.

Register for the weekly updates at

thewholenote.com/newsletter

IN THIS ISSUE: THREE LISTINGS SECTIONS

● Section 1: Events by date for Feb 2 – Mar 15, 2022

These are events with an announced date and time that

one could circle on a calendar, in order to "be there" when

it happens for the first (or only) time. This includes live and

livestreamed performances; first broadcasts and screenings;

concerts, workshops, symposia, and so on.

If the event in question remains available after that first presentation

(e.g. online or on demand), this is noted at the end of the

listing.

● Section 2: Ongoing online musical activity including

date-related events now available on demand online

These are musical activities that readers can access in their

own time, usefully identified by the name of the presenter or the

nature of the event.

● Section 3: In the clubs (Mostly Jazz)

How to List

1. Use the convenient online form at

thewholenote.com/applylistings

2. Email listings to listings@thewholenote.com.

Please note, we do not take listings over

the phone.

Deadlines

1. Weekly online updates:

submission deadline is 6pm Tuesday

of the week prior to the event in question,

for weekend posting.

2. Print:

Our next print issue covers from March 4 to April 15.

The print submission deadline for new listings and

updates to listings previously processed is 6pm

Monday February 14.

Live or Live Streamed | February 2 to March 15, 2022

PLEASE NOTE: All times are Eastern Time unless otherwise noted.

Listings are based on information sent to WholeNote in advance by

event presenters. Due to current COVID-19 restrictions, some events

may be cancelled or postponed. Also, current COVID health regulations

may require proof of vaccination. Please visit presenters' websites or

contact them directly for more details.

More detailed information for each listing is available at

thewholenote.com/just-ask.

Wednesday February 2

● 12:30: ORGANIX Concerts. Alexander

Straus-Fausto, Organ. All Saints Kingsway

Anglican Church, 2850 Bloor St. W. 416-571-

3680 or www.organixconcerts.ca. Freewill

offering. $20 suggested.

● 8:00: Kitchener-Waterloo Chamber

Music Society. Piano Recital: Labyrinth. With

commentary. David Greilshammer, piano.

First United Church, 16 William St. W., Waterloo.

519-569-1809 or www.ticketscene.ca/

kwcms. $40; $25(st).

● 8:00: Toronto Symphony Orchestra.

Gimeno + Schumann's "Spring". Gordon

Wolfe, trombone; Gustavo Gimeno, conductor.

Roy Thomson Hall, 60 Simcoe St. 416-

598-3375 or 1-855-593-7769. Starting at $29.

Also Feb 3, 5.

Thursday February 3

POSTPONED

February 3 at 8 pm

ENSEMBLE

MADE IN CANADA

● 10:00am: New Adventures in Sound Art

(NAISA). The Piano Travels. An interactive

sound installation by James Bailey using radio

transmission and amplification to extend the

capabilities of an 1864 Armand upright piano.

NAISA North Media Arts Centre, 106 Ottawa

Ave., South River. 705-386-0880 or www.

naisa.ca/festivals/deep-wireless/installations.

Free by donation. Feb 3-Apr 4, Thurs-

Mon, 10am-4pm.

● 10:00am: New Adventures in Sound Art

(NAISA). EMF Turntable. Improvisational

interactions with EMF sound art installation

utilizing Gameboys and other electronic

devices. Shaughn Martel. NAISA North Media

Arts Centre, 106 Ottawa Ave., South River.

705-386-0880 or www.naisa.ca/festivals/

deep-wireless/performances. Free by donation.

Feb 3-Apr 4, Thurs-Mon, 10am-4pm.

● 8:00: Toronto Symphony Orchestra.

Gimeno + Schumann's Spring. See Feb 2.

Also Feb 5.

Friday February 4

● 7:30: Isabel Bader Centre for the Performing

Arts. Faculty Artist Series DAN

School: "Righteous Babe - A Flute & Piano

Recital. Sarah Yunji Moon, flute. 390 King St.

W., Kingston. 613-533-2424 or ibcpaboxoffice@queensu.ca.

$10-$30.

Saturday February 5

● 4:30: Royal Conservatory of Music. Taylor

Academy Concerts Series: Taylor Academy

Showcase Concert. Mazzoleni Concert

Hall, Royal Conservatory, 273 Bloor St. W. 416-

408-0208 or www.rcmusic.com/performance.

Free.

● 8:00: Toronto Symphony Orchestra.

Gimeno + Schumann's Spring. See Feb 2.

Also Feb 3.

Tuesday February 8

● 12:10: Yorkminster Park Baptist Church.

Lunchtime Chamber Music: Rising Stars

Recital. Featuring students from the Glenn

Gould School. 1585 Yonge St. 416-922-1167.

Free admission. Donations welcome.

● 8:00: Kitchener-Waterloo Chamber

Music Society. Ensemble Made in Canada.

First United Church, 16 William St. W., Waterloo.

519-569-1809 or www.ticketscene.ca/

kwcms. $40; $25(st).

Wednesday February 9

● 8:00: Royal Conservatory of Music. Stewart

Goodyear with the Penderecki String

Quartet & Toronto Mendelssohn Choir.

Koerner Hall, TELUS Centre, 273 Bloor St. W.

416-408-0208 or www.rcmusic.com/performance.

$45-$110. Live stream tickets available

for $20/household. AT CAPACITY

Thursday February 10

● 8:00: Rose Theatre. Classic Albums Live:

Billy Joel - The Stranger. 1 Theatre Ln.,

Brampton. https://tickets.brampton.ca or

905-874-2800. From $39.

Friday February 11

● 8:00: Kitchener-Waterloo Symphony

Orchestra. Charles Richard-Hamelin &

Beethoven. Charles Richard-Hamelin, piano;

Andrei Feher, conductor. Centre in the

Square, 101 Queen St. N., Kitchener. www.

kwsymphony.ca. From $29; $13(child). Also

Feb 12.

● 8:00: Royal Conservatory of Music. Temerty

Orchestral Program Series: Tania Miller

conducts the Royal Conservatory Orchestra.

Koerner Hall, TELUS Centre, 273 Bloor St.

W. 416-408-0208 or www.rcmusic.com/performance.

$25-$60.

28 | February 2022 thewholenote.com
---
Saturday February 12

● 7:30: Rose Theatre/Rose Orchestra. Music

From The Heart. Rose Theatre, 1 Theatre Ln.,

Brampton. https://tickets.brampton.ca or

905-874-2800. From $30.

● 7:30: Toronto Symphony Orchestra. Valentine's

Soundtrack. Lucas Waldin, conductor.

Roy Thomson Hall, 60 Simcoe St. 416-598-

3375 or 1-855-593-7769. Starting at $39.

● 8:00: Kitchener-Waterloo Symphony

Orchestra. Charles Richard-Hamelin &

Beethoven. See Feb 11.

Sunday February 13

● 7:00: INNERchamber Ensemble. Kindness.

Songs and stories of kindness curated

and performed by Glynis Ranney and Michael

Nadajewski and arranged by Ben Bolt-Martin.

Revival House, 70 Brunswick St., Stratford.

www.innerchamber.ca or tickets@innerchamber.ca.

$40; $10-$25 (arts workers/st).

Pre-show 6:30pm. A light meal is available for

patrons in Stratford. LIVE & LIVE STREAM

Tuesday February 15

● 12:10: Yorkminster Park Baptist Church.

Lunchtime Chamber Music: Rising Stars

Recital. Featuring performance students from

the UofT Faculty of Music. 1585 Yonge St. 416-

922-1167. Free admission. Donations welcome.

Wednesday February 16

● 12:30: ORGANIX Concerts. Michael Capon,

Organ. All Saints Kingsway Anglican Church,

2850 Bloor St. W. 416-571-3680 or www.organixconcerts.ca.

Freewill offering. $20 suggested.

● 8:00: Toronto Symphony Orchestra.

Hewitt Plays Bach & Mozart. Angela Hewitt,

leader/piano. Roy Thomson Hall, 60 Simcoe

St. 416-598-3375 or 1-855-593-7769. Starting

at $29. Also Feb 17, 19.

Thursday February 17

● 8:00: Toronto Symphony Orchestra. Hewitt

Plays Bach & Mozart. See Feb 16. Also

Feb 19.

Friday February 18

● 8:00: Kitchener-Waterloo Chamber Music

Society. Shades of Grief. Coriolis Trio: Joung

Tsai, violin; Rebecca Mortonk, cello; Tomoko

Inui, piano. First United Church, 16 William St.

W., Waterloo. 519-569-1809 or www.ticketscene.ca/kwcms.

$35; $20(st).

ALL IS

LOVE

Feb 19 & 20

Koerner Hall,

TELUS CENTRE for

Performance and Learning

Saturday February 19

● 2:30: Opera Atelier. All Is Love. Music by

Edward Huizinga, Charpentier, Purcell, Hahn,

Debussy, and others. Koerner Hall, TELUS

Centre, 273 Bloor St. W. www.OperaAtelier.

com. $49-$149. Also Feb 20.

● 7:30: Guitar Society of Toronto. In Concert:

Irina Kulikova. St. Andrew's Presbyterian

Church, 73 Simcoe St. www.

guitarsocietyoftoronto.com or 416-964-8298.

Advance: $35; $30(sr); $15(st); Door: $40;

$35(sr); $20(st).

● 7:30: Niagara Symphony Orchestra.

Sarah Sings Joni Mitchell. Sarah Slean, vocalist;

Bradley Thachuk, conductor. Partridge

Hall, FirstOntario Performing Arts Centre,

250 St. Paul St., St. Catharines. www.niagarasymphony.com

or 905-688-0722 or 905-

688-5601 x3700 or 1-855-515-0722. $68;

$60(sr); $39(arts worker); $15(st & youth).

Also Feb 20(2:30pm).

● 8:00: Toronto Symphony Orchestra. Hewitt

Plays Bach & Mozart. See Feb 16.

Sunday February 20

● 2:00: Royal Conservatory of Music. Mazzoleni

Masters Series: Robert McDonald and

Glenn Gould School Faculty. Mazzoleni Concert

Hall, Royal Conservatory, 273 Bloor St.

W. 416-408-0208 or www.rcmusic.com/performance.

$25.

● 2:30: Niagara Symphony Orchestra. Sarah

Sings Joni Mitchell. See Feb 19.

● 2:30: Opera Atelier. All Is Love. See Feb 19.

● 3:00: Orchestra Toronto. Carmen! Julie

Nesrallah, mezzo. George Weston Recital

Hall, Meridian Arts Centre (formerly Toronto

Centre for the Arts), 5040 Yonge St. 1-855-

985-2787 or ticketmaster.ca. $45; $39 (sr);

$19(OTOPus ages 13 to 29); $15(ages 5-12).

OTOPus patrons may purchase one additional

ticket at the discounted rate for a guest of any

age. Pre-concert chat at 2:15pm.

● 3:00: Trio Arkel. Quintessence. Marie

Bérard, violin; Amanda Goodburn, violin;

Sheila Jaffé, viola; Rémi Pelletier, viola; Winona

Zelenka, cello. Trinity-St. Paul's Centre,

427 Bloor St. W. www.trioarkel.eventbrite.

ca. $40.

Tuesday February 22

● 12:10: Yorkminster Park Baptist Church.

Lunchtime Chamber Music: Eena Yoon, Cello.

1585 Yonge St. 416-922-1167. Free admission.

Donations welcome.

● 6:30: Royal Conservatory of Music. Music

on Film Series: Amazing Grace. Hot Docs Ted

Rogers Cinema, 506 Bloor St. W. 416-408-

0208 or www.rcmusic.com/performance.

$17; $12(members); $10(sr members); free(st

members).

● 8:00: Toronto Symphony Orchestra. Find

Your Dream: The Songs of Rodgers & Hammerstein.

Steven Reineke, conductor. Roy

Thomson Hall, 60 Simcoe St. 416-598-3375

or 1-855-593-7769. Starting at $29. Also

Feb 23(2pm & 8pm).

Wednesday February 23

● 12:30: ORGANIX Concerts. Gordon Mansell,

Organ & Tamara Hrycak, Violin. Our Lady

Of Sorrows Catholic Church, 3055 Bloor St.

W. 416-571-3680 or www.organixconcerts.

ca. Freewill offering of $20 suggested.

● 2:00: Toronto Symphony Orchestra. Find

Your Dream: The Songs of Rodgers & Hammerstein.

See Feb 22. Also Feb 23(8pm).

February 24 at 8 pm

MIRÓ

QUARTET

Thursday February 24

● 8:00: Music Toronto. Miró Quartet. Jane

Mallett Theatre, St. Lawrence Centre for the

Arts, 27 Front St. E. 416-366-7723 or www.

music-toronto.com. $47.50-$52.

● 8:00: Rose Theatre. An Intimate Evening

with Johnny Reid. 1 Theatre Ln., Brampton.

www.tickets.brampton.ca or 905-874-2800.

From $64.

● 8:00: Royal Conservatory of Music.

Invesco Piano Concerts Series: Viklingur

Ólafsson. Koerner Hall, TELUS Centre,

273 Bloor St. W. 416-408-0208 or www.

rcmusic.com/performance. Livestream

tickets available for $20/household. AT

CAPACITY

Friday February 25

● 7:00: Confluence Concerts. The Tales of E.

T. A. Hoffmann. Commemorating the 200th

anniversary of the death of the influential and

whimsical 19th-century Viennese story-teller.

Heliconian Hall, 35 Hazelton Ave. www.confluenceconcerts.ca.

Also Feb 26.

● 8:00: Royal Conservatory of Music. 21C

Music Festival Series: Angèle Dubeau & La

Pietà. Koerner Hall, TELUS Centre, 273 Bloor

St. W. 416-408-0208 or www.rcmusic.com/

performance. $21-$105.

Saturday February 26

● 7:00: Confluence Concerts. The Tales of E.

T. A. Hoffmann. See Feb 25.

● 8:00: Mansfield Entertainment. Farewell

(For Now), Ontario! Classical and contemporary

music on a gorgeous 87-year-old pipe

organ. Clement Carelse, organ. The Inner

Space, 34 Church St. N., Stouffville. 905-242-

2484. $35.

● 8:00: Royal Conservatory of Music. Quiet

Please, There's a Lady on Stage Series: A Tribute

to Aretha Franklin: The Queen of Soul featuring

Damien Sneed and Valerie Simpson.

Koerner Hall, TELUS Centre, 273 Bloor St. W.

416-408-0208 or www.rcmusic.com/performance.

$50-$110.

● 8:00: Toronto Symphony Orchestra.

Beethoven's Fourth. Kelly Zimba Lucic, flute;

Xian Zhang, conductor. Roy Thomson Hall,

60 Simcoe St. 416-598-3375 or 1-855-593-

7769. Starting at $29. Also Feb 27(3pm).

Sunday February 27

● 3:00: Toronto Symphony Orchestra.

Beethoven's Fourth. See Feb 26.

● 5:00: Elixir Baroque Ensemble. Elixir

Mixer. Works by Vivaldi, Guido, Dall'abaco,

Telemann, and Mondonville. Valerie Gordon,

Michelle Odorico, Sara-Anne Churchill, and

Matt Antal, and others. St. Barnabas Anglican

Church, 361 Danforth Ave. 647-528-3314. $25;

$10(sr/st/arts); $5(under 12).

● 7:00: Royal Conservatory of Music. Chamber

Music Concerts Series: Jordi Savall:

Royal Concerts in the Baroque Versailles.

Koerner Hall, TELUS Centre, 273 Bloor St. W.

416-408-0208 or www.rcmusic.com/performance.

$45-$105. AT CAPACITY

● 8:00: Kitchener-Waterloo Chamber Music

Society. Piano Recital: Shoshana Telner. First

United Church, 16 William St. W., Waterloo.

519-569-1809 or www.ticketscene.ca/kwcms

$35; $20(st).

Tuesday March 1

● 12:10: Yorkminster Park Baptist Church.

Lunchtime Chamber Music: Rising Stars

Recital. Featuring students from the Glenn

Gould School. 1585 Yonge St. 416-922-1167.

Free admission. Donations welcome.

● 8:00: Rose Theatre. B-Jazzed Sessions.

1 Theatre Ln., Brampton. www.tickets.

brampton.ca or 905-874-2800. $25.

Wednesday March 2

● 12:30: ORGANIX Concerts. Joshua Duncan

Lee, Organ. All Saints Kingsway Anglican

Church, 2850 Bloor St. W. 416-571-3680 or

www.organixconcerts.ca. Freewill offering of

$20 suggested.

● 7:30: Toronto Symphony Orchestra.

Final Fantasy VII Remake. Music by

Nobuo Uematsu, Shotaro Shima, Mitsuto

Suzuki, Nozomi Toki, and Masahi Hamauzu.

Arnie Roth, conductor. Roy Thomson Hall,

60 Simcoe St. 416-598-3375 or 1-855-593-

7769. Starting at $49. Also Mar 3.

● 8:00: Royal Conservatory of Music.

Invesco Piano Concerts Series: Seong-Jin

Cho. Koerner Hall, TELUS Centre, 273 Bloor

St. W. 416-408-0208 or www.rcmusic.com/

performance. $50-$105. AT CAPACITY

Thursday March 3

● 1:30: Music in the Afternoon. Vocal Recital.

Songs by Francesco Santoliquido, Colin

WOMEN'S MUSICAL CLUB OF TORONTO

MARCH 3 | 1.30 PM

ANDREW HAJI, tenor

with Stéphane Mayer, piano

416-923-7052 | wmct.on.ca

thewholenote.com February 2022 | 29
---
Live or Live Streamed | February 2 to March 15, 2022

Available Online | February 2 to March 15, 2022

Eatock, and Robert Schumann. Andrew Haji,

tenor; Stéphane Mayer, piano. Grace Church

on-the-Hill, 300 Lonsdale Rd. www.wmct.

on.ca or 416-923-7052. LIVE & ONLINE

● 7:00: Magisterra at the Museum/Museum

London. Masterworks. Museum London,

421 Ridout St. N., London. www.eventbrite.

ca/e/magisterra-at-the-museum-masterworks-tickets-168951529573.

$35; $30(sr);

$15(st with id); $95(young adult pass-30 and

under); from $15(streamed tickets). All tickets

must be purchased in advance.

● 7:30: Toronto Symphony Orchestra. Final

Fantasy VII Remake. See Mar 2.

Friday March 4

● 7:30: Get It Promotions. Matt Dusk Sings

Sinatra. Theatre Centre - University of Waterloo,

200 University Ave. W., Waterloo. www.

uwaterloo.ca/theatre-centre/events/mattdusk-sings-sinatra

or 519‐888‐4908. $46.50.

Without intermission.

● 7:30: Rose Theatre. Four Strong Winds.

1 Theatre Ln., Brampton. www.tickets.

brampton.ca or 905-874-2800. $25. Also

Mar 5.

● 7:30: Toronto Symphony Orchestra. The

Princess Bride. Mark Knopfler: The Princess

Bride (Film with Live Orchestra). Lucas

Waldin, conductor. Roy Thomson Hall,

60 Simcoe St. 416-598-3375 or 1-855-593-

7769. Starting at $49. Also Mar 5.

Saturday March 5

● 7:30: Rose Theatre. Four Strong Winds.

See Mar 4.

● 7:30: Toronto Symphony Orchestra. The

Princess Bride. See Mar 4.

● 8:00: Sinfonia Toronto. Chopin & Dvořák:

New Lands. Kevin Ahfat, piano; Nurhan

Arman, conductor. George Weston Recital

Hall, Meridian Arts Centre, 5040 Yonge St. In

person 416-366-7723; virtual 416-499-0403

or www.sinfoniatoronto.com. In-person:

$55.97; $48.06(sr); $20.96(st); Livestream:

$15. LIVE & ONLINE

Sunday March 6

● 3:00: Royal Conservatory of Music. Chamber

Music Concerts Series: Jeremy Denk

with Les Violons du Roy. Koerner Hall, TELUS

Centre, 273 Bloor St. W. 416-408-0208 or

www.rcmusic.com/performance. $50-$100.

● 7:00: INNERchamber Ensemble. Flow. Julie

Baumgartel, violin; Andrew Chung, violin; Jody

Davenport, viola; Ben Bolt-Martin, cello. Revival

House, 70 Brunswick St., Stratford. www.

innerchamber.ca or tickets@innerchamber.

ca. $40; $10-$25 (arts workers/st). Pre-show

6:30pm. A light meal is available for patrons in

Stratford. LIVE & LIVESTREAM

Tuesday March 8

● 12:10: Yorkminster Park Baptist Church.

Lunchtime Chamber Music: Jialiang Zhu,

Piano. 1585 Yonge St. 416-922-1167. Free

admission. Donations welcome.

Wednesday March 9

● 8:00: Toronto Symphony Orchestra.

Screen to Stage: Appalachian Spring & More.

Jonathan Crow, violin; Ryan Bancroft, conductor.

Roy Thomson Hall, 60 Simcoe St. 416-

598-3375 or 1-855-593-7769. Starting at $29.

Also Mar 10, 12, 13(3pm at George Weston

Recital Hall, Meridian Arts Centre).

Thursday March 10

● 7:30: Niagara Symphony Orchestra. Deep

Purple Rising. Joe Retta, vocalist; Bradley

Thachuk, conductor. Partridge Hall, FirstOntario

Performing Arts Centre, 250 St. Paul St.,

St. Catharines. www.niagarasymphony.com

or 905-688-0722 or 905-688-5601 x3700

or 1-855-515-0722. $68; $60(sr); $39(arts

worker); $15(st & youth).

● 8:00: Toronto Symphony Orchestra.

Screen to Stage: Appalachian Spring & More.

See Mar 9. Also Mar 12, 13(3pm at George

Weston Recital Hall, Meridian Arts Centre).

Friday March 11

● 7:30: Burlington Performing Arts Centre.

Steven Taetz. Burlington Performing

Arts Centre, Community Studio Theatre,

440 Locust St., Burlington. 905-681-6000.

$39.50; $34.50(member).

● 8:00: Tapestry Opera. Songbook XI. An

intimate evening of music and song. Jorell

Williams, baritone; and others. Ernest Balmer

Studio, Distillery District, 9 Trinity St. 416-537-

6066. Also Mar 12.

Saturday March 12

● 4:30: Royal Conservatory of Music. Taylor

Academy Concerts Series: Taylor Academy

Showcase Concert. Mazzoleni Concert

Hall, Royal Conservatory, 273 Bloor St. W. 416-

408-0208 or www.rcmusic.com/performance.

Free.

● 8:00: Kindred Spirits Orchestra. Enigma

Variations. Naomi Wong, piano; Kristian Alexander,

conductor. Richmond Hill Centre for

the Performing Arts, 10268 Yonge St., Richmond

Hill. 905-604-8339 or www.KSOrchestra.ca

or www.RHCentre.ca. $15-$40. LIVE,

ONLINE OR RECORDED

● 8:00: Rose Theatre. Bernadette Peters

Trio. 1 Theatre Ln., Brampton. www.tickets.

brampton.ca or 905-874-2800. From $99.

● 8:00: Royal Conservatory of Music. Songbird

North Series. Temerty Theatre, 273 Bloor

St. W. 416-408-0208 or www.rcmusic.com/

performance. $40.

● 8:00: Tapestry Opera. Songbook XI. See

Mar 11.

● 8:00: Toronto Symphony Orchestra.

Screen to Stage: Appalachian Spring & More.

See Mar 9. Also Mar 13(3pm at George Weston

Recital Hall, Meridian Arts Centre).

Sunday March 13

● 2:30: Isabel Bader Centre for the Performing

Arts. Faculty Artist Series DAN

School: Quasar Saxophone Quaret with Peter

Freeman & Jeffrey Leung. 390 King St. W.,

Kingston. 613-533-2424 or ibcpaboxoffice@

queensu.ca. $10-$30.

● 3:00: Toronto Symphony Orchestra.

Screen to Stage: Appalachian Spring & More.

George Weston Recital Hall, Meridian Arts

Centre (formerly Toronto Centre for the

Arts), 5040 Yonge St. 416-598-3375 or 1-855-

593-7769. Starting at $29. See Mar 9.

Monday March 15

● 12:10: Yorkminster Park Baptist Church.

Lunchtime Chamber Music: Rising Stars

Recital. Featuring performance students

from the UofT Faculty of Music. 1585 Yonge

St. 416-922-1167. Free admission. Donations

welcome.

Thursday February 3

● 7:30: COSA Canada. The Pirates of Penzance.

Jacob Abrahamse, tenor (Frederic);

Amy Moodie, soprano (Mabel); Nolan Kehler,

tenor (Major General Stanley); Cristina Lanz,

mezzo (Ruth); Ryan Hofman, baritone (Pirate

King); Renée Salewksi, stage director; Darryl

Edwards, music director. 647-272-6232.

$20.11 or PWYC. Also Feb 5(2pm), 6. ONLINE

Friday February 4

● 7:00: Confluence Concerts. Theme and

Variations: The Music of Nina Simone. Shakura

S'Aida, vocalist; Andrew Downing,

double bass; Alexa Belgrave, piano. www.confluenceconcerts.ca.

ONLINE

● 7:30: COSA Canada. The Pirates of Penzance.

See Feb 3. Also Feb 5, 6(2pm).

ONLINE

Saturday February 5

● 7:00: Bravo Niagara! Festival of the Arts.

Kimiko's Pearl (Digital Short). Music by Kevin

Lau. Choreography by Yosuke Mino. Alanna

McAdie, Chenxin Liu, and Yue Shi, dancers;

Ron Korb, flute; Mariko Anraku, harp; Conrad

Chow, violin; Rachel Mercer, cello; Jeff Herd,

director; Mary Ito, moderator. www.bravoniagara.com.

Free. ONLINE

● 7:30: COSA Canada. The Pirates of Penzance.

See Feb 3. Also Feb 6(2pm). ONLINE

Sunday February 6

● 2:00: COSA Canada. The Pirates of Penzance.

647-272-6232. $20.11 or PWYC. See

Feb 3. ONLINE

● 4:00: St. Olave's Anglican Church. Accession

Evensong. Religious service. Followed

directly by a special feature on The Queen's

Platinum Jubilee at 4:45pm. St. Olave's Anglican

Church, 360 Windermere Ave. 416-

769-568. Contributions appreciated. www.

stolaves.ca. The Queen's Platinum Jubilee follows

Evensong. ONLINE

● 4:45: St. Olave's Anglican Church. The

Queen's Platinum Jubilee. A short illustrated

talk presented by the historian Dr. Jim Leatch.

St. Olave's Anglican Church, 360 Windermere

Ave. 416-769-568. Contributions appreciated.

www.stolaves.ca. Also: Accession Evensong

service at 4pm. ONLINE

● 7:30: COSA Canada. The Pirates of Penzance.

See Feb 3. ONLINE

Friday February 11

● 7:00: Confluence Concerts/Amplified

Opera. The Butterfly Project: The Ballade of

Chō-Chō San. Examining Puccini's Madama

Butterfly, the role, the opera and the appropriated

Japanese melodies. Teiya Kasahara

笠 原 貞 野 , soprano. www.confluenceconcerts.ca.

Pre-performance chat and postperformance

artist talk back. ONLINE

Saturday February 12

● 10:00am: Confluence Concerts/Amplified

Opera/Canadian Opera Company/Faculty of

Music, U of T/Munk School of Global Affairs

& Public Policy. Grappling with Madama

Butterfly Today: Representation, Reclamation,

and Re-imagination. This two-day symposium

celebrates the premiere of Teiya

Kasahara's 笠 原 貞 野 (they/them) new film

The Butterfly Project: The Ballad of Chō-Chō

San on February 11 and the Canadian Opera

THE

BUTTERFLY

PROJECT

THE BALLAD OF

CHŌ-CHŌ SAN

Company's 2022 online concert presentation

of Madama Butterfly, and calls attention

to the problematic nature of Puccini's opera

in today's environment of growing cultural

awareness. Teiya Kasahara, soprano. www.

confluenceconcerts.ca. Free. Advance registration

is required. ONLINE

● 8:00: Royal Conservatory of Music. Power

Corporation of Canada Vocal Concerts Series:

The King's Singers: Finding Harmony.

Koerner Hall, TELUS Centre, 273 Bloor St. W.

416-408-0208 or www.rcmusic.com/performance.

Free. LIVE STREAM

Sunday February 13

● 2:00: New Adventures in Sound Art

(NAISA). The Garden of Earthly Delights -

A Comic Opera. Radiophonic electroacoustic

work. Trevor Wishart. 705-386-0880 or

Jubilate

singers

Together

In

Song

Online concert

of Canadian &

World Music

2022

Available from Feb 26

jubilatesingers.ca

30 | February 2022 thewholenote.com
---
www.naisa.ca or outreach@naisa.ca. $10.

ONLINE

● 7:00: INNERchamber Ensemble. Kindness.

Songs and stories of kindness curated

and performed by Glynis Ranney and Michael

Nadajewski and arranged by Ben Bolt-Martin.

Revival House, 70 Brunswick St., Stratford.

www.innerchamber.ca or tickets@innerchamber.ca.

$40; $10-$25 (arts workers/st).

Pre-show 6:30pm. A light meal is available for

patrons in Stratford. LIVE & LIVE STREAM

Thursday February 17

● 8:00: New Music Concerts. 50th Anniversary

Distanced Commissions. John Oswald:

re-Refuse. New Music Concerts Distanced

Ensemble. www.newmusicconcerts.com

or 416-961-9594. Introduction at 7:15pm.

ONLINE

The Gull, the

Raccoon, and

the Last Maple

Digital Family Concert

STREAMS FEBRUARY 17–21, 2022

tafelmusik.org

● 8:00: Tafelmusik Baroque Orchestra. The

Gull, The Raccoon, and the Last Maple. Music

by Abigail Richardson-Schulte. Text and story

by Alexis Diamond. A powerful new digital

concert for the whole family, inspired by the

need for collaboration in the face of climate

change. www.tafelmusik.org or 1-833-964-

6337. $10. Available until Feb 21(7:59pm).

ONLINE

Friday February 20

● 2:00: New Adventures in Sound Art

(NAISA). Electromagnetic Composition

Workshop with Dan Tapper. 3 Part Workshop

Series: Improvisational electromagnetic

music. 705-386-0880 or www.naisa.ca or

www.naisa.ca/festivals/deep-wireless/workshops-talks.

$30 (for all 3 events). Also Feb 27

with a shared listening event on Mar 6 at

2pm. ONLINE

Friday February 25

● 8:00: ArsMusica Community Concerts.

African Canadian Livestream Series: Album

Release - The Art of Chopin. Works by Bach,

Chopin, Gershwin, and Jamaican Folk Songs.

Alan Hobbins, piano. www.alanhobbins.com/

concerts. ONLINE

ALBUM RELEASE

THE ART OF

CHOPIN

ALAN

HOBBINS

piano

Free event listings:

listings@thewholenote.com

FEBRUARY 25, 8pm

LIVESTREAM

www.alanhobbins.com/concerts

Saturday February 26

● 7:30: Jubilate Singers. Together in Song.

An online concert of Canadian and world

music, featuring works of Hietala, Sirett,

and Mendelssohn, as well as songs from

Catalunya, Brazil, Israel. www.eventbrite.ca.

Free. Donations welcome. ONLINE

Thursday March 3

● 1:30: Music in the Afternoon. Vocal Recital.

Songs by Francesco Santoliquido, Colin

Eatock, and Robert Schumann. Andrew Haji,

tenor; Stéphane Mayer, piano. Grace Church

on-the-Hill, 300 Lonsdale Rd. www.wmct.

on.ca or 416-923-7052. LIVE & ONLINE

Saturday March 5

● 8:00: Sinfonia Toronto. Chopin & Dvořák:

New Lands. Kevin Ahfat, piano; Nurhan

Arman, conductor. George Weston Recital

Hall, Meridian Arts Centre, 5040 Yonge St. In

person 416-366-7723; virtual 416-499-0403

or www.sinfoniatoronto.com. In-person:

$55.97; $48.06(sr); $20.96(st); Livestream:

$15. LIVE & ONLINE

Sunday March 6

● 7:00: INNERchamber Ensemble. Flow.

Julie Baumgartel, violin; Andrew Chung, violin;

Jody Davenport, viola; Ben Bolt-Martin,

cello. Revival House, 70 Brunswick St.,

Stratford. www.innerchamber.ca or tickets@innerchamber.ca.

$40; $10-$25 (arts

workers/st). Pre-show 6:30pm. A light meal

is available for patrons in Stratford. LIVE &

LIVESTREAM

Friday March 11

● 7:00: COSA Canada. Endymion's Dream.

Music by Samuel Coleridge-Taylor. Gwendolyn

Yearwood, soprano (Selene); Ryan Downey,

tenor (Endymion); Renée Salewski, stage

director; Jamie Hillman & Darryl Edwards,

music directors. 647-272-6232. $20.11 or

PWYC. Also Mar 11, 12, 13(2:30pm). ONLINE

● Feb 06 1:30: Toronto Early Music Players

Organization (TEMPO). A Musical Tour

Through Britain, France and Italy. Music of

Byrd, Purcell, Gastoldi and Charpentier. Stéphane

Potvin, workshop leader. Contact TEM-

PO's president at info@tempotoronto.net to

join the session. For more information, visit

www.tempotoronto.net. ONLINE

● Arts@Home. A vibrant hub connecting

Torontonians to arts and culture. Designed to

strengthen personal and societal resilience

through the arts. www.artsathome.ca

● Canadian Opera Company. Gianni Schicchi.

www.coc.ca/watch. Available until Apr 30,

2022.

● Canadian Opera Company. In Concert:

Russell Braun and Tamara Wilson with the

COC Orchestra. www.coc.ca/watch. Available

until Mar 31.

● Canadian Opera Company. In Winter.

www.coc.ca/watch.

● Canadian Opera Company. Voices of Mountains.

www.coc.ca/stream. Free. Available

until Jun 15.

● Capella Regalis Men & Boys Choir. Choral

Concerts. Available at Capella Regalis You-

Tube Channel.

As venues begin to reopen, please consult their websites and social

media directly to confirm their reopening plans.

Burdock

1184 Bloor St. W. 416-546-4033

burdockto.com

Cameron House

408 Queen St. W. 416-703-0811

thecameron.com

Castro's Lounge

2116 Queen St. E. 416-699-8272

castroslounge.com

C'est What

67 Front St. E. 416-867-9499

cestwhat.com

Emmet Ray, The

924 College St. 416-792-4497

theemmetray.com

Grossman's Tavern

379 Spadina Ave. 416-977-7000

grossmanstavern.com

Hirut Cafe and Restaurant

2050 Danforth Ave. 416-551-7560

hirut.ca

Home Smith Bar – See Old Mill, The

Hugh's Room

2261 Dundas St. W 416-533-5483

hughsroom.com

Jazz Bistro, The

251 Victoria St. 416-363-5299

jazzbistro.ca

Blogs, Podcasts, Streams, ETCeteras

In the Clubs (Mostly Jazz)

● Etobicoke Community Concert Band. Full

rehearsals every Wednesday night at 7:30pm.

309 Horner Ave. Open to all who are looking

for a great band to join. Text Rob Hunter at

416-878-1730.

● Kevin Barrett. Live from Lockdown. Kevin

Barrett does a live-streamed set of solo guitar

tunes, coming directly from his Lockdown

studio. Tune in to Kevin's Facebook page on

Friday at 4pm at Kevin's Facebook Page.

● Recollectiv: A unique musical online meeting

group made up of people affected by

memory challenges caused by illness (such

as dementia) or brain injury (stroke, PTSD,

etc.) and their care partners. Participation is

free with pre-registration. Email info@recollectiv.ca

for meeting times, information and

registration.

● Sweetheart Productions. Sweetheart:

A One Woman Musical by Dean Burry.

Recorded presentation of the December 2021

production of Sweetheart. Melissa Morris;

Clare Marion (piano); Greg Wanless, director.

www.events.eply.com/SweetheartAOne-

WomanMusical. $10. Available until Feb 6.

ONLINE

Jazz Room, The

Located in the Huether Hotel, 59 King St. N.,

Waterloo. 226-476-1565

kwjazzroom.com

Lula Lounge

1585 Dundas St. W. 416-588-0307

lula.ca

Manhattans Pizza Bistro & Music Club

951 Gordon St., Guelph 519-767-2440

manhattans.ca

Mezzetta Restaurant

681 St. Clair Ave. W. 416-658-5687

mezzettarestaurant.com

Monarch Tavern

12 Clinton St. 416-531-5833

themonarchtavern.com

Old Mill, The

21 Old Mill Rd. 416-236-2641

oldmilltoronto.com

The Home Smith Bar:

Pilot Tavern, The

22 Cumberland Ave. 416-923-5716

thepilot.ca

Poetry Jazz Café

224 Augusta Ave. 416-599-5299

poetryjazzcafe.com

Reposado Bar & Lounge

136 Ossington Ave. 416-532-6474

reposadobar.com

thewholenote.com February 2022 | 31
---
Reservoir Lounge, The

52 Wellington St. E. 416-955-0887

reservoirlounge.com

Rex Hotel Jazz & Blues Bar, The

194 Queen St. W. 416-598-2475

therex.ca

Sauce on Danforth

1376 Danforth Ave. 647-748-1376

sauceondanforth.com

If you can read this,

thank a music teacher.

(Skip the hug.)

MosePianoForAll.com

PRECIOUS MEMORIES

& PERFORMANCES

transferred to CD, DVD.

records | tapes

VHS | Hi-8 | mini DV

slides | photos | clippings

RESTORED &

PRESERVED

ArtsMediaProjects

416-910-1091

In the Clubs (Mostly Jazz)

DO YOU DRIVE?

Do you love The WholeNote?

Share the love and earn a little

money! Join our circulation team,

and deliver 8 times a year. Currently

seeking circulation associates

in the Hamilton/Halton area and

Kawartha Lakes/Peterborough.

Interested? Contact:

circulation@thewholenote.com

The Senator Winebar

249 Victoria St 416 364-7517

thesenator.com

Smokeshow BBQ and Brew

744 Mt. Pleasant Rd 416-901-7469

Smokeshowbbqandbrew.com

Tranzac

292 Brunswick Ave. 416-923-8137

tranzac.org

BUSINESS

CLASSIFIEDS

Economical and visible!

Promote your services

& products to our

musically engaged readers,

in print and on-line.

BOOKING DEADLINE: FEBRUARY 15

classad@thewholenote.com

NEED HELP WITH

YOUR TAXES?

Specializing in personal

and business tax returns

including prior years

and adjustments

HORIZON TAX SERVICES INC.

• free consultation • accurate work

For CRA stress relief call:

1-866-268-1319

hts@horizontax.ca

www.horizontax.ca

ADVERTISE

music-related needs, skills and services

Recruit new members for choirs, bands, orchestras.

Find a new music director | Find a music teacher | Buy or sell

Just $24 for the first 20 words. $1.20 for each additional word.

Discounts for 3x, 5x and 10x insertions.

INQUIRE BY FEBRUARY 19 for the MARCH 4 edition.

classad@thewholenote.com

Classified Advertising | classad@thewholenote.com

WholeNote CLASSIFIEDS can help you promote workshops or classes; find an

orchestrator, arranger, music director or accompanist; sell your banjo. Maybe you'd

like to offer online music lessons, or provide technical expertise for recording and

streaming? Classifieds start at only $24/issue. INQUIRE BY Saturday February 19 for

the March 4 edition to classad@thewholenote.com

Special Offer! FREE EMPLOYMENT CLASSIFIEDS: paid employment opportunities for

musicians and other arts workers can be advertised FREE OF CHARGE. WholeNote's

online classifieds can be published at any time, and linked to your website. SEND YOUR

AD (60-word limit) by email only to classad@thewholenote.com

AUDITIONS & EMPLOYMENT

OPPORTUNITIES

AUDITIONING ADVANCED AMATEUR

VOCALISTS for Mostly Madrigals: 1-on-apart

a cappella ensembles. 1.5-hr workshops

every 2-weeks. Near Woodbine subway.

Coaching fee: $20/workshop or PWYC.

Contact Sheila. Call/text 416-574-5250

AUDITIONS! Two women and two men for

a new non-Equity musical comedy revue,

TORONTO STRIKES BACK! send bio and pic

to harveypatterson@gmail.com. Or call

416-239-5821.

DIRECTOR OF MUSIC - LAWRENCE PARK

COMMUNITY CHURCH, TORONTO Do you

believe that inspiring music is an integral

element of worship? Lawrence Park

Community Church is seeking an experienced

Director of Music who loves choral and organ

music, is excited to bring new ideas to a vibrant

and active music program and has a vision for

bringing sacred music into the 21st century. We

are an affirming United Church located in North

Toronto. Please see the full job description

on our website (www.lawrenceparkchurch.

ca) and forward your CV with covering letter

to the Chair of the Music Search Committee,

(musicdirsearch@lawrenceparkchurch.ca). We

look forward to meeting you.

EXPERIENCED FEMALE VOCALIST NEEDED

FOR JAZZ QUARTET (SSAA): must be able

to read music, have good pitch and ability

to blend well. Rehearsals near Broadview-

Danforth. Please contact donnagree045@

gmail.com to inquire. Repertoire includes

many jazz standards.

Toronto Symphony Orchestra Resident

Conductor Opening Please visit https://

www.tso.ca/orchestra/auditions for detailed

information and to apply.

BUY & SELL

ARE YOU LOOKING TO SELL YOUR VINYL OR

CD COLLECTION? Contact THE RECORD GUYS

for professional and courteous service. We are

music specialists with thirty years' experience,

and offer the best prices for collections of

distinction: classical, jazz, etc. We come to you,

anywhere in GTA and beyond. All COVID safety

measures taken. www.therecordguys.com

tuneup@sympatico.ca 416-300-3068

CLASSICAL RECORD AND CD COLLECTIONS

WANTED. Minimum 350 units. Call, text or

email Aaron 416-471-8169 or A@A31.CA

FRENCH HORN: great instrument in excellent

condition. Selmer/Reynolds prototype.

mjbuell@gmail.com.

INSTRUMENTS FOR SALE: B flat Buffet

clarinet ($500); Selmer "A" clarinet, with

double case ($600); Yamaha baritone horn,

lightly used ($900) - all in good condition. One

owner, Toronto area. 416-489-6605

WHAT'S IN YOUR CLOSET? Does your old

guitar gently weep? Sell that nice old accordion

/ clarinet / drum kit and find it a new owner! Is

dad's vintage vinyl collection gathering dust?

WholeNote classified ads start at just $24.00.

INQUIRE BY February 19 to advertise in the

March 4 edition to classad@thewholenote.com

INSTRUCTION

BE A MORE CONFIDENT CHORISTER! Treat

yourself to private sight-singing lessons,

(using the solfège movable DOH system).

ZOOM or in-person. East end of Toronto. Call

or text Sheila at 416-574-5250.

CELLO LESSONS with Dr. Dobrochna Zubek.

20 years of international teaching experience

from beginner to college level. Contact:

zubekdobrochna@hotmail.com More info @

http://www.dobrochnazubek.com

SERVICES

ACCOUNTING AND INCOME TAX SERVICE

for small business and individuals, to save you

time and money, customized to meet your

needs. Norm Pulker, B. Math. CMA. 905-251-

0309 or 905-830-2985.

DOG BOARDING (near Woodbine subway).

Heading away for a while and can't bring

your favourite canine companion? I take just

one dog at a time and give it a very special

vacation. Your dog will pull you to my door on

repeat visits! Call or text Sheila at 416-574-

5250 or lilackayak@gmail.com.

HOUSEKEEPING SERVICES: eco-friendly

cleaning, laundry, light gardening, pet care,

in North York and Toronto. Visit riseholmehousekeeping.square.site

or call Jane at 647

236-8499.

JILL-OF-ALL-TRADES: Personal assistant,

office temp., organizing, decluttering,

budgeting, pet-care, errands, laundry,

cooking. Call Andrea 416-653-5462

andrea50@pathcom.com

RESTORE PRECIOUS MEMORIES lost on

old records, tapes, photos etc.? Recitals,

gigs, auditions, air checks, family stuff. on

78's, cassettes, reels, 35mm slides etc?.

ArtsMediaProjects will lovingly restore them

to CD's or DVD's. Call George @ 416-910-1091

SONATICO - APP FOR TEACHING MUSIC

ONLINE: Enjoyable experience for teachers

and students. It is completely FREE to use.

Some of the Sonatico's features include:

two-clicks registration, superior audio

and video quality, unique built-in features

designed specifically for music lessons:

whiteboard/keyboard/metronome and

other. Loved by many users from Canada,

U.S., Australia and Europe, including RCM

teachers. Register Today: https://sonatico.

com/

32 | February 2022 thewholenote.com
---
WHO'S WHO? THE WHOLENOTE ONLINE DIRECTORIES INDEX

Under the WHO'S WHO tab at THEWHOLENOTE.COM, you'll find

several directories containing detailed profiles about active participants

in several areas of the musical life of our region and beyond.

In our Blue Pages you can read about a viareity music makers and

presenters; the Canary Pages reveals the riches of choral activity all

across southern Ontario. You can also find information about Summer

Festivals in our Green Pages, and about seasonal learning opportunities

in Summer Music Education.

Traditionally we published a single annual print supplement for

each of these: The Blue Pages in the fall, Summer Music Education in

late winter, The Canary Pages in May, and The Green Pages in early

summer. But these days it's more useful to allow for rolling deadlines

for all concerned, so we've moved the directories entirely online.

This means that directory participants a) can wait till their plans

for the season have taken shape, and b) revise them as frequently

as necessary, as restrictions governing venues and live performance

continue to adjust, hopefully for the better! So what follows here is an

up-to-the-moment index (as of January 2022) of current members of

the Blue Pages. Profiles are being added or updated on a weekly basis

on our website. As for the Green Pages and Summer Music Education,

we've kept the 2021 profiles online for your awareness for now, but

these will be updated for 2022 soon, so check back in a few weeks.

We'll be updating the Canary Pages in May.

The current index below offers you a handy way to window-shop

presenters who's season's are in progress or just starting up. You can

access their websites directly - via the web addresses that accompany

every name in the index, with a "click" if you explore these pages while

reading The WholeNote in our online flipthrough edition, accessible

via kiosk.thewholenote.com. So happy browsing! If you have any questions

about the directories, either as a reader or prospective directory

member, contact me at karen@thewholenote.com

Karen Ages, directory and member services

BLUE PAGES DIRECTORY OF MUSIC MAKERS 2021-22

● = NEW!

● Aga Khan Museum

www.agakhanmuseum.org

● Amadeus Choir of Greater Toronto

www.amadeuschoir.com

● Amici Chamber Ensemble

www.amiciensemble.com

● Art of Time Ensemble

www.artoftimeensemble.com

● Attila Glatz Concert Productions (Salute

to Vienna)

www.salutetovienna.com

● Azrieli Foundation

www.azrielifoundation.org/amp

● Barrie Concert Association

www.barrieconcerts.org

● Barrie Concert Band

www.barrieconcertband.org

● Canadian Music Centre

www.cmccanada.org

● Canadian Opera Company

www.coc.ca

● Cathedral Bluffs Symphony Orchestra

www.cathedralbluffs.com

● Chorus Niagara

www.chorusniagara.org

● Church of St. Mary Magdalene

www.stmarymagdalene.ca

● COSA Canada (Centre for Opera

Studies & Appreciation)

www.cosacanada.org

● Counterpoint Community Orchestra

www.ccorchestra.org

● DaCapo Chamber Choir

www.dacapochamberchoir.ca

● Don Wright Faculty of Music, Western U

music.uwo.ca

● Edison Singers

www.theedisonsingers.com

● Elmer Iseler Singers

www.elmeriselersingers.com

● Ensemble Vivant

www.ensemblevivant.com

● Estonian Studies Centre

www.vemu.ca

● Etobicoke Centennial Choir

www.etobcokecentennialchoir.ca

● Etobicoke Community Concert Band

www.eccb.ca

● Etobicoke Philharmonic Orchestra

www.eporchestra.ca

● Evergreen Club Contemporary

Gamelan

www.evergreenclubgamelan.com

● Glionna Mansell Corporation

www.glionnamansell.com

● Hannaford Street Silver Band

www.hssb.ca

● INNERchamber Inc.

www.innerchamber.ca

● Isabel Bader Centre for the Performing

Arts

www.queensu.ca/theisabel

● Jubilate Singers

www.jubilatesingers.ca

● Ken Page Memorial Trust

www.kenpagememorialtrust.com

● Kindred Spirits Orchestra

www.KSOrchestra.ca

● Koerner Hall at the Royal Conservatory

of Music

www.rcmusic.com/performance

● Mississauga Chamber Singers

www.mississaugachambersingers.ca

● Mississauga Symphony Orchestra

www.mississaugasymphony.ca

● MOSAIC Canadian Vocal Ensemble

mosaic-vocalensemble.ca

● Music at Metropolitan

www.metunited.ca

● Music at St. Andrew's

www.standrewstoronto.org

● Music in the Afternoon (Women's

Musical Club of Toronto)

www.wmct.on.ca

● Music Gallery

www.musicgallery.org

● Music Toronto

www.music-toronto.com

● New Music Concerts

www.newmusicconcerts.com

● Nine Sparrows Arts Foundation

www.9sparrowsarts.org

● Nocturnes in the City

www.nocturnesinthecity.com

● Off Centre Music Salon

www.offcentremusic.com

● Opera Atelier

www.operaatelier.com

● Orchestra Toronto

www.orchestratoronto.ca

● ORGANIX Concerts

www.organixconcerts.ca

● Pax Christi Chorale

www.paxchristichorale.org

● Peterborough Singers

www.peterboroughsingers.com

● Royal Canadian College of Organists,

Toronto Centre

www.rcco.ca/Toronto

● Sine Nomine Ensemble for Medieval

Music

www.pims.ca/article/sine-nomine/

● SoundCrowd

www.soundcrowd.ca

● Soundstreams

www.soundstreams.ca

● St. Michael's Choir School

www.smcs.on.ca

● Tafelmusik

www.tafelmusik.org

● Tapestry Opera

www.tapestryopera.com

● That Choir

www.thatchoir.com

● Toronto Chamber Choir

www.torontochamberchoir.ca

● Toronto Choral Society

www.torontochoralsociety.org

● Toronto Classical Singers

www.torontoclassicalsingers.ca

● Toronto Consort

torontoconsort.org

● Toronto Mendelssohn Choir

www.tmchoir.org

● Toronto Mozart Players

www.mozartproject.ca

● Toronto Operetta Theatre

www.torontooperetta.com

● Toronto Symphony Orchestra

www.TSO.CA

● Trio Arkel

www.trioarkel.com

● University of Toronto Faculty of Music

music.utoronto.ca

● Upper Canada Choristers

www.uppercanadachoristers.org

● Vesnivka Choir

www.vesnivka.com

● VOCA Chorus of Toronto

www.vocachorus.ca

● Voicebox: Opera in Concert

www.operainconcert.com

● Westben Centre for Connection and

Creativity Through Music

www.westben.ca

● Wychwood Clarinet Choir

www.wychwoodclarinetchoir.ca

● Yorkminster Park Baptist Church

www.yorkminsterpark.com

Arts Services

● Agence Station Bleue

www.stationbleue.com/en

● Eric Alper Public Relations

www.thatericalper.com

● International Resource Centre for

Performing Artists

www.ircpa.net

● Linda Litwack Publicity

www.facebook.com/Linda-Litwack-

Publicity-1174901622575289

● Luisa Trisi / Big Picture

Communications

www.luisatrisi.com

thewholenote.com February 2022 | 33
---
DISCOVERIES | RECORDINGS REVIEWED

DAVID OLDS

Elsewhere in these pages you will find reviews of new recordings

of music by Bach: the English Suites performed by Vladimir

Ashkenazy, Autour de Bach, woodwind arrangements of a

number of his works as recorded by Pentaèdre, and two sets of

Goldberg Variations, one with Sarah Hagen on piano and one with

Cameron Carpenter in his own transcription for grand organ. The

Goldbergs are arguably the most recorded, most transcribed and most

adapted for other purposes of Bach's works, and certainly the most

often reviewed in The WholeNote. With the two reviews mentioned

above I count 25 in as many years and here comes number 26.

When Karlheinz Essl (b. Austria 1960) was

approached by the Orpheus Trio in 2002 to

arrange an existing string-trio version of the

Goldberg Variations with the addition of live

electronics, his initial reactions were "astonishment

and bewilderment: how could that

be possible with this music? Was there any

artistic necessity of doing so? The idea of

manipulating the sound of the live instruments

electronically, of 'spicing it up,' seemed almost sacrilegious."

The trio was persistent however and this eventually led to the first of

four (so far) realizations of Gold.Berg.Werk: for string trio; for harpsichord;

for saxophone quartet; and, most recently, for piano. It is a

recording of this last variety, featuring Xenia Pestova Bennett (Ergodos

ER33 essl.at/records/goldbergwerk-2021.html), that arrived on my

desk last month. In Gold.Berg.Werk – a pun on Goldberg Work and

Gold Bergwerk (to mine, as in mining for gold) – Bach's Goldberg

Variations are "confronted with electronic sounds that are played

between groups of variations, bridging the gap between the sound

world of the Baroque era and the sonic reality of the third millennium."

The electronics are based on the harmonic progression of the

fundamental Aria, from which the composer stripped all figurations

and ornaments. Through manipulation of the overtone spectrum and

the use of granular synthesis – compressing, stretching, and stopping

forward motion ad libitum carried out in real time with the help of

compositional algorithms – Essl has created five electronic interludes,

which in live performance are spatially projected in surround sound

throughout the auditorium. Even in the binaural mix for CD the sound

is immersive and compelling. Pestova Bennett's outstanding performance

of the selected movements, 20 variations chosen by Essl and

arranged in groups of five, bookended by the signature Aria, is beautifully

integrated into the overall fabric of this "new" work. Regarding

Essl's question as to whether there was any artistic necessity to

enhance such an iconic piece in the first place, I suppose we each have

to decide for ourselves. For me, Gold.Berg.Werk has brought a new

perspective that, after initial resistance to the idea, I have embraced

and found enchanting.

And speaking of Bach, you would be

excused for thinking that after last month's

column I might have had enough cello

for a while, but not so gentle reader. Julia

MacLaine's Preludes would have fit nicely

in that cello-centric column but it has

only now been released by Analekta (AN

2 8914 analekta.com/en). MacLaine says

that she found the inspiration for this

project in a Juilliard recital by Bonnie Hampton some years ago in

which the Preludes from Bach's Solo Cello Suites were interspersed

with contemporary works. With funding from the Canada Council,

MacLaine commissioned six Canadian composers to write works "in

response" to the Bach preludes. The result is an intriguing CD with six

very different responses, from Airat Ichmouratov whose quite traditional

Praeludium for Cello Solo in G Major, Op.69 quotes freely

from Bach before venturing onto less familiar paths, through a gamut

of approaches before culminating in Post Bach by Prince Edward

Island fiddler and composer Roy Johnstone. This last work features

rollicking dance sections juxtaposed with what MacLaine describes

as a "grumbly […] glimpse of the underworld, the murky place that

gave rise to the motives that permeate Bach – and Johnstone." Along

the way we are treated to Gabriel Dharmoo's sarasaraahat, a piece

inspired by the Prelude from the Suite in D Minor that uses the Indian

Carnatic music of the composer's cultural heritage to put the sound

produced by the cello under a microscope, exploring the "very limit

between pitch and white noise." Carmen Braden's Play Time asks the

cellist to "play the score as if you just heard the Bach Cello Suite No.3

for the first time and now sit down and improvise, playful as a child."

In her signature way, Nicole Lizée employs technology to expand the

palette of the cello, in the words of MacLaine "a marvellous, fantastical

electronic world [with the cello] singing expressively above it, weaving

in and out of it, and chasing after it." Cris Derksen states "LAND BACH

is my response to Bach's fifth prelude as an Indigenous composer and

cellist." Her treatment includes a section of "looped rolled chords"

which MacLaine says is characteristic of Derksen's music.

As I have said before, it must be extremely hard for a performer

these days to find a way to present Bach's iconic works – that have

been recorded countless times – in a new light. I find MacLaine's

performances of both the Bach originals and the new companions

insightful and convincing. While I have mixed feelings about "cherry

picking" just the preludes from the Bach Suites, in this context where

the composers are specifically reacting to the movements in question I

find the project as a whole very well-considered and satisfying. I'll

give MacLaine the last words: "My hope is […] that you will hear Bach

differently, as though past and present composers were having a

conversation across the years, across the ocean."

Nicole Lizée is also among the seven

composers commissioned by Vancouver's

venerable Standing Wave ensemble for its

project 20C Remix (Redshift Records standingwave.ca)

in which a number of iconic

20th century works are reimagined for the

new millennium. With three decades under

its belt, Standing Wave is touted as Western

Canada's foremost contemporary chamber

ensemble. 20C Remix – a digital release with

a limited edition vinyl run – opens with Stone's Throw, Jocelyn

Morlock's ebullient take on Ann Southam's Glass Houses No.9,

adapted for full ensemble: flute, clarinet, violin, cello, piano and

percussion. It's a roller coaster ride for all concerned and I particularly

enjoyed finding hints of Stravinsky in the mix. Jennifer Butler

enhances Messiaen's Le merle noir for piano and flute with the other

members of the ensemble in a fairly straightforward and effective

homage to the French master. Walking in Claude's Footsteps is Jordan

Nobles' gentle take on Debussy's Des pas sur la neige and Jared Miller

finds Guilty Pleasures in his interpretation of John Adams' China

34 | February 2022 thewholenote.com
---
Gates. Unlike most of the works here which enlarge the original

forces, Chris Mayo and Bekah Simms take orchestral textures and

adapt them for the sextet. Mayo's Oh Come Now! There is a Beautiful

Place! is an arrangement "on a relatively miniature scale" of Reinhold

Glière's mammoth Symphony No.3. Although the liner notes tell us

that the title is taken from a poem by Kenneth Patchen, there is no

explanation of how this relates to the symphony and I'm left

scratching my head. Simms' Tenebrose explores the "night music"

from the third movement of Bartók's Music for Strings, Percussion

and Celesta with "approaches that I feel the composer would have

been likely drawn to had he lived into the 21st century," including

microtonal glissandi and the use of non-tempered pitches while

incorporating familiar motifs from the original. Lizée is represented

with two tracks, her own inimitable treatments of songs by pop icons

Dead or Alive (You Spin Me Round) and Justin Timberlake (Cry Me a

River). While certainly a different sensibility from the other offerings

here, they somehow manage to fit in seamlessly. I particularly enjoyed

the bass clarinet and vibraphone lines in Epiphora, her take on

Timberlake's classic, which bring this very satisfying disc to a close.

The next release features two relative

newcomers on the contemporary music

scene, composer Xander Simmons and

Montreal's Collectif Novart. Simmons'

second release Inner Landscapes

(xandersimmons.com) features five works

for varying ensembles, opening with the

contemplative Three Points for piano trio

which gradually builds to a dramatic peak

before receding. Pink Mountain is a fourmovement

work – Dawn, Daylight, Drift and Dusk – which is one of

two works here that take direct inspiration from the painted landscapes

of Peter Doig, the other being Grande Riviere, a work that adds

ambient electronic textures to acoustic instrumentation. Solstice is in

two parts, and utilizes the largest ensemble here, a nonet. Winter

opens with a dark duet between contrabass and bassoon, slowly

brightening as if the pale sun were shining through. Summer opens

with busy flute over a bassoon ostinato and continues in a minimalist

melisma of insect sounds with birds soaring above in the cloudless

sky (my imagery). The composer describes the closing Vortices as a

"collage of string performances mixed with synthesizers and field

recordings." As with the other pieces here, the language is consonant

and tonal, but here the extra-musical materials add an edge to the

layers of sound. Overall this is a strong release from a young

composer, showing a breadth of interest and understanding that

bodes well for future endeavours. The collectif is in fine form, with

convincing performances and solid ensemble work.

I first heard the music of Petar Klanac (then

known as Pierre-Kresimir Klanac) at Glenn

Gould Studio back in November 1997 as part

of New Music Concerts' contribution to the

Made In Canada Festival, and then in 2000

on the Ensemble contemporain de Montréal

CD Nouvelles Territoires 1. In the intervening

years he had fallen off my radar until

a few weeks ago when he reached out to me

about his new CD.

Klanac has a surprisingly small presence on the Internet. The little

biographical information I've been able to glean tells me that his principal

instruments are violin and electric guitar and that he studied

composition with Gilles Tremblay at the Montreal Conservatoire from

1992 to 1995 and later with Gérard Grisey and Marco Stroppa at the

Paris Conservatoire and Denys Bouliane at the Rencontres de musique

nouvelle du Domaine Forget in Charlevoix (Québec). He was a child

chorister in the Maîtrise des Petits Chanteurs du Mont-Royal (Saint-

Joseph's Oratory, Montreal) for nine years and this seems to have

strongly informed his compositional aesthetic. That first piece I heard

was titled Le ressuscité de Béthanie (on the subject of the resurrection

of Lazarus), a theme to which he returned two decades later in a work

for Ensemble Nahandove. Many of the works in his oeuvre focus on

religious themes, such as Agnus Dei for men's choir, Pater Noster for

tenor and string quartet and Sancta Parens for two saxophones and

cello. When commissioned by the Société de musique contemporain

du Québec to compose a new work for its 55th anniversary concert

last December he presented the 18-minute chamber ensemble work

Yerushalayim.

Klanac has made his home in France for some time and his latest

project, Pozgarria da (petarklanac.bandcamp.com), was commissioned

by Ensemble 0, a group whose members are based in different

cities in France, Catalonia and Belgium, as part of 30th anniversary

celebrations for the Institut Culturel Basque. Pozgarria da (How

wonderful it is) is a setting of four poems by the Basque Franciscan

Father Bitoriano Gandiaga for voice (Fanny Chatelain singing in the

original language) and an unusual ensemble consisting of flutes, rebec

and nyckelharpa, four organs, gamelan selunding and percussion.

There is a sparse instrumental prelude and two interludes, all titled

Maite dut bizitza (I love life), separating the first three poems, whose

sparse and subdued settings are vaguely reminiscent of medieval

music. The final movement, also Maite dut bizitza, is the most expansive

by far at almost 17 minutes, and is also the most exuberant; a

flamboyant minimalist – think cinematic Philip Glass – paean to "The

joy of life / To my surroundings / that are alive. / I wish the joy of

being alive / To everyone who lives / the grace of life." Amen! A very

welcome anthem and reminder in these unjoyful times.

And now for something completely

different, although I find joy here too. "What

if Dark Orchard (Jim Casson's experimental

music project) and 'The Blues' got together

in New Orleans and watched Twin Peaks

with Daniel Lanois?" That's the premise

behind Davis Hall & The Green Lanterns

(greenlanterns.ca). Originally conceived

in the early days of COVID-19 as a remote

collaboration with bass player Russ Boswell, Casson laid down drum

tracks in his home studio that he shared with Boswell who added

funky bass licks and a song outline. They invited Bernie LaBarge to

add some guitar lines and Brent Barkman on organ; and Marshville

Station, the second track on the current album, was born. Although

the project was shelved for a while, the ongoing pandemic has

provided the perfect opportunity to revisit the idea.

I've been a sucker for blues tuba since I saw Taj Mahal at the

Mariposa Festival 40-some years ago backed by a quartet of tubas

headed by the late, great Howard Johnson (1941-2021). Well, that's

how this adventure begins, with the funky, N'awlins-flavoured

Temperanceville co-written by Casson, tuba player N. Jay Burr and

guitarist Wayne DeAdder, with Mike Branton sitting in on slide guitar.

The personnel of the Green Lanterns changes from track to track, with

Casson on drums, keyboards, autoharp and even theremin the only

constant, but the result is always bluesy and frequently scorching.

Burr, DeAdder, Boswell and Brandon make numerous contributions

and guests include Steve Marriner and Al Lerman on harmonica,

Stephen Miller on dobro, and an archival appearance by 60s DJ Bob

Bowland from CHOW radio in Welland, Ontario. Casson explains

the name of the group, and of the songs, as a tribute to the Niagara

Peninsula, the stomping grounds of his formative years. "Davis Hall"

was the name of the community centre in his hometown where he

attended nursery school, "The Green Lantern" was the soda shop

in town when he was a kid and the names of all the songs correspond

to place names on the peninsula. Who knew that the fruit belt

could be so darn funky? This one is guaranteed to lift your spirits (and

your heels)!

We invite submissions. CDs, DVDs and comments should be sent

to: DISCoveries, WholeNote Media Inc., The Centre for Social

Innovation, 503 – 720 Bathurst St. Toronto ON M5S 2R4.

David Olds, DISCoveries Editor

discoveries@thewholenote.com

thewholenote.com February 2022 | 35
---
STRINGS

ATTACHED

TERRY ROBBINS

Alma is the third album of original

arrangements by Fire & Grace, the duo

of violinist Edwin Huizinga and guitarist

William Coulter (Roaring Girl Records

fireandgracemusic.com). Coulter's plectrum

guitar is an acoustic steel-string

Custom Meridian made by Mike Baranik.

Piazzolla's Libertango, Albéniz' Asturias

(with violin shredding!) and Vivaldi's

L'Estate – Summer open a fascinating CD, at the heart of which is

Suite Español, a continuation of the duo's project of arranging the

solo music of Bach (in this case the Cello Suite No.1) and blending it

with folk music, the six Bach movements in this case interspersed

with melodies from Spain.

An arrangement of Tanya's Tune, composed by the former Väsen

guitarist Roger Tallroth, completes a hugely entertaining disc.

For Muse, their first album together, the

young brother and sister duo of Sheku

and Isata Kanneh-Mason chose two works

that they love playing in concert (Decca

Classics 4851630 deccaclassics.com/en).

Barber's Cello Sonata in C Minor Op.6,

written when he was 22 and a student at the

Curtis Institute in Philadelphia, opens the

disc, while Rachmaninoff's Cello Sonata

in G Minor Op.19 from 1901 closes it. The duo notes that the two

works are from completely different worlds, but "somehow they work

together in terms of their emotional intensity." Certainly there's no

lack of emotional intensity in these outstanding performances.

Songs by the two composers effectively tie the sonatas together on a

terrific disc. The three Rachmaninoff songs – It Cannot Be!, How Fair

This Spot and The Muse – were already among the duo's favourites

while the four Barber songs – There's Nae Lark, A Slumber Song of

the Madonna, With Rue My Heart Is Laden and Sure on This Shining

Night – were new to them.

Two outstanding representatives of the

younger generation of Russian musicians,

pianist Maxim Emelyanychev and violinist

Aylen Pritchin, are featured on Brahms

Sonatas for Piano & Violin on period instruments

(Aparté AP237 apartemusic.com).

The instruments in question are an 1875

Steinway piano and a 1725 Jacques Boquay

violin, but there's plenty of powerful, fullbodied

piano playing to accompany Pritchin's beautifully bright and

sensitive touch.

The Scherzo from the 1853 F-A-E Sonata, Brahms' contribution to

the three-movement work written with Schumann and Dietrich as a

gift for Joseph Joachim, opens the disc. Fine performances of the three

sonatas from the period 1878-88 – No.1 in G Major Op.78, No.2 in A

Major Op.100 and No.3 in D Minor Op.108 – complete a lovely CD.

The booklet essay notes the references to Brahms' own songs in the

sonatas, particularly the first two, and there's certainly a delightfully

lyrical approach to the beautiful performances

here.

Kornauth & Fuchs Works for Viola and

Piano is another CD product of the Covid

lockdown, this time featuring the Litton

Duo of Katharina Kang Litton, principal

violist of the New York City Ballet and her

pianist husband, conductor Andrew Litton

(BIS-2574 bis.se).

Through playing the Brahms sonatas together the two discovered

the viola and piano music of Brahmns' contemporary Robert Fuchs

(1847-1927), whom Brahms greatly admired, and Fuchs' student Egon

Kornauth (1891-1959). Fuchs' other students included Mahler, Wolf,

Sibelius, Zemlinsky, Korngold, Enescu and Franz Schmidt.

Kornauth is represented by his Viola Sonata in C-sharp Minor Op.3

from 1912, and Fuchs by his Viola Sonata in D Minor Op.86 from 1909

and Six Fantasy Pieces Op.117 from 1926-27.

While not exactly "of their time" from a progressive viewpoint they

are nonetheless beautifully crafted and extremely attractive works

that require passion, warmth, feeling, effortless technique and perfect

ensemble, all here in abundance on a lovely CD.

Cellist Laura van der Heijden and pianist

Jâms Coleman make their Chandos label

debut with Pohádka: Tales from Prague to

Budapest, an album that explores the rich

folk melodies of Janáček, Kodály and Dvořák

(CHAN 20227 chandos.net).

Janáček's Pohádka (Fairy Tale) is typical

of the composer's late and highly individual

voice. Kodály's Cello Sonata Op.4 from

1909-10 is here, as are two short songs transcribed by van der Heijden

and the Sonatina, also from 1909 and originally intended as part

of the Op.4 sonata. The Dvořák is the short song Als die alte Mutter

Op.55 No.4 from 1880.

There are two works by lesser-known composers: Mouvement,

written for Kodály's 80th birthday in 1963 by András Mihály (1917-

1993); and van der Heijden's transcription of the brief 1936-37 song

Navzdy (Forever) Op.12 No.1 by Vitězslava Kaprálová, who died from

tuberculosis in 1940 aged only 25.

Van der Heijden's remarkably effective adaptation of Janáček's

Violin Sonata closes an excellent disc.

Another artist making her label debut is the

young Japanese violinist Coco Tomita, who

was offered a debut album on the Orchid

Classics label after winning the Strings

Final of the 2020 BBC Young Musician

competition; she is accompanied by pianist

Simon Callaghan on Origins (ORC100194

orchidclassics.com).

At the heart of the recital are Poulenc's

Violin Sonata – a marvellous piece, despite his doubts and misgivings

– and the Ravel Violin Sonata No.2, both works given superb readings.

The other major work is Hubay's Carmen – Fantasie brillante, one of

Tomita's performance pieces from the 2020 competition and indeed

played quite brilliantly.

Enescu's unaccompanied Ménétrier (Country Fiddler) from his

Impressions d'enfance Op.28 opens the disc. Lili Boulanger's brief

but beautiful Nocturne from Two Pieces is included, and the Heifetz

arrangement of Debussy's Beau Soir closes an outstanding CD.

There must surely be great things ahead for such a talent as this.

[Please Note: the disc is not scheduled for release until March 2022.]

Gabriel Schwabe is the cellist on Elgar & Bridge Cello Concertos, with

the ORF Vienna Radio Symphony Orchestra under Christopher Ward

(Naxos 8.574320 naxosdirect.com/search/8574320).

The Elgar Cello Concerto in E Minor Op.85 dates from 1919, when

the composer was appalled and disillusioned by the suffering caused

by the war and by the loss of the Edwardian world he loved. Schwabe's

36 | February 2022 thewholenote.com
---
performance gives you everything you could

want from this beloved concerto.

The real revelation here, though, is Frank

Bridge's Oration, Concerto elegiaco. Written

in 1929-30, it shares spiritual affinities and

shadows of the Great War with the Elgar,

and is described as "a funeral address of

huge solemnity and narrative power in its

outcry against the futility of war." At times it

is much like the Elgar in sound and style, but not in form, having

seven connected movements with a particularly martial Allegro giusto

and a central cadenza. I don't recall ever having heard it before, but if

ever a work cried out for wider exposure it's this one.

The American violinist Oscar Shumsky,

who died in 2000 at the age of 83, recorded

extracts from the Brahms Violin Concerto in

D Major Op. 77 for the Music Appreciation

Recordings LP label, but a complete

performance of the work has never been

available. He did, however, make a digital

recording with the Philharmonia Hungarica

under Uri Segal in 1984, although apparently

it was forgotten for almost four decades. It has now been

released by Biddulph Recordings, with the Shumsky family's permission,

as Brahms Violin Concerto (85007-2 naxosdirect.com/search/

bdf-ed-85007-2).

Shumsky was generally considered to be one of the great violinists

of the 20th century, the New Grove Dictionary calling him "a player of

virtuoso technique, pure style and refined taste," qualities that are

fully evident in this really fine performance. The orchestral sound is

quite resonant, with the violin's brilliant tone very much up front. It's

a gem of a CD.

Following his 2021 recording of Weinberg's

Violin Concerto in G Minor Op.67 and

the Sonata for Two Violins Op.69 Gidon

Kremer continues his passionate promotion

of the previously neglected music of

Shostakovich's close friend and compatriot

with Mieczysław Weinberg: Sonatas for

Solo Violin (ECM New Series ECM 2705

ecmrecords.com/shop).

Sonatas No.1 Op.82 and No.2 Op.85 were

both written in 1964, and are comprised of

several short movements: Adagio, Andante,

Allegretto, Lento and Presto for the Op.82; and Monody, Rests,

Intervals, Replies, Accompaniment, Invocation and Syncopes for

Op.85. Sonata No.3 Op.126 from 1979 is a single-movement work with

a decided Shostakovich feel about it.

Kremer really throws himself into this music, which has a great

range of emotional and technical challenges, but is capable of playing

with much tenderness and sensitivity when required. This may not be

the first recording of these fascinating works, but it's difficult to

imagine a set with a greater commitment.

There's music by Weinberg's compatriot

himself this month as well, with a new

recording of Shostakovich String Quartets

No.3 & No.8 in excellent performances by

the Korean ensemble Novus Quartet (Aparté

AP271 apartemusic.com).

The String Quartet No.3 in F Major Op.73

from 1946 was triumphantly received by the

public and critics alike, and seems to chart

the path from the losses of the war to a return to daily life, albeit with

a "forced cheerfulness" typical of the composer.

The String Quartet No.8 in C Minor Op.110 is the most autobiographical

of the Shostakovich quartets, with his musical monogram D,

E-flat, C and B natural (DSCH in German notation) forming the basis

for much of the work. Moreover, the quartet is full of direct quotes

from earlier Shostakovich works, most touchingly the melody from

the opera Lady Macbeth of Mtsensk, the work which resulted in his

initial persecution by the Soviet authorities. Written in 1960 in

response to the wartime destruction of human life and artistic treasures

in Dresden, it was portrayed by Soviet propaganda as denouncing

fascism, while it was almost certainly a reaction to Soviet atrocities

under the Stalin regime.

The Sound and the Fury is the first studio

recording by the Shea-Kim Duo, the

husband and wife team of violinist Brendan

Shea and pianist Yerin Kim (Blue Griffin

Recording BGR593 bluegriffin.com).

Dvořák's Mazurek Op.49, with its abundant

and virtuosic double stops, was inspired by

and dedicated to the great Spanish violinist

Pablo de Sarasate. Grieg's Violin Sonata

No.3 in C Minor Op.45 is the biggest of his

three violin sonatas and, possibly because of the simply beautiful slow

middle movement, one of the composer's favourite works.

Janáček's Violin Sonata, his only work in the genre, was written in

early 1914, just prior to the outbreak of the Great War. The composer

later referred to "the sound of steel clashing" in his head.

Shea plays with a warm tone on a violin which can tend to sound

somewhat muted at times. Kim's piano contribution is first-class

throughout.

Finally, space restrictions usually preclude

our covering short streaming-only releases,

but in view of the recent passing of the

legendary Broadway composer Stephen

Sondheim, as well as the superb quality of

the arrangement and performance, I just

have to mention Stephen Sondheim A Little

Night Music: Suite for Violin and Piano,

arranged by Broadway veteran Eric Stern for

the Opus Two duo of violinist William Terwilliger and pianist Andrew

Cooperstock (Bridge 4010 bridgerecords.com).

The third in a series of Stern Broadway arrangements commissioned

by Opus Two and made with the composer's approval, it's just under

15 minutes in length, but the four-movement suite of Night Waltz,

You Must Meet My Wife, A Weekend in the Country and Send in the

Clowns is an absolute delight.

I was lucky enough to receive a promo hard copy, but it can be

streamed on Amazon, Apple Music, Spotify and YouTube Music, and

purchased via Amazon, iTunes and Google Play, among others.

thewholenote.com/listening

J.S. Bach / Karlheinz Essl:

Gold.Berg.Werk

Xenia Prestova Bennett & Ed Bennet

Austrian composer Karlheinz

Essl offers a refreshing take on

the Goldberg Variations, bringing

together Baroque and contemporary

sound worlds with live spatialised

electronics.

20C Remix

Standing Wave Society

20C Remix features music from

the last century reimagined by

seven of today's leading Canadian

composers, performed by the

Standing Wave Ensemble.

thewholenote.com February 2022 | 37
---
VOCAL

Mirrors

Jeanine De Bique; Concerto Koln; Luca

Quintavalle

Berlin Classics (berlin-classics-music.com)

! Mirrors is

Trinidadian

soprano Jeanine

De Bique's

debut album.

Accompanied by the

renowned Baroque

orchestra Concerto

Köln, with musical

direction by Luca Quintavalle, the album

focuses on Baroque arias and includes three

world premiere recordings.

De Bique's album reflects her unique style

and personality in a well-crafted concept. Her

flawless technique is impressive and includes

carefully sculpted notes and stunning articulation

amid invigorating Baroque rhythms

and flying high notes. De Bique, a seasoned

Handel performer, was also given the freedom

to play with and create new ornamentation

for each aria.

Developed in collaboration with musicologist

Yannis François, the concept of the

album is that of looking through a broken

mirror; different settings of the same libretti

are placed side by side on an album for the

first time. Mirrors juxtaposes Handel's operatic

heroines Alcina, Cleopatra, Deidami, and

Rodelinda with the same characters' arias

from the works of Riccardo Broschi (brother

of famed castrato Farinelli), Carl Heinrich

Graun, Gennaro Manna and Georg Philipp

Telemann, each prominent opera composers

of their time. The arias of Mirrors are meant

to relate key moments in the psychological

development of each heroine, thereby also

opening a window into the varied female

experience. In the liner notes De Bique writes

that this project allowed her to sing from a

place of vulnerability and that she was "given

the opportunity to be a voice for women

across the ages who are still trying to find

spaces to free their voices, and for those ready

to reclaim their autonomy."

Sophie Bisson

Verdi – Macbeth

Soloists; Filarmonica Arturo Toscanini;

Coro del Teatro Regio Parma; Roberto

Abbado

Dynamic DYN-CDS7915.02

(naxosdirect.com/search/dyn-cds7915.02)

! My love for

Verdi's Macbeth

began here in

Toronto many years

ago when I saw

Hungarian soprano

sensation Georgina

Lukács in the

famous Mad Scene, the late Richard Bradshaw

conducting with such a rapport between

them that it seemed like he was conducting

just for her. Today my love has been rekindled

with this new CD from Parma. Parma is

now what Salzburg is to Mozart or Bayreuth

to Wagner, a Verdi Mecca.

Success for Macbeth was a long time

coming. In 1847, it was the first time Verdi

tried to tackle Shakespeare, his idol since

childhood, but the atmosphere of foggy, rainy

Scotland plus the witches didn't please the

Italian public. However in 1865, a golden

opportunity came from Paris and big money

too. He revised the opera by translating it into

French, adding new music and a mandatory

ballet to suit the taste of Paris. This version

fared better and it is presented here.

This is an open air concert performance no

doubt necessitated by COVID, using Parma's

resplendent Opera House as a backdrop and

with the best singers available. Perhaps the

greatest Verdi baritone alive, Ludovic Tézier

from Marseille, with his velvety, many shaded

but strong voice, simply lives the title role.

His bloodthirsty wife and helpmate, Lady

Macbeth, is sung by Sylvia Dalla Benetta who

is rapidly becoming Italy's leading dramatic

soprano. She is sensational with a tremendously

wide vocal range and power. Her

high notes could shatter glass and her low

notes are bloodcurdling. Her first scene and

the cabaletta Viens! Viens! Sois homme! Il

faut régner is explosive. Riccardo Zanellato's

smooth basso is heartrending as Banquo.

Scholarly conductor and Verdi expert Roberto

Abbado conducts with throbbing vitality.

Janos Gardonyi

Voice of Nature: The Anthropocene

Renée Fleming; Yannick Nézet-Séguin

Decca Classics (deccaclassics.com/de/

kuenstler/reneefleming)

! Voice of Nature:

The Anthropocene

is another album

responding to

the devastating

current pandemic.

According to celebrated

veteran

American opera

diva Renée Fleming it was inspired by

the solace she found while hiking near

her Virginia home during lockdown.

Canadian conductor and pianist Yannick

Nézet-Séguin and Fleming have chosen 16

songs which feature lyrics exploring "the

centrality of nature in Romantic-era song and

highlight[ing] the peril … of the natural world

today. … Now, in the Anthropocene, we see the

effects of our own activity, and the fragility of

our environment," reflects Fleming.

A dedicated performer of art song, she

draws on her classical repertoire including

scores by Liszt, Grieg, Fauré and Hahn for

the core of this recital. Also featured are

recording premieres of Caroline Shaw's 2017

Aurora Borealis, evoking flickering lights in

the northern sky, plus two commissions from

American composers.

Pulitzer Prize-winner Kevin Puts gives

Evening by the American poet Dorianne Laux

a retro-musical setting, characterized by a

supple lyric soprano melody highlighted by

Fleming's soaring high notes, and supported

by Nézet-Séguin's rippling tonal arpeggios

and harmonies.

Nico Muhly's bricolage-like Endless Space,

on the other hand, draws on several disparate

texts: poetry of the 17th-century English

theologian Thomas Traherne plus writing by

climate change journalist Robinson Meyer. It

starts with a sort of recitative before taking

advantage of Fleming's core vocal strengths

still at her command in her sixth decade:

velvety rich lows, graceful high passages,

flawless intonation and dynamic control.

Andrew Timar

Patrick Cassidy – The Mass

Laude; David Harris; Christoph Bull

Supertrain Records

(supertrainrecords.com)

! The Catholic

Mass is one of the

most frequently set

texts in the history

of music, encompassing

works

ranging from the

14th century to

modern times.

Whether Palestrina's marvellous Missa

Papae Marcelli or Beethoven's grandiose

Missa Solemnis, performances and recordings

of these masterpieces bear testament to

the inspirational power of these ancient rites

and texts.

Unique among the plethora of recordings

of the Mass, however, is this documentation

of Patrick Cassidy's The Mass, originally

composed for choir and orchestra and later

adapted for choir and organ. Growing from

the challenges of quarantine, it is perhaps

among the first major works in history to be

recorded virtually, with each member of the

choral group singing their individual part

in isolation. Anyone who has worked on a

virtual choir project is aware of how involved,

tedious and time-consuming such a task can

be, especially when the result is intended to

be a release-worthy recording, and the excellence

attained in this instance cannot be

overstated.

Cassidy's writing is stunningly beautiful

and primarily uses a late-Romantic idiom,

with luscious harmonies and gorgeous

melodies that are both profound and sublime.

The singers, despite their isolation, blend

with a precision and clarity that is, in a word,

unbelievable, while Christoph Bull, organistin-residence

at the First Congregational

Church of Lost Angeles – which houses one

of the world's largest pipe organs – is in fine

form, making that single instrument sound as

38 | February 2022 thewholenote.com
---
varied and convincing as an entire orchestra.

If the above review sounds almost too good

to be true, that is because this recording is as

well. This project demonstrates the human

potential to persevere, and the spiritual

capacity to grow together and bring to light

beauty in isolation, regardless of external

factors and influences. It is highly recommended

to anyone whose spirit needs

uplifting, or who simply wants to bathe in the

glorious sounds of Cassidy's Mass.

Matthew Whitfield

Hans Thomalla – Dark Spring: Opera in 11

Scenes

Shachar Lavi; Anna Hybiner; Christopher

Diffey; Magid El-Bushra; Nationaltheater-

Orchester Mannheim; Alan Pierson

Oehms Classics OC 994 (oehmsclassics.de)

! The whole idea

of Dark Spring as

being born of both

song and opera is a

considerable philosophical

and stylistic

leap. But what

its creator Hans

Thomalla achieves in this work is a lofty

Singspiel recast as musical meta-theatre.

Happily the 11 scenes are acted and/or sung

by a fine cast who interact with each other

in a deeply emotional manner as this avowed

song-opera goes like a bolted arrow directly

into the listener's heart.

Thematically this is a cautionary tale (the

word "narrative" is technically more appropriate),

one whose four characters we meet

at an existential 21st-century crossroad

where the theatre of Brecht and the angst of

Jean-Paul Sartre collide. The playwright and

novelist appear to have inspired Thomalla's

work, an operatic adaptation of Frank

Wedekind's Spring Awakening (1891). Dark

Spring roars with the socio-political demons

that drive our digital media world. Song lyrics

by Joshua Clover reflect the shattered mirror

of violence, while peer and parental pressures

hover dangerously close at hand.

Relationships crumble in overwrought

romanticism and roiling sexuality leading to

the climactic suicide of one of the four characters,

Moritz, played with explosive combustion

by countertenor, Magid El-Bushra.

Tenor Christopher Diffey, contralto Anna

Hybiner and mezzo-soprano Shachar Lavi

sing their respective ways through the storyline

that exudes visceral energy throughout

Dark Spring. The Nationaltheater-Orchester

Mannheim conducted by Alan Pierson shines

as it navigates this difficult score.

Raul da Gama

Brian Field – Vocal Works

Various Artists

Navona Records nv6360

(navonarecords.com/catalog/nv6360)

! Reactions to

Brian Field's Vocal

Works – as well

as the red-whiteand-blue

graphic

evocative of the

forbidding spires

on a US/Mexican

border wall – can

be predicted: it's

an important disc, no doubt, often dripping

with sardonicism and bitterness, shrouded

in the music's frequent dissonance. Gorgeous

songs complemented by great choral and solo

singing, however, triumph over these feelings,

in a program selected and sequenced

with uncommon care, with Field drawing

on his consummate musicianship fuelled by

hopefulness.

Field's extraordinary lyricism is deeply

attuned to human emotion. Even when

his music is immersed in feelings of fear,

disappointment or even sarcasm – as in his

adaptation of Charles Albert Tindley's poem

on By and By, in the swirling music accompanying

Pablo Neruda's bittersweet love

poems, Tres Canciones de Amor and his own

uniquely American satirical commentary in

Let's Build a Wall. In those works as well as

elsewhere, Field shows that he isn't afraid

to wear his emotions on his sleeve, nor does

he shrink away from the bitterness of social

commentary.

He is also a master of atonal turbulence

and semi-spoken lines describing both political

and intimate interactions. Field's music in

the song cycle Chimneys, Sonnets-Realities,

dramatically reinvigorates the poetry of e.e.

cummings with masterfully applied dissonant

harmonies. The pinnacle of the recording,

however, comes when Field pours his spirituality

into the intense, gospel-soaked Let the

Light Shine on Me.

Raul da Gama

Why do the Nations

Stephen Powell

Acis APL51200 (acisproductions.com)

! American baritone

Stephen

Powell's album Why

do the Nations is a

personal, vibrant

and thoughtfully

curated collection

of 27 art songs

from 11 nations in

ten different languages, written between 1839

and 1965.

Dictated by world pandemic isolation

requirements and in part as a personal challenge,

Powell takes on the musical task of

both singing and accompanying himself

on the piano. Powell's artistry imprints the

album and flows via his warm and capable

voice. His skillful accompaniment is especially

on display in the songs of de Falla, Ives

and Rachmaninoff. Even more compelling

is the album's depth of introspection, based

equally on the minutiae of his research and

his interpretation of text.

Why do the Nations takes its title from a

bass aria in Handel's Messiah, Why do the

Nations so furiously rage together? (Psalm 2).

This question ultimately guides the album's

What we're listening to this month:

thewholenote.com/listening

Inner Landscapes

Xander Simmons, Collectif Novart

Music for your inner cinema. An

album of postminimalist chamber

music inspired by the visual arts

combining acoustic and electronic

instruments.

Pozgarria da

Petar Klanac & ensemble 0

Musical setting of four Basque

poems by Father Bitoriano

Gandiaga delving into gratitude,

wonder and joy.

Fire & Grace

Alma

Fire & Grace brings "a stunningly

contemporary sound to classical

string music" with Alma, their

entrancing collection of Folk and

Baroque music from Spanish

traditions.

The Sound and the Fury

The Shea - Kim Duo

The majesty of Grieg, the

turbulence of Janáček, and

absolute joy of Dvořák; the

Shea-Kim duo brings the listener

through a spectrum of emotion.

thewholenote.com February 2022 | 39
---
journey with Powell asking his listeners

to reflect not on the manmade geographical

lines that divide us into nations, but to

focus on what unites, what connects us and

our shared humanity: "if listeners can hear

the connections between countries represented

perhaps they will appreciate that

everything we do ripples across oceans and

through time."

Why do the Nations offers a rich repertoire

of art songs from well-known composers

(Brahms, Schubert, Verdi) and composers

to discover such as Xavier Montsalvatge

(Spain), Cláudio Santoro (Brazil), Rentarō

Taki (Japan) and Zhao Yuanren (China). Also

of note, Terra e Mare, one of the few works

Puccini wrote outside of opera, and a world

premiere recording of Petits Enfants by Émile

Paladilhe (France).

Sophie Bisson

CLASSICAL AND BEYOND

Early Moderns, The (very) First Viennese

School

Quicksilver

Independent (gemsny.org/online-store/

quicksilver-early-moderns)

! Viennese music

means Mozart

and Haydn. Well,

not according to

Quicksilver. They

have compiled a CD

of music from the

very familiar venue

that is Vienna, but

by mainly unfamiliar composers.

Perhaps the strangest factor is Quicksilver's

frequent use of the dulcian, ultimately

familiar to Mozart as its descendant the

bassoon, here helping to reinforce this school

of music's claims to be recognized in its own

right. Dominic Teresi's vigorous dulcian

playing in Giovanni Battista Buonamente's

Sonata prima à 3 is a real highlight.

Throughout the CD, the trombone and

dulcian are prominent. This is noteworthy

in the Sonata à 3 attributed to Heinrich I. F.

von Biber, where Greg Ingles' dignified trombone-playing

proves that Viennese Baroque

does not consist exclusively of violin and cello

chamber music.

This is not to dismiss the stringed element.

Johann Caspar Kerll's Canzona à 3 in G Minor

combines violins and viola da gamba with

harpsichord/theorbo continuo. The result is a

very lively and highly entertaining composition.

One wonders how these pieces came to

be so neglected.

And yet, there is still room for solo compositions

for more established instruments. Avi

Stein's harpsichord skills are tested more

and more intensively as Kerll's Passacaglia

variata unfolds, making demands worthy

of Bach or Couperin on the player. Kerll is

perhaps the most overlooked composer on a

CD of a certainly overlooked school of music.

Michael Schwartz

Bach – English Suites 1-3

Vladimir Ashkenazy

Decca (deccaclassics.com/en)

! Musicians, most

especially those

who perform or

record within a

tradition that has a

crowded and storied

line of artistic interpreters

of seminal

performances, often

stand on the shoulders of those who came

before them. This can be in order to raise

themselves to a heightened vantage point

from which to spot new insights and perspectives.

Or it can be in order to tramp down

those who went before, in an attempt to

assert their own dominance and singularity

of artistic approach. And most certainly, when

performing the music of Johann Sebastian

Bach on solo piano it would be virtually

impossible to avoid the supreme influence

and shadow cast by Canadian pianist

Glenn Gould.

For the Russian-born highly

fêted pianist Vladimir Ashkenazy, who has

been performing and recording the music of

Bach since 1965 (arguably living and working

through the entire period of Gould's dominance),

his approach to Bach evidences, in his

own words, a "different concept" than that of

Gould. How lucky then are we to now have a

newly released double CD on Decca Records

that combines Ashkenazy's latest recording

of Bach's English Suites 1-3 with his first

recording from 1965 of Bach's Concerto in D

Minor. Not only does the music sparkle with

a straightforward, didactic approach to the

Baroque master that brings forth all of the

beauty and detail of the original compositions

without the idiosyncratic flourishes for which

Gould was both reviled and revered, but there

is bravery in this release as it shows just how

much Ashkenazy's own development as a

Bach interpreter and world-class performer

has matured, developed and even changed

over the years.

Andrew Scott

Bach – Goldberg Variations

Sarah Hagen

Independent SH004CD (sarahhagen.com)

! Great expectation

always precedes

a new recording of

Bach's Goldberg

Variations. Glenn

Gould's benchmark

recordings

(1955 and 1981)

may have thrown

down the gauntlet to anyone recording this

epic composition after him, but it was Bach

who left the door of interpretation slyly

ajar. Yet, playing these wonderfully varied

and emotionally differentiated Goldberg

Variations is one of the most daunting experiences

a pianist could face.

The chords of the "Fundamental Bass"

are the first hurdle because the inspiration

for the entire piece originates in the

accumulation and release of tension by the

harmonies of these chords. In composing

the Goldberg Variations Bach was also probably

thumbing his nose at Johann Adolph

Scheibe who once criticized his compositions

as being fraught with "a turgid and confused

style." Bach's playful rebuttal came by way

of the complexity of many voices collaborating

to form the lofty harmonic beauty of the

Goldbergs.

Canadian pianist Sarah Hagen's Goldberg

Variations are dramatically different.

Naysayers and refusniks beware: her approach

combines unfettered joy, wide awake with

wonder, requisite pedagogy and the ability

to make the instrument bend to her will. The

epic scope of the work is stated right out of

the gate, with an extensive exploration of the

Aria that opens the way to the variable tempi,

harmonic adventure with unlimited changes

in registration and emotion. Hagen's performance

combines vivid precision of touch

with perfect articulation of line, making

her Goldberg Variations something to absolutely

die for.

Raul da Gama

Concert Note: Sarah Hagen has a very busy

performing schedule planned over the next

three months with two dozen concerts in six

provinces across Canada (COVID-19 permitting).

Please check her website for up-to-date

listings: sarahhagen.com/concerts.

Bach – Goldberg Variations; Hanson –

Romantic Symphony

Cameron Carpenter

Decca Gold

(deccarecordsus.com/labels/decca-gold)

! J.S. Bach's

Goldberg Variations

have become

ubiquitous in the

classical music

world, brought

to popularity

primarily through

Glenn Gould's debut

recording in 1955. Originally written for

harpsichord and published in 1741, this virtuosic

masterwork has since been adapted for

a wide range of instruments and ensembles,

from piano to full orchestra. This recording

features renowned American organist

Cameron Carpenter performing his own transcription

on the International Touring Organ,

the American digital concert organ designed

by Carpenter that travels from country to

country with him on his tours.

What makes the organ such a unique

40 | February 2022 thewholenote.com
---
instrument for the performance of the

Goldberg Variations is the number of sounds

that can be contrasted and combined by a

single player, resulting in clear contrasts that

amplify the linear complexities of Bach's

counterpoint. Where other instruments are

limited by timbral similarities, the organ

is capable of producing strikingly different

sounds simultaneously, with one set of pipes

sounding like a flute and another like an

oboe, for example, creating a textural clarity

that is almost impossible on any other singleplayer

instrument.

But while the tonal variety of the organ is

an indispensable asset, its lack of acoustic

attack can be a challenging factor. The harpsichord

is, perhaps, the most attack-heavy

keyboard instrument in history, its sound

almost entirely characterized by the plucking

of a string and the sound's subsequent, rapid

decay. Conversely, the organ produces relatively

little attack but can sustain pitches

indefinitely, requiring deft use of articulation

to produce the clarity required in

Bach's music.

As one of the world's best orchestral organists,

Carpenter manages both the pros and

cons of the organ with an expert hand,

applying his mastery of timbral variety and

thoughtful articulation to bring the Goldberg

Variations to life in a new and exciting way.

Carpenter reinforces his status as a master

of orchestral performance with his own transcription

of Howard Hanson's Symphony

No.2, the "Romantic," demonstrating both

his own stunning virtuosity and the capabilities

of the International Touring Organ. This

powerhouse performance is both unique

and remarkable, and sheds light on a work

that, while less well known than its recorded

counterpart, is equally satisfying and

impressive.

Matthew Whitfield

Autour de Bach

Pentaèdre

ATMA ACD2 2841 (atmaclassique.com/en)

! Pentaèdre

is a compelling

and refreshingly

unique Quebecbased

chamber

ensemble that,

since its founding

in 1985, has been

boldly working to

expand the canon of classical music through

the creation and dissemination of new work.

One of the group's missions is to introduce

chamber music fans and classical listeners

alike to new work that both draws inspiration

from and moves beyond the body of established

repertoire. Their latest release, Autour

de Bach, couples transcriptions for wind

quintet of J.S. Bach works with the Bachinspired

Quintet No.3 by the late American

composer David Maslanka and succeeds on

all fronts.

Bach's music, with its weaving and intersecting

lines that have the strength of purpose

to stand alone but coalesce with a beautiful

and logical precision, is the perfect foil for

this egalitarian and cooperative ensemble

that knows exactly when to put forward individual

lines with a clarity of purpose and

when to abdicate one's individual agency

for the overarching blend and good of the

ensemble. While some of the pieces contained

on this fine album will, no doubt, be familiar

to listeners (Fugue in G Minor BWV565), the

three-part developmental Maslanka contribution

– which offers the group an opportunity

to explore tempo, dynamic range and expressivity

– slots neatly alongside Bach's music,

producing a congruent and compelling

artistic presentation by this fine ensemble

deserving of wider recognition.

Andrew Scott

Vivaldi – The Four Seasons; Piazzolla – The

Four Seasons of Buenos Aires

Nikki Chooi; Tessa Lark; Buffalo

Philharmonic Orchestra; JoAnn Falletta

Beau Fleuve Records 605996-998562

(joannfalletta.com/discography.html)

! This CD's two

works based on the

"four seasons" idea

is intriguing, since

Astor Piazzolla's

The Four Seasons

of Buenos Aires

makes references

to Vivaldi's

familiar The Four Seasons violin concertos.

Canadian violinist and Buffalo Philharmonic

concertmaster Nikki Chooi and the JoAnn

Falletta-led Buffalo Philharmonic play the

latter with vitality, colour and precision.

For example, in the concerto La primavera

Chooi brings clean intonation and articulation,

the orchestra adding fine dynamics and

lots of bounce. Slow movements of concertos

evoke night in different ways. Outstanding is

L'autunno with soft chromatically connected

string chords sounding over a steady harpsichord.

Given our present frightful winter, the

first movement of L'ivorno seems especially

effective: shivering string tremolos; raw cold

of a harsh violin bow stroke; a fateful mood in

the steady bass tread and relentless harmonic

sequence of fifths. In the finale Chooi takes

advantage of opportunities for free-tempo

playing that come often in this concerto

cycle – here because the solo protagonist is

walking on ice!

Piazzolla's tango-based The Four Seasons of

Buenos Aires (1965-70), written for a cabaret

group, became a four-piece suite for violin

and strings arranged by Leonid Desyatnikov

in 1998. Soloist Tessa Lark has plenty of technique

and temperament for rapid mood

changes in each piece. Summer begins in a

chugging offbeat-accented rhythm, followed

by a violin solo with occasional references

to Vivaldi's work. Languid playing with

What we're listening to this month:

thewholenote.com/listening

Brian Field - Vocal Works

Brian Field

A stunning array of diverse vocal

music featuring post-romantic

works with poetry from Pablo

Neruda and E.E. Cummings,

among others.

Johann Sebastian Bach:

Goldberg Variations

Sarah Hagen

"…a heartfelt performance

worth adding to the collection."

- La Scena Musicale. A luxurious

double-CD album, nominated for

four 2022 Music PEI Awards.

Mozart. Post Scriptum

Sergei Kvitko

"Explosion of creativity. This man is

simply incredible. It is Mozart after

Mozart" - EarRelevant. "refreshed,

beautifully etched performance" –

Audiophile Audition.

"new cadenzas are spectacular"

– Pizzicato

Metamorphosen

Maiburg Ensemble

Their new album explores

transformations, reflected in the

fascinating life and art of many

cultures - through classical, jazz,

folk and world music.

thewholenote.com February 2022 | 41
---
frequent slides alternates with faster jazzy

passages. The following enticing pieces show

similar variety.

Roger Knox

Mozart – Post Scriptum (Rondos K382/386;

Concerto No.20)

Sergei Kvitko; Madrid Soloists Chamber

Orchestra; Tigran Shiganyan

Blue Griffin BGR597 (bluegriffin.com)

! Sergei Kvitko

explained that

he wanted this

disc to be "full of

surprises." The

Russian-born

artist is not only

an accomplished

pianist, but also an

arranger, producer

and sound engineer who founded the Blue

Griffin label in 2000 while completing his

doctoral studies at the University of Michigan.

Who better then to inject new life into this

brief all-Mozart program where he partners

with the Madrid Soloists conducted by Tigran

Shiganyan? As for the surprises, they involve

reconfigurations of the two Rondos, K382 and

K386, with respect to orchestration, ornamentation

and dynamic markings, with new

cadenzas composed by Kvitko himself.

The two rondos – the first a set of variations

– were written as possible alternate finales for

piano concertos. Kvitko and the 29-member

ensemble deliver a polished performance

displaying solid musicianship, with alternative

orchestral ornaments and cadenzas at

times foreshadowing Beethoven.

Starkly contrasting in mood is the Concerto

in D Minor K466 from 1785. Again, the

pairing of Kvitko and the Madrid Soloists is a

formidable one. But as for the cadenzas, this

writer has never heard such musical excursions

in a Mozart concerto before. Not only

are they lengthier than the average, but stylistically,

Kvitko jumps ahead some decades to

the Romantic period. Here are modulations

to remote keys (including E-flat Major and F

Minor) and dazzling bravura passage work.

Do I hear echoes of Franz Liszt and is that

a quotation from Saint-Saëns? Indeed, the

listener may have cause to wonder if soloist

and ensemble will ever reunite!

Nevertheless, this is an exemplary performance

and whether the enhancements should

be viewed as creativity on the part of the

soloist or mere musical indulgences, it should

be up to the listener to decide. Surely Mozart

would have approved – this disc is definitely

worth investigating.

Richard Haskell

Schubert – Chaleur/Warmth

Mathieu Gaudet

Analekta AN 2 9185 (analekta.com/en)

! This classy

album hits all the

right marks in its

pursuit of excellence

– beautiful

music, engaging

performance and

a meaningful

message to the

world. Volume 5 in a series of 15 projected

albums covering the wealth of Schubert's

piano music, this album is filled with warmth

and artistry, perfect for a season of solitude,

contemplation and discovery.

Mathieu Gaudet has an undeniable

connection with Schubert's music. Being

an exuberant and lavish piano player, he is

capable of grand gestures that bring out the

magnificence of Schubert's form and architecture.

On the other hand, listening to

Gaudet makes me feel like he is playing this

music just for me, such is the intimacy of

his lyrical sound and phrasing. Most appreciated

is how intensely this artist conveys

the subtlety and the meaning behind all the

magnificence.

Sonata No. 5 in A-flat Major opens the

album with the traditionally noble atmosphere

of the post-classical mode, continuing

with four smaller pieces in the form of

dances and Thirteen Variations on a Theme

by Schubert's contemporary Anselm

Hüttenbrenner. Although placed last, the

Sonata No.16 in D Major is the central work

of this album. The monumental composition

offers a compressed experience of all

the Schubertian characteristics – exultation,

passion, memorable melodies and grace.

As for its gentle message, this album shows

that despite all the unsettledness in the world

one can always find a way to connect to

what matters.

Ivana Popovic

Brahms – 3 Sonatas

Michael Collins; Stephen Hough

BIS BIS-2557 (bis.se)

Here with You – The Brahms Sonatas;

Weber – Grand Duo; Montgomery – Peace

Anthony McGill; Gloria Chien

Cedille CDR 900000 207

(cedillerecords.org)

! No longer,

it seems, is it

enough for clarinetists

to throw

down their hottest

take on Brahms'

majestic Opus 120

Sonatas for Piano

and Clarinet on

its own. If recent examples are anything to

go by, something more is now called for, a

sidecar offering

some alternate

musical perspective.

Last year,

for example, the

recording released

by Jörg Widman

and Andras Schiff

included Widman's

own Brahmsian Intermezzi for piano. This

month, two more collaborations do something

similar: Anthony McGill and Gloria

Chien perform Opus 120 and then add

Weber's Grand Duo Concertant, Opus 48,

and Peace, by Jessie Montgomery; meanwhile

Michael Collins and Stephen Hough open

with a transcription (at pitch!) of Brahms'

Opus 100 Violin Sonata in A Major and then

move on to Opus 120.

I'm never fond of poached repertoire, but

I admit the violin sonata feels like it could

easily have been written for the clarinetist,

Richard Muehlfeld, as the Opus 120 were.

Only when Collins extends the range to the

higher reaches do I think Brahms wouldn't

have offered Muehlfeld that opportunity to

suffer. Not that there's anything wrong with

Collins' technique; he deals quite beautifully

with the higher tessitura of the violin piece.

It's just uncharacteristic, un-Brahmsian per

his treatment of the clarinet elsewhere.

McGill and Chien, presenting the late

Classical/early Romantic Carl Maria von

Weber's tour-de-force, arguably made the

more conservative decision, but I prefer

it because it proposes an unexpected

comparison of the two composers. Brahms

can be a tad wordy, like some reviewers I

might name. Weber is seriously underappreciated,

and deserves a good deal more respect

than he's been afforded in the past century.

McGill sounds fabulous; Chien wrings,

and rings, out the mittfuls of Brahms' piano

writing. In the Weber, avoided by some pianists

on account of its dastardly technical

demands, she bats no eyes and crosses no

fingers; in short, she kicks the piece into gear

and roars away. We should all be so lucky

to play the piece with her! The Grand Duo

is a dessert, which leavens out the weighty

Brahms, and is so much more Romantic:

more fun and, I'll admit it, entertaining. The

slow movement is an arioso without words,

beautifully rendered by the tandem. The

presto playout of the Rondo movement is a

rousing display of music hall bravura; see

if you don't rise at the end to give them a

standing ovation.

Collins plays a somewhat brighter set-up

than McGill, and sounds great. Then there's

Stephen Hough, who is already in the

pantheon. His work on the three sonatas

is impeccable, considered and moving.

Collins and Hough hew to a steadier, faster

pulse than the Americans, whose fluid flexibility

appeals to me but might bother some.

McGill and Chien are too indulgent during

the Sostenuto section of the Second Sonata's

second movement, which plods. Collins

42 | February 2022 thewholenote.com
---
and Hough have more the right idea. And in

Hough's hands the Andante un poco adagio

from the F-Minor Sonata receives more

lingering affection than Chien seems willing

to spend. Both clarinetists' pitch is immaculate

throughout. There is so much to appreciate

in both offerings, choosing between

them is not recommended.

Last month I proposed a new artistic genre:

Responses to the Pandemic. Montgomery's

Peace is exactly such a work. The mood is

pensive, opening with augmented, searching

harmonies, insistent but not harsh dissonance

that hints at kindness or obscured joy.

McGill has an incredible range of colour and

depth in his low register, which Montgomery

exploits with heart and soul.

Max Christie

Brahms – Piano Sonata No.3

Alexandre Kantorow

BIS BIS-2600 (bis.se)

! Despite his

youth, French

pianist Alexandre

Kantorow is already

heralded as a

considerable talent

with an ongoing

and upcoming

concertizing career

to be examined with interest. And, with

this marvellous 2021 recording of Johannes

Brahms' Piano Sonata No. 3, Kantorow

contributes mightily to this well-established

blue-chip reputation, initiated by winning

the prestigious Tchaikovsky Competition

at age 22.

While Brahms is famously listed as a

progenitor of so-called Absolute Music, do

not think for a moment that there is no

program to be unpacked here or extra musical

meaning to be ferreted out from these

wonderfully Germanic compositions as interpretation,

richness and new possibilities are

brought to the fore for over 85 minutes during

this thoughtful and evocative performance.

Finally, Kantorow brings the recording

to a close with Bach's playful Chaconne,

arranged from the original violin to the lefthand

piano. With a forceful pianistic dynamism

that enables Kantorow to both thunder

loudly and sparkle with fragile insight, this

is a recording that will go a good distance to

solidifying Kantorow as a Brahms and Bach

interpreter of the highest order, while encouraging

us all to stop, even momentarily, genuflecting

towards the catastrophizing media

and lean in to the beauty of these melodies as

performed with deft touch and aplomb.

Andrew Scott

Love Songs

Angela Hewitt

Hyperion Records CDA68431 (hyperionrecords.co.uk/dc.asp?dc=D_CDA68341)

! We can certainly

declare Angela

Hewitt by now a

national treasure.

Graduating from the

Royal Conservatory

of Music, Toronto

and winning the

1985 Toronto

International Bach Competition, she has had a

stellar career with concerts all over the world

and a wide-ranging discography. She has even

been inducted into the Gramophone magazine

Hall of Fame (!) and has received many

other honours and accolades.

Unfortunately this beautiful career came

to an abrupt and brutal halt with COVID-19

and all her concert engagements disappeared

overnight. For a two-year period she was

forced into idleness, retiring to her home in

Italy with her Fazioli piano. To fill her time

she had the idea of making this recording, a

collection of love songs spanning the entire

piano literature.

Since these are love songs written for the

human voice they had to be transposed to

piano solo, mostly done by other composers

or pianists, like Liszt, a master of love songs

himself. The vocal line of the original song

must be emphasized and the pianist has to

express the ebb and flow of emotion of the

beautiful poetry with bravura embellishments,

modulations and variations.

Hewitt gives us a nice collection and a

musical journey from the Baroque (Gluck and

Gottfried Heinrich Stölzel) to the Romantics

(Schumann, Schubert, Grieg) then the post-

Romantics (Fauré, Richard Strauss, Mahler)

through the Spanish flamenco of de Falla

and even popular music of Gershwin and

Percy Grainger.

There are many beauties close to my heart

such as the wonderful Schubert Ständchen

and An die Musik, Strauss' opulent Cäcilie,

the lovely Adagietto from Mahler's Fifth

Symphony, arranged by Hewitt herself, and

Gershwin's Love walked in so lovingly played.

A recording to treasure.

Janos Gardonyi

Home Suite Home

Fraser Jackson; Monique de Margerie

Galley Records GRCD02

(galleyrecords.com)

! Co-created in

the spring of 2020

by bassoonist

Fraser Jackson and

pianist Monique

de Margerie, Home

Suite Home was

directly inspired by

the weekly concerts

held on the front porch of their Toronto home

during the COVID-19 pandemic lockdown.

These concerts, intended to brighten the

mood of their neighbours and community,

resulted in an album of short and varied

pieces for bassoon and piano as well as a few

special musical guests, Winona Zelenka on

cello, Marie Bérard on violin and Dominic

Desautels on clarinet. Not all originally

What we're listening to this month:

thewholenote.com/listening

Vintage Americana

Christina Petrowska Quillico

A captivating collection of

masterfully-performed piano

works from Liebermann, Rzewski,

and more of America's most gifted

composers.

Glorious Clouds

Dai Fujikura

This latest release covers a

wide range of works for solo,

electronics, Japanese instruments

and also orchestral - edited, mixed

and mastered by the composer

himself.

Bell Threads

Adam Roberts

Featuring andPlay, Hannah Lash,

Bearthoven, Erik Behr and JACK

Quartet. Roberts displays deft

versatility and a compelling control

over development of ideas.

You Are the Light and the Way

Alex Bird & the Jazz Mavericks

This sophomore album brings to

you 12 new vocal originals, ready to

be placed into the next chapter of

the Great American Songbook.

thewholenote.com February 2022 | 43
---
written for bassoon, this collection highlights

Jackson's gift of masterful arrangement and

features several rare and delightful pieces for

contrabassoon, his specialty.

Moving and uplifting, the smooth expressive

playing of Jackson's performance coupled

with de Margerie's elegant interpretation

must have been a delightful and unique

experience for their neighbours; and now for

the rest of us too.

Melissa Scott

Metamorphosen

Maiburg Ensemble

Ars Produktion Ars 38 328 (proclassics.de/

aktuelle-cd-news)

! Annette Maiburg,

artistic director

of the Maiburg

Ensemble, aspired

in this CD to engage

in a "dialogue" in

which the music of

disparate cultural

traditions fuse, so to

speak, to produce a

music which is new and which did not exist

before. Maiburg, a highly accomplished classically

trained flutist, is joined in the project

by pianist Pascal Schweren and double bass

player Matthias Hacker, both also classically

trained but with strong educational backgrounds

in jazz, and percussionist, Fethi Ak, a

renowned German-Turkish darbuka player.

Each musician makes great and unique

contributions to the project. For example,

Schweren's solo, which brings Bartók's Pê

Loc to a surprise ending, is a delight; Ak

has several wonderful solos in compositions

as diverse as Bartók's Mâruntel and

Buciumeana and Mendelssohn's Scherzo

from A Midsummer Night's Dream; Hacker,

to my ears anyway, brings the most convincingly

idiomatic jazz contribution throughout,

connects beautifully with Ak's solo in

Mâruntel and plays a very effective bowed

passage in Mahler's Adagietto. Maiburg not

only plays the challenging flute part from

Mendelssohn's Scherzo flawlessly but also

brings wonderful lyricism to her solos in

Ravel's Kaddisch and Bartók's Buciumeana.

The cultural fusion, however, just doesn't

seem to happen, despite the good intentions,

until the last track on the CD, Hov Arek, an

Armenian folk melody notated by the great

Armenian composer and ethnomusicologist,

Komitas. Here magic happens, musicians

and music become one, and the dream

becomes reality.

Allan Pulker

Hindemith – Mathis der Maler; Nusch-

Nuschi-Tänze; Sancta Susanna

Radio-Symphonieorchester Wien; Wiener

Singakademie; Marin Alsop

Naxos 8574283 (naxosdirect.com/

search/8574283)

! The title work

on this terrific all-

Hindemith release,

Symphony 'Mathis

der Maler', gets

a probing, gutsy

performance from

Marin Alsop and the

superb ORF Vienna

Radio Symphony. For 27 dramatic minutes,

we're swept into the harsh, visionary world

depicted by the German Renaissance painter

Matthias Grünewald in his magnificent

Isenheim altarpiece. This symphony is rightly

one of Hindemith's best-known works. Yet

the related opera, Mathis der Maler – for me,

his greatest work – is rarely done.

Hindemith arranged Nusch-Nuschi-Tänze

from an earlier opera, Das Nusch-Nuschi. But

unlike Mathis der Maler, it's no masterpiece.

And the dance suite remains forgettable,

despite Hindemith's imaginative orchestrations

and Alsop's lively performance.

Hindemith's daring Sancta Susanna is

the standout here. Alsop's recording of this

youthful one-act opera is so gripping, it

belongs among the outstanding recordings

of his works, along with Roxolana Roslak

and Glenn Gould's sublime Das Marienleben

and Sviatoslav Richter's wonder-filled Ludus

Tonalis.

The tension builds relentlessly – an organ

pipe whistles, heavily scented lilac blossoms

rustle, nightingales sing joyfully, a couple

makes love right outside the church window,

a giant spider leaps into Susanna's hair.

August Stramm's expressionist libretto is truly

shocking, especially when Susanna, finally

unhinged, strips off her nun's habit and

embraces a sculpted image of Christ naked on

the cross.

Ausrine Stundyte conveys the devastating

impact of Susanna's defiance with ravishing

expressiveness, while Renée Morloc's

Klementia sets the stage for the horrific

ending with harrowing dramatic power. This

is opera at its most explosive – and delectable.

Pamela Margles

MODERN AND CONTEMPORARY

Resonances

Aiyun Huang

Sideband Records 06

(sidebandrecords.com)

! Virtuoso percussionist

Aiyun Huang

has recorded a

selection of new

works that challenge

the performer

in different ways.

In each, the listener

is immersed in

varying intimate and unique sound worlds.

In a piece titled Désastre, Inouk Demers

produces a dreamy landscape that evokes

slowly descending sonic blankets upon the

watershed resonance of gongs and cymbals.

This homogenous and enchanting piece

creates a wondrous metallic stasis – fittingly

so, as the work's title suggests something

falling from the stars. Chris Mercer's Concerto

Chamber places an acoustic guitar into

the percussion setup and asks the percussionist

to strike it with mallets, slides, rubber

balls and a triangle beater. Mercer cleverly

infuses his piece with these novel percussive

guitar sounds amid a flurry of spellbinding

auras that are highly impressive

and otherworldly in their creative expanse.

In Valerio Sannicandro's Disentio (translated

as "extension"), Huang exhibits her

world-class command over the vibraphone

in a piece full of expression and angular

melodic leaps. Canadian composer Chris

Paul Harman creates hypnotic intricacies

in Verve – an evocative piece that spans the

entire range and resonant capabilities of the

marimba. The soloist must use their voice to

execute percussive utterances that alternate

with tambourine and drum punchiness. With

each piece, Huang delivers a performance of

the highest quality – a testament toward why

she is among the leading percussion soloists

of our time.

Adam Scime

Soaring Spirits

UBC Symphony Orchestra & Choirs;

Jonathan Girard

Redshift Records TK492

(redshiftrecords.org)

! Jonathan Girard

conducts the

UBC Symphony

Orchestra and

Choirs in a release

of newly recorded

orchestral music by

three of Canada's

most visible

composers. Stephen Chatman's A Song of

Joys alternates between boisterous pulsations

and tender interludes throughout its seven

44 | February 2022 thewholenote.com
---
movements. The text is based on fragments

of Whitman's Leaves of Grass, and Chatman

intended the work to be a companion piece

to Beethoven's monumental ninth symphony.

The last movement builds to a resounding

climax using the full power of the orchestra

and choir.

In Dorothy Chang's Flight, the listener

is introduced to a delicate and mysterious

dream world amid darkened melodic

enchantment produced by the solo flutist and

supporting strings. The piece quickly takes a

turn for the dramatic with raucous jabs and

swirling gestures. Chang's brilliant writing

for the flute (performed by Paolo Bortolussi)

and command over novel orchestral colours

produces a deep artistic statement and significant

contribution to the Canadian orchestral

repertoire.

Keith Hamel's Overdrive is a ten-minute

ride of intense orchestral fireworks. Enduring

piano trajectories reinforce accented cross

play and shimmering fissures throughout.

Hamel creates a sense of temporal multiplicity

that could easily be extended in a work of

considerably increased length. The orchestra

performs the demanding passages with a

confident musicality – bringing to life what is

clearly a gifted compositional voice.

Under Girard's baton the university

orchestra delivers a recording of rather

challenging repertoire with impressive

musicality and a professional level of

performance prowess.

Adam Scime

Light Through Dark

Bill Gilliam; Bill McBirnie; Eugene Martynec

Independent (gilliammcbirniemartynec.

bandcamp.com/releases)

! It's clear from

the first of the seven

tracks of Light

Through Dark that

the Toronto trio of

pianist Bill Gilliam,

flutist Bill McBirnie

and Eugene Martynec

on electroacoustics

possesses big ears and hearts. Each, however,

has different roots. One of the city's top jazz and

Latin flute specialists, McBirnie is renowned

for his outstanding technique as much as for

exceptional improvising chops in bebop, swing

and Latin idioms. Gilliam has been active in

town since the 1980s as a composer and pianist

exploring in his words the "boundaries between

new music, improvisation, electroacoustic music

and contemporary jazz." Martynec on the other

hand has been on the scene as guitarist and

record producer for even longer. He's mostly

focused today on performing live interactive electroacoustic

music with other improvisers. Both

Gilliam and Martynec are core members of the

Toronto Improvisers Orchestra.

The moody and languid opener Time Floats

– Japanese Suite, Part 1 centres on McBirnie's

low metal alto flute melodies in which he

tastefully introduces shakuhachi (Japanese

bamboo flute) nuances into its warm breathy

vibrato. Martynec chooses harp, koto and

mbira-sounding timbres to weave around the

flute throughline, while Gilliam complements

with seamlessly effective keyboard work.

The other two parts of the Japanese Suite,

Icy Still and Crane Flight, continue the shakuhachi

theme and sonic imagery. Collectively

the trio's music is inventive, technically adroit

and elegant at the same time. Most of all, we

can hear their "mutual fascination with the

mystery of creating entirely spontaneous

music," as aptly stated in the liner notes.

Andrew Timar

Saman Shahi – Microlocking

Various Artists

People Places Records

(peopleplacesrecords.bandcamp.com)

! Microlocking, a

new release by the

award-winning,

Iranian-Canadian

composer Saman

Shahi, delves deeply

into the world of

microtonality. By

locking in and

interconnecting pitches, colours and layers of

sound, he creates dialogues and open-ended

statements that require an alert ear but inevitably

include elements of beauty, even in the

sometimes chaotic landscape.

Shahi keeps making surprising turns in his

compositional career. His musical trajectory is

firmly based in classical music but has included

explorations of world music, rock and electronics,

all featured on this album. The compositions

are vibrant and compelling, especially

in the way Shahi treats the solo instruments.

Microlocking I, II and III have a distinct character,

progressing from spacious to denser textures.

Microlocking I, written for six digital pianos

(three of which are tuned a quarter-tone sharp)

mesmerizes with the constant ripples of ostinato

sounds. The colours resulting from uneven

pitches bring in the sense of the past, nostalgia.

Microlocking II, on the other hand, is very much

rooted in the present immediacy of the sound.

Written for solo electric guitar, it is a dreamland

of techniques and effects, and soloist Andrew

Noseworthy pulls it off with flair. Microlocking

III for solo accordion (Matti Pulkki) and electronics

(Shahi) pushes the boundaries of the

sound even further, as if imagining the sound of

the future. The surprising but fitting conclusion

comes in the form of a remix of Microlocking

I by electronic music producer Behrooz Zandi,

binding together the aspects of Shahi's music

– the expressiveness and probing sonority,

wrapped up in minimalism.

Ivana Popovic

What we're listening to this month:

thewholenote.com/listening

Equanimity: A Futuristic Jazz Tale

ViO

Viktor Haraszti is a Hungarianborn,

Holland-based saxophonist,

composer and producer. Futuristic

style, deep melodies, sonic elements

and rhythmic fusion reflect an

experimental electronic approach.

... and then there's this

Artifacts

The ensemble's previous album

honored vanguard AACM

composers; this largely original

session continues along the same

adventurous path with a more

cohesive, collaborative sensibility.

Libre

Jesse Cooke

The new studio album from Jesse

Cook featuring Libre, Oran and

Updraft. Named album of the year

by the American syndicated show

JazzTrax.

Uprooted

Matt Sellick

In his fourth instrumental solo

album, Northwestern Ontario

flamenco guitarist and composer

Matt Sellick puts down roots

in Toronto to explore new

collaborations

thewholenote.com February 2022 | 45
---
Flute in the Wild

Jaye Marsh; Darren Hicks; Heidi Elise

Bearcroft; Andrew Morris; John Rice;

Christina Marie Faye; Richard Herriott

Centrediscs CMCCD 28921

(cmccanada.org/product-category/

recordings/centrediscs)

! A solo flute in

lofty, avian dialogue

with recorded

loon calls: this

CD's opener, Diane

Berry's five-minute

Calling (2013),

inspired Ontariobased

flutist

Jaye Marsh to ask three friends "to express

their experience of our shared landscapes"

for her debut disc, producing four works

completed in 2021.

Two are by the well-established Elizabeth

Raum. In her 16-minute Northern Lights,

flute, harp (Heidi Elise Bearcroft) and percussion

(Andrew Morris) generate phosphorescent

sonorities mirroring the aurora's

ephemeral, glittering pulsations before fading

into afterimages. Bassoonist Darren Hicks

joins Marsh and Bearcroft in the sweetly

nostalgic, 17-minute Bridal Veil Falls, five

movements illuminating sonic snapshots

from Raum's childhood visit to Manitoulin

Island: A Walk along the Path, Morning Rain,

Mist over the Falls, Porcupines (delightfully

gawky music!) and Kagawong River.

Narrator John Rice, a Wasauksing First

Nation elder, tells of traditional harvests,

songs and dances in Richard Mascall's fivemovement,

23-minute Niibin (Summer) but

the music, for flute and piano (Christina

Marie Faye) seems bland and understated;

I miss the character and energy which, by

contrast, make Mascall's orchestral Manitoulin

so powerfully stirring.

Virtuoso pianist Richard Herriott accompanies

Marsh's alto flute in his fiveminute

Twilight Song of Trinity Bay that

"reveals," writes Herriott, "a lonely church…

at fog-ridden twilight." The flute's drifting,

searching melodies, underlined by the

piano's bell-like tolling and rippling arpeggios,

immediately transported me to a

Newfoundland coastline, remote and

shrouded.

Kudos to fine flutist Jaye Marsh for this

(mostly) enchanting CD!

Michael Schulman

Lost and Found

Blackwood

Leaf Music SCCD n006 (leaf-music.ca)

! The last piece

on Lost and Found

is titled Welcome,

Peter-Anthony

Togni's attractive

slow jazz number.

But here, I'll use

that title to segue

into comments: this

disc of compositions by Togni and Jeff Reilly

is indeed welcome; and as the debut release

of the Blackwood Duo –Reilly, bass clarinet

and Togni, piano – it is most welcome, one

of the best things I heard in 2021. Ave Verum

by Togni and Reilly is remarkable for the bass

clarinetist's rich sound in the low register,

followed by wide registral leaps and dives,

and soft non-vibrato tones fading into overt

key clicks. Togni's evocative piano joins the

lower instrument with a chant passage in

the male voice register. Recorded effectively

at the reverberant Trinity St.-Stephen's

church in Amherst, Nova Scotia by engineer

Rod Sneddon, it gives me an impression of

unmeasured vastness.

In Reilly's much different title track, Lost

and Found, his clarinet opens expressively,

taking off with virtuosic runs, trills, sharp

attacks and crescendos or diminuendos while

the piano repeats chords suggestive of jazz.

His humorous self-describing Suddenly,

Snow begins with both instruments in a wild

staccato passage, after which the piano's

running bass and comping coincide with

an extremely agile bass clarinet; this piece

reminds me that brevity is a feature in the

pacing and texturing of this disc's eight

works. In contrast, Reilly's To Dream of

Silence opens with long tones in both instruments,

including exquisitely controlled pianissimos.

Bravo!

Roger Knox

Port of Call: Curaçao

Louise Bessette

Analekta AN 2 9845 (analekta.com/en)

! Acclaimed

Canadian pianist

Louise Bessette

launches her admirable

new recording

series of solo piano

works, A Piano

Around the World.

Here, in Port of

Call: Curaçao, she is the first to record these

22 pieces from Antillean Dances composed

by Curaçao composer/pianist Wim Statius

Muller (1930-2019), nicknamed the Chopin

of Curaçao. After studies at Juilliard and

teaching at Ohio State University, Muller

worked over 30 years at security and counterespionage,

returning to Curaçao and music

after his retirement!

Muller's music resonates and combines

influences of Caribbean folk music and

Chopin, whose music was introduced to

Curaçao in the Netherlands Antilles in the

19th century. Opening track Tumba di Johan

Op.2 No.1 is a mix of classical and popular as

Bessette's controlled playing with rubato, lefthand

rhythms and right-hand melodies create

a dance feeling. Piet Maal –Valse Op.2 No.13

is a more Chopin-like waltz performed with

melodic subtle colour shifts, clear phrasing

and balance between the hands, as is Muller's

renowned romantic Nostalgia – Valse Op.2

No.22. Bessette plays the more dance-along

South American sounds with perfection, like

in Kalin-Tumba Op.2 No.19, reminiscent of

Piazzolla, and faster modern Chuchubi – À la

rumba Op.4 No.5.

Bessette must be commended for taking

on such a complex illustrious solo project.

Her world-class virtuosic playing and understanding

of classical and folk styles, clear

production values and order of tracks bring

uplifting sonorities and lasting vitality to

Muller's wide-ranging piano works.

Tiina Kiik

Vintage Americana

Christina Petrowska Quilico

Navona Records nv6384

(navonarecords.com/catalog/nv6384)

! The towering

Canadian piano

virtuoso Christina

Petrowska Quilico

performs six

works on her latest

release, Vintage

Americana. This

absorbing display

of musicianship

leaves no doubt that she can interpret works

from any compositional aesthetic with

world-class execution. Lowell Liebermann's

Apparitions is an anguished work with abundant

opportunity for expressive interpretation

and Quilico brings a very personal touch

to phrasing the work. The four Fantasy Pieces

by David Del Tredici highlight her range on

the instrument. The Turtle and the Crane

composed by Frederic Rzewski is a whirling

flurry of repeated notes and rising harmonic

pillars that are continuously interrupted by

tip-toeing islands of contrasting moods that

seem to be menacingly at odds with the more

mechanical material.

In a work by the only Canadian on the

disc, American ex-pat David Jaeger delivers a

substantial tone poem of considerable expression

and artistic depth. Utilizing electronics

in the work, Jaeger produces highly compelling

and dramatic atmospheres, drawing the

listener into a dark sonic landscape. Titled

Quivi Sospiri (taken from the third canto of

Dante's Inferno), Jaeger depicts a shadowy

journey through a series of remarkably cogent

moments of piano wizardry above deep and

enigmatic electronic ambiences.

46 | February 2022 thewholenote.com
---
Mario Davidovsky's Synchronism No.6

(also using electronics) is a brilliant work.

The immediately arresting nature of artistic

expression gives pause and it is no wonder

this work was awarded the Pulitzer Prize

in 1971. Petrowska Quilico performs

Davidovsky's masterpiece with stunning

mastery and her interpretation can easily

be considered among the most significant

among the many recordings of this important

work. In her seemingly inexhaustible efforts

toward releasing recordings of the highest

quality, Petrowska Quilico delvers yet another

gift for our ears.

Adam Scime

Dai Fujikura – Glorious Clouds

Various Artists

Minabel (daifujikura.com/#discography)

Dai Fujikura – Koto Concerto

LEO

Nippon Columbia

(daifujikura.com/#discography)

! Prolific Londonbased

Japanese

composer Dai

Fujikura (b.1977)

used to dream of

composing music

for the movies.

His studies at

Trinity College

of Music of the

scores of Pierre Boulez, Tōru Takemitsu and

György Ligeti, however, propelled him decisively

in another direction: toward the

concert stage. Fujikura's compositions have

since been championed by musical notables

including the London Sinfonietta,

Ensemble Intercontemporain, Boulez and

many others. In Toronto, Arraymusic, Thin

Edge New Music Collective and the University

of Toronto's Faculty of Music coproduced

the Dai Fujikura: Mini Marathon concert

in 2020, showcasing "one of the most active

composers on the international stage."

At close to two and a half hours of music,

Fujikura's ambitious album Glorious Clouds

comprises 15 substantial works for orchestra,

ensembles and soloists, embracing concerti,

chamber music, art song, instrumental

solos and electronic genres. Sadly, I can only

touch on a few samples of this rich musical

horde here.

The impressive orchestral Glorious Clouds,

evocatively performed by the Nagoya

Philharmonic Orchestra, was inspired by

the interconnected microbiomic networks

found everywhere on Earth, rather than by

the atmospheric phenomena suggested by

the title. Recounts the composer: "I thought,

Ah!!! Various small microorganisms make

the survival of the whole world possible –

just like processes within an orchestra."

Glorious Clouds maintains a dynamic tension

between floating, swirling sonic textures and

an overall harmonic structure and thematic

progression. My ear was initially reminded of

Debussyan orchestral sonorities and colours,

yet soon enough Fujikura's emerging strident

effects, sonic shapes teetering on melody,

plus novel orchestration and formal balances

were reminders that we're in another

century entirely.

Sparkling Orbit for electronics and electric

guitar follows, incisively performed by

Daniel Lippel. Opening with atmospheric

passages, it turns abrasive and edgy, the guitar

repeating in the last section a rhythmically

complex distorted chime-like overtone

pattern over electronic craquelure. Serene,

derived from Fujikura's Recorder Concerto, is

quite distinct again. Its three solo movements

are given a powerfully dramatic performance

by recorder virtuoso Jeremias Schwarzer

on three contrasting recorders. I found the

middle movement opening, scored for the

sopranino, evocative of the nohkan, the characteristically

bracing, high-pitched Japanese

transverse bamboo flute commonly played in

Noh and Kabuki theatre. While a recent work,

I can see Serene being widely adopted as a

standard recital piece; it's that good.

Finally for this review, Motion Notions

features Mari Kimura's brilliant violin

playing. In addition, she's also strapped a

motion sensor to her bow arm wrist. It

sounds like it controls various types of

synthesized sounds and perhaps also live

processing. The result is an interactively polyphonic,

slithery texture, an unusual, and very

effective, musical dialogue between the

violinist's acoustic music and the electronic

sounds directed by her motion sensor. It's

another album favourite of mine.

Fujikura shares

album credits on a

second release with

rising star LEO (Leo

Konno b.1998 in

Yokohama) who the

label calls today's

"hottest koto artist."

The record features

the premiere

recording of the substantial single-movement

Koto Concerto with the Yomiuri Nippon

Symphony Orchestra conducted by Masato

Suzuki, plus three related solo works for koto,

all scored by Fujikura.

While the 25'42" concerto is an impressive

work judicially illustrated with the

composer's signature deft orchestration, the

three solos make a strong case for the koto

achieving its finest, most delicate, satisfying

musical moments in a solo capacity.

All the works here are rendered with sensitive

bravura by LEO and vibrantly recorded

by Nippon Columbia's engineers. Bravos

all around.

Andrew Timar

What we're listening to this month:

thewholenote.com/listening

Brahms String Quartets

The Alexander String Quartet

Declared "a stunning

achievement," this release marks

the completion of the ASQ's eightyear,

six-album, collaborative

compendium

— The Brahms Project.

As She Sings

David Tanenbaum

Luminary guitarist releases "As

She Sings", a compilation of works

written for him reflecting a rich

trajectory of aesthetics on the

instrument.

confined.speak

Ensemble Dal Niente

A collection programmed

in streaming performances

during this past year, despite the

formidable hurdles associated

with ensemble playing during the

lockdown, collaborating across

vast distances

Plays Well With Others

loadbang

This unique ensemble of baritone

voice, trumpet, trombone, and

bass clarinet pairs with a string

orchestra for adventurous,

challenging works that explore

lush soundscapes.

thewholenote.com February 2022 | 47
---
Adam Roberts – Bell Threads

andPlay; Hannah Lash; Bearthoven; Erik

Behr; JACK Quartet

New Focus Recordings FCR312

(newfocusrecordings.com)

! American

composer Adam

Roberts delivers

a selection of his

chamber music

demonstrating an

expressive compositional

voice and

creating engaging

instrumental

spaces. Roberts' approach is focused with a

brave sense of acoustic adventurousness and,

using top-notch ensembles and soloists, this

release enraptures ear and mind. Whether

through timbral exploration or enchanting

stasis, Roberts has a propensity to secure his

structures with a continuous and recognizable

motif while shifting focus toward other

musical narratives. The result is one of clever

design and intent: the music unfolds with

an initial sense of random moments, but is

grounded by carefully constructed and recognizable

gestural frameworks.

The disc begins with Shift Differential,

an excited and energetic duet for violin and

viola performed by andPlay. Roberts experiments

with many successful timbral spaces

that create momentum through constantly

evolving, almost improvisatory, passages.

Next, the Oboe Quartet performed by soloist

Erik Behr and the JACK Quartet, shows

Roberts' more lyrical side in a work that is

decidedly classical in its fast-slow-fast form.

The gem on the disc is a piece titled Rounds

for solo harp, performed by Hannah Lash.

Cascading apparitions of sound permeate

amid gentle clusters and multi-layered auras.

Lash's performance is stunning, with a musicality

that is rare and captivating. Happy/

Angry Music, a trio performed by Bearthoven,

draws upon polystylistic material and utilizes

repetition to propel the music forward. Lastly,

Bell Threads, a work for solo viola performed

by Hannah Levinson, produces a sinuous

and mysterious soundworld that is unique

on the disc. This haunting work is the perfect

bookend to a truly impressive collection of

chamber works.

Adam Scime

Forward Music Project 2.0 – in this skin

Amanda Gookin

Bright Shiny Things BSTC 0156

(brightshiny.ninja)

! Having enjoyed

the first release

of cellist Amanda

Gookin's Forward

Music Project 1.0, I

was richly rewarded

by its sequel. From

the front cover, with

a photo of Gookin perilously close to cutting

her own tongue with a pair of scissors, we

know this CD means business. "… in this

visceral journey towards radical expression…

This flesh is where we live… We are powerful

in this skin."

In this second installment of FMP, four

more composers are invited, not as guests, but

as the key tellers of the layers and complexities

of women's stories, each in their own

way. Gookin takes each one as a precious gift,

playing them with perfection and ferocity

that makes clear her undeniable belief and

dedication to every word. Translated sonically

through her cello and her own vocals,

with occasional added voices and electronics,

there is simply no track to be missed. Paola

Perstini's To Tell A Story was in itself a fascinating

journey of how the power of storytelling

can be misused and appropriated, with sound

artist Sxip Shirey's backdrop of an 1983 interview

with Susan Sontag creating brilliant

sonic graffiti.

Not only executed with stunning prowess,

Gookin's dedication to each composer's voice

channels the direct, hard-hitting messages

of the compositions, her virtuosity powerfully

propelling them even further, reminding

us that these are all our stories to be told. She

delivers them with authenticity, never taking

over. This is not an ego project. This is cello

playing at its height; delivering art.

Forward Music Project is an undertaking

that continues to leave me breathless.

Cheryl Ockrant

Wild At Heart

Pauline Kim Harris

Sono Luminus DSL-92253

(sonoluminus.com)

! The second

release in Pauline

Harris' Chaconne

Project, this album

explores interconnections

between time, individual

worlds and

music. According to

Harris, each commissioned composition is a

reincarnation of J.S. Bach's Chaconne for solo

violin and each composer has expressed their

unique individual connection to this piece.

The music on this album is wild in the

best sense of the word – an uninhibited

violin wonderland of extended techniques,

powerful, ingenious and enterprising. There

are no memorable melodies here but instead

a universe made of fragments, textures and

gestures, all centered around Chaconne. The

depth of sound is astonishing and Harris'

violin is so sonorous that one feels an incredible

sense of expansion listening to this

album. Harris has impeccable command

of her instrument. She is an artist with a

wild imagination, great stamina and extraordinary

control.

The opening piece, Yoon-Ji Lee's Shakonn,

is a volcano of sound and energy built over

a held bass note, pulling Chaconne apart

and transforming it. Morsels by Elizabeth

Hoffman follows, a web of lovely harmonics

that create both the rhythms and textures.

Sequences of single gestures are juxtaposed

with empty spaces, forming delicate

balances. Annie Gosfield's Long Waves and

Random Pulses has a powerful energy and

occasional Gypsy flavour. Using extensive

research of jammed radio signals as a foundation,

Gosfield alternates whirls of notes with a

ghostly noise to build the mystery.

The album closes with a grand C-H-A-C-O-

N-N-E, John King's composition that explores

the form to the extreme through sequences

that move from complex to simple. An

imaginative and highly recommended album.

Ivana Popovic

Richard Bissill – Panoply

Artists from the Guildhall School of Music

& Drama

Three Worlds Records TWR0011 (threeworlds-records.com)

! The opening

two-minute

Philharmonic

Fanfare for brass

and percussion,

commissioned

by the London

Philharmonic

Orchestra, boisterously heralds this CD's

many forthcoming pleasures. Richard Bissill,

former LPO principal horn and longtime

professor at London's Guildhall School of

Music and Drama, enlisted students and

fellow faculty members to perform the

music recorded here, all composed between

2001 and 2016.

Bissill himself appears in his eight-minute

Trio for horn, violin and piano, two warmly

lyrical sections embracing a graceful, lively

scherzando. Episodically varying tempi and

moods make the nine-minute Twisted Elegy

for flute, viola and harp much more "twisted"

than "elegiac." Bissill's ten-minute Sirens for

violin and piano vividly evokes the mythical

temptresses with music that's playful,

sensuous and urgently seductive.

There are two 15-minute, three-movement

pieces. The jazz-tinted Triangulation achieves

heightened impact through its unusual

textures – dense and gritty – produced by

seven bassoons and one contrabassoon.

Panoply for flute and piano, with its quicksilver

first movement, languid, Debussyinflected

central movement and theatrical

finale, is a fresh, delectable addition to the

flute repertoire.

The 12-minute The Magnificent Seventh for

eight horns, piano, bass and drums, based on

the interval of a minor seventh, moves from

fanfares and busy syncopations to a slow,

bluesy middle section before the piece, and

the CD, ends in a burst of triumph.

Bissill's inventively varied, thoroughly

48 | February 2022 thewholenote.com
---
engaging music – "progressive-conservative"

in the best sense – deserves widespread

exposure to international audiences.

Recommended!

Michael Schulman

Sara Schoenbeck

Sara Schoenbeck; Harris Eisenstadt;

Roscoe Mitchell; Mark Dresser; Peggy Lee

et al

Pyroclastic Records PR 16

(pyroclasticrecords.com)

! As a pioneer

of contemporary

bassoon, Sara

Schoenbeck's selftitled

album of duet

collaborations reads

almost like a list of

party invitees who

just happen to be the who's who of modern

improvisers.

Longtime friendships and musical partnerships

culminate in a colourful quilt as

Schoenbeck travels to recording studios

across North America during a global

pandemic to reach each collaborator. While

her pairings are unique and intimately

connected with each artist, Schoenbeck

shares that her "deepest musical relationship

is with the bassoon itself, the kernel of [her]

inspiration." It might be obvious by now, but

it is worth noting that no more important a

relationship can be intensified than an artist

with their instrument during a pandemic,

and each collaboration shines a spotlight

on Schoenbeck's skillful microtonal and

multiphonic explorations. Long, arcing tones

of bending, creaking, edgy vocalizations and

melodic expressions are showcased across a

wide and beautiful canvas of both scored and

improvised duets.

The haunting and beautiful Lullaby with

improvising guitar legend Nels Cline is soaked

with a darkly sublime blend of bassoon and

ambient electronic extensions that at times

feels like one voice, where Suspend A Bridge,

with cellist Peggy Lee, seesaws a fine balance

between intertwined harmonies and vast

textural space. The Sand Dune Trilogy, with

Nicole Mitchell on flute, seductively reminds

us of Schoenbeck's symphonic past while

simultaneously teasing it apart.

Other collaborators include Harris

Eisenstadt, Roscoe Mitchell, Mark Dresser,

Matt Mitchell and Wayne Horvitz. The closing

track, Robin Holcomb's Sugar, is a beautiful

and unexpected finale – but then, parties do

sometimes end with the most interesting,

quiet conversations.

Cheryl Ockrant

JAZZ AND IMPROVISED

You Are the Light and the Way

Alex Bird and the Jazz Mavericks

Independent (alexbird.net)

! Award-winning

singer-songwriter

Alex Bird

has done it again

on his newest

release, showcasing

his vocal

prowess as well as

great compositional

skills. Along with

pianist and songwriting partner-in-crime

Ewen Farncombe, the pair has penned 12 new

tracks with string and horn arrangements

courtesy of the latter. Backed by the stellar

Jazz Mavericks and several guest musicians

this time around, Bird's sound has grown to

newer and greater heights with this record.

This album would be a valuable addition to

the collection of any jazz lover who's looking

to dive into the deeper and darker crevices of

the genre.

The album starts off with the sultry title

track You Are The Light and the Way,

bringing the listener on a journey through

the intriguingly seedy underbelly of the jazz

world where the traditional and raunchy

merge. The unique theme that carries

throughout the record is a musical "path

that blends the light and dark" in a way that

holds the attention of the listener to the last

note. From melancholy songs such as Way

Back Home to positively toe-tapping pieces

such as Old Soul and Back To You, Bird and

the Mavericks bring a scintillating spark and

charm that liven up these dreary winter days.

This golden-voiced vocalist, reminiscent of

Sinatra and Elling, brings the album to a

close with the touching Honey Bee Lullaby,

a promise of much more to come from this

young talent in the near future.

Kati Kiilaspea

Mantra

Dave Young

Modica Music (modicamusic.com)

! Renowned and

celebrated Juno

Award-winning

bassist, Dave Young,

has outdone himself

again and created a

mellow and oh-sopleasing

vibe on

his latest release.

Assembling a nothing-short-of-stellar group

of musicians featuring the likes of Kevin

Turcotte, Reg Schwager and Terry Clarke,

Young's elegant and nimble bass playing is

supported brilliantly by the backing band

while allowing each musician their rightful

place in the spotlight as well. Having penned

over half of the tracks himself, Young's

compositional talents are also showcased in a

great manner throughout the album.

Each track crosses genres seamlessly, with

the band "elastically stretching through

different feels and styles and always snapping

back into simple but precise grooves." That's

where Young's magic lies, in his uncomplicated

melodies and chord progressions while

maintaining a spot-on rhythm and great

attention to detail and accuracy; the combination

of which creates a satisfying and pleasurable

musical whole. A standout track is The

Gypsy, featuring a unique alto saxophone,

trumpet and guitar melody and solos layered

over a constantly moving bass line and scintillating

drum beats. Ode to the Southwest

brings forth the vintage sound of Ewen

Farncombe's Hammond B3 underpinning a

mellow and effortless guitar line by Schwager.

Closing out the album is Myako's Waltz, a

beautiful swing-flavoured piece that leaves

the listener with a feeling of hope and positivity.

Any listener with a particular soft spot

for the traditional is bound to fall in love with

this record.

Kati Kiilaspea

Not This Room

Roddy Ellias Free Spirit Ensemble featuring

Kellylee Evans

Independent (roddyellias.com)

! With this latest

recording, eminent

guitarist Roddy

Ellias shines not

only as a gifted

musician, but as

a fine and facile

composer and

arranger. Every

song in this collection was written by Elias,

and the compelling, and often haunting lyrics

were written by noted Canadian poetess

Sandra Nicholls. Both the music and lyrics

here require the participation of very special

artists, and joining Elias on this deeply

personal project is the inspired vocalist and

lyrical interpreter, Kellylee Evans, as well

as a lineup of skilled musicians, including

Ellias on acoustic steel string guitar, Marc

Copland on piano, Justin Orok on nylon

string guitar, Chris Pond on bass, Jose Garcia

on percussion, Petr Cancura on reeds and

mandolin, Guy Pelletier on flute, Richard Page

on bass clarinet and Pierre-Yves Martel on

viola da gamba.

Evans' emotional intelligence permeates the

stunning title track, and beckons the listener

to participate in the journey ahead. As the

tune segues into a more rhythmic section,

the ensemble playing, including Garcia's

subtle and driving percussion, is nothing

short of breathtaking. These artists are clearly

listening to each other and are creating every

musical nuance in synchronicity – like a

single-celled being,

Of special note is the moving and

thewholenote.com February 2022 | 49
---
thought-provoking Draw Me a Circle, in

which Evans' warm and sinuous voice effortlessly

scales the pure notes of her upper

register, diving into her cello-like tones (the

perfect complement for Martel's gamba).

Other gems include the stark and mystical

Blood and Bone and the haunting, Middle

Eastern-modality-infused Suddenly. The

touching and uplifting Prayer is the perfect

closer for this evocative project of nearly

unbearable beauty and fragility.

Lesley Mitchell-Clarke

News Blues

Greg Amirault; Steve Amirault; Adrian

Vedady; Jim Doxas

CUPFA GGA002 (gregamirault.org)

! For his third

release as a leader,

Montreal-based

guitarist/composer/

producer Greg

Amirault has

brought forth an

intimate, swinging,

potent recording

– comprised of seven of his own wellconstructed

tunes, as well as two tasty standards

(both arranged in gorgeous solo guitar

formats). He is also joined here by longtime

collaborators, including his ubertalented

brother Steve Amirault on piano,

the deft Adrian Vedady on bass and Jim

Doxas on drums.

The title track – a sassy, up-tempo blues –

features superb soloing from Greg on guitar,

while the rest of the rhythm session cooks

like an incendiary device as Steve performs

a consummate solo, utilizing his ridiculous

chops and musical pumpitude. A true

standout is Sweet Way (a tip of the hat to

Dave Brubeck's In Your Own Sweet Way),

which is a groovy 5/4 cooker that brings to

mind the Mundell Lowe-esque L.A. guitar

sound of the late 1950s, replete with a

contemporized perspective. Doxas drives

everyone down the pike with an unwavering

urgency – always making the right percussive

choice – always listening and enhancing.

Also intriguing is the sweet, folk-inspired

Song for Nova Scotia – a heartwarming divergence,

celebrating the Amirault brothers'

Yarmouth roots. Steve's melodica and Greg's

guitar solo are perfect in their pristine simplicity.

Other highlights include the bittersweet

ballad, Meeting the Master, which is

dedicated to the memory of the late, great

John Abercrombie, featuring a moving and

facile bass solo from Vedady and a solo

guitar performance of Tad Dameron's rarely

performed classic, If You Could See Me Now.

Greg's brilliant interpretation invokes a hint

of Jim Hall, and captures both the longing

and hopefulness of the timeless lyric in a

performance to remind us that Amirault is

one of the most significant jazz guitarists/

composers on the scene today.

Lesley Mitchell-Clarke

From the Astral

Oli Astral (Oliver Grenier Bédard; Frédéric

Alarie; William Regnier)

Multiple Chord Music (oliastral.com)

! The word "astral"

in the title of the

album, the name of

the ensemble and

the role of electronic

instruments

played by two musicians

from the

trio may lead to

the assumption that the music that ensues

fuses the spacey and the terrestrial. In reality,

this music is far more profound. It is as if

Oli Astral – guitarist Olivier Grenier Bédard

(aka Oli Astral), bassist Frédéric Alarie and

drummer William Régnier – lean into a theosophical

belief, dwelling in an ethereal region

comprising their sound world, where each of

their artistic auras melds into music.

It is a lofty ideal, but Oli Astral makes

good on that extra-terrestrial promise. The

repertoire on From the Astral comes from a

place of considerable imagination and intuition.

The six songs are woven from elements

created by the guitarist's MIDI controllers and

digital audio processing techniques as well as

the bassist's modular synthesizers that retain

the feel of orchestral textures. Add the palette

that the drummer's percussion colours create

and you have rhythmic frescoes onto which

are projected a poignant musical artwork

with purity of tone where jazz guitar meets

the electronic realm.

The music of From the Astral also suggests

that this trio's inspiration lies at the juxtaposition

of jazz and neoclassicism. The idiomatic

adaptation of what ensues from those

imaginary crossroads is altogether atmospheric,

best experienced on charts such as

L'envoi and Spectre Sonore.

Raul da Gama

The History of Us

Carn Davidson 9

Three Pines Records TPR-005

(threepinesrecords.ca/home/

carndavidson9)

! The History of Us

is the latest studio

album from the

Carn Davidson 9,

and the third since

the group's inception

in 2010.

The 50-minutesworth

of music

heard on this disc stands on its own enough

to pique the interest of any jazz fan, and

behind the excellent compositions, solos

and interplay, lies much personal inspiration.

Listeners are treated to multi-movement

suites by both of the group's namesake

members, William Carn and Tara Davidson,

sandwiched around the brief but poignant

Goodbye Old Friend, a tribute to their late

feline Murphy – namesake to their last

release in 2017.

Both suites heard on the album utilise

personal narratives from Carn and Davidson's

lives. Carn's Finding Home Suite documents

his parents' migration from Hong

Kong to Canada, and Davidson's Suite 1985

is described as "a collection of love letters

to her family." Alongside these non-musical

themes, there is an ever-present balance

between composition and improvisation.

After first hearing the Finding Home Suite, I

was craving more improvisation amidst the

composed notes. But this ratio is definitely

a creative choice, and a valid one given the

quality of the writing. Each member of the

nonet is an excellent soloist as well as a great

section player, and Kevin Turcotte exemplifies

this perfectly, soloing on the first movement

of both suites. The album has a superb flow

to it, and benefits from being recorded exceptionally

well too. I recommend The History

of Us for casual listeners and diehard jazz

fans alike!

Sam Dickinson

Genius Loci North

Jeannette Lambert; Reg Schwager; Michel

Lambert

Independent

(jeannettelambert.bandcamp.com)

! I enjoy reviewing

more abstract

music, as I rarely

run out of things to

discuss. This applies

to subtler and more

ambient projects,

as well as more

boisterous spontaneous

improvisations. This is why I was

excited to have Montreal vocalist Jeannette

Lambert's Genius Loci North grace my desk.

Lambert, her brother Reg Schwager on guitar,

and husband Michel Lambert on percussion,

all have a knack for playing improvised

music that is both creative and mature. There

is a genuineness to their interactions as a

group that allows the smoother moments to

sound fresh and the more angular offerings to

remain inobtrusive.

While the recording is made up of 15 individual

tracks, they flow naturally into one

another and give the entirety of the album

an undulating feel. This leaves an untrained

listener with a lengthy but interesting meditation,

while maintaining enough ebbs and

flows to keep even the most expert set of ears

enthralled.

Lambert's vocals sound simple and pure

enough to emphasize the poetry she has

written, but the way she shapes her pitch

over Schwager's chordal textures is virtuosic

as well. The same can be said of Michel

Lambert's percussion, which seamlessly

traverses grooves and out-of-time textures.

To know that most of these tracks were

50 | February 2022 thewholenote.com
---
ecorded in one take, moments after the

words had been written, is another testament

to the creative ability of these players.

While far from being "straight ahead," Genius

Loci North offers something interesting for all

listeners.

Sam Dickinson

Glow

François Carrier; Diego Caicedo; Pablo

Schvarzman; Michel Lambert

Colya Koo Music

(francoiscarrier.bandcamp.com)

! While two

Canadians and two

South Americans

meeting in a

Barcelona bar has

all the elements

of a shaggy dog

story, that's what

happened with

Glow; although instead of a punchline what

we get here is a session of superior improvised

music. Canadians, alto saxophonist

François Carrier and drummer Michel

Lambert, along with Colombian guitarist

Diego Caicedo and Argentinean Pablo

Schvarzman, who employs guitar and electronics,

both now Spanish residents, operate

as one unit during the CD's five tracks.

Emphasizing voltage extensions

throughout, not only do the guitarists project

expected twangs, frails and strums, but

Schvarzman's electronics also produce an

undulating drone as well as throbbing vibrations

which frequently mirror double bass

sluices. Lambert's irregular drum patterning

is used for coloration not rhythmic pulse,

which leaves performances twisted every

which way by Carrier and Caicedo.

Hammering or picking his strings, the

guitarist moves from reflective accompaniment

to brittle adagio shakes. The saxophonist

doesn't play standard licks but overlays each

track with a variety of effects from screaming

fragmented bites to harsh breathy honks

and slurs. Unique tropes evolve throughout

to establish collective equilibrium. This is

aptly demonstrated when the set climaxes

with Heart Core, the penultimate track.

Repeated string ratcheting strokes coupled

with reed motifs soaring from dyspeptic

scoops to bagpipe-like drones to staccato

tongue flutters, reach such a point of pressurized

intensity that they seem unstoppable,

but quickly and easily downturn to relaxed

timbres later on.

Glow is no joke just fine exploratory music.

Ken Waxman

Spring 2021

René Lussier; Erick d'Orion; Robbie Kuster;

Martin Tétreault

Victo CD 134 (victo.qc.ca)

! The Victo record

label is almost

as venerable as

the Victoriaville,

Quebec FIMAV

festival that gave it

birth, and this disc

is a signal moment

in the history

of both. The performance comes from the

May 2021 festival, a hardy, insistent edition

with a Quebec focus following the pandemiccancelled

2020 festival. The recording marks

the label's 35th anniversary with special

significance: the first recording issued was a

guitar duet that also featured René Lussier,

then in the company of Fred Frith.

In keeping with the festival's ideal of

musique actuel, current music, this resists

classification, a collective improvisational,

combining Lussier's electric guitar and daxophone

(a bowed, fretted instrument), Robbie

Kuster's drums, Érick d'Orion's computer and

electronics and Martin Tétreault's turntables.

It blurs categories of electronic music, free

jazz and anarcho-rock, the latter sometimes

suggested by Kuster's steady beat anchoring

disparate elements.

The music's aim is neither clarity nor easy

consumption; its strengths are in its vision,

energy and a palpable sense of resistance.

Lussier's guitar is often the central voice,

hard-edged, icy, sometimes distorted, at times

limpidly lyrical. He can supply a focal element

whether creating a keening, electric wail or

shifting to the barely amplified wandering

of L'avant dernière. L'autre, a nine-minute

segment near the temporal centre of the

work, develops mysterious and distinct

layers and events that are almost sculpturally

arrayed in the sound field, the seemingly

independent parts ultimately evolving into

part of a collective vision.

Stuart Broomer

Knotted Threads

Yves Charuest; Benedict Taylor

Tour de Bras tdb 90048/Inexhaustible

Editions ie040

(tourdebras.bandcamp.com)

! Montreal-based

alto saxophonist

Yves Charuest is a

free improviser of

the highest order,

a musician of rare

depth and originality.

During a sixmonth

residency

in London in 2017, he heard English violist

Benedict Taylor, felt an immediate affinity

and soon began a collaboration that joins two

of the closest listeners in improvised music.

In 2019, Charuest arranged some Montreal

performances for the duo and dancer Alanna

Kraaijiveld, during which time he and Taylor

recorded Knotted Threads.

There are innate difficulties in describing

any music, but the problems compound

with free improvisation. While one is free

to say almost anything, finding something

relevant is a challenge. Charuest and

Taylor, generously, provide an ideal metaphor

for their work: a series of titles taken

from arcane knots used by fishermen, sailors

and craftsmen for centuries, thereby highlighting

both the practice and goal of their

special idiom. Each is a virtuoso of extended

as well as conventional techniques, each an

explorer of sonority, attacks and decays – to

the extent that their sounds, like their pitch

ranges, intersect. Gauzy and gritty harmonics,

whether bowed or blown; percussive knocks,

whether plucked string or struck keypad;

subtle shifts in dynamics or sudden glissandi:

they all intertwine in myriad ways, whether

designated as Ossel Hitch, Round Lashing,

Poldo Tackle or Bimini Twist.

There are moments when the whole voyage

is revealed. On Chain Sinnet, the viola sounds

like a rope stretching against a gunwale, the

saxophone like gulls, landed in the bow –

yet all of it human, rope and gull crying as

one. It's an hour of music with the precision

and gravitas of several chapters of Homer's

Odyssey or Moby Dick.

Stuart Broomer

You Can't Take It With You

Chet Doxas

Whirlwind Recordings WW4778

(chetdoxas.com)

! You Can't

Take It with You

is a creative and

swinging drummerless

offering from

Montreal-born

New York-based

saxophonist, Chet

Doxas. Doxas'

tenure in NYC has led him to play with the

who's who of American musicians, including

a long-term collaboration with Steve Swallow

and Carla Bley, who encouraged Doxas to put

together this trio project over conversations

during a European tour. Pianist Ethan Iverson

and bassist Thomas Morgan are perfectly

suited for the ten original pieces Doxas

penned for the recording, which comes as no

surprise given their individual reputations for

making creative yet grounded music.

The album's title track is almost bluesy

in nature, making it a perfect introduction

to this often abstract but always grooving

recording. I was surprised to read that its

inspiration comes from compositions by

Count Basie, but this makes sense after a

second listen. The following track Lodestar

also takes its inspiration from a source I didn't

immediately recognize; saxophone legend

thewholenote.com February 2022 | 51
---
Lester Young. Tributes of this sort are often

penned in a heavy-handed manner, so I very

much appreciate Doxas using influences as

jumping off points rather than strict rules.

The theme of obscuring influences permeates

the entire album and feels apropos given

the manner in which these three musicians

improvise. Doxas' compositions are detailed

enough to unify the album's sound, but openended

enough to allow these unique improvisers

to shine. This makes You Can't Take It

with You entertaining to listen to over and

over again.

Sam Dickinson

Erlebnisse.

Noam Lemish

Independent (noamlemish.com)

! In these times of

reworked, remade

and rebooted

albums, movies

and musicals, it

is truly refreshing

to encounter a

CD of improvised

music where each

track has been recorded once… period. Noam

Lemish's debut solo album, Erlebnisse, is an

engaging example of this.

Toronto-based Lemish wears many hats,

traversing diverse musical boundaries and

incorporating numerous musical traditions

into his art. A jazz pianist, pedagogue,

composer, ensemble leader/director and

accompanist, he is clearly a musician who

happily defies categorization.

Erlebnisse is a word/concept in German

that means "deeply felt experiences." What

Lemish offers us on 16 tracks – each one

an Erlebnis – is indeed an array of deeply

felt experiences conveyed to us through the

medium of music with all of its evocative

powers on display. And, as Lemish explained

to me, with "little interference from our

meaning-making mind."

Listening to this extraordinary CD – one

would be well-advised to do so, repeatedly,

as an uninterrupted whole (preferably with

a glass of red wine in hand) – Lemish takes

us along on his soul-baring, improvisational

journey, which is nothing short of stunning

(and which may even feel a touch voyeuristic

for the listener, given the deeply felt depths

that he plumbs). Infused with elements of

jazz, classical and Middle Eastern music,

Jewish folk and Israeli popular song, Lemish's

extemporizations are at times poignant,

propulsive, yearning, melancholic, contemplative

and quixotic. And they are masterful.

Erlebnisse is improvisation at its most

inventive and intimate!

Sharna Searle

Shifting Sands

Don Macdonald

(donmacdonald.bandcamp.com/album/

shifting-sands)

! Awardwinning

Canadian

composer/

performer/educator,

Don Macdonald,

composed,

produced and

performs/improvises

on violin on

his nine original jazz works here. His unique

orchestration adds violin and mandolin to

a traditional jazz rhythm section – guitar,

piano, acoustic bass, drums—performed by

predominately Canadian musicians. Each

tune is jazz based, yet intriguing touches

from other musical influences and the instrumentation

makes these jazz fusion sounds

appealing to all music lovers.

Opening track Shifting Sands is so very

happy and sets the musical stage. Pianist

Dave Restivo's quiet piano intro leads to a

faster groove. Great full-band jazz to pop

sounds, especially when guitarist Mike Rud's

solo contrasts with Macdonald's violin high

pitches. Dali's Hourglass is darker, with

contrapuntal detached piano chord opening

until violin lead begins – a little bit of everything

jazz with touches of minimalism in

repeated lines. In Bayou, drummer Steven

Parish's solo opening sets up a Cajun groove

in this tightly performed modern take on

the familiar New Orleans style. Dreams of

Ozymandias is slow and moody with closeknit

instrumental conversations and underlying

subtle rhythms. Four diverse tracks

follow until the "sands shift" back to happy in

the closing Homecoming with its fun, funky

and florid party-time music. Bassists Rob

Fahie and Jill McKenna, and mandolinists

Dylan Ferris and Boston-based Jason Anick,

also perform on select tracks.

This is a must-listen-to joyous release.

Macdonald's virtuosic works and violin

playing never disappoint. All the stellar musicians

play exuberantly, with care and respect.

Tiina Kiik

Together Song

Avi Granite; Daniel Carter

Pet Mantis Records PMR013

(petmantisrecords.com)

! Through three

pieces of varying

length, multiinstrumentalist

Daniel Carter (flute,

clarinet, trumpet,

tenor saxophone)

and electric

guitarist Avi Granite

demonstrate the value of patience in a purely

improvisational setting. This isn't to say that

more kinetic free-form music with a shorter

attention span isn't a compelling alternative

approach, but Carter and Granite's musical

relationship is a thing of beauty. They not

only seem to be listening closely to one other,

they're in perpetual dialogue concerning the

ultimate destination of the form itself. It's not

just about finishing each other's sentences,

it's about taking an idea and expanding

upon it in a manner that opens up new

possibilities.

Carter and Granite both accompany in a

way that feels far more like amplification

than mere coexistence. Granite's rhythmic

reflexes constantly provide the context and

environment in which Carter's vignettes

thrive. On the other hand, the intent and

clarity of Carter's own articulation gives the

overall work a sense of unrelenting movement.

Each piece feels like it's constantly

developing, and yet perhaps the characteristic

that best defines this album is space. Rather

than trying to continually build upon each

passage until they hit a plateau, Carter and

Granite opt to meditate on their surroundings,

letting the music naturally mature rather

than forcing a progression. In art, there are

few things more inspiring than a creative

bond this powerful.

Yoshi Maclear Wall

Zephyr

Steph Richards

Relative Pitch Records RPR 1132

(relativepitchrecords.bandcamp.com)

! Dedicated to

exploring an instrument's

every niche

and extended technique

is Canadianin-California

trumpeter/flugelhornist

Steph

Richards, joined

by percussive pianist Joshua White with a

similar aim here. In the form of three multitrack

suites, the two explore visceral episodes

that go beyond brass, wood, strings, air and

pressure.

As Richards slides from one emphasized

tone to another, she sometimes augments

the output by plunging her bell into a watery

vessel. The moist results add distinctive tinges

to muted plunger tones. Sacred Sea expresses

that in its most extended form when mated

with broken-octave blowing reflecting

outward after being aimed at piano innards.

White's string preparations jangle sympathetically

there. But elsewhere with pedal extensions,

slaps against the instrument's wood

and keyboard clips and arpeggios that are

inclined more towards stride than solemnity,

his accompaniment is dynamic as well

as linear.

Half-valve effects and rippling smears

during all of the Northern Lights suite allow

Richards to alternately advance greasy snarls

and lyrical slides, finally culminating in handmuted

gutbucket tones that squeak upwards

52 | February 2022 thewholenote.com
---
on top of keyboard rumbles. However, no

matter how experimental the brass-keyboard

duets appear to be, during the set of Sequoia

tunes and elsewhere, a feeling of joyous

balance remains. With her clarion peeps

sounding as if they're from a piccolo trumpet,

it seems a riff based on Largo al Factotum is

being sounded.

Zephyr may be a gentle breeze but the

blowing here offers a lot more than that.

Ken Waxman

What Is There To Say

Cory Weeds with Strings

Cellar Music CM110620 (cellarlive.com)

! So much classical

and contemporary

music

features strings in

orchestras, quartets

and many

other formats.

When added

into other genres the "string sound" can

become a delicious addition to a country,

pop or jazz recording (think of Frank Sinatra

performing arrangements by Nelson Riddle

or Gordon Jenkins). The Charlie Parker with

Strings recordings are a milestone in jazz and

were his best-selling albums.

Cory Weeds' What is There to

Say continues this tradition by pairing a jazz

quartet with an 11-piece string section playing

standards and three Weeds originals (Waltz

for Someone Special, Alana Marie and Love

is Wild). The overall sound and performances

here are exquisite. Phil Dwyer must be

commended for creating such engaging and

articulate arrangements and playing some

great piano as well. Weeds is well known as a

producer and all round jazz entrepreneur (his

good work includes founding and managing

Cellar Live) but primarily he is an excellent

saxophone player with many albums to his

credit as leader.

Throughout What is There to Say? Weeds

illustrates how playing the melody, with

his full and assured tone, is perfect in some

spots while in others (like the moderately

up-tempo There's A Boat Leavin' Soon for

New York, or trading fours with Dwyer at the

end of Love Is Wild), some great bop lines

add zest to the proceedings. So really, What

is There to Say? except, listen to this album

for its elegance, fine performances and

solid groove.

Ted Parkinson

Lorraine's Lullabye

Anthony Wonsey

Cellar Music CM012421 (cellarlive.com)

! Pianist Anthony

Wonsey's style

consists equally

of tastefulness

and invention.

His renditions of

Richard Rodgers' I

Didn't Know What

Time It Was and

It Might as Well be Spring are full of tunefulness

and clarity, while still maintaining

a distinctive group sound. In particular, the

way in which he plays around with groove

and contour alongside drummer Chris Beck

gives these classics a reinvigoration seldom

seen elsewhere. The central fulcrum of this

album, however, is Wonsey's own composing,

in which he establishes his abilities as both a

consummate songwriter and attentive facilitator

of his rhythm section. The harmony

itself is shimmering with assuring familiarity

and yet there is an element of unpredictability

that entices the listener.

Rhythmically, the penmanship and improvisation

seem to inform one another. On

Blacker Black's Revenge, Wonsey and bassist

Dmitri Kolesnik's phrasings are conversational

yet serpentine, starting as abruptly as

they finish, while seamlessly leading back

to the primary motif. Wonsey's own playing

possesses key characteristics of control and

range. More often than not his solos have the

feeling of ease, leaving enough room to punctuate

lines and accentuating the rhythmic

pocket. His undying commitment to the

cohesiveness of his ensemble makes those

rare moments when he takes flight (see: Do

You Remember Me) notably more impactful.

Every track on here is golden.

Yoshi Maclear Wall

Equanimity – A Futuristic Jazz Tale

Viktor Haraszti (ViO)

ViO Music VM-0001-CD (viomusic.art)

! ViO is the alter

ego project of multiinstrumentalist

Viktor Haraszti,

in which he seeks

complete creative

liberation from jazz

conventions. On

ViO's latest album,

which self-categorizes as a "futuristic jazz

tale," it is safe to say that Haraszti realizes

his vision, both in ambition and execution.

Unlike ViO's prior work, this is undeniably

a Haraszti solo effort. With the exception of

three spoken word passages courtesy of Lisa

Marie Simmons, and occasional percussion

courtesy of Dave King and Marshall Curtly,

every single aspect of this music is dictated

by Haraszti. He plays every instrument (one

of his favourite moves being layering multiple

reed instruments to create harmonic lattices),

is responsible for the rich production, and

composes/arranges each second of music.

The stylistic qualities of Equanimity vary

from enveloping ambient passages to solemn

contemplations that soundtrack Simmons'

words while also giving them context.

Between the heavier moments of the suite lie

surprising instances of levity. Chapter Five is

a change in pace and mood that I hadn't realized

the music needed. It retains the compelling

spectacle of prior tracks, but creates an

atmosphere of hopefulness by taking a turn

into danceable territory. Haraszti introduces

elements one by one throughout this masterfully

paced experience, including successful

flirtations with electronics, giving the overall

sonic palette a new, unexpected dimension.

The climactic Chapter Seven even borders on

electro-pop at times.

Yoshi Maclear Wall

Architecture of Storms

Remy Le Boeuf's Assembly of Shadows

Soundspore Records SS202101

(remyleboeuf.com)

! I've been a fan

of the Le Boeuf

brothers (Remy

and Pascal) since

their concert at

the Kitchener/

Waterloo Jazz Room

in 2017. Their music

combines composed

and improvised sections where the orchestration

is as compelling as individual soloists.

In 2019 Remy Le Boeuf released Assembly

of Shadows which contained seven of his

compositions for a big band. In 2021 Le

Boeuf released Architecture of Storms billed

(slightly confusingly) as Remy Le Boeuf's

Assembly of Shadows, signifying the connection

between the two albums and the

importance of the ensemble. In fact, four of

these tracks were recorded in 2019 during

the Assembly of Shadows sessions and three

were recorded in 2021.

Architecture of Storms is, again, an exciting

contemporary big band album. Le Boeuf's

compositions are complex and utilize the full

palette offered by almost 30 excellent musicians.

Repeated listenings are rewarded by the

mood changes, shifting melodies and invigorating

solos over ostinatos and nuanced brass

and woodwind orchestrations. This album

includes an expansive arrangement of the Bon

Iver song Minnesota, WI and The Melancholy

Architecture of Storms is sung by Julia

Easterlin with lyrics by the poet Sara Pirkle.

With both Assembly of Shadows and The

Architecture of Storms Le Boeuf has shown

imaginative composition skills and should

be commended for producing such a large

collaborative work during a pandemic.

Ted Parkinson

thewholenote.com February 2022 | 53
---
A Love Sonnet for Billie Holiday

Wadada Leo Smith; Jack DeJohnette; Vijay

Iyer

TUM Records TUM CD 060

(tumrecords.com)

The Chicago Symphonies

Wadada Leo Smith's Great Lakes Quartet

TUM Records TUM Box 004

(tumrecords.com)

! Wadada Leo

Smith is one of the

most important

artists of his generation.

Although functionally

a trumpeter,

his real instrument

is his far-reaching

compositions, the

artistry of which is subsumed in worlds that

are aural and visual. Moreover the eloquent

narratives that propel the elasticized rhythmic

units that make up his iconic Ankhrasmation

Symbol Language are so intensely and

eloquently poetic that a literary dimension

may also be ascribed to his musical art.

Smith rose to eminence when he became a

very early member of the Association for the

Advancement of Creative Musicians (AACM),

founded in Chicago by Muhal Richard

Abrams. Then, with reeds master Anthony

Braxton and violinist Leroy Jenkins, Smith

began to create music that soared, outward

bound. It began with his concept of rhythm

units born of a belief that every musician

participating in a musical excursion was a

singular inventor in the congregate setting of

ensemble music. This led to a musical canon

that grew spectacularly with every new work.

More than 50 albums later and celebrating

his 80th year around the sun, Smith has led

various ensembles to produce three new

releases – the 3-CD solo Trumpet, Sacred

Ceremonies with Milford Graves and Bill

Laswell (reviewed by Ken Waxman in The

WholeNote Vol.27/1) and the 4-CD The Chicago

Symphonies with Smith's Great Lakes Quartet

included below – plus a single album that

brings together drummer Jack DeJohnette and

pianist Vijay Iyer in a unique collaboration

titled A Love Sonnet for Billie Holiday.

Each of the members of this latter trio

brought pieces to explore during this musical

encounter. The uniqueness of Smith's art

is in what might be referred to as the small

print – the intimate moments that only a

genuine artist understands and has the ability

to inspire in others. We experience majesty

in his The A.D. Opera: A Long Vision with

Imagination, Creativity and Fire, a dance

opera (For Anthony Davis). Iyer's Time No.1

and DeJohnette's Song for World Forgiveness

are also impressive. Throughout the album

phrases are tellingly placed, every colour

skilfully applied, whether with a subtle

smudge of the thumb or the bolder stroke of

the brush.

The Chicago Symphonies box set comprises

four separate

extended works of

epic length. Each

symphonic work

is unique; Black

History lessons

told in song. The

significance and

matchless nature

of each orchestral

work expresses the birth pangs and often

painful nature of the African-American in

history from Lincoln to Obama, steeped –

and expressed – in the Blues. It is impeccably

performed by Smith with Jack DeJohnette and

Henry Threadgill, a titan of music expressed

in woodwinds and reeds, together with

bassist John Lindberg. Saxophonist Jonathon

Haffner replaces Threadgill on Symphony

No. 4. Each work is rendered with ruminative

prayerfulness and unforced rhetoric. You'll

hear throughout – especially on Symphony

No. 2 – the kind of textural complexity, intuitive

pacing and abstract brilliance of melody,

harmony and rhythm, grounded in piercing

sunbursts of luminosity, that takes your

breath away.

Raul da Gama

…and then there's this

Artifacts: Tomeka Reid; Nicole Mitchell;

Mike Reed

Astral Spirits AS129

(astralspirits.bandcamp.com)

! The musical

density and raw

vibrancy, of the

work by Artifacts

– cellist Tomeka

Reid, flutist Nicole

Mitchell and

drummer Mike

Reed – often sounds

as if it has sprung into being from a point

before time as we know it, as well as from a

future way beyond time. It evokes elemental

human or natural forces from the rhythm of

the natural world, sculpted in short and long

inventions, by the joyously pendulous swing

of time.

…and then there's this owes much to being

formed in the Association for Advancement

of Creative Musicians. Black to the Future

Afrofuturism is in the spine of the trio's

wondrously dark, vivacious musical palette.

Homage is duly paid to Muhal Richard

Abrams and Roscoe Mitchell on Soprano

Song and No Side Effects. The rest of the

music comprises originals by the trio – Reid,

Mitchell and Reed – and is made in the

melodic, harmonic and rhythmic image of

gleanings from (to coin a phrase) the Tao of

AACM, But each song embodies the unique

personality of the composer and the collective

Reid's voice is loose, joyously effusive, and

redolent of soaring pizzicato leaps and capricious

arco shrieks. Mitchell's is magical, more

tightly informed but with a similar depth of

feeling and abounding in contrapuntal vigour

and strange harmonies. Reed is a percussion

colourist par excellence, tempering the rattle

of drum skins with provocative hissing of

cymbals. In Response, Blessed and Pleasure

Palace are the album's high points.

Raul da Gama

POT POURRI

Some Comfort Here

Charlotte Moore; Mark Camilleri

Independent (open.spotify.com/

album/0BnDapG1mPFfKfCUZhwLfI)

! If, like me, you

know Charlotte

Moore as one

of Canada's top

musical theatre

performers, this

new album is a

fun window on

another side of

her performing personality. And yet, though

the songs are more pop than theatre, they

still display her signature ability to get to the

essence of a song – making it seem she is

making up both words and music on the spot.

The intimacy created by this ability is

inviting and the choice of often wistfully

melancholic songs of love and friendship

from Joni Mitchell's Help Me (I think I'm

falling in love again) to Tom Waits' Rainbow

Sleeves and Old Friend (from the musical I'm

Getting My Act Together and Taking it on the

Road), is cathartic listening material after

almost two years of living through this seemingly

unending pandemic.

Moore also lets loose in a couple of much

more lighthearted jazzy numbers that suit

her voice brilliantly: Chantal Kreviazuk and

Raine Maida's 2006 hit All I Can Do, and

the 1932 classic Hummin' to Myself (Sammy

Fain et al).

Moore's voice is at its best when relaxed in

her lower register where tears and laughter

can hover near the surface. When she aims

higher into a belt her voice loses some of its

rich quality and yet the very rawness of this

"almost live-to-tape" recording of Moore's

voice backed by the masterful piano of Mark

Camilleri is attractive and pulls us into the

mix offered up of tears, hope and laughter.

Jennifer Parr

Canadiana

Canadian Brass

Linus Entertainment 270596

(linusentertainment.com)

! One of the most

iconic instrumental

ensembles

in Canada has

just released its

tribute to fellow

Canadian musical

54 | February 2022 thewholenote.com
---
icons, Canadiana. Given the theme, it's

unsurprising that the covers should include

Joni Mitchell, Leonard Cohen and Bruce

Cockburn. What is surprising – and entertaining

– is the presence of songs by

Drake, Shawn Mendes and even EDM

artist, Deadmau5.

Although the Canadian Brass is an incredibly

prolific ensemble, having released

137 recordings since its inception in 1970,

there's been a hiatus of several years since

their previous CD. The driving force behind

Canadiana is trumpeter Brandon Ridenour

who first joined the Brass when he was just

20 years old. He moved on to other projects

and a successful solo career before returning

in 2019 and conceiving, co-producing and

writing all the arrangements for this project.

Recorded during the pandemic, with the

musicians working individually in their home

studios, the album is a marvel of engineering

and mastering.

Canadiana fittingly opens with Je Me

Souviens, the song by Lara Fabian which

became a Quebec anthem of sorts, and

the mix of melancholy and triumph of the

original are captured here. The standout

tracks for me are the surprisingly gorgeous

Deadmau5 song I Remember (I'll take tuba

over a drum track any day), the playful Best

Part by Daniel Caesar (the young R&B singersongwriter

is being hailed as the Next Big

Canadian Thing) and Rush's Overture 2112,

which is a complete gas. This version of

Shawn Mendes's hit Senorita just makes me

wish piccolo trumpet was used all the time

in pop music. Although additional instruments

like percussion and electric guitar were

enlisted to beef up the brass on a few of the

tracks, the closing tribute to Leonard Cohen,

Hallelujah, relies sparingly and beautifully on

just brass.

Cathy Riches

Libre

Jesse Cook

Coach House Music (jessecook.com)

Uprooted

Matt Sellick and friends

Independent (mattsellick.com)

! Two Canadian

guitarists,

renowned for their

flamenco-based

music that incorporates

other

musical influences,

both have exciting

new releases.

My online research shows that flamenco

guitar music originated in Spain and is

comprised of singing, dancing, guitar and

percussive rhythms enhanced by hand

claps, foot stomping and the like. Musician/

composer/producer Jesse Cook performs his

Spanish guitar stylings with amazing Algerian

multi-instrumentalist Fethi Nadjem, modern

trap rhythms and 808 beats in ten tracks,

exploring new sounds based in flamenco

tradition with touches of jazz, pop and world

music. Seven tracks are composed by Cook.

Number 5 has the repeated distant spoken

words "number five" as Cook's mellow single

line guitar transforms into virtuosic melody

with runs.

Nadjem's entry adds a different colour to

the guitar lines leading to tight violin and

guitar improvisations above the rhythms.

Love the traditional palmas hand-clapping

rhythms with the guitar/violin playing in

the upbeat Jaleo. The title track has more

radio-friendly tonal singalong guitar above

simpler drum grooves. Three Cook/Nadjem

co-compositions here include Hey! featuring

more rock music sentiments with flamenco

flourishes, dance-along rhythm grooves and

ascending violin lines. Guest performers also

appear on select tracks. Cook's and Nadjem's

sky-high precise conversational playing,

and Cook's musicianship and technical/

production expertise, make for outstanding

original music.

Younger flamenco guitarist/composer Matt

Sellick's fourth solo album is also superb.

Having moved – aka uprooted – to Toronto

from Thunder Bay, Sellick builds on his own

original intense flamenco sound in collaboration

with some of his favourite Toronto

musicians here,

including Jesse

Cook with whom he

tours internationally.

Sellick plays

solo on the opening

Quiet World highlighted

by technically

challenging fast

runs with slight spaces between phrases, as

if two musicians were playing. Upbeat High

Park is a happy-fast flamenco guitar walk/

dance in the park grounded by electric bass

(Dan Minchom) and rhythmic cajón and

palmas (Matias Recharte). Cook is featured

on Soot and his characteristic guitar strums

and fast melodious solo lines add his personal

touch to Sellick's rocking earworm flamenco

sound. Full-band sound is surprisingly

created with just Sellick's guitar and Marito

Marques' percussion in the faster duet Going

Home. Colourful high- and low-pitched

guitar alternating melodic phrases and strums

above drums build intensity to the accented

closing. Saxophonist Chelsea McBride is also

featured on one track.

Thank you to Jesse Cook and Matt Sellick

for admirably expanding and recording their

uplifting flamenco guitar sounds during these

difficult COVID pandemic times.

Tiina Kiik

Something in the Air

For Many Advanced Improvisers

All Roads Lead to Berlin

KEN WAXMAN

When Toronto trumpeter Lina Allemano recently set up shop part of the year in Berlin

it wasn't much of a surprise. She joined other musicians from Canada and around

the world who have made the German capital arguably second only to New York as a

place to perform creative music. Cheaper living accommodations and efficient travel links to

other areas of Europe are part of the appeal. So is the welcome given to new ideas in all the

arts. Whether COVID, gentrification and evolving political currents will change this, as it did

for Paris in the 1920s, is an open question. But right now, the situation remains stable.

Manchester, England's loss was Berlin's gain years ago when pianist

Julie Sassoon moved across the channel. Voyages (Jazzwerkstatt JW

218 jazzwerkstatt.eu) is an ample exhibition of her talents as player

and composer. With her quartet of Dutch saxophonist/clarinetist

Lothar Ohlmeier, Austrian drummer Rudi Fischerlehner and

German bassist Meinrad Kneer, the half-dozen tracks reflect moods

from buoyant to bleak. The first adjective introduces the set on

Missed Calls as stop-time pulses from the bassist and drummer

undergird Ohlmeier's snarly then stuttering tones, as the pianist's

rolling glissandi boost intensity that eventually turns to moderated and impressionistic vamps.

Cymbal etching and reed whistles confirm the second sentiment on Jerusalem, as a buzzing

thewholenote.com February 2022 | 55
---
arco bass line and fragmented slurs and slides from the saxophonist

swirl through multiphonic vibrations to eventual reed/keyboard

harmony. Each composition is geared to individual quartet members'

skills, with tracks fully defined when all kick in after an individual's

introduction. Distinctive motifs like the drummer's sophisticated

slapping, the bassist's double-stroking ostinatos, the reedist's outputting

of gentle or strained tones and piano motifs that can be delicately

cooperative or contrapuntally challenging, are all part of the mix. It

also means that Sassoon has created a spectrum of group music that

highlights her writing skill.

If Sassoon had to cross the Channel to establish

herself in Berlin, other Berlin improvisers

come from even farther afield.

Vibraphonist Emilio Gordoa is Mexican and

the cooperative GRIFF trio (Inexhaustible

Editions ie G25 emiliogordoa.com) features

Danish bassist Adam Pultz Melbye who also

resides in Berlin and Austrian pianist Ingrid

Schmoliner, who so far, still lives in Vienna.

With the pianist mostly dedicated to plucking, pinching or stoppering

the instrument's internal strings and Gordoa clanking, rasping or

slapping his instrument's metal bars, the harmonies produced are, in

the main, percussive. Currents of sound refract among all three when

the bassist adds string pops so that timbres become threatening rather

than tuneful. Yet when bell-pealing-like vibraphone tones and

dynamic keyboard patterning intersect, reflective lyricism is also

present. Making effective use of silences – there's no sound on the

concluding Moss Rock until keyboard chops and vibe reverb are heard

two minutes in and the exposition still proceeds with many pauses

– the unique set-up also infers extended sound colours. This occurs

when Schmoliner's assembly line of echoes and clinks meets up with

equivalent patterning from vibe reverb with the motor switched off.

While some sequences are taken staccato and allegro, coordination is

most notable on Bell Skin, as a polyrhythmic climax is attained by

blending metal bar thwacks, double bass string buzzing and prepared

piano string shakes and clatters, completed by a coda of paced ringing

of single vibraphone notes.

Another Berlin-based international group

is the Takatsuki Trio of Finnish bassist

Antti Virtaranta, German string player

Joshua Weitzel and Japanese pianist Rieko

Okuda. On At KühlSpot (577 Records 5874

577records.com) the trio is joined by

Berlin alto saxophonist Silke Eberhard for

a single, almost 39-minute improvisation.

Without needing a percussion instrument, Virtaranta's authoritative

string pulse and Weitzel's creation of dobro-like clanks from

the three-string shamisen or authoritative guitar strums, provide

enough rhythmic frails to back the pianist's metronomic rumbles

and staccato stabs as well as the saxophonist's inventive trills, squalls

and flutters. With bass strokes keeping the exposition linear, Okuda

has latitude to circle in and out of supplemental melodies and occasionally

strum internal strings. Meanwhile Eberhard's theme reconstitution

sometimes takes the form of aviary peeps, flutter tonguing

or altissimo split tones. At points these unroll in one direction as

the pianist moves in another. With concise snatches of reed lyricism

sometimes bubbling to the surface, uncommon connections

are made between them and bass-emphasized piano pulses.

Doubling the tempo at the halfway point with galloping piano lines

and crammed reed note spewing, variations solidify and return to

the initial theme. Timbres from each quartet member then subtly

combine for a formal ending signified by a thick double bass thump

and guitar clanks.

Not all Berlin improvising is acoustic as Das Kondensat 2 (Why Play

Jazz WPJ 057 whyplayjazz.com) shows. Created by three veteran

German players, who now live in Berlin, Gebhard Ullmann soprano

and tenor saxophones, looper and sampler; Oliver Potratz, electric

bass, bass synthesizer and analog effects;

and Eric Schaefer with drums and modular

synthesizer, multiply the number of sound

sources available. During 2's 11 tracks, the

trio members are able to straddle the

boundaries among solid beats, adept electronica

and free improvisation. While a

couple of the tracks vibrate with atmospheric

buzzes where voltage overlay leads

to crossover shakes, alliances with tougher material is evident from

Pendulum, the second track, on. As the bassist and drummer

actualize a tough funk beat with string buzzes and solid cymbal taps,

the saxophonist barks and bites wavering reed elaborations as

circular tongue fluttering and irregular vibrations validate a link to

energy music. That connection is proven on the separated I Was Born

in Cleveland, Ohio (Part 1) and I Was Born in Cleveland, Ohio

(Part 2), where the voice of tenor saxophonist Albert Ayler, the Ohio

city's most famous free jazzer, introduces the music and is heard

faintly in the background as Ullmann's tenor saxophone spews a

variety of altissimo screams, triple tonguing and choked vibrations,

while the others create a churning backbeat. Although (Part 2) adds

higher-pitched reed squeaks and programmed wiggles beside

percussion snaps, a calmer interlude on (Part 1) references Ayler's

spiritual side. Most of the other tunes migrate to a sophisticated form

of fusion with designated bass thumb pops and fuzztones and a

resonating backbeat. Yet Schaefer's skill at switching to Latin

rhythms or propelling tunes with only drum stick whacks, plus

Potratz's single string emphasis and broken chord advances negate

any resemblance to heavy metal. Similarly, while the band's use of

swirling electronics adds a layer of oscillating textures that thicken

the narratives, Ullman's insertions of nasal slurs, tone flutters, whistles

and squeaks roughen the expositions enough to confirm the

non-simplicity of the playing and writing.

While improvisers keep arriving, Berlin has

been attracting musicians from elsewhere

for decades. But now players who are more

recent settlers get to exchange ideas with

older residents who they may formerly have

only known by reputation, even if they're

from the same country. That's the situation

on Swinging at Topsi's (Astral Spirits

AS 176 astralspirits.bandcamp.com) which

assembles three Swedish improvisers. One of the pioneers of free

jazz, drummer Sven-Åke Johansson has been a Berliner since 1968.

Bassist Joel Grip made the move early in this century; while guitarist

Niklas Fite, who is also 52 years younger than Johansson, was only

visiting. Transparently descriptive, the CD title reflects exactly what

transpired on this club date. As a coda to their extended improvisations,

the trio members take on two familiar standards in full, lilting

swing-era mode with Johansson vocalizing on Isn't It Romantic and

Out Of Nowhere. Jumping forward eight decades, the group adapts

the flow that comes from consistent rhythm guitar strums, forceful

double bass thumps and subtle percussion chromaticism to make

the two extended improvisations cadence carefully as well as highlight

exploration. Resounding drum rattles and cymbal swishes allow

Grip to explore below-the-bridge thwacks when he isn't timekeeping

and Fite to insert unexpected frails and runs when he isn't fastened

on a rhythmic function with flat top twanging. Interestingly, Set 1 is

tougher and livelier than the second one, as the guitar moves between

spidery and solid comping and the percussionist alternating between

barely-there drum top rubs and sudden rumbling explosions. While

he has his share of lyrical pulses and lacerating string set probes, Grip

maintains the pulse that logically bonds the improvisations and bleeds

their textures into those of the subsequent pop ditties.

Over the years Berlin has been the centre of many, mostly political

situations that have drawn it in many directions. The direction it has

established now though is as a haven for improvised music.

56 | February 2022 thewholenote.com
---
Old Wine,

New Bottles

Fine Old Recordings Re-Released

BRUCE SURTEES

Opening the newly released Mariss Jansons

– The Edition (Chor & Symphonieorchester

des Bayerischen Rundfunks BR Klassik

BRK900200 naxosdirect.com/search/

brk900200) was like opening a jewel box

of wonderful gems. I thoroughly enjoyed

discovering all of them, both performances

of repertoire with which I was already

familiar and newly discovered works. As we

have come to expect from this source, the sound quality is astonishingly

good. Audiophiles will be especially pleased.

Mariss Jansons was born in Riga, Latvia on December 1, 1943 during

the time of the Nazi occupation. His mother, Iraida was Jewish and

had been spirited out of the Riga Ghetto for the delivery of her son. As

the Nazis had murdered both her brother and her father, leaving the

ghetto was a necessary precaution.

Jansons' first violin teacher was his father, Arvids, who played in

the Riga opera and was also assistant at the Leningrad Philharmonic

Orchestra to Evgeny Mravinsky and Kurt Sanderling. Jansons also

studied piano and conducting at the Leningrad Conservatory, and

later in Austria with Hans Swarovski. He studied with Karajan in

Salzburg in 1969 and two years later won second prize in the Karajan

Conducting Competition. Karajan later invited the young Jansons

to become his assistant in Berlin but the invitation was intercepted

by Soviet authorities. Jansons did not become aware of that missed

opportunity until many years later.

In 1979, Jansons became music director of the Oslo Philharmonic

where he remained until 2000, despite a near fatal heart attack in

1996 while conducting La Bohème. The orchestra and conductor

finally parted company over his long-running dissatisfaction with

the poor acoustics of the Oslo Concert Hall. He was principal guest

conductor with the London Philharmonic Orchestra in 1992. He was

appointed director of the Pittsburgh Symphony Orchestra in 1997 with

a three-year contract to be renewed yearly, but instead in 2002, he

gave two years notice. He followed Ricardo Chailly as music director of

the Concertgebouw Orchestra of Amsterdam in 2004. Jansons inherited

a flawless orchestra, admired around the musical world from the

reign of Willem Mengelberg (1895 to 1945) and continuing through

those who followed. Jansons' refinement of their sound was subtle but

noticeable to the extent that Gramophone magazine's international

panel of music critics declared that this orchestra

was now "The World's Greatest."

Jansons had also been associated with

the Bavarian Radio Symphony Orchestra

(Bayerischen Rundfunks) in Munich, founded by

Eugen Jochum in 1949, now one of the very best

orchestras anywhere. When he decided to cut

back his conducting commitments due to age

and ill health, he was forced to choose between

the Concertgebouw and the BRSO. Surprising

some observers, he chose the Bavarians. In retrospect,

and based on this new 70-disc set, his

years in Munich amounted to his Golden Age as

one magnificent performance followed another.

The box contains 57 CDs, 11 SACDs and two

DVDs. That's a lot of music that would take more than two 40-hour

weeks to hear and see just once. As to be expected in collections

such as this, there are acclaimed performances of all the symphonies

of Beethoven and Brahms, Bruckner's numbers three to nine and

Mahler's one through nine. The performances chosen are as fresh as

paint and the result is often to take pause and play it again.

As an example, Beethoven's Third Symphony is no stranger to

these ears and hearing it is not the experience it once was. However,

hearing the Eroica from this set was an unfamiliar experience akin

to synesthesia. I was drawn in and somehow was among, but not one

of, the players. Upon replay there was still the persuasive illusion of

being there.

Richard Strauss is well represented with thrilling versions of

Don Juan, and fresh sweeping performances of the suite from

Rosenkavalier, Also Sprach Zarathustra, Ein Heldenleben, not

to mention Burleske, Tod und Verklärung, Four Last Songs (with

soprano Anja Harteros), Till Eulenspiegels lustige Streiche and the

Four Symphonic Interludes from Intermezzo.

Tchaikovsky has six works in the big Jansons box: Symphonies

Four, Five and Six; Francesca da Rimini, Overture to Romeo and

Juliet and a complete performance of his opera, Pique Dame. Not

related to Pyotr Ilyich is Alexander Tchaikovsky, a Russian composer

born in 1946 whose Symphony No.4, Op.78 for tenor, choir and

orchestra provides a workout for everyone, particularly the percussion.

This could be a new modern favourite.

Another perfect example of new life in old favorites is Saint-Saëns'

Symphony No.3, the "Organ Symphony." From the exquisitely hushed

opening to the grandeur that follows, one's attention never wanders.

Throughout the rest of the recording the organ does not dominate

but is omnipresent. In the last movement, where the organ can often

swamp the other instruments, there is beautiful restraint and space to

appreciate the rest of Saint-Saëns' famous score. The organist is Iveta

Apkalna who is also the soloist in the impressive Poulenc Concerto

for Organ, String Orchestra and Timpani. Another welcome work by

Poulenc is his Stabat Mater for soprano, mixed chorus and orchestra

along with Arvo Pärt's Berliner Messe for chorus and string orchestra

and Stravinsky's Symphony of Psalms. The Stabat Mater by Dvořák is

also included.

The Symphonie fantastique would seem to be a natural for Jansons.

We are gifted with excerpts of rehearsals for the enormously powerful

performance of the complete work to be found elsewhere in this

collection. Jansons addresses the orchestra in German only but there

is no mistaking what he is telling the players, and exactly what he

wants to hear from them. On the second of the three rehearsal discs

we hear the Tchaikovsky Fifth Symphony and on the third, Jansons at

work on Till Eulenspiegel. I believe that listening to these rehearsals

before the complete performances may well enhance the pleasure in

hearing how the passages undertaken fit into the whole.

Of course, in a collection of works by 42 composers there are more

treasures that require an honorable mention, including a video of

an in-concert Gurrelieder with my favourite Wood Dove, Mihoko

Fujimura, who is also heard in other works in this set. Other astonishing

performances include the Verdi Requiem, Rite of Spring,

Petrouchka, Firebird Suite, Rhapsody in Blue and a powerful Pictures

at an Exhibition.

This unique collection includes a 72-page

LP-size fine-art booklet containing details on

every recording and tributes from Jansons'

colleagues. It's a really beautiful addition to this

very impressive package. In all, this is a thoughtfully

curated selection that highlights the great

conducting performances with the Bavarian

Radio Symphony Orchestra and Chorus spanning

Jansons' distinguished career with them

between 2003 and 2019, the year of his death

(br-so.com/cd-dvd/mariss-jansons-theedition).

thewholenote.com February 2022 | 57
---
OTHER FINE VINTAGES

Live

Roswell Rudd; Duck Baker

Dot Time Records (dottimerecords.com)

! A master of blues, ragtime and folk

idioms, Duck Baker has long applied his

fingerstyle acoustic guitar skills to modern

idioms as well, from recording the compositions

of bop masters like Thelonious Monk

and Herbie Nichols to free improvisation.

This CD pairs him with a musical hero of

his youth, Roswell Rudd, the first significant

trombonist of free jazz but also a throwback

who restored his instrument's traditional jazz voice, with all its burps,

smears and bellows along with its legato sweetness as well. Assembled

from club recordings in New York City in 2002 and Albuquerque, New

Mexico in 2004, these performances range from broad entertainment

to high art.

Jelly Roll Morton's Buddy Bolden's Blues exemplifies Rudd and

Baker's shared joy in roots jazz, with Rudd's vocalic expressionism

and Baker's crisp blues phrases coming to the fore. Melancholy People

is just that, the lachrymose Streisand anthem drenched in as much

excess sentimentality as can be dredged up for the occasion. There

are a few Monk tunes in versions that are both expressive and precise

with the two dedicated interpreters managing that fine balance on

Well, You Needn't and Bemsha Swing. Baker's long solo stretch on

Light Blue is a joyous account of a lesser-known Monk composition.

The duo is capable of playfulness and genuine sentiment, creating

a sense of authentic dialogue on Going West, while the extended

Church is lifted by Rudd's exuberant use of mutes.

Stuart Broomer

Best of the Best Live

Sharon, Lois & Bram

Elephant Records CAS-CD-42150 (sharonloisandbram.com)

! Award-winning Canadian children's/

family entertainers Sharon, Lois & Bram

toured and performed extensively for

decades since their founding in 1978 to

astounding success with their generationsspanning

fans and audience members. They

also had their own television shows. After

Lois retired in 2000 and then died in 2015,

Sharon and Bram continued as a duet. This

is the trio's first new album release in 21 years, featuring 22 unedited

live tracks recorded during their North American performances in

different venues from 1989 to1995.

Listeners will not be disappointed with the choice of songs, the

trio's verbal banter, the performances and the quality of the recordings.

The tracks are seamlessly connected in attention-grabbing

sequence. Classic song versions like She'll Be Coming Round the

Mountain and Alphabet Song feature them encouraging audience

singing and movement participation, to backing band upbeat accompaniments.

The witty How Much is that Doggie in the Window? has

Bram barking and teaching the audience to sing as violin countermelody,

waltz tempo and closing harmonies drive the song.

Sharon, Lois & Bram's signature song Skinnamarink is a (to be

expected) highlight, replete with audience singing exchanges and a

background rocking-band closing. The included (and well-deserved)

audience cheers and applause make one feel like you are live in

the audience.

The respectful performing relationship between Sharon, Lois &

Bram and their band flourishes in tight harmonies, changing tempi,

and dance and singalong moments, making this a "greatest of the

great live" collection for fans of all ages!

Tiina Kiik

Reviewed in this issue

34 J.S. Bach / Karlheinz Essl: Gold.Berg.Werk

Xenia Prestova Bennett & Ed Bennet

34 20C Remix

Standing Wave Society

35 Inner Landscapes

Xander Simmons, Collectif Novart

35 Pozgarria da

Petar Klanac & ensemble 0

New to the Listening Room

36 Fire & Grace

Alma

37 The Sound and the Fury

The Shea - Kim Duo

39 Brian Field - Vocal Works

Brian Field

40 Johann Sebastian Bach: Goldberg Variations

Sarah Hagen

42 Mozart. Post Scriptum

Sergei Kvitko

44 Metamorphosen

Maiburg Ensemble

46 Vintage Americana

Christina Petrowska Quillico

47 Glorious Clouds

Dai Fujikura

48 Bell Threads

Adam Roberts

49 You Are the Light and the Way

Alex Bird & the Jazz Mavericks

53 Equanimity: A Futuristic Jazz Tale

ViO

Previously reviewed, in Volume 27 no. 3

55 ... and then there's this

Artifacts

55 Libre

Jesse Cooke

55 Uprooted

Matt Sellick:

37 As She Sings

David Tanenbaum

37 Brahms String Quartets

The Alexander String Quartet

45 confined.speak

Ensemble Dal Niente

46 Plays Well With Others

loadbang

Read the reviews here, then visit

thewholenote.com/listening

58 | February 2022 thewholenote.com
---
BOOKSHELF

Two Takes on a

Tumultuous Time

Mark Miller

Oneliness The Life and Music of

Brian Barley

Éric Normand

L'Atelier de musique expérimentale

(tour de bras)

STUART BROOMER

The late 1960s/early 1970s were a tumultuous time for various

musical genres with new forms arising, often aligned with social

and political foment. These recent works focus intensely on

that period in Canada through the related lenses of jazz and improvised

music. Mark Miller's Oneliness: The Life and Music of Brian

Barley is a biography of the forward-looking, Toronto-born jazz saxophonist,

while L'Atelier de musique expérimentale, assembled by

musician-producer Éric Normand, focuses on a performance space for

Montreal's experimental musicians. The works share a vital connection

in artist/writer Raymond Gervais, Barley's Montreal roommate

and a founder of L'Atelier de musique expérimentale.

Miller is the essential chronicler of Canadian jazz, the focus of eight

of his 13 books, including recent biographies of Claude Ranger and

Sonny Greenwich. While those musicians made extended contributions,

Brian Barley, who died in 1971 at age 28, was a tragic figure

of immense promise. Oneliness (the term comes from the mystic

G.I. Gurdjieff, an interest of some in Barley's circle), is alive with the

detail that distinguishes Miller's writing. It's an evocative tracing of

Barley's Toronto, from his Etobicoke childhood to Royal Conservatory

and University of Toronto training to long-lost jazz venues like the

First Floor Club, and his time spent in Vancouver and Montreal before

his death in a Spadina Avenue rooming house. Barley, a gifted classical

clarinet student, singled out for early praise, was increasingly

preoccupied with the expressive possibilities of jazz. From membership

in the National Youth Orchestra of Canada, Barley advanced to

work with the Cleveland and Vancouver orchestras.

As he built jazz skills in Vancouver, a defining event occurred in his

life. Driving to Seattle in May 1966 to hear the Bill Evans Trio, Barley

crashed, suffering brain injuries. He spent weeks in hospital and was

left with epilepsy and a dependency on medications that caused

intense headaches and other symptoms, which he self-medicated with

cannabis as he followed his jazz muse east to Montreal. There he met his

most compatible musical partner, drummer Claude Ranger, with whom

he recorded his enduring testament, The Brian Barley Trio, 1970.

Miller's scrupulous account of Barley's life is constructed out of the

traces left by periodical reviews and the memories of fellow musicians.

Miller first chronicled Barley in 1982, in a segment of Fourteen

Lives: Jazz in Canada, and his research includes 40-year-old interviews,

creating a portrait that would otherwise be impossible to

assemble today. Oneliness has a tragic dimension: and Miller's scrupulously

gathered details develop a looming resonance issuing from

the chasm that separates Barley's promise from the accomplishment

ultimately betrayed by that head injury.

By contrast, the French

language L'Atelier de

musique expérimentale,

which documents a shortlived

collective performance

space (AME), is

virtually a playground,

whether considered as

a book accompanied by

a CD or vice versa. It's a

sequence of distinct writings

that range from reproduced

typescripts to

grey-scale copies of newspaper

articles. Historian Eric Fillion and musician/producer Éric

Normand have previously been responsible for chronicling Quebec's

radically politicized free jazz in both book and CD form, Fillion in

his Jazz Libre et la révolution québécoise: Musique-action, 1967-

1975 (M Éditeur: 2019), Normand in the four-disc Musique-Politique:

Anthologie 1971-1974 by Le Quatuor de Jazz Libre du Québec (tourdebras.com).

L'Atelier… has a scholarly account of the collective by

Fillion, followed by illuminating typescripts by Raymond Gervais,

including an omnibus account of the scene.

Barley sometimes seems limited by the scenes in which he works,

while the Atelier is at the cutting edge of its era. The CD of previously

unreleased improvisations by Le Trio Expansible (clarinetist Robert M.

Lepage, guitarist Bernard Gagnon and bassist Yves Bouliane) presents

unstructured interactions that are still slightly startling, often percussive

and usually exploring unusual timbre, whether minimalist, pointillist

or conversational. The close listening is such that similarities arise

among the instrument's sounds.

Oneliness concludes with Gervais' 1986 audio-visual tribute to

Barley, called "Oneliness", with a soundtrack provided by a Gurdjieff

piano piece; Atelier… includes a photo of Gervais, circa 1977, setting up

an installation with four turntables.

Oneliness can be ordered at: https://volumesdirect.com/collections/

music/products/oneliness-the-life-and-music-of-brian-barley.

L'Atelier de musique expérimentale can be ordered at

www.tourdebras.com.

Stuart Broomer writes frequently on music (mostly improvised)

and is the author of Time and Anthony Braxton. His column

"Ezz-thetics" appears regularly at pointofdeparture.org.

thewholenote.com February 2022 | 59
---
REAR VIEW

MIRROR

Signing

Up For

Variant Nu

ROBERT HARRIS

"I am Omicron-sidelined, but mending. But if I

had known they were going to run this pandemic

using the Greek alphabet, I'd have signed up for

Nu? instead."

A friend of mine who has just come down with COVID emailed

me that joke. A Jewish friend I should add, to explain the joke to

those of you who have no reason to know that Nu is not only a letter

of the Greek alphabet still available to name variants after, but

also, in Yiddish, a word that translates roughly to "So?" in English,

and like "So?" can carry all kinds of connotations depending on

whether it is accompanied by a fatalistic shrug or a "so what"

eye-roll.

In this case, the "nu?" would be a statement of communal resignation,

the very best kind. "Nu – I have COVID? Who doesn't?" In

other words, we're all in this together.

I admire my friend's tenacity and good humour, because the rest

of us aren't making jokes about COVID – we're just plain fed up

with all of this – tired of talking about, thinking about, reading

about, and living through it. Aren't we?

The answer is yes, we are. So why, sir, are you writing another

column about it? Why don't you just leave bad enough alone?

Just this once more, I promise, because I'm beginning to think

something significant has happened in virus-land over the past

few weeks and months, where classical music is concerned, and it's

worth noting – and deliberating upon. So, please and thank you.

Hitting pause

I might be imagining this, because it's been a very long time

since I had a cassette player, but I seem to recall that if you were

listening to a cassette tape and put it on pause, and then forgot

about it and just left it that way,

eventually the machine, if it was

a good machine, would turn

itself off, to avoid straining that

pause mechanism and breaking

it. If it wasn't a good one, it

made for an ugly picture.

That metaphor I think

perfectly captures where we are

as far as the classical scene finds

itself in North America these

days. It's different in Europe –

they've been trucking along,

masked and distanced, for some time in European halls. But here,

with a few exceptions, very few, actually, we've basically been

without concert music for two full years, and it's not over yet. So I

feel as though my finely engineered internal aesthetic mechanism

has kicked in, acting just like that cassette override. What was once

merely a pause is now a full stop. Something that was originally

merely interrupted, ready to pick up again right where it left off,

at a second's notice, has now ground to a halt and will need to be

begun all over again.

To my way of thinking, that's a game-changing difference.

In the first place, for many musicians, the interruption in their

performing cycles, in the rhythm and pace of their usual musicmaking,

normally buoyed periodically and repeatedly by exposure

to the living presence of an audience, has left their aesthetic sense

congealed into a tight web of absence. It is one thing to be held

mute and artistically celibate for a short, anxious period of time,

with your instincts still ready and warm. It is something quite

different to feel yourself forgetting the emotional rush of connection

to an audience, a connection that is quite different from your

tie to your instrument or to the music you're playing.

Those latter two connections might still be intact – you still practice,

you still play, you still create music – but the final rush of

completion (which can only happen when other bodies are brought

into range of the music and it vibrates within them as well as

within yourself) is missing. I worry that musicians, after a while

(to protect themselves from terminal loneliness) will find the sense

of connection has gone from pause to stop. Does hitting "play"

again automatically restart things? Or do they have to be learned

all over again?

60 | February 2022 thewholenote.com
---
For audiences too, I wonder if something

of the same is not also beginning to

happen. We have been tantalized so often

with the imminent end of this gigantic

emptiness, only to find it extended again

and again; I wouldn't be surprised if we

have given up hope for now. (I think of

poor Gustavo Gimeno and the Toronto

Symphony, waiting in suspense for over

a year to perform, finally appearing in

concert together to begin a new era, only

to have that beginning snapped shut after

three programs comprising seven concerts

from November 10 to 20.

To be sure, my concerns might be the

worst kind of overthinking. The memory

and love of concert-going is so ingrained

and intense for many of us that it will take

nothing at all for us to regain our previous

love affair with classical performance. Once

this is done, it will be as though it never

happened. Perhaps.

But something within me says that will

not be the case, and that's not an altogether

bad thing. Classical music is not

a completely obvious part of our lives,

even for those of us who depend on it for

aesthetic and emotional sustenance. It is

fuelled by habit and convention, as much as

anything. How we are going to react when we hit "play" on conventions

and habits that have been shut down entirely, broken off, or

stretched out of shape as thoroughly as they have been during the

past 23 months.

Do I still want the same regimen of programming? I don't know.

But it's entirely possible that I am ready for, and will not only want

but expect, something new.

TSO and COC

There are more than a few indications that classical music

has used the pandemic to rethink some of its basic programming

assumptions, around inclusivity and diversity, repertoire,

concert form and everything else. I know that, if nothing else, the

musical institutions to which many of us will return are going to

be quite different. To cite a couple of examples, here in Toronto (not

completely because of the pandemic), both the Toronto Symphony

and the Canadian Opera Company find themselves both under new

management teams and facing quite different challenges than they

could have anticipated in March of 2020.

The TSO has just hired Mark Williams, most recently with The

Cleveland Orchestra, as their new CEO. As we've noted before,

sheer bad pandemic luck has so far left Maestro Gimeno champing

at the bit while being held back by circumstance from establishing

his vision and sound and presence with the Orchestra. Through

no one's fault, it has been a long time since the TSO could count on

continuity of artistic leadership. With Gimeno and Williams having

collaborated effectively together in Cleveland, over a number

of years, maybe the orchestra's leadership luck has turned for

the better.

I should also note that, for whatever reason, there has also been

quite a sizable turnover among the players at the TSO, especially

among first-desk positions; so there too the chemistry is changing.

It's hard to imagine the orchestra simply picking up where it left

off when it finally starts performing again. And even harder to

imagine that they would want to, even if they could. The world of

symphonic classical performance in March of 2022 is just not the

same as it was in March of 2020.

To say that the Canadian Opera Company seems like a completely

different place under general director Perryn Leech than it was

under Alexander Neef feels like an understatement. Not all of this

change can be laid at the feet of the pandemic; in fact, two years

"Trucking along masked and distanced" at La Scala in Milan, Italy, May 2021

of COVID-induced performance paralysis at the COC, for all its

trauma, may have been something of a blessing in disguise for

the institution. It seems clear that the COC Board had decided on

a different sort of artistic vision for the company in the wake of

Alexander Neef's departure (which was accelerated, but not caused

by the pandemic). It is a vision based on community and outreach,

audience building and accessibility, including digital accessibility.

The COC's opening trio of productions under Leech – Madame

Butterfly, La Traviata and The Magic Flute (interrupted sadly, by

Omicron) – are quite a change from the more challenging repertoire

we got used to under Neef. Having a buffer of a couple of

seasons to separate the two visions may turn out to be to the COC's

great advantage.

Pangs

Paradoxically, it's well-managed companies like Tafelmusik and

Opera Atelier (to name but two of dozens),who maintained stable

leadership during the pandemic, who are feeling the sharpest pangs

of hunger from the long live-performing drought that has afflicted

them. Well-functioning artistic companies need the adrenaline rush

of production, before live human beings, repeatedly and constantly.

It is their drug; it keeps them at the peak of their aesthetic capability.

The lively arts have been in withdrawal for too long.

And we, the public on the other side of the footlights, have

similarly withdrawn. We are about to return: weaker, perhaps;

hungrier, perhaps; with changed sensibilities? For sure we should

assume that we will not just get to hit "start". The old machine of

my musical self, like my old cassette deck, spent a long time in

pause. Then it either felt like it finally had enough and prudently

shut down. Or it didn't, and has either burnt itself out or stretched

the tape badly enough to distort our previous pleasure at what

was on it.

But it will be a new beginning, I suspect. Game-changingly

different? It needs to be. Because every new beginning has the

potential for tragedy, comedy and everything in between.

Robert Harris is a writer and broadcaster on music in all its

forms. He is the former classical music critic of The Globe and Mail

and the author of the Stratford Lectures and Song of a Nation: The

Untold Story of O Canada.Story of O Canada.

REUTERS/FLAVIO LO SCALZO

thewholenote.com February 2022 | 61
---
BACK IN

FOCUS

Worth weighing in on

Previously covered in

The WholeNote,

and topical again

Compiled and edited by David Perlman

The renewed Joseph Burr Tyrrell Park

Joseph Burr Tyrrell has his own Canadian Heritage minute (or,

spoiler alert, just google "Albertosaurus" to find him doing what

he loved best.) He also has at least one school and a Toronto park,

on Brunswick Avenue, named after him. Well, more like a parkette

aspiring to be a park, actually. One of a dozen or so "don't blink

or you'll-miss-it" strips of green along the Line 2 subway right-ofway,

between the backs of the north-side Bloor St. buildings, and the

adjacent neighbourhoods (in this case the Annex).

For a parkette, aspiring to parkhood is a good thing, by the way. The

city is dotted with gems of the genre: right-sized, community-defined,

and neighbourhood-enhancing – healthy common ground. Typically,

at some point enough neighbours are enthusiastic enough about park

revitalization for the city to get involved, and city and neighbourhood

stakeholders thrash out a plan for renewal. As reported by Joshua

Chong, (Toronto Star, January 24), the renewed Joseph Burr Tyrrell

Park, unveiled in December, included in its new and improved play

area, wonder of wonders, an octave set of colour-coded tubular bells,

with beautifully satisfying hammer handles for any neighbourhood

child wanting to whale away at the bells. Musical pennies from heaven!

Until "one neighbour complained," and the bells were gone within

days. 'Right idea but wrong location" tends to carry a lot of weight

when rate-payers (a.k.a. voters) get irate.

Richard Marsella, executive director of

Regent Park Music School, wrote a wideranging

March 2021 WholeNote article on

the whole idea of "Musical Playgrounds,

Virtual and Real", and how and where

to implement them. "With community

music models out there such as Luke

Jerram's Play Me, I'm Yours project

(which has seen over 2,000 street pianos One of the pianos from the

installed in 65 cities) and others that

Play Me, I'm Yours project

allow public access to musical experience, the notion of noise in a

public space cannot simply be ignored", he acknowledges.

"[But]" he continues, "on this particular topic, I have always

supported the concept of choosing, even helping shape, the noise

and sonic landscape of one's community. I can think of a lot less

constructive soundscapes in a city or neighbourhood than a

musical playground."

Amen to that.

Tale of Two

Butterflies

It was shaping up to be an

intriguing study in contrasts.

On the one hand was the

Canadian Opera Company's

Madama Butterfly scheduled

to run from February 4 to

26, to be conducted by rising

Canadian conductor Keri-

Lynn Wilson, and featuring

the COC directing debut of

Aria Umezawa, co-founder of

Toronto-based, experimental

Amplified Opera. With lots

of mutterings all round about

the COC resorting to warhorse

repertoire for their

safety-first relaunch, and

Aria Umezawa

amid more general rumblings

about the outdated premises of the opera itself, it was going to

be very interesting to see what kind of contemporary rabbits the

artistic team was going to be able to pull out of the hat. Outright

cancellation of the run unfortunately means we won't get to find

out first hand.

The COC cancellation is all the more disappointing because

February 11, a week into the run, their Butterfly was on an

eagerly anticipated collision course with a Confluence Concerts

online-only presentation titled Butterfly Project: The Ballad of

Chō-Chō San, described as a "meditation on the ongoing controversies

surrounding Puccini's Madama Butterfly [and] the problematic

nature of this opera in today's environment of growing

cultural awareness." The presentation features Teiya Kasahara, who

describes themself as "a queer, trans/non-binary, multi and interdisciplinary

creator-performer based in Tkarón:to." Most interesting

in this context, perhaps, Kasahara is co-founder, with Aria

Umezawa, of Amplified Opera. So maybe we will get some hints

after all, in the Confluence show, regarding the trajectory the

COC's cancelled Butterfly was on. So I'd say double underline

Confluence's February 11 show, rather than crossing it off your list.

And, before that, for some interesting insights into what

motivates Amplified Opera and its founders, take a look at Sara

Constant's "Deep and Slow Thought: Amplified Opera's artistfirst

mandate" in the July 2020 WholeNote.

Teiya Kasahara

62 | February 2022 thewholenote.com
---
2608_JulyAugcover.indd 1

Edana Higham

and Zac Pulak

2021-06-24 6:54 PM

2021- 1-30 2:53 PM

Connecting the dots

Angela Hewitt at Trasimeno

Pianist Angela Hewitt, as

mentioned elsewhere in the magazine

("Orchestras and others buying

into hope") will be in town as a

guest of the TSO, February 16, 17

and 19, leading the orchestra from

the keyboard in a program that

includes Bach, Mozart, Camille

Saint-Saëns and Gerald Finzi.

Fast forward to the summer

and it will be Hewitt as host

rather than guest we will see, in

her role as founder/curator of the

Trasimeno Festival in Perugia, Italy.

(For the really curious, feature

writer Pamela Margles caught up with Hewitt at Trasimeno in an

October 2007 cover story (Vol 13 no 2) that stands the test of time.

It's not the TSO that will be going to Trasimeno, though. Hewitt's

Trasimeno guests will be Opera Atelier, making its debut. Hewitt

has invited Opera Atelier co-founder Jeannette Lajeunesse Zingg to

choreograph and perform along with the Artists of Atelier Ballet,

joined by OA regular ensemble member, soprano Mireille Asselin

singing "music by Purcell that demonstrates the influence of

Baroque dancing on 17th and 18th century vocal music."

Here's the nice coincidence, though: Sunday February 19, the third

of Hewitt's TSO performances also happens to be Opera Atelier's

first of two shows, in their long-delayed return to live performance,

at Koerner Hall. It's a Valentine's Day-themed "fully staged production"

titled All Is Love, with

Measha Brueggergosman Lee

Measha Brueggergosman Lee,

Opera Atelier's artist-in-residence,

headlining a stellar

ensemble cast, including

performing the title piece, a

mashup of Henry Purcell and

Renaldo Hahn created specifically

for Brueggergosman Lee by

composer Christopher Bagan,

and with the show culminating

in the opening scene of

Debussy's Pelléas et Mélisande.

Hewitt will be busy on

February 19; but, who knows,

maybe on February 20 she and

the Opera Atelier team will get to

connect some of the dots about

Trasimeno after the Atelier show.

Jeannette Lajeunesse Zingg and Dominic Who

in Opera Atelier's The Resurrection

BRUCE ZINGER

Need a back issue?

circulation@thewholenote.com

or call 416-323-2232 ext 33.

Never miss another – subscribe now!

subscriptions@thewholenote.com

December & January 2020 / 21

Concerts, live and livestreamed

Record reviews & Listening Room

Stories and interviews

Volume 26 No 5

FEBRUARY 5 TO MARCH 19 2021

Music by date, live and livestreamed

Recordings - 81 recent DISCoveries

Stories & Interviews

Beautiful Exceptions Sing-Alone Messiahs

Livingston's Vocal Pleasures Chamber Beethoven

Online Opera (Plexiglass & A l) Playlist for the

Winter of our Discontent The Oud & the Fuzz

Who is Alex Trebek?

and more

Vol 26 No 4

SO, how much ground

would a groundhog hog?

SPRINGING FORWARD

AND OTHER FALLBACKS

Women From Space

Musical Playgrounds

The Virtues of Necessity

Teaching Up Close & Impersonal

When SHHH!! means "Listen!"

… and more

Judith Yan, conductor

2605_Feb_cover.in d 1 2021-02-03 6:14 PM

2604_DecCover.in d 1 2020-12-01 1:42 PM

Volume 26 No 7

MAY AND JUNE 2021

Meet

The Makers

Volume 26 No 8

SUMMER 2021

Volume 26 No 6

MARCH 20 TO MAY 7 2021

Music by date, live and livestreamed

Recordings reviewed - 96 recent DISCoveries

Stories, interviews, listening room.

Events by date, live and livestreamed

Stories & interviews

100 recordings reviewed

Listening Room

2606_March_cover.in d 1 2021-03-13 8: 2 AM

Music by date, live and

livestreamed

Recordings reviewed -

101 recent DISCoveries

Stories, interviews,

listening room.

2607_May_cover.in d 1 2021-05-04 12:32 PM

Volume 27 No 1

SEPTEMBER AND OCTOBER 2021

IT'S

QUESTION

TIME

Blue pages, orange shirts?

R. Murray Schafer's

complex legacy?

What makes theatre

necessary?

Live music: ready or not?

Events by date, live and livestreamed

Stories & interviews

100 recordings reviewed

Listening Room

" MUSIC

MAKES US"

Zorana Sadiq

FESTIVALS

2701_Sept_cover.in d 1 2021-09-16 3:45 PM

2608_JulyAugcover.indd 1 2021-06-24 6:54 PM

Volume 27 No 2

NOVEMBER/DECEMBER 2021

Music by date, live

and livestreamed

Stories & interviews

Record reviews,

listening room

Many

Happy

Returns!

Volume 27 No 3

DECEMBER 2021 / JANUARY 2022

Music by date, live,

and livestreamed

Record reviews

Stories, interviews

listening room

2702_Nov_cover.in d 1 2021-10-27 10:16 PM

2703_Dec_cover.in d 1

2703_Dec_cover.in d 1 2021- 1-30 2:53 PM

thewholenote.com February 2022 | 63
---
There will be no general print distribution of this edition.

Subject to public health advisories, full print publication will resume with

Volume 27 no 5, March 4 2022.

For additional information contact circulation@thewholenote.com

Instagram @the_wholenote | Facebook & Twitter @TheWholeNote

Weekly listings updates | HalfTones | kiosk.thewholenote.com | thewholenote.com