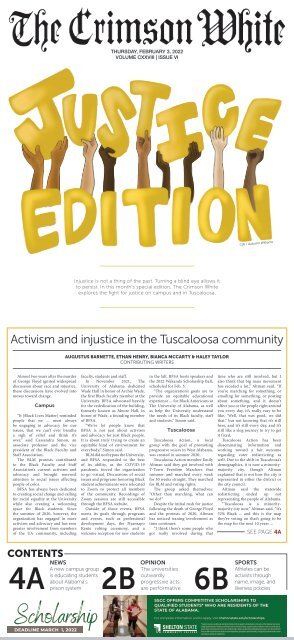 The Crimson White: Justice Edition, February 2021
Injustice is not a thing of the past. Turning a blind eye allows it to persist. In this month's special edition, The Crimson White explores the fight for justice on campus and in Tuscaloosa.
Injustice is not a thing of the past. Turning a blind eye allows it to persist. In this month's special edition, The Crimson White explores the fight for justice on campus and in Tuscaloosa.
SHOW MORE
SHOW LESS
You also want an ePaper? Increase the reach of your titles
YUMPU automatically turns print PDFs into web optimized ePapers that Google loves.
THURSDAY, FEBRUARY 3, 2022

VOLUME CXXVIII | ISSUE VI

CW / Autumn Williams

Injustice is not a thing of the past. Turning a blind eye allows it

to persist. In this month's special edition, The Crimson White

explores the fight for justice on campus and in Tuscaloosa.

Activism and injustice in the Tuscaloosa community

AUGUSTUS BARNETTE, ETHAN HENRY, BIANCA MCCARTY & HALEY TAYLOR

CONTRIBUTING WRITERS

Almost two years after the murder

of George Floyd ignited widespread

discussion about race and injustice,

these discussions have evolved into

moves toward change.

Campus

"It [Black Lives Matter] reminded

people that we ... must always

be engaging in advocacy for our

issues, that we can't ever breathe

a sigh of relief and think it's

over," said Cassandra Simon, an

associate professor and the vice

president of the Black Faculty and

Staff Association.

The BLM protests contributed

to the Black Faculty and Staff

Association's current activism and

advocacy and brought renewed

attention to social issues affecting

people of color.

BFSA has always been dedicated

to creating social change and calling

for racial equality at the University

while also creating a welcoming

space for Black students. Since

the summer of 2020, however, the

organization has engaged in more

activism and advocacy and has seen

greater involvement from members

of the UA community, including

faculty, students and staff.

In November 2021, The

University of Alabama dedicated

Wade Hall in honor of Archie Wade,

the first Black faculty member at the

University. BFSA advocated heavily

for the rededication of the building,

formerly known as Moore Hall, in

honor of Wade, a founding member

of BFSA.

"We've let people know that

BFSA is not just about activism

and advocacy for just Black people.

It is about truly trying to create an

equitable kind of environment for

everybody," Simon said.

BLM did not bypass the University,

and BFSA responded to the best

of its ability, as the COVID-19

pandemic forced the organization

to go virtual. Discussions of social

issues and programs honoring Black

student achievements were relocated

to Zoom to protect all members

of the community. Recordings of

Zoom sessions are still accessible

through the BFSA website.

Outside of those events, BFSA

meets its goals through programs

and events, such as professional

development days, the Nyansapo

Kente robing ceremony, and a

welcome reception for new students

in the fall. BFSA hosts speakers and

the 2022 Wakanda Scholarship Ball,

scheduled for Feb. 5.

"The organization's goals are to

provide an equitable educational

experience ... for Black Americans at

The University of Alabama, as well

as help the University understand

the needs of its Black faculty, staff

and students," Simon said.

Tuscaloosa

Tuscaloosa Action, a local

group with the goal of promoting

progressive voices in West Alabama,

was created in summer 2020.

Tuscaloosa Action member Emily

Altman said they got involved with

T-Town Freedom Marchers that

summer and marched every week

for 30 weeks straight. They marched

for BLM and voting rights.

The group asked themselves:

"Other than marching, what can

we do?"

Despite the initial rush for justice

following the death of George Floyd

and the protests of 2020, Altman

has noticed waning involvement as

time continues.

"I think there's some people who

got really involved during that

time who are still involved, but I

also think that big mass movement

has receded a lot," Altman said. "If

you're marching for something, or

emailing for something, or posting

about something, and it doesn't

affect you or the people right around

you every day, it's really easy to be

like, 'Well, that was good, we did

that," but not knowing that it's still

here, and it's still every day, and it's

still like a slog journey to try to get

it fixed.

Tuscaloosa Action has been

disseminating information and

working toward a fair outcome

regarding voter redistricting as

well. Due to the shift in Tuscaloosa's

demographics, it is now a minoritymajority

city, though Altman

explained that is not how the city is

represented in either the district or

the city council.

Altman said the statewide

redistricting ended up not

representing the people of Alabama.

"Tuscaloosa is a minoritymajority

city now," Altman said. "It's

52% Black ... and this is the map

they're voting on that's going to be

the map for the next 10 years ...

SEE PAGE 4A

CONTENTS

4A

A

NEWS

new campus group

is educating students

about Alabama's

prison system

2B

OPINION

The universities

outwardly

progressive acts

are performative

6B

SPORTS

Athletes can be

activists through

name, image, and

likeness policies

SSCC OFFERS COMPETITIVE SCHOLARSHIPS TO

QUALIFIED STUDENTS* WHO ARE RESIDENTS OF THE

STATE OF ALABAMA.

For complete information and to apply, visit sheltonstate.edu/scholarships.

DEADLINE MARCH 1, 2022

*Students must be conditionally admitted to Shelton State to apply for scholarships.It is the policy of the Alabama Community

College System Board of Trustees and Shelton State Community College, a postsecondary institution under its control, that no

person shall, on the grounds of race, color, national origin, religion, marital status, disability, gender, age, or any other protected

class as defined by federal and state law, be excluded from participation, denied benefits, or subjected to discrimination under

any program, activity, or employment.
---
2A

THE CRIMSON WHITE

editor-in-chief

managing editor

engagement editor

chief copy editor

opinions editor

news editor

assistant news editor

culture editor

assistant culture editor

sports editor

assistant sports editor

chief page editor

chief graphics editor

photo editor

assistant photo editor

multimedia editor

Keely Brewer

editor@cw.ua.edu

Bhavana Ravala

managingeditor@cw.ua.edu

Garrett Kennedy

engagement@cw.ua.edu

Jack Maurer

Ava Fisher

letters@cw.ua.edu

Zach Johnson

newsdesk@cw.ua.edu

Isabel Hope

Jeffrey Kelly

culture@cw.ua.edu

Annabelle Blomeley

Ashlee Woods

sports@cw.ua.edu

Robert Cortez

Pearl Langley

Autumn Williams

Lexi Hall

David Gray

Alex Miller

ADVERTISING STAFF

creative services Alyssa Sons

The Crimson Wh is the community newspaper of

The University of Alabama. The Crimson White is an

editorially free newspaper produced by students.

The University of Alabama cannot influence editorial

decisions and editorial opinions are those of the

editorial board and do not represent the official

opinions of the University. Advertising offices of The

Crimson White are in room 1014, Student Media

Building, 414 Campus Drive East. The advertising

mailing address is P.O. Box 870170, Tuscaloosa, AL

35487.

The Crimson White, Copyright © 2021

by The Crimson White. The Crimson White is printed

monthly, August through April by The University of

Alabama, Student Media, Box 870170, Tuscaloosa, AL

35487, Call 205-348-7257

All material contained herein, except advertising or

where indicated otherwise, is Copyright © 2021 by

The Crimson White and protected under the "Work

Made for Hire" and "Periodical Publication" categories

of the U.S. copyright laws. Material herein may not be

reprinted without the expressed, written permission

of The Crimson White.

Tap in with CW!

(We have an email newsletter now.)

Subscribe to get our newsletter in your

inbox on Monday and Thursday mornings.

FEBRUARY EVENTS

5

Men's

basketball vs. 5

Kentucky

Coleman Coliseum

7PM

BFSA Wakanda

Scholarship Ball

Bryant Conference

Center 6PM

JUSTICE

February 3, 2022

ACROSS:

1. Denny Chimes location

5. Swedish pop group with

2021 album "Voyage"

6. Word following "in-" or

"home-"

7. "I'm all ____"

8. Brit's behind

DOWN:

1. 2022 World Cup host

nation

2. Rides home from the

Strip, perhaps

3. Degrade

4. West, to North?

6. Location of an

octopus's garden, say

For crossword answers see page 2B

9

Off-Campus

Housing Fair

UA Student Center

Plaza 11AM

Gymnastics

11 "Power of Pink"

vs. Georgia

Coleman Coliseum

6:30PM

14

Valentine's

Day

CW / Wesley Picard

20

Honor Society

Application Due

Online

11:59PM

Business

Career Fair

23 23

Coleman Coliseum

10AM

SOURCE

Fundraising

Workshop

Online

11AM

24 Technical &

Engineering

Career Fair

Coleman Coliseum

10AM
---
JUSTICE

February 3, 2022

3A

CW File

OUR VIEW: Saban knows that silence is dangerous

THE EDITORIAL BOARD

The University of Alabama cannot

be separated from the state of Alabama.

It cannot be separated from national

conversations of justice. Any attempts

to do so are dishonest. The University

of Alabama ought to be a figure for

active change through legislative

action and political participation.

The University cannot be divorced

from public discourse because its

own history is intertwined with the

history of this nation. A walk around

campus isn't complete without seeing

plaques that commemorate buildings'

significance in the Civil War. Our

university once served as a training

ground for Confederate soldiers,

so how can we pretend that it hasn't

played a role in the struggle for justice?

When the University had to be forced

to integrate after the ruling of Brown

v. Board of Education, how can we

reevaluate our role in upholding the

experience of minority students?

In the last few years, this country

has been reevaluating the ways it views

social justice. It is impossible for the

University to remain silent in these

conversations. As the state's flagship

university, it has a role in the state's

legacy. When it comes to matters of

social change, the University has a

unique position. It can use its influence

to translate social change into actual

policy. It can shatter stigma.

The University's participation in

national movements matters, but what

exactly is "the University"? Placing

the responsibility of "justice" on

the University relies on a vague and

elusive measure of justice, achieved

by a nameless and unidentifiable

institution. To truly impact the

community that surrounds us, the

University's efforts at social change

must come from action by students,

faculty and administration. It is easy

for individuals to pawn off their

responsibilities onto a nameless

organization, but this attitude

ignores the fact that all institutions

are composed of individual people

with beliefs, values and actions

that inevitably influence the

institution's image.

The University doesn't need to be a

faceless organization. Individuals with

influence can uplift the institution

and the community we interact with.

Earlier this month, Nick Saban gained

national attention for something other

than winning a football game.

The championship-winning coach

was an instrumental co-signer in

a letter to West Virginia Sen. Joe

Manchin supporting the Freedom

to Vote Act. The letter, co-signed by

notable figures in sports, supported

the bill and its "measures to provide

voters with a range of opportunities

to obtain and cast a lawful ballot,

including robust in-person, early, and

absentee voting options."

Saban's involvement in the political

sphere was criticized by the bill's

opponents. In a since-deleted tweet,

Republican Rep. Ralph Norman of

South Carolina said "Nick Saban

should focus on winning National

Championships instead of destroying

our elections."

In a speech outside Foster

Auditorium after participating in a

Black Lives Matter march in 2020,

Saban said, "Sports has always created

a platform for social change. ... For

each of us involved in sports, I think

we have a responsibility and obligation

to do that in a responsible way and use

our platform in a positive way to try to

create social change in positive ways."

Saban understands the truth of

our collective responsibility. He is, in

many ways, the face of this university.

With such a position of influence,

he has a responsibility to ensure that

his image improves the community

he represents.

Taking action will inevitably invite

scrutiny. But like Saban, we must be

willing, as residents of Alabama and

representatives of this university, to

endure discomfort in the service of a

greater cause.

The actions of individuals like

Saban are not just important in the

sports world; they set a precedent

for the mobilization of nonpolitical

figures in pursuit of social change.

They have the potential to inspire

university representatives at all levels

to reconsider the role of academia and

how it can be utilized to influence

policy. Though the Freedom to Vote

Act was ultimately not passed, Saban's

actions still matter; they change

our perspective on what exactly

entertainment is for.

The University's faculty members

also play a role in upholding justice

in the spheres they engage in and in

the community as a whole. In the 2021

Alabama legislative session, multiple

bills banning the practice of critical

race theory were proposed and passed.

As a reaction, the Faculty Senate

passed a resolution in opposition to

the legislation, asserting that any bans

on critical race theory are a concern

to the cause of academic freedom. The

perspective of university faculty in the

conversation of critical race theory is

vastly important, as no one is more

qualified to discuss the merits of any

practice than those who teach it.

This action by the Faculty

Senate serves as an example of how

university members may use their

unique experience and knowledge to

influence their community.

Students are no different. Though

we may not have the esteem of a

degree or career yet, college students

are community members in our

own right. Our voices are powerful,

and it's up to us to use our voice

toward change.

As college students, we have the

unique position of having the fresh

perspective of our youth. We are savvy

with social media. We know how

to garner attention for an issue. We

alongside other community members

can change the world.

Two years ago, in response to Gov.

Kay Ivey's proposal to lease two

private mega-prisons in the state,

the student group Alabama Students

Against Prisons formed. Though the

group originated over Zoom, in the

midst of a pandemic, its members

were still able to enact change.

In December 2020, the group

staged a protest at Regions Bank in

Birmingham, urging the bank to divest

from CoreCivic, one of the companies

building the proposed megaprison.

The students' efforts were

ultimately successful.

This is the power that college

students have. When united,

motivated, and impassioned, we have

the ability to see real change occur.

We have the ability to make justice a

reality rather than just an ideal.

Achieving justice isn't a simple

endeavor. It is a quest that cannot

ever be fully realized. This should

not dissuade us from trying every

day to be more aware of our place in

the world. As part of the University,

every member has a role in pursuing a

better, more equitable community.

From students to faculty to

championship-winning coaches, we

can all begin making this reality by

simply acknowledging the fact that the

University and the community that

surrounds it are one and the same. We

do not exist and learn in a vacuum. We

are the face of the state of Alabama.

We are a national institution.

If our individual actions seem

insignificant to us now, they will

certainly leave a legacy behind. If

this university is "where legends are

made," let's ensure these are legacies

worth reading.

The Crimson White Editorial Board is composed of Editorin-Chief

Keely Brewer, Managing Editor Bhavana Ravala,

Engagement Editor Garrett Kennedy, Chief Copy Editor Jack

Maurer and Opinions Editor Ava Fisher.
---
4A

JUSTICE

February 3, 2022

Protestors march in downtown Tuscaloosa in summer 2020. CW File

CONTINUED FROM PAGE 1

And our city council is not a

minority-majority city council,

and the map that they're currently

proposing does not allow for it to be."

Though she said Tuscaloosa still

needs to be redistricted more fairly,

Altman is happy that better statewide

voting districts have come to fruition,

and she is hopeful for the future

of Alabama.

"When I look at the people, again,

who are working really, really hard to

do good work, I am hopeful because

I think more people are doing that

than were previously," Altman said.

"I think also, though, that we need

more people doing good. ... The best

solution for fixing bad stuff is more

people doing good, right? And so we

just need more people doing good,

and I think that it's trending that way

but obviously never as fast as you

want it to be."

Altman said activism is not just

fighting for what's right.

"I think one of the things that

makes doing activism work and

social justice work sustainable, is you

find your people in it," Altman said.

"We need more people, but also I

think people need to get involved in

it because it's something that sustains

people too, right? It becomes a

healing space."

Alabama

Joyce Vance, the former U.S.

attorney for the Northern District of

Alabama and a current distinguished

professor at The University of

Alabama's law school, said she made

accountability in law enforcement a

priority during her time in office.

"When I was the U.S. Attorney,

we aggressively investigated every

instance of police misconduct that

came to our attention and prosecuted

whenever we had the evidence that

made it feasible to prosecute, because

... that should be one of the prime

focuses for law enforcement. There's

really nobody else who can protect us

when the people who are supposed to

protect us run amok, and so I view

that as one of our top priorities,"

Vance said.

Vance said corruption in police

departments is generally the

exception, not the norm.

"I think it's important to say,

though, most police officers honor

their oath," Vance said.

The process of seeking out justice

can be frustrating at times, but

Vance said the system is designed to

protect the innocent against wrongful

incarceration.

"We also have to be willing

to engage in a due process that's

fair, even to criminal defendants,

no matter what they've done,"

Vance said.

Vance recommended that everyday

citizens educate themselves by

reading some of the foundational

documents that informed our early

system, including the Federalist

Papers and the Constitution, to

form a view that isn't based in

reactionary politics.

"We want to think in a way that

transcends politics about justice,"

Vance said.

For those pursuing careers in law

and politics, Vance said it's important

to remember that the desire for

perfection must not stand in the way

of working for a better society. This

advice is something she remembers

her former boss Deputy Attorney

General James Cole giving often.

The intersection of activism and

mental health often comes up for

those who want to work in law or

just want to work on social justice

platforms like Black Lives Matter.

There is such an emphasis on meeting

a goal that everything else becomes

obsolete, including prioritizing

mental health

As the fight for equality pushes on,

it is important to remember the toll

it takes on Black people and people

of color. The work is exhausting, and

it is compounded with the fear and

anger that come with having a system

working against your every move.

Hardships are internalized. The

way racial biases must be unlearned

and unpacked is the same way racial

trauma must be unpacked.

The conversation in and of itself

is a product of racism. Who gets to

grieve and take time for themselves?

The work being done in the name

of activism and the people who can

afford to take care of their mental

health directly intersect with each

other. Mental health is often seen as

a taboo topic.

In the Black community in

particular, there is a stigma around

mental health. It is seen as something

that needs to be hidden rather than

something that millions of people live

with every day. That stigma goes hand

in hand with the inequity of who gets

therapy. The inequity is a byproduct

of a broken system that puts Black

people at a disadvantage in the same

way police brutality does.

The National Alliance on Mental

Illness, or NAMI, has separate

sections on its website dedicated

to explaining how different

marginalized communities handle

mental health and trauma.

As strides are being made for

equality, taking care of mental wellbeing

is key. Asking people how they

are, uplifting them and offering help

is just as important as being on the

front lines for Black people.

'It does take a village': How a new student

organization is fighting the prison system

KAYLA SOLINO

STAFF REPORTER

Tide Against Time is a new

organization dedicated to educating

students about mass incarceration

and the Alabama prison system.

Kaila Pouncy, a junior on the prelaw

track majoring in criminal justice

and political science, worked on the

idea for the organization over the last

year and held the first meeting for

Tide Against Time on Friday, Jan. 21,

via Zoom.

Pouncy said her advocacy against

mass incarceration was spurred by

an internship experience that allowed

her to sit in on court proceedings.

"I recently had a federal internship

with a judge in Tuscaloosa this past

summer," she said. "And so he let us

observe a lot of court proceedings,

a lot of hearings. I immediately

became very sensitive to the issues

of the community, seeing the type

of things that people go through on

an individual basis, and how certain

political and socioeconomic trends

affect the lives of different people."

The United States' incarcerated

population has increased by 500%

since 1970. Despite only making up

around 5% of the world's population,

the U.S. is home to more than 20% of

the world's incarcerated population,

according to the American Civil

Liberties Union. In the state of

Alabama, more than 46,000 people

are incarcerated in either local jails or

state and federal prisons.

Pouncy said part of the creation

of Tide Against Time was centered

around creating a space for people

of color and other minorities that

are disproportionately affected by

mass incarceration.

"I felt like making this club at the

University would be an amazing way

to make people aware of those issues,

and would give us a great opportunity

to engage in service opportunities

and advocacy opportunities that

would give us the chance to touch

people who have been impacted by

the system," Pouncy said.

One in 3 Black boys and 1 in 6

Latino boys can expect to go to prison

in their lifetimes. One in 17 white

boys face the same fate. Women are

the fastest-growing incarcerated

population in the U.S.

Pouncy said she wants to bring

attention to the issue of mass

incarceration, educate individuals

and make change in her community

through the establishment of

Tide Against Time. She hopes

to organize projects to spread

awareness in addition to organizing

relevant, impactful service projects

for students.

"The mission of Tide Against Time

at the University is really to educate

students on the institution of mass

incarceration in the American criminal

justice system, and specifically to

advocate for criminal justice reforms

that promote education systems,

health systems, systems of safety,

rehabilitation, etc. within the prison

system," Pouncy said. "I feel like the

overall goal of the organization is to

strive to conquer these political and

socioeconomic issues."

Tide Against Time shares similar

motivations with another student

group on campus, Alabama Students

Against Prisons. ASAP was first

established to represent student

perspectives on incarceration and

to protest Gov. Kay Ivey's leasing of

two new private, mega-prisons in the

state, which will cost taxpayers $3

billion over 30 years.

Pouncy said it's important to

spread awareness about the range

of incarceration issues that occur

in Alabama, including increased

prison expansion, COVID-19

concerns, mental health issues and

sexual assault.

In 2018, Alabama prisons had a

homicide rate 600% greater than the

national average. Sexual abuse, drug

overdoses, inadequate mental health

treatment and uncontrollable violence

have been reported in prisons across

the state.

In December 2020, the U.S.

Department of Justice filed a lawsuit

against the state of Alabama for the

"unconstitutional conditions" in state

prisons for men.

"The United States Constitution

requires Alabama to make sure that

its prisons are safe and humane,"

said Eric Dreiband, the assistant

attorney general for the Department

of Justice Civil Rights Division. "The

Department of Justice conducted a

thorough investigation of Alabama's

prisons for men and determined

that Alabama violated and is

continuing to violate the Constitution

because its prisons are riddled with

prisoner-on-prisoner and guardon-prisoner

violence. The violations

have led to homicides, rapes, and

serious injuries."

Pouncy said further expansions of

unsafe prisons would be a mistake.

"I feel like Alabama is making

a really big mistake with prison

funding," Pouncy said. "Especially

during the pandemic, the prisons,

as well as the jails, are some of the

least-safe places to be throughout

this pandemic."

In October 2021, Ivey signed a

$1.3 billion prison construction bill.

The bill allows the construction of

at least two new prisons that will

hold a combined 8,000 individuals.

The Senate approved the use of

$400 million in COVID-19 funds

designed specifically for state and

local governments to use for the

prison expansion.

Pouncy said Tide Against Time

is open to any student interested in

learning more about the Alabama

prison system and mass incarceration.

"It really warms my heart to see

people on campus wanting to learn

and willing to help and make their

impact in this community," Pouncy

said. "It does take a village. I feel

like the first step to conquering this

problem on a wide scale is to be aware

of what's going on."

Courtesy of Tide Against Time
---
CW / Jo Dyess

JUSTICE

February 3, 2022

Though restorative justice may have

had its start in the criminal law system, the

term has broadened to address society on

a larger scale and encourage the reflection

of our history to spark more thoughtful

conversations and purposeful change.

According to Edutopia, in the legal

system, restorative justice emphasizes

repairing the harm done to people and

relationships by rehabilitating offenders

and offering them a chance to reconcile

with victims and the community rather

than exclusively punishing them.

Advocates for restorative justice today

suggest policymakers should aim to make

justice systems truly correctional. By

supporting the rehabilitation of offenders

and offering them access to higher

education, the chance to heal relationships,

and acceptance when transferring back

into the community, advocates hope to

achieve lower recidivism rates.

Brenita Softley, a third-year UA law

student, said restorative justice is about

focusing on how people can be made

whole again based on a justice system that

is made to tear them down.

"Giving the option of restorative

justice can help heal on both parts, so I

think that's really important to look at,"

Softley said.

She said society needs to work on

changing its implicit biases so that

everyone can be seen as redeemable.

I think part of the key

is to imagine being an

academic community

in a different way,

that means being ever

more present and

thoughtful of those

that lived near us and

around us, but aren't

necessarily part of our

campus formally.

JOHN GIGGIE

"In order to do that, we really need to

focus on changing the way people think,"

Softley said.

She hopes the criminal legal system

today can start taking action toward

rehabilitating offenders and opening up

conversations that will lead to healing for

every party in these situations.

"I think it's really important to study

the law through a lens of history, but

also study the law through a lens of

compassion as well," Softley said. "Rather

than just labeling the person as a 'monster,'

or 'unredeemable,' restorative justice

helps you to get past the things that

you've done."

History

The University of Alabama has a

complex history, and professors on

campus have been working to take a

holistic approach to how its history is told.

This has been done through historical

markers that honor the history and

Restorative justice rehabilitates

SAVANNAH ICHIKAWA & MARY CLAIRE WOOTEN

CONTRIBUTING WRITERS

experiences of Black students at the

University. Hilary Green, an associate

professor of history in the Department

of Gender and Race Studies created the

Hallowed Grounds walking tour in 2016

"to shed light onto the lives, experiences

and legacy of the many enslaved

men, women and children who lived,

worked and even died at the University

of Alabama."

It is important that the University

makes this progress a sustained effort.

Jenny Shaw, an associate professor

in the Department of History, said that

in 2018 the Faculty Senate passed a

resolution for the University to establish

a formal commission to investigate the

history of race, slavery and civil rights

on campus.

According to the proposal, the

resolution's purpose is to share the "rich

and diverse history of UA from its slave

past to its continued trajectory toward

becoming a more diverse and inclusive

campus since the first African American

students enrolled."

"If we're thinking about taking

seriously the history of race, slavery and

civil rights at The University of Alabama,

the only way to do that is to look at all of

it as holistically as possible," Shaw said.

"I don't think that anything or anyone is

benefited from turning away from things,

or deciding that you don't need to know

the whole history."

The Faculty Senate said this

commission would build on previous

efforts such as the slavery apology marker,

the Autherine Lucy Foster historical

marker, and Malone-Hood Plaza, to

continue its strides toward a more

inclusive and diverse campus.

"What I think is really important is

that the whole process, and particularly

the discoveries, are made as accessible as

possible to anyone who wants to be able to

see them," Shaw said.

This work will enable the team to

create a website displaying the University's

research, documents and history. After the

website launches, the University will also

be able to join the Universities Studying

Slavery consortium, a multi-institutional

collaboration focused on guiding truthtelling

projects in institutional histories.

"It's a very first step, but if it's a step

that leads to better, more productive

conversations and then potentially and

eventually some kind of action, that I

think is what anyone would hope for in

this kind of scenario," Shaw said.

responsibility for their actions.

Taylor highlighted how restorative

justice can inspire the ways people look

at movement and change. For it to be

implemented correctly, there must be full

participation and authentic conversations.

"One of the biggest things that is

missing from the justice conversation

today is courage," Taylor said. "I think

people probably see a whole lot of stuff

every day and hear a lot of stuff every day,

but do they have the courage to disrupt

that behavior?"

John Giggie, an associate professor in

the history department, said restorative

justice began as a concept in criminal law,

aiming to give voices to individuals who

were underrepresented and denied justice

for too long.

However, he said restorative justice

isn't a punishment orientation, but a more

empathetic type of reform; it has taken

on a broader role that can be applied to

law, American culture, communities and

society in general.

Giggie said the University has

enormous power within the state and

region and, because of that, has the

opportunity to be a leader in encouraging

education, awareness and action toward

restorative justice practices.

He said it is important to look at

what restorative justice means for young

people and the role the University plays

in that, "not simply the University

as a research mechanism, but as a

teaching organization."

Giggie has implemented courses and

programs that allow students to further

explore the subject matter that inspires

them. Some of these include religious civil

rights and queer history classes, a summer

social justice academy, a program with the

Equal Justice Initiative in Montgomery,

and Black history classes at Central

High School.

"I think part of the key is to imagine

being an academic community in a

different way. That means being ever

more present and thoughtful of those that

lived near us and around us, but aren't

necessarily part of our campus formally,"

Giggie said.

He said he feels led by his students

and locals in the Tuscaloosa community

when it comes to identifying what type of

action can be taken to engage individuals

in these projects and better showcase

Alabama's history.

"I think their understanding of what

constitutes value, what constitutes history,

is something we don't always pay attention

to, but they can teach us a lot," Giggie said.

Restorative justice requires people to

push boundaries and think creatively to

promote change and pave the way for the

future. This practice sparks conversations

5A

of empathy for everyone involved.

By taking into account the harm that

has been done to a community while also

understanding the factors that caused the

offender's behavior, it is possible to work

toward reconciliation and healing for

everyone involved.

"What if we reorientate our

understanding of kids acting out or

youthful offenders and root it more in

their mental health histories or family

histories," Giggie said. "Then all of a

sudden that can lead to empathy and

that can lead to policy change. I really

believe that.

One of the biggest

things that is missing

from the justice

conversation today is

courage.

G. CHRISTINE

TAYLOR

There have also been moves toward

restorative justice in the University's

theater department. Restorative justice

as an art form requires the ability to take

harmful words and imagery and remediate

them into something to be celebrated and

examined to empower future generations

In this vein, the University's

production of "The Colored Museum,"

a play composed of 11 separate "miniplays"

challenging and satirizing racial

stereotypes and briefly diving into the

experiences of queer people of color, is an

act of restorative justice.

Christian Tripp, the play's director

and a full-time instructor in the theater

department, said his main goal in

choosing "The Colored Museum" was

to find a play that would best serve the

students on campus and the greater

Tuscaloosa community.

Tripp described the play's commentary

as a great conversation starter on what

it means to be Black in this period of

history, even though the play was written

decades ago.

"The big overall message I want

the audience to walk away with is the

questioning of their own preconceived

notions of what it means to be Black,"

Tripp said. "For a typical American,

theatrical audience, for them to be able to

go home and question what they laughed

at. And for the atypical audience — the

Black audience most often — for that

perspective I would hope they would

take away a sense of reclaiming their own

images, their own voice, their own power."

Representing Students in Tuscaloosa Municipal Court,

Tuscaloosa District Court, Northport Municipal Court, and

Criminal Case Expungements

205-454-7500

On campus Representing Students in Tuscaloosa Municipal Court,

Tuscaloosa District 705 27th Avenue Court, Tuscaloosa Northport Alabama Municipal 35401 Court, and

The University's Division of Diversity,

No representation

Equity and Inclusion has worked to

Criminal is made Case that the quality Expungements

of legal services to be performed is

greater than the quality of legal services performed by other lawyers.

implement values of inclusiveness Representing Students in Tuscaloosa Municipal Court,

across campus.

205-454-7500

Tuscaloosa District Court, Northport Municipal Court, and

G. Christine Taylor, the University's

Criminal Case Expungements

vice president and associate provost of Representing Students in Tuscaloosa Municipal Court,

diversity, equity and inclusion, said that in

205-454-7500

Tuscaloosa

order for restorative justice to be effective, Representing District Court, Northport Municipal Court, and

it must start small. Enacting real change,

705 27th Avenue Criminal

Students

Tuscaloosa Case

in Tuscaloosa Expungements

Municipal Court,

Tuscaloosa District Court, Northport Municipal Court, and

Alabama 35401

she said, requires difficult conversations.

Criminal Case Expungements

205-454-7500

"Nowadays ... you're able to say No representation is made that the quality of legal services to be performed is

something or put something in the greater

205-454-7500

than

705

the

27th

quality

Avenue

of legal

Tuscaloosa

services

Alabama

performed

35401

by other lawyers.

atmosphere and never fully understand No representation is made that the quality of legal services to be performed is

the impact of what you did," Taylor said.

greater than the quality of legal services performed by other lawyers.

Restorative justice enables offenders

705 27th Avenue Tuscaloosa Alabama 35401

to understand the consequences of No representation 705 27th is Avenue made that Tuscaloosa the quality of Alabama legal services 35401 to be performed is

their behavior, see how a situation

greater than the quality of legal services performed by other lawyers.

impacted lives, and take ownership and

No representation is made that the quality of legal services to be performed is

greater than the quality of legal services performed by other lawyers.
---
6A

JUSTICE

February 3, 2022

Forgot your mom's

Prime password?

Time for your Prime

Student account.

Fast delivery, entertainment, exclusive

deals for students, and more. Start your

6-month trial.

amazon.com/UofAlabama1
---
JUSTICE

February 3, 2022

'STEPPING INTO BATTLE':

The state of women's safety

1B

LUCY PHILLIPS

STAFF REPORTER

The United Nations Entity for

Gender Equality and Empowerment

of Women recently published a study

that found that 97% of the women

surveyed had experienced some form of

sexual harassment.

After the research was published,

"97%" became the label of a viral internet

movement to raise awareness for women's

right to safety in the public sphere and to

push for the end of sexual harassment.

Women started using the hashtag

#97percent in TikTok videos to share their

stories of sexual harassment and sexual

violence, and in Instagram posts where

users linked women's rights charities

and organizations.

The harsh reality in the 21st century is

that while women have achieved a form of

equality in terms of written legislation, they

are far from achieving it in practice, as they

are socially and economically inferior to

their male counterparts.

One of the most brutal ways this

inequality manifests is in women's lack of

public safety.

"I try to never walk anywhere alone,

especially at night and if I am walking

somewhere alone, to my car or even on

campus, I try to be on the phone with

a friend or my mom or someone," said

Fatema Dhondia, the former president

of the United Greek Council and a junior

majoring in mechanical engineering

and German.

Many women are able to rattle off

a laundry list of precautions they take

throughout the day to stay safe: Check

underneath cars and backseats before

driving anywhere; remove identifying

stickers and pins from cars and backpacks;

hold house keys between knuckles when

walking through a parking garage.

Jennifer Purvis, the University of

Alabama women's studies director, said

experiencing sexual harassment and the

constant need to stay alert factor into

women's sense of well-being and even

their personalities.

The University of Alabama offers

organizations, resources and programming

aimed at protecting women. Dhondia

has invited a plethora of speakers to give

presentations to her and her sorority sisters

about tips to stay safe, the warning signs of

human trafficking, how to react in possibly

dangerous situations and more.

The University even offers a threecredit

kinesiology course in self-defense

for female students called KIN 155, Self

Defense for Women.

The course's purpose, according to

the UA course catalog, is "to provide the

student with the knowledge and skills

that will enhance the student's ability to

defend herself in case of physical or sexual

assault as well as to enhance her overall

personal safety."

The course is open to students of any

major, and no prerequisites are required.

"Taking [KIN 155] is one of the best

decisions I've made. I learned so many tips

and skills that I will utilize throughout the

rest of my life," Dhondia said. "I recommend

every female student take this class if she

has the chance."

Dhondia said she and her sorority sisters

appreciated the education and the support,

but they are left frustrated that women

have to be briefed as if stepping into battle

when they are taught simply how to exist

in public.

They are not

entering the

battlefield

unarmed. The

market today is

overwhelmed

with gadgets

and inventions

advertised to

aid women's safety.

Women will carry

lipstick tasers and pink

pepper sprays, wear nail polish that

detects date rape drugs, don scrunchies

that can be used to cover their drinks,

grip brass- knuckle

keychains, snap-on alarm

bracelets and more.

Purvis said solutions that address the

actions of the victim and not the aggressor

will never solve the core issues from which

these problems stem.

These safety measures are taken to an

even greater degree in the context of parties.

"All [women] know the most important

thing is to never be alone," said Dezirae

Cunningham, the president of the UA

student organization Women of Excellence

and a senior majoring in public health. "You

have to have people around you, watching

out for you, making sure you never walk

anywhere by yourself, and that there aren't

people taking advantage of you if you

happen to be drinking. We, as women,

aren't really ever allowed to relax."

Bars recognize the dangers women face

and have implemented measures to protect

them, such as the Angel Shot, which isn't

an actual drink, but a sort of code word

that women can use to alert bartenders that

they are uncomfortable or in danger. The

bartender can take appropriate action —

intervening, calling the police or removing

the patron making the woman feel unsafe.

Several bars have security personnel

who will walk women to their cars if they

request it.

Dhondia said the UGC regularly informs

its members of these resources available

to them.

Many sororities make sure their

members know safety protocols, such as

never leaving drinks unattended, never

accepting an open beverage, drinking out of

bottles or cans when possible, and covering

the openings of drinks.

Spiking is a well-known danger

to women, especially on and around

college campuses.

The American Psychology Association

found that almost 8% of students surveyed

across three major universities reported

having been drugged via a drink at some

point. The study also said that "women

were more likely to report sexual assault

as a motive while men more often said the

purpose was 'to have fun."

"I think that at the root of solving

this problem is to educate both men and

women about the issues women face,"

Cunningham said.

Purvis said the only way to see lasting

reform is to overhaul sex education in the

United States, because comprehensive

sex education is one of the best tools in

the fight for justice for women, and it is

severely underutilized.

When conscious work isn't done to

change the cultural climate that

demands women live in these

conditions, the consequences

are deadly.

Prolific violence

against women is

a cultural truth

every woman has

been prepared for since

a young age. However, the

media and popular culture

Women of Excellence is a student organization dedicated to empowering African American women.

Courtesy of Women of Excellence

do not treat all crimes against women the

same and do not necessarily treat those they

do choose to cover in a sensitive manner.

According to an article by NPR, "tens

of thousands of Black girls and women go

missing every year. Last year, that figure

was nearly 100,000." These cases are rarely

featured in national headlines.

"Missing white woman syndrome"

refers to the mass hysteria that takes hold

of Western media when an attractive white

woman goes missing– the attention and

concern that is suspiciously absent from

the news when women of color disappear

in similar cases. The phenomenon is meant

to highlight the objectification of women,

the desensitization of the public to violence

against women and the discrimination

faced by women of color.

"It's honestly exhausting to be a woman

who already doesn't feel safe, but on top

of that to know that no one would say

anything if something were to happen to

me," Cunningham said.

These ideas were recently reignited

when news of Lauren Smith-Fields' death

and her family's subsequent lawsuit against

the city of Bridgeport, Connecticut, was

made public.

Smith-Fields was 23 years old when she

was found dead in her apartment, and the

last person she was known to be with was an

older white man she had met on the dating

app Bumble. The man was not considered a

suspect and was not investigated in Smith-

Fields' disappearance and death.

Smith-Fields' family is now suing

the city of Bridgeport for "failure to

prosecute and failure to protect under the

14th Amendment."

"Missing white woman syndrome" and

Smith-Fields' death serve to reemphasize

the importance of intersectionality in

modern feminist movements.

"Intersectional feminism illuminates the

connections between all fights for justice

and liberation. It shows us that fighting for

equality means not only turning the tables

on gender injustices but rooting out all

forms of oppression," an article published by

UN Women said. "It serves as a framework

through which to build inclusive, robust

movements that work to solve overlapping

forms of discrimination, simultaneously."

The Alabama chapter of United for

Reproductive & Gender Equity

holds this idea central to

its mission as it fights for

reproductive justice in the

United States. In addition

to engaging in activism for

women's rights, the chapter

also speaks about racial

justice and justice

CW / Jo Dyess

for the LGBTQ community, including

achieving accessibility to comprehensive

health care for all individuals.

Reproductive justice demands

intersectionality because of

the consequences of a lack of

reproductive rights.

On Dec. 1, the Supreme Court heard

the case of Dobbs v. Jackson Women's

Health Organization. The case surrounded

a Mississippi law that would ban abortions

after 15 weeks. The decision would

potentially undermine and lead to the

overturning of Roe v. Wade, the landmark

Supreme Court case that protects pregnant

people's bodily autonomy and has been

used to rule restrictive abortion laws

unconstitutional for the past 50 years.

Such a decision would disproportionately

affect socioeconomically disadvantaged

and minority communities. According to

research from the Guttmacher Institute,

restrictive laws against abortion do not stop

abortions but rather reduce women's access

to safe abortions.

It's honestly exhausting

to be a woman who

already doesn't feel

safe, but on top of that

to know that no one

would say anything

if something were to

happen to me.

DEZIRAE

CUNNINGHAM

"The data shows that abortion rates

are roughly the same in countries where

abortion is broadly legal and in countries

where it isn't," Zara Ahmed, an associate

director of federal issues for the Guttmacher

Institute, said in an article for NBC.

Beyond the debates of the morality

of abortion lies the devastating truth

that attempting to force women to carry

pregnancies to term only serves to harm the

mother, the child and the communities they

are a part of.

"We don't have child care services in

high schools and colleges or a lot of services

available, so people ... are going to have to

quit college or in some cases be kicked out

of their families," Purvis said. "It would be

disastrous, especially because there's not the

support there."

Research from the Pew Research Center

found that a majority of the American

public supports abortion rights. Purvis

explained that, should Roe v. Wade be

overturned in 2022, she believes that the

U.S. population would not be silent and that

the decision would not last long.

Purvis said she doesn't know how it

would manifest, but she doesn't believe

society would allow it to stand.

URGE is one of several organizations

across the country mobilizing people in the

fight for reproductive rights.

"URGE does sex education and

sexual assault awareness programming,

we provide information for health care

access, we distribute Plan B and condoms

when needed, we write letter campaigns

to policymakers," said Sarah Lib Patrick,

the president of URGE UA and a senior

majoring in restorative justice and civil

rights studies.
---
2B

JUSTICE

February 3, 2022

OPINION: UA's activism is performative

CW File

ALEX JOBIN

STAFF COLUMNIST

Both the Ferguson Student Center

and A.B. Moore Hall were recently

renamed as the UA Student Center and

Archie Wade Hall, respectively.

This follows the renaming of

other buildings in 2020, including

Honors Hall, the English Building and

Presidents Hall — formerly known as

Nott Hall, Morgan Hall and Manly Hall,

respectively, all namesakes of notorious

racists from the University's past.

There is no question that this

renaming initiative, spearheaded by the

trustees' building names working group,

has been a necessary step in seeing the

University reckon with its deeply racist

past. However, it is frankly embarrassing

that it has taken this long for the

University to realize that our campus

should not pay homage to members

of the Ku Klux Klan and infamous

white supremacists.

This recent movement to rename

University buildings has not been the

only reminder that the University

still has a long way to go in terms of

racial progress.

Less than a decade ago, UA sororities

were still denying Black women entry

because of their race, and integration

only occurred in 2013 after intensive

media coverage. Even today, Black

sorority members face discrimination

and underrepresentation. In December

2021, Alpha Phi member Kylie Klueger

sent a racist text to a group message

that included then-Alpha Phi President

Katherine Anthony. This resulted in

Klueger's removal from the sorority and

Anthony's ousting from the presidency.

Before this most recent incident,

Alpha Phi had multiple other scandals

involving racist behavior (like the

expulsion of member Harley Barber in

2018 for using racial slurs in a video).

Again, these instances expose a

sort of shallowness in the University's

outwardly progressive appearance. If

we are so committed to diversity, equity

and inclusion as a campus, then why

is our Greek life (which constitutes

approximately 35% of the undergraduate

student body) seemingly a hotbed of

exclusion and bigotry?

The University at large must consider

taking further action — beyond simple

claims of inclusion and the renaming of

buildings — in order to ensure that our

community goes beyond performative

activism and actually works toward

honest systemic progress.

For one, the committee should

heed the advice of the United Campus

Workers of Alabama Local 3965 and

make the building renaming a more

democratic process. Currently there is

a lack of transparency in the process,

and the committee is only made up

of trustees. Staff, students and faculty

should be included to ensure that future

decisions made by the committee come

from a diverse background and consider

the input of the people who work and

learn in these buildings every single

day of the semester. Such a step would

also help to curb the bias created by any

donor influence.

The University should listen to

members of Greek life who wish to

improve diversity and inclusion within

fraternities and sororities. In December

2020, Joshua Gill of the historically

Black Alpha Phi Alpha fraternity

encouraged the University to plan more

mandatory events bringing Black and

white organizations together; no such

events have happened. Nor is there any

transparency from faculty members

on whether they are taking steps to

address these situations further, to hold

individuals accountable or to put a real

end to this recurring problem.

And, on an individual level, students

can commit to making a difference

whenever and wherever we can.

Members of Greek organizations

can promote greater inclusion, those

involved in other student organizations

can do the same, and we can all stand up

and say something whenever we identify

inequities within our community.

More specifically, students can hold

their organizations accountable by

reaching out to the Division of Diversity,

Equity and Inclusion, UAct, or even The

Crimson White when they recognize

that something is wrong. The progress

that we have seen so far has almost always

been sparked by individuals speaking

out and extensive media coverage; these

are avenues that we can continue to use

to effect change. Beyond this, students

who share common concerns can come

together to define real solutions and

voice their concerns to the University

through organizations they are a part of.

It is one thing to claim to value

diversity, equity and inclusion. It is

another thing entirely to actively pursue

the realization of those stated values. At

The University of Alabama, we must all

devote ourselves to real progress — not

just performative activism.

If you are interested in finding

organizations on campus that are

committed to effecting change, I

encourage you to visit mySOURCE.

BOOKS

FOR THE

BLACK BELT

JAN 31 - FEB 25, 2022

Why?

The Alabama Black Belt includes

some of the poorest counties in

the USA. We want to provide new

or gently used K-12 books of any

genre, especially STEM and ACT

Prep Books, so children in the

Black Belt can develop a love of

learning and reading.

Where?

Tuomey Hall

Honors Hall

Reese Phifer Rotunda

Oliver-Barnard Hall

SGA Office

Off Campus:

Mildred Westervelt Warner

Transportation Museum

uaced.ua.edu/books-for-the-black-belt

Shop Boots,

Jeans, & Hats

at The Wharf

in Northport

Questions? Contact Sally Brown 205-348-8344 or uaced@ua.edu

220 Mcfarland Blvd N (205)-752-2075
---
JUSTICE

February 3, 2022

3B

'An open and welcoming space':

How UA is prioritizing diversity, equity and inclusion

JENNIFER BAGGETT

CONTRIBUTING WRITER

The University of Alabama's

Division of Diversity, Equity and

Inclusion provides leadership for the

advancement of inclusiveness in learning

environments, programs, workforce and

strategic partnerships.

The division has four primary

goals: recruit, retain and graduate

more diverse students; recruit, retain

and promote more diverse faculty

and staff; build a more inclusive and

welcoming campus environment; and

develop a more culturally competent

campus community.

Since joining the University in

August 2017, G. Christine Taylor, the

vice president and associate provost

for Diversity, Equity and Inclusion, has

stressed the importance of intentionality

in improving student diversity at

the University.

"I'm really excited about the

opportunities that we all have here at

The University of Alabama to create a

campus that is much more welcoming

and inclusive and that allows an

opportunity to unlearn some things

and to relearn other important things,"

Taylor said.

Taylor's office has a number of

ongoing campus efforts to reach out to

students and staff.

Diversity, Equity and

Inclusion spaces and events

The professionally staffed Intercultural

Diversity Center moved to a central

location in The University of Alabama

Student Center in 2020. The center

serves as a hub for cultural learning,

teaching and sharing. Before then, there

was no central location for the center.

Taylor said the Intercultural Diversity

Center is "first of all a space that is for

the University of Alabama, all students,

all faculty, and all staff."

Our goal is to continue

to be a safe haven

for students from all

over. The program

has been invigorated

over the past year and

continues to grow and

expand in popularity.

LISA SMITH

"It may find itself often populated

with diverse students but it's an open

and welcoming space for everyone,"

Taylor said. "The way we describe it is

as a place for cultural learning, cultural

teaching, and cultural sharing."

Events at the Intercultural Diversity

Center include Diversity, Coffee and

Conversations. Programs are tied to

the commemorative month currently

being celebrated.

Parnab Das is a doctoral candidate in

the College of Engineering.

"It's very beneficial for me as an

international student on campus,

because I get to know other people

domestic as well as international, learn

from them, their culture, their thoughts

and perspectives," Das said. "Sometimes

we discuss things like religion, faith,

science, world politics, societal barriers,

sexualities and all those things."

During Native American Heritage

Month, a colleague from another campus

who was Navajo joined via Zoom and

discussed her experience.

The meetings are open to faculty, staff

and students with upcoming dates for

spring 2022: Feb.1, March 1, April 5 and

May 3.

An initiative that provided a

quantitative outcome to its success

involved "Creating a More Welcoming

Campus Community." From September

2020 to March 2021, the Intercultural

Diversity Center had 1,392 visitors,

four watch party series, 11 social justice

movie series, three virtual cooking

demonstrations and 86 program

partnerships with other departments

and student organizations, among

other events.

The theme for this year's Black History

Month in February is Black health and

wellness.

"For each of our commemorative

months, we try to make the first Tuesday

event something that is educational and

that people may not know about," Taylor

said. "We also build in time for people to

share about the programs that they are

doing or find ways to collaborate."

Incident reporting

The Division of Diversity, Equity and

Inclusion also provides five methods

of incident reporting for students who

face discrimination on campus: the hate

and bias hotline at 205-348-BIAS, the

hate and bias reporting form, the Title

IX information to report allegations of

sexual misconduct, the student conduct

reporting options, and the equal

opportunity, nondiscriminiation and

disability reporting tool.

Incident reports go to a central space

where they are parsed out depending on

the details of the incident.

"If someone finds themself

experiencing a hate crime, we don't

want [students] out there experiencing

and not reporting. Students need to

make sure that they report — and that's

anything, because we cannot respond

to things we do not know about,"

Taylor said.

The Path Forward Report

In 2020, Taylor spearheaded the

Path Forward Report, which includes

75 strategies for recruiting, retaining

and graduating more diverse students,

faculty and staff and creating a more

welcoming campus community. There

are four primary measurable qualities of

success: minority enrollment, minority

student retention rates, minority student

graduation rates and a minority faculty

headcount.

In May 2021, the University released

a "Path Forward Progress Update." The

update indicated the status of each

goal as "completed," "in-process," or

"to become a 2021-22 initiative;" an

update for each section with highlighted

examples and an overall progress update

for each strategy.

The progress update was split

into several categories. Regarding

"Recruiting, Retaining and Graduating

More Diverse Students," a key outcome

involved the Multicultural Visitation

Program. This program provided a

means of working collaboratively with

Enrollment Management and the

Academic Diversity Council. The first

program was held in October 2020.

"Recruiting and Retaining More

Diverse Faculty and Staff " is primarily

focused on building infrastructure that

will positively impact hiring procedures

for new faculty. The outcomes were

opportunities at the Higher Education

Recruitment Consortium as well as

support for faculty and staff to attend the

9th Annual Faculty Women of Color in

the Academy Virtual Conference.

The entire 2020 Path Forward Progress

Update (75 total recommendations)

showed a completion percentage of

11% with 42% in-process. This also

included an additional 47% of the

recommendations that are part of the

2021-22 initiative plan.

Future goals

One of Taylor's major goals for next

year is to plan speaking engagements

and other events so professors can utilize

them better.

"They can then build them into their

syllabus. I think it would change our

planning model and I think that is an

important thing to do so that we can

really be able to know what all sides are

doing and allow people adequate time to

plan. That's one of my big goals in that

we end up with a much more robust

and preplanned calendar with as many

of the major DEI events that we have

occurring on this campus and share at

the beginning of the academic year."

In addition to the Division of

Diversity, Equity and Inclusion there are

several college-based efforts. The College

of Communication and Information

Sciences provides an updated diversity

plan that was approved by the faculty

and staff in April 2019.

Multicultural Engineering

Program

The Multicultural Engineering

Program was established in May

1987 through a joint grant from

the National Action Council for

Minorities in Engineering and the

Alfred P. Sloan Foundation. As a

founding member institution of the

Southeastern Consortium for Minorities

in Engineering, the University has

continued its long-term commitment to

the pre-college effort.

The Multicultural Engineering

Program strategic plan has three goals

that seek to support students at all levels

in the College of Engineering. These

three goals are to increase the enrollment

of academically qualified students

from underrepresented populations, to

develop comprehensive support services

that ensure graduation success and

to promote a diverse community that

Courtesy of Division of Diversity, Equity and Inclusion

encourages a career in engineering or

computer science.

Lisa Nicole Smith, the director of the

Multicultural Engineering program and

the manager for diversity, equity and

inclusion for the College of Engineering,

has over 16 years of experience in the

recruitment and retention of highly

desired, diverse populations.

Smith reiterated these goals when

discussing 2022.

I'm really excited about

the opportunities that

we all have here at The

University of Alabama

to create a campus

that is much

more welcoming

and inclusive.

G. CHRISTINE

TAYLOR

"Our goal is to continue to be

a safe haven for students from all

over," Smith said. "The program has

been reinvigorated over the past year

and continues to grow and expand

in popularity."

Smith said that the biggest initiative

that has occurred since coming to the

University in early 2021 "has been the

creation of the center."

The Multicultural Engineering

Program can be found in Hardaway

Hall rooms 172-175. Smith said the

space was made to be "accommodating

to students in order to be a place

where students want to come and

feel comfortable." This included a

deep clean, painting the walls and

buying furniture.

"I think the biggest impact that we

have is showing students of color that

they are not alone," Smith said. "There

are 4,754 undergraduate students in the

College of Engineering. Of this total

number of undergraduate students, 415

of them identify as African American

(8.7%), 205 identify as Latino/Hispanic

(4.3%), 10 identify as American Indian

(0.2%), 125 identify as Asian (2.6%),

255 identify as nonresident alien (5.4%)

and 167 identify as 2 or more races

(3.5%). Within these demographics, 34

additional students chose not to disclose

(0.7%). This is all compared to the

contrast of 3,537 that identify as white

(74.4%). We realized when looking at

numbers like this that spaces like [the

multicultural center] are completely

necessary and are appropriate because

what we want to do is to foster a

community and make sure that students

understand that they are not alone."

UA lobbies new bill in response to critical race theory

ZACH JOHNSON

NEWS EDITOR

The University of Alabama System

collaborated with the state legislature

to create legislation that protects

Alabama universities' freedom over

their curricula.

The joint effort between the state

legislature and the Higher Education

Alliance resulted in a new piece of

legislation in response to legislators'

concerns about critical race theory in

higher education.

Faculty Senate members spoke out

in October after House Bill 8 and

House Bill 11, which seek to prevent

universities from teaching critical

race theory and related concepts,

were prefiled in the legislature.

Clay Ryan, senior vice chancellor

for external affairs for the UA System,

said a new piece of legislation is in

the works that will satisfy legislators'

goals while maintaining professors'

integrity in the classroom.

"If we have a piece of legislation

that allows the teacher to teach what

they know, and allows the student

to consider it, be knowledgeable

about it, but not agree with it, that

is an intellectually honest and sound

position to arrive at," Ryan said.

Ryan said that he was encouraged

that legislators understand the

importance of universities'

academic freedom.

The new bill cannot be introduced

until the state legislature exits the

current special session on distributing

COVID-19 relief funds. Ryan did not

share the language of the bill.

"I think the dialogue has been

very good, regardless of whether

somebody agrees with what the

original bill says or not," Ryan said.

"There's been a willingness to at

least hear from us on our concerns.

And I do think that legislation that

ultimately moves through the process

will reflect a great deal of input and

feedback from us."

In December, the UA Faculty

Senate passed a resolution calling

on UA President Stuart Bell to

oppose legislation that "undermines

academic freedom and, therefore, the

historic purpose of higher education."

The Faculty Senate urged the UA

System to maintain its commitment

to academic freedom. Neither

Bell nor the UA System issued the

statement requested.

"I don't think in this case that

the public statement would be

particularly helpful in advancing or

achieving what we're trying to do

legislatively," Ryan said.

Sara McDaniel, a senator for the

College of Education and the chair

of the college's diversity, equity and

inclusion committee, was dissatisfied

with the University's silence on

the resolution.

The new bill has not been shared

publicly and has not become public

record. Since June, the only bills

available to the public are those the

University seeks to replace.

"The bills that were introduced in

January, that are now in committee

... are no different than the bills

that were prefiled in the summer,"

McDaniel said. "So whatever the

University was doing between the

summer and January to impact the

wording of the bills, the wording

didn't change. So I don't know what

we've been doing."
---
4B

Justice is slowly prevailing for

women's collegiate athletics

JUSTICE

February 3, 2022

ROBERT CORTEZ

ASSISTANT SPORTS EDITOR

It takes the same amount of drive,

resilience and toughness for any

student-athlete to compete at the

collegiate level, but women are only

starting to receive the same respect

male athletes have had for decades.

Anniversary of Title IX

This year marks the 50th

anniversary of Title IX, a law that

states that "no person in the United

States shall, on the basis of sex, be

excluded from participation in, be

denied the benefits of, or be subjected

to discrimination under any education

program or activity receiving

Federal financial assistance." In this

anniversary year, the NCAA offered

"gender equity reforms" during the

education session that began on

Jan. 25.

Alabama softball head coach Patrick

Murphy went to Twitter to show his

pleasure about the announcement of

the reforms.

"A small step in the right direction

… on the 50th anniversary of Title

IX," Murphy tweeted.

These reforms plan to help expand

championship operations, the

student-athlete experience, marketing

efforts and more in the women's game

in order to achieve parity with their

male counterparts. There are two

phases in the gender equity reforms,

which include bridging the gap

between women's and men's basketball

coverage and improving the women's

game across all three divisions.

The NCAA said it noticed 65

discrepancies between the women's

and men's games and resolved 45 of

them. Starting this year, the NCAA is

going to improve women's coverage all

the way from the bracket reveal to the

trophy presentation once a champion

has been named. In 2021, the NCAA

was called out for differences in the

weight rooms it provided men's and

women's teams.

The NCAA improved the women's

weight rooms once the backlash

hit and will continue to improve

its facilities and accommodations

for the NCAA Women's Basketball

Tournament. Student-athletes and

their families will now be given lounges

in their respective hotels while also

receiving improved mementos and

in-venue experiences.

There are three major steps the

NCAA plans to take to improve

women's collegiate athletics in all

three divisions. The first includes an

increased number of bench numbers,

travel rosters and changes to bracket

selections. Second, the NCAA will

use cross-promotion, branding and

enhanced marketing strategies.

The biggest improvement will

be the expansion of championship

competition across the Division I

level in gymnastics, softball and

volleyball. Gymnastics will add a day

of rest before the regional final and

national final. There will no longer

be doubleheaders on "elimination

Saturday" at the Women's College

World Series, and a rest day is now

implemented a day

before the

championship series begins.

Volleyball adds a day of rest in the

regional round.

Both of these phases will come

to fruition through increased

budgets and personnel,

improved broadcasting

opportunities, external

operations and marketing,

and a gender equity

evaluation process.

In the past 12 months,

a couple of women's

collegiate games have

found their way onto

a national broadcast

network. During

the 2021 softball

postseason, Game 2 of the Norman

Super Regional between Oklahoma

and Washington was broadcast on

ABC. This was the first-ever college

softball game televised on a broadcast

network. On Jan. 16, Alabama and

Florida's gymnastics meet became the

first regular-season gymnastics meet

to air on ABC.

Alabama gymnastics head coach

Dana Duckworth reflected on what

it meant for a regular season college

gymnastics meet to air on ABC.

"I think that it is a huge statement

for our sport," Duckworth said. "It

continues to allow our sport to grow,

gaining more recognition, and give

more women opportunity to shine out

of the bright lights."

What now?

A couple games between

ranked teams during

the 2021-22 women's

basketball season

required monthly

subscriptions to

watch.

These games included No. 1 South

Carolina vs. No. 15 LSU available on

SEC Network+ and No. 4 Indiana vs.

No. 5 Stanford on FloHoops.

Would ESPN ever not publicly

televise a top-15 or top-five men's

basketball game?

In 2021, the Women's College

World Series had 60% more

viewership than the Men's College

World Series. The WCWS averaged

1.2 million views, compared with the

men's average viewing of 775,000.

Although softball's viewership

skyrocketed past baseball's, ESPN

televised the MCWS winner-take-all

game at 6 p.m. CT, while first pitch

for the WCWS winner-take-all game

was in the middle of the afternoon at

2 p.m. CT.

If the WCWS has drawn more

engagement, fans wonder why the

NCAA hasn't put money toward a

padded outfield fence instead of

a chain-link fence with a mesh

covering.

It's evident that the NCAA

is working toward growing

the women's game, but there is

still a tremendous

amount of work

to do.

JAVON WILLIAMS

STAFF REPORTER

Club sports have faced setbacks

during the COVID-19 pandemic. At

The University of Alabama, some club

sports teams were heavily impacted and

suffered financially after a missed season.

Funding

Club sports are operated by

student officers and funded mostly

by membership dues, fundraisers, the

Student Recreation Center and the

Student Government Association.

Membership dues are paid by athletes

each semester and range from $150 to

$200. The funds that these teams receive

from University Recreation are limited

and require documentation to show the

commitment of the team.

According to the Sports Club

Resource Guide, 60% of the annual

sports club allocation is distributed to

teams based on need. To receive this kind

of funding, teams are required to submit

projected annual budgets and attend

budget meetings.

For the team to receive a need-based

allocation in the upcoming year, 80% of

the current year's allocation has to have

been spent. If a team does not meet this

COVID sidelines club sports

requirement the balance will remain in

its account, but it will not receive needbased

funds for the upcoming year.

Because of this rule, some teams

struggled to start back up when club

sports resumed in fall 2021. Over time,

teams lost major resources and struggled

to maintain financial stability. Some were

able to continue without any advances.

Water polo

The water polo team was able to

continue normal operations without

many struggles. Alabama junior Nick

Ward is the president of the water polo

team and has been a member since his

freshman year.

Ward said the club still gets its regular

allocations of funding from the recreation

center, and they still had money left over

to bring into the comeback season. The

team also brought in additional funding

from a fundraising contest with other

club sports.

"We've been able to do everything

we've needed to do with the funding that

we've been given, especially this year,

so we are better off than normal after

coming out of COVID," Ward said.

Ward and his team appreciate the

amount that is given to them by the

recreation center, but they continue to

find ways to support themselves aside

from the allocations.

"We have been starting to do more and

more fundraisers," Ward said. "We had

a percentage night at [Red Bowl] Asian

and we had a really big turnout, and they

were really appreciative of us coming out

and growing their business, and we were

really appreciative of them."

Hockey

The same can't be said for the Alabama

Hockey Club.

The club has been competing in the

American Collegiate Hockey Association

for 17 years. Alabama has competed at

the Division I level since 2015.

Delaney Galbraith is the head of

marketing and head of staff for the

hockey club and thinks the University

could do more.

"UA is really missing out with not

helping this program," Galbraith said.

"The school has had every opportunity to

help, and I've seen little to none come in.

The staff members, players and fan base

are what keep this program alive."

Alabama hockey was on the brink of

being kicked out by the Pelham Civic

Complex, where the team practices and

hosts games. Without help from the fans,

the team would have no place to compete.

"Our fan support is incredible,"

Galbraith said. "We have a pretty

decent-sized fan base that has helped us

overcome these obstacles like funding.

CW File

Lots of fans will donate thousands of

dollars to the program."

In an effort to save its season,

Alabama hockey created a GoFundMe

page to raise $18,000 by Sept. 1, 2021.

The page has yet to reach that goal, but

the GoFundMe page is still live and has

raised over $10,000.

Equestrian club

The hockey club is not the only team

that relies heavily on fundraisers. The UA

Equestrian Club was hit hard financially,

and the hopes for the season were slim.

In March 2020, the equestrian team

was demoted from a varsity sport to a

club sport, forcing the team to turn to

fundraising when its University funds

were cut.

Vice President Abigayle Kneebone

started a petition to have the decision

reversed, but more than 22,000 signatures

couldn't change the University's mind.

The allocation from the Student

Recreation Center forced the team to

change its program and caused some

members to transfer schools to continue

to practice the sport they love.

"I know a lot of girls who came to

The University of Alabama specifically

for the equestrian team," Kneebone

said. "Without a funded team, it

simply is not worth it, especially with

out-of-state tuition."

The hockey club (left) and the equestrian club (right) were financially impacted

during the COVID 19 pandemic. CW File and courtesy of UA Equestrian Club
---
JUSTICE

February 3, 2022

5B
---
6B

JUSTICE

Februarary 3, 2022

Top athletes can be activists through NIL

ASHLEE WOODS

SPORTS EDITOR

A couple years ago, name, image

and likeness was a term only a few

college athletes knew. Now, the world

of college sports — fans, athletes and

coaches alike — knows about NIL,

and it's here to stay.

On June 21, 2021, the U.S. Supreme

Court ruled against the NCAA in

NCAA v. Alston. The court upheld

the ruling made by the U.S. Court of

Appeals in the Ninth Circuit.

"The NCAA has long restricted

the compensation and benefits

that student athletes may receive,"

Supreme Court Justice Brett

Kavanaugh wrote in the concurring

opinion. "With surprising success,

the NCAA has long shielded its

compensation rules from ordinary

antitrust scrutiny. Today, however,

the court holds that the NCAA has

violated antitrust laws. The Court's

decision marks an important and

overdue course correction."

Along with the federal pressure,

states across the U.S. were drafting

NIL laws to put in place in early

July. The NCAA had to take action,

and quickly.

On June 30, 2021, the NCAA Board

of Directors voted to lift restrictions

on student-athletes and their names.

On July 1, 2021, several states signed

NIL bills into law. For the first time,

college athletes could profit off their

names and images.

The issues around NIL

are a labor issue. This is

about these students not

as students actually but

as workers and people

who produce quite a bit

of value and profit for

quite a few people.

A.J. BAUER

The Supreme Court's ruling has

been heralded by many as a great

step in changing college athletics.

After years of activism, students

will now be rewarded for their

immense efforts.

But is this the end?

"I do think that name, image and

likeness has been a very positive

benefit for college athletes," said

Katie Lever, a doctoral student

studying issues within the NCAA

at the University of Texas at Austin.

"It's not the end all, be all of college

sports reform."

For years, the NCAA earned

billions of dollars for several college

sports while forbidding athletes

to make money, host camps and

clinics, appear in commercials or

sign endorsements. The NCAA also

punished athletes for promoting

small businesses, raising money for

healthcare and accepting offers of

free goods.

Student-athletes have consistently

pushed back and, in 2020, took

their protests to new heights. With

the power of social media, studentathletes

across the country spoke

about the racial, physical and mental

abuse they endured while the schools

they competed for profited off their

names. The NCAA could no longer

say that college athletes aren't

university employees, and fans began

calling for change.

The paternal grip of the NCAA

was loosening, but the NCAA still

had something that the studentathletes

didn't: financial stability.

"Most of these NIL deals are

averaging in maybe the hundreds-ofdollars

range," Lever said. "So, it's not

providing athletes with the stability

to be able to speak out on some

controversial topics that they were

speaking out against in the summer

of 2020."

Top collegiate athletes are signing

brand deals that allow them to earn

six figures. University of Connecticut

women's basketball player Paige

Bueckers signed a multimillion dollar

deal with Nike. Alabama quarterback

Bryce Young has appeared in

commercials for CashApp. Alabama

Hundreds of UA student-athletes protested police brutality on Aug. 31, 2020.

CW / Keely Brewer

softball fans can purchase pitcher

Montana Fouts' "Throw Like a Girl"

merchandise at BamaStuff.

But not all college athletes are

enjoying the same benefits.

Along with a limited amount of

money, it's still relatively easy to

censor an athlete for speaking out.

Most college athletes attend school

on a scholarship. A coach can decide

to revoke a scholarship if a college

athlete speaks out about a cause the

coach deems controversial.

The NCAA still has firm control

over the actions and movements

college athletes can pursue. A

practice that has allowed the NCAA

to maintain control over college

athletes has just taken a new form.

Image is much more than one's

physical appearance. Most brands

value the words and actions of

athletes now more than ever. Major

companies also try to support

social causes athletes are speaking

out about.

In March 2021, several college

athletes considered a strike from the

March Madness tournament. The

National College Players Association

partnered with the group of athletes

and demanded the NCAA give

athletes a list of their rights.

"The only thing that was missing

from that was an ultimatum," Lever

said. "That's really the missing piece

here. The NCAA does have a lot

of infrastructure, but it's a pretty

shaky foundation."

Despite limited funds and pressure

from athletic programs, social media

and brand deals may be the way

college athletes can create change in

the NCAA. Platforms like Twitter,

Instagram and TikTok allow fans

to see college athletes in a way they

haven't before.

"Historically, the idea of one's

likeness — a brand — utilizing you

to sell their product wasn't all that

common for us [regular people]

because it's more interesting for

brands to want to use our images,"

said A.J. Bauer, associate professor of

journalism and creative media at The

University of Alabama.

College athletes don't have to

be stars to participate in activism.

Social media allows college athletes

to raise awareness for a cause with a

simple video or a post. Athletes have

also used creative outlets such as art

and fashion to grow their brand.

These actions can change the

narrative around college athletes'

issues in the U.S.

"The issues around NIL are a

labor issue," Bauer said. "This is

about these students not as students

actually but as workers and people

who produce quite a bit of value and

profit for quite a few people."

College athlete activism may be

less prominent than it was in 2020,

but NIL creates a space for it to exist.

"A lot of this has to do with

the organization really, truly

partnering with the athlete, making

it customizable and making sure that

the athlete is accommodated and can

use his or her platform as best as they

possibly can," Lever said.

OPINION: NIL has opened doors, but is it enough?

AUSTIN HANNON

STAFF REPORTER

The long, drawn-out debate about

whether or not college athletes should

be paid has finally been settled. Or

has it?

The debate will never end; athletes

will always want more, and the

NCAA will always want less.

In high school, I wrote a research

paper on why college athletes should

not be paid a salary because they were

already being financially supported

by a full academic scholarship.

Many people have the same

viewpoint as my younger self. Former

Florida quarterback and Heisman

CW / Jo Dyess

winner Tim Tebow voiced his

disapproval when California became

the first state to allow studentathletes

to receive compensation.

"I knew going into college what it

was all about," Tebow said. "I knew

going to Florida, my dream school,

where I wanted to go, the passion for

it. And if I could support my team,

support my college, support my

university, that's what it's all about.

But now we're changing it from us

and we and my university — from

being an alumni, which makes us

care, and what makes college football

and college sports special — to it's

not about us, it's not about we, it's

just about me."

Tebow would have made a

disgusting amount of cash if he had

the name, image and likeness rules in

his college career, but he feared that

college football would turn into the

NFL in that recruits would choose

their school based on the amount

offered. That's understandable.

College football is great because of

the passion and pageantry that goes

along with it. But something tells me

Tebow is against it because he didn't

get to take part in it.

The amount of money the NCAA

and its universities make is downright

ridiculous. Billions of dollars go into

college sports yearly, and the athletes

who are actually making the money

get small fractions of it. Sources say

that Alabama quarterback Bryce

Young made almost $1 million in

NIL deals last year, but that's nothing

compared to the NCAA.

But when you think of the total

profit that Alabama athletics made

this season, is that really a lot?

The Alabama athletic program

generated almost $180 million in

the last year, so is Young worth less

than 1% of the team? His Heisman

trophy would say otherwise. Without

Young behind center, chances are the

Crimson Tide would not have made

the national championship game.

That would have been an

enormous loss of money, and yet,

rather than the school he works

for paying him, he gets paid by the

likes of Logan's Roadhouse, Subway

and iHeartRadio.

We haven't moved into paid

salaries for student-athletes yet. NIL

is the only way for these athletes to

make money, but that comes with yet

another kink. How are lesser-known,

lesser-televised athletes supposed to

make money? The television coverage

for women's athletics is low, and the

name recognition is even lower. The

same goes for other undercovered

sports like swimming, golf, rowing,

track and field, and cross country.

If the money for the sport isn't

there, then the majority of athletes

will never touch a dollar.

There are some examples — like

South Carolina women's basketball

star Aliyah Boston, Connecticut's

Paige Bueckers, Auburn gymnast

Suni Lee and Alabama's Montana

Fouts — whose recognizable names

could earn them a buck from time

to time.

But what about their teammates?

I support giving student-athletes

the money that they have earned, but

I agree that it could absolutely change

college sports. The top-tier programs

with the most money will now be

able to "buy" players. Recruiting will

become free agency, and the transfer

portal will go wild. But at the end

of the day, it's not about the viewers

and fans.

We should not get to determine

what these student-athletes should

or should not make just because it

will tarnish our enjoyment of the

game. They have worked their entire

lives to create this opportunity for

themselves, and they should be able

to reap the benefits to the last dollar.