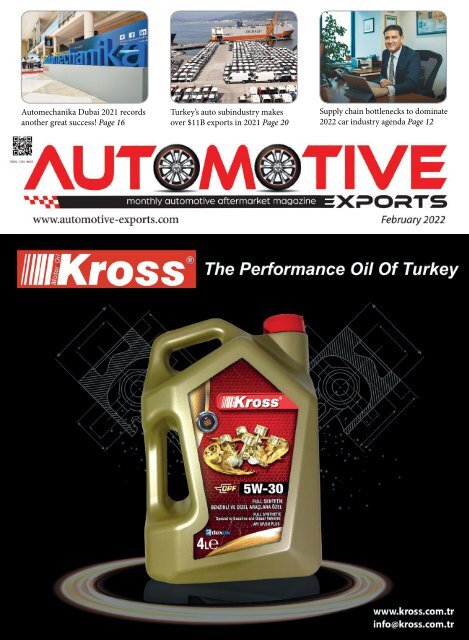 Automotive Exports February 2022
Automotive Exports February 2022
Automotive Exports February 2022
SHOW MORE
SHOW LESS
Create successful ePaper yourself
Turn your PDF publications into a flip-book with our unique Google optimized e-Paper software.
Automechanika Dubai 2021 records

another great success! Page 16

Turkey's auto subindustry makes

over $11B exports in 2021 Page 20

Supply chain bottlenecks to dominate

2022 car industry agenda Page 12
---
Monthly automotive aftermarket magazine

GROUP CHAIRMAN

H. FERRUH ISIK

PUBLISHER:

İstmag Magazin Gazetecilik

İç ve Dış Ticaret Ltd. Şti.

Managing Editor (Responsible)

Mehmet Söztutan

mehmet.soztutan@img.com.tr

Editor

Ali Erdem

ali.erdem@img.com.tr

Mehmet Soztutan, Editor-in-Chief

mehmet.soztutan@img.com.tr

Advertising Managers

Adem Saçın

+90 505 577 36 42

adem.sacin@img.com.tr

Enes Karadayı

enes.karadayi@img.com.tr

Turkish automotive exports prosper

Actually, Automechanika Dubai 2021 came to a successful end, with a new awards

programme, innovative product launches, and bustling exhibition halls sharing the

spotlight at the Middle East and Africa's largest automotive aftermarket trade fair.

The 18th edition of the annual three-day event concluded on 16th December 2021 at

the Dubai World Trade Centre (DWTC), having welcomed through the gates 20,574

visitors from 129 countries.

Trade buyers, dealers, workshop owners, and industry professionals were treated to

a wide range of products, solutions and services presented by 562 exhibitors from 47

countries, as the buzz on the show floor reflected fresh optimism that Dubai's postpandemic

regional trade hub status is on an upward trend.

It should be noted that the Turkish automotive sector made $11.8 billion (TL 163.72

billion) in subindustry exports last year, according to official data.

The automotive sector, which has been the export champion of Turkey for 16 years,

made a total of $29.3 billion in foreign sales in 2022.

Among the breakthroughs in 2021 was the government's decision to double down

on an economic policy unveiled in the last quarter, one that aims for a low current

account deficit and high growth rate through investment, production, employment

and exports, instead of steeper interest rates.

.As part of its commitment to transforming its automotive industry, which has historically

been a key economic driver in integrating the Turkish economy with the global value

chain, and to its vision of making Turkey an economic powerhouse, Turkey has recently

introduced its own locally-developed born-electric car built upon strength stemming

from the country's long-standing know-how in the area.

Turkey offers a supportive environment on the supply chain side. There are around

1,100 component suppliers supporting the production of OEMs. With the parts going

directly to the production lines of vehicle manufacturers, the localization rate of OEMs

varies between 50 and 70 percent.

Turkey is home to many global suppliers. There are more than 250 global suppliers

that use Turkey as a production base, with 30 of them ranking among the 50 largest

global suppliers.

Our publications remain at the service of those business people seeking to increase

their share in the increasingly competitive automotive markets.

We wish lucrative trade for all business people.

International Marketing Coordinator

Ayca Sarioglu

ayca.sarioglu@img.com.tr

Correspondent

Yusuf Okçu

yusuf.okcu@img.com.tr

Finance Manager

Cuma Karaman

cuma.karaman@img.com.tr

Accountant

Yusuf Demirkazık

yusuf.demirkazik@img.com.tr

Digital Assets Manager

Emre Yener

emre.yener@img.com.tr

Technical Manager

Tayfun Aydın

tayfun.aydin@img.com.tr

Design & Graphics

Sami aktaş

sami.aktas@img.com.tr

Subsciption

İsmail Özçelik

ismail.ozcelik@img.com.tr

HEAD OFFICE:

ISTANBUL MAGAZINE GROUP

Ihlas Media Center

Merkez Mah. 29 Ekim Caddesi No: 11B/21

Yenibosna Bahcelievler, Istanbul / TURKEY

Tel: +90 212 454 22 22

www.img.com.tr sales@img.com.tr

KONYA:

Metin Demir

Hazım Uluşahin İş Merkezi C Blok

Kat: 6 No: 603-604-605 KONYA

Tel: (90.332)238 10 71 Fax: (90.332)238 01 74

PRINTED BY:

İHLAS GAZETECİLİK A.Ş.

Merkez Mahallesi 29 Ekim Caddesi İhlas Plaza

No:11 A/41 Yenibosna–Bahçelievler/ İSTANBUL

Tel: 0212 454 30 00

www.ihlasmatbaacilik.com

automotiveexport

2021

automotiveexports
---
Turkey's Togg

makes int'l

debut with allelectric

'smart'

car at CES

Turkey's first domestically produced car

made its international debut at one of the

world's largest technology and gadget fairs,

which opened its doors.

Thousands of people have gathered in Las

Vegas for the Consumer Electronics Show

(CES), which has been scaled back because

of COVID-19 pandemic precautions.

Turkey's Automobile Joint Venture Group

(Togg), the consortium developing the

country's indigenous car, showed off the

"Transition Concept Smart Device," an allelectric

fastback concept car.

Designed by the world-renowned

Italian car design firm and coachbuilder

Pininfarina, the car joins Togg's previously

unveiled compact-size electric SUV and

sedan concepts.

It was not immediately clear if the fastback

is intended to replace the previously seen

compact sedan or was produced just for

CES.

Togg's "Transition Concept" electric vehicle

after it is unveiled during CES 2022 at the

Las Vegas Convention Center in Las Vegas,

Nevada, U.S., Jan. 5, 2022.

Togg CEO Mehmet Gürcan Karakaş said

the company isn't a traditional automotive

manufacturer.

"We define ourselves as a technology

company," Karakaş told a press conference

at the event. "That is why we are at

CES, the gathering place for the latest

technological innovations and firsts."

The "Transition Concept Smart Device"

features a slick styling highlighted by the

pillarless suicide-style rear doors.

The illuminated Togg logo, meanwhile,

is unique to the car and represents the

unification of Eastern and Western cultures.

"The two arrows in the logo design

represent the fusion of East and West,

forming a gemstone in the center," said

Karakaş.

"Additionally, our logo emphasizes that

Togg is a technology company that

connects technology and people at the

juncture of today and tomorrow through its

life-improving mobility solutions."

Inside, the fastback features a sporty

steering wheel, four single seats with

seatbelts integrated within them, and a

plethora of infotainment screens.

Karakaş said that Togg's technologies,

brought together under the "Smart Life"

platform, encompass much more than a

fully connected car.

"We're building Togg with a completely

user-centric approach. If a product doesn't

produce user value, it will not survive,"

Karakaş noted. "We are producing mobility

solutions through a business model that's

user-centric and data-driven. We're

developing solutions that will enable a

more comfortable mobility experience

through the ecosystem, and that will grow

around our smart device."

Karakaş said they had defined their "C-SUV

smart device as user-centric, smart,

empathetic, connected, autonomous,

shared and electric."

"The Use-Case Mobility concept, which

embodies these characteristics, has been

registered all around the world. We worked

on over 350 use cases and came up with

over 40 innovative ideas," Karakaş added.

"More than 2,000 people took part in

quantitative research, including more than

30 focus groups and interviews. A 'User

Journey Map' was developed based on the

concepts we prioritized."

The CEO said that Togg's portfolio

includes smart energy solutions. "We

will manufacture our batteries in-house

through Siro Silk Road Clean Energy

Solutions, a joint venture with Farasis

Energy."

"We aim to supply batteries for all types of

electric vehicles and to establish a presence

in non-automotive sectors as a battery and

energy storage systems provider," Karakaş

said.

Togg's aims to produce one million vehicles

in five different segments by 2030.

"By the end of 2022, we will launch our

first mass-production vehicle," Karakaş said.

"Our first vehicle in the C-segment, the

SUV, will be launched in the first quarter

of 2023 following the completion of

homologation tests. It will be the first

electric SUV produced in continental

Europe by a nontraditional manufacturer."

Togg's "Transition Concept" electric vehicle

after it is unveiled during CES 2022 at the

Las Vegas Convention Center in Las Vegas,

Nevada, U.S., Jan. 5, 2022.

Togg was launched on June 25, 2018, and is

led by Karakaş, the former tech-giant Bosch

executive who was appointed CEO in 2018.

President Recep Tayyip Erdoğan, in

December 2019, unveiled prototypes for

the SUV and a sedan, both fully electric

and C-segment models. Togg said it would

produce five different models – an SUV,

sedan, C-hatchback, B-SUV and B-MPV

– through 2030. Mass production of the

SUV will begin by the end of this year,

with the sedan to follow. Construction of

Togg's engineering, design and production

facilities began on July 18, 2020. Built

on an area of 1.2 million square meters

(12.9 million square feet) in the Gemlik

district of northwestern Bursa province,

the facility is scheduled to be complete in

the coming months. Togg has opted for

advanced lithium-ion battery technology

company Farasis as its business partner for

the battery. The homegrown car can reach

80% charge in under 30 minutes with fast

charging. It will have a range of between

300 kilometers to 500 kilometers (186

miles to 310 miles).

February 2022 8
---
"Türkiye is rising to

the next league in

economy"

Delivering remarks at a meeting on foreign

trade data of 2021, President Erdoğan said:

"As we near 2023, the 100th anniversary

of our Republic, Türkiye is going through a

transformation in economy, and rising to the

next league."

President Recep Tayyip Erdoğan delivered

remarks at a meeting in Istanbul on

Türkiye's foreign trade data of 2021.

"We are reaping the fruits, especially in

exports, of our country's efforts and hard

work in the past 20 years to bolster our

foreign trade," President Erdoğan said.

"The Turkish economy continues

to develop in line with principles of

investment, employment, production,

exportation and growth through current

account surplus. The export data, we will

announce in a short while, are the epitome

of our commitment to our goals and of

our sure progress on the right path. As

we near 2023, the 100th anniversary of

our Republic, Türkiye is going through a

transformation in economy, and rising to

the next league," President Erdoğan noted.

Noting that humanity had been fighting

against the coronavirus pandemic for

the past 2 years, which started as a

health crisis at first, but then negatively

affected every aspect of life from economy

to tourism, from education to social

relations, President Erdoğan said: "We as

Türkiye utilized in the most effective and

productive way possible the advantages

of our robust healthcare infrastructure,

and duly managed the pandemic period.

Despite the global-scale turbulences, we

have taken measures to ensure that the

Turkish economy survives, production

continues non-stop, and jobs are

protected."

"TÜRKİYE IS EXPECTED TO BE THE FASTEST-

RECOVERING G20 COUNTRY IN TERMS OF

ECONOMY DURING THE PANDEMIC"

Announcing that Türkiye grew by 1.8

percent as the global economy shrank by

3.4 percent, President Erdoğan said: "We

consolidated our success by growing 7.4

percent in the Q1 of 2021, 22 percent in

Q2, 7.4 in Q3. Given this performance,

Türkiye is expected to be the fastestrecovering

G20 country in terms of

economy during the pandemic. In our

Q3 growth, we see that the driving force

was our commodity and service exports.

In this period, the net contribution of

commodity and service exports to growth

was recorded to be 6.8 points. Therefore,

92 percent of our realized high growth was

caused by our net commodity and service

exports."

Noting that the effects of the rise in the

export volume on growth could be more

clearly seen in such indicators as industrial

production, capacity utilization rate, and

employment, President Erdoğan said:

"The Industrial Production Index reached

a record level in October by rising to

143.6 with an 8.5 percent increase on an

annual basis. The manufacturing industry's

capacity utilization rate even exceeded

its pre-pandemic level, and reached 78.7

percent in December. This momentum

had a positive effect on employment.

The Turkish economy generated 2 million

additional jobs as of October 2021 in

comparison to the pre-pandemic period.

While the OECD member countries

are expected to recover in terms of

employment in the Q3 of 2023, the Turkish

economy, with its dynamic structure,

rapidly reclaimed the pre-pandemic levels."

"HAVING RISEN 32.9% YEAR-ON-YEAR,

TÜRKİYE'S EXPORTS REACHED $225.4

BILLION IN 2021"

"Through an understanding of free market

economy, and transparent and predictable

policies based on competition, we have

developed and strengthened Türkiye,"

President Erdoğan underlined.

Declaring that Türkiye's export volume

surpassed $200 billion for the first time,

President Erdoğan said: "Let me announce

with great pride and satisfaction that our

export volume in 2021 has risen by 32.9%

year-on-year, and reached $225 billion

368 million, which is, praise be to Allah, a

record."

"EXPORTS TO THE EU ROSE BY 33% TO

$93.1 BILLION"

Underscoring that Türkiye's exports to its

biggest trade partner, the European Union,

rose by 33% to $93.1 billion, President

Erdoğan said: "We are pleased to see that

the rise in our exports is equally spread

across the world instead of focusing on

certain areas. We achieved this together

with you. For example, our exports to

South America have risen by 86.6 percent,

to non E.U. European countries by 29

percent, to Near and Middle Eastern

countries by 22.6 percent, to North Africa

by 44.8 percent."

Pointing to Türkiye's previously-set export

goal of $231 billion for 2022, President

Erdoğan said: "I believe we will exceed

this number next year. Therefore, we are

revising our 2022 goal to $250 billion."

February 2022 10
---
Supply chain

bottlenecks to

dominate 2022

car industry

agenda

The automotive sector passed the year

2021 under the shadow of the chip crisis,

logistics bottlenecks and record increases

in raw material costs, while sector

representatives in Turkey say the main

agenda of local automotive manufacturers

this year will be supply chain management,

again.

Automotive Industry Association (OSD)

head Haydar Yenigün, evaluating the

course of the sector, said that supply chain

management will continue to be the No. 1

item in the 2022 agenda of the sector.

"The chip crisis will continue in 2022. We

now hold procurement meetings once a

day, which were previously held once a

month. We have a supply chain meeting

every evening. Every day a new picture

emerges," he said.

Yenigün stated that on the one hand,

new chip factory investments are being

evaluated for the near future with the hope

that life can return to normal by the end of

the first quarter of 2023.

Stating that the chip is not the only

problem in the supply chain, Yenigün

said there is also a problem in the

transportation of the supply as well.

According to the World Container Index,

container freight on the east-west route,

which was at the level of $5,000 (TL

67,480) at the beginning of 2021, increased

to $9,000 at the end of 2021.

"An increase in freight is expected this year

as well," Yenigün said, as the prices are

expected to be about two to seven times

higher in 2022. "With the entry of new

ships into the market, it is foreseen that the

relaxation in freight and reservations will

occur in 2023 at the earliest."

Expressing that the increase in input costs

will also continue, Yenigün said: "There

have been price increases between 100%

and 300% in raw materials such as sheet

metal, aluminum and rubber in the last

year. In particular, there has been an

increase of 274% in the last year in Turkish

lira terms in the domestic sheet metal

market. All this is reflected in the vehicle

prices," along with the rising electricity

costs in Turkey.

"There was an increase of 400% in natural

gas and 273% in electricity between

January 2021 and January 2022 on a

Turkish lira basis. This process is no longer

a manageable process for users, producers

and investors," he said.

According to the data of the OSD, total

vehicle production in 2021 decreased by

2% compared to the previous year to 1.28

million units, while automobile production

decreased by 8% to 782,835 units. With

the tractor production, the total production

reached 1.331 million units. The reason

why the biggest loss on the production side

was on the automobile is that this segment

was most affected by the global chip crisis.

Yenigün stated some 10.3 million vehicles

worldwide were produced incompletely

due to a semiconductor shortage.

"That is a very serious number. At the

beginning of the year, we predicted a loss

of 5 million-6 million units. But with each

passing month, things have progressed a

little more haphazardly," he said.

Yet, Yenigün also stated that there were

pleasing developments on the export side.

Automotive exports increased by 2% on a

unit basis compared to 2020 and amounted

to 937 units. Automobile exports, on the

other hand, decreased by 5% to 565,361

units. The automotive industry, which

made exports worth $29.9 billion last year,

took a 13% share of the total exports.

"There is a slight increase in exports on the

basis of units. There is also a very serious

increase in the number of exports. The

value of exports per kilogram is $10.62. It

reached its highest level ever. But it's not

enough, we're working to make it $20," the

sector official said.

Industry and Technology Minister Mustafa

Varank also shared a statement via his

Twitter account regarding the country's

automotive sector exports.

"Last year, 772,000 new and commercial

vehicles were sold in Turkey," he said,

adding: "The Turkish automotive industry

closed the year 2021 with $29.8 billion

exports revenue."

The sector, which sold to nearly 200

countries, autonomous and free zones

last year, sold the most vehicles to the

European Union with a share of 64.6%.

Foreign sales to the "Other European

countries" group, which the United

Kingdom has been included in since leaving

the EU, increased by 32%.

Meanwhile, the best scenario for 2022

project production is to increase by 15%

and boost exports by 17%.

Yenigün stated that they expect a sale

higher than last year in the domestic

market as well.

February 2022 12
---
Turkey's Togg to

hit roads in 2022

as assembly line

set up begins

Two years since the unveiling ceremony,

construction at Turkey's Automobile Joint

Venture Group (Togg) production facility

in northwestern Bursa province's Gemlik

district continues rapidly as the country

is set to put its first fully electric and

domestic vehicle on the market by early

2023.

Togg CEO Gürcan Karakaş said that they

are getting closer to their targets. "We

will start trial production at the end of

July 2022" at the facility where some 250

robots will operate, he said, and the first

mass-produced vehicle will be ready at the

end of 2022.

"After the homologation tests are

completed in the first quarter of 2023,

our first vehicle in the C segment, an SUV,

will be on the market," Karakaş said while

speaking during a meeting held at the

Gemlik factory.

Karakaş also said they started to build the

facility from scratch gradually after the

unveiling ceremony and that the rough

construction phase was finished.

Stating that the work on the production

units at the construction site, where

approximately 2,000 people work, is

planned to be completed in May 2022, he

said the installation of 62 assembly robots

has started as of now.

"When our smart device hits the market,

it will be the first electric SUV produced

by a non-classic brand in continental

Europe," Karakaş said, noting that sedan

and hatchback models in the C segment

will enter the production line following the

SUV.

The Togg CEO further stated that from the

engineering side, it is no longer just about

an automobile.

"We started to develop the smart device

part of the automobile. We chose our

suppliers. Some 75% of our suppliers are

from our country. We have worked from

the beginning in a way that can provide a

locality rate of 51%, and we are putting this

into practice," he said.

The consortium is currently conducting

crash, durability and performance tests, he

added.

Set to host Turkey's indigenous car

engineering, design and production center,

the Togg factory was established in July

2020 as the country's first domestic car

factory.

President Recep Tayyip Erdoğan, during a

speech at the groundbreaking ceremony

of the factory, said at the time that it

was a "historic step" to realize a 60-yearold

dream to produce the country's first

domestic car.

In June 2018, five industrial giants – the

Anadolu Group, BMC, Kök Group, Turkcell

and Zorlu Holding as well as an umbrella

organization, the Union of Chambers and

Commodity Exchanges of Turkey (TOBB) –

joined hands to produce the Togg.

The indigenous car project was to see a

fixed investment of over TL 22 billion ($3.21

billion), and the factory was planned at the

time to start mass production in 2022 with

an annual capacity of 175,000 units.

The country in December unveiled

prototypes of an SUV and a sedan, both

fully electric and C-segment models.

Battery infrastructure

Regarding the developments of the car's

battery, Karakaş said they have established

the company Siro via a partnership with

China's Farasis.

We said, 'We will start equipment

installation in October 2021,' and we

started," he said, adding that they have

started preparations with Togg Smart and

Fast Charging Solutions Inc. to support the

formation of an infrastructure.

Expressing that Siro, which was established

to develop energy storage solutions in

partnership with Togg and Farasis Energy,

will be a pioneer in the production of

domestic battery cells, modules and

packages.

It will also be a business partner in the

automotive and non-automotive sectors

in the surrounding countries as well as in

Turkey, Karakaş also said.

Togg initially signed a letter of intent

with leading lithium-ion (li-ion) battery

producing company Farasis Energy for

the production and use of battery cells in

the full range of Togg products in October

2020. According to the agreement, battery

cells will be provided by Farasis, and the

battery modules and packs will be jointly

developed and produced in Turkey.

Li-ion batteries are a fundamental

component of an electric car.

The establishment of a joint venture

company occurred as the two companies

aimed at expanding cooperation, in

addition to supplying batteries.

Answering a question on how the car's

price tag will be determined, Karakaş said it

will be "competitive."

"We planned everything from the

moment we started, knowing that when

we entered the market in 2023, the most

sold C-segment SUVs in our country will

not be electric vehicles, knowing that we

need to snag a market share from internal

combustion vehicles," he said.

Karakaş went on to say that if they are

asked whether they can compete with an

SUV in the C segment, the answer is "yes,

we can compete."

February 2022 14
---
Automechanika Dubai 2021 comes to successful

end attracting 20,574 visitors from 129 countries

Dubai, UAE: Automechanika Dubai 2021

came to a successful end, with a new

awards programme, innovative product

launches, and bustling exhibition halls

sharing the spotlight at the Middle East

and Africa's largest automotive aftermarket

trade fair.

The 18th edition of the annual three-day

event concluded on 16th December 2021

at the Dubai World Trade Centre (DWTC),

having welcomed through the gates 20,574

visitors from 129 countries.

Trade buyers, dealers, workshop owners,

and industry professionals were treated

to a wide range of products, solutions and

services presented by 562 exhibitors from

47 countries, as the buzz on the show floor

reflected fresh optimism that Dubai's postpandemic

regional trade hub status is on

an upward trend.

According to figures released at the event

by Dubai Customs, Dubai's general trade

value (imports, exports, and re-exports)

rose from US$150 billion in H1 2020 to

US$199 billion during the first six months

of 2021 – a 33 percent year-on-year

increase.

The auto parts sector contributed US$6

billion to the Emirate's overall trade

volumes in H1 of 2021, comprising

US$3.1 billion in sector-specific imports

(tyres, batteries, engine components and

accessories), US$2.5 billion in exports, and

US$381 million billion in re-exports.

Dubai's top five auto parts trade partners in

H1 spotlight the emirate's global approach

to post-pandemic trade recovery, with

five countries from three continents

contributing US$2.3 billion, or 38 percent

of total auto parts trade between January

and July 2021.

The top five included Japan at US$780

million, China at US$421 million, Saudi

Arabia at US$380 million, the USA at

US$369 million, and Germany at US$350

million.

"We're very pleased with the industry

response to Automechanika Dubai 2021,

after what has been a hugely challenging

period," said Mahmut Gazi Bilikozen, Show

Director of Automechanika Dubai, which is

February 2022 16
---
organised by Messe Frankfurt Middle East.

"Exhibitor stands have been busy

throughout, and the international

participation of both exhibitors and visitors

has been very impressive, which is crucial

for our stakeholders to expand their

business links and distribution networks as

we enter a post-pandemic recovery.

"We've seen a 40 percent increase in

senior management and an 18 per cent

increase in procurement and purchasing

personnel visiting the show compared to

the last edition in 2019 – another signal of

increased business activity and interest in

finding new partners," added Bilikozen

Spread across eight DWTC halls,

Automechanika Dubai featured six sectors:

parts & components; electronics &systems;

tires & batteries; car wash, care &

reconditioning; repair & maintenance; and

accessories & customization.

The showpiece event returned with its

regular highlights, the Innovation Zone,

the Automechanika Academy, and debuted

with the inaugural Automechanika Dubai

Awards, the only programme in the Middle

East that celebrates success, prestige and

excellence by recognising high performing

organisations and individuals in the auto

aftermarket.

A shortlist of 49 from more than 160

nominations contested 19 categories, with

hundreds of professionals gathered at a

breakfast ceremony on the second day of

Automechanika Dubai.

Meanwhile, exhibitors and visitors alike

were happy to be back in a physical face-toface

exhibition environment again. Debut

Romanian exhibitor Wemzer launched

in the Middle East market its range of

aftermarket parts, and was pleased with

the response.

"Automechanika Dubai is the most

important B2B trade fair for the industry

in the Middle East, which is why we chose

it to be Wemzer's official launch platform

in the automotive market," said Managing

Director Amin Zaman.

"It was the perfect opportunity to

showcase our product line-up and share

the Wemzer story with our customers and

industry stakeholders. We were glad to be

here this year."

Regular UAE exhibitor Mineral Circles

Bearings was also enthused about the

return of Automechanika Dubai in 2021,

and used the platform to announce an

important strategic partnership.

"We have been exhibitors at

Automechanika Dubai for eight years

now, and after a two-year hiatus, it was a

monumental show for us this year as we

launched one of our biggest partnerships,"

commented Angelo Ting, Marketing Team

Lead at Mineral Circles Bearings.

"We are eager to introduce our partnered

brands to the region as we focus on

building our brand presence. The turnout

this year was incredible, we hit our set

targets by the second day, and the quality

of business leads we concluded exceeded

our expectations for sure. A very well-done

exhibition as always."

Any fears around potential health and

safety issues were also quickly allayed.

Mohammed Elshazely, Operations Manager

for Saudi distributor, Universal Motors

Saudi, said: "I was really looking forward to

Automechanika Dubai this year since I am a

regular visitor to the show worldwide.

"I'm glad to see that physical shows are

back with great safety precautions in place.

I felt at ease while walking around the

exhibition. It's a wonderful opportunity to

grow your network and understand the

market from such vast perspectives, and

I am already looking forward to the next

one." Regular Automechanika Dubai visitor

Muhammed Jeseef, General Manager

of Save Fast, a leading health and safety

training provider, added: "I believe the

entire industry was eagerly awaiting the

return of Automechanika Dubai this year.

"The exhibition was very busy with so

many exciting exhibitors to visit. I had the

opportunity to speak with many industry

leaders and discuss upcoming business

projects with them, and I look forward

to taking these leads further in the near

future. These opportunities do not come

easily, yet Automechanika Dubai truly

elevates the networking opportunities to

meet international companies."

Automechanika Dubai also featured 12

country pavilions, while other debut

highlights last year included the Modern

Workshop; a knowledge sharing platform

of the Repair & Maintenance section; and

the Tools & Skills Competition.

17 February 2022
---
Turkey's auto subindustry makes

over $11B exports in 2021

The Turkish automotive sector made $11.8

billion (TL 163.72 billion) in subindustry

exports last year, according to official data.

The automotive sector, which has been the

export champion of Turkey for 16 years,

made a total of $29.3 billion in foreign sales

in 2021, according to an Anadolu Agency

(AA) report on that cited data from the

Uludağ Automotive Industry Exporters'

Association (OIB).

The automotive sector made the highest

export in the subindustry product group.

This group, which makes sales to more

than 200 countries, free zones and

autonomous regions, increased exports

by approximately 26% compared to 2020

when the sales totaled $9.3 billion.

Subindustry exports accounted for 40.22%

of the total export sales of the automotive

industry.

Germany took the lion's share in Turkey's

subindustry exports with 23.23%.

Exports to this country last year increased

by 30.62% compared to the same period of

2020 and rose to $2.7 billion.

The second country to which automotive

subindustry manufacturers exported the

most was Italy. Exports to Italy in 2021

were recorded as $778.4 million, up

37.47% compared to 2020.

The sector's exports to the U.S., which

ranks third in the list, increased by 35.07%

compared to the previous year and reached

$728.3 million.

The automotive industry also exported

over $100 million each to France, the

United Kingdom, Russia, Spain, Poland,

Belgium, Romania, Morocco, Slovenia, the

Netherlands, Egypt, Hungary, Israel, Iraq,

Iran, Brazil, Czech Republic and Ukraine.

Meanwhile, local automotive industry

exports jumped some 15% throughout

2021, official data showed, but the sales

of passenger cars and light commercial

vehicles in Turkey fell 4.6%.

The sales of passenger cars and light

commercial vehicles were down to around

737,350 units last year, according to

data from the Automotive Distributors

Association (ODD.) Sales in 2020 stood at

nearly 773,000.

In December, sales fell 40.3% year-overyear

to 62,243, the association added,

down from 104,293 units in 2020.

Automobile sales in Turkey have declined

in the past months due to supply issues

caused by the coronavirus pandemic and

high loan rates amid a slide in the Turkish

lira. The ODD had forecast that sales would

amount to between 825,000 and 875,000

in 2021, before rising to 850,000-900,000

in 2022.

The industry championed the country's

annual foreign sales for the 16th

consecutive year. It accounted for 13.3% of

last year's overall exports, which surged by

more than a third to hit an all-time high of

nearly $225.4 billion.

The European Union market accounted for

64.6% of the total automotive exports, with

$19 billion.

Germany became the largest export

market. Sales to Germany increased by 17%

compared to the previous year, reaching

$4.1 billion.

The industry also saw rises in its exports

to France and the U.K., with 14% and 39%

respectively. There was also a 22% increase

in exports to Morocco.

While exports to the Middle East fell

by 15% last year, they rose 38% to the

Commonwealth of Independent States

(CIS), 28% to the North American Free

Trade Area and 21% to African countries.

February 2022 20
---
Tesla to restructure Turkey branch,

launch all 4 models this year

The electric automotive giant Tesla will

soon bring all its models to Turkey via a

branch of Tesla Motors in the country.

Most recently, Tesla boss Elon Musk named

Kemal Geçer, who had been heading

Lufthansa Airlines' Turkey office since

2015, as the head of Tesla Motors' branch

in Turkey and increased the capital of the

company in the country by TL 50 million

($3.72 million).

The company will now complete its

restructuring and offer four models, Model

X, Model Y, Model 3 and Model S, in the

country this year.

Musk came to Turkey in 2017 and met

President Recep Tayyip Erdoğan.

After this visit, their communication

continued via phone and video messages.

Erdoğan, after one of the meetings with

Musk, previously said, "They discussed the

issues of cooperation between the public

and private sector institutions in Turkey and

the company in different fields, especially

in space technologies."

"We will continue to closely follow the

developments in the field of technology

in our country and the world and support

every step taken in this field to benefit our

nation," the president said.

After these negotiations, Turkey's eighth

satellite, Türksat 5B, was launched on

Dec. 19, 2021, with a Falcon 9 rocket from

Musk-founded SpaceX's base in Florida,

United States.

Recent developments point to the relations

evolving into something more than just

space cooperation.

With the Tesla company in Turkey set to

be launched, the vehicles and their prices

are expected to be shared with the public

soon. In addition, a service network and

teams such as service, maintenance and

roadside assistance will be produced to

serve customers.

Tesla's website now includes city names for

Tesla Supercharger stations with the phrase

"coming soon" for Turkish provinces.

The cities currently include Istanbul, the

capital Ankara, southern Antalya, the

western cities of Aydın, Balıkesir and

Izmir, the northwestern cities of Bursa,

Edirne and Sakarya, and central Konya.

Charging stations will be installed at points

that everyone can easily access, such as

main roads or shopping malls. Tesla will

establish its own sales offices and store

chains, primarily in Istanbul and later in the

regions and other provinces. The company

will provide employment opportunities

to thousands of people with the service

network it will establish in areas such as

management, service, stores, service and

maintenance.

Geçer, Turkey CEO of Tesla, was born

in 1984 in Germany. A graduate of the

Schumpeter School of Business and

Economics, Geçer started his career

at Vodafone in Germany. After serving

as a strategy consultant at IQ Group,

PricewaterhouseCoopers AG, he became

managing director of HEINE Medizin GmbH

in Düsseldorf in 2013. Geçer, who started

working at Lufthansa Airlines in 2015,

was named as the general manager at

Lufthansa Turkey as of Oct. 1, 2016, after

serving as the sales manager for one year.

February 2022 24
---
Hobbled by chip

crisis, European

car sales plunge

to new low

European car sales dived to a new historic

low in 2021 as the automotive industry

was hobbled by the coronavirus pandemic

and a shortage of computer chips, industry

figures showed Tuesday.

Registrations of new passenger cars

in the EU slid by 2.4% in 2021, to 9.7

million vehicles, the worst performance

since statistics began in 1990, according

to data from the European Automobile

Manufacturers Association (ACEA).

That follows the historic fall of nearly

24% suffered in 2020 due to pandemic

restrictions, and brought new car

registrations in the EU to 3.3 million below

the pre-crisis sales of 2019.

The lack of semiconductors, the computer

chips used in a multitude of car systems in

both traditional and electric vehicles, was

the main reason holding the industry back.

Car manufacturers initially downplayed

the impact of the chip shortage, but it

eventually led them to slow production and

even idle factories.

EU car sales did rebound strongly in the

second quarter, but for most of the second

half they were down by around 20%.

The short-term perspectives for supplies

are not good.

"The start of 2022 will still be difficult in

terms of supplies of chips," Alexandre

Marian at the AlixPartners consultancy told

the Agence France-Presse (AFP).

"The situation should improve in the

middle of the year, but that doesn't mean

other problems won't crop up, concerning

raw materials, supply chains and labor

shortages," he said.

The chip shortage is a consequence of the

pandemic as manufacturers were disrupted

by lockdowns and sick employees, as well

as supply chain problems and increased

global demand for electronics.

The pandemic has also sent prices for many

raw materials soaring and caused labor

shortages in some areas.

As the markets in France, Italy and Spain

posted modest gains, a 10.1% drop in

Germany dragged down the overall EU

figure.

Germany is by far Europe's largest car

market, accounting for a quarter of total

sales at over 2.6 million last year.

The shortage of semiconductors was the

major factor holding back a rebound, but

the EU also underperformed compared

to the other major markets where the

recovery from the pandemic was stronger.

The Chinese car market grew by 4.4% and

the U.S. market by 3.7%.

The decline in European sales may also

reflect "the sharp increase in the average

price of cars as well as an expectant

attitude by consumers concerning electric

vehicles, which is pushing them to put off

purchases and hold on to their current

vehicle longer," said analysts at Inovev, an

automotive data analytics firm.

Renault hits sales pothole

Europe's top three auto manufacturers all

saw a drop in sales in the bloc.

Volkswagen managed to retain the top

spot, but a 4.8% drop in sales to 1.4 million

vehicles caused its market share to dip

to 25.1%. Stellantis, which was formed

from the merger of Italy's Fiat group

and France's Peugeot-Citroen, suffered

a smaller 2.1% drop to 2.1 million units,

nudging its market share higher to 21.9%.

Renault group suffered a 10% drop, with

sales of its eponymous brand tumbling by

16%, while sales of both its low-cost Dacia

brand and sporty Alpine brands rose.

The French automotive group saw its

market share narrow to 10.6%.

Germany's BMW managed a 1.5% increase

in registrations, but Daimler – the owner of

the Mercedes and Smart brands – suffered

a 12.4% drop. Korea's Hyundai Group

– which includes both the Hyundai and

Kia brands – solidified its position as the

number-four carmaker in the EU with an

18.4% gain to over 828,000 vehicles.

Its market share rose to 8.5%.

The data supplied by ACEA members does

not include sales by U.S. electric vehicle

manufacturer Tesla.

The ACEA data also did not include a

breakdown by petrol, diesel and electric

vehicles, which is provided in a separate

quarterly report.

February 2022 26
---
Renault, Nissan,

Mitsubishi to spend over

$23B on electrification

Renault SA, Nissan Motor Co and

Mitsubishi Motors Corp plan to triple their

investment to jointly develop electric

vehicles (EVs), two people with knowledge

of the plan told Reuters.

As established automakers face pressure

from new competitors and an expected

shift in demand toward EVs, the French-

Japanese alliance is seeking to deepen

cooperation.

The three are expected to announce a

plan to invest more than 20 billion euros

($23 billion) over the next five years on EV

development, the sources said. By 2030,

the alliance is expected to come up with

more than 30 new battery EVs underpinned

by five common platforms, they said.

That is in addition to 10 billion euros the

group has already spent on electrification,

said the two people with knowledge of the

plan.

A Nissan spokesperson declined to

"comment on speculation." Spokespeople

for Renault and Mitsubishi did not respond

to requests for comment.

The "Alliance to 2030" plan aims to show

"intensified cooperation" among the

automakers, highlighting a "shared vision

on electrification and connected mobility,"

one source said. The five common

platforms are expected to cover 90% of EVs

the companies are expected to develop

and launch by 2030, the sources said.

The three-firm alliance has developed and

partly deployed four common EV platforms.

One underpins EVs such as Nissan's

upcoming Ariya and Renault's Megane EV,

and another supports affordable no-frills

cars by Nissan and its China market partner

Dongfeng, as well as for Renault's Dacia

brand. The other two are platforms for

micro minis, called "kei cars" in Japan, and

light commercial vehicles.

By mid-decade, the alliance aims to deploy

a fifth common platform for compact EVs

designed by Renault, the sources said.

Nissan has already decided to use this

platform, called CMFB-EV, and other

standardized components to electrify the

Nissan Micra compact car, while Renault is

expected to come up with a similar EV car

based on the same platform, the sources

said. The Micra EV is projected to be

released by the mid-2020s.

Affordable EVs

The automakers hope to make compact EVs

as affordable as gasoline-fueled vehicles of

similar size, the sources said.

The automakers are expected to use

common batteries and other key

components. The alliance plans to jointly

invest in capacity to produce in France,

Britain, China and Japan a total of 220

gigawatt hours of battery capacity by 2030

under the plan, the sources said.

By standardizing and sharing batteries,

the alliance expects to halve battery

manufacturing costs, they said.

The alliance is also expected to share solidstate

lithium-ion battery technology, which

Nissan has been developing, they said.

The plan had been for the leaders

of Renault, Nissan and Mitsubishi to

announce the 2030 plan last autumn at an

event in Japan, but the announcement was

postponed because of a surge in COVID-19

in Japan, the sources said.

A disagreement between Nissan and

Renault over the French firm's proposals

for a full-blown merger – tensions that

burst into the open with the arrest of

former alliance leader Carlos Ghosn in

2018 – corresponded with stalled efforts

to collaborate on technology and vehicle

development, people with knowledge of

the matter have said.

The three automakers all have their own

hybrid technologies with few shared key

parts and systems. The limited cooperation

in sourcing and development has raised

concern within the group about the ability

to achieve cost savings, one source said.

It was not immediately clear whether

alliance leaders will discuss hybrids as part

of their 2030 plan.

Nissan said in November it planned to

spend some $18 billion over five years to

accelerate vehicle electrification, launching

23 electrified vehicles – including gasolineelectric

hybrids – by 2030, including 15

EVs. Half of Nissan's vehicle mix will be

electrified by 2030, including EVs and

e-Power hybrids, the company said.

Renault has said its Renault brand will

be 100% electric in Europe by 2030, but

company officials told Reuters the target

does not apply to markets outside Europe

and the group's other brands, such as

Dacia.

February 2022 28
---
Cars to look out for 2022

Achip and supply chain shortage arising

from the COVID-19 pandemic has slammed

global carmakers but there is something

to look forward to this year: new car

introductions.

Among other things, the shortage forced

many brands to delay the release of allnew

and redesigned vehicles that were

originally scheduled for 2021. To help

you sort through the debuts, the experts

at Edmunds have compiled a list of the

five hottest vehicles that will arrive at

dealerships in the next six to nine months.

The all-electric Ford F-150 Lightning pickup

will be one of the most significant electric

vehicles (EVs) to ever hit the market. That

it's based on the best-selling vehicle in

America would be reason alone. But the

Lightning, which has dual motors and allwheel

drive, will also make more torque

than any other F-150 produced – up to 775

lb-ft – and have the ability to use its battery

pack as a power source. It's robust enough

to power a house during a power outage,

potentially for days.

The F-150 Lightning, which comes out in

the spring, will be offered with standardand

extended-range battery packs. The

standard pack model comes with 426

horsepower and has a Ford-claimed driving

range of 230 miles, and the extended

pack is rated at 563 horsepower and

has a longer driving range of 300 miles.

Maximum towing capacity when properly

equipped will be 10,000 pounds, which is

enough for a medium-size trailer.

Starting price: $41,669

Based on its name, the all-new CX-50 might

seem like a replacement for the similarly

sized CX-5 small SUV. But when the CX-50

goes on sale this spring, Mazda will sell it

alongside the CX-5.

The CX-50 comes standard with all-wheel

drive and sports a more rugged look than

the CX-5. Engine choices will be shared

with the CX-5, which are non-turbocharged

and turbocharged versions of Mazda's

2.5-liter four-cylinder. Mazda says a hybrid

powertrain will be available down the

line too. The interior has a minimalist and

upscale look to it and, if other Mazdas are

any guide, will be fitted with solid-feeling

controls and plenty of soft-touch materials.

Estimated starting price: $27,000

BMW's first electric SUV will go on sale this

spring. The dual-motor, all-wheel-drive

EV is comparable to the X5 in size and

produces impressive power in the base

xDrive50 model: 516 horsepower and 564

lb-ft of torque. BMW will also introduce

a more powerful M60 model with 610

horsepower.

The iX's driving range is an EPA-estimated

305 to 324 miles, depending on wheel

size. Acceleration is quick; BMW says 0-60

mph happens in 4.6 seconds for the base

iX or 3.6 seconds for the M60. Inside,

owners will be treated to a 12.3-inch digital

instrument panel, a 14.9-inch central

display screen, and an available electrochromatic

panoramic sunroof. The trigger

phrase for the infotainment system's voiceactivated

virtual assistant is customizable,

so you're not stuck having to say "Hey,

BMW."

Starting price: $85,795

Chevrolet's mid-engine sports car is getting

its newest Z06 treatment. But instead of

adding a supercharger like on prior Z06s,

Chevrolet developed a new naturally

aspirated 5.5-liter V8 that revs to a sky-high

8,600 rpm and churns out an impressive

670 horsepower and 460 lb-ft of torque.

It's backed by an eight-speed dual-clutch

automatic transmission.

Aside from the engine, the Z06 is wider

than the regular Corvette in order to house

the larger tires that wrap the 20-inch front

and 21-inch rear forged aluminum wheels.

Owners who track their Z06 will appreciate

its electronic limited-slip differential,

estimated 2.6-second 0-60 mph time, and

a traction management system that offers

five distinct settings for optimum on-track

performance. Production begins this

summer. Estimated starting price: $90,000

The Integra is back and will spice up Acura's

lineup as a sporty four-door hatchback

when production starts this fall. Acura has

only shown the Integra in concept form,

but we believe the production version

will look almost identical. It will compete

against other entry-level luxury cars

including the Audi A3 and BMW 2 Series.

The new Integra is based on the redesigned

Honda Civic and will be powered by a

turbocharged 1.5-liter four-cylinder engine

producing around 200 horsepower. An

available six-speed manual transmission

and limited-slip differential should make

for a fun driving experience. A pumpedup

Type S model will likely come later in

production and could make as much as 300

horsepower.

Estimated starting price: $30,000

Whether you're an EV fanatic, track-day

hero, or someone who just simply wants to

haul the family around in a cool car, make

sure to check out one of the above vehicles

coming out in 2022, Edmunds says.

February 2022 30
---
Turkey, US joint venture

Ford Otosan introduces new electric cars

Ford Otosan, a joint venture of Koç Holding,

Turkey's largest conglomerate, and United

States automotive giant Ford introduced

its electric vehicles, Rakun Pro2 and Rakun

Pro3, which it produced by combining

know-how in electric and commercial

vehicle production with its innovation

power. The vehicles developed under the

company's new venture, Rakun Mobility

Technology and Trade Inc, aims to provide

services with different business models for

all users looking for innovative and light

mobility solutions.

Haydar Yenigün, general manager of Ford

Otosan, said in a company statement

that today great transformations in the

transportation sector are occurring.

"With the inspiration we received from our

customers, with the knowledge we have in

electric vehicle production and commercial

vehicle production, we dreamed of

producing an environmentally friendly,

electric vehicle with less than four wheels

that will serve end-point delivery," he said.

"This is how Rakun was born," Yenigün said,

noting that the company takes its work in

mobility to the next level by integrating it

with product development, innovation and

production capability.

Eren Atlı, Rakun Mobility Inc. general

manager, stated that with the Rakun Pro

2 and Pro 3, businesses will have the

opportunity to deliver orders in a reliable,

durable, and most importantly, 100%

electric, therefore in a soundless and

environmentally friendly way.

"As a first step, we will bring our vehicles

together with corporate customers through

the method of rentals and sales. We are

planning to have our individual customers

on the road with Pro2 and Pro3 in the

future," Atlı said. The 5 kW/h battery in

Pro2 and Pro3 can be charged comfortably

and easily by plugging the cable into the

socket of a regular electricity network.

February 2022 34
---
Turkey's

automotive

exports nearing

pre-pandemic

level

Turkish automotive exports rose 16 percent

to $26.4 billion in the first 11 months

of this year, according to the Uludağ

Automotive Industry Exporters' Association

(OİB).

With $29 billion at the end of this year, the

sector aims to get closer to the three-year

pre-pandemic period annual average, OİB

said in a press release on Dec. 5.

However, automotive exports sank 6

percent year on year to $2.5 billion last

month.

Despite the contraction, the automotive

sector's exports were above the 11-month

average of $2.4 billion in November, OİB

Head Baran Çelik said.

"While auto supply industry exports

jumped in double digits, exports of

passenger cars and goods transport motor

vehicles declined in double digits. We also

recorded double-digit growths in exports

to countries such as Germany, the United

States and Egypt," he added.

In the three years before the pandemic

crashed the global supply chains at the

beginning of 2020, the average of Turkey's

automotive exports was $30 billion

annually.

"In 2020, our exports slipped to $25.5

billion due to the pandemic. We are

planning to end this year with $29 billion in

exports," Çelik said.

Turkish automotive exports' share in the

country's overall exports is around 11.8

percent, according to his remarks.

Germany, Turkey's top exports market,

imported automotive products of $392

million in November, up 12 percent year

on year. In the same month, automotive

exports to Russia, Egypt, Romania

and the United States jumped by 44

percent, 31 percent, 25 percent and 11

percent, respectively. On the other hand,

automotive exports to France dropped by

11 percent to $291 million and exports

to the United Kingdom contracted by 16

percent to $223 million. Exports to Italy,

Slovenia, Belgium, the Netherlands and

Sweden also decreased in double digits year

on year in November.

In the first 11 months of this year,

automotive exports to Russia soared 50

percent to $642.7 million, while exports

to the United Kingdom ($2.7 billion) and

United States ($1.1 billion) jumped by 42

percent and 31 percent, respectively.(HH)

Domestic market narrowing

Affected by semiconductor shortage,

depreciation in the value of the Turkish

Lira and complicated special consumption

tax base system, passenger car and light

commercial vehicle sales dropped by 24.9

percent to 60,216 units in November,

according to Automotive Distributors

Association (ODD).

In the same month, passenger car sales

declined by 33.2 percent to 42,982, while

light commercial vehicle sales increased

by 9.2 percent to 17,234. Compared to the

10-year November sales average, passenger

car and light commercial vehicle sales

narrowed by 24.7 percent this year.

February 2022 36
---
Turkey hikes tax

thresholds for

some vehicles

Turkey has raised price thresholds for a special

consumption tax on vehicles with small combustion

engines, while adding more categories, according

to a presidential decree published in the Official

Gazette, a move that will help cut vehicle prices.

A 60% tax rate is to be levied on vehicles with

engines smaller than 1,600 cubic centimeters (cc)

(97.6 cubic inches) in a price band of TL 150,001 to TL

175,000, ($11,136 to $12,992) after the adjustment.

The rate rises to 70% for vehicles that cost up to TL

200,000 and 80% for those priced above TL 200,000.

Previously, all cars that cost more than TL 150,000

were subject to the 80% rate.

The maximum price for the tax rate of 45% was

raised from TL 92,000 to TL 120,000, and the

threshold for the 50% tax rate was raised to between

TL 120,000 and TL 150,000.

Passenger vehicles sold in Turkey, already under a

large tax burden, will see prices decrease as a result

of the move, though the benefit is likely to erode

quickly as sellers are expected to hike prices because

of a depreciation in the Turkish lira.

Sales of passenger cars and light commercial

vehicles in Turkey fell 4.6% to around 737,350

units throughout 2021, according to data from the

Automotive Distributors Association (ODD.). Sales in

2020 stood at nearly 773,000.

In December, sales were down 40.3% year-over-year

to 62,243, down from 104,293 units in 2020.

Sales have declined in the past months due to supply

issues caused by the coronavirus pandemic and high

loan rates, amid a slide in the lira.

37
---
Turkey's auto parts industry plans

$2 billion investment

Turkey's automotive parts supplier

companies plan to undertake investments

worth $2 billion this year, up from $1.5

billion in 2021, with nearly half of new

investments going to electric vehicles

technologies.

"We are forecasting one percent growth in

2022 as unfavorable developments from

2021 still weighing on the industry," said

Albert Saydam, chair of the Automotive

Suppliers' Association (TAYSAD).

Problems from the last year are not over

for the industry, but despite challenges

Turkey's automotive sector managed to

increase its share in the global industry

from 1.6 percent to 1.7 percent, Saydam

noted.

"Exports by local parts suppliers rose by

26 percent in 2021, with firms shipping

goods to 190 countries among those seven

nations for the first time. Also exports to 37

countries increased more than 100 percent

from 2020," he said, noting that export

target for this year is $14 billion.

Saydam explained that the strong rise in

exports last year was not only due to the

increase in unit prices, which stemmed

from companies' passing on higher

costs onto customers, but the volume of

exports rose and the shipments of valueadded

items thanks to wider product

diversification also contributed to export

performance.

He added that TAYSAD member

companies continue their investments

despite uncertainties, saying that in an

environment where there are problems

related to raw materials, logistic costs and

supply of chips, if right steps are taken

there is huge export potential for local

companies to exploit.

As the main automotive industry invests

more into electrical vehicles, more of

the parts sector's investments will be

channeled toward this direction, Saydam

said. The Automotive Manufacturers'

Association (OSD) recently reported that

Turkey's automotive exports grew 15.2

percent last year to $29.9 billion, with

passenger car exports contracting slightly

by 0.4 percent to $9.3 billion.

February 2022 40
---
ASPİLSAN's Lithium-Ion

Battery Investment to be concluded soon

80% of the construction of Turkey's first

lithium-ion battery production facility to be

established in Kayseri by ASPİLSAN Energy

has been completed.

Established in Kayseri Organized Industrial

Zone in 1981 with the contributions of

charitable business people, ASPİLSAN

Energy adds strength to the power of the

Turkish Armed Forces (TSK) by producing

batteries and batteries specific to the

devices used according to the needs of the

military units.

The factory, which has improved itself with

the investments it has made, provides

power to almost all kinds of portable

devices or wearable technological products

sold worldwide with the batteries it

produces today.

ASPİLSAN also designs TAF's radio, night

vision system, jamming system, anti-tank

system and robotic system batteries used

in mine scanning, bomb disposal, batteries

and batteries used in missile and guidance

kits, and anti-torpedo batteries.

80% of construction completed

According to the information received from

ASPİLSAN, 80 percent of the construction

has been completed in Turkey's first

lithium-ion battery production facility,

which has a closed area of 25 thousand

square meters and was established in

Mimarsinan Organized Industrial Zone

in October last year and will begin mass

production in the near future.

At the same time, the needs of both the

defense industry and the private sector

will be met at the facility, which will

mass-produce lithium-ion batteries in

Europe, and work on the development of

battery cells of different types, sizes and

technologies will continue in the future.

While ASPİLSAN, which carries out works

for domestic production, is currently

dependent on abroad only for cell supply,

will become the only cell producing

company in the region with a new

investment. The factory, which will end

foreign dependency in this regard, will

provide completely domestic production

as the mines such as nickel, cobalt and

manganese to be used as raw materials

are supplied from the country. The total

number of personnel in the production

facility is expected to be 300 in 2022 and

400 in 2023.

It will also contribute to "Turkey's

Automobile"

The first battery to come off the production

line will be of the cylindrical type, with a

capacity of 2.8 ampere-hours and a voltage

of 3.6 volts. The facility, which will consist

of three parts: electrode preparation,

battery assembly and formation lines, will

have a production capacity of 60 batteries

per minute. Batteries that can operate at

low temperatures can be used in a wide

variety of battery systems, as they have

a high C-rate (discharge rate). Cells with

cylindrical cells, but with higher capacity,

can also be produced in the same machine

systems at the factory.

It is aimed to complete the installation of

machine systems in the factory, whose

approximate cost is planned to be between

900 million and 1 billion 200 thousand

liras, in January 2022, and to start mass

production in April 2022. ASPİLSAN,

which is preparing to contribute to the

automobile to be produced by Turkey's

Automobile Enterprise Group (TOGG),

will be able to produce domestic batteries

for TOGG when the second phase of the

investment is completed.

February 2022 42
---
Festo increases turnover

with electromobility

In 2020, Festo was able to increase sales in the "machines and systems for battery production" segment

by 40 percent. The demand for automation for battery cell production and other e-vehicle components is

increasing continuously.

The automotive industry is currently

investing mainly in the development of

new electric vehicles. Dr Ansgar Kriwet,

Member of the Management Board

for Sales: "In 2020, 70% of Festo's top

projects in the automotive industry

involved investments for electromobility."

Based on this very good starting point,

Festo expects significant double-digit

percentage growth in the "Machines and

systems for battery production" segment

over the next few years.

Demand is increasing - opportunity for

Festo

The degree of automation in production

is increasing due to the electrification of

powertrains. The traditional assembly

of combustion engines involves the

high-precision assembly of mechanical

components, whereas the production of

battery modules involves the assembly of

very expensive and potentially dangerous

electrochemical elements. In addition,

there are new components compared to

combustion vehicles: the electric motor,

the batteries and the power electronics.

Their production poses completely new

challenges: For example, it is essential

to avoid damaging the battery cells by

dropping them. Festo therefore offers

coordinated solutions for the robust, safe

and precise gripping and transport of

battery cells, particularly in the field of

handling technology.

Key products

For battery production, copper-, zinc- and

nickel-free automation components are

necessary, such as the VTUG and VUVG

valves in the "battery" version. Festo

increases the productivity of its customers

through engineering, for example with

energy-efficient piezo valves VEAB and

VEAE or with the servo press YJKP, which

was sold in large numbers for battery cell

production in order to press the wound

batteries. In this case, the high quality

pays off for the customers in battery

production, because the batteries are very

expensive and the plants run at a high

cycle rate.

Downtimes are costly and therefore

prompt spare parts delivery and service

are very important. In the last two years,

Festo has invested in order to be able to

cover all requirements for the portfolio.

Festo's own research and participation

in joint research projects, which focus on

the handling process for the production

of solid-state battery cells or the recycling

of batteries, also contribute to their

development.

February 2022 46
---
Festo accompanies the entire process

chain

Battery production is very complex.

Festo offers industry-specific products

and solutions for the manufacture of

machines and systems along the entire

process chain of battery cell production:

From process automation products for

raw material preparation to copper-, zincand

nickel-free as well as dry- and cleanroom

compatible products for the fully

automated production of battery cells to

the assembly system for battery modules

for installation in the vehicle. Festo also

offers automation engineering and expert

knowledge through to qualification by

Festo Didactic and consulting by Festo

Training and Consulting.

47 February 2022
---
Håkan Samuelsson, President and CEO of Volvo Cars, addresses delegates at COP26

Håkan Samuelsson, Volvo Cars chief executive

Major automakers aim for 100%

zero-emission cars by 2040

But sources familiar with the pledge's

contents said some big carmakers including

the world's top two, Toyota Motor Corp

and Volkswagen AG, and crucial car

markets China, the United States and

Germany have not signed up, highlighting

the challenges in transitioning to a zeroemission

future.

Cars, trucks, ships, buses and planes

account for about a quarter of all

global carbon emissions, data from the

International Energy Agency showed. The

bulk comes from road vehicles.

Sweden's Volvo, U.S. automakers Ford

Motor Co. and General Motors Co., Daimler

AG's Mercedes-Benz, China's BYD Co. Ltd.

and Jaguar Land Rover, a unit of India's Tata

Motors Ltd, were set to sign the pledge at

climate talks in Glasgow, the latest initiative

to help cap global warming by mid-century.

Volvo has already committed to going fully

electric by 2030.

Britain, which is hosting the COP26 summit,

said four new countries, including New

Zealand and Poland, were joining other

nations already committed to ensuring all

new cars and vans are zero-emission by

2040 or earlier.

The statement comes on a day dedicated to

transport at the conference.

But the apparent unwillingness of China,

the world's largest car market, and the U.S.

– the world's largest economy and secondlargest

car market – to join the pledge

raises questions about its effectiveness.

General Motors said it is "proud to

now stand alongside other companies,

governments and civil society organizations

to support the declaration to commit to

working towards a transition to 100% zeroemission

vehicles by 2035."

Ford confirmed its participation and said:

"It will take everyone working together to

be successful."

Sources said that while the United States

is not joining the pledge, key car-buying

states like California and New York have

signed up.

An auto industry source said some

carmakers are wary of the pledge because

it commits them to a costly shift in

technology but lacks a similar commitment

from governments to ensure that the

necessary charging and grid infrastructure

would be built to support electric vehicles.

In the summer, the European Commission

proposed an effective ban on fossil-fuel

vehicles by 2035, accompanied by a

commitment to charging infrastructure that

carmakers had demanded.

The world's No. 4 carmaker, Stellantis, was

missing from the latest pledge, so were

the Japanese carmakers Honda Motor Co.

Ltd. and Nissan Motor Co. Ltd.; Germany's

BMW and Korea's Hyundai Motor Co.

According to sources, ride-hailing company

Uber Technologies will also be a signatory.

The British government statement said

a joint declaration would also be signed

by companies including food retailer

Sainsbury's and cities around the world

aiming to make their vehicle fleets green.

January 2022 50
---
Bugatti Baby II has taken

luxury shopping to another level

Bugatti Baby II was showcased on display

at Harrods by The Little Car Company.

Partnering with the iconic Knightsbridge

luxury store, The Little Car Company's

limited-edition vehicle was on show for all

visitors to see up close.

Taking pride of place in the Technology

area, on the fifth floor of the building,

the Bugatti Baby II is exhibited in Vitesse

specification. Presented in a Williams

Green exterior with a Brun Cavalier colour

Bridge of Weir leather interior, the vehicle's

colour scheme neatly complements the

brand identity of the world's most famous

department store and is one of over 160

colour combinations available to clients.

Built in partnership with Bugatti, the

Bugatti Baby II is a contemporary tribute

to Ettore Bugatti's original masterpiece,

the Bugatti Baby, built in 1926. The

vehicle was developed to celebrate

Bugatti's 110th anniversary and is not only

significant in preserving the history of the

Bugatti marque, but also inspiring a new

generation of young Bugatti enthusiasts.

Ben Hedley, CEO of The Little Car Company,

said: "We are incredibly honoured to be

partnering with one of the world's most

famous luxury brands and are delighted

to be able to present the Bugatti Baby II

to all its visitors. This is an unbelievable

milestone for The Little Car Company and

testament to the handcraftsmanship and

attention to detail that goes into producing

these incredible junior cars."

Visitors to the store can view the 75%

scale vehicle close up and enquire with

one of Harrods' friendly sales team about

reserving an exclusive build slot. When

purchasing one of these Bugatti Baby

IIs, Harrods clients are offered exclusive

access to the factory where these exquisite

vehicles are crafted. Lovingly hand built to

each customer's exacting specifications,

only 500 of the bespoke Baby II models will

be produced.

The Bugatti Baby II is available in three

versions: Base, Vitesse and Pur Sang. The

Pur Sang offers the same powertrain as the

Vitesse but with beautiful, hand-formed

aluminium bodywork. Using the same

traditional coachbuilding techniques as the

original Bugatti Type 35, each aluminium

body takes more than two hundred hours

of skilled craftsmanship to create.

The Baby II's performance lives up to

the Bugatti name. Offered exclusively

in rear-wheel drive, all versions of the

Baby II have a fully electric powertrain,

high performance hydraulic brakes and

selectable driving modes. The Base model

comes with two modes; Novice which

is limited to 20kph (12mph) and 1kW

(1.3bhp) of power, and Expert which

is limited to 45 kph (30mph) and 4kW

(5.4bhp) of power.

The Vitesse and Pur Sang models include

the Novice and Expert driving modes,

but also offer extra performance from an

upgraded powertrain, unlocked by the

legendary Bugatti Speed Key. This enables

you to deploy up to 10kW (13.4 bhp)

and with an all-up weight of just 230kg,

achieving a top speed of 70kph (42mph).

Depending on the weight of the driver,

0-60 kph is dispatched in just six seconds.

February 2022 52
---
Turkey, US

joint venture

Ford Otosan

introduces new

electric cars

Ford Otosan, a joint venture of Koç Holding,

Turkey's largest conglomerate, and United

States automotive giant Ford introduced

its electric vehicles, Rakun Pro2 and Rakun

Pro3, which it produced by combining knowhow

in electric and commercial vehicle

production with its innovation power. The

vehicles developed under the company's

new venture, Rakun Mobility Technology

and Trade Inc, aims to provide services

with different business models for all users

looking for innovative and light mobility

solutions.

Haydar Yenigün, general manager of Ford

Otosan, said in a company statement

that today great transformations in the

transportation sector are occurring.

"With the inspiration we received from

our customers, with the knowledge we

have in electric vehicle production and

commercial vehicle production, we dreamed

of producing an environmentally friendly,

electric vehicle with less than four wheels

that will serve end-point delivery," he said.

"This is how Rakun was born," Yenigün said,

noting that the company takes its work in

mobility to the next level by integrating it

with product development, innovation and

production capability.

Eren Atlı, Rakun Mobility Inc. general

manager, stated that with the Rakun Pro

2 and Pro 3, businesses will have the

opportunity to deliver orders in a reliable,

durable, and most importantly, 100%

electric, therefore in a soundless and

environmentally friendly way.

"As a first step, we will bring our vehicles

together with corporate customers through

the method of rentals and sales. We are

planning to have our individual customers

on the road with Pro2 and Pro3 in the

future," Atlı said. The 5 kW/h battery in Pro2

and Pro3 can be charged comfortably and

easily by plugging the cable into the socket

of a regular electricity network.

Xiaomi to establish electric car plant in Beijing

Chinese smartphone giant Xiaomi will

establish a plant in Beijing that can produce

300,000 vehicles annually for its electric

vehicle (EV) unit, authorities said.

The plant will be constructed in two

phases, and Xiaomi will also build its

auto unit's headquarters, sales and

research offices in the Beijing Economic

and Technological Development Zone,

the government-backed economic

development agency Beijing E-Town said on

its official WeChat account.

Beijing E-Town said it anticipated the plant

reaching mass production in 2024, a goal

announced by Xiaomi's Chief Executive Lei

Jun in October.

In March, Xiaomi said it would invest $10

billion in a new electric car division over

10 years. The company completed the

business registration of its EV unit in late

August. The company has been opening

thousands of new stores to spur domestic

sales growth for its smartphone business

but eventually intends to use these shops

as part of its plans to sell electric vehicles.

February 2022 56
---
GEFCO France and Gardien Transports test

biodiesel fuel in car transporters

In November, GEFCO France and Gardien Transports started testing synthetic biodiesel made from waste oil and fat as

an alternative fuel for two car transporters distributing new vehicles in the Hauts-de-France region of northern France.

This one-year project supports GEFCO France's efforts to reduce carbon emissions from its finished vehicles logistics

(FVL) operations.

For these tests, GEFCO France and Gardien

Transports have selected Altens PUR-XTL

synthetic biodiesel. This alternative fuel is

produced exclusively from waste materials,

and can be used in regular diesel vehicles

without any technical modifications.

Compared to standard diesel, PUR-XTL

promises to cut CO2 emissions by 85-90%

and fine/ultrafine particles by up to 65% on

short journeys with 500 km of autonomy.

After committing to the EVcom voluntary

carbon reduction program in 2019 and

Objectif CO2 standards in early 2021,

GEFCO France is now testing alternative

fuels (natural gas and biogas) and rolling

out a program for its proprietary finished

vehicles logistics business focused on four

priorities:

• Flow optimization. Transport schedules,

plans and loads are regularly revised and

optimized to reduce the flow of trucks and

avoid empty return journeys whenever

possible.

• Vehicles. GEFCO France is aiming to

upgrade 100% of its FVL fleet to Euro 6

vehicle emissions standards by the end

of 2021. Through these upgrades, the

fleet's fuel consumption at 100 km already

dropped by 10% between 2015 and 2020.

GEFCO France is also asking its partners to

make similar upgrades.

•Drivers. Since 2015, GEFCO France drivers

have followed an eco-driving training

program, renewable every two years. At

the end of 2020, 80% had completed this

training.

•Fuel. To monitor equipment performance

and optimize maintenance, GEFCO France

tractors are equipped with integrated

telematic systems to adapt fuel consumption

to loads and road conditions.

GEFCO France's partnership with Gardien

Transports further demonstrates its

commitment to a more sustainable logistics

sector in France.

"Like GEFCO France, Gardien Transports

has signed the Objectif CO2 charter to

help reduce greenhouse gas emissions.

Our partner is committed to moving the

transportation and logistics business forward.

Gardien Transports' values reflect our own,

providing all the more reason to support its

efforts," said Frédéric Briand, COO Finished

Vehicle Logistics at GEFCO France.

February 2022 58
---
Renault targets

greater presence

in Turkey with

new subsidiary

Luca de Meo, CEO of Groupe Renault

French auto giant Renault Group announced the establishment of Renault Group Automotive Inc. (RGO) in

Turkey as part of its broader breakthrough strategy for the country. The move is designed to strengthen the

group's presence and investments in Turkey.

In a global press conference on Jan. 14, the

automaker announced its medium-term

"Renaulution" plan. The main goal of the

plan is to make Renault Group the flag

carrier of the new mobility ecosystem by

building its business models on technology,

energy and mobility in the upcoming

period.

This paradigm shift involves a profound

change within the company, with strong

and distinct brands. Its objective "is to

position the group fully within the times

and to make it a forerunner of new

mobility by 2025 and beyond," according to

the company statement.

"The Renaulution is about moving the

whole company from volume to value. We

will feed our brands' strength, each with its

own clear, differentiated territories. We'll

move from a car company working with

tech to a tech company working with cars,"

Luca de Meo, CEO of Groupe Renault said

back in January.

Meanwhile, with the new restructuring, the

deep-rooted partnership between Renault

and Turkey's Oyak Group will continue in

a stronger manner while contributing to

the production, sales and marketing at

the Oyak-Renault factory in northwestern

Bursa province. It also aims to contribute

effectively to the development of the

electric vehicle's ecosystem in Turkey.

Hakan Doğu, a member of the Renault

Group Corporate Governance Committee,

was appointed as the CEO of the newly

established company, effective as of Dec.

1, 2021. Renault Group has been operating

in Turkey since 1968 in partnership with

Oyak. Exporting 80% of its production, the

Oyak-Renault Bursa factory ranks third

among Turkey's top exporting companies

and contributes 3 billion euros ($3.4 billion)

to Turkey's total exports. The sum of the

group's investments in Turkey since 2000 is

at the level of 2 billion euros.

February 2022 60