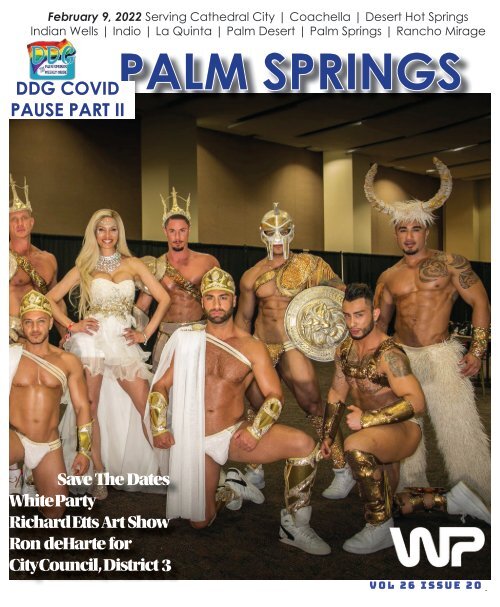 February 9, 2022. Palm Springs only weekly local Gay Guide.
White Party Planner for those who love to party. Art Show for Richard Etts Who created showroom displays since the '60s for the Empire State Building, Bloomingdale's, Macey's, and Tiffany & Co.Art. Ron deHarte runs for City Council, and more this week as we begin the steady process BACK TO PRINT!
White Party Planner for those who love to party. Art Show for Richard Etts Who created showroom displays since the '60s for the Empire State Building, Bloomingdale's, Macey's, and Tiffany & Co.Art.
Ron deHarte runs for City Council, and more this week as we begin the steady process BACK TO PRINT!

SHOW MORE
SHOW LESS
You also want an ePaper? Increase the reach of your titles
YUMPU automatically turns print PDFs into web optimized ePapers that Google loves.
February 9, 2022 Serving Cathedral City | Coachella | Desert Hot Springs

Indian Wells | Indio | La Quinta | Palm Desert | Palm Springs | Rancho Mirage

COVIDPALM SPRINGS

DDG PAUSE PART II

Save The Dates

White Party

Richard Etts Art Show

Ron deHarte for

City Council, District 3

Vol 26 Issue 201
---
2 Never miss a DDG we are always FREE at ddg.gay
---
3
---
FETISH FRIDAY

8pm - 2am

DJ

COREY D

Heavy

Cruising

Wear Your

Favorite Fetish

Gear For

Happy Hour

Prices All Night

Leather

Latex

Uniforms

Underwear

Sexy

Bartenders

4 Never miss a DDG we are always FREE at ddg.gay

600 E. Sunny Dunes Rd
---
5
---
6 Never miss a DDG we are always FREE at ddg.gay
---
SINGLET

SATURDAY

8pm - 2am

Sexy Bartenders

Heavy Cruising

DJ Corey D

Happy Hour

Prices For

Wearing A

Singlet

Drink

Specials

600 E. Sunny Dunes Rd

7
---
ADAMSARTEXPOSE'

REPORTER: Adam

EMAIL: adamsart@desertdailyguide.com

FROM MUD PIES TO BRONZE TO PAINTINGS OF MUSIC

Richard Etts has had previous shows of

his work locally and we are fortunate to

have a new show of some of his recent

large paintings which light up an area

with dancing shapes and happy colors.

Based on his biography, Richard

has had a diverse career in the arts

beginning with his early work as a child

in learning how to cast using a cowboy

and Indian casting kit as molds learning

how to mold design and duplicate from

liquid to solids. He began his career

in 1962 when he worked in New York

City and accepted various art-related

jobs which allowed him to experience

many aspects of the arts. When he

was 19 he moved to apprentice at

the Circulo de Bellas Artes in Madrid,

Spain a landmark art gallery and

museum where he learned molding

and casting techniques. Back to New

York, he created showroom displays

8 Never miss a DDG we are always FREE at ddg.gay

for DuPont in the Empire State Building

and also worked for Bloomingdale's,

Macy's, and window displays for Tiffany

& Co. Following those experiences, he

took commissioned projects for Allied

Chemical trade shows and window

displays for Smirnoff Vodka, Hanes

Hosiery, Max Factor and Elizabeth

Arden, Bulova Watch, Stern Brothers,

and Martex towels.

During the '60s and '70s, he owned a

successful design and manufacturing

business where he created a series

of unique lamps

crafted into hand

sculptures in

addition to other

home furnishings

that he designed

and were sold at

Bloomingdales.

Today these unique

sculptured lamps

NEXT PAGE 23
---
9
---
10 Never miss a DDG we are always FREE at ddg.gay
---
11
---
03

Vol 26 Issue 20

SUMMARY

08 ADAMSARTEXPOSE'

14 FEATURED BUSINESS

18 BAR|FOOD

22 COMMUNITY LISTINGS

20 MASSAGE

Team DDG

08

PUBLISHER: Will Paige

will@desertdailyguide.com

EDITOR IN CHIEF: A, A,

AA@desertdailyguide.com

Contributing Photographers: Marko Russell,

David Stanfield

National Ad Representatives

Rivendell Media

(212) 242-6863

Contributing Writers

Vic Gerami

TheBluntPostWithVic.com

Art: Adams's Art

adamsart@desertdailyguide.com

Advertising

17

Digital or printed media packs available on

request.

SALES: Will Paige

will@desertdailyguide.com

Magazine is hand delivered every week

to select locations. Updated weekly ,

Currently under minimal COVID restrictions

Paused IN PRINT

available

AT DDG.GAY

DDG Media Group creates and prints Desert Daily Guide. Opinions expressed in the DDG columns do not necessarily

reflect the opinion of the DDG, its staff, or its advertisers. DDG is not responsible for claims made by its advertisers, or the

products or services they offer. Listings, pictures, or advertisements in the DDG should not be construed to represent or

reflect the sexual orientation of any business, its owners, or staff. All events are subject to change without notice. Any

omissions of events are not intentional. © 2021 DDG Media Group , All Rights Reserved.

12 Never miss a DDG we are always FREE at ddg.gay
---
13
---
14 Never miss a DDG we are always FREE at ddg.gay
---
After serving our community for eleven years, I'm excited to announce I am running

for the Palm Springs City Council, District 3 seat.

I care about our hometown's vitality and livability. As a small business owner, gay,

Hispanic, father of two, I want to keep this city a great place to live, work, and visit.

I am running because I am a resident who cares about Palm Springs and believes

we can have safe streets, sound economic development, a robust tourism

economy, and accessible housing while being a leader in sustainability.

I am committed to working hard, having a voice at the table, and being an

effective council member for you. The next ten months will be a great opportunity

for you to learn more about me and for me to hear from you.

I am reaching out to you, my friends, neighbors, and community leaders, to ask for

your endorsement, financial support, and volunteer support.

Ron deHarte

The DDG is proud to endorse Ron deHarte!

15
---
BUSINESS

DIRECTORY

FEATURED

BARS/DINING

AMP Sports Lounge Everyone is welcome

here at this local friendly bar in the heart

of Cathedral City plaza, A sports bar

with a twist featuring your favorite sports

and daily happy hour. All the big sports

games will be shown on seven huge TV

screens.

68-718 E Palm Canyon Dr #201,

Cathedral City, CA 92234

RIO AZUL MEXICAN Style Rest. & Bar

Best authentic Mexican style restaurant

in the valley. With patio and Bar. Home

of an original and distinct interpretation

of Mexican food & Longest running

Sunday Drag Brunch.(760) 992-5641 350

South Indian Cyn. PS

Runway Restaurant & Bar

The valleys premier arts and

entertainment. Featuring American

Casual Dining Drinks & Drag at CCBC

Resort Hotel.68300 Gay Resort Drive. CC

SUNSHINE CAFE Nearly as perfect as it

gets! Known as a local hole in the wall

with a funky vibe and fantastic food,

frequented by celebrities, politicians

36815 Cathedral Canyon CC

16 Never miss a DDG we are always FREE at ddg.gay

RUNWAY RESTAURANT & BAR

The valleys premier arts and

entertainment. Featuring American

Casual Dining Drinks & Drag at CCBC

Resort Hotel.68300 Gay Resort Drive, CC

TOOL SHED LEVI/LEATHER In the Warm

Sands District in central Palm Springs.

600 E Sunny Dunes Rd , PS

FEATURED RESORTS

CCBC RESORT 18+ 760 324-1350

68-300 Gay Resort Drive

CCBC is the largest clothing optional

Gay men's resort in Southern California.

Located just a few minutes from

downtown Palm Springs, Our 3.5 acre

fantasy playground is perfect for

weekend get-aways and extended

stays.

ccbcresorthotel.com

TRIANGLE INN 760-322-7993

555 E. San Lorenzo Rd Palm Springs CA

Romantic and relaxing or fun and frisky.

At the Triangle Inn Palm Springs, the

choice is yours. Historic Palm Springs

Resort is a feast for all your senses, with

a special flair for Southern (California)

hospitality. triangle-inn.com

NEXT PAGE 21
---
White Party Global Presents

'White Party Palm Springs'

The Return Of The

Legendary Desert Dance

Music Festival

party in 1989. In 2014, Sanker was

honored with a star on The Palm Springs'

'Walk of Stars,' which recognizes notable

individuals who have contributed to the

cultural and or civic life of Palm Springs.

By Vic Gerami

One of the world's biggest and longestrunning

queer dance music festivals,

the White Party (WP), is returning to

Palm Springs, CA. White Party Global

(WPG) announced that the WP will take

place from April 29 through May 1, 2022,

at the Hilton Palm Springs. Thousands

of revelers from around the world will

once again descend upon the desert

community for non-stop festivities.

'It is an honor to continue White Party

Palm Springs for my dear friend Jeffrey,'

said White Party Global Executive

Producer Chris Diamond. 'As we move

forward with his vision of inclusion,

diversity, and decadence, we are

truly excited to once again showcase

new dance music trends, global DJs,

recording artists, state-of-the-art sound

& visuals – and most importantly our

returning guests… beautiful men from all

over the world.'

Jeffrey Sanker, who founded the White

Party, died May 28, 2021 after a battle

with cancer. Sanker started the circuit

The three-day party is jam-packed with

all types of events.

SOAKED! will feature poolside

dancing, state of the art sound,

video, go-go guys, and a line-up

of world-famous DJs, including Orel

Sabag (Israel), Isis (Mexico) and Bruno

Knauer (Brazil), and Arno Diem (France).

NEXT PAGE 25

17
---
EVERY DAY

7AM-7PM

Welcome!

WORSHIP WITH US IN PERSON

SUNDAYS AT 10 AM

3601 E. Mesquite Ave, Palm Springs

Demuth Community Center

God's Love &

Good Works.

760.327.3802

www.bloominthedesert.org

WORSHIP WITH US ONLINE

SUNDAYS AT 10 AM

Facebook

Bloom in the Desert Ministries UCC

REPLAY ANYTIME

YouTube

Bloom in the Desert Ministries UCC

18 Never miss a DDG we are always FREE at ddg.gay
---
19
---
Mark your calendars to attend these

very special Desert Hot Springs LGBTQ+

events (ALL ARE WELCOME*):

FEBRUARY 12 @ 12:00 P.M - DiversityDHS

ANNUAL PLANNING RETREAT - Your ideas

matter in designing the 2022 Desert Hot

Springs Pride Festival. We'll first gather

at Mission Springs Park, 14510 Palm

Drive (one block behind Agua Soleil

Spa Resort Hotel at Park Lane 92240)

to decide if we move the festival here

or keep it at Cabot's Pueblo Museum

parking lot. Then we resume our

planning retreat at the nearby Desert

Hot Springs Library at around 12:30 p.m.

Please review the attached agenda

and join us with your ideas. Bring family

and friends. Everyone is welcome.

FEBRUARY 13 @ 3:00 P.M. - SUPERBOWL

TEA SOCIAL - Let's have fun cheering on

our favorite football team in this year's

top gridiron game alongside friends.

Admission is free. Drinks and food are

available for purchase. Raffle prizes are

also available. The fun will be at the

outdoor patio of Dillon's Burgers & Beers

Restaurant in DHS. See the attached

flyer for all the super-packed details.

Bring family and friends.

MARCH 5 @ 6:00 P.M. - LGBTQ+ TOWN

HALL WITH DESERT HOT SPRINGS POLICE

CHIEF JIM HENSON(92240).

Looking forward to seeing you at each

of the events. TELL A FRIEND / BRING A

FRIEND.

DiversityDHS/Your LGBTQ+ Connection in

Desert Hot Springs

email: DiversityDHS@roadrunner.com

Zoom Mass every Saturday at 430.

Call or 442-282-8333 or visit stgilesaltadena.org for more details.

20 Never miss a DDG we are always FREE at ddg.gay
---
BUSINESS Directory

BAR| FOOD | RESORTS

Cathedral City

BARS|FOOD

The Barracks

Runway

Sunshine Cafe

AMP Sports Lounge

Roost

Trunks

Studio One 11

Desert Hot Springs

BARS|FOOD

Playoffs Sports Bar

Resorts

CCBC

Triangle Inn

Bearfoot Inn

All Worlds Resort

Desert Paradise

Resort

LA DOLCE VITA

RESORT & SPA

THE HACIENDA AT

WARM SANDS

Shopping

Q trading

Gear

Palm Springs

BARS|FOOD Off Ramp Leathers

Eagle 501 LOCAL Bar EVENTSGay Mart

Rio MASKS Azul MAY BE REQUIRED

Tool Shed

Did We Miss

Toucan's

Streetbar You?

Oscar's

Let us know

Chill bar

Hunters FREE LISTING!

Stacy's

October

BlackBook For all Gay and Gay

31 HALLOWEEN ON ARENAS

halloweenpalmsprings.com

QUADZ friendly Bars Resorts

RetroRoom

and Lodging

Oct.28-31 PALM SPRINGS LEATHER PRIDE

XXVI Unlocked: Full Release

SPECIAL and ONGOING EVENTS

Upcoming Art

Show Richard Etts

Stephen Baumbach

Gallery located at the

Backstreet Art District

on 4116 Mathew Dr.

Palm Springs just off

of Highway 111. The

opening for the show

is on March 2 from 5 to

8 PM. See page 8 for

details..

Thursday nights VILLAGEFEST takes place

in downtown Palm Springs on Palm

Canyon Drive every.

villagefest.org

Guided Nature Walks

Palm Springs Aerial Tramway

Check schedule. pstramway.com

FRIENDS OF THE DESERT

MOUNTAINS celebrate Friends'

champions and accomplishments

November 10th services hikes various

events check schedule

desertmountains.org

GENERAL SERVICES

Red's Hauling. We remove trash and

unwanted items. Garage clean outs.

Red 760-288-6956

21

PREVIOUS PAGE 16 NEXT PAGE 22
---
BUSINESS Directory

by trained hands. I am a Professional

Massage Therapist here offering

something therapeutic, restorative and

sensually tailored to your needs. I am

well trained and provide a session that

is unparalleled. Say hi and tell me how

I can make your body feel awesome!

The massage is done on a table. I see

people at my location.

I am off Ramon by Sunrise.

845-866-0498 Mark

Patriot Services LIC. General contractor

Handyman ELECTRICAL 760-327-9619

DAVE MAY CONCRETE

LOCAL ATTRACTIONS

Cabot's Pueblo Museum

760-329-7610

McCallum Adobe 760-323-8297

Indian Canyons 760-323-6018

Palm Springs Aerial Tram

760-325-1449

Palm Springs Air Museum

760-778-6262

PATIOS | SIDEWALKS | DRIVEWAYS |KOOL DECKS

760-327-4849

LIC. #441265

MASSAGE

MALE KNEADS Exceptional, Sensual,

Soothing, body work for men of all

ages. Outcalls only. Call Adam for an

extraordinary experience in innovative

erotic relaxation. 760-835-0727

Hey guys...take a break from life and

come relax with a great massage

22 Never miss a DDG we are always FREE at ddg.gay

Palm Springs Art Museum

760-325-7186

Sunnylands

760-328-2829

Patton Memorial Museum 760-227-3483

Joshua Tree National park 760-367-5500

SHOPPING

PREVIOUS PAGE 21 NEXT PAGE 24
---
are part of the Smithsonian Institute's

art collection In 1990 he received a

fellowship grant that allowed him to

begin working with a foundry to learn

bronze casting after which he created

several bronze sculptures.

During the recent years since moving

to Palm Springs Richard has been

working with acrylics and painting large

paintings of which he has shown at

several local galleries.

He is scheduled for an upcoming show

at the Stephen Baumbach Gallery

located at the Backstreet Art District on

4116 Mathew Dr. Palm Springs just off of

Highway 111. The opening for the show

is on March 2 from 5 to 8 PM. I

f you are worn down by the Covid

lockdowns and the bleakness of the

last two years this show will change

your demeanor. Richard's paintings

are a delight for the eyes and a spiritlifting

aesthetic experience. The large

paintings some of which are displayed

in this article are composed of dancing

shapes that are inspired by music that

Richard is listening to while creating

them. The colors and the movement

of the shapes through the paintings

provide an elating feeling that the

sheer size of the painting allows you to

become a part of the creation. The

photos of the paintings in this article can

only provide a figment of what seeing

them in their original state will give you.

Also, see a photo of one of the bronze

sculptures in the show with a whimsical

subject of roller skates with a sea shell on

top.

Richard's statement for the show sums

up what he intends for the works. " My

entire life's artistic endeavors have led

me to my current focus which is large

acrylic paintings on canvas that express

my energy, color sense of joy, inspired

by nature, music, architecture, and

fractal concepts."

See you at the show.

PREVIOUS PAGE 8

23
---
Gear Leather and Fetish 760-322-3363

We carry only the finest quality leather

and fetish goods, gym wear, toys and

furnishings, all designed to get you off

and make you look good while you're

doing it. gearleather.com 650 E. Sunny

Dunes

Off Ramp Leathers 760-778-2798

offrampleathers.com New and used

leather and fetish/BSDM gear.

Alterations and repairs handmade item

by Paul. Great selection of consignment

items. 650 E. Sunny Dunes Rd., Unit 3,

Palm Springs, CA

GOT LUST?

AAP - Food Samaritans (760) 325-8481

Eisenhower HIV Clinic (760) 834-7930

DAP/ DOCK Clinic (760) 992-0492

Borrego Health (Stonewall Medical

Center) Cathedral City 760-507-3310

GROUPS/ORG/HELP

First State Monument

Dedicated

To LGBT who gave all!

LGBT Veterans Memorial

Desert Memorial Park,

Cathedral City, CA

Tom Swann Hernandez

AMVETS POST 66

tomswannhernandez

@earthlink.net

Vet Records https://vetrecs.archives.

gov/VeteranRequest/home.html for vet

or family or with written authorization.

San Diego VA Regional Office's Virtual

VA Benefits Briefing

Explore and learn more about a variety

of VA benefits

Lgbt community center

760-416-7790 thecenterps.org

American cancer society

800-227-2345

https://tinyurl.com/ddggay

FREE COMMUNITY LISTINGS

24 Never miss a DDG we are always FREE at ddg.gay

Amvets: Veterans club 760-324-5670

Coachella Valley sexual assault

(760) 568-9071

Desert Legal aid: 760-832-9770

PREVIOUS PAGE 22 NEXT PAGE 27
---
Friday night, a 'Rio' jungle themed

throw-down will kick off WPG weekend

with DJs Liza Rodriguez (Brazil) and Dani

Brasil (Brazil).

Saturday brings the weekend's

most anticipated night as WPG

celebrates 30+ years with an 'eternal'

themed WP spectacle. The 6-hour

superhero-themed party will feature

state-of-the-art staging, lighting, and

sound. Attendees are welcome to

wear the traditional white outfits or

dress as their favorite inter-dimensional

superhero character. DJ's driving WP's

main event are Rick Braile (Brazil), Chris

Turina (Chile), and Phil Romano (Italy).

On Sunday, it's time for the worldfamous

'T-Dance.' 'Big Top Circus'

starts in the afternoon and continues

into the night as the sun sets behind the

spectacular mountains of Palm Spring.

Warm breezes and hot dancing bodies

fill the outdoor dance floor with music by

international DJs Ben Bakson (Germany)

and Dan Slater (Australia). The night

culminates with a climactic firework and

video display in a tribute to the WP's gay

party impresario Jeffrey Sanker.

The weekend culminates in a highenergy

closing party with 'Afterlife' on

Sunday night. DJs Joe Gauthreaux (New

Orleans) and Mauro Mozart (Brazil) will

provide the night's beats.

PREVIOUS PAGE 17 NEXT PAGE 26

25
---
Information on the host hotel, weekend

pass pricing, and event details can

be found at WhitePartyGlobal.com.

(All tickets purchased pre-pandemic will

be honored for Palm Springs White Party

2022 and 2023).

Additional special guests will be unveiled

within the coming months. To be kept up

to date on the latest announcements

and new musical guests, please visit the

WPG website, and follow them on social

via Instagram and Facebook.

About Palm Springs

Palm Springs and its neighboring town,

Cathedral City, with consistently brilliant

sunshine, offer very laid back and

relaxed lifestyles, only two hours from Los

Angeles.

Palm Springs' genesis and prominence

can be attributed to Hollywood. In the

1910s, studios discovered the wonders

of location shooting in Palm Springs with

vacant land, mountains, and boulders

for westerns and sand dunes for films

about the Arabian desert. With the

emergence of the studio system when

stars were not allowed to be any farther

from Los Angeles than within a two-hour

drive, in case the studios needed them,

movie stars made Palm Springs their

weekend retreat of choice.

The town's LGBTQ population is now

estimated at more than 51 percent, the

highest per capita gay population in the

26 Never miss a DDG we are always FREE at ddg.gay

US, if not the world. The desert getaway

achieved a measure of fame in 2018

when voters elected the nation's first city

council consisting entirely of members of

the LGBTQ community.

BIO: Vic Gerami

Vic Gerami is an award-winning

journalist and the editor + publisher

of The Blunt Post. Gerami is also the

host and co-producer of the national

headline news + politics program, THE

BLUNT POST with VIC on KPFK 90.7

FM (Pacifica Network).

The Wall Street Journal featured

Gerami as a "leading gay activist" in its

landmark 2008 coverage of opposition

to Proposition 8, the ballot measure

that for years denied same-sex couples

in California the freedom to marry. In

addition to his years of volunteer work

as a leading advocate for marriage

equality, Gerami served as a Planning

Committee member for the historic

Resist March in 2017.

In 2015, Gerami was referenced in

the landmark Supreme Court civil

rights case, Obergefell v. Hodges, in

which the Court held in a 5–4 decision

that the fundamental right to marry is

guaranteed to same-sex couples by

both the Due Process and the Equal

Protection Clauses of the Fourteenth

Amendment to the United States

Constitution.

PREVIOUS PAGE 25
---
BUSINESS

Directory

Stonewall democrats:

desert-stonewall.Org

Desert winds freedom band

760 776-2700

-Gay artists -760 835 0727

-Gay book club of ps—write to

Bookclubofps@yahoo.Com

-Transgender Community

Transcc.Org

Palm Springs Gay

Men's Chorus 760-219-2077

Palm Springs Leather Order of the Desert

760 272-5553

Palm Springs Pride

Pspride.Org

Prime Timers of the Desert

760-424-8014.

NATURIST DAY PASSES

Gay Men CCBC Resort

Family DeAnza Desert Sun Resort

Starland Community Desert retreat

WE DELIVER OPTIONS

Email Today for a free,ad!

All community listings are free for 2021

Space Permitting

Email will@desertdailyguide.com

This image tries to depict what a color blind person would

see on a Ishihara Color Blindness test

Protanope = no red receptors, Deuteranope - no green,

and Tritanope = no blue. If you do have color blindness

there are many technologies being developed to help you

better detect colors around you. visionscreening.zeiss.

com/ has a non-heath related eye test.

PREVIOUS PAGE 24

27
---
Important Announcement

Unfortunately, COVID has once again reared it's ugly head and one of our lead actors

of "The Drag" has tested positive. He is doing well with it but of course can not resume

rehearsals until he receives a negative test result.

The good news is that we caught this very early, cancelled rehearsals for several days, had

everyone tested and the rest of the cast has received a NEGATIVE diagnosis.

That said, we are safely resuming rehearsals with the remaining company but have lost

several days of work in the process so we are forced to push opening weekend back to

February 23rd.

However, there are options for you.

In place of "The Drag" dates that we have cancelled we will be presenting "Electricity"

before they leave the Valley, head to New York, and begin their run Off-Broadway.

Current Ticket holders to the Opening Weekend of "The Drag' have the option of seeing

"Electricity" on their original date, exchange their date to the following week for "The

Drag", Exchange their dates for any other mainStage production at the Desert Rose, or

receive a refund.

We truly appreciate your understanding and patience as we maneuver through this crazy

time in all of our lives but as we always say,

THE SHOW MUST GO ON!

28 Never miss a DDG we are always FREE at ddg.gay
---
NEW & EXCLUSIVE!

PUMP! UNDERWEAR

L E AT H E R & F E T I S H

G E A R L E AT H E R C O

@ G E A R L E AT H E R

6 5 0 E S U N N Y D U N E S PA L M S P R I N G S 7 6 0 3 2 2 3 3 6 3 G E A R L E AT H E R .C O M

29
---
30 Never miss a DDG we are always FREE at ddg.gay