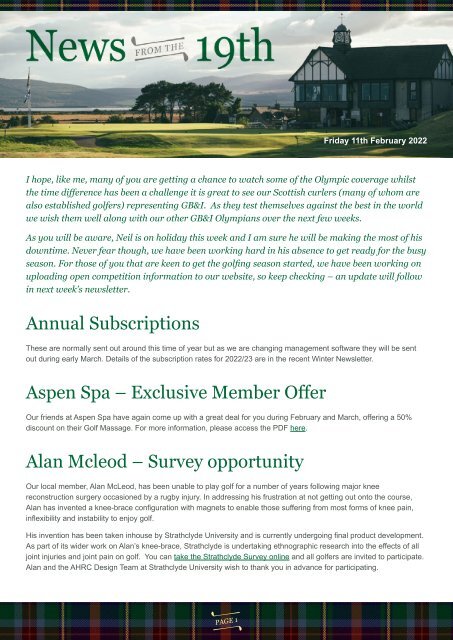 Members Weekly Newsletter 11-02-22
You also want an ePaper? Increase the reach of your titles
YUMPU automatically turns print PDFs into web optimized ePapers that Google loves.
Friday 11th February 2022

I hope, like me, many of you are getting a chance to watch some of the Olympic coverage whilst

the time difference has been a challenge it is great to see our Scottish curlers (many of whom are

also established golfers) representing GB&I. As they test themselves against the best in the world

we wish them well along with our other GB&I Olympians over the next few weeks.

As you will be aware, Neil is on holiday this week and I am sure he will be making the most of his

downtime. Never fear though, we have been working hard in his absence to get ready for the busy

season. For those of you that are keen to get the golfing season started, we have been working on

uploading open competition information to our website, so keep checking – an update will follow

in next week's newsletter.

Annual Subscriptions

These are normally sent out around this time of year but as we are changing management software they will be sent

out during early March. Details of the subscription rates for 2022/23 are in the recent Winter Newsletter.

Aspen Spa – Exclusive Member Offer

Our friends at Aspen Spa have again come up with a great deal for you during February and March, offering a 50%

discount on their Golf Massage. For more information, please access the PDF here.

Alan Mcleod – Survey opportunity

Our local member, Alan McLeod, has been unable to play golf for a number of years following major knee

reconstruction surgery occasioned by a rugby injury. In addressing his frustration at not getting out onto the course,

Alan has invented a knee-brace configuration with magnets to enable those suffering from most forms of knee pain,

inflexibility and instability to enjoy golf.

His invention has been taken inhouse by Strathclyde University and is currently undergoing final product development.

As part of its wider work on Alan's knee-brace, Strathclyde is undertaking ethnographic research into the effects of all

joint injuries and joint pain on golf. You can take the Strathclyde Survey online and all golfers are invited to participate.

Alan and the AHRC Design Team at Strathclyde University wish to thank you in advance for participating.

PAGE 1
---
Members Survey - Initial Feedback

The social aspects of golf are undervalued. Golf is a sport which offers many opportunities to meet new people. Royal

Dornoch has a very geographically diverse membership and such meetings often extend our social connections and

improve our knowledge of life in other parts of the world. The member survey showed how golf at Royal Dornoch

creates opportunities for such meetings. On average, our members made the acquaintance of 5.6 new people through

golf at Royal Dornoch last season.

Interestingly, but perhaps not surprisingly, our lady members were better than the men at meeting new people (see

graph). Only 9.5 per cent of women claimed not to have met anyone new, while almost a quarter of men didn't make

any new acquaintances. Yet overall, and especially while Covid was prevalent, these statistics show the value of golf in

maintaining, and indeed expanding, our social contacts.

Looking for New Wedges - Ask the Experts

With Titleist about to launch their new range of Vokey wedges tune into the Bob Vokey and Aaron Dill as they answer

the some of the questions we have all been wanting to ask. If that gets you excited about changing your wedges just

contact Gary Dingwall for a fitting session Gary@royaldornoch.com

Caddies

As you know this season is going to be a very busy one and so we are going to need a lot of caddies to satisfy the

demand. If this is something that you would be interested in, whether full time during the season or just 1 or 2 days a

week, then please email caddiemaster@royaldornoch.com to register your interest. If you have caddied in previous

years then please also register your interest for this year.

PAGE 2
---
2027 - 150 Years of the Golf Club

In 1877 the Dornoch Golf Club came into existence primarily through the vision and endeavours of Secretary John

Sutherland and the Club has never looked back since.

In 2027 Royal Dornoch Golf Club will celebrate 150 years. To commemorate this milestone a committee has been

formed to write a comprehensive illustrated history of the Club.

The Archive will have a central role in the project. It has accumulated valuable documents, objects, books and

memorabilia from the lifetime of the Club but there are gaps in our rich history. We are asking that if you have anything

that you think may help develop the Archive and add to the history of Royal Dornoch (for example see the photo at the

end of the newsletter) we would love to hear from you at Archive@royaldornoch.com.

Scottish Golf North - Fixtures

You can access the Ladies fixtures here and the Gents fixtures here.

Member Properties Available

For Sale - 3 Bedroom Fractional Townhouse on golf resort in the Algarve, Portugal.

For Rent - 1 Bedroom flat in Dornoch.

You can read the full details of both of these on the For Sale of Exchange section of the Members Area of the website.

Social Events

I am delighted to say that with the relaxation of Covid restrictions we are going to run two social events to round off the

winter season.

On Saturday 26th February we will have the ever popular Curry Night. This will be run as a buffet and there will be 4 starters

and 4 main courses for your to choose from - or you could have some of each, or even more of your favourites! The price

has been held at the 2020 level of £25 and, as always, you can use your Loyalty Card to receive the 10% discount.

On Saturday 26th March we will have an Italian Night for which there will be more details nearer the time.

If you wish to book please contact the bar on 01862 810219 ext. 4 or catering@royaldornoch.com or in person.

Covid 19

Almost all the restrictions have been removed but there are still some in place:

You MUST still book a tee time, check in with the Pro Shop and start from the 1st hole as Track and Trace remains

mandatory for everyone.

Signing in is still mandatory in the Clubhouse and you can do this using the NHS Scotland App or by writing your name,

phone number and time of arrival on the sheets provided. Please remember to CHECK OUT/SIGN OUT when you

leave the Clubhouse.

PAGE 3
---
Clubhouse Bar & Catering

Bar - 10am to 6pm Sunday to Thursday and 10am to 8pm on Friday and Saturday.

Catering - Closed Monday and Tuesday; 10am to 4pm Wednesday, Thursday & Sunday; 10am to 6pm on Friday

and Saturday (Wednesday, Thursday and Friday – soup, sandwiches and home bakes only). Please note that the

clubhouse may close earlier than these times if there are no customers.

Pro Shop

The Pro Shop hours for February will be from 30 mins before the first tee time, and no later than 8.30am, to 4pm

7 days a week but may close earlier due to weather or playing numbers. Contact them on 01862 811924 or email

proshop@royaldornoch.com.

Office

For February the office opening hours will be 8.30am to 5.00pm Monday to Friday. It is still closed to visitors so please

contact them on 01862 810219 or bookings@royaldornoch.com

Upcoming Club Events

• Sat 12th Feb - Whisky Stableford

• Sun 13th Feb - Sunday Roast

• Tues 15th Feb - Seniors Roll Up

• Thurs 17th Feb - Pro's Stableford

• Fri 18th Feb - Pizza Night

• Sat 19th Feb - Whisky Stableford

• Sun 20th Feb - Sunday Roast

• Tues 22nd Feb - Seniors Stableford

• Thurs 24th Feb - Pro's Stableford

• Sat 26th Feb - Whisky Stableford

• Sat 26th Feb - Curry Night

• Sun 27th Feb - Sunday Roast

PAGE 4
---
Golf Courses

Winter has appeared, snow, sleet, frost and wind, so the team continue with the refurbishment of the course furniture.

We also continue with the cutting and burning of the bushes on the right side of the 15th on the Championship

course. The damaged trees between the 5th and 6th on the Struie course have now been removed or made safe.

The screening of topdressing and sand for the season continues, the mechanics have also been busy servicing the

machines and overhauling/sharpening all the cutting units ready for a busy season ahead.

Play from Mats - When you see a mat, on the teeing ground or in a roped off area, you MUST use this for your shot.

Bunkers - We have reinstated the Preferred Lie local rule for the time being.

Rakes - Please put rakes in the CENTRE of the bunker once you have exited and finished raking.

Pitchmarks - Please repair your own and any others that you see.

Thanks for reading.

Happy Golfing!

Claire Riddell, Assistant Manager

Stay safe. Protect others. Save lives.