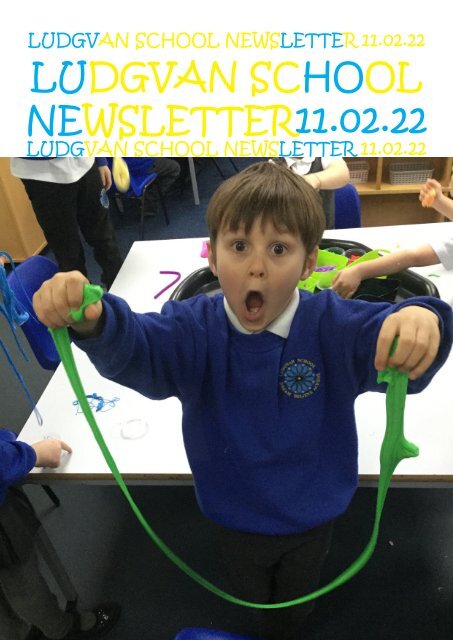 Create successful ePaper yourself
Turn your PDF publications into a flip-book with our unique Google optimized e-Paper software.
LUDGVAN SCHOOL NEWSLETTER 11.02.22

LUDGVAN SCHOOL

NEWSLETTER11.02.22

LUDGVAN SCHOOL NEWSLETTER 11.02.22
---
A word from the Principal...

Welcome,

This week has been brilliant at Ludgvan, with a particular highlight of mine being taking part in the

Y4 orienteering walk. Mr Richards has really set a new standard in terms of our outdoor learning

and adventurous activities and the task this week was for groups of children to navigate their way

from Trencrom back to school using their map reading skills and following St Michael's Way. Each

group had an adult who was there to ensure the children's safety, but not take over the navigation.

My group and I took a wrong turn almost immediately, but through the use of landmarks, signs and

visual cues were able to navigate their way back to school through overgrown footpaths, fields of

cows and muddy lanes – it was fantastic to be a part of.

You will have seen though Dojo that the number of COVID cases have dropped dramatically over the

past week and we are now able to remove some of the additional measures we had implemented

such as recommending daily testing in certain year groups and the halting of key stage assemblies

and hot chocolates for our Dojo winners etc. We will continue to monitor the situation to ensure that

your children enjoy the fullest experience we can offer, whilst remaining as safe as possible. Thank

you for your support.

With the latest Government release indicating the majority of restrictions could come to an end in a

couple of weeks time, it is really important that all children are in school as much as possible. Good

attendance is vital to children's academic achievement as well as their perception and enjoyment of

school. I am unable to authorise any holidays in term and must encourage children to be in school

unless they really are too unwell to attend. Arrival before 0900 to avoid late entry into the class is

also really important to ensuring your child has a settled start to their day. I have included a chart

that highlights the impact of differing attendance levels on the next page.

Kind regards,

Adam Anderson

Principal
---
Useful information...

Term Dates 21-22 and Important Events

Spring Term 4 Jan - 8 Apr (Half term 21-25 Feb)

Summer Term 25 April - 26 July (Half term 30 May - 3 June)

Inset Days: 25th July and 26th July.

Replacement Platinum Jubilee Bank Holiday: 6th June

World Book Day - 3 March

Boat Race - 11 March

Pupil Progress Day* - 6 April

Queen's Platinum Jubilee Playground Celebration - 7 June

*Pupil Progress Day school is the chance for you and your child to meet

with their teacher and discuss their learning. Appointments are longer

than during during Parents' Evenings to allow a really in depth discussion.

School will not run as usual so your child will only come to

school for their appointment. Appointments will be between 0800-1800.

Mr Goodchild

You may be aware that Mr Goodchild will not be with us for a few weeks after

breaking his leg playing football, he was particularly annoyed because

he had scored 2 goals and was on a hattrick! We wish Scott the

best of luck in his recovery and hope to see him back at school soon.

Parking and JRSOs

You will have seen our Junior Road Safety Officers closing the gate at the start

and end of the day to stop stop traffic entering the site so it is safer for everyone.

Please support them in their role by being appreciative and not shouting at them or

showing your annoyance if you are running late.
---
KS1 Learning outdoors...

The past two weeks have seen non-stop adventure in our outdoor learning sessions.

EYFS and Year 1 busy on our school farm learning about root vegetables, exploring

what root vegetables are, how they grow and how to harvest. They found lots of carrots,

parsnips, potatoes, onions and turnips buried in our raised beds. This then led to

the children planning which vegetables they would like to grow in the spring.

Year 2 have been busy practicing their fire lighting skills using fire steels. It was impressive

how many children were able to ignite their cotton wool with the steels -

which isn't an easy task!

We have also been busy creating natural 2D and 3D artwork on our forest school site

and on the field. The children collected a variety of natural materials to create some

impressive masterpieces, including mermaids, houses and birds nests.
---
KS2 Learning Outdoors...

Year 3 have gone back in time to the stone age to create their very own stone age

tools and weapons. We've seen a fantastic range including spears, bow and arrows,

hammers and axes. They look as though they could be the real deal discovered by archeologists!

They have also been learning how to cook on the campfire. This week we

started with a rather delicious mac and cheese prepared and cooked by the children.

Year 4 have been incredibly busy completing a 3 mile walk from Trencrom Hill back

to school following a preplanned route. They set off in staggered small groups armed

with a map and a supervising adult and had to navigate their way back to school.

They tackled muddy fields, steep terrain and herds of cows but all groups managed to

find their way back to school in time for lunch.

Year 5 have been revisiting knot tying, learning different knots including the overhand,

overhand on the bight, clove hitch, bowline and a half hitch. We also had a go

at making a vegetable stew, which we have now been able to learn what not to do in

the process. Hopefully the next one will be better!
---
Farm School..

This week saw the first of our many planned farm visits as part of our Farm School

learning. Year 6 were kindly welcomed by Steve and Bridgette at Higher Trenowin

Farm to learn about life on the farm with their herd of Pedigree Ruby Red cows. They

got to meet all of their cattle from their youngest newborn calf up to their impressive

stock bull. The children were able to learn about what life is like for both the farmer

and the cattle on the farm and gain a deeper insight into the beef farming industry,

seeing that there is so much more than just the end beef product. We can't wait to

revisit later in the year to see how much the calves grow!
---
Exciting and Engaging...

EYFS

For the last two weeks, we have been learning all about the Chinese New Year.

We have learnt why it is celebrated and listened to the traditional Chinese stories

about the new year and the zodiac. It has been so much fun learning about

how the Chinese New Year is celebrated. We listened to traditional Chinese

music; made up our own traditional dances; made and ate traditional Chinese

food; and had a go at Chinese writing! We've also found time to paint pictures

of the animals in the Chinese zodiac and rescue these animals from a river

(made of gloop!).
---
Exciting and Engaging...

Y1

Last week our geography focus was all about Asia. The children learnt about

the Great Wall of China and the Terracotta Army. We discovered that dragons

are an important part of many celebrations in China. The children made beautiful

Chinese dragons and enjoyed trying Chinese noodles. We had a special

visitor (Sophie's gran) who told the children all about Vietnam and how they

celebrate New Year.

In science the children have been learning all about their senses. They played

listening games, eye spy games, explored touching the different textures of the

various doughs. They particularly enjoyed identifying the smells in the pots and

tasting the sweet, sour, salty and bitter foods!

This week we have started to learn about our next continent Australia. The

children have been learning about famous landmarks in Australia and had a go

at making Sydney Harbour Bridge.
---
Exciting and Engaging...

Y2

Class 2 have continued to be busy over the last two weeks! In Science, they

used glitter to represent germs on their hands. They then made predictions

about the most effective way of removing the germs before testing it out. Most

of the children predicted correctly with water and soap being the most effective.

They also had a lot of fun getting glittery! This week, they also completed

their digital art project and used all of the skills learnt since Christmas. It was

fantastic to hear about all of the artists they remembered and the techniques

they had learnt how to use. Lots of their final masterpieces included different

size and colour shapes and use of the drawing and fill tool. They finished the

week by writing up their final sets of instructions in English based on the book

The Three Little Wolves and The Big Bad Pig. Hopefully these instructions will

help the wolves to build a pig-proof house. Well done Year 2!
---
Exciting and Engaging...

Y3

Year 3 have continued to enjoy learning about the Stone Age. They have been creating

pictures using natural resources that show what life was like during the Stone

Age. During this week's Forest School session the class learnt how to cook on the

campfire and made shelters, just like real hunter gatherers from the Stone Age. Next

week they will make a Stone Age stew on the campfire. In Science they have been

looking at soil and have been learning how soil is formed and how old soil is. The children

completed an investigation to find out how permeable soil is and they had great

fun investigating!
---
Exciting and Engaging...

Y4

In RE, class 4 have been exploring what it means to be Hindu in Britain today and to

support this learning we decided to create Rangoli patterns using collage. They are

not yet finished but are already looking very impressive.

We have also been learning how to keep ourselves safe online. We drew around Tommy

and then covered him with as much advice as we could on how we can all stay

safe when gaming online. The lesson brought up lots of discussion as many children

in our class have experienced different situations online where they had been tricked

out of items they had earned while gaming. It meant we could share our experiences

and help to protect each other by being more aware of unsafe practices when gaming

in the future.

In English, we have been learning all about The Highwayman poem by Alfred Noyes

and we have completed lots of different activities based on this. We have written

job descriptions for a highwayman, a diary entry for Time the Ostler and this week

we had a go at hot-seating. This is where one of the children sits in the hot seat and

becomes a character from the story while the others ask questions. We really do have

some creative imaginations in this class!
---
Exciting and Engaging...

Y5

Class 5 completed a project day on the local artist, John Miller, then planned and created

some paintings in his style. They have also been starting looking at another local

collage artist, Laurie McCall, who has given them some tips and tricks for effective

collages, which we have started experimenting with.

In Geography, Class 5 have been learning about ordinance survey maps, symbols and

studying the local area, in preparation for next week's orienteering walk.

In English, the children have been writing children's stories based in Cornwall and

have published them, ready to illustrate next week and read to the KS1 children.

Well done for a great two weeks, Class 5!
---
Exciting and Engaging...

Y6

Year 6 have been very busy this week, continuing with our eerie story writing,

skipping and creating an Online Safety poster related to the benefits and concerns

regarding online gaming.

Although many of us have only just begun to develop our skipping skills, we

are very much closer to mastering it. Some children have been able to skip at

speed with 1 leg and crossing the rope over at the same time. We have talked

about the mental and physical benefits for this activity and are trying to skip

at least 3 times per week. Benefits include increased self-esteem, endurance,

stamina, muscle toning, increased coordination and it also releases endorphins

that make us feel good.

Our online safety posters were designed for any outer-world visitors in order to

create a bank of good advice for how to conduct ourselves whilst using online

gaming platforms. Elements of gamer tags, communication, peer pressure and

sharing of virtual currency were explored in order to give us an overarching

idea of the multifaceted nature for today's connected world
---
Staff profiles...
---
A word from the Principal...

Choose Clarks Penzance and a time slot that suits you.

To do this, contact Clarks

Penzance on 01736 362942

Opening hours,

Mon to Sat 9.00am-5.30pm

Sunday 10.00am-4.00pm
---
A word from the Principal...