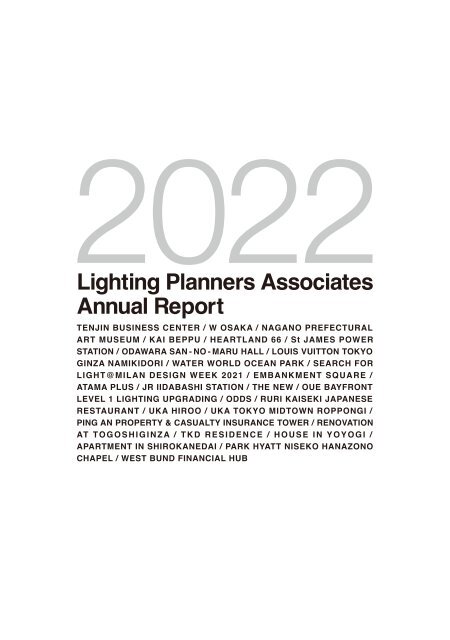 Create successful ePaper yourself
Turn your PDF publications into a flip-book with our unique Google optimized e-Paper software.
2022

Lighting Planners Associates

Annual Report

TENJIN BUSINESS CENTER / W OSAKA / NAGANO PREFECTURAL

ART MUSEUM / KAI BEPPU / HEARTLAND 66 / St JAMES POWER

STATION / ODAWARA SAN - NO - MARU HALL / LOUIS VUITTON TOKYO

GINZA NAMIKIDORI / WATER WORLD OCEAN PARK / SEARCH FOR

LIGHT@MILAN DESIGN WEEK 2021 / EMBANKMENT SQUARE /

ATAMA PLUS / JR IIDABASHI STATION / THE NEW / OUE BAYFRONT

LEVEL 1 LIGHTING UPGRADING / ODDS / RURI KAISEKI JAPANESE

RESTAURANT / UKA HIROO / UKA TOKYO MIDTOWN ROPPONGI /

PING AN PROPERTY & CASUALTY INSURANCE TOWER / RENOVATION

AT TOGOSHIGINZA / TKD RESIDENCE / HOUSE IN YOYOGI /

APARTMENT IN SHIROKANEDAI / PARK HYATT NISEKO HANAZONO

CHAPEL / WEST BUND FINANCIAL HUB
---
Tenjin Business Center

FUKUOKA 2021 Fukuoka Jisho / Shohei Shigematsu OMA /

Gwenael Nicolas CURIOSITY / NIHON SEKKEI / MAEDA

CORPORATION

The first office building of a redevelopment project in

Fukuoka, "Tenjin Big Bang," takes advantage of

relaxed restrictions on floor-space ratios and building

height. At the intersection of Meiji Dori and Inabacho

Dori, the building is cut away in an array of pixels,

creating open spaces. The media panels with various

lighting operation gives originality to the streetscape

with its ever-changing possibilities.
---
W Osaka

OSAKA 2021 Sekisui House / Tadao Ando (Design Supervision) / Nikken Sekkei / Concrete Architectural Associates /

Linehouse / GLAMOROUS / Nikken Space Design

Landing in Japan for the first time, W Osaka is based on the design concept of "Simplicity & Extravagant."

With a minimalist exterior, the interior of W Osaka mirrors the energy of the city. Playful and luxurious

comfort are emphasized with a myriad of decorative, task, and ambient lighting. The lighting plan also

simulates the four seasons and other yearly events with colors changing according to time and scene.

The design creates an attractive establishment and playful space enhanced by lighting.
---
Nagano Prefectural Art Museum

NAGANO 2021 Nagano Prefecture / Plants Associates / KMD / studio on site / P.T.Morimura & Associates

Situated in Jyoyama Park, adjacent to Zenkoji Temple, the design concept consciously aims to connect with

the surrounding green environment as a "landscape museum." Also referred to as "a park with a roof," free

space is available for public use. Through the concept of "connecting light," the lighting environment aims

to unify architecture and park through the movement of visitors and the visual field. At night the entire

building glows like a lantern and the effect is felt throughout the park, as the lighting integrates with the

landscape and cityscape.
---
KAI Beppu

OITA 2021 Hoshino Resorts / Kengo Kuma & Associates / Shimizu

The 18th property for the hot spring ryokan brand name "KAI." The interior concept recreates a unique

and dramatic hot spring-style townscape using charred cedar planks and the color kakishibu - a traditional

Japanese color, similar to a yellow-red, with tones of gray. With this calming color palette in the

background, washi-paper lanterns and other luminaires dot the interior. Just as the view of Beppu Bay

from the window changes from moment to moment, the scenery inside the building changes as well,

including the light of the fresh dawn and festive light in the evening. Guests can enjoy this relaxing

atmosphere and refreshing night air with many different lighting scenes.
---
汉 场

Heartland 66

WUHAN 2021 Hang Lung Property Limited / AEDAS / ALN

A mixed-use project in Wuhan. The property is a composition of one office tower over 300m height, a retail

podium and three serviced apartment towers. The office tower is illuminated with white color lighting from

bottom. The signature crown lighting of the tower adds to the skyline of Wuhan. Design concept of the

retail podium is inspired by the Chinese ribbon "Ru-yi", with its architectural form resembling a twisted

ribbon. Lighting design with linear RGB lights on the building elevation flows with the architectural form. By

applying RGB projection on the glass wall akin to the head of a whale, the light strips too change color

accordingly.
---
St JAMES POWER STATION

SINGAPORE 2021 Mapletree / W Architects

St James Power station is a national monument situated at the entry point of Sentosa. This landmark at

the harbour comes alive with the specially formulated linear light fixture using a combination of red color

and warm white to highlight the symbolic brick facade. This contrasts with the crisp neutral white

illumination of the crown and the chimney column which adds a contemporary touch.
---
Odawara San - no - Maru Hall

KANAGAWA 2021 Odawara City / Environment Design Institute

Odawara San-no-Maru Hall is a new center of culture and art in Odawara. Just as the Odawara Castle

Ruins Park on the other side of the hall and the Hakone mountains at the back of the hall show different

aspects of each season, the interior of the hall uses a tunable white fixture to express various scenes,

from the red hue of autumn leaves to the white tones of the sky. The foyer, which is open to the town, is

decorated with lights that resemble Odawara lanterns. The light overflowing from the building gives a calm

yet lively atmosphere to the night view.
---
Louis Vuitton Tokyo Ginza Namikidori

TOKYO 2021 Louis Vuitton Malletier / AS / Peter Marino Architect / Higo Design Associates / A.N.D

Reconstruction of a building, complete with a new facade for the store. Store lighting was improved with

the development of a brand standard, implemented to create the best balance between ambient light and

light to highlight merchandise. In the cafe on the upper floor, leaf-shaped washi paper decorates the

ceiling with built-in fixtures and uplights for ambient lighting. Wall fixtures and other design elements catch

the eye with detailed expressions of light.
---
WATER WORLD OCEAN PARK

HONG KONG 2021 Ocean Park Hong Kong / AEDAS

Hong Kong's first all-weather, year-round seaside water park is located at Tai Shue Wan. It integrates

seamlessly with its hillside surroundings and stunning views of the ocean. We were in charge of the

architectural lighting design of the entire park consisting of 27 attractions, both outdoor and indoor types.

The key challenge was to maintain the balance between design and function whilst complying with the

strict regulations and restrictions on lighting. The lighting design was provided explicitly to express the

dynamic and organic architectural form.
---
MILAN 2021 Nitto / LUFTZUG / and the others

"RAYCREA" film was developed by Nitto with a new

form of light-control technology, becoming a new

material capable of maintaining and expressing the

properties of light. The many possibilities of this

product were introduced during Milan Design Week

at a major installation in the Tortona District. The

installation consisted of three zones: "Play with Light,"

"Light is Material," and "Light in Architecture." Many

visitors came to experience the labyrinth of light.
---
陆 滨

Embankment Square

SHANGHAI 2021 China Resources Land / KPF / SWA

The "village," is the architectural concept for an eight-building project along the river. Simple lighting design

emphasizes the structural volume of the office facades, with two different lighting methods used to produce

two different views of each building. Hence the same building appears different when viewed from different

places, adding an exciting change to the nightscape. The tree uplights along walking paths provide functional

lighting and create a comfortable atmosphere.
---
TOKYO 2021 atama plus / White Design

A new office project for atama plus, a company

providing AI learning systems. This unique office

caters to various working styles with a stadium-like

plaza covered by artificial grass where staff can work

and walk around barefoot. At different times during

the day, lighting color temperature is designed to

change, corresponding to the natural biological

rhythm of activity and relaxation.
---
JR Iidabashi Station

TOKYO 2021 East Japan Railway / JR East Tokyo Electrical

Construction and System Integration Office / JR East Design /

Nippon Tetsudo Denki Sekkei

The Sobu train line platform was moved 200m, with a

new platform and station built at the west entrance.

Due to the important cultural context of this project

location, warm white lighting is used together with

glareless fixtures. This consideration ensures that

impact to the nightscape is kept at a minimum because

it is next to the outer moat of the historic Edo castle.

At the same time, the design caters necessary

brightness suitable for a public transportation facility.
---
单 场

THE NEW

BEIJING 2021 China Resources Land / CallisonRTKL /

PINHOLE

The Xidan Culture Plaza on Chang`an Street was

renewed and reborn as THE NEW. The lighting

concept "Forest Moon," emphasizes the circularshaped

landscape, with tree uplights softly illuminating

the perimeter. Functional lighting consists mainly of

handrail lighting with no light sources mounted above

eye level to create a place of comfort and relaxation

for visitors. Surrounding light is reflected off the

facade, creating an array of lighting expressions.
---
OUE BAYFRONT

LEVEL 1 LIGHTING UPGRADING

SINGAPORE 2021 OUE

Originally designed by LPA, the OUE Bayfront level 1

lighting was upgraded, while still retaining the original

design intent. Old fixtures were replaced 1-to-1 with

new LED fixtures, which gives a fresh look to the

existing building with high volume space. Wireless

control has been implemented to deliver a high

flexibility in building operation from day through night.

The new lighting operation offers different views for

the sculptures and a sense of time.
---
ODDS

HONG KONG 2021 LUBUDS / LUBUDS - AXIS

A high-end restaurant opened in the heart of Central.

The bar counter has a racecourse-like profile and is

filled with crushed crystal pieces, staging as a

focal point to attract pedestrians. Served by the chef

himself, the Sushi and Teppanyaki counters have

lighting that highlights the chef's graceful actions,

interior features and exquisite tableware. The guests

can enjoy the meal while admiring the carefully crafted

interior space during a dramatic change of scene

setting from day to midnight.
---
RURI KAISEKI JAPANESE

RESTAURANT

CHENGDU 2021 odd okamoto deguchi design

A fancy Japanese-style cuisine establishment in

Chengdu, China. Japanese-style design features are

included everywhere in the interior, with a dramatic

design incorporated to create a unique character for

each space. Presentation of the lighting design intent,

final image, and light and dark balance was carefully

reviewed and handled throughout the project.
---
uka HIROO

TOKYO 2020 uka / Same Picture Company

The re-opening of a total beauty salon, uka HIROO.

The interior was intended to create a comfortable athome

feeling while emphasizing materials and

textures. Scenes for procedures are optimized with

precise lighting. As a beauty salon, the lighting design

carefully addressed comfort and convenience factors,

but with significant energy-saving techniques.

uka Tokyo Midtown Roppongi

TOKYO 2021 uka / Same Picture Company

Renewal opening of uka Tokyo Midtown Roppongi, a

large-scale beauty salon situated in the Roppongi

commercial area. Upon the renewal opening, the

salon declared "SHORTEN THE DISTANCE" and

"KEEP DISTANCE" as their shop slogan. During the

day, natural light and artificial lighting are blended to

create a salon lighting environment that is functional

and comfortable.
---
PING AN PROPERTY &

CASUALTY INSURANCE TOWER

SHENZHEN 2021 Ping An Property & Casualty Insurance

Company / AI PLANET WORKS

This is the 3rd tower project of Ping An Insurance

Group. The tower soffit and pedestrian deck which

connected the three towers was completed. The soffit

feature is named "CELIA" and is composed of

motorized diamond-shaped panels that changes the

ceiling with its movements. By synchronizing the

lighting and movement of the ceiling panel by program

control, a new breath of life is given to the building.
---
Renovation at Togoshiginza

TOKYO 2021 YY architects (Mariko Yoshikawa+Yoshitaka

Ihara)

No light fixtures were mounted on the exposed

concrete ceiling of this residence. Instead, ambient

light from simple indirect light is featured throughout

the entire space and decorative luminaires create a

lighting environment that is comfortable, but not

glaring. Light seeping between furniture partitions, is

a sign that other family members are nearby.

AICHI 2021 NIa

Built in the suburbs of Toyota City, the eaves of a

traditional earthen floor space connect the main house

with a detached room of this single-story home. In the

main house, ceiling uplights are mounted within a

suspended wall to wrap the entire space in gentle

ambient light and create a satisfyingly, comfortable

space. Detailed lighting is also designed for the

hallway and in the earthen floor space, with a lot of

energy spent emphasizing the uniqueness of each

space.
---
House in Yoyogi

TOKYO 2021 YY architects (Mariko Yoshikawa+Yoshitaka

Ihara)

A 3-story, timber structure, private residence built in

the middle of the city. Ceiling beams, in the exposed

wood structure, radiate outward from a spiral staircase,

for a unique design. Soft indirect lighting and diffused

light complete the design, creating a warm feeling

that envelopes the natural wood used in this space.
---
TOKYO 2021 NTT Urban Development / Yasushi Horibe

Architect & Associates

In the image of a skylight, a luminous ceiling runs from

the entrance down a long hallway, coordinating with

simulated daylight at the time of day. Downlights are

kept to a minimum to create comfortably designed

shadows in certain spaces. Lighting is designed to

enjoy the nightview of the adjacent park. Interior

lighting is designed to provide comfortable darkness

with a sense of closeness to the natural environment.
---
Park Hyatt Niseko Hanazono Chapel

HOKKAIDO 2019 Pacific Century Premium Developments /

FUJITA / Nikken Sekkei

Under the large roof of this structure, the lighting is

designed to conceal fixtures with indirect lighting,

projector spotlights reflect off mirrors, and task lighting

fashioned after structural rods. Lighting is also pre-set

for ceremonies and programmed to move with the

bride down the aisle.
---
Ongoing!!

WEST BUND FINANCIAL HUB

SHANGHAI 2021 Hongkong Land / Heatherwick Studio /

KPF / Benoy / RLP / GAD / 10design / GP

West Bund Financial Hub is a prime 23-hectare mixeduse

site on the West Bund of Shanghai, situated next

to the Huangpu River. It is positioned as a thirdgeneration

integrated financial city. LPA was selected

as the lighting consultant after a lighting masterplan

design proposal. The design has been developed

with multiple architects. The lighting masterplan is

inspired by the Huangpu River to represent any kind

of intertwining elements and proposes to have an

everchanging nightscape.
---
LPA TOPICS

Milan Design Week Search for Light/ LPA-China@Shenzhen / Lecture

& Workshop / Magazine / Award / Internal Workshop / Refreshing Time /

Lighting Design Project for Disasters / LPA 2021 Activities & 2022 Goals /

Major Contributions and Interviews
---
MilanDesignWeek

"Search for Light"

Sep.05-10

Held during the Milan Design Week from 5th to 10th

September, 2021, LPA was invited to work with Nitto

as a creative partner to design an exhibition space

that showcases the full array of possibilities of

RAYCREA - their new product that has light control

technology. Kaoru Mende also made the trip to

Milan, speaking with event media and explaining the

exhibit and product in person.
---
China

@ 圳

LPA-China @Shenzhen

In April 2022, the fourth office of the LPA group,

LPA-China, will be established in order to

work on several high-profile projects across the

Chinese market. The Chinese hub for LPA will

be the Futian District in Shenzhen. We are

looking forward to progressively increasing

our time working together as a 4-office team.

Room E10, 23F Dinghe Tower, Fuhuasan Road,

Futian District, Shenzhen, China 518026

Tokyo

1990

Shenzhen 2022

Hong Kong 2012

Singapore 2000
---
Lecture & Workshop

Throughout the year, LPA proactively contributed to various lectures and workshops, in addition to our daily

design work.

Designwire Lecture Jan.22

Enlighten Asia 2021 Student Workshop Mar.01

Next Generation Lighting for Post-COVID-19

Work Spaces Mar.19

Japan Society for Graphic Science Lecture

Aug.06

KTH Lecture Sep.20

IEIS Lighting Design Award Lecture

Nono Aoyama Oct.05

IEIS Lighting Design Award Lecture

Takanawa Gateway Station Oct.05

Enlighten Asia 2021 Documentary#3 Oct.-Nov

Enlighten Asia 2021 Student Workshop

Panel Discussion Nov.11

Enlighten Asia 2021 Closing Session Nov.11

ASEAN Young Architects and Lighting

Designers Forum 2021 Nov.24

Light with DNL 2021 Nov.24
---
Over the past year, many of our projects were featured in the media.

Lightecture Sep.16

Lighting Today Jul.01

Commercial Space Lighting Nov.05

arc Oct.01

Award

LPA had the opportunity to work on many wonderful projects that were honored, internationally with prestigious

awards.

IALD International Lighting Design Award / Award of Merit Takanawa Gateway Station

[d] arc Award Spaces High Budget Category Winner Magical Shores at Siloso

[d] arc Award Places High Budget Category 2nd place Jewel Changi Airport

The Illuminating Engineering Institute of Japan (IEIJ) Lighting Design Award /

Award of Excellence Takanawa Gateway Station

The Illuminating Engineering Institute of Japan (IEIJ) Lighting Design Award /

Award of Merit NONOAOYAMA

The Illuminating Engineering Institute of Japan (IEIJ) Good Lighting Award

Tokyo Chapter / Award of Special Citation Takanawa Gateway Station

Illuminating Engineering Society of North America (IES) Illumination Award /

Award of Merit Takanawa Gateway Station

Civil Engineering Design Prize, JSCE / Award of Excellence

Upgrading the Lighting for Nagasaki City Center

CTBUH 10 Year Award Award of Excellence International Commerce Centre Hong Kong

CTBUH Urban Habitat Award of Excellence 18 Robinson, Singapore

CTBUH Urban Habitat Award of Excellence Victoria Dockside, Hong Kong
---
Internal Workshop

While it is still difficult for all of our staff to gather together for a workshop, LPA is committed to the betterment of

staff knowledge and fostering communication through ZOOM-based workshops.

LPA DNA Workshop

Expert

Photo-shooting Workshop

Refreshing Time

We aspire to a stress-free environment, promoting break-time to relieve

tiredness from online meetings and lack of physical activity.

Ceramic Class Jul.30

Hiking@Victoria Peak Apr.30

Office Outing to Magical Shores
---
Lighting Design Project for Disasters

From an array of various emergency lighting

luminaires, we selected a few and using only

this light, we spent a night at home as an

experience-oriented project. Next, we might

spend a night in the office experiencing

emergency lighting as a team.

https://note.com/lpa_revivng_pj/m/mce1ceecbef1f

We have visited various places along the north-eastern coast of Japan including Kesennuma, Rikuzentakata,

Ohya Coastline, Minamisanrikucho, Onagawa, and Ishinomaki. In each area, we visited memorial facilities,

local historical museums, city centers, and coastlines set up and being rebuilt after the Great East Japan

Earthquake. Like a register and message entrusted to the next generation of the seriousness and struggle to

rebuild the relationship between towns and the coastline, we have gained so much insight through our visits and

interactions and want to share that with our fellow professionals.
---
LPA 2021 Activities & 2022 Goals

Third spring for the new Tokyo Office

We will soon celebrate our third spring since we shifted our office in February 2020 to the current location

in Tsukuda by the beautiful Sumida river. The office is surrounded by an alley of cherry trees and

greenery, and we have not had a chance to have a party under the blossoming trees due to the pandemic.

Hopefully we can invite some of you to join us.

Quiet office space but busy with work

With the new working arrangement where a number of us operate from home, our offices are rather quiet.

However, we have been increasingly busy connecting via online meetings among three offices to handle

numerous projects together.

It is good to be busy, but we have come to realize that real teamwork still requires physical interaction.

We really hope that we can come back to physically work together.

Numerous projects completed and awards won

As featured in this report, a number of projects have completed last year.

From small interior spaces to city-scale urban environments, we have been working on a wide range of

lighting design projects. We are honored to receive reputable awards such as IALD, IESNA, dar(c), Japan

Society of Civil Engineers, and so on.

Lighting Detectives, be patient!

The principle of Lighting Detectives is; to band together and walk on the streets followed by a drinking

session with debate over the findings.

Sadly, COVID-19 did not allow us to go on the street. Some frustrated members in Tokyo organized walks

with small groups and shared the report online. The walks and online sessions turned out to be quite

enjoyable, and the network has stretched out to members outside Tokyo. We will continue to organize

them this year!

Our new office in Shenzhen

We have been working on a number of projects in China, and it has been challenging to supervise the

project sites due to traveling restrictions. Our lighting design cannot be completed without site work.

In order to fulfill the job requirements and offer better services to our clients in China, we are setting up

our 4th office, LPA China in Shenzhen. We are thrilled to have our presence in the city of innovation and

future.
---
Major Contributions and Interviews

01.22

03.01

03.19

06.22

08.06

09.05-09.10

09.20

10.01

10.05

10.05

10.15

11.11

11.24

11.24

01.01

01.01

04.26

07.01

08.06

09.16

10.01

10.01

10.24

10.28

11.05

12.28
---
LIGHTING DETECTIVES

Venice Biennale / Project Asagao, Singapore / Digital Book Published /

WEB New Contents / City Night Walk / Lighting Detectives Survey /

Online Salon / Social Media / Annual Activities / Lighting Detectives

Annual Gathering / Lighting Detectives - List of Sponsors
---
VeniceBiennale

May.22-Nov.21

We took part in the Singapore pavilion at the 17th International Architecture Exhibition in Venice. It was curated

by the National University of Singapore Department of Architecture and titled "To-Gather". The chronological

history of lighting was exhibited with a summary Lighting Detectives' activities. The exhibition was postponed

due to COVID-19 and finally held from May 22 - November 21 last year.

Project Asagao,

Singapore

Oct.22-23

Collaboration with Project Asagao to create a lantern

installation at Tanjong Pagar Despite the tight timeline,

the event went smoothly and was well received by the

public. The students were very excited to organise an

event on this scale and to bring awareness for a

non-profit organisation - making it very meaningful at

the same time.
---
Sep.28

Originally published in 2006 by Kajima Publishing,

a revised, digital version was released in 2021.

The price was drastically reduced, so many

people can have the opportunity to read this

book, which is now available on amazon.

Transnational Lighting Detectives [E-book]

(22nd Century Art) 250JPY amazon

(Free@Kindle Unlimited)

WEB New Contents

Monologue of a Lighting Detective

Up until recently, two columns were regularly

updated on the Lighting Detective Website:

Mende's Detective Note, written by Chief

Detective Mende, and Coffee Break, a

conversation between Chief Mende and LPA

staff. However, to respond to calls for more

insight and perspective, we have added a new

column written by Lighting Detective members,

titled: Monologue of a Lighting Detective.
---
City Night Walk

During the pandemic we held City Night Walks in small groups. We also tried live broadcasting from 8 different

cities including China in order to get a more realistic sense of each cityscape. With help from members in

various places, we were able to experience and get a feel of many cities over the past year.

街 歩 き 実 況 中 継

Night Walk Broadcast Jul.09

Shibuya Toilet Project

Hangzhou, China

Live from LPA Studio

Kyoto

Takeshiba

Toranomon

Shenyang, China

Tachikawa

少 人 数 街 歩 き

Small Group Night Walk Nov.

Beijing, China

Kyoto Station Nov.23

Shibuya Sky Nov.24

Nagoya Nov.11

Marunouchi Nov.16

Kita Aoyama Nov.29

Tori no Ichi, Asakusa Nov.21

Takeshiba Nov.26
---
Lighting Detectives Survey

Tokyo

Akasaka Oct.27

Akasaka is an area where elegant and traditional

high-class Japanese restaurants and Sparkling neon

streets co-exist. The recent redevelopment of this

neighborhood has given it a sense of dynamic value

as a new tourist attraction in Tokyo. We investigated

the nighttime lighting environment where history,

business, and entertainment are in harmony.

Online Salon

Jul.28 & Dec.02

Usually a salon is a review of one area,

investigated by three teams. However, during

the pandemic, salons have become a whirlwind

review of seven or eight different areas, not

all visited by those involved. There is a lot of

information being tossed around at these sessions,

but many members are pushing to return to the

original format of real physical discussion.
---
Social Media

Images submitted by members are regularly uploaded

to Lighting Detetive social media platforms. The

theme for 2021 was "Light for Prayer." Our hope is

that these prayerful images might bring comfort during

the pandemic and this anxious period of time.

Facebook

Instagram

Annual Activities

12.23

03.24

06.02

06.09

06.12

06.21

07.09

07.28

07.31

08.27

09.15

09.30

10.01

10.06

10.26

10.27

11.11

11.16

11.21

11.23

11.24

11.26

11.29

12.02

12.10

12.13

12.29

Lighting Detectives News Letter Vol.106

Web Column Vol.63Childhood Play

Mende's Note Vol.83 Green Office

Web Column Monologue of a Lighting Detective Vol.00

Web Column Monologue of a Lighting Detective Vol.01

Blessed by the Darkness

Web Column Monologue of a Lighting Detective Vol.02

Home office, "Half light" and Solstice

City Night Walk Vol.67 Live broadcast with small group

Remote Salon Vol.05 Night Wark Broardcast Review

Web Column Vol.64Something that I currently get into

Web Column Monologue of a Lighting Detective Vol.03

Behind the Bangkok Nightscape Scene towards Enlighten

Asia 2021

Web Column Monologue of a Lighting Detective Vol.04

My Life during the Pandemic

Transnational Lighting DetectivesE-Book released

Web Column Monologue of a Lighting Detective Vol.05

Stand in the Light

Mende's Note Vol.84

The Labyrinth of LightMilano Salone 2021

Lighting Detectives News Letter Vol.107

Tokyo City Survey – Akasaka

City Night Walk Vol.68 with Small Group Nagoya

City Night Walk Vol. 68 with Small Group

Tokyo Station ~ Marunouchi Area

City Night Walk Vol.68 with Small Group Torinoichi, Asakusa

City Night Walk Vol.68 with Small Group

Kyoto Station & surrounding area

City Night Walk Vol.68 with Small Group

Shibuya Public Toilet Project & Shibuya SKY

City Night Walk Vol.68 with Small Group Takeshiba

City Night Walk Vol.68 with Small Group @Kita Aoyama

Remote Salon Vol.06 Night Walk Review

Online Year-end Party

Lighting Detectives News Letter Vol.108

Lighting Detectives News Letter Vol.109
---
Lighting Detectives Annual Gathering

ZOOM Back Screen Contest Winner!

Dec.10

The Annual Year-end Gathering of 2021 was held online. Talk themes were divided into groups for a new and

challenging social gathering style.

Lighting Detectives - List of Sponsors

The following 21 Lighting Industry Professionals financially sponsored Lighting Detective activities.

Lutron Electronics Co., Inc.

USHIO LIGHTING. INC.

Iwasaki Electric Co., Ltd.

Color Kinetics Japan Inc.

Lumenjapan Inc.

Endo Lighting Corp.

Panasonic Corp.

ERCO

DAIKO ELECTRIC CO.,LTD.

ModuleX Inc.

STANLEY ELECTRIC CO., LTD.

Koizumi Lighting Technology Corp.

YAMAGIWA CORP.

Toshiba Lighting & Technology Corp.

Martin Professional Japan. Ltd.

TOKI CORPORATION

Shonan Co., Ltd.

Yamada Shomei Lighting Co., Ltd.

Louis Poulsen in Japan

DN Lighting Co., Ltd.

Mitsubishi Electric Lighting Corporation
---
Akemi Sasamoto

Angkana Kongchatri

Atsushi Itakura

Brien Ng

Bryan Yan

Erina Hosono

Frankie Fan

Genki Watanabe

Grace Chung

Gran Li

Junko Nagatomo

Kaoru Mende

Karen Huang Kentaro Tanaka Kobe Chan

Masafumi Yamamoto

Mayumi Banno

Mikine Yamamoto

Misuzu Nakamura

Momoko Muraoka

Raba'a Bte Tainy Raina Jiang Shan Reiko Kasai

Sachiko Segawa

Satomi Yamaguchi

Sun Young Hwang

Tsan Lin

Xiaoyi Dong

Xueying Piao

Ye Yu

Yumeka Miyamae Yumi Honda Yusuke Hattori
---
Catherine Wong

Chia Xing Tang

Chika Makabe

Clement Lee

Eddy Lau

Hikaru Kawata

Hikaru Kimura

Hu Lin

Jing Liu

Jio Yeung

Kouki Iwanaga

Kyoko Takubo

Makalin Wongchinchai

Mami Kono

Mari Kubota

Namiko Watanabe Niken Wulandari Noriko Higashi

Phraporn

Kasemtavornsilpa

Quratuaini Bte Jamil

Sherri Goh Shirmine Tan Shosaku Takahashi Shunichi Ikeda

Simeng Huang

Yonglin Ke Yuichi Anzai Yukiko Saito

Lighting Planners Associates 2022 Annual Report

陆 滨 锐
---
Lighting Planners Associates Inc.

1-11-8-1F Tsukuda, Chuo-ku, Tokyo 104-0051, Japan

Tel : +81 3 4500 6380 Fax : +81 3 4500 6383

E-mail : lpa@lighting.co.jp

Lighting Planners Associates (S) Pte. Ltd.

51B Neil Road, Singapore 088829

Tel : +65 6734 3086 Fax : +65 6734 2786

E-mail : singapore@lighting.co.jp

Lighting Planners Associates (HK) Ltd.

Unit G, 9/F Tung Kin Factory Building,

196-202 Tsat Tsz Mui Road, North Point, Hong Kong

Tel : +852 2578 9007 Fax : +852 2578 9116

E-mail : hongkong@lighting.co.jp

Lighting Planners Associates (C) Ltd.

Room E10, 23F Dinghe Tower, Fuhuasan Road,

Futian District, Shenzhen, China 518026

(April)

www.lighting.co.jp

www.shomei-tanteidan.org