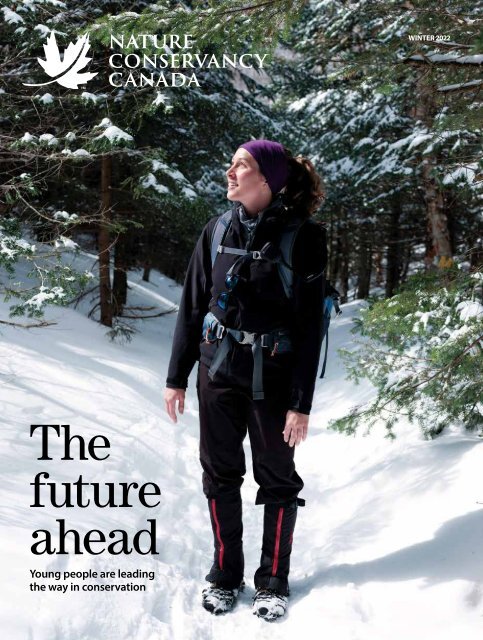 NCC Magazine: Winter 2022
Create successful ePaper yourself
Turn your PDF publications into a flip-book with our unique Google optimized e-Paper software.
WINTER 2022

The

future

ahead

Young people are leading

the way in conservation
---
Port Joli, NS

WINTER 2022

CONTENTS

Nature Conservancy of Canada

4 Nature in the city

Nature is all around you, even in informal

green spaces like boulevards and roof

gardens in our cities.

6 Stony Mountain

Prairie Preserve

See some of Manitoba's prairie gems at this

property located just minutes from Winnipeg.

7 Spring cleaning

Whether you have a modest garden or a few

hectares of property, you can help protect

urban nature at home.

7 10X

François Duclos gets up close and personal

with nature.

8 The future before us

Youth have become an unrelenting force in

using their voices to safeguard biodiversity.

14 Piping plover

This migratory bird, distinguished by its

orange legs, is endangered in Canada.

16 Project updates

Snowshoe Creek in BC; bur oak forest

at The Keyhole, NB; conserving a critical

wildlife habitat, NS.

18 Night owls

Two night owls and a chance meeting.

Digital extras

Check out our online magazine page with

additional content to supplement this issue,

at nccmagazine.ca.

Nature Conservancy of Canada

245 Eglinton Ave. East, Suite 410 | Toronto, Ontario, Canada M4P 3J1

magazine@natureconservancy.ca | Phone: 416.932.3202 | Toll-free: 877.231.3552

The Nature Conservancy of Canada (NCC) is the country's unifying force for nature. We seek solutions to the

twin crises of rapid biodiversity loss and climate change through large-scale, permanent land-conservation.

NCC is a registered charity. With nature, we build a thriving world.

The Nature Conservancy of Canada Magazine is distributed to donors and supporters of NCC.

TM

Trademarks owned by the Nature Conservancy of Canada.

FSC is not responsible for any calculations on

saving resources by choosing this paper.

Printed on Enviro100 paper, which contains 100% post-consumer fibre, is EcoLogo, Processed Chlorine

Free certified and manufactured in Canada by Rolland using biogas energy. Printed in Canada with vegetablebased

inks by Warrens Waterless Printing. This publication saved 172 trees and 56,656 litres of water*.

TKTKTKTKTKTKT

GENERATED BY: CALCULATEUR.ROLLANDINC.COM. PHOTO: MIKE DEMBECK. COVER: GUILLAUME SIMONEAU.

*

natureconservancy.ca
---
In good hands

Featured

Contributors

TKTKTKTKTKTKT

TOP TO BOTTOM: VICTORIA SNELGROVE. CHRIS LEDREW. STÉPHANE AUDET.

Kootenay River Ranch

Conservation Area, BC

It can be easy to feel overwhelmed when thinking about the

biodiversity and climate crises facing our planet. However,

over the past year, I have had the opportunity to spend time

with a group of people who give me great hope and inspiration: other

young Nature Conservancy of Canada (NCC) staff. This conversation

began in April 2021, when many of us attended the International

Union for Conservation of Nature "One Nature, One Future" Global

Youth Summit. This virtual event was just one example of how

young people's voices and ideas are being increasingly recognized

as critical in developing strategies and solutions. Youth are the

engines of change.

Throughout the year, I continued meeting with my young colleagues

and discussing our role in the organization, both now and

into the future. This opportunity to connect with other young NCC

leaders (18–35 years) opened my eyes to the incredible asset that

NCC has in this group, which makes up more than 40 per cent of

the organization. Young people challenge our current ways of thinking

and act with the future in mind. When given the opportunity

and resources, our young staff can drive innovation and lead positive

change. NCC's success in achieving our ambitious goals for the

future ultimately depends on the next generation of decision-makers,

and I am excited to see how the organization will invest in them.

In this issue's feature story, you'll read about just a few of the

young and inspiring colleagues who I have the privilege to work

with. And you'll find out why young conservationists are crucial in

the execution of our organization's ambitious goals for the future.

Though my own time as a young professional is nearing its close,

I am confident that we are in good hands. As you read through this

issue, I hope that you agree.

Yours in nature,

Megan Lafferty

Megan Lafferty

Manager of land protection measures, NCC

Jenn Thornhill Verma

is a journalist from

Newfoundland and

Labrador now living in

Ottawa. Her reporting

covers climate,

environment, biodiversity

and culture. She

wrote "The future

before us," page 8.

Geneviève Lesieur was

introduced to photography

at a young age. She

studied graphic design

and fine arts, and then

moved into graphic

communications. She is

the artistic director of a

design agency and runs

her own portrait, travel

and wildlife photography

company. She photographed

François Duclos

for "10X," page 7.

natureconservancy.ca

WINTER 2022 3
---
COAST TO

COAST

1. Chase Woods

Nature Preserve, BC

As part of the Mt. Tzouhalem trail network,

the trails on Chase Woods traverse

moderate to difficult terrain en route

to the preserve's clifftop views. The

journey takes visitors through lush coastal

Douglas-fir forests and across Garry oak

bluffs. Trails can become slippery in winter

weather, so explore with care.

Closest urban centre: Duncan, BC (14 km)

Nature is

where you

find it

And more and more of us are

looking for it close to home

In and around our cities you'll find countless opportunities

for rest, relaxation and rejuvenation. From

hiking along a wooded trail, to snowshoeing on a prairie

or cross-country skiing alongside a frozen river, a trip

to an urban park is a perfect way to take a break from

our screens and clear our heads.

Canada's cities offer more than 15,000 hectares of natural

parkland, according to Park People. And more and more

research is pointing to the invaluable benefits of green

spaces in and around us. These places are our cities' lungs

and kidneys, purifying our environment by absorbing pollutants.

They also reduce the risk of flooding by retaining

water from the spring thaw and heavy rainfall.

Nature is where people go to get fresh air, exercise, feel

a sense of calm or take a break from everyday pressures. In

fact, a new Ipsos Public Affairs online survey conducted for

the Nature Conservancy of Canada (NCC) revealed that

eight in 10 people are spending time outdoors to care for

their well-being. Many are heading outside more now than

before the pandemic began.

And that's not all. Time in nature can foster a deeper

connection to it and the desire to protect it. Are you

ready to lace up your boots to explore new places close

to you? Here are seven NCC properties within an hour's

drive of a major urban centre:

L TO R: R.M. NUNES / ALAMY STOCK PHOTO; MICHAEL WHEATLEY / ALAMY STOCK PHOTO; CHRIS ISTACE.

4 WINTER 2022 natureconservancy.ca
---
2. Bunchberry

Meadows, AB

Located just a 20-minute

drive from downtown

Edmonton, the four easy

trails of Bunchberry

Meadows take visitors

through native parklands,

where the quiet flow of

the river and the wind in

the trees offer a calming

experience. The property

offers excellent opportunities

for snowshoeing in winter.

Closest urban centre:

Edmonton, AB (30 km)

3. Asquith, SK

With its six kilometres of

mowed trail, Asquith's vistas

of prairie landscapes provide

a chance to relax and

recharge. During spring and

summer, enjoy the fragrant

wildflowers and open

grasslands over the backdrop

of grassland birdsong. In

winter, the property is

available for snowshoeing.

Closest urban centre:

Saskatoon, SK (55 km)

TOP TO BOTTOM: BRENT CALVER; ROBERT MCCAW; NCC; NEIL EVER OSBORNE; MIKE DEMBECK; GUILLAUME SIMONEAU.

5. Backus Woods, ON

Visitors can walk, ski or snowshoe their way through

one of the seven trails at Backus Woods in winter

and enjoy its Carolinian forests. The property is open

year-round, and is situated in an important Bird Area

and Provincial Area of Natural and Scientific Interest

with provincially significant wetlands.

Closest urban centre: London, ON (approx 95 km)

4. The Forks Prairie Garden, MB

Nestled in the heart of downtown Winnipeg, The Forks Prairie Garden gives visitors

a break from the hustle and bustle of city life. In winter, lace up and hit the skating trail

that winds through the garden. In warmer months, visitors can immerse themselves

in this demonstration garden that features various tall grass prairie grasses and

wildflowers, providing visitors with a glimpse into Manitoba's natural history.

Closest urban centre: Winnipeg, MB (downtown)

7. Musquash

Estuary, NB

Hikers on the the challenging,

strenuous coastal trails here are

rewarded by views of the fully

functioning river estuaries of the

Bay of Fundy. Visitors can see coastal

peatlands and eastern white cedar

stands and plentiful patches of tall

fern. Two of the three trails here are

accessible year-round.

Closest urban centre:

Saint John, NB (approx 30 km)

6. Alfred-Kelly

Nature

Reserve, QC

With 15 spectacular trails to

choose from, the Alfred-Kelly

Nature Reserve is accessible

year-round except during spring

thaw and times of heavy rain.

Perfect for cross-country skiing

or snowshoeing in winter, or

for hiking to see the trilliums in

spring or the fall foliage, this

property has something to offer

in every season.

Closest urban centre:

Montreal, QC (60 km)

natureconservancy.ca

WINTER 2022 5
---
BOOTS ON

THE TRAIL

Stony

Mountain

Prairie

Preserve

Large yellow lady's slipper

French St

See some of Manitoba's prairie

gems at this property located

close to Winnipeg

The Stony Mountain Prairie Preserve is located

on the top of the Stony Mountain escarpment.

The preserve features a unique oasis of grasses

and flowers common to the native tall grass and

mixed-grass prairies that once covered the region.

Just a 20-minute drive north of Winnipeg, within

the town of Stony Mountain, this unique site

is situated on limestone bedrock and features

a valuable remnant of native prairie.

N

From the preserve, visitors can explore five

kilometres of easy recreational trails on a network

connecting this scenic prairie habitat and naturally

reclaimed limestone quarries. In spring and

summer, watch for pollinators visiting the prairie

crocuses, lilies and nectar plants that share this

space. Visitors are asked to clean their boots after

a visit, as this site also has invasive leafy spurge

growing in several places. In winter, wandering

the trail on snowshoes makes for a perfect nature

break. No matter the season, this local treasure

has something special to offer.

STAY SAFE

Please stay safe and respect physical distancing

and local health directives when visiting

NCC properties. For more information, visit

natureconservancy.ca/stonymountain.ca.1

Wood lily

LEGEND

--- Boundary

--- Trail

PLANTS TO SPOT

• wood lily

• big bluestem

• hazelnut

• blue grama grass

• milkweed

• wild bergamot

• large yellow lady's slipper

• prairie crocus

Wild bergamot

ROBERT MCCAW; NCC; ROBERT MCCAW. MAP: JACQUES PERRAULT.

6 WINTER 2022 natureconservancy.ca
---
ACTIVITY

CORNER

BACKPACK

ESSENTIALS

Spring

cleaning

Get your yard ready for spring

ILLUSTRATION: ASHLEY BARRON. PHOTO: GENEVIÈVE LESIEUR. INSET: ISTOCK.

Whether you have a modest garden or a few

hectares of property, you can help protect

nature at home. From planning the upcoming

gardening season to preparing seeds for

sowing, there's much to do, even when nature

seems dormant and at rest. Cleaning up your

garden for spring can revitalize the look of your

yard. It can also help the plants and animals

in your garden, for example, by giving insects

a place to safely overwinter.

Here are a few tips from NCC stewardship staff

on prepping your garden for spring:

1. Prune small shrubs and trees to maintain

good form and vigour.

2. Clear away stalks of perennials that provided

shelter and seeds to wildlife over the winter

months. Trim plants with hollow stems to

varying heights to attract cavity-nesting insects.

3. Divide and transplant perennials that

bloomed the previous fall. Moving them

while they're dormant can minimize stress

on the plants.

4. Rake lawns later in spring when temperatures

reach 10 C consistently for 10 days.

Do so gently to ensure you don't disturb any

caterpillars, cocoons and chrysalids.

5. Learn about which plants are native to your

area and find out how you can incorporate

these species into your garden.

Bonus (if you have feeders and nest boxes):

sanitize feeders, bird baths and nest boxes to

minimize the risk of parasites and disease for

feathery visitors.

10X

François Duclos gets up close and

personal with nature, using his geology loupe

The moment you step into your first geology class, you adopt a new staple

item that never leaves your backpack: the 10X magnifier. Geologists use

magnifiers to help identify rocks, minerals and fossils, which often only

reveal their true identity when looked at under the magnifier lens. My career has

since taken a very different path, but the magnifier has never left my bag.

Nowadays, whether I'm taking a stroll on a pebble beach on the Gaspé Peninsula,

or hiking up a volcano in Central America, I can't resist the urge to explore

the world beneath my feet. This world includes fungi, lichens, insects and even

snowflakes, which all offer amazing spectacles barely visible to the naked eye.

It sometimes feels a little awkward to kneel and look through a magnifier

while other hikers are standing and looking up through their binoculars. Next

time we meet, let's take a minute and show each other the world through our

respective lenses!1

natureconservancy.ca

WINTER 2022 7
---
8 WINTER 2022 natureconservancy.ca

TKTKTKTKTKTKT
---
The

future

before

us

TKTKTKTKTKTKT

Youth have

become an

unrelenting

force in their

mission to

use their voices

to safeguard

biodiversity

and the

environment

BY Jenn Thornhill Verma

ART BY Tara Hardy

Rebekah Neufeld talks about the bur

oak trees that backdrop her family's Ninette,

Manitoba, farm like she knows them. They

have always provided, says Neufeld, whether

as a source of recreation for climbing or a source of firewood

for heat. Now 32 years old and with a decade of working

for the Nature Conservancy of Canada (NCC), currently as

the acting conservation science manager for the Manitoba

Region, Neufeld appreciates the oak trees for their persistence,

too.

"Bur oaks will grow on dry, hot, rocky or sandy habitats

as short, gnarled survivors; they flourish in thick forests

along river valleys and floodplains; or they grow tall with

spreading branches in open prairies, where they can survive

prairie fires and harsh winters," says Neufeld, "Nature

is home. It's fun. It's sustenance and protection. It's part

of who I am, and yet it's a giant, fascinating mystery."

Exuding youthful energy and enthusiasm, Neufeld

lights up when she talks about nature and ways to protect

Canada's most precious natural places. She's in good

company at NCC, where 40 per cent of the staff is younger

than 35. Globally, youth have become an unrelenting force

(one might say like a bur oak) in their mission to use their

voices and share their values to safeguard biodiversity

and the environment.

natureconservancy.ca

WINTER 2022 9
---
Looking ahead

A strong workforce of young adults (those aged 18–35)

is a strategic advantage because it helps us focus on

tomorrow, take bolder actions, think innovatively and

consider long-term impacts, says NCC's president and

CEO, Catherine Grenier.

"When you have a young cohort working with you, it

allows you to glance at what the future's going to look

like," says Grenier. "In the nature conservation field, it's

important to have all demographics represented, but

especially young adults, because they're the ones who

will see the benefits of the work we are doing now in

five, 10, 15, 25 years."

If you look back at NCC's big accomplishments from

the last while, there have been young people involved in

almost every one," says Megan Lafferty, NCC's manager

of land protection measures. "For example, young staff

led the Vidal Bay project, our largest to date in Ontario.

From fundraising to closing projects, many young staff

were instrumental in the success of our Landmark

Campaign. And they are pushing us to do more, better."

Lafferty has joined Grenier for today's interview

about young people leading the way in conservation.

The joint interview is a subtle, but important, signal

that shows NCC's youthful advantage is not by accident,

but by design. Lafferty, 32, heads up a taskforce of

young staff entrusted with making recommendations

to NCC's management, using the "by youth, for youth"

approach, well-understood as a prerequisite for

meaningful youth engagement.

Young people know what young people need,

Lafferty says, and when they lead with a clear purpose,

it injects their fresh perspectives and unique values

into conservation efforts.

"Young people today think more about social impact and

take a more comprehensive look at their actions and their

consequences, as well as the interconnectedness of the

things we do," says Lafferty, "We're seeing more and more

how interconnected the challenges we're facing are with

climate change and biodiversity. Supporting young people

who have that interconnected vision is important if we want

to address those challenges." Added to that, Lafferty says,

is that today's youth leaders are tomorrow's world leaders.

"In the climate and biodiversity space, youth are not

tomorrow's leaders, they're the only leaders," challenges

James Bartram, president of the Canadian Committee

for the International Union for Conservation of Nature

(CCIUCN). It's a bold statement from someone who is

a strong supporter of intergenerational learning, where

people of all ages learn together and from one another.

But Bartram's statement is not meant to undermine the

contributions of previous generations. Instead, he credits

young people for having mainstreamed climate change in

global conversations, and says the same will only happen

for biodiversity if youth are educated, equipped and empowered

to lead. To help young adults advance their conservation

leadership, CCIUCN has for many years hosted

a Youth Ambassador Program, while their Young Professionals

in Canadian Conservation Network is a one-thousand-member-and-growing

inclusive virtual network raising

up the voices of young conservation leaders.
---
WESTON FAMILY

CONSERVATION

SCIENCE FELLOWSHIP

PROGRAM

The recovery of a nationally endangered

butterfly in Ontario and the study of

at-risk grassland songbirds in Alberta

were the first two projects in NCC's

Weston Family Conservation Science

Fellowship Program.

The program supports and trains

graduate students conducting NCC

priority research so that they can

become next-generation leaders in

applied conservation science. Research

by fellows, such as first cohort Emily

Trendos and Zachary Moore, supports

conservation and management of

important natural areas and biological

diversity across Canada.

Fellowships are advertised for specific

research projects, specifying whether

the fellowship is for a PhD (four years

of stipend support) or MSc (two years

of stipend support).

Amy Wiedenfeld, a doctoral student in

biology at the University of Lethbridge,

has been selected to study the viability

of some of Canada's most at-risk plant

populations in the Carolinian forest

region. Beginning in January 2022, the

fellowship provides four years of support.

This fellowship program is fertile

training ground for the next generation

of conservation leaders. It aims to attract

the brightest young scientists, with plans

to add two fellows each year.

"As a program

fellow, I have been able to

explore the Rocky Mountain

Foothills of Alberta, conducting research

that will help in conserving the grassland

songbirds protected by NCC and its partners.

The program allowed me to not only complete

my studies and research, but also meet active

conservation professionals, gain new

insights into the field and develop my

own professional expertise."

Zachary Moore

"The program has

allowed me to not only

contribute to the conservation of an

endangered butterfly species, but the

results of this work will benefit the

development of best management practices

for tallgrass ecosystems. NCC has also helped

me develop meaningful relationships

between me and other wildlife and land

management professionals — an

essential component of successful

conservation."

Emily Trendos

Opposite L to R:

Megan Lafferty

Rebekah Neufeld

Young adults

think innovatively

and consider longterm

impacts

Fresh perspectives

Megan Quinn is a youth leader with ties to NCC and

CCIUCN. At 26, she's NCC's coordinator of conservation

biology for eastern Ontario. She's also a member of the

Young Professionals Committee of the CCIUCN and a sustainable

development goal youth impact mentor with the

United Nations Association in Canada. In Quinn's work,

no two days are the same. One day, she's in the field, removing

invasive species, such as non-native buckthorn,

from eastern Ontario forests. The next, she's writing and

filing reports at her desk. But most days, she's up early

for a pre-work ride at the 150-hectare horse farm where

she lives,outside of Ottawa, Ontario.

"I look at nature with a new perspective from the back

of a horse," says Quinn, who is also a competitive horse

rider. "Riding keeps me connected to nature and reminds

me that I'm a part of it. When I'm out on a trail with my

horse, he's picking up the squirrel rustling in the bushes,

before I even see it. During a competition, my horse and

I aren't working independently, we're a team. I think

there's something really beautiful about that."

Quinn's family immigrated to Canada from a former

coal-mining town in northern England. The move opened

her eyes to the sweeping Canadian wilderness, in turn

instilling a sense of responsibility.

"Canada, with the vast amount of space that we have,

we also have a big obligation to help protect it," says

Quinn. "Sometimes we're guilty of saying that nature is

over there, and we are over here. But we're all part of

the same system. We're all figuring out how to get along."

natureconservancy.ca

WINTER 2022 11
---
The challenges we're facing with climate change

and biodiversity are interconnected. Supporting

young people who have that interconnected vision

is important if we want to address those challenges.

MEGAN LAFFERTY, NCC MANAGER OF LAND PROTECTION MEASURES

Today's youth

leaders are

tomorrow's

world leaders

Megan Quinn

Opposite:

Robin Lawson

Jon Kelly

Part of figuring it out, says Quinn, is to make space

for youth. But one obstacle is the common misperception

that all young people are the same.

"Sometimes we lump youth into one group. But 'youth'

is a demographic that spans different political, societal,

racial, gender [and] sexuality constructs. Everyone's experience

of being a youth is different," says Quinn.

Quinn's comments also point to the resounding need to

bring together young people from a range of skillsets, to

perform a range of functions — from those working in the

field on the frontlines of conservation to those fundraising

and managing the balance sheets in offices and boardrooms,

and everything in between.

All skills welcome

"There's room for everybody, no matter what your skillset

is," says 27-year-old Robin Lawson, communications

coordinator with NCC's Ontario team. "In conservation,

I think the prevailing mindset is you have to be a biologist.

But we need accountants. We need storytellers. We need

people with organizational skills. I think I'm a great example:

I have skills in graphic design and photography,

and I applied them to my passion for conservation."

One of Lawson's more memorable photography trips

was hiking McKellar Point overlooking Lake Superior in

Little Trout Bay Conservation Area, about 45 minutes

outside of Thunder Bay. Boots on the trail and camera in

hand, Lawson recalls pinching one eye closed while framing

shot after shot of the lush landscape. From images

of the smallest lichen to the tallest pine tree, she says

photography can transport people into the heart of the

Canadian wilderness, bringing what's out of someone's

usual frame of reference, to front and centre.

For those working in conservation, the trail ahead requires

tackling monumental challenges and taking what

the Global Youth Biodiversity Network calls "unprecedented

action." Today's youth are sadly familiar with failure,

reports the network, having seen failed global

12 WINTER 2022 natureconservancy.ca
---
commitments from the Millennium Development Goals to

the Aichi Biodiversity Targets and the Kyoto Protocol.

That's why the network is calling on young people to bring

their voices, hearts and actions together in a global movement

to push world leaders to up the ante toward an

equitable and sustainable future. Practically, Lawson says,

that means young leaders and today's world leaders must

work together on a common agenda.

Intergenerational collaboration

"It's great to have a fresh perspective from youth. On the

flip side, it's great to have expertise and lived experience,

which is why I'm a huge advocate for intergenerational

collaborating and capacity-building," says Lawson. "We

can't just give the kids their own sandbox and say, 'Okay,

go over there.' And 'That's done. The youth are engaged.'

Or we can't just give them a seat at the table and say,

'Here, you sit here and watch.' We need to create opportunities

for intergenerational collaboration where you can

have these different perspectives and levels of experience

and background come together."

Lawson is familiar with intergenerational partnership

because she lives it in the boardroom, on the board of

CCIUCN where her votes, authority and influence carry

the same weight as any board member.

CCIUCN's James Bartram calls intergenerational capacity

exchange "the sweet spot," arguing it works best

when "involving experienced professionals who are more

mission-driven than they are in pursuing their own career

pathway." In other words, he says, "what you need

are role models who understand they're getting as much

out of it as the young person. This is not just capacity

building, it's capacity exchange."

For intergenerational learning to

become the rule requires a systemic

effort, which is helpfully presented

in a February 2021

IUCN-commissioned review

on the topic. The review

has since spurred the

IUCN, the world's

largest conservation

organization, to commit

to a youth strategy, a

youth advisory committee

to carry out that

strategy and create ongoing

youth-led secretariat

support.

"It depends

a lot on how you

define youth.

Is it kids,

teenagers,

young

adults? You don't reach youth in the same way. Ultimately,

if it's not designed for you, it won't speak to you," says

Sandrine Grenon-Lalonde, the national outreach programs

coordinator for youth engagement at Parks Canada,

which engages Canadians of all ages in a variety of

ways. Grenon-Lalonde says it all comes down to creating

"meaningful experiences," be it work, volunteering or

visiting historic sites, national parks and marine conservation

areas.

"By providing youth with meaningful experiences, we

increase the likelihood that they will act to protect nature,

becoming influencers and champions of conservation,"

she says.

Collective good

"It's helpful to have more perspectives because the collective

good that can result from that, it's huge," says Jon Kelly,

a 31-year-old land administration manager for NCC's British

Columbia region. Kelly says NCC is replete with intergenerational

learning models, where fresh perspectives meet

sage advice and experience. Advancing the conservation

agenda requires tapping into people of all ages and demographics

who are motivated by confronting challenges, he

says. Kelly considers himself to possess that trait, motivated

by what he describes as "untangling the wires a little

bit." He says young people hold the key to sustainability,

which is a tough nut to crack in a field that requires years,

often decades, to reap the benefits from today's efforts.

"Young people are bringing new perspectives and fresh

energy to the conservation field. As the critical importance

and need for conservation is becoming increasingly

evident and NCC is growing to address this need, I think

these perspectives will help sustain this work and advance

conservation further," says Kelly.

For NCC, meaningful youth engagement requires

a commitment from the top to recognize the value youth

bring to the table and provide them with a meaningful

voice and growing opportunity, says Catherine Grenier. She

adds that it needs to be about building an inclusive culture

where youth feel valued and find opportunity to share and

learn. When that happens, youth attract more young

people to the organization, recruiting from the inside out.

The organization hires many of its staff as interns (in fact,

that's how all the young people interviewed for this article

got their start). NCC is also developing applied conservation

scientists. The Weston Family Conservation Science

Fellowship Program supports graduate students undertaking

NCC priority research in the conservation and management

of Canada's natural areas and biodiversity. The

program welcomed its latest fellow in January.

Back in Manitoba, Neufeld has seemingly started her

own informal recruitment campaign for the next generation

of youth leaders. Last summer, the Manitoba Museum

featured her in an exhibit focused on Manitoba's prairie

landscape. Neufeld earned a fan in her colleague's sevenyear-old

daughter, who visited the gallery, eager to watch

and re-watch Neufeld's interview.

"That's one of the first instances," Neufeld begins, shying

away from calling herself a "role model," because she

says, "I still very much feel like I'm learning and not there

yet, but it is a role I'm starting to play."1

WINTER 2022 13
---
SPECIES

PROFILE

Piping

plover

This migratory

bird, distinguished

by its orange legs,

is endangered

in Canada

GLENN BARTLEY.

14 WINTER 2022

natureconservancy.ca
---
APPEARANCE

Short and stocky, piping plovers

have a white breast, abdomen and

rump. Their head, wings and back are pale

brown to grey, and they have an eye-to-eye

black stripe across their forehead and single

black band across their chest. This species

is most easily identified by their orange

legs, which are brightest during

breeding season.

RANGE

Piping plovers are migratory birds. During

spring and summer in Canada, they breed

along the Atlantic coast, in northwestern Ontario

and along the lakes and saline wetlands of Saskatchewan,

Alberta and southern Manitoba.

In fall, piping plovers migrate south and winter along

the coast of the Gulf of Mexico and other southern

locations. Over the years, their nesting range has

decreased, especially in the Great Lakes area.

Many of this species' nesting and wintering areas

are under threat and it is now considered

endangered in Canada.

What NCC is doing

to protect habitat for

this species

The Nature Conservancy of Canada

(NCC) protects 3,692 hectares in

Saskatchewan's Lower-Qu'appelle-

Assiniboine-Quill Lakes Natural Area.

This includes more than 2,300

hectares of habitat for piping plover.

The shallow, saline lakes of NCC's

Shoe Lake West property, within the

Missouri Coteau Natural Area, dry out

in the summer and provide the perfect

environment for piping plovers.

NCC also protects habitat for this

species in New Brunswick and

Nova Scotia.

PHOTO: ROBERT MCCAW. ILLUSTRATIONS: CORY PROULX.

HABITAT

When nesting, piping

plovers seek out beaches and

tidal flats above the high-water

mark, with sand, gravel or cobble

and little vegetation.

THREATS

Some of the threats facing

this small shorebird include

habitat loss from development

and disturbances from

recreation and motorized

vehicles.

In winter, they use coastal

beaches, mudflats and

sandflats.

HELP OUT

Help protect habitat

for species at risk at

giftsofnature.ca.

The life of a

piping plover

Once they find a mate at their

breeding grounds, males scrape

a shallow nest in the sand or gravel,

which they then present to the

female for inspection. To keep the

eggs off the wet sand, the male

lines the nest with shells or pebbles,

which also drain rainwater and

camouflage the eggs.

In May, the female plover then

lays two to four cream-coloured

eggs covered in small, dark spots.

The chicks hatch in June and emerge

fully feathered. Within hours, they

are able to run and feed on their own.

In three to four weeks, they can fly.

These shorebirds migrate to their

wintering grounds beginning in

early August.1

natureconservancy.ca

WINTER 2022 15
---
PROJECT

UPDATES

1

Snowshoe Creek Conservation Area

BELLA COOLA, BRITISH COLUMBIA

1

THANK YOU!

Your support has made these

projects possible. Learn more at

natureconservancy.ca/where-we-work.

Back to

nature

2

3

Afew years ago, Bella Coola, BC, residents Harvey and

Carol Thommasen purchased a property along the Bella

Coola River with the intention of seeing it become a bird

sanctuary. With the support of the Nuxalk Nation, who are committed

to protecting vulnerable ecosystems in their territory, the

Thommasens gifted the property to the Nature Conservancy of

Canada (NCC) to care for in perpetuity.

"Carol and I donated this land to NCC mostly to help forest birds,

whose populations have declined by 30 per cent since the 1970s,"

says Harvey. "This land will also help the salmon and trout and will

provide a secure travel corridor for animals like deer, grizzly bear and

other large mammals."

Snowshoe Creek Conservation Area is near the traditional Nuxalk

village site of Nutl'lhiixw and the present-day Burnt Bridge Conservancy.

A grove of old-growth western red cedar contains numerous

culturally modified trees, a testament to the thousands of years of

Nuxalk history in the area.

"The Nuxalk Nation has been exercising our rights and title since

time immemorial," says Councillor Iris Siwallace, Nuxalk Nation.

"We have given our support to the Nature Conservancy of Canada to

manage this area as we believe they will be able to protect this land

for our Putl'lt — those who are not yet born."

This project was supported by many generous NCC donors.

The land donation was made through the Government of Canada's

Ecological Gifts Program.

Read the whole story at natureconservancy.ca/snowshoecreek.

COURTESY SUSAN HARRISON; HARVEY THOMMASEN.

"Like many

Canadians,

I began working

from home in March

2020. Realizing I needed

to get up and move, I ventured

out into my suburban community for daily

walks and discovered, much to my delight,

three water catchment ponds five minutes

from my front door. There were ducks and herons,

red-winged blackbirds and rabbits. I was

even treated to the occasional deer sighting. I

had always revered the natural world but had

very little up close and personal experience

with it until then.

Snowshoe Creek Conservation Area, BC

"Although already a proud NCC supporter,

my experience with the ponds brought home

to me the importance of the organization's

work, and I wanted to express my appreciation.

In the first year of working from home,

I'd saved $3,825.50 in gas and highway toll

charges. I donated that amount to NCC and

I challenge other NCC supporters who've

enjoyed a back-to-nature experience during

the pandemic to do the same."

~ Susan Harrison,

monthly donor since 2019

natureconservancy.ca
---
Shaw Wilderness Park, NS

MIKE DEMBECK; MIKE DEMBECK; IRWIN BARRETT.

Bur oak forest at The Keyhole, NB

2

Bur oak forest at The Keyhole

NEW BRUNSWICK

NCC is working toward establishing a new nature reserve 55 kilometres from New Brunswick's capital

city, Fredericton. This conservation initiative will protect a key wetland habitat from cottage development

while also aiming to help reduce the effects of seasonal flooding in the region.

Known as The Keyhole, this natural cove is located along the shoreline of Grand Lake, the province's

largest lake. It includes wetlands and a mature floodplain forest (70 hectares) along the province's

longest river, the Wolastoq (St. John River). This project will be linked to a broader initiative

involving partners with a common interest in protecting the wetlands and a forested buffer area along

the greater Wolastoq area.

The National Tree Seed Centre of the Canadian Forest Service has assisted with assessing provincially

rare bur oak trees discovered on the property. With your support, NCC is collecting seeds for

planting at The Keyhole and for bur oak restoration throughout the area.

3

Conserving a critical

wildlife habitat

SOUTH SHORE, NOVA SCOTIA

There is currently an opportunity to expand

upon 630 hectares of NCC-conserved land

nestled along Nova Scotia's wild and scenic

South Shore. The Port Joli peninsula is a hot

spot for biodiversity, and the existing NCC

protected lands and adjacent provincial and

federal protected lands here (like Thomas

Raddall Provincial Park and Kejimkujik National

Park Seaside) enable wildlife to thrive. The area

contains three federally established Migratory

Bird Sanctuaries where geese, ducks and

plovers return to the same salt marshes and

tidal flats for feeding and overwintering. With

your help, an additional 157 hectares will be

conserved, connecting existing NCC-protected

areas with partner-protected areas for the

benefit of the greater region.1

Port Joli, NS

Partner Spotlight

NCC relies on the support of

generous donors and supporters.

Environment and Climate

Change Canada (ECCC) has been

supporting NCC's work across

the country for several decades.

This support continues largely

through the Natural Heritage

Conservation Program (NHCP),

a unique public-private

partnership that mobilizes

Canadians to conserve and care

for nature. Each dollar invested

by the Government of Canada

is matched at least 2 to 1 by

generous contributions from

other donors. The partnership

has resulted in the conservation

of nearly 600,000 hectares of

land and fresh water, an area

larger than Prince Edward Island.

This includes NCC projects like

Shaw Wilderness Park in Halifax,

Nova Scotia, and Darkwoods

Conservation Area in BC.

ECCC also supports NCC's

work through the Ecological

Gifts Program and the recently

announced Nature Smart

Climate Solutions Fund. With

the support of these programs

and the NHCP, NCC is working

to sustain communities across

Canada. These conserved lands

provide important nature-based

solutions that offer clean air

and drinking water, buffer

against the effects of climate

change and support human

health and wellness.

Learn more at natureconservancy.

ca/impactreport.

natureconservancy.ca
---
CLOSE

ENCOUNTERS

Night owls

By Megan Quinn, NCC coordinator of conservation biology for eastern Ontario

Iam not a morning person. To emphasize that point,

I'm writing this Close Encounters at midnight, when

I really should be in bed. However, one thing I've

learned from my work with the Nature Conservancy of

Canada (NCC) is that nature won't wait while I sleep.

One cold January morning, I found myself walking

beneath the old-growth eastern white pine trees at NCC's

Gillies Grove Nature Reserve in Arnprior, Ontario. Winter

had firmly set in. A light dusting of snow covered the

trail, and I was glad to be dressed warmly for my day of

field work. A limited number of daylight hours forced me

to start my hike just as the sun was rising. The forest

was quiet. I was the only human out that morning, but

despite the silence, I certainly wasn't alone in the forest.

I don't know what made me look up, but as I turned

my head toward the trees, a ghostly shape drifted past.

It would be easy to assume the rising sun was playing

tricks with my eyes, but this phantom was just as real as

me. It was a barred owl.

This large, stocky bird is easily identified by its mottled

body, dark eyes and yellow beak, but that morning all

I saw was a bright silhouette. Barred owls can be found in

mature forests with a mix of coniferous and deciduous

trees — like those found at Gillies Grove. They are skilled

hunters, often hunting at dawn and dusk. They perch in

trees before swooping low into the forest to catch their

prey (typically small mammals like mice, squirrels and

rabbits). Unless you've been lucky enough to witness it,

it's hard to describe how remarkably silent barred owls

are when they fly. Like most owls, their feathers are incredibly

soft, with a unique shape that means they make

almost no noise while in the air. If I wasn't looking at the

exact right time on that day, I would have missed it.

The barred owl got its breakfast, and I moved quickly

on to let it eat in peace. As I continued my hike, I smiled.

From one night owl to another, it was a privilege to witness

this majestic creature ending its day, just as mine

was starting.1

ASHLEY BARRON.

18 WINTER 2022 natureconservancy.ca
---
LET YOUR

PASSION

DEFINE

YOUR

LEGACY

Your passion for Canada's natural spaces defines your life; now it can define

your legacy. With a gift in your Will to the Nature Conservancy of Canada,

no matter the size, you can help protect our most vulnerable habitats and the

wildlife that live there. For today, for tomorrow and for generations to come.

Order your free Legacy Information Booklet today.

Call Marcella at 1-877-231-3552 x 2276 or visit DefineYourLegacy.ca
---
YOUR

IMPACT

Old Man on His Back Prairie and Heritage Conservation Area, SK

Old Man on

His Back Prairie

and Heritage

Conservation

Area

This year, we celebrated

a quarter century of conservation

work at Old Man on His Back

Prairie and Heritage Conservation

Area — located in one

of the most endangered

ecosystems in the world —

thanks to your ongoing support.

TOP TO BOTTOM: JASON BANTLE; TIAH COXON; COURTESY ANDREW HOWICK.

Molson Island, QC

Molson

Island

Montrealer Andrew Howick

spent more than a decade buying

up every hectare of bog, rock

and forest on Molson Island

(26 hectares) in Quebec's Eastern

Townships, all to donate the

land to NCC this past fall.

To all of our supporters, thank you

for all you do for nature in Canada!