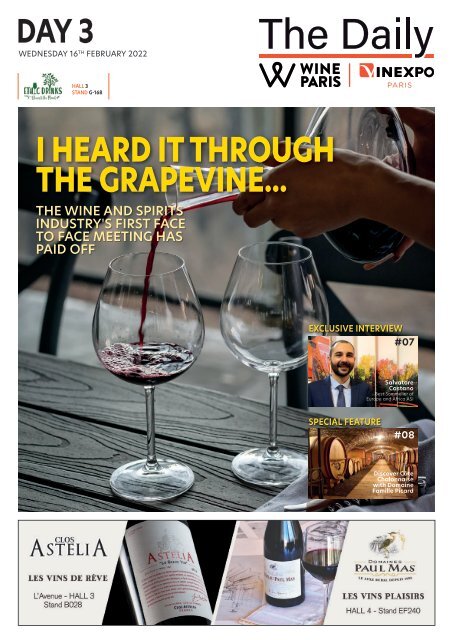 The Daily Wine Paris & Vinexpo Paris - Day 3
Create successful ePaper yourself
Turn your PDF publications into a flip-book with our unique Google optimized e-Paper software.
DAY 3

WEDNESDAY 16 TH FEBRUARY 2022

HALL 3

STAND G-168

I HEARD IT THROUGH

THE GRAPEVINE...

THE WINE AND SPIRITS

INDUSTRY'S FIRST FACE

TO FACE MEETING HAS

PAID OFF

EXCLUSIVE INTERVIEW

#07

Salvatore

Castano

Best Sommelier of

Europe and Africa ASI

SPECIAL FEATURE

#08

Discover Côte

Chalonnaise

with Domaine

Famille Picard
---
PRACTICAL GUIDE

Hall 6 / Stand HJ-110

Hall 6 / Stand B-152

Hall 4 / Stand C-020

Hall 4 / Stand FG-086

Hall 4 / Stand A-125

Hall 3 / Stand KL-124

Hall 4 / Stand EF-240

Hall 3 / Stand B-252

Hall 5-2 / Stand DE-024
---
I MORNING BRIEFING I

Morning

Briefing

By Rodolphe Lameyse,

Vinexposium, CEO

© Philippe Labeguerie & Joanna Margan

We're pulling it off and

it's all thanks to you

PROGRAMME

DAY 3

WEDNESDAY 16 FEBRUARY

ANJOU ROSÉS NAIL THEIR COLOUR TO THE

MAST!

09:30 am - 10:30 am

Location: HALL 3 - Room 1 On! Les

Masterclasses

By registration

ARMAGNAC REACHES ITS PEAK AT ANY

AGE!

09:30 am - 10:30 am

Location: HALL 3 - Room 3 On! Be Spirits

Free entrance

Good morning and welcome to the third

day of Wine Paris & Vinexpo Paris 2022.

I'm sure many of you are getting into the

swing of things by now, but for those of

you who are just arriving we've got a

wide range of events lined up for you

today, so please take full advantage

of these. A number of Masterclasses

will be taking place in Hall 3, starting

with a tasting of Carmenere brought

to you all the way from Chile and a

presentation of rosés by the Fédération

Viticole Anjou Saumur. It's also definitely

worth sticking around this afternoon for

the Chef/Sommelier duo and Vinexpo

Challenge hosted by Marc Almert, best

sommelier of the world. If you haven't

already had the chance, check out our

new WineTech Perspectives area in Hall

4 where a panel discussion on using

technology for good will be starting at

10:30am, followed by a presentation

about innovative approaches to

responsible wine growing. The same

goes for our Be Spirits section, where

today you can hear from the national

Armagnac marketing bureau (BNIA)

and learn about innovations in the

world of premium spirits courtesy of La

Spiriterie Française. Hall 5 continues

to be the 'centre of the world' with

winemakers from around the globe

putting their best products forward.

So why not explore what producers in

other places like Kazakhstan and New

Zealand are doing? Over in Hall 6, our

Wine Talks series will kick off at 10:00am

exploring the the post-Covid hospitality

industry, followed by a conference on

whether regulations on winemaking are

keeping up with what consumers want.

Remember the show continues across

the city this evening with our 80 partner

bars and bistros serving delicious food

and wine pairings.

The Daily is a CLEVERDIS Publication. 439 route de la Seds

13127 Vitrolles, France - Tel: + 33 442 77 46 00

SARL capitalised at €155,750 - VAT FR 95413604471 - RCS Marseille 413 604 471

info@cleverdis.com - www.cleverdis.com - www.vinexpodaily.com

• Publisher: Jean-François Pieri • Senior Account Manager: Benjamin Klene • Head of Editorial Team: Emiliana Van Der Eng

• Editorial team: Daniel Bardsley, Thomas Campbell, Luc Citrinot, Laura Sharman, Reuben Tasker • Art Director: Hélène Beunat

• Webmaster: Guillaume Vinrich. With the participation of: Bettina Badon, Zineb Elhabiri, Veronika Verzhak.

CARMENERE TASTING: EMBLEMATIC RED

WINE FROM CHILE

09:30 am - 10:30 am

Location: HALL 3 - Room 2 On! Les

Masterclasses

Free entrance

THE HOSPITALITY INDUSTRY POST-

COVID. WHAT ARE THE NEW WINE

CONSUMPTION TRENDS? NEW USAGES?

NEW EXPECTATIONS?

10:00 am - 11:00 am

Location: HALL 6 - On! Les Wine Talks

Free entrance

TECH FOR GOOD: WHEN TECHNOLOGY

FOSTERS A NEW, POSITIVE APPROACH TO

WINE

10:30am - 11:30am

Location: HALL 4 - On! La Wine Tech

Perspectives stand 4AC026

Free entrance

CHÂTEAU D'YQUEM VINTAGES ENDING IN 9

11:30 am - 12:30 pm

Location: HALL 3 - Room 1 On! Les

Masterclasses

By registration

THE CHALLENGES FACING RUM IN THE

2020S - FROM PREMIUMISATION TO

EDUCATION. IS RUM THE WINE OF THE

TROPICS?

11:30 am - 12:30 pm

Location: HALL 3 - Room 3 On! Be Spirits

Free entrance

>>>> To contact them: first name.last name@vinexpodaily.com

Photo Cover: © mR lv G7XCY / unsplash .

© CLEVERDIS 2022 - Registration of Copyright February 2022. Information presented in this publication is purely indicative in order to illustrate

subjects contained therein. No guarantee can be given as to the accuracy of data or content at time of printing and thus the latter should not

be used for professional or commercial ends. While all efforts have been made as to accuracy and pertinence of content and data contained

in this publication, CLEVERDIS may in no case be held responsible for the consequences, whatever their nature may be, that may result from

the interpretation of this data or content, or any eventual errors therein. Any reproduction of the content of this publication, even partial, by

any means whatsoever, is strictly prohibited without the prior autorisation of the publisher. Any copy, whether by photography, photography

film, magnetic tape, disc or other means constitutes a forgery, liable to punishment under French law according to the legislation of 11 th March

1957 covering copyright. All brands cited in this publication are registered trade marks and/or belong to companies which are their respective

proprietors. The publishers and editorial staff decline all responsibility as to opinions formulated in this publication by those interviewed or cited

therein. Their opinions are entirely their own, and are included with the understanding that they contain, to our knowledge, no malicious intent.

The inclusion of all texts, photographs and other documents supplied by those included in this publication imply the acceptance by their authors

of their free publication therein. Documents and photographs will not be returned. It should be understood that this publication contains forwardlooking

statements that involve risks, uncertainties and assumptions. All statements other than statements of historical fact are statements that

could be deemed forward-looking statements. Risks, uncertainties and assumptions include assumptions relating to the timing of the recorded

date. If any of these risks or uncertainties materialises or any of these assumptions proves incorrect, actual results could differ materially from

the expectations outlined in these statements. Cleverdis assumes no obligation and does not intend to update these forward-looking statements

during the period of publication. Photo Credits and Copyright: All Rights Reserved.

ALL SESSIONS

PRACTICAL

INFORMATION

THE DAILY • WEDNESDAY 16 TH FEBRUARY 2022 • 3
---
I NEWS I

Lenz Moser

encourages people

to move out of their

comfort zone

HMS offers each of its

clients a tailored service

which goes above and

beyond

Philippe Tapie spoke to The Daily

about the company's client-focused

approach

The high end wine merchant has come up with an

innovative solution for keeping its clients connected.

Tell us about HMS and how it all

started?

I started HMS about 20-yearsago

which is dedicated to

working with very premium wines

- almost exclusively Grand Crus

and Grand Crus Classés. We sell

wine, but also everything around

the brand by relaying and echoing

its image and properties. So you

see, for us the most important

thing is that we offer our clients a

tailored service that is made-tomeasure.

We are absolutely not

a 'négociant généraliste', we are

'haute couture'. I think we must

be one of the merchants working

with the smallest number of

winemakers in Bordeaux. We are

mainly focused on the left river

bank, but not exclusively.

What's the idea behind HMS?

The idea of HMS is this

connectivity, a unique and

privileged relationship between

our brand and our clients.

Because we really start working

when others stop. For example,

for us the purchase order is not

the end result, but a starting

point. Yes we've sold wine to an

importer, but we want to know

what happens next. Did it sell

well? Are they happy with the

promotion? Are they satisfied

with their purchase? So that they

come back and buy more.

I see you have an interesting

stand. Tell us more.

Today, we are supporting Wine

Paris & Vinexpo Paris 2022

because we believe it is an

essential trade show for the

industry. Obviously we can't

ignore the context because many

of our Asian clients are not here.

But we wanted to send a strong

sign and so decided to transform

a standard commercial stall into

a connection studio. This way

we can shine a spotlight on the

properties we work with, but also

put them in touch with our clients

who are not here. For example,

this morning we were connected

with one of our biggest clients in

China. Of course we are looking

forward to meeting people face

to face, but we're also keeping

with the times and that's why

we've chosen this format

Hall 3 / Stand D-188

The Austrian winery is making a strong come-back to

Wine Paris & Vinexpo Paris 2022, after recently being

named Best Producer in Austria at a world renowned

competition which sees more than 11,000 entries every

year.

It has also secured two awards for

its Grüner Veltliner Kremstal DAC

Rohrendorf 2020 and Klosterkeller

Siegendorf O'Dora 2019, as well

as six gold medals for other wines,

which are being presented at Wine

Paris & Vinexpo Paris 2022.

"We're Austria's biggest producer

when it comes to bottling," Camilla

Josefsson, the company's export

manager, said at the company's

stand.

"We are making Austrian quality

wines. People who buy Austrian

wines know what it is. It's not cheap

wine. It's suitable if you want a

nice wine that's not overpriced. It's

sad people don't know about the

excellent white wines in particular.

They need to come out of their

comfort box and try some new

things."

With an annual bottling capacity

of 25 million a year, and with 14.5

million bottles sold last year, Lenz

Moser is one of central Europe's

most significant wineries.

Its beautiful main building dates

back to 1849, but the history of

wine-making in the region where it

is based is thought to date back as

much as 1,000 years.

Considered an ambassador for

the Austrian wine industry, the

estate has been producing awardwinning

wines for decades by

partnering with around 3,000 local

winemaking families from Lower

Austria and Burgenland.

Production comes from about 2,700

hectares of the Austrian countryside

or about 5% of the country's

winegrowing area, making the

company Austria's largest winery"

Hall 5.2 / Stand DE 062

4 • THE DAILY • WEDNESDAY 16 TH FEBRUARY 2022 vinexposium-connect.com
---
I NEWS I

EthicDrinks places the

environment at the heart of

its winemaking

The young and vibrant start-up founded by Mickaël et Camille

Alborghetti showcases its green credentials through its organic wine

range at Wine Paris & Vinexpo Paris 2022

The Zero Carbon certified company

uses environmentally friendly

processes to produce and distribute

its bottles, most of which costs less

than 10 euros. To ensure they are

above and beyond organic and truly

environmentally sound, EthicDrinks

has been working with research and

development companies to ensure

their packaging is made from natural

and plastic-free materials.

The company also favours the

most ecological means of transport

possible, delivery bikes, and is

working hard to soften its own

carbon footprint by taking steps

such as using lightweight recycled

glass bottles. It is one of the first to

place environmental principles at the

heart of the wine-making process,

and hopes that it will encourage

others to follow suit. Earlier this

year, the company was awarded

a prize for its green packaging by

Adelphe, a government-affiliated

body responsible for overseeing

industrial recycling and waste

disposal. EthicDrinks' environmental

campaign is clearly communicated in

their mission statement: "Making the

wine industry more environmentally

respectful for both the planet and

consumers."

ONLY SUSTAINABLE AND

CERTIFIED PRODUCTS MAKE IT

TO MARKET

The Bordeaux-based startup

collaborates closely with

sustainable winemakers across

France to select and blend different

varieties of grape and produce

smooth, subtle and fruity ethical

wines. Only organic, biodynamic

wines or those that have been

environmentally certified make it

onto EthicDrinks' books and into their

blends. The company has around

20 wine brands, many of which are

designed to raise awareness about

environmental issues or encourage

consumers to take action. Wines

from their Act for Good range, for

example, come with a personalised

QR code which allows consumers

to plant a tree for each bottle they

purchase. The Don't Break My Ice

range has an 'unconventional'

label showing a seal drinking wine

on a melting iceberg to help raise

awareness about the irreversible

effects of global warming.

TAKING ACTION TO PROTECT

THE ENVIRONMENT

EthicDrinks' has partnered with a

number of leading international

organisations, including the World

Wide Fund for Nature (WWF), One

Percent for The Planet and Surfrider

to help preserve the planet's nature

and biodiversity. In honour of their

commitment, the company has

produced three wines under the

banner Biodiversité, including a

Sauvignon blanc, Grenache Rosé

and Merlot. All three are available

to purchase in over 700 locations

from one of France's major retail

chains, Monoprix. Another range

has been named Planète vivante,

meaning 'living planet', in reference

to the WWF's Living Planet Report

which provides science-based

analysis on the planet's health and

human activity. Looking forward, the

company will continue to produce

affordable organic wine and

promote sustainable winemaking

techniques across the sector

Hall 3 / Stand G-168

THE DAILY • WEDNESDAY 16 TH FEBRUARY 2022 • 5
---
I TRADE TALK I

Laurens

Maas

Senior Buyer,

Delta Wines

Benelux's biggest importer is turning

challenges into opportunities

Senior Buyer Laurens Maas spoke to The Daily about being back at Wine

Paris & Vinexpo Paris 2022 and how Delta Wines has evolved over the

past few years

The company which was acquired by Navitas Capital last

year imports and distributes over 4,600 different wines

from 246 suppliers, supplying a total of 85 million bottles

to supermarkets, traditional retailers, wholesalers and

the food service industry.

Mr Maas said: "It's great to be back

at Wine Paris & Vinexpo Paris 2022

- seeing your international friends

for the first time in three years. My

last trade show was in 2019 so its a

real 'rendez-vous'. Obviously we're

really focused on French wines,

but the international sections are

really interesting as well, so we are

also seeing some of our Italian and

Portuguese partners as well.

Yesterday at the inauguration

ceremony, the French Minister of

Agriculture and Food referred to

2021 as a 'black year'. What was

your experience?

It wasn't at all for us, because we

were able to adapt to the market. We

operate across several channels, so

it was easy for us to switch between

them. We also invested directly in

the market to gain market share

and secure our position which then

helped us attract new partners and

grow accordingly.

Have there been any broader

repercussions on the market?

In terms of wine and harvests, 2021

was more challenging because

prices are increasing. We mainly

operated in the Dutch market which

is a very price sensitive market, so

the question is whether consumers

in 2022 will accept this increase.

Last year when we spent five

months in lockdown, we lost a lot

of turnover in Horeca - the food

services industry including hotels,

restaurants and cafés, which was

quite challenging, so this year it

remains to be seen whether these

venues will stay open for 12 months.

Therefore, this year is going to be

very interesting for us I would say.

When you say you've invested in

different channels, can you be more

specific?

We've seen a significant increase

in alcohol free, so we acquired

a company specialized in alcohol

free wines in 2019. That's a growth

market for us and we've been

growing double digits in that

segment. Just before Covid, we

also set up a dedicated team for

e-commerce, which is a completely

different ball game. Importing wines

is generally about making exclusivity

agreements with geographical

areas within countries, but with

e-commerce and big players like

IT'S GREAT TO BE

BACK AT WINE

PARIS & VINEXPO

PARIS 2022 -

SEEING YOUR

INTERNATIONAL

FRIENDS FOR THE

FIRST TIME IN

THREE YEARS

vino.com that has several translated

urls, there are no boundaries. That

requires you to adapt and have

discussions with your suppliers

and clients. We rather embrace it

rather than fight it. Because every

challenge is an opportunity

6 • THE DAILY • WEDNESDAY 16 TH FEBRUARY 2022 vinexposium-connect.com
---
I EXCLUSIVE INTERVIEW I

WINE CONNECTS

PEOPLE WITH

HISTORY AND

GEOGRAPHY

Salvatore

Castano

Best Sommelier of Europe

and Africa ASI

World famous sommelier hails Wine

Paris & Vinexpo Paris 2022 as a

"great event for doing business"

Salvatore Castano, fresh from being named Best Sommelier of Europe and Africa

in the Association de la Sommellerie Internationale contest, remains humble as he

aims for even higher goals. We sat down with him to hear his views

How important is an

international trade show like

Wine Paris & Vinexpo Paris for

industry professionals and for

you personally?

I think Wine Paris & Vinexpo

is very important for the wine

industry, especially after two

years of the pandemic, where

it was almost impossible to

meet wine producers and wine

professionals. Such an event is

great for doing business and

helping small producers become

known outside the French

market.

What do you enjoy the most

about your profession? Tell us

more about your award.

I enjoy every part of my profession.

I found my real passion in the

drinks business and this is what

makes me happy. For me, the

most exciting part of being a

sommelier is the blind tasting,

where you can really understand

the quality of the wine, without

getting influenced by the name

of the producer. Winning the

Best Sommelier of Europe and

Africa ASI in 2021 was one of my

dreams coming true. It was very

unexpected, and in fact it took

me two weeks to actually realise

that I had won the competition.

I believe that hard work always

pays off, and this is the best

thing that can happen when you

put so much effort and passion

into something that makes you

happy.

What is your favourite wine or

drink in general?

I don't have a favourite wine,

but in terms of grape, I really

love Riesling, especially from

Germany. The sensation that

you get when trying young and

aged wines from this grape is

absolutely out of this world for

me.

Why did you become a

sommelier?

I became a sommelier because

I was very curious about every

single aspect of the wine

industry. Wine connects people

with history and geography,

and they were my favourite two

subjects when I went to school.

The more I studied, the more I

wanted to know about it. For me,

it is such a fascinating world.

What is your message to

the young people who are

passionate about becoming

sommeliers?

Thinking about my past, I'll

suggest to the new generation

of sommeliers to work with top

sommeliers in top restaurants

while they are young and

energetic. Obviously, studying

is very important if you'd like to

become a great sommelier, but

even more important for me is

to remain humble and to treat

everyone with respect

BIO

When he was named the Best Sommelier

of Europe and Africa ASI, Salvatore

Castano impressed the audience in

Limassol, Cyprus, with his self-effacing

humour. His success has deep roots,

as he has a long history of working in

the hospitality industry, having taken a

summer job in the sector in Sicily when

he was aged just 15. Inspired by this to

develop a career in hospitality, he took

jobs in top restaurants across the globe.

Developing a particular interest in wines

and spirits, he took courses to improve

his knowledge. He moved to London

and began working with sommeliers

who had started on the Court of Master

Sommelier programme and, always keen

for a challenge, decided to work towards

the exam himself. His success in the

Best Sommelier of Europe and Africa ASI

competition is the result of hard work as

well as talent, as he has previously said

that he would wake up early each day to

study before heading off to work. Winning

the contest has not dimmed Salvatore's

ambition, as he is planning to study even

harder with the hope of becoming the ASI

Best Sommelier in the World.

THE DAILY • WEDNESDAY 16 TH FEBRUARY 2022 • 7
---
I SPECIAL FEATURE I RED & ROSÉ WINES I

Discover Côte

Chalonnaise with

Domaine Famille Picard

Domaine Famille Picard is back at at Wine Paris &

Vinexpo Paris 2022 to promote its wines from the

Côte Chalonnaise and Côte de Beaune.

The Domaine Famille Picard was

founded in 1951 by Louis Félix

Picard, then owner of 2 hectares

of vines. Over the years, his son

Michel has built a family winery

recognised by his peers. It is now

the turn of the third generation of

the Picard family, with Francine

Picard heading a total of 140

hectares of vines spreading over

four estates between the Côte

Chalonnaise and the Côte de

Beaune. The young wine-maker

has a clear vision in mind: "We

want to bring to light these

relatively unknown terroirs of

the Côte Chalonnaise and to

aim for excellence in the Côte de

Beaune. We are all driven by a

strong organic and biodynamic

conviction".

It is a challenge taken up daily

through a range of wines called

"Au Pied du Mont Chauve". The

latter is a biodynamic selection

- referred as "haute couture"- in

the emblematic appellations of

the Côte de Beaune. It includes

Chassagne-Montrachet, Saint-

Aubin, Puligny-Montrachet and

Corton and 4 villages of the Côte

Chalonnaise (Rully, Mercurey,

Givry, Montagny).

On this rare and exceptional

panel of terroirs, reflective work

is centred around the idea of

"from the Earth to the bottle". This

means a healthy soil, a respected

terroir, a pure and well-thoughtout

vinification, a controlled

maturation, all set in agroecology.

But the momentum does not stop

there. Experiments go further

with the planting of new grape

varieties, the testing of original

blends, the creation of a new vat

house, etc.

Visitors to Wine Paris & Vinexpo

Paris can meet Francine Picard

and her team at the Vignobles &

Vins Picard (VVP) stand

Hall 6 / Stand F-188

A range of organic

Provence wines with

the freshness of

altitude

Château Grand Boise is putting forward its Château

range in Red, White and Rosé, at Wine Paris & Vinexpo

Paris 2022, as well as their cuvée 'parcellaire' named

1610 in honour of the year when it was established.

The château's director Ana Sofia

Simonet explains: "The first vines

at Château Grand Boise were

planted to protect the house from

fire because it's surrounded by 300

hectares of forest, with pine and

oak trees to the north and garrigue

to the south."

The property's 40 hectares of vines

are divided into more than 80 plots,

with some smaller than a hectare,

spread over altitudes between 350

and 600 metres.

This unusually high terroir of

Provence keeps the summer heat in

check and gives the château's reds,

a mixture of Syrah and Grenache,

a distinctive freshness and fulness.

Mrs Simonet, who manages the

château with her husband told

The Daily: "This affects the terroir

because the changes in elevation,

exposure and soil means we get

a lot of different results from our

plots."

More than 80% of the redecorated

17 th Century bastide's vines are

north facing, on soils composed of

clay, limestone and pink marble.

No chemical weedkillers or fertilisers

are used during the cultivation

process and the château has been

certified in organic cultivation.

Asked what she thought about

being back at Wine Paris & Vinexpo

Paris 2022 Mrs Simonet added:

"Wine is all about sharing. About

sharing a meal together or breaking

bread. It's a human necessity, so it

feels good to see people again and

share the experience of our wines

with them"

Hall 4 / Stand EF-006-03

8 • THE DAILY • WEDNESDAY 16 TH FEBRUARY 2022 vinexposium-connect.com
---
I REGION I EUROPE I

A Bulgarian wine

on La Boisseraie's best seller books

Wine merchants La Boisseraie have been distributing Enira since La

Bessa Valley Winery, located 150 kilometres south-east of Bulgaria's

capital Sofia, was founded

There were no vines when renowned winemaker Stephan

Von Neipperg and Dr Karl-Heinz Hauptmann purchased

the land in 2001 from around 800 residents near the

village of Ognianovo.

It now boasts 140 hectares of vines

and produces hundreds of thousands

of bottles every year which are sold

around the world. Marc Dworkin,

who manages the winemaking

process, said: "We are producing

around 600,000 bottles, including

around 460,000 from barrels and

the rest in tanks. Our harvests start at

the end of august for the whites and

finish between the second and third

week of October." Bulgaria's Bessa

Valley has been a wine producing

region for thousands of years and

is becoming increasingly popular on

the international stage. This is made

clear by the fact La Bessa Valley

now exports the majority of its crop

to 'overseas' markets including the

United States, UK, Germany, Austria,

Switzerland, Canada, Russia, and

more recently China, Japan and

Hong Kong. Mr Dworkin said: "We

are exporting to 26 countries, with

one third of our sales in Bulgaria

and two thirds abroad. Obviously

Covid has made things difficult, but

it's good because things are now

starting to reopen. The only worry

I have is Japan, which represents

a big share of my market." The

domaine manually picks around

650 000 kg of grapes every year,

which are aged exclusively aged

French oak barrels. These are kept

in the winery's specially designed

stone cellar, which has been partly

carved out of the rock to maintain

a constant temperature and level of

humidity.

La Boisseraie's sales manager

Navarre Louis explained how the

Bordeaux wine merchant stumbled

upon Enira. He said: "La Boisseraie

was founded in 1999 and we've

been distributing Enira for around

20 years. We chose this wine

because of its quality. We were

mainly distributing Bordeaux wines

when the owner asked if we would

like to try his Bulgarian wine. They

had to replant all the vines so the

first real cuvées of reds came out in

2004 and the white in 2019. Sales

were difficult for the first few years,

but now - seven or eight years later

- we are selling between 35 and

45,000 bottles a year in France."

Bulgaria is not the only country on

La Boisseraie's wine list, which also

features bottles from Hungary and

Romania

Hall 4 / Stand A-229

THE DAILY • WEDNESDAY 16 TH FEBRUARY 2022 • 9
---
© Emilio Del Prado

The Off - getting into

the right mood in the

French Capital

The Off by Wine Paris & Vinexpo Paris is THE definitive

list of partner bars across the city of lights. Take the time

to drop by one or two – and get into the right mood for

the show!

WHERE

TO GO IN

PARIS

Le Dénicheur

Le Dénicheur, located just off the rue Saint-Denis, has

more than 350 natural wines on offer, including from Sybil

Baldassarre, Milan Nestarec and Nicolas Vauthier. In the words

of owner Etienne Madelin: "The human element is primordial

and nature is the principle tool."

4, rue Tiquetonne

75002 Paris

TEL: +33 6 08 56 69 73

Glou

A warm and welcoming bistro whose name

conveys the sound of a pouring bottle, offering

a wide range of organic and biodynamic wines

accompanied by Amandine and Octave's

farmers market dishes.

Papillon

Papillon is the home of chef Christophe Saintagne,

formerly at Le Meurice. The programme of the evening:

High-flying cooking and a cellar created by sommelière

Anne-Cécile Daubigney highlighting France's viticultural

heritage with ecological tendencies.

8, rue Meissonier

75017 Paris

TEL: +33 1 56 79 81 88

101, rue Vieille

du Temple

75003 Paris

Tel: +33 1 42 74 44 32

Substance

Matthias Marc, the semi-finalist of Top Chef 2021, is at

the helm of Substance, an unassuming and innovative

restaurant with an advanced and distinctive cuisine.

The chef's identity is expressed in the dishes and wines.

Originally from the Jura, a grand selection of the regions

terroirs feature on the menu, as well as other organic gems.

18, rue de Chaillot

75016 Paris

TEL: +33 1 47 20 08 90
---
12 • THE DAILY • WEDNESDAY 16 TH FEBRUARY 2022 vinexposium-connect.com