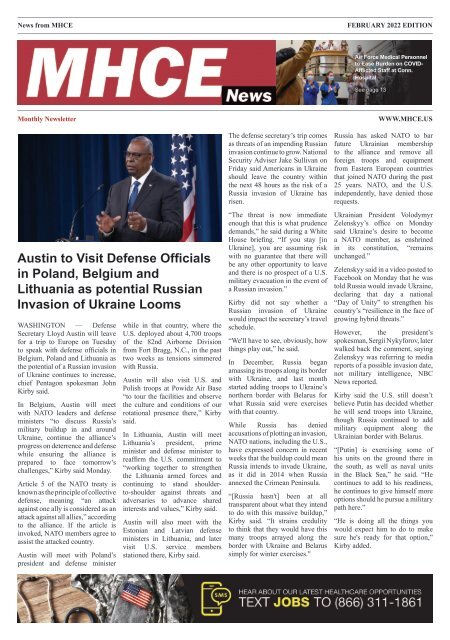 February 2022 — MHCE Newsletter
Create successful ePaper yourself
Turn your PDF publications into a flip-book with our unique Google optimized e-Paper software.
News from MHCE

FEBRUARY 2022 EDITION

Air Force Medical Personnel

to Ease Burden on COVID-

Afflicted Staff at Conn.

Hospital

See page 13

Monthly Newsletter

Austin to Visit Defense Officials

in Poland, Belgium and

Lithuania as potential Russian

Invasion of Ukraine Looms

WASHINGTON — Defense

Secretary Lloyd Austin will leave

for a trip to Europe on Tuesday

to speak with defense officials in

Belgium, Poland and Lithuania as

the potential of a Russian invasion

of Ukraine continues to increase,

chief Pentagon spokesman John

Kirby said.

In Belgium, Austin will meet

with NATO leaders and defense

ministers "to discuss Russia's

military buildup in and around

Ukraine, continue the alliance's

progress on deterrence and defense

while ensuring the alliance is

prepared to face tomorrow's

challenges," Kirby said Monday.

Article 5 of the NATO treaty is

known as the principle of collective

defense, meaning "an attack

against one ally is considered as an

attack against all allies," according

to the alliance. If the article is

invoked, NATO members agree to

assist the attacked country.

Austin will meet with Poland's

president and defense minister

while in that country, where the

U.S. deployed about 4,700 troops

of the 82nd Airborne Division

from Fort Bragg, N.C., in the past

two weeks as tensions simmered

with Russia.

Austin will also visit U.S. and

Polish troops at Powidz Air Base

"to tour the facilities and observe

the culture and conditions of our

rotational presence there," Kirby

said.

In Lithuania, Austin will meet

Lithuania's president, prime

minister and defense minister to

reaffirm the U.S. commitment to

"working together to strengthen

the Lithuania armed forces and

continuing to stand shoulderto-shoulder

against threats and

adversaries to advance shared

interests and values," Kirby said.

Austin will also meet with the

Estonian and Latvian defense

ministers in Lithuania, and later

visit U.S. service members

stationed there, Kirby said.

The defense secretary's trip comes

as threats of an impending Russian

invasion continue to grow. National

Security Adviser Jake Sullivan on

Friday said Americans in Ukraine

should leave the country within

the next 48 hours as the risk of a

Russia invasion of Ukraine has

risen.

"The threat is now immediate

enough that this is what prudence

demands," he said during a White

House briefing. "If you stay [in

Ukraine], you are assuming risk

with no guarantee that there will

be any other opportunity to leave

and there is no prospect of a U.S.

military evacuation in the event of

a Russian invasion."

Kirby did not say whether a

Russian invasion of Ukraine

would impact the secretary's travel

schedule.

"We'll have to see, obviously, how

things play out," he said.

In December, Russia began

amassing its troops along its border

with Ukraine, and last month

started adding troops to Ukraine's

northern border with Belarus for

what Russia said were exercises

with that country.

While Russia has denied

accusations of plotting an invasion,

NATO nations, including the U.S.,

have expressed concern in recent

weeks that the buildup could mean

Russia intends to invade Ukraine,

as it did in 2014 when Russia

annexed the Crimean Peninsula.

"[Russia hasn't] been at all

transparent about what they intend

to do with this massive buildup,"

Kirby said. "It strains credulity

to think that they would have this

many troops arrayed along the

border with Ukraine and Belarus

simply for winter exercises."

WWW.MHCE.US

Russia has asked NATO to bar

future Ukrainian membership

to the alliance and remove all

foreign troops and equipment

from Eastern European countries

that joined NATO during the past

25 years. NATO, and the U.S.

independently, have denied those

requests.

Ukrainian President Volodymyr

Zelenskyy's office on Monday

said Ukraine's desire to become

a NATO member, as enshrined

in its constitution, "remains

unchanged."

Zelenskyy said in a video posted to

Facebook on Monday that he was

told Russia would invade Ukraine,

declaring that day a national

"Day of Unity" to strengthen his

country's "resilience in the face of

growing hybrid threats."

However, the president's

spokesman, Sergii Nykyforov, later

walked back the comment, saying

Zelenskyy was referring to media

reports of a possible invasion date,

not military intelligence, NBC

News reported.

Kirby said the U.S. still doesn't

believe Putin has decided whether

he will send troops into Ukraine,

though Russia continued to add

military equipment along the

Ukrainian border with Belarus.

"[Putin] is exercising some of

his units on the ground there in

the south, as well as naval units

in the Black Sea," he said. "He

continues to add to his readiness,

he continues to give himself more

options should he pursue a military

path here."

"He is doing all the things you

would expect him to do to make

sure he's ready for that option,"

Kirby added.
---
2 | MHCE - News www.mhce.us FEBRUARY 2022 EDITION
---
WWW.MHCE.US Monthly Newsletter | 3
---
4 | MHCE - News www.mhce.us FEBRUARY 2022 EDITION
---
WWW.MHCE.US Monthly Newsletter | 5

Focus on Oversight a Key for Success at

CoreCivic

In the corrections industry, maintaining high standards of

operation is imperative to meeting the needs of the individuals

in our care. That's why CoreCivic adheres to a stringent set of

guidelines set forth by our own standards, as well as those of our

government partners and the American Correctional Association

(ACA).

Founded in 1870, the ACA is considered the national benchmark

for the effective operation of correctional systems throughout

the United States. To become accredited, a facility must achieve

compliance with ACA mandatory standards and a minimum of

90 percent non-mandatory standards. CoreCivic facilities adhere

to ACA standards, and in 2020, CoreCivic earned an average

ACA audit score of 99.6 percent across all facilities.

Key ACA audit areas include facility personnel, resident reentry

programs, resident safety, health care, and more.

holds our facilities and staff to a high standard. To be able to

represent our facility and receive reaccreditation in person is an

honor."

Adhering to ACA standards is only one part of CoreCivic's

commitment to robust oversight. When government partners

utilize CoreCivic's services, we are held not only to our own

high standards and those of the ACA, but we are often held to

the same or higher accountability of our public counterparts

through stringent government contracts, unfettered access to

our facilities for our partners, and hundreds of on-site quality

assurance monitors.

We provide access to our government partners, with most of

our facilities having government agency employees known as

contract monitors who are physically on-site to ensure we are

operating in line with partner guidelines.

Recently, the ACA held in Nashville, Tennessee, its 151st

Congress of Corrections, an annual convention that brings

together corrections professionals from across the country. In

addition to various workshops and events at the convention, the

ACA Commission on Accreditation also held panel hearings to

award accreditation to correctional facilities that meet the ACA's

rigorous requirements. Listed below are the seven CoreCivic

facilities that earned reaccreditation this year, with mandatory/

non-mandatory scores:

• Bent County Correctional Facility - 100/99.0

• Citrus County Detention Facility - 100/100

• Eloy Detention Center - 100/100

• Lake Erie Correctional Institution - 100/99.3

• Saguaro Correctional Center - 100/99.8

• Stewart Detention Center - 100/100

• Tallahatchie County Correctional Facility - 100/100

"The accreditation process is very important," said Warden

Fred Figueroa from Eloy Detention Center, one of the seven

CoreCivic facilities that was awarded reaccreditation. "ACA

To maintain our own high standards, annual on-site audits covering

all operational areas are administered to ensure compliance with

contractual and regulatory obligations and corporate-mandated

requirements. Each CoreCivic Safety facility is audited by our

internal quality assurance division, which is independent from

our operations division. Facilities are expected to be audit-ready

year-round, maintaining continuous compliance with numerous

applicable standards.

CoreCivic employs 75 staff members dedicated to quality

assurance, including several subject matter experts with extensive

experience from all major disciplines within our institutional

operations.

"A lot of hard work goes into preparing for these audits,"

Figueroa said. "Once they're complete, the staff can see their

accomplishments and feel proud."

Having multiple levels of oversight helps CoreCivic maintain

a safe environment for those in our care. By holding ourselves

accountable to our own high standards, along with our

government partners' and ACA's standards, CoreCivic continues

to be a trusted partner working to better the public good.
---
6 | MHCE - News www.mhce.us FEBRUARY 2022 EDITION
---
WWW.MHCE.US Monthly Newsletter | 7
---
8 | MHCE - News www.mhce.us FEBRUARY 2022 EDITION

Army Zeroing In on New Ways to Measure Body

Fat that Could Kill the Tape Test

The Army is wrapping up research on how best to measure a soldier's

body fat -- but the service's controversial tape test might not be dead

yet.

The Army is in the midst of totally revamping health and fitness for

its soldiers with its new fitness test possibly becoming official in the

spring. This week, researchers measured the body fat of more than

600 volunteer soldiers at Fort Lee, Virginia, with sophisticated and

expensive scanning tools that could replace the old tape measurements.

The scanners had been used back in October at Fort Bragg, North

Carolina, when 1,400 paratroopers were measured.

Since 1983, a tape measure was used to gauge whether a soldier was

in compliance with weight standards, analyzing their stomach and

neck. That 200-year-old method of measuring someone's body mass

index, or BMI, as a means to track obesity has largely been panned

for its inaccuracies.

The Army's goal as part of its scanning research is to measure the

body fat of 3,000 soldiers with a representative sample of ethnicities,

ages and genders, along with a diversity of military occupations such

as infantry and mechanics, with three different machines ranging in

size and expense.

That data will be used to analyze whether the force needs to revamp

how it measures a soldier's weight, which could mean adopting one

of the body scanning tools, or changing how a tape measure is used

to measure body fat. The study follows complaints from troops that

the tape test is outdated, sometimes unfairly categorizing muscular

soldiers, particularly women, as overweight.

"We're an evolving Army; we're due to relook at this again," Brig.

Gen. John Kline, commander for the Army's Center for Initial

Military Training, told Military.com in an interview Thursday. "We're

acknowledging the sentiment on social media and across the U.S. in

general."

Efforts to fine-tune body fat measurements come as the Army Combat

Fitness Test, or ACFT, is on the verge of becoming the service's

official graded fitness test in April. However, that test still faces

huge hurdles, including logistical problems administering the test;

skepticism from the rank and file, along with Congress; and comments

made by Secretary of the Army Christine Wormuth, who expressed

concerns during her confirmation hearing that the test might hurt the

recruitment and retention of women into the force.

"This will be a really good data pool. What we're looking at is how

one's body mass correlates with their ability to perform on the ACFT.

That's an area I'm very interested in," Kline added.

So far, some 2,000 soldiers have been measured across Fort Bragg

and Fort Lee. Yet the service is lacking data from the National Guard

and active-duty troops from certain age ranges and racial groups.

Army officials are considering a third study that is expected to focus

on the Guard. Yet, it could be difficult for researchers to coordinate

with Guard units, whose members are usually on duty for only one

weekend a month.

Right now, a massive gap in the data comes from a lack of participation

from women between the ages of 17 and 25. Some researchers

interviewed by Military.com think that is mostly due to it being

uncomfortable for young women to have their body fat measured in

public.

The machines the Army is using in lieu of a measuring tape are far

more accurate, and some soldiers interviewed said their body fat

results were much higher -- sometimes the difference between slightly

overweight and obese.
---
WWW.MHCE.US Monthly Newsletter | 9

"There are certainly some hurt feelings here," one Army staff sergeant,

who said their body fat on the tape test was 19% but the machine

measurements showed them at 26%, told Military.com. "This has

been an eye-opener for me."

The Army is also missing all age groups of Asian and Pacific Islander

soldiers; American Indian and Alaskan Native soldiers; and troops

over 50 years old, because of a small pool of volunteers from those

groups. Because of the expense of shipping all the body scanning

equipment, Army officials are considering finding troops in these

demographics and flying them out to a research site.

The machines used to scan soldiers' bodies would be a massive cost

to the force if they were fielded to units, and logistics of access for

Guard and Reserve units could quickly get complicated. Researchers

say the three types of scanners aren't in competition, and the Army

may still stick with the tape test as it takes the cost and practicality

of the gear into account and whether the added accuracy is worth the

bang for the buck.

The tools include a scale for soldiers to stand on, similar to equipment

seen at some civilian gyms. Troops can get data on their body fat

and muscle mass in two minutes. That tool costs around $15,000,

according to Army documents provided to Military.com. The other is

a 3D body scanner, which requires soldiers to mostly undress and step

into a private space to be scanned. That tool also costs about $15,000

to $20,000 per unit and takes two minutes to complete a scan.

The most expensive machine, ranging between $50,000 and $100,000

has soldiers lie down for a scan. It also takes the longest, about 12

minutes per soldier. That tool, researchers say, is a health industry

standard -- mostly used by athletic teams. It's also more accurate than

the other two options. However, the high price and large size of the

machine is being taken into account.

Both the body composition study and ACFT are part of the Army's

push toward holistic health, motivated by the needs for a fit force

ready for close combat and to reduce injuries that can be costly for

both the Departments of Defense and Veterans Affairs. It's part of a

wider campaign to combat a national obesity crisis that some have

pointed to as a national security concern.

"It's more than body fat; it's about health and appearance," Michael

McGurk, director of research and analysis at the Center for Initial

Military Training, told Military.com. "When you increase body fat,

you can increase risk for heart disease, diabetes, musculoskeletal

injuries and joint pain. That has a cost to the Army. There has

traditionally been an emphasis on appearance as well, presenting a

neat and soldierly appearance -- which may have changed over time,

which is why we're looking at this."

But struggling with weight and body fat measurements sometimes

leads to unhealthy eating habits. According to the Centers for Disease

Control and Prevention, 42.5% of American adults are obese --

seriously curtailing who is eligible to serve in the military.

"I have to work overnight," a junior soldier told Military.com. "It's

hard because all that's available around here is gas station food and

McDonald's. Usually before a weigh-in, I'd stop eating a lot for a

month or so."

Join Our Team!

Embark on a new career

with Central New York

Psychiatric Center!

Our Team Promotes

Hope, Resilience and Recovery!

Central New York Psychiatric Center is seeking

candidates to fill the following positions;

Psychiatrists, Psychiatric Nurse Practitioners,

Psychologists, and Registered Nurses.

These positions are available at our Inpatient

Forensic Hospital in Marcy, New York, as

well as our Corrections Based Satellite Units

across the State.

Benefits Include:

• NYS Pension

• Competitive Salaries

• Comprehensive Health Insurance

• Flexible Spending Accounts for

Healthcare & Dependent Care

• Generous Paid Time Off

Contact Us:

315-765-3375 or by e-mail

CNpersonnel@omh.ny.gov
---
10 | MHCE - News www.mhce.us FEBRUARY 2022 EDITION
---
WWW.MHCE.US Monthly Newsletter | 11

VISIT OUR WEBSITE

AT MHCE.US
---
12 | MHCE - News www.mhce.us FEBRUARY 2022 EDITION

TO ADVERTISE

contact Susan.Keller@mhce.us
---
WWW.MHCE.US Monthly Newsletter | 13

VISIT OUR WEBSITE AT MHCE.US

Air Force Medical

Personnel to Ease

Burden on COVID-

Afflicted Staff at Conn.

Hospital

A military medical relief unit arrived Thursday to cheers from

the COVID-afflicted staff at Saint Francis Hospital in Hartford.

The 20 U.S. Air Force nurses, respiratory therapists, physicians

and other workers will fill in for workers who are out due to

infections. The contingent is part of the Federal Emergency

Management Agency's nationwide "surge response" program.

Hospital workers gathered in the rotunda at the main entrance to

cheer the airmen, who marched in single file wearing camouflage

uniforms and backpacks. The troops are staying at an area hotel

during the 30-day mission, hospital officials said.

Asked how many workers are out due to COVID, Saint

Francis chief nursing officer Vernette Townsend said 50-60,

but other officials said that number is a moving target. Hospital

spokeswoman Brianna Barnes said the relief is welcome.

President Joe Biden in December directed Defense Secretary

Lloyd Austin to ready an additional 1,000 service members

— military doctors, nurses, paramedics, and other medical

personnel — to deploy to hospitals during January and February,

as needed.

"We know that the most critical need right now is medical

staffing for our hospitals," FEMA Administrator Deanne

Criswell said at a recent White House briefing, "and we've been

working nonstop with the Department of Defense and Health and

Human Services, who have been on the ground in communities

since day one to push even more medical teams out the door to

communities who need it most."
---
14 | MHCE - News www.mhce.us FEBRUARY 2022 EDITION
---
WWW.MHCE.US Monthly Newsletter | 15

VISIT OUR WEBSITE AT MHCE.US
---
16 | MHCE - News www.mhce.us FEBRUARY 2022 EDITION

Pentagon Surging Another 100 Military Medical

Troops to Coronavirus-stricken Hospitals Across US

Some 220 military medical troops are set to deploy in the coming

days to hospitals in eight states to aid staffs overburdened by

the recent surge in coronavirus cases across the United States,

military officials announced Friday.

The deployments of the military medical teams of doctors,

nurses and respiratory therapists includes about 120 active-duty

troops announced last week by President Joe Biden and another

100 announced Friday by U.S. Army North. The troops from

the Army, Navy and Air Force will deploy to medical facilities

in Michigan, Missouri, New Jersey, New Mexico, New York,

Ohio, Rhode Island, and Texas, Army officials said.

The new wave of deployments will bring the number of activeduty

military medical troops working to bolster coronavirus

support to U.S. hospitals to about 400, according to Army

North. Defense Secretary Lloyd Austin last month approved

the military to deploy up to 1,000 new medical troops into U.S.

hospitals, if requested by the Federal Emergency Management

Agency.

"As our support to FEMA and the whole-of-government response

to the pandemic expands due to a surge in hospitalizations, we

are committed to working alongside our civilian medical partners

to assist hard-hit states and communities in need," said Lt.

Gen. John Evans, the U.S. Army North commander. "Whether

military or civilian, we are in this fight together."

Biden said Jan. 13 that the deployments have been driven by

the emergence of the omicron variant of the coronavirus, the

most infectious version of the disease since the pandemic spread

worldwide in early 2020. Coronavirus cases reported to federal

health officials have fallen slightly from a pandemic high of

more than 1.3 million cases on Jan. 10 to about 708,000 as of

Friday. Hospitalizations in the United States have remained at

pandemic-high rates with almost 160,000 Americans hospitalized

as of Friday, federal health data shows. Hospitalizations peaked

in 2020 at about 140,000 last January, amid the delta variant's

surge.

Pentagon and state officials have provided active-duty and

National Guard troops to the coronavirus response since its

emergence in the United States in early 2020. Including the

new deployments, active-duty medical troops will be serving in

hospitals in 15 states, according to Army North. Another 6,000

Guard medical troops were deployed to hospitals, care centers

and medical facilities, according to National Guard Bureau

statistics.

U.S. Army North said the teams deploying include a 40-person

Navy team to Christian Hospital in St. Louis; a 20-person Army

team to University Hospital in Newark, N.J.; a 20-person Air

Force team to the Cleveland Clinic in Ohio; a 20-person Army

team to Rhode Island Hospital in Providence; a 20-person

Army team to Baptist St. Anthony's Hospital in Amarillo,

Texas; a 20-person Army team to Northern Navajo Medical

Center in Shiprock, N.M.; a 20-person Navy team to University

of New Mexico Hospital in Albuquerque; a 20-person Army

team to Henry Ford Wyandotte Hospital in Wyandotte, Mich.;

a 20-person Army team Coney Island Hospital in Brooklyn,

N.Y.; and another 20-person Army team to North Central Bronx

Hospital in Bronx, N.Y.

Pentagon officials have declined to say how long the troops were

expected to deploy. John Kirby, the Defense Department's top

spokesman, said last week that they would not be "open-ended"

deployments but end dates have yet to be determined.

TO ADVERTISE

contact Susan.Keller@mhce.us
---
WWW.MHCE.US Monthly Newsletter | 17
---
18 | MHCE - News www.mhce.us FEBRUARY 2022 EDITION

Business Is Global. Your Education Can Be, Too.

Complete Business Minor in One

Summer across Two Countries

By taking the five courses offered in this 12-week program, you

can complete a Business Minor and enjoy the unique opportunity

to immerse yourself in a cultural experience. Our Complete

Business Minor Abroad program will take you to the beautiful

streets of Rome, Italy, and Madrid, Spain, this Summer 2022

semesters

Business Core Fast Track

By taking the five courses offered in this 12-week program, you

can complete a Business Minor and enjoy the unique opportunity

to immerse yourself in a cultural experience. Our Complete

Business Minor Abroad program will take you to the beautiful

streets of Rome, Italy, and Madrid, Spain, this Summer 2022

semesters

2022 Program Update

In these uncertain times, the Harbert College of Business is

taking extraordinary steps to ensure the health and welfare of its

students. As such, only two study abroad trips will be offered for

this summer.

Please be on the lookout for details on offerings of a range of

Study Abroad Programs in Summer 2023. We appreciate your

interest and will be global again as soon as possible.

Study Abroad

At the Harbert College of Business, we offer the opportunity to

experience different business cultures, practices and standards

around the world. Round out your undergraduate experience with

a study abroad trip to Italy and Spain and gain a global business

perspective.

Undergraduate study abroad opportunities will allow you to gain

experience with a variety of contexts.

Have Questions?

COVID-19 has made the idea of international travel seem far

away. Let us reassure you we will provide a safe study abroad

experience that will give you an edge in your future career

Dr. Daniel Butler

Assistant Dean, Harbert Global Programs

Thomas Walter Professor

334-844-2464

butledd@auburn.edu
---
WWW.MHCE.US Monthly Newsletter | 19

When the practice of medicine

becomes the business of medicine.

You spent years studying medicine.

But what about the business side of

your practice?

It's easy to get started.

Take the next step toward a

Physicians Executive MBA

and contact us:

auburn-military.mba

334-844-4060

Auburn MBA
---
20 | MHCE - News www.mhce.us FEBRUARY 2022 EDITION

Study: Many

Veterans say

Their Outlook

has Improved

During COVID-19

Pandemic

A surprising number of U.S. military veterans say

they feel more positive about life, relationships

and themselves since the coronavirus pandemic

began, bucking predictions of a dire mental

health crisis caused by the outbreak, a study

published Thursday said.

"People talked, when the pandemic was

unfolding, that we were going to see an incredible

wave of mental illness, but the research hasn't

captured that," one of the study's authors, Dr.

Robert Pietrzak, told Stars and Stripes. He heads

the Translational Psychiatric Epidemiology

Laboratory of the U.S. Department of Veterans

Affairs' National Center for PTSD.

More than 3,000 veterans were surveyed

between November 2019 and March 2020 —

before COVID-19 had been declared a pandemic

by the World Health Organization — and again

in November and December 2020 when the

pandemic was in full swing. Of those, 43% said

they had experienced positive psychological

changes despite lockdowns, isolation, economic

hardship and illness.

The most notable change was a greater

appreciation for life, followed by closer personal

relationships and an enhanced sense of personal

strength, the study found.

Positive change was even greater among the

13% of veterans who said they had virus-related

post-traumatic stress disorder, according to the

study published in the Journal of the American

Medical Association. Of those, 70% reported

having a more positive outlook during the

pandemic.

The researchers were "startled that this

is happening," said Pietrzak, an associate

professor of psychiatry and public health at Yale

University.

"Every morning, everything is negative

about the pandemic. It's all about depression,

insomnia, substance abuse. But we also have

positive things occurring," he said.

All the veterans who took part in the survey

lived in their own homes. Most were men.

Having had COVID-19 did not influence whether

they were able to move on from the trauma of

the pandemic to post-traumatic growth.

While trauma can increase the risk of mental

disorders such as PTSD, Pietrzak said, it can

also spur beneficial changes.

"By no means are we trying to put out the

message that people should get infected and

COVID is a good thing, and we don't want

to minimize anything — there are subsets of

people who are suffering quite a bit," he said.

"But we are seeing both the negative and the

positive, and the positive so far outweighs the

negative."

Post-traumatic growth occurs naturally and

is often seen in people with PTSD symptoms

because "you need a wound to heal," Pietrzak

said.

"Post-traumatic growth is stimulated by

reflective processing about a traumatic event,

and sometimes you need to be sufficiently

shaken by an experience and experience

symptoms of PTSD to begin to process it at a

deeper level."

A follow-up survey is planned for 2022, he said,

when the pandemic is "hopefully over."
---
WWW.MHCE.US Monthly Newsletter | 21
---
22 | MHCE - News www.mhce.us FEBRUARY 2022 EDITION

headed, other than "to places of permanent

deployment."

Foreign Minister Sergey Lavrov said the

troops were returning "according to plan."

He said such drills always adhered to a

schedule — regardless of "who thinks what

and who gets hysterical about it, who is

deploying real informational terrorism."

Ukraine's leaders expressed skepticism.

Russia Says Some Forces Pulling

Back amid Ukraine Crisis

MOSCOW — Russia said Tuesday that

some units participating in military exercises

were returning to their bases, adding to

glimmers of hope that the Kremlin may not

be planning to invade Ukraine imminently.

But it gave no details on where the troops

were pulling back from, or how many.

That muddied efforts to determine the

significance of the announcement, which

buoyed world financial markets and the longsuffering

ruble after weeks of escalation

in Europe's worst East-West standoff in

decades. It came a day after Russia's foreign

minister indicated the country was ready to

keep talking about the security grievances

that led to the Ukraine crisis — a gesture that

changed the tenor after weeks of tensions.

Yet hours before the Russian Defense

Ministry statement about the troops, a U.S.

defense official said Russian units were

moving closer to the Ukrainian border –

not away from it. And Western officials

continued to warn that the Russian military

could attack at any time, with some floating

Wednesday as a possible invasion day.

NATO's chief said the alliance had no proof

yet of a Russian retreat.

The fears of an invasion grew from the fact

that Russia has massed more than 130,000

troops near Ukraine. Russia denies it has

any such plans, despite placing troops

on Ukraine's borders to the north, south

and east and launching massive military

drills nearby. U.S. and other NATO allies,

meanwhile, have moved troops and military

supplies toward Ukraine's western flank,

although not to confront Russian forces, and

promised more financial aid to the ex-Soviet

nation.

Moscow brandished Tuesday's pullback

announcement as proof that fears of war

were fabricated by a hostile, U.S.-led West:

"February 15, 2022, will go down in history

as the day Western war propaganda failed.

Humiliated and destroyed without a single

shot fired," Russian Foreign Ministry

spokesperson Maria Zakharova tweeted.

Yet Ukraine remains effectively surrounded

on three sides by military forces from its

much more powerful neighbor, and even if

the immediate threat recedes, longer-term

risk remains. Russia annexed the Black Sea

peninsula of Crimea from Ukraine in 2014,

and some 14,000 people have been killed in

fighting between Ukrainian troops and pro-

Russia separatists in the country's east.

The Russian Defense Ministry did not

indicate where the withdrawing troops had

been deployed or how many were leaving.

It released images of tanks and armored

vehicles rolling onto a train, and a tank

commander saluting his forces while a

military band played. The ministry did not

disclose where or when the images were

taken, or where the military vehicles were

"We won't believe when we hear, we'll

believe when we see. When we see troops

pulling out, we'll believe in de-escalation,"

Ukrainian Foreign Minister Dmytro Kuleba

said.

Speaking in Brussels, NATO Secretary-

General Jens Stoltenberg said: "So far,

we have not seen any de-escalation on

the ground, not seen any signs of reduced

Russian military presence on the borders of

Ukraine."

However, he added that there are "some

grounds for cautious optimism" for

diplomatic efforts, given the signals coming

from Moscow in recent days.

Stoltenberg said Russia has in the past

moved into areas with troops and equipment,

then pulled back leaving military materiel in

place for rapid use later. He said that NATO

wants to see a "significant and enduring

withdrawal of forces, troops, and not least

the heavy equipment."
---
WWW.MHCE.US Monthly Newsletter | 23

European leaders have been scrambling to try to head

off a new war on their continent, after several tense

weeks that have left Europeans feeling caught between

Russia and the U.S., and further pushed up household

energy prices because of Europe's dependence on

Russian gas.

German Chancellor Olaf Scholz met Tuesday with

Russian President Vladimir Putin in Moscow, a day

after sitting down with Ukraine's leader in Kyiv. In his

opening remarks in the Kremlin, Scholz addressed the

Ukraine tensions but also noted Germany's economic

ties with Russia — which complicate Western efforts

to agree on how to punish Russia in case of an invasion.

Foreign Minister Zbigniew Rau of Poland, one of

Russia's most strident European critics, met in Moscow

with Lavrov, and they discussed ways to use the

Organization for Security and Cooperation in Europe

for more talks aimed at easing tensions around Ukraine.

The day before, Lavrov suggested more efforts at

diplomacy in a made-for-TV meeting with Putin that

seemed designed to send a message to the world about

the Russian leader's position. The foreign minister

argued that Moscow should hold more talks, despite

the West's refusal to consider Russia's main demands.

Moscow wants guarantees that NATO will not allow

Ukraine and other former Soviet countries to join as

members. It also wants the alliance to halt weapons

deployments to Ukraine and roll back its forces from

Eastern Europe.

The U.S. reacted coolly.

"The path for diplomacy remains available if Russia

chooses to engage constructively," White House

principal deputy press secretary Karine Jean-Pierre

said. "However, we are clear-eyed about the prospects

of that, given the steps Russia is taking on the ground

in plain sight."

British Foreign Secretary Liz Truss reiterated that the

danger of an invasion still exists, telling Sky News that

it "could be imminent." Norwegian Foreign Minister

Anniken Huitfeldt issued a similar warning, and

Estonia's foreign intelligence agency said the Russian

armed forces could launch an operation "from the

second half of February."

A U.S. defense official said small numbers of Russian

ground units have been moving out of larger assembly

areas for several days, taking up positions closer to the

Ukrainian border at what would be departure points if

Putin launched an invasion.

The official spoke on condition of anonymity to discuss

information not publicly released.

Maxar Technologies, a commercial satellite imagery

company that has been monitoring the Russian buildup,

reported increased Russian military activity in Belarus,

Crimea and western Russia, including the arrival of

helicopters, ground-attack aircraft and fighter-bomber

jets at forward locations. The photos taken over a

48-hour period also show ground forces leaving

their garrisons and combat units moving into convoy

formation.

Meanwhile, Russian lawmakers urged Putin to

recognize rebel-held areas in eastern Ukraine as

independent states. The State Duma, Russia's lower house, voted to submit an

appeal to Putin to that effect.

Kremlin spokesman Dmitry Peskov said the issue of recognizing the selfproclaimed

republics is "very, very relevant to the public." But it was unclear

how Putin would respond or how this could influence Russia's actions in

Ukraine.

While the U.S. warns that Russia could invade Ukraine any day and Kyiv

alerted residents to find their nearest bomb shelters, the drumbeat of war was

hardly heard in Russia itself.

The Kremlin has cast the U.S. warnings of an imminent attack as "hysteria"

and "absurdity," and many Russians believe Washington is deliberately stoking

panic and fomenting tensions to trigger a conflict for domestic reasons.

Few Russians expect a war.

In Russia's Belgorod region about 30 kilometers (18 miles) from Ukraine's

border, residents carry on with life as usual, even as more military personnel

have been passing through village streets.

"Planes, helicopters just started flying, I guess, to patrol the border," said

Vladimir Konovalenko.

Villager Lyudmila Nechvolod says she's not worried.

"We are friends with Ukraine. And we are not sure that Ukraine wants war

with us. ... We are really on the border, we really have relatives here and there,

everyone has somebody there (on the Ukrainian side)," she said. "No one

wants war."
---
24 | MHCE - News www.mhce.us FEBRUARY 2022 EDITION

HAPPY

VALENTINES!

from the MHCE family to yours.

mhce.us

VISIT OUR WEBSITE AT MHCE.US
---
WWW.MHCE.US Monthly Newsletter | 25

Tatiana Julien Becomes Louisiana Army

National Guard's 1st Black Woman Pilot

PINEVILLE, La. — A woman

who was once rescued from the

Superdome on a helicopter during

Hurricane Katrina has gone on to

become the Louisiana Army National

Guard's first Black female pilot.

Warrant Officer Tatiana Julien of New

Orleans pilots a UH-60 Black Hawk

helicopter in B Company, 1-244th

Assault Helicopter Battalion, which

is based in Hammond.

"I feel like I now have a responsibility

to let young females know that aviation

is an option for them even though it is

a male-dominated field," she said in

a news release sent Thursday. "There

aren't many women, and even fewer

Black women in aviation, both in the

military and on the civilian side."

She said she had no idea she'd be a

trailblazer when she asked for the

training.

"It feels surreal," she said.

The Louisiana Army National

Guard's 115 or so helicopter pilots

include six African Americans, three

other minorities and five women,

including Julien, Sgt. Dennis Ricou,

a guard spokesman, said in an email.

Julien decided to become a pilot

after seeing a Black pilot from New

Orleans in her unit while it was

deployed to the Middle East from

2017 to 2018. That pilot became her

mentor.

"We often don't realize what kind

of impact we have on other people's

lives. Simply seeing someone doing

their job is enough to spark an

interest," said Julien.

bachelor's degree in psychology from

the University of New Orleans and

intends to pursue her master's degree

in either counseling education or

human resources.

The pilot she met in the Middle East,

now Chief Warrant Officer 4 Troy

Willis, said, "I am extremely proud

of Julien. Her level of intelligence

and her inquisitiveness really stands

out, making her a perfect candidate

to become a pilot, and I believe that

diversity of our armed forces is what

makes us strong."

Retired Sgt. 1st Class Haywood

Harrison, another of Julien's mentors,

now asks her to talk to his Junior

Reserve Officer Training Corps

classes at Broadmoor High School in

Baton Rouge.

"My students needed to see someone

that looks like them … someone

that wasn't exposed to helicopters

but was able to seek out the things

she needed to do to become the first

African American female pilot" in the

Louisiana Army National Guard, he

said.

Julien said she'd like to talk to students

at George Washington Carver High

School in New Orleans, her alma

mater.

"I feel like the exposure just isn't

there for many young Black kids in

the community I grew up in. A lot of

us don't know about opportunities

like this," said Julien.

Julien knows first-hand how valuable

emergency missions can be. After

Hurricane Katrina struck New

Orleans in 2005, Julien and her family

were rescued from the Superdome in

a CH-47 Chinook helicopter. They

had been there for a week.

"Hope, security and relief were all

that I felt in that moment. I am now

in a position where I may have to do

the same for someone else," she said.

Creating a Culture

of Caring

Offering master's

and doctoral

degrees for

Registered Nurses

Specialties Offered:

Nurse-Midwife

Family Nurse Practitioner

Women's Health Care NP

Psychiatric-Mental Health NP

She graduated Warrant Officer

Candidate School in August 2019 and

completed flight school on July 21,

2021.

Julien had an associate degree when

she enlisted in 2014 to continue

her education. She now holds a

Learn more at frontier.edu/military
---
26 | MHCE - News www.mhce.us FEBRUARY 2022 EDITION

TO ADVERTISE

contact

Kyle.stephens@mhce.us

HAPPY

VALENTINES!

from the MHCE family to yours.

mhce.us
---
WWW.MHCE.US Monthly Newsletter | 27

TO ADVERTISE

contact Kyle.Stephens@mhce.us
---
28 | MHCE - News www.mhce.us FEBRUARY 2022 EDITION

College of Nursing

Visit www.southalabama.edu/colleges/con

251-445-9400

5721 USA Drive North, Mobile, AL 36688

High Quality

Programs

Available Online

and on Campus

On Campus:

• Pre-Licensure BSN

• Accelerated BSN

Online OptiOns Offered:

• RN to BSN

• RN to MSN

• MSN

• DNP

• Post Graduate Certificates

areas Of speCializatiOn:

• Clinical Nursing Leader

• Nursing Administration

• Nurse Practitioner

(multiple tracks)

• Clinical Nurse Specialist

• Nursing Informatics

sub-speCialties:

• Cardiovascular

• Oncology

• Palliative Care

• Nursing Education

• Lipid Management