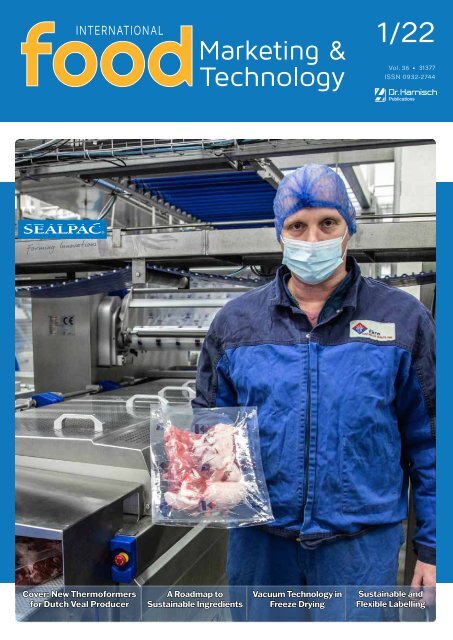 Food Marketing & Technology 1/2022
Please find numerous articles, product news and interesting event reports relevant to the food industry in this latest issue. This trade magazine is published in English only.
Please find numerous articles, product news and interesting event reports relevant to the food industry in this latest issue. This trade magazine is published in English only.
SHOW MORE
SHOW LESS
You also want an ePaper? Increase the reach of your titles
YUMPU automatically turns print PDFs into web optimized ePapers that Google loves.
1/22

Vol. 36 • 31377

ISSN 0932-2744

Cover: New Thermoformers

for Dutch Veal Producer

A Roadmap to

Sustainable Ingredients

Vacuum Technology in

Freeze Drying

Sustainable and

Flexible Labelling
---
Solutions that Matter

to People Everywhere

Over the years SPX FLOW has developed cutting-edge solutions that help bring delicious

and healthy dairy and plant-based products to your customers. But our impact goes beyond

dairy. From aerospace to personal care and construction to medicine, our innovative solutions

make life better for people everywhere. Every day. Explore the impact our Solution Makers

have on your daily life at SPXFLOW.com/SolutionsAroundYou, or by scanning the QR code.

Key No. 101490
---
Editorial

Trends for Twenty Two

There is a well known German comedy

sketch called 'Dinner for One'. It's

about an old lady who enjoys a dinner

party with her friends, who have

unfortunately all died before her. The

butler plays the parts of the missing

guests and asks his mistress "The

same procedure as last year, Miss

Sophie?" To which the answer is "The

same procedure as every year, James!"

When thinking of the food industry and

what trends are in the market, it often

feels the same way. Trends come and

go, but they mostly feel the same. In

times of covid and climate challenges,

the major trends in the food and

beverage industry centre around

health and sustainability issues. Other

buzz words include plant-based

nutrition and indulgence, as well as our

old favourite: convenience.

Products need to be ready to consume

at any time, provide nutrition and

added value for body, mind and spirit,

whilst tasting good and supporting

the environment. Packaging and

processing methods are also more in

the spotlight than ever before.

Our lifestyle has changed in the past

months. As more people work from

home, so they eat more at home. We

would expect this to lead to a more

balanced and healthy diet, but this

is not always the case. Consumers

want to find healthy and sustainable

products as easily as possible. More

often than not, they are ordered and

delivered by courier, either as fresh

ingredients or finished meals.

Plant-based nutrition is a perceived

answer to the problems around

global warming, as well as health

issues regarding meat consumption.

While there are arguments in both

directions, it remains true that the

consumer focus on plant-based foods

has shifted slightly to include added

benefits of vitamins and minerals.

Optimising the nutritional profile is an

ongoing project.

Indulgence will always be significant.

One constant in our diet, is that we are

always looking for something different.

This may be in a sensory experience,

whether taste, texture, smell or colour,

but also a need to be surprised or

challenged. Beverages are a popular

carrier for a new experience, with

combinations of sweet and creamy or

hot, sour and bitter finding a market in

the Millennial generation.

Ian Healey

Editor-in-Chief

Sustainability is a measure of corporate

responsibility which mirrors consumer

behaviour. The concept is growing

to cover the complete life cycle of a

product, farm to fork, and includes

packaging and use of resources in

processing.

The same procedure as every year?

Trends are, in fact, developing

gradually, so that what was important

five years ago is now a footnote and the

footnotes are becoming mainstream.

But it still has to taste good.

Sincerely,

If you like it – subscribe!

food Marketing & Technology • February 2022

3

food Marketing & Technology • February 2022
---
XIX International Trade Fair

for Savoury Snacks & Nuts

6 - 7 July 2022

Hamburg, Germany

Contents

food Marketing & Technology February 2022

1 Editorial

42 Impressum

Ingredients

Move your

business

forward

at the worldwide fair

for savoury snacks

The only trade fair 100% focused

on savoury snacks and nuts

+ Experience the hottest trends,

tastes and technologies

+ Develop your business with the

industry's leading suppliers

+ Connect with the decision-makers

of the industry and find

international trade partners,

distributors

+ Meet existing customers and new

prospects from around the world

+ Sell your products to an

audience that is ready to buy

10 A Roadmap to Sustainable Ingredients

13 Creating Classic Confectionery with Gelatin

16 FDA Recognizes Food Recognizes the Dietary

Fiber Status of Acacia Gum

18 Cutting Sugar Loads from Hazelnut &

Chocolate Spreads

Processing

20 Creating an Innovative, Healthy, CO 2

-Neutral Snack

22 Breakthrough Technology will Produce Green Proteins

Greener - Next Generation Membrane Filtration Systems

are the Key

24 Digitalization Leveraged to Optimize Hygienic

Processing

26 Freeze Drying with the help of Vacuum Technology

27 Research Holds the Key to more Efficient Crossflow

Membrane Filtration

28 Metal Detection for Fish Sausages, Right on the

Fishing Boat

28 The Perfect Form for the Bakery

29 Automatic WIP-Systems Efficient cleaning of

Ploughshare Mixers

30 Trade Fair Restart at ProSweets: Confectionery Solutions

31 ERP Solution Adds Value to Ham Production

Packaging

6 Renowned Dutch Veal Producer Invests in New

Thermoformers

32 How the Label Becomes more Sustainable and Flexible

36 Haldiram's Nagpur Goes Live with its Long Shelf-Life

Ethnic Beverages

38 "We support our Customers in Broadening their

Perspective"

Departments

The industry-defining fair for

the savoury snacks sector

40 Events

snackex.com

Key No. 102334
---
Vol. 36 • 31377

ISSN 0932-2744

Cover: New Thermoformers

for Dutch Veal Producer

A Roadmap to

Sustainable Ingredients

Vacuum Technology in

Freeze Drying

1/22

Sustainable and

Flexible Labelling

Cover: Sealpac

The Dutch veal producer, Ekro

decided to invest in four SEALPAC

thermoformers for packaging the

high-quality fresh products in various

weights and sizes, including

entrecote, fillet, escalope, rib-eye

and steak. The packaging primarily

has a protective function, so that a

flexible film is sufficient and sustainable.

By using vacuum technology,

an optimal shelf life is achieved.

Our Cover Story starts on page 6.

Key No. 102203

Ingredients: Natural flavored oil

Infuso is a natural, flavored oil that is set to make snack

production a whole lot easier and help food manufacturers

in their quest for an outstanding snacking experience. It's

brilliant in its simplicity and delivers intense, bold flavors and

multi flavored profiles for any savory snack. We talked to the

CEO of the company. Find out more on page 10

Processing: Freeze drying fruits

There are several ways to extend the shelf life of food. Freeze

drying is a modern extension of traditional drying methods

to protect food from spoilage for longer. This process is only

made possible by modern vacuum technology because freeze

drying food takes place under vacuum. Check out the story

on page 26

Packaging: Sustainable labelling

Food and beverage industry players are particularly concerned

about the costs of materials and are keen to optimize

their investment while increasing brand recognition. One of

the leading manufacturers in the market shares their expertise

to meet all labelling needs. See page 32

Key No. 102158

food Marketing & Technology • February 2016
---
Cover Story

Renowned Dutch Veal Producer

Invests in New Thermoformers

The company Ekro in Apeldoorn (NL), part of the VanDrie Group, is a renowned producer of veal. At the

business park along highway A1, approximately 400,000 calves are processed into high-quality meat

products every year, which are mainly distributed in Germany, France and Italy. In 2020, Ekro made

significant investments in its packaging department, resulting in four new thermoformer lines. We spoke

with Christian Scholten, Project Manager a.i. at Ekro, and Anjo Kaatman, Head of Technical Service within the

company, about the recent installation of these lines and the challenges such a project entails.

High-quality veal with attention

to the animal

What once started as a municipal

slaughterhouse in the center of

Apeldoorn is now an ultramodern

production company on the outskirts

of the city with approximately 750

employees. Ekro works in two shifts

per day on the tastiest veal products.

The new building at its current location

along highway A1 was constructed in

1989, not long after the company was

incorporated by the Van Drie family.

Today, the VanDrie Group includes

Dutch companies such as ESA and

T. Boer & zn, but also Sobeval and

Tendriade in France.

'When you ask for veal, we serve a

concept', that is the starting point

of Ekro. The company supplies highquality

veal products all over the

world that are tailored to the wishes

of the customer, such as whole veal

Christian Scholten shows the packaged product

Flexible film vacuum packaging protects during storage and transport

breast or veal roulade for the catering

industry, but also consumer products

such as veal burgers or steaks. Animal

welfare, food safety and sustainability

are of utmost importance. This means

that Ekro's products fully meet the

contemporary requirements of

discerning chefs and consumers. All

employees, but also each supplier

of the calves, work continuously to

improve animal health and welfare.

Full traceability

Veal is an appreciated delicacy due

to its fine structure, high nutritional

value and subtle taste. It is easy to

digest, low in cholesterol and rich in

vitamins and minerals. That is why

the product is widely used and highly

valued in international kitchens. Ekro

works with traditional wholesalers,

retailers, food service and food

manufacturers. Orders range from

the delivery of complete carcasses

to the delivery of kitchen-ready

consumer products.

6

food Marketing & Technology • February 2022
---
Cover Story

Christian Scholten, Project Manager at

Ekro: "What makes Ekro unique is the

quality we deliver. Our company is part

of a complete chain, from the feeding

of the calves to the packaged end

product. In addition, Ekro has been

committed to traceability for several

decades. The abattoir and deboning

section are equipped with hightech

hardware and software, which

connect seamlessly to each other, so

that full tracking and tracing of the

products is guaranteed. For example,

the customers of Ekro, primarily the

wholesaler, can always enter the

stated barcode for each product on a

special website to view the complete

life cycle of the meat."

Impossible to break

As Head of Technical Service, Anjo

Kaatman is responsible for Ekro's

existing machinery. Within the

company's Project Office, Christian

Scholten, together with four other

colleagues, is constantly working on

renewal processes in the broadest

sense of the word. Recently, both

men worked together in a large

investment project in the packaging

department of Ekro. The aim was to

modernize a number of existing lines,

so that they could work even more

efficiently. For example, the same

thermoformer has been used since

1999 for packaging the by-products,

especially organs. This machine, an

RE3, was once purchased from the

company Repak B.V. in Emmen (NL),

Anjo Kaatman, Head of Technical Service within Ekro

Christian Scholten, Project Manager a.i. at Ekro

a Dutch family business, just like the

VanDrie Group.

There is a great anecdote about the

installation of the RE3. At the time, the

machine was delivered by truck and

brought to its destination in one piece

on wheels. However, it turned out that

there suddenly was a wall that had not

yet been there at the time of purchase.

With two colleagues quicky gathered

from Emmen, the RE3 was taken apart

and put back together in the right

place, so that it could still be installed

over the weekend. Since 1999, the line

has been running 16 hours a day, where

cleaning takes place every evening

and maintenance is done twice a year.

Anjo Kaatman: "The RE3 has always

functioned without problems in our

challenging production environment

until the end of 2021."

The importance of good

maintenance

The RE-series thermoformers are still

built in Emmen, but since 2007 they

have been offered in the Benelux

under the brand name SEALPAC. The

advice, sales and maintenance are

done by Ultrapak B.V. in Nijkerk, the

exclusive distributor for SEALPAC

thermoformers and traysealers

in the Netherlands, Belgium and

Luxembourg. Anjo Kaatman: "We

have had an exceptionally good

relationship with Ultrapak from the

start. They take their responsibility

and meet the set deadlines, also with

regard to the agreed service contracts.

Installation of new machines, but also

the maintenance of existing machines,

must take place with us during the

weekend. The requirement is then that

the machines have to be running again

on Monday morning at 6.00 am, and

that has always been successful so far."

With the RE3 in use for more than 20

years, and a number of other lines

that could use a facelift, the inevitable

question of replacement came in 2020.

food Marketing & Technology • February 2022

7
---
Cover Story

To this end, a large project was started

within Ekro, in which distinct options

were examined. Revision of the

existing machines was still a possibility,

but replacement turned out to offer

the most benefits in the end. Ultrapak,

in the form of contact person Andres

Vos, provided an extensive analysis.

As part of the project, a visit was made

to the factory in Emmen. For Christian

Scholten, it was the first time. He

remarks: "It is a very neat factory, where

you can clearly see the production

process of the machines, from drawing

to assembly. Furthermore, it is obvious

that the factory is constantly investing

in production resources."

Four new lines

Ultimately, Ekro decided to invest in

four SEALPAC thermoformers: an

RE30 tandem machine for packaging

the by-products and three RE25

thermoformers for packaging fresh

veal in various weights and sizes,

including entrecote, fillet, escalope,

rib-eye and steak. Anjo Kaatman: "The

first two machines were installed in

September 2021, and the last two

followed in November. In both cases

this happened over the weekend, and

in both cases the machines were ready

for production by 6:00 am on Monday

morning. As we are used to from

Ultrapak!"

The three RE25 thermoformers are

located right next to each other in

the same production hall. Because

of the tight space there, including a

few awkward pillars, the machines

were designed to fit. Each of the RE25

thermoformers is suitable for a fixed

packaging format, which is tailored

to the weight and/or dimensions of

the various veal products. The RE30

is located in a separate hall, where

the by-products are packaged, such

as liver, heart, tripe, sweetbreads,

etc. Christian Scholten: "This line

has regular changes during the day.

By choosing a tandem machine with

two forming stations, suitable for two

formats (roughly 4 kg and 5 kg), we can

now change at the touch of a button.

This results in enormous time savings.

Our staff is very economical with and

proud of this line!"

All SEALPAC machines are equipped

with product support due to the heavier

packaging. This prevents the film from

slipping out of the chain. Furthermore,

all machines have central lubrication,

so that maintenance is minimized.

Anjo Kaatman adds: "The SEALPAC

machines are characterized by their

simplicity and reliability. I therefore

know that our staff can quickly

familiarize themselves with these

machines. The touch-screen monitor

of the RE series is also easy to operate."

The optimal packaging for semifinished

products

Only a small part (about 5%) of the veal

produced stays in the Netherlands.

The remaining 95% is exported to

Ekro produces high-quality veal products for wholesalers and consumers

8

food Marketing & Technology • February 2022
---
31377

Cover Story

about 50 countries, mainly Europe,

China and the US. The primary buyers

are wholesalers, who in turn supply

the catering industry. However, there

is also a growing consumer products

department. Semi-finished products

are packaged on the SEALPAC

thermoformers, which mainly go to the

(catering) wholesaler. The packaging

primarily has a protective function,

so that a flexible film is sufficient

and sustainable. By using vacuum

technology, an optimal shelf life is

achieved. Christian Scholten: "If we

look at the vacuum packaging based

on PA/PE film, such as those that are

run on the SEALPAC machines, we

are actually already at the minimum

packaging level. Thanks to the Rapid

Air Forming concept, standard on the

SEALPAC machines, the film is already

as thin as possible.

Future plans

Of course, the Corona pandemic has

had an impact on Ekro, all the more so

Christian Scholten between two SEALPAC RE25 thermoformers

because the catering sector, and with

it the wholesaler that supplies that

sector with veal, has been hit. Christian

Scholten: "That was especially true in

the first year of the pandemic, when

the catering industry in southern

European countries was closed. Since

then, production has picked up again

and is almost back to the same level.

Fortunately, we can now shift our

attention to other innovation projects

within Ekro."

fmt

1/22

Vol. 36 •

ISSN 0932-2744

Come and see for yourself:

www.harnisch.com

Cover: New Thermoformers

for Dutch Veal Producer

A Roadmap to

Sustainable Ingredients

Vacuum Technology in

Freeze Drying

Sustainable and

Flexible Labe ling

Perfectly positioned.

The international specialist magazines from Dr. Harnisch Publications

You can now explore our newly designed website, with a

clear focus on responsive design and easily usable applications.

Alongside the free-to-use digital magazine editions, you will

find bonus news coverage, events, subscription and

general information on all our magazines. Take a look at

www.harnisch.com for all relevant content.

Our publications include:

food Marketing & Technology • February 2022

- Technology & Marketing -

9
---
Ingredients

A Roadmap to Sustainable Ingredients

Wim van Roekel, President of Europe & Africa, Griffith Foods discusses its ambitious roadmap for growth to

2030, new product launches across countries and continents and why sustainable choices matter now more

than ever.

By Ian Healey

Wim van Roekel

Please tell us a little about Griffith

Foods and your background?

Founded in 1919 and now in the fourth

generation of family leadership, Griffith

Foods is a global product development

partner specialized in food ingredients.

From farmers to customers, the

relationships it forms with its partners

allow Griffith Foods to create better

products that are delicious and

nutritious for consumers, and foster a

better, more sustainable world. Today,

the Griffith Foods family of companies

operates in more than 30 countries on

six continents, employing over 4,800

people, including more than 40 chefs

and 340 food scientists.

We collaborate with food companies

worldwide to create fully customized

recipes for the constantly evolving food

marketplace, partnering with you from

ideation to production. Our product

portfolio consists of seasonings, sauces

and dressings, and coatings,

Our mission is to help customers succeed

through collaborative innovation and the

supply of tailored seasonings, sauces,

dressings and premium coatings where

we tailor everything from flavor and

functionality to meet your unique needs.

In many ways our purpose – "we blend

care and creativity to nourish the world"

– captures the essence of our existence

and values as a business.

As President of Europe and Africa

for almost 4 years, we've grown

significantly and have put an ambitious

but achievable growth plan in place all

the way to 2030. We've taken our core

capabilities as culinary experts and

looked to evolve these through new

partnerships and ecosystems where

shared values and new technologies and

benefit all. Previous to that my career

was been a mix of corporate positions in

the food industry as well as running my

own business.

Describe the Griffith Foods

Business Plan for this year and over

the next five?

To continue to grow, we are constantly

evolving our Health and Nutrition,

Alternative Proteins, and sustainable

sourcing even more deeply and are

making great progress. By partnering

with others, we can knowledge share

our expertise and expand into new

areas, and this may mean start-ups with

great ideas as well as more established

entities. Overall, it's been a tough year

initially, but business has bounced back

to to 2019 top-line levels after a tough

first half of 2021. We've also extended

our purpose driven strategy to 2030

with ambitious goals to ensure the entire

business will be net zero and a superior

example of sustainable best practice.

What is novel about Griffith Foods

as a food service provider?

At our heart we are still a family

business, one that acts and functions

like a family whilst behaving as owners.

I think our value system is very strong

as we are true collaborators who take

in customers, always as family. It's one

reason we have great retention rates.

We always innovate, inspire and

collaborate to create products and

concepts that drive customer success,

and we remain keen to have early

conversations with customers so that

needs are understood and aspirations

delivered.

One of our other key differentiators is our

mission to be more sustainable in all our

decisions and actions. People, Planet

and Performance make up the pillars of

10 food Marketing & Technology • February 2022
---
Ingredients

Registration opens March 1

July 10–13, 2022

McCormick Place | Chicago, IL

Reconnect Learn Innovate

Stay connected with the latest

IFT FIRST updates at iftevent.org.

Key No. 102109

food Marketing & Technology • February 2022

11
---
Ingredients

our sustainability strategy. For example,

by 2025, 100% of our herbs, spices and

vegetables will be from certified sources

and a 100% of our supply base will be

EcoVadis certified. We constantly look at

how to engage with more suppliers with

a focus on regenerative farming. On that

subject, with Platinum in Belgium and

Spain and Gold in the UK, our Ecovadis

awards put us in the top 1% category of

all global suppliers.

Growth also means new partners,

ecosystems, territories, we know

there are major opportunities in

existing markets such as the UK,

Spain, and Germany. Additional

investments there are paying

dividends, as our Poland office was

successfully opened as a bridge to

Eastern Europe, a key new territory

where we saw immediate growth.

We also launched and seeded our

Africa strategy in Kigali, Rwanda.

Operationally, we set up and source

locally using immediate values chains

to design products that work in local

markets for both African consumers

and businesses – it's an Africa for

Africa approach.

Broadly speaking what's your new

product approach to 2022?

At Griffith Foods, we will be focussing

as ever on Health and Nutrition,

Sustainable sourcing, and best practice

in keeping with consumer demand.

We know that new products need to

have a nutritious advantage as well

as great taste and texture. All our six

product launches next year will be a

mix of improved nutrition, even better

sustainability creds and more natural,

cleaner label propositions, depending

on the product in question. We are very

excited about the Alternative Protein

space especially.

What is Infuso and why is it a

breakthrough savoury snacks

innovation?

Infuso is a customisable flavored oil that

delivers an impressive taste in a one

single way process with a clean label

benefit – especially interesting to boost

the taste of healthier snacks. Griffith

Foods Sensory and Consumer insights

capabilities have proven that creating

bold and unique flavor profiles that are

also natural is a way to differentiate in

the market besides branding

In what way can Infuso improve the

production process?

One of the best examples of innovation

at work is Infuso because it delivers on

taste in a single step process with clean

label benefits. It offers options to create

multi flavour bold profiles and new taste

experiences.

What specific properties of this oil

can attract consumers who want to

innovate their portfolio?

Infuso is cleaner and more cost effective.

The standard two step seasoning

process is replaced by an energy saving

smoother, less complex single step

application. Infuso replaces the oil that is

sprayed on the snack substrate before

seasoning so it can be used without

disruption or extra cost as it requires a

single sprayer, often already installed on

the line.

In which flavors is infuso available?

The Infuso product range offers flavored

oils in various flavor buckets: from green

herbs to Chili flavored oil and even a

Peking Duck style. And it can be applied

to a huge range of snacks including

premium crisps, veggie extruded snacks,

pop chips, breadsticks, pretzels, rice

cakes, nuts, seeds and tortillas.

What are the advantages of using

Infuso – for human health, food

production and the environment?

As the solution provides less, up to no

dust on site, that means less product

waste. Customers can experiment with

a variety of processes as well as salt

reduction, Gluten elimination, and an

absence of anti caking agents which

strengthens health profiles from a

nutritional point of view. Its heavy

concentrations mean easy and less

storage requirements, making infuso

a highly sustainable choice with light

weight jerry cans that can support easier

transport.

How do you see the market

developing in the next 2 to 5 years?

Raw materials are still seeing some

major price increases and supply is tight.

Obviously, all business is operating in

an inflationary environment, so costs

are being passed on and that won't

change back quickly. Beyond that,

health and product transparency will

become even more important in 2022

and beyond.

Clearly, consumers want to have a

healthier lifestyle so healthier snacks

without compromise on taste and

texture make sense. We believe there

will be an opening up of non-plant-based

AP where the first products will hit the

shelves next year and that will trigger

more investment, a larger market and

with it more opportunities for Griffith

as we look to expand our presence and

customer base.

fmt

12 food Marketing & Technology • February 2022
---
Ingredients

Creating Classic Confectionery with

Gelatin

Gelatin is a versatile hydrocolloid that

provides various functional benefits to

confectionery manufacturers

Gelatin, derived from the Latin term

gelatus – meaning stiff or frozen – has

a long and successful history as a

multifunctional ingredient. Today,

it's one of the most important

hydrocolloids for food and beverage

products. And even though gelatin

is usually associated with the

characteristic texture, form and bite

of gummy bears, this highly purified

collagen protein can be applied

to many other applications. As a

texturizer, gelatin acts as an excellent

gelling, binding and whipping agent,

stabilizer and emulsifier, and as a

perfect film and foam former. It can

also be used as a fat replacer and to

improve the nutritional properties of

various foodstuffs.

Unlike its carbohydrate-based hydrocolloid

counterparts, gelatin is a natural

and easily digested protein. Being nonallergenic

and free from E-numbers,

it's clean label, it's compatible with

most food and functional ingredients

and can be formulated with other

hydrocolloids to produce different

textures or improve thermal resistance.

The multipurpose hydrocolloid

In its natural state, gelatin is a dry,

white powder that is free from fat,

cholesterol, purines and additives. It

comprises 86–90% protein and 8–15%

water. In water, gelatine swells rapidly

and, after heating, dissolves to form

a clear, viscous solution, followed by

gelation after cooling.

As a flexible ingredient, it's easy to

incorporate gelatin into a wide variety

of production processes. However,

the critical issue is choosing the most

appropriate gelatin for each product

and application. When choosing

confectionery products, for example,

consumers are predominantly looking

for a treat. As such, taste and texture

are key. It's also crucial to understand

the specific preferences of the target

market. Some countries generally

prefer firmer textures than others, and

the range of shapes, flavors, colors or

other critical determinants is almost

limitless. Thus, to create a suitable and

market-driven product concept, the

corresponding formulation needs to

be based on solid industry experience.

Getting gummies right

A traditional gummy candy is

characterized by its texture, its

gum-like "bite," mouthfeel, taste and

color, as well as its clear and shiny

appearance. To achieve these product

properties, gelatin is mandatory.

Although other gelling agents are

available, none of them is as effective

as gelatin, which plays a key role in

When choosing confectionery products, consumers look out for great taste and mouth-watering

textures. Copyright: ©dusk_AdobeStock_172081133

both the production process and

the quality of the end product. So,

whereas the fundamentals of gummy

candy formulation are relatively

straightforward, multiple factors need

to be considered when producing a

high-standard gummy product that

meets both consumer – and producer

– demands.

One important parameter is the

"Bloom value," which indicates the

gelatin's gelling properties and the gel

strength. For gummy candies, gelatin

with a Bloom value of 160–280g Bloom

must be used to achieve the desired

bite, texture and mouthfeel. In addition,

some ingredient interactions and/

or production-induced artefacts or

effects can be remedied by choosing

the right type of gelatin.

To unfold the functionality of gelatin,

its complete dissolution is necessary.

Therefore two parts of water and one

part of gelatin are needed. Due to this

low water content less water needs to

evaporate during processing and, as

such, production times are shorter.

In addition, gelatin requires lower

dissolution temperatures than other

hydrocolloids and when it comes to the

end product only gelatin provides that

unique melt in your mouth experience,

typical elastic texture and brilliant clarity.

"Manufacturing issues like recrystallization

can occur when the sucrose

content is too high or not dissolved in

enough water. This adversely affects

the product's characteristic clear and

glossy look. Moreover, ingredients

such as fructose can influence the

color and lead to a yellowing of the

product. Deformations, cloudiness and

undesired textures may be the result

of incorrect production and recipe

parameters. This is why our experts

offer all the advice needed to get it

right," explains Dr Johanna Schmidgall,

Global Head of Application Technology

and New Product Development

Nutrition and Health Ingredients from

GELITA.

food Marketing & Technology • February 2022

13
---
Ingredients

Marshmallow production

The first whipped marshmallows

appeared in France in the 19th century

when marsh mallow sap was combined

with egg white and sugar. Seeking a

more efficient manufacturing process,

candy makers in Europe developed

the starch mogul system, in which a

mixture of marsh mallow root, sugar,

egg white and water was heated

and then poured into corn starch

moulds. Then, in 1948, marshmallow

production was revolutionized when

the extrusion process was patented:

the marshmallow mass is passed

through tubes and then cut into pieces,

which are then cooled and packaged,

ready for consumption.

Although marshmallow production

has come a long way since the 1900s,

these two processes are still used

today. The most significant change is

the formulation. Marsh mallow plant

(Althea officinalis) is no longer used

as a gelling agent. Instead, of course,

it's gelatin. Although other ingredients

can be used as foaming agents, none

of them gives marshmallows its

typical fluffy and elastic structure,

which remains intact for considerable

periods of time. Quite simply, without

gelatin, modern-day marshmallows

couldn't be produced.

Foaming it right

To produce high quality foamed

confectionery, the right type of

gelatin is necessary. It must be able

Gelatin creates and stabilizes the foamy texture of marshmallows.

Copyright: ©Ekaterina_Molchanova_AdobeStock_262119180

One of a kind: Only gelatin gives gummies their characteristic elastic texture and their shiny, clear

appearance. Copyright: ©Gelita

to promote foam building and, at the

same time, inhibit any processes that

could destabilize the foam. Incorrect

ingredient selection could result in

non-homogenous bubbles, an unstable

foam structure or products with the

wrong density, which subsequently

leads to the marshmallow losing its

shape and texture. Foam formation

and stabilization are complex procedures;

but, owing to gelatin's

ability to lower the surface tension of

aqueous systems, it's relatively simple

to introduce air into a whipped gelatin

solution.

Additionally, because air has a lower

density than water and doesn't

dissolve, it tends to form larger

bubbles that rise up and separate from

the water phase. Gelatin's ability to

form elastic and flexible films around

these bubbles and to stabilize them,

makes it an optimal foaming agent and

stabilizer.

Expert help and know-how

There are numerous aspects that

affect a product's success and

many obstacles to overcome. In the

end, though, it's the know-how that

determines a product's success. With

its expertise, GELITA acts as a gelatin

solution provider, delivering clientspecific

advice and services along

with tailor-made gelatine types. To

make the most of the multifunctional

benefits of gelatin and retain control

of the production processes, a

comprehensive background knowledge

of this versatile ingredient is

essential. GELITA's technological

experts are available throughout

the entire development process to

offer professional advice, like recipe

development, reformulation support

and on-site technical service. The

company's expertise also extends to

regulatory requirements, with help

and advice available for both local and

global markets.

fmt

14 food Marketing & Technology • February 2022
---
Ingredients

Connect with

nutraceutical

experts

This year, Vitafoods Europe 2022 returns to its annual

May slot in your diary. As it's a hybrid event you'll be

able to join us in person and online to share ideas,

see new products, source ingredients and innovate

with an inspiring community of experts. This is your

chance to connect with industry-leading buyers,

suppliers and manufacturers from over 110 countries,

so don't miss it.

Register for your free

badge now and save €160*

Geneva: 10-12 May

Online: 2-13 May

For more details visit

vitafoods.eu.com

*Onsite visitor registration will cost €160

food Marketing & Technology • February 2022

Key No. 102200

15
---
Ingredients

FDA Recognizes the Dietary Fiber Status

of Acacia Gum

International leader in natural gums Alland & Robert is delighted that acacia gum can be classified as a fiber

for nutrition labelling purposes in the United States.

This decision from the FDA was made

public on December 17, 2021, and will

consequently allow acacia gum to

count as a dietary fiber on American

Nutrition and Supplement Facts labels.

Acacia gum is an ingredient or additive

used worldwide in a wide range of

products. Strong scientific literature

demonstrates that acacia gum is a

fiber. Today, the FDA agreed that

acacia gum has physiological effects

beneficial to human health, such as the

reduction of blood glucose and insulin

levels after it is eaten with a meal

containing a carbohydrate that raises

blood glucose levels.

Alland & Robert, along with a

work group of other acacia gum

stakeholders, has submitted two

science-backed citizen petitions in

2019 and 2020, in order to provide

the FDA with data showing proof that

acacia gum has indeed "physiological

benefits to human health". Dr. Isabelle

Jaouen, R&D Director at Alland &

Robert said: "We have provided the

FDA with numerous data coming from

several clinical trials to support our

request that acacia gum be recognized

as a dietary fiber. Two laboratories that

specialize in clinical nutrition, including

one university, have been mandated

for the design and realization of the

clinical tests. Our citizen petitions

included data showing the benefits of

acacia gum on blood glucose levels".

Commenting on the FDA decision,

Mr. Frédéric Alland, CEO at Alland

& Robert said : "We are extremely

satisfied that the FDA agrees with us

that acacia gum is a fiber and can be

labelled as such. It's a great news for

the American consumers, who will be

able to enjoy this natural ingredient

in their daily food. Alland & Robert

remains committed to providing the

highest quality of natural and non-

GMO Acacia Fiber".

16 food Marketing & Technology • February 2022
---
Ingredients

Acacia gum, also known as gum Arabic

or E414, is a natural, vegetal, safe,

functional and healthy additive used

in flavors, beverages, confectionery,

dairy, bakery, dietary products, pharma

and cosmetics among others. Acacia

gum is today found in thousands of

day to day products all over the world.

Alland & Robert guarantees a minimum

fiber content of 90% for all products of

its Acacia Fiber range (international

method AOAC 985-29).

fmt

Flavor Study Shows can Optimize the

use of Flavors in Chewy Candies

Optimizing production and improving

product quality are key issues for

every producer of chewy candies.

The present study shows impressive

potential. The use of starch and gelatin

as hydrocolloids is widespread in

the manufacture of chewy candies.

Together with a reputable flavor

developer Norevo conducted a joint

study to find out how alternative use

of Norevo Quick Chew affects the use

and development of flavors.

The study evaluates the sensory

impact using:

• different hydrocolloids (Quick Chew,

modified starch, gelatin)

• different manufacturing methods

(kneading, pulling)

• different flavors (apple, lemon, milk)

• Based on these different variants,

we then tested the following criteria:

1. Flavor intensity

2. "Release" or flavor development

3. Chewing perception

The subsequent blind tasting was

carried out by a professional panel

consisting of 21 trained panelists in 4

intervals reflecting different ripening

times and also storage temperatures.

The results of this joint study confirm

the hypothesis initially set out in

almost all areas:

By using Quick Chew as the

texturizing component in the recipe,

manufacturers can use flavors more

efficiently, while also enhancing the

chewing experience.

fmt

food Marketing & Technology • February 2022

17
---
Ingredients

Cutting Sugar Loads from Hazelnut &

Chocolate Spreads

CAMBYA tackles the sugar-reduction challenges in sweet spreads and filling, naturally

As children head back to schools,

monitoring their sugar consumption

in food and beverages becomes more

challenging. Food-tech start-up B.T.

Sweet, Ltd. introduces CAMBYA,

its plant-based, sweetening platform

to cut loads of sugar from favorite

treats, such as hazelnut and chocolate

spreads.

B.T. Sweet cracked the code on

helping manufacturers create tasty

hazelnut and chocolate spreads with

less sugar. The company offers leading

sweet spread, filling, and coating

companies' new abilities to meet

their sugar-reduction targets without

compromising on much loved flavor

qualities (especially those imposed by

new regulations).

According to the UK's National Health

Service, while it is recommended that

adults have no more than 30g of free

sugars daily, children ages 7 to 10

should have no more than 24g per day.

And children ages 4 to 6 should have

no more than 19g of free sugars in a

day.

CAMBYA is a plant-based, one-toone

drop-in sugar replacer for use

in multiple food & applications.

The proprietary formula, based

on soluble fibers, monk fruit, and

select botanicals, is a 1:1 equivalent

to sugar both in function and flavor,

while acting as a source of naturally

derived beneficial fibers. CAMBYA

delivers optimal sweetening capacity,

without the need for masking agents.

It is ideal for lowering sugar levels in

confectionary, cereals and ice cream.

Most importantly, it does not leave any

lingering aftertastes.

"For many, a breakfast or school

sandwich is incomplete without

chocolate hazelnut spread," confesses

Yoav Gaon, CEO of B.T. Sweet.

"Parents struggle with their kids'

demands for it and have a hard time

resisting it themselves. We succeeded

in developing a tasty solution that kids

of all ages love simply by switching

white sugar with CAMBYA."

Shockingly, sweet spreads typically

contain up to 50% sucrose. The startup's

food technology team and chief

confectioner tested the sweetening

platform in several spread formulations

with the goal of creating low sugar

spread applications that cut the sugar

load by at least fifty percent according

to clients' requests. The challenge was

to perfectly mimic the flavor, color, and

texture of a traditional category leading

sweet spread, without any change to

the mass of the product. In addition to

extensive sensory lab testing across

all parameters, the start-up trialed

the products among children and their

parents.

Kids are the primary market for

chocolate spreads, birthday cakes,

cookies filled with cream and similar

products," explains Dagi Pekatch,

Founder and Chairman of B.T Sweet.

"We received excellent feedback from

them. They loved the taste of our

CAMBYA sweetened hazelnut and

chocolate spreads, and we all know

kids are hard to fool," Pekatch grins.

Since CAMBYA is one-to-one

equivalent to sugar in taste, body and

texture, there is no need for additives to

keep the same weight of the product. A

low-sugar spread with CAMBYA, offers

a rich, chocolatey, nutty taste with

a creamy sensation, without adding

any colors, preservatives, or added

flavorings. Moreover, it is enriched in

fiber and is low in calories.

CAMBYA's "plug and play" sweetening

platform allows food companies to

reformulate their spreads, as well as

other products with less white sugar.

Manufacturers have the flexibility

to completely switch to BT Sweet's

natural sweetening system, or balance

it with sugar and other sweeteners

according to desired levels without any

adjustment to the recipe, thus saving

R&D time and money.

fmt

18 food Marketing & Technology • February 2022
---
Ingredients

www.anugafoodtec.com

International

supplier fair for the

food and beverage industry

ONE FOR ALL.

ALL IN ONE.

Food Processing | Food Packaging | Safety & Analytics | Intralogistics

Digitalisation | Automation | Environment & Energy | Science & Pioneering

COLOGNE, GERMANY

26.–29.04.2022

Special Edition!

Be part of it -

find out more here!

Koelnmesse GmbH

Messeplatz 1

50679 Köln, Germany

Tel. +49 1806 578 866

Fax +49 221 821 99-1020

anugafoodtec@visitor.koelnmesse.de

food Marketing & Technology • February 2022

19

Key No. 102134
---
Processing

Creating an Innovative, Healthy,

CO 2

-Neutral Snack

Austrian start-up Selectum and Swiss technology group Bühler have jointly created a new, healthy snack

category – small, crunchy wafer pillows with a creamy dip inside. Selectum has successfully launched this

innovative snack at the end of 2019 under the brand name Paddies. Paddies have a 90-degree twisted bitesize

shape, and, thanks to Bühler's induction baking technology, they are produced 100% CO 2

emission-free.

Camilo Wolff, CEO and Founder of Selectum

Richard Haubenberger, Food Technologist at

the Bühler Wafer Innovation Center

Selectum factory: Camilo Wolff and Richard Haubenberger test the product.

"I wanted to bring a new product to

the market with wafer technology. I

envisioned an innovative, healthier

snack. A snack that is gluten-free,

palm oil-free, not fried, with 40% less

fat than chips and nachos and on top

of that, with a high protein content,"

says Camilo Wolff, CEO and Founder

of Selectum GmbH. "To develop this

product, I approached Bühler as I knew

they have the expertise and a technical

laboratory for product development

trials." Together with the experts of

the Bühler Wafer Innovation Center

in Leobendorf, Wolff and his team

created a completely novel recipe for a

Emanuel Hoeckner, Product Manager at Bühler, and Camilo Wolff, CEO and Founder of Selectum

snack with a dip inside, eliminating the

need to buy a separate dip.

Searching for the perfect mix

Selectum and Bühler ran product

development trials and assessed their

results in the Bühler Wafer Innovation

Center's technical laboratory. It offers

special services to start-ups like

Selectum, with full support from the

idea creation until after the product is

running on the production line.

Camilo Wolff had precise requirements

for his snack to be rich in protein

and nutrients. He spent almost a

year conducting hundreds of trials

and tasting sessions at the Bühler

Wafer Innovation Center to develop

the dough and the cream. Richard

Haubenberger, Food Technologist at

the Bühler Wafer Innovation Center,

says: "The first challenge was to find

the right ingredients to use. So, we

were working with different starches,

such as gluten-free wheat starch, rice

starch, or corn starch. We looked into

rice flour and chickpea flour, which

20 food Marketing & Technology • February 2022
---
Processing

have the benefit of a higher protein

level. It was a challenge to find the

right raw materials. But thanks to

our experience and the collaboration

with our suppliers, we found the right

ingredients for the best recipe."

The laboratory is equipped with

Bühler's latest technologies, various

solutions for batter and flour mixing,

baking and cream refining. It offers the

services of food technologists, training

courses, and even virtual trials.

Produced with zero emissions

Another factor that was important

to Camilo Wolff was for Selectum

to produce its Paddies sustainably.

One of Bühler's solutions at the

Wafer Innovation Center is inductive

technology currently used in its

wafer stick oven Franz Haas EWB

which allows customers a CO 2

-free

production.

Emanuel Hoeckner, Product Manager

at Bühler, says: "The inductive

heating system has a lot of benefits.

The production with this new heating

system is not just CO 2

-neutral but

completely CO 2

-free." The EWB

inductive oven is 100% powered by

electrical energy, it uses no gas at

all. Therefore, no CO 2

is emitted into

the atmosphere. It also has higher

energy efficiency in general. With

Bühler's optional power pack for

the EWB inductive oven, customers

have the option to increase the

output capacity of the EWB oven in

order to adapt the production output

perfectly to the respective customer

requirements.

Selectum's factory in Wolkersdorf, Austria, produces around 1.5 million 30-gram packages per month.

in three flavors – cheese, toffee, and

peanut butter, all with a dip inside.

Selectum's factory in Wolkersdorf,

Austria, produces around 1.5 million

30-gram packages per month.

Paddies are already available on the

shelves of Billa and Spar supermarkets

in Austria and are sold in Germany,

Italy, Finland, Spain, Hungary, and

Poland. "I am very proud of the product.

We entered the market as a start-up,

and we are already selling our product

internationally. Two years ago, it was

just an idea. Bühler has been a very

supportive partner all the way." fmt

Paddies are now available in three flavors – cheese, toffee, and peanut butter, all with a dip inside.

Bühler has modernized the EWB

inductive heating oven by adding a

special coating ring to deal with the

higher salinity and lower pH-values of

the wafer batter used for the Paddies.

This new coating of the baking ring

enables Bühler to work with new

types of ingredients and recipes and

therefore increase the range of the

EWB customer base.

On supermarket shelves

throughout Europe

Paddies, a unique combination of rice

and chickpea flour, are now available

food Marketing & Technology • February 2022 21
---
Processing

Breakthrough Technology will Produce

Green Proteins Greener - Next

Generation Membrane Filtration Systems

are the Key

SiccaDania Filtration and the SiccaDania group will supply key technology for a protein factory in Hedensted,

Denmark, for the extraction of green proteins from fava beans. A number of Danish investors and global

supplier of plant-based ingredients Meelunie will invest 250 million DKK in the factory. A new membrane

filtration solution offers a wide range of advantages over traditional systems.

LeanFlux® is a brand new developed,

next-generation membrane filtration

system that create significant

reductions in operating costs, energy

consumption, and CO 2

emissions.

The technology is patent-pending and

challenges the well-known MF/UF

membrane filtration plants, which have

been used as a standard solution in the

dairy and food industry for decades.

SiccaDania Filtration, a subsidiary

of the SiccaDania Group, will

deliver LeanFlux processors for the

new factory, Meelunie GPI A/S, in

Hedensted, Denmark. This is the

company's first major order for

LeanFlux and in addition, so-called

RO plants are supplied for efficient

evaporation of residual products, as

well as recycling of process water.

The driver behind the factory project

is the desire to increase the local

production of proteins to ensure a

significant reduction in CO 2

emissions

and to contribute to the green

transition of the agriculture sector.

LeanFlux sets a new standard for

efficient extraction of green proteins

from fava beans and the production will

replace soybeans from South America

and protein powder from China.

LeanFlux – a greener solution

A very important step in protein

extraction is two LeanFlux processors

(each about 35 tons/hour). Here,

valuable proteins from fava beans

are concentrated in an ultrafiltration

process (UF) and via subsequent spray

drying transformed to high-quality

protein powder. LeanFlux operates at

30-40 percent lower operating costs

compared to traditional plants.

SiccaDania Filtration also supplies the

RO plants, which reap further savings

on energy and investment. This is

done through reverse osmosis (RO),

which concentrates the partial flow (UF

permeate/residual products) from the

UF processing plants.

At the same time, the consumption

of water is reduced, as an efficient

purification of the process water

means that it can be recycled within

the factory.

Contribution to greater

sustainability

With LeanFlux, SiccaDania Filtration

introduces a completely new system

Morton Tordrup Andersen, Sales Director and Michael Mortensen, Process Manager in front of a LeanFlux solution

Photos: SiccaDania Filtration

22 food Marketing & Technology • February 2022
---
Processing

design, which means that the

processing plants can be dimensioned

more efficiently and constructed with

a smaller footprint than before, thus

saving operating costs as well as

valuable square meters.

LeanFlux is a good example of putting

innovation and forward thinking first.

- It is amazing what you can achieve if

you break down the traditional MF/

UF solution into its basic building

blocks and components and redefine

the solution from the ground up, says

Morten Tordrup Andersen, Sales

Director at SiccaDania Filtration,

based in Stilling, Denmark.

- Our new solution makes the production

of green proteins even greener. We owe

it to the next generations that production

takes place as sustainably as possible,

and we are very happy to be able to make

our contribution, concludes Lars Bo

Fredsted, CEO of SiccaDania Filtration.

Advantages for dairies

Traditional MF and UF crossflow

membrane filtration systems are

installed at most dairies. As the dairy

and food industry focus heavily on

production costs and environmental

impact, SiccaDania Filtration also sees

great potential in LeanFlux for the

dairy sector. LeanFlux is also suitable

for concentrating and fractionating

proteins in other food categories. fmt

LeanFlux® - next-generation MF / UF membrane filtration

Segmented design solves challenges

The well-known challenge in crossflow membrane filtration is the traditional "loop design", where the parallel construction of

pressure pipes requires a very high circulation flow to maintain the necessary crossflow.

LeanFlux solves this by using a unique system design with segmented modules and an application software that ensures

optimal control of key parameters in the process.

With LeanFlux, SiccaDania Filtration introduces a completely new system design primarily for MF and UF applications, which

means that the systems can be dimensioned and constructed more efficiently with consequent significant operating savings.

The efficient construction means that the system takes up much less space, and thus has a smaller footprint.

Optimized operation and lower costs

Operating costs are up to 40 percent lower with LeanFlux compared to traditional crossflow filtering because the segmented

design is significantly more efficient. It reduces energy consumption, water consumption and the use of cleaning agents, just

as it provides less wear and tear on the membranes.

The LeanFlux solution is based on proven technologies, standard components and known flow principles. This makes it easy

to implement LeanFlux® in existing production lines and plants.

food Marketing & Technology • February 2022 23
---
Processing

Digitalization Leveraged to Optimize

Hygienic Processing

The new Alfa Laval CM Connect marks the next step in the digitalization journey to drive innovation and

growth for customers in the hygienic processing industries. The CM Connect is a subscription-based condition

monitor and cloud gateway. It enables plant operators to access data of rotating equipment on processing

lines from a remote location.

With data on actual runtime, trend

analysis, and time to next service

close at hand, plant operators can

make informed maintenance decisions

using their personal computers

and mobile devices. This protects

process continuity and critical assets,

improves workplace safety, saves time

and money, and delivers competitive

advantage.

Maximize plant efficiency,

minimize unplanned downtime

As Industry 4.0 evolves, the CM

Connect is a natural next step on

the customer digitalization journey,

expanding the Alfa Laval range of

condition monitoring solutions. With

complete visibility of all connected

assets, plant operators can detect

issues that impact future performance,

prevent unplanned downtime, and

improve asset management.

Acting as a gateway communicating via

Bluetooth, the CM Connect can link up

to 10 Alfa Laval CM wireless vibration

monitors launched last year. It then

transmits the data over a 4G cellular

network to the cloud for review and

analysis on an intuitive, user-friendly

dashboard.

Advanced real-time notifications

Advanced vibration analysis enables

detection of any deviation from

pre-set equipment threshold values.

Should deviations occur, an SMS or

e-mail notifies users who can take

action in real time based on data

analysis.

"Focus on what matters. The CM

Connect lets plant operators plan

and prioritize maintenance based on

actionable data," says John Walker,

Portfolio Manager, Pumps, Alfa Laval.

"Rather than replacing wear parts in

advance of their useful service life,

operators can spend time and money

when and where maintenance is

required."

Besides linking the CM wireless

vibration monitors, the CM Connect

can also act as a sensor.

It measures vibration, inboard

temperature, and total runtime when

mounted on Alfa Laval LKH, SRU, SX

and DuraCirc pumps, or other rotating

machines, such as agitators or mixers.

Towards enhanced digitalization

As part of the company's commitment

to pioneering digital transformation

in the hygienic industries, Alfa Laval

explores and develops Industry 4.0

solutions to advance competitive

advantage for customers.

fmt

24 food Marketing & Technology • February 2022
---
Processing

SIMULATE WHOLE MUSCLE MEATS

IN LOOK, TASTE AND NUTRITION.

For meat analog and extender production,

rely on the pioneer of the process for textured

vegetable proteins by extrusion. Wenger began

the worldwide initiative over 50 years ago, and

continues to lead with ever expanding options

today.

High moisture meat analogs (HMMAs) produced on

Wenger twin screw extruders mimic whole muscle

meat, with similar characteristics for moisture,

protein and fat contents, as well as a densely

layered, somewhat fibrous structure.

After extrusion, HMMAs may be cut, sliced or

shredded – and then further processed or frozen.

In addition to soy proteins or wheat gluten

ingredients, alternative protein sources can be used

for texture, mouthfeel and appearance objectives.

Discover the latest in cutting edge extrusion

processing and product development assistance.

Email info@wenger.com now.

Key No. 101822

PHONE: 785.284.2133 | EMAIL: INFO@WENGER.COM | WENGER.COM

USA | BELGIUM | TAIWAN | BRASIL | CHINA

food Marketing & Technology • February 2022 25
---
Processing

Vacuum Preserves Food

Freeze Drying with the help of Vacuum

Technology

There are several ways to extend the

shelf life of food. One of the oldest

methods belong of smoking and salting

is drying – which was used long before

freezing, boiling or vacuum packaging.

Freeze drying is a modern extension of

traditional drying methods to protect

food from spoilage for longer. This

process is only made possible by modern

vacuum technology because freeze

drying food takes place under vacuum.

FrostX produces such freeze dryers with

small dimensions to make them ideally

suitable for bakeries and restaurants. It

enables freeze drying of many kinds of

fruits, vegetables, herbs, mushrooms,

meat and even ready meals.

The process of freeze drying

Freeze drying is a purely physical

process that uses the principle of

sublimation. Due to the vacuum in

the drying chamber, the frozen water

sublimates into water vapor. The ice

skips the "liquid" state and becomes

directly "gaseous" from "solid".

Before the actual drying process, the

product must be deep-frozen. The

frozen product will then be dried

FrostX freeze dryer with included vacuum

technology by Busch.

Freeze-dried strawberries.

afterwards. After cooling, the actual

drying process takes place in the

air-tight chamber by reducing the air

pressure in the chamber via a vacuum

pump until a vacuum of 1 to 0.5 mbar

is reached. The evaporation process

of the frozen water now starts at -40°

Celsius. The water vapor is suctioned

out of the drying chamber by the

vacuum pump into a downstream

condenser. In this "ice trap" cooled

down to around -50° Celsius, the water

vapor sublimates and condenses as

ice on the cooling coil. Most of the

moisture is removed from the product

in this process step.

During sublimation, thermal energy

is extracted from the drying chamber.

This means that the temperature in the

chamber would drop during this process.

The chamber therefore needs to be

heated. Care must be taken to ensure

that only as much thermal energy is

added as is taken from the water as

sublimation energy in order to keep the

temperature constant or allow a slight

increase in temperature.

The drying chamber is then ventilated

to atmospheric pressure and the dried

product with a water content of one

to four percent is removed for further

processing. Dry air or an inert gas is

used for ventilation so that the dried

product cannot absorb moisture from

the ambient air.

FrostX freeze dryer with vacuum

technology by Busch

The FrostX freeze dryers are smaller

than a standard fridge and enable

vacuum freeze drying of many kinds of

fruits, vegetables, herbs, mushrooms,

meat, and even ready meals. All this

while maintaining the full nutritional and

taste qualities of food. Freeze drying

also helps to prevent food waste and

makes food storage so much easier,

because the durability of freeze-dried

food is significantly longer. The compact

dimension can fit in even small kitchens

or bakeries and the low noise level and

reduced operating costs bring even

further advantages. Freeze dryers

of FrostX are equipped with ZEBRA

rotary vane vacuum pumps from Busch

Vacuum Solutions. These vacuum

pumps are robust and reliable in

operation and enable a stable pumping

speed even in low pressure range. The

vacuum pump itself has a very low

noise level and can be easy serviced if

necessary.

Even Michelin star restaurants use

freeze driers

FrostX just recently delivered one of its

freeze driers to a three-star Michelin

restaurant in Vienna, Austria. This

example shows that the process of

freeze drying has arrived in restaurants

and enables a whole new way of cooking

and taste. And all this without any loss of

nutrients and flavor.

fmt

26 food Marketing & Technology • February 2022
---
Processing

Research Holds the Key to more Efficient

Crossflow Membrane Filtration

As the increasing use of crossflow

membrane filtration becomes ever

more beneficial to manufacturing

companies, Axium Process actively

encourage end users to investigate

further the wide range of filtration

options available for their applications.

The filtration specialist says that

tailored research involving pilot

trials can result in a more efficient

solution that optimises separation

performance and productivity.

Derek Davies, Business Development

Director at Axium Process, said:

"Crossflow membrane technology is

used in almost every industry and

has many advantages. However,

identifying the ideal membrane and

operating conditions is key to success.

There are four levels of filtration

with many variables to consider,

including factors such as media type,

temperature, pressure, and the pH

range of the environment.

"Research can help end users make

the right decision and will result in a

customised solution more tailored to

their needs. The research involves

pilot plant trials that more closely

replicate real-life conditions and

detailed performance analysis that

helps identify optimal parameters,

with the most effective membrane."

Like this

shape?

Axium Process operates independently

of membrane manufacturers and can

carry out pilot trials at its test facility

in Swansea or at end users' premises.

The trials help eliminate uncertainty

and operational issues by accurately

predicting separation performance,

process viability, system design

parameters and operational costs.

USE OUR TECHNOLOGIES

TO BOOST YOUR BUSINESS!

The company's highly experienced

team have the skills to design and

manufacture crossflow membrane

filtration solutions for a wide variety of

applications which meet international

regulations and recognised hygienic

standards

fmt

6 – 7 July 2022

Hamburg Fair / Booth 400

SCHAAF TECHNOLOGIE GMBH

www.foodextrusion.de

Key No. 101675

food Marketing & Technology • February 2022 27
---
Processing

Metal Detection for Fish Sausages, Right

on the Fishing Boat

Tunacor Fishing Ltd pleased with the simplicity of metal separator LIQUISCAN VF+

Tunacor Fishing Ltd is a leading

company in the Namibian fishing

industry. With its fleet of twelve boats,

the company is committed to quality

and reliability. In order to provide the

best products for their customers,

Tunacor Fishing Ltd is constantly

striving to further improve their

processes.

Metal clips in fish sausages

Among the favorite products of Tunacor

Fishing Ltd are their fish sausages,

which are especially celebrated in

Spain. However, every now and then

they would receive complaints from

customers about bits of metal in the

sausages.

The fish sausages are prepared

directly on the fishing boat from the

byproducts of the filleting process.

Finding an adequate metal detection

solution is made difficult by two

factors. For one, the fish sausages are

sealed by metal clips on both ends.

For another, fresh fish has a very high

product effect.

Customer complaints about metal clips in fish sausages have ceased since implementing the metal

separator LIQUISCAN VF+

With such demanding requirements

for sensitivity and sturdiness, Tunacor

Fishing Ltd reviewed several metal

detection options but was unable to

find a satisfactory solution. That is,

until they contacted Baader Namibia,

a partner of Sesotec. Baader Namibia

took on this immense challenge and

presented the customer with the

optimal solution.

Baader Namibia and Sesotec installed a metal separator LIQUISCAN VF+ directly into the production

equipment on a fishing boat

Deployment of a metal detector

during the production process

A closer evaluation of their process

revealed that customer complaints

usually resulted from metal clips

inside the fish sausages. There are

two possible ways that these clips

could make their way from the intake

of the vacuum filler into the sausages:

1. Loose clips lying around the ship; 2.

Clips from sausages that burst after

sealing were ending up back in the

production process.

With this knowledge, it was clear

that the most effective location for

a metal detector was at the critical

processing step of vacuum filling. An

end-of-line solution was ruled out.

For the purposes of Tunacor Fishing

Ltd, the metal detector LIQUISCAN

VF+ presented the optimal solution

as it could be coordinated with both

28 food Marketing & Technology • February 2022
---
Processing

the vacuum filler and the clipping

machine.

The pipeline metal separator LIQUISCAN

VF+ was developed especially for

controlling paste-based products such

as sausages. When metals are detected,

the filling process is either stopped or

the contaminated mass is automatically

ejected into a collection container by

the separation system. Various thread

adaptors allow the separator to be

connected with all common vacuum fillers.

Tunacor Fishing Ltd was pleased with

the simplicity of the solution, and so

the decision to go with Baader Namibia

and Sesotec was an easy one.

No more customer complaints

Sesotec's LIQUISCAN VF+ metal

separator has been operating aboard

a Tunacor Fishing Ltd ship since the

beginning of 2020. From the start,

the company has been pleased with

the simple operation of the metal

separator, the high quality and process

stability it generates, and its high

detection accuracy.

Since the installation of the LIQUISCAN

VF+ metal separator for filling

applications, Tunacor Fishing Ltd

has yet to receive another customer

complaint about metal contaminants.

Tunacor Fishing Ltd is pleased with its

decision to consult with Baader Namibia

and Sesotec. Professional advice,

competent contact persons, and quick

onsite servicing set them apart. fmt

Automatic WIP-Systems

Efficient cleaning of Ploughshare ® Mixers

A reliable and repeatable process for cleaning of mixing systems – as e. g. Ploughshare ® Mixers by Lödige

Process Technology – takes on an increasingly important role for companies handling Life-Scienceapplications.

Automatic WIP-Systems have been established as a suitable technical solution for meeting

these requirements. Beside the technical functionality, efficiency and the economy of cleaning systems are

also playing an ever increasing role.

The amount of water, detergents and

solvents, which are required per cleaning

cycle, are supposed to be reduced to a

minimum. By reducing the amounts of

cleaning media and wastewater, savings

of operating costs are achieved while

also environmental considerations are

taken into account and sustainable

cleaning concepts can be developed.

Therefore, especially for bigger

machines, complete filling of process

vessels with cleaning media should

be avoided. Although this is not a

mandatory requirement: A smart

arrangement of rotating cleaning

nozzles inside the mixing drum ensures

a thorough rinsing of all product

contact surfaces without any need

for filling the machine with cleaning

media. By simultaneous rotation of

mixing elements and cleaning nozzles

any spray shadows are avoided. The

gear driven rotating flat fan nozzles

Rotating flat fan cleaning nozzle in a 10.000 l Lödige Ploughshare®-Mixer in operation. (Source: Lödige

Process Technology)

Suitable rotating

cleaning nozzle

type Lechler

XactClean® HP

for cleaning of

large mixing

vessels. (Source:

Lödige Process

Technology)

guarantee an intensive and uniform

cleaning of all surfaces. Due to their

robust construction and cleaning

operation in circulation mode it's also

possible for further potential savings

on resource requirements.

Besides the rotating cleaning nozzles

inside the mixing drum, the seals for

the mixing elements and choppers

are purged with water and all ports on

the machine are cleaned effectively by

static locally installed cleaning nozzles.

Combined with a smart control system

highly efficient cleaning sequences can

be achieved that are fully automatic,

programmable and repeatable. Hereby

maximizing the cleaning efficiency

with the economical use of cleaning

media can be combined alongside full

process reliability.

fmt

food Marketing & Technology • February 2022 29
---
Processing

Trade Fair Restart at ProSweets:

Confectionery Solutions

For many years, Winkler und Dünnebier Süßwarenmaschinen GmbH (WDS) has been a regular exhibitor

at the industry's leading international trade fairs. This made it all the more gratifying when, after two

years, ProSweets Cologne 2022 opened its doors to industry experts once again on January 30, 2022.

"From the very beginning, being close to the customer has been one of the most important instruments

for communicating and explaining our technical innovations without 'friction losses'. It also helps us to

recognize changing market requirements and new trends," says Rainer Runkel, Managing Director of WDS.

New markets, new machines, new

products

WDS presented itself at ProSweets

with several key topics. With its

self-image as a solution partner for

confectionery manufacturers, the WDS

Technical Centre offers customers a

full range of services to turn a product

idea into a successful product launch.

This includes, among other things, the

latest depositor sections, which use

innovative depositing processes to

enable product developments that

were unthinkable just a few years ago.

The company also addressed the

constantly growing market for OTC

confectionery at ProSweets, focusing

in particular on the trend-setting

utilisation of technologies and

benefits of chocolate plants for the

production of gum and jelly. The

WDS plants ConfecECO, ConfecPRO

and ConfecVARIO can produce jelly

products in polycarbonate moulds.

The process is modern and particularly

hygienic. It's also highly efficient and,

because the products are demoulded

regimented, it's ideal for further

product treatment.

Under the motto "activate your candy",

WDS highlighted its label sweetOTC,

demonstrating how WDS customers

successfully open up new growth

markets with OTC confectionery.

"We support our customers from

the idea to the finished

product,"

explains Ralf Hübner, Sales Manager

at WDS, "which means from

product development to customised

production processes, exact dosing to

perfect, hygienic and GMP-compliant

production with our plants."

For the OTC confectionery market,

WDS optimizes established plant

technologies and develops them

further with careful consideration

of customer requirements and

applicable regulations. Two plant

types in particular lend themselves

to the series production of OTC

confectionery.

"The ConfecECO gives our customers

the right tool to start series production.

With three expansion stages, this

plant type can produce filled and solid

chocolate and gum & jelly products,

with and without ingredients, in a

small to medium output quantity. We

developed the ConfecPRO plant for

those who want to produce the same

product on a large scale – in this

case we're looking at a high to very

high production capacity," says Ralf

Hübner.

Customized production lines for

every need

Industry visitors at the

WDS trade

fair stand also had the opportunity

to find out about other WDS plant

types and services via large-format

monitors. This included, for example,

the innovative ConfecVARIO

machine concept. ConfecVARIO

plants can produce a wide range

of chocolate and jelly products in a

chainless plant with an innovative

transport system.

WDS has implemented a generation

change for many plant types, allowing

customers to choose from an

interesting product range of modern

plant types for gum, jelly and chocolate

that set new standards in efficiency,

hygiene and product handling.

As Rainer Runkel, Managing Director

of WDS, puts it:

"These new and continued developments

resulted, among other things,

from the findings we made based on

our close proximity to our customers

and the market. There has been a

shift in demand from large-capacity

plants for specific products to flexible,

modular, future-oriented plants that

can be adapted to specific products at

a later date."

At your side for the entire life of

the machine

Many industry visitors at ProSweets

took the opportunity to learn

more about the new digital WDS

service "LifeCycleCare". "With our

LifeCycleCare service concept, we

offer our customers real added value

in the area of digital service and

remote maintenance and are at their

side for the entire life of the machine,

especially after purchasing a new

machine," explains Service Manager

Matthias Triesch. The innovative

service concept encompasses

30
---
Processing

remote maintenance services from

commissioning to troubleshooting

and production optimization. Customers

benefit from the constantly

available WDS expert network, fast,

preparation-free digital support with

the Hearbeat function and the highest,

certified security standards for remote

services with encryption and regulated

responsibilities.

As an additional digital service, WDS

also presented itself as a partner of

the new, pioneering SweetConnect

platform. Several manufacturers

in the confectionery industry

have joined forces to develop a

comprehensive industry platform

for the centralized control and

monitoring of entire production

lines.

fmt

ERP Solution Adds Value to Ham Production

IT solutions from CSB-System have

brought digitalization to 'a new level'

at the Spanish ham factories of

international Swiss food company Bell

Food Group.

The production facilities in the Spanish

ham regions of Extremadura and

Castile-La Mancha have been brought

to an entirely new efficiency level over

the past few months. Until recently,

redundant work steps and incomplete

information were substantial cost

drivers. One of the most important

requirements of the Bell Food Group

was therefore to change from a paperbased

data capture execution to a

digital information flow in areas such

as the processing of recipes, purchase

orders, and traceability.

For example, at its factory south-west

of Madrid, which has a production

capacity of 5,000 tons of raw ham

including the popular "Jamon Ibérico",

up to one million hams can be hanging

in the warehouses for drying and

aging; and with different breeds of

pigs processed in different types of

ham and having different curing and

aging times depending on the quality

and the designated certification, the

implementation of traditional methods

on a large scale and in an industrial

environment can be challenging.

and data are available in a single

system across the entire process so

that stocktaking is accomplished with

a mouse-click – just like checking

revenues."

"The quick availability of information

in the ERP enables us to act much

quicker," confirms Peter Ettrich, who

is responsible for the CSB applications

at 19 Bell factories all over Europe and

was the overall project manager for the

project in Spain. In labelling, Bell Food

Group has also seen rapid progress

thanks to the reduction of errors. The

installation of a ham grading system

has advanced the integration of

software and hardware.

In addition, ERP has generated added

value by optimizing order picking, with

digital information replacing paper

forms. The use of hand-held devices

not only accelerates processes, but

also reduces errors and, consequently,

necessary rework.

Overall, the project has been a huge

success and helped Bell Spain to

overcome problems in the production

processes by means of technology – an

achievement that was only possible,

as Friedli emphasises, because the IT

team and the consultants at Bell Spain

devoted a lot of time to it. "We have

intensively investigated the steps in

production, the type of reports required

by the company, and the best ways for

generating useful data from the various

steps of the production cycle," he says.

Friedli believes that the company's

IT consultants need to be proficient

in two worlds – both IT itself and

also food processing. "We are all in

the same boat," he points out. "It is

therefore important to have a common

understanding of the processes in food

production. A mere IT specialist without

extensive industry expertise could do

little to get us forward. The CSB project

team has brought the digitalization at

our ham factories to a new level." fmt

"In the past, the facility did not really

have an exact, comprehensive overview

of the production process,"

explains Sven Friedli, Bell Food

Group's Chief Information Officer.

"For stocktaking, for example, it took

weeks to count all hams. Now, we have

introduced an integrated supply chain

solution that tracks the entire process,

from the purchasing of the pigs up to

the sale of the ham. All information

food Marketing & Technology • February 2022 31
---
Packaging

How the Label Becomes more

Sustainable and Flexible

An interview with Artem Krukov, Labelling Business Development Director at Sidel

In light of increasing regulatory

demands globally, labelling today

is a highly intricate process that is

even more vital to products than ever

before. Food and beverage industry

players are particularly concerned

about the costs of materials and are

keen to optimize their investment

while increasing brand recognition.

With 45 years of experience in the

labelling industry and over 5,000

machines installed worldwide, Sidel

is one of the leading players in the

market, providing the expertise to

meet all labelling needs.

Artem Krukov at Sidel talks about

trends in labelling and how a greater

focus on sustainability and flexibility

is changing the way labels are created

and applied.

What are the most important

challenges in labelling for the

beverage industry?

Similar to the manufacturing industry

as a whole, beverage producers are

searching for greater efficiency and

lower total cost of ownership (TCO) for

their labelling equipment. There is also

Sidel EvoDECO Multi

a significant focus on sustainability.

The label is one of the main interfaces

for communication with the consumer.

Companies are changing their labels

constantly to respond to fast-changing

consumer preferences.

How is labelling becoming more

sustainable?

It is our goal to help customers cut

costs on everything from material

consumption to maintenance costs. By

reducing label thicknesses and surface

areas, customers can cut costs and

improve the carbon footprint of label

production and the labelling process.

Label producers are working to ensure

that labels do not affect PET recycling.

Another important trend is the

conversion of labels from shrink

sleeves to BOPP labels (plastic roll-fed

labels for wraparound application).

This is a very important step in bottle

labelling, since containers labelled with

shrink sleeves are difficult to recycle.

Hence, the shift to BOPP labels not

only provides recycling capabilities,

but also helps companies reduce their

carbon footprint even further.

What do you mean by that?

Historically, labels have caused issues

with PET recycling to food-grade

standard because the label or the glue

has affected the recycling process.

Today there are several initiatives that

can minimize this impact, namely label

surface/size reduction, wash-off glue

development and glue application

minimisation.

All drinks manufacturers focus a

lot on glue characteristics. What

is the reason for this?

We can observe this tendency via

two trends. First of all, customers

around the world are eager to reduce

the amount of glue for three reasons:

1) more glue equals higher costs; 2)

less glue usage positively impacts

machine cleanliness, which leads to

higher efficiency; and 3) glue affects the

recycling process. Most importantly,

customers want to address all of these

factors without sacrificing product

quality. The second trend can be seen

only in some countries: customers want

to increase glue distribution to make

label application more solid and stable.

Sidel has developed a unique solution

that fulfils both requirements, namely

by leveraging the BOPP solution, we

have developed a laser-engraved glue

roller (a standard scope for the roll-fed

machine portfolio). Thus, we can have

better control of glue distribution and

repeatability. As a result, the label can

still maintain its optimal quality even

with less glue. At the same time, we can

manage higher glue quantity as well,

and it will be distributed more efficiently

over the entire glue strip surface.

How does Sidel integrate sustainable

solutions in labelling?

Sustainability is always at the heart of

Sidel. We make every effort to minimize

the impact on the environment.

32

food Marketing & Technology • February 2022
---
Packaging

The Sidel EvoDECO labelling solutions

minimize electricity and glue

consumption via the new melter and

glue distribution control. With an

integrated glue tank in the roll-fed

labeller, a patented vertical melter

and heating control, glue is melted

on demand and always circulated at

a precise temperature and in smaller

quantities, increasing label application

quality. This enables reduced glue

consumption and prevents glue

degradation, glue filaments, and glue

splashing, for better overall quality

and improved sustainability. The

solution offers 40% less electricity

consumption and needs no gears

and transmissions and therefore no

lubrication.

Label application

About lightweighting, how has

the move towards lighter bottles

affected labelling?

Packaging design has a critical impact

on the efficiency of the entire supply

chain. Over the past 30 years, we

have more than halved the weight of

a 1.5-L PET bottle, while increasing

output speeds by 2.5 times, with

considerable savings in terms of raw

material and gains from a productivity

perspective. Therefore, it is a story

about "rightweighting" – making sure

that the package is minimized while still

maintaining its technical performance

and high consumer appeal.

Some manufacturers use nitrogen

to add resistance and stability to the

bottle. Sidel has designed its labellers

so that they can manage the extra

demands of bottle lightweighting with

or even without nitrogen.

Labels are key components of any brand

marketing mix, allowing manufacturers

to differentiate their products and give

end consumers the information they

need and increasingly expect. The

growing variety of beverage types

and bottle formats has made labelling

increasingly challenging. More than

ever, flexibility has become a valuable

benefit to beverage producers. Top

priorities today are faster product and

format changeovers, simple operations

and optimised processes that use the

same equipment for different label

types, while still ensuring consistent

uptime.

Product personalization is about being

able to produce smaller batches of

Vertical Melter

products with their own labelling in

a very short time. Hence, the main

challenges are the short timeframe

for creating customised graphics

and labels. Personalizing the label

is a difficult process, as there are so

many different elements involved. The

change usually starts with marketing

and then has to go through design and

production phases and lastly storage

and transport. In fact, the standard

process for a label change can easily

take over four months.

With the rise of online shopping,

there has been a challenge to supply

consistent, unique and durable

packaging and label solutions. This

has opened new opportunities to offer

The most advanced solution for

handling lightweight bottles is the

Super Combi, where the labeller is

placed in between the blower and the

filler as part of an all-in-one solution.

With this setting, labels are applied on

the empty bottles handled by the neck,

reducing the risk of scratches and

improving overall bottle quality.

Another crucial factor in labelling

is flexibility, and this relates to

product personalization. What is

it, and how does it affect labels?

food Marketing & Technology • February 2022 33
---
Packaging

PROCESS TECHNOLOGY&COMPONENTS

© NETZSCH

The cross-sectoral media platform

for suppliers and users in two languages:

German and English

Exclusive information around the pump

and compressor industry as well as

systems and components

Developments and trends

First-hand future technology

Targeted at international trade

shows for 2021

Special issue for the Russian market

in October

34

Dr. Harnisch Verlags GmbH · Eschenstr. 25 · 90441 Nuremberg · Tel.: +49 (0) 911 - 2018 0 food · info@harnisch.com Marketing & Technology · www.harnisch.com • February 2022
---
Packaging

personalised packaging solutions for

product protection during shipping, by

rightsizing the packaging and making

sure that it provides a seamless brand

experience for consumers.

This is the reason why we also

provide consultancy for customers

regarding packaging design. We not

only create bottle designs but also

labels or secondary packaging, etc.

Sidel's packaging experts are ready to

support our customers in figuring out

the best option that fits the company's

brand identity and responds best to

consumer preference.

How does Sidel react and help

customers face this challenge?

We fully understand the challenge,

and that is why we have flexibility

in mind. With Sidel's EvoDECO

labelling solutions, manufacturers can

deliver different stock keeping units

(SKUs). They might either include

several labelling applications in one

multi-technology machine or a single

labelling application through dedicated

equipment for optimized uptime,

reduced footprint and low total cost of

ownership (TCO).

So manufacturers can use one

machine for different labels?

Exactly. It gives businesses the

flexibility they need and allows them

to produce most product types on a

single machine. Thanks to the modular

design and a variety of technologies,

they allow companies to adapt multiple

application methods in one compact

machine.

What is the most up-to-date

Sidel labelling solution with high

flexibility?

The most flexible labelling solution

to date from Sidel, the EvoDECO

Multi, brings next-level modularity

into labelling. It offers a standardized

carousel that can be equipped with up

to four different labelling technologies,

including hot melt, roll-fed, selfadhesive

and cold glue. Moreover,

switching between various labelling

modules is quick and easy thanks

Laser engraved Glue Roller

to Plug & Play connections, offering

producers the freedom of labelling

choice and total flexibility. Meanwhile,

when being part of Sidel's Super

Combi settings, the labeller can run at

up to 90,000 bottles per hour (bph).

What are your observations on the

impact of the pandemic on the

labelling industry?

During the pandemic, many people

reduced their daily spending due to

economic reasons. This has resulted in

stagnating sales for certain premium

products in the beverage sector, and

manufacturers have been forced to

reduce packaging costs. For instance,

the second-tier beverage producers

have shown significant interest in

converting from shrink sleeves to

BOPP labels to save cost. That is

the reason why low-cost beverages

have been popping up recently in the

market.

Lastly, would you share with us

what milestones Sidel has achieved

and Sidel's next step in labelling?

Since 1976, Sidel has continuously

ensured and promoted the image of

various brands. That is 45 years of

experience. At its dedicated labelling

plant in Mantua, Italy, the company

is not only manufacturing labelling

equipment, but also providing

outstanding services to support its

customers worldwide. Additionally, we

are proud of the milestone we achieved

in 2021 – installing the 5,000th labeller

for Ting Hsin International Group (Ting

Hsin) in China.

We aim to play as an end-to-end partner

in sustainable labelling, starting from

offering packaging design to providing

the proper equipment for advanced

product manufacturing, including hightech

solutions for product shelf-life

security.

fmt

food Marketing & Technology • February 2022 35
---
Packaging

Haldiram's Nagpur Goes Live with its

Long Shelf-Life Ethnic Beverages

Ethnic snack-food giant opens a production facility powered by SIG's aseptic filling technolog

India's ethnic snack-food giant

Haldiram's Nagpur is on a growth

track, opening its own manufacturing

facility for long shelf-life dairy

products. Setting up a massive dairy

facility, with an investment of over

Rs. 100 Crores (around 12 million

euro), Haldiram's Nagpur is clearly

looking to expand its footprint from

its existing markets of Maharashtra,

Goa and Chhatisgarh.

SIG, a leading systems and solutions

provider for aseptic carton packaging,

has been chosen by Haldiram's to

help expand its business offerings

by leveraging SIG's pioneering

filling machines for aseptic carton

packs. For the first time, Haldiram's

Nagpur has invested in its own

manufacturing set up for filling

products into aseptic carton packs

and SIG is supplying them with a highspeed

CFA 1224 filling machine for

combiblocXSlim carton packs from

SIG. SIG's filling technology offers

excellent flexibility with multiple

volume offerings, making it an ideal

choice for Haldiram's. Furthermore,

SIG's high-speed filling machine,

able to fill 24,000 carton packs per

hour, provides sufficient capacity for

Haldiram's to expand and grow over

the next few years.

Commenting on the partnership,

Sushil Agarwal, Director at Haldiram's

Nagpur said: "SIG offered us state-ofthe-art

technology with full flexibility

of nine volume sizes on one filling

machine, all at high speed. This gives

us a lot of options to pack a variety of

products in a huge number of different

packaging formats and sizes. And even

more, the elegant, slim carton packs

are very attractive and stand out on

the shelf."

Starting from co-packaging

its products through contract

manufacturers, Haldiram's Nagpur

now aims to launch an even wider

SIG India team at Haldiram's Nagpur (from left to right: Philip Devasia, Anoop Arya, Raju G Malleshappa, Vandana Tandan, Srinath Chakrapani; front row:

Aman Kumar).

Photo: SIG

36

food Marketing & Technology • February 2022
---
Packaging

Photo: SIG

Ethnic products from Haldiram's now in SIG carton packs.

range of ethnic dairy and non-dairy

products, leveraging on its existing

retail network and distribution

capabilities.

Neeraj Agarwal, Marketing Director

at Haldiram's Nagpur, commented:

"Our brand Haldiram's is a household

name, associated with great quality

and fantastic products. With SIG, we

know that we will be able to extend this

in a big way into the ethnic beverages

category. We will be able to introduce

beverages that consumers really enjoy,

in the right sized packaging that suits

different consumption occasions."

The product offerings will include butter

milk under the name Matka Jhatka,

sold in 200 ml combiblocXSlim carton

packs, along with Aam Panna, Jal Jeera,

a variety of Lassi products. Many more

innovations are now in the pipeline.

Vandana Tandan, Country Manager for

SIG India, commented: "We are really

excited about working with Haldiram's

Nagpur. Their ambition to create

differentiated products has perfect

synergy with SIG's filling system, which

allows maximum flexibility. We believe

that with Haldiram's, we will introduce

some really innovative products and

grow together in this exciting category

of ethnic beverages."

Haldiram's is also setting up a range

of widespread franchise networks in

several Indian cities to offer everything

from sweets and confectionaries to

namkeens, juices, and more. The

flexibility that SIG offers, along with the

ability of its machines to fill products

with pieces and bits, like milkshakes

with pieces of dry fruits or nuts, juice

products with fruit bits and much more,

will help ramp up Haldiram's capacities

and offerings, based on the varying

needs of Indian consumers.

fmt

International Magazine June 2020 ISSN 2628-5851

International Magazine October 2019 ISSN 2628-5851

2/20

Ingredients: Hydrocoloids in Pet Food, Acacia Gum's Versatility, Antioxidants

Processing: Optical Sorting, Gentle Cooling, Removing Risks in Food Safety

Packaging: Pouches and Printing, Sustainability, Choosing the Right Bags

Marketing: Ask the Vet, Company News, Updates From the Fairs

Technology & Marketing

The magazine PetFood PRO has grown out of a

conviction and wish to underline the high level of quality

and care in the manufacture of pet food, through the

choice of ingredients, choice of technology and choice

of packaging materials.

www.harnisch.com

Technology & Marketing

Ingredients Blueberries, Fiber, Seafood, Microencapsulation

Processing Extrusion, Pumping and Dosing, Pellet Production

Packaging Flexible Wet Packaging and Sleeving, Pouches for Treats

Marketing Showcase India, Interzoo 2020 Preview

2/19

xxx

food Marketing & Technology • February 2022 37
---
Packaging

"We support our Customers

in Broadening their Perspective"

Schubert-Consulting is a division of Schubert Packaging Systems which has its roots in Gerhard Schubert

GmbH, the innovative market leader in packaging machinery. Based on decades of expertise in the

packaging sector, Michael Graf, Director Consulting, and his team advise customers on all processes relating

to product packaging. The main focus of customer support is the comprehensive, fully manufacturerindependent

analysis and optimization of entire process chains – for greater efficiency, cost-effectiveness

and sustainability. In this interview, Michael Graf reports on how Schubert-Consulting supports customers in

meeting current and future market requirements – on the occasion of the division's 10th anniversary in 2021

Michael Graf, Director Consulting of Schubert-

Consulting

What are you currently working on

at Schubert-Consulting?

What is keeping us very busy at

the moment is something that is

known as Connecting – in other

words, bringing together the various

participants involved in the entire

packaging process. This begins with

the different customer departments

and extends to external partners.

When a commissioned architect

designs a modern factory hall on a

greenfield site, they should know from

the outset about the cubic meters of

the machinery involved, the planned

layout and the personnel requirements.

Otherwise, the machines may have

to be adapted to the hall and the

production processes can no longer

be implemented in an optimal manner.

Our team at Schubert-Consulting

helps bring the parties involved to the

table at the beginning of a project and

find a joint solution that makes the

actual packaging process as efficient

as possible.

The topic of packaging development

is also definitely in line with current

trends. Here especially, Connecting

is absolutely necessary because

packaging today has to meet

numerous requirements that go

far beyond product protection and

transport. Just think of recyclability,

enhanced marketing at the point of

sale or market trends such as the

individualization of products and

e-commerce. In collaboration with

all partners, we can create economic

added value through the development

of new packaging, which is generated

throughout the entire process chain,

all the way to the consumer.

At what stage do customers turn

to you and why?

Most often, we provide support

when manufacturers are planning

a new packaging process and the

implementation becomes difficult –

when they are stuck in a project that

is not progressing as it should. This

often entails ideas and objectives

that go beyond a single packaging

machine as a solution, because the

upstream and downstream processes

strongly influence production. In cases

such as this, it is important to take

a close look at the entire supply and

production chain in order to identify

and eliminate any bottlenecks. This

is why we specialize in the strategic

planning of processes and corporate

goals, especially for the fast-moving

consumer goods and pharmaceutical

industries. Our customers are very

international: We offer our services in

several regions of the globe ranging

from German-speaking countries to

Europe and North America.

You were on board from the very

beginning. How did Schubert-

Consulting originate back then?

Before founding the company in 2011,

I had gained experience as a senior

project manager, in the pharmaceutical

industry amongst others. One of

my responsibilities was to prepare

validations for the complex packaging

processes used for pharmaceutical

products. This gave me an opportunity

to familiarise myself in depth with the

topic of quality assurance. At the same

time, a new business field emerged at

Schubert Packaging Systems, at that

time still under the name "Engineering

Consulting". Since then, Peter Gabriel

and I have gradually built up the area.

In 2016, the company was renamed

Schubert-Consulting.

Our first projects arose from the

customer's wish for us to accompany

the investment and realisation of a

new packaging machine over the

course of the project – also as a

service provider. Customer support

continues to be one of our central

consulting pillars. From the very

beginning, however, it was also my goal

to transform the expertise acquired

from other industries into the sectors

that Schubert serves. I remember the

early days at Schubert Consulting,

where we were able to make very fast

confectionery packaging machines

even more efficient for our customers

with the right quality management.

Because reducing waste throughout

the entire packaging process is and

remains an important factor to this day.

We are not only referring to the robots

in the packaging machine, but also

pre-processes such as baking ovens

in which the product to be packaged is

manufactured.

How has your portfolio evolved

over the years?

The next topic alongside quality

assurance was logistics, including

track and trace functions. This is

38

food Marketing & Technology • February 2022
---
Packaging

more relevant today than ever before,

when consumers would like to know

which farm their milk on the breakfast

table was sourced from. Schubert-

Consulting's range of services has

therefore expanded from projects

in existing factories and halls to

simulations and new planning on

greenfield sites. The most important

working tool for us is a holistic view of

the packaging processes as well as line

integration, customizing and customer

advice on automation, digitalization

and sustainability. For each project

we take on, we put together a new

team that not only consists of one

or more of our own employees, but

also includes collaborations with

universities, suppliers, associations

such as the VDMA (Verband Deutscher

Maschinen- und Anlagenbau e.V.) and

other institutions, as required. Within

the Schubert Group, we work together

strategically across several business

units.

Central to Schubert-Consulting, however,

is our general independence from

other Schubert companies. We attach

great importance to manufacturerindependent

consulting! This means

that anyone who uses our services

always has a choice of several different

process solutions. The reason why we

nevertheless carry the Schubert name

in Schubert-Consulting with a certain

pride is the packaging expertise we can

demonstrate, resulting from decades of

experience.

What has been your experience

with consulting and what do your

customers have to say?

projects that are implemented

gradually over several years.

All of this can only be achieved in a

relationship based on confidence

and collaboration. And this is why

personal contact, in-depth preliminary

discussions and the creation of a

true partnership are the absolute

prerequisites for a successful project.

And for us, talking to our customers

means, above all, understanding our

customers. Listening, always asking

different questions and thinking

ahead, changing perspectives all the

way to our customers' customers.

For example, if you have to unpack

a medicine and struggle with the

packaging, you are less likely to be

compliant in taking it. With this in mind,

our maxim has changed over time

from "accompanying customers" to

"understanding customers".

How are you driving Schubert-

Consulting into the future,

especially in terms of the key

issue of sustainability?

We have been working on this for

quite some time and have adopted

the "Rethink" aspect of the 5Rs on

sustainability as our guiding principle.

Rethinking conventional approaches

is exactly what is needed for the

transformation to a more sustainable

world, and it corresponds 100 per

cent with the essence of Schubert-

Consulting. We are broadening our

view once again and looking at the

process virtually from A to Z – from the

raw product to the end consumer and,

of course, recycling. This is based on

the approach of keeping processes so

stable that there are no rejects along

the entire process chain. Because

sustainability comes to a large extent

from efficiency.

From this wider perspective, it follows

that we also want to enter other

niches, start-ups and sectors. We are

committed to being trailblazers, to

creating a think tank for the future,

among other things with alliances

and experts from a wide range

of fields and institutions, such as

the Fraunhofer Institute, research

groups, manufacturers, etc. In doing

so, we strive to lead our customers'

visions to sustainable success. I

am delighted when our customers

embark on their new projects with

enthusiasm, because much more can

be achieved than they initially thought

possible. Premium added value,

inspiration for further developments

that we can give them and financial

success for both sides – this is my

goal and it's ultimately what makes

consulting fun.

fmt

Many customers are under intense

competitive and time pressures.

Only very few have sufficiently

comprehensive expertise in-house to

establish new packaging processes or

improve existing ones. The feedback

we receive is consistently positive. We

solve problems, we get production

running and we make it more costeffective

as well. A key factor is also

to find solutions that reach far into the

future for the customer. This is why we

always try to clarify how and where a

customer wants to develop and grow.

This sometimes results in scalable

photos: Gerhard Schubert GmbH

food Marketing & Technology • February 2022 39
---
Events

MARCH 2022

APRIL 2022 MAY 2022

8-11 March

Cologne, Germany

Filtech

Filtech Exhibitions Germany GmbH & Co. KG

H lderlin Str. 12

40667 Meerbusch, Germany

Tel: 02132-935760

Fax: 02132-93 57-62

Email: info@filtech.de

Web: www.filtech.de

22-24 March

Lagos, Nigeria

food + bev tec

fairtrade Messe GmbH & Co. KG

Kurfürsten Anlage 36,

69115 Heidelberg, Germany

Tel.: +49-6221/4565-0

Fax: +49-6221/4565-25

info@fairtrade-messe.de

www.fairtrade-messe.de

26-29 April 2022

Cologne, Germany

Let`s meet at

Anuga FoodTec

Koelnmesse GmbH

Messeplatz 1, 50679 K ln

Tel: +49-221-821-0

Fax.: +49-221-821-2574

info@koelnmesse.de

www.anugafoodtec.com

10-12 May

Geneva, Switzerland Let`s meet at

Vitafoods International

Informa Exhibitions,

5 Howick Place,

London SW1P 1WG Great Britain

Tel.: +44 20 337 73111

www.vitafoods.eu.com

14-19 May

Frankfurt, Germany Let`s meet at

IFFA

Messe Frankfurt Exhibition GmbH

Ludwig-Erhard-Anlage 1

D-60327 Frankfurt am Main

Tel.: +49 69 75 75-0

Fax.: +49 69 75 75-64 33

info@messefrankfurt.com

JUNE 2022 JULY 2022 SEPTEMBER 2022

2-4 June

Addis Ababa, Ethiopia

food + bev tec

fairtrade Messe GmbH & Co. KG

Kurfürsten Anlage 36,

69115 Heidelberg, Germany

Tel.: +49-6221/4565-0

Fax: +49-6221/4565-25

info@fairtrade-messe.de

www.fairtrade-messe.de

17-20 June

Tehran, Iran

food + bev tec

fairtrade Messe GmbH & Co. KG

Kurfürsten Anlage 36,

69115 Heidelberg, Germany

Tel.: +49-6221/4565-0

Fax: +49-6221/4565-25

info@fairtrade-messe.de

www.fairtrade-messe.de

6-7 July

Hamburg, Germany

Snackex

European Snacks Association

Rue des Deux Eglises, 26

1000 Brussels, Belgium

Tel.: +32-2 538 20 39

veronica@esasnacks.eu

10-13 July

Chicago, IL, USA

IFT Food Expo - first

Institute of Food Technologists

252 W. Van Buren,

Suite 1000, Chicago, IL 60607

Tel.: +1-312-782-8424

Fax: +1-312-782-8348

www.ift.org

8-12 September

Munich, Germany

drinktec

Messegel nde, 81823 München,

Germany

Tel.: +49 89 949 11318

Fax: +49 89 949 11319

www.drinktec.com

info@drinktec.com

Let`s meet at

Let`s meet at

Let`s meet at

40 food Marketing & Technology • February 2022
---
Events

SEPTEMBER 2022

27-29 September

Birmingham, UK

PPMA

New Progress House,

34 Stafford Road,

Wallington,

Surrey SM6 9AA

Tel.: +44 (0)20 8773 8111

www.ppmashow.co.uk

27-29 September

Nuremberg, Germany

Fachpack

NürnbergMesse GmbH

Messezentrum,

90471 Nuremberg

Tel.: +49 911 86 06 49 09

Fax: +49 911 86 06 49 08

www.fachpack.de

Let`s meet at

Let`s meet at

NOVEMBER 2022 DECEMBER 2022

8-10 November

Dubai, UAE

Gulfood Manufacturing

Dubai World Trade Centre,

P.O. Box 9292, Dubai, UAE

Tel: (+971) 4 308 6124

info@dwtc.com

www.gulfood.com

Let`s meet at

6-8 December

Paris, France

Let`s meet at

Food ingredients Europe

Informa Markets

PO Box 12740, de Entree 73,

Toren A, 1100 AS Amsterdam Zuid Oost,

The Netherlands

Tel.: +31-20-409 9544

Fax: +31-20-363 2616

www.figlobal.com

IFT FIRST, Chicago, July 10-13

The Evolution of IFT's Annual Event

The Institute of Food Technology's

Annual Event and Food Expo has been

a cornerstone within the science of

food community for more than 80

years, a place where professionals

come to network, collaborate, and

exchange valuable technical and

scientific knowledge as well as connect

with customers and suppliers.

In recognition that the nature of the

science of food is constantly evolving,

IFT has strived to stay attuned to the

needs of those who are seeking newer,

more innovative ways to connect

and share first-hand information

about topics ranging from product

development to cutting-edge research.

With that perspective in mind IFT

FIRST came into being. Introduced

in 2021, IFT FIRST means Food

Improved by Research, Science and

Technology. This is IFT's response to

the transformative nature of the global

food system. IFT FIRST is a place where

professionals can discover the latest

global trends, newest innovations, and

cutting-edge solutions while making

strategic connections to advance their

business and careers.

Brought on by the enormity of a global

pandemic, IFT made a necessary shift in

2021 to a fully virtual experience where

the community could come together to

connect and dialogue safely.

This year, IFT FIRST will return

with a brand-new in-person and

virtual experience that lives at the

intersection of education, research,

and true scientific innovation. Plus,

the largest business-to-business food

innovation expo will be live in Chicago

starting July 11. With a combination

of virtual experiences with all the

networking and in-person engagement

participants have missed over the past

couple years, the transformation to IFT

FIRST will come alive in July

Over the past few years, the annual

event has focused on a specific

problem or question impacting the

global food system. 2022 will be no

different as IFT explores: Hacking the

Food Supply: Can We Synthesize a

More Sustainable Future?

Join the conversation at IFT FIRST

as front-line scientists and product

developers explore the potential

promises and pitfalls of hacking the

future of food.

fmt

food Marketing & Technology • February 2022 41
---
Last Page

Advertiser's Index • February 2022

Key No. Page Company Location

102334 4 European Snack Association Brussels, Belgium

102158 5 fairtrade GmbH & Co. KG Heidelberg, Germany

102333 17 IMR - International Market Research San Diego. CA, USA

102200 15 Informa Exhibitions London, Great Britain

102109 11 Institute of Food Technologists Chicago, IL, USA

102134 19 Koelnmesse GmbH Cologne, Germany

101675 27 Schaaf Technologie GmbH Bad Camberg, Germany

102203 Cover Sealpac International Harderwijk, The Netherlands

101490 Cover 2 SPX FLOW, Inc. Charlotte, NC, USA

101181 Cover 4 URSCHEL Chesterton, IN, USA

101822 25 WENGER Manufacturing, Inc. Sabetha, KS, USA

Whilst every effort is made to ensure the accuracy of this information, we appreciate your comments and corrections

if something should be not quite right.

IMPRESSUM FMT

ISSN 0932-2744

Publishing Company:

Dr. Harnisch Publications

Eschenstr. 25

90441 Nuremberg, Germany

Tel: +49-911-2018-0

Fax: +49-911-2018-100

E-mail: food@harnisch.com

Internet: www.harnisch.com

Editor-in-Chief: Ian D. Healey

Tel: +49-911-2018-215

E-mail: ihealey@harnisch.com

Publisher: Benno Keller

International Communications Director:

Gabriele Fahlbusch

Editorial Team: Bill Kaprelian,

Silke Watkins, Carola Weise, Sebastian

Martinek, Pamela Almenara Cabrera

Digital: Britta Steinberg

Copy Editing: Nicholas Somers

Technical Manager: Armin König

Advertising: Sabrina Maasberg

Subscriptions: Marta Bletek-Gonzalez

Art Director: Bruno Bozic

Reader Service: Sabrina Maasberg

Subscription Information:

Qualified Readers, executives in

the food industry, are put on the

mailing list free of charge. Regular

delivery by subscription only.

€ 102 per year, 6 issues (surface mail)

€ 118 per year (air mail)

printed by:

Druckerei Millizer

Schwabach, Germany

Copyright © 2022 by Dr. Harnisch

Verlag, Nuremberg, Germany

PREVIEW • APRIL 2022

Anuga FoodTec

Meat Alternatives

Color Sorting

Aseptic Packaging

… and lots more

42 food Marketing & Technology • February 2022
---
A Roadmap to

Vol. 36 • 31377

ISSN 0932-2744

1/22

+49 (0)911 2018-100

or mail us to: food@harnisch.com

Cover: New Thermoformers

for Dutch Veal Producer

Sustainable Ingredients

Issue 1/2022

Vacuum Technology in

Freeze Drying

Sustainable and

Flexible Labelling

Our service: If you would like to have more information on articles and/or

adverts please fax this form and quote the headline and page number.

All questions must be answered to process your inquiry!

1. Business Classification:

Type Product Function

Manufacturer Milling Dairy Products Administration/Management

Supplier Bakery Fruit + Vegetable Prod. Product Development

Distributor Confectionery Beverages, alcoholic Production

Import/Export Meat & Fish Beverages, non-alcoholic Packaging

Flavors & Spices other (please specify) Research & Development

2. Business Interests

We plan purchase Probable future purchase We need general information

3. How do you rate this publication?

excellent good fair poor

4. I wish to receive future issues of FM & T

Yes No

5. Number of employees at this location

6. How many people in your company read your copy of FM & T?

7. Headline and page no.

8. Please enter my subscription to FM & T for one year

The subscription shall start immediately beginning of

Domestic Mail ( 84,– incl. p+h+VAT)

Surface Mail ( 102,– / US $ 132 ,– incl. p+h)

Air Mail ( 118,– / US $ 153,– incl. p+h)

Check enclosed

Bill me

Charge my credit card: Euro-Card Visa Amex

valid until:

9. I would like to advertise – please call me:

Company:

Name:

Position:

Address:

Country:

Phone:

Fax:

E-mail:

Date:

Signature:

The subscription is prolonged automatically for one year unless it is cancelled 6 weeks before expiry.
---
High Capacity,

Precision Cuts

Meet the DiversaCut 2110A ® 3-D Dicer

designed and manufactured by Urschel.

The DiversaCut 2110A (DCA) produces precision slices or dices

at high production capacities to maximize your processing

goals. The close proximity of each cutting station establishes

a compact cutting zone to increase the exactness of each cut.

New DCA with discharge conveyor

facilitates batch processing into totes or

onto a conveying system or platform.

Equipped with 5 HP (3.7 kW) and 1/4 HP

(.19 kW) (conveyor) motors.

Urschel customers benefit from:

Increased in-spec product.

Higher capacities.

Increased profits.

Sanitary design.

Operation at the push of a button.

Contact Urschel to learn more.

Key No. 101181

#1 Best selling provider of

industrial cutting machinery

throughout the world.

The Global Leader of Food Cutting Technology

Set up a free test-cut of your product.

www.urschel.com

® Urschel, Urschel logo symbol, DiversaCut 2110A, and The Global Leader in Food Cutting Technology are registered trademarks of Urschel Laboratories, Inc. U.S.A.