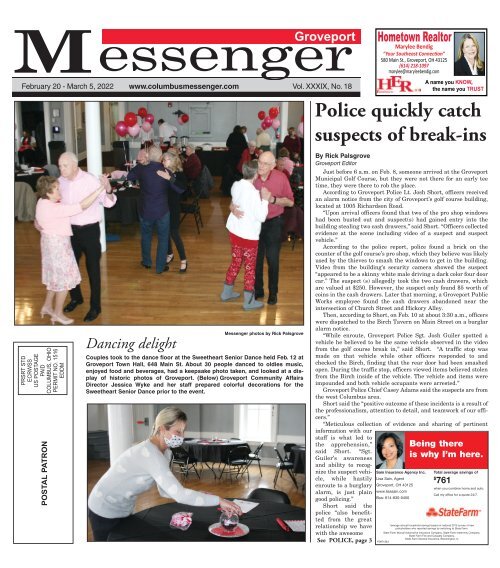 Groveport Messenger - February 20th, 2022
Create successful ePaper yourself
Turn your PDF publications into a flip-book with our unique Google optimized e-Paper software.
Messenger

Groveport

February 20 - March 5, 2022 www.columbusmessenger.com Vol. XXXIX, No. 18

PRSRT STD

ECRWSS

US POSTAGE

PAID

COLUMBUS, OHIO

PERMIT NO. 1516

EDDM

POSTAL PATRON

Dancing delight

Messenger photos by Rick Palsgrove

Couples took to the dance floor at the Sweetheart Senior Dance held Feb. 12 at

Groveport Town Hall, 648 Main St. About 30 people danced to oldies music,

enjoyed food and beverages, had a keepsake photo taken, and looked at a display

of historic photos of Groveport. (Below) Groveport Community Affairs

Director Jessica Wyke and her staff prepared colorful decorations for the

Sweetheart Senior Dance prior to the event.

Hometown Realtor

Marylee Bendig

580 Main St., Groveport, OH 43125

(614) 218-1097

marylee@maryleebendig.com

A name you KNOW,

the name you TRUST

Police quickly catch

suspects of break-ins

By Rick Palsgrove

Groveport Editor

Just before 6 a.m. on Feb. 8, someone arrived at the Groveport

Municipal Golf Course, but they were not there for an early tee

time, they were there to rob the place.

According to Groveport Police Lt. Josh Short, officers received

an alarm notice from the city of Groveport's golf course building,

located at 1005 Richardson Road.

"Upon arrival officers found that two of the pro shop windows

had been busted out and suspect(s) had gained entry into the

building stealing two cash drawers," said Short. "Officers collected

evidence at the scene including video of a suspect and suspect

vehicle."

According to the police report, police found a brick on the

counter of the golf course's pro shop, which they believe was likely

used by the thieves to smash the windows to get in the building.

Video from the building's security camera showed the suspect

"appeared to be a skinny white male driving a dark color four door

car." The suspect (s) allegedly took the two cash drawers, which

are valued at $250. However, the suspect only found $5 worth of

coins in the cash drawers. Later that morning, a Groveport Public

Works employee found the cash drawers abandoned near the

intersection of Church Street and Hickory Alley.

Then, according to Short, on Feb. 10 at about 3:30 a.m., officers

were dispatched to the Birch Tavern on Main Street on a burglar

alarm notice.

"While enroute, Groveport Police Sgt. Josh Guiler spotted a

vehicle he believed to be the same vehicle observed in the video

from the golf course break in," said Short. "A traffic stop was

made on that vehicle while other officers responded to and

checked the Birch, finding that the rear door had been smashed

open. During the traffic stop, officers viewed items believed stolen

from the Birch inside of the vehicle. The vehicle and items were

impounded and both vehicle occupants were arrested."

Groveport Police Chief Casey Adams said the suspects are from

the west Columbus area.

Short said the "positive outcome of these incidents is a result of

the professionalism, attention to detail, and teamwork of our officers."

"Meticulous collection of evidence and sharing of pertinent

information with our

staff is what led to

the apprehension,"

said Short. "Sgt.

Guiler's awareness

and ability to recognize

the suspect vehicle,

while hastily

enroute to a burglary

alarm, is just plain

good policing."

Short said the

police "also benefitted

from the great

relationship we have

with the awesome

See POLICE, page 3

Sain Insurance Agency Inc.

Lisa Sain, Agent

Groveport, OH 43125

www.lisasain.com

Bus: 614-830-0450

Being there

is why I'm here.

Total average savings of

$

761

when you combine home and auto.

Call my office for a quote 24/7.

*average annual household savings based on national 2015 survey of new

policyholders who reported savings by switching to State Farm.

State Farm Murual Automotive Insurance Company, State Farm Indemnity Company,

State Farm Fire and Casualty Company,

State Farm General Insurance, Bloomington, IL

P097136.1
---
PAGE 2 - GROVEPORT MESSENGER - February 20, 2022

A FREE ESTIMATE

15 10 5

YOUR ENTIRE

PURCHASE *

% % %

OFF + OFF + OFF

Serving Your Community

Malek &

ATTORNEYS AT LAW Malek

Proudly Announcing

Adding New Attorneys

To Serve You!

WORKERS'

COMPENSATION

PERSONAL INJURY

WRONGFUL DEATH

SLIP & FALL INJURY

DOG BITE INJURY

SENIOR & MILITARY

DISCOUNTS

| Promo Number: 285

Since 1972

YEAR-ROUND

CLOG-FREE GUARANTEE

1-855-595-2102

TO THE FIRST

50 CALLERS! **

Prepare for unexpected

power outages with a

Generac home standby

generator

REQUEST A FREE QUOTE!

866-643-0438

FREE

7-Year Extended Warranty*

A $695 Value!

Limited Time Offer - Call for Details

Special Financing Available

Subject to Credit Approval

*To qualify, consumers must request a quote, purchase,

install and activate the generator with a participating dealer.

Call for a full list of terms and conditions.

Douglas, Ed, Jim

and Kip Malek

"Hablamos Español"

FREE Initial Consultation

www.maleklawfirm.com

614-444-7440

1227 S. High St., Columbus, OH 43206

www.columbusmessenger.com

Eastland-Fairfield has a new

look and a fresh focus

By Linda Dillman

Staff Writer

Changes are coming to Eastland-Fairfield Career

and Technical Schools as Superintendent/CEO Dr.

Kimberly Miller laid out a vision plan for the district

with a fresh look and focus.

"This is a really exciting time," said Miller during a

Feb. 10 State of the Schools address. "At Eastland

Fairfield we've always been future focused, but like

any 53-year-old house, it's time to do a little remodeling,

2022 is Eastland-Fairfield's renew edition. We

have a new look, new colors and a new focus."

According to Miller, on Jan. 12 the district's board

of education approved a new and ambitious strategic

plan that guides district over the next three to five

years.

The plan calls for an intense focus on fostering a

culture that embraces and celebrates the diversity of

students and the communities from which they come,

including the Hamilton Township, Canal Winchester,

and Groveport Madison districts.

"Serving 16 school districts across a five-county and

700-square-mile region means that we have always

been diverse," said Miller, "but we realize that learning

to grow and thrive in an environment that values

and celebrates our diversity does not happen on its

own. It takes leadership, patience, listening, and

action to create a culture that embraces each student,

each staff member, each family, each alumnus, and

each business partner."

The new strategic plan also guides Eastland-

Fairfield to ensure it is offering programs that meet

the workforce needs of the region as well as the interests

of students. She emphasized it is not the goal to

undo anything from the past, just polish things up.

"We will commit to strengthening our relationships

with our students, staff, families, associate school districts,

business partners, and alumni," said Miller.

"Relationships are the foundation of education and the

most meaningful part of our work. Finally, we are committed

to maximizing our instructional effectiveness

by investing in our teachers and staff to ensure that

they are continually supported in their growth and by

actively seeking and incorporating student voice and

choice into our programming and course offerings."

A new logo with light blue, dark blue, and green colors

was introduced during the evening presentation,

which was preceded by a tour of the career center and

epicurean treats created by culinary students.

Miller said the vision is to prepare and guide each

student to pursue success through exceptional experiences

based on a set of guiding pillars, including innovation,

program and operational excellence, fostering

relationships and maximizing instructional effectiveness.

A new position was created–director of student

support systems. Dwight Carter, who previously

served as Eastland Career Center assistant director,

assumed the new role on Aug. 1, 2021.

Carter is responsible for oversight of systems for

students in intervention support, special education,

English language learners, gifted education, social/

emotional learning, mental and physical wellbeing,

and supporting the understanding and appreciation of

diversity.

"I want students to feel like they matter and they're

important," said Carter in a video presentation.

A business operations manager was also hired and

a master technology plan was developed. Miller said

Eastland-Fairfield also wants to make sure the career

and technical school district is providing earlier career

and technical support for younger students as well.

"We want to have students think about careers as

they move forward," said Miller. "We really want to

focus on those relationships."

In maximizing instructional effectiveness, the

superintendent said Eastland-Fairfield needs to focus

on this area in a big way and connect academic classes

in an approach similar to the way they connect career

and technical programs.

Rather than a traditional English 11 and English

12 curriculum, the district is rolling out a new semester

long curriculum plan featuring English classes that

are topical and more related to student interests.

"When we think about what we're doing here, it

always comes back to 'why?'" said Miller, who said

Eastland-Fairfield vision organizers decided to flip its

original motto from 'Our Focus, Your Future' to 'Your

Future, Our Focus.'

County commissioners approve support for free tax preparation

The Franklin County Commissioners voted to

approve $75,000 to support free tax preparation services

for low- and middle-income residents and families.

The contract between Franklin County Department

of Job and Family Services and the United Way of

Central Ohio supports Tax Time, a coalition of nonprofit,

business and government partners that help

residents maximize their returns, avoid preparation

fees and build wealth.

Tax Time combines the United Way's Volunteer

Income Tax Assistance program as well as AARP's Tax

Counseling for the Elderly Program under one umbrella.

This tax season, residents will be able to access free tax

preparation services both virtually, as well as in-person

at dozens of sites across Franklin County. Tax Time's

IRS-certified volunteers can also help families claim

their full Child Tax Credit, Earned Income Tax Credit

and any remaining stimulus dollars they are owed.

Households that earned up to $66,000 last year are

eligible and can learn more by calling 211 or visiting

GetYourRefund.org/UWCO.

Feb. 8 also marked the White House's Child Tax

Credit and Earned Income Tax Credit Day of Action.

The American Rescue Plan ACT (ARPA) increased the

amount and expanded eligibility for both credits in

2021. The Center for Community Solutions estimates

over 270,000 Ohio children were lifted out of poverty or

moved closer to that threshold last year thanks to the

additional money, which families used for expenses

like rent, food and clothing.

The changes to the Child Tax Credit allowed eligible

families to receive half of their credit in the form of

monthly payments that were issued from July through

December. However, families must file their 2021

return to claim their remaining credit — or the entire

credit if they deferred the monthly payments.

Families can receive up to $3,600 per child, based

on their age. However, the expansion of the credits in

the ARPA was only temporary and will require federal

action to make permanent.

Visit ChildTaxCredit.gov to learn more.
---
www.columbusmessenger.com

School board picks architect; approves demographic study

POLICE

Continued from page 1

Groveport Public Works department.

While out working, some of their guys

came across a couple of the cash drawers

that had been dumped on the side of the

road. They quickly called us and we were

able to collect that evidence. Our officers

take it personally when our local businesses

are targeted for any crime. It is very fulfilling

to us when we can make arrests and

try to restore what our victims have lost."

Car break-ins suspects caught

Adams said Groveport Police officers

also apprehended two suspects from the

Harrisburg, Ohio area, who allegedly were

involved in a series of vehicle break-ins in

By Rick Palsgrove

Groveport Editor

Groveport Madison Schools' officials

lined up an architectural firm as well as a

company to study the district's demographics,

building capacity, and uses as part of

creating a new Master Facility Plan to

address growing enrollment and building

needs.

At its Feb. 9 meeting, the Groveport

Madison Board of Education approved

using SHP Architects for facility planning.

"This is for the approval of using SHP

Architects. No costs or anything are

approved tonight," said Groveport Madison

Superintendent Garilee Ogden, who added

the company will provide a presentation at

the board's next meeting along with a contract

and cost for the board's consideration.

The board also approved contracting

with Cropper GIS for a demographic and

capacity/utilization study of the district at

a cost of $35,500.

According to information provided by

Cropper GIS to the board, it is anticipated

the demographic study can take eight to 10

weeks to complete. After conducting a walk

through of the school buildings it will take

about three weeks for a capacity report.

Once the demographic study is finished,

the utilization needs assessment could be

completed in one to two weeks.

Ogden has emphasized that the community

will be involved in the process of creating

the new Master Facility Plan.

Groveport Madison Communications

Director Jeff Warner said the creation of

the Master Facility Plan could take at least

a year and the final plan must be approved

by the board. He said the district will follow

Ohio Facilities Construction Commission

guidelines in creating the Master Facility

Plan. He said it is not yet known when

funding from the OFCC will be available

"We need space due to our growth and it

will be good to have a plan ready for when

the OFCC says money is available," said

Warner.

As of October 2021 (the customary time

frame the Ohio Department of Education

uses to calculate enrollment), the district

northern Groveport extending from Bixby

Road to Williams Road.

Adams said these vehicle break-ins

were "smash and grab" thefts where the

suspects broke into the vehicles and took

whatever of value was lying around loose

in the vehicles.

Adams praised the work of the officers

involved in the arrests of suspects from the

golf course and Birch Tavern break-ins and

the vehicle break-ins.

"That's four arrests in a couple of days,"

said Adams of the officers' quick police

work. "I'm so proud of our officers."

around Groveport and Madison Township

MadisonTownship

Police statistics

January crime statistics from the

Madison Township Police: 7 accidents with

injuries, 2 animal complaints, 1 assault,

109 patrol security checks at Brobst Park,

3 burglary, 17 domestic complaints, 1

drunk,3 fights, 1 fireworks complaints, 5

hit skip accidents, 9 juvenile complaints,

14 larceny/theft, 5 missing persons, 67

parking violations, 3 person with gun, 20

property damage accidents, 2 sex offenses,

6 shots fired in area, 9 suspicious cars,11

suspicious persons, 21 suspicious

persons/vehicles, 3 threats or harassment,

134 traffic stops, and 7 vandalism.

Messenger delivery with

the Sunday Dispatch

As readers know, we contract delivery of

the Messenger in with the Sunday

Dispatch.

Recent proposed delivery changes by the

Dispatch, which would have affected delivery

of the Messenger in with the Sunday

Dispatch, have now been put on hold.

Therefore, you will continue to receive

your Messenger in with your Sunday

Dispatch for the foreseeable future.

Thank you for reading the Messenger!

columbusmessenger.com

had 6,271 students. In comparison, enrollment

was 5,569 in 2015-16.

While Warner said overcrowding is the

central issue facing the district, other factors

to be considered in the facilities planning

process include the age, condition,

efficiency, adaptability, and cost to maintain

the existing elementary and middle

schools.

According to Warner, because of student

overcrowding the district has 24 modular

classrooms in use. There is a single quadclassroom

unit at Groveport Elementary,

two double-classroom units at Asbury

Elementary and Dunloe Elementary, and

six double-classroom units at Sedalia

Elementary.

District officials indicated it is not

known at this time when a bond issue to

fund new schools or school improvements

could appear before the voters on the ballot.

Buildings' capacity and enrollments

Here are the capacity and enrollments

(as of December 2021) for Groveport

Madison's elementary and middle schools

(a new 240,000 square foot, 1,500 student

high school opened in 2018):

•Asbury Elementary — Built in 1963

with additions in 1968 and 1969.

Enrollment, 476. Functional capacity, 425.

•Dunloe Elementary — Built in 1967

with additions in 1968 and 1969.

February 20, 2022 - GROVEPORT MESSENGER - PAGE 3

Enrollment, 448. Functional capacity, 425.

•Glendening Elementary — Built in

1968 with addition in 1974. Enrollment,

455. Functional capacity, 425.

•Groveport Elementary — Built in 1923.

Enrollment, 417. Functional capacity, 425.

Placed on the National Register of Historic

Places in 2009.

•Madison Elementary — Built in 1967

with additions in 1968 and 1969.

Enrollment, 354. Functional capacity, 425.

•Sedalia Elementary — Built in 1969

with addition in 1974. Enrollment, 562.

Functional capacity, 446.

•Middle School North — Built in 1975.

Enrollment, 495. Functional capacity, 425.

•Middle School South — Built in 1975.

Enrollment, 466. Functional capacity, 425.

•Middle School Central — Built in stages

as a high school between 1952-56.

Enrollment, 448. Functional capacity, 425.

Placed on the National Register of Historic

Places in 2009.

However, since December, Warner said

now every building in the district, except

for Madison Elementary, is over capacity.

(Functional capacity is 85 percent of original

design capacity and reflects modern

requirements for classroom space and programming.

Source: Groveport Madison

Schools.)
---
PAGE 4 - GROVEPORT MESSENGER - February 20, 2022

Groveport history films

Two documentary films on the history of

Groveport, produced by the Groveport

Heritage Society and Midnet Media, are

now available for viewing online on

YouTube.

The films are: "Groveport: A Town and

Its People" and "The Story of John S.

Rarey and Cruiser."

Groveport history

The Groveport Heritage Museum contains

photographs, artifacts, and documents

about Groveport's history.

The museum is located in Groveport

Town Hall, 648 Main St., and is open during

Groveport Town Hall's operating

hours. Call 614-836-3333.

columbusmessenger.com

southeast

Messenger

(Distribution: 8,000)

Rick Palsgrove ...................................Groveport Editor

southeast@columbusmessenger.com

Published every other Sunday by

The Columbus Messenger Co.

3500 Sullivant Ave., Columbus, Ohio 43204-1887

(614) 272-5422

The Columbus Messenger Co. reserves the right to edit, reject or cancel

any advertisement or editorial copy at any time. The company is not

responsible for checking accuracy of items submitted for publication.

Errors in advertising copy must be called to the attention of the company

after first insertion and prior to a second insertion of the same advertising

copy.

Keep tabs on the latest news in

Groveport & Madison Township

Look for Groveport Messenger on

Become a fan!

BIRTHDAY • ENGAGEMENT • WEDDING • ANNIVERSARY

• GRADUATION • RETIREMENT

IN MEMORIUM • ARMED FORCES

Say it with an announcement ad in

the Messenger and spread the word.

You can download the appropriate form from

our Web site or stop by our office

Monday-Thursday, 8:30 a.m.-5 p.m.

Friday, 8:30 a.m.-2 p.m.

Columbus Messenger

3500 Sullivant Ave.

614-272-5422

www.columbusmessenger.com

www.columbusmessenger.com

The beauty of Palm's Pond

I recently wrote a column for the Messenger about taking

nature walks within the neighborhoods of Groveport, but I realized

I omitted one of the nicest natural settings to be found in this

walkable town.

That place is Palm's

Editor's Notebook

Rick

Palsgrove

Pond, located just south of

the Groveport Log House in

Heritage Park, 551 Wirt

Road.

The pond was created from an existing wetland

area by the city of Groveport in the early

2000s. According to information previously

obtained from the Groveport Public Works

Department, the pond's area itself encompasses

about 1 acre; the pond at its deepest point is

about 28 feet; and it is stocked with fish annually

by the Ohio Department of Natural

Resources. Fish are not the only thing one can

spot in the pond as on sunny days turtles can be

viewed sunning themselves on a log that protrudes

from the water.

Taking a walk around the pond on the gravel

path is a pleasant, peaceful experience. The

one-half to three-quarter mile path gives one

several perspectives to view the pond. The

path's outer edge is lined with trees with bird houses visible in places

among the branches. There is also a wetland area that can be seen

just west of the path.

The pond is tucked away enough that traffic noise is minimal,

which allows one to hear the birds sing and the wind rustle the tree

leaves. There are also well placed benches where one can sit to watch

sunrises and sunsets. If one is an aviation fan it is also a good spot to

watch planes as they descend to land at Rickenbacker Airport.

Palm's Pond is a great place to walk to note the changing seasons.

Interestingly the blanket of snow in early February enabled me to see

the tracks of various wildlife that inhabit the pond and its surrounding

area. I spotted the tracks of squirrels, rabbits, birds, deer, and

raccoons.

There is an under served population that is shut out of offers,

discounts, and many other perks of our technological society

because they are not "connected."

I'm talking about

Linda

Dillman

Places

people like my mother,

who, through no

fault of her own, is not

tethered to the Internet because of the high

cost of a connection or one of many other

viable reasons.

And it makes me mad.

My mother was recently sent a coupon

from a new gas station moving into the central

Ohio market for a considerable per gallon

discount for three months. When she

went to the station, a helpful attendant

asked her for her email address to complete

the process.

Needless to say, that process stopped dead

in its tracks because she did not have the requisite

email address. There was no other way

for her to complete the application for the

company's loyalty card without an association

with the Internet.

This is not an isolated incident. It happens

on a routine basis.

And it makes me mad.

Want to enter a drawing from a trusted company? They don't

trust you if you do not have that golden ticket…aka an email

address. Door closed.

Messenger photo by Rick Palsgrove

Palm's Pond in Groveport's Heritage Park.

The happiest tracks I see are those of people's pet dogs who come

with their owners to the pond to playfully romp and give their canine

sniffers a workout taking in all the wild scents. The dogs' paw prints

range from large to small. Isn't it amazing how many different varieties

of dogs there are, yet down deep each dog still thinks it is a wolf

no matter how much we spoil them? I am always happy to see people

walking their dogs around the pond and usually whenever I am there

for a stroll I see a happy dog or two.

In a nod to Groveport's agricultural past and the orchards that

were once present in town in the 19th and early 20th centuries, the

Groveport Parks Department planted 30 apple trees near Palm's

Pond a few years ago. The trees offer a variety of apples including

Golden Delicious, Granny Smith, Wealthy, Haralred, Gravenstein,

Honey Crisp, Red Delicious, Zestar, Gala, and McIntosh. The hope

is to use some of the apples from these trees at future Apple Butter

Day festivals. Visit the orchard and check out the trees' growth.

This mini-orchard can be found in the northeast corner of the pond

area.

Palm's Pond is grand in its simplicity. The sky, water, grass,

and trees. What could be better?

Rick Palsgrove is editor of the Groveport Messenger.

It makes me mad

Want to sign up for legitimate free offers? Unless you have a

legitimate email address, don't bother. No freebies for you!

Want to read the latest zoo newsletter? It's online. Want to get

the best deals on grocery items at your local store? Digital coupons

are the answer. Have a complaint, compliment or concern? More

often than not you have to access the Internet.

And it makes me mad.

The practice is discriminatory for those without an email

address, old or young. And because this population of people are a

small minority with limited access to a much larger population,

they are ignored.

It is not right and it is not fair, but I fear it is a problem that

will be with us as long as there are people not tethered to technology

and the Web.

And it makes me mad.

Linda Dillman is a Messenger staff writer.

Letters policy

The Groveport Messenger welcomes letters to the editor. Letters cannot

be libelous. Letters that do not have a signature, address, and telephone

number, or are signed with a pseudonym, will be rejected.

PLEASE BE BRIEF AND TO THE POINT.

The Messenger reserves the right to edit or refuse publication of any

letter for any reason. Opinions expressed in the letters are not necessarily

the views of the Messenger. Mail letters to: Groveport Messenger, 3500

Sullivant Avenue, Columbus, OH 43204; or by email to southeast@columbusmessenger.com.
---
www.columbusmessenger.com

"Marry Me" coasts on the

charisma of its main stars

The Groveport Madison Area Community Choir

show will present, "Hooray for Hollywood," on Feb. 26

at 1 p.m. and at 7 p.m. in the Groveport Madison High

School auditorium, 4475 S. Hamilton Road, Groveport.

The show will feature choir members singing such popular

songs as "Hooray for Hollywood," "Singing in the

Rain," as well as selections from "Grease," "The Wizard

Lately I have been on a bit of a romantic

comedy bender. Part of that insanity is due

to the lack of a more attractive alternative,

but a much larger part is that they have

been something of a balm to the soul as the

world happily lights itself on fire.

My quest for movies that give me the

warm fuzzies led me to discover some not so

great technical films — and by that I mean

it features a combination of bad acting, bad

writing, and bad directing and editing, or

all of the above — but they are infused with

a certain kind of stupid charm that manages

to activate your positive thought

receptors, thus making you more forgiving

of its flaws.

A film that features a combination of

technical impediments but is stupidly

charming, nonetheless, is "Marry Me."

Though not as poorly acted as its counterparts

on the streaming services, it has

some stilted dialogue that is capable of

making you cringe and it has a premise

that is so outlandish it could give even the

most ardent believer of the romantic comedy

pause. And yet, the stars in this film

bring forth the charisma, making this

mostly bad film a not-half-bad viewing

experience.

Jennifer Lopez stars as Kat Valdez, an

international pop sensation who longs for

the acceptance of her peers in the industry,

despite her legion of loyal fans. Her latest

hit is a duet called "Marry Me" that she created

with her behind-the-music partner

Bastian (Maluma). This song, she believes,

could be her ticket to industry acclaim —

and the fact that they plan to marry at a

concert in front of an audience of 20 million

would be the icing on the cake. After all,

you gotta get that buzz any way you can get

it — or plan it, in this case.

Moments before they are set to exchange

their vows, Bastian is busted by a national rag

for cheating on Kat with her assistant.

Humiliated, she delivers a rousing speech to

her millions of fans about how love is a lie and

decides she will marry her awesome self

instead. Just kidding, she doesn't do that.

Instead, she locks eyes with a stranger in the

audience holding a sign that says, "Marry Me,"

and brings him up on stage to do just that.

Said stranger is Charlie Gilbert (Owen

Wilson), a somewhat dull recent divorcee who

teaches math at a middle school. Much to his

12-year-old daughter's dismay, he is not up to

the times (he uses a flip phone and shuns

social media — a good choice) which is how he

ended up going to this massive wedding/concert.

W h i l e

not a spont

a n e o u s

person, Charlie does

not want to add to Kat's

obvious distress and

agrees to marry her in

front of a bewildered

audience. Not wanting

the public to think

she is "crazy," Kat

and Charlie decide to

keep up the pretenses

for a few months.

Gradually, they get to

The Reel Deal

Dedra

Cordle

know each other and these two star-crossed

non-lovers start to develop real feelings for

each other. Naturally, the pop star life and

all that it entails start to get in the way of

their budding relationship — as well as that

beautiful adulterer who just wants his

"Queen" back.

Because the character focus of the movie

centers around an international pop star,

this film is glorious to look at. The locations

are outstanding, the costumes are exquisite

and it even makes the third concert montage

feel somewhat epic rather than a bore. But

what this movie is missing — so much so that

it makes it a lesser version of the romantic

comedy — is the winsome ensemble.

Despite the magnetic power of Lopez

and Wilson (her appeal is less puzzling

than Wilson's, but he does have it), they

don't make a great central couple in this

film. They have chemistry, but it's a weird

kind where you think they would rather

burst into a friendly argument than play

kissy face. To make up for this lack, there

should have been a great ensemble around

them to balance out some of the weaker

and less credulous points but it just wasn't

there, though try as Sarah Silverman and

John Bradley might (they play Charlie's

friend and Kat's manager, respectively).

With a weak script and a lack of great

secondary characters who could infuse the

film with a much needed boost of humor,

"Marry Me" just kind of meanders around

and coasts on the charisma of its main stars.

Though it largely works because of that fact,

and thus creates those positive thoughts, it

still leaves behind a sensation that it could

have been so much more of a balm to soothe

the soul.

Grade: C

Dedra Cordle is a Messenger staff writer

and columnist.

"Hooray for Hollywood"

Cruisers on the air

of Oz," "Mamma Mia" and many more. Tickets are: $10

adult and $5 for children age 12 and under. Visit "Buy

Tickets" at gmcommunitychoir.org/buy-tickets.html.

You can also call Jeannie at 614-507-8022 or send an

email to GMACCTickets@gmail.com.

Visit www.gmcommunitychoir.org or email gmcommunitychoir@gmail.com.

for information.

The Groveport Sports Network and Rick

Cooper provides live play-by-play coverage

of Groveport Madison High School athletic

contests. The broadcast includes high definition

video and live audio. Each broadcast

begins 25 minutes prior to the scheduled

start time with the pre-game show. Tune in

after the game for interviews with players

and the head coach. The broadcasts can be

accessed free by anyone on their computer

or handheld device. All broadcasts are

available to view free on demand.

Go to www.facebook.com/groveportsportsnetwork.

The schedule - softball:

March 26 at 11 a.m. vs. Westerville North;

April 9 at 11 a.m. vs. Gahanna; April 11 at

5:15 p.m. vs. Lancaster; April 15 at 5:15

p.m. vs. Newark; April 30 at 10 a.m. vs.

Canal Winchester; May 2 at 5:15 p.m. vs.

Pickerington Central; May 4 at 5:15 p.m. at

Newark.

School Help Centers

The Columbus Metropolitan Library's

School Help Centers offer K-12 students

after-school help, plus 24/7 access to free

tools and resources. Students can get connected

with virtual tutors for one-on-one

help Monday through Friday from 2-11

p.m. using HelpNow. Masks are required

to visit School Help Centers. Hours vary by

library location. Visit

columbuslibrary.org/school-help for information.

School board meetings

The Groveport Madison Board of

Education meets the second and fourth

Wednesday of the month at 7 p.m. at the

District Service Center, 4400 Marketing

Place, Suite B, Groveport. The board may

also schedule special meetings, as needed.

Special Olympics

To advertise

in the

Messenger,

call 614-

272-5422.

The mission of Special Olympics Ohio

and its Groveport Special Olympics chapter

is to provide year round sports training

and competition in a variety of Olympic

type sports for intellectually disabled individuals.

For information contact local coor-

February 20, 2022 - GROVEPORT MESSENGER - PAGE 5

dinators Penny and Cassandra Hilty at

groveportspecialolympics@gmail.com or at

(614) 395-8992 or 395-6640. Donations

may be sent to Groveport Special

Olympics, P.O. Box 296, Groveport, OH

43125.

Dog license extension

Franklin County Auditor Michael

Stinziano announced that the 2022 dog

license renewal period has been extended

to March 31 in an effort to increase the

level of licensing in the county.

The extension will only apply to the

2022 dog license renewal period beginning

Dec. 1, 2021 and ending March 31, 2022,

after which the office will examine the

effectiveness of the extended renewal period

in increasing licensing.

The auditor's office will continue to

expand the opportunities for dog owners to

purchase licenses, including through the

auditor's mobile office, the Franklin

County Dog Shelter and Adoption Center,

and at various community events.

In addition to being required by state

law, dog licensing ensures that a dog has

been vaccinated against rabies, which is

required in Franklin County. It ensures

any lost dog is returned to their owner.

License fees help support the Franklin

County Dog Shelter and Adoption Center.

One-year, three-year and permanent

dog licenses can be purchased. Licenses

can be purchased online at

doglicense.franklincountyohio.gov, or at

the auditor's office license counter, 373 S.

High St., 21st floor in downtown

Columbus. The counter is open Monday

through Friday, from 8 a.m. to 4 p.m.

AUTO HOME

Beplerinsurance.com

614.837.4379

staff@beplerinsurance.com

3246 Noe Bixby Rd., Columbus, Ohio 43232

St. Mary Magdalene Church

473 S. Roys Ave.. Columbus, OH 43204

BOOK & MEDIA SALE

Friday, March 4th - 5pm-7pm

FISH TACO FRIDAY & BOOK SALE

Sunday, March 6th - 8am-1pm

BOOK SALE, PANCAKE BREAKFAST 10AM-NOON
---
PAGE 6 - GROVEPORT MESSENGER - February 20, 2022

www.columbusmessenger.com

New exhibit honors the area's military veterans

By Rick Palsgrove

Groveport Editor

Groveport loves its military veterans and is honoring

them with a special exhibit at Groveport Town Hall.

The exhibit, titled, "We Love Our Veterans," will be

held through March 25 at Groveport Town Hall, 648 Main

St. The city of Groveport's exhibit is recognizing honorably

discharged military veterans from all branches of service

who reside in Franklin County. The exhibit includes many

items from Motts Military Museum, the Groveport

Heritage Museum, the Central Ohio Military Museum,

and items from individuals and families.

"Bob Traphagan from Central Ohio Military Museum in

Harrisburg, Ohio, was very gracious and excited in displaying

items for our exhibit, filling two tables and two

cases," said Kristiauna Trelay, executive assistant at

Groveport Town Hall. "We also had a few families who provided

several items to display. Everything filled up quite

nicely, just as we envisioned for Town Hall's front lobby."

Trelay said there are many interesting items on display,

including:

•A metal punji spike, which was placed in the ground

and camouflaged with grass or leaves with the intent to

pierce through one's foot causing injury and infections during

the Vietnam War.

•An Honor Book about the Marine Corps that PFC

William R. Butsch received for his outstanding achievement

at the San Diego Marine Corps base during his training

period.

"Paired with this is an article referencing how Butsch's

sergeant stated he had only given out four books among

the 200 plus Marines he has recruited," said Trelay.

•In the Second Sino-Japanese War prior to World War

II, the American Volunteer Group pilots of Flying Tigers

carried notices known as a "blood chit" printed in Chinese

that informed the locals who may come across armed services

that foreign pilots were fighting for China and that

they were obliged to help them.

•A flag that was flown over Afghanistan during

Operation Freedom's Sentinel on July 6, 2015, that was

presented to American Legion-Lithopolis 677.

Plus many items of both a personal and military nature.

"It's important for us to honor and remember our veterans,

not just on Veterans Day," said Trelay. "Everyone has

a story, special memories, or belongings of a loved one who

has served our country, and the 'We Love Our Veterans

Exhibit' is a great way for loved ones to honor a family

member by sharing their story."

Additionally, Trelay said the city of Groveport wanted

"to spread love and brighten a veteran's day during these

cold months with Valentines For Veterans."

Town Hall staff collected more than 100 Valentines for

Veterans cards that were delivered to the VA Medical

Center in Chillicothe.

"Also students from Groveport Elementary and guests

at our Feb. 12 Sweetheart Dance wrote letters that will be

included," said Trelay. "We are excited to have over 100

cards before delivering them on Feb. 14. There were so

many that caught my eye, but I really love how creative

some of the cards are with adding extra decorations inside

with their messages."

For information about the We Love Our Veterans

Exhibit, call 614-836-3333.

Messenger photo by Rick Palsgrove

Some of the items now on display at the "We Love Our

Veterans," to be held through March 25 at Groveport

Town Hall, 648 Main St. For information on the exhibit,

call 614-836-3333.

Website:Expert-hvac.com

Phone:614-946-8461

Experthvacllc@gmail.com

Free estimates on

system installs

$70 preventative

maintenance (tune up)

Expert service - affordable prices - Locally owned from Groveport

Mention this ad and get $20 off a $85 service call.

Photo courtesy of the

Groveport Heritage

Museum

North

Grain

Co.

Our Pictorial Past by Rick Palsgrove

Pictured here is

the North Grain

Company in

Groveport as it

looked in 1962.

The structure,

built around 1902,

once stood on the west side of Front Street along the railroad tracks and operated

until the 1970s. A 1962 advertisement stated the company offered grain, feed,

seed, grinding, mixing, ground corn cobs, dog chow, rabbit chow, mink chow,

softener salt, lawn seed, coal, straw, lawn fertilizer, posts, agricultural lime, peat

moss, weed killer, wild bird seed, top soil, bag fertilizer, rat poison and Purina

chows.

Our Family Caring For Yours

Dr. Sacheen Garrison

5055 S. Hamilton Road

Groveport, OH 43125 614-836-0500

www.groveportsmiles.com

Wagnalls Library

Wagnalls Memorial Library is located

at 150 E. Columbus St., Lithopolis. all

(614) 837-4765 or visit www.wagnalls.org.

Southeast Library

The Southeast Branch of the Columbus

Metropolitan Library is at 3980 S.

Hamilton Road, Groveport. Visit columbuslibrary.org

or call 614-645-2275.

Groveport Garden Club

The Groveport Garden Club meets the

first Tuesday each month (unless otherwise

announced) at Groveport Zion

Lutheran Church, 6014 Groveport Road.

Anyone interested in gardening welcome.

Call Marylee Bendig at (614) 218-1097.
---
www.columbusmessenger.com

Groveport to buy shuttle bus

By Rick Palsgrove

Groveport Editor

Groveport's transportation department

is getting a new set of wheels.

Groveport City Council approved the

purchase of a 2019 Starcraft shuttle bus at

a cost of about $73,000. Though a 2019

model, the vehicle has never been titled,

previously purchased, or used.

According to Groveport Transportation

Director Bob Dowler, this 2019 model costs

$2,903 less than a 2022 model.

The new shuttle bus will replace one of

the city's more than six-year-old existing

shuttle buses. Dowler said the city has

three shuttle buses that are run as needed.

Dowler said the new shuttle bus, since it

has never been in service, will not have

maintenance issues like the older existing

shuttles.

The shuttle will be used in the city's

Groveport Rickenbacker Employee Access

Transit (GREAT) shuttle service.

Groveport launched GREAT in 2015 in

partnership with the Central Ohio Transit

Authority (COTA). The service is designed

to ease area mass transit issues and bring

employees to work in the city's industrial

parks. It augments COTA bus service in

the Rickenbacker Airport area and provides

last-mile service for employees to

businesses located within Groveport.

Groveport established GREAT in

response to area businesses' difficulties in

finding enough employees. Some potential

employees are unable to work in

Groveport's industrial parks because the

city's transportation needs were underserved

by the COTA bus system. City officials

said they did not want to lose large

employers due to a lack of workers and

that the shuttle service allows employers

to hire and retain their employees who

need, or choose, to use public transportation.

For information on the GREAT shuttle

service program visit www.groveport.org.

Street maintenance program

Council approved legislation regarding

the city's annual street maintenance program.

The city's 2022 budget includes

$300,000 for the program plus $75,000 for

drainage improvements.

Groveport City Administrator B.J. King

said the program includes crack sealing several

streets as well as repaving Briar Grove

Drive. There are also improvements planned

for Hickory Alley west of College Street and

Hickory Alley east of Brook Alley.

About Groveport city Council

Council holds its meetings at 6:30 p.m.

on the second and fourth Mondays of the

month. Its committee meeting is the third

Monday each month at 5:30 p.m. Meetings

are held in the municipal building, 655

Blacklick St., Groveport.

February 20, 2022 - GROVEPORT MESSENGER - PAGE 7

Two road projects set

By Linda Dillman

Staff Writer

Two major projects in and near

Lockbourne will have roads and a busy

intersection tied up for a few weeks when a

truck turnaround and roundabout are constructed

later this year.

"The Lockbourne Road and State Route

317 project will reconstruct the stop-controlled

intersection with a single-lane modern

roundabout. Street lighting will also be

added as part of this project," said Carla

Marable, communications director for the

Franklin County Engineer's Office.

During construction, Lockbourne Road

will be closed at the intersection of

Lockbourne Road and State Route 317.

Traffic will be detoured to Rathmell Road,

High Street, Rowe Road, Duvall Road,

Ashville Pike and Rickenbacker Parkway.

The closure could last about 45 days and

the project is expected to start this summer.

"Post construction, safety at the intersection

will be improved by reducing the speed of

all traffic entering and eliminating the types

of crashes that typically result in injuries,"

said Marable. "Traffic flow will be improved

due to a reduction in stopped traffic and a significant

reduction in traffic delays."

Also on the engineer's list for 2022 is the

construction later this spring of a cul-desac

between the Norfolk & Southern and

CSX railroad bridges along Commerce

Street in Lockbourne.

The project includes a turnaround area at

the intersection of Vause and Canal roads

with warning detection for over-height

trucks in advance of the railroad bridges.

During the construction phase,

Commerce Street will be closed between

Lockbourne and Canal roads for approximately

42 days, weather permitting.

Traffic will be detoured via Lockbourne

Road, State Route 317, and Canal Road.

"Post construction, over-height trucks

will be detected and warned via flashing

warning signs in advance of the low clearance

bridge," said Marable. "The newly

constructed cul-de-sac between the railroad

bridges and turnaround area at the

Vause Road and Canal Road intersection

will provide turnaround locations for these

trucks. Passenger vehicle traffic will still

be able to travel as they have previously."

The Franklin County Engineer's Office

is in charge of the approximately $450,000

Commerce Street improvement project,

which includes the advanced warning system.

The cost for the roundabout is approximately

$1.76 million and is also funded

through the engineer's office.

The timeline is dependent on the contractor.

More information will be available

following preconstruction meetings for the

pair of projects.
---
PAGE 8 - GROVEPORT MESSENGER - February 20, 2022

New in town

Pictured here is the management team of the newest Great

Clips, which recently opened in the Kroger Plaza in

Groveport. This salon features Great Clips' newest design.

Home Buyers

Guide

Mary I. Bendig

"Your Southeast Connection"

580 Main St.

Groveport, OH 43215

Cell: 614-218-1097

Office: 614-836-2210

Fax: 614-836-2214

marylee@maryleebendig.com

EVALYN IRWIN, SRES

REALTOR ®

614-353-1136 CELL

614-451-0808

Evalyn.Irwin@CBrealty.com

www.EvalynIrwin.CBintouch.com

3160 Kingsdale Center

Columbus, OH 43221

COLDWELL BANKER

REALTY

Owned by a subsidiary of Realtor Brokerage Group LLC

Next Edition - March 6th

Deadline: March 1st

Contact Doug Henry 614-272-5422

doughenry@columbusmessenger.com

www.columbusmessenger.com

County Commissioners

approve budget

At their final meeting of 2021, the

Franklin County Commissioners voted

unanimously in favor of a budget for 2022

that is balanced and contains no fee or tax

increases.

"The past two years have been challenging,

both for our residents and for local governments

all over the country," said Board

of Commissioners President, Kevin Boyce.

"Franklin County has been able to weather

this tough period well because we entered

the pandemic in a strong financial position

due to smart, conservative planning in

years past."

The commissioners oversee 14 county

agencies directly and are responsible for

the entire county's budgets, including those

of other elected officials and agencies.

Next year's all funds budget is $1.99 billion,

an increase of about 7.9 percent.

The all funds budget includes the general

fund as well as state and federal funding,

and about 40 percent of it is used to

fund human and social services such as the

Office on Aging, Job and Family Services,

ADAMH, and Children Services.

"We're proud of our reputation for financial

prudence, and to be able to continue to

invest in things like affordable housing and

economic development in order to keep our

county on the right track as we recover

from the pandemic and its health and economic

impacts," said Commissioner John

O'Grady.

The commissioners held three public

budget hearings this fall to consider an

original budget proposal from county

administration.

The final budget incorporates a few

changes from that proposal, including

adjustments for additional contracts to use

American Rescue Plan funding in 2022 and

to account for higher-than-expected sales

tax revenue.

The county's final 2022 general fund

budget is about $543 million, a 1.75 percent

increase over 2021. T

he general fund is mostly made up of

sales tax revenue and is largely used to

support public safety and justice initiatives

such as the sheriff and prosecutor's offices,

911 call centers, and the court system.

"Many central Ohio families were

already living paycheck-to-paycheck, and

the pandemic has only exacerbated the barriers

that already excited," said

Commissioner Erica Crawley. "I've always

said, show me you budget and that will

show me your values. Our value is to invest

intentionally in our people. Our efforts this

year have been focused on helping our

neighbors survive and meet their basic

needs, such as staying in their home."

The budget will allow the commissioners

to add to the county's "rainy day fund,"

which has been steady at $62.5 million for

some years.

Additional information about the 2022

budget can be found at budget.franklincountyohio.gov/Budgets/2022.
---
www.columbusmessenger.com

Volunteer for Trail Riders

The Groveport Recreation Department

looking for a volunteer to coordinate its

Trail Riders bicycling program. Group

rides are scheduled once per week from

May thru September. Each ride is approximately

10 to 16 miles in length round trip,

with lunch either during the ride or after

the ride. Rides typically take between two

and three hours and originate from a

Groveport park or local Metro Park. Most

of the riding is on a paved bicycle trail.

Interested persons should contact Kyle

Lund at 614-836-1000 /

klund@groveport.org.

Golden Cruiser Club

Groveport Madison Schools invites senior

residents of the district to attend athletic

and performing arts programs showcasing

the talents of its students. The

Golden Cruiser Club is a free program for

residents of the Groveport Madison School

District who are age 60 and older. Club

membership provides free access to all

school and district sponsored athletic contests,

plays, concerts, and other events. To

become a member of the Golden Cruiser

Club, obtain an application at

www.gocruisers.org, at any of the school

offices, or call (614) 492-2520. The requirements

for membership are that applicants

be age 60 or older and be a resident of

Groveport Madison Schools (verified by

the Franklin County Auditor's website).

Libraries reopen on Sunday

The Columbus Metropolitan Library

will reopen on Sundays starting Feb. 20. In

early November, CML announced that all

23 locations would close on Sundays

through at least early January due to

staffing challenges.In early January, CML

announced an extension of its Sunday closure.

Fully staffed, CML employs approximately

870 full- and part-time staff members.

CML's staffing count in early

November was 711. That number has since

risen to 760. Open library positions remain

posted on CML's Careers page.

To ensure social distancing, CML staff

may limit the number of people who can

attend some of its programs. CML asks

that customers not enter its buildings if

they are experiencing symptoms of

COVID-19, or if they recently came in contact

with someone who is experiencing

symptoms.

Masks are required in all CML locations

by order of the City of Columbus and

Library Board of Trustees. Children under

age two are not required to wear a mask.

CW Library Branch

The Canal Winchester Branch of the

Columbus Metropolitan Library, 115

Franklin St., is located in the rear portion

of the former school at 100 Washington St.

For information visit www.columbuslibrary.org

or call 614-645-2275.

February 20, 2022 - GROVEPORT MESSENGER - PAGE 9

Messenger

Groveport

BEST COMMUNITY NEWSPAPER in Groveport

Pick-Up At These

Locations:

Groveport Senior Village - 5124 Hendron

Madison Township Office - 4575 Madison Lane

Paddock Pub/Groveport Golf Ctr. - 1005 Richardson Rd.

Southeast Library - 3980 S. Hamilton Rd.

Asbury Methodist Church - 4760 Winchester Pike

Groveport Municipal Building - 655 Blacklick St.

Groveport Town Hall - 648 Main St.

Dollar General Store - Groveport Rd. & Route 317

Flyers PIzza/Groveport - 296 Main St.

Ace Hardware - 726 Main St.

Little Italy Pizza - 619 Main St.

Huntington Bank/Groveport - 556 Main St.

Groveport Recreation Center - 7370 Groveport Rd.

READ US ONLINE: www.columbusmessenger.com

CLASSIFIED ADS

Deadlines: Groveport and West editions, Wednesdays at 5 p.m., • South/Canal Winchester, Grove City, Madison editions, Tuesdays at 5 p.m.

All editions by phone, Tuesdays at 5 p.m. • Service Directory, Tuesdays at 5 p.m.

xInformation

IQ TESTED

Offering for a limited time,

free intelligence and personality

tests. Your IQ, personality and

aptitude determine your future.

Know them. No obligations.

CHURCH OF SCIENTOLOGY

OF CENTRAL OHIO

1266 Dublin Road, Columbus, Ohio 43215

Information

ASSOCIATION ADS

Become a Published

Author. We want to Read

Your Book! Dorrance

Publishing-Trusted by

Authors Since 1920

Book manuscript submissions

currently being reviewed.

Comprehensive Services:

Consultation, Production,

Promotion and Distribution. Call

for Your Free Author's Guide 1-

866-482-1576 or visit

http://dorranceinfo.com/macnet

Don't let the stairs limit

your mobility! Discover

the ideal solution for

anyone who struggles on

the stairs, is concerned

about a fall or wants to

regain access to their

entire home. Call

AmeriGlide today! 1-844-

317-5246

DENTAL INSURANCE

from Physicians Mutual

Insurance Company.

Coverage for 350 plus

procedures. Real dental

insurance - NOT just a

discount plan. Do not wait!

Call now! Get your FREE

Dental Information Kit with

all the details! 1-877-553-

1891

www.dental50plus.com/

macnet#6258

ASSOCIATION ADS

Update your home with

beautiful new blinds &

shades. Free in-home

estimates make it

convenient to shop from

home. Professional

installation. Top quality -

Made in the USA. Free

consultation: 877-212-

7578. Ask about our

specials!

LONG DISTANCE MOVING:

Call Today for a FREE

QUOTE from America's Most

Trusted Interstate Movers.

Let us take the stress out of

moving! Call now to speak to

one of our Quality Relocation

Specialists: 877-541-6320

Business Owners.

Eliminate credit card

processing fees 100%,

pass on a legal 4% noncash

charge to the

customer. Chain stores

welcome. 337-849-8083

ASSOCIATION ADS

Long Distance moving.

Call for a free quote from

America's Most Trusted

Interstate Movers. Let us

take the stress out of

moving! Speak to a

relocation specialist! Call:

888-721-2194

Wesley Financial Group,

LLC Timeshare Cancellation

Experts Over

$50,000,000 in timeshare

debt & fees cancelled in

2019. Get free

informational package &

learn how to get rid of your

timeshare!

Free

consultations. Over 450

positive reviews. 888-965-

0363

Donate Your Car To

Veterans Today! Help and

Support our Veterans.

Fast - FREE pick up.

100% tax deductible. Call

1-800-245-0398

Become a Published

Author. We want to Read

Your Book! Dorrance

Publishing Trusted Since

1920 Consultation,

Production, Promotion and

Distribution. Call for Free

Author's Guide 1-833-719-

3029 or visit

http://dorranceinfo.com/acp

ASSOCIATION ADS

HOME BREAK-INS take

less than 60 SECONDS.

Don't wait! Protect your

family, your home, your

assets NOW for as little as

70¢ a day! Call 866-409-

0308

HughesNet - Finally, superfast

internet no matter

where you live. 25 Mbps

just $59.99/mo! Unlimited

Data is Here. Stream

Video. Bundle TV &

Internet. Free Installation.

Call 866-499-0141

AMERICAN & FOREIGN

CLASSIC CARS AND

MOTORCYCLES

WANTED. $$PAYING

CA$H$$ Corvettes,

Mustangs, Jaguars, Austin

Healeys, Broncos,

Blazers, Ram Chargers,

AMX, and Triumphs

KRMiller1965@yahoo.com

717-577-8206

xCraft Shows

ADVERTISE

Your Spring Craft Show

Bazaar or Bake Sale!

Call Kathy

272-5422

For More Info

Craft Shows
---
PAGE 10 - GROVEPORT MESSENGER - February 20, 2022

www.columbusmessenger.com

CLASSIFIED ADS

Deadlines: Groveport and West editions, Wednesdays at 5 p.m., • South/Canal Winchester, Grove City, Madison editions, Tuesdays at 5 p.m.

All editions by phone, Tuesdays at 5 p.m. • Service Directory, Tuesdays at 5 p.m.

xEmployment

NOW HIRING BUS DRIVERS

$19.00 an Hour

CDL Drivers get $2,000 Sign On Bonus

Non-CDL $1,000 Sign On Bonus

Paid Training

Apply @ 4400 Marketing Pl., Groveport (Door 16) or http://careers.nellc.com/

614-836-4962

ASSOCIATION ADS

Paying top cash for men's

sportwatches! Rolex,

Breitling, Omega, Patek

Pillippe, Heuer, Daytona,

GMT, Submariner and

Speedmaster. Call 833-

603-3236

Stroke & Cardiovascular

disease are leading

causes of death according

the AHA. Screenings can

provide peace of mind or

early detection! Call Life

Line Screening to

schedule a screening.

Special offer 5 screenings

for $149.. 1-833-549-4540

New construction

plumbers needed:

Small company with over

25 years in business offering:

• Competitive pay

• Paid vacation • Matching IRA

• 5 paid holidays • Work vehicle

Contact Plumbing Solutions Inc.

(614) 235 6007

PlumbingSolutionsColumbus.com

ASSOCIATION ADS

NEED IRS RELIEF

$10K-$125K+ Get Fresh

Start or Forgiveness.

Call 1-844-431-4716

Monday through Friday

7am-5pm PST

Stop worrying! SilverBills

eliminates the stress &

hassle of bill pmts.

Household

bills

guaranteed to be paid on

time as long as

appropriate funds are

available. No computer

necessary. Free trial/

custom quote 1-855-703-

0555

Internet &WIFI Starts at

$49 Call us Today to Get

Started. Find High-Speed

Internet with Fiber Optic

Technology No Credit

Check, No SSN Required.

Call us Today 866-396-

0515

ASSOCIATION ADS

Stroke & Cardiovascular

disease are leading

causes of death according

the American Heart

Association. Screenings

can provide peace of mind

or early detection! Call

Life Line Screening to

schedule your screening.

Special offer - 5

screenings for $149. 1-

866-518-8391

Looking for assisted living,

memory care, or

independent living? A

Place for Mom simplifies

the process of finding

senior living at no cost to

your family. Call 1-833-

910-1576 today!

Train online to do medical

biling! Become a Medical

Office Professional at CTI!

Get trained & certified to

work in months! 888-572-

6790. The Mission,

Program Information and

Tuition is located at

CareerTechnical.edu/cons

umer-information. (M-F 8-

6 ET.

!!OLD GUITARS WANT-

ED!! GIBSON, FENDER,

MARTIN, Etc. 1930's to

1980's. TOP DOLLAR

PAID. CALL TOLL FREE

1-866-433-8277

Ginger's

Little Lamb

Daycare

NOW HIRING

Part-Time

Preschool Teacher

Hours: 1:30pm to 5:30pm Monday thru Friday

working with 3's & 4's year old classes.

Must be 18 years old and

have a high school diploma.

CALL GINGER'S LITTLE LAMB DAYCARE

614-395-9345

ASSOCIATION ADS

Put on your TVEars &

hear TV w/unmatched

clarity. TVEars Originaloriginally

$129.95 - now

w/this special offer oly

$59.95 w/code MCB59! 1-

833-530-1955

Aloe Care Health, medical

alert system. The most

advanced medical alert

product on the market.

Voice-activated! No wi-fi

needed! Special offer

w/code CARE20 for $20

off Mobile Companion. 1-

855-521-5138

Hero takes stress out of

managing medications.

Hero sorts & dispenses

meds, sends alerts at

dose times & handles

prescription refill &

delivery for you. Starting

at $24.99/month. No

initiation fee. 90-day riskfree

trial! 1-888-684-0280

Looking for assisted living,

memory care, or

independent living? A

Place for Mom simplifies

the process of finding

senior living at no cost to

your family. Call 1-833-

386-1995 today!

Donate your car to kids!

Fast free pickup running

or not - 24 hour response.

Maximum tax

donation. Help find missing

kids! 877-831-1448

Attention oxygen therapy

users! Inogen One G4 is

capable of full 24/7 oxygen

delivery. Only 2.8

pounds. Free info kit.

Call 877-929-9587

VIAGRA and CIALIS

USERS! 50 Generic pills

SPECIAL $99.00. 100%

guaranteed. 24/7 CALL

NOW! 888-445-5928

Hablamos Espanol

ASSOCIATION ADS

READER

ADVISORY

The National Trade Association

we belong to has

purchased the following

classifieds. Determining

the value of their service

or product is advised by

this publication. In order

to avoid misunderstandings,

some advertisers do

not offer "employment"

but rather supply the

readers with manuals, directories

and other materials

designed to help

their clients establish mail

order selling and other

businesses at home. Under

NO circumstance

should you send any

money in advance or give

the client your checking,

license ID or credit card

numbers. Also beware of

ads that claim to guarantee

loans regardless of

credit and note that if a

credit repair company

does business only over

the phone it's illegal to request

any money before

delivering its service. All

funds are based in US

dollars. Toll Free numbers

may or may not

reach Canada. Please

check with the Better

Business Bureau 614-

486-6336 or the Ohio Attorney

General's Consumer

Protection Section

614-466-4986 for more

information on the company

you are seeking to

do business with.

Elminate gutter cleaning

forever! LeafFilter, the most

advanced debris-blockiing

gutter protection. Schedule

Free LeafFilter Estimate

today. 15% off Entire

Purchase. 10% Senior &

Military Discounts. Call 1-

855-995-2490

Employment

"HELP WANTED"

SIGN

NOT WORKING?

TO ADVER

VERTISE

Call Kathy at

The Columbus Messenger

ASSOCIATION ADS

Replace your roof with the

best lookng and longest

lasting material! Steel

from Erie Metal Roofs!

Three styles and multiple

colors available.

Guaranteed to last a

lifetime! Limited Time

Offer - $500 Discount +

Additional 10% off install

(for military, health

workers & 1st responders)

Call Erie Metal Roofs: 1-

855-338-4807

The Generac PWRcell

solar plus battery storage

system. Save money,

reduce reliance on

grid, prepare for outages

& power your home. Full

installation services. $0

down financing option.

Request free no obligation

quote. Call 1-855-

270-3785

VIAGRA & CIALIS! 60

pills for $99. 100 pills for

$150 FREE shipping.

Money back guaranteed!

1-844-596-4376

SELL YOUR ANTIQUE

OR CLASSIC CAR.

Advertise with us. You

choose where you want

to advertise. 800-450-

6631 visit macnetonline.

com for details.

DISH TV $64.99 FOR 190

Channels + $14.95 High

Speed Internet. Free Installation,

Smart HD DVR

Included, Free Voice Remote.

Some restrictions

apply. Promo expires

1/21/22. 1-855-270-5098

614-272-5422

ASSOCIATION ADS

Eliminate gutter cleaning

forever! LeafFilter, the

most advanced debrisblocking

gutter protection.

Schedule a FREE LeafFilter

estimate today. 15% off

Entire Purchase. 10% Senior

& Military Discounts.

Call 1-855-791-1626

Aloe Care Health, medical

alert system. The most

advanced medical alert

product on the market.

Voice-activated! No wi-fi

needed! Special offer-call

and mention offer code

CARE20 to get $20 off

Mobile Companion. Call

today-1-877-728-4065

Attention: If you or aloved

one worked around the

pesticide Roundup

(glyphosate) for at least 2

years and has been diagnosed

with non-Hodgkin's

lymphoma, you may be

entitled to compensation.

855-341-5793

The Generac PWRcell, a

solar plus battery storage

system. SAVE money,

reduce your reliance on

the grid, prepare for power

outages and power

your home. Full installation

services available. $0

Down Financing Option.

Request a FREE, no obligation,

quote today. Call

1-866-783-0292

ASSOCIATION ADS

Looking for auto insurance?

Find great deals

on the right auto insurance

to suit your needs.

Call today for a free

quote! 866-924-2397

Life Alert. One press of a

button sends help fast

24/7! At home and on

the go. Mobile Pendant

with GPS. Free first aid

kit (with subscription).

877-537-8817 Free brochure

Want Faster & Affordable

Internet? Get internet

service today with

Earthlink. Best internet &

WiFi Plans. Call us Today

to Get Started. Ask

about our specials! 866-

396-0515

IMPORTANT

NOTICE

The following states: CA,

CT, FL, IA, IL, IN, KY,

LA, MD, ME, MI, MN,

NE, NC, NH, OH, OK,

SC, SD, TX, VT and WA

requires seller of certain

business opportunities to

register with each state

before selling. Call to

verify lawful registration

before you buy.

AT&T Internet. Starting

at $40/month w/12-mo

agmt. 1 TB of data/mo.

Ask how to bundle &

SAVE! Geo & svc restrictions

apply. 1-888-796-

8850
---
www.columbusmessenger.com

xCome & Get It!

.

COME AND GET IT

Deadlines are Tuesdays by 5 pm.

Call For Publication Schedule 614-272-5422

Need to Get Rid of Something Fast - Advertise It Here For FREE!

FREE Garden Straw for gardens or bedding. Call for appointment for pickup.

Circle S Farms, 9015 London-Groveport Road, Grove City, 43123

Grove City - 614-878-7980

WOOD from two trees that we cut down two years ago. FREE.

Call me and let me know when you canp ick it up.

TH - Canal Winchester - 614-949-8963

Come and Get It! is a bi-weekly column that offers readers an opportunity to pass

along surplus building materials, furniture, electronic equipment, crafts, supplies,

appliances, plants or household goods to anybody who will come and get them - as

long as they're FREE. NO PETS! Just send us a brief note describing what you want to

get rid of, along with your name, address and phone number. Nonprofit organizations

are welcome to submit requests for donations of items.

Send information to The Columbus Messenger, Attention: Come and Get It, 3500

Sullivant Ave., Columbus, OH43204. Deadline is Tuesdays by 5 pm for following

Mondays publication. Messenger Newspapers is not responsible for any

complications that may occur. Please contact us when items are gone. 272-5422

Come & Get It!

xInformation

WORRIED? STRESSED OUT?

DEPRESSED?

BUY AND READ

D I A N E T I C S

THE MODERN SCIENCE OF MENTAL HEALTH

BY L. RON HUBBARD

May you never be the same again. Price: $25

CALL 614-974-3672

1266 Dublin Road, Columbus, Ohio 43215

Information

ASSOCIATION ADS

READY TO BUY, SELL

OR RENT YOUR

VACATION HOME OR

HUNTING CAMP?

Advertise it here and in

neighboring publications.

We can help you. Contact

MACnet MEDIA @

800-450-6631 or visit our

site at MACnetOnline.

com

DENTAL INSURANCE-

Physicians Mutual Insurance

Company. Covers

350 procedures. Real

insurance - not a discount

plan. Get your free

dental Info kit! 1-888-

623-3036 . www.dental50plus.com/58

#6258

ASSOCIATION ADS

The bathroom of your

dreams for as little as

$149/month! BCI Bath &

Shower. Many options

available. Quality

materials & professional

installation. Senior &

Military Discounts

Available. Limited Time

Offer - FREE virtual inhome

consultation now

and SAVE 15%! Call

Today! 1-877-540-2780

BATH & SHOWER UP-

DATES in as little as

ONE DAY! Affordable

prices - No payments for

18 months! Lifetime warranty

& professional installs.

Senior & Military

Discounts available. Call

855-761-1725

ASSOCIATION ADS

HEARING AIDS!! Bogo

free! High-quality rechargeable

Nano hearing

aids priced 90% less

than competitors. Nearly

invisible! 45-day money

back guarantee! 833-

669-5806

GENERAC Standby Generators

provide backup

power during utility power

outages, so your home

and family stay safe and

comfortable. Prepare

now. Free 7-year extended

warranty ($695 value!).

Request a free

quote today! Call for additional

terms and conditions.

1-855-465-7624

Directv Now. No Satellite.

$40/mo 65 Channels.

Stream news, live

events, sports & on demand

titles. No contract/

commitment. 1-866-825-

6523

DISH TV $64.99 190

Channels + $14.95 high

speed internet. FREE installation,

Smart HD DVR

included. Free Voice Remote.

Some Restrictions

apply. Promo Expires

1/21/22. 1-833-872-2545

Protect your home w/home

security monitored by

ADT. Starting at $27.99/

mo. Get free equipment

bundle including keypad,

motion sensor, wireless

door & windows sensors.

833-719-1073

New authors wanted!

Page Publishing will help

self-publish your book.

Free author submission

kit! Limited offer! 866-

951-7214

Pest Control

Find Pest Control Experts

Near You! Don't let

pests overtake your

home. Protect your loved

ones! Call today to find

great deals on Pest

Control Services - 833-

872-0012

ASSOCIATION ADS

Wants to purchase minerals

and other oil and gas

interests. Send details to

P.O. Box 13557, Denver,

CO. 80201

HughesNet Satellite Internet

- Finally, no hard

data limits! Call today for

speeds up to 25mbps as

low as $59.99/mo! $75

gift card, terms apply. 1-

844-863-4478

HEARING AIDS!!

Buyone/get one FREE!

Nearly invisible, fully rechargeable

IN-EAR

NANO hearing aids

priced thousands less

than competitors! 45-day

trial! Call1-877-436-0234

Thinking about installing

a new shower? American

Standard makes it

easy. FREE design consulation.

Enjoy your

shower again! Call 1-

833-769-0995 today to

see how you can save

$1,000 on installation, or

visit www.newshowerdeal.com/mac

GENERAC Standby

Generators provide

backup power during

power outages, so your

home & family stay safe &

comfortable. Prepare now.

FREE 7-yr extended

warranty $695 value!

Request a free quote

today. Call for terms &

conditions. 1-844-334-

8353

HELP WANTED

FT Barber needed for well

established Barber Shop

in Upper Arlington.

Alfred's Barber Shop.

614-457-5432

Ask for Ronda

MISC FOR

SALE

KEGERATOR for Sale

All accessories incl plus

half barrel beer keg incl.

Runs great! $350 or best

offer. Call 614-272-7090

WANT TO BUY

WE BUY JUNK CARS

Call anytime 614-774-6797

ANTIQUES

WANTED

Victrolas, Watches,

Clocks, Bookcases

Antiques, Furn.

Jeff 614-262-0676

or 614-783-2629

WANTS TO Purchase

minerals and other oil &

gas interests. Send details

to: P.O. Box 13557,

Denver, CO 80201

We Buy Junk Cars &

Trucks. Highest Prices

Paid. 614-395-8775

BUYING VINYL RECORDS.

LPs and 45s - 1950-80s

Rock, Pop, Jazz, Soul.

614-831-0383

VACATION RENTALS

Englewood, Florida

Palm Manor Resort

Within minutes of white

sand Gulf beaches,

world famous Tarpon

fishing, golf courses, restaurants/shopping,

Bush

Gardens. 2 BR 2 BA

condos with all ammenities,

weekly/monthly, visit

www.palmmanor.com

or call 1-800-848-8141

February 20, 2022 - GROVEPORT MESSENGER - PAGE 11

xClassified Services

CONCRETE

CONCRETE

614-297-7320

CHRIS RUH SR.

Cement Contractor

BASEMENT

WATERPROOFING

Walker's Basement

Waterproofing. LLC

614-359-4353

CARPET CLEANING

CARPET CLEANING

Any 5 areas ONLY $75

Home Powerwash-$99-$200

614-805-1084

Specializing in Pet Odors

CLEANING

Looking for Mrs. Clean?

For excellent cleaning serv

at reas. rates w/great refs,

dependable. 10% Seniorr

Disc. Free Est. Also runs

Errands - Gwen 614-226-5229

CONCRETE

AJ's Concrete,

Masonry

Good Work - Fair Prices

Block Foundations

Driveways • Sidewalks

Epoxy/Overlay Floors

Bonded-Ins. • Free Ests.

614-419-9932

www.hastingsnsons.com

Driveways & Extensions

Patio & Walkways,

Porches & Steps,

Garage/Basement Floors

Hot Tub/Shed Pads,

Stamped/colored concrete

Sealing of new &

existing concrete.

FREE ESTIMATES

Contact Adam

614-756-1754

hastingsandsons.

columbus@gmail.com

INFORMATION

Serving Central Ohio

Since "1970"

B-B-B, Angis List, Super Service

Basement Walls

Repair, Clean & Seal

2/13 A

GUTTERS

Bates & Sons

GUTTER CLEANING

5 ★ Google Reviews

614-586-3417

HEATING

HEATING

Complete System Clean & Check

$49.95

Free Carbon

Monoxide Testing

Gas-Oil-Electric Heat/Pumps

All Makes • All Models

45 yrs exp. • Sr. Discount

614-351-9025

INFORMATION

FOR ONLY

$74.00

You Can Reach

Over 41,000 Homes

In

Groveport & South/

Canal Winchester

For Info Call

272-5422

INFORMATION

LOOK TO

THE PROFESSIONALS

IN OUR

SERVICE DIRECTORY

For Service

"That Is Out Of This World"

2/13 A

HOME

IMPROVEMENTS

SINCE 1973

Phil Bolon Contr.

Windows & Siding

Decks, Kitchens, Baths

Room Additions,

Flooring, Roofing

Bsmt Waterproofing

Deal With Small Non-Pressure Co.

47 Yrs. Exp. - Refs. Avail.

Lic.-Bond-Ins.

Free Est. - Financing Avail.

Member BBB Of Cent. OH

O.C.I.E.B. ID #24273

614-419-3977

or 614-863-9912

HOME

REMODELING

Handyman Remodeling

Over 35 yrs exp.

Larry 614-376-7006

LAWN CARE

LET US MAINTAIN

YOUR LAWN & GARDEN

FOR YOU

Summer, Spring,

Winter or Fall

WE DO IT ALL!!!!

Lawn Cuts, Edging,

Trees & Shrubs, Garden,

Mulching, Hauling,

Garden Pond &

Home Maint.

Free Ests. Low Rates

$20 & Up

Kevin - 614-905-3117

Classified Services

2/13

A/M

KLAUSMAN HOME

IMPROVEMENT

Siding-Windows-

Doors-Roofing-Soffit-

Fascia-Gutters-Trim

Earn FREE Seamless

Gutters with Siding Over

1000 Sq. Ft.

FREE Shutters with

Soffit & Trim

EPA Certified

Member of BBB

Financing Available

Over 20 yrs exp. • Free Est.

Licensed-Bonded-Insured

Owner & Operator

James 614-419-7500

C&JHandyman

Services LLC

Minor Plumbing

& Electric

Install Hot Water Tanks,

Dishwashers & Disposals

Also Fencing &

Interior/Exterior Painting

Free Est. ~ 18 Yrs. Exp.

CDC/EPA Approved Guidelines

614-284-2100

PAINTING

Painter Over 30 Yrs. Exp.

Free Est. Reas. Rates

Daniel - 614-226-4221

2/27 A

11/7 A

PLASTERING

DRYW

YWALL &

PLASTER

1/30

A&M

REPAIR

AIR

Textured Ceilings

614-551-6963

Residential/Commercial

BIA

PLUMBING

MYERS

PLUMBING

Exp. Expert Plumbing

New Work & Fast Repairs

Lic. - Permit Available

Water • Sewer • Gas

614-633-9694

CHRIS'

PLUMBING

"Plumbing & Drain Professional

That You Can Count On"

24 Hrs., 7 Days/Week

No Overtime Charges

24 Yrs. Exp. in Plumbing &

Drain Cleaning Field

Call For A Free Phone Estimate

$100.00 For Any Small Drain

614-622-4482

30% OFF with AD

POWER WASHING

Bates & Sons

Soft Wash & Powerwash

5 ★ Google Reviews

614-586-3417

SEWING MACHINE

REPAIR

REPAIR all makes 24 hr.

service. Clean, oil, adjust

in your home. $49.95 all

work gtd. 614-890-5296

SNOW REMOVAL

GOOD NEIGHBORS

LAWN CARE

WINTER IS HERE!

"Leave Snow Removal To Us"

SNOW REMOVAL &

SALT SPREADING

Taking on New Accounts In The Area

Servicing Resid. & Comm.

12/19

Free Estimate E/SE

614-238-9237

614-937-0658

Ask For Bob

TREE SERVICES

BURNS TREE SERVICE

Trimming, Removal &

Stump Grinding.

614-584-2164

Brewer & Sons Tree Service

• Tree Removal

• Tree Trimming 2/13

A&M

• Stump Grinding

• Bucket Truck Services

Best Prices • Same Day Service

614-878-2568

2/13 A&M

2/27 A
---
PAGE 12 - GROVEPORT MESSENGER - February 20, 2022

www.columbusmessenger.com

Agriculture and pharmacy programs get accredited

Two high school programs at Eastland-

Fairfield Career & Technical Schools have

created new pathways for its students by

earning industry accreditation in their

respective fields.

The pharmacy program, located at the

Fairfield Career Center, is continuing to

offer additional growth opportunities

through its accreditation with Pharmacy

Technician Certification Board, while at

Eastland Career Center the agriculture

and heavy equipment program has become

one of just two Ohio high schools to be recognized

by the Associated Equipment

Distributors.

The agriculture and heavy equipment

program at Eastland Career Center is now

recognized as an accredited program by the

Associated Equipment Distributors. AED

is an international trade association representing

companies involved in the distribution,

rental and support of equipment used

in construction, mining, forestry, power

generation, agriculture and industrial

applications. It is also the only industrystandard

training to be recognized.

Accreditation was not available to high

school programs until 2019. With acceptance

as an accredited member, the

Agriculture and Heavy Equipment program,

and its students, will be only one of

two high schools to have such recognition.

With AED accreditation, agriculture

and heavy equipment students from

Eastland-Fairfield have experienced

newly-opened doors contributing toward

their futures. Many businesses in the

industry are looking for employees that

come from AED-accredited programs,

which often means greater exposure to

highly-recognized companies, higher-paying

jobs, and access to both at accelerated

rates.

By completing the program at Eastland-

Fairfield, students will also earn college

credit that will count for up to six course

credits, translating into up to eight fewer

weeks of post-secondary school. All

Eastland-Fairfield students that complete

the program will also graduate on the cusp

of earning bronze level status in the industry

field.

Earlier this school year, the pharmacy

technician program at Fairfield Career

Center completed the process and was notified

that it will continue to be accredited by

the Pharmacy Technician Certification

Board.

The PTCB is the accrediting body that

possesses a unifying standard for pharmacy

technician programs when addressing

medication safety and patient care. By

completing a pharmacy technician program

accredited by the PTCB, learners are then

eligible to take the PTCE (Pharmacy

Certification Board Exam), which is more

widely accepted throughout the industry

and opens doorways to future opportunities.

By completing a PTCB accredited program,

learners are not required to become

state board approved before taking the

exam and are not required to work the necessary

500 hours under physician supervision

before taking the exam. PTCB-accredited

programs also prepare Pharmacy

Technician program completers the flexibility

to explore both retail or institutional

(ex: hospital, clinic, dispensary) pharmacy

across the country.

Being a PTCB accredited program also

makes additional certifications available to

students looking to create their own custom-built

experience to prepare for life

after graduation. These certificates allow

students to specialize in specific areas of

the pharmacy technician industry, heighten

the level of tasks they are certified to

complete, and increase the level of independent

engagement with patients. They

will also prepare individuals for their next

steps be it entering the workforce, medical

school, or a post-secondary pharmaceutical

program.

Bulletin Board

Have a Special Event, Business Card, Wedding Announcement, News Flash, Baseball Sign-ups

Advertise on this page for as low as $20 00

Barber Museum

The National Barber Museum in Canal Winchester

is located at 135 Franklin St. (behind the former CW

High School building). The museum, housed in approximately

5,000 square feet, showcases art, artifacts,

and memorabilia from decades of the barbering profession.

For information call(614) 837-8400.

Winter Hike

The Lockbourne Winter Hike will be held Feb. 19 at

11 a.m. at Locke Meadow Park, 154 Commerce St.,

Lockbourne.

LISTED BELOW ARE SAMPLES ONLY

Valentines for Veterans

Spread the love and brighten a veteran's day with

a Valentine's Day card. Visit Groveport Town Hall, 648

Main St., Groveport, before Feb. 14 to drop off or design

a Valentine's Day card to mail to the Chillicothe

VA Medical Center. For information call 614-836-3333.

American Legion Post 799

American Legion Post 799 holds its monthly meetings

on the second Thursday of each month at 7 p.m.

at the Prairie Township Fire Station, 123 Inah Ave. Anyone

interested in joining the legion should attend. For

information, contact Commander Vernon Hall at 878-

9914.

Baseball Sign-Ups

Georgian Heights Hawks is having Baseball Sign-ups

for ages 8-14 at the Elementary school on Monday,

March 7th, 2021 from 4pm-6pm. Please bring birth

certificate. For more info.call Rex 312-777-0000.

Wedding Announcement

Henry & Oaks

GROVE CITY - Joe Henry & Susan Oaks are announcing

their approaching wedding. Parents of the couples are

Jack & Sue Henry of Grove City, Bob & Melissa Oaks of

Upper Arlington. Vows are set for 3:30 Saturday, July

31, 2021 at St. Andrews Church.

TO ADVERTISE CONTACT DOUG AT 614-272-5422 • doughenry@columbusmessenger.com