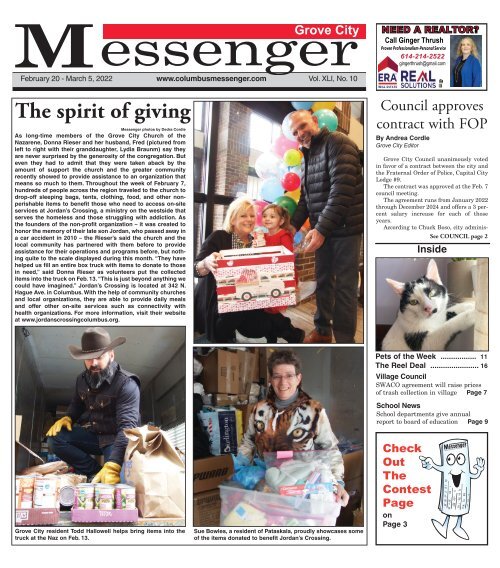 Grove City Messenger - February 20th, 2022
You also want an ePaper? Increase the reach of your titles
YUMPU automatically turns print PDFs into web optimized ePapers that Google loves.
Messenger

Grove City

February 20 - March 5, 2022 www.columbusmessenger.com Vol. XLI, No. 10

NEED A REALTOR?

Call REALTOR? Ginger Thrush

Proven Professionalism-Personal Service

Call Ginger Thrush

614-214-2522

614-214-2522

gingerthrush@gmail.com

The spirit of giving

Messenger photos by Dedra Cordle

As long-time members of the Grove City Church of the

Nazarene, Donna Rieser and her husband, Fred (pictured from

left to right with their granddaughter, Lydia Braunm) say they

are never surprised by the generosity of the congregation. But

even they had to admit that they were taken aback by the

amount of support the church and the greater community

recently showed to provide assistance to an organization that

means so much to them. Throughout the week of February 7,

hundreds of people across the region traveled to the church to

drop-off sleeping bags, tents, clothing, food, and other nonperishable

items to benefit those who need to access on-site

services at Jordan's Crossing, a ministry on the westside that

serves the homeless and those struggling with addiction. As

the founders of the non-profit organization – it was created to

honor the memory of their late son Jordan, who passed away in

a car accident in 2010 – the Rieser's said the church and the

local community has partnered with them before to provide

assistance for their operations and programs before, but nothing

quite to the scale displayed during this month. "They have

helped us fill an entire box truck with items to donate to those

in need," said Donna Rieser as volunteers put the collected

items into the truck on Feb. 13. "This is just beyond anything we

could have imagined." Jordan's Crossing is located at 342 N.

Hague Ave. in Columbus. With the help of community churches

and local organizations, they are able to provide daily meals

and offer other on-site services such as connectivity with

health organizations. For more information, visit their website

at www.jordanscrossingcolumbus.org.

Council approves

contract with FOP

By Andrea Cordle

Grove City Editor

Grove City Council unanimously voted

in favor of a contract between the city and

the Fraternal Order of Police, Capital City

Lodge #9.

The contract was approved at the Feb. 7

council meeting.

The agreement runs from January 2022

through December 2024 and offers a 3 percent

salary increase for each of those

years.

According to Chuck Boso, city adminis-

See COUNCIL page 2

Inside

Pets of the Week ................. 11

The Reel Deal ....................... 16

Village Council

SWACO agreement will raise prices

of trash collection in village Page 7

School News

School departments give annual

report to board of education Page 9

Grove City resident Todd Hallowell helps bring items into the

truck at the Naz on Feb. 13.

Sue Bowles, a resident of Pataskala, proudly showcases some

of the items donated to benefit Jordan's Crossing.

Check

Out

The

Contest

Page

on

Page 3

Messenger
---
PAGE 2 - GROVE CITY MESSENGER - February 20, 2022

Prepare for unexpected

power outages with a

Generac home standby

generator

REQUEST A FREE QUOTE!

866-643-0438

FREE

7-Year Extended Warranty*

A $695 Value!

Limited Time Offer - Call for Details

Special Financing Available

Subject to Credit Approval

A FREE ESTIMATE

15 10 5

YOUR ENTIRE

PURCHASE *

% % %

OFF + OFF + OFF

C.M.T

MOWER REPAIRS

614-875-5830

6446 HARRISBURG PIKE, ORIENT, OHIO 43146

Pick-up and Delivery

"We have the lowest price in town!"

Serving Your Community

Malek &

ATTORNEYS AT LAW Malek

Proudly Announcing

Adding New Attorneys

To Serve You!

WORKERS'

COMPENSATION

PERSONAL INJURY

WRONGFUL DEATH

SLIP & FALL INJURY

DOG BITE INJURY

*To qualify, consumers must request a quote, purchase,

install and activate the generator with a participating dealer.

Call for a full list of terms and conditions.

SENIOR & MILITARY

DISCOUNTS

| Promo Number: 285

Since 1972

YEAR-ROUND

CLOG-FREE GUARANTEE

1-855-595-2102

TO THE FIRST

50 CALLERS! **

Douglas, Ed, Jim

and Kip Malek

"Hablamos Español"

FREE Initial Consultation

www.maleklawfirm.com

614-444-7440

1227 S. High St., Columbus, OH 43206

The City Beat

Grove City Parks and Recreation is registering for

the spring-summer Little League baseball season

through Feb. 28.

To sign up, register online at

Recreation.GroveCityOhio.gov or contact the Kingston

Center office at 614-277-3050 or in person at 3226

Kingston Ave.

Eligibility

Children ages 5 through 17 are eligible to participate.

Per Little League International, age determination

is based on the player's age on Aug. 31, 2022.

This year, there is a Little League affiliate serving

Galloway. Per Little League rules, any player who

lives within the boundary of the Galloway Baseball

Club Little League must play Little League baseball

for that organization. If a player does not live or attend

school within the boundaries established by Little

League for the Grove City or Galloway organizations,

he or she may play in either league, but is ineligible for

an all-star team. Addresses in the area north of

Johnson Road, west of Norton Road, northwest of

Georgesville Road, and north of Clime Road fall in the

Galloway district.

Visit littleleague.org to confirm your proper league.

Fees

Fees for players in the T-ball, Minor 6 and Minor 7-

8 leagues, representing ages 5 through 8, are $70 per

player for residents of Grove City or Jackson

Township. Fees for non-residents in these leagues are

$80. Fees for Minor 9, Minor 10, Major, Junior and Big

leagues, representing ages 9 through 17, are $100 per

player and $110 for non-residents. Late registration is

available after Feb. 28 as space permits with a $20

additional late fee.

Registration

Online registration is at

Recreation.GroveCityOhio.gov. If you do not have an

COUNCIL

Continued from page 1

trator for the city of Grove City, the agreement covers

patrol officers, sergeants, and lieutenants. The salary

increases will cost the city an estimated $1.6 million.

Boso said a top tiered patrol officer who currently

makes around $100,000 per year would make just over

$110,000 by the end of the contract in year 2024. A

sergeant who currently makes approximately

$116,000 a year would see an increase to $126,800 in

2024, and a lieutenant who makes $130,700 at the current

rate would see a pay increase to $142,900 by the

end of the contract.

According to the city administrator, these salaries

are in line with what other jurisdictions around the

Columbus area are paying police officers.

Brian Toth, a liaison with Capital City Lodge #9

said the officers are deserving of the increased salary.

"They put their lives on the line every single day

and they do a darn good job for Grove City," he said.

In other news, construction of a roadway, that leads

from the Pinnacle area to what will be a new park, has

started and a few residents wanted to share their concerns

with council.

Tournament Way in the Pinnacle area stops at a

property owned by the city. This land will be turned

into a park and a roadway will be installed to access

the property. Residents in the area are concerned

about the extra traffic.

"This could be endangering our children at the tail

www.columbusmessenger.com

Getting ready to play ball!

online account with the department, call the office at

614-277-3050 to set one up. Registration also can be

completed by contacting the Kingston Center office by

phone or in person at 3226 Kingston Ave. All parents

and players must sign a code of conduct that includes

adhering to safety measures enacted for the leagues. A

birth certificate must be presented for those participating

in the Grove City Parks and Recreation baseball

program for the first time.

Timing

Practices begin Monday, March 28, with the first

games played Saturday, April 30. Games and practices

are at Windsor Park, 4330 Dudley Ave./4408

Broadway. Fryer Park fields may be used if necessary.

All leagues play twice per week. Postponed games are

made up on Saturdays; occasional double headers may

be scheduled.

Players in the leagues for ages 9 and older should

attend an observation Saturday, March 19, to assist

coaches in drafting players. Players in T-ball, Minor 6

and Minor 7-8 leagues are assigned to teams and do

not have observations.

Coaches, Officials, and Sponsors

Interested in being a volunteer coach, paid umpire

or team sponsor? Find an application or sponsorship

form at Parks.GroveCityOhio.gov. All coaches must

pass a background check and complete online training.

New this year: qualified coaches in good standing at

the end of the season are eligible for a household

account credit.

For information regarding Grove City Parks and

Recreation offerings including youth sports, visit

GroveCityOhio.gov or call 614-277-3050. For weather

cancellation information, call the hotline at 614-277-

3060 or view GroveCityOhio.gov or city social media

accounts including Facebook @GroveCityParks and

Twitter @GroveCityOhio.

end of the subdivision," said Cory Edwards.

Edwards said speeding along roadways in the

Pinnacle area is already a problem. He asked city leaders

if there were plans to prohibit high speed along the

roadways.

Resident Daryl Schlosser was also concerned about

the safety of residents due to drivers speeding along

the roadway.

"There are a lot of bike riders and pedestrian traffic

in that area," he said.

Councilman Roby Schottke suggested that the city

investigate speed humps along the road. He said it will

be a road leading to a park so pedestrians will be out,

and children will be playing.

"It is essential that we try to calm traffic," said

Schottke.

Boso said traffic calming options are discussions

city leaders and the community can have moving forward

as the project progresses.

The plan for the Pinnacle Park is to utilize and preserve

the area's natural features. A preliminary park

plan was laid out in 2019. The park would include a

walking path through the woods and along the stream,

as well as incorporate natural play areas.

City leaders believe the park would be used primarily

by neighbors, but it could become more of a destination

park as it develops.
---
www.columbusmessenger.com

GAME #2

WHERE IN

WHERE

February 20, 2022 - GROVE CITY MESSENGER - PAGE 3

Messenger

The Messenger is Phil?

Each week Phil's Cartoon will be

hiding in (3) places in the paper.

All you have to do is find him. He

may be hiding in an article or a

picture or an advertisement. Don't

forget to check the classifieds!

Tell us the page number, issue

date and name of paper. Send

your answer by email, fax or mail

by 5 PM,Tuesday March 1st, 2022

and you'll have a chance to win a

$50 GIFT CARD.

Must be 18 or older.

One entry per

household. In a case

of a tie, winners will

be drawn at random.

Judge's decision is

final.

Name:

Address:

Phone:

MESSENGER

The Columbus Messenger

3500 Sullivant Ave.,Columbus, OH 43204

Name

Phil

The Contest Winner from our February 6th

Issue is: LORI ARRELL

email: contest.messenger@gmail.com - fax: (614) 272-0684

PAGE#'s:

PAPER NAME:

ISSUE DATE:
---
PAGE 4 - GROVE CITY MESSENGER - February 20, 2022

Opinion Page

www.columbusmessenger.com

Fantasy Football 101

Well, another football season has come

and gone none too soon. Brown's fans

everywhere are mumbling and grumbling a

good riddance to another dismal season. As

tradition unkindly reminds us at each season's

end, once again our Browns floundered.

This year was especially difficult to

absorb after entering the season with

expectations that this would finally be the

long anticipated breakout season for a long

playoff run. Many felt they had the players

to roar, they could barely muster a few

squeaks all season. No, it was not to be.

Instead, they again insulted our loyalty

with any hopes of progress quickly vanishing

into another swan song, finishing out of

the playoff picture, sputtering home like a

car with fouled spark plugs.

My interest in the season steadily

waned as the losses mounted. The only

thing that kept me watching more hotdogs

run haplessly across the NFL fields than

are sold at the concession stands on Friday

nights in high school stadiums was my fantasy

football team. While I didn't win my

fantasy league's championship, I made the

playoffs and that saved an otherwise nightmarish

NFL season for me.

As the season dragged on and my disappointment

mounted, I had to explain to my

wife why I was rooting for an opposing

team's player to score against our Browns.

Note: I rooted loudly only after the Browns

were obviously destined to go nowhere.

Such is the nature of fantasy football. As is

the case for millions of fantasy football

fans, you root for the players on your fantasy

team, the NFL game outcomes become

secondary, closer to meaningless if you're a

Browns fan.

Today's Monday morning workplace

water-cooler conversations are no longer

who won this or that game but now center

around how your fantasy team did. You

could build a convincing argument that the

explosion of fantasy football has saved the

implosion of the soap opera NFL that over

recent years seems intent on a course of

self-destruction.

Based on some of my wife's inquisitive

fantasy football comments during the year

Pictorial Past

Pictured here are students at the old Jackson

School at State Route 104 and Stringtown Road.

The students and their teacher are (from left)

Harold Borror, Madeline Shover, Mollie

Breckenridge, Clyde Titus, Louella Sweizy, Lulu

Shrover, Georgia Teagardin, Flossie Williams, and

J.M. Quinton (center). For more pictures like this

one, visit the Grove City Welcome Center and

Museum, located at 3378 Park St. in Grove City.

The photos and information in the Pictorial Past

are provided by Don Ivers from the Grove City

Welcome Center and Museum.

as I yelled at the games on the screen, I

thought I'd try to explain how fantasy ball

works. I suspect there are many others who

also aren't familiar with how it works as it

grips the nation each weekend. So welcome

to Fantasy Football 101. Relax, the final

exam is easy. Everyone passes, except the

Browns who get a well-deserved failing

grade.

There are fantasy leagues in many

sports. We'll just focus on fantasy football

since participation in it has literally

exploded. You draft your team from a pool

of players and try to beat others in your

league who do the same thing by having

your players accumulate more points than

the league opponent you're playing each

week. You win or lose each week and those

with the best records at the end of the season

make the playoffs.

Many websites offer fantasy football,

each with their own variations. I'll use the

league I was in for schooling purposes.

Many leagues are contested for money.

Mine was a fun league, no money involved.

All we got for it was an incentive to make

us watch games we otherwise could care

less about (most) along with inflated or

bruised egos and new excuses or bragging

rights at the end of each week's games and

season.

Each league has a commissioner. They

oversee things and communicate to make

sure things run smoothly. He sets a date

for the draft. My league had 12 teams. I

named mine, The Dreamland Express, figuring

the only way I'd win it all would be in

my dreams. My merry band of would-be

NFL caliber pretenders kept my interest

and at least gave me a pleasant surprise by

making the playoffs this year.

Most research the players before the

draft and rely heavily on the countless

website experts. Over time I've learned

they're as clueless as I, much as the socalled

economy experts, the only difference

is they just get paid handsomely for their

routine inept analysis. When draft day

arrives, you can either access the online

fantasy football database and make your

own picks, or you can sit back and take the

less stressful approach and let the computer

program those supposed experts have

created do it for you. I've tried both ways

and found my results end up equally

embarrassing with either approach.

In my league we each pick 16 players.

You select nine of those to be your starters

each week and put the other seven on the

bench. The starting lineup in our league

must have: one quarterback, two running

backs, two wide receivers, one tight end,

one flex (RB, WR or TE), one kicker and

one team defense. The makeup of the other

six can vary. Each week you can leave as is

or substitute players from bench to starter

or vice versa.

As the year wears on, you'll quickly find

the need to replace and change your drafted

players. There are injuries, this past

year many were put into and out of

COVID-19 protocol and ruled ineligible at a

moment's notice, some players you picked

(in my case make that most), don't perform

up to expectations, and others nobody foresaw

emerge. So, you can exchange your

drafted players for any are remaining in

the original undrafted league pool. As the

season progresses that remaining pool

becomes sparser than finding toilet paper

on the shelves when the pandemic began.

By season's end, many fantasy teams in the

league barely resemble their original

makeup.

The goal for each game is to accumulate

more points than your opponent. The website

leagues have a standardized scoring

table in the database detailing all the ways

to score points along with the values. A

commissioner has the power to tweak some

of the settings as ours did. All team player

lineups are frozen with each game kickoff.

You're stuck with the decisions you made

on who to start or bench. The NFL active

game data begins to roll into the database,

goes against the settings, and the points

start accumulating.

As games progress the points fly into

your league scoreboard in real-time, constantly

updating. You can be ahead one

minute and behind the next. I've taken the

dog for a walk leaving the house strutting

Guest Column

Dave Burton

thinking there's no

way I can lose only

to get back home

and see there's no

way to win. As the

saying goes, 'On Any

Given Sunday,' is

true. Your players

can excel or be duds

far beyond or below expectations. Injuries

during the game can completely turn the

game around.

Some of the ways you get points from

your offensive players include rushing and

pass receiving yards, quarterback passing

yards, touchdowns, field goals and extra

points after touchdowns. You lose points

for fumbles or throwing interceptions. On

the defensive side, you earn points for

those interceptions or fumble recoveries,

safeties, sacking the quarterback, and how

many points you let the other team score.

There are others, but those are the basics.

As the season progresses, many of your

players start carrying designations for the

next upcoming game: Out (won't play) to

Doubtful (almost always won't play), to

Questionable (meaning you must guess).

Some are a game-time decision, and you

might have to scramble at the last second

to find a replacement and usually there

aren't any decent ones still available.

I look forward to fantasy football each

year. As stressful and frustrating as it gets

to be, it's always fun. My best advice if you

want to try it is don't draft any Browns for

your team. Life is frustrating enough these

days and they have their own designation:

NSP (never show up to play).

Dave Burton is a guest columnist for the

Columbus Messenger Newspapers. He

lives in Grove City.

southwest

Messenger

(Distribution: 16,400)

Andrea Cordle...................................Grove City Editor

southwest@ columbusmessenger.com

Published every other Sunday by the

The Columbus Messenger Co.

3500 Sullivant Ave., Columbus, Ohio 43204

(614) 272-5422

The Columbus Messenger Co. reserves the right to edit, reject or cancel

any advertisement or editorial copy at any time. The company is not

responsible for checking accuracy of items submitted for publication.

Errors in advertising copy must be called to the attention of the company

after first insertion and prior to a second insertion of the same advertising

copy.
---
www.columbusmessenger.com

Stage reappointed to FCCFA board

The Franklin County Convention

Facilities Authority announced the reappointment

of Grove City Mayor Richard

"Ike" Stage to its board of directors. This

will be Stage's third consecutive four-year

term on the convention authority's board.

Stage was nominated by the Central

Ohio Mayors and Managers Association

and his appointment was ratified by the

Board of County Commissioners as an atlarge

representative for Franklin County's

suburban cities.

"We're honored by Ike's commitment to

the convention authority," said board chair

Sally Bloomfield. "Ike's deep experience in

banking and local government leadership

roles adds to our organization's efficiency

and effectiveness."

Stage is currently serving his fourth

consecutive term as Grove City mayor. He

previously served as mayor from April

1988 through December 1995, as the

appointed city administrator from January

2000 through November 2003, and as a city

council member in 2006 and 2007.

Stage also serves on the Mid-Ohio

Regional Planning Commission, the

Central Ohio Mayors and Managers

Association, and as a member of the Ohio

Mayor's Alliance.

Stage also has had a 50-year career as a

bank executive, most recently with

Huntington National Bank where he managed

over $2 billion of retail bank assets

Grove City Mayor Richard "Ike" Stage

and over 100 banking offices.

About the Franklin County

Convention Facilities Authority

As a special purpose government unit,

the convention authority is responsible for

developing, building and operating convention

facilities. The authority owns and

operates the Greater Columbus

Convention Center, the Hilton Columbus

Downtown Hotel, Nationwide Arena, as

well as six parking facilities.

Completely self-sustaining, the convention

authority is overseen by an 11-member

board appointed by the Franklin

County Commissioners (six members), the

city of Columbus (three members) and suburban

mayors (two members).

February 20, 2022 - GROVE CITY MESSENGER - PAGE 5

Grove City Police News

On January 31, 2022, officers were dispatched

to a business in the 1600 block

of Stringtown road on the report of a

theft in progress. When officers arrived,

store employees stated that two female

suspects attempted to steal two shopping

carts full of merchandise. The total

value of the items in the carts was

$3,539.19. Loss prevention employees

were able to stop the suspects from

leaving with the items, but the suspects

fled the scene. All of the stolen merchandise

was recovered. The incident

remains under investigation.

In other police news:

On January 28, 2022, officers were dispatched

to the 3000 block of Southwest

Boulevard on the report of a stolen vehicle.

The victim started the vehicle to

warm it up and left it unattended for

eight minutes. The vehicle was stolen

within that time. The incident remains

under investigation.

On February 3, 2022, officers were dispatched

to the 1800 block of Stringtown

Road on the report of a stolen vehicle.

The victim stated the vehicle was unlocked

and that keys were kept underneath

the driver's seat. The incident remains

under investigation.

On February 6, 2022, a resident in the

2300 block of Fernwood Ave informed

officers that they had been the victim of

theft by fraud. An unknown suspect

called the victim, claiming to be from

Amazon. The suspect instructed the victim

to buy gift cards at local stores. The

victim complied, spending a total of

$6,800. Pictures of the gift cards were

sent to the suspect. The victim attempted

to send more money, but their

bank did not allow the additional

charges to go through. The incident remains

under investigation.

On February 1, 2022, officers were dispatched

to a business in the 1500 block

of Stringtown Road on report of a theft

in progress. Upon arrival, officers located

one male and one female suspect.

Officers recovered $309.95 worth of

merchandise. Additionally, officers discovered

that the vehicle the suspects

used to drive to the store was reported

stolen from Columbus. The license

plate on the vehicle was reported stolen

from Gahanna. Both suspects were arrested

and charged.

Moses-Mouser Eye Care

Dr. Joshua Morris is a board-certified Optometrist

who grew up in Bellville, Ohio. He

completed his undergraduate degree at the

University of Akron, where he graduated

magna cum laude with honors.

Dr. Morris attended The Ohio State University

College of Optometry and graduated cum laude with honors to receive

his Doctor of Optometry Degree in May 2019. After completing his

studies, he was awarded the "Primary Vision Care Clinical Excellence

Award", in 2019.

Dr. Morris is a member of the American Optometric Association, the

Ohio Optometric Association, and The Ohio State Alumni Association.

He is excited to practice full scope optometry, diagnosing and treating

a variety of ocular disorders and diseases in patients of all ages, but has

a special interest in contact lenses and ocular disease.

On a personal note, Dr. Morris and his wife Tess, enjoy spending time

with their family, friends, and their Bernese Mountain dog Maverick,

cheering on The Ohio State Buckeyes, trying new foods, and exploring

Columbus breweries.

Q: Are contact lenses right for me?

A: 9/10 people who wear glasses are good candidates for contact lenses.

Contact lenses can correct for nearsightedness, farsightedness,

astigmatism, and even help you decrease your dependency on readers.

They can provide a wider field of view and the lenses won't fog up in cold

weather like glasses. Contact lenses are also a great option for when you're

exercising or playing sports where glasses could get in the way.

Q: How often should someone who

wears contact lenses get an eye exam?

A: Someone who wears contact lenses should have a comprehensive

dilated eye exam at least once a year. Contact lenses are medical devices

and need to be properly fitted and assessed by an eye care professional.

Schedule your contact lens exam today

with Dr. Morris.

1600 Gateway Circle, Grove City, OH 43123 614-963-3820
---
PAGE 6 - GROVE CITY MESSENGER - February 20, 2022

We are the BEST community newspaper!

Need advertising? Call 614-272-5422 today.

Bring in this Ad

and your first Beer, Cider, Wine,

Seltzer and a few select Bourbons is

only $ 4

4057 Broadway, Grove City, OH 43123

(Corner of Broadway and Grove City Rd.)

(614) 954-2337

Hours: Sun.-Thursday 1pm-11pm

Friday-Saturday 1pm-1am

Website:Expert-hvac.com

Phone:614-946-8461

Experthvacllc@gmail.com

Free estimates on

system installs

$70 preventative

maintenance (tune up)

Expert service - affordable prices - Locally owned from Groveport

Mention this ad and get $20 off a $85 service call.

County board of revision filing event

The Franklin County Auditor's Office

Board of Revision is accepting challenges

from homeowners who believe their property

values are incorrect. In advance of the

filing deadline on March 31, the office will

hold in-person board of revision filing

Tax-Aide

AARP Foundation Tax-Aide offers free,

individualized tax preparation for low- to

moderate-income taxpayers — especially

those 50 and older.

The AARP Foundation Tax-Aide program

is operating remotely and in-person

at select locations in Franklin County. Call

the AARP Foundation Tax-Aide program

at 1-888-227-7669 or visit aarp.org.

Appointments are available at the

Grove City Church Of Nazarene, 4770

Hoover Road from 9 a.m. to 4 p.m.,

Tuesday and Thursday, Feb. 8 through

April 12. Call 614-733-4510 to schedule a

required appointment.

Blood drive in Grove City

The American Red Cross will host a

blood drive from 10 a.m. to 4 p.m. Feb. 25

at Mount Carmel Grove City. To schedule

an appointment, call 1-800-448-3543 or

visit www.redcrossblood.org.

news and notes

www.columbusmessenger.com

events to help homeowners. The westside

event is on March 22 from 2 to 6 p.m. at the

Prairie Township Community Center,

5955 West Broad St. For more information,

visit franklincountyauditor.com or call

614-525-4663.

S.A.L.T. at Evans Center

The Grove City Division of Police host

Seniors and Law Enforcement Together

(S.A.L.T.) meetings at 1 p.m. the second

Tuesday of each month at the Evans

Center, 4330 Dudley Ave. If you would like

additional information on other crime prevention

programs visit police.grovecityohio.gov

or call 614-277-1765.

Volunteers sought at food pantry

The Grove City Food Pantry is looking

for volunteers. The pantry is located at

2710 Columbus St. in Grove City. It serves

about 250 families each month in Grove

City, Orient, Harrisburg and Galloway. It

is open Monday through Friday from 2 to 4

p.m. and on the third Saturday of the

month from 10 a.m. to noon. Volunteers are

needed to work various times and days.

Food donations are also needed. Those

interested in volunteering for the Grove

City Food Pantry or making a food or monetary

donation can email

managers@grovecityfoodpantry.org.

Bulletin Board

Have a Special Event, Business Card, Wedding Announcement, News Flash, Baseball Sign-ups

Advertise on this page for as low as $20 00

Barber Museum

The National Barber Museum in Canal Winchester

is located at 135 Franklin St. (behind the former CW

High School building). The museum, housed in approximately

5,000 square feet, showcases art, artifacts,

and memorabilia from decades of the barbering profession.

For information call(614) 837-8400.

Winter Hike

The Lockbourne Winter Hike will be held Feb. 19 at

11 a.m. at Locke Meadow Park, 154 Commerce St.,

Lockbourne.

LISTED BELOW ARE SAMPLES ONLY

Valentines for Veterans

Spread the love and brighten a veteran's day with

a Valentine's Day card. Visit Groveport Town Hall, 648

Main St., Groveport, before Feb. 14 to drop off or design

a Valentine's Day card to mail to the Chillicothe

VA Medical Center. For information call 614-836-3333.

American Legion Post 799

American Legion Post 799 holds its monthly meetings

on the second Thursday of each month at 7 p.m.

at the Prairie Township Fire Station, 123 Inah Ave. Anyone

interested in joining the legion should attend. For

information, contact Commander Vernon Hall at 878-

9914.

Baseball Sign-Ups

Georgian Heights Hawks is having Baseball Sign-ups

for ages 8-14 at the Elementary school on Monday,

March 7th, 2021 from 4pm-6pm. Please bring birth

certificate. For more info.call Rex 312-777-0000.

Wedding Announcement

Henry & Oaks

GROVE CITY - Joe Henry & Susan Oaks are announcing

their approaching wedding. Parents of the couples are

Jack & Sue Henry of Grove City, Bob & Melissa Oaks of

Upper Arlington. Vows are set for 3:30 Saturday, July

31, 2021 at St. Andrews Church.

TO ADVERTISE CONTACT DOUG AT 614-272-5422 • doughenry@columbusmessenger.com
---
www.columbusmessenger.com

Government Focus

Village residents to see price increase in trash collection

By Dedra Cordle

Staff Writer

The village of Urbancrest has been participating in the Solid

Waste Authority of Central Ohio's community consortium program

for more than a decade.

Within that time span, waste collection prices have been locked

at a lower rate through a collective bidding process. Late last year,

the agreement they were under lapsed and a new bidding process

began.

Having gone over the bids at its meeting on Feb. 8, the village

council authorized a new agreement that will see a slight increase

in the waste collection fee for its residents.

According to village Mayor Joseph Barnes Sr., the rate that residents

pay to have their waste and recyclables hauled will rise

from $14.99 to $19.99. The rates for senior citizens will rise to

$17.99.

While Barnes said rate hikes on any bill are not ideal, this was

the lowest bid presented to members of the consortium.

"We have been in this program since 2011 and since 2011 this

is the first time they have had to increase the rates," Barnes said.

He said the village weighed the pros and cons of not authorizing

the agreement but came to the determination that it presented the

best deal for its residents.

"We would end up paying much more (had they not approved

the new agreement)," he said.

Under the terms of the new agreement, the government buildings

will receive their trash collection for free, as will the local

churches. Barnes said they will also receive a special rate when

they host community cleanup events.

SWACO's community consortium program was formed in 2005

in an effort to increase waste diversion. The program allows communities

to bargain for greater negotiating power when contracting

for solid waste, recycling, and yard waste collection services.

Rumpke was awarded the hauling contract for this new agreement,

which runs through the end of 2026. Local Waste will continue

to be the provider for the village. Its neighboring communities

— the city of the Grove City and Jackson Township — are also

a part of the community consortium program. They too recently

reauthorized the trash collection agreement for the same rate as

the village.

In other news, an update on the process

of the work being done at the Vaughn E.

Hairston Southwest Community Center

was provided at the meeting. According to

Barnes, plumbers have recently been out to

the site to give estimates and electricians

are scheduled to come out later this month.

He said the center will be transitioning to

no-touch bathroom fixtures and LED lighting

throughout the complex to cut down on

costs.

Council member Lacy Wallace Jr. asked

whether the community would have access

to the facility this summer. Barnes said he

believes there will be allowances for youth

programs but said it was too early to determine

whether it will be completely available

to the public.

February 20, 2022 - GROVE CITY MESSENGER - PAGE 7

Follow us on Facebook

JEFFREY P. COMPTON

ATTORNEY AT LAW

General Practice

Personal Injury • Domestic

Probate • Wills

Power of Attorney

Healthcare Documents

FREE CONSULT & PARKING

614-875-7233 Fax: 929-474-9475

1665 London-Groveport Rd., Grove City

www.jeffreypcompton.com

Email: jcompton@jeffreypcompton.com

St. Mary Magdalene Church

473 S. Roys Ave.. Columbus, OH 43204

BOOK & MEDIA SALE

Friday, March 4th - 5pm-7pm

FISH TACO FRIDAY & BOOK SALE

Sunday, March 6th - 8am-1pm

BOOK SALE, PANCAKE BREAKFAST 10AM-NOON
---
PAGE 8 - GROVE CITY MESSENGER - February 20, 2022

www.columbusmessenger.com

"SELLING HOMES OF ALL SHAPES AND SIZES!"

Serving all of Central Ohio

IN CONTRACT

SOLD

SOLD

Grove City

Grove City

Commercial Point

SOLD

SOLD

SOLD

SOLD

Galloway Grove City Grove City Grove City

SOLD

SOLD

SOLD

SOLD

Grove City Sunbury Upper Arlington Columbus

"Top 5% of agents in Ohio"

I Sell Homes in Your Neighborhood!

Thinking of taking advantages of the sellers market?

Call me for no obiligation market value report.

Ginger Thrush, Realtor

Call Ginger Thrush

Proven Professionalism - Personal Service

614-214-2522

gingerthrush@gmail.com
---
www.columbusmessenger.com

By Dedra Cordle

Staff Writer

The South-Western City Schools District is set to tap

into its federal relief funds in order to make improvements

at several high school facilities.

At a recent meeting, the board of education unanimously

approved a resolution to authorize the replacement of

the roofs at the recreation centers at Franklin Heights,

Grove City, and Westland High Schools.

According to district officials, this $3.89 million project

is sorely needed.

"These facilities were built in the early 1980s," said

Monte Detterman, the district's director of business services.

"And while we have done repairs here and there over the

years, we feel it is well past time to address the underlying

issues and get it fixed through a complete replacement."

Three companies bid for the project and two companies

were awarded contracts to oversee it. The Carl T. Johnson

Co. of Logan, Ohio will replace the recreation center roof at

the Falcon's Nest for $1.34 million and R.A.M.E Inc. of

Washington, Pa. will replace the recreation center roofs at

Grove City and Westland for $2.54 million.

An additional $300,000 will be set aside for unforeseen

items or district requested changes during the roof replacement

project.

In Education

School district to use relief funds for roof improvements

Detterman said he believes all three roof replacement

projects will be completed before the start of the 2022-23

school year.

"We may still be making minor repairs but there should

not be any major impact to the students when school is in

session," he said.

The district will be paying for the $3.89 million project

through its third round of federal COVID-19 relief funds.

Last year, the district announced it had received an allocation

of $61.1 million through the Elementary and

Secondary School Emergency Relief Fund and with it came

a requirement that 20 percent of the total sum be set aside

to focus on learning loss initiatives caused during the

course of the pandemic.

The remainder of the funds could be used for capital

improvement projects with the stipulation that

they be used before the end of 2023. In addition to

the roof replacement at the high school recreation

centers, the district also would like to use those

funds to replace HVAC units at its intermediate

schools, reconfigure space at Buckeye Woods and

Darby Woods Elementary and build additional classroom

space at the South-Western Career Academy.

In other news, the board awarded a contract to

Decker Construction Company Inc. for phase two of

February 20, 2022 - GROVE CITY MESSENGER - PAGE 9

the transportation lot improvement project. According to

Detterman, the company will be using roller-compacted

asphalt to replace the middle portion of the 13-acre lot — similar

to what they use to create highways.

"It will last longer and be more sustainable," he said.

The project will cost $521,601 with an additional

$52,599 set aside for unforeseen items and owner requested

changes during construction.

Detterman said phase two will take place this summer

while the third and final phase will take place next year.

He said the district had to break this project up into phases

due to the size of the transportation lot and the logistics

of moving its fleet.

Pandemic has impact on services To advertise in

By Dedra Cordle

Staff Writer

Officials at two of the most vital departments

within the South-Western City

Schools District presented the board of

education with its annual report last

month. The officials said while both departments

have been negatively impacted by

pandemic related issues, they continue to

do the best with what they are given.

Tim Cox, the supervisor at the transportation

department, said at a recent

board meeting that they are still struggling

to hire bus drivers, particularly at the substitute

level.

He added that while board approved

increases to wages have lessened the sting of

the shortage being felt at other districts, they

are still not where they would like to be.

"If we had 30 substitutes on hand a day,

that would be our optimum goal," he said.

Unfortunately, he added, they currently

have 17 substitute drivers on their list and

not all of them are "everyday drivers."

He said some drivers on the list can only

do field trips, while others have full-time

jobs elsewhere.

He said what is compounding the issue is

the shortage of CDL drivers across the nation.

"It's everywhere, not just here."

He said he hopes recent efforts by the

local, state, and federal government to

train individuals to get their licensure will

help in the near future.

According to Cox, the transportation

department's fleet of buses are in good condition.

There are currently 210 buses in service

and a majority of them are newer models.

He said the district is currently receiving

federal funds though a Diesel Mitigation

Trust Fund Grant that allows older models

to be replaced at a discounted rate.

He said that is beneficial to the district

as the cost to purchase a bus has risen by

11 percent.

"We are now into the six figures per

bus," he told the board.

After giving his report, Cox praised the

efforts of the transportation staff. That sentiment

was echoed by members of the board.

"They are the best," said board member

Lee Schreiner.

Lisa Hamrick, the supervisor of the food

service department, also presented an

annual report to the board.

She said this department is experiencing

staffing shortages at the substitute level and

shortages with some items on the menu.

"We are not any different from any other

school district across the nation," she said.

"We are definitely in the same boat as we have

also run into a lot of supply chain issues."

Hamrick said the department has done

an "exemplary job" of making food substitutions,

especially as they have seen an

increase in participation numbers at lunch

and at breakfast. The department estimates

65 percent of the student body is

participating during lunch meals, while 33

percent of the student body is partaking in

breakfast meals.

Hamrick said while she does like to see

more student participation in school meals,

she worries they will see a drop off in those

numbers next year if the state and federal

program that provided free meals to all students

is not renewed.

She said the department does not and

will not "turn away children" should they

be unable to pay for their meals. However,

she did stress the importance of filling out

applications for free and reduced meals.

"It affects not just the funding within

our department but at many departments

throughout the district as well," she said.

Both departments are still hiring for

positions. Visit the district's website at

swcsd.us for more information.

the Messenger,

call 614-272-

5422.
---
PAGE 10 - GROVE CITY MESSENGER - February 20, 2022

County to purchase body worn cameras for deputies

The Franklin County Board of

Commissioners unanimously approved a

contract to acquire body cameras for each

of the county's 565 certified deputy sheriffs

and a policy that will govern their use. The

contract is for just over $2.5 million with

WatchGuard Video, and the money to procure

the cameras is being made available

from the county's general fund.

Deputies will wear the cameras at all

times while on duty (including while in

civilian clothes unless undercover) except

for a few designated times such as when in

the county's jail facilities. The cameras are

to be activated at all times during law

enforcement activities such as when

responding to calls for service, interacting

with residents, and traffic or pedestrian

stops. The cameras are also equipped with

24th Annual

"Best Fish Dinner in Town!"

Baked Cod and Fried Perch

ST. MARGARET OF CORTONA CHURCH

Fridays in Lent: March 4th - April 8th, 4:30 - 7:30 PM

Fried Ocean Perch or Baked Cod with choice of two sides:

• Baked Potato • Sweet Potato • Macaroni & Cheese

• French Fries • Cole Slaw • Applesauce

Includes Roll & butter, Homemade Dessert & Free Coffee

ADULTS: $15.00 • SENIORS $14.50;

CHILDREN (10 & UNDER) $7.00 (Free under 3)

Special Family Pricing

1600 N. Hague Ave. INFO: 614-279-1690

a lookback feature that will capture video

and audio even prior to being activated so

that they will record events that occur suddenly

or before the deputy had a chance to

activate the camera.

"Nothing is more important to the operation

of a fair and effective criminal justice

system than the belief in the community

that officers are held to a high standard

and that the law is enforced equally," said

commissioner John O'Grady. "These cameras

will help us reinforce that mutual

trust and respect between deputies and our

residents."

The cameras are the Motorola

Watchguard V300 model with a 4K video

sensor, 1080p resolution, dual microphones,

and built-in WiFi and GPS. Body

camera footage will be stored according to

the county's regular record retention policy

and is subject to Ohio public records law.

Internet Purchase Exchange Zones

The city of Grove City's Division of Police in cooperation with

Jackson Township established two Internet Purchase Exchange

Zones in response to safety concerns during person-to-person

exchanges of sales arranged online. The zones are located at City

Hall, 4035 Broadway, and the Jackson Township Administration

Building, 3756 Hoover Road.

The videos can be made available to the

public upon request according to a process,

which requires consultation among the

sheriff, prosecutor's office and board of

commissioners to ensure that public

records law is followed.

"As with a lot of things, the devil is in

the details when it comes to how these

cameras are employed, when videos are to

be redacted or released, and how our

deputies are expected to use them," said

commissioner Kevin Boyce. "We've worked

hard with the sheriff's office and county

prosecutor to carefully craft a policy that I

think protects the privacy of residents and

deputies and will ensure transparency

about the cameras, recordings, and how

they will be used or made public."

The Franklin County Sheriff's Office

has jurisdiction in the entirety of Franklin

County, including patrolling 261 miles of

news and notes

road and operating the county's jail facilities.

The agency fields 565 certified law

enforcement deputies, as well as 195 corrections

deputies and about 340 civilian

employees.

"The sheriff's office is grateful to the

Franklin County Board of Commissioners

for supporting body worn cameras," said

Sheriff Dallas Baldwin. "I have strongly

advocated for cameras because I believe

they provide transparency and ensure

accountability. In our effort to build a

bridge of trust between law enforcement

and the community, this is an important

step forward."

The county will hold public town hall

meetings later this year to introduce the

cameras to the public, demonstrate their

use, and answer questions about the

polices that govern them.

Exchange zones are identified by signage next to designated

parking spaces at each location with video surveillance 24 hours a

day, seven days a week. Residents can conduct transactions knowing

their interactions are recorded. In cases of emergency, site

users should dial 911 for assistance.

For more information, contact the Grove City Division of Police

at 614-277-1710.

EVALYN IRWIN, SRES

REALTOR ®

614-353-1136 CELL

614-451-0808

Evalyn.Irwin@CBrealty.com

www.EvalynIrwin.CBintouch.com

3160 Kingsdale Center

Columbus, OH 43221

COLDWELL BANKER

REALTY

Owned by a subsidiary of Realtor Brokerage Group LLC

Home

Buyers

Guide

Red 1 Realty Proudly Recognizes

TOP

5%

CLUB

Josh Sheppard

For achieving sales results in the top

5% of the company

2021

3355 OLD COLUMBUS RD NW, CARROLL OH

On Business Rt. 33. Exposure & Easy Access, 3355 Old Columbus Rd NW, Carroll

OH, 158' of Road Frontage! Over ½ an Acre. Greenfield Township. Realtors are

Related to Seller

Whitney Hall, Key Realty

REALTOR®

Address: 222 S Broad St, Lancaster OH 43130

Phone: (740) 438-0347

"It's Good Business To Own A Home, It's My Business To Find Or Sell Your Next Home"

Next

Edition

March 6th

Deadline March 1st

Contact

Doug Henry:

614-272-5422

doughenry@columbusmessenger.com

Pam Brown

Thinking about

selling your home?

Call An Experienced Realtor!

42 Years of "Service with a Smile"

GREAT SELLING MARKET!

614-975-9462

3656 Broadway Grove City, OH 43123

614.871.1000

www.era.com
---
www.columbusmessenger.com

County provides funding for tax assistance

The Franklin County Commissioners voted to

approve $75,000 to support free tax preparation services

for low- and middle-income residents and families.

The contract between Franklin County

Department of Job and Family Services and the

United Way of Central Ohio supports Tax Time, a

coalition of non-profit, business and government partners

that help residents maximize their returns, avoid

preparation fees and build wealth.

"Filing taxes can be confusing and even intimidating.

Tax Time helps ensure Franklin County residents

and families get every cent they're owed — including

their expanded Child Tax Credit — and avoid costly,

sometimes predatory tax preparation services,"

Deputy Franklin County Administrator Joy Bivens

said. "We're proud to continue to partner with United

Way and its network of volunteers to offer this reliable,

no-cost option for working families."

Tax Time combines the United Way's Volunteer

Income Tax Assistance program as well as AARP's Tax

Counseling for the Elderly Program under one umbrella.

This tax season, residents will be able to access free

tax preparation services both virtually, as well as inperson

at dozens of sites across Franklin County. Tax

Time's IRS-certified volunteers can also help families

claim their full Child Tax Credit, Earned Income Tax

Credit and any remaining stimulus dollars they are

owed.

Households that earned up to $66,000 last year are

eligible and can learn more by calling 211 or visiting

Pet Corner

Pets of the week

GetYourRefund.org/UWCO.

Feb. 8 also marked the White House's Child Tax

Credit and Earned Income Tax Credit Day of Action.

The American Rescue Plan ACT (ARPA) increased the

amount and expanded eligibility for both credits in

2021. The Center for Community Solutions estimates

over 270,000 Ohio children were lifted out of poverty or

moved closer to that threshold last year thanks to the

additional money, which families used for expenses

like rent, food and clothing.

The changes to the Child Tax Credit allowed eligible

families to receive half of their credit in the form of

monthly payments that were issued from July through

December. However, families must file their 2021

return to claim their remaining credit — or the entire

credit if they deferred the monthly payments.

Families can receive up to $3,600 per child, based

on their age. However, the expansion of the credits in

the ARPA was only temporary and will require federal

action to make permanent.

Franklin County supports the expansion of both of

these anti-poverty measures and has continued to

advocate on their behalf through National Association

of Counties (NACo) as well as the local congressional

delegation. Over the summer, Bivens co-sponsored a

NACo resolution with the National Association of

County Human Services Administrators (NACHSA)

supporting legislation to make the expansions in the

ARPA permanent.

Visit ChildTaxCredit.gov to learn more.

These furry friends are available for

adoption at local rescues and shelters

February 20, 2022 - GROVE CITY MESSENGER - PAGE 11

Chickie, 4, and her brother,

Dovie, are looking for a loving,

stable home. They would prefer

to be in a quiet home where

they can be the center of attention.

They must stay together.

Chickie is a big black and white

puff ball who loves attention

and guards the house from

intruders. She is good with children

and dogs. Adopt her from

Friends for Life Animal Haven.

FYI: fflah.org

Dovie, 4, is a talker and loves to

sleep and cuddle with a human.

He is mostly white with black

patches on the back of his neck

and tail. He is playful and likes

to jump up on shoulders. Dovie

does well with small dogs, but

bullies larger dogs. He does not

do well with other cats. He

prefers the company of his

bonded sister, Chickie. Dovie is

available for adoption through

Friends for Life Animal Haven.

FYI: fflah.org

Mr. Mater loves food, treats,

and toys. He minds his manners,

is housebroken, and is a

pretty laid-back guy most of the

time. Mater enjoys car rides and

could spend the entire day

snuggling. He is calm and

respectful. This cuddly boy is

beyond ready to find his forever

home. Adopt him from the

Franklin County Dog Shelter.

FYI: franklincountydogs.com

Andrew has been waiting a

long time to find The One.

Andrew promises to provide

free kisses for a lifetime. He is a

quiet, well behaved guy who is

gentle in nature and loves nothing

more than his toys. He is a

70 pound lap dog who would

prefer to be an only pet. Adopt

Andrew from the county shelter.

FYI: franklincountydogs.com

Anita Darling

Anita Darling is a sweet, smart girl who knows her name. She is a bit of a talker and definitely

a bed buddy. Raised with other cats and kids, Anita Darling has just arrived at the adoption

center after spending time in a foster home. She is eager to find a forever family. Adopt her

from Colony Cats.

FYI: colonycats.org
---
PAGE 12 - GROVE CITY MESSENGER - February 20, 2022

Township Focus

Energy update in Pleasant Twp.

By Hannah Poling

Staff Writer

Scott Belcastro, of Trebel Energy

attended a recent meeting of the Pleasant

Township trustees to discuss updates

which will be starting this year.

Trebel Energy is an energy consulting

company, which serves commercial, governmental,

small businesses and residential

clients. The primary goal of the company

is to assist their clients in lowering their

energy supply cost and increase efficiency.

"We have been involved with the

Columbus program in turning out solar

energy throughout the state. It is in this

movement towards more renewable energy

everywhere," said Belcastro.

According to trustee Nancy Hunter, "I

saw a big drop in my electric bill compared

from this year to last year. I used more

kilowatts this year and still spent $35 dollars

less."

Belcastro said that the weather drives

residential cost up so Trebel is doing what

it can to secure contracts to get residents a

price that is stable.

Tyler Fehrman, field manager for Ohio

with Apex Clean Energy, also attended the

meeting to update the trustees on the

Spring Water Solar Project.

This project will encompass Franklin

and Madison counties in Pleasant and

Fairfield townships. The project will primarily

take place in Fairfield Township

but will cross over into Pleasant Township.

The Spring Water Solar Project will be a

155-megawatt solar project which will produce

enough power for 34,000 homes and

will bring the participating counties $1.4

million dollars in revenue annually, which

will be split up between the locations.

The project is finalizing the application

for the Spring Water Board, which should

be complete by the end of March. Apex has

been acquired by Aries Capital, which

gives Apex the ability to be able to sell

their projects or have the option to operate

them themselves. The intention by Apex is

to both own and operate this project.

The Spring Water Solar Project is also

starting a community grant project.

"We will be awarding community organizations

at about $4,000 a quarter," said

Fehrman.

Visit springwatersolar.com for more

information on the grant.

Fehrman said that he would look at his

maps and get back with the trustees in

regards to how much land the project will

cover in Pleasant Township, as well as the

percentage of power generated.

Looking for a small,

friendly church experience? Try

First Presbyterian Church

of Grove City

4227 Broadway, Grove City

Worship Service 10:00 a.m.

In-Person and live Facebook

www.fpcgc.org

Free Community Brown Bag Lunch Drive-through

Saturday, February 26th, 11:00 am- 1:00 pm

www.columbusmessenger.com

Please visit the

Southwest Church

of your choice.

List your Worship

Services here.

For info. call 614-272-5422

Be a Part of Our Local Worship Guide

Our Worship Guide is geared toward celebrating faith and helping reader connect with religious

resources in our community. Make sure these readers know how you can help with a presence in

this very special section distributed to more than 22,000 households in the Southwest area.

Contact us today to secure your spot in our Worship Guide.

614.272.5422 • kathy@columbusmessenger.com

Turkey Hill - Broadway & Centerpoint

Speedway Gas Stateion - Boardway & I-270

Shell Gas Station - Broadway & I-270

United Dairy Farmers - Broadway & Southwest

CVS Pharmacy - Broadway & Southwest

Speedway Gas Station - Broadway & Southwest

Jolly Pirate Donuts - Broadway & Southwest

One Stop Store - Broadway & Southwest

Grove City Town Center - 3378 Park St.

Grove City Library - 3959 Broadway

Southwestern Schools - 3805 Marlene Dr.

City of Grove City - 4035 Broadway

Messenger

Grove City

We are the BEST COMMUNITY NEWSPAPER in Grove City

Pick-Up At These Locations:

Planks on Broadway - Broadway & Park St.

Ernies Carry-Out - Broadway & Paul St.

BP Gas Station - Stringtown & Hoover

Krogers - Stringtown & Hoover

Walgreen's - Stringtown & McDowell

CVS Pharmacy - Stringtown & McDowell

Drug Mart - Stringtown & McDowell

Speedway Gas Station - Stringtown & I-71

Dollar General - 3065 Broadway

Southwest Community Center - 4500 1st Ave. Urbancrest

Kroger - Hoover & Route 665

Village Municipal Building - 3492 1st Ave. Urbancrest

READ US ONLINE: www.columbusmessenger.com
---
www.columbusmessenger.com

Cups now included in recycling program

Rumpke Waste and Recycling

announced that they have expanded the

residential recycling program to include

paper, plastic and aluminum cups. The

addition of these materials to the recycling

program is a big accomplishment for area

residents and businesses who have long

advocated for this change. The continued

growth of this program is a testament to

the high importance the region places on

recycling and SWACO will continue to help

Franklin County communities enhance

and improve upon existing recycling programs.

There are several program Do's and

Don'ts to be aware of and which will help to

ensure a successful transition.

New Items Being Accepted — Paper, Plastic

and Aluminum Cups

Effective Feb. 1, paper, plastic and aluminum

cups will be accepted for recycling

in Franklin County. This includes polylined

paper cups such as disposable "to-go"

coffee cups. The paper sleeves frequently

added to these cups are also accepted but

their plastic lids should be thrown away.

Plastic fast-food cups are also accepted.

Empty them, remove straws and place the

Historical Society

Help preserve the history of Grove City,

Urbancrest and Jackson, Pleasant. Prairie

and Franklin townships. The Southwest

Franklin County Historical Society meets

club meeting

plastic lids back on. Please avoid throwing

the lids loosely into the cart.

Aluminum cups such as those used at

many stadiums and some dedicated outdoor

refreshment areas (DORAs) are now

accepted. These items should be empty

when put in with recycling.

With the addition of cups, Franklin

County's current list of acceptable materials

includes the following items: paper and

cardboard, plastic bottles, tubs and jugs,

glass bottles and jars, metal cans, cartons

and disposable cups.

What to Avoid

Items on the 'do not recycle' list include

disposable plastic party cups, Styrofoam

cups, K-cups, plastic coffee cup lids, straws,

take out containers and clamshell containers

like those used for strawberries and

blueberries.

If you aren't able to avoid using these

items, the only current options for disposing

them are to either reuse them (look for

someone in your local Facebook Freebies

group who may use them for a craft, to

organize art supplies or a school project) or

put them in the trash where they'll be disposed

at the landfill.

the first Tuesday each month at 7 p.m. at

St. John's Lutheran Church, 3220

Columbus St. For information, pick-up a

society brochure at the Grove City

Welcome Center, 3378 Park St.

Chow time!

February 20, 2022 - GROVE CITY MESSENGER - PAGE 13

Messenger photo by Rick Palsgrove

One of the four farm draft horses that work at Slate Run Living Historical Farm, 1375

State Route 674 North, Canal Winchester, munches on some lunch time hay in the

farm's barn on a wintry day. Mike Huels of Slate Run Living Historical Farm said, even

in the winter, the horses seem to prefer being outside rather than cooped up in their

stalls in the barn. Huels said the horses' thick coats help them handle the cold as

long as they stay dry.

CLASSIFIED ADS

Deadlines: Groveport and West editions, Wednesdays at 5 p.m., • South/Canal Winchester, Grove City, Madison editions, Tuesdays at 5 p.m.

All editions by phone, Tuesdays at 5 p.m. • Service Directory, Tuesdays at 5 p.m.

INFORMATION

ASSOCIATION ADS

ASSOCIATION ADS

GET READY

FOR SPRING!

Try a New Hair Style!

Come See Me At

My New Location!

Call Marilyn Weaver

For An Appt.

For a New Haircut/Color

614-348-6670

Relax Wellness

3663 Broadway, Grove City

ASSOCIATION ADS

Business Owners.

Eliminate credit card

processing fees 100%,

pass on a legal 4% noncash

charge to the

customer. Chain stores

welcome. 337-849-8083

Don't let the stairs limit

your mobility! Discover

the ideal solution for

anyone who struggles on

the stairs, is concerned

about a fall or wants to

regain access to their

entire home. Call

AmeriGlide today! 1-844-

317-5246

ASSOCIATION ADS

HughesNet - Finally, superfast

internet no matter

where you live. 25 Mbps

just $59.99/mo! Unlimited

Data is Here. Stream

Video. Bundle TV &

Internet. Free Installation.

Call 866-499-0141

!!OLD GUITARS WANT-

ED!! GIBSON, FENDER,

MARTIN, Etc. 1930's to

1980's. TOP DOLLAR

PAID. CALL TOLL FREE

1-866-433-8277

Replace your roof with the

best lookng and longest

lasting material! Steel

from Erie Metal Roofs!

Three styles and multiple

colors available.

Guaranteed to last a

lifetime! Limited Time

Offer - $500 Discount +

Additional 10% off install

(for military, health

workers & 1st responders)

Call Erie Metal Roofs: 1-

855-338-4807

DENTAL INSURANCE

from Physicians Mutual

Insurance Company.

Coverage for 350 plus

procedures. Real dental

insurance - NOT just a

discount plan. Do not wait!

Call now! Get your FREE

Dental Information Kit with

all the details! 1-877-553-

1891

www.dental50plus.com/

macnet#6258

Wesley Financial Group,

LLC Timeshare Cancellation

Experts Over

$50,000,000 in timeshare

debt & fees cancelled in

2019. Get free

informational package &

learn how to get rid of

your timeshare! Free

consultations. Over 450

positive reviews. 888-965-

0363

Update your home with

beautiful new blinds &

shades. Free in-home

estimates make it

convenient to shop from

home. Professional

installation. Top quality -

Made in the USA. Free

consultation: 877-212-

7578. Ask about our

specials!

ASSOCIATION ADS

Donate Your Car To

Veterans Today! Help and

Support our Veterans.

Fast - FREE pick up.

100% tax deductible. Call

1-800-245-0398

Looking for assisted living,

memory care, or

independent living? A

Place for Mom simplifies

the process of finding

senior living at no cost to

your family. Call 1-833-

386-1995 today!

Aloe Care Health, medical

alert system. The most

advanced medical alert

product on the market.

Voice-activated! No wi-fi

needed! Special offer

w/code CARE20 for $20

off Mobile Companion. 1-

855-521-5138

LONG DISTANCE MOVING:

Call Today for a FREE

QUOTE from America's Most

Trusted Interstate Movers.

Let us take the stress out of

moving! Call now to speak to

one of our Quality Relocation

Specialists: 877-541-6320

The bathroom of your

dreams for as little as

$149/month! BCI Bath &

Shower. Many options

available. Quality

materials & professional

installation. Senior &

Military Discounts

Available. Limited Time

Offer - FREE virtual inhome

consultation now

and SAVE 15%! Call

Today! 1-877-540-2780

Stop worrying! SilverBills

eliminates the stress &

hassle of bill pmts.

Household

bills

guaranteed to be paid on

time as long as

appropriate funds are

available. No computer

necessary. Free trial/

custom quote 1-855-703-

0555

Stroke & Cardiovascular

disease are leading

causes of death according

the American Heart

Association. Screenings

can provide peace of mind

or early detection! Call

Life Line Screening to

schedule your screening.

Special offer - 5

screenings for $149. 1-

866-518-8391

ASSOCIATION ADS

Long Distance moving.

Call for a free quote from

America's Most Trusted

Interstate Movers. Let us

take the stress out of

moving! Speak to a

relocation specialist! Call:

888-721-2194

Looking for assisted living,

memory care, or

independent living? A

Place for Mom simplifies

the process of finding

senior living at no cost to

your family. Call 1-833-

910-1576 today!

Hero takes stress out of

managing medications.

Hero sorts & dispenses

meds, sends alerts at

dose times & handles

prescription refill &

delivery for you. Starting

at $24.99/month. No

initiation fee. 90-day riskfree

trial! 1-888-684-0280

xInformation

IQ TESTED

Offering for a limited time,

free intelligence and personality

tests. Your IQ, personality and

aptitude determine your future.

Know them. No obligations.

CHURCH OF SCIENTOLOGY

OF CENTRAL OHIO

1266 Dublin Road, Columbus, Ohio 43215

Information
---
PAGE 14 - GROVE CITY MESSENGER - February 20, 2022

www.columbusmessenger.com

CLASSIFIED ADS

Deadlines: Groveport and West editions, Wednesdays at 5 p.m., • South/Canal Winchester, Grove City, Madison editions, Tuesdays at 5 p.m.

All editions by phone, Tuesdays at 5 p.m. • Service Directory, Tuesdays at 5 p.m.

xEmployment

NOW HIRING BUS DRIVERS

$19.00 an Hour

CDL Drivers get $2,000 Sign On Bonus

Non-CDL $1,000 Sign On Bonus

Paid Training

Apply @ 4400 Marketing Pl., Groveport (Door 16) or http://careers.nellc.com/

614-836-4962

xInformation

WORRIED? STRESSED OUT?

DEPRESSED?

BUY AND READ

D I A N E T I C S

THE MODERN SCIENCE OF MENTAL HEALTH

BY L. RON HUBBARD

May you never be the same again. Price: $25

CALL 614-974-3672

1266 Dublin Road, Columbus, Ohio 43215

Information

ASSOCIATION ADS

Thinking about installing

a new shower? American

Standard makes it

easy. FREE design consulation.

Enjoy your

shower again! Call 1-

833-769-0995 today to

see how you can save

$1,000 on installation, or

visit www.newshowerdeal.com/mac

ASSOCIATION ADS

NEED IRS RELIEF

$10K-$125K+ Get Fresh

Start or Forgiveness.

Call 1-844-431-4716

Monday through Friday

7am-5pm PST

ASSOCIATION ADS

Aloe Care Health, medical

alert system. The most

advanced medical alert

product on the market.

Voice-activated! No wi-fi

needed! Special offer-call

and mention offer code

CARE20 to get $20 off

Mobile Companion. Call

today-1-877-728-4065

New authors wanted!

Page Publishing will help

self-publish your book.

Free author submission

kit! Limited offer! 866-

951-7214

Put on your TVEars &

hear TV w/unmatched

clarity. TVEars Originaloriginally

$129.95 - now

w/this special offer oly

$59.95 w/code MCB59! 1-

833-530-1955

Become a Published

Author. We want to Read

Your Book! Dorrance

Publishing Trusted Since

1920 Consultation,

Production, Promotion and

Distribution. Call for Free

Author's Guide 1-833-719-

3029 or visit

http://dorranceinfo.com/acp

Paying top cash for men's

sportwatches! Rolex,

Breitling, Omega, Patek

Pillippe, Heuer, Daytona,

GMT, Submariner and

Speedmaster. Call 833-

603-3236

ASSOCIATION ADS

Become a Published

Author. We want to Read

Your Book! Dorrance

Publishing - Trusted by

Authors Since 1920

Book manuscript submissions

currently being reviewed.

Comprehensive Services:

Consultation, Production,

Promotion and Distribution. Call

for Your Free Author's Guide 1-

866-482-1576 or visit

http://dorranceinfo.com/macnet

READY TO BUY, SELL

OR RENT YOUR

VACATION HOME OR

HUNTING CAMP?

Advertise it here and in

neighboring publications.

We can help you. Contact

MACnet MEDIA @

800-450-6631 or visit our

site at MACnetOnline.

com

Elminate gutter cleaning

forever! LeafFilter, the most

advanced debris-blocking

gutter protection. Schedule

Free LeafFilter Estimate

today. 15% off Entire

Purchase. 10% Senior &

Military Discounts. Call 1-

855-995-2490

AMERICAN & FOREIGN

CLASSIC CARS AND

MOTORCYCLES

WANTED. $$PAYING

CA$H$$ Corvettes,

Mustangs, Jaguars, Austin

Healeys, Broncos,

Blazers, Ram Chargers,

AMX, and Triumphs

KRMiller1965@yahoo.com

717-577-8206

Stroke & Cardiovascular

disease are leading

causes of death according

the AHA. Screenings can

provide peace of mind or

early detection! Call Life

Line Screening to

schedule a screening.

Special offer 5 screenings

for $149.. 1-833-549-4540

New construction

plumbers needed:

Small company with over

25 years in business offering:

• Competitive pay

• Paid vacation • Matching IRA

• 5 paid holidays • Work vehicle

Contact Plumbing Solutions Inc.

(614) 235 6007

PlumbingSolutionsColumbus.com

ASSOCIATION ADS

READER

ADVISORY

The National Trade Association

we belong to has

purchased the following

classifieds. Determining

the value of their service

or product is advised by

this publication. In order

to avoid misunderstandings,

some advertisers do

not offer "employment"

but rather supply the

readers with manuals, directories

and other materials

designed to help

their clients establish mail

order selling and other

businesses at home. Under

NO circumstance

should you send any

money in advance or give

the client your checking,

license ID or credit card

numbers. Also beware of

ads that claim to guarantee

loans regardless of

credit and note that if a

credit repair company

does business only over

the phone it's illegal to request

any money before

delivering its service. All

funds are based in US

dollars. Toll Free numbers

may or may not

reach Canada. Please

check with the Better

Business Bureau 614-

486-6336 or the Ohio Attorney

General's Consumer

Protection Section

614-466-4986 for more

information on the company

you are seeking to

do business with.

Employment

"HELP WANTED"

SIGN

NOT WORKING?

TO ADVER

VERTISE

Call Kathy at

The Columbus Messenger

ASSOCIATION ADS

Looking for auto insurance?

Find great deals

on the right auto insurance

to suit your needs.

Call today for a free

quote! 866-924-2397

Attention oxygen therapy

users! Inogen One G4 is

capable of full 24/7 oxygen

delivery. Only 2.8

pounds. Free info kit.

Call 877-929-9587

Train online to do medical

biling! Become a Medical

Office Professional at CTI!

Get trained & certified to

work in months! 888-572-

6790. The Mission,

Program Information and

Tuition is located at

CareerTechnical.edu/cons

umer-information. (M-F 8-

6 ET.

DISH TV $64.99 190

Channels + $14.95 high

speed internet. FREE installation,

Smart HD DVR

included. Free Voice Remote.

Some Restrictions

apply. Promo Expires

1/21/22. 1-833-872-2545

Directv Now. No Satellite.

$40/mo 65 Channels.

Stream news, live

events, sports & on demand

titles. No contract/

commitment. 1-866-825-

6523

SELL YOUR ANTIQUE

OR CLASSIC CAR.

Advertise with us. You

choose where you want

to advertise. 800-450-

6631 visit macnetonline.

com for details.

614-272-5422

ASSOCIATION ADS

DISH TV $64.99 FOR 190

Channels + $14.95 High

Speed Internet. Free Installation,

Smart HD DVR

Included, Free Voice Remote.

Some restrictions

apply. Promo expires

1/21/22. 1-855-270-5098

AT&T Internet. Starting

at $40/month w/12-mo

agmt. 1 TB of data/mo.

Ask how to bundle &

SAVE! Geo & svc restrictions

apply. 1-888-796-

8850

VIAGRA and CIALIS

USERS! 50 Generic pills

SPECIAL $99.00. 100%

guaranteed. 24/7 CALL

NOW! 888-445-5928

Hablamos Espanol

HughesNet Satellite Internet

- Finally, no hard

data limits! Call today for

speeds up to 25mbps as

low as $59.99/mo! $75

gift card, terms apply. 1-

844-863-4478

Want Faster & Affordable

Internet? Get internet

service today with

Earthlink. Best internet &

WiFi Plans. Call us Today

to Get Started. Ask

about our specials! 866-

396-0515

HEARING AIDS!! Bogo

free! High-quality rechargeable

Nano hearing

aids priced 90% less

than competitors. Nearly

invisible! 45-day money

back guarantee! 833-

669-5806

ASSOCIATION ADS

Pest Control

Find Pest Control Experts

Near You! Don't let

pests overtake your

home. Protect your loved

ones! Call today to find

great deals on Pest

Control Services - 833-

872-0012

Life Alert. One press of a

button sends help fast

24/7! At home and on

the go. Mobile Pendant

with GPS. Free first aid

kit (with subscription).

877-537-8817 Free brochure

Internet &WIFI Starts at

$49 Call us Today to Get

Started. Find High-Speed

Internet with Fiber Optic

Technology No Credit

Check, No SSN Required.

Call us Today 866-396-

0515

Eliminate gutter cleaning

forever! LeafFilter, the

most advanced debrisblocking

gutter protection.

Schedule a FREE LeafFilter

estimate today. 15% off

Entire Purchase. 10% Senior

& Military Discounts.

Call 1-855-791-1626

Attention: If you or aloved

one worked around the

pesticide Roundup

(glyphosate) for at least 2

years and has been diagnosed

with non-Hodgkin's

lymphoma, you may be

entitled to compensation.

855-341-5793
---
www.madisonmessengernews.com

xCome & Get It!

.

COME AND GET IT

Deadlines are Tuesdays by 5 pm.

Call For Publication Schedule 614-272-5422

Need to Get Rid of Something Fast - Advertise It Here For FREE!

FREE Garden Straw for gardens or bedding. Call for appointment for pickup.

Circle S Farms, 9015 London-Groveport Road, Grove City, 43123

Grove City - 614-878-7980

WOOD from two trees that we cut down two years ago. FREE.

Call me and let me know when you canp ick it up.

TH - Canal Winchester - 614-949-8963

Come and Get It! is a bi-weekly column that offers readers an opportunity to pass

along surplus building materials, furniture, electronic equipment, crafts, supplies,

appliances, plants or household goods to anybody who will come and get them - as

long as they're FREE. NO PETS! Just send us a brief note describing what you want to

get rid of, along with your name, address and phone number. Nonprofit organizations

are welcome to submit requests for donations of items.

Send information to The Columbus Messenger, Attention: Come and Get It, 3500

Sullivant Ave., Columbus, OH43204. Deadline is Tuesdays by 5 pm for following

Mondays publication. Messenger Newspapers is not responsible for any

complications that may occur. Please contact us when items are gone. 272-5422

Come & Get It!

xFocus on Rentals

WEDGEWOOD

VILLAGE

1, 2 and 3 BR Apts.

Rent Based on Income.

Call 614-272-2800 or visit us

at 777 Wedgewood Dr.

TTY/TDD 711

EQUAL HOUSING OPPORTUNITIES

ASSOCIATION ADS

Wants to purchase minerals

and other oil and gas

interests. Send details to

P.O. Box 13557, Denver,

CO. 80201

DENTAL INSURANCE-

Physicians Mutual Insurance

Company. Covers

350 procedures. Real

insurance - not a discount

plan. Get your free

dental Info kit! 1-888-

623-3036 . www.dental50plus.com/58

#6258

BATH & SHOWER UP-

DATES in as little as

ONE DAY! Affordable

prices - No payments for

18 months! Lifetime warranty

& professional installs.

Senior & Military

Discounts available. Call

855-761-1725

Rentals

ASSOCIATION ADS

The Generac PWRcell

solar plus battery storage

system. Save money,

reduce reliance on

grid, prepare for outages

& power your home. Full

installation services. $0

down financing option.

Request free no obligation

quote. Call 1-855-

270-3785

GENERAC Standby

Generators provide

backup power during

power outages, so your

home & family stay safe &

comfortable. Prepare now.

FREE 7-yr extended

warranty $695 value!

Request a free quote

today. Call for terms &

conditions. 1-844-334-

8353

ASSOCIATION ADS

VIAGRA & CIALIS! 60

pills for $99. 100 pills for

$150 FREE shipping.

Money back guaranteed!

1-844-596-4376

The Generac PWRcell, a

solar plus battery storage

system. SAVE money,

reduce your reliance on

the grid, prepare for power

outages and power

your home. Full installation

services available. $0

Down Financing Option.

Request a FREE, no obligation,

quote today. Call

1-866-783-0292

IMPORTANT

NOTICE

The following states: CA,

CT, FL, IA, IL, IN, KY,

LA, MD, ME, MI, MN,

NE, NC, NH, OH, OK,

SC, SD, TX, VT and WA

requires seller of certain

business opportunities to

register with each state

before selling. Call to

verify lawful registration

before you buy.

GENERAC Standby Generators

provide backup

power during utility power

outages, so your home

and family stay safe and

comfortable. Prepare

now. Free 7-year extended

warranty ($695 value!).

Request a free

quote today! Call for additional

terms and conditions.

1-855-465-7624

Donate your car to kids!

Fast free pickup running

or not - 24 hour response.

Maximum tax

donation. Help find missing

kids! 877-831-1448

Protect your home w/home

security monitored by

ADT. Starting at $27.99/

mo. Get free equipment

bundle including keypad,

motion sensor, wireless

door & windows sensors.

833-719-1073

CHILD CARE

OFFERED

Depend. Quality Child care

in loving hm. Exp. Mom, n-

smkr, hot meals, sncks,

playroom, fncd yd. Reas.

rates. Laurie at 853-2472

HELP WANTED

FT Barber needed for well

established Barber Shop

in Upper Arlington.

Alfred's Barber Shop.

614-457-5432

Ask for Ronda

CRAFT SHOWS

Crafters/Vendors needed

FHHS Spring Craft Show

Franklin Heights H.S.

Sat., April 9, 2022

Register today!

email for application

fhhsbazaar@gmail.com

PETS

Chihuahua puppies, 10

months old for sale. One

male (white hair), 2 female

(one white hair, one black

and white hair). $300.00

each. 614-517-0914

MISC FOR

SALE

KEGERATOR for Sale

All accessories incl plus

half barrel beer keg incl.

Runs great! $350 or best

offer. Call 614-272-7090

WANT TO BUY

WE BUY JUNK CARS

Call anytime 614-774-6797

BUYING VINYL RECORDS.

LPs and 45s - 1950-80s

Rock, Pop, Jazz, Soul.

614-831-0383

We Buy Junk Cars &

Trucks. Highest Prices

Paid. 614-395-8775

WANTS TO Purchase

minerals and other oil &

gas interests. Send details

to: P.O. Box 13557,

Denver, CO 80201

ANTIQUES

WANTED

Victrolas, Watches,

Clocks, Bookcases

Antiques, Furn.

Jeff 614-262-0676

or 614-783-2629

RENTALS

CONDO FOR RENT

Galloway Village -West of

Columbus. New 2BR, 2BA

condo w/2 car garage.

AC/Heat. $1600/mo. (No

Realtors) 614-465-7763

VACATION RENTALS

Englewood, Florida

Palm Manor Resort

Within minutes of white

sand Gulf beaches,

world famous Tarpon

fishing, golf courses, restaurants/shopping,

Bush

Gardens. 2 BR 2 BA

condos with all ammenities,

weekly/monthly, visit

www.palmmanor.com

or call 1-800-848-8141

USED VEHICLES

2007 Nissan Quest Mini

Van, 7 passenger, A/C not

working but heating is.

Good for short trips.

$700 OBO. 614-465-7763

February 20, 2022 - GROVE CITY MESSENGER - PAGE 15

xClassified Services

BASEMENT

WATERPROOFING

Walker's Basement

Waterproofing. LLC

614-359-4353

CARPET CLEANING

CARPET CLEANING

Any 5 areas ONLY $75

Home Powerwash- $99-$200

614-805-1084

Specializing in Pet Odors

CONCRETE

www.hastingsnsons.com

Driveways & Extensions

Patio & Walkways,

Porches & Steps,

Garage/Basement Floors

Hot Tub/Shed Pads,

Stamped/colored concrete

Sealing of new &

existing concrete.

FREE ESTIMATES

Contact Adam

614-756-1754

hastingsandsons.

columbus@gmail.com

AJ's Concrete,

Masonry

Good Work - Fair Prices

Block Foundations

Driveways • Sidewalks

Epoxy/Overlay Floors

Bonded-Ins. • Free Ests.

614-419-9932

INFORMATION

2/13 A

GUTTERS

Bates & Sons

GUTTER CLEANING

5 ★ Google Reviews

614-586-3417

HAULING

DEAN'S HAULING

614-276-1958

HEATING

HEATING

Complete System Clean & Check

$49.95

Free Carbon

Monoxide Testing

Gas-Oil-Electric Heat/Pumps

All Makes • All Models

45 yrs exp. • Sr. Discount

614-351-9025

INFORMATION

FOR ONLY

$74.00

You Can Reach

Over 42,000 Homes

In Our

West & Grove City

Areas

For Info Call

272-5422

INFORMATION

LOOK TO

THE PROFESSIONALS

IN OUR

SERVICE DIRECTORY

For Service

"That Is Out Of This World"

2/13 A

HOME

IMPROVEMENTS

SLAGLE

HOME REMODELING

Baths, Kitchen,

Plumbing and Electrical.

All your Handyman needs

No Job too Big or Small

Over 30 Yrs. Exp. Lic.-Bond-Ins.

Jerry

614-332-3320

HOME

REMODELING

Handyman Remodeling

Over 35 yrs exp.

Larry 614-376-7006

LAWN CARE

LET US MAINTAIN

YOUR LAWN & GARDEN

FOR YOU

Summer, Spring,

Winter or Fall

WE DO IT ALL!!!!

Lawn Cuts, Edging,

Trees & Shrubs, Garden,

Mulching, Hauling,

Garden Pond &

Home Maint.

Free Ests. Low Rates

$20 & Up

Kevin - 614-905-3117

Classified Services

3/12

SW/W

KLAUSMAN HOME

IMPROVEMENT

Siding-Windows-

Doors-Roofing-Soffit-

Fascia-Gutters-Trim

Earn FREE Seamless

Gutters with Siding Over

1000 Sq. Ft.

FREE Shutters with

Soffit & Trim

EPA Certified

Member of BBB

Financing Available

Over 20 yrs exp. • Free Est.

Licensed-Bonded-Insured

Owner & Operator

James 614-419-7500

SINCE 1973

Phil Bolon Contr.

Windows & Siding

Decks, Kitchens, Baths

Room Additions,

Flooring, Roofing

Bsmt Waterproofing

Deal With Small Non-Pressure Co.

47 Yrs. Exp. - Refs. Avail.

Lic.-Bond-Ins.

2/13

A/M

Free Est. - Financing Avail.

Member BBB Of Cent. OH

O.C.I.E.B. ID #24273

614-419-3977

or 614-863-9912

C&JHandyman

Services LLC

Minor Plumbing

& Electric

Install Hot Water Tanks,

Dishwashers & Disposals

Also Fencing &

Interior/Exterior Painting

Free Est. ~ 18 Yrs. Exp.

CDC/EPA Approved Guidelines

614-284-2100

2/27 A

11/7 A

PAINTING

Painter Over 30 Yrs. Exp.

Free Est. Reas. Rates

Daniel - 614-226-4221

A Job Well Done Again

A lic. General Contractor

Some Skilled Services

Incl: Painting • Stucco,

Repair•Carpentry•Exterior

Drainage & Home Maint.

Call Today! 614-235-1819

PLASTERING

DRYW

YWALL &

PLASTER

1/30

A&M

REPAIR

Textured Ceilings

614-551-6963

Residential/Commercial

BIA

PLUMBING

MYERS

PLUMBING

Exp. Expert Plumbing

New Work & Fast Repairs

Lic. - Permit Available

Water • Sewer • Gas

614-633-9694

CHRIS'

PLUMBING

"Plumbing & Drain Professional

That You Can Count On"

24 Hrs., 7 Days/Week

No Overtime Charges

24 Yrs. Exp. in Plumbing &

Drain Cleaning Field

Call For A Free Phone Estimate

$100.00 For Any Small Drain

614-622-4482

30% OFF with AD

POWER WASHING

Bates & Sons

Soft Wash & Powerwash

5 ★ Google Reviews

614-586-3417

SEWING MACHINE

REPAIR

REPAIR all makes 24 hr.

service. Clean, oil, adjust

in your home. $49.95 all

work gtd. 614-890-5296

TREE SERVICES

Brewer & Sons Tree Service

• Tree Removal

• Tree Trimming 2/13

A&M

• Stump Grinding

• Bucket Truck Services

Best Prices • Same Day Service

614-878-2568

BURNS TREE SERVICE

Trimming, Removal &

Stump Grinding.

614-584-2164

2/13 A&M

2/27 A
---
PAGE 16 - GROVE CITY MESSENGER - February 20, 2022

If you have read any of these columns

over the past few weeks, you would know

that I have been on a bit of a romantic comedy

bender. Part of that insanity is due to

the lack of a more attractive alternative,

but another and much larger part is due to

the fact that they have been something of a

balm to the soul as the world happily lights

itself on fire.

My quest for movies that give me the

warm fuzzies have led me to discover some

not so great technical films — and by that I

mean it features a combination of bad acting,

bad writing, and bad directing and

editing, or all of the above — but they are

infused with a certain kind of stupid charm

that manages to activate your positive

thought receptors, thus making you more

forgiving of its flaws.

The most recent example of a film that

features a combination of technical impediments

but is stupidly charming, nonetheless,

would be "Marry Me." Though not as

poorly acted as its counterparts on the

streaming services, it has some stilted dialogue

that is capable of making you cringe

and it has a premise that is so outlandish

that it could give even the most ardent

believer of the romantic comedy pause. And

yet, the stars in this film bring forth the

charisma, making this mostly bad film a

not-half-bad viewing experience.

Jennifer Lopez stars as Kat Valdez, an

international pop sensation who longs for

the acceptance of her peers in the industry,

despite her legion of loyal fans. Her latest

hit is a duet called "Marry Me" that she

created with her behind-the-music partner

Bastian (Maluma). This song, she believes,

could be her ticket to industry acclaim —

and the fact that they plan to marry at a

concert in front of an audience of 20 million

would be the icing on the cake. After all,

you gotta get that buzz any way you can get

it — or plan it, in this case.

Moments before they are set to

exchange their vows, Bastian is busted by a

national rag for cheating on Kat with her

assistant. Humiliated, she delivers a rousing

speech to her millions of fans about how

love is a lie and decides she will marry her

awesome self instead. Just kidding, she

doesn't do that. Instead, she locks eyes

with a stranger in the audience holding a

sign that says, "Marry Me," and brings him

up on stage to do just that.

Said stranger is Charlie Gilbert (Owen

Wilson), a somewhat dull recent divorcee

who teaches math at a middle school. Much

to his 12-year-old daughter's dismay, he is

not up to the times (he uses a flip phone

and shuns social media — a good choice)

which is how he ended up going to this

massive wedding/concert.

While not a spontaneous person by

nature, Charlie does not want to add to

Kat's obvious distress and agrees to marry

her in front of a bewildered audience. Not

wanting the public to think she is "crazy,"

Kat and Charlie decide to keep up the pretenses

for a few months. Gradually, they

get to know each other and these two starcrossed

non-lovers start to develop real

feelings for each other. Naturally, the pop

star life and all that it entails start to get

in the way of their budding relationship —

as well as that beautiful adulterer who just

wants his "Queen" back.

Because the character focus of the movie

centers around an international pop star,

this film is glorious to look at. The locations

are outstanding, the costumes are exquisite

and it even makes the third concert

montage feel somewhat epic rather than a

bore. But the primary thing this movie is

missing — so much so that it makes it a

lesser version of the romantic comedy — is

the winsome ensemble.

Despite the magnetic power of Lopez

and Wilson (her appeal is less puzzling

than Wilson's, but he does have it), they

don't make a great central couple in this

film. They have chemistry, but it's a weird

www.columbusmessenger.com

In Entertainment

"Marry Me" coasts on the charisma of its main stars

The Reel Deal

Dedra Cordle

kind where you

think they would

rather burst into a

friendly argument

than play kissy face.

To make up for this

lack, there should

have been a great

ensemble around them to balance out some

of the weaker and less credulous points but

it just wasn't there, though try as Sarah

Silverman and John Bradley might (they

play Charlie's friend and Kat's manager,

respectively).

With a weak script and a lack of great

secondary characters who could infuse the

film with a much needed boost of humor,

"Marry Me" just kind of meanders around

and coasts on the charisma of its main

stars. Though it largely works because of

that fact, and thus creates those positive

thoughts, it still leaves behind a sensation

that it could have been so much more of a

balm to soothe the soul. Grade: C

Dedra Cordle is a Messenger staff writer

and columnist.

Now in Grove

City

At Zangmeiste er Cancer Center we coll laborate with our

colleagues in radiation therapy, surgery, genetics, pathology

and

clinical researc ch to ensure each patien nt has a comprehensive

,

multidisciplinar ry plan of care. Support from our pharmacists,

social workers , nurse navigators, dietiti ians and financial

counselors min nimize the impact of can cer on daily life.

A DIVISION OF AMERICAN ONCOLOGY PAR TNERS, P.A.

We del liver the most adv vanced and innova ative treatments fo ocused on each patient for

the best possible expe erience — becaus e each patient' 's cancer journey is unique.

5500 North Meado ows Dr., Suite 230, Grove City, OH 43123 | ZangCenter.

com