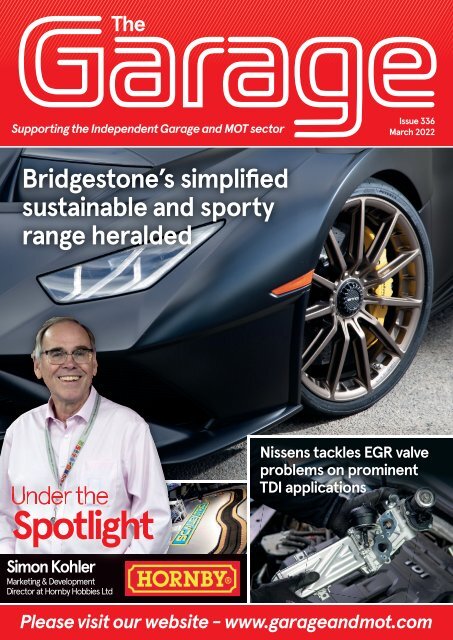 You also want an ePaper? Increase the reach of your titles
YUMPU automatically turns print PDFs into web optimized ePapers that Google loves.
The

Supporting the Independent Garage and MOT sector

Issue 336

March 2022

Bridgestone's simplified

sustainable and sporty

range heralded

Under the

Spotlight

Simon Kohler

Marketing & Development

Director at Hornby Hobbies Ltd

Nissens tackles EGR valve

problems on prominent

TDI applications

Please visit our website - www.garageandmot.com

1 Front.indd 1 21/02/2022 16:27
---
EVERYTHING

CONNECTED

UK's only supplier of 'one-key' connection

One control station

One control software

First-class support

DVSA

APPROVED

DVSA

APPROVED

DVSA

APPROVED

Class 4 & 7

Brake Testers

Gas Analysers

Smoke Meters

Wireless

Decelerometers

Headlamp

Aim Testers

(Awaiting DVSA Specifications)

Simple, seamless connectivity

for your MOT equipment

Industry leaders for over 35 years.

Trusted by over 5,000 businesses, Boston products are

manufactured in the UK or EU. With full nationwide agent

support, we provide invaluable advice on the latest DVSA

regulations and offer FREE, no obligation site surveys.

T: 0800 085 0620

E: sales@bostonequipment.com

W: bostonequipment.com

Boston FP MoT Connected.indd 1 21/02/2022 15:21
---
The

Supporting the Independent Garage and MOT sector

Issue 336

March 2022

Hello

As I write this the country is in the

process of being battered by multiple

storms; it's a perfect time to batten

down the hatches and turn to an indoor

activity. If modelling, Scalextric or Hornby

is your choice, you'll find our 'under the

Spotlight' feature this month fascinating,

where we talk to Simon Kohler, Marketing &

Product Development Director at Hornby

Hobbies Ltd.

We've caught up with Joshua Rayner from

what3words for our 'Industry Insight' this

issue. The company are fast becoming a

household name and we find out their latest

developments in the automotive industry on

page 6.

We've got a busy Tyres, Brakes and Exhausts

feature starting on page 30 and in our packed

News pages, there's an update on June's UK

Garage & Bodyshop Event at the NEC.

Finally, we take to the skies with GS Yuasa

on page 12, as the battery manufacturer

sponsor air display team The Blades.

Enjoy the magazine.

Paul Gregory Editor

paul.gregory@ppmedia.co.uk

Subscribe to

The Garage

To ensure you receive a printed copy of The Garage every issue,

visit our website and input your details. Don't forget the magazine is

FREE to receive.

www.garageandmot.com

Contact us

Editor

Paul Gregory

paul.gregory@ppmedia.co.uk

Publication Manager

Ben Coates

ben.coates@ppmedia.co.uk

Design & Layout

Mark Blacker

mark.blacker@ppmedia.co.uk

Advertising

Ben Coates

ben.coates@ppmedia.co.uk

The Garage is published by:

Partnership Publishing Limited

Bridge Road

Wellington

Telford

TF1 1EA

Telephone: 01952 415334

Website: www.garageandmot.com

Twitter: @garageandmot

Facebook: @TheGarageMag

Instagram: @GarageandMOT

LinkedIn: TheGarageMagazine

The

Every care is taken over the accuracy of material in The Garage but the publishers cannot be held responsible for any errors or omissions. Views and

opinions of contributors, advertisers and interviewees to The Garage are not necessarily those of the publishers who cannot accept responsibility for such

contributions.

© Partnership Publishing 2020 / 2022 - All rights reserved. No part of the publication may be reproduced in any form without prior consent of the publisher.

3 Comment.indd 1 21/02/2022 17:01
---
CONTENTS

Inside

TICKETS

ON SALE

NOW!

Carden Park

Country Hotel,

Cheshire

Friday 4 th November, 2022

News

06. Industry Insight - what3words. The Garage Magazine talks

to Josh Rayner, Partnerships Manager at what3words.

08. News - PETRONAS Lubricants International launches

re-engineered PETRONAS Syntium oil range to deliver

maximum vehicle efficiency.

10. News - Gulf Lubricants UK and Titan Group announce a

new partnership to return the iconic Gulf brand back to

the UK Aftermarket sector.

12. News - GS Yuasa, take their sponsorship programme to

new heights by teaming up with world famous air display

team, The Blades.

22. News - How training can future proof and safeguard

an automotive business. We talk to Mandla Ndhlovu,

Training Deliver Director for Autotech Training.

Under the Spotlight

15. Simon Kohler.

Today the Garage speaks with Simon Kohler,

Marketing & Product Development Director at Hornby

Hobbies Ltd.

Tickets for the event are priced at

£110 + VAT per person

and there are various other ways for

companies to support the event.

For all ticket sales and sponsorship

opportunities please contact

Nick Phipps, Call: 01952 415334 or

email: nick.phipps@ppmedia.co.uk

TOW SHOW

2022

WEDNESDAY 28 AND

THURSDAY 29 SEPTEMBER

The largest trade show in the UK

dedicated to the vehicle recovery

and roadside assistance industry

Telford International Centre

www.recoverytowshow.co.uk

Features

32. Tyres

The Garage takes an indepth look at tyres, with Bridgestone,

Continental, Falken and Apollo.

42. Exhaust Systems

Nissens tackles EGR valve problems on prominent TDI

applications. Denso, discus air/fuel ratio sensors and oxygen

sensors – what's the difference? Plus, NGK, a leading supplier

of Lambda sensors under its NTK brand.

People

48. People stories and movements from around your industry

Your data

The Garage is published by Partnership Publishing and is produced 12 times a year. Your data and privacy is

important to us. We would never give this information away or sell it onto a third party. You would only receive

magazines or information from one of Partnership Publishing's publications.

However, if you wish to stop receiving The Garage and would like us to erase all of your information from

our databases then email your name, company and address to ben.coates@ppmedia.co.uk

4 THE GARAGE

4 Contents.indd 1 21/02/2022 14:40
---
DON'T GET

STUMPED

AND SEND WORK

TO THE DEALER

Elite Diagnostic Kit

Diagnostic Support

Failure to diagnose vehicles quickly and correctly reduces

profitability and loses your workshop valuable customers!

TM

Using the DrivePro Elite Diagnostic Kit coupled with IVS 360,

your technicians can tap into a pool of behind the scenes

expertise for quick complex diagnosis and repairs, without

those dealer repair costs!

Access IVS 360

TM

Directly From DrivePro!

✔ Unlimited – No support request limits, and your whole

workshop has unlimited access!

✔ On-demand – Request support from our OE-certified

Master Technicians when you need it!

✔ Save time – No more sending jobs to dealers, or wasting

time Googling the repair!

TM

IVS 360 Is Included With The

DrivePro Elite Diagnostic Kit

Multi-Brand Diagnostic Solution

DRIVEPRO ELITE DIAGNOSTIC

KIT - ONE COMPLETE

SOLUTION THAT DOES IT ALL

SCHEDULE A DEMO

sales-uk@opusivs.com

44 (0) 1865 870 060

opusivs-uk.com

Autologic FP.indd 1 21/02/2022 14:41
---
INDUSTRYNEWS

Industry insight

what3words

Recently the importance of what3words has

been highlighted in the news, as the brand

and technology becomes more integral to our

every day life, we talk to Josh Rayner from the

company as he looks at the reasons as to the app

now taking off as well as the future of the brand.

The what3words app took off by being installed in new A Class

Mercedes, the automotive industry really is embracing your

technology.

It certainly seems that what3words is taking off and becoming

a standard within the OEM sector as a whole. There really has

been an increasing focus on voice navigation and vehicles.

Lots of things are moving towards voice and software rather

than touchscreen and typing. So, I think that there's definitely

steps to work out how, or what is the best way to allow people

to input those locations easily inside their vehicles. Mercedes

Benz was the first and they have a really good native system in

all new cars were what3words can be voice or typed input into

their system.

Another industry where your app is used is the recovery industry,

which is proving very successful.

Anyone can use what3words, any organisation or member

of the public. You can download our app or use our map

site for free. You can start training call handling staff to use

these and help improve customer service. what3words is a

global standard, and we want people and organisations to

go out there and use this system. We are also able to build

our technology, our core API, into any system that uses

coordinates, this means that you will be able to type in a three

word address and geocode that location within our system.

what3words are having an impact on the whole of the automotive

industry.

There's been huge strides, and one of the key things to get

right in the automotive sector is the technology partnerships.

The sort of partners that provide the mapping behind the

software used by OEMs and car makers, for example Bosch,

Tom Tom and Amazon Alexa. We now have 10 automotive

partners on board including Mercedes Benz, Mitsubishi, Lotus,

Lamborghini, Triumph, Tata, Ford, VinFast, and Volta trucks

recently, which we announced at CES 2022. So there really has

been a lot of progress in this area. I think that one of the really

big advantages of what3words is a system that is completely

global and can be used in 50 languages. So, if you're driving

your car in Germany, or in France, you can navigate that

country using your English voice input for navigation.

We've heard some great examples of how the technology can

pinpoint someone, especially in an emergency situation.

One of the projects I've been managing for the last year or

so has been the UK emergency services projects. This wasn't

something that what3words set out to do. It was a originally an

organic use case by certain emergency services who wanted

to use what3words within their operations. It really has taken

off, and now over 85% of automotive services in the UK now

accept a what3words address over 999 which is amazing to

see. We see daily stories of it being used to help find people

or help find people in distressing situations, breakdowns, or

particularly cross organisational situations.

6 THE GARAGE

6, 7 Industry Insight.indd 1 21/02/2022 16:26
---
INDUSTRYNEWS

Are there any future developments you can announce?

The core product of what3words is there, working and ready to

be used. What we do as a business is B to B or B to C; we build

what3words with our partners into their systems, and then

they in turn offer it to their clients, partners or members of

the public to improve their service in whichever way they see

fit. Delivery logistics partners like Hermes will use our API to

get more accurate deliveries. Addison Lee will use it for better

pickup spots for taxis, Premier Inn will use it to help people

get to the right location of their booking confirmation. So the

actual core technology of what3words is kind of up and running

and has been for years now. It's much more about working with

partners and helping them to use what3words to improve their

service.

The technology for what3words has been around for a while

now, why has it taken so long for it to be working and making

such a difference in day to day life?

I would say the ecosystem is probably the thing that's taken

the time. People may have been aware of what3words but was

unsure to how it was relevant for them. I'm a dog walker, and

take my dog to the park, these are the spots where I meet up

with my friends. That person might actually work at a software

company that does logistics and has never even thought about

using what3words as a way of getting parcels to the right

houses, or to canal boats that don't have permanent addresses

or to like all these other use cases that we see. It is really about

connecting the dots in people's minds and the sort of network

effect of what3words where someone who's been using it for

years has never thought about using an X or Y scenario. Now

people have got through that barrier, and there has really been

an explosion in use cases and downloads.

Have you got a final message for the automotive industry?

If you are interested in the automotive sector or vehicle

recovery, please download the app, have a play, see if you

can think of any useful cases with your breakdown partners

or providers. We also have a free API that can be downloaded

and implemented for free on our website. We bill on a usage

basis, so if you build it, don't use it, you don't pay for it. There's

basically a very low barrier to entry to start using what3words

within your system. So, the best advice I can have for people

who are interested is just go on our website and have a look.

Bowmonk & Tapley have for decades been the most

recognised and trusted names in portable brake testers.

The Bowmonk BrakeCheck is the electronic version that carries

on from that pedigree.

BrakeCheck is DVSA approved for all classes of vehicle

and it records braking efficiency and percentage of braking

imbalance.

• Portable & easy to use

• No connections to vehicle required

• GEA MTS Connected Approved (Upgrade Available)

• DVSA approved for all classes of vehicle

• Print results to optional portable wireless printer

• Approved for 6-weekly checks

• Download results to PC (optional software required)

• Approved for quarterly brake test requirements

• Records braking efficiency and percentage of braking imbalance

Bowmonk Ltd, Diamond Road, Norwich, NR6 6AW T: +44 (0)1603 485 153 E: info@bowmonk.com www.bowmonk.com

6, 7 Industry Insight.indd 2 21/02/2022 16:27
---
NEWS

PETRONAS

Lubricants International

launches re-engineered PETRONAS

Syntium oil range to deliver maximum

vehicle efficiency

CoolTech+ technology lays the foundation for a next-gen

product range that exceeds industry sustainability standards

PETRONAS Lubricants International (PLI) recently launched

its new PETRONAS Syntium range, proudly crafted to boost

thermal efficiency, control engine heat dissipation, and reduce

the fuel emissions of passenger vehicles worldwide. With

new CoolTech+ technology supporting the Mercedes-AMG

PETRONAS Formula One Team to an eighth consecutive

Constructors' Championship, PETRONAS Syntium will enable

motorists to unlock the same optimal engine performance and

achieve stronger sustainability on every journey, cementing PLI as

a world-leading developer of automotive lubricant efficiency.

Most modern engines only convert around one third of their

potential fuel energy into power. Not only is the rest of this

thermal energy left unconverted, but it dissipates as waste heat,

meaning more than half of the useful energy produced by cars

globally is lost to engine inefficiency. Excessive heat can also

cause damage to critical engine parts, such as turbochargers,

pistons, and bearings.

PETRONAS Syntium now offers almost 40% stronger protection

against the wear of critical parts than past generations, targeting

heat-critical zones within the engine to prevent deposit build-up,

extend parts life, and lower maintenance costs. Thanks to

exceptionally strong oil chains, the new PETRONAS Syntium range

also provides up to 68% higher oxidation resistance, controlling

sludge, delaying oil thickening, and maintaining a stable,

8 THE GARAGE

8,9 News Petronas.indd 1 21/02/2022 15:17
---
NEWS

protective film for maximum engine performance. And with its

superior ability to control heat by reducing friction, CoolTech+

technology cuts vehicle emissions and fuel consumption by up

to 3%, minimising the environmental impact of driving and saving

motorists money.

It's this attention to detail makes PETRONAS Syntium not

only the fastest hybrid oil in the world but also the number

one choice for the fastest racing team on the planet,

Mercedes-AMG PETRONAS. As their official technology partner,

PETRONAS Syntium with CoolTech+ technology enables the

team's Formula One car to achieve more than 50% thermal

efficiency, making it the most efficient racing engine ever

created. And now, this expertise is embedded into the new, highperformance

range of engine oils for motorists around the world.

As part of its largest product launch of 2022, PLI has also

redesigned PETRONAS Syntium's packaging, now using 15% less

plastic across the entire range. The company is also set to launch

a new 20L bag in box packaging that will reduce plastic usage

by up to 90%.while continuing its partnership with sustainability

platform Treedom to combat CO2 emissions. Now recognised

as world-leading technical innovators, PLI believes it's time

to change and redeploy its skills for a new journey: achieving

net-zero emissions by 2050.

After all, energy is a precious resource. Conserving it and

sourcing it sustainably is now more important than ever. With

so many pressures to contend with, both inside and outside of

motoring, it's all too easy for drivers to lose their cool and waste

energy. With PETRONAS Syntium with CoolTech+ technology,

motorists can control the heat, make the most of every drop, and

truly maximise efficiency.

Domenico Ciaglia, MD EMEA for PETRONAS Lubricants

International (PLI), said: "Modern vehicles must work harder and

more efficiently to generate more power from smaller engines,

all while consuming less fuel to reduce emissions. That's why the

new PETRONAS Syntium range focuses on addressing thermal

efficiency and controlling the dissipation of engine heat,

transforming the performance of road car engines for cleaner,

more cost-effective mobility. With our new CoolTech+

technology, motorists can enjoy the confidence to take on the

open road, safe in the knowledge that our products reduce

impacts on their engine, their wallet, and the planet as a whole."

Availability

The new PETRONAS Syntium range will become available in

March 2022.

VARTA Batteries to be a new exhibitor

at the 2022 Recovery Tow Show

Another positive announcement for the

return to live trade exhibitions this year

is the presence of VARTA Batteries at

the Recovery Tow Show.

This is also being seen in the calibre of

companies already exhibiting including many

from the Automotive Aftermarket, one of

which is VARTA Batteries.

A spokesperson for VARTA Batteries

said "We are delighted to be attending the

Recovery Tow Show this September. We

will show you how to maximise your battery

lifetime with important tips on fitting the

correct battery type and how best to

maintain it. PLUS 'Enter our free prize draw

to win a battery tester'. We look forward to

seeing you on stand A130."

Nick Phipps, Tow Show Director added: "It's

tremendous news we are able to announce

VARTA as a new exhibitor at this year's show

and we really look forward to welcoming them

and introducing team VARTA to the wider

roadside assistance and vehicle recovery

sector at their annual UK trade event."

The Tow Show will be returning to the

Telford International Centre on Wednesday

28th and Thursday 29th September 2022. For

more details visit the Tow Show website at

www.recoverytowshow.co.uk

THE GARAGE 9

8,9 News Petronas.indd 2 21/02/2022 16:38
---
NEWS

Gulf Lubricants UK and Titan Group

are delighted to announce a new partnership

to return the iconic Gulf brand back to the

UK Aftermarket sector

In each area where it operates,

Titan Group will be the

exclusive partner of Gulf

Lubricants as its premium

lubricant offering to the

Independent Garage trade.

Formed by experienced motor factor

managers and trade professionals with

decades of combined experience,

Titan Group is the first employee-owned

motor factor in the UK, working with some of

the leading aftermarket suppliers to provide

premium products of the highest quality.

Dave Woodman, General Manager, Gulf

Lubricants UK, said: "From late 2021, we

have been entrusted to revitalise the Gulf

Lubricants brand in the UK and our aim is to

achieve this through the formation of strong,

long-term, partnerships within each sector

that we operate.

"Titan is setting the standard for a new

model of Motor Factor in the UK and we

are delighted to be part of their journey by

adding Gulf Lubricants as a Premium offering

alongside their existing portfolio of products.

We're really excited about what we can

achieve together!"

Damon Peacock, Founding Partner, Titan

Group, said: "One of our primary focuses

at Titan is to listen to our customers'

requirements. Finding a premium oil supplier

that shared the same vision and values

wasn't as easy as you would think!

"After carefully researching the possible

options, Gulf stood out as a partner with

real passion and desire. They have a totally

different approach and want to work with

partners that understand that the oil market

is changing and can embrace that change

and develop long term partnerships with

them."

Rossmore Lubricants partners with CDG

to deliver Gulf Lubricants brand

Rossmore Lubricants has committed

to continue to support the Convenience

Distribution Group Ltd (CDG), ensuring

improved availability on Gulf Lubricant

products for all Gulf dealers nationwide.

In addition to improved Gulf product

availability, Rossmore Lubricants is also

providing added support to CDG through

simplification of the range required by

forecourts and better communication

materials at point of sale.

Dave Woodman, General Manager,

Rossmore Lubricants, said: "We have been

entrusted to revitalise the Gulf Lubricants

brand in the UK and our aim is to achieve

this through the formation of strong,

long-term, partnerships within each sector

that we operate. CDG is an ideal partner

to help us achieve this within the forecourt

sector given its scale, reach and access

to the Gulf forecourt estate – allowing for

faster delivery times and no minimum order

quantities.

"We understand the complexity for

forecourts in stocking and recommending

the correct lubricant and, for this reason,

we are providing a simplified set of support

materials to help provide better advice. A QR

code at point of sale, directed to our online

lubricant advisor, will also help to better

advise the consumer.

"The partnership with CDG is a natural

choice and we look forward to working

together to improve the lubricant buying

experience for both forecourts and

consumers alike!"

Graham Tissiman, Sales and Marketing

Manager of Convenience Distribution Group

added: "We at CDG are delighted with the

opportunity to distribute the high-quality

Gulf Lubricant range and are looking forward

to working with the Gulf dealer network. We

believe we will develop a strong partnership

that will benefit all parties."

Gulf Oil Supply Company Ltd, part of Gulf

Oil International Ltd, recently announced

that it has appointed Rossmore Lubricants, a

new distributor, to represent Gulf Lubricants

throughout the UK & Ireland.

Rossmore Lubricants, established in 2021

with the sole focus of representing Gulf

Lubricants across the UK & Ireland, signed

an agreement to become the sole Gulf representative

and distributor of the Gulf range

of lubricants for these key markets and

commenced activities in December 2021.

10 THE GARAGE MAGAZINE

10,11 News Blog.indd 1 21/02/2022 15:23
---
NEWSBLOG

Banner winter

promotion proves

the 'Perfect Fit'

DAYCO ADDS ELECTRIC

WATER PUMPS FOR ELECTRIC,

HYBRID AND ICE VEHICLES

As Banner brings the curtain down on its latest winter sales

promotion, the leading manufacturer of batteries and battery

accessories has hailed it another campaign success. Indeed

feedback from the aftermarket on the receiving end of the

promotional goodies was nothing but encouraging. It seems

that the Banner branded gloves on offer with every Banner

branded battery purchased between the promotion dates of

December 1st 2021 to January 31st 2022 proved the perfect

fit!

As Country Manager, Lee Quinney states: "This year's glove

promotion has proved to be a big hit not just with garage

technicians, but also those who work in frontline parts and

distribution and delivery across the automotive aftermarket.

They are, after all, very much an essential item in today's

working environment."

And whilst the feedback from every single campaign that

we have run over the last six or seven years appears to have

stuck an accord with our aftermarket customers, the novelty

of this year's campaign appears to have reached another

level. On that note, and not surprisingly, we are already

turning our attention to trying to top this once again later in

the year. So watch this space," he added.

Subscribe to

The Garage

To ensure you receive a

printed copy of The Garage

every issue, visit our website

and input your details. Don't

forget the magazine is FREE

to receive.

www.garageandmot.com

D

ayco has further expanding its thermal management

portfolio with the introduction of electric water pumps

(e-pumps), for not only hybrid and electric vehicles

(EV), but for selected traditional internal combustion engine

(ICE) powered applications.

When it comes EVs and selected hybrid applications,

e-pumps are the only solution assuring correct temperature

management of the inverters and battery packs, for example.

Nowadays, to maximise efficiencies for ICE thermal

management, maintaining different operating temperatures

around the engine is a necessity. To optimise the combustion

process for example, the cylinder head area needs to run

several degrees hotter than the block, where, to enhance

the performance characteristics of the oil, it needs to run

cooler. These differences would not be possible without split,

or dual, cooling systems and the use of additional, electrically

operated 'on demand' e-pumps to supplement, and in some

applications, replace, the system's mechanical pump.

As a result, to support its aftermarket customers and to

provide installers with the service and repair solutions they

need, Dayco has introduced a wide range of main and auxiliary

e-pumps to its thermal management programme. The company's

water pump offering, which is naturally manufactured to OE

equivalent standards, is under continuous development and

reflects the requirements of an ever-changing market.

To further underpin the e-pump offering, Dayco

also provides the technical advice and fitting tips, and

comprehensive cataloging support for which it is renowned, to

ensure these new to range additions are a superb aftermarket

solution for installers and wholesalers alike.

For more information regarding the OEM quality

power transmission products in the Dayco range,

please email: info.uk@dayco.com

or visit: www.daycoaftermarket.com

THE GARAGE 11

10,11 News Blog.indd 2 21/02/2022 15:23
---
Yuasa get set for takeoff

with world famous air

display team The Blades

Yuasa, a brand of global battery manufacturer GS Yuasa, are taking their sponsorship programme

to new heights by teaming up with world famous air display team The Blades. The partnership

will see Yuasa logos feature prominently on the team's four aircraft as they perform exhilarating

close-formation aerobatic displays to well over four million people at events in 2022.

Flown by a team of former top

Red Arrows pilots, The Blades'

award-winning displays feature over

30 high G manoeuvres, some of which

involve flying as close as four feet apart.

They are firm favourites at major events

including the likes of The Bournemouth Air

Festival, Goodwood Festival of Speed and

The Royal International Air Tattoo.

As well as these spectacular

appearances, The Blades are the world's

only aerobatic airline… which means

they fly passengers in formation and

through a host of aerobatic moves.

They also regularly feature on television

programmes and in media articles flying

journalists, presenters and a whole host

12 THE GARAGE

12,13 News GS Yuasa.indd 1 21/02/2022 15:08
---
NEWS

of A-list celebrities that have included

Ant and Dec, James Corden and Mark

Webber.

Since launching in 2006 the team

have been watched by over 60 million

spectators and flown over 3,500

passengers. They are also the reigning

World Formation Aerobatic Champions.

Yuasa are the UK's leading brand of

vehicle and industrial batteries, which

are used by millions of people to power

everything from trips to the shops to

missions in outer space. Their new

partnership with The Blades will take the

company's brand awareness to new levels

by engaging families and enthusiasts at air

shows, which are regularly hailed as the

largest spectator attended events in the

country behind only football.

James Douglas, European Group

Marketing Manager of GS Yuasa Battery

Europe Ltd, said: "We are delighted to

announce our sponsorship of The Blades.

We believe our solid partnership will be

a winning one. With former Red Arrows

at the controls, precision flying, and a

busy schedule of display and experience

flying, the team very much share, and

demonstrate, our own core values of

quality, reliability, performance, and

teamwork in everything they do.

"This fantastic new partnership really

does take our sponsorship programme

to an exciting new level, with the team's

breath-taking close formation aerobatic

displays being watched by millions of

people every year. We will be working

closely with the team on many exciting

events and projects throughout 2022 so

the sky's the limit!"

Ben Murphy, Head of The Blades

added: "We are excited to head into the

2022 season with GS Yuasa; two forward

thinking teams that share the same values

of quality, continuous improvement, and

teamwork.

We also share a great passion for

motorsport and seeing what can be

achieved when man and machine strive

for perfection and top-level performance;

we just do it in the air rather than on the

ground! There are so many crossovers

between us, and we look forward to

this partnership going from strength to

strength."

GET YOUR

TIMING

RIGHT

INA offers the best range of OE content belt

system repair solutions for mechanics that

want to get it right first time - every time.

Everything you need for a professional service

is in the box, right down to the last nut, bolt

and washer. And every single component is

manufactured to exacting OE specifications

and quality standards. This makes them

simple to install whilst maintaining the

peformance and reliability of the original parts

- because they are the original parts!

www.repxpert.co.uk

aftermarket.schaeffler.co.uk

THE GARAGE 13

12,13 News GS Yuasa.indd 2 21/02/2022 15:08
---
NEWS

UK Garage and Bodyshop Event

kickstarts new year with unrivalled

backing from aftermarket

The new UK Garage and Bodyshop Event, presented by Automechanika, has kickstarted 2022 on a high,

with a host of renowned automotive companies committing to exhibit at this year's national launch event.

The latest additions to the already

impressive line-up include newly

announced Platinum Partners, LKQ

Euro Car Parts, Bilstein Group (Blue Print

& febi Bilstein) and Castrol with their

ambassador partner, The Race Group.

They join other event partners Autogem,

Automotive Alliance Group (Group Auto),

Bosch Automotive Aftermarket UK, Bosch

Car Service, Dayco Europe, Liqui Moly UK,

Snap-on Diagnostics, Thatcham Research,

The Tool Connection and ZF [pro]Tech,

along with a growing exhibitor list of 50+

leading suppliers to the UK garage and

bodyshop sectors.

ZF[pro]Tech, one of the first sponsors

for the event explains: 'This event gives us

a great opportunity to engage directly with

our end customers at a time where such

support is much needed. With so much

change and development taking place in our

industry, it is imperative we take a proactive

approach in regards to delivering training,

advice and support to our networks,

ensuring our industry is equipped to face

the future.'

Backed by the leading industry

associations including GEA, HEVRA, IAAF,

IGA, IMI, NBRA, School of Thought, SMMT

& The Motor Ombudsman, with more to be

announced, the event has the full weight of

the industry behind it and is set to be the

event for the aftermarket in 2022.

"With industry skills at the top of the IMI's

agenda, we are delighted to be supporting

a national event dedicated to the garage

and bodyshop sector," explained Steve

Scofield, Head of Business Development

at the Institute of the Motor Industry. "We

are planning a strong presence, supporting

the expert-led training programmes

and addressing the widening skills gap.

In particular, we are excited to have the

opportunity to talk to those working in

garages and bodyshops about the immense

career opportunities that electric vehicles,

ADAS and other automotive innovations

offer for those with the right skills, with

IMI TechSafeTM providing the industry

standard. The event presents an important

opportunity for the aftermarket to come

together and take our industry forward and

we are proud to be supporting it."

Taking place 8-9 June at the NEC

Birmingham, the event is designed for

visitors to engage directly with the latest

training, technology and tools for the

garage and bodyshop sector. In a highly

interactive format visitors will have free

access to three technical hubs delivering

60+ sessions on expert training and advice,

as well as interactive feature areas including

a Collision Repair Demonstration Zone,

Modern Workshop Showcase and a Garage

Equipment Showcase. A further three

networking areas will provide visitors access

to leading industry experts and business

advice to ensure the event is a one-stop

shop for every business need, from both

a technical and business management

perspective.

Project Director at Messe Frankfurt UK,

Kristan Johnstone, said: "The UK Garage and

Bodyshop Event brings a unique and tailored

offering to the aftermarket after extensive

consultation with the industry. The focus

on showcasing practical demonstrations

of new technologies, products and training

initiatives is what our captive audience

of garage and bodyshop customers has

asked for, especially as this will be the

first major opportunity to do so since the

return of face-to-face events. Since the

announcement, the event has proven

incredibly popular, and we're delighted to

kickstart the year with the further support

of some of the industry's key players."

14 THE GARAGE

14, News UK Garage.indd 1 21/02/2022 15:28
---
UNDERTHESPOTLIGHT

Under the Spotlight

Every child's

dream job

It's a very good chance that as a young child, one of Hornby's brand

names would have been one of your favourite toys.

Under the Spotlight this month chats with Simon Kohler,

Marketing & Product Development Director at Hornby Hobbies Ltd.

Aboom in the hobby market has

boosted the companies fortunes with

plastic kits and trains flying of the

shelf but the tracks haven't always been

smooth with the Margate based company

experiencing a turbulent past. As Marketing

and Product Development Director, Simon

Kohler may just have every little boy or

girls dream job; endless supply of cars, a

warehouse full of kits and as many pots of

paint as he needs. How did he find himself

in the position of looking after some of

Britain's best loved brand names?

After leaving school and working initially

for the Inland Revenue then a local concrete

mixing business, Simon was approached

by his friend who asked him to help in his

father's model shop. "I was approached by

one of my friends, his father had passed

away and he asked me if he could help run

his model shop. So, in 1971, I entered into

the model business. You learn a lot in retail,

talking to the consumer, manufacturers,

local reps etc, so I really got to know

the industry. But after seven years, I was

thinking am I going to be doing this for the

rest of my life?"

"I answered an advert for a company

that had recently been taken over by

Hornby, Hammant & Morgan, they produced

transformers for model railways. After

an interview I was given the job. It was a

good company and product, and after

Hornby took over it was looking to expand.

Although I was enjoying working for them,

going to exhibitions showing off their

products, meeting new people etc there

THE GARAGE 15

15,16,17 Spotlight.indd 1 21/02/2022 15:43
---
Under the Spotlight

was a few changes in my life. My brother

had offered me a position with his forklift

business, and I was at the point of resigning

and working for him. The details had been

organised, company car, business cards

etc and I was going in with my resignation

letter. Coincidentally, Hornby were at the

same time holding a board meeting, which

resulted in them offering me the position of

brand manager. It was a great opportunity,

one which I couldn't turn down. My brother

was really good about it, and I moved to

Margate and joined Hornby in 1981."

"At that point, Hornby was owned by a

holding company. Shortly after I joined,

they branched out on their own and

started expending their product line. It

was an exciting time; we didn't have a lot

of money so I had to make do and mend.

You had to get creative with marketing and

advertising; you will be surprised about how

much printing you can get for a couple of

Scalextric sets. It was an exciting time, the

whole of the Hornby team were learning as

we went along."

By the mid 90's, Hornby's attention was

once more focused on Scalextric and

Hornby. The quality of manufacturing in

China was increasing. "We were losing

ground. I decided to pay for myself to

go over to China and have a look at their

techniques. I was only there for a week and

learned a huge amount. I came back and

said if we carry on the way we're going,

we will close the doors. We then had a big

management change. A new chief executive

arrived with new ideas. The manufacturing

was moved to China, focusing on more

detailed products. The fortunes of Hornby

went up like a rocket. Our first locomotive

we'd manufactured in China sold over

17,000 pieces alone. Unfortunately, we then

had the financial crash. We had too many

eggs in one basket, with the manufacturer

in China not being able to produce our

products. There were delays and all sorts

of problems. We had another management

change with fresh ideas. One of them was to

totally destroy the marketing department,

people who were incredibly passionate

and knew the product. We were notified

in Christmas 2013 that the department

was now defunct. So, I took voluntary

redundancy. I always said if I don't want to

go to work, that's the time when you leave.

I could see the way things were going, it was

it was on a suicide trip."

"After I left, I did consultancy work,

which was interesting. I worked for the

Science Museum and all sorts of different

companies. By then I'm reaching a particular

age milestone and I thought I may as well

stick with clients I like. One of them was

gentleman called Lyndon Davies, who

owned a business called Oxford Diecast. He

was actually approached in 2017 to become

the Chief Executive of Hornby. The fortunes

at Hornby were then hanging by a thread.

He accepted with the proviso being that he

could bring his own team in. He asked me

if I would like to come back, and it took me

about a nanosecond to say yes."

On his return to Hornby, Simon found

things a little different.

"On the first day back, I walked into the

building, sat down, and the Hornby team

saw me, and they started to applaud, which

was actually quite nice. I had also brought

them a load of doughnuts so that may have

had something to do with it. Just walking

around meeting people, you felt that at

least something now was going to happen.

You had people there who knew what

they're doing.

"The previous management had moved to

some really depressing building in Sandwich

and left Margate, which was the home of

Hornby. We started basically from scratch.

I walked into a company I didn't recognise;

any of the systems and a lot of people. It

was just pure, bloody chaos. What you have

to do in this business is you have to plan

ahead, and you have to place orders ahead

or you don't get. So, the first thing was to

try and get some order and having the right

people and the right team.

Then it really was let's go back to basics.

The product line plans were sorted, with

the correct order quantities. Hornby at the

time had a really atrocious name, a bad

reputation. Lyndon knows about working

with Chinese manufacturing and went over

to China and persuaded them that we

were genuine, we were on the right track.

Believe it or not, we had to do that on more

than one occasion with companies here

like Land Rover, etc. The National Railway

Museum was another one where we had

to prove to them we were genuine, that

we're not like the previous management.

We were re-establishing relationships.

Gradually the fortunes turned round. We

have just launched our 2022 range and the

reaction we're getting is probably the most

successful for some time.

The COVID outbreak in 2020 was

obviously disastrous for some companies,

but with people spending more time at

home, many with time on their hands, the

hobby market took off. Hornby customers

new and old were turning back to their old

pastimes, with a demand for their products.

"I think with all the investment we had

done in tooling; it would have happened

anyway. But we were lucky that the

warehouse stayed open, and we were able

to push products out. It just so happened

16 THE GARAGE

15,16,17 Spotlight.indd 2 21/02/2022 15:43
---
UNDERTHESPOTLIGHT

Simon Kohler, Marketing & Development Director at Hornby Hobbies Ltd

that 2020 was Hornby's 100th anniversary.

We had so many great plans, and special

events. Of course, with the country locking

down, the celebrations were put on hold

and we had to come at it from a different

angle."

"We had two people handling social

media, but we spotted an opportunity,

people needed support entertaining their

children. Each of the brands put together

pages with competitions, word searches,

colouring competitions, etc. We expanded

that to the social media side. So now each

brand has its own social media team. So

really since 2020 the social media side has

become a major part of our marketing."

"We also wanted to celebrate the NHS

and give them something back. A model

locomotive 'Captain Tom Moore' special

issue was produced with all the profits

going to the NHS, we hoped it would raise

around £17,000 but it ended up at £140,000

which was amazing."

In 2021, Yesterday TV Channel began

broadcasting 'Hornby: A Model World' giving

viewers a behind the scenes look at Hornby

and making stars of some of the team. The

producers approached us with a 'fly on

the wall' idea. We were wary it would be

some sort of hatchet job, but they put our

minds at rest. They started filming in late

2020, with the restrictions there was just a

cameraman doing all the jobs himself. They

just fitted into the business and didn't get

in the way. All the feedback we've had from

the programme has been very positive.

They have to make a programme that

appeals to the masses, it's fired people's

interest. It's got people back into model

railways or getting the old Scalextric out.

Most people have found it fascinating."

Overseeing the future and development

of some of the public's best loved brand

names comes with a unique set of

responsibilities. Rather than being a key

figure at the top of a business, I suggest

Simon has got more in common with a

football chairman; having to balance the

profits of a business with the feelings and

fanbase of your customers. "What we're

selling is fun. The key thing is, you have to

remember is that people don't necessarily

need to buy our product. They don't need

us, so we have to try that bit harder to

make people say 'Yeah, I want Hornby'.

Modelling is entertainment. It may be a

model railway or model aircraft and if

you've had a bad day, you now focussed

on making a tree or painting a wheel and

by doing all that, all of that day's trials and

tribulations start to disappear. We're very

conscious of the benefits of modelling and

how it can help mental stress."

Hornby are in a great position at the

moment, but what can we expect in

the future? "The future is pretty good.

Obviously, we're all faced with increasing

prices, which we have to pass on. So,

this coming year will be one of positive

challenges. We've got new tooling coming,

the 2022 ranges have been well received.

What we have planned for 2023 and 2024 is

equally exciting, if not more exciting. So yes,

very positive."

THE GARAGE 17

15,16,17 Spotlight.indd 3 21/02/2022 15:43
---
NEWS

IDTechEx discuss being

a motor manufacturer

in a materials crisis

Author: Dr James Edmondson, Senior Technology Analyst

The past two years have been

extremely turbulent for many

industries with production lines

shutting down, chip shortages, and a host

of general supply chain issues. Amongst the

dismay, electric vehicles (EVs) have been a

shining light. In 2021, sales of EVs globally

grew by around 80% over 2020 which in

turn was a growth of 44% over 2019. So,

in the midst of all of these shortages, the

demand for EV components has been

drastically increasing. Whilst much news

is focused towards the battery pack (and

rightly so), the electric motors are equally

critical to an EVs operation. EV motors

rely on a host of materials including rare

earths, copper, aluminum, and steel. These

materials have seen sharp rises in price

over the past two years and this impacts

the margin that a motor manufacturer can

obtain. How could motor design changes

help with this issue and what steps are

already being taken?

The electric motor market for EVs is

one that IDTechEx follows closely, with

research reports such as "Electric Motors

for Electric Vehicles 2022-2032" and

continued interviews and projects with

motor manufacturers in the industry

available through its "Future Mobility"

platform.

Price Increases for Motor

Materials

Motors widely used in EVs can largely be

categorized into permanent magnet (PM)

motors, induction motors, and wound

rotor motors. These motors generally

use copper wire in the stator (stationary

component), the difference is in the rotor

(rotating component). PM motors utilize

rare earth magnets on the rotor, induction

motors utilize copper or aluminum cages

or windings, and wound rotor motors utilize

copper windings on the rotor. Each design

has inherent pros and cons, but if we just

consider the materials, there are some

significant differences in cost between

designs, this is compounded when we look

at the volatility of materials prices over the

past two years. The price of neodymium

(the main rare earth for magnets) in

January of 2022 has increased by over

200% compared to its 2019 value, copper

by 59%, aluminum by 62%, and steel by

24%.

Materials prices have increased dramatically in 2021. Data source:

IDTechEx, Trading Economics

This sort of volatility can be a serious

issue for motor manufacturers and OEMs.

In fact, Japanese motor manufacturer

Nidec reported a drop in operating profit

in the final quarter of 2021, with one of the

stated causes being the increase in copper

prices. 5-10 kg of copper are typically used

in an EV motor and make up a significant

portion of the bill of materials, this varies

depending on design, with wound rotor

motors utilizing more than the other types.

More drastic price issues can be seen with

PM motors where that huge 200% price

increase is worsened by the fact that 1-2

kg of magnets are used and the price of

neodymium is, on average, 13 times higher

than copper. The choice of materials used

in an EV motor is critical to the bill of

materials and hence the profit margin that

can be obtained. Is it worth taking minor

performance detriments to change how

materials are utilized?

Motor Design Changes

In 2021, 83% of electric motors in EVs were

PM motors, a figure which has risen 6%

since 2020. Typically they provide the best

power density and efficiency and the prices

of rare earths have remained fairly stable

over the past 10 years (until 2020/2021).

A significant reason for the increasing PM

motor share has been Tesla's adoption of

a PM motor replacing an induction motor

in the Model 3 and subsequent models.

However, due to the high cost and severe

price volatility of rare earths in 2011/2012,

several manufacturers have opted for

alternatives. Audi's e-tron uses induction

motors with aluminum rotor segments

and Renault uses a wound rotor design.

More recently, BMW's 5th generation drive

system also uses a wound rotor design with

copper windings on the rotor.

Whilst wound rotor and induction

motors eliminate the reliance on expensive

18 THE GARAGE

18,19 ID Tech.indd 1 21/02/2022 15:26
---
NEWS

Permanent magnet motors currently dominate the EV market. Source:

IDTechEx - "Electric Motors for Electric Vehicles 2022-2032"

rare-earths, they can increase the reliance

on copper, another material that has

experienced a significant price increase.

A question several have asked is whether

the copper in motors can be replaced by

aluminum to further reduce costs? Whilst

aluminum is lighter and cheaper than

copper, the trouble is that aluminum is less

electrically conductive, requiring a greater

volume of metal. So, whilst aluminum

windings can provide weight and cost

savings, they sacrifice volumetric power

density. Despite this, we have still seen

some players opt for this approach,

such as UK-based manufacturer

Advanced Electric Machines, which

uses a compressed aluminum winding

technology to not sacrifice the

volumetric performance and avoid the use

of any rare earths or copper windings.

Concluding Thoughts

In general, electric motors are a mature

technology and most of the cost is down

to the bill of materials. As the EV market

ramps up and if material prices continue

to be volatile, it would not be surprising to

see more OEMs and tier 1s adopt magnet

free designs in the near future. Thanks to

China's current control of the rare earth

supply, they are likely to largely remain

with PM motors and hence a very large

portion of the global market remaining with

that technology. In other regions, it will

be interesting to see how the market and

designs of electric motors evolve.

IDTechEx's report on "Electric Motors

for Electric Vehicles 2022-2032" details

OEM strategies, trends, and emerging

technologies within the motor market for

EVs. An extensive model database of over

250 EV models sold between 2015-2020

aids in a granular market analysis of motor

type, performance, thermal management,

and market shares. Technologies

and markets are considered for cars,

two-wheelers, light commercial vehicles

(vans), trucks, and buses along with several

use-cases and benchmarking. Emerging

technologies are also addressed with

market forecasts through to 2032 such as

axial flux and in-wheel motors.

IT'S BETTER TO GO

ALL INCLUSIVE

A LuK RepSet DMF contains every part

you need to carry out a professional repair

in just one box, all in genuine OE quality.

It also includes a bonus points coupon that

you can exchange for technical know-how,

tools and clothing on REPXPERT, Schaeffler's

website and app knowledge base for

workshop technicians. All components

are precision matched to work together for a

fast and efficient installation, so you can save

time, effort and money by getting it right first

time - every time. Don't risk your reputation

by using mis-matched clutch parts - for a

completely professional repair fit LuK.

aftermarket.schaeffler.co.uk

www.repxpert.co.uk

THE GARAGE 19

18,19 ID Tech.indd 2 21/02/2022 15:26
---
NEWS

Delphi Technologies

strengthens its ADAS

training offering with

three-part online course

Delphi Technologies is continuing

its drive to help those working in

the aftermarket to understand and

service the latest automotive technologies

with the introduction of a new online

training course covering how today's car

lighting systems are tied into ADAS safety

functions.

Accessed via the Delphi Technologies

Academy e-learning platform, the new

three-part course begins with an insight

into the evolution of lighting technology

and culminates with a practical

demonstration of how ADAS connected

lighting systems work on the road. An end

test is then available to participants, with

those reaching the required level able to

download a certificate to show the course

pass and earning IMI CPD credits.

The new course strengthens the

ADAS-focused service offering from

Delphi Technologies, which spans training

to its easy-to-use ADAS recalibration

modular kit that is compatible with the

most popular vehicle brands. Together

with electric vehicles, ADAS training is the

most in-demand by Delphi Technologies'

customers, showing how garages are now

seeing the need to be able to service the

latest technologies.

"Lighting has changed massively in the

last 30 years, from simple Sealed Beam

units right through to Laser lights and

ultimately those that are now increasingly

integrated into ADAS functions," said Phil

Mitchell, Technical Services Manager,

Delphi Technologies Aftermarket.

"With more and more cars rapidly

featuring some level of ADAS, such

advanced lighting is only going to get

more common, and we want to give

independents and individuals the chance

to be able to service it. Our latest course

provides a fantastic understanding of

what's involved."

By using the Delphi Technologies

Academy online training platform

participants can expand their knowledge

in a highly convenient and cost-effective

way, the facility overcoming many of the

time and cost issues that independent

garages and individuals face when

pursuing training that is essential in

keeping their skillsets up to date.

Further information on the Delphi

Technologies Academy can be found at:

https://academy.delphiautoparts.com/

20 THE GARAGE

20 News Delphi.indd 1 21/02/2022 15:27
---
We care about tyres

that care about drivers.

Every day, for the last 150 years we have reinvented the wheel,

striving to improve what appeared already perfect.

www.continental-tyres.co.uk

Continental FP.indd 1 21/02/2022 15:50
---
NEWS

How training

can future proof

and safeguard

an automotive

business

By Mandla Ndhlovu,

Training Deliver Director for Autotech Training

Automotive technology is changing rapidly, and cars are

getting increasingly complex. Vehicle technicians not

only need a huge amount of mechanical skill they also

need an excellent ability to engage with customers and be

able to explain what repairs are needed on their vehicles.

Without this, they risk jeopardising customer confidence and

losing repeat business to the competition.

Even the most experienced vehicle technician requires

ongoing training to ensure they remain current in this evolving

industry. However, training garage and workshop staff can

still be a low priority for many employers, particularly those

working within the independent sector. A survey* conducted

by LKQ Euro Car Parts, revealed that 29% of independent

garages sometimes turn away work because they don't have

the skills to service modern vehicles.

This is largely down to the fact that employers are already

suffering from a shortage of skilled vehicle technicians and

releasing them for just a day's training can have a financial

impact on the business. However, over the long term, not

building in a culture of ongoing training could cost a garage

thousands of £££'s in lost revenue.

Training will not only create a counteract this but

ensure that the garage retains the best talent.

There are many ways in which training can be delivered.

For instance, using online training platforms can be an

efficient way of updating a vehicle technician's knowledge

and identifying which areas of automotive systems they

need further training on. Equally, to minimise travel costs

and time away from work, training providers, such as

Autotech Training, can deliver a course on the premises of

any garage or business looking to upskill their employees.

With complex vehicle technology increasingly filtering

through the aftermarket for repairs, such as advanced

driver assistance system (ADAS,) being able to match

demand with skills isn't the only motive for training.

Insurance can be compromised if a technician is unable

to repair a vehicle safely and an employer may find

themselves liable if an untrained vehicle technician injures

themselves while carrying out even the most basic of

repairs on an electric/hybrid vehicle.

To create a training plan to suit your garage needs exactly

contact hello@autotechtraining.co.uk or visit

www.autotechrecruit.co.uk/training/

22 THE GARAGE

22 News Autotech.indd 1 21/02/2022 15:29
---
Garage and MOT March 2022 EGR ad.qxp_Layout 1 14/02/2022 12:01 Page 1

facebook.com/ngksparkplugsuk

NGK UK YouTube

instagram.com/ngkntk_uk

NGK Spark Plugs (UK) Ltd

ngkntk.com/uk

AVOID HARD NOx

VA

AL

LV

VE

ES

FROM THE WORLD'S NO.1

Effective control of NOx emissions is more

important than ever - all the more reason

to trust the world's No.1

LAMBDA : NOx : EGR : EGT : MAF/MAP : CAMSHAFT & CRANKSHAFT

SENSORS & VALVES

NGK FP.indd 1 21/02/2022 15:31
---
Introducing . . .

Services Provided:

There's no short answer to that. Back in 2015, our American

parent company, Integrated Supply Network, which, by

the way, is America's largest independent automotive

tool & equipment specialist, entered the UK; acquiring

four businesses over a period of roughly two years. These

businesses gave us an immediate foothold in what are

currently our 3 core business areas; specialist tools for

technicians, garage equipment sales, and service, which

includes workshop design and build, equipment installation

and training, routine service and maintenance, MOT bay

management and emergency breakdown services.

Those businesses were J&S Products, which trades

as ToolTruck, Hofmann Megaplan, Tyre Bay Direct and

AMN Garage Services (now ISN Garage Assist) but, more

importantly, it gave us the people capable of driving the

business and matching the ambition of that on the other

side of the Atlantic.

Years in Business:

Well, obviously, ISN Europe has only been around since 2015

but Integrated Supply Network was established in the USA

in 1985. All four of the businesses that now make up ISN

Europe are, of course, well established in the UK.

Where you are based:

ISN Europe is based just outside the Village of Kimbolton,

near Huntingdon in Cambridgeshire, which is where most of

the admin team operate from but ToolTruck still operates

out of Norwich. Our team of over 60 installation and service

engineers are located all over the country though.

Companies Biggest Success:

Ha ha! That's definitely still to come. Our biggest

achievements include staying fully operational all the way

through the last two Covid disrupted years, and successfully

integrating the four businesses and their people at the same

time.

What's the Future for ISN Europe:

Sustained and steady growth. The foundations are in place,

we have the resources and we have a fantastic team to

bring everything together. As the vehicle parc shifts towards

electric propulsion, we'll continue to develop the range

of products and services we offer to support the UK's

automotive workshops for their current and future needs.

One question you would love to be asked:

Of all the brands you have in your armoury, is there one that

you see as being the most powerful?

Answer to the above:

It's got to be Hofmann Megaplan. Alongside Hofmann, we

do own other great machinery brands, including Redback,

Atlas and Atlas Platinum, so we're able to provide really

good quality garage equipment no matter what your budget;

but Hofmann has a reputation for ultimate quality and a

heritage going all the way back to 1931. Hofmann built its

reputation on wheel balancers and tyre changing machines

but the range now includes vehicle lifts, compressors,

wheel alignment, ADAS, MOT bays, truck and mobile fitting

equipment. We even have a range of equipment specifically

designed for Electric and Hybrid Vehicles. Hofmann

equipment will never be the cheapest and we will never

apologise for that, because we strongly believe it's the

best – and, in our opinion, 'cheap' and 'best' have yet to be

combined.

ISN

T: 01480 884 885

W: isn-europe.co.uk

24 Introducing.indd 1 21/02/2022 15:31
---
AROUND THE WHEEL

Equipment and Tools Solutions for the Tyre Industry

megaline

The UK's most comprehensive CCD

and 3D alignment range,

supported by dedicated

nationwide alignment experts

megamount

Traditionally built and

famous, our tyre

changers include

patented technology

such as 'Par Move' and

'QuadraClamp', for the

strongest designs the

industry has ever seen

Luxus

A range of premiumspecification

2 post lifts with

industry-leading warranties and

features, such as integral air

AND power supply, and lighting

included as standard

megaspin

Probably the most popular

wheel balancer line-up in the UK,

favoured by tyre technicians for

their speed, simplicity and

'no comeback' reliability

BuildMyBay.com

Our unique 'in-house' facility for total project

management, from a simple certified lift connection through

to MOT Bay supply and even complete new workshops

For expert, friendly advice call 01480 8-9-10-11

and ask for Andy or Jason

or visit www.hofmann-megaplan.co.uk

enquiries@hofmann-megaplan.co.uk

ISN The Europe Garage Hofmann ad January FP.indd 2022.indd 1 1 21/02/2022 17/01/2022 15:32

11:41
---
NEWS

Making

workshop

life simpler,

despite the

complexity

Cars are continuing to evolve, becoming more powerful, more environmentally friendly, more

comfortable, and safer. At the same time, they are becoming more complex, and with each

new innovation, independent workshops have to familiarise themselves with yet more

technology. That is why it's good to have a partner like Schaeffler Automotive Aftermarket

on their side, because the company's objective is to make things easier for them and their

customers, despite all the complexity involved.

'Convenience' is one of the key focus

points of Schaeffler Automotive

Aftermarket's strategy designed to

shape the future of the independent

aftermarket. However, is convenience

really possible at a time when both cars

and the replacement parts they need are

becoming steadily more complicated? As

digitalisation and electric mobility gains

ground and the number of repairs and

services requiring special expertise and

tools continues to grow, along with the

pressure on workshops to work profitably

and efficiently?

It is a challenge, but one that can

be overcome with system expertise

and market knowledge, explains Jens

Schüler, President GKAM, Global Sales

& Marketing, Schaeffler Automotive

Aftermarket: "Schaeffler is a renowned

specialist and innovator in the powertrain,

engine and chassis segments, and a

leading global development partner for

vehicle manufacturers. Our Automotive

Aftermarket division is a longstanding and

reliable partner that provides support

and inspiration to the independent

aftermarket and independent workshops.

There is no organisation better placed

than we are to provide the right answers

to important questions the future of car

servicing.

Electric mobility, Industry 4.0,

and digitalisation as opportunities

Tapping into new trends, along with

preparing for them in advance, is

essential for the long-term success of a

workshop. Schaeffler is therefore working

on solutions that allow workshops to

participate in new trends, by helping

shape the process of digitalisation for

example: "We consider digitalisation to be

an opportunity to support complex repair

procedures on-site and intensify the

dialogue with our customers worldwide,"

says Schüler. REPXPERT will play an

increasingly important role in this context,

as the Schaeffler service brand provides

workshop professionals with appropriate

special tools and repair support, not

just via traditional channels like personal

training and hotlines, but increasingly

through digital formats such as virtual

installation instructions and training

sessions.

At the same time, Schaeffler is helping

to ensure that independent workshops do

not lose out on the opportunities offered

by electric mobility. For example, the

company has its sights set firmly on the

independent aftermarket as it develops

e-axles and hybrid modules for electric

vehicle manufacturers all over the world.

When electric vehicles become

relevant for the independent aftermarket,

Schaeffler will be ready with an aligned

portfolio of repair solutions and services

to support workshops, solutions that will

make it easy for garages to benefit from

the increasing prevalence of electric

vehicles, allowing them to tap into this

new segment and thus secure a profitable

future for their business.

Information on Schaeffler products,

fitting instructions, labour times and much

more can be found on the REPXPERT

workshop portal – www.repxpert.co.uk

– the REPXPERT app, or by calling the

Schaeffler REPXPERT hotline on 0872 737

0037.

26 THE GARAGE

26,27 Schaeffler.indd 1 21/02/2022 15:48
---
THE QUEEN'S AWARDS

FOR ENTERPRISE:

INNOVATION

2020

NEWS

PatFluid®

Additive for Diesel Particulate Filters

Take Compliance Control!

• A universal aftermarket

replacement for Original

Equipment DPF additives

• Cost effective & highly

reliable formulation

• Aids DPF regeneration by

lowering the combustion

temperature of soot trapped in the filter

• Transfer Kit available to refill the on-board tank

• UK aftermarket product of choice for over ten years

TruFleet is a brand-new fleet and O'Licence system for

planning and managing all vehicle compliance requirements.

Contact us today on +44 (0) 1293 804 770

or email: info@cdti.com

Live maintenance planning

Visibility of vehicles and drivers

Interactive dashboards and alerts

DVSA Earned Recognition accredited

Safety inspections and defect reporting

Vehicle history including

brakes and tyres

Tax, insurance and tachograph

calibration dates

Online document storage for

checks, defects and repair

– TruFleet is fully compatible with TruTac's modular suite of TruControl software

– Switch seamlessly between tacho analysis, daily checks and maintenance calendars

– Gain full visibility and control over every vehicle and driver

www.cdti.com

Take TruFleet Control today. Call 024 7669 0000

sales@trutac.co.uk | trutac.co.uk

THE GARAGE 27

26,27 Schaeffler.indd 2 21/02/2022 15:49
---
NEWS

Gulf Formula

Elite becomes

McLaren

Automotive

first fill lubricant

Gulf is proud to announce that Gulf Formula

Elite is now the first fill lubricant in all McLaren

Automotive supercars and hypercars that leave

the McLaren Production Centre in Woking, Surrey,

England.

As part of a long-term partnership, McLaren

Automotive will also give its customers access to Gulf

Formula Elite, a high-performance lubricant, as its

preferred supplier.

The technology teams at Gulf and McLaren

Automotive have worked collaboratively to develop

and test a lubricant that offers the ultimate protection

for McLaren's high performance V8 and V6 engines

even in the most extreme conditions, to deliver

sustained peak performance.

Gulf Formula Elite uses Thermoshield Technology to

meet McLaren's exacting performance and efficiency

demands by forming a robust coating on all critical

engine parts for enhanced wear defence. Gulf Formula

Elite maintains optimum temperature by helping to

dissipate heat, actively prevents oil deterioration, and

helps to provide greater deposit control.

Mike Jones, Chief Executive Officer, Gulf Oil

International said: "Our technical partnership with

McLaren Automotive enables Gulf to offer its industryleading

expertise and world class R&D capabilities to

accelerate the development of high-performance

technologies like Gulf Formula Elite.

"We are committed to helping McLaren Automotive's

relentless drive to be the best and are excited to be

able to share our latest world class product – Gulf

Formula Elite – with McLaren's customers."

Gareth Dunsmore, Chief Marketing Officer, McLaren

Automotive added: "McLaren and Gulf's long-standing

partnership is all about technical excellence enabling

high performance so we are delighted that our

supercar and hypercar customers will experience and

benefit from Gulf Formula Elite.

"Together with Gulf, we carefully selected and

tested Gulf Formula Elite to ensure it not only protects

our high-performance engines but helps deliver

sustained performance, even in the most extreme

conditions."

28 THE GARAGE

28 News Gulf Extra.indd 1 21/02/2022 15:41
---
Primalec FP.indd 1 21/02/2022 15:51
---
BRAKES

How to: Discs Brake

Replacement Guide

Car manufacturers are constantly striving for weight-reduced cars paired with highly efficient engines. As this technology

evolves, Scott Irwin MIMI, Head of Technical Training at TMD Friction's aftermarket brake brand, Mintex, is stressing that it is

essential that the motor repair industry evolves with it. And while all vehicle technicians will know how to change a disc brake, it

is often the simple things, such as cleaning, that can be overlooked due to time – yet it is possibly one of the most effective steps

that can be taken to ensure customers don't come back complaining of brake judder.

Repairing brakes and removing rust

Before starting the brake repair process,

it's key to look for signs of uneven wear

on the brake discs, as well as checking

all components surrounding the axle and

examining the hydraulic system or any

broken parts.

Any defective parts should be replaced

in accordance to the vehicle, system and

brake manufacturers' guidelines. Attention

must be made to remove the brake fluid

reservoir cap prior to carrying out brake

pad /disc replacement.

When dismantled, it's imperative to

remove any rust or residue from the

contact surfaces and caliper bracket.

Build-up of dirt and rust, for example, can

cause brake judder, leading to a vibration

through the brake pedal or steering wheel.

If this is the case, the technician should

use a wire brush or emery paper or even

a hub cleaning tool to remove any rust

or excessive pollutants from the contact

surfaces and hub.

When the rust has been removed, they

should use a brake cleaner to clean the

surface and check the cleaned hub with

a measuring stand for any possible lateral

run-out deviations.

It is advised to take care not to damage

the guide shafts of the caliper bracket

when undertaking the cleaning process.

Greasing the pads

Grease the new pads with a non-conductive,

heat-resistant and solids-free

agent such as Mintex Ceratec Advanced

Lubricant. The technician is advised to not

use copper paste on the surface of the

brake, as it can affect the vehicle's ABS

system.

Fitting the new brake disc and moving

the brake piston

The technician should fit the new brake

disc onto the wheel hub and secure the

newly fitted disc with the wheel studs

and conical washers, using a DTI gauge to

check for lateral run-out. A lateral run out

of 0.07mm below the maximum radius is

recommended.

The brake piston must be moved back

using the correct adjusting tools at the

start of any brake replacement job and

attention should be paid to any brake

fluid that may spill out of the brake fluid

reservoir while moving the piston back.

It is also important to be sure to pay

attention to the different versions of

the caliper, the brake systems, as well as

manufacturer-specific requirements and

special tools.

Aftercare

To optimise braking performance, Mintex

recommends that the new brakes require

approximately 200 KM to become fully

conditioned. Hard or aggressive braking

must be avoided during this period, as it

can affect the overall performance of the

new brake system.

30 THE GARAGE

30 Brakes TMD.indd 1 21/02/2022 15:46
---
THE ART OF

GENUINE PARTS

Distrigo are the masters of genuine parts: when it comes to

Vauxhall, Peugeot, Citroën, and DS Automobiles you know you're

getting parts direct from the original artist. Each authentic part

has been meticulously crafted to offer the perfect fit, meeting the

manufacturer's exacting standards in quality, testing and safety.

Each one is supported by a full manufacturer warranty, too.

GENUINE & ALL-MAKES

PARTS FOR THE TRADE

Distrigo Parts Distribution means:

FOR MORE INFORMATION VISIT

DISTRIGOPARTS.CO.UK

31, Adverts.indd 1 21/02/2022 15:47
---
TYRES

All-new premium Falken AZENIS

FK520 UHP tyre for performance

cars and SUVs available from

spring 2022

● Novel construction and material technology derived from

FALKEN's European race-winning development programme

unlocks efficiency and performance in all-new UHP tyre

● Next-generation stiffer and lighter AZENIS FK520 reduces

unsprung mass, improves stability whilst improving efficiency

● Diamond-cut tread technologies include new Silencing Dimples,

delivering refinement often missing from UHP tyres now found in

mainstream car applications.

● Underling the performance credentials, a 109 Y-rated speed

rating (300km/h) is available to cater for ultra-high performance

heavier cars and SUVs

Thanks to its extensive experience in motorsport and access

to the most advanced materials and the latest simulation

technology, Falken has announced a new range of safe and

sporty handling oriented UHP tyres for performance and SUV

applications.

Reinforced with Aramid, just like its race-winning motorsport

tyres, the Falken AZENIS FK520 is structurally stronger to provide

greater stability and more precise steering behaviour. By using

the latest construction techniques, Falken's engineers have

managed to reduce the weight of the tyre by 10 per cent in

comparison with its predecessor. Thanks to its lower weight, the

unsprung mass and rolling resistance are reduced, improving fuel

efficiency.

The effectiveness of the design is also reflected in the

outstanding performance of the tyre in both wet and dry

conditions. As the flagship of the range, Falken's engineers

made no compromises during the development of these tyres

to achieve optimal surface traction and driving performance.

In addition, they also developed a new "Diamond Cut" tread

for AZENIS FK520. FALKEN used advanced 4D nano-simulation

technology from Japan to help with the development of the

"Diamond Cut" tread block edges and the integrated noise

reduction elements. The arrangement of these small indentations

causes tiny turbulences which effectively reduce the rolling noise

synonymous with UHP tyres. An optimised road contact area

helps to ensure they wear evenly and improves road contact.

"The Falken AZENIS FK520 offers grip, reliability, performance

and efficiency in a UHP tyre," explains Andreas Giese, Senior

Manager Corporate Planning and Product Planning at Falken Tyre

Europe GmbH. "Here at Falken, we combined all our experience

in material development and simulation technology to create

outstanding, high-performance premium tyres."

The Falken AZENIS FK520 will be available from spring 2022

and will initially come in 81 sizes, ranging from 17 to 21 inches, for

cars and powerful SUVs. All tyres in the series are authorised for

speed category Y (300 km/h).

32 THE GARAGE

32 Tyres Falken.indd 1 21/02/2022 15:36
---
Parts for All Vehicles

Our Omnicraft branded products are now supported

by Parts and components from some of the world's

most trusted automotive brands.

Meaning you can get all the Parts you need,

for every vehicle you're working on, with less hassle and

all with one call, from a supplier you know you can trust

to support your business.

TM

The answer is yes

PartsPlusUK.com

OE Connection FP.indd 1 21/02/2022 15:37
---
TYRES

Bridgestone

announces

inauguration of new

state-of-the-art

Wet Handling Track

at its European

Proving Ground

● As part of its continued efforts and investment in R&D,

Bridgestone EMIA's new Wet Handling Track enables

them to rigorously test their premium tyres, helping

ensure optimal wet performance.

● The track was built just outside Rome and was designed

taking into consideration both traditional vehicle

manufacturers and new EV players, bringing one of the

most innovative and advanced tyre testing facilities in

the EU to life.

● Using virtual development it was possible to evaluate

different scenarios and choose the best configuration

and layout of the track, while also reducing the use

of physical resources – aligning with the company's

ambitions to deliver sustainable mobility.

Bridgestone, a global leader in tyres and rubber providing

solutions for safe and sustainable mobility, has launched

a new Wet Handling Track at its European Proving Ground

(EUPG) based near Rome, Italy, investing approximately €3M in the

project. The new track, designed in a virtual environment ahead of

construction, provides the ability to test premium tyres in varied

weather conditions to ensure optimal wet performance.

To further refine the requirements for maximum testing

capabilities at the Wet Handling Track, Bridgestone worked in

collaboration with partners, including both new EV players and

traditional vehicle manufacturers. Analysing feedback and data

collected from vehicle manufacturers and EUPG drivers, as well

as creating virtual simulations and taking a modular approach

with separate areas of design and development – such as the new

surface, enhanced layout and more efficient water management –

helped Bridgestone to create the state-of-the-art facility.

A successful project rooted in virtual development and

close collaboration

The surface of the track was designed in association with Pisa

University, incorporating carefully selected aggregates that are

more resilient to wear. This is particularly beneficial when it comes

to consistency over time, helping to deliver constant friction and

enhanced grip levels that make it easier to evaluate the overall

performance of tyres.

The track's cutting-edge layout results in a number of benefits,

including:

● Dynamic transient conditions with combined inputs and more

on/off throttle operation

● The possibility to perform slalom tests using the fast chicane

and the ability to drive in either direction

● More combined accelerations than the original layout

● More evident longitudinal accelerations than the original layout

(acceleration & braking)

Combined, these results allow Bridgestone to develop and test

premium tyres that match the requirements and demands of

customers.

Through virtual development, which uses track simulations to test

and fine tune the design before construction began, the project

34 THE GARAGE MAGAZINE

34,35 Tyres Bridgestone.indd 1 21/02/2022 15:39
---
offered significant advantages by providing the possibility to

evaluate in advance different scenarios and then select the best

possible configuration. Virtual development also offered significant

sustainability benefits, since the process allows for a more efficient

use of resources. In addition, a new water system utilising 6km of

piping can move water back to a 4-million litre reservoir, helping

to recycle up to 90 per cent of water and further reducing the

environmental impact of the new facility.

Safety and new features fundamental to new track

Safety at the Wet Handling Track is high on the agenda, with Argex

– a clay material – placed in run-off areas helping to reduce

stopping distances where most necessary.

The realisation of the new Wet Handling Track gave also the

opportunity to improve the entire EUPG security management,

with the introduction of a new EUPG Safety Management System.

The new system allows for fully digital and automated control

of the tracks at the facility: test drivers can be informed in real

time with safety prevention warnings, which are also shown on a

screen through visual dashboards and enforced with automatic

voice messages to ensure they can focus fully on driving, while still

receiving crucial safety information. Other new features include

digital access to all tracks at the facility by registered permissions,

along with virtual gates to help manage specific areas.

The bigger picture for Bridgestone

Bridgestone's European R&D Centre and Proving Ground forms the

focal point of product and solution development in the region. As

one of the most advanced proving grounds in the tyre world, it is

designed specifically for testing tyres and is engineered with stateof-the-art

equipment. Various specific materials and combinations

provide a wide range of surfaces, representative of most road

conditions in Europe, and Bridgestone's proprietary Virtual Tyre

Development technology was also developed there.

Emilio Tiberio, COO & CTO of Bridgestone EMIA, commented:

"Bridgestone is one of the leading investors in Research &

Development in the industry and our state-of-the-art testing

facilities are a substantial part of the company's ongoing

commitment to innovation. By providing our customers and

partners with different testing environments, including new road

surfaces and conditions, we're able to better address the seasonal

effects on tyre grip level, which ultimately improves safety for

drivers. And while safety is of the utmost importance to us as

a business, sustainability is too – that's why we are continually

evolving our processes to reduce resource consumption in order

to have a more positive effect on people and planet."

THE GARAGE 35

Banner-Garage-MOT-Professional-91x273-Ad-AW.indd 1 15/07/2019 12:45

34,35 Tyres Bridgestone.indd 2 21/02/2022 15:40
---
TYRES

VREDESTEIN

A tyre you probably

should know about!

Over the past six months, Vredestein brand tyres have seen a host of important

group-test award wins for the most popular passenger car tyre ranges. Their

'Ultrac', 'Quatrac', 'Quatrac Pro', 'Wintrac' and 'Wintrac Pro' ranges covering

the summer, all-season and winter segments have performed exceptionally

well against competitors in independent tyre tests conducted by a variety of

automotive magazines across Europe.

At the end of last year, Auto Express,

one of the UK's leading consumer

motoring magazines, awarded

the Ultrac a 'Recommended' accolade

in its annual test of summer tyres. The

magazine evaluated 10 tyres from leading

brands and placed the Ultrac first for wet

handling performance and third overall,

ahead of products from a host of major

manufacturers including Bridgestone,

Goodyear, Continental, Pirelli and Dunlop.

The testers at Auto Express said: "front

grip was impressive and was matched by a

stable rear that gave the car great balance

through turns."

The sixth generation of Quatrac

all-season tyres was named as the 'Best

All-Season Tyre' for 2021 by German

magazine Auto Zeitung. The Quatrac was

also the publication's 'Price-Performance

Recommendation,' proving that a lower

price point doesn't have to mean a

compromise on quality.

In November, another leading German

outlet, Auto Bild, commended the Wintrac

Pro during a variety of tests in different

conditions. The dedicated winter tyre

outperformed other brands when fitted

to a range of vehicles in harsh conditions,

receiving a 'good' rating when used on

all-wheel drive vehicles, such as SUVs,

and an 'exemplary' rating when used on

sports cars over ice and snow, but also

wet surfaces.

36 THE GARAGE MAGAZINE

36,37 Tyres Apollo.indd 1 21/02/2022 15:19
---
In Auto Bild's largest winter tyre review, the

Wintrac achieved third place and a 'very good'

overall rating; praised for its "convincing all-round

talent with dynamic driving characteristics on wet

and dry roads, precise steering response, and low

rolling resistance."

The Wintrac Pro also finished third overall in the

Auto Bild Sportscars test of winter tyres, receiving

an 'exemplary award' for its "convincing all-round

talent with very good winter and wet qualities,

stable wet and dry handling, and low-price level."

As well as awards for specific tread patterns,

the Vredestein brand overall has also performed

particularly well. Auto Bild named Vredestein 'Tyre

Manufacturer of the Year' in 2021. In allocating

these awards, Auto Bild took account of all its

tyre group tests throughout 2021, where it judged

each product across a range of scenarios in the

wet, dry, ice and snow to identify the best tyres

on the market. Fifty candidates were involved,

but only a handful were awarded Auto Bild's

'exemplary' status.

This all goes to show the quality and

performance of Vredestein tyres. The company

continues to invest in R&D to create tyres with

next-generation compounds that perform well

all-round, making sure that safety is at forefront

of how well every tyre performs. Vredestein state

their intention to continue this winning streak and

ambition to outperform the market leaders in the

UK and throughout Europe.

The sixth generation of Quatrac

all-season tyres was named as the

'Best All-Season Tyre' for 2021, by

German magazine Auto Zeitung.

THE GARAGE 37

36,37 Tyres Apollo.indd 2 21/02/2022 15:19
---
TYRES

Continental

UltraContact

the mileage tyre

With the new UltraContact, a summer tyre for fleets and end consumers, Continental is

adapting to the changing mobility trends in society. What these trends have in common is

the call for more sustainability, in which includes tyres. This approach is not only

resource-saving, but also very cost-effective – because a tyre that combines increased

mileage and robust design also saves on purchase costs.

The experts at Continental know that

younger drivers today, particularly those

18-25, want personal mobility just as

much as older people. However, the younger

generation's focus is more on personal mobility

than on car ownership. This means there's more

demand for car sharing and rental cars. These

vehicles will spend much more time on the

road which means their tyres must offer higher

mileage and be extremely robust. According

to consumer surveys, demand for the greatest

possible safety is still highlighted as the most

important criteria in questions asked about tyre

characteristics.

Another equally important trend is rapidly

increasing electric mobility. In 2019, the number

of electric vehicles sold worldwide topped

two million for the first time. Experts expect

approximately 14 million of these vehicles to be

sold annually by 2025. Vehicle manufacturers

are responding with a large number of new

models. By 2030, global new registrations of

cars with electric drives are expected to reach

25 million a year (Statista.com). Vehicles like

these are normally equipped with quiet tyres,

as rolling noise is much more noticeable than in

cars with combustion engines.

With the new UltraContact, outstanding

mileage, excellent longevity and low driving

noise have all been optimised. The tyre is

tailored to the needs of fleet operators and

end users, and also well suited to electric

vehicles. This is also shown by the classifications

on the EU tyre label. It offers

the best wet braking performance with

a grade of "A," and a rolling resistance

grade of "B." For noise emission, it is

classified "A" or "B." depending on the

size of the tyre.

The new tyre will be available in the UK

from spring 2022. There are already 100

sizes in the product range this year, with

more to come next year. The UltraContact

is produced for rims between 14 and 20

inches, in widths between 155 and 245

millimetres, with cross sections between

80 and 40 percent. Depending on the

dimension, the approvals are between 118 and

186 mph. Selected tyres are available with an

increased load capacity.

38 THE GARAGE

32,33 Continental.indd 1 21/02/2022 14:48
---
■ Universal Oil Fired Heaters

■ Oil and gas fired

cabinet heaters

■ Suspended oil and gas

fired unit heaters

■ Portable and mobile

heaters

■ Electric heaters

THERMOBILE offers probably the most

complete selection of space heaters

available to the UK Motor Trade. The

full range of heaters from THERMOBILE

now comprises over 300 models

varying in heat output from 3Kw up to

450Kw (10,000 to 1,500,000 BTU/HR).

For more information call us TODAY!

THERMOBILE UK LIMITED 12 Buckingham Close, Bermuda Industrial Estate, Nuneaton, Warwickshire CV10 7JT UK

SALES CONTACTS: Andy Wallis 07850 988382 andy@thermobile.co.uk

John Hall 07775 635527 john@thermobile.co.uk

Main office: 02476 357960 Website: www.thermobile.co.uk

THE GARAGE 39

32,33 Continental.indd 2 21/02/2022 14:48
---
TYRES

Bridgestone's

simplified, sustainable

and sporty range

heralded

Bridgestone has looked to the past,

present and the future in developing

its most comprehensive consumer

tyre range to date, which is more

simplified, sustainable and sportier than

ever before.

The tyre giant – now recognised as a

global leader in sustainable mobility and

advanced solutions – has received a

number of positive test results in recent

times for its product range, which has

been simplified and revitalised in the past

two years.

Notably, the new Potenza Sport, the

Turanza T005, the Weather Control A005

EVO and the Duravis All Season van tyre

are recent additions to the line-up and all

(bar the Potenza Sport and Duravis) benefit

from Bridgestone's unique DriveGuard

run-flat technology, which allows

motorists to keep on moving for 50 miles –

at speeds up to 50mph – after a puncture.

POTENZA SPORT

In a nod to the past, Bridgestone has

leant on its many years of motorsport

experience to produce the Potenza Sport,

which is arriving at dealers shortly having

been revealed in December 2020.

This next generation tyre represents a

new standard in premium, high-end sports

performance, providing best-in-class

performance in the dry supported by a

premium wet package.

Tested by TÜV SÜD, one of Europe's

most respected independent automotive

testing institutes, Potenza Sport achieves

the best performance in both dry

braking (shortest braking distance on a

dry surface) and cornering and straight

line stability (maintaining vehicle stability

when travelling both in a straight line and

through a curve) versus competitors in

the premium segment [1] And, with an

EU label A-grade in wet grip across its

full line-up and deemed best performer

in wet cornering and handling in further

tests performed by TÜV SÜD, Bridgestone

Potenza Sport also offers outstanding wet

performance.

In a huge early coup for the

product, it has been selected as the

exclusive original equipment tyre for the

Lamborghini Huracán STO supercar, as

well as long-time partner Maserati's MC20

supercar.

WEATHER CONTROL A005 EVO

The Weather Control A005 EVO tyre

is Bridgestone's second generation

all-season touring tyre. Like its

predecessor, it has been designed to

deliver year-round control, safety, and

convenience – but has been reengineered

to offer additional performance benefits.

It has been built using Bridgestone's

advanced, high silica NanoPro-tech

compound technology. Bridgestone has

combined the compound with a new

mixing technology that improves its silica

dispersion to give the A005 EVO excellent

fuel efficiency and enhance its overall

snow potential.

Alongside an optimised carcass

construction and optimised contact

pressure distribution, this enables the

new tyre to be capable of handling

everyday driving challenges across all four

seasons without compromising on wear

performance.

DURAVIS ALL-SEASON

For the present, Bridgestone's latest

Duravis All Season van tyre is also being

seen as a crucial piece in the overall

product jigsaw, which boasts an 'A' rating

in wet handling.

Like the Weather Control A005 EVO

consumer tyre, the Duravis All Season

has been designed to deliver year-round

control, safety, and convenience, using

Bridgestone's advanced, high silica

NanoPro-tech compound technology.

Bridgestone has combined the compound

with a new mixing technology that

improves its silica dispersion to give the

A005 EVO excellent fuel efficiency and

enhance its overall snow potential.

And when looking to the future,

Bridgestone's commitment to providing

sustainable mobility and advanced

solutions can be seen in the fact that

around 30 per cent of all new OE fitments

developed by Bridgestone EMIA in 2020

were created specifically for EVs. From its

ologic Technology - created specifically for

BMW's all-electric i3 – to the pioneering

ENLITEN Technology, Bridgestone has

always supported the development

of EVs through ground-breaking tyre

technologies.

SUSTAINABILITY

As well as shaping a sustainable future of

mobility in its product output, Bridgestone

is showing equal commitment to investing

in greener practices in the development of

those products.

Virtual Tyre Modelling represents the

future of tyre development at Bridgestone,

and its already in use today. The

technology enables Bridgestone to create

a digital twin of the tyre at its development

stage, reducing the volume of physical

prototype tyres – and subsequently raw

materials – needed, and cutting the

product development time by up to 50 per

cent. Thanks to Bridgestone's continued

40 THE GARAGE

40,41 Bridgestone 2.indd 1 21/02/2022 16:53
---
TYRES

advancement and application of the

technology in 2020, 20 per cent fewer

experimental tyres were used in the

development phase of OE tyres in EMIA

from 2019. Furthermore, thanks again

to the use of Virtual Tyre Modelling and

the rise of indoor testing, Bridgestone

EMIA reduced the distance of its fleet

tests for OE by 25% from 2019 to 2020.

Commenting on Bridgestone's

comprehensive product range,

Consumer Sales Director Brett Emerson

said: "We're pushing the boundaries

of what is possible in engineering to

deliver new cutting-edge products that

are developed in more advanced and

sustainable ways to offer a superior

performance.

"In our Turanza T005, Weather

Control A005 EVO, Duravis All Season

and Potenza Sport we do believe

we have one of the most impressive

consumer product portfolio's in the

marketplace today.

"It's also great that we've been able

to work in partnership with the world's

leading car manufacturers to meet our

collective environmental goals and

shape a more sustainable future of

mobility, via our ENLITEN technology."

GET MORE INSIDE

More content. More quality. More reliability.

If time means money in your workshop, you

can save on both with FAG. Our WheelSets

come with every genuine OE component

you need to carry out a professional repair,

right down to the last nut, bolt and washer.

You also get a 3 year unlimited mileage

warranty and unrivalled service.

FAG WheelSet. A true aftermarket heavyweight.

3YEAR

Warranty

www.repxpert.co.uk

aftermarket.schaeffler.co.uk

THE GARAGE 41

40,41 Bridgestone 2.indd 2 21/02/2022 14:45
---
EXHAUSTSYSTEMS

Air/fuel ratio sensors and oxygen

sensors – what's the difference?

Despite the rise in popularity of pure electric powertrains, vehicle

manufacturers (VMs) are still under intense pressure to improve

the ecological performance of their combustion engines to comply

with evermore strict emissions targets. As a result, monitoring the

engine's exhaust emissions takes central stage and the air/fuel ratio

sensor is a special type of oxygen sensor that can support more

sophisticated emission control processes.

To comply with current and future emissions

targets, engine management technology

never rests, as leading original equipment

(OE) component manufacturers such

as DENSO, continue to develop more

sophisticated sensors to satisfy the needs

of the VMs. As a result, the trusted oxygen,

more commonly referred to as Lambda,

sensor has had to be supported with the

addition of many other sensors, including

air/fuel ratio sensors.

Although both these sensors serve a

similar purpose – to monitor the exhaust

gases and communicate this data to the

vehicle's engine management system (EMS),

to optimise the fuel and air mixture coming

into the engine's combustion chambers, as

well as the engine's ignition timing etc. – the

air/fuel ratio sensor provides a higher level

of sensitivity than the traditional oxygen

sensor. This allows the EMS to respond

to the needs of the engine with higher

accuracy, which enables the fuel to burn

more efficiently, therefore producing lower

emissions and increasing the vehicle's fuel

economy.

This difference in sensitivity can be

demonstrated by the fact that the oxygen

sensor produces a voltage signal that

suddenly changes on either side of the

'Lambda ratio' – defined as 14.7 parts air to

one part fuel, which is the most efficient air/

fuel mixture for a combustion engine – 0.8

volts if the mixture is too rich or 0.2 volts if

it's too lean.

In contrast, the signal output of an air/fuel

ratio sensor is not a voltage, but a current.

This current, measured in mA, changes in

proportion to the amount of oxygen left in

the exhaust gases. In other words, the ECU

(engine control unit) can understand, not

Figure 1: typical O2 signal

Figure 2: typical A/F signal

only if the mixture is rich or lean, but can

also precisely understand by how much.

This quantitative measurement allows

the EMS to respond to the immediate air/

fuel mixture requirements of the engine

more quickly and accurately. This provides

a greater degree of control over the

combustion process, and as a result, the

efficiency of the catalytic converter can be

improved significantly. Also, in case of a cold

start, the engine can reach a closed loop

control much quicker, which reduces the

emission of unburned hydrocarbons.

It goes without saying that the signals that

these two types of sensors produce are

Figure 3: more efficient utilisation of the catalytic converter

Figure 4: quick

"light-off" means great reduction of cold start emissions

very different from each other, therefore,

they cannot be exchanged. In fact, there

are many different varieties of air/fuel ratio

sensors. Some differences are visible from

the outside, whereas others vary electronically,

but most differences are hidden inside

the composition of the ceramic recipe or

the protection coatings on the sensor's

elements. Therefore, it is very important to

always choose the exact same original design

specifications, when replacing an air/fuel

ratio sensor.

DENSO has recently witnessed a few

examples of imitation sensors appearing on

the market and its laboratory and vehicle

tests of these products have revealed

very poor performance levels and lifetime,

as well as over-consolidation of vehicle

applications, which would certainly lead to

premature failure and re-occurring engine

warning lights on the dashboard should they

be fitted to a customer's vehicle.

Further details of the DENSO Aftermarket

programme are available online at: www.

denso-am.co.uk

42 THE GARAGE

42 Exhausts Denso.indd 1 21/02/2022 14:52
---
Castrol Race Ad V2.pdf 2 06/08/2021 11:11

Authorised Distributor of Castrol

Specialist in supporting

Independent Workshops

TEL: 0800 371910

(option 4)

C

M

Y

CM

MY

CY

CMY

K

JOIN

A WINNING TEAM

JOIN THE CASTROL SERVICE

NETWORK AND RECEIVE:

• Your workshop Listed on Castrol.co.uk

• Castrol signage, point-of-sale & product stands

• Workshop clothing

• Workshop consumables

• Castrol promotions

• Online training

• And of course the backing of the

full Castrol Engine Warranty

JOIN THE CASTROL SERVICE NETWORK AND WE WILL INVEST IN YOUR WORKSHOP,

HELP YOU GROW YOUR CUSTOMER BASE AND ULTIMATELY INCREASE YOUR PROFITS

THERE'S NO COST TO YOU - CALL 0800 371910 (OPTION 4) TO FIND OUT HOW WE CAN HELP YOUR WORKSHOP

Find out more go to www.castrol.co.uk/garagecs

The Race Group 1 .indd 1 21/02/2022 15:52
---
EXHAUSTSYSTEMS

NGK is a leading supplier

of Lambda sensors

under its NTK brand

The company is the world's largest

manufacturer of Lambda sensors

and supplies a market-leading range

to the UK aftermarket under the NTK

brand name.

There are good reasons why NTK

Lambda sensors are the No.1 choice of

vehicle manufacturers (VMs) around the

world, they are 'Similar but different'.

NGK says the experience it has in

supplying the VMs worldwide allows it to

offer exactly the right sensor for every

vehicle application.

The company advises distributors to

encourage garages to always go with a

bespoke OE-quality Lambda sensor and

steer well clear of 'universal sensors'. A

'universal' Lambda sensor is designed to

cover as many applications as possible by

splicing in the connector from the unit

being replaced. In theory, this sounds like

a good idea. In practice the potential for

a mismatch with the vehicle's system or

subsequent premature failure is very high.

NGK says distributors should help

educate garages by ensuring they fit a

new NTK Lambda sensor whenever they

replace a vehicle's catalytic convertor.

A worn or failed sensor can result in

drastically reduced control of the fuelling

system which could result in increased

fuel consumption, uneven running,

generally poor performance or failure of

an MoT emission test, so replacement is

good news for the customer, garage and

distributor.

NGK recommends that the function

of the sensor is checked every 20,000

miles or annually. The emissions check as

part of the current MoT test samples the

exhaust gases to monitor the efficiency

of the engine, exhaust system and engine

control systems. The Lambda sensor is a

vital part of this system and its function

is therefore influenced by many other

components.

A malfunction of an associated part

may directly affect the performance of a

sensor. An oscilloscope and gas analyser

is a much more accurate way of assessing

sensor performance than relying on fault

codes alone. Garages need to look for

slow response times, output range and

heater function.

Contaminants from poor quality oils and

fuel which remain in the exhaust gases

can become deposited on the sensor

element affecting its operation. Even

coolant from a leaking head gasket can

reach the element.

Links to NGK's improved PartFinder

website can be accessed with just two

clicks from its BoxClever App's homepage.

The App also enables members of its

independent garage loyalty scheme to

check their points balance, browse the

gift range, redeem points and win prizes

instantly, all from their mobile phones.

For more information on NGK Spark Plugs

(UK) Ltd and its products and services,

please visit the website at

www.ngkntk.com/uk

44 THE GARAGE

44 Exhausts NGK.indd 1 21/02/2022 14:50
---
BOOK YOUR TICKETS TO

THE BIG AWARDS 2022!

theBIGawards.org.uk

BRITISH

INDEPENDENT GARAGE

OF THE YEAR AWARDS

2022

IGA.indd 1 21/02/2022 14:51
---
EXHAUSTSYSTEMS

Nissens tackles

EGR valve

problems on

prominent

TDI

applications

The exhaust gas recirculation (EGR) valve is an integral part of a vehicle's exhaust emission control system, influencing the operation

of the engine and its combustion process. Failure, malfunction or removal of the EGR valve will cause the engine not to operate

properly. Furthermore, valve failure can provoke faults in the exhaust emission control and cause severe failures of related devices

such as the diesel particulate filter, catalytic converter or turbocharger. In addition, impaired performance of the vehicle's exhaust

emission system will seriously affect the environment and may breach regulated emissions levels.

COMMON SIGNS OF EGR VALVE

MALFUNCTION

• Engine check control lighting on the

dashboard

• ECU setting the engine into limp mode

• Reduced engine power

• Significant changes in fuel consumption

• Engine emitting pinging and knocking

sounds

• Rough, uneven idling

• Stalling and hesitation during acceleration

• Exhaust gases escaping within the engine

compartment

SAFETY

By their very nature, EGR valves are generally

located in the engine compartment and

close to heat-generating components, so

they can get very hot. Technicians should

therefore be mindful of the danger before

starting diagnostic and replacement

procedures and make sure the vehicle has

cooled down to a safe temperature before

undertaking the work.

THE PROBLEM

The EGR valve used in multiple VAG diesel

applications utilising the 1.4, 1.6 and 2.0-litre

TDI units can be particularly problematic,

as it is especially susceptible to heat and

vibration, as well as excessive engine load.

Naturally, the faulty valve has to be replaced

because its failure will impair the function

of the entire exhaust emissions system, so

affecting the engine's proper operation.

However, as the issues are largely due to the

design of the original part, workshops must

be aware that these malfunctions can occur

both in the original, and a replacement part.

Fortunately, the Nissens Efficiency &

Emissions division has stepped in to provide

a solution to the problem by addressing

the issues that contribute to the value's

premature failure and ensuring its proper

function and long lifespan, despite exposure

to the harsh working conditions it has to

deal with.

By applying several design improvements

over the original and proving them over a

series of comprehensive tests, the Nissens

team has developed a durable replacement

part that performs to the standards defined

by the vehicle manufacturer and therefore

provides the aftermarket with a competitive,

genuine Nissens quality, solution.

THE NISSENS SOLUTION

Optimised gearbox design – Recognising

the problems associated with heat and

lubrication, the Nissens team significantly

reduced tolerance and therefore friction,

by applying specific PTFE, high-temperature

resistant grease. Furthermore, the plastic

material of the gear wheels in the two-stage

gearbox has been upgraded.

Improved design of the valve stem – To

avoid the known, severe malfunction of

the valve caused by the engine load and

vibrations, Nissens improved the valve's stem

and lever arm fixings by applying a unique

design of spiral pin.

DC-motor design upgrade – The motor's

bearing system has also been improved

to ensure its flawless operation and long

service life, despite the vibrations and

frequent temperature changes it has to deal

with.

THE TESTING PROCESS

The value of these improvements is proven

by the redesigned valve undergoing a

comprehensive validation procedure to

secure its full functionality over its lifespan.

Naturally, these tests include complete EGR

valve operation and sensor feedback signal,

under temperatures simulating conditions

in the operational engine compartment, but

also cooler performance for NOx emissions

reduction, according to the EU5 norm,

as well as the cooler bypass function for

cold start. Finally, the valve undergoes a

comprehensive corrosion test.

To assist technicians fit EGR valves with

confidence, the Nissens technical team has

produced a useful installation guide which

can be found at: https://support.nissens.

com/material/egr-valve-installation-guide

For more information about the Nissens

Efficiency & Emissions programme or any

other product in the Nissens Automotive

range, please call: 02476 470340.

For product technical data, catalogue

information or installation advice, visit:

www.nissens.com

46 THE GARAGE

46 Nissens.indd 1 21/02/2022 14:53
---
The RMI Academy of Automotive Skills

provides all the training you need to run your

MOT station effectively. We deliver high quality,

cost effective training across Classroom the country social at prices distancing VTAA

that cannot be beaten. All sites are COVID-Secure and

have social distancing and hygiene measures in place.

• MOT Tester Training Class 4 & 7

• MOT Tester Training Class 5

• Motorcycle Tester Training

• MOT Centre Management

• Vehicle Technician Accredited Assessment

• Refrigerant Handling (F-Gas)

• MOT Annual Training

• ADAS Training

• Hybrid/Electric Training

• Technical Training

BOOK A COURSE with our friendly team on 01788 538 399

or find out more at RMItrainingAcademy.co.uk

RMIF FP.indd 1 21/02/2022 14:55
---
PEOPLE

People stories and movements from around your industry

First Line Ltd, kickstarts 2022

by bolstering its sales team

First Line Ltd has kickstarted the new

year by further strengthening its sales

team announcing a new appointment

and promotion, as it gears up for another

successful and productive 12 months.

Chris Peat has joined the company as Key

Account Manager, and is responsible for

accounts from Hull in the North East down

to Dover in the South East, from Tyne &

Wear, down to the Isle of Wight.

Previously working for the Parts Alliance

for the last 15 years, recently as a Regional

Support Manager, Peat brings a wealth of

experience and a clear understanding of the

needs of aftermarket distributors and their

customers.

Excited about his new role and the

opportunities it brings, Peat commented:

"I'm really excited to work for First Line Ltd,

who is a market leader and a highly regarded

supplier in the aftermarket."

First Line Ltd has also announced the

creation of a new position within the

company by promoting Key Account

Manager, Keith Frost, to the role of

International Trading Groups (ITG) Manager.

Frost has been at the company for 10

years and is a well-known and reputable

team member among the UK customer base.

Recognising the importance of the

international buying group community, First

Line Ltd created the position to enhance

communication, support and activity

globally.

Andy Smithson has been appointed to

the new role of head of internal control,

compliance and legal relay at Startline

Motor Finance.

He will be responsible for ensuring a

robust and effective control environment

with strong ongoing legal, regulatory

and operational compliance, as well as

managing the interlock with the company's

legal panel and leading the environmental,

social and governance agenda.

He joins from Lloyds Bank Commercial

Finance where he was a director, having

also spent 12 years at Lloyds Banking Group,

eventually becoming head of business risk

within commercial banking.

Andy has also spent a considerable

portion of his career in the United States,

working in motor finance before becoming

Chris Peat

Frost said: "Over the past decade, I've

enjoyed listening and communicating

with customers to continue to strengthen

relationships and develop our service

offering to their specific needs. Now, I look

forward to putting this into practice on an

international level and continuing to spread

the First Line Ltd message far and wide."

First Line Ltd was recently recognised

at the 2021 Independent Automotive

Aftermarket's (IAAF), 'Pride of the

Aftermarket' award ceremony, receiving

the prestigious runner up award in the Car

Supplier of the Year category.

The established aftermarket supplier

Andy Smithson appointed Head of Internal

Control, Compliance and Legal at Startline

vice president of risk management at HBOS

in the US and holding the same position at

Drive Financial Services.

He said: "It's exciting to be working in

motor finance once more and great to

become part of the team here at Startline.

I have been genuinely impressed by how

invested everyone is in the success of the

business and how the company supports

both customers and colleagues.

"I'm looking forward to developing

the risk framework and oversight model

to support our ambitious future plans,

ensuring that effective controls and

regulatory compliance not only protects

the business but delivers positive customer

outcomes."

Paul Burgess, CEO, added: "This is a

crucial new role for Startline as we embark

Keith Frost

remains committed to the development of

its products and services, which is reflected

in the company introducing a total of 568

new-to-range parts in the 2021 alone to

complement its market-leading portfolio,

including Steering and Suspension, Clutch,

Braking and Filter products.

The company has also recently expanded

its digital reach by increasing activity on its

social media channels through, Facebook,

LinkedIn, Instagram and Twitter, as it grows

its content library to further support motor

factors and garages with greater access to

updates than ever before.

The full product portfolio from First Line

Ltd consists of more than 40,000 part

numbers, across 60+ product lines. All of

which can be looked-up via application or

cross reference in the company's marketleading

online catalogue, WebCat: webcat.

firstline.co.uk/Home

on our latest growth phase and we are very

pleased to welcome Andy to the business.

He has an impeccable track record and is

already making a positive impact here."

48 THE GARAGE

48,49 people.indd 1 21/02/2022 16:32
---
PEOPLE

TruTac announces new Managing

Director and leadership team

TruTac, part of the Microlise Group, has promoted

Jemma James to Managing Director as Terry Ramsey

retires at the end of January. Jemma has been with

TruTac for over 14 years and became a Director in

Oct 2010, with her most recent role being Director

of Commercial Operations & Marketing.

Jemma James

Lee Oliver

Jemma has been a key figure in the leadership of TruTac and was

responsible for securing commercial relationships with both the

RHA and Confederation of Passenger Transport as well as developing

other key partnerships and being involved in the Microlise

acquisition.

Jemma possesses an excellent track record in business development

with extensive senior commercial management experience

in a variety of industries, including international banking and

corporate investigation and places great emphasis on customer

service.

Terry Ramsey states, "While retiring after 15 years is a big

change for me, I can relax knowing TruTac is in great hands with

Jemma as Managing Director. Through the hard work of everyone

at TruTac, we have transformed the business and made it the

success it is today. I have the utmost confidence the team will

continue to work together to drive further innovation and business

growth."

Additional changes in the TruTac leadership team see Lee

Oliver promoted to Sales Director, having previously been Head

of Sales and Louise Connor joining as General Manager. Lee has

been with TruTac for 10 years and has been instrumental in securing

numerous large customers. Lee will focus on commercial

growth through new market opportunities and will continue to

build TruTac's successful sales team.

Louise joined the business last October having previously

worked in manufacturing operations. Louise will continue to

ensure that the highest level of customer service and quality is

delivered to all customers. The leadership team also includes

Chris Williams, Technical & Product Director and James Pyne,

Finance Director, who all work alongside the Microlise Board to

achieve Group aims.

Chris Williams

Louise Connor

TMD Friction appoints

Jake Prout as new Area

Sales Manager

TMD Friction has grown its UK sales team

with the appointment of Jake Prout as

area sales manager for the South West IAM.

Prout brings over 15 years' experience

in aftermarket sales to the brake

friction specialists, including most

recently two and a half years with BMW UK.

Prout said: "I'm delighted to join

TMD Friction and build on the excellent

foundations of service established by the

UK sales team."

In his new role, Prout will support TMD

Friction's customers in both passenger

car and commercial vehicle aftermarket

sectors.

"I'll be looking to support customers

across the entire southwest region and be

their trusted advisor for braking solutions.

The changing landscape of the industry

represents numerous opportunities in my

new role, as TMD builds on its position as a

leader in braking technology, both now and

in the future.

"I have a solid background in automotive

aftermarket having worked with one of

the UK's largest motor factors, and more

recently with a tech supplier to BMW," he

added.

Nick Hayes, UK sales manager at TMD

Friction, said: "TMD Friction continues

to expand its expertise, and with Jake's

appointment, we're perfectly placed to

meet customer demand and support our

commercial vehicle customers across the

country."

THE GARAGE 49

48,49 people.indd 2 21/02/2022 16:32
---
Products and Services

Contact Ben Coates on 01952 415334

EMPLOYMENT LAW

MEDIA SERVICES

FINANCE

EASTMILLS

INDEPENDENT FINANCIAL ADVISERS

• Pension and Retirement help

• Financial Advice

• Tax-efficient investment planning

• Tax-efficient investing for business owners

• University fees planning

e-mail andy@eastmillsltd.co.uk

•Employment Law Services

•Expert HR Advice

•Dispute Resolution

Contact: 01952 288361

Email: alasdair@human-results.co.uk

Andrew Wheeler Dip PFS EFP Cert CII(MP)

INDEPENDENT FINANCIAL PLANNER

Tel: 07969 192923

• Top rated life /critical illness /

income protection cover

• Workplace/Auto Enrolment Pensions

• Employee benefits

www.eastmillsltd.co.uk

GARAGE EQUIPMENT INSTALLATION AND SERVICES

Garage Equipment Installation & Servicing

For all your garage equipment needs

01909 480055 | straightset.co.uk | info@straightset.co.uk

MEMBERSHIP BODIES

MOT WALLETS

MOT Wallets from

info@moogiesmedia.co.uk

Photography and videography from

the air and the ground. CAA authorised

drone pilots. Fully insured.

www.moogiesmedia.co.uk

LOOKING TO PURCHASE

GARAGE EQUIPMENT ?

For peace of mind always purchase

Garage Equipment and Services from a GEA Member.

Member companies will always follow the

Garage Equipment Association's

Code of Conduct.

Upholding Industry standards since 1945

£178/1000

www.motwallets.co.uk 0800 097 5254

sales@kpsprinters.co.uk

INFORMATION TECHNOLOGY

PR AND MARKETING

CHICANE IS PROUD TO MAKE A DIFFERENCE BY SUPPORTING THIS AMAZING CHARITY

- automotive marketing expertise since 1999

Contact us to discuss anything PR & Marketing related: T: 01923 269490 www.chicane.marketing

Advertising in

Products and Services

costs just

£60.00 + VAT per month

(Advert size = 91mm x 31mm)

Commit to 12 issues and get

12 adverts for the price of 10.

For more details or to book

your next advert contact

Ben Coates on 01952 415334

50 THE GARAGE

www.garageandmot.com

OILS

BRAKES

Products and Services

ELECTRIC VEHICLES

TRAINING

WORKSHOP FURNITURE

TOOLS

THE GARAGE

MAGAZINE

For all your

workshop needs

Tel: 01952 415334

WWW.GARAGEANDMOT.COM

THE GARAGE

MAGAZINE

THE GARAGE

MAGAZINE

For all your

workshop needs

Tel: 01952 415334

WWW.GARAGEANDMOT.COM

THE GARAGE

MAGAZINE

For all your

workshop needs

Contact Ben Coates on 01952 415334

THE GARAGE

MAGAZINE

For all your

workshop needs

Tel: 01952 415334

WWW.GARAGEANDMOT.COM

For all your

workshop needs

Tel: 01952 415334

WWW.GARAGEANDMOT.COM

THE GARAGE

MAGAZINE

Tel: 01952 415334

WWW.GARAGEANDMOT.COM

For all your

workshop needs

Tel: 01952 415334

WWW.GARAGEANDMOT.COM

WORKSHOP EQUIPMENT

THE GARAGE

MAGAZINE

For all your

workshop needs

Tel: 01952 415334

WWW.GARAGEANDMOT.COM

Advertising in

Products and Services

costs just £60.00 + VAT

a month.

Commit to twelve

issues and get 12 adverts

for the price of 10.

TRAINING

Advert size = 91mm x 31mm

THE GARAGE

MAGAZINE

For all your

workshop needs

Tel: 01952 415334

WWW.GARAGEANDMOT.COM

WORKSHOP FURNITURE

THE GARAGE

MAGAZINE

For all your

workshop needs

Tel: 01952 415334

WWW.GARAGEANDMOT.COM

AIR CONDITIONING

TYRES

TRAINING

THE GARAGE

MAGAZINE

For all your

workshop needs

Tel: 01952 415334

WWW.GARAGEANDMOT.COM

THE GARAGE

MAGAZINE

For all your

workshop needs

Tel: 01952 415334

WWW.GARAGEANDMOT.COM

THE GARAGE

MAGAZINE

For all your

workshop needs

Tel: 01952 415334

WWW.GARAGEANDMOT.COM

Classified Example.indd 1 27/01/2021 13:53:17

50 Product and Services.indd 1 21/02/2022 14:58
---
NEW ADDITION WITH MOTOR RACING DNA:

FALKEN AZENIS FK520

NEW

AZENIS I FK520

With its AZENIS FK520 high-performance tyres, Falken is welcoming the next

generation of racing technology for the road. New standards of design, the highest

levels of safety, optimised rolling resistance and less weight ensure added efficiency

and more fun when driving.

For enquiries, contact chris.staincliffe@micheldever.co.uk

falkentyre.com

Falken Tyres FP.indd 1 21/02/2022 15:01
---
BEST IN TEST

VREDESTEIN

Quatrac

Dimension 205/55 R16

Issue 19 / 2021

We are on a roll

#allseason #winter #summer

TYRE TEST

Apollo FP.indd 1 21/02/2022 15:02