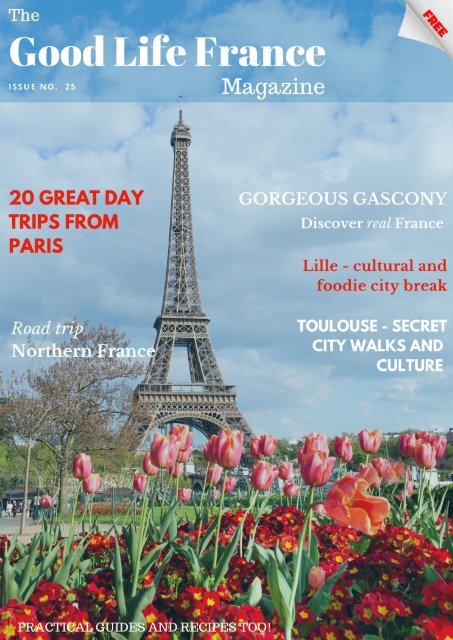 Issue No. 25
In this issue, visit France from home - Gascony, and Provence, fabulous day trips from Paris, captivating Toulouse and charming Northern France. Recipes, guides and a whole heap more to entertain and inspire...
In this issue, visit France from home - Gascony, and Provence, fabulous day trips from Paris, captivating Toulouse and charming Northern France. Recipes, guides and a whole heap more to entertain and inspire...
SHOW MORE
SHOW LESS
Do you know the secret to free website traffic?
Use this trick to increase the number of new potential customers.
In these difficult days of no travel and self-isolation around the world, we can still

dream.

I hope that this issue makes you smile and whisks you away through its pages to

France and that you find it's a treat to read and inspires your dreams for the days

when we can travel again.

Meanwhile on our social media pages we're staying connected, sharing a daily dose of

France, inspiring dreams of France and hopefully one day soon, your resumed travels,

join us on Facebook, Twitter or Instagram.

Enjoy this issue with my compliments and feel free to share it with friends – it is

completely free to subscribe, read online, download and it always will be.

Wishing you and yours truly well,
---
contents

Features

8 Gascony – God's Country

Not well known outside of France, the Gers,

Gascony is an intoxicating land, real France,

authentic and delicious.…

22 Road trip northern France

The Hauts-de-France region reveals a wealth

of culture, beautiful beaches, historic cities

and glorious countryside...

34 20 Brilliant day trips from Paris

Chateaux, cities, village visits, cultural towns

and beautiful churches, all so close to Paris

you can get there and back in a day…

56 The natural wonder of Amiens

The capital of Picardy is the "Venice of the

north" and a hugely surprising city...

66 Colourful, cultural & captivating

Toulouse

Discover the museums and secret streets of

the pink city…

74 Fabulous French Float-el

Floating down the Rhone River on a French

cruise hotel makes for a brilliant break…
---
Features continued

80 Lille a Feast for the Senses

The perfect pairings of food and art in the

city of culture

88 La Chartreuse de Neuville

A monumental hidden gem of a

charterhouse in northern France

94 Oppède the lush, exotic village

of Provence

This rather hidden beauty of Provence is

delightfully quirky…

Regular

100 Your Photos

The most popular photos on our Facebook

page.

120 My Good Life in France

In which the rural countryside becomes a

land of party animals...

Expert Advice

102 Discover the Northern Riviera

Not the French riviera with its pricey

properties but a northern version that's well

worth a look…

106 Top tips for your move to

France

Top tips for those looking forward to move

to France.
---
110 Expert's guide to French

Mortgages

Everything you need to know about

mortgages in France.

Recipes

114 Pissaladière

Classic French onion tart that's so moreish

it's wicked!

116 Cheese soufflé

How to make a perfect cheese soufflé that

will impress everyone!

118 Gascon apple pie

Easy to make but utterly unforgettably

delicious!
---
Gascony

"God's Country…"

Janine Marsh takes to the road in Gascony and discovers

some of its charms – from medieval villages, quirky

museums and the most intoxicating gastronomy…
---
The Gers

The Gers, or Gascony some call it, is one of

the most rural regions in all of France. You'll

find it in southwest France, just west of

Toulouse but a world apart from the buzzing,

colourful metropolis.

A 25 minute drive from Toulouse airport will

bring you to L'Isle Jordain, a great little town

on the edge of a region that on a map looks

decidedly green. There are no big cities here.

No high speed rail services either, though

you can take the train from Toulouse to

Auch, the capital of Gers.

There are no motorways in Gers. Not one.

And there's no mass tourism.

The Gers is the real France you thought

didn't exist anymore. Bucolic, beautiful and

bubbling with bonhomie.
---
Road trip Gers

In the Gers, it's easy to feel like you've

stepped back in time to a gentler place. You

won't come across coach loads of tourists

and you won't find traffic jams. What you

will find are roads which take you through

sweeping panoramas, undulating fields of

sunflowers, corn and rapeseed. Vineyards

lazing under the sun alongside lush grazing

pastures dotted with wildflowers.

Hedgerows of hawthorne, broom and

honeysuckle hug fields and forests. Pretty

villages are seemingly on every corner, and

bars are full of friendly folk, happy to share

their little corner of paradise.

Though the Gers is not France's most

sparsely populated district (Lozère if you

want to know), it is the most agricultural,

with more of its land under cultivation than

that of any other French district. Humans in

the Gers are hugely outnumbered by

livestock, especially ducks, apparently 28:1.

Ask any local will tell you that what's

important to people in the Gers is family,

friendship and good food. And they really

mean it.

It's a brilliant place for a road trip whether

you're driving or cycling around the Gers.

And you'll need your own wheels, because

there's not a lot of public transport.

L'Isle Jordain - bells, books and a

bubbly market town

I started my Gascon jaunt in L'Isle Jordain,

journeying by train via Paris to Toulouse (4

hours) where I met my friend Lucy who'd just

flown in from the UK (2 hours). It was Friday

night and, as we booked into the charming

L'Echappée Belle Hotel, the concierge

warned us to move our car to the free car

park on the corner rather than leave it in

front of the hotel. Next day was market day

and there would be a stall selling vegetables

where we had parked.
---
Back in the hotel restaurant, feeling

reassured our hire car wouldn't be used to

display cabbages, the server tempted us to a

Pousse Rapière cocktail – my first

introduction to Armagnac, the famous

liqueur of Gascony. One part Armagnac à

l'Orange to 6 parts sparkling wine: it's

heaven in a glass and so moreish I feel bad

telling you about it. The food at the

restaurant is superb (chef Thierry Lair is

superb), if I lived in this town, you wouldn't

be able to keep me out of here!

the most French, authentic and delicious

market you can ever imagine. Stall after stall

of local produce, odd shaped vegetables,

fresh baked bread, artisanal beers, cheeses

and… Pastis Gascon, an apple tart which

makes your taste buds sing. Don't take my

word for it, there's a recipe on page 118.

Seriously, seriously sensational.

Early next morning after a good night's sleep

we wandered a few minutes out of the town

to discover lakes right on the doorstep that

were teeming with birds. As the sun broke

through the early morning mist and a

symphony of bird song filled the air, it felt

like the land that time forgot.

The old pilgrim route from Bordeaux to

Jerusalem and the river Save wander

through this 13th century bastide. There's a

classic church which has a 15th century

clocktower and the remains of two arcaded

markets. The market at L'Isle Jordain is like
---
Maison Claude Augé

Claude Augé (1854 - 1924), was the

director of Larousse encyclopaedias and

educational books and he had a holiday

home in the town. Preserved just as it was

in his day, this beautiful building has

wonderful stained glass windows and is

filled with Larousse memorabilia - books,

encyclopaedias, post cards and photos.

Musée Campanaire

From the first floor terraced windows of

Maison Claude Augé, you look onto the

Musée Campanaire, a unique museum

dedicated to all things bell. There are huge

bells from churches, Indonesian temple

bells, Japanese, Roman, and Russian bells.

But you don't just look here, you play. It

doesn't matter if you're not a trained bell

ringer, and frankly I'm not sure they get that

many in judging from what I heard when I

was there. The staff are happy for you to

practise with special bell hammers and even

a bell pulley system like an organ of the

type you find in churches and cathedrals.

It's certainly different but utterly

fascinating.

Our next stop was Auch…
---
Auch

Auch, the capital city of the Gers, was the

birthplace of the musketeer D'Artagnan,

made famous by Alexander Dumas in The

Three Musketeers, immortalised on film and

still a symbol of loyalty, military prowess and

honour. You'll find his statue on the Grand

Escaliers, the monumental limestone staircase

which links the lower and upper towns.

At the top of the stairs is the Cathedral of

Notre-Dame. On the Route of St James, it

was the last stop before the Pyrénées for

pilgrims on their way to Spain.

Building began in the Gothic style in 1489

and continued until 1678 by which time

more of a Renaissance style took over. The

stained glass windows created in the 1500s

are extraordinary. Designed by Arnaut de

Moles (born around 1465), these are not your

average religious windows but feature

unusual topics such as the Greek Sybilles who

are shown presenting the coming of Christ –

and even more unusually there are naked

bodies galore. The colours are pure and fresh,

vibrant as the day they were made with glass

from Paris, transported by horse and cart,

each pane of glass sealed in wax to prevent

breakage.

Unusually there are two organs in the

cathedral, the original enormous organ was

built in 1694. A smaller organ takes centre

stage. Donated by Napoleon III as thanks for

the Archbishop being his wife's confessor in

Paris. The locals say it's hard to say no to the

gift of an emperor even though they prefer

the original.
---
Top right: 14th century Armagnac Tower, above:

Auch Cathedral, right: statue of D'Artagnan,

Grand Escaliers

Never finished, there are no saints on the

facade of the church, but head into the choir

for a sight you're unlikely to see in any other

church. The originally reserved for religious

members only room full of carved wooden

images features amongst the many saints,

some rather nubile young women, a man

with a bare bottom and other rather worldly

sights. It was, says our guide, "because the

monks who worked here, wanted to keep it

real, to understand their flock, not idealise

life but accept it for what it was..." It is an

incredible piece of work and worth the

couple of euros entry fee to see it.

It's a pleasant city to wander, plenty of

shops, bars and restaurants and winding little

streets with quirky old houses.
---
Armagnac

There are three growing areas of

Armagnac: Bas Armagnac,

Armagnac Tenareze and Haut-

Armagnac. Together they form

15,000 hectares of vines, originally

planted by the Romans, from which

wine, white, red and rosé and Floc

de Gascogne (a fortified wine and

popular aperitif) are grown and of

which 42,00 hectares are used for

the exclusive production of

Armagnac.

Armagnac is the oldest French eaude-vie

and is at least 700 years old,

possibly going back as far as the

10th century. It was mentioned in

records dated 1310 when a priest in

Eauze, the capital of Bas Armagnac,

praised Armagnac saying it was

good "to keep your heath and stay

on top form." Mind you, he also

listed a whole heap of its virtues

including that the fumes of

Armagnac could kill serpents, it

cured colic and tooth ache.

There are different types of

Armagnac. Like Cognac, there's VS

(Very Superior), VSOP (Very

Superior Old Pale), Hors d'Age

Armagnac which is a minimum of ten

years old but often much older, XO

(Extra Old) a minimum of ten years

old and Blanche Armagnac, which is

a young white spirit and quite new to

the market (since 2005).

Unlike Cognac (twice distilled),

Armagnac (once distilled) production

isn't big industry - it's all small

houses. Families and artisans

producing their own unique blend.

We headed to Chateau Millet on the

outskirts of Eauze to find out more

with a tour and what's known as an

Alambic Dinner.
---
Alambic Dinner

Each year, some Armagnac makers open

their cellars and invite the public in to

witness the distillation, taste the young

Armagnac, join in the fun and enjoy

fabulous food and wine.

The distillation process starts with the

heating of the grape juice in a continuous

still known as an alembic armagnaçaise.

The stills are mobile devices, roaming

around the countryside, stopping off at

domaines and operated by an expert who

works the magic through the night. Many of

the smaller batches made by these talented

producers never get seen outside the area –

and that's another good reason to visit!

We joined the Chateau de Millet alembic

dinner on the first Saturday in December.

Driving down tiny country lanes under a

frosty, star filled night was an adventure in

itself. We entered the room, heated by the

alambic still on wheels, it's flames fanned by

old vine wood. A live band played, everyone

was invited to taste the new Armagnac

straight from the still (takes your breath

away I can tell you) and the food was

amazing and the Chateau de Millet wines

superb. It was an uplifting, fun and utterly

delicious affair and I'd go back to Gascony

just to be a part of this amazing event again.

If you'd like to know more about Armagnac

and join a dinner French Country

Adventures will run a unique tour in

November, details here: Armagnac Tours
---
Lavardens

Built around a feudal castle

and church, this little village

on a rocky outcrop has

oodles of charm. Go in July

& August for the fabulously

festive night markets.

Fourcès

With medieval arcades,

beautiful walkways, quirky

shops and several

restaurants, it's a fabulous

place to while away a few

hours admiring its beauty.

Larressingle

AKA the "little

Carcassonne", this is the

smallest fortified village in

France. Step through the

gate to the tiny walled town

and you'll feel like you've

stepped into the past.

Montréal

This fortified bastide town

has a beautiful central

square, arcaded walkways

and beautiful medieval

houses.

La Romieu

Taking its name from the

Gascon "Roumiou", which

means "pilgrim", the village

was founded at the end of

the 11th century

Sarrant

Enter the 14th century gate

to discover a village of

pretty half-timbered houses

wrapped around the 13th

century Saint-Vincent

church
---
A land of officially beautiful villages

There are no less than 6 Plus Beaux Villages

in this 60-mile wide department. It's not big,

but it is incredibly beautiful, peppered with

perfectly preserved and pristine medieval

towns including lovely Larressingle. It's the

smallest fortified village in France. With a

circumference of just 270m it's nicknamed

the "little Carcassonne". And Fources, a

stunning medieval town with the only round

square in France.

Read more about Larressingle here and

Fources here.

And there are castles galore. We visited the

Chateau de Lavardens, in Lavardens, another

Plus Beaux Village, which we spied from the

bottom of a hill. It was like a magical mirage,

mellow stone and terracotta-roofed, ageless

beauty teetering high above us. It originally

Larressingle

belonged to the counts of Armagnac and was

built in the 12th century and updated in the

17th century. The stunning rooms have

wonderful tiled floors and stone walls, grand

fireplaces and magnificent views over the

surrounding countryside. There are regular

temporary exhibitions including at Christmas

a massive santons display – little figurines

that the French just love ranging from Saints

to celebrities. We popped to the Cistercian

Abbaye de Flaran nearby with its gorgeous

14th century cloisters, now a cultural centre

with an impressive calligraphy collection.

And if you go here, you must leave time to

visit the restaurant at the Ferme de Flaran

next door, the most delicious food and

friendly staff, they don't just serve you food

here, they really care. Our server got upset

when I didn't eat absolutely everything on

the plate but honestly, it was a big lunch and

I needed to leave room for the dessert!
---
The gastronomy of Gascony

Food is a big part of what makes a visit to

the Gers so special with specialities including

foie gras, duck dishes, that seriously

delicious apple pie that's specific to the

region which I mentioned earlier, Armagnac

and wines.

Weekly village markets are a wonderful

introduction to the gastronomy of the area.

Try the Thursday morning market at Éauze

or the lovely covered market in Mirande on

Monday mornings, which is equally lively.

But the big one is at Samatan. I'm not sure

you'll ever find another market where one

minute a nun is telling you how delicious her

honey is and making clicking noises with her

tongue to emphasise it's special qualities and

the next minute you're caught up in a

massive crowd waiting for a whistle to blow

which is the signal to run through the doors

of an enormous building to buy from local

producers selling duck and geese at the

carcasses market. It's not for the fainthearted

but it's authentic and it's the way

things have been done here for years. The

market opened in 1373.

The town also has a quirky foie gras

museum, only for those who are true fans as

there are stuffed animals on show.

Samatan tourism: tourism-saves.com

There are bistros, cafés and restaurants in

every town and farmhouse restaurants

dotted throughout the countryside.

When you go to the Gers, prepare to be

surprised, to be irresistibly tempted by the

gastronomy, fed and watered like royals and

to fall head over heels for this secret and

totally enchanting part of France which the

locals call God's country…
---
Practical info

How to get there: From Toulouse where

there is an airport and TGV station for fast

trains to Paris (from 5.5 hours), it's just an

hour-and-a-half drive to Auch, the region's

main city. Auch has a well-staffed tourism

office (3, place de la République; en.auchtourisme.com)

that sells "TopoGuides" to

the Gers.

Where to stay: Chateau Bellevue in Cazubon,

close to Eauze, will have you feeling rather

regal. Beautifully decorated rooms which

shuttered windows overlooking a stunning

park and countryside. www.

chateaubellevue.org

In Auch, the Hôtel de France

(hoteldefrance-auch.com) offers a range of

reasonably priced rooms. It's undergoing a

renovation programme and my room was

lovely but some do need updating still. Its

informal restaurant has a small terrace

overlooking Auch's main square and serves

many of the region's greatest hits cooked by

the owner's chef father. The hotel also has a

grande salle, where fancier (and much

pricier) dishes are served. Chef Vincent

Cassasus is renowned for being one of the

best in the region

The stylish L'Echappee Belle Hotel in L'Isle

Jourdain has a sleeker, more updated feel,

and a superb restaurant serving a lighter

version of Gascon and traditional French

dishes.

Take a detour with French Country

Adventures: Tours from half day, full day or

several days offering a huge range of topics

that will really allow you to experience the

best of Gers. From Armagnac tours to

watercolour workshops, pastry classes,

antiquing and more:

Tourist Office website:

www.tourisme-gers.com/
---
Born to be wild

When I was offered the chance to discover

the Hauts-de-France region on two sturdy

wheels, I couldn't resist the thrill. A Harley

Davison ad once read "God didn't create

metal so that man could make paper clips!"

The Harley Davidson 2019 Ultra Limited is a

big bike. Very big. And I am small. So, we

agreed, my husband Mark and me – he

would do the driving (my feet didn't reach

the pedals), while I would sit back in the

comfy armchair style seat and enjoy the

ride…

We started our journey at Dover on a P&O

ferry. As soon as we parked the bike on the

deck, other Harley-Davidson riders engaged

in parking, came over to look, comment and

treat us like mates. Biking is like that. They

were on their way to a party in Holland,

meeting up with other Harley fans from

around Europe.

"Did we want to join them?" they asked.

Tempting though it was, we chose to keep to

our itinerary, riding around the region,

discovering truly beautiful sites, glorious

countryside, quaffing Champagne in a little

known part of Picardy which produces a

whopping 10% of all the fizz produced in

France, sampling a legendary dish in a castle

and enjoying some of the finest food

possible. Can you blame us?

Bikers say, "Life is not about waiting for the

storms to pass: it's about learning how to

ride in the rain!" and I honestly thought, this

is the far north of France - it rains a lot here,

we've got some learning to do. In fact, in

eight days of travel in mid-September – it

didn't rain a single drop and we only saw

clouds once…
---
Have wheels – will travel...

Pas de Calais: The Opal Coast and the

Route 66 of northern France

Alighting from the ferry, we whizzed straight

onto the coastal road which takes you right

around the Opal Coast. It starts at the

border with Belgium and runs to the border

with Normandy. We joined it just outside

Calais…

The sky was blue, the English Channel was

the colour of the Mediterranean Sea, a soft

sort of turquoise, and the air was scented

with apples from orchards lining the country

roads as we drifted off the main coastal

route and into the beautiful countryside to

hunt down a patisserie. Nothing says France

more than a baguette with a chunk of cheese

followed by a jewel like cake and a glass of

chilled wine. We sat on a blanket

overlooking the English Channel, rabbits

hopping around us, birds swooping above. A

moment of pure pleasure.

The Opal Coast Route

The D940 Opal Coast route is the Route 66

of the north of France. It passes through a

stream of small fishing towns, seaside resorts

and some of the most beautiful scenery in

France. There are miles and miles of

unspoiled and endless sandy beaches, huge

dunes, pine forests and dramatic clifftop

walks offering dizzying views across the

Channel to the White Cliffs of Dover –

clearly visible on a cloudless day. Some parts

of the coast reminded me of the Giant's

Causeway in Ireland, massive boulders seem

to spill out of the sea and up to the road.

Fishermen sat silent and patient along the

water's edge with rods and nets. Out to sea

we could see traditional wooden fishing

boats bobbing on the calm water.

We found secret, secluded bays where seals

frolicked. There are monuments and

museums, and the remains of the Atlantic

Wall built as protection against allied
---
Historic cites, castles & fishing

villages

It doesn't take more than 45 minutes from

Calais to Boulogne-sur-Mer. But, it's far

better to spend the entire day on this section

of the road. Stop to enjoy a home-cooked

lunch in a friendly, welcoming café and buy

fish fresh from the fishermen who sell direct

from their front rooms and garages in

villages like Audresselles. Wander on the

beach, admire the Napoleonic fort at

Ambleteuse and the Belle Epoque villas at

Wimereux.

This is a part of France that's hardly known

outside of the region despite being captured

on canvas by J M Turner who loved the "

opal" quality of light, and Charles Dickens

singing the praises of the area and moving

his family there.

When you do get to Boulogne-sur-Mer, it

too deserves a day of discovery. Head to the

old town, so pretty it looks like a film set.

Don't miss the incredible decorated crypt of

the Basillica Notre-Dame, the rue du Lille,

lined with quirky boutiques and restaurants.

The 13th century Chateau Museum has

includes an Egyptian collection donated by

renowned Egyptologist François Auguste

Ferdinand Mariette, born in the town and the

founder of the Cairo Museum of Egyptology.

Nausicaa, the largest sea aquarium in Europe

and heaps more will definitely fill a day right

up…

From Boulogne, the D940 runs on through

Neufchatel-Hardelot with its neo-

Shakespearian Theatre and Castle with a

cultural centre dedicated to Entente-

Cordiale. And on through charming Etaples,

once a fishing port, neighbour to the swanky

jet set seaside resort of Le Touquet-Paris-

Plage, and several lovely seaside towns
---
Picardy: Birds, plus beaux villages

and brilliant castles and more…

Close to the border at Saint-Quentin-en-

Tourmont, we pointed the bike towards the

signposts for Parc Marquenterre. I'm not a

twitcher, but I love animals and this nature

reserve on the Bay of the Somme has a

reputation for being really special.

A dusty track ended in a huge car park

where a surprisingly smart and large

restaurant and bar tempted us in. Here in

what feels like the middle of nowhere, they

serve delicious dishes with heirloom

vegetables, the freshest local fish and superb

desserts, fitting fuel for explorers. We joined

our English speaking guide to find out what

the park was all about. 200 hectares of land

covered in marshes, peppered with lakes and

ponds, dunes and reed beds are an absolute

magnet for birds of all types. From a hide, I

spied on storks and herons. Birds tweeted

above and around us. The air is fresh and

unpolluted, you feel as if you have the whole

area to yourself. Marquenterre is

mesmerising, memorable and magical.

From here it's a short ride to the town of

Saint-Valery-sur-Somme, though you may

have added waiting time if you enter the

town via the route which includes a railway

crossing as we did and watched a steam train

pass majestically by, it's passengers waving

excitedly. This ancient and extremely

photogenic little town on the Somme Estuary

has absolutely oodles of charm and it's easy

to spend an entire day here.
---
Stroll the cobbled streets, wander along the

harbour and the long esplanade to ogle the

mansion houses and discover the colourful

sailors district and you'll know exactly what

lured the artist Degas and writers Victor

Hugo and Jules Verne to holiday here. Long

before them, Joan of Arc was held captive

here, the dungeon where she is said to have

been imprisoned is still there, a small stone

tower and you can't help but think how the

poor girl must have felt cooped up in her

claustrophobic prison.

William the Conqueror was here too,

stopping off to collect soldiers before

making history and conquering England in

1066. Standing on the ramparts looking out

to sea in the medieval town I wondered if he

too had stood there, wondering, dreaming,

daring to hope that his ambitious plans to

quell his dastardly enemy across the water

might come true. All that thinking makes you

hungry and luckily this little town is teeming

with cafés, bistros and restaurants.

The stream train is an irresistible lure. It

takes you, on authentic wooden seats, round

the Bay of the Somme, classified as one of

the most beautiful bays in the world. We

spotted wild pigs, deer and all manner of

birds en route. You can take a boat ride out

on the bay where the largest colony of seals

in France live, join a walking or bike tour

(you can rent bikes in the town), or simply sit

back and enjoy the ambiance. Watching the

sun set over the bay, is one of those

unforgettably beautiful moments in life…
---
You could continue on the D940 all the way

to Le Tréport in Normandy where the road

then becomes the D925 and runs around

the coast through Dieppe before reverting

to its original number to reach Le Havre. But

we stayed in Picardy and headed inland to

the city of Amiens where we swapped the

bike for a boat.

Les Hortillonnages is one of the best kept

secrets of France. These watery arteries give

Amiens a unique atmosphere. You really

have a feeling that you are in the most

beautiful countryside right in the centre of a

busy metropolis. The hortillonnages are a

major heritage site - marshland gardens,

cultivated for centuries, created on manmade

islands and on the land which lines the

waterways. In fact the gardens are so old

that no one knows when they began. But,

legend has it that when the city's Cathedral

was built in the 13th century, it was on a

field of artichokes managed by the gardeners

of the hortillonnages.

All tours are by eco-friendly electric boats

which glide silently across the tranquil

waters. Mark said it made him feel like a kid

again, steering the boat round islands,

stopping off at jetties to look at artworks

dotted around. The only disturbance was the

cooing and calling of birds and the croaking

of frogs, you'd hardly even know you're in a

city if it wasn't for the fact that you can see

the spire of the great Gothic cathedral in the

distance.

Amiens is so amazing – it deserves an article

all to itself – see page 56.
---
Gorgeous Gerberoy

In complete contrast to the metropolis of Amiens, an

hour's drive on traffic-free roads brought us to

gorgeous Gerberoy close to the border with Normandy.

It's a "Plus Beau village de France", one of 159 villages

recognised for their outstanding beauty and charm,

classified as the most beautiful villages in the country.

Cobbled streets covered in roses and hydrangeas,

flowers dripping from every window box, the gardens

of artist Henri Sidaner, a beautiful old church and one

of the most gorgeous restaurants I've ever seen, Le

Jardin des Ifs (with a listed Jardin Remarquable), made

this a knockout stop off and an easy half day visit.

What to do in Gerberoy
---
From here we decided to stop off at the

Chateau de Chantilly where Mark promised

me he'd treat me to some Chantilly cream

for my birthday a week before. What's a girl

to do? Fling the diet plans out of the

window and dig straight in of course! In the

gorgeous gardens of this fairy tale castle is a

hamlet that was allegedly the inspiration for

Marie-Antoinette's hamlet. Pretty little halftimbered

buildings and sweet bridges over a

bubbling stream. The restaurant serves great

lunches including strawberries and Chantilly

cream, which was whipped at our table,

right in front of our eyes, which were not

bigger than our bellies, we both managed to

get through a very large dollop of utterly

seductive cream.

Read more about Chantilly castle and its

amazing stables here.

My birthday surprise didn't end there, we

took a detour to the area of Chateau Thierry

on the Champagne border. I'd never heard of

it before and was amazed to discover that

more than 10% of all the Champagne made,

is actually produced from vines in this part

of Picardy! I have to tell you, if you're a fan

of the fizz like me, it'll make you

effervescent with happiness to go here and

enjoy a fabulous tasting at several

Champagne Houses (yes, we squeezed a

couple of bottles into the bike boxes). We

headed off under a sky that looked like a

black velvet bag full of twinkling diamonds

to find our hotel for the night.

It was time to cross the border into Lille but

first we stopped off at Thiepval Memorial. It

was one of the most emotional memorials

I've been to, not just because of the 72,000

names etched into the white walls, or the

row upon row of crosses.
---
Road trip to northern France film... We were

followed by a film crew!

The guides who work here offer free tours

and they share anecdotes and stories of

those whose names are forever remembered.

As the guide told me about a man whose

bravery at trying to save the lives of his

comrades ended in his own death, I looked

up on the wall and saw those names so

familiar to us all, Davis, Smith, Roberts – and

Cedric Dickens, great-grandson of Charles

Dickens who'd loved the north of France so

much. The absolute tragedy of the sacrifices

made, the terrible losses, completely

overwhelmed me and I burst into tears and

thought how very grateful I am for all that I

have.

inn. We went to a microbrewery and Mark

fell in love with a beer called YuZu. We

visited museums and art galleries and fell

under the spell of this vibrant city that's

crammed with cultural highlights and full of

friendly folk, so that we could hardly bear to

leave.

And like, Amiens, this city gets an article to

itself – see page 80.

Nord: Bucket loads of culture and

fabulous markets…

Photo: Lauren Ghesquiere, OT Lille

Parking the bike up in a street right near the

centre of Lille, the capital of Hauts-de-

France, we strolled down cobbled streets

under colourful bunting, past boulangeries

and cake shops where people waited

patiently in queues – a small price to pay for

the lushest of dishes. We dined at an

authentic estaminet, the Flemish word for an
---
Our last stop was Saint Omer, around half

an hour from Calais and a quintessential

French market town that has a massive

historic footprint. Thomas a Becket AKA

Saint Thomas Becket took refuge from

Henry II of England in there in 1165.

Centuries later, three of America's Founding

Fathers, Daniel, Charles and John Carroll,

studied at the Jesuit Chapel.

But we were there for the Saturday morning

market. A riot of colour and scents and

sounds fill the cobbled square in front of the

neo-classic town hall as stalls are piled high

with produce, vegetables grown on the local

marshes and farms or by green-fingered

locals. This is one of the most authentic and

friendly markets I've been to. And when

you're done, pop to the town library and

head to the old part of the building where

books go back to the 7th century and a First

Folio of Shakespeare's plays was recently

discovered on its heaving shelves. And stop

to enjoy a local beer and Flemish dish at any

number of cafés and watch the world go

by….

This region is a land of contrast, sea and

country, history and culture, arts and crafts

and gastronomy. Whether you stay for a

weekend or a week, there's so much to

discover that one trip is never enough….

Get my free road trip guide to the Hauts-de-

France here – lots of tips for restaurants and

things to do in and around the areas

mentioned…
---
"Paris isn't France" say the French who aren't Parisians. They're right of course even

though Paris is one of the world's best loved cities with some 16 million visitors a

year. Who can resist the legendary Eiffel Tower, the endless galleries of the Louvre,

the sight of the Arc de Triomphe, the authentic cafés and walks by the Seine?

However, as they say, there is more to France than Paris so, if you're in the city and

fancy a seeing another side of France, here's a list of incredible spots you can visit in

a day, without a car, and still be back in time for dinner says Janine Marsh
---
4 City Visits

Strasbourg, Alsace

At around 1 hour 50 minutes by TGV

train from Gare de l'Est, the beautiful

town of Strasbourg in Alsace is a

fabulous day trip.

Must-sees including a magnificent

Gothic cathedral, it's one of the most

beautiful in France, a fairy-tale like

town centre, and a network of canals

which are perfect for a relaxing boat

ride. There are heaps of museums,

fabulous restaurants and superb wine

bars where you can indulge in a glass of

local Riesling or Gewurztraminer before

you catch the train back to Paris. And, a

year-round Christmas shop for a

memorable souvenir even if you're not

there for the famous Christmas

markets. Honestly, one day is not

enough for this unmissable city…

More on Strasbourg:

Best things to do in Strasbourg

Where to eat out in Strasbourg
---
Reims, Champagne

45 minutes by train from Gare de l'Est lies

Reims, the capital of Champagne. From the

station you can walk to some of the best

Champagne houses including Mumm (15-

minute walk), and Charles de Cazanove (5

minutes) for a tour and tasting. On the

outskirts of town, Ruinart is the favourite

Champagne of the French and oldest

Champagne house in the world, but you'll

need to take bus no. 3 from the station and

walk 5 minutes from the Crayeres stop (total

20 mins – it's worth it!).

There are also loads of little boutique

Champagne bars including the fabulous Pol

Couronne, where you can taste and buy

affordable vintage Champagnes from the

family-run company.

"The city of coronations" or "the city of

Kings" as it's known, houses the great

UNESCO-listed cathedral Notre-Dame de

Reims, where French kings were crowed for

1000 years.

More on Reims:

Visit Champagne vineyards and villages by

train from Reims

Epernay is each to reach by train from Reims
---
Bordeaux, New Aquitaine

Bordeaux is now just 2 hours from

Paris by fast TGV despite the 300 mile

distance. From Bordeaux St Jean

Station, then hop on a tram to the city

centre to discover the wonderful

UNESCO listed architecture of the

"Pearl of Aquitaine" as the city is

known. Visit a unique wine museum,

splash in the Miroir d'Eau water

sculpture and soak up the ambiance of

sunny Bordeaux with a glass of

regional wine. Ancient churches, Place

de la Comédie, fabulous museums,

foodie heaven and divine wine bars...

More on Bordeaux:

10 great things to do in Bordeaux

Where to eat out in Bordeaux
---
4 City Visits

Dijon, Burgundy

If you love cities filled with beautiful,

historic buildings. If you love fantastic

food and wonderful wines. And if you

love museums, galleries, sitting at

terraced cafés watching the world go

by as you sip a delicious local wine,

impossibly fabulous street markets,

great wine bars and a vibrant friendly

vibe, then add Dijon to your must-see

list.

This amazing city has all these things by

the bucket load… and more.

At just over an hour and a half from

Paris Gare de Lyon, Dijon train station

is in the city centre and totally

walkable.

More on Dijon:

What to see and do in Dijon
---
4 Chateau Visits

Versailles, Ile de France

Versailles is France's most famous palace

and it really does live up to the hype. It's an

easy 40-minute train ride from Paris (there

are two stations in Versailles, the closest to

the Palace is Versailles Rive Gauche). Be

warned, the palace is huge, you'll need an

entire day here (I once spent 3 days there

and still didn't see it all). Sumptuous,

ridiculously opulent, breath-taking for its

history and beauty, the castle is packed

with wow factor. The gardens are equally

gorgeous. Book tickets online before you

go and try to go as early as possible to

avoid the queues to get in. There are

restaurants on site but the gardens are

fabulous for a picnic and there are plenty of

restaurants in the town which is also well

worth a visit.

More on Versailles:

Versailles chateau guide

10 things to do in Versailles
---
Chantilly, Picardy

The Chateau de Chantilly, in Picardy, is

one of the most beautiful Renaissance

castles in France and very easy to reach

from Paris. Take a 23 minute TER train

ride from Gare du Nord, then take the

free shuttle bus or take the 30 minute

walk if you fancy seeing the pretty town

en route. Enjoy the opulent interior, an

incredible art collection, stunning horse

show, the gorgeous gardens with a

beautiful hamlet which inspired Marie-

Antoinette. And, not to be missed in the

chateau restaurant - dessert with

famous Chantilly cream.
---
Photo Béatrice Lécuyer-Bibal

Vaux-le-Vicomte, Seine-et-Marne

In the TV series Versailles, it was the

chateau of Vaux-le-Vicomte which was

featured, not the chateau of Versailles.

Vaux-le-Vicomte has a more authentic

interior for the days of Louis XIV. Far less

crowded, elegant and exquisitely beautiful,

Vaux le Vicomte was the inspiration for the

Palace of Versailles and made Louis XIV

mad with jealousy when he saw it. Stunning

gardens and interior make this a must-see

chateau. From Paris Gare de l'Est, take the

train to Verneuil l'Etang train station (35

minutes) and hop on the "Châteaubus"

shuttle to to the Château. There's a lovely

restaurant too.

More on Vaux-le-Vicomte:
---
4 Chateau Visits

Fontainebleau, Ile de France

UNESCO listed Fontainebleau has a long

and interesting history going back to the

12th century. In the middle of a forest it

was originally a hunting lodge used by the

French Kings. Its gold plated gates and

iconic horseshoe shaped staircase (where

Napoleon stood to announce his

abdication in 1814) immediately alert you

to the fact that this castle is special. The

castle has a rather intimate feel inside

despite the fact that it's enormous, with

1500 rooms it's one of the largest in

France, Take the train from Gare de Lyon

to Fontainebleau-Avon, which takes

about 40 minutes, and from there it's a

bus ride of about 15 minutes (Bus No. 1

behind the station).

More on Fontainebleau:

The Chateau de Fontainebleau

Gardens of Fontainebleau
---
4 Village Visits

Giverny, Normandy

Claude Monet's house and garden in

Giverny, Normandy certainly leave an

impression. Take the train to Vernon

(nonstop services save time) and then hop

on the shuttle bus outside. 3 hours is

enough to wander through the house

which looks just like Monet has popped out

to do a spot of painting. The gardens are

stunning, a palette of colours, a riot of

plants and an ogle-some lily pond.

Afterwards take a wander through the tiny

but pretty town and visit restaurant Hotel

Baudry where many of Monet's friends

stayed (don't miss the atmospheric studio

in the garden). There's a great museum in

the one street town, several boutiques, a

pretty church where the artist is buried and

plenty of places for a pit stop.

More on Monet's house and garden
---
Barbizon, Seine-et-Marne

At the edge of the Fontainebleau forest,

around 60km from Paris, Barbizon is

nicknamed the village of the painters,

because of the role it played in the history

of French pre-impressionism. Artists like

Renoir, Sisley and Monet flocked here,

charmed by the picturesque village and

surrounding nature.

A listed Village of Character, today its

postcard pretty streets are home to art

galleries, artisan workshops and the

Museum of the Painters of Barbizon

musee-peintres-barbizon.fr

The village is surrounded by woods and

perfect for a walk to see what inspired so

many artists...

Take the train to Fontainebleau (see page

43) then a taxi or bus 21 to Barbizon.

Painting: Charles-Francois

Daubigny, 1877, Barbizon

school.

Saint-Rémy-lès-Chevreuse, Yvelines

The town of Saint-Rémy-lès-Chevreuse at the

gateway of Paris is pretty, romantic and a real

taste of the countryside. You'll find the

promenade des petits ponts, a path along a

canal lined with stone houses and old wash

houses. The history of Chevreuse dates back at

least 1,000 years, and there's a 12th century

castle which is free to explore. And the lvoely

17th century Chateau de Dampierre is a 22

minute cycle from the town. There's a cheese

farm and several excellent restaurants – an

idyllic place. Take the train from Gare du Nord

to Saint-Rémy-lès-Chevreuse which takes

about 50 minutes. From the station you can

rent ebikes and bikes – great to explore the

Rambouillet Forest.

Details: chevreuse-tourisme.com
---
Provins, Ile de France

Photo: Rod Williams

The UNESCO listed world heritage site of Provins is a medieval gem complete with a grand

castle and winding cobbles streets. It's also famous for its year-round festivals and events

but this is no Disney town, it feels like you've stepped back in time to the middle ages! The

train from Gare de l'Est goes direct to Provins in 1 hour 24 minutes. Details: provins.net
---
4 Village Visits
---
4 church Visits

Chartres, Eure-et-Loir

You can reach the town of Chartres,

Center-Val de Loire, from Paris

Montparnasse in one hour (make sure

you take the fast service). Chartres Gothic

UNESCO listed cathedral is one of the

largest in France and dates to the 12th

century with magnificent 13th century

stained glass windows. From April to

October the facade of the Cathedral is

part of the city-wide Son et Lumiere

event.

There's also a pretty historic centre in the

city with a stained glass museum and lots

of excellent restaurants.

More on Chartres:

Chartres Cathedral

What to see and do in Chartres
---
Mont Saint-Michel, Normandy

It's a long day trip, but this place is so extraordinary, it's worth it. It's certainly easier (and

often cheaper) to take a bus tour from Paris but you can take the train to Rennes and then a

bus. The extraordinary abbey at the very top of this fairy-tale island is well worth the effort.

Wander the wiggly, winding roads full of boutiques and restaurants, it's touristy for sure but

it really is special. More: How to spend a day trip at Mont Saint-Michel
---
Bourges, Cher

Just two hours from Paris, Bourges is a

sensational city to visit with a most beautiful

cathedral. It's not on the Cathedral tourist

route for many visitors but it should be. built

between the late 12th and late 13th

centuries, is one of the great masterpieces

of Gothic art and the 13th century stainedglass

windows are exquisite. The town is full

of half-timbered houses, Roman towers and

there's even a castle, built by Jacques Coeur,

the man who bankrolled Joan of Arc's

missions.

Read more about Bourges:

Bourges - what to see and do in the city...
---
4 Cathedral Visits

Boulogne-sur-Mer, Pas-de-Calais

Boulogne-sur-Mer on the Opal Coast of

Pas-de-Calais doesn't have a Cathedral but

a Basilica. I live close by but I'm not biased

when I say the Basilica Notre Dame is

simply outstanding. Its crypt is the longest

in France, dating back to Roman times and

is astonishingly beautiful with walls

smothered in frescoes and paintings. It's

also home to an incredible collection of

priceless relics including what's said to be

a drop of the blood of Christ. You'll see a

hint of Rome's Pantheon and soupcon of

St Paul's Cathedral in London – but,

amazingly, this church was designed by a

priest with no architectural experience,

and it is magnificent. It's from 2.5 hours

from Paris by train and the old town is

magnificent and worth a visit in it's own

right.

Read more about Boulogne-sur-Mer and

its Basilica here.
---
4 Cultural Visits

Rouen, Normandy

In the old part of Rouen there are cobbled

streets, there are more than 2000 halftimbered

houses and a Cathedral loved by

Claude Monet the artist.

Don't miss a wander down the rue du Gros

Horloge to see the 16th century clock.

Foodies might want to follow in Julia Child's

footsteps – the American cook had her first

French Sole Meuniere in La Couronne which

is also the oldest restaurant in France.

Joan of Arc was executed in Rouen and there

are several tributes to her including a very

modern church. There are several great

museums including the Fine Arts Museum

with an impressive collection of impressionst

paintings, lots of great shops and restaurants.

From an hour and 22 minutes by train from

Paris, Rouen is a top city visit.
---
Auvers, Picardy

30km north of Paris, the Auberge

Ravoux is the last house that Vincent

Van Gogh lived in before he shot

himself in the chest in the garden and

passed away in the room that he

rented there. Suffering from mental

health issues, he finished several

paintings during his 70 day stay. He

and his brother Theo are buried at tin

the town cemetery close to the

Romanesque Church which Van Gogh

immortalised in his paintings. Follow

the "Vincent" plaques in the pavement

to see the landscapes he captured on

canvas. The train takes around an

hour from Gare du Nord or Gare

Saint-Lazare to Auvers (you may need

to change at Pontoise).

View from Van Gogh's room at his

lodgings in Auvers
---
4 Cultural Visits

Castle of Monte-Cristo, Ile de

France

Alexandre Dumas built himself his

dream home at the height of his glory

in 1844. He had had huge success with

his books the Three Musketeers and

the Count of Monte Cristo and called

his very extravagant home, a castle in

fact, the Chateau de Monte Cristo. His

study was in the neo-gothic style

Chateau d'If next door. Dumas though

was a party animal and instead of

writing more best sellers, he lived it up

and, riddled with debt in a few short

years he had to sell it for much less

than it cost to build and furnish. It's a

fascinating place to visit, as he called it

"an earthly paradise." Either take the

Train from Gare Saint-/Lazare or RER

line A to Marly Le Roi, then bus 10 to

Lesamps and a short walk. Details:

chateau-monte-cristo.com

Moret-sur-Loing, Seine-et-Marne

Ile de France

Ranked among the most beautiful

villages in France, Moret-sur-Loing

has oodles of charm. A gem located

in Seine-et-Marne, Moret-sur-Loing

captivated the painter Alfred Sisley,

who captured the medieval charm of

the village in many of his paintings.

Moret-sur-Loing Tourism

Want more ideas for Paris day trips? A free book is in progress! Just subscribe to The

Good Life France Newsletter so you don't miss it when it comes out…
---
The natural wonder of

Amiens

The city where nature is the star.

Janine Marsh explores the

northern "Venice"...
---
Amiens, the capital city of Picardy, is one of those places that people tend to leave off their

bucket lists despite it's age-old history, incredible UNESCO listed Gothic Cathedral and

remarkable "Green Venice" of ancient canals which criss cross the city, an extraordinary

network of watery arteries dotted with hundreds of floating gardens…

Les Hortillonnages

Hortillonnages is not a word you'll come

across often and possibly not outside of

Amiens. And me telling you that it means

market gardens won't in any way convey just

how utterly amazing they are. From the

middle ages, the hortillonnages have made

Amiens famous throughout France. 65km of

ancient canals peppered with island gardens

lie in the shadow of the Cathedral right on

the edge of the city.

They go way back in time, probably to the

days of the Romans, but it was in the middle

ages that gardeners started to plant the

floating gardens and grow vegetables. It's

said that the Cathedral itself was built on a

field once used to grow artichokes, donated

by gardeners in the 13th century to the

church.

A short walk from the city centre along the

river Somme, which flows through the

middle of Amiens, will bring you to the

hortillonnages which you can explore by

guided electric boat along a 3km stretch

(April to October). It's incredible to find that

one moment you're in a teeming metropolis

and the next in tranquil waters, dragon flies,

butterflies and birds flitting about, water lilies

bobbing on the water. There are still around

ten professional gardeners growing

vegetables and fruit here. They sell their

produce at the weekly market in the

medieval St Leu district, alongside the river.

Most of the gardens are worked by keen

owners, handed down through families for

generations. The hortilllonnages are an oasis

of wild nature, tamed patches full of flowers,

small boats quirky buildings and beautiful

huts.
---
Art with a heart

Each year a unique Art & Garden festival

takes place in the hortillonnages – an

outdoor art gallery which spills into the

water and on islands and riverbanks. From

June to October some 50 artworks are

installed on the islands and in the water,

some of them monumental, all of them

extraordinary.

The only way to see them all is by electric

boat and you can take a self-guided tour.

Follow the circuit, all the islands featured in

the festival have pontoons where you can tie

up your boat and then wander freely.

There's a firm emphasis on sustainability and

our relationship with nature at this festival: a

wall made from recycled drinks cans, a repurposed

phone box in which you can listen

to the sounds of insects and water plants.

This is one of the most unusual and beautiful

garden festivals I've ever been to.

Entry is not at the same place as the normal

guided boat tours. Instead make your way to

the Port à Fumier, Camon district where you

can to rent an electric boat for this fabulous

excursion. Expect to spend around two and a

half hours seeing all 50 artworks. There are

parking spaces available and a welcome desk.
---
Island life

I stayed at a B&B in a cabin called

Ch'Canard, on one of the floating gardens, a

little corner of paradise. Accessible by a tiny

bridge over a ribbon of water, as soon as I

closed the gate, it was like being on a

remote island, far away from the buzz of

normal daily life. In my beautiful 120 year

old, tastefully decorated cabin for two I felt

cossetted and cocooned, the star of my own

Robinson Crusoe story.

In the gorgeous gardens I crossed little

wooden footbridges to explore dozens of

islands all around me, lilies floated on the

calm canals, roses and willows dipped down

to the water's edge and the air was filled

with the song of frogs and birds. I slept like a

baby and can honestly say, it's one of the

most unusual and wonderful B&B's I've ever

stayed in. Details: Ch'Canard, Rivery

The biggest Cathedral in France

The first stone of Amiens Cathedral was laid

in the year 1220. It is a masterpiece of

Gothic art, 145metres long and 70 metres

wide at the transept – it is truly monumental

and utterly divine. There are vaulted

doorways, statues of kings, apostles and

saints. 126 pillars support the soaring

vaulted roof, the 16th century wood carved

choir stalls are magnificent, stained glass

windows cast soft light on the ancient walls

and floor. There are gargoyles galore, turrets

and towers and listening to the majestic bells

gives your goose bumps.
---
You can climb to the top, 307 narrow steps,

for stupendous views over the town. It's well

worth the effort though probably not for

those with vertigo or claustrophobia.

Look out for the weeping angel, a wonderful

statue which forms part of a 17th century

mausoleum behind the High Altar. It was

featured on a popular postcard sent by

soldiers in the Somme during WWI.

In summer and December, you'll see Amiens

Cathedral in a different light as the façade is

lit up, an ingenious feat of engineering in

itself. At night the exterior of the cathedral is

smothered in a technicolour light

performance in a show that makes audiences

gasp. This free 50 minute show is an

absolute must-see. State of the art

projection technology creates a truly magical

experience under a night sky.
---
Water market

At the foot of the Cathedral, the weekly

Saturday morning market along the pretty

Quai Belu in the old district of St Leu with its

higgledy piggledy colourful houses, has a

lovely, festive atmosphere. The market on

the water as it's known, is where the market

gardeners of the hortillonnages sell their

produce and have done so for centuries.

Almost everything here comes from the

hortillonnages or around the Somme area -

from flowers and vegetables to wild herbs,

cheese, honey, charcuterie and even beer.

Every third Saturday in June, the market

gardeners arrive by traditional flat bottomed

boat to sell their goods at the "Marche sur

l'Eau" (water market). It's a very colourful

and merry event and the market traders

dress in medieval costume in this homage to

the days of old when market trade was

conducted from boats. It's a delicious day

out and lots of fun.

Jules Verne's house

You mustn't miss a visit to the home of one

of France's great writers. Jules Verne has

inspired generations for more than 100 years

with his tales of adventure, science and

daring do. He wrote many of his stories right

here in Amiens where he lived for 18 years.

His 19th century mansion has been restored

to look just as it did in the late 1800s when

he filled his rooms with the reference books,

geographical surveys and scientific reports

which inspired his fantastic stories of

journeys to the centre of the earth, the

moon, under the sea and of course, around

the world in 80 days.
---
Where to eat out

There are plenty of cafés, bistros and fine

restaurants in the city…

The great writer's study looks as if he's just

popped out. The wood panelled walls have

the patina of history embedded in them and

there's a fabulous collection of books,

posters and even models – including a flying

machine Verne imagined before aircraft

were even invented. It's a fascinating visit, a

trip back to the past. I recommend taking

the tour with an audio guide. Details:

maisondejulesverne

Locals love: Le Quai restaurant is hugely

popular with the locals. In its prime position

in Quai Belu overlooking the canal, with the

Cathedral in the background, it's great for

coffee, a glass of wine or a cocktail, and even

better for lunch or dinner. The staff are

friendly, the menu is terrific with an

emphasis on fresh regional products, classic

French brasserie dishes, delicious salads and

excellent vegetarian options. restaurantlequai.fr/
---
Riverside lunch: Overlooking the river

Somme, at the entrance to the

hortillonnages, Au Fil de l'Eau restaurant is

lovely inside but even more so outside on a

sunny day. Seated on a terrace that makes

you feel as if you're in a treehouse, or in a

flower filled garden courtyard, you'll feel like

you've escaped to the country. The menu is

typically French with fresh and seasonal

products and local classics such as Ficelle

Picarde, a savoury pancake topped with a

creamy sauce and utterly delicious. Find

them on Facebook: Restaurant.Bar.Au.Fil.

De.L.Eau/

Wine and dine: Brasserie Jules is an

institution in the city and a family favourite

for Sunday lunch. Paris brasserie style with

gleaming brass and plush red banquettes,

Jules Verne (in a photo) seems to look on

approvingly while artworks depicting scenes

from his tales decorate the walls. The

seafood platters here are legendary, piled

high with the freshest of shellfish, and the

most succulent oysters.

www.brasserie-jules.fr/

Practical information

From Paris, Amiens is a little over an hour by

train, and from Calais by car it's around an

hour and a half.

The tourist office is next to the Cathedral:

http://www.amiens-tourisme.com/

More info on the region:

visit-somme.com/explore

UK.France.fr

15 things to do in Picardy
---
Toulouse

Colourful, cultural and

captivating...

Janine Marsh gets under the skin of the "pink

city" to discover its secrets and museums...
---
France's 4th largest city has a multi-faceted

personality. It's famous for being home to

Airbus headquarters, hosts satellite, space

and aerospace industries and has three

major universities.

It's a sprawling modern city with an ancient

heart at whose centre is the Place du

Capitole where major events and markets

take place, surrounded by architecturally

glorious buildings, restaurants, the town hall

and bars. Around this grand central square

are a web of streets, teeming with life,

brimming with museums, art galleries, shops,

bars, bakeries and bistros.

Cross the river Garonne via the Pont Neuf,

which despite its name is actually the oldest

bridge in the city, and you'll find the arty,

earthy district Saint-Cyprien, home to major

museums and galleries, residential and nontouristic.

Meanwhile, on the inner city outskirts a new

resident roams the streets, a mythical beast

bought to life – read on to discover more

about the Minotaur of Toulouse…

And there's a secret part to Toulouse which

visitors rarely discover. A short walk from

the Capitole, but a world away from the busy

centre, are streets filled with beautiful

mansion houses, tiny squares where you'll

find art and local bars with a friendly

welcome a part of Toulouse with a laid back,

authentic vibe.

Closer to the capital of Spain than the capital

of France, it's just 60 miles from the Spanish

border, Toulouse has absorbed the laid back

vibe and flavour of its southern neighbour.

Aperitifs come with tapas on the terraces of

sunny cafés and the night life has a distinctly

Latin flavour…
---
Wander around the city

You can't go to Toulouse and not visit the

Place du Capitole. The stunning 17th

century neoclassical style façade of the

Capitole building is the equivalent of the

Eiffel Tower in this city. Around this central

area are a series of districts each quite

different from the other and all easy to reach

on foot. Saint-Cyprien on the left bank of the

River Garonne is a bit bohemian, while In the

Tounis district the river Garonette, a branch

of the might Garonne River, has long gone

but its old bridge remains. There's also Saint-

Georges, Saint-Aubin, Saint-Étienne and the

Carmes districts. Pick up a map from the

tourist office and go walkabout to discover

the many charms of Toulouse.

Above top left: arcade at the Place du

Capitole with painted ceiling; bottom left,

je t'aime tree along the river Garonne;

above street in St Etienne district

Museums, marvels and minotaurs

If it's culture you're after, Toulouse will

definitely float your boat. With more than 20

museums there's no lack of choice from the

Airbus Museum to the Space Museum –

brilliant for tech fans, the Museum of Natural

History which is great for families and any

number of art museums for lovers of

paintings and sculptures and artefacts from

antiquity to modern.
---
Halle de La Machine: magical & mad

The Minotaur is the brainchild of François

Delaroziere and La machine company famous

for The Island of the Machines in Nantes and

for their incredible street theatre machines.

As a kid I was captivated by stories of

mythical beasts. My favourite tale was of a

Minotaur who roamed a labyrinth on the

Greek island of Crete. Small me believed that

Minotaurs, a species which had the head and

tail of a bull and the body of a man, really

lived, much like dinosaurs. I dreamed of one

day meeting a minotaur. Growing up, your

childhood imaginations fade away – but

sometimes, dreams do come true. Arriving at

the brand new Halle de la Machine I was

immediately confronted by the sight of a

giant, blinking his big blue eyes in the sunlight

and breathing steam as he swung his head to

look at me. At 14m high and weighing a

stonking 14 tonnes, you certainly can't miss

him. He'll take you for a ride on his back and

makes you feel as he's almost alive.

The Minotaur is not alone. In the vast space

of the Halle de la Machine more mysterious

inhabitants are waiting to meet you.

Amongst the exhibits are a walking 37 ton

spider called Ariane and musical machines

which make up the strangest orchestra you're

ever likely to see. There's a giant set of wings

piloted by a machiniste, pipes which spout

flames, twirling guitars and a table laid for an

enchanted dinner where the pepper is

sprinkled by a flying waiter.
---
The "veritable-machinistes" who operate the

machines are also actors and story tellers

and part of the show. It's seriously mad,

utterly magical and truly a must-see when

you visit Toulouse.

Tip: head to the onsite Minotaur café for

delish dishes or a glass of wine at the bar

and enjoy the spectacle of the fairy tale

beast wandering about outside.

Modern art and ancient…

The Halle de la Machine isn't the only home

to a Minotaur in Toulouse. At Les Abbatoirs

Museum of modern art, Picasso's famous

stage curtain "The Remains of the Minotaur

in a Harlequin Costume" is a star in an

outstanding collection. Created for a theatre

in 1936, because of its fragility this showstopper

is displayed for only six months of

the year. The museum has a superb

collection of modern and contemporary art

with works by many Spanish artists exiled

from Spain when General Franco seized

power during the Spanish Civil War. This is

no elitist museum, you can do yoga classes

amongst the artworks, workshops, a library

and at Christmas they hold a market where

artists sell their works. After your visit pop

to the park next door to enjoy the views

over the river Garonne.

For a complete contrast, the Bemberg

Foundation is tucked away in a pretty

courtyard near the Capitole. It's in a former

16th century mansion where each room has

been restored to 19th century glory to

showcase the wonderful collection of

paintings, furniture and ornaments including

Degas, Monet, Matisse and Boudin. I loved

the intimate feel of this museum, as if it

were still lived in by someone with the most

exquisite taste in art.
---
Secret Toulouse

Less than 15 minutes' walk from the

Capitole brings you to secret Toulouse - the

Carmes and Saint-Étienne districts where

there's a villagey vibe and most visitors

never venture. This is old Toulouse, the

narrow streets of Carmes are lined with

sumptuous manor houses built by wealthy

merchants from the 16th century onwards

like those in rue Ozenne. Place Sainte

Scarbes is breath-takingly pretty with its ivy

clad mansions and tinkling fountain, and

surrounding it are roads with smart

boutiques, neighbourhood bars and

architecturally stunning buildings.

Saint-Étienne is like the Marais district in

Paris, streets lined with grand houses and

chic stores in the shadow of the majestic,

and massive, Cathedral St. Etienne. Browse

the pretty local shops in rue Bouquières and

peek through the gates of gorgeous private

gardens and mansions behind monumental

doors but you'll need to take a guided tour

to see more (you can book at the tourist

office)

Practical info

Paris to Toulouse by train takes from 4

hours, 6 minutes.

Tourist office: www.toulouse-visit.com and

UK.France.fr

And Toulouse is also a great base for other

great destinations, Gers is just a short drive

away (see page 8 for more details),

Carcassonne is only 6 miles to the south

east, the Mediterranean is just 100 miles

away and Albi is 50 miles away…
---
I'm not quite sure if there's anywhere else

you'd see waltzing Frenchmen together with

a waiter sporting a furry shark's head hat

and a group of cynical journalists practicing

tai chi on the dance floor of a luxurious

cruise ship floating down the Rhone River.

But life on a CroisiEurope boat is anything

but ordinary.

When my friend Anne asked me if I'd join

her and a group of women travel writers on

a 3-night cruise from historic Avignon in

Provence to the foodie city of Lyon, I wasn't

sure it was for me. Aren't river cruises for

old people I thought. But, I love Avignon and

I've never seen the gorges of Ardeche

through which we would pass – so I said

yes.

What a surprise I got and how wrong I was

These cruises are fabulous for friends,

couples and groups. Though it was a short

trip, just three days, I felt as refreshed as

though I'd had a much longer break. With

drinks and nibbles on offer from 10am to

1am, tea, coffee and water are available 24

hours, seriously good food, brilliant

excursions and lovely rooms – we were

spoiled rotten.

If I had to describe my CroisiEurope trip

from Avignon to Lyon via the Rhone River in

just three words: fun, fabulous and (very)

French. In fact, us uptight Brits made a pact

to do another trip before we even
---
Who are CroisiEurope cruises for?

Though predominantly French and older

people on my cruise, there was a real mix of

guests - groups of friends, couples and

honeymooners. Kim and Jenny from

Australia threw themselves with gusto into

the whole thing. They danced every night

(there's always dancing and music at night)

and took part in a dance competition plus

the crew show.

There were also guests from Malaysia,

Canada, America and the UK.

There are specific CroisiEurope cruises

which cater for families with stuff to do for

children, including kids clubs, and other tours

targeted at non-families (they're clearly

marked on cruise listing details).

Cabin chic

I had a smart upper deck cabin with floor to

ceiling windows, a super comfy bed and

lovely bathroom with an invigorating shower.

Drifting down river, lying in bed with an early

morning cup of tea, watching the stunning

scenery pass by is one of the most relaxing

experiences I've had in a long time.

There are optional daily excursions. I did

three in three days and I could have done

more but I wanted time to chill out on board

too. Relaxing in the bright airy salon or on

the sun deck with a book was a great way to

unwind. We visited the wheel room, enjoyed

aperitifs and made new friends. It's a real

blend of relaxing and exploring, eating great

French food and having a lot of fun.
---
Friendly, fun and festive

On one night there was a touch of Strictly

Ballroom in the salon with waltzing

Frenchies and tango dancing Malaysians

mixed with disco dancing octogenarians,

though 86 year old Evelyn who comes from

nearby Avignon refrained from dancing on

account she said, of breaking her leg doing

the cha cha cha at a party a while back. She

did however don a black curly wig to mime

to Edith Piaf belting out La Vie en Rose at

the crew Show. We all joined in the chorus

and gave her a huge round of applause.

The crew show is a tradition and it's clear

that they love doing it. The French guests

especially love it though it's probably not

what US and UK holiday makers are used to.

In fact for a group of cynical women travel

writers we found it remarkably easy to let

our hair down and join in - who can resist

Mama Mia or Le Madison - a line dance

favourite in France for more than 50 years -

which if you don't know it before your

CroisiEurope trip, you certainly will by the

time you're finished. Sure it's a little bit kitsch

but it's great fun and if your holiday makes

you laugh, then it's a good holiday!

There's a lot of laughter on this boat. On day

1 the crew are introduced one by one. Anis

the Purser strolled in to the sound of "I'm

sexy and I know it", the bar staff paraded to

"The Eye of the Tiger". The guests clapped

everyone enthusiastically from the captain

and his brother the deputy captain, to the

chefs and housekeepers and Lilla the laundry

lady (Pretty Woman if you must know).

You're drawn into the "family" of

CroisiEurope crew and it's up to you if you

want to or not but on this trip, everyone

loved it, whatever their age or nationality.

The crew are part of the journey and by the

way, they all speak English.
---
It's a bit Dirty Dancing for oldies

The staff, whether bar, wait or cleaners are

also the entertainers. At dinner on the first

night, the lights were turned off and the

staff, one of them sporting a fluffy shark's

head hat (we never did find out why) sang

happy birthday to 86 year old evergreen

Evelyn. She was delighted and managed to

blow out a candle and sparkler with ease.

We all sang to her again. The ice was by now

well and truly broken. The crew say they get

a lot of groups celebrating birthdays and

anniversaries, it's a good place to celebrate.

By day two strangers chatted to strangers,

there was camaraderie at the quiz event and

when we were on a tour, people noticed if

someone didn't get back on the coach!

The tours are part of what make this such a

fabulous holiday. CroisiEurope have been at

it a long time and they've perfected things.

They know what their audiences want and

they have many types of audience. Boats

cater for several types of guest - from once

in a lifetime trips to the Antarctic, to river

cruises in Europe.
---
Slow travel and food, glorious food

You can do as much or as little as you like,

and there are excursions available every day

- sometimes two. They're designed to take in

the best of the area where you visit. On my

trip we had a terrific guided tour of the

Palais des Papes in Avignon, a coach ride

through the Gorges of the Ardeche with

stops at key observation spots such as the

Pont d'Arc, wine tasting in Vercours and a

tour of the Roman town of Vienne, either by

Segway or on foot.

CroisiEurope's cruises are all inclusive

(except for some off boat tours), from

breakfast buffet to 3 course lunches and 4

course dinners plus traditional gala dinner.

Wine and cocktails, spirits and soft drinks

are included - with the bar open from 10 am

to 1am. When you return from tours you're

handed a refreshing drink, rooms are

cleaned, beds made, the staff, every single

one of them, was unfailingly friendly and

welcoming.

The food is superb and served at table (we

had one buffet lunch). Classic French dishes

are their speciality and the chefs work as

much as possible with local producers to

source fresh, seasonal, local food. You don't

get a menu to choose from, the attitude is

very much "maman cooks, the family eats"

but they do vegan, vegetarian and gluten

free alternatives, and if you don't like a dish

(menus are circulated the night before), just

let the reception desk know and they'll ask

the chefs to make you something different.

The inclusive wine is excellent, a choice of

reds, whites and rosés, plus a daily cocktail

and shorts.

A great way to cruise

My conclusion was, a CroisiEurope river

cruise in France is a trip that makes you

smile. It's perfect for couples and friends.

You'll relax, laugh, eat like a King, get to visit

some beautiful places and experience slow

travel in the best possible way.

CroisiEurope offers a number of Rhone

itineraries from April to October. They also have

itineraries across France including Paris to

Honfleur, Provence and many more routes. For

further information and reservations visit:

www.croisieurope.co.uk

For loads of ideas for visits to France see: www.

france.fr
---
LILLE

A city that's a fea

Janine Marsh
---
st for all the senses says

Vieux Lille, the old town of Lille, is a

place of fanciful Flemish facades,

where bars, bistros, boutiques and

shops line the cobbled streets which

wind their way labyrinth-like around

the central Place du Général de Gaulle,

known as the grand'Place. Outdoor

cafés abound in the ancient city centre,

art of all kinds adorns the streets and

you could visit a different museum in

and around Lille every day for two

weeks and still not see them all. The

former capital of culture is lively,

vivacious and at the same time

cultured and urbane. Lille has

undergone a metamorphosis from a

once industrial hub through a rather

run down stage to emerge as a top city

break destination and one of the most

fascinating cities in Europe…

Here's where to indulge in a feast for

the senses - and the stomach…
---
ART: Palais des Beaux Arts

The Palais des Beaux Arts lives up to its

name, it really is a grand palace and one of

the largest museums in France. It has the

second biggest collection of fine arts

outside of Paris with exhibits from

antiquity to contemporary, including all the

greats from Rubens, Goya and Monet to

Van Gogh, Picasso and Chagall. Head to

the basement to discover a unique

collection of ancient relief maps, fourteen

17th century exact replica miniature

models of towns such as Ypres in Belgium

(it was used as a blueprint for rebuilding

Ypres after WWII) and Lille. They were

once used by Louis XIV and his famous

martial engineer Vauban to plan military

tactics. There are regular, world class

temporary exhibitions, and innovative

touch screens (including gigapixel) help

visitors to explore the artworks.

EAT: Au Moulin d'Or

Au Moulin d'Or is very close by, in the centre

of Old Lille in a converted lingerie store

which is a listed monument, this restaurant

featured in Dany Boon's "Bienvenue Chez les

Ch'tis", France's biggest grossing film of all

time. It's been renovated to a fabulous

standard with glittering chandeliers and a

gorgeous central staircase and regularly

showcases local artists. Upstairs or

downstairs, there's a great atmosphere and a

classic brasserie menu – delicious.

31-33 Place du Théâtre
---
ART: Musée de l'Hospice de la

Comtesse

The Museum of the Hospice de la Comtesse

is steeped in history. It was founded in 1236

by Jeanne, Countess of Flanders to care for

the poor and sick, there's a wonderful

painting in the baroque chapel of Jeanne and

her sister Marguerite giving money to the

hospice's nuns. The oldest part of the

building dates to the 1400's and includes

magnificently furnished rooms depicting

Flemish life from the 15th to the 17th

centuries. My favourites were an enchanting

17th century kitchen with gorgeous blue and

white Delft-like tiles and a linen room with a

perfectly preserved 17th century press.

There's a fascinating collection of paintings

and antiques and regular exhibitions

dedicated to the history of Lille. It's a

charming museum with an authentic

atmosphere – a must-see.

EAT: Barbue d'Anvers

A short walk away, tucked away down an alley behind a pretty courtyard in a beautiful 16th

century Flemish building, lies a local legend. Here they serve regional specialities such as rich

and robust carbonnade flamande – a beef stew made with beer and brown sugar; the

unpronounceable potjevleesch, a dish of three cold meats (traditionally rabbit, chicken and veal)

in aspic; and waterzooi, a type of chicken soup. The dining room is charming and vintage, with

candles, books and knick-knacks galore. The locals adore this quirky restaurant with a warm

ambiance. 1 bis Rue St Etienne 59800 Lille; lebarbuedanvers.fr
---
ART: Gare Saint Sauveur

One of the things I love about Lille is the

way abandoned but spectacular buildings

are converted into cultural venues. Gare

Saint Sauveur, a former freight station

built in 1861, is now an inspirational

space where regular events, art

exhibitions and performances are hosted.

It houses a cinema, bar and restaurant,

gardens and a summer pop up bar. The

huge warehouses are perfect for

showcasing art and I loved how the

railway tracks were still in situ, a

reminder of the past fixed in the present.

It's also one of the main Lille3000

venues, the legendary tri-annual, 9-

month long art festival which takes place

in the streets and public buildings of Lille

city and surrounding districts.

EAT: Bistrot de Saint So

Bistrot de Saint So is part of the Gare Saint-

Sauveur complex and is a great way to mix art

and food. When you've finished feasting on

the art in the former station, head to the very

chic restaurant and enjoy some seriously good

dishes. This place is super popular with the

locals for lunch (Wednesday – Sunday) so

make sure you book in advance on their

Facebook page and enjoy dining on the

fabulous large terrace watched over by a giant

baby with a tail, or in the chic interior. I'm not

sure the food makes your "hair sparkle" as

they claim (with a big smile) but with

fantastically tasty salads and a seasonal menu,

I think they might just be right! It's also open

Thursday, Friday and Saturday nights for a

trendy night of music with DJs and live

performances, plus funky cocktails. .facebook.

com/bistrotdestso
---
ART: Vielle Bourse

Head to la Vielle Bourse, the former stock

exchange, built in 1623. The courtyard hosts

a second-hand book market (Tues-Sun,

afternoons) on stalls under a vaulted

walkway, alongside walls lined with fabulous

carved friezes and sculptures. If you're there

on a Sunday night in the summer, join in the

tango dancing under the stars.

EAT: L'Atelier des Chefs

Cook your own lunch or dinner with a chef

tutor. At L'Atelier des Chefs offers you'll

improve your skills as you create a classic

dish from scratch in just 30 minutes. You

then get to enjoy eating your masterpiece at

this fun cookery school. Great for

individuals, couples and friends. Lunch time

cooking course €17 Euros; gourmet dinner

course lesson (one hour) where you'll make

a main course and dessert €38. Booking in

advance is essential.

ART: Tri Postal

Located in the former postal sorting

office, it's neither a museum or art centre

but a place of art and life say the staff.

Temporary exhibitions, performances and

workshops are held in this dynamic and

exciting cultural venue.

EAT: Coke

Coke restaurant in the ex-offices of the

old Mining Company of Lens, hence the

name. It's a majestic building designed by

archi-tect Louis-Marie Cordonnier.

Upstairs is an elegant, chandeliered dining

room, down-stairs is modern and arty and

a retractable glass roof makes it great for

sunny days. Bold, playful and clever food

is on the menu from a talented team

working in a glass-fronted kitchen. It's

also a great venue for an aperitif with a

swanky cocktail bar and music on Friday

nights.
---
ART: La Piscine & Street art Roubaix

A short tram or metro ride from Lille,

Roubaix's art-deco swimming pool turned

museum with a world-class collection, is one

of the most popular museums in France.

Read more about it here.

Roubaix has street art superstar status with

an annual urban art festival (#XU), fabulous

murals and two amazing studios dedicated to

urban culture. Atelier RemyCo has 15 artists

in residence including some well-known

names (Mr. Voul and Freaks the Fab).

Meanwhile Atelier Jouret hosts 40 artists:

painters, sculptors, fashion designers and

more. On the first Sunday of each month,

you can visit the workshops, meet the artists

and buy something unique from these

hotshots of urban art.

EAT: Meert at La Piscine

Meert is famous for its jewel-like pastries

and the most moreish waffles ever made.

They've been making sweet things since

1761 and their famous shop in Lille is like

stepping back in time. They also have a

beautiful art deco tearoom and restaurant

with a gorgeous terrace garden (perfect for

sunny day lunches) at La Piscine museum in

Roubaix. The menu reflects the world class

exhibitions and really adds a little je ne sais

quoi to your visit. The chef works with

curators to design unique menus, with

exhibition-theme influenced dishes (and

there's also a seasonal, classic French

menu). Leave room for one of those famous

desserts and waffles – you'll be in good

company, they were created for Belgian

King Leopold 1!
---
ART: MUBA Eugène Leroy

In the district of

Tourcoing on the

outskirts of Lille, the

Museum of Beaux Arts

has an excellent and

substantial permanent

collection from the

17th-20th century.

EAT: Le Paradoxe

Le Paradoxe, 3 Rue

d'Havre by the museum.

It's a seriously funky

restaurant located in the

former Hospice which

dates back to the 13th

century.

Far left: La Piscine; above middle, dancer and artist Yon Costes,

Ateliers Jouret; above: artist Mr VOul, Ateliers Remyco

Find details of all

venues on the Lille

Tourist Office website
---
La Chartreuse de Neuville

A monumental hidden gem in the countryside of northern

France...
---
A long, tree lined drive surrounded by fields

and forests, makes for an impressive

entrance to a grand arched doorway. Step

through and you'll enter a different world.

One which has its feet firmly in the past.

I'd spotted this monumental building from

the ramparts of nearby Montreuil-sur-Mer's

citadel. It's hard to miss the grey stone

belfries reaching to the sky and row upon

row of ancient buildings which stand out

amongst the forests and fields of the lush

countryside. La Chartreuse de Neuville-sur-

Mer or the Charterhouse, as it's called in

English, is nothing short of astonishing.

History of the Charterhouse

In 1084, a group of monks wanting to follow

the harsh, contemplative lives of early

Christian hermits, formed a small community

in the Chartreuse Mountains, near

Grenoble, southeast France. They led silent,

meditative lives and owned no possessions.

From this beginning grew a new monastic

order that spread rapidly across Europe. The

monks became known as Carthusians and

their priories as charterhouses.

History of La Chartreuse de Neuville

Charterhouses were established all over

Europe. They were all built to a formal

specification and for the same purpose says

my guide Patrick Alindre at La Chartreuse.

Around a Cour d'honneur lived the Brothers,

monks who worked in the monastery and

supported the Fathers. Behind this were the

apartments of the Fathers. Each lived alone

and in silence.

The Charterhouses were huge "because only

then could silence be guaranteed and that

was essential to the role of the Fathers" says

Patrick as our footsteps echo around the

enormous cloisters.

The original charterhouse of Neuville was

built in 1324, commissioned by the powerful

Count of Boulogne in the shadow of

Montreuil-sur-Mer which was a pilgrimage

destination, as well as a prosperous port

town.
---
After the French Revolution when the state

seized church property, the monks left and

the building fell into disrepair. It was sold to

a private buyer who dismantled it and sold

off the material which was used in local

buildings. The Charterhouse was bought

back by the state in 1870 and restored by

renowned architect Clovis Normand, born in

nearby Hesdin and a pupil of Violet le Duc,

recreator of Notre Dame Paris. Normand

also designed St Hugh's Charterhouse in

Parkminster, England which is twinned with

La Chartreuse de Neuville.

Life in La Chartreuse

The two communities of La Chartreuse de

Neuville consisted of 24 Fathers and 24

Brothers who grew vegetables and fruit and

supported the Fathers. They were all

vegetarian.

Each father lived alone in an apartment

called a cell, though it was quite substantial.

They lived in silence and without company.

Their food was passed through a guichet, a

cupboard in the wall with two doors. A

Brother would open the outer door, put the

food in the cupboard and close the door.

Then the Father would open his door to take

the food. It was the same with any supplies

including firewood. The Fathers were

forbidden from doing work other than

spiritual, except for cutting firewood. Each

apartment was exactly the same, on two

levels and with a small enclosed garden

where they could grow flowers if they

wished.

The ground floor level was considered the

material world – connected to the world of

man. There was a short corridor known as a

promenoir where a Father could walk for

exercise. Upstairs they entered the Ava

Maria room and left behind the world of the

non-spiritual. Here they would pray for hours

on end. They also had a wood cutting area, a

bedroom and prayer area, a table and chair.
---
They were allowed to do spiritual things,

reading, writing, painting and sculpting but

nothing they produced ever had their

signature. They had no personal

possessions, no ego and no vanity. There

were no distractions and their roles were

viewed as collective. They prayed. A lot.

The Fathers were felt to experience a

spiritual consciousness by withdrawing from

the world which enabled them to pray for

mankind.

I expected to feel claustrophobic and shut in

when I stood in the apartment of a Father.

But instead, it felt surprisingly open, tranquil

and calm. In the small garden I could feel the

rays of the sun and hear the birds. Other

than that it was silent as it had been for

centuries.

Colourful patterns fell across the cloisters

from the stained glass windows. There are

several cloisters, arched and columned and

glorious.

The Fathers met five times a day for prayer

in the Great Chapel and on Sunday

afternoons when they dined together –

always in silence. On Mondays they were

allowed to take a walk outside the

Charterhouse and speak if necessary and

once a week they would gather in the

Chapter Room and speak – but only if they

had something relevant to say. The French

saying "l'avoir l'avoir a chapitre" – having a

voice in the chapter, which means to have

influence, originated from this.

They were allowed to meet up with their

family for just two hours a year. No part of

the Charterhouse was accessible to the

public but religious visitors were allowed.

And every Charterhouse followed the same

rules and routines.
---
In 1901 the Loi of Association separated the

church and state in France, and the

monastery finally met its end. It became a

sanatorium, orphanage and asylum. In WWI

the French Government turned it over to

refugees fleeing Belgium. 5000 people

passed through, 600 died there and are

buried in the grounds.

La Chartreuse has dozens of cloisters,

chapels, a library and other rooms. It was

once the home of the printing press for all

the Charterhouses of Europe 1800s but the

equipment was transferred to St Hugh's

Charterhouse (there are plans to have it

returned).

A huge central courtyard around which are

cloisters is dominated by two belfries – one

for God and one for man with bells ringing

on the hour. The prior of the community

was elected every two years from the

Fathers and lived in a bigger house

overlooking the central courtyard.

When they died their bodies were laid to

rest in the chapel of death which you can

spot by the carved skull over the top of the

door. They were buried in a cloth, with no

marker, nothing remained of them with their

purpose fulfilled – to pray for mankind and

to have no ego.

Nowadays you can visit and see the

beautiful gardens overlooking the Canche

Valley but the guided tour (in French but

English speakers are given a paper guide to

help them) is essential to really appreciate

this incredible building.

Exhibitions are held in the refractory and

regular events take place year round

including a Blues Festival in the summer,

electro nights and concerts.

It's a fascinating place with a real feeling of

spirituality…

lachartreusedeneuville.org
---
La Charteuse, also known as the "Elixir of

Long Life" for its alleged medicinal qualities) is

apparently made from 130 different local

herbs, plants and other botanicals gathered

from the mountains around Grenoble. It's

matured in oak casks, and the finished liqueur

packs quite a punch.

The recipe dates back to 1605 and was

created by monks at the La Grande

Chartreuse in Voiron. It is still made there

today, said to be concocted by two monks, the

only people in the world who know the

heavily guarded recipe.

La Chartreuse liqueur

If you're wondering if there's a link –

you're right. There is.

Try a slug of the green stuff in a hot chocolate

for a "Verte Chaud" or mix with sparkling

water, mint leaves, a little lime juice, 2

teaspoons of sugar and ice to make a classic

Chartreuse Mojito...
---
Petit peak at Provence

Exotic, lush in Provence

Oppède...

Photo: Cheryl Shufflebotham
---
As you wind your way across the plains of the Vaucluse in Provence (all olive groves,

lavender and vineyards), you see Oppède le Vieux hanging above you on the north

face of the Petit Luberon. It looks haunting and beautiful says Lucy Pitts...

The rise…

Oppède le Vieux dates back to at least the

12th century. At the very top of the village

stand the remains of a medieval castle and a

formidable Romanesque church. The castle

was at first home to the Counts of Toulouse,

then the papacy in the 13th century and

thereafter to the blood thirsty Jean Maynier,

Baron of Oppède in the 16th century. The

latter used Oppède's strategic positioning to

wage war and it's believed he was

responsible for the massacre of 3,000

people including women, children and the

elderly.

And fall

Notwithstanding its occupants, the village

thrived as a 900 strong farming community

for several hundred years. But by the end of

the 17th century, the castle had been

abandoned and slowly the residents began

to move down to Oppède-les-Poulivets in

the valley below. Houses on the side of the

mountain are damp here, and the Luberon

castes a long shadow, especially in winter. By

1909, with the main village hall relocated to

the valley, nature was left to reclaim the

village.

And then the revival

But for World War II, that would have

probably been the end of Oppède le Vieux.

But in 1940, attracted by its secluded

position, a small community of creatives

moved into the village to escape persecution

by the occupying forces. The community

eventually grew to about 50, including the

architect Bernard Zehrfuss, French sculptor

François Stahly and the writer and artist

Consuelo de Saint Exupéry.

Although, as others had before them, the

creatives too eventually moved out. But, if

you look carefully, you'll see the odd painted

wall as proof they were here. And today,

people are starting to move back.
---
GoutetVoyage.com
---
It feels like little has changed in the last few

centuries as you leave your car in the car

park below and begin to climb to the top.

The streets of Oppède are narrow, cobbled

and steep and the backstreets and houses

defy gravity.

The impressive church of Notre-Damed'Alydon

has both a gargoyle and a

hexagonal bell-tower and it's certainly not

what you expect. It's also home to some

fading frescoes as well as music recitals in

the summer. But sadly, the adjoining castle

is little more than ruins.

A quirky little Café

When you've drunk in enough of the

Vaucluse below, you twist and turn your

way back down to the main square. Stroll

past intriguing doorways in hidden corners,

15th and 16th century walls and clusters of

geraniums trailing from pots in pretty

courtyards.

Below, and at every turn, are majestic, wide

angled views of the plains. It feels like the

whole of Provence is spread out beneath

you. And, even in late October when I went,

the skies are still blue and the Vaucluse

mountains and Mont Ventoux can be seen

in the distance. It is silent. Spellbinding.

Stunning.
---
www.lagrange.com
---
Le Petit Café is delightfully eccentric. A

vintage sports car is parked outside and a

bizarre assortment of bric a brac fills the

dining room and interior, including a

dentist's chair! I didn't like to ask.

Outside, you sit under the trees on an

assortment of brightly coloured cushions,

painted tables and chairs. There's a large fig

tree, a shaggy white dog, coloured lights and

glass bottles, an old wine barrel, pots

growing bamboo, a birdcage and an

assortment of herbs which match the

eccentricity and charm of your host.

A Panier des Saveurs (which is a tapas made

from seasonal Provencal ingredients) served

on a rusty, old vintage tray and a glass of

chilled white wine later and you're ready to

spend the rest of your life here. It's one of

those hedonistic places you visit for sheer

pleasure. And then want to stay for a

lifetime. In short, it's one of the many great

little gems of Provence.

You can find out more about the Vaucluse in

Provence at www.provenceguide.com
---
YOUR PHOTOS

Every weekend, we invite you to share your photos on Facebook - it's a great way for

everyone to see "real" France and be inspired by real travellers snapping pics as they go.

Every week there are utterly gorgeous photos being shared and here we showcase the most

popular of each month. Share your favourite photos with us on Facebook - the most "liked"

will appear in the next issue of The Good Life France Magazine...

APRIL:

A photo we can all identify with

right now. The old lady at the

window, Sarlat, Dordogne by

Pat Bruce. +8000 engagements
---
MARCH:

Bomres Les Mimosas by Ron Jo

Warren. +6000 engagements

FEBRUARY:

Monet's garden, Giverny,

Normandy by Daniela

Perria Rickey +6000

engagements

Join us on

Facebook

and like and

share your

favourite

photos of

France...
---
Discover the

Northern

Riviera

Fabulous beaches, an historic past, chic towns and

easy access to the UK. Welcome to the Northern

Riviera...
---
The French Riviera, or Côte d'Azur, is world

famous for good reason. But there's another

Riviera in France that is far easier to reach

for both British buyers and Parisians, and

one that has much to offer in its own right

says Liz Rowlinson…

The nearest part of France to the UK, the

Northern Riviera - or Côte d' Opale - offers

layers of history, from prehistory to the two

world wars, including the Great War, Added

to this is over 120km of beautiful fine sandy

beaches, chic seaside towns and, at times,

even better weather than it's glitzier southern

counterpart.

"This is a fabulous area, popular with French,

British and Belgian home buyers, because of

its proximity to both the UK and northern

European cities," says Tim Sage, Leggett's

coordinator for the area. "It's easy to reach

by ferry or Le Shuttle for the British - and

numbers commute back to the UK weekly -

and it's much more affordable than other

French coastal areas, including the Charente-

Maritime and the Côte d'Azur."

With buoyant tourism due to the historic

locations - the battle sites of Agincourt and

later World War One, the Commonwealth

War Cemeteries, and rocket launch sites - it

can also be good for holiday rentals with the

offering of a full range of outdoor activities.

So where are the popular spots for buyers?

Starting at the Belgian border - the Riviera

spans from there to Berck-sur- Mer in the

Pas-de-Calais department - the stretch

between Dunkirk and Calais is popular with

French buyers, yet less so with the British.
---
"For some reason there's a perception that

it's not the 'real France', perhaps because of

its very proximity," he says. "Yet, nearby

Gravelines and Loon-Plage are popular with

the French, with 2/3 bedroom apartments

from €180,000," says Tim.

British interest picks up at the delightful

seaside resort of Wimereux on the Côte

d'Opale with its Belle Epoque villas and

beach huts. The steep cliffs of the nearby

Deux Caps - Gris Nez and Blanc Nez - offer

beautiful beaches backed by dunes and

conifers. Nice houses start from €200,000.

The beautiful old fortified city of Boulogne-

Sur-Mer is next up (or rather down the

coast), popular with British and French

buyers for its good value - you can get a 2

bedroom apartment for €114,000, or a 5

bedroom townhouse for around €200,000.

Golfers gravitate towards Hardelot-Plage,

south of Boulogne, because of its

championship golf course. British buyers

love the fact you can buy a golf apartment

for around €110,000.

Whilst the Côte d'Azur has Cannes, the

northern coast has Le Touquet, and the palm

trees add to its glamorous image, ever since

the likes of Noel Coward, Winston Churchill

and Edward and Mrs Simpson holidayed

there back in the 1920's and 30's. Indeed,

it's an alluring mélange of French and

English, with Parisians in love with its

refinement too, it's full name is Le Touquet-

Paris Plage.

Expect to pay €350,000 to €400,000 for a

two-bedroom apartment, but head across

the bridge for better value Étaples - a

traditional fishing port village with

fishermen's houses from €80,000. Visit the

wonderful fish restaurants and you may be

smitten.
---
Last but not least is Berck-Plage, or Bercksur-Mer,

a great year-round location with

fabulous beaches, a popular kite festival and

apartments from €85,000 or 3 bedroom

houses from €180,000. The former fishing

village also offers the delicious dish

Berckoise Caudière, a kind of bouillabaisse

of the Channel - who needs to head all the

way to Marseille?

See Tim's property portfolio Pas de Calais:

NOTE

Whilst we may not be able to travel

currently, Leggett Immobillier, the award

winning property agency in France are still

open for business, albeit working from

home. They are able to send property

details, complete mandates electronically

and book reserved tours, find details here:

https://www.frenchestateagents.com/

pages/covid-19-open-for-business
---
BeaconGlobalWealth.com
---
Your essential

Guide to

moving to

France

In these difficult times with the Covid-19 virus preventing travel and

halting plans, and the upcoming removal of the UK from the European

Union, we asked Jennie Poate of Beacon Global Wealth to give us some

top tips to help those planning on moving to France when they can…

You find your dream home in France,

you can't wait to move there and

start living the good life but there are

a few things you need to do first.

You'll need to fill in paperwork and

notify authorities in the UK and

France, sort out healthcare, maybe

inheritance planning, savings, tax and

whole host of fun things.

Before you leave the UK, check this

list to see what needs to be done:

Get form P85 from Revenue and

Customs, fill it in and return it. It

notifies the tax authorities that you

are leaving the country and helps

ensure that you'll be taxed

appropriately.

If you're retired, request an S1 Form.

https://www.gov.uk/moving-orretiring-abroad

Set up a mail redirection if you know

where you'll be living in France or to

an address in the UK that can forward

mail on to you in a batch.

Inform your local GP and dentist that

you are leaving so they can take you

off their books.

Request a State pension forecast: if

you're going to live in France longterm

or forever and may not return to

the UK before you become eligible for

your pension. https://www.gov.uk/

check-state-pension

Notify the Pension Service of your

new address so they'll know how to

contact you. https://www.gov.uk/

international-pension-centre

Notify your personal or company

pension trustees of your new address.
---
You can keep your UK investments in the

UK, but they will now be taxable in

France. Notify administrators of your

new address. If you would like to know

how your UK pension(s) will be treated in

France and the tax efficient alternatives

for your savings/investments as a French

tax resident Jennie is happy to offer a

free consultation.

Let your utility providers and local

authority know you're leaving and ask for

final bills.

If you're keeping your home in Britain

and renting it out, you should inform

your insurance company as your existing

policy

may not cover you for home rental.

If you're still paying a mortgage on the

property, you should let your mortgage

provider know.

Your UK rental Income will remain

taxable in the UK but must be declared

on your French tax return. As there is a

dual tax arrangement between the UK

and France, it won't be taxed twice

(Brexit should not impact this

arrangement) https://www.gov.uk/

government/publications/non-residentlandlord-application-to-have-uk-rentalincome-without-deduction-of-uk-taxindividuals-nrl1

Make a Will. If you already have one,

In France

Get your paperwork in order, you'll need

to have a number of original

documents – and take copies of

everything. What you need depends on

whether you're retiring or working either

as self employed or for a company.

Essential documents may include:

Birth certificate, marriage certificate, Tax

returns (for two years), 12 months of

bank statements, certificates of

professional qualification (if setting up a

business), driving licence.

Some documents may need to be

translated by an official translator.

Open a bank account, it is increasingly

difficult to pay for things without one if

you live in France, most utilities are now

paid online or by cheque. You can open

a non-resident account before you leave

the UK and notify the bank to change it

to a resident account when you arrive.

Sort out health care in France. For the

first few months you can still use your

EHIC (pre-Brexit, post Brexit has not

been confirmed). Or sort out private

healthcare. If you're retired, your S1

Form currently enables you to claim

back your healthcare costs (pre-Brexit).

The French healthcare system has a

great reputation but you may need to

top up with private health insurance –

this is normal, the majority of French

people take out top up insurance. You

should then return your British EHIC

card and apply for your Carte Vitale

which you need to take with you to all

medical appointments in France.
---
Apply to the local CPAM (Caisse Primaire

d'Assurance Maladie) for healthcare

cover. Applicaton depends on your status

eg retired, salaried worker, selfemployed.

https://www.ameli.fr/

If you take your UK registered car with

you, you'll need to register it in France.

There is currently a huge backlog to

process applications. You'll need to have

various documents and make an

application online at:

https://ants.gouv.fr/

If you've got kids, you'll need to register

them for school.

There is more information on the UK

Government website about applying for a

residence permit when the transition

period ends on 31 December 2020.

Jennie Poate is a UK expat who has lived

in France for several years and is a

qualified financial advisor who has helped

many expats to organise their finances

and tax in France.

Schedule your free no obligation

consultation to find out if Jennie and her

team at Beacon Global Wealth can help

you.

info@bgwealthmanagement.net

beaconglobalwealth.com/

www.beaconglobalwealth.com
---
Everything you need to know about

French Mortgages

An estimated 84,000 UK nationals moved

across the Channel in 2019 – a 10 year

high. Traditionally most home buyers were

retired or looking to purchase second

homes, but France is an increasingly

attractive option for young families and

people in their 40's and 50's.

Affordable property, beautiful countryside

and coastline, great food, wine and good

quality health and education systems are all

irresistible temptations for a new generation

of Britons seeking a new life in France.

French house prices are considerably

cheaper than the UK. Although official

figures suggest the property values are

rising gently, there are plenty of

competitively priced homes for sale,

particularly in rural locations and smaller

towns.

The French mortgage market and

eligibility for a loan

Buying a property with a mortgage is

increasingly popular, helped by continuing

low interest rates. Mortgages can also be

taken out to pay for renovations, new build

construction (including both the land and

building costs), equity release or to remortgage.

Though, if you are thinking of remortgaging,

be aware that in France there

may be high fees.

There are a number of differences between

French and UK mortgages. Below are a few

examples:

Interest rates: In France rates are set for a

maximum 25 year term. A fixed term of 5

years is more common in the UK.
---
Eligibility: French banks look in detail for

proof of income and the total amount of

household debt. This debt ratio determines

whether they feel your mortgage is

affordable. In the UK the affordability criteria

is generally three times your income.

Consumer protection: The French

mortgage market is heavily regulated.

Buyers are required to pay for mortgage

protection insurance. The UK market,

despite some tightening in recent years, has

lighter regulations.

The French mortgage market is open

to both residents and to nonresidents.

French mortgage lenders have become far

more prepared to offer loans to non-resident

buyers in recent years. Lenders have an

option of taking out a Euro mortgage rather

than a loan in sterling from a UK bank. An

important first step is opening a French

bank account; this will enable you to deposit

and transfer funds regularly.

Proving that you have a stable income is a

key test for French home buyers. Lenders

will not discriminate against you if you are

self-employed but you must supply three

years' tax returns and your earnings over

that period determines the amount you can

borrow.

Types of French mortgage

In France, the majority of home buyers opt

for a standard capital repayment loan in

where you repay both the capital and the

interest.

Interest only loans are less common and

are mostly taken out by landlords who want

to minimise their outgoings.

rates increase and are generally fixed for

the entire duration of the mortgage.

However, redemption fees can be

expensive. So, if you want to repay early,

remember to take this into consideration.

Borrowing a maximum of 80% of the

property's value is the norm, though it may

vary up to 85%. How much you can borrow

depends on your financial circumstances

and credit rating.

Equity release isn't common in France but is

possible if you don't have an existing

mortgage on your property. The amount of

household debt must not exceed 33% of

your annual income.

Calculating the cost of your

mortgage

When applying for a mortgage, French

lenders must state the interest rate as an

APR (Annual Percentage Rate) to make

comparisons easy. A number of factors

affect the total cost including: Amount

borrowed, loan duration, type of mortgage

(e.g. capital repayment or interest only)

Interest rate (APR), fees, mortgage

protection insurance and redemption

penalties

Example: Couple buying a French property

for €170,000 with a capital repayment loan.

% € Years

Loan Term 20

Loan to Value 80.00

Interest Rate (APR) 1.80

Property Purchase 170,000

Deposit 34,000

Amount Borrowed 136,000

MONTHLY COST 675

*Important note: this is an example only and

does not represent an offer.

Fixed rate or variable rate? Fixed rate

mortgages offer greater stability if interest
---
How to apply for a French mortgage

Banks and financial lenders in France require

detailed documentation - be prepared! This

includes: Applicant details, financial

information (proof of income, arrears/debts

etc) Employment and business details,

Project costs and fees, outgoings & assets.

With CA Britline you can download and

complete the application form for a

mortgage here: www.britline.com/mortgage

You can also request a Pre-mortgage

approval certificate. This will confirm how

much the bank is prepared to lend you.

Successful mortgage applicants receive a

Mortgage Offer which is valid for 30 days.

Note: Borrowers must sign a sale & purchase

contract for their property before a lender

will issue a formal Mortgage Offer.

Security, guarantees and mortgage

protection

There are different ways to secure against a

mortgage using various types of guarantees.

The fees payable vary according to each

option. It is recommen-ded that you discuss

this with your lender.

In France, mortgage borrowers are offered a

high degree of consumer protection, covered

by a strict regulatory framework, to guard

against irresponsible lending.

Good luck with your property search!

Further Information

To find out more about CA Britline's

mortgages with competitive rates and

flexible options with rapid approval, contact

us today: www.britline.com

A loan is a commitment and must be repaid.

Check your ability to repay the loan before

making the commitment. Under the

condition that your mortgage file is accepted

by your Caisse Regionale de Credit Agricole,

lender. You have a cooling off period of 10

days to accept the mortgage offer. The

completion of the sale is subject to obtaining

the loan. If this is not achieved, the seller

must refund your payments.
---
Pissaladière
---
This delicious Provencal version of pizza is a firm favourite in Nice and the French

Riviera. It's easy to make at home, is great for a snack or light meal, very moreish and

goes well with a green salad or on its own or with a glass of rosé...

Ingredients for a Pissaladière for 6

40g (1 ½ oz butter)

1 tablespoon olive oil

1.5kg (3lb 5 oz) onions, thinly sliced

2 tablespoons thyme leaves

1 quantity of bread dough – easy make recipe below

1 tablespoon olive oil

16 anchovies sliced in half

24 pitted olives (if you're not a fan of olives you can use cherry tomatoes cut in half)

How to make Pissaladière

Melt the butter with the olive oil in a pan.

Add the thinly sliced onions and half the thyme.

Cover the pan and cook on a low heat for 45 minutes stirring from time to time. The onions

should be soft but not brown. Season with salt and pepper and leave to cool.

Preheat oven to 200˚C (400˚F/Gas mark 6).

Roll out the bread dough and place in an oiled tin (34 x 26xm is ideal).

Brush the top of the bread with olive oil and spread the onions over the top.

Lay the anchovies in a lattice pattern over the onion and pop the olives in the lattice

diamonds. Wash them in water if you like them less salty.

Bake for 20 minutes or until the dough is cooked and lightly browned.

Sprinkle the remaining thyme over and serve warm or cold, cut into squares.

How to make bread dough for your Pissaladière

2 teaspoons baker's yeast (15g/ ½ oz)

200g (2 cups) strong plain (all purpose) flour

½ teaspoon salt

3 tablespoons olive oil

125ml warm water

Sift the flour, add the yeast and salt and mix.

Stir in the olive oil and lukewarm water and

knead into a dough by hand or with a mixer.

Leave to rest in a lightly oiled container for

one hour.

Turn out on a lightly floured surface and roll

into shape.
---
Le Soufflé is considered a culinary masterpiece in France. The word soufflé comes from

souffler – to breathe or to puff, and this dish takes puffing to an art form!

The first time the recipe for a cheese soufflé was recorded was 1742 in Le Cuisine Modern

by Vincent La Chapelle (modern for those times of course!). La Chappelle was known to

cook for rich and wealthy clients, including Madame de Pompadour, mistress of Louis XV.

Years later, Chef Marine-Antoine Carême, one of the first celebrity chefs, published "Le

Pâtissier Royal Parisien" published in 1815, contained several pages on the art of making

soufflés. It put the dish thoroughly on the gastronomic map of France and the world.

Ingredients

50g/½ cup/1.3 oz Butter, plus a little extra for greasing

25g/¼ cup/0.9 oz Breadcrumbs OR 2 tablespoons Parmesan cheese

50g/½ cup/1.03 oz Plain flour

1 teaspoon mustard powder

300ml Milk

4 medium eggs

100g/2/3 cup/4oz strong grated cheddar (blue cheese or goats cheese are good too

Salt and pepper to season
---
Audrey Hepburn learns how to make cheese souffle in the film "Sarbina." The master

chef critiques the dishes: "Too low; too high; too heavy; sloppy" or in Sabrina's case,

uncooked as she forgot to turn the oven on! Here's how to make it perfectly with an

easy to follow recipe...

How to make a perfect cheese soufflé

Heat the oven to 200C/fan 180C/gas 6 and pop a baking sheet on the middle shelf. Butter

a 15cm (6 inch) soufflé dish, then sprinkle in the breadcrumbs OR the Parmesan cheese

(whichever you prefer) and shake the dish to make sure the crumbs/Parmesan cheese are

evenly spread and tip the rest out.

Melt the butter over a medium heat in a pan then stir in the flour and mustard powder.

Keep stirring for about a minute. Take the pan off the heat and gradually stir in the milk,

mixing it thoroughly. Return the pan to the heat and stir continuously for around 10

minutes until the mix becomes very thick. Transfer the mix to a bowl and allow it to cool.

Separate the egg whites into a bowl and fold the yolks into the sauce then the cheese, and

season well.

Whisk the egg whites until peaks form. Using a metal spoon, gently stir the whipped whites

into the white sauce. Then spoon the mixture into the greased dish. Run a cutlery knife

around the edge to help the souffle rise above the rim and not stick.

Place on the baking sheet and bake for 25-30 minutes until the top is golden and risen and

has a slight wobble.

Serve immediately and enjoy enormously!
---
Pastis Gascon /

Gascon Apple Pie

Ingredients for 4 to 6 people in a 25cm tart dish

1 packet (12 sheets) filo pastry

80g sugar

Icing sugar

For the apple filling

About 4-6 apples

3 tbsps sugar

About 75g melted butter .

60 ml Armagnac (you can use calvados too but it wouldn't be Gascon but Norman)

Half a lemon

Method

Pre-heat the oven to 180°C (170C fan)/375F/ gas 5

Peel, core and quarter the apples, then slice thinly and set aside in a bowl tossed in a

squeeze of lemon, 3 tablespoons of sugar and the Armagnac. Leave to macerate for up to

one hour.

Melt the butter.

Brush the tart dish with melted butter.

From the filo pastry pack, take a sheet, brush with melted butter and lay on the base of the

dish. Press into the sides leaving the overlap hanging over the edge of the tin. Lay another

buttered sheet at an angle to the first sheet and repeat three more times so that the pastry

covers all round the edges. Keep the packet covered with a damp clean cloth to stop the

pastry drying out.

Spread the apple mixture over the base.

Brush a sheet of filo with butter and sprinkle with sugar (about a teaspoon). Scrunch it up

like a tissue and pop it on top of the apples. Repeat with the remaining filo pastry. You're

aiming to create height and texture. The sugar on the pastry makes it very crispy and

sweet.

Pop it into the oven for about 30 to 35 minutes. Keep an eye on it to make sure it doesn't

burn on the corners but is golden all over.

The tart is delicious cold or warm – sprinkled with icing sugar (and you can also sprinkle a

little more Armagnac if you wish.
---
I never thought I would be so excited to see Jean-Francois, the village handyman. But I'd

spent endless days indoors not seeing another human (if you don't count the husband). As I

hung a bag for the Bread Man on the gate so he could pop my bread delivery in, I spotted

the lanky Jean-Francois in his never-seen-out-of-them blue overalls (except once at the

village harvest party), trimming a hedge down the road.

We exchanged long distance waves.

"Ca va?" he called.

"Ca va!" I shouted back, "Ca va?"

The Good Life

Janine Marsh's life in lock-down France

That started the dogs barking in the back garden and he had to yell his answer "Ca va, ca

va."

Mon dieu, the first conversation I have had with another human (again not counting the

husband) in real life in goodness knows how long consisted of just 3 letters. Now in case

you think I'm referring to a sparkling wine that's spelled the same way give or take a space,

I'm not. "Ca va" is the universal general greeting of the French. You might have been taught

at school that "comment allez vous" is what you should say when you meet someone, but

unless you're in a formal situation or rendezvous-ing with the President or Prince Albert of

Monaco, say that as a greeting to your mates and you will be greeted with a look of

astonishment.

In fact, the French I speak with my neighbours is nothing like the French I was taught at

school. All manner of words come up that fill me with astonishment like "bof" which is how

you reply to "ca va" if you're only so-so, instead of saying you're well which requires you to

reply "ca va". And my French teacher, a sophisticated Parisienne, never prepared a youthful

me for living in the far north of France where they speak with such a strong accent that even

the rest of France can hardly understand the locals.

But gradually I'm getting this French language malarkey and can hold a conversation quite

well. At first it was like a game of tennis, I could volley a word in but couldn't really hold an

extended rally of conversation. These days, after a lot of practice, I can score break points

by throwing in some "real French", there's always a way to fit "toho-bohu" (confusion) or

"Hurluberlu" (eccentric) or "ah, la vache" (which although it literally translates as "oh my

cow" means "oh my god") into a conversation.

I still make mistakes though. I once announced to a bus load of Frenchies "je suis chaud". It

was a sweltering hot day, I thought I was saying "I am hot". Non. It's a rookie error and to

Frenchies it means "I am hot" - as in 9 1⁄2 Weeks the erotic film. Napoleon Bonaparte once

said "Du sublime au ridicule, il n'y a qu'un pas' – "From the sublime to the ridiculous there is

but one step…" and so it is!