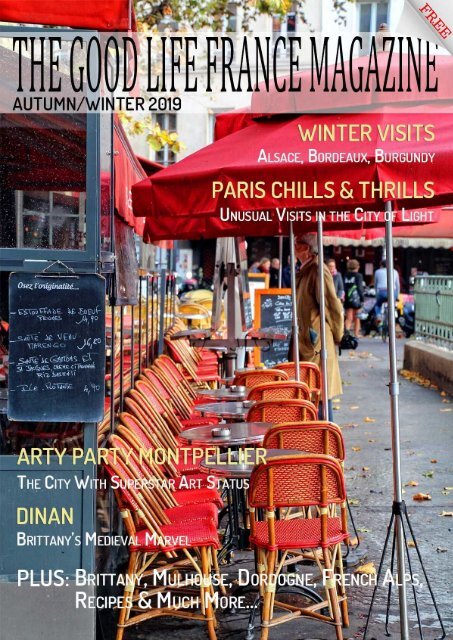 Issue No. 24
Bringing you the best of France - full length features on Alsace, Bordeaux, Burgundy, Montpellier, Boulogne, Le Havre, the Dordogne, the French Alps and loads more. Delicious recipes, brilliant guides - don't miss this jam-packed issue - it's the next best thing to being there...
Bringing you the best of France - full length features on Alsace, Bordeaux, Burgundy, Montpellier, Boulogne, Le Havre, the Dordogne, the French Alps and loads more. Delicious recipes, brilliant guides - don't miss this jam-packed issue - it's the next best thing to being there...
SHOW MORE
SHOW LESS
Do you know the secret to free website traffic?
Use this trick to increase the number of new potential customers.
Editor's

Letter

Welcome to the Autumn/Winter 2019 issue of The Good Life France Magazine.

Discover three cities that are perfect for a wine themed tour, Alsace (especially with

a sprinkling of snow), Bordeaux and Burgundy are fabulous whatever the weather! If

you've never been to Dinan – you'll definitely want to go after you read our guide

and then head to the pink granite coast with its magical rock formations and

gorgeous beaches. We check out some unusual visits in Paris from spooky manors to

downright weird museums.

Lucy Pitts admits she's not really that into skiing but found out there's loads to do in

the French Alps where you don't have to be sliding down the slopes. If you're looking

for a great short break destination – historic Boulogne-sur-Mer on the Opal Coast

will float your boat. Around the coast UNESCO listed Le Havre couldn't be more

different but equally fascinating.

Find out what to do in Mulhouse, the arty Alsatian city is undergoing a

metamorphosis and join Amy McPherson as she goes walkabout in the Dordogne

Valley. Check out the best tours for 2020, learn how to make kugelhopf, see

colourful Collioure in the south of France in photos… and lots more.

I hope you enjoy reading this issue, and if you do please share it with your friends –

it's free, and always will be.

With best wishes

Janine

Editor
---
contents

Features

8 Winter wine themed visits

Alsace, Bordeaux and Burgundy – perfect

city wine break visits whatever the

weather…

16 Arty Party Montpellier

The southern French city gets superstar art

status…

22 Dinan – a medieval marvel

Wander the wiggly, windy streets of

beautiful Dinan to nourish your soul says

Janine Marsh

30 Paris Chills and Thrills

Unusual visits in the city of light - from the

strange to the spooky

34 La Vie en Rose Granite

Janine Marsh finds Brittany's pink granite

coast is absolutely stunning…

42 There's more than skiing

to the French Alps in Winter

Lucy Pitts discovers there's loads to do for

non-skiers in the snowy Alps…
---
Features continued

48 Le Weekend: Boulogne-

Sur-Mer

Janine Marsh says the city on the Opal Coast

is perfect for a short break

56 Stroll through the

Dordogne Valley

Amy McPherson goes walkabout in the

Dordogne valley.

62 Destination: Mulhouse

Amazing Museums and an arty vibe, Janine

Marsh discovers the Alsatian city is

undergoing a metamorphosis…

70 Spotlight on Le Havre

The UNESCO listed Normandy harbour

town

is rich in architecture, history and art finds

Janine Marsh.

76 Best tours of France 2020

10 fabulous tours that will make you want to

pack your bags right now!

80 Collioure

Photographer Lonna Coleman captures the

colourful ambiance od this southern French

town in photos…

Regular

84 Your Photos

The most popular photos on our Facebook

page.
---
102 My Good Life in France

In which the rural countryside becomes a

land of party animals...

Expert Advice

86 Why are cheques still so

useful in France?

We ask the experts…

90 Taking your first steps in

France

Handy hints to help you settle in France.

94 Finance in France

Why it's essential to talk to your financial

advisor to help you plan your new life in

France.

98 Kugelhopf

Food writer Carole Bumpus shares her

delicious Alsatian Kugelhopf recipe, the

perfect cake with coffee, tea, or any time!

100 Leek and potato soup

A hearty soup that's ideal for chilly days,

easy to make and absolutely delicious!
---
Where to enjoy

wine in winter in

France
---
When the grape harvest is over, the vine leaves have all blown away

and the wind whistles through the vineyards – you might be surprised

to know it's a good time to visit some of the best wine growing

regions in France. Many vineyards are open for tastings in winter and

wine makers have more time to chat. Museums are less crowded,

menus reflect the season with robust and tasty dishes and there's not

much that beats enjoying a glass of wine in a cosy café…

Add these three fabulous destinations to your winter wine-themed

wanderlist…

PSN/BETSCH
---
ALSACE

Alsace is the quintessential winter

destination with its fairy tale like villages,

especially with a dusting of snow. The

region's vineyards are nestled between the

Rhine River in the East and the Vosges

mountains in the west.

Alsace is famous for its luscious white wines

such as Riesling and Gewürztraminer,

perfect winter whites. Follow the vineyard

trails on the designated Route de Vin and

enjoy numerous wine tasting.

Base yourself in Riquewihr

Base yourself in the enchanting village of

Riquewihr with its quaint half-timbered

houses, wine bars and fabulous restaurants.

From here it's easy to tour the area. Don't

miss enchanting Eguisheim, voted favourite

village of the French in 2017. Colmar is a

must-see, this biggish city has a sensational

old town, known as "little Venice" thanks to

the canal that criss crosses it, lined with

gorgeous old houses in every pastel shade

there is. Strasbourg is less than an hour's

drive away and in the winter the frosted

cobbled streets are enchanting; and the

museums are cosy!

Don't miss a trip to the Chateau de

Kaysersberg, high up on a hill with stunning

views, it is atmospheric and fascinating, here

you'll really get a feel for how tough winters

were in days gone by!

Local specialities are numerous and the

influence of neighbouring Germany is strong.

Choucroute (sauerkraut) is served

everywhere as is baeckeoffe, a meat and

wine stew and flammekeuche a delicious thin

crust pizza with sour cream. Finish with

kugelhopf (see our recipe on page 98) or

birewecke, a bread style cake filled with

dried fruits and spices – and a lot of Kirsch.
---
Take a wine tasting: Domaine Dopff open

year-round (dopff-au-moulin.fr), the first

winemaking house to produce Crémant

d'Alsace.

Wine and dine: Au Trotthus. Chef Philippe

Aubron cooks up a storm in this beautiful,

cosy building next to the Dolder Tower, a

13th century landmark. The dishes are

beautiful to look at and seriously delicious,

his apple pie and home-made ice cream is

probably the best you will ever taste. A

memorable restaurant. (trotthus.com).

Stay at: Hotel L'Oriel in an ancient building,

right in the centre. It's so pretty it looks as if

it's made out of gingerbread! The hotel bar is

great to relax in with a glass of wine and in

winter this cosy nook is just about perfect.
---
BORDEAUX

Bordeaux makes for an ideal winter city

break and its wines are amongst the most

prestigious in the world. Rich, voluptuous,

spicy reds and soft whites from legendary

vineyards such as St-Emilion, Margaux and

Blaye.

In the city of Bordeaux, the number one

must see is the Cité du Vin – it is

extraordinary. Whether you're a wine lover

or not, this museum is entertaining,

fascinating and delicious. Innovative

displays – boxes on the walls come to life at

the push of a button! – take you through the

history of wine from millennia ago to today.

Included in the price is a wine tasting on the

8th floor with fabulous views over the city.

Head to the 7th floor for lunch, dinner, a

snack, coffee or wine – the terrific

restaurant Le 7 which has superb views,

wine savvy staff and a delectable menu.

Wander the streets of old Bordeaux where

the UNESCO listed Neoclassical architecture

is magnificent. Enjoy a night at the Opera in

the city's famous opera house or visit

museums galore. The shopping is second to

none (if you're there in January the sales are

fabulous), in fact its home to the longest

pedestrianised shopping street in Europe.

With thousands of superb restaurants, this is

a city that gives Lyon, often called the capital

of gastronomy in France, a run for its money.

Local specialities include tourin bordelaise,

an onion soup thickened with egg yolks,

entrecôte Bordelaise, steak with a rich red

wine sauce, and canelé, a soft cake with rum

and vanilla flavoured filling. Really spoil

yourself with the most popular treat in the

city – a "Dune Blanche", delicious little sweet

pastries filled with cream, exclusively from

Chez Pascal, 7 Rue de la Vieille Tour.
---
Take a wine tasting at: Maison Gobineau.

They have every kind of Bordeaux wine and

the prices will blow you away – 2 Euros for a

superb red, in stunning surroundings, think

18th century building, Aubusson tapestry

and stained-glass. Simply the best in town. (1

Cours du 30 Juillet)

Wine and dine at: Le Chapon Fin, the

magnificent Belle Epoque dining room

created in 1825 has true wow factor. The

former 3 Michelin Star restaurant changed

chefs a short while ago, and as a result, the

prices went down but the food is just as

delicious as ever and the wine cellar is a

marvel (www.chapon-fin.com).

Stay at: Live like a local at a luxurious

apartment in the city - Your Bordeaux Home

offers several superb options

(yourbordeauxhome.com).
---
BURGUNDY

Burgundy's wines are known throughout the

world and winter is a great time to visit, a

little chill in the air adds something to the

sublime wines from Gevrey-Chambertin,

Nuits-St-Georges, Vosne-Romanée and

Chablis, to name just a few.

Beaune makes for a great base to tour the

local countryside and the vineyards of the

Route des Grands Crus. The city has a

beautiful old centre with cobbled streets and

is terrific for wandering, getting lost,

warming up with a hot chocolate and

enjoying the wonderful architecture.The

must-see place is the Hotel Dieu founded by

Guigone de Salins and her husband Nicolas

Rolin in 1443. On the third week-end of

November the 3 Glorieuses take place in this

part of the town: a charity wine auction -

proceeds to fund the local hospital's equipment

and the hotel-dieu's conservation.

The colourful festival of Saint Vincent

Tournante honours the 22 January feast day

of St. Vincent, patron saint of wine (the

festival is held on the weekend closest to

the Saint's Day). The event attracts

thousands to enjoy a choreographed

collaboration between the Brotherhood of

Tastevin, the Church and local wine making

societies.

In Beaune you'll enjoy plenty of choice for

great restaurants and of course Boeuf

Bourguignon is a firm favourite as well as

coq au vin made with Burgundy wine – ideal

winter dishes.

Take a wine tasting: Sensation Vin in the

town, open year-round. Perfect for novices

or experts, and tastings are from 1.5 hours in

a 10th century cellar to a day in the

vineyards. (sensation-vin.com)

Wine and dine: Hotel Le Cep, an institution

in Beaune. Gastronomic dishes and 70

different wines by the glass in a historic 16th

century mansion (hotel-cep-beaune.com).

Stay at: Les Jardins de Lois, 5-minute walk

from the Hospices and town centre.

Authentic, cosy and tranquil B&B in a

characterful house with rooms named after

vineyards and owned by local wine makers
---
Arty

Party

Montpellier

Montpellier in the south of France has elevated

its arty status with the launch of MoCo –

Montpellier Contemporary in 2019. It's been

called an art "ecosystem" and pulls three major

venues together to bring a diverse and

enormous range of contemporary art to the city,

as well as supporting and training artists. The

model is unique to Montpellier and makes this

city an irresistible lure for art lovers.

There's something for all art fans here –

whether you like modern, classic or street art…
---
MOCO

There are two exhibitions and an art school

which make up the MOCO model. MOCO

Hotel des Collections is a brand new

exhibition centre which will present both

public and private collections in a series of

temporary exhibitions. Formerly the Hotel

Montcalm, a beautiful 19th century building,

the venue has a restaurant, boutique and

lovely gardens as well as hosting

international art.

La Panacée is one of the three venues which

make up MoCo. It's located in the former

historic Royal College of Medicine and

specialises in emerging art. It's exhibitions

are provocative, exciting and at times a bit

baffling but always fascinating.

It's the perfect place to go for lunch as well

as enjoy the free art. It's seriously trendy

and full of savvy locals who love the great

value menu, fabulous fresh local produce

and the fact that you can borrow books from

the shelves. Kids love it too, there are toys

and games for them to play with. On Sunday

morning, go for their famous brunch. Unlike

the rest of the week you can't book in

advance so get there early to bag a table.

Ecole Supérieure des Beaux-Arts (ESBA), the

Montpellier art school trains the artists of

the future and encourages them to get

involved with the MOCO projects and the

city's art programme.

For instance at the newly opened covered

market Halles Laissac. The vibrant stained

glass dome was designed by a student and

teacher team from ESBA.

Underneath it you'll find a delicious array of

food including macarons made by a master

pâtissier, cheeses, Corsican specialities,

charcuterie and fresh baked bread.
---
There's a bar here and one of the best things

about Halles Laissac is that you can buy your

food and then dine at the tables and chairs

provided inside and out, the perfect market

picnic.

Find details of all MOCO art exhibitions:

https://www.moco.art/en

Street art in Montpellier

There are two parts to Montpellier: the old

city and the new. Both are beautiful. But it's

the old city that attracts most visitors to

discover its winding labyrinth of hilly

cobbled streets, festooned with bunting and

lined with chic boutiques, art galleries, bars,

cafés and restaurants. Book a guided tour

with the Tourist Office to discover the

secrets of the city and explore it's most

beautiful streets and street art.

Don't miss the colourful trompe l'oeil at

Place Edouard Adam near the market.

Created by artists Agnès and Olivier Costa, it

is extraordinary. And the optical illusion

trompe l'oeil at Place Saint Roche plays tricks

with your eyes. It reflects the 19th century

Church of Saint Roch, patron saint of

Montpellier and you can't help but turn

around to check!

Musée Fabre

Founded in 1828 by artist François-Xavier

Fabre in what was his home and gallery, this

huge museum has a fabulous collection of

more than 800 works spanning several

centuries from 14th century religious art to

contemporary. Over the years the venue has

grown and now occupies three buildings.

They regularly partner with the Louvre for

exhibition swaps and put on temporary

exhibitions each year. There are several

enormous, provocative works by Pierre

Soulages, one of France's greatest living

artists.
---
Eat out

Locals love: Café Joseph known to locals as

Café Jo. It's good for lunch and even better

for dinner when lights twinkle overhead,

buskers perform in the animated square and

the air is filled with the sound of happy

chatter.

La Place: In a tiny square hidden in the

backstreets of Montpellier, Place Saint-Ravy

is a magnet for locals in the know. Once, the

Palace of the Kings of Majorca who, many

hundreds of years ago were also Lords of

Montpellier, stood here but now the

medieval buildings have been converted to

restaurants including La Place. Tables are

placed around a tinkling fountain while

upstairs the cool stone vaulted ceilings

provide an intimate dining area.

In this lively city, there's no shortage of bars

to choose from. If you're looking for a bar

with a relaxed vibe and great wine list,

L'Atelier Bar a Vin in the Place de la

Canourgue is hard to beat. Locals love it but

visitors rarely find this romantic square, the

oldest in Montpellier, from where you have a

wonderful view over the St Pierre Cathedral.

Any visit to Montpellier must include the

Place de la Comédie, the beating heart of the

city nicknamed L'Oeuf (the egg) thanks to its

oval shape. Here you'll find Café Riche, an

institution as much for locals as for tourists,

and for people watching – it's perfect.

Stay at: Hotel Oceania Le Metropole opened

in 1858 and a truly luxurious retreat. Its

exotic garden with palm tree lined swimming

pool and jacuzzi is perfect for unwinding

after a day of sightseeing. It's just a couple of

minutes from the Place de la Comédie and

Montpellier train station.

Montpellier tourist office; UKFrancefr
---
Delightful Dinan

Brittany's medieval

Janine Marsh explores the wiggly, windy streets of one

of the prettiest towns in France...
---
The medieval town of Dinan in Cotes

d'Armor, Brittany, is like somewhere from

the imagination of the brothers Grimm with

its fairy tale pretty medieval streets guarded

by a castle and full of enchanting houses,

cobbled hills and pretty squares.

Surrounded by ramparts built between the

13th to 15th century, perched on a hill

above a gentle river with a pretty little port,

if you were to write a wish list for a fairy tale

town, Dinan would have it all.

Guide to Dinan

When I went in late spring, which is a great

time to go as you won't find it too crowded,

it was unusually overcast for the time of

year, but not cold. The clouds didn't matter,

this place is quite simply magical at any time

of the year. Quaint higgledy piggledy halftimbered

houses lean against one another,

they have been hugging for centuries, some

of them date back 700 years. Church bells

ring, birds sing in the trees and the town has

kept its medieval integrity by deliberately

limiting traffic lights and road signs so they

don't spoil the views.

When you visit Dinan, wear comfy shoes and

be prepared to walk or you'll miss the best of

it. Much of the town is pedestrianised which

makes it an absolute joy to wander. It's hilly

in places. Rue du Jerzual for instance, which

half-way down becomes rue du Petit Fort.

It's one of the most picturesque streets, and

the cobbles run from the top of the town to

the port along the river Rance. But, don't

worry about the steepness, there are plenty

of places to stop for a break, a meal and to

browse quaint artisan shops. The houses and

shops on this street have really wide

windowsills, The style dates back to the

middle ages. Then, people didn't go into

shops, they bought from the window and the

shopkeepers used the sill as a countertop.
---
Around halfway down this hill, by the Porte

de Jerzual (the ancient city gate), is a

staircase to the remaining ramparts. It's open

to the public and great for a view over the

street and town. Most of the 2.7km of

ramparts are now privately owned. The city

council sold them off many years ago and

locals built houses on and against the old

city walls and walkways.

The old chateau of Dinan is now an

interesting museum about the history of the

town.

Every other July (even number years) the

Fete des Ramparts takes place in Dinan and

for three days the town goes medieval mad.

Parties, shows, music, festivals and - if you

dress up in medieval costume you'll get free

entry to the shows. Visit when this event is

on and you might just feel like you stepped

into a time machine and got off in the 16th

century!

Get your bearings from on high. Climb to the

top of the 40m high Tour de l'Horloge to

enjoy spectacular views over Dinan and the

surrounding area. It's said that on a clear day

you can see as far as Mont-Saint Michel.

Head to the square of Place des Merciers to

see some of the most beautiful houses and

shops and take a break in rue de la

Cordonnerie. The locals call this street

"thirsty street" (rue de la soif) as there are so

many bars!

On Thursday mornings, Dinan's weekly

market is held on the place du Guesclin

There's been a market here since the 1300s

and today it's a vibrant, colourful event

where the wonderful smells of spices, fresh

fruit and street food vie for attention

alongside stalls selling blooming flowers,

pongy cheese and local products.
---
Head behind the Basilica of Saint-Sauveur (a

very short walk from the centre of town) for

the most remarkable views over the river.

Afterwards visit the church (12th-15th

century) to discover a legend. Saint-Sauveur

Basilica holds the heart of a French hero -

Bertrand du Guesclin. Born in Brittany about

1320, it's said he was so ugly his family

disowned him. He became a soldier and

when Dinan was besieged by the English in

the 100 Years War he defended the town

with his brother Olivier. An English soldier,

Sir Thomas Canterbury, kidnapped and

ransomed the unarmed Olivier when he took

a walk in the countryside and Du Guesclin

fought for the return of his brother. He won

and the English withdrew their forces.

He later became a Constable of France

(military leader) which some Bretons

considered a traitorous move because

Brittany was not part of France at the time

and they were often at war. Du Guesclin

requested that when he died he be buried in

Dinan. But his remains were taken to the

Basilica of St Denis in Paris where French

Royals were interred. though his heart, was

taken to Dinan. It's position is marked with a

gold heart.

In front of the Basilica is a square with a few

bars and restaurants, it's a quieter part of

Dinan, largely frequented by the locals as

visitors don't know it's here.

Boat trip on the river Rance

One of the prettiest places in Dinan is the

port area. Ancient stone houses, shops and

bars look onto the lofty Lanvalley-Dinan

Viaduct which was inaugurated in 1852.

Hop aboard the Jaman V boat to cruise the

river Rance. You can buy tickets at the

tourist office or the ticket kiosk when its

open – it's at a brown cube like hut, next to

les Terraces restaurant at the bottom of rue

du Petit Fort.
---
This hour long trip will take you under the

viaduct and down to the little town of

Léhon. An audio guide is available in English

and full of fun facts such as how donkeys

used to pull the barges along, but when one

wasn't available, the boatmen's wives would

have to do it! The riverbank is filled with

flowers and fauna, including an exotic

Japanese plant which looks like a giant

rhubarb. First planted in 1917 by a gardener

from Léhon, it has colonised the banks of

the river.

You can also take a boat to and from Saint

Malo to Dinan, or a dinner cruise.

Details: vedettesjamanv.com

Take a wander to neighbouring

Léhon

Walk to the peaceful little village of Léhon

along the riverbanks of the Rance from

Dinan which takes around 30 minutes.

Léhon is a classified "town of Character"

first settled by the Roman army 2000 years

ago. In fact it's much older than Dinan which

was only founded around 1000 years ago.

It's a very pretty little town and worth

visiting to see the 12th century castle

ruins – allegedly the oldest castle in Brittany,

and the Abbey Saint-Magloire. Legend has it

that Welsh monks arrived here in the 9th

century and, wanting to settle, asked the

King of Brittany for land. He required them

to bring him some relics to place in the

church they intended to build. In a

remarkably un-Christian display, they looted

the relics from monks on the island of Sark

and returned triumphant with their spoils to

claim the land.

The abbey architecture dates to the 11th

century onwards. Don't miss the little tower

by the river in which monks were allowed to

drink a glass of wine and smoke a pipe on

Sundays. Regular art exhibitions are hosted

here and there are pretty gardens.
---
Where to eat in Dinan

Just wander the cobbled streets, you'll find

plenty of choice. There are also lots of

restaurants along the river Rance, many with

terraces overlooking the Viaduct offering

great views.

Le Colibri: A smashing little bistro with a

lovely early 20th century vibe interior. The

food is sublime – seasonal, fresh and

innovative classics and the chefs work

closely with local producers. If you love

great food – go here.

La Fontaine du Jerzual, on arguably

Brittany's prettiest street, is a creperie,

brasserie and tea salon. Enjoy traditional

Breton crepes at this lovely restaurant that's

loved by the locals. It's in a beautiful

location, is comfy and stylish inside with a

big terrace area for sunny days. It's not

expensive, the staff are friendly and they do

a great Kir Breton!

Where to stay in Dinan

Maison Pavie B&B is truly special. Built in the

15th century. This listed building is simply

exquisite from its half-timbered, arcaded

exterior to its elegant interior with ancient

wood floors. There are lots of original

features but you'll find it has all mod cons:

big, luxurious bathrooms, sitting room

overlooking the square with its looming

Basilica. Owner Jérôme who is also a

marvellous cook (guests can dine here)

bought the building in 2010 and had it

renovated to a luxury level with interior

design good looks. The house is named after

a former owner, French diplomat and

explorer Auguste Pavie.

Useful websites

www.dinan-capfrehel.com

Brittany Tourism
---
Get off the usual tourist trail and take a

walk on the spooky side of the city of

light. Paris has plenty of eerie and some

frankly weird places to visit. Here's how

to take a spine- tingling tour of Paris

from an ancient burial site with the

bones of 6 million people to a haunted

manor house…
---
Catacombes de Paris

Head 20 metres underground to the extraordinary

Catacombes de Paris, home to the bones of some 6

million people. Stroll through a macabre maze of

dimly lit galleries and narrow passageways in the

largest ossuary in the world. In the late 18th century,

Louis XVI sanctioned the removal of bones from the

city's cemeteries which were so packed that they

were a health hazard. One of them, the cemetery of

the Holy Innocents had been in use for 10 centuries.

Bones were taken to the site, a former quarry and

stacked in the galleries. By 1809 the catacombs

were opened to the public for visits and now receive

more than half a million people a year.

catacombes.paris.fr/

Père-Lachaise Cemetery

You might not think this a fun place to visit but it is a

beautiful cemetery with walkways made for

strolling. Here you'll find the graves of celebrities

like Oscar Wilde, whose tomb is protected from fans

keen to kiss the stone which could cause damage,

Jim Morrison of The Doors (there have been several

claims of his ghost being seen) and Frederic Chopin

(though his heart is in a church in Warsaw). In the

centre of the cemetery is the impressive mausoleum

of Russian baroness Élisabeth Démidoff. According

to legend, after she died in 1818, the wealthy, if

slightly nutty aristocrat stated in her will that if

anyone could spend 366 days locked in her tomb

watching over her, they would inherit a fortune.

Food and water would be passed to them through a

grill and waste removed that way. Apparently many

people took up the challenge and no one succeeded.

Her tomb has now been sealed up…

Traces of a guillotine

In 1851 until 1899 a guillotine was placed on the

corner of Rue de la Croix-Faubin, near 166 bis Rue

de la roquette in front of the Prison Grand Roquette.

The dreaded machine was used to behead prisoners.

If you go there now, you might notice that in the

road are five slabs of stone embedded in the

tarmac – this is where the guillotine was installed…
---
Musée de la préfecture de police

Unlike the Crime Museum at Scotland yard in

London (AKA the Black Museum) the Paris

museum of crime is open to the public. In the

5th arrondissement, the Musée de la

Préfecture de Police, on the 3rd floor of the

police station retraces the history of

criminology from the 17th century to the

present. There are 2000 exhibits which reflect

a sorry tale of murder, swindles and scams

over the centuries. A collection of weapons,

photos, official paperwork, and even the peep

hole through which serial killer Dr. Petiot

watched his victims die in agony. People

who've visited this museum say it made them

shudder!

Musée des moulages de l'hôpital

Saint-Louis

Photo: Ella Crowley

The fact that children under the age of 12

can't enter the Musée des Moulages is a hint

that this unusual museum isn't like the others.

It's home to a unique collection of 4807

medical wax casts. Faces and body parts of

captured for eternity in wax clearly revealing

their afflictions. Warts, fungus and worse in

incredibly lifelike form. This as to be one of

the most stomach churning collections in the

world.

hopital-saintlouis

Le Manoir de Paris

If you like fun with your scare, you'll love this

walk-though haunted house near the Gare du

Nord train station in the 10th Arr.

Interactive shows with actors take you on a

journey through the house in search of a

victim… you'll meet the Man in the Iron Mask

and Quasimodo amongst others. At

Halloween, this is one of the most popular

places in Paris!

www.lemanoirdeparis.fr/
---
Janine marsh explores the Côtes d'Armor and

discovers a dramatically beautiful coastline of

legends, secret islands, beautiful beaches and

fabulous food...
---
Someone once said that the great rocks that

pepper the landscape of the pink granite

coast look as if giants have been stoning

their enemies. Monumental boulders, cleft

from the earth and shaped by the sea are

one of the most astonishing and memorable

features of this divine stretch of coast in the

Côtes d'Armor department, Brittany.

They are everywhere from the beach to the

cliff tops and even in residential gardens.

Often homes are simply built around the

rocks - not just because they're very heavy

and hard to move but also because they're

revered by the locals.

Thousands of years of being licked by the

sea, blasted by wind and rained on, have left

them shaped like animals or people and

many have names such as the witch, the

tortoise and the corkscrew. When you see

them for yourself, you can't fail to appreciate

the grandeur of these natural phenomena –

and make up some names of your own.

With hundreds of hamlets, seaside towns

and pretty villages it's hard to know where to

go. If you have plenty of time, you can follow

the GR34 coastal route which runs all the

way round the shoreline of Brittany. But if

you're restricted to a few days or weeks,

here are some of the most unmissable parts

of the Pink Granite Coast where you're likely

to fall in love with the ever changing sky, the

delicious cuisine, endless beaches, luscious

countryside, hotels of charm and character

(www.hotelscharmebretagne.com) magical

forests and friendly folk…
---
Ploumanac'h - Perros-Guirec

Perros-Guirec has some of the best rock

formations on the Pink Granite Coast. You'll

find blush pink rocks, waves crashing gently,

and a sleepy seaside village. From here you

have a wonderful view of the Sept Iles, the

seven islands, including one which looks like

it has a snowy cap but is in fact inhabited by

wild birds. It's gets very popular in the

summer months with pretty little restaurants

and bars. Don't miss a look at the saint on

the sand after whom the Bay of St Guirec is

named. He was an Irish monk who landed

here in the 6th century and you'll see that

his face is damaged. It used to be a custom

for Breton girls to visit him and stick a pin in

his nose which was apparently to help them

get a husband - eventually the poor saint

lost his nose. Climb out to Ploumanac'h

lighthouse for wonderful views over the sea

- though if you have mobility issues it

probably won't suit as the path is rocky and

uneven.
---
Don't miss: Head a few miles inland to visit

the Vallée des Saints. Many visitors miss this

but it's well worth seeking out. Huge granite

statues of saints are spread across a hilltop.

It's an ongoing project with the aim to have

1000 saints in total and you can watch the

carvers working on their sculptures. It's

massively impressive.

Where to stay:

Hotel Ti Al Lannec in Trebeuden, a tranquil

coastal town: Nothing beats staying in this

old granite mansion on top of a hill with a

private pathway down to the beach. It has

lovey sea views, elegant but cosy sitting

rooms, a fabulous spa area, pool with

stunning views, and a terrific restaurant. The

rooms are individually designed, it's

boutique but authentic and utterly charming.

The views from the rooms are to die for. The

staff are fabulous. This is old school glamour

but with a deft personal touch that's rare -

the staff know all the guests names, there so

much attention to detail here. It's a family

run hotel with the charming Isabelle her

sister Marie plus mum and dad, making you

feel really welcome, relaxed and utterly

spoiled.

There is nothing ordinary about this hotel,

it's one to fall in love with.

www.tiallannec.com

Paimpol and the Ile de Brehat

Pretty Paimpol was once a major departure

point for fishermen working in Icelandic

waters. Famous French writer Pierre Loti set

his novel Pêcheur d'Islande here but today

the former fishing port is all about leisure

and boats. There are plenty of restaurants

and bars but despite its growing popularity it

still feels tranquil and sleepy. Take the road

south from Paimpol to discover the Beauport

Abbey, romantic 13th century ruins set in

beautiful countryside where you can sit in an

orchard and simply enjoy the moment – or a

picnic.
---
From Paimpol you can take a 10 minute boat

ride to the Ile de Brehat, known as paradise

island for good reason. Actually a series of

islets set around two small car free islands

which at low tide are joined by an 18th

century built bridge. Take a 10 minute boat

ride from the Pointe de l'Arcouest to

discover pink rocks, mimosa, oleander,

myrtle and figs growing in the open – it

hardly rains here apparently! There are

pretty villas, a church and chapel and

restaurants joined by a labyrinth of paths.

Where to stay

Ker Moor Hotel in Saint-Quay-Portieux is

built around a 19th century house with an

astonishing onion-shaped domed roof, it's a

landmark in the area. Right on the GR34, it

has a private path down to the sea with

unique panoramic views over the Saint

Brieuc Bay in Paimpol.

From the hotel it's a short walk to a sandy

beach (there are five in the town) and there's

a popular free to use sea water pool on the

beach. There are also two ports - one of

which is northern Brittany's biggest deepwater

harbour.

The hotel rooms are light and sunny and the

people who work there are lovely – the sort

that make your holiday feel really special.

The hotel team know where all the best

restaurants are (ask them where to go for

oysters) and will make you feel very

welcomed.

Hotel Les Agapanthes in the small coastal

town of Ploubazanec is run by a Parisian

couple who gave up city life, unable to resist

the lure of the area where they took their

holidays. The little town has a charming port

and isn't remotely touristy. In nearby Pors-

Even you'll find a quaint little village with a

cute little seafood restaurant which serves

the freshest oysters and best moules frites

you're ever likely to taste.

Tourist Office: www.cotesdarmor.com
---
The bay of Saint-Brieuc and Cap

Frehel

The tides at Saint-Brieuc go out an

astonishing 7km, leaving the beach teeming

with shellfish. Not surprisingly restaurants

here are well known for their sea food,

especially coquilles Saint-Jacques, one of the

specialities of the bay. Port du Légué at the

entry of the bay is home to grand ship

owners houses. From here you can take a

boat ride, enjoy the view from the cliffs and

watch the wildlife, there are more than 112

species here at Brittany's biggest nature

reserve.

Cap Frehel, about 50 minutes' drive from

Saint Brieuc and just 30 minutes from Saint

Malo, is a wild, dramatic and unspoiled area.

Imposing cliffs offer stunning views over the

sea and it's no surprise to discover that

French visitors rate this one of the top places

to visit in Brittany. Covered in colourful

heathland, smothered in wildflowers and

fauna, Cap Frehel lighthouse is one of the

most powerful in France.

The 14th century Fort La Latte, also known

as the Chateau de Roche Goyon, is one of

Brittany's most famous castles. It's very

"Game of Thrones" – dramatically perched

on the edge of the cliffs with sheer drops. It's

a bit of a hike to get to it and the steps

leading into some of the viewing rooms

aren't good for those with mobility issues,

but the views are stunning. Some eagle-eyed

oldies may recognise the castle from the Film

The Vikings (1958) starring Kirk Douglas and

Tony Curtis.

Information: www.dinan-capfrehel.com;

www.hotelscharmebretagne.com
---
Where to stay:

Hotel Edgar in Saint Brieuc is in a former

ship captains house in the inner town of

Saint-Brieuc, about 4km from the sea. It's a

busy town with plenty of shops and some

fine old houses and streets. At 5, rue Fardel

you'll see the Hotel des Ducs de Bretagne,

where King James II of England hid after he

lost his throne to William of Orange in 1688.

and which makes a good base for exploring

the area. This boutique 25 room hotel is a

great base with a fabulous restaurant. I'd go

here for the amazing food alone.

Chef Sebastien David is from Le Bristol in

Paris and his divine menu will have guests

coming from miles around once word gets

out. The menu is regional with pride of place

going to local, fresh and seasonal products.

The verbena ice cream was genius, the best

ice cream I've ever had – and I've had a lot.

The rooms are big and roomy with luxurious

bathrooms. The hotel has undergone a room

by room renovation with Farrow and Ball

paints and stunning wallpaper by Arté of

Belgium but keeping its original charm and

bucket loads of comfort.
---
If you're not mad keen on skiing but you love the beauty of the snowy French alps

in winter, why not try something new says Lucy Pitts as she explores Les Arcs

I love the mountains and snow, but I'm not a

great skier. So, while I'm always delighted to

tag along on a ski holiday, there's only so

many pistes that my nerves and my knees

can take. I don't necessarily want to miss out

on the pine forests and beauty, but I'm

always on the lookout for something "off

piste" and a bit different. And in fact, this

year, I opted for an altogether different

experience, going all-inclusive at the new

Club Med Panorama in Arc 1600.

Club Med

The Club Med Panorama is almost brand

new having opened in December 2018 in

the Les Arcs Paradiski region. As you'd

expect, it's got pretty much everything you

could expect and beyond with snacks and

drinks waiting for you as you ski off the

piste, food and drink of every description

and an endless supply of jollity and

entertainment. And, of course, kids' ski

classes and a locker service that'll have your

kit ready to hit the slopes the moment you

arrive. If you're here with your family, they

really have got all bases covered!

Skiing into Spring

Spring skiing is a relatively new concept

which the region is trying to promote, and it

makes a lot of sense. Covering the period

from the end of March to the end of April,

there's still plenty of snow to be had with the

added advantage of much warmer days,

lighter evenings and less people on the

slopes. I was amazed that in early April, I

quite often had the slopes to myself which

makes it a great time for beginners or

families with young children to ski.
---
Balades a Raquettes

In my search for off piste adventure, I

headed into the forest to give snow shoeing

a try. Snow-shoeing is diverse, brilliant fun

and not as hard as you may think. You need

a good pair of boots (which you can hire

from Club Med) and a guide who will supply

you with snow-shoes and poles.

My first guide was Antoine who offers a

whole host of snow-shoeing and hiking

activities (www.baladesducolporteur.com), .

You can snow-shoe for as little as an hour or

for a whole week. There's a wonderful day

long snow-shoe hike which involves a

fondue lunch at an Alpine chalet. There's

also night snow-shoeing and an overnight

option to sleep in a log cabin in the

mountains.

Antoine's style is pretty relaxed. He clearly

knows these mountains and their heritage

well, and he'll soon have you snow-jumping,

and bouncing down steep descents which

you never thought you'd be capable of.

Although perhaps his most impressive feat is

producing a large and delicious cake from his

backpack along with hot tea at 2,000m!

With Mont Blanc in the distance, you can

walk in the Mont Blanc forest, in the

Beaufortain mountains opposite Les Arcs

and up the Petit St Bernard pass along the

French Italian border. Antoine caters for

varying levels of fitness and stops often – to

point out a bird, a particular tree or a

mountain. And nothing beats the fact that

you're high up and off the beaten track, in

amongst the pines, listening to the silence of

the snowy mountains.

My second guide, Marie was much more

spiritual (Facebook: Marie.Randos). A

botanist, Marie's style of snow shoeing

resembled Nordic walking as she taught us

to use our poles and ensure we got a full

body work out. Marie explained the energy

of the forest, the detail of the botany and we

stopped to practice Qigong, yoga and

meditation along the way. It was just as

enjoyable as snow-shoeing with Antoine but
---
La Passerelle

With its peak at over 3226m, the Aiguille

Rouge is the highest peak in the Paradiski

valley, and they've just installed a breathtaking

viewing platform, La Passerelle.

To get there, you just take the Varet cable

car from Arc 2000 – although check the

weather first because it's not always open.

At the top, you feel like you're stepping into

air as you enjoy 360-degree views across the

top of the mountains. But beware, it's cold at

the top – even if it's warm and sunny below!

Getting back to high octane

If you're not sure you want to spend a whole

week in the peaceful serenity of the

mountains on foot, don't despair:

Dog sledding

From December to April, you can go dog

sledding with a team of Alaskan Huskies,

including a discovery trip and night rides.

en.paradisled.com/

Tobogganing galore

And how does 3 km of toboggan track with

banked turns, alternating fast and sliding

sections sound? Impossibly hard for the

beginner (I seemed to do most of it

backwards), you do need a valid lift pass but

it makes an interesting change to skiing!

www.lesarcs-peiseyvallandry.ski

France-montagnes.com; UKFrancefr
---
And relax at the Nama Springs

Tucked away in Eden Arc 1800m, is the

Nama Springs spa, with a hammam, four

different saunas, a salt flotation pool and

two outdoor pools. On a cold day, be

warned that while swimming in the snow is

wonderful, you'll need nerves of steel to

strip off and dance through the ice to get in

and out of the pool.

Best lunch recommendation

Chalet de l'Arc (Arc 2000). The joy of Les

Arcs is that it's largely pedestrianised and

you can walk to this altitude restaurant

across the slopes. It's set in an original farm

building and oozes local charm. The portion

sizes are gigantean and the local speciality

"Le Chausson du Boulanger" (particularly Le

Savoyard one made with cabbage, sour

cream, Beaufort cheese and sausage) is a

must. Although, you will never fit into your

salopettes again!

By the time you feel ready to roll down the

mountain, it'll be time to head back to Club

Med for a 4-course dinner! But at least with

all the activities you've done, you feel like

you've earned it!

You can find out more about Les Arcs, visit

www.france-montagnes.com
---
in

Boulogne-sur-Mer

Boulogne-sur-Mer is where you'll

find a beautifully preserved old

town and the Basilica Notre Dame

which has the longest crypt in

France (dating back to Roman

times). Cobble stone streets,

ancient buildings, a chateau

museum, quirky shops and fab

restaurants – and don't miss the

UNESCO listed Belfry where you'll

see cannon balls fired on the town

by King Henry VIII.

Julius Caesar took off from here to

invade England in 55BC, Napoleon

mustered an Armada for the same

purpose centuries later, the

history of Boulogne-sur-Mer is

long and rich. There plenty to do

and see in the lively town and

close by. Janine Marsh explores

the secrets of the port city….
---
Historic centre

Looking like something out of a film set,

Boulogne-sur-Mer's Ville Haute, a perfectly

preserved medieval city, is a must-see.

Head to the tourist office to find out what's

on in town and climb the UNESCO listed

Belfry which dates back to the 12th century.

There are 183 steps going right to the top

from where there are stunning views over

the city. The tower contains a museum of

Celtic remains dating from the Roman

occupation of the City and cannon balls fired

on the city by Henry VIII when he laid siege

to the town in 1544. the inhabitants closed

the gate, Porte de Degrés and it stayed that

way until 1895! Now you can walk through

the gates, climb the stairs and stroll around

the ancient, boulevard-wide ramparts.

Guided tours are provided in both English

and French languages.

There are seventeen towers around the

ramparts and from Gayette tower, near the

Porte des Dunes, you'll spot a plaque

dedicated to Pilatre de Rozier, the first

person to fly a Montgolfier balloon over

Paris. In 1785 he attempted to cross the

Channel from the ramparts. It was not

successful; he is buried at Wimille a little way

around the coast.

Basilica Notre-Dame

The Basilica of Notre-Dame in the old town

is astonishing. Built on the site of other

churches dating to AD636, it doesn't matter

what your beliefs are, this place is unique,

unusual and utterly fascinating. Taking a

pinch from Rome's Pantheon, London's St

Paul's Cathedral and Les Invalides in Paris it

was designed by a priest with no

architectural experience – and it is

magnificent.
---
There is a brass hand in the church and

visitors are invited to place their hands over

it and pray for a miracle. Inside it is a sliver

of wood said to come from a statue of the

Virgin Mary which, legend claims, was

pushed ashore at Boulogne-sur-Mer by

Angels.

In 1477, Louis XI declared it a "true

Madonna", and the relic bought pilgrims and

Kings to the town. Alas the statue was

destroyed in the French Revolution, only the

slither remains. The walls of the church are

adorned with plaques sent by those who

prayed here and were granted their wish.

The crypt is astounding and enormous. In

fact it's one of the biggest in France at over

100m long and truly beautiful. Decorated in

Romanesque style, the walls are covered

with frescoes and there are precious relics

on display. Here Edward II of England

married Isabelle of France in 1308. Their son

Edward III later started the 100 years war.

Market

The Saturday morning market at Place

Dalton is buzzing and has plenty of stalls

selling local produce wicker baskets, tablecloths

and more. (Also held Wednesday

though not quite as big). Take a break in one

of the many cafés on the square.

If you love cheese, nip to Philippe Olivier's

famed fromagerie, just follow your nose as

this shop stocks all your smelly favourites!

Just down the road you'll find the former

home of Argentinian-born General José

Francisco de San Martín y Matorras. Better

known as José de San Martín, he liberated

Argentina (1816), Chile (1817) and Peru

(1812) from Spanish rule and is considered

the "Father of Argentina". He lived in this

house from 1848 until his death in 1850 and

it is today a museum and a place that

honours his memory. Read more about it

here…
---
Chateau Museum

The Chateau Comtal was built during the

medieval period but its foundations date

back to Roman times and it was

strengthened by Louis XIV's military

engineer the great Vauban. Napoleon III was

imprisoned here in 1840 and after WWI the

body of the British Unknown Soldier lay

here in state on the way to be buried in

Westminster Abbey. It is now home to a

museum displaying many artefacts that

include an Egyptian art collection. It's a little

dated but good for a rainy day visit and

there are some fascinating exhibitions.

Nausicaa

Nausicaa, the National Sea centre of France

is listed by UNESCO as a "Center of

Excellence". It opened a brand new state of

the art extension in spring 2018 which has

made it one of the largest aquariums in the

world, certainly the biggest in Europe – and

it is spectacular.

Giant tanks fill the new space and we mean

giant. The "Big Tank" holds 10,000m³ of

water – that's enough water to fill four

Olympic swimming pools. It is an awesome

sight. You can walk right up to it and come

face to face with shark, manta rays and

shoals of fish. Or you can sit and watch,

mesmerised, from benches in front of the

tank, it's strangely relaxing and hypnotic.

There are almost 60,000 creatures, 1,600

species, living in the huge underwater world

of Nausicaa, as well as a few above water

too including penguins. The oldest resident is

a sand tiger shark and the biggest resident is

the wonderfully intelligent sea lion Speedy. It

takes 7km of piping to move all the water

round, a massive 17,000 m³ in total.

You'll often spot divers in the tanks cleaning

the copious amount of glass with sharks, sea

lions and fish of all sorts swishing close by.

You get a real feel for what life is like under

the ocean.
---
Beach

Breezy for sure but the long sandy beach is

great for a breath of fresh air – in fact

Charles Dickens came here for the sea air

and stayed for three years, bringing his

family out to join him. He claimed it was his

"favourite watering hole in France".

It was once a very popular beach though less

so now and in the 1700s hordes of Britons

flocked to Boulogne to enjoy the sea air and

the laissez faire attitude of the locals. If the

tide is out, wander to the Napoleonic fort on

the beach at Le Portel and collect mussels

for your dinner as people have for centuries.

Climb Napoleon's column

Napoleon Bonaparte spent three years in

Boulogne planning an invasion of England.

He stayed in a mansion called the Imperial

Palace, now a university building, at the

Place Godefroy de Bouillon,

Napoleon built 2000 boats and was so sure

of success he had a victory column erected.

His ambitions didn't go to plan, but the

colonnade remains, topped by a statue of the

Emperor. You can climb the 296 stairs for a

fabulous view across the Channel with the

White Cliffs of Dover clearly visible on a fine

day. A short walk away, a stone marks the

spot where Napoleon issued the first Legion

d'Honneur, in fact 2000 of them, sat on a

throne, surrounded by 100,000 soldiers.

If you've no head for heights check out the

little museum at the base of the Column

which is full of fascinating documents,

medals and the original Napoleon statue

which was damaged by bombs in WWII.

La maison de la beuriere

Step back in time at an authentic ancient

mariner's cottage. Climb the steps up the rue

du Machicoulis, near Nausicaa, and you'll

find a fisherman's 19th century house

furnished, and with staff dressed in costume.
---
Eat out

Enjoy the local favourite, mussels and chips,

at any number of restaurants here, its

France's biggest fishing port so as you'd

expect – fish features high on the menu.

Rue de Lille with Place Godefroy Bouillon

(named after a local lord who departed from

the port of Boulogne in 1096 to lead the

first Crusade and was made King of

Jerusalem) at one end and the Basilica at the

other end, is lined with shops and

restaurants, some of which are open all day.

Wine & Dine: La Matelote. Father and son

chef team Tony and Stellio Lestienne (above)

cook the most classic dishes as well as

delicious and innovative food. The

restaurant has held a Michelin star for an

astonishing 40 years and is famous for its

seafood platters. It's also a lovely hotel with

great views over the harbour. www.lamatelote.com

Authentic and fishy: Le Chatillon. Rub

shoulders with fishermen, port workers and

sailors at the legendary and authentic Le

Chatillon. This quirky restaurant, decked out

to look like a ship with wood panelled walls,

ships lamps and sails on the ceiling is wellknown

to the French for its fishy melange

called "Parillada", mixed grilled fish and

seafood marinated in garlic and olive oil. The

bar opens at 04.00 and it's a firm favourite

with locals for the fresh and very tasty food

and great prices. Check the website for

details (the restaurant is closed Saturdays)

and book in advance if you can as this place

is very popular with locals. Find it in the

fishing district called Capécure. www.Le-

Chatillon.com

Locals love: Chez Jules, Place Dalton where

the market is held.

Aperitif hour...

The Vole Hole in rue de Lille is tiny but

perfect, housed in the oldest building in the

town, the little wine bar with friendly staff

has tables spilling onto the pavement

opposite the Basilica.
---
£49
---
Strolling

through the

Dordogne

Valley...

Amy McPherson goes

walkabout....
---
Perhaps all journeys through the Dordogne

Valley should start with stuffing yourself

with punnets of freshly picked strawberries.

At least, that's how I began my exploration

of the Dordogne Valley's beautiful villages…

I had arrived in Beaulieu-sur-Dordogne on

the day of the town's Fete de la Fraise, the

strawberry festival that celebrates, well,

strawberries.

Straddling the moss green waters of the

Dordogne, Beaulieu-sur-Dordogne turned

out to be the perfect introduction to what

was to come in the next few days, for I was

about to embark on a self-guided walk

through the Dordogne Valley with On Foot

Holidays.

A land shaped by a river

The Dordogne Valley, in the region of

Nouvelle-Aquitaine south western France,

just to the east of Bordeaux, is named after

the river that runs through it. Dotted with

storybook villages filled with history, I was

eager to discover every corner of the

limestone cliffs and ancient castles that I had

heard so much about.

To get acquainted with the river, I boarded a

traditional Gabare – a flat bottomed boat –

and found myself charmed by the river. The

captain proudly declared to be the "most

beautiful river in the world!"

Some might argue that beauty is in the eye

of the beholder, as the Dordogne lacks the

wildness of the Loire and the electric glacial

blue of the Rhone. It's certainly not

considered an 'exciting' river, yet there is a

certain calmness and serenity about the

gentle flow westwards towards the Atlantic

Ocean that draws you in.

Fuelled by strawberries and the comforting

knowledge that my luggage would be safely

transported to my accommodation for the

night, I set off on my journey.
---
The Dordogne flows 472km from Massif

Central to the Gironde estuary in a westward

direction, and has been part of a designated

Biosphere Reserve by UNESCO since 2012.

Being mostly navigable, the Dordogne is

known for the traditional trade boats called

Gabare, which transported wood one way

towards the coast to trade for salt, fish and

other coastal goods.

Beautiful villages galore

With only four days to discover the area, the

village of Autoire is where I began my walk,

instead of Beaulieu. My route would have

me pretty much following the curves of the

Dordogne, in and out of valley beds, up and

down the steep cliffs, through farmlands and

villages that may or may not register as a dot

on Google Maps.

My guide and driver dropped me off in the

medieval centre of Autoire before

disappearing with my luggage towards

Carennac. Just like Beaulieu-sur-Dordogne,

this is another village part of the Plus Beaux

Village de France collection, and is certainly

as pretty as a painting.

I followed the route map and soon found

myself in narrow valley tracks heading

towards a waterfall, before ascending a

steep rocky path up to Chateau des Anglais

(which has nothing to do with the English as

it turns out). It clings onto the cliff face like

an eagles nest.

Without being on foot, I would not have

discovered these locations let alone being

able to enjoy the vantage point the chateau

offers of the surrounding valley.

It was the most perfect of days, with

cloudless blue sky against the verdant hills,

clusters of villages below. At merely an hour

into my journey I was already smitten.

What appeals to me about self-guided

walking, is that I am able to be a little bit

independent. While the walking pack

provided the most updated maps and

directions, I enjoy the process of getting lost,

then finding my way again. The ability to

choose, when you feel like it, a longer or a

shorter path, can reveal different

experiences to the traveller.
---
"Deer, foxes, rabbits and even an

owl accompanied me...."

Given the option, I almost always chose the

wilder route. This took me on walks among

forests and meadows so I could be as close to

the wild as possible. I was alone, yes, but not

as alone as you would think. Nature was all

around me and the air rich in the scent of

acacias and roses. Bees buzzed, butterflies

fluttered. Buzzards circled above my head

and the forest echoed with the knocking of

woodpeckers. Deer, foxes, rabbits and even

an owl accompanied me along my walk.

Though some may worry about the concept

of 'self-guided' walks, there's nothing to fear.

At the beginning of my walk, I

conscientiously checked and over-checked

the directions and maps in case I took the

wrong turn. However, just a day into my

walk, I let go of the need to control and

simply followed the hiking tracks posted

along trees and telegraph posts. I only

checked my guide text occasionally to

confirm details.

There is something very special being able to

walk alone through storybook forests, cliff

top tracks and country paths lined with moss

covered stone walls. Passing in and out of

communes so quaint and quiet, the crunch of

my hiking boots on gravel seem to penetrate

every window of a sleepy village. Through

this journey along the route of the river, I

relished being completely immersed into such

a beautiful, rural part of France.

Having stayed in the cute La Petite Auberge

in Carennac, my tour took me to Floirac

before progressing into Meyronne to stay in

an old castle right on the bank of the river.

From here I was able to take a close look at

the river and the surrounding limestone cliffs.

What a sight.

My walk eventually ended at the impressive

village of Rocamadour, with its grand

Rocamadour (right) is on the pilgrimage

route 'Way of St James' is a place of religious

importance, it's believed miracles happen

here. The 216 steps leading to the medieval

complex of churches, chapels and courtyards

is hard on the knees but worth the effort...

Of all its history and stories, I found myself

most intrigued by the small chapel

dedicated to injured rugby players in this

area famous for its love of rugby.

At dinner on the balcony of my hotel,

watching the evening sun wash the cliff

golden red, I felt a sense of

accomplishment. There is much more to

discover in the Dordogne Valley, but in

slow and steady steps, I got to know it

intimately, and the experience was truly

soul lifting.

Amy McPherson was hosted by www.

onfootholidays.co.uk
---
Destination:

Mulhouse
---
Amazing Museums and an arty vibe, Janine

Marsh discovers the Alsatian city is

undergoing a metamorphosis…
---
Mulhouse in Alsace in the northeast of

France is a master of reinvention. It was

once a flourishing textile and manufacturing

town but globalisation of industry has

brought change - and for Mulhouse that

means change too. The city is undergoing a

metamorphosis - but with a nod to its

powerful past. It boasts world's biggest car

museum, an incredible train museum,

electricity museum and more.

Former factories are being converted into

restaurants and artists residences. Streets

are being adorned with street art. Pop up

shops with original clothes and accessories

you won't find anywhere else are making

their mark.

This city has a buzz about it, It's thriving

once more thanks to major support for its

artistic community – with the largest artists'

residence in France - and it's love for culture

and heritage…

Cité de l'Automobile

There are over 400 cars at the immense car

museum in Mulhouse. Car enthusiasts come

from around the world to see some of the

rare cars on display. When I went a Russian

visitor told me he'd come from Moscow to

see the cars and had spent three days there!

There are incredibly well preserved

masterpieces from cars of the 1870s to the

1970s mostly, though there are also some

awesome racing cars that are more modern.

Priceless Bugatti's take centre stage,

gleaming and sleek, they're as rare as hens

teeth.

Hire a classic car (I chose a Ferrari!) to drive

round the private track at the museum, take

the kids to enjoy a go kart track, games and

workshops. There's so much here, you can

spend an entire day at this one - and

probably a lot more!

www.citedelautomobile.com/
---
Cité du Train

The train museum of Mulhouse has the

biggest collection of trains in the world.

There are locomotives from the 1840's

through to the newer steam and diesel and

electric trains that are in use to this day.

The exhibits are interactive and impressive.

Take the petit train round the museum

which is monumental, ride on a diesel train

on the museum's private track and take a

train ride in the open air on a miniature

railway. Whatever your age, this museum is

huge fun.

www.citedutrain.com

EDF Electropolis Museum

A museum dedicated to electricity? Yes!

Electroplois is the biggest of its kind in

Europe and it's fascinating. There's a

working steam generator from 1901, and an

exhibition which covers early experiments

conducted from the 17th century up to

modern day. There's lots of vintage

machinery to admire too, Voss's electrostatic

machine, Edison's Dictaphone, and early

versions of TV's and fridges. There are also

lectures and workshops – invited to stand in

a cage and have my hair stand on end, who

could possibly resist!

www.musee-electropolis.fr

Parc Zoologique et Botanique

Founded in 1868 and covering over 20

hectares of the Tannenwald Forest,

Mulhouse zoo contains over 1000 animals of

more than 170 different species. The artic

area is home to the polar bears and artic

foxes, the large enclosures are home to the

Siberian tigers, snow leopards and meerkats.

The botanical gardens are heavenly and

calm, in the summer months over 400 types

of Iris flowers bloom beautifully alongside

exotic trees from Japan and America.

www.zoo-mulhouse.com
---
Tour du Belvedere

Not far from Mulhouse zoo is a sort of mini

Eiffel Tower known as the Belvedere Tower.

It's not for those who have a fear of heights

but the view from the top, at 350m above

sea level is outstanding. You can see as far

as Colmar and the Black Forest. There's also

a great park which is perfect for a wander

and a picnic.

Hotel de Ville

The former Town Hall in a medieval building

is covered in stunning trompe l'oeil

paintings, with images of justice, courage,

temperance, faith and charity. The eagle

eyed will spot a stone head hanging from a

chain, known as the klapperstein, which

weighed 12 kilos and would be hung from

the necks of gossipers and scandalmongers,

who would be made to wear it riding around

the city backwards on a donkey!

Ecomusée d'Alsace

In the town of Ungersheim, just North of

Mulhouse, you'll find one of Europe's largest

outdoor heritage museums. Over 100

hectares of countryside and village, with 70

historic houses from around the region that

were saved from demolition and rebuilt at

this attraction, brick by brick. Visit potters,

blacksmiths and wheelwrights workshops

and watch demonstrations depicting

medieval life in Alsace. Don't forget to look

up to admire the storks nests on the roofs.

Musée de l'Impression sur Étoffe

This museum is dedicated to the decorative

arts, fashion, local history and industry of the

textile business. There are some original

machines from the early years of

industrialised printing, including a Lefèvre

copper roller from 1809, and a whole range

of sewing machines.

There's also a display of wonderful printed

fabrics including some which were produced

to decorate the Hotel de Ville – a Christmas

speciality of Mulhouse.
---
Arty Mulhouse

Motoco is typical of the regeneration that's

turning this city into a major creative hub.

It's the biggest artists residence in the whole

of France with 140 artists, artisans and

creative companies sharing 80 rented

studios in a monumental former factory of

textile giant DMC. A range of arts are

practiced here from multimedia to dance,

performance, sculpting, painting and more.

Artists come from all over Europe to work

and collaborate. Though not open to the

public all the time, check with the tourist

office to discover Motoco's open days or

book a workshop with an artist.

www.motoco.fr

When a former tile factory closed in 1970,

the owner handed over the building to his

son to manage. Le Sechoir is in a former tile

factory which is now a vibrant exhibition

space and studios. It hosts more than a

dozen artists and holds regular exhibitions in

a huge open plan space. It's open on

weekends and free to enter and if you're

looking for something gorgeous and unique

as a memento of Mulhouse to take home,

you're sure to find it here. Check at the

tourist office for "open door days" when the

artists will be on site to present and chat

about their work.

www.lesechoir.fr

Shops

Art is everywhere in Mulhouse and there are

several shops which proactively support and

promote the work of resident artists. La

Vitrine Volante shop pops up in different

parts of the city at different times (check at

the tourist office for details). Le Bocal is

another outlet for artists which focuses on

homeware and showcases work by artists

from Motoco. You can also buy works of art

by Motoco's artists at the tourist office.

Le Bocal

La Vitrine Volante
---
Where to eat out in Mulhouse

Café NoMad is in a former foundry and ever

since it opened in 2018, it's been super

popular with the locals. The integrity of the

industrial origins of the building have been

kept, but its brick walls and industrial pipes

combined with funky and vintage artefacts

contrasts fabulously with stylish lighting.

You'll find a menu with great street food

style dishes - burgers, ribs and chicken

teriyaki etc. The popular cocktail list keeps

the bar stools permanently filled. Don't miss

the creamy, coconutty, zingy pineapple

based Colada'nanas. Full of locals, great for

families, friends and couples. Book in

advance online if you want to be sure of a

table.

Tilvist Coff'Tea Shop serves food like

maman makes at home. It's a funky shop and

neighbourhood café and social workplace.

Try the Bretzels Mulhouse style - the

flakiest pastry filled with ham and local

cheese, perfect with a tasty salad and freshly

made smoothie. Afterwards browse the shop

shelves filled with local speciality products

and artisan made goods from pottery and

glassware to greetings cards, ornaments,

textile art and gorgeous bags.

Café Mozart is a must when you're in town.

The locals love it as much for its location and

spectacular views over the city's main

square, Place de la Réunion, as its

sensational cakes and delicious seasonal

menu. Inside the café, Patisserie Jacques has

been making the locals happy for more than

eight decades and the family run business is

now run by third generation pastry chef

Michel Bannwarth. Open for breakfast and

lunch with a varied menu including delicious

quiches and pies. But of course the cakes

take centre stage with scrumptious and

irresistible classics.

Mulhouse Tourism

UKFrancefr
---
Spotlight on:

Le Havre

© Pixell Le Havre Tourist Office

Janine Marsh discovers a city rich in

architecture, history and art...

Le Havre was a hugely popular seaside

resort after the Paris to Le Havre railway line

opened in 1847, bringing Parisians to the

beach. But these days it's famous for its

huge port and for the extraordinary

architecture of its rebuilt city.

A purpose built city that was a

blueprint for modern life

Some people love the modernity of Le

Havre (I'm one of them) and some don't. But

you can't ignore it. It's one of the few 20th

century cities in the world to have received

UNESCO heritage listing – and it is

extraordinary. There's nowhere else quite

like it in France.

people, many of whom were sheltering in US

barracks. Belgium-born architect Auguste

Perret, a teacher of Le Corbusier, was

appointed to oversee the rebuild between

1946 and 1964. He was a man who simply

loved reinforced concrete.

For me, the layout and the concept of this

new city reflects some of the dreams of Le

Havre's creator King Francis 1, who

originally wanted to call it Francisopolis. He

worked with genius Leonardo da Vinci on an

urban planning project. Whilst not for Le

Havre, he longed to create an "ideal city" and

Da Vinci's notes show that he included

prefabricated houses, improved sanitation,

streets that were easy to traverse.

Le Havre was flattened at the end of the

Second World War. Around 80 per cent of it

had to be rebuilt rapidly to rehouse 80,000
---
In Le Havre, Perret delivered an ideal city

almost 500 years after Le Havre's creation in

1517. He built a city of concrete buildings,

using it in different ways and instructing the

project's 100 architects to use concrete as

their main medium. Many of the buildings

have a somewhat Soviet air but with a hint

of French flair – art deco sculpturing,

balconies and French windows.

The view from the 17-storey tower next to

the Hôtel de Ville shows a city with straight,

wide French boulevards, like Avenue Foch,

known as the Champs-Elysées of Le Havre,

but at 80m wide, it's 10m wider than the

Paris version.

Perret's Church of St Joseph, which from

the outside is rather utilitarian looking

despite it's rocket like spire which can be

seen for miles, is incredible inside. An

astonishing mosaic of 12000 tiny stained

glass windows in red, orange, gold and violet

give it a warm feel. Seating is organised in a

circle around the concrete altar. Perret died

in 1954 before it was completed, and though

a lifelong atheist, legend tells that he asked

to be baptised here and wanted to be buried

here (he was in fact buried in Paris according

to his wife's wishes). There are just two

statues inside, from the original church.

Over the years the city has continued to

develop and just a few of the unmissable

sites are:

Les Bains des Docks aquatic centre designed

by legendary architect Jean Nouvel, don't

miss a chance for a swim in one of its 12

pools when you go to Havre, it's strikingly

beautiful.
---
Cyril Plate art

Oscar Niemeyer's Volcanoes make you stop

in surprise. The locals call the big volcano, a

theatre, the yoghurt pot. You can see why

with it's pure white, sloping sides and flat

top. The recently renovated small volcano is

now the public library and it's just as

extraordinary inside as it is outside. Anyone

can go in – and should, to experience the

remarkable interior design, concrete of

course in keeping with Le Havre's

architectural theme. It's like being in a

spaceship with viewing windows carved into

the thick walls, space age seats in bright

colours, and a sweeping staircase. There are

regular exhibitions and a cool coffee shop.

This has to be one of the most remarkable

libraries in the world.

www.lehavre.fr/annuaire/bibliothequeosacar-niemeyer

Port of Le Havre

Having spent his childhood in Le Havre, the

artist Claude Monet was so moved by it that

he painted his most famous work, a view of

the port of Le Havre. Named Impression,

Rising Sun, it gave the Impressionist

movement its name.

The port today is the processing point for

more shipping containers than any other in

France. The city uses them in building – they

make funky students flats. And in art where

containers have been transformed into an

elegant, curvy sculpture by Vincent Ganivet,

at Southampton Wharf

You can take a port tour which is fascinating

navigation-normande.fr

Beach Life

The pebble beach in Le Havre is long and

extends round to Saint Adresse which has a

sandy beach. Here you'll find the "Hanging

Gardens" overlooking the Bay of the Seine

and the Chapel of Notre Dame des Flots,
---
uilt in 1859. Recently restored, it was

originally built for the fishermen to go and

pray for a safe voyage. Now full of memorial

plates, model ships and paintings and still in

use, its open through the week and the

views from its gardens are lovely.

Culture of Le Havre

There are several museums in the city and

culture vultures will find plenty to please

including:

MUMA: The Museum of Modern Art was the

first purpose built museum in France and it's

impressionist collection is second only to the

Musée d'Orsay. Monet, Renoir, Boudin and

Pissaro are all featured. Don't miss the café

overlooking the harbour for a break - and

the views.

Auguste Perret's show flat, furnished with

1950s flat-pack space-saving items is

genuinely surprising. It wouldn't look out of

place in a chic New York loft! He created a

show flat in 1949 to allow local people to

see what he was proposing with the

rebuilding of Le Havre – not all of them were

impressed by his modern rebuilding of their

city. This show flat homage, re-created in

2005, reveals just how visionary he was. The

space, 99m₂ exactly (as all the flats are) is

beautifully laid out.

One heater in each block provided enough

hot air to heat all the flats in the block

through a duct system. Folding and double

doors meant the apartment was bathed in

the special light of Le Havre throughout the

day but could create privacy. Bathrooms

were in each apartment at a time when many

homes still had outdoor loos and tin baths

hanging on a wall (even for decades after).

Perret's vision has had worldwide influence

and you can see it clearly in this wonderful

museum flat. (Details: www.lehavretourisme.

com)
---
Le Havre's thriving art scene

Le Havre has long attracted artists and many

of the artists working in the city today find

its architecture a huge inspiration. At the

Mascarade Gallery, former graphic designer

Masquerade creates vibrant and stunning

artworks using Chinese ink and acrylic to

create intricate pieces and pop art style

pieces heavily influenced by street art with a

Le Havre theme. They make a fabulous

colourful memento of your visit.

Pierre Lenoir Vaquero's unique art gallery

and shop is also a beer store. Vaquero, a

painter, photographer and sculptor takes Le

Havre as his theme and creates playful

pastel coloured paintings of iconic sites.

Inspired by concrete he also designs

sculptures and ornaments - his little

concrete hearts are the ideal souvenir.

La Cave a Bieres, 1, rue des Gobelins

often uses raw and recycled materials as his

inspiration for his paintings, drawing and

sculptures. Using a recycled street signs, he

created this artwork to commemorate the

500th anniversary of Le Havre.

Eat and drink

There's plenty of choice and an evergrowing

foodie scene, especially along the

sea front as Le Havre's ongoing programme

of updating is in progress.

Wine & dine: Les Enfants Sages has a lovely

menu, sort of Lyonnaise style with a twist. In

an old school masters house, where the

rooms are small dining rooms and there's a

pretty garden with tables on the terrace.

Relaxed, unpretentious and delicious. It's

really popular so book in advance if you can

(you can do it online through their website).

Cyril Plate paints, draws and sculpts. He
---
New and fab: The Architect is run by

Australian Damian Tither who visited Le

Havre for a holiday and "fell in love with the

architecture, the light and the ambiance".

The restaurant has a great vegetarian menu

plus a hint of Aussie cuisine "beer chicken,

pulled pork", plus food with an Asian

influence. From the terrace or 50's style

interior you get a ringside view of the ships

sailing by. Great for enjoying a pitcher of

beer, cocktails or wine (including Australian).

Locals love: Au Caid, next to the Tour Perret

is an institution. Opened in 1954, this listed

building is cosy and charming and a

favourite meeting place for the locals. It's

great for a drink, snack or the seasonal plat

du jour.

Beach vibe: Au Bout du Monde is the

perfect place to relax and watch the

amazing light of Le Havre with a drink.

Beach hut style, right on the sea front – the

place to go for a fun cocktail list and street

food style dishes.

Stay at:

Hotel Nomad, a striking building next to Le

Havre station and tram stop, easy walking

distance to the city centre. Its hi-tech rooms

have shower pods featuring mood lighting

and ecologically friendly including carpet

made from recycled fishing nets. Hot water

is from solar panels and there are rainwater

flush systems. This is the future of hotels.

Hotel Oscar, on the central square

overlooking the Volcano. Mid-19th century

chic rules here - think vintage posters and

Perret flat-pack furniture oscarhotel.fr

Useful info

Take a guided tour of the city. Book at the

tourist office (my guide Kamil was fabulous).

It's just 35 mins to Honfleur and 40 mins to

Etretat from Le Havre.
---
The

Best

tours of

France

2020

Travel like a local!

We've picked 10 fabulous tours in France where the

experience is built around the things YOU want to see

and do.

Small Group tours

Each and every private tour is different and they are all

typically for less than ten people.

Enjoy the trip of a lifetime...

Tour at your own pace

Unlike most tours that rush you around like herds of

sheep without time to relish the sights and wonderful

food and wines for which France is famous and you've

travelled so far to experience - these tours are

designed to ensure you fully savour your time in

France. Whether you're a lover of chateaux, culture,

gourmet cuisine, wonderful wines, gorgeous

countryside, the prettiest villages – these tours are full

of thrills and wonder.

French immersion course in

burgundy

A French immersion course is all about

learning the language but it is also about

getting to experience the culture, gastronomy,

the wonderful sites and scenery that make

learning so much more fun, interesting and

memorable. Stay in a 17th century chateau in

Burgundy while you learn & experience the

best of French food, wine and culture.

www.lapont.com

The real south of France Tours

Discover real southern France from

captivating Carcassonne to magical

Montpellier and the best of Provence.

Tours, including lavender field tours lasting

9 days in which you'll get to be a temporary

local and indulge in the best Occitanie and

Provence has to offer from gastronomy to

culture and then some. Tours for those who

love the authentic.

www.tripusafrance.com
---
private provence tours

Customized traveling to give you memories

to last a lifetime. Lavender tours, truffle,

grape harvest, and bespoke tours as well as

chauffeur services for day trips or a lot

longer. Emily Durand's Private Provence

tours are designed to make you feel like a

local – not a tourist.

yourprivateprovence.com

Gorgeous Gascony Tours

Nourish your soul and unleash your spirit of

adventure in Gascony. With tour guide Sue

Aran, you'll experience the famous food,

wine and Amagnac of the region. You'll

discover where to find the best antique

shops and flea markets, the most beautiful

villages and magnificent chateaux. From one

day to week long tours that are customised

for you.

www.frenchcountryadventures.com

Culture & cookery in Provence

Cooking classes with chefs in their homes

where you'll cook "authentic French dishes,

no frou frou" says tour guide Martine Bertin-

Peterson. You'll shop at the enchanting street

markets with chefs and dine at the most

scrumptious restaurants in beautiful towns of

Provence on this fully escorted trip of a

lifetime. There's also a Christmas in Alsace

tour for 2020.

www.goutetvoyage.com

Cottages & Classics Experience

Cottages and Classics offer a diverse range

of options for holidays from self-catering,

B&B mini breaks or B&B. The Cottages and

Classics Experience includes the use of a 4-

seater Morgan, perfect for touring the small

roads of Charente-Maritime and boulevards

of towns like Cognac, Angoulême and La

Rochelle.

cottagesand classics.com
---
Small group & private tours of

France

Ophorus Tours are a French family run

business who run tours all over France. From

fun and informative guided walking city tours

to very carefully crafted multi regional

packages, wine tasting, cycling and more.

Their aim is to show you France as they

believe it should be shown – authentic,

colorful and friendly.

www.ophorus.com

Cycling tours in the Tarn

Tours du Tarn are specialists in leisure and

road cycling holidays and they've discovered

the ideal location for the perfect cycling

holiday. Bordering the most beautiful areas

of the Tarn, the Aveyron and the Tarn et

Garonne regions the centre-based cycling

enterprise plan to put this 'un-pedalled' area

of south-west France on the cycling map.

www.tarncyclingholidays.com

Brilliant, luxury, ladies-only

tours of France

Tours of Paris, Provence, Bordeaux and

many more of the top and most fabulous

destinations are on the Girls Guide to Paris

list. These ladies only, small group tours are

truly special. Expect the extraordinary from

food and accommodation to visits and sites.

Host Doni Belau is well known for her

bespoke and unforgettable tours.

girlsguidetoparis.com

Wine & Gastronomy Tours

On these tours you're accompanied by your

very own private in-house chef, gourmet

dining catered to your personal taste. There

are visits to the most stunning areas of

France including the Loire Valley, Paris,

Normandy & Alsace. Enjoy the finest wines

too plus cookery lessons. Luxury & the best

of France with your charming hosts

Kimberley and Walter Eagleton.

www.artisticgourmetadventures.com
---
COLLIOURE

Lonna Coleman captures the ambiance of the colourful southern French town in

photos....

The French Mediterranean village of

Collioure is nothing short of enchanting.

Travel guru Rick Steves refers to it as

"paradise reclaimed" – it's hard to disagree.

Collioure is everything that describes an

idyllic postcard-perfect retreat from modern

stresses… cobblestone pedestrian streets,

colourful narrow houses that are centuries

old, a plethora of vine-covered dining patios

and bars, sandy (though sometimes rocky)

beaches with clear almost turquoise water,

quality wine made nearby from local grapes,

and a vibrant history dotted with the great

and the famous including Henri Matisse,

Pablo Picasso, and British author Patrick

O'Brian.

Add gorgeous summer sunrises over the

water and a pace of life that seems to be

from times gone by, and Collioure is worth a

detour from any South-of-France itinerary.
---
Lonna (Elle) Coleman is a

recently-retired banking

executive now focused on

her true passions - travel

photography, expressionist

acrylic painting, and writing.

Her photography and art

work are available at

https://www.etsy.com/

shop/ElleColemanPhotoArt

Lonna was in Collioure to

attend a writing workshop;

information at hwww.

karenkarbo.com
---
Collioure is easily reachable by

train. There is TGV service from

Paris Gare de Lyon to nearby

Perpignan, where visitors have

choiceof local train, rental car, or

taxi to reach the town.
---
YOUR PHOTOS

Every weekend, we invite you to share

your photos on Facebook - it's a great

way for everyone to see "real" France

and be inspired by real travellers

snapping pics as they go. Every week

there are utterly gorgeous photos being

shared and here we showcase the most

popular of each month. Share your

favourite photos with us on Facebook -

the most "liked" will appear in the next

issue of The Good Life France

Magazine...

june:

Summer in a photo...

A picnic in the

shadow of the

Château de l'Islette,

Azay le Rideau, Loire

Valley.

(2624 likes/shares/

comments)

Read about Azay-le-

Rideau and this little

known, romantic

chateau...

Photo: @vanestreney
---
july:

Sunflowers in

Gascony by Sue Aran

(4884 likes/

comments/shares)

August:

Driving though the country

lanes of Normandy by Dawne

Polis an American artist living in

the French countryside – her

work has been published in

several books and magazines

and is available through her

agent, McGawGraphics or

RedBubble.

(3522 likes/comments/shares)

Join us on Facebook

and like and share

your favourite photos

of France...
---
Banking in France

Why are cheques still so

useful in France?

Unlike the UK and many other European

countries, cheques continue to be a

favourite way to pay all kind of bills in

France.

Unlike the rest of Europe, the cheque

book – le chéquier – is an important method

of making payments in France. According to

research, French people use cheques more

than any other nation in Western Europe,

whether to pay for groceries at the

supermarket checkout or settle an invoice

from an artisan.

The history of cheques in France dates back

almost 200 years when the Banque de

France issued the country's very first

cheque, several decades after English

bankers began using cheques as an

alternative form of paper money. In 1865, a

change in the law created the cheque that

we know today. Legislation in the early part

of the 20th century made it an offence to

write a cheque without sufficient funds in

your account to cover it and this is still the

position today.

Why then do, cheques continue to be a

common method of paying bills in France in

2019?

There are several reasons: they are a

preferred form of payment for many

artisans, and some doctors only accept

cheques.

If you are planning a renovation project,

many businesses expect to receive a cheque

payment. It's simple, quicker and easier than

carrying around an electronic bank card

reader. The artisan will sign the invoice to

confirm receipt of payment.

Cheques are frequently used for larger

purchases too and you do not need a bank

card to guarantee a cheque, but you may

need id.

Writing cheques is a regular occurrence in

France because they are a practical and

guaranteed form of payment.

Bouncing a cheque in France is a serious

offence and it is illegal to write a French

bank cheque for an amount which exceeds

the balance of your bank account. Anyone

who does, may lose the right to write

cheques and will have limited access to

banking services for up to five years –

known as interdit bancaire. You should

always check your bank statement before

handing over a cheque to avoid potential

bank fees or worse…. As you would do if you

are using your card in a shop, online or at

cash machine.

Also avoid postdating cheques, because once

they have been issued they could be

presented immediately.

One final precautionary note! Even after a

payment made by cheque is credited to your

account, banks can recover the money from

your account if the cheque bounces for up to
---
Banking in France

Finally, when receiving a cheque, before

paying it in make sure that the beneficiary

has signed the reverse of the cheque and

preferably written their account number on

the reverse. This will avoid any delays upon

crediting the cheque to your account.

If you would like more information or wish

to apply for a CA Britline account, please

visit www.britline.com

How to Write a Cheque in France

The layout of a French bank cheque is

slightly different to a UK cheque.

Each cheque requires the following to be

legally valid: -

- The amount of the cheque (written in

words)

- The payee – individual or company – to

whom you are making the payment

- The amount of the cheque (written in

numbers)

- The location where the cheque is written,

for example. the village/town where you live

if written at home or the town where the

shop/business is located.

- The date

- Your signature

And of course this all has to be written in

French.

It's also important to know - if there is a

difference between the numbers and the

words written on the cheque, the bank will

take the written numbers as final.

Find more useful articles about banking in

France at www.thegoodlifefrance.com
---
TAKING YOUR

FIRST STEPS

IN FRANCE

Getting established in any new country

does take time. Here are some handy hints

to help you settle in France...

It may seem obvious, but for anyone moving

to France, first brush up or learn to speak

some French – it will make life easier and,

after all, it's only polite!

There's no getting away from it, France is

bureaucratic and there is always going to be

heaps of paperwork involved. So prepare a

file with all your key documents and

certificates – birth, marriage, divorce (if

applicable) and childrens' birth certificates,

wills, driving licences and even pet

passports. You're also going to need a

justicatif de domicile i.e. an electricity or

phone bill. Get the documents and

certificates translated into French by a

registered translator - French authorities

usually require a copy of the original and a

translation, and it makes it easier to have

everything ready.

Tie up loose ends in the UK – contact utility

companies, the tax office and bank to make

sure they know you are leaving the country.

Apart from tidying everything up, these

organisations might have useful advice to

offer.
---
Register in the social security

system

Once here, getting registered in the social

security system is important – do this as

soon as possible as it will provide access to

healthcare as well as employment, education

and various public services. If your French is

good, visit the French social security

services website ameli.fr or family welfare

services caf.fr. For information in English

the UK government website also provides an

overview.

Healthcare

Before leaving the UK obtain an S1 form

from the Department of Work and Pensions,

take this to the local French healthcare

authority (CPAM caisse primarie d'assurance

maladie) once you arrive.

Puma: Protection Universelle Maladie. A

universal system of healthcare was

introduced in January 2016 The Puma

system grants an automatic and continuous

right to health care in France to those who

are legally resident in the country, basically,

healthcare rights come automatically with

right of residency.

That right is not reliant on the user having

paid into the system. In practice, Puma

mostly refers to the system of access to

healthcare for those who have not built up

any rights through social security cotisations

via a salary or self-employed work. It

includes those who do not have an S1 form,

usually held by EU state pensioners.

This group consists mainly of early retirees

and state pensioners of non-EU states and

requires the applicant to obtain a carte de

séjour as proof of residency. There may be a

requirement to pay an annual fee, known as

cotisation subsidiaire maladie (colloquially a

"Puma cotisation"). You can fine more details

on the French Government website: https://

www.service-public.fr/particuliers/

vosdroits/F34308

You become eligible for French healthcare

after three months' residency or as soon as

you start work and pay social security

contributions. You then need to obtain a

Carte Vitale, your employer can probably

help you obtain this. Healthcare in France is

excellent but as the state covers only 60 –

70% of health costs you need top-up

insurance – a Mutuelle – to make sure you

are adequately covered. The Mutuelle

representative should be able to explain the

process and also help you obtain your Carte

Vitale.

Opening a French bank account quite easy.

You can do this before you arrive in France if

you prefer, and these days most banks have

an English speaking service to make things

easier. Take your paper- work and a letter (it

may need to be translated to French for

some banks) from your UK bank confirming

your financial situation to the bank you

choose as this will simplify procedures.

When it comes to your children Family

Allowance Allocation Familiale (AF) is paid by

the CAF (Caisse d'Allocations Familiale) from

the birth of a second (and any subsequent)

child until they reach the age of 18 – should

you only have two children payment ceases

as soon as the eldest reaches 18. The

Allocation Rentrée Scolaire is a one-off

payment each September to all children in

full-time education (excluding university) and

the amount varies according to age. These

benefits are only applicable if you work in

France and are contributing to the French

social security system.

Prepare a file with all of

your key documents

from the UK and get

certified French

translations done.
---
Should you choose state education, the

Mairie pays for primary (Primaire) education,

so you will almost certainly have to send

them to the local school. For Collège there is

greater choice, but generally you cannot

send children out of the département. Lycée

is a free, national choice. To enrol for

Primaire sign up at the Mairie, for Collège

and Lycée do this directly with the school.

There's no school uniform and no packed

lunches – children stay for a three course

meal or go home. You will be asked to

provide a leaving certificate – certificat de

radiation - from the child's previous school –

while this doesn't really apply coming from

the UK, obtain a letter from your child's

previous school before you move to avoid

any unnecessary delays. Of course if you

choose private or international schools you'll

have a completely free choice.

If you receive a pension from the UK, you

can either keep the status quo and have it

paid into your UK account and transfer as

needed or sent directly into a French

account – the choice is yours!

Once you become resident in France you will

be liable to pay French taxes in May each

year. To get into the system, go to your local

tax office (Centre des Impots) or Mairie, or

go online through www.impots. gouv.fr.

Even if you think you might fall below the

tax threshold level it is still your

responsibility to file your return on time and,

if you live or work in France for more than

182 days, you will be classed as a tax

resident from the day after your arrival, so

you will need to register.

Please note these details are correct as at time

of publication and may change when the UK

leaves the EU. Currently with just weeks to go

before that is due to happen, there are

insufficient details to give clarification on what

will change.

Thanks to Leggett Immobillier, the award

winning estate agency in France for this

article.
---
Why it is

essential to

talk to your

Financial

Adviser

I've been giving financial advice to English

speaking clients who live outside of their

home country now for the last 23 years (of

which the last 13 years in France) and they

certainly are a varied bunch of folks.

Some have settled into their new country

and new lifestyle very well, others not-sowell

and a few of these not-so-well people

have now returned back to their home

country.

Over the years I have looked in depth why

this was the case, and there was a constant

thread running through the settled ones.

They planned their finances (and then sat

back and enjoyed retirement). I'm talking

about people who have now retired to

another country (as opposed to moving

abroad for work) and are relying on their

pensions and investments to pay their bills,

as 95% of my clients tend to fit into this

category.

Understandably so, retiring to another

country is more often than not a decision

made purely on emotions. After a long

working life, there's a desire for less work,

for a new lifestyle and climate etc. But, to

make a success of retiring abroad, then facts

as well as emotions also have to enter into

this retirement equation.

Financial planning works best

when planned in advance

I equate financial planning to visiting the

dentist, you tend to visit the dentist for two

main reasons. Either you have a horrendous

toothache now, or you don't want a

horrendous toothache in the future. Those

who have planned in advance have visited

their dentist regularly and the dentist has put

a plan in place to look after their teeth and to

avoid future toothache. Those that don't

visit their dentist turn up at their dentist's

door with a swollen face and a horrendous

toothache and end up leaving with less

teeth.

Good regulated Financial Planning is

essential to avoid Financial toothache.

So how do you make sure your bills and

other expenses are paid for as tax-efficiently

as possible when you have retired in France?
---
Know what works best for you

If you have moved (or are thinking of

moving) to France from the UK, then you

need to know that France has a completely

different tax system and completely

different inheritance rules. So, to get the

right advice it is essential that you talk to an

International Financial Adviser who

understands the rules and regulations of

both the UK and France.

Some people living in France are happy to

keep their investments in UK deposit

accounts, which make little or no interest.

The low interest rates available rarely beat

the inflation rate, so in real terms their

investment is essentially moving backwards.

Some people living in France are happy to

keep their investments in UK ISA's and

Premium Bonds. Though these investments

were tax-free for them in the UK, now that

they're living in France with a French tax

regime, the capital gains made on these

investments are taxable at 30%! And, they're

declarable every year if withdrawn or not.

Making a decent return on your

investment

Low interest-rates mean that to make

noteworthy return you may need to take a

measured amount of risk within your risk

profile, whilst at the same time seeking to

remain as tax-efficient as possible.

French tax resident is worth your time.

For example, the UK pension freedom act

(2015) presents you with lots of options for

your pension retirement savings. You are no

longer forced to purchase an annuity at

historical low rates. In fact, UK annuities are

currently being looked at as some companies

may have potential irregularities.

Your International Financial Adviser can also

tell you about the best options available for

your UK Pension savings as a French tax

resident.

Paul Flintham is an

International Financial Adviser

with Beacon Global Wealth

Management in France

Email: enquiries @

bgwealthmanagement.net

Web: beaconglobalwealth.com

That's why speaking to your International

Financial Adviser about the options available

for your Savings and Investments as a

Beacon Global Wealth Management are

members of FEIFA (the) Federation of European

Independent Financial Advisers: https://feifa.

eu/

The information on this page is intended only as an introduction only and is not designed to offer

solutions or advice. Beacon Global Wealth Management can accept no responsibility whatsoever

for losses incurred by acting on the information on this page.

The financial advisers trading under Beacon Wealth Management are members of Nexus Global

(IFA Network). Nexus Global is a division within Blacktower Financial Management (International)

Limited (BFMI). All approved individual members of Nexus Global are Appointed Representatives of

BFMI. BFMI is licensed and regulated by the Gibraltar Financial Services Commission and bound by

their rules under licence number FSC00805B.
---
ALSATIAN KUGELHOPF

(SWEET COFFEE CAKE OR DESSERT)

INGREDIENTS:

½ cup raisins

¼ cup of rum

2/3 cup of milk

2 tablespoons sugar

1 ½ envelope of dried yeast

1 cup unsalted butter plus 2 tablespoons – room

temperature

½ teaspoon salt

6 eggs whisked together, in a small bowl

2-2/3 cups sifted flour

½ cup whole blanched almonds

Powdered sugar
---
DIRECTIONS:

Soak the raisins overnight in the rum.

Scald the milk (heat to a near boil), add the sugar,

stir well, and cool to lukewarm. Sprinkle the yeast

over the milk. Let it stand 15 minutes until the

yeast begins to bubble.

Meanwhile, in a small bowl, cream 1 cup of butter

with a wooden spoon until very soft; incorporate

the ½ teaspoon of salt.

Add the eggs and the yeast concoction to the flour

in a separate bowl. Mix well pulling the dough with

your hands to develop a good gluten structure and

to aerate the dough.

With your hands, blend the creamed butter into

the batter until well mixed. Add the raisins with

whatever rum is left, if any.

Let rise in a large bowl until 1 ½ times its original

volume. Punch down.

Butter a Bundt pan with the remaining butter,

sprinkle with the almonds, and fill with the batter.

Let the batter rise to within 1/3 inch of the top rim

of the cake mold and bake 25 to 30 minutes in a

preheated 375 F. degree oven.

Unmold immediately on a rack and cool. Sprinkle

with the powdered sugar through a sieve.

Serve as a dessert or as a coffee cake.

By Carole Bumpus author of

Searching for Family and Traditions

at the French Table. Part culinary

memoir and part travelogue, Carole

Bumpus gathered this compilation

of intimate interviews,

conversations, stories, and

traditional family recipes in the

kitchens of French families as she

travelled throughout France.
---
Leek and Potato Soup

INGREDIENTS

For 4 hungry people or 6 smaller

servings

3 medium potatoes (about 200g)

3 medium onions chopped finely

3 leeks sliced (some people just

use the white bit but if you use the

green it will give it more colour)

clove) finely chopped or pushed

through a garlic press

About a litre of chicken stock

Some butter to fry everything in

(about 50g)

Celery stalk (optional)

Cream (about 185ml optional)

3 cloves of garlic (or one big
---
Method

Melt the butter gently in a large saucepan

then add the chopped leeks, onion, garlic

and celery if you're using it.

Cover the pan and cook on a low heat for

about 15 minutes. You're aiming for the

vegetables to be nice and soft - but not

browned.

Add the chopped potatoes and the stock to

the pan. Bring to the boil and simmer for

about 20 minutes.

Let it cool a little.

Once you've got the soup pureed to the

level you like, now's the time to add cream if

you want to.

Dish the soup into bowls and swirl the cream

direct into the bowl. Throw a few chopped

herbs on top plus salt and pepper as liked.

Serve with croutons, hunks of baguette or

country style French bread and a glass of dry

white wine - perfect!

Keeps really well in the freezer if you don't

eat it all in one go!

Either push the mixture through a colander

to break the big pieces down or purée it in a

blender. A hand held blender in the pan

works well.
---
Here in the sticks, in the lovely Seven Valleys, rural northern France, autumn

and winter seasons are party time. The farmers have finished harvesting the

crops for the main part, the fields are ploughed and ready for the spring

planting. The cheese makers days are shorter as the goats and cows don't give

quite so much milk. Everything slows down to take account of the mornings not

being light until gone 8 o'clock and dark by 4 o'clock.

This leaves people with a bit more time on their hands than usual. And in the

Pas de Calais department, they love nothing better than a party. Each village

holds a party to celebrate the end of the harvest – but not all on the same night.

To make sure villagers can get together, the parties are held on weekends

throughout autumn. Then of course the Christmas parties start and the New

Year parties follow, after that we're into carnival season!

My village is one of the first to celebrate autumn with a "ducasse" an old French

word for party, and nothing to do with famous chef Alain Ducasse. I doubt he

would be impressed with the chip (fries) wagon that parks up in the car park of

the town hall ready to fry bucket loads of sliced potatoes to go with the charred

chicken that Monsieur Dieval, the local wood cutter, produces on a giant

barbecue.

This year our village of 142 swelled to three times that number for the party in a

tent which threatened to blow away in a raging wind. The Mayor's speech (it is

impossible to have a speech-less event in France if there is an official present)

welcomed villagers from far and wide. We all raised a glass to this village and

that. It was a long night, starting at 7pm and for those hardy enough, going on

until 7am. You need stamina to be a party animal in these parts - but as they say

here, no one looks back on their life and remembers the nights they had plenty

of sleep - and besides, being happy never goes out of style!