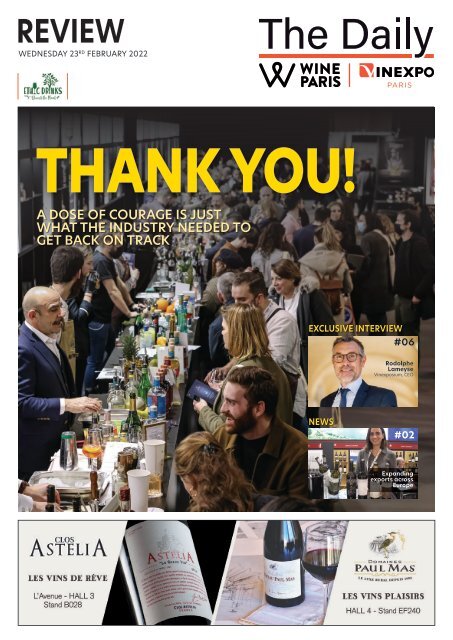 The Daily Wine Paris & Vinexpo Paris - Review
You also want an ePaper? Increase the reach of your titles
YUMPU automatically turns print PDFs into web optimized ePapers that Google loves.
REVIEW

WEDNESDAY 23 RD FEBRUARY 2022

THANK YOU!

A DOSE OF COURAGE IS JUST

WHAT THE INDUSTRY NEEDED TO

GET BACK ON TRACK

EXCLUSIVE INTERVIEW

#06

Rodolphe

Lameyse

Vinexposium, CEO

NEWS

#02

Expanding

exports across

Europe
---
I NEWS I

Expanding exports

across Europe

At Wine Paris & Vinexpo Paris 2022, the Portuguese

winery Coelheiros was in search of importers to take on

the wines made at its attractive estate.

A new expression of

Bordeaux from the bottom

of the Atlantic Ocean

Château Roquefort was shining the spotlight on its

new cuvée Les Roches Blanches - Cabernet Franc, at

Wine Paris & Vinexpo Paris 2022, with a new rosé to

complete its range.

Winemaker Frédéric Bellanger

said: "Our estate is unique in

Entre-deux-Mers, a region that's

been inhabited for over 5000

years. We have our hearts set on

expressing our roots – both lovely

and robust – as well as spreading

our wings to bring to life a new

expression of Bordeaux and to

highlight our superb terroirs in

harmony with humanity, nature,

the earth and the vineyards."

Their new cuvée, made from

Cabernet Franc grapes on

the south facing vineyards of

Castelviel, is geared towards

Hotel, Restaurant & Catering

(HRC) and offers a new expression

of Bordeaux wines. Its label is

decorated with a starfish, an

allusion to a perfectly preserved

fossil which was discovered in the

grounds of the 18 th century estate,

because 30 million years ago the

entire region was at the bottom

of the Atlantic Ocean. Like all of

Château Roquefort wines, the

new rosé is already certified HVE

3 (High Environmental Value –

Level 3) and the estate started

the transition to organic farming

two years ago. Its refreshing and

mineral taste comes from the

areas rich limestone soil and rich

geological heritage.

Frédéric took over the reins of

Château Roquefort in 1995 and

with the help of his wife Anne has

grown the vineyard which now

covers 240 hectares in terms of

both quality and quantity

Hailing from an area that can trace

its winemaking back centuries, the

Portuguese winery Herdade de

Coelheiros has a rich heritage -

but at Wine Paris & Vinexpo Paris

2022, the focus was very much on

the present.

With a selection of red and white

wines from its two key brands

- Coelheiros and Tapada de

Coelheiros - on display, Mariana

Tavares, the commercial director,

said she was looking to expand

exports to other parts Europe.

"We're trying to get some new

clients from countries that we don't

sell in yet," she said.

Currently, about 50% of the annual

production of 120,000 bottles is

sold within Portugal, with other key

export markets including China, the

US, Brazil and France. Around 70%

of the production is red wine and

the rest is white.

Production takes place at the

company's 800-hectare estate,

around 50 hectares of which is for

wine production. The vines are in

seven plots at an average altitude

of 300 metres and are being

converted to organic production.

The rest of the estate is involved

in a variety of other agricultural

production, including walnuts,

and includes a very large area

of cork forest, where sheep and

deer graze freely, reflecting the

importance given to biodiversity

and sustainability.

Coelheiros dates back to 1991,

a decade after the vines were

planted, but there is evidence that

wine production has taken place in

the region for centuries.

"It's a mosaic of different cultures

all embedded, and we have wine

tourism. People can come and

taste the wines and visit the estate

and see where they come from,"

said Mariana

The Daily is a CLEVERDIS Publication. 439 route de la Seds

13127 Vitrolles, France - Tel: + 33 442 77 46 00

SARL capitalised at €155,750 - VAT FR 95413604471 - RCS Marseille 413 604 471

info@cleverdis.com - www.cleverdis.com - www.vinexpodaily.com

• Publisher: Jean-François Pieri • Senior Account Manager: Benjamin Klene • Head of Editorial Team:

Emiliana Van Der Eng • Editorial team: Daniel Bardsley, Thomas Campbell, Luc Citrinot, Laura Sharman,

Reuben Tasker • Art Director: Hélène Beunat • Webmaster: Guillaume Vinrich. With the participation of:

Bettina Badon, Zineb Elhabiri, Veronika Verzhak.

>>>> To contact them: first name.last name@vinexpodaily.com

Photo Cover: © Philippe Labeguerie - Vinexposium

© CLEVERDIS 2022 - Registration of Copyright February 2022. Information presented in this publication is purely indicative

in order to illustrate subjects contained therein. No guarantee can be given as to the accuracy of data or content at time of

printing and thus the latter should not be used for professional or commercial ends. While all efforts have been made as to

accuracy and pertinence of content and data contained in this publication, CLEVERDIS may in no case be held responsible

for the consequences, whatever their nature may be, that may result from the interpretation of this data or content, or any

eventual errors therein. Any reproduction of the content of this publication, even partial, by any means whatsoever, is strictly

prohibited without the prior autorisation of the publisher. Any copy, whether by photography, photography film, magnetic

tape, disc or other means constitutes a forgery, liable to punishment under French law according to the legislation of 11 th

March 1957 covering copyright. All brands cited in this publication are registered trade marks and/or belong to companies

which are their respective proprietors. The publishers and editorial staff decline all responsibility as to opinions formulated

in this publication by those interviewed or cited therein. Their opinions are entirely their own, and are included with the

understanding that they contain, to our knowledge, no malicious intent. The inclusion of all texts, photographs and other

documents supplied by those included in this publication imply the acceptance by their authors of their free publication

therein. Documents and photographs will not be returned. It should be understood that this publication contains forwardlooking

statements that involve risks, uncertainties and assumptions. All statements other than statements of historical

fact are statements that could be deemed forward-looking statements. Risks, uncertainties and assumptions include

assumptions relating to the timing of the recorded date. If any of these risks or uncertainties materialises or any of these

assumptions proves incorrect, actual results could differ materially from the expectations outlined in these statements.

Cleverdis assumes no obligation and does not intend to update these forward-looking statements during the period of

publication. Photo Credits and Copyright: All Rights Reserved.

2 • THE DAILY • WEDNESDAY 23 RD FEBRUARY 2022 vinexposium-connect.com
---
I NEWS I

Quality wines from

Israel on show

Turning around underperforming

vineyards

Palacios Vinos de Finca has improved

yields and quality by selecting more

appropriate grape varieties

Golan Heights Winery, an

award-winning Israeli producer,

showcased its four brands at Wine

Paris & Vinexpo Paris 2022 as it

looked to consolidate its annual

€2m sales in Europe.

The company, said Sydney Knafou,

manager at Casimex Fine Foods,

Golan Heights Winery's French

importer and distributor, focuses

on increasing the quality of its

wines rather than upping annual

production, which is about 5.3m

bottles.

Much of the production remains

in Israel thanks to heavy demand,

but select high-end outlets, such

as Michelin-starred restaurants,

sell the company's wines.

"Their policy is more to reduce the

quantity of cheap wines and keep

the best wines," said Mr Knafou

Palacios Vinos de Finca, a Spanish producer,

showcased wines from all three of its brands -

Nivarius, Trus and Proelio - at Wine Paris & Vinexpo

Paris 2022.

Founded in 1999 by Javier

Palacios, whose background was

in the meat industry, the company

has often bought up what are

sometimes under-performing

vineyards and carried out a

detailed analysis of the soil and

other conditions to decide on

improvements.

Often this has meant selecting a

grape variety different to the one

the previous owner was growing,

which has helped the company

achieve better yields and quality.

Between the three brands,

production is about 1m bottles a

year, much of it from grapes grown

in La Rioja. Many vineyards are at

high altitude, which means they

are ideally located to cope with

the effects of climate change.

Around 40% of the production is

exported to markets including the

United States, Russia, the United

Kingdom, Switzerland, Brazil and

Japan.

"We work in about 40 countries

right now," said Borja Larroca,

the company's export director.

"Japan is taking a lot of white

wines. They're interested in wine,

they love it and they take it by

containers."

With production stable, the

company is focused on upgrading

facilities and opening wineries to

visitors.

"We want to introduce new

equipment that can allow us

to make better wine," said Mr

Larroca. "We want to invest in

tourism. We get calls on a weekly

basis from people who want to

visit the wineries. When someone

from the other side of the world

calls you and says, 'I want to know

about these guys,' that part of the

business is very important"

A Tuscan flair with Le Regge

Le Regge, a family-owned

Tuscan winery, was glad to

make contacts from many

parts of Europe at Wine Paris &

Vinexpo 2022.

"It has been one of the first

international fairs that started

again, so we saw many people

from all around," said Maristella

Bonafede, export sales

manager.

With seven hectares of

vineyards, Le Regge produces

about 70,000 bottles a year,

including Chianti Classico,

Toscana Rosso and Nymphaea.

"All of our production comes

from the property. The company

cares a lot about quality. We

are not Bio, but chemical use is

very low," added Maristella)

THE DAILY •WEDNESDAY 23 RD FEBRUARY 2022 • 3
---
I NEWS I

© Christophe Beauregard

Relaunching

international

markets: Wine

and spirits

industry shows

the way

The Relance Export Tour 2022 offers

wine and spirits makers the support

and tools to market their products

overseas.

The relaunch plan was presented during a live

press conference at Wine Paris & Vinexpo Paris

2022 by Franck Riester, French Minister Delegate

for Foreign Trade and Economic Attractiveness,

attached to the Minister for Europe and Foreign

Affairs, and Vinexposium CEO Rodolphe Lameyse.

Minister Riester said: "I'm pleased to meet you

here this afternoon for the Relance Export Tour

and would like to thank Rodolphe Lameyse and

his team for the success of this trade show despite

the many challenges. Once again, Paris and the

whole of France finds itself at the heart of the wine

and spirits industry with results for exports in 2021

that are beyond what we were expecting. In this

way, the wine and spirits industry is showing other

sectors the way when it comes to the international

market." He commended the country's wine and

spirits makers for their "quality" and "audacity"

after exports grew 27% in 2020 and 11% in 2021.

The government, he says, is working hard to make

the lives of French producers easier by promoting

the wine and spirits industry, cutting red tape

and reducing tariffs. He explained: "Thanks to

plans like Relance Export even small vineyards are

able to have a presence on international markets

with digital exposure of their products." Echoing

the minister's enthusiasm on the success of Wine

Paris & Vinexpo Paris, Mr Lameyse said: "This

trade show is the primary platform in France for

the export of wines and spirits. We have 2864

exhibitors and all of the country's wine regions

are represented. And we've put them face-to-face

with the same quality of buyers as in 2020"

From Picasso to climate

change, Bordeaux Wine

Week promises

to deliver

Vinexposium's two events, the Symposium and WOW! Meetings, will

shine a light on the industry's 10-year plan and drive business.

The Bordeaux Wine Week,

taking place between 16 and

26 June 2022, was presented

during a press conference at

Wine Paris & Vinexpo Paris

2022, attended by the Mayor

of Bordeaux Pierre Hurmic

and Vinexposium's CEO

Rodolphe Lameyse. Mayor

Hurmic applauded the

event, saying: "The specific

message that I would like to

get across, and which I have

been repeating since the

beginning of my mandate,

is that the city of Bordeaux

depends heavily on the

Bordeaux Wine Week to

highlight its wine industry

and put forward its organic

production efforts." In honour

of the Wine Week, the Cité du

Vin is hosting an exhibition of

works by the world-renowned

© Christophe Beauregard

painter Pablo Picasso titled

"Picasso, the effervescence

of shapes" from 1 April.

The Bordeaux Wine Week

has been divided into four

sections, starting with a

weekend dedicated to

Bordeaux's Grand Crus,

followed by the Symposium

"Act for Change" on the 20

and 21 June, where a number

of round-table conferences

will explore what the wine

industry will look like in

2030. Mr Lameyse stressed

this "collective endeavour"

will explore key topics over

the two days including the

desirable taste of future

wines, climate change and

new modes of distribution.

He said: "Our industry is

undergoing radical change

because of the distance it

has had to cover in terms

of digitalisation, the direct

impact of climate change,

forces of globalisation and

because it is sometimes

taken hostage in geopolitical

conflicts." The debates

will be followed by two

days of business meetings

dedicated to certified

wines, dubbed the WOW!

Meetings, involving between

200 and 250 producers and

merchants. Unlike at Wine

Paris & Vinexpo Paris 2022,

these business meetings will

be scheduled in advanced.

Last but not least, the wine

week will close with the

Bordeaux Wine Festival,

with entertainment taking

place along the banks of La

Garonne

4 • THE DAILY • WEDNESDAY 23 RD FEBRUARY 2022 vinexposium-connect.com
---
I VINEXPO TALK I

A consortium

that is attracting

plaudits

Dating back just five years, the Pinot Grigio delle

Venezie DOC Consortium is already having a positive

impact - and it had a strong presence at Wine Paris

& Vinexpo Paris 2022.

The Pinot Grigio delle Venezie

DOC Consortium, founded in 2017,

has strengthened the presence of

this grape variety in international

markets, a trend reinforced by

Wine Paris & Vinexpo Paris 2022.

Indeed, 96% of production

belonging to the DOC is sold in

international markets, key ones

of which include Germany, the

United States and the United

Kingdom.

"We created the Consortium

in 2017, to ensure the quality of

the production, guaranteeing

the origin and stricter analytical

analysis. It's in order to ensure the

values are good for everybody,

for every part of the production

chain," said Nazareno Vicenzi,

representative of the DOC, at

Wine Paris & Vinexpo Paris 2022.

Wineries producing wines from

the DOC were out in force at

the show, among them Allegrini,

Piera, Seiterre and Villa Sandi.

Others present included Astoria,

Botter, GIV, Moltelvini, Pasqua

and La Marca.

When it was created in 2017, the

Pino Grigio delle Venezie DOC

Consortium replaced an existing

Typical Geographical Indication

(IGT).

Each wine has to pass through

the tasting commissions of

professional oenologists and its

identity is guaranteed thanks

to a government seal. Scents

and flavours vary, but the easydrinking

characteristics and

freshness are common to all.

Thanks to the creation of the

DOC, there has been a reduction

in yields per hectare to guarantee

quality.

The DOC covers three wines

- Pinot Grigio Frizzante, Pinot

Grigio Spumante and Bianco -

produced from 27,000 hectares

of Pinot Grigio vineyards in the

Trentino autonomous province

and the regions of Veneto and

Friuli Venezia Giulia.

A grape variety grown widely

around the world, Pinot Grigio is

found in Italy in a diverse range

of terroirs stretching from the

Dolomites and Lake Garda to

the lagoon of Venice, where the

winemaking tradition stretches

back 2,500 years

Villa Sandi - A winery

that focuses on quality

A third-generation winery where

the fourth generation is actively

involved, Villa Sandi produces

wines including Pinot Grigio

Veneto DOC 2020.

"It's quite a new DOC in the

production," said Consuelo

Donetto, export manager, Western

Europe, Middle East and Africa.

"We have a couple of wines

in our portfolio being part

of this consortium, which is

already appreciated worldwide.

It's particularly favoured by

markets that are sensitive to an

appellation."

Exporting to 18 countries, Villa

Sandi is opening up new markets,

including in South America, on

the back of 40% export growth

last year, much of it driven by

the popularity of the winery's

Prosecco

Exciting times ahead

after a very good year

Botter, the Italian winery,

exports 90% of its production,

and Luca Botter, the founder's

grandson, was glad to be at

Wine Paris & Vinexpo Paris

2022 at an exciting time for the

company.

Last year it merged with another

winery and also has venture

capital involvement, with Luca

remaining as a shareholder.

Founded in 1928, it produces

100 million bottles a year,

much going to the US, UK and

Germany.

"We had a very good year last

year," said Luca.

Within Botter's very extensive

range, the organic Pinot

Grigio Delle Venezie DOC,

characterised by its straw

yellow colour and large and

fresh bouquet with apple notes,

caught particular interest during

the show

THE DAILY •WEDNESDAY 23 RD FEBRUARY 2022 • 5
---
I EXCLUSIVE INTERVIEW I

© Philippe Labeguerie

© Philippe Labeguerie

© Philippe Labeguerie

© Philippe Labeguerie

6 • THE DAILY • WEDNESDAY 23 RD FEBRUARY 2022 vinexposium-connect.com
---
I EXCLUSIVE INTERVIEW I

© Philippe Labeguerie

Rodolphe Lameyse

Vinexposium CEO

A bottle of courage is

what made Wine Paris & Vinexpo

Paris 2022 a show to remember

Vinexposium's CEO Rodolphe Lameyse looks back at the wine and spirits

industry's first face-to-face meeting since the start of the pandemic

The show's resounding success in terms of both quantity

and quality is also a promising sign for Vinexposium's

future events in 2022.

Congratulations on delivering

Wine Paris & Vinexpo Paris 2022.

How does it feel?

The fact that we managed to

pull this off given the context is

exceptional when you think about

it. And the reason we managed

to deliver Wine Paris & Vinexpo

Paris 2022 is because everybody

was mobilised - the workers,

exhibitors and visitors. I think we

have demonstrated here that the

old adage, nothing is impossible,

holds true. Because the event not

only succeeded in terms of numbers,

but also in terms of quality.

What were some of the challenges

you faced?

I'm almost tempted to say that

getting people to come to a wine

trade show is not the most difficult

thing. But attracting good buyers,

that is much harder, and I think

those who came to Wine Paris &

Vinexpo Paris 2022 were really

looking for our products. That's

what motivated them to come all

the way across the world, from

Europe, the United States, Mexico,

Brazil and many other destinations.

It must not have been easy to pull

this off given the context. What

was the secret to success?

I think we were courageous - very

courageous, to keep Wine Paris

& Vinexpo Paris 2022 in February,

which is a key date in the calendar

for the wine and spirits industry,

because it is the best time of year

for them to do business. So I would

like to first congratulate my teams

who I think have been very brave

and resilient. But also our exhibitors

who have shown great courage

and willingness to accompany us

at a moment when everything was

against us. I think people came here

with a heavy foot, because they

weren't sure what to expect, but

once they arrived and experienced

the show, they were very happy.

What was the feedback you

received from the floor?

What's really interesting, is that

for the first time since I started

organising trade shows, I don't

want to say this show was good

because of this or that. You know, in

the run up to the show, I spoke a lot

about the event in order to reassure

people that it was really going to

happen. But I think now, the best

spokesperson for the show and

its success are the exhibitors and

buyers, and let me tell you, I haven't

heard a single negative review. They

are sometimes nuanced depending

on what the person was looking for,

but never negative. I think everyone

is saying to themselves, it was great

to see everyone face-to-face, we

are back in business and we've

finally managed to turn the tide on

this crisis. That's the atmosphere

which I experienced over the past

few days.

So what's next in 2022?

Well, first I think we're going to take

a well deserved break. But not for

long, because we will be heading

to the United States in three weeks

for the next edition of Vinexpo

America & Drinks America. The

format is a little different, because

we invite buyers and importers from

the United States and Canada - so

they are on home turf so to speak.

THE BEST

SPOKESPERSON FOR

THE SHOW AND ITS

SUCCESS ARE THE

EXHIBITORS AND

BUYERS

But a large contingent of french

businesses will also be travelling

to the United States to put forward

their products. Of course, we

will also be hosting events at the

Bordeaux Wine Week in June as

well as in new markets like India at

the end of August. You can get more

information about our upcoming

events online or on our app

Vinexposium Connect. Otherwise, I

hope to see you next year for Wine

Paris & Vinexpo Paris 2023, which

will be taking place between 13 and

15 February.

Do you have a specific message

for everyone who came to Wine

Paris & Vinexpo Paris 2022?

Thank you for trusting us

THE DAILY •WEDNESDAY 23 RD FEBRUARY 2022 • 7
---
I TRADE TALK I

Sebastian Braun

Wine Director, Oenoforos,

Carovin and Vini Buoni.

Managing Director, Vintedge

Filling the gaps in

Sweden's wine range

Sebastian Braun is wine director for four companies

- Oenoforos, Carovin, Vintedge and Vini Buoni -

that import wines into Sweden and sell them to the

alcohol retail monopoly, Systembolaget Aktiebolag,

which Sebastian used to work for as a buyer. Some

of the four companies have additional activities,

with Oenoforos, for example, buying wine in bulk

and having its own private brands, with some

production exported. We asked Sebastian about

his work and what were his key objectives at Wine

Paris & Vinexpo Paris 2022.

Mr Maas said: "It's great to be

back at Wine Paris & Vinexpo

Paris 2022 - seeing your

international friends for the first

time in three years. My last trade

show was in 2019 so its a real

'rendez-vous'. Obviously we're

really focused on French wines,

but the international sections

are really interesting as well, so

we are also seeing some of our

Italian and Portuguese partners

as well.

Yesterday at the inauguration

ceremony, the French Minister of

Agriculture and Food referred to

2021 as a 'black year'. What was

your experience?

It wasn't at all for us, because

we were able to adapt to the

market. We operate across

several channels, so it was easy

for us to switch between them.

We also invested directly in the

market to gain market share and

secure our position which then

helped us attract new partners

and grow accordingly.

Have there been any broader

repercussions on the market?

In terms of wine and harvests,

2021 was more challenging

because prices are increasing.

We mainly operated in the

Dutch market which is a very

price sensitive market, so the

question is whether consumers

in 2022 will accept this increase.

Last year when we spent five

months in lockdown, we lost a

lot of turnover in Horeca - the

food services industry including

hotels, restaurants and cafés,

which was quite challenging, so

this year it remains to be seen

whether these venues will stay

open for 12 months. Therefore,

this year is going to be very

interesting for us I would say.

When you say you've invested in

different channels, can you be

more specific?

We've seen a significant increase

in alcohol free, so we acquired a

company specialized in alcohol

free wines in 2019. That's a

growth market for us and we've

been growing double digits in

that segment. Just before Covid,

we also set up a dedicated

team for e-commerce, which is a

completely different ball game.

Importing wines is generally

about making exclusivity

agreements with geographical

areas within countries, but with

e-commerce and big players

like vino.com that has several

translated urls, there are no

boundaries. That requires you

to adapt and have discussions

with your suppliers and clients.

We rather embrace it rather than

fight it. Because every challenge

is an opportunity

THE SWEDISH

MARKET

Sweden, a country of 10.3 million

people, many affluent by international

standards, is an attractive market for

overseas wine producers.

While there are hundreds of registered

wine importers selling to the monopoly,

most of the market is accounted for by

the top 20 or so importers.

Among alcoholic beverages, wine and

spirits are in second place behind only

beer, with wine imports valued at about

€790 million in 2020, a figure that is

more than 10% higher than that of just

two years earlier.

The country's wine consumers are

increasingly focused on premium wines,

and - aside from the significant and

ever-growing focus on sustainability -

wines with lower alcohol content are

also increasingly popular.

Despite its chilly climate, Sweden is a

wine producer, with about 100 to 150

hectares of vineyards, most of them in

the south of the country. Typical wine

producers in Sweden are small, with

between one and 10 hectares each.

With winters tending to be milder than

they once were, and summers warmer,

conditions are becoming more suitable

for domestic wine production

8 • THE DAILY • WEDNESDAY 23 RD FEBRUARY 2022 vinexposium-connect.com
---
SEEN @

First time at the show for Austrian

glassmaker Sophienwald

Sophienwald, an Austrian

glassmaker that was exhibiting at

Wine Paris & Vinexpo Paris 2022

for the first time, found the event

to be a great forum for developing

new contacts.

"We have worked very well," said

Manni Schwarz, the company's

sales and marketing director. "We

have had a good international

public. It's our first time exhibiting

here, and we're very happy, and

will be back next time for sure."

"We have been to Vinexpo Hong

Kong and we like the organisation,

which is very good. The people are

different here."

Schwarz, whose company sells

mostly to restaurants, said he

had had useful meetings with

representatives from Belgium, the

Netherlands and Italy, among

other countries.

Sophienwald was founded in 2014

and produces mouth-blown wine

glasses, with total production

running at 150,000 glasses per

year. "Our processes

and methods are

very traditional. We

produce in wooden

moulds like people

did 100 years ago.

It takes four people

to produce around

300 glasses a day,"

Schwarz explained

Maintaining Chile's profile

at Wine Paris & Vinexpo Paris

The pandemic made it harder for

producers from Chile to travel to

Wine Paris & Vinexpo 2022, but

many wines from the South American

country nonetheless created a buzz,

thanks to the Wines of Chile and

ProChile booth. There were no fewer

than 22 wines from 11 producers on

show, and a masterclass was held

on Chilean Carménère

wines.

"The trade visitors have

been very interested in

our wines. They wanted

to discover things and to

speak to our team at the

stand, and we have made

many new key contacts

from across Europe," said

Camille Peron, international business

consultant for ProChile France.

"We wanted to be present as a

country. It was important to show

our presence and commitment here."

According to Anita Jackson, UK

director of Wines of Chile, the

"quality of visitors was very good"

at Wine Paris & Vinexpo Paris 2022.

"It was an overwhelming relief to

be here, and people thoroughly

enjoyed being at a trade fair. It was

a very worthwhile show to come to,"

she said, adding that the country

hoped to be able to return to having

a larger presence at future editions

of Wine Paris & Vinexpo Paris

THE DAILY •WEDNESDAY 23 RD FEBRUARY 2022 • 9
---
SEEN @

The Domaine De La Racauderie:

"International buyers are back"

The Domaine De La Racauderie in

the Loire Valley has been attending

Wine Paris & Vinexpo Paris and its

predecessors for the past six years.

Asked about this year's edition,

winemaker Jean-Michel Gauthier

said: "It's been great seeing

people again, because with Covid

we didn't know where we were

going." Mr Gauthier, who produces

both still and sparkling wines from

Chenin grapes, was looking to build

on his current relationships and

make new ones overseas. As he

explains: "On day one we took the

time to see our existing clients who

we hadn't seen in a long time. Then

on day two we met with potential

clients from Romania, the United

Stated, Germany and Russia, who

were all looking for wines coming

from the Loire Valley." Of course the

real business will happen behind

closed doors, he says, but the past

few days have been promising and

Mr Gauthier will be returning next

year. He said: "It's been a pleasure

to see international

buyers coming back.

It's a very nice trade

show and we will

definitely coming

back"

Great contacts from Scandinavia

and South America

Great contacts from

Scandinavia and South America.

After the gap in trade shows caused

by the pandemic, Dimitris Markou, the

export manager of Cavino Winery &

Distillery, was "really happy" to be at

Wine Paris & Vinexpo Paris 2022.

"It seemed that after two years, people

wanted to visit the clients,

they wanted to visit their

suppliers and to find new

opportunities," he said.

Founded in 1958 in

Aigio by Konstantinos

Anastasiou and Ioannis

Douskas, Cavino remains

a family-run winery

and distillery and is the

biggest wine exporter

in Greece, with a 17% share of

international sales. The company

produces 5 million bottles a year

and exports to 52 countries, with

main markets being Germany, the

Netherlands, Belgium, Russia and the

United States.

Dimitris was particularly glad to

make contacts with representatives

from Scandinavia and South America

during the show, both regions to

which the company hopes to increase

exports.

This was especially helpful, he said,

as getting to see South American

clients in particular is difficult.

"We will be really happy and really

pleased to come again next year. Our

strategic planning is to visit every

year," he said

10 • THE DAILY • WEDNESDAY 23 RD FEBRUARY 2022 vinexposium-connect.com
---
SEEN @

Five vineyards who banded

together to make some noise

Hidden Terroir is a collaboration

between five winemakers who

have pulled their resources to

attend Wine Paris & Vinexpo Paris

for the first time this year.

The collective, made up of four

vineyards from the Rhône Valley

and one from Bergerac, was the

brainchild of sommelière and

former buyer Aubrey Terrazas

and digital designer Claire

Deville. Ms Terrazas explains:

"The domains are all driven by a

passion for making good quality

at an affordable price. In that

sense, you could say that they over

deliver." The group is made up of

small domaines ranging from six

to 20 hectares vines, including the

Domaine De Mas Caron, Laurens,

Lionel Brenier, Eyguestre and the

Clos De Noël. Asked about their

experience at Wine Paris & Vinexpo

Paris 2022 Ms Terrazas said: "I

think meeting face-to-face is really

important because we're talking

about wine. Organising a digital

tasting with international buyers

is very complicated, because you

have to send samples to people

who are in different countries and

not all free at the same time"

A secret recipe in high demand

at Wine Paris & Vinexpo Paris

Sales have boomed since Jennie

Kergoat-Ruelland started selling

bottles of So Jennie Paris at La Grande

Épicerie de Paris 10 years ago.

Today, her alcohol free bubbles are

served to all passengers flying in

business and first class with Qatar

Airways, and in many more countries.

She came up with the idea of a nonalcoholic

wine while

organising a wedding

in Abu Dhabi where

the guests had little

choice but to drink fruit

juices. The bubbles

are produced by Les

Jardins de L'Orbrie in the

commune of Bressuire

using a "secrete recipe"

without any alcohol. Mrs

Kergoat-Ruelland said: "We were

here to meet future international

importers, but also mingle with French

winemakers. I thought Wine Paris &

Vinexpo Paris 2022 was beautifully

done. It it was a very classy affair -

you walk in and there are so many

beautiful bottles everywhere.

Yesterday was a fantastic day for us,

we had lots of clients come by the

stand from Korea and Canada. I will

definitely be back next year"

THE DAILY •WEDNESDAY 23 RD FEBRUARY 2022 • 11
---
12 • THE DAILY • WEDNESDAY 23 RD FEBRUARY 2022 vinexposium-connect.com