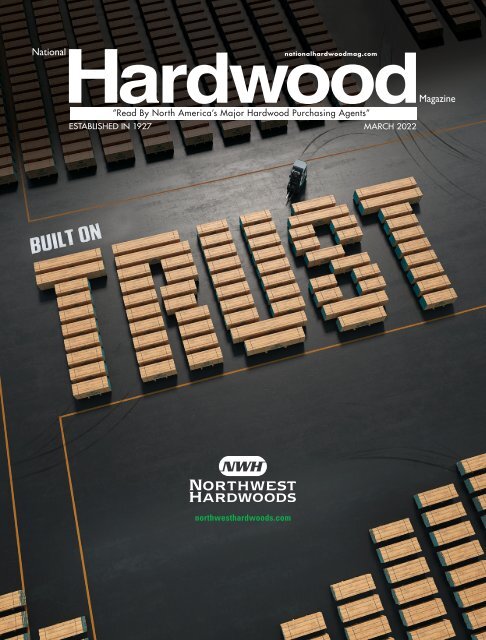 National Hardwood Magazine - March 2022
The latest issue of National Hardwood Magazine features stories on Elipticon Wood Products, The Beasley Group, an update on the economy and much more.
The latest issue of National Hardwood Magazine features stories on Elipticon Wood Products, The Beasley Group, an update on the economy and much more.
SHOW MORE
SHOW LESS
You also want an ePaper? Increase the reach of your titles
YUMPU automatically turns print PDFs into web optimized ePapers that Google loves.
northwesthardwoods.com

MARCH 2022 n NATIONAL HARDWOOD MAGAZINE 1
---
A customized solution:

MIXED

LOADS

We can easily combine a wide

range of items on a single order

to suit your specific needs.

OUR PRODUCTS:

NORTHERN AND NORTH

APPALACHIAN LUMBER

Producer | Large Inventory | Thick Stock | Imported Wood

2 MARCH 2022 n NATIONAL HARDWOOD MAGAZINE

primewood.com
---
northwesthardwoods.com

About The Cover

TRUST

BEST-IN-CLASS TO EARN

AND KEEP YOUR TRUST

Contents

National Hardwood Magazine MARCH 2022 Volume 96 No. 2

The past couple of years have been

challenging for manufacturers and

distributors alike. You've faced short supply,

you've had trouble mixing loads and getting

them on time, it's been a true rollercoaster

ride. In times like these customers want candor, clarity and fullscale

capabilities to run their businesses today and plan for the

future. That's exactly what we deliver.

NWH is the nation's largest hardwoods manufacturer and offers

customers a host of advantages to match our size. We offer a wide

range of species delivered in mixed loads; proprietary and standard

grades; on-time delivery; and unsurpassed customer support – all

best-in-class to earn and keep your trust.

We're here to help you compete.

Northwest Hardwoods

www.northwesthardwoods.com

Features & Industry Events

22

24

26

Elipticon Wood Products: Sowing

Success Through Long-Standing

Values

The Beasley Group –

Three Generations Deep: Committed

To Quality, Sustainability And Vertical

Integration

Tundra Lodge Welcomes LSLA To

Winter Meeting

28

30

The Economy: Harbingers Of Real

Strength Exist, But So Do Harbingers

Of Risks

Appalachian Lumbermen Sponsor

Forestry Programs

Founded in 1927 by: O.L. Miller – 1894-1963

Publisher: Paul J. Miller – 1963-2010

• Forest Products Export Directory • Imported Wood Purchasing Guide

• Import/Export Wood Purchasing News • Hardwood Purchasing Handbook

• Green Books's Hardwood Marketing Directory

• Green Books's Softwood Marketing Directory

• The Softwood Forest Products Buyer

Paul J. Miller Jr. – President

Terry Miller – Vice President

Zach Miller – Sales

Sue Putnam – Editor

Matthew Fite – Staff Writer

Tonya Thompson – Who's Who Coordinator

Rachael Stokes – Graphic Artist

Pamela McFarland – Graphic Artist

Tammy Daugherty – Production Manager

Jennifer Trentman – Green Book Market Sales

Lisa Carpenter – Circulation Manager

Lexi Hardin – Subscription & List Services

Departments 22

10 Hardwood Calendar

12 U.S.A. Trends

14 Canadian Trends

16 News Developments

18 HMA Update

20 NHLA News

40 In Memoriam

52 Who's Who

54 Trade Talk

62 Classified Profit

Opportunities

64 Advertisers Index

ADVERTISING OFFICES:

5175 Elmore Rd., Suite 23, Memphis, TN 38134

901-372-8280 FAX: 901-373-6180

Reach us via the Internet at: www.nationalhardwoodmag.com

E-mail addresses:

ADVERTISING: tammy@millerwoodtradepub.com

EDITORIAL: editor@millerwoodtradepub.com

SUBSCRIPTIONS: circ@millerwoodtradepub.com

EDITORIAL CORRESPONDENTS:

Chicago, Los Angeles, High Point, Grand Rapids, Portland, Toronto

Controlled circulation postage paid at Memphis, TN

(USPS #917-760)

The NATIONAL HARDWOOD MAGAZINE (ISSN 0194-0910) is published

monthly, except for two issues in December, for $55.00 per year and

$65.00 (U.S. dollars) per year for Canada by National Hardwood Magazine, Inc.,

5175 Elmore Rd., Suite 23, Memphis, TN 38134. Periodicals Postage paid at

Memphis, TN, and at additional mailing offices.

POSTMASTER: Send address changes to National Hardwood Magazine,

P.O. Box 34908, Memphis, TN 38184.

Publications mail agreement No. 40739074.

Return undeliverable Canadian addresses to:

P.O. Box 503, RPO W. Beaver Cre., Rich-Hill, ON L4B 4R6.

The publisher reserves the right to accept or reject editorial

content and Ads at the staff's discretion.

2 MARCH 2022 n NATIONAL HARDWOOD MAGAZINE MARCH 2022 n NATIONAL HARDWOOD MAGAZINE 3
---
EXPO

Richmond

Richmond Raceway Complex

600 Laburnum Ave | Richmond, VA

Laser Accuracy • Measures Actual Length • Measures Wane • No Special Lighting • No Length Marks

5

90

Billion BF Scanned

Systems Sold

FRIDAY &

SATURDAY

20

MAY 2022

21

Registration

opens Feb. 1

The VisionTally Difference

JOIN US FOR THE

38th EAST COAST

SAWMILL & LOGGING

EXPOSITION

Take in the East Coast's largest array of sawmill,

pallet, logging, biomass and related machinery,

supplies and services.

4 MARCH 2022 n NATIONAL HARDWOOD MAGAZINE

300+ indoor & outdoor exhibits

See machinery in action, watch the Log

Loader Contest, and attend our valuable

pre-expo workshops.

6,000+ attendees each year

One entry fee for two days of admission

brings in lots of serious buyers looking for

solutions.

GET YOUR EXHIBITOR

PACKET & RESERVE YOUR

SPOT TODAY!

EXPORichmond.com

staff@exporichmond.com | (804) 737-5625

• Standard, High-Speed, and Even-End models

• Includes BundleQuery, our full-featured

searching and reporting software.

• Print out customized bundle tags

• Integrates with inventory software,

weigh scales, PLCs, and more

Contact us for more information or to schedule a demonstration

www.VisionTally.com • sales@visiontally.com • (215) 393-5300

Sawmill MD • Mike Ballard (850) 974-1195 • SawmillMD@mindspring.com
---
Targeting Buyers Around the Globe!

Forest Products Export Directory

"...the Most Comprehensive Buyer's Guide for

the International Buyer..."

Published in Fall 2022

90% Renewal Rate in the 46th

Forest Products Export Directory

SII

Abenaki Timber Corporation

Allegheny Veneer LLC

Allegheny Wood Products, Inc.

Ally Global Logistics LLC

American Lumber Co.

Anderson-Tully Lumber Co.

Atlanta Hardwood Corporation

Baillie Lumber Co.

Broadleaf Lumber Co.

Cardin Forest Products, LLC

Clark Lumber Co., Inc.

Cole Hardwood, Inc.

Crown Hardwood Co., Inc.

Cummings Lumber Co., Inc.

Deer Park Lumber International

Devereaux Sawmill, Inc.

East Ohio Lumber Co.

HHP, Inc.

Harold White Lumber Co.

Hanafee Bros. Sawmill Co., Inc.

Hermitage Hardwood Lumber

Sales, Inc.

J.D. Irving Limited

Kamps Hardwoods, Inc.

King City / Northway

Forwarding Ltd.

Lawrence Lumber Company, Inc.

Legacy Wood Products LLC

Matson Lumber Company

McClain Forest Products LLC

Midwest Hardwood Company

MO PAC Lumber Company

NELMA (Northeastern Lumber

Manufacturers Assoc.)

Northern Appalachian Logging

& Forestry LLC

Northwest Hardwoods, Inc.

Nyle Dry Kilns

Parton Lumber Co., Inc.

Penn-Sylvan International, Inc.

Prime Lumber Company

Primewood

Ralph Taylor Lumber Co., Inc.

Ram Forest Products, Inc.

Ron Jones Hardwood Sales, Inc.

Rossi Group

Salamanca Lumber Company, Inc.

SFPA (Southern Forest Products Assoc.)

SPF Precut Lumber

Sisler Lumber Co., Inc.

Snowbelt Hardwoods, Inc.

Softwood Export Council

Somerset Wood Products, Inc.

TMX Shipping Company, Inc.

Taner Timber Co., Inc.

Two Rivers Timber

Company, Inc.

Vexco, Inc.

Wagner Lumber Company

Wheeland Lumber Co., Inc.

WOODBOX

Call now to reserve your space in the 47th Edition!

800-844-1280

Full Page Rate: $2,950 Half Page Rate: $2,500 Color Additional

6 MARCH 2022 n forestproductsexport.com NATIONAL HARDWOOD MAGAZINE • exd@millerwoodtradepub.com

MARCH 2022 n NATIONAL HARDWOOD MAGAZINE 7
---
BE PART OF

BUILDING

SOMETHING

BIG

Where We've Been

It's no secret, the hardwood industry has been losing market share to

products that look like wood, but have none of the natural benefits or

authentic attributes of Real American Hardwood. In order to recapture

market share and improve industry stability, hardwood organizations

united to form the Real American Hardwood Coalition.

Where We Are

The goal is to develop a national consumer promotion campaign on a

scale that's never been seen before. And a lot has been accomplished

in a short period of time—including the completion of an extensive

consumer research initiative, establishing brand guidelines, registering

trademarks, and launching social media profiles.

Where We're Going, Together

The next steps will have the largest impact on the industry and require

buy-in from all industry stakeholders. The Coalition is preparing to

launch a comprehensive promotion campaign—including a consumeroriented

website, in-store promotion at top big box stores, a broad

media relations campaign, social media influencer partnerships, print

and web advertising, and much more.

How You Can Get Involved

Moving the campaign forward and expanding its reach will take the

support of the entire industry—for the benefit of the entire industry.

■ Make a voluntary contribution to help fund the consumer

promotion campaign.

■ Use the Real American Hardwood logo on your sales and

marketing communications, facilities and vehicles, products,

and website.

■ Follow @RealAmericanHardwood on Instagram and Facebook,

and tag #RealAmericanHardwood in your social media posts.

Contact us today for competitive rates and - Unparalleled service since 1977!

Lloyd Lovett - llovett@kingcityusa.com

Peter Lovett - plovett@kingcitynorthway.com

Visit RealAmericanHardwood.org to learn more and get on board.

8 MARCH 2022 n NATIONAL HARDWOOD MAGAZINE MARCH 2022 n NATIONAL HARDWOOD MAGAZINE 9
---
HARDWOOD CALENDAR

INDUSTRIES

CONTROLS

March

Appalachian Hardwood Manufacturers Inc.,

Annual Meeting, The Diplomat Beach Resort,

Hollywood, FL. www.appalachianhardwood.

org. March 3-6.

Appalachian Lumbermen's Club, The Hotel

Roanoke, Roanoke, VA. www.lumberclub.org.

March 8.

Hardwood Manufacturers Association,

National Conference & Expo, Sandestin Golf

& Beach Resort, Miramar Beach, FL.

www.hmamembers.org. March 23-25.

Kentucky Forest Industries Association,

Annual Meeting, Embassy Suites, Lexington, KY.

www.kfia.org. March 29-31.

April

National Wood Flooring Association, Expo,

Tampa Convention Center, Tampa, FL.

www.nwfaexpo.org. April 12-14.

Appalachian Lumbermen's Club, Meeting, Avista

Resort, North Myrtle Beach, SC.

www.lumberclub.org. April 28-May 1. n

CLEEREMAN LUMBER COMPANY 1930's CLEEREMAN INDUSTRIES 1955 CLEEREMAN CONTROLS 2019

CLEEREMAN

TODAY

For optimal efficiency. . .

knows what a sawmill needs:

Now, TWO ENTITIES TO SERVE YOU BETTER!

Quality. Consistency.

The best that money can buy.

We specialize and manufacture Northern Appalachian kiln dried hardwoods such as

Walnut, Red Oak, White Oak, Cherry, Ash, Hard and Soft Maple. Call us today!

CLEEREMAN The most trusted name in carriages

n Over 1200 Carriages sold

n Lowest cost of ownership

n All parts in stock and reasonably priced

n In-house engineering department

n Everything from single piece equipment to

turn-key mills

CLEEREMAN the newest name in sawmill controls and optimization

n Simple easy to use touch

n 3D data used for

screen with additional

opening the log and

tactile buttons

estimating the back of

n Remote access for

log profile

troubleshooting

n Realistic views of the log

n No custom electrical

n Sure Grip Joystick

hardware, all parts are

handles

off-the-shelf components

n Operational statistics and

n Industry Standard

reports

JoeScan X6 heads

n Over 65 systems sold

570-836-1133 | Fax: 570-836-8982

3042 SR 6E Tunkhannock, PA 18657

www.deerparklumberinc.com

STEFAN

STEFAN

DRACOBLY

DRACOBLY

President

President

Of

Of

Controls

Controls

PAUL

PAUL

CLEEREMAN

CLEEREMAN

VP

VP

Cleereman

Cleereman

Industries

Industries

& Controls

Controls

DAN

DAN

TOOKE

TOOKE

Senior

Senior

Optimization

Optimization

&

Controls

Controls

Engineer

Engineer

Cleereman Industries

and Cleereman Controls

715-674-2700

www.cleereman.com

info@cleereman.com

10 MARCH 2022 n NATIONAL HARDWOOD MAGAZINE

Sales

Sales

MARCH 2022 n NATIONAL HARDWOOD MAGAZINE 11
---
U.S.A. TRENDS

Supplier news about

sales, labor, prices, trends,

expansions and inventories

LAKE STATES

NORTHEAST

SOUTHEAST

WEST COAST

Lumber sales in the Lakes States region was reported

by sources as strong recently.

"I would say the market is very good," said the owner of

a Wisconsin sawmill. "All of the customers I've talked to

say their business is booming. The market backed up a

little in November, especially with the exports, but for us

business kept moving along well."

Red and White Oak, Hard and Soft Maple and Basswood

(4/4 thickness, uppers) were moving well at the

time of this writing while Cherry had slowed down. The

company sells to distribution yards and end users.

The tight workforce continues pressing companies. "It

doesn't matter who I talk to, labor is the issue," he stated.

"If they had more people, they could do more."

The lumber operation is getting by but could use more

workers. "It's a fight," he declared. "We have some good

employees. We just have to shuffle them around once in

awhile to cover all aspects of the operation."

Meanwhile, transportation hasn't been a headache for

a Michigan green sawmill that markets industrial Hardwood

to concentration yards and end users.

Business remains similar to six months ago, the company's

representative said, but movement is better because

Basswood and Aspen are up. "With those two

oddball species and Maple actually up, it certainly helps

everything," he commented. The company sells lumber

in 4/4 thickness in different grades to a variety of customers,

including the RV and flooring markets.

As supply still isn't meeting demand, prices have remained

high. "People are still paying for it, trying to find

as much lumber as they can," he reported. "Maple has

been crazy. It seems like every week it goes up again.

Our customers are busy. There is still demand out there

for everything, Red Oak through the Maples, Basswood

and Aspen."

Low grade lumber has also been highly sought after.

2022 brought welcomed business to Northeast lumber

operations.

In Vermont, demand varies, according to a sawmill operations

manager.

"The market for some species is very strong, while for

others species, it's been just okay," he observed. The

company offers Red Oak, Hard and Soft Maple, Birch,

Ash and smaller quantities of White Oak in thicknesses

of 4/4-8/4. Customers include wholesalers and distribution

yards.

"We are all kind of watching the Oaks, which have been

steady," he stated. "Hard and Soft Maple are strong. Ash

is doing fine, along with Yellow Birch."

Compared to the past summer, sales remained similar.

"There's just a lot of Red Oak that's been generated," he

said.

The region's Hard Maple market was up considerably

until late December. "Hard Maple logs had been

very competitive to get," he noted. "There was just not

as many out there as we would like to think there could

be." The lumber supplier sells FAS and Better, as well as

pallet grades.

Transportation has been a wild card, he added. "It's

worse for us," he related. "Because we are in the Northeast,

there are factors beyond the containers and not as

many trucks available."

As weather remains a key factor, the region's transportation

availability typically does not improve during the

winter. Because of the weather-caused delays, some

truck lines avoid the Northeast during winter if possible,

he explained.

In New York, a yard representative commented, "The

market and demand are good. We are selling all of our

lumber."

The lumberman characterized business as about the

same as six months ago. "Our customers' businesses

Supply and demand, as well as trucking issues, daunt

Southeastern lumber suppliers.

"Distribution and supply chain issues are real," said a

Tennessee lumber supplier. The company had a month's

worth of orders on the floor to ship but couldn't secure

containers or truck schedules. "It's unbelievable how we

can struggle to try to get goods and services from one

area of the country to another region in the world," he

said. "It's a total disaster."

The firm's lumber is sold to customers associated with

architectural millwork and custom end use markets. He

said export lumber buyers appeared to have paused orders.

"The kiln dried lumber is somewhat taking a breather,"

he reported. "There's not a rush. People aren't afraid

they can't find a load of lumber today like they were six

months ago. There's no big 'I gotta buy at all costs' sentiment.

That kind of push is no longer out there."

Ash was selling well at the time of this writing, along

with Basswood, which was limited in availability. While

Hickory sales were decent, Cherry remained stagnant

and Red Oak was flat. The Maples were decent to good.

"We don't have access to a lot of good Hard or Soft Maple,"

he said. "By nature of volume of Maples in our area,

the end use manufacturers are competing for green lumber."

Regular customers expect consistency in supplies and

quality, he added. "We are still doing a lot of regular lumber

business where some of our customers are not taking

the volumes they took in the past," he noted.

Transportation continues to be a hassle in Virginia.

"Trucking is an absolute nightmare," said a sawmill sales

manager. "They change the bookings daily." As an example,

a freight forwarder sent a new booking. The next day,

it had already changed. "It changes in the blink of an eye.

We can't get lumber moved. Trucks are hard to come by

too. It's getting hard to move anything. While demand is

Along the West Coast, lumber movement remained

favorable.

In Washington, lumber was selling well as of this writing.

"Business is going well," said a purchasing executive.

"It's more pre-pandemic speed now. Business is not

flat. We are seeing a lot of activity."

The best selling species are Hard and Soft Maple

and Basswood, which remain limited in supplies. Poplar

has also been selling more than other types because of

sourcing difficulties. "We are definitely selling what we

use to always sell, but availability has been a challenge,"

he said.

Strong home sales combined with less lumber being

produced drove prices higher for this contact, as well

as his customers, including end users and distribution

yards. "So far, most of our customers are doing pretty

well," the source related. "They've been grumbling and

have been hoping and waiting for prices to recede quite

a bit, but they just haven't. A few items have softened,

but, overall, it's firm out there in prices."

Compared to six months ago, business is off a little.

Challenges include transportation. "Freight has been

horrible this month, absolutely horrible," the lumberman

observed. "It's much worse than a month or two ago. We

are still seeing lumber sales going well. They aren't quite

as brisk as last summer, but freight being moved is a

real issue." The lumber buyer said it's more about truck

availability than pricing.

In Southern California, the market for lumber is booming.

"The market here is very strong," said a lumber

provider. "December was one of our biggest months in

company history. Demand is still there. It's stayed very

busy. If you look at the amount of deliveries, the footage

we shipped and tickets we wrote, it indicates we are still

in a strong market."

Lumber sales have been slightly better than last sum-

Please turn to page 43 Please turn to page 43

Please turn to page 44 Please turn to page 45

12 MARCH 2022 n NATIONAL HARDWOOD MAGAZINE MARCH 2022 n NATIONAL HARDWOOD MAGAZINE 13
---
CANADIAN TRENDS

News from suppliers about prices, trends, sales and inventories

WE TOOK A LONG HARD LOOK

AT HARDWOOD

ONTARIO

Ontario continues to be hammered by the Omicron virus,

with cases rising in mid-January, affecting businesses

across the province. It is hoped that this new wave of

the variant will be short lived, and that life and business

will move on to a more normal way of life. The housing

demand in the U.S. and Canada continues its positive

effect on Hardwoods. Exports of U.S. Hardwood lumber

figures showed that year to date through November

2021 had risen 9 percent, with strong shipments to Canada

being included in the increase. According to statistics,

U.S. exports of Hardwood lumber to Canada shot

up 49 percent in 2021 over 2020.

Contacts noted that exports to China continue to be

challenging, while Vietnam business is seeing an improvement.

Sawmill production over December had improved

due to milder winter conditions, but saw sharp

cold weather conditions in mid-January, which slightly

slowed logging activity. Labor issues are still of concern

as are supply chain issues caused by the coronavirus

pandemic. Demand for Red Oak and Hard Maple is

strong. Reports for industrial markets are mixed, tie supplies

are in demand, and wooden pallet and container

manufacturers reported they are busy, needing more

volumes of cants and pallet lumber.

As supplies of live Ash trees is low, due to decimation

of the Emerald Ash Borer over the past several years

in North America, production has been limited. Sawmill

contacts stated that Ash log decks were thin, with green

production limited. Sales companies stated kiln dried inventories

were low, and tight supplies for both green and

kiln dried stocks have pushed prices up. Prices are more

stable for No. 2A and Better.

Basswood production was limited over the past year,

especially the last six months of the year due to the push

for Hard Maple and its greater demand, along with other

species seen as having a greater value than Basswood.

However, demand increased for Basswood, causing

QUEBEC

Lumber contacts remain optimistic as we move into

2022, and all hope that the Coronavirus will soon be a

thing of the past. Despite the challenging period everyone

is experiencing, they see it as an opportunity to be

more creative, to expand and seek new clients as the

strong housing market is having a positive effect on their

businesses. Secondary wood products manufacturers

also reported favorable business conditions. Many indicated

lumber inventories were adequate. Sawmills have

kept busy producing whitewoods to meet the continuous

demand for these species.

At the time of this writing, Ash log receipts to sawmills

were limited, noted operators, while green No. 2A and

Better has been selling well. End users are purchasing

green Ash, as available, as are wholesalers and those

who export this species. Export markets to Europe are

good, as well as for China and Vietnam.

Cherry is readily available as demand for this species

is rather low. Those with established overseas customers

were seeing good order files.

The regionally important species, Hard Maple, is going

strong to wood components, flooring, and cabinet producers.

Some switched to Soft Maple to control costs,

making Soft Maple scarce in some areas and more costly,

which returned the higher demand to Hard Maple. Demand

for No. 1 Common and Better and No. 2A grades

are top sellers.

Soft Maple demand is high. Sawmills and kiln dryers

are pushing this species ahead of others to meet growing

demand, even though in some areas it is lagging demand,

thus prices are seeing a slight rise.

According to flooring manufacturers, sales of Oak for

residential and truck trailer flooring in 2021 was one of

the best years for sales in recent memory. Even though

there are still shortages of qualified workers, some were

successful in hiring new employees. They see 2022 as

being better than 2021, and with a strong housing market

Please turn to page 46 Please turn to page 48

MAXIMIZE YOUR

PRODUCT VALUE

EASILY WITH

ARTIFICIAL

INTELLIGENCE

GET THE #1 SYSTEM - ALREADY 30 SOLD

FEEL CONFIDENT ABOUT YOUR INVESTMENT

BENEFITS

• Increases production value and recovery

• Fastest ROI in the industry, even for sawmills

with small volume

• Maintains constant production quality to meet

customer expectations

• Simple system that does not require experts

to operate

Watch our new video

about AI

You won't believe the quick payback.

Call now and let us help you with

the numbers.

450-435-2121 | www.bidgroup.ca

KEY FEATURES

• BID is the only company that developed its AI models

using hardwood to offer unmatchable accuracy of

defect detection

• Quick assessment of the best cutting yield based

on clear sections (NHLA cutting grades or custom

grades)

• Our specialists are trained specifically for hardwood

and ensure seamless integration and commissioning

14 MARCH 2022 n NATIONAL HARDWOOD MAGAZINE
---
NEWS DEVELOPMENTS

NEWS ABOUT NORTH AMERICAN INDUSTRIAL

HARDWOOD CONSUMERS INCLUDING MERGERS,

PLANT EXPANSIONS & ASSOCIATION ACTIVITIES

TO MEET PRODUCTION DEMANDS,

VANGUARD BUYS DREXEL PLANT

Vanguard Furniture of Conover, NC has purchased a

former Drexel Furniture manufacturing plant in Morganton,

NC.

Vanguard's president stated in published reports that

the company outgrew its ability to

meed demand with its current manufacturing

facilities. He added that

the fourth quarter of 2021 proved to

be the largest shipping period in Vanguard's

53-year history, and the company

still has a very large backlog of

orders.

Vanguard buys a variety of solid

Hardwoods in upper grades for use in

their products.

The purchase of the Drexel plant,

which will be used to manufacture

case goods as well as upholstery, will

create up to 150 new jobs. Operations

are set to begin next month.

Family-owned Vanguard currently

employs more than 600 people. The

company operates six manufacturing

plants.

Learn more at www.vanguardfur

niture.com.

PHOENIX HARDWOODS

EXPANDS PRODUCTION

Governor Ralph Northam recently

announced that Phoenix Hardwoods

Inc. in Floyd, VA, a manufacturer

of high-quality furniture and home

goods made exclusively from Virginia-grown

Hardwoods, will expand its

production facility in the county and

open a new retail storefront in downtown

Floyd.

The new manufacturing and retail

space will help the company to grow

its product line, improve production

efficiencies and better serve its customers.

The project will create eight

career focused positions, lead to

$100,000 in new capital investment and allow the company

to purchase additional Virginia-grown Hardwoods over

the next three years.

Established in 2002 by Bill and

Corinne Graefe, Phoenix Hardwoods

built its reputation through high-quality,

artisan-crafted Hardwood furniture

and home goods. After nearly

20 years in business, the founders

were retiring and planning to close

the company. In January 2020, Jeff

and Annie Armistead acquired the

business.

The company's product assortment

ranges from custom tables of all

kinds, beds, stools, chests, live edge

mirrors, desks, kitchen goods, and

home accessories.

For more information, visit www.

phoenix-hardwoods.com.

BRECK PARTNERS ACQUIRES

ESSENTIAL CABINETRY

GROUP

Breck Partners, LLC, located in

Dallas, TX, recently announced

the acquisition of Essential Cabinetry

Group (ECG), a Simpsonville,

SC-based manufacturer of custom,

semi-custom, and stock-plus cabinetry

sold through a growing network

of over 650 kitchen and bath dealers

across the United States.

Essential Cabinetry Group's divisions

buy U.S. solid Hardwoods for

its products, including such wood

species as Maple, Cherry, Alder,

Quarter-sawn White Oak and Walnut.

Through its three market-leading

brands (Tedd Wood Fine Cabinetry,

Executive Cabinetry, and Designers

Choice Cabinetry), ECG offers

a complete lineup of full access,

framed, and inset cabinetry to provide a solution for every

customer.

Learn more at www.essentialcabinetrygroup.com.

Please turn to page 50

16 MARCH 2022 n NATIONAL HARDWOOD MAGAZINE

MARCH 2022 n NATIONAL HARDWOOD MAGAZINE 17
---
HMA UPDATE

Conference

Highlights

In a few weeks, HMA members and

many industry stakeholders will be

gathering at the Sandestin Golf and

Beach Resort, Miramar Beach, Florida,

for HMA's National Conference and

Expo. That's where we'll be discussing

"Investing in the Future" of the Hardwood

industry. There's still time for you to

register to attend the March 23-25 event.

If you're up for the challenge, that is!

Conference and Expo details – Registration, Program

Schedule, Hotel Information, Expo Participants and

Conference Sponsors – can be found at HMAmembers.

org. And should you have any questions, contact me at

either 412-215-9256 or info@hardwood.org.

About the Expo

Each year I anticipate additional vendor participation

in the Expo, and I'm pleased to report that as we go to

press, all Booth space for this year's event has been

spoken for. For a look at who will be exhibiting, and where

you'll find them on the exhibit floor, make a quick visit

to HMAmembers.org. Be sure to make note of Booth

numbers, because your favorite industry suppliers will

be 'front and center' in Florida, beginning at 6 p.m. on

Wednesday, March 23 until 11 a.m. on Friday, March 25!

And while I'm on the subject of industry suppliers, I'd

like to recognize those who have gone "the extra mile"

in their support of the HMA. Thanks so much to Event

JOIN US FOR NATCON 2022

Sponsors: Pennsylvania Lumbermens

Mutual Insurance Company, Taylor

Machine Works, Inc., and USNR;

Platinum Sponsors: Eagle Machinery

& Supply Company, Inc. – MiCROTEC,

Piche, TS Manufacturing, and UPG;

Gold Sponsor: Nyle Dry Kilns; Silver

Sponsors: DMSi/TallyExpress/eLIMBS

and Joe Scan, Inc., and Bronze Sponsor:

Cooper Machine Company.

Even More Support

Not to be outdone are the following HMA member

companies that have gone "above and beyond" by

signing on as National Conference Sponsors. Special

thanks to Gold Sponsor: Fly Tie & Lumber LLC;

Silver Sponsors: Bingaman & Son Lumber, Inc. and

Kendrick Forest Products, Inc., and Bronze Sponsors:

Abenaki Timber Corporation, Frank Miller Lumber

Company, Inc., and New River Hardwoods, Inc.

This additional financial support enables HMA to

enhance the overall Conference offerings. And in return,

HMA will be recognizing all Conference sponsors in the

Conference promo material, during the actual event

in Florida, and all year long on our member website,

HMAmembers.org.

So, I encourage you to join us in Florida. This is your

opportunity to mix, mingle and discuss "Investing in the

Future" of the Hardwood industry. See you, soon. n

C

M

Y

CM

MY

CY

CMY

K

National

Conference

and Expo

Automation and Robotics: The Future

of Wood Processing Technology

Simon Potvin, Wood Processing

Division, BID Group

Driving Forces Behind the

Decision to Automate

Liz Russell, Stella-Jones Corporation

Global Markets Update

Mike Snow, American Hardwood

Export Council

Backstage Pass

Joshua Davis, Farm Credit Mid-America

A Domestic Hardwood Market Update

Dan Meyer, Hardwood Publishing

Company, Inc.

Real American Hardwood Coalition

Update and Consumer Promotion Strategy

RAHC Representatives and CANVAS United

Advocacy and Representation

Dana Lee Cole, Hardwood Federation

Plan and Prosper and ITR Methodology/

Forecast 101 Workshop

Conor Lokar, ITR Economics

Register online at

HMAmembers.org

BY LINDA JOVANOVICH,

EXECUTIVE VICE PRESIDENT,

HARDWOOD MANUFACTURERS ASSOCIATION,

PITTSBURGH, PA

412-244-0440

WWW.HMAMEMBERS.ORG

Sandestin Golf

and Beach Resort

Miramar Beach, Florida

March 23–25, 2022

412.244.0440 | info@hardwood.org

HMAmembers.org

Williamsburg Place, Suite 108

Warrendale, PA 15086

18 MARCH 2022 n NATIONAL HARDWOOD MAGAZINE
---
NHLA NEWS

WHY NHLA CONDUCTS SURVEYS

As a member of NHLA, you have probably

grown accustomed to seeing our frequent

surveys. Over the last few years,

thanks to new technology making this form

of outreach easier and faster, the Association

has made a concerted effort to know

and understand our members challenges

and needs through surveys.

In 2017, NHLA hired an outside company

to perform an in-depth member survey, five years later in

2021, we wanted to know – "How are we doing?" so we

sent out a member satisfaction survey at the end of the

year. Upon reviewing the 2021 survey there were a few

evident asks from our membership. The first was to have

more interaction between NHLA staff and the membership.

The second, was to be more involved in promotional

and advocacy efforts.

In an effort to fulfill these requests, NHLA hosted a Town

Hall Meeting via zoom on January 27, 2022. During the

event members of the management team, Renee Hornsby,

Director of Marketing, John Hester, Director of Membership

and Chief Inspector Dana Spessert presented

important information and happenings of the Association

and answered questions. Additionally, Dana Lee Cole,

Executive Director of the Hardwood Federation, gave a

presentation on the U.S. political environment in 2022

including the upcoming mid-term elections.

NHLA will continue to offer quarterly Town Hall meetings

throughout the year with guest speakers who will

present on timely and relevant topics. We are currently

working on plans for an Advocacy 101 Webinar to take

place in July. The purpose of the webinar

will be to help members feel comfortable

addressing their state and national representatives

on important matters that affect

the Hardwood industry, their community,

employees, and company. The webinar

will be a collaboration between NHLA and

the Hardwood Federation. Our hope is that

the webinar will be a stepping-stone to the

Hardwood Federation Fly-In that usually takes place in

September. Due to COVID-19, the Federation Fly-In has

not taken place in two years but we have high hopes for

having an in-person event this year.

NHLA is actively involved in the promotion of Hardwood

lumber in several ways. NHLA holds an influential

seat on the board of the Real American Hardwood Coalition

(RAHC). The volunteer board consists of leaders of

a variety of Hardwood industry associations and meets

each week to work on its mission of increasing the use

of Hardwoods. Each one of us contributes our time and

talent to the work of fund raising, industry website development,

newsletter updates, traveling to present on

the activities of the RAHC and recently choosing a firm

to handle the consumer facing website. The activities of

RAHC have been methodical and involve all segments

of the Hardwood industry. It is a group of dedicated professionals

you should all be proud to have representing

you.

And NHLA continues to promote the Hardwood industry

by being the keeper and sustainer of the NHLA

Lumber Grading Rules. Our outreach on the standard-

Please turn to page 51

C

M

Y

CM

MY

CY

CMY

K

BY RENEE HORNSBY,

DIRECTOR OF MARKETING & COMMUNICATIONS,

NATIONAL HARDWOOD LUMBER ASSOCIATION,

MEMPHIS, TN

901-399-7560

www.nhla.com

20 MARCH 2022 n NATIONAL HARDWOOD MAGAZINE MARCH 2022 n NATIONAL HARDWOOD MAGAZINE 21
---
Although Elipticon does produce and sell stock moulding, its niche is truly found in the custom moulding market, working directly

with lumberyards to produce pieces for high-end residential projects, as well as some commercial jobs.

Elipticon Wood Products:

Sowing Success Through Long-Standing Values

By Scott Dalton

Hanson's co-president, Patricia Heckner, who has

been with the company since 1996, said Wiley recognized

that Elipticon had to adapt to best serve its customers'

needs.

"The housing market was changing and people were

going from circle-top window, which were very popular

to squared-off windows. Even though we had the business

for the specialty market and the curved, we knew

we needed to get into another product offering, and that

was straight millwork," she said.

Today Elipticon enjoys growth in all arenas. Hanson

and Heckner continue to build on John Wiley's legacy,

working with a dedicated team of more than three dozen

fellow employees to take Elipticon into the future. The

company includes a 16,000 square-foot manufacturing

facility and an 11,000 square-foot fulfillment center. Even

as they grow, however, employees are holding true to the

values that first attracted them to the company.

One of those values, they said, involves producing an

unparalleled custom product. Although Elipticon produces

and sells custom mouldings to the high-end residential

and commercial markets through lumberyards, their

niche is producing and selling stock mouldings through

The company includes a 16,000

square-foot manufacturing facility

and an 11,000 square-foot

fulfillment center. Even as they

grow, however, employees are

holding true to the values that

first attracted them to the company.

One of those values involves

producing an unparalleled custom

product.

their Just-In-Time inventory programs.

To that end, employees grind on average 10 new

knives a week, creating an impressive library of custom

blades that can be tapped into at a moment's notice.

It also means processing a lot of lumber. Elipticon Wood

Products, which purchases about 1.5 million board feet

of upper grade domestic Hardwoods in a wide variety of

species, is on track to mill about 2,700,000 linear feet of

mouldings. Fortunately the Elipticon team is more than

up to the challenge. At the same time the company is always

looking for new opportunities to grow for the future.

This is especially important as the company's employees

are also its owners. When Wiley retired in 2015, Elipticon

became a 100 percent employee-owned company. This

means that everyone at the company shares in the decision-making

process through employee engagement, as

well as the benefits of being part of a thriving business.

Heckner and Hanson said that Wiley always saw the

value in running the company as a team, and that as an

ESOP, that approach has continued. They noted that the

company operates in teams and cross functional teams,

so when there are problems, the straight and round de-

Little Chute, WI–When John Wiley purchased Elipticon

Wood Products, Inc. back in 1993, it is very likely

he could not have envisioned just how much the

"I always joke with my kids that I don't like

working here; I love working here. I came into

company would change both under and after his leadership.

Located here, the facility originally focused almost

a team atmosphere with people who care, and

like any company, we have struggles, but when exclusively on radius moulding, a popular wood product

we approach them together, the solutions

that for years sustained the growing business. But when

are better. We are always trying to get better the financial crisis of 2008 hit, Wiley and his team realized

Please turn to page 32

and we use challenges as opportunities to get

that they needed to broaden their product offerings

better. We ask, 'What did you learn from this? to help ensure the long-term viability of the company.

Joe Hanson, who started with Elipitcon in 1999 as a

What are you going to do differently?' If you

hand sander and who now serves as co-president of the

learn something every day, you're smarter,

company, recalled that the Great Recession marked a

quicker, and can respond better."

turning point for the business.

–Joe Hanson, "I think the way in which we take our product to market

Co-President,

has changed obviously. When I started, we did not

Elipticon Wood Products Inc. run any straight moulding; radius casings represented

80 percent of our business," he recalled. "In 2008, John

bought a Weinig moulder and a Weinig rip saw, and said,

Elipticon Wood Products Inc. in Little Chute, WI, which purchases about 1.5 million board feet of upper grade domestic Hardwoods in

'If we're going to survive, we need to offer more.'"

a wide variety of species, is on track to mill about 2,700,000 linear feet of mouldings.

22 MARCH 2022 n NATIONAL HARDWOOD MAGAZINE MARCH 2022 n NATIONAL HARDWOOD MAGAZINE 23
---
Hazlehurst, GA–The Beasley Group, headquartered

here, is a vertically integrated forest products

company, which starts with growing the trees to

shipping the lumber. The company's story is a story of

rapid growth and success built on family, faith, and foresight

over the last 50 plus years. From the beginning the

company has grown into an organization operating six

different business segments utilizing the entire tree.

In 1968, the founder of Beasley Timber, Rabun Beasley,

decided he wanted to make a career change from

selling insurance and made the decision to move into the

logging business selling timber. In the beginning,

Mr. Rabun and his wife, Jo Claxton Beasley,

operated the company and built lifelong

relationships with others in the industry, many

that the company still enjoys today. To look at

the business today it is hard to believe it all

started from a few chainsaws and a log truck.

Mr. Rabun developed a harvesting method

used in low lying areas that eventually became

known as "Swamp Logging." Today, this area

of the company still operates as Beasley Timber

Company, led by family member Zachary

Johnson. Other operations within this division

include Logistics, Logging and Timber Management.

In 1997 the shuttered Louisiana Pacific

sawmill located in Hazlehurst was purchased

This is the Beasley Forest Products' location in Hazlehurst, GA.

The Beasley Group – Three Generations Deep

Committed to Quality, Sustainability and Vertical Integration

by the family and in 1998 began operations as Beasley

Forest Products (BFP). Rabun's son, Darrell, became

President and CEO of BFP and a new chapter of the

business began. Darrell's vision has been, and continues

to be, growth through diversity and synergy. Beasley

Forest Products has grown to be recognized as one of

the largest Hardwood sawmills in the United States. Darrell

stated, "The key to our continued success is with our

team of 1,500 employees, my family, faith and the hard

work of each and everyone who works with us. We have

a lot of great people that are dedicated to our customers

The Beasley Group is a family-run company, with leaders including: (from

left) Zachary Johnson, Deborah Johnson, Rabun Beasley and Darrell Beasley.

and to our Hardwood and softwood business."

The Beasley Group continues to be a family-owned

business moving into the third generation. In addition

to several of Darrell's children, Grant, Jordon, Truss,

Christin and Daniel, his sister, Deborah Johnson, and

her husband Zachary also have key roles in the ongoing

business success.

In 2018 a major woodyard and sawmill expansion and

optimization project launched, and the new operations

started up in mid-year 2020. This expansion allows BFP

to utilize the latest optimization equipment, allowing the

operation to more than double the previous board footage

produced in a more cost-effective and efficient manner.

With the additional volume, more jobs were created

throughout the value stream from logs to lumber.

The manufacturing segment includes five sawmills located

in Hazlehurst, GA (2), Sandersville, GA, Denmark,

SC and Ashland, WI. These operations are very diverse

in the species used and the products produced. Nine

different species are cut – Ash, Red Oak, White Oak,

Poplar, Hickory, Maple, Cypress, mixed Hardwood and

pine. The company serves many different domestic and

worldwide customers by supplying grade lumber, pallet

stock, cross/switch ties, and access mats. Products are

Grade lumber is stored in the distribution center.

The Beasley Planer/Sorter and Distribution Building takes in approximately

300,000 square feet.

"The key to our continued

success is with our team of

1,500 employees, my family, faith

and the hard work of each and

everyone who works with us. We

have a lot of great people that are

dedicated to our customers and

to our Hardwood and softwood

business.

24 MARCH 2022 n NATIONAL HARDWOOD MAGAZINE MARCH 2022 n NATIONAL HARDWOOD MAGAZINE 25

"

–Darrell Beasley,

President and CEO,

Beasley Forest Products

sold kiln-dried, green, and heat-treated.

Other operations within the manufacturing segment

are Beasley Flooring, producing both solid and engi-

Please turn to page 34

Here is an example of Beasley's mats being utilized in the field.

The sales team includes: (from left) Linwood Truitt, John Stevenson,

Brandon Cox, Ryan Collins and Truss Beasley. Not pictured:

Ray Turner.
---
Tundra Lodge Welcomes

LSLA To Winter Meeting

Photos by Zach Miller

Green Bay, WI–The Lake States

Lumber Association (LSLA)

recently hosted its 2022 winter

meeting at the Tundra Lodge Resort,

located here.

After a reception to welcome

attendees, the next day was packed

with informative meetings and

networking.

Michael Snow, executive director

of the American Hardwood Export

Council, gave an update on current

market conditions, along with an

outlook for U.S. Hardwood exports.

Estate taxes, estate planning and

company ownership transfers were

addressed by John A. Herbers, of

Reinhart Boerner Van Deuren, and

John Kaye, of Kerber & Rose &

Associates.

David Caldwell presented a market

update by the Hardwood Market Report and Wendy

Gehlhoff, of Northwood Rail Transit Commission,

discussed regional rail service over the past 20 years.

The Surface Transportation Board gave a

presentation, followed by legislative reports from

representatives of Michigan and Wisconsin. These

included LSLA Michigan Legislative Consultant Scott

Everett and LSLA Wisconsin Legislative Consultant

Amy Boyer. Mark Rhoda Reis, bureau director of

the Export and Business Development Board, and

Dana Lee Cole, executive director of the Hardwood

Federation (HF), were also among the speakers.

The Real American Hardwood Coalition provided

attendees an update on this group's recent projects

and activities. Speakers were Jim Maltese of Stella-

Jones Corp., Amy Snell of the Wood Component

Manufacturers Association and Cole with HF.

The LSLA also conducted associational business

and held its eighth annual live auction and bucket raffle

drawings to fund the LSLA's Hardwood Federation

dues.

In conjunction with the LSLA meeting, The

Fellowship of Christian Lumbermen met. n

LSLA Board of Directors are: (back row, from left): Pete Johnson, Granite Valley

Forest Products; Colten Heagle, Choice Insurance; Steve Peters, Rockland Flooring;

Kirby Kendrick, Kendrick Forest Products; and Kyle Jeske, Richardson Hardwoods,

LLC; (front row, from left): Nikki Loehr, LSLA Administrative Coordinator;

Jim Maltese, Stella-Jones Corporation; Rob Paradise, Devereaux Sawmill, Inc.; and

Rick Luokkala, Performance Pallet Corporation; (not pictured) Peter Connor, WD

Flooring; Butch Fisher, AJD Forest Products; and Jennifer Lu, Wisconsin Dept. of

Agriculture, Trade & Consumer Protection

Jeremy Pitts and Eli McCarty, Nyle Dry Kilns, Brewer, ME; and Jeremy

Mortl, Messersmith Manufacturing Inc., Bark River, MI

Shane Cook, Granite Valley Forest Products Inc., New London,

WI; Chris Fehr, U-C Coatings LLC, Buffalo, NY; Rick Degen, Bennett

Hardwoods Inc., Wausau, WI; and David Caldwell, Hardwood

Market Report, Memphis, TN

Steve Bruggeman and Vic Boeding, Bruggeman Lumber Inc.,

Sand Springs, IA; and Steve Hanson, Stella-Jones Corp., Bangor,

WI

Josh Anstey, Cascade Hardwood LLC, Chehalis, WA; Mike Schulke,

Tigerton Lumber Company, Tigerton, WI; David Messer, Cole

Hardwood Inc., Logansport, IN; and Matt Yest, Kendrick Forest

Products Inc., Edgewood, IA

Michael Snow, AHEC, Sterling, VA; Larry Krueger, Krueger Lumber

Company Inc., Valders, WI; and Dave Schroeder, GMC Hardwoods

Inc., Jefferson, WI

John Gehringer and Rob Paradise, Devereaux Sawmill Inc., Pewamo,

MI; and Dave Kuehl, Primewood, Drummondville, QC

Melissa Berry, Continental Underwriters Inc., Richmond, VA; and

Tom Buckingham, Loggers Insurance Agency II LLC/Mauck Insurance

Agency Inc., Rhinelander, WI

To learn more about the Lake States

Lumber Association, visit www.lsla.com.

Nate Osfar and Shane Underwood, Granite Valley Forest Products

Inc., New London, WI

Ryan Peterson, Northern Hardwoods, South Range, MI; Kirby

Kendrick, Kendrick Forest Products Inc., Edgewood, IA; and Jim

Higgins, SII Dry Kilns, Lexington, NC

Patrick McBride, MacDonald & Owen Lumber Co., West Salem,

WI; Dana Lee Cole, Hardwood Federation, Executive Director,

Washington, DC; and Greg Blomberg, Kendrick Forest Products

Inc., Edgewood, IA

Additional photos on page 36

26 MARCH 2022 n NATIONAL HARDWOOD MAGAZINE

MARCH 2022 n NATIONAL HARDWOOD MAGAZINE 27
---
The Economy:

Harbingers Of Real Strength Exist,

But So Do Harbingers Of Risks

By Sue Putnam

The economy is expected to

grow by almost 4 percent in 2022,

much higher than the 2.2 percent

rate over the past 20 years. But

significant risks to the economy

exist as well. Those were the recent

statements by Dan North,

Chief Economist of Euler Hermes

North America, during a webcast

Dan North panel discussion.

His overall presentation regarding

the U.S. economy was promising and highlighted

harbingers of real strength while also delving into

challenging issues.

Let's take a deep dive into some of these topics presented

by North.

The government's stimulus benefits and consumer

spending: North said the economy's key driver is cash

savings provided by consumers and their ability to spend

(comprising fully 70 percent of personal consumption).

"Spend, they did," North observed. "More importantly,

they still have plenty to spend and the willingness to do

so."

In fact, personal consumption expenditures at the time

of this webinar were up 26 percent since May 2020 and

up 11 percent from pre-COVID. Consumer confidence in

the economy remains strong at this time.

Manufacturing index and orders for durable goods:

New orders for goods currently are rated at 60.4, which is

a strong economic indicator, versus a historical average

of 55. Anything above 50 means expansion in the economy.

This means plenty of work is in the pipeline as consumers

turn loose of cash, outpacing pre-COVID years.

In fact, back orders are very high – in the top 4 percent of

all observations going all the way back to World War II.

Also, North said ISM (Institute of Supply Management)

Services data, which is another important metric to follow,

reports that 80 percent of the economy's backlog of

orders is high, in the top two percent ever recorded. They

rate new orders at 61.5, again indicating plenty of work in

the pipeline in the coming future.

Positive Treasury Yield Curve: The economy is receiving

strong signals about its potential health over the

next year. The Treasury Yield Curve is a harbinger of that

and it is in positive territory. North explained the Treasury

Yield Curve is the difference between the 10-year interest

rate and the three-month interest rate. North presented

data that showed in the U.S. history how recovery

has followed downturns. For example, 1973-1974, the

economy faltered but a recovery followed. In 2008-2009,

the Great Recession was followed by a steady recovery.

Today, North said that signs point with "a great deal of

confidence" to a recovery post-COVID. The economy is

in "very positive" territory, remarked North. "We will have

continued growth for the next three to five quarters and

the numbers create a very compelling chart of that potential

expansion."

Another leading indicator of economic growth, said

North, is that business formations "have skyrocketed"

since COVID's onset in 2020. Business application totals

are up 44 percent from pre-COVID. That equals more

work in the pipeline, too.

JP Morgan Credit Card Tracker and Omicron: North

noted consumer stimulus spending can be credited with

bringing the economy back to life post-2020. What has

occurred this year, though, shows the potential impact of

continued COVID variant impacts. The JP Morgan Credit

Card Tracker is a significant real-time barometer of the

economy. As of Jan. 17, 2022, it still trailed by two percent

pre-COVID levels. Then a week later, the tracker

took a sharp downturn.

Why?

"Omicron had something to do with that," explained

North. As the new COVID surge soared, spending spiraled

downward a bit.

To dine out or not to dine out...Omicron-impacted:

At the time of this webinar, dining out numbers were still

25 percent below pre-pandemic months, noted North.

"The restaurant industry actually returned to above

pre-pandemic levels, and then consumer spending went

down recently," he commented. Meanwhile, hotel occupancy

rose above pre-pandemic levels briefly, but began

sliding downward. North speculated that the Omicron

COVID surge was adversely impacting both the restaurant

and the hotel industries, and the Delta variant prior

to that.

To be clear, North said, "The economy is still growing

and it's going to be a good year, but we see a little bit of

a slowdown because of this Omicron risk. COVID is still

with us."

The problem of easy money and 0 interest rate:

"Too much easy money causes inflation," cautioned

North, who pointed to the $5 trillion in stimulus checks

that added 22 percent to the national debt/GDP ratio.

He cautioned that the Fed's loose policy of 0 percent

interest rate coupled with easy money for too long is the

classic formula for inflation. "It's a classic mistake by central

banking, in my opinion," he added.

In years past, the Feds Fund rate has risen as high

as 10-20 percent. In the Great Recession it was set to

0, and was raised thereafter. Then, along came COVID,

and the rate was set back to 0.

This is contributing to inflation, "and this will eventually

lead to tears," said North, unless corrective steps are

taken by the Fed to raise rates.

To that end, North cited the Taylor rule, which is a formula

that is used to predict or guide how central banks

should alter interest rates due to changes in the economy.

Taylor's rule recommends that the Federal Reserve

should raise interest rates when inflation or GDP growth

rates are higher than desired. North explained that since

inflation now is high, the Taylor rule suggests the Fed

Funds rate should be closer to 6 or 7 percent, not the

0.13 percent (current percentage available at the time

of this writing). Markets at the time of the webinar had

four rate hikes fully priced in and North said there were

hints creeping in of more than four, possibly as much as

50 bps (Basis Points) in March 2022. (If you reference

the ISM Manufacturing Prices, more than 50 bps means

prices are still rising.) As the first of February 2022 drew

near, North stated that services hit their second highest

bps ever at 82.5. Meanwhile, manufacturing was strong

at 68.2 (average has been 62).

Let's talk about labor: North calls wages "sticky."

That's because, as he explained, once they go up, they

don't easily come down. Hourly wages in the three months

prior to his webinar soared to a record high, climbing 4.8

percent. Some business owners indicated they plan to

raise compensation in the next three months.

"Demand is soaring, but actual hirings are very low,"

North stated. He cited 10.8 million job openings at the

time of this writing compared with 6.6 million job hirings.

Simultaneously, the U.S. is experiencing a record high

rate of workers quitting their jobs.

Please turn to page 39

"

The economy is still growing

and it's going to be a good year,

but we see a little bit of a slowdown

because of this Omicron

risk. COVID is still with us.

"

–Dan North,

Chief Economist of Euler Hermes North America

28 MARCH 2022 n NATIONAL HARDWOOD MAGAZINE

MARCH 2022 n NATIONAL HARDWOOD MAGAZINE 29
---
Appalachian Lumbermen Sponsor

Forestry Programs

Tom Inman

Asheville, NC-The Appalachian

Lumbermen's

Club (ALC) recently approved

scholarships at two colleges

to help students in forestry careers.

The funds will aid forestry

technology students at Haywood

Community College

(HCC) in Clyde, NC, and Dabney

S. Lancaster Community College (DSLCC) in

Clifton Forge, VA. The scholarships will be awarded

in 2022 to a student at each school based on academic

merit and need.

The Club received a report from HCC Professor

Dr. George Hahn at the recent meeting in Asheville.

HCC was founded in 1965 and the Forest Management

Technology program created in 1967.

In the last 40 years, the program has taught basic

tree identification, lumber grading, and equipment

operation. At one time, HCC had an operating sawmill

on campus and hundreds of forestry students

in North Carolina, Virginia and Tennessee have attended

courses at the college.

Hahn said the Forestry Management Technology

program in 2022 develops individuals' passion for

the outdoors by providing students with the competencies

and technical skills necessary to sustainably

manage natural resources.

Courses include:

•Forest inventory skills

•Tree identification

•Timber harvesting

•Forest ecology

•Forest restoration

•Forest fire fighting

•Sales, purchasing, and operations

•Administrative and communication skills

He said upon graduation students are prepared for

careers in the conservation, use, and management

of forested areas and the resources they support.

The college is accredited by the Society of American

Foresters until 2024 and is also a member of

Council of Eastern Forestry Technician Schools. It

has articulation agreements with NC State University,

Western Carolina University, University of Tennessee,

Virginia Tech and the University of Idaho

for courses.

There are 40 students enrolled in forestry management

with five full-time faculty.

The next

meeting of the ALC is

March 8, 2022 at

The Hotel Roanoke in

Roanoke, VA.

More information is available at www.lumberclub.org.

WE CARE

ABOUT YOUR

SUCCESS

BY UNIFYING OUR

STRENGTHS TO MEET

YOUR NEEDS

819-362-6317 | info@carbotech.ca | carbotech.ca 450-434-8389 | info@autolog.com | autolog.com

30 MARCH 2022 n NATIONAL HARDWOOD MAGAZINE MARCH 2022 n NATIONAL HARDWOOD MAGAZINE 31
---
ELIPTICON WOOD PRODUCTS Continued from page 23

High quality craftsmanship, as shown in this curved mantle, is

key to Elipticon's success, where three dozen fellow employees

are taking Elipticon into the future.

partments, as well as sales, customer service and fulfillment,

all come together. As Hanson noted, "There is

an old saying from The Great Game of Business: people

support what they help create. At Elipticon, we have

cross functional teams that solve their own problems."

Heckner echoed that sentiment.

"John always was a visionary. This is his legacy – to

ensure employment of the employees at Elipticon. He always

believed he should have good people, so he hired

people who could make a difference," she commented.

Attention to

customer service

includes prompt

delivery by

Elipticon's fleet.

That philosophy also applies to looking out for the

collective future of the company. A couple of years ago,

employees realized that the market for mouldings was

starting to become saturated, and that the custom work

orders were beginning to level off. As a result, Heckner

noted, the company decided to add a line of finished

products as part of a larger effort to expand its existing

customer base. Hanson added that they also are looking

to further develop Elipticon's stock programs with some

of their customers so that they can offer shorter lead

times for them, as well as more predictable work flow for

the company.

"We have intentions to grow in our specialty, straight,

and round millwork arenas. We realize that having inhouse

finishing is an opportunity for us to gear up and

help out our customers," Heckner said. "It will pretty

much be a one-stop shop."

Underlying all of that success will be the team-oriented

environment that has pervaded the company for years.

"I always joke with my kids that I don't like working here;

I love working here," Hanson said. "I came into a team

atmosphere with people who care, and like any company,

we have struggles, but when we approach them together,

the solutions are better. We are always trying to

get better and we use challenges as opportunities to get

better. We ask, 'What did you learn from this? What are

you going to do differently?' If you learn something every

day, you're smarter, quicker, and can respond better."

Heckner concurred, adding that this gets to the heart of

the Elipticon difference.

"Many companies say they have values and they have

a culture, but to know that the values and culture make

a difference is very empowering," she said. "It is exemplified

in the ability of our employees to truly make a difference."

n

Among the many ways Elipticon proves its excelllence, employees

grind on average 10 new knives a week, creating an impressive

library of custom blades that can be tapped into at a moment's

notice.

Learn more about this company

at www.elipticon.com.

BINGAMANLUMBER.COM

PO Box 247, Kreamer, PA 17833

☎ 570.374.1108 | 570.374.5341

32 MARCH 2022 n NATIONAL HARDWOOD MAGAZINE MARCH 2022 n NATIONAL HARDWOOD MAGAZINE 33
---
BEASLEY FOREST PRODUCTS Continued from page 25

neered Hardwood flooring with locations in Franklin and

Bryson City, NC and Melbourne, AR. The Group also

produces veneers at the Truax Veneer location in Lyons,

GA and wood flour at Wood Fiber Technologies located

in Macon, GA.

The Mats/Access business segment produces mats

and provides access services to the energy transmission,

utilities, and construction industries. These products and

services are utilized in all areas of North America.

The Energy segment produces biofuels, electric and

Hardwood packs are moved in the

distribution center.

Cants are seen on the in-feed to the new curve sawing gang.

steam generation, and animal shavings. The segment

consists of seven different entities, all located in Georgia.

The Beasley Group is committed to procuring materials

from sustainable sources.

The company's loyal customers are considered longterm

partners that appreciate the consistency and focus

on product quality, customer service and attention to detail.

The Beasley Group believes in and understands the

importance of investing in their employees and communities.

Their employees are also leaders in the industry

and are considered the most valued asset. With their

knowledge, commitment, and experience - matched with

world class operations - the Beasley Group will be serving

the industry for generations to come.

The Beasley Group are supportive members of the

National Hardwood Lumber Association, Southern Cypress

Manufacturers Association, Hardwood Manufacturers

Association, and the American Hardwood Export

Council. n

For more information visit www.beasleygroup.com.

We supply and manufacture

We supply

imported

and manufacture

High Performance

exotic

Lumber Products!

High Performance Lumber Products

Beasley Forest Products produces 170 million bd. ft.

of Southern Hardwood and Cypress lumber annually.

Kick your feet up, sit back, relax,

and let us do the manufacturing!

Glue | Finger-Joint | Mould | Precision-End-Trim | Pre-Drill | Re-Saw | Rip | Sand

Overseas Hardwoods Company

Overseas Hardwoods Company

1.800.999.7616 | sales@ohc.net | OHC.net

40 Species | 10 Million BF | 7 Locations | 400,000 sq. ft. of Manufacturing Space

Linwood Truitt and John Stevenson are in charge of kiln-dried lumber sales; and Ray Turner handles industrial sales at Beasley Forest Products.

Beasley Forest Products offers:

• sorted and random widths in Red Oak (4/4), White Oak (4/4), Poplar (4/4 & 8/4), Ash (4/4 & 8/4)

and Cypress (4/4 & 8/4) for export or domestic shipment.

• 1.7 million bd. ft. kiln capacity.

• Cypress framing timbers and manufacture various tongue-and-groove patterns.

• pallet components (cut stock) and pallet cants.

• cross ties and industrial timbers.

• crane mats for the pipeline industry.

• prompt delivery with company trucks and local trucking companies.

KILN DRIED LUMBER SALES

Linwood Truitt, Ext. 4303

Cell: (912) 253-9000

Email: linwood.truitt@beasleygroup.com

John Stevenson, Ext. 4384

Cell: (912) 375-8226

Email: john.stevenson@beasleygroup.com

Beasley Forest Products, Inc.

P.O. Box 788 • Hazlehurst, Georgia 31539

Phone: (912) 375-5174 • Fax: (912) 375-9191

Web Address: www.beasleyforestproducts.com

INDUSTRIAL SALES

Ray Turner

Phone: (912) 253-9001

Email: ray.turner@beasleygroup.com

34 MARCH 2022 n NATIONAL HARDWOOD MAGAZINE MARCH 2022 n NATIONAL HARDWOOD MAGAZINE 35
---
LSLA PHOTOS Continued from page 27

Shane Cook, Granite Valley Forest Products Inc., New London,

WI; Troy Brown, Kretz Lumber Co. Inc., Antigo, WI; Steve Peters,

Rockland Flooring, Rockland, WI; and Rick Degen, Bennett Hardwoods

Inc., Wausau, WI

Tyler Francois and Brady Francois, Snowbelt Hardwoods Inc.,

Hurley, WI; Josh Anstey, Cascade Hardwood LLC, Chehalis, WA;

and Leo Meeks, Aacer Flooring, Peshtigo, WI

Jeff Milinkovich, Timber Creek Resource LLC, Milwaukee, WI;

Tony Korish, Forever Joint Tops, Portage, WI; and Mike Peterson,

Kretz Lumber Co. Inc., Antigo, WI

Dave Neumann, Michigan Department of Natural Resources, Lansing,

MI; Chris Fehr, U-C Coatings LLC, Buffalo, NY; John Gehringer,

Devereaux Sawmill Inc., Pewamo, MI; and Scott Lyon, WI

DNR, Division of Forestry, Green Bay, WI

Zach Miller, National Hardwood Magazine, Memphis, TN; and

Pete Johnson, Granite Valley Forest Products Inc., Weyauwega,

WI

Joe Morrey and Jim Maltese, Stella-Jones Corp., Bangor, WI

Dennis Gustafson, Besse Forest Products Group, Gladstone, MI;

Shay Sherfinski, R & R Insurance Services Inc., Waukesha, WI;

and Shane Underwood, Granite Valley Forest Products Inc., New

London, WI

Jason Brettingen, Kretz Lumber Co. Inc., Antigo, WI; Tim Kassis,

Kassis Consulting LLC, Antigo, WI; and Michael Snow, AHEC,

Sterling, VA

Please turn the page

PATENTED

MAXIMUM AIR FLOW DESIGN

Sure-grip, anti-slip corrugated surface

Angled design clears moisture more

efficiently vs. straight fluted sticks

Removes moisture, decreases dry time

and increases drying quality

Trusted quality & service for 20+ years

Discounts for program customers

"Often Imitated,

Never Duplicated"

Improved Yard Safety,

Increased Drying Efficiency

& Reduced Drying Costs

20 +

MILLION SOLD

Celebrating 40 Years of Setting the

GoldStandard in American Black Walnut

LUMBER DRYING STICKS

•STICKS & CROSSERS

•STANDARD & CUSTOM SIZES

Dependable•Durable•Long Lasting

The Company that Defeated Sticker Stain

519.842.6841 | info@breezedried.com

We Also Buy Lumber !

breezedried.com

4/4 thru 16/4 Walnut

Proudly NHLA Grade Certified

Phone: 660-248-3000

MOPACLumber.com

inquiry@mopaclumber.com

36 MARCH 2022 n NATIONAL HARDWOOD MAGAZINE MARCH 2022 n NATIONAL HARDWOOD MAGAZINE 37
---
LSLA PHOTOS Continued

Rex Shelton and Jerry Ort, Tigerton Lumber Company, Tigerton,

WI; and Troy Brown, Kretz Lumber Co. Inc., Antigo, WI

Fred Borntreger, TQMM LLC, Wausau, WI; Sue Van Ess, Northwest

Hardwoods Inc., Grand Rapids, MI; and Philip Kersten, Kersten

Lumber Co. Inc., Birnamwood, WI

Levy Soodsma, Baillie Lumber Company, Hamburg, NY; and Tyler

Francois, Snowbelt Hardwoods Inc., Hurley, WI

Jason Brettingen, Kretz Lumber Co. Inc., Antigo, WI; Nikki Loehr,

Renewable Resource Solutions LLC, Crystal Falls, MI; and Luc

Connor, WD Flooring LLC, Laona, WI

THE ECONOMY Continued from page 29

Why?

North named the following as reasons workers have

exited their jobs in record numbers:

• They found a new job.

• Lack of child care.

• They started their own business.

• They retired. (Some studies estimate 2-3 million people

retired early. Note: the economy still has 4 million

fewer jobs than it did before COVID.)

• They quit their jobs due to fear of COVID in the workplace.

So, what's fueling rising prices across all industries?

North presented comments collected from

ISM participants, and each cited, in some variation, supply

chain issues, scarcity of trucks, labor challenges, all

of which lead to price increases and are a complex issue

with no simple or quick solutions.

Boats on the water: During a two-day span prior to

North's webinar, 133 container ships waited at berth inside

the 40-mile radius of the Los Angeles/Long Beach

ports plus outside SAQA (the Safety and Air Quality

Area). The situation reached an all-time single-day high

on Jan. 9 this year when 109 were floating inside the LA/

LB area. Lastly, one day prior to North's webinar, total

container ship backup was 106, three more than just the

day prior to that. This backlog stymies the supply chain.

North stated that participants of an ISI/Evercore survey

believe it will be the second half of 2022 – or later – until

the supply chain is potentially considered "cleared up."

Trucking woes: "There simply are not enough trucks

to take shipments from the ships and on the road," North

noted. Trucking employees remain 18 percent fewer today

in the workforce than pre-pandemic. That equates to

15,800 fewer truck drivers now than just three years ago

to haul product. "Due to this," acknowledged North, "the

inventory/sales ratio just keeps falling." The result is that

inflation and supply chain shortages are connected.

The Omicron Effect:

At the time of North's webinar, Omicron comprised fully

98 percent of new daily confirmed cases of COVID. U.S.

cases rose six times in less than one month. In France, it

rose 10 times in about six weeks. Next, consider the daily

new confirmed cases by millions (in population). The

U.S. rate was turning down at the time of this writing. But

concerns were rising over potentially more lockdowns in

Please turn to page 42

Always Shows Up To Work

Simple,

Dependable,

Affordable

Cut ties, grade,

timbers, mats,

you name it

45 years of

engineering

design

Quick, easy

installation

OUR TEAM

MADE IN USA

MOSCOW

TN

All parts in

stock -

ready to ship

Hurdle Automatic Sawmill

Low

maintenance

www.hurdlemachineworks.com

www.facebook.com/HurdleMachineWorks

www.youtube.com/HurdleMachineWorks

Fast

payback

5-man

operation

8hrs -

20,000 to

25,000+

bd/ft

CALL US NOW!

901.877.6251

Our ability to find the right products quickly is made possible by our team of experienced and dedicated people

working to deliver exactly what you need.

SPECIES:

Aspen • Yellow Birch • White Birch • Red Birch

Birds Eye Maple • Hard Maple • Soft Maple

Red Oak • White Oak • White Ash • Walnut

Beech • Cherry • Hickory

LUMBER

RESOURCES

ALL YOUR ESSENTIALS

THICKNESSES:

4/4 • 5/4 • 6/4 • 8/4 • 10/4

PRODUCTS:

Hardwood Lumber • Industrial • Pallet Components • Flooring

866-815-0404

1627 Bastien Blvd.

Quebec, Quebec G2K 1H1

www.rlumber.ca

38 MARCH 2022 n NATIONAL HARDWOOD MAGAZINE MARCH 2022 n NATIONAL HARDWOOD MAGAZINE 39

LUMBER RESOURCES NHM HALF HOR REV 7-22-2019.indd 1

7/22/19 2:13 PM
---
In Memoriam

Lyman Charles Shipley

Jim Von Tellrop, Jr.

Roanoke Rapids, NC–The

Appalachian Hardwood Manufacturers

Inc. recently reported

they were sad to report the passing

here of Lyman Charles Shipley,

87, on Jan. 17, 2022. He was

born on September 21, 1934 in

Hyden, KY.

Lyman enlisted in the U.S.

Army after graduating from Weldon

High School in 1952. Prior to leaving for Korea, he

married Louise Rightmyer. His decorations included the

United Nations Service Medal, Korean Service Medal

w/1 Bronze Service Star, National Defense Service

Medal, two Overseas Bars and Good Conduct Medal.

After the service Lyman worked for Coastal Lumber

Company in Weldon, NC until retirement.

He is survived by his wife of 69 years, Louise Rightmyer

Shipley; his daughter, Linda Martin (Brady); his

son, Lyman "Chuck" Shipley, Jr.; his grandchildren,

great-grandchildren and brothers and sisters.

Graveside Services were Jan. 19, 2022 at Cedarwood

Cemetery in Weldon, NC.

Donations may be made in Lyman's memory to the

Enterprise Baptist Church, 404 Enterprise Road, Littleton,

NC 27850 and the John 3:16 Center, 407 East End

Ave., Littleton, NC 27850.

Online condolences may be made to www.askewfs.

com. a

Placerville, CA—The Los Angeles

Hardwood Lumberman's

Club is sad to report the passing

of long-time member Jim Von

Tellrop, Jr. He was proceeded

in death by his son. A graduate

of the University of New Mexico,

most recently, Von Tellrop

worked for Peladeau Lumber as

West Coast salesperson, based

here. Von Tellrop had many interests outside of lumber

sales.

In 1992 he served as President of the Indiana Hardwood

Lumbermen's Association. He was part of the

Society of Woodheads Only and enjoyed their regular

gatherings.

Steve Stoufflet of Robinson Lumber Company, a longtime

friend of Von Tellrop, remembers their introduction

in the 1980's. "I was wearing a sport coat and tie and he

was wearing cut-off jeans and a Three Stooges T-shirt. I

liked Jim right away!"

Von Tellrop was passionate about woodworking and

jazz/blues music. For over 20 years he was Steve Stoufflet's

house guest for the New Orleans Jazz & Heritage

Festival.

Additionally, Von Tellrop tirelessly supported local

school woodworking programs in El Dorado County. He

was named the California Industrial & Technology Education

Association Industry Person of the Year for 2015.

Living in Placerville, he also developed a passion for

wine-making and olive oil. a

New River Hardwoods, Inc.

QUALITY from start to finish!

● Three Appalachian Hardwood Sawmills producing 35MMBF of lumber annually

● 400,000 board feet of kiln capacity drying 12MMBF of lumber annually

● Ripped and moulded products customized to meet each customer's needs

● Straight line ripped and sanded products also available

Species: Poplar, Red Oak, White Oak, Soft Maple,

Hard Maple, Cherry, Basswood and Hickory

Mark Pierce

Sales and Purchasing

Office: 336-889-0870

Cell: 336-858-2707

Email: mpierce@newriverhardwoods.com

4343 Highway 91

Mountain City, TN 37683

Phone: (423) 727-4019

Fax: (423) 727-4438

www.newriverhardwoods.com

40 MARCH 2022 n NATIONAL HARDWOOD MAGAZINE MARCH 2022 n NATIONAL HARDWOOD MAGAZINE 41
---
THE ECONOMY Continued from page 39

Europe. As North noted, "The economic concern is: if it

can happen there, will it happen here?"

COVID deaths and hospitalization figures lag behind

daily new confirmed case data. North pointed out that at

the time of his webinar, confirmed deaths from Omicron

in the U.S. were rising, and when considering confirmed

deaths per million, "the U.S. looked a lot better a few

weeks ago," he observed. He added that the U.S. led

other countries in confirmed deaths per million.

His next concern for the North American economy is

vaccine-related. "Canada is doing very well in regard to

the share of its population that is fully or partially vaccinated,"

he stated. "But the U.S. is stuck at 75 percent

vaccination rate because our daily vaccination rate has

plummeted. We have to wonder: have we gotten almost

all the people vaccinated we are going to get?"

Lastly, here is the good news:

• Fiscal and monetary policies have provided plenty of

excess savings to fuel personal consumer consumption

in 2022.

Other harbingers of economic strength are:

• Plenty of work in the pipeline

• Consumer confidence

• Positive yield curve

• Surging business formations

• Improvements in the labor market

North expects the economy to grow by almost 4 percent

in 2022, much higher than the 2.2 percent rate over

the past 20 years.

But significant risks are:

• Rising wages, the labor shortage and clogged supply

chain

• Combined with loose fiscal and monetary policy, thus

inflation roars

• COVID...it is still with us.

(Editor's Note: Dan North has been with Euler Hermes

North America since 1996, using macroeconomics and

quantitative analyses to help manage Euler's risk portfolio

of more than $150 billion in annual U.S. trade transactions.

As an economist he has appeared on CNBC, Fox

Business News, France 24, The Street and Bloomberg

Radio and Television. He has been quoted by Barron's,

Business Week, Paris La Monde, Tokyo Nikkei, the BBC,

The New York Times and the Wall Street Journal. After

having predicted the 2008/2009 recession and its implications

accurately, he was ranked 4th on Bloomberg's

list of the 65 top economic forecasters in 2010. North

holds an MBA from the Wharton School of Business.

At the recent webinar, in addition to North, Gerry Clancy,

National Tax Practice Lead at Top 20 CPA firm, Armanino,

presented focused information on corporate/

business taxes. The panel was moderated by Lindy Antonelli,

Controllers Council Board Chair and Partner,

Armanino Technology.) n

LAKE STATES Continued from page 12

"The industrial guys are busier than heck," the source

observed. "There is still lots of demand for the low grade

lumber, which is easy to move as well."

In Indiana, lumber activity remains favorable. "Our

business is going well," reported the sales manager for a

manufacturer. "We feel like we are finally getting on top

of the market."

Cherry, Hard and Soft White Maple, as well as some

Red Oak, are among the species the company sells with

the Maples and Cherry moving the best. The company

purchases No. 2A Common, which it sells in 4/4 thickness.

The firm's customers are doing well. "It's a very strong

business, everybody's buried," the source said. "It's night

and day different now. Talking to our customers, they see

a pretty good 2022, carrying on what was going on in

2021."

The strong sales helped the bottom line. "We ran on

fumes with our raw lumber inventory the last five to six

months," he related. "We have had a tiger by the tail. We

are finally getting caught up to where we have a little bit

of cushion. We are looking to cut inventories but are very

cautious cutting any inventory as much as this industry

seems like it's struggling."

While labor availability and supply chain issues have

pressed business, lumber demand and sales remain unscathed.

"It's way better than six months ago," he said.

"The people component is night and day different than

it was last year. We had turnover like you would not believe.

Our workforce now has stabilized." n

NORTHEAST Continued from page 12

are going well," he relayed.

The operation offers Red and White Oak and Hard Maple

in 4/4, 5/4, 6/4 and 8/4 thicknesses to end users and

distributors, as well as export markets, in No. 1 Common,

FAS and Better. All three grades were selling well

at the time of this writing.

In transporting the firm's products, prices have risen

Please turn the page

Carl rosenberry sons lumber, InC.

CARL ROSENBERRY & SONS LUMBER, INC.

Celebrating Over 100 Years in Business!

7446 Path Valley Road Fort Loudon, PA 17224 Phone: (717) 349-2289 FAX: (717) 349-2044

7446 Path Valley Road, Fort Loudon, PA 17224 • Phone: (717) 349-2289 • FAX: (717) 349-2044

Two automatic circle mills and

Two

line

automatic

bar band

circle

resaw

mills and

Maintaining line bar 700,000' band resaw K.D. inventory

and 1,000,000 700,000' K.D. bd. ft. inven-

of

Maintaining

Green tory and 1,000,000 Air Dried bd. lumber ft. of

300,000

Green and

bd.

Air

ft. Kiln

Dried

Capacity

lumber

300,000 bd. ft. Kiln Capacity

KILN DRYING FINE

Kiln Drying Fine

PENNSYLVANIA

Pennsylvania

HARDWOODS

Hardwoods

ANNUAL

ANNUAL

PRODUCTION

7,000,000'

75% 75% Red Red and White Oak

www.rosenberrylumber.com

www.rosenberrylumber.com

Email Email inquiries to to Jackie Kriner at jackie@rosenberrylumber.com

Because nothing says Canadian like Quality Hardwoods

Nature's finest

Unsurpassed quality

Rich colour and texture.

With a large inventory base of Canadian Kiln Dried Hard

Maple, Red Oak, Soft Maple, Yellow Birch, White Birch,

Aspen, Basswood, and Cherry, Quality Hardwoods Ltd.

is ready to meet your demands. Our knowledgeable

sales team has more than 75 years' experience and

will quickly process your order. Wherever you are in the

world, we will have your shipment to you on time.

Please contact our sales staff to place an order

Brian Guilbeault – brian@qualityhardwoodsltd.com

Anthony Rapsa – ar@qualityhardwoodsltd.com

Mike Brooks – mb@qualityhardwoodsltd.com

Shaun Rowe – sr@qualityhardwoodsltd.com

Peter VanAmelsfoort – pva@qualityhardwoodsltd.com

Office Number – 705-724-2424

Website - www.qualityhardwoodsltd.com

42 MARCH 2022 n NATIONAL HARDWOOD MAGAZINE MARCH 2022 n NATIONAL HARDWOOD MAGAZINE 43
---
NORTHEAST Continued

and containers travel slow, about the same situation as

during last summer. "We have been fighting these port

issues for well over a year," the representative stated.

"They are saying there's a continued backup at the ports."

Future sales should "just be steady," he predicted. "It

won't be hot and it won't be cold, but will be steady business."

A Pennsylvania lumber supplier reported favorable

business.

"Business is going well," said the company's sales

manager. "We had a good start to the year, both domestically

and in exports. We are having a good month so far."

Compared to the summer, which saw strong sales,

the source believes consistent activity will continue. "We

are expecting the market to be good for the next three

quarters," he stated. Though he admitted he wasn't sure

where the market would be after that, he believes the

industry, at least for the short term, should experience

better horizons.

This distribution yard markets Hard and Soft Maple,

Red and White Oak, Cherry, Poplar, Hickory and Ash in

3/4-8/4 in FAS/1F and Nos. 1 and 2 Common to distributors

and end use manufacturers.

The Maples have been selling very well with Red Oak,

Hickory and Poplar also seeing strong demand. "We still

see the marketplace continuing to be paced rather well,"

the source reported. "We are not expecting any down cycles.

There's an upward potential for prices to increase."

The higher prices for other species prompted some

buyers to take a second look at Cherry, which traditionally

hasn't seen as high a use as the other species, he

noted. n

SOUTHEAST Continued from page 13

good, getting it transported is another thing."

The company markets No. 3 Common and Better in

4/4 thickness to distribution yards and end users. The

firm relies on a local trucking company which was shortchanged

because half of its crew had COVID. "The entire

booking situation in regard to shipping overseas is a

nightmare," the lumber representative said. "It's hard to

get anything moved."

His market has remained strong, however, for Poplar,

Red and White Oak, and Walnut. Red Oak wasn't experiencing

strong demand.

While market-wise, things have been going well, running

the operation was another issue. "We are trying to

keep enough people to keep the mill running and grading

line going," the source said. "We had to shut down the

mill awhile. We just can't get enough help." Typically, the

mill employs 49 people. Its current payroll is 29.

Supply issues challenge a North Carolina yard. "We

have struggled to find supply, and are not able to keep

sales up much now," said the contact.

Labor issues have threatened his entire supply chain.

"Labor issues have affected both the ability of our green

producers to supply green lumber and also for our customers

to produce products as quickly as they might otherwise

be able to," he observed.

Many of the firm's customers struggle to keep up with

demand in terms of materials they receive and what they

can produce, he said. The company markets Red and

White Oak, Walnut and Hard and Soft Maple in 4/4, 5/4,

6/4 and 8/4 thicknesses in Nos. 1 and 2 Common and

FAS to cabinet and furniture manufacturers, as well as

building suppliers.

"The market is slow now," he observed. During the

summer, though, demand was higher for kiln dried but

steadily decreased.

FAS grade Poplar was in better demand at his firm as

of this writing than No.1 Common or No. 2 Common. Red

Oak was moving fairly well. Soft and Hard Maple lumber

in 4/4 thickness was also selling briskly. n

WEST COAST Continued from page 13

mer. "Our customers' business is very brisk," he reported.

"Many have planned out their business for the next

six months or so."

Poplar remains a strong seller followed by White Oak

and Walnut gaining momentum and becoming big sellers.

The company also markets Hard Maple, Red Oak

and Birch in 4/4 to 16/4 thicknesses in FAS, Select and

Better grades to home builders, contractors and remodeling

pros.

Staffing remains a headache. Lumber manufacturers

face the biggest labor challenges. "Trying to find someone

to do work now is not easy," the source noted. "Labor

is an issue but we have done fairly well with hiring

and keeping employees, filling the positions." The company

enjoys a low turnover rate and possesses many

longterm employees. "The biggest labor issue for us

is getting material from the mill to us. Also, trucking is

worse than before."

Freight and labor issues have challenged an Oregon

lumber manufacturer and its customers. "Transportation

is not easy and it may not be as timely as we would like it

to be, but relying on our years of contacts and business

Please turn the page

FORCEY LUMBER COMPANY, INC.

Quality Pennsylvania Hardwood Lumber and Veneer

Red Oak • White Oak • Cherry • Poplar • Hickory • Ash

Basswood • Birch • Beech • Hard Maple • Soft Maple

3 True Northern Hardwoods

Visit us at

TAYLORBIGRED.COM

WE HAVE

WHAT YOU

NEED!

Follow us on

Social Media

#TAYLORBIGRED

3 Prompt Shipment

3 Consistent Grading

3 S2S and S3S Available

3 Competitive Pricing

2020 Shiloh Road, Woodland, PA 16881

Office (814) 857-5002 • Fax (814) 857-5000

info@forceylumber.com

www.forceylumber.com

Your COMPLETE Heavy-Lift Supplier for the Forest Products Industry

Capacities ranging from 4,000-lbs to 125,000-lbs all backed by our 24/7 Parts Service & Support

44 MARCH 2022 n NATIONAL HARDWOOD MAGAZINE MARCH 2022 n NATIONAL HARDWOOD MAGAZINE 45
---
WEST COAST Continued

relationships, we are getting everything moved," said the

vice president of the firm that services residential cabinetry,

furniture and millwork customers.

"Probably the biggest issue facing us, our customers

and suppliers is the current COVID variant," he explained.

Restricted workforces harmed supply and distribution.

"We have been able to move people around and get everything

covered," he said. "Some of our suppliers have

had to curtail shifts or shut down operations. Some of

our customers are in the same boat. This, on top of an

already tight labor market, makes it challenging."

Despite the obstacles, the lumber market remains solid.

"It's decent for the time of the year it is," the source

reported. "It's always slower early in the year, but we are

seeing what we consider good and busy demand. Overall,

business is good."

Poplar is the company's biggest seller with White

Oak, Walnut and Red Oak also selling well. Thicknesses

range from 4/4 through 16/4. Cabinet manufacturers

during the early part of the year were still able to retain

full order files with this lumber provider. n

ONTARIO Continued from page 14

prices to rise as competition also increased due to limited

availability. Basswood kiln dried markets were equally

reported as strong, with inventories thin for many grades

and thicknesses.

Supplies of Birch have been strained, caused by

strong housing markets on both sides of the border, with

low sawmill production. Wholesalers advised kiln dried

Birch demand exceeds availability. Green Birch markets

are reported as solid. Due to the Holiday Season, production

was down, and some sawmills were cutting Soft

and Hard Maple ahead of Birch.

Hard Maple is still the best selling species with strong

demand coming from the furniture, flooring, cabinet,

moulding, millwork and interior fittings sectors due to

strong housing markets. Production is not quite meeting

demand for grades and thicknesses, and varies according

to areas contacted for kiln dried Hard Maple. Late fall

production last year was directed to Hard Maple, which

provided adequate kiln dried supplies to end users earlier

this year. It was noted that some secondary manufacturers

were buying more Soft Maple instead of Hard Maple,

resulting in a slight softening of prices at that time.

Soft Maple markets improved due to strong residential

construction. Also, comparatively lower prices than Hard

Maple attracted businesses to this species. End users

are buying all they can at this time, and competition is

pushing prices higher for developing supplies. Some

contacts noted production of kiln dried Soft Maple are

sold before they even exit their kilns, resulting in low inventories.

Domestic markets for Red Oak vary. Sales slowed at

the end of 2021 and did not gain ground as the new year

kicked in, but contacts reported that business is decent,

with supplies being manageable and having also risen.

They add that green stock interest is good. Sawmills are

focusing on whitewoods where possible.

Secondary manufacturers and wholesalers are buying

White Oak green lumber production. Demand for kiln

dried supplies are mixed depending on areas contacted.

The pallet and container manufacturers reported they

were busy, having added to material inventories over

the end of last year and into this year. Availability seems

to have stabilized, which eased pricing issues for most

items.

The Consumer Price Index (CPI) rose to a 30-year high

of 4.8 percent in December 2021 (the most recent data

available), due to higher prices for food led to the cost

of living going up at its fastest rate since 1991. Grocery

prices increased by 5.7 percent, said a Statistics Cana-

da economist, adding that the price gain was caused by

unfavorable weather conditions in growing regions and

supply chain disruptions.

The current bout of inflation, continued the economist,

is driven by supply chain disruptions, pent-up demand

and inflation expectations. While pent-up demand is expected

to ease as pandemic spending winds down, supply

chain and inflation expectations remain paramount

challenges.

Prices could increase even more in the year because

of the new rules forbidding unvaccinated truckers from

entering the country, noted some economists. The issue

of unvaccinated U.S. truckers crossing over the border

into Canada could pose a risk of transmitting COVID-19

to the general public, according to some infectious diseases

doctors, while others felt skeptical about whether

the new federal vaccine mandate is needed, questioning

how much these drivers could contribute overall to the

potential spread of the virus. As of January 15, a federal

mandate requires that Canadian truckers must be vaccinated

if they want to avoid quarantine and molecular

tests. Unvaccinated American big-riggers will be turned

back at the border.

Trade associations on both sides of the border said the

Please turn the page

KENTUCKY FOREST INDUSTRIES ASSOCIATION

Invites you to join us for the 2022 Annual Meeting

"A Whole New World"

March 29-31, 2022

Embassy Suites

Lexington, KY

Growing Kentucky Forests, Supplying the World

Online Registration is available at www.kfia.org

For more information please contact:

Michele at 502-695-3979 - michele@kfia.org

46 MARCH 2022 n NATIONAL HARDWOOD MAGAZINE MARCH 2022 n NATIONAL HARDWOOD MAGAZINE 47
---
CLARK LUMBER COMPANY

• 6 Sawmills producing 48,000,000' of Appalachian

Hardwoods 4/4 - 8/4

• 900,000' drying capacity

ONTARIO Continued

restriction will put additional strain on supply chains amid

the latest COVID-19 surge and severe worker shortages.

About 10 percent of the 120,000 Canadian truckers who

cross the border may not be able to work those routes

because they haven't been vaccinated, according to the

Canadian Trucking Alliance.

Shelter costs have risen by 5.4 percent in the past

year, faster than the overall inflation rate. And this is another

consumer factor that could affect Hardwood sales,

as they cut back on spending due to high cost of foods

and other necessities, and as they wind down on their

renovation spending brought on by COVID-19 and travelling

due to current restrictions. n

of 2022 as markets achieve a better balance.

The Toronto Dominion Bank is forecasting a 7 percent

increase in home prices this year and suggests "another

strong year for price growth is in the cards for 2022."

The Canadian Imperial Bank of Commerce, however,

cautions that home sales could plunge in 2022 and condos

may be the only sector to see price growth. Overall,

they expect sales to fall by 15 percent in 2022, relative

to the elevated level seen in 2021—an environment that

is consistent with a notable deceleration in home price

inflation next year. It's also an environment that is also

likely to impact the relative value of

condos vs. single-detached units.

Logic suggests that higher rates will

26 percent leap from 2020, said the Association des professionnels

de la construction et de l'habitation du Québec

(APCHQ). The best performance since 1987, and

third-highest total on record.

New home prices in Quebec climbed 20 percent on average

in the past year, residential construction is expected

to slow over the next 12 months. The APCHQ expects

the price hikes to cool home buying, especially first-time

buyers. However, continued rapid price hikes could also

attract more investors into the housing market.

SYSTEMS &

SOLUTIONS

Please turn the page

From Concept

to Blueprint,

Manufacturing

to Production

channel more activity into the more

• 2,500,000' kiln dried Lumber Inventory

affordable condo market, resulting

• Species: Red & White Oak, Hard & Soft Maple, QUEBEC Continued from page 14

in relative price outperformance in

Poplar, Ash, Cherry, Hickory, Walnut and

on both sides of the border, they are even more optimistic

this will be the case.

The Canadian Real Estate Associ-

Aromatic Red Cedar

that market, they predict.

• Export prep & container loading

LOG &

Red Oak availability is currently meeting or exceeding

ation (CREA) forecasts home sales

Mellott Solves Your

Handling Challenge!

• A team of over 130 employees manufacturing

LUMBER

Appalachian Hardwoods

market needs depending on areas contacted, with prices

will moderate in 2023, but prices

being stable. White Oak production increased in the last

will remain high and accelerate into

Debarking Systems

six months of 2021, with competition for White Oak logs

2022 due to a lack of supply.

having intensified. Certain contacts commented they are

While interest and mortgage rates

struggling to sell certain grades and thicknesses. Availability

are expected to rise, the forecast

of green Red Oak is adequate to meet or exceed

suggests the desire for home own-

market needs.

ership will stay strong and lack of

Contracts also reported Poplar sales are doing very

available properties will mean rising

Band Headrig and Resaws

well domestically.

prices.

Log Trough with Metal Detection

There is keen competition for Walnut, especially for

CREA projected that the national

quality logs. Production has been steadily increasing with

average home price will have risen

most grades and thicknesses moving on both domestic

by 21.2 percent on an annual basis

and export markets, especially to the UK and Germany.

to $687,500 by the end of 2021, and

The majority of Canada's biggest mortgage lenders

predicts the national average home

Resaw Run-Around Systems

forecast a robust housing market this year, with some

price will rise by 7.6 percent on an

Lumber Conveyor Systems

seeing double-digit sale increases and sharp price hikes,

annual basis to around $739,500

despite rising lending rates and a shortage of homes for

in 2022. It warned the forecast was

sale. The outlook from the Big Six banks parallels that

"conservative" because in November

2021 the national average price

of the Canadian Real Estate Association, which expects

Hugh Clark, President; Brandon Clark, Vice President; and

Joseph Draper, Sales

home sales to increase 8.6 percent compared to last

was almost $721,000. Highest prices

Trimmer and Grading Systems

"From our Forest to your Facility"

year, with prices rising 7.6 percent.

in 2022 will be seen in B.C. and

Brandon Clark

The bank forecasts, however, are shadowed by the

Ontario, where it predicts average

bclark@clarklumbercompany.com

fact that their analysts expect the Bank of Canada lending

home prices to reach $990,038 and

Joseph Draper

rate to increase by about 1 percent by the end of

$971,080 respectively.

jdraper@clarklumbercompany.com

2022, in a series of hikes.

In Quebec, homebuilders said

Mat Drilling, Tie Dapper,

The Royal Bank of Canada expects home sales to increase

19.8 percent from a year earlier, with the aver-

housing starts in more than three

the province would hit the highest

Tilt Hoist Systems

Clark Lumber Company

Sorting & Stacking Systems

552 Public Well Road

Mellott Manufacturing Co., Inc.

Red Boiling Springs, TN 37150

age home price increasing 3.3 percent. They expect extremely

tight demand-supply conditions will keep prices

Mercersburg, PA 17236

717-369-3125

decades in 2021, but expected a

13156 Long Lane

Office: (615) 699-3497

sharp, negative correction in 2022.

FAX: 717-369-2800

www.mellottmfg.com

under intense upward pressure in the near term though

Housing starts across the province

sales@mellottmfg.com

www.clarklumbercompany.com

pressure may be easing significantly by the second half

were set to reach 68,300 in 2021, a

48 MARCH 2022 n NATIONAL HARDWOOD MAGAZINE MARCH 2022 n NATIONAL HARDWOOD MAGAZINE 49
---
QUEBEC Continued

Quebec housing starts are forecast to drop about 18

percent to 56,000 in 2022, their first decline in seven

years, APCHQ predicts. Fifteen of Quebec's 17 administrative

regions are expected to post declines.

In Greater Montreal housing starts are expected to

reach 33,500 this year, the highest level in at least 30

years, according to APCHQ data. Next year's tally should

come in around 27,000 units, a 19 percent decrease, AP-

CHQ said.

Quality Appalachian Hardwood Lumber

900,000 B.F. Kiln Capacity

Quentin Moss, KD-Lumber Sales/

GR-Lumber Sales/Purchasing

quentin@gfhardwoods.com

9880 Clay County Hwy. Moss, TN 38575-6332

PHONE: 1-800-844-3944 FAX: 1-931-258-3517

www.gfhardwoods.com

The projected construction slowdown means Quebec's

housing deficit will probably endure for several

more years. Some 40,000 to 60,000 housing units were

missing at the end of 2020 to restore balance to the province's

residential property market, the APCHQ stated in

a recent report. n

NEWS DEVELOPMENTS Continued from page 17

NWFA COMPLETES 60TH HOME WITH GARY

SINISE FOUNDATION

The National Wood Flooring Association

(NWFA), located in St. Louis,

MO, has provided flooring for its 60th

home in support of the Gary Sinise

Foundation R.I.S.E. program (Restoring

Independence Supporting

Empowerment). The R.I.S.E. program

builds custom, specially adapted

smart homes for severely wounded

veterans and first responders. The

home dedication for United States

Army Staff Sergeant (Ret.) Jason

Tabansky took place recently in San

Antonio, TX. Flooring for the project

was donated by NWFA member Mullican

Flooring.

Staff Sergeant Tabansky enlisted in

the Army in December 2000 as a Chinook

helicopter mechanic, and was

deployed to Kandahar, then Taji, Iraq.

In September 2015, he became paralyzed

from the chest down following

a routine demonstration of a new Chinook

helicopter in London, England.

"Through extensive physical therapy,

Staff Sergeant Tabansky has

regained control of his hands, which

has helped him to regain some independence,"

said NWFA President

and CEO, Michael Martin. "His specially

adapted smart home will help

contribute to his continued recovery

as well. We're honored to partner with

Mullican Flooring to provide beautiful

wood floors for his new home."

In addition to the 60 homes already

completed, NWFA currently is working

with its members to source wood

flooring for 12 additional R.I.S.E.

homes in various stages of

planning and construction.

Currently, 143 NWFA member

companies have donated product,

logistics, and installation

services in locations throughout

the United States, with a total

value of more than $5.7 million.

A list of all NWFA R.I.S.E.

participating companies can be

found at www.nwfa.org/giv

ing-back.aspx.

To learn more about the program,

and how you and/or your company

can get involved, contact the NWFA

at 800-422-4556, or e-mail them at

anita.howard@nwfa.org.

The National Wood Flooring Association

is a not-for-profit trade organization,

with more than 3,200 member

companies world-wide, dedicated to

educating consumers, architects, designers,

specifiers and builders in the

uses and benefits of wood flooring.

Learn more at www.nwfa.org. n

NHLA NEWS

Continued from page 20

ized grading system is on an international

level with our partners at the

American Hardwood Export Council

(AHEC). By spreading the standards

and news of our sustainability story,

NHLA is promoting our renewable

product to the world markets. While

NHLA staff may be "grounded" from

international travel at the moment,

the work we have done over the last

15 years is still evident and we know

when international travel resumes,

we will be able to pick up where we

left off. Like you, we can't wait for

that day to get here.

We will continue to use the information

derived from the 2021 member

survey as we plot our path for

2022 and beyond. We ask that you

continue to share your opinions and

ideas with us as we strive to provide

United States Army Staff

Sergeant (Ret.) Jason Tabansky

and his wife.

Any Way

you with the benefits and resources you need to be successful.

So remember to always, "Click HERE" to take

our survey! n

Keep Up With The

Latest Industry News

nationalhardwoodmag.com

You Cut It...

ISK Protects It.

Proven Mold Control...Powerful Sapstain Protection

Trust ISK for Your Wood Solution.

NeXgen ® End Coatings & Paint PQ-80 ®

1-800-238-2523 • 416 E. Brooks Rd. • Memphis, TN 38109 • www.iskbiocides.com

NeXgen ® , Tuff-Brite ® and CosPaint ® are registered trademarks of ISK Americas Incorporated. PQ-8 ® and PQ-80 ®

are registered trademarks of IBC Manufacturing Company.

50 MARCH 2022 n NATIONAL HARDWOOD MAGAZINE MARCH 2022 n NATIONAL HARDWOOD MAGAZINE 51

ISK BIOCIDES ISLAND.indd 7

5/18/17 3:14 PM
---
WHO'S WHO

IN HARDWOOD PURCHASING

A BRIEF SKETCH OF THE LEADING

PURCHASING EXECUTIVES IN

THE HARDWOOD INDUSTRY

ATLEE KAUFMAN is owner and lumber buyer for

Bentwood Solutions LLC, located in Millersburg, OH.

A family owned and operated business, Bentwood

Solutions purchases approximately 9.5 million board

feet annually of Red and White Oak, Hickory, Cherry,

Soft Maple, Walnut and Gray Elm.

The company manufactures solid wood bendings for

the furniture industry. Value-added services include kiln

drying, bending and ready to assemble parts.

Kaufman has owned Bentwood Solutions for 40 years.

He began his career in the forest products industry as a

trim carpenter.

He and his wife of 48 years, Ella, have two sons, two

daughters, seven grandsons and eight granddaughters,

as well as one great granddaughter. Kaufman enjoys

tree farming in his spare time and is a member of the

American Tree Farm System.

For more information contact 330-674-1454 or fax

330-674-5200 or visit www.bentwoodsolutions.com.

LINUS YODER is the purchasing

manager, plant operations

manager and IT manager

for Tilo Industries in Lewisburg,

PA.

Tilo Industries manufactures

high-quality Hardwood mouldings

and millwork, Hardwood

components, edge glued panels,

specialty flooring and wall treatments.

The company buys 1.4

Linus Yoder

million board feet a year of Hard

and Soft Maple, Cherry, Poplar, Oak, Walnut and Ash in

FAS and No. 1 Common grades in thicknesses from 4/4

through 8/4.

Tilo Industries offers CNC routing, moulding profile

sanding and all work is done in-house from drawings

to finished mouldings. The company also produces custom

profiles for specific customers and reproductions to

match existing mouldings.

Yoder has worked at Tilo Industries for more than 15

years and has been in his current position for more than

11 years. Prior to that, he was a foreman in construction

for 10 years; his job at Tilo Industries was his first job

in the forest products industry. His father was in woodworking

for most of his life.

Yoder has been married for 10 years to his wife, Shelly.

In his spare time, he loves fishing, camping, hiking and

woodworking, and values his relationship with God.

Tilo Industries is a member of the Keystone Wood

Products Association.

For more information, visit www.tiloindustries.com.

RICHARD C. TODD JR. is the owner and president of

H & T Chair Co. Inc., located in Boone, NC.

The company manufactures outdoor/indoor Hardwood

folding chairs and purchases more than 180,000 board

feet of Hardwood lumber each year. H & T Chair Co.

also offers replacement parts and re-covering material

for the chairs.

Todd has worked in his present position for more than

40 years. He is responsible for all aspects of manufacturing,

from purchasing to machinery set-up. He is also

currently a member of the Boone Chamber of Commerce.

Todd began in the forest products industry 51 years

ago as a lumber handler/laborer. He graduated from

South Broward High School in Hollywood, FL and attended

Broward County Community College in Davie,

FL.

Todd and his late wife of more than 27 years, Mary

Jane, have a son, a daughter and two grandsons. In his

free time, Todd enjoys golf, working out, hiking and travel.

H & T Chair Co. is a member of Professional Beach

Services of America.

For more information about H & T Chair Co., call (828)

264-7742. n

Contact:

Mike Tarbell, Sales Manager

Rus Gustin

(814) 697-7185

FAX (814) 697-7190

25,000,000 BF of Quality Bandsawn Pennsylvania Hardwoods

1,500,000 BF Kiln Capacity

Export Packaging & Container Loading

SPECIALIZING IN ASH, RED OAK, HARD MAPLE and CHERRY

"We welcome your inquiries and look forward to serving your needs."

Mailing Address

1716 Honeoye Road

Shinglehouse

PA 16748

E-mail: mtarbell@ramforestproducts.com

• Top Quality Kiln Dried Hardwood Lumber Rough/S2S

• Specializing in 5/4 thru 8/4 Red Oak & White Oak

• Also: Cherry, Hard Maple & Soft Maple

• Shipping Mixed Trucks/Containers Worldwide

Sirianni Hardwoods, Inc.

912 Addison Road

Painted Post, New York 14870

Telephone: (607) 962-4688

Fax: (607) 936-6237

www.siriannihardwoods.com

Sales - Tom Armentano

sales@siriannihardwoods.com

Purchasing - Andy Dickinson

andy@siriannihardwoods.com

52 Ram MARCH half Converted 2022 n Oct NATIONAL 2018.indd HARDWOOD 1 MAGAZINE 9/26/18 2:02 PM

MARCH 2022 n NATIONAL HARDWOOD MAGAZINE 53
---
TRADE TALK

AN UPDATE COVERING

THE LATEST NEWS ABOUT

HARDWOOD SUPPLIERS/VENDORS

EXPERIENCE QUALITY DEPENDABILITY

975 Conrad Hill Mine Rd. ~ Lexington, NC 27292

Phone 336-746-5419 ~ Fax 336-746-6177

www.kepleyfrank.us

Facilities:

3 Sawmills Processing 50 Million' • 750,000' Dry Kiln

Capacity • 600,000' Fan Shed Capacity

2 382 Newman Planer Mills • 50 Bay Bin Sorter

Products Available:

4/4-8/4 Appalachian Lumber • 6/4-8/4 Ship Dry Capacity

Crossties (100,000 BF per week) • Timbers up to 18'

1,000,000+ Average KD Inventory • 12,000,000+

Average AD Inventory

Species:

White Oak • Red Oak • Poplar • Ash • Hickory

Elm • Beech • Gum • Hackberry • Pecan

Jimmy Kepley, owner, and Bart

Jenkins, lumber sales

The firm manufactures 4/4 through 8/4 thicknesses.

Sales:

Bart Jenkins

bjenkins@kepleyfrank.us

Jimmy Kepley

jkepley@kepleyfrank.us

HARRISBURG, PA–Department

of Community and Economic

Development (DCED) Secretary

Dennis Davin announced

recently that Deer Park Lumber,

a family-owned Hardwood sawmill

with domestic and international

customers, will create eight

new jobs and retain 74 existing

Dan DiMeolo

jobs over the next three years

as part of a $10 million project to

expand and modernize its manufacturing facility in Wyoming

County.

"I commend Deer Park Lumber for choosing to grow

in Pennsylvania," said Sec. Davin. "Our prime location,

natural resources and thriving manufacturing climate is

attractive to expanding companies who are already here

as well as businesses looking to establish their first operation

in the commonwealth. Pennsylvania is the best

choice for manufacturers."

As part of its expansion project, Deer Park Lumber is

installing a state-of-the-art automated bin sorter along

with an optimizing grading system to streamline its materials

handling and operations processes. The company is

making a significant investment in automation technology

that will position it for long-term competitiveness.

"Deer Park Lumber has long prided itself as one of the

best family-owned employers in Tunkhannock and Wyoming

County," said Dan DiMeolo, Plant Manager, Deer

Park Lumber. "Our commitment to excellence grows

knowing that the significant investment we make today

secures the future of our business, employees and their

families at large. This capital expansion investment will

dramatically improve our production capabilities which

in turn improves our competitive standing in the global

Hardwood market."

Keystone College, located just a few miles from Deer

Park Lumber, will participate in the project by offering

valuable information technology expertise to the company

as it expands and modernizes.

"Keystone College is proud to partner with Deer Park

Lumber on this important economic development initiative,"

said Keystone President Tracy L. Brundage, Ph.D.

"All of Wyoming County will benefit in numerous ways as

Deer Park creates new jobs and retains existing ones.

We are thrilled to offer valuable expertise which will benefit

our local community."

Deer Park Lumber received a funding proposal from

DCED for a $3 million Pennsylvania Industrial Development

Authority (PIDA) loan, a $114,000 Pennsylvania

First grant, and a $52,800 workforce development grant

to help train its new workers. The company has committed

to investing $10 million into the project, creating eight

jobs and retaining 74 jobs over the next three years.

In conjunction with this project, the Northern Tier Regional

Planning & Development Commission (NTRPDC)

secured for the company a $10,000 grant for website

internationalization through DCED's Office of International

Business Development's (OIBD's) Global Access

Program, funded in part by the U.S. Small Business Administration.

NTRPDC also worked through OIBD's authorized

trade representative in Mexico to open up additional

markets for the company.

"We are always pleased to help any business expand

their market place, but supporting a long-time member

of our community is especially gratifying," said Cynthia

Traore, International Trade Program Manager, NTRP-

DC. "We have an established relationship with Deer Park

Lumber and look forward to supporting them in this and

future endeavors."

The project was coordinated by the Governor's Action

Team, an experienced group of economic development

professionals who report directly to the governor and

work with businesses that are considering locating or expanding

in Pennsylvania.

"Wyoming County is built-on companies committed to

growth and community," said Gina Suydam, President

& CEO, Wyoming County Chamber of Commerce. "The

Chamber is happy to facilitate partnerships providing

companies like Deer Park Lumber the opportunity to realize

their goals for expansion."

"Advocating for state investments for our rural communities

is crucial to supporting local economic development,"

Senator Lisa Baker said. "Deer Park Lumber is

a recognized leader and integral part of the supply chain

for the Hardwoods industry. This substantial funding will

help to complete its planned expansion, and in turn, create

and retain numerous family sustaining jobs. I look

forward to witnessing this exciting project move forward,

and seeing the future benefits that it brings for Wyoming

County and our surrounding region."

Located in the Endless Mountains of Tunkhannock,

Please turn the page

RED OAK

ANOTHER SPECIES OFFERED

IN A VARIETY OF WAYS

PLAINSAWN

4/4, 5/4, 6/4, 8/4, 10/4 AND 12/4

NORTHERN REGION

COLOR SORTED

70% 9' AND LONGER

DISTRIBUTION YARD QUALITY

RIFT AND QUARTERED

4/4, 5/4, 6/4 AND 8/4

sales@devereauxsawmill.com

989-593-2552

devereauxsawmill.com

54 MARCH 2022 n NATIONAL HARDWOOD MAGAZINE MARCH 2022 n NATIONAL HARDWOOD MAGAZINE 55
---
TRADE TALK

Continued

Deer Park Lumber Inc. is a second-generation family-owned

Hardwood sawmill. The company purchases

native Hardwoods such as Red and White Oak, Cherry,

Ash, Hard and Soft Maple, Beech, Birch, Poplar, Basswood,

Pine and Hemlock from private woodlot owners

and ships kiln dried lumber domestically and internationally.

Deer Park Lumber also has a staff of professional

foresters and provides forestry management services.

Learn more at www.deerparklumberinc.com.

FRANKLIN, PA—Ron Jones Hardwood Sales Inc., located

here, recently added two dry kilns manufactured

by SII Dry Kilns, located in Lexington, NC. Each kiln has

a 50,000-foot per charge capacity. Total additional dry

kiln capacity to Ron Jones Hardwood is 100,000 board

feet. Kiln drying capacity was increased by 25 percent.

Ron Jones Hardwood is a concentration/distribution

Here are two dry kilns that Ron Jones Hardwood Sales Inc.

recently purchased from SII Dry Kilns, located in Lexington,

NC. Each kiln has a 50,000-foot per charge capacity.

yard with 2.5 million board feet of kiln dried lumber inventory

and handles 10 million board feet per year. Hardwood

lumber handled includes Cherry, Red Oak, Hard

and Soft Maple, Hickory and Poplar.

Steve Jones, president of Ron Jones Hardwood, stated,

"We have increased demands for our Hardwood lumber

products. Our goal is to build a streamlined, efficient

lumber facility that has machinery producing a trusted

product. The additional dry kiln capacity complements

our current production efficiencies."

Jones said, "We have trust and loyalty with SII Dry

Kilns. They are a family company that builds a quality

engineered and reliable dry kiln that we can count on every

day. SII Dry Kilns designs and builds exceptional dry

kilns that have stood the test of time. Most importantly,

SII Dry Kilns is a company with a very knowledgeable

sales, service and support staff. These are the 9th and

10th dry kilns that we have purchased from SII Dry Kilns

with our total capacity at 500,000 board feet.

"We have been blessed with constant growth, providing

our customers with a quality product that they can

rely on with every load. We continue to grow with our

valued customers."

Jones added, "In 2022, we plan to build a new 28,000

square-foot lumber surfacing/planing line and storage/

load building."

For more information, go to www.ronjoneshardwood.

com.

LOGANSPORT, IN—Brian Gibson was recently promoted

to sales manager for Cole Hardwood Inc., headquartered

here. Cole Hardwood manufactures Ash,

Basswood, Beech, Cherry, Hard and Soft Maple, Hickory,

Poplar, Red and White Oak and Walnut in 4/4 through

8/4 and up to 12/4 in Poplar and Ash.

Gibson has been in his new role for six months. In this

Please turn the page

WORMY CHESTNUT • TROPICALS • QTR & RIFT • CYPRESS • ALDER

Headquarters, Concentration Yard & Kilns in Hickory, N.C.

Phone (828) 397-7481 FAX: (828) 397-3763

www.cramerlumber.com

3 million BF KD

Inventory

Atlanta, GA

Warehouse

770-479-9663

"LIMBO"

The Lumber Rule

Hardwoods • White Pine • Cypress

RGH • S2S • SLR1E

4/4 thru 16/4

thicknesses

Export

Sales

706-736-2622

HICKORY • HARD & SOFT MAPLE • POPLAR • RED & WHITE OAK • WALNUT • ASH

WHITE PINE • BASSWOOD • BEECH • BIRCH • CEDAR • CHERRY

"Everything You'll Ever Need From The Forest "

MERIDIEN HARDWOODS OF PA., INC.

Brandon Ferman

Office: 814-563-4614

Cell: 814-688-6691

Email: brandonferman@hotmail.com

Michael Songer

Office: 814-486-1711

Cell: 814-594-0827

Email: mjs@zitomedia.net

Dan Ferman

Office: 814-563-4614

Jeff Childs

Office: 740-392-7727

Cell: 740-398-3474

Email: jeffchilds7@yahoo.com

BUILD YOUR

OWN LOAD

n 18 Acre Concentration Yard

n 2 Trim Lines (50 Sorts)

n Straight Line Ripping and

S2S Facilities

n We Offer Export Preparations,

Container Loading, Mixed

Species & Thicknesses

n Custom Walnut

Steaming Available

n 800,000' Dry Storage

Dry Kiln Capacity 250,000'

n All KD lumber pick-a-pack

tallied

(800) 780-3187

FAX: (800) 292-5773

Website: www.meridienpa.com • Email: meridien@penn.com

Yard Address: Old Pittsfield Rd., Pittsfield, PA 16340

45,000 ft. steamer loaded with 4/4 Face &

Better Walnut

4/4 Face & Better Hard Maple

4/4 Face & Better Walnut ready

for shipment

56 MARCH 2022 n NATIONAL HARDWOOD MAGAZINE MARCH 2022 n NATIONAL HARDWOOD MAGAZINE 57
---
MUELLER BROTHERS

TIMBER, INC.

TRADE TALK

Continued

Tracey Mueller, Log Procurement; Kevin Mueller, Mill Manager;

and Randy Mueller, Sales

SAWMILL AND TWIN BAND RESAW

Manufacturers of:

4/4 - 8/4 Grade Lumber

SPECIALIZING IN PLAIN SAWN:

• WALNUT • COTTONWOOD

• SYCAMORE • HICKORY • RED OAK

• WHITE OAK• SOFT MAPLE

• HARD MAPLE • ASH

400,000' DRY KILN CAPACITY

1,000,000' DRY STORAGE

PLANER

STRAIGHT LINE RIP

GANG RIPPING

DOUBLE END TRIM

EXPORT PACKAGING

CONTAINER LOADING

Grooved sticks used on all

whitewoods and White Oak.

P.O. BOX 175

OLD MONROE, MO 63369

PHONE: 636-665-5193

FAX: 636-665-5812

Email: randy@muellerbros.com

www.muellerbros.com

NHLA

job, he oversees sales for Cole

Hardwood, selling domestically

and internationally and running

all social media and website outlets

for the company.

Gibson has worked for Cole

Hardwood for close to four

years. At Cole Hardwood, Gibson

worked as a salesman for

Brian Gibson

3-1/2 years before moving up

to sales manager. His first job in

the forest products industry was

when he was hired for a sales job at Cole Hardwood but

worked in the yard for a couple of months to learn the

in's-and-out's of the company.

Gibson graduated from Bethel University with a bachelor's

in exercise science.

He is a member of the Indiana Hardwood Lumbermen's

Association, the National Hardwood Lumber Association,

Lake States Lumber Association and the Real

American Hardwood Coalition.

In his free time, Gibson enjoys bird hunting with his

new German Wirehaired Pointer, Louis; running; fishing;

hunting; woodworking; golfing and cycling.

For more information, go to www.colehardwood.

com.

PORTLAND, OR—Natalie

Heacock has recently been promoted

to CFO for Patrick Lumber

Co., headquartered here. Patrick

Lumber is a secondary manufacturer

and exporter of niche

high-grade wood products sold

through a network of worldwide

distribution.

Heacock has been in her

Natalie Heacock

present role since early February,

2022. She has worked for

Patrick Lumber for eight years. Her first job in the forest

products industry was in 2014 for Patrick Lumber Co.

Previously, Heacock was an auditor with Perkins & Co.

Heacock graduated from Sam Barlow High School in

Gresham, OR, from the University of Portland (with a fi-

nance degree) and from Willamette University in Salem,

OR (with an MBA).

She is the chairperson of the Oregon Society of CPA's

Leadership Committee. Also, she stood out as one of

40 under 40 in the North American Wholesale Lumber

Association's inaugural YELP (Young Emerging Lumber

Professional) program.

Heacock and her husband have three young children.

In their free time, they enjoy boating, water sports and

staying active.

For more information, visit www.patlbr.com.

Pictured is CPF Manufacturing in Crandon, WI, recently

purchased by Cleereman Industries.

NEWALD, WI—Cleereman Industries,

located here, and one

of the leading manufacturers of

top quality sawmill equipment, is

proud to announce the purchase

of CPF Manufacturing in Crandon,

WI. CPF is a fully equipped

and staffed fabricating and machining

facility. Paul Cleereman,

Paul Cleereman VP of Cleereman Industries,

said this new facility will be used

for the Cleereman Edger and Bandmill divisions along

with some other Cleereman product lines.

"With our new Edger line and building bandmills for our

Lumber Pros this purchase made sense," Paul Cleereman

said. The 20,000-square-foot facility is equipped

with overhead cranes and has large machining capabilities

that include three large boring bars, turning centers,

Please turn the page

MacbeathREV 12-2018.indd 1

A 60+ Year Tradition of Excellence

Serving architectural woodworkers, cabinet and fixture

manufacturers with vast inventories of premium quality

domestic and imported hardwoods, from Alder to

Zebrawood, 4/4 through 16/4 in many species. When you

need Hardwood, think MacBeath. . . a name synonymous

with fine quality and prompt, reliable service.

Corporate Office &

Concentration Yard:

Edinburgh, Indiana

800-322-9743

Arizona:

Phoenix: 602-504-1931

Tempe: 480-355-5090

Tucson: 520-745-8301

Reload:

Northern California:

Golden State Reload Berkeley: 800-479-9907

Perris, California

Stockton: 844-490-5051

800-322-9743

Utah: Salt Lake City: 800-255-3743

macbeath.com

JOSEY (JOCO) 2018 Christmas REV .qxp_Layout 1 11/19/18 2:42 PM Page 1

JoCo Lumber, Inc. is a division of

Josey Lumber Company, Inc.

Tripp, Logan, and Joey Josey

Our company offers:

• 10,000,000 BF of annual production from

our 6' band headrig and 6' band resaw.

• Red and White Oak, Soft Maple, Ash,

Poplar and Cypress in 4/4 through 8/4

thickness.

• rough, surfaced, air-dried and kiln-dried

lumber in random widths and lengths.

• export prepping, container loading of logs and lumber,

anti-stain dipping and end coating lumber.

• 500,000 BF of dry kiln capacity.

• 65,000 SF of enclosed warehouse for storage and loading of

kiln-dried lumber.

For Quality Appalachian Lumber Contact:

JOsey Lumber COmpany, InC.

JoCo Lumber, InC.

476 Lees meadow rd. • p.O. Drawer 447

scotland neck, nC 27874

TeL: (252) 826-5614 • FaX: (252) 826-3461

COnTaCT:

emaIL: joseylbr3@gmail.com

saLes: Logan Josey

6/21/19 10:13 AM

58 MARCH 2022 n NATIONAL HARDWOOD MAGAZINE MARCH 2022 n NATIONAL HARDWOOD MAGAZINE 59
---
TRADE TALK

Continued

drill presses, etc., as well as a full range of large welding

positioners and several welders. The facility also has a

large drive-through media blast cabinet used for complete

paint and rust removal of large equipment, which

will be extremely useful when rebuilding Cleereman

equipment for customers.

The newly acquired facility had a long standing business

relationship with Cleereman Industries for over 30

years and did a lot of machine work for Cleereman Industries,

including its new Edger Boxes. Due to the unexpected

death of Larry Colburn, one of the owners and

a good friend of Cleereman Industries, the opportunity

arose to purchase the facility and create stable, ongoing

employment for all of the employees and the Crandon

community. In addition, it provides a turn-key solution to

Cleereman Industries for increasing demand, for not only

its Edger line but all lines of Cleereman equipment.

The Crandon location also allows the company to draw

from a talent pool of employees from a different region

than its current Newald facility. Cleereman looks forward

to providing Crandon and the surrounding communities

with great employment opportunities.

For more information, visit www.cleereman.com or

call 715-674-2700.

BUFFALO, NY– U-C Coatings,

LLC, headquartered here,

is pleased to introduce Mark

Peaden as the Eastern Service

Technician for U-C Coatings.

Peaden joined U-C Coatings/

Contechem Division in Portland,

OR, in 2019 as a Service Technician.

While in Oregon, he gained

Mark Peaden valuable experience delivering

and handling anti-sapstain and

iron stain remover products while providing excellent

technical service to customers to help monitor quality

control, service chemical pumps, and provide product

testing and training.

He is looking forward to supporting the eastern sales

team, as well as meeting and serving current customers

in the east.

Peaden said, "I am grateful and happy for the opportunity

and looking forward to helping U-C Coatings con-

MANUFACTURER OF QUALITY BAND SAWN

NORTHERN APPALACHIAN HARDWOODS

tinue to provide customers with the product and services

MARS HILL JUNE 2014_Layout 1 5/19/14 2:24 PM RED Page OAK 1 WHITE OAK CHERRY SOFT MAPLE

they need and expect."

Outside of work, Peaden enjoys training Brazilian Jiu

POPLAR HARD MAPLE WALNUT

Jitsu with his kids and taking the family hiking, camping,

and fishing.

U-C Coatings is a leading manufacturer and supplier

500,000 B.F. Dry Kiln Capacity

Container Loading

of premium wood protection products. For more than

2 Million B.F. Dry Storage

50 years the company's products have been used in a

variety of industries, including Hardwood and softwood

Mixed TL's

logging and lumber production, wood products manufacturing,

woodworking and wood decking markets.

Lumber Measured &

U-C Coatings' products are used worldwide to protect, Inspected after Kiln Drying

conserve and enhance forest resources. The company's

goal is to help customers achieve more with less waste 2240 Shermans Valley Road, Elliottsburg, PA 17024

and provide the highest level of protection for their products.

Phone: 717-582-4122 Fax: 717-582-7438

Toll Free: 1-800-253-0263

Learn more at www.uccoatings.com. n

Email: sales@tuscarorahardwoods.com

Announcement:

The Montreal Wood Convention has been

rescheduled for May 24-25, 2022

at Fairmont The Queen Elizabeth Hotel.

The original dates were March 29-31.

Learn more at

www.montrealwoodconvention.com.

Connecting North American Forest Products Globally

LIKE AND FOLLOW US ON:

@millerwoodtradepub

www.millerwoodtradepub.com

Website: tuscarorahardwoods.com

Contact

Mars Hill, Inc.

at (866) 629-9089 for obtaining the

best looking White Poplar

you've ever seen.

We like to say "It's so white, it'll blind you!"

We offer our White Poplar in 4/4 through 8/4 thicknesses

in Sap 1F & Btr, 1 Com and/or FAS/1F grades in truck

load or container load quantities only.

ATT: PALLET - STAKE - INDUSTRIAL MFRS!

Hardwood Lumber Rough Green

4/4xRWxRL • 4/4x6xRL • 8/4xRWxRL • 6/4xRWxRL

SYP Heat Treated

1x4x40 • 1x6x40 • 2x4x40 • 2x6x40

2x4x48 • 1x2x12"-36" SYP KD Stakes

Other sizes from can to cant! All inquiries welcome!

Dense HDWD Stakes, Chisel Point

1 1/8x1 1/8

Truckload lots available, quoted F.O.B. your yard.

(866) 629-9089

Fax: 601-671-0736

e-mail: mwood@marshillinc.com

www.marshillinc.com

We accept major credit cards

60 MARCH 2022 n NATIONAL HARDWOOD MAGAZINE MARCH 2022 n NATIONAL HARDWOOD MAGAZINE 61
---
CLASSIFIED PROFIT OPPORTUNITIES

Certified Lumber Grader – Job Description

Cardin Forest Products is a family owned sawmill and kiln drying operation located

in South Pittsburg, Tennessee. We are currently seeking a candidate to fill a

hardwood lumber grading position in our kiln drying operation.

The ideal candidate will have:

•Been NHLA certified

•2 to 3 years of experience grading kiln dried hardwoods

Duties will include, but not be limited to the following:

•Grade and mark all lumber to be sorted according to NHLA rules/guidelines

and industry standards

•Communicate effectively with your team and other departments

•Adhere to all safety policies and perform tasks in a safe and responsible

manner

Required Qualifications:

•Minimum of one (1) year experience grading green and/or kiln dried domestic

lumber

•Must be NHLA trained or have equivalent knowledge.

•Must be physically capable of performing all duties of the job and any other

duties assigned by Crew Leader

Position

•Full time position

•Company offers medical, dental, 401(k), and other benefit offerings

We are an equal opportunity employer. Employment selection and related decisions

are made without regard to sexual orientation, race, color, age, disability,

religion, national origin, citizenship status and creed.

Salary Negotiable

Reply to: Jeremy Ball

Cell: (423) 619-8056

Email: jball@cardinfp.com

HELP WANTED

To: Anyone involved in the sawmill controls industry

To: Anyone involved in the sawmill controls industry

There are many stories and people that have been

involved in the sawmill controls industry.

This fascinating history should be preserved. I want to write

a book about this industry and would appreciate any stories

or comments you might want to add. I am willing to meet in

person if needed.

Please contact me, Jeff Hurdle, at:

hurd2575@gmail.com

ALL CLASSIFIED ADS MUST BE

PAID IN ADVANCE

$45.00 PER INCH •

Blind Box Number Fee: $10.00

DEADLINE: 30 Days Preceding

Publication Month

Classified advertising will not be accepted for Hardwood products such

as lumber, dimension, turnings, veneer, carvings, new dry kilns or dry

kiln equipment, etc.

USED MACHINERY FOR SALE

●USNR 4TA30 Top Arbor Three Shifting

Saw Edger

●Infeed Landing Deck

●USNR – Lunden Cam Unscrambler

S/N 41419

●Even Ending Rolls

●Queuing Hooks (2) ahead of Scanner

●Queuing Hooks (2) after Scanner

●Edger Infeed Model 600 Maximizer

S/N 2951-A

●USNR 4TA30 Edger with 200 HP Arbor

Drive Motor

●Outfeed Belt with Shifting Edging Shears

●Specs – Hardwood 1" to 4" Thick x 4" to 24"

Wide x 6' to 16' Long

●Saw Kerf .160" x Saw Plate .120"

●Two Hydraulic Units

●Water Mizer Oil Mist Guide System

●Set of Babbitt Guide Tools

Contact: Jenness Robbins

Cell: (207) 745-2223

Email: jenness57@gmail.com

SERVICES

901.767.9126

or visit us at

www.hmr.com

Benchmark pricing and market

commentary on the North American

hardwood lumber industry.

Go online at hmr.com for a sample copy.

EQUIPMENT FOR SALE

2000 Optimil 6ft Twin Bandmill

Never used. Bandsaw with covers. $150,000.

Please call Jenness for more information at

207-745-2223 or Jeff at 207-342-5221.

USNR 4TA30 Top Arbor Three Shifting Saw Edger

200 hp drive motor, includes unscrambler, control

cab, infeed and outfeed. $95,000. Please call Jenness

for more information at 207-745-2223 or Jeff

at 207-342-5221.

Phone: (207) 342-5221

Fax: (207) 342-5201

PO Box 9, Ghent Road

Searsmont, ME 04973

Contact: Jenness Robbins

To: Anyone involved in the sawmill controls industry

SEEKING AN eLIMBS SPECIALIST

DMSi is currently seeking a candidate to implement and support the eLIMBS inventory

system. This person will use their industry and product knowledge to help customers

improve their business processes with the software.

Duties include

-Manage implementation projects, including system set up and configuration

-Train customers and other DMSi personnel on use of the system

-Help resolve client cases by gathering information and researching issues

-Create documentation to improve eLIMBS training resources

Qualifications

-Knowledge of the hardwood lumber industry and supply chain processes

-Experience with training end-users (virtual and in-person) on new software procedures

-Strong logical and problem-solving skills

-The ability to positively represent DMSi/eLIMBS

Position Details

-Full-time position

-Ability to work from home or Omaha office

-Travel to customer locations required

-Medical, dental, vision, 401(K) with match, PTO, and other benefits provided

Reply to Kevin Peterson (kpeterson@dmsi.com)

Our Classified

Advertising

Works!

FOR INFORMATION CALL:

800-844-1280

Get it fasterrrrrr.

We can't control mail delays so we are speeding up the way you can get your next issue.

Scan and sign-up to get all 13 digital issues FREE and delivered directly to your inbox.

National Hardwood Magazine keeps YOU informed about Hardwood

sawmill production, lumber distribution and consumption of

apprearance grade Hardwoods throughout North America.

northwesthardwoods.com

62 MARCH 2022 n NATIONAL HARDWOOD MAGAZINE MARCH 2022 n NATIONAL HARDWOOD MAGAZINE 63
---
ADVERTISERS

INDEX

For For over over a a century, Corley has has been

been

the the most trusted name in in the the industry.

Abenaki Timber Corporation......................

Air Systems Mfg. of Lenoir, Inc..................

Ally Global Logistics...................................

Atlanta Hardwood Corporation..................

Autolog Sawmill Automation..................30

Automation & Electronics USA..............17

Baillie Lumber Co.......................................

Beard Hardwoods...................................60

Beasley Forest Products, Inc.................35

BID Group................................................15

Bingaman & Son Lumber, Inc.................33

BioLube, Inc................................................

Breeze Dried Inc.....................................36

Carbotech International.........................30

Cardin Forest Products LLC.......................

Church, Bryant, Hardwoods, Inc................

Clark Lumber Co.....................................48

Cleereman Controls................................11

Cleereman Industries.............................11

Cole Hardwood, Inc....................................

Cooper Machine Co., Inc............................

Corley Manufacturing Co......................IBC

Cramer, W.M., Lumber Co.......................56

Cummings Lumber Co., Inc......................3

Deer Park Lumber, Inc............................10

Devereaux Sawmill, Inc..........................55

Distribution Management Systems, inc.

(DMSi)......................................................21

EXPO Richmond........................................4

Fitzpatrick & Weller Inc..............................

Forcey Lumber Company, Inc.................44

Forestry Systems........................................

Frank Miller Lumber Co., Inc......................

GF Hardwoods, Inc.................................50

Graf Bros. Flooring & Lumber....................

Granite Hardwoods, Inc.............................

Granite Valley Forest Products..................

GTL Lumber Inc..........................................

Hardwood Forestry Fund............................

Hardwood Manufacturers Assoc ..........19

Hartzell Hardwoods, Inc.............................

64 MARCH 2022 n NATIONAL HARDWOOD MAGAZINE

Hermitage Hardwood Lumber Sales, Inc..

HHP, Inc.......................................................

Hurdle Machine Works Inc.....................38

Irving, J.D., Limited....................................

ISK Biocides, Inc....................................51

JoCo Lumber, Inc....................................59

JoeScan......................................................

Jones, Ron, Hardwood Sales, Inc..............

Josey Lumber Co., Inc............................59

Kendrick Forest Products......................47

Kentucky Forest Industries Assoc.........46

Kepley-Frank Hardwood Co., Inc...........54

King City Forwarding USA, Inc.................9

King City/Northway Forwarding Ltd.........9

Kretz Lumber Co., Inc.................................

Lawrence Lumber Company Inc................

Lewis Controls, Inc...............................IBC

Lewis, Dwight, Lumber Co., Inc.................

Limbo......................................................56

Lucidyne Technologies Inc........................

Lumber Resources Inc...........................39

Lussier, Simon, Ltd.....................................

MacBeath Hardwood Company..............59

Maine Woods Company..............................

Mars Hill, Inc...........................................61

Matson Lumber Company...........................

Maxwell Hardwood Flooring......................

McDonough Manufacturing Company........

Mellott Manufacturing Co., Inc...............49

Meridien Hardwoods of PA., Inc.............57

Messersmith Manufacturing, Inc...............

Midwest Hardwood Company....................

MO PAC Lumber Company......................37

Mueller Bros. Timber, Inc.......................58

Neff Lumber Mills, Inc................................

New River Hardwoods, Inc.....................41

North American Forest Foundation............

Northern Hardwoods..................................

Northwest Hardwoods, Inc................... FC

Nyle Dry Kilns........................................ BC

Note: Advertisers with no page number carry an alternating Ad schedule.

Oakcrest Lumber, Inc.................................

OHC | Overseas Hardwoods Company...34

O'Shea Lumber Co......................................

Patrick Lumber Company...........................

Paw Taw John Services, Inc......................

Pennsylvania Lumbermens Mutual

Insurance Company................................40

Peterson, Keith D., & Co., Inc................60

Pike Lumber Co., Inc..................................

PJ Clark Lumber.....................................31

Prime Lumber Company.............................

Primewood............................................ IFC

Quality Hardwoods Ltd...........................43

Ram Forest Products, Inc.......................52

Real American Hardwood Coalition.........8

Rosenberry, Carl, & Sons,

Lumber, Inc.............................................42

Sawmill MD...............................................5

SII Dry Kilns..............................................7

Sirianni Hardwoods, Inc.........................53

Smithco Manufacturing, Inc.......................

Snowbelt Hardwoods, Inc..........................

Southern Forest Products Assoc...............

Stiles, A.W., Contractors, Inc.....................

Stoltzfus Forest Products, LLC..................

Taylor Machine Works, Inc.....................45

Tigerton Lumber Co....................................

TMX Shipping Co., Inc............................32

Tropical Forest Products..........................1

TS Manufacturing...................................16

Tuscarora Hardwoods, Inc.....................61

U-C Coatings, LLC.......................................

USNR...........................................................

VisionTally................................................5

Western Hardwood Association.................

Wheeland Lumber Co., Inc.........................

White, Harold, Lumber, Inc.........................

Williams, R.J., Inc.......................................

York Legacy Mill Inc...................................

Since Since 1905, 1905, our our family-owned business business has has been been built built upon upon a a reputation for for quality, quality, integrity, integrity, and and

Since Since old-fashioned

1905, 1905, our our family-owned

business business ethics. ethics.

business business

Today, Today,

has has

our our

been been partnership

built built upon upon

with with

a a reputation LewisControls for for quality, quality,

brings brings

integrity, integrity,

you you the the

and and

best best in in

old-fashioned equipment

business business

and and optimization

ethics. ethics. Today, Today,

software. software.

our our partnership

From From turnkey turnkey

with with

sawmills sawmills

Lewis LewisControls to to individual

brings brings

machine machine

you you the the

centers centers

best best in in

and and

equipment

retrofits, retrofits,

and and

we're we're optimization committed

software. software.

to to providing

From From turnkey turnkey maximum

sawmills sawmills

returns returns

to to

on on

individual individual

your your investment—year

machine machine centers centers

after after

and and

year. year.

retrofits, retrofits,

Our Our experienced

we're we're committed professionals

to to providing providing

can can help help

maximum maximum

you you realize realize

returns returns

a a profit profit

on on your your potential investment—year

you you may may have have

after after

never never

year. year.

thought thought

Our Our

possible. possible. experienced

Call Call professionals

us us today today or or

can can

visit visit

help help

our our

you you

website website

realize realize

to to

a a

discover discover

profit profit potential potential

what what lumbermen

you you may may have have

have have

never never

known known

thought thought

for for over over

possible. possible.

100 100 years. years.

Call Call us us

Wood Wood

today today

is is Wonderful...and

or or visit visit our our website website

who who

to to

knows knows

discover discover

that that

what what

better better lumbermen

than than we we do? do?

have have known known for for over over

100 100 years. years. Wood Wood is is Wonderful...and who who knows knows that that better better than than we we do? do?

www.corleymfg.com

www.corleymfg.com

www.lewiscontrols.com

www.lewiscontrols.com

P.O. P.O. Box Box 471 471 | Chattanooga, Tennessee 37401 37401 | tel: tel: 423-698-0284 | fax: fax: 423-622-3258

P.O. P.O. Box Box 471 471 | Chattanooga, Tennessee Tennessee 37401 37401 | tel: tel: 423-698-0284 | fax: fax: 423-622-3258
---
45 Years Leading Dry Kiln Efficiency!

kilnsales@nyle.com

(800) 777-6953

66 MARCH 2022 n NATIONAL HARDWOOD MAGAZINE