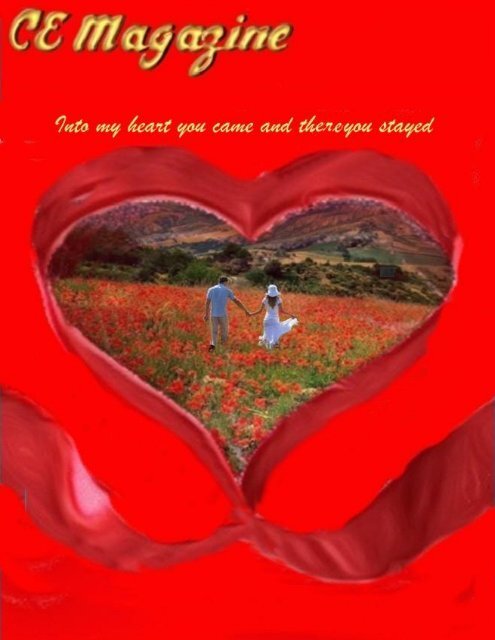 ce magazine february 2022 issue
You also want an ePaper? Increase the reach of your titles
YUMPU automatically turns print PDFs into web optimized ePapers that Google loves.
1
---
Thanks to all who contributed to CE

Magazine. Have an article you would like

contribute? You can mail it to:

CE, P.O. Box 8619

Michigan City In 46360

Or E-Mail it to

computerease@juno.com

CE Magazine® is part of OtherSide

Ministries © all rights reserved

Founder & Chief Editor

Peter Nadal

Editor

Pamela Kennoy

Vol 5 February 2022 issue 2

5 Hey Pete!

11 CE MAGAZINE LINKS TABLET

12 Biz Cards board!! Hey its free

13 10 romantic ideas for

Valentine's Day at home

17 Inexpensive Valentine's Day

Date Ideas

26 The Legend of St. Valentine

Our Writers

Rodrigo Esperanza

Nomar Shaw

Diane G

Big Poppa

CE Magazine® is part of OtherSide Ministries © all rights reserved

Michigan City Indiana

Vol 5 February 2022 issue 2

Front Cover: Valentine design by

Peter Nadal

Original Computer-Ease logo ©

2
---
3
---
Welcome to Pete's Desk and if this is your 1 st time reading CE Magazine we welcome

you aboard. We here at CE Magazine comb the internet for those great articles that

remain in obscurity. We find them and bring them back to the light once more for you,

our readers; hence we do your searching for you. Our virtual rack is free and if you

want to read more then just click on the underline blue

https://www.yumpu.com/user/CEoMC17. You can read from the rack the 2017 1 st

issue to 2020 issue!

This last Monday the 14 th was Valentine's Day and CE Magazine has dedicated

February issue to such a romantic day. From Rodrigo Esperanza, our romantic staff

writer, to other writers who give some very romantic evening advise. On page 11 is CE

MAGAZINE LINKS TABLET By Nomar Shaw and it has a treasure trove of links on

valentines, take a look, I did!

We are taking ads and if you are interested drop us an email at:

computerease@juno.com or mail us at CE, P.O. Box 8619, Michigan City In 46360

and will will send you a flyer of prices and sizes available.

Thank you for reading CE Magazine® and do follow us on Computer-Ease on

Facebook

Pete

4
---
A Valentine painting from lil Picasso!

You are here: Home / early learning / Valentine's Day Handprint Art for Early Learners

craft, early learning, holiday, Valentine's Day

Valentine's Day Handprint Art for Early Learners

February 4, 2019

Here's a super simple, but super fun, early learning activity for your toddlers and

preschoolers. I've been making these with my son since birth and it's been a fun

progression watching him take on more of the project himself each time.

First, you'll need a finger painted background to use for the cut out hearts. For easy

cleanup, I use washable acrylic paint sealed in a Ziploc bag. Carter likes to help me

dot the paint on the card stock and then I seal it in a bag.

After that, I let him get

busy squishing the paint

around.

5
---
Sometimes things get

pretty creative.

6
---
As soon as he's finished, I open the Ziploc bag and tear it down both sides to gently

separate the card stock from the bag. You'll want to do this before the paint is dry

so that the card stock doesn't stick to the bag and tear.

7
---
This part alone is pretty enough to hang on the refrigerator, but we cut them into

hearts to complete our Valentine's Day art.

8
---
Then we made handprint stamps using washable ink pads. You can also do this part

with paint, but I prefer the look of stamps because they keep more of the fine

details. Ink is also less messy.

Finally, attach the cutout hearts with a glue dots so it looks like the hands are

holding the heart. These make such a great keepsake and gift for parents,

grandparents, or other caregivers!

9
---
If you need to grab a printable that's ready to go, I've uploaded this one to my shop.

Print it as many times as you need.

Looking for other handprint and footprint craft ideas? Visit our family blog for

many more.

by Christi Fultz

About Christi Fultz

View all posts by Christi Fultz

wife • mom • teacher • writer • tech obsessed • sometime crafter

• beach lover | Empowering entrepreneurs through branding &

website design

10
---
CE MAGAZINE LINKS TABLET

By Nomar Shaw

https://www.goodhousekeeping.com/holidays/val

entines-day-ideas/

https://www.history.com/topics/valentinesday/history-of-valentines-day-2

https://www.npr.org/2011/02/14/133693152/thedark-origins-of-valentines-day

https://www.thedatingdivas.com/100-mostromantic-valentines-date-ideas/

11
---
12
---
erworld | Feb 8, 2021 1:46 pm PST

10 romantic ideas for Valentine's Day at home

February 12, 2018 — Written by Gina DeMillo Wagner

Share this article

This is part 1 of our 4 part #LoveWhereYouLive series. We've dedicated this

Valentine's season to a place close to our hearts: the home.

You know the saying: Home is where the heart is. So why go anywhere else for

Valentine's Day? While others scramble for dinner reservations and book expensive

getaways, you can relax and enjoy a romantic night in the comfort of your own

home.

Here are 10 creative ways you can turn your home into a romantic sanctuary and

celebrate your love:

1. Cook a romantic dinner

Most of us have a favorite dish from our favorite restaurant — the one we crave

time and time again. Have you ever tried to recreate that dish at home? With a little

13
---
internet research, you can often replicate fancy restaurant meals at home. If you're

not sure where to start, try one of these restaurant-quality recipes from Taste of

Home.

2. Create a Spa experience at home

Not everyone has the time or money to spend a day at a fancy spa. But you can

pamper yourself and your partner by creating your own spa at home. Light some

aromatherapy candles, draw a bubble bath or take turns giving each other a back

massage. For do-it-yourself recipes for bath bombs, hair conditioners, mud masks

and more, check out this helpful article from Babble.

3. Turn your living room into a ballroom

When's the last time you and your sweetheart went dancing? Move aside the living

room furniture to create some space, cue up some music and dance the night away.

You can learn traditional ballroom dance moves like the Tango or Salsa with online

courses such as LearntoDance.com. Or just freestyle it with your favorite music.

4. Cuddle up and watch a movie

There's no better excuse than Valentine's Day to snuggle under a blanket and watch

a romantic movie. Lifehack made a list of the 23 most romantic flicks for

Valentine's Day — and some of their choices may surprise you! Or, for something

more personal, you could snuggle and watch home movies or look through old

photo albums.

5. Surprise your partner with a backyard picnic

There's something romantic about a picnic for two. If you live in a mild climate,

create a backyard picnic and stargaze with your sweetheart.

14
---
Lay out a quilt or blanket and feast on a variety of portable foods, such as these

suggestions from Food Network. If the weather outside is frightful, you can host a

picnic indoors by candlelight or by the fireplace. Lay out a blanket and pillows to

make it cozier.

6. Channel your inner pastry chef

Nothing is sweeter than preparing a fancy dessert with your partner. Elevate your

baking skills with one of these heart-shaped dessert recipes from Taste of Home. Or

create a simple, romantic dessert such as chocolate-dipped strawberries paired with

champagne. Just dip fresh strawberries into melted chocolate (semisweet chocolate

chips melted in the microwave work great) and place them in the refrigerator to

harden for an hour before serving.

7. Play games

Being playful and having fun isn't just for children. Research shows that adults

benefit from games too. They're a source of relaxation, and they build your

problem-solving skills, which can help strengthen your relationship. On Valentine's

Day, dust off your favorite board games, grab a deck of cards or play a round of

Truth or Dare with your partner. For more on the benefits of playing games, check

out this article at Help Guide.

8. Take a trip around the world — without leaving home

Perhaps you've been dreaming about a romantic wine tour in Italy or a relaxing trip

to a far-away beach. Bring those adventures right to your doorstep by organizing a

themed date night at home. If Italy is your dream, you could use these tips from

Tuscany Tonight to host an Italian wine tasting party. Likewise, if you're longing

for summer weather and sandy beaches, you can bring some vacation rituals into

your home using ideas from Houzz.

9. Create a scavenger hunt around the house

Write a series of clues to guide your partner on a fun scavenger hunt around the

house, leading to a surprise at the end such as a romantic meal or gift. Each clue,

whether it's a riddle or photo, should lead to the next. Pinterest offers several ideas

for adult scavenger hunts and creative clues.

15
---
10. Create art together

Tap into your creative side and make some artwork together as a couple. You could

create a collage of photographs of each other, write a poem together or gather some

paints and a canvas and paint a romantic image like these from Pinterest. No matter

what you create, display it as a reminder of your love for one another.

Of course, these ideas also work for date nights at home, not just on Valentine's

Day. So keep them handy year-round to celebrate the person you love the most in

the place you love the most.

What romantic plans do you have to celebrate this day with your Valentine? Follow

us on Facebook, Twitter or Instagram!

Related articles:

o

o

o

This Valentine's Day, #LoveWhereYouLive

5 tips to show your home some love

10 ways to keep your emotions in check when it's time to sell your home

16
---
Inexpensive Valentine's Day Date Ideas

There are plenty of ways to share a romantic evening with your loved one, even on the tightest

of budgets. All it takes is a little planning, a little ingenuity, and a few helpful hints.

Motley Fool Stock Advisor recommendations have an average return of 618%. For $79 (or just

$1.52 per week), join more than 1 million members and don't miss their upcoming stock picks.

30 day money-back guarantee. Sign Up Now

Dining

Probably the most popular Valentine's Day date idea is a romantic dinner out. It's

easy to do on a weeknight, and any city or large town offers plenty of eateries to

choose from.

However, there are two big problems. The first is the cost of dining out. An analysis

by meal-planning app Wellio found that even ordering takeout from a restaurant

17
---
costs about five times as much as cooking a similar meal at home. Dining at the

restaurant is even more expensive because of the high markups for drinks and tips

for the waitstaff.

Second, even if you can spare the cash, that doesn't mean you can get a table. In a

normal year, restaurants are always crowded on Valentine's Day, so getting a

dinner reservation is a challenge, particularly on short notice. And this year, many

restaurants are either closed or reduced to a fraction of their typical capacity.

Still, that doesn't mean your only alternative is switching from the romantic bistro

to McDonald's. There are several ways to save money on dining out for Valentine's

Day — or dine in and save still more.

1. Go Out Earlier

One alternative to a pricey dinner date is to go out for a less expensive breakfast or

lunch. After all, the point of a date is the time you spend together as a couple, not

what you eat. And at many restaurants, the lunch special costs as little as half the

price of a dinner dish.

Done right, a breakfast or lunch date can be just as romantic as dinner. For instance,

you can meet for breakfast at a coffeehouse where the barista serves up cappuccino

with heart-shaped froth. Start your day off right by lingering over coffee, pastries,

and conversation, and send each other off to work with a long goodbye kiss.

For a lunch date, meet at the restaurant with a single rose in a vase for the table.

Decide together on your two favorite entrees from the menu, order both, and share.

You might even be able to get away with a little footsie under the table.

2. Just Have Drinks or Dessert

If you can't get away from work during the day — or if you want to make sure your

date lasts all night — go out only for cocktails, either before or after dining in.

Many restaurants are happy to seat you and your date at the bar, particularly if you

show up later in the evening — after 9pm or so. Sitting at the bar can also help you

get a seat at a popular restaurant that's otherwise completely booked.

Alternatively, dine at home and go out just for dessert. A dessert and a cup of coffee

at a fancy restaurant won't set you back as much as a dinner, and you can soak up

just as much of the elegant atmosphere. Or you can go to a place that serves only

18
---
desserts, such as a coffeehouse or ice cream parlor, and enjoy a delicious treat for

even less.

As a bonus, a dessert-only date is likely to put you both in a more romantic mood.

A 2014 study published in the Journal of Social and Personal Relationships found

that people who have just eaten something sweet tend to have more positive

feelings about their relationships.

3. Bring Your Own Bottle

If you want the experience of dining out on Valentine's Day, don't pay more than

you need to for drinks with your dinner. According to Web Restaurant Store,

restaurants typically charge four to five times as much for a glass of wine as they

paid for it. The markup on cocktails is even higher — more than seven times the

cost of the liquor. All told, one to two drinks with your meal can easily double your

total bill.

To enjoy a good wine for less, search online for BYOB (bring your own bottle)

restaurants in your area. Restaurants typically charge a "pour fee" or "corkage fee"

for providing the glasses and offering pour service. Before making a reservation,

check to see how much they charge. In most cases, even with the fee, you pay less

for the wine than you would buying it by the glass.

4. Cook It Yourself

A DIY dinner at home can be just as romantic as a restaurant meal. In some ways,

it's even better. You have complete control over the menu and atmosphere, from the

background music to the flowers on the table. And you don't have to stress over

details that could ruin the mood, like lost reservations, overworked waiters — or, in

current times, the risk of infection in a crowded place.

Even a pricey dinner, like steak or seafood, is much cheaper if you cook it yourself.

However, these expensive dishes aren't your only options for a romantic meal.

Websites like AllRecipes, Epicurious, and Food Network offer a wide range of

recipes to impress your partner on a budget, from chicken to pasta to quiche. You

can even make your own romantic Valentine's Day desserts to top things off.

If you don't have that much confidence in your cooking skills, you can still show

your partner some love with a romantic dinner for two. Just put together a

charcuterie platter with store-bought delicacies like cured meats, sausage, pate,

19
---
cheese, bread, olive oil, and delightful nibbles like nuts and dried fruit. All you need

is a bottle of wine, some candles, and a playlist of your favorite love songs to

complete the intimate atmosphere.

Stepping Out

Going out for a meal isn't the only way to celebrate Valentine's Day. You can also

bond with your significant other at a movie or concert or go out for a night on the

town. However, theaters and stadiums are largely closed right now — and they're

expensive even at the best of times.

To get around these problems, you need to get creative. With a little effort, you can

plan a unique and fun date that's just as romantic, even on a shoestring budget.

5. Check Local Listings

Many performance venues have found ways to continue holding events during the

pandemic. They've held drive-in concerts, livestreaming shows, and socially

distanced outdoor performances with the audience wearing face masks. These

20
---
adapted events aren't the same as being in the theater, but they're a chance to see

live performances — often for less than you'd usually pay for theater or concert

tickets.

You can find entertainment in your area — both live and virtual — by checking

your local calendar of events. If you live in or near a college town, you might find

streamed or outdoor student productions and performances. You could also catch a

free or low-cost exhibit or performance at a local museum, a play reading hosted by

your public library, or a drive-in show at a cultural center.

Pro tip: If tickets to a show are no longer available, check out StubHub on the day

of the event. Tickets frequently drop in price the closer you get to the event date.

6. Have a Shopping Date

To turn a mundane activity into a romantic date, go shopping together for

Valentine's Day. Pick an inexpensive store you both like to visit, such as a used

bookstore, dollar store, or even grocery store. Browse your way along the shelves

together, looking at unusual or appealing items. Even if you don't buy anything,

you can have fun looking — and if you do find something you like, you won't have

to pay too much for it.

You can also combine this activity with gift shopping. Instead of buying

Valentine's Day gifts for each other, make hunting for them a part of your shopping

excursion. You can cruise down the aisles together and treat your partner to

anything they happen to admire or split up and try to find the best gift for your

sweetheart within a set time limit. Then meet up back at the cash register, pay for

your purchases, and formally present them to each other.

7. Go for a Walk

In many parts of the country, February isn't the best time for a romantic walk

outdoors. However, if the weather is nice enough, you can enjoy strolling hand in

hand through your favorite setting, whether that's the woods, the beach, or the city

streets. Or if you both have bicycles, you can enjoy a leisurely bike ride through a

pretty area.

Even if it's cold and snowy where you live, that doesn't necessarily have to spoil

your outdoor fun. You can bundle up and turn your walk into a winter activity, such

as snowshoeing, cross-country skiing, or ice skating. You could even build a

21
---
snowman together as a fun way to revisit your childhood. Then head back home to

chase away the chill by snuggling up together under a blanket and sipping hot

chocolate with marshmallows.

Staying In

Sometimes, staying in on Valentine's Day is more romantic than going out. Instead

of coming home from work and hurrying to get dressed and head back out again,

you can just settle in for a romantic date night at home. On a cold February day, a

night at home is a lot more cozy and companionable than a night on the town. And

it lets you devote all your attention to each other.

8. Watch a Movie

Unfortunately, going to the movies isn't possible in many areas right now — and

it's not such a budget-friendly date anywhere these days. However, staying in and

renting a movie through Redbox, watching one on a streaming service like Netflix

22
---
or Disney+, or checking one out at your local library is still cheap or even free. Pair

it by ordering takeout through DoorDash from your favorite restaurant.

In many ways, watching a movie in your living room is much more romantic than

going to the theater. You can choose any movie you like — an Oscar winner you've

always wanted to see or an old favorite that holds sentimental memories for the two

of you, like the one you saw on your first date. Instead of paying a fortune at the

concession stand, you can enjoy your favorite snacks, sip hot chocolate, or pop

open a bottle of wine. And you don't have to listen to some jerk behind you yakking

on a cellphone throughout the movie.

Best of all, instead of sitting in theater seats with an armrest between them, you can

snuggle on a cozy couch. And if you want to stop the film and go to bed early, the

rest of it will still be there for you the next day.

9. Play Games

Playing card games or board games together is an inexpensive way to spend an

evening in. If you and your sweetie are already board game fans, you can spend the

evening playing one of your old favorites or trying out a new game that's been on

your list for a while.

If you're both new to the world of tabletop gaming, check out lists of the most

enjoyable games for two players. If you don't have any of the suggested games in

your collection, head out to a local store like Target or Barnes & Noble — or if you

have time, browse the adult-friendly game section on Amazon — and pick up a

game that appeals to you. Or just grab a deck of cards and look up the rules for twoplayer

card games on Pagat.com.

If you want to give your game night a spicy twist, choose a game with a naughty

component, like strip poker or dirty-word Scrabble. Or you could invest in a

romantic game designed specifically for couples, such as Talk Flirt Dare or Truth or

Dare. Games like these are an alluring segue into more private romantic activities

later in the evening.

10. You Know What

Talking of private activities, when Luvze asked men what they really wanted for

Valentine's Day, the No. 1 answer was sex. And while it wasn't the top answer,

almost 50% of women said the same thing in a New York Post survey.

23
---
So if you've wanted to try something a little adventurous in the bedroom,

Valentine's Day is the perfect day to do it.

One nice thing about this activity is that it doesn't have to cost a penny. However, if

you have a little cash to spare, there are all kinds of things you can buy to make

your evening extra spicy, from lube to lingerie.

A week or so before Valentine's Day, casually ask your partner if there's any kind

of intimate toy or activity they'd like to try. Then pick up the necessary goodies and

give your sweetie a very special Valentine's Day surprise.

Final Word

There's a lot of cultural pressure surrounding Valentine's Day. For weeks leading

up to the holiday, store displays and ads send the persistent message that the only

way to make your sweetheart feel special on this day is to spend a wad of cash. It's

easy to feel like anything short of a 4-star extravaganza is just letting your partner

down.

Remember, though, Valentine's Day is only one day out of the year. There's no

point in blowing your budget and racking up debt to make this one night special if it

means sabotaging your whole financial future.

Saving your money to build a stable future with your partner — whether that means

planning a wedding, starting a family, buying a home, or retiring in comfort to

enjoy your golden years together — is a much better way to show your love.

Are you looking for a physical gift to go with your romantic date? Check out our

suggestions for Valentine's Day gifts for him and her.

24
---
The Legend of St. Valentine

From The staff of CE Magazine

25
---
Saint Valentine, who according to some sources is actually two distinct historical characters

who were said to have healed a child while imprisoned and executed by decapitation.

Fototeca Gilardi/Getty Images

The history of Valentine's Day—and the story of its patron saint—is

shrouded in mystery. We do know that February has long been celebrated

as a month of romance, and that St. Valentine's Day, as we know it today,

contains vestiges of both Christian and ancient Roman tradition. But who

was Saint Valentine, and how did he become associated with this ancient

rite?

READ MORE: Who Was the Real St. Valentine?

The Catholic Church recognizes at least three different saints named

Valentine or Valentinus, all of whom were martyred. One legend contends

that Valentine was a priest who served during the third century in Rome.

When Emperor Claudius II decided that single men made better soldiers

than those with wives and families, he outlawed marriage for young men.

26
---
Valentine, realizing the injustice of the decree, defied Claudius and

continued to perform marriages for young lovers in secret. When

Valentine's actions were discovered, Claudius ordered that he be put to

death. Still others insist that it was Saint Valentine of Terni, a bishop, who

was the true namesake of the holiday. He, too, was beheaded by Claudius

II outside Rome.

Other stories suggest that Valentine may have been killed for attempting

to help Christians escape harsh Roman prisons, where they were often

beaten and tortured. According to one legend, an imprisoned Valentine

actually sent the first "valentine" greeting himself after he fell in love with

a young girl—possibly his jailor's daughter—who visited him during his

confinement. Before his death, it is alleged that he wrote her a letter

signed "From your Valentine," an expression that is still in use today.

Although the truth behind the Valentine legends is murky, the stories all

emphasize his appeal as a sympathetic, heroic and—most importantly—

romantic figure. By the Middle Ages, perhaps thanks to this reputation,

Valentine would become one of the most popular saints in England and

France.

Origins of Valentine's Day: A Pagan Festival in February

February to commemorate the anniversary of Valentine's death or

burial—which probably occurred around A.D. 270—others claim that the

Christian church may have decided to place St. Valentine's feast day in

the middle of February in an effort to "Christianize" the pagan celebration

of Lupercalia. Celebrated at the ides of February, or February 15,

Lupercalia was a fertility festival dedicated to Faunus, the Roman god of

agriculture, as well as to the Roman founders Romulus and Remus.

READ MORE: 6 Surprising Facts About St. Valentine

27
---
To begin the festival, members of the Luperci, an order of Roman priests,

would gather at a sacred cave where the infants Romulus and Remus, the

founders of Rome, were believed to have been cared for by a she-wolf or

lupa. The priests would sacrifice a goat, for fertility, and a dog, for

purification. They would then strip the goat's hide into strips, dip them

into the sacrificial blood and take to the streets, gently slapping both

women and crop fields with the goat hide. Far from being fearful, Roman

women welcomed the touch of the hides because it was believed to make

them more fertile in the coming year. Later in the day, according to

legend, all the young women in the city would place their names in a big

urn. The city's bachelors would each choose a name and become paired

for the year with his chosen woman. These matches often ended in

marriage.

Valentine's Day: A Day of Romance

A Victorian valentine depicting cupids. K.J. Historical/Corbis/Getty Images

Lupercalia survived the initial rise of Christianity but was outlawed—as it

was deemed "un-Christian"—at the end of the 5th century, when Pope

Gelasius declared February 14 St. Valentine's Day. It was not until much

later, however, that the day became definitively associated with love.

28
---
During the Middle Ages, it was commonly believed in France and

England that February 14 was the beginning of birds' mating season,

which added to the idea that the middle of Valentine's Day should be a

day for romance. The English poet Geoffrey Chaucer was the first to

record St. Valentine's Day as a day of romantic celebration in his 1375

poem "Parliament of Foules," writing, ""For this was sent on Seynt

Valentyne's day / Whan every foul cometh ther to choose his mate."

Valentine greetings were popular as far back as the Middle Ages, though

written Valentine's didn't begin to appear until after 1400. The oldest

known valentine still in existence today was a poem written in 1415 by

Charles, Duke of Orleans, to his wife while he was imprisoned in the

Tower of London following his capture at the Battle of Agincourt. (The

greeting is now part of the manuscript collection of the British Library in

London, England.) Several years later, it is believed that King Henry V

hired a writer named John Lydgate to compose a valentine note to

Catherine of Valois.

Thank you for reading CE Magazine, for you!

Nanomites!

29