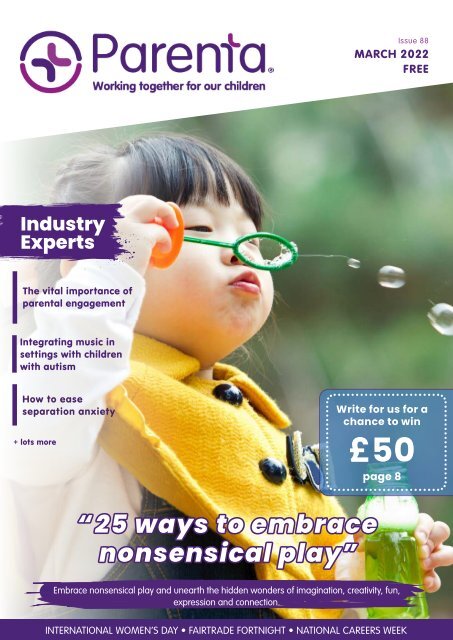 March 2022 Parenta magazine
Create successful ePaper yourself
Turn your PDF publications into a flip-book with our unique Google optimized e-Paper software.
Issue 88

MARCH 2022

FREE

Industry

Experts

The vital importance of

parental engagement

Integrating music in

settings with children

with autism

How to ease

separation anxiety

+ lots more

Write for us for a

chance to win

£50

page 8

"25 ways to embrace

nonsensical play"

Embrace nonsensical play and unearth the hidden wonders of imagination, creativity, fun,

expression and connection.

INTERNATIONAL WOMEN'S DAY • FAIRTRADE FORTNIGHT • NATIONAL CAREERS WEEK
---
hello

welcome to our family

Hello and welcome to the March edition of the Parenta magazine!

March, amongst other things, is a month to celebrate all things women and mothers!

International Women's Day is marked globally on the 8th of the month, with a strong call to action for everyone,

wherever they are in the world, to come together to celebrate the social, economic, cultural, artistic, scientific

and political achievements of women - whilst at the same time standing up for women's equality. Turn to page

26 to learn more about this important day and for some ideas on how to celebrate it in your setting. Mother's

Day falls on the 27th this year and for most, it will be the first time since 2019 that 'non-COVID restriction'

celebrations will be taking place. We have a beautiful paper cupcake flower craft for you to help the children make, together with a

delicious and healthy banana muffins recipe which our Parenta juniors absolutely love!

As always, the magazine is packed with a huge variety of early years advice and guidance from our wonderful industry experts – all

written to help you with the efficient running of your setting and to promote the health, happiness and well-being of the children in your

care.

In this month's issue…Joanna Grace continues her popular "egg-cellent" advice and talks us through the relevance of some children

having missed a cycle of parties and festivals; Kathryn Peckham also continues her fantastic series about growing children's brains

together, and helps us understand brain development; Helen Garnett explores the vital importance of parental engagement and how it

can't be underestimated; Stacey Kelly helps us manage separation anxiety day-to-day; Frances Turnbull looks at how we can integrate

music in our settings with children with autism; Mona Sakr shows us what leadership looks like when children's needs change; and Katie

White and Gina Bale show us how to incorporate music, dancing and nonsensical play into our day, for the benefit of the children…and

the adults!

Please feel free to share the magazine with friends, parents and colleagues – they can sign up to receive their own copy here!

Allan

MARCH 2022 ISSUE 88

IN THIS EDITION

Regulars

8 Write for us for the chance to win £50!

34 Mother's Day craft

35 Banana muffins recipe

News

4 Childcare news and views

6 Short stories

35 Congratulations to our Parenta

learners!

Advice

24 National Careers Week

26 International Women's Day

28 Growth mindset and the theories of Carol

Dweck: part 2

30 World Maths Day and British Science Week

32 Fairtrade Fortnight

Industry Experts

National Careers Week 24

International Women's Day 26

Bring the party

to me!

10

Having a chance to explore

the changes - in ways

meaningful to children - can

help them reconnect to what

is going on around them.

12

Understanding

brain development

Your children are living in a

three-dimensional world.

Full of people, plants,

animals… and a whole host

of things to engage with and

make sense of.

25 ways to embrace

nonsensical play

20

There's no doubt that using playfulness,

games and puzzles enhances children's

learning.

10 Egg-cellent advice: bring the party to me!

12 Together we are growing children's brains –

understanding brain development

16 The vital importance of parental

engagement

18 How to ease separation anxiety

20 25 ways to embrace nonsensical play

22 Integrating music in settings with children

with autism

36 What does leadership look like when …

children's needs change?

38 Empower your team to feel the beat of the

tambourine …like a Dancing Queen

World Maths Day and British Science Week 30

Fair Trade Fortnight 32
---
Childcare news

and views

'Levelling up' white paper

condemned for failing the early

years sector

Nadhim Zahawi, the Education

Secretary, has said the government's

levelling up white paper will "raise our

expectations and aspirations for children"

by transforming education for the

disadvantaged. The paper sets a mission

to ensure that 90% of children leaving

primary school in England are reaching the

expected standard in reading, writing and

maths by 2030.

However, the plan has been criticised for

omitting measures for children in early

years.

Within the white paper plans, published

on 2nd February, the government has

identified 55 national 'cold spots' - where

school outcomes are the weakest - in a bid

to target support to help disadvantaged

children succeed.

These cold spots - referred to as Education

Investment Areas (EIA) - will be offered

retention payments by the DfE "to help

schools keep the best teachers in the

highest priority subjects".

Nadhim Zahawi said: "This white paper

sets out our blueprint for putting skills,

schools and families at the heart of

levelling up. It focuses on putting great

schools in every part of the country, training

that sets you up for success in a highskilled,

well-paid career and ensuring no

one misses out on opportunities simply

because of where they live or their family

background.

Raising our expectations and aspirations

for children, as well as creating a highskilled

workforce, will end the brain

drain that sees too many people leaving

communities in order to succeed. These

plans will help create a level playing field

and boost the economy, both locally and

nationally."

Purnima Tanuku, Chief Executive of National

Day Nurseries Association (NDNA), said:

"In last week's parliamentary debate,

dozens of MPs agreed that the best way to

support children was to invest sufficiently

in high quality early education. Evidence

shows that this has the greatest impact on

educational outcomes.

"So the government focus on its levelling

up agenda must start in the early years

which is the best opportunity to support

their lifelong learning and gives the biggest

return on investment. Considering how

crucial it is, there is no real support for early

years in this white paper."

The full story, as reported in daynurseries.

co.uk can be found here.

Practical challenges caused by

Universal Credit highlighted to the

Department of Work and Pensions

Select Committee

NDNA's Director of Policy and

Communications, Jonathan Broadbery, has

given evidence to the Department of Work

and Pension's Select Committee regarding

how parents on Universal Credit accessed

quality early education and childcare

places. He has also highlighted the wider

issues the early years sector is facing,

advancing NDNA's case for increased

investment and a simplified childcare

system for parents and providers.

MPs were informed about the practical

challenges providers have, caused by the

Universal Credit system. The importance

of access to early education in supporting

children from disadvantaged backgrounds

was emphasised as well as workforce

challenges in the sector, rising costs of

delivery and pressures on family finances.

NDNA shared evidence about research

which shows that quality early years

provision can combat inequality and

support children's development as well

as avoiding further challenges and costs

further down the line.

Also highlighted was the huge

administrative pressure and staffing costs

to providers in keeping up with different

regulations and sources of funding across

multiple government departments and

local authorities, resulting in the entire

sector facing financial instability.

Jonathan Broadbery said: "This inquiry by

MPs into Universal Credit and childcare

is really important for both parents and

providers. Our current system of support to

parents with childcare costs is a complex

mosaic of approaches and Universal Credit

is just one part of that.

"We know from what the sector is telling

us that the current childcare element of

Universal Credit adds extra administrative

burdens on providers and can create

problems for parents and providers

especially with cash flow. Having

retrospective payments can be a barrier

to taking up a place and can even lead

to jobs being turned down as parents are

unable to find upfront payments. We want

to see a simpler system across the board

that's easier for parents and providers to

manage and is fit for purpose. This will

increase uptake of places and mean more

children can access high quality early years

education and care, which in turn supports

working families."

The Work and Pension Select Committee

inquiry into Universal Credit and childcare

costs can be found here.

Government launches campaign to

increase take-up of the MMR jab

The early years industry is being urged to

get behind a new government campaign to

increase the number of children vaccinated

against MMR - as new figures released

reveal that there has been a 'significant'

drop in take-up of the jab.

The UK Health Security Agency (UKHSA)

and the NHS are appealing to parents to

get their children vaccinated against MMR

if they aren't already, citing that more than

one in 10 eligible children under the age

of five in England have not had the MMR

vaccine, or are partially vaccinated. Since

the start of the COVID-19 pandemic in

March 2020, there has been a 'significant'

drop in the number of parents and carers

getting their children vaccinated against

MMR - which protects against measles,

mumps and rubella - and those taking up

other childhood vaccines.

To increase take-up of the vaccine and

prevent a resurgence in any of the three

infectious diseases, the UKHSA and NHS

have launched a campaign, and alongside

this, the Early Years Alliance is highlighting

the role that early years settings and

educators play in helping to inform parents

about the risks of measles, mumps and

rubella.

Quality and standards manager at the

Alliance, Melanie Pilcher, said: "Early

years providers offer a safe space for

parents to discuss their child's health and

development, and so the campaign and

resources will be extremely beneficial to

early educators, enabling them to signpost

families to clear and reliable information on

the MMR vaccine.

'We know parents and carers are often

unsure who to talk to about the MMR

vaccine, so we would encourage providers

to support the campaign and help ensure

families get the information they need to

feel confident about how to protect their

children against these infectious diseases."

A survey of 2,000 parents of children

aged five and under, commissioned by

the Department of Health and Social Care

(DHSC), showed that almost one in five

parents (18 percent) who haven't had their

child vaccinated for MMR are not aware

that the infections remain a threat in the

UK. Almost half of parents (48 percent) are

not aware that measles can lead to serious

complications such as pneumonia and

brain inflammation.

The full story, as reported in Nursery World

magazine, can be read here.

4 March 2022 | parenta.com

parenta.com | March 2022 5
---
A round up of some news

stories that have caught

our eye over the month

Story source and image credits to:

Nursery World

Day Nurseries

Daily Record

Northumberland Gazette

Biggleswade Today

Fitzrovia News

Fennies nursery group grows to 15

settings

The group which operates across London,

Kent and Surrey has opened two new

settings in recent weeks.

COVID cases are on the decline in

childcare settings, according to

official figures

The latest data suggests the number of

early years staff absent from work due to

COVID-19 has slightly decreased.

Fennies opens new nursery with

immersive sensory experience

The new nursery encourages children's

exploration and movement, with the

new sensory facilities comprising colour

changing optical lights, gel mats and

much more.

Nursery group hands ownership

to employees

Employees now have ownership of the

Kidzcare nurseries, with 100% of the

company shares now owned by its 150

staff.

Renovated children's nursery

opens in London

The refurbished nursery underwent

extensive work to provide a new

outdoor play area, as well as major

improvements to its indoor facilities.

Langford nursery children thrilled

with visit from local author

The nursery children were captivated

when a local author paid them a visit

and read his new book.

Free trees spruce up

Northumberland school nursery

Childcare settings praised for

their dedication to children's

mental health

COVID forces the permanent

closure of two nurseries

Click here to send in

your stories to

hello@parenta.com

The Longhoughton nursery have

claimed 30 tree saplings offered by

Northumberland County Council to

enhance their sensory garden.

Paisley nursery and three primaries

awarded Model School status, having

excelled in prioritising children's social

and emotional well-being.

Two nurseries have been shut down due

to a lack of staff and inability to recruit,

exacerbated by the pandemic.

6 March 2022 | parenta.com

parenta.com | March 2022 7
---
TM

TM

Write for us!

We're always on the lookout

for new authors to contribute

insightful articles for our

monthly magazine.

If you've got a topic you'd like to write about, why

not send an article to us and be in with a chance of

winning? Each month, we'll be giving away Amazon

vouchers to our "Guest Author of the Month". You

can find all the details here:

https://www.parenta.com/sponsored-content/

Exclusively available from

Education

hope-education.co.uk

Congratulations

to our guest author competition winner, Katie White

NEW BOOK RELEASE!

Supporting children with social,

emotional and mental health needs in

the Early Years

Congratulations to our guest author competition

winner, Katie White! Katie's article, "Creatively

Expressing Emotions" looks at ways we can help

ourselves self-regulate and therefore create a safe

space for the children, where their feelings can be

processed, expressed and released.

A massive thank you to all of our guest authors for

writing for us. You can find all of the past articles

from our guest authors on our website:

www.parenta.com/parentablog/guest-authors

www.soniamainstone-cotton.com

Apply now to secure a place in MA

Childhood and Education in Diverse

Societies (Online Distance Learning)

Transform the lives of children and young people by

working together to make a difference.

Explore our courses further

https://www.mdx.ac.uk/courses

8 March 2022 | parenta.com

parenta.com | March 2022 9
---
Egg-cellent advice:

bring the party to me!

I do not know how he came to acquire the nick-name Egg but ever since he came

along that's what my youngest son has been called. I run The Sensory Projects www.

TheSensoryProjects.co.uk (which should now really be called The Sensory Projects and

Sons!) My work focuses on people with profound disabilities and sensory differences, but

my son's advice will apply to your work too.

Joanna Grace

In this series of articles we are going to share his insights with you, if you are keen for more

there is an ever growing collection on my Facebook profile: come and make friends. www.

Facebook.com/JoannaGraceTSP

This is article 5 out of a series of 10! To view the others click here.

Imagine you were on one of those house

make over shows. You think you are

going out for a nice day at the spa with

an old friend, but when you get home a

camera crew meet you and there is a lot of

whooping and excitement and everything

in your house has changed.

How do you feel?

Well of course it depends on what it looks

like, let's hope it is great, but even if it is,

there is still some part of you that would

have wanted to have been included in its

creation. You would have wanted to have

handled fabric swatches, considered paint

colours, been able to give insight into what

rooms were used for and so on.

Little children haven't experienced the cycle

of our festivals and parties. They are not

as used to the decorations going up as we

are. Arriving to the newly 'Christmasified'

setting can be fun, but also alarming and

unsettling.

Having a chance to explore the changes in

ways meaningful to them can help them

reconnect to what is going on around

them. Being there to 'help' or simply watch

the decorations going up can support

them in understanding the change that

has happened. And if they can make

choices about what goes up and what

goes where: all the better!

*Note this post mentions people possibly

being overwhelmed by sensory items, if

you are struggling with behaviour in your

setting and think it might have a sensory

cause, consider studying "Exploring the

Impact of the Senses on Behaviour" with

The Sensory Projects online college www.

TheSensoryProjects.co.uk/online-college

Decorations are beginning to go up

around me. But my world is close to me.

To be a part of the season I need it to be

close to me.

The battery powered lights trail around the

room but a tail hangs down near where I

lie so I can kick them and grab them.

My hang-out zone has been made over

with a festive twist. I am literally a part of

things not watching from the side lines.

Knowing what is going on close up can

help many sensory beings cope better with

changes further away.

Getting involved with the events of the

seasons as they pass by is a lovely way to

keep simple sensory explorations fresh.

(These words first appeared on Jo's

Facebook profile you are welcome to

send her a friend request to watch out

for more insight www.Facebook.com/

JoannaGraceTSP)

Joanna provides online and in person training relating to sensory engagement and sensory

differences, look up www.TheSensoryProjects.co.uk/online-college for more information.

To view a list of her books visit www.TheSensoryProjects.co.uk/books. Follow Jo on social media

to pick up new sensory insights, you'll find her at: Twitter , www.Facebook.com/JoannaGraceTSP

and www.Linkedin/In/JoannaGraceTheSensoryProjects

Joanna Grace is an international

Sensory Engagement and Inclusion

Specialist, trainer, author, TEDx speaker

and founder of The Sensory Projects.

Consistently rated as "outstanding" by

Ofsted, Joanna has taught in

mainstream and special school settings,

connecting with pupils of all ages and

abilities. To inform her work, Joanna

draws on her own experience from her

private and professional life as well as

taking in all the information she can

from the research archives. Joanna's

private life includes family members

with disabilities and neurodiverse

conditions and time spent as a

registered foster carer for children with

profound disabilities.

Joanna has published four practitioner

books: "Multiple Multisensory Rooms:

Myth Busting the Magic", "Sensory

Stories for Children and Teens",

"Sensory-Being for Sensory Beings"

and "Sharing Sensory Stories and

Conversations with People with

Dementia". and two inclusive sensory

story children's books: "Voyage to

Arghan" and "Ernest and I". There is

new book coming out soon called

'"The Subtle Spectrum" and her

son has recently become the UK's

youngest published author with his

book, "My Mummy is Autistic" which

was foreworded by Chris Packham.

Joanna followed with her own book

"The Subtle Spectrum" which explores

the landscape of post diagnosis adult

identified autism.

Joanna is a big fan of social media and

is always happy to connect with people

via Facebook, Twitter and LinkedIn.

10 March 2022 | parenta.com

parenta.com | March 2022 11
---
Together we are growing

children's brains – understanding

brain development

Your children are living in a threedimensional

world. Full of people, plants,

animals… and a whole host of things to

engage with and make sense of. Wherever

you are located, whatever philosophies

your setting follows, and whatever

environments you have available, your

children are surrounded by wonder.

With voices to interpret, social skills to

understand, dangers to be aware of and

emotions to fathom.

This is an awful lot of things to learn within

bodies that are growing and developing

daily. Changing how they feel, how they

respond and how they can move. Because

of this, they are born with a brain that is

eager to learn and hungry to make sense

of their world. This powerful motivation to

learn will see them driven to explore and

understand their surroundings, even when

you wish they would not!

Whether you consider pulling over the

big pot of paint… again… a desirable

experience or not, the learning

opportunities for a child are just too rich to

resist. A few years later, and they will have

found other ways testing the boundaries

of their environment and relationships. It

is only when their efforts are fruitless or

met with resistance that they learn not

to bother, and frustration, boredom and

difficult behaviours may follow. So, if you

want to protect your floor, and keep this

powerful motivation to learn in place,

understand what is going on and provide

them with experiences they can explore.

So what is going on in that developing

brain and why do our children behave in

the ways that they do?

It is amazing to think that as you look into

the eyes of a new-born that they already

have most of the 100 billion neurons or

brain cells that you have contained within

your adult brain. And yet at birth, a child's

brain will have been around a quarter of

the size of yours. So, what is changing?

Where is this growth and development

coming from?

It is coming from the connections being

formed between these brain cells –

somewhere in the region of 1,000 trillion

connections to wire up an adult brain.

And these connections are being made

through every single experience a growing

child is exposed to – whatever they may

be.

Children are born with some primitive

structures already established in their

brain. You will have seen this when a baby

instinctively knows to grasp your finger, to

turn their head as their cheek is rubbed,

or the way they will fling out their arms

and legs when they are startled. These are

known as the primitive reflexes and are

hard-wired into every new life as a survival

mechanism.

Other kinds of knowledge, they must learn

along the way, such as what happens

to their toy when they can no longer see

it, or why their friend is experiencing an

emotion right now that they are not… their

friend seems upset, but they are quite

happy now that they have the red trike! So,

how does brain development happen and

what exactly is going on? How do we even

begin to understand everything we need

to? And how are these connections being

made?

At a fundamental level, children are

basically experiential learners. This means

that their knowledge and understanding

of the world comes from every experience

they have within it – the good ones and

the bad! And as they strive to make all

the connections they need, we need to

remember that this is a learning process,

and they will make mistakes along the way.

How these opportunities are offered, and

the way a child experiences them is then

making a massive difference within this

process. And the choices you make are

essential.

Everything matters - from how you connect

as you play, offering them choices as they

explore their own ideas. Or whether group

times with predetermined expectations

or planning can dominate. Whether you

explore your local environment, talking

about the sounds and smells all around

you. Even that time you took your shoes and

socks off just to feel the wet grass or cool

paint between your toes. Through these

experiences you are changing not only

the hard-wiring of their brain, but also the

ways in which they will react to any new

experience and the new opportunities that

come their way.

something similar. They are learning what

to expect from the people they meet, and

the reactions they might expect from their

own actions. And they are also learning

about where their efforts and attentions

are best placed. During these early years,

you are literally growing and shaping

your children's brains, defining them as

a person in ways that will be with them

for life. So, embrace every opportunity

with your children as you play, engage

and experience this amazing world of

sights, sounds, smells, tastes and textures

together.

"Understanding children from the Inside

out" is the first session in the new Nurturing

Childhoods Accreditation. Offering you a

whole new approach to CPD that is tailored

to the needs of your setting, and the

children and families you work with. With

its complete set of materials and guidance,

it complements the resources available

for your parents, and is underpinned by

professional standards. Check out this

great new website and together we can

surround children with this level of unified

understanding of who they are and what

they need. And really begin developing the

potential of all children in their early years.

Kathryn Peckham

As Founder of Nurturing Childhoods,

Dr Kathryn Peckham is a passionate

advocate for children's access to rich and

meaningful experiences throughout their

foundational early years. Delivering online

courses, training and seminars she

works with families and settings to identify

and celebrate the impact of effective

childhood experiences as preparation for

all of life's learning. An active campaigner

for children she consults on projects,

conducts research for government bodies

and contributes to papers launched in

parliament. Through her consultancy

and research she guides local councils,

practitioners, teachers and parents all

over the world in enhancing children's

experiences through the experiences

they offer. A highly acclaimed author and

member of parliamentary groups, Kathryn

also teaches a Masters at the Centre for

Research in Early Years.

For more information and practical

guidance on developing the features of

lifelong learning, Kathryn has published

a book: Developing School Readiness,

Creating Lifelong Learners.

Get in contact at www.kathrynpeckham.

co.uk or email info@kathrynpeckham.

co.uk.

They are learning to deal with every new

situation, informed and enhanced by every

previous experience they have had of

12 March 2022 | parenta.com

parenta.com | March 2022 13
---
Testimonials

Training

"I would like to say to the apprenticeship people, thank you to Archana Nikam for the

amazing support she has given me with a young apprentice that is leaving me before

finishing her course with you. Archana has been amazing. Messaging me regularly,

calling me and giving me so much help and support.

Again, a massive thank you Archana. You have been amazing. I would not have been

able to get through the last few months without your help and support."

Kay Hartburn, Nanny Kay Childminder

Software and customer service

"Great response from Jamie and quick, helpful assistance from the IT team too, to

resolve a problem that they hadn't attempted before but after putting a few backup

requests in place, they solved the issue. Credit where it is due! Thank you."

Paula, Small Fries Day Nursery

"Rosie called within 10 minutes of me leaving a support request and then continued

to provide an absolutely exceptional service level. I have booked in some training

but your customer facing person today in Rosie, needs somewhat of an extra special

thank you!! It is so nice to speak to such knowledgeable and helpful staff, all before

8.15am!!! Thank you"

Congratulations

to all our Parenta learners!

Congratulations to all these Parenta learners who completed their apprenticeship

and have now gained their qualifications.

These range from Childcare Level 2, Childcare Level 3 and Team Leading

to Level 3 and Level 5 Management – that's a huge achievement in the

current climate.

All that hard work has paid off – well done from all of us here at Parenta Training!

MAIN STORIES

Did you know?... Parenta has trained over 20,000 apprentices within the early years sector!

Our Level 3 success rate overall is almost 10% higher than the national average.

That's down to great work from you, our lovely Parenta learners!

-

PENDING

If you have a learner with us who has recently completed their apprenticeship, please send in

a picture to hello@parenta.com to be included in the magazine.

"Aime was brilliant as always - honestly can't fault your customer service! Thank you"

"Very quick reply - thank you Amie :)"

"Always fabulous support from Jamie"

"You are the one organisation I don't mind contacting. You always respond really

quickly. Quite often I will call you so I can speak to one of your excellent people. I get

helpful and relevant advice at all times. Brilliant, Thank you"

"Request very promptly dealt with. Many thanks"

"A lovely quick and friendly response as always!"

"Always get excellent support from the service, very pleased. Thank you."

"As always, very quick response, my query has been dealt with straight away - thank

you!"

"Responded straight away and sorted my query promptly".

"Super quick help to my problem. Thank you."

14 March 2022 | parenta.com

parenta.com | March 2022 15
---
The vital

year is a different context and regular

reviewing is key

• Clear starting point and plan for

parental engagement

importance

• Clear understanding of the benefits

of parental engagement on all

stakeholders

of parental

engagement

• Clear expectations of what is expected

of setting/staff members regarding

parental engagement and allowing

time to carry out these expectations

• Clear understanding of barriers to

parental engagement using training

and support

"Family is the first school for young children

and parents are powerful models."

Alice Sterling Honi.

Parents play the most significant role in

their children's education. As their child's

first and foremost teacher, they are their

child's very own 'expert' with a deep

authority of knowledge. In short, they

know their child best. From birth to school

age, children will spend the majority of

their time with their parents/carers, living

amongst the behaviours and attitudes of

the home environment. This clearly has

a huge influence over children's learning

development and outcomes.

Consequently, there is huge value placed

on a strong partnership between school

and home where there is a collective

priority to bring about the best outcomes

for children. Recognition of the centrality of

parents' role in children's learning is key.

Despite this knowledge, research indicates

that most schools do not have formal

policies around parent engagement

although almost all nurseries would

consider parent partnership to be the

responsibility of the nursery. Very few (less

than 10%) of teachers have carried out

training in parent engagement.

From involvement to engagement

To fully support children, we need to

understand the difference between

parental involvement and engagement.

They are not the same thing.

Involvement is around the parents'

general participation at the setting such

as attending events, interacting with

teachers, attending parent's evenings, and

understanding the processes around the

learning of their child.

Engagement is about parents and

teachers working in concert to develop

children's learning, understanding their

child's development, recognising any

strengths and 'gaps', and implementing

how best to support the child at home and

at the setting.

Are we doing enough as a setting to

support this vital partnership?

Are we encouraging:

• Shared expertise – parents are

experts about their own children,

and practitioners are experts in

caring for and educating children in a

group setting. Do we frequently and

intentionally share knowledge across

the very different contexts of setting/

home?

• Shared agency – are parents aware

of their central role in their child's

learning? How do we know?

• Shared responsibility – are parents

and school continually seeking and

deepening information/knowledge

of children's home/school context of

learning?

• A culture of helping – are settings

offering the most relevant and

effective support to parents,

examining negative mindsets and

re-framing them, encouraging positive

mindsets and strengthening them?

What can alienate parents from

engagement?

The interaction and relationship between

school and parents can often be

challenging. As a result, school/parent

interaction may lack meaningful direction

or focus. These are the main points why

parents may feel alienated from the

setting:

• Practitioners' anxiety and reluctance

in approaching parents, particularly

over sensitive issues

• Parents' negative attitude towards

school and authority, stemming from

bad experiences during their own

education

• Parents' lack of understanding over

their role in relation to their child's

learning, both at home and at the

setting

• Parents' lack of confidence – on

what they have already achieved,

recognition of progress already made

and unwillingness to approach the

school for fear of being 'wrong' or

appearing 'stupid'

• Different expectations of the same

child from practitioners/parents

• Difference in attitudes regarding

responsibility towards the child

• Lack of meaningful communication

between school and home

Two important questions to ask:

• How can we make our setting a

welcoming place for parents, especially

those whose own experience of school

may not have been positive?

• How can we increase and empower

parents' confidence about their

children's learning?

Culture of parental engagement

A whole school approach is needed,

addressing training for staff, and the

support and resources required. The

aim is to create an intentional parental

engagement culture.

Early years settings need to develop:

• Prioritising, integrating and reviewing

an effective partnership. Each school

How will you know the changes

are having an impact on children's

learning?

A setting that places parents at the heart of

its pedagogy will be a fruitful one. Parenting

can feel extremely burdensome and lonely

at times, and the friendship and support

offered by settings to parents is often a

much-needed lifeline. We are, after all,

wired for connection!

Happy children are the validation of a

successful partnership between home

and school. An informal and comfortable

relationship with parents creates a higher

level of intimacy and trust between setting

and home which will generate deeper

understanding and knowledge about each

child. Parents see ever more clearly what

the setting is doing, and why, how effective

that is and how much it benefits their child.

Trust grows, knowledge and understanding

continues to deepen.

As with all healthy relationships, intentional

effort, focus and persistence is required to

build the vital rapport between home and

setting. And it all starts with a simple 'hello'

and a smile on the first day along with a

determination to build rapport, create new

friendships and draw parents ever closer to

their child's miraculous learning potential!

Helen Garnett

Helen Garnett is a mother of 4, and a

committed and experienced early years

consultant. She has a wealth of experience

in teaching, both in the primary and early

years sectors. She co-founded a preschool

in 2005 where she developed a

keen interest in early intervention, leading

her into international work for the early

years sector. Helen cares passionately

about young children and connection.

As a result, she wrote her first book,

"Developing Empathy in the Early Years:

a guide for practitioners" for which she

won the Professional Books category

at the 2018 Nursery World Awards, and

"Building a Resilient Workforce in the Early

Years", published by Early Years Alliance

in June 2019. She also writes articles for

early years magazines, such as Nursery

World, Early Years Teacher Organisation,

QA Education, Teach Early Years, and Early

Years Educator.

Helen is the co-founder and Education

Director at Arc Pathway, an early years

platform for teachers and parents.

Helen can be contacted via LinkedIn.

16 March 2022 | parenta.com

parenta.com | March 2022 17
---
How to ease separation

anxiety

Separation anxiety is common in very young children and clingy phases along with some fear of

unfamiliar adults and places is to be expected. However, some children continually struggle when their

caregiver has to leave, which is not only emotionally difficult for the child, but also for the adult who is

having to walk away. Here are ways in which you can ease separation anxiety and make the transition less

traumatic.

Visit the childcare setting before they start.

The unknown can be scary for adults, let

alone for children. By visiting their childcare

setting with you, they can familiarise

themselves with their surroundings and

the people who will be caring for them.

They will learn that it is a safe space to

explore whilst in the comfort and familiarity

of your presence and this will build their

confidence for when they officially start.

Take pictures and make

a scrap book

Making a scrapbook with pictures of

a new setting is a great way to build

excitement and to familiarise children

with where they are going. By including

photographs of different learning areas

and key workers, you can build a familiar

picture in the child's mind of what's to be

expected and this will help to take away

the fear of the unknown. You can look at

this book together every day in the comfort

of your own home and talk about how

much fun they will have. You could even

write a little story to go with each image

and as you consistently read it in the build

up to their first day, this will become the

blueprint in a child's mind of all the exciting

times to come.

Ease children in and

build trust

For me, when my little boy was struggling

to settle at pre-school, it was important

for me to ease him in and build trust. He

had never been left with unfamiliar people

before, so it was a big transition. I started

by leaving him for a short while and

telling him when I would return. I would

make sure I did exactly what I said, which

taught him that despite Mummy leaving,

she would always come back. It also

taught him that he could trust my word,

so he didn't need to fear that he would

be left there without me. This isn't always

possible to do at childcare settings. If this

is the case, I would find another way to

build this trust and 'practise' the leaving

and coming back routine. You could take

your child to a trusted friend or relatives

house (that they are little less familiar with)

and tell them that you will be back in 10

minutes. Build up the time until eventually

they feel confident to stay for much longer

periods. By doing this, your child will learn

that even though you leave, you honour

your word and always come back for

them.

Stay calm

Children can sense your emotions and can

feel your anxiousness. Leaving your child

for the first time can be one of the hardest

moments to face as a parent and it can

be difficult to keep it together. However,

it's important to remember that if you're

okay, your child is more likely to be okay.

It's easier said than done (trust me, I have

been that parent sobbing in the car park

after leaving my little boy at pre-school)

but try to keep negative emotions at bay.

Spend time on your own in the build up

to their first day actually acknowledging

how you feel as their parent. We spend so

much time focusing on our child's first day

that we forget it's actually a huge moment

for us too. We also quite often want to bury

our heads and not think about it because

it stirs up too much emotion. However,

in my experience, it is best to face these

emotions before the day arrives. It is

completely normal to feel overwhelmed

by it all. How did your baby get so big, so

quickly? Will they be okay? What if they are

sad? Acknowledge all of these thoughts

(no matter how irrational or silly you may

be telling yourself they are), have a good

cry if you need to, but try to make sure

those tears don't appear on the actual day

(at least until you've got back to your car

after dropping them off!)

Be consistent

Consistency provides stability and a

feeling of safety for children. By creating a

consistent drop off routine, your child will

know what to expect and will feel more

comfortable with the transition. The fewer

unexpected factors a child experiences,

the more likely they are to feel secure and

trust the process.

At the end of the day, no matter what

we do, leaving our children in the care

of someone else is a big deal and can

stir up lots of emotion in them and in us

as adults. There will likely be a few tears

shed (maybe just by us), but we can take

steps to soften the process and make the

transition easier for everyone involved.

Our babies grow up so quickly and it can

be overwhelming at times. However, it's

important to remember that these big

moments help to shape them as little

human beings (and us as parents) and

builds a resilience that will contribute to

their many different successes in life.

Stacey Kelly

Stacey Kelly is a former French and

Spanish teacher, a parent to 2 beautiful

babies and the founder of Early Years

Story Box. After becoming a mum, Stacey

left her teaching career and started

writing and illustrating storybooks to help

support her children through different

transitional stages like leaving nursery

and starting school. Seeing the positive

impact of her books on her children's

emotional well-being led to Early Years

Story Box being born. Stacey has now

created 35 storybooks, all inspired by her

own children, to help teach different life

lessons and to prepare children for their

next steps. She has an exclusive collection

for childcare settings that are gifted on

special occasions like first/last days,

birthdays, Christmas and/or Easter and

has recently launched a new collection

for parents too. Her mission is to support

as many children as she can through

story-time and to give childcare settings

an affordable and special gifting solution

that truly makes a difference.

Email: stacey@earlyyearsstorybox.com or

Telephone: 07765785595

Website: www.earlyyearsstorybox.com

Facebook: https://www.facebook.com/

earlyyearsstorybox

Twitter: https://www.twitter.com/

eystorybox

Instagram: https://www.instagram.com/

earlyyearsstorybox

LinkedIn: https://www.linkedin.com/in/

stacey-kelly-a84534b2/

18 March 2022 | parenta.com

parenta.com | March 2022 19
---
25 ways to embrace

nonsensical play

7. Use the structure of a game like

badminton, but make up your own

rules, do you need to swap sides?

Stand on one leg? Play with more

than one shuttlecock? Or make up a

celebratory dance move?

8. Make a silly hat, so the children know

when you're playing and when you're

not

where the ball, bats and bases are all

imaginary

16. Eat a doughnut without licking your lips

17. Fail to do a simple task correctly, make

opening a packet of crisps, putting on

a jumper or brushing your teeth the

hardest task in the world, have the

children make suggestions

9. Do a task, have the children shout

'rewind' to retrace your steps and

'fast forward' to speed up what you're

doing

10. Make a potion from things you can find

in the garden

11. Don't laugh. Have one person be the

fool with the aim to make everyone

else laugh. The first person to laugh

becomes the fool!

12. Make up new words to a song you love

18. Go on an imaginary adventure, take

the child's lead on where you go

19. Have a talent show of ordinary talents,

gasp and whoop at how spectacular

each child is at their ordinary talent.

For example rubbing their tummy and

patting their head, standing on one leg

or making a scary face

20. Stand on one leg, whilst rubbing your

tummy and making a scary face!

21. Give inanimate objects personalities

Katie White

There's no doubt that using playfulness,

games and puzzles enhances children's

learning. Play optimises opportunities

for gaining new skills, remembering

information, recognising social cues

and understanding basic principles; it's

foundational to children's learning and

development. Yet, does playfulness always

have to have an educational twist?

My answer to this question is a defining

NO!

I can obviously acknowledge the beneficial

applications of using playfulness in

the classroom, but I also believe that

embracing nonsensical play has the

capacity to unearth many hidden

wonders; fostering imagination, creativity,

fun, expression and connection.

For the most part, my job entails

convincing adults of this 'non-educational'

and 'non-structured' play. The way

I go about doing this, is by bringing

groups of adults (teachers, parents and

care workers) together into a space of

purposeless play. As the workshops

unravel, so to do the participants. As they

engage in laughter, improvisation and

expressive movement they begin to 'feel

better'.

'Feeling better' is the most common

comment that I receive from participants,

and often they can't quite place why.

Amongst the health benefits of play and

laughter; embracing the nonsensical can

help us build connections with others

and simultaneously help us feel more

connected to ourselves. In purposeless

play we become rule breakers, mischief

makers, leaders in our own right. We

become the creators of our own story,

present in our bodies, aware of our

aliveness.

This willingness to play for no reason,

makes us remember our common

connections between us and our

colleagues, our spouse, our neighbours,

our friends, our relatives and our

children. Purposeless play is a sure fire

way to building strong and connected

relationships. So if you're ready to embark

on some ridiculousness read on!

25 ways to embrace nonsensical

play

1. Have an imaginary food fight

2. Have a conversation in gibberish – in

a serious tone ask your child 'flob a

blob blob flob?'

3. Get all of the art supplies out and

instruct the children to do their worst

art. Show them the way…crumple

up the paper, rip it, pour water on it,

draw with your eyes closed

4. Take a walk in the park and pretend

you're a fox trapped in a humans

body

5. Point and name the objects in your

room, point and re-name the objects

in your room. So that 'cat, radiator,

window' turn into 'frogs, marmalade

and land rover'

6. Say the word 'bubbles' without smiling

13. Create a game that's never been

played before, use a sponge, a torch

and an orange (or whatever you can

find) call it a name, play it once and

never again

14. Ask the children all the ways you might

use a coat hanger without mentioning

hanging coats

15. Play a game of imaginary rounders,

22. Come up with another phrase for when

someone sneezes

23. Bake and ice an imaginary cake

24. Leave the house and have the child

say 'left' or 'right', follow their directions

and see where you end up

25. Get comfortable with looking silly; fall,

fail, stutter, blunder, it's good to laugh,

it's even better to laugh at yourself

Katie Rose White is a Laughter Facilitator

and founder of The Best Medicine.

She works predominantly with carers,

teachers and healthcare professionals -

teaching playful strategies for boosting

mood, strengthening resilience and

improving wellbeing. She provides

practical workshops, interactive talks

and training days - fusing therapeutic

laughter techniques, playful games

and activities, and mindfulness-based

practices.

The techniques are not only designed

to equip participants with tools for

managing their stress, but can also be

used and adapted to the needs of the

people that they are supporting.

thebestmedicine@outlook.com

www.twitter.com/bestmedicine1

http://www.facebook.com/

thebestmedicinecornwall

20 March 2022 | parenta.com

parenta.com | March 2022 21
---
Integrating music in

settings with children

Music is considered by many to be

an international language that travels

beyond traditional boundaries. Along

with countries and cultures, music also

transcends the boundary of health. Studies

show that playing familiar music has been

shown to improve cases of depression,

anxiety, pre-operative stress and other

high stress situations like dialysis and

cancer treatments. Often these studies

do not state whether the people included

are neurotypical or neurodiverse, however

more studies are looking at neurodiversity

as we understand it better.

Neurodiversity covers many differences,

one of which includes the autistic

spectrum. Autism is typically difficult to

diagnose and also covers a wide range

of behaviours. One of the difficulties of

with autism

diagnosis is that no two people with

autism are alike because all have different

combinations of behaviours. However,

two aspects that people with autism

share is that they are separated from their

peers, and they are treated differently.

Not only is this practice exclusionary, in a

pre-school or nursery setting, this can be

difficult for many reasons: available space;

available time; available toys/materials;

available staff. A study from Kosovo has

explored the use of music as a way to

integrate children in nursery or pre-school,

regardless of condition.

The 2021 study (Avdiu-Kryeziu & Avdiu,

2021) found a number of benefits of using

music therapy with children with special

needs. When delivered by a qualified

therapist, children were found to use

music to neutralise negative feelings,

increase their tolerance of new situations,

and create inner peace. Literature shows

that 50% of children with autism cannot

develop spoken language, have difficulties

in social-emotional interaction, and

contrary to Hollywood films and widely

held beliefs, only 2% have exceptional

talent in maths, music and art.

Often children with autism experience

difficulties in:

• Understanding spoken language

• Expressing themselves

• Pronunciation

• Control of voice

• Understanding social interactions

• Restraint in touching, smelling,

sounds, dancing with music

This study investigated the use of music

in a real-world context with childcare

specialists that were not musically trained.

Interviewing four qualified teachers, they

found that just by integrating music in daily

activities, all children were able to combat

stress. Singing allowed children to explore

words, recognise important events, make

friends, and connect with family members.

This is because "integrated music tackles

communication, socialisation and

behaviour" Wiseman (2015).

Integrating music in a mixed environment

resulted in improved:

• Emotional engagement

• Social interactions

• Communication

• Child-parent relationships

• Peer relationships

• Extended musical abilities

• Memory

• Socialisation

• Responses

• Imagination

This study shows that by using music in

pre-school or nursery everyday activities,

helps to "level the playing field" between

neurotypical and neurodiverse children.

When integrated music is used to manage

otherwise stressful situations, children

with additional needs play together with

neurotypical children, bringing richness

and value to the setting by giving

neurotypical children the experience of

playing with and befriending children

they would not normally encounter.

Neurodiverse children are given the

opportunity to be in a non-threatening

situation where they can observe and

learn to respond appropriately and

communicate effectively. This ends up

being not only a nursery win, but a society

win.

These are some ways to integrate music

into settings which many nurseries will

possibly use already:

• Sing a welcome or goodbye song as

they day starts and ends

• Sing between activity transitions

(going in or out, putting toys/activities

away)

• Sing before mealtimes, line up times,

bathroom times, nap times

Singing songs differently also helps to

increase awareness of language and

activity:

• Changing the speed of the song

makes it more exciting or more

relaxing

• Songs with repeated words

encourage feelings of predictability

and control

• Leaving out the last word of a line

improves memory and confidence

• Changing lyrics to match themes or

interests helps to personalise the

experience

These are a few examples of songs where

any of these differences may be used

easily:

The Bear Went Over The Mountain

The bear went over the mountain

The bear went over the mountain

The bear went over the mountain

To see what he could see

And all that he could see

And all that he could see

Was the other side of the mountain

The other side of the mountain

The other side of the mountain

Was all that he could see

If You're Happy And You Know It

If you're happy and you know it clap your

hands

If you're happy and you know it clap your

hands

If you're happy and you know it

And you really want to show it

If you're happy and you know it clap your

hands

If you're happy and you know it stamp

your feet

If you're happy and you know it stamp

your feet

If you're happy and you know it

And you really want to show it

If you're happy and you know it stamp

your feet

If you're happy and you know it say, "we

are, we are!"

If you're happy and you know it say, "we

are, we are!"

If you're happy and you know it

And you really want to show it

If you're happy and you know it say, "we

are, we are!"

Skip To My Lou

Skip, skip, skip to my Lou

Skip, skip, skip to my Lou

Skip, skip, skip to my Lou

Skip to my Lou, my darling

Fly in the buttermilk, shoo, fly, shoo

Fly in the buttermilk, shoo, fly, shoo

Fly in the buttermilk, shoo, fly, shoo

Skip to my Lou, my darling

Muffin Man

Do you know the muffin man

The muffin man, the muffin man

Do you know the muffin man

Who lives on Drury Lane?

Yes I know the muffin man

The muffin man, the muffin man

Yes I know the muffin man

Who lives on Drury Lane

Integrating music into early years settings

may be key to creating more inclusive

environments for all children.

Reference

Avdiu-Kryeziu, S., & Avdiu, A. (2021). The

integration of music and its influence

on the inclusion of autistic children in

educational activities of pre-school

institutions. RAST Musicology Journal, 9(3),

3031–3042.

Wiseman, S. (2015). The use of music as an

educational intervention for children with

autistic spectrum disorder (ASD). Research

in Teacher Education, 5(1), 7–14.

Frances Turnbull

Musician, researcher and author,

Frances Turnbull, is a self-taught guitarist

who has played contemporary and

community music from the age of 12. She

delivers music sessions to the early years

and KS1. Trained in the music education

techniques of Kodály (specialist singing),

Dalcroze (specialist movement) and Orff

(specialist percussion instruments), she

has a Bachelor's degree in Psychology

(Open University) and a Master's degree

in Education (University of Cambridge).

She runs a local community choir, the

Bolton Warblers, and delivers the Sound

Sense initiative "A choir in every care

home" within local care and residential

homes, supporting health and wellbeing

through her community interest

company.

She has represented the early years

music community at the House of

Commons, advocating for recognition

for early years music educators, and her

table of progressive music skills for under

7s features in her curriculum books.

Frances is the author of "Learning with

Music: Games and activities for the early

years", published by Routledge, August

2017.

www.musicaliti.co.uk

22 March 2022 | parenta.com

parenta.com | March 2022 23
---
National Careers

Week 2022

How did you get into childcare? Was

it always a childhood dream or was it

something you stumbled into? Were

you inspired as a teenager to take an

apprenticeship, or have you come to

early years work through academic study

such as a teaching qualification or even

a childhood development or psychology

route?

What is interesting about these questions

is that if you ask early years staff, they will

almost certainly have a variety of routes

into the profession and varying levels

of qualifications. In the past, childcare

professions have perhaps been side-lined

by some, thinking of it as an extension

of looking after your own family or as an

'easy' option. Neither of which are true,

as any of the 802,600 people working in

any of the 72,000 early years provisions in

England in 2021 will tell you.

What might be true however, is that many

people working in childcare are unsure

of their career progression and how they

can improve their knowledge, experience,

responsibility and ultimately, their income

within the profession. So as we celebrate

National Careers Week this month, is it

time that you took a fresh look at your

career and see how you can develop

both personally and professionally? And

National Careers Week could be the

perfect catalyst you need.

National Careers Week

National Careers Week (NCW) is run by a

not-for-profit, community interest company

with the aim of helping provide a focus for

careers guidance work at an important

stage in the academic calendar to help

support young people leaving education.

There are three groups that NCW aims to

empower:

1. Students – the NCW website provides

lots of free CEIAG (Careers Education,

Information, Advice and Guidance)

resources for school leavers which

24 March 2022 | parenta.com

link what they are doing in their

education at school, to the world of

work, employment and training. Often

students are not clear about what

they want to do after they take their

GCSEs, A' Levels and BTEC exams.

Some may aspire to university, but

many want to start their careers but

may not know where to begin. By

giving students information, advice

and resources, NCW aims to help

them make better, more-informed

choices. There is also a very inspiring

video about hope on the website,

which can help young people identify

with others feeling stressed about

their next steps, and help them to find

solutions.

2. Educators and advisers – each

school is obligated to provide high

quality careers advice to its students,

so NCW also provide resources which

are free to use in classrooms and

colleges. These can all be mapped

against the Gatsby Benchmarks,

which are a set of standards for good

practice in careers advice in the UK.

3. Organisations – NCW offers

employers and organisations a

chance to engage with and inspire

their future workforce.

During NCW, which runs from the 7th to

the 12th March this year, you can take

part in events, talks, workshops and

download any of the resources from this

year and previous years. You can also get

involved by using the hashtag #NCW2022

on your social media sites to show your

support. The website is full of resources

from assembly plans, worksheets, industry

insights, and a TV channel playing host to

some of the best career-related videos.

Getting started in childcare

One of the good things about the childcare

industry is that people can start with very

few qualifications and work their way

up. Apprenticeships are one of the first

ways that school leavers can get into the

early years sector as they learn on the job

and can earn a wage at the same time.

Parenta has been helping match trainees

and providers for years, so if your setting

is looking to recruit some Level 2 and/or

Level 3 apprentices, call us on 0800 002

9242 or visit our "starting your career"

page on our website for more information

on how we can help. Even before that

however, teenagers can enhance their

prospects by doing childcare courses

at school and getting some experience

with babysitting and/or volunteering in a

nursery setting.

What next?

It's not just school leavers, however, who

need careers information and advice.

The employment landscape is changing

and we are now going through what

is being called the "fourth industrial

revolution", where the employment market

is set to change due to the availability of

computers and machines which will be

able to perform tasks once only done

by humans. Some industries are set to

decline and jobs in these sectors will be

lost. Encouragingly though, the education

sector is ear-marked for growth in the next

20 years, and the care sector is set for high

growth.

Many of us will change jobs and even

industries many times in the course of

our working life and will need to keep

our skills updated and relevant in order

to keep pace with the changing labour

market. According to one study, 30 years

ago, the half-life of a skill (which is a

measure of the time it takes for the value

of a particular skill to decrease by half)

was approximately 26 years. Today, it

is estimated to be less than 5 years,

and falling. This means that it is more

important than ever to continue growing

and learning as childcare professionals, to

stay on top of the game.

Career path and progression

There are many qualifications that

childcare professionals can undertake in

their career, starting at Level 1 such as a

L1 Award/Certificate/Diploma in Caring

for Children, and working up to a Level

6 qualification which is a degree level

award. These are things like a Degree

in Early Childhood Studies or a Degree

in Early Years Practice. And there are

obviously lots of other qualifications

in between including vocational and

apprenticeships too.

The table on the right shows a cut-down

version of some qualifications with

increasing levels, and some of the relevant

jobs that these would be suitable for.

There are also qualifications at higher

levels such as post-graduate/Master's

degrees at Level 9, and Level 10

qualifications which are at Doctorate level.

For a fuller guide to childcare qualifications

across a whole career from Pearson, see

here.

Start your own business

Finally, it is many people's dream to own

their own business and maybe open a

setting of your own, in which case you

might want to take more qualifications

in management or business to help you

get started. Knowing how to look after

children and give them the best start in life

is one thing, but if you don't do your tax

and VAT returns on time, then you won't be

in business very long. And remember that

even to set up a childminding business in

your own home, you need to register with

Ofsted and have relevant qualifications.

What is clear is that childcare is a

career, not just a job, so why not look at

your options this March with a mind to

improving yourself this year?

Useful websites and

information

https://www.pearson.com/uk/learners/

fe-and-college-students/career-choices/

education-and-research/childcare.html

https://nationalcareers.service.gov.uk/jobprofiles/nursery-worker

https://nationalcareers.service.gov.uk/

Qualification Examples of

Potential jobs

level

qualification

1 BTEC Technicals Level 1 Early Years Worker (unqualified)

2 BTEC Technicals Level 2

Early Years Teaching Assistant

Nursery Assistant, Pre-school

Assistant, Playgroup Assistant,

Nanny

3 BTEC Level 3 Nationals

Early Years Educator, Nursery

Supervisor, Nursery Nurse, Pre-

School Leader, Deputy Manager

Playgroup Leader, Childminder,

Nanny

4

BTEC L4 Higher Nationals

Certificate in Early Childhood,

Education and Care Foundation

Degree in Early Years

Early Years Educator, Family

Support Worker, Nursery

Supervisor, Nursery Nurse, Pre-

School Leader, Playgroup Leader,

Childminder, Nanny

5

BTEC Professional qualifications

Childminder, Nanny, Advanced

Practitioner, Residential Manager,

BTEC Level 5 Higher Nationals Nursery Manager, Nursery Nurse,

Nursery Owner,

6

Degree in early years practice

Degree in child nursing

Teaching degree

Teacher, Learning Mentor School

Support Officer, Education Welfare

Officer/Family Support Advisor

parenta.com | March 2022 25
---
International

Women's Day

It's time to stand up and take more

notice of women – what they do for their

communities, their families and the world

in general. Although women make up half

of the world's population, it's a damning

inditement of much of our global society

that there are still inequalities in the world

based on gender and in many places,

being born a woman can still lead to

having less freedoms, less income and

opportunity, and less security. International

Women's Day (IWD), celebrated globally

on the 8th March, aims to celebrate the

remarkable achievements that women

have made across the globe whilst raising

awareness of the problems still to be

tackled.

The website dedicated to the day, at

https://www.internationalwomensday.

com/ says:

"Imagine a gender equal world. A

world free of bias, stereotypes and

discrimination. A world that's diverse,

equitable, and inclusive. A world where

difference is valued and celebrated.

Together we can forge women's equality.

Collectively we can all #BreakTheBias."

It's a strong call to action for everyone,

wherever they are, to come together

to celebrate the social, economic,

cultural, artistic, scientific and political

achievements of women whilst standing

up for women's equality. This list is not

exhaustive, as women have achieved in

all walks of life. Early years childcare is a

sector that is predominantly made up of

female practitioners, who have a massive

impact on the lives and outcomes of the

children in their care. So isn't it time we

get the recognition we deserve for the

important job we do, and stand up for

other women around the world too?

History of International Women's Day

It's no new thing to want to celebrate

women's achievements. For decades,

women were relegated to the role of

second-class citizens, treated as the

property of others and kept out of

education, business and politics. The

movement began out of the unrest of

women in countries across the world at

the way they were being treated. In 1911

a group of women set up the first IWD

which was supported by over a million

people in Austria, Denmark, Germany

and Switzerland and it has been growing

and gathering momentum ever since.

Obviously, a lot has changed since 1911 but

there is more to be done.

IWD does not represent a political

organisation, a country, educational group

or other NGO, but it is an exciting force

for change that we can all join in with

regardless of the gender we identify as,

and it is supported by many charities,

partners, friends and collaborations across

the world.

2022 theme and missions

The theme for this year is "Break the

Bias" using the hashtag #BreakTheBias

and a pose to help people show their

support and solidarity. The pose consists

of crossing the arms in front of the chest

with the palms facing downwards (like

an 'X') and people all over the world are

encouraged to photograph themselves in

the pose, and post their pictures online to

show their support.

There are also 7 missions that IWD is

highlighting to help "forge a gender

equal world" and "call out inequality". The

missions are based around:

• Raising greater awareness about

issues impacting women's equality

• Taking a stance to call out inequality

while working to forge positive action

• Highlighting and applauding where

important gains are being made

• Celebrating women's achievements

and accomplishments

These 7 missions and their aims are:

1. Women in technology mission - to

celebrate digital advancement

and champion the women forging

innovation through technology

2. Women at work mission - to forge

inclusive work cultures where

women's careers thrive, and

achievements are celebrated

3. Women forging change mission - to

elevate women forging change via

technology and sustainability in

communities, workplaces and beyond

4. Women's health mission - to assist

women to be in a position of power to

make informed decisions about their

health

5. Women creatives mission - to celebrate

the work of women creatives and

elevate visibility for commercial projects

and commissions

6. Women's empowerment mission

- to shine a spotlight on activity

encouraging and uplifting women to

pursue goals without bias or barriers

7. Women in sport mission - to celebrate

women athletes and applaud

when equality is achieved in pay,

sponsorship and visibility

Some people might think that we do not

need an International Women's Day and

that we have come a long way since 1911,

and that's true. In the UK, we have laws

against gender discrimination, but a quick

look down the list of missions will tell you

that we still have a way to go. For example,

the January 2022 figures still show there is

a 4% gender pay gap in the UK; women's

sport is not still equally represented in the

media; and the percentage of women in

the creatives industries is still not the same

as men.

How to celebrate IWD in your setting

There are lots of events that your staff and

families can get involved in to celebrate

the day, with many continuing throughout

the year. You can search online for events

near you on the IWD website. These range

from free self-defence classes, to dinners,

automotive events, exhibitions and talks

to name but a few. There are also virtual

events that you can join and these are from

all over the world.

Closer to home, you could:

• Decorate your setting in the official

colours of purple (representing justice

and dignity), green (signifying hope)

and white (symbolising purity, albeit a

controversial concept nowadays)

• Use story time to tell the stories of

powerful and independent women –

you could choose people to represent

each of the missions and there is a lot

of inspiration on the website

• Invite a female speaker to your setting

to tell her story of technical/industry

success, sporting achievement or

creativity (or anything else they want to

celebrate)

• Use the 7 missions to create a goal

board in your setting. Ask everyone

(not just girls) what their goals are and

create a display showing them

• Make a video showing the

achievements of women in your own

setting and post it on your social media

channels

• Take a photo of your staff and children

in the 'break the bias' pose and share

it to show your support for the day

• Organise a collection for your local

women's refuge

Whatever you do, have fun – the event is

a celebration of women and all they do.

Remember to send us your photos and

stories to hello@parenta.com.

26 March 2022 | parenta.com

parenta.com | March 2022 27
---
Growth mindset and the

theories of Carol Dweck: part 2

Last month, we gave you an insight into the work and research of Carol Dweck and her 'growth and fixed

mindsets' and how they influence some outcomes that children can achieve. But what do the theories

mean in practice and how can you promote a growth mindset in the children in your setting? In this article,

we look at some practical strategies.

is going well and think about ways to

improve, or different things to try; and

praise your staff for their own efforts too.

There are lots of books, ideas and training

courses on this subject and it's not easy

to impart a whole course on growth

mindset in two articles, but we have

hopefully opened your mind a little to the

possibilities, and set you off on the first step

of the ladder.

References

Firstly, we have to make the distinction

between 3 sets of people whose mindset

may influence that of children. These could

be:

1. Parents and/or carers

2. Practitioners

3. Community

Research shows that changing the mindset

of teachers/practitioners can improve

outcomes in students over time 1 and

Dweck is involved in ongoing research

aimed at changing a whole community's

mindset which has reported initial

successes 2 . More research is needed on

the impact of parental mindset and it is

difficult for early years settings to have a

major influence over this. Finally, we have

the mindset of the children themselves.

However, as early years practitioners, we

can take the information available about

training practitioners and start there.

1. Train your staff in the

theories and practices

The first step is to make your staff aware

of the issues involved so that they can

understand what you are trying to achieve

and why. They will need to understand

(and accept) the idea that:

• There is a difference between a fixed

and a growth mindset and these have

an impact on children's motivation,

engagement and outcomes

• What they say and do as practitioners

makes a difference

• They can change what they do to

improve their own outcomes, and that

of the children they look after

• All children can make progress

A behaves a certain way because that is

who they are and they'll never change".

Remember that change may require some

patience, commitment and understanding

to succeed, and "it might just be something

we haven't done, YET!"

2. Challenge fixed ways of

thinking and speaking

Assuming you have all your staff and

practitioners on board, and you have given

them some training, what do you want to

change?

Firstly, you might want to implement

a policy of praising effort instead of

achievement/natural ability. There are lots

of ways to change the way we speak to

imply that things can be achieved with

effort and patience, rather than having

to rely on a talent or an innate ability.

A search on the internet for "Growth

mindset - say this not that" will return

some examples of posters, phrases

and examples of how you can change

your language to change what the child

understands. Here are some common

examples.

INSTEAD OF…

I'm not good at this

I give up

It's good enough

I can't make this any better

This is too hard

I made a mistake

Some children may not even be able to put

ideas into words yet so it may be a matter

of showing rather than saying at first. A

simple "come on, let's try that again" or

"that didn't work so let's try this instead"

as you retry the task, will emphasise the

process of trying. That's not to say that

the outcome is not important – it is. After

all, the goal is learning and improving. It's

just putting the emphasis on trying again,

practicing and finding a way through.

Once an outcome is achieved (e.g.

building a tower), saying things like "I

knew that you would do it if you kept

trying", is better than "you're good at

building". This is because it implies

the outcome was achieved through

perseverance rather than any innate ability

– and that means all children can make

progress.

Secondly, you can use the word 'yet' to

imply that if children find things difficult at

first, then it's only a matter of time before

they master them. For example, "you can't

do this yet" or "you're trying hard at this,

and you're going to master this soon"

again implies they will get it in time.

TRY THINKING/SAYING…

What am I missing?

I'll use a different strategy/try something different

Is this really my best work?

I can always improve

This may take some time

Mistakes help me learn

3. Be positive about mistakes

Finally, if children struggle with things or

make mistakes, make sure your staff break

them down into more manageable chunks

and emphasise that big things can be

done using a step-by-step approach – a 1%

improvement each day will yield big results

in the future. Manage children's anxiety

if they get anxious by taking a moment

to pause, breathe and remind them that

they are still on the way to achieving their

goal. Talk positively about mistakes and

what is learned from them, and remember

there is always something more to learn

or improve. Saying "you worked hard to

achieve that, looks like you're ready for

another challenge" will instil the idea that

there is more to learn whilst praising what

has already been achieved.

4. Practice and reflect

All staff will need to practice using these

strategies if they don't come naturally at

first – and that's OK too, as it's all part of

the learning process. After all, learning

does not stop after childhood, so remind

your staff to develop their own growth

mindset if they come across obstacles.

A growth mindset is not about getting it

right all the time, it's more about finding

solutions to problems if they occur.

Encourage regular reflection on what

1. Fiske study - https://www.

mindsetworks.com/Science/Case-

Studies

2. 2016 research https://doi.org/10.1073/

PNAS.1608207113

More information

• https://www.mindsetworks.com/

• https://www.psychologicalscience.org/

observer/dweck-growth-mindsets

• https://www.researchgate.net/

publication/321324956_Parent_

Praise_to_Toddlers_Predicts_Fourth_

Grade_Academic_Achievement_via_

Children's_Incremental_Mindsets

You may face resistance from some staff,

but that will only highlight fixed mindsets

within the staff that need to change.

Examples of this might be a staff member

who feels they are "too old to learn new

ways" or one who is adamant that "child

I just can't do this

I'll never be that smart

Plan A didn't work

My friend can do it

I'm going to train my brain

I will learn how to do this

There's always plan B

I'll learn from them

28 March 2022 | parenta.com

parenta.com | March 2022 29
---
World Maths Day and

British Science Week

If your children love a STEM (science,

technology, engineering and maths)

challenge, then you will love two events

coming around this March as World Maths

Day (WMD) and British Science Week hit

our calendars. As awareness events,

they are both well placed to hit lots of

Numeracy and Understanding the World

challenges in the EYFS. Read on to find out

how you can inspire the next generation

of STEM leaders with some fun events and

activities. And we hope you like our own

homage to mental maths, which we've

scattered throughout the article too.

World Maths Day

World Maths Day is on Wednesday 23rd

March, or XXIII/III in Roman numerals. The

day actually runs for (2x24) hours to cover

all time zones. It aims to get students of

all ages excited and enthusiastic about

learning maths. And what better way to

engage them than to have a global maths

challenge? But more of that later.

World Maths Day was created in 2007 by

an Australian developer of digital learning

resources, 3P Learning. The 1st World

Maths Day was on √25 May that year and

involved more than (3.0 x 10 5 ) students

from (100-2) countries. They participated

in online competitive games all centred

around mental maths problems. Since

then, the event has grown and now has

millions of students from all of the world

taking part. Last year's event combined

the normal maths challenge with a social

media costume competition, where

children dressed up as their favourite

mathematicians and calculators! However

you get involved, the event aims to connect

people across the world and foster

friendships between children of different

cultures through their love of maths.

What happens on the day and how

can you get involved?

As WMD is really a huge, free maths

challenge, run by Mathletics and

Mathseeds, students are invited to

compete against each other in a range

of 20 online games lasting 60". The age

range to enter is between (2 2 ) and (15+3)

(school-aged children) but if you have

4 or 5-year-olds, they should be able to

enter as you can compete as a school or

individuals. There is a warm-up period

which starts on March (3x3) so you can get

practicing early if you want to.

There are some great resources for

World Maths Day on Twinkl too to help

make it an engaging and fun day. Maths

should be fun for early years learners to

get them interested in numbers, shapes

and patterns so don't just think maths

is about numbers. You can use different

shapes to make artwork or do a jigsaw;

draw colourful patterns to get the children

recognising colours, shapes and different

sized objects; or study telling the time

and look at calendars, all of which are

important when developing mathematical

skills.

And remember that although WMD

sounds like it's all about maths, you can

read stories about numbers and shapes,

use counting in songs and games, or

create a treasure hunt with numbered

clues too, to promote numeracy and crosscurricular

links.

British Science Week

British Science Week is a ten-day

celebration of science, technology,

engineering and maths that takes place

between 11 – 20 March, MMXXII. STEM

topics can cover so many things that you

are sure to find something to do and be

inspired by during the week. Whether you

want to build a robot, or use some building

bricks to create a dinosaur, or do a science

experiment in the garden, there will be

something for everyone. British Science

Week is coordinated by the British Science

Association and is funded by the UK

Research and Innovation (UKRI).

What's great is that there are no

restrictions on who can run or organise

events and there are no restrictions

on topics, as long as it has a science,

engineering, technology or maths theme

or sub-theme – but that involves virtually

everything! If you are using a thermometer

to check the heat in a cupcake, or

measure and weigh out the ingredients,

you are engaging in a STEM activity as

measuring and weighing are all related

to maths and scientific scales – and you

get to enjoy some delicious cakes as well.

There is very little in the world today that

is not related in some way to science,

technology, engineering and maths. Even

if you consider things like art and drama,

there can be a STEM element to those too,

such as the lights and stage machinery

in theatres, and the production of art

materials such as pencils and paint in art.

Reasons to take part

• It inspires young minds to explore,

build, experiment and create

• It celebrates the best of British science

• There are lots of free resources

• You can network with other local

groups

• It's fun and engaging with a lot of

hands-on activities

You can run your own events or find

organised events in your area by using

the online ScienceLive search engine

and these events run all year, all over

the country so you don't have to restrict

yourself to the dates of British Science

Week.

There are also lots of exciting resource

packs on the website that are aimed at

different ages including a special one

for early years. The theme for the 2022

activity packs is 'Growth' and there are

some fantastic activities based on this

theme, including the growth of animals,

buildings and how to grow plants on Mars!

There are so many ideas in the packs that

you will be running science activities for

weeks, and you can also enter a poster

competition to win some great prizes.

You can also still download packs from

previous years too, and if you tag your

activities on social media with #BSW22

or @ScienceWeekUK, you can let the

organisers see what you've been up to.

If you want to run and event, there may

be some funding available depending on

who you are or who you are aiming to

reach. The Kick Start Grant is for schools

in challenging circumstances and the

Community Grants are for organisations

working with audiences who are underrepresented

in science. You can find more

details here.

Whatever you decide to do this March,

be it with maths, science, engineering or

technology, remember to send us your

stories and pictures to hello@parenta.com.

Finally, did you get all the maths

references? Answers here:

• XXIII/III is 23/3 in Roman numerals

• 2x24 = 48

• √25 = square root of 25 = 5

• 3.0 x 10 5 is standard form for 300,000

• (100-2) = 98

• 60" = 60 seconds or 1 minute

• 2 2 and (15+3) = between 4 and 18

• (3x3) = 9

• MMXXII = 2022

Websites:

World Maths Day (WMD)

https://www.britishscienceweek.org/

30 March 2022 | parenta.com

parenta.com | March 2022 31
---
most popular products include:

Fairtrade Fortnight

• Bananas – one third of bananas

bought in the UK are Fairtrade and it

makes a huge difference to thousands

of farmers, workers and their families

Fancy a tea or a coffee? How about a

sumptuous meal with a fresh banana

dessert smothered in smooth chocolate,

a bottle of the finest wine, a bunch of red

roses and a gold ring to boot?

No, we're not talking about Valentine's

Day, we're getting all excited and hot

under the collar about Fairtrade Fortnight –

the annual celebration of sustainable and

fair world commerce we can all join in with

whilst making a difference to the planet as

well.

This year, Fairtrade Fortnight runs from

21st February to 6 March. Thousands of

people, nurseries, schools, companies,

institutions and local groups of all sizes

and interests will come together to share

their stories about where our food and

drink come from, the people who grow

the cotton in our clothes, and how we can

mine gold more sustainably. Many of the

people we rely on to produce the goods

we want in our lives, are often exploited

and underpaid. Fairtrade Fortnight aims to

raise awareness of the issues of inequality

in global production and get us, the

consumers, to make choices that can affect

change.

What is Fairtrade?

Fairtrade is "a system of certification that

aims to ensure a set of standards are met

in the production and supply of a product

or ingredient. For farmers and workers,

Fairtrade means workers' rights, safer

working conditions and fairer pay. For

shoppers, it means high quality, ethically

produced products."

When you think about it, wouldn't we like

everything we buy to be traded in a fair

and equitable manner? None of us want

to think that the tea we drink or the clothes

we wear have been produced at the

expense or exploitation of another human

being, let alone consider that they have

been mass-produced by children in sweat

shops or by enforced labour. Yet this is the

reality of some products and ingredients

available to us.

When we as consumers, choose Fairtrade

products, we can be sure that the farmers

have been treated with fairness and

equality, are investing in climate-friendly

farming techniques and are developing

leadership roles for women. As it says on

the Fairtrade website: "With Fairtrade, you

change the world a little bit every day.

Through simple shopping choices, you are

showing businesses and governments that

you believe in fair and just trade."

Some facts about Fairtrade –

did you know?

• There are over 1,880 Fairtrade certified

producer organisations in 71 countries

• There are more than 1.9 million

farmers and workers in Fairtrade

certified producer organisations

• 17% of farmers and 41% of workers in

Fairtrade are women

• In 2020, £169 million was paid to

farmers and workers in Fairtrade

premium, with each producer

organisation receiving more than

£90,000 on average

• 47% of all Fairtrade farmers produce

coffee and 41% of all Fairtrade workers

produce flowers

• Workers on large-scale Fairtrade

certified farms invested 20% of their

Fairtrade premium in education for the

workers and their families

What products does the

Fairtrade certification cover?

If you want to change your shopping habits

and switch to Fairtrade, you will not have to

exist on a diet of rice and beans! There are

over 6,000 Fairtrade products which can

be easily identified by the distinctive black,

blue and green Fairtrade logo. Some of the

• Chocolate – Fairtrade in this industry

means fairer prices and safer working

conditions for farmers and workers

• Coffee – Fairtrade investment results

in a better quality of life for coffee

farmers, and better-quality beans

• Clothing – sustainable fashion that

does not exploit its workers is making

headlines and Fairtrade supports

cotton farmers in some of the world's

poorest countries and worker's rights

and conditions within the textile

industries

• Flowers – beauty without exploitation

• Gold – Fairtrade describes its

independent ethical certification of

gold as "more than just gold – it's gold

with heart"

• Tea – fighting against discrimination

and low wages

These are just some of the products you

can find, but think too about sugar, wines,

beauty products, spreads, oils, herbs

and spices as well as everyday fruit and

vegetables too.

How to get involved in

Fairtrade Fortnight in your

setting

There are lots of ways to involve your

setting in Fairtrade Fortnight. Children are

future consumers, so educating them to

understand the ideas and values behind

Fairtrade, even at an early age will help

them make sustainable and ethical choices

in future years. So here are some ideas to

get you started:

• Set up a Fairtrade display – you can

print out images of products, collect

empty boxes or use actual items to

help the children understand where

their food comes from. You could put

up a wall map and stick images of

different countries showing where

the products come from, perhaps

focusing on a different product each

day for the 2 weeks

• Cook up some easy recipes using

Fairtrade ingredients – the children

will love making chocolate brownies

or honey and lavender cupcakes. You

can find links to recipe pages at the

end of this article

• Research and tell the stories of how

our food is produced and the people

who produce it – the Fairtrade website

has resources for early years settings

and schools using Pablo – The Super

Banana to engage younger children.

You can also find books such as "Fair

Trade First", a new book for early

years, written by Sarah Ridley, and

there are plenty of resources on Twinkl

for the EYFS

• Hold a bake sale to raise money –

every penny raised can help farmers

improve their lives and have hope

for a better future. You could collect

products to raffle in a Fairtrade

Fortnight hamper, or donate it to your

local food bank

• Dress up as a banana – yes, the

banana is almost synonymous with

Fairtrade, so why not have some fun

and see how many 'little bananas'

you can count in your setting!

We all want to live in a way that is

sustainable, better for the planet and

equitable for everyone living on it. We

can't always have a direct impact on

governments or poverty in third world

countries. However, it doesn't take much to

change to Fairtrade items, but it makes the

world of difference to the producers and

the planet.

Fairtrade recipes

https://www.fairtrade.org.uk/choose-theworld-you-want/foodie-tent/

https://www.coop.co.uk/recipes/fairtrade

https://www.bbcgoodfood.com/

user/112927/recipe/fairtrade-chocolatebrownie

https://www.wlv.ac.uk/media/wlv/pdf/

fairtrade_recipe-book.pdf

32 March 2022 | parenta.com

parenta.com | March 2022 33
---
Mother's

Day

Banana Muffins

Celebrate Mother's Day in style with these beautiful cupcake flowers.

You will need:

• Colourful cupcake liners

• Pipe cleaners

• Pen

• Scissors (child friendly)

Instructions:

1. Poke a small hole in the middle of a cupcake liners with a pen

2. Pull the pipe cleaner through the hole

3. Tie a small knot at the top (or just scrunch down an inch or so of the pipe cleaner)

4. When your toddler is done with their bouquet, tie another pipe cleaner around the middle to hold them together

5. Now you've got a beautiful bouquet of cupcake flowers for Mother's Day!

This recipe can be found

on the official 'BBC Food'

website, available to view

here.

What do you need?

• 125g Wholemeal flour

• 3 level tbsp light muscovado sugar

• 2 level tbsp baking powder

• 1 medium egg, beaten

• 50g low-fat plain yoghurt

• 50ml rapeseed oil

• 2 ripe bananas, roughly mashed

Instructions

These craft instructions

can be found on the

'Momtastic' website,

available to view here.

1. Preheat the oven to 200˚C/180˚

Fan/Gas 6

2. Line a six-hole muffin tin with

muffin cases or grease it

3. Mix together the flour, sugar,

and baking powder in a bowl

4. In a separate bowl, beat

together the egg, yoghurt, and

oil

5. Make a well in the flour, pour in

the liquid and mix well. Stir in the

mashed bananas, taking care

not to over-mix

6. Spoon the mixture into the

prepared cases and bake for

20–30 minutes, or until a skewer

inserted into the centre comes

out clean

7. Transfer the muffins to a wire

rack and let them cool

34 March 2022 | parenta.com parenta.com | March 2022 35
---
What does leadership

look like when …

children's needs change?

No one yet fully understands the impact

that the COVID pandemic has had on

young children, or what the longer-term

effects will be. Initial research studies

though have suggested a decline in

physical activity and development (EIF,

2021), cognitive delays in language and

problem-solving (Nature, 2022) and

shifts in early family relationships which

can in turn negatively impact social and

emotional development (Wijaya et al.,

2021).

As an early years educator, you are

probably noticing some of these changes

in children's learning and development

needs day-to-day. Perhaps you are

noticing that it's harder to encourage

children to play together. Or perhaps you

see that families are struggling to connect

with the professionals in the same way

as they did before. This presents a difficult

challenge.

How are we to respond to the changing

needs of young children and families,

particularly when these are not yet

fully understand? Early Years (EY) have

to support teams to help children and

families through this difficult time.

Drawing on the experiences of leaders

across EY and building on the work of

Professor Julie Nicholson on traumaresponsive

leadership in EY, we can focus

on three strategies:

1. Tuning in to the needs of children and

families yourself

2. Helping staff to connect with the

needs of children and families

3. Looking after yourself: top-down and

bottom-up regulation

Tuning in to the needs of

children and families yourself

Tim Hopkins, Strategy Development

Manager at the EY group Humpty

Dumpties, suggests that leadership in

these difficult times is about developing

your own awareness of the changing

needs of children and families.

A great leader gets stuck in. As we all

know, a change in one child's needs

can sometimes be a catalyst for other

behaviours to also change or be tested. It's

times like this that we roll up our sleeves

and lead by example. I've made it my job

to learn more about children's changing

needs in the context of the nurseries.

Two of the main things we've noticed are

children struggling with learning in groups

and getting involved in cooperative play.

Noticing these changes and what children

are finding hard is the starting point for

developing the right kind of support. It

requires close and careful attention to

children, as well as empathy so that we

can understand more about what they are

experiencing. Tim goes on to stress the

importance of recognising these changes

as the result of trauma:

We liken some children's and their families'

presentations to those who have suffered

a traumatic event as they join or re-join us

in our settings. The social and emotional

effects cannot be ignored and as frontline

workers, we need to be able to allocate

time to observe and find solutions with

these changes in needs.

Professor Julie Nicholson suggests that

trauma-responsive leaders prioritise

stability, safety and caring relationships.

The point is not to get children to meet

set standards and goals, which were set

pre-pandemic, but instead to authentically

respond to the situation on the ground

and buffer the stress among children so

as to limit the negative impact that it will

have on their development (Nicholson,

forthcoming).

Helping staff to connect with

the needs of children and

families

As well as tuning in yourself, as a leader

you are supporting others to pay careful

attention to the changing and complex

needs of children and families at this

time as Shane Page, Baby Room Leader

at Oxford Brookes University Nursery,

explains:

"It's about supporting fellow practitioners

to tune into the children and families by

giving them tools to help them adapt

their practice to ensure they support the

children effectively."

As well as practical tools or shifts in

expectation-setting, leaders will seek

to help the staff they lead deal with the

additional emotional labour of working in

this kind of context. Trauma-responsive

means recognising that working with

changing needs is difficult and it can feel

overwhelming and burdensome.

Professor Nicholson describes how

trauma-responsive environments are also

vital for early childhood educators, as well

as the children and families they serve. If

early childhood educators feel triggered

by what they are encountering among

children, they are likely to experience

empathic distress, where rather than

finding ways to practically support

children, they feel a need to detach

themselves from the situation. Staff can

become so overwhelmed by the needs

around them that they actually step away

from meeting those needs, rather than

coming towards them responsively. So,

leaders are essential in supporting an

environment where educators are looking

out for one another.

Connection is the most effective way to

protect against feelings of overwhelm,

and trauma-responsive leaders will look

for opportunities to develop these feelings

of connection. Team meetings are a great

example of this. When we take some time

at the beginning of team meetings to

connect with each other, finding common

ground and taking a collective deep

breath, this can build up the resilience

among staff so that they are better able

to tune into children's needs and actually

respond to them.

Look after yourself: top-down

and bottom-up regulation

Leaders are not immune to trauma. Just

as we can think about trauma affecting

young children and their families, and also

the educators who serve them, this is the

case for leaders too. In the situation as it

stands, leaders are having to 'hold' more

than ever, containing the emotional and

social distress of children, families and the

educators they lead. Finding ways to take

care of yourself is an act of leadership,

because it builds the foundation for

supporting others.

Professor Nicholson offers two types of

regulation strategy that leaders (and

anyone) can use to help them to cope

with stress and process trauma. These are

top-down regulation strategies, where we

consciously address our thought patterns

in order to reduce stress, and bottom-up

regulation strategies, where shifts in our

bodily response (e.g. through breathing,

movement, singing and so on) can help us

to navigate stress and trauma.

References

Early Intervention Foundation (2021)

Growing up in the COVID-19 pandemic: An

evidence review of the impact of pandemic

life on physical development in the early

years. Accessed 08.02.2022: https://www.

eif.org.uk/report/growing-up-in-the-covid-

19-pandemic-an-evidence-review-of-theimpact-of-pandemic-life-on-physicaldevelopment-in-the-early-years

Nicholson, J. (in press) Trauma-responsive

pedagogical leadership in ECE: What

it is and why it matters. In M. Sakr & J.

O'Sullivan (eds.) Pedagogical Leadership

in Early Childhood Education. London:

Bloomsbury.

Wenner Moyer, W. (2022) The COVID

generation: how is the pandemic affecting

kids' brains? Accessed 08.02.2022:

https://www.nature.com/articles/d41586-

022-00027-4

Wijaya, R. P. C., Bunga, B. N., & Kiling, I.

Y. (2021). Socio-emotional struggles of

young children during COVID-19 pandemic:

Social isolation and increased use of

technologies. Journal of Early Childhood

Research. Accessed 08.02.2022:

https://journals.sagepub.com/

doi/10.1177/1476718X211052789

Mona Sakr

Dr Mona Sakr is a Senior Lecturer in

Education and Early Childhood. As a

researcher in Early Years (EY) provision,

she has published extensively on

creative, digital and playful pedagogies

including the books "Digital Play in

Early Childhood: What's the Problem?"

(Sage) and "Creativity and Making in

Early Childhood: Challenging Practitioner

Perspectives" (Bloomsbury).

Mona's current research is an

exploration of pedagogical,

organisational and community

leadership in EY and how leadership can

be more effectively developed across

EY. Current funded research includes a

Nuffield Foundation project looking at

online leadership development across

the EY sector, a BELMAS project looking

at leadership in the baby room of

nurseries and a BERA project examining

ethnicity in the early years workforce.

Forthcoming books (include an

introduction to social leadership in early

childhood education and care (written

with June O'Sullivan, CEO of London Early

Years Foundation), and an edited volume

on EY pedagogical leadership around

the globe.

Email: m.sakr@mdx.ac.uk

Twitter: @DrMonaSakr

36 March 2022 | parenta.com

parenta.com | March 2022 37
---
Empower your team to feel

the beat of the tambourine …

like a Dancing Queen

Remember your team's development

needs will continue to change as they

progress or when new members join the

team.

Now is the time to find the music to spark

their imagination and motivate them in

2022 and beyond as we all know it's not

just the children who love role-play.

Be honest don't you secretly want to fling

on a feather boa, light up the glitter ball

and become the Dancing Queen?

Dancing Queen

You can dance

You can jive

Having the time of your life

Thank you for the music

Thank you for the music, the songs I'm

singing

Thanks for all the joy they're bringing

Who can live without it, I ask in all honesty

What would life be?

Without a song or a dance what are we?

Benny and Bjorn summed it up, as without

music and movement what are we? So,

with this in mind why not use music and

movement as part of your team's 2022

development plan.

Music and movement are such key areas

to children's learning, but do you know

anything about your team's prior music

and movement educational experience as

a child or as a teacher and their view of

that experience?

As a child, I loved music and movement

sessions but as an adult learning to teach

ballet I really must admit I was terrified

despite all my years as a vocational dance

student. Musicality was ingrained in my

body and yet as an adult I was made to

feel, by the teacher, unmusical and totally

useless just because I couldn't remember

the exact way of counting specific rhythms

as 1 & a, 2 & a or a 1 & 2 or 1,2 ..... grrrr!

I can assure you that your team's prior

experience will impact how they feel when

they put on music or get the children to

dance. So, now is your chance to change

any negative experiences they may have

had, as a child or adult, by including

music and movement in their personal

development plan.

Before you start it is worth thinking about

the benefits of your investment in your

team's individual development as this will

spur you on.

Implementing and maintaining this

support will not only build your team's

confidence in their own abilities but boost

morale, create a culture of excellence

and improve staff retention. They will feel

confident and happy in delivering amazing

learning experiences for your children.

Your checklist:

1: Understanding your team's

individual needs

Understand their individual needs by

finding out what their prior experiences

have been of music and movement. What

would have made it better?

Do they understand the benefits to the

children with their development in this

area?

What do they need to help motivate them

to succeed?

How can you help them achieve their

goals?

Once you know where they are, and where

they want to be, you can start sourcing

the best training available for them.

Remember one size doesn't fit all!

2: Make their learning fun

We all know children learn best when they

are playing and having fun. Adults are

just the same. We also need to enjoy our

learning. Otherwise, we are not motivated

to learn, let alone implement our new

knowledge.

Find a course that will engage and spark

their imagination. The enrichment of

your team will ultimately, improve the

educational provision for all children in

your setting.

3: Keep supporting them

Don't just tick the box and forget about it

once the training is over. Keep checking in

with your team and watching the children.

The children will let you know if things are

going well.

Happy children = happy motivated team

and vice versa!

Music, movement, and emotions

Music strikes a chord in everyone's

emotional development as it sparks

creativity, expression, and confidence

to lead you through life. Movement and

music are truly the universal languages of

emotion.

Jeanette Bicknell and a group of

researchers at Dartmouth College decided

to explore the connection between

emotion, music, and movement. They

started their research with the view

that music and movement both share

a dynamic structure, and their results

strongly suggest that there really is a

common structure linking expressive music

and movements.

A big question that has been raised from

their research is how might the common

structure between expressive movement

and music have affected human evolution?

Music and movement have played a big

part in our evolution as humans not just

our own personal development. So, the

question I put to you is, what are you are

waiting for?

References

Thank you for the Music

Performed by Abba. Lyrics by Benny Goran

Bror Andersson/Bjoern K. Ulvaeus/Stig Erik

Leopold Anderson

J. Bicknell. (2013). "Music, Movement and

Emotion", Psychology Today.

Available at:

https://www.psychologytoday.com/gb/

blog/why-music-moves-us/201306/musicmovement-and-emotion

Dancing Queen

Performed by Abba. Lyrics by Benny Goran

Bror Andersson/Bjoern K. Ulvaeus/Stig Erik

Leopold Anderson

Gina Bale

Gina's background was originally

ballet, but she has spent the last 27

years teaching movement and dance

in mainstream, early years and SEND

settings as well as dance schools.

Whilst teaching, Gina found the time to

create the 'Hi-5' dance programme to

run alongside the Australian Children's

TV series and the Angelina Ballerina

Dance Academy for Hit Entertainment.

Her proudest achievement to date is her

baby Littlemagictrain. She created this

specifically to help children learn through

make-believe, music and movement.

One of the highlights has been seeing

Littlemagictrain delivered by Butlin's

famous Redcoats with the gorgeous

'Bonnie Bear' on the Skyline stage.

Gina has qualifications of teaching

movement and dance from the Royal

Ballet School, Trinity College and Royal

Academy of Dance.

Use the code 'PARENTA' for a 20%

discount on Littlemagictrain downloads

from 'Special Editions', 'Speech and

Language Activities', 'Games' and

'Certificates'.

38 March 2022 | parenta.com

parenta.com | March 2022 39
---
The cheapest all-in-one,

easy-to-use, cloud-based

early years software

package you can buy!

No setup fee – save a massive £2395! | No hidden costs!

All inclusive | Limited time offer | Unlimited support

For only £99

per month

(paid annually)

with a MASSIVE

saving of £2395

(No setup fee)

What's included?

Book a Demo Today!

• Cloud-based Nursery Management

Software for easy and quick invoicing,

reporting & ratios - NEW features for

2022!

• User-friendly EYFS development

tracking software

• Daily Diary to record activities, naps,

meals and nappies

• Easy set up and user friendly parent

engagement app – maintaining

social distancing when needed

• Go paperless and limit the spread

of germs

• Accurately record baseline

observations

• Photo Editing, Tagging & Blurring

Technology (GDPR compliant)

• Easy Ofsted reporting

• Unlimited phone & email support

plus videos and help files

Monthly direct debit option available on request

0800 002 9242 hello@parenta.com