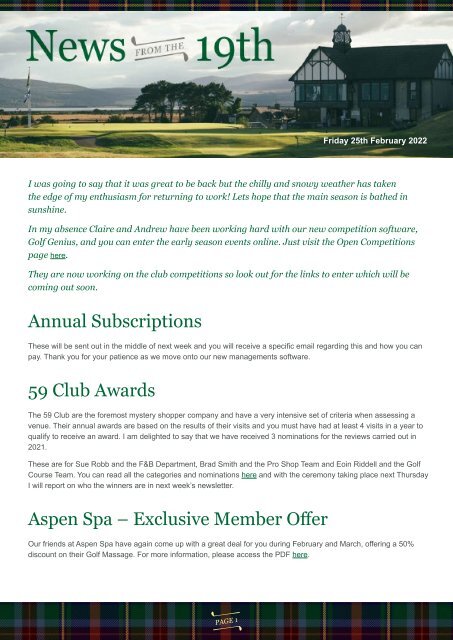 Members Weekly Newsletter 25-02-22
Create successful ePaper yourself
Turn your PDF publications into a flip-book with our unique Google optimized e-Paper software.
Friday 25th February 2022

I was going to say that it was great to be back but the chilly and snowy weather has taken

the edge of my enthusiasm for returning to work! Lets hope that the main season is bathed in

sunshine.

In my absence Claire and Andrew have been working hard with our new competition software,

Golf Genius, and you can enter the early season events online. Just visit the Open Competitions

page here.

They are now working on the club competitions so look out for the links to enter which will be

coming out soon.

Annual Subscriptions

These will be sent out in the middle of next week and you will receive a specific email regarding this and how you can

pay. Thank you for your patience as we move onto our new managements software.

59 Club Awards

The 59 Club are the foremost mystery shopper company and have a very intensive set of criteria when assessing a

venue. Their annual awards are based on the results of their visits and you must have had at least 4 visits in a year to

qualify to receive an award. I am delighted to say that we have received 3 nominations for the reviews carried out in

2021.

These are for Sue Robb and the F&B Department, Brad Smith and the Pro Shop Team and Eoin Riddell and the Golf

Course Team. You can read all the categories and nominations here and with the ceremony taking place next Thursday

I will report on who the winners are in next week's newsletter.

Aspen Spa – Exclusive Member Offer

Our friends at Aspen Spa have again come up with a great deal for you during February and March, offering a 50%

discount on their Golf Massage. For more information, please access the PDF here.

PAGE 1
---
Members Survey Feedback - Other Courses

Which nearby courses do our members play and how often? Our survey looked at this issue. Mainly due to difficulties

associated with the pandemic, around 25% of Royal Dornoch members were not able to play in Dornoch last year.

Nevertheless, even though many of our members did not travel to Sutherland at all last year, those that were able

to played quite regularly at our neighbouring courses. Brora was most popular, with around 44% of Royal Dornoch

members playing at least one round there. Golspie came a close second, with nearly 37% of our members playing

between 1 and 5 rounds there, while around 31% played Tain at least once. Bonar Bridge was less popular than the

other courses. It is a somewhat different challenge than the links courses that run along the coast. Nevertheless it is

very enjoyable and well-worth a visit. Promoting our neighbours to visitors helps build our reputation as a desirable

golfing destination. East Lothian promotes itself as "Scotland's Golf Coast": we have a way to catch up, but we can

aspire to keep building our own reputation as a prime golfing venue.

Alan Mcleod – Survey opportunity

Our local member, Alan McLeod, has been unable to play golf for a number of years following major knee

reconstruction surgery occasioned by a rugby injury. In addressing his frustration at not getting out onto the course,

Alan has invented a knee-brace configuration with magnets to enable those suffering from most forms of knee pain,

inflexibility and instability to enjoy golf.

His invention has been taken in-house by Strathclyde University and is currently undergoing final product development.

As part of its wider work on Alan's knee-brace, Strathclyde is undertaking ethnographic research into the effects of all

joint injuries and joint pain on golf. You can take the Strathclyde Survey online and all golfers are invited to participate.

Alan and the AHRC Design Team at Strathclyde University wish to thank you in advance for participating.

PAGE 2
---
Royal Dornoch Open Competitions

I am pleased to confirm that we have gone 'live' with our competition software and it is now possible to register for

some of our open events online at our website. The Open competitions you can enter for now are the Junior Open,

Struie Mixed Foursomes, Burghfield 3 Man Team, the 3 Lady Team, Struie Ladies Open and the Carnegie Shield.

This season, all our open competitions will be online entry only. You will see that when a competition is open and

available to enter then it will have a green box beside it and those that are still to open have an orange box have the

opening date for entries confirmed.

R&A Senior Amateur Volunteering

The R&A Senior Amateur is from the 3rd to 8th July and we will be hosting 198 male and 90 female players who are

representative of some of the best in world. This is the first time that the men and the women will be competing at the

same venue at the same time which is a big accolade for Royal Dornoch. Therefore we want to ensure that the event

runs as smoothly as possible so require a large number of volunteers.

There will be many opportunities to help out all of which will give you the chance to see these players in action so if you

would like to volunteer and receive some more information then please contact claire@royaldornoch.com

Caddies

As you know this season is going to be a very busy one and so we are going to need a lot of caddies to satisfy the

demand. What could be better than strolling round the Championship Course helping a fellow golfer enjoy the links in

the same way that you do - and get paid for it!

If this is something that you would be interested in, whether full time during the season or just 1 or 2 days a week, then

please email caddiemaster@royaldornoch.com to register your interest. If you have caddied in previous years then

please also register your interest for this year.

Win a Golf Holiday on Royal Deeside

The Royal Deeside Golf Week takes place on from 24th to 30th July and you could win two places at the event,

including accommodation, in their free to enter competition. You can read all about the golf week here and get

information about the competition here.

Texas Scramble Event

A group of UHI Students are running at Texas Scramble event on Sunday 20th March. Please click here for more

information. There will be an entry list on the main noticeboard, if you are not going to be around the Club before then

and wish to enter then please give us a call and we will add your name to the list.

PAGE 3
---
Member Properties Available

For Sale - 3 Bedroom Fractional Townhouse on golf resort in the Algarve, Portugal.

For Sale - 2 Bedroom Detached Bungalow in Evelix.

You can read the full details of both of these on the For Sale of Exchange section of the Members Area of the website.

Social Events

We have had a tremendous response to the Curry Night and it is now full! Thank you to all who have booked - I look

forward to seeing you all and digging into all the great food that Brian and his team are preparing.

The next one is an Italian Night on Saturday 26th March so probably best to book early to make sure you get a place.

You can do this by contacting the bar in person, on 01862 810219 ext. 4 or email to catering@royaldornoch.com.

Covid 19

With announcements from the First Minister it appears we are on the home straight but nothing changes until Monday

21st March, so until then you must obey the following:

Track and Trace remains mandatory for everyone so you MUST book a tee time, check in with the Pro Shop, supply

the names of all the players in your group and start from the 1st hole

Signing in is still mandatory in the Clubhouse and you can do this using the NHS Scotland App or by writing your name,

phone number and time of arrival on the sheets provided. Please remember to CHECK OUT/SIGN OUT when you

leave the Clubhouse.

Clubhouse Bar & Catering

Bar - 10am to 6pm Sunday to Thursday and 10am to 8pm on Friday and Saturday.

Catering - Closed Monday and Tuesday; 10am to 4pm Wednesday, Thursday & Sunday; 10am to 6pm on Friday and

Saturday. (Wednesday, Thursday and Friday – soup, sandwiches and home bakes only).

Please note that the clubhouse may close earlier than these times if there are no customers.

Pro Shop

The Pro Shop hours will be from 30 mins before the first tee time, and no later than 8.30am, to 4pm 7 days a week but

may close earlier due to weather or playing numbers. Contact them on 01862 811924 or email proshop@royaldornoch.

com.

PAGE 4
---
Office

The office opening hours are 8.30am to 5.00pm Monday to Friday. It is still closed to visitors so please contact them on

01862 810219 or bookings@royaldornoch.com

Upcoming Club Events

• Sat 25th Feb - Curry Night

• Sun 27th Feb - Sunday Roast

• Tues 1st March - Seniors Roll Up

• Thurs 3rd March - Pro's Stableford

• Fri 4th March - Pizza Night

• Sat 5th March - Whisky Stableford

• Sun 6th March - Sunday Roast

• Tues 8th March - Seniors Roll Up

• Thurs 10th March - Pro's Stableford

• Fri 11th March - Full Course back in operation

• Sat 12th March - Icebreaker and closing Whisky Stableford; Ladies Medal (Struie, Green Tees)

• Sun 13th March - Sunday Roast; Match v St Andrew's University

• Tues 15th March - Seniors Roll Up

• Thurs 17th March - Pro's Stableford

• Fri 18th March - Pizza Night

• Sat 19th March - Bogey Medal (Yellow Tees); Ladies Flag Competition

• Sun 20th March - Sunday Roast; Student Texas Scramble

PAGE 5
---
Golf Courses

It's been a mixed week with the weather, touches of frost some mornings followed with wind and lots of rain. The team

have been hard at work preparing the course furniture for the start of the season – we are now onto refurbishing the

litter bins after a few years in storage. On the Championship Course we have done some extra bits of turfing that

wasn't on the winter programme and the turfing at the 15th is still on-going. The area of burnt bushes to the left of

the 18th has been removed. The majority of the Struie Course tees that have been used for the winter have been pot

seeded as have a few areas on green surrounds. All the pathways have been fertilised. The team have also started to

tidy the Struie Course bunkers and the screening of topdressing continues.

Play from Mats - When you see a mat, on the teeing ground or in a roped off area, you MUST use this for your shot.

Bunkers - We have reinstated the Preferred Lie local rule for the time being.

Rakes - Please put rakes in the CENTRE of the bunker once you have exited and finished raking.

Pitchmarks - Please repair your own and any others that you see.

Thanks for reading.

Happy Golfing!

Neil D. Hampton, General Manager

Stay safe. Protect others. Save lives.