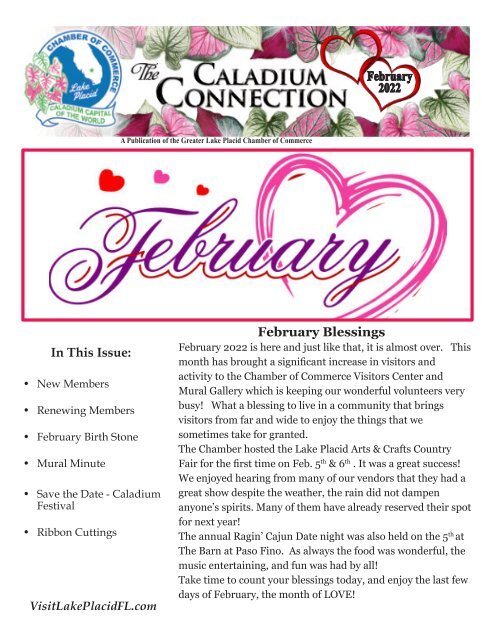 You also want an ePaper? Increase the reach of your titles
YUMPU automatically turns print PDFs into web optimized ePapers that Google loves.
A Publication of the Greater Lake Placid Chamber of Commerce

In This Issue:

• New Members

• Renewing Members

• February Birth Stone

• Mural Minute

• Save the Date - Caladium

Festival

• Ribbon Cuttings

VisitLakePlacidFL.com

February Blessings

February 2022 is here and just like that, it is almost over. This

month has brought a significant increase in visitors and

activity to the Chamber of Commerce Visitors Center and

Mural Gallery which is keeping our wonderful volunteers very

busy! What a blessing to live in a community that brings

visitors from far and wide to enjoy the things that we

sometimes take for granted.

The Chamber hosted the Lake Placid Arts & Crafts Country

Fair for the first time on Feb. 5 th & 6 th . It was a great success!

We enjoyed hearing from many of our vendors that they had a

great show despite the weather, the rain did not dampen

anyone's spirits. Many of them have already reserved their spot

for next year!

The annual Ragin' Cajun Date night was also held on the 5 th at

The Barn at Paso Fino. As always the food was wonderful, the

music entertaining, and fun was had by all!

Take time to count your blessings today, and enjoy the last few

days of February, the month of LOVE!
---
DID YOU KNOW?

Mission

Statement

The Greater Lake Placid

Chamber of Commerce is

organized as a voluntary

partnership of agribusiness,

business,

professional people and

area residents working

together to provide

community awareness,

build a healthy economy,

and to sustain the quality

of life in the greater Lake

Placid area.

*The Lake Placid Chamber of

Commerce had over 10700 visitors,

and received over 4800 phone call

providing information to visitors and

residents alike.

*Our Facebook page reaches over 6K

people.

*We Send out an email blast to over

600 contacts every week.

Advertising &

Promotion

Opportunities

• Newsletter

Advertising

• Website

Advertising

• Sponsorships

(Mixers,

Luncheons)

• Keep Lake Placid

Beautiful Islands

Call, visit, or email the

Chamber office for

information and pricing.

The Greater Lake

Placid Chamber

of Commerce

18 N. Oak Ave. Lake

Placid, FL 33852

863.465.4331

information@lpfla.com

Did you know that your membership includes

referrals from the Chamber when visitors pass

through or call? Please make sure that we have

your latest brochures and business cards to

display in our office. Your business's success is

our business!

2
---
Please Welcome our

New Members

Brantley Properties

Patricia Gale

6 S. Main Ave.

Lake Placid, FL 33852

863-465-0881

www.brantleyproperties.net

deltapmg@gmail.com

Good Vibes Juice & Smoothie

215 N. Main Ave.

Lake Placid, FL 33852

863-699-6542

Ann Pollard

Community Member

Lake Placid, FL 33852

Bella Gusto Olive Oil Co.

213 N. Main Ave.

Lake Placid, FL 33852

863-659-1513

www.bellagustooliveoil.com

bellsgustointeriors@gmail.com

Anne Kennedy

Community Member

Lake Placid, FL 33852

Young Living Essential Oils

Brand Partner-Maria Billis

Sarasota, FL 34236

518-879-6360

www.mariabillis.info

mbillis@nycap.rr.com

3
---
February Renewing Members

*Lake Placid Historical Society Depot Museum, Inc

*Cora Health Services, Inc

*Lakeside Village Mobile Home Park

*Wet Dogs Brewing

*Balmoral Assisted Living & Memory Care

*Lake Placid Bulb Company

*Compton Realty - Kristy Fletcher

*Central Florida Flooring & Interiors, Inc.

*The Miracle League for Highlands County, Inc.

*Mr. Bill Brantley

*Highlands County Family YMCA

*Sun N' Lake Medical Group PA

*Blinds ASAP of Sebring

*New 2 U Thrift Store

*Acorn Home Inspections, Inc.

*Bobby & Phyllis Scarborough

*McDonald's of Lake Placid

Thank You for your continued support!

4
---
Membership Luncheon Dates for 2022:

April 13th

September 14th

November 9th

Locations and menu's are to be announced. Watch

our weekly email blast for up-to-date luncheon

information.

Are you interested in Volunteering at the Chamber of Commerce or know someone who

might? We would love to have you! Volunteering consists of answering phones,

interacting with guests, and having FUN! We currently have just a few openings, and

would love the opportunity to talk with you about it!

Interested individuals should contact Jennifer or Nicole at 863-465-4331 or email us at

information@lpfla.com.

5
---
TWO BUSINESSES ~ ONE STOP!

And

MAIL CALL SHIPPING

*Office Supplies

*Copy/Print Service

*Fax Service

*Laminating

*Notary

*We Pack & Ship

*Mail Box Rental

*Packing Supplies

*Shredding

204 S Main Avenue

Lake Placid, FL 33852

863-465-1661 863-531-0081

Fax: 863 - 465 -1799

6
---
You're Invited

to a

Lake Placid Chamber of

Commerce Ribbon Cutting

Good Vibes Juice & Smoothies

&

Bella Gusto Olive Oil Co.

Saturday, February 26th

10 AM

215 N. Main Ave.

Lake Placid, FL 33852

Please join us in welcoming these two

great businesses to Lake Placid!

7
---
Convenient Care

In Lake Placid

Cardiology

AdventHealth Medical Group Cardiology at Lake Placid*

Family Medicine

AdventHealth Medical Group Family Medicine at Lake Placid*

Rey

Arcenas, MD

Deo

Sankar, MD

Ramon

Torres, MD

Antonio

Roa, MD

Urology

AdventHealth Medical Group Urology at Lake Placid*

Vascular Medicine

AdventHealth Medical Group Vascular Medicine at Lake Placid*

Ronald

Chee-Awai, MD

Sylvester

Onyishi, MD

Shahnaz

Punjani, MD

Thomas

Shimshak, MD

863-402-3627(DOCS)

201 US Highway 27 South, Lake Placid, FL 33852

AHMGHeartland.com

*A hospital department of AdventHealth Sebing

8
---
Mural Minute

Artist Keith Goodson, pictured above with Jennifer Bush, is

busy painting our newest mural located on the new First

Insurance of Lake Placid building which was the old Town Hall

at 311 W. Interlake Blvd.

This mural honors the contributions made by Mr. Don Cram to

the development of the Lake June baseball fields and the

community of young players he inspired over the years.

Stay tuned for the dedication date.

9
---
P S H C 45 Y

24 Hour Emergency Service

F A

*R

*R

*C

*R

*R

*M H

*H W

H

C

863.465.0320

*H P

*D

*F

*F

*S D

V

*U

S V

S C. # RF0036392 L I

C # 712-01

Locally Owned, Community Minded

Four Convenient Locations

LAKE PLACID

600 Hwy 27 N

863.699.1300

SEBRING

320 US Hwy 27 N

863.386.1300

SEBRING SUN N LAKE N

5033 US Hwy 27 N

863.386.1322

AVON PARK

800 W Main St, Avon

863.453.6000

HeartlandNB.com

10
---
Save the date

www.caladiumfestival.org

Caladium Arts & Cras Co-op

Unique Arts & Cras Shop

Original, handcrafted art and crafts

For any person in your life...

Or Room in your house!

Get updates about programs,

services, energy tips, outages

and more

WWW.FACEBOOK.COM/GLADESELECTRICCOOPERATIVE

863.946.6200

GladesElectric.com

Office locations:

214 Hwy 70 West, Lake Placid

26733 Hwy 27, Moore Haven

Tues-Sat 10am-4pm Closed Sun. & Mon.

132 East Interlake Blvd. Lake Placid, FL

863-699-5940

www.caladiumarts.org

Facebook.com/CaladiumArtsCras

11
---
February's Birthstone is Amethyst

Amethyst is purple quartz. It is a beautiful blend of violet and red that can be

found in every corner of the world. The name comes from the Ancient Greek,

derived from the word methustos, which means "intoxicated." Ancient

wearers believed the gemstone could protect them from drunkenness.

Amethyst, as previously mentioned, is composed of quartz, which is the

second most abundant material found in Earth's crust. Amethyst gets its color

from irradiation, iron impurities, and the presence of trace elements. Its

hardness—a 7 on the Mohs scale—is the same as other quartz, which makes it

a durable and lasting option for jewelry.

While amethyst is most commonly recognized to be a purple color, the gemstone can range from a

light pinkish violet to a deep purple that can read more blue or red, depending on the light.

Sometimes the same stone can have layers or color variants, so the way the gemstone is cut is

important to the way the color shows in a finished piece.

Amethyst often occurs in geodes or in the cavities of granitic rocks. It can be found all over the world,

including the United States, Canada, Brazil, and Zambia.

The amethyst is not only the February birthstone, it is also used to celebrate the sixth and 17th years

of marriage.

Facts Taken from:

https://www.americangemsociety.org/birthstones/february-birthstone/amethyst-overview/

Meet Your Chamber

EXECUTIVE COMMITTEE

President of the Board

Donald Clarke

Clarke Pest Control

Clarke Self Storage

Vice President

Bill Brantley

Brantley Construction

Secretary

Kim Miller

Clarke Pest Control

Treasurer

Curtis Slade III

First Insurance of Lake

Placid

Past President

Vicki Spires

MidFlorida Credit Union

DIRECTORS

Tiffany Bender

Mary Birge

Jean Deuth

John Varady

Gilbert Randall

Katie Wilson

ADMINISTRATION

Executive Director

Jennifer Bush

Administrative Assistant

Nicole Shrout

CHAMBER EMISSARIES

Mary Birge

SouthState Bank

Jean Deuth

Lake and Land Realty

of Highlands

Vicki Spires

MidFlorida Credit Union

VALUED VOLUNTEERS

Patti Boone

Grace Butcher

Maryel Clare

Maxine Fidler

Patti Gale

Wanda Hatfield

Mary Hogan

Cheryl Mysliwy

Mary Nell Naumann

Alice Oldford

Carole Petersen

Sandy Rossborough

Linda Sexsmith

Ann Bowers

Mary Turner

Bettie Zima

For Volunteer

opportunities contact the

Chamber office.

12
---
Thank you

to our Gold, Silver, &

Bronze members for their

Continued Support!

Lisa Sherman, C.P.A., P.A.

Certified Public Accountant

Dedicated to providing our

clients with professional,

personalized service.

First Insurance

Of Lake Placid, Inc.

S H C S 1982

I

L M. S

Accredited Advisor in Insurance

111 Park Avenue East

Lake Placid, FL 33852-6362

863.465.2835

Fax 863.465.3323

255 E. I B.

L P, FL 33852

863-465-7000

firstins@embarqmail.com

13
---
Specializing in the Installaon and Service of

Access Control, Video Surveillance, and Intrusion

Detecon Systems

We offer complete product installaon, and ongoing

service is offered through our Infinity Service Protecon

Plans

(863) 592-0328 or (954) 797-6886

www.gnmhough.com

(Serving Central and South Florida)

_______________________________________________________________

*Our technicians are trained and cerfied by top manufacturers

Advertise Here!

Your business or event could be

advertised here for all to see!

Call 863-465-4331, or email

information@lpfla for pricing

and information.

LOOKING FOR AN ALARM COMPANY?

Wouldn't it be

SWEET

To Advertise here?

Local and Trusted

CAMERA

SECURITY

Fire

Call us at

863-465-4331

for more information.

863-465-3352

www.centralsec.com

14
---
MILLER'S

For ALL of your Air Conditioning & Heating needs

• Installation • Dryer Vent Cleaning •

• Sales • Service • Duct Cleaning •

Financing

Available

And MORE!

P Q A C R

H S

T L P, P S. L

O, FL S 1995

24 Hr.

Emergency

Service

Serving Florida Lakes Area since2006 with

fresh FREE weekly issuesin more than 400

locations in Avon Park, Lake Placid, Sebring

and even Palmdale. Readerslove the positive

& entertaining news& fun features.

Learn what Coffee News®can do for

your business or local event by

contacting Publishers Ross Vickers &

Cindy Marshall at (863)446-0824 or

ross@coffeenewsfla.com

Read all about it on the Coffee News®

Web site & Facebook page:

www.CoffeeNewsFLA.com

Coffee News of FLA

.MCA.

20 W. I B. L P

863.699.5455

You are not alone.

We are here tohelp

GOOD SHEPHERD

H O S P I C E SM

A Chapters Health Subsidiary

Licensed Since 1984

1110 Hammock Road • Sebring, FL 33870

Ph 863.402.1066 • toll-free 800.544.3280

15