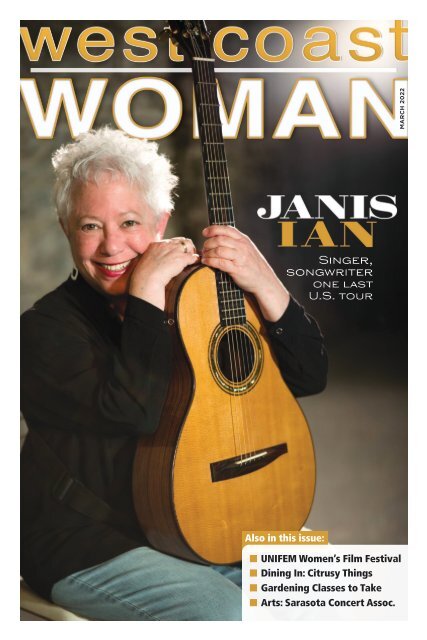 wcw MARCH 2022
That's right, that's Janis Ian the famous singer songwriter who also happens to live in our area. Read what's she's up to in this issue. Love gardening? We have news on classes - online and in person. You'll also love our citrus-themed recipes to enjoy and employ what's possibly falling from your trees. We have events taking place indoors but also events taking place outdoors. Check out our calendars and our features this month - we have a lot!
That's right, that's Janis Ian the famous singer songwriter who also happens to live in our area. Read what's she's up to in this issue. Love gardening? We have news on classes - online and in person. You'll also love our citrus-themed recipes to enjoy and employ what's possibly falling from your trees. We have events taking place indoors but also events taking place outdoors. Check out our calendars and our features this month - we have a lot!
SHOW MORE
SHOW LESS
Create successful ePaper yourself
Turn your PDF publications into a flip-book with our unique Google optimized e-Paper software.
MARCH 2022

Singer,

songwriter

one last

U.S. tour

Also in this issue:

■ UNIFEM Women's Film Festival

■ Dining In: Citrusy Things

■ Gardening Classes to Take

■ Arts: Sarasota Concert Assoc.
---
941-373-6300

Sarasota Downtown

1727 2nd Street, Suite 1,

Sarasota

941-739-2400

Lakewood Ranch

8614 St. Rd 70E, Suite 102,

Bradenton

TimeSaverFitness.com

Offering a super-slow high intensity

strength training program twice a week,

20 minutes, amazing results!

Schedule your Complimentary

Introduction Session TODAY!

KEEP YOUR BODY FIT & STRONG

Eunice Okun

"93 Years Young and Feeling My Best"

"Within a few months of starting my two weekly twenty-minute

workouts, I could feel the difference. Each session gave me

a sense of true accomplishment. And, my trainers are always

encouraging, answering my questions and addressing areas of

concern. After three years at Time Saver Fitness, I've regained

strength, increased my coordination and am more toned than

I have been in years. And, now, at the age of 93, I'm enjoying a

healthy, active, independent lifestyle!"

— Eunice Okun

& Francisa Mendoza, violin.

2 WEST COAST WOMAN MARCH 2022
---
MARCH 2022

contents

Editor and Publisher

Louise M. Bruderle

Email: westcoastwoman@comcast.net

Contributing Writer

Carol Darling

Contributing Photographer

Evelyn England

Art Director/Graphic Designer

Kimberly Carmell

This month

WCW turns

35!

Assistant to the Publisher

Mimi Gato

West Coast Woman is published

monthly (12 times annually) by

LMB Media, Inc., Louise Bruderle,

President. All contents of this

publication are copyrighted and

may not be reproduced. No part

may be reproduced without the

written permission of the publisher.

Unsolicited manuscripts, photographs

and artwork are welcome, but return

cannot be guaranteed.

gardening

Want to be a better Florida gardener? New to the subtropics

and not sure what to do with unfamiliar plants? You've got a

great resource in UF/IFAS Extension Sarasota County which

offers a variety of classes to help you get a Florida green thumb.

Some of these classes are in person and others are online.

p18

HOW TO REACH US:

Email: westcoastwoman@comcast.net

Here are our columns:

n Out & About: includes

fundraisers, concerts, art exhibits,

lectures, dance, poetry, shows &

performances, theatre, film,

seasonal events and more.

n You're News: job announcements,

appointments and promotions,

board news, business news and

real estate news.

FOLLOW US AT:

Facebook: https://www.facebook.com/

WCWmedia

WCW

34

YEARS

focus on the arts: The Hermitage

Three recent Hermitage Greenfield Prize winners – Martyna Majok

(2018), Helga Davis (2019), and Aleshea Harris (2021) return to

Sarasota this spring to present their work and speak about their

creative process. Check out the events they have and join in

p20

happening this month:

Through Women's Eyes

International Film Festival

The Through Women's Eyes International Film Festival, held this

year on March 10-14, has a film lineup of 37 carefully curated

movies from 15 countries, including Ukraine, Pakistan and Egypt.

Now in its 23rd year, Through Women's Eyes champions women's

artistic voices, filmmakers, and content.

p27

WCW Mailing Address:

P.O. Box 819

Sarasota, FL 34230

email:

westcoastwoman@comcast.net

website:

www.westcoastwoman.com

west coast

WOMAN

departments

4 editor's letter

7 Out & About: listings for things

to do live and/or online

9 healthier you:

The Renewal Point

15 focus on the arts:

Sarasota Concert Association

16 west coast woman:

Janis Ian, folk legend who lives

in our area

18 gardening: classes to take online

19 focus on the arts:

Perlman Music Suncoast

20 focus on the arts: The Hermitage

21 your health: how to stop smoking

on the cover: Janis Ian. ■ Image supplied. Photographer: Gerard Viveiros

22 you're news

23 health feature: Craniosacral therapy

24 travel news

27 happening this month: UNIFEM's

women's film festival

29 dining in: tasty treats made with citrus

30 nonprofit news: LWR Women's Club

donates big

MARCH 2022 WEST COAST WOMAN 3
---
just some

thoughts

Louise Bruderle

Editor and Publisher

West Coast Woman Janis Ian

This month's wcw

I guess I should have known this, but I didn't. Singer/

songwriter and activist and icon Janis Ian has been

quietly living in our community for a few years. I had

the good fortune to interview her as she embarks on

a final U.S. concert tour to promote her final album.

She's had a 55+ year career in music (started at 14,

BTW), but she's also a writer, philanthropist and

activist. She'll be performing in Clearwater (among

many other places) so get your tickets right away at

https://janisian.com/

Janis Ian

Photo by Lloyd Baggs

Don't miss this

March event

How cool WCW's official 34th

anniversary day is March 17 and

we'll be celebrating in part by

attending the opening of a new

exhibit at ArtCenter Sarasota.

Adding to the cool factor is that

one of the artists is Osa Atoe, a

ceramicist whom we profiled in

our January, 2022 issue. Also cool

is that the ArtCenter is run by

Kinsey Robb whom we featured back in November!

■ Here's what's on:

Gallery 1 - Osa Atoe; Gallery 2 - Philomena Marano: Signs & Wonders;

Gallery 3 - Susan Sidebottom and Gallery 4 - Juried Show for ACS Members

Opening night reception is on Thursday, March 17, 6-8 pm. Hope to see you there!

Good People Doing Good Things

Woman's Club of Sarasota, aka The GFWC Woman's Club of Sarasota,

regularly celebrates local first responders in the community. The firemen

at Station recently received

donations of cookies, donuts

and cakes. Shown (l-r) are: Amy

Corso, Firefighter Evin Williams,

Lt. Dan Dabringhaus, Susan

Okey and Nancy Ritarito.

Not that familiar with the

Woman's Club of Sarasota? The

GFWC Woman's Club of Sarasota

recently celebrated 100 years

of membership in the General

Federation of Women's Club,

headquartered in Washington,

D.C. GFWC is one of the world's

largest non-profit and non-partisan

organizations for women. This Sarasota club with 40 members is one of the

188 clubs in Florida.

They mentor high school students in the Take Stock in Children program.

They provide art supplies for Alta Vista Elementary School. On National Senior

Citizens Day, they honored the 45 men and women on the Bradenton senior

softball team by attending a game and giving them bottled water and, for some

fun, a lottery ticket.

Members provide socks for veterans and volunteer at the Humane Society.

Each year, college scholarships are given to high school seniors. They provide

wreaths for veterans at the Sarasota National Cemetery. They give books to

foster children through The Twig and honor our community firemen with

baked goods.

Members walk in the Alzheimer's Walk, and the club supports the Season

of Sharing program. In 2021, a giant milestone was reached through the club's

Philanthropic Trust Awards Program as they celebrated upwards of $175,000 in

awards given since the year 2000. More info at https://www.hssc.org/

And here's another example of our community coming together to help others

in need. All Faiths Food Bank received $151,000 in support of their Backpack

Program for Children. All Faiths Food Bank recently received grants and support

for the program from the following foundations:

• $25,000 from The Florida Blue Foundation

• $38,000 from The Stone Foundation

• $40,000 from The Harry Sudakoff Foundation

• $40,000 from The Roberta Leventhal Sudakoff

Foundation

• $30,000 from The Bank of America Client

Foundation

• $10,000 from The Harold C. and Jacqueline F.

Bladel Foundation

• $6,000 from The Cook Family Foundation

The All Faiths Food Bank BackPack Program

provides pre-packed backpacks for weekly distribution

to children for weekends and/or holidays

when students do not have the benefit of free or

reduced-price school meals and may otherwise

go without. All Faiths Food Bank's BackPack

Program provides food to children who are

living in households that are food insecure. By

ensuring that children are provided with the necessities,

All Faith Food Bank is helping to build

healthy and strong communities while allowing

children to learn without worrying about hunger. www.allfaithsfoodbank.org.

The Cinderella Project is back. Thanks to

a donation from The Perfect Dress, Every

Child will be able to provide girls with prom

dresses. On March 17 and 18 from 10 am - 2

pm, girls who cannot afford to purchase a

gown for prom can come to CORESRQ and

chose a dress, jewelry, a purse, and shoes.

CORESRQ is located 1075 S. Euclid Avenue

and is a partner with Every Child in the

Cinderella Project.

Every Child, Inc. has been helping the

children in our community for 23 years.

They've given out thousands of backpacks

filled with school supplies, holiday gifts,

books and groceries. Past projects include

the Cinderella Project, the Cinderella Project

Runway, and Welcome Baby. They've

(Left to right) Judy Alexander, Teresa Gutierrez,

collaborated with other agencies to help

Vicki Sack, Kim Frazer and Trillian Sack.

the children in our community. CoreSRQ,

Inc. (formerly the Sarasota YMCA) is a nonprofit that offers family fitness and

recreation centers.

More donations of new or gently used dresses, shoes, purses and jewelry are

needed. For more information, contact Judy Alexander at judyalex1@aol.com.

Thank you Judy for the love!

Thoughts on WCW's 34th anniversary

Two years ago in March, things were starting to crater in

our corner of the world as well as globally as COVID took

hold. There's hope we are moving beyond this extremely

difficult pandemic that cost all of us something in

varying degrees of difficulty.

If you've noticed that WCW has been publishing lots

of events, cultural events, events online and in person,

gardening, farmer's markets, etc., it's highly intentional.

WCW doesn't cover hard news, but we do our best to offer you features,

WCW

34

calendars and articles that tell you there is some hope and —trust me on this

—there are lots of things to do. As an artist myself and a lover of the arts, I know

the arts soothe, engage, heal and even distract from our day-to-day troubles

and cares.

So many organizations we know and love and frequent here put in extra

effort to make themselves available. They've mostly overcome many challenges

like making sitting in a theatre (formerly elbow to elbow) a doable and safe

experience. As we are in peak season, kudos to you all who have given us joy

and hope through the arts.

We now start year 35 here at WCW having profiled over 400 women in our

community as well as thousands of diverse features. Thanks for providing so

many story lines, ideas and most of all, great women to feature.

Louise Bruderle | Editor and Publisher |

westcoastwoman@comcast.net

YEARS

We welcome your thoughts and comments on this column and on other columns and features in this issue.

You can reach us at westcoastwoman@comcast.net. We're on the web at www.WestCoastWoman.com.

4 WEST COAST WOMAN MARCH 2022
---
Cosmetic • Regenerative

Cosmetic Regenerative

& Restorative Gynecology

Restorative Gynecology

Painless In-Office Labiaplasty

BioTe® Painless Hormone In-Office Pellet Labiaplasty Therapy

BioTe® O-Shot® Hormone & Ouchless Pellet Therapy PRP

Laser O-Shot® Vaginal & Ouchless Rejuvenation® PRP

Laser Clitoral Vaginal Hood Rejuvenation®

Reduction

Clitoral Majora Hood Lift | Mons Reduction Lipo

ThermiVa® Majora (non-surgical Lift | Mons rejuvenation) Lipo

ThermiVa® (non-surgical rejuvenation)

Effective treatments for:

Effective Low treatments Libido for:

Menopause Low Libido Symptoms

Menopause Lichen Sclerosus Symptoms

Urinary Lichen Incontinence

Sclerosus

Urinary Incontinence

Personalized GYN Care

Personalized GYN Care

Treat YOUR Flower to Special Care

Treat YOUR Flower to Special Care

See Our Transformation Gallery at VisionaryCentreForWomen.com

See Our Transformation Gallery at VisionaryCentreForWomen.com

Dr. Jennifer S. Hayes, DO, FACOOG

Dr. Board Jennifer Certified S. | Hayes, Specializing DO, FACOOG in Cosmetic Gynecology

25+ Board years Certified vaginal | Specializing surgery in experience

Cosmetic Gynecology

25+ Beverly years Hills vaginal trademarked surgery experience

techniques

Beverly Hills trademarked techniques

727.403.0573

727.403.0573

info@drjenniferhayes.com

info@drjenniferhayes.com

The Circus Arts Conservatory & Key Chorale

present

THE NEXT

DECADE OF

Cirque

des

®

Voix

CIRCUS OF THE VOICES

THREE SHOWS ONLY!

Be ready for spring with a beautiful new dress and handbag.

We have a delightful collection of flowing dresses and breezy resort

wear that is perfect for warmer weather. Shop now to view our new

and consigned fashions for spring.

A Unique & Exhilarating Performance Featuring Circus Artists,

the 100+ Voices of Key Chorale and the Cirque Orchestra

FRI MAR 18 – SUN MAR 20

Under the Big Top on Regatta Island at Nathan Benderson Park

941.355.9805 | CircusArts.org

DESIGNING WOMEN

BOUTIQUE

DesigningWomenSRQ.org

1226 North Tamiami Trail, Sarasota • 941.366.5293

A 501c3 Benefiting Local Arts & Human Services Organizations

MARCH 2022 WEST COAST WOMAN 5
---
Tummy Tucks — Breast Lift —

Breast Augmentation — Liposuction

OPTIMIZE

YOUR

RESULTS

Arm & Thigh Lifts — Fat Grafting —

Coolsculpting — Body Sculpting

Sovereign Plastic Surgery

Alissa M. Shulman, M.D., F.A.C.S.

Board Certified Plastic Surgeon

1950 Arlington Street • Suite 112 • Sarasota

941- 366-LIPO (5476)

www.sovereignps.com

LUCKY

Gwen DeBergalis,

Laser Technician, CLO/A, EO, LE

Specialist, 10 years experience

Now takiNg

New ClieNts!

For Your Skin.

For Your Well-Being.

LASER TECHNOLOGY

Our Lasers

Impact:

Sun spots

Redness/Rosacea

Texture

Tone

Wrinkles

Dermatology of Coastal Sarasota

5310 Clark Rd., Suite 201, Sarasota

941.925.3627

DOCSofSarasota.com

Stars on the Rise

Building on our Legacy

941-306-1202

ArtistSeriesConcerts.org

RISUS QUARTET

March 6 • 4:00 pm

Temple Sinai

"Risus" in Latin means "laugh,"

and the main vision of this quartet

is to bring joy and laughter to their

audiences. Grand Prize and Gold

Medal prizewinners at the 2021

Fischoff National Chamber Music.

BOYGIRLBOYGIRL

March 23 • 6:00 pm dinner

followed by the performance

Plantation Golf & Country Club

Hailed as "Milwaukee's Manhattan

Transfer," BoyGirlBoyGirl takes the

A-Train through some of the best fourpart

vocal jazz in the history of the charts.

STEVEN BANKS, saxophone

with XAK BJERKEN, piano

March 27 • 4:00 pm

Temple Sinai

The first saxophonist in 60 years to earn

a place on the Young Concert Artists

roster, Steven Banks will perform

sonatas by Brahms and Creston plus his

own original works.

This project is sponsored in part by the State of Florida, Department of State, Division of Arts and Culture and the Florida Council on Arts and Culture (Section 286.25, Florida Statutes).

6 WEST COAST WOMAN MARCH 2022
---
out &about

Special Events

The Siesta Key Chamber of Commerce

has its annual easter egg hunt

and children's party on April 3, from

9 a.m. until noon. For the fifth year,

the event will be held at Turtle Beach,

8699 Turtle Beach Rd, Siesta Key. Free

parking is available on site.

The free Siesta Breeze Trolley service

will begin at 8 a.m. that morning

and will be making rounds approximately

every 30 minutes from Siesta

KeyVillage to Turtle Beach. Activities

include an Easter egg hunt, photos

with the Easter Bunny, a fire truck

and ambulance drive by at 10 a.m.,

games and prizes, Sheriff's Mounted

Patrol, and an animal education session

with Stella the Sloth at 10:30 a.m.

Children ages 1 to 6 are invited to

register and participate in the Easter

egg hunt. Each child who registers

will also receive a goodie bag. Children

should bring something to carry

their collected eggs in.

Pre-registration is required for the

Easter Egg Hunt and limited to 175

children. There is a $10 fee per child.

Register at www.siestakeychamber.

com or visit the Siesta Key Chamber

Office at 5114 Ocean Blvd., Siesta Key.

Questions: call 941-349-3800.

t

Founders Day Luncheon, Sarasota-Manatee

Alumnae Chapter of

Sigma Sigma Sigma, is a national

sorority and all Tri Sigma sisters are

welcome to attend on April 9 at Tara

Golf and Country Club, Bradenton,

11:30 AM-2:30 PM. They're celebrating

their 25th anniversary as a local chapter!

Go to their website for more info

and RSVP by March 30: http://sarasotamanatee.trisigma.org/founders-da.

t

The Sarasota Tiger Bay Club will

welcome David Brooks, Author, The

Second Mountain, The Road to Character

and The Social Animal, New

York Times Columnist and major political

and social analyst to the May 5

luncheon at Michael's On East.

Brooks holds several positions as a

commentator: Bi-weekly Op-Ed columnist

for the New York Times, Regular

analyst on PBS NewsHour and

NPR's All Things Considered.

For ticket information, go to www.

sarasotatigerbay.com. Doors open at

11:30. Program runs noon to 1 p.m.

with book signing until 1:30. Info:

941-925-2970 or email SarasotaTiger-

BayClub@gmail.com.

t

JFCS of the Suncoast has its seventh

annual "Take-a-Look, Buy-a-

Book" book donation drive to spread

the joy of reading to children.

Each year, JFCS collects and distributes

nearly 4,000 books to promote

literacy among local children in

pre-k through Grade 5, with special

emphasis on low-income and at-risk

preschool-aged children. Books are

also given to infants and toddlers, as

well as older children in middle and

high school.

The book drive runs through

March 31. Community members can

participate by:

• Delivering or shipping new books

for infants through teenagers directly

to their office at 2688 Fruitville

Rd., Sarasota.

• Encouraging organizations, neighborhoods,

social clubs, businesses,

friends, and other groups to organize

a book collection among their

members. A designated person can

t

collect the books

and deliver them

to JFCS' administrative

building on

Fruitville.

Donated books

will be distributed

to JFCS clients who

participate in a variety

of programs, including

Camp Mariposa,

IGNITE/REACH, Veterans

Services, Homeless

Prevention, Youth

Services and more.

Books will also go to

local Title I schools,

law enforcement agencies,

hospitals, summer

reading programs

and other organizations

such as the Early

Learning Coalition of

Manatee and Sarasota

counties and Embracing

Our Differences.

For information,

visit https://JFCS-

Cares.org or call (941)

366-2224.

On March 17 and

18, from 10 am - 2

pm, girls who cannot

afford to purchase a

gown for prom can

come to CORE SRQ

and choose a dress,

jewelry, a purse, and

shoes. CORE SRQ is located

1075 S. Euclid Avenue, Sarasota.

Every Child, Inc. has been helping

the children in our community for

23 years. They have given out thousands

of backpacks filled with school

supplies, holiday gifts, books and

groceries. Their past projects include

the Cinderella Project, the Cinderella

Project Runway, and Welcome Baby.

They have collaborated with many

other agencies to help the children in

our community.

Donations of new or gently used

dresses, shoes, purses and jewelry are

needed. For more information, contact

Judy Alexander at judyalex1@aol.com.

t

Creative Liberties Artist Studios

has these events:

• March 18, 5:30-7:30 p.m.: "Roaring

20's pARTy" Open Studio. Have fun

at a speakeasy-style party with password

only available to Instagram followers

(@creativelibertiesfl). Wear

Roaring Twenties-style attire and

BYOT (bring your own tea cup to sip

1920's-era cocktails while viewing

art by studio artists—at a 20 percent

discount for select art that night.

• March 26, 10am-4pm: "Cat &

Dog" Create Awesome Things

& Do Outstanding Good. Their art

studios are going to the dogs and cats.

Join them for a family and pet friendly

event that will spotlight local animal

advocates and adoption centers.

Cat Depot will be on site with information,

goodies for cat owners and

fun projects for the kids. A pet food/

supply drive will be underway from

10am - 2pm and anyone who brings

a donation will receive raffle tickets

to potentially win great prizes. Live

music will be provided by guitarist

David Munoz. A food truck will also

be on site.

Location: 901-B Apricot Ave., Sarasota.

Info: 941-799-6634. For more information,

visit www.creativeliberties.net.

t

The John and Mable Ringling Museum of Art has Eleanor Merritt:

Remembrance, running through Aug. 21.

Image: Eleanor Merritt "Remembrance" Mixed media on paper.

Choral Artists

Coming up in March: She is the

Music: Female composers throughout

history take the stage front and

center. Celebrate Women's History

Month with this unique program devoted

solely to works by female composers.

Mendelssohn, Schumann,

Hildegarde and many others are

featured in this program with Thea

Lobo, mezzo-soprano. March 20, 5

p.m., at First Presbyterian Church,

Sarasota. Concert Insight is March 10,

2022, 10 a.m.

For more information, visit www.

ChoralArtistsSarasota.org.

t

At The Van Wezel

Coming up:

• Itzhak Perlman in Recital (March 8)

• Neil Berg's 112 Years of Broadway

(March 9)

• Sarasota premiere of Sheléa: Natural

Woman, A Night Of Soul (March 16).

• Anastasia (March 18-20)

• An Officer and a Gentleman (April 6-7)

• South Pacific (April 14-15)

• Fiddler on the Roof (April 19-21)

• Diana Krall (April 23)

• Motown with a Twist (April 26)

• One Night of Queen starring Gary

Mullen and the Works (May 7)

• The January 6 concert of Il Divo's

2022 tour has been postponed to

April 22, 2022.

Tickets can be purchased at www.

VanWezel.org, by calling the box office

at 941-263-6799.

t

The Perlman

Music Program

Suncoast

The Perlman Music Program

Suncoast presents Members of the

t

Juilliard String

Quartet with

Anna Polonsky,

piano on March

13 at at First Congregational

Church, 1031

S. Euclid Ave.,

Sarasota. Program:

Wolfgang Amadeus

Mozart - Piano Quartet

No. 2 in E-flat major,

K. 493; Krzysztof

Penderecki - String

Trio for Violin, Viola,

and Cello; Johannes

Brahms - Piano

Quartet No. 3 in C

minor, Op. 60.

Tickets: Perlman

Suncoast.org.

Lots

of Fun

Outdoor

Events

Join UF/IFAS

Extension Sarasota

County r a walk into

the world of mangroves

on March 29.

You'll learn about the

ecology of mangrove

ecosystems, identification

of mangroves

and other species associated

with them,

and wildlife viewing.

Must be registered to attend. Register

only at ufsarasotaext.eventbrite.com.

For information, call 941-861-5000.

t

t

The City of Sarasota and the

Downtown Improvement District

has a Fresh Fridays series — pedestrian-only

events serve to showcase

all the dining options, merchants,

and recreational assets located within

the city. These events are inclusive

and always free, providing an opportunity

for all members of our community

to connect, socialize, and enjoy

their city in new and dynamic ways.

For more information, visit www.

FreshFridaysSarasota.com. Ample

parking is available in the Palm Avenue

parking garage and State Street

parking garage, as well as street-side

on Palm Avenue, Gulfstream Avenue,

Main Street, Pineapple Avenue, and

Cocoanut Avenue.

First Friday dates are March 4 and

April 1. The location for each Fresh

Friday event is subject to change.

Visit https://freshfridayssarasota.

com/ for details.

The Palm Avenue First Friday

Walks in downtown Sarasota gives

art lovers a backdoor peek without

the hustle and bustle of the crowds

but with the cool breeze and moonlight

sky the evening brings. The

event is held the first Friday of every

month, running 6-9 p.m.. The next

ones are on March 4 and April 1.

Info: https://palmave.com/

For information, visit https://

starmandscircleassoc.com/sol-ofthe-circle/.

t

Start your Saturday with a sunrise

stretch at The Sarasota Farmers Market.

They've partnered with Pineapple

Yoga Studio to bring free, weekly

Sunrise Yoga to downtown Sarasota.

Participants meet at the Mermaid

Fountain in Paul Thorpe Park, near

t

the Intersection of Pineapple and

Lemon Avenues. Starting at 7 am,

participants will enjoy a gentle yoga

flow suitable for all ages and levels.

The weekly 45-minute yoga practice

will focus on movements that foster

inner and outer balance.

The practice is led by Claudia Baeza,

a Kripalu trained yoga instructor

and the owner of Pineapple Yoga +

Cycling Studio, located nearby in

Burns Court. For information, call

941-225-9256 or visit sarasotafarmersmarket.org/yoga.

Morning Paddles with Mote—

Start your day off right with a guided

kayak tour of Sarasota Bay. Paddle

across shallow seagrass beds and take

in the wildlife that depends on this

ecosystem. Soak up some sun as you

look for dolphins, manatees, birds

and more.Offered on March 6, 20;

April 3, 17 and May 1.

More info at: https://mote.org/experiences/details/kayaking-with-mote.

t

On the Lawn: Bay Park Yoga is

held every Saturday morning 9-10

a.m. on the lawn outside of the Van

Wezel. Relax, stretch and enjoy a

fulfilling yoga session on the Sarasota's

scenic bayfront while instructor

Erin Hurter guides you. Participants

should bring their own yoga mat.

t

The John and Mable Ringling

Museum of Art offers guided tours of

the Bayfront Gardens through March

28 and are available Saturdays, Sundays

and Mondays, beginning at

10:30 a.m.

This walking tour led by volunteer

guides will introduce guests to botanical

specimens on the 66-acre campus

while providing a historic overview

of the development of the estate. The

Ringling's grounds have been accredited

as a Level II Arboretum through

ArbNet. The property boasts over 2350

trees within the arboretum representing

native, exotic, historical and culturally

significant trees.

Tickets will be available 30 days

before each tour. Price: $15 / $10

for members. More information

and tickets are available at: https://

www.ringling.org/events/bayfront-garden-tour.

t

Nia is a body-mind-spirit fitness

program for any age. Practiced barefoot

to music, Nia combines martial

arts, healing arts and dance to create

a workout that is whole body conditioning.

Classes available Tuesdays

and Thursdays at 9:30am on Siesta

Key Public Beach near the yellow lifeguard

chair, 948 Beach Rd, Sarasota.

Bring towel for final stretch and

water to hydrate. This is a donationbased

class; $5 suggested donation or

class cards 10/$120. https://kathyoravec.com/nia/

t

Arts Advocates has its last walking

tour on March 11. Sarasota is

a 24/7 museum with more than 80

pieces of public art continuously on

display for everyone to enjoy. These

works are found everywhere from

parks to intersections, from the bayfront

to downtown.

The Arts Advocates walking tours,

organized and led by art lovers and docents

Judy Levine, Stephenie Frasher

and Nanette Crist, offer participants

an opportunity to learn about Sarasota's

public art legacy, individual works,

and the artists who created them.

t

continued on page 8

MARCH 2022 WEST COAST WOMAN 7
---
out and about continued

The final toour being offered is:

Rosemary District Walking Tour, Friday,

March 11, 11 am-12:30 pm.

Reservations required: $28 per tour

for Arts Advocates members, $30 per

tour for non-members. To register for

a tour, learn more about Arts Advocates,

visit ArtsAdvocates.org.

Marie Selby

Botanical Gardens

Robert Mapplethorpe and Patti

Smith: Flowers, Poetry, and Light

presents the creative work of two

contemporary icons in dialogue with

nature throughout Selby Gardens'

Downtown Sarasota campus. The

immersive, multi-sensory exhibition

includes original photographs of flowers

by Mapplethorpe, excerpts of poetry,

lyrics, and music by Smith, and

new horticultural displays inspired by

their work. It marks the sixth annual

Goldstein Exhibition, which examines

major artists through the lens of their

connection to nature. The exhibit runs

to June 26. Marie Selby Botanical Gardens,

1534 Mound Street, Sarasota.

Marie Selby Botanical Gardens is

one of 12 participating gardens across

6 countries offering "Seeing the Invisible"

which features works by more

than a dozen international artists such

as Ai Weiwei, Refik Anadol, El Anatsui,

Isaac Julien CBE, Mohammed Kazem,

Sigalit Landau, Sarah Meyohas, Pamela

Rosenkranz, and Timur Si-Qin—including

several artists' first work in AR.

Visitors will engage with "Seeing

the Invisible" via an app designed

for the exhibition downloadable to

smartphones and tablets. The exhibition

fosters collaboration between

institutions, artists, and audiences,

highlighting the power of art to connect

people around the world. "Seeing

the Invisible" runs to August 31

at the Historic Spanish Point campus.

Information: www.selby.org.

t

Live Music

ensembleNewSRQ (enSRQ) has

Vortex Temporum. enSRQ's journey

into the French spectral compositional

movement comes full circle with this

presentation of Gérard Grisey's "Vortex

Temporum," featuring Van Cliburn

semifinalist and frequent enSRQ pianist,

Han Chen.

Audiences will witness the completion

of the arc drawn from last season's

works (Grisey's "Stele, Périodes"

and Philippe Hurel's "Loops II") with

Hurel's musical reflection on Grisey's

towering presence throughout 20thcentury

composition, "Tombeau in

Memoriam Gérard Grisey," and a return

of enSRQ friend, Nina C. Young's,

"À bout de souffle" for solo piano.

March 28, 8 p.m., at First Congregational

Church 1031 S. Euclid Ave.,

Sarasota. More information and tickets

at www.ensrq.org.

t

Aviva Senior Living is continuing

its Amicus Classical Concert Series.

The concerts are free and open to the

public as well as residents of Aviva.

On March 8 at 1:30 p.m., guests

will be treated to a concert by the

winners of the 2021 Suncoast Music

Competition. Musicians will include

Christopher Wheaton on piano; Moriah

Emrich, flute; and Danae Tran, violin.

Each won the competition open

to 10th, 11th and 12th grade students

in Sarasota and Manatee counties.

April's concert will be on April 12

t

at 1:30 p.m. and will

feature Huffang Chen,

violinist and Tao Lin,

Steinway pianist. They

will be welcoming

spring with a violin/

piano recital titled "Joy

of Spring." The program

will feature the

most popular sonata

for violin and piano by

Beethoven, The Spring

Sonata, along with

other classics.

Each concert will be

held at Aviva's Kretzmer

Center, 1951 N.

Honore Ave., Sarasota.

To RSVP, call Melinda

Haney at 941-702-2597

or at mhaney@avivaseniorlife.org.

Sarasota

Opera

Sarasota Opera's

63 2022 Winter Season

continues:

• Giacomo Puccini's

Tosca. Set in Rome, a

diva's jealousy plays

into the hands of the

lecherous chief of

police, Baron Scarpia.

An escaped political

prisoner seeks the

help of his friend, the

painter Mario Cavaradossi,

the lover of the famous diva

Floria Tosca. In an attempt to recapture

the fugitive, Scarpia plants a

seed of suspicion in Tosca and sets a

dreadful trap. March 11, 19.

• The Daughter of the Regiment (La

fille du régiment) by Gaetano Donizetti.

Love for Marie, a girl raised

by a French regiment, will lead the

young Tonio to unexpected lengths

in this colorful comedy set in the

Tyrol during the Napoleonic Wars.

March 1, 3, 6, 18.

• The Pearl Fishers (Les pêcheurs

de perles) by Georges Bizet. Set in

legendary Ceylon, longtime friends

Nadir and Zurga are reunited. Their

friendship faltered when they shared

the same forbidden love for the

priestess Leila—a love they swore to

renounce. March 5, 8, 10, 13, 16, 19.

• Attila by Giuseppe Verdi. Attila the

Hun has conquered most of Western

Europe and is about to take Rome

itself, but is brought to his knees by

his love for a female warrior, Odabella.

March 12, 15, 17, 20, 22.

Tickets: online at SarasotaOpera.

org or call (941) 328-1300.

t

Art Exhibits

Each year, for over 20 years, the

University Park Country Club

(UPCC) has hosted a fine art show

featuring over 150 works of art created

by local artists. The pieces range from

large and small scale original paintings,

mixed media, photographs,

sculptures, small prints and beautiful

notecards. This year's show is open to

the public on Saturday, March 5 and

Sunday, March 6, 10am to 5pm.

■ The show is indoors and takes

place rain or shine. After visiting the

show, a perfect place to have lunch

is at the renovated club restaurant

overlooking the lake and golf course.

Admission is free and there's free

parking at the club. More info at

https://artintheparkupcc.com.

t

Artist Series Concerts of Sarasota has saxophonist Steven Banks

on March 27 at Temple Sinai in Sarasota.

Sarasota Art Museum has David

Budd: Motion Within Stillness running

to March 20 in the third floor

galleries. After painting for only six

years, David Budd (1927-1991, Florida)

dove into the New York art scene in the

1950s immersing himself in Abstract

Expressionism and working alongside

iconic names of the movement, such

as Jackson Pollock, Willem de Kooning

and Franz Kline. His paintings, like

others of the time, relied on the bodily

relationship between the artist and

canvas—each stroke and mark of the

artist encapsulated in viscous gestures

of paint and spontaneity; although, this

is not to say that Budd painted hastily—each

mark was placed with intention

to animate the canvas's surface.

• Also on display: Judith Linhares:

The Artist as Curator will run to

April 3, 2022. Judith Linhares: The

Artist as Curator is a collaborative

exhibition between the artist and

Museum composed of two elements

that array throughout the entirety of

the Museum's second floor galleries.

South galleries are dedicated to Linhares'

work from the 1980s forward

and include ephemera, dream journals,

and studio items; with north

galleries encompassing the The Artist

as Curator element, which explores

Linhares' curation of the work of five

contemporary artists.

Accompanying the artist's paintings

are items from Linhares' studio,

including collected objects, photographs,

and journals that parallel to

specific imagery and temperaments

in the works.

■ Sarasota Art Museum is located at

1001 South Tamiami Trail, Sarasota.

at www.SarasotaArtMuseum.org, and

follow us on Facebook and Instagram.

t

Art Uptown Gallery has "Painted

Words," Liz Cole's colorful paintings

with layers of color, patterns

and markings provide as rich a

dialogue to the viewer as the written

t

word, through March

25 with public reception

on First Friday,

March 4 from 6-9 p.m.

■ Art Uptown is at

1367 Main Street in

Sarasota. Call 941-

966-5409 or visit www.

artuptown.com.

ArtCenter

Manatee has the

154th American

Watercolor Society

(AWS) Traveling

Exhibit running to

March 18. This premier

exhibit, featuring

the paintings by top

watercolorists from

around the world,

will be shown in only

three venues. Art-

Center Manatee will

be the only venue in

Florida. Also showing

will be Florida Suncoast

Watercolor Society

Aqueous exhibit.

■ ArtCenter Manatee

Location: 209 9th St W,

Bradenton. Info: 941-

746-2862 or ArtCenterManatee.org.

t

Arts Advocates

has special exhibits

of members'

works through April. These pop-up

shows run in conjunction with the

main Sarasota Art Colony artists exhibit

and can be viewed Saturdays

from 2-5 pm.

The following pop-up shows will

feature each artist painting live in the

gallery on the opening day of his or

her exhibit:

• Jerry Chesley runs to March 19.

Chesley's watercolor paintings, giclées

and mixed media set the stage

for surrounding oneself in a rich

indulgence of colors. His work showcases

a variety of subject matters,

including still life, florals, architecture,

and land/seascapes.

• Tony Reinemann runs March

26-April 16. Fine arts painter Reinemann's

oil paintings have been described

as a blend of social and magic

realism that evoke a highly exaggerated

Edward Hopper in a Hitchcock

film. With multiple themes running

throughout his works, his sharply defined

visuals tell stories limited only

by the viewer's imagination.

■ Arts Advocates Gallery is located

in The Crossings at Siesta Key, 3501 S.

Tamiami Trail, in Sarasota. To learn

more or register for a tour, visit

ArtsAdvocates.org.

t

t

The Harmony Gallery features

local artists showcasing their work

in solo exhibitions throughout the

Orchestra's season. The next artist

is Cynthia Barbanera-Wedel with

her exhibit "Feathered Florida."

Barbanera-Wedel's photography has

been characterized as both elegant

and vivid. A native Floridian, Cindy

is a self-taught photographer who is

passionate about the unique beauty of

Florida. Her photographs have been

displayed in numerous locations from

Naples to Bradenton, and she was

recently published as a commended

artist in the International Bird Photographer

of the Year Collection 6

book. Exhibit runs through March 21.

■ The Harmony Gallery is is in the

atrium of the Beatrice Friedman

Symphony Center at 709 North

Tamiami Trail, Sarasota. The exhibitions

are free and open to the public.

For more information, visit https://

www.sarasotaorchestra.org/about/

community/harmony-gallery.

M A R A Art Studio + Gallery

presents "Duality," featuring largescale

and mixed-media work by Mara

Torres González, through March

25. Mara Torres González was born

and raised in San Juan, Puerto Rico,

and started taking art classes at the

age of four. After high school, Torres

González pursued formal art studies

at the School of Plastic Arts and Design

of Puerto Rico. She graduated

in 2004 with a bachelor's degree in

fine arts with a concentration in

painting. Since then, Torres González

says she has "lived through art" in

myriad ways, including 18 years as

a high-level event planner and floral

designer for celebrities.

Her artistic expression colors outside

the lines of genre and mediums,

including acrylic, encaustic, photography,

resin, alcohol ink, mixed-media

and acrylic pour. Torres González'

work can be found in collections

across Puerto Rico, México, London

and the United States.

In 2018, Torres González moved to

Sarasota. She opened M A R A Art Studio

+ Gallery in Sarasota's Rosemary

District in 2020. The gallery features

changing exhibitions by contemporary

artists, including Torres González'

own work. Other artists include Lisa

DiFranza, Grace Howl, Midge Johnson,

Craig Palmer, Ralph Berger and

David Erdman and others.

■ M A R A Art Studio + Gallery is at

1421 5th Street, Suite A, Sarasota. For

information, call (941) 914-8110 or

visit MaraStudioGallery.com.

t

At Art Center Sarasota there's

still time to see (until March 5) Vitus

Shell: "31 Flavors" features largescale,

mixed-media works exploring

the Black experience by the Louisiana-based

artist Vitus Shell. JAVO:

"Revisited" features intricate works

on canvas that explore the beauty and

tragedy of culture-making within the

native Puerto Rican's adopted society.

In the juried exhibition, "Visions in

Black," Art Center Sarasota partners

with the Suncoast Black Arts Collaborative

to showcase the works of local

art students alongside works by seasoned

artists of African descent.

On view March 17 - April 30, 2022.

Gallery 1-ceramicist Osa Atoe; Gallery

2-Philomena Marano: Signs &

Wonders; Gallery 3-Susan Sidebottom

and Gallery 4-Juried Show for ACS

Members. Opening night reception

Thursday, March 17, 6-8 pm.

■ Art Center Sarasota, 707 N.

Tamiami Trail, Sarasota. For information,

visit www.artsarasota.org

or call 941-365-2032.

t

Artist Series

Concerts of Sarasota

Here's what's coming up:

• March 23; 6 pm dinner followed by

the performance at Plantation Golf &

Country Club, Venice. BoyGirlBoy-

Girl (vocalists Don Lobacz, Tommy

Lueck, Laura Monagle, and Michaela

Ristaino; with Joseph Holt, piano):

Hailed as 'Milwaukee's Manhattan

t

continued on page 10

8 WEST COAST WOMAN MARCH 2022
---
healthier you

The Brain is a

"Picky Eater"

Brain health is highly dependent

on the food choices we make

"

Let food be

thy medicine

and

medicine

be thy

food," is a famous

quote from Hippocrates,

the father of

medicine, circa 440

BC. But that famous

citation must have

been forgotten by

the time I reached

medical school in

the 1970s, for we had no formal training

in nutrition at all. I was told by my

professors that it was just "old hat" and

basically not that important.

That was the philosophy of medicine

at that time, and I took it as the truth.

(It wasn't until after medical school

that I went back to school to earn my

degree in Nutritional and Metabolic

Medicine). For most of human history,

we have thought of food as essentially

fuel. We knew we couldn't survive

without it and that our organs, tissues

and muscles need sustenance on a regular

basis to continue to function. But

that was about the sum total of it.

Now 2400 years later and, even as

I write, that "old hat" philosophy

is changing. As scientists have begun

to study our bodies down to the

molecular level, we are rediscovering

the profound effect of food…which

foods make us stronger, healthier and

more long-lived. We have learned vast

amounts, in just the past few decades,

about what constitutes "health foods"

and which foods might be damaging

to our bodies. For example, that a diet

high in fresh fruits and vegetables may

help protect against heart disease and

cancer or that eating too many carbs

and sweets can lead to type 2 diabetes.

Amid all this knowledge, scientists

are playing catch-up, especially when it

comes to food's effect on the function

of its 'hungriest" organ of all, the brain.

While the brain only comprises 2% of

the body's weight, it gobbles up about

20% of the calories. And, it doesn't

thrive on just any old calories, according

to Lisa Mosconi, PhD, associate

director of the Alzheimer's Prevention

Clinic at Weill Cornell Medical College

and author of Brain Food: The Surprising

Science of Eating For Cognitive

Power, it is a spectacularly "picky eater."

Mosconi says: Certain nutrients

have been key to humans becoming

the high-functioning mammals we are

today. Our brain health is highly dependent

on the food choices we make.

And increasing, as our food supply has

become more industrialized and further

from what nature intended, we've been

making some bad choices, brain-wise.

If you've been dealing with forgetfulness,

brain fog, sluggishness, or

anything else, we encourage you to

reach out to us ~ you can give us a call

at 941-586-7358 or contact us through

our website: TheRenewalPoint.com.

We use an Integrative, test/correct

approach ~ first, we determine the

exact deficiencies; then, we correct the

deficiencies with specific foods, supplements,

or bio-identical hormones. In

the case of toxins, we eliminate them.

This allows us to correct the root cause

of the problem in order to help you

maintain a longer, healthier, and happier

quality of life.

With over 30 years of experience

and numerous board certifications and

credentials, Dr. Watts, MD, ND, MSNM

and Lynne Streitmatter, APRN, MS

are experts in the Science and Art of

Integrative Medicine and Bio-identical

Hormone Balancing. Bio-identical Hormone

Balancing requires individualized

therapy and ongoing dosing changes

based not only on a patient's diagnostic

lab values, but also their symptoms.

Due to the sensitive nature of hormone

balancing, it is imperative that you work

in partnership with an experienced provider

and program.

For more information or to schedule

an appointment,

you can call us at

941-926-4905,

email us at info@

therenewalpoint.

com, or visit our

website The

RenewalPoint.

com.

Dr. Dan Watts

MD, ND, MSMN

The Renewal Point FOUNDER/DIRECTOR

4905 Clark Road, Sarasota

Phone: 941-926-4905

www.TheRenewalPoint.com

Sarasota Concert Association 2022 Great Performers Series

Join Us for a Dazzling Performance!

Warsaw Philharmonic with pianist Bruce Liu

Monday, April 4, 7:30 pm | Van Wezel

Andrey Boreyko leads the Grammy Award-winning Orchestra for

one night only in Brahms Symphony No. 1 and in Chopin's Piano

Concerto No. 1, with first prize winner of the International Chopin

Piano Competition, Bruce Liu.

Tickets start at just $30. Order today!

SCAsarasota.org | 941-966-6161

S R SOT CONCERT

SSOCI TION

Artists and programs are subject to change

MORT Skirboll

OF SARASOTA-MANATEE

13 TH ANNUAL

SPONSORED BY THE JEWISH FEDERATION OF SARASOTA-MANATEE

March 2 – 24, 2022

[ IN-PERSON SCREENINGS MARCH 2–13; VIRTUAL SCREENINGS MARCH 3–24 ]

OPENING NIGHT n TIGER WITHIN

A thought provoking, warm

movie dealing with friendship

starring everyone's favorite

in his last film, Ed Asner.

WEDNESDAY, MARCH 2 • 7PM

FEATURING SPECIAL GUEST

LIZA ASNER

CLOSING EVENT n GREENER PASTURES

What SUNDAY, really MARCH happens 13 when you

move into a senior living facility?

You'll never believe it!

Cookies anyone?

SUNDAY MARCH 13 • 2PM

OPENING EVENT COMMITTEE

Pam Adelstein

Meredith Ernst

Susi Steenbarger

Adrea Sukin

FEDERATION TORCH SPONSORS

Howard Berman and Sharon Sexter

Edie and David Chaifetz

Leon R. and Margaret M. Ellin

Debbie and Larry Haspel

Rosenthal Roots Family Foundation

Sylvia and Norman Samet

Bunny and Mort z"l Skirboll

Hadassah and Martin z"l Strobel

Lois Stulberg

MEDIA SPONSORS

We will be following #SafeArtsSarasota Covid protocols

requiring a negative Covid test or proof of vaccine,

as well as masks when not eating.

We are proud to present a fascinating

line-up of 16 remarkable and diverse

films that is sure to impact, provoke,

and move you, as well as make you laugh.

For more information,

or to purchase tickets, visit

JFEDSRQ.org/JFF

JFF CHAIR

Marsha Eisenberg

CLOSING EVENT COMMITTEE

Sandy Hayden

Nadia Ritter

VOLUNTEER

CHAIR

Ronnie Riceberg

OPENING NIGHT SPONSOR

Sy Goldblatt

CLOSING EVENT SPONSOR

Nadia Ritter

SILVER SPONSORS

Marsha Eisenberg

Cheryl and Steve Shapiro

To become a sponsor, contact Jeremy Lisitza

at 941.343.2113 or jlisitza@jfedsrq.org

PAID ADVERTORIAL

MARCH 2022 WEST COAST WOMAN 9
---
out and about continued

Transfer,' BoyGirlBoyGirl takes the

A-Train through some of the best

four-part vocal jazz in the history of

the charts. The foursome performs

a variety of tunes, from the greatest

hits of the Rat Pack to the tender and

tight harmonies of old-time radio.

• March 27, 4 pm at Temple Sinai,

Sarasota. Steven Banks, classical

saxophone with Xak Bjerken, piano:

Recognized for his 'glowing

mahogany tone' and 'breathtaking

performances,' and the first saxophonist

in 60 years to earn a place

on the Young Concert Artists roster,

musician, composer and educator

Steven Banks is one of the bright

young stars pioneering the evolution

of great classical music. He performs

sonatas by Brahms and Creston plus

an original work of his own.

• April 7, 11 am performance; 12:15

pm luncheon at Bird Key Yacht Club,

Sarasota. Max Tan, violin with Joseph

Holt, piano: Taiwanese-American

violinist Max Tan is a past winner

at Artist Series Concerts National

String Competition, an alumnus of

the Perlman Music Program and a

member of the Sarasota Orchestra.

As a recitalist and chamber musician

he has performed with major

orchestras and on prominent stages

throughout the world.

For more information, visit www.

ArtistSeriesConcerts.org.

Venice Symphony

Venice Symphony has:

• Game of Romes March 18-19. The

rousing score of Ben-Hur opens the

program, followed by intermezzos

from Mascagni and Puccini, the

theme from Game of Thrones and

Rossini's masterpiece, the Overture

from William Tell. The finale is Felix

Mendelssohn's Symphony No. 4, also

known as "The Italian Symphony."

Location: Venice Performing Arts

Center, 1 Indian Ave, Venice. Tickets:

https://www.thevenicesymphony.org/

t

Sarasota Orchestra

t

Masterworks 6:

• New World, March 11-13 at the

Van Wezel with Thomas Wilkins,

conductor; Simone Porter, violin performing

Jim Beckel – Toccata for Orchestra;

Barber – Concerto for Violin

and Dvořák – Symphony No. 9 (New

World Symphony).

During his 1892 visit to America,

Dvoˇrák began his "New World" Symphony

out of love and appreciation for

the African-American spirituals that

captivated him. This work honoring

diversity and inclusion takes the spotlight

in this program led by Maestro

Wilkins. Simone Porter joins Sarasota

Orchestra for Barber's passionate

Violin Concerto, which she promises

to "devour like a cat playing with a

mouse." The concert begins with

James Beckel's Toccata for Orchestra,

a 21st-century work that gives every

instrument in the orchestra a solo

moment to shine.

• Masterworks 7: Breaking Boundaries,

April 1-3 at the Van Wezel with

Bramwell Tovey, conductor; Angelo

Xiang Yu, violin performing R. Strauss

– Till Eulenspiegel's Merry Pranks;

Mendelssohn – Concerto for Violin;

Coleridge-Taylor – Ballade for Orchestra

and Ravel – Daphnis and Chloé.

Mendelssohn's Violin Concerto,

his final orchestral work, breaks tradition

with its single

movement and

will unleash Angelo

Xiang Yu's electrifying

stage presence.

The program

opens with Till

Eulenspiegel's Merry

Pranks, Richard

Strauss' tone poem

based upon the capers

of a 14th-century

folk hero.

The second half of

the program features

Black British

composer Samuel

Coleridge-Taylor's

alternately tender

and dramatic Ballade

for Orchestra

and concludes with

Daphnis and Chloé,

Ravel's "vast musical

fresco."

• Great Escapes 5:

Journey on the Orient

Express, March

16-20 at Holley Hall with Steven Jarvi,

conductor. Join an unfolding murder

mystery as the orchestra travels the

fabled route of Europe's most famous

train, conducted by Steven Jarvi.

Tickets: www.SarasotaOrchestra.org

At The Ringling

On exhibit is "As long as there

is sun, as long as there is light." Selections

from the Bring Gift and The

Ringling Collection of Modern and

Contemporary Art. The exhibition

runs through Aug. 13, 2023, in the

museum's Searing Wing.

Highlights include an important

minimalist work by Anne Truitt and

a monumental work on canvas by

Gene Davis, both artists affiliated with

the Washington Color School, an art

movement during the 1950s to 1970s in

Washington D.C., made up of abstract

expressionist artists.

Additional work represent a generation

of prominent artists who work, or

have worked, in abstraction, including

Clement Meadmore, Jules Olitski,

Beverly Pepper, Rebecca Salter, Kenneth

Snelson, and Yuriko Yamaguchi,

among others. Also on view are sculptures

and paintings by African American

and Latin American artists from

The Ringling collection, including

William Edmondson, Eduardo Mac

Entyre, Omar Rayo, Baruj Salinas, and

Joyce de Guatemala.

The Ringling has Haitian-Canadian

artist Rhodnie Désir for the world premiere

of her first gallery installation,

Rhodnie Désir: Conversations in the

Ringling's Monda Gallery. In her multidimensional

choreographic career,

dancer/choreographer Rhodnie Désir

created BOW'T TRAIL, a choreographic-documentary

journey in which she

has conducted research throughout

the Americas since 2015.

Her work included visits to countries

such as Martinique, Brazil, Haïti,

Canada, Mexico, and the United States

to immerse herself within the African

and afro descendant cultures and

rhythms generated from the ingenuity

of her ancestors since the Slave Trade.

The John and Mable Ringling Museum

of Art also has Eleanor Merritt:

Remembrance, running through Aug.

21. The exhibition celebrates the life

and artwork of Merritt who was a volunteer

at The Ringling for many years

as a docent and board member. She

t

New College Foundation's next New Topics lecture will be on March 10 and

it's "The Hollywood Sell: Entertainment Marketing in a Changing World" with

Smitty Smith and Jackson George.

also served as president of the Venice

Art Center and was active in other

arts organizations as well. Eleanor

died in 2019 leaving a legacy of art

and public service.

This exhibition is dedicated to her

spirit and creativity and represents a

small sample of a significant body of

work the artist created over her long

career. The exhibition highlights her

creative use of materials, movement between

figuration and abstraction, and

her commitment to women's rights.

Arriving in Sarasota in the 1980s,

Eleanor exhibited widely in Florida.

Her final exhibition in 2017 at the

Arts & Cultural Alliance celebrated

her 60 years of painting. In 2013, she

received national recognition with an

exhibition at the Houston Museum of

African American Culture.

The John and Mable Ringling

Museum of Art, 5401 Bay Shore Rd.,

Sarasota. Info: www.ringling.org.

Theatre

Asolo Rep has Thornton Wilder's

1938 Pulitzer Prize-winning drama,

OUR TOWN through March 26. The

inhabitants of a small American town

go about their business: newspapers

are delivered; people go to work; gardens

are tended. And a boy and girl

fall in love. But as life's events unfold,

one question remains: "Do any human

beings ever realize life as they live it?"

• Also running is GRAND HORIZONS

through April 1. You're never too old

to learn, but what if you learn that the

person you've been married to for 50

years is making you miserable? Bill and

Nancy practically breathe in unison;

they anticipate each other's sighs,

sneezes, and ends of sentences. But just

as they settle into their new retirement

home in Florida, Nancy wants out. As

their two adult sons struggle to cope

with the news, they're forced to question

everything they assumed about the

people they thought they knew best.

• THE GREAT LEAP runs through

April 2. Born in the United States but

inextricably tied to far off and forbidden

China, Manford Lum finds his home

on the basketball courts of San Francisco's

Chinatown. As fast-talking as he

is athletically skilled, Lum wisecracks

and dazzles his way onto a college team

headed for a "friendly" exhibition game

in Beijing. As the story bounces between

1989 and 1971, past relationships collide

t

with present day

revelations right up

to the final buzzer.

Tickets: asolorep.org

or call the

Box Office at 941-

351-8000.

At Island Players:

Ken Ludwig's

"A Comedy of Tenors"

is a sequel to

his hit "Lend Me a

Tenor." Set in Paris

in the 1930s, it features

four tenors,

two wives, three

girlfriends and

a stadium full of

music lovers who

aren't aware of the

comical complications

happening

offstage. It runs

March 3-20.

For more information,

call

941-7785755 or

visit theislandplayers.org.

t

t

At Florida Studio Theatre has The

Play That Goes Wrong. Welcome to

the opening night of The Murder at

Haversham Manor where things are

quickly going from bad to utterly disastrous.

With an unconscious leading

lady, a corpse that can't play dead,

and actors who trip over everything

(including their lines), everything

that can go wrong does go wrong

during this 1920s murder mystery

play. Will these accident-prone performers

beat the odds and make it to

their final curtain call?

Tickets: FloridaStudioTheatre.org or

call the Box Office at (941) 366-9000.

At Venice Theatre:

• Folk Legacy Trio is on March 6-7.

The Folk Legacy Trio sings the Great

American Folksong Book, the songs of

the great Folk Era from the '50s through

the mid-'70s, including songs from The

Weavers, The Kingston Trio, The Limeliters,

Peter Paul & Mary, The New Christy

Minstrels, Tom Paxton, Judy Collins,

Joan Baez, Gordon Lightfoot, Simon &

Garfunkel, John Denver, and others.

The Folk Legacy Trio are George

Grove, formerly with the Kingston Trio

for 41 years, Rick Dougherty, member

of the Limeliters and Kingston Trio for

25 years and Jerry Siggins, former lead

singer of the doowop group The Diamonds

for 27 years.

• Sounds of Soul: A Motown Tribute

March 13-14. Get ready to relive the

hits of Motown and beyond, as this

exciting, high-energy group unleashes

superior vocals and slick dance moves

powered by pure soul.

• The Anthems: The Music of Whitney

Houston. March 20-21. Jade and Samuel

E form the perfect duo combining

powerhouse vocals with show stopping

arrangements. The Anthems: The

Music of Whitney Houston takes the

listener on an exclusive journey, using

multi-media platforms to give an inside

look at the stories behind the music.

Tickets: https://venicetheatre.org/

Located at 140 Tampa Ave., Venice.

t

Manatee Performing Arts Center

has Danny, King of the Basement,

opening March 3.

Manatee Performing Arts Center,

502 Third Avenue West, Bradenton.

Ticket/Box Office: 941-748-5875.

t

The Players Centre for Performing

Arts has Some Enchanted Evening

running March 16-19, 22-26 at

7:30pm and March 20, 26-27 at 2pm.

More than those of any composer or

lyricist writing for the stage, the songs

of Rodgers & Hammerstein have become

an integral part of our everyday

lives. This collection of their compositions

places five performers in a theatrical

setting: first 'backstage,' where the

songs are sung as personal interplay,

and then 'onstage,' where the songs are

presented to an audience.

www.theplayers.org.

t

Westcoast Black Theatre Troupe

(WBTT) is honoring the significant

contributions of African Americans over

the years on the "Great White Way" with

"Broadway in Black." WBTT salutes

that genre with an original revue by

Nate Jacobs that was first presented in

the summer of 2017. Sing along with

your favorite songs from award-winning

shows and breakthrough roles that

helped launch the careers of such African-American

artists as Melba Moore

in "Purlie," Ben Vereen in "Pippin," Jennifer

Holliday in "Dreamgirls," and Nell

Carter in "Ain't Misbehavin." Jacobs will

direct; resident choreographer Donald

Frison will take the production to the

next level with thrilling new choreography.

Show runs March 9-April 24.

Call the Box Office at 941-366-1505

or visit westcoastblacktheatre.org.

t

Sarasota Concert

Association

Here's what's coming up with

The Sarasota Concert Association:

• FRIENDS Gala - The Music Is

Back! On March 16 with featured

entertainment by The Luca Stine

Jazz Trio; Marco Jimenez, piano and

Eddie Tobin, piano at Laurel Oak

Country Club.

• BOYGIRLBOYGIRL Hailed as 'Milwaukee's

Manhattan Transfer,' Boy-

GirlBoyGirl takes the A-Train through

some of the best four-part vocal jazz

in the history of the charts. The foursome

performs a variety of tunes,

from the greatest hits of the Rat Pack

to the tender and tight harmonies of

old-time radio on March 23 at Plantation

Golf & Country Club in Venice.

• Teven Banks, saxophone, is on

March 27 at Temple Sinai in Sarasota.

Recognized for his "glowing mahogany

tone" and "breathtaking" performances,"

and the first saxophonist in

59 years to earn a place on the Young

Concert Artists roster, Banks is one of

the bright young stars pioneering the

evolution of great classical music.

• Sarasota Concert Association

also has its Music Matinees. Next

up: Sarasota Opera Artists perform

on March 16. These young singers are

an integral part of the Sarasota Opera

season serving as understudies in

mainstage productions throughout

the season.

Tickets are free but advance registration

is required for all Music Matinee

concerts. Tickets : www.SCAsarasota.

org or call (941) 966-6161.

t

Circus Sarasota

CIRCUS SARASOTA runs through

March 6 under the Ulla Searing Big

Top (in Nathan Benderson Park, on

the island) Don't miss this international

cast of circus artists, many that

appeared on America's Got Talent, in

continued on page 13

t

10 WEST COAST WOMAN MARCH 2022
---
COMPOUNDING PHARMACY & WELLNESS CENTER

Transfer to Sarasota's

Most Trusted

Compounding Pharmacy!

We create custom dosages in unique modalities based

on patient needs and doctor recommendations

Pain Management • Wound Care • Adrenal/Thyroid

Podiatry • Dermatology • Dentistry • Pediatrics • Veterinary

Join Our

Compounding

Family!

$25 OFF

Your First Rx Transfer

Mention ad for offer

Ask us about creating a customized medication for you!

Gummies • Lollipops • Topical Creams

Sublingual Drops • Pet Treats • and more!

Specializing in Bio-Identical Hormone Replacement Therapy

Helping Children Diagnosed With Epilepsy

FREE

SHIPPING

Serving Sarasota for over 40 years!

2075 Siesta Drive • M-F 9:30am - 5:30pm

941.366.0880 www.sarasotarx.com

Gerry Letendre RPh, MBA, CHt

Epilepsy is a neurological disorder that can strike

ANYONE, ANYTIME, ANYWHERE. In fact, 1 in

26 people will have a seizure during their lifetime.

The stigma and social isolation; the uncertainty of

when the next seizure might occur; and the fear of

SUDEP (sudden unexpected death in epilepsy) are the

frightening realities for many families in our community.

JoshProvides pulls back the curtain on epilepsy, through

community awareness, education, offering a monthly

Epilepsy Support Group, and providing seizure

detection & alert devices, transportation assistance and

assistance with medical services. Our families are NOT

defined by their disorder…they are warriors who will

overcome these obstacles thanks to your support!

Mission: To improve the quality of life for those

living with epilepsy or other seizure disorders.

(800) 706-2740 | JoshProvides.org

MARCH 2022 WEST COAST WOMAN 11
---
Choose a trusted, professional nursing team to ensure the years ahead and your health

care path align with your wishes.

Take Care provides all levels of care—from

skilled nursing to helping with groceries

and companionship—for clients in any

home setting. We remain dedicated to

helping you and your loved ones.

Courtney Wise Snyder, MSG, CMC, President Erika Wise Borland, MA, Vice President Susanne S. Wise, RN, MBA, CEO & Owner

26

Celebrating Years of Caring

www.TakeCareHomeHealth.com

(941) 927-2292

info@takecarehomehealth.com

Lic. # HHA 21657096 | 299991405

Do you wish to age in place?

Take Care is locally nurse and familyowned

with 26 years of experience meeting

your health care needs, from one hour of

care as needed up to around-the-clock

support, 24 hours a day, 7 days a week.

Personalized care in your own home has

never been more important.

Our Registered Nurse New Services team

is ready for your call.

Community Voted Best Home Health since 2012

12 WEST COAST WOMAN MARCH 2022
---
out and about continued

thrilling performances under the Big

Top. Box Office: 941-355-9805.

• Cirque Des Voix The Next Decade

Of Wonder is also at Big Top at Nathan

on March 18 and 19. It's Key Chorale's

dynamic collaboration with The Circus

Arts Conservatory. Experience

this unique fusion of the circus and

musical arts in a performance unlike

any other. See world-class circus artists

combined with the 100+ voices of

Key Chorale. https://keychorale.org/

upcoming-event/cirque-des-voix-thenext-decade-of-wonder/.

Farmer's Markets

The Sarasota Farmers Market is

open on Saturdays with normal hours

of 7 am-1 pm, rain or shine. http://

www.sarasotafarmersmarket.org/

(941) 225-9256.

t

Venice Farmers Market has more

than 40 vendors on Saturdays, many

based during the week in Venice,

Englewood and other areas of Sarasota

County. Held at Venice City Hall,

401 W. Venice Avenue, Venice. Call

(941) 445-9209 or visit https://www.

thevenicefarmersmarket.org/site/

t

The Newtown Farmer's Market is

open from 10 a.m. to 5 p.m. every

Friday and Saturday. The market is

located at Dr. Martin Luther King Jr.

Park, at the corner of Cocoanut Avenue

and Dr. Martin Luther King Jr. Way.

t

Bradenton Farmer's Market offers

fresh produce, local art, music,

demos by local chefs, and family activities.

Parking is free on weekends, and

dogs on leashes are welcome. Held every

Saturday through May, from 9am-

2pm, on Old Main Street in downtown

Bradenton, 400 12th St. W. Bradenton.

Old Main Street is a tree-lined retail

district of cafes and restaurants running

three blocks north from Manatee

Avenue to the Manatee River, where it

meets the Bradenton Riverwalk.

t

The Phillippi Farmhouse Market

is Sarasota's mid-week farmers

market. The Farmhouse Market is

open from 9-2 every Wednesday

through April at Phillippi Estate Park,

just a little south of Sarasota on 41.

t

Over 50 vendors offer produce and

plants from local growers and producers,

as well as prepared foods, specialty and

sustainable items, and Florida agriculturally-related

products. Food and produce

vendors at the Phillippi Farmhouse

Market are required to be growers to

support the market's mission of promoting

local agriculture. The market is easily

accessible from US 41 and has plenty of

free parking and live entertainment.

The Farmers Market at Lakewood

Ranch is now at Waterside Place.

Their Farmers Market currently has

about 60 vendors and went this past

summer from a seasonal market to a

year-round event.When the market

transfers to Waterside Place, taking up

space all along Lakefront Boulevard

and Kingfisher Lake, more than 80

vendors will line the street.The Farmers

Market will stick to a 10 a.m. to 2

p.m. time slot on Sundays.

t

Longboat Key has a farmers market

at Town Center Green on with 66

booths with vendors selling everything

from art and produce to home goods

and beyond. Nest date: March 11.

t

La Musica

International

Chamber

Music

Festival

La Musica International

Chamber

Music Festival has

events through April 13.

Four concerts will be held

at the Sarasota Opera

House. The season kickoff

event, and the first

concert with special guest

pianist Wu Han, will

celebrate the legacy of

co-founder and associate

artistic director Derek

Han, who passed away in

April of 2021.

The Concerts:

• April 3, 3 p.m. Derek

Han Memorial Concert.

Celebrate the legacy of La

Musica's co-founder and

associate artistic director

Derek Han. His friends

and colleagues, including

special guest pianist Wu

Han, perform the music

he loved.

• April 6, 7:30 p.m.

Innocence and Illicit

Passion. The 15-year-old Mozart celebrated

completion of his second set

of string quartets by composing his

sunny first viola quintet. One hundred

years later, Franck created his piano

quintet, secretly dedicated to his

young lover. Is passion audible?

• April 10, 3 p.m. Strut and Fret.

Grammy Award-winning guitarist

Jason Vieaux returns to perform in

contemporary and Classical quintets,

contrasted with the lush Dvořák quintet

for piano and strings.

• April 13, 7:30 p.m. From Darkness

Into Light. Mozart's dark and stormy

piano quartet may have deterred its

publisher, but it showed the way from

the Classical to the Romantic – so

Tchaikovsky owes Mozart (and Florence)

for his inspiration. This souvenir

is beyond festive – think 1812 without

the cannons.

For more information: LaMusica

Festival.org

t

Sarasota Ballet

For their Program 5, March 4-7 at

FSU Center for the Performing Arts,

The Sarasota Ballet has the Mark Morris

Dance Group ("MMDG") accompanied

by its own musical troupe, the

MMDG Music Ensemble, will create

an immersive, organic experience

of equal parts sight and sound. The

Program features three dances choreographed

by Mark Morris – Words, Jenn

and Spencer, and Gloria.

MMDG is currently comprised of 16

dancers with Mark Morris as Artistic

Director, who regularly choreographs

new work for both the Dance Group

and other dance companies across the

globe. Distinguished for its commitment

to performing with live music,

MMDG is the only modern dance

company that tours with its own musicians,

the MMDG Music Ensemble.

Mark Morris's Words was originally

commissioned by New York City Center

for the 2014 Fall for Dance Festival.

• Program 6 – A Comedy of Errors,

March 25-26 at the Van Wezel. A

t

M A R A Art Studio + Gallery presents "Duality," featuring largescale

and mixed-media work by Mara Torres González, through

March 25.

Comedy of Errors has choreography

by Sir David Bintley; Music by Matthew

Hindson; Designs by Dick Bird. I

nfo at www.SarasotaBallet.org or call

941-359-0099.

Bookstore1 Sarasota

March 8: Writer and photographer

Phillippe Diederich will discuss his

new young adult novel Diamond Park.

This is an in-person drop-in event, no

reservations required. There will be a

brief author talk with a meet and greet

for questions.A fast-paced YA novel

about four Mexican-American teenagers

from Houston, a '59 Chevy Impala,

and a murder that changes their lives

forever.

Diederich is a freelance photographer

and writer. He is the son of Haitian

exiles, and he grew up in Mexico

City. He is a recipient of the PEN/Phyllis

Naylor Working Writer Fellowship

and the author of two previous novels,

including the acclaimed novel Playing

for the Devil's Fire, a YALSA Best Fiction

for Young Adults pick.

• March 9: What is Writer's Block and

do you have it? A Zoom Program with

Lynne Bernfield. The Zoom program

is $8. Registration required. When you

can't write on call, or write when you

want to, you may worry that you're

experiencing Writer's Block. That may

not be what's happening.

In fact, the interruption of your flow,

is often not caused by Writer's Block,

but is the expression of your personal

process. Identifying your personal

process can allow you to relax, enjoy,

and encourage it. This program will

describe how to tell when you are expressing

your personal process, and

when you are actually blocked.

More info: 941-365-7900.

t

Meetings

The Venice Area Women's College

Club invites you to a lunch/speaker on

April 12, 11:30 a.m. at the Plantation

Golf & Country Club, 500 Rockley Blvd,

t

Venice. The speakers

are Cheryl Mendelson,

CEO and Sasha Housman

of the Van Wezel

Foundation. They will

give updates on the new

Performing Arts Center

on the Bayfront.

The club supports

two college educational

scholarships and gives

non-perishable food

to the South County

Food Pantry. To inquire

about club membership

and/or lunch reservations($25)

please call

309-635-3058.

Lectures

The New College

Foundation's next New

Topics lecture will be on

March 10 and it's "The

Hollywood Sell: Entertainment

Marketing

in a Changing World"

with Smitty Smith and

Jackson George.

Join Smitty Smith '70

and Jackson George '95

as they discuss Hollywood

and the evolution

of entertainment marketing

in our rapidly

changing world. Smith,

a movie industry veteran and CEO of

the creative agency InSync Plus, and

George, a creative advertising executive

with Disney, will take you behind

the scenes to understand how Hollywood

develops movies and markets

their product to the consumer.

Smith and George, will also explore

how Hollywood is changing and the

influence of rapidly advancing technologies

have on the marketing and

distribution of movies. Tickets are

$10. Registration required and can

be made at ncf.edu/new-topics or by

calling 941-487-4888. Reservations

must be made at least 48 hours in

advance to allow for processing and

receipt email for Zoom link.

t

Baseball and more

with the Orioles

The 2022 Spring Training promotional

schedule features giveaways

and opportunities for fans of all ages.

Again this year, the Orioles invite

children and seniors to run the bases

after select home games. Kids Run

the Bases is open to all fans ages four

to 14, and will return following every

Sunday home game, while Seniors

Stroll the Bases, available to fans age

60 and older, will return after each

Monday home game.

The promotional schedule is highlighted

by special event days such as

Heroes Day (March 6), Fireworks

Night (March 26), and Youth Sports

Day (March 27), as well as various

giveaways, including an Orioles

Beach Towel (March 3), an Oriole

Bird Mascot Hall of Fame Bobblehead

(March 19), and an Orioles

Cap presented by DAP (March 21).

The 2022 Spring Training marks

the club's 13th spring season at Ed

Smith Stadium. The Orioles will play

16 home games at Ed Smith Stadium,

including 12 afternoon games and

four night games.

A complete list of current 2022

promotions and special events can be

found at Orioles.com/Spring.

t

Art in Tampa and

St. Petersburg

Museum of Fine Arts in St.

Petersburg: has More Than Retro

Art Photography Of The 1970s,

through April 3, 2022.

The 1970s witnessed a dramatic shift

from photojournalism, the dominant

occupation of photographers since the

1930s, to art photography in the United

States. More Than Retro: Art Photography

of the 1970s celebrates and

explores that remarkable change, revealing

1970s artistic trends including

the snapshot aesthetic, the rebellion

against purism, image manipulation,

and social landscapes. This exhibition

features both famous and lesser-known

artists, and includes works

by Andy Warhol (1928–1987), Garry

Winogrand (1928–1984), Dianora

Niccolini (b. 1936), Stephen Shore (b.

1947), and Jerry Uelsmann (b. 1934).

The shift from photojournalism to

art photography was due to a variety

of factors, including the rising cost of

ink and paper, which effectively put

an end to weekly picture magazines

such as Life and Look. In addition,

students were graduating with advanced

degrees in photography, while

simultaneously museums, galleries,

and critics were giving greater attention

to art photography. Likewise, the

field was impacted by the growing

influence of the Society for Photographic

Education (1962) and the

Visual Studies Workshop (1969), both

founded by Nathan Lyons (1930–2016)

at the George Eastman House—the

world's oldest museum devoted to

photography. New approaches, such

as the highly influential 1966 book The

Photographer's Eye by John Szarkowski

(1925–2007), explored issues related

to seeing and making photographs. Indeed,

art photographers from the

1970s were largely preoccupied with

the self-referential image, one that acknowledged

and was ironically aware

of the history of photography.

More Than Retro: Art Photography

of the 1970s is drawn mainly from the

museum's collection. https://mfastpete.org/exh/retro/

t

Tampa Museum of Art, Cornelia

Corbett Center, 120 W. Gasparilla Plaza,

Tampa, has Highlights from the Karam

Collection. In 1998, Dr. Farid Karam and

his wife Jehanne donated 149 archaeological

artifacts to the University of

South Florida (USF) Libraries' Special

Collections.

For the first time since that donation,

a selection of these ancient objects will

be on view for the general public at

the Tampa Museum of Art. In date, they

range from the Bronze Age to the early

Islamic period (ca. fifteenth-century

BCE – thirteenth-century CE), and they

originate from ancient Syria, Phoenicia,

Egypt, Greece, and the Arab world. The

metal, stone, glass, and ceramic artifacts

include cosmetic and medical implements,

utility vessels, and oil lamps, as

well as sculptures and figurines.

t

Note:

Be sure to send season schedules

for 2022 to westcoastwoman@

comcast.net

t

Interested in Advertising?

email: WestCoastWoman@

comcast.net

online: WestCoastWoman.com

MARCH 2022 WEST COAST WOMAN 13
---
The suncoast's ONLY

BBQ restaurant with

CATERING in our DNA.

Lori Sax Photography

Folks still ask me:

"Do you cater?"

That's how I started in 2004!

Today, we are the number one

independent BBQ caterer across

the suncoast.

Whether you're planning an intimate gathering or a corporate,

nonprofit, school, church, community, celebratory or condolence

event, large or small: Over the past 18 years, we've done it all.

In short, we are the catering choice that needs no explanation.

Our menu showcases fresh smoked meats and fillet of salmon,

as well as many vegetarian, vegan and gluten friendly choices to

accommodate every guest.

Your occasion will get my personal attention, from first

contact through pick up or delivery. It will be my pleasure to

talk with you about your event. Reach me on my catering line:

941-955-3400, or email me at NancysBarBQ@verizon.net.

nancy's

Lakewood Ranch at Lorraine Corners

14475 SR 70 E at Lorraine Rd 34202

4 miles east of I-75 exit 217

941-999-2390

FULL BAR HAPPY HOUR 11AM-7PM MON-FRI

LIVE MUSIC FRI-SAT 6:30-9:30PM + 1st & 3rd SUNDAYS 3PM-7PM

OPEN 11AM 7 DAYS

CLOSE 9PM MON-THURS 10PM FRI-SAT 8PM SUN

LUNCH • DINNER • TAkE OUT • CURBSIDE PICk UP • CATERING

Go to NancysBarBQ.com for CATERING & DINING MENUS

BAR-B-QTM

#1 Local Genuine BBQ since 2004

Voted

BEST BBQ

10th

Consecutive

Year

SM

14 WEST COAST WOMAN MARCH 2022
---
focus on the arts

GRAMMY-AWARD WINNING

Warsaw Philharmonic Makes a Stop in Sarasota

Their concert is on Monday, April 4 at the Van Wezel

The Warsaw

Philharmonic

brings its Grammy

Award-winning

style to

Sarasota in a one-nightonly

concert on Monday,

April 4 at the Van Wezel

Performing Arts Hall.

Founded in 1901 on the

initiative of a group of

Polish aristocrats, financiers,

and representatives

of the music world, the

Orchestra celebrates its

121 st anniversary this

season and is one of Europe's

major musical institutions.

The Los Angeles

Times has exclaimed,

"This happens to be an

orchestra that could

make 'Stars and Stripes

Forever' sound like a

thrilling, freshly-minted

masterpiece."

Music Director Andrey Boreyko

leads the Orchestra in a program

that includes the Polish composer

Stanislaw Moniuszko's Overture to

the Opera Paria as well as Brahms'

beautifully romantic Symphony No.

1. Also featured is the first prize

winner of the recent International

Chopin Piano Competition, pianist

Bruce Liu, who performs Chopin's

Piano Concerto No. 1. Liu's

award-winning performance at the

competition generated extensive

applause, exuberant cheers, and a

lengthy standing ovation, so it will

be exciting to be in the audience

in Sarasota for the repeat of his

award-winning performance.

One of the most beloved composers

of pianists everywhere,

Chopin composed many piano

works during his relatively brief

39 years, including two piano concertos.

He was born and grew up

in Poland, but after the collapse

of the Polish revolution against

Russia in 1831, he went into exile

to France, settled in Paris, and

was never able to go back to his

home country. Chopin himself performed

the premiere of his Piano

Concert No. 1 in Warsaw in 1830.

Chopin's love for Poland was so

strong that, in accordance with his

will, his sister brought his heart

preserved in Cognac to Warsaw.

There, it was placed in an urn

installed in a pillar of the Church

of the Holy Cross in Krakowskie

Przedmiescie.

The Warsaw Philharmonic.

Photo by Wiktor Zdrojewsk

Warsaw Philharmonic Music

Director Andrey Boreyko.

Photo by Michal-Zagórny

Pianist Bruce Xiaoyu Liu.

Courtesy photo

Warsaw Philharmonic

conducted by

Andrey Boreyko.

Photo by DG Art Projects

The Warsaw Philharmonic hosted

the first three Chopin International

Piano Competitions back in

1927, 1932 and 1937, and then, with

the outbreak of World War II, the

Warsaw Philharmonic suspended

its activities and its building was

subsequently destroyed. After the

war, the ensemble was reassembled

in time to perform during the

1947-1948 season. Reconstruction

of the Philharmonic's building was

completed in 1955 in a new and

completely different style than its

predecessor, which was modeled

after the Paris Opera.

The Warsaw Philharmonic regularly

receives invitations to perform

at some of the world's most

famous musical venues, including

Carnegie Hall, Chicago's Symphony

Hall, the Berliner Philharmonie,

London's Royal Festival Hall, and

Tokyo's Suntory Hall. The Philharmonic

also plays an educational

role, organizing thousands of concerts

in schools and cultural centers

throughout the country.

Andrey Boreyko became the

Warsaw Philharmonic's Music

Director during the 2019-

20 season, and most

recently he served as

Music Director of the

Naples (Florida) Philharmonic.

Prior to that

he was music director

of orchestras in Winnipeg,

Düsseldorf, and

Bern, and he has guest

conducted the New York

Philharmonic, and the

Los Angeles Philharmonic

as well as orchestras

in Cleveland, Chicago,

Boston, San Francisco

and others.

25-year old Canadian

pianist Bruce Liu is one

of the most musically

dynamic and technically

gifted pianists of his

generation and is already

in high demand. Born in

Paris, he has performed

with many major orchestras in the

U.S. as well as overseas. Liu has

made numerous recordings, and

he has performed on several concert

tours throughout China.

The Warsaw Philharmonic,

featuring pianist Bruce Liu, will

be presented at the Van Wezel

Performing Arts Hall on Monday,

April 4 at 7:30 pm. Tickets start

at $30 and are available at www.

SCAsarasota or by calling the Box

Office at (9410) 966-6161.

This concert marks the finale in

the Sarasota Concert Association's

2022 Great Performers Series.

Details of the Sarasota Concert

Association's 2023 season will be

announced soon.

Concert Details

The Sarasota Concert

Association presents The Warsaw

Philharmonic

Monday, April 4 at 7:30 pm at Van

Wezel Performing Arts Hall

• Andrey Boreyko, conductor

• Bruce Liu, piano

• Moniuszko - Overture to the Paria

• Chopin – Piano Concerto No. 1

• Brahms – Symphony No. 1

For tickets, 410-966-6161 or visit

SCAsarasota.org.

PAID ADVERTORIAL

MARCH 2022 WEST COAST WOMAN 15
---
Janis with Bruce Springsteen,

Billy Joel and Ed Sciaky (1973)

Photo by Peter Cunningham

Photo by Peter Cunningham

Janis with Grammy Award

(February 28, 1976)

She's on the

road for what

she says is her

last U.S. tour. Her career

started at age 14, and thus

at age 70, she has 56 years

as a performing artist.

Her debut album was in 1967.

This January she produced

what she says is her final album,

"The Light at the End of the Line."

On the Johnny Carson Show (August 9, 1967)

"I've already created a body of work

I'm proud of, and I'm old enough to

realize that it's the light at the end

of the line that matters. And I'm not

calling this retiring. It's rewiring."

Between the Lines, 1975

Janis with Judy Collins and Leonard Cohen

(December 1, 1974)

Top Ten single "At Seventeen", from Between

the Lines, reached number 1 on the Billboard

album chart in September 1975

She won a Grammy in 2012 for

an audiobook of Society's Child:

An Autobiography

16 WEST COAST WOMAN MARCH 2022
---
Need a Fresh Start on

Your Financial Spring Cleaning?

Call Amanda 941-914-1560

for some sound financial

cleaning advice!

Amanda E. Stiff, MBA, Financial Advisor

Janis Ian lives in our

community and has

for a while. But she's

not here now. As of this

writing, she's out in the

southwest and headed

to California as part of

her ambitious concert tour of over 50 cities

across the U.S.

After her touring out west, she comes back

to Florida where she'll appear in Clearwater

on March 31, then Fort Lauderdale and Stuart

then New York and New England — well,

let's just say she is crisscrossing the country

through November, 2022, and if you want to

catch her in concert, visit janisian.com/tour

for specific dates.

Via Zoom (being ultra cautious since she

was set to leave in a few days), Janis says this

is her last album, her last U.S. tour (though

tours in the UK and Ireland are being worked

on) and she's ready to take a break.

Can you blame her? Her career started at

age 14 and thus at age 70 she has 56 years as

a performing artist. Speaking with her, there

was a certain been there, done that, aspect

to the interview (totally understandable

considering she's probably been interviewed

hundreds of times), but also a sincerity in

how carefully she chooses her words. She's

thoughtful and not at all into the celebrity or

living legend thing.

The "Light at the End of the Line" is the

title of the album which got good reviews in

a recent New York Times article which she

didn't read. Amazingly, or perhaps wisely,

she doesn't read any press, articles, etc. Janis

explains she already knows what she said so

what's the point?

When I comment that she seems so calm,

that drew a response and a smile. "Wait until

I tell my wife that," she laughs. Her wife is

Patricia Snyder whom she married in Canada

when gay marriage was still not legal in the

U.S. And in another turning point in culture

and social justice, the couple were the first

gay couple to appear in the NYT's then new

"Vows" (wedding/engagement) column in

2003. (It took until 2015 when marriage equality

became law in the U.S.)

Janis has been since day one a singer-songwriter

who pens "literary lyrics" as the NYT

calls them. In music history, her debut album

in 1967 was ahead of other female singer

songwriters like Joni Mitchell, Carole King

and Laura Nyro. But that's a long time ago

and she's not one to dwell on the past.

There's a great quote on her website about

where she is at this stage of her career. She

writes,"It takes a certain amount of maturity to

realize that you don't have to keep proving you

can write. I've already created a body of work

I'm proud of, and I'm old enough to realize that

it's the light at the end of the line that matters.

And I'm not calling this retiring. It's rewiring."

She was a bit of ahead of the times like

when her first song, "Society's Child" was

about interracial dating. Since she's also not

going to brag, here are a few of the highlights

of her career that I assembled: nine Grammy

Award nominations and two wins (in 1976 for

best pop vocal performance-female for "At

Seventeen" and in 2013 for best spoken-word

album for "Society's Child: My Autobiography");

performed on the same bill as Jim Morrison

and the Doors, another time she was on

the same bill as Big Brother and The Holding

Company (san Janis); has had her songs performed

by Roberta Flack (her cover of "Jesse"

was a top ten hit) and Nina Simone; she was

on the Smothers Brothers show (at age 16);

mentored by Leonard Bernstein. "Society's

Child" became a national hit on its third

release after Bernstein featured it in a TV special:

Inside Pop: The Rock Revolution.

She was the first artist on "Saturday Night

Live" when the show started in 1975; she

plays guitar and piano; earned a Grammy

nomination for Best Jazz Duet with Mel

Torme. She sang her songs "Silly Habits" and

"Fly Too High" on the soundtrack of the Jodie

Foster movie "Foxes"(Janis did a lot of music

scoring for films).

Her songs have been covered by Kathy

Mattea, Bette Midler, Amy Grant, Nanci

Griffith, and a host of others; in 1990 she cochaired

the first Nashville AIDS-walk, with

Minnie Pearl (not a typo); formed her own record

company, Rude Girls. In 1993, she had a

column in The Advocate; she loves and writes

science fiction, and wrote a children's book.

Her Pearl Foundation (named for her

mother) raised one million dollars in scholarship

funds donated for returning students.

She's studied acting. Her parents (and the

family) were under government surveillance

(her parents, Victor (a music teacher) and

Pearl, ran a summer camp in upstate New

York, and, in that Cold War era, were frequently

under "suspicion").

In 1975 she released the album, "Between

the Lines" which surpassed all her previous

records to emerge as the most successful album

of her career gaining a platinum status.

It reached number one status on Billboard's

Album chart. She's collaborated with various

other artists like Kye Fleming, Amy Grant,

Bette Midler and Marti Jones. She even pursued

a career in acting and took acting classes

from Stella Adler.

On the Adult Contemporary chart, "At Seventeen"

peaked at number one. The song won

Janis her first Grammy Award. The same year,

she performed the song on the debut of Saturday

Night Live as a musical guest.

Adjectives from various media outlets:

precocious, diminutive and the female

Bob Dylan. She's dabbled in science-fiction

writing (George R.R. Martin, the "Game of

Thrones" mastermind, is in photos from her

2003 wedding and is a friend).

How about an autobiography? "I already

wrote one," she explains. But certainly a

life like hers where she has had a long view

of such rich, turbulent and changing times

warrants a second book? She loves to write,

adding, "I'm a writer first."

Janis moved to Florida three years ago in

part due to Covid, her house is on the water

and was, and is, a sanctuary while the pandemic

raged and now, we hope has abated.

Assuming she has heard every question in

an interview before, I asked was there a moment

when you said to yourself…this is it: I'm

done touring: done recording. Actually, "I've

been thinking about if for 10 years," but she

adds, wistfully, "Artists don't stop being artists."

From the Janis Ian website: "The Light at

the End of the Line" is her latest and last solo

studio album to bookend a catalog that began

with her 1967 self-titled debut. It's her first

album of new material in 15 years. The songs

reflect on getting older but wiser ("I'm Still

Standing"), of knowing when to stand up and

not take any more shit ("Resist"), of celebrating

life's fleeting beauty ("Swannanoa"), of

exalting in your true identity ("Perfect Little

Girl"), of paying homage to a lifelong hero and

her demons ("Nina," as in Simone)."

Here are some lyrics from "I'm Still Standing":

See these lines on my face?

They're a map of where I've been

And the deeper they are traced,

the deeper life has settled in

How do we survive living out our lives?

STORY: Louise Bruderle

IMAGES: courtesy of the artist

The Light At The End Of The Line is available

at the official Janis Ian Store.

1800 Second Street Suite 895 Sarasota, FL 34236

1305 Langhorne Road Lynchburg, VA 24503

AccessAdvisorsLLC.com 941 914 1560

Astiff@AccessAdvisorsLLC.com

Securities are offered through Level Four Financial, LLC a registered broker dealer and member of FINRA/SIPC.

Advisory Services are offered through Level Four Advisory Services, LLC, an SEC-registered investment advisor. Level

Four Financial, LLC, Level Four Advisory Services, LLC and Access Advisors, LLC are independent entities. Neither

Level Four Financial, LLC, Level Four Advisory Services, LLC nor Access Advisors, LLC offer tax or legal advice.

FREE LIVING WILL

WITH EVERY ESTATE PLAN

Simple Will ................................... $ 110

Revocable Living Trust:

Single ....................... $ 595

Married ................. $ 1,050

Power of Attorney ........................ $ 95

Health Care Surrogate .................. $ 85

No additional costs required other than filing fees if applicable.

www.gerlinglawgroup.com

Dana Laganella

Gerling, Esq.

Offices: Bradenton/

Lakewood Ranch

756-6600

The hiring of a lawyer is an important decision that should not be based solely upon advertisements. Before you decide,

ask us to send you free written information about our qualifications and experience.

MARCH 2022 WEST COAST WOMAN 17
---
gardening

p

Raise your GARDENING game

UF/IFAS Extension Sarasota County offers a variety of classes

Want to be a better

Florida gardener?

New to the

subtropics and not

sure what to do with unfamiliar

plants? You've got a great

resource in UF/IFAS Extension

Sarasota County which offers

a variety of classes to help you

get a Florida green thumb.

Some of these classes are in

person and others are online.

March 9

Tips and Tricks for a

Healthy Yard (webinar)

Learn about how you can increase

your irrigation efficiency

and decrease water use in your

home landscape. You'll learn

how to maximize your irrigation

efficiency while maintaining

the health of your turf

and landscape plants. Register

for this event only at ufsarasotaext.eventbrite.com

rather

than any third party websites.

For questions or further

information, send an email to

jlebouitz@ufl.edu.

March 16

Let's Make Some Black

Gold (Shamrock Park, Venice)

Learn what UF/IFAS Extension

Sarasota County is

doing around the region with

composting, waste reduction

and recycling. This 60-minute

workshop blends indoor lessons

with outdoor, hands-on

activities in their compost

demonstration area, and includes

live demonstrations of

their biogas and vermicomposting

programs. Register

early through ufsarasotaext.

eventbrite.com to reserve your

seat and receive notice of any

changes. Attendees will learn

the basics of home composting,

the benefits of composting, and

how to build a home compost

system. Plus, attendees will

have the option to purchase a

GEOBIN compost bin (see registration

options, below).

NOTE: There are two

registration options for this

workshop: Workshop PLUS

a GEOBIN compost bin: $25

registration (includes bin cost),

which must be made in advance

of the workshop. Workshop

with no GEOBIN: Cost is

free. Instructor: Randall Penn,

UF/IFAS Extension Sarasota

County waste reduction agent.

For questions or further information,

call 941-861-5000 or

email sarasota@ifas.ufl.edu.

March 16

Florida-Friendly

Landscaping 101

Are you a new homeowner?

New to Florida? Wonder what

makes something Florida-

Friendly? This class will

teach you the basics of the

Florida-Friendly Landscaping

Program. They'll show you the

nine principles that can help

you have a successful, beautiful

landscape while protecting

our natural resources. Register

early at ufsarasotaext.

eventbrite.com to save your

seat and receive notice of

any changes. For more information,

call 941-861-5000 or

email sarasota@ifas.ufl.edu.

March 16

Let's Make Some Black

Gold! (Elsie Quirk Public Library)

Learn what UF/IFAS Extension

Sarasota County is

doing around the region with

composting, waste reduction

and recycling.. This 60-minute

workshop blends indoor

lessons with outdoor, handson

activities in their compost

demonstration area, and

includes live demonstrations

of their biogas and vermicomposting

programs. Register

early through ufsarasotaext.

eventbrite.com to reserve

your seat and receive notice

of any changes.

Attendees will learn the basics

of home composting, the

benefits of composting, and

how to build a home compost

system. Plus, attendees will

have the option to purchase a

GEOBIN compost bin (see registration

options, below).

NOTE: There are two

registration options for this

workshop: Workshop PLUS

a GEOBIN compost bin: $25

registration (includes bin cost),

which must be made in advance

of the workshop. Workshop

with no GEOBIN: Cost is

free. Instructor: Randall Penn,

UF/IFAS Extension Sarasota

County waste reduction agent.

For questions or further information,

call 941-861-5000 or

email sarasota@ifas.ufl.edu.

March 18

The Secret Life of Trees:

Modules 1 to 3 (webinar)

Communities derive many

benefits from trees including

improved air quality, and lower

summer temperatures. This is

a 3-part seminar covering the

first half of the Treejuvenation

program's Tree Champ urban

forestry training guide.

Module 1 of the Tree Champ

training guide highlights the

benefits of trees to urban communities,

and reviews details

used in the classification and

identification of trees. Module

2 reviews the anatomy and

morphology of trees. Module 3

reviews the physiology of trees.

Register for this event only

at ufsarasotaext.eventbrite.

com rather than any third

party websites. Time: 9 a.m.

to noon. Cost: complimentary

online class. Advance registration

required. Webinar link

will be emailed two business

days prior to event. Questions:

contact Marguerite Beckford

at mbeckford@scgov.net for

more information.

March 25

The Secret Life of Trees:

Modules 4 to 6 (webinar)

Trees provide many benefits

to communities, including reducing

flooding potential, and

improving physical and mental

health. This is a 3-part seminar

covering the second half of

the Treejuvenation program's

Tree Champ urban forestry

training guide.

Module 4 of the Tree Champ

training guide reviews the essentials

of tree planting and

care. Module 5 reviews proper

tree pruning techniques. Module

6 reviews the urban forestry

principles involved in managing

community tree assets.

Register for this event only

at ufsarasotaext.eventbrite.

com rather than any third

party websites. Time: 9 a.m.

to noon Cost: complimentary

online class. Advance registration

required. Webinar link

will be emailed 12 to 24 hours

prior to event. Questions:

contact Marguerite Beckford

at mbeckford@scgov.net for

more information.

April 12

Let's Make Some Black

Gold! (Jacaranda Public Library)

Learn what UF/IFAS Extension

Sarasota County is

doing around the region with

composting, waste reduction

and recycling. This 60-minute

workshop blends indoor lessons

with outdoor, hands-on

activities in their compost

demonstration area, and includes

live demonstrations of

their biogas and vermicomposting

programs.

Register early through

ufsarasotaext.eventbrite.com

to reserve your seat and receive

notice of any changes.

Attendees will learn the basics

of home composting, the benefits

of composting, and how to

build a home compost system.

Plus, attendees will have the

option to purchase a GEOBIN

compost bin (see registration

options, below).

NOTE: There are two

registration options for this

workshop: Workshop PLUS

a GEOBIN compost bin: $25

registration (includes bin

cost), which must be made

in advance of the workshop.

Workshop with no GEOBIN:

Cost is free.

Instructor: Randall Penn,

UF/IFAS Extension Sarasota

County waste reduction agent

For questions or further information,

call 941-861-5000 or

email sarasota@ifas.ufl.edu.

Classes and events may be

canceled at any time due

to low registration or other

circumstances, with full

refunds issued for paid events.

Similar classes or events often

are offered on future dates.

ABOUT

UF/IFAS Extension

Sarasota County

UF/IFAS Extension Sarasota

County is a county, state and

federal partnership that offers

community initiatives, classes,

and volunteer opportunities

related to 4-H youth development;

agriculture; gardening

and landscaping; natural resources;

nutrition and healthy

living; and sustainability.

Contact them at 941-861-

9900. They're located at 6700

Clark Road (Twin Lakes Park,

Green Building), Sarasota.

Find their full class listings at

http://tiny.cc/ufsaraext_events

18 WEST COAST WOMAN MARCH 2022
---
focus on the arts

Perlman Music Program Suncoast

presents

Members of the Juilliard String Quartet

With Anna Polonsky on piano on March 13

T

The Perlman Music Program

he Perlman Music Program

Suncoast presents Members

of the Juilliard String Quartet

with Anna Polonsky, pia-

no on Sunday, March 13 at 7

p.m. at First Congregational Church in

Sarasota.

The Juilliard String Quartet program

previously announced has been changed

due to the death

of the Quartet's

violist, Roger Tapping.

The Quartet

will honor Roger's

memory with a

program of piano

quartets featuring

Anna Polonsky

on piano.

"We are heartbroken

to have lost

our beloved colleague

and friend

Areta Zhulla

Roger Tapping,"

members of The

Juilliard String

Quartet said in a

statement. "One

of the most passionate

and celebrated

chamber

musicians of his

generation, Roger

was adored by students,

colleagues, and audiences around the

world. His love for performing and teaching

radiated from his very being and deeply

touched all who knew him. We will continue

to be inspired by his unstoppable energy

and zeal, qualities that he brought to all his

musical collaborations… These concerts are

dedicated to his memory."

Following a sold-out performance at the

Sarasota Opera House in 2019, Juilliard String

Quartet members Areta Zhulla, violin; Ronald

Copes, viola; and Astrid Schween, cello,

return to Sarasota, along with pianist Anna

Polonsky, to perform repertoire by Wolfgang

Amadeus Mozart, Krzysztof Penderecki, and

Johannes Brahms.

First violinist Areta Zhulla, the newest

member of the Juilliard String Quartet,

was a PMP "Little," attending The Perlman

Music Program Summer School from 2000-

2005, and one season as a PMP Winter Residency

student. Between 2009 and 2016, she

returned to the Suncoast to perform PMP

Alumni: Around Town outreach programs

in the community and in schools.

Zhulla and Schween are faculty members

with The Perlman Music Program

Summer Music School and Chamber Music

Workshop. They, along with violinist and

violist Ronald Copes, are faculty with The

Juilliard School in New York City, and are

all sought-after teachers on the string and

chamber music faculties.

Founded in 1946 and hailed by The Boston

Globe as "the most important American

quartet in history," the Juilliard String Quartet

draws on a deep and vital engagement to

the classics, while embracing the mission of

championing new works, a vibrant combination

of the familiar and the daring.

Each performance is a unique experience,

bringing together the members' profound

understanding, total commitment, and

unceasing curiosity in sharing the wonders

of the string quartet literature. The Quartet's

recordings of the Bartók and Schoenberg

Quartets, as well as those of Debussy,

Ravel and Beethoven, have won Grammy

Awards. In 2011

the Quartet became

the first

classical music ensemble

to receive

a lifetime achievement

award from

the National Academy

of Recording

Arts and Sciences.

Pianist Anna

Polonsky is widely

in demand as a

Ronald Copes

soloist and chamber

musician. She

has appeared with

the Moscow Virtuosi,

the Buffalo

Philharmonic, the

Saint Paul Chamber

Orchestra

and the Colum-

Astrid Schween Anna Polonsky

bus Symphony

Orchestra, among

others, and has

collaborated with such musicians as Yo-Yo

Ma, Richard Goode, Emanuel Ax, Peter Wiley,

and Jaime Laredo.

Polonsky is a recipient of a Borletti-Buitoni

Trust Fellowship and the Andrew Wolf

Chamber Music Award. She made her solo

piano debut at the age of seven at the Special

Central Music School in Moscow, Russia;

emigrated to the United States in 1990;

and attended high school at the Interlochen

Arts Academy in Michigan.

Polonsky received her Bachelor of Music

from The Curtis Institute of Music under

the tutelage of the renowned pianist Peter

Serkin, and continued her studies with Jerome

Lowenthal, earning her Master's Degree

from The Juilliard School.

FAST FACTS:

Date: Sunday, March 13 at 7 p.m.

Doors open at 6:30pm

Location: First Congregational Church,

1031 S. Euclid Ave., Sarasota.

PROGRAM:

Wolfgang Amadeus Mozart - Piano Quartet

No. 2 in E-flat major, K. 493

Krzysztof Penderecki - String Trio for

Violin, Viola, and Cello

Johannes Brahms - Piano Quartet No. 3 in

C minor, Op. 60.

For more information, visit

PerlmanSuncoast.org.

Susan Goldfarb

PROGRAM DIRECTOR

2022

LECTURE SERIES ✱ PAINTING

PHOTOGRAPHY ✱ QIGONG

YOGA ✱ MEDITATION ✱ BRIDGE

MAH JONGG ✱ CANASTA

SUPREME COURT ✱ THEOLOGY

WELLNESS ✱ AMERICAN HISTORY

LITERATURE & POETRY

MOVIE & BOOK GROUPS

MUSIC & DANCE APPRECIATION

MORNING FORUMS

WORLD POLITICS

FILM FESTIVALS ✱ JAZZ NIGHTS

WRITING WORKSHOPS

iPHONE & iPAD ✱ NATURE WALKS

BIRDING ✱ PERFORMING ARTS

SATURDAY WORKSHOPS

BROADWAY BIOS ✱ CONCERTS

SPECIAL ONE-TIME EVENTS

& MUCH MORE!

Most Programs Now Available on Zoom

567 Bay Isles Road, Longboat Key, FL

VISIT OUR WEBSITE AT

www.TBIeducationcenter.org

For a brochure call: (941) 383-8222

MARCH 2022 WEST COAST WOMAN 19
---
focus on the arts

Hermitage Greenfield Prize Winners

Return to Sarasota in March and April

2018

Hermitage

Greenfield Prize

and Pulitzer Prize

Winner

Martyna Majok

2019

Hermitage

Greenfield Prize

Winner

Helga Davis

2021

Hermitage

Greenfield Prize

Winner

Aleshea Harris

Three recent

Hermitage

Greenfield

Prize (HGP)

winners –

Martyna Majok (2018), Helga

Davis (2019), and Aleshea

Harris (2021) return to

Sarasota this spring to present

their work and speak about

their creative process.

First, Pulitzer Prize-winning

playwright and 2018 Hermitage

Greenfield Prize Winner Martyna

Majok presents "Building

a Play: Exploring the Playwright-Director

Collaboration."

This will be a conversation on

the Hermitage Beach, moderated

by Hermitage Artistic Director

and CEO Andy Sandberg,

featuring Pulitzer Prize-winning

playwright Martyna Majok

and her collaborator on the

HGP commission, director

Caitlin Sullivan – Friday,

March 4 at 5:30pm.

Next up, the Hermitage, in

collaboration with EnsembleNewSRQ

and New College

of Florida, presents the live

Sarasota premiere of "Ocean

Body," the commissioned work

from 2019 Hermitage Greenfield

Prize Winner and composer,

vocalist, and performance artist

Helga Davis, along with her

collaborators Shara Nova and

Mark DeChiazza on Saturday,

March 19 at 6pm. This will also

be available virtually as well.

Then in April, to kick off a

weekend of events celebrating

the Hermitage Greenfield Prize,

award-winning playwright, author

of What to Send Up When

It Goes Down, and 2021 HGP

recipient Aleshea Harris presents

"A Theater Maker's Year:

What 'Went Down'" on Friday,

April 8 at 6pm.

Each year, the Hermitage

Artist Retreat, in collaboration

with the Philadelphia-based

Greenfield Foundation, grants

a $30,000 commission and a

six-week residency at the Hermitage's

historic beachfront

property to a distinguished

artist, rotating each year in the

disciplines of music, theater,

and visual art.

The 2022 Hermitage Greenfield

Prize winner, composer and

multi-instrumentalist Angélica

Negrón will be celebrated at the

Hermitage Greenfield Prize Dinner

on Sunday, April 10 at 6pm

at Michael's On East in Sarasota.

Capacity will be limited to accommodate

safe social-distancing

practices, and additional

health and safety measures are

anticipated for this event.

For more information about

the Hermitage, the Hermitage

Greenfield Prize, and upcoming

Hermitage programs, visit

HermitageArtistRetreat.org.

Most Hermitage's programs

are free and open to the public

with a $5/person registration

fee. Hermitage programs are

presented outdoors unless otherwise

noted. Due to capacity

limitations and social distancing,

registration is required at

HermitageArtistRetreat.org.

The Hermitage hosts artists

on its Gulf Coast Manasota Key

campus for multi-week residencies,

where diverse artists from

around the world and across

multiple disciplines create and

develop new works of theater,

music, visual art, literature,

and more. As part of their residencies,

Hermitage Fellows

participate in free community

programs, offering audiences

in the region a unique opportunity

to engage with some of the

world's leading artists and to

get an authentic "sneak peek"

into extraordinary projects

and artistic minds before their

works go on to major galleries,

concert halls, theaters, and museums

around the world. These

free and innovative programs

include performances, lectures,

readings, interactive experiences,

open studios, school programs,

teacher workshops, and

more, serving thousands in our

regional community each year.

Program Descriptions:

March 4, 5:30pm.

"Building a Play: Exploring

the Playwright-Director

Collaboration": A Conversation

with Pulitzer Prize and

Hermitage Greenfield Prize

Winner Martyna Majok, and

Stage Director Caitlin Sullivan.

Shortly before winning

the Pulitzer Prize for Drama

in 2018, Martyna Majok was

awarded the prestigious

Hermitage Greenfield Prize,

which includes a commission

to develop a new work that will

have significant impact on the

broad as well as the artistic

culture of our time.

Hear from the playwright

and her director, Caitlin Sullivan,

in a conversation moderated

by Hermitage Artistic

Director Andy Sandberg about

the director-playwright relationship

in developing new

work and the journey of this

commission, which explores

the infamous Chernobyl explosion

and its human impact.

Registration is required at HermitageArtistRetreat.org

($5/

person registration fee). The

Hermitage Beach, 6660 Manasota

Key Road, Englewood.

March 19, 6pm. "Ocean

Body": The Live Premiere of

the Commission from 2019 Hermitage

Greenfield Prize Winner

Helga Davis, Inspired by the

deep friendship between Hermitage

Greenfield Prize winner

Helga Davis and her collaborator

Shara Nova, and forged

on the beach of Manasota Key,

"Ocean Body" is a multi-disciplinary

exploration of the ties

that bind us all. Inhabiting a living

sculpture that unites Helga

and Shara and surrounded by

projections of the vast ocean,

the debut of this commission

premieres in an innovative

musical and visual experience,

enhanced by live music and a

diverse chorus of voices.

Registration is required at

HermitageArtistRetreat.org

($5/household registration fee

for virtual, streaming access;

A limited number of in-person

tickets available for $25). The

Hermitage Palm House Studio

(indoors*), 6660 Manasota Key

Road, Englewood (Also available

via Live-Stream).

April 8, 6pm. "A Theater

Maker's Year: What

'Went Down'": with Playwright

& Hermitage Greenfield

Prize-Winner Aleshea Harris.

To launch this year's Hermitage

Greenfield Prize celebration,

2021 recipient Aleshea

Harris returns to Sarasota to

share her theatrical journey

over the past year and the

latest plans for her commission.

Focused on the lives of

two black men a century apart,

both subject to confinement

and surveillance at the hands of

western civilization, her work

seeks to honor tragedy without

losing sight of the levity that

just might light a way forward.

This event will take place in

Sarasota, with additional details

and location TBA.

20 WEST COAST WOMAN MARCH 2022
---
healthier you

QUIT TOBACCO

with GROUP QUIT

There's never been a more important time to quit.

Free expert-led sessions to help you quit all forms of tobacco.

2 . 6 LO G O LOCKUP S

The Benefits of

Quitting Tobacco Use

1 .

2 .

X

TFF.COM / FDOH LOCKUP

Virtual Group Sessions -OR- In-Person Group Sessions

Develop your

personalized

quit plan.

FREE nicotine

replacement patches,

gum, or lozenges. *

The logo lockups were designed to contain both logos,

separated by a bar that is the same thickness as our

of our logo. We will maintain the clear space

established on page 6 between the bar and both logos.

Depending on the type of materials, we could use one

of the following lockups.

1. Full color Logo Lockup

More than

DOUBLES your

chances of success!

preferred, but it can ONLY be used in full color and

only against a white background. It cannot be placed

in a white box.

*(If medically 3 . appropriate for those 18 years of age or older)

Pre-registration is required.

CALL TODAY:

4 .

2. One-Color Logotype Lockup

The One-Color Logotype Lockup is the most commonly

used version. It can only be used against a white

background or as a Reverse White Logotype.

Sponsored by:

866-534-7909 AHEC

GULFCOAST SOUTH

AREA HEALTH

EDUCATION CENTER

3. Black and White Logotype Lockup

4. Reversed Logotype Lockup

The reversed logotype lockup can be used against a

black bacground or against the NEW TFF ADA BLUE

(HEX: #1074BB)

Q

uiting tobacco is the single

most important thing

you can do to improve

your health. 1 Despite what

you may think, it is never

too late to quit smoking! In fact, you can

experience several benefits of quitting

smoking within minutes of cessation

and can enjoy the benefits of quitting for

years to come. As soon as a person quits,

his or her body begins to heal:

• 20 minutes after quitting: heart rate

and blood pressure drop

• 12 hours after quitting: the carbon

monoxide level in blood drops to

normal

• 2 weeks to 3 months after quitting:

blood circulation improves and lung

function increases

• 1 to 9 months after quitting: coughing

and shortness of breath decrease.

Structures in the lungs begin to heal

and clean the lungs, reducing that person's

risk of infection. This is critical

in fighting illnesses that threaten lung

health, such as bronchitis

• 1 year after quitting: the risk of coronary

heart diseases is half that of

someone who smokes. Risk of heart attack

decreases significantly

• 5 years after quitting: risk of mouth,

throat, esophagus, and bladder cancer

is cut in half. Cervical cancer

risk is now that of a nonsmoker. Risk

of stroke falls to that of a non-smoker

after 2-5 years

• 10 years after quitting: risk of dying

from lung cancer is half that of a

smoker

• 15 years after quitting: risk of coronary

heart disease is the same as a

nonsmoker

Along with these great benefits, quitting

tobacco use also reduces the risk of diabetes

and improves the health of blood

vessels, the heart, and the lungs. 2

Kicking the tobacco habit offers some

other rewards that you'll notice right

away and some that will show up over

time. here are just a few other benefits

you may notice:

• Food tastes better

• Your sense of smell returns to

normal

• Your breath, hair, and clothes

smell better

• Your teeth and fingernails stop

yellowing

• Ordinary activities (i.e., climbing

stairs or light housework) leave

you less out of breath

• You can be in smoke-free

buildings without having to go

outside to smoke.

Quitting also helps stop the damaging

effects of tobacco on how you look,

including premature wrinkling of your

skin, gum disease, and tooth loss. 2

Help quitting tobacco is free! Gulfcoast

South Area Health Education Center

(GSAHEC), as part of the Group Quit option

of Tobacco Free Florida's Quit Your

Way program—offers free group quit sessions

to help someone quit all forms of

tobacco. These group sessions held virtually

and in-person, provide information

about the benefits of quitting, managing

stress and triggers, and will assist you

with developing your own customized

quit plan. Free nicotine replacement

therapy in the form of patches, gum,

or lozenges (if medically appropriate and

while supplies last) is provided with the

session. Attendees will also receive a participant

workbook, quit kit materials,

and follow up support from a trained tobacco

treatment specialist.

Contact us today at 866-534-7909 or

visit www.tobaccofreeflorida.com/

groupquitcalendar to schedule a

class or learn more about the program!

Reference:

1 Tools to Quit: Area Health Education Center

(AHEC) Cessation Program Participant Toolkit.

Area Health Education Centers. 2018.

2 https://www.cancer.org/healthy/stay-awayfrom-tobacco/benefits-of-quitting-smokingover-time.html#

Learn more about all of Tobacco Free Florida's tools and services at

SPONSORED BY

REVIVED

ALL ITEMS ARE 100% FREE TO JUNIOR AND

SENIOR HIGH SCHOOL STUDENTS. NO QUESTIONS

ASKED. COME AND FIND YOUR DRESS!

CoreSRQ and Every Child, Inc. collected dresses,

shoes, purses, & jewelry that Junior and Senior Girls

will be able to select for their Spring Prom Attire

on March 17 & 18 from 9am-4pm at the Carlisle Inn

Sarasota. All girls should feel like "Cinderella" and

attend Prom without causing themselves or their

families financial hardship.

PAMELA PETERS

CoreSRQ

JUDY ALEXANDER

Every Child, Inc.

pamela@coresrq.org judyalex1@aol.com

FREE

PROM

ATTIRE

MARCH

17&18

9AM-4PM

Carlisle Inn Sarasota

3727 Bahia Vista St.

Sarasota, FL 342327

(844) 369-2275

INCLUDES A

FREE CORE

WEEK PASS!

T F F

BRAND G U I D E

PAID ADVERTORIAL

MARCH 2022 WEST COAST WOMAN 21
---
you're news

Accolades

■ Manatee Charter School Principal

Bonnie Brett has been selected

a winner in Florida TaxWatch's

9th annual Principal Leadership

Awards. Brett will receive a $1,000

cash prize and will be honored at

Florida TaxWatch's Spring Board

Meeting held this May 11 in Tampa.

She also receives the opportunity to

nominate a student from her school

to receive a 2-year Academic A+

Challenge Match Scholarship.

Florida TaxWatch is a non-partisan,

independent 501(c)(3),

devoted to improving government

efficiency and taxpayer value in

all areas of public policy. The

organization established the principal

awards program in 2014 to

recognize highly effective principals

serving in high-risk, K-12

public schools.

Appointments

■ Dawnyelle Singleton, Sarasota

native and nonprofit education

professional,

has announced

her

campaign

for Sarasota

County

School

Board.

Singleton is

challenging

Dawnyelle Singleton

incumbent

Bridget

Ziegler for the District 1 seat.

Singleton has been an educational

and community advocate

in Sarasota. She is a former school

administrator who currently works

for a local nonprofit agency that

focuses on early childhood, parenting

education and mental health

services for children and families.

Singleton was born and raised

in Sarasota, and is a product of the

Sarasota County Public School System.

After graduating from Sarasota

High School, she obtained her

Bachelor's degree from Florida State

University. She is a 2021 graduate

of the Florida Institute for Political

Leadership and is active with numerous

community organizations,

including Delta Sigma Theta Sorority,

Inc., Leadership Sarasota, Gulf

Coast Leadership Institute, Rosemary

Park Condominium Association,

Rosemary District Association,

NAACP Sarasota Chapter, Sarasota

Black Caucus, ASALH (Association

for the Study of African American

Life and History), and the League of

Women Voters. If elected, she would

be the first African American to

serve on the school board.

For more about Singleton's

background and platform, visit Singleton4SchoolBoard.com.

■ Nora Cietek is running for election

to the Sarasota County School

Board, District 5. A resident of

South County, Nora comes from a

lower-middle-class family with ten

children in upstate NY, where her

father was the

custodian at

a school for

children with

developmental

disabilities,

and her mother

was a school

bus driver.

She began

her career as

Nora Cietek

a teaching

assistant in that same school and

then became the first person in her

family to get a college degree. Nora

then embarked upon a 30-year

career with the Schenectady NY

Public School System. She served

as an ESE Teacher, an Assistant

Principal, Principal, and the Assistant

Director of Special Education

for the school system. During that

time, she got her master's degree

in Educational Psychology and she

and her husband Scott raised three

children: a Financial Analyst, an

Attorney, and a Chemical Engineer.

Learn more about Nora on her

website, electnora.com, or on her

Facebook, Instagram, Twitter, and

YouTube pages.

■ Lauren Kurnov, Ed.D., a native

of Sarasota and parent of Sarasota

County

public school

students has

announced

her candidacy

for the District

School Board

4 seat which

recently became

an open

Lauren Kurnov

seat due to a

retirement.

Lauren has a Doctor of Education

(Ed.D.) in Educational Innovation

from the University of South Florida

and has spent the last 13 years

working in education, creating

pathways for post-graduation student

success. Locally, Lauren has

worked for the University of South

Florida Sarasota-Manatee as well as

New College of Florida.

Lauren and her husband Gary

are the proud parents of two

children, Zachary (age 11) and

Raina (age 9), who currently attend

Sarasota County Public Schools.

Lauren also attended and graduated

from Sarasota County Public

Schools. Learn more about her

campaign at laurenkurnov.com.

■ Sarasota-based Icard Merrill

has announced that Telese L.

Zuberer has succeeded Robert

G. Lyons as

the law firm's

president.

The change

in leadership

is the first in

23 years, and

Zuberer is the

first female

to hold the

position.

Telese L. Zuberer

Lyons, who

joined Icard Merrill in 1986, has

been at the helm of the firm since

1999. He will continue his mediation

and arbitration practice at the

firm's Sarasota headquarters.

Zuberer co-founded and operated

McKay Law Firm, P.A., for 13

years before joining Icard Merrill as

a shareholder in 2017. Her practice

focuses on representing not-forprofit

community associations,

including condominium associations,

homeowners' associations,

voluntary community associations,

and commercial and business

associations. Zuberer was named

to the list of 2021 Florida Super

Lawyers and holds the AV Preeminent

Peer Review rating from

Martindale-Hubbell.

She served as president for the

West Florida Chapter of Community

Association Institute (CAI) in

2009 and served on the board of

directors for six years before being

reelected for another three-year

term commencing in 2018. Zuberer

regularly teaches continuing

education courses for community

association managers, serves as

the guest speaker for numerous

organizations, and authors articles

for various publications.

Icard Merrill, which opened its

first office in Sarasota in 1953, also

has offices in Lakewood Ranch,

Punta Gorda, and St. Petersburg.

More information is available at

icardmerrill.com.

■ The Hermitage Artist Retreat,

in collaboration with the Philadelphia-based

Greenfield Foundation,

has selected composer and

multi-instrumentalist Angélica

Negrón as the winner of the 2022

Hermitage Greenfield Prize

(HGP), awarded this year in the

artistic discipline of music. Negrón

will receive a six-week Hermitage

Fellowship and a $30,000 commission

to create a new work of music,

which will have its first public presentation

in Sarasota in 2024.

Born in Puerto Rico, Negrón

writes original music for accordions,

robotic instruments, toys, and

electronics, as well as chamber

ensembles and orchestras. She is

a founding member of the tropical

electronic band Balún, and her music

has been performed at the Kennedy

Center and the 2016 New York

Philharmonic Biennial. Negrón

has composed scores for the New

York Botanical Gardens (Chorus

of the Forest, 2019) and for Opera

Philadelphia (The Island We Made,

2020), as well as the documentary

films Landfall (2020) and Memories

of a Penitent Heart (2016). Additional

commissions and premieres

of her compositions include works

for the LA Philharmonic, Dallas

Symphony Orchestra, National

Symphony Orchestra, and NY Philharmonic

Project 19 initiative.

Board News

■ Local non-profit, Truly Valued,

Inc. has a new board chair, Tamara

J. Williams. Williams will be taking

the place of

Kathy Jenkins,

who served

for 2 terms.

Through her

position as

board chair,

she will

continue to

focus the

organization

Tamara J. Williams

on its' mission

of supporting at risk-youth in the

community by promoting positive

relationships, activities, and educational

experiences.

Williams is an attorney practicing

law in Sarasota. She grew up in

Miami, FL and earned a Bachelor

of Arts in English from Florida

A&M University. After graduating

with honors, she continued her

education at Stetson University

College of Law, where she received

her Juris Doctor.

Since graduating from Stetson,

she has worked in the private and

public sector practicing various

areas of the law such as personal

injury, workers compensation, real

estate, and criminal defense. Currently,

she is employed with the law

offices of Maglio, Christopher and

Toale, focusing on business law and

products liability.

Tamara sits on the board of the

Sarasota County Bar Association

(SCBA) and she is involved with the

Council for Diversity and Inclusion

Council of the SCBA. She is also a

member of the Links Inc.

To learn more, enroll a child, or

get involved, visit https://trulyvalued.org/

About Truly Valued, Inc.

Truly Valued, Inc. is a non-profit

501(c)(3) organization. Their goal

is to create an environment of

learning and explorational growth

for at-risk youth to cultivate positive

relationships and give back to their

local community. Truly Valued, Inc.

creates a mentor network partnership

with local churches, schools

and various organizations to

support youth development. Learn

more at trulyvalued.org.

■ The Gulf Coast Diva Angels is a

female riding group for motorcycle

enthusiasts. At the end of 2021 they

nominated and voted in a new roster

of officers for 2022 as follows:

Director: Alyssa Bickler;

Assistant Director: Denise Stork;

Secretary: Donna DeFant; Treasurer:

Kathie Minidis; Membership:

Johnna Driscoll; Activities: Kathie

Minidis; Clothing/Accessories:

La Burtley; Fundraising/Community

Service Projects: Sharyn

McCormick; Safety: La Burtley;

Sergeant at Arms: Alyssa Bickler;

Scrapbook: Deb Miller; Sunshine:

Donna DeFant and website:

Kelly Harmon

The Gulf Coast Diva Angels continue

to do quarterly road cleanup

for Keeping Sarasota Beautiful.

Besides a monthly dinner meeting

there are always many great ride

destinations. Visit www.divaangels.

org or https://www.facebook.

com/divaangelsgulfcoast. For more

information email: gcdivaangels@

gmail.com.

■ The Florida Center for Early

Childhood has its 2022 board

of directors which includes new

leadership and the appointment of

three new members.

Michele Miller, Vice President

and Senior Analyst at Northern

Trust Sarasota, has been named

board president while Eddie

Pérez-Ruberté has accepted the

position of vice president. In addition,

The Florida Center welcomed

three new board members, Judge

Rochelle Curley, Greg Povolny,

and Tim Wilson.

Miller joined the board in 2021.

Her professional background

includes private practice law,

specializing in a variety of areas. In

her current role at Northern Trust,

she advises clients on estate planning,

wealth transfer and transfer

tax saving techniques, and trust

administration. She also serves on

the board of the Sarasota chapter

of the National Alliance on Mental

Illness (NAMI).

Pérez-Ruberté, an author,

thought leader and speaker, has

been involved with The Florida

Center for many years, volunteering

with his wife in different capacities.

Curley specializes in family, civil

and criminal cases and is currently

serving a four-year assignment in

the criminal felony division. She

was introduced to The Florida

Center through its Early Childhood

Court Program, which is run in

partnership with the Safe Children's

Coalition and 12th Circuit

Judicial Court.

Povolny is the founder of Mindshare

Technology, an internationally

recognized leader in developing

and implementing methods to

positively impact the many aspects

of child well-being.

Wilson is a manufacturing executive

who has worked internationally

across a broad range of industries

including medical, aerospace,

automotive, and semiconductor

capital equipment. He has served

on boards of child advocacy centers

in both New York and Illinois and

continues to advocate for children

through several non-profits.

Send us your news!

Send to: westcoastwoman@

comcast.net. You will also find

more You're News on our Facebook

page West Coast Woman.

You're News will be posted on

Facebook in March so be on the

lookout to see if your name is

there! We also publish this page

on our website (westcoastwoman.

com) and in our monthly e-blast.

Want to subscribe

to our e-blast?

Send us your email address.

Send to westcoastwoman@

comcast.net.

22 WEST COAST WOMAN MARCH 2022
---
your health

Craniosacral Therapy Can Be Life Changing

CST treats the whole body physically, physiologically, mentally, emotionally and energetically

Clients come to me because they are in physical

pain such as neck, back, pain and TMJ as well as

for chronic headaches and migraines.

Pain and stress caused by

shortened Fascia

Fascia (strong connective tissue) encases all

our muscles, organs, brain and spinal cord.

Whenever fascia shortens any place in the

body, the entire network of fascia creates an

increased tension affecting the functioning

of our physical body as well as our organs,

our brain and spinal cord.

Our body is the history of every major

trauma we have experienced physically and

emotionally beginning with birth issues, falls,

head trauma, car accidents, childhood abuse

issues, death, divorce and other emotional

issues. Our body tries to minimize each trauma

by shortening fascia to isolate the energy

coming into the body from that trauma.

Shortened fascia results in pain, loss of mobility

and range of motion, organs becoming

less efficient and with parts of the brain and

spinal cord becoming stressed.

To keep the brain functioning, the body

transfers some of your functional work play

energy (7:00 AM-10:00 PM) to the brain resulting

in less energy to make it through each

day. As we age, the accumulation of all the

tightened fascia, from every major trauma

in life, begins to restrict every aspect of our

body's functions resulting in pain, loss of mobility,

mis-functioning organs, loss of energy,

as well as our brain losing some its sharpness.

How Craniosacral

Therapy Works

The Craniosacral Therapist creates a safe

place, with gentle holding techniques, that

engages your body's ability to self correct,

reorganize and heal itself with the release

of some of that tightened fascia during

each session. As the Craniosacral Therapist

engages your body, you will feel fascia releasing.

As the fascia releases, pain begins to

decrease, range of motion and mobility improve,

organs begin functioning better and

with less stress on the brain feels, it returns

the energy it borrowed at the time of each

trauma resulting in an immediate increase in

your energy levels. Rarely does anyone leave

from my first session not feeling better.

Short Leg Syndrome

Eighty-five percent of my clients have one

of their legs pulled up 1/2 to 1 by shortened

fascia. The tension from short leg syndrome

on the sacrum (5 fused vertebrae at bottom

of the spine) is transferred up the dural tube

that encases the spinal cord into the lower

and upper back, the neck, the cranium and

The physical stress in bodies caused by shortened

fascia (connective tissue) shuts down

energy flows to certain organs. Short leg syndrome

by ½ to 1 in (where one leg is pulled up

by shortened fascia) shuts down energy flow to

the spleen (an important part of your immune

system) and the small and large intestine. With

the release of that shortened fascia, energy returns

to these organs.

the brain. Headaches, migraines, TMJ and

neck problems can originate from the fascial

stress in the sacrum.

Releasing this sacral stress increases energy

in the bladder, sex organs, kidneys and

the chakras as well as releasing major stress

in the upper part of the body.

Cause of Shallow Breathing

A great majority of the clients who come to

me for various problems are also shallow

breathers. Fascial stress in the diaphragm

restricts the depth of breathing by restricting

energy flow to the lungs, the pericardium

and the heart. With the release of fascial diaphragm

restriction, the client immediately

starts breathing deeply and energy is restored

to the pericardium and the heart.

Shoulder blades that are cemented to the

body also restricts how much the rib cage can

open and thereby also restricting depth of

breath. Without proper breathing, your cells

do not get enough oxygen. Everyone, especially

people suffering from bronchitis, asthma

and COPD as well as shallow breathing can

benefit when the fascial stress is released.

Specialized Training

to work with Brain

Dysfunctions

Just as the body physically gets stressed from

physical and emotional trauma, the functioning

of the brain is also affected by fascial stress. For

our brains to remain healthy, we need dynamic

production of craniosacral fluid which performs

the important function of bringing nourishment

to all the cells in the brain and spinal

cord as well as cleansing all the metabolic

wastes given off by those same cells.

Once the craniosacral fluid cleanses these

metabolic wastes, efficient drainage of these

metabolic wastes into the lymph system is

absolutely necessary. Research has shown,

that at night, craniosacral fluid cleanses amyloid

plaques from the brain. If the drainage

is inefficient, then the brain is being bathed

in a toxic slurry. How does 15 or 20 years of

your brain being bathed in a toxic slurry

affect you: senile dementia, Parkinson's,

Alzheimer's and other brain dysfunctions?

A Craniosacral Therapist, who has received

training in working with the brain, can reverse

that stress on the brain that eventually can

result in those brain dysfunctions. As we all

know, the proper functioning of the body is

dependent on a healthy functioning brain.

Babies and Children can benefit

■ Our little boy Leo, four years of age, had a

difficult birth and at 7 months was put on antibiotics

for an ear infection and as a result developed

c-diff. His development came to a stop.

At 3 years, with the help of an OT, he started

to walk and talk. In spite of the improvements,

he was unable to answer questions and his

communication skills were very poor. Leo

had very poor muscle tone, a lot of stress in

his body and physical activities such walking,

jumping and climbing were difficult for him.

Beginning with the first session with Terry,

he began showing improvement and with each

following session. Everyone from his teachers

to his grandparents noticed an increase in his

■ "I was in awful pain and the

MRI showed 2 pinched nerves

and stenosis. I scheduled surgery.

My daughter suggested Craniosacral therapy.

After only 2 visits the pain was reduced to

advanced craniosacral about 80% and therapy I canceled the surgery. I went

for a 3rd visit and I am about 90% better."

■ "Simply Amazing! One visit was all it took for

Terry to relieve 85% of my year long, nagging

(sometimes severe) neck/shoulder tightness/

pain!! My breathing improved tremendously."

physical strength, as well as improvements in

comprehension, speech and communication

skills. For the first time, he started participating

in class lessons and interacting with his

classmates. Terry has made a huge impact on

getting Leo to a place a little boy should be at

age four. We cannot thank Terry enough.

■ Terry's treatment helped our 6 week old

baby boy from recent hospitalization into

the first series of healthy bowel movements

when seemingly nothing could help. Our son

was able to latch onto the breast and for the

first time completed his feeding. He was much

calmer after working with Terry.

Terrence Grywinski

of Advanced

Craniosacral Therapy,

B.A., B.ED., LMT #MA 6049

Testimonials from Clients

■ "He was able to relieve tension that I have

been carrying around for 15 years or more.

I left his office table with more energy than I

have had in years."

■ "I began working with him because I was

dealing with anxieties, depression and lots of

emotional pain inside and out. You don't realized

how much stress can cause damage to

your body, mind and soul. I can say Terry was

a big help."

SOURCE:

■ Terrence Grywinski of Advanced Craniosacral Therapy,

B.A., B.ED., LMT #MA 6049. Terry has specialized in Craniosacral

Therapy since 1994 when he began his training at the Upledger

Institute. Described by his teachers, clients and colleagues

as a "gifted healer", Terry's intuitive sense and healing energy

provides immediate and lasting relief from injury, pain, mobility

issues as well as dysfunctions of the body and the brain. Part

of Terry's ongoing education, he has completed 4 craniosacral

brain and peripheral nervous system classes which enables him

to work at a cellular

level and with brain

dysfunctions.

Call 941-321-8757

for more information,

Google Advanced

Craniosacral

Therapy.

■ "On a recent vacation to Siesta Key, I re-injured

my back. I found Terry online. I can say

with complete joy that was the best decision

I made in the history of my back pain. I have

sought many modalities and visit a CST regularly

and never have I had such a healing in

my entire body.

After 3 sessions, I made a 16-hour drive

home with no pain or discomfort in my entire

body. Unbelievable. My body has a sense of

moving freely and that is completely new. I'm

advanced craniosacral therapy

so grateful to Terry for his knowledge, for his

sensitivity to my needs and his kind generosity

in healing my body. I will see him when I return

next year."

■ "I am a snowbird who spends 7 months

in Sarasota. I have had back problems for 25

years. Terry's techniques have led to a great

deal of release and relief in areas that have

been problematic. I have been seeing him over

the years when my body says "it's time". Usually

after a few sessions, I can tell a huge difference."

PAID ADVERTORIAL

MARCH 2022 WEST COAST WOMAN 23
---
travel news

Andy

Warhol:

Revelation

The Brooklyn

Museum of Art

has Andy Warhol:

Revelation. Although

Andy Warhol is one of

the most celebrated and

recognizable artists of the

twentieth century, his Byzantine Catholic upbringing,

and its profound impact on his life

and work, remains a lesser known facet of

his career. Andy Warhol: Revelation explores

the artist's lifelong relationship with his faith

that frequently appeared in his artworks.

From iconic portraits of celebrities to

appropriated Renaissance masterpieces,

Allegiant has a new nonstop route from

Sarasota Bradenton International Airport

beginning service this spring. The

new route is part of a nine-route expansion

across Allegiant's network.

The new route to Sarasota via Sarasota

Bradenton International Airport includes:

• Austin, Texas via Austin-Bergstrom International

Airport beginning April 14, 2022 .

The new nonstop routes include:

The new routes to Austin, Texas via Austin-

Bergstrom International Airport include:

• San Diego, California via San Diego International

Airport – beginning April 20, 2022.

• Washington, D.C. via Dulles International

Airport) – beginning April 21, 2022.

The new routes to Nashville, Tennessee via

Nashville International Airport include:

• Providence, Rhode Island via Rhode Island

T.F. Green International Airport – beginning

April 21.

Warhol played with styles and symbolism

from Catholic art history, carefully reframing

them within the context of Pop art and

culture. Throughout his life, Warhol retained

some of his Catholic rituals, while also

unapologetically living as an out gay man.

Runs to June 19, 2022. Tickets https://www.

brooklynmuseum.org/exhibitions.

Allegiant Has New Nonstop Service

Sarasota to Austin, TX

• Roanoke, Virginia via Roanoke-Blacksburg

Regional Airport – beginning April 21, 2022.

• Washington, D.C. via Dulles International

Airport – beginning April 21, 2022

The new routes to San Diego, California via

San Diego International Airport include:

• Austin, Texas via Austin-Bergstrom International

Airport– beginning April 20, 2022 .

• Sioux Falls, South Dakota via Sioux Falls

Regional Airport – beginning May 19, 2022 .

The new route to Orange County, California

via John Wayne Airport includes:

• Des Moines, Iowa via Des Moines International

Airport – beginning April 14, 2022 .

The new route to Savannah, Georgia via

Savannah/Hilton Head International

Airport includes:

• Flint Michigan via Flint Bishop International

Airport – beginning April 15, 2022 .

Visit allegiant.com

Avelo Airlines Begins New Nonstop Service

In January, Avelo Airlines began new

nonstop service from Sarasota Bradenton

International Airport to Southern

Connecticut's Tweed-New Haven Airport

in New Haven, CT.

Avelo's nonstop service will operate three

times a week on Tuesdays, Thursdays and

Sundays. Best known as the home of Yale

University, New Haven is the second largest

city in Connecticut and is part of the New

York metropolitan area.

In addition to Sarasota-Bradenton, Avelo

serves five additional Florida destinations

from HVN: Fort Lauderdale, Fort Myers,

Orlando, The Palm Beaches and Tampa.

Avelo is the first airline to offer nonstop

flights between HVN and Florida.

Avelo's fares have no change or cancellation

fees. There is also no charge for

customers who choose to make reservations

by phone. Avelo operates 147-seat 737-700

Boeing jets to HVN and offers several seating

options, including seats with extra leg

room, as well as pre-reserved window and

aisle seating.

Avelo currently serves 19 destinations

across the U.S. For more information visit

AveloAir.com.

Hyatt Regency Coconut Point Resort & Spa

completes renovation

Hyatt Regency Coconut Point Resort

& Spa in Naples has completed

a multi-million-dollar renovation

project. The property's 426 guestrooms and

28 suites include everything from new hard

wood flooring, to coconut wood bed frames,

sandy-colored light fixtures, and more.

Hyatt Regency Coconut Point features a

waterfront getaway on Florida's southwest

coast. The resort provides a three-acre water

park featuring a river lined with palm trees,

five water slides including a pair of dueling

slides, and several pools. The water park also

features an adults-only section with a pool

and hot tub as well as several cabana rental

options throughout the resort.

Outside of the water park, guests can

explore a 1/4-mile boardwalk that winds

through the mangrove forest. At the end of

the boardwalk sits the resort's marina which

provides ferry service to Big Hickory Island,

a private island that is part of the Estero Bay

Ecological Preserve.

Once on the island, the resort provides

National Park Service Fee-Free days

for 2022

The National Park Service

has entrance fee-free days in

2022. There's at least one national

park in every state. The free entrance

dates for 2022 are:

■ Saturday, April 16 – First Day of

National Park Week

■ Thursday, August 4 – Anniversary

of the Great American Outdoors Act

■ Saturday, September 24 – National

Public Lands Day

■ Friday, November 11 – Veterans Day

Recreational experiences can range

from picnic to white-water adventure and

everything in between, including walking,

camping, fishing, stargazing, swimming

and paddling.

Visitors are encouraged to begin their

trip to a national park with a stop at NPS.

gov or the NPS app to help plan and

prepare. Online you can find tips to help

you Plan Like a Park Ranger and Recreate

Responsibly. It's important to know

before you go what is open and available,

especially if you are interested in staying

overnight. There are maps, updated conditions

and suggested activities to help you

Love Bowie? This is for you

The National Liberty Museum is

celebrating Philly Loves Bowie Week

with "Deconstructing Bowie: Freedom

in Eccentricity," which will run until April

3 in honor of the life and artistic legacy of

David Bowie. Bowie loved Philadelphia, and

it loved him back. From recording his first

live album at the Tower Theater in Upper

Darby, to filming a music video for "Modern

Love" at Spectrum Arena during a four-performance

stint, the Starman shined bright

across the city.

Following his death in 2016, local organizers

and fans tried to think of a way in which

to honor the artist's legacy. They came to establish

Philly Loves Bowie Week, a celebration

of his life and memory complete with

events and a silent auction each year.

According to the museum, "Deconstructing

Bowie" is about the power of music and

art to challenge cultural perceptions and

expectations in order to drive change.

All of the artwork shown in the exhibit is

for sale, with a portion of the proceeds being

donated to Children's Hospital of Philadelphia's

Cancer Center.

The National Liberty Museum is located

at 321 Chestnut St., Philadelphia, PA. https://

www.libertymuseum.org/.

chairs and umbrellas for guests to enjoy the

white sand beach throughout the day. Guests

can also enjoy lawn games on the resort's

grassy courtyards, roast marshmallows and

make s'mores at palm tree-shaded fire pits,

or practice their golf skills at a lakeside practice

putting green.

The resort also features rejuvenating spa

treatments at Stillwater Spa, yoga classes

offered on select dates, and live music in its

Belvedere Lounge.

For more information, visit hyattregencycoconutpoint.com

or call (239) 444-1234.

decide where to go and what to do. Visitors

should follow Leave No Trace principles.

The entrance fee waiver for the fee-free

days applies only to National Park Service

entrance fees and does not cover amenity or

user fees for activities such as camping, boat

launches, transportation or special tours.

Most national parks do not have entrance

fees at all. Out of more than 400 national

parks, approximately 110 have admission

fees that range from $5 to $. All

of the money provided by entrance fees

remain in the National Park Service and

80-100% stays in the park where collected.

The funds are used to directly support the

visitor experience by providing programs

and services, habitat restoration and building

maintenance and repair.

Free annual passes to more than 2,000

federal recreation areas, including all

national parks, are available for members

of the U.S. Military and their dependents,

U.S. Military veterans, Gold Star

Families, fourth grade students, and eligible

NPS volunteers. U.S. Citizens with a

permanent disability can obtain a free lifetime

pass. U.S. Citizens 62 years and older

can purchase an $80 lifetime pass or a $20

annual pass. And the annual $80 America

the Beautiful National Parks and Federal

Recreational Lands Pass is a great

option for those who visit multiple parks

each year. Those traveling with passholders

can usually also enter parks for free.

Other federal land management agencies

offering their own fee-free days in

2022 are the U.S. Fish & Wildlife Service,

Bureau of Land Management, Bureau of

Reclamation, U.S. Forest Service and U.S.

Army Corps of Engineers. More info at

www.nps.gov.

24 WEST COAST WOMAN MARCH 2022
---
SSF2022_WestCoastWoman_Ad_03.pdf 1 2/16/22 4:41 PM

C

M

Y

CM

MY

CY

CMY

K

MARCH 2022 WEST COAST WOMAN 25
---
At Preferred Shore, our culture is centered on customer

service and professionalism. As a Preferred Shore client,

you can expect VIP representation in any transaction,

from a quaint condo unit to sprawling estate and

everything in between. You can be rest assured knowing

that not only will we will be by your side during the

purchase or sale of your home, but the entire office is

working to assist you with a smooth and skilled

transaction.

"Veronica and Mili are a great team. They have

extensive knowledge of our community and vast sphere

of influence that helped sell my home within 24 hours.

They are dynamic and an amazing marketers and

negotiators." - Raymond B.

"We had an a amazing experience when I sold my

home, thanks to Veronica and Mili. They are always

available, patient and a solid and trusted advisors."

- Cynthia W.

941.807.7321

veronica@yourfloridahometeam.com

mili@yourfloridahometeam.com

www.yourfloridahometeam.com

26 WEST COAST WOMAN MARCH 2022
---
happening this month

TRY A THERAPY

THAT WORKS!

Through Women's Eyes

International Film Festival

Runs March 10-14 offering 37 curated films

from 15 countries

W

ith all that movie streaming

available, why watch a

local film festival? Because

this virtual festival offers

a unique, curated lineup that offers all

audiences international experiences they

won't get elsewhere — films that can

make viewers stretch, share ideas, laugh,

and maybe even cry.

The Through Women's Eyes International

Film Festival, held this year

on March 10-14, has a film lineup of 37

carefully curated movies from 15 countries,

including Ukraine, Pakistan and

Egypt. Now in its 23rd year, Through Women's

Eyes champions women's artistic voices,

filmmakers, and content. This year they

have nine films by Emerging Filmmakers.

Produced by UN Women USA Gulf Coast

in Sarasota-Manatee, the festival is in person

and virtual, the latter giving it a global

audience, with viewers last year from 33

states and 18 countries.

There will be a celebration and handing

out of film awards 1-3 p.m. on Sunday,

March 13, at Fogartyville Community and

Media Arts Center.

Check out a few of this year's 37 films:

Films with local connections:

■ Code Red: Why is menstruation still

stigmatized? Watch

how a Ringling College

graduate takes a

whimsical, super-creative

take on middle-schoolers

tackling

menstruation on

their own. This film

is for everyone: men

and women and definitely

all teens.

■ Little Satchmo: To the world, Louis

Armstrong was iconic — a symbol of musical

genius, unparalleled success, and

unassailable character. To Sarasota resident

Sharon Preston-Folta, he was simply

"Dad." The only child of Armstrong, Ms.

Preston-Folta shares her experience about

growing up with a famous father who never

publicly acknowledged her. How did that

shape her life?

■ The Marvelous Martha: Sarasota

author Jane Plitt has added filmmaker to

her resume. Watch the captivating buried

story of Martha Matilda Harper, a 19th

century servant girl who created modern

retail franchising

and a worldwide

network of 500

shops, all while

empowering

poor women.

Archival footage

documents Harper's

saga - and

Sarasota and

Manatee community

leaders

helped provide the voice overs. Plitt has

written three Martha books: Martha's Magical

Hair, Martha the Hairpreneur, Martha

Matilda Harper and the American Dream.

Domestic Films

■ Being Me in the Current America:

Think you know what racial profiling really

looks like? Think

again - and take in

this monologue.

Race, gender, orientation,

and national

origin all intersect

to make us who

we are - and they

condition how the

world reacts to us.

■ This is Jessica:

On the surface, this

documentary of a

trans woman growing

up in a Mormon family

is atypical. But really,

her story is universal.

Do you know anyone

who: grew up in a doctrinaire

religion, had

parents who deeply

loved them (but conditionally),

was in the US military, married

a person not right for them, or struggled to

live a life that was their own?

■ Open Field: Football lovers, here is our

TWE valentine to the game. Yes, women

play football, and they play tackle football,

and they probably aren't anything like

what you imagine. Not only that, you've

probably seen many of these real-life women

on the NFL sidelines, coaching for the

Tampa Bay Bucs, the Kansas City Chiefs,

and others.

International Films:

■ Out Swing: The men in this traditional,

conservative village in Pakistan aren't sure

they want young girls playing sports, much

less competing in a cricket match far from

home. Plus the girls have no equipment,

and little money for anything else. But the

girls, and their unusual coach, think they

can prevail. Mesmerizing, even if you don't

know much about cricket.

■ Exposure: Explorer Felicity Aston

wants women from diverse cultures to ski

to the North Pole together. Complications:

they've never met each other, and half

have never skied before, much less hauled

a week's worth of gear by sledge on polar

ice caps. But they need to forge relationships

to complete their journey. Sure to

excite the adventurer in us all and the

footage of a trek to the North Pole is like

nothing you've ever seen.

2022 Through Women's Eyes

International Film Festival Fast Facts

Dates: March 10-14

Offering virtual streaming plus in-person

events.

Visit Twe2022.eventive.org for schedule,

trailers, and more. For more information

or questions, contact gulfcoast@

unwomenusa.org

All net proceeds support the work of

UN Women.

Immediate Relief Beginning

with the First Session:

Chronic Pain: Sciatic, Back, Neck and TMJ

Migraines, Foggy Brain and

Lack of Concentration

Sight and Eye Problems

Asthma, Bronchitis, COPD, Shallow Breathing

Digestive and Constipation Issues

Leaky gut and Autoimmune problems

Chronic Fatigue, Fibromyalgia and Depression

Concussions, Brain and Spinal Cord Health

Mobility and Energy Issues for Seniors

T. Grywinski specializes in difficult issues with great success

How Craniosacral Therapy Can Be Life Changing

"Doctors, physical therapists, massage therapists and chiros

gave me little relief. Terry relieved my pain, after all these years!

He has also helped four of my other friends. The man is an angel,

with a gift from God....thank you Terry!!"

"After 3 sessions, I had more range of motion and mobility in my

neck, shoulders and hips. I was getting to the point where walking

and moving was difficult. It feels like a weight has been lifted off my

shoulders, my voice is stronger and my energy is greatly increased.

I feel much calmer and more grounded!!"

"I no longer feel physically sick each morning. No gastroenterologist

or physician has ever properly diagnosed my mucus build up until

now. As well as bringing about healing in my gut, he released an

incredible amount of tension in my upper body."

"The question is where has he been all my life? Terry is a true healer

and if you are serious about being well, you are in luck.

He is effective and lovely."

advanced craniosacral therapy

Terrence B. Grywinski

B.A., B.Ed., LMT MA6049

25 Years of Experience

advcst.com

See full page explanation of Craniosacral Therapy and

how it can help you in another section of this issue

Downtown Sarasota • 941-321-8757

Google "Advanced Craniosacral Therapy Sarasota" for more info

MARCH 2022 WEST COAST WOMAN 27
---
Journey

to the

past.

SARASOTA PREMIERE!

FRI, MAR 18* • 7:30PM

SAT, MAR 19 • 2PM & 7:30PM

SUN, MAR 20 • 1PM & 6:30PM

Sponsored by Wilde Lexus Sarasota and ABC7

*Young people

ages 5-18 can

see the show

for FREE when

accompanied by a

full-paying adult!

TICKETS & PRESHOW DINING

941.263.6799

vanwezel.org

Box Office: M-F 10-6, Sat 10-4,

Open Later on Show Days

Prices, dates and times subject to change without notice.

View the Latest Safety Protocols on Our Website

28 WEST COAST WOMAN MARCH 2022
---
dining in

Citrusy things

Florida oranges are plentiful from October through June, although

the largest quantities are available from December through May. So here

are some recipes if your tree or yard is covered in bright orange. We've

also got some recipes that include limes and lemons. Squeeze away!

F Lime and Chicken Soup with Avocado

Lime and Chicken Soup with Avocado T

2 Tbsp. extra-virgin olive oil

1 large yellow onion, chopped

3 stalks celery, thinly sliced

1 medium jalapeño pepper, seeded,

diced

5 cloves garlic, minced

1 lb. boneless, skinless chicken

breast

1 cup frozen corn

1 can (14.5 oz.) no salt added diced

tomatoes

In soup pot, heat oil over medium-high heat. Sauté onion, celery, jalapeño and garlic

for 6 minutes or until tender.

Add whole chicken breast, corn, tomatoes, broth, Italian seasoning, oregano and cumin

to pot. Stir to mix ingredients.

Over high heat bring soup to a boil. Reduce heat, cover and simmer for 55 minutes.

Remove chicken breast to large platter and shred using two folks. Return chicken to soup.

Over strainer to catch seeds, squeeze juice of 2 limes into soup. Add cilantro and gently

stir. Ladle soup into serving bowls.

Top each bowl with avocado, garnish with lime wedge and serve.

Makes 6 servings (about 2 cups per serving). Per serving: 280 calories.

1/2 cup cucumber, diced

1 cup cherry tomatoes,

cut in half

2 small cloves garlic, minced

1/4 cup red onion, chopped

1 bunch cilantro

2 cups spinach, thinly sliced

1 15.5 oz can no salt added

garbanzo beans (drained

and rinsed)

1 cup cooked and cooled quinoa

2 medium avocados, diced

DRESSING:

Juice of 2 lemons

Zest of 1 lemon

Chicken soup may be a winter

staple, but zesty lime and

fresh avocado can easily dress

this dish up for any day. This

recipe features a medley of

colorful veggies, Italian herbs

and juicy citrus. Limes are an

excellent source of vitamin C.

They're also packed with phytochemicals

like limonoids

and flavonoids, making them

an excellent part of any cancer-protective

meal.

6 cups fat-free, reduced-sodium

chicken broth

1 1/2 tsp. Italian seasoning

1 tsp. oregano

1/4 tsp. cumin

3 medium limes, 2 cut in half, 1 cut

into 6 wedges for garnish

1/2 bunch cilantro, rinsed,

chopped

1 medium avocado, cut into ½

-inch cube

F Citrus Quinoa Avocado Salad

Citrus Quinoa Avocado Salad T

This colorful quinoa salad is full of

vibrant flavors with the addition of

lemons and fresh cilantro. It is also

rich in cancer-fighting foods including

omega-3-rich avocados combined

with fiber-rich quinoa, chickpeas and

fresh vegetables. The dish is plantbased,

but hearty and filling enough

to be a satisfying meal.

Place all salad ingredients in a bowl.

Whisk all dressing ingredients together in a separate bowl.

Drizzle dressing over salad mixture and gently toss ingredients together until dressing

is incorporated throughout.

Makes 4 servings. Per serving: 390 calories.

2 tsp. Dijon mustard

1 Tbsp. olive oil

1 tsp. honey

1/2 tsp. ground cumin

Dash of cayenne pepper (optional)

Salt and pepper, to taste

F Olive Oil-Orange Sugar Cookies

Olive Oil-Orange Sugar Cookies T

COOKIES:

1/2 cup olive oil

8 tablespoons unsalted butter, softened

1/2 cup confectioners' sugar,

sifted if lumpy

1/2 cup granulated sugar

zest (grated rind) of 1 large or

2 small oranges

1 large egg

2 teaspoons vanilla extract

1/4 teaspoon nutmeg

1/4 teaspoon cloves

1/4 teaspoon cardamom

To make the dough: In a large bowl, combine the oil, butter, sugars, and zest; beat

until combined. (Avoid overmixing at this stage; if the butter is creamed until light and

fluffy, the cookies will have a dome shape instead of being flat and crackly on the top.)

Add the egg, vanilla, and spices, beating until smooth.Add the baking soda, baking

powder, salt, and flour; mix until smooth. Cover the bowl and refrigerate the dough for

at least 2 hours, until it's stiff enough to scoop easily and hold its shape; overnight is fine.

To assemble and bake: Preheat the oven to 350°F. Lightly grease two baking sheets, or

line with parchment.Put the sugar for coating in a bowl and combine with the spices.

Rub the zest into the mixture, stirring until well blended.

Scoop the chilled dough by the tablespoonful (a level tablespoon cookie scoop works

well here) and roll in the sugar to coat.

Place the balls of dough on the prepared baking sheets, leaving 1 1/2" between them.

Bake the cookies for 12 to 15 minutes, until the edges just begin to brown. Remove

them from the oven and let them cool on the pan for 10 minutes before transferring to

a rack to cool completely.

YIELD 2-1/2 dozen 3" cookies.

F Orange Cream Shake

1 large, ripe banana, peeled and

quartered

1/2 cup orange juice (from 2 fresh

medium oranges, or use prepared)

1 medium orange, zest and fruit

Place bananas and orange juice in the container of a blender.

Behold the humble sugar cookie,

given a fresh new flavor using orange

zest. A quartet of spices round

it all out — earthy turmeric and

cardamom plus nutmeg and clove.

Revamped with warm spices

and kissed with orange zest,

these cookies are delicate yet packed

with flavor. Cardamom and turmeric

are members of the same botanical

family, and they pair beautifully

with nutmeg and cloves. The subtle

olive oil flavor makes these a sophisticated

cookie, while the turmeric

provides a pop of natural color.

1/2 teaspoon turmeric

1/8 teaspoon baking soda

3/4 teaspoon baking powder

1/2 teaspoon salt

2 cups unbleached all-purpose flour

COATING:

1/2 cup granulated sugar

1/4 teaspoon cardamom

1/4 teaspoon turmeric

zest (grated rind) of 1 large or

2 small oranges

Orange Cream Shake T

Use a fine grater or zester to create zest from 1 medium orange and add to blender. Peel

orange, divide into sections and add to blender.

Add yogurt, vanilla extract and ice cubes to blender and process for a few seconds until

creamy and smooth. Pour into 2 large glasses and serve immediately.

Tip: Pour mixture into Popsicle molds and freeze for a healthy dessert.

Makes 2 servings (1-1/2 cup). Per serving: 160 calories.

Turn to the flavorful combination

of oranges, bananas

and yogurt to create a far

healthier version of an Orange

Creamsicle Shake. With

just five ingredients, you can

create a smooth, rich, fruitpacked

smoothie. Citrus

fruits are packed with disease-protective

antioxidant

compounds, and bananas offer

a pure sweet, creamy flavor

to replace added sugars in this

recipe. Yogurt provides creaminess,

plus a boost of protein.

1/2 cup vanilla yogurt (dairy or

plant based)

1 tsp. vanilla extract

5 ice cubes

MARCH 2022 WEST COAST WOMAN 29
---
NEED A LITTLE BLACK DRESS?

nonprofit news

WE

HAVE

YOURS.

Lakewood Ranch Women's

Club Donates over $ 53,000 to

their Adopted Charities

Charities include HOPE Family Services,

SMART , Solve Maternity Homes,

and Children's Guardian Fund

DESIGNING WOMEN BOUTIQUE

Upscale Resale & Estate Liquidation

Where Fashion Meets Philanthropy

1226 North Tamiami Trail

DesigningWomenSRQ.org

941.366.5293

A 501c3 Benefiting Local Arts & Human

Services Organizations

Photography by: Markus Drew

Book Your Special Event at Mattison's Forty-One!

Forty-One & Catering

Inside & Al Fresco Dining

Multiple Private Event Spaces

mattisons.com

941-921-3400

Newly Renovated

Holiday Entertaining A La Carte Menus

LWRWC Donates $32,000 in cash to their Adopted Charities. Pictured L-R: Rebecca Blitz, Executive Director

of SMART, Svetlana Ivashchenko, Executive Director, Children's Guardian Fund, Laurel Lynch, Executive

Director of HOPE Family Services, and Peggy Kerwin, Executive Director, Solve Maternity Homes.

T

he Lakewood Ranch Women's

Club (LWRWC) presented safe housing and a structured program

pregnant women in need by providing

their donation of $32,000 in customized for each woman. In her remarks,

Angie described the trauma of

cash and over $21,000 in-kind

to their 501(c)(3) adopted charities

at their general meeting this past Jan-

expecting a homeless shelter, but Solve

being pregnant and homeless. Angie was

uary at the LWR Townhall. The charities offered her a home. Angie is now part

include HOPE Family Services, SMART of the Evolve program for new mothers

pursuing a higher education. SOLVE

(Sarasota Manatee Association for Riding

Therapy), Solve Maternity Homes, has been assisting pregnant women for

and Children's Guardian Fund (CGF). The over 45 years and just welcomed their

donations marked the culmination of a 1,410th baby.

successful year of charity fundraising in Laurel Lynch has been the Executive

spite of the pandemic.

Director of Hope Family Services for 25

Moving presentations by the executive

directors from each charity, illus-

lives and offers a safe place 24 hours a

years. HOPE is in the business of saving

trated the positive impact that the support

made in the lives of the people they vivors of domestic violence. In addition

day, 365 days a year, for victims and sur-

serve. Rebecca Blitz, Executive Director to emergency safe shelter, HOPE provides

of SMART, shared that she fell in love advocacy, counseling, and children's services.

Throughout the pandemic, HOPE

with the empathetic SMART horses used

in the therapeutic horseback riding and had to pivot to address the needs of victims

who were literally trapped with their

carriage driving programs to enhance

the physical, emotional, and cognitive abusers. Accordingly, HOPE provided a

growth of children and adults with special

needs. Rebecca expanded SMART'S word by texting Survivor to 69922.

way for victims to speak without saying a

programs to serve more veterans with The LWRWC is marking its 25th birthday

in 2022 and celebrating 25 years of

PTSD, sex trafficking victims, first responders,

and Parkinson's patients. charitable giving to those in need. "Fun,

Svetlana Ivashchenko, Executive Director,

Children's Guardian Fund, explained the Women's Club motto. The LWR Wom-

Friendship, and Community Service" is

that CGF immediately responds to the en's Club meets monthly for a range of

needs of children removed from abusive activities such as luncheons, sightseeing

or neglectful homes. CGF partners with tours, movie nights, shopping expeditions,

educational seminars, fund raising

the Guardian ad Litem program and provides

funding to meet emergency needs events, and business meetings.

of 1200 children in foster and state care Business meetings are held at 6:30

in Florida's 12th Judicial Circuit. CGF provides

beds, cribs, summer camp and ac-

months at the Lakewood Ranch Town

pm on the second Thursday of selected

tivities, academic tutoring, birthday and Hall, LWR Blvd, LWR. Meetings include

holiday gifts, clothing, and other essentials

to enable normalcy and enrichment. For more information about LWRWC,

a social "meet and greet" and a program.

Peggy Kerwin, Executive Director, Solve, or to join, visit www.lwrwc.org.

accompanied by Angie, a young mother, Content provided by by Monika Templeman,

told how SOLVE Maternity Homes offers

LWRWC Publicity Chair

30 WEST COAST WOMAN MARCH 2022
---
Windows and Patio Doors!

BUY ONE, GET ONE

40 % OFF1

AND

$

0 Money Down

$

0 Interest

$ 0 Monthly Payments

for 12 months 1

Interest accrues from the date of purchase but is waived if paid in full within 12 months. Minimum purchase of 4.

4.7 OUT OF 5 BASED ON 95,000+ REVIEWS

" My overall experience was great. I love the window, and from sales to scheduling, the experience was very good. The installers are highly skilled

professionals and I would recommend Renewal by Andersen to all my contacts." – LYNN F. | RENEWAL BY ANDERSEN CUSTOMER

KEEP THE HEAT IN AND THE COLD AIR OUT!

Solving your window problems and having a comfortable home is easy and enjoyable

when you choose Renewal by Andersen. With this great offer, you save money on your

window project – and you'll also save on high energy bills for years to come!

Call by May 31

for your FREE consultation.

877-710-0048

49%

MORE EFFICIENT 2

Keep the

heat in and

the cold out.

1

DETAILS OF OFFER: Offer expires 5/31/2022. Not valid with other offers or prior purchases. Buy one (1) window or entry/patio door, get one (1) window or entry/patio door 40% off, and 12 months $0 money down, $0 monthly payments, 0% interest when you purchase four (4) or more windows or entry/patio doors between 1/1/2022 and 5/31/2022. 40% off windows and entry/patio doors are

less than or equal to lowest cost window or entry/patio door in the order. Subject to credit approval. Interest is billed during the promotional period, but all interest is waived if the purchase amount is paid before the expiration of the promotional period. Financing for GreenSky® consumer loan programs is provided by federally insured, federal and state chartered financial institutions without

regard to age, race, color, religion, national origin, gender, or familial status. Savings comparison based on purchase of a single unit at list price. Available at participating locations and offer applies throughout the service area. See your local Renewal by Andersen location for details. License number available upon request. Some Renewal by Andersen locations are independently owned and

operated. 2Values are based on comparison of Renewal by Andersen® double-hung window U-Factor to the U-Factor for clear dual-pane glass non-metal frame default values from the 2006, 2009, 2012, 2015, and 2018 International Energy Conservation Code "Glazed Fenestration" Default Tables. "Renewal by Andersen" and all other marks where denoted are trademarks of Andersen Corporation.

© 2022 Andersen Corporation. All rights reserved. RBA12848 *Using U.S. and imported parts.

DENTAL Insurance

If you've put off dental care, it's easy to get back on track. Call Physicians

Mutual Insurance Company now for inexpensive dental insurance.

Getting back to the dentist couldn't be easier!

CALL TODAY

1-855-637-6404

Dental50Plus.com/westcoast

Get your FREE

Information Kit

Product not available in all states. Includes the Participating (in GA: Designated) Providers and Preventive Benefits Rider. Acceptance guaranteed for one insurance policy/certificate of this type. Contact us for complete

details about this insurance solicitation. This specific offer is not available in CO, NY; call 1-800-969-4781 or respond for similar offer. Certificate C250A (ID: C250E; PA: C250Q); Insurance Policy P150 (GA: P150GA;

NY: P150NY; OK: P150OK; TN: P150TN). Rider kinds: B438, B439 (GA: B439B).

6208-0721

MARCH 2022 WEST COAST WOMAN 31
---
How would you fill in the blank?

Hormones are an essential component of almost every

cell and every major function of our body. Balance is critical

and can bring about remarkable improvements in many

aspects of life.

more energy

Happiness is improved relationships?

better sleep

Reasons to Participate in Bio-identical Hormone Balancing

• Restoring mental and physical balance • Losing and managing weight

• Enhancing athletic performance

• Normalizing sleep/wake cycles

• Gaining control over emotions

• Increasing energy and focus

• Reducing anxiety and depression

• Boosting intimacy and sexuality

• Improving relationships

• Improving bone strength and joint health

Call today 941.926.4905

Dan Watts, MD, ND, MSMN

Board Certification:

American Board of Integrative Medicine

American College of Obstetrics and Gynecology

Post-doctoral Certification in Metabolic

Endocrinology

Post-doctoral Master's in Nutritional and

Metabolic Medicine

Fellowship: American Academy of Anti-Aging

Medicine: Anti-Aging, Regenerative, and

Functional Medicine

Fellowship: American College of Surgeons

Lynne Streitmatter, APRN, MS, NP-C

Board Certified Advanced Registered Nurse Practitioner

Specialties Include:

Gynecology

Bio-identical Hormone Balancing

Weight Loss

IV Therapy

Family Medicine

Age Management | Men's Health | Gynecology

Bio-identical Hormone Balancing | Strength and Conditioning

Weight Loss | IV Therapy | Brain Health

Toxin Elimination | Digestive Health | Heart Health

4905 Clark Road, Sarasota, FL 34233

941.926.4905 | www.TheRenewalPoint.com

32 WEST COAST WOMAN MARCH 2022