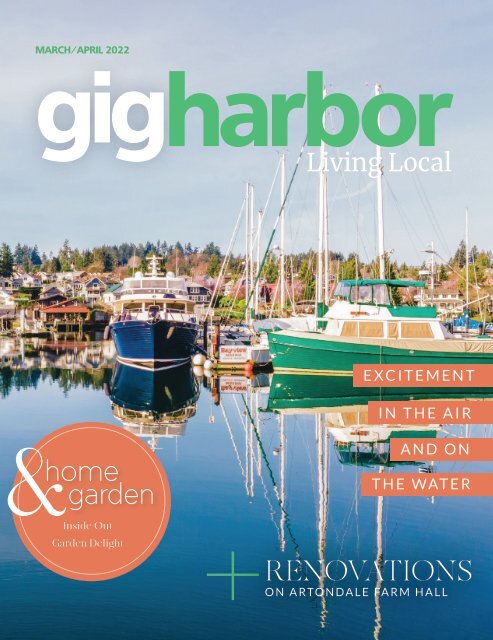 March/April 2022 Gig Harbor Living Local
March/April 2022 Gig Harbor Living Local
March/April 2022 Gig Harbor Living Local
SHOW MORE
SHOW LESS
You also want an ePaper? Increase the reach of your titles
YUMPU automatically turns print PDFs into web optimized ePapers that Google loves.
MARCH/APRIL 2022

gigharbor

gigharbor

Living Local

EXCITEMENT

IN THE AIR

& home garden

Inside/Out

~

Garden Delight

AND ON

THE WATER

RENOVATIONS

ON ARTONDALE FARM HALL

GIG HARBOR LIVING LOCAL march/april 2022 |

1
---
Serving Gig Harbor

Since 1961

Olympic Pharmacy and Healthcare Services has grown into a

leading provider of medical supplies and equipment to the Puget

Sound area. Our mission is to provide our customers with the highest

quality products, exceptional customer service and to be an active

participant in our patients' healthcare and well-being.

HQAA

ACCREDITED

4700 Pt. Fosdick Dr. Ste. 120

Gig Harbor, WA 98335

253.858.9941

Home Medical Equipment | Full-Service Repair | Home Delivery | Exceptional Patient Care | Local

2 | GIG HARBOR LIVING LOCAL march/april 2022
---
THE PREMIER LUXURY BROKERAGE

PENDING IN 3 DAYS

PENDING IN 6 DAYS

PRISTINE SINGLE STORY LIVING

IN CANTERWOOD

Offered at $1,199,000

MLS #1885267

1300' OF MAGICAL

WATERFRONT LIVING

Offered at $1,650,000

MLS #1881044

OVER 3 ACRES

OF WONDERFUL

FARM STYLE

LIVING! CLOSE

IN LOCATION TO

EVERYTHING!

MLS # 1891834

JENSEN WESTMORELAND

Broker

253.240.5514

CAROLYN WESTMORELAND

Designated Broker/Owner

253.961.5596

GIG HARBOR LIVING LOCAL march/april 2022 |

3
---
GIG HARBOR

MEDICAL SPA

Specializing in home and business "spa parties," Botox, Dysport,

Juvederm and Restalyne fillers,

Plasma Pen Skin Tightening & vitamin B12 injections.

WE'RE EXPANDING!

IN MORE WAYS THAN ONE!

Nursing staff and services added for our NEW

Gig Harbor Medical Spa. Please check our website for

more days and times to suit your needs

Aleigh Stewart, RN

Mary Abbott, RN

BOOK YOUR APPOINTMENT ONLINE TODAY!

GIGHARBORBOTOX.COM

Gig Harbor Botox Co. | 253.649.3916 | 11515 Burnam Dr., Ste. 104B, Gig Harbor, WA

4 | GIG HARBOR LIVING LOCAL march/april 2022
---
Chris Nokes / Owner

253-442-0065 / chrisnokesdesign.com

ARCHITECTURAL DESIGN & RESIDENTIAL SITE PLANS

ADDITIONS | REMODELS | KITCHENS | DECKS | GARAGES

GIG HARBOR LIVING LOCAL march/april 2022 |

5
---
AS INDEPENDENT

MORTGAGE BROKERS

we work on YOUR BEHALF with YOUR

GOALS and BEST INTERESTS in mind.

"As a first-time home buyer, I was so intimidated by the process, as

you probably are if you are reading this. I'm here to tell you not to

worry. Get in touch with Northwest Mortgage Services. Our loan

officer, Abel Hernandez, was fantastic. He made sure my wife and I

were informed every step of the way, and was very responsive to my

calls and questions. I was seeking a VA Loan, so I had a few extra

concerns on requirements and things to consider, but Abel and his

team are extremely experienced in this aspect as well. The bottom

line is they care about what they do, and who they are doing it for.

The only thing I would have done differently is calling them sooner."

- James Santos

PROVIDING QUALITY MORTGAGE SERVICES FOR OVER 33 YEARS

Abel Hernandez, Loan Officer

MLO#1718944

abel@northwestmortgageservices.com

Jeff Carr, President

MLO#102392

jeff@northwestmortgageservices.com

253.851.1687 | 7116 Stinson Ave. Suite A205, Gig Harbor, WA |

info@northwestmortgageservices.com | NorthwestMortgageServices.com | local & veteran-owned

6 | GIG HARBOR LIVING LOCAL march/april 2022
---
Diamonds are forever~

Make every moment count

Locally Owned & Operated

Fine & Custom Jewelry • Repairs • Appraisals • Citizen Watches

GIG HARBOR

LIVING LOCAL'S

2021

WINNER

Open Monday - Saturday | 11AM-6PM

Find Us

253.514.8478 | 4711 Point Fosdick Drive NW | Gig Harbor, WA 98335

GIG HARBOR LIVING LOCAL march/april 2022 |

7
---
We are proud to announce that

Amber Colglazier,

Licensed Medical Esthetician,

has joined our team!!

Healthy, Glowing,

Fashionable?

Self.

Made.

.

new

Get the skin to match.

Artistic Plastic Surgery Center's Medical Esthetician can help.

Facial Rejuvination | SkinPen Microneedling | PRP | Acne/Acne Scar Treatments

Smooth Beam Laser Treatment | Rosacea | Spider Vein Treatment | Laser Hair Removal

Vbeam Laser Therapy | Radio Frequency Skin Tightening | Obagi ® Blue Peel

PCA Chemical Peels | Waxing Services

Skin Medica ® , Obagi NuDerm ® , Epionce ® , Jan Marini ®

KHASH A. DEHGHAN, MD, PHD, FACS

Board Certified Plastic Surgeon

3515 S. 15th St., Suite 101, Tacoma, WA

ArtisticPlasticSurgery.com

Call for a consultation: 253.756.0933

253.756.0933

Office of Khash A. Dehghan, MD, PHD, FACS

3515 S. 15th St., Suite 101, Tacoma, WA | ArtisticPlasticSurgery.com

8 | GIG HARBOR LIVING LOCAL march/april 2022
---
jennie wetter jennie wetter

jennie wetter

GIG HARBOR LIVING LOCAL march/april 2022 |

9
---
must reads

march/april 2022

26

GARDEN DELIGHT

Fresh ideas for the garden

50

PUT THE SPRING IN SPRING TRAINING

How to best prepare your

young athlete

98

SPRING FORWARD THIS SEASON

Silverton, Oregon's Garden City

10 | GIG HARBOR LIVING LOCAL march/april 2022
---
Live Life Smiling!

CALL TODAY TO SCHEDULE AN APPOINTMENT

WITH DR. BRIAN DANSIE & HIS STAFF

DR. BRIAN DANSIE

Pediatric Dental Specialist

ACCEPTING NEW PATIENTS!

3316 56th ST. NW, STE. 100 | Gig Harbor, WA 98335 | 253.329.KIDS (5437)

frontdesk@thekidsdentistgh.com | thekidsdentistgigharbor.com

GIG HARBOR LIVING LOCAL march/april 2022 |

11
---
gigharbor

Living Local

marketing

DIRECTOR OF MARKETING

Julie Reed | 253.363.8832

julie@like-media.com

DIRECTOR OF PRODUCT MARKETING

Jackson Russo | 208.610.4416

jackson@like-media.com

editorial

EDITOR

Jillian Chandler | jillian@like-media.com

STAFF WRITERS

Colin Anderson | Taylor Shillam

Rachel Kelly | Joshua Nishimoto

design

CREATIVE DIRECTOR | Maddie Horton

LEAD GRAPHIC DESIGNER | Darbey Russo

GRAPHIC DESIGNER | Kennedy Pew

DIGITAL CREATIVE DIRECTOR | Whitney Lebsock

accounting & operations

DIRECTOR OF OPERATIONS | Rachel Figgins

EXECUTIVE DIRECTOR | Steve Russo

MANAGING PARTNER | Kim Russo

contributors

Jennifer Hawkins, Felicia Soleil, Nancy Harris, Jennifer "Taz"

Vazquez, Christopher Stadtherr, Kandi Moller, Serina Jones,

Susan Moore, Marguerite Cleveland

photography

PHOTOGRAPHERS:

In-Gear Media pg. 1, 34-37, Marguerite Cleveland 98-104,

Christy Ash pg. 40, LUX Photography pg. 41, Cathy Kasperbauer

pg. 46-48, Chance Busey pg. 48, Chrisy Dorsey pg.112

COURTESY PHOTOS:

Jess and Scott Hogan, Travel Salem

gig harbor living local

magazine is brought to you by Like-Media.com. If

you would like to advertise with us, please call 253.363.8832

or email julie@like-media.com. To submit articles, photos,

nominations and events, email us at info@like-media.com.

Advertising Agency

We specialize in small spaces & big dreams.

compact design, accessory dwelling units (ADUs), small footprint,

First consultation is complimentary.

253 376 7935 - brettmarlo.com - LICENSE # BRET TMD892QP

Living Local magazine is published bi-monthly and distributed

freely throughout the Pacific Northwest and Inland Northwest;

Gig Harbor, Edmonds, Bonners Ferry, Sandpoint, Dover Bay,

Coeur d'Alene, Hayden, Rathdrum and the Spokane Valley.

Opinions expressed in articles or advertisements do not

necessarily reflect the opinions of the publisher. Living Local

magazine is not responsible for omissions or information

that has been misrepresented to the magazine. Living Local

magazine is produced and published by Like Media, and no part

of this publication may be reproduced or transmitted without

the permission of the publisher.

GIGHARBORLIVINGLOCAL.COM

12 | GIG HARBOR LIVING LOCAL march/april 2022
---
ALLOW US TO

KEEP YOUR

HOME CLEAN

it will be our #1 priority

Family owned cleaning service in the heart of Gig Harbor

NARROWS

Cleaning Services, LLC.

Call Gabby

(253) 495-2844

https://www.narrowscleaningservices.com/

Residential

Commercial

Interior & Exterior

Local Business, Family Operated

Crist & Williams Ramirez

Owners

253-310-7690

www.harborqualitypainting.com

ON FACEBOOK

@harborqualitypainting

Harbor Quality Painting, LLC

LICENSED, BONDED & INSURED LIC. #HARBOQP832DB

GIG HARBOR LIVING LOCAL march/april 2022 |

13
---
GIG HARBOR LIVING LOCAL | 1

Family First offers

compassionate,

quality, 24-hour care

in a comfortable home

setting.

• Caring and experienced

medical team.

• Home physician and

transportation to medical

appointments provided.

• Entertaining activities for

residents.

• Serving Gig Harbor and the

surrounding community

for 20 years.

spring

is a time for renewal,

rebirth, growth and

change. As the grass turns greener, the trees

begin to bud and the flowers begin to bloom,

the skies become clearer and the sun brighter.

The season brings transformation to both the

world and in our lives.

As we witness these natural wonders of the

world re-emerge this spring, let's not forget

the creator behind the beauty. As the Easter

season will soon be upon us, let's take this

time to remember the reason for the season

and celebrations, as Christ sacrificed his life

on the cross to save each and every one of us,

with the promise to attain eternal happiness.

Meet Steve Russo, Publisher

Executive Director

steve@like-media.com

Rejoice in the Easter Season

inward. As you prepare to nurture your garden

to allow it the best opportunity to grow and

thrive, do not forget about doing the same for

your heart, and your soul. Plant those seeds

of positivity, perseverance, happiness, success,

and water them daily through habits that will

reinforce the person you strive to be and the

life you desire to attain.

He is risen! It's time to rejoice!

Wishing our clients, readers and communities

a blessed Easter and a season of growth,

change and happiness.

GIG HARBOR

LIVING LOCAL'S

2020

WINNER

GIG HARBOR

LIVING LOCAL'S

2019

WINNER

GIG HARBOR

LIVING LOCAL'S

2018

WINNER

GIG HARBOR

LIVING LOCAL'S

2017

WINNER

While taking in the changes happening all

around us, take this season to also focus

familyfirstafh.com

253.853.2033

julie@familyfirstafh.com

about the cover

Spring has arrived in the harbor, as the skies become clearer, the air

warmer, the sun brighter, and nature blossoming in its many forms.

Our March/April cover of Gig Harbor Living Local features a fresh

spring shot in the harbor, capturing one of our gorgeous marinas and

the beautiful boats. The scenes of the harbor never get tiresome.

gigharbor

MARCH/APRIL 2022

gigharbor

Living Local

EXCITEMENT

14 | GIG HARBOR LIVING LOCAL march/april 2022

Photo by In-Gear Media

Would you like to receive this issue and future issues in your

inbox? Visit GigHarborLivingLocal.com and sign up for our FREE

Digital Edition.

& home garden

Inside/Out

~

Garden Delight

IN THE AIR

AND ON

THE WATER

RENOVATIONS

ON ARTONDALE FARM HALL
---
Kelley Home Services ...

Discover what it feels like to love where you live

REMODELS & REPAIRS • CUSTOM HOMES & RENOVATIONS • GENERAL CONSTRUCTION

GIG HARBOR

LIVING LOCAL'S

2021

WINNER

PO Box 757, Gig Harbor, WA 98335

253.858.5844 • pat@kelleyhomeservices.com

www.kelleyhomeservices.com

GIG HARBOR LIVING LOCAL march/april 2022 |

15
---
contents

home & garden

18

INSIDE/OUT

Transforming your indoor and outdoor

spaces

26

GARDEN DELIGHT

Fresh ideas for the garden

32

REAL ESTATE INVENTORY WOES

Job demand and rural lifestyle

choices continue to drive sales and

deplete supply

local scene

46

34

ONE OF GIG HARBOR'S FINEST:

BRIAN WICKENS

The power of influence

42

RENOVATIONS ON ARTONDALE

FARM HALL

Artondale Farm opens up hall

this spring

46

THERE'S EXCITEMENT IN THE AIR AND

ON THE WATER!

Paddlers Cup Makes its return

this spring

+ many more ...

feature

50

PUT THE SPRING IN SPRING TRAINING

How to best prepare your young athlete

health & lifestyle

58

SPRING INTO HEALTH

Getting out among the flowers

26

16 | GIG HARBOR LIVING LOCAL march/april 2022
---
march/april 2022

34

71

HEALTHY TIP

Spring cleaning: Get up, get moving and

get cleaning

42

+ many more ...

beauty

74

SPRING BEAUTY

The top trends to keep you looking, and

feeling, beautiful

82

YOUTHFUL SKIN STARTS WITH COLLAGEN

Treatments and products to restore

and rejuvenate

84

SPRING SKIN CARE STARTS NOW

Simple tips to help the skin transition

from winter to spring

city guide

90

LOCAL LISTINGS + CITY MAP

Everything you need at your fingertips

travel & leisure

98

SPRING FORWARD THIS SEASON

Silverton, Oregon's 'Garden City'

50

food & enterainment

106

DINING GUIDE

Gig Harbor's must-try eats

109

RECIPE

Get in the spirit of Easter with these

fun, natural dying techniques

110

CALENDER OF EVENTS

All the events you won't want to miss

GIG HARBOR LIVING LOCAL march/april 2022 |

17
---
Inside/Out

by

JOSHUA NISHIMOTO

Transforming your hosting and

living spaces

18 | GIG HARBOR LIVING LOCAL march/april 2022
---
You'll feel right at home.

3520 Kitsap Way, Bremerton

360.377.5582 | arnoldshomefurnishings.com

Arnold's Home Furnishings has been serving the

Kitsap Peninsula and beyond for more than 70 years.

We offer a tremendous selection of furniture for the

living room, dining room and bedroom along with rugs,

lamps and everything that makes a home. Known for

our quality and superb customer service, Arnold's can

help you select your new furniture, mattress and home

GIG HARBOR furnishings LIVING purchase LOCAL march/april on any budget. 2022 |

19
---
When thinking about updating your home

or yard, look to the most popular places in and around your

home for hosting. Whether you are looking improve upon a small

seating area/nook in your living room, or you are looking to purchase

a firepit for your friends and family to huddle around for warmth

during cool spring nights, it can be a worthwhile endeavor to not only

play off current trends, but also to find your own style as you mix and

match colors in your quest to find the latest innovations to transform

your spaces.

2022 is all about crisp and contemporary colors. Shades of grey are

popular living room colors. Consider painting your living room walls

a light gray. A light grey will match other cool tones, like the neutrals,

greens, and other shades of gray and can really set the mood for an

inviting living room space.

Adding grey and yellow couches, sectionals with longer lounge pieces

and/or recliners with dark wooden side tables will add a splash of

color while keeping your living spaces rustic. Purchasing a coffee

table with hideaway storage can help minimize clutter and stow away

seasonal décor when not in use. Feel free to add wood, leather and/or

cloth footstools as needed, or as your space allows, for a relaxed and

cozy environment.

Purchasing pillows for your living room space are generally the

cheapest and most flexible way to take a plain space and add some color

and comfort. Selecting the right pillows for your space can make your

home not only look like a comfortable place to spend some time, but it

can also highlight textures with complementary tones and hues.

As we move from the living room to the kitchen, consider light or mint

green paint coupled with cobalt colored paint. Also, consider classic

THROW PILLOWS: Selecting the right

pillows for your space can make your

home not only look like a comfortable

place to spend some time, but it can also

highlight textures with complementary

tones and hues.

20 | GIG HARBOR LIVING LOCAL march/april 2022
---
~

A "TAKE SOME OF THE WORRY

OUT OF LIFE" POLICY.

Whatever it is you worry about, I can help with the policies and advice to keep you fearless. With rewards

for safe behavior that protects what matters most, rather than penalties for what doesn't go quite right.

And with the support you need, every step of the way. For your car. Your home. For your unique life.

Dream fearlessly with American Family Insurance. Contact me today.

Timothy Lopez, Agent

Certified Agency in

Customer Excellence

Bus: (253) 858-7200

7512 Stanich Ln Ste 2, Gig Harbor

tlope1@amfam.com

American Family Mutual Insurance Company, S.I. & its Operating Companies, American Family Life Insurance Company, 6000 American

Parkway, Madison, WI 53783 ©2020 ~017720 – 1/20 – 14804729

GIG HARBOR LIVING LOCAL march/april 2022 |

21
---
When hanging art in a gallery wall setting,

start at the 57-inch mark as the midpoint and

slowly spread out your artwork with minor

space in between. It's all about making your

wall space appear natural and free- flowing,

like a pattern.

dark wooden cabinets and marble countertops to give

your kitchen a sense of balance and class. You can also

mix it up by having marble countertops and wooden

cabinets with yellow highlights for warmth.

Whether in the kitchen, the living room, or outside,

any time you are adding styling elements like candles,

sculptures and other knickknacks to your space, be sure

to style them in groups of three. You can include one

large, one medium and one small object to your space for

a dynamic and pleasing look. Adding in three elements

shows intention and direction to your design.

When hanging wall art, be sure to hang them at 57

inches, which is the average human eye height. Hanging

your wall art any higher makes it feel as though your art

is floating. Hanging your wall art any lower gives it that

giant-in-a-tiny-house effect. This also works for gallery

walls. When hanging art in a gallery wall setting, start at

the 57-inch mark as the midpoint and slowly spread out

your artwork with minor space in between. It's all about

making your wall space feel natural free-flowing space,

like a pattern.

When styling with patterns, it can be intimidating and

sometimes comes off as messy. When decorating your

indoor space with patterns, it's important to consider

scale and type of pattern. Scale is about pulling in a

large-scale pattern and incorporating two small-scale

patterns. Bringing in multiple patterns of varying sizes

can disorient the eye. Focus on the main pattern as a

highlight and mix in some smaller scale patterns to add

balance and texture.

Moving on to outfitting your backyard with stylish

appliances, consider purchasing a large barbecue or

smoker that fits your decorating style and bring the

kitchen-like feel into your yard. Consider purchasing

a magnetic knife block to keep your knives and other

accessories securely fastened and accessible at a

22 | GIG HARBOR LIVING LOCAL march/april 2022
---
GIG HARBOR LIVING LOCAL march/april 2022 |

23
---
moment's notice.

When adding furniture to your yard, wooden benches, tables and

folding chairs can transform your plain old backyard into a woodland

escape. Consider purchasing an outdoor sectional couch and coffee

table to really give your yard that living room feel. Or switch out the

coffee table for a smokeless fire pit for lightweight and nearly smokefree

burn.

Incorporating a kitchen island can add space for your cooking

spices, pots and pans. You can also store any glasses, cups, plates and

cutlery when not in use. You can use the top of your island to prep

and prepare foods prior to throwing them on the grill or simply dress

a summer salad. This also prevents you from having to go back and

forth from your backyard to your indoor kitchen while your guests

wait, because gathering everyone in a single space is what hosting is

really about.

Adding accessory items like LED lights and citronella tiki torches can

help light up the night and make your backyard feel like a party while

keeping the mosquitos away. Adding vases, metal and/or glass candle

holders, sculptures, and other personal items to the tops of your island

table, side tabletops and other unused spaces can complement your

lights and pull your backyard together in a unique way.

Whether you are hosting inside or outside, it's important to do your

research and discover what colors and items make you happy, and

dress your spaces according to how you like them. Add furniture that

fits your space and your needs. Remember to have fun with your spaces

and try different things until you find the right style, décor and items

that fit you.

Having a living room feel in the backyard can really

make you, your family and guests feel at home.

24 | GIG HARBOR LIVING LOCAL march/april 2022
---
TIME FOR NEW WINDOWS?

Replace your drafty windows with beautiful, modern & energyefficient

windows this spring.

LIC#AMPROBL910LZ

Offering Roofing, Siding, Windows, Sunrooms, Patio Covers & Kitchen Remodels,

with warranties you can trust & easy financing. Visit amprobuilders.net!

Schedule a free consultation:253.590.4425

Satisfaction guaranteed - Manufacturer backed

Factory warranty - Experienced trade specialists ready to assist

"We hop to it!"

Unique gifts, home

decor and women's

fashion

Shipping • Curbside pickup • Online shopping

Facetime shopping & private shopping parties

Come visit us!

Spring Hours: dolly mama & DOLLY MAMA TOO

Sun and Mon 11-5 | Tues-Sat 10-6

dollymamaboutique.com | info@dollymamadesigns.com | 253.851.5113 | Follow us

GIG HARBOR LIVING LOCAL march/april 2022 |

25
---
Garden

Delight

Fresh Ideas for

the Garden

by TAYLOR SHILLAM

Looking to refresh your garden space? Spring is here,

along with a fresh set of inspiration to revive your

garden space, no matter how small! This year's gardens

will be more adaptable and sustainable than ever before,

encouraging creativity and balance in every gardener.

This spring, making the most of what you have with a

few select, intentional additions is the key to achieving

your best garden, not just for your home but for the

environment that surrounds it.

26 | GIG HARBOR LIVING LOCAL march/april 2022

26 | GIG HARBOR LIVING LOCAL march/april 2022
---
Enjoy a Cozy, Comfortable

Garden Space

A lot of work goes into a garden—and for many, that's on top of the

work performed in day-to-day life! Today's gardens are becoming

increasingly multifunctional, with plenty of opportunities for your hard

work to translate into a relaxing outdoor sanctuary.

Investing in small, comfortable accessories like outdoor furniture

and cushions, outdoor rugs and transformative lighting (look for the

stake lights and easy solar lighting that are on-trend) can make all the

difference in maximizing the comfort and tranquility of your garden

space—and the time you get to enjoy it!

Go Yard-Free with Container

Gardening

For garden spaces, lawns are not required! Today, container gardening

is an easy concept to have the beauty and feel of a home garden—even

without a lawn.

Using containers to act as a garden on paved areas, patios and

balconies make gardening simple from anywhere! The options for

containers themselves is a long list, including plastic pots, repurposed

old jars, hanging flower baskets, window boxes and more! The key to

successful container gardening is to ensure an even water supply with

proper drainage holes within the container, and do your research to

choose the proper type of compost.

GIG HARBOR LIVING LOCAL march/april 2022 |

27
---
Get Intentional and

Sustainable

The connection between gardeners' at-home practices and

worldwide environmental concerns is becoming more apparent,

and sustainable gardens are on the rise. Looking beyond the scope

of the backyard is more common and more doable this spring!

Home gardens can become wildlife-friendly and eco-friendly with

a few simple strategies, including the effective use of water by

catching rainwater (think a simple, easily assembled wildlife pond),

avoiding chemical soil treatments and pesticides, and selecting

native, pollinator-friendly plants that thrive in your local climate.

28 | GIG HARBOR LIVING LOCAL march/april 2022
---
COLOR OF THE YEAR

2022

OCTOBER MIST

1495

Welcoming the Colors of 2022

Reach out today for the best paint and advice to get your project done right.

POULSBO

20530 Viking Way NW

360.779-6995

PORT TOWNSEND

315 Decatur Street

360.379-8025

BAINBRIDGE ISLAND

937 Hildebrand Lane

206.842-2227

GIG HARBOR

5500 Olympic Drive NW

253.858.6362

BREMERTON

5373 Auto Center Way

360.373.5999

Visit benjaminmoore.com

© 2022 Benjamin Moore & Co., and the triangle "M" symbol are

registered trademarks and Paint like no other are trademarks

licensed to Benjamin Moore & Co.

GIG HARBOR LIVING LOCAL march/april 2022 |

29
---
Shopping Small and Local

Did you know the "shop small" concept can apply to your

gardening habits? Part of a dedication to keeping your garden

habits sustainable and health-promoting beyond your property

limits can come from supporting local businesses and farms.

A combination of at-home DIY gardening efforts and turning to

those local businesses for soils, plants, tips and supplies you need

for your garden can help you use your space to make a difference—

not just for the environment but for the local economy!

Add Your Fruit

Even gardeners with limited square footage have the option

to grow a supply of nature's candy! If you've always wanted to

grow your own fruit, but feel limited in your options, it's time to

explore further.

Dwarf trees offer Northwest gardeners the opportunity to grow a

variety of fruits (more than just apples), and easily thrive in smaller

spaces and unique microclimates.

30 | GIG HARBOR LIVING LOCAL march/april 2022

These types of schemes lend privacy and shade to entertainment

spaces and make gardens into sanctuary spaces. Trees, shrubs, and

plenty of perennials, help people and wildlife work together and

create green spaces for good mental health and well-being.
---
Are you looking for a ROOFING Replacement?

Coverage

For THe THINgS

Professional.

Reliable.

Trusted.

Manufacture

Warranties.

Easy Financing.

Offering Roofing, Siding,

Windows, Sunrooms, Patio

Covers & Kitchen Remodels,

Visit amprobuilders.net

YoU Care aBoUT

LIC#AMPROBL910LZ

Satisfaction Guaranteed-Experienced-licensed and Bonded

Call us today for a free estimate: 253.590.4425

• Home Insurance

• auto Insurance

• Business Insurance

COVERAGE FOR THE THINGS

YOU CARE ABOUT

Home Insurance • Life Insurance • Auto Insurance • Business Insurance

Larry Kalahiki

Larry Kalahiki

Your Your Local Local Agent agent

14023 Purdy Dr. NW Gig Harbor, WA 98332

14023 PUrDY Dr NW

lkalahiki@farmersagent.com

gIg HarBor, Wa 98332

agents.farmers.com/lkalahiki

LKaLaHIKI@FarMerSageNT.CoM

https://agents.farmers.com/lkalahiki

Call 253.509.0837 today!

y Kalahiki

For Home, Auto, Life and Business.

Restrictions apply. Discounts may vary. Not available in all states. See your agent for details. Insurance is underwritten by

Farmers Insurance Exchange and other affiliated insurance companies. Visit farmers.com for a complete listing of companies.

Not all insurers are authorized to provide insurance in all states. Coverage is not available in all states.

Call 253.509.0837 today!

GIG HARBOR LIVING LOCAL march/april 2022 |

31
---
Real Estate

Inventory Woes

Job demand and rural lifestyle

choices continue to drive sales and

deplete supply

Inventory continues to be the talk of the town—and that talk being that

there isn't any. The shortages are leading to lower number of closed sales,

county wide. It, however, is not a lack of need. Last month's pending sales

outgained new listings to further shrink inventory. At month end, the

selection included a meager 3,092 active listings, down more than 30 percent

from a year ago.

courtesy of KEY2SEE TEAM

The year-over-year (YOY) number of closed sales also fell by 13.8 percent.

When looking for some explanation, Frank Hawkins, president of Hawkins Poe,

Inc. Realtors from Tacoma, Washington, offered the following options for the

consumer to choose from: "Inventory shortage, a December-January COVID

breakout, inflation, increasing interest rates, cold and snowy weather—you

choose. In the absence of certainty, the default position for most sellers is to stay

put, do nothing, and hunker down," continued Hawkins.

There is about 2.5 weeks of supply (0.61 months) across the 26 counties served

by Northwest MLS. King County had the steepest drop in active listings,

shrinking nearly 59 percent from a year ago, followed by Jefferson County, down

40 percent, and Snohomish County, down more than 35 percent. A comparison

of counties in the listing service report shows only about half of them have more

than one month of supply, and these areas tend to be in more rural areas. King,

Pierce and Snohomish counties all have less than two weeks of supply. Kitsap

County is slightly better with 0.58 months.

32

32 | GIG HARBOR LIVING LOCAL march/april 2022

"Strong activity along the I-5 and I-90 corridors outside of the Seattle area

continues with strong double-digit price increases being recorded," noted
---
Pairing innovation with

communication to create long

lasting trust so you can enjoy home.

key 2 see team

Jennifer Hawkins

CJ Stewart

Whitney Johnson

There is about

2.5 weeks

of supply

across the 26

counties served

by Northwest

MLS.

$826,703 $4,850,000

$794,466

$826,703 $4,8

$826,703 $4,850,000 6

$826,703 $4,850,000 $2,546,989

James Young, director of the Washington Center for Real Estate Research at the University of

Washington. He expects strong demand and a search for value outside of Seattle will continue to

push up values. Last month's prices were up nearly 14.9 percent from a year ago, climbing from

$483,250 to $555,000.

$826,703 $4,850,000 6

$826,703 $4,850,000 65.7

Five counties reported price gains of 30 percent or more, led by Okanogan at 46.3 percent. Other

counties with price increases of at least 30 percent were Chelan, Kittitas, Pacific and San Juan.

Condominium prices surged nearly 21 percent area-wide, rising from $359,950 to $435,000,

while the number of new listings, active listings, pending sales and closed sales all declined

from the same month last year. Young said the combined price trend and activity levels suggest

suburban growth should continue for a while longer as households seek lower costs and a more

home-based lifestyle. "Hybrid work-from-home conditions are allowing more flexibility for

buyers. Job demand and lifestyle choices continue to drive sales," concluded Hawkins.

What's Your Home Worth?

www.Key2See.com

253.229.1414

GIG HARBOR LIVING LOCAL march/april 2022 |

33
---
One of Gig Harbor's Finest:

Brian Wickens

The power of influence

by RACHEL KELLLY

When asked about how he goes about

inspiring kids, the vice principal of

Harbor Ridge Brian Wickens responds:

"I think it has a lot to do with the power

of influence versus the influence of power." At Harbor

Ridge Middle School, Brian is finding out how kids tick,

and relating to them on a personal basis. "We try to be

positive, even if there is some sort of disciplinary action.

The goal is to shape their behavior in such a way that they

learn instead of just feeling punished." Brian is using his

influence to bring about positive results, to invest in those

around him. It's no wonder as to why Brian Wickens was

voted as one of Gig Harbor Living Local's Finest.

Brian Wickens grew up here in the South Sound. The

first 18 years of his career were spent in Tacoma teaching

math and coaching basketball, track and cross country.

"I liked coaching because of the lessons that kids would

learn from sports. Things like teamwork and the results

of hard work and practice. It's easy to measure growth,

especially in sports like track, which is a race against the

clock. It's not important to be the fastest, just to see selfimprovement,"

says Brian. It was through his work that

he eventually met his wife of nine years, Carole. "We have

a blended family of six kids, all around the same age. Our

kids grew up together and went to school together and

are best friends." Brian may have worked in Tacoma, but

he lived in Gig Harbor. This is where his family was and

his kids went to school.

It was because of this connection to Gig Harbor

schools that Brian went back to school in his 40s for

his administration certificate. It was 18 years ago that

It was 18 years ago that

he applied to his dream

job at Harbor Ridge

Middle School—and got

in. The rest is history.

34 | GIG HARBOR LIVING LOCAL march/april 2022
---
he applied to his dream job at Harbor Ridge Middle

School—and got in. The rest is history.

Why middle school exactly? "It's such a short period of

time but such a huge period of influence," says Brian.

Middle school is the shortest tenure that kids have in

school. Not quite kids and not quite on their way toward

adulthood, middle schoolers are open during this time

for positive relationships that shape their outlook for the

future. Working with middle schoolers requires flexibility

and an ability to listen to un-voiced emotions.

Middle school can be confusing. Ages 11 through 13

herald the arrival of adult emotions and opinions, but

with child-like inclinations. This is why establishing

relationships is so important. In safe, healthy and

attentive environments, kids adjusting to new levels

of independence and responsibility feel comfortable

speaking up. It also helps to feel when staff in schools have

a genuine connection to students. "I feel like my humor

and personality is at about the middle school level," Brian

laughs when asked what he loves most about his work.

After which he lauds the character and capability of

Harbor Ridge's principal and staff, as well as the genuine

admiration he has for the kids in our community. It's

obvious that Harbor Ridge is a great place for kids to go to

school, especially with people like Brian Wickens around.

"Gig Harbor is the perfect place to live. It's a great

community with a small-town feel, and lots of great

opportunities. It's a great place to raise a family," shares

Brian. He says this, even though through the 30 or so

GIG HARBOR LIVING LOCAL march/april 2022 |

35
---
36 | GIG HARBOR LIVING LOCAL march/april 2022
---
"Gig Harbor

is the perfect

place to live.

It's a great

community

with a smalltown

feel, and

lots of great

opportunities.

It's a great

place to raise a

family."

years that Brian and his family have lived here there's been

a lot of change. "Schools have grown and the population

has doubled. I mean, it's a little more congested, but our

community is still very connected."

At the end of the interview, Brian could say nothing else

but how blessed he is, how wonderful his community is,

and how capable his staff is. And how life, here in Gig

Harbor, is just perfect. Brian is bewildered as to why he

even won the Gig Harbor's Finest nomination. Looking

at Gig Harbor through his eyes, there are a lot of people

here who are deserving of such an acclamation. Perhaps

he's right. Like Brian says, Gig Harbor is the kind of place

where a person can feel connected to their neighbor, and

yet still have access to all types of opportunities that make

the future look bright. Gig Harbor is the kind of place to

raise a family. It's the kind of place that attracts people

like Brian Wickens. While no one person is perfect, as a

whole we connect with each other in a way that lifts the

other up, so that, in the end, like Brian says, Gig Harbor

is "just perfect."

GIG HARBOR LIVING LOCAL march/april 2022 |

37
---
Mercedes-Benz & Porsche Automotive Service

SpecGerman.com | 206.238.0565 | 3621 Hunt Street, Gig Harbor, WA. 98335

38 | GIG HARBOR LIVING LOCAL march/april 2022
---
teacher in

the spotlight

by COLIN ANDERSON

JEREMY WILSON

Swift Water Elementary | K-5 Music

Swift Water Elementary music teacher

Jeremy Wilson is thankful to have

performed music in front of audiences

and venues large and small. Each

year, he gives his students a chance to feel the

thrill of performing for an audience at school

and in the community, such as the Maritime

Gig Festival. "It takes a lot of hard work to

set up the logistics, but it is absolutely worth

it for my students. I want to give students a

chance to taste what it could be like to play

music in front of a large audience, even if it's

just for an hour of time," he said.

Many of Jeremy's young students have gone

on to pursue all types of music, and you'll

find them performing at various community

events as well as the National Anthem before

Mariners, Rainier and Defiance games.

What brings Jeremy much joy in introducing

music to children as young as kindergarten

is the risk they have to take picking up a

new instrument, or learning rhythm and

singing with others. "Whether it is a solo or

a group performance of a song, it can take

a risk to play in front of people. So, when I

see students understand something or play a

song correctly, I know that they have done a

lot of hard work to get to that point."

Music is often an outlet for kids and teens,

and having it in their lives can help with

self-esteem and also focus on other subjects.

Jeremy is always thankful to hear from

parents or kids about the ways in which his

PERSONAL, BUSINESS & HEALTH INSURANCE SOLUTIONS

"Be on the lookout

INSURANCE SOLUTIONS FOR:

each

We

day

work

for

hard

a

to find the best rate through all the carriers we

represent, allowing us to be local agents PERSONAL you can trust.

chance to show

BUSINESS

love, kindness and

HEALTH

compassion to

MEDICARE

someone else."

LIFE

teachings have helped, no matter how small.

"I would encourage the families out there not We work hard to find the best

to hold those things in but share with their rate through all the carriers

teachers the ways in which their kids are

CONTACT we US represent. TODAY! We are the local

using the knowledge they've gained at school.

It will really encourage teachers, and 253.858.9988 it gives | www.SoundBiz.net

agents you can trust.

us a little pick-me-up that is much needed 3309 56th St. Ste. 101, Gig Harbor, WA

throughout the school year."

As for the other life lessons Jeremy hopes to

instill in his students, it's one he calls simple

but hard to carry out: "Love others. Because,

let's face it, popularity can only get you so

far. Athleticism fades over time; following

greed isolates you; and gaining power can

be a lonely place at the end of the day. The

strongest groups of people are those that

seek to utilize each other's strengths for the

good of everyone. So be on the lookout each

day for a chance to show love, kindness and

compassion to someone else."

CONTACT US TODAY!

253.858.9988 | www.SoundBiz.net

3309 56th St. Ste. 101, Gig Harbor, WA

GIG HARBOR LIVING LOCAL march/april 2022 |

39
---
STUDENTS IN

by COLIN ANDERSON

Whether it's helping

others with basic

needs or becoming

more sustainable,

Jaiden strives to leave

an impact wherever

he can.

THE

CASCADE

COMMITMENT

GENERATIONS OF

TRUSTED CARE.

Contact

Us Today!

253.848.3000

CascadeEyeSkin.com

UNIVERSITY PLACE | PUYALLUP

SUNRISE | AUBURN

GIG HARBOR | BONNEY LAKE

Jaiden Leach, Senior

peninsula high school

Growing up around Gig Harbor,

Jaiden Leach has a special

appreciation for the natural

beauty around him. From a

young age he's been fascinated with the

natural environment and has taken that

interest into his studies at Peninsula High

School and beyond. The senior is a member

of the National Honor Society and is enrolled

in the Tacoma Community College Running

Start program. He's also participated in music

and is a three-time varsity scholar athlete

in both track and cross country. Jaiden

also does plenty outside of the classroom,

much of which he's very proud of. "One of

my biggest accomplishments was in 2016

when I was recognized for my commitment

to living sustainably and won a grant for a

peace and leadership camp in Arizona. I was

so fortunate for the opportunity, and I got to

speak at Key Arena in front of 16,000 people

about my experience," he recalled.

The experience helped set Jaiden off on his

interest in sustainable building. He took Mrs.

Balera's AP environmental science class his

sophomore year and credits her for much of

his inspiration. "Mrs. Balera and her class

inspired me to pursue my higher education

and career in environmental science," he said.

Jaiden plans on attending a four-year

university to pursue a major in environmental

architecture and a minor in business. His

long-term goal is to get a master's degree,

and design and build with sustainable

materials and practices. "Wanting to study

environmental sciences comes from me

ultimately wanting to make the world a better

place. I hope to achieve this by teaching and

helping others reduce their carbon footprint,"

said Jaiden.

His favorite classes remain to be science

classes, as he enjoys being hands-on with the

work. "One of the main reasons I like science

classes is because with labs I can see more of

the cause and effect with certain things in

our world."

Outside of school Jaiden is also a strong

believer in serving others. He's organized

his own community food drives for the local

FISH Food Bank and also partnered with

community members as well as Seattle Cancer

Care Alliance to collect, sort and deliver items

to people experiencing homelessness. "Most

recently, I volunteered for the City of Gig

Harbor to apply storm water drain decals to

support and protect our clean waterways."

Whether it's helping others with basic needs

or becoming more sustainable, Jaiden strives

to leave an impact wherever he can.

40 | GIG HARBOR LIVING LOCAL march/april 2022
---
THE SPOTLIGHT

"My love for science

and my desire to impact

the lives of others

makes nursing a perfect

fit for me."

Paige Gladstone, Senior

gig harbor high school

Gig Harbor High School senior

Paige Gladstone is always

learning. She's skilled with a

tennis racket thanks to her high

school coaches and Camilo Sealy at the

Sprinkler Tennis Center, where she trains

during the off-season. She's also skilled with

a sewing needle, thanks to her grandmother

who has taught her the finer points as well

as inspired her to use her skills for the

betterment of her community. "I have sewed

over 40 medical masks at the beginning of the

pandemic, which were sent to the University

of Washington Medical Center and sewed

over 50 dog blankets that were donated to

various animal shelters near me and to the

Prison Pet Partnership," said Paige. She also

recently taught herself how to crochet and

bead jewelry.

While she enjoys some unique hobbies,

having an impact on others is what Paige

very much looks forward to as she plots

out her post-graduation life. She recently

volunteered more than 100 hours at Mary

Bridge Urgent Care, and the experience

forever shaped her. "I had the opportunity to

see the impact nurses had on their patients,

and they truly inspired me. I am passionate

about helping others, and a career in nursing

will help me fulfill that passion. My love for

science and my desire to impact the lives of

others makes nursing a perfect fit for me."

Paige has backed up that interest by taking

Honors and Advanced Placement courses,

as well as a rigorous course in anatomy

and physiology through the University of

Washington. "UW anatomy and physiology

confirmed my love for learning and science,

and my hope to become a nurse. The

knowledge that I gained from this class

will greatly benefit me in the future as I

work toward becoming a NICU, labor and

delivery, or trauma nurse," she stated.

Back at school Paige is eagerly awaiting

her senior season of tennis. Her team went

undefeated in league last season and hopes

to repeat as the top team in league again this

year. She's also the media and membership

officer of the Interact Club, in which she

can have fun with another of her hobbies—

graphic design.

While she has yet to decide on a college,

there are certain traits she's looking for when

picking a school to pursue her nursing degree.

"I am particularly interested in furthering

my education at a Jesuit University because

I appreciate their focus on developing wellrounded

students who have a passion for

knowledge and personal growth."

Support Small

Local Alum

Owned Business

GET 15% OFF

your purchase!

*Excluding Cheese & Sale Items

7700 Pioneer Way #202

Gig Harbor, WA 98335

www.cougarwear.com • 253.224.1408

Open 7 Days a Week!

GIG HARBOR LIVING LOCAL march/april 2022 |

41
---
RENOVATIONS ON

ARTONDALE FARM HALL

Artondale Farm opens up hall this spring

42 | GIG HARBOR LIVING LOCAL march/april 2022
---
With little fanfare but much anticipation, spring has

gently arrived. And with it the crocus, daffodils,

tulips, cherry blossoms, spring greens, long days

and even longer bits of sunshine. It's the time

of year that many of us use up the last bits of root veggies and

canned goods and look forward to a new growing season. The

same is true of Artondale Farm, who once again opens up on

April 22, Friday through Sunday from 11am to 5pm all the way

through December. They will be selling starts, produce, and just

about everything that generally comes from their farm (except for

eggs, which they haven't sold for a few seasons now but still get

asked for).

This year, Jess and Scott Hogan have been hard at work

throughout the winter to finish renovations on the Artondale

Farm Hall, which they plan to showcase on opening day. The hall

was originally built in 1912 as a Methodist-Episcopal church. In

1956 the Washington State Grange Association purchased the

building for the use of the Gig Harbor Grange Association. The

building itself has good bones, with beautiful vaulted ceilings and

long expansive windows. The Hogans have put all their skills and

style into restoring the building to its original glory, preserving

its charm.

Jess and Scott are no strangers to hard work, nor is this their first

renovation. The land abutting the Grange Hall (now Artondale

Farm Hall) has been in the family since the 1950s. When Jess and

Scott came into ownership of the land, Scott had been working

as a trained architect. They decided to turn the land into the

beautiful farm that it functions as today. From their property they

looked on at the Grange Hall, slowly watching as the beautiful

building deteriorated. It's no wonder then that eventually the

Grange Association put the building up for sale, and that the

Hogan family was ready to buy it. "We have experience in

renovation. This time around we feel more confident in our skills;

we are older and wiser now," says Jess. In addition, purchasing

the new farm hall also allowed the Hogans to increase their land

available for farming. They tore down fencing that was meant to

provide a barrier between the farm and the hall, and extended the

fields in the additional space. Artondale Farm didn't just acquire a

building; they acquired space for expansion.

During the spring, summer and fall, the Hogan family focuses

primarily on the work that has to be done on the farm, which

is quite extensive. Last winter, while the land rested, the Hogans

finished the exterior of the hall. This last winter they focused

on the interior, renovations that were thankfully out of the cold

by RACHEL KELLY

GIG HARBOR LIVING LOCAL march/april 2022 |

43
---
THE HOGANS HAVE PUT ALL THEIR

SKILLS AND STYLE INTO RESTORING

to its

THE BUILDING

original

glory

and rain but by no means comfortable. The building has

been redone, from top to bottom, from insulation to air

circulation. The pictures show extensive amounts of work.

As winter has come to a close, the Hogans have frantically

and industrially attempted to finish the work in time for

the opening of the farm in April. And once that was done,

they worked on making it cozy for their farm guests with

new paint and tasteful décor.

Inside, guests can expect all that the farm has to offer,

from produce to plant starts. Basically anything that

the farm produces, all under one roof. The plant starts

are especially useful, as they are plants that the Hogans

themselves use to grow on their land. This means that the

plants are well adapted to the Washington weather, soil

and environment, unlike larger conglomerates that grow

their plants elsewhere, stunt them, and transport them

to environments that they aren't suited for. Starts from

Artondale Farm are sure to grow better in your garden

than other non-local plants simply because they don't go

into shock before producing.

This year, Artondale has a lot of special things to offer

beyond what they've offered in the past. The same

beautiful starts and produce will be available, but in

addition the farm will be offering some farm-based

arts and crafts. With the newly renovated farm hall,

the Artondale Farm is sure to grow, offering whatever

they think the community may need in the new space.

At Artondale Farm, the opportunities are expanding,

and the beauty is increasing. But enough talking about

it! Artondale Farm is something that truly needs to be

experienced in person. As for me, I'll see you there!

You can find and follow Artondale Farm online at

Facebook.com/artondalefarm.

44 | GIG HARBOR LIVING LOCAL march/april 2022
---
COMPLETE

ROOF & CHIMNEY

MAINTENANCE

SERVICES

CALL 253-851-1180

• Roof Repair, Cleaning & Free Inspections

• Skylight Repair & Replacements

• Moss Treatments

• 5-Year Certifications

• Chimney Sweep

• Gutter Cleaning

Licensed - Bonded - Insured | LIC#: ROOKSL955N5 | RooftopServicesLLC.com | f

TULADHARA YOGA

STUDIOS

NEW

STUDENT SPECIAL

30 DAYS FOR $49

253.244.9056 • www.tuladharayoga.com

4641 Point Fosdick Dr., Suite 200, Gig Harbor, WA

GIG HARBOR LIVING LOCAL march/april 2022 |

45
---
THERE'S

EXCITEMENT IN

THE AIR AND ON

THE WATER!

Paddlers Cup Makes its

Return this spring

by JILLIAN CHANDLER

The ninth annual Paddlers cup had been scheduled for

2020, and postponed until later in the year, but eventually

canceled. As hopes were high to be able to host the event

in 2021, it was ultimately decided that it would be in

the best interest of both participants and spectators to

postpone the event.

But … it's time to celebrate! As the ninth annual Paddlers Cup makes its

way to the harbor April 23 and 24, 2022!

"Paddlers Cup is GHCKRT's gift to our Gig Harbor. It's a great community

weekend showcasing paddling in many forms," smiles Kathleen North,

Gig Harbor Canoe & Kayak Racing Team board member. "Saturday

features canoe, kayak and SUP. On Sunday we partner with the Gig

Harbor Dragons (PenMet Parks Dragon Boat Team). The Dragons

provide training to 12 community teams in the morning, and the teams

race in the afternoon."

The best spots to view the action on land will be from Skansie Brothers

Park and Jerisich Dock. For those interested in taking in the races from

the water, Destiny Harbor Tours boat and The Gig Harbor Gondola will

be out on Saturday. "The finish line both days is right in front of Skansie

Park," says Kathleen.

When it comes to what Kathleen is most looking forward to the return of

the Paddlers Cup, she shares:

1. Talent spotting. The last time we held Paddlers Cup, girls from our local

club dominated the canoe division and stood on podium at the end of the

46 | GIG HARBOR LIVING LOCAL march/april 2022
---
Putting You & Your Family First

When it comes to family law

matters, we are here to serve

you. No matter what you are

going through, Attorneys Chris

Maharry, Anthony Zorich and

Bryon Guymon have the skill and

experience to ensure you get the

absolute best outcome possible.

253.260.4147 | HarborFamilyLawGroup.com | 2615 Jahn Ave. NW, Suite E7, Gig Harbor, WA

GIG HARBOR LIVING LOCAL march/april 2022 |

47
---
event. That was 2019. Since then, four of them have gone on

to stand on podiums in international competition, including

a gold medal at the Summer Olympics. Who will be next?

2. Comradery and competence. No experience is required to

be on a dragon boat team. Each boat has 20 paddlers, and it's

incredible to see how the groups come together and improve

over the course of the day. On land, in the morning, there is

a lot of nervous laughter. By afternoon, there is much back

slapping and raucous laughter. You can see the change on the

water too: The teams often start out looking like caterpillars,

with paddles moving in waves. They end the day with a much

more efficient "all together now" stroke.

3. Being in the park. We've got some great food vendors,

clothing vendors and paddling gear vendors that will

be with us that weekend. Emcee Louise Teiman does an

exceptional job calling the action, and sound guy John

Martinson will be back with a playlist that has been known to

prompt people to dance between races.

Paddlers Cup is a fundraiser for the Gig Harbor Canoe and

Kayak Racing Team (GHCKRT). Proceeds from Paddlers

Cup will go to purchase much-needed safety equipment.

Show your support to the team by showing up and buying a

T-shirt or some raffle tickets.

To find out more about the Paddlers Cup, view the list of

sponsors, register to become a sponsor or participant for

the 2022 event, and view the safety rules and latest COVID

protocols, visit GigHarborPaddlersCup.com. For those

interested in showcasing their business during the two-day

event, you can sign up to be a vendor online as well.

"Dragon boats and park vendors could fill up at any time,"

Kathleen confirms. "Canoe, kayak and SUP can register up

to the day of the event. But you will want to do it sooner if

you want the event T-shirt. And you want the shirt. It's a

dri-fit with a great logo created just for this event by Jessica

Rogg of Custom Prints NW."

48 | GIG HARBOR LIVING LOCAL march/april 2022
---
Maritime Jewelers

Estate & Consignment | Fine Jewelry | Custom Designs | Repair |Diamonds & Rare Gems

Exceptional Collection. All at Estate Prices.

Featuring Montana Sapphires and Estate Diamonds

up to half off of other retailers!

Master Jeweler and Graduate Gemologist

Winner

"Voted Finest Jeweler"

253.853.4579 • 866.346.GEMS | 3116 Harborview Dr., Gig Harbor, WA

Open Tuesday - Saturday, 11am - 5pm

CRYSTALS • JEWELRY • REIKI • GIFTS

HealingNatureLLC.net | 7716 Pioneer Way Suite A, Gig Harbor, WA | Tuesdays - Saturdays, 11am - 6pm

GIG HARBOR LIVING LOCAL march/april 2022 |

49
---
Put the

Spring in

Spring

Training

HOW TO BEST PREPARE YOUR

YOUNG ATHLETE

by SUSAN MOORE, OWNER OF BETTER GYM IN

GIG HARBOR, WA

T

he idea of spring training is when professionals of all sports

unite with their teams and start training together to see what

changes need to be made to the roster and who has put the

most effort into being the valuable parts of the team. For our

youth, it's more about getting the individual athletes prepared for

the upcoming season. The pros, they get to show how well they have

already prepared. We should take a note from the pros and prepare our

kids well before the spring training begins. Athletics is a year-round

endeavor. Our kids can be multi-sport athletes, specialized athletes, or

both, by utilizing a strength, conditioning, speed and agility program.

Playing different sports trains our body to adapt, learn and master

varied sets of skills, resulting in more well-rounded athleticism,

higher potential and a reduced risk of injury.

Kids learn how to be a team player in different environments and

get introduced to more coaching styles, learn how to interpret more

physical cues and cultivate the ability to maintain good sportsmanship

by having different expectations and teammates. This can help reduce

social anxiety and acquire the coping mechanisms to deal with and

overcome adversity. Your child may be the star in one sport and a

support position in another. Both are important life lessons.

They become athletically versatile - Kids who excel in one sport

become masters of their craft, so to speak. Good, right? Maybe

not. Typically, once they get into high school, they've reached their

ceiling. The athlete spends a tremendous amount of time going

over the same patterns day after day, season after season. Without

adding the coordination and versatility gained from multi-sport

play, they typically go from big fish in a little pond to little fish very

quickly. When they play different sports that require different body

mechanics, loading and movement patterns, the athlete is more likely

to have developed the ability to increase their aptitude to move faster,

stronger, and with more precision. They also increase their potential

for the physical and emotional demands of high-stress environments.

Essentially, they can take what life throws them.

More coachable - When kids have only been coached in one sport,

they tend to only understand the coaching of their sport and more

specifically their position. When kids have had different experiences

with completely different sports or athletic training, their bodies

gain the ability to add neural pathways; the signal pathways they

need to rewire their brains for optimal performance. Every time the

50 | GIG HARBOR LIVING LOCAL march/april 2022
---
GIG HARBOR LIVING LOCAL march/april 2022 |

51
---
A GOOD PROGRAM SHOULD EMPHASIZE NOT ONLY STRENGTH, ENDURANCE, SPEED,

AGILITY AND MOBILITY, BUT ALSO RECOVERY.

52 | GIG HARBOR LIVING LOCAL march/april 2022
---
Independent Retirement &

Assisted Living Community

great things for

a great community

Founded in 1925, Peninsula Light is your member-owned, not-for-profit

electric cooperative, providing reliable power throughout Gig Harbor and

the Key Peninsula. We are dedicated to continually improving the quality

of life in this great community through system reliability, helping you

conserve and use electricity more efficiently and rising to the challenges

of a rapidly changing industry.

253.857.5950 | 888.809.8021

13315 GOODNOUGH DR. NW | GIG HARBOR, WA 98332

WWW.PENLIGHT.ORG

It's not the good life,

it's the best life!

It's not the good life,

It's it's not the the best good life!

life,

Welcome it's the best home

life!

to Welcome Harbor home Place!

Welcome home

to Harbor

1016 29th Street

Place!

NW

From morning to night,

to Harbor Place!

you've got friends to

From meet up morning with, activities to night,

From you've got friends to share morning and a beautiful to night, to

meet up with, activities

environment you've

Gig Harbor,

got friends around

WA 98335

to you.

meet to share up and with, a activities beautiful

environment to around From to share fine and dining, a beautiful to sunny you.

environment

environment around you.

courtyard lunches, around our you.

From chef fine prepares dining, meals to sunny

From

From courtyard fine dining,

253.853.3354

lunches, to sunny

meant fine to dining, be savored. to sunny our

courtyard chef prepares lunches, meals our

courtyard lunches, our

meant chef prepares to be savored. meals

Choose chef prepares from a range meals of

meant to be savored.

active meant living to be options savored. that

complement Choose from your a range personal of

active Choose living from options range that of

requirements Choose from and a range lifestyle. of

complement active living your options personal that

active living options that

requirements complement your and personal

complement

lifestyle.

requirements

your

and

personal

lifestyle.

requirements and lifestyle.

Independent Retirement &

Assisted

Independent

HarborPlaceRetirement.com

Living Community

&

Assisted Independent 1016 Living 29th Street Community NW

Assisted

Independent

Gig Harbor, Living WA Community

&

98335

Assisted

1016

Living

253.853.3354

29th Street

Community

NW

Gig 1016 Harbor, 29th Street WA 98335 NW

HarborPlaceRetirement.com

Gig 1016 Harbor, 253.853.3354

29th Street WA 98335 NW

Gig Harbor, 253.853.3354 WA 98335

HarborPlaceRetirement.com

253.853.3354

HarborPlaceRetirement.com

HarborPlaceRetirement.com

GIG HARBOR LIVING LOCAL march/april 2022 |

53
---
ain processes new information, neurons fire, new pathways form,

and the malleable brain alters its shape and structure. The more

pathways, the easier adaptation becomes.

Injuries - People get hurt. It's part of life and sports. They practice

what they know, and they practice it year-round. Without

complementary and completely different athletic sports or practices,

their bodies stop adapting and, in essence, stop improving. They

wear out instead. Injuries become more likely. We can build muscle

to protect the athlete, but we also need to train for the unexpected.

In most areas, to be truly competitive in any given sport, your

athlete is expected to play year-round. Between school teams and

clubs, there isn't any more time to be competitive in other sports.

We, as parents, have to make a lot of tough decisions. No matter

how great the work ethic our student athletes possess, they need to

be kids. It is the time when they learn not only scholastically and

physically, but also how to manage expectations and create and

maintain relationships. Between school, homework, sport practice,

and whatever other activities we schedule our kids for with all the

best intentions, we need to make sure they have time to learn to

interact with different people from different walks of life. Practicing

good general physical preparedness with a productive strength

program can introduce different kids with different goals to one

another, learning to work together for overall team environments.

Increased enjoyment of sport - Having additional athletic practices

gives an athlete the much-needed physical and mental break from

their sport to keep them wanting to come back excited for the next

season. Playing multiple sports decreases the risk of burnout which,

in turn, decreases the risk of quitting the sport early or generally not

reaching their potential in their preferred sport.

What to look for in a strength and conditioning program:

When looking for a program, you need to do some research. I

always recommend speaking to the coach who will be interacting

and training your child. Find out what their programming goals for

your athlete are and how they accomplish them. A good program

should emphasize not only strength, endurance, speed, agility and

mobility, but also recovery. Your athlete should be in a program

that increases skill, confidence and accountability. Steer clear of the

coach who emphasizes constant sessions that seem like punishment.

Any coach can make your athlete tired, but great coaches make

54 | GIG HARBOR LIVING LOCAL march/april 2022
---
EXCEEDING EXPECTATIONS

Gig Harbor Cabinets is focused on providing high-quality products and customer satisfaction.

We will do everything we can to exceed your expectations. Because life takes place in the kitchen. TM

All plywood boxes | Soft-close doors and drawers with dovetail drawer boxes on all styles | Wide variety of styles | DeWils | Luban Cabinetry

253.858.3005 | gigharborcabinets@gmail.com | www.gigharborcabinets.com | Gig Harbor, WA

for generations, haven of rest has been

helping families achieve peace of mind

through pre-planning their funeral

and cemetery needs. call today to plan

for yourself or your loved one.

We now offer Aquamation, a new and

eco-friendly alternative to cremation!

253.851.9991

www.HavenRest.com

8503 State Route 16 NW., Gig Harbor, WA

GIG HARBOR LIVING LOCAL march/april 2022 |

55
---
CLEAN CALM CONSTANT

Gig Harbor

Chiropractic

& Massage

www.GigHarborWellness.com

Dr. Greg Messer

Dr. Keri Messer

253.857.6500

11430 51st Ave NW Ste 101A

Gig Harbor, WA 98332

360.394.7702 | kimcoplumbing.com

WHERE YOUR HEALTH IS OUR COMMITMENT.

f gigharborchiropractic&massage

Visit our website to take

advantage of our

New Patient Special!

What sets A2 apart? We have a neurological and holistic approach to

physical therapy powered by Neufit technology.

For a free 30 minute consultation give us a call at 253-844-4137

253.844.4137

www.a2pt.family

info@a2pt.family

4904 Point Fosdick Dr. NW

Gig Harbor, WA I 98335

MON-FRI

7:30am-6:30pm

56 | GIG HARBOR LIVING LOCAL march/april 2022
---
Great

coaches

make them

better

them better by knowing when to add complexity

and when to dial back. The right amount of stress

creates optimal adaptation; too much just adds the

likelihood of injury.

Advanced strength and conditioning can be your

athlete's additional sport. Learning multi-sport

mechanics, multi-planar strength, mobility and

endurance can keep your athlete in great shape

and always ready year-round. Training smart and

rotating from in-season to off-season, learning to

utilize minimal doses of training for maximal benefit—instead of the constant highest

tolerable dose. Learning to not burn out by going all out all the time but rather waving

the load of work capacity and density. Thus, making your athlete a durable, coachable

and injury-resistant member of any team they choose to play for.

A properly developed training plan can help develop other athletic abilities to make a

single-sport athlete a better and more rounded athlete, so that they can stay focused on

their sport while improving their athleticism.

The most confident players should also be the best cheerleaders. The kids who have been

told they are the best without being expected to hype their team's ability to play turn into

kids no one wants to play with or even coach. A well-rounded student athlete is really

what we are after.

GIG HARBOR LIVING LOCAL march/april 2022 |

57
---
Spring

Into

health

GETTING

OUT

AMONG

THE

FLOWERS

by RACHEL KELLY

58 | GIG HARBOR LIVING LOCAL march/april 2022
---
GIG HARBOR LIVING LOCAL march/april 2022 |

59
---
ITAMIN D

There's nothing like the spring season for jump starting your

health. Spring brings with it fresh new produce rich with

nutrients, longer days full of sun, and short rains that are

invigorating for the air and your body. The smell of wet

earth, the return of the birds in the trees, and the heavy scent of new

flowers only seen during this season bring with it an overall feeling

of hope and well-being. This season, spring into health during

everyone's favorite time of year.

One of the most delightful aspects of spring is its longer days. Not

only is the sun out longer, but with spring forward we have the illusion

of even longer days. This is perhaps due to there being more daylight

at the end of a workday. With the sun still up, after dinner is a time

of carefree energy. During the winter the dark signals exhaustion

and early bedtimes. In the spring, we find ourselves wanting to get

out in the evenings. Maybe it's a picnic to watch the sunset, a family

walk, or a brisk before-dinner exercise. Perhaps the warm weather

encourages you to play hooky and get outside that much more often,

whether it be for a midday hike or a weekend staycation. The extra

sun just makes getting outdoors easier. Whatever encourages the

renewed activity, extra energy is a welcome change. Spring is a time

for getting out and soaking in some of that vitamin D!

Another distinguishable aspect of spring is the fresh air. The steady

rise in temperature signals to nature that it's prime time for growing.

Buds on trees bloom, birds return, and the ground literally begins to

vibrate with life and growth. This means that there's a rise in oxygen,

and the renewed plant growth absorbs carbon dioxide. Ultimately

this means more food—which I don't think anyone could possibly

complain about. This abundance in food prompts an abundance of

animals, from baby bunnies everywhere to new does in the fields. It

also means that new, fresh and cleansing produce is available from

the area's local farms. Produce best in spring include favorites such

as asparagus, spring mixed greens, spring mushrooms, sprouts, peas

60 | GIG HARBOR LIVING LOCAL march/april 2022
---
MIGRAINES, HEADACHES

OR TMJ PAIN?

WHEN CHRONIC MIGRAINES OR HEADACHES AREN'T

RESPONDING TO TREATMENT, THEY DESERVE A CLOSER LOOK.

We use the latest diagnostic technology to closely examine the

musculoskeletal system of the head, neck and jaw to find any signs of

inflammation and tension that can lead to chronic headaches or migraines.

DON'T SUFFER ANY LONGER.

GIVE US A CALL TODAY!

With TruDenta therapy system and Myotronics, an

FDA-approved technology, we can provide a treatment

plan tailored to address your symptoms, which includes

the use of several tested technologies, including

ultrasound, microcurrent photo biomodulation,

muscle and appliance therapy.

RHONDA SAVAGE, DDS

253.857.0835 | 3519 56TH ST. #260, GIG HARBOR, WA

UptownDentalGigHarbor.com

GIG HARBOR LIVING LOCAL march/april 2022 |

61
---
and pea shoots, and spring onions. If it's green and fresh, it

arrives in the spring. Eating according to this season means

antioxidant-rich foods and tender sweet produce. A spring

smoothie might include frozen cherries, beets, a few beet

greens, and honey. A favorite side dish are garlic scapes,

which are the green sprouts that come from garlic and need

very little seasoning on the grill (since it tastes just like garlic).

Spring also brings with it a shy beauty. Crocus, daffodils,

tulips, nettle, berry shoots, cherry blossoms and tree buds

seem to arrive slowly and then all at once. Suddenly the house

smells of faint perfume and rain, and the world bursts with

color. Spring is a time for cleansing renewal; earth's bounty

seems to reflect that. Heavy winter foods such as stews with

root vegetables may make you feel heavy. Winter is also spent

drinking coffee and nights out at the local "watering hole."

Spring is a good time to go on a cleanse. Nothing extreme is

necessary. No coffee enemas or juice detoxing that basically

puts the body into shock. A simple cleanse that can be done

at home is hydrating with lemon water. Lemon water can be

enjoyed hot or cold, and even combined with a bit of raw

honey. Lemon soothes digestive inflammation. The same is

true for teas of various types that can be bought according

to what you are trying to cleanse. For this, maybe visit your

local tea shop or health food store for some advice from the

experts. Make this spring one of renewal.

The absolute best thing that you can do for your health

this spring is to join nature in taking a moment to breathe

and grow. Taking a moment to practice thankfulness at

the end of a long season can do much for our awareness

of all that is new and lovely. It's time to take a break for

the sake of our health. This could mean making a point to

The extra sun

just makes

getting

outdoors

easier. Whatever

encourages

the renewed

activity, extra

energy is a

welcome change.

62 | GIG HARBOR LIVING LOCAL march/april 2022
---
Well-child checkups,

vaccinations, and sports physicals—

Specializing in

Cosmetic Skincare

Botox ®

Juvederm ®

Chemical peels

LLC

New Patients Only

Botox at $10 $9 a Unit

the care you need for

your growing child.

Karen Smith, ARNP

Stop in for our skincare

products:

SkinMedica ® , Glytone ®

& Avene ®

We are grateful for the chance to serve your

family and to learn from you as well, as we work

together for the best interest of your child.

For Appointments:

harborpeds.net

253.530.8328

Gig Harbor, WA

HarborHealthandSkincare.net

f Find us on Facebook!

4221 Harborview Drive

Suite 103

Gig Harbor, WA 98335

253.314.2618

GIG HARBOR LIVING LOCAL march/april 2022 |

63
---
REATHE

take daily walks, or preparing a healthy meal at home with your

favorite people. It could mean having a glass of wine, or soaking

in the sun with a seltzer. You could treat yourself to your favorite

restaurant, or go to your favorite getaway for the weekend. There

is a lot of beauty to take in, and a lot of joy to be found in our

community. Whatever rest means to you, it's time to make that

a priority.

With all this going for it, it's no wonder that spring encourages a

boost in mental health. The healthy nutrient-rich produce, the

longer sunny days, and the energy to get out of doors all encourage

a lifestyle of abundance. This season brings with it a feeling of

hope. Everything seems to be growing, birthing and breathing.

The long dark mysterious winter is over; we can't help but join in

nature's song. Any opportunity we have this time of year to go see or

experience something unique or lovely, we do. With wide eyes and

deep breaths, we take it all in. With the general feeling of well-being

comes a boost in physical health that follows as a natural product of

just feeling alive. This spring, let's feel alive.

It's time to take a break for

the sake of our health. This

could mean making a point to

take daily walks, or preparing

a healthy meal at home with

your favorite people.

64 | GIG HARBOR LIVING LOCAL march/april 2022
---
a genuinely friendly

community That cares.

Heron's Key's health services are called Penrose Harbor.

We serve current Heron's Key residents as well as others in

the region who need memory care, skilled nursing or assisted

living. In a respect-for-the-real-you setting with a gifted staff,

we keep the days simple, spirits up, and friendships blooming.

FOR YOURSELF OR YOUR LOVED ONE,

FIND THE CARE NEEDED. CALL 253-303-5720.

4340 Borgen Blvd.

Gig Harbor, WA 98332

Our Mission: To create a community of homes and resources for children in foster

care and youth facing homelessness.

You can make a difference -How can you help?

Purchase a brick

become a volunteer

Spread the word

Donate

Help with Luggage of Love

Join our fundraising events

Be a sponsor

See our website for more information and the many ways you

can make a difference in our community's youths lives

homesteadcommunity.org

GIG HARBOR LIVING LOCAL march/april 2022 |

65
---
Mistakes can be Costly!

AVOID THESE COMMON PITFALLS WHEN SEPARATING

OR DIVORCING

by FELICIA SOLEIL, FAMILY MEDIATOR/ATTORNEY

It is normal to want to avoid the cost of professional services

when seeking separation or divorce, but doing so may cost

you more money in the long run. While it is understandable

that clients want to quickly reach agreements to avoid

protracted negotiations and hard feelings, making decisions

regarding home equity, retirement accounts, and child support

without input regarding tax implications, overall affordability, and

court expectations regarding child support can cause unwelcome—

and costly—surprises in the future.

As a divorce mediator and attorney, here are the top three mistakes

I frequently see being made prior to clients seeking my professional

help—mistakes that sometimes cost more to undo than if they had

started with a blank slate from the beginning.

• Believing that an equally shared residential schedule for your

children eliminates a child support obligation. This is perhaps the

number one mistake that is presented to me by new clients. They

begin with, "We have a 50/50 plan and agree to no child support." I

have to educate them about the parameters of how child support is

calculated and the court's discretion regarding reducing the higher

earning parent's support obligation based on equal residential time.

The court generally won't approve a final Order of Child Support

that reduces child support to zero unless the parties' earnings are

almost identical. In addition, any reduction in support to something

less than the standard transfer payment, but greater than zero, also

must be supported by a finding that reducing child support will

not create a financial hardship to the person who would otherwise

receive the full payment.

• Assuming that the only way to transfer retirement funds to

your ex-spouse is through liquidation. Liquidating funds held in

tax-deferred retirement accounts such as 401(k)s and IRAs can be

extremely costly in terms of tax consequences and penalties. This is

not to say that these funds can't be shared with the other spouse as

part of a divorce settlement. However, to do so, you must utilize a

separate court order called a Qualified Domestic Relations Order

(QDRO) when finalizing a separation or divorce.

A QDRO provides instructions to the fund's plan administrator

to authorize the direct transfer of the former spouse's award of

funds into a new, similarly established fund without creating a tax

obligation or penalties for early withdrawal. It can be complicated,

and an experienced professional can be well worth the cost of

assisting with getting the transfer accomplished efficiently to the

other spouse.

• Believing you need to sell your house before you can begin

the divorce process. You can begin your separation and divorce

process at any time, regardless of the status of your home. If your

financial agreement ultimately does involve the sale of your home,

careful wording in your written settlement agreements will be

necessary regarding how the listing, sale, and eventual distribution

of proceeds are to be handled to avoid unnecessary conflict and any

potential negative impact on a pending sale, as well as allow for clear

instructions on how proceeds will be split.

Budgeting for the use of experienced professionals as part of your

separation and divorce process is a smart financial move that has

the potential to actually save you money in the long run, as well as

help you minimize the frustrations that can accompany trying to

get court orders approved, retirement transfers qualified, and house

sales closed.

Felicia Soleil is a divorce mediator and family law attorney located

in Gig Harbor. She helps her clients in achieving resolutions that

foster both a compassionate ending to their union and a healthy

new beginning so they can focus on moving on, rather than simply

moving out. Felicia can be reached at 253.853.6940. All consultations

are strictly confidential and currently conducted by appointment via

Zoom video conference or phone.

66 | GIG HARBOR LIVING LOCAL march/april 2022
---
Building Better Solutions for Clients

With 30 years experience serving families in Gig Harbor and Pierce County,

Felicia Soleil provides more constructive alternatives to dissolving a marriage

outside of a courtroom. In addition to her family law practice, she also provides

mediation services, offering legal support, education and case management

- from simple to complex - for separation and divorce, parenting plans, child

support and prenuptial agreements.

Facing a divorce or separation? Felicia focuses on reducing and resolving

conflict, helping you transition by moving on, not just moving out.

Felicia A. Soleil, Attorney at Law and Mediator

253.853.6940 • FamilyLawResolutions.com • 6625 Wagner Way, Ste 260B, Gig Harbor, WA 98335

GIG HARBOR LIVING LOCAL march/april 2022 |

67
---
SPECIALIZING IN SPINE

AND PAIN MANAGEMENT

Individualized Care • Top Tier Expertise • Results That Change Lives

At NeoSpine, we're dedicated to delivering best-in-class patient care that results

in reduced pain and discomfort so you can get back to feeling like yourself.

Dr. Neil Batta, MD

Gig Harbor, WA

Dr. Alex Mohit, MD

Gig Harbor, WA

NeoSpine.com

GIG HARBOR: 253.841.0842

4700 Point Fosdick Dr. NW, Ste. 205

Gig Harbor, WA

SILVERDALE: 253.841.8939

9615 Levin Rd., Ste. 300

Silverdale, WA

Celebrate Life

at Every Age

Olympic Alzheimer's Residence

3025 14th Ave. NW · Gig Harbor, WA 98335

(253) 851-5306 · www.PrestigeCare.com

A memory care community that truly cares.

At Prestige Senior Living, we understand the

emotional and physical toll of caring for someone

living with dementia, and we are here to help.

Our award-winning Expressions Memory Care

program is designed specifically with memory care

residents in mind and provides daily opportunities

for residents to remain active and engaged in

a familiar and comfortable environment. Using

innovative care techniques and life enrichment

programming, our goal is to help our residents

feel accepted, important and at home.

Call us at (253) 851-5306 to schedule a tour.

68 | GIG HARBOR LIVING LOCAL march/april 2022
---
THE TRAITS OF A

Good Investor

How women can make the most of them

ARTICLE COURTESY OF NANCY HARRIS, CMFC, CDFA PRESIDENT, FINANCIAL

PLANNER, NEW FOUNDATION WEALTH GROUP

new foundation

wealth group

Many women manage their own

money. This includes women

who have always been doing so

and women who are relatively

new to the world of investing.

Regardless of your level of investing

experience, there are certain investor traits

that can prove advantageous for anyone. Traits

such as patience, willingness to confront and

deal with mistakes, and recognizing when help

is needed can benefit portfolio returns.

Feel you aren't as knowledgeable as you

should be about investing?

Recognizing what you don't know can be

an asset. Being willing to ask questions and

understand some basics will serve you well.

Also, being a good investor doesn't mean you

need to do all the work yourself. A financial

professional can help you set a strategy,

select specific investments, monitor their

performance, and make adjustments as

circumstances dictate. There is no assurance

that working with a financial professional will

improve investment results.

Are you risk averse in the right way?

When people feel unsure about their investing

skills, they sometimes take the path of least

resistance and invest very conservatively. In

some cases, this can be helpful. For example,

avoiding big risky bets that can single-handedly

drag down a portfolio can sometimes lead to

better risk-adjusted performance. However,

this trait can also be a double-edged sword if

you're investing far more conservatively than is

appropriate for your goals and circumstances,

either out of fear of making a mistake or from

not being aware of how risks can be managed.

Being unaware of how inflation can affect

investment returns or how to balance various

types of risks can leave you vulnerable to a

shortfall in your retirement savings or other

financial goals.

All investing involves risk, including the

potential loss of principal, and there can be no

guarantee that any investment strategy will be

successful. But perhaps the biggest risk of all

is not taking the steps needed to try to secure

your financial future.

Can you be patient?

Excessive trading costs have historically been

one of the reasons individual investors often

underperform the stock market as a whole. A

portfolio is—or should be—a means to an end,

not a competitive sport. It's a way to pursue

your financial goals, rather than a measure of

self-worth or a vehicle for bragging about how

you "beat the market."

If you're money savvy:

• To ensure that you're making the most of

your money, benchmark the performance of

your investments and your portfolio as a whole

against a relevant index or model portfolio.

• Make sure your asset allocation adjusts to

changes in your life circumstances.

• Don't underestimate the impact of taxes,

fees, expenses and trading costs on portfolio

performance. If you've amassed substantial

assets, you might benefit from expert help

in dealing with issues such as taxes, estate

planning and asset protection.

• Have a game plan to keep yourself from

panicking during volatile markets.

Equipping yourself to pursue your financial

goals is time well invested.

Nancy Harris is a Registered Representative and

Investment Adviser Representative of Equity

Services, Inc. Securities and investment advisory

services are offered solely by Equity Services,

Inc., Member FINRA/SIPC, 1200 Newport

Center Drive, Suite 270, Newport Beach, CA

92660 (949) 836-7809. New Foundation Wealth

Group is independent of Equity Services, Inc.

TC125329(0122)1

BUILDING SOLID

FINANCIAL FOUNDATIONS

We develop & review strategies,

plans & solutions, as well as

work to create a safe & caring

environment where everyone can

discuss their financial concerns,

dreams & goals.

NANCY HARRIS

President, Financial Planner

253.358.3965 | NewFoundationWG.com

4423 Point Fosdick Dr., Ste. 208-2, Gig Harbor, WA

Nancy Harris is a Registered Representative and Investment

Advisor Representative of/and offers securities and investment

advisory services solely through Equity Services, Inc., member

FINRA/SIPC, 1200 Newport Center Dr., Ste. 270, Newport Beach,

CA 92660. ESI operates as Vermont Equity Services in CO, MO,

NH and WI. New Foundation Wealth Group is independent of

Equity Services, Inc. unless otherwise noted. TC116196(0820)1.

GIG HARBOR LIVING LOCAL march/april 2022 |

69
---
IMMUNE HEALTH

Why your metabolic health matters

AIM TO

REVERSE DISEASE,

RECLAIM YOUR HEALTH,

AND

LOVE YOUR BODY AGAIN

OPTIMIZE YOUR

Overall health • Body composition

Physical performance • Immune system

schedule your

metabolic

assessment today!

Obesity

Metabolic Syndrome

Diabetes/Pre-Diabetes

Cardiovascular Disease

Abnormal Lipids

Hypertension

Polycystic Ovary Syndrome

Erectile Dysfunction

Fatty Liver

CHRISTOPHER J. STADTHERR, MD

Pandemics of infection are not new

to this world, so what makes this

one so disruptive? It appears that

we are witnessing a collision of two

pandemics: 1) a viral infection that exploits the

weakened immune systems of the chronically

ill and 2) a pandemic of chronic metabolic

disease, affecting nearly 90 percent of the

population.

Nearly all people (95 percent) who require

hospitalization for COVID-19 have at least one

feature of the Metabolic Syndrome, as defined

by abdominal obesity, high blood pressure,

elevated glucose, and lipid abnormalities.

Metabolic Syndrome, also known as Insulin

Resistance Syndrome, is an inflammatory state

and is closely associated with outcomes in all

infections, not just COVID-19.

An elevated glucose level, with or without a

diagnosis of diabetes, is a strong predictor

of in-hospital adverse outcomes, portending

a 7-fold higher mortality compared with

individuals who have well-controlled glucose

levels. Multiple studies have supported this

finding, with high glucose being a clear and

strong poor prognostic factor in COVID-19.

Obesity or increased waist circumference has

long been known to be associated with worse

outcomes from viral infections, with a 3-fold

increase in severe disease with COVID. This

increased risk is particularly associated with

visceral fat—the fat that is located centrally,

in the abdominal cavity, which is particularly

hazardous to our overall health.

Furthermore, higher degrees of obesity

are associated with more severe disease.

Unfortunately, only 12 percent of the

population has body fat in the normal range,

while 80 percent of the population has excess

body fat.

by CHRISTOPHER J. STADTHERR, MD

Physical activity is another factor that is

closely tied to outcomes in COVID-19.

Standard guidelines for activity recommend

150 minutes per week of moderate to vigorous

physical activity. Individuals who do not

engage in exercise are at a markedly increased

risk of hospitalization, ICU level of care,

and death.

Similarly, exercise capacity is inversely related

to the need for hospitalization, meaning the

less time you can tolerate a treadmill stress test,

the more likely you are to end up hospitalized

due to severity of infection. Muscle strength

and muscle mass are also important factors,

with larger thigh circumference and higher

grip strength both being protective for those

with moderate to severe COVID.

The impact of chronic disease on severity and

outcomes of infections (including COVID-19)

cannot be overstated. There is abundant and

consistent data demonstrating that metabolic

health is critical to immune health.

Microorganisms will forever be a threat to

humans. Thus, we must focus on resilience,

because avoidance is impossible.

The following are key areas of your health that

deserve attention to build your best defense

mechanism against infection.

• Eliminate excess body fat.

• Reduce intake of highly processed foods

which can be inflammatory.

• Ensure adequate levels of vitamin D.

• Prioritize sleep and mental health.

• Be physically active.

These interventions collectively will help you

to bolster your immune system and protect

yourself against the inevitable exposure to

pathogens. There's not a single intervention

that can protect you quite like a healthy

immune system.

Physician/Owner phone: 253.256.1532

6625 Wagner Way NW, Suite 201

Gig Harbor, WA 98335

www.RevitalizeMetabolicHealth.com

70 | GIG HARBOR LIVING LOCAL march/april 2022

70
---
tip

HEALTHY

spring

cleaning.

As the snow begins to melt away, the rainy days

dissipate and the weather becomes more conducive to

spending more time outdoors, it can only mean one

thing … spring has arrived! There is nothing quite

like the arrival of spring—not just the more

temperate weather, but more daylight hours.

Add in those extra rays of sunshine after those

grey winter months, and it's sure to inspire

you to get up, get moving, and get cleaning!

After spending much time indoors the

past several months, it's most likely that your

house could use some deep spring cleaning. From

scrubbing and dusting, cleaning

windows and clearing cobwebs,

to purging all those things that

just add clutter to your life,

there's no better time than

now to get started. Not

only will your house

look great, you'll feel

good too, as those

household chores get

you moving—and can

even work up a sweat.

It's a win-win for your

home and your body.

GIG HARBOR LIVING LOCAL march/april 2022 |

71
---
Let's Talk Eyeballs

The Menace of Myopia

Sweet

Treats For

YOUR EYES

by DR. KANDI MOLLER, OWNER OF EYE CANDY OPTICAL AND THE MYOPIA CONTROL &

TREATMENT CENTER IN UPTOWN

Annual Exams and

Nearsightedness Treatment

Request Appointments

Online!

EyeCandy-Optical.com

Vision exams, medical exams,

Neurolens, & more

Our mission is to share our love

of incredible glasses with the best

service as possible.

DR. KANDI MOLLER

#gumdropthepig

253.432.4303

Uptown Gig Harbor

4735 Pt. Fosdick Dr. NW, Ste 300

Gig Harbor, WA 98335

Obviously vision and eyeballs are

dear to me, but this time let's talk

about a subject even closer to my

… eyes, as I grew up with it and

still suffer from its long-lasting effects: myopia

and how it affects your children. This is a

crucially important topic, so read on and tell

your friends/family.

My-OH-pee-WHAT? Myopia is the medical

term for nearsightedness, which means the

patient can see up close but not far away,

whether that is the TV, white board, or road

sign. How do you know if you are nearsighted?

Go dig out your family's prescriptions right

now. (If you are still part of the group that has

never had an eye exam, you obviously did not

read my first article … the shame! Everyone

else has learned early eye exams are the best

way to protect your most important sense.)

Look at the prescription numbers: If the first

number starts with a minus number, like

-2.00, then you are nearsighted. The higher

the number, the worse it is, and the harder it

is to see things far away. Having nearsighted

parents greatly increases the risk your children

will be nearsighted; even if neither parent is

nearsighted, children still have a 1:4 chance.

I am concerned for your children and their

chances of developing high myopia.

For those of you thinking, "Myopia's not a big

deal. Johnny will just wear correction or get

Lasik," understand this: It hugely increases

the risk of some pretty serious eye diseases.

Nearsightedness happens because the eyeball is

stretched longer than normal. That stretching

thins the back layer and increases the chances

of retinal detachment, myopic macular

degeneration, glaucoma and cataracts, some of

which can be visually devastating.

So being nearsighted doesn't just mean you're

"blind," it also means you could go blind. Really.

Even traditional methods of compensating for

myopia, like glasses, contact lenses, or even

Lasik surgery, leave the eyeball stretched so the

risk of diseases is not decreased.

There is a bright lining to all this doom and

gloom! Your kids are not destined to have their

prescriptions get worse and worse yearly. We

have methods to treat, control, and maybe

even prevent, myopia! The earlier we start

treatment, the less nearsighted the child will

eventually become, thus decreasing how

long the eyeball becomes and decreasing the

chances of the scary diseases. We can design

a personalized treatment program to combat

this disease. My goal is to stop kids' vision

from getting worse, but we need to start now,

yesterday even. The longer we wait, the higher

the prescription becomes. We can't reverse it,

but we can try to prevent it from worsening.

Make it your goal to have an eye exam this

year for the entire family. I promise it will

be (relatively) easy, and we can get your

children off to their best start in life with

myopia treatment.

I am always here for questions or concerns:

info@eyecandy-optical.com or 253.432.4303.

72 | GIG HARBOR LIVING LOCAL march/april 2022
---
THE HERO'S JOURNEY

Following and finding your bliss

by JENNIFER "TAZ" VAZQUEZ

"I still believe in heroes." - Nick Furry,

The Avengers

Have you ever heard of a Hero's

Journey? You have if you

watched "Star Wars," "The Lord

of the Rings" or any of the 27

Marvel movies!

An excellent 2011 documentary, "Finding Joe,"

explores the Hero's Journey via the theory of

Joseph Campbell, a comparative mythology

and religion literature professor. Campbell

described a common pattern that existed in

many of the world's great myths and parables,

regardless of their origin or time of creation,

which he called a "Hero's Journey."

During the journey, the hero will be asked to

step outside societal demands and their own

comfort zone. Along the way, the hero will

discover moments of doubt, fear, both internal

and external obstacles, a crisis or two. They

have to learn to surrender to the journey; and

they will experience a death or letting go of

their old self (i.e. what no longer serves them,

their control, or expectations). While they will

receive help from others, the dragon(s) (fears/

doubts/challenges) they have to slay (face) will

be theirs alone to conquer.

For example, in the Marvel Iron Man movies,

during Tony Stark's journey, he faced the

challenges of his own mortality and learned to

trust others so he could slay his own dragons

(narcissism, ego, a failing artificial heart, and

several villains).

In the end, the hero returns home with the

treasure (i.e., knowledge, experience, or

purpose) and shares the treasure so others may

benefit, and/or be called on their own journey.

The journey changes the hero, but they've

learned to trust themselves (and others), feel

in alignment with their genuine self, and

experience deep joy and a sense of purpose.

The hero's journey is a metaphor for our own

life. The documentary got me thinking about

my own Hero's Journey, from decades of posttraumatic

stress, anxiety and depression to

self-acceptance, loving life, and finding my

purpose in service of others. How about you?

Have you been called on a Hero's Journey and

found your bliss? Or are you feeling stuck or

unfulfilled in your life, or wonder what your

purpose is?

The key to finding your own bliss is to say

yes to the Hero's Journey. Take some time to

answer three questions to help you get started:

1. What are you passionate about? (Hint: Do

more of it!)

2. What sets you apart (your unique

knowledge, skills, abilities, gifts)? (Hint: Share

them!)

3. If you had all the money and time in the

world, what would you do, and how would it

benefit others? (Hint: Now take one tiny action

step toward your dream and repeat, daily!)

If you want to feel joy, be in alignment with

your soul, and lead a purposeful life, you have

to be willing to follow your calling to find your

bliss (heart-centered joy/rapture). If you want

to find and follow your bliss, then you have to

be willing to go on your own Hero's Journey.

Ready to slay some dragons and return with

the treasure, y'all? I gotta tell you, it is so

worth it!

"I shouldn't be alive unless it was for a reason.

I'm not crazy, Pepper. I just finally know what

I have to do. And I know in my heart that it's

right." - Tony Stark, Iron Man

"When you follow your Bliss, the universe

will open doors where there were only walls."

- Joseph Campbell

Jennifer Vazquez

Life Coaching

Rediscover You

& Set Your Soul on Fire!

Who do you want to be or

what do you want to create in

this world?

Contact Me Today!

360.591.9256 • tazvazquez.com

dancingdogs2@hotmail.com

GIG HARBOR LIVING LOCAL march/april 2022 |

73
---
SPRING

BEA

UTY

The top trends to keep you

looking, and feeling, beautiful

by RACHEL KELLY

74 | GIG HARBOR LIVING LOCAL march/april 2022
---
GIG HARBOR LIVING LOCAL march/april 2022 |

75
---
Beauty and fashion go hand-in-hand, and when you look great,

you feel great! Whether it's thanks to that simple yet effective

skin regimen that you religiously follow or choosing that

perfect outfit to seamlessly accentuate your figure, every day

is a reason to celebrate you. This season, let your true colors shine

through your beauty choices. There's sure to be a favorite trend you'll find

yourself following.

Now that the spring season has arrived, it's time to ditch—or at least begin

to leave behind—those heavy, bulky sweaters and puff jackets and start

transitioning into clothing that is a bit lighter and sleeker. You're sure

to feel like you've lost a few pounds too! Trade that wool, polyester, and

water-proof slicker for breathable material. Clothing such as linen and

cotton allows for air to move through the clothing, preventing sweat and

skin irritation. It also easily moves with you as you continue to get out

into that fresh spring air. The added advantage of dressing according to

the cloth versus the clothing means that you can dress up, down, warm or

cool—making layers less and less necessary. As it continues to get dryer

out there, a sweater made from cotton may be comfortable both outside

in the chill and indoors where it's warm.

As the temps continue to rise, and the flowers emerge, you may find

yourself feeling the need for a bit of color. Earth colors, small print florals

and solid pastels seem to be a favorite for spring when dressing for the

weather is no longer necessary. Spring is the time to begin dressing for

comfort. It's time to dig out whatever combination makes you feel fresh

and free. As the weather continues to stay chilly and wet throughout the

spring season, don't ditch the boots just yet. Whether you prefer ankle

booties, mid-calf or knee-high riding boots, these all pair beautifully

with spring-inspired attire. Boots without a heel boast comfort as the

emergence of the sun encourages more daytime outings, while heeled

boots are still acceptable for nighttime dress.

It's always important to dress for your body, whatever the season, but

less essential when dressing for function. The spring has the benefit of

having less need for function and more room for expression. Keep in

76 | GIG HARBOR LIVING LOCAL march/april 2022
---
GIG HARBOR

LIVING LOCAL'S

2020

WINNER

GIG GIG HARBOR HARBOR

LIVING LIVING LOCAL'S LOCAL'S

2021

WINNER

FACE

Confidence

THE WORLD WITH

LUXURY SKIN TREATMENTS

PERFORMED BY GIG HARBOR'S MOST

EXPERIENCED AESTHETIC TEAM INCLUDE:

Botox, Dermal Fillers, Dysport, Sculptra, Broad Band Light,

Microneedling, Diamond Glow, Acne Treatments, Full Skin

Rejuvenation and Medical Skin Care

BOOK ONLINE TODAY!

Gig Harbor's most experienced injectors and

skin rejuvenation specialists.

Laura Brougher, RN

18+ years experience

@thefaceangel

Serina Jones, LME

20+ years experience

@serinajones_aesthetics

253.514.6766 GIG HARBOR | GigHarborAesthetics.com

LIVING LOCAL march/april 2022 | 77
---
What is most

fashionable is

always defined

by what works

best for you and

your body.

mind that while low-ride and flare jeans re-emerge,

not everything in style complements a full range of

body types. Low-ride jeans work well for petite bodies

with long torsos, while waist-high flares complement

fuller figures. V-cut tops and oval off the shoulder light

sweaters complement wider shoulders and larger busts.

Floral dresses with high slits complement long legs with

shorter torsos, as well as crop-tops paired with long

cotton pants/skirts. What is most fashionable is always

defined by what works best for you and your body,

with what makes you feel most confident for that day.

Always try on what you see and buy according to what

fits best versus style trends.

As embracing self and amplifying your individual

beauty continues to trend among influencers (it's about

time!), a holistic approach to beauty has become "all the

rage" this spring. Makeup shouldn't focus on erasing

flaws and promoting sameness, but rather accentuate

our diversity and highlight everything that's lovely

and unique about us. Whether that means a bold take

on eyeliner (to highlight eyes), a gentle coverage (so

everyone can see your freckles), or a smooth matching

foundation. Before applying makeup, proper skin

hydration prevents clogged pores and encourages

makeup to bond more naturally to the skin. It also

prevents and repairs skin damage, as well as combats

acne. A trending inexpensive beauty tip is the use

of facial oils, especially around the eyes. One such

common oil is jojoba, a seed from a North American

78 | GIG HARBOR LIVING LOCAL march/april 2022
---
Luxury Vacation Rentals

in Sandpoint, Idaho

Your Property Is Our Priority

Check Availability

Protecting properties for over 20 years.

GO SANDPOINT

FAMILY OWNED & OPERATED IN SANDPOINT, IDAHO

ALL-INCLUSIVE MANAGEMENT & MAINTENANCE

FREE MARKETING ON MAJOR PLATFORMS

NO HIDDEN FEES

vacation homes

GoSandpoint.com

208.610.4416 | Jackson@GoSandpoint.com

GIG HARBOR LIVING LOCAL march/april 2022 |

79
---
Great Local Art at Ebbtide Gallery

We showcase local photography, woodwork, paintings, pottery and

glass art! Come see our collection today.

Independent

Family Practice

Clinics in Gig Harbor

Michael Wingren

MD, MPH

MENTION THIS AD TO ENTER A DRAWING FOR A $50 GIFT CERTIFICATE!

OPEN DAILY

253.851.5293 | www.EbbtideArt.com | 7809 Pioneer Way, Gig Harbor, WA

Julia Cathcart-Chang

Physician Assistant-Certified

Comprehensive Physicals

Treatment of Acute Conditions

Management of Chronic Diseases

Prevention and Wellness

Geriatric Care

Women's and Men's Health Care

Immunizations

Weight Loss

Dermatology (Skin)

Commercial Driver License Exams

Motor Vehicle Accidents

Labor & Industries Claims

6718 144th Street NW

Gig Harbor, WA 98332

253.857.6166

soundclinicalmedicine.com

80 | GIG HARBOR LIVING LOCAL march/april 2022
---
dress for your body, whatever the season

desert plant. Jojoba oil closely resembles the body's natural hydrating oils and is readily absorbed into the skin. It's natural antiinflammatory

properties due to natural antioxidants and vitamin E promote the production of collagen and the reduction of

scars. It also naturally combats acne by being an antibacterial and antifungal. Aside from jojoba, there are benefits to a variety of

oils such as rose and even marijuana extract.

Another great tip for a healthy style this spring is to prioritize self-care—an important aspect of style that often goes overlooked.

Whenever possible, get a good night's sleep and drink plenty of water. It might help getting a massage every once in a while, or

spend time in the sauna. Style first and foremost stems from confidence, which often is a product of making time for personal

needs. It's unfortunate that we live in a world that discourages rest and rehabilitation when it's so obviously needed. Not just for

style, but for everyday life. So when in doubt about whether or not you should go out by yourself to release some pent-up stress,

the answer is yes. Yes, get out. Yes to that haircut that accentuates your eyes. Yes, go shopping. And yes, those hoop earrings look

great on you. Oh, and don't forget those heels! They're on sale.

Whatever the trend, whatever the tip, this spring we can look forward to beauty that promotes health, healing and a natural glow.

GIG HARBOR LIVING LOCAL march/april 2022 |

81
---
YOUTHFUL SKIN STARTS WITH

COLLAGEN

Treatments and products to restore and rejuvenate

by SERINA JONES, LME, GIG HARBOR AESTHETICS

LUXURY SKIN TREATMENTS:

Botox • Dermal Fillers • Skin Tightening

Skin Rejuvenation • Acne Treatments

Facial Treatments

BOOK ONLINE TODAY!

253.514.6766

GigHarborAesthetics.com

3226 Rosedale St. Suite 100, Gig Harbor

GIG HARBOR

LIVING LOCAL'S

2020

GIG HARBOR

LIVING LOCAL'S

2020 2021

WINNER

Schedule a Deluxe Diamond Glow Facial

and Receive a $25 Gift Card

Spend $300+ on ZO Obagi Skincare

and Receive a Free ZO Obagi Gift

Laura Brougher, RN

17+ years experience

@thefaceangel

GIG HARBOR

LIVING LOCAL'S

2020

GIG HARBOR

LIVING LOCAL'S

2021

WINNER

Serina Jones, LME

20+ years experience

@serinajones_aesthetics

82 | GIG HARBOR LIVING LOCAL march/april 2022

As you age, you produce less

collagen and elastin—the proteins

that promote skin firmness and

elasticity. This results in the

formation of shallow to deep facial folds,

dullness, and thinner looking skin. While

we can't stop the aging process, there are

treatments and skin-care products that can

help you restore lost collagen—and with it, a

more youthful glow.

Collagen Boosting Favorites for Healthier

Looking Skin

Radio Frequency Microneedling. RF

Microneedling takes all the things we

love about microneedling and adds the

benefit of Radiofrequency heat energy. For

a summarized version, we are using fine,

sterile needles to create micro-wounds to the

skin. These injuries cause your body to begin

healing itself, resulting in newer, stronger and

better collagen production.

The two most visible benefits provided by this

treatment are tighter skin and a smoother

surface—meaning fewer wrinkles. But RF

therapy is versatile, so you can also expect an

improvement in sun damage.

This is great news for those with photoaged

skin; treating dark spots, sagging, and other

effects of the sun is notoriously hard to do.

Most people think aging is the only culprit

behind collagen degradation, but the sun is

even more vicious. The ability to reverse UV

damage is nothing less than revolutionary.

Microneedling with Skin Pen. Microneedling

with Skin Pen not only helps reduce the

appearance of fine lines and wrinkles, but

also has a positive effect on uneven skin tone

and acne scars—improving the skin's overall

appearance to give you a fresher, younger look.

Using a cordless, fractional, automated

microneedling device composed of medicalgrade

stainless steel, controlled micro-injuries

are created in the skin. This results in the

production of new collagen and elastin,

combats the effects of sun damage, and

significantly improves the look of your skin.

Micro-channels are also created in order to

improve the absorption of topical gels, creams

and serums and enhance their effects.

Visible changes in the skin can develop over

the course of a few days or several weeks after

the treatment. Because collagen production

continues over time, you'll see results continue

to improve for up to six months.

Sculptra Aesthetic. Sculptra is a new injectable

used to fight wrinkles and sagging skin by

stimulating the skin's collagen production to

help restore the cheeky plumpness of healthy

skin. It is an alternative anti-aging treatment

to injectable dermal fillers, skin creams,

fat injections and implants. An important

structural protein found in connective

tissue, collagen keeps the skin firm, youthful

and smooth.

Supporting Long-Term Collagen at Home

We've got a secret for you—it's called Alastin

Restorative Skin Complex. One of our most

advanced collagen-boosting serums, it

complements the above collagen-boosting

treatments perfectly. After your treatment,

and once your provider has recommended you

resume your normal skin-care routine, it will

keep working for you—creating more collagen

for even better results.

By clearing out old and replacing it with new,

healthy collagen and elastin, Alastin Restorative

Skin Complex works to help hydrate and firm

the skin, reducing the appearance of wrinkles

and fine lines.

If you're looking to revitalize your skin and

regain a more youthful appearance, reach

out to Gig Harbor Aesthetics to schedule a

consultation today.
---
Harbor Regenera

Harbor Regenerative

SPECIALIZING IN REGENERATIVE

MEDICINE/INJECTION THERAPY

NATIONAL

MONTH

Up to $1000

back on select styles

SERVIC E S

PRP

REGENERATIVE PAIN

PROLOTHERAPY

MICRONEEDLING

HAIR RESTORATION

HORMONES

BIOIDENTICAL

INCLUDING

TESTOSTERONE

Your Satisfaction is Our Priority

Carpet • Laminate • Vinyl • Tile • Stone • Hardwood

Now offering design services and window coverings

f www.facebook.com/CSFLOORS

www.csfloors.net | 253.853.5833

8803 SR 16 NW, Gig Harbor, WA

Dr. Lisa Ballantyne

3007 Judson Street | Gig Harbor

253.777.3776

harborregenerative.com

Social Media - @HarborRegenerative

GIG HARBOR LIVING LOCAL march/april 2022 |

83
---
Spring Skin Care Starts Now

Simple tips to help the skin transition

from winter to spring

by TAYLOR SHILLAM

With a transition into a brighter, sunnier season on the way, adjusting our beauty

and skin-care habits for the spring will help us hold on to some of that glow!

Winter often leaves the skin dry, depleted and ready for renewal. Jump-start your

spring skin care with simple techniques that can renew your skin from the dryness of winter,

offer enhanced sun protection, and help you look and feel your best in the coming months.

84 | GIG HARBOR LIVING LOCAL march/april 2022

84 GIG HARBOR LIVING LOCAL march/april 2022
---
1

Make Hydrating Swaps

The winter's harsh, cold temperatures will often strip the skin of its

moisture. While cold-weather skin care is all about replenishing

that moisture with more heavy-duty moisturizers, spring skin care

focuses on the concept of "less is more."

Because warmer temperatures support the skin in producing more

of its naturally hydrating oils, spring is the right time to opt for a

more lightweight formula. Mild gel- or water-based moisturizing

cleansers are great options to help lock in hydration without

adding unnecessary oils.

2

Lighten Up

The end of winter is an excellent time to lighten up—we can shed

layers of clothing, reduce layers of clutter, and the layers of thick

skin-care products we've used all season can now be swapped for

lighter options.

Warm weather reduces the need for heavier, full-coverage

foundations. In the spring, light to medium coverage should

suffice, providing enough smoothing coverage without weighing

down the skin or dripping off in the inevitable warm-weather sweat.

GIG HARBOR LIVING LOCAL march/april 2022 |

85
---
3

Spring Clean Your Skin Care

Spring cleaning isn't just for your closet or your living space—it applies to your

skin-care products too! Check your skin-care inventory and clear out any products

over six months old. Outdated makeup, cleansers, applicators and brushes are all

more likely to harbor germs and bacteria that will clog and dull the skin rather than

brighten it.

To keep your tools in mint condition well into the season, experts recommend

washing makeup brushes and applicators once a week with hand soap and drying

them with a blow dryer. A spring cleaning and continued clean habits can make all

the difference in achieving—and maintaining—your skin's healthy glow.

4

Glow from Within

Like many aspects of looking and feeling your best, optimal skin care starts

within. It's not just about the quality of what goes on your skin, but what your

body consumes!

Adequate hydration is an excellent way to lock in your springtime glow—through

both your daily water intake and the regular consumption of hydrating fruits

and vegetables.

Nutrients like vitamins C, A and E can help nourish the body with antioxidants and

support a healthy production of collagen, a major component within skin structure

and elasticity. Sipping lemon water and implementing hydrating, vitamin-rich

foods like citrus fruits, strawberries, nuts and avocados will help supply a variety

of key nutrients for healthy-looking skin.

86 | GIG HARBOR LIVING LOCAL march/april 2022
---
TUESDAY, MAY 10TH

VIRTUAL EVENT:

HEALTHY, WEALTHY & WISE

WOMEN 2022

THE PRESENTERS

Presenter of HEALTHY

ALEXA PEDEN

• Licensed Massage Therapist, Certified

Manual Lymphatic Drainage Therapist,

Corrective Exercise Specialist

• alexapedenmassagebodywork.com

• "Connect with and care for every part of

yourself, practice living in loving support

of your mind and body and the interplay

between them."

NANCY HARRIS

Presenter of WEALTHY

• Chartered Mutual Fund Consultant,

Certified Divorce Financial Analyst

and Registered Investment Advisor

• President, Financial Planner - New

Foundation Wealth Group

• newfoundationwg.com

• "We are surrounded by abundance

and we have the potential to

integrate it into our lives. Learn

the language of money and how

to develop financial strategies and

solutions."

5:30PM - 7:00PM

NO COST

Presenter of WISE

KIM RUSSO

• Artist, Educator and Environmentalist

• Has work in the permanent collections

of the Hilliard Art Museum, the New

Mexico Museum of Art and the Cornell

Fine Arts Museum.

• kimrussostudio.com

Commit to self care and join us on a journey of discovery in this year's virtual

event of Healthy, Wealthy & Wise Women. Start from where you are and gain

practical insights and tools. Celebrate creativity & growth in 2022!

• "Your authentic desires and dreams

are part of your genuine nature. When

you don't follow them, you abandon

yourself. Don't abandon yourself."

Register at www.newfoundationwg.com/events.htm or email NHarris@NewFoundationWG.com

Nancy Harris is securities registered and licensed to sell insurance in CA, ID, OR, PA, MT & WA. CA Insurance License #:0D49651. Any attendee from a state not mentioned may not participate in

the broadcast and must disconnect. Nancy Harris is a Registered Representative and Investment Adviser Representative of/and offers securities and investment advisory services solely through

Equity Services, Inc. (ESI), Member FINRA/SIPC, 1200 Newport Center Drive, Suite 270, Newport Beach CA 92660, 949-836-7809. ESI operates as Vermont Equity Services in CO, MO, NH & WI.

New Foundation Wealth Group is independent of Equity Services, Inc. and all others unless otherwise noted.

TC125525(0222)

GIG HARBOR LIVING LOCAL march/april 2022 | 87
---
Gig Harbor's

HOMETOWN

EXPERTS

SUPPORT LOCAL BUSINESSES

N

E

ED

A BODY SHOP ?

FIX AUTO GIG HARBOR

253-858-3522 • WWW.FIXAUTOGIGHARBOR.COM

CUSTOM PRINTS NW

Gig Harbor's premier shop for screen printing,

embroidery, signs and promotional items. Call

or email for a free design consultation today, by

appointment only. When you need orders on time

and looking great, contact Custom Prints NW!

Gig Harbor | 2801 Hollycroft St.

253.225.7725

Jessica@CustomPrintsNW.com

CustomPrintsNW.com

FIX AUTO

They understand the disruption an auto accident

can cause in your life. This is why they offer onestop

shopping for vehicle repair, whether it's a

door ding, fender bender or major collision. Their

claims experts communicate with insurers, helping

you get back on the road. Remember ... you have a

friend in the collision business!

Gig Harbor | 2905 Jahn Ave. NW #8

P: 253.858.3522

TF: 866.328.3861

FixAutoGigHarbor.com

NEW LEAF HYPNOSIS

At New Leaf Hypnosis Center, they help people

reduce anxiety and stress, conquer fears and

phobias, heal past painful experiences, quit

unhealthy habits, stop unwanted behaviors,

improve sleep and low mood—faster than you ever

imagined! Book a free consultation to take the first

step to feel better today!

Gig Harbor | 253.617.4818

NewLeafHypnosis.com

2801 Hollycroft St, Suite B

ANCHOR BAY MORTGAGE

(MB-71863)

Locally owned and operated by Tracy Hacklin

Dennis (MLO-94066) with 16 years of

experience! They provide the personalized

attention you deserve. Their clients aren't just

customers, they're friends and neighbors. VA

Home loan specialist, Jumbo, Purchase, Refi,

2nd home and Non-Owner, get your FREE

no-obligation quote.

Gig Harbor | 7700 Pioneer Way #202

253.224.1408 | AnchorBayMtg.com

f/anchorbaymtg

88

88 | GIG

GIG

HARBOR

HARBOR

LIVING

LIVING

LOCAL

LOCAL

march/april

march/april

2022

2022

JULIE REED

Gig Harbor Living Local Executive

Director of Marketing

Julie Reed brings years of marketing and creative

experience. She knows the Gig Harbor community,

and those who live, work and play here; how

business in the harbor operates; and what she can

do for you when it comes to your advertising and

marketing needs. Contact her today to get started!

Gig Harbor | 253.363.8832

GigHarborLivingLocal.com

julie@like-media.com

f GoGigHarbor
---
AMBROSE LOBATO DESIGN / BUILD

Our approach is to discover a design that reflects you and your way

of living. We are a full service design company that can satisfy your

architectural and building needs for residential and commercial

products from concept through turnkey delivery.

Gig Harbor

253.303.1993 Office | 206.251.3983 Cell

AmbroseLobatoDesign.com

GE

A BLESSING TO SERVE:

PROFESSIONAL CONCIERGE DRIVER

A Blessing to Serve has been providing transportation services to

Gig Harbor and the Tacoma communities since 2010. Let Janet

safely escort you or your loved ones with services tailored to meet

your unique needs. Whether it's a trip to the doctor's office or

dentist, errand or event, or a drop-off or pick-up at the train station,

you can trust you're in good hands.

Janet Vitcovich | janet@ablessingtoserve.com

253.307.5928 | ABlessingtoServe.com

VALONA PAINTING COMPANY

We are your full-service painters for both residential and

commercial interior and exterior needs! Licensed, bonded and

insured VALONAPC853MS. Valona Painting Company is your

local home painting expert! Call us today for a free estimate.

Gig Harbor

andrew@valonapainting.com

253.303.0359 | C: 253.985.0342

f Valona Painting Company

Making Members

Stronger in 30 Minutes,

Physically and Mentally

Full-Body Workout

Workout Changes Daily

Trainer Always Included

- NO CLASS TIMES -

STEVE THE ARBORIST

An ISA Certified Arborist serving the Key Peninsula, Gig Harbor

and surrounding Olympic Peninsula, Steve specializes in holistic

plant health care and how your trees are interconnected with other

plant life on your property. Services include general tree services, tree

health and tree risk assessments, consulting and recommendations,

arborist reports, pre-construction consulting and tree protection

zones, and eco remediation.

Gig Harbor | 253.858.5474

steve@steverarborist.com | SteveArborist.com

Uptown Shopping Center

4793 Point Fosdick Dr. NW, Ste. 100

Gig Harbor, WA 98335

(253) 514-6670

www.9Round.com

@ 9RoundGigHarbor

TIMOTHY LOPEZ, AGENT

AMERICAN FAMILY INSURANCE

Tim Lopez has been an insurance professional since 2007 and has

much experience protecting customers' dreams. American Family

Insurance is an agency offering auto, home, life, business, farm/

ranch, boat and umbrella policies tailored to fit your unique needs.

You can count on this team to be honest and straightforward, and to

put your best interests first.

7512 Stanich Lane, Suite 2 | Gig Harbor

253.858.7200 | tlope1@amfam.com

GIG HARBOR

LIVING LOCAL'S

2021

WINNER

GIG HARBOR LIVING LOCAL march/april 2022 |

89
---
WHERE TO STAY

WATERFRONT

SPA/SAUNA

POOL

RESTAURANT/BAR

FREE BREAKFAST

KITCHEN/ETTE

SUITES

PETS

FITNESS CENTER

MEETING SPACE

PRICING

Best Western Wesley Inn & Suites

6575 Kimball Dr., Gig Harbor, WA 98335

253.858.9690

BestWestern.com

$$-

$$$

The Inn at Gig Harbor

3211 56th St. NW, Gig Harbor, WA 98335

253.858.1111 • InnatGigHarbor.com

A cozy, 64-room inn that exudes ambiance and charm, combined with the adventurous

style of the Pacific Northwest. Located just 10 minutes from the heart

of Gig Harbor's dowtown waterfront dining and activities.

$$-

$$$

The Maritime Inn

3212 Harborview Dr., Gig Harbor, WA 98335

253.858.1818

MaritimeInn.com

$$-

$$$

Waterfront Inn

9017 N. Harborview Dr., Gig Harbor, WA 98332

253.857.0770

Waterfront-Inn.com

$$$

The Westwynd Motel

6703 144th St. NW, Gig Harbor, WA 98332

Pleasure Craft Houseboat Rentals

3215 Harborview Dr., Gig Harbor, WA 98335

Gig Harbor Marina & Boatyard Fleet Suites

3117 Harborview Dr., Gig Harbor, WA 98335

253.857.4047

WestwyndMotel.com

253.549.6639

PleasureCraftRentals.com

253.858.3535

GigHarborMarina.com

$-

$$

$$-

$$$

$$-

$$$

Aloha Beachside B&B

8318 State Route 302 NW., Gig Harbor, WA 98329

Beachside Bed & Breakfast

679 Kamus Dr., Fox Island, WA 98333

888.256.4222

253-549-2524

BeachsideBB.com

$-

$$$

$-

$$

Gig Harbor Marina & Boatyard Guest House

3117 Harborview Dr., Gig Harbor, WA 98335

253.858.3535

GigHarborMarina.com

HEALTH & BEAUTY

$$$

Sugaring NYC - Gig Harbor Beauty 253.853.7847 SugaringGigHarbor.com 4779 Point Fosdick Dr. Unit 400, Gig Harbor, WA 98335

Rebel'tude Salon Hair 253.514.6164 RebeltudeaSalon.com 6659 Kimball Dr. #B200, Gig Harbor, WA 98335

Air Blowout Bar

8811 N. Harborview Dr., Gig Harbor, WA 98332

253.514.6389 • AirBlowoutBar.com

Stylish blowout bar offering blowouts, dry styling and hair treatments, as well as supporting products to help maintain your style at home. From Brazilian

blowout split-end treatments and braids, to treatments to help rejuvenate, moisturize and repair your hair, Air Blowout Bar offers it all. Monthly memberships

available.

Salon Rivera Hair 253.858.2820 Salon-Riviera.com 8809 N. Harborview Dr. Ste. 201, Gig Harbor, WA 98332

A Prima Salon & Extensions Hair 253.509.0726 APrimaSalon.net 2609 Jahn Ave. NW. Ste. F-6, Gig Harbor, WA 98335

Sport Clips Haircuts Hair 253.514.6404

HaircutMenUptown

GigHarborWA.com

4641 Point Fosdick Dr. Bldg. 15, Gig Harbor, WA 98335

Gig Harbor Aesthetics Skin Care 253.514.6766 GigHarborAesthetics.com 3226 Rosedale St. Ste. 100, Gig Harbor, WA, 98335

Studio Six the Salon & Spa Hair & Spa 253.432.4219

StudioSixtheSalon

andSpa.com 4779 Point Fosdick Dr. NW. Ste. 200, Gig Harbor, WA 98335

Sweet Angel Sugar & Lash Studio Lash & Beauty 206.486.6415 SweetAngelSpa.com 11515 Burnham Dr. NW. Ste. 102, Gig Harbor, WA 98332

Lash Nirvana Lashes & Brows Lash & Beauty 253.260.5031 LashNirvana.com 7512 Stanich Ln. #5, Gig Harbor, WA 98335

Mia Lash • Brow Lash & Beauty 253.313.5906 MiaLashandBrow.com 4949 Borgen Blvd. Ste. B-105, Gig Harbor, WA 98332

Cascade Eye & Skin Center Medical Aesthetics 253.848.3000 CascadeEyeSkin.com 4907 Point Fosdick Dr. NW. Ste. E700, Gig Harbor, WA 98335

90 | GIG HARBOR LIVING LOCAL march/april 2022
---
REAL ESTATE

Joe Sanchez & Associates Coldwell Banker Bain 253.853.2262 joesanchez@cbbain.com

ForJoe.net

WaterfrontPugetSound.com

Jennifer Hawkins Hawkins-Poe Real Estate Services 253.229.1414 jennifer@key2see.com Key2See.com

Jennie Wetter • Infinity Real Estate, LLC

5775 Soundview Dr. Ste. B202, Gig Harbor, WA 98335

253.225.5602 • jennie@infinityrewa.com • JennieWetter.com

Gig Harbor's local real estate professionals, led by owner and broker Jennie Wetter. Infinity Real Estate is dedicated to meeting clients' needs, whether

they are looking to sell or buy. Jennie and her dedicated team of professionals are committed to putting the client first, providing 100 percent dedication

and care from start to finish.

Infinity Real Estate Team Infinity Real Estate, LCC 253.693.4940 info@infinityrewa.com TheBoutiqueAdvantage.com

Pat Mercado

Properties Northwest

of Gig Harbor

253.851.2511 patrick.mercado@propertiesnw.com PropertiesNW.com

Shelly Manada RE/MAX Exclusive 253.313.4794 shelly.manada@remax.com GigHarborMax.com

Gretchen L. Allen • RE/MAX Northwest Realtors

4411 Point Fosdick Dr. NW, Ste. 207, Gig Harbor, WA 98335

253.620.0028 • gretchen@homesbygretchen.com • HomesByGretchen.com

With 25 years as an experienced Realtor in our local real estate market, Gretchen takes great pride in working with her sellers and buyers consistently each

and every day. Your real estate business is her top priority! She provides a clear focus combined with personal care in understanding your most important

needs and with the highest level of integrity – second to none, delivers exceptional results!

Jennifer Sievers Sievers Real Estate 253.569.6681 jsievers@kw.com SieversRealEstate.com

Carolyn Westmoreland Westmoreland Properties 253.961.5596 carolyn@westmorelandproperties.net WestmorelandProperties.info

Tiffany Place Windermere 206.849.5425 tiffanyplace@windermere.com TiffanyPlaceRealEstate.com

Joe Sanchez & Associates, Coldwell Banker Bain

2801 Hollycroft St, Ste A, Gig Harbor, WA 98335

253.853.2262 • JSAssociates@CBBain.com • ForJoe.net

Joe Sanchez & Associates, the No. 1 Broker Team at Coldwell Banker Bain in Gig Harbor, specializes in waterfront, view and luxury properties. Delivering

top-quality client service and expertise to buyers and sellers at all price points, this fun, caring and hard-working real estate team was voted Gig Harbor's

Finest Real Estate Agents in 2020.

MARINAS & BOAT LAUNCHES

Arabella's Landing Marina 253.851.1793 ArabellasLanding.com 3323 Harborview Dr., Gig Harbor, WA 98332

Gig Harbor Marina & Boatyard Marina 253.858.3535 GigHarborMarina.com 3117 Harborview Dr., Gig Harbor, WA 98335

Jerisich Dock • Marina

3211 Harborview Dr., Gig Harbor, WA 98335

cityofgigharbor.net/187/Jerisich-Dock

Small half acre waterfront park in the heart of downtown that provides transient moorage for boaters and features a seasonal pump-out station, water

and power. Restrooms, showers and life jacket loaner station are available onsite. Boats moored past 8pm must register at kiosk. Maximum stay allowed is

three days in a 10-day period. First come, first served.

Lakebay Marina Resort Marina 253.884.3350 - 15 Lorenz Rd. NW, Lakebay, WA 98349

GIG HARBOR LIVING LOCAL march/april 2022 |

91
---
VOLUNTEER

WITH US!

253.380.7554

www.YardsByPacific.com

Find us on Facebook!

HELP INSPIRE

STEWARDSHIP FOR

THE SALISH SEA

BY BECOMING A

BEACH NATURALIST!

Train with enthusiastic &

experienced biologists

Learn about tides,

zonation, and how to

identify local marine life

Get tips & tricks on

interpreting to the public

No prior knowledge or

experience required

ADOPT A

SPECIES

Support a Point Defiance Zoo animal!

APRIL 5 - MAY 15

6 ZOOM SESSIONS

1 BEACH TRAINING

$30 PER PERSON

INCLUDES T-SHIRT

& STEWARD CLUB

MEMBERSHIP!

YOU'LL RECEIVE

Certificate of Adoption

Soft Plush of the Animal

Animal Fact Sheet

5x7 Photo of Your Animal

You'll Receive: Learn more and register at:

www.HarborWildWatch.org

To adopt your animal, visit:

www.thezoosociety.org/adopt-a-species

92 | GIG HARBOR LIVING LOCAL march/april 2022
---
Eddon Boat Park • Boat Launch

3805 Harborview Dr., Gig Harbor, WA 98332

253.851.8136 • CityofGigHarbor.net/535/Eddon-Boat-Park

Historic boat yard listed on the Gig Harbor Register of Historic Places that includes the Gig Harbor BoatShop, a nonprofit organization that provides

traditional shipwright educational classes and programming to the public as part of the city's commitment to preserving the community's maritime

heritage. Restrooms, pier, float and kayake launch and life jacket loaner station are available for public use.

Horsehead Bay Public Boat Ramp Boat Launch - - 10999 36th St. NW, Gig Harbor, WA 98335

Fox Island Public Boat Ramp Boat Launch - - 203 3rd Ave., Fox Island, WA 98333

Joemma Beach State Park Boat Launch 253.884.1944

Parks.State.Wa.Us/524/

Joemma-Beach

20001 Bay Rd. SW, Lakebay, WA 98459

Vaughn Boat Launch Boat Launch - - 17999 Hall Rd. NW, Vaughn, WA 98394

Home Boat Launch Boat Launch - - 1922 A St., Lakebay, WA 98349

Wollochet Bay Boat Ramp Boat Launch - - 37th St. NW, Gig Harbor, WA 98335

Purdy Boat Launch Ramp Boat Launch - - 7726 WA-302, Gig Harbor, WA 98329

Gig Harbor Public Boat Launch Boat Launch 253.305.1000 - 8723 Randall Dr., Gig Harbor, WA 98332

Longbranch Boat Launch Boat Launch - - 15603 72nd St. SW, Longbranch, WA 98351

SHOPPING

No Dearth of Books Book Store 253.853.3355 NoDearthofBooks.com 7803 Pioneer Way, Gig Harbor, WA 98335

Chalet in the Woods Boutique 253.851.8678 ChaletintheWoods.com 9406 74th Ave. NW, Gig Harbor, WA 98332

Clothing &

Tickled Pink Accessories 253.858.1751 TickledPinkStores.com 3026 Harborview Dr. NW, Gig Harbor, WA 98335

Clothing &

Treasures 4 Humanity Accessories 206.250.6563 Treasures4Humanity.com 7811 Pioneer Way, Gig Harbor, WA 98335

Clothing &

Sharon's Resale Boutique Accessories 253.851.3550 SharonsResaleBoutique.com 7620 Pioneer Way, Gig Harbor, WA 98335

Ship to Shore Marine & Kayak

Boating

Merchandise 253.858.6090 ShiptoShoreMarine.com 3403 Harborview Dr., Gig Harbor, WA 98332

Clothing &

Dolly Mama Boutique Accessories 253.851.5113 DollyMamaBoutique.com 7700 Pioneer Way #103, Gig Harbor, WA 98335

Beach Basket Gift, Clothing & Christmas Shop Gift Shop 253.858.9639

Facebook.com/Beach

BasketGiftShop

4102 Harborview Dr., Gig Harbor, WA 98332

The Garden Room & Home Gift Shop 253.514.6033 TheGardenRoomStore.com 4729 Point Fosdick Dr. NW, Gig Harbor, WA 98335

Maritime Jewelers Jewelers 253.853.4579 MaritimeJewelers.com 3116 Harborview Dr., Gig Harbor, WA 98335

Clark's Jewelers Jewelers 253.851.5395 ClarksJewelers.com 6946 Kimball Dr., Gig Harbor, WA 98335

Ken Walker Jewelers Jewelers 253.851.6516 KenWalkerJewelers.com 4912 Point Fosdick Dr. NW, Gig Harbor, WA 98335

van der Veen Jewelers Jewelers 253.514.8478 VanderVeenJewelers.com 4711 Point Fosdick Dr. NW, Gig Harbor, WA 98335

Harbor Landing Indoor Shopping Mall Mall -

Uptown Gig Harbor • Mall

4701 Point Fosdick Dr., Gig Harbor, WA 98335

253.851.4557 • UptownGigHarbor.com

Facebook.com/Harbor

LandingMall

3226 Harborview Dr., Gig Harbor, WA 98335

Over 35 shops, specialty stores and restaurants all located within walking distance in a charming outdoor shopping center. Shoppers can choose from a

mix of national retailers and local merchants offering the latest fashions, or enjoy a bite at a wide selection of fine-dining or quick takeout restaurants and

cafes.

For the Love of Spice Spice Store 253.858.0272 LoveofSpice.com 3104 Harborview Dr., Gig Harbor, WA 98335

THINGS TO DO

Gig Harbor Beer Festival

Cinco de Mayo Celebration

Event

Event

Spring - GigHarborBeerFestival.com

Spring - GigHarborFoundation.org

GIG HARBOR LIVING LOCAL march/april 2022 |

93
---
Gig Harbor Paddlers Cup Event Spring - GigHarborPaddlersCup.com

Easter Egg Hunt at Sehmel Homested Park Event Spring -

PenMetParks.org/Parks/Sehmel-

Homestead-Park

The Green Gig Event Spring - GigHarborFoundation.org

Madrona Links Golf Course Golf Course Spring / Summer / Fall 253.851.5193 MadronaLinks.com

Gig Harbor Golf Club Golf Course Spring / Summer / Fall 253.851.2428 GHGolfClub.com

Gig Harbor Gondola Water Activity Spring / Summer / Fall 253.432.0052 GigHarborGondola.com

Uptown Gig Harbor Summer Concert Series Event Summer - UpTownGigHarbor.com

Food Truck Feast At Sehmel Homestead Park Event Summer - PenMetParks.org

Summer Sounds at Skansie Event Summer - GigHarborGuide.com

Duffy Electric Boat Rentals at Gig Harbor Yachts • Boat Rental • Summer

3419 Harborview Dr. (Dockside), Gig Harbor, WA 98332

253.358.3491 • GigHarborYachts.com/Electric-Boat-Rentals.html

Hire an experienced skipper or captain the boat yourself aboard one of these all-electric boats. You'll enjoy a memorable experience on the water while

you take in the sights. Don't forget to grab a coolor and picnic basket for the ride, and head aboard with family and friends for the ultimate relaxing

harbor cruise.

Lee's SUP & Kayak Rentals Water Activity Summer 253.858.7341 LeesSUP1.com

Pier into the Night Event Winter - HarborWildWatch.org

7 Seas Brewing Brewery Year-Round 253.514.8129 7SeasBrewing.com

Galaxy Luxury Theatres Movie Theater Year-Round 253.851.8300

GalaxyTheatres.com/Movie-Theater/

GigHarbor

Heritage Distilling Company Distillery Year-Round 253.509.0008 HeritageDistilling.com

TOP TEN THINGS TO DO

Explore by Water

Whether by sail, powerboat, kayak, SUP or electric boat,

much of the city's charm and natural wonders are best

seen from the water.

Have a Ball

Entertainment options abound, from Galaxy's IMAX

theaters or arcade games, duckpin bowling and a laser tag

venue at Ocean5 to creative art classes with AR Workshop.

Support Local

Gig Harbor's independent boutiques, artists and specialty

shops dot the harbor—visits to the Westside and Uptown

business districts are a fun excursion as well.

Make Friends

Events and live music are a cornerstone of the harbor's

year-round calendar. From live music in the park to family

movies, fall fun runs and cultural fundraisers, there's

always a gathering to suit any interest.

Tip a Glass

Brewery, winery, distillery—take your pick. Many favorites

were born here in the harbor, and tastings are a great way

to preview local libations. Drop in for a cocktail at Heritage

Distillery, or try a local brew from favorites 7 Seas Brewing

or Wet Coast.

Share a Plate

Inventive eateries vary from casual grab-and-go spots to

fine dining and top-rated seafood shacks.

Take a Look Back

Gig Harbor has a rich maritime history, showcased

through gems like the Harbor History Museum or guided

tours on the harbor's Prohibition days.

Tee Up

Hit the greens at several courses, including Madrona Links,

the Canterwood Golf & Country Club or the Gig Harbor

Golf Club.

Walk on the Wild Side

Grab a set of wheels and glide on the Cushman Trail,

which winds through the harbor and connects to the

Narrows Bridge. Nearby Sehmel Homestead Park offers

hiking trails, play areas and gardens to explore.

Capture the Moment

In one of America's most picturesque towns, photography

options abound—choose from an array of backdrops: a

lighthouse framed by Mount Rainier and the Puget Sound,

sailboats dotting the harbor, or a beach set against the

Narrows Bridge.

94 | GIG HARBOR LIVING LOCAL march/april 2022
---
OTHER SERVICES

Peninsula Light Co. Electric Utility 253.857.5950 PenLight.org 13315 Goodnough Dr. NW, Gig Harbor, WA 98332

Coast Movers Moving 888.546.6820 CoastMovers.com 3621 Hunt St., Gig Harbor, WA 98335

Family First Adult Family Homes • Senior Care & Family Living

4700 Pt. Fosdick Dr. #312, Gig Harbor, WA 89335

253.853.2033 • FamilyFirstAFH.com

Family First Adult Family Homes has been a staple in the Gig Harbor community for the past 21 years. Here you can find 24-hour care with hands-on

owners, experienced caregivers, in-home doctor visits, semi-private and private rooms and family atmosphere.

PARKS

Adam Tallman Park

6811 Wagner Way, Gig Harbor, WA 98335

Ancich Waterfront Park

3525 Harborview Dr., Gig Harbor, WA 98332

Austin Estuary Park

4009 Harborview Dr., Gig Harbor, WA 98332

Bogue Viewing Platform

8763 N Harborview Dr., Gig Harbor, WA 98332

Crescent Creek Park

3303 Vernhardson St., Gig Harbor, WA 98332

Cushman Trail

Borgen Blvd., Hollycroft St., Grandview St.

Donkey Creek Park

8714 N. Harborview Dr., Gig Harbor, WA 98332

Eddon Boat Park

3805 N. Harborview Dr., Gig Harbor, WA 98332

Maritime Pier

3003 Harborview Dr., Gig Harbor, WA 98332

Skansie Brothers Park

3207 Harborview Dr., Gig Harbor, WA 98332

Skate Park

3510 Grandview St., Gig Harbor, WA 98332

Jerisich Dock

3211 Harborview Dr., Gig Harbor, WA 98332

Harbor Family Park

6620 32nd St. NW, Gig Harbor, WA 98335

Narrows Park

1502 Lucille Pkwy NW, Gig Harbor, WA 98335

Rosedale Park and Community Hall

86th Ave. NW & Rosedale St.

Sehmel Homestead Park

10123 78th Ave. NW, Gig Harbor, WA 98332

Gateway Park

10405 State Route 302, Gig Harbor, WA 98329

City Park

City Park

City Park

City Park

City Park

City Park

City Park

City Park

City Park

City Park

City Park

City Park

PenMet Parks

PenMet Parks

PenMet Parks

PenMet Parks

Key Pen Parks

Passive-use wildlife park with walking trails and wetlands offering interpretive

signage and viewing platforms. No restrooms. On-site parking.

Viewing platform with grand staircase leading from the platform down to a lowerlevel

plaza with picnic tables and public restrooms. An ADA lift can transport those

with disabilities down to the water level.

City park with a picnic table and human-powered watercraft landing access. Public

trail extends under the bridge and connects with Donkey Creek Park. No restrooms.

Street parking only.

Waterfront mini-park with an urban plaza and shoreline viewing offering panoramic

views of Mount Rainier. Seating and tables available for public use. No restrooms.

Street parking only.

Previously known as "City Park," a large open-air structure with covered kitchen, play

structure, swings, climbing structures, basketball and tennis courts, and baseball field

with bleachers are open to the public. Picnic tables and seating available, call to reserve.

Paved 6.2-mile trail that features seating, picnic tables, restrooms and parking

at points along the trail. Three trailheads are accessible within the city at Borgen

Boulevard, Hollycroft Street and ​Grandview Street.

1.3-acre natural park with large grassy open area. Bordered by salmon-bearing Donkey

Creek, with a trail that connects to Austin Estuary Park alongside the Harbor History

Museum. Benches and restrooms provided for public use. Street parking only.

Historic boat-building park with water-access offering landing for human-powered

boats, public pier and float, and up to 2-hour moorage at no fee. The brick house

provides a kitchen, and there is access to a sandy beach. Street parking only.

Pier and 12 x 40 foot load/unload float for mixed use, as well as load/unload facility

for commercial vessels. Year-round pump-out. Life jacket loaner station available.

Restrooms and seating. On-site parking."

Large waterfront open space offering a covered pavilion, and featuring an historic

netshed and home adjacent to Jerisich Dock that helps celebrate and preserve Gig

Harbor's maritime heritage. Restrooms on site. Street parking only.

Park includes large concrete bowl for skaters, kids' climbing wall, play structures,

benches and trails with video surveillance. Restrooms available at Grandview Forest

Park (adjacent). On-site parking.

Public dock offering welcome plaza with restrooms, featuring seasonal splash pad/

water feature, and an accessible viewing deck with picnic tables. Free for day use;

water and power available. Boats moored past 8 p.m. must register at kiosk.

18.7-acre wooded park open to the public and accessible via primitive trails. No

picnic areas or restrooms.

35-acre park offering over 1,000 feet of Tacoma Narrows shoreline access, excellent

fishing and views of the Tacoma Narrows bridge. Picnic area and non motorized boat

launch available. Features a gazebo, paved pathways and two viewing telescopes.

Rosedale Playfield offers a combination fenced grass youth soccer field, a grass 200-foot softball

diamond, two outdoor tennis courts and a half-basketball court. Rosedale Hall is located adjacent

to the tennis courts and can be rented for community and organizational events.

Large 98-acre park that includes a Boundless Playground, artificial turf soccer field, football,

lacrosse and softball fields, the Boeing Mariners Care baseball field, tennis and basketball

courts, a 1,500-person amphitheater and a pavilion, in addition to picnic areas and more.

72-acre park featuring plenty of parking, restrooms, play areas for all ages and a

large pavilion. Trailhead to popular 360 Trails.

GIG HARBOR LIVING LOCAL march/april 2022 |

95
---
DOWNTOWN GIG HARBOR

Gi Hb

86th Ave.

Roed

Rosedale St. NW

peninsula joint

use park

Harborview Dr.

skansie brothers park

dead man's island

Kopachuck Dr.

Raft Island Rd.

raft island

Ray Nash Dr.

Whitmore Dr.

Lombard Dr.

Wollochet Dr. N W

56th St. NW

Hunt St.

38th Ave.

Pioneer Wa

Hb

Hi

grandview forest park

Sn

Ray Nash Dr.

Artondale Dr.

Artnd

Murphy Dr.

Olympic D

Miw

Wollochet Dr.

32nd Ave.

B

East Bay Dr. NW

W

Warren Dr.

62nd Ave.

24th St.

wollochet bay

FOX ISLAND BRIDGE

Eas Cr

96 | GIG HARBOR LIVING LOCAL march/april 2022
---
y

UPTOWN SHOPPING CENTER

Reid Dr.

LIGHTHOUSE

G H

ht

Soundview Dr.

point defiance park

CUSHMAN TRAIL

r.

madrona links

golf course

36th St. NW

16

Point Fosdick Dr. NW

NARROWS BRIDGE

The Narrows

Stone Dr. NW

Wloe

tacoma narrows

airport

Octopus under the bridge

GIG HARBOR LIVING LOCAL march/april 2022 |

97
---
98 | GIG HARBOR LIVING LOCAL march/april 2022
---
SILVERTON, OREGON'S GARDEN CITY

SPRING

FORWARD

Now is the time to get away and explore Oregon's garden city.

Book your vacation today!

by MARGUERITE CLEVELAND

GIG HARBOR LIVING LOCAL march/april 2022 |

99
---
SILVERTON

Farms, gardens and vineyards are reborn each spring with lush greenery and bright, colorful florals peeking out from

their winter hiding places. What better place to experience this rebirth than in Oregon's Garden City—Silverton.

As winter slips away, thoughts turn to nature's annual rebirth, and what better place to experience it than Oregon's

Garden City. The charming town of Silverton, Oregon, is tucked away in the quiet side of the Willamette Valley.

Incorporated in 1885, the downtown area is like a Victorian time capsule with lovely late-19th century buildings

lining Silver Creek and nestled among stately oak trees. The town is the perfect destination and base to explore all the

area has to offer. Downtown has wonderful shops and restaurants, and is a gateway to nearby farms and vineyards.

The stunning waterfalls—yes, there are more than one at Silver Falls State Park—and the Oregon Garden will refresh

nature lovers with their gorgeous scenery. Day trips on country roads will take you through a lush agricultural area

filled with family farms and vineyards. Russian and German immigrants have created diverse communities sharing

the culture and foods from their homelands. The nearby Mount Angel Benedictine Abbey fills the souls of visitors

who come to enjoy the peaceful retreat. Following a centuries-old monastic tradition, the monks brew their own

beer from hops grown on their land for those who seek a livelier experience.

100 | GIG HARBOR LIVING LOCAL march/april 2022
---
CREW!

GIG HARBOR

CREW!

ETEST JOB AROUND!

BOR@CRUMBL.COM

IN THE CREW!

GIG HARBOR

OW ETEST HIRING JOB AROUND! IN GIG HARBOR

BOR@CRUMBL.COM

ORK ND! AT THE SWEETEST JOB AROUND!

s Mat WA.GIGHARBOR@CRUMBL.COM

11"

JOIN THE CREW!

NOW HIRING IN GIG HARBOR

JOIN THE CREW!

COME WORK AT THE SWEETEST JOB AROUND!

Email us at WA.GIGHARBOR@CRUMBL.COM

JOIN THE CREW! JOIN THE CREW!

NOW HIRING

JOIN GIG HARBOR

THE CREW!

NOW HIRING COME WORK IN GIG AT HARBOR THE SWEETEST NOW HIRING JOB AROUND! IN GIG HARBOR

COME WORK AT THE SWEETEST JOB AROUND!

4 Borgen

JOIN

Blvd Suite Email E us at WA.GIGHARBOR@CRUMBL.COM

THE

Harbor, E WORK WA AT 98335 THE SWEETEST JOB COME

Email

AROUND! WORK AT THE SWEETEST JOB AROUND!

NOW us

CREW!

at HIRING WA.GIGHARBOR@CRUMBL.COM

JOIN THE CREW

ail

11"

us at WA.GIGHARBOR@CRUMBL.COM Email us at WA.GIGHARBOR@CRUMBL.COM

n Blvd Suite NOW E HIRING COME 8.5" WORK IN GIG AT HARBOR THE SWEETEST NOW HIRING JOB AROUND! IN GIG HARB

WA 983354784 Borgen Blvd 8.5" Suite E x 11"

4784 Borgen Gig Harbor, Blvd WA 98335 Suite E

OME Gig Harbor, WORK WA AT 98335 THE SWEETEST JOB COME AROUND! WORK AT THE SWEETEST JOB A

Email us at WA.GIGHARBOR@CRUMBL.COM Email us at WA.GIGHARBOR@CRUMB

8.5" x 11"

8.5" x 11"

8.5" x 11"

Limit one cookie per person per coupon. Valid in-store at

Crumbl—Gig Harbor North. Expires 12/20/2022.

rgen Blvd Suite E

Eor, WA 983354784

Borgen Blvd Suite E

Gig Harbor, WA 98335

JOIN THE CREW!

NOW HIRING IN GIG HARBOR

Email us at WA.GIGHARBOR@CRUMBL.COM

8.5" x 11"

GIG HARBOR LIVING LOCAL march/april 2022 |

101
---
DO

Start your visit with a walking tour of Silverton exploring all that downtown

has to offer. There are charming covered bridges crossing over Silver Creek

that are so picturesque. Stop by the Visitors' Center and pick up a guide to

the Silverton murals. There are more than 30 that depict the history of the

region. You can also download the Silverton Mural Society app, which gives

you a map and information on each mural.

Explore the more than 80 acres of botanical gardens at the Oregon Garden.

The focus is on the diverse botanical bounty of the Willamette Valley and

the Pacific Northwest in over 20 specialty gardens. The commitment to sustainability

is fascinating—especially the Rediscovery Forest. There is one of

the largest collections of miniature conifers in the country and an Oregon

Heritage tree, the 400-year-old Signature Oak.

The only Frank Lloyd Wright home in Oregon is the Gordon House. It is an

example of his Usonian homes which he designed to be in harmony with

the land and were unique to the United States of North America (USONA).

Wright included a wood Fretwork window pattern that was unique to each

home. The guided tour is informative, and you will learn about the history

of the home and Wright's architectural features.

SILVERTON

SilvertonChamber.org

OREGON GARDEN

OregonGarden.org

THE GORDON HOUSE

TheGordonHouse.org

STAY

Salem and Portland. The resort rooms are spread out in separate buildings

Just outside of Silverton is the lovely Oregon Garden Resort. It's a tranquil

oasis from the hustle and bustle of Oregon's bigger cities, but it is close to

with plenty of parking. Situated adjacent to the Oregon Garden, this is a

lovely property, and many guests enjoy evening walks around the property.

The resort offers a seasonal pool, year-round hot tub and the Moonstone

Spa—all great options for relaxation. Room rates include breakfast. The

Fireside Lounge is the social hub of the resort and offers a nightly happy

hour. There is live music most nights. Check the website for special events.

There are some interesting options throughout the year.

If you love wine, look at the Oregon Resort's partnership with the Cascade

Foothills Winegrowers. This is a group of 15 small family run wineries nestled

in the Cascade Foothills in the quiet side of the Willamette Valley. You'll

find uncrowded tasting rooms and, chances are, the winemaker is pouring

your wine. Guests of the Oregon Garden Resort receive exclusive deals at

these wineries. Just show proof of your stay with your confirmation email.

OREGON GARDEN RESORT

OregonGardenResort.com

102 | GIG HARBOR LIVING LOCAL march/april 2022
---
Today

is the day

Physical training is something you

do FOR yourself, not TO yourself.

TRAIN BETTER

FEEL BETTER

BE BETTER

Feeling better when you travel makes

everything more fun. Are you ready for

your next adventure?

Call or sign up online

BeBetterGym.com

253.225.4037

3308 Uddenberg Lane, Gig Harbor, WA

F/bebettergym d/be_better_gym

GIG HARBOR LIVING LOCAL march/april 2022 |

103
---
As winter slips away,

thoughts turn to nature's

annual rebirth,

and what better place

to experience it than

Oregon's Garden City.

EAT

an historic building with two gorgeous chandeliers, which are

The Main Street Bistro & Coffee in Silverton has a local following

for breakfast, but the lunch is equally as good. It is in

pretty fancy for an early meal. The lunch portions are generous,

and the house-made soups are very tasty.

The Oregon Garden Resort has a restaurant, but the Fireside

Lounge is such a cozy choice. When your name is Fireside, you

need to have a fireplace worthy of the name. This one doesn't

disappoint with floor-to-ceiling stone dominating the middle

of the room accompanied by a two-sided fireplace with a crackling

wood fire. Nosh on Oyster Shooters, Coconut Shrimp or

Deep-Fried Avocados while sipping on Oregon wine or a craft

cocktail.

The Mount Angel Sausage Company is a must stop for Food

Network aficionados. The network showcased the company and

its "notoriously sought-after Fire Haus Brats." The site houses

the sausage company, a European market and a restaurant. The

food is authentic with all your favorites, and the sausages are

worth buying some to take home with you. The only problem

will be choosing from the large variety of options.

FIRESIDE LOUNGE

OregonGardenResort.com/dining/fireside-lounge

MAIN STREET BISTRO & COFFEE

f Main St. Bistro & Coffee

MOUNT ANGEL SAUSAGE COMPANY

MtAngelSausage.com

104 | GIG HARBOR LIVING LOCAL march/april 2022
---
Occasions

Coffee and Crepes

Serving Paninis, Crepes, Forza Coffee & More!

TRY OUR

Smoked Salmon & Asparagus Crepe

Offering crafted Gifts

By Clay & Cloth Design and

Other Local Arts

Be sure to try one of our fresh made crepes.

4700 Pt. Fosdick Dr. NW, Ste. 109, Gig Harbor, WA

253.851.2576 | f @OccasionsCoffeeandCrepes

northwest-style fish & chips · clam chowder

cioppino · bouillabaisse · steamers

Open Spring 2022 · 7806 Pioneer Way, Gig Harbor

Learn more and order online at KettleFish.com

Or visit us anytime at our flagship location 3607 NW Byron St, Silverdale · 360-692-9611

GIG HARBOR LIVING LOCAL march/april 2022 |

105
---
YUM

your local dining guide

RECIPES

LOCAL FLAVOR

106 | GIG HARBOR LIVING LOCAL march/april 2022
---
Private chef • Private in-home cooking classes

Sue's Table Signature Ceasar Salad Dressing

Available at Harbor Greens (University Place & Gig Harbor),

Local Boys, Tacoma Boys (Tacoma and Puyallup), Owens Meats,

Fardell Farm's & other grocery stores!

Gift cards make the perfect gift.

Sue's Table

Contact Sue Anderson Today

suestable1028@gmail.com • 253.651.9724 • SuesTable.com

GIG HARBOR LIVING LOCAL march/april 2022 |

107
---
Dine

Out In

The

Harbor

BBQ2U

There's nothing like a plate of pure Southern comfort.

BBQ2U brings all the smoky flavors of Texas-style

barbecue right here to our backyard. Patrons are

treated just like family and will enjoy the unique dining

atmosphere. Open seven days a week from 11am to 8pm.

4814 Pt. Fosdick Dr. NW | Gig Harbor

253.313.5656 | TexasBBQ2U.com

LUNCHBOX LAB

Experience the world's best burgers and

shakes at LunchBox Lab Gig Harbor. Stop in

for their boozy shakes (using locally produced

ice cream), hand-pressed patties, organic fresh

buns and premium ingredients. And they're

always experimenting with new menu items—

come see their newest creations! Complete

your experience with an eclectic cocktail

from the full bar. Open for lunch and dinner

11:30am to close daily for dine-in, curbside

and delivery; private dining event space and

corporate catering are also available.

r

neer Way, Gig Harbor

KETTLEFISH

Freshly hooked and perfectly cooked!

Opening in Gig Harbor in spring of 2022,

KettleFish is the place to go for fresh and

delicious Pacific Northwest seafood, featuring

Northwest-style fish and chips, clam chowder,

cioppino, bouillabaisse, steamers and more!

Focused not only on preparing a delicious

Fish.com

meal, with seafood sourced from sustainable

Byron

resources,

St,

their

Silverdale

steam kettle cooking

· 360-692-9611

process

is extremely energy efficient and fast. To

find out more and to order online, visit

their website.

7806 Pioneer Way | Gig Harbor

KettleFish.com | 360.692.9611

FKettleFishRestaurant

Instagram | KettleFishRestaurant

108 | GIG HARBOR LIVING LOCAL march/april 2022

OCCASIONS COFFEE

& CREPES

Gig Harbor's home for coffee and crepes! Located in the

heart of Gig Harbor at the Franciscan Medical Building,

Occasions Coffee and Crepes offers premium, handcrafted

espresso drinks, smoothies, fresh salads, hot

paninis, fresh made deli sandwiches, soups and of course

made-to-order crepes!

4700 Pt. Fosdick Dr. NW, Ste. 109 | Gig Harbor

253.851.2576 | F OccasionsCoffeeAndCrepes

4901 Pt. Fosdick Dr. NW | Gig Harbor

253.432.4061 | ToastTab.com/

lunchbox-laboratory-gig-harbor/v3

F LunchBoxGigHarbor

Instagram | LunchBox_Lab

MILKVUE HANDCRAFTED

DONUTS + COFFEE

Experience inspirational donut creations and

the "happiest" customer service! Known for

fresh mochi donuts, raised, filled, fritters and

cake donuts, enjoy a variety of unique flavors

including horchata, blueberry lavender,

cookies and cream, maple bacon, raspberry

and more! Also enjoy Italian sodas, Bubble

Tea and Olympia Coffee. Takeout only. Stop

in Mon.-Wed. 8am-5pm, Fri. 7am-5pm, Sat.-

Sun. 9am-5pm.

4901 Pt. Fosdick Dr. NW | Gig Harbor

253.432.4529

Instagram | MilkVue

F MilkvueHandcrafted-Donuts-

Coffee-114242959995704
---
DYE YOUR EGGS

THE NATURAL

WAY

by JILLIAN CHANDLER

3 to 4 tea bags

Enough to cover the eggs

(depending on the size of the

bowl, one to two bottles)

1 qt. strong black

coffee, brewed

4 cups of onion skin

(about 12 onions)

4 cups, chopped

4 cups, mashed

4 cups, chopped

3 tbsp.

4 cups, chopped

4 cups, chopped

WHY

HOW

April 17 marks Easter 2022, and as is tradition for many, dying eggs is a fun, family

friendly way to celebrate the holiday while spending time together.

There are store-bought home-dying options available, but have you thought about

doing something different this year? Like utilizing ingredients found in your

kitchen to naturally color those Easter eggs? If you're not sure where to start, we've

helped make it simple for all ages to navigate and color those eggs in a beautiful

assortment of colors, both deep and light hues, that are sure to impress.

1. First note, you will select one color per pot of boiling

water. Select your first dyeing agent, and place it in the

pot, along with one quart of water and two tablespoons

of white vinegar. (Do this for all ingredients listed

above with the exception of the coffee and red wine,

which the eggs will be placed directly in those liquids.)

2. Bring to a boil, lower the heat, and allow the ingredient

to simmer for 30 minutes. Strain into a bowl.

3. Gently add the eggs to be colored into the bowl (white

shells work best). Let sit anywhere from 30 minutes to

overnight, depending on the depth of color you would

like to see.

GIG HARBOR LIVING LOCAL march/april 2022 |

109

109
---
calendar

calendar

of eventsmarch/april

09

APRIL

2022

110 | GIG HARBOR LIVING LOCAL march/april 2022
---
• PURCHASE YOUR HAND-CRAFTED BOWL. PRICE STARTS AT $15.

• CHOOSE A DELICIOUS SOUP DONATED BY LOCAL RESTAURANTS AND CHEFS

• ENJOY THIS SIMPLE MEAL AND FEED OUR HUNGRY CHILDREN AND FAMILIES.

PRESENTED BY:

SATURDAY, MARCH 5, 2022 | 11:00AM-2:00PM

CHAPEL HILL CHURCH, 7700 SKANSIE AVE. GIG HARBOR

SPONSORED BY:

100% OF NET PROCEEDS FROM THIS EVENT WILL PROVIDE FOOD FOR

HUNGRY KIDS AND FAMILIES IN OUR GIG HARBOR COMMUNITY.

GIG HARBOR LIVING LOCAL march/april 2022 |

111
---
Spring into Family Fun

with PenMet Parks

SATURDAY

16

APRIL

ANNUAL EGG HUNT RETURNS

by JILLIAN CHANDLER

Create memories and a family tradition by attending

PenMet Parks' Spring Egg Hunt. PenMet Parks' Spring

Egg Hunt returns in 2022 for its 14th year! Mark your

calendars for Saturday, April 16, and don't miss the fun,

excitement, smiles and laughter the hunt is sure to bring.

The event is held the Saturday before Easter, 10am to 2pm, at

Sehmel Homestead Park in Gig Harbor.

The event features egg hunts for multiple age groups,

entertainment, crafts, games, food trucks, and more, shares

Matthew Kerns, CPRP, recreation services manager for

PenMet Parks.

Egg hunts are divided into small age groups for children up to

fifth grade, and every child is guaranteed a chance to find eggs

and win a great prize. Families will have the chance to visit with

the Easter Bunny and enjoy other spring activities.

The event is free for families to attend and participate, though

registration is required. There is a suggested donation of a food

drive Item.

To find out more about this year's Spring Egg Hunt, and other

spring happenings, be sure to visit PenMetParks.org.

It's time to get outside and celebrate spring with PenMet Parks!

SUBMIT YOUR EVENTS ONLINE!

Want your event to appear on the largest event site in the

Northwest? Submit your events to us online at Events.

DirectoryNorthwest.com 24/7, 365 days a year!

1-13

MARCH

05

APRIL

16

APRIL

112 | GIG HARBOR LIVING LOCAL march/april 2022
---
1-13

MARCH

The Gig Harbor Waterfront Restaurant Week

Held on Gig Harbor's downtown waterfront, the 2022 Restaurant Week made its return on February 28 and

continues through Sunday, March 13, at participating downtown waterfront establishments. Spanning not just

one but two weeks, you've got plenty of time to visit all of your favorites, or try something new! Spring is in the

air! It's time to get out, enjoy a meal, and show your support to our downtown waterfront businesses. To see

participating establishments and menus, visit GigHarborWaterfront.org/restaurant-week.

05

MARCH

Empty Bowls

Altrusa of Gig Harbor presents Empty Bowls, taking place Saturday, March 5, 11am to 2pm at Chapel Hill

Church. All you have to do is purchase your handcrafted bowl, choose a delicious soup prepared and donated by

local restaurants and chefs, and enjoy this simple meal. One hundred percent of the net proceeds from this event

will provide food for hungry children and families in the local community. For additional details, and to find out

more about Altrusa of Gig Harbor, visit AltrusaGigHarbor.org/empty-bowls.

19

MARCH

Shamrock'n the Harbor

Don't miss this 5k and 12k run/walk on Saturday, March 19, presented by the Greater Gig Harbor Foundation.

From 8am to noon, don your best Irish and jig over the hills and dales of the gorgeous Cushman Trail St.

Patrick's Day weekend. Proceeds benefit the Gig Harbor Senior Center, a 501c3 nonprofit organization, working

to enrich, engage and support our peninsula's vibrant senior community. For details and registration, visit

GGHF.info/shamrockn.

05

APRIL

Tacoma Rainiers Opening Night

Rainiers baseball is back, and it's time to celebrate R City over nine innings at Cheney Stadium. Join in the fun on

Tuesday, April 5, as the sights, sounds and tastes of the ballpark await, and the Tacoma Rainiers kick off another

season of affordable family fun in the South Sound. For tickets and to view the full season schedule, be sure to

visit TacomaRainiers.com. See you at the game!

09

APRIL

30

APRIL

Daffodil Grand Floral Parade

An annual tradition that brings communities together, the Daffodil Festival is set to return for its 89th year. The

Queen's Coronation takes place March 27, where 23 Daffodil Princesses will vye for the title of Daffodil Queen.

The Daffodil Grand Floral Parade is happening Saturday, April 9, in which it will make its way through Tacoma,

Puyallup, Sumner and Orting. The theme? Hope Rises. Then, April 22 through 24, is the Daffodil Marine Festival

& Marine Parade at the Tacoma Yacht Club. Also on April 24 is the Junior Daffodil Parade, hosted by the Proctor

District of Tacoma. To find out more about these events, visit TheDaffodilFestival.org.

'Winter' Sip & Stroll

Originally scheduled for February 5, Gig Harbor's Winter Sip & Stroll is now taking place this spring! Saturday,

April 30, is the new date for this tasting event focusing on Northwest wines, brews, spirits and ciders, accompanied

by small bites. This tasty event happens along the Gig Harbor downtown waterfront; the perfect place to spend a

cool spring day strolling and tasting. Early bird tickets are $35; price increases April 25 to $40, and $45 the day of

the event. Check out GigHarborWaterfront.org for additional details and to purchase tickets.

* Please note, as of press time, these events were still scheduled to take place as planned. Due to the continuing pandemic, there is the possibility

that event schedules may change or events canceled completely. Be sure to visit event websites to stay up to date with current information.

GIG HARBOR LIVING LOCAL march/april 2022 |

113
---
Serving Olympic and Kitsap Peninsula Since 1974

SPECIAL

PRICING FOR

72 MONTHS

AVAILABLE

on qualifying equipment.

See dealer for details.

Subject to credit approval.

CALL OUR GIG HARBOR LOCATION (253) 525-4053

ActivePure Technology is scientifically proven to reduce SARS-CoV-2 novel coronavirus on

surfaces. ActivePure Technology was tested on live SARS-CoV-2 virus, not proxy or

surrogate strains.

The ActivePure Technology disinfection system is the safest, fastest and most powerful surface

and air-purification technology available that minimizes recontamination and cross

contamination in real time without the use of chemicals or ozone.

activepure technology

demonstrates a

99.98% Surface

kill rate

of sars-cov-2 virus

within 7 hours

Ventilation is an important factor in preventing the

virus that causes COVID-19 from spreading

indoors. Contact us for a consultation with a

heating, ventilation and air conditioning (HVAC)

professional.

3316 56th St. NW Ste. 103

Gig Harbor, WA 98335

LIC# AIRFL*1206DG

114 | GIG HARBOR LIVING LOCAL march/april 2022

WWW.AIRFLOHEATING.COM
---
Waterfront Properties

What you dream, we make happen.

WATERFRONT, VIEW &

LUXURY PROPERTIES

Joe Sanchez & Associates

Coldwell Banker Bain

REALTORS®

"We Sell Homes. We Build Relationships."

253-853-2262 | JSAssociates@CBBain.com | WaterfrontGigHarbor.com

GIG HARBOR LIVING LOCAL march/april 2022 |

115
---
Why Team Aro

Team Aro is a F ull-Service Real Estate team that has you

covered throughout your entire real estate transaction. F rom

contractors to an interior designer along with a marketing

staff, we offer everything you need for a profitable and stressfree

experience. W e'll even front the money for your repairs!

Team Aro has 34 combined years of local experience.

WE KNOW GIG HARBOR & THE PACIFIC NORTHWEST!

FULL SERVICE TEAM | EXPERT KNOWLEDGE | MASTER

NEGOTIATORS | CUSTOM MARKETING | 206 SALES CLOSED IN 2021

STRESS FREE EXPERIENCE | WE GET YOU TOP DOLLAR

W W W . T E A M A R O . C O M

2 7 2 7 H O L L Y C R O F T S T . S U I T E 2 1 0 • G I G H A R B O R

2 5 3 • 6 7 7 • 3 5 0 0

116 | GIG HARBOR LIVING LOCAL march/april 2022