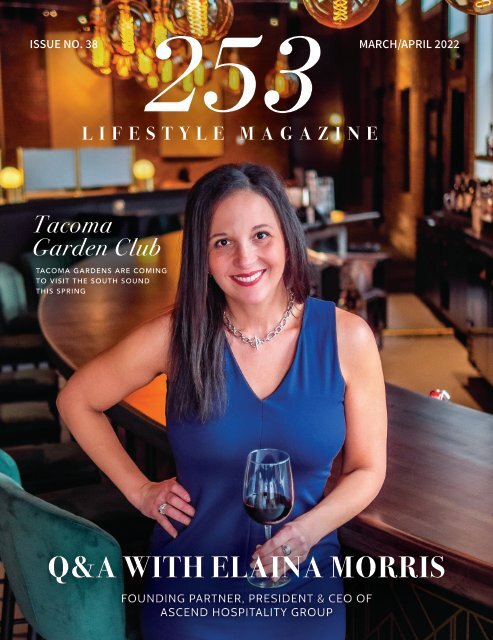 March/April 2022 253 Lifestyle Magazine
March/April 2022 253 Lifestyle Magazine
March/April 2022 253 Lifestyle Magazine
SHOW MORE
SHOW LESS
You also want an ePaper? Increase the reach of your titles
YUMPU automatically turns print PDFs into web optimized ePapers that Google loves.
ISSUE NO. 38

MARCH/APRIL 2022

L I F E S T Y L E M A G A Z I N E

Tacoma

Garden Club

TACOMA GARDENS ARE COMING

TO VISIT THE SOUTH SOUND

THIS SPRING

COVER

Q&A WITH ELAINA MORRIS

FOUNDING PARTNER, PRESIDENT & CEO OF

ASCEND HOSPITALITY GROUP

march/april 2022 253 LIFESTYLE MAGAZINE | 1
---
AD

2

| 253 LIFESTYLE MAGAZINE march/april 2022
---
AD

Building Better Solutions for Clients

With 30 years experience serving families in Gig Harbor and Pierce County,

Felicia Soleil provides more constructive alternatives to dissolving a marriage

outside of a courtroom. In addition to her family law practice, she also provides

mediation services, offering legal support, education and case management

- from simple to complex - for separation and divorce, parenting plans, child

support and prenuptial agreements.

Facing a divorce or separation? Felicia focuses on reducing and resolving

conflict, helping you transition by moving on, not just moving out.

Felicia A. Soleil, Attorney at Law and Mediator

253.853.6940 • FamilyLawResolutions.com • 6625 Wagner Way, Ste 260B, Gig march/april Harbor, 2022 WA 253 98335 LIFESTYLE MAGAZINE | 3
---
MARKETING

WASHINGTON EXECUTIVE DIRECTOR

Julie Reed | 253.363.8832

julie@like-media.com

EDITORIAL

EDITOR

Jillian Chandler | jillian@like-media.com

STAFF WRITERS

Colin Anderson | Taylor Shillam

Rachel Kelly | Joshua Nishimoto

DESIGN

CREATIVE DIRECTOR | Maddie Horton

LEAD GRAPHIC DESIGNER | Darbey Russo

GRAPHIC DESIGNER | Kennedy Pew

DIGITAL CREATIVE DIRECTOR | Whitney Lebsock

OPERATIONS

MANAGING PARTNER | Kim Russo

EXECUTIVE DIRECTOR | Steve Russo

DIRECTOR OF OPERATIONS | Rachel Figgins

DIRECTOR OF MARKETING | Allyia Briggs

CONTRIBUTORS

great things for

a great community

Founded in 1925, Peninsula Light is your member-owned, not-for-profit

electric cooperative, providing reliable power throughout Gig Harbor and

the Key Peninsula. We are dedicated to continually improving the quality

of life in this great community through system reliability, helping you

conserve and use electricity more efficiently and rising to the challenges

of a rapidly changing industry.

Sufani Garza, Olivia Browdy, Susan Moore,

Marguerite Cleveland

PHOTOGRAPHY

Photographers: In-Gear Media pg. 1, 26-29,

David Finlayson pg. 54, Marguerite Cleveland pg. 62-64

Courtesy Photos: David Finlayson, Members of the Tacoma

Garden Club, Tacoma Garden Club, Travel Salem

Advertising Agency

253.857.5950 | 888.809.8021

13315 GOODNOUGH DR. NW | GIG HARBOR, WA 98332

WWW.PENLIGHT.ORG

253 Lifestyle Magazine is published bi-monthly and distributed

freely throughout the Pacific Northwest. Opinions expressed in

articles or advertisements do not necessarily reflect the opinions

of the publisher. 253 Lifestyle Magazine is not responsible for

omissions or information that has been misrepresented to the

magazine. 253 Lifestyle Magazine is produced and published by

Like Media, and no part of this publication may be reproduced or

transmitted without the permission of the publisher.

4

| 253 LIFESTYLE MAGAZINE march/april 2022
---
Serving Olympic and Kitsap Peninsula Since 1974

SPECIAL

PRICING FOR

72 MONTHS

AVAILABLE

on qualifying equipment.

See dealer for details.

Subject to credit approval.

AD

CALL OUR GIG HARBOR LOCATION (253) 525-4053

ActivePure Technology is scientifically proven to reduce SARS-CoV-2 novel coronavirus on

surfaces. ActivePure Technology was tested on live SARS-CoV-2 virus, not proxy or

surrogate strains.

The ActivePure Technology disinfection system is the safest, fastest and most powerful surface

and air-purification technology available that minimizes recontamination and cross

contamination in real time without the use of chemicals or ozone.

activepure technology

demonstrates a

99.98% Surface

kill rate

of sars-cov-2 virus

within 7 hours

Ventilation is an important factor in preventing the

virus that causes COVID-19 from spreading

indoors. Contact us for a consultation with a

heating, ventilation and air conditioning (HVAC)

professional.

3316 56th St. NW Ste. 103

Gig Harbor, WA 98335

LIC# AIRFL*1206DG

WWW.AIRFLOHEATING.COM

march/april 2022 253 LIFESTYLE MAGAZINE | 5
---
publisher picks

march/april 2022

Meet Steve Russo, Publisher

Executive Director

steve@like-media.com

Rejoice in the Easter Season

Spring is a time for renewal, rebirth, growth and change.

As the grass turns greener, the trees begin to bud and the

flowers begin to bloom, the skies become clearer and the

sun brighter. The season brings transformation to both the world

and in our lives.

As we witness these natural wonders of the world re-emerge

this spring, let's not forget the creator behind the beauty. As

the Easter season will soon be upon us, let's take this time to

remember the reason for the season and celebrations, as Christ

sacrificed his life on the cross to save each and every one of us,

with the promise to attain eternal happiness.

garden to allow it the best opportunity to grow and thrive, do

not forget about doing the same for your heart, and your soul.

Plant those seeds of positivity, perseverance, happiness, success,

and water them daily through habits that will reinforce the person

you strive to be and the life you desire to attain.

He is risen! It's time to rejoice!

Wishing our clients, readers and communities a blessed Easter

and a season of growth, change and happiness.

While taking in the changes happening all around us, take this

season to also focus inward. As you prepare to nurture your

10 26 34

INSIDE/OUT

Transforming your indoor and

outdoor spaces

Q&A WITH ELAINA MORRIS

Founding partner, president & CEO

of Ascend Hospitality Group

SPRING BEAUTY

The top trends to keep you looking,

and feeling, beautiful

6

Connect with us @253Lifestyle @253LifestyleMag | Visit 253LifestyleMagazine.com and sign up for our E-Newsletter!

| 253 LIFESTYLE MAGAZINE march/april 2022
---
Are You Being

Found on Google?

we can help with that.

208.620.5444 • info@like-media.com • www.like-media.com

Hey there! I just tried

Googling your business and

nothing is popping up!

AD

Wait, seriously?

Yes! Have you heard of Rocket Fish

Digital? They are a digital marketing

company that specialize in helping

their clients get found on Google,

generating them more income!

Wow, that sounds like something

that I need! I'm going to give

them a call and see how they can

help me out.

march/april 2022 253 LIFESTYLE MAGAZINE | 7
---
contents

home & garden

10

10

INSIDE/OUT

Transforming your indoor and

outdoor spaces

tacoma focus

18

TACOMA GARDEN CLUB INVESTS IN

THE SOUTH SOUND

Tacoma gardens are coming to visit the

South Sound this spring

q&a

26

Q&A WITH ELAINA MORRIS

Founding partner, president and CEO

of Ascend Hospitality Group

business spotlight

30

LYDIA GELINE FOR KENSINGTON GARDENS

Where life continues to get better

health & lifestyle

36

8

32

GETTING PHYSICAL

Top ways to get moving and

feel great this season

36

SPRING BEAUTY

The top trends to keep you looking, and

feeling, beautiful

42

TAKE CARE OF YOUR SILENCE?

That place within you that knows you

are worthy

| 253 LIFESTYLE MAGAZINE march/april 2022
---
march/april 2022

feature

44

PUT THE SPRING IN SPRING TRAINING

How to best prepare your young athlete

food & entertainment

26

52

CALENDAR OF EVENTS

Check out our local happenings!

56

RECIPE

Go Au Naturel this Easter: How to dye

your eggs naturally

travel

18

58

SILVERTON, OREGON

Now is the time to get away and explore

Oregon's 'Garden City'

about the cover

Would you like to receive

this issue and future

issues in your inbox? Visit

253LifestyleMagazine.com

and sign up for our FREE

Digital Edition.

58

Elaina Morris is the founding partner, president and

CEO of Ascend Hospitality Group—a black and

female-led locally owned business. You can read more

about this inspiring business woman, and AHG's newest

business endeavor, in our Q&A on page 26.

Photo by In-Gear Media.

march/april 2022 253 LIFESTYLE MAGAZINE | 9
---
JOSHUA NISHIMOTO

Inside/Out by

Transforming your hosting and

living spaces

10

| 253 LIFESTYLE MAGAZINE march/april 2022
---
Gig Harbor

REAL ESTATE RESOURCE

you.

OUR FOCUS IS

AD

AD

key 2 see team

"Pairing innovation with

communication to create long lasting

trust so you can enjoy home."

Jennifer Hawkins | CJ Stewart | Whitney Johnson

Average Sales Price

Average Days on Market

$826,703 $4,850,000 6

$522,140

$826,703 $826,703 $533,587 $826,703 $826,703 $4,850,000 $4,850,000 $826,703 $4,850,000 6 6

5

$826,703 $4,850,000 $2,546,989 $4,850,000 6

6

6

65.7

Data from MLS 02/28/2022

Data from MLS 02/28/2022

Data from MLS 02/28/2022

What's Your Home Worth? | www.Key2See.com | 253.229.1414

march/april 2022 253 LIFESTYLE MAGAZINE | 11
---
When thinking about updating your

home or yard, look to the most popular places in and around

your home for hosting. Whether you are looking improve upon a small

seating area/nook in your living room, or you are looking to purchase

a firepit for your friends and family to huddle around for warmth

during cool spring nights, it can be a worthwhile endeavor to not only

play off current trends, but also to find your own style as you mix and

match colors in your quest to find the latest innovations to transform

your spaces.

2022 is all about crisp and contemporary colors. Shades of grey are

popular living room colors. Consider painting your living room walls

a light gray. A light grey will match other cool tones, like the neutrals,

greens, and other shades of gray and can really set the mood for an

inviting living room space.

Adding grey and yellow couches, sectionals with longer lounge pieces

and/or recliners with dark wooden side tables will add a splash of

color while keeping your living spaces rustic. Purchasing a coffee

table with hideaway storage can help minimize clutter and stow away

seasonal décor when not in use. Feel free to add wood, leather and/or

cloth footstools as needed, or as your space allows, for a relaxed and

cozy environment.

Purchasing pillows for your living room space are generally the

cheapest and most flexible way to take a plain space and add some color

and comfort. Selecting the right pillows for your space can make your

home not only look like a comfortable place to spend some time, but it

can also highlight textures with complementary tones and hues.

As we move from the living room to the kitchen, consider light or mint

green paint coupled with cobalt colored paint. Also, consider classic

dark wooden cabinets and marble countertops to give your kitchen

THROW PILLOWS: Selecting the right

pillows for your space can make your

home not only look like a comfortable

place to spend some time, but it can also

highlight textures with complementary

tones and hues.

12

| 253 LIFESTYLE MAGAZINE march/april 2022
---
Are you looking for a ROOFING Replacement?

Professional.

Reliable.

Trusted.

Manufacture

Warranties.

Easy Financing.

Offering Roofing, Siding,

Windows, Sunrooms, Patio

Covers & Kitchen Remodels,

Visit amprobuilders.net

Call us today for a free estimate: 253.590.4425

LIC#AMPROBL910LZ

Satisfaction Guaranteed-Experienced-licensed and Bonded

AD

YOUR

WELLNESS & RECOVERY

DESTINATION

Featuring float therapy, red light therapy,

BEMER & infrared sauna. Book a single session or

get access to all three treatments for one low

price with our month-to-month options!

Urbanfloat.com/universityplace | 253.533.7300 | 3633 Market Place West, Suite 5, University Place, WA

march/april 2022 253 LIFESTYLE MAGAZINE | 13
---
It's all about making your wall

space appear natural and freeflowing,

like a pattern.

a sense of balance and class. You can also mix it up by

having marble countertops and wooden cabinets with

yellow highlights for warmth.

Whether in the kitchen, the living room, or outside,

any time you are adding styling elements like candles,

sculptures and other knickknacks to your space, be sure

to style them in groups of three. You can include one

large, one medium and one small object to your space for

a dynamic and pleasing look. Adding in three elements

shows intention and direction to your design.

When hanging wall art, be sure to hang them at 57

inches, which is the average human eye height. Hanging

your wall art any higher makes it feel as though your art

is floating. Hanging your wall art any lower gives it that

giant-in-a-tiny-house effect. This also works for gallery

walls. When hanging art in a gallery wall setting, start at

the 57-inch mark as the midpoint and slowly spread out

your artwork with minor space in between. It's all about

making your wall space feel natural free-flowing space,

like a pattern.

When styling with patterns, it can be intimidating and

sometimes comes off as messy. When decorating your

indoor space with patterns, it's important to consider

scale and type of pattern. Scale is about pulling in a

large-scale pattern and incorporating two small-scale

patterns. Bringing in multiple patterns of varying sizes

can disorient the eye. Focus on the main pattern as a

highlight and mix in some smaller scale patterns to add

balance and texture.

Moving on to outfitting your backyard with stylish

appliances, consider purchasing a large barbecue or

smoker that fits your decorating style and bring the

kitchen-like feel into your yard. Consider purchasing

a magnetic knife block to keep your knives and other

accessories securely fastened and accessible at a

moment's notice.

14

| 253 LIFESTYLE MAGAZINE march/april 2022
---
march/april 2022 253 LIFESTYLE MAGAZINE | 15
---
When adding furniture to your yard, wooden benches, tables and

folding chairs can transform your plain old backyard into a woodland

escape. Consider purchasing an outdoor sectional couch and coffee

table to really give your yard that living room feel. Or switch out the

coffee table for a smokeless fire pit for lightweight and nearly smokefree

burn.

Adding accessory items like LED lights and citronella tiki torches can

help light up the night and make your backyard feel like a party while

keeping the mosquitos away. Adding vases, metal and/or glass candle

holders, sculptures, and other personal items to the tops of your island

table, side tabletops and other unused spaces can complement your

lights and pull your backyard together in a unique way.

Incorporating a kitchen island can add space for your cooking spices,

pots and pans. You can store any glasses, cups, plates and cutlery

when not in use. You can also use the top of your island to prep and

prepare foods prior to throwing them on the grill or simply dress a

summer salad. This also prevents you from having to go back and

forth from your backyard to your indoor kitchen while your guests

wait, because gathering everyone in a single space is what hosting is

really about.

Whether you are hosting inside or outside, it's important to do your

research and discover what colors and items make you happy, and

dress your spaces according to how you like them. Add furniture that

fits your space and your needs. Remember to have fun with your spaces

and try different things until you find the right style, décor and items

that fit you.

Having a living room feel in the backyard can really

make you, your family and guests feel at home.

16

| 253 LIFESTYLE MAGAZINE march/april 2022
---
AD

march/april 2022 253 LIFESTYLE MAGAZINE | 17
---
TACOMA

GARDEN CLUB

INVESTS IN THE SOUTH SOUND

Tacoma gardens are coming to visit the

South Sound this spring

18

| 253 LIFESTYLE MAGAZINE march/april 2022
---
Spring has arrived! And with it pure bliss. Not like the

winter was especially bad this last year (where were

you El Niño?), but as usual it was dark and cloudy.

Rather than using artificial lights to amp up your energy,

spring means sunshine in the outdoors. March heralds the

arrival of the crocuses and cherry blossoms, and April the

daffodils. May usually sees the blossoming of the endless

carpets of tulips, whose arrival is just around the corner. For

many, spring is a time to start planting. But it's also a time to

start getting out more.

Getting out when the mountain is out takes no

encouragement. The smell of blossoms heavy in the air,

woven in with the sharp smell of eucalyptus and salt. There's

just nothing like it. Combine that with some extra sun, and

the shedding of winter's heavy layers, and you have a recipe

for a fun day. This year, as we all flock outside with purpose,

the local gardens that are so prolific in our area are sure

to be especially popular. Popular places such as Lakewold

Gardens, the Seymour Conservatory, and the Native Plant

Garden in Point Defiance Park are supported by Metro Parks

as well as several other organizations, the most notable one

being the Tacoma Garden Club.

The Tacoma Garden Club began on March 24, in 1925. It

entered into the larger international Garden Club of America

in 1928. Soon after that it became incorporated. In 1990,

the Tacoma Garden Club made the decision to categorize

itself as a nonprofit, a distinction that it continues to hold

to this day. The Tacoma Garden Club is most notable for

their passion for gardening and their belief in responsible

stewardship of the environment, two goals that often go

hand in hand. The Tacoma Garden Club fulfills these goals

through education, activism, partnerships and generosity.

This passion for gardening has culminated in a variety of

positive outcomes for our community over its almost 100-

year operation. One of its notable community contributions

by RACHEL KELLY

march/april 2022 253 LIFESTYLE MAGAZINE | 19
---
March heralds

the arrival of

the crocuses and

cherry blossoms.

is its community grants program, which allocates

funds yearly to various community organizations.

The organization recipients then use the funds in

line with the Tacoma Garden Club's mission to

stimulate a love of gardening, protect the quality

of the environment, and to encourage civic

involvement. This last year, small grants were

granted to the Steilacoom Historical Museum

Association, Salishan Association, Lakewold

Gardens, Food is Free Project, Emergency Food

Network's Mother Earth Farm Project, and Cousin

Cooperative Pollinators and Propagators. Project

money has gone toward providing supplies for

building gardens, protecting gardeners, cataloging

rare garden species, and the encouragement of

greener garden supplies. In the past, funds have

been used to build community gardens, provide

for outdoor garden spaces and food preservation,

along with a variety of other community projects.

The Garden Club's partnerships include wellknown

gardens and organizations such as

Lakewold Gardens and the Seymour Botanical

Conservatory Foundation. It seems that most

gardens in the city are either connected to or have

received funding from the Tacoma Garden Club.

Tacoma is full of some pretty phenomenal people

bent on creating spaces for relaxation, knowledge,

preservation and beauty. By working together

and connecting with one another, instead of

competing against each other, Tacoma is that

much more beautiful. Especially in the spring.

Thanks to organizations such as the Tacoma

Garden Club, there is a lot to see. One of the

20

| 253 LIFESTYLE MAGAZINE march/april 2022
---
TIME FOR NEW WINDOWS?

Replace your drafty windows with beautiful, modern & energyefficient

windows this spring.

LIC#AMPROBL910LZ

Offering Roofing, Siding, Windows, Sunrooms, Patio Covers & Kitchen Remodels,

with warranties you can trust & easy financing. Visit amprobuilders.net!

Schedule a free consultation:253.590.4425

Satisfaction guaranteed - Manufacturer backed

Factory warranty - Experienced trade specialists ready to assist

"We hop to it!"

AD

Celebrate

WITH BBQ CATERING!

Have Smoker. Will Travel.

From an office party to an at-home celebration, or just a family

dinner, we can help with your next event large or small.

253.313.5656

Learn more & check out our catering menu at TEXASBBQ2U.COM

march/april 2022 253 LIFESTYLE MAGAZINE | 21
---
get out

WHETHER YOU'RE A BOTANIST,

PHOTOGRAPHER, NATURE LOVER, GARDEN

ENTHUSIAST, FORAGER, OR PRESERVATIONIST,

this

THERE ARE LOTS OF PLACES TO

spring.

22

| 253 LIFESTYLE MAGAZINE march/april 2022

focuses of the Tacoma Garden Club is to care for the

Native Plant Garden in Point Defiance Park. This garden

is full of various berries (elderberry and wild strawberry)

and evergreens, and is great for families with small

children who have a tendency to put things in their

mouths. Much of the garden is edible. This year they

have plans to renovate parts of the garden to allow for

gardening demos that will showcase how gardeners can

incorporate native plants into their home gardens.

Also in Point Defiance Park are the gorgeous Rose

Gardens, with a rose tunnel that is stunning when in

bloom. There is also the Rhododendron Garden, which

is in full bloom in spring, and the Dahlia garden, which

is considerably more gorgeous in the summer. Another

noteworthy garden is the Lakewold Gardens in Lakewood,

which feature a large expanse for walking and professional

photography. This garden is famous, and for good reason.

It's beautiful and full of life. The PowellsWood garden

in Federal Way is similar to Lakewold Gardens in style.

However, there is a small fee to enter both gardens that

goes toward the gardens' upkeep.

There are also many free choices to appreciate

gardens around the city. Gardens such as the Chinese

Reconciliation Park, which is a garden that was built

in the spirit of reconciliation to the Chinese people.

The garden boasts winding bridges, flowers, statuary,

waterfront views, a tidal grotto, educational plaques,

and an open pavilion. There's the Tacoma Nature Center,

which is wonderful for small children. Outdoors there is

the year-round beauty of the walking trails, which circle

around a lake and a marsh area; indoors there are books,

tanks with turtles and fish, and fun educational activities.

Under construction and soon to reopen in May is the

Seymour Botanical Conservatory, which can be enjoyed

no matter the weather. There are often community

activities and events within the conservatory, so that

is something to keep an eye on throughout this spring

and summer.
---
Has marketing your business become

overly complicated?

Advertising Agency

It doesn't have to be. Like Media

makes it simple. Inquire to learn about

our unique phased marketing plans.

full-service media agency

www.like-media.com

We build your marketing so you can build your business.

CONTACT US TODAY: INFO@LIKE-MEDIA.COM | LIKE-MEDIA.COM

march/april 2022 253 LIFESTYLE MAGAZINE | 23
---
There is something for everyone in Tacoma. Whether you're a botanist, photographer,

nature lover, garden enthusiast, forager, or preservationist, there are lots of places to

get out this spring. There's something for every interest. For home gardeners, there's

a variety of community gardens to get involved in, as well as plenty of educational

opportunities offered by organizations such as the Tacoma Garden Club. If you want

to become a part of the Tacoma Garden Club, membership does cost a nominal fee,

which allows the club to offer exceptional programming for active members and the

larger community.

For more information on the Tacoma Garden Club and their partners, visit

TacomaGardenClub.org. On that website can be found a lot of information about the

parks mentioned above. However, more extensive information can be found through

Metro Parks, under which many of the gardens listed above are overseen.

24

| 253 LIFESTYLE MAGAZINE march/april 2022
---
COMPLETE

ROOF & CHIMNEY

MAINTENANCE

SERVICES

CALL 253-851-1180

• Roof Repair, Cleaning & Free Inspections

• Skylight Repair & Replacements

• Moss Treatments

• 5-Year Certifications

• Chimney

AD

Sweep

• Gutter Cleaning

Licensed - Bonded - Insured | LIC#: ROOKSL955N5 | RooftopServicesLLC.com | f

march/april 2022 253 LIFESTYLE MAGAZINE | 25
---
Q&A WITH

ELAINA MORRIS

FOUNDING PARTNER, PRESIDENT & CEO OF ASCEND HOSPITALITY GROUP

Q&A

by MARGUERITE CLEVELAND

26 | 253 LIFESTYLE MAGAZINE march/april 2022

26

253 LIFESTYLE MAGAZINE march/april 2022
---
happy spring

SIPPING

Spring is in full swing, and it's time to enjoy

the light and fresh taste of our teas! Try our

floral and fruity springtime blends.

618 REGENTS BLVD, FIRCREST | 253.820.8998 | MIMISTEAS.COM

AD

Services:

ChiropraCtiC

Massage therapy

aCupunCture

spinal DeCoMpression

253.396.1000

601 s. pine st., taCoMa, Wa

thehealthConneCtion-nW.CoM

206.783.6000

5429 russell ave. nW. ste. 300, seattle, Wa

Divinespine.net

Experience. Life. Better .

march/april 2022 253 LIFESTYLE MAGAZINE | 27
---
28 | 253 LIFESTYLE MAGAZINE march/april 2022
---
Elaina Morris is a bundle of energy as she

juggles roles as a CEO, single mother,

and supporter of her local community.

Her leadership skills are legendary,

leading to success in business as the cofounder

and CEO of Ascend Hospitality Group (AHG),

a black and female-led locally owned business.

Lainey, as she is called by friends, is generous with

her time and leadership skills, serving as a trustee

to several non-compensated, nonprofit boards

such as Rainier Athletes, Washington Hospitality

Association Education Foundation, and Samena

Club. She is also a longtime supporter of the

various Pierce County Communities in Schools

chapters. She is a longtime member and now

trustee of the Bellevue Chamber of Commerce.

Ascend Hospitality Group's newest endeavor is

Stanford's Steak restaurant in Tacoma, located

at the site of the former Pacific Grill. Locals

who remember the old restaurant will love

the contemporary steakhouse's revamp of the

historic space. Morris had a very hands-on

approach to the new look, which manages to

ditch the stuffy, starched white tablecloths for a

more casual vibe while still remaining elegant—a

very good fit for the Tacoma dining scene.

Q. Can you share with our readers how your

love of hospitality and entertaining influences

decisions at your restaurant?

A. Personally, I value gathering—I love

entertaining groups and dining out. I am my

best customer, and I'm at home in the hospitality

industry. One of my foundational values is

making sure people in my orbit feel well cared for,

and that is also why the feeling that "You Matter"

is a core value of my company. You Matter isn't

just a phrase, it's a key tenant to the way we aspire

to deliver service daily to our guests. As the great

Maya Angelou said, "I've learned that people will

forget what you said, people will forget what you

did, but people will never forget how you made

them feel."

like this is extensive, but not overwhelming.

The brand needed the one thing I know how

to give—a big hug—which came in the form of

investment in its people and infrastructure. We

are repositioning and evolving the Stanford's

brand in this location as Stanford's Steak, a

contemporary steakhouse and lounge, so that

it remains inviting to its raving loyal guests but

also attracts the generations of guests to come.

education, and leading by example, I'm hoping

to narrow the gap for those who will be in my

position in the future.

Q. Team building is an important part of your

business model as well as "Service Matters."

Can you share how these core values affect the

guest experience when visiting one of your

restaurants?

Q. What were the challenges with becoming the

new owners of an iconic brand like Stanford's?

A. I think the question really is, "What were the

challenges with becoming the new owners of

an iconic brand like Stanford's, rescuing them

from a bankruptcy, four months before a global

pandemic!" But seriously, I love how welcoming

Stanford's is and how it has become a daily part

of the lives of so many families in both Oregon

and Washington.

Stanford's is important to the communities it

has served since the inception of the brand in

1990. The Stanford's brand is iconic and has

played an important role in the lives of many

Pacific Northwesterners, which is why I chose

the historic Waddell Building, in the heart of

downtown Tacoma, to launch its evolution. The

responsibility of becoming the owner of a brand

Q. Ascend Hospitality Group is a black and

female-led locally owned business. What are

the challenges in this position, especially when

so many see you as a role model?

A. All businesses are facing great challenges right

now—this pandemic has not been selective,

although certain industries such as hospitality

and health care have been devastated. I am sure

I feel the same challenges as most other business

owners and leaders, although I continue to feel

great responsibility to the communities and

people I represent and serve as a minority and

female leader, particularly as a single mom.

When I think about underrepresented groups

in leadership and the innate challenge presented

to us, the unfortunate fact is, the stakes are as

high as our counterparts, but there is farther to

fall, the spotlight is brighter, and scrutiny often

greater. Through mentorship, public service,

A. During the initial tenure of my hospitality

career, I had the honor of mentorship from the

great "Famous" Dave Anderson, founder of

Famous Dave's BBQ. One of the things Dave

shared with me is what he believed to be the key

to great hospitality: "Hospitality is about people,

you have to make sure you take care of your

people because when they feel good, they will

take care of your guests." Dave always referred

to this as "serving a guest or serving someone

who is"!

Here at Ascend HG, we feel it is important to

elevate the communities we serve, not just by

nourishing our patrons with excellent food, but

through the good work we do in the communities

we serve. Service to our communities and each

other is the AHG difference—and guests can

feel it.

march/april 2022 253 LIFESTYLE MAGAZINE | 29
---
WHERE LIFE CONTINUES

TO GET BETTER

KENSINGTON GARDENS RESORT LIVING COMMUNITY

BY JILLIAN CHANDLER

Gig Harbor has been home to the beautiful Kensington

Gardens since 2005—designed and built by native

Washingtonians and local residents Mark and Kelly

Watson. They have been providing personalized care

for a decade and are now adding more living options on their

27-acre estate.

The Watsons have succeeded in creating an innovative living concept

with a luxury-resort vibe. "We believe that life should continue to

get better, and as needs change over time, our residents have the

confidence of knowing they have access to our award-winning, full

personalized care," says Kelly.

KG was originally started as an event venue, but the couple found

themselves caring for Mark's grandmother, and then Kelly's father,

who suffered a stroke. They began touring facilities for their aging

family members—yet they could not find the quality of life they

were seeking.

So, in 2012, the Watsons established Regent Park at Kensington

Gardens to provide living the way they believe it should be—with

grace, laughter and love. Personalized Care means they tailor a plan

toward specific needs and goals as you age. "Our residents have fun

and feel loved in a home environment—so they thrive!" affirms Kelly.

There is exciting news on the horizon, as Kensington Gardens is

adding Villas and Cottages with their signature resort living lifestyle,

to be completed 2022-2023.

With 10,000 Baby Boomers turning 65 every day, there is an extreme

shortage of living options that are of fine quality and where residents

can age in place. Using state residential care licensing and codes, Kelly

and Mark developed their own concept—"Personalized Care Resort

Community (PCRC)"—a resort lifestyle that provides care and

evolves with residents. They have

designed an active environment

in natural surroundings, which

includes a plan for care.

Kelly and Mark are creating

a boutique community with

walking trails, tennis and

pickleball courts, meals,

activities, transportation and

care—just minutes from the

Uptown Shopping Center,

Met Market, the picturesque

downtown Gig Harbor and

lively Tacoma. The buildings

and grounds are meticulously

30 | 253 LIFESTYLE MAGAZINE march/april 2022
---
maintained, gourmet meals are designed, concierge

services are offered, and they're passionate in making

every day the best that it can be for their residents!

"Our suites will have 10- and 12-foot ceiling heights,

great room common areas, large private balconies,

heated bathroom floors, and are beautifully appointed

with quartz countertops, fireplaces and walk-in

closets," shares Kelly.

Kensington Gardens uses a membership and monthly

maintenance fee model. "This membership concept

is a plan that allows you to budget and provides a

legacy for your estate," Kelly states. "Our membership

plan provides incentive to move in earlier to lock in

the maintenance fee structure, allows partners to age

together and promotes aging in place."

While assisting a client looking for an independent

living community, Lydia Geline, Realtor for

Windermere Real Estate, toured Kensington Gardens

and had the opportunity to meet Kelly and her

father, who was also living there. "The property was

stunning, and Kelly's compassion for all the residents

sold me on Kensington Gardens," states Lydia.

Lydia's Real Estate career began as a Corporate

Relocation Agent on the Executive Team, moving

families from all over the world to work for our state's

largest corporations. "As a Realtor for the past 24

years, I have been along the journey with my clients

through many shifts and changes in their lives. I now

have the pleasure of assisting them with yet another

life chapter as a Windermere Sales Consultant with

Kensington Gardens. My clients of several years are

now looking for their next step to include lower

maintenance, healthy environment and options that

include fun, lovely meals and the ability to stay!"

Lydia is passionate about sharing all that Kensington

Gardens has to offer and making the process of

securing a forever home as seamless as possible.

To make the process simple, clients will work

with Lydia and may continue to have their Realtor

represent them in selecting their new home at

Kensington Gardens.

If you or someone you love is interested in securing

a home at Kensington Gardens, please reach out to

Lydia at 206.419.0775.

LYDIA GELINE

Windermere Real Estate

LGeline@windermere.com

206.419.0775

march/april 2022 253 LIFESTYLE MAGAZINE | 31
---
getting

physical

Top ways to get

moving and

feel great this

season!

by JILLIAN CHANDLER

When it comes to exercise, not everyone is excited to get up

early—especially when it's still dark out—to take some time

to get moving. But, making a conscious decision to dedicate

some time throughout the day, whether it's first thing in the morning,

during your lunch break, or at the end of the day, is imperative to a

healthy mind and body. And, the good news is, there are countless ways

that you can exercise your body; you just need to find the fit that works

best for you.

32 | 253 LIFESTYLE MAGAZINE march/april 2022
---
CREW!

GIG HARBOR

ETEST JOB AROUND!

OR@CRUMBL.COM

ETEST W HIRING JOB AROUND! IN GIG HARBOR

BOR@CRUMBL.COM

ORK ND! AT THE SWEETEST JOB AROUND!

THE

s Mat WA.GIGHARBOR@CRUMBL.COM

11"

CREW!

IN THE CREW!

GIG HARBOR

JOIN THE CREW!

NOW HIRING IN GIG HARBOR

JOIN THE CREW!

COME WORK AT THE SWEETEST JOB AROUND!

Email us at WA.GIGHARBOR@CRUMBL.COM

JOIN THE CREW! JOIN THE CREW!

NOW HIRING

JOIN GIG HARBOR

THE CREW!

NOW HIRING COME WORK IN GIG AT HARBOR THE SWEETEST NOW HIRING JOB AROUND! IN GIG HARBOR

COME WORK AT THE SWEETEST JOB AROUND!

4 Borgen

JOIN

Blvd Suite Email E us at WA.GIGHARBOR@CRUMBL.COM

THE

Harbor, E WORK WA AT 98335 THE SWEETEST JOB COME

Email

AROUND! WORK AT THE SWEETEST JOB AROUND!

NOW us

CREW!

at HIRING WA.GIGHARBOR@CRUMBL.COM

JOIN THE CREW

ail

11"

us at WA.GIGHARBOR@CRUMBL.COM Email us at WA.GIGHARBOR@CRUMBL.COM

Blvd Suite NOW E HIRING COME 8.5" WORK IN GIG AT HARBOR THE SWEETEST NOW HIRING IN GIG HARB

WA 983354784 Borgen Blvd 8.5" Suite E x 11"

Contact JOB AROUND!

4784 Borgen Gig Harbor, Blvd WA 98335 Suite E

OME Gig Harbor, WORK WA AT 98335 THE SWEETEST JOB COME AROUND! WORK AT THE SWEETEST JOB A

Email us at WA.GIGHARBOR@CRUMBL.COM Email us at WA.GIGHARBOR@CRUMB

8.5" x 11"

253.848.3000

8.5" x 11"

8.5" x 11"

Limit one cookie per person per coupon. Valid in-store at

Crumbl—Gig Harbor North. Expires 12/20/2022.

gen Blvd Suite E

or, WA 983354784 Borgen Blvd Suite E

Gig Harbor, WA 98335

JOIN THE CREW!

NOW HIRING IN GIG HARBOR

Email us at WA.GIGHARBOR@CRUMBL.COM

8.5" x 11"

CASCADE

COMMITMENT

GENERATIONS OF

TRUSTED CARE.

Us Today!

CascadeEyeSkin.com

UNIVERSITY PLACE | PUYALLUP

SUNRISE | AUBURN

GIG HARBOR | BONNEY LAKE

march/april 2022 253 LIFESTYLE MAGAZINE | 33
---
now is the time to

start your health

and fitness journey.

Stretching

Though we all know that stretching our bodies helps to release tension in

our bodies and stress in our minds, many of us fail to make it a priority.

Make it a point to wake up just five to 10 minutes earlier to allow your

day to begin with some gentle stretching. Focus on the major areas of

your body, holding each stretch for 30 seconds, and avoid bouncing.

From increasing your flexibility, range of motion, and blood flow to your

muscles, to improving posture, relieving stress and calming your mind,

taking the time to stretch is a no-brainer.

Mini Workouts

There are only so many hours in the day, and many of us have our plates

full between work, family and children, extracurriculars, and of course the

daily cooking, cleaning and household chores. We often wonder, "How

does anyone have time to work out?" There's a solution—mini workouts.

If you don't have a good chunk of time to take from your day to get some

physical activity in, opt to spread out several small workouts throughout

the day. Simple and quick, you can opt to pick up those free weights and

get in some reps, take a jog around the block, get some lunges, squats and

sit-ups in. There's really no excuse.

34 | 253 LIFESTYLE MAGAZINE march/april 2022
---
Time to Get

Started

1

Pick

a start date. The date doesn't need to

be significant, but starting the new week

off with a plan of action is motivation

to begin.

2

Start

slowly. To begin, choose just one new

activity to start, and schedule a time that

will work for you and your schedule ... and

stick to it!

3

Whether

it's that morning stretch or midday

walk, stay consistent, persevere, and

before you know it, you will have created a

habit that's easy to maintain.

Cardio

If you're already stretching and walking throughout

the day, you're ready to add in some cardio. Important

in maintaining a well-balanced workout program,

you can choose from "steady-state" cardio (in which

you maintain a steady pace, whether jogging or

cycling), or "interval-based" (alternating between

intense exercise periods of one to two minutes and

lower intensity periods ranging from two to four

minutes, depending on the workout).

march/april 2022 253 LIFESTYLE MAGAZINE | 35
---
SPRING

BEAUTY

THE TOP

TRENDS TO

KEEP YOU

LOOKING,

AND

FEELING,

BEAUTIFUL

by RACHEL KELLY

36

| 253 LIFESTYLE MAGAZINE march/april 2022
---
HEALTH

march/april 2022 253 LIFESTYLE MAGAZINE | 37
---
H&L

Beauty and fashion go hand-in-hand, and when you look

great, you feel great! Whether it's thanks to that simple

yet effective skin regimen that you religiously follow or

choosing that perfect outfit to seamlessly accentuate your

figure, every day is a reason to celebrate you. This season, let your

true colors shine through your beauty choices. There's sure to be a

favorite trend you'll find yourself following.

Now that the spring season has arrived, it's time to ditch—or at

least begin to leave behind—those heavy, bulky sweaters and puff

jackets and start transitioning into clothing that is a bit lighter and

sleeker. You're sure to feel like you've lost a few pounds too! Trade

that wool, polyester, and water-proof slicker for breathable material.

Clothing such as linen and cotton allows for air to move through

the clothing, preventing sweat and skin irritation. It also easily

moves with you as you continue to get out into that fresh spring air.

The added advantage of dressing according to the cloth versus the

clothing means that you can dress up, down, warm or cool—making

layers less and less necessary. As it continues to get dryer out there,

a sweater made from cotton may be comfortable both outside in the

chill and indoors where it's warm.

As the temps continue to rise, and the flowers emerge, you may

find yourself feeling the need for a bit of color. Earth colors, small

print florals and solid pastels seem to be a favorite for spring when

dressing for the weather is no longer necessary. Spring is the time to

begin dressing for comfort. It's time to dig out whatever combination

makes you feel fresh and free. As the weather continues to stay chilly

and wet throughout the spring season, don't ditch the boots just yet.

Whether you prefer ankle booties, mid-calf or knee-high riding

boots, these all pair beautifully with spring-inspired attire. Boots

without a heel boast comfort as the emergence of the sun encourages

more daytime outings, while heeled boots are still acceptable for

nighttime dress.

It's always important to dress for your body, whatever the season,

but less essential when dressing for function. The spring has

the benefit of having less need for function and more room for

38

| 253 LIFESTYLE MAGAZINE march/april 2022
---
CLEAN CALM CONSTANT

360.394.7702 | kimcoplumbing.com

Our Mission: To create a community of homes and resources for children in foster

care and youth facing homelessness.

You can make a difference.

How can you help?

Purchase a brick

Become a volunteer

Spread the word

Donate

Help with Luggage of Love

Join our fundraising events

Be a sponsor

See our website for more information and the many ways you

can make a difference in our community's youth's lives

homesteadcommunity.org

march/april 2022 253 LIFESTYLE MAGAZINE | 39
---
expression. Keep in mind that while low-ride

and flare jeans re-emerge, not everything in style

complements a full range of body types. Lowride

jeans work well for petite bodies with long

torsos, while waist-high flares complement fuller

figures. V-cut tops and oval off the shoulder light

sweaters complement wider shoulders and larger

busts. Floral dresses with high slits complement

long legs with shorter torsos, as well as crop-tops

paired with long cotton pants/skirts. What is

most fashionable is always defined by what works

best for you and your body, with what makes you

feel most confident for that day. Always try on

what you see and buy according to what fits best

versus style trends.

As embracing self and amplifying your individual

beauty continues to trend among influencers

(it's about time!), a holistic approach to beauty

has become "all the rage" this spring. Makeup

shouldn't focus on erasing flaws and promoting

sameness, but rather accentuate our diversity

and highlight everything that's lovely and unique

about us. Whether that means a bold take on

eyeliner (to highlight eyes), a gentle coverage

(so everyone can see your freckles), or a smooth

matching foundation. Before applying makeup,

proper skin hydration prevents clogged pores and

encourages makeup to bond more naturally to

the skin. It also prevents and repairs skin damage,

H&L

as well as combats acne. A trending inexpensive

beauty tip is the use of facial oils, especially

around the eyes. One such common oil is jojoba, a

seed from a North American desert plant. Jojoba

oil closely resembles the body's natural hydrating

oils and is readily absorbed into the skin. It's

natural anti-inflammatory properties due to

natural antioxidants and vitamin E promote

the production of collagen and the reduction of

scars. It also naturally combats acne by being an

antibacterial and antifungal. Aside from jojoba,

there are benefits to a variety of oils such as rose

and even marijuana extract.

What is most fashionable is

always defined by what works

best for you and your body,

with what makes you feel most

confident for that day.

Another great tip for a healthy style this spring

is to prioritize self-care—an important aspect

of style that often goes overlooked. Whenever

possible, get a good night's sleep and drink plenty

of water. It might help getting a massage every

once in a while, or spend time in the sauna. Style

first and foremost stems from confidence, which

often is a product of making time for personal

needs. It's unfortunate that we live in a world

that discourages rest and rehabilitation when it's

so obviously needed. Not just for style, but for

everyday life. So when in doubt about whether or

not you should go out by yourself to release some

pent-up stress, the answer is yes. Yes, get out. Yes

to that haircut that accentuates your eyes. Yes,

go shopping. And yes, those hoop earrings look

great on you. Oh, and don't forget those heels!

They're on sale.

Whatever the trend, whatever the tip, this spring

we can look forward to beauty that promotes

health, healing and a natural glow.

40

| 253 LIFESTYLE MAGAZINE march/april 2022
---
We are proud to announce that

Amber Colglazier,

Licensed Medical Esthetician,

has joined our team!!

Healthy, Glowing,

Fashionable?

Get the skin to match.

Artistic Plastic Surgery Center's Medical Esthetician can help.

Facial Rejuvination | SkinPen Microneedling | PRP | Acne/Acne Scar Treatments

Smooth Beam Laser Treatment | Rosacea | Spider Vein Treatment | Laser Hair Removal

Vbeam Laser Therapy | Radio Frequency Skin Tightening | Obagi ® Blue Peel

PCA Chemical Peels | Waxing Services

Skin Medica ® , Obagi NuDerm ® , Epionce ® , Jan Marini ®

Self.

Made.

.

new

KHASH A. DEHGHAN, MD, PHD, FACS

Board Certified Plastic Surgeon

253.756.0933

Office of Khash A. Dehghan, MD, PHD, FACS

3515 S. 15th St., Suite 101, Tacoma, WA | ArtisticPlasticSurgery.com

3515 S. 15th St., Suite 101, Tacoma, WA

ArtisticPlasticSurgery.com

Call for a consultation: 253.756.0933

march/april 2022 253 LIFESTYLE MAGAZINE | 41
---
TAKE CARE OF

YOUR SILENCE?

That place within you that knows you are worthy

by SUFANI GARZA

Alternative Healing Therapist, Reiki Master & Soul Care Provider,

Place of Bliss Sanctuary & Academy

P lace of Bliss

Sanctuary

JOIN US IN MEDITATION

Combining the

spiritual, the

energetic and

holistic, with

life-science and

modern psychology.

SUFANI GARZA

Reiki Master Teacher

Certified Cognitive Behavioral Therapy

Practitioner

Certified Spiritual Counselor

Certified Minister of Peace

Alternative Healing Therapist

In the busyness of our world, we risk the

loss of our silence. We find ourselves

often, in the pursuit of never-ending

progress, constantly scrolling on social

media, constantly questioning our life, choices,

purpose, and whether we are "good enough"

or "worthy enough." The most common thing

that comes up in my practice with others is the

feeling that, somehow, we aren't enough; not

enough to deserve success, health and wellness;

not enough to have love or be loved, happiness,

or the life we dream of. We share a common

theme in life; we wonder about our worthiness,

to have all we want, to be happy, and the main

craving to be satiated is love. Simple love.

Something so available; something everyone

deserves. So, what's the problem?

In all this activity of our mind, the silent voice

of peace waits for us to take care of our silence.

That place within us that knows we are worthy,

and that love is our birthright. That place that

has confidence, that place where the stories in

our heads fall silent, so we may hear our love

for self, and truly understand the beauty and

unbridled potential we are.

With the bloom of new seasons, new life, and

activity, also comes new decisions and the

potential to choose love, peace and kindness—

for ourselves and our fellow man. On every

corner is a pillar of choice for peace, and its

foundation that often sits unnoticed. With

every action that we take is an opportunity

to ask ourselves, "Won't you take care of your

silence?"

For in the silence is the continual unmasking

of ourselves as we push to grow, change, take

risks, and believe in ourselves and others. We

are capable of such beauty and profoundness. In

our silence is peace and calm, and the part of us

that smiles again despite our pain. In our silence

is the part of us that knows all will be okay. In

the silence is our connection to something

greater than ourselves—God Spirit, Nature,

Universe—and asks us to grow beyond what we

know, listen a little more, include more, exclude

less, respect our feelings and those of others.

In the silence, we can hear our own words, not

those of our past trauma, and choose to believe

in our story of hope, grace, goodness, success,

and our value.

So, in times of busyness and even the world

asunder, one thing we mustn't forget, we mustn't

neglect our wonder.

We can listen to what our soul is saying and

begin a story anew. We can change the path we

are on and ask it to renew.

The world has suffered, yet we are not the world.

We are human beings living this life, and every

step begins with you!

PlaceOfBlissSanctuary.com

42 42 | 253 LIFESTYLE MAGAZINE march/april 2022
---
MIGRAINES, HEADACHES

OR TMJ PAIN?

WHEN CHRONIC MIGRAINES OR HEADACHES AREN'T

RESPONDING TO TREATMENT, THEY DESERVE A CLOSER LOOK.

We use the latest diagnostic technology to closely examine the

musculoskeletal system of the head, neck and jaw to find any signs of

inflammation and tension that can lead to chronic headaches or migraines.

DON'T SUFFER ANY LONGER.

GIVE US A CALL TODAY!

With TruDenta therapy system and Myotronics, an

FDA-approved technology, we can provide a treatment

plan tailored to address your symptoms, which includes

the use of several tested technologies, including

ultrasound, microcurrent photo biomodulation,

muscle and appliance therapy.

RHONDA SAVAGE, DDS

253.857.0835 | 3519 56TH ST. #260, GIG HARBOR, WA

UptownDentalGigHarbor.com

march/april 2022 253 LIFESTYLE MAGAZINE | 43
---
Put the

Spring in

Spring

Training

HOW TO BEST PREPARE YOUR

YOUNG ATHLETE

by SUSAN MOORE, OWNER OF BETTER GYM IN

GIG HARBOR, WA

The idea of spring training is when professionals of all

sports unite with their teams and start training together to

see what changes need to be made to the roster and who

has put the most effort into being the valuable parts of the

team. For our youth, it's more about getting the individual athletes

prepared for the upcoming season. The pros, they get to show how

well they have already prepared. We should take a note from the pros

and prepare our kids well before the spring training begins. Athletics

is a year-round endeavor. Our kids can be multi-sport athletes, specialized

athletes, or both, by utilizing a strength, conditioning, speed

and agility program.

Playing different sports trains our body to adapt, learn and master

varied sets of skills, resulting in more well-rounded athleticism,

higher potential and a reduced risk of injury.

Kids learn how to be a team player in different environments and

get introduced to more coaching styles, learn how to interpret more

physical cues and cultivate the ability to maintain good sportsmanship

by having different expectations and teammates. This can help reduce

social anxiety and acquire the coping mechanisms to deal with and

overcome adversity. Your child may be the star in one sport and a

support position in another. Both are important life lessons.

They become athletically versatile - Kids who excel in one sport

become masters of their craft, so to speak. Good, right? Maybe

not. Typically, once they get into high school, they've reached their

ceiling. The athlete spends a tremendous amount of time going

over the same patterns day after day, season after season. Without

adding the coordination and versatility gained from multi-sport

play, they typically go from big fish in a little pond to little fish very

quickly. When they play different sports that require different body

mechanics, loading and movement patterns, the athlete is more likely

to have developed the ability to increase their aptitude to move faster,

stronger, and with more precision. They also increase their potential

for the physical and emotional demands of high-stress environments.

Essentially, they can take what life throws them.

More coachable - When kids have only been coached in one sport,

they tend to only understand the coaching of their sport and more

specifically their position. When kids have had different experiences

with completely different sports or athletic training, their bodies gain

the ability to add neural pathways; the signal pathways they need to

44

| | 253 LIFESTYLE MAGAZINE march/april 2022
---
FEATURE

march/april 2022 253 LIFESTYLE MAGAZINE | 45
---
A good program should emphasize not only strength, endurance, speed,

agility and mobility, but also recovery.

46

| 253 LIFESTYLE MAGAZINE march/april 2022
---
Independent Retirement &

Assisted Living Community

We specialize in small spaces & big dreams.

compact design, accessory dwelling units (ADUs), small footprint,

First consultation is complimentary.

253 376 7935 - brettmarlo.com - LICENSE # BRET TMD892QP

It's not the good life,

it's the best life!

It's not the good life,

It's it's not the the best good life!

life,

Welcome it's the best home

life!

to Welcome Harbor home Place!

Welcome home

to Harbor

1016 29th Street

Place!

NW

From morning to night,

to Harbor Place!

you've got friends to

From meet up morning with, activities to night,

From you've got friends to share morning and a beautiful to night, to

meet up with, activities

environment you've

Gig Harbor,

got friends around

WA 98335

to you.

meet to share up and with, a activities beautiful

environment to around From to share fine and dining, a beautiful to sunny you.

environment

environment around you.

courtyard lunches, around our you.

From chef fine prepares dining, meals to sunny

From

From courtyard fine dining,

253.853.3354

lunches, to sunny

meant fine to dining, be savored. to sunny our

courtyard chef prepares lunches, meals our

courtyard lunches, our

meant chef prepares to be savored. meals

Choose chef prepares from a range meals of

meant to be savored.

active meant living to be options savored. that

complement Choose from your a range personal of

active Choose living from options range that of

requirements Choose from and a range lifestyle. of

complement active living your options personal that

active living options that

requirements complement your and personal

complement

lifestyle.

requirements

your

and

personal

lifestyle.

requirements and lifestyle.

Independent Retirement &

Assisted

Independent

HarborPlaceRetirement.com

Living Community

&

Assisted Independent 1016 Living 29th Street Community NW

Assisted

Independent

Gig Harbor, Living WA Community

&

98335

Assisted

1016

Living

253.853.3354

29th Street

Community

NW

Gig 1016 Harbor, 29th Street WA 98335 NW

HarborPlaceRetirement.com

Gig 1016 Harbor, 253.853.3354

29th Street WA 98335 NW

Gig Harbor, 253.853.3354 WA 98335

HarborPlaceRetirement.com

253.853.3354

HarborPlaceRetirement.com

HarborPlaceRetirement.com

march/april 2022 253 LIFESTYLE MAGAZINE | 47
---
ewire their brains for optimal performance. Every time the brain

processes new information, neurons fire, new pathways form,

and the malleable brain alters its shape and structure. The more

pathways, the easier adaptation becomes.

Injuries - People get hurt. It's part of life and sports. They practice

what they know, and they practice it year-round. Without

complementary and completely different athletic sports or practices,

their bodies stop adapting and, in essence, stop improving. They

wear out instead. Injuries become more likely. We can build muscle

to protect the athlete, but we also need to train for the unexpected.

In most areas, to be truly competitive in any given sport, your

athlete is expected to play year-round. Between school teams and

clubs, there isn't any more time to be competitive in other sports.

We, as parents, have to make a lot of tough decisions. No matter

how great the work ethic our student athletes possess, they need to

be kids. It is the time when they learn not only scholastically and

physically, but also how to manage expectations and create and

maintain relationships. Between school, homework, sport practice,

and whatever other activities we schedule our kids for with all the

best intentions, we need to make sure they have time to learn to

interact with different people from different walks of life. Practicing

good general physical preparedness with a productive strength

program can introduce different kids with different goals to one

another, learning to work together for overall team environments.

Increased enjoyment of sport - Having additional athletic practices

gives an athlete the much-needed physical and mental break from

their sport to keep them wanting to come back excited for the next

season. Playing multiple sports decreases the risk of burnout which,

in turn, decreases the risk of quitting the sport early or generally not

reaching their potential in their preferred sport.

What to look for in a strength and conditioning program:

When looking for a program, you need to do some research. I always

recommend speaking to the coach who will be interacting and

training your child. Find out what their programming goals for your

athlete are and how they accomplish them. A good program should

emphasize not only strength, endurance, speed, agility and mobility,

but also recovery. Your athlete should be in a program that increases

skill, confidence and accountability. Steer clear of the coach who

emphasizes constant sessions that seem like punishment. Any coach

48

| 253 LIFESTYLE MAGAZINE march/april 2022
---
ACTIVE ROLE

MODELS

FOR ACTIVE

CHILDREN.

Bike rides, walks to the park, building a fort...

Our nannies and sitters are ready. Whenever you

need us, for whatever reason, we are here for your family.

Scheduling a College Sitter is fast, easy & convenient.

Get started today.

Serving Tacoma, Gig Harbor

+ all South Sound communities

253.251.2477 | collegenannies.com

Our C ommunities

Gig Harbor

Gig Harbor

4203 Rosedale St. NW

(253)

4203 Rosedale

530-3334

St. St. NW

(253) 530-3334

Olympia

Olympia

4125 Capital Mall Dr. SW

4125 (360)

4125 Capital

956-9400

Mall Dr. Dr. SW

(360) (360) 956-9400

Puyallup

Puyallup

502 43rd Ave. SE

502 (253)

50243rd 43rd

445-8000 Ave. Ave. SE SE

(253)

(253)

445-8000

445-8000

University Place

University Place

7505 57th St. Ct. W.

(253)

7505 57th

565-6151

St. Ct. W.

(253) 565-6151

NE Tacoma

NE Tacoma

4301 Norpoint Way NE

4301 (253) 4301 Norpoint 952-8347

Way NE

(253)

(253)

952-8347

952-8347

North Tacoma

North Tacoma

3602 N. Narrows Dr.

3602 (253)

N. Narrows 879-1000

Dr. Dr.

(253) 879-1000

Silverdale

Silverdale

1001 Deer Harbor Ln. NW

1001 Deer Deer (360)

Harbor Harbor 633-1800

Ln. Ln. NW NW

(360)

(360)

633-1800

633-1800

Retire in in Style

Downsizing just just got got easier! easier! Norpoint Norpoint Communities

offers Downsizing just got easier! all with Norpoint attached Communities

offers spacious cottages, all with attached garages. garages.

Enjoy offers spacious your private cottages, patio, all gas with fireplace, attached and garages. ample

kitchen Enjoy

Enjoy

your

your private patio, gas fireplace, and ample

kitchen space. private

space. Small patio,

Small pets gas

pets welcome. fireplace,

welcome. Landscape

ample

Landscape

maintenance kitchen space.

maintenance

included. Small pets

included.

No

No

buy-in welcome.

buy-in

or

or

entry Landscape

entry

fees.

fees.

12-month maintenance

12-month

leases. included. No buy-in or entry fees.

12-month leases. leases.

www.norpoint.com

march/april 2022 253 LIFESTYLE MAGAZINE | 49
---
GREAT

COACHES

MAKE THEM

BETTER

can make your athlete tired, but great coaches makethem better by knowing when to add

complexity and when to dial back. The right amount of stress creates optimal adaptation;

too much just adds the likelihood of injury.

Advanced strength and conditioning can be your athlete's additional sport. Learning

multi-sport mechanics, multi-planar strength, mobility and endurance can keep your

athlete in great shape and always ready year-round. Training smart and rotating from inseason

to off-season, learning to utilize minimal doses of training for maximal benefit—

instead of the constant highest tolerable dose. Learning to not burn out by going all out

all the time but rather waving the load of work capacity and density. Thus, making your

athlete a durable, coachable and injury-resistant member of any team they choose to

play for.

A properly developed training plan can help develop other athletic abilities to make a

single-sport athlete a better and more rounded athlete, so that they can stay focused on

their sport while improving their athleticism.

The most confident players should also be the best cheerleaders. The kids who have been

told they are the best without being expected to hype their team's ability to play turn into

kids no one wants to play with or even coach. A well-rounded student athlete is really

what we are after.

50

| 253 LIFESTYLE MAGAZINE march/april 2022
---
march/april 2022 253 LIFESTYLE MAGAZINE | 51
---
CALENDAR

52

52 | 253 LIFESTYLE MAGAZINE march/april 2022

of events march/april

12

MARCH

COE Intro

ENTERTAINMENT

INTRO

2022
---
GREATER GIG HARBOR FOUNDATION

PRESENTS

shamrock'n

the

Harbor

5K & 12K RUN/WALK

ADSATURDAY

19

MARCH

8AM-12PM

Gig Harbor, WA

Don your best Irish and jig o'er the hills and dales of the gorgeous Cushman

Trail St. Patrick's Day weekend. Proceeds benefit the Gig Harbor Senior Center,

a 501c3 nonprofit organization, working to enrich, engage and support our

peninsula's vibrant senior community.

gigharbor

Living Local

www.gghf.info/shamrockn

march/april 2022 253 LIFESTYLE MAGAZINE | 53
---
FROM THE MOUNTAINTOP

TO THE RIVER

SAT

30

APRIL

Symphony Tacoma's Classics V concert takes a

look at history through music

by OLIVIA BROWDY

COE

A&H HIGHLIGHT

highlight

Symphony Tacoma will present the fifth Classic Series

concert of its 75th Anniversary season on Saturday, April

30, at 7:30pm at the Pantages Theater. The program,

From the Mountaintop to the River, features conductor

Sarah Ioannides along with clarinetist Anthony McGill.

Anthony McGill is a treat to audiences as one of classical music's

most recognizable and brilliantly multifaceted figures. He

serves as the principal clarinet of the New York Philharmonic—

that orchestra's first African American principal player. Not

only is McGill an extraordinary musician, he also serves as an

ardent advocate for helping music education reach underserved

communities and for addressing issues of diversity, equity and

inclusion in classical music.

This concert pays tribute to our collective sentiment through

onerous times, inspired by the COVID-19 pandemic and the

Civil Rights Movement. The works included in the concert

are Vivian Fung's Prayer, Richard Danielpour's From the

Mountaintop, and Schumann's Symphony No. 3 Rhenish.

Vivian Fung's Prayer is a deeply personal commentary on the

extraordinary conditions she faced during the COVID-19

pandemic. "For under no other circumstances … have I worn

my heart on my sleeve as transparently as I have with this piece,"

states Fung.

Inspired by the legacy of Martin Luther King, Jr., Richard

Danielpour wrote From the Mountaintop for Anthony

McGill. The piece is filled with the vivid sadness, happiness,

prayerfulness, joy and pain of the Civil Rights Movement.

Schumann wrote Rhenish, his final symphony, at a time when he

was living near the Rhine River in 1850. Having been criticized

in his earlier works as not understanding orchestral writing,

Schumann silenced these claims with this work, proving his

virtuosity to his critics and to himself.

Tickets, which are priced $24 to $83, and more information are

available at SymphonyTacoma.org.

SUBMIT YOUR EVENTS ONLINE!

Want your event to appear on the largest event site in the

Northwest? Submit your events to us online at Events.

DirectoryNorthwest.com 24/7, 365 days a year!

05

APRIL

09

APRIL

30

APRIL

54

| 253 LIFESTYLE MAGAZINE march/april 2022
---
MARCH

12

St. Paddy's Day Run Tacoma

Tacoma City Marathon Association is excited to announce this year's St. Paddy's Day Run Tacoma. This fun

annual run is back, and registration is open! Featuring a half marathon and 5k, the event is scheduled for

Saturday, March 12. The half marathon kicks off at 8:30am, followed by the 5k at 9am. Start and finish location is

815 Pacific Avenue for both races. For details, including registration, course information and maps, and race-day

schedule, visit TCMAEvents.com/st-paddys-day-run-tacoma.

17

MARCH

21

APRIL

Third Thursday

Head to the Museum of Glass, a premier contemporary art museum dedicated to glass and glassmaking in

the West Coast's largest and most active museum glass studio, the third Thursday of each month, where you

can enjoy extended hours and free admission from 5 to 8pm. While there, enjoy the live glass demonstrations.

Tickets can be purchased at the admission desk; timed tickets are not required. To find out more about the

Museum of Glass and upcoming events, visit MuseumofGlass.org.

MARCH

26

VIVID: A Fundraiser for Arts Access & Education

COE

VIVID is scheduled for Saturday, March 26, with the evening of inspiration, joy and fundraising kicking off at

5:30pm. Held at Tin Can Alley in Tacoma, guests' senses will be delighted with fine dining, refreshments, live

entertainment, and a vivid array of colors. Let your imagination run wild in your best visual kaleidoscope of high

fashion with bright, bold, shimmering and colorful wear. Tickets are priced $175 each and can be purchased

online at TacomaArtsLive.org.

APRIL

05

Tacoma Rainiers Opening Night

Rainiers baseball is back, and it's time to celebrate R City over nine innings at Cheney Stadium. Join in the fun on

Tuesday, April 5, as the sights, sounds and tastes of the ballpark await, and the Tacoma Rainiers kick off another

season of affordable family fun in the South Sound. For tickets and to view the full season schedule, be sure to

visit TacomaRainiers.com. See you at the game!

APRIL

09

2022 Daffodil Festival: Grand Floral Parade

An annual tradition that brings communities together, the Daffodil Festival is set to return for its 89th year. The

Queen's Coronation takes place March 27, where 23 Daffodil Princesses will vye for the title of Daffodil Queen.

The Daffodil Grand Floral Parade is happening Saturday, April 9, in which it will make its way through Tacoma,

Puyallup, Sumner and Orting. The theme? Hope Rises. Then, April 22 through 24, is the Daffodil Marine Festival

& Marine Parade at the Tacoma Yacht Club. Also on April 24 is the Junior Daffodil Parade, hosted by the Proctor

District of Tacoma. To find out more about these events, visit TheDaffodilFestival.org.

APRIL

14-16

21-24

2022 Spring Fair

The Spring Fair is expanding to include even more fun in 2022, as the community is invited to enjoy two weekends

of fair fun, April 14 through 16 and 21 through 24. From the excitement of the rides and the tasty fair food, to the

Fair Farm and Farm at SillyVille, KidZone, Jr. Poultry Exposition, and so much more, it's Washington's biggest

celebration of the season. Don't miss the fun! Check out TheFair.com/spring-fair for up-to-date details and who

will be performing.

* Please note, as of press time, these events were still scheduled to take place as planned. Due to the continuing pandemic, there is the possibility that event

schedules may change or events canceled completely. Be sure to visit event websites to stay up to date with current information.

march/april 2022 253 LIFESTYLE MAGAZINE | 55
---
DYE YOUR EGGS

THE NATURAL

WAY by JILLIAN CHANDLER

3 to 4 tea bags

RECIPE

1 qt. strong black

coffee, brewed

4 cups, chopped

4 cups, chopped

4 cups, chopped

56 56

| 253 253 LIFESTYLE MAGAZINE march/april 2022 2022
---
WHY

Enough to cover the eggs

(depending on the size of the

bowl, one to two bottles)

4 cups of onion skin

(about 12 onions)

April 17 marks Easter 2022, and as is tradition

for many, dying eggs is a fun, family friendly

way to celebrate the holiday while spending

time together.

There are store-bought home-dying options

available, but have you thought about doing

something different this year? Like utilizing

ingredients found in your kitchen to naturally

color those Easter eggs? If you're not sure where

to start, we've helped make it simple for all ages

to navigate and color those eggs in a beautiful

assortment of colors, both deep and light hues,

that are sure to impress.

HOW

4 cups, mashed

3 tbsp.

1. First note, you will select one color per pot

of boiling water. Select your first dyeing

agent, and place it in the pot, along with

one quart of water and two tablespoons of

white vinegar. (Do this for all ingredients

listed above with the exception of the

coffee and red wine, which the eggs will be

placed directly in those liquids.)

2. Bring to a boil, lower the heat, and allow

the ingredient to simmer for 30 minutes.

Strain into a bowl.

3. Gently add the eggs to be colored into

the bowl (white shells work best). Let sit

anywhere from 30 minutes to overnight,

depending on the depth of color you

would like to see.

4 cups, chopped

march/april 2022 253 LIFESTYLE MAGAZINE | 57
---
58 | 253 LIFESTYLE MAGAZINE march/april 2022
---
SILVERTON, OREGON'S GARDEN CITY

SPRING

FORWARD

Now is the time to get away and explore Oregon's garden city.

Book your vacation today!

by MARGUERITE CLEVELAND

march/april 2022 253 LIFESTYLE MAGAZINE | 59

march/april 2022 253 LIFESTYLE MAGAZINE | 59
---
SILVERTON

Farms, gardens and vineyards are reborn each spring with lush greenery and bright, colorful florals peeking out from their

winter hiding places. What better place to experience this rebirth than in Oregon's Garden City—Silverton.

As winter slips away, thoughts turn to nature's annual rebirth, and what better place to experience it than Oregon's Garden

City. The charming town of Silverton, Oregon, is tucked away in the quiet side of the Willamette Valley. Incorporated in

1885, the downtown area is like a Victorian time capsule with lovely late-19th century buildings lining Silver Creek and

nestled among stately oak trees. The town is the perfect destination and base to explore all the area has to offer. Downtown

has wonderful shops and restaurants, and is a gateway to nearby farms and vineyards.

The stunning waterfalls—yes, there are more than one at Silver Falls State Park—and the Oregon Garden will refresh nature

lovers with their gorgeous scenery. Day trips on country roads will take you through a lush agricultural area filled with

family farms and vineyards. Russian and German immigrants have created diverse communities sharing the culture and

foods from their homelands. The nearby Mount Angel Benedictine Abbey fills the souls of visitors who come to enjoy the

peaceful retreat. Following a centuries-old monastic tradition, the monks brew their own beer from hops grown on their

land for those who seek a livelier experience.

60

| 253 LIFESTYLE MAGAZINE march/april 2022
---
AD

AD

Julie Reed

WASHINGTON EXECUTIVE DIRECTOR

Contact MeToday

Julie@like-media.com

253.363.8832

Creative Marketing Made Simple!

253LifestyleMagazine.com

march/april 2022 253 LIFESTYLE MAGAZINE | 61
---
DO

that are so picturesque. Stop by the Visitors' Center and pick up a guide to

Start your visit with a walking tour of Silverton exploring all that downtown

has to offer. There are charming covered bridges crossing over Silver Creek

the Silverton murals. There are more than 30 that depict the history of the

region. You can also download the Silverton Mural Society app, which gives

you a map and information on each mural.

Explore the more than 80 acres of botanical gardens at the Oregon Garden.

The focus is on the diverse botanical bounty of the Willamette Valley and

the Pacific Northwest in over 20 specialty gardens. The commitment to sustainability

is fascinating—especially the Rediscovery Forest. There is one of

the largest collections of miniature conifers in the country and an Oregon

Heritage tree, the 400-year-old Signature Oak.

The only Frank Lloyd Wright home in Oregon is the Gordon House. It is an

example of his Usonian homes which he designed to be in harmony with

the land and were unique to the United States of North America (USONA).

Wright included a wood Fretwork window pattern that was unique to each

home. The guided tour is informative, and you will learn about the history

of the home and Wright's architectural features.

SILVERTON

SilvertonChamber.org

OREGON GARDEN

OregonGarden.org

THE GORDON HOUSE

TheGordonHouse.org

STAY

Salem and Portland. The resort rooms are spread out in separate buildings

Just outside of Silverton is the lovely Oregon Garden Resort. It's a tranquil

oasis from the hustle and bustle of Oregon's bigger cities, but it is close to

with plenty of parking. Situated adjacent to the Oregon Garden, this is a

lovely property, and many guests enjoy evening walks around the property.

The resort offers a seasonal pool, year-round hot tub and the Moonstone

Spa—all great options for relaxation. Room rates include breakfast. The

Fireside Lounge is the social hub of the resort and offers a nightly happy

hour. There is live music most nights. Check the website for special events.

There are some interesting options throughout the year.

If you love wine, look at the Oregon Resort's partnership with the Cascade

Foothills Winegrowers. This is a group of 15 small family run wineries nestled

in the Cascade Foothills in the quiet side of the Willamette Valley. You'll

find uncrowded tasting rooms and, chances are, the winemaker is pouring

your wine. Guests of the Oregon Garden Resort receive exclusive deals at

these wineries. Just show proof of your stay with your confirmation email.

OREGON GARDEN RESORT

OregonGardenResort.com

62

| 253 LIFESTYLE MAGAZINE march/april 2022
---
Luxury Vacation Rentals

in Sandpoint, Idaho

Your Property Is Our Priority

Check Availability

AD

Protecting properties for over 20 years.

GO SANDPOINT

FAMILY OWNED & OPERATED IN SANDPOINT, IDAHO

ALL-INCLUSIVE MANAGEMENT & MAINTENANCE

FREE MARKETING ON MAJOR PLATFORMS

NO HIDDEN FEES

vacation homes

GoSandpoint.com

208.610.4416 | Jackson@GoSandpoint.com

march/april 2022 253 LIFESTYLE MAGAZINE | 63
---
As winter slips away, thoughts

turn to nature's annual rebirth,

and what better place to

experience it than Oregon's

Garden City.

EAT

an historic building with two gorgeous chandeliers, which are

The Main Street Bistro & Coffee in Silverton has a local following

for breakfast, but the lunch is equally as good. It is in

pretty fancy for an early meal. The lunch portions are generous,

and the house-made soups are very tasty.

The Oregon Garden Resort has a restaurant, but the Fireside

Lounge is such a cozy choice. When your name is Fireside, you

need to have a fireplace worthy of the name. This one doesn't

disappoint with floor-to-ceiling stone dominating the middle

of the room accompanied by a two-sided fireplace with a crackling

wood fire. Nosh on Oyster Shooters, Coconut Shrimp or

Deep-Fried Avocados while sipping on Oregon wine or a craft

cocktail.

The Mount Angel Sausage Company is a must stop for Food

Network aficionados. The network showcased the company and

its "notoriously sought-after Fire Haus Brats." The site houses

the sausage company, a European market and a restaurant. The

food is authentic with all your favorites, and the sausages are

worth buying some to take home with you. The only problem

will be choosing from the large variety of options.

FIRESIDE LOUNGE

OregonGardenResort.com/dining/fireside-lounge

MAIN STREET BISTRO & COFFEE

f Main St. Bistro & Coffee

MOUNT ANGEL SAUSAGE COMPANY

MtAngelSausage.com

64

| 253 LIFESTYLE MAGAZINE march/april 2022
---
Join the ride. Make a difference.

JUNE 18, 2022

This one-day bicycle ride with 150-, 100-, 80-, 40- and 25-mile routes is presented on June 18,

2022, by the Sandpoint Rotary Club to benefit the Book Trust program of the Lake Pend Oreille

School District and other Rotary community youth service projects. The 150-, 100- and 80-mile

routes incorporate a newly paved route through Montana, alleviating traffic congestion on the

customary routes leading into Clark Fork, Idaho.

OUR SPONSORS MAKE IT HAPPEN. WE THANK YOU!

PRESENTING SPONSOR:

GOLD SPONSORS:

SILVER SPONSORS:

sandpoint

Living Local

ORGANIZED BY:

march/april 2022 253 LIFESTYLE MAGAZINE | 65
---
66 | 253 LIFESTYLE MAGAZINE march/april 2022
---
Serving hand-trimmed,

premium cuts in the heart of

Downtown Tacoma.

Make your reservation at

www.stanfordssteak.com.

AD

1502 Pacific Ave. | (253)(

352-0030

march/april 2022 253 LIFESTYLE MAGAZINE | 67
---
*****************ECRWSS****

Please Deliver By March 4, 2022

Local Postal Customer

PRSRT STD

U.S. POSTAGE

PAID

Post Falls, ID

PERMIT NO. 32

68

| 253 LIFESTYLE MAGAZINE march/april 2022