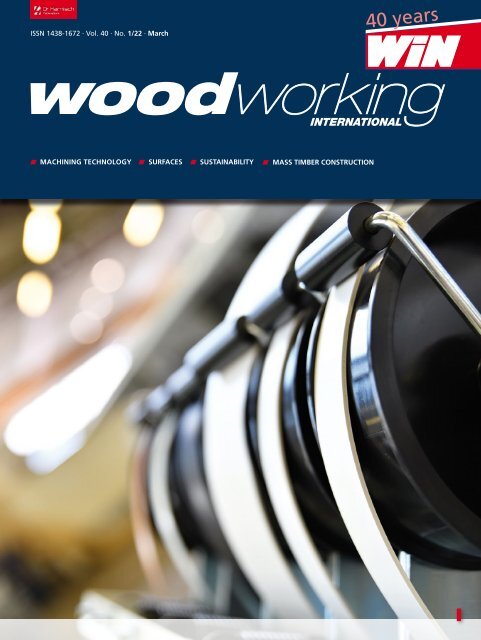 WiN woodworking INTERNATIONAL 2022/1
WiN - woodworking INTERNATIONAL is the international magazine for the woodworking industry. We report on all aspects of woodworking from board materials, wood treatment to machines, tools and technical know-how, from timber engineering supplies to the latest developments in technologies and markets.
WiN - woodworking INTERNATIONAL is the international magazine for the woodworking industry. We report on all aspects of woodworking from board materials, wood treatment to machines, tools and technical know-how, from timber engineering supplies to the latest developments in technologies and markets.
SHOW MORE
SHOW LESS
Create successful ePaper yourself
Turn your PDF publications into a flip-book with our unique Google optimized e-Paper software.
ISSN 1438-1672 · Vol. 40 · No. 1/22 · March

40 years

MACHINING TECHNOLOGY

SURFACES SUSTAINABILITY MASS TIMBER CONSTRUCTION
---
Looking for the latest topics from the woodworking industry?

You're at the right place!

Click here to register for our Newsletter

free of charge and subscribe to our

digital ePaper editions.

BE A

NER!

WiN - woodworking INTERNATIONAL

Advertising contact: win@harnisch.com

The magazine is published in a special format : 229 mm x 305 mm.

Annual subscription rate: € 77,- incl p+h

We report on all aspects of woodworking from board materials,

wood treatment to machines, tools and technical know-how, from

timber engineering supplies to the latest developments in technologies

and markets.

Special features will be presented on design, surfaces, laminating

and furniture.
---
CONTENTS EDITORIAL

See ...

Eric Schäfer

Editor

... how time flies.

The first issue of WiN was published

40 years ago. Back then, it was almost as thick

as a book, but nowhere near as colorful. But

the magazine offered a versatile mixture then

as now.

40 years of WiN means 40 years of specialist

information from the woodworking and

wood processing sector. Information about

machines, tools and surfaces, materials and

companies. WiN reports on new technologies,

developments and trends. Over the years,

the spectrum of reporting has expanded. This

range of information characterizes every issue

of WiN. But everything always revolves around

the natural product wood.

For sure you will find a topic in the 40th volume

of WiN that will benefit you in your own

work.

Sincerely,

Eric Schäfer

Anyone who works with it knows that

wood can never be completely perfect. For

example, hidden damage in wood has a

disruptive effect in furniture or laminate production

as well as in timber wood construction

or window and door production. In order

to detect material defects in good time, the

Wintersteiger company is presenting a solution

that can precisely detect the structure of

defects in wood. This sets new standards for

quality assurance.

Operator safety is the focus of a sliding

table saw from Altendorf, which has already

won awards for its innovative safety system

and will be presented to customers in North

America for the first time at the upcoming

IWF in Atlanta.

To ensure the safety of a complete production

line, Rembe is presenting a system that not

only provides an overview of all relevant states

of the respective protection and plant systems,

but also minimizes the risk of human error at

the same time.

No. 1 • March 2022

3
---
CONTENTS

EDITORIAL

See... how time flies 3

COMPANIES

Wolf-Gerd Dieffenbacher turned 70 6

Key positions strengthened 6

Member of the Executive Board of HOMAG Group AG 7

Issue of unmatched flat panel edges and surfaces solved 7

Building the future of timber construction 8

New procedure for recognising minimal defects 9

TOOLS

Application data and tips 10

From single tool to product family 11

MACHINING TECHNOLOGY

Top-quality machining on any kind of panel and material 12

OSB from date palm fronds 13

Automated quality control using "chemical sensing" 14

Altendorf saw safety wins German Technology Award 16

Pallmann-Size reduction technology for the perfect

particleboard16

Fast, clean change between EVA and PUR hot-melt glues 17

USER REPORT

An optimal surface result 18

Scottish saw centre counts on Swabian sharpening

expertise20

SUSTAINABILITY

Fireplace briquettes from discarded wooden pallets 24

The right shredding is essential for heating technology 25

DOORS

"A lot has gone very well" for Roto 26

WINDOWS

Energy efficiency with historic charm 27

FURNITURE

Innovative technologies for perfect edge finishes 28

Innovative interior for the noble matt collection 29

SAFETY

Biogenic coating material as flame retardant for OSB 29

Smart home for factories 30

EVENTS

Conference topics create link to LIGNA 2023 31

Great demand for innovative concepts 31

FAIRS

FIMMA–Maderalia32

Eurobois32

ZOW32

HOLZ-HANDWERK and FENSTERBAU FRONTALE 33

DACH+HOLZ International 33

IWF Atlanta 33

MASS TIMBER CONSTRUCTION

Green Tech meets Hi-Tech 21

SURFACES

GUIDE TO PRODUCTS AND MANUFACTURERS 34

Sustainable lacquers for the furniture,

door and parquet industries 22

Easy operation for maximum productivity 22

High-performance coating systems for wooden stairs 23

EGGER convinces with the PerfectSense ® lacquered boards 23

Cover Photo: SCM

4 No. 1 • March 2022
---
Impressum

ISSN 1438-1672

WiN - woodworking INTERNATIONAL

Vol. 40/2022

Publishing Company: Dr. Harnisch Publications

Eschenstr. 25, 90441 Nuremberg

Germany

Phone: +49 - 911 - 2018 - 0

Fax: +49 - 911 - 2018 - 100

E-mail:

win@harnisch.com

www.woodworking-international.com

Owners:

Publisher:

Dr. Claus-Jörg Harnisch

Benno Keller

Benno Keller

keller@harnisch.com

Get your

ticket

now!

World´s Leading

Trade Fair for

Industrial Coating

Technology

Managing Editor:

Editor:

Media Service:

Marta Bletek-Gonzalez

gonzalez@harnisch.com

Eric Schäfer

eric.schaefer@harnisch.com

Germany, Austria, Switzerland

Dina Fettig

dina.fettig@harnisch.com

Martin Fettig

martin.fettig@harnisch.com

Western Europe

Gabriele Fahlbusch

fahlbusch@harnisch.com

USA/Canada

Bill Kaprelian

kaprep@harnisch.com

China, Hong Kong, Taiwan

Mike Hay

mchhay@ringier.com.hk

Taiwan

Sydney Lai

sydneylai@ringier.com.hk

26 – 29 April 2022

Exhibition Centre

Karlsruhe, Germany

WiN - woodworking INTERNATIONAL is published quarterly

in March, June, August and November.

Subscription information: Qualified readers, executives in the

woodworking business, are put on the mailing list free of charge.

Regular delivery by subscription only.

printed by

Hermann Millizer GmbH, Spitalberg 3, 91126 Schwabach, Germany

www.paintexpo.com

Copyright © 2022 Dr. Harnisch Publications

In cooperation with:

AN EVENT BY

LEIPZIGER MESSE
---
COMPANIES

Wolf-Gerd Dieffenbacher turned 70

Wolf-Gerd Dieffenbacher celebrated his seventieth birthday on December 20, 2021. Until his withdrawal from the day-to-day business

on July 1, 2019, the entrepreneur was active for more than 40 years in the Eppingen-based family business DIEFFENBACHER GMBH

Maschinen- und Anlagenbau, which he led as CEO beginning in 1985. As a member of the Board of Advisors and in various other capacities,

Wolf-Gerd Dieffenbacher remains closely associated with the company.

After completing his studies in business administration

at the University of Saarbrücken,

Wolf-Gerd Dieffenbacher gained his first professional

experience at the machine manufacturer

Pathex in Toronto, Canada. In 1979 he returned

to Germany and took over the commercial management

of the family business run by his father

Gerhard Dieffenbacher and his father's cousin

Albert Dieffenbacher. Six years later, Wolf-Gerd

Dieffenbacher followed in his father's footsteps

as a member of the Management Board.

"Wolf-Gerd Dieffenbacher shaped the company

for decades with his landmark decision in

1989 to develop the continuous wood-based

panel press," recalled CFO Volker Kitzelmann,

who joined the DIEFFENBACHER Management

Board in 2016 together with Wolf-Gerd

Dieffenbacher's son Christian.

Internationalization and the strengthening

of the company's complete plant competence

highlighted Wolf-Gerd Dieffenbacher's work.

His efforts to build the company's proficiency included

setting up the Automation business unit

and founding an external Board of Advisors.

Meanwhile, he laid the foundation for new foreign

subsidiaries in the United States, Malaysia,

India, Russia, China and elsewhere and production

sites in Canada, the Czech Republic

and China. Additionally, he led the acquisition

and integration of several competitors, including

Schenkmann-Piel, Schenck, Maier, Metso

and SWPM, transforming the company from

a nationally oriented machine manufacturer

to a globally focused and world-leading plant

manufacturer.

www.dieffenbacher.de

Key positions strengthened

Vecoplan has had two new sales managers since the beginning of October: Tim Hamer

is now responsible for Sales in the Recycling | Waste division, Kersten Beib in the Wood |

Biomass division. Vecoplan has now sustainably strengthened its sales team. Both managers

have a great deal of experience and expertise.

In recent months, Vecoplan AG has continued

to increase the number of sales staff in

its most important growth markets and applications.

Key positions are now held by the two

new sales managers. They will ensure that employees

can successfully operate together internationally

and achieve the goals they have set.

The sales managers are responsible for strategic

planning and operational implementation.

These tasks require a great deal of experience

and know-how. This is why Vecoplan has been

relying on Tim Hamer (38) in the Recycling |

Waste division since the beginning of October.

Tim Hamer has been responsible for the Recycling | Waste business

unit as sales manager since October 1st.

Kersten Beib has been in charge of sales for the Wood | Biomass

division of Vecoplan AG since October 1st.

Kersten Beib has been in charge of sales in

the Wood | Biomass division since October. The

54-year-old can draw on a great deal of experience.

He has been working for the wood processing

industry since the beginning of his career

in mechanical and plant engineering. The

trained industrial clerk began his career at a

mechanical engineering company. After in-service

training, he worked there as an Area Sales

Manager. In 2008, he moved to Vecoplan. Four

years later, he went back to his old employer

and took over the CEO position there. Now,

almost ten years later, he is sales manager at

Vecoplan. Kersten Beib has a solid knowledge of

the market and products in the field of material

processing and handling in the wood industry.

www.vecoplan.de

6 No. 1 • March 2022
---
COMPANIES

Dr. Sergej Schwarz

Member of the Executive Board of HOMAG Group AG

The Supervisory Board of HOMAG Group AG has appointed Dr. Sergej Schwarz (49) to the Executive Board effective January 1, 2022.

This means that it will consist of three members even after the retirement of the Chairman of the CEO, Ralf W. Dieter, on December 31,

2021: Dr. Daniel Schmitt as the new Chief Executive Officer, Rainer Gausepohl as Chief Financial Officer and Dr. Sergej Schwarz.

Schwarz joined the HOMAG Group back

in 2016 as Head of the Edge Processing business

unit. Since March of 2021, he has also

been Spokesman of the Board of Management

of HOMAG GmbH, Schopfloch, and Managing

Director of HOMAG Kantentechnik GmbH,

Lemgo. As a member of the Executive Board, he

will in future be responsible for the global activities

of the Edge Processing business unit and

the project business with large-scale plants. In

addition, he is responsible for the Indian location

of the HOMAG Group.

Before joining the HOMAG Group, the graduate

engineer held various management positions

at Schaeffler AG in Herzogenaurach and

Schweinfurt for many years, most recently as

Vice President of the Renewable Energies sector.

www.homag.com

Vacuum coating technology

Issue of unmatched flat panel edges and surfaces solved

In the past, flat panel decoration has faced a recurrent issue without a satisfactory solution: how to make the surface of the panel

match its edge perfectly. Using vacuum coating technologies developed for both surface and edge, we have solved that problem.

There is a perfect combination to solve this

issue, made up of two machines Cefla has created

created. One is the Smartedge, a complete

solution for finishing panel edges, the other is

Smartvacuum, the latest innovation to coat the

flat panel surface. Same technique, same lacquer,

same top quality.

Smartvacuum deposits 100/140g per sqm

of 100 % UV lacquer in a single step, far less

than a spray coater. This reduces costs, lead

time and streamlines the coating process. No

solvents either for a more sustainable process.

Panels move on to Smartedge and you obtain

an excellent match between panel surface and

edge. Using vacuum coating for both sections,

quality is increased whereas process times and

costs are reduced. Moreover, the stability of UV

lacquers is better than those used currently, so

the quality finish obtained will also last much

longer.

www.cefla.it

No. 1 • March 2022

7
---
COMPANIES

Building the future of timber construction

SCM and Randek AB join forces in a new global cooperation, where the aim is to be a one-stop supplier for the complete timber construction

process offering the widest range of solutions for beams, walls, timber frame, X-lam/CLT panels machining.

The new partnership aims to further expand

and strengthen the range of technological

solutions already provided by both players

across the globe and complementary to

one another: SCM, that continues innovating

to offer advanced numeric control machining

centres capable of processing all kinds of

different construction elements requested by

today's market, and Randek AB, well-known

worldwide for its high performance innovaand

a better return on investment" confirms

Tommaso Martini, SCM Manager for timber

construction business.

"An agreement with a global leading group

like SCM, with sound industrial expertise and

an extensive international distribution network,

means we can further strengthen our presence

on the most relevant markets, offering the customer

an even more direct, widespread service"

says Ola Lindh, CEO from Randek AB.

The collaboration intends to build a strategic

partnership, increasing the range of their

products and expanding the solution competence,

the production capacity and the level of

specialization of both companies.

The Italian Group SCM and the Swedish

company Randek AB have sealed a strategic

global agreement for the worldwide supply

of all-round, integrated solutions for timber

construction.

tive technologies in the prefabricated house

sector.

The partnership will also allow each company

to be able to offer the other party's products,

making it possible an offering of integrated solutions,

which otherwise would not have been

feasible, except in the long term.

"Our global partnership with Randek AB

significantly and strategically expands our offer

of products and services for timber construction,

guaranteeing our customers access

to a wide range of specific technological solutions

dedicated to machining prefabricated

walls with increased production efficiency

This strategic partnership is expected to

have a beneficial effect on customers, who will

gain advantages from this collaboration and is

already giving its first significant results.

In fact, Randek AB and SCM will develop

and deliver equipment for one of the most advanced

house factories for production of modules

in wood and steel frame. The customer

consulted Bosch Engineering and Production

Services to perform a thorough analysis of potential

suppliers.

The collaboration between SCM and

Randek AB is ready to make its mark on the future

of timber construction, guaranteeing topquality,

unique solutions and expertise even for

the most complex projects.

www.randek.com // www.scmgroup.com

8 No. 1 • March 2022
---
COMPANIES

New procedure for recognising minimal defects has received

the Wilhelm-Klauditz Award

Dr. Torben Marhenke received the Wilhelm-Klauditz Award in Braunschweig in November.

The award committee rewarded his years of research that led to successful development

of a new non-destructive test procedure for recognition of defects with a diameter starting

at 1 mm.

The Wilhelm-Klauditz Award comes with a

prize money of 5,000 euros and is awarded for

outstanding scientific or application-oriented

work in the area of wood research and environmental

protection every three years.

Simple and reliable determination of the

mechanical parameters of wood materials

In spite of many years of use of wood materials

in construction, engineering knowledge

on the measuring-technical determination of

mechanical wood parameters has been lacking

so far. Where isotropic materials such as metals

can make do with two parameters, wood materials

require nine of them for clear description of

their mechanical material behaviour. The measuring

methods developed by Marhenke in the

scope of his research will permit non-destructive

determination of all nine required parameters

reliably and even right in the production

process in future.

Protecting resources by improving quality

assurance even further

Both procedures bring enormous gains for

the industry. Any production issues can be recognised

early on, and countermeasures can be

taken quickly, reducing rejects and warranting

the corresponding qualities in spite of growing

requirements.

Increased use of, e.g., wood panels in construction

makes recognition of even the smallest

delaminations essential as they may grow

into cracks or allow moisture to enter the material.

The new inspection method makes it possible

to utilise the entire application potential of

wood materials in construction.

A quantum leap when recognising

delamination

The inspection method developed by

Marhenke within the scope of his doctoral thesis

is a further development of the air-coupled

ultrasound procedure (ACU). Using this procedure

does not require any coupling medium between

the sonic head and specimen, though use

in production usually requires a minimum distance

between the sample and the sonic heads

in order to avoid contamination of or damage to

the sonic heads.

The shaft bend causes the image to blur increasingly

as the distance grows, negatively affecting

in particular thicker composites, such as

wood panels. While this procedure used to be

able to only recognise defects starting at a size

Reward for his research work: Dr. Torben Marhenke received

the Wilhelm-Klauditz Award

of 25 mm x 25 mm, the measuring process expansion

developed by Marhenke will be able to

recognise defects with a diameter from 1 mm

onwards in future. In addition to strict error recognition,

the procedure can even determine the

precise position of the defect, permitting conclusions

regarding its cause.

Time reversal as a solution approach

In the ACU procedure used to date, dispensing

with coupling media causes enormous

transmission loss that is compensated by

the new, specially developed evaluation algorithm.

The time reversal (TR) applied here considerably

improves error resolution of the ACU

imaging. The method called ACU-TR measures

the entire pressure distribution emitted by an

ACU source with receivers and reconstructs it

on the corresponding defect level by applying

physics of acoustic holography, thereby improving

the minimally detectable defect size to

a considerable degree.

www.fagus-grecon.com

Your specialist for

extraction and briquetting systems

safe clean efficient

Dedusting

Conveying Filtering Briquetting

Varnishing Crushing Parts Control units

SPÄNEX GmbH

Luft-, Energie- und Umwelttechnik

Otto-Brenner-Straße 6

D-37170 Uslar

Phone: +49 (0) 5571 304-0

Fax: +49 (0) 5571 304-111

info@spaenex.de

www.spaenex.de

No. 1 • March 2022

9
---
TOOLS

Nesting of solid core panels

Application data and tips

With their continuous alternating shear angles and application-oriented cutting edge geometry as well as PCD quality, LEUCO DP

shank-type cutters for machining solid core panels achieve clean, chip-free cuts when parting and formatting. When used together

with LEUCO's expert tips, clean and economical machining is guaranteed.

Part in a single pass with finish-cut quality

at an appropriately reduced feed rate. As an alternative,

you can pre-size the workpieces in order

to then finish-cut with a lower removal volume

at a correspondingly higher feed rate. The

significantly reduced machining needed by the

finish cutter greatly extends the edge life of the

quality-enhancing tool. In addition to the familiar

finish cutters, LEUCO offers for this purpose

a diamond-tipped roughing cutter with

which correspondingly high material removal

rates can be achieved.

The main objective: avoid high

temperatures

Particularly with nesting and the associated

limited chip ejection possibilities, excessively

high speeds and overly low feed rates can

lead to severe heating of the material (lumpy

chips!) and the tool.

The known effects of heat are

• high cutting edge wear: short edge lives

• loss of teeth: tooth replacement and lower

overall life

• poor cutting surfaces/lubrication: rework required

or rejects

• fire hazard in the extractor hood due to the

possibility of extremely hot / glowing chips

It is therefore even more important to avoid

multiple cutting in solid-core materials than in

conventional wood-based materials. The speed

should generally not be set too high.

The number of teeth must be matched to

the feed rate. Note: The feed rate value entered

into the control often is not the actual average

feed rate, since this is frequently not reached

at all. This is particularly the case with relatively

small-format workpieces and narrow, nested

structures. Here, a two-flute cutter instead of a

3-flute cutter is often the better and more economical

choice.

High-precision clamping elements

And the following applies not only to all diamond-tipped

tools: Tools should only be used

in highly precise clamping elements: hydro expansion

chucks, TRIBOS power shrink chucks or

heat shrink chucks. A proven means of effectively

avoiding multiple cutting can relatively often

also be the use of suction turbines with hydro

expansion chucks. The ideal application parameters

and the achievable results can be determined

within the framework of a test carried

out together with the tool supplier on the customer's

machine under real-world conditions.

www.leuco.com

These feed rates are to be regarded as max. values for guidance. They also depend, among other things, on the required cut quality

and the nature of the material to be processed. In some cases, there are relevant differences in terms of hardness and temperature

sensitivity. The data refer to the processing of panel thicknesses of up to 10 mm. For higher material thicknesses, feed rates must

be reduced accordingly. Higher speeds are possible, but resulting higher temperatures can greatly reduce single edge lives and

also the overall life of the tool, especially at n>18,000

Solid core panel nesting is challenging, because the panels react in particular to the frictional heat during milling and thus have a

highly abrasive effect on the milling cutters. The diamond-tipped LEUCO DP solid core panel roughing cutter (left) and the LEU-CO DP

solid core panel cutter Z=2 or Z=3 are ideal tools when the above application parameters are taken into account

10 No. 1 • March 2022
---
From single tool to product family

T +49 2961 7405-0

hello@rembe.de

When sizing panel material, tools are usually used that are loud and heavy due to their

structural design. The result is stress for man and machine. More than ten years ago,

Leitz developed the pioneering tool solution for this problem that still sets the standard

in terms of sustainability, efficiency and quality in edgebanding: the lightweight

and quiet Diamaster WhisperCut jointing cutterhead. In the meantime, the world market

leader from Oberkochen has turned it into a complete system family. With the available

product variants, including one with an integrated HSK 32 R adaptor, users will in future

be able to optimize existing jointing concepts and also optimize their production costs.

Made

in

Germany

significantly reduced compared to conventional

systems. A solution that can be described as efficient

in all respects.

The Diamaster WhisperCut product range is available in numerous

design variants and can be used on almost all common

machine types. (Photo: Leitz)

Light, quiet and efficient – these few words

describe the advantages of the WhisperCut programme.

In detail, it becomes apparent that it is

the technical design of the tools that produces

perfect edges and cut surfaces and also makes

the jointing cutterhead significantly quieter. The

reason for the noise reduction of up to 5 dB(A)

is, on the one hand, the closed shape of the

light metal tool body, which, with 50 percent

less weight, protects the machine and the ears

of the user, and, on the other hand, the special

machining quality is explained by the proven

DFC ® technology, with the help of which up to

95 percent of the chips are collected.

But that is not all. Considering the entire

machining process, the WhisperCut cutterhead

also saves time and money. Imitated by

many tool manufacturers, the WhisperCut system

still sets standards as an original – especially

with regard to costs and maintenance.

The specially developed diamond cutting edges

can be resharpened several times in the tool.

Alternatively, the replaceable cutting edges can

be replaced directly by the user, which means

that the diameter of the tool always remains

constant. Set-up and adjustment times are thus

No. 1 • March 2022

The Diamaster WhisperCut jointing cutterhead

is available in several versions. One

is the basic version, whose cutting edges can

be resharpened up to three times, and the

WhisperCut PLUS version with an enlarged resharpening

area on the cutting edges, which

can be resharpened up to ten times. Both versions

are available with a bore or shank, depending

on the requirements. In addition, the

WhisperCut jointing cutterhead is also available

with an integrated hydro adaptor or with a fitted

HSK 32 R adaptor. Both adaptor variants offer

significant advantages in terms of concentricity

and axial run-out accuracy, machining

quality and tool life extension.

For users of laser edging systems, Leitz also

has the WhisperCut EdgeExpert variant in its

product range. Also resharpenable up to three

times, it impresses with its special cutting edge

arrangement and provides even better machining

quality. On request, these jointing cutterheads

can also be supplied as a PLUS variant

and can therefore be resharpened up to ten

times.

With the development of the WhisperCut

system family, Leitz has demonstrated its leadership

in the customer-oriented development

of tool systems for the furniture industry. Even

more advantages and time savings are generated

for users who have the jointing cutterheads

resharpened in one of the more than

120 Leitz service centres around the globe.

Perfectly sharpened in manufacturer quality,

balanced and including the supplied setting

data, the tools can thus be used easily, quickly

and reliably.

www.leitz.org

© REMBE® | All rights reserved

PROTECT

YOUR

PLANT!

Consulting. Engineering.

Products. Service.

Gallbergweg 21 | 59929 Brilon, Germany

F +49 2961 50714 | www.rembe.de
---
MACHINING TECHNOLOGY

New industrial edgebanding machine

Top-quality machining on any kind of panel and material

Yet another high-tech new entry from SCM to satisfy the latest trends in furniture and design in terms of flexible and 4.0 production.

The new "stefani x" industrial edgebanding

machine has everything it takes to win over

the market. Each detail has been designed to

offer an extremely innovative solution and in

line with the industry's more complex demands:

from the machine's structure to the digital and

electronic control systems; from the machining

units with power assisted movement to the latest

gluing devices, for an even faster, more efficient

glue change.

The result is a highly configurable, customised

edgebanding machine, designed to reliably

work several shifts and capable of providing

top-quality machining, both in the stand-alone

version and in integrated cells or lines.

One other important advantage is its ability

to achieve maximum quality standards easily

and without interruption, even on the most delicate,

state-of-the-art materials, thanks to SCM's

new electronic touch systems.

Furthermore, in an attempt to meet the increasingly

more widespread demands for flexible,

connected and integrated production,

"stefani x" offers and exclusive digital control

system that means it can operate in perfect synergy

with other technologies and IT systems as

well as MES management used in the factory.

The end of compromise

in productivity

SCM's new industrial edgebanding machine

can machine panels at a speed of up to 30 m/

min during several shifts per day. All this, thanks

to top-of-the-range units and a new, highly rigid

mechanical structure. It also has new dynamic

units, custom-designed to further increase performance

and to include additional high-end

functions if requested.

Highly flexible even

when changing the glue

Another significant new feature of

"stefani x" is the gluing unit which, thanks to

the unique "glue switch" solution, allows for

a just in time change of colour and glue type,

thus achieving even more flexible, efficient production.

The "secret" lies in the fact that there

are simultaneously two glue tanks which, during

machining, can be interchanged using the

type and colour of glue requested by the work

program. The glue tank can also be replaced

or maintenance work carried out on it without

having to stop the edgebanding machine.

Top quality even

on the most delicate edges

The new "stefani x" offers top-quality gluing

no matter what type of edge there is.

Indeed, the intensity of the first pressure roller

can be automatically adjusted by the edgebanding

machine's control system. Furthermore, the

edge can be replaced without any distance limit

between the panels thanks to the new automatic

edge change device with 2 and 6 rolls and

with a roller change system that allows for a reduced

interspacing of 350 mm.

New range of high-end electronic units

The new "stefani x" electronic units are designed

to meet two objectives that are key to

the market: ease of use even for more complex

machinings on delicate, "trending" materials,

thanks to an automatic, flexible set-up, as well

as repeatability, quality and accurate production

processes, thanks to the electronic touch.

Y-SE 1000 Servo and Y-SE 1200 Servo

end trimming units

For constant precision when cutting, irrespective

of the amount and kind of panels machined,

to optimise machining work even on the

most delicate panels, automatically control adjustments

and correct any machining errors on

the spot.

Round 2 Servo rounding unit

To ensure top quality machining on any profile

and optimise the processes even on three

different edge thicknesses.

RC-E Multileaf glue scraping unit

Ideal for machining panels with film, thanks

to the automatic tool adjustment for any film

thicknesses.

www.scmgroup.com

12 No. 1 • March 2022
---
MACHINING TECHNOLOGY

OSB from date palm fronds

On December 14, 2021, Al Talah Board from Abu Dhabi, United Arab Emirates, produced its first branded "Desert Board" on a new

DIEFFENBACHER plant using recycled date palm tree waste to manufacture OSB boards. The innovative and highly sustainable plant

will use about 15 % of the 500,000 tonnes of palm waste generated yearly in the UAE to produce 120,000 m³ of high-quality OSB per

year.

for our project," said Mazen Dukmak, Business

Development Manager at Al Talah Board. "We

are the world's first company to use recycled

palm waste to produce premium quality OSB.

We made this happen with the technical collaboration

of DIEFFENBACHER, their production

know-how, and because of their expertise in the

field of alternative raw materials."

www.dieffenbacher.de

Production of the first board on Al Talah's new DIEFFENBACHER OSB plant in Abu Dhabi, United Arab Emirates.

Al Talah Board contracted with

DIEFFENBACHER in 2019 to create the unique

OSB plant, which will help keep slow-to-biodegrade

palm waste out of landfills and industrial

composting pits. DIEFFENBACHER's scope of

supply included the strand production, drum

dryer, screens and material recovery equipment,

gluing system, forming station and forming line,

CPS+ continuous press with press emission control

system, the raw board handling and electrics

and plant automation.

"Our Chairman Mr. Hatem Farah envisioned

18 years ago using our country's abundance

of palm trees to produce sustainable building

products. The state-of-the-art technology

and innovative plant concept were most important

for us when we chose DIEFFENBACHER

BRIQUETTING

EXPERTS

THE WHOLE WORLD OF BRIQUETTING

With the acquisition of C.F. Nielsen A/S by Ruf Briquetting Systems, new opportuni-

ties open up for people who consider purchasing a briquetting system. Now offering

the complete range of briquetting technologies, RUF and CFN offer customers and

interested parties the most comprehensive briquetting solutions on the market.

HYDRAULIC BRIQUETTING SYSTEM

Flexible material sizes & capacities

Quick installation (plug & press)

Easy operation

Ruf Maschinenbau GmbH & Co.KG | Tel. +49 8268 9090 20

www.briquetting.com | info@briquetting.com

Your benefits:

For wood, agriculture and other biomass

A compelling alternative to pellets

Low operating costs

Capacities from 30 kg to 5,000 kg per

hour

In total a combined 100 years briquetting

experience with more than 5,500

briquetting systems sold globally

MECHANICAL BRIQUETTING SYSTEM

Consumer & Industrial Briquetting

Ideal for agricultural material

High density briquettes

C.F. Nielsen A/S | Tel. +45 98337400

www.cfnielsen.com | sales@cfnielsen.com
---
MACHINING TECHNOLOGY

Automated quality control using "chemical sensing"

Using the Perception HEAD enables the Woodtech Division of Wintersteiger AG to precisely detect the structure of defects in wood. This

allows chemical characteristics such as blue stain, weak spots, branch decay, galls, and knotholes to be precisely scanned & machined,

setting new quality assurance standards in the timber industry.

Fully automated timber repair and cosmetic system TRC 3000 with defect scanner (photograph: Wintersteiger)

Changes in the price of wood alongside new

material requirements and applications present

challenges in the growing, constantly shifting

timber market. At the same time, this offers up

opportunities for innovative timber processors

aided by improved quality control and longterm

cost savings. The application of chemical

sensing in the timber industry addresses quality

requirements, price pressures, and application

innovation all in one.

Scanner technology is among

Wintersteiger's core competencies and is applied

in systems for timber surface repair as well

as in diverse sorting lines. Perception Park now

supplies the Perception HEAD, a special solution

that uses hyperspectral imaging technology.

This innovative technology that enables the

"chemical sensing" of the raw material to be

identified has aroused a great deal of interest

among Austrian machinery and plant engineering

businesses.

"Our current scanner technology gives us information

on the geometry, position, color, and

size of a defect, such as a knot or a crack in the

wood. Our solutions from the "Timber Repair &

Cosmetics" product group can then automatically

clean or machine out the defect and permanently

fill it. Hyperspectral imaging will then

additionally tell us about the structure of a defect.

So, only those defects that would cause

problems in the downstream process, such as

knotholes, can be pinpointed and removed.

That way, you can achieve a more natural look,"

explains Markus Weissenbrunner, Head of

Strategic Product Development at Wintersteiger

AG, as he sets out his vision for how the HSI

technology could be used.

Another application example can be found

where there is a need to distinguish heartwood

from sapwood when cutting green round timber,

such as pinewood. Since the color of the

heartwood will only change on contact with UV

light, production has to be halted to be able

to definitively detect the differences. Using

the Perception HEAD means the wood can be

scanned and classified at the sawing stage.

Wintersteiger is currently testing hyperspectral

imaging for other customer requirements,

e.g., for moisture measurement to

trace signs of decay when analyzing glued

joints in multilayer boards or when detecting

resin. "In addition to our existing scanner

technologies, hyperspectral imaging gives us

much more information and is opening up

completely new application areas in wood

processing," according to Weissenbrunner,

who delightedly points out the potential of

the HSI technology.

The cooperation saves costs in later production

steps. Variations in quality (in lumber, engineering

timber, etc.) can be identified enabling

more accurate pricing. Its use also represents a

benefit for the end customer – since the quality

of timber products can be better matched to

the application.

"Fitting wood scanners with a

Perception HEAD was pure inspiration! Chemical

sensing permits new levels of quality – as yet unseen

– that will significantly improve production

processes," believes Ulrich P. Schön, Business

Development Manager at Perception Park.

Cooperation driven by innovation

The outstanding benefits of this new inspection

technology will become available to

future customers of Wintersteiger AG. This cooperative

development between the Woodtech

Division of Wintersteiger AG and Perception

Park GmbH is set to further strengthen the position

of both companies in the market.

VAP-Wintersteiger GmbH as part of the

Woodtech Division in the Wintersteiger Group

14 No. 1 • March 2022
---
MACHINING TECHNOLOGY

Defect: raw, repaired, and sanded down (photograph: Wintersteiger)

specializes in plant engineering and automation.

From feasibility studies to remote maintenance

of the overall installation, the innovative

plant engineers deliver automation solutions for

the production of windows, engineered flooring,

furniture, and multi-layer boards, as well as

large sawmills.

Perception Park is a world-renowned pioneer

in the field of chemical sensing, often

enabling solutions to problematic challenges

where other technologies miss the mark. This

technology allows materials that are very similar

visually to be distinguished on the basis of

their chemical composition or the concentration

and distribution of their constituents – such as

in foodstuffs or pharmaceutical products – and

to precisely capture this data in real time.

Chemical sensing

Their chemical properties mean substances

reflect completely different spectrums of

light. Using a hyperspectral camera, images

can be captured outside the visible range,

such as infrared. Unlike normal cameras, hyperspectral

technology shows a spectral image

of the light reflected from the material.

Each point is depicted not only by an intensity

value, but also by hundreds of spectral

wavebands. This ultra-precise spectral measurement

allows the properties of materials

to be tested and their chemical composition

to be visualized. The user gets a unique "fingerprint"

or "spectral signature" of the object,

which in its turn allows flaws and dirt invisible

to the naked eye to be detected.

Chemical sensing is used for applications

where materials need to be analyzed and/or

sorted based on chemical information.

It is used in the food-processing industry

(to identify pressure marks and decay in fruit,

ripeness requirements), the recycling industry

(material-selective plastics sorting), and diverse

medical technology applications.

www.wintersteiger.com

No. 1 • March 2022

15
---
MACHINING TECHNOLOGY

Altendorf saw safety wins German Technology Award

Germany-based Altendorf GmbH won over a 12-member jury with its novel safety system for sliding table saws in the category "Industry

and Crafts." This is an important area of development as a workers' hands are only a few centimeters away from the high-speed

rotating saw blade when they guide workpieces during sawing operations. Every day around the world, work-related accidents occur

when various materials are cut using sliding table saws.

For the most part, commonly known protection

systems use technology that relies on

the conductivity of skin to detect a hazardous

situation and to then pulsate the saw blade

to a stop. The problem with this approach:

All existing solutions require that contact between

the saw blade and hand takes place

for the safety system to kick in. In some systems,

the machine's internal components are

damaged to prevent continuation of work after

the incident.

Early hazard detection

is critical

Altendorf's system relies on the ability to

detect the hazard at a very early stage. Various

defined situations are optically detected and

classified. For this, two cameras collect data

which is then processed by a powerful handdetection

program.

When the system identifies a dangerous situation,

the hazard is eliminated: Within a quarter

of a second the whole saw unit quickly slows

down and the saw blade abruptly stops. After the

safety assistant has been activated, the machine

can immediately go back to work. No damage to

the machine or saw blade occurs and the productivity

of operations remains intact.

Karl-Friedrich Schröder, Head of Development

at the Altendorf Group, explains the

motivation for the ground-breaking development:

"We've always been uneasy about the fact

that existing systems only ever kick in after the

accident has happened. And they cause damage

to parts of the machine as well. We wanted

the machine to act sooner, first and foremost to

prevent accidents – that is, to protect the operator.

So we developed a system that gains us

valuable time, one that enables us to disable

the danger before contact even happens."

Honored for innovation power

As jury spokesperson, Thomas Niehoff,

General Manager of the Chamber of Commerce

of East Westphalia, Bielefeld, outlined the jury's

reasons for their award decision. In his

remarks, Niehoff highlighted the innovation

power of the machine manufacturer's longterm

development work: "In the view of the

jury, Altendorf's many years of development

work has successfully produced the next level

of innovation in table saw safety. This will lead

to setting new standards that will improve requirements

for worker safety in the woodworking

industry and the trades worldwide. At the

same time, the company is effectively positioning

itself in global competition. With its safety

system, Altendorf will significantly boost sales

and safeguard jobs."

www.altendorf-handguard.com

Pallmann-Size reduction technology

for the perfect particleboard

New order for Pallmann Maschinenfabrik GmbH, the size reduction specialist within the Siempelkamp Group: In August,

Merino Industry Ltd., one of the leading laminate producers in India, placed an order for several machines from Pallmann's portfolio.

The order volume consists of three knife ring

flakers, two double stream mills and a re-chipper

as well as the supervision of commissioning.

The machines are part of a new particleboard

plant at Halol in the state of Gujarat: Merino

Industry Ltd. founded in 1974, primarily focuses

on the production of premium quality laminates,

however, with the new plant, they will also start

production of the carrier material. Excellence,

maximizing the product value, is firmly established

in the corporate motto of the company.

The Pallmann-flake preparation ensures quality,

especially in the surface layers of the board,

which is an indispensable prerequisite for the

downstream finishing process.

Three knife ring flakers, type PZKR 16-600

guarantee highest flake quality, a high throughput

capacity, quick knife ring exchange and precise

knife adjustment. Two double stream mills,

type PSKM 14-660 produce homogeneous fine

flakes with a low percentage of dust and coarse

material – ideal for the production of high quality

particleboards which have to meet highest

demands on surface quality. Merino Industry

Ltd. also placed an order for a re-chipper which

ensures an economic size reduction of oversized

wood chips.

The delivery of the Pallmann machines is

scheduled for March 2022.

Pallmann-Knife Ring Flaker, type PZKR 16-600

www.siempelkamp.com

16 No. 1 • March 2022
---
MACHINING TECHNOLOGY

New equipment variants ensure even greater flexibility and efficiency

Fast, clean change between EVA and PUR hot-melt glues

At HOMAG, EVA and PUR hot-melt glues are processed on the same machines and with the same application unit. A new feature is that

the glue can be changed via the melting unit without mixing, i.e. with no cross-contamination and no cleaning.

Simple removal of the EVA interchangeable container

from the melting unit

fiLine and, from October, also for EDGETEQ

S-500 | S-500 profiLine series.

www.homag.com

WIN_2019.pdf 24 15.02.2019 13:55:48

Interchangeable containers

for easy application of EVA and PUR

Due to its resistance to humidity and heat,

PUR is ideal for use with edge banding for furniture

in humid rooms such as bathrooms, kitchens

and laboratories. If these properties are not

necessary to achieve perfect edges, the carpenter

will prefer EVA for reasons of cost.

To facilitate fast switching between EVA

and PUR, the HOMAG melting unit can now

also be used for EVA. This is thanks to two differently

designed, interchangeable containers.

Melting unit for EVA and PUR

The interchangeable container design used up

to now has proven to be an excellent choice for

the processing of PUR cartridges. The new interchangeable

container is specially designed

C

for the metered supply of EVA granulate. The

M

ergonomically designed handles allow the interchangeable

containers to be removed from Y

or inserted into the melting unit quickly and

CM

easily. When changing between EVA and PUR,

MY

no time-consuming cleaning is required. In addition,

the application unit can either be replaced

without cleaning the machine or simply

CY

CMY

emptied and refilled in the machine.

There are three versions available: One

for processing both EVA and PUR alternately

(new), one for exclusively processing EVA

(new) or—as before—one for exclusively processing

PUR.

Glue change via the melting unit is available

for the EDGETEQ S-240 (from model 1240 FC),

EDGETEQ S-300, EDGETEQ S-380 | S-380 pro-

K

Less energy, more power!

Energy-efficient filtration plants

for the woodworking industry.

MultiStar filtration plant

Made by Höcker Polytechnik

▪ filtration

▪ dedusting

▪ briquetting

▪ recycling

▪ varnishing

Höcker Polytechnik GmbH

Borgloher Str. 1 ▪ 49176 Hilter a.T.W.

Germany ▪ Mail info@hpt.net

Fon +49 5409 405 0

www.hoecker-polytechnik.com

No. 1 • March 2022

17
---
USER REPORT

To satisfy processors and end users alike, wood products must be convincing in terms of appearance and feel, as well as being robust, resilient, and easy to care for.

An optimal surface result

In the wood coating industry the requirements are constantly increasing – process reliability as well as efficient and sustainable production

are becoming more and more significant. In this regard, fluid pumps in coating equipment are a key factor, since precise surface

results can be achieved with a double diaphragm pump and paints as well as varnishes can be used in a manner that is resourcefriendly.

The fact that an investment will be worthwhile over the long-term is evident in the example of engineered wood manufacturer

EGGER Holzwerkstoffe GmbH at the Brilon site. The company invested in several double diaphragm pumps from Timmer GmbH. These

pumps ensure high-quality and uniform coatings, optimal processes and efficiency at the highest level.

EGGER Holzwerkstoffe GmbH headquartered

in the Austrian municipality St. Johann in

Tirol is one of the largest and best-known manufacturers

of engineered wood in Europe. The

family company, which was founded in 1961,

has approximately 10,000 employees and produces

engineered wood at 19 locations in nine

countries with an annual production capacity of

8.8 million cubic meters. The product range includes

chipboard, OSB-board, MDF-board and

sawn timber for furniture manufacture and interior

design, timber construction and for floors.

Design requirements for living spaces and work

spaces have become much more rigorous in recent

years. To meet the needs of both processors

and consumers, wood products must be

visually and haptically impressive, as well as

robust, durable and easy to maintain. In this

regard the wood coating has particular significance

because it ensures longevity and a flawless

surface appearance. In addition, a production

process with the utmost reliability that is

resource-friendly and sustainable also plays an

increasingly important role. To meet these requirements

and in order to further optimise

its own processes, EGGER invested in multiple

Timmer fluid pumps.

The coating of wood panels in painting

lines involves various process steps. For prepainting,

first a primer is applied and hardened,

before the wood material is sanded and

enhanced with stylish decors and surfaces. The

central component is the application roller that

applies a medium on the engineered wood.

The fluid pump ensures that a primer, a paint,

a varnish or a base coat flows in between the

application rollers from above. Because the

previous pumps did not have the desired service

life and due to the higher pulsation sometimes

this caused a certain shadowing and

bubbles on the wood surfaces, which required

labour-intensive removal, in 2014 EGGER invested

in the double diaphragm pumps from

Timmer GmbH. "For our second painting line,

we needed pumps with process reliability that

ensured an optimal surface result. Since several

of the Timmer pumps were being used

successfully, we also trusted in the competence

of Timmer GmbH for our second line",

explains Stephan Rehker, Varnish Technologist

at EGGER Holzwerkstoffe GmbH. Today a total

of 12 Timmer pumps are used at the EGGER

plant in Brilon.

18 No. 1 • March 2022
---
USER REPORT

Efficient pump technology and a precise

surface result

With the Timmer pumps EGGER can pump

virtually all materials. A great advantage offered

by the double diaphragm pumps is the efficient

technology; the Timmer solution has an

extremely low start-up pressure. Conventional

market variants require a start-up pressure between

1.5 and 2 bar for the pump to even run at

all; the Timmer solution requires only 0.7 bar to

operate reliably even at 1 bar pressure. This results

in significant medium-term and long-term

energy savings, since compressed air requirements

are reduced by up to 50 %. Another advantage

is sustainable use of materials. For application

rollers the pumps work in a circulating

system: The medium is pumped between

the application roller and the dosing roller, excess

material runs back into the tank and is reused.

Thanks to the circulation system there is

no paint loss and EGGER saves valuable material

and it also saves costs.

Moreover, the proven control valve technology

developed by Timmer that is used

in the Timmer pumps, enables lower pulsation

and this is incredibly important for wood

coating processes: "With high pulsation, frequently

an irregular paint pattern occurs that

causes shadowing on the engineered wood",

points out Rehker. Due to the fast changeover

time of the valve and the short-stroke principle

the pump generates a lower pulsation, so

that the medium flows uniformly through the

roller in a fine stream. This means that even

minimal quantities can be input into the process;

this is not the case with conventional

double diaphragm pumps. "For our customers

it is particularly important that the surface

of the wood always has the same appearance

– with a uniform paint application, the same

layer thickness and the same colour pattern.

Consequently, the high reproducibility that the

pumps make possible is critically important for

us", states Rehker. Thanks to the Timmer solution

EGGER experiences far less microfoam in

the paint system; microfoam can cause small

air bubbles that impair the surface result. "The

advantage is that we don't have to use an additive

and this protects the entire tubing and

the paint flow. Now we no longer need to add

anything and we can work without foam. Even

with low-viscosity fluids or varnish, there are

significantly fewer medium splashes, thanks to

the Timmer pumps".

Maximum process reliability and easy

maintenance

Furthermore, the possibility of pump standstill

is excluded. This is ensured by a special,

low-wear, ceramic latching valve. All valve

plates in the heart of the Timmer pump are

made of ceramics in conjunction with precisionground,

high-performance plastics. This results

in minimum wear in the valve itself. In addition,

a short-stroke principle is used; the diaphragm

executes shorter strokes and therefore it is subject

to less wear. Also a flow monitor indicates

when varnish is no longer being pumped – this

is a customer-specific function that is a special

feature for EGGER. This prevents dry-run of the

application roller.

Timmer's modern double diaphragm pumps ensure high-quality

coatings, optimal processes and efficiency at the highest level.

Another advantage: The double diaphragm

pumps from Timmer are extremely easy to

maintain and they are quite simply structured.

Because the valve is separated from the medium,

the diaphragms can be quickly replaced

when performing maintenance without having

to replace the air valve. Ball replacement and

cleaning are also quite simple. If specific pumps

must be inspected, they can be removed, i.e.

dismounted, very quickly and very easily. "The

pumps are so easy to maintain that they sustainably

increase the process efficiency in our

production and thus reduce costs long-term",

says Rehker.

Timmer pump convinces EGGER

The surface coating of wood elements, for

which the high-performance double diaphragm

pumps are important components, quickly led

to the desired results: EGGER was able to optimise

the quality and the appearance of the coatings

and use the efficiencies to save valuable resources.

"The pumps were optimally tailored to

our process. The product quality and the minimal

service and maintenance effort required for

the Timmer pumps convinced us", points out

Rehker and in addition he praises the short delivery

times, the service and reachability. With

this modernisation of the painting lines EGGER

and Timmer are laying the foundation for further

collaboration that will be continued and

expanded in the future. "EGGER is constantly

developing its capabilities as a company in the

wood coating industry. Naturally more systems

and pumps will be required", says Rehker.

In wood processing, the coating is of particular importance, as it ensures durability and a flawless surface appearance.

www.timmer.de // www.egger.com

No. 1 • March 2022

19
---
USER REPORT

Scottish company "The Saw Centre" has been using

Swabian sharpening technology from VOLLMER for 20

years.

"The Saw Centre" trade shop and

distribution centre is based in the

Scottish city of Glasgow. While its

roots go back to 1889, the company

has now grown to 30 employees.

"The Saw Centre" has

been using Swabian sharpening

technology made by VOLLMER for

20 years. In April 2021, the company

put its new VOLLMER CHD

270 sharpening machine with an

ND 250 loading system into operation.

This enables operators to

machine carbide-tipped circular

saw blades with complex tooth

geometries in a single set-up and

run it around the clock without

manual intervention.

Since April 2021, "The Saw Centre" has been using the new VOLLMER CHD 270 sharpening machine with an ND 250

robot system to machine carbide-tipped circular saws without manual intervention and around the clock.

Scottish saw centre counts on Swabian sharpening expertise

The name says it all when it comes to "The

Saw Centre" in Glasgow. The site has a total

area of 20,000 square metres and the business

primarily resharpens circular and band saw

blades. Furthermore, the company makes solid

carbide tools and distributes machinery for the

wood processing and metalworking industries.

"The Saw Centre" is family-owned now the third

generation and is jointly managed by David

Stevenson and Tony Galbraith.

Sharpening complex tooth geometries in a

single set-up

"The evolution of saw blades for our primary

industries of wood, metal cutting, construction

and UPVC has moved on quite drastically in

the last 20 years," says Tony Galbraith. "To service

the needs of our customers and streamline

our productivity, we needed to upgrade our machinery.

This upgrade was the VOLLMER CHD

270 with an ND 250 loading system that arrived

in April 2021."

Thanks to its patented dual grinding

wheel concept, the CHD 270 machine made by

Biberach-based sharpening specialist VOLLMER

is able to fully machine carbide-tipped circular

saw blades in a single set-up – without having

to change the grinding wheel. This enables

"The Saw Centre" to machine circular saws with

a straight tooth geometry and side chamfers in

a single work operation – previously, three work

processes were required. In addition, the CHD

270 can also be used to sharpen saw blades

with alternating flat and angled teeth in a single

set-up. Manufacturers produce these types

of circular saw blades with more complex tooth

geometries in order to improve the performance

and durability of saw blades. Such circular saws

are used above all by companies that process

aluminium and PVC plastics. Moreover, there is

also an increasing demand for hollow ground

saw blades with concave tooth geometries.

VOLLMER's technology achieves significant

time savings

By using the new CHD 270 sharpening machine,

"The Saw Centre" has halved the duration

of the sharpening process for carbide-tipped circular

saw blades from 40 to 20 minutes. The decisive

factor for these time savings is the fact

that it is no longer necessary to manually switch

between two machines. "Additionally, with the

variety of plunge saws on the market, we now

can use the ND 250 loading system to stack

blades that are under 180 millimetres," says

Scott McQuillan, Factory Manager at "The Saw

Centre". "We spent two to three hours of each

day manually loading the portable saw blades

and now with the facility of stacking up to 70 at

a time, we are gaining more time each day. The

processing time has gone from nine minutes to

six minutes."

The combination of the CHD 270 and the ND

250 not only allows operators to sharpen carbide-tipped

circular saw blades without manual

intervention, but also to machine in an automated

system that runs around the clock and at

weekends. "The Saw Centre" also benefits from

the CHD 270's advanced software, kinematics

and power. In addition, the robust machine has

an automatic testing and measuring system that

minimises process errors. Moreover, VOLLMER

has replaced the previous hydraulic oil system

with a pneumatic system, which makes using

the machine cleaner and safer.

"Our Scottish customer 'The Saw Centre'

demonstrates not only how our machinery can

optimise the machining of carbide-tipped circular

saws, but also that Great Britain remains

an important market for VOLLMER after Brexit,"

says Jürgen Hauger, CEO of the VOLLMER Group.

"We founded VOLLMER UK over 40 years ago

and now have over ten employees at our branch

in Nottingham."

www.vollmer-group.com

20 No. 1 • March 2022
---
MASS TIMBER CONSTRUCTION

Green Tech meets Hi-Tech

A nail, a robot, two experts, one mission. Fastening pioneer BECK is taking the next big step towards ecological fastening technology

with its LIGNOLOC ® wooden nail system. On board as a partner: KEHRATEC, leading specialist in the field of camera-guided robot

automation.

2 picking robots unmanned and CAD-controlled place the boards in a precise and position-oriented manner to complete layers.

The two companies are working on the realization

of a robot-assisted system for the fully or

partially automated implementation of timber

construction projects, especially by pre-assembling

completely glue-free and metal-free wall

and ceiling elements.

BECK contributes its versatile competencies

in the field of fastening technology, focusing

in particular on the LIGNOLOC ® wood nail

technology and the associated stationary and /

or manual nailing technology. KEHRATEC provides

the comprehensive, specific, technological

know-how regarding robotics and automation

environment.

Lignoloc ® and robotics in mass timber

construction – advantage for carpentries

"Small and medium-sized timber construction

companies and carpenters throughout

Europe should be able to manufacture metaland

glue-free mass timber wall or ceiling elements

themselves", Christian Beck explains the

vision behind the project. "With the expansion

of the LIGNOLOC ® ecosystem in terms of compatibility

with common processing solutions

from companies such as Weinmann/HOMAG,

Randek or Techno-Wood, as well as the co-engineering

of the flexible, digital robot platform together

with KEHRATEC, the use of mass timber

elements becomes more flexible and the transport

distances shorter. As a final consequence,

it will be cheaper for many companies to manufacture

mass timber elements themselves",

Beck is convinced of the benefits of the project

for the timber construction industry. "My team

and I are very much looking forward to working

with the BECK team. The technological capabilities

and the customer-oriented business philosophies

of both companies complement each

other unprecedented", adds Carsten Kehr.

In mid-November, KEHRATEC CEO Carsten

Kehr and BECK CEO Christian Beck signed the

multi- year development and cooperation agreement

between KEHRATEC GmbH and Raimund

Beck Nageltechnik GmbH. A presentation of the

joint KEHRATEC/BECK automation solution is

also planned at the DACH + HOLZ exhibition in

Cologne/Germany from July 5 to 8, 2022.

www.beck-fastening.com / www.kehratec.de

First customer package

is planned

for spring 2022

The first machine prototype will be completed

by March 2022. For this, BECK is

developing the complete front end including

individual feeding of the nails,

while KEHRATEC is taking care of the

concept and construction of the wall

mounting peripherals, robotics, PLC, programming,

CAD software and final assembly.

After completion of the prototype,

an attractive package is to be put

together for potential customers by the

end of March 2022.

2 unmanned, CAD-controlled and precise setting robots shoot the LIGNOLOC ® nails in layers at defined connection points to form

an overall bond of the layers.

No. 1 • March 2022

21
---
SURFACES

Sustainable lacquers for the furniture,

door and parquet industries

Surface coating specialist Hesse Lignal is extending its product portfolio to include ecofriendly

lacquer systems: the company from Hamm has developed a product range called

"Better Carbon", which contains a high proportion of renewable raw materials. These UV

lacquers will give furniture, door and parquet manufacturers the opportunity to increase

their products' degree of sustainability without compromising on quality.

"Over many years we've been focusing on

sustainable approaches in relation to our product

optimisation, resource conservation, development

and implementation. This is enabling

us to meet our responsibility towards our employees,

society and the increasing environmental

awareness of our customers", reports Hesse

Lignal CEO Jens Hesse. "We've developed a new

product range called 'Better Carbon' to better

enable us to satisfy our personal sustainability

aspirations and to support our customers in

making their production more sustainable."

Renewable raw materials are replacing

fossils

Achieving the objective of a higher degree

of sustainability meant that the Hesse Lignal

product developers largely replaced the fossil

raw materials found in traditionally produced

lacquers with bio-renewable carbon (BRC). This

involves using renewable raw materials that remove

CO 2

from the atmosphere and then bind it.

The portfolio now includes products with a BRC

content of up to 30 per cent. The content of renewable

raw materials always refers to the total

quantity of carbon material in the product.

Filling materials from a natural source are not

included in this calculation.

Good resistance properties

"Our aim was to develop products for the

industrial production of furniture, doors and

parquet flooring, which are not only characterised

by their sustainable formulation but also by

high chemical and mechanical resistances," Jens

Hesse explains. Clear and coloured UV lacquers

have finally been created after many years of

research and development. They now exhibit

the same properties in terms of appearance

and longevity as traditionally formulated products.

These BRC lacquers are available with immediate

effect.

www.hesse-lignal.com

Upgrade of the SprayPackE control unit

Easy operation for maximum productivity

Various configuration options with WAGNER application and

motion technology.

The SprayPackE has already proven itself

as an entry-level unit among the WAGNER

control units and is especially suitable for

users who are switching from manual application

to automatic coating. The unit

can be used to control automatic guns and

motion systems in a connected powder

booth easily and efficiently. A function upgrade

now offers even more flexibility and

opportunities to increase productivity.

Intuitive operation via the central touchscreen

– including menu-guided color change

– saves time and money and avoids operating

errors. Previously, a maximum of 20 automatic

guns could be controlled – from now on, the

SprayPackE is also available with an expansion

module that allows up to 32 guns to be connected.

Users can upgrade their existing SprayPackE

control unit with the expansion module and a

software update, if required. This enables even

greater flexibility and productivity. The required

powder quantity can be set simultaneously for

all guns, by groups (up to 8 groups) and also

individually.

Since its introduction, the SprayPackE has

already convinced with intelligent functions,

which can considerably save material and costs

during coating. In addition to easy operation,

the automatic gap and height control, as well

as depth control via recipe parameters, make

a major contribution to efficient production:

Spraying only takes place when the workpiece

is actually in front of the guns, and the distance

between the guns can be optimized. Powder

consumption is minimized, and the effort required

for manual coating is reduced.

With the function upgrade, coating efficiency

can be increased even further: Via an MES interface

(OPC-UA), the raw data of the coating

can be transmitted to a customer's central control

system for documentation and further processing.

This includes, for example, application,

movement and recipe parameters. Alternatively,

this data can also be processed with the

WAGNER COATIFY information and management

platform (COATIFY.light). This IoT platform

enables permanent productivity monitoring, allowing

costs and quality to be optimized. The

user always has important performance data at

a glance and can use this information to take

measures to optimize system availability and

productivity.

www.wagner-group.com

22 No. 1 • March 2022
---
SURFACES

High-performance coating systems for wooden stairs

The medium-sized premium manufacturer Remmers offers a comprehensive range of high-performance product systems

tailored to the needs of craftsmen and semi-industrial wooden stair production. These include, for example, the two

water-based stair varnishes Aqua TL-422 and Aqua TL-412.

The professional applicator uses the onecomponent

layer coatings for priming and

finishing, e.g. for furniture and wooden stairs

indoors. They are highly resistant to mechanical

and chemical stresses as well as to commercially

available hand creams. They are

2K-ready, so that the mentioned resistances

can be additionally increased by adding Aqua

VGA-485. The addition of the VGA component

also opens up decorative design possibilities

for glass surfaces with an etched or

sandblasted look.

The high-solids stair varnish Aqua TL-412

has particularly low emissions and is also economical:

Often, just two spray applications

are enough for a durable, closed-pored and

rich wear layer. Aqua TL-412 is also creak-free.

To increase the slip resistance to class "R10",

the addition of SM-820 texturing agent is

recommended.

Aqua TL-422 dries quickly and is easy to

sand. It can also be applied economically and

easily on vertical surfaces.

www.remmers.com

EGGER convinces with the PerfectSense ® lacquered boards

With the further development and expansion of the PerfectSense lacquered boards portfolio,

the wood-based materials specialist EGGER is opening up completely new possibilities

for its customers in the design of furniture and interior fittings with super-matt,

high-gloss or matt-textured surfaces. EGGER was not only able to impress its customers,

but also the international jury of the German Design Award.

Impressive look and feel have played a central

role since the market launch of PerfectSense

lacquered boards in 2015. Since then, the furniture

industry, architects, fabricators and end

customers have been delighted with the matt

and high-gloss surfaces. But EGGER, the woodbased

materials specialist, is known for constantly

developing its products. The expansion

of the PerfectSense product range also

stems from this innovative approach: At the

Brilon (DE) site, the EGGER Group invested in

an additional production line for this purpose.

Different PerfectSense lacquered board variants

are now produced on both lines: PerfectSense

Premium Matt and Premium Gloss as well as

PerfectSense Feelwood. This innovative approach

of the wood-based materials specialist

has now been rewarded with a special award:

The PerfectSense lacquered boards product

family was named "Winner" by the international

jury of the German Design Award for its outstanding

design quality. "The further developed

and new lacquered products are aimed precisely

at the needs and ideas of our customers in

terms of quality and design. We are catering to

the desire for more resistant and easy to clean

surfaces with a particularly natural feel," explains

Hubert Höglauer, Head of Marketing and

Product Management Furniture and Interior

Design.

Since their introduction in 2015,

PerfectSense MDF lacquered boards have successfully

established themselves on the market.

The matt and high-gloss surfaces have already

won several awards: The Iconic Award 2016, the

German Design Award 2016, 2018 and 2020 as

well as the interzum award: intelligent material

& design 2017 and 2019. Since then, EGGER has

further developed its lacquer product portfolio

and the PerfectSense family.

The result is the innovation PerfectSense

lacquered boards with Feelwood textures: a

matt lacquer surface with textures synchronised

to the respective decor image and anti-fingerprint

property. Never before have optics and

haptics been brought into harmony in such a

way. The innovative product novelty arouses the

desire to feel the surfaces. Thanks to the anti-

fingerprint property, on which virtually no fingerprints

remain, this is possible without hesitation

even with dark colours. EGGER thus raises

the topic of haptics to a completely new level —

and this has been underpinned by two awards

already: The PerfectSense lacquered boards

with Feelwood textures were awarded the Red

Dot Award 2021 and designated as "Winner" at

the German Innovation Award 2021.

The entire PerfectSense portfolio has now

also convinced the international jury of experts

of the German Design Awards 2022 with its innovative

design. The award is given to products

and solutions that stand out from the competition

thanks to their ground-breaking design.

www.egger.com

No. 1 • March 2022

23
---
SUSTAINABILITY

Fireplace briquettes from discarded wooden pallets

Pallet manufacturer, Füngeling, has set up a lucrative new business field, meanwhile using 3 briquetting presses from RUF. Discarded

wooden pallets are processed by the company in Erftstadt, to wood briquettes which are highly prized by fireplace users as CO 2

-neutral

fuel. And the business should continue to grow.

Up to 40,000 pallets are handled per day

Currently, between 30,000 and 40,000 pallets

are in and out of the company every day.

About four-fifths of the pallet business is accounted

for by tailor-made solutions in which

Füngeling's employees take over the complete

process for customers. This means that they put

new pallets in their customer's yard in good

time, take back the used ones after circulation,

inspect and repair them, if necessary, return

them to the cycle or discard them. Customers

ultimately pay pro pallet cycle, which is easily

calculable, and no longer have to concern

themselves with handling. In addition, the company

supplies wooden transport packaging for

a wide variety of products from automobile engines

to 5-ton construction crane cabs.

Füngeling always makes sure that nothing

is wasted. If pallets have become unsightly after

a few uses, for example with food, he uses them

in other industries, such as the stone or paper

industry, where they continue to provide good

services. If a pallet is irreparably damaged, it is

usually not completely retired, but dismantled

and the still usable parts used for new pallets.

If you do not make this effort, a pallet's lifecycle

might consist of ten uses, reports Füngeling.

"We get 20, 30 or even 40 uses," says the

entrepreneur.

Packaging station: A 10 kg bundle is created from 12 briquettes each. (Pictures: RUF Maschinenbau)

The conservation of nature, recycling, waste

prevention and high economic efficiency are not

contradictions for Heribert Füngeling. The fact

that good business can be done with recycling

and the economical use of resources is proven

by the qualified forestry master with his company,

Füngeling Industrieservice. The core sector

of the group is the business with wooden

pallets and disposal services for industrial companies,

which the resourceful entrepreneur has

built up over the past two decades.

At his company's headquarters in Erftstadt,

North Rhine-Westphalia, he produces around

2,000 tons of wood briquettes annually from

discarded pallets. The recycling company started

this line of business about eight years ago

with a used RB 440 briquetting press from RUF.

In the meantime, he is using two more RUF 500

systems, the most recent of which Füngeling

has only just put into operation.

Füngeling was self-employed with his forestry

business when, more or less by chance, he

was asked in 1990 to take over a small business

that produced pallets with a single employee.

For him it was a tryout, and he continued his

forestry business. It is still a component of the

group of companies, which employs a total of

about 170 people. "But the pallet business soon

grew so much that I concentrated primarily on

it," reports the entrepreneur. With smart business

models – such as all-round carefree packages

for customers – he drove growth and later

also entered the industrial waste disposal

branch.

Sales of the wood briquettes picked up

speed rapidly

Despite this intensive use of the material,

it was a thorn in his side for a long time that

he had to get rid of numerous pallet boards at

some point, without much benefit. "I would like

to process everything that is generated here in

my yard," is his philosophy. He was looking for

a sensible solution and found it in briquetting.

And so about eight years ago, he started a trial

with a used RUF RB 440.

He was also absolutely right with this decision.

Soon the business was running very well.

Only quality-tested, clean, natural A1 waste

wood is used. The larger the chips from which

the briquettes are pressed, the more similar the

briquettes look, when burning, to solid logs.

Because the briquette business was gaining

more and more momentum and is still growing,

Füngeling procured two more briquetting lines

24 No. 1 • March 2022
---
SUSTAINABILITY

— this time of the RUF 500 type — and in the

future also wants to offer other pallet manufacturers

the processing of their wood residues.

Designed for unmanned 24/7 operation

The personnel costs for the operation of the

briquetting systems are low. They are designed

for unmanned 24/7 operation. When the feeding

of the wood residue is automated by means

of a conveyor system, then the only effort is that

the collection containers need to be replaced by

empty pallet cages from time to time, when they

become full of wood briquettes. At Füngeling,

the feed is still carried out manually at the moment,

but a complete automation is in planning.

Currently, a shredder and a hammer mill first

crush the boards coarsely and then a little finer.

A container dryer then removes a large part

of the moisture from the chips, in batches. The

heat for the dryer is generated CO 2

neutrally in

a chip heating system operated with absolutely

uncontaminated A1 waste wood.

The residual water content is reduced from

about 22–23 % to about 15 %. This is a prerequisite

for the production of quality briquettes,

on the other hand the heating value of the briquettes

is increased. These dry chips are filled

using a forklift into the storage containers of

the briquetting presses. There, sensors detect

when sufficient material is available and give a

signal leading to the press starting. Conversely,

the system stops automatically when the supply

hopper has been emptied.

The specific pressing power of the systems

is 1700 kg/cm 2 . At this high pressure, solid,

high strength briquettes are created, and binders

can be completely dispensed with. Each briquette

measures 155 × 65 mm in cross-section

and about 90 mm in height and weighs approximately

840 g.

At Füngeling, each of the three RUF presses

produces around 500 briquettes per hour.

The systems are set in such a way that 12 briquettes

result in a 10 kg bundle. "At our customer

Füngeling, each press produces over 400 kg

of briquettes per hour. But we also have presses

in our range that process over 1000 kg of chips

per hour," says Ralf Lorbach, technical consultant

at RUF. Füngeling employees remove the

briquettes from the pallet cages at the outlet of

the presses and pack them.

Automated from feeding to packaging

Heribert Füngeling emphasizes that the

company will further streamline its processes.

The briquettes will no longer be discharged

into containers by the presses, but rather onto

a conveyor belt. There, they will be aligned in

such a way that the packaging system can automatically

assemble them into bundles. In a

further step, the feeding of the presses with

wood chips is to be automated using a conveyor

system.

www.brikettieren.de

The right shredding is essential for heating technology

Keitel Haus from Brettheim/Baden-Württemberg

in Germany produces prefab

houses made from timber panels. The

production process yields waste wood in

a wide range of sizes, primarily solid wood

and cuts from panel materials. Two UNTHA

wood shredders are in continuous operation

for the shredding of the waste wood

and the production of high-grade wood

chips for thermal recovery.

Keitel Haus, a family business that goes back

to 1929. Since the 1970s, the site in Brettheim

has been producing around 200 prefab houses

made from timber panels per year. The company

has 160 employees and its strength lies in individualised

design. Keitel Haus has won numerous

awards, for instance the Hausbau Design

Award and the Deutsche Musterhauspreis.

LR1000 for waste wood shredding

Since 1999, the company has been using

an UNTHA wood shredder to process its waste

wood. Following the decision to expand the

business, Keitel Haus had decided to purchase

another shredder in 2020. As the first UNTHA

had been running for many years to the full satisfaction

of Keitel Haus, the company opted for

a second UNTHA shredding solution, this time

the LR1000. "The biggest factor for us was that

over all those years we never had any issues

with the first unit", explains Technical Director

Heiko Kreiselmeyer. "UNTHA offers a highly reliable

service. If we have any questions, we immediately

get competent feedback." With the

LR class, UNTHA offers a family of machines

that guarantees compact shredding for carpentry

shops, joineries, sawmills, and other timberprocessing

businesses of any size. Overall, the

LR series stands out for its efficient cutting system,

long lifespan and outstanding reliability.

All models are efficient, economical and maintenance-friendly,

ensuring a homogeneous output

material for users, combined with low cost

and with little effort in terms of operation.

Perfect combination of shredding and

conveying technology

At Keitel Haus, all the waste from the production

process, both laminated timber and solid

construction timber, is put through the two

UNTHA shredders. Keitel Haus thus produces almost

2,500 m 3 of material for thermal processing

every year. The waste wood is taken directly

to the shredder via several conveyor belts,

and the wood chips are transported to the storage

silo by means of a suction system. From the

silo, another conveyor system takes them to the

heating facility, located just below the silo.

Shredding as the most important element

of heating technology

As a rule, the wood chips suffice to operate

not just the entire heating system of the

Brettheim site, but also a neighbouring building,

an abattoir. Anything that Keitel Haus can't

use for heat production on site is loaded onto

trucks using conveyor technology and taken to

businesses in the area that also use wood chips.

"Overall, the combination of UNTHA shredder,

customised conveyor technology and in-house

heating plant makes for an environmentally

friendly, economic way to process and utilise the

company's waste wood. The efficient shredding

of the waste wood is crucial for the smooth running

of the heating plant, and we believe that

UNTHA shredding technology is handling this

aspect economically and sustainably. At Keitel

Haus, we are happy to recommend UNTHA

shredding technology without reservation,"

says Heiko Kreiselmeyer.

www.untha.com

No. 1 • March 2022

25
---
DOORS

"A lot has gone very well" for Roto

"We have successfully overcome another

extremely challenging year and are

completely satisfied with the results we

achieved in 2021. This applies to turnover,

profits and market shares alike." This is

how Marcus Sander described this year's

development of Roto Frank Fenster- und

Türtechnologie GmbH (FTT) in mid-November

2021. The "impressive performance" is

due to several factors, explained the CEO.

To achieve this performance, it is crucial

to maintain the high delivery capability

worldwide despite the serious crisis of

materials, including raw materials, mainly

caused by the coronavirus, and therefore

to meet the performance expectation for

the industry that is currently by far the

most important for customers. This is also

the result of consistent process digitalisation,

which achieves a real increase in

customer benefits through greater speed,

transparency and efficiency.

Expertise in all segments

The CEO provided details of the global

hardware industry's market volume. According

to calculations and estimates, this was around

€ 3.4 billion in 2020 and was therefore at the

previous year's level. The ranking of the individual

product segments also remained constant

according to these figures. Tilt&Turn

(35 % in total) took the leading position by

a clear margin, followed by Door (25 %) and

Sliding (23 %). Outward Opening (11 %) and

Casement & Awning (6 %) completed the field.

The company offers suitable hardware

technology solutions in all market segments.

As successful examples, Sander cited the

"Roto NX" Tilt&Turn range, a complete package

(door lock, door hinge, threshold) for main

doors, and the "Roto Patio Inowa" sliding series.

This is complemented by the compatibility

of the hardware systems. Alongside on-time

delivery – which is currently a priority – this

enables window and door producers to manufacture

a reduced number of parts and to cater

to end user requirements.

Short trip around the world

In the detailed overview of international

market regions and FTT's performance in each

one, the same key words frequently cropped up:

the effects of the pandemic and material supply

issues on the one hand, and positive market

development, good delivery quality and strong

Roto turnover growth on the other hand. For

North America, the CEO also reported a general

trend towards larger windows and doors

and, for the FTT division in particular, the successful

acquisition of new customers. In South

America, the often volatile political situation

and macroeconomic challenges were a burden.

Nevertheless, construction growth is showing

signs of recovery in the most important countries.

Roto is experiencing an dramatic upturn in

Argentina, Brazil and Chile.

The same applies to Europe as a whole,

despite some differences in market development.

The driving force behind the considerable

growth, especially in the Tilt&Turn, Door

and Sliding segments, is the increasing volume

of renovations on the market side and, specifically

to the company, the launch of new products

and high delivery capability. The latter

factor also played a major part in acquiring new

customers and therefore gaining further market

shares.

The market development in the countries

and regions of Europe is, of course, also dependent

on particular influences. While there

is on the whole a clear upwards trend regardless

of this, for example in Germany, Austria,

Switzerland, the Benelux countries, France

and Italy, the construction crisis in the United

Kingdom remains serious. Scandinavia is still

stagnant, while Spain, Portugal and Greece are

proving to be resilient despite new outbreaks

of the coronavirus in 2021. However, Roto was

able to grow even in markets with "below-average

performance," stated Sander.

In the Asia/Pacific business area, the market

development is particularly suffering from the

"toxic mix" of material shortages and a drastic

increase in the price of raw materials. In China,

this is having a negative impact on investment

in new construction in second- and third-tier

cities. In first-tier cities, the demand for new

construction has since largely been met. On

the whole, the market is shifting towards renovation

and retrofitting. Individual countries

throughout the rest of the Asia-Pacific region

are still having to cope with strict COVID-19 restrictions.

Despite this by no means easy situation,

FTT is still managing to perform well. With

the hardware portfolio in the premium market

segment, successful product launches and consistent

delivery performance, the company also

offers recognised advantages compared to its

competitors.

Stabilising the upturn

Sander's initial conclusion was that, all

things considered, "a lot of things went the way

we wanted them to in 2021". This is ultimately

apparent from a clear double-digit turnover increase,

excellent profitability and therefore the

renewed consolidation of the company's economic

strength, as well as positive development

of market shares.

www.roto-frank.com

26 No. 1 • March 2022
---
WINDOWS

Energy efficiency with historic charm

SWISSPACER has been specified in a townhouse renovation in Basel, Switzerland. This sympathetic renovation ensured the windows

retained a traditional appearance while offering excellent levels of energy efficiency. The use of high performance glass and

SWISSPACER warm edge spacer bars within a slimline sealed unit helped maximise natural daylight in the property and create a comfortable

indoor temperature.

Translucent thermal insulating glass combined with the warm edge in the glazing edge to create a cosy and bright spatial experience

inside the historic building.

The renovation of a town house in Basel allowed the historic

windows to retain their original external look.

The townhouse's original owners, brothers

Georg and Rudolf Stamm, understood the importance

of energy efficiency when they first designed

their home in 1897. While some rooms

were built with single-glazed windows, which

was typical for that period, the windows in the

main living areas included two panes of glass

for improved insulation. The brothers also in-

stalled a removable 'winter window', similar to

secondary glazing, for very cold weather.

Over the past two years, the townhouse,

which is located in a conservation area in Basel,

has undergone a total refurbishment. Architects

Schröer Sell were responsible for the project

and site management. Lead architect Carmen

Eichenberger explains: "This was a careful and

considered refurbishment that excluded major

structural changes. Our aim was to retain and

restore as many of the building's original features

as possible.

"For example, we refurbished the roof for

improved energy performance and restored

the dormer window to its original design. We

also retained the original room layout and main

structures, including the windows and doors, to

the front and rear of the property."

A slimline double glazing solution

The high-performance glazing edge also contributes to the high energy efficiency of the slender insulating glass unit.

Schröer Sell worked closely with sub-contractor

Holzmanufaktur Rottweil, who were responsible

for restoring the windows and developing

a solution that helped retain the building's

original appearance. "We reconditioned

No. 1 • March 2022

27
---
WINDOWS

the window frames and reglazed them with

the original glass", explains Dirk Obser, project

leader at Holzmanufaktur Rottweil. "This way,

all the authentic characteristics of the original

glass can be seen."

The windows were restored using high

performance CLIMAPLUS ECLAZ LIGHT sealed

units from Saint-Gobain Glass. Its special

Low-E coating means the energy performance

of the double glazed units matches that of triple

glazing. The slimline unit also allowed for

the glass to be fitted into the original slim

frames for an authentic, elegant finish.

The ECLAZ LIGHT sealed units benefit

from 83 % translucency, which means rooms

are flooded with natural daylight – particularly

important for historic buildings with traditionally

small windows. The glass also benefits

from low iron oxide, which means a significant

reduction in the green tinge often

found with other glazing solutions, allowing

rooms to be viewed through the glass in their

true colours.

Warm edge spacer bars for outstanding

energy efficiency

SWISSPACER's high performance warm

edge spacer bars also contributed to the

sealed unit's excellent performance. With

its low thermal conductivity and low Psi

values, SWISSPACER Advance spacer bars

were specified to boost energy efficiency in

the building and prevent condensation and

mould forming on the inside of the windows.

Holzmanufaktur Rottweil, who regularly

specify SWISSPACER, says the sleek look

of SWISSPACER's warm edge solution is another

big benefit. According to Dirk Obser,

"SWISSPACER spacer bars are the best looking:

they have a high end finish and clean,

neat corners."

The combination of the ultra-slim, high

performance ECLAZ LIGHT sealed unit and

SWISSPACER Advance allowed project managers

to restore the windows to their former glory

and with the added benefit of top thermal

performance.

Project managers took a similar approach

to the townhouse's two glazed doors, one facing

the street and the other opening onto the

courtyard terrace. The street door required an

ultra-slimline sealed unit, but Holzmanufaktur

Rottweil needed to develop a completely bespoke

solution for the terrace door: REVETRO.

By salvaging the door's existing glass and using

it as the outer pane in a new, energy efficient

sealed unit, the refurbished terrace door features

the original glass complete with authentic

streaks, waves and bubbles.

www.swisspacer.com

FURNITURE

In trend: front structures with milled grooves

Innovative technologies for perfect edge finishes

Groove design is experiencing a revival and is currently particularly popular in furniture

construction. Unlike almost any other design element, it can be used to create fronts in

an elegant design language. Whether with narrow or the three-dimensionality of the

milled structures lend surfaces a striking character.

Reichert Holztechnik has taken up this trend

and has broken new ground in production. The

aim was to produce fronts with less warpage

and a homogeneous edge appearance, innovative

production technologies have been developed.

The traditional Black Forest company is

now presenting the new "GROOVE" structured

fronts, which can be individually configured.

Stable fronts – grooves perfected down to

the last detail

"We have developed a manufacturing process

that optimally highlights the groove design

to its best advantage. We came to the conclusion

that the grooves should only be milled after

the edges have been applied. Compared to subsequent

edging, this method allows a consistently

good appearance. But the focus was also

on a high dimensional stability. After numerous

trials, we were able to achieve that our milled

fronts have a significantly reduced risk of warpage

compared to panels embossed on one side,"

says Erhard John, Managing Director Sales.

Variable structures, thicknesses, wood

types and colors

Beyond the standard range with classic

wood species such as oak and walnut and thickness

of 19 mm, the new product series offers

a wide range of possibilities for individual design.

Thus, Reichert Holztechnik is able to produce

fronts in all veneer types and grains as well

as panel thicknesses. Also as color lacquered

front on MDF support. Any color from the NCS,

RAL and Sikkens system program is available.

In addition, for fine furniture contours, 45-degree

edges are also possible for fronts and side

panels.

With a width of 2 mm, the milled grooves

set discreet decorative accents. They give cabinet

fronts a touch of elegance with their purist

straight lines. Matching standardized cabinet

systems, the manufacturer produces different

web widths of 5, 10 and 20 mm. This always

results in compatible front dimensions for cabinets

in the 50 mm width grid.

www.reichertht.de

28 No. 1 • March 2022
---
FURNITURE

Awarded by the German Design Council

Innovative interior for the noble

matt collection

After having received not one but three three prizes at this year's German Design, the

Furniture Solutions Division also captivated the jury of the ICONIC AWARDS: Innovative

Interior with the noble matt collection just before the end of the year. They have also

been established by the German Design Council – and highlight another aspect of excellent

design with a focus on architectural solutions.

The ICONIC AWARDS: Innovative Interior

are considered a trend indicator for the interior

design industry. The aim of the award, which according

to its self-description "only honors the

best of the best from the furnishing industry and

interior design", is to develop a platform linking

architects, product designers and property developers

to the furnishing industry. Those who

come out on top against the top-class competition

here have proof of the exceptional quality

of their products.

According to the jury's verdict, this applies

this year to the REHAU noble matt collection,

which was awarded the "Best of Best"

prize in the "Product Design/Furniture" category.

With the noble matt collection, which consistently

applies the trend towards matt furni-

ture, carpenters, designers and industry partners

can create furniture and rooms with total

seamless integration. This is made possible by

the fact that the surface, edgeband and storage

space are available in a coordinated design.

The appealing look is accompanied by a

pleasant, velvety-soft feel with soft touch and

anti-fingerprint.

www.rehau.com

SAFETY

Biogenic coating material as flame retardant for OSB

Modern timber design makes use of OSB, veneers or chipboards for noise and fire protection and also as load-bearing or

reinforcing planking.

The most commonly applied wood-based

materials include coarse particleboard (OSB).

It consists of chips of lengths from 100 mm

to 150 mm and widths from 10 mm to 15 mm.

OSB is preferably used as stiffening planking,

substructure, vapour barrier or footfall

sound insulation of, e.g., exterior wall constructions

and façades (6.6 million m 2 /a), interior

walls (2.5 million m 2 /a) or also flooring

(4.7 million m 2 /a).

However, by classifying wood products as

"normally flammable", OSB loses numerous opportunities

for use as a construction element in

building classes 4 and 5, i.e., schools, hospitals

or sales premises, as "flame retardancy" is required

in such cases.

Although wood products can be boosted to

become flame-retardant by adding flame retardants

(FR), this often yields a few drawbacks.

Either high input quantities (> 30 wt-%) are necessary

or the material properties (E-modulus,

swelling behaviour or coatability) change unfavourably.

Furthermore, problems regarding the

compatibility of the materials used arise and require

an increase in the quantities of binder to

be applied. Therefore, the development and integration

of new, effective, sustainable and environmentally

friendly FR in wood-based building

products is highly important.

The research subject of a new project at the

IHD is to develop a process for the application

of a biocompatible, biogenic and universally applicable

coating material to modify OSB strands

for the production of flame-retardant multiply

chipboard. Apart from the flame retardant

properties, the additive can also act as an additional

adhesion promoter, which can prevent

before fire test

problems with compatibility and deteriorating

properties. Meeting this goal may lead to an increased

use of OSB for application in building

classes 4 and 5 as a significantly more ecological

option substituting mineral or plastic-based

building materials.

www.ihd-dresden.de

after fire test

No. 1 • March 2022

29
---
SAFETY

Digitisation in the field of explosion safety

Smart home for factories

Visualisation of safety-relevant faults in

the control room are only half the battle.

In order to appropriately react to such

faults, pre-defined counter measures have

to be initiated – what sounds simple is a

true challenge for plant operators in practice.

Although protective systems and

plant components react autonomously,

the right behavior of employees in critical

situations is mandatory. Given the risk of

human error, the REMBE iQ Safety Cockpit

was developed and launched:

GSME and HotSpot detector

Similar to a process control system, the

REMBE iQ Safety Cockpit offers an overview of

all relevant protective and equipment system

status, which can also be monitored in real time

from any location remotely via smart phone.

However, in addition to the PLC, detailed and

automatic and semi-automatic action plans can

be linked and initiated: In case of an event in

a certain area, sending an email or an SMS to

a pre-defined distribution group can be automated

to bring the incident to their attention.

Such a scenario could for example be, that in

the event of an explosion the responsible safety

officer might be informed by text message via

his service phone, the surveillance cameras in

the affected area could be activated or set to a

different mode and the management would receive

an email. Nevertheless, more importantly,

the REMBE iQ Safety Cockpit guides the logged

in user through the pre-defined plan of action.

Forced guidance thereby would ensure that

all desired and necessary process steps are followed

in the event of a disruption. Those applications

and process scenarios of the REMBE

iQ Safety Cockpit can be individually configured

for each plant; both analog and digital signals

can be processed. In addition to the REMBE autonomous

protective systems, GreCon spark extinguishing

systems, camera systems or even

fire detectors and other plant components can

be combined and connected to the REMBE iQ

Safety Cockpit.

Learnings from incidents and systematic

root cause analysis are subject to be implemented

in improved safety concepts. REMBE

iQ Safety Cockpit supports as all data recorded

during the emergency plan are compiled and archived

in a comprehensive log. This data can be

practically expended or adjusted via the various

REMBE iQ Safety Cockpit: Example of individually configured application and process scenarios.

end devices. When the location of the accident

is inspected, photos can be conveniently taken

and loaded into the log (via app) for subsequent

evaluation.

In the end, this means, that all conventional

autonomous protective systems from REMBE

have become smarter without sacrificing their

actual strength, the fast and reliable function.

In the age of digitization, it is just as important

to ensure a fast response time and the

resulting high availability. The REMBE iQ Safety

Cockpit also enables optimal integration of other

interfaces through the individually coordinated

visualization of each process. Faults or, in the

worst case, explosions not only require a regulated

emergency plan, but also a predictive

maintenance that is not only possible through

the pure workforce of the employee on site. By

detecting the operationally relevant components

such as explosion vents, quench valves

for explosion protection or pyrolysis gas and

fire detectors or grounding systems for explosion

prevention, all these can be registered and

connected to a material management system.

With the GSME and HotSpot detectors from

REMBE, an artificial intelligence has been created

that detects fire and explosion events at an

early stage. The GSME detector is an artificial

nose, "trained" for pyrolysis – popularly known

as smoldering gases, while the HotSpot detector

represents an artificial eye that already detects

surface temperature changes of 1 ˚C.

Connected to the REMBE iQ Safety Cockpit,

the two explosion prevention systems can evaluate

changes in state and bring the system into

a safe state either automatically or via precise

instructions to the operator.

If an event, such as an explosion occurs, the

system recognizes which areas are affected and

provides information about which spare parts

are required in order to restore the system to a

safe state as quickly as possible. These functions

can be submitted in the operator's system as a

"suggestion" or sent directly to the manufacturer

as a non-binding request. This creates the option

to reduce, the time of plant downtime.

In a nutshell: REMBE iQ Safety Cockpit is

nothing else than a smart home control or driver

assistance system in the automotive industry.

Those are used to improve the efficiency and

safety of driving a car and enable, in the right

mix of auxiliary sensors and smart detectors,

autonomous driving. Staying in that picture,

simply spoken, REMBE iQ Safety Cockpit, such

as an driver assistance system for plants will allow

autonomous operation and push safety and

efficiency to the highest possible level in the industry

4.0.

www.rembe.de

30 No. 1 • March 2022
---
EVENTS

Conference topics create link to LIGNA 2023

After its cancellation in autumn 2020 due to the COVID-19 pandemic, the 1st Rosenheim LIGNA.Conference is now being launched in

summer 2022. The organizer of the LIGNA, the world's leading trade fair for the wood industry, Hannover-based Deutsche Messe, and the

Rosenheim Technical University of Applied Sciences (TH Rosenheim) are teaming up to welcome you to Rosenheim on 1 and 2 June.

This event will continue the successful tradition

of LIGNA conferences dedicated to providing

information on the woodworking and wood

processing industry, including the latest trends

and topics, in the "non-LIGNA", i.e. even-numbered

years. As this year's first highlight, it provides

the industry with an opportunity to share

ideas and network on-site. Registrations for

conference attendance can now be made online,

with 1 May as the registration deadline.

The two-day conference will be held on the

campus of TH Rosenheim. And for good reason:

the university is considered an educational institution

for highly qualified young professionals

and is especially well-known for its Faculty of

Wood Technology and Construction. In 22 excellently

equipped laboratories, world-renowned

engineers are trained in the majors of Wood

Technology, Wood Building and Construction,

Interior Engineering and Civil Engineering, focus

timber construction. This educational portfolio

is rounded off by further qualification programs

for members of the wood industry.

"After the LIGNA.Innovation Network online

format, which took place in September

2021, we are now offering a highlight with the

1st Rosenheim LIGNA.Conference, which will provide

the international wood industry with the opportunity

for personal exchange and networking

once again, after many months of social distancing

including lockdowns, curfews, online events

and remote video conferences," says Stephanie

Wagner, the new Head of LIGNA at Deutsche

Messe in Hannover. "We chose TH Rosenheim as

the venue because we can combine theory with a

practical approach directly on site."

"We are pleased to be able to stage this conference

in Rosenheim together with LIGNA," adds

Prof. Andreas Heinzmann from TH Rosenheim.

"It is important to us that by holding the LIGNA.

Conference on campus, there will be a close interaction

between the speakers, attendees, presenters

and demonstrators and students alike. This

time, the LIGNA.Conference will not be held in a

classic conference setting, but in the university's

own lecture halls and laboratories."

Conference takes up themes from LIGNA 2023

The contents of the 1st Rosenheim LIGNA.

Conference will address the topics of digitization,

prefab building and bioeconomy in line

with the thematic approach of LIGNA 2023

as well as those of its exhibitors and visitors.

Renowned speakers from the business community,

including the companies Binderholz, nobilia-Werke,

UPM and WeberHaus, will provide insights

and outlooks into future developments in

woodworking and wood processing in three key

topic areas. These speakers will explain what

drives and motivates companies and deliver

user reports from the field.

In addition to the presentations in two lecture

auditoriums, the event will be supplemented

by breakout sessions and live demonstrations

via table tops in the university laboratories,

providing an opportunity to delve

further into the topics, as suppliers such Biesse,

Homag, Microtec, SCM, Siempelkamp, Wandres

and Weinig as well as Holzbau.Tech, Hundegger,

imos, J. Schmalz, Leuco and Weinmann will

present their machines and solutions and provide

information about their products. All presentations

held in the auditorium will be simultaneously

translated into English.

The 1st Rosenheim LIGNA.Conference is

aimed primarily at technical managers from the

woodworking crafts, the wood industry, wood

construction and the furniture industry, both

from Germany and neighboring countries.

www.ligna.de

Great demand for innovative concepts

Planned as a hybrid event, implemented as an online event – and still a complete success: at IMA Schelling's Open House 2021, many

customers were convinced by the new ideas and product innovations. This is now reflected in the current sales of the innovative concepts.

Due to the incidences at the time, it was

decided not to hold the Open House 2021 as

a hybrid event as planned, but to present the

ideas, concepts and new products purely digitally.

Thus, the virtual guests, who were connected

from all over the world, gained insights

into the future software landscape aimi as well

as the presentation of the innovative cutting

concepts, among other things. Another highlight

was the exclusive live demonstration of

the new IMAGIC L1 drilling machine for batch

size 1 production.

More than 250 companies took part of the

five days to inform themselves about the new

products. How successful and convincing the

online presentation of the machines and concepts

was is now reflected in the enquiries and

sales: IMA Schelling has received several orders

for the innovative machine concept for

high-performance cutting – the first line will

be delivered to a French customer at the beginning

of 2023. This customer has ordered three

high-performance lines at the same time, and

two further systems have been purchased by

German customers. The new insertion system

for edge processing presented in May is also

in demand. The internal contour milling unit

(I-KFA) was also ordered – both for new machines

and for retrofits. In addition, the first

system of the new automated saw-robot concept

will go to an interior fitter specialising in

fire protection requirements and will be installed

at the end of 2022.

For IMA Schelling, these are positive signs

and confirmation of the right strategy in this

time of crisis: the company with its 1,620 employees

worldwide has restructured its business

areas and invested, among other things,

in IT and digitalisation tools as well as new

processing machines for its own production,

opened new sales and service branches

in Sweden and Lithuania and pushed ahead

with the further development of its product

portfolio. Accordingly, the company is looking

ahead to the next few years with confidence

and with many orders that extend far

beyond 2022.

www.imaschelling.com

No. 1 • March 2022

31
---
FAIRS

Healthy outlook for upcoming edition of FIMMA–Maderalia

FIMMA–Maderalia 2022 takes place from

29th March to 1st April at Feria Valencia.

The International Fair for Materials,

Technology and Components for Furniture

Manufacturing, Interior Design and Contract

Projects has already stimulated considerable

interest amongst the industries

concerned.

FIMMA–Maderalia has confirmed that

more than 200 companies have already booked

themselves a space. These include both Spanish

and international companies, that will be offering

tools, machinery, technology, components,

board, and coverings, amongst many other

products. All are leading operators in their respective

sectors and have welcomed the return

of the industry's foremost biennial fair following

FIMMA–Maderalia's cancellation in 2020 due to

the pandemic.

The fair is now returning at full strength

and against a backdrop of the health situation

becoming normal again and international

contacts being re-established, and in a broader

context of strong growth in the industry fuelled

by high demand for services such as refurbishment

and fitting out ofhomes and other

environments.

New features to mark the industry coming

together again

Even though it will be taking place in the

wake of previous success, Fimma–Maderalia

2022 will be refreshing certain elements of its

content to ensure that, as a showcase, it reflects

the industry's current needs. It will therefore

be featuring a stronger representation of

the new materials and components that have

appeared over the last few years and have become

established as a key part of the industry's

development.

Technological advances will also be a major

feature of FIMMA–Maderalia's offering, both as

regards to Industry 4.0 and the launch of different

digital platforms that optimize and improve

the efficiency of the furniture manufacturing

and wood processing industries. Commitment

to and investment in sustainability and the environment

will as a result be one of the cornerstones

of a significant part of the offering on

show

www.fimma-maderalia.com

Eurobois

postponed

Given the new health situation at the beginning

of this year, and because the health of all is

a priority, the Eurobois trade show, which was to

be held from February 1 to 4, 2022 will be postponed.

Eurobois will therefore be held from 14

to 17 June 2022 at Eurexpo Lyon, France.

It is in the respect of the sanitary instructions

which will be then in force that the professionals

of the wood sector will meet next June

to exchange, discover the last innovations, and

create new business opportunities.

www.eurobois.net

"ZOW reloaded"

Gathering ideas, maintaining contacts,

finding solutions for the challenges of the future,

the ZOW supplier trade fair for the furniture

and interiors industries, will be an incubator

for innovations in 2022. The popular

trade fair, which is both a creative workshop

and a business event for suppliers to the furniture

industry in Germany and neighbouring

countries, will take place in Bad Salzuflen

from 3 to 5 May 2022 due to the pandemic.

As the first trade fair of relevance for the

industry since autumn of last year, the next

ZOW will serve many visitors as a help in determining

their positions. This is because the

pressure for innovation and the demand for

unusual, new and smart product solutions is

enormous.

ZOW stands for an innovative concept and

promotes fresh approaches. It is therefore the

ideal platform for companies that are achieving

success with their approaches in this spirit, and

for visitors looking for precisely such "hidden

solutions" in order to stay one step ahead of the

competition. It is thus the goal of the ZOW team

to find the right exhibitor mix between "global

players", innovative medium-sized companies

and "start-ups". This was quite successful

for the event planned in February.

The furniture and interiors industries, as

well as their suppliers, machinery outfitters and

service providers, belong to the favourably positioned

growth industries. Especially in the currently

difficult times and subject to the renovation

congestion that has been building up for

years in the European apartment market, the focus

of many consumers is on updating or expanding

their interior design. The demand is

correspondingly high. Delivery chain disruptions

and the general acceleration in prices require

quick, acceptable, competitive solutions,

which also have to be produced sustainably and

responsibly. The perfect, next possible platform

for discussion and finding solutions for all these

challenges is therefore the ZOW in May 2022.

www.zow.de

32 No. 1 • March 2022
---
FAIRS

HOLZ-HANDWERK and FENSTERBAU FRONTALE 2022

The trade show pairing of HOLZ-HANDWERK

and FENSTERBAU FRONTALE 2022 has been rescheduled

in close consultation with exhibitors:

To meet multiple requests from registered

exhibitors and enable all participants to plan

with confidence, NürnbergMesse and VDMA

Holzbearbeitungsmaschinen, as the organizer

of HOLZ-HANDWERK, have jointly decided to

postpone the combined event until Tuesday 12

– Friday 15 July 2022.

Elke Harreiss, Director FENSTERBAU

FRONTALE, and Stefan Dittrich, Director HOLZ-

HANDWERK, add: "By acting early to reschedule

HOLZ- HANDWERK and FENSTERBAU FRONTALE

to a date in summer, we are accommodating the

wishes of many exhibitors to provide a meeting

place for the industry where they can network

and do business in a positive atmosphere

in 2022. To achieve this, we are relying on a hygiene

and access concept that has already proven

successful and combines our customers'

needs for personal interaction with safety in the

best possible way. We are very grateful for the

many constructive conversations with the advisory

boards and industry representatives, which

provided significant encouragement for this

decision.

VDMA Woodworking Machinery:

Confidence for HOLZ-HANDWERK trade fair

in summer

Dr Bernhard Dirr, Managing Director of the

VDMA Woodworking Machinery Association,

comments on the July date of the HOLZ-

HANDWERK 2022 trade fair. "Mid-July would

certainly not be a desirable date in normal times,

but we have to take the pandemic into account.

The fact that the federal states with the most

visitors do not yet have holidays is very convenient

for us. In any case, we are looking forward

to this important fair with confidence; we expect

that a large number of the targeted visitors

from the joinery and carpentry trades and other

woodworking sectors will come to Nuremberg

again. The commitment of renowned market

participants such as Homag, Weinig, Biesse,

Holz-Her, Leitz and Leuco is a clear signal from

the exhibitor side.

www.holz-handwerk.de

DACH+HOLZ International

DACH+HOLZ International will not be taking

place as originally planned in February 2022

in Cologne. The continuing coronavirus pandemic

and unpredictable framework conditions

for holding trade fairs as set by government

policy make it impossible to plan such an

event with any certainty. For this reason, the

organiser and institutions responsible for the

trade fair have unanimously agreed to postpone

DACH+HOLZ International until July. It will now

be held from 5 to 8 July 2022 (Tuesday to Friday)

at the Cologne Exhibition Centre.

www.dach-holz.com

IWF 2022

Of all the inquiries that arise among attendees

at the International Woodworking

Fair, "What's new at IWF?" is the most

frequently asked.

One answer in a nutshell: the Challengers

Award Entries. Every product, technology or solution

entered is making its first appearance at

an IWF show. Challengers Award Entries represent

innovative technology in products, services,

or manufacturing techniques that will advance

wood manufacturing.

Twenty-one finalists in the competition will

be announced in the weeks running up to opening

day, and seven winners in the competition

will be unveiled on the morning of August 23,

opening day of IWF 2022.

Just a few examples from among these firsttimers

are new product brands, including two

from that casegoods manufacturing hotbed,

Jasper, IN: Robotic Solutions, a developer of robotic

and automated materials handling systems

and Cabentry, a software company making

its debut at IWF.

Other new names among First-time

Exhibitors are IMMCO, a Richmond, VA manufacturer

of Uniflow hot melt drum unloaders

and distributor of Meler gluing solutions; and

Swiss firm Rollomatic, which has established

its U.S. operations in Mundelein, IL, and offers

Strausek cutting and grinding tools, among other

offerings.

Also listed among First-Time Exhibitors are

some familiar names, under new owners or distributor

relationships, such as Gannomat-Akins,

now owned and distributed by Wurth Baer

Supply; and Altendorf, which has established

itself as an independent global brand, launching

Altendorf Group America in 2019, exhibiting

at IWF 2022. Altendorf has developed "Hand

Guard" technology for its sliding table saws, a

protection system that prevents serious injuries

by instantly halting saw blade rotation upon

skin contact.

Also booked for IWF 2022 is Huber

Engineered Woods. Huber is a name familiar

for edgeband adhesives; this sister division supplies

materials for construction and architectural

interiors. And Web-Cab is exhibiting under

its own banner for the first time. Its Production

Coach technology distributed by RSA Solutions

won a 2018 Challengers Award.

IWF 2022 opens Tuesday, August 23 and

runs through Friday, August 26 at the Georgia

World Congress Center.

www.iwfatlanta.com

No. 1 • March 2022

33
---
GUIDE TO PRODUCTS AND MANUFACTURERS

Manufacturer Manufacturer Products

Electronic Wood Systems GmbH

Robert-Henseling-Str. 1, 31789 Hameln

Germany

Tel: +49 5151 5574-0

Fax: +49 5151 5574-222

Email: info@electronic-wood-systems.de

Measuring systems for the panel industry

Thickness gauges and blow detection systems

Area weight measurement

Foreign body detection for mat

Density profile measurement for Laboratory

Spark extinguishing systems

www.electronic-wood-systems.com

ELKOM-Elektroheizplatten-Technik GmbH

Oberbecksener Str. 80, 32547 Bad Oeynhausen

Germany

Tel: +49 5731 7782-0

Fax: +49 5731 7782-12

Email: elkom@elkom.de

www.elkom.de

Cooling plates

Fluid medium plates

Heating plates

Preheating station for solid surface and thermoplastics

Thermoforming station for solid surface and

thermoplastics

Vacuum plates

Vacuum tables

euroTECH Vertriebs GmbH

Maybachstr. 7, 72348 Rosenfeld

Germany

Tel: +49 7428 93912-0

Fax: +49 7428 93912-13

Email: info@etvac.de

Customized plant engineering

Transportation and handling equipment

Vacuum components

www.etvac.de

Fagus-GreCon Greten GmbH & Co. KG

Hannoversche Str. 58, 31061 Alfeld

Germany

Tel: +49 5181 79-0

Fax: +49 5181 79-229

Email: marketing@fagus-grecon.com

Automatic woodinspection machines, scanners

Density profile measurement

Fire protection for industrial risks

Measuring systems for the panel industry

Moisture meters, in-line type for boards or veneer

Spark extinguishing systems

www.fagus-grecon.com

Höcker Polytechnik GmbH

Borgloher Str. 1, 49176 Hilter a.T.W.

Germany

Tel: +49 5409 405-0

Fax: +49 5409 405-595

Email: info@hpt.net

Briquetting press

Cyclone separator

Dust extractor

Industrial fan

Paint booth

www.hoecker-polytechnik.com

HOLZ-HER GmbH

Plochinger Str. 65, 72666 Nürtingen

Germany

Tel: +49 7022 702-0

Fax: +49 7022 702-101

Email: kontakt@holzher.com

CNC machining centres

Edgebanding

Panel saws

www.holzher.de
---
GUIDE TO PRODUCTS AND MANUFACTURERS

Manufacturer Manufacturer Products

Hymmen GmbH

Maschinen- und Anlagenbau

Theodor-Hymmen-Str. 3, 33613 Bielefeld

Germany

Tel: +49 521 5806 0

Fax: +49 521 5806 190

Email: info@hymmen.com

www.hymmen.com

Industrial digital printing lines

Lacquering and liquid coating machines

Laminating presses

Presses, multiopening

Presses, continuous

Printing machines, direct

Service

LEUCO Ledermann GmbH & Co. KG

Willi-Ledermann-Str. 1, 72160 Horb a. N.

Germany

Tel: +49 7451 93-0

Fax: +49 7541 93-270

Email: info@leuco.com

TC and DP tipped machine tools for processing wood,

wooden and composite panels, plastics and NF-materials,

tool management & service

www.leuco.com

NESTRO Lufttechnik GmbH

Paulus-Nettelnstroth-Platz, 07619 Schkölen

Germany

Tel: +49 36694 41-0

Fax: +49 36694 41-260

Email: info@nestro.de

www.nestro.com

Briquetting Presses

Cyclone Separators

Extraction and Filter Systems

Fans

Heating Systems

Paint Spray Walls

PAINTLINE Paint Mist Extraction Systems

Shredders

Reichenbacher Hamuel GmbH

Postfach 28, 96487 Dörfles-Esbach

Germany

Tel: +49 9561 599-0

Fax: +49 9561 599-199

Email: info@reichenbacher.de

CNC-Machining centres

CNC-Processing centres

CNC-Routers

Drilling systems

Milling machines

www.reichenbacher.de

SPÄNEX GmbH

Luft-, Energie- und Umwelttechnik

Otto-Brenner-Str. 6, 37170 Uslar

Germany

Tel.: +49 5571 304-0

Fax: +49 5571 304-111

Email: info@spaenex.de

www.spaenex.de

Briquetting presses

Dust extractors

Exhaust filter systems

Fans

Heat recovery systems

Spraying walls

Michael Weinig AG

Michael-Weinig-Str. 2-4, 97941Tauberbischofsheim

Germany

Tel: +49 9341 86-0

Fax: +49 9341 7080

Email: info@weinig.com

Planers and molders

www.weinig.com
---
2022 Let's do it again