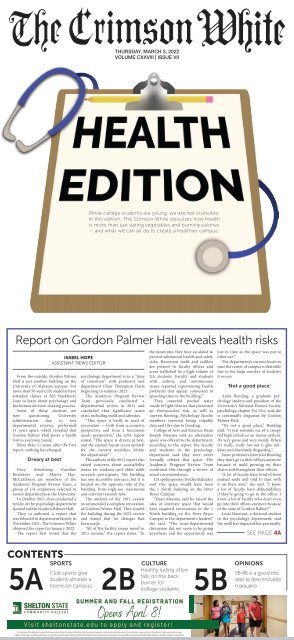 The Crimson White: Health Edition, March 2022
While college students are young, we are not invincible. In this edition, The Crimson White discusses how health is more than just eating vegetables and burning calories — and what we can all do to create a healthier campus.
While college students are young, we are not invincible. In this edition, The Crimson White discusses how health is more than just eating vegetables and burning calories — and what we can all do to create a healthier campus.
SHOW MORE
SHOW LESS
Create successful ePaper yourself
Turn your PDF publications into a flip-book with our unique Google optimized e-Paper software.
THURSDAY, MARCH 3, 2022

VOLUME CXXVIII | ISSUE VII

While college students are young, we are not invincible.

In this edition, The Crimson White discusses how health

is more than just eating vegetables and burning calories

— and what we can all do to create a healthier campus.

Report on Gordon Palmer Hall reveals health risks

From the outside, Gordon Palmer

Hall is just another building on the

University of Alabama campus. For

more than 50 years,UA students have

attended classes at 505 Hackberry

Lane to learn about psychology and

the human decision-making process.

Some of those students are

now questioning University

administration due to two

departmental reviews, performed

11 years apart, which revealed that

Gordon Palmer Hall poses a health

risk to everyone inside.

More than 11 years after the first

report, nothing has changed.

'Dreary at best'

Cory Armstrong, Caroline

Boxmeyer and Marcia Hay-

McCutcheon are members of the

Academic Program Review Team, a

group of UA employees selected to

review departments at the University.

In October 2021, they conducted a

review of the psychology department

located within Gordon Palmer Hall.

They co-authored a report that

was released to department faculty in

November 2021. The Crimson White

obtained the report in January 2022.

The report first noted that the

ISABEL HOPE

ASSISTANT NEWS EDITOR

psychology department is in a "time

of transition" with professor and

department Chair Thompson Davis

beginning in summer 2021.

The Academic Program Review

Team previously conducted a

departmental review in 2011 and

concluded that significant issues

exist, including mold and asbestos.

"This space is badly in need of

renovation — both from a cosmetic

perspective and from a functional

needs perspective," the 2011 report

stated. "The space is dreary at best,

and the current layout is not optimal

for the current activities within

the department."

The authors of the 2011 report also

raised concerns about accessibility

issues for students and older adult

research participants. The building

has one accessible entrance, but it is

located on the opposite side of the

building from high-use classrooms

and relevant research labs.

The authors of the 2011 review

recommended a complete renovation

of Gordon Palmer Hall. They toured

the building during the 2021 review

and found that no changes had

been made.

"All of the facility issues noted in

2011 remain," the report states. "In

the meantime, they have escalated to

present substantial health and safety

risks. Recurrent mold and mildew

are present in faculty offices and

areas trafficked by a high volume of

UA students. Faculty and students

with asthma and autoimmune

issues reported experiencing health

problems that appear connected to

spending time in the building."

They reported pooled water

inside of light fixtures that presented

an electrocution risk, as well as

uneven flooring. Psychology faculty

members reported losing valuable

data and files due to flooding.

College of Arts and Sciences Dean

Joseph Messina said an alternative

space was offered to the department,

according to the report, but faculty

and students in the psychology

department said they were never

formally offered that space. The

Academic Program Review Team

confirmed this through a review of

email correspondence.

UA spokesperson Deidre Stalnaker

said this space would have been

the 1 North building on the Peter

Bryce Campus.

"Dean Messina said he raised the

idea of alternate space that would

have required renovations in the 1

North building on the Peter Bryce

Campus to the department's leaders,"

she said. "The intra-departmental

discussion did not seem to be going

anywhere, and the opportunity was

lost in time as the space was put to

other use."

The department's current location

near the center of campus is desirable

due to the large number of students

it serves.

'Not a good place'

Anna Bending, a graduate psychology

student and president of the

University's National Honors Society

psychology chapter Psi Chi, said she

is continually disgusted by Gordon

Palmer Hall.

"It's not a good place," Bending

said. "It just reminds me of a creepy

old high school or an insane asylum.

It's very gross and very moldy. When

it's really, really hot out it gets mildewy

and absolutely disgusting."

Some professors have told Bending

they don't go to their offices anymore

because of mold growing on their

chairs and throughout their offices.

"A lot of faculty have kind of been

pushed aside and told to deal with

it on their own," she said. "I know

a lot of faculty have dehumidifiers

if they're going to go to the office. I

know a lot of faculty who don't even

go into their offices anymore because

of the state of Gordon Palmer."

Lexie Harrison, a doctoral student

in the psychology department, said

the mold has impacted her personally.

SEE PAGE 4A

CONTENTS

5A

Club

SPORTS

sports give

student-athletes a

home on campus

2B

CULTURE

Healthy eating often

falls on the back

burner for

college students

SUMMER AND FALL REGISTRATION

Opens April 8!

Visit sheltonstate.edu to apply and register!

It is the policy of the Alabama Community College System Board of Trustees and Shelton State Community College, a postsecondary institution under its control, that no person shall, on the grounds of race, color, national origin,

religion, marital status, disability, gender, age, or any other protected class as defined by federal and state law, be excluded from participation, denied benefits, or subjected to discrimination under any program, activity, or employment.

5B

OPINIONS

SB 46 is a good first

step to decriminalize

marijuana
---
2A

EDITORIAL STAFF

editor-in-chief

managing editor

engagement editor

chief copy editor

opinions editor

news editor

assistant news editor

culture editor

assistant culture editor

sports editor

assistant sports editor

chief page editor

chief graphics editor

photo editor

multimedia editor

Keely Brewer

editor@cw.ua.edu

Bhavana Ravala

managingeditor@cw.ua.edu

Garrett Kennedy

engagement@cw.ua.edu

Jack Maurer

Ava Fisher

letters@cw.ua.edu

Zach Johnson

newsdesk@cw.ua.edu

Isabel Hope

Jeffrey Kelly

culture@cw.ua.edu

Annabelle Blomeley

Ashlee Woods

sports@cw.ua.edu

Robert Cortez

Pearl Langley

Autumn Williams

Lexi Hall

Alex Miller

ADVERTISING STAFF

creative services Alyssa Sons

Tap in with CW!

(We have an email newsletter now.)

Subscribe to get our newsletter in your

inbox on Monday and Thursday mornings.

HEALTH

March 3, 2022

ACROSS:

1. Male SOs

4. Serena's frenemy in "Gossip Girl"

6. Some curly-coated canines

8. "The end of an ___"

9. What a listener lends

10. Part of Reese Phifer Hall

12. Avian abodes

13. Hospital network with a

location on University Blvd.

The Crimson Wh is the community newspaper of

The University of Alabama. The Crimson White is an

editorially free newspaper produced by students.

The University of Alabama cannot influence editorial

decisions and editorial opinions are those of the

editorial board and do not represent the official

opinions of the University. Advertising offices of The

Crimson White are in room 1014, Student Media

Building, 414 Campus Drive East. The advertising

mailing address is Box 870170, Tuscaloosa, AL 35487.

The Crimson White, Copyright © 2022

by The Crimson White. The Crimson White is printed

monthly, August through April by The University of

Alabama, Student Media, Box 870170, Tuscaloosa, AL

35487. Call 205-348-7257.

All material contained herein, except advertising or

where indicated otherwise, is Copyright © 2022 by

The Crimson White and protected under the "Work

Made for Hire" and "Periodical Publication" categories

of the U.S. copyright laws. Material herein may not be

reprinted without the expressed, written permission

of The Crimson White.

MARCH EVENTS

DOWN:

1. Swollen

2. Short-lived trend

3. What a ghost and a rhinoceros

have in common?

4. B in chemistry?

5. Consumes, as a story in The

Crimson White

6. "___ my last email"

7. Spanish Mrs.

11. LA school with newspaper the

Daily Trojan

For crossword answers see page 5B

4

Tide Talks

XXXV

Russell Hall 159

7PM

8 8

International

Women's Day

Student

Health Fair

UA Student Center

Plaza 10AM

12

Spring

Break

March 12 - 20

Town Hall

w/ Student

Life and DEI

Student Center

Heritage Room 5PM

EveryWoman

Book Club

22 24

28

Online at noon

Register for

Classes

Registration for

Summer and Fall

2022 begins

CW / Wesley Picard
---
HEALTH

March 3, 2022

3A

CW File

OUR VIEW: Take care of yourself!

THE EDITORIAL BOARD

Health involves every aspect of an

individual's life, and college students are

tasked with taking charge of their own

health for the first time.

The World Health Organization

defines health as "a state of complete

physical, mental and social well-being

and not merely the absence of disease

or infirmity."

The Alabama Student Model of

Health and Wellbeing gives students

the opportunity to examine and

improve their health holistically. The

model was designed by the Division of

Student Life "to promote a multifaceted,

developmental, and holistic approach to

well-being that maximizes each student's

learning experience."

The model includes academic, career,

financial, psychological, physical, social

and spiritual well-being.

Academic

The Division of Student Life promotes

academic health resources like the

Capstone Center for Student Success

and the First Year Experience and

Retention Initiatives.

For students new to the atmosphere

of higher education, these resources are

vital to achieving academic health. By

utilizing university resources, students

can demystify this process.

Beyond providing a tangible benefit

for students, these resources are also

meaningful because of the message they

send. Universities often signal to students

that education is elitist and exclusionary.

While students should have to work

hard, any university that promotes

grades and esteem over learning itself

fails in its mission to educate. Equipping

students with the opportunity to succeed

on their own terms reminds them of the

joy and gratification in learning.

The University of Alabama must also

consider ways to improve the academic

health of its students, particularly those

with chronic illnesses and disabilities.

The current process of receiving

accommodations from the Office of

Disability Services is confusing and

lengthy, discouraging disabled students

from achieving true academic health.

Self-advocacy is a valuable skill, but

as long as students have to endure these

obstacles, academic health will remain

elusive. Reforming the process would

require a long and unified effort, but we

can start today by educating ourselves on

the struggles chronically ill and disabled

students face.

Career

Students can practice career health by

developing a healthier attitude toward

their future career paths. In college, there

is an expectation that students are certain

of their career goals and secure a job

immediately after graduation. In reality,

students often take months to secure

employment, let alone their dream job.

College students have to combat this

internalized messaging. There is no use

in comparing our own journeys to others'.

We have only ourselves as competition.

We must learn how to enjoy this

period and live presently. At one point in

our lives, all we thought about was going

to college. Now that we're here, let's take

full advantage of it.

The UA Career Center is the main

resource on campus for students

seeking to improve their career health.

The Center offers a wide variety of

services, including career fairs and

personal counseling.

While this resource is undoubtedly

beneficial, many students ignore it. As

college students, it can seem as though

"the real world" is far away, but graduation

is rapidly approaching. Finding a career

doesn't have to be a stressful process. It

takes work, dedication and sometimes

making many mistakes to find one's

calling. In the meantime, we can find joy

in any part of our journey.

Financial

Financial health is one of the most

difficult aspects of health to achieve.

While the University offers financial

aid, the financial barrier to college is not

limited to the University; it is a systemic

issue that saddles millions of students

with debt every year.

The student debt crisis has only

been exacerbated by the COVID-19

pandemic. Facing mass layoffs, many

students decided to continue their

college education, only to find that the

price of college has increased by more

than 25% in the last decade.

Students cannot be expected to

navigate this process alone. While there

is no shortage of financial advice out

there, much of it is not feasible for the

average college student.

The U.S. is facing an epidemic of poor

financial literacy. When we graduate

college, we must tackle our massive

debt and new careers. Without the

tools to navigate this process, we may

face decades of mental strain to achieve

financial well-being.

The University must take an active

approach in promoting financial literacy

on campus. There are many ways to

do this, but the most obvious is to

implement courses dedicated to financial

literacy. The University offers a minor in

personal finance, but students who can

not afford the expense or the 22-credit

hour commitment need alternatives.

The financial literacy website is a good

starting point.

Psychological

The resources for mental health on

campus are numerous and effective,

spanning multiple types of treatments

tailored to each student's needs, but

there are still many ways the University

can further promote mental health

on campus.

Despite widespread student activism,

the University still falls behind in funding

for the Counseling Center. It remains the

only university in the SEC that charges

students for therapy sessions after LSU

began offering mental health services

for free.

The Student Government Association

passed a resolution last year calling for

increased funding for the center, but the

resolution has seen little action since.

Rhetoric promoting student mental

health isn't enough. The University must

take an active role in promoting mental

health on campus. The lives and wellbeing

of students depend on it.

Physical

The University of Alabama boasts

many spaces where students can enjoy

physical activity. The exercise machines

offered at the Student Recreation

Center, coupled with engaging group

classes, allow students to take charge of

their fitness.

But physical health extends beyond

fitness and diet. The most pressing

physical health concern for college

students is lack of sleep.

According to the Centers for Disease

Control and Prevention, 35% of adults

do not get enough sleep. For college

students, this metric is no surprise.

We regularly sacrifice sleep for our

education, performing all-nighters just

to achieve the grades we desire.

This lack of sleep to achieve success

is a norm in college. It contributes to an

overarching "hustle culture" that values

productivity over well-being.

Burnout must not be glamorized.

We can combat this culture in our own

lives by confronting this rhetoric. When

you hear someone brag about their lack

of sleep, don't engage in a battle of who

slept the least. Instead, encourage those

around you to value their sleep schedules.

A full sleep schedule, rather than

robbing us of our time, allows us the

energy to perform to the best of our

ability. Sacrificing our basic needs isn't

strength. Strength is found in our ability

to recognize our needs and honor our

minds and bodies.

Social

There are many opportunities for

students to improve their social health

on campus.

The main obstacle to pursuing social

health is ourselves. In high school, we

had the luxury of seeing our friends every

day. When we're in charge of our own

schedules, maintaining adult friendships

becomes more difficult.

The best thing students can do to

improve their social health is to meet

new people. This task can be daunting

and exhausting, but it is the only way to

cultivate meaningful connections.

Students often have limited mindsets

about social interaction, falsely believing

that friendships are only worth pursuing

during their freshman year. In truth,

most people want to feel appreciated and

valued. The best way to make friends is

to extend these feelings to others, and

you will surely receive them in return.

The objective of social interaction

doesn't have to be gaining a lifelong

friend. It can simply be to serve others.

When we think of how we can improve

the lives of those on campus in our daily

interactions, we will create a healthier,

more enjoyable campus culture.

Spiritual

The University of Alabama benefits

from many religious organizations. The

SOURCE is a great way for students of all

religious backgrounds to connect.

However, the University can further

promote spiritual health by recognizing

the diversity of spirituality that exists

on campus.

To promote the experience of all

students, we must implement religionfriendly

practices in all aspects of

campus, from classrooms that permit

prayer breaks to dining hall menus that

offer religion-friendly menus.

In 2019, the SGA Executive Cabinet

announced the placement of a prayer

mat in the UA Student Center Quiet

Reflection Room for students who

need a place to pray. These kinds of

considerations and actions go a long way

to make our campus a more accessible

place for all.

Conclusion

Health is a comprehensive concept. If

we are to truly achieve health in our own

lives, and on campus, we must address all

its aspects.

While the Alabama Student Model

of Health and Wellbeing divides health

into seven aspects, true health is some

combination of these traits. Actions

that promote physical health are bound

to inspire mental health. Habits that

improve academic health now will

improve career health in the future.

To view health critically, we must

understand that continued growth, while

an admirable goal, isn't the ultimate

end result of healthy habits. When

we relentlessly pursue growth, we can

quickly become fixated on the flaws in

our lives. We can become dissatisfied

with our comfort.

We must view healthy habits as a

slow process, and forgive ourselves for

the ways we fall short. We are not alone

in pursuing health. A healthy campus

will involve the collaboration of many

dedicated individuals.

We often say we are a family at The

University of Alabama. Let's make this

true, offering support and guidance

for the health of our peers, campus

and community.

The Crimson White Editorial Board is composed of Editorin-Chief

Keely Brewer, Managing Editor Bhavana Ravala,

Engagement Editor Garrett Kennedy, Chief Copy Editor Jack

Maurer and Opinions Editor Ava Fisher.
---
4A

The Academic Program Review Team released a report on Gordon Palmer Hall in November 2021. CW / David Gray

CONTINUED FROM PAGE 1A

"The mold is something that I

personally had to deal with," Harrison

said. "Even trying to get tiles replaced in

that office space that we're in took over a

month to get the mold out of our office.

We had to contact people multiple times

to get it removed."

Harrison works in a narrow space

and said the poor conditions can be a

problem for those spending long hours

in the space.

Besides the mold, Bending said

the overall condition of Gordon

Palmer Hall is not conducive to a

learning environment.

"There are almost no outlets," she said.

"There's literally chairs that are broken.

You go into some of the classrooms

and the AC is so broken that we walk

in and it feels like you walked into a

sweat room."

'Into the future'

The November 2021 report was

shared with University administration,

but the authors have not received

a response.

The review recommended

"addressing the department's aging and

unsafe facilities as soon as possible, while

minimizing disruptions to teaching

and research," revisiting discussions

about moving to an alternative space,

and developing formal spaces for the

research centers housed within Gordon

Palmer Hall.

UA spokesperson Shane Dorrill said

that UA Facilities and Grounds are not

aware of any current mold issues in

Gordon Palmer Hall.

Dorrill said the University has

made some improvements, including

inspecting all HVAC systems, inspecting

for leaks, checking roof systems,

installing dehumidifiers, replacing

fluorescent light bulbs with LEDs and

adding new paint to some rooms.

Bending said she feels that the

University is not putting effort into

upgrading Gordon Palmer Hall

because of financial disparity despite

the psychology program bringing in

significant donations.

The psychology department

generated $5.56 million in external

grant awards in 2020 and $4.56 million

in external grant awards in 2021, making

it the top-earning department in the

College of Arts and Sciences, placing it

among the top 10 grant-earning units at

the University.

Since 2011, the department has

submitted an average of 30 grant

proposals per year, with a high of 53

HEALTH

March 3, 2022

proposals submitted in 2020-21.

"UA wants all their big money

coming from athletics," she said. "It's

coming from business and coming from

engineering, and they don't want to

acknowledge that the psych program is

one of the biggest undergrad programs. I

don't think UA is really giving the muchneeded

credit to the psych program."

The psychology program has about

1,200 undergraduate students enrolled

as psychology majors and 900 enrolled

in the minor. The graduate program has

about 100 students. There are more than

45 faculty members in the department.

The 2021 report concluded that

those who work in Gordon Palmer Hall

deserve better conditions.

"While all of these options will require

a significant financial investment, the

department is functioning at a high

level (in terms of credit hours generated,

graduates produced and research

productivity) and is consistently

described as one of the strongest

departments at the university. Thus,

the department deserves a facility that

reflects this and will continue to raise

its prominence into the future," the

report concluded.

Bending said the issues surrounding

Gordon Palmer Hall have made her

question why she would give back to the

University after graduating.

"I think UA just needs to revise

their vision, because I think they're

getting away from being an institution

that really focuses on creating a

great research institution," she said.

"You can't have these great research

aspirations if you're not providing the

necessary resources."

Psychology department Chair

Thompson Davis did not respond to a

request for comment.

Authors of the report Cory Armstrong

and Marcia Hay-McCutcheon declined

to comment. Caroline Boxmeyer did not

respond to a request for comment.

How does UA make COVID decisions?

AINSLEY PLATT

STAFF REPORTER

Since the onset of the COVID-19

pandemic, the University has been

navigating a changing landscape. As

the University approaches the two-year

anniversary of sending students home

for half of a semester of virtual learning,

information about how COVID-19 policy

decisions are made is scarce.

College of Community Health Sciences

Dean Richard Friend confirmed on a

phone call on Jan. 19 that UA President

Stuart Bell has final say about COVID-19

policy decisions at the University. Friend

said the Situation Response Team is

advisory to Bell's office.

Bell's office did not initially acknowledge

his role in the decision-making process

surrounding COVID-19 policy on campus

in his first statement on Feb. 19 released

through Beverly Baker, administrative

assistant to the president.

"UA Situational Response Team

evaluates conditions on campus and

surrounding communities and consults

with [the Alabama Department of Public

Health] when making recommendations

about campus guidelines, processes and

protocols," the statement read.

Bell's office said on Feb. 24 that, as with

all campus policies, campus units propose

policies to senior leadership for approval.

"By nature of his position, President Bell

is responsible for the overall leadership of

this institution," the statement read.

On the University's official coronavirus

website, the Situational Response Team is

described as "consisting of representatives

and experts from [Bell's] office, Academic

Affairs, Finance and Operations,

Health Sciences, IT, Research, Strategic

Communications, and Student Life."

According to a list provided by Bell's

office, two of the 15 members of the team

are medical professionals — Friend and

Karen Burgess, the interim executive

director and medical director of the

Student Health Center.

Bell's office noted that the list of

members provided to The Crimson White

consisted of current members and did not

include previous members of the team

or members added to address issues at a

specific time.

Other members of the team include

Steven Hood, interim vice president for

student life; Ryan Bradley, vice president

of strategic communications; and Donald

Keith, director of emergency management.

In its initial statement on Feb. 19,

Bell's office said that "campus responses

to COVID-19 have adapted to meet the

policies, guidance and mandates issued by

local, state and federal governments, the

Alabama Department of Public Health,

and the Centers for Disease Control

and Prevention."

There have been multiple documented

instances of COVID-19 policies not

following the recommendations issued

by the CDC. In November 2020, the

University lifted a mask mandate

despite county transmission being above

the CDC's threshold to recommend

indoor masking.

At the time, the CDC's guidelines

said that individuals in communities

where transmission levels were over the

"substantial" threshold should wear masks

indoors. According to the ADPH, high

transmission was defined as at least 100

cases per 100,000 people, or a 10% or

greater positivity rate.

As of Feb. 25, the CDC has changed

its masking guidelines to reflect

hospitalizations and bed availability

instead of community transmission.

Under the old guidelines Tuscaloosa

county would have "high" transmission,

but with the new guidelines the county

falls into the "medium" category, which

allows for unmasking indoors, regardless

of vaccination status.

In early February the University

announced that it would begin phasing out

COVID-19 services over the course of the

semester, starting with the end of the mask

mandate implemented in response to the

omicron variant. When the announcement

to lift the mandate was made, and when it

was lifted on Feb. 21, CDC regulations

still recommended masking indoors,

regardless of vaccination status, in areas of

high transmission.

The announcement scaling back the

University's COVID-19 response —

including the end of the mask mandate —

came a week after the State Health Officer

Scott Harris expressed reluctance to declare

victory over the pandemic.

"We still know that there's a lot we don't

know, and we've seen previous surges

before, so we're just a little careful to declare

victory at this point," Harris said in an

interview with WFSA 12 News.

The Crimson White submitted two

open records requests last semester

seeking information about COVID-19

policymaking decisions. In one response,

the University provided a list of groups

who made recommendations on policies,

but did not disclose the decision

making process.

The University's coronavirus website

frames the Situation Response Team as the

the decision makers for COVID-19 policy,

but Friend, a member of the team, said Bell

is the one with that power. The website

does not mention that final decisionmaking

power lies with Bell.

Some SEC schools have shared

detailed information regarding who

makes their policy decisions. Auburn

University spokesperson Mike Clardy said

in a statement that "COVID-19 related

decisions at Auburn ultimately lie with

the president."

"Since the onset of the pandemic in 2020,

the University has relied on the guidance

and expertise of an advisory committee,

which includes the medical director,

among others, and follows guidance set

forth by the CDC," Clardy said.

In contrast, the University of Florida's

policies are constrained by multiple state

laws curbing pandemic response options

available to schools. Under these laws,

schools are prohibited from enacting

mask or vaccination mandates for their

employees or their students.

Alabama has similar laws curbing

vaccine mandates made by schools and

employers. Act No. 2021-493 details

rules regarding vaccine passports and

prohibits universities in the state from

requiring vaccinations as a condition for

attendance for students, with exceptions

for immunizations that were required

before Jan. 1 2021.

Act No. 2021-561 prohibits employers

from firing employees due to not having

a COVID-19 vaccine and requires

employers to provide religious and medical

exemptions for a mandate to anyone who

fills out the proper paperwork.

UF spokesperson Cynthia Roldán

Hernández said "only the state of Florida

can mandate vaccines" in an email.

"UF has begun treating COVID as

other contagious illnesses such as the flu,"

Hernández said. "The university continues

to monitor the campus environment and

will change along with it when needed."

Richard Friend did not respond to

multiple interview requests for this story.

Friend's confirmation on Bell's decisionmaking

power came from an interview

before this reporting process began.

UA President Stuart Bell spoke at a COVID-19 press conference in August 2020. CW File
---
HEALTH

March 3, 2022

5A

It takes a support system to build a student-athlete

MARTHA GLEN SEASE

CONTRIBUTING WRITER

Becoming an athlete requires

training, a proper diet and conditioning,

but a person can't become an athlete

alone. It takes a support system.

Laura Thomas, the director of

professional development in the

University's Division of Student Life,

knows all about creating a support

system around athletes.

Before Thomas transitioned to

the Division of Student Life, she

was the assistant director of club

sport programs.

The director

Thomas works with students in all

club sports and intramural programs

offered at The University of Alabama.

She knew this was the job for her

since she was an undergraduate student

at Texas State University where she

majored in recreational administration

with a business minor.

While a student at Texas State

University, Thomas was an official in

intramural games, which led to a job

with the sports club program.

"I fell in love with the work,"

Thomas said.

She paired her undergraduate degrees

CW / Autumn Williams

with a master's degree from Ohio

State University in higher education

administration with an emphasis in

college student personnel. Much of

that program focused on supporting

students via counseling, making sure

she "meets students where they are."

Thomas is working on a Ph.D. in

general higher education administration

through The University of Alabama.

The why

Thomas' main draw to club sports at

the University is the relationship she has

with the student-athletes.

"I love sports and I love being around

all that stuff, but there's also just so

much more to working with student

organizations," Thomas said.

She loves the culture that surrounds

sports and the energy that students

bring to club sports teams.

"It's high competition, and everyone

is taking it seriously, and it means a lot

to a lot of people," Thomas said.

Thomas spent most of spring 2020

checking in with individual athletes

when the COVID-19 pandemic first

hit Tuscaloosa to make sure they were

okay — both physically and mentally

— while also communicating how each

team's season would be different in the

middle of a pandemic.

The work

Thomas' hours are flexible, not to

accommodate her schedule,

but to accommodate

the schedules of

each sport she

oversees.

"Students don't operate on an 8-to-

5, and so I need my schedule to reflect

that," she said.

Thomas' typical hours span from 10

a.m. to 8 p.m., but sometimes she works

from noon to 10 p.m if there's practice

or a game. She has extra flexibility built

into her schedule to accommodate

weekend events.

At times, Thomas will be on campus

all day on a Saturday or Sunday if a team

is hosting a home game or tournament.

Her role is largely administrative with

the purpose of supporting students.

The club sports office works closely

with the executive officers from each

team. Officers must submit travel

schedules and request forms that

Thomas and her staff monitor weekly.

She reviews and approves event

requests and works with the University

Recreation Center to reserve fields.

Thomas said most of the work she

does is behind the scenes, and "students

may or may not know that somebody

has to be doing that."

Her staff manages about 60 students

who work under club sports as officials

or assistants. These students supervise

all events, from practices to games.

She manages the risks and liabilities

associated with many of the club sports

teams and ensures that an athletic

trainer is on-site for student-athletes

to use.

She described all these tasks as "little

things" she has to monitor before a fan

can see a weekend rugby game.

The relationship

There are 35 sports clubs on campus.

Thomas, along with the assistant director,

the sports program coordinator and the

sports program graduate assistant, split

the 35 clubs between the three of them

to serve as a liaison for each club.

Seth Ballew, a former UA club

baseball athlete who is now in his second

year of medical school at the University

of Alabama at Birmingham, said the

system streamlines communication.

Ballew was the treasurer of the club

baseball team during his sophomore

and junior years, and he was elected

president his senior year. He said his

liaison at the time was always there

for them.

"If we needed anything, we could call

or email or text her, and I did it often,"

Ballew said.

He relied on his liaisons to deal with

the University and his sport-specific

governing body as his team navigated

logistics and competitions. His liaison

provided logistical guidance as he

worked to manage his teammates.

Thomas said trust is important to

her as she forms working relationships

between sports club officers and liaisons.

"I would say the hardest part of my

job is when I realize they didn't hold up

their end of the bargain," she said.

Thomas said that if she learns a team

printed a T-shirt without getting it

approved through club sports or if there

is a disciplinary issue on a trip, "it hurts

a little bit."

She and her team "work our butts

off for these teams and these athletes."

Many teams and athletes do hold up

their end of the bargain, but when they

don't, it can feel like they don't care.

Thomas and Ballew both said it

is up to the officers and individual

athletes to form that trust and

working relationship.

Jack Mulkerne, a junior on the

club golf team, said his team has had

some issues along these lines. He

said this stems from failure on the

officers' part to get club sports the

necessary paperwork.

"It's a bunch of kids who just want to

play golf, so they don't really understand

that we have to have waivers and all this

other stuff in case someone gets hurt or

something happens," he said.

Mulkerne recognized that the

working relationship between club

officers and liaisons was imperative to a

team's success.

The goal

For some, club sports provide a way to

continue an athletic career. For others,

it is the highest level of competition

before going professional. Club sports

are meant to provide student-athletes a

home outside of varsity sports.

This is important to Thomas, but she

said it's not her main goal. Thomas' ideal

world is for all student-athletes to leave

with similar experiences to Ballew's

and Mulkerne's — to form lifelong

friendships, build leadership skills along

the way and create a support system

within The University of Alabama.
---
6A

HEALTH

March 3, 2022
---
HEALTH

March 3, 2022

How to Health:

A discussion of insurance, primary care and more

SARAH CLIFTON, JOSEPH HOFFMAN, MARY CLAIRE WOOTEN, & CLAIRE YATES

CONTRIBUTING WRITERS

1B

Balancing health and wellness can

be difficult for college students who

are thrust into the adult world for the

first time. Between classes, clubs, jobs

and social lives, the mundane daily

activities required to maintain a basic

level of physical wellness often slip

through the cracks.

Dr. Thomas Weida, the chief

medical officer at the UA Student

Health Center, said that when it comes

to personal health, being proactive is

the name of the game.

Weida said having a health

insurance plan is central to staying

on top of every aspect of wellness.

It provides a security blanket in case

of emergency and increases your

flexibility to see primary doctors and

specialists year-round.

When you're less

stressed, you are less

likely to get sick, and

it's just easier to put

working out in your

everyday life in my

opinion.

BELLA MARTINA

But insurance can be expensive.

Despite the passage of the Affordable

Care Act, cost continues to be the

leading factor for individuals who

remain uninsured.

According to the U.S. Census

Bureau, private, employer-based

coverage is still the most prevalent

form of insurance, making up

over half of all plans and leaving

those without a job with insurance

benefits in the dark. Navigating the

complex world of insurance can be a

daunting task.

A 2017 study done by

AgileHealthInsurance found that 72%

percent of college students reported

having difficulty finding insurance.

High monthly premiums combined

with the lack of centralized

resources for comparison

between plans make the

process

daunting

f o r

students.

The three basic aspects of any

insurance plan are premiums,

deductibles and copays.

Premiums are monthly

installments paid directly to the

insurance company. A deductible

is the amount an individual is

required to pay out of pocket

to care providers before

insurance coverage

kicks in, and a copay is a fixed amount

paid for a health care service after the

deductible has been reached.

The difference in these three costs

is mainly what sets insurance plans

apart from one another. Deciding

which to pay for is a matter of

personal calculus.

"It's a balancing act, like stocks:

How much risk are you willing to

accept?" Weida said. "Most plans

by reputable insurance companies

are going to be decent and probably

proceed about the same. If you find

one that's really, really cheap, you get

what you pay for."

The Affordable Care Act now

allows individuals to remain on their

parents' insurance up to the age of

26. The open insurance market it

established at HealthCare.gov is a free

resource with detailed information

about different insurance plans and

allows price comparison between

qualified plans.

At a minimum, Weida said students

should have a plan that covers

significant illness if they end up in

the hospital.

The Student Health Center offers

a University-sponsored insurance

plan through UnitedHealthcare,

available to all students currently

enrolled in five or more credit hours.

Beyond that, open-market plans are

available through HealthCare.gov

with enrollment from Nov. 1 to Jan.

15 of every year.

Despite the barrier that high

deductibles and premiums can place,

the consequences of being uninsured

can prove catastrophic. Medical

debt is the leading cause of personal

bankruptcy, and can build up quickly

if you're paying for all care out of

pocket. It also lowers the cost for

regular doctor visits, which helps

prevent larger health problems from

building up in the future.

"Most health insurances will cover

preventive care without a copay, so

that makes it easier to access the right

things to do," Weida said.

As much as personal health and

insurance should be a

part of every student's

health, there are

many other aspects of

health that students

should care for on a daily basis.

"Working out is good for you

because it not only helps physical

health, but it also manages your stress

levels and increases endorphins in

your body which makes you an overall

happier person," said Bella Martina,

a freshman news media major and

employee at HOTWORX.

Working out is also mentally

beneficial since it can increase

endorphins, which can make people

happier and relieve stress.

"When you're less stressed, you

are less likely to get sick, and it's

just easier to put working out in

your everyday life in my opinion,"

Martina said.

Working out everyday isn't always

an accessible option for everyone,

whether that be because of schedule,

disability or location. Even though

Martina works at a workout studio,

she's also struggled with working out

on a day-to-day basis. In high school

she was always "on it," but in college, it

can be hard to keep up with a routine.

"Now I have completely changed,

and I've noticed it in not only my

personality, but physically as well,"

Martina said.

Working out helped Martina create

a better sleeping pattern that's turned

her into a morning person.

The transition from high school

to college was difficult, but Martina

adapted to a new schedule and made

time for her workouts that have

benefited her. When Martina started

making working out a part of her

routine, it helped make working out a

"mindless act."

Properly caring for one's health

requires college students to become

aware that they're not invincible and

that they won't be young forever.

"Health is definitely something I

think all students take for granted,"

said Alaina McDuffie, a sophomore

majoring in public relations. "Really,

most of us don't think about it

until it impacts other parts of our

life, like our social lives or other

school obligations."

Approaching physical activity and

your diet in a more mindful way can

help you take steps to make your

health a priority.

In terms of primary care, keeping

prevention in mind is key. Weida said

small, daily changes to the routines

and habits of young adults can make

all the difference.

"Activity or exercise, getting

proper sleep, because pulling these

all-nighters, that's not good for you,"

Weida said. "In other words, if on

the weekend you stay up until 4 in

the morning and Monday you get up

for an 8 o'clock class,

that's not going to

work out so well."

Weida said the

most dangerous

thing a college

student can do is

hold the belief

that nothing

bad could

happen to

them.

"At your age, you're invincible, or at

least, you think you are," Weida said.

"It's not necessarily expressed, but a

lot of people seem to think 'Well, I'm

fine now, why should I change?' But

you don't realize how much paying

attention now sets you up for later

in life."

Health is definitely

something I think

all students take for

granted. Really, most

of us don't think about

it until it impacts other

parts of our life, like

our social lives or other

school obligations.

ALAINA

MCDUFFIE

Some students struggle with this

more than others. Cameron Heiser,

a sophomore majoring in creative

media, said he stands in the middle

ground between healthy choices and

overindulgence.

"I count myself lucky that I

haven't had any serious medical

issues, but I think it's because I

don't completely think 'Oh, nothing

can happen to me,'" Heiser said.

"Every time the consequences of my

actions catch up to me, it's a pretty

humbling experience."

Maintaining health doesn't stop at

keeping up with appointments and

listening to your body.

Weida said finding one primary care

physician greatly impacts a patient's

overall ability to care for their health.

The trust built in a strong relationship

with one's primary care doctor, as well

as the wealth of knowledge accrued,

results in more thorough and accurate

diagnoses and care.

For many students, taking time to

find one physician is a struggle that

prevents them from seeking the care

they need.

"I've had an extreme fear of doctors

for a while, and anything medical

freaks me out," said Gabrielle Gunter,

a sophomore majoring in English.

"I've definitely gone to the doctor less

since being here ... because at home,

I know there's a doctor there who I

trust, but I don't have that at school."

Taking care of your body today,

especially while you're still in college,

helps ensure that minor issues don't

compound into life-threatening

conditions. College doesn't last

forever, so it's best to begin creating

healthy habits while there are plenty

of University-provided resources to

fall back on.

The University's Student Health

Center is a wellspring of services,

offering everything from wellness

visits to psychiatric care, catered

toward UA students. While it can

be daunting, take the next step in

personal care and wellness. Your body

will thank you.

Graphics CW / Autumn Williams

Why UA system removed vaccination data

CAT CLINTON

CONTRIBUTING WRITER

The percentage of students, faculty

and staff who have received their

COVID-19 vaccinations was removed

from the University of Alabama System

COVID-19 dashboard on Jan. 18.

The dashboard is a digital campus

performance indicator aimed to

increase University awareness of the

spread of COVID-19.

The UA System reported that 62%

of students had received at least the

first dose of a COVID-19 vaccine as of

Jan. 10.

UA System spokesperson Lynn Cole

said vaccine data was removed because

it was self-reported.

"Due to the largely voluntary nature

of this self-reported data, we do not

have updated System wide data to

report at this time," Cole said.

Vaccination data was available during

the fall 2021 semester, when vaccination

reporting was voluntary. The University

initially offered students $20 in Bama

Cash to self-report their vaccination

status in July 2021, eventually doubling

the amount offered and introducing a

raffle of prizes in the following month.

The University temporarily removed

the online vaccine reporting tool that

students, faculty and staff used to selfreport

their COVID-19 vaccinations

in December 2021. They removed

the tool in response to the vaccine

mandate instituted by President Joe

Biden on Sept. 9, 2021, which would

have required all federal employees to

be vaccinated.

The University fell into that

category due to the federal funding it

receives, so the reporting tool was no

longer necessary.

"It is necessary to require COVID-19

vaccination for all Federal employees,

subject to such exceptions as required

by law," Biden said.

The University restored the

reporting tool after the decision

and did not mandate

vaccines at any time, b u t

campus vaccination rates are still absent

from the dashboard.

The mandate was overturned in the

United States District Court for the

Southern District of Georgia. As a result

of the injunction, the University of

Georgia student vaccination percentage

was also removed from its dashboard.

The University of Alabama System

removed vaccine percentages from its

dashboard prior to the announcement

that the mask mandate would end

starting Feb. 21 and that all existing

protocols for COVID-19 would be

phased out.

"Our campus team has thoroughly

reviewed the best available information

and considered our

own experience in

addressing COVID over

the past two years," Dr. Richard

Friend, the dean of the College of

Community Health Sciences, said.

UGA also suspended certain

requirements, including notifying

employees of the federal vaccine

requirement and enforcing

mask-wearing and physical

distancing requirements.

The Centers for Disease Control

and Prevention has determined that

the best way to slow the spread of

COVID-19 and to prevent infection by

the omicron variant or other variants is

to be vaccinated.

As of Feb. 22, 50.1% of Alabama

residents had received at least one dose

of a COVID-19 vaccine, and 52.3%

of Tuscaloosa County residents had

received at least one dose of a vaccine

as of Feb. 23.
---
2B

HEALTH

March 3, 2022

How college students can find balanced nutrition

EMILEE BOSTER & MARY CLAIRE WOOTEN

CONTRIBUTING WRITERS

College students are often busy with

classes, friends and extracurriculars, often

placing nutrition on the back burner.

Students either believe it to be impossible

to eat a healthy, balanced diet while in

college, or they simply do not know how.

According to the fall 2021 American

College Health Association report, 39%

of college students said they believed their

overall health to be very good, but 59%

reported that they ate on average less than 1

cup of vegetables each day — far lower than

the 2.5-3 cups of vegetables recommended

for college-age people based on the Dietary

Guidelines for Americans.

Sheena Gregg, a licensed dietitian in

the Department of Health Promotion and

Wellness, said she has made it her mission

to inform UA students of ways they can

learn about nutrition.

"We cover key health areas that are very

strategic for college students," Gregg said.

"I do a lot of programming on campus

related to educating students about healthy

eating and having a healthy relationship

with food."

For many students, consistently eating

healthy, or consistently eating at all, tends

to be a struggle when they are balancing so

many other things.

"In the college years, when people

are making significant food choices for

themselves rather than relying on their

parents or guardians, erratic, inconsistent

eating patterns is kind of a hallmark of

college students and that can be skipping

meals," said Kimberly Stran, a registered

dietitian and an assistant professor in

the department of human nutrition and

hospitality management.

In her doctoral dissertation, Stran

researched how caloric numbers on

restaurant menus affect college students.

Her research showed that although

students would read the information, they

wouldn't necessarily choose foods with

lower calories.

She said some of these choices may have

stemmed from students not understanding

how many calories were needed in a daily

diet or specific meals, even if the menu

does include the average number of

calories needed in a human's diet.

Consuming a certain number of

calories, though, is not the only important

element of a person's diet.

Stran said that although intaking

enough calories is important, consuming

a variety of foods — like fruits, vegetables

and lean meats — is equally necessary.

However, many nutrients found in

these foods are not present in restaurant

meals alone.

Morgan Abercrombie, a first-year

human nutrition graduate student, said

college students can learn how to eat fast

food in a healthy way.

"It's totally fine to include fast food in a

well-balanced diet," Abercrombie said. "It's

just about also having fruits and vegetables.

Rather than cutting out things, you are

adding fruit and vegetables to what you

are already eating."

Abercrombie said students should not

feel ashamed to have snack meals, each

of which should include a protein and a

carb, throughout the day to intake those

necessary nutrients.

"Food is a social experience, so you

do not have to feel guilty for eating

with friends or viewing it as a pleasure,"

Abercrombie said.

These fruits, vegetables and snack

meals are easy to make in dorm rooms or

apartments because they usually require

little cooking, if any at all.

Stran said many students hear

nutritional information from external

sources, such as roommates, social media

or friends, but she recommends students

consult a registered dietitian with any

nutritional questions they may have.

The Department of Health Promotion

and Wellness has started initiatives to assist

with the transition into grocery shopping

and cooking on your own.

UA Health Promotion and Wellness

also hosts an Ask the Dietitian program,

which allows students to ask a registered

dietitian personal questions about their

diet, take grocery store tours and watch

cooking demonstrations. The division also

provides cooking tips on its social media

account and in a digital cookbook called

"Cooking Through College."

Gregg and colleagues have, also, created

guidebooks that show students around the

grocery store, going section by section to

incorporate all food groups and sharing

tips about everything from picking

produce to shopping on a budget.

Many students also struggle with diet

culture. Fad diets often cut out entire food

groups or limit the hours during which

you are allowed to eat.

"This time of the year you have students

engaging in questionable diet practices

to prepare for spring break," Gregg said.

"I like to work with students about how

to approach weight loss and weight

management in an appropriate way."

Fad diets can prevent students from

performing their best since they are

operating with less vitamins and nutrients

than they would have while eating from

every food group. These actions can

have negative effects both academically

and socially.

Gregg often promotes intuitive eating

among students.

Intuitive eating encourages students to

put their health first instead of focusing on

weight loss.

Holly Grof, a registered dietitian and

the UA dining services coordinator, wants

to make sure all students get to enjoy the

social experience of eating by specifically

working with students who have food

allergies or other dietary restrictions.

"As a dietitian, I want to make sure that

everyone is nourished, happy and healthy,

and that they have those experiences in the

dining hall because not only is it getting

your nutrition, it's also a social experience,"

Grof said.

If a student has a medically documented

food allergy or a dietary restriction,

the student can submit documentation

through a special diet accommodation

form, which will be reviewed on an

individual student basis.

Students who receive accommodations

CW / Jo Dyess

get access through their ACT Card to a

food allergy room at Lakeside dining. The

room has two distinct sides: one is glutenfree,

and the other is allergy-friendly.

Students must wash their hands upon

entry and wear gloves while preparing

their meal inside the room.

Students with accommodations also

receive a text-ahead ordering option for

the dining hall. This lowers the chance of

cross contamination.

Grof said any students with

accommodations can contact her if they

desire different meal options.

"For a student with food allergies,

food can literally kill them, so we take

on a responsibility to take care of those

students," Grof said. "We want to make

sure they can take full advantage of their

meal plan and full advantage of their

campus experience."

UA Student Care and Well-Being

also has options for students needing

food assistance through their "Got

Meals" meal donation program and a

food pantry, which is currently taking

monetary donations.

Students who would like to request

meal swipes through either the "Got

Meals" program or the food pantry can

submit an online form.

"Nutrition is, I feel, the backbone of

good health," Stran said. "There are so

many chronic diseases and things like heart

disease, diabetes, and high blood pressure

that are influenced by what we eat, and

if we can improve the general nutrition

status of people around us, that can help

reduce that risk of chronic disease."

Representing Students in Tuscaloosa Municipal Court,

Tuscaloosa District Court, Northport Municipal Court, and

Criminal Case Expungements

205-454-7500

Representing Students in Tuscaloosa Municipal Court,

uscaloosa District 705 27th Avenue Court, Tuscaloosa Northport Alabama Municipal 35401 Court, and

Criminal Case Expungements

No representation is made that the quality of legal services to be performed is

greater than the quality of legal services performed by other lawyers.

Representing Students in Tuscaloosa Municipal Court,

05-454-7500

Tuscaloosa District Court, Northport Municipal Court, and

Criminal Case Expungements

Representing Students in Tuscaloosa Municipal Court,

205-454-7500

Tuscaloosa Representing District Court, Northport Municipal Court, and

705 27th Avenue Criminal

Students

Tuscaloosa Case

in Tuscaloosa Expungements

Municipal Court,

Tuscaloosa District Court, Northport Municipal Court, and

Alabama 35401

Criminal Case Expungements

205-454-7500

No representation is made that the quality of legal services to be performed is

greater

205-454-7500

than

705

the

27th

quality

Avenue

of legal

Tuscaloosa

services

Alabama

performed

35401

by other lawyers.

No representation is made that the quality of legal services to be performed is

greater than the quality of legal services performed by other lawyers.

705 27th Avenue Tuscaloosa Alabama 35401

705 27th Avenue Tuscaloosa Alabama 35401

No representation is made that the quality of legal services to be performed is

greater than the quality of legal services performed by other lawyers.

No representation is made that the quality of legal services to be performed is

greater than the quality of legal services performed by other lawyers.
---
HEALTH

March 3, 2022

3B

Honesty in therapy is the key to better mental health

CARSON LOTT & EMMA SOWER

CONTRIBUTING WRITERS

Access to convenient and effective

mental health services has always

been important for college students,

especially during the COVID-19

pandemic. However, mental health is

surrounded by certain stigmas that

prevent many from seeking help.

Even when they do, honesty between

therapists and their clients can

be missing.

According to a 2021 Mayo Clinic

study, up to 44% of college students

reported having symptoms of

depression and anxiety, but only 15%

engaged in college-offered counseling

in the past year.

Studies show that depression and

anxiety rates are skyrocketing among

younger age groups and across tax

brackets due to a "decrease in social

interaction" and "America's culture

of hyperachievement."

Honesty, in any

relationship, is built on

a foundation of trust,

and it's crucial to find a

therapeutic relationship

that you feel is safe,

secure, confidential

and trusting.

GREG

VANDER WAL

"When we meet people, especially

new people, it's our human nature to

want to protect our sense of self," said

Charice Calloway, a UA alumna and

licensed marriage and family therapist

practicing at Thrive Therapy. "We tend

to want to present the best version of

ourselves, and in therapy that's not what

always happens. The goal is to want to

be vulnerable and to tell your therapist

everything that's going on so that they

can truly help you."

A study conducted by Barry Farber,

a professor of clinical psychology at

Columbia University who has studied

dishonesty in therapy for decades,

found that out of 547 psychotherapy

clients, 93% said they lied "consciously"

at least once to their therapist.

"It's not common, it's ubiquitous,"

Farber said in the study. "Lying is

inevitable in psychotherapy."

The internal struggle between trying

to be the idealized version of oneself

and embracing vulnerability is one that

therapists understand.

"It can be really hard to be completely

open and transparent about internal

concerns, things that roll around in

our brains but rarely get articulated to

anybody else. Sometimes that can be

just because it's scary," said Greg Vander

Wal, the UA Counseling Center's

executive director. "Sometimes we don't

even really know what being honest is."

Vander Wal said since people often

struggle to be honest with themselves, it

can be even more difficult to be honest

with friends, family and therapists.

"Honesty, in any relationship, is built

on a foundation of trust, and it's crucial

to find a therapeutic relationship that

you feel is safe, secure, confidential and

trusting," Vander Wal said.

Layered on top of this struggle

are harmful stigmas that can place

unwarranted social pressure and

negative stereotypes on people seeking

help, such as being emotionally

and mentally unstable, inadequate

or dangerous.

A 2017 study found that a greater

awareness and internalization of mental

health stigmas resulted in poorer

recovery from mental illnesses.

Architha Bommena, a sophomore

majoring in psychology and the copresident

of Active Minds, a mental

health club on campus, said it is

important for people to know how to

discuss mental health issues directly.

In particular, she referred to the

Question, Persuade, Refer method

for preventing suicide, which the UA

Counseling Center shared with Active

Minds at a recent event.

The Question, Persuade, Refer

method asks friends and family to

question a person about suicide,

persuade the person to get help, and

then refer them to help. By being open

about mental illness, the QPR method

aims to deconstruct stigmas that silence

those who suffer and to foster important

and life-saving dialogue.

"The thing that I think shocks a lot

of people is that they think that if they

ask someone if they're thinking about

killing themselves, that will spark

the idea or make them want to do it,"

Bommena said. "It doesn't have to be in

a flowery, subtle way. Asking explicitly

is going to be so much more helpful

for them."

Although stigma can affect people of

all races, it has a particularly powerful

impact on minority communities.

Asia Dewalt, a senior majoring in

exercise science, is the president of My

Mind Matters, a campus organization

focused on the mental health of

minority students, and said that people

of color, specifically Black people, face

unique cultural struggles when it comes

to receiving support for mental health.

"I'm not going to say that their

parents and their communities do not

believe in mental health, but they're not

open to the fact that it's something that

needs to be talked about and people

need help with," Dewalt said.

In a 2018 Mental Health America

study, over 50% of Black participants

from 18 to 49 years old weren't

receiving treatment for their

serious mental illnesses, due to a

combination of medical racism,

social ideas surrounding treatment,

and finances.

According to the Kaiser Family

Foundation, nearly 55% of uninsured

Americans under the age of 65 are

people of color. Being uninsured makes

access to medicine financially difficult

or impossible.

Aside from the social barriers to

medication, minority communities face

economic barriers as well.

Vander Wal said part of decreasing

the stigma around mental health and

encouraging honesty in counseling is

understanding that not only people

with diagnosed mental illnesses can

benefit from therapy.

We tend to want

to present the best

version of ourselves,

and in therapy that's

not what always

happens.

CHARICE

CALLOWAY

For Bommena, being truthful with

her therapist started with being truthful

to herself.

"You only have one hour to try to

explain [in therapy]," Bommena said.

"So I journal, and for me it's really

important to write out everything, even

if it's really ugly or it sounds bad or I

hate that I'm feeling all these negative

emotions. Once you admit it to someone,

CW / Anna Butts

even just

yourself, it can be easier

to talk to someone."

Bommena and Dewalt agreed that

self-care can be an alternative for or an

augmentation to help from a therapist.

Dewalt said self-care doesn't have to be

ritualistic, either.

"You can definitely prioritize yourself

in so many situations, and that doesn't

mean that you care for other people

less. Cutting yourself slack is okay,"

Bommena said. "I think that honestly

helps you remind yourself that you're

in control."

Calloway said instead of treating

mental health services like a last resort,

it can be beneficial to view mental

health and therapy treatments as a

preventative to health problems, both

mentally and physically.

"We're shifting our view of things to

recognize that mental health is part of

everybody's day-to-day functioning,

and we could all sometimes use support

for helping us function as well as

possible," Vander Wal said.

The University offers several mental

health resources to students for free or

a discounted cost. The UA Counseling

Center and its ThrivingCampus

software are available for students

seeking traditional counseling or

therapy sessions, both on or off campus.

The Women and Gender Research

Center is available to support victims of

interpersonal violence and abuse, and

the Safe Zone Resource Center provides

resources and support to LGBTQ+

community members.

Additionally, the National Suicide

Prevention Lifeline (1-800-273-8255)

and the Substance Abuse and Mental

Health Services Administration

National Helpline (1-800-662-4357) are

available 24/7 for no cost.

OPINION: Student-athletes must find balance

BLAKE BYLER

STAFF REPORTER

Student-athletes today are faced

with a difficult task.

That task? Being a student-athlete.

CW / Andrew Stovall

A "student-athlete" is a person

taking part in an organized

professional sport put on by an

educational institution. In essence, a

person who has to train, compete and

perform well in competitive sports,

as well as study, learn and perform

well in the classroom.

This is no easy feat, and figuring

out the delicate balance between

these two priorities can be daunting.

"The biggest challenge is trying to

find time to study," Alabama rower

Ter'ria Howard said. "Finding time to

get the correct amount of rest while

still showing up and giving 100%

in practice."

Performance is constantly

on student-athletes' minds.

Performance in the classroom and

in their respective sporting events

is important and can lead to mental

challenges when things start to go

awry on either side.

"You're in college, but you're

not like other students," Alabama

women's basketball guard JaMya

Mingo-Young said. "You have to be

places all day every day, and you

don't really have the freedom that

other college students have. Then if

you're not performing well, you can

get lost in the middle of all of it."

These pressures can begin to wear

on their mental health.

Nearly 30% of male studentathletes

and nearly 50% of female

student-athletes reported feeling

overwhelmed, according to a wellbeing

survey conducted by the

NCAA in the fall of 2020. Roughly

12% of males and 30% of females felt

overwhelming anxiety, and nearly

10% of males and 15% of females had

feelings of hopelessness, according to

the same study.

Many student-athletes develop

their own methods to deal with the

stresses that arise.

"I try to maintain a basic schedule

because every day can be pretty

much the same," Mingo-Young said.

"You schedule around your things

and plan your days ahead; that way

you're prepared every day."

While the balance will always be

difficult to take on alone, studentathletes

have teammates embarking

on the same journey alongside them,

experiencing the same things, and

can provide counsel to those who

are struggling.

"A piece of advice I would give is: If

you feel like everything is exhausting

or overwhelming, the best thing to

do is reach out," Howard said. "A

teammate who's been there, who

knows the ropes, talk to them and ask

them for advice. Watching somebody

lead by example is way better than

trying to figure it out on your own."

Good mental health is a challenge

to maintain, especially for those

juggling as many things as studentathletes

do. While having teammates

and coaches by their side doesn't

make everything easier, it helps ease

the load.
---
4B

HEALTH

March 3, 2022

Stigma causes issues for women's health

MADISON DUBOISE & HALEY TAYLOR

STAFF REPORTER & CONTRIBUTING WRITER

Many young girls are taught to keep

their periods a secret, hide their tampons

when they go to the bathroom, or use

code words to discuss issues regarding

their menstruation to avoid scrutiny

or disapproval. This aspect of women's

health is often left behind closed doors.

But, menstruation, sexual health and

reproductive systems are an important

part of women's health, and a lack of

open conversations embeds a stigma in

the discussion.

According to the New York Post, 58%

of women feel embarrassed when they

are on their periods, and 42% of women

have experienced period-shaming.

The more open society is about topics

like menstruation cycles, the easier it is

for people who deal with them to feel

comfortable getting help.

"I feel like a lot of girls are getting hurt

because of the stigma that surrounds

women's health," said Ally Ferrara, a

sophomore majoring in public health.

"Without the right information, girls

might do the wrong thing, and that can

be dangerous. If they don't know these

important things, they won't be able to

get the help that they need when they

need it."

The stigma around these health topics

creates a sense of embarrassment for

women when it comes to addressing their

health issues. The more women suppress

the issues, the worse they can get.

"We have been almost trained to not

talk about period or sexual health, and

it is normal," said Kaylin Robinson, a

sophomore majoring in history and

public relations on the pre-med track. "It

is so important that we are educated on

these things and that we talk about them

openly so nobody feels ashamed to talk

about these natural things."

Education is key to breaking the

stigma around these topics. The more

comfortable people become about

educating youth and teens about their

bodies, the better young girls can identify

health issues they are having.

Sexually transmitted diseases, breast

cancer, cervical cancer, heart disease,

menopause and other common health

issues for women often go untreated.

Learning how to check for breast

cancer, knowing the signs of STDs and

understanding menstrual cycles are all

key when it comes to diagnosing these

health issues.

While there is some education in

schools, there is still a lot missing.

Health classes do not always cover all of

these important topics when it comes to

understanding women's anatomy.

A report by Thinx in 2020 said 76%

of students surveyed believed they were

taught more about the biology of a frog

than the biology of the female body

in school.

"There is a lot of stigma around

women's health and lack of education

around periods and sexual health,"

said Priya Nangia, a junior majoring

in chemistry. "There is so much stigma

around talking about those things with

young girls which definitely needs to

be rectified."

Discrimination in women's health

care creates obstacles on top of health

issues. Discrimination stemming from

gender identity or race and ethnicity can

impact health care services and resources

women are given.

Pain is often handled differently in

women of color, which can lead to lifethreatening

situations.

According to the Centers for Disease

and Control and Prevention, Black

women experience maternal mortality

rates three times higher than their white

counterparts. Due to this, there has been

a push for more accountability with

obstetricians, and in other medical fields,

to check racial biases.

Mistreatment of women, especially

women of color and Black women,

can make women weary of seeking

treatment, which can worsen the issues

they may be having.

Misdiagnosis creates issues for

women when it comes to taking care of

themselves and seeking treatment.

A 2021 article by MedMalFirm.

com, said there is an epidemic

of misdiagnosis among women

because doctors view women as too

emotional or as medical mysteries.

"It really frustrates me that there

are so many problems in the women's

health care system," said Elle Standish,

a freshman majoring in criminology

and criminal justice. "There are a huge

number of OB/GYNs that overprescribe

the pill. They are treating symptoms and

not issues that are affecting women. It is

like they are throwing darts at a wall and

hoping that something sticks."

Pregnancy is another key element of

women's health that can be a struggle for

women to understand and process. All

aspects of pregnancy, from ultrasounds

and complications to delivery, require

health care and assistance.

Choices Pregnancy Clinic is a local

nonprofit pregnancy clinic that offers

free resources to the public.

"We are like a stepping stone for

women that need assistance when it

comes to pregnancy," said Brook Morrow,

the clinic's nurse manager. "We offer free

CW / Shelby West

ultrasounds, free pregnancy tests and

free pregnancy and parent education

classes where both mothers and fathers

can earn money to use on baby supplies

just for taking these classes."

Choices Pregnancy Clinic also offers

information about abortion, adoption

and sexually transmitted diseases at

no cost.

"We have also resourced out to

a number of different groups or

organizations when it comes to other

aspects of pregnancy that can be

challenging, including pregnancy loss

and post-abortion counseling," Morrow

said. "Having someone you can talk

to openly about anything involving

pregnancy is extremely important."

Pregnancy can be hard to deal with

and understand at first, especially if it

is unplanned. Morrow pointed out that

college is already difficult and finding out

you are pregnant can cause you to go into

crisis or panic mode.

According to the CDC, unintended

pregnancy rates in 2011 were highest

among women between the ages of 18

and 24, mainly college-age women.

"We want to be there just to let a

woman ever sit and talk. Sometimes that

is all they need. Sometimes all women

need is for someone to listen to them

without judgment, because they may not

have that somewhere else, so we are here

to support," Morrow said.

Resources like the ones at Choices

Pregnancy Clinic are also offered by

similar organizations and are often

overlooked because people do not know

they are available.

"These resources are here, and we

want to be able to give them to those

that need them. A lot of people use the

emergency room as a way to go get a

pregnancy test, which is good, but they

won't be getting all the resources that we

offer here," Morrow said.

Physical health can directly correlate

with mental health, which suffers greatly

when women are expected to be able

to control their emotions and carry on,

especially for mothers.

"I think we shouldn't make being a

woman one more thing to worry about.

Women statistically are more likely to

be depressed, which is incredibly sad

because mental health is so important

on top of the other aspects of being a

woman," Standish said.

There have been discussions among

businesses and school boards lately

about whether women should be allowed

leave when necessary for their menstrual

cycle, which can include severe pain

and discomfort.

"I think personally women should be

allowed time off of school and work for

their periods. I think people that don't

think that are almost saying your pain

really isn't that bad, which really can

invalidate people that are in severe pain,"

Standish said. "Contraceptives can also

lessen symptoms for some but can also

really impact women's mental health."

Stigmas around women's health will

be around until education and openness

and the things that impact women are

normalized. This stigma and misogyny

are rooted in health care practices and

the lack of research done on women's

health issues.

Focusing on wellness includes seeking

help when necessary. The UA Student

Health Center has medical professionals

who focus on a plethora of different

needs, including women's health.

We have been almost

trained to not talk

about period or sexual

health, and it is normal.

It is so important that

we are educated on

these things and that

we talk about them

openly so nobody feels

ashamed to talk about

these natural things.

KAYLA

ROBINSON

Peggy Fogg, a CRNP and women's

health provider at the Student Health

Center, said period pain is an issue a lot

of women come in about.

"Often, I discuss options to improve

their menstrual cycle such as birth

control pills, the contraceptive patch or

vaginal ring, the Depo-Provera shot, an

IUD, or the Nexplanon arm implant,"

Fogg said. "This is a conversation to

discuss if one of these options is the right

fit for the patient."

There is also a newfound autonomy

for women in college. Problems that may

have been brushed under the rug while

growing up can finally be addressed in a

more private matter.

"Once at college, women are busy and

want a solution. They are able to address

their health care needs themselves and

decide this is the time to meet with a

health care provider and discuss their

options," Fogg said.

Get tested: Sexual health doesn't have to be scary

CW / Jo Dyess

BIANCA MCCARTY & ETHAN HENRY

CONTRIBUTING WRITERS

The CDC reports that 1 in 5 people

in the U.S. have a sexually transmitted

infection. Additionally, according to

a 2022 report by Innerbody Research,

Tuscaloosa is No. 57 on a list of cities in

the U.S. with the highest STI rates.

While many illnesses are openly

discussed, sexually transmitted infections

remain a stigmatized topic, despite their

prevalence among college students.

According to Hartford Healthcare in

2021, 1 in 4

college

students have a sexually

transmitted disease.

However, due to laws protecting student

privacy, exact statistics for The University

of Alabama are seldom published.

The Alabama Department of Health

reports that Tuscaloosa County has a

significantly higher rate of chlamydia,

gonorrhea and all stages of syphilis.

"I know [the UA STI rate] is high, but

I can't give an exact number," said Megan

Williams, a doctoral student studying

health education.

Considering that this issue is

highly prevalent, it's as important

to make students aware of how

it's being combated and the

resources that are available in

Tuscaloosa.

In the state of Alabama, sex

education is not required to be

taught in public schools, and

the schools that do teach it are

required to emphasize abstinence.

Last year, the Alabama Legislature

passed HB 385 to revise the focus

of sex ed content, indicating that this

issue has the attention of government

officials. However, this bill mostly clarified

and changed terminology, continuing

the state's emphasis on delaying sexual

activity and declaring premarital sex

to be abnormal.

In order to combat the effects of such

minimal education and provide a safe

atmosphere in which students can discuss

sexuality freely, The University of Alabama

offers courses such as the Sexuality and

Society class in the New College.

Alongside teaching this class, Williams

conducts her own research on STI rates

and sexual health within the 18-to-24

age range.

"Even though it's the Bible Belt, people

want to talk about it, they just don't know

how to. And, so, having that safe space

allows them to use their curiosity and get a

lot of questions answered that maybe they

wouldn't have otherwise," Williams said.

Discussion and education allow

for students to learn about preventive

measures and how to effectively

communicate with sexual partners, thus

lowering the STI rate.

Charlotte Petonic, the assistant director

of Health Promotion and Wellness,

said she recognizes that sex education

experiences differ greatly among

new students.

"When students come here to Alabama,

their sexual health education varies so

greatly across the country," Petonic said.

Even in a single state, a student's school

district or county can determine the type

of sex ed they receive. Some programs

teach that condom usage is ineffective,

which can discourage students from

using them.

As a result, campus organizations like

Project Health are attempting to give

every student a baseline understanding of

this topic in order to even out the level of

knowledge on campus.

"When I think of college towns in

general, we have a lot of access for our

students. We have the health center here,

there's several great nonprofits, and then

there is the health department that's really

great," Petonic said.

Those nonprofits and organizations

include University Medical Center,

Whatley Health Services and Five

Horizons Health Services. The latter

provides preventative education as well as

STI care.

There's also a level of personal

responsibility in the lowering of STI

rates that includes communication and

preventive measures.

"I think the first thing is that students

who are choosing to be sexually active

need to know how to properly protect

themselves," Petonic said. That means

using a protective barrier during sex.

Protective barriers are available through

the University's distribution program

on campus.

In the end, the department's goals

include testing, medical care and better

education for students.

"We have services here where we'll do

education and outreach for classrooms,

organizations and anything like that,"

Petonic said.
---
HEALTH

March 3, 2022

OPINION: Decriminalize it!

Alabama's uncertain future with cannabis

CARSON LOTT

CONTRIBUTING COLUMNIST

What is SB 46?

On May 17, 2021, Alabama became the

37th state to legalize medical marijuana.

A 102-page bill, SB 46 was authored

by Republican Sen. Tim Melson who

represents Alabama's 1st District.

SB 46 represents history in the making.

It legalizes the use of medical cannabis

for the following disorders and illnesses:

autism spectrum disorder, cancer-related

cachexia, Crohn's disease, depression,

epilepsy or conditions

causing seizures, HIV/

AIDS-related nausea

or weight loss, panic

disorder, Parkinson's

disease, post-traumatic

stress disorder, sickle cell

anemia, spasticity-related

diseases, terminal illnesses,

Tourette syndrome, and chronic pain.

Under SB 46, medical marijuana can

be sold in tablets, capsules, tinctures, gels,

oils, creams, suppositories, transdermal

patches, nebulizers and liquids, or oils for

use in an inhaler. Marijuana cannot be

sold as "raw plant material," products to be

smoked or vaped, or in food products.

The Alabama Medical Cannabis

Commission will oversee the

sales of marijuana in the state.

The commission consists of a

14-member board of medical,

legal and agricultural professionals who

will manage a seed-to-sale program.

Alabama's historical attitude

toward drug use and

imprisonment

In Alabama, possession of marijuana

without a medical marijuana card or a

cultivation license will remain a Class B

felony. Class B felonies typically result in

jail sentences of two to 20 years, with fines

up to $30,000.

Alabama has historically had an

intolerant attitude toward marijuana usage.

With this atmosphere of stringent policing

and harsh punishments, the future of

medical marijuana looks dangerous.

All Alabamians deserve

equal justice under

the law, but from

court fees to civil asset

forfeiture to capital

punishment, our state's

justice system contains

a range of policies that

often take a heavier toll

on people who live

in poverty.

ALABAMA ARISE

There are many obstacles to medical

marijuana usage in the state of Alabama

that SB 46 will have to overcome. The

Alabama Appleseed Center for Law and

Justice writes that "Alabama's failure to

expand Medicaid limits public funding of

drug treatment and rehabilitation. Options

are patchy and underfunded, leading to

overreliance on prisons for people who

need medical treatment, not punishment."

Finances aren't only a barrier to

medicine and health; they're also a barrier

to democratic ideas, such as voting.

Alabama law denies voting to

thousands of eligible Alabamians

who cannot repay court fines

and fees.

"All Alabamians deserve

equal justice under the

law," said Alabama Arise,

a nonprofit that works to

promote state policies that

improve the lives of lowincome

Alabamians. "But

from court fees to civil

asset forfeiture to capital

punishment, our state's

justice system

contains a range of policies that often

take a heavier toll on people who live

in poverty."

Nonviolent drug offenses,

prisons and people of color

In fact, drug offenses account for more

felony convictions and new prisons than

any other offense, says the AACLJ. The

Alabama Sentencing Commission reports

that felony convictions for drug possession

alone rose 25% from 2017 to 2019.

This strict policing of drug usage has

lasting effects in the state. According to

the Prison Policy Initiative, a nonprofit

aiming to expose the harms of mass

incarceration, Alabama has a ratio of 946

inmates per 100,000 citizens, the fifthhighest

incarceration rate in the world.

This horrifying reality must be remedied.

Unfortunately, the state has no plans of

slowing down its mass incarceration. In

October 2021, Gov. Kay Ivey signed a $1.3

billion prison construction bill into law.

"Achieving a solution to our problems

rather than a court mandate was

paramount, and that's what happened

today," Ivey said before signing the bill.

There is nothing paramount about

strengthening a police state. Alabama

politicians completely ignore the prison

crisis in favor of profitable private prisons.

"Our system is in a current

humanitarian crisis. And every question

cannot be answered with new prisons. The

buildings will not do anything with the

culture of corruption in our prisons," said

state Rep. Chris England, the chair of the

Alabama Democratic Party.

The bill puts the state in debt of $785

million, while another $400 million from

the $2.1 billion COVID state relief funds

went into funding the two men's prisons.

State Senate Finance and Taxation

General Fund Chair Greg Albritton said

that the bill is a "huge step in curing

many of the difficulties we have."

This rhetoric is archaic and tired,

and it needs to end. The best way

to cure the difficulties happening

in Alabama prisons is not to

build more; it's to decrease the

prison population as a whole.

Decreasing the prison

population begins with

expunging all incarcerated

people with nonviolent drug

offenses. This alone will

decrease nearly 15%

of Alabama's

CW / Pearl Langley

entire prison population, according to

Alabama Appleseed.

Decriminalization of drugs

SB 46 is a surprising step forward, but

it's an embarrassing compromise that still

restricts and criminalizes marijuana use

for those who do not have life-threatening,

debilitating diseases and illnesses.

A poll conducted by Yahoo! News and

Marist found that around 75% of marijuana

users do not use the drug for medical

or pain purposes but recreationally, for

relaxation, socialization and creativity.

Marijuana deserves decriminalization.

It's important to note that America's

attitude toward drugs has been hostile

and dangerous since President Richard

Nixon declared a war on drugs in the '70s.

The war on drugs, rather than improving

the health of American communities, has

failed, the Global Commission on Drug

Policy said.

"Arresting and incarcerating tens of

millions of these people in recent decades

has filled prisons and destroyed lives of

families without reducing the availability

of illicit drugs or the power of criminal

organizations," the commission concluded.

The response from states like Oregon

has been to decriminalize drugs, and

sometimes all of them.

"Criminalization keeps people in the

shadows. It keeps people from seeking

out help, from telling their doctors, from

telling their family members that they

have a problem," said Mike Schmidt,

district attorney for Multnomah County,

Oregon, home to Portland. Schmidt

supported Measure 110, which legalized

5B

and decriminalized all drugs in Oregon.

The result? A decrease in opioidrelated

emergencies, found several

studies. In a state like Alabama, where

the opioid crisis is rampant, especially

in rural communities, the legalization of

drugs, especially marijuana, could be a

game-changer.

Portugal, which decriminalized drugs

in 2001, has seen more than just a decrease

in opioid-related incidents. The nation,

which used to have the worst rates of

drug use in the European Union, now

has rates far lower than the European and

U.S. averages. Drug treatment percentages

increased, HIV diagnoses dropped

dramatically, drug overdose fatalities

declined, and court

cases for drug offenses

dropped by more than

60%, according to the

Drug Policy Alliance.

Not only does drug

decriminalization have

the ability to save states and

countries money, it has the ability

to save livelihoods lost to the dangers

of underground and illicit drug abuse

and addiction.

By decriminalizing drugs, the stigma

surrounding seeking help also drastically

decreases, leading to a more accepting and

healthy society overall.

Only 18% of people with drug use

disorders receive treatment for their

addiction, according to the

National Institute on Drug

Abuse. "Stigma impedes access

to care and reduces the quality of care

individuals receive. People with addiction,

especially those who inject drugs, are often

distrusted when presenting for care in

emergency departments or when visiting

other providers. They are often treated in

a demeaning and dehumanizing way," the

institute said.

The National Survey of Drug Use and

Health reported that "fear of negative

opinions by neighbors or people in their

community is one of the reasons people

who know they need treatment for a

substance use disorder avoid seeking it."

Stigma kills. Decriminalization and

compassion are proven to save and remedy

ongoing crises.

What can be done?

There is no better time than now to

decriminalize natural drugs like marijuana.

Not only will it alleviate the ongoing crisis

in Alabama prisons, natural drugs have

an array of health benefits, like reducing

anxiety, relieving pain, killing cancer and

slowing tumor growth, and stimulating

appetites in people with cancer and AIDS.

There are several student organizations

at the University that focus on or feature

issues involving the corrupt prison system

and its relationships to drugs, like Tide

Against Time and AL Students Against

Prisons. This is an issue that students care

about, and it is through their efforts that

we may see the end of mass incarceration.

Every student can be a part of the

solution. Contact your Alabama state

representatives and state senators to let

them know that community health and

safety must be a priority, and that building

more prisons is not reflective of the legacy

we want to build.

If Alabama wants to prove itself to

be a leader in the future, it needs to stop

compromising on what a majority of

Americans want and decriminalize nature,

once and for all.

Shop Boots,

Jeans, & Hats

at The Wharf

in Northport

220 Mcfarland Blvd N (205)-752-2075
---
6B

HEALTH

March 3, 2022