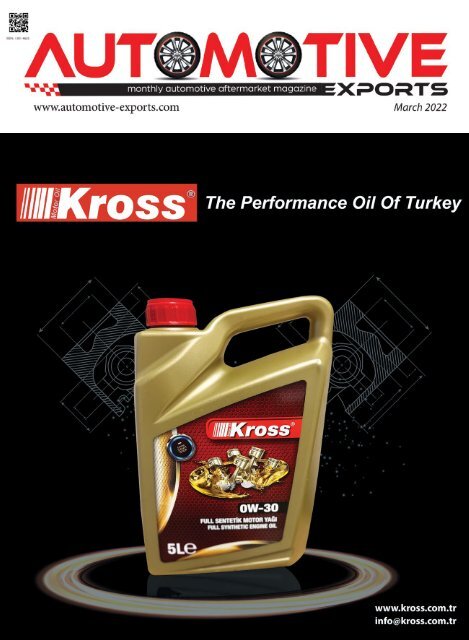 Automotive Exports March 2022
Automotive Exports March 2022
Automotive Exports March 2022
SHOW MORE
SHOW LESS
Create successful ePaper yourself
Turn your PDF publications into a flip-book with our unique Google optimized e-Paper software.
Monthly automotive aftermarket magazine

GROUP CHAIRMAN

H. FERRUH ISIK

PUBLISHER:

İstmag Magazin Gazetecilik

İç ve Dış Ticaret Ltd. Şti.

Managing Editor (Responsible)

Mehmet Söztutan

mehmet.soztutan@img.com.tr

Editor

Ali Erdem

ali.erdem@img.com.tr

Advertising Managers

Adem Saçın

+90 505 577 36 42

adem.sacin@img.com.tr

Enes Karadayı

enes.karadayi@img.com.tr

International Marketing Coordinator

Ayca Sarioglu

ayca.sarioglu@img.com.tr

Editor

Yusuf Okçu

yusuf.okcu@img.com.tr

Finance Manager

Cuma Karaman

cuma.karaman@img.com.tr

Digital Assets Manager

Emre Yener

emre.yener@img.com.tr

Technical Manager

Tayfun Aydın

tayfun.aydin@img.com.tr

Design & Graphics

Sami aktaş

sami.aktas@img.com.tr

Accountant

Yusuf Demirkazık

yusuf.demirkazik@img.com.tr

Subsciption

İsmail Özçelik

ismail.ozcelik@img.com.tr

HEAD OFFICE:

İstmag Magazin Gazetecilik

İç ve Dış Ticaret Ltd. Şti.

Ihlas Media Center

Merkez Mah. 29 Ekim Caddesi No: 11B / 21

Yenibosna Bahcelievler, Istanbul / TURKEY

Tel: +90 212 454 22 22

www.img.com.tr sales@img.com.tr

KONYA:

Metin Demir

Hazım Uluşahin İş Merkezi C Blok

Kat: 6 No: 603-604-605 KONYA

Tel: (90.332)238 10 71 Fax: (90.332)238 01 74

PRINTED BY:

İHLAS GAZETECİLİK A.Ş.

Merkez Mahallesi 29 Ekim Caddesi İhlas Plaza

No:11 A/41 Yenibosna–Bahçelievler/ İSTANBUL

Tel: 0212 454 30 00

www.ihlasmatbaacilik.com

Mehmet Soztutan, Editor-in-Chief

mehmet.soztutan@img.com.tr

Dynamism prevails as usual

It should be noted that the Turkish automotive sector made $11.8 billion (TL 163.72 billion)

in subindustry exports last year, according to official data.

The automotive sector, which has been the export champion of Turkey for 16 years, made

a total of $29.3 billion in foreign sales in 2022.

Actually, the last decade has been a turning point for the Turkish automotive industry in

terms of its integration into the world economy. Foreign firms that have been attentive to

the potential that the Turkish automotive industry possesses have been investing in Turkey.

Foreign partners have begun to view their facilities in Turkey as their production center for

the global markets.

The auto parts industry of Turkey has developed rapidly as a consequence of developments

in the automotive industry. The Turkish auto parts industry with its large capacity, wide

variety of production and high standards, supports automotive industry production and

the vehicles in Turkey and also has ample potential for exports.

The Turkish automotive and auto spare parts industry have prospered dynamically in line

with ever increasing demand from abroad. So, business people operating in the industry

have become outward oriented more than ever before. This fact is also reflected through

the pages of our publications.

It is hard to keep its competitive position in the world market full of emerging players.

Thus, manufacturers have shifted their operations to value-added automotive products

and brand names. Currently, Turkish manufacturers have their own designs and brands

in international markets.

In evaluating the future export potential of the automotive industry, using cross-country

statistics, it is possible to indicate that Turkish automotive industry has comparative

advantage regarding labor productivity, labor cost and the share of capital in the value

added, especially with respect to the mature producers in the world. More than half of

these manufacturers compete in international markets and set high standards of export

figures.

Our publications remain at the service of those businesses people seeking to increase their

share in the increasingly competitive foreign markets.

As usual, we convey the message of the Turkish automotive and autospare parts exporters

by participating in major fairs and exhibitions around the world.

We are convinced that the events in which we participate would be instrumental to

increase business opportunities in the automotive industry.

We wish lucrative trade for all participants.

automotiveexport

EDİToR

automotiveexports
---
Turkey's auto

sub-industry

records over

$11B exports in

2021

The Turkish automotive sector recorded

$11.8 billion (TL 163.72 billion) in

subindustry exports last year, according to

official data.

The automotive sector, which has been the

export champion of Turkey for 16 years,

made a total of $29.3 billion in foreign sales

in 2021, according to an Anadolu Agency

report on that cited data from the Uludağ

Automotive Industry Exporters' Association

(OIB).

The automotive sector made the highest

export in the subindustry product group.

This group, which makes sales to more

than 200 countries, free zones and

autonomous regions, increased exports

by approximately 26% compared to 2020

when the sales totaled $9.3 billion.

Subindustry exports accounted for 40.22%

of the total export sales of the automotive

industry.

Germany took the lion's share in Turkey's

subindustry exports with 23.23%.

Exports to this country last year increased

by 30.62% compared to the same period of

2020 and rose to $2.7 billion.

The second country to which automotive

subindustry manufacturers exported the

most was Italy. Exports to Italy in 2021

were recorded as $778.4 million, up

37.47% compared to 2020.

The sector's exports to the U.S., which

ranks third in the list, increased by 35.07%

compared to the previous year and reached

$728.3 million.

The automotive industry also exported

over $100 million each to France, the

United Kingdom, Russia, Spain, Poland,

Belgium, Romania, Morocco, Slovenia, the

Netherlands, Egypt, Hungary, Israel, Iraq,

Iran, Brazil, Czech Republic and Ukraine.

Meanwhile, local automotive industry

exports jumped some 15% throughout

2021, official data showed, but the sales

of passenger cars and light commercial

vehicles in Turkey fell 4.6%.

The sales of passenger cars and light

commercial vehicles were down to around

737,350 units last year, according to

data from the Automotive Distributors

Association (ODD.) Sales in 2020 stood at

nearly 773,000.

In December, sales fell 40.3% year-overyear

to 62,243, the association added,

down from 104,293 units in 2020.

Automobile sales in Turkey have declined

in the past months due to supply issues

caused by the coronavirus pandemic and

high loan rates amid a slide in the Turkish

lira.

The ODD had forecast that sales would

amount to between 825,000 and 875,000

in 2021, before rising to 850,000-900,000

in 2022.

The industry championed the country's

annual foreign sales for the 16th

consecutive year. It accounted for 13.3% of

last year's overall exports, which surged by

more than a third to hit an all-time high of

nearly $225.4 billion.

The European Union market accounted for

64.6% of the total automotive exports, with

$19 billion.

Germany became the largest export

market. Sales to Germany increased by 17%

compared to the previous year, reaching

$4.1 billion.

The industry also saw rises in its exports

to France and the U.K., with 14% and 39%

respectively. There was also a 22% increase

in exports to Morocco.

While exports to the Middle East fell

by 15% last year, they rose 38% to the

Commonwealth of Independent States

(CIS), 28% to the North American Free

Trade Area and 21% to African countries.

March 2022 8
---
Ford Otosan

beats forecasts

with $646M

profit in 2021

Ford Otosan, the joint venture of U.S.

automotive giant Ford and Turkey's largest

conglomerate Koç Holding, reported a

net profit of TL 8.8 billion ($646 million),

beating market expectations of TL 6.7

billion, boosted by an upward trend in

overseas sales.

The company increased its sales revenues

by 44% in 2021 compared to the previous

year and reached TL 71.1 billion.

Ford Automotive increased its overseas

sales by 57% to TL 54.5 billion and

increased its domestic sales by 12% to

TL 16.5 billion. The company's operating

profit increased by 96% compared to the

previous year and reached TL 9.4 billion.

Ford, which sold a total of 361,600 cars

in 2021, exported 288,500 of them

abroad. While the company's capacity

utilization increased by 4 points to 76%,

it decreased by 26 points in the fourth

quarter compared to the same period of

the previous year and became 82%.

An evaluation from the company stated

that profitability in 2021 was strong

thanks to the strong export performance

achieved despite the chip crisis, as well as

pricing discipline, cost-reducing measures

and effective expense management,

exchange rate effect and export

agreements.

While the company expects the total

automotive market size to be between

800,000 or 850,000 in 2022, it predicts

retail sales to be nearly 100,000. The

company also predicts exports to

reach around 360,000 and investment

expenditures to reach 620 to 670 million

euros ($705-$761 million).

March 2022 10
---
Supply chain

bottlenecks to

dominate 2022

car industry

agenda

Haydar Yenigün Chairman of the Board

of Automotive Industry Association

The automotive sector passed the year

2021 under the shadow of the chip crisis,

logistics bottlenecks and record increases

in raw material costs, while sector

representatives in Turkey say the main

agenda of local automotive manufacturers

this year will be supply chain management,

again.

Automotive Industry Association (OSD)

head Haydar Yenigün, evaluating the

course of the sector, said that supply chain

management will continue to be the No. 1

item in the 2022 agenda of the sector.

"The chip crisis will continue in 2022. We

now hold procurement meetings once a

day, which were previously held once a

month. We have a supply chain meeting

every evening. Every day a new picture

emerges," he said.

Yenigün stated that on the one hand,

new chip factory investments are being

evaluated for the near future with the hope

that life can return to normal by the end of

the first quarter of 2023.

Stating that the chip is not the only

problem in the supply chain, Yenigün

said there is also a problem in the

transportation of the supply as well.

According to the World Container Index,

container freight on the east-west route,

which was at the level of $5,000 (TL

67,480) at the beginning of 2021, increased

to $9,000 at the end of 2021.

"An increase in freight is expected this year

as well," Yenigün said, as the prices are

expected to be about two to seven times

higher in 2022. "With the entry of new

ships into the market, it is foreseen that the

relaxation in freight and reservations will

occur in 2023 at the earliest."

Expressing that the increase in input costs

will also continue, Yenigün said: "There

have been price increases between 100%

and 300% in raw materials such as sheet

metal, aluminum and rubber in the last

year. In particular, there has been an

increase of 274% in the last year in Turkish

lira terms in the domestic sheet metal

market. All this is reflected in the vehicle

prices," along with the rising electricity

costs in Turkey.

"There was an increase of 400% in natural

gas and 273% in electricity between

January 2021 and January 2022 on a

Turkish lira basis. This process is no longer

a manageable process for users, producers

and investors," he said.

According to the data of the OSD, total

vehicle production in 2021 decreased by

2% compared to the previous year to 1.28

million units, while automobile production

decreased by 8% to 782,835 units. With

the tractor production, the total production

reached 1.331 million units. The reason

why the biggest loss on the production side

was on the automobile is that this segment

was most affected by the global chip crisis.

Yenigün stated some 10.3 million vehicles

worldwide were produced incompletely

due to a semiconductor shortage.

"That is a very serious number. At the

beginning of the year, we predicted a loss

of 5 million-6 million units. But with each

passing month, things have progressed a

little more haphazardly," he said.

Yet, Yenigün also stated that there were

pleasing developments on the export side.

Automotive exports increased by 2% on a

unit basis compared to 2020 and amounted

to 937 units. Automobile exports, on the

other hand, decreased by 5% to 565,361

units. The automotive industry, which

made exports worth $29.9 billion last year,

took a 13% share of the total exports.

"There is a slight increase in exports on the

basis of units. There is also a very serious

increase in the number of exports. The

value of exports per kilogram is $10.62. It

reached its highest level ever. But it's not

enough, we're working to make it $20," the

sector official said.

Industry and Technology Minister Mustafa

Varank also shared a statement via his

Twitter account regarding the country's

automotive sector exports.

"Last year, 772,000 new and commercial

vehicles were sold in Turkey," he said,

adding: "The Turkish automotive industry

closed the year 2021 with $29.8 billion

exports revenue."

The sector, which sold to nearly 200

countries, autonomous and free zones

last year, sold the most vehicles to the

European Union with a share of 64.6%.

Foreign sales to the "Other European

countries" group, which the United

Kingdom has been included in since leaving

the EU, increased by 32%.

Meanwhile, the best scenario for 2022

project production is to increase by 15%

and boost exports by 17%.

Yenigün stated that they expect a sale

higher than last year in the domestic

market as well.

March 2022 14
---
Turkey hikes tax

thresholds for

some vehicles

Turkey has raised price thresholds for

a special consumption tax on vehicles

with small combustion engines, while

adding more categories, according to a

presidential decree published in the Official

Gazette, a move that will help cut vehicle

prices.

A 60% tax rate is to be levied on vehicles

with engines smaller than 1,600 cubic

centimeters (cc) (97.6 cubic inches) in a

price band of TL 150,001 to TL 175,000,

($11,136 to $12,992) after the adjustment.

The rate rises to 70% for vehicles that cost

up to TL 200,000 and 80% for those priced

above TL 200,000.

Previously, all cars that cost more than TL

150,000 were subject to the 80% rate.

The maximum price for the tax rate of 45%

was raised from TL 92,000 to TL 120,000,

and the threshold for the 50% tax rate

was raised to between TL 120,000 and TL

150,000. Passenger vehicles sold in Turkey,

already under a large tax burden, will see

prices decrease as a result of the move,

though the benefit is likely to erode quickly

as sellers are expected to hike prices

because of a depreciation in the Turkish

lira. Sales of passenger cars and light

commercial vehicles in Turkey fell 4.6% to

around 737,350 units throughout 2021,

according to data from the Automotive

Distributors Association (ODD.). Sales in

2020 stood at nearly 773,000.

In December, sales were down 40.3% yearover-year

to 62,243, down from 104,293

units in 2020. Sales have declined in the

past months due to supply issues caused

by the coronavirus pandemic and high loan

rates, amid a slide in the lira.

March 2022 16
---
Hisar Elektrik

strengthens

its share in the

foreign market

Serving its distinguished customers in

and out of Turkey, with the sole principle

of unconditional customer satisfaction,

Hisar Elektrik continues to get their feet

on the ground within the sector with their

product quality and competitive prices.

After 19 years of sector experience, HİSAR

ELEKTRİK has been founded by Hacer

SEYREK in 2003 with a very modest budget.

Hisar Elektrik has transformed to a wellknown

company with its product quality

and competitive prices. They are active

in the field of manufacturing Crimping

terminals, terminal insulators, connectors,

Lamp Glasses, mainly for Automotive and

Household appliances and goods.

Hacer Seyrek, Founder of Hisar Elektrik,

shared their dealings future export

objectives.

Production and product groups for the

automotive supply industry

Following 20 years of sectoral experience,

Hisar Elektrik was founded by Hacer Seyrek

in 2003 with a fairly modest budget.

Then, the company grew into e wellknown

brand with its product quality and

competitive prices. We are actively dealing

with manufacturing crimping terminals and

connectors at a 1500 sqm closed facility

with 30 qualified personnel. Primarily for

automotive and white goods, Hisar Elektrik

manufactures brass, copper, chromium

nickel, steel, niccolite, phosphor bronze

crimping terminals, V0/V2 non-combustible

plastic connectors, terminal insulators,

headlamp insulators and lamp glasses. We

have got monthly production capacity of

20.000.000 terminals, 2.000.000 plastic

connectors and 250.000, diverse cable

types.

The company has ISO 9001: 2015, ISO

14001: 2015, ISO 45001: 2018 Quality

Certifications, Reach Certification and RoHS

Compliance.

Export markets and objectives

40% of our sales comes from export. Our

main export markets are Russia, Belarus,

Ukraine, Moldova, Greece, Bulgaria,

Poland, Czech Rep, Hungaria, Romania,

Serbia, Macedonia, Israel, UAE, Iran,

Jordan, Lebanon, Egypt, Morocco, Tunisia

and Algeria. We still move on with our

export contacts with those countries even

under pandemic circumstances.

March 2022 18
---
EU auto sales

likely to rebound

this year

Automobile sales will likely rebound by

7.9% in the European Union in 2022 but

remain far below the 2019 level, industry

figures showed . The European Automobile

Manufacturers' Association (ACEA) said

it "now forecasts that passenger car

registrations in the EU will return to

growth this year, rising by 7.9% to reach

10.5 million units." That follows 9.7 million

units sold in 2021. The ACEA based its

forecast on expectations semiconductor

chip supplies will stabilize this year after

shortages severely hurt the industry.

While the European Union launched a plan

to raise tens of billions of euros to boost

semiconductor production in Europe,

the ACEA urged the bloc to reduce its

dependence on non-European suppliers to

avoid damage to the industry in the future.

After a sharp drop in sales in 2020 with the

coronavirus pandemic, the United States

and the EU auto markets were paralyzed

last year by semiconductor shortages,

especially those made in Asia.

However, ACEA said, the share of

rechargeable hybrid and electric vehicles

has continued to increase: They now

account for one out of every five cars sold

in the EU.

"However, we cannot forget that this is still

quite a fragile market," according to ACEA

President and CEO of BMW Group, Oliver

Zipse.

He added the market "is highly reliant

on support measures such as purchase

incentives and, above all, the widespread

availability of charging infrastructure."

Yet, the ACEA said the "pace of

infrastructure roll-out is lagging way

behind consumer demand for electricallychargeable

cars."

While the European Commission has

proposed an end to petrol and dieselpowered

cars for 2035, the European

Parliament and national governments

are discussing continental standards for

recharging points. The ACEA has urged the

parliament and the national governments

to bolster the European Commission

proposal to ensure an adequate recharging

network is set up.

March 2022 20
---
GQP produces in

European standards

GQP Makine established about 4 years ago, produces exhaust manifolds.

The company partner Ali Karaçobanoğlu, stating that the products they

produce, are at European standards, said that they will make more

progress in the field of export and production.

Karaçobanoğlu, giving information on production and other issues, said

"We established GQP Makine in Konya in 2018 with my partner Eyyüp

Kabadayı and started production. We have been producing exhaust

manifolds since then. Our brand, continuing to develop products in its

field, manufactures according to European standards. Our experienced

staff is in an effort to reach the best in the products we have produced.

We also send our products abroad. African, Russian and American

markets are where we work and care about."

Company partner Ali Karaçobanoğlu, also gave information about

production, and concluded his words as follows: "The exhaust manifold

is a component of the exhaust system of internal combustion engines.

It collects the exhaust gases and transmits them in the direction of the

exhaust system. The casting quality of the products we produce is GGG,

heat treated and surface coated. Our past vision and our goals, which we

know as a principle, always adopt to be fast, reliable and high quality. We

are struggling with our sensitivity in our production with our workshop

and machines, with great effort to satisfy our customers.

March 2022 24
---
Solvay Launches New Amodel®

Supreme and Bios Grades to

Support Further Sustainable

Innovation in E-Mobility

Solvay is accelerating the pace of

providing the automotive industry

with an entirely new generation of

Amodel® polyphthalamide (PPA)

materials targeted at higher demands

of performance and sustainability for

advanced electrical and electronic

applications in e-mobility.

In the Supreme range, Amodel® PPA AE

9933 and AE 9950 have been designed for

e-motor and inverter busbars operating

at 800 volts and higher. They combine

best-in-class comparative tracking index

(CTI) ratings with high thermal cycle

shock resistance from -40 to 150 °C. As

a breakthrough vs. conventional PPA

technology, they will also retain their CTI

over time even after temporary exposure

to peak temperatures above 150 °C.

New halogen-free flame retarded Amodel®

Bios HFFR R1-133 and HFFR R1-145 meet

with the growing trend of integrating

the e-motor, power electronics and the

gearbox into one single consolidated

electric drive system. With a CTI of >600

volts, heat resistance of >120 °C and

excellent dimensional stability, these

grades enable the design of highly

compact systems using miniaturized

components. Moreover, they provide UL94

V0 flammability ratings without the need

for halogenated flame retardants. Besides

addressing safety concerns in the event

of uncontrolled thermal excursion, the

halogen-free formulation also minimizes

the risk of electronic corrosion.

In addition, Solvay is offering Amodel®

Bios AE R1-133, an electro-friendly grade

specifically developed for surface mounted

data connectors that can be reflow

soldered without blistering. Compared to

standard PPA, the higher impact resistance

and weld-line strength of the material

allows designers to further reduce the wall

thickness of connectors, saving up to 50

percent in footprint on the printed board

and giving more space for other electronic

devices.

"Amodel® Supreme and Bios are garnering

a high level of interest among designers of

e-propulsion systems, including e-motors,

power electronics, and electronic coolant

pumps. Beyond adding value by improving

the thermal and electrical performance of

e-mobility components in these systems,

the new additions to the Amodel®

polymers family are being more widely

considered as manufacturers are seeking

to meet ambitious sustainability targets,"

states Brian Baleno, Head of Marketing,

Automotive at Solvay Specialty Polymers.

Amodel® PPA Supreme is currently

considered the highest performance

thermal and electrical PPA on the market,

while Amodel® PPA Bios features a

partially bio-based long-chain molecular

structure with the highest glass transition

temperature (Tg) as well as the lowest

global warming potential (GWP) compared

to incumbent bio-sourced long-chain PPAs.

As part of the company's One Planet

commitment to sustainability, Solvay has

reduced the CO2 footprint of Amodel®

PPA by 30 percent since 2013, and uses

100 percent renewable energy in the PPA

production at its global manufacturing

plant in Augusta, Georgia.

March 2022 26
---
Turkish auto

sector records

$2.2B exports

in January

Turkey's automotive industry exports,

which have been the export champion of

the Turkish economy for 16 consecutive

years, decreased by 1.6% to $2.2 billion (TL

29.85 billion) in January, according to the

data of the Uludağ Automotive Industry

Exporters' Association (OIB).

Despite the decline, the share of the sector,

which still ranks first in the country's

exports, in total exports was 12.7%, data

showed.

OIB Chairperson Baran Çelik said that in the

first month of 2022, the world continued

to face a wide array of problems such as

the semiconductor chip crisis, raw material

supply problems and increasing costs, and

that "the largest product group was again

the supply industry."

He said while a decrease was experienced

in the passenger car, bus, minibus and

midibus exports, an increase was seen in

auto supply industry sales.

"We recorded high increases of up to 40%

in countries such as the United Kingdom,

the United States and Egypt," he said.

Based on product group, supply industry

exports increased by 7% to $951 million

in January, while passenger car exports

decreased by 21% to $654 million, and the

exports of motor vehicles for transporting

goods increased by 3% to $440 million and

bus-minibus-midibus exports increased by

39% to $65 million.

While exports to Germany, the country

to which the most exports are made in

the auto supply industry, increased by 3%

in January, a 12% increase was seen in

exports to the U.S.

The auto supply industry raised its foreign

sales to Russia, Poland, Slovenia and the

Netherlands, which are also important

markets, by 32%, 21%, 26% and 29%,

respectively.

The product group's exports to Morocco

and Hungary, however, decreased 12% and

13%, respectively.

In January, passenger car exports

decreased by 66% to France, which is

one of the most important markets for

this product group. Decreases were also

experienced in sales to Italy by 53%,

Sweden by 55% and Belgium by 41%.

Exports of passenger cars increased to the

U.K. by 53%, Egypt by 30% and the U.S. by

259% in the same month. While exports

of motor vehicles for the transportation of

goods increased by 30% to the U.K., which

is the country to which the most exports

are made in the product group, 45% of

increase experienced in sales to Slovenia,

16% to Belgium, 19% to the U.S., 28% to

France and 25% to Italy, a 22% decrease

was seen in exports to Spain. In the busminibus-midibus

product group, there was

a 9% increase in exports to France and

a 48% rise to Italy. Total exports of $325

million were recorded to Germany, which

took the lion's share, with an increase of

1% in January. While $268 million worth

of products were exported to the U.K.,

which is the second-largest market, with

an increase of 34%, exports to France

decreased by 40% to $182 million. Exports

increased by 25% to Slovenia, 41% to the

U.S., 40% to Egypt, 37% to Russia, 26.5% to

Romania, 23% to Italy and 23% to Sweden.

Exports to the European Union countries,

the largest market based on the country

group, dropped by 11% in January and

became $1.39 billion. EU countries received

a 62% share of expor

March 2022 28
---
Car spare parts shortage mirrors

rising economic crisis in Sri Lanka

Side mirrors for Suzuki's compact Wagon R

are reported becoming a prized commodity

in Sri Lanka as dealers of car spare parts in

the island nation's main city of Colombo

are receiving a steady stream of customers

looking for the humble product.

The scramble highlights rising economic

risks for the South Asian country as imports

slump, foreign exchange reserves plummet

and a potential sovereign default looms.

Suzuki's boxy, five-seater vehicle is hugely

popular in Sri Lanka, given its low running

costs. With some 30,000 of the cars

sold over the past four years in a nation

that has relatively high road crash rates,

replacement side mirrors are commonly

sought in the spare parts shops scattered

across the suburb of Nugegoda.

"Everyone is looking for Wagon R parts,"

said Supun Deshak, a salesperson at one

store in the district where shop fronts are

piled high with reconditioned spare parts.

The difficulty is that importers are

struggling to source car parts because they

are deemed non-essential imports under

rules drawn up by the government to save

dwindling foreign exchange reserves after

the coronavirus pandemic hit.

Reserves have plummeted to $2.36 billion

from $7.5 billion in January 2020. At the

same time, the government faces a debt

obligation of around $4 billion this year,

and local banks are often unable to provide

dollars that importers need.

"The biggest concern right now is the

difficulty in importing spare parts for

maintaining the existing fleet of vehicles,"

said Yasendra Amerasinghe, chairperson

of the Ceylon Motor Traders Association

(CMTA), which represents the country's

major vehicle importers.

The CMTA estimates imports of car spare

parts will fall by around 30% in value

terms this fiscal year, compared to prepandemic

levels, primarily because of the

foreign exchange shortages in the past few

months.

Five auto dealers in Colombo told Reuters

many spare parts were already in short

supply, with only a trickle of new stock

coming in from abroad, driving up local

prices. Exacerbating the problem are

thieves looking to make a quick buck by

stealing side mirrors of popular models

like the Wagon R to sell in a thriving grey

market, the dealers said.

The price of reconditioned Wagon R

mirrors has surged by more than 35% from

pre-pandemic levels to at least 30,000

Sri Lankan rupees ($148.5) per piece, the

dealers said.

The economic crisis facing the country – its

worst in a decade – has also triggered an

escalation in second-hand vehicle prices.

Almost all car imports were banned in

March 2020, followed by a stop on imports

of other non-essential goods like air

conditioners, refrigerators and video games

consoles, as part of the government's bid

to deal with the financial strife.

That has pushed the cost of some secondhand

vehicles up by more than 100%,

the CMTA said. Sri Lanka does not mass

produce any cars locally.

A used Wagon R currently costs around 5

million Sri Lankan rupees, well above the

2.8 million Sri Lankan rupees a brandnew

vehicle cost in 2018, said CMTA Vice

Chairperson Virann De Zoysa.

March 2022 30
---
G-20 should boost tax, development aid

Treasury and Finance Minister Nureddin Nebati

Turkey's Treasury and Finance Minister

Nureddin Nebati, speaking at the G-20

Finance Ministers and Central Bank

Governors Meeting , called on G-20

members to continue providing capacitybuilding

support to developing countries in

taxation and development.

The minister attended the meeting online,

which is being held in Indonesia's Jakarta

this year.

"We support the comprehensive agenda in

the international tax field. We welcome the

intention of the Indonesian Presidency to

hold inclusive discussions for the benefit of

all countries," Nebati said.

He referred the global tax reform as one of

the most important achievements of the

G-20 group.

"With this landmark success, the G-20

has once again proven its credibility

and strength. To fulfill its mandate as

a pioneering platform, the G-20 must

continue to move forward in a responsible

and fair manner," the minister said.

In October last year, the finance ministers

of G-20 countries agreed on the historic

global tax reform that is to revamp the way

multinational companies are taxed to make

sure they pay their fair share wherever

they operate.

"Emphasizing that they have always

believed that it is very important to reach

a consensus on the international tax issue

in solving the challenges arising from the

digitalization of the economy," Nebati

further stressed that they believe that the

support given by the G-20 to the Inclusive

Framework is very important for the proper

implementation of the results of the tax

declaration. If G-20 members continue

to provide capacity-building support

and technical assistance to developing

countries, "these countries will be able

to adapt to the new international tax

architecture in a timely manner," he said.

Nebati went on to say that, as G-20

members, "we must act in synergy to move

towards carbon-neutral economies, taking

into account the principle of 'common

but differentiated responsibilities and

relative capabilities' as well as national

circumstances."

Turkey, US joint venture Ford Otosan introduces new electric cars

Ford Otosan, a joint venture of Koç Holding,

Turkey's largest conglomerate, and United

States automotive giant Ford introduced

its electric vehicles, Rakun Pro2 and Rakun

Pro3, which it produced by combining knowhow

in electric and commercial vehicle

production with its innovation power.

The vehicles developed under the

company's new venture, Rakun Mobility

Technology and Trade Inc, aims to provide

services with different business models for

all users looking for innovative and light

mobility solutions.

Haydar Yenigün, general manager of Ford

Otosan, said in a company statement

that today great transformations in the

transportation sector are occurring.

"With the inspiration we received from

our customers, with the knowledge we

have in electric vehicle production and

commercial vehicle production, we dreamed

of producing an environmentally friendly,

electric vehicle with less than four wheels

that will serve end-point delivery," he said.

"This is how Rakun was born," Yenigün said,

noting that the company takes its work in

mobility to the next level by integrating

it with product development, innovation

and production capability. Eren Atlı, Rakun

Mobility Inc. general manager, stated that

with the Rakun Pro 2 and Pro 3, businesses

will have the opportunity to deliver orders

in a reliable, durable, and most importantly,

100% electric, therefore in a soundless and

environmentally friendly way.

"As a first step, we will bring our vehicles

together with corporate customers through

the method of rentals and sales. We are

planning to have our individual customers

on the road with Pro2 and Pro3 in the

future," Atlı said.

The 5 kW/h battery in Pro2 and Pro3 can be

charged comfortably and easily by plugging

the cable into the socket of a regular

electricity network.

March 2022 32
---
Volvo Cars,

Mercedes

post boosting

revenue despite

supply snarls

Chinese-owned Volvo Cars and Mercedes

said their revenue rose but global supply

chain bottlenecks caused sales and profits

to fall in the last quarter of the year.

Volvo Cars said the global shortage of

semiconductors – an essential tech

component in modern cars – caused sales

and profits to fall in the last quarter of the

year.

Retail sales fell by 20% to 168,000 units in

the fourth quarter of the year.

But revenue fell at a smaller rate, 6%, as

"strong demand had a positive effect on

prices and the sale of more expensive cars,"

while interest in electrified cars continued

to grow globally.

Revenue fell to 80 billion kronor ($8.6

billion) from the same quarter in 2020

while net profit sank by 60% to 2.3 billion

kronor.

Owned by Geely, the Sweden-based

carmaker said the semiconductor shortage

worsened in the second half of 2021.

"The result was a year of two halves," Volvo

Cars said in an earnings statement.

"During the first half, the market was

up by double digits but abruptly stalled

in the second half due to COVID-19-

related shutdowns in Southeast Asia and

other semiconductor-related production

disturbances," it said.

The picture was brighter for the full year,

with revenues jumping by 7% to a record

282 billion kronor.

Net profit soared to 14.2 billion kronor,

nearly double the 2020 figure.

Profitability also rose, with its operating

margin rising by four percentage points to

7.2%.

"2021 was a year to be proud of for

Volvo Cars," said chief executive Hakan

Samuelsson.

"Looking ahead, uncertainty is still high.

While component shortage has eased

somewhat, we expect the supply chain to

remain a restraining factor," he warned.

Volvo Cars, which plans to sell only fully

electric models by 2030, said the share of

sales of rechargeable vehicles – including

plug-in hybrids – grew to 34% in the

fourth quarter.

'Solid net pricing'

In Germany, Mercedes-Benz beat

expectations with a record profitability

margin of 15% in the final quarter of

2021 "driven by solid net pricing" – or

the ability to sell its cars for higher prices.

To some extent, automakers were able to

use chips in their most profitable cars.

If Mercedes-Benz's overall sales slid 5%

last year, those of its S-Class sedans rose

by 40% and its luxurious Maybach brand

by 50% to a new record.

"Our focus on profitable growth and cost

discipline combined with a desirable

product lineup translated into strong

financial performance," chief executive

Ola Kallenius said in a statement.

Operating profits at the company's car

and vans division is expected to come in

around 14 billion euros, compared to 6.8

billion in 2020 and 6.2 billion in 2019.

March 2022 36
---
Turkey's

automotive

exports nearing

pre-pandemic

level

Baran Çelik, Chairman of the Board, OIB

Turkish automotive exports rose 16 percent

to $26.4 billion in the first 11 months

of this year, according to the Uludağ

Automotive Industry Exporters' Association

(OİB).

With $29 billion at the end of this year, the

sector aims to get closer to the three-year

pre-pandemic period annual average, OİB

said in a press release on Dec. 5.

However, automotive exports sank 6

percent year on year to $2.5 billion.

Despite the contraction, the automotive

sector's exports were above the 11-month

average of $2.4 billion in November, OİB

Head Baran Çelik said.

"While auto supply industry exports

jumped in double digits, exports of

passenger cars and goods transport motor

vehicles declined in double digits. We also

recorded double-digit growths in exports

to countries such as Germany, the United

States and Egypt," he added.

In the three years before the pandemic

crashed the global supply chains at the

beginning of 2020, the average of Turkey's

automotive exports was $30 billion

annually.

"In 2020, our exports slipped to $25.5

billion due to the pandemic. We are

planning to end this year with $29 billion in

exports," Çelik said.

Turkish automotive exports' share in the

country's overall exports is around 11.8

percent, according to his remarks.

Germany, Turkey's top exports market,

imported automotive products of $392

million in November, up 12 percent year

on year. In the same month, automotive

exports to Russia, Egypt, Romania

and the United States jumped by 44

percent, 31 percent, 25 percent and 11

percent, respectively. On the other hand,

automotive exports to France dropped by

11 percent to $291 million and exports

to the United Kingdom contracted by 16

percent to $223 million. Exports to Italy,

Slovenia, Belgium, the Netherlands and

Sweden also decreased in double digits

year on year in November.

In the first 11 months of this year,

automotive exports to Russia soared 50

percent to $642.7 million, while exports

to the United Kingdom ($2.7 billion) and

United States ($1.1 billion) jumped by 42

percent and 31 percent, respectively.(HH)

Domestic market narrowing

Affected by semiconductor shortage,

depreciation in the value of the Turkish

Lira and complicated special consumption

tax base system, passenger car and light

commercial vehicle sales dropped by 24.9

percent to 60,216 units in November,

according to Automotive Distributors

Association (ODD).

In the same month, passenger car sales

declined by 33.2 percent to 42,982, while

light commercial vehicle sales increased by

9.2 percent to 17,234. Compared to the 10-

year November sales average, passenger

car and light commercial vehicle sales

narrowed by 24.7 percent this year.

March 2022 38
---
Investments in

Turkey's rapid

charging stations

for EVs gain pace

As transitioning to electric vehicles gains

pace around the world and Turkey plans to

put its domestic electric car on the market

soon, investments regarding the necessary

infrastructure, namely charging stations,

are also on the rise.

Turan Şakacı, senior manager at the

Istanbul-based engineering firm Üçay

Group, told Anadolu Agency that the

company aims to increase the number of

rapid electric charging stations with an

investment of $1 million (TL 13.56 million)

initially this year.

"We have the technical infrastructure,

service support, product and opportunity

that will enable the establishment of

stations all over Turkey, starting with our

big cities," he said.

Şakacı stated that they have completed the

necessary preparations for the expansion

of electric charging stations throughout

the country, following the agreement they

signed with Eaton, a global manufacturer

of electricity and industrial power

management systems, in October.

Pointing out that with this agreement Üçay

Group has become the sole authority in

the sale and service of charging stations

for electric vehicles, Şakacı said that with

the unveiling of the country's first fully

electric and domestic vehicle, Togg, the

infrastructure of fast charging stations

came to the fore. He noted that they have

56 branches and hundreds of dealers in

81 provinces of Turkey, adding that Turkey

does not need foreign resources for its

electric charging station investments.

"We see that foreign investors see the

electric vehicle potential in Turkey and are

preparing to invest in it. However, Turkey

uses its own resources to invest in the

country's electric charging stations," he

said. Electric vehicle giant Tesla included

Turkish city names on its website for Tesla

Supercharger stations with the phrase

"coming soon."

The cities currently include Istanbul, the

capital Ankara, southern Antalya, the

western cities of Aydın, Balıkesir and Izmir,

the northwestern cities of Bursa, Edirne

and Sakarya, and central Konya. Charging

stations will be installed at points that

everyone can easily access, such as main

roads or shopping malls.

Turkey's Automobile Joint Venture

Group, known as Togg, is the consortium

developing the country's indigenous car

and will launch its first mass-produced

vehicle, an all-electric SUV, by the end

of 2022. Togg was most recently named

among one of the top 20 brands that

participated at the 2022 Consumer

Electronics Show (CES) by the U.S.-based

Exhibitor magazine.

March 2022 40
---
Turkish factory

output beats

forecasts to

jump 14.4%

Turkey's industrial production jumped more

than expected in December and registered

the highest rate of growth in six months,

official data showed. The output surged

14.4% year-over-year in December, the

Turkish Statistical Institute (TurkStat) said,

rising for the 18th consecutive month in a

sustained burst of economic activity since

the lifting of coronavirus measures.

The reading exceeded forecasts of 11.2%

and 10.8% projected in Reuters and

Anadolu Agency (AA) polls, respectively.

The production remained strong despite

high volatility in the Turkish lira that month,

which deterred company and household

budgets and sent inflation soaring via

import prices.

Analysts expect jumps in utility prices and

scattered curbs to power use to weigh on

industrial production in January, after Iran

had cut gas flows to Turkey for up to 10

days due to a technical failure.

While the mining and quarrying sector

posted negative results, the manufacturing

industry and the electricity, gas, steam and

air conditioning supply indices were on the

positive side, the data showed.

The mining and quarrying sector index

dropped 1.4% year-over-year in December.

The manufacturing industry and the

electricity, gas, steam and air conditioning

supply indices were up 16.2% and 8%,

respectively, over the same period.

Enver Erkan, a chief economist at Istanbulbased

Tera Yatırım, said they expect a loss

of momentum in January.

"Iran's cessation of gas supply and

consequent electricity and gas cuts in the

industry led to suppression of production.

March 2022 42
---
We take into account that we will see the

effect of this in the January data. Due to

supply problems, the upward trend in raw

material prices continues," Erkan said in a

note.

In April of 2020, output plummeted

more than 31% in the face of the initial

coronavirus wave, but it has since made a

strong recovery since subsequent measures

largely skirted the manufacturing sector. All

virus measures were lifted in July last year.

Turkey's economy is expected to have

grown around 10% in 2021, rebounding

powerfully after a sharp slowdown a year

earlier driven by COVID-19 restrictions.

Erkan said the latest data reaffirmed the

double-digit growth in 2021.

"Our growth expectation for 2021 is 10.8%.

In 2022, we will consider factors such as

the developments in the exchange rate, the

economic slowdown caused by the global

supply shortage, and the problems that the

omicron variant may cause, especially in

our export partners," he said.

"We expect the growth to normalize

towards the 4% band this year."

Month-over-month, industrial output

rose 1.6% in December on a calendar and

seasonally adjusted basis, TurkStat said.

The mining and quarrying sector index

dropped by 3.4% month-over-month.

The manufacturing, and gas, steam and

air conditioning supply indices were up

by 1.8% and 0.6%, respectively, versus

November.

The Turkish government has been

endorsing a model based on lower

borrowing costs, which it says will boost

production, employment and exports,

and also eventually help Turkey solve the

chronic current account deficit problem

and contribute to stabilizing the Turkish

lira.

To support the drive, Turkey's central bank

has slashed its interest rates by 500 basis

points since September to 14%, before

pausing the easing cycle.

The lira had weakened 44% last year

and hit a record low of 18.4 against the

United States dollar in late December but

rebounded after President Recep Tayyip

Erdoğan's announcement of a scheme

to boost lira deposits by protecting them

against depreciation.

The initiative had helped the lira rally

sharply to just over 10 and then settle at

current levels just under 14 to the dollar.

The decline in the lira stoked prices and

caused inflation to jump to 48.7% in

January.

A central bank survey of market

participants' expectations showed

consumer price inflation was seen ending

2022 at 34.06%, up from 29.755 in the

previous survey, with gross domestic

product (GDP) growth forecast to be 3.7%.

The lira, which has traded steadily so far

this year, was flat at 13.54 against the

dollar. The central bank survey showed it

was seen ending the year at 16.04, down

from the previous forecast of 16.13.

Separately, Turkey's retail sales volume,

a marker of growing consumer spending,

surged 15.5% year-over-year in December,

TurkStat data showed, with all sub-indices

posting increases.

Non-food (except automotive fuel) sales

increased by 28.2% in December, compared

to the same month in 2020. Automotive

fuel sales were up by 2.8%, while that of

food, drinks and tobacco increased by 1.7%

over the same period.

Among non-food items, textile, clothing

and footwear sales rose the most, climbing

77.3% from December 2020, followed by

medical goods and cosmetics (16%) and

computers, books and telecommunications

equipment (13.1%). Sales by mail order and

the internet soared 34.1% year-over-year in

December.

On a monthly basis, the retail sales volume

dropped by 2.7% over the month.

Separate TurkStat data showed that the

economy posted an 82.4% annual jump in

total turnover in December.

The biggest change came in industry, which

shot up 101.4% on an annual basis, the

institute said. The construction sector saw

an annual rise of 46.4%, while the services

and trade indices climbed by 82.9% and

77.6%, respectively. On a monthly basis,

the seasonally and calendar-adjusted total

turnover index was up 12.8% in December.

"Industry increased by 20.1%, trade

increased by 11.0%, services increased

by 7.6% and construction decreased by

4.6% on monthly basis in December 2021,"

TurkStat said.

43 March 2022
---
Hybrid cars

outsell diesel in

Europe for first

time

Hybrid cars, which operate on both an

internal combustion engine and an electric

motor, outsold diesel vehicles in Europe

for the first time in 2021, albeit by just 48

vehicles, data showed.

One in 11 cars sold were battery-electric,

the data from the European Automobile

Manufacturers' Association (ACEA) showed,

totaling just under 880,000 vehicles.

Self-charging hybrid cars contain a battery

charged by an internal combustion engine,

and generally can only drive a limited

distance on electric power.

Plug-in hybrids are powered primarily by a

battery charged externally and thus seen

as more environmentally friendly, but

are backed up by an internal combustion

engine, while battery-electric cars run on

the battery alone.

A total of 1,901,239 million self-charging

hybrid cars were registered in the European

Union throughout the year, a significant

jump from the 1.1 million registered in

2020.

Diesel registrations, which have cratered

since the Dieselgate scandal in 2015, fell

by a third from last year's 2.77 million to

1,901,191. New government subsidies for

low- or zero-emission vehicles that took

effect as part of the pandemic recovery

program trebled sales of plug-in hybrid

and battery-electric vehicle sales in 2020

to over 1 million, with a roughly even split

between the two types.

The plug-in hybrids are seen by carmakers

as a technology of transition to fullyelectric

cars, but their green credentials

have been criticized by environmental

groups as studies have shown drivers

rely more than hoped on the internal

combustion engine over the battery,

pushing up the vehicles' emissions.

In 2021, battery-electric vehicle sales grew

by 63.1% to nearly 878,500 cars, the data

showed, while plug-in hybrid sales grew

70.7% to nearly 867,100.

Petrol remained the most common fuel

type but by a lower margin than last year,

constituting 40% of new registrations,

down from 48% in 2020

March 2022 46
---
Turkey's car

brand Togg

launches first

office abroad in

Germany

Togg CEO Mehmet Gürcan Karakaş

Turkey's first homegrown automobile

brand, Togg, has made its initial foray into

the European market by opening its first

representative office abroad in Germany.

Togg is due to launch mass production

later this year. Togg CEO Mehmet Gürcan

Karakaş in August last year said the

company would start sales with Germany,

followed by other markets in Europe.

Germany aims to have at least 15 million

electric cars on the roads by 2030 in its

shift towards climate neutrality, according

to a coalition agreement of the country's

new government.

Turkey's Automobile Joint Venture

Group, known as Togg, is the consortium

developing the country's indigenous car.

Due to launch its first mass-produced

vehicle, an all-electric SUV, by the end of

2022, Togg opened its first foreign office in

Stuttgart, according to a report by public

broadcaster TRT Haber.

The SUV in the C-segment will be launched

in the first quarter of 2023 and will be the

first electric sport utility vehicle produced

in continental Europe by a nontraditional

manufacturer, Karakaş said earlier this

month.

"I believe that if attention is paid to its

quality, both Germans and the Turks will

be buying it," said Durmuş Yılmaz, an

automotive parts supplier in Germany.

"We see that the Germans pay close

attention to everything. If we do the same,

it depends on the quality, discipline; when

they buy it, they will realize that it is a good

car," Yılmaz told TRT Haber.

The brand aims to produce 1 million

vehicles across five different segments by

2030.

Togg was named among one of the top

20 brands that participated at the 2022

Consumer Electronics Show (CES) by the

U.S.-based Exhibitor magazine.

Togg showed off the "Transition Concept

Smart Device," an all-electric fastback

concept car during one of the world's

largest technology and gadget fairs, held in

Las Vegas earlier this month.

It was not immediately clear if the fastback

is intended to replace the previously seen

compact sedan or was produced just

for CES. Togg was launched on June 25,

2018. President Recep Tayyip Erdoğan, in

December 2019, unveiled prototypes for

the SUV and a sedan, both fully electric and

C-segment models.

Togg said it would produce five different

models – an SUV, sedan, C-hatchback,

B-SUV and B-MPV – through 2030. Mass

production of the SUV will begin by the end

of this year, with the sedan to follow.

Construction of Togg's engineering, design

and production facilities began in mid-

2020. Built on an area of 1.2 million square

meters (12.9 million square feet) in the

Gemlik district of northwestern Bursa

province, the facility is scheduled to be

complete in the coming months.

Togg has opted for advanced lithium-ion

battery technology company Farasis as

its business partner for the battery. The

homegrown car can reach 80% charge in

under 30 minutes with fast charging. It will

have a range of between 300 kilometers to

500 kilometers (186 miles to 310 miles).

March 2022 48
---
Turkey supports

foreign firms as

global supply

crunch bites

There is a silver lining to the global supply

chain crunch for Turkey: The country is

becoming an attractive alternative at the

gates of Europe for foreign firms.

Turkey is seizing its geographic advantage

to woo companies as the skyrocketing

cost of sea freight and pandemic-related

disruptions to supply chains push some

European companies to reduce their

dependence on Asia.

President Recep Tayyip Erdoğan has

promoted a new slogan for exports: "Made

in Turkiye," marketing products in Turkish

instead of the internationally known "Made

in Turkey."

The country's exports reached a record

$225.4 billion (TL 3.07 trillion) last year,

with a target of $300 billion set for 2023.

"Many international companies are taking

action to supply more from Turkey,"

Burak Dağlıoğlu, head of the presidency's

investment office, told Agence France-

Presse (AFP).

He said the country offers automakers

or textile companies a "competitive

talent pool, sophisticated industrial

competencies, well-developed services

industries, perfect geographic location and

state-of-the-art logistic infrastructure."

Furniture retail company Ikea announced

last year it wanted to move part of its

production to Turkey.

The Italian clothing group Benetton told

AFP it wants to "increase its production

volumes in countries closer to Europe,

including Turkey."

Peter Wolters, vice-chairperson of

the Netherlands-Turkey Chamber of

Commerce, said the business group

received "requests from the household and

garden sector, textile and fashion and also

yacht building industry who search for new

partners in Turkey."

Japanese electronics contractor Kaga

Electronics is going to build a factory in

Turkey, shifting a portion of the production

from China and Southeast Asia, it also said

back in December.

The company said it hopes to take

advantage of Turkey's strategic location and

expand the Middle East and Europe orders.

"Kaga hopes to leverage its new production

base to win orders related to auto-related

parts as well," it said.

It has become extremely expensive to ship

goods from Asia.

As a result of container shortages, the cost

of freight between China and northern

Europe has increased ninefold since

February 2020, according to the Freightos

Baltic Index.

While a cargo ship can take weeks to travel

from Asia to Europe, Turkey is only three

days away by truck.

A study by the McKinsey consulting group

published in November placed Turkey in

the third position among countries with the

best potential for textile supplies by 2025,

behind Bangladesh and Vietnam but ahead

of Indonesia and China.

"Apparel companies are also looking to

change their sourcing-country mix ...

to secure the supply chain," the global

report's authors wrote.

The report said Turkey offers "cheaper

production costs due to a declining lira."

The lira has fallen by 44% against the dollar

since 2021.

Erdoğan has been endorsing a model based

on lower borrowing costs, which he says

will boost production, employment and

exports, and also eventually help Turkey

solve its chronic current account deficit

problem and contribute to stabilizing the

Turkish lira.

The declining lira is, however, problematic

for several industries due to the country's

dependence on imports for energy and raw

materials.

"It's not like Russia, for example, which

has extensive raw materials," said Roger

Kelly, leading regional economist covering

Turkey and Russia at the European Bank for

Reconstruction and Development (EBRD).

He said Turkey also faces competition from

countries within the European Union.

"I don't think we should ignore those

countries in southeast Europe like Romania

or Bulgaria, which are actually in the EU –

which helps them to a certain degree – and

also have low production costs and strong

production bases as well."

March 2022 52
---
S. Korea weighs

penalizing Tesla

for exaggerating

battery features

South Korea's antitrust watchdog is

considering imposing penalties against the

United States' electric car giant Tesla over

its findings the company exaggerated the

specifications of its batteries, according to

an official.

The Korea Fair Trade Commission (KFTC)

had sent a report to the electric vehicle

(EV) maker stating that it had exaggerated

the mileage of some of its models,

including Model 3, in violation of the Act

on Fair Labeling and Advertising, the official

said.

"We plan to hold a general meeting to

review and determine the extent to which

the automaker has violated the law and

decide the level of sanctions," an official

at the KFTC told Reuters, asking not to be

named due to the sensitivity of the matter.

Tesla, on its website, says its Model 3 can

travel 528 kilometers (328 miles) on a

single charge. The KFTC says however that

the range may fall short of that should the

temperature drop below freezing.

Analysts said most electric vehicles could

generally experience some loss of driving

range in cold weather. Separately, the

KFTC is also weighing whether to impose

penalties against Tesla for not refunding

deposits to customers who canceled online

purchases before their vehicle orders were

put in place for release.

In South Korea, Tesla requires customers to

pay a deposit of 100,000 won ($84) when

purchasing Tesla cars online, but deposits

were not refunded upon cancellations of

orders by customers, according to Yonhap

news agency.

March 2022 54
---
Chip shortage

continues to hamper

VW car production

Germany's leading car manufacturer Volkswagen

continues to suffer from the global shortage of

semiconductors, with a senior employee representative

calling the cut in working hours "hard to bear."

The possible prolonged cut in shifts from April onward

will be limited to the main plant in Wolfsburg for the

time being, but the works council is applying pressure

for the company to improve its chip purchasing.

"We have had to phase out temporary work at almost

all locations and have thus already made changes at

the turn of the year," human resources board member

Gunnar Kilian told Deutsche Presse-Agentur (dpa).

Plants like the one in the north-western city of Emden

on the Dutch border are already geared to two-shift

instead of three-shift operation.

Daniela Cavallo, head of the works council, emphasized:

"We have full order books. But the semiconductors are

missing. It doesn't add up, and it's hard to bear."

At the Wolfsburg headquarters, VW is cutting night

shifts on three out of four important lines in the spring.

Last year, 330,000 fewer vehicles were built in

Wolfsburg, meaning just under 400,000 cars were

produced, a low since 1958.

In addition to financial compensation for the loss of shift

bonuses, the employee representatives are demanding

a reorganization of the procurement of central supplier

parts.

According to Cavallo, some companies are further ahead

than VW in securing sufficient quantities.

"Certainly, a lot has already happened. We have the

task force on semiconductor supply. But it's also about

building strategic, long-term supply management – not

just for microchips, by the way."

March 2022 55
---
SABIC study on rear quarter windows

underscores LEXANTM resin's value

SABIC, a global leader in the chemical

industry, announced the results of a

recent design study on automotive rear

quarter windows that explored the distinct

advantages of LEXANTM polycarbonate

(PC) resins for developing differentiated

styling, consolidating components,

integrating functions and enhancing

aerodynamics. These concepts reveal

multiple new opportunities to significantly

expand design freedom, control costs and

reduce weight by replacing traditional glass

with transparent, impact-resistant LEXAN

resins. The detailed study, conducted by

SABIC designers and engineers, builds

on the company's deep, decades- long

history in automotive glazing technology.

In addition to rear quarter windows,

the SABIC team produced stylish design

concepts for rear side windows. The data

is available to support the feasibility of

these designs, all of which can use wellestablished

processing methods and

secondary operations.

"As industry trends such as vehicle

electrification continue to evolve, SABIC

is seeing major new opportunities for our

materials to radically change automotive

styling, while simultaneously addressing

the longstanding challenges of weight-out,

cost-out and sustainability," said Abdullah

Al-Otaibi, general manager, ETP & Market

Solutions, SABIC. "The latest concepts

from our study aim to inspire exciting new

window designs that address these needs

by combining beautiful aesthetics with

practical performance and established

processing methods. SABIC's LEXAN resins

have a proven track record in automotive

glazing applications, and we continue to

work with our customers to proactively

deliver cutting-edge ideas and innovations

that can benefit OEMs, tier suppliers and

consumers alike."

Wraparounds, Panel Swaps, Integrated

Lighting and More

Many of the new SABIC concepts feature

LEXAN resin used in curved wraparounds

that seamlessly flow into other portions

of the vehicle, while integrating rear

lighting, door latches, D-pillar trim and

even sunroofs. Integrations and complex

curvatures like these typically cannot be

achieved with glass. Part and function

integrations can enhance aerodynamics to

improve fuel economy and electric vehicle

(EV) battery efficiency and range. They also

create a highly streamlined look for the

vehicle.

One rear quarter window concept (1A)

integrates an airflow separator feature

for increased aerodynamic efficiency and

incorporates styling strokes to add visual

appeal. Another concept (1D) integrates

a backlit EV charge level indicator within

the window. Alternatively, the rear quarter

window could integrate a different or more

distinctive type of indicator or an animated

welcome light display.

In another case (1F), SABIC created a rear

quarter window with an expressive 3D

curvature that smoothly wraps around

the D-pillar, into the sunroof and down

the back side. This concept combines the

window with the taillights. A variation

(1H) on this rear quarter window design

features a raised panel covering the D-pillar

area. This window enhancement can be

created in the same color as the body to

establish a floating-pillar effect, and can

even be swapped by the consumer for a

different panel if a special color or effect is

desired. The new SABIC study also includes

innovative design concepts for the rear

side window. For example, one unique

design (2D) features a window and a door

latch that are mated to a trim insert in the

D-pillar. The result is a sleek, aerodynamic

design.

Clear Advantages over Glass

Although glass has dominated the

automotive glazing sector for years, due

mainly to its low cost for simple curved

components, disruptors such as EVs are

prompting the industry to re-imagine

vehicle design. In the process, traditional

materials like glass have come under

scrutiny and are increasingly being

replaced by safer, lighter, higher performing

engineered plastics. SABIC's PC glazing

offers exceptional advantages over glass,

beginning with significantly lighter weight.

With PC, designers gain the freedom to

create curved forms, sharp angles and

other configurations that cannot be

achieved with glass. Proven technologies

such as 2K and 3K injection molding

can be used to produce these shapes.

SABIC has invested in the development

of a 3K injection molded sunroof to build

competencies in molding large transparent

and semi-transparent parts.

Polycarbonate is also much easier to

recycle than glass, which faces roadblocks

due to its high transportation costs,

potential for contaminating single-stream

recycled content with broken fragments,

and shrinking end markets for the material,

particularly automotive. SABIC is interested

in pursuing supply chain collaboration with

industry partners to explore the chemical

upcycling of PC materials used in rear

quarter windows and rear side windows.

March 2022 56
---
Autopromotec 2022: international promotion has

kicked off in view of next year's event

The strategic plan to achieve maximum

incoming attendance for the edition

scheduled on 25-28 May in Bologna has

been implemented: the aim is to involve,

with an innovative format, the entire world

of automotive after-sales at a global level

Attractiveness and business. These are

the keywords of the strategic plan for

international promotion developed

by Autopromotec for the next edition

March 2022 58
---
scheduled on 25-28 May 2022 in Bologna.

The organisers of the biennial international

automotive equipment and aftermarket

exhibition have launched a series of

large-scale promotional activities with the

aim of attracting the largest number of

buyers, decision-makers and stakeholders

at an international level. On the one

hand, thanks to contributions from the

"Strategic Fund for Made in Italy" of the

Ministry of Foreign Affairs and International

Cooperation and the ICE Agency (Italian

trade & investment agency), Autopromotec

will work to bring in operators from distant

and high-potential markets. On the other

hand, through its network of agents and

representatives, the organisers are working

to welcome, during the next edition of the

exhibition, groups of professional operators

from numerous markets in Central and

Eastern Europe, North Africa, the Middle

East and South America. The aim is to

offer the greatest number of business

opportunities to exhibiting companies,

but also to put buyers in touch with all

the product innovations, which in many

cases will be previewed at Autopromotec

2022, the first international showcase for

the industry after the long pause imposed

by the pandemic. Particular attention has

also been paid to foreign associations,

for which the organisers of the event are

working on a calendar of workshops on

the main themes and challenges of the

automotive aftermarket sector. Attendees

at the next edition will be faced with an

innovative format that will allow them to

learn about innovations and new products,

meet both their regular suppliers and find

new ones, access services and participate

in conferences and seminars both in person

and virtually. The trend that is projected

is that of an even more specialised edition

with a strong component of professional

visitors with even higher specific qualities.

Absolute priority, therefore, will be given

to face-to-face activities. However, they

will be complemented with a series of

hybrid activities, should the contingent

pandemic situation require it. Over the

years, Autopromotec has confirmed its

international vocation, reaching remarkable

figures: during the 2019 edition, 119,108

professional operators from 136 countries

visited Autopromotec, a figure that highlights

the great effort made by the organisers in

terms of international promotion in the last

editions of the Exhibition. The attendance

percentages of foreign professional operators

have in fact outlined a map of reference

market areas that sees, in the first line,

Europe (with 37%), Asia (24%), Americas

(18%) and Africa (15%), followed by Oceania

(6%). This is also the result of agreements

that Autopromotec has made with

institutions, in particular the Emilia-Romagna

Region, the Ministry of Foreign Affairs and

International Cooperation and the ICE

Agency (Italian trade & investment agency),

which support the event's initiatives aimed at

international promotion and the incoming of

foreign operators.

59 March 2022
---
Katmerciler

to Deliver

118 Units of

Hızır Vehicles

Equipped

with Allison

Transmissions to

Kenya

Katmerciler won Kenya's military vehicle procurement tender and

will start the delivery of Hızır vehicles equipped with Allison fully

automatic transmissions in 2022.

Allison Transmission, a leading designer

and manufacturer of conventional and

electrified vehicle propulsion solutions

for tactical wheeled and tracked defense

vehicles, and medium- and heavy-duty

commercial vehicles, and Katmerciler,

the Turkish vehicle manufacturer which is

aspired in defense industries from all over

the world, will reinforce 118 Hızır vehicles

with Allison fully automatic transmissions

which will be delivered to Kenya's Ministry

of Defense beginning in 2022. Katmerciler

recently won the military vehicle tender

organized in line with Kenya's military

needs. The final delivery of the vehicles is

to be completed in 2023.

The Hızır 4x4 Tactical Wheeled Armoured

Vehicle is designed and optimized for high

performance under extreme operational

conditions in rural and urban areas with

a nine personnel capacity. Katmerciler's

Hızır vehicle is exceptionally reinforced and

has a high level of ballistic and landmine

protection, developed according to NATO

standards. Hızır vehicles come equipped

with Allison 3200 Specialty SeriesTM fully

automatic transmissions as standard and

are used effectively in Turkey's local and

international operations. While the vehicle

is in high demand by other countries due

to its competitive features and successful

performance in operations, Kenya has

signed one of the biggest vehicle deliveries.

The Katmerciler Hızır 4x4 is agile,

dynamic, versatile, cost effective and

maintenance friendly and is available in

various configurations such as command

control vehicle, CBRN vehicle, weapon

carrier,ambulance vehicle, border security

vehicle and reconnaissance vehicle.

Allison's patented torque converter ensures

the extremely high torque is transferred

to the driveline gradually and supports the

efficiency of the Katmerciler Hızır in field

operations in all applications, road and

terrain conditions.

Allison transmissions add value to military

operations worldwide with by means of

various advantages such as shifting at the

right time automatically to provide greater

protection for the driveline and ensure

faster acceleration, better control, and

better maneuverability.

Allison's torque converter enables less

wear and tear on the driveline and

conforms with Katmerciler's lower repair

costs strategy for its vehicles. Despite

challenging operation conditions, any

requirement for maintenance and repair

costs are reduced.

"Allison Transmission has been providing

propulsion solutions for military vehicles

for nearly 80 years and stands out as the

standard equipment of many vehicles

serving in the defense industry, said Berk

Gönenç, Allison Transmission Turkey Sales

Manager. "More than 600,000 military

vehicles globally use Allison fully automatic

transmissions for their field operations."

"Katmerciler is one of the key vehicle

manufacturers in Turkey's defense industry

and its vehicles attract great attention from

different areas of the world," said Gönenç.

"Therefore, we will keep on supporting

the high performance and success of

these vehicles equipped with Allison fully

automatic transmissions as they go about

their demanding work."

March 2022 62
---
Morgan shares early design sketches

of all-new three-wheeled model

The Morgan Motor Company has

showcased the design direction of its allnew

three-wheeled model with the release

of a series of never-before-seen design

sketches. Taken from the drawing boards

of Morgan's design team, the illustrations

demonstrate the aesthetic intent of the

new model, as well as the inspirations that

underpin it.

No single sketch in isolation reveals

the exact look of the new model, yet in

culmination they demonstrate some of the

key design features that will be revealed in

full when the new three-wheeled model

is launched in 2022. Sketches show a

technical front end trailed by a fluid form,

the vehicle 'visually towed' by its leading

front wheels. The visual mass resides

behind the centre line of the front wheels

and never on top of them, a theme that

has remained prevalent from the earliest

sketches. Further design tenets include the

celebration of mechanical honestly and

the communication of function through

design, hallmarks of previous Morgan three

wheelers.

As demonstrated in the sketches, the

design of the new model is bold and

eccentric, taking inspiration from midcentury

jet planes, motorcycles, historic

Morgan models and modern industrial

product design — images of which

adorn the walls of Morgan's design and

engineering offices.

Complementing this personality will be

an extensive list of specification items

and accessories available from the outset,

making it Morgan's most configurable

vehicle ever. The model can be tailored to

assume multiple identities and cater for

every adventure.

Steve Morris, Chairman and CEO of

Morgan Motor Company, said: "Morgan

was founded on the production of threewheeled

cars, and when the 3 Wheeler

was re-introduced in 2011 it became a firm

pillar of the company's product range. We

recognise the importance of evolving this

bloodline and continuing to provide our

growing community of enthusiasts with

new, exciting, and unforgettable motoring

experiences. Creating the all-new threewheeled

model has been a ground-up

project, throughout which safety, durability,

and character have been at the forefront

of our focus. It has been an absolute joy

seeing the new vehicle take shape, and we

cannot wait to present it to the world next

year, continuing the legacy of the model.

Jonathan Wells, Head of Design, Morgan

Motor Company, said: "Morgan cars are

often described as 'analogue', despite

exhibiting industry standard technologies.

We believe that in a world of technology,

making art of a car's mechanical elements

serves as an antidote to typical vehicle

design. Throughout design studies it

became quickly apparent that the vehicle

must celebrate the model's mechanical

honesty. The sketches demonstrate

how these will form a focal point of the

new vehicle. The ground-up design is

simultaneously a reflection of Morgan's rich

past, relevant to the present, and provides

a firm vision of Morgan's design future."

The illustrations shown today follow

the previous information released in

September, confirming the car's all-new

design, defined by significant engineering

enhancements and a spirit of adventure.

The model will be powered by an internal

combustion engine at launch, specifically

an inline three-cylinder naturally aspirated

engine from Ford, continuing Morgan's

relationship with Ford which began in

1933.

March 2022 66
---
Panda Auto Textile products will be all over the world

Panda Seat Covers will bring all the products of textile group, which drivers dream

of for their own vehicles, to consumers.

Panda Seat Covers, which has been

producing seat covers for automobiles for

many years, has gone about to produce

all the products that its customers need

in automobile textiles. The brand, which

currently has 4 warehouses in different

countries in order to eliminate the logistics

problem when sending products abroad,

will increase this number to 10 by the

end of March. Panda Seat Covers General

Manager Orhan Ebem stating that they

are the best brand of Turkey in terms of

production, R&D and investment, stated

that they will continue production in an

area of 10,000 square meters with their

new production facility and produce the

highest quality auto textile products.

++First of all, can we hear from you

about the process of your brand from its

establishment to the present?

Panda Seat Covers is an international

brand focused on auto textile production

since 1986. Our goal is to become a

solution partner of the companies we

work with by working together. We are

aiming to maintain the market leadership

by combining technology and aesthetic

understanding in our products. For this,

we have conducted serious research in

the international arena in the last 10

years. How can we optimize quality? What

kind of products does Europe use? We

did research on questions like those. We

started to take returns from that in a short

time.

What are the features of your

products? What materials do you use

while producing auto covers?

We are using special products such as

leather, velvet, linen, and jacquard and

foal hair in production. The leathers we

use are easy to clean and long lasting. It is

waterproof and liquid-proof, fully wrapping

the original seats and protecting them in

first-class quality. Our velvet fabrics made

of cotton make a silky touch with a special

weaving technique. The product makes you

feel special with its soft and comfortable

structure. It is the first choice of our

customers who want to make a luxury

perception in their vehicle. Linen is a very

strong fiber. It is brighter than cotton fiber

and has an excellent resistance to heat.

March 2022 70
---
Thanks to its hard structure, it provides

long-term use. It does not sweat or stretch.

Jacquard fabric is a type of fabric made

with patterns obtained by weaving threads

on a special loom. Its source is cotton and

it is the most preferred type of fabric for

vehicle manufacturers in car seat cover

upholstery. Because of its cotton structure,

it does not sweat and shows long-term

durability. Our foal fleece fabrics, which

are made of cotton, are a high quality

and thick-structured product due to the

density of weaving. It has a unique texture.

It is highly resistant to wear and tear. In

addition, it does not sweat, has dirt and

stain-proof properties.

What kind of innovations have you

brought to this sector as Panda Seat

Covers?

Our industry has always remained in the

status we call under the counter. We

opened the first factory in this sector in

Düzce. We took care to ensure that the

production is of maximum quality by

giving trainings to our employees there. It

is because, when you export, the brands

abroad are looking at the documents you

have such as ISO and Airbag. It was difficult

to do this in Turkey. It is because we started

to produce in an unconventional way. We

have developed our machinery purchases

in accordance with these standards. As a

result, we started to sell to countries such

as Romania, Moldova, Russia, Ukraine and

Belarus.

What other work do you have

regarding export?

Beside these countries, we started to gain

returns abroad by selling to Germany 4

years ago. We saw that there is a serious

trailer market there. We have achieved

positive results by starting production in this

segment as well.

For the American market, we sent a team

to examine the work done there. We saw

that there was a virgin market here, and

as a result of our work, we agreed with a

company and started to send our standard

products there. We both send truck covers

here by making an agreement with a foreign

company, and we also deliver our products

to the American market via Poland.

71 March 2022
---
So, how is this situation in the

domestic market?

We also made researches to see how we

can deliver our products directly to our

customers in the domestic market. Because

the product we sell for 600 TL goes up to

1500 TL until it reaches the customer. For

this, we have activated our E-Commerce

channel. Apart from our own E-Commerce

site, we also took our place in all of the

market places. In fact, we broke a record

by reaching a turnover of 2 million in a

short time like 8 months in a market place

in 2020. As a result of our efforts, we have

reached 1600 different sales points. We

made a selection based on this figure, and

now our products are being sold at around

800 sales points on average. We have a

field team regularly visiting these outlets

and evaluating customer feedback. We will

continue our efforts to deliver problem-free

and quality products to end consumers.

Could you give information about your

production facilities? Do you have

R&D studies?

We are using 2500 different molds. We are

the only company carrying out R&D and

P&D studies in this sector in Turkey. We

allocate 25% of our turnover only to these

activities. We produce 22 thousand new

products every month. We bought a new

machine from Italy for my new products.

In this way, decorative stitches began to

take place in our products. Customers can

already design their own covers on the

internet with the products and colors they

want.

March 2022 72
---
What are your new investments and

goals for the upcoming period?

First of all, we are starting to produce a

new series for women. We have designed

22 new products just for this catalogue. We

will have different products such as stoned,

digitally printed and knitted. At the end of

March, we will also invest in the production

of steering wheel covers, pillows and

mats for the truck group. Our concern is

to produce more various products. Now

we want to be known as Panda Auto

Textile, not just Panda Seat Covers. We will

produce anything that people dream of for

their vehicles. In addition, we will establish

new warehouses in order to increase

our logistics power in the coming period.

Currently, we have 1 warehouse each in

Germany and England, and 2 warehouses

in Iraq. In addition to these, we will

increase this number to 10 by putting

into service 3 warehouses in Europe and

1 warehouse each in America, Dubai and

Ukraine as of the end of March. Especially

countries like Saudi Arabia and Qatar love

the covers. We will turn this demand into

an opportunity with quality products.

We currently have a production site

of 4,600 square meters. We will start

production in the entire building we are

in this month. As a result, we will have a

production facility of 10,000 square meters

in the center of Istanbul.

73 March 2022
---
Nissan commits

$17.6B spending

for electric cars

over 5 years

Japanese carmaker Nissan will spend 2 trillion yen ($17.59 billion) over the next five years to accelerate

vehicle electrification, the company announced, aiming to catch up with rivals in one of the fastest growth

areas for the automobile industry.

This is the first time Japan's No.3

automaker, one of the world's first massmarket

electric vehicle (EV) makers with

its Leaf model more than a decade ago, is

unveiling a comprehensive electrification

plan.

Nissan will be spending twice as much as

it did in the previous 10 years for a share

of the EV market as rivals, including Toyota

and newer entrants such as Tesla, move

ahead with their electric-car plans.

Nissan said it will introduce 23 electrified

vehicles by 2030, including 15 electric

vehicles and wants to reduce lithium-ion

battery costs by 65% within eight years. It

also plans to introduce potentially gamechanging

all solid-state batteries by March

2029.

Those commitments, Chief Executive

Makoto Uchida said, would make EVs

affordable to more drivers.

"We will advance our effort to democratize

electrification," he said in an online

presentation.

Some analysts were unimpressed with

Nissan's plan, noting it was already behind

rivals in the electrification game.

Masayuki Otani, senior analyst at Securities

Japan Ltd, also said auto stocks were falling

because of market concerns about a new

coronavirus variant and the impact it could

have on production plans.

"Nissan's long-term vision comes at a time

when the market is perhaps not receptive

to it. It can be said that it represents a huge

increase in investment, it feels cautious,"

he said.

Shares of Nissan fell as much as 5.1%,

underperforming its major rivals. They

were down 3.8% in afternoon trading.

Although still only a small portion of

vehicles on the road, global electric car

registrations in 2020 grew 41% even as the

overall car market contracted by almost a

sixth, according to the International Energy

Agency (IEA).

At the U.N. climate summit in Glasgow this

month, major carmakers, including General

Motors and Ford, signed a declaration that

committed them to phase out fossil fuel

vehicles by 2040.

Nissan, however, has not committed to

abandoning gasoline vehicles. It said on

half of its vehicles mix will be electrified

by 2030, including EVs and its e-Power

hybrids. As it readies to compete for the

growing demand for EVs, Nissan in July

pledged $1.4 billion with its Chinese

partner Envision AESC to build a giant

battery plant in Britain that will power

100,000 vehicles a year including a new

crossover model. Rivals, including Toyota,

which also declined to sign the Glasgow

pledge, are also ramping up their battery

production. The world's biggest automaker

by production volume plans to have 15

battery electric vehicle (BEV) models

globally by 2025 and will spend $13.5

billion by 2030 to develop cheaper, more

powerful EV batteries and their supply

system. Toyota said it is aiming to introduce

solid-state batteries by the mid-2020s.

Those power packs are attractive to

automakers because they are more energy

dense and less prone to catching fire than

liquid lithium-ion power packs. They are,

however, prone to cracking and currently

are more expensive to produce.

Nissan said its goal is to bring the cost

of solid-state batteries down to $75 per

kilowatt-hour (kWh) in 2028 and further

cut it to $65 per kWh in the future to make

them competitive with gasoline vehicles.

March 2022 76