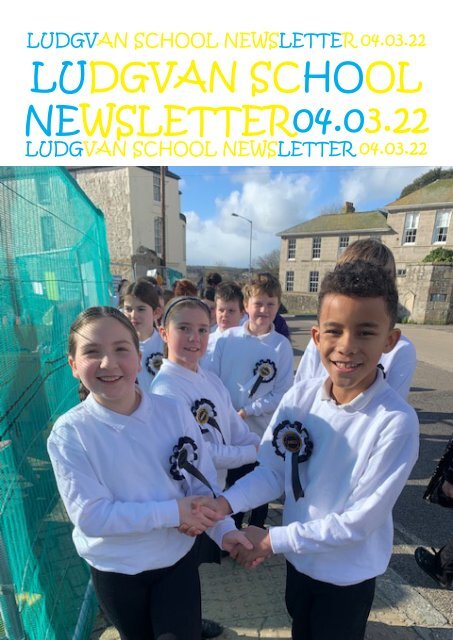 You also want an ePaper? Increase the reach of your titles
YUMPU automatically turns print PDFs into web optimized ePapers that Google loves.
LUDGVAN SCHOOL NEWSLETTER 04.03.22

LUDGVAN SCHOOL

NEWSLETTER04.03.22

LUDGVAN SCHOOL NEWSLETTER 04.03.22
---
A word from the Principal...

Welcome,

Firstly, I hope you all made it through the storms without incident and had a lovely half term – there

was even some sunshine thrown in!

You will be aware of the terrible situation in Ukraine and depending on your child's age, you may

have already dealt with many of their questions at home. At school, I have briefly mentioned the

situation in Friday assemblies and in our KS2 assembly, we had a number of questions that we

discussed. In some of our older year groups, I know they have had some class discussions and staff

have been answering the children's questions. You will have seen that we are collecting donations for

the thousands of Ukrainian refugees and will be delivering the donations on Tuesday. There is a list

of the donation items overleaf. If you have any questions regarding this issue and how we are approaching

it as a school, please get in touch.

Yesterday, it was lovely to see so many children dressed up for World Book Day. Thank you for your

time and effort in putting the costumes together, they were brilliant. There are lots more exciting

events coming up over the coming weeks and months, so please ensure you are aware of the dates

listed on the next page.

As I write, our Y5 children are returning from Penzance where they have been dancing through the

streets as part of the St Piran's Day parade. They have represented the school brilliantly and there is

a video on our Facebook page if you would like to see them, well done Y5.

Kind regards,

Adam Anderson

Principal
---
Useful information...

School Uniform

Please be reminded that when your child has outdoor learning or PE, there are

still school uniform requirements in place. Children should be wearing their

school PE shirt, a school hoodie or jumper and black shorts or tracksuit bottoms.

Term Dates 21-22 and Important Events

Spring Term 4 Jan - 8 Apr (Half term 21-25 Feb)

Summer Term 25 April - 26 July (Half term 30 May - 3 June)

Inset Days: 25th July and 26th July.

Replacement Platinum Jubilee Bank Holiday: 6th June

World Book Day - 3 March

Boat Race - 11 March

Comic relief (dress in red, crazy hair and complete a sponsored sports event) -

18th March

National Skipping Day - 25th March

Pupil Progress Day* - 6 April

Last day of term. Finish at 1pm, 1.10pm, 1.20pm - 8th April

Queen's Platinum Jubilee Playground Celebration - 7 June

*Pupil Progress Day school is the chance for you and your child to meet

with their teacher and discuss their learning. Appointments are longer

than during during Parents' Evenings to allow a really in depth discussion.

School will not run as usual so your child will only come to

school for their appointment. Appointments will be between 0800-1800.
---
Learning Outdoors...

Before breaking up for half term, it was year 5's turn to complete their navigational

walk from Trencrom to school. The week prior to this, year 4 had a lovely clear day to

do this. Unfortunately, this wasn't quite the case for year 5.... They battled through

torrential rain, strong winds and thick mud. Despite the awful conditions, the children

pushed on through and were all able to apply their map reading skills to make it back

to school. Thankfully this week everyone managed to make it sticking to the correct

route.

Returning from half term, the wet weather continued. Our reception children were

given the challenge 'to play and have fun in the rain'. Before the session, the children

described the weather as 'bad', 'not very nice', 'horrible'. I can honestly say not a single

smile was missing once we got started! They realised how much fun the rain can

be, especially when we end up with rather large puddles!

Year 4 have been busy up at the allotment digging over their vegetable beds preparing

for the growing season. It was great to see all the children get stuck into it and

their plot is now starting to take shape. We were also able to plant some potatoes,

peas, broad beans, lettuce and beetroot!
---
Exciting and Engaging...

EYFS

This week it has been lovely to be back at school and to hear all about the

adventures everyone had at half term and what they did on the Friday we were

closed for the storm. We were so impressed with the work the children produced

and were very jealous of the brilliant dens they made to shelter in at

home.

This week we have been learning about Pancake Day. We enjoyed making and

tasting our very own pancakes - they were delicious! We have also been learning

about what connection means and how we are all connected. We are trying

to build connections within our class by being kind and helping our friends.
---
Exciting and Engaging...

Y1

Class 1 have been learning all about Captain James Cook and the children

made their own ships just like the Endeavour. We have been continuing to learn

about the Great Barrier Reef and have started to make a 3 D sculpture. The

children have been researching about all the different animals that live in the

Great Barrier Reef.

This week we have been exploring North America and the children have learnt

about famous landmarks in America and made their own flags.
---
Exciting and Engaging...

Y2

In Class 2 we have been getting very creative! Before half term, we finally finished

our Design & Technology block having designed and tested some building

strategies. We created our final palaces, which were fit for a queen. It was brilliant

to see such good team work and design techniques, some children adding

in moving parts to their palaces and adding so much detail. Following half

term, we started a new Art block working on 3D Art and explored using clay.

Everyone had a go at pinching, rolling, joining and carving a piece of clay before

making a small figure. We all got stuck in and really enjoyed working with

clay as well as seeing how our pieces had dried out and hardened by the next

day. Well done Year 2!
---
Exciting and Engaging...

Y3

Year 3 have really been enjoying learning about the Stone Age this term. This week

their learning continued when they went on a trip to an ancient village that dates

back to the Stone Age through to the Iron Age. They became archaeologists and explored

the site and then became Stone Age people to make weapons and tools, draw

cave paintings, make fires and be hunter-gatherers. They had so much fun and had a

great trip! Well done Year 3
---
Exciting and Engaging...

Y4

Reading is always celebrated in class 4, it is a special time of the day that the children

love. After lunch we enjoy a comfy read. The children gather blankets and pillows and

make themselves comfortable for a 30 minute reading session. They can lie, sit or

stand anywhere as long as they are reading. On occasion, they have chosen to read

to the rabbits! Today it was extra special as they were all dressed as their favourite

book characters. There were some amazing costumes and many of them had made a

huge effort and felt very proud of their fancy dress. Thanks to all the parents for your

support!
---
Exciting and Engaging...

Y5

Class 5 had a brilliant time at their first secondary transition afternoon at Humphry

Davy School. They took part in a Maths lesson and made sugar free banana cupcakes

in a catering session.

The children have also worked exceptionally hard on writing children's stories, which

we have published and bound to create books. The class were really excited and

proud to read their books to the Year 1 children, who really enjoyed them.

Class 5 have also been learning about the local collage artist 'Laurie McCall', who has

personally given them tips on how to create effective collages! They used old magazines

in order to recycle and reuse materials and created some lovely seascape and

sunset images.
---
Exciting and Engaging...

Y6

In recent weeks, year 6 have been exploring story writing, in particular how

to create atmosphere and tension within stories. Our stories have been based

around something eerie and we have had a great time trying to develop aspects

of the introduction and build up in order for the climax to stand out. It

has been a difficult and ambitious project, but one that is certainly showing the

fruit of our labour. Some of the skills we have learnt about include: pathetic fallacy,

personification and making the reader infer aspects of events. All children

have given this difficult task a very good effort and we have now created our

own Book Creator version, with our personal narration.
---
Staff profiles...
---
A word from the Principal...

Choose Clarks Penzance and a time slot that suits you.

To do this, contact Clarks

Penzance on 01736 362942

Opening hours,

Mon to Sat 9.00am-5.30pm

Sunday 10.00am-4.00pm
---
A word from the Principal...