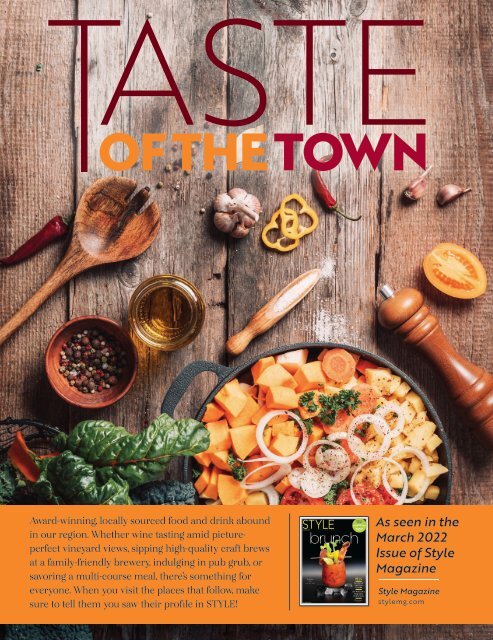 Taste of the Town Stand Alone - March 2022
Award-winning, locally sourced food and drink abound in our region. Whether wine tasting amid picture-perfect vineyard views, sipping high-quality craft brews at a family-friendly brewery, indulging in pub grub, or savoring a multi-course meal, there's something for everyone. When you visit the places that follow, make sure to tell them you saw their profile in STYLE!
Award-winning, locally sourced food and drink abound in our region. Whether wine tasting amid picture-perfect vineyard views, sipping high-quality craft brews at a family-friendly brewery, indulging in pub grub, or savoring a multi-course meal, there's something for everyone. When you visit the places that follow, make sure to tell them you saw their profile in STYLE!
SHOW MORE
SHOW LESS
Create successful ePaper yourself
Turn your PDF publications into a flip-book with our unique Google optimized e-Paper software.
MARCH 2022

from

Bennett's

Kitchen • Bar • Market

STYLEMG.COM

M A G A Z I N E

featuring

FOR YOUR HEALTH

OF THE TOWN

Award-winning, locally sourced food and drink abound

in our region. Whether wine tasting amid pictureperfect

vineyard views, sipping high-quality craft brews

at a family-friendly brewery, indulging in pub grub, or

savoring a multi-course meal, there's something for

everyone. When you visit the places that follow, make

sure to tell them you saw their profile in STYLE!

STYLE MAGAZINE

MARCH 2022 FOOD | HOME | COMMUNITY | EVENTS | ARTS | LIFE

STYLEMG.COM

brunch

Bloody Mary

SPECIAL

ISSUE!

TASTE OF THE TOWN

and

DISTINCTIVE

DENTISTS

PLUS

Seasonal

Fashion

Trends

St. Patrick's

Day Eats

and Drinks

As seen in the

March 2022

Issue of Style

Magazine

Style Magazine

stylemg.com
---
SPECIAL ADVERTISING

SECTION

OF THE TOWN

Award-winning, locally sourced food and

drink abound in our region. Whether

wine tasting amid picture-perfect

vineyard views, sipping high-quality

craft brews at a family-friendly brewery,

indulging in pub grub, or savoring a

multi-course meal, there's something for

everyone. When you visit the places that

follow, make sure to tell them you saw

their profile in STYLE!

Thank you for the honor to be the

best. We are proud to be a part

of the fabric of this wonderful

Folsom community. Since 1963 Snooks

has been producing the highest quality

chocolates and confections. With the creation of our amazing

hot fudge sauce, we added Ice Cream when we opened our

store in Historic Folsom. We look forward to a continued

commitment providing quality products with appreciative

customer service for many years to come. Thank you Folsom.

We hope to see you all soon!

–The Snook Family

Snooks Candies and Chocolate Factory

731 Sutter St. | Folsom | 800-957-6665

www.snookscandies.com |

Wise Villa Winery is the only winery in Placer County to feature a full dining

experience complete with a Tuscan-style restaurant, professional waitstaff,

& culinary team. Using only the highest quality ingredients that are sourced

locally, our executive Chef Marc brings a decadent, vibrant flair to each gourmet dish.

Marc is widely known in the Sacramento area as a culinary master and crafts high end

cuisine like rack of lamb, filet mignon, roasted duck breast, and Atlantic salmon. We

take great care to source locally when possible and in creating a dining experience that

pairs perfectly with our award-winning & Certified Sustainable Wise Villa wines! Make

reservations today. Open Daily at 11 am.

Wise Villa Winery

4200 Wise Rd. • Lincoln

916-543-0323

wisevillawinery.com

MARCH 2022 | stylemg.com 77
---
SPECIAL ADVERTISING

SECTION

TRIVIA

LIVE MUSIC

HAPPY HOUR

SINNER BURGER

ROSEVILLE

(916) 836-8406

1475 Eureka Rd., #120

Roseville, CA 95661

BRICKYARD916.COM

EL DORADO HILLS

(916) 772-9464

4364 Town Center Blvd., #128

El Dorado Hills, CA 95762

Wine, Food & Friends

Take the short drive to

Amador and order lunch

from our kitchen and

share a bottle with friends

or book your tasting

reservation and sample

our award-wining wines.

Whatever you decide,

Helwig has it!

Book your tasting today!

helwigwinery.com

11555 Shenandoah Rd. Plymouth CA 95669 | 209.245.5200

78 stylemg.com | MARCH 2022 | /stylemediagroup /stylemediagroup /stylemediagroup /stylemags
---
SPECIAL ADVERTISING

SECTION

UPSCALE DINING | BAR

PRIVATE EVENTS | PATIO SEATING

Flame & Fire Brazilian Steakhouse is a modern

experience into South of Brazil's traditional

Churrascaria, featuring our Gauchos serving endless

cuts of meats carved tableside, along with our exquisite

fresh Market Table and Brazilian specialties.

Tomahawk Steak

*Folsom Location Only

Pair your many courses with fine wines or enjoy our

hand-crafted cocktails in an elegant ambiance, for that

perfect evening out.

HAPPY

HOUR

Monday - Friday:

4:30 - 7pm

SPECIAL OCCASIONS

Romantic dinner, birthday,

or anniversary, we want to

celebrate with you.

FLAMEANDFIRE.COM/RESERVE

RESERVE NOW

ROSEVILLE

963 Pleasant Grove Blvd #100

(916) 790-5750

FOLSOM

380 Palladio Pkwy #305

(916) 839-3535

FOLLOW US

FLAME.AND.FIRE

FLAME & FIRE

BRAZILLIAN STEAKHOUSE

#1 FAVORITE ITALIAN RESTAURANT

17 YEARS IN A ROW!

Visconti's is a family owned full service

restaurant in Folsom where we do our

best to make you feel at home each time

you come to visit. Our recipes come from past

generations of our family in Southern Italy, from

the regions of Calabria and Sicily. We are proud to

use only the freshest ingredients, imported meat,

cheese and wine. When you dine with our family

you feel at home where the flavors are savory, the

atmosphere is filled with love, and the ambiance is

old world traditional Italian life.

If you are wondering where to eat, we welcome

parties of any size no matter what the occasion!

We are a family friendly restaurant that is a perfect

place to celebrate anniversaries, weddings, and

birthdays. We can also host business meetings and

private parties. Open Tuesday through Saturday for

lunch and dinner, and Sundays for dinner only. We

are so proud of our rich traditions and history and

that pride goes into every dish we serve.

Thanks also for making Visconti's Restaurant

Folsom's Favorite Italian Restaurant for 17 years

in a row!

Visconti's Ristorante

2700 East Bidwell St., Ste. 700 | Folsom

916-983-5181 | viscontisristorante.com

MARCH 2022 | stylemg.com 79
---
SPECIAL ADVERTISING

SECTION

The Placerville Public House family

restaurant can be found on historic Main

Street, Placerville, in the iconic Hangman's

Saloon building. The Placerville Public House

features a scratch-made menu sourcing local,

fresh and organic ingredients. There is sure to

be something to love for everyone at the table,

including vegetarian and vegan palates.

Offering weekly events such as trivia and live music the Placerville

Public House shares a comfortable, social pub atmosphere where

everyone is welcome, the beer is cold and the food is fresh. Come on

in to enjoy the savory scent of comfort food cooking in the kitchen

while sipping a refreshing beer and catching up with friends.

The Placerville Public House

305 Main Street | Placerville | 530-303-3792

placervillepublichouse.com |

Combining the flavors

of France and the

Mediterranean regions

with an emphasis on quality,

fresh seasonal and locally-grown

ingredients. The perfect location

for private dining, special events, wedding celebrations and

corporate dinners/presentations.

Lunch: T-F 11:30am - 2:30pm

Sat Brunch: 10:30am - 2:30pm

Dinner: T-Th 4pm - 9pm; F-Sat 4pm - 10pm

Happy Hour: T-Sat 4pm - 7pm

La Provence Restaurant & Terrace

110 Diamond Creek Place | Roseville | 916-789-2002

www.laprovenceroseville.com |

A

vision to bring to Vernon Street an

experience in design, using the history of

Roseville and the elements of a building

that is over 60 years old. Sharing our extreme

passion for service, food, and beverages. Using

products and vendors of the highest quality,

regardless of the price! Beverages should be

fun and different so we have them! Over 170

spirits, 16 handles, over 50 varietals of wine

and over 12 different waters from around the

world. Sodas in a bottle as they were originally

planned and served. Food that is unique, taste

exceptional and causes your mouth to go

Wow! Food that makes you ask yourself, "Did

they really do that with food?" Service that we

know is missing in America today. Service that

some call old fashion, but once you experience

it again you will say Aww…I remember being

treated like this once. A Management TEAM

that is interested in you, your thoughts, your

opinion. A TEAM that is here at 105 Noshery for

one purpose. To give you an experience of the

highest quality every time you are here. This is

the definition of 105 Noshery.

105 Noshery

105 Vernon St. | Roseville | 916-784-6674

105noshery.com | @105noshery |

80 stylemg.com | MARCH 2022 | /stylemediagroup /stylemediagroup /stylemediagroup /stylemags
---
SPECIAL ADVERTISING

SECTION

Intimate • Classic • Fabulous

SPEAKEASY LOUNGE

BLUEPARROTLOUNGE.COM

GREAT FOOD, WINE & CRAFT BEERS

ARE JUST THE BEGINNING...

Welcome to The Blue Parrot Lounge where we

make available outstanding bottles of wine, popular,

locally crafted beers, and great food in an intimate,

upscale, and classic environment. We offer our

highly esteemed customers a place where they

can relax, socialize, and network.

Scan code to make a reservation.

Join Us:

Wed-Sat 4pm - 10pm

Sat Brunch 11am-2pm

By reservation only:

916.259.4029

6848 Five Star Blvd. #5

Rocklin, CA

(Next to Scandanavian Designs)

MARCH 2022 | stylemg.com 81
---
SPECIAL ADVERTISING

SECTION

FREE

MIMOSA!

916-983-9000

2371 Iron Point Ste 100, Folsom

folsom-thaicuisine.com

FAIR OAKS CA

VOTED BEST OUTDOOR DINING

SPOT IN SACRAMENTO!

pop-up

markets

NOW OFFERING WEEKEND BRUNCH!

10% OFF

DINNER

Dine in or Take Out. Must

present coupon, not valid for

holidays. Exp. 4/30/21

dogs

welcome

FARM TO FORK CONTEMPORARY AMERICAN FOOD

UNIQUE INDOOR AND OUTDOOR DINING OPTIONS

SEASONAL CRAFT COCKTAILS | LOCAL BEERS

BOCCE BALL COURTS | PRIVATE EVENTS

follow us @ SHANGRILAFAIROAKS

www.shangrilafairoaks.com

event

venue

7960 WINDING WAY in the FAIR OAKS VILLAGE

916-241-9473

Citizen Vine

is not your

average wine

bar. We are proud, not pretentious!

We provide a casual, intimate, and

relaxed environment where our guests

can sip on some great wine, or beer, and

enjoy a delicious variety of small plate

offerings. With live music every Friday &

Saturday night, "Pouring for the people"

is more than a tag line, it is a way of life.

*(free mimosa w/entree purchase)

609 Sutter St. | Folsom

916-932-4234 | citizenvinefolsom.com |

Find your own getaway…

close to home

Make your reservations today

at boglewinery.com

CLARKSBURG, CA

PLEASE DRINK RESPONSIBLY. ©2022 All Rights Reserved. Bogle Family Vineyards, Inc., Clarksburg, CA

82 stylemg.com | MARCH 2022 | /stylemediagroup /stylemediagroup /stylemediagroup /stylemags
---
SPECIAL ADVERTISING

SECTION

Garlic Naan

Fresh Orange

Juice

Samosa

Gulab Jamun

Gajar-ka-Halwa

Butter Chicken

Chicken Tikka

Our Mission is to serve exquisite and authentic Modern

Indian Cuisine to our community representing our cultures

and legendary culinary heritage in every dish we offer.

Our Executive Chefs bring only the best in Indian cuisine, using

authentic seasonal ingredients, taking the best examples from

every region. Our food, menu, and specials have been created

using diverse flavors and tastes and reflect various cultures, racial

structures, and climates. Our Modern Indian cooking requires

the expert use of a wide variety of in-house blended aromatic

spices. We combine these exceptional flavors and modern cooking

techniques, and stylish presentation to deliver a distinctly unique

dining experience to fulfill and exceed our guest's expectations.

Whether you are visiting for lunch, dinner, take-out, The Grand will

quickly become your favorite place for authentic and affordable

Modern Indian Food with that special touch.

Our entire team welcomes you to be our guest and enjoy a

fantastic dining experience. We bring to you a part of India

delivered through its rich culinary heritage and hope to create

a real difference by connecting people to authentic Modern

Indian Food. We strive to make

your experience unforgettable

from the moment you enter

our restaurant to when you

leave and start planning your

return visit.

The Grand Indian Cuisine

9600 Fairway Dr., Ste. 100 | Roseville | 916-773-0212

thegrandcuisine.com |

MARCH 2022 | stylemg.com 83
---
SPECIAL ADVERTISING

SECTION

5 years in a row!

CONTACT

916-985-7778

WWW.HISUISUSHI.COM

Lunch 11:00-2:00pm; Dinner 4:30-8:30pm

LOCATED

25004 BLUE RAVINE RD., #107

FOLSOM, CA 95630

Closed Sunday & Monday

Gift Cards Available

All You Can Eat Sushi Lunch Special

GREAT FOOD & so much more ....

Personalized Service

Expansive Patio Dining

Live Music Coming Soon....Starting in March - TBA

Daily Specials

Serving

Lunch &

Dinner Daily

11a - 8p M–Th | 11a - 10p F–Sat | 11a - 8p Sun

Big Screen TVs for all Sporting Events

1151 Galleria Blvd Ste 1175 – Roseville, CA

www.cantinalaredo.com/location/roseville/

The Ring of Fire BBQ Restaurant is

brought to you by husband-and-wife

team, Ken and Rebecca. Ken creates

pure, dry rubbed, gently smoked flavors that

can only be found in true Southern Bbq and

is complimented with Rebecca's unparalleled

hospitality experience and hundreds of hours in the kitchen

perfecting recipes she's developed. After doing extensive

research in Texas, Tennessee, and North Carolina….. Ken has

honed his craft to the point where his Que is indiscernible from

the famous regions where Bbq began. The Ring of Fire BBQ also

offers simple drop off, full-service catering and wedding/special

event packages.

The Ring of Fire BBQ

3590 Carson Road | Camino | 530-303-3942 | 916-223-1667

theringoffirebbq.com |

84 stylemg.com | MARCH 2022 | /stylemediagroup /stylemediagroup /stylemediagroup /stylemags
---
SPECIAL ADVERTISING

SECTION

We have had the pleasure of

being part of the Placerville

community for 13 years now.

Cascada continues to strive to give our

patrons the best dining experience

possible. We serve an eclectic mix of Mexican favorites and

California fresh cuisine with a Latin flair in an upscale, urban

setting without the upscale price. Our full bar is anchored with

local wines and specialty margaritas made with premium

tequilas and fresh squeezed lime juice. Our friendly and

professional staff serve lunch and dinner seven days a week. So

stop by and have some fun. We look forward to seeing you.

12

years and counting on historical

Main Street in Placerville!

We attribute our success to

the community that keeps coming

back for great food, creative libations,

conversations and smiles! We thank our patrons for the continual

support and positive reviews, sharing this place with your friends

and family. We are looking forward to seeing you and yours the

next time you are looking for a spot to eat in our cute little town

of Placerville.

ROTATING TAPS • LOCAL WINES • FULL BAR

Cascada Restaurant & Cantina

384 Main Street | Placerville

530-344-7757 | cascadainplacerville.com |

Bricks Eats & Drinks

482 Main Street | Placerville

530-303-3480 | bricksonmainstreet.com |

One of the newest restaurants on Main

Street, in Placerville, we opened our

doors in December of 2020, and hit the

ground running. We offer a delicious menu that

has something for everyone. Shareable appetizers,

delicious flatbreads, tacos, burgers and more. This

restaurant has a large outdoor patio that is great

for groups and we have spacious indoor seating as

well. Featuring over 25 taps of craft beers, ciders,

kombuchas and wine! If you find a brew you

like you can take it home in a growler and come

back for a refill at a discounted price. We offer a

full bar, a signature cocktail menu made by our

creative bartenders, and happy hour from 2PM

- 5PM Monday - Thursday. Happy hour includes

small bites, discounted beer, well drinks and a fun

atmosphere. We have a positive and upbeat staff

that is knowledgeable of our food and drink menu

and can't wait to serve you. Come check us out!

Main Street Tap House

209 Main Street | Placerville

530-330-4648 | taphouseonmainstreet.com

MARCH 2022 | stylemg.com 85
---
SPECIAL ADVERTISING

SECTION

The DOGVDUB

ALSO FEATURING CUSTOM DRY AGED PRIME CUTS FROM

KINGS MEATS OUR LOCAL BUTCHER IN DIAMOND SPRINGS!

Knight's brings a classic

approach to the American

C. tradition of the "old school

steakhouse" offering Prime beef, craft

cocktails, and local wines. Our vision is to

be one of the top steakhouses in Northern California and become

a long-standing community presence. Open for lunch and dinner,

all day Ecstatic Hour on Mondays...and don't forget: we're serving

all of your Ruffhaus Hot Dog Co. favorites daily for lunch.

We also offer catering through C. Knight's Steakhouse and the

Ruffhaus DOGVDUB for any special event. The DOGVDUB, a vintage

Volkswagen Bus converted to a Mobile hot dog truck, is the perfect

way to enhance any event and will surely impress your guests.

C. Knight's Steakhouse

2085 Vine Street, Suite 101 | El Dorado Hills |

916-235-1730 | cknightssteakhouse.com

All of our dishes are classics from

different parts of Mexico, with

the flavors we grew up with. They

are traditional preparation methods,

cooking techniques, and customs from

our loving grandmothers, stories, and

recipes passed through generations. At El Rey Mexican Cuisine,

we want to share this love and dedication for Mexican food with

our guests.

Come by if you haven't tried us. Allow us to share our love for

food and our passion for our Mexican roots.

We also offer catering.

El Rey Mexican Cuisine

5550 Douglas Boulevard, Suite 200 | Granite Bay | 916-772-5858

elreygranitebay.com | elreygranitebay@gmail.com |

WE DELIVER

Located in Sacramento, CA, we are a restaurant delivery

business servicing our customers at their door and on

their schedule.

Whether we deliver to your home or place of business, our

deliveries are designed to be affordable and on-time. Check for

your favorite local restaurants on the site, and if you don't see

your favorites, just let us know!

We are always adding local businesses to our site!

No Delivery

Charge On Your

First Order

use code

"firstdelivery"

916-800-6464 | TimeToEatSacramento.com | info@timetoeatsacramento.com

Serving: Roseville, Rocklin, Granite Bay, Folsom, El Dorado Hills, and more areas coming soon!

86 stylemg.com | MARCH 2022 | /stylemediagroup /stylemediagroup /stylemediagroup /stylemags
---
SPECIAL ADVERTISING

SECTION

Jarunee Fleming

Co-Owner & Head Chef

Thai Paradise serves healthy, delicious and

authentic Thai food and has been voted

#1 BEST THAI RESTAURANT for the past 13

years. They were also voted as #1 BEST TAKE-OUT.

Their two restaurants in Folsom & El Dorado Hills

are open for indoor and patio dining with easy

online ordering for delivery and take-out. Delivery

is available by Doordash, UberEats, GrubHub and

Snaptown.

What makes Thai Paradise food so healthy is that

they cook with healthy and expensive rice bran oil

like they do in Thailand. They also use local farmto-fork

ingredients plus fresh vegetables and meats

purchased daily. Many of their healthy and delicious

dishes like Pad Thai, Tom Yum, Papaya Salad, Spring

Rolls, and Red Green & Yellow Curries, are Thai foods

on the list of foods that are recommended by many

Registered Dieticians.

Jarunee Fleming, Co-Owner and Head Chef says:

"I make my food to make people happy."

Thai Paradise | Folsom | 916-984-8988

2770 E. Bidwell St. Ste 100

ThaiParadiseFolsom.com

Thai Paradise EDH | El Dorado Hills | 916-939-0389

4361 Town Center Blvd. Ste 110

ThaiParadiseEDH.com

Come on by and visit the inmates!

We have expanded our menu and

always have something unusual

on either the list of specials or our prison

themed menu! Angola Gumbo Ya Ya,

Fish n CHP, Gino Gambino, Silence of the Lamburger – you

never know what we have up our sleeves! We continue to serve

Folsom's BEST burgah and our infamous New England Lobstah

Roll – for the real New Englanders out there – yes, we have THAT

Dam roll! That Dam Place is the go to for felonious flavors and

gatherings with family, friends, frenemies or those in witness

protection (we won't tell). Bring your guard dog to our beautiful

pet friendly patio. We look forward to seeing you. It might not

be fine dining, but the dining is dam fine!

After twenty

fantastic

years on

Greenback Lane, we have the good fortune of moving our store to

Sutter Street in the Historic District of Folsom. A location bearing an

exact replica of the original Roundhouse. A location in which we

will always proudly represent the good folks of Folsom. A location

that will always be ground zero socially, culturally and historically

in our beloved city. We love and believe in our family of employees

and customers. We love and believe in your new Scott's Seafood

Roundhouse. Enjoy, Suzanne & John Cook

The Dam Place

1013 Riley Street, Ste 100 | Folsom | 916-790-8182

ThatDamPlace.com |

Scott's Seafood Roundhouse

824 Sutter Street | Folsom

916-989-6711 | scottsseafoodroundhouse.com |

MARCH 2022 | stylemg.com 87
---
SPECIAL ADVERTISING

SECTION

Try our

Friday Special:

Nash + Tender

fries for only $7

instead of $12

@FOLSOM_EATS

Are you ready to turn up the heat?

Nash + Tender is Bringing Nashville

Style Chicken to Folsom, and we

cannot wait for you to come in and give us

a try!

But don't just take our word for how good

our food is...check out this recent 5-star

review: "Fantastic Fried Chicken shop!!

Everything can be customized by heat levels and there are a lot of

great options. Definitely one of the best fried chicken restaurants

in the area. I got the #3 combo with seasoned fries and medium

heat and it was perfection. Definitely will be coming back soon!"

Corner Tavern & Grill is a

social meeting place in

Folsom, reviving the good

time neighborhood bistro with

great food, friends, and cheers.

Our scratch kitchen serves elegant

comfort food from pizza and

burgers to specialty steaks and

pastas in a neighborhood gastro tavern. We offer a wide variety

of great food skillfully prepared with an emphasis on a casual,

fun and friendly atmosphere where everyone knows your

name!

Nash + Tender

2770 E. Bidwell Street, Suite 400 | Folsom | 916-673-9636

nashandtender.com |

Corner Tavern & Grill

700 Glenn Drive, Suite 170 | Folsom | 916-467-7800

cornertaverngrill.com |

Lava Cap

WINERY

We here

at Papa

Gianni's

appreciate your

business, and are

so grateful for the trust you've placed in

us, our staff and our food. Your support

means the world to us and we are so

grateful for the pleasure of serving you

for three decades! Thank you for your

never ending loyalty and support.

Family-style options are available for

take out.

3450 Palmer Dr., Ste. 1 | Cameron Park

530-672-2333 | papagiannis.net |

Q1227

Restaurant, is

affectionately

named after Chef

Q's birthday, which

is December 27. Q1227, is a chef driven

restaurant in the beautiful city of

Roseville, CA. Our menu inspiration pulls

from Chef's love of the 'farm to fork'

industry combined with the comfort food

of his childhood, hence is why we call our

cuisine, "modern comfort".

1465 Eureka Rd. | Roseville

916-899-5146 | q1227restaurant.com |

In 1981, a geology professor and his family

discovered the grandeur of the Sierra

Nevada Foothills and decided to put down

roots in Apple Hill. Here, they discovered

the exceptional volcanic soils weathered

from volcanic ash, and Lava Cap Winery

was born. For over 35 years our family has

produced stellar wines from our Estate

Vineyards and we welcome you to enjoy

yourselves in our tasting room or picnic in

our gardens.

Visit us

7 DAYS A WEEK

YEAR AROUND, 10AM - 5PM

2221 FRUIT RIDGE RD., PLACERVILLE, CA 95667

530.621.0175 | WWW.LAVACAP.COM

88 stylemg.com | MARCH 2022 | /stylemediagroup /stylemediagroup /stylemediagroup /stylemags
---
SPECIAL ADVERTISING

SECTION

Lola's Tequila Bar & Cocina offers

quality Mexican food from

traditional, family recipes that have

been handed down from generation to

generation. Serving lunch and dinner 7

days a week and we offer a full bar. Our

menu will provide various options from

seafood, steaks, chicken dishes, and the

best authentic Mexican cuisine. Many

dishes are from the Ramos family collection

and the menu is varied to accommodate

a wide range of appetites. In addition to

the traditional fare, we have heart-healthy

dishes, vegetarian dishes, and kids' menu.

You'll find wonderful food, warm hospitality,

and a festive, up-beat atmosphere. Catering

services are available and custom menus

are provided for personal inquiries and

special occasions.

Lola's Tequilla Bar + Cocina

1563 Eureka Rd. | Roseville | 916-474-4951

lolasteqbarcocina.com |

MARCH 2022 | stylemg.com 89
---
SPECIAL ADVERTISING

SECTION

Let us host or cater your next special event!

DINE IN. TAKE-OUT. CATERING. PRIVATE EVENTS.

Hotel Sutter offers catering for any size

gathering, including wedding, corporate,

and social events, and custom meal

consultation and design. Your choice of pick-up or

on-site site drop-off.

Hotel Sutter Catering will make your event

memorable with catering packages for your special theme, from

casual meals like our Fiesta Taco Bar, Smoke House Meats Buffet

with in-house smoked meats, and our Ballpark Buffet, featuring

hamburgers, hot dogs, and all the fixings, to more formal selections

that include specialty platters, entrees, appetizers, desserts, and

more! Leave the food to us. We do the work, you have the fun!

Hotel Sutter

53 Main Street | Sutter Creek | 209-267-0242

www.hotelsutter.com |

Voted Best Overall

Restaurant 2014-2021

(that's eight years in

a row!) Also a Best Outdoor

Dining, a Best Bar, and Best

Waitpersons Jake Brekke and Tyrel Blankenship! The

Independent Restaurant and Bar offers a refreshing

place for gatherings of family and friends in the

Emerald Street Building on upper Main Street in

Placerville. Come and enjoy the modern rustic setting

which includes comfortable indoor dining and a

convivial bar. In addition, extensive outdoor dining is

available on their private garden patios.

Now in their eleventh year, The Independent remains

focused on its American fusion menu prepared with

the freshest ingredients. The full bar is top tier with

innovative creations featuring fresh-squeezed juices,

infused liquors, and signature cocktails mixed by their

friendly and professional staff.

Operating as a "scratch kitchen" the work begins

early at The Independent, where meats, cheeses,

and fresh delivered produce are all prepared daily for

lunch and dinner service. Creative weekend specials

are a hallmark of The Independent and savvy patrons

know they sell out quickly. Follow the Independent

on Facebook to see current weekend specials. The

Independent serves lunch and dinner 5 days/week.

Also check out their Sous Vide Prime Rib on Sunday

nights! Take-out orders and reservations can be

made through their website.

The Independent Restaurant and Bar

629 Main Street | Placerville | 530-344-7645

independentplacerville.com |

90 stylemg.com | MARCH 2022 | /stylemediagroup /stylemediagroup /stylemediagroup /stylemags
---
SPECIAL ADVERTISING

SECTION

Local Kitchens, the pioneering Micro Food Hall known for

allowing guests to mix and match their orders from multiple

restaurants at once, is coming to Roseville later this month!

This opening marks a debut into the Sacramento Area for Local

Kitchens, which currently operates five stores in the Bay Area, with

additional locations in Davis and elsewhere to follow!

Guests at Local Kitchens enjoy the unique opportunity to mix and

match dishes from multiple restaurants, for pickup, delivery, or dinein,

all in one order! Featuring convenient online and mobile ordering,

fast and friendly service, and a variety of options for everyone, Local

Kitchens is perfect for families, groups, or foodies looking to try

something new.

Enjoy picking up one bag full of a variety of options—from the crispy

and spicy Chicken Sammich from local Sacramento restaurant

brand, Nash & Proper, to the peppery sweetness of a Tocino Taco

from San Francisco favorite, Señor Sisig. With additional brands

including Garden of Eat'n, Curry Up Now, and The Melt, Local

Kitchen's initial offering brings a blend of Sacramento treasures and

beloved brands from the Bay Area to Roseville for the first time.

Join Local Kitchens later this month for a free family friendly

opening celebration, complete with music, family activities, and

an opportunity to try great menu options. Visit comingsoon.

localkitchens.com to sign up for updates and get notified about

opening festivities. You can also get 50% off your first online order

when you use the code STYLE50 at checkout on LocalKitchens.com,

or using the Local Kitchens App. Conditions Apply.*

Local Kitchens

10357 Fairway Drive, Suite 130 | Roseville

916-570-6900 | localkitchens.com |

*Max discount up to $10, not valid on in-store kiosks,

can't be combined with other discount codes.

MARCH 2022 | stylemg.com 91
---
SPECIAL ADVERTISING

SECTION

Loking for great Mexican cuisine in Folsom? There is a

reason Mexquite has been named the region's #1 Mexican

restaurant for 15 years in a row – it's the food!

Offering a vast menu of traditional dishes, Mexquite's light

shines brightest with their Sinaloa regional specialties such as

Huachinango, a dish featuring shrimp and red snapper saute'ed

with mushrooms, jalapenos, onions and tomato sauce. Also not

to be missed are the chicken mole' enchiladas. A close friend

happens to be a bit of a mole' connoisseur and tells me that

Mexquite really gets it right!

Offering Happy Hour Monday through Friday, and a great

weekend breakfast menu (try the Chilaquiles Poblanos!). The

atmosphere is always lively and the beautiful outdoor patio is a

great place to unwind after the long workday.

Upon being seated you are greeted to a basket of chips and

salsa. The only way to describe this salsa would to call it

addicting – made fresh daily, Mexquite salsa, like all the dishes,

make the perfect To-Go item for parties, football watching or

anytime you feel like eating award winning Mexican fare.

Last but certainly not least – The margaritas are made with

agave, lime juice and tequila – all natural and arguably, the best

in town!

Come see for yourself why Mexquite is voted the best of the best,

year after year!

Mexquite Restaurant & Tequila Lounge

25095 Blue Ravine Road | Folsom

916-984-8607 | mexquite.com |

92 stylemg.com | MARCH 2022 | /stylemediagroup /stylemediagroup /stylemediagroup /stylemags
---
SPECIAL ADVERTISING

SECTION

A new concept in dining:

• Four Courses for $49

• One seating per night

• Reservation only

• Menu changes monthly

Coming to Folsom in March 2022!

Veteran-owned and operated by Paul Jansen,

who also created and operates Citizen Vine in

Lincoln, Fourk Kitchen is a restaurant concept

created to change the way people experience a

formal four-course dining service to make it casual

and approachable. By utilizing more mainstream

ingredients and keeping our menu simple, we can

offer this experience at a more reasonable price for our

guests.

Fourk is reservations only. We are open four nights a

week Wed.-Sat. with one 24-person seating a night.

The cost is $49 per person and our menu consists

of four set courses of food that change monthly on

the first Wednesday of each month. Wine and beer

pairings are also available at an additional charge. Our

environment is warm, comfortable, and casual while

maintaining a classy feel. There are no dining "rules" at

Fourk except this:

Be yourself, have a great time, and most importantly,

enjoy the people you're with.

Fourk Kitchen

OPENING IN MARCH: 1177 Riley St. | Folsom

825 Twelve Bridges Dr. #65 | Lincoln

916-409-2101 | fourkkitchen.com |

HAILEYAYSON.COM FOR REALWEDDINGSMAG.COM

With more than 20 years in as a full-service

catering company ranging from box

lunch drop-off to full-plated service, Diane

Wilkinson Catering continues to serve a diverse

clientele and offer each of our customers a unique

experience.

Diane has received training from elite food

professionals Jacques Pépin and Paula Wolfert.

Additionally, she has taken wine studies with Darrell

Corti, Hall of Fame vintner, and David Berkley who

started David Berkley's Fine Foods. Since her formal

training, Diane Wilkinson Catering has expanded and

grown, and Diane has been an early proponent for

green catering. As a self proclaimed "locavore," she

despises waste and loves local and organic foods.

All menus at Diane Wilkinson Catering are custom fit to

each client's needs, taking into account preference and

budget, utilizing only the highest quality ingredients,

often local, organic and seasonal.

If Diane is not in her kitchen working on a new

recipe, she is out in her 1/4 acre, all-organic garden

planting and picking for your event. She resides in

her foothill home, while serving our clients' catering

needs throughout El Dorado County, Sacramento, San

Francisco, Tahoe, and the greater Northern California.

Diane Wilkinson Catering

Placerville | 530-622-0799

dianewilkinsoncatering.com |

MARCH 2022 | stylemg.com 93
---
MARCH 2022

FOR YOUR HEALTH

STAY UP TO DATE ON ALL OF

THE LOCAL GOINGS-ON!

Pick up the new issue of STYLE Magazine and follow us online.

STYLE MAGAZINE

MARCH 2022 FOOD | HOME | COMMUNITY | EVENTS | ARTS | LIFE

STYLEMG.COM

DISTINCTIVE

M A G A Z I N E

DENTISTS

brunch

Bloody Mary

from

Bennett's

Kitchen • Bar • Market

SPECIAL

ISSUE!

featuring

TASTE OF THE TOWN

and

PLUS

Seasonal

Fashion

Trends

St. Patrick's

Day Eats

and Drinks

STYLEMG.COM

M A G A Z I N E

/stylemediagroup /stylemediagroup /stylemediagroup /stylemags