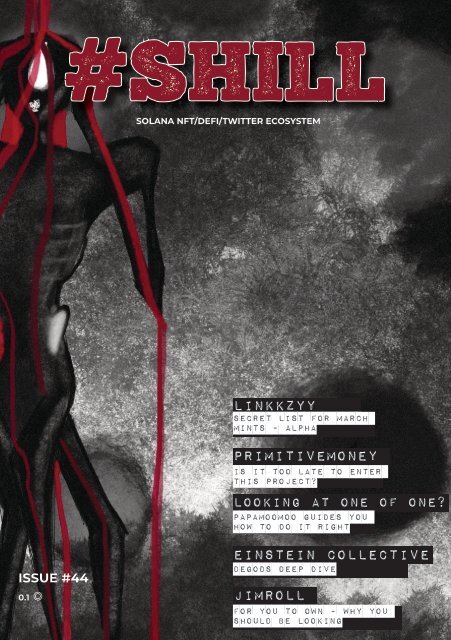 SHILL Issue 44
Solana ecosystem zine.
Solana ecosystem zine.
SHOW MORE
SHOW LESS
You also want an ePaper? Increase the reach of your titles
YUMPU automatically turns print PDFs into web optimized ePapers that Google loves.
#SHILL

SOLANA NFT/DEFI/TWITTER ECOSYSTEM

Linkkzyy

secret list for march

mints - alpha

primitivemoney

is it too late to enter

this project?

looking at one of one?

papamoomoo guides you

how to do it right

ISSUE #44

0.1 ◎

einstein collective

degods deep dive

jimroll

for you to own - why you

should be looking
---
THIS

In

ISSUE

44
---
4

FROM

6

12

18

21

26

32

48

66

THE EDITOR

So much to write. So little

space.

Linkkzyy's List

Linkkzyy is dropping it like it's

hot. What to look out for in

March. #alpha

PrimitiveMoney

While we were

sleeping...#alpha

Become a 1of1 Collector

PapaMooMoo goes through the

steps to be successful.

PurpleAnalysis

Know more by reading less

Barndog & Metaverse

Major #alpha in their latest

Youtube vids covering Solana.

Stoned Ape Crew

Einstein collective deep dive

analysis #alpha

Mints this Week

MarcPolo crew look at their

favourite mints for the week.

#alpha

For You To Own

JimRoll expounds

philosophical, almost

poetically. #alpha

Manc_NFT
---
the

from

EDITOR

"You get a goddam job before sundown or we're shipping you off to

military school with the goddam Finklestein shit kid. Son of a bitch."

Cheech & Chong were onto something back in 1978. They were

doing something they loved doing and getting paid for it. Was it a

9-5 job? I don't think they ever saw it as a 'job'. A passion perhaps.

That's what we need more of in this space. Passion.

A passion to dream. A passion to make things a reality. A passion

to persevere. DeGods are doing it. Stoned Apes are doing it. URS are

doing it. Hell, even @BLE77_ed is doing it.

Then there are those that are NOT doing it. They haven't disappeared.

They hae just lost their passion. Their drive. I'm calling on you, readers,

to write about a project or one of one that you bought into that is still

around but not prominent anymore. Stagnant maybe. Where are they

now? https://twitter.com/Pixeltoy/status/1499147391324221440

The Einstein Collective keeps pumping out quality threads and we

have their take on Stoned Apes in this issue. What a great project

with actual utility. MarcoPolo brings you closer to Astrals, MetaApe,

Nekoverse, Zeam and TheWolfDen in their preview for the upcoming

week.

At least 5 smatterings of #ALPHA. A shitload of NFT's to google at

AND at least 1 NFT that is so rare that it doesn't even exist. Can you

spot it?

As always, show your love on the Twittersphere with a simple retweet

before #Shill zine increases in price!

Enough said. You know the drill. Let's f go!

Pixeltoy

4

SHILL Issue #44
---
GRAPE EVENTS

Need to be seen?

Over 8000 views/week

Advertising space in #Shill

send an email to:

pixeltoy.sol@gmail.com

with "Ad query" as the

subject.

SHILL Issue #44 5
---
@Linkkzyy

Solana Project's in March

An Introduction

If you aren't acquainted with me already, my name is Linkkzyy's

or 'The Solana Plug.' Throughout this document I will list, describe,

and measure project's I believe are worth buying into

throughout the month of March both pre-existing and minting.

I will center my focus on the projects which will be minting in-order

to offer a cost effective, low barrier of entry method.

Mini Rant;

After my initial document in October I saw success and was also

suspended by twitter for 'impersonation'. What did I do you may

ask? I put Hasbullah in-front of an AMG as my profile picture.

In saying this, ANY Support on both my personal social media

and the project I'm building are GREATLY appreciated because I

don't charge anything more than a potential follow for access to

my knowledge.

Also, please retweet and share the document. It's the best way

to support me if you're uninterested in my project and shares the

mints!

The Standard disclaimer.

NFT's are extremely speculative assets as of right now. There is a

chance at least one project on this list may potentially rug.

In saying this; I will be investing in all of these NFT's myself.

I encourage you to please, DYOR and contact the projects directly

yourself with any pressing questions.

Please also do not fucking blow up my DM's if you own a project,

I will not slot you on the doc because you asked.

Please, Use burner wallets with limited funds and be safe frens.

6

SHILL Issue #44
---
Solswatch | 3000 Supply, 5th.March

Summary;

Essentially Solswatch is, imo, one of the leading analytical services

on Solana NFTs.

The NFT's Goal is to release a set of premium tools for holders to

access and use exclusively.

The site itself has become quite popular and I can only assume

with the additional funding it will see much more success!

List of the tools planned;

- On-chain data including holder details.

- Volume and floor movement for duration shorter

than 24h like 1 hour, 4 hours and 12 hours.

- View the marketplace links, floor, volume and

listed count directly from the Twitter profile of the

collection, (CHROME EXTENSION!?!?)

- All time data in charts from the period the collection

is tracked in the site.

- Favorites view to see the insights for all your

tracked collections in one place.

- Alerts when the floor price of a collection crosses

the set price.

- Download the chart data as a csv file.

Pros;

-Already an established brand through the website.

-Being advised via @alphadao.

-Plans to build tools that cater to community requests.

-Has delivered some of the tools pre-mint.

-Price of mint;value is super balanced.

Cons;

-Other options for analytical tool based NFT's.

-More people have access to certain tools the less value they

have, debatably these guy's actually don't provide anything

like rarity snipers and bots, so I don't believe this is actually an

issue.

SHILL Issue #44 7
---
Astrals | 10,000 Supply, 9th.March

Summary;

There's a lot of interesting components to this project, such as

SHAQ being a strong backer, insanely cool art from someone

who's designed for the likes of Disney, Marvel and so on.

At the core Astral's is essentially striving to be a PVE staking

game which will allow you to earn $GLXY and spend it on upgrading

the level, attributes and gear of your Astral inorder to complete

more challenging missions.

A DAO will also be attached which is fairly stock standard now.

Pros;

-Staking wooooo.

-Team seems fairly stacked.

-Art is really dope.

-Fairly unique ideas, nothing crazy but I think there's a lot of room for growth.

-There is a lot of hype around it.

-Space related innovation ideas, send me to mars please.

-Ample funding to DAO.

Cons

-Mint price & supply feels rough compared to the current norms.

-Is 20k SOL needed for; Art, Staking, P2E, Lore?

Would really love to hear some more of the future development ideas, no

doubt they've got 'em.

-Some people may be uninterested in the space innovation side of things.

-Shaq doesn't follow me on twitter.

8

SHILL Issue #44
---
Sugar Realm | 5,555 Supply, Mint Soon.

Summary

This is one of those projects that truly speaks for itself on the

work being put into it, how far it's currently progressed and just

all around super dope. Just watch this.

Obviously some bug fixes and more work to be done but an incredibly

impressive demo for this current day and age on Solana;

But quality is drastically rising.

Pros;

-Demo done pre mint which can be played.

-Nice graphics.

-Nice art.

-Dedicated team.

-Very rapid social growth and hype around the project.

Cons

-Honestly if you're a gamer and really just want to get yourself into an NFT

game. There's no cons here because they're definitely ready to deliver and

definitely within the foreseeable future.

-For those less interested in gaming NFTs, there's a bunch of currently building

RPG based games in development on Solan which serve as competitors.

SHILL Issue #44 9
---
aesolai
---
BadSkull
---
when you know, you know...

@PrimitiveMoney

Amazing builders in this space are valuable and you are seeing that with @SolportTom's

buyout of @TaiyoRobotics and the price action that ensued. There is another amazing builder

@F_Inn42 who is creating the Bloomberg terminal of NFTs through @SolanaMBB in something

few realize.

His team is rolling out a powerful set of analytical tools under a single roof that helps fill the

gap of gut feeling, discord vibes, and FOMO. It gives hard data to help lead decisions and make

calls.

The first tool was Soller which is an on-chain minting tool very different than Cyberkeys or

New Neon. This is not a botting tool that spams transactions and slows the network but a

data tool. With clear warnings of fake mints, clones, and spam along with trending scores.

It shows all upcoming mints on a tab with when the mint opens (very helpful for keeping track

of what's coming) and a trending tab that shows the rate the mint is moving. It allows you to

see the demand of a project and make decisions on potential secondary implications.

You can click "mint" and it you can mint directly from the chain, so you aren't jumping around

to different websites. You can only mint 5 at a time which is no different than having five tabs

12

SHILL Issue #44
---
open - again not spamming the network.

Botting tools set no limit on # of tx's, so

you can start minting early and just let it

fail and fail unlimited times until the start

date is initiated, you can keep spamming

tx's once live, which creates a DDos attack

on the network (hundreds of people doing

it at the same time).

This isn't for going into mints you aren't

able to, backdooring WLs, or for wiping

out a collection before others have a

chance, but the ability to analyze a mint

as its happening. I have saved more money

from making a choice NOT to mint than I

probably have minting.

I want to be clear that I absolutely HATE

botters. I think they are a necessary but

unfortunate part of creating better launchpads

like we saw with @DegenApeAcademy

and then @DegenTrashPanda though.

Soller walks in a grey area, but F Inn makes

a clear effort to not cross it.

He cares deeply about this space, and you

will not find a kinder person. This is also

paired with a discord full of savvy thinkers

that act more like wall street traders than

they do your traditional degen minters.

Its quickly becoming one of the strongest

minting alpha chats.

Their next tool to be

released is Killshot an

aftermarket

sniping tool.

The ability to

view any collection

listed and search

for rarities and

pricing opportunities.

The perfect

tool for a hyped

mint post listing

where rarities aren't known, and people

are listing like

wild.

They do this with

their own rarity tool

that is already a part

of Soller where you

can view a collections

rarity as soon

as the mint is completed.

It is built using

a mix of statistical

rarities and rarity

score like you would see on top ETH rarity

sites like @raritytools.

Long gone are the days of searching traits

and rankings on your favorite rarity site

then back and forth to @MagicEden_NFT

to find mispricing's in the market. I am not

much of a minter but a long-term holder of

projects I like so this is a tool that will fit

perfectly.

Following that is SolObserver which will be

entirely free to the entire Solana Ecosystem.

Only collections will need to pay a small

fee. MBB holders will be provided with free

access to the 'Pro' version once released.

Giving even more rich data on your desired

collection.

Real-time market data on multiple time

frames, showing the following data for collections:

# of Buyers # of Sales Floor Price

High Floor Volume (in SOL and %) Listed

Count Graphs that overlay all this data so

you can see it according to the various

timeframes

If all this wasn't enough, they are starting

a launchpad to help creators start their

project in a safe way and guided by their

team. Note the part about a fork of candy

machine that will finally prevent botting and

developers' ability to deploy real whitelists.

SHILL Issue #44 13
---
alexandredesane
---
DevilsTown
---
KnotNeonArt
---
tips on becoming a

one-of-one

@Papa_MooMoo

You're interested in becoming

a collector of 1/1 art on

#Solana, but would love

some tips?

Earlier in the week I shared

some best practices in a

twitter spaces w

@SOLBigBrain and I will

recap some of those here.

HOW DO I FIND ARTISTS &

THEIR WORK? - You can start

off by being artist agnostic

and simply search for current

pieces up for auction that

speak to YOU.

- Pulling up @exchgART, @

holaplex, or @formfunction

and searching by "ending

soonest" is an easy way to

organize this.

Once you find a piece you

like, you can then dig into

the artist and begin your

research. - Or you can

follow a bunch of 1/1 artists

on twitter and look at the

auctions they RT. It's an easy

and FAST way to quickly

expand the artists you follow.

Or you can find certain

collectors you respect (i.e. iamkadense, @0xDutch @

quincy_sol, @TopoGigio_

sol, @PrimitiveMoney, @

wgarrettdavis, etc.) and

look at WHO they follow

and WHO they post about.

- Or you can join twitter

spaces and follow the artists

listening in/speaking.

CONNECT W THE PIECE +

ARTIST - You should probably

NOT acquire a 1/1 piece for

a quick flip. The liquidity for

secondary sales on 1/1 art is

only starting to grow and it's

too risky to buy for a quick

flip imo. So buy a piece you

GENUINELY like, as you may

have it for a while.

RESEARCH THE ARTIST - Most

artists will have their KEY

LINKS shared for you. Check

out their previous work,

any notable experience,

and learn more about their

process & story. - Have they

been creating art for a while

or is this their first piece ever?

Do they have a portfolio of

previous work? Have they

worked at a major studio?

Have they been featured

online? Awards? Etc. Keep

digging in and learn as much

as you can as these are DATA

POINTS that you can use to

determine whether you want

to acquire a piece.

Keep in mind, however, that if

18

SHILL Issue #44
---
you are genuinely in it JUST

for the art - these data points

are probably less important

to you vs. someone who is in

it for the art AND a possible

return on investment.

MARKETING + BRAND -

How is the artist marketing

themselves? Are they active

on twitter, joining spaces,

doing collabs, and genuinely

engaging with and supporting

the community? - At the end

of the day the artist's BRAND

+ MARKETING is almost as

important as the art itself.

It can be a disappointing

truth as an artist, but those

who are strong at marketing

+ branding themselves will

likely see more eyes on their

work than those who don't

engage.

EXPOSURE TO 1/1 ART -

You can acquire a piece on

your own. - You can join a

DAO or project that acquires

1/1 and gives you exposure

simply by being a member

(i.e.

@_ledao, @TheRealmsDAO,

@particlesnft). - You can

split a piece w a friend.

You can find a piece that is

maybe OVERLOOKED by

folks. Might have less bids

on it or it simply may not

be the PREFERRED piece in

terms of how others view it.

BUT it gives you EXPOSURE

which can still be a win if you

acquire it!

BE DISCIPLINED - Set a

limit for yourself + ONLY

go SLIGHTLY past it if you

TRULY believe this is a piece

you "must have." - Auctions

can get emotional + you want

to make sure you are bidding

bc you love the piece and not

to just WIN. That feeling will

fade FAST, trust me.

DON'T CHASE WALLETS - You

may see some bigger names

bidding. Remember, these

bigger names are human too

and may have DIFFERENT

reasons for acquiring the

piece. They may have a

higher risk tolerance, more

liquidity, or may LOVE the

piece and be in it JUST for

the art, etc.

Chasing an auction simply

because of the bidders on

it is not recommended imo.

You do not know why they

are bidding and do not know

their circumstances. Make

your OWN choice on what to

acquire.

TLDR: Purchasing 1/1 Art

on Solana can ALMOST be

viewed as a LEVERAGED bet

on Solana. If you believe in

the future of Solana, and

believe in the future of the

artist/community, getting in

EARLY can have MASSIVE

upside (i.e.

@solBOOGLE+ @

VoxelMonkes).

Just make sure to ALWAYS

do your OWN research

and support artists that you

believe in and pieces that you

connect with.

SHILL Issue #44 19
---
PROBABLY

NOTHING

@joemccann 46.9K Followers

@solana

NFTs coming to

@opensea?

grapeprotocol

20

SHILL Issue #44
---
PURPLEanalysis

@Purpleanalysis

SHILL Issue #44 21
---
the ASTRONAUT

The Astronaut @thexastronaut

22

SHILL Issue #44
---
Crepus
---
URS_
---
TheObserverNft
---
grapeprotoco

BARNDOG

DEFI Land Yield Farming

https://youtu.be/ML_naolVs2Y?t=205

METAVERSE

SOLANIUM - 6 IDOs

https://www.youtube.com/watch?v=ZrqUY7w-gRQ&t=1092s

26

SHILL Issue #44
---
OVER 5Sol & TOP NFT

SolsWatch

SHILL Issue #44 27
---
Grape Gaming Day 8th March

We have 3 Guests x 30 min slots in order mentioned.

Show starts at 01:00 UTC. Screenshare and some cameras!

@KFSnft

@sol_crystal_io

@sovanadao

These are a fun way to see the projects BUIDLing on Solana

#itsGrape
---
Spectres69
---
douglasrmccurdy
---
STONED

CREW

Einstein

Collective

Follow us on twitter @TheEinsteinCol for more updates on the Solana NFT space.

We are an NFT project focused on education and learning.

Stoned Ape Crew launched in Nov 21 and quickly

became a well-known NFT project on Solana.

@StonedApeCrew is launching another collection,

Nuked Ape Crew, Feb 15th. Let's breakdown the @

StonedApeCrew mechanics, and what their upcoming

NAC launch will look like.

Stoned Ape Crew

is a collection

of 4200 apes

with over 200

traits. They are

broken into two

collections:

1. Chimpions

2.Genesis (Roles)

-Scientist,

Businessman,

Artist, & Farmers

$PUFF is the SAC

native token that

has NFT and realworld

utility.

$PUFF TOKEnomics: 85% of supply will be distributed

to stakers at constant rate over 30 years $PUFF

currently has a 4.1M circulating supply. $PUFF price has

32

SHILL Issue #44
---
increased in the past 24H

and is currently at $0.36.

Total Market cap is $1.7M

$PUFF Utility:

1. NFT Evolution Chimpions

earn 15 $PUFF / day Roles

earn 30 $PUFF / day Send

your chimpion on a retreat

to upgrade to role -333

PUFF -> 60% chance of

traits -666 PUFF ->80%

chance of traits 1.3M PUFF

has been burned w/ this

mechanism

2. Fractionalization Some

royalties go to SAC and

NFT purchases. They are

fractionalized and given to

PUFF holders.

3. Real World $PUFF can

be used in online stores

to pay for merch, weed

accessories, CBD & already

in 5 dispensaries.

4. Auctions Legendary SAC

NFTs auctions with $PUFF

buy back & burn.

5. Puff only mints Side

collections that can only

be minted with $PUFF that

will be burned.

6. Nuked Ape Crew Rescue

missions with $PUFF consumed. This ones a little more

complicated, lets break that down

Nuked Ape Crew:

3790 (90%) for rescue missions - Feb 15th 420 (10%)

available for mint - Feb 19th WL mint price = 13 SOL

Regular mint = Dutch auction starting at 16 SOL,

decreasing .5 every 30 mins until fair price Reasons for

Mint: Expand the community & increase demand

SHILL Issue #44 33
---
Rescue Dynamics:

2 apes w/ different roles (chimps count) + 1780 PUFF

PUFF required (1780) will stay constant for 12h

1. After, every 100 NAC rescued, PUFF needed will

increase by 4.2%

2. Reusing an Ape increases PUFF by 60% Missions take

3 days, followed by 7-day cooldown

Rescue Dynamics: Recruiting (Renting)

1. Chimpions - get 2.5 SOL/PUFF (329% profit vs staking)

2. Role Apes - get 4.2 SOL/PUFF (260% profit vs staking)

3. Recruiting an ape costs 6 SOL (10% discount w/ PUFF)

The difference will be for $PUFF liquidity pool & buybacks

Benefits of Nuked Ape Crew:

-Entry to SAC Ecosystem such as alpha, WL spots, &

Weed discounts

-Entry ticket to Amsterdam Launch Party

-Staked for $PUFF

-Exclusive airdrops

34

SHILL Issue #44
---
SHILL Issue #44 35
---
wakeupbrandon
---
septadenata
---
KnotNeonArt
---
karelabd
---
obisonfoto
---
Niklas
---
iamlaurael
---
errortheory404
---
EssjayneArt
---
tradewithmarco.medium.com

5 Mints You Should Check Out On

Solana This Week !

By MarcoPolo

Greetings, Travellers.

Welcome to our new weekly journal entries, "5 MINTS" we are looking at in the

upcoming week. Let's start with the obvious, there are usually not 5 quality mints

per week — and none of this is financial advice. We are not telling you to go mint,

and any relationship we have with these projects will be disclosed. Having said that,

below are the ones that I, Marco Polo, find interesting in the upcoming week. All of

their discords are attached, so if you have any questions feel free to hop in and ask

about the projects yourselves!

48

SHILL Issue #44
---
The Skinny: There are apparently 90 million possible combinations for the 10,000

full-body 3D avatars in the Astrals collection. The NFTs are designed by Damien

Guimoneau, who has worked on characters for huge companies like Disney,

Marvel, DC, and Netflix. The characters are Metaverse-ready and will be usable in

Astrals proposed PvE game, where they can be upgraded and altered as players

progress. Owners can also stake these NFTs to mine $GLXY, the governance token

of Galaxy Treasury.

Why We're Paying Attention: Let's get the corny joke out of the way first. 90

million possible combinations? Even Dr. Strange was only able to see 14 million

possible futures in Avengers: Infinity War. One of the biggest things to like about

this project is the potential for personalization, as users can alter their character

as they progress in Astrals upcoming game. In addition, the artwork, particularly

the heads and faces of these characters, is pretty sick, and you'll have the

opportunity to mine tokens with your characters.

Mint Date: Wed, March 9th — 8pm UTC

Mint Price: 2 SOL

Supply: 10,000

Twitter: https://twitter.com/Astrals_NFT

Website: https://medium.com/@astrals_nft/

SHILL Issue #44 49
---
The Skinny: With the goal of helping its members attain financial independence,

the MAEC holds onto the vision of representing a circle of soon-to-be high-class

individuals who master the way of the elites. To do this, they've got a bunch of

different utilities, including a play-to-earn platform, a points system based on

various factors which can be spent on the Meta Ape marketplace. They'll also have

staking pools, a launchpad, royalties on sales, giveaways, and even a VR lounge,

where owners can chat, gamble, join events and meetings.

Why We're Paying Attention: Kublai Khan crushed 100 rebellions during his time,

but he always told me, if the monkeys that live in the trees of Yunnan, Sichuan,

Gansu, and other parts of China, banded together, they would overthrow the Yuan

Dynasty with ease. Fast forward 600 years and a group of monkes not living in

China, but rather on Solana, are banding together to achieve supremacy. This

project is ambitious, for sure, with a huge amount of utilities proposed for the

Meta Apes Elite Club, with plans to make a full-fledged ecosystem of their own,

which includes a launchpad, a marketplace, and a Metaverse.

Mint Date: Sat, March 5th

Mint Price: 1.5 SOL (WL)

Supply: 5,678

Twitter: https://twitter.com/MetaApeEC

Website: https://metaapeeliteclub.com

50

SHILL Issue #44
---
The Skinny: Nekoverse is a P2E MMORPG that is populated by creatures called

Nekos. When minting Nekos, the creatures are randomly generated, ensuring that

each one is unique. The second mint for Nekoverse focuses on the Pancha Triad,

one of three classes of Nekos in the game. The Pancha Triad are chosen ones that

have mythical powers connected to spirit, ice, and lightning elements. Each Neko

starts at level 1 and has a list of stats that can be boosted by playing in the

Nekoverse, either by farming, crafting, or battling PvE or PvP. Each of the Nekos

also has a profession and can be a crafter, breeder, farmer, or Necromancer. If you

breed two Nekos together, you can create an-all new dual-element Neko.

Why We're Paying Attention: There's a lot to unpack in the Nekoverse, but the

overall lore behind the game is pretty locked-in and well-thought-out, and the

gameplay reminds us of a mixture of Pokemon and Stardew Valley, two of the

most addictive games of all-time. Like Astrals above, there's quite a bit of potential

for personalization here with Nekoverse's breeding system, which allows owners

to breed two Nekos together to create an all-new variant. Beyond that, revealed

utilities include Beta-game access and NFT and egg airdrops.

Mint Date: Sun, March 6th

Mint Price: 1.4–2 SOL (public mint)

Supply: 750 public mint, 4,250 community mint, 2,000 elder mint

Twitter: https://twitter.com/Nekoverse_NFT

Website: https://nekoverse.net/

SHILL Issue #44 51
---
The Skinny: Zezam's first-ever NFT drop consists of 1750 Zezam Access NFTs,

broken up into two categories: 750 Golden Access NFTs and 980 Vibrant Access

NFTs, with 20 Vibrant Access NFTs kept for promotion/giveaways. Both of these

give you access to different benefits, like getting a 40% discount if you mint a

Golden Access NFT, or 20% if you mint a Vibrant Access NFT on the Zezam Open

platform.

Why We're Paying Attention: There's still quite a bit of secrecy around Zezam's

NFT plans, but the folks behind the project reveal that they'll be opening up plenty

of utility with these NFTs and their business. Not only that, but Zezam was first

launched as an online printing store specializing in printing your NFTs on clothes,

posters, cups, and more, making Zezam Access NFTs a more convenient way for

users to pay to get their NFTs printed on products.

Mint Date: Mon, March 7th

Mint Price: 0.88 SOL

Supply: 1,750

Twitter: https://twitter.com/ZezamOpen

Website: zezam.art

52

SHILL Issue #44
---
The Skinny: The Wolf Den is a genesis collection of 1,444 unique wolves on the

Solana ecosystem that will be a P2E game played through Minecraft. The Minecraft

server will be built around the game's utility token, $PREY, which will be used in

their P2E game. The game will feature popular minigames like Factions, Sky Wars,

BedWards, and more, where you can play with friends and earn $PREY, while you

can also add custom games of your own. Other utilities will include staking,

breeding, custom Minecraft skins, a Metaverse, and more.

Why We're Paying Attention: It's dystopia but with wolves, a concept that really

should be a film. It's 2069 (nice) and the wolfpack needs to rebuild its civilization

after a Nuclear War. Interestingly, this game is built on the Minecraft server, which

makes it a game within a game, while you can also build mini-games within that

game within a game. Still following? Anyway, we're into the lore here, and

interested in what it feels like to control a wolf in a world overcome by Nuclear

fallout, and the utilities are pretty broad, with lots of potential.

Mint Date: Sat, March 12th

Mint Price: 1 SOL

Supply: 1,444

Twitter: https://twitter.com/TheWolfDenNFT

Website: thewolfden.io

That's all for today folks, if you have any projects who are minting soon, please let

us know on Twitter.

SHILL Issue #44 53
---
ArtbyBethC
---
KDKammeijer
---
Spectres69
---
Sonder_nft
---
ArtbyBethC

karagaji
---
DonRoccie
---
Barndog_Solana
---
jim roll

@superjimmer

It is the final jewel in a 11-piece collection called

- parallel collisions -

the collection explores the seams in our megaverse where one reality

borders another reality.

This photo is entitled - sentient equilibrium - "the veiled perimeter

where eternity borders humanity." It is a double exposed 35mm film

photo that was boiled in wine hot sauce spices household chemicals.

http://exchange.art/single/5GZzT5N

I am an agent of controlled chaos. A witness to parallel collisions. my

technique involves sound perspective, meticulous composition, choice

of lenses and filters. Control of light reception. and then I destroy my

efforts and offer it to something bigger than myself.

The @exchgARTseries parallel collections has the subtitle: "where time

is a scrambled vision of the beloved. where perspective is a momen-

66

SHILL Issue #44
---
tary crashing wave." because I believe these things to be true, metaphorically,

but also literally. Isn't this all but a moment?

I have the skills to take photos of landscapes and of beautiful human

bodies. And I could possibly make more money doing that. And

I respect people who do that. But it would be a lie for ME to do that

because I need you to see this:

SHILL Issue #44 67
---
this series asks the viewer to see the space between the notes. The

rests. The breaths. The swirling air that gathers silently in a ravine.

That is life, and we are life, the space invisible & barely visible is every

bit as much a sibling to us as the ones our mothers birthed.

but this series is about seams. That's what I said right? Because if you

look closely and take a moment you see that what you are presented

with is the meeting of two worlds. Whether it be the jilted lighting or the

large forest haunting a smaller forest within.

68

SHILL Issue #44
---
Because often what we cannot see clearly is what may be most important,

or what drives us. And at times we think we know our surroundings

only to remember it's all a mystery … and there is no arrival.

and it's always a balance to give attention to that which we can see,

which demands our conscious responsible loving efforts, with that of

a call from a neighbouring dimension or lifetime or heaven - that may

have been traveling eons to deliver unto us something equally urgent.

SHILL Issue #44 69
---
and this place HERE. Where when we rest. And remember our mortality.

And our immortal spirits. This place HERE at the seam between

darkness and loss and whatever it is we have always been connected

to and will always be connected to. HERE. a garish primordial curtain.

HERE. where we always meet again and again and again and again

… sentient equilibrium the veiled perimeter where eternity borders

humanity From the parallel collisions collection on @exchgART

Need to be seen?

Over 8000 views/week

Advertising space in #Shill

send an email to:

pixeltoy.sol@gmail.com

with "Ad query" as the

subject.

70

SHILL Issue #44
---
BLE77_ED
---
Manc_NFT