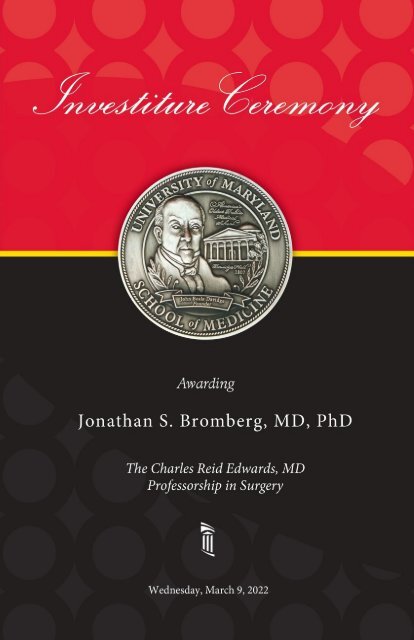 Bromberg Investiture Program
Create successful ePaper yourself
Turn your PDF publications into a flip-book with our unique Google optimized e-Paper software.
JONATHAN S. BROMBERG, MD, PHD

Jonathan S. Bromberg, MD, PhD is a professor

in the Departments of Surgery and Microbiology

and Immunology at the University of Maryland

School of Medicine. Dr. Bromberg earned his AB

in Biology from Harvard College in 1977 and his

MD from Harvard Medical School and PhD from

the Harvard Graduate School of Arts and Sciences

in 1983. He has held numerous positions

throughout his career, including Instructor at the

University of Pennsylvania; Chief of Pancreas

Transplant, and Assistant to Associate Professor at the Medical University of South

Carolina; Chief of Liver Transplant and Associate to Full Professor at the University

of Michigan; Chief of Kidney Transplant and the Transplant Institute and Professor

at Mount Sinai School of Medicine. He has been a Professor at UMSOM since 2010,

variously serving as Division Chief for Transplantation, Chief of Kidney Transplant,

Chief of Pediatric Kidney Transplant, and Vice Chair for Research in the

Department of Surgery.

For 30 years, Dr. Bromberg has received continuous funding for his research and

practice in basic cellular and molecular transplant immunology. His basic research

has consistently focused on T-cell immunobiology, and for more than 20 years has

also focused on issues of migration, trafficking, secondary lymphoid organ structure

and function, and lymphatic structure and function, and how these processes and

structures influence T-cell immunity and T-cell tolerance in models of

transplantation.

Dr. Bromberg has maintained an active clinical practice in solid organ

transplantation and is thus constantly exposed to the problems of patients and their

immune systems, including cellular and humoral rejection, opportunistic infections,

chronic viral disease, autoimmune organ failure, and side effects of

immunosuppression medication.

Dr. Bromberg's research has delved into the cellular and molecular mechanisms of

suppression and tolerance. These investigations have resulted in over 300 peerreviewed

publications, numerous international and national presentations, and

currently four primary NIH RO1s or PO1s in the lab along with another five RO1s in

which he is a co-investigator. His numerous awards and honors include a NIAID

MERIT Award, National Kidney Foundation of Maryland Kidney Champion, and

American Society of Transplantation Basic Science Established Investigator Award.

Dr. Bromberg is a much sought-after editor, currently serving as the Transplantation

Clinical Sciences Executive Editor. He has also served on multiple NIH study

sections and advisory boards, and serves for many grant and award committees for

foundations and governmental boards in the United States and the European Union.
---
WELCOME

Mary Pooton

Associate Dean for Development

University of Maryland School of Medicine

Christine L. Lau, MD, MBA

Dr. Robert W. Buxton Chair of Surgery

University of Maryland School of Medicine

REMARKS

E. Albert Reece, MD, PhD, MBA

Executive Vice President for Medical Affairs, UM Baltimore

John Z. and Akiko K. Bowers Distinguished Professor and

Dean, University of Maryland School of Medicine

DONOR RECOGNITION

E. Albert Reece, MD, PhD, MBA

REMARKS

Dianne Kendrick

Dr. Charles Reid Edwards' Granddaughter

SPEAKERS

Bruce Kaplan, MD

Professor of Medicine and Surgery

Medical and Scientific Director

Colorado Center for Transplantation Care, Research and Education (CCTCARE)

University of Colorado

Philip F. Halloran, MD, PhD

Director, Alberta Transplant Applied Genomics Centre

Professor of Medicine & Medical Microbiology and Immunology

University of Alberta

Jeremy Chapman, AC, FRACP, FRCP, FAHMS

Professor, Sydney University

Editor in Chief Transplantation Journals

Chair, Australian Bone Marrow Donor Registry,

Chair, Westmead Research Hub Sydney

MEDAL PRESENTATION

E. Albert Reece, MD, PhD, MBA

REMARKS

Jonathan S. Bromberg, MD, PhD

The Charles Reid Edwards, MD Professor of Surgery

CLOSING REMARKS

Christine L. Lau, MD, MBA
---
T

he first endowed professorships were established more than

500 years ago with the creation of the Lady Margaret chairs

in divinity at Oxford and Cambridge Universities. The

original endowed chairs were sponsored by Lady Margaret,

countess of Richmond, and grandmother of Henry VIII in 1502.

Subsequently, private individuals began making financial contributions

to establish other endowed professorships and chairs such as the

Lucasian Chair of Mathematics, which Sir Isaac Newton held beginning

in 1669. Professor Stephen Hawking, the internationally renowned

physicist and recipient of the 2010 US Medal of Freedom, was another

prominent holder of this endowed chair.

The honor associated with appointment to an endowed position has

remained unchanged for the last 500 years and is recognized as one of

the highest tributes that an academic institution can bestow upon its

most distinguished faculty. These endowed professorships and chairs

continue to reward exceptional scholars uninterrupted to the present

time.

The Office of Development is charged with securing private gifts to

ensure the School's tradition of excellence is sustained through robust

research, clinical, and educational programs and initiatives. The

University of Maryland School of Medicine is fortunate to have nearly

85 endowed chairs & professorships in various stages of completion

and held by esteemed faculty members.
---
Charles Reid Edwards, MD

Charles Reid Edwards was born in Medley,

West Virginia in 1888. As was common at that

time, he entered medical school directly after

graduating from high school in Adamstown,

Maryland. Dr. Edwards graduated from the

University of Maryland School of Medicine in

1913, followed by an internship and residency,

which included acting as resident surgeon of the

then 62-bed Kernan Hospital. Dr. Edwards entered the Army in 1917 and

served at Hospital Central in Belfort, France. Upon discharge he returned to

the University of Maryland School of Medicine, becoming Clinical Professor

of Surgery in 1931 and Professor of Surgery and Acting Head of the

Department of Surgery from 1948 until 1955.

Dr. Edwards is remembered as a dexterous, rapid and almost faultless

surgeon in the operating room, and an imposing, capable and confident

physician. Dr. Edwards' 15 medical papers dealt with clinical problems: his

interest and his strength as a teacher lay in clinical training and clinical

experience; his bedside teaching was thought by his peers to be unsurpassed.

He was a Fellow of the Southern Surgical Association and the American

College of Surgeons, and a member of the American Association of Trauma,

the American Medical Association, and the Society for Clinical Surgery. In

1957, the University of Maryland Medical Alumni Association awarded the

Gold Key Award to Dr. Edwards for his contributions to medicine and his

distinguished service to mankind.

In 1962, Dr. Edwards chaired a committee whose work resulted in the

reorganization of the Baltimore City Health Department. He continued in

private practice until several years before his death in 1965. His great

capacity for work, his fine intuition, and his tactfulness and truthfulness as a

surgical consultant brought him many friends among both physicians and

patients. (Excerpt: University of Maryland Medical Alumni Association

Bulletin, Professors of Surgery 1807-1970, written by Harry Hull, MD '32)
---
Alston Gordon Lanham, MD

Alston Gordon Lanham was born in Upshur,

West Virginia and attended the University of

West Virginia for the first two years of college.

He transferred to the University of Maryland

School of Medicine in 1929 and graduated in

1931, the same year that Dr. Charles Reid

Edwards was made Clinical Professor of

Surgery. Following graduation, Dr. Lanham completed his internship at

University Hospital. He then returned to his roots in Ronceverte, West Virginia,

as a general practitioner.

Dr. Lanham was one of several Ronceverte physicians associated with the

Greenbrier Hospital, which was awarded the highest rating from the American

College of Surgeons in 1937 and where, Dr. Lanham is remembered as one of

several physicians of the "highest experience." He later centered his medical

practice in the nearby town of Lewisburg, West Virginia.

Dr. Lanham was married to Katharine Irene Lough (Katie) in 1933. Mrs. Lanham

received a Bachelor's Degree in Music at West Virginia University where she

was a member of Kappa Kappa Gamma, University Choir, Girls' Glee Club and

Phi Chi Delta.

Dr. Lanham passed away in 1972 and Mrs. Lanham passed away in 1988. The

Charles Reid Edwards Professorship was established through the Lanham Family

Residual Trust and made known to the University of Maryland School of

Medicine in 2011.