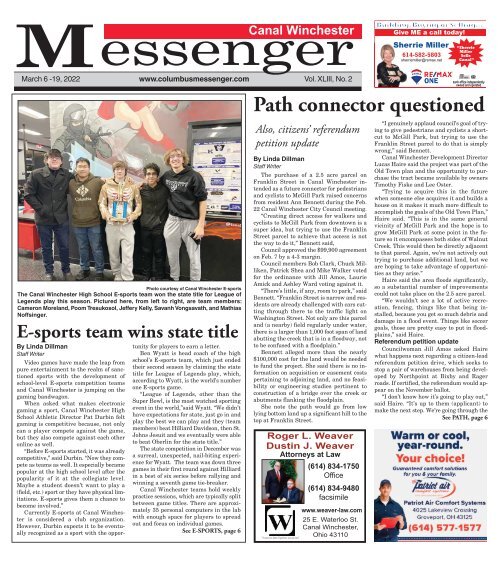 Canal Winchester Messenger - March 6, 2022
You also want an ePaper? Increase the reach of your titles
YUMPU automatically turns print PDFs into web optimized ePapers that Google loves.
Messenger

Canal Winchester

March 6 -19, 2022 www.columbusmessenger.com Vol. XLIII, No. 2

Photo courtesy of Canal Winchester E-sports

The Canal Winchester High School E-sports team won the state title for League of

Legends play this season. Pictured here, from left to right, are team members:

Cameron Moreland, Poom Tresukosol, Jeffery Kelly, Savanh Vongsavath, and Mathias

Noffsinger.

E-sports team wins state title

By Linda Dillman

Staff Writer

Video games have made the leap from

pure entertainment to the realm of sanctioned

sports with the development of

school-level E-sports competition teams

and Canal Winchester is jumping on the

gaming bandwagon.

When asked what makes electronic

gaming a sport, Canal Winchester High

School Athletic Director Pat Durbin felt

gaming is competitive because, not only

can a player compete against the game,

but they also compete against each other

online as well.

"Before E-sports started, it was already

competitive," said Durbin. "Now they compete

as teams as well. It especially became

popular at the high school level after the

popularity of it at the collegiate level.

Maybe a student doesn't want to play a

(field, etc.) sport or they have physical limitations.

E-sports gives them a chance to

become involved."

Currently E-sports at Canal Winchester

is considered a club organization.

However, Durbin expects it to be eventually

recognized as a sport with the opportunity

for players to earn a letter.

Ben Wyatt is head coach of the high

school's E-sports team, which just ended

their second season by claiming the state

title for League of Legends play, which,

according to Wyatt, is the world's number

one E-sports game.

"League of Legends, other than the

Super Bowl, is the most watched sporting

event in the world,"said Wyatt. "We didn't

have expectations for state, just go in and

play the best we can play and they (team

members) beat Hilliard Davidson, then St.

Johns Jesuit and we eventually were able

to beat Oberlin for the state title."

The state competition in December was

a surreal, unexpected, nail-biting experience

for Wyatt. The team was down three

games in their first round against Hilliard

in a best of six series before rallying and

winning a seventh game tie-breaker.

Canal Winchester teams hold weekly

practice sessions, which are typically split

between game titles. There are approximately

35 personal computers in the lab

with enough space for players to spread

out and focus on individual games.

See E-SPORTS, page 6

Building, Buying or Selling...

Give ME a call today!

Sherrie Miller

614-582-5803

sherriemiller@remax.net

"Sherrie

Miller

Sells

Canal"

Each office independently

owned and operated.

Path connector questioned

Also, citizens' referendum

petition update

By Linda Dillman

Staff Writer

The purchase of a 2.5 acre parcel on

Franklin Street in Canal Winchester intended

as a future connector for pedestrians

and cyclists to McGill Park raised concerns

from resident Ann Bennett during the Feb.

22 Canal Winchester City Council meeting.

"Creating direct access for walkers and

cyclists to McGill Park from downtown is a

super idea, but trying to use the Franklin

Street parcel to achieve that access is not

the way to do it," Bennett said,

Council approved the $99,900 agreement

on Feb. 7 by a 4-3 margin.

Council members Bob Clark, Chuck Milliken,

Patrick Shea and Mike Walker voted

for the ordinance with Jill Amos, Laurie

Amick and Ashley Ward voting against it.

"There's little, if any, room to park," said

Bennett. "Franklin Street is narrow and residents

are already challenged with cars cutting

through there to the traffic light on

Washington Street. Not only are this parcel

and (a nearby) field regularly under water,

there is a larger than 1,000 foot span of land

abutting the creek that is in a floodway, not

to be confused with a floodplain."

Bennett alleged more than the nearly

$100,000 cost for the land would be needed

to fund the project. She said there is no information

on acquisition or easement costs

pertaining to adjoining land, and no feasibility

or engineering studies pertinent to

construction of a bridge over the creek or

abutments flanking the floodplain.

She note the path would go from low

lying bottom land up a significant hill to the

top at Franklin Street.

Roger L. Weaver

Dustin J. Weaver

Attorneys at Law

(614) 834-1750

Office

(614) 834-9480

facsimile

"A name you know, Experience you can trust"

www.weaver-law.com

25 E. Waterloo St.

Canal Winchester,

Ohio 43110

"I genuinely applaud council's goal of trying

to give pedestrians and cyclists a shortcut

to McGill Park, but trying to use the

Franklin Street parcel to do that is simply

wrong," said Bennett.

Canal Winchester Development Director

Lucas Haire said the project was part of the

Old Town plan and the opportunity to purchase

the tract became available by owners

Timothy Fiske and Lee Oster.

"Trying to acquire this in the future

when someone else acquires it and builds a

house on it makes it much more difficult to

accomplish the goals of the Old Town Plan,"

Haire said. "This is in the same general

vicinity of McGill Park and the hope is to

grow McGill Park at some point in the future

so it encompasses both sides of Walnut

Creek. This would then be directly adjacent

to that parcel. Again, we're not actively out

trying to purchase additional land, but we

are hoping to take advantage of opportunities

as they arise."

Haire said the area floods significantly,

so a substantial number of improvements

could not take place on the 2.5 acre parcel.

"We wouldn't see a lot of active recreation,

fencing, things like that being installed,

because you get so much debris and

damage in a flood event. Things like soccer

goals, those are pretty easy to put in floodplains,"

said Haire.

Referendum petition update

Councilwoman Jill Amos asked Haire

what happens next regarding a citizen-lead

referendum petition drive, which seeks to

stop a pair of warehouses from being developed

by Northpoint at Bixby and Rager

roads. If certified, the referendum would appear

on the November ballot.

"I don't know how it's going to play out,"

said Haire. "It's up to them (applicant) to

make the next step. We're going through the

See PATH, page 6
---
Me senger

PAGE 2 - MESSENGER - March 6, 2022

Southeast Library

The Southeast Branch of the Columbus Metropolitan Library

is located at 3980 S. Hamilton Road, Groveport.

For information visit www.columbuslibrary.org or call 614-

645-2275.

LIST YOUR

PALM SUNDAY, GOOD FRIDAY AND

EASTER WEEK SERVICES

ON OUR EASTER CHURCH PAGE

in The Groveport or South/Canal Winchester Messenger

The page will print in our April 3rd issue

The deadline for the Easter Church Page is

Thursday, March 24th at 5:00 pm.

Call or email Kathy

for More Information

614-272-5422

or

kathy@

columbusmessenger.com

Serving Your Community

Malek &

ATTORNEYS AT LAW Malek

Proudly Announcing

Adding New Attorneys

To Serve You!

WORKERS'

COMPENSATION

PERSONAL INJURY

WRONGFUL DEATH

SLIP & FALL INJURY

DOG BITE INJURY

Grace Ministries

464 Rathmell Rd., Columbus, OH 43137

Visit us at www.graceministries.org

Easter Sunday, March 27th

Sunrise Communion Service - 7:00 am

Easter Service - 10:30 am

Easter Egg Hunt immediately following 10:30 service

with over 5,000 eggs and prizes

Since 1972

SAMPLE

Douglas, Ed, Jim

and Kip Malek

"Hablamos Español"

FREE Initial Consultation

www.maleklawfirm.com

614-444-7440

1227 S. High St., Columbus, OH 43206

Ohio State Fair returns this year

Governor Mike DeWine and Ohio Expo Center &

State Fair General Manager Virgil Strickler

announced that the 2022 Ohio State Fair will run from

July 27 to Aug. 7.

Ohioans and out-of-state visitors alike are invited to

rediscover the Ohio State Fair with great food, fun

games, thrilling rides, educational activities, friendly

competitions, concerts, agriculture and more.

"The Ohio State Fair brings people together. It's a

place where we can all celebrate our great state and

make memories that will last a lifetime," said DeWine.

"Fran and I absolutely love fairs, none more than the

Ohio State Fair. We have experienced so many

remarkable moments with our children and grandchildren

at fairs over the years, and this summer, we can't

wait to enjoy the Ohio State Fair once again."

This year's 167th Ohio State Fair is possible thanks

to the work of thousands of staff members, exhibitors,

volunteers, vendors, partners, performers, concessionaires,

youth leaders and sponsors. At this time, the

Ohio State Fair staff are working on enhancements

that will make this year's Ohio State Fair safe, fun,

and memorable.

"When we open our gates, people will be able to

rediscover the Ohio State Fair," said Strickler. "This

summer, all of our fair favorites will return. You'll be

able to walk through the barn, see the iconic butter

cow, try some deep-fried food on a stick, listen to

music, browse arts exhibitions, watch performances by

the All-Ohio State Fair Band and Youth Choir, visit

with Smokey Bear, learn about agriculture, and so

much more."

During the 2019 Ohio State Fair, 934,925 people

attended during the event's 12-day run. These attendees

came from each of Ohio's 88 counties, all 50

Libraries open on Sunday

The Columbus Metropolitan Library are now open on Sundays.

In early November, CML announced that all 23 locations would

close on Sundays due to staffing challenges. Fully staffed, CML

employs approximately 870 full- and part-time staff members.

CML's staffing count in early November was 711. That number

has since risen to 760. Open library positions remain posted on

CML's Careers page. To ensure social distancing, CML staff may

limit the number of people who can attend some of its programs.

CML asks that customers not enter its buildings if they are experiencing

symptoms of COVID-19, or if they recently came in contact

with someone who is experiencing symptoms. Masks are

required in all CML locations by order of the City of Columbus

and Library Board of Trustees. Children under age two are not

required to wear a mask.

www.columbusmessenger.com

states, the District of Columbia, as well as Canada and

Mexico.

The first big-name acts in this year's Ohio State

Fair Concert & Event Series will be announced by the

Ohio Expo Center and State Fair on March 7, with

additional announcements to follow on March 21 and

April 4. To sign up to be the first to know about the

new acts, and get access to pre-sale ticket opportunities,

sign up to receive the Ohio State Fair's newsletters

at ohiostatefair.com.

Admission and parking

The fair's hours of operations are Monday through

Friday from 10 a.m. — 9 p.m., Saturday and Sunday

from 9 a.m. — 9 p.m. except Aug. 7, when admission

gates close at 6 p.m.

Gate admission prices: adults (ages 13-59) — $10;

youth (ages 6-12) — $8; senior (ages 60+) — $8; children

five and under — free.

Buy early and save! Early Bird Admission — $6

(valid May 1-31) (lowest price of the year); Advance

Admission — $8 (valid June 1 — July 26 only; and

Midway ride-all-day wristbands — $25 each (through

July 26 only).

General parking is free to fairgoers in the main lots

north of the Cardinal Gate. Reserved parking is not

available to the general public for purchase.

Midway hours: July 27 — 11 a.m. — 11 p.m.; July 28

— 11 a.m. — 11 p.m.; July 29 — 11 a.m. — midnight; July

30 — 10 a.m. — 11 p.m.; July 31 — 10 a.m. — 11 p.m.; Aug.

1 — 11 a.m. — 11 p.m.; Aug. 2 — 11 a.m. — 11 p.m.; Aug.

3 — 10 a.m. — 11 p.m. (Sensory-friendly morning); Aug.

4 — 11 a.m. — 11 p.m.; Aug. 5 — 11 a.m. — midnight; Aug.

6 — 10 a.m. — 11 p.m.; and Aug. 7 — 10 a.m. — 10 p.m.

The Ohio State Fair plans to follow applicable state

and local protocols related to the spread of COVID-19.

Bugs and Birds Up Close

The Bugs & Birds Up Close

Photography Exhibition is at the Grange

Insurance Audubon Center 505 W.

Whittier St., Columbus, through March 13.

The exhibit features the work of photographers

Richard Schnuerer and David

Greenberg.

Schnuerer's work includes 20-plus

pieces showcasing Ohio raptors, including

hawks, owls, eagles and osprey. Learn how

the eagle has made a significant comeback

in Ohio from only four nesting pairs in

1979 to 700-plus nests in 2020. A special

feature of the snowy owl "Hedwig," who

visited the Delaware area last winter and

became quite the celebrity, is also included.

In addition to the raptors, an exhibit of

ruby-throated hummingbirds will also be

included to tell the story of these tiny birds

and their journey to Ohio and the Grange

Insurance Audubon Center.

The exhibition also includes photographs

by Greenberg, who presents mostly

insects but also includes spiders, millipedes,

and other multi-legged, chitinencased

creatures, some flying, some eating

(or being eaten), or just staring at you

suspiciously from their faceted, buggy

eyes. These creatures live on land, on

water, and in the air and they are extraordinarily

important to human beings. His

work also includes bees, among the most

valuable and most important creatures on

earth because much of what we eat

depends on their efforts.
---
www.columbusmessenger.com

March 6, 2022 - MESSENGER - PAGE 3

Eastland-Fairfield hosts SkillsUSA competition

Eastland-Fairfield Career & Technical

Schools and Eastland Career Center served

as host for the 2022 SkillsUSA South

Central regional competition on March 5.

The competition included approximately

175 students from 16 nearby career-technical

education centers, including Fairfield

Career Center. Eight competition standards

were held on campus with an additional

five taking place at off-site locations

in Columbus.

Senior Criminal Justice student, Laura

Williamson (Reynoldsburg eSTEM High

School), helped last year's senior class compete

as a subject in their virtual competition.

Being able to compete herself and

returning to in-person competition brought

mixed emotions, including relief.

"It's definitely a little nerve-wracking

because I didn't know what to expect," said

Williamson. "It was really cool that I got to

represent not just myself, but I feel like I

represented my lab, my teachers, and my

school."

With 45 students from its main campuses,

Eastland-Fairfield had a heavy presence

at the competition. Twenty-eight of

those students came from host Eastland

Career Center with another 17 made the

journey from Fairfield Career Center.

Prior to the SkillsUSA competition

being altered by COVID-19 restrictions,

the event would normally have been twice

this size. However, while some schools are

opening up in-person competitions some

events, specifically leadership-related

events, have moved to a "straight-to-

States" model where the top three finishers

in that category will bypass regional competition

and advance straight to the State

competition. This includes students from

Eastland-Fairfield's Architecture and

Construction Management program

(Gahanna Lincoln) and Cyber Security

Air quality report

The Mid-Ohio Regional Planning

Commission has released its annual air

quality report. The report provides a summary

of air quality data from November

2020 to October 2021.

For the first time since air quality

record-keeping began in 1980, no

Unhealthy for Sensitive Groups (USG) Air

Quality Index (AQI) days for ozone were

observed during the ozone forecast season.

Ground-level ozone forms when emissions

from vehicles and industry react in the

presence of heat and sunlight and is the

main ingredient in smog.

"Having zero days with air pollution

above the 100 Air Quality Index level is a

strong indication of the improving air quality

in our region," said Brandi Whetstone,

MORPC sustainability officer. "We hope to

see this trend continue in the coming

years."

In July 2021, wildfire smoke transported

into the Columbus area contributed to

10 Moderate AQI days for PM2.5. This represents

the highest number of Moderate

AQI days recorded in July for PM2.5 since

2015. PM2.5, or fine particle pollution, is

made up of fine solid or liquid droplets that

can get into the lungs and bloodstream.

Sources include diesel trucks, power

plants, and wood burning.

Overall, most days in central Ohio were

in the Good Air Quality Index category. For

ozone, 85 percent of summer days were in

the Good AQI category. For PM2.5, 87 percent

of all days were in the Good AQI category.

The summer's highest AQI day for ozone

occurred on August 24, when a large area

of upper-level high pressure extending

from the Southern Plains to Ohio inhibited

vertical mixing. At the surface, ozone production

was promoted by partly sunny

skies and high temperatures in the low-

90s. The daily ozone AQI value reached

100 because of these conditions, which is in

"Having zero days with air

pollution above the 100 Air

Quality Index level is a strong

indication of the improving air

quality in our region."

- Brandi Whetstone

MORPC sustainability officer

the High-Moderate category.

MORPC issues daily air quality forecasts

and notifies the public when ozone

and particle pollution levels are forecasted

to be unhealthy for sensitive groups of people

through Air Quality Alerts. On days

with an Air Quality Alert, children, older

adults, and those with lung illnesses such

as asthma can begin to experience symptoms

like shortness of breath and wheezing.

Over the past 29 years, the number of

days with high ozone has generally

declined in central Ohio, driven mostly by

emissions reductions from vehicles.

"We continue to see our Air Quality

Index trend in the right direction," said

Kerstin Carr, MORPC chief regional strategy

officer and senior director of planning.

"These positive data points can help us

advance the important programs and initiatives

that contribute to cleaner air."

Local mobility providers and programs,

such as MORPC's Gohio Commute program,

Downtown C-pass and Smart

Columbus — that encourage ridesharing,

driving electric vehicles, riding transit, biking

and walking — all help in keeping

harmful pollutants out of the air.

The Central Ohio Air Quality End of

Season Report can be viewed at

morpc.org/airquality, where residents can

find additional information and sign up to

receive free Air Quality Alert notifications.

(New Albany).

Much like Eastland-Fairfield's students,

Eastland Career Center's SkillsUSA advisor

and social studies teacher, John

McFarren, was enthusiastic for this year's

event.

"I was excited to just be a part of it

instead of getting an email stating which

students won or advanced," said McFarren.

"I've gotten to know the labs a lot better

and it's given me a little bit of perspective

of the kind of skills that they learn in lab."

On Feb. 18, six different SkillsUSA

regional sites began competition that will

last through March 12. This year's competition

at Eastland-Fairfield was not open to

the public. Results can be found on

www.EastlandFairfield.com.

Students that advanced to the state

competition will compete May 3-4.

SkillsUSA Nationals are set to take place

between June 20-24.

Messenger delivery with

the Sunday Dispatch

As readers know, we contract delivery of

the Messenger in with the Sunday

Dispatch. Recent proposed delivery

changes by the Dispatch, which would

have affected delivery of the Messenger in

with the Sunday Dispatch, have now been

put on hold.

Messenger

SkillsUSA Ohio's mission is to empower

its members to become world-class workers,

leaders and responsible American citizens.

SkillsUSA improves the quality of

America's skilled workforce through a

structured program of citizenship, leadership,

employability, technical and professional

skills training. SkillsUSA was previously

known as VICA (Vocational

Industrial Clubs of America). Ohio's organization

started in 1952 as VIC, then the

organization became a national organization

(VICA) in 1965. In 1999 the National

Association became SkillsUSA-VICA and

then finally just SkillsUSA in 2004. With

32,751 members in the 2019-2020 academic

year, SkillsUSA is the largest CTSO

(career-technical student organization) in

the state, and Ohio is the third largest

state association in the United States. For

information about Ohio SkillsUSA, visit

www.OhioSkillsUSA.org.

Therefore, you will continue to receive

your Messenger in with your Sunday

Dispatch for the foreseeable future.

Thank you for reading the Messenger!

To advertise in the

Messenger, call

614-272-5422.
---
PAGE 4 - MESSENGER - March 6, 2022

www.columbusmessenger.com

•Verlasso Salmon Fillets

•Cod Fillets

•Sole Fillets

•Ocean Perch Fillets

•Monkfish Fillets

SUPPORT YOUR LOCAL

SMALL BUSINESSES

LENT SPECIALS

•Haddock Fillets

•Red Snapper Fillets

•Fresh Grouper Fillets

•Walleye Fillets

•Fresh Gulf Shirmp

•Sea Scallops

WE ACCEPT All Major

Credit Cards - EBT Cards (SNAP)

Enjoy Columbus Fish and Seafood's delicious fish at the following churches during "LENT"

St Margaret of Corotona•St. Matthews •Our Lady of Perpetual Help•St. Stephens

• St Mary Magdalene•Holy Family•Our Lady of Victory Church•St. Catharine's

•St. Cecelia's•Church of Our Lady•St John Newman (Sunbury)• St. Joseph's (Plain City)
---
www.columbusmessenger.com

Volunteer for Trail Riders

The Groveport Recreation Department looking for a

volunteer to coordinate its Trail Riders bicycling program.

Group rides are scheduled once per week from

May thru September. Each ride is approximately 10 to

16 miles in length round trip, with lunch either during

the ride or after the ride. Rides typically take between

two and three hours and originate from a Groveport

park or local Metro Park. Most of the riding is on a

paved bicycle trail. Interested persons should contact

Kyle Lund at 614-836-1000 / klund@groveport.org.

Barber Museum

The National Barber Museum in Canal Winchester

is located at 135 Franklin St. (behind the former CW

High School building). The museum, housed in approximately

5,000 square feet, showcases art, artifacts, and

memorabilia from decades of the barbering profession.

For information call(614) 837-8400.

Special Olympics

The mission of Special Olympics Ohio and its Groveport

and Canal Winchester Special Olympics chapter is

to provide year round sports training and competition

in a variety of Olympic type sports for intellectually disabled

individuals. Contact Penny and Cassandra Hilty

at groveportspecialolympics@gmail.com or at (614) 395-

8992 or 395-6640. Donations may be sent to Groveport

Special Olympics, P.O. Box 296, Groveport, OH 43125.

Fire trucks damaged

Madison Township Fire Chief Derek Robinson told

Groveport City Council on Feb. 21 that two of the fire

department's fire engines were recently involved in

motor vehicle crashes.

He said one engine is inoperable and the other is in

service until scheduled repairs can be made. In the

mean time, the department will borrow reserve fire engines

from other area fire departments.

Guns vs. Hoses softball

The Groveport Recreation Department is planning a

charity slow pitch softball game between the Groveport

Police and the Madison Township Fire Department to

be played in the late spring or early summer in Groveport

Park, 7370 Groveport Road.

More details about the game will be available soon.

March 6, 2022 - MESSENGER - PAGE 5

CW Library

Branch

The Canal Winchester

Branch of

the Columbus Metropolitan

Library,

115 Franklin St., is

located in the rear

portion of the former

school at 100

Washington St. For

information visit

www.columbuslibrary.org

or call

614-645-2275.

Wagnalls

Library

Wagnalls Memorial

Library is located

at 150 E. Columbus

St., Lithopolis. For

information call

(614) 837-4765 or

visit www.wagnalls.org.

We are the

BEST community

newspaper!

Need advertising?

Call 614-

272-5422

today.

eastside

Messenger

(Distribution: 6,500)

Rick Palsgrove........................Canal Winchester Editor

eastside@ columbusmessenger.com

Published every other Sunday by

The Columbus Messenger Co.

3500 Sullivant Ave., Columbus, Ohio 43204-1887

(614) 272-5422

Keep tabs on the news

in Canal Winchester

Look for CW Messenger on

Become a fan!

Messenger

Canal Winchester

BEST COMMUNITY NEWSPAPER in Canal Winchester

Pick-Up At These

Locations:

Walgreen's - Gender & Winchester Blvd.

BP Gas Station - Gender Rd. & Freeway

Aldi - Gender Rd. & Freeway (behind BP Station)

Kroger - Winchester Square

Frances Steube Senior Center - 22 S. Trine St.

The Wigwam Restaurant - 4 South High St.

Shade on the Canal - 19 South High St.

Canal Winchester Library - 115 Franklin St.

Canal Winchester Municipal - 36 South High St.

Canal Winchester School Adm. - 100 Washington St.

Harvest Moon - 7 N. High St.

Rex Barber Shop - 1 W. Waterloo

Sunoco Gas Station - 501 W. Waterloo St.

Panera - 685 W. Waterloo St.

Schirm Farm Apts. - 6340 Saddler Way

READ US ONLINE: www.columbusmessenger.com
---
PAGE 6 - MESSENGER - March 6, 2022

"Every Brilliant Thing" to be presented

The Canal Winchester High School Performing Arts Department

and David's United Church of Christ announced performances of

Duncan Macmillan's "Every Brilliant Thing," on March 14 at 7 p.m.

(pay what you can performance) at David's United Church of

Christ, 80 W. Columbus St., Canal Winchester; and March 15 at 7

p.m. (pay what you can performance) at the Oley Speaks Auditorium,

Canal Winchester Education Center, 100 Washington St,

Canal Winchester.

The one actor play revolves around a middle-aged man coming

to terms with his parents' and his own issues with depression.

The character retells learning of his mother's depression and the

list of 'Every Brilliant Thing' in the world worth living for. Over the

years, this list grows to 10,000 items.

The performer James Phillips is an associate professor of Theatre

at Mount Saint Mary College in Newburgh, N.Y.

He has worked from coast to coast as an actor, director, and

sound designer.

He is a founding member of Capitol City Improv and Theatre de

la Fleur, commedia troupe.

For several years he performed David Sedaris' "The Santaland

Diaries," including at Railroad Playhouse in Newburgh. Recent productions

include: "The Wolves," "Love's Labour's Lost," "Tomfoolery,"

"Oh, The Humanity," and "The Laramie Project."

The World's Most Advanced

Medical Alert System

Voice-Activated! No Wi-Fi Needed!

$20 OFF Mobile Companion

Offer code: CARE20

CALL NOW

1-855-521-5138

Prepare for unexpected

power outages with a

Generac home standby

generator

REQUEST A FREE QUOTE!

866-643-0438

FREE

7-Year Extended Warranty*

A $695 Value!

Limited Time Offer - Call for Details

Special Financing Available

Subject to Credit Approval

columbusmessenger.com

*To qualify, consumers must request a quote, purchase,

install and activate the generator with a participating dealer.

Call for a full list of terms and conditions.

Community

Real Estate

Experts

WHITNEY

CONNIE

740-687-4888

LetTeamHallHelpYou.com

PATH

Continued from page 1

(referendum) process as set out by the Ohio Revised

Code."

Haire said, according to the agreement with the city,

the applicant has the ability to file for a detachment

with the city for the annexation and return the acreage

to Madison Township for consideration by other entities–such

as Columbus–for annexation and development.

If the council turned down a detachment request, the

city would be in breach of the contract and open to litigation.

"They're (applicant) gone," Shea said. "I mean like

gone. Five million dollars over 10 years–gone."

The city received the citizen referendum petition on

Feb. 17.

Members of the Canal Winchester for Smart Growth

organization spearheaded the referendum.

During a Jan. 18 council meeting, an ordinance was

passed by council to rezone land owned by members of

the Schacht family from rural to limited manufacturing.

Northpoint wants to construct a pair of warehouses to

compliment two already located in their Canal Crossing

development.

Canal Winchester Finance Director Amanda Jackson

said the city has not reviewed the referendum petitions

and does not approve or reject them.

E-SPORTS

Continued from page 1

Wyatt talks with his captains beforehand and then

turns the practice over to them, which consists of inhouse

and remote scrimmages with other schools. The

coach said, as an educator, it is important to him that

his players have the opportunity and room to lead and

help each other grow.

Players–who must maintain academic eligibility–

frequently review video footage from past competitive

matches and critique each other as well.

"We have a really nice lab over at the high school,"

said the coach who became involved in E-sports in late

2020 early 2021. "In our first year, we tried to figure out

what's the best way best way we can make it. We had a

plan during the 2019-20 school year to roll out an E-

sports program, but those plans were initially placed on

hold due to the pandemic and the restrictions that came

with it."

According to Wyatt, the team started with 20 students

in 2021 and now includes almost 50 teenage

gamers who play four different games. The coach said

E-sports is becoming more important as the years go on

and students are now able to apply for scholarships.

"Initially, we saw $500 to $1,300 in scholarship

money," said Wyatt. "Now we're

seeing partial to full scholarships

in just two years of advancement.

E-sports is only going to

continue to grow. We even talked

about trying to get it to the middle

school level and elementary

level and even rec."

Wyatt said the Ohio High

School Athletic Association is

DEREK

CW Farmers' Market

The 2022 Canal Winchester Farmers'

Market begins May 24 and runs through

Sept. 25. We are currently accepting applications.

Visit thecwfm.com for information.

CW City Council meetings

Canal Winchester City Council meetings

are held on the first and third Monday of

www.columbusmessenger.com

"The city must keep the petitions on hand for at least

10 days from the date of receipt before forwarding them

to the Franklin County Board of Elections," said Jackson.

"According to the Franklin County Board of Elections,

430 (valid) signatures were required. The city

does not take part in the verification of the signatures

so I cannot comment on how many were obtained."

According to Franklin County Board of Elections

Public Information Officer Aaron Sellers, "(As of Feb.

25) We've not received it (the petition) yet. If the city

has it they have to forward it to us to check signatures

after 10 days, and we have 10 days to get it back to

them. It will appear at the next general election (if approved)."

Sellers said there were 4,292 votes cast for governor

at the 2018 general election in Canal Winchester. He

said 10 percent of that is 430 signatures, which is the

number of valid signatures required for the referendum

petition. The board of elections must examine the signatures

and return the petition to the city within 10

days of receipt with a statement attesting to the number

of voters who signed the petition. If the number of

valid signatures is sufficient and the petition is otherwise

valid, the city must certify the sufficiency and validity

of the petition back to the board of elections.

Managing Editor Rick Palsgrove contributed to this story.

now involved in E-sports and working toward officially

recognizing it as a sanctioned sport. The district club is

now part of a state-run league with over 300 participating

schools with spring and fall seasons.

"I have always been interested in gaming and playing

competitively," said Wyatt, who played video games

on various platforms including the Nintendo's original

entertainment system and felt his knowledge and experience

with gaming made him an ideal candidate to

head up the emerging E-sports program. "Couple this

with the fact that I love my students and strive to see

them succeed and it became a perfect match. I am also

a former student of the district and spent 12 years as a

CW Indian.

Looking back on his time as a student, Wyatt said a

program like E-sports would have been a perfect way

for him to apply his passion for gaming in a way that

could potentially afford him a future as a professional

gamer, as a scholarship E-sports athlete at the collegiate

level or as a video game creator.

"I wanted to be the person to bring that dream to reality

for our students," said Wyatt.

Future plans include expanding opportunities for

students outside of gaming within E-sports such as

streaming, commentating and video production.

"There is so much that goes into making E-sports

successful and I would love to provide media production

opportunities for students interested in gaming, but

who may not be comfortable or interested in playing

competitively," said Wyatt. "We have big things in the

works and I look forward to seeing where we are five

years from now."

every month. Meetings begin at 7 p.m. and

are held at Town Hall, 10 N. High St. The

meetings are open to the public.

CW school board meetings

The Canal Winchester Board of Education

meets on the third Monday of each

month at 7 p.m. in the Canal Winchester

Education Center, 100 Washington St. on

the second floor in room 204/206.
---
www.columbusmessenger.com

New CW municipal building

awaits technology installation

By Linda Dillman

Staff Writer

Completion of Canal Winchester's new

municipal complex is in a temporary holding

pattern as the city waits on installation

of fiber optics connections from WOW.

"Right now, it's a concentration of data,

telecom and security access type items and

getting those wrapped up," said Construction

Services Administrator Bill Sims during

a Feb. 22 Canal Winchester City Council

work session. "Putting the IT rooms together

and testing out those facilities…

those all hinge on WOW bringing in their

fiber to the facility. They're waiting on a

piece of equipment at this point."

Sims said furniture is being installed in

all of the office areas and the new community

center at the west end of the building

looks finished. He anticipates city offices to

open around the third to fourth week in

March.

"When we started the project, the work

basically progressed from the west end of

the building in the community center area

to the council chamber," Sims said. "So, the

council chamber is basically the last thing

wrapping up. There probably is a possibility

council might not move to that chamber location

until after we're in the offices."

Mayor Mike Ebert said that empty space

at the far west end of the complex has not

yet been leased by an outside entity. He said

the city has "feelers out, but nothing concrete

yet."

The old Steube Community Center to the

south of the new complex closed permanently

at the end of the day on Feb. 25 after

serving the public since the 1980s. It will be

torn down to make way for additional parking

spaces.

Sims said they are going to give it their

Tax preparation for seniors

AARP tax-aide volunteers will offer free

income tax preparation services to seniors.

This year the group will operate out of the

Interurban Station Building, 16 S. High St.,

Canal Winchester, near the parking lots behind

Stradley Park. Safety precautions

have been put in place to prevent the spread

of COVID-19. Appointments are required

and are available on Wednesdays and Fridays.

Call 614-375-2167 to schedule your

appointment. Appointment scheduling is

also available at the Community Center, 22

S. Trine St., Canal Winchester, during regular

business hours.

We Love Our Veterans

Groveport Town Hall, 648 Main St.,

Groveport, will host the We Love Our Veterans

exhibit through March 25.

The city of Groveport is recognizing honorably

discharged military veterans from all

branches of service who reside in Franklin

County.

The exhibit includes items from Motts

best shot in salvaging an old shelter house

that is part of the center, but the structure

experienced a lot of water damage over the

years.

A March 21 target reopening date for the

new center is anticipated, but dates are

fluid due to potential issues, with the WOW

connection topping the list.

"We anticipate demolition of the current

building in mid to late March," said Sims,

with "parking lot work in April. That should

move along pretty well."

Sims also updated council on plans to

convert the old municipal building at 36 S.

High St. into a police substation. He said

preliminary plans came in a little higher

than expected.

"There was a bit more work involved

when you get to the nitty gritty of the HVAC

system and electrical items," said Sims, who

anticipates bringing a request to waive the

competitive bidding process to council by

the second meeting in March. "Ideally I'd

like to move forward with something from

Ferguson Construction. We contract with

them currently and it would be extremely

similar work. I think we can do this as a design

build. We have some criteria sketches

and I think we'd be well suited to do a design-build

scenario with the contractor. I

think we'll save ourselves potentially

$10,000 in efforts."

Part of the costs associated with the renovation

of 36 S. High St. not considered in

the city's preliminary estimate was moving

doors and walls and the impact that has on

service systems and lighting.

Since they are working on the new municipal

complex, Sims said the city took advantage

of asking Ferguson Construction to

estimate the cost of the project.

Military Museum, the Groveport Heritage

Museum, the Central Ohio Military Museum,

and items from individuals and families.

CW Council work sessions

Canal Winchester City Council meets in

work session at 6 p.m. prior to each city

council meeting to discuss legislative items

and other issues of the city prior to being included

on a city council agenda.

Council work session consists of all members

of council with the vice-president serving

as chair.

The work sessions are divided into two

areas of focus.

The first work session of the month focuses

on finance/economic development

items and the second monthly work session

focuses on service/safety items.

While each work session includes specific

areas of focus, other items may be brought

before council as needed.

Council work sessions are open to the

public.

DestinationOutlets.com

800-213-9083

8000 Factory Shops Blvd.

Jeffersonville, OH 43128

March 6, 2022 - MESSENGER - PAGE 7

For Appointment Information Call

(614) 837-7337

Meet Our Canal Winchester Physicians

Nicholas Stevens, MD

H. Scott Tyson, MD

Shari Burns, MD Wendy Stevens, MD Aila Co, MD

7750 Diley Road, Suite A, Canal Winchester, OH 43110

DOWNLOAD OUR

MEMBERSHIP APP
---
PAGE 8 - MESSENGER - March 6, 2022

GAME #3

WHERE IN

WHERE

Messenger

www.columbusmessenger.com

The Messenger is Phil?

Each week Phil's Cartoon will be

hiding in (3) places in the paper.

All you have to do is find him. He

may be hiding in an article or a

picture or an advertisement. Don't

forget to check the classifieds!

Tell us the page number, issue

date and name of paper. Send

your answer by email, fax or mail by

5 PM,Tuesday, March 15th, 2022

and you'll have a chance to win a

$50 GIFT CARD.

Must be 18 or older.

One entry per

household. In a case

of a tie, winners will

be drawn at random.

Judge's decision is

final.

GAME #3

Name:

Address:

Phone:

MESSENGER

The Columbus Messenger

3500 Sullivant Ave.,Columbus, OH 43204

Name

Phil

The Contest Winner from our February 20th

Issue is: AMELIA M. SOCIE

email: contest.messenger@gmail.com - fax: (614) 272-0684

PAGE#'s:

PAPER NAME:

ISSUE DATE:
---
www.columbusmessenger.com

March 6, 2022 - MESSENGER - PAGE 9

Remembering tournament time at the Coliseum

Each year at high school basketball

tournament time I get nostalgic about the

Fairgrounds Coliseum.

Now called the Taft Coliseum, the arena

on the Ohio State Fairgrounds opened in

1918 and can hold 5,000 to 7,000 spectators.

The Coliseum was renovated in recent

years and has a different look now from the

old days, but in my memory it remains the

lovable, rough old barn it always was.

I'm a sucker for old gymnasiums. I like

the sounds and the feel of the places. The

way the sound of a bouncing basketball

echoes off the walls, the look of the backboard

and rims, noticing the grain of the

wooden court floor, the ticks of the clock on

the scoreboard, and how the bleachers

seem to be right on top of you.

These small, old basketball venues are

unique and have personality. But though the

Coliseum is much bigger than the old high

school gyms, it, too, has a similar, special feel.

The place was the home to the annual

high school basketball tournament for

many years until around 2013 when the

Editor's Notebook

Ohio High School

Athletic Association

decided to play the

games elsewhere.

In the early rounds

Rick

Palsgrove

of the tournament you could pay one admission

price and watch all the games being

played that day, which was particularly fun

on a Saturday when there was a full slate of

games. It was paradise for a basketball fan

where one could watch games and find old

friends to reminisce with.

The first time I was in the Coliseum was

as a kid in the 1960s when my dad took me

and my brother to see the Groveport

Madison Cruisers play Richwood North

Union in a first round tournament game. I

remember walking through the tunnel to

the arena and being amazed at the size of

the place. The building's appearance

seemed like a blending of the industrial

world and the agricultural world. The

wooden basketball court shined under the

lights. There were huge electric fans at

either end of the building that slowly

turned to keep the place ventilated.

We found great seats with good sight

lines to the court. Dad even bought us

Cokes and popcorn, which for a kid made

everything even better. I loved the place

and couldn't wait until I was older and

could play in a game on the Coliseum court.

I got that wish twice when I played for

the Cruiser boys varsity basketball team in

1972-73 and 1973-74. Taking the floor for

warm ups with my teammates was exhilarating.

I drank it all in - the buzz and roar

of the crowd echoing off the high ceiling, the

bright lights, and the sneakers squeaking

on the creaking wood floor. There was a

radio broadcasting booth hanging high up

that made it all seem so important. A cool

factor for a basketball nerd like me was that

the foul lanes on the court included painted

markings for both high school as well as the

wider professional lane markings.

I remember that during warm ups we

had to get used to the depth perception

while shooting at the basket. The basket

seemed to just hang in space compared to

the baskets we were used to shooting at in

small high school gyms. The depth perception

was kind of like shooting baskets outside,

but you did not have to worry about

the wind messing with your shot!

Sadly, we lost both of those first round

tournament games, but I absorbed it all

and will always remember being there.

Being on that basketball court in that

place was a special experience today's players

will not have unless they advance far into

the tournament to play at larger venues.

Back then we stepped out of the comfort

of our small town gyms into a big city arena

and saw a larger world to be experienced. In

a way it prepared us for the momentous step

we would make the following June when, a

few months after the basketball season

ended, we crossed a stage to get our high

school diplomas as we prepared to leave the

embrace of home to tackle the wider world.

Rick Palsgrove is managing editor of the

Messenger Newspapers.

CLASSIFIED ADS

Deadlines: Groveport and West editions, Wednesdays at 5 p.m., • South/Canal Winchester, Grove City, Madison editions, Tuesdays at 5 p.m.

All editions by phone, Tuesdays at 5 p.m. • Service Directory, Tuesdays at 5 p.m.

ASSOCIATION ADS

Aloe Care Health, medical

alert system. The most

advanced medical alert

product on the market.

Voice-activated! No wi-fi

needed! Special offer-call

and mention offer code

CARE20 to get $20 off

Mobile Companion. Call

today-1-877-728-4065

!!OLD GUITARS WANT-

ED!! GIBSON, FENDER,

MARTIN, Etc. 1930's to

1980's. TOP DOLLAR

PAID. CALL TOLL FREE

1-866-433-8277

Don't let the stairs limit

your mobility! Discover

the ideal solution for

anyone who struggles on

the stairs, is concerned

about a fall or wants to

regain access to their

entire home. Call

AmeriGlide today! 1-844-

317-5246

AMERICAN & FOREIGN

CLASSIC CARS AND

MOTORCYCLES

WANTED. $$PAYING

CA$H$$ Corvettes,

Mustangs, Jaguars, Austin

Healeys, Broncos,

Blazers, Ram Chargers,

AMX, and Triumphs

KRMiller1965@yahoo.com

717-577-8206

ASSOCIATION ADS

HOME BREAK-INS take

less than 60 SECONDS.

Don't wait! Protect your

family, your home, your

assets NOW for as little as

70¢ a day! Call 866-409-

0308

Long Distance moving.

Call for a free quote from

America's Most Trusted

Interstate Movers. Let us

take the stress out of

moving! Speak to a

relocation specialist! Call:

888-721-2194

Put on your TVEars &

hear TV w/unmatched

clarity. TVEars Originaloriginally

$129.95 - now

w/this special offer only

$59.95 w/code MCB59! 1-

833-530-1955

Stop worrying! SilverBills

eliminates the stress &

hassle of bill pmts.

Household

bills

guaranteed to be paid on

time as long as

appropriate funds are

available. No computer

necessary. Free trial/

custom quote 1-855-703-

0555

Become a Published

Author. We want to Read

Your Book! Dorrance

Publishing - Trusted by

Authors Since 1920

Book manuscript submissions

currently being reviewed.

Comprehensive Services:

Consultation, Production,

Promotion and Distribution. Call

for Your Free Author's Guide 1-

866-482-1576 or visit

http://dorranceinfo.com/macnet

ASSOCIATION ADS

Aloe Care Health, medical

alert system. The most

advanced medical alert

product on the market.

Voice-activated! No wi-fi

needed! Special offer

w/code CARE20 for $20

off Mobile Companion. 1-

855-521-5138

DENTAL INSURANCE

from Physicians Mutual

Insurance Company.

Coverage for 350 plus

procedures. Real dental

insurance - NOT just a

discount plan. Do not wait!

Call now! Get your FREE

Dental Information Kit with

all the details! 1-877-553-

1891

www.dental50plus.com/

macnet#6258

Wesley Financial Group,

LLC Timeshare Cancellation

Experts Over

$50,000,000 in timeshare

debt & fees cancelled in

2019. Get free

informational package &

learn how to get rid of

your timeshare! Free

consultations. Over 450

positive reviews. 888-965-

0363

ASSOCIATION ADS

Internet &WIFI Starts at

$49 Call us Today to Get

Started. Find High-Speed

Internet with Fiber Optic

Technology No Credit

Check, No SSN Required.

Call us Today 866-396-

0515

Directv Stream - The Best

of Live &On-Demand On

All Your Favorite Screens.

CHOICE Package,

$84.99/mo for 12 months.

Stream on 20 devices at

once in your home. HBO

Max FREE for 1 yr

(w/CHOICE Package or

higher.) Call for more

details today! (some

restrictions apply) Call IVS

1-866-629-6086

The bathroom of your

dreams for as little as

$149/month! BCI Bath &

Shower. Many options

available. Quality

materials & professional

installation. Senior &

Military Discounts

Available. Limited Time

Offer - FREE virtual inhome

consultation now

and SAVE 15%! Call

Today! 1-877-540-2780

Stroke & Cardiovascular

disease are leading

causes of death according

the American Heart

Association. Screenings

can provide peace of mind

or early detection! Call

Life Line Screening to

schedule your screening.

Special offer - 5

screenings for $149. 1-

866-518-8391

ASSOCIATION ADS

Stroke & Cardiovascular

disease are leading

causes of death according

the AHA. Screenings can

provide peace of mind or

early detection! Call Life

Line Screening to

schedule a screening.

Special offer 5 screenings

for $149.. 1-833-549-4540

LONG DISTANCE MOVING:

Call Today for a FREE

QUOTE from America's Most

Trusted Interstate Movers.

Let us take the stress out of

moving! Call now to speak to

one of our Quality Relocation

Specialists: 877-541-6320

HughesNet - Finally, superfast

internet no matter

where you live. 25 Mbps

just $59.99/mo! Unlimited

Data is Here. Stream

Video. Bundle TV &

Internet. Free Installation.

Call 866-499-0141

Looking for assisted living,

memory care, or

independent living? A

Place for Mom simplifies

the process of finding

senior living at no cost to

your family. Call 1-833-

386-1995 today!

Business Owners.

Eliminate credit card

processing fees 100%,

pass on a legal 4% noncash

charge to the

customer. Chain stores

welcome. 337-849-8083

ASSOCIATION ADS

The Generac PWRcell, a

solar plus battery storage

system. SAVE money,

reduce your reliance on

the grid, prepare for power

outages and power

your home. Full installation

services available. $0

Down Financing Option.

Request a FREE, no obligation,

quote today. Call

1-866-783-0292

Looking for assisted living,

memory care, or

independent living? A

Place for Mom simplifies

the process of finding

senior living at no cost to

your family. Call 1-833-

910-1576 today!

Become a Published

Author. We want to Read

Your Book! Dorrance

Publishing Trusted by

Authors Since 1920

Consultation, Production,

Promotion and Distribution.

Call for Free Author's Guide

1-833-719-3029 or visit

http://dorranceinfo.com/acp

Paying top cash for men's

sportwatches! Rolex,

Breitling, Omega, Patek

Pillippe, Heuer, Daytona,

GMT, Submariner and

Speedmaster. Call 833-

603-3236

Hero takes stress out of

managing medications.

Hero sorts & dispenses

meds, sends alerts at

dose times & handles

prescription refill &

delivery for you. Starting

at $24.99/month. No

initiation fee. 90-day riskfree

trial! 1-888-684-0280

xInformation

WORRIED? STRESSED OUT?

DEPRESSED?

BUY AND READ

D I A N E T I C S

THE MODERN SCIENCE OF MENTAL HEALTH

BY L. RON HUBBARD

May you never be the same again. Price: $25

CALL 614-974-3672

1266 Dublin Road, Columbus, Ohio 43215

Information
---
PAGE 10 - MESSENGER - March 6, 2022

www.columbusmessenger.com

CLASSIFIED ADS

Deadlines: Groveport and West editions, Wednesdays at 5 p.m., • South/Canal Winchester, Grove City, Madison editions, Tuesdays at 5 p.m.

All editions by phone, Tuesdays at 5 p.m. • Service Directory, Tuesdays at 5 p.m.

xEmployment

Ginger's

Little Lamb

Daycare

NOW HIRING

2 Full-Time Infant Teachers

Hours: 8:30a.m. to 5:30p.m. &

9:00a.m.-5:30 p.m. Mon.-Fri.

1 Position working with Schoolagers

Hours: 5:30 a.m. to 8:30 a.m.

& 2:00 p.m.-5:30 p.m. Mon.-Fri.

Must be 18 years old and have a high school diploma.

CALL GINGER'S LITTLE LAMB DAYCARE

614-395-9345

"HELP WANTED"

SIGN

NOT WORKING?

TO ADVER

VERTISE

Call Kathy at

The Columbus Messenger

272-5422

For More Info

ASSOCIATION ADS

BATH & SHOWER UP-

DATES in as little as

ONE DAY! Affordable

prices - No payments for

18 months! Lifetime warranty

& professional installs.

Senior & Military

Discounts available. Call

855-761-1725

DISH TV $64.99 190

Channels + $14.95 high

speed internet. FREE installation,

Smart HD DVR

included. Free Voice Remote.

Some Restrictions

apply. Promo Expires

1/21/23. 1-833-872-2545

Donate Your Car To

Veterans Today! Help and

Support our Veterans.

Fast - FREE pick up.

100% tax deductible. Call

1-800-245-0398

Elminate gutter cleaning

forever! LeafFilter, the most

advanced debris-blocking

gutter protection.

Schedule Free LeafFilter

Estimate today. 15% off

Entire Purchase. 10%

Senior & Military Discounts.

Call 1-855-995-2490

VIAGRA & CIALIS! 60

pills for $99. 100 pills for

$150 FREE shipping.

Money back guaranteed!

1-844-596-4376

ASSOCIATION ADS

Replace your roof with the

best lookng and longest

lasting material! Steel

from Erie Metal Roofs!

Three styles and multiple

colors available.

Guaranteed to last a

lifetime! Limited Time

Offer - $500 Discount +

Additional 10% off install

(for military, health

workers & 1st responders)

Call Erie Metal Roofs: 1-

855-338-4807

Life Alert. One press of a

button sends help fast

24/7! At home and on

the go. Mobile Pendant

with GPS. Free first aid

kit (with subscription).

877-537-8817 Free brochure

The Generac PWRcell

solar plus battery storage

system. Save money,

reduce reliance on

grid, prepare for outages

& power your home. Full

installation services. $0

down financing option.

Request free no obligation

quote. Call 1-855-

270-3785

Update your home with

beautiful new blinds &

shades. Free in-home

estimates make it

convenient to shop from

home. Professional

installation. Top quality -

Made in the USA. Free

consultation: 877-212-

7578. Ask about our

specials!

ASSOCIATION ADS

SELL YOUR ANTIQUE

OR CLASSIC CAR.

Advertise with us. You

choose where you want

to advertise. 800-450-

6631 visit macnetonline.

com for details.

Pest Control

Find Pest Control Experts

Near You! Don't let

pests overtake your

home. Protect your loved

ones! Call to find great

deals on Pest Control

Services - 833-872-0012

Eliminate gutter cleaning

forever! LeafFilter, the

most advanced debrisblocking

gutter protection.

Schedule a FREE LeafFilter

estimate today. 15% off

Entire Purchase. 10% Senior

& Military Discounts.

Call 1-855-791-1626

New authors wanted!

Page Publishing will help

self-publish your book.

Free author submission

kit! Limited offer! 866-

951-7214

AT&T Internet. Starting

at $40/month w/12-mo

agmt. 1 TB of data/mo.

Ask how to bundle &

SAVE! Geo & svc restrictions

apply. 1-888-796-

8850

HughesNet Satellite Internet

- Finally, no hard

data limits! Call today for

speeds up to 25mbps as

low as $59.99/mo! $75

gift card, terms apply. 1-

844-863-4478

Employment

NOW HIRING BUS DRIVERS

$19.00 an Hour

CDL Drivers get $2,000 Sign On Bonus

Non-CDL $1,000 Sign On Bonus

Paid Training

Apply @ 4400 Marketing Pl., Groveport (Door 16) or http://careers.nellc.com/

614-836-4962

ASSOCIATION ADS

DISH TV $64.99 FOR 190

Channels + $14.95 High

Speed Internet. Free Installation,

Smart HD DVR

Included, Free Voice Remote.

Some restrictions

apply. Promo expires

1/21/22. 1-855-270-5098

GENERAC Standby

Generators provide

backup power during

power outages, so your

home & family stay safe &

comfortable. Prepare now.

FREE 7-yr extended

warranty $695 value!

Request a free quote

today. Call for terms &

conditions. 1-844-334-

8353

VIAGRA and CIALIS

USERS! 50 Generic pills

SPECIAL $99.00. 100%

guaranteed. 24/7 CALL

NOW! 888-445-5928

Hablamos Espanol

HEARING AIDS!! Bogo

free! High-quality rechargeable

Nano hearing

aids priced 90% less

than competitors. Nearly

invisible! 45-day money

back guarantee! 833-

669-5806

JOB

FAIR

OR OPEN

INTERVIEWS?

CALL KATHY

TO ADVERTISE

272-5422

ASSOCIATION ADS

Train online to do medical

biling! Become a Medical

Office Professional at CTI!

Get trained & certified to

work in months! 888-572-

6790. The Mission,

Program Information and

Tuition is located at

CareerTechnical.edu/cons

umer-information. (M-F 8-

6 ET.

IMPORTANT

NOTICE

The following states: CA,

CT, FL, IA, IL, IN, KY,

LA, MD, ME, MI, MN,

NE, NC, NH, OH, OK,

SC, SD, TX, VT and WA

requires seller of certain

business opportunities to

register with each state

before selling. Call to

verify lawful registration

before you buy.

ASSOCIATION ADS

Donate your car to kids!

Fast free pickup running

or not - 24 hour response.

Maximum tax

donation. Help find missing

kids! 877-831-1448

Directv Now. No Satellite.

$40/mo 65 Channels.

Stream news, live

events, sports & on demand

titles. No contract/

commitment. 1-866-825-

6523

GENERAC Standby Generators

provide backup

power during utility power

outages, so your home

and family stay safe and

comfortable. Prepare

now. Free 7-year extended

warranty ($695 value!).

Request a free

quote today! Call for additional

terms and conditions.

1-855-465-7624
---
Me senger

www.columbusmessenger.com

xCome & Get It!

.

COME AND GET IT

Deadlines are Tuesdays by 5 pm.

Call For Publication Schedule 614-272-5422

Need to Get Rid of Something Fast - Advertise It Here For FREE!

FREE Garden Straw for gardens or bedding. Call for appointment for pickup.

Circle S Farms, 9015 London-Groveport Road, Grove City, 43123

Grove City - 614-878-7980

WOOD from two trees that we cut down two years ago. FREE.

Call me and let me know when you canp ick it up.

TH - Canal Winchester - 614-949-8963

Come and Get It! is a bi-weekly column that offers readers an opportunity to pass

along surplus building materials, furniture, electronic equipment, crafts, supplies,

appliances, plants or household goods to anybody who will come and get them - as

long as they're FREE. NO PETS! Just send us a brief note describing what you want to

get rid of, along with your name, address and phone number. Nonprofit organizations

are welcome to submit requests for donations of items.

Send information to The Columbus Messenger, Attention: Come and Get It, 3500

Sullivant Ave., Columbus, OH43204. Deadline is Tuesdays by 5 pm for following

Mondays publication. Messenger Newspapers is not responsible for any

complications that may occur. Please contact us when items are gone. 272-5422

Come & Get It!

xInformation

IQ TESTED

Offering for a limited time,

free intelligence and personality

tests. Your IQ, personality and

aptitude determine your future.

Know them. No obligations.

CHURCH OF SCIENTOLOGY

OF CENTRAL OHIO

1266 Dublin Road, Columbus, Ohio 43215

Information

ASSOCIATION ADS

DENTAL INSURANCE-

Physicians Mutual Insurance

Company. Covers

350 procedures. Real

insurance - not a discount

plan. Get your free

dental Info kit! 1-888-

623-3036 . www.dental50plus.com/58

#6258

Attention: If you or aloved

one worked around the

pesticide Roundup

(glyphosate) for at least 2

years and has been diagnosed

with non-Hodgkin's

lymphoma, you may be

entitled to compensation.

855-341-5793

ASSOCIATION ADS

Attention oxygen therapy

users! Inogen One G4 is

capable of full 24/7 oxygen

delivery. Only 2.8

pounds. Free info kit.

Call 877-929-9587

Thinking about installing

a new shower? American

Standard makes it

easy. FREE design consulation.

Enjoy your

shower again! Call 1-

833-769-0995 today to

see how you can save

$1,000 on installation, or

visit www.newshowerdeal.com/mac

Looking for auto insurance?

Find great deals

on the right auto insurance

to suit your needs.

Call today for a free

quote! 866-924-2397

ASSOCIATION ADS

Wants to purchase minerals

and other oil and gas

interests. Send details to

P.O. Box 13557, Denver,

CO. 80201

GENERAC Standby

Generators. The weather

is increasingly unpredictable.

Be prepared for

power outages. FREE 7-

year extended warranty

($695 value!) Schedule

FREE in-home assessment.

1-844-334-8353

Special financing if qualified.

Protect your home w/home

security monitored by

ADT. Starting at $27.99/

mo. Get free equipment

bundle including keypad,

motion sensor, wireless

door & windows sensors.

833-719-1073

Want Faster & Affordable

Internet? Get internet

service today with

Earthlink. Best internet &

WiFi Plans. Call us Today

to Get Started. Ask

about our specials! 866-

396-0515

NEED IRS RELIEF

$10K-$125K+ Get Fresh

Start or Forgiveness.

Call 1-844-431-4716

Monday through Friday

7am-5pm PST

READY TO BUY, SELL

OR RENT YOUR

VACATION HOME OR

HUNTING CAMP?

Advertise it here and in

neighboring publications.

We can help you. Contact

MACnet MEDIA @

800-450-6631 or visit our

site at MACnetOnline.

com

ASSOCIATION ADS

READER

ADVISORY

The National Trade Association

we belong to has

purchased the following

classifieds. Determining

the value of their service

or product is advised by

this publication. In order

to avoid misunderstandings,

some advertisers do

not offer "employment"

but rather supply the

readers with manuals, directories

and other materials

designed to help

their clients establish mail

order selling and other

businesses at home. Under

NO circumstance

should you send any

money in advance or give

the client your checking,

license ID or credit card

numbers. Also beware of

ads that claim to guarantee

loans regardless of

credit and note that if a

credit repair company

does business only over

the phone it's illegal to request

any money before

delivering its service. All

funds are based in US

dollars. Toll Free numbers

may or may not

reach Canada. Please

check with the Better

Business Bureau 614-

486-6336 or the Ohio Attorney

General's Consumer

Protection Section

614-466-4986 for more

information on the company

you are seeking to

do business with.

HELP WANTED

FT Barber needed for well

established Barber Shop

in Upper Arlington.

Alfred's Barber Shop.

614-457-5432

Ask for Ronda

Enjoy Working Outdoors?

We have your job!

Moving & Landscape help

needed Monday-Friday,

no weekends. Must have

valid Driver's License. Call

Don 614-419-3526

WANT TO BUY

BUYING VINYL RECORDS.

LPs and 45s - 1950-80s

Rock, Pop, Jazz, Soul.

614-831-0383

WE BUY JUNK CARS

Call anytime 614-774-6797

ANTIQUES

WANTED

Victrolas, Watches,

Clocks, Bookcases

Antiques, Furn.

Jeff 614-262-0676

or 614-783-2629

We Buy Junk Cars &

Trucks. Highest Prices

Paid. 614-395-8775

WANTS TO Purchase

minerals and other oil &

gas interests. Send details

to: P.O. Box 13557,

Denver, CO 80201

VACATION RENTALS

Englewood, Florida

Palm Manor Resort

Within minutes of white

sand Gulf beaches,

world famous Tarpon

fishing, golf courses, restaurants/shopping,

Bush

Gardens. 2 BR 2 BA

condos with all ammenities,

weekly/monthly, visit

www.palmmanor.com

or call 1-800-848-8141

March 6, 2022 - MESSENGER - PAGE 11

xClassified Services

CONCRTE

614-297-7320

CHRIS RUH SR.

Cement Contractor

BASEMENT

WATERPROOFING

Walker's Basement

Waterproofing. LLC

614-359-4353

CLEANING

Looking for Mrs. Clean?

For excellent cleaning serv

at reas. rates w/great refs,

dependable. 10% Seniorr

Disc. Free Est. Also runs

Errands - Gwen 614-226-5229

CONCRETE

AJ's Concrete,

Masonry

Good Work - Fair Prices

Block Foundations

Driveways • Sidewalks

Epoxy/Overlay Floors

Bonded-Ins. • Free Ests.

614-419-9932

ALL-CITY CUSTOM

CONCRETE

All Types Concrete Work

New or Tear Out-Replace

40 Yrs. Exp.

(614) 207-5430

Owner is On The Job!

www.hastingsnsons.com

Driveways & Extensions

Patio & Walkways,

Porches & Steps,

Garage/Basement Floors

Hot Tub/Shed Pads,

Stamped/colored concrete

Sealing of new &

existing concrete.

FREE ESTIMATES

Contact Adam

614-756-1754

hastingsandsons.

columbus@gmail.com

INFORMATION

ONLY

$50.00

For This Ad In Our

South/Canal Winchester

& Groveport

For Info Call

614-272-5422

Serving Central Ohio

Since "1970"

B-B-B, Angis List, Super Service

Basement Walls

Repair, Clean & Seal

2/13 A

CONCRTE

GUTTERS

Bates & Sons

GUTTER CLEANING

5 ★ Google Reviews

614-586-3417

HAULING

DEAN'S HAULING

614-276-1958

HEATING

HEATING

Complete System Clean & Check

$49.95

Free Carbon

Monoxide Testing

Gas-Oil-Electric Heat/Pumps

All Makes • All Models

45 yrs exp. • Sr. Discount

614-351-9025

HOME

IMPROVEMENTS

SINCE 1973

Phil Bolon Contr.

Windows & Siding

Decks, Kitchens, Baths

Room Additions,

Flooring, Roofing

Bsmt Waterproofing

Deal With Small Non-Pressure Co.

47 Yrs. Exp. - Refs. Avail.

Lic.-Bond-Ins.

2/13

A/M

Free Est. - Financing Avail.

Member BBB Of Cent. OH

O.C.I.E.B. ID #24273

614-419-3977

or 614-863-9912

C&JHandyman

Services LLC

Minor Plumbing

& Electric

Install Hot Water Tanks,

Dishwashers & Disposals

Also Fencing &

Interior/Exterior Painting

Free Est. ~ 18 Yrs. Exp.

CDC/EPA Approved Guidelines

614-284-2100

2/13 A

11/7 A

PEST

CONTROL

Classified Services

TERMITE &

PEST CONTROL

614-367-9000

TORCO®

TERMINATES

TERMITES

Locally Owned & Operated. Any Pest. Anytime.

$

50 00 OFF Service

Free Termite Inspection

HOME

IMPROVEMENTS

KLAUSMAN HOME

IMPROVEMENT

Siding-Windows-

Doors-Roofing-Soffit-

Fascia-Gutters-Trim

Earn FREE Seamless

Gutters with Siding Over

1000 Sq. Ft.

FREE Shutters with

Soffit & Trim

EPA Certified

Member of BBB

Financing Available

Over 20 yrs exp. • Free Est.

Licensed-Bonded-Insured

Owner & Operator

James 614-419-7500

HOME

REMODELING

Handyman Remodeling

Over 35 yrs exp.

Larry 614-376-7006

LAWN CARE

LET US MAINTAIN

YOUR LAWN & GARDEN

FOR YOU

Summer, Spring,

Winter or Fall

WE DO IT ALL!!!!

Lawn Cuts, Edging,

Trees & Shrubs, Garden,

Mulching, Hauling,

Garden Pond &

Home Maint.

Free Ests. Low Rates

$20 & Up

Kevin - 614-905-3117

PAINTING

Painter Over 30 Yrs. Exp.

Free Est. Reas. Rates

Daniel - 614-226-4221

PLASTERING

DRYW

YWALL &

PLASTER

1/30

A&M

REPAIR

Textured Ceilings

614-551-6963

Residential/Commercial

BIA

2/27 A

PEST

CONTROL

PLUMBING

All About Drains & Plumb.

Will snake any sm drain

$145. 614-778-2584

MYERS

PLUMBING

Exp. Expert Plumbing

New Work & Fast Repairs

Lic. - Permit Available

Water • Sewer • Gas

614-633-9694

CHRIS'

PLUMBING

"Plumbing & Drain Professional

That You Can Count On"

24 Hrs., 7 Days/Week

No Overtime Charges

24 Yrs. Exp. in Plumbing &

Drain Cleaning Field

Call For A Free Phone Estimate

$100.00 For Any Small Drain

614-622-4482

30% OFF with AD

POWERWASHING

Bates & Sons

Soft Wash & Powerwash

5 ★ Google Reviews

614-586-3417

SEWING MACHINE

REPAIR

REPAIR all makes 24 hr.

service. Clean, oil, adjust

in your home. $49.95 all

work gtd. 614-890-5296

TREE SERVICES

BURNS TREE SERVICE

Trimming, Removal &

Stump Grinding.

614-584-2164

Brewer & Sons Tree Service

• Tree Removal

• Tree Trimming 2/13

A&M

• Stump Grinding

• Bucket Truck Services

Best Prices • Same Day Service

614-878-2568

2/13 A&M

3/27 A
---
PAGE 12 - MESSENGER - March 6, 2022

Township Police service in CW

By Linda Dillman

Staff Writer

Canal Winchester residents have long asked what

bang they are getting for their tax bucks in police protection

from Madison Township. That question is finally

being answered in a formal manner.

"Thanks to tracking time in Canal Winchester as

well as calls for service, Chief (Gary) York was able to

show that Madison Township officers spent 47.2 hours

in Canal Winchester in January of 2021 and 134.9

hours in January of 2022," said Madison Township

Trustee Chairman Michele Reynolds. "This increase

sets the pace for Canal Winchester to have a much more

significant presence of Madison Township officers in the

coming year."

In late 2017, the city requested a stronger township

presence not only because of the hundreds of thousands

in tax dollars paid to the Madison Township Police Department,

but also because of increases in business traffic

and activity.

The township was already patrolling the city, but officer

time was not tracked, statistics collected were

based on tickets and dispatched calls, there was a problem

with dispatch communication–which has since

been worked out–and unanswered questions regarding

violations routed to the city's mayor's court instead of

Franklin County.

"This has been an ongoing issue with police presence

in Canal Winchester," said Reynolds. "Some of the challenges

were communication related. That has since been

resolved. They have a stake in the game to get service

from the township."

Canal Winchester contracts with Fairfield County for

"This increase sets the pace for Canal Winchester

to have a much more significant presence of

Madison Township officers in the coming year."

- Michele Reynolds

Madison Township Trustee Chairman

initial police coverage. A difference in radio systems between

Franklin and Fairfield counties previously required

a township officer to carry a second radio in order

to communicate with Fairfield County.

Prior to the use of a second radio and before the

county communications upgrade, township officers in

Canal Winchester would not be aware of criminal activity

taking place and therefore unable to assist unless in

a mutual aid situation.

According to Madison Township officials, a 2021 communications

update provided a change in channels and

talk groups that allow for better communication between

Fairfield County and Franklin County law enforcement

agencies.

In discussions that included the Fairfield County

Sheriff's Office and the township, Canal Winchester

representatives indicated the city's preference in having

Madison Township officers spend time patrolling the

city throughout all shifts when possible, rather than

having one township officer assigned to a specific shift.

In addition, Reynolds said the township plans to hire

four additional officers and create another command position

in 2022.

Madison Township and city representatives will continue

to review patrol time provided by township law

enforcement in Canal Winchester.

www.columbusmessenger.com

Our Pictorial Past by Rick Palsgrove

Photo courtesy of the Groveport Heritage Museum

Dining in 1966

Pictured here is the interior of the Canal Wigwam restaurant,

located at 4 S. High St. in Canal Winchester, as it

looked in 1966 when the restaurant was known as the Barnett

Wigwam. The photo is from an ad in the 1966 Groveport

Madison High School yearbook.

Art on the Canal Art Stroll

The 2022 Art on the Canal Art Stroll will be May 21 from noon

to 6 pm in historic downtown Canal Winchester.

There is no charge for artists to participate though they are required

to carry their own liability insurance.

Visit www.destinationcw.org/artStroll for information.

Moses-Mouser Eye Care

Dr. Joshua Morris is a board-certified Optometrist

who grew up in Bellville, Ohio. He

completed his undergraduate degree at the

University of Akron, where he graduated

magna cum laude with honors.

Dr. Morris attended The Ohio State University

College of Optometry and graduated cum laude with honors to receive

his Doctor of Optometry Degree in May 2019. After completing his

studies, he was awarded the "Primary Vision Care Clinical Excellence

Award", in 2019.

Dr. Morris is a member of the American Optometric Association, the

Ohio Optometric Association, and The Ohio State Alumni Association.

He is excited to practice full scope optometry, diagnosing and treating

a variety of ocular disorders and diseases in patients of all ages, but has

a special interest in contact lenses and ocular disease.

On a personal note, Dr. Morris and his wife Tess, enjoy spending time

with their family, friends, and their Bernese Mountain dog Maverick,

cheering on The Ohio State Buckeyes, trying new foods, and exploring

Columbus breweries.

Q: How often should someone with diabetes

get an eye exam?

A: Someone with diabetes should see an eye care professional at least

once a year for a comprehensive dilated eye exam.

Q: How can diabetes affect my vision?

A: Over time, diabetes damages small blood vessels throughout the body,

including the retina. Diabetic retinopathy occurs when these tiny blood

vessels leak blood and other fluids. This causes the retinal tissue to swell,

resulting in cloudy or blurred vision. The condition usually affects both

eyes. The longer a person has diabetes, the more likely they will develop

diabetic retinopathy. If left untreated, diabetic retinopathy can cause

blindness. (AOA)

Symptoms include: seeing spots or "floaters", blurred vision, and difficulty

seeing at night.

Schedule your diabetic eye exam today

with Dr. Morris.

6441 Winchester Blvd. E., Canal Winchester, OH 43110 614-963-3827