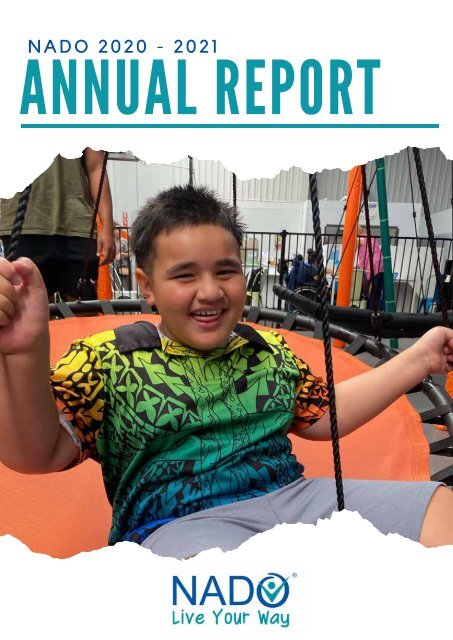 NADO Annual Report 2020 - 2021
Create successful ePaper yourself
Turn your PDF publications into a flip-book with our unique Google optimized e-Paper software.
N A D O 2 0 2 0 - 2 0 2 1

ANNUAL REPORT
---
Front Cover Image - Tomasi Taulahi
---
NADO Annual Report 2020-21 1

TABLE OF

contents

reports

President's Report.........................................................................................4 - 5

Chief Executive Officer's Report.................................................................6 - 7

Treasurer's Report.........................................................................................8 - 9

Governance Board....................................................................................10 - 11

Service Delivery Report........................................................................... 12 - 13

Human Resources Report...................................................................... 14 - 15

Accommodation Report......................................................................... 16 - 17

Marketing Report...................................................................................... 18 - 19

Community Engagement and Sponsorship Report.......................... 20 - 21

Quality Assurance and Compliance Report................................................22

Clinical Report...................................................................................................23

programs and stories

Painting Awareness across the Blue Mountains....................................... 26

NADO Sensory Store - Giving Back to the Community............................. 27

Broadcasting Inclusion on the Air Waves....................................................28

Sensory Store....................................................................................................29

Opening of Short Term Accommodation at Winmalee.................... 30 - 31

financial

Extract Financial Report......................................................................... 35 - 37

community

Friends of NADO Charity Golf Day........................................................40 - 43

Friends of NADO....................................................................................... 44 - 45

NADO VIP Partners................................................................................ 46 - 47
---
2
---
eports

NADO Annual Report 2020-21 3
---
4

president's

REPORT

Percy Madon

President

"If you are facing a new

challenge or being asked to

do something that you have

never done before don't be

afraid to step out. You have

more capability than you

think you do but you will

never see it unless you place a

demand on yourself for more."

Joyce Meyer
---
NADO Annual Report 2020-21 5

Societies in Australia and the world

have begun to look forward to life

and hope beyond the last 18 months

of the pandemic. The previous 12

months have been challenging for

most, but our participants have

been some of the most vulnerable

people and seeing them respond

positively has provided our people

in NADO with the inspiration to

continue providing services of the

highest quality and integrity.

As I reflect on the past year, the

most heartening things have been to

see the growth of our organisation,

our ability to adapt through

innovation and the relentless intent

to ensure the safety and comfort

of our participants under changing

circumstances and protocols. Our

people are our greatest asset and

creating an environment for them

to thrive in is immensely humbling.

As we go into print it is with great

pride that we announce that NADO

has been recognised as a Winner

for "Employer of Choice" in the

Australian Business Awards 2021.

Our CEO Denise Heath and her

extended Executive team are largely

instrumental in achieving this and

have demonstrated great leadership

in ensuring the organisation has

emerged from the core of the

Pandemic more strengthened and

resourceful.

We have prided ourselves as being

an organisation that always looks

forward and we are very excited

with the contribution we will make

to our communities through the

introduction of "Share My Ability"

which is a purpose built facility for

everyone with all abilities to enjoy.

We continue to look at strategic

opportunities in the accommodation

space, recognising that the

government continues to encourage

organisations to invest in creating

more special needs accomodation.

Regeneration and evolution of the

Board remains a constant and I am

delighted to welcome Sue Fryer

to the board. Sue brings with her

many years of experience with

community organisations and will

be an asset to the NADO family. I

would also like to acknowledge and

thank my fellow board members in

Ray Dyer, Anil Puri, Vanessa Griffin

and Sam Arnold for their continued

investment in NADO.

In conclusion I am reminded of what

Helen Keller said "Optimism is the

faith that leads to achievement.

Nothing can be done without hope

and confidence."
---
6

chief

executive

officer's

REPORT

Denise Heath

Chief Executive Officer

Resilience is often discovered

when we find ourselves able to

handle the unexpected and more

often the unwanted situations that

come our way.

When organisations show their

capacity to rebound from adversity

as a strengthened and more

resourceful body, as NADO does,

we can feel confident in our ability

to support people with a disability

and their families safely in the

context of a COVID world.

The team effort has been

extraordinary, as has the leadership,

completing major projects and

commencing new projects, at the

same time as delivering the

high-quality customer service

we pride ourselves on in a very

challenging landscape. Our end of

year position, with a total income

increase of 9.5% is a clear indication

of our continued steady and

managed growth as we strive to

meet the needs of our community.
---
NADO Annual Report 2020-21 7

My team has grown with the

introduction of an executive Quality

Assurance and Compliance role

filled by Ellen McFarlane who brings

a wealth of skills and experience

to ensure a solid framework

of reporting data and systems

required of our regulatory bodies as

well as satisfying our continuous

improvement programs.

We introduced a Project Manager

to the team, Andrew Cleary,

to project manage our new

Sensory Activity Centre initiative,

undertaking a body of work to

ensure our facility provides a safe,

fun and supportive environment

for the enjoyment of children and

adults of all abilities which is due to

open late 2021.

The third change to the team

was due to the retirement of our

CFO, Narendra Charan. Narendra

brought commercial accounting

skills and experience to NADO

when our business model was

changed due to the introduction

of the NDIS. He implemented

important systems that will place

NADO in a sound position for many

years to come. His successor,

Mark Heinz, commenced in March

2021. Mark is an accountant with

both commercial and not for profit

experience, well versed in the

processes of NDIS and familiar

with most aspects of NDIS service

delivery. He is an experienced

executive and rounds out our team

going forward, together with Brooke

Wilkie, Julia Tierney, Deborah

Ferreira, Linda Wilson, Ellen

McFarlane, and Andrew Cleary all of

whom I thank for their considerable

efforts that have contributed to

NADO's successful achievement of

all set goals.

Some major milestones achieved

this year included two major

accommodation projects. Firstly,

the commencement of our shortterm

accommodation facility

in Winmalee, where guests are

supported in the comfort of a

beautifully appointed property. We

are extremely proud of the outcome

and know it will help many people

in our community now and for

many years ahead (see page 30-31).

We also purchased a group home

in Penrith, which also has many

features that offer residents a

comfortable and modern amenity,

perfect for the young women who

reside there.

Last year, NADO became eligible for

Jobkeeper with the downturn in our

services due to COVID-19, with the

income supporting staff wages and

business costs during the initial

outbreak. The Jobkeeper program

of support finished in September

2020, with remaining funds

quarantined to provide a buffer

against new outbreaks, such as the

one experienced at the end of this

financial year. We thank the Federal

Government for the resources that

are helping to maintain our staffing

and services into the future.

On a national scale, The Royal

Commission into Violence, Abuse,

Neglect and Exploitation of People

with Disability exposed some

heartbreaking stories that will give

cause for important changes to the

sector's governance, leadership,

and supervision of disability

services. The Commission still

has more work to complete,

and we look forward to their

recommendations and findings.

The NADO Board have been a great

support through testing times, and

I'd like to thank Percy Madon, Ray

Dyer, Anil Puri, Vanessa Griffin,

Sam Arnold, Rhonda Burke and

Sue Fryer for their commitment,

experience, insights, and expertise -

altogether a fantastic contribution

to a valuable community

organisation.
---
8

treasurer's

REPORT

Anil Puri

Treasurer

NADO experienced another good

year with continued growth in

income, being 9.5% higher than

FY2020, to achieve Total Income

of $18,254,557 for FY2021, plus

a healthy surplus of $1,287,199

(down from $2,193,551 in FY2020).

Despite the lingering effects of

COVID on our operations, it is

extremely pleasing to see another

year of solid growth. The results

include a modest amount of the

Federal Government's JobKeeper

support payments which helped

to offset the continuing impact

of COVID on the various services

provided by NADO. This support

helped NADO to maintain a healthy

financial position which meant we

were better able to support our staff,

our participants, and their families

during this challenging time.
---
NADO Annual Report 2020-21 9

COVID restrictions and participant

safety concerns continued to

impact our Day Program service

for most of the year. This area

performed significantly worse than

prior to COVID and did not show

significant improvement until the

last quarter of the financial year.

The Connect service, while not

impacted as much in terms of

revenue, had a significantly lower

overall result because of higher

costs relating to higher staff-toparticipant

ratios and associated

costs. However, the decision in

recent years to diversify NADO's

range of services and income

streams has allowed NADO to be

less impacted from the COVID

challenge than otherwise would

have been the case.

Our operating revenue growth was

mainly a result of growth in our

accommodation service which was

largely unaffected by COVID. In

fact, the accommodation service

benefited as participants were more

home bound and required additional

in-home support. During the year,

we also launched our respite centre

in Winmalee and purchased a group

home in Penrith, both of which have

contributed to our accommodation

service income during the year. Our

allied health services also showed

some growth but was hampered

by difficulties retaining and finding

appropriately qualified staff in a

very competitive labour market.

Our expenses during the year

climbed relative to our income

because of COVID-related expenses

(such as PPE) but also because

of investments into training our

team and improving our IT systems

and related processes. These

investments will continue to equip

NADO with the ability to offer a high

level of service to our participants.

Otherwise, our expenses remain

well controlled and continue to be

reviewed regularly and managed

closely.

The surplus of $1.3m that we have

delivered this year, while down from

$2.2m in FY2020, is still very healthy

with an operating margin of 7.0%.

The ongoing impact of COVID on our

Day Program and Connect services

have been substantial but this

has been offset by the JobKeeper

payments received during the year.

NADO has also quarantined some

of those payments to help protect

us from further impacts, such as the

lockdown experienced at the end of

the financial year, and to aid in the

recovery of the services affected by

COVID.

Our cash holdings have remained

stable throughout the year as

a result of the surplus and the

JobKeeper support. This has

allowed us to invest in additional

infrastructure and resources

to expand our services to the

community and to continue

providing the level of service and

support that we are proud of.

We continue to have an active

strategy in place to review further

opportunities to invest funds to

provide quality, innovative services

to our community of participants

and their carers.

It has certainly been another

challenging year, but the entire

NADO team has persevered and

remained positive and focused

on helping our clients and their

families through these challenging

times. They have ensured that

NADO remains very well-regarded

in the region and we continue to

be strongly placed to invest further

in expanding our range of services

and provide quality, genuine care

to participants and the community

that we serve.

Mark Heinz

Chief Financial Officer

As the new CFO, commencing

in March 2021, I've enjoyed the

opportunities and challenges

of joining such a well-regarded

organisation.

Narendra Charan, previous CFO

has since retired, after providing

me with an extensive hand over

and leaving the organisation with

processes and systems in very

good shape. I would like to express

my thanks and gratitude for the

support that I have since received

from my team of Brigitte Sirocic,

Lisa Devery, Bhaumika Patel and

Stephen Rose. It is evident to me

that my team work extremely hard

and are very focused and dedicated.

I would also like to thank Denise

Heath for her guidance and support

along with the Management Team

and Board who have all made me

feel very welcome.

In my opinion, NADO has

performed well over the financial

year especially considering the

ever-changing landscape in which

we operate. I look forward to the

year ahead.
---
10

Percy Madon

President

governance

BOARD

Percy Madon commenced on

the Board of NADO in 2013 and

specialises in business leadership

and management. Percy has

worked with multinationals

including SAP, IBM, PWC and E&Y

and holds a Masters in Business

Administration (MBA). He brings

commercial experience and a

passion for supporting people with

disabilities. Percy's commercial

experience assists NADO's

transformation into a market-driven

model under the NDIS.

Anil Puri

Treasurer

Anil Puri commenced on the Board

of NADO in 2014 and specialises

in business development, financial

management, organisational

systems and team development.

He is a trained accountant with

a Masters of Management and

has many years of experience

working in corporate businesses.

Anil is passionate about helping

individuals and is committed to

assisting NADO adapt and grow in

a changing environment.
---
NADO Annual Report 2020-21 11

Vanessa Griffin

Vice President

Vanessa Griffin commenced on the

Board of NADO in 2019. Vanessa

practised as a Registered Building

Surveyor for over 20 years prior to

specialising in the field of access,

which was her passion and interest

and is now a registered Access

Consultant with AACA. She brings

a skill set and knowledge to ensure

the built environment is accessible

for all and inclusive. Vanessa is

a parent to a child with a genetic

disability.

Ray Dyer

Secretary

Ray Dyer commenced on the Board

of NADO in 2010 and became

President in 2014. Ray has been a

long-time NADO supporter, bringing

a well-rounded background of

relevant professional experience in

human resources, management,

worker's compensation and training

together with a personal interest in

supporting people with disabilities

to be included as valued members

of our community.

Samuel Arnold

Director

Dr Samuel Arnold commenced

on the Board of NADO in 2017.

He is a registered psychologist

and works as a lecturer in the

Department of Developmental

Disability Neuropsychiatry (3DN)

UNSW Sydney. He is currently

the convenor of the Australian

Psychological Society Psychology

of Intellectual Disability and Autism

Interest Group. Sam is passionate

about the empowerment of people

with disability to pursue a chosen

valued life.

Sue Fryer

Director

Sue Fryer commenced as a

Director on the NADO Board in

2020. Sue has more than 30 years'

experience in office administration

and management roles primarily in

the not-for-profit sector promoting

community programs. Sue brings

this experience to NADO where

she hopes she can further offer her

knowledge and expertise and fulfill

her desire of helping others.
---
12

service

delivery

REPORT

Brooke Wilkie

General Manager

This year passed very quickly as

we kept pivoting our programs and

services to ensure our participants

were supported in the best way

possible during all the COVID-19

changes. Our wonderful staff were

extremely supportive of changes

that enabled us to continue to

resume full operations, as soon as

we were permitted.

We had a busy time expanding

our teams and services to meet

emerging demands. We created a

new position of Practice Manager

and welcomed Tracy Smith to

oversee the growing Behaviour

Support Specialist Team, Support

Coordination Team, and commence

recruitment for a speech therapist.

Sharon Morrison was promoted into

the Team Leader role for Support

Coordination and in addition to this,

we welcomed Alex Stevens to the

Support Coordination team and

Hai Truong – Psychologist.

1:1 services now known as "Team

You" has also expanded and

Anabelle Wells joined Jacki Long

and Megan Hayes to assist the

participants in kicking goals and

changing lives.
---
NADO Annual Report 2020-21 13

Lead by Vanessa Vella-Adams as

Accommodation Manager, both

our accommodation and shortterm

accommodation continue

to grow strong with 11 group

homes and 2 drop in support

homes now being supported by

our support staff, while our shortterm

accommodation services are

also expanding with an additional

fully accessible house in Winmalee,

Blue Mountains. The extensive

renovations have provided a high

level of safety, style, and comfort –

some say it's like a 5-star hotel!

Day Programs had a slow start to

the year with participants returning

gradually after COVID. Suzanne

Giordano and Tina Khalifeh

supporting additional centres

during this year, with Gity Shariati

on extended leave. We welcomed

Carey Tidyman to the team who

as Acting Coordinator has been

overseeing both Penrith Central and

St Marys Centres.

Like our other programs, our

Kidszone and School Holiday

programs have also had

interruptions due to COVID-19.

With Amy Hudson moving on to

pursue other opportunities, Jessica

Spiteri was successful in her

application of the Coordination role

looking after both programs and is

bringing new and innovative ideas

for our participants to enjoy, which

is evident due to the increased

number of kids and young people

joining our programs.

Vanessa Santucci, Customer

Engagement Coordinator as

always, played a pivotal role,

coordinating our Plan Management

services, supporting administration,

as well as being the point of

contact for NADO Sensory Store. I

would also like to congratulate her

on achieving Employee of the Year

quarterly award.

We continue our commitment to

extending the depth and breadth

of support worker professional

training, leading to the enrolment

of all members of the Leadership

Team into the TAFE Leadership

and Management Certificate

IV. In response to the increasing

numbers of participants with

mental health needs, key support

staff and leaders were enrolled into

the TAFE training, Mental Health

Certificate IV, to improve our staff

skills and assist our participants

more effectively.

Our annual participant survey

is always eagerly reviewed for

opportunities to improve our

services and acknowledge

any contributions that make

a difference. This year our

satisfaction rating was high with

some amazing feedback, including:

"Thank you so much. I feel so

blessed that Charlie has access to

such an amazing facility. Please

pass on our thanks to Tracey and

Bella who greeted us on arrival

and Bella for looking after him for

the day."

"I just wanted to reach out and say

how incredible the team at NADO

has been."

"The support coordination team

and psychologists go above and

beyond with such a passion for

helping people. The level of work

ethic and communication has

been exemplary, and I wouldn't

want this to go unnoticed."

"I just want to convey my sincere

appreciation and thanks to the

team at NADO. The people are

outstanding."

The Touch Footy Team were proud

to participate again in the All-

Abilities Nationals at Coffs Harbour

earlier this year. We fielded two

teams of 10 players and although

we came away with a few injuries

and didn't bring home the win, it

was an inclusive event and another

amazing experience for the vault.

I would also like to thank the

dedicated staff who attended this

trip and ensured the experience

was positive and safe for everyone

involved.

It has been a turbulent year, but

there have been many highlights

due to our amazing participants

and generous staff on our teams.

To them all, I say 'thank you'.

Finally, thank you to my colleagues

in the Management team in

particular Denise Heath for her

guidance and support throughout

the year.
---
14

human

resources

REPORT

Julia Tierney

Human Resources Manager

What a great year we have had.

We continued to implement

initiatives to support NADO's

strategic plan through our

continued commitment to training

and development, investing and

implementing tools and initiatives

to create a mentally healthy

workplace whilst maintaining a

safe workplace, namely around

COVID-19.
---
NADO Annual Report 2020-21 15

Mental Health training was a key

project for the year, due to the

ongoing complexity of dealing

with COVID-19. We listened to

our employees and measured

satisfaction as well as pressure

points through our Employee

Engagement and Mentally Healthy

Workplace Surveys.

Pleasingly, NADO has been

recognised by Assured Programs

for the work invested to create a

mentally healthy workplace. How

did we do this?

• The introduction of the Altius

Life, Health and Wellbeing app

giving access to all employees

• Enrolling Supervisors and key

employees into the Cert IV

Mental Health

• The roll out of the Mental Health

Awareness course for people

leaders and employees through

the Black Dog Institute

• The implementation of the

#actionforhappiness monthly

calendar

• The introduction of psychological

job demands within position

descriptions as full disclosure

and transparency upfront

• The introduction of mental

health education awareness

uploaded onto our on-line

training platform, Sentrient,

in particular:

• Anxiety and Its Disorders

• Depressive Disorders; and

• Schizophrenia

Whilst working on implementing

initiatives to support a mentally

healthy workplace, we continued

to upskill NADO's workforce

by implementing new training

modules to:

• Better understand intellectual

disability

• Support a person with

Dysphasia

• Improve knowledge of behaviour

support strategies and

delivered;

• Trauma Informed Training

Additionally, as part of our

continued commitment we

were successful in obtaining the

wage boost subsidy allowing

NADO to place our team through

many of these training courses

and achieving key areas of our

employee feedback around training

and development.

Recruitment, retention and

selection strategy has been an

ongoing focus of our workforce

planning with key roles successfully

recruited including the Chief

Financial Officer, Quality Assurance

and Compliance Manager and

Practice Manager along with the

ongoing recruitment of quality

Disability Support Workers. We

further focussed on a recruitment

strategy in preparation for new and

ongoing services.

Before I close off, I wanted to

take the opportunity to thank the

Leadership team for their ongoing

support and a special mention to

Brooke Forde, HR/Payroll Officer

and Ann Schmitz, Customer

Service/HR Administration Support

who continue to deliver a positive

contribution to the HR function and

NADO's customer experience.
---
16

accommodation

REPORT

Vanessa Vella-Adams

Accommodation Manager

NADO offers a wide range of

flexible accommodation support

services that allow people with a

disability to build independence,

participate in the community and

maintain good communication

with families, friends and their

circle of supports.

NADO currently provides Supported

Independent Living (SIL) housing

accommodation to ten sites across

the Penrith region and we are excited

to announce that we will be opening

our eleventh SIL house in Glenmore

Park early September 2021.

September 2020 we opened a

SIL home in St Clair – two of the

residents of the new home had

been residing in NADO's shortterm

accommodation waiting for

a suitable long term option. The

residents had the opportunity to

get to know each other and decided

they were compatible for living

together long-term with another

two men who were already living in

a shared house together.
---
NADO Annual Report 2020-21 17

To ensure compatibility NADO staff

supported all four participants

through a comprehensive

transitioning process, facilitating

get-togethers to have the

opportunity of spending time

together prior to moving

in. The transition to the new

accommodation went smoothly,

with tailored support to meet each

person's needs.

It has been great to see how Peter,

Allan (Stuart), Ronald and Robert

adapted to their new home and

each other, the banter and rapport

the gentleman have with each other

is wonderful to see. Friendships

have been forged and they each

enjoy support and good company

from each other.

Supported Independent Living

ensures that residents learn skills

of independence, for instance, how

to cook, general household tasks,

purchasing groceries, budgeting

and finances, and making decisions

involving the daily running of their

home. NADO staff support each

resident to live a fulfilled life through

community involvement, sustaining

work placements, and learning

programs and welcomes family

support and involvement, ensuring

family identity remains paramount.

Over the past 12 months, our

Short-term Accommodation (STA)

located at St Mary's (the Cottage)

has supported a number of guests

with a steady stream of enquiries

and bookings, as well as returned

guests seeking short-term support,

emergency care and medium term

support as they seek their forever

home.

In June 2021, we expanded our

STA in St Mary's by an additional

3 bedrooms with an additional

kitchen, bathroom and living areas.

We're pleased to be able to offer

more support options to our guests

and a place that families can rely

on for their respite needs.

Finally! We were excited to

announce the opening of our STA

home located in Winmalee earlier

this year - a project that was two

years in the making. The wait was

worth it with the final fit out stylish

and functional.

The community support has been

overwhelming, with bookings taken

well in advance of our opening

date. Like our St Marys STA, the

live-in support is there to suit a

number of needs and it's great to

see the friendships forming and the

independence growing.

Throughout COVID-19, STA has

continued to support guests and

give respite to families that is much

needed to see them through these

difficult times.

All of this is not without the support

of the Accommodation Leadership

team that I am so grateful to

be a part of. Their passion and

dedication to each resident

especially through these difficult

times has been something that I

am personally appreciative of.

Thank you to our Accommodation

Coordinators; Kylie Loadsman,

Aga Rogoz, Limcy Sunil, Jeremy

Voorn, Yusdi Maksum and Lesley

Johnson. Working together as a

team we have been able to help

more people, provide quality

supports and celebrate the

achievements.

To the Accommodation Team

Leaders; Victor Santos, Christie

McGrath, Narelle Henderson, Carey

Tidyman, Lynelle Rafter, Wendy

Scott, Karen Daly, Donna Newton,

Taliah Fuimaono, Michelle Felstead,

Danielle Privett, Kate Agius and

Annette Hofmeier - thank you for

ensuring residents are supported

to work towards their goals

and to continue to develop their

independence. To see some of the

success stories and achievements

is a reflection of your hard work and

dedication.

I would also like to thank all our

support staff who work across

NADO's accommodation sites.

You are the front line supports

that ensures our residents

experience new opportunities, are

provided with the right support

and encouragement to achieve

their goals, but you're also there

reassuring them when things are

not going so well.

Your dedication and hard work are

truly appreciated. Thank you for all

that you do.
---
18

marketing

REPORT

Deborah Ferreira

Marketing Manager

In a vast and ever-changing world,

the challenges within a marketing

landscape continue to evolve at

a rapid pace. With the current

pandemic impacting the lives

of everyone, digital and virtual

options for the way we live, work,

learn and communicate have never

been so important.

Online video was a relatively new

channel that NADO explored in the

past year, with the view to promote

specific services in a new and

engaging manner. Four promotional

videos were filmed and developed,

which included our Community Day

Program, Allied Health Services,

Short-term Accommodation, and

the Sensory Store.
---
NADO Annual Report 2020-21 19

These promotional videos were

featured on the relevant advertising

channels with the purpose to

showcase our services and

portray the professionalism of

NADO in alignment with our

Mission and Vision.

Unfortunately, due to COVID and

the inability to host our Annual Staff

Conference, Marketing developed

the "Year in Reflection" Video that

showcased and highlighted all the

amazing achievements from our

participants and their support staff,

which was well received among the

workforce and wider community.

But it didn't stop there, an awareness

video in support of International Day

of People with Disability (IDPwD)

was also created in additional to

the Friends of NADO Charity Golf

Day event. All of these videos are

available to view on our NADO

Disability Services YouTube channel.

From a design and print perspective,

several publications were updated

and refreshed including our

KidsZone, NSC and a range of

NADO service flyers to ensure brand

professionalism and consistency.

NADO also featured in the Disability

Outlook magazine 2021.

Software efficiency programs

were also achieved by Marketing,

with a new online booking system

being built and implemented

onto the NADO website. This new

system focused on streamlining

the booking process, enabling

a smooth, simple and easy

functionality when booking

children's activities and adult social

events by our participants and/or

their families and carers.

Social media continues to be at

the forefront of the organisation,

allowing visual insights into the

interactions with our participants

and the support they receive to

achieve their goals. Our numbers

are growing across the major social

channels, particularly Facebook

and Instagram.

These social channels have never

proved so valuable, especially in

current times as they provide us

with the ability to connect with

our wider community to stay

positive, share our achievements

and showcase the abilities of our

participants on a regular basis.

Our connection to the community

and media were portrayed this year

in the Western Weekender, Nepean

News and the Blue Mountains

Gazette which covered stories

including an inspiring participant

achievement, our Friends of NADO

Charity Golf Day, our first ever Art

Exhibition and the opening of our

new short-term accommodation

in which both local and federal

representatives in the office of

Susan Templeman MP, Trish

Doyle MP and Blue Mountains City

Council Clr Mick Fell attended the

official opening.

Search Engine Optimisation (SEO)

was another successful marketing

attribute to the organisation this

year, with web traffic increasing 11%

in comparison to the previous year.

There are several contributors to this

increase, including strategic content

writing, backlinks, keys words and

website architecture that support an

overall success. Further monitoring

of the website will continue as

additional inclusion and accessibility

features become available.

E-marketing continues to be a

main communication point for

NADO, with community newsletters

developed bi-monthly. The purpose

of these newsletters is to regularly

update the local community with

both participant achievements and

organisational news in a fresh and

engaging manner.

Moving forward into the next

financial year, the focus will be on

developing strategic marketing

plans and obtaining substantial

brand awareness in regards to

NADO's upcoming new business –

Share My Ability, a sensory activity

centre that caters for all ages and

abilities which will be located in

the Penrith region. This is a new

and exciting project that has

received positive support from the

local community, and one which

Marketing is thrilled to contribute to.

Marketing is slowly expanding its

resources in alignment to the growth

of the organisation and will continue

to support all three subsets of the

business (NADO, Sensory Store and

Share My Ability) to ensure positive

growth and brand awareness is

consistently maintained.
---
20

community

engagement

and

sponsorship

REPORT

Linda Wilson

Community Engagement and

Sponsorship Manager

Despite the ongoing restrictions

and how we are able to operate

and host fundraising events to

raise funds, I am thrilled to report

with the overwhelming support

particularly through our Friends of

NADO Charity Golf Day, 2020/21

has been one of our best years to

date raising funds.

2020/21 has been a mixed bag for

us all. Major events including the St

Marys Spring Festival and Penrith

Festival did not go ahead again

due to continued restrictions with

COVID-19. Networking events slowly

started to come back towards the

end of 2020, however, not all were

back to full face to face capacity.

Numbers were limited at events, and

everyone had to think outside of the

box in how we move forward.

The Sydney and Nepean Disability

Expo's both went on-line and joined

Melbourne, Geelong, Brisbane

and Gold Coast as one big Virtual

Disability Expo which still gave

people living with a disability

and their family and/or carers

the opportunity to reach out to

hundreds of NDIS service providers

across the Australian East Coast.

Our staff were able to speak with

attendees via our online chat

system, as well as via phone calls
---
NADO Annual Report 2020-21 21

and emails and help them navigate

their services.

May saw us attend the Annual Great

Western Sydney Careers Market

held at Nepean Valley Regional

Sports Centre attracting over

2000 Year 10 and 12 High School

students and over 100 exhibitors

over a 2-day period in a COVID safe

environment. This event offers

students the chance to explore and

speak with a variety of educational

professionals and employers about

further education and/or careers

options available to them. Julia and

her team were thrilled to have met

some young inspiring students who

expressed genuine interest in what

we do and how they could also help

people living with disability achieve

their goals.

Reozone continues to be our

sponsor for our Employee Quarterly

Awards, as well as our Employee

of the Year Award. Reozone have

sponsored these Award for the

last few years now and we truly

appreciate the support of Aaron

Hadfield and his team.

The Annual FishFest was held in

February and again this year, NADO

was the proud recipient of the

money raised through their ongoing

charity initiative through their

registration. FishFest is an annual

event run by Penrith Panthers

Fishing Club (PPFC). We thank the

PPFC Committee for their ongoing

support and value our continued

partnership over the past years.

We held our much-anticipated

Friends of NADO Charity Golf Day

in April and had an overwhelming

sponsorships take-up, as well as

additional teams which resulted

in over 120 players. Thank you to

everyone who attended and helping

to make it such a successful day

and raising much needed funds

toward our new Sensory Activity

Centre due to open late 2021.

I would like to thank our Supporting

Partner Jason Roberts and his

team, in particular Zach Roberts

and Tom Parker at Elite Sand & Soil

for their ongoing support towards

this event. Each year this event

keeps getting bigger, and this is

largely due to Jason's support and

introductions to organisations and

individuals we would normally not

have the opportunity to meet. I'm

so proud of this event and that it is

fast becoming an annual event for

many to attend each year.

On top of our Sponsors on the day,

we also welcomed several local

businesses who kindly donated

towards our raffle which enabled

us to raise even more money on the

day.

A special thank you to Vanessa

Santucci (Customer Engagement

Coordinator), your support on

the day is greatly appreciated.

Thank you also to the staff and

participants; Michelle Felstead,

Cameron Cook and Nicole Wort, as

well as Victor Santos and Romeo

Chua who also helped raise funds

on the day and had fun interacting

with our supporters.

For more information about the

day, our sponsors and donors –

go to pages 40-43.

Our Friends of NADO and NADO

VIP Business Partners continue to

remain steady, and we understand

the past 18 months have not been

easy for a lot of businesses, but

we are grateful for their continued

support (go to pages 44-45 for

Friends of NADO and pages 46-47

for NADO VIP Business Partners).

I would like to thank staff who

volunteered their time at the Virtual

Disability Expo in September last

year and the staff who helped Julia

at the Greater Western Sydney

Careers Market in May this year.

Lastly, although it has been a trying

time over the past 12 months due

to COVID, it is an honour to work

with such a dedicated Executive

Team, Leadership Team and Board.

The guidance from our CEO Denise

Heath, as well as our HR Manager

Julia Tierney through these difficult

times has been second to none, as

they keep all staff up to date with

the most relevant information as it

becomes available, while keeping

our participants and staff welfare

and safety at front of mind.
---
22

quality

assurance

and

compliance

REPORT

Ellen McFarlane

Quality Assurance

and Compliance Manager

The working life of a quality

manager is often seen as

uneventful, but not at NADO!

From the moment I commenced

in November as the first official

Quality Manager, it was clear

NADO holds a firm commitment to

quality, compliance and continuous

improvement. We launched straight

into the new format NDIS quality

and safeguards mid-term audit and

demonstrated capable systems with

no non-compliances but had room

for some improvements. Measuring

the safety and effectiveness of our

services is demonstrated at these

audits and a successful result is

required for NDIS registration.

Demonstrating a focus on

participant safety, we developed

new processes for documenting

participant risk information,

investigating critical incidents, and

reviewing incidents at the new

Clinical Incident Review Panel.

Introduction of these new processes

included broad consultation, new

forms, team trainings, audit of

progress and ongoing support

to ensure key staff gain a full

understanding of the processes.

A number of exciting new projects

are under development: updating

policy formats, moving policies

to a web-based platform for all

staff to access, implementing an

audit framework, investigating

use of electronic signatures on

documentation, and providing

secure off-site access to key

participant risk documentation for

programs conducted in community

settings.

We continue to provide monthly

reviews of key governance

information such as complaints/

compliments, conflicts of interest,

risk register and incidents analysis

for the Board and Management.

During the year, a total of eleven

policies were reviewed, and future

reviews will be conducted in line

with the Policy Register schedule or

as required.

Compliance with NDIS, NSW

Health, ASIC, ACNC and other

reporting requirements is ongoing.

We receive regular updates from

industry bodies, associations and

disability services that enable

NADO to keep up to date with risk

management, requirements and

emerging issues.

It has been my privilege to

join and work with a cohesive,

communicative and caring team

who respect the people we serve –

participants – at every step of every

process, as well as their colleagues,

community and other stakeholders.
---
NADO Annual Report 2020-21 23

clinical

REPORT

Tracy Smith

Practice Manager

2021 has been a year for change

and expansion within the allied

health space.

The demand for mental health

services within the Blue Mountains -

Nepean area has increased,

identifying the need to expand our

services in behavioural support

and psychology.

By the end of June 2021, our team

comprised of Hai Truong, a full time

Registered Psychologist, Alyssa

Willis-Fink and Komal Ahmed our

qualified Behavioural Support

Specialists, with more recruitment

in the pipeline.

Commencing in early 2021 as

Practice Manager, I joined the

allied health team to manage

and support our clinicians and

the support coordination team,

along with Trudy Smith who

facilitates our administrative and

reception services at our site based

in Lemongrove.

Sharon Morrison became the

Team Leader for the Support

Coordination services in July 2020,

and has led a growing team of

five, with Alex Stevens joining the

team in February 2021. The team

has exceeded all their goals and

continues to grow and build a solid,

positive reputation in the area with

over 175 participants.

COVID-19 restrictions have seen

many changes with how we

delivered our services throughout

the last year, with all allied health

and support coordination team

members now adapted to working

remotely, and by providing telehealth

successfully to continue to provide

these services to our participants.

I continually receive feedback from

participants and reports from my

team about the positive impact in

people's lives as a result of the care

and dedication of my team.

I look forward to another year of

helping people with a disability and

their families through the services

of the allied health team.
---
24
---
NADO Annual Report 2020-21 25

program

and stories
---
26

Painting Awareness

across the

Blue Mountains

It's no secret that having the

opportunity to be creative, whether

it be painting, sculpting or using

a range of different mediums

can be a fulfilling activity –

one which can also provide a

range of positive outcomes.

However, for people with disability

the opportunity to participate in art

therapy programs can give a visual

voice to both expression and feeling.

On Thursday 13 May, our multitalented

participants from the

Katoomba and Lawson day

programs attended their very

own Art Exhibition at the historic

Braemar Art Gallery in Springwood.

Titled "Shifting Perspectives" the

collection of artworks, all of which

were created by the talented group

of participants, tell a story of

extreme contrasts and images of

living in the Blue Mountains.

Suzanne Giordano, NADO Day

Program Coordinator quoted

"People with disability are often

invisible in our community and they,

like the rest of us have a story to

tell and experiences to share. To

have the opportunity to showcase

these artworks is a goal that all

our participants and their family

members are extremely proud of

and will be a cherished memory.

This exhibition provides a great

platform for our creative artists

to showcase their work, as well

as breaking down barriers and

creating a more inclusive society

for people with disability."

The "Shifting Perspectives" art

exhibition has received bountiful

support from the local Blue

Mountains community. It was a

must see for lovers of local art and

a fantastic opportunity to view a

collection of creative pieces.
---
NADO Annual Report 2020-21 27

NADO

Sensory Store –

Giving Back

to the Community

The Sensory Store is a

predominately online retail centre

that provides quality sensory toys,

educational tools, and therapy

items to assist people of all ages

and abilities.

It is owned and operated by

NADO (Nepean Area Disabilities

Organisation), a registered NDIS

Provider that has over 40 years'

experience within the disability

sector.

Being a not-for-profit organisation,

NADO have recently established

a "Helping Hand Program" where

funds raised through their Sensory

Store retail outlet can help the

local community. The Helping

Hand Program provides NADO

participants an opportunity to

purchase a service or product that

is not available under Medicare or

their current NDIS plan.

These items can range from things

that help to support and improve

the participant's skills and learning,

accessing the community, day to

day living or health and well-being.

Examples are assistive technology

and support products that help to

assist in general living.

Earlier this year, our two successful

applications who received items

from the NADO Sensory Store

"Helping Hand Program" were

Vanessa and Vishnu.

Vanessa, (pictured) requested a

hands-free standing mixer that

helps her day-to-day actions in the

kitchen regarding food preparation

and supports her love of baking.

Vishnu, a young man who has a

moderate to severe Intellectual

disability received a Lifespan

Fitness Spin Exercise Bike. This

exercise bike will help Vishnu keep

fit and healthy, whilst supporting his

gross motor, cognitive, compression

and communication skills.

In addition to these items, NADO

also works with its relevant

community partners to help support

and assist all applications to its

Helping Hand Program where viable.

Support products that are available

for purchase can also be found at

the NADO Sensory Store, check out

our website today for the full range

of products. Sensory items are

particularly beneficial to people who

have a disability, are on the Autism

Spectrum, have developmental

delays, intellectual disabilities,

sensory processing disorder,

ASD, Asperger's or whom have

sensitivities to light and sound.
---
28

Broadcasting

Inclusion

on the Air Waves

Located in the well-known

Katoomba region of NSW, Radio

Blue Mountains 89.1 FM is a not

for profit organisation that is

based on a volunteer community.

The popular local radio station

has been in action since 1993 and

broadcasts 24 hours a day, 7 days

a week to an audience of around

75,000 people. It is funded through

listener support, grants and

sponsorship.

The key focus for this radio

station is community inclusion,

and features a live feature show

called "The Ability Show with the

NADO Team" which is aired each

Wednesday from 10am to 12pm.

'The Ability Show' is hosted by

participants from NADO with the

help of their support staff. The

show is designed to provide a voice

for people with disability through

a creative, inclusive and fulfilling

outlet, whilst delivering a high

quality engaging radio program.

In 2016, Joshua Abbott started out

as a guest presenter on "The Ability

Hour" program. Showing much

interest and enthusiasm in the new

opportunity, Josh continued onto

train as a panel operator presenter.

Josh was also working as part of

the Tech Team and assisted in

maintaining tech equipment as

well as taking shows to an outdoor

broadcast. He also worked on fund

raising for the radio station which

involved taking and receiving phone

calls and learning about computer

communications.

After training with Jenny O'Brien

(support worker and radio

presenter), Josh felt confident and

excited about presenting his own

show and named it "Blast from

the Past and Back to the Future".

The new program was music

based, with chats and comments

from various speakers and studio

guests. Its key points were to

emphasise topics such as social

justice, community supports,

inclusion, empowerment and

relevant information that may be of

interest to service providers, people

with disability, their families, friends

and carers.

Josh is now on the management

committee, in which he attends

meetings and is involved in the

decision making processes. He

quoted "This opportunity and

experience has changed my life.

Before I wasn't doing anything and

just at home, I was a little bored."

Josh says he has learnt so much

and has built his technical abilities,

his confidence in presenting and

public speaking. He has also learnt

how to organise a team and to

motivate others in fund raising.

Josh is supported by NADO

staff member Jennifer O'Brien.

In late 2019, Josh was nominated

and accepted to be on the

committee for the Blue Mountains

Community Radio.

"Blast from the Past" airs each

Wednesday from 2pm to 4pm.

You can help to support Josh by

following his Facebook page.
---
NADO Annual Report 2020-21 29

Sensory Store

The Sensory Store is owned and

operated by NADO. It provides

sensory toys, support tools and

therapy products for all ages and

abilities both online and in-store.

It was another successful and

exciting year for the Sensory Store

with the expansion of the product

range and an overall sales figure

200% higher than the previous year.

This allowed NADO to provide a

"Giving back to the Community"

program which saw the funds

raised returned to those in need

by providing items that helped to

support learning, improve skills

or assist in general living.

(go to page 27 for more details)

Content marketing continued

throughout the year, with the focus

on blog writing to improve SEO and

increase web traffic. The strategy

proved successful with a 280%

increase in users of the website.

In-store sales also increased,

however due the pandemic, instore

sales were impacted by lock downs

throughout the year.

Social media continues to

show growth in followers and

engagement, from organic and

paid adverts across both Facebook

and Instagram. Video content was

also a new tool used to promote

the Sensory Store with a short

promotional video being developed

to showcase the range of therapy,

educational and sensory support

products.

Print media this year included the

feature within the Penrith Western

Weekender in support of Autism

Awareness week, in addition to the

Outlook Disability magazine.

Due to the substantial growth, a

new POS (point of sale) system

was implemented for the Sensory

Store which allowed a much

smoother and streamlined process

in relation to the selling of products

and the control of stock. Another

tool which was implemented to

the website was the introduction

of After Pay, which provides

customers with a "buy now, pay

later' option.

An additional highlight of the year

was becoming a registered NSW

Creative Kids provider, with the

Sensory Exploration Kit becoming

a popular product that provides

sensory output via a range of

textured paints, paper, chalk and

crafting items that is suitable from

the age of 2 and up.

Moving into next year, some

primary strategies will be to

implement an AI chat bot onto

the website to improve customer

service, as well as expand the

instore buying experience both

at St Marys and within NADO's

new sensory activity centre 'Share

My Ability', due to open in late

2021. However, the focus on the

e-commerce platform will continue

to evolve and grow on a national

level via direct e-marketing and

online channels.
---
30

Opening of

Short Term

Accommodation

in Winmalee

"This home provides a

modern, accessible, relaxing

and welcoming space for

NADO's clients and their

carers. It also provides an

avenue for a transition to

greater independence for

those living with a disability.

I know this can be an

incredibly significant step

for many local families and I

imagine the opportunities this

new accommodation provides

will be very welcomed.

This accommodation

symbolises so much more

than a roof over the heads

of those who stay there –

independent living is a

particularly empowering

prospect for people with

disability and this new home

is an integral part of that

process."

State MP Trish Doyle

April saw the official "Cutting of

the Ribbon Opening" where we

welcomed Trish Doyle MP,

Cr Mick Fell and representing

Susan Templeman's office Kim

Cowper at our much-anticipated

short-term accommodation located

in Winmalee.

This modern, spacious property

located in a popular scenic suburb

within the Blue Mountains, and

it's with much excitement we

announce that our short-term

accommodation for people with

disability is now available.

Upgrades and renovations were

invested into this single level home

that is located within a quiet culde-sac

to ensure that Guests are

comfortable, relaxed, safe and that

they enjoy their time at this property

whilst having 24/7 support.

There's lots of things to appreciate

with this property; featuring 5

bedrooms, air conditioning, pay TV

and wifi, multiple living areas, fully

accessible bathrooms, open plan

living, outdoor relaxing spaces, a

television in each bedroom – all

whilst being close to transport and

amenities, it's definitely a home

away from home.

Short-term accommodation, also

known as respite care, can be a

much-needed support for people

with disability and their support

network. It can be a fantastic

opportunity to meet new friends

and develop new skills, whilst giving

full time carers an opportunity

to recharge their batteries. It can

be used for when a usual carer

becomes unwell, is temporarily

away, or has other commitments.

Both short term accommodation

located at St Marys and now

Winmalee allows people with

disability to experience time away

from home in a safe, engaging, and

supported environment that takes

into account the usual routines of

work, training and programs. whilst

offering social and recreational

opportunities, continuity for usual

work or day programs, support to

attend appointments, accessible

vehicles, life development skills,

meal assistance, personal care and

24/7 experienced support staff.

Supporting specific needs including

behavioural support, epilepsy,

diabetes, or other health / lifestyle

needs within our capacity can be

discussed at the time of booking.

You can stay for the day, overnight,

a weekend, a holiday, or longer

depending on your needs and

funding available in your NDIS plan.
---
NADO Annual Report 2020-21 31
---
32
---
NADO Annual Report 2020-21 33

financials
---
34

financial

REPORT
---
NADO Annual Report 2020-21 35

Nepean Area Disabilities Organisation Limited

ABN: 83 188 045 596

STATEMENT OF PROFIT OR LOSS AND OTHER COMPREHENSIVE INCOME

FOR THE YEAR ENDED 30 JUNE 2021

Notes 2021 2020

INCOME

Sales Revenue 18,254,557 16,674,357

Profit/(Loss) from Sale of Asset 7,600 7,273

Miscellaneous Income 8,674 2,567

TOTAL INCOME 18,270,831 16,684,197

LESS: EXPENSES

Employee Expenses 14,193,939 12,408,023

Client-Activities 261,158 321,085

Occupancy 490,234 602,492

Communication and IT Expenses 241,734 230,947

Depreciation Expenses 620,764 162,317

Other Administrative Expenses 1,175,803 765,782

TOTAL EXPENSES 16,983,632 14,490,646

OPERATING SURPLUS 1,287,199 2,193,551

Other Comprehensive Income:

TOTAL COMPREHENSIVE INCOME 1,287,199 2,193,551

-
---
36

Nepean Area Disabilities Organisation Limited

ABN: 83 188 045 596

STATEMENT OF FINANCIAL POSITION

AS AT 30 JUNE 2021

Notes 2021 2020

ASSETS

CURRENT

Cash and Cash Equivalents 5,958,944 5,724,745

Accounts and Other receivables 985,298 1,092,827

Prepayments 77,216 83,077

Other Assets 11,764 3,933

TOTAL CURRENT ASSETS 7,033,222 6,904,582

NON-CURRENT

Property, Plant and Equipment 4,563,704 1,460,433

Other Financial Asset 33,324 29,295

TOTAL NON-CURRENT ASSETS 4,597,028 1,489,728

TOTAL ASSETS 11,630,250 8,394,310

LIABILITIES

CURRENT

Trade Creditors and Other Payables 2,094,156 1,706,843

Other Bank Loan - 33,999

Employee Benefits 958,674 705,338

Other Provisions 30,579 49,504

TOTAL CURRENT LIABILITIES 3,083,409 2,495,684

NON CURRENT

Other Provisions 1,779,793 103,200

Other Bank Loan - 340,124

Employee Benefits 179,676 155,129

TOTAL NON CURRENT LIABILITIES 1,959,469 598,453

TOTAL LIABILITIES 5,042,878 3,094,137

NET ASSETS 6,587,372 5,300,173

EQUITY

Accumulated Funds Prior Year 5,300,173 3,106,622

Surplus for the Year 1,287,199 2,193,551

TOTAL EQUITY 6,587,372 5,300,173
---
NADO Annual Report 2020-21 37

Nepean Area Disabilities Organisation Limited

ABN: 83 188 045 596

STATEMENT OF CASH FLOWS

FOR THE YEAR ENDED 30 JUNE 2021

Notes 2021 2020

CASH FLOWS FROM OPERATING ACTIVITIES

Funding from Commonwealth and State 18,943,058 16,672,333

Funding from others 2,042,019 3,406,428

Payments for supplies and employees (18,603,482) (16,616,753)

Donations and Fundraising 57,334 22,201

Interest received 13,589 35,014

Net cash provided by operating activities 2,452,518 3,519,223

CASH FLOWS FROM INVESTING ACTIVITIES

Proceeds from sale of property, plant and equipment 5,129 7,273

Right of use asset amortisation (239,454)

Purchase of property, plant and equipment (1,609,871) (321,215)

Net cash (used in) provided by investing activities (1,844,196) (313,942)

CASH FLOWS FROM FINANCING ACTIVITIES

Proceeds from Loan

Payment of Loan (374,123) (37,002)

Net cash (used in) provided by financing activities (374,123) (37,002)

Net increase in cash held 234,199 3,168,279

Cash and cash equivalents at beginning of financial year 5,724,745 2,556,466

Cash and cash equivalents at end of financial year 5,958,944 5,724,745
---
38
---
NADO Annual Report 2020-21 39

community
---
40

Friends of NADO

Charity Golf Day

On Friday 16 April 2021,

NADO held its third annual

Friends of NADO Charity Golf Day

at Stonecutters Ridge Golf Club

with supporting partner

Elite Sand & Soil.

The day commenced with a

glorious sunny 7am breakfast and

all 31 teams heading out to the

rolling greens to start the fun-filled

competition.

With 37 game, auction and raffle

sponsors, the support from

this years' event exceeded all

expectations on the day. Since our

first event in 2018, several local

businesses have been amazing

long-time supporters of this

event including; Elite Sand & Soil,

Reozone, ABCOE and Mitronics,

along with other businesses

including Merrick Property Group,

Complete Recruitment Solutions,

Terry White Chemmart Penrith,

Holiday Inn Sydney St Marys and

Platinum Roofing Specialist who

have partnered with NADO since

2019 as well a number of various

other businesses outside of the

Penrith LGA.

The funds raised from previous

events have made a huge impact

on NADO's ability to develop

new services for people with a

disability, including an extensive

refurbishment of a much-needed

respite property located in

Winmalee (see pages 30-31).

This year NADO's goal of raising

$40,000 at the Friends of NADO

Golf Charity Day, to support the

purchase of all ability sensory

equipment was quickly exceeded,

with sponsorships and donations

reaching over $58,000.

"After a difficult year dealing with

COVID, and the cancellation of all

events, our goal this year was to

reunite our supporters, have a fun

day and raise funds for our new

initiative, Share My Ability – an

all-abilities sensory activity centre"

said Denise Heath, CEO of NADO.

"To our delight, money raised on

the day from the generosity of local

businesses and players exceeded

our expectations raising nearly

$20,000 more than we hoped for."
---
NADO Annual Report 2020-21 41

Thank you to everyone who

sponsored, attended and donated

items to make our day the success

that it was. See page 42 for our

Sponsors and page 43 for our

Raffle Donors.

We look forward to seeing you next

year for a bigger and better event.

"Well done on such a successful day

and thanks for the opportunity to be

involved."

- Paul Merrick,

Merrick Property Group.

"We were so grateful to once again be

part of the NADO Charity Golf Day

last Friday. We have been a proud

sponsor of this event for several

years and are thrilled to see the

funds raised for the Sensory Activity

Centre".

- Liz Smith,

Complete Recruitment Solutions

"Well done, you have once

again done a tremendous job on

organising and running a very

successful day."

- Aaron Hadfield,

Reozone
---
42
---
NADO Annual Report 2020-21 43
---
44

Friends of NADO

It was pleasing to have our Friends

of NADO donation program

remaining consistent over the

past 12 months, but it has been

difficult to attract new supporters.

As COVID continues to be a big part

of our lives and our businesses,

building partnerships face to face

has been put on hold.

Some of our partners were

unable to commit to supporting

us last financial year due to the

impacts of COVID, which is totally

understandable. We are, as ever,

grateful to the past and present

Friends of NADO for helping us

achieve more for our participants

and we say thank you.

Along with the funds raised through

our Friends of NADO Charity Golf

Day in April, funds raised through

our Friends of NADO donation

initiative for 2020/21 will also

go towards an exciting new

project Share My Ability which we

endeavour to open later this year.

Share My Ability is an interactive

activity centre for all abilities and

will be opening in Penrith later

this year, and we look forward to

sharing this with you in next year's

Annual Report.

We would like to thank our

2020/21FY Friends of NADO for

your continued support.
---
Friends of NADO

NADO Annual Report 2020-21 45
---
46

NADO

VIP Business Partners

With the launch of our NADO

VIP App last year, we have been

encouraging our 1000+ NADO VIP

members which consists of our

participants, their families/carers,

staff and volunteers to download

the App through both Apple and

Android.

When businesses become a NADO

VIP Business Partner, they provide

people with disability their families/

carers, NADO staff and volunteers

the opportunity to access local

promotions and discounts and

offer "a little extra" to our growing

community.

We continue to attract businesses

that want to support NADO's

community, by providing

discounted services and products

to our VIP Members

2020/21 saw us welcome the

following businesses: Iconic Signs,

RocknBob Media, Stepz Fitness

Penrith, Willows' Wag 'n' Wash

Mobile Dog Wash and Big Boss

Cleaning – Glenmore Park.

With over 20 businesses now

partnering with us, we have array of

services and products for our VIP

Members to choose from some of

the categories, which includes: Arts,

Sports and Attractions, Beauty and

Lifestyle, Dining, Retail and Trade

and Services.

We are always looking for

reputable companies to come on

board and partner with us. Thank

you to the following businesses

who continue to partner with

NADO.
---
NADO Annual Report 2020-21 47

NADO VIP Business Partners

Our NADO VIP Business Partners include:
---
Helping people with disability to achieve their goals and live a more independent life

1300 738 229 | info@nado.org.au | www.nado.org.au