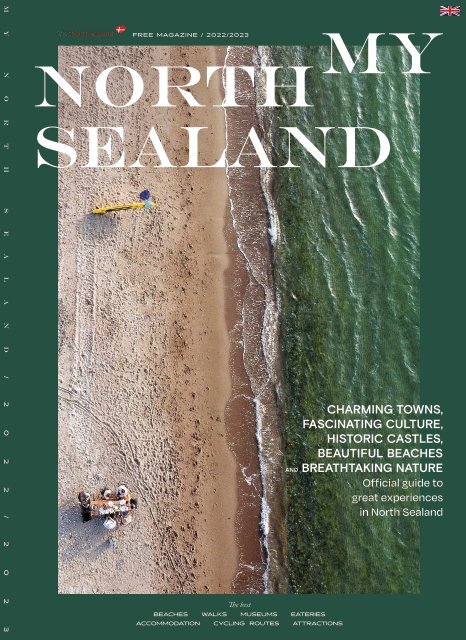 Holiday Magazine My NorthSealand 2022
You also want an ePaper? Increase the reach of your titles
YUMPU automatically turns print PDFs into web optimized ePapers that Google loves.
M Y N O R T H S E A L A N D / 2 0 2 2 / 2 0 2 3

MY

NORTH

SEALAND

FREE MAGAZINE / 2022/2023

The best

BEACHES WALKS MUSEUMS EATERIES

ACCOMMODATION CYCLING ROUTES ATTRACTIONS

CHARMING TOWNS,

FASCINATING CULTURE,

HISTORIC CASTLES,

BEAUTIFUL BEACHES

AND BREATHTAKING NATURE

Official guide to

great experiences

in North Sealand
---
TABLE OF CONTENTS

06

THE LITTLE BREAKS ALONG THE WAY

MAP OF NORTH SEALAND

08

CULTURAL & NATURAL TREASURES

Tisvildeleje, Rågeleje,

Gilleleje, Esrum

Dronningmølle

24

26

OUT INTO THE BLUE

OUTDOOR ADVENTURES

NORTH SEALAND ON TWO WHEELS

CYCLING HOLIDAYS

28

AUTHENTIC HARBOUR TOWNS

HUNDESTED

& LYNÆS

38

NORTH SEALAND BIG EVENTS

CALENDAR

40

CANAL TOWN & SEASIDE HOLIDAY

FREDERIKSVÆRK

& LISELEJE

PUBLISHED BY

VisitNordsjælland, Krakasvej 17, 3400 Hillerød. Ph: +45 49 21 13 33 info@

visitnordsjaelland.com, www.visitnordsjaelland.dk

The magazine is published by VisitNordsjælland and primarily contains editorial

articles and adverts paid for and developed in collaboration with tourism operators

and other commercial enterprises in North Sealand.

COMMENT

Prices, dates and opening times are subject to change, and the editorial team cannot be

held responsible for any incorrect information. Images and text may not be reproduced

without the publisher's permission. All rights reserved. © Copyright VisitNordsjælland

2022. Editing finalised 5 February 2022.

EDITORS

Editor-in-Chief: Jesper Bækgaard

Editors: Annette Sørensen, Henrik Numelin, Susanne Tvergaard Nielsen, Clara Sune

Buch, Andreas Friis Mikkelsen, Christina Heinze Johansson, Bettina Kampmann,

Sanne Nielsen, Anne-Marie von Vultejus et al.
---
MY NORTH SEALAND

46

WITH YOUR FEET IN THE WATER

9 BEST BEACHES

50

PALACE & COASTAL TOWN ATMOSPHERE

Fredensborg,

Nivå & Humlebæk

66

COME. LET'S GO

HIKING ROUTES

70

CULTURAL HERITAGE & SHOPPING

HILLERØD

80

82

84

88

90

ROLLING GREENS & HOLE-IN-ONE

PLAY GOLF DURING YOUR HOLIDAY

SWEET DREAMS ON THE GREEN

ACCOMMODATION

TASTE OF NORTH SEALAND

TASTE LOCAL DELICACIES

FARM VISITS & NATURE RECREATION

NORTH SEALAND FOR CHILDREN

COLOUR & WIN

PAGE FOR CHILDREN TO DRAW

PHOTOGRAPHERS

VisitNordsjælland, Naturstyrelsen, Tine Uffelmann, Daniel Overbeck, Sarah Green,

Henrik Sylvest, Thomas Rahbek, Wichmann+Bendtsen Photography, Sisse Langfeldt,

Kaj Frøling, Bent E. Jensen- Bach, Signe Roderik, Casper Bay Grauballe, Laura

Davies, Colin M, Thomas Sinding, Copenhagen Orginals, Jens Lindhe, Philip

Høpner, Niclas Jessen, Stephen Freiheit, Maria Dønvang, Tina Andersen, Kasper

Nyberg, Susanne Buhl, Tine Uffelmann, Daniel Overbeck, Sarah Green, Christina

Bendix, Christian Warrer, Oliver Bock, Daniel Rasmussen, Mette Jonson, Agnete

Schlichtkrull, Søren Thorsson, Hans Carlsen, Charlottte Sonnichsen et al.

COVER PHOTO

Drone photo by Tine Uffelmann at Melby Overdrev

LAYOUT OG PRODUCTION

By Story House Egmont:

Layout: Kasper Bjerre & Trine Nissen

Text: Sofie Møller Wulff & Maria Bruun-Schmidt Dorrens

Project management: Mille Sølling Olsen

OPLAG

100,000 copies, published in Danish and English

This magazine is

exclusively printed using

power from sustainable

energy sources. The paper

originates from responsibly

operated FSC®

certified forests.
---
04

LEAVE THE GPS AT HOME

AND TAKE THE WINDING ROAD

ETA? Quickest route? Yes, the GPS is a

great thing. It has made it easier to get

from A to B, easier to plan journeys and

easier to get about generally. But to

be honest, it's also a bit boring, isn't it?

Because when you're out there, in your

shorts and finally on holiday, with everything

packed, including your sandwiches

- which road are you going to

follow? How will you get the most out

of all the amazing experiences waiting

for you out there? Will you take

the direct route, like the nice lady on

the GPS recommends, or will you take

the lesser-known route to your best

holiday ever?

Set your route to....

zigzag

In recent years, the interest in walking

and cycling holidays has almost exploded

and the appetite for experiencing

the great wide open seems endless.

Both walking and cycling routes offer

something special. All those small

experiences along the way suddenly

become meaningful ones as you zigzag

your way, seemingly in a haphazard

fashion, through the landscape. Perhaps

you've set course for Louisiana

Museum of Modern Art, although, as

many frequent visitors know, it's only

a small detour to drop in for a spot of

'light refreshment' at Lind's Kaffebar by

Humlebæk Station.

Or, why not take the coastal route, where

you drive alongside the sea rather

than the straightest and quickest way

as the GPS lady suggests? The route

is beautiful, the houses enchanting

and the sea is enticing. You might get

there three minutes later but you arrive

richer for the experience. So it's not

such a diffcult decision is it?

Actually, it's often a good idea to look

for alternative routes Who would have

thought that Rusland (Russia in Danish)

is actually close to the small seaside

town of Dronningmølle and not thousands

of kilometres to the east. The

Danish Rusland is actually a heatherclad

heath area where the Danish

sculptor Rudolf Tegner's sculptures

are dotted over the landscape.

And a small detour will take you to

the Par force hunting area in North

Sealand, which has been added to

the UNESCO World Heritage list. You

can search all you like on your GPS

but you'll quickly find that it's almost

useless using it to navigate your way

about. It's only when you cycle or walk

the network of paths and trails through

the over 11,000 acre former royal hunting

ground that you come to realise

why the National Park of Royal North

Sealand has earned the title 'Royal'.

And why its castles, country homes,

gardens, parks and woods are all part

of the greater story of North Sealand.

In the footsteps of Søren

Kirkegaard and

Knud Rasmussen

The world-famous Danish philosopher

and theologian Søren Kirkegaard spent

the summer of 1835 walking the north

coast of Sealand and perhaps it was

this experience that was the inspiration

behind his famous words:

"Of all ridiculous things, the most ridiculous

seems to me, to be busy."

Today you can follow in his footsteps

by downloading the Useum app, selecting

Kirkegaard by Nature and following

the route from just outside the

town of Gilleleje. Surely he would have

suggested turning off the GPS and following

the road less travelled instead

of the most effective and usually least

interesting route.

And of course, we mustn't forget the

great polar explorer Knud Rasmussen,

whose fascinating house just outside

Hundested is open to the public. His

eventful life is one glowing example

of finding the most amazing roads to

travel that no one else can see.

Perhaps this magazine will inspire you

to search out new adventures and take

the road less travelled - either alone,

with friends, or with family. And if Mrs

GPS stands between the quickest

route and the long and winding one,

we recommend you follow that particular

road to your next holiday adventure.

Have a great trip out and about

in North Sealand.

From all of us in VisitNorthSealand
---
05
---
06

Discover

NORTH SEALAND

The House of Knud

Rasmussen

Sand Sculpture Festival Tisvildeleje Gilleleje The Powder Works

Museum

Esrum Abbey

Frederiksborg Castle

Fredensborg Palace The Par force Hunting Louisiana Nivaagaards

Landscape,

Art Collection

National Park

of Royal North Sealand

Visit Nordsjælland is the offcial

tourism organisation for Fredensborg, Gribskov,

Halsnæs and Hillerød municipalities.

Smidstrup

4

Gilleleje

Rågeleje

Dronningmølle

Hornbæk

Vejby

Tisvildeleje

3

Græsted

Esrum

6

Helsingør

Liseleje

Helsinge

Esrum

Sø

1

Hundested

2

Lynæs

Torup

Melby

5

Frederiksværk

Ølsted

Arresø

16

7

9

Hillerød

8

Fredensborg

E 47

10

Humlebæk

Nivå

11

Rungsted

Hørsholm

Frederikssund

16
---
The little journey to big

Swedish adventures.

It only takes 20 minutes to cross the sea to Sweden, where you

will find an ocean of adventures in and around Helsingborg.

You can visit Tropikariet with all the exotic animals, Sofiero

castle with the amazing gardens or Fredriksdal open-air

museum, where you can catch a glimpse of

the Swedish history.

We depart several times an

hour most of the day.

For more information,

please visit forsea.com

DKK 170,-

Family ticket

return only

*

* The family ticket is a one day return

for 2 adults and up to 3 children (4-15 years)

traveling by foot.
---
08

GILLELEJE

GILLE

LEJE

THE

TOWN

at THE

TOP

Gilleleje, Sealand's most northerly point

offers a busy commercial life with many exciting

shops, cosy cafés and good restaurants.

The fishing harbour and the beautiful cultural

centre, Kulturhavn Gilleleje, are worthy attractions

with deep roots in local life. Together they

are worth a visit - so take a lovely day trip, an

extended weekend or a longer holiday with the

whole family.

Gribskov Municipality is the largest in North

Sealand and encompasses towns like Gilleleje,

Rågeleje, Esrum and Tisvildeleje.

If you visit Gilleleje on a Saturday in the summer

months, you will be welcomed by Danish flags along

the main street. When the sun comes out, the town

buzzes with life with its many events and summer

activities: market days, Bakkefest, the town festival

and small local concerts at the town's eateries.

In the winter months you can enjoy Gilleleje as an

active historical fishing town with a very special

atmosphere. Take a walk in the old part of town
---
GILLELEJE

09

FOOD &

ACCOMMODATION

Far away from the noise and busy rumblings

of the city, the north coast is waiting quietly

for you. Here, life is lived locally and the

atmosphere is authentic.

Three eateries you must try when you

visit the area:

• Café Kystgaarden, Gilleleje

• Proviant Gilleleje Harbour

• El Meson Canario, Rågeleje

Four unforgettable places for accommodation

in and around Gilleleje:

• Kongernes Feriepark

• Hotel Gilleleje Strand

• Gilleleje Badehotel

• Feriecenter Rågeleje Klit

where the authentic fishermen's houses are huddled

close to each other, separated by well-manicured small

gardens and stone walls. Also visit Gilleleje Church

which played a key role in the dramatic events of

October 1943, when the Jews had to flee from the

Gestapo when their hiding place in the church attic was

discovered.

NATURE AROUND GILLELEJE

Gilleleje is surrounded by nature and is thus a great

starting point for both cycling and walking activities

(read pages 27 and 67). From Gilleleje you can follow

the Gilbjergstien path all the way to the highest point

in Gilleleje, Gilbjerg. There you will experience fantastic

views across the Kattegat to Kullen in Sweden. If

you like walking, then find time to experience Kirkegaard

by Nature, which is a more or less 12 km/7 mi

long walk. You will walk in the footsteps of the world

famous Danish philosopher, Søren Kierkegaard. The walk

starts and ends in Gilleleje. Take a walk around Maglehøjene

by Rågeleje. Have a well-earned break at the cosy

Café Havestuen which is the closest neighbour to the

burial mounds. Here, you will feel at home with Annemarie

and Jacob. Also make your way past the El Meson

Canario restaurant, which serves authentic Spanish

paellas, tintos, tapas and sangria. Here you can enjoy

your Spanish dinner with beautiful views of the Kattegat.

TAKE THE CHILDREN ON AN

ADVENTURE

Gilleleje has become a huge ice cream Mecca and in

recent years the locals have begun to take gourmet ice

cream production seriously. For example, you could try

ice cream from Tranegård, Gilleleje-Isen and Søsters.

The ice creams are usually a big hit for those of us with

a sweet tooth. At Kollerødgaard you can enjoy some ice

cream and also see where the milk comes from.

A brisk, little treasure hunt with the children is also

an option that begins at the museum in Skibshallerne,

moving on to Gilleleje where you can dive into the

history of the town.

If you are in the mood for a great excursion, a good

tip is to walk from Gilleleje Harbour out to Nakkehoved

Lighthouse. This is a really great walk. You will go past

the harbour and the fishermen's houses, close to a

beautiful area with delightful houses and then you will

suddenly find yourself in a forest where you can see

the lighthouse. Sometimes you can even be fortunate

enough to spot a seal from the high points. Nakkehoved

Lighthouse is a lovely place run by volunteers.
---
10

GILLELEJE

GILLELEJE HARBOUR

Historical fishing atmosphere

The screech of seagulls, spray from the waves, the wind

in your hair, the harbour noises from the fishing boats, the

sound of children playing while running between the nets

and the aroma of fresh fish. You will not be in any doubt.

You are at Gilleleje Harbour which embraces an authentic

harbour environment and modern culture and art for adults

and children.

In the far distance from Sealand's largest fishing harbour

you can hear the clank, clank, clank sound which sets the

atmosphere for everything from the fish auction, ice works

and smokehouse to the fishmongers and fish export. The

harbour is a large workplace with many employees to service

commercial fishermen, anglers and yachting enthusiasts.

With a boatyard, machine shop, marine painter, smithy,

crane service and stocks, there is unrestricted access to

experience the trade and see the fishermen unload their

cutters and fix their nets.

Gilleleje Harbour Offce

Havnen 5, tel +45 48 30 16 63

gillelejehavn.com (in Danish only)

Adamsens Fisk

Havnen 2

adamsensfisk.dk (in Danish only)

Bakkehuset Good Living Gilleleje

Alfavej 18

bakkehuset-lagersalg.dk (in Danish only)

Restaurant Far til 4

Alfavej 21

far-til-4.dk (in Danish only)

Kanalkiosken – A world of ice cream

Kanalvejen 13

kanalkiosken.dk (in Danish only)

Fiskernes Deli

Kanalvejen 13e

Proviant – Det Maritime Spisehus

Kanalvejen 15

proviant.dk (in Danish only)

Havhøkeren - Sailing and fishing gear, shoes

and clothing

Nordre Havnevej 9

havhokeren.dk (in Danish only)

Brdr. Petersens Maskinfabrik

– Boat repair

Carl Petersensvej 2

brdrpetersen.dk (in Danish only)

HARBOUR PLAYGROUND AND

NORWEGIAN LOBSTER

Take a stroll around the harbour, treat yourself to an ice

cream or enjoy a cup of coffee and piece of cake from

Vaffelbageriet or one of the harbour cafés. If your children

are joining you, then visit the playground at Stejlepladsen,

which is a paradise for children with a slide, jungle gym, a

sandbox shaped like a boat and porpoise swings. Here,

the children can catch small fish and parents can get a

coffee to go and enjoy the stunningly beautiful view from

the playground.

Relax on the beach or take a dip from the bathing jetting

at Østmolen or Veststranden. Find beautiful stones to

decorate or try to stack stones to make your own stone

tower sculpture while you observe the buzz of activities

as well as the sailors, kayak, canoe and long boat rowers.

Should you begin to feel peckish, the harbour has many

inviting restaurants to offer with terrace and courtyard

environments. You can also buy fresh fish from the fishmongers,

where behind the glass counters there is everything

your heart desires: Norwegian lobster, salmon, plaice,

smoked items to warm fish cakes and delicious fish dishes.

By the way … You can also buy a ready-made dish to

go if you want to enjoy fresh fish at home or on your boat.

CULTURE AND SHOPPING

There are many yacht enthusiasts who come from far away

to Gilleleje Harbour to use the modern facilities and to

experience the art and cultural activities in the town. You

could do the same - go to the cinema, have a shopping

spree in the town's many shops or enjoy a cool drink on

the town's square.

Gilleleje Harbour is a big experience for all the senses:

sounds, aromas, emotions, sensations, wind and weather

with plenty of life all year round. This makes it a unique gem

that will make you want to visit the harbour again and again.
---
GILLELEJE

11

Restaurant

Far til 4

Far til 4 has a unique location right down to Gilleleje's

white sandy beach. The lovely settings of the restaurant

are suitable for any occasion - from functions (up to 70

settings), company parties and customer meetings to a

romantic dinner for two or a birthday celebration.

In the summer, you can keep up with life on the beach

from the sun loungers by the restaurant's bar. Come by

during the festive season and enjoy a Christmas lunch

in merrily decorated settings or when you need a cosy

break from your Christmas shopping in the town of Gilleleje.

The name Far til 4 was chosen because the owner,

Bent, has four children himself and to clearly indicate that

children are welcome in the family restaurant.

RESTAURANT

FAR TIL FIRE

Alfavej 21

3250 Gilleleje

Tel. +45 49 71 76 72

far-til-4.dk (in Danish only)
---
12

GILLELEJE

GILLELEJE

BADEHOTEL

Steam bath and mahogany sauna

at the top of Gilbjerghoved

At the top of a 30-metre

high cliff at the absolutely

northernmost point of

Sealand, Gilleleje Badehotel

rules atop Gilbjerghoved.

When you add the three

storeys of the hotel to the height

of the cliff, you then have a unique

view across sea and shore. You can

see all the way to Kullen in Sweden

and enjoy the acrobatics of birds in

flight across Oresund and Kattegat.

Gilleleje Badehotel has 26 beautiful

double rooms all of which have their

own bathroom and toilet. Many of

them have a view of the sea where

you can enjoy a stunning sunset.

If you would like more room and

privacy, there is the option to rent

Strandhuset or the cabins in the

forest.

You are also welcome to make use

of the hotel's spa area which offers

delightful treatments. This is where

you can pamper yourself or someone

you hold dear in the steam bath

or the mahogany sauna - or on the

warm stones in the Turkish hamam.

GILLELEJE

BADEHOTEL

Hulsøvej 15, 3250 Gilleleje

Tel. +45 48 30 13 47

gillelejebadehotel.dk (available

in English)

Opening hours & info

Gilleleje Badehotel offers a

number of different stays. You

can choose between 'weekend

wellness', 'romantic wellness

for two' and the '4-course

romantic stay'.

See the opening hours at

gillelejebadehotel.dk

(available in English)
---
GILLELEJE

13

KULTURHAVN GILLELEJE

Creative activities, arts and crafts and concerts.

Visit the north coast's cultural meeting place and cultural

centre where classic and modern music, Italian food, debates,

art exhibitions, films and books can be combined with contemplation

and tranquility - all at the same time.

Kulturhavn Gilleleje is an architectural

masterpiece. The contrast between

heavy and light gives the cultural centre

a very special and unique atmosphere.

Here, there is room for diversity

and creative activities, music, life and

festivities but also contemplation and

tranquility – all at the same time. Take a

walk around the library, watch a good

film in the cinema or buy a ticket to

one of the many cultural events in

Kulturhavn Gilleleje, which also offers

delicious Italian cuisine in Restaurant

Bolværket.

Psst … Are you a big

fan of exhibitions?

The gallery hallway on the

ground floor has alternating

exhibitions with works from

experienced artists and you

can often purchase a work

of art to take home with you.

Restaurant Bolværket:

Crispy gourmet pizzas

Restaurant Bolværket is worth a visit;

for brunch, afternoon coffee or for

dining in the evening. The pizzas are

also considered by some to be the

best north of the Alps.

Gilleleje Library:

Cultural gem with a view

Borrow books for your holiday and

films for evenings on the sofa while

you enjoy the view across Gilleleje.

The library also has a delightful playroom

for the younger members of the

family. Come by between 7 am and

10 pm where self-service is open.

Gilleje Cinema: Mix your own

choice of sweets in ultramodern

seats

On the first floor in Kulturhavn Gilleleje

you will find not just one but two

ultramodern cinemas where you can

enjoy the latest film premier sitting

comfortably in great seats.

FONDEN KULTUR-

HAVN GILLELEJE

... is the independent institution

behind Kulturhavn Gilleleje.

Many volunteers and initiatives

make all the difference to

Kulturhavn. Ticket sales in the

foyer are manned by volunteers

as are the people behind the

music, exhibitions and all other

activities.

Opening hours & info

Kulturhavn Gilleleje is open all

year round. Take a look at kulturhavngilleleje.dk

(in Danish

only) and Facebook for info on

opening hours and events.

KULTURHAVN

GILLELEJE

Peter Fjelstrups Vej 12

3250 Gilleleje

Tel. +45 70 23 03 30

kulturhavngilleleje.dk

(in Danish only)

@kulturhavngilleleje
---
14

DRONNINGMØLLE

IN THE SMILING HEART

OF DENMARK

In his autobiography, 'Towards

the Light', sculptor Rudolph Tegner

describes how he and his wife decided

to buy the land where the museum

stands today: "In the summer of 1916, we

took a long cycling trip in North Sealand,

where one day, cycling around stiles

and through marshland, we came to an

enormous ridge. There in the heart of

smiling, summery Denmark it stood, like

a harsh Siberia ... This was the place ...

This ridge was bound in a mystical pact

with my mind."

RUDOLPH TEGNER'S

MUSEUM AND STATUE PARK

This nature area at Dronningmølle is also known as "Russia",

referring to the remote and distinctive landscape

in which the sculptor Rudolph Tegner (1873-1950)

established an architecturally groundbreaking museum

and an enchanting statue park.

A visit to the museum and the park is a calm and dramatic

experience at the same time. The impressive octagonal

space in the imposing museum building opens

towards its cathedralesque 11-metre-high ceiling. In

this museum you can experience 300 of Rudolph Tegner's

huge, poetic and masculine sculptures in plaster,

clay, marble and bronze. They provide a unique insight

into the sculptor's lifetime works, reflecting his fascination

and adeptness with symbolism, vitalism and classicism.

A veritable treasure trove of great sculptural art!

Outside in the statue park, art and architecture interconnect

harmoniously amongst the beauty of

nature. Fourteen bronzes stand in the spectacular

landscape, interacting with the heather moors,

the wide-open sky and the rhythm of the seasons.

Sheep graze freely among the artworks in the summer

months, and children can go on a treasure hunt,

enjoy a drawing workshop or climb trees in the

statue park.

RUDOLPH TEGNER'S MUSEUM

AND STATUE PARK

Museumsvej 19

3120 Dronningmølle

Tel. +45 49 71 91 77

rudolphtegner.dk

Opening hours:

Rudolph Tegner's Museum is open from mid-April

to mid-October. Every year, in addition to the

permanent collection, the museum shows special

exhibitions where Rudolph Tegner's works and the

venue he chose collaborate with contemporary

artists to offer new experiences. There is free

admission to the statue park all year round.
---
MUSEUM NORDSJÆLLAND

UNLEASH YOUR CURIOSITY

North Sealand offers perhaps Denmark's highest concentration of museums and places to visit, both

large and small, rich in everything from art and history to child-friendly experiences – and with ample

space to satisfy your curiosity, think deeply and let your imagination roam. Visit the many museums that

Museum Nordsjælland has to offer, and experience it all for yourself.

ÆBELHOLT ABBEY

MUSEUM

Enjoy a stroll through the abbey ruins and the

abbey garden. The museum displays tombs and

skeletons discovered during the excavations of the

abbey ruins. In the Middle Ages, this was the largest

Augustinian abbey in the Nordic countries (the

Augustinian order was the foremost Catholic order).

Æbelholt 4, 3400 Hillerød

MUSEUMS

NAKKEHOVED

LIGHTHOUSE

At the northernmost point in Sealand, in Gilleleje,

stand the Nakkehoved East and West Lighthouses,

both constructed in 1772. Experience the beautiful

natural landscape surrounding the two lighthouses,

and see the breathtaking view over the Øresund

strait from the top of the towers.

Fyrvejen 25A, 3250 Gilleleje

15

ELVÆRKET

A beautiful industrial building in Hillerød houses

Elværket. Formerly a power plant, today it is the

setting for a series of archaeological special

exhibitions and exciting events on North Sealand's

history. In 2022, it is housing the exhibition

"Doors to another reality – faith and superstition

in the past". An imaginative exhibition for all

ages, where you can step through the gateway

to discovery and learn about a bygone world of

faith and dreams.

Frederiksgade 11, 3400 Hillerød

MUSEUM OF HØRSHOLM

Freedom of the press and the most tragic love

affair in Danish history! Experience the story of

the now-vanished Hirschholm Palace, which was

the setting for the love affair between Queen

Caroline Mathilde and the mad King Christian

VII's royal physician, Struensee. It was also from

here that Struensee announced that the Danish

press would now be free.

Sdr. Jagtvej 2, 2970 Hørsholm

MUSEUM OF HILLERØD

Immerse yourself in the history of Hillerød at this

town museum, where children can experience

what childhood was like 100 years ago. Along Time

Street, which features among other things a grocer's

shop and a physics laboratory, you can take a stroll

through the 20th century and play your way into

history.

Helsingørsgade 65, 3400 Hillerød

GILLELEJE

SHIPHALLS

Explore historic fishing boats and learn

about fishermen's dangerous lives over

500 years. Visit a fisherman's house, a

schoolroom from 1920 and a holiday

apartment as it looked in 1950. When

the weather is mild, you can enjoy coffee

and cake in the old orchard.

Visit the museum ship Vilhelm in Gilleleje

Harbour, where it is permanently

anchored.

Entrance via Østergade 20, 3250

Gilleleje

TIP: Take the kids on a historical and maritime

quiz walk around historic Gilleleje. Get

a leaflet at Kulturhavn Gilleleje (the Culture

Harbour) or at the Shiphalls. If you get all the

answers right, you'll win a small prize!

Did you know that...

... throughout the summer there are guided

town tours of Gilleleje in both Danish and

English? See more at visitnordsjaelland.dk
---
16

THE NATIONAL PARK

National Park

Royal

North

Sealand

In Gribskov is situated in the heart of the National

Park. This area is home to the largest population

of fallow deer, and both osprey and sea eagle

breed here in the large, old trees. You can explore

ancient sites, interesting natural areas and cultural

monuments. There are traces of our ancestors'

hunting lodges and lost villages to be found all over

the forest.

The National Park contains two of Denmark's largest

lakes. Esrum Sø is Denmark's lake with the most

abundant water, a walk along the coast reveals

both a rich bird life and stunning views. Make a rest

stop at one of the shelter areas and views over to

Fredensborg and the avenues in the castle garden,

or take a boat trip from Fredensborg side to a forest

cafe at Dronningens Bøge, and catch your breath

over a cup of coffee with one foot in the forest.

Arresø is Denmark's largest lake, providing great

sailing opportunities - be it by canoe, kayak or the

small ferry M/S Frederikke.

5 suggestions for walks

in the National Park

1. Enjoy a walk in beautiful Tisvilde Hegn where

you can explore the remains of the abandoned

village of Torup, which disappeared under a

meter-thick layer of sand when large parts

of the area were covered in shifting sands in

the 16th century.

2. Hammermøllen is beautifully situated by

Hellebækken. You can walk or cycle along

beautiful routes from Hellebæk Kohave and

Teglstrup Hegn to Flynderupgård.

3. Rusland undulating and protected heathland

landscape at Dronningmølle with heather,

juniper and pine trees. From the hills there is a

stunning view over Kattegat.

4. Visit the three meadow lakes Strødam,

Solbjerg and Alsønderup, where you can

observe the rich birdlife all year round. It is

an excellent place to spot sea eagles and

kingfishers.

5. Take a trip to Store Dyrehave, where exciting

traces of the par force hunting landscape laid

out in the 17th century can be explored Store

Dyrehave and Gribskov have been recognised

with UNESCO World Heritage Site status.

Royal North Sealand National Park with

its mountainous natural areas and its rich

cultural history, is a treasure chest full of

experiences for nature lovers. The deep

forests, large lakes and bogs, salt marshes and

dunes are ideal to explore day and multiday

trips.

Did you know that

the NATIONAL PARK...

• ... is the second largest national park in

Denmark and covers an area of 263 km²?

• ... has Denmark's largest wild population of

fallow deer?

• ... includes Holløse Bredning, home to a

beaver population?
---
THE NATIONAL PARK 17

Psst… The par force hunting

landscape is accessible by foot, horse

or bicycle all year round.

3 excursions for a

day in a UNESCO World

Heritage Site

1. Kong Christian V was fascinated by par

force hunting at the king's command and

inspired by the French King Louis XIV, a

winding geometric network of paths was

established. At the central Kongestjerne

in the middle of the trail system in Store

Dyrehave near Hillerød, you can get an

impression of the par force hunting of

yesteryear. Kongestjernen is a granite

stone depicting Christian V's monogram

and a compass rose with 16 points.

2. There are six ways to the Stjernen i

Gribskov, where you can get a regal

view of the rolling landscape with its

winding hunting tracks.

3. From the lookout point at Dronningens

Bøge (Gribskov) you can look over

towards Fredensborg Palace and sense

how the hunting trail stretched over

Esrum Lake and into the palace grounds.

There is a bathing jetty, a fire pit and a

set of picnic tables and benches for a

cosy lunch in the great outdoors.

120 KM UNESCO WORLD HERITAGE SITE

The par force hunting

landscape in North

Sealand

Behind the awkward word par force lies a story of hunting, power

and glory. The par force hunting landscape is comprised of Gribskov,

Store Dyrehave near Hillerød and Jægersborg Hegn and Dyrehave.

The landscape consists of 120 km of hunting tracks spread over

roughly 4,500 hectares of forest. In 2015, the winding geometric

network of paths was added to UNESCO's World Heritage list.

The par force hunting landscape was created at the end of the 17th

century by Christian V, who had been inspired to build a Baroqueinfluenced

hunting landscape on an educational trip. He designed the

symmetrical paths in the landscape to demonstrate the King's great

power, sovereignty and thus closeness to God. All the paths led to

a star in the middle of the landscape. Because of the design of the

paths, it was easier to navigate the landscape and witness the riders'

and dogs' frantic pursuit of the stags. This is why the paths from the

star were numbered: One-path, two-path and three-path etc.

Coffee or lunch

break?

If you need a sweet treat during your

adventure in nature, visit Ninas Natur Café

on the edge of the forest of Store Dyrehave,

which arranges both horse-drawn carriage

rides, intimate concerts and exercise groups

for movement amongst the wonderful

surroundings.

If you go past Frederiksborg Castle, visit

Spisestedet Leonora, originally built as a

stable for the castle in the 17th century.

The restaurant is open for lunch and serves

delicious smørrebrød, open sandwiches,

salads and fish - and also has a children's

menu available for the little ones.

Practical info

Read more about the National Park and

the par force hunting landscape, download

maps and guides at nationalparkkongernesnordsjaelland.dk,

parforce.dk and

udinaturen.dk. Here you can also find more

details about the guided tours and events

in the area.
---
18

ESRUM

North of Esrum Lake, surrounded

by idyllic meadows and forests

and with entrance to the Royal

North Sealand National Park,

you'll find Esrum Abbey, which

in the 12th century was the centre of

the Cistercian order in Denmark, and

which later became very important

to the Danish monarchy. The red

walls conceal a fascinating story of

power and religion, but also of the

monks' contemplation and meditation.

Accompanying the Liturgy of the

Hours, we are invited to the holiest rite

– the monks' prayers and Mass singing

– a unique and sensual experience

through sound and light.

ESRUM

ABBEY

Esrum Abbey is a great attraction for a

day trip, situated in lush surroundings with

space for reflection, learning and play. Here

you can feel the tranquility that the monks

experienced, and the greatness that contributed

to the abbey's key significance in

North Sealand.

TRAVELLING

BACK IN TIME

In the exhibition 'Abbey Life' we are

taken back in time and become part of

the community that was at the abbey

at the time. Afterwards, it's time for

a virtual reality journey that takes us

around the now disappeared abbey

buildings, through halls and corridors,

outside in the beautiful fraternal

courtyard and into the magnificent

abbey church. Get a sense of what

faith was in the Middle Ages, what was

at stake, and why the church gained

so much power as it did.
---
ESRUM

19

LIFE

AT THE ABBEY

Esrum Abbey offers a wide variety of

unique experiences all year round,

ranging from beer festivals, pilgrimages

and guided tours to food experiences,

Christmas markets and loads

of activities for children, with the programme

always offering extra events

during the children's school holidays.

In late August, Esrum Abbey houses

North Sealand Hiking Festival.

Stay tuned at esrum.dk, and follow the

updated event calendar.

ABBEY'S

HEYDAYS

All roads go to and from Esrum Abbey – or almost. And the abbey

is a good starting point for a walk, bike or hike in the Royal North

Sealand National Park. There are several marked routes from

Esrum Abbey, such as cycle route 48, which passes the North

Sealand castles, the walking route Esrum-Tisvildevejen and the

orienteering route in the northern part of Gribskov forest. See

more at visitnordsjaelland.dk.

PARADISE

ON EARTH

The abbey gardens overlook the meadows,

and here you can experience the recreated

herb garden. A modern version of the

medieval gardens, it has over 200 different

plants that recount the story of how the

monks wanted to create Paradise on earth.

The plants were used for household needs

and for medical or religious reasons.

Today, lots of fresh herbs are still used in the

kitchen at Møllecaféen, which offers delicious

and varied meals. Enjoy lunch or a cup of

coffee inside the old mill farm, or sit outside

in the green café garden. If the children need

to let off steam, you can take them to the

nature playground, where they can enjoy

playing in the medieval children's universe. In

the abbey shop, you'll be tempted by Esrum

Abbey's own produce such as beer, spirits,

honey, medieval mustard and delicacies from

other monasteries in Europe.

ESRUM ABBEY

Klostergade 11-12, Esrum, 3230 Græsted

Tel. +45 48 36 04 00

esrum.dk

OPENING HOURS

Monday - Sunday from 10 am-5 pm. Apply throughout

July, August and September and during school holidays.

Tuesday - Sunday from 10 am-4p m all other weeks.

Subject to change. There are special opening hours for

arrangements and large events. For more information,

visit esrum.dk

MØLLECAFÉEN

At Møllecaféen you can enjoy a delicious meal, either

inside the cosy surroundings or outside under the apple

trees in the café garden. The menu is inspired by seasonal

ingredients and made from scratch – from organic produce,

if available.

Book a table on cafe@scvk.dk or tel. +45 60 20 14 86.
---
20

TISVILDELEJE

TISVILDELEJE

There are plenty of great reasons to visit the small and lively seaside resort of Tisvildeleje,

known for its colourful, iconic bathhouses that glow all summer long. During the warmer

months, visitors come from near and far, and in winter, several creative entrepreneurs

keep the resort busy. This site is great for inspiration to plan which unique cultural and

natural gems to visit on a day excursion or weekend break.

DO YOU LIKE TOWN LIFE?

Do you want to stroll around Tisvilde, and do you fancy

a hot cup of coffee or a hearty soup? Then Jonathan

at Brød & Vin can take care of that, all day he churns

out delicious freshly baked bread, cinnamon rolls and

cakes. Here you can warm yourself in the sun or (in the

winter months) by the fire outside if the indoor space

is full.

In the quirky salon shop Fortællinger you can discover

beautiful treasures and handmade stories, and at

Søren's hairdresser-and-everything-else studio Den

Vilde i Tisvilde you can tame your locks and shop for

special items for your home and wardrobe.

At the clothing store H66 Tisvilde run by Mille you can

shop for clothes and fresh styles for the whole family. If
---
TISVILDELEJE

21

you are after something a bit different, don't miss the

flea market Loppemarkederne på Birkepladsen (4

June - 13 August), an annual event where you can go

bargain hunting for a lamp and instead come home

with a pair of jeans.

If you love (Swedish) antiques, stop by Antikgården,

which is popular with locals.

In August, Kildemarkedet tents are pitched for the

traditional craft market.

At the shop No17 Limited you can find elegant

luxury wardrobe items, jewellery and nail polish

(and everything in between). Owners Mille & Bo sell

the luxury brand No17 Therapy where you can get

handcrafted essential oils.

DO YOU LIKE NATURE?

If you are an outdoor enthusiast, you can enjoy the

stunning nature in Tisvildeleje all year round. Take a

weekend hike or bike ride at Esrum-Tisvildevejen, or

visit Tibirke Bakker right next to Tibirke Kirke. If you

enjoy birdwatching, head out to the outlet of Pøle Å

in Arresø, home to both sea eagles and kingfishers.

Alternatively, take a stroll or do yoga on the beach at

Lille Kulgab.

Troldeskoven in Tisvilde Hegn is a great way to take the

kids out into nature, play and climb among the gnarled

and twisted trees. Wieth-Knudsen Observatory at

Tisvilde Hegn is open twice a month. Here children

can see the giant astronomical telescope.

Delicious Italian pizzas are always available at Den

Røde Tomat. If you crave a fine glass of wine with your

meal, try the city's new wine and tapas bar Tisvilde

Vinstue. If you'd instead prefer to indulge in casual

dining with the flavours of the French countryside,

pop by Restaurant Tinggården.

If you love culture, remember the annual Kulturnat-

Kulturnat Tisvilde, on Saturday 15 October, where the

town really comes alive.

Did you know that...

...Tisvilde is home to the popular music festival

Musik in Lejet? This year the tickets were

already sold out in just 43 minutes! The town

is buzzing with life in the days leading up to

the festival, and many people stop by Tisvilde

to soak up some of the festival atmosphere

- even if they didn't manage to get a ticket.

Music in Lejet takes place 21-23 July 2022.

musikilejet.dk

3 accommodation tips

• Helenekilde Badehotel

• Sankt Helene kursus- og feriecenter

• Pension Kildegaard

3 farm shops with a

difference

Tinggårdens Landhandel

Bakery, mill, pizza and café.

Klitrosevej 2, 3300 Frederiksværk

tinggarden.dk

Gundekildegaard

Pick-your-own strawberries and berry

brunch at Jordbærcaféen.

Rågelejevej 46, 3210 Vejby

rokkedysse.dk

Rabarbergaarden

Sustainable café & restaurant, gardening

lessons and cooking classes.

Holløse Gade 21, 3210 Vejby

rabarbergaarden.dk
---
22

DRONNINGMØLLE

MUNKERUPHUS

MUNKERUPHUS

Munkerup Strandvej 78

DK 3120 Dronningmølle

Tel. +45 49 71 79 06

www.munkeruphus.dk

Insta: @munkeruphus.dk

Opening times:

Exhibitions at Munkeruphus

are open from 1

April to 1 October

See www.munkeruphus.

dk for details of opening

times, entry prices,

exhibitions and events.

Munkeruphus is a former artist's

residence set in a stunning location

overlooking Øresund on the stretch of

coast between Gilleleje and Dronningmølle.

Since 1989, the house has

served as an exhibition space for art,

architecture. In addition to its changing

exhibitions by Danish and international

artists, there is a small shop

and cafe with beautiful sea view and

outdoor serving during the summer,

as well as an beautiful sculpture park.

The protected wooden building was

designed by the architects Terkel

Hjejle and Niels Rosenkjær and built

in 1916. In 1987 it was listed as one

of the finest examples of the style of

building brought to Denmark via the

Arts and Crafts Movement in England

and Colonial Style in the USA.

A VERSATILE ARTIST

GUNNAR AAGAARD ANDERSEN

The history of Munkeruphus is closely

associated with one of the most versatile

and experimental Danish artists,

Gunnar Aagaard Andersen (1919-82),

lived and worked in the house with his

family from 1958 until his death in . The

garden room at Munkeruphus houses a

permanent exhibition of Gunnar Aagaard

Andersens eclectic artistic practice

that ranged from painting, sculpture

and architecture to theatrical set

design, furniture design, wallpaper,

textiles and more.

CAFÉ WITH A SEA VIEW

The house's cosy cafe is in the former

sitting room and has a beautiful view

over Øresund. The cafe serves light

lunches, pastries, coffee and tea,

beer, soft drinks and wine. During

the summer, the cafe serves food

and drinks outside in the charming

garden and on cold days, the fire in

the sitting room is usually lit. The

small shop stocks everything from

books on art, photography, architecture,

design and landscape to home

made honey from Munkeruphus'

own bees that live and populate the

garden, specially designed textiles by

Gunnar Aagaard Andersen, as well as

other items by Danish designers and

craftspeople.

SEA AND BEACH

The expansive garden and park area

is notable for its hilly and varied

landscape with old exotic trees and

a number of permanent sculptures

by Danish artists, including Gunnar

Aagaard Andersen. During the summer

months, the garden is also used for

outdoor classes, openings and other

events. There is direct access to a

lovely beach via Dronningekløften, a

gap that leads straight down to the

water where visitors can swim, fish or

enjoy a tasty ice cream from the cafe.

The garden is open from sunrise to

sunset and is free to enter.
---
DRONNINGMØLLE

Whether you love culture, hiking, fishing or shopping... Dronningmølle

has it all. Here you will find our best tips for activities be it by water,

land or air at the family-friendly beach town known for its wonderful

white sandy beach and amazing statue park.

DRONNINGMØLLE

23

Shopping

Immerse yourself in books and

boardgames in Drømmehuset's

little bookshop. You will also find

beautiful furniture, green plants,

wicker baskets, pillows and blankets.

If you bring your children and you

want to be creative later at home,

you can buy craft materials and

colouring pens for stone painting.

Fishing

Dronningmølle Fiskesø is Grib skov's

first put and take lake situated in

the old quarries and made into 20

fishing spots. Stop by, and buy your

fishing license in the shop Vild med

Dyr where you will also find a wide

variety of fishing gear.

Hiking

Take a hike around Esrum Abbey

from 1151, and visit Møllegården

with the iconic water mill that the

monks built in the early days. If you

enjoy hiking, then also stop by the

marked North Coast trail where you

can start at Dronningmølle beach

and go on a long walk along the sea

to Hornbæk beach – and end with

a dip and an ice cream in the harbour

where you can get on the train

back to Dronningmølle.

Eating

At Drømmecaféen in Drømmehuset

(mentioned above), you can enjoy

a delicious bun, a cup of coffee or

hot chocolate. When the weather

is mild, you can also enjoy a cold

draught beer from Mikkeller or an

ice cream from Hansens Is. Most of

the furniture is for sale and there's

temptations for everyone.

Visiting

If you are interested in art, you

should stop by Rudolph Tegner's

Museum and Statue Park and take

a stroll among the tall sculptures.

Russia is the name of this beautiful

surrounding nature area and it contrasts

with the bombastic concrete

architecture of the museum and is

worth a hike along the small natural

hiking trails. Also visit the museum

Munkeruphus with a history closely

linked with the most innovative

Danish artist and beautifully located

in the middle of nature with access

to the beach and a private park.

Experiencing

North Sealand Bird Park has more

than 2,000 birds from all over

the world, and you can enjoy flying

shows with parrots and feeding

of monkeys. The park also has Zoo

status with small mammals, reptiles

and amphibians where the children

can jump the fence to feed and pat

the small African goats. Dogs are

not allowed in the bird park.
---
24 OUTDOOR

OUT INTO THE BLUE

Enjoy the beautiful scenery from the waterside, feel the rush when you catch just

the right wave on the board, or experience the view of the treetops - from the

treetops. North Sealand offers lots options for fantastic outdoor experiences!

GUIDED TOURS ON THE WATER

Adventures await at Cph SUP Tours on Tisvildeleje

Beach on the water and on dry land. Take the family

on an intro session to try out stand up paddleboarding,

sign up for a guided kayak tour or hire the

right equipment to go on your own adventure. If you

prefer to go full speed on two wheels, you can also

rent mountain bikes and explore the challenging

landscape of Tisvilde Hegn.

THE GOOD

SURFER LIFE

Lynæs Surfcenter is the perfect

place to try your hand at different

water sports. Surfcenter

has a surf school providing lessons

and equipment rental for

surfing, kitesurfing, windsurfing,

SUP and kayaking. During the

summer months, the cosy café

is also open, where you can

enjoy everything from burgers

and sourdough buns to a refreshing

drink as the sunset fades

into the distance.

Lynæs Havnevej 8, Hundested

Tel. +45 29 87 77 66

surfcenter.dk

CLIMBING IN

NATURE

At the new climbing park at

Nivå Camping, you can experience

the scenic forest Lave

Skov from a whole new vantage

point. The climbing park

has two different courses,

which lead you high up into

the beautiful forest: a green

course that can be completed

by both children and adults

and a slightly more challenging

blue course. The park is open

to campsite guests and visitors.

Sølyst Allé 14, Nivå

Tel. +45 49 14 52 26

nivaacamping.dk

Hovedgaden 112, Tisvildeleje

Tel. +45 42 98 85 51

cphsuptours.dk

BATHING AND BIRDS WATCHING

During the summer months,

Nivå Harbour is buzzing with

life. Tourists come from near

and far and dock their boats.

The child-friendly sandy beach

next to the harbour is filled with

swimmers and sunbathers of all

ages. However, the area is definitely

also well worth visiting

during the other months of the

year. There is a lot of activity on

windy days with surfers and kite

surfers, and the beautifully preserved

beach meadows, which

stretch over a large area along

the coast, are home to a unique

ecosystem and a rich birdlife.

Nivå Strandpark 35, Nivå

nivaahavn.fredensborg.dk

FISHING IN LAKES AND SEA

Does a fishing trip in beautiful surroundings

appeal? Then Gribskov is the right spot for

you. Besides the vast open coasts, where sea

trout fishing is possible, the area has several

lakes, rivers and marshes with good accessibility.

Here you can reel in anything from

peels to perch and bream if you are lucky.

Head for Esrum Sø, Tisvildeleje Vest, Store

Gribsø, Solbjerg Engsø or Udsholt Strand,

which are popular fishing spots and are open

to everyone.

More details available at

visitnordsjaelland.dk

5 COMFORTABLE

ACCOMMODATION OPTIONS

Haldbjerg Shelters

What: Shelters and campsites

haldbjergshelters.dk

Camp Ågabet by Arresø

What: Glamping tents and tree tents

aagabet.dk

Lynæs Surfcenter

What: Surfshacks and tent houses

surfcenter.dk

Nivå Camping

What: Shelters, huts and campsites

nivaacamping.dk

Havhytten at Hvide Klint

What: Floating shelter

friluftsdata.dk/shelterbooking/
---
Hundested-

Rørvig Ferry

Service

– The obvious shortcut

Take the fast ferry between Hundested and

Rørvig and enjoy the crossing of the Isefjord inlet.

Crossing time: 25 minutes.

www.hundested-roervig.dk
---
26

CYCLING HOLIDAYS

HOLIDAY

TWO

ON

WHEELS

Is there a better way to explore the world than with the wind in

your hair? Whether you prefer to cross a mountain on tough

open ground or via wide bike trails for the entire family, North

Sealand has a host of cosy, beautiful and tough routes to explore

on two wheels. We have gathered the best tips for an amazing

cycling holiday in North Sealand that caters for everyone.

Find more cycle routes in North
---
5 CYCLE ROUTES THAT CATERS

FOR EVERYONE

CYCLING HOLIDAYS 27

FOR THE

MOUNTAIN BIKER

If you are addicted to speed and

challenges, bring your bike to

the MTB route in Tisvilde Hegn

(28 km/17 mi), where you will be

riding on dedicated gravel trails

and natural forest trails. The trail is

Sealand's longest MTB trail. If you

have time for a break, visit the great

Castle Ruins in the area, e.g. Asserbo

Castle Ruin, or get a glimpse of Troldeskoven,

Tisvildeleje Beach and

the lost village of Torup.

Other MTB routes

Also visit Store Dyrehave, Danstrup

Hegn and Teglstrup Hegn. If you

ride with older children, choose

the 5 km/3 mi MTB route in Lave

forest.

WHERE TO

RENT A BIKE

You can rent high quality

bikes at Nordkystens

Cykeludlejning for the entire

family. They can also give you

good biking tips for a better

experience. They also offer

packages for great escapes

on two wheels.

Svend Henriksens Vej 14

3250 Gilleleje.

info@nordkystensudlejning.dk

FOR FAMILIES

WITH CHILDREN

If you take the kids for a ride on

two wheels, choose Par force 105

(10 km/6 mi) through Gribskov,

and explore the UNESCO World

Heritage. You'll pass the renaissance

castle Frederiksborg Castle, Ottevejskrydset

and the boulder Smørstenen.

South of the Bassebjerg

cottage at Nødebo is an important

bird sanctuary where you will also

find protected orchid species.

The route Par force 110 (15 km/9

mi) is a little longer, but it's also

child-friendly, and crosses Store

Dyrehave passing Fantasy Island

and the Baroque Garden. The highlight

of the ride is Kongestenen with

the compass stone where you can

rest and dive into history.

Both routes follow long, wide trails

that are easy for the children to follow.

Other routes for families with

children

The kids will love a bike ride

through Hundested, where you

can stop by the harbour, pat-aflatfish

or catch crabs.

FOR THE ROYALIST

The castle route (75 km/47 mi)

Here you will be passing three royal

castles: Kronborg, Fredensborg and

Frederiksborg Castles, while you

ride through the UNESCO Par force

Hunting Landscape in Gribskov. The

route is medium diffculty level.

Other routes for the royalist

Route 33 (27 km/17 mi) between

Frederiksborg Castle in Hillerød and

Gilleleje Station takes you through

the beautiful Frederiksborg Castle

Gardens.

Psst … If the ride is too long, you

can often hop on a local train along

the routes. It's free to bring your bike.

The routes are often connected, so

you can shorten or extend the ride

as you please.

FOR NATURE AND

BIKE LOVERS

If you can't get enough of long

bike rides, visit route 47, the North

Coast route (64 km/40 mi), a signposted

route between Hundested

and Helsingør. The route winds its

way through little, cosy coast and

beach towns and scenic natural

areas. You will also pass a host of

restaurants, cafés and accommodation

options – there's a reason

the north coast of Sealand is called

the Danish Riviera!

Other routes for nature and bike

lovers

Route 40 (275 km/170 mi) is also

called Fjordstien offering a quiet and

idyllic ride, connecting Hundested-

Frederiksværk-Frederikssund-

Roskilde-Holbæk-Kongsøre-Rørvig.

Divide the route into stages over

several weekends, or sleep overnight

in a cottage or hotel en route.

FOR THE LOVE

BIRDS

Dronningerunden (28 km/17 mi)

Pack a picnic, and go on a bicycle

ride through the municipality of

Fredensborg. On this route you

will ride through four major constituent

communities in the municipality:

Kokkedal, Nivå, Humlebæk and

Fredensborg.

Other routes for love birds

Route 32 (26 km/16 mi), winding

its way from Hillerød to the beach

in Tisvildeleje, takes you to one of

the best bathing sites in Denmark.
---
28

HUNDESTED

HUNDE

Hundested has a unique blend of modern cultural

town and active commercial port, where fishing

boats arrive with the day's fresh catch from the early

morning hours. Here you will discover delicious eateries,

a modern brewery with excellent beer workshops

making innovative art and design alongside a

traditional boatyard, a net maker and a forge.
---
HUNDESTED

29

STED

VIBRANT

HARBOUR ENVIRONMENT

Hundested Harbour is lively all yearround

and has experiences for adults

and children. In the unspoiled and

authentic harbour environment, restaurants

along the quayside, galleries

and art workshops offer everything

from glass art and exclusive jewellery

to paintings and other unique works

of art. If you pop by at the right time,

you can even see the talented artists

in action.

Little ones and other playful souls can

see live fish at the harbour's pat-afish

platform, catch crabs, or burn off

energy at the fun nature playground.

There are many events and activities

in Hundested Harbour during the

summer months, including the special

cultural attraction Hundested Sand

Sculpture Festival, where international

sand sculptors, including several world

champions, create world-class monumental

and transitory sculptures from

golden grains of sand. (p. 34). Be sure

to take the opportunity to walk down

to the harbour basin, where you can

see the expedition ship Kivioq, used

by polar explorer Knud Rasmussen

SUMMER TIP

The harbour and pedestrian

street are buzzing with life and

market bustle throughout the

summer. The town shops are

open longer on designated

days - with lots of special promotions,

of course!

More details available at

oplevhundested.dk
---
30

HUNDESTED

on his last expedition to Greenland.

North Sealand's little yellow train runs

to Hundested Harbour, which is super

convenient!

Tip: From Hundested, you can take

the fast connection across the Isefjord

to the lovely holiday village of Rørvig.

The crossing takes 25 min. Departs

every 30 minutes (during high season).

DESIGN AND

ARTWORK

Kajgaden, the popular and charming

pedestrian shopping street at Hundested

Harbour, is home to many of

the town's local design boutiques and

working workshops. One of the traditional

fishermen's cottages is home

to the contemporary art gallery 'Artisteri'.

Internationally renowned illustrator

Andrea Ucini, whose work includes

pieces for the New York Times and the

Washington Post, works and exhibits

here. Also visit the cute Cookie Home

for clothing for all ages and seasons.

The shop's owner specialises in good

quality at great prices and, besides

clothes, also sells glittering jewellery

and beautiful homeware. Among the

fishing cottages in Kajgaden you will

also find the garden centre Barfods

Have, where Hundesteds own gardener,

Anja Barfod, is ready with tips

for the summerhouse garden and an

exciting array of garden tools, herbs

and much more for the garden and

outdoors. If you crave a perfect cup

of coffee, stop by Det Lille Kafferisteri,

which is a roastery, coffee bar and

shop all under one roof. The coffee

bar roasts several times a week, and

all the coffee is superior quality and

organic. On the shelves you will also

find an exclusive selection of brewing

equipment and other coffee goodies.

A stone's throw from Kajgaden, right

out to the water's edge on the old

slipway, is Backhaus Brown glassblowing

studio next to the jeweller Bendix

Copenhagen, drawing you in with

beautiful, exclusive glass designs, and

Danish-designed jewellery in precious

metals, quality diamonds and cultured

pearls. Nearby, Helle K Kunst & Design

sells artisan crafts from Africa, Asia and

Denmark - including cushions made

from saris from India, embroidery from

North Vietnam and baskets, clothes

and jewellery from Ghana, Senegal and

many other countries. All items traded

with a commitment to fair trade.

PSST ... If you crave more shopping,

head to Nørregade, where there

are several small boutiques selling

designer goods from everything for

the kitchen to the wardrobe. Visit Erantis

florists for a colourful selection of

seasonal bouquets and flowers, indoor

plants, wine, chocolates and homeware,

or find a new look from the clothes

at Edberg & Co. If you have a sweet

tooth, stop by the town's ice cream

shop, Vaffelhjørnet, where waffes are

baked using flour from Hundesteds

own communal mill at Grønnessegaard.

Hundested Erhvervsforening organises

THE LITTLE STOPS

ALONG THE

WAY

• The House of Knud

Rasmussen

• Knud Rasmussen

Memorial

• Spodsbjerg Fyr

• Fyrgården

• Kikhavn

• Karlsstenen Dolmen in

Grønnesse Skov

• Eco-village

Økosamfundet Dyssekilde
---
HUNDESTED

31

HERE YOU CAN RENT BIKES

• Hundested Cykler

• Hundested Tourist Information

• Sølager Strand Camping

• Dyssekilde Station

numerous events in the local community

throughout the year - including

Hundested by Night, summer concerts

and the cosy town and harbour Christmas

market.

MANY DELICIOUS

PLACES TO EAT

Hundested Harbour also boasts several

great eateries, including Halsnæs

Bryghus, which describes its cuisine

as honest and simple, inspired by beer

and influenced by fish. Check the calendar

to stay up to date - the schedule

includes music, barbecue, comedy,

beer tastings and diverse events. At

Restaurant Havfruen you can admire

the beautiful view from the sun terrace

while enjoying a sumptuous meal.

Try for example the renowned fish and

seafood platter while spotting shooting

stars. Enjoy the harbour basin view

come rain or shine, as the restaurant

has seating inside and outside, as well

as upstairs and downstairs. The cosy

bistro Knud puts their own twist on

bistro classics: seaworthy and inspired

by the water surrounding Hundested.

Menu staples include; Oysters, lobster,

mussels and butter-fried flatfish. However,

it also features good quality steak,

vegetable dishes and roast poultry.

In the heart of the town, Ristorante

Bellona invites you in to enjoy authentic

Italian cuisine, traditional pizza

and other international dishes made

with fresh, high-quality ingredients. If

you love Asian cuisine, the Chinese

family restaurant Yo-Yo is a perfect

choice. The menu covers both sushi

and assorted Chinese dishes, and the

establishment is committed to excellent

service. If you're looking for quality

groceries to cook up a storm at the

summer cottage, or just need some

inspiration for the guest menu, visit the

extensive Meny in Nørregade, where

both the butcher and the sommelier

are on hand to offer tips and advice.

Tothaven Visitor Farm just outside

of town, has a dairy, which produces

handcrafted ice cream and cheeses

from the milk of the farms dairy goats.

Enjoy the products at the farm café or

purchase the treats from the small farm

shop. At Tothaven, children and animal

lovers can see the farm's numerous

and diverse animals, ranging from

goats and woolly pigs to honeybees

and cats, and there are always lots

of cute baby animals to snuggle with.

The Halsnæs region is home to several

lovely farm shops where you can buy

a wide range of local produce - from

ribeyes to freshly dug up potatoes and

fresh strawberries. Just follow the signs

for Spisekammer Halsnæs.

FROM MUSEUMS TO

SURFING

Visit the house of polar explorer Knud

Rasmussen on the outskirts of Hundested.

The beautiful thatched building

was built in 1917 and has been a

museum since 1939, when Knud Ras-
---
32

HUNDESTED

mussen's widow, Dagmar, turned the

house over to the public. It is situated

on a large natural plot overlooking the

Kattegat and has been maintained, as

far as possible, in keeping with the

times when the renowned researcher

lived and worked here. There is a small

shop in the museum that has books

about Knud Rasmussen and a wide

selection of souvenirs relating to the

house and Greenland.

3km/2mi east of Hundested lies the

old fishing village Kikhavn, with its

many charming yellow and whitewashed

houses still there just as they

were 200 years ago. The village is a

car-free zone, which just enhances

the idyllic charm.

Torup market is held every second

Saturday (odd weeks 11 June - 15

October). The market is located in

rural surroundings by the station in the

tiny village of Torupin. You can purchase

vegetables, plants, 'wild food',

cereals, and delicacies local enthusiasts

produce. Next to Torup Market

is one of Denmark's oldest eco

villages, Økosamfundet Dyssekilde,

which among other things, arranges

guided tours of the residents' green

lifestyle, as well as the organic café

Torup Spisehus, which caters for

meat-eaters, vegetarians and vegans.

All raw materials are sourced within a

local radius of max. 20 km/12 mi. The

authentic Lynæs Harbour is worth a

detour (more details on p. 36) - it

is a paradise for wind- and kite surfers,

boasts beautiful scenery, fantastic

eateries and a unique atmosphere.

HUNDESTEDS

BEACHES

There are many excellent areas

to bathe near Hundested due to

having a coastline on three sides.

You can swim all year-round at

the popular beach Trekanten

Strand in the town centre. A short

distance further up the north

coast is the beach Gråstenvej

Strand, and between Kikhavn and

Nødebohuse you can relax on the

beaches Nødebo Huse Strand or

Hald Strand. 3km/2mi from Hundested

is the child-friendly beach

Lynæs Strand and Havbad, one

of the favourite spots with locals

for winter swimming.
---
HUNDESTED 33

Tip: Would you like to wake up to a

sea view? Then a harbour cabin is a

perfect choice for you. Rent one of the

cosy Hundested Havnehytter, right on

the quay. Motorhomes are welcome

to park on the harbour north pier and

at the Isefjord at Hundested harbour.

EXPLORE NATURE

The area around Hundested is flat, hilly,

beautiful and unspoilt - and completely

surrounded by water. In other words:

Here there are fantastic options for

outdoor experiences in the fresh air.

Visit one of the area's five distinctive

beaches, which are all beautiful - with

chalk-white sand, dunes, low tide, fun

activities and hidden treasures - or go

for a walk or hike in nature. Explore,

for example, the area around Spodsbjerg

Lighthouse, from where you are

awarded with a spectacular view over

Kattegat and the green hinterland,

or take a lovely walk along the North

Coast Path from the House of Knud

Rasmussen to Kikhavn (1.5km/1mi).

Walk the new hiking route Halsninoen

(detailed on p. 66) for more of a challenge.

There are also numerous excellent

cycling routes in the Hundested area.

Halsnæs is perfect to explore on two

wheels, with great forest and beach

paths. One of the many options is to

cycle towards Grønnesse Skov. It is also

a beautiful walk, and you can explore

the historic Grønnessegaard Gods

estate or take a scenic drive along

one of the signposted routes, route 40

and route 47. Near Hundested, there is

also a forest area, Ullerup Skov, which

has a forest maze and a forest playground

to play to your heart's content.

Hundested is also the perfect destination

to head for if you like angling. For

example, the area between Hundested

and Hald is among the best sites in

Denmark to catch sea trout.

Possibilities are endless in and around

Hundested, so welcome to this cosy

harbour town!
---
34

HUNDESTED

HUNDESTED SAND

SCULPTURE FESTIVAL

12 May – 23 October 2022

Kajgaden 7, 3390 Hundested

sandfestival.dk

Tickets can be purchased at the entrance.

Adults: DKK 55. Children 4-12 years: DKK 25.

Children 0-3 years: free.

Café Sommerlyst

Enjoy a delicious cake or a traditional café dish

accompanied by a good beer, a glass of wine or

a cup of coffee in the festival's cosy café. Café

Sommerlyst's menu is also accessible on the

festival website.
---
HUNDESTED

35

WHERE THE SAND

COMES alive

From 12 May to 23 October, the

Hundested Sand Sculpture Festival

will again fill the harbour in Hundested

with magnificent works of sand

art created by artists from all over

the world. More than 600,000

visitors have left their footprints

in the sand around the festival's

amazing sculptures over the years,

and this year another fantastic lineup

of art and entertainment for

young and old is in store.

UNLEASH CREATIVITY

Hundested Sand Sculpture Festival

was initiated to create an

attraction that could bring life to

the local harbour - with an international

flair. The event is both

fun and inspiring. In addition to

admiring the masterpieces by the

many artists, you also have the

opportunity to try your hand at

sand sculpting. The festival has a

large area for children, where the

whole family can have fun and

get creative with activities such

as sand shaping, sand painting

and treasure hunts. Take a break,

enjoy a packed lunch in one of

the festival's many indoor and

outdoor seating areas, or visit the

cosy Café Sommerlyst for all sorts

of delicious refreshments.

2022: A JOURNEY IN

TIME AND SPACE

For the Sand Sculpture Festival,

time is as fleeting as the golden

grains of sand between the sculptors'

hands. The theme for 2022 is

'Time Travel - Where Would You

Go?' with no restrictions imposed

by time and space, go on your

own time travel journey through

wormholes and time portals as

this year's artists, among them

several world champions, give

their quirky and creative take on

the theme. Welcome back to the

future, and see you at the Hundested

Sand Sculpture Festival!

PREVIOUS THEMES

2012 THE SEA AND ALL ITS BEAUTY

2013 FAIRY TALES AND STORIES

2014 THE VIKINGS AND NORSE MYTHOLOGY

2015 THE MIDDLE AGES - FOR BETTER OR WORSE

2016 THE GREAT DANES

2017 ONCE UPON A TIME

2018 MYTHS AND LEGENDS

2019 MASTERPIECES

2020 WHAT A WONDERFUL WORLD

2021 AROUND THE WORLD

2022 TIME TRAVEL - WHERE WOULD YOU GO?
---
36

LYNÆS

LYNÆS

Fishing village meets surfer's paradise

Lynæs lies perfectly sheltered by the high cliffs of the headland at the inlet to Isefjord, just 2 km/1 mi south

of Hundested. This idyllic fishing village is one of Denmark's oldest – and today, thousands of sailors from

Isefjord, Roskilde Fjord and Kattegat flock to the charming marina.

6 THINGS NOT TO

MISS

Haugen Galleri

World-class art at the tip of the

headland.

Søndergade 31B, 3390 Hundested

Lynæs Surfcenter

Water sports, café, accommodation

and real surfing atmosphere.

Lynæs Havnevej 8, 3390 Hundested

Tangsafari

Jump in the water and learn about

sea vegetables.

dansktang.dk

Valdemar Poulsens

Høj

Panoramic viewing spot with

fantastic views over Hundested.

A small path just north of Lynæs

Kirke leads up to the mound.

Walk along the cliff

path with stunning views of

Roskilde Fjord and Isefjord.

Go from Lynæs towards St.

Karlsminde.

Lynæs Strand and

sea swim bath

Child-friendly beach with jetty and

lifeguard during the summer season.

Lynæs Havnevej 8, 3390 Hundested

ADVENTURES FOR

THE WHOLE FAMILY

Lynæs is packed with fun adventures

for the whole family. Children

can enjoy the fun playground and

adventure bridge at the harbour,

where you can also use the BBQs,

sea swimming bath, and the two

shelters and bonfire areas. The

summer months are full of various

activities and music events on the

pier. Keep an eye out for 'Live i

Lynæs', for example, which provides

great live music five Fridays during

the summer. If you fancy lunch or

a treat, the port has eateries and

an ice cream parlour, and you can

also buy some freshly caught fish

to take home. So there are plenty

of reasons to drop by and enjoy the

great atmosphere.

Tip: Do you love art? Then visit

the small Haugen Gallery, which

the painter and graphic artist Arne

Haugen Sørensen has chosen as

his exclusive gallery in Denmark. It

is inside a disused bakery almost

at the very tip of the headland, the

perfect space to have peace so you

can completely immerse yourself in

the many beautiful works.

SURF AND RELAXATION

At Lynæs Surfcenter you can have

a go at a variety of water sports

from windsurfing to SUP and

kayaking. If you're a beginner, you

can book lessons with an instructor,

and if you're already pretty

experienced, you can just hire

equipment and jump straight into

the waves. Surfcentret can best

be described as a 'micro resort'

with its roots firmly in surf culture.

If you'd rather hang out on

the beach, the café at Lynæs

Surfcenter is worth a visit. Hot

coffee, cold drinks and juicy

burgers are served all year round.

It has a relaxed atmosphere. You

will notice your shoulders relax

and drop as soon as you enter. It's

open to everyone, whether you're

here for the surfing, enjoying

a delicious bite to eat or just

watching the sunset.

UNIQUE ACCOMMODATION

Once you get tired, it is easy to find a good place to stay in or around

Lynæs. If you're visiting by boat, the marina is the place to be. Other

accommodation options include Lynæs Camping, the unique surf shacks

or glamping tents at Lynæs Surfcenter or one of the lovely shelters on the

town's harbour. The natural environment surrounding Lynæs offers plenty

of activity, and there is also a lovely, child-friendly beach where you can

enjoy the beautiful sunrise over the harbour if you're up early enough.
---
Glasskibe is made

in collaboration

with cabinetmakers

Egeværk

EXCLUSIVE DESIGNS

BY THE WATER'S EDGE

At the end of Nordre Beddingsvej, where the fjord meets the quayside, Bendix Copenhagen and Backhaus Brown

invite into a world of gold and glass.

"Glass is our life and our shared passion. Nature is our source of inspiration in everything we do, and a dream came true

when in 2008 we opened a new glass studio at Hundested Harbour. Backhaus Brown's location enriches us with

daily inspiration in the creation of unique and innovative glass design and the fjord and the volatility of light aligns

beautifully with the unpredictability of glass." Andrew Brown & Nanna Backhaus Brown

"At Bendix Copenhagen, we work to create a whole - an exciting jewelry universe characterised by our shared enthusiasm

for materials and craftsmanship of the highest quality, as well as visual aesthetics and design. The circle was closed

in the summer of 2021 when we became a neighbour to the acclaimed glassblowers Backhaus Brown.

With this unique location by the old harbour slipway, our jewelry is particularly complimented by the sea,

yachts and an authentic harbour environment. We look forward to welcoming you." Christina Bendix

EXPERIENCE BACKHAUS BROWN AND BENDIX COPENHAGEN BY THE WATER'S EDGE

OPEN ALL YEAR ROUND · NORDRE BEDDINGSVEJ 24 & 26 · HUNDESTED HAVN

@BACKHAUSBROWN · @BENDIXCOPENHAGEN
---
38

HUNDESTED

BIG

EVENTS

in North Sealand

2022

A summer highlight at the Louisiana Art Museum is the

annual celebration of literature. The Louisiana Literature

Festival takes place over four days and attracts more than

40 Danish, Nordic and international authors and several

thousand guests. This year the festival will be held from

18-21 August.
---
There are big events with international flair, there are vibrant festivals with music and theatre - and then

there's the underbelly of local, interesting experiences you won't want to miss. Food markets, historical

markets, guided tours, boat trips, special activities for children, nature adventures and free experiences.

Here is a small selection to inspire you. Discover many more activities on our website.

39

21. JANUARY – 12. JUNE

Special exhibition: 'Wilhelm

Marstrand. Den store fortæller'

Nivaagaards Art Collection

nivaagaard.dk

4. FEBRUARY – 31.

AUGUST

Special exhibition: about HKH

Kronprinsesse Mary

Frederiksborg Palace

dnm.dk

24. MARCH – 31. JULY

Exhibition: Diane Arbus

Louisiana Museum of Modern Art,

Humlebæk

louisiana.dk

1. MAY – 24. SEPTEMBER

Boat trips on Arresø onboard M/S

Frederikke

msfrederikke.dk

12. MAY – 23. OCTOBER

Sand Sculpture Festival Hundested

Habour

sandfestival.dk

14. MAY

Taste & Run, gourmet-adventure

race in Halsnæs

Grønnessegaard Gods, Hundested

tasteandrun.dk

19. MAY – 23. OCTOBER

Exhibition: 'Forensic Architecture'

Louisiana Museum of Modern Art,

Humlebæk

louisiana.dk

25. MAY – 11. SEPTEMBER

Exhibition: Dorothy Iannone

Louisiana Museum of Modern Art,

Humlebæk

louisiana.dk

4. JUNE

Halsnæs Open Air in Gjethuset,

Frederiksværk

Outdoor concert with Malurt and

Magtens Korridorer

gjethuset.dk

4-6. JUNE

Time Winder, Nostalgia on land, at

sea and in the air

Grønnessegaard Gods, Hundested

timewinder.dk

4-6. JUNE

Græsted Veterantræf

gvtf.dk

10-12. JUNE

Hillerød Slotssø Byfest

Facebook/Hillerød Slotssø Byfest

11. JUNE – 15. OCTOBER

Torup Marked

Food market Saturdays in odd

weeks at Dyssekilde Station in

Torup near Hundested

Facebook/Torup Marked

18. JUNE

Esrum Ølfestival

The aroma of freshly poured beer

spreads through Esrum as we fill

the area to the brim with abbey

beer, microbrews and hand-brewed

beers.

esrum.dk

23. JUNE

Sankthans bonfire by Slotssøen,

Hillerød

hillerod.nu

24. JUNE

Cannon Friday in Frederiksværk

frederiksvaerkhandel.dk

1-30. JULY

Guided tours around Fredensborg

Palace

kongeligeslotte.dk

1-31. JULY

FREDERIKSVÆRK

MUSIKFESTIVAL

Gjethuset, Frederiksværk

frv-musik.dk

14. JULY – 8. JANUARY

2023

Exhibition: Alex Da Corte

Louisiana Museum of Modern Art,

Humlebæk

louisiana.dk

21-23. JULY

Musik in Lejet, Tisvildeleje

musikilejet.dk

6-7. AUGUST

Kildemarked in Tisvilde

kildemarkedet.dk

6-7. AUGUST

Art in Halsnæs, Open studio

kunstihalsnaes.dk

18-21. AUGUST

Louisiana Literature Festival

louisiana.dk

25-28. AUGUST

Nordsjællands Vandrefestival,

Esrum Abbey

nordsjaellandsvandrefestival.dk

3. SEPTEMBER

– 15. JANUARY 2023

Special exhibition: 'Sofonisba –

Historiens glemte mirakel'

Nivaagaards Art Collection

nivaagaard.dk

4. SEPTEMBER

Frederiksværk Ironman

Sports event, Frederiksværk

frederiksvaerkstaalmand.dk

3-4. SEPTEMBER

Høstmarked, Krogerup Avlsgaard,

Humlebæk

aarstiderne.com

2. OCTOBER

MTB Marathon, Danmarks biggest

and oldest

mtbmaraton.dk

21. OCTOBER

Horror Walk – the streets of Hillerød

are filled with creepy crawlies and

scary monsters

hillerod.nu

25. NOVEMBER

Christmas in North Sealand begins

in Hillerød with the lighting of

the Christmas tree and the old

Christmas mill and the towns

Christmas illuminations.

hillerod.nu

26-27. NOVEMBER

Christmas market Grønnessegaard

Gods, Hundested

groennesse.dk

See the top events

in North Sealand here.
---
40

FREDERIKSVÆRK

FREDE

RIKS

VÆRK

Beautifully located between Arresø

and Roskilde Fjord, Frederiksværk

is also known as "Little Venice"

because of its canal and numerous

iconic bridges. The old houses and

buildings in the streets and alleyways

of Frederiksvæk bear witness

to the town's past as Denmark's first

industrial centre, but Frederiksværk

has so much more to offer. Today the

town is a thriving commercial centre

with attractive shops and a rich cultural

life, with concerts throughout

the year, as well as being the perfect

base from which to launch expeditions

into the rich surrounding countryside.

The town has exciting playgrounds for

children as well as opportunities for

fishing and discovering wildlife close

at hand, or perhaps a quiet walk along

one of the many beautiful nature trails.

THE CRADLE OF INDUSTRY

How did Frederiksværk become the

cradle of Danish industry? The story

begins in the middle of the 18th

century, when the drifting sands that

had plagued North Sealand for centuries

blocked off Arresø's natural

drainage, causing widespread flooding

in the fields around the lake and consequently

also heavy losses for the

local farmers. Their complaints ultimately

came to the attention of King

Frederik IV who ordered a canal to

be dug from Arresø to Roskilde Fjord.

This resulted not only in a lot of happy

farmers, but also that energy in the

form of hydro power was now available.

Hydro power meant that industry

could develop along the banks of the

canal and eventually, over time, gunpowder,

bullets, cooking ranges and

many other items were manufactured

in Frederiksværk. To begin with, the

Gunpowder Works and canon foundry

were established, but quickly, many

other major industries were attracted

to the growing town.

DISCOVER THE GUNPOW-

DER TOWN

In 2022, Frederiksværk's unique and

beautifully preserved Gunpowder
---
FREDERIKSVÆRK

41

Works continue to be an important

part of the town. The original waterdriven

machines of the Gunpowder

Works still function today, and visitors

can be regaled with stories about the

dangers involved in manufacturing

black powder, which had a tendency

to explode, resulting in loss of both

life and limb for the unfortunate

gunpowder workers. The museum is

a part of Industrimuseet Frederiks

Værk, the Frederiks Værk Museum of

Industry which tells the story of the

town's industrial history with changing

exhibitions and themed guided tours

of the town throughout the summer

season. A ticket to the Gunpowder

Works museum also includes entry

to the polar explorer Knud Rasmussen's

Hus in Hundested, which today

is a museum with a spectacular view

over Kattegat.

CULTURE AND CANNONS

In addition to the Gunpowder Works,

many of Frederiksværk's old industrial

buildings are still standing and their

impressive architecture makes Frederiksværk

unique. Today, the old

cannon foundry Gjethuset has been

transformed into one of Denmark's

most beautiful cultural centres. The

majestic building creates the setting

for everything from rock concerts and

conferences to children's theatre and

international exhibitions. This small

canalside town certainly makes sure

there are activities for all age groups.

Town Festival, Cannonball Friday,

historical exhibitions in Palæet, the

Industrial Museum building, open-air

concerts in Ølsted Grusgrav, stand-up

comedy in Slusen and intimate concerts

in Elværk - the old electricity

plant, are just some of the events

planned for this year. The town's pedestrianised

shopping street is uniquely

located between canal and forest and

together with the i Noord shopping

centre, Frederikværk offers a wide

rage of speciality stores, second-hand

shops, cosy cafes and eateries.

NATURE AND TOWN IN

SYMBIOSIS

In Frederiksværk, the town and surrounding

countryside are almost interwoven.

Frederiksværk is situated in

a large and hilly forest area, which

can be seen after a short climb up

the steps behind the shopping centre

to Bakkestien, from where there are

superb views out over the town,

harbour and fjord. Those interested in

WHERE TO STAY

Frederiksværk Camping & Hostel

An authentic hostel set in peaceful surroundings. Choose

between rooms, cabins, motorhomes, shelters and camping.

The hostel also hires out bicycles and canoes.

Strandgade 30, DK 3300 Frederiksværk, tel. (+45) 23 44 88 44

Nordsjællands Ferieboliger

New holiday apartments in the heart of Frederiksværk, close to

shops and amenities. All apartments are furnished in the Scandinavian

style and have their own kitchen.

Kirkegade 15C, 3300 Frederiksværk, tel. (+45) 27 62 32 50

Ølsted Kro & Hotel

Modern Danish 'hygge' in a traditional inn in the small town of

Ølsted, with a menu featuring fresh local Danish ingredients.

Just outside the inn is a small park with sculptures by the Danish

artist Misja Kristoffer Rasmussen.

Hovedgaden 10, 3310 Ølsted, tel. (+45) 47 74 91 81

NINE THINGS YOU MUSTN'T MISS

M/S Frederikke

Set sail on Arresø, Denmark's largest lake with the M/S Frederikke.

The Gunpowder Works Museum

Discover the history of gunpowder and see the machines used to

manufacture it.

Melby Overdrev

The largest area of heath landscape on Sealand.

Canoe trips

to Arresø or Roskilde Fjord.

The beavers of Arresø

See the busy beavers in action.

Ølsted Grusgrav

Old quarry developed into an attractive country park.

Asserbo Slotsruin

Idyllic castle ruin, originally founded as a monastery in the 12th

century.

Dronningholm Slotsruin

Discover the ruin of this medieval castle at Arrenæs.

Hyllingebjergstenen

Hyllingebjergstenen is a 3,000 year old monolith with some of the

finest rock carvings in Denmark

Tip: Love a good secondhand

bargain? Why not visit

Loppehjørnet at Nørregade

2, a wonderful second-hand

shop where you can find everything

from furniture and

clothes to vinyl records and

bric-a brac.

seeingthe surrounding from the water

can rent a canoe from Frederiksværk

Camping, the town's camping

site and follow the canal either to

Roskilde Fjord or Arresø, Denmark's

largest lake. The idyllic Brede Å path

begins at Frederiksværk Church and

follows the line of the line of the canal

through Arresødal Forest all the way

to Arresø itself. There is a covered

bird-watching platforrm by the lake,

from which you can observe the rich

bird-life of the area and, if you're

lucky, even catch a glimpse of the

colourful and rare kingfisher. During

the summer period visitors can also

enjoy an unforgettable boat trip on

Arresø in the beautiful old wooden

ship M/S Frederikke.
---
42

FREDERIKSVÆRK

ACTIVITIES

ALONG THE CANAL

History, live music, shopping, fine dining - Frederiksværk

has something for everyone! Below serves as

inspiration to go out and explore the many experiences

on offer for both young and old in North

Sealand's lovely canal town.

CULTURE

ALL YEAR ROUND

Gjethuset is North Sealand's largest and most beautiful

cultural centre. For over 30 years, the old iron foundry

has hosted concerts, shows, theatre, art and conferences.

The building, once used for casting cannons, is

an architectural experience in itself, but it's also worth

checking out the cultural centre's calendar, which is

packed with activities and events for the whole family.

After a few seasons of restrictions and closures, Gjethuset

is more than ready for 2022, bringing back its tradition

of big open-air concerts. On 4 June, the audience can

look forward to a summer party under the stars when

Malurt and Magtens Korridorer perform at this year's big

outdoor concert, Halsnæs Open Air.

For the little ones, Halsnæs Børneklub offers both theatre

with Cirkeline and 'Det store Ramasjangmysterie', already

a favourite since being on DR. In July, the classical music

festival Frederiksværk Musikfestival, and in the autumn

the Jazznæs-festivalen takes place - as well as a wealth of

other cultural experiences for the whole family.

More details about Gjethuset's events are available at

gjethuset.dk

4.3.

11.3.

19.3.

21.4.

24.4.

6.5.

4.6.

July

22.9.

6.10.

GJETHUSET HIGHLIGHTS

Back to Back

Anders Blichfeldt

Pink Floyd Project

'Cirkelines museskole'

'Det store Ramasjangmysterie'

Danser med Drenge

Halsnæs Open Air: Malurt and Magtens Korridorer

Frederiksværk Musicfestival

James Rasmussen Trio

Jan Hellesøe, hypnotist and manipulator
---
FREDERIKSVÆRK 43

JOIN US ON A TOUR OF THE TOWN

8.5. and 12.6. History tour

Three hours of local Danish history.

26.6. Cycle tour: Entertainment along the way.

Historical bike ride with funny stories and tall

tales along the way.

28.6. Street names are part of history, some

streets have names. Some don't. Some are

large and wide. Others are small and narrow.

Hear the exciting stories behind the street

names.

19.7. Art and architecture in Frederiksværk

Take a closer look at the town's architecture

and artwork.

10.7. and 24.7. Hike and sail with

M/S Frederikke

Relaxing Sunday excursion on Arresø aboard

the boat M/S Frederikke.

Details of all the museum's guided tours are

available at indmus.dk

MUSEUM FOR ADULTS

AND CHILDREN

The Gunpowder Works Museum is simply put, one

of a kind! Here, powder mills lie like pearls on a string

along both sides of the canal, and in more than a

dozen of the carefully restored buildings, you can

see the old machines at work - powered by water

wheels, and some by electric motors. The Gunpowder

Museum, is located on the old gunpowder site in

Frederiksværk, it provides you with insight into the

history of gunpowder production and how this was a

highly hazardous activity. The risk of explosions was

considerable, which is why the surrounding area is

characterised by protective walls and tall trees, whose

macabre function has been to catch debris and torn

limbs when things went awry. The entire Gunpowder

Works area is exceptionally well preserved - so much

so that Frederiksværk was awarded the status of

one of Denmark's 25 finest industrial monuments in

2007. The museum offers guided tours and Sundays

during the season are free for families with children.

Aside from the Gunpowder Works, the museum also

features the Palæet, the classicist house on the

square in Frederiksværk, where the administration

is based and small exhibitions on current topics are

held regularly, as well as the polar explorer and author

Knud Rasmussen's House.

SHOPPING IN A COSY

SETTING

Thanks to drifting sand in the sixteenth century you can

now enjoy a unique mix of architecture, gunpowder,

bullets, shopping and services in Frederiksværk.

Frederick V ordered the canal, the enchanting town has

since sprung up around. The canal was originally dug to

stop the frequent floods that gave the farmers major

problems. Today Frederiksværk has over 130 shops -

from pre-owned fashion at Loppehjørnet and Røde

Kors to interiors and the latest fashion in the shopping

centre i Noordand the city's welcoming pedestrian

street Nørregade. Lovely cafés and delicious restaurants

are also in abundance. Book a table at a Thai

restaurant, for example Ban Phai, located in an old

timbered house just a stone's throw from Gjethuset, or

stop by the authentic Restaurant Tinggården, where

old-fashioned craftsmanship is prioritised and all the

food served is made from scratch. The restaurant is

located in a thatched four-storey farmhouse idyllically

nestled in the woods on the road between Frederiksværk

and Helsinge, and chef and master chef Jan

Friis-Mikkelsen is always happy to share his passion for

seasonal ingredients. Parking is easy in Frederiksværk.

There are around 1,400 free parking spaces in total,

which are within walking distance of the pedestrian

zone, cultural institutions and the woods.

More details about the museum are available at

indmus.dk and knudrasmus.dk
---
44 LISELEJE

SUMMER HOLIDAY

like

IN THE GOOD

OLD DAYS

Just an hour's drive from Copenhagen, the north coast of Sealand offers

something truly special: the romantic seaside resort of Liseleje.

Spring on the north coast is crisp and clear,

and summer here is just that little bit better

than most other parts of the country. Liseleje

is an excellent example of the traditional

seaside resort holiday! When the sun

beats down from a cloudless sky on a calm

summer day, there is no better place in the

world to be than right here. The sand stretches as

far as the eye can see; the clear water sparkles

with blue-green colours. Despite its modest size,

there are plenty of great places to eat and stay.

SOMETHING FOR EVERYONE

Into yoga or chilling on the beach? Paddling in a

sea kayak? Or visit the market stalls, play games

and party? Liseleje has it all and the town buzzes

with life all summer long, offering activities for

people of all ages.

Hop on a bike or take a walk from Liseleje

through Asserbo. Pass by the idyllic and magical

troll forest and the scenic Melby Overdrev, soak

in the sun's rays in the dunes or perhaps just take

a stroll to the sea and enjoy the stunning view of

the long coastline.

One of the country's largest and most beautiful

natural playgrounds, Havtyren is definitely

worth a visit. Just opposite Havtyren, a mere

100m from the child-friendly beach, is Liselegeland

playland. Children will love controlling

the electric cars on the fun driving track and

not forgetting the adventure mini-golf course,

where all the family can fuel their competitive

spirits and battle against each other.

Tip: During the autumn and winter months,

there are fewer people on the north coast, and

the weather is more severe. Here you really get

a sense of the forces of nature and find peace

in your soul by listening to the wind and the crashing

waves - the exceptional sunsets on the

north coast can be appreciated year-round.

SLEEP WELL IN LISELEJE

At Liseleje Badehotel, you can enjoy a seaside

holiday like in the olden days. Here you can

sleep well, eat well in the hotel's lovely café,

Kaffehuset, and retreat from everyday life,

disconnect and enjoy your own company or

that of those around you. The beach hotel

also rents out bicycles, so you can discover

the area's unique scenery on two wheels. For

example, take the North Coast Cycle Route 47

along the water, and discover beautiful Tisvilde

Hegn nature area.

If you prefer the cosy cottage life, find and

rent the perfect house for you and your family

through Feriepartner in Liseleje. Feriepartner

offer holiday homes in many price ranges

- super luxurious and more simply equipped

houses, so there is something for every taste

and need.

In Liseleje you can enjoy a seaside holiday like

the good old days, with the perfect mixture of

relaxation, adventures and entertainment.
---
LISELEJE

45

3 EXCURSIONS WITH

CHILDREN

• Havtyren nature playground

• Liseleje Beach

• Liselegelandet with mini golf and

electric cars

OVERVIEW OF PLACES TO STAY

LISELEJE BADEHOTEL

Liselejevej 62, 3360 Liseleje

Tel. +45 21 26 85 40

liselejebadehotel.dk

FERIEPARTNER LISELEJE

Liselejevej 60, 3360 Liseleje

Tel. +45 47 74 63 34

feriepartner.dk

B&B MELBY SNEDKERI

Melbyvej 83, 3370 Melby

Tel. +45 21 80 10 07
---
46

BEACHES

With

FEET

In

THE

WATER

The north coast has been nicknamed 'The Danish Riviera' for

a reason. Along the almost 70 km /43 mi stretch between

Lynæs and Nivå, golden sandy beaches, classic promenades

and cosy seaside resorts are strung together like pearls on a

string. So grab your swimwear and sunscreen and head for

a relaxing day in the North Sealand summer wonderland.
---
See more beaches in

North Sealand

BEACHES 47

GILLELEJE

The charming fishing village of

Gilleleje, boasts not just one,

but several great beaches to

choose from. Strandbakkerne

lies on the east side of town. It

is a lovely family beach. On the

other side of the harbour, Veststranden

is an approximately

20-metre wide sandy beach,

where the water is a bit deeper,

and there are usually a few

more waves. Both beaches are a

short walk from the cafés shopping

in Gilleleje town centre and

the ice cream parlours, eateries

and maritime atmosphere of the

town's beautiful harbour.

HUNDESTED

Just a stone's throw from the town and

harbour of Hundested is the 300-metrelong

Trekanten beach. The beach has

lovely sand and a fine sandy shoreline

and is very popular - with locals and

holidaymakers alike. From Trekanten

you can enjoy the fantastic view of the

Isefjord and to the west lies the holiday

town Rørvig. There are cafés, ice cream

parlours, shops and mini golf nearby if you

want to take a break from the sun. During

the school summer holidays, lifeguards are

on duty at the beach every day from 10

am to 6 pm. At Trekanten Strand there is a

disabled toilet facilities and an accessible

ramp right down to the water.

DRONNINGMØLLE

Dronningmølle Strand ranks high

on the list of the north coast's

best and most visited beaches.

The beach is very child-friendly

with fine sand, shallow water and

small, warm pools and ponds

where kids can play, dig and

splash about. It also provides

good accessibility for people

with reduced mobility. From the

parking lot on the inland side

of Villingebæk Strandvej there

is a wheelchair ramp all the way

down to the water's edge, and

the beach has disabled toilet

facilities.

LISELEJE

At the edge of Tisvilde Hegn lies

the cosy seaside village Liseleje

- with charming timbered

houses, hollyhocks and several

good beaches. Closest to the

centre you will find the lovely

sandy beach Liseleje Strand,

with lifeguards on duty, amble

parking and disabled access

to the water's edge during the

bathing season. Alternatively,

if you prefer to get away from

it all, head east to Lille Kulgab,

which, along with Stængehus, a

few kilometres further down the

coast, is one of North Sealand's

most secluded beaches. Both of

the beaches have fine dunes and

good bathing conditions.
---
48

BEACHES

RÅGELEJE

Follow Strandvejen and when it

turns right out towards the sea in

North Sealand, you've arrived in

the atmospheric seaside resort

of Rågeleje. Just the drive itself

is an experience, but the town,

and especially the beach, doesn't

disappoint either. On Rågeleje

Strand, striped beach huts are

lined up, making the wide stretch

of coast look like a scene from

'Badehotellet'. The dunes provide

shelter for sunbathing and relaxing,

and the town's promenade is

perfect for a stroll with a refreshment

in hand. Round off the day

with a beautiful sunset from the

beach or the Heatherhill Hills just

outside town.

NIVÅ

Just south of Nivås idyllic harbour

area is the lovely and very childfriendly

Nivå Strand. The beach is in

a wide bay with shallow water and

ideal swimming conditions for the

youngest members of the family,

and a lifeguard is on duty every

day throughout the school summer

holidays. Within walking distance

from Nivå Strand is the Nivå Bugt

Strandenge nature reserve, with

stunning scenery and plenty of bird

watching. If you fancy a refreshing

treat, it's just a short walk to a delicious

ice cream on the harbour.

LYNÆS

The small harbour town Lynæs is

about 2 km from Hundested. At

the town's harbour, you can take

a dip in the harbour pool, which

has a bathing bridge and steps

down to the water. If getting sand

between your toes is more your

thing, you can lay your towel on

the lovely sandy beach right next

to the harbour, where there's

shallow water and great swimming

for the whole family. Lynæs

Surfcenter is located behind the

beach, here you can rent kayaks

and SUP boards.

KEEP AN EYE

ON THE FLAGS

GREEN

Bathing permitted

TWO RED-

YELLOW

FLAGS

Marks the area

the lifeguard

recommends for

swimming

YELLOW

Bathing permitted

but extra attention

to the conditions

required

RED

Bathing is strictly

prohibited

BLUE

Clean bathing water
---
BEACHES WITH

LIFEGUARDS ON DUTY

Here you can see the 19 beaches with lifeguards on duty

every day from June to August:

BEACHES 49

• Villingebæk, Dronningmølle

• Espergærde Strand (south

of the harbour)

• Veststranden, Gilleleje

• Strandbakkerne, Gilleleje

• Heatherhill, Rågeleje

• Grønnehave, Helsingør

• Hornbæk Strand

(east and west of the

harbour)

• Hornbæk Plantage

• Trekanten, Hundested

Liseleje Strand (east and

west of the harbour)

• Lille Kulgab, Liseleje

• Lynæs Strand

• Nivå Strand

• Strandbjerggaard, Rågeleje

• Smidstrup Strand

• Snekkersten Strand

• Tisvildeleje Strand

(east and west of the

harbour)

• Stængehus, Tisvildeleje

• Langebro, Ålsgårde

SMIDSTRUP

Behind Smidstrup's pretty red and

black summer cottages is a gorgeous

hidden bathing beach. There

is a jetty and a designated area

where dogs are permitted to swim

and stay off-leash, and Smidstrup

Strand is one of the only beaches

in Denmark where bonfires are

permissible - a cosy treat for those

long summer evenings when it's

nice to stay out after dusk. Smidstrup

town has shops, cafés and

an ice-cream parlour. The popular

Kollerødgård Ice Cream Dairy voted

the best ice cream in Gribskov, is a

short drive away.

TISVILDELEJE

Tisvildeleje has a priceless beach

hotel atmosphere. For generations,

the small town with its kilometrelong

beach has been an oasis and

holiday destination for the city's

bohemians. Over the years, Tisvildeleje

has become trendy with

cafés, dining venues and bars,

but the town still has plenty of

charm and history. On the beach

at the end of the main street, small

colourful beach huts from the

20th century create a distinctive

atmosphere, and the area is full of

beach hotels and holiday homes.

The beach is located next to the

wild and beautiful Tisvilde Hegn

nature area.
---
50

FREDENSBORG

FRED

ENS

If you have blue blood in your

veins, go to Fredensborg. The old

palace and commercial town has

a very special cultural heritage in

store for you. Here you will find

falconers training the flying skills

of birds of prey, hop on the boat

and visit Fredensborg Palace

and take a stroll in the Royal

Palace Gardens that have been

restored for 10 years and have

won international acclaim.

PALACE GARDENS AND

CHANGE OF GUARDS

Fredensborg is situated between

Hillerød and Helsingør surrounded

by a forest and a lake. The town's

main attraction is Fredensborg

Palace (p. 54) where you can stroll

around Denmark's largest and finest

baroque garden which is an important

part of the Danish cultural

heritage. Last year it won international

acclaim and was given The

European Heritage Award for the

thorough restoration of Fredensborg

Palace Garden. A very special

attraction in the Palace Gardens

is Nordmandsdalen with its 70

sandstone statues of Norwegian

and Faroese farmers and fishermen

(p. 54) If HM The Queen is residing

at the palace, the Queen's Guard

has a daily change of guards

at 12 o'clock, while the corps of

drums parade through town every

Thursday to the palace with pipes

and drums.
---
FREDENSBORG

51

WHERE TO STAY

• Fredensborg Store Kro

• Fredensborg Vandrerhjem

• Fredensborg Camping

GREAT DINING

• Fredensborg Store Kro

• Country Market

• Madkollektivet

• No. 16

• Sørup Is & Kaffestue

• Skipperhuset

LOCAL ACTIVITIES

• Fredensborg Palace Gardens

• Falkonergården

• Fredensborg Museum

• Højsager Mølle

• Utzon Museum Fredensborg

BORG

ICE CREAM IN THE

HARBOUR & BIRDS OF PREY

Only two minutes walk from Fredensborg

Palace, you will find the shopping

street in Fredensborg, where

you should take a stroll if you enjoy

shopping. You can also swing by

the charming, old harbours Sørup

Harbour and Fredensborg Harbour

and take a walk by the sea. For a

boat trip, hop on Bådfarten Esrum

Sødeparting from Skipperhuset

which offers a beautiful boat trip

on the lake to Dronningens Bøge

passing the Palace Gardens.

When you are done, stop by for a

great big ice cream at Sørup Is &

Kaffestuejust a stone's throw away

from the harbour. Here they also

serve coffee and home-made cakes

and cookies that you can enjoy

inside or outside in their little, charming

courtyard with views of Esrum

Lake and the Palace Gardens.

For the time of your life, drive to

Falkonergården with its fascinating

universe of birds of prey with

the most lovely views of Esrum Lake.

Here the professional falconers

cooperate with falcons, American

buzzards and steppe eagles for an

amazing display regardless of the

weather – so remember to bring

rainwear and warm clothes.

MADKOLLEKTIVET AND

BISTRO

You will find great eateries in Fredensborg.

Madkollektivet Naboskaber,

which is a modern community

centre, forms the setting for parties

or jazz for children, champagne

dinners and baking events around

Christmas on selected dates – and

every Wednesday at 6 pm you can

enjoy communal dining at Madkollektivet.

If you prefer market place

atmosphere, you should visit the

charming Summer Country Market

offering local produce. Relax on the

sofa with a good cup of coffee or

peruse all the delicate specialities

and buy local produce to bring home

for dinner. In Fredensborg you will

find a lot of tasty treats and eateries

like shop community No. 16 (p. 59),

at Fredensborg Store Kro (p. 57)

and Skipperhuset (p. 56).
---
52

FREDENSBORG

DRONNINGERUNDEN

in the Municipality of Fredensborg

Want to explore the Municipality of Fredensborg? Hop

on the iron horse, and enjoy the 40 km/25 mi signposted

bicycle trail, Dronningerunden, that winds its way through

the four major constituent communities in the municipality:

Kokkedal, Nivå, Humlebæk and Fredensborg. You

will be passing a string of beautiful villages, landscapes

and attractions, setting the scene for a beautiful day trip

in the countryside.

We will take you to four unique towns each with its

special history and identity.

The route in brief

At the beginning of the route in

Nivå, you can visit Nivaagaard Art

Collection and the Ring Oven. In

Fredensborg the route will take

you through Humlebæk with

Louisiana Museum of Modern Art,

to Fredensborg Palace and the

Palace Garden and further down

to Skipperhuset at Esrum Lake

and Sørup. The route goes from

Sørup to Karlebo and further to

Avderød and Kokkedal before it

ends in Nivå.

STOP 1

Nivå

Start the route in Nivå, characterised

by its history as a brickworks town

defined by Lergravssøerne (clay lakes)

and Ring Oven. You will be passing

the Ring Oven at Nivaagaard Brickworks

(p. 63), the only existing one

in Denmark, where you can learn why

it was one the great steps forward in

industrial history.

The Lergravssøerne where clay was

dug for the brick production, are

today recreational nature areas with

a rich bird and fish life, featuring trails,

bridges and a playground, providing

space for active fun and learning for

families with children.

The Nivaa gaard Collection is adjacent

to the Ring Oven. The atmospheric

art museum houses a collection of

500 years of world art, where you

can get closer to the Italian Renaissance,

Dutch Baroque and Danish

Golden Age - Nivaagaard is a true

cultural-historical gem that is not to

be missed. The museum is surrounded

by a beautiful, old rhododendron park

which is an explosion of rich colours

and beauty in May.

Nivå Harbour and the beach are

family-friendly areas of natural beauty.

The harbour offers a variety of eating

options, and the child-friendly beach

has shallow water and beautiful sand.

In windy weather, it is often packed

with cool kite surfers, and the harbour

is also a favourite spot for sailors.

At the end of the beach is a unique

bird sanctuary. More than 200 bird

species have been observed here.

The shallow Nivå Bay and the narrow

coastal meadows are the only areas

on the Danish Øresund coast where

waders have the opportunity to rest

and forage.
---
Psst …

You may also follow

Dronningerunden anticlockwise

starting in Nivå

– Humlebæk – Fredensborg

– Kokkedal. The route is

signposted to make it easy to

find your way. See the route at

visitnordsjaelland.dk

STOP 2

Humlebæk

If you follow this route, you will get to

Humlebæk which is primarily known

for Louisiana Museum of Modern Art.

A beacon among art museums, offering

a unique blend of art, architecture and

nature that attracts guests from all over

the world. Enjoy the Sculpture Park's

fantastic view of the Øresund, and let

the kids loose in the Children's Wing (p.

89) – Louisiana is also an art museum

for children.

Humlebæk has more than art to offer,

so take your time to look in the town's

many specialty shops, cafés and

restaurants, which are mostly lined

along the beautiful coast, Strandvejen.

Enjoy a good cup of coffee and buy

some culinary treats to bring home.

Aarstidernes Farm Shop at Krogerup

Avlsgård offers a large selection of

organic quality produce, and you

are always welcome to have a look

around the organic and biodynamic

farm. Humlebæk's long coastal line

with harbours, beaches and cultural

environments offer plenty of opportunities

for fun, activities and relaxation,

while the forests on the land give you

access to recreational nature.

STOP 3

Fredensborg

The route continues along the coast

to the idyllic Sletten Harbour, before

it turns into the countryside towards

Fredensborg (p. 60). You will immediately

see the stately white baroque

palace in front of you. For many years,

Fredensborg Palace (p. 54) has had

special status as the royal family's most

used palace and we recognise it from

the media in connection with royal

events and international state visits.

Fredensborg town has developed

around the palace, which was finished

in 1722. A charming and lively commercial

town, where the pedestrian street

Jernbanegade links the station and

the palace, and contains a wide selection

of retail shops, supermarkets and

eateries. If you arrive by train, you can

stroll through the pedestrian street and

enjoy seeing the palace as it suddenly

appears right in front of you like an

almost surreal greeting from the past.

Royal and local, historic and present,

side by side.

Slotsgade is home to several listed

buildings with fascinating stories. E.g.

you can see the Bournonville house,

where the royal ballet master August

Bournonville used to live. Skipper Allé

leads you down to Esrum Lake, where

the boat trip will take you adventuring

on Denmark's second largest lake. Also

look into the Chaluphus and Skipperhuset,

and stroll around the Palace

Gardens, which are open all year round.

In Fredensborg, you are never far from

breathtaking nature – the palace was

probably built here for the very same

reason.

Fredensborg

Humlebæk

Nivå

Kokkedal

FREDENSBORG 53

STOP 4

Kokkedal

Your last stop on this route is Kokkedal

which is leading the way with creative

solutions to today's climate challenges.

If you are interested in urban development

and climate adaptation that

integrate solutions to the problem of

large amounts of rain, then Kokkedal is

an inspiring visit. The river and green

areas bind the city together, physically

and socially. The town is equipped

with a future-proof rainwater system,

which also creates new attractive and

safe urban spaces for experiences and

having fun.

Visit Bølgepladsen's new exciting

activity area and admire the sculpture

'Skålen og Perlen' which unfolds

when the sun goes down, and go down

to the river and work up a sweat at

Naturhængslet.

→ The route goes back from here to

Nivå, where Dronningerunden ends,

and you can enjoy a well-deserved

lunch or a good cup of afternoon

coffee at one of the town's cosy

eateries or cafés.
---
54

FREDENSBORG

FREDENSBORG PALACE

DENMARK'S VERSAILLES

with BAROQUE GARDEN

The town's main attraction is

Fredensborg Palace where

you can stroll around Denmark's

largest and finest

baroque garden which is an

important part of the Danish

cultural heritage. Last year

it won international acclaim

and was given The European Heritage

Award for the thorough restoration of

Fredensborg Palace Garden.

This year we can celebrate the tercentenary

of the old baroque palace that

was originally built as a hunting palace

for Frederik IV and was offcially opened

on the King's birthday in 1722.

The palace has had great significance

for Fredensborg town, which clearly

shows that it has grown from the

palace – e.g. the baker and the blacksmith

was moved outside the place to

lower the risk of fire – and maybe that's

the reason why Fredensborg Palace

still stands today, for the most part, as

it was built 300 years ago. Later, palace

offcials had houses built in the palace

surroundings that still stand today.

The Queen's most

frequented residence

Today, Fredensborg Palace is one of

the royal family's most frequented

residences. HM The Queen often uses

the palace as her fixed abode. To mark

this, the citizens always welcome her

back to the palace in early spring

with a traditional torchlight parade.

The town's pride in housing one of

the Queen's favourite palaces will be

celebrated in 2022 with her Golden

Jubilee, marking the 50th anniversary

of the accession of HM The Queen.

The palace often forms the setting for

major royal events. E.g. royal weddings,

confirmations and birthday parties are

hosted here and state leaders and

ambassadors are received here from all

over the world. When state leaders are

on offcial visits, it is tradition that they

write their signature with a diamond on

one of the palace's glass panes.

Palace garden with

magnificent grounds

If you stop by the palace, you must

take a stroll in the impressive Fredensborg

Palace Gardens which is one of

Denmark's largest historic gardens.

They were laid out at the same time

the palace was built, but were later

converted to French Baroque style in

1759-69. During this period, the sculptor

Johannes Wiedewelt created many

sculptures, including the magnificent

double avenue, Brede Allé.

On the occasion of HM The Queen's

Golden Jubilee, Fredensborg has

received a 1-million donation from the

A.P. Møller Fonden in 2022 to renovate

the Gardens – covering among

other things the so-called Eremitage

Pavilions originally built by Frederik

IV, and the King's Bridge, which was

a birthday present for the late Prince

Henrik, when he reached the age of

60. The Bridge was opened in 1996.

A very special attraction is also Nordmandsdalen

with its 70 sandstone statues

of Norwegian and Faroese farmers

and fishermen. A daring order by Frederik

V, as it usually wasn't common

people, but ancient gods and goddesses

who were on display in the royal

palace gardens.

Adjacent to the palace is the Royal

private garden, the Orangery and the

historic kitchen garden, which supplies

fresh flowers and vegetables to the

royal household. These three areas

are only open to the public in July on

guided tours. The rest of the gardens,

including the finest baroque landscaping

in Denmark, have free admission

all year round.

FREDENSBORG PALACE

Slottet 1B, 3480 Fredensborg

Tel. +45 33 95 42 00

www.kongeligeslotte.dk

OPENING HOURS AND

GUIDED TOURS

The public areas of the place gardens are

always open. The palace is only open for guided

tours in July 2022 between 10 am and

3 pm. Read more about opening hours and

guided tours, and purchase tickets at www.

kongeligeslotte.dk or at the palace.
---
FREDENSBORG

55

The history behind the name

Frederik IV named the white, elegant baroque

palace "Fredensborg" to commemorate the Great

Northern War that ended in 1720. In the following

decade, the palace was extended several

times, but still appears as an architectural entirety.

Between 1720-26, the architect and head

gardener J.C. Krieger created a palace complex,

comprising a small main palace with a dome and

lanterns and an octagonal courtyard.
---
56

FREDENSBORG

SKIPPER

huset

The historic Skipperhuset, dating back to 1757, is

one of North Sealand's best restaurants today.

Skipperhuset enjoys a location near the grounds

of Fredensborg Palace and on the shores of Esrum

Lake. Here you will experience a unique atmosphere

and charm with beautiful views of the forest, boat

bridge and the Chaluphus and its little harbour.

Modern cuisine using

traditional techniques

Skipperhuset offers a gastro dining

experience created with quality local

ingredients and using traditional

techniques, a combination that ensures

a dining experience just as beautiful as

the surroundings. Visit during the summer

months, and you can enjoy the food, nature

and tranquillity right at the water's edge of

one of Denmark's most spectacular lakes.

Summer evenings you have a front row seat

to the magical sunsets over Esrum Lake.

Lunch options include modern Nordic

'smørrebrød' open sandwiches, or try

one of the signature dishes, such as

Skippertoast, which is a real treat for

seafood lovers. The dinner menu offers

a luxurious dining experience consisting

of a selection of light-bites, small bistro

dishes and an extensive wine list ranging

from juicy natural wines to great classics.

French bistro cuisine is at the heart of

the restaurant's gastronomic approach -

infused with influences from both Nordic

and Italian cuisine.

Whether you visit to discover the charm

of Skipperhuset, experience the magical

sunsets or to enjoy a gourmet feast, a visit

to Skipperhuset is always well worth the trip.

That's why it can be diffcult to get a table,

it's a good idea to book well in advance,

especially during the summer months and

in the lead up to Christmas.

SKIPPERHUSET

Skipper Allé 6, 3480 Fredensborg

Tel. +45 48 48 10 12

Email: info@skipperhuset.dk

See more details about opening hours

and table reservation at skipperhuset.dk.
---
FREDENSBORG

57

FREDENSBORG STORE KRO

Did you know that Fredensborg Palace was built

because of a love story between King Frederik

IV and Anna Sophie Rewentlow? And that the

King built Fredensborg Store Kro when he built

the palace in early 1720s? The inn served as the

King's meeting place, where he could meet the

kingdom's offcials and govern the country without

disturbing his privacy or love life at the palace. And

love is still the essence and foundation of Store

Kro today, almost 300 years after it all began. It is

the love of the best ingredients and the best taste

that motivates the chefs when they prepare the

food at magical Fredensborg Store Kro. It is the

love of good service and hospitality that all the

waiters, hosts and hostesses at Store Kro will greet

you with during your visit. They call it an everyday

adventure – and you can be part of it!

LUNCH

Traditional Danish "smørrebrød" in a class

of its own. Here you can enjoy some of the

best in Danish open sandwiches. Try both

the classic and the modern versions.

DINNER

The evening bistro is composed of classic

French values and quality Danish ingredients.

Seasonal ingredients are used to treat your taste

buds, seasoned with adventurous hospitality.

FREDENSBORG STORE KRO

Slotsgade 6

3480 Fredensborg

E-mail: info@storekro.com

Tel. +45 71 71 21 21

www.storekro.com
---
58

FREDENSBORG

FREDENSBORG

VANDRERHJEM

Østrupvej 3, 3480 Fredensborg

Tel. +45 60 54 97 00

fredensborgvandrerhjem.dk

Opening hours & info:

Fredensborg Vandrerhjem is open all

year round. Remember to order bed

linen and towels, if you haven't brought

your own. Dogs are welcome, following

arrangement. More details are available

at fredensborgvandrerhjem.dk regarding

opening hours, prices and activities.

FREDENSBORG

VANDRERHJEM

Close to shopping, bathing

lake and the Royal Gardens

In the King's backyard, neighbouring Fredensborg Palace,

you will find a unique family-run conference centre with

plenty of Danish cosiness and surrounding areas, guest

kitchen, sun terrace and barbeque facilities.

If you are a craftsman looking for cheap accommodation

in North Sealand, or you need a place to spend

your holiday with your family, celebrate wedding,

confirmation, training course, day meetings or school

camp with food prepared with passion, check out

Fredensborg Vandrerhjem in the most beautiful royal

surroundings you can imagine.

Close to town, Esrum Lake and good parking facilities

for your car and bikes.
---
FREDENSBORG

59

NO.16

Jernbanegade 16

3480 Fredensborg

no-16.dk

Instagram: @no16fredensborg

SHOP

like a local

Just five minutes from Fredensborg Palace is the

retail community No.16, which is well known for it's

local atmosphere. Here, everyone greets each other

and many meet for a spot of shopping followed

by a tasty lunch, coffee or a glass of wine in the

lovely café. No. 16 is a large community of shops in

Fredensborg, the store houses 4 large shops and about

25 small shops. Where there are plenty of great items for

you and your home. No.16 has everything, from clothes

and jewellery to home decor, gourmet delights and one

of Denmark's finest knitting shops.

Welcome in to the No.16 universe!
---
60

FREDENSBORG

FREDENSBORG

CAMPING

A CAMPSITE THAT RESPECTS NATURE.

Fredensborg Camping is a peaceful and quiet

family campsite, where dogs are also welcome.

The place is like an elderly lady that we are

taking good care of, respecting the beautiful

nature. It's situated in park-like and landscaped

surroundings with many different kinds of

trees and bushes, providing good shelter.

In May and June you will be able to hear nightingales

singing 24 hours a day (mostly).

FORGOT YOUR TENT?

If you want an even more special experience

at Fredensborg Camping, you

can sleep in a command tank from 1968

previously used by the Danish military.

The tank is insulated so you can sleep

tight in the summertime when the

weather is bad. You can charge your

phone and laptop during the night

so you will have enough power for

next day's adventures. If you are on

holiday on two wheels, you can leave

your baggage, lock the door and take

a ride down to Louisiana Museum of

Modern Art.

GO SIGHTSEEING IN THE AREA

The campsite is situated in a beautiful

landscape in North Sealand and you

will find plenty of biking and hiking activities

in the area. At the same time, it's

also obvious to combine your camping

holidays at Fredensborg Camping with

visits to the many attractions nearby

such as Fredensborg Palace, Louisiana

Museum, Bakken etc. And should you

want to feel the big city vibe, Copenhagen

is only a drive away.

If you want to combine the rural and

countryside atmosphere with city life

and sightseeing, Fredensborg Camping

is a good suggestion for a campsite

combining both.

FREDENSBORG CAMPING

Humlebækvej 31

3480 Fredensborg

Tel. +45 49 19 44 48

fredensborgcamping.dk

OPENING HOURS

Fredensborg Camping is open all

year. See fredensborgcamping.dk

for details of opening hours, entry

prices and attractions in the area.
---
EAT

UP

61

If you also travel to eat, you can't get around popping

into Humlebæk, Sletten and Nivå to sit down

at a table. Here you can both eat with a knife and

fork with white tablecloths, buy freshly brewed

coffee to go or stroll through food markets full of

fresh takeaway produce.

TO THE SANDWICH

MAIDEN

At the entrance to Nivå Harbour is

Trekosten, with a fantastic view of

the island of Hven and the Swedish

coast. If you like fish, order the

restaurant's fried plaice, prepared

in Skagen style with cranberries. For

lunch, you can have classic Danish

open sandwiches and luncheon dishes

such as "Parisian steak", "Caesar

salad", and deep-fried camembert.

And every Wednesday – all year

round – Wiener Schnitzel is served

with everything. What's not to like!

TREKOSTEN

29, Nivå Strandpark

2990 Nivå

Tel. +45 49 14 05 55

trekosten.dk

@trekosten

FOR GOURMET LOVERS

With direct views of Oresund, surrounded

by idyllic fisherman houses,

Restaurant Sletten offers gourmet

food with sea views – whether for

lunch, dinner, a conference or a

party. Based on new Nordic and

classical cuisine with a strong focus

on the individual ingredients. The

ingredients come mainly from the

best local producers and are complemented

by European specialities.

In addition, the restaurant is proud

to offer one of North Sealand's most

ambitious wine menus.

RESTAURANT SLETTEN

Gl. 137, Strandvej

3050 Humlebæk

Tel. +45 49 19 13 21

sletten.dk

@restaurantsletten

FOR THE COFFEE LOVER

Just a few hundred yards from

Humlebæk Station on the 'route

to Louisiana' is Lind's Coffee Shop.

Here you will find a charming meeting

place with nostalgia, art, good

coffee and a splash of rock and roll.

Enjoy a home-baked cake inspired

by the season and a good cup of

coffee (to go if you're going to an art

museum), or order a good brunch

or luncheon plate to eat in the cosy

little pocket of time with patterned

wallpaper on the walls and high

chairs for the little ones.

LIND'S COFFEEBAR

9, Oscar Brunsvej

3050 Humlebæk

Tel. +45 49 19 18 18

lindskaffebar.dk

@lindskaffebar

Psst ...

Other great dining

experiences

If you are a real foodie, stop

by the "Aarstidernes" (Season's)

farm shop at Krogerup

Avlsgaard in Humlebæk,

where you will find a fresh

selection of fruit and vegetables,

wine, beer, and other

specialities. If you're looking

for a good loaf of bread for

your breakfast coffee, pop

by the "Brødsnedkeren" (The

Bread Maker) in Humlebæk,

where bread is baked according

to old traditions.
---
62

NIVÅ

NIVAAGAARD

ART COLLECTION

Nivaagaards Art Collection is a small museum with

outstanding art. It is next to protected salt marshes

with a view over the Øresund Sound and a wonderful

rhododendron park. The museum's collection

spans 500 years of art history, with notable works

from the Italian Renaissance, Dutch Baroque and Danish

Golden Age. Special exhibitions, the art collection and

the surrounding environment, are further brought to life

through the museum's diverse events - from lectures and

concerts to guided tours, croquis and drawing classes,

family events and walks. There is a 'Reserve for endangered

words' in the park with about 100 words that are about to

disappear from the Danish language. The reserve promotes

new explorations of the language and generates intergenerational

conversations.

Golden Age, pop and renaissance

In 2022, Nivaagaard's Art Collection invites you to the most ambitious

year of exhibitions in the museum's history. Following hot in the

footsteps from the major spring exhibition of the Golden Age painter

Wilhelm Marstrand's incredible work, visitors are invited to come

and discover the iconic works of American nun and pop artist Sister

Corita Kent in Danh Vo's installation at the museum. In September,

the doors will open to the work of another female world artist, whose

exhibition 'Sofonisba - The Forgotten Miracle of History' will once

again be recognised in art history. In the first exhibition of its kind

in Northern Europe, visitors are treated to a large part of acclaimed

female Renaissance painter Sofonisba Anguissola's lifetime body of

surviving work, in addition to the museum's collection of major work

by the most acclaimed female Renaissance painter.

Café, shop and

evening open hours.

The café offers delicious lunch dishes,

homemade cakes, and dinner service

during museum evening open hours on

Tuesday-Friday. The small museum shop

stocks many items related to the special

exhibitions and the art collection.

Admission is free to the café and the

shop during museum opening hours.

More details available at nivaagaard.

dk, or follow the museum on Facebook

and Instagram.

NIVAAGAARDS

ART COLLECTION

Gammel Strandvej 2,

2990 Nivå

Tel. +45 49 14 10 17

nivaagaard.dk

800 metres from Nivå

Station. There are six

trains per hour to and

from Copenhagen and

Elsinore. Bus 388 goes

from Lyngby and

Helsingør.
---
NIVÅ

63

NIVÅ CAMPING IN ROYAL NORTH SEALAND

A scenic oasis with the sound of birds

all around, Nivå Camping is one of

Denmark's longest-running campsites,

close to forest and culture with its own

lake. The campsite is in a tranquil area

close to the ancient clay pits, a popular

excursion destination for nature lovers.

Nivå Camping is centrally situated in

North Sealand near the iconic Whisky

Belt, with easy access to trains, buses

and cycle paths. The site is also close

to the beautiful coastline between

Copenhagen and Elsinore, which

boasts a unique maritime environment.

Location is everything, just 800 metres

from the harbour at Nivå Havn, sandy

beach and restaurants. There are also

several golf clubs in the area and a

playground for the children to enjoy.

Would you like to stay in a hut,

motorhome, campervan, tent or

shelter?

The campsite offers three different

accommodation options. Traditional

huts that are pretty basic and without

running water, luxury huts, and mobile

homes with private bathroom facilities.

If you're a real nature lover,

you can also choose to stay in the

site's brand new luxury shelters or

pitch a tent in a cosy area for tents

with picnic tables. The motorhome

pitches are on a solid surface. It

is free to use the gas grill on the

terrace. It is idyllic and charming.

Come to Nivå Camping and get

inspired by nature, heritage and

history.

Opening hours

& info

Nivå Camping is open

from 26 March through to

2 October 2022. You can

also park up and leave the

campervan free of charge

on weekdays (without electricity

and for a maximum

of three weeks at the same

location) and just pay for the

weekends. More details are

available at nivaacamping.

dk regarding opening hours,

prices and activities.

NIVÅ CAMPING

Sølyst Allé 14, 2990 Nivå

Tel. +45 49 14 52 26

nivaacamping.dk

Psst … If you love to climb

trees, that is also an option at

the campsite. Here is Nivå Klatrepark

where you can climb.

NIVÅ WALK - RHODODENDRONS AND BRICKWORK HISTORY

The nature around Ring Oven is a

must-see for hiking enthusiasts. The

historic area is just five minutes away

from Nivå Camping, where accommodation

options include shelters

where you can sleep under the stars.

The Ring Oven is

truly unique.

You can't miss the distinctive yellow

chimney you see as you drive towards

Nivå. You're immediately intrigued by

the mystery it possesses - the Ring

Oven is, after all, the cultural embodiment

of the evolution to industrial

development that occurred across

Europe. A reminder of a now lost

industrial past.

From industry to

animal and plant life

Don't miss out on anything! You don't

have to go very far before you come

to four smaller clay pits, which you

can meander through a small trail

network. Although it is hard to see, the

lakes are actually really deep. Clay was

excavated from these lakes until around

1920 to make yellow bricks in the Ring

Oven at Nivaagaard Brickworks. Today,

the lakes are teeming with animals

and plants. Some of the lakes have

even been granted protected status.

It is a lovely area for hiking. Bring a

packed lunch and enjoy a picnic with

stunning views of the beautiful lakes.

3 things to add to the

packing list

1. Binoculars The bird sanctuary

at Nivå Å is worth a visit.

2. Sunglasses. Go on a long walk

along Nivå Kyst, see more and

enjoy the outdoors more with

sunglasses on.

3. Swimwear. Nivå Havn has a

great sandy beach. Take a dip

in the Øresund!

Fancy sleeping in a luxury shelter

under the stars after the hike?

Did you know you can sleep in a

shelter at Nivå Camping? Eva, the

owner, has made it possible to sleep

under the stars while still having

access to comforts such as bathroom

facilities ideal for a hot bath in the

morning. If you want an even more

luxurious experience, you can even

sleep on thick spring mattresses and

soft hotel duvets and pillows, which

Eva prepares in the shelter.

More details available at

nivaacamping.dk
---
64

HUMLEBÆK

LOUISIANA

MUSEUM OF MODERN ART

Louisiana is a leading international museum of Modern Art. It

is also a vibrant cultural centre and a very special place where

art and architecture meet in a magnificent park environment

with stunning views over the sea.
---
HUMLEBÆK 65

LOUISIANA MUSEUM OF

MODERN ART

Gl. Strandvej 13, DK 3050

Humlebæk

Tel. +45 49 19 07 19

louisiana.dk

Opening times:

Monday: Closed

Tuesday-Friday: 11am-10pm

Saturday, Sunday, holidays: 11am-6pm

Every year Louisiana hosts several major international

exhibitions of modern and contemporary art. The museum

has a long tradition of presenting visual culture in alternative

and diverse forms, including photography, design

and architecture. Louisiana's collection covers a period

dating back from 1945 to the present day and includes

superb masterpieces and examples of nearly all genres -

painting, sculpture, photography and installation art.

ARCHITECTURE AND

SCULPTURE PARK

From an architectural point of view, Louisiana is

considered to be one of the finest examples of 1950s

elegant and understated modernism. The museum blends

discretely into the coastal landscape and is surrounded by

a sculpture park with views out over Øresund, the strait

between Denmark and Sweden. The sculptures are an

important part of Louisiana's collection, with works by

Henry Moore, Alexander Calder, Max Ernst and Joan Miro

- all precisely positioned amid the verdant setting of the

sculpture park.

A VIBRANT CULTURAL CENTRE

Guided exhibition tours, art kick in the collection, creative

workshops, painting classes, concerts, Friday lounges,

live debating events and lectures, as well as an international

literature festival. Art, contemporary culture, words

and music are brought to life all year round in Louisiana's

creative surroundings.

CHILDREN'S WING, CAFE AND SHOP

In Louisiana's Children's Wing, an amazing 500 square

metre creative space, children of all ages have a unique

opportunity to give their imaginations and senses free rein.

The Louisiana Cafe offers panoramic views over Øresund

and serves modern Danish food prepared from scratch

using seasonal ingredients. During the summer months

visitors can enjoy food and drink on the outdoor patio.

The Louisiana Shop is also one of Denmark's leading

stores focusing on Danish and Scandinavian design and

the product selection is often a good indicator of the next

design trends.
---
66

HIKING ROUTES

COME,

LET'S

GO

Explore more pilgrimages and

hiking routes in North Sealand.
---
HIKING ROUTES

67

Long walks clear the mind. North Sealand is a true

paradise for those who love to lace up their hiking

boots and get out into the great outdoors to explore

beautiful scenery, cultural highlights, and places

steeped in history. The route has it all. Here are three

routes that are certain to deliver.

DANISH PILGRIMS ROUTE:

ESRUM-TISVILDEVEJEN

Take the slow route through North Sealand's wonderful

cultural landscape in the most beautiful parts of the

National Park of Royal North Sealand. You can follow in

the footsteps of Catholic monks and pilgrims who in the

early days walked along the route from Esrum Abbey to

Helenekilde in Tisvilde, which has become known as a

place of pilgrimage for people in search of healing. The

route runs through eight small villages, where you can

stay overnight in a bed & breakfast or in the open air

under the stars. The route is maintained by volunteers.

Join one of the organised multi-day hikes, such as the

popular summer pilgrimage. For more details and hiking

maps visit tisvildevejen.dk

The route starts here: Esrum Abbey

Route distance: 77 km/48 mi

IN THE PHILOSOPHER FOOTSTEPS:

KIERKEGAARD BY NATURE

During long walks along the north coast near Gilleleje

is when Søren Kierkegaard had some of his greatest

epiphanies. Going on long walks was almost a necessity

for him, and Gilbjerghoved became one of his favourite

places. You can follow in the philosopher's footsteps on

this 12km/7mi walk down the narrow, winding paths along

steep slopes towards the Kattegat while you ponder

life's big questions. There are also 12 audio segments

on the route available on the app Useeum, containing

selected Kierkegaard quotes and significant questions

that promote reflection and conversation. Lace up your

hiking boots and set off on this reflection route, you can

also bring your dog and stroller on this route.

The route starts here: Gilleleje Harbour jetty (start and

finish at the same place)

Route distance: 12 km/7mi

Hiking maps & audio segments: The path is signposted

as Gilbjergstien. Download the Useeum app to your

smart-phone and select 'Kierkegaard by Nature, Gilleleje'

route for 35 DKK.

NEW TO HIKING: HALSNINOEN

Prefer to not follow in other people's footsteps? Then

try Halsninoen, it goes from Hundested via Halsnæs to

Strø Bjerge. The route was opened in December 2021,

and on the 52 km/32mi long hiking trail you experience

a variety of landscape: hilly landscapes, beach meadows,

meadows, beautiful heath, winding around fields, large,

thick forests, Roskilde Fjord, Isefjord and Denmark's

largest lake, Arresø.

The route starts here: The green space recreation area

between (Hundested) or Grimstrup Station (Strø Bjerge).

Route distance: 52 km/32mi

• Invest in a good pair of hiking boots or shoes.

• Carry a windbreaker and rain gear in your

backpack.

• Public transport is available at the start

and endpoints of most routes.

• Don't forget water, sunscreen and a hat.

• Stretch before and after to avoid soreness.

Want more hiking? Come to Nordsjællands

Vandrefestival 25-28 August 2022

at Esrum Abbey, where hiking takes centre

stage for a week. Here you can experience

everything North Sealand offers, including

communities and stories about known and

lesser-known roads and paths.
---
ADVERTISER-PAID CONTENT

"WHEN I DRIVE TOWARDS

NORTH SEALAND, I FEEL LIKE

I CAN BREATHE AGAIN"

Photographer Daniel Overbeck has a busy, fast-paced everyday life in

Copenhagen, filled with many exciting projects, but as he drives to North

Sealand, he gets hit by a special sensation.

FACTS ABOUT VOLVO C40 RECHARGE ELECTRICAL CAR

• 441 km electrical range

• Goes from 0-100 km/h in 4.7 seconds

• Google Assistant, Google Maps and Google Pay are easily intergraded

• C40 is the first Volvo with a 100% leather free interior. Including the steering wheel, gearstick and pollster

• C40 is built on the same platform as XC40

• The inspiration for the design principles comes from Scandinavian landscapes' calm atmosphere, light and spaciousness
---
Four years ago, Daniel Overbeck

drove towards North Sealand in

his old car from 1995. He didn't really

have a plan, but he had packed a

sleeping bag, some instant coffee and

his old camera.

"I just knew that I had

to go, and then I knew

I wanted to return

with loads of photos,"

he says.

His first trip wasn't his

last one, and those

multiple trips to North

Sealand were the beginning

of Daniel's life

as a photographer.

"I quickly discovered that there are

many hidden treasures in Denmark,

and it became my mission to find

them, photograph them and show

them to the world."

In a short period of time Daniel built

a following of more than 50.000

followers on Instagram, who followed

him along, while he explored North

Sealand and captured the hidden

treasures.

"I believe we all have something

inside of us that drives us. For me, it's

the need to create. To have a dream,

to go for it and to make it a reality."

"...I BELIEVE WE ALL

HAVE SOMETHING INSIDE

OF US THAT DRIVES US.

FOR ME, IT'S THE NEED

TO CREATE"

FAST-PACED EVERYDAY LIFE

Nowadays Daniel is busy with his career

in Copenhagen, with interesting

clients and plenty of projects in the

works.

"I represent a number of important

brands in my work, which I'm very

grateful for. But I also know, that all

the opportunities that I've taken have

gotten me to where I am today. You

can be good at something, but if you

don't work hard and don't take any

chances, you won't get anywhere,"

he says.

INSPIRATION FROM THE RAW NATURE

Today, Daniel Overbeck has replaced

his old car, but the motivation and

inspiration are the same when he

returns to North Sealand.

"This is where my

passion for photography

started, and this is where

I still find my inspiration."

NORTH SEALAND IS

SOMETHING SPECIAL

Even though he has

driven through North

Sealand many times, the

drive still has an almost

therapeutic effect on

Daniel Overbeck.

"North Sealand gives me, without a

doubt, something special that can't

be found in Copenhagen. Every time I

drive to North Sealand, I feel like I can

breathe again."

READ ABOUT VOLVO C40 RECHARGE
---
70

HILLERØD

HILLE

Welcome to Christian IV's hometown and North Sealand's

commercial centre. A statue of Frederik VII overlooks Torvet

(town square) in remembrance of his life in the town. This

is where he found a sanctuary together with Countess Danner

- far away from the noise of the capital city. Follow in the

footsteps of kings in Hillerød's stunning and historical surroundings.

Wind down with a walk in the green forests or let

your hair down in the town's exciting shopping streets which,

besides the shopping centre and more than 200 shops, there

is also a street food market.

RØD

Where history comes alive

ROYAL ACTIVITIES

The historic town of Hillerød was the

royals' preferred holiday destination

for over 400 years. Kings hunted frequently

in Gribskov and held functions

in the town's castles and that's the reason

why there is a "kings' road" (Kongevejen)

all the way from Copenhagen

to Hillerød. Today, the town's beautiful

landmark, Frederiksborg Castle, is still

in the heart of Hillerød (read more on p.

54). At the castle, you can take leisurely

walks in the romantic castle gardens

featuring a lake and brook. Experience

Frederik II's Bath House from 1580

and Countess Danners Norwegianinspired

cabin on Louise's Island, which

became known nationwide after appearing

in Danish Broadcasting Corporation's

Christmas calendar show 'The

Other World'. When it's time for lunch,

you can take a well-earned break at the

cosy Café Havehuset, which is located

in a historic building in the heart of

the wonderful Frederiksborg Castle

Gardens. The menu offers coffee, cake

and Danish open sandwiches.

THE GREAT OUTDOORS

With both Gribskov and Store Dyrehave

on its doorstep, Hillerød is a

good place to start to combine cultural,

outdoor and shopping activities. In

these forests, you can wander through

UNESCOs World Heritage Site, the Par

force Hunting Landscape (read more

on p. 16). Close to Store Dyrehave is

Fantasy Island with ruins from Frederik

VII's 'getaway' mansion. Hillerød has

many, good cycle paths that connect

the town and nature. There is also the

option to wander into nature directly

from the pedestrian streets. If you like

castles, experiences in nature and a

refreshing dip, you could ride your bike

all the way or part of the way on cycle

route 33, which stretches from Frederiksborg

to Tisvildeleje with plenty of

scenic views along the way.

DENMARK'S MOST

STUNNING STRETCH

OF WATER

The Little Ferry on Castle Lake sails

between Torvet and Frederiksborg

Castle every 30 minutes from spring

until autumn. From the middle of

Castle Lake you can see the town,

the castle and, not least, the beautiful

Baroque gardens with waterfalls and

shaped bushes.
---
HILLERØD

71

WHERE TO STAY

• Hillerød Camping

• Best Western Hotel Hillerød

• Danhostel Hillerød

Tip: Have you brought your children

along? Then visit the fun playground

at Posen, which is the name for the

outdoor area by the castle lake. The

playground is inspired by Frederiksborg

Castle and offers a slide, small

bridges and the possibility to go exploring

in a fairytale atmosphere.

MUSIC AND CULTURE

If you like culture and live music, then

you should keep an eye on the website,

hillerød.nu (only available in Danish).

This is where you can keep up to date

on many of the experiences and events

that are held in Hillerød during the

year. For instance, take a look at the

programme for Royal Stage, which is

North Sealand's leading music venue,

theatre, trade fair centre, handball

arena and much more. The stately

building with the golden facade opened

in 2020 and has room for 4,000

guests. Together withStøberihallen,

Café Slotsbio and the regional music

venue Klaverfabrikken, Hillerød's new

beacon shines a light and fills the town

with all genres of cultural experiences

all year round.

In the summer months concerts are

held as well as Midsummer festivities

and the popular Slotssø Byfest in and

around the outdoor area, Posen, right

next to Castle Lake. Close to Posen, at

the end of the pleasant Slotsgade, you

will find Rosenhaven, where international

jazz musicians perform concerts

on selected summer Saturdays.

See all

of the

town's

events at

hillerod.

nu (only

available

in Danish)
---
72

HILLERØD

NORTH SEALAND'S

COMMERCIAL CENTRE

When you feel the need for some retail therapy, then Hillerød is the perfect

destination. Dotted amongst the town's more than 200 exciting shops,

you will find popular chain stores and small "quirky" shops with everything

from clothing and interior articles to jewellery and personal care products.

COSY PEDESTRIAN

STREETS

There is a variety of small unique shops

and popular chain stores with everything

the family may need. There is

a variety of small unique shops and

popular chain stores with everything

the family may need. In between the

many shops, you will also find several

cafés and restaurants. On the way from

the station to the pedestrian streets

you will come across the Nordisk Film

Cinema Complex. At the outdoor area,

Posen by Castle Lake, is a marvellous

playground. It's the perfect place for

a pitstop when the kids need to burn

off that extra energy.

LARGE SHOPPING CENTRE

With direct access from the pedestrian

street, SlotsArkaderne is beautifully

integrated with Hillerød's town centre.

The large shopping centre has a

special vibe and this is, not least, due

to the architecture. Through the glass

roof, sunlight beams down from a twostorey

height and at dusk, the large

chandeliers are lit up. SlotsArkaderne

has a strong fashion profile for both

men and women and some of North

Sealand's biggest shops within sports,

fashion and home decor can be found

here as well as the area's largest hypermarket,

Bilka. When you need a break

during your shopping spree, you can

sit back and relax in the cosy lounge

at Espresso House or enjoy a delicious

refreshment at one of the centre's exciting

cafés. During summer and autumn

holidays, a popular and fun treasure

hunt is held for children which takes

place in and around the shops where,

with a children's ticket, they can find

prizes.

ALL KINDS OF LIGHT

REFRESHMENTS

The pedestrian streets have a

varied selection of cosy cafés and

restaurants. When the weather is

good, an obvious choice is to visit

the town's charming ice cream cafés

with homemade waffes and ice cream.

For example, enjoy an ice cream while
---
HILLERØD 73

HILLERØD.NU

At hillerod.nu (only available in

Danish) you can search for everything

from shops, restaurants and

museums to bank, beauty salons

and bakeries. This is also where

you can get an overview of the

many attractions in the town. For

instance, concerts, theatre, exhibitions,

Hillerød Castle Lake Town

Fair and other events.

strolling in the town centre or walk

along the scenic Lake Path, which

will take you around Castle Lake and

past Frederiksborg Castle. The two

pedestrian streets Helsingørsgade

and Slotsgade are connected by

Torvet (the town square). The two

streets offer a wide range of shops

within fashion, lifestyle and delicacies.

Also each street has its wine specialist

with an exciting range that can

supplement your tasty purchases

from the fish shop, bakeries, and the

Irma supermarket, etc. You can visit

the workshop in ChokoladeMageriet

and see how the shop's exclusive

chocolates and chocolate covered

marshmallows are made.
---
74

HILLERØD

DID YOU KNOW THAT ...

Hillerød Food Market has more

than 20 different

beer taps?

HILLERØD FOOD MARKET

Hillerød Food Market is the place

where people meet and enjoy

delicious food. The 1400 square

metre street food market has

room for your business lunch,

an evening out with friends and

a wonderful family dinner in the

market's cosy children's corner.

FOOD FROM AROUND

THE WORLD

In the street food market's pleasant

facilities you can choose between

seven vastly different food stalls.

They offer everything ranging from

crispy British fish 'n chips, juicy

American burgers, spicy Indian

specialities and delicate French

savoury and dessert pancakes to

healthy salad bowls and, of course, a

large selection of coffee and cakes in

the stylish coffee bar.

CLOSE TO EVERYTHING

Hillerød Food Market is centrally

located between Torvet and Frederiksborg

Castle. If you are shopping

or visiting the castle, there's always

a good reason to stop by. The food

market has room for 280 seated

guests and when the weather

permits, there are an extra 50 seats

available outside.

Besides serving food and beverages,

the food market also holds

regular cultural events, concerts,

flea markets and shows international

matches on their big screen.

HILLERØD FOOD

MARKET

Slangerupgade 6

3400 Hillerød

hillerodmadmarked.dk (available

only in Danish)

On Hillerød Food Market's

Facebook page you can

keep up to date with the

market's many events - right

from international matches

shown on the big screen,

wine tastings and chess

tournaments to flea markets,

concerts and much more.
---
HILLERØD

75

HOTEL

HILLERØD

You will find Hotel Hillerød in the heart of lovely and

green North Sealand - surrounded by splendid forests,

royal castles, proud hunting traditions and within

walking distance to the town centre which tempts with

shopping, lakes and sports routes. Inspired by nature,

Hotel Hillerød has created its own little village with

winding avenues, green plants and rays of sunshine.

The same source of inspiration can be seen in the

hotel's Restaurant krydderiet, where the season's

best raw ingredients are on the menu. In the summer,

strawberries are picked at the local farmers' fields

and in the autumn, mushrooms and wild plants are

gathered in the forest. The restaurant grows its own

herbs outside by the windows so there is as much

fresh ingredients as possible. The joy of working with

food and a high professional level of ambition makes

a visit to Restaurant krydderiet an experience you

won't forget. The restaurant is open to everyone -

regardless of whether you are staying overnight in

one of the hotel's cosy rooms or not.

DO YOU DRIVE AN ELECTRIC CAR?

There is a charging station in the parking area right

outside so you can charge your car during your stay.

HOTEL HILLERØD

Milnersvej 41

3400 Hillerød

Tel. +45 48 24 08 00

hotelhillerod.dk

HILLERØD CAMPING

Blytækkervej 18

3400 Hillerød

Tel. +45 48 26 48 54

hillerodcamping.dk

Experience a

Mediterranean

atmosphere

HILLERØD

CAMPING

Enjoy Danish "hygge" at the blossoming and calm oasis in

the centre of the town and feel the Mediterranean atmosphere

in the camping site's pleasant terraces among palm

trees, olive trees, citrus trees and flowers. And how about

taking a refreshing turn under the new delightful outdoor

showers?

No matter whether you have a caravan, motorhome, tent

or want to enjoy a cabin holiday, there is room for you.

Hillerød Camping has several beautiful areas on the site

and five different kinds of rental cabins - from small charming

two-person cabins to mini holiday cottages with own

bathroom and kitchen and room for 4-6 people. The mini

holiday cottages are rented out all year round.
---
76

HILLERØD

FREDERIKSBORG

The Museum of National History

DK 3400 Hillerød,

tel (+45) 48 26 04 39

www.dnm.dk

Opening times:

1 April – 31 October: 10 am-5 pm

1 November - 31 March: 11 am-3 pm

Prices:

Adults: DKK 90

Seniors (65+): DKK 80

Students: DKK 70

Children: DKK 25

Families (2 adults + 3 children): DKK 175
---
HILLERØD

77

THE MUSEUM OF NATIONAL HISTORY

Frederiksborg Palace

Frederiksborg Palace is picturesquely situated over three

islands in the Palace Lake. This unique Renaissance palace

was built by Christian IV in the first two decades of the

17th century to cement is position as a powerful northern

European monarch. Evidence of this can be seen in the

wealth of symbolic and decorative elements such as the

statues and reliefs, the spectacular Neptune Fountain and

the marble gallery in the King's Wing. During the 1700s,

the palace fell out of use as a royal residence but was

still used for offcial royal functions. During the period

of absolute monarchy in Denmark (1660 - 1848), Danish

monarchs were still anointed in the palace chapel, to which

the king would arrive already wearing his crown. During

the 19th century, a wave of national romanticism resulted

in the palace becoming a national monument.

THE MUSEUM OF NATIONAL HISTORY

A dramatic fire in 1859 destroyed much of the palace

interior. Reconstruction of the palace was financed by

national subscription, special arts lotteries and generous

private donations.

FREDERIKSBORG PALACE GARDENS

Frederiksborg Palace Gardens are comprised of the

Baroque Garden and the Landscape Garden. The Baroque

Garden features terraces, waterfalls, topiary trees and

box hedges trimmed to form royal monograms, while the

Landscape Garden has wide grassy areas, lakes, streams

and meandering paths. The Baroque Garden is open all

year from 9.00 am to sunset. The Palace Gardens are

always open.

CHANGING EXHIBITIONS AND

ACTIVITIES FOR CHILDREN

The museum regularly arranges special exhibitions that

showcase the museum's main areas, including portrait

art, historic paintings and Danish history - also from an

international viewpoint. The changing exhibitions, guided

tours and seasonal activities for children maintain an

ongoing dialogue with the past for visitors of all ages.

See the exhibition programme, guided tours and

seasonal activities for children on www.dnm.dk

The driving force behind the project was wealthy brewer

and philanthropist J.C Jacobsen, founder of the Carlsberg

Group. In 1878, he proposed the establishment of a Museum

of National History and donated resources to fund the

project. The museum was created as part of the Carlsberg

Foundation, which still runs and funds the museum to this

day. The Museum of National History recounts over 500

years of Danish history and displays historic paintings,

portraits, furniture and art manufacture in the many halls

and rooms of the palace such as the Palace Chapel, the

Audience Chamber and the Great Hall.

The palace chapel is almost the same as when the Danish absolute

monarchs were anointed here. There is a wonderful view of the chapel

interior from the gallery at the end, where the coats of arms of the

knights of the Order of the Elephant and the Grand Cross knights of

the Order of Dannebrog are displayed.
---
78

HILLERØD

HILLERØD'S

hidden gems

You have no doubt heard about Frederiksborg Castle and the Par force Hunting

Landscape. But what about the small hidden gems that also make a visit

to Hillerød something special? We have gathered seven of them here!

Galleri Louise T

The Hillerød area is home to several small galleries and

local artists. Visit Galleri Louise T, which is located in a

wing of an old farmhouse in scenic Hammersholt just

a short distance outside of the town. Louise finds inspiration

for her paintings in nature and her works are

colourful with both abstract and naturalistic strokes.

The gallery is open when the flag is set up outside or

following an arrangement.

Galleri Louise T, Hammersholt Byvej 43, 3400 Hillerød

Café Slotsbio

On Frederiksværksgade with a view out to beautiful

Frederiksborg Castle is Café Slotsbio, which functions

not only as a cinema, but also as a café and cultural

centre with various events on the programme.

Frederiksværksgade 11C, 3400 Hillerød

Flea (super) Market

Do you like finding a good bargain? Then Kirppu is for

those of you who love to wander around flea markets

and buy second-hand items at a good price.

We offer a free cup of coffee or tea. Open all days of

the week, 361 days a year.

Frejasvej 32, 3400 Hillerød

MONKEY WORLD

Experience the enjoyable animal oasis at Monkey World

and get real close to colourful parrots and playful

monkeys. Maybe one of them will even hop onto your

shoulder. You are also most welcome to bring your picnic

basket along and enjoy it in the beautiful outdoors.

Nejedevej 20, 3400 Hillerød

SKÄNK BEER AND WINE BAR

Enjoy Danish 'hygge' at the cosy and atmospheric beer

and wine bar, Skänk. Discover various draught beers from

local Danish microbreweries, many different wines by

the glass from around the world and delicious cocktails.

Torvet 7, 3400 Hillerød

TAKE A DIP

Teglgårds Lake in Hillerød is close to the centre of Hillerød

and is a wonderful oasis with its clean water. You

can take a refreshing dip here from a small sandy beach

with a bathing jetty surrounded by nature.

Teglgårds Lake, Carlsbergvej 15, 3400 Hillerød

THE KING'S GETAWAY

When Frederik VII was king, he needed to get away

from his royal duties at Frederiksborg Castle now and

again. He loved being outdoors and that is why in 1859

he built his own little getaway - a mansion on Fantasy

Island in Breddam Lake where he could fish and relax

together with Countess Danner. Only an end wall of

granite boulders remain today, so some imagination

is required to visualise what the mansion looked like.

Fantasy Island, Store Dyrehave, 3400 Hillerød
---
For every you.

Volvo XC40 Recharge

Smart. Versatile. Fresher than ever. And with

Google built in. Meet the Volvo XC40 – our pure

electric compact SUV for every version of you.

XC40 Recharge Single motor. 100% electric. Electric range 422 km. CO2 0 g/km. Charging: 11 kWh AC: 7 h / 150 kWh DC: 80% 32 min. XC40 Recharge Twin motor. 100%

electric. Electric range 416 km. CO2 0 g/km. Charging: 11 kWh AC: 8 timer / 150 kWh DC: 80% 37 min. The real-life driving range and energy consumption achieved under real

conditions varies depending on driving behaviour and other external factors. Figures are based on preliminary target. Final vehicle certification is pending. The car is shown with

optional equipment.
---
80

GOLF

O

G LF

in North Sealand

All golf clubs are open all year round.

See the clubs' websites for info on

opening hours, green fees, course

guides and score cards.

Find more golf courses in North Sealand.
---
Located between meadows and forests

is a true paradise of golf clubs in North

Sealand with beautiful, undulating greens

and great variation between the holes.

Here are three inspirational offers for

those who enjoy a game of golf.

GOLF

81

18 challenging holes

REE GOLF

Next to Pibe Mølle is REE GOLF where you will find 18

challenging holes in a slightly undulating terrain with

lakes and streams. With course lengths ranging from

4.1km/2.5mi to 5.9 km/3.5 mi, everyone is invited to have

a great golf experience no matter your age, gender and

handicap.

The course is well-manicured all year round and to increase

biodiversity, about two hundred new trees have

been planted in recent years and areas with wildflowers

have also been established. After 22 years, the course is

the most beautiful it has ever been.

With its location in Helsinge - right in the middle between

Hillerød and Tisvildeleje - REE GOLF is centrally located

between the holiday home areas along the North

Sealand coast and the area's many tourist attractions.

The golf club is worth a visit as it has good training facilities

and a well-stocked golf shop. After a round of golf

you can enjoy a cold beer or a good lunch in the golf

club's cosy café and restaurant.

REE GOLF

• 18-hole golf course

• Par 3 course with 9 holes, pay & play

• Driving range with many bays of which 14 are

covered.

• Lighting system on the driving range

• Chipping and pitching range

• 2 putting greens

• Golf coach (pro) & golf shop

• 2 indoor golf simulators

• Buggy, scooter and trolley rental

• Café, restaurant and function rooms

• Possibility to hold meetings and conferences

• Company days

Høbjergvej 32, 3200 Helsinge

Tel. +45 48 79 56 55

reegolfklub.dk (only available in Danish)

@reegolfklub

Variation between the holes

PASSEBÆKGÅRD

Passebækgård is located in the heart of one of North

Sealand's most stunning natural areas and the golf course

has been designed to fit naturally into the beautiful

surroundings. This provides great variation between the

holes. For the golf nerds of the world, the nine holes

measure about 3 km/2 mi from the yellow tee and it is a

par 36 course. Everyone is welcome no matter your skill

level and you can also play as a so-called pay & play

player. If you would like a golf coaching session, Passebækgård

has a pro-golfer, Claus Foss, associated with

the club who provides one-on-one coaching and group

coaching for adults and children. So all you need to do

is get that hole in one!

Bregnerødvej 35, 3250 Gilleleje

Tel. +45 49 71 76 58

passebaekgaard.dk (only available in Danish)

@passebaekgaardgolf

Four golf clubs under one umbrella

KONGE GOLF

Four of North Sealand's best golf clubs have joined forces

to form ROYAL GOLF and offer a joint discount on

green fees. Buy the ROYAL GOLF Green Fee offer with

four green fee vouchers for DKK 1,400 and play all four

courses or share the fun and take along a fellow player

and play two courses. All four courses have 18 holes in

the middle of North Sealand's amazing nature and the

clubs' restaurants are ready and waiting with delicious

offers before and after your game. So there's no excuse

for not improving your handicap!

ROYAL GOLF is a collaboration between Asserbo, Fredensborg,

Gilleleje and Hornbæk Golf Clubs. Contact the clubs

directly or find current offers on their websites.

kongegolf.dk (only available in Danish)

@kongegolf
---
82

ACCOMMODATION

SLEEP WELL

Sleep under the stars

IN NORTH SEALAND

Glamping, spa hotel, shelter or holiday apartment?

What type of accommodation do you prefer? North

Sealand offers many great accommodation options

to choose from - both beautiful hotel rooms and

outdoors in nature. Are you in need of relaxation and

pampering after a long day's adventure? Then look

no further!

GLAMPING

Want to camp in style? Don't miss

out on comfort even if you are camping

- try glamping or sleep in a

hammock. Have an adventure. If you

want to experience alternative types

of accommodation, you can also

sleep in a harbour cabin or a luxury

tent with comfortable facilities.

• Surfshacks & tent houses:

Lynæs Surfcenter, Lynæs Havnevej

8, 3390 Hundested

• Byaasgaard Camping: Glamping

tents at Roskilde Fjord. Amtsvejen

340, 3390 Hundested

SHELTERS

Nothing beats sleeping under the

stars in a cosy shelter where nature

protects you from the elements. In

North Sealand you are spoilt for

choice when it comes to outdoor

options.

• Haldbjerg Shelters, Kragerupvej

21, 3200 Helsinge

• Luksusshelter, Nivå Camping,

Sølyst Allé 14, 2990 Nivå

Spa Hotel

Spa hotel sounds very traditional -

and it is. The concept began over

100 years ago when the Copenhagen

elite took wellness breaks to get

sunlight and breathe in the fresh sea

air. Today spa hotels are more popular

than ever. Enjoy the traditional charm

updated with modern comfort.

• Gilleleje Badehotel, Hulsøvej 15,

3250 Gilleleje

• Havgaarden, Strandlyvej 1, 3210

Vejby

• Liseleje Badehotel, Liselejevej

62, 3360 Liseleje

• Hotel Gilleleje Strand, Vesterbrogade

4B, 3250 Gilleleje

PsSt … Further details about North Sealand's accommodation options

and prices, as well as ideas for day excursions in the region, are

available at visitnordsjaelland.dk

See more accommodation

options in North Sealand.
---
Summer cottage

Light up the wood-burning stove,

get out the board games, and enjoy

the peace with a holiday home from

these excellent holiday home rental

locations, including spa and morning

coffee on the terrace.

ACCOMMODATION 83

• Feriepartner, Liselejevej 60, 3360

Liseleje

Camping

North Sealand's beautiful and varied

natural landscape is great for camping,

and you will have no diffculty

finding lovely campsites, whether

cycling or driving. Along the Danish

Riviera, campsites are situated close

to the sea, beach and towns and

are often within walking distance to

interesting cultural sites and experiences.

North Sealand hostels offer

comfortable beds and a cosy, sociable

atmosphere. They are located to

enable daily exploration and going

from hostel to hostel on a multi-day

adventure.

• Byaasgaard Camping, Amtsvejen

340, 3390 Hundested

• Kongernes Feriepark, Helsingevej

44, 3230 Græsted

• Hillerød Camping, Blytækkervej

18, 3400 Hillerød

• Nivå Camping, Sølyst Allé 14,

2990 Nivå

• Frederiksværk City Camping,

Strandgade 30, 3300 Frederiksværk

• Fredensborg Camping, Humlebækvej

31, 3480 Fredensborg

Hostel

• Fredensborg Vandrerhjem,

Østrupvej 3, 3480 Fredensborg

• Danhostel Tisvildeleje, Bygmarken

30, 3220 Tisvildeleje

• Danhostel Hillerød, Lejrskolevej

4, 3400 Hillerød

HOLIDAY CENTRE

Amidst nature and close to the

beach, there are several beautiful

holiday centres in North Sealand

with excellent facilities, a beach

holiday by the pool or on the beach

and fun events such as a Spanish

gourmet evening Klangbad sound

bath.

• Rågeleje Klit Feriecenter, Rågeleje

Strandvej 91B, 3210 Vejby

• Kysthusene Gilleleje, Tinkerup

Strandvej 8A, 3250 Gilleleje

• Sankt Helene Ferie- og Udflugtscenter

[Holiday and Excursion

Centre], Bygmarken 30, 3220

Tisvildeleje

PsSt … If you prefer a

holiday apartment, you can

also stay at Nordsjællands

Ferieboliger, a holiday

apartment located in the

centre of Frederiksværk,

or stay at Sirius House, a

historic grocery store that

now contains two holiday

apartments in the heart of

Tisvildeleje.

Hotel

Collapse onto the bed and bury

yourself into the soft hotel pillows,

grab a table and dine in the finest

restaurants, and enjoy the beautiful

natural landscape during the day.

Whether a getaway for two or an

adventure for the whole family, everyone

is well taken care of at one of

North Sealand's beautiful inns or

hotels steeped in history.

• Hotel Hillerød, Milnersvej 41, 3400

Hillerød

• Fredensborg Store Kro, Slotsgade

6, 3480 Fredensborg

• Ølsted Kro & Hotel, Hovedgaden

10, 3310 Ølsted

• Bymose Hegn, Bymosegårdsvej

11, 3200 Helsinge

• Refugium Smidstrup Strand,

Sognevej 15, 3250 Gilleleje

B&B

If you are looking for a small cosy

place that offers accommodation

and breakfast, then opt for bed and

breakfast, where you often also have

the opportunity to interact with the

local owners.

• Melby Snedkeri B&B, Melbyvej

83, 3370 Melby

• Sommer Hus B&B, Frederiksværksgade

80, 3400 Hillerød

• Hannes B&B, Ridehusvej 14, 3400

Hillerød

• Ebogaard B&B, Kulsviervej 48,

3400 Hillerød
---
84

TASTE OF NORTH SEALAND

TASTE

of NORTH

SEALAND

North Sealand is home to

proud local producers and

creative entrepreneurs who

use passion and patience to

produce high-quality artisan

food and beverage items with

a superior taste.

Take a trip out into the North

Sealand countryside, drive

along the winding country

roads, and stop by the charming

farm shops or buy seasonal

vegetables at the local

market where you get to meet the

local producers. The soil also impacts

the taste of something as un-Danish

as wine, produced with great success

by North Sealand winemakers. Tastings

and tours are available.

Pop into the small distilleries, where the

noble taste of corn, herbs, and berries

are transformed into golden drops in

the form of whisky, gin, liqueur, and

aquavit, or have a taste of the local

quality beer brewed in the copper vats

at the microbrewery.

North Sealand's craft foods bear the

narrative of tradition and innovation

and that of local enthusiasts who are

passionate about excellent quality and

taste. Farm shops sell the most delicious

meat from free-range cows; spicy

sausages and other charcuterie items

are handmade by the butcher following

artisan traditions. In North Sealand, you

will find ice cream and butter made

carefully by hand from fresh ingredients

and unique cheeses steeped in

rich local history. There are many local

delicacies to sample – from handmade

chocolates to mustard, sauces, juices,

aquavit, rye bread, and much more –

in the small specialty shops around

North Sealand.

This is just a selection, more taste

experiences are provided at www. visitnorthsealand.com.

More information is

available about the local producers at

North Sealand's food networks Spisekammer

Halsnæs, Gribskov Spisekammer

and Smag på Nordsjælland.

Opening hours may vary, so it is a good

idea to check the hours before visiting.

PsSt …

Try the new Gastrominoen

gastro bike tour in

the National Park of Royal

North Sealand, which

takes you past local food

producers. Taste their

specialities and listen to

their inspiring entrepreneurial

adventures. More

details available at

gastrominoen.dk

See more taste

experiences.
---
TASTE OF NORTH SEALAND 85

Smag på

1. Nordsjælland

Association of farmers, gardeners,

food artisans, chefs, winemakers,

brewers and grocers committed

to promoting local produce and

food experiences.

smagpaanordsjaelland.dk

3 FOOD NETWORKS

WITH A TWIST

2. Spisekammer

Halsnæs

Spisekammer Halsnæs is an alliance

of food producers in Halsnæs

municipality, who are committed to

ensuring good animal welfare and

excellent quality.

spisekammerhalsnaes.dk

3. Gribskov

Spisekammer

Gribskov Spisekammer members

produce lamb, beef cattle, vegetables,

fruit, berries, honey, wine,

beer and much more.

gribskovspisekammer.dk

OTHER OPTIONS

TASTE EXPERIENCES

Byaasgaard Camping

& Farm shop

Farm shop with eggs, vegetables,

Signes homemade sourdough bread

and local delicacies. Cake & Coffee /

Nature wine & Snacks.

byaas.dk

CHOKOLADEVÆRKSTEDET

JOTA

Handmade artisan chocolates.

chokoladevaerkstedet-jota.dk

COUNTRY MARKET

Café and shop offering a wide selection

of local delicacies, cheese and

meat from about 15 local suppliers.

countrymarket.dk

FREERSLEV KOTEL

Visitor farm and farm shop selling the

farm's hook-matured meats, fresh eggs,

homemade jams, and syrups, primarily

made from berries from the orchard.

freerslevkotel.dk

GUNDEKILDEGAARD

Farm shop with freshly picked strawberries,

raspberries, potatoes and

vegetables. Strawberry café with ice

cream, berry brunch, cakes and coffee.

Pick your own strawberries during the

peak season.

rokkedysse.dk

KNUD

Relaxed dining venue on Hundested

Harbour with a coastal bistro kitchen.

knud.biz

NINAS NATURCAFÉ

Forest café with emphasis on organic

and homemade baked goods and shop

with their own products. You can combine

a visit to the café with a walk in the

Par force Hunting Landscape (p.17).

naturcafe.dk

SØSTER'S IS

Ice cream parlour with organic milk

and cream from Damsmosegård in

Dronningmølle. Chocolate covered

marshmallows and sprinkles are from

Chokoladeværkstedet Jota in Gilleleje.

Facebook/Søsters

THORNÆS DESTILLERI

North Sealand's first whisky distillery,

producing gin, brandy and Danish

single malt whisky. Guided tours can

be booked.

thornaes.com

TINGGÅRDEN

Country store, gourmet restaurant,

bakery, mill and café.

tinggarden.dk

Tothaven Visitorfarm

and farm dairy

Farm shop selling dairy goat cheeses,

goat milk yoghurt and handmade stick

ice cream.

tothaven.dk

Torup Market at

Dyssekilde Station

Market for locally grown produce and

quality products with a connection to

the land. Lunch stalls at the station. 10

Saturdays during peak season.

Facebook/Torup Marked

TRANEGÅRD, CAFÉ,

DAIRY AND VISITOR

FARM

Tranegård produces local and natural

ice cream made from fresh, local and

organic ingredients.

tranegarden.dk

ØRBY VINGAARD

Award-winning wine production with

tour and tastings and related farm

shop and café.

oerbyvingaard.dk
---
86

MUSEUMS

MUSEUMS

&

TOURIST ATTRACTIONS

Do you want to know more about Denmark's history?

Get immersed in a whole world of experiences at

North Sealand's museums.
---
MUSEUMS 87

FREDENSBORG-NIVÅ-

HUMLEBÆK

Utzon Museum Fredensborg

Bakkedraget 43, 3480 Fredensborg

fredensborghusene.com

Fredensborg Museum

Avderødvej 19, 2980 Kokkedal

fredensborgmuseum.fredensborg.dk

Højsager Mill

Højsagervej 8, 3480 Fredensborg

fredensborg-mollelaug.dk

Karlebo Mill

Kirkeltevej 161C, 2980 Kokkedal

fredensborg-mollelaug.dk

Louisiana Museum of Modern Art

Gl. Strandvej 13, 3050 Humlebæk

louisiana.dk

Nivaagaards Art Collection

Gammel Strandvej 2, 2990 Nivå

nivaagaard.dk

The Ring Oven at Nivaagaard

Brickworks

Teglværksvej 23, 2990 Nivå

ringovn.dk

Gribskov

Gillelejegruppens

Videnscenter 40-45

Hillerødvejen 180, 3250 Gilleleje

gillelejegruppen.dk

Esrum Abbey & Møllegård

Klostergade 11-12, Esrum,

3230 Græsted

esrum.dk

The old house on Østergade

Østergade 20, 3250 Gilleleje

museumns.dk

Laugø Smithy

Laugø Byvej 2, 3200 Helsinge

museumns.dk

Munkeruphus

Munkerup Strandvej 78,

3120 Dronningmølle

munkeruphus.dk

Nakkehoved Lighthouse

Fyrvejen 20 + 25A, 3250 Gilleleje

museumns.dk

Pibe Mill

Høbjergvej, 3200 Helsinge

museumns.dk

Ramløse Mill &

Crafts Museum

Møllelodden 4, 3200 Helsinge

museumns.dk

Rudolph Tegners Museum

& Statuepark

Museumsvej 19, 3120 Dronningmølle

rudolphtegner.dk

Gilleleje Shiphalls

Hovedgaden 49, 3250 Gilleleje

museumns.dk

Søborg Castle Ruin

Bygaden 44, 3250 Gilleleje

natmus.dk

Søren Kierkegaard Stone Memorial

Ved Skrænten 16, 3250 Gilleleje

visitnordsjaelland.dk

The Wieth-Knudsen Observatory

Margot Nyholms Vej 19, 3220

Tisvildeleje

wko.dk

Halsnæs

Asserbo Castle Ruin

Bisp Absalons Vej 28, 3300

Frederiksværk

naturstyrelsen.dk

Dronningholm Castle Ruin

Auderødvej, 3300 Frederiksværk

naturstyrelsen.dk

The Hyllingebjerg Stone

Frederiksværk Bibliotek, Torvet 41,

3300 Frederiksværk

bibliotekerne.halsnaes.dk

Frederiks Værk Museum of Industry

Torvet 1, 3300 Frederiksværk

indmus.dk

The House of Knud Rasmussen

Knud Rasmussens Vej 9,

3390 Hundested

knudrasmus.dk

The Knud Rasmussen Memorial

Knud Rasmussensvej 9,

3390 Hundested

indmus.dk

The Powder Works Museum

Krudtværksalléen 1,

3300 Frederiksværk

indmus.dk

Spodsbjerg Lighthouse

Fyrstien 1, 3390 Hundested

visitnordsjaelland.dk

Hillerød

Danish Collection of History of

Pharmacy

Milnersvej 42, 3400 Hillerød

dfhf.dk

Museum North Sealand Elværket

Frederiksgade 11, 3400 Hillerød

museumns.dk

Frederiksborg Castle

Museum of National History

Frederiksborg Slot 10, 3400 Hillerød

dnm.dk

Museum of Hillerød

Helsingørsgade 65, 3400 Hillerød

museumns.dk

Kunsthuset Annaborg

Frederiksværksgade 2A, 3400 Hillerød

hillerodkunstforening.dk

Æbelholt Abbey Museum

Æbelholt 4, 3400 Hillerød

museumns.dk
---
88 CHILDREN

NORTH SEALAND

FOR CHILDREN

Have you brought the kids along? There's plenty of fun

for children in North Sealand. Get inspired for fun and

excitement for children all year round.

Out and about

Vintage train

Enjoy a trip on this fine vintage steam

train during the summer, lovingly

restored and maintained by a group

of steam train enthusiasts. The train's

normal route is from Græsted to Gilleleje

and on to Hornbæk and Helsingør.

Græsted Stationsvej 84

3230 Græsted

www.veterantoget.dk

The Little Ferry

Bring the kids on board The Little Ferry

on Castle Lake that sails between the

square in Hillerød and Frederiksborg

Castle every 30 minutes from 15 May

to 15 September. From the middle of

the Castle Lake you can see the city,

the castle and, not least, the beautiful

Baroque gardens with shaped bushes.

The Ferry sails between 11 am and 5

pm on weekdays and between 1 pm

and 5 pm on Sundays. You can buy

your ticket on board via MobilePay.

Torvet

3400 Hillerød

www.partrederiet.dk

M/S Frederikke

Set sail on a 1-hour boat trip on Arresø,

Denmark's largest lake with the charming

wooden ship M/S Frederikke,

sailing from May to September.

Arresødalvej 103

3300 Frederiksværk

www.msfrederikke.dk

For animal lovers

North Sealand

Bird Park

Is there a zoo in North Sealand? Yes,

North Sealand Bird Park is located in

the middle of the beautiful nature of

North Sealand with more than 2,000

birds from all over the world. The Park

also has Zoo status and has many small

mammals and a vast amount of reptiles

and amphibians.

Nordsjællands Fuglepark

Sodemarksvej 22

3230 Græsted

www.fugleparken.dk

Tothaven's Visitor

Farm

Close to the old fishing village of Kikhavn

lies the small and cosy visitor farm

Tothaven. The farm is home to dairy

goats, ponies, donkeys and wool pigs.

There are always lots of baby animals

to cuddle, and the young, enthusiastic

animal keepers love telling you about

the animals. Play in the straw, relax in

the hammocks under the linden trees,

eat your packed lunch in the garden,

or enjoy an ice cream in the little café.

Torupvejen 2

3390 Hundested

Tel. +45 20 36 02 26

www.tothaven.dk

Dronningmølle

Fiskesø

Let the kids try fishing in Gribskov's

first put and take lake that was opened

in 2017. The fishing lake is situated

in the old quarries in Dronningmølle

made into 20 fishing spots. Buy your

fishing license in the shop Vild med Dyr

where you will also find a wide variety

of fishing gear.

Dronningmølle Strandvej 647A

3120 Dronningmølle

www.dronningmølle.nu

Falkonergården

Just outside Fredensborg, visitors can

experience the amazing thrill of wings

when the falconer's eagles, hawks and

falcons display their hunting and flying

techniques at close range.

Davidsvænge 11

3480 Fredensborg

www.falkonergaarden.dk

TIP: PLAYGROUNDS

AND OTHER ACTIVITIES

FOR CHILDREN

• Havtyren Natural Playground,

Liseleje

• 'Pat-a-fish' platform in

Hundested Harbour

• The children's playground in

Frederiksværk

• The playground in Gilleleje

Harbour

• Eghjorten natural playground,

Fredensborg

• The Parforce Hunting Landscape

at the Castle Lake in Hillerød

• Playground Krudtskuddet,

Frederiksværk

• Esrum Abbey natural playground

• Ice skating on the Square in

Hillerød

• Gribskov swimming bath,

Helsinge

• Hillerød swimming bath

• Frederiksværk swimming bath

Monkey World

Monkey World is not a zoo, but a cosy

gar den surrounded by exciting animals.

They make a huge effort to make

a difference for rescued animals and

people who are having a diffcult time.

Try to carry a parrot on your shoulder

like a pirate, or cuddle a rabbit – and

see if you also feel inner calm.

Nejedevej 20

3400 Hillerød

www.monkeyworld.dk

FREERSLEV KOTEL

BESØGSGÅRD &

GÅRDBUTIK

Freerslev Kotel is a visitor farm and

farm shop. The farm shop sells high

quality free range produce where

animal welfare and sustainability are

important factors.

Roskildevej 207

3330 Gørløse
---
See more experiences

for children in North

Sealand.

CHILDREN

89

Fun for all

Wieth-Knudsen's

Observatory

Named after N.P. Wieth-Knudsen is

the Observatory in Tisvildeleje, where

the weather conditions for astronomical

observations are better than many

other places in Denmark. The kids can

romp and tumble in the surrounding

natural landscape and – on select days

– visit the Observatory.

Margot Nyholms Vej 19

3220 Tisvildeleje

www.wko.astronomisk.dk

Esrum Abbey

& Møllegård

A visit to Esrum Abbey & Møllegård

promises fun, games and education for

the entire family, with plenty of amusement

and activities for the children

in the nature playground and in one

of the abbey wings. There are special

child-friendly activities during the

school holidays.

Klostergade 12

3230 Græsted

www.esrum.dk

Gribskov swimming

bath

If it's rainy weather or the sea is very

wavy – do not despair! There are loads

of possibilities for indoor fund and

swimming in North Sealand. Pack your

swimming goggles and swimsuit, and

take the kids to Gribskov swimming

bath which has different pools, slides

and a sauna.

Boagervej 26

3200 Helsinge

www.gribskovsvøm.dk

Find the King's Animals

(Fredensborg

city)

With an interactive game on the mobile

phone, the kids can help the King

find all his animals in Fredensborg.

The game is rooted in history: In the

18th century, King Frederik IV built a

menagerie (a collection of animals) in

Fredensborg Palace Gardens which he

loved showing off to guests as entertainment.

However, rabbits, bears, wolves

and deer have escaped and are

hiding in town. Download the Woop

app, and 'Find the King's Animals' hiding

around the town. Recommended

for children aged 5-11 years.

Slotsgade

3480 Fredensborg

www.Fredensborg.dk

Kysthusene Minigolf

Kysthusene has got a new, amazing

miniature golf course set in peaceful

surroundings. Open all week for you

to stop by and play with your friends

or family. The price is only DKK 60 per

person/round. Who will make it around

the nine holes in as few strokes as possible?

www.visitnordsjaelland.dk

Art for children

Louisiana Museum The

Children's Wing

Let the kids use their imagination and

senses in the Children's Wing at Louisiana

Museum of Modern Art, where

they will have a unique opportunity to

display their creativity at this 500 m 2

free space over three floors. Enjoy a

cup of hot chocolate in Louisiana Café

with panoramic views of the Sound.

Gl. Strandvej 13

3050 Humlebæk

www.louisiana.dk

Nivaagaard

Art Collection

Nivaagaard Art Collection introduces

both very young children and older

children to the amazing world of art

where they can explore different exhibitions

with help from drawing sheets

and exercises for the paintings. The

children can also participate in workshops

and family tours on select days.

Gammel Strandvej 2

2990 Nivå

www.nivaagaard.dk

The museums of

North Sealand

Visit one of the many museums of

North Sealand with plenty of fun

and activities for children and adults.

Explore on your own, while the kids dig

into art and history. There is plenty of

room for curiosity, fantasy and thinking.

www.museumns.dk

Frederiksborg

Castle

Take the kids to Frederiksborg Castle,

and let them do some exercises on

a guided tour. Visit selected castle

rooms, explore portraits and paintings

telling interesting stories about

important events and personalities

that children understand. Participate

in special activities for children at the

castle.

Frederiksborg Slot 10

3400 Hillerød

www.dnm.dk

Hundested

Sand Sculpture Festival

Experience the unique cultural attraction

on the enterprising experience

platform in Hundested, where sand

sculptors, including several world

champions, create world-class monumental

and transitory sculptures from

golden grains of sand.

Kajgaden 7

3390 Hundested

www.sandfestival.dk
---
90

CHILDREN

COLOUR AND WIN

Win camel and donkey rides for 2 adults and 2

children (under 12 years old) at Dronningmølle.

Colour in the camel. Email a photo of the

completed drawing to info@visitnordsjaelland.com

with the subject heading "Drawing

Competition" by 31 December 2022.

You'll be entered into a prize draw to win a

family riding excursion.

The prize is sponsored by Dronningmølle Camel Rental. More information available at kameludlejning.com
---
CITY PASS

Enjoy unlimited travel on buses,

trains, and the metro

City Pass is your ticket to public transportation around

Greater Copenhagen and North Sealand. Your City Pass

is valid for up to five days and makes it easy for you to

visit all the popular sites in the area.

CITY PASS LARGE FROM 160 DKK

Unlimited transportation in Greater

Copenhagen, including Central Copenhagen.

Buy your City Pass in the 'DOT Tickets' app or from ticket machines at the stations.

Read more about the City Pass at citypass.dk and about public transportation at

publictransport.dk.