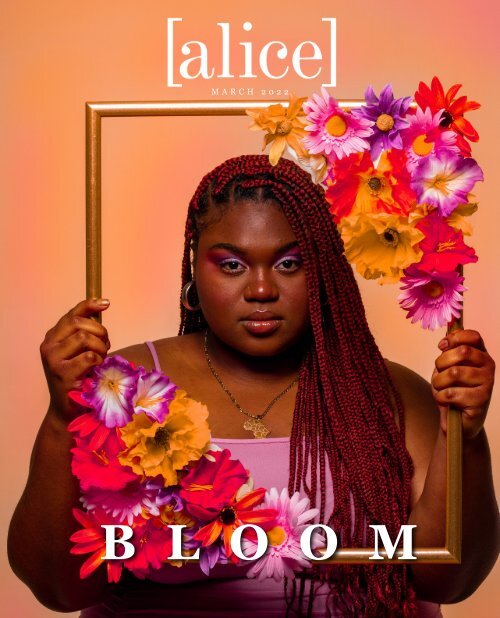 Alice Vol. 7 No. 4
Bloom is everything you need to spring into the season of growth. If you're ready for spring nails, take our interactive quiz to see what Alice-approved nail trend you should try. If you're wanting to impress at a dinner party, we created the Classy Girl Guide to Proper Etiquette. If you want to make the most of your last couple months of school, we asked top ranked professors for their advice. From covering fair labor efforts at The University of Alabama, the struggles of being allergic to certain kinds of makeup to the toxicity surrounding stan culture, we've got you covered.
Bloom is everything you need to spring into the season of growth. If you're ready for spring nails, take our interactive quiz to see what Alice-approved nail trend you should try. If you're wanting to impress at a dinner party, we created the Classy Girl Guide to Proper Etiquette. If you want to make the most of your last couple months of school, we asked top ranked professors for their advice. From covering fair labor efforts at The University of Alabama, the struggles of being allergic to certain kinds of makeup to the toxicity surrounding stan culture, we've got you covered.

SHOW MORE
SHOW LESS
You also want an ePaper? Increase the reach of your titles
YUMPU automatically turns print PDFs into web optimized ePapers that Google loves.
MARCH 2022

B L O O M
---
[2]
---
V O L U M E

S E V E N

I S S U E

F O U R

[3]

[3]
---
[ letter from the editor ]

Bloom.

March winds and April showers bring May flowers, but at Alice

we are ready to bloom now. With the release of our fourth

issue, intentionally released during Women's History Month, Volume 7

officially has the most issues of any volume previously released. Seven

years ago during our inception, 100 college women were asked, "Would

you be interested in developing a women's magazine?" Each and every

person said yes. There was a need for an outlet for women to talk about

the issues that they were facing and to illuminate the topics that mattered

most to them. Over the years, Alice has covered hot-button subject matter

and maybe a few ideas you never would have considered before. We have

the utmost gratitude to everyone who continues to support our work,

and that is why our team has kept college women and their interests at

the forefront of everything we do.

Since you last saw us, we have released four new YouTube videos

including lookbooks, reviews and tutorials. On TikTok, we posted four

new videos, surpassed 50 followers and reached over 300 accounts.

In addition, we published four stories to our website that featured a

woman-owned business, a coffee crawl and more. We also designed

merch that should be arriving at your doorstep within the coming weeks

if you ordered.

While data might not be the sexiest part of producing a magazine,

it is the most concrete avenue we have to chart the growth of Alice, and

the numbers don't lie when it comes to our impressive expansion this

year. From December 9 to March 8, we reached over 9,000 accounts on

Instagram which was a 30.1% increase from September 10 to December

8. When we looked at our stats since our third issue launch a month ago,

we reached almost 8,000 accounts from February 7 to March 8 which

was a 445% increase compared to January 8 to February 6, and our

followers increased by over 5%. The seeds of Alice have been dispersed

across our platforms, and our accounts continue to bloom.

Bloom is everything you need to spring into the season of growth.

If you're ready for spring nails, take our interactive quiz to see what

Alice-approved nail trend you should try. If you're wanting to impress

at a dinner party, we created the Classy Girl Guide to Proper Etiquette.

If you want to make the most of your last couple months of school, we

asked top ranked professors for their advice. From covering fair labor

efforts at The University of Alabama, the struggles of being allergic to

certain kinds of makeup to the toxicity surrounding stan culture, we've

got you covered.

We at Alice know that in order to flourish, you first have to bloom.

Peace and Love,

Lindsey Wilkinson

[4]
---
[editors]

EDITOR IN CHIEF

MANAGING EDITOR

CREATIVE DIRECTOR

DESIGN EDITOR

PHOTO EDITOR

ASST. DESIGN EDITOR

ASST. PHOTO EDITOR

MARKETING EDITOR

FASHION EDITOR

BEAUTY EDITOR

LIFESTYLE EDITOR

ENTERTAINMENT EDITOR

FOOD & HEALTH EDITOR

DIGITAL DIRECTOR

SOCIAL MEDIA EDITOR

ONLINE EDITOR

VIDEOGRAPHY EDITOR

CONTRIBUTING WRITERS

CONTRIBUTING DESIGN/

PHOTO

CONTRIBUTING VIDEO

MODELS

EDITORIAL ADVISOR

ADVERTISING

DIRECTOR

Lindsey Wilkinson

Jennafer Bowman

Rebecca Martin

Ella Smyth

Sarah Hartsell

Wesley Picard

Emma Kate Standard

Mary Groninger

Ta'Kyla Bates

Beth Wheeler

Cat Clinton

Jeffrey Kelly

Evy Gallagher

Kendall Frisbee

Katie Morris

Sophia Surrett

Emily Rabbideau

Caroline Branch, Emilee

Boster, Bella Carpino, Kierra

Thomas, Savannah Dorriety,

Lizzie Bowen, Emie Garrett,

Morinsola Kuyoki, Hannah

Golden, Madeleine Leidner,

Joe Hoffman

Sarah Smith, Katie Nebbia,

Kayla Roberson, Katie

Harmon, Jennifer Stroud,

Grayson Byrd

Alice Choup, Megan Davis,

Laura Fecanin, Sami

LaCount

Nadia Hollis, Hasten

Howard, Sa'Niah Dawson ,

Emily Enes, Avery Maxwell,

Carthen Smith, Des Davis

Monique Fields

Julie Salter

Jessie Jones

Editorial and Advertising offices for Alice Magazine are located at 414 Campus

Drive East, Tuscaloosa, AL 35487. The mailing address is P.O. Box 870170,

Tuscaloosa, AL 35487. Phone: (205) 348-7257. Alice is published by the Office

of Student Media at The University of Alabama. All content and design are

produced by students in consultation with professional staff advisers. All

material contained herein, except advertising or where indicated otherwise, is

copyrighted © 2022 by Alice magazine. Material herein may not be reprinted

without the expressed, written permission of Alice magazine.

[5]
---
[6]

[table of contents]

[lifestyle]

The "Standard" in Standardized

Testing

Bookbags and Name Tags

From the Professors' Point of View

10

12

14

[beauty]

Allergic to Makeup

Cancel Culture & Morphe

Which Nail Trends You Should Try

Spring 2022

Her Clothes had Nothing to do with

18

20

24

[fashion]

Take Me Back: Find Out What

Decade your Style Belongs In!

It

28

30
---
[features]

Photostory: Bloom

34

Fighting for Fair Labor

38

Toxicity in Stan Culture

40

[entertainment]

Which Euphoria Girl Are You? 44

"We need you out here:" A look at

parasocial relationships

"Eclectic and Under-discovered:"

Pulling Back the Cover on

Alabama's Music Scene

46

48

[food and health]

Routines: Morning vs. Night and

Their Benefits To Your Health

The Classy Girl Guide to Proper

Table Etiquette

Milk Snobs: Which Alternative Milk

is Best?

54

56

58

[7]
---
[lifestyle]

The "Standard" in Standardized

Testing

10

Bookbags and Name Tags

12

From the Professors' Point of View

14

[8]
---
[9]
---
T H E " S T A N D A R D " I N

Standardized

Testing

[10]

Test taking can be stressful for

anyone, but the struggle is most

common for students. We are told to

prepare for tests by studying, getting

a good night's rest the night before

and having a hearty breakfast the

morning of. These instructions sound

simple, but in truth, not every test is

the same. Some tests have a couple

long sections that make drinking or

eating beforehand a risky decision.

Other exams have multiple short

sections with a break to go to the

restroom, eat and sometimes breathe.

The diversity found in testing formats

alone suggests there is likely no

standard experience when it comes to

standardized tests.

All students are different, as are

the resources and professors made

available. A professor's method for

instructing the course and tests

play a large factor in the final grade.

Professors and course instructors

have the ability to construct and

format tests and their difficulty level

subjectively, meaning there is no

consistent way to factor in all the

elements that make up a person's

testing average, grades or overall

grade point average. Like life,

everyone's experience is different.

By Cat Clinton

Design Sarah Smith

Websites like Rate My Professor can

help students identify instructors who

are difficult or hard to communicate

with, but most students don't know

the free resources that are available,

or the benefits of these tools.

"I administer tests now online

through Blackboard Learn. As my

class sizes have continued to grow, I

find that giving online tests is easier

from an administrative and grading

standpoint. It is also better in terms

of giving students feedback if students

have any questions about the test

material," said Douglas Klutz, a

senior instructor at The University of

Alabama and a Forbes topped ranked

professor in the United States. "I

try to keep my tests manageable for

students given that set amount of

time. I also try to keep my tests as fair

as possible, where if you have put in

the time with the class material, you

will do well on the exams."

The importance of proper test

preparation is clear, unfortunately,

not all students have the same

availability or commitments. Some

students have jobs to pay for school

or extracurriculars, some hold

internships or play sports and some
---
students have families to provide

for. To expect the same level of focus

and dedication from all test takers

is unrealistic, but it also results in

the question, how can there be a

standardized test when there is no

standard student?

"It's important to set aside time

and have as few commitments as

possible. With tests like the ACT

that can be taken multiple times,

students should take advantage of

the opportunity and take the test a

few times to gain experience," said

William Illiano, a 1st year medical

student at The University of Alabama

at Birmingham. "Students should

try to take tests like MCAT only once

because schools receive a full score

report."

The attempt made by testing

companies and centers to level the

playing field for test takers is obvious

with the range of resources and

accommodations, such as private

testing rooms and extending time,

visibly growing. It will likely be a

never ending challenge to meet the

needs of everyone, however, as the

idea of who the "standard" student is

continues to diversify.

"Any accommodations that a testing

company approves are available. This

ranges from extended time, having a

private room, having a scribe/reader,

or assistive technology.

"Again, the testing company

approves the accommodations and

makes them available through the

computers or sends staff to provide

the accommodation," said Chris

Grindle, Director of Testing Services

at The University of Alabama. "It's

important to note that The University

of Alabama operates a test center

that contracts with national and

international testing companies such

as ETS, PROMETRIC and PEARSON.

Most all policies and procedures are

determined by the individual testing

company and the UA testing center is

contractually bound to follow those."

Testing can be an overwhelming

experience for both students and

professionals. Luckily, proper

preparation is a huge key in helping

ease a test taker's anxiety. Although

every student has their own personal

feelings towards test taking, Spending

time planning and studying can

ease uncertainty and anxiety.

Having awareness and insight on

the information being tested on can

result in a boost of confidence; leaving

students with a feeling of control over

the experience.

[11]
---
Bookbags

and

Name

Tags

By Caroline Branch

Design Katie Harmon

[12]
---
Let's admit it, everyone would

like to live a well-balanced life.

However, achieving that goal is not

always a piece of cake. There are a lot

of different factors that play into why

a perfectly balanced life is so hard to

achieve. Although it may be hard, it is

not impossible to maintain equilibrium.

The most imbalanced aspects of day-today

life come from the stress of work

and the stress of school. For many,

this is a daily struggle. It is not always

easy to find level ground but there are

a few things that can help set us up to

succeed.

Most college students have a part-time

job, some even maintain a full-time

job. Along with school responsibilities,

keeping up with a job in college can lead

to your priorities becoming skewed. A

typical, full-time college student takes

a minimum of twelve credit hours. The

twelve hours does not even account for

the time spent doing homework and

or studying. Every college student is

different; therefore, no schedule will

be the same. By adding a job into the

mix, time-management needs to be a

priority. Truthfully, it depends on who

you are and how well you allot time to

things.

"Being in school full-time and working

as a server takes a lot out of you," said

sophomore criminal justice major,

Mollee Bearden. "When it comes down

to it, you need to find a schedule that

works best for you, so you do not fall

behind."

In addition to focusing on time

management, reflecting on what works

best for us is crucial. Taking time to lean

into what balance means to ourselves

specifically gives us more insight on

how to tackle balancing the things in

our lives. Learning at what time we are

most productive and tending to our

own needs will help to create a more

efficient environment for dividing up

our time equally between work and

school.

Finding balance is a personal thing and

the key to keeping balance is to know

our strengths and weaknesses. Once we

recognize our strengths, we will have an

advantage making a concerted effort to

use them effectively. Work and school

are often associated with one another

because of the time and effort required

by each. When college students work

it is uncommon to hear us complain

about everything on our plate. When

students are faced with juggling

classes and finishing assignments and

simultaneously working a customer

service or retail job for extended hours,

the load can become stressful and

overwhelming. Even though both are

time-consuming aspects of our lives,

that does not mean finding the right

balance always has to be stressful.

Setting boundaries for ourselves can

save us from getting stuck in some

nerve-racking moments. Not only do

boundaries help us, but they also give

us space to breathe. Making it easier to

come to terms with and prioritize each

part of our life that you must deal with.

"Setting boundaries has been my

number one priority," said Auburn

University senior psychology major,

Sage Turner. "I have an on-campus job

and I still have to tell them when things

conflict with my school schedule. It is

hard to find the time to get everything

done sometimes."

For different environments, it is known

that people usually fulfill certain roles.

For instance, while a college student

who is still stuck inside the classroom, it

is expected of us to respect the professor

and not interrupt. That is the role of

a student. If a person is at work, they

may be expected to be extremely social

or less reserved compared to when we

are in a classroom environment. In this

case, it would be assumed that they

fulfilled the role of a worker. When

coming to terms with boundaries

that need to be set for both work and

school, life becomes more enjoyable.

This is because everyone knows their

limits and what exactly to expect. In

order to follow through with personal

boundaries, it can help to communicate

what feelings may be arising more than

others. Transparency is always helpful

when it comes to dealing with how to

balance life as a student and worker.

"I have an internship at a bank, I am a

bartender, and I am in my last semester

of college," said senior finance and

economics major at The University of

Alabama, Carter Billings. "The only

way I was able to have everything under

control was to be honest and tell my

work when school was becoming too

much."

Balancing work and school is like

the equivalent of finding the yin to

one's yang. These are two completely

different concepts, yet the balance

can work once students realize who is

in control. Balance is never as easy as

people make it out to be. Individuals

can come to terms with going to class at

11 a.m. and being dressed and ready for

work at noon. It is a student's decision

what becomes part of the schedule.

Paying attention to the ways everyone

works best and the routines and areas

people personally thrive in will pay off.

Once students gain an insight on what

permits time to be utilized wisely, work

and school will become pieces of life,

not the whole thing. It is easy to let

school and work obligations become

consuming, ultimately equating life's

purpose to the amount of effort put

into these aspects. By actively paying

attention and setting boundaries,

balancing school and a job may become

much easier.

[13]
---
From the

Professors'

P

oint Of View

By Emilee Boster

Design Kayla Roberson

Some of the highest-ranking professors

at The University of Alabama are not

simply teachers; they are also advisers

and career professionals. These top-rated

professors are overflowing with advice for

students that they have gained through

their own experiences, advising sessions

and observations of previous students.

Douglas Klutz is a criminology and

criminal justice professor and the highestranking

professor at The University of

Alabama with an overall score of 5/5 out

of 789 student reviews, according to Rate

My Professors. In 2017, Forbes named

him the top-rated college professor in the

United States.

Klutz believes that students are building

many fundamental life skills during

college. In his advising sessions as the

internship and advising director for

the criminal justice department, Klutz

encourages students to use higher

education as a preparatory stage for

the real world. This includes learning

to manage time well, prepare early and,

most importantly, network.

"My one critical piece of advice for

students, especially in today's job

market, is to seek out internships," Klutz

said. "Regardless of what field you are

going into, try to complete at least two

internships before you graduate from

your undergraduate degree. I always

tell students that the research shows

that over 80 percent of all jobs now are

gained through networking, and the best

way to network as a student is getting an

internship."

Van Newell, English professor at The

University of Alabama, also emphasizes

the importance of networking to his

students. Newell has a 4.8/5 rating

on Rate My Professors. He said that

internships teach students best practices,

which are optimal methods to achieve

desired results. Internships also put

students' names into the minds of

employers. Employers would rather

hire someone who they know is capable

of working hard than someone they do

not know at all. An internship can get a

student's foot in the door and, depending

on how well the student completes the

internship, perhaps lead to a future job.

[14]
---
Students can seek out internships

through the UA Career Center and online

postings by LinkedIn, Indeed and USA

Jobs. The Career Center often hosts career

fairs where companies come to UA to

meet with students and discuss their likes

and dislikes, qualifications and future

career opportunities. The Career Center

also hosts online and in-person career

fair crash course sessions where students

can learn how to take full advantage

of the opportunities available at career

fairs. The Career Center's website has

courses and information on networking,

internships, and creating ideal online

profiles to websites like LinkedIn.

Students also have an opportunity

to network without ever leaving The

University of Alabama campus: meet

with professors. Newell compared it to

the difference in texting and calling; some

messages are much better on a phone

call. Similarly, in order to connect with

professors, Newell advises students to

meet with their professors either during

their office hours or stay after class

time. This networking can help students

later with not only in-class help but also

personal letters of recommendation and

references.

All of this networking, though, is virtually

pointless if people do not know the

student's interests and future plans. Klutz

explained that this is why he encourages

students to talk to their family members

and friends about their passions. He said

oftentimes internships come through

these previously-built relationships, so

students should network with not only

employers and professors but also family

members, friends and other students.

Brian Oliu is an English professor

and assistant director of the First-Year

Writing Program at The University of

Alabama. He has published six books,

including his most recent "Body Drop."

He currently has a 4.8/5 rating, according

to Rate My Professors.

Oliu encourages students to find their

community at The University of Alabama.

As a writer himself, Oliu expects

accountability and motivation from his

own community, not a physical group

but a web of people whom he trusts. He

has built a group of people around him

whom he can bounce ideas off of and

who ask questions about his work, which

indirectly encourages him in that work.

Oliu is an example of why students

should network well with their professors.

Oliu teaches a variety of English and

writing courses. Students in his courses

who do not speak one-on-one with him

are missing out on first-hand knowledge

about publishing books, submitting

to publications, writing styles and

motivation for writing. Many professors

are similar to Oliu in that they teach

courses in which they have real-world

experience. They can often teach students

more than what is written in a textbook.

When attending meetings for clubs and

organizations, to share work or to simply

network with others, or even in everyday

conversation, Oliu said students ought

to refer to themselves highly. If students

are writing books or articles, then they

should introduce themselves as "writers."

This automatically tells others what the

student is interested in or what they are

currently working toward.

"Let people know what you are

interested in," Oliu said. "People are not

going to know to invite you to the thing

if they don't know you are interested in

the thing. That's huge, which is why we

have Get On Board day and why we get

involved in clubs."

Newell also understands the importance

of sharing work,whether it be writing or

any type of creative work,with others.

Newell, a writer himself, uses the UA

Writing Center to get a second pair of eyes

on his work. The University of Alabama,

where there are people from all different

backgrounds, is an ideal place to receive a

wide variety of perspectives and opinions,

which Newell believes is important.

Elizabeth Naranjo Hayes is a foreign

language professor at The University of

Alabama and is currently pursuing her

PhD in romance languages. She has a 5/5

rating on Rate My Professors.

Hayes teaches foreign languages

differently than most foreign language

teachers. She emphasizes communication

over perfection; she wants students to

leave her class knowing how to speak to

someone in a different language. She also

incorporates pop culture into her lessons

to show students that these languages are

not bound to a textbook but are spoken by

people and cultures all across the world.

Because she loves teaching, she wants her

students to love their careers.

"You should love what you do," Hayes

said. "You should be fulfilled and so

happy. It's just a matter of figuring out

what you love,what makes you tick, what

gives you the warm and fuzzies, and

what gives you a sense of confidence and

pursuing it."

When speaking with students who are

unsure of their career path, she asks them

one important question: what would they

pay money to have someone let them do?

Then, Hayes works with the students

to uncover what they enjoy. This comes

through taking a variety of classes, taking

personality tests and learning about

different, sometimes uncommon, career

options.

"You don't have to know what you want

to do right off the bat, and that's the

beauty of the first two years of college.

Take different things because you don't

know what courses are going to appeal

to you," Hayes said. "It's about getting to

know yourself, what were you created to

do, what are the talents and interests you

were born with."

Sometimes, this means students may

not be doing the same job for their entire

lives. Hayes always knew she loved

teaching, but she also always wanted to

join the military. She received her masters

degree, taught college courses, joined the

Army, became an Army officer, and then

returned to teaching full time. Her story

is like many other professors' and why

many professors have career advice for

students.

[15]
---
[beauty]

Allergic to Makeup

18

Cancel Culture & Morphe

20

Which Nail Trends You Should Try

Spring 2022

24

[16]
---
[17]
---
ALLERGIC

TO

MAKEUP

Walking into an Ulta Beauty store

and picking out a new mascara

is a privilege to most: there seems to be

an unlimited amount of options, there

are multiple packaging designs and the

ingredients do not have to be readable. But

what about those who will break out in hives

if they do not read the back of the box?

Emma Coons, a junior news media major at

The University of Alabama, experienced an

allergic reaction to the cult-favorite product,

Tatcha Silk Canvas.

"All the beauty gurus used to love it," said

Coons. "They said it was great for people

with dry skin and made your makeup look

awesome."

Tatcha is a luxury Japanese skincare brand

that is used by celebrities and Youtubers

alike. Their products include moisturizers,

cleansers and primers. Silk Canvas is

described as a "velvety priming balm of

pressed silk that shields skin and goes on

smooth to help makeup apply better and

last longer." The product retails for $52 and

is sold by popular makeup retailers such as

Sephora and Macy's.

The product's ingredient list includes

PARFUM/FRAGRANCE, an ingredient

the U.S. Food and Drug Administration

(FDA) is listed as a common allergy found in

cosmetic products. PARFUM/FRAGRANCE

can cause reactions from irritation to hives.

Coons said she experienced high irritation

By Jennafer Bowman

Photo Jennifer Stroud

on the areas she applied the product.

"I had applied it that morning but I kept

going to the bathroom and running cold

water over my face along with moisturizer

but nothing helped, I just had to wait it out,"

said Coons.

Hyram Yarbo, better known as Skincare

by Hyram, is a skincare enthusiast and was

all the rage on Tik Tok over the pandemic.

He has made multiple videos talking about

perfume in skin care products and how bad

it is for the skin. Many popular skincare

products came under fire when users realized

there was perfume in their products.

Other ingredients people seem to have

a reaction to Formaldehyde. According

to Northwestern Medicine, the chemical

Formaldehyde is often used to a preservative

in medical labs, funeral homes and lurking in

everyday makeup products.

But it's not just skincare that people can be

allergic to. Rayn Britt, a junior at Bloomsburg

University, experienced an allergic reaction

to a makeup product that was supposed to be

catered to people with sensitivity to makeup

products. Britt was wearing Neutrogena

mascara and experienced eye irritation and

crying from the product.

"I usually only wear makeup when I go out

and it was so embarrassing to be out with my

friends and it looked like I was crying my

eyes out," said Britt.

Neutrogena is a dermatologist-

[18]
---
ecommended skincare and cosmetic brand.

The brand prides itself on the statement of

"Beauty begins with healthy skin, so we're

bringing you skin science and how-to guides to

help you achieve your best skin ever."

Britt said that she had no long-lasting effects

but has barely worn makeup since. While she

was able to recover from her allergic reaction,

her mindset towards makeup has changed.

Her experience is not uncommon, the Journal

of the American Academy of Dermatology

conducted a patch test to over 900 participants,

they found over ⅓ of those participants

experienced an allergic reaction to the makeup

tested on them.

While it's unclear what Britt is actually allergic

to, her shopping experience is quite different

than those who are not allergic to makeup

ingredients. Having this allergy can limit the

ability to participate in getting their makeup

done by professionals or go to salons due to the

risk of a reaction.

The University of Alabama alum, Donnamy

Steele, has been a freelance bridal and makeup

artist for the past six years. While she's never

had a client have an allergy to makeup, she's

had clients have skin conditions that cause

her to avoid use of certain products to prevent

flareups.

"With each client, I like to take a look at their

skin and ask a few questions before I apply

anything to their faces," said Steele. "Some of

the questions I like to ask clients are if they

have any allergies to things like coconut,

or perfumes, there are many products that

include traces of these or have scents that could

counteract to a client's skin. I am always sure to

have clean options in my kit for my clients with

allergies or sensitive skin."

By taking precautions she's able to keep

customers safe from any unwanted reactions.

While reactions can make makeup users

feel embarrassed and not willing to try new

products, there is hope.

Clean beauty products are created without

harsh chemicals such as parabens and are

created sustainably. Makeup retailers such

as Sephora have dedicated sections on their

website and in-store dedicated to clean beauty.

While it's hard and can be frustrating those

who have allergic reactions to beauty products

shouldn't feel discouraged. Many beauty

influencers have predicted that 2022 will be the

year of clean beauty, so don't fret, soon every

brand will have a clean beauty line.

[19]
---
Cancel Culture

& Morphe

By Hannah Golden

Design Kayla Roberson

CANCELLED

[20]
---
Morphe is one of the most

popular brands in the

beauty industry because

of the quality and affordability of their

products and has partnered countless

times with social media influencers as

a way to make a profit for themselves

and give the influencers more internet

exposure. A few of them collaborated

with Morphe and became so popular

that they were able to start their own

brand, most notably Jaclyn Hill, a

former YouTube makeup star and now

the owner of Jaclyn Cosmetics. Her

2 eyeshadow palette collaborations

with Morphe were such a hit that she

gained enough traction and support to

start her own brand which is now very

successful. However, Morphe has also

partnered with some rather morally

questionable influencers in the past

and has faced backlash due to it even

if they were unaware of the influencer's

choices. These problematic creators

have since faced so much criticism that

they have been officially "canceled" in

the eyes of the internet, making them

lose most of their popularity as people

have begun to realize that the person

behind the camera is a lot different than

they are letting on. Merriam Webster

defines cancel culture as "the practice or

tendency of engaging in mass canceling

as a way of expressing disapproval and

exerting social pressure." Because of

Morphe's ties with these problematic

influencers, Morphe has become

subjected to cancellation themselves

which has caused a huge decrease in

their popularity and sales because

people no longer want to associate their

makeup with a brand that supports

bigotry and hate. Morphe states on

their website that their mission is to

provide "killer makeup without killing

their wallet" and it was a beauty brand

"created for the creators," implying that

their makeup is meant to be used and

worn by everyone. But that mission

statement is hard to believe when they

are consistently collaborating with

people who seem only to care about

the money they can make off of being

problematic.

Morphe x James Charles:

One of Morphe's most popular

and most controversial collaborations

has to be the Morphe x James

Charles collection. It was launched

in November of 2018, right as James

Charles was gaining popularity on his

YouTube channel for his iconic makeup

looks and catchy slogan of "Hi Sisters."

The collection consisted of a mega

palette, a mini palette, and a brush set.

The original price of the mega palette

was $39 and the brush set was $59. I'll

also note that the mini palette and the

mega palette had the same exact color

story and layout, the mini one was just

smaller pans and a smaller compact to

make it more travel friendly. The palette

consisted of a row of large pan neutrals

for everyday use with a rainbow color

scheme underneath and a sunset

scheme above. Due to the versatility,

pigmentation quality, and the name

behind it, the collection skyrocketed

and was soon a staple in every makeup

enthusiast's collection.

After James Charles became one

of the most notable influencers in the

beauty world, his popularity began to

plummet after some of his behaviors

behind closed doors was revealed to

the public. Charles' popularity began in

2016, but starting in 2017 the makeup

star started to face the consequences

of his actions. The Vulture, an online

magazine, outlines a timeline of events

in Charles' career, starting with the

racist tweets about the Ebola virus

and Africa in 2017. The most notable

scandals in Charle's career began

in May of 2019 after he endorsed a

competitor brand of long time friend

Tati Westbrook without her knowing.

The two had a major internet fall out

and basically split their fanbase in half,

causing people to take sides. They have

since made amends, but Charles was

still in hot water because of his alleged

manipulative behavior towards one

of his former partners, Gage Gomez

in May of 2019. Charles was also

accused of grooming and pressuring

a total of four underage boys into non

consensual acts in February of 2021.

After brand partners got wind of the

incident, especially Morphe, many of

them continued to work with Charles

even though he was being accused of

some pretty serious crimes. Morphe

and Charles later announced that

they decided to mutually end their

partnership and gradually stop selling

the collection thus leading to a massive

price decrease and lowering of product

production. An Ulta Beauty associate,

Teddy Pizitz, states that his opinion

of Morphe is "unflinching" as they do

appear to be "one of the few" brands

that take action when a collaboration

goes wrong. He also states that the

collaboration took place before Charles'

scandals made the news, making

Morphe seem like a victim as well as

they were as unaware as everyone else.

[21]
---
Morphe x Nikita Dragun:

Nikita Dragun, a YouTube

makeup star, began her career in

2013 and has had a growing platform

in the beauty community ever since.

As a transgender woman, she built

her fame on being true to herself

and inspiring others to do the

same and with Hispanic and Asian

heritage, Dragun broke away from

conventionality and became an icon

for many people of color. She gained

so much traction that she was able

to start her own line of cosmetics,

Dragun Beauty. Insider.com outlines

Dragun's start to controversy in 2017

when she was accused of blackfishing

for Jeffree Star's ad campaign, which

is another issue in and of itself dealing

with Star as he allowed the campaign

to air. Additionally, Dragun faced

more criticism after the James

Charles and Tati Westbrook scandal

for supporting Charles even after he

lost millions of followers due to the

incident and the general consensus

was that Charles was in the wrong.

Dragun has also faced accusations of

cultural appropriation when she put

box braids in her hair, but claimed

she did it because she was inspired

by black women and their culture

rather than trying to make fun of or

appropriate the black community

stating "it's really not that deep" in

one of her Twitter posts.

Dragun's collaboration with

Morphe launched in November of

2020, consisting of a palette and a

brush set. Dragun Beauty products,

such as the liquid lipsticks, can

also be found on Morphe's website

and are available for purchase.

The collaboration faced backlash

as Morphe fans realized that

there was yet another collection

with a problematic influencer's

name on it and it began to seem

as though Morphe either did not

care or was completely oblivious

to the internet's growing dislike of

Dragun. A University of Alabama

student, Lily Waldorff, says that

she thinks Morphe should do more

background screening of who they

do their collaborations with, but that

"all they can control is their product"

so she has no real issues with Morphe

as a brand. After the James Charles

fiasco, one would think that Morphe

would take Lily's advice and the advice

of their fanbase and be more careful

about who they associate themselves

with, but there have been other brands

who collaborated with problematic

influencers and still remain popular,

so who's to say that Morphe should go

down with the ship?

Morphe x Jeffree Star:

Morphe collaborated with Jeffree

Star and had two separate launches

for each part of the collection, both

happening in 2019. The full collection

included an eyeshadow palette, liquid

lipsticks, brushes, a makeup bag, and a

few other pieces. The collaboration was

between Jeffree Star's beauty brand,

Jeffree Star Cosmetics, and Morphe. The

two brands released the collection after

Star's brand had already launched, but

soon led to Star's cosmetics becoming

more popular as fans fell in love with the

palette and packaging.

Star began facing backlash for some

events that transpired in the past that

have recently resurfaced. One such

event is recalled by Celeb Magazine

which consists of Star calling another

makeup icon, Jackie Aina, a woman of

color, a rat, and recently announcing

the release of his "Velvet Trap Lipstick"

which the promotional picture depicts a

woman of color in a rat trap. Star was

bashed for making the promotional

picture and posting it when he has a

history of ridiculing women of color

and making racist remarks that include

comparing women of color to rats. The

Washington Post states that Star has

also been accused of other racist acts,

such as saying that he should "throw

battery acid on a black girl's face to

lighten her skin," and that he repeatedly

uses the "C-slur" to refer to women with

which he has had issues. Emily Moeller,

an Ulta Beauty associate, says that she

used to watch all of Star's videos for the

entertainment and his honest product

reviews, but after all of these scandals

broke, that she "stopped watching

and unfollowed." The same goes

for Lily, the previously mentioned

student, who said she also watched

Star's YouTube videos but stopped

after the news broke. She also stated

that it seemed like "everyone knows

he's a crappy person, we just don't

care anymore," which is completely

fair in the grand scheme of things.

As for Morphe's collection with

Star, it is no longer available for

purchase on their website. In fact,

when Jeffree Star is typed in the

search bar, the first result is the

Jaclyn Hill Volume II palette. So

it seems that Morphe cut ties with

Star and Charles after their scandals

broke and only Dragun remains

available for purchase at full price

on the Morphe website.

Overall, it seems that people

don't want to cancel Morphe, they

just want to see better business

practice and more thorough checks

of who exactly they are making

products with so that people don't

feel guilty when they purchase from

them. Being a widely influential

brand, Morphe is often in the

spotlight when they release new

products simply because people

look forward to new makeup from

them and are eager to expand their

collection. Morphe's reputation has

taken a bit of a hit in the last few

years, but with strong releases and

collaborations, they can easily climb

back to the top of the cosmetic

industry.

[22]
---
[23]
---
Which Nail Trends You Should

Try Spring 2022

By Beth Wheeler

Design Ella Smyth

Springtime is a time for renewing everything in life from spring cleaning, to new highlights to warmer weather. With that, new

nails for the new season should never fall short (unless they do). 2021 started a few nail trends that have carried over well into 2022

from the emergence of convenient press-on nails to artistically crafted and groovy patterns straight from the salon. Each year, new nail

trends emerge, so take the quiz to see what Alice-approved nail trend you should try.

1 2

It's girl's night out, you opt for which go-to

outfit?

A. Simple all-black, maybe a jean

pant to spice it up.

B. A cute, patterned shirt paired

with any solid color pant (as long as the

color isn't neutral).

C. A good pair of jeans balanced

with a stand-out top, perhaps hot pink.

D. Something classy but still

trendy–the classic L.B.D and an oversized

leather jacket.

You get to choose what the G.N.O is, which

are you going for?

A. A night in: cozy up with your favorite

gals and watch a rom-com, maybe paired with

popcorn and a nice Pinot (if you're 21+).

B. A night of fun: the bowling alley,

trampoline park or the newest buzzing dance

club.

C. A night out at the vibey new

restaurant downtown, perhaps one with a

dance floor.

D. A night at the fancy Italian restaurant

down the street, treating yourself and your

3

You need a midnight-snack

4

after, what are you reaching for? Your Sunday morning routine:

A. Classic popcorn and a soda.

B. A trip to the local fast food

place because the fries are too good

to beat.

C. Your favorite ice cream.

D. You need to feed your

aesthetic gut at midnight as well so

you reach for the charcuterie.

A. Wake up early, make coffee and hit

pilates class.

B. Sleep in and have leftovers for

breakfast, maybe the local Waffle House.

C. Wake up early but check all your

socials first before heading to Starbucks.

D. Four words: Brunch. With. The. Girls.

5

What music are you listening to during the

drive to get coffee or brunch?

A. Easy Sunday morning music: The

Beatles, Billie Holiday or Lionel Richie.

B. The best 2000s hits.

C. The current top hits (we're talking

Olivia Rodrigo).

D. Sad Adele songs, just to feel something.

[24]
---
If you answered mostly A,

A classic nude is always fresh and clean, which

seems to be your vibe rolling into the spring and

summer months. A neutral, clean mani/pedi gives the

feeling of being put together, but not too over-the-top.

A gel manicure, if chosen, is also a great way to have a

durable manicure that looks fresh and lasts a long time

without the commitment to acrylics. Some favorite

neutral gel combinations are Funny Bunny by OPI and

the classic Bubble Bath by OPI. Adding a fun shape like

a coffin shape or almond shape can take these colors to

the next level.

If you answered mostly B,

The popular 70's inspired patterns are a trend

that have stolen your heart. Seeming to take inspiration

from artists like Matisse, these colorful, organic forms

amp up anyone's nails in a fun way. Bright colors,

flower designs and wavy lines are perfect for the warm

weather. Nail artists can even get creative with it–

there's no wrong curve to draw.

If you answered mostly C,

To be on the more tame side, but still a little fun,

do a different color on each nail. For example, all red

nails but each one is a gradual lighter red. Or, to go

all-out, each nail being painted a different pastel color

looks amazing in the spring, especially for Easter. Of

course, this nail look is very versatile and can be used

during any season by using cooler or darker shades in

the cooler months and warmer, lighter shades in the

warmer months.

If you answered mostly D,

You should try these cool french tips that have

become all the rage. A fun take on the classic french

manicure, people have begun making their nail tips

different colors like green or red. Another variation on

the french manicure is to simply change the shape of

the nail tip from a simple square to an almond french

tip, coffin french tip, the list goes on. Whatever shape

or color is chosen is guaranteed to be a fun, new twist.

[25]
---
[fashion]

Were their Clothes the Reason?

28

Take Me Back: Find Out What

Decade your Style Belongs In!

30

[26]
---
[27]
---
*Trigger Warning*

Were their

Clothes the

Reason?

By Savannah Dorriety

Design Katie Nebbia

[28]
---
"

Well, what were you wearing?"

This question carries a lot of weight.

It is a question rooted in trauma and

shame. Especially, for the sexual assault

survivors who must face it anytime, they

tell their story. 'What were you wearing?'

or in other words, 'what did you do to

cause it?' When asked this question

victims are told the horrible things done

to them are somehow their fault while the

assailant is excused.

Being told you caused and could have

prevented an experience as traumatic and

painful as sexual assault can have longlasting

effects on a person's psyche. The

Rape, Abuse & Incest National Network

(RAINN) reports that 33% of women

who are raped contemplate suicide while

13% of these women attempt it. Taking

into account the millions of women who

have been victims of sexual assault, this

number is astronomical.

Victim-blaming, as the above question

does, can contribute to this issue.

Anna Russell serves as an Education

Coordinator for the Women and Gender

Resource Center (WGRC) on The

University of Alabama's campus.

"Victims automatically blame

themselves, so when outside sources do

the same it reinforces this feeling of guilt

and forces them to relive that trauma over

and over again," said Russell.

Russell went on to discuss how revealing

clothing is often taken as an invitation

for sexual advances, how going out in

revealing clothing is seen as "looking for

sexual activity," and how the people who

subscribe to these beliefs feel victims

don't have the right to be upset when that

invitation is acted on.

According to a study in the Minnesota

Journal of Law & Inequality, however,

"clothing is not probative or relevant

evidence of the intent or attitude of the

wearer." In simple terms, clothes do not

equal consent. No matter how sexual an

outfit is perceived to be by others, it may

not be seen the same way by the person

wearing it and should not open them up

to unwanted sexual advances or assault.

Russell explained that consent, as defined

by the WGRC, is a complex topic.

"It is freely given, it is reversible, it is

specific," said Russell.

Consent is not a short skirt or a low cut

top. Regardless of how much or how little

skin is shown, women's bodies are their

own and nothing but explicit verbal consent

should progress to sex.

A law decision is not the only evidence

that proves the falsehood of the argument.

An art exhibit titled "What Were You

Wearing?" at the University of Arkansas,

displays the outfits survivors wore when

they were assaulted, along with a short note

from the victim. The exhibit showcases a

wide range of fashion, from provocative

lingerie to a simple t-shirt and jeans. The

variety doesn't stop at style either. The

exhibit is littered with garments young and

old, masculine and feminine, big and small.

The assertion made is a powerful one: what

you were wearing isn't important.

The exhibit was put together by Mary

Wyandt-Hiebert and Jen Brockman,

directors of the sexual assault prevention

and resource programs as the University

of Arkansas and the University of Kansas

respectively. The goal of the exhibit was to

debunk the myths surrounding rape and

sexual assault as an event for Sexual Assault

Awareness Month.

"Never did we dream that this would

become a global awareness phenomenon

used to facilitate conversation and change

the way many view sexual violence," said

Wyandt-Hiebert.

The exhibit has been on every continent

except Antarctica. It has been translated

into different languages and held on college

campuses, military bases, community

centers, and government sponsored venues

globally.

"We hear from many around the world

of their gratitude for an exhibit that has

helped them to find their voice," said

Wyandt-Hiebert.

The "What Were You Wearing?" exhibit is

not only about awareness, it is also about

empowerment.

Fashion is a form of expression. It should

make women feel confident, strong and

empowered; not shameful and helpless.

Many brands today work to incorporate

women's empowerment into their

business. Universal Standard provides

clothing options for sizes 00 to 40 with

no disparities, Sseko helps send Ugandan

women to college, Elegantees assists in the

fight against sex trafficking, Naja makes

lingerie designed for the women wearing

it rather than the objectifying male gaze,

and many, many more. Empowerment and

social impact is the new fashion.

"The mission of my brand has always

been to empower women to live a life of

style, whatever that means," said Rachel

Zoe, fashion designer and founder of

CURATEUR. "Its meaning can be as diverse

as it's wearers."

Anna Swatski of Fashinnovation, a global

platform seeking to foster innovation and

change in the fashion industry claims,

"Every woman's version of empowerment

is different. Some women prefer to wear

modest clothing, while other women prefer

to wear more revealing clothing."

Whatever style of fashion is chosen the

woman wearing it should feel powerful,

confident and assured.

Blaming sexual assault on a woman's

fashion destroys that confidence, and

not just in survivors. It leaves women

everywhere unable to express themselves

for fear it may be taken as an invitation for

something more. TIME magazine claims

dress codes that restrict the fashion options

of young girls to avoid distracting boys

or making male teachers uncomfortable

perpetuate this idea. Such dress codes

punish girls for the thoughts and actions of

men and boys, teaching them their clothes

and by extension they, themselves, are

responsible; that harassment is inevitable.

Once again, harmful and false ideas about

sexual violence are disseminated to those

most vulnerable to it. We must put an

end to the cycle, by refusing to follow this

culture of victim-blaming and excuses.

So, the next time you hear someone ask,

"What were you wearing?" know her clothes

had nothing to do with it.

[29]
---
TAKE ME BACK:

Find Out What Decade

Your Style Belongs In!

By Ta'Kyla Bates

Design Sarah Smith

In 2022 we're all starting to realize that fashion trends aren't new

anymore. They are just revitalized from different time periods. The

90s brought us low rise jeans and Britney still wears them today. The

2000s gave us velour tracksuits, and if you have one now consider

yourself a baddie. The 2010s and 2020s didn't really give us anything

new, but we learned as a fashion culture that if we pull staple looks

from different decades, we'll make heads turn.

1. You're late for your 8 a.m. What are you throwing on?

A. I'm finding a cute outfit, I'll be fashionably late.

B. Simple matching two-piece jogging suit.

C. Leggings and a sweatshirt.

D. Biker shorts and an oversized tee.

6. Which of these brands do you own?

A. Tommy Hilfiger

B. Juicy Couture

C. Off-White

D. Jordan

2. Which jeans would you wear on a night out?

A. Jeans?! I'm wearing a miniskirt.

B. Low rise jeans

C. Skinny jeans

D. Baggy jeans

3. Who's your fashion icon?

A. Aaliyah

B. Paris Hilton

C. Rihanna

D. Zendaya

4. Which TV show has the best looks?

A. The Fresh Prince of Bel-Air

B. Gossip Girl

C. Riverdale

D. Euphoria

5. What makes an outfit turn heads?

A. Lots of patterns

B. Staple accessories

C. An extravagant make-up look

D. A principal shoe

7. Pick a staple shoe:

A. Combat boots

B. Anything with a platform

C. Dad sneakers

D. Anything Yeezy or Nike

8. You just got an interview for your dream job, what are

you wearing?

A. A nice matching skirt and blazer

B. A nice sophisticated dress

C. A cute blazer, a patterned skinny dress pant

D. The interview is over zoom, so I'm not wearing pants I can

tell you that.

9. Favorite Fashion Model?

A. Naomi Campbell

B. Miranda Kerr

C. Kendall Jenner

D. Bella Hadid

10. Pick a runway song:

A. "Supermodel (You Better Work)" by Rupaul

B. "Poker Face" by Lady Gaga

C. "Who Run the World (Girls)" by Beyonce

D. "Have Mercy" by Chloe

[30]
---
Mostly A- the 90s

You got the 90s! The year of plaid two-piece sets

and mini skirts. You're not afraid of patterns

and Doc Martens are your best friend. You don't

mind switching up your style, one day you'll be

90s grunge and the next day you'll rock a cute

patterned button-up with a cute pair of denim

jeans.

Mostly B - the 00s

You got 2000s! The year of low-rise jeans, trucker

hats and velour tracksuits. You've engulfed

yourself into y2k. You might not be on the full

y2k aesthetic, but you definitely add y2k elements

into your everyday look. Whether it's a simple

name necklace or a pair of small sunglasses you

definitely belong with Britney Spears and Cristina

Milian.

Mostly C - the 10s

The 2010s were the last decade where everything

was somewhat normal. The decade of

skinny jeans and mom jeans. You still can rock

a pair of skinny jeans, but there's a rip here or

there. A chunky sneaker is your best friend and

you probably own at least five crewnecks and

sweatshirts.

Mostly D - the 20s

If your fashion is the 2020s you're basically an

embodiment of all the other decades or you just

wear biker shorts, sweats or some kind of oversized

top wherever you go. But when you do get

the chance to dress up, you go all out, because

there's no time to waste on a good outfit.

[31]
---
[features]

Photostory: Bloom

34

Fighting for Fair Labor

38

Toxicity in Stan Culture

40

[32]
---
[33]
---
Photo Emma Kate Standard

[34]
---
[35]
---
[36]
---
[37]
---
Fighting for Fair Labor

Fighting for Fair Labor

By Joseph Hoffman

Photo Grayson Byrd

A

ccording to Massachusetts Institute of

Technology's living wage calculator, the hourly

wage a single worker must make at a full-time job to

support themselves in the state of Alabama is $13.77 per

hour.

The minimum wage paid

to staff at the University

of Alabama for the 2021-

2022 academic year is

$8.67. Rates for employees

of Aramark, the external

contractor that runs

BamaDining, can fall even

lower.

At many other state

colleges, employees working

in conditions they deem as

unfair or unsafe would have

the power to form a union

and collectively bargain

with the state for better

compensation. At Rutgers

University in New Jersey,

over 20,000 of the school's

workers, from professors

down to tradespeople, are

members of various workers

unions. These union

contracts can provide better

job security and protection

for those employed under

them, especially in times of

crisis such as the ongoing

pandemic.

However, employees of

the University of Alabama

do not have that same

right. No public employer in the state is allowed to

enter into a collective bargaining contract with a

union. This drastically decreases the power of campus

workers to advocate for themselves without the threat

of termination.

"The way that people on faculty, staff and support staff

are treated here at UA is, by and large, without a lot of

respect," said Declan Smith, President of Students for

Fair Labor and a member of United Campus Workers,

the University's only on-campus union. "The larger

problem is the inability for so many of the workers

here to be heard on an institutional level."

The University of

Alabama system currently

has a labor problem on

many fronts. It is one that

goes beyond wages and

compensation, reflecting

instead the lack of rights

university employees have

to improve their standing

in the workplace.

Some UA employees

are even legally barred

from discussing aspects of

their employment outside

the workplace. This past

October, emails were

made public revealing the

details of a non-disclosure

agreement staff members

had been made to sign,

placing further pressure

on workers to stay quiet

about the details of their

jobs.

The issue lies not only in

the treatment of its direct

employees, but those

of the companies they

maintain crucial external

relationships with as

well. Aramark is currently

undergoing litigation

accusing the company of using prisoners as unpaid

labor and reports of serving spoiled food. Nike, the

sponsor of UA's equipment and sports apparel, has a

history of manufacturing their clothing in sweatshoplike

conditions overseas to save on labor costs.

In a university system that collects over a billion

dollars in revenue annually and employs 45,000

[38]
---
people, pushing back against the status quo can seem

like a nearly insurmountable feat. There are, however,

multiple groups at UA that have taken up the fight,

attempting to organize campus workers and push for

stronger protections.

Students for Fair Labor (SFL) is one such group.

Their aim is to serve as the student wing of the

labor movement in Tuscaloosa, providing necessary

manpower and support for both campus workers and

other labor drives in the surrounding area.

"Very often we'll have people come to our group,

either cafeteria workers or the bus drivers who we've

worked with in the past, and if they're running a

campaign, they reach out," said Smith. "We try to do

whatever we can to support them."

Recently, SFL has worked with Amazon employees

in Bessemer, Alabama, through multiple phases

of organizing, voting, and now re-voting to form a

union. Their focus remains primarily on UA's campus,

attempting to overcome the institutional barriers to a

unified labor movement.

The only true union currently operating on campus

is United Campus Workers (UCW). Founded in 2019,

the organization has grown rapidly over the past

several years as more and more employees have seen

the importance of unionization, especially in response

to the COVID-19 pandemic. UCW is mostly made up of

faculty and graduate students at the moment, but they

have made an active effort to reach out to employees of

the university on all levels.

The concept of solidarity is a core principle often

preached by unions and labor organizers. Simply put,

it is the unity of principles and goals for working people

everywhere, supporting strikes, union drives, and

other direct action when necessary in order to further

the causes of labor. The more complex questions lie in

what that action looks like for the average student at

The University of Alabama.

One model for a more ethical future may be found

in The Mallet Assembly. A longstanding group at the

university, Mallet is an independent, self-governing,

living-learning community that places an emphasis on

political action for mainly progressive causes.

"We describe ourselves as a countercultural group

on campus," said Isabella Cornelius, a freshman news

media major and a member of the Mallet Assembly.

"We did tabling for the Bessemer mine workers as

well as a bail fund last semester. It's about bringing

attention to issues on campus that the culture here

might ignore."

Mallet's structure places an emphasis on many

of the same values that labor unions traditionally

do, such as democratic self-governance, autonomy,

and inclusivity. The active relationship they have

maintained with organizers and pro-worker causes

serves a very similar purpose to SFL in providing

resources and manpower wherever needed.

More importantly, it fosters a politically active and

aware student body, something that is much needed

in order to influence the policies of the university or

board of trustees. The administration has shown on

many occasions that a strong response to a particular

issue by students, whether on the recent renaming of

Lucy Hall or last fall's homecoming controversy, has

the power to influence the direction of the institution.

If progress is to be made in the treatment of UA's

employees, a similar student-led component would

also be needed.

"It's really easy to walk around all day and not think

about what's going into the education you're getting,"

Smith said. "What we would hope is not that every

student would be picketing, but to be aware that the

staff that supports you on a daily basis are working in

conditions that are unfair."

Representatives of both Mallet and SFL emphasized

the importance of awareness in furthering the cause of

fair labor. The reality of pushing against an institution

as large and powerful as UA means that most of its

employees are unaware of any union or effort to

organize on campus. Even if they are, the lack of ability

to collectively bargain means placing a job or career at

stake for potentially no meaningful benefit in the short

term. To many, this risk is too high to take.

The push for unionization at Alabama has a very

uncertain future. The current trajectory of growth

in UCW is hopeful, and the growth of student-led

organizations that stand with fair labor shows the

willingness of the student body to help support

however they can.

Yet these two groups still represent a fraction of

employees and students at large. Paired with the lack

of a right to collectively bargain and Alabama's rightto-work

laws, which decreased the power of unions

by making dues optional, public-sector unions in the

state will continue to face an uphill climb. Success

would require a massive movement on all levels, from

the student body to the statehouse, that even in the

most optimistic scenario is a long way away.

For workers and their advocates, this hope is enough

to keep pushing forward.

"I think there's a lot of promise for this university.

I think there are a lot of students and workers who

have that progressive mindset," Cornelius said. "They

just need to be set in a direction and organized. From

there, the movement grows."

[39]
---
Toxicity In Stan

Culture

BY MORINSOLA KUKOYI

DESIGN KATIE NEBBIA

[40]

When it comes to fanbases and

entertainment, stan culture is a

popular topic that encapsulates how

both of these factors work.

Coined by rapper Eminem in the

song of the same name for his third

studio album, "The Marshall Mathers

LP," the term "stan" has gone from an

allegory to a prominent description

for an overzealous fan of a particular

celebrity.

As social media has made

it easy for fans to interact with

celebrities, a certain culture has

emerged that allows fans to connect

and create community with one

another. However, while stan culture

isn't inherently good or bad, some have

begun to wonder if it has become toxic.

In an article for USAToday,

entertainment reporter David Oliver

discussed how the "viral nature

of social media means platforms

can become powder kegs for

radicalization," meaning while fans

can quickly get an artist's music

climbing the charts, they can just as

easily go after someone.

One example is when

celebrities get into disagreements

with each other, and their fanbases

immediately begin to fight.

Hailey Jones, 19-year-old who

runs a Harry Styles fan account with

10.8 thousand followers on Instagram,

said in her experience stan culture is

sometimes it can be scary.

"Whether it's fans making

threats to other fans or fans making

threats to celebrities. I've seen a lot.

I've seen people body shame others just

because they don't like someone else's,

favorite artist. I've seen some people

threaten to leak people's numbers and

addresses," said Jones. "As much as I

appreciate stan Twitter for connecting me

with people who have similar interests as

me, but it does get scary."

From ages 13 to 14, Jones said

she'd experienced this first hand when she

ran a 5 Seconds of Summer stan account.

"These were the years where I got

many death threats sent my way. People

thought I'd be better off dead due to my

'wrong' opinion," said Jones.

Camryn Mcgaha, a sophomore at

The University of Alabama majoring in

public relations, runs the Bama Swifties

stan account on Instagram. Though

she hasn't experienced any particularly

negative moments with the account, she

has noticed how negative it all can be.

She said she believes fans bully on

social media because they think it will get

them noticed by their favorite celebrity.

"There's a lot of toxicity

surrounding how 'good' of a fan you are. In

truth, none of that has any bearing on how

much you like the artist," said Mcgaha.

Ronni Rowan, a sophomore at

The University of Alabama majoring in

creative media, said she's seen this in a few

fandoms; however, the K-pop fandom has

been the most "disrespectful."

"It's the superiority complex

and harsh language when someone says

something they deem not positive, but
---
most of all, it is just K-pop stans

wanting to feel better in their position

and wanting to hurt people," said

Rowan.

Though the level of toxicity

varies from fandom to fandom, issues

of racism, sexism, bullying and more

have become too prevalent for many

to ignore, most already being issues

that social media has always had.

Jones said she remembered

a particular instance where People of

Color stan members were harassed by

white fans for "leaving white people

out" of a "specific People of Color

selfie tag" they were using.

Because of this result, she

hopes People of Color fans can use

their specific hashtags without feeling

that someone else is taking this

away from them. When it comes to

incidents on social media, Jones tries

her best to address racist issues when

she sees them.

Stan culture also remains

problematic when it comes to the

topic of mental health.

"Stan culture could be a major

problem if it creates mental health

and/or safety issues for either the fan

or the content creator," said Matthew

Barnidge, an associate professor of

communication and information

sciences at The University of

Alabama. "For the content creator

or any public figure, stan culture can

lead to harassment in the form of

unwanted contact, hateful messages,

or, in the most extreme cases,

physical harm."

In an article by the Stanford

Daily, on "the dark side of stan

culture," multiple social media

content creators were interviewed

and said that because of fans'

entitlement, they felt constrained

by fans' demands for fear of intense

backlash.

"I've had people I have never

spoken to send me voice messages out

of the blue asking me why I haven't

responded to their latest messages,"

said influencer Stephanie Yenoah in

the article. "I've also had people ask

for details on people I have shown

on my platform, such as friends or

family."

Another example of the

pressure fans can put on celebrities

happened last year when Simone

Biles' decided to pull out of several

rounds of the Tokyo Olympics.

Biles had to pull out of

several rounds because of the

immense pressure that she had been

getting from her fans and spectators

worldwide. That immense pressure

led to her mental health getting the

best of her, and she needed to focus

on allowing herself to be in a more

stable headspace.

The environment can be toxic

for other fans, but it at times becomes

toxic for the celebrities they follow.

Due to this constant overwhelming

cycle of negativity, Jones said she's

had to take multiple breaks from

social media.

"I currently have an

Instagram account with 10.8k

followers. I've had that account since

I was 12 years old; I'm 19 now. I left

for about a year when I was 13, a

year when I was 17, and then for a

few months when I was 18," she said.

"As for stan Twitter, I've left a few

times through my years, but never

permanently. Sometimes it gets to be

too much, and I do need a break, but

I also do appreciate the friends and

experiences I have there" said Jones.

Stan culture is problematic

because there is a need for fans to

dictate their own opinions in their

idols' lives.

In some capacity, stan

accounts on social media allow fans

to promote this type of behavior.

Overall, everyone should "treat

people with kindness" and lift each

other up. Creating a safe space for

everyone in stan culture will be a

very important move in making stan

culture less toxic than it already is.

[41]
---
[entertainment]

Which Euphoria Girl Are You? 44

"We need you out here:" A Look at

Parasocial Relationship

"Eclectic and Under-discovered:"

Pulling Back the Cover on

Alabama's Music Scene

46

48

[42]
---
[43]
---
WHICH

EUPHORIA

EUPHORIA GIRL ARE YOU?

BY CAT CLINTON

DESIGN ELLA SMYTH

January marked the season two premiere of HBO's drama series, "Euphoria." Since the launch viewers

have been raving about the characters' decisions, storylines and cliffhangers, but the opinions forming

could not be more different. This quiz provides insight on which character is most similar, and likely

sympathetic to test takers. Readers can find out by answering a few quick questions found below!

1. When I walk into a party I immediately…

A. Locate a comfy spot to sit and observe people or talk to

friends

B. Checking out the side rooms. That's where all the fun is

C. Assert my dominance. Besides, the party doesn't start until

I arrive

D. Scan the room for the cutest and closest guy

5. During a break-up I…

A. Get cold and detach

B. Break down. Loss is crippling

C. Act unphased

D. Glow up

2. In school I can be found…

A. In class, where I am supposed to be

B. Slacking off or sketching in the bathroom stall

C. Gathering my girls to plan the weekend ahead

D. In the bathroom for a touch up or cheer practice. It's not

easy staying active and looking good for eight hours straight

6. I would describe my "type" as…

A. Attentive

B. Creative

C. Strong

D. Affectionate

3. I would describe myself as…

A. An observer

B. Human, flaws and all

C. A boss. People listen when I speak

D. Beautiful. I'm just working on myself and hoping to be

acknowledged for it

7. I'm constantly striving to find…

A. Success and recognition

B. Pure happiness

C. Power and independence

D. True love

4. My hobbies include…

A. The arts. reading, writing, photography and film

B. Nothing appropriate

C. Planning my life and manipulating any obstacles

D. Self-care. Healthy habits must be practiced

[44]
---
MOSTLY As- LEXI

You're Lexi! You may be quiet but are never

unaware of the situation at hand. These cautious

and prepared individuals often have a good

time relating to a vast array of personalities

because time is taken to consider the context

and surroundings of every interaction. This

personality type can relate and see things

from others point of view. Occasionally, these

individuals suffer from "FOMO", from lack of

action due to overthinking and overplanning.

MOSTLY Bs- RUE

You're Rue! You do not like the rules, but that

does not mean these personality types are

unproductive. These people can feel and see the

world in a different and deeper way. Although

that perspective is sometimes dark, occasionally

these individuals are able to spread warmth and

positivity others simply envy. It is common for

these personality types to have natural creative

skills and a sense of humor.

MOSTLY Cs- MADDY

You're Maddy! You are most definitely the one

running the show, and these individuals are not

shy about it. Loud and proud is the game, but

imitation is not the only skill developed in these

personality types. Communication skills are also

a common asset. These individuals need to be in

charge, and this is often gained through politics

and alliance building. This may be high school,

but the long game is always lingering in the back

of one's mind.

MOSTLY Ds- CASSIE

You're Cassie! You are not ashamed of the radiance

given off. This is because it requires effort

and is often something that goes under appreciated.

These personality types are affectionate to

loved ones and demand the same kind of treatment

in turn. These people are also not the kind

to be hurt by partners. This is because love and

affection are this personality's weapon of choice.

When these individuals do fall; game over.

[45]
---
"We need you out here:"

A look at Parasocial

Relationships

By Emie Garrett

Design Kayla

Roberson

[46]
---
In the age of streaming, viewers are

consuming television rapidly, binging

whole seasons on a lazy Sunday and gobbling

up entire series in a couple of weeks. Yet, while

people are constantly on the hunt for a new

television fix, many have special "comfort

shows" they return to time and time again with

a certain familiarity akin to rekindling an old

friendship or coming home after months away.

However, sometimes as people get attached

to these shows, they begin to see the characters

as real individuals instead of figments created

by talented writers brought to life by actors and

actresses.

According to the National Register of Health

Service Psychologists, parasocial relationships

are one-sided relationships where one person

creates a bond with someone or their persona.

That person is completely unaware of the

other's existence; this is most common with

most celebrities.

In an article for Psychology Today, Matt

Johnson, a writer and professor at Hult

International Business School, explained that

Donald Horton and R. Richard Wohl coined

the term in 1956 after they saw how viewers

of the television shows "I Love Lucy" and "The

Lone Ranger," didn't just enjoy the shows, but

"felt strong, lifelike [bonds] with the characters

and the 'illusion of a face-to-face relationship.'"

And though it might feel like an outlandish

experience, these parasocial relationships are

common, especially in the age of social media.

Steven Holiday, an assistant professor

of advertising and public relations at The

University of Alabama, said parasocial

relationships can be, to some extent, a means

to "help individuals feel less lonely."

"Imagine being single and coming home at

the end of the night, turning on a show and

connecting with the characters and their lives

… your home feels less empty, filled with the

sounds and 'presence' of other people," said

Holiday.. "You don't have to be a depressed

or lonely person to benefit from this kind of

experience."

However, a study published in the Human

Communication Research journal found that

there is no correlation between loneliness and

the intensity of viewers' perceived relationships

with fictional television characters.

Despite the lack of connection to loneliness,

social media has showcased how fans create

these relationships over platforms.

For example, in 2015 YouTube personality,

Ingrid Nilsen shared her sexuality with

followers in a video entitled, "Something

I Want You To Know (Coming Out),"

Nilsen received over 150,000 comments

from followers, an overwhelming amount

expressing their support of her, despite never

having met Nilsen.

While parasocial relationships are quite

normal, they can become dangerous when

the lines between reality and fantasy become

blurred.

"When these relationships become obsessive

and replace the effort and ability to create

actual relationships, they become unhealthy,"

Holiday said.

Researchers have been studying how and

why parasocial relationships occur and their

connection to the world of social media, which

has amplified celebrities' ability to instantly

connect and interact with fans.

A study published in The Journal of Social

Media In Society found that social media stars

simply responding to followers' comments

heightened the sense of connection audiences

felt they had with the individual.

"The worry [that researchers have] is that if

people can interact with someone and believe

they've formed a relationship with them, they

can have expectations of this person and act

accordingly," Holiday said. "Researchers worry

this could increase unhealthy relationship

actions, such as stalking and aggression."

With social media, fans now have even more

accessibility to celebrities, and during the

pandemic, researchers saw how social media

influenced parasocial relationships even more.

And recently, research published in the

Journal of Social and Personal Relationships

said parasocial closeness with media personaes

increased over time during the pandemic,

suggesting that favorite media personae

became more meaningful as participants

engaged in social distancing.

As long as people remain aware that these

relationships don't equate to knowing the

individual, parasocial relationships are

perfectly normal. However, many have a hard

time adjusting to the idea that the actors who

play their favorite characters on their favorite

shows are the antithesis of the character they

know and love.

Because of the audiences' bonds with

fictional characters on television, it's hard

for them to separate the character from the

individual portraying them, leading to extreme

disappointment when they meet these actors

in real life and the bubble bursts.

In October 2021, a BuzzFeed article compiled

a list of negative encounters people had with

celebrities, like Machine Gun Kelly, Jessica

Alba and Jared Leto. Many expressed their

deep disappointment about discovering these

celebrities were not necessarily the people they

thought they were.

On TikTok, numerous users have shared

their encounters with the actors who grace

our televisions– some sweet, some funny, and

some upsetting.

TikTok user, Julia Carolan, blew up on

the internet when she created a TikTok

series where she rated celebrities she had

encountered while working as a hostess in a

swanky Manhattan restaurant based on their

treatment of her and the staff who served

them.

Carolan received backlash from Justin and

Hailey Bieber stans, despite very few of them

ever having encountered Bieber, when she

awarded Mrs. Bieber a measly 3.5 out of 10

because she "met her [Hailey Bieber] a handful

of times and every time she was not nice."

Dalton Causey, a University of Alabama

junior majoring in acting, said he thinks it's

important to remember that celebrities aren't

magical creatures to be poked, prodded and

worshiped.

"The moment that I realized that these actors

are just people, it became so much easier for

me to take them off of their pedestal and put

them on the same level that we're all on,"

Causey said.

"You have to remember those [celebrities]

are just people who also have dreams; they are

just people who are out there doing what they

love and have worked really hard to reach the

success they've achieved, which is something

all of us can do in some way, shape or form."

Hannah Taylor, a recent University of

Alabama alumnus with experience working in

the entertainment industry, said she doesn't

think celebrities "owe people anything other

than basic human respect."

"I don't think that just because [celebrities]

play characters that are always happy, or play a

certain type of role in general, that means they

have to act like that in person," said Taylor..

So, while it is okay to grin and swoon while

watching Timothee Chalamet interviews or

disappear down a Swiftie-Tok rabbit hole,

remember to hop back out of Hollywood's

shimmering orbit now and then. We need you

out here.

[47]
---
Pulling back the cover on Alabama's

music scene

By

Madeleine

Leidner

Photo

Emma Kate Standard

Design

Wesley Picard

[48]
---
Alabama has seen the beginnings of

many famous musicians, like the

Alabama Shakes, Lionel Richie and even

Gucci Mane. Music is in a constant state

of evolution, and witnessing the sounds

of artists from Alabama change over the

years has been captivating to many.

Jones Willingham, the editor and

media coordinator of MusicBham, a

guide for music in Birmingham and

central Alabama, said he would describe

Alabama's musical landscape as "eclectic

and under-discovered."

"​Eclectic, because there is that incredible

genre variation, and I think that's

illustrated across the local live landscape

at any given night at the venues like the

Firehouse or Saturn," said Willingham.

"And under-discovered because I don't

really feel like there are any publications

and groups like really mining through

Alabama, looking for good music."

Willingham said Alabama has an

"incredible talent," but it's "just like gold

right under the surface."

"So, I think that once that surface is

removed and there's greater notoriety

for these acts, I think the country and the

world and listeners everywhere will be

very surprised and be like 'oh there from

Birmingham Alabama,' which I think is

really exciting," said Willingham..

One formerly local band that has

garnered more notoriety is The

Brummies, an indie-rock band comprised

of multi-instrumentalists John Davison,

Jacob Bryant and drummer, Trevor

Davis.

The band who began playing together in

2014 while in high school in Birmingham,

Alabama, made a name for themselves

with their sound, which Billboard

described as "gorgeous" and "lush."

They've amassed over 18 million streams

and have collaborated with notable

professionals in the music industry, such

as producer David Hopkins, Grammyaward

winning engineer, Jeremy

Ferguson and Grammy-award-winning

artist Kacey Musgraves.

They've also played several music

festivals and toured domestically and

internationally with St. Paul and the

Broken Bones, Kacey Musgraves, the

Wild Feathers, NEEDTOBREATHE and

BANNERS.

[49]
---
Although they have continued to travel

and expand their reach as artists, growing

up and starting their music careers in

Alabama had a deep impact on them.

"We've always had so much respect for

the music scene in Alabama. It was a

hotbed for under-the-radar artists that

we thought were stars, and rightfully so,"

said Davidson.. "We wanted what they

had, and it kept us pushing forward with

the music we were making."

Each of the members of The Brummies

displayed deep appreciation for their

roots and the Alabama music scene in its

entirety.

Another local band on the rise is The

Stews, originally from Auburn, Alabama;

Preston Hall, Bennett Baugus, Blake

Dobbs and Wyatt Griffith started playing

together during the summer 2020.

"During our first jam session, we

completed the song 'Slip Away' and

realized that we should continue writing

and playing together," they said.

They began playing at college venues

in Auburn and Tuscaloosa. Their fame

quickly spread throughout the state before

gaining recognition from Nashville-based

rock band the Vegabonds, and touring

along the Southeast.

"Being from Alabama has helped us

tremendously in our early steps as a

band. When looking for a studio to record

our EP, ["The Stews EP,"] we all already

had FAME Studios in mind," they said.

"It's a privilege to have access to such a

historic place in our own state."

Luke Washburn, a representative agent

for Atlas Touring, a booking agency based

in Charleston, SC, said The Stews "really

care and love what they do, and it shows"

that is what sets them apart.

As these artists grow, many locals are

happy to watch Alabama's music scene

expand along with them.

"Birmingham has grown a lot in the

past 10 to 15 years. Previously when

national artists were touring, they would

go Atlanta to Nashville and not hit

Birmingham. Well, now, people come to

Birmingham," said Willingham.. "So, we

want to make sure that the public knows

what's happening and not just about the

Billy Eilish's of the world, but we also

want them to know about the little local

shows going on at The Nick or Little Italy

or, you know, the local bands that play

Saturn."

This is what MusicBham seeks to

do, showcase Alabama's talent while

also connecting these local music

communities to further enrich Alabama's

music scene.

Lauren Golston, a junior majoring

in public relations, said she thinks it's

interesting how artists are now coming

to Birmingham because Atlanta used

to be the closest place mainstream

artists would get. Yet, artists coming to

Birmingham are bringing revenue and

[50]
---
diverse groups of people.

"I think Birmingham could be the new

Atlanta when it comes to performances and

stuff," said Golston.

Billingsley said he believes a big cause

of that is the artists that are coming out of

Alabama and making a name for themselves

going to new places, but "bringing it back to

the city."

Billingsley and Golston said that when they

think of Alabama and current artists making

it big, they think of rappers like NoCap, Rylo

Rodriguez and Big Yavo. Who together have

over 2 million streams on Spotify.

For those interested in getting involved

with Alabama's growing music scene,

Davison advises new artists to fully indulge

in Alabama's local venues.

"I'd tell other artists to play Alabama. Don't

skip over it like a lot of artists and bands do.

It's a loyal crowd that loves music as much or

more than anyone," said Davison..

He also recommends listening to

Birmingham Mountain Radio to learn

more about Birmingham's budding indie

music scene. While his bandmate, Davis,

recommended artists to the venue Saturn

when searching to discover new Alabama

artists.

Willingham said for those interested in getting

involved either as a performer or just a music

connoisseur, it's important to first and foremost

just go to local shows.

He said he's seen many talented local bands get

burnt out because of no support, but then people

start paying attention when they break up. So,

indulging in local artists is important to keep the

music scene growing.

For those who don't know where to look,

MusicBham has many resources on their website

and Instagram, including weekend roundups,

which showcase upcoming events and lists of

artists, venues, record/music stores, recording

studios and more in Alabama.

Willingham also encouraged people to "not be

afraid of genre" when searching for local events

because Alabama has something for everyone.

What is important is that people "go see and take

it in."

"Being at live music is such a beautiful

communal experience that you're bound to

enjoy it when you're just there. And you might

even find a new local band that becomes one of

your favorites," he said. "So I would just say dive

into that now; COVID willing, of course, be safe

and be smart with that."

[51]
---
[food and health]

Routines: Morning vs. Night and

Their Benefits To Your Health

The Classy Girl Guide to Proper

Table Etiquette

Milk Snobs: Which Alternative Milk

is Best?

54

56

58

[52]
---
[53]
---
Routines: Morning vs. Night

Their Benefits to Your Health

By Bella Carpino

Photo Jennifer Stroud

For many people in society today,

it is known to be only a natural

behavior to get caught up in the buzzing

world surrounding them, along with

the stress of the overflowing mental

to-do lists and reminders that lie in the

back of their heads as they go through

their days. For some, their lack of sleep

but need for productivity in their day

can be an extremely difficult goal to

achieve. With that being said, the key to

unlocking the door to the pathway out

of this miserable cycle is simply found

in having daily routines.

The concept of routines should be

understood as a process in which one

acts in order to either create an effective

start to the day or unwind from their

day, and most importantly, care for

their mental and physical health and

wellbeing. For example, a morning

routine may consist of reading a page

out of a devotional book, going to the

gym, showering, making breakfast,

then going to work, while night routines

may involve doing a moisturizing clay

face mask and drinking a full glass of

water, followed by reading a chapter of

one's favorite book before closing their

eyes to go to sleep.

While morning and night routines

certainly can have cons depending

on whether one is an "early bird" or a

"night owl," as well as other factors,

the benefits of both types of routines

certainly outweigh the drawbacks.

Overall, morning and night routines,

when incorporated into someone's

daily life either together or separately,

can strongly and positively influence

mental health and lead them to a path

towards a flourishing wellbeing.

Starting each day with a morning

routine is an effective way to begin

someone's day on the right foot and

truly care for one's mental health by

clearing their thoughts and preparing

for strength and success in the day

ahead. Whether an individual prefers

to head over to the gym bright and early

for a workout, or sit on the porch to read

[54]
---
a book with a morning coffee, these

activities offer ways to value wellness

in a way that will improve someone's

everyday life.

"I'm not necessarily a morning person

but I love my morning routine and it

definitely helps prepare me to have

a productive day," said Bella Powell,

a sophomore at The University of

Alabama majoring in nursing. "There's

nothing worse than leaving the house

flustered trying to make it to a class on

time, and I notice that when I start my

morning flustered, it runs into the rest

of the day."

Powell's morning routine begins with

showering and getting dressed, and

ends with having time to read and eat

breakfast.

"There is such a huge difference in my

mood and overall productivity when I

start my mornings right," said Powell.

While waking up early is not always

easy for her, Powell has created a

morning routine due to recognizing a

huge negative difference in both her

frame of mind and the productivity of

her days if that routine is ever skipped.

Tamashi, a business that sells 100%

plant-based ready-to-drink breakfasts

and informs its customers about the

relationship between the body, mind,

and spirit, shared an article regarding

the importance of a good morning

routine. The educational article focused

on outlining just a few of the benefits

including experiencing less stress

throughout the day, better quality

of sleep, and more free time in the

evening. While lower levels of stress

and anxiety can serve as an important

tool to improve mental health,

consistent hours of sleep due to waking

up to perform a morning routine is one

of the most significant positive effects

the routine can have on an individual's

well-being. According to Tamashi,

"with a better sleeping pattern, you will

get through the day being sharper and

more alert while experiencing more

peace of mind." While one of the very

few cons to a morning routine might

be that one may sacrifice less than 7-9

hours of sleep, an important benefit of

having one is to gain more free time

in the evening after a productive day,

also meaning that one can get to bed

at an earlier, healthier time. At the end

of the day, having a morning routine

represents a crucial solution for a

productive day that's beneficial to one's

health and welfare.

On the other hand, night routines

offer a variety of different benefits and

improvements to one's mental health

and physical wellbeing. Although they

tend to be more difficult to commit to

doing every night, considering after

a long day of school or work the only

plan in a person's mind is to relax,

night routines are just as important as

morning routines.

Leon Ho, the founder and CEO of

Lifehack, said that the three main

benefits of a nighttime routine include

that one will "have a more restful and

higher-quality sleep…[and] be able to

tackle the morning in a smoother and

more productive way." Furthermore,

their "brain will be sharper throughout

the next day."

Night routines are necessary to both

mentally and physically prepare in

advance for the next morning to come.

Finley Thacker, a sophomore student

and ambassador for the College of

Communication and Information

Sciences at The University of Alabama,

said her nighttime routine begins with

changing into pajamas and glancing at

her calendar for the next day in order to

plan ahead and it ends with streaming a

show to wind down before completing

her skincare routine and setting an

alarm for the morning.

"My night time routine is simply my

favorite part of the day because it gives

me time to reflect," said Thacker.

While there are many positive aspects

of having a night routine, on the other

hand, they may require one to eliminate

certain behaviors such as staying out

late with friends or falling asleep with

screen time. The harsh electronic blue

light that reflects off of a phone or

computer can prevent the production of

melatonin in the body, according to Ho.

Night routines are the key to putting

an end to bad habits that can harshly

affect one's well being and building

good habits that will assist their health

in promising development.

While morning and night routines

certainly have their similarities and

differences when it comes to their

beneficial impact on the human body

and mind, overall, the psychological

influences become clear to those who

perform either routine on a daily basis.

John Gaspari, who has been working

in the psychology field for 30 years as

a ​Psychotherapist and Professional

Coach with both a Licensed Clinical

Social Worker and a Professional

Clinical Counseling degree, shared his

perspective on what makes routines so

essential to all different aspects of one's

life.

"Most of us spend little or no time

systematically training in any of the

key dimensions of energy management

(physical, emotional, mental or

spiritual). We are expected to perform

at our best eight to ten to twelve (or

more) hours/day," said Gaspari.

Although time is a fixed resource

that cannot be sped up or stopped

completely, our energy is one that is

limited but renewable as well. Morning

and night routines not only represent

resources for the improvement of one's

mental health and wellbeing, but they

also portray the natural psychological

and even physical necessity for people

all over the globe to manage their energy

while in the midst of their complex lives.

In this society, where daily productivity

and a healthy mindset are so strived

for by humans with lives of all different

kinds, morning and night routines are

pivotal mechanisms utilized to reach a

life of pure health and success.

[55]
---
To Proper Etiquette

By Evy Gallagher

Photo Sarah Hartsell

Design Wesley Picard

[56]
---
The South is most notably known for

its manners, hospitality and etiquette.

Specifically, proper table etiquette is

something that is a big part of Southern

culture and for good reason. Although

etiquette may not be as ingrained into

other cultures, or more so the younger

generations, it is very important for

a multitude of reasons. Proper table

etiquette is not hard to learn, especially

living in the deep South, and is a skill that

will serve one well for the rest of one's life.

"Table etiquette is the 'little black dress'

for success," said Jovana Vanderheiden,

Sorority House Director. "It doesn't

matter what part of the country you're

from, good table manners are essential to

success in business."

Table etiquette is not only having

good manners, it's proper silverware

placement, how to eat gracefully and when

to begin dining. The list goes on. There is

quite literally a "rule" for every part of

dining, although learning the basics is

enough to fool people into thinking you

know what you're doing.

"Nothing says, 'I'm someone you

can trust' like a person who is more

concerned with others than themselves.

Holding a door, saying please and thank

you and being an excellent diner lets

everyone know you care," said Robin

Wells, previous owner of Robin Wells

Marketing and Etiquette Manor. Making

a good first impression at job interviews,

dinner parties or meeting the parents can

rely so heavily on proper table etiquette,

which oftentimes Generation Z may not

necessarily be familiar with.

There is no reason that proper table

etiquette, or a lack thereof, should be

what prevents someone from getting a job

or leaving a bad taste in someone's mouth

at a dinner party when it is incredibly

easy to learn. "Remember dining is a

chance to enjoy and share the company

of others. Eat quietly, draw little attention

to yourself and always be someone who

is more concerned with the people you're

with. You'll get many more invitations,"

said Wells.

In an interview by Ohio Dominican

University, Cathi Fallon, founder and

director of The Etiquette Institute of

Ohio, said dinner interviews have become

the preferred way to search for employers.

"In many instances, employers favor

candidates who display proper interaction

and etiquette, and that could be the

deciding factor in getting a job offer," said

Fallon..

Etiquette is simple yet detailed. Once

the rules are learned, they are almost

impossible to forget. The rules differ

slightly depending on whether someone is

dining in or out. The basics of proper table

etiquette are to know about napkin use,

when to eat, silverware and glassware.

According to The Spruce, when dining in,

wait until the host unfolds their napkin.

That is the cue to do the same. When

dining out, place the napkin in your lap

upon sitting down. Napkins should be

kept in your lap until you're finished

eating.

When it comes to eating, there is a

difference between small and large groups.

According to Etiquette for Everyday, if

you are with a group of eight or smaller,

it is proper to wait until everyone is

served before you begin eating. The one

exception is if one member is waiting on

their food and says "please go ahead."

This is to ensure the rest of the party's

food does not get cold. When dining with

a group larger than eight, you may begin

to eat as soon as those seated around you

are served as well.

The last basic rule to know in order

to navigate a dinner is deciphering

the different types of silverware and

glassware, and where to place them

in case you decide to host your own

dinner. Depending on the setting,

whether a dinner party, an interview

or brunch at a local diner, there may be

different silverware at each. At the bare

minimum, a set table should always

have a plate, napkin, fork, knife and

spoon at every seat. Nicer restaurants or

more extravagant dinner parties tend to

have a wider variety of silverware and

glassware but it's important to learn the

fundamentals first.

According to Food52, a run of the mill

table setting will have a fork to the left of

the plate, a knife to the right of the plate,

the plate being in the center, a spoon to

the right of the knife and a water glass

above, and a little to the right of the knife.

If the dining is a bit more sophisticated,

there will be an additional fork called a

salad fork that sits outside of the dinner

fork, both to the left of the plate. The forks

should be arranged in the order the food

is consumed, think of salad as being an

appetizer. On the right side of the plate,

from left to right, there should be a dinner

knife, a dessert spoon and a soup spoon.

Above the silverware on the right of the

plate, there should be a water glass, wine

glass and then a coffee or tea cup from

left to right. Sometimes there can also be

a bread plate and butter knife to the left of

the main plate.

Finally, there is the formal dinner setup

which isn't as common but can occur

at big events or nice restaurants. The

majority of the forks remain on the left

side of the plate, all except the oyster fork.

On the outermost side is a salad fork, then

a fish fork and finally a dinner fork. On

the right side of the plate, the outermost

utensil should be an oyster fork, then a

soup spoon, fish knife and dinner knife.

The glassware remains in the same place

as before but the order should be a water

glass, white wine glass and then a red

wine glass, from left to right. For a formal

dinner, the bread plate and butter knife

remain as they were before, above the

forks on the left side of the plate.

These basic rules to follow when either

dining in or out will elevate one's etiquette

skills immensely. Like Fallon said, having

proper etiquette could be the difference in

getting the job or not. At your next special

event or dinner party, try to master the art

of proper table etiquette and make sure

that "when you're a guest in someone's

home, make an effort to eat the food they

serve, even if you don't like what they've

made, within reason," said Abby Hall, a

junior Engineering student at UA, said.

Sir Benjamin Franklin said it best, "the

handshake of the host affects the taste of

the roast."

[57]
---
[58]

Design Wesley Picard
---
Make way for plant-based and nondairy

milk companies! These

alternatives have gained popularity in the

milk market in the last decade. With the new

year, health and nutrition is a big priority for

many people.

It seems that many people have turned

to non-dairy milk options by converting

to dairy-free products due to dietary

restrictions, being lactose intolerant or

simply just choosing a healthier diet.

In this new age and with the high demand

for healthier options, these alternatives

are not just in your local grocery stores.

Now, you can substitute whole milk in our

coffee shops, recipes, the food you eat at

restaurants and you can even purchase in

the stores and gas stations when you need

that beverage for the road.

From almond and oat milk to nut-free

choices like pea, flax and soy milk, these

milk alternatives are taking over and do not

plan to go anywhere. What is the healthiest

and best milk option?

According to websites like Healthline.com,

Womenshealth.com and FoodandWine.com,

soy, almond and oat milk have been ranked

the top alternatives. These alternatives are

neck and neck when it comes to being the

number one choice.

Soy milk is the most common substitute

made from soybeans, it carries a lot of

benefits like vitamins and minerals that our

body needs. Soy milk can help reduce heart

disease, high blood pressure and build up

our organs, muscles and bones.

Soy milk is the closest non-dairy substitute

to whole milk mainly because it is rich in

calcium. Whole milk is still taking the lead

in the market due to its rich creamy taste

and its long history in the industry. When

it comes to nutrition, there are many health

benefits from whole milk, especially for

young children and adults.

Almond milk is popular amongst vegans

and dairy-free gurus. Almond milk is an

excellent source of vitamin E, which is

superb for our bodies according to an article

by Healthline.

"I'll switch between almond milk and oat

milk because they both taste delicious in

coffee," said Teyana Winn, a sophomore at

Shelton State Community College studying

General Studies. As a college student who

prepares her meals at home, Winn spends

her time trying new healthy recipes and non

dairy products.

"Silk is a good brand," said Winn."I also like

the brand Oat-ly whenever I get oat milk."

Winn started her milk substitute journey

after watching a documentary about Fairlife.

"I saw a documentary about Fairlife and it

was disturbing," Winn said. "It shows the

process of getting cow's milk, and I just did

not like it. Plus, regular milk is not good for

me."

Deciding which alternatives are better

depends on the individual. Almond milk

has the hearts of many because of its health

benefits, taste and availability in most places.

For individuals who do not prefer nut-based

alternatives but want dairy-free lean toward

other options like pea, flax, oat and coconut

milk. Out of these choices, Oat milk is the

best alternative people choose to consume.

"Oat milk is the best quality non dairy

milk to me, because it tastes closest to

regular milk," said Delaney Butler, a senior

at The University of Alabama studying

public relations. "I use almond milk too, but

usually almond milk comes second to oat for

me. Oat milk tends to be my go-to for any

drink, recipe or meal, whereas almond milk

fits better for smoothie making."

Both almond and oat milk are nutritious,

flavorful and great substitutes, but between

the two alternatives, oat milk seems to be

more versatile compared to almond. The

demand for oat milk continues to increase

as more companies start supplying it. It was

not until she was in her twenties when she

realized that her stomach aching was from

dairy. Oat milk is the better option for those

with lactose intolerance and for those who

want to avoid dairy altogether.

"I am not allergic, but I do have an

intolerance, so I chose to cut out dairy from

my diet," Butler said. "I also get other dairy

free products like dairy free cheese, yogurt

and ice cream."

Butler often spends her time studying at

coffee shops which allowed her to find her

perfect combination of coffee and non dairy

milks. The texture for oat milk is creamier

and smoother than almond milk, making

it the closest to the dairy milk out of the

two. Oat milk is also better in coffee and

for cooking and baking. Oat milk is higher

in dietary fibers compared to almond milk

which helps with reducing a lot of health

conditions like diabetes and cardiovascular

diseases.

"My favorite non dairy milks for coffee are

Oatly Barista Blend or Califia Farms Barista

Blend," Butler said. "Both brands are smooth

and creamy, and most coffee shops use these

brands for your lattes." Almond and oat

milk are the top two substitutes for coffees.

Which one is the better option for the coffee

lovers on campus?

One of the coffee shops on campus, Java

City Coffee, which is located inside Gorgas

Library is popular amongst the students and

faculty. Anna Ammons who goes to Shelton

State Community College is currently a

senior studying Biology and is working at

Java City Coffee and has been for three

years. "Almond milk is my top pick because

it is unsweetened, low in calories and carbs

and has a boost in protein," said Ammons.

"I don't always drink non dairy milk, but

because I've been going on a low carb diet I

do. I would rather consume non dairy milk

with low calories than high calories."

When it comes to the most popular

alternative amongst students, Ammons says

almond milk is consumed the most.

Almond milk was the only substitute they

had for a while until recently Java City

started providing oat milk. By the first day,

oat milk was sold out and Ammons had

to order another shipment for more oat

milk. Almond milk is still the number one

substitute consumed at Java City Coffee, but

oat milk is becoming popular on campus.

"Other than almond milk and oat milk,

we provide skim milk but people rarely get

that." Ammons said.

Though Java City's options are limited, non

dairy milk is in high demand and surely on

its way to winning the race against whole

milk.

Non dairy milks are on the rise and will

continue to take over the market. Consuming

non dairy milk does more good than harm

for many people. The best alternative

depends on the individual. Soy, almond and

oat are the main alternatives but when it

comes to being the best alternative, soy milk

is the better option if you want something

closer to dairy milk, almond milk is the

better option when it comes to availability

and health benefits and oat milk is the better

option for those who do not want a nutbased

alternative and it's the better option

for consuming, cooking and baking. Milk

alternatives will continue to grow and thrive

around the world.

[59]
---
CONNECT WITH US

alice.ua.edu

@alicethemag

@alicethemag

Alice Magazine

[60]