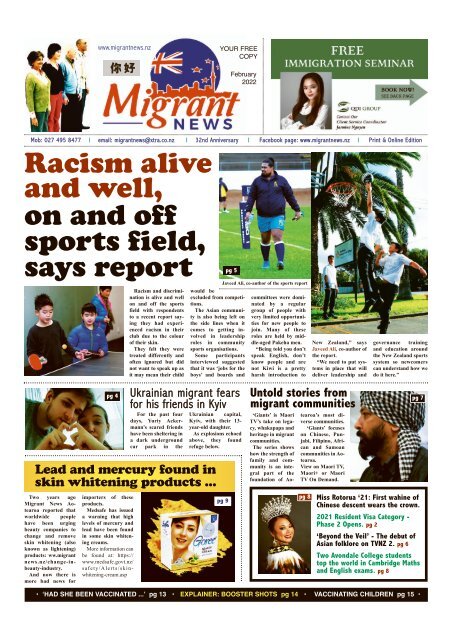 MIGRANT NEWS FEB 2022
www.migrantnews.nz New Zealand's only migrant newspaper reaching the broader migrant community. We also publish: www.filipinonews.nz, www.asiannews.nz and travelgalore.nz
www.migrantnews.nz
New Zealand's only migrant newspaper reaching the broader migrant community.
We also publish: www.filipinonews.nz, www.asiannews.nz and travelgalore.nz
SHOW MORE
SHOW LESS
You also want an ePaper? Increase the reach of your titles
YUMPU automatically turns print PDFs into web optimized ePapers that Google loves.
www.migrantnews.nz

YOUR FREE

COPY

February

2022

Mob: 027 495 8477 I email: migrantnews@xtra.co.nz I 32nd Anniversary I Facebook page: www.migrantnews.nz I Print & Online Edition

Racism alive

and well,

on and off

sports field,

says report

Javeed

pg 5

Two years ago

Migrant News Aotearoa

reported that

worldwide people

have been urging

beauty companies to

change and remove

skin whitening (also

known as lightening)

products: ww.migrant

news.nz/change-inbeauty-industry.

And now there is

more bad news for

pg 4

importers of these

products.

Medsafe has issued

a warning that high

levels of mercury and

lead have been found

in some skin whitening

creams.

More information can

be found at: https://

www.medsafe.govt.nz/

safety/Alerts/skinwhitening-cream.asp

Racism and discrimination

is alive and well

on and off the sports

field with respondents

to a recent report saying

they had experienced

racism in their

club due to the colour

of their skin.

They felt they were

treated differently and

often ignored but did

not want to speak up as

it may mean their child

would be

excluded from competitions.

The Asian community

is also being left on

the side lines when it

comes to getting involved

in leadership

roles in community

sports organisations.

Some participants

interviewed suggested

that it was 'jobs for the

boys' and boards and

Ukrainian migrant fears

for his friends in Kyiv

For the past four

days, Yuriy Ackermann's

scared friends

have been sheltering in

a dark underground

car park in the

Ukrainian capital,

Kyiv, with their 13-

year-old daughter.

As explosions echoed

above, they found

refuge below.

Lead and mercury found in

skin whitening products ...

Ali, co-author of the sports report

pg 9

committees were dominated

by a regular

group of people with

very limited opportunities

for new people to

join. Many of these

roles are held by middle-aged

Pakeha men.

"Being told you don't

speak English, don't

know people and are

not Kiwi is a pretty

harsh introduction to

New Zealand," says

Javeed Ali, co-author of

the report.

"We need to put systems

in place that will

deliver leadership and

Untold stories from

migrant communities

'Giants' is Maori

TV's take on legacy,

whakapapa and

heritage in migrant

communities.

The series shows

how the strength of

family and community

is an integral

part of the

foundation of Aotearoa's

most diverse

communities.

'Giants' focuses

on Chinese, Punjabi,

Filipino, African

and Samoan

communities in Aotearoa.

View on Maori TV,

Maori+ or Maori

TV On Demand.

governance training

and education around

the New Zealand sports

system so newcomers

can understand how we

do it here."

• 'HAD SHE BEEN VACCINATED ...' pg 13 • EXPLAINER: BOOSTER SHOTS pg 14 • VACCINATING CHILDREN pg 15 •

pg 8

pg 7

Miss Rotorua '21: First wahine of

Chinese descent wears the crown.

2021 Resident Visa Category -

Phase 2 Opens. pg 2

'Beyond the Veil' - The debut of

Asian folklore on TVNZ 2. pg 6

Two Avondale College students

top the world in Cambridge Maths

and English exams. pg 8
---
P a g e 0 2

w e b s i t e : w w w . m i g r a n t n e w s . n z I w w w . f a c e b o o k . c o m / w w w . m i g r a n t n e w s . n z I TWITTER : www.twittercom/migrantnews

OPINION

By Zamelia

McGarrigle

It has been nearly 6

months since Immigration

New Zealand announced

this one off resident visa for

those who are eligible. How

has that gone so far?

Around 5000 people have

become residents under a

fast–tracked government

scheme launched in

December 2021, with my

clients from the Philippines,

India, China and Korea topping

the approvals.

The majority of my clients

are from the Philippines and

they have been celebrating

the good news, especially

when their residence visa

approval arrived just before

Christmas.

One of my clients, from

The Philippines, finally

became a New Zealand resident

after 12 years of living

here and working alongside

me since 2010. Excellent

news for both of us, indeed.

I am so pleased to be able to

help her and to be with her

throughout her journey from

the Philippines all the way to

New Zealand.

Now we have some ideas

about the process, progress

and what we need to know to

keep carrying on for the next

batch in March 2021.

Almost 35,000 people

have so far applied for the

one-off residence visa and

up to 165,000 may be eligible

next month.

Migrants are eligible if

they are settled (three yearsplus

in New Zealand, including

a minimum number of

days), a skilled worker

(based on wages) or scarce

(in short supply).

From Immigration records

and statistics, migrants from

India topped the approvals

MIGRANT NEWS:

(32nd year of publication)

FILIPINO PAPERS:

filipinonews.nz

pinoynzlife.nz

filipino.kiwi

ASIAN NEWS:

asiannews.nz

FILIPINO JOB BOARD:

trabaho.nz

2021 Resident Visa Category –

Phase 2 Opens

Thousands become New Zealand Residents under this

category and the second batch is starting in March 2022

under this category on the

first month of its launch, followed

by South Africa, the

Philippines, the UK and Sri

Lanka. One in five applications

has been rejected so

far.

Next month the second

batch of this category will

start - with hopes that systems

will work better than

they did initially back in

December. But the risk

remains the same and here is

what you need to know

should you decide to apply

by yourself. So, my advice is

to mitigate your risk by

preparing your application

meticulously. This is the

only chance that you have

and it is worth investing in a

good Licensed Immigration

Adviser to help prepare a

comprehensive submission

for you and your family.

I often tell my clients that

you can always find money

but time, once you lose it,

you can't get back. This is

TRAVEL PORTAL:

travelgalore.nz

ASIAN FOOD CHANNEL

halohalo.nz

Published by:

Migrant News Ltd

migrantnews@xtra.co.nz

027 495 8477

Managing Editor:

Mel Fernandez

Associate Editor:

Sheila Mariano

Sub-Editor:

Kirsty Hotchkiss

Reporters:

Queenie Tanjay

Aileen Cunanan

Rowena Singh

Columnists:

Francisco Hernandez

not the time to gamble on

your future. Be aware of the

points below if you decide to

prepare your own application.

• STAY CALM – No need

to panic, no need to rush to

fill in your application form.

Read it carefully and ensure

that you understand each of

the questions, especially

when it comes to health,

character or family members.

You may think that it is

not that important, just a

quick tick here and there and

done. But for INZ, whatever

you disclose there could

count against you if it is

incorrect and appears wrong,

vague or evasive. Worse

still, INZ may take your

answer as "false and misleading

information" and

subsequently decline your

application.

• YOUR VISA STATUS

– You can only apply for this

new residence visa if you

hold an eligible visa. But

• Print • Web • Tablet • Facebook • Instagram

F a c e b o o k P a g e : w w w . m i g r a n t e w s . n z

w e b s i t e : w w w . m i g r a n t n e w s . n z

New Zealand's first Multicultural Newspaper

Mob: 027 495 8477 I email: migrantnews@xtra.co.nz I 32nd Anniversary

WRITE FOR US.

We welcome news leads,

feedback, short event

reports with photographs

and editorial contributions.

email:migrantnews

@xtra.co.nz

mob: 027 495 8477

or via Facebook message:

www.migrantnews.nz

how about if your visa

expires at any time between

now and when you lodge

your application? If you

have not managed to get a

new replacement visa under

the eligible category, you are

no longer qualified to apply

for your residency visa. That

could be a disaster, so don't

make this mistake.

• YOUR JOB – Great!

Your job is on the INZ

'scarcity'' list. But hang on,

INZ will go one step further

to assess whether your job

description/tasks match the

ones on their list. Apart from

that, INZ will also cross

check your previous

records/applications and all

need to be consistent. If you

declare a different position

from earlier documents and

there appear to be anomalies

– e.g. a job that is not on the

'scarce lists' – then you

won't qualify.

• HOURLY RATE - You

may have been working in a

Copyright Matters,

Terms & Conditions

of Publication

All material appearing in MIGRANT

NEWS and it's related websites:

www.migrantnews.nz,

www.asia2nz.com and travelgalore.nz,

including advertisements, is

COPYRIGHTED and cannot be reproduced

unless written permission is

given by the publisher - Migrant

New Ltd.

Views expressed in the above mentioned

publications and websites do

not necessarily reflect that of the publisher.

The publisher does not accept any

responsibility or liability for views and

claims in the editorial matter or advertisements

appearing in the above

mentioned publications and associated

websites.

Mobile: 027 495 8477

Email: migrantnews@xtra.co.nz

Zamelia

McGarrigle

General Manager

& Licensed

Immigration

Adviser

QDI Group

The majority of my clients are

from the Philippines and they

have been celebrating the good

news, especially when their

residence visa approval arrived

just before Christmas.

To contact Zamelia McGarrigle please

email: zamelia@qdigroup.co.nz or

phone: 09-390 7957

full-time position with a

$27/hour wage on 20

September 2021. That figure

has to be clearly reflected in

your employment contract

and consistent with your

payslip data. If not then your

application most likely

won't meet INZ's 'Skilled'

criteria.

• LOST YOUR JOB - If

you have lost your job that

previously matched one on

either the 'skilled' or 'scarce'

occupation lists, then unfortunately

your journey ends

here. You do not meet the

requirements and cannot

apply under this category.

• YOUR EMPLOYER -

You must make sure that

your employer complies

with all Department of

Labour legislations, IRD

obligations and is classed as

a genuine employer. INZ can

decline your application if

they think that your employer

is not genuine.

• YOUR PARTNER - In

this application you can

include your partner and

children, even if they are

currently overseas. You

have to provide evidence of

living together in a genuine

and stable relationship for

at least one year.

INZ will look at any evidence

you provided previously

and the reasons for

your current separation and

may decide to exclude your

partner from your Resident

Visa application.

• TIME IN NEW

ZEALAND - As far as you

can remember you have

been in New Zealand for

ages and surely meet the

requirement of 821 days or

more. But, check again and

make sure that you have

spent 821 days or more in

NZ between 29 September

2018 and 29 September

2021 – and that you arrived

in the country for the first

time on or before September

29, 2018. If not then you

won't meet INZ's 'settled'

criteria.

• LEAVE NEW

ZEALAND - If you must

leave New Zealand before

you lodge your visa application

for whatever reason and

then you can't get back to

New Zealand by 31 July

2022, you may risk losing

the chance to apply for this

visa.

• BEING IN NEW

ZEALAND - A step developing

from the above point.

You already lodged your

application and need to

leave New Zealand because

of a family emergency, for

example. INZ won't be able

to decide your application

until you return to New

Zealand. With the current

situation, there is little or no

certainty. Therefore, think

carefully about everything

and whether you want to risk

probably the best chance

that you may have to gain

residency. Consider all factors

and assess the risks versus

rewards, including

potentially waiting a long

time coupled with much

hard work over the years.

I wish you all the best and

remember, this could be the

best or only chance you will

be offered, so take your time

and get your submission

right.
---
w w w . m i g r a n t n e w s . n z I w w w . f a c e b o o k . c o m / w w w . m i g r a n t n e w s . n z I email: migrantnews@xtra.co.nz

P a g e 0 3

Family's change in fortune

after sharing story of job

loss and visa woes

By Gillian Bonnett

Immigration

Reporter

RNZ

Mother-of-two Tarri

Caraquez was in lockdown

in Auckland with

her partner Joel Macarubbo,

who had lost his

job, a four-month-old

baby and no visa.

They were selling their

belongings to pay for

food, rent and nappies.

They had been in New

Zealand for more than a

decade, but were concerned

they could be

deported to the Philippines

when their visa was

rejected despite Joel's

qualifications and experience

as an electrical engineer.

But the family of four -

baby Beau and 15-yearold

daughter Jeomille -

were overwhelmed with

donations and offers of

work and immigration

advice after they shared

their story.

In a rapid change of

fortunes a month on, they

are back on a firm footing

and a fast-track to residence.

"I would describe it as

'a new beginning',"

Caraquez said.

"I felt that after our

family was trying so long

to reach for that residency,

and only this year we

stumbled into a bigger

problem making us being

in the brink of deportation

and only now that

our family was able to

obtain this second chance.

I truly think that this is

where we can start over."

She paid tribute to the

Migrant Action Trust,

which made her story

public, immigration

lawyer Maricel Weischede,

who took up their

case and AIS Global,

which offered Joel a job

at its Auckland site.

The help and generosity

were overwhelming for

their family.

"When I met and conversed

with everyone

from the community who

had helped and worried

for us, I felt surprised and

baffled. I didn't think that

anyone was willing to

help us without even

meeting face-to-face and

for that I was forever

grateful," Caraquez said.

"And when Joel was

able to receive a visa

and a job, I felt that I

could continue my life

with my family here. I

felt that my dream

could be fulfilled, my

daughter's dreams,

my partner's dream.

All of it, till this day I

feel so overjoyed and

relieved. Like again

I'm truly very eternally

grateful for all

of the people that

helped and supported

us and for that, I thank

and appreciate them with

all my heart."

The emergency benefit

for migrants had been

stopped at the end of

August, and lockdown

brought more visa delays.

AIS Global co-founder

Mike Milligan was among

those who read Caraquez's

story.

He met them to offer

food parcels and money

for rent, and talked about

work. He hired Joel the

next day.

"We are very active

within our Filipino communities

within New

Zealand, Australia, the

Puketapapa Community

Driving School won the

Filipino-Kiwi Hero Award

2021 for being the most

OUTSTANDING FILIPINO

RESOURCE CENTRE.

Award received by the

School's Manager - Amie

Dural-Maga.

Philippines,

and the

U n i t e d

Kingdom.

So it obviously

pulled

on heartstrings

in

that story

and I wanted

to see

what we

could do to

h e l p , "

Milligan

said.

"We basically

tried to make sure

that this time of the year

wasn't going to be a sad

time of year - one where

MIGRANT ACTION TRUST

manager Amie Maga (left)

said from their experience

and community groups they

work with, hundreds of

foreign workers and

international students

cannot work while they wait

for visas, or have lost their

jobs during the latest

Covid outbreak.

Photo credit: Aisha Ronquillo

Joel Macarubbo, Tarri Caraquez and their children Jeomille, 15,

and Beau, four months, with Joel's new employer, Mike Milligan,

co-founder of AIS Global. Photo: RNZ / Marika Khabazi

they could actually put

food on the table and keep

the lights on.

"They're a proud,

hardworking family,

they're like 'all we want to

do is sort of get back onto

our own own feet'. I'm

not going to lie, it was

quite emotional. They

didn't want a handout,

they were just stuck."

It was heartening to see

the help they had been

offered, and Joel had

taken to his new role.

"He's definitely doing a

great job already. He's a

great guy and he's ripped

into his new role and he's

bringing his skills and

experience, and with his

work ethic we can tell that

he's going to really reach

the heights that we want

him to within that division.

"It's nice to see communities

come together in

times like this because

being involved in what we

do in the community,

obviously there's a lot of

sad stories, but you see a

lot of good in a lot of people

as well."

The company is also

sponsoring other families

this Christmas through its

AIS Compassion Movement

and is preparing to

send presents out to 150

children.

Immigration lawyer

Maricel Weischede heard

about what they were

going through and

worked for free to get the

visa sorted quickly so Joel

could start work.

Crucially, the family

were able to qualify for

fast-track residence when

the second phase of the

one-off visa opens in

March.

The Migrant Action

Trust's manager Amie

Maga said it had been

helping more than 100

migrants in hardship and

it was great to hear such

good news.

"It's really the best

Christmas present that a

family could ever wish

for," she said. "We are

hopeful that more families

will get their visa sorted

hopefully before

Christmas, so they'll be

happy celebrating Christmas

as well."

This story is republished

with special permission

from RNZ.

'Begging for

money and food'

- mother of

infant describes

lockdown

PREVIOUSLY...

Read the back story to

the above feature online:

www.filipinonews.nz/

featured/visa-delayscause-a-nigthmaresituation

(Excerpt follows ...)

Migrants are selling their

belongings, begging for

money and living in garages

after losing their jobs during

lockdown.

A mother with a twomonth-old

baby broke down

in tears as she described her

family's nightmare waiting

for a visa to arrive.

"I'm selling all my stuff

on Facebook market so I

have money to buy my baby

diapers and formula and

then I asked the food bank

donation so we have food,"

said Tarri, who arrived

from the Philippines in

2010.

"This isn't supposed to be

happening because my husband

has a good pay, and

me. We are both working,

we're not lazy, I can't

believe it."

- RNZ
---
P a g e 0 4 w w w . m i g r a n t n e w s . n z I w w w . f a c e b o o k . c o m / w w w . m i g r a n t n e w s . n z I email: migrantnews@xtra.co.nz

For the past four days,

Yuriy Ackermann's scared

friends have been sheltering

in a dark underground

car park in the Ukrainian

capital, Kyiv, with their 13-

year-old daughter.

Like millions of others

they tried to flee to safety,

only to end up back where

they began because of traffic

jams and fuel shortages.

By JEAN EDWARDS, Reporter

Russia's attack and will

spend an initial $2

million on

humanitarian

aid for

Yuriy Ackermann and his wife Alice - they sent this photo

to their friends who are hiding in the underground car

park to remind them that "we are with them, together in

all of this." Photo: Supplied

As explosions echoed

above, they found refuge

below.

"Whenever the siren

stopped they would go to

their home, have a nap, have

some hot food - tea, scrambled

eggs," Ackermann said.

"They were telling me

how excited they were to go

back home and have some

scrambled eggs. It's just surreal."

Yuriy Ackermann hails

from Chernivsti further to

Ukraine's west, near the border

with Romania and

Moldova.

He moved to Tauranga at

the age of 14, but recently

spent two years in Ukraine

with his wife because of the

coronavirus pandemic.

Ukrainian migrant

worried about friends in

Kyiv under Russian attack

Ackermann thought war

with Russia was impossible,

so its grim reality has hit

hard.

"I cried because I just

couldn't handle this madness,

this horror," he said.

"For my mother who was

born in the Soviet Union

when this was all one country,

what happens now - and

for me as well - it is just

senseless. That's what in

Russian language you would

call a brother murder."

Kyiv has not come under

sustained attack yet, but

satellite images show a column

of Russian military

vehicles nearly five kilometres-long

snaking towards

the city.

Ackermann's family is

coordinating volunteers distributing

humanitarian aid

packages, blankets, medicine

and blood donations

from neighbouring Poland.

Refugees have also found

safe haven at their hotel and

restaurant.

He condemned Russian

president Vladimir Putin

for sending teenage conscripts

into Ukraine like

"lambs to the slaughter" and

lamented the impossible

choice his compatriots face

defending their land.

"They will look at those

dead kids that they killed

and they will be conflicted

because they had to do that

to protect themselves, their

family and their land," he

said.

The New Zealand government

has condemned

Ukrainians.

The government

has also

introduced travel and

targeted export bans and suspended

top-level diplomatic

relations with Moscow, but

has not imposed any sanctions

on Russia or the oligarchs

who live or invest in

Aotearoa.

New Zealand has traditionally

relied on the

enforcement of United

Nations sanctions.

Yuriy Ackermann said

politicians should introduce

autonomous sanctions legislation,

investigate the financial

ties of Russian elites and

send more aid to Ukraine.

"New Zealand needs to

have a clear, vocal stance

against this," he said.

"Right now, innocent people

die and we are absent."

- Published with special

permission from RNZ.
---
w w w . m i g r a n t n e w s . n z I w w w . f a c e b o o k . c o m / w w w . m i g r a n t n e w s . n z I email: migrantnews@xtra.co.nz

P a g e 0 5

Racism alive on

and off sports

field, says report

The Asian population is growing significantly and

is the third largest ethnic group in New Zealand,

following European/Pakeha and Maori.

Asian people account for 15% of the population

nationally, 28% of the population in Auckland and

29% of the population of West Auckland.

WEST AUCKLAND -

The Asian community is

being left on the side lines

when it comes to getting

involved in leadership

roles in community sports

organisations.

A West Auckland study

undertaken by Sport

Waitakere and funded by

the Ministry for Ethnic

Communities looked at

diversity and inclusion in

community sports and the

report, 'The Barriers to

Asian Participation in

Formal Leadership within

Community Sport - A

Developing Ethnic Leaders

Insight Study' found there

are barriers to Asian

migrants becoming leaders

and influencers within

their chosen sports code.

Javeed Ali, Sport

Waitakere's Community

Sport and Recreation

Team Lead and report coauthor,

says the project

aims to support the development

of Asian members

to become more knowledgeable,

competent and

confident to participate in

formal leadership roles

within community sports

organisations.

"Being part of a sports

club and involved in the

governance of sports

organisations is a great

way to adapt and integrate

into New Zealand society,"

says Ali.

"It can help with establishing

social networks,

language improvement

and foster respect and

understanding in a new

country, yet there are barriers

to the transition from

participants or supporters

of sports to being leaders

and influencers within a

club."

Lack of free time was

one of the biggest barriers

to getting Asian immigrants

involved in sports

clubs with over 90% of

respondents saying that it

took around three years to

settle in and get their

affairs in order as well as

many of them prioritising

running a small business.

Culture shock and language

barriers featured

strongly. In many cases

New Zealand's sports

codes' systems are completely

different to those in

migrants' home countries

and a limited understanding

of English affected

their confidence levels in

participating in club

sports.

Racism and discrimination

is alive and well on

and off the sports field

with respondents reporting

they had experienced

racism in

their club due to

the colour of their

skin. They felt

they were treated

differently

and often

ignored but did

not want to

speak up as it

may mean their

child would be

excluded from

competitions.

Some participants

interviewed

as part of

the study suggested

that it was

'jobs for the

boys' and boards

and committees were dominated

by a regular group

of people with very limited

opportunities for new people

to join. Many of these

roles are held by middleaged

Pakeha men.

Of the eight clubs

analysed, Europeans made

up approximately 50% of

the membership yet

accounted for over 80% of

those who held formal

leadership roles. Whereas

Asian communities made

up almost 25% of the

membership, but only 10%

of formal leaders had an

Asian background. Whilst

this is a small sample, this

over-representation can

lead to making members

feel excluded as their needs

may not be met.

Javeed Ali says some of

these findings are disturbing

but all can be rectified

if there is a stronger level

of awareness and understanding.

"Being told you don't

speak English, don't know

people and are not Kiwi is

a pretty harsh introduction

to New Zealand," says Ali.

Javeed Ali, report co-author

"We need to put systems in

place that will deliver leadership

and governance

training and education

around the New Zealand

sports system so newcomers

can understand how we

do it here.

"Mentoring is another

important tool to help

onboard ethnic people into

formal leadership roles,"

says Ali. "Based on these

findings, Sport Waitakere

will be running a governance

training programme

specifically for ethnic communities

in the coming

months.

"Sport and recreation

provide a shortcut for

social integration and we

should be welcoming our

ethnic communities who

bring so much value to the

field, the governance table

and the social make up of

sports clubs," continued

Ali.

Photos: Supplied.
---
P a g e 0 6 w e b s i t e : w w w . a s i a n n e w s . n z I w w w . f a c e b o o k . c o m / w w w . m i g r a n t n e w s . n z I J o b B o a r d : www.trabaho.nz

'Beyond the Veil',

showcases indigenous

storytelling from

Maori, Pasifika,

Chinese and Filipino

cultures.

Filipino talent is put

under the spotlight

afresh with the first

feature of a Tagalog

original in an

Aotearoa-produced

series.

'Albularyo' touts

Philippine folklore in

TVNZ 2's six-episode

sequence, 'Beyond the

Veil', showcasing indigenous

storytelling

from Maori, Pasifika,

Chinese and Filipino

cultures.

The episode was written

and directed by Filipina

Mia Maramara, alongside

Hweiling Ow and in collaboration

with producer

Morgan Leigh Stewart and

NZ On Air and Te Mangai

Paho for the co-funding.

The story introduces the

journey of estranged siblings,

Gloria and Robert,

after the death of their

parents. "Gloria is a

Filipino-Kiwi doctor in her

Above: 'Albularyo' was written and

directed by Filipina Mia Maramara

30s, an ate (sister) figure

and a strong female lead

coming back home for the

first time, while Robert,

her younger brother, has

already been integrated

into New Zealand society

while growing up," Mia

revealed.

Their story intertwines

with the struggle of their

grandmother, Lola Mim,

the Albularyo (witch doctor),

as she transitions into

a new life away from

Asian folklore

debuts with a

new spin in NZ

BEYOND THE VEIL is a

six-part series

premiering on 7th

March 2022, on TVNZ

2 and TVNZ 2 On

Demand.

By Queenie Tanjay

home. "She is very strict,

but she loves her family so

much. Unfortunately,

being in New Zealand is

very hard on her and so

she succumbs to turning

into a manananggal (a corrupted

witch)," Mia

detailed further.

The show is nostalgic

and familiar to folklore

fans and geeks, even to

ordinary Filipinos who

grew up with superstitions,

tales and myths. The

albularyo and manananggal

are popular denizens in

Philippine lore and supernatural

narratives, dating

from the pre-Hispanic era.

An albularyo, witch-doctor

or faith healer, is

revered by some because of

his specialty in herbs and

his power to communicate

with spirits. He is often

portrayed as a hermit with

a superfluous collection of

potions and concoctions

rendered for various sickness

and prayed manifestations.

A manananggal, on

the other hand, is a

hideous depiction of a

vampire woman with a

detached torso, feared by

many during the night

when it looks for its prey.

The episode was produced

by MHM productions,

named after the

three producing and

directing bigwigs, and will

run for 22 minutes on air.

The cast includes Clarisse

Uy, Marwin Silerio,

Luciane Buchanan, Meg

Sydenham and Lourdes

Santos.

Editor - Mia Maramara

has been nominated for the

Filipino-Kiwi Hero Awards

2022 - Best Film Director.

WELLING-

TON - Magnolia,

the new

poetry collection

by Wellington

writer Nina

Mingya Powles

(27), was shortlisted

for the

Mary and Peter

Biggs Award for

Poetry as part of

the Ockham NZ

Book Awards.

Two years ago it was

shortlisted for the UK's

prestigious Forward Prize

for Best First Collection.

Powles says: "Magnolia is

a title that contains layers,

which will be obvious to any

Chinese speakers. 'Mùlán'

means 'magnolia', which is

also the official flower of the

city of Shanghai, where

most of these poems were

written. I spent a year and a

half there studying Mandarin.

"Shanghai is one of several

places in the world that I

call home, so I always knew

that one day I would have to

write a 'Shanghai book', but

I didn't know what form it

would take.

"The end result is partly a

collection of love letters to

Shanghai, but it's also about

loneliness and about trying

to retrace your steps back

towards a language you've

lost."

New poetry

collection

explores

mixed-race

experience

By Mel Fernandez

Poet Alison Wong says:

"This is a book of the body

and the senses. Whether the

million tiny nerve endings

of young love, the hunger

that turns 'your bones soft in

the heat', the painterly, edible,

physical colour of flowers

and the fabric lantern in

the pattern of Maggie

Cheung's blue cheongsam,

or 'the soft scratchings of

dusk'.

"These are poems of

'warm blue longing' and

understated beauty, poems

to linger over, taste and taste

again. As Powles searches

for home she leaves an

'imprint of rain' in your

dreams."

Powles, who is of Pakeha

and Malaysian-Chinese

descent, was born in

Aotearoa New Zealand and

did most of her growing up

here, but has found many

places to call home and

Nina Mingya Powles

many places to be homesick

for.

Powles began writing seriously

while studying at

Victoria University of

Welling-ton, where her MA

creative writing portfolio

won the 2015 Biggs Family

Prize for Poetry.

Magnolia is available to

purchase from https://www.

seraphpress.co.nz/magnolia.html

and from selected

NZ bookstores.

Water blasting/

Gutter Protection

Installation.

We are looking for someone

with the following:-

A clean and tidy appearance.

Full clean drivers licence.

Work well alone and in a team.

Good customer relations skills.

Comfortable working at heights.

Work visa or NZ residency

and living in Christchurch.

Full training will be given.

Good pay rates for the right person.

Please email cv to marg@guttersolutionz.co.nz
---
w w w . m i g r a n t n e w s . n z I w w w . f a c e b o o k . c o m / w w w . m i g r a n t n e w s . n z I email: migrantnews@xtra.co.nz

P a g e 0 7

Legacy, whakapapa and

heritage seen through the

lens of the various migrant

communities in Aotearoa is

the subject of GIANTS, a

seven-part series premiering

at 9:30pm on 18 February

2022 – on Maori Television,

Maori+ and Maori TV On

Demand.

The series tells untold stories

from Chinese, Punjabi,

Filipino, African and

Samoan migrant communities

in Aotearoa. It explores

the idea that immigrants

'stand on the shoulders of

giants', building upon the

legacy and whakapapa of

their tupuna.

Producer Alex Bradshaw

says that the series shows

how the strength of family

and community is an integral

part of the foundation of

New Zealand's most diverse

communities.

"The migrant communities

that were thriving all

had one thing in common -

they favoured communalism

over individualism," says

Alex Bradshaw.

"In making GIANTS we

were fortunate to have

access to untold stories from

Maori TV's take on

legacy and heritage

in migrant communities

Above: Filipino Gymnastics

Champion - Kenzo Santayana,

Filipino-Kiwi Sportsperson

of the Year 2021

www.filipinoheroes.nz

Left: Filming of the African episode

in Wellington (featuring Thabbiso).

GIANTS, a seven-part

series premiering at

9:30 PM on

18 February 2022 –

on Maori Television,

Maori+ and Maori TV

On Demand.

growing migrant communities

in Aotearoa. Features

Kenzo Santayana

and Rupert

Palaroan.

EPISODE 4

– Friday 11

March, 2022,

at 9:30 PM:

Oamaru –

Introducing the

culturally

vibrant Oamaru,

the latest step in

Pacifika chain

migration.

EPISODE 5 – Friday 18

March, 2022, at 9:30 PM:

African – Changemakers in

the growing African community

of Wellington.

EPISODE 6 – Friday 25

March. 2022. at 9:30 PM:

ASTR – Asians Supporting

Tino Rangatiratanga, a

some of New

Zealand's most

vibrant migrant

communities.

We meet people

who give voice

to the experience

of migrating to

Aotearoa.

"We learn

about some of

our newest New

Zealanders –

Chinese, Punjabi,

Filipino,

African, Samoan – how their

culture shapes them and how

they are shaping a new legacy

in New Zealand through

their community."

The personal stories are as

varied as the migrant communities.

"Our history goes right

back to 1882, when my

great-grandfather came to

New Zealand to earn some

money to send back to family

in China," says Malcolm

Wong, featuring in Episode

One.

"I want to share what

Filipino food is. I want to

share our culture. I know

that I'm not doing this for

myself; I'm doing it for my

cuisine and my culture,"

says Rupert Palaroan in

the Filipino episode.

"People don't know the

struggles of our parents.

Clockwise from top left: Harsharin Kaur Virk, John Kaan,

Parminder Singh, Ajit Randhawa, Carolyn King and

Malcolm Wong

Yeah, have you

seen your mother

cry? An African mother,

when they weep, it's like

they're crying out to the

Lord," says Wasa Ali.

The first episode of the

new documentary series,

Giants, premiered on Maori

Television last week and is

now available to watch On

Demand.

Co-edited by DEGANZ

members Anthea Ede Smith,

Scott Howard, Kaz Miley

and Tara Durrant, Giants is a

seven-part documentary

series that takes a look at

legacy, whakapapa and heritage

through the lens of different

migrant communities

in Aotearoa.

SCHEDULE:

Episodes of Giants air on

Maori Television on Fridays

from 18 February at 9:30pm.

They will then become

available On Demand.

Coming up on GIANTS:

EPISODE 1 –

Friday 18 February,

2022, at 9:30 PM: Chinese –

The Chinese community in

Dunedin – one of Aotearoa's

most established migrant

communities.

EPISODE 2 – Friday 25

February, 2022, at 9:30 PM:

Indian – The Punjabi community

drifted from

Taumarunui to Auckland

over four generations.

EPISODE 3 – Friday 4

March, 2022, at 9:30 PM:

Filipino – The Filipino community

is one of the fastest-

group committed to upholding

Te Tiriti o Waitangi.

EPISODE 7 – Friday 1

April, 2022, at 9:30 PM:

Samoan – The Samoan

community in Christchurch

are intent on building a better

future for their communities.

Editor: The order of

appearance of the episodes

might change. Please check

the schedule at Maori TV.
---
P a g e 0 8 w e b s i t e : w w w . a s i a n n e w s . n z I w w w . f a c e b o o k . c o m / w w w . m i g r a n t n e w s . n z I TWITTER : www.twittercom/migrantnews

By QUEENIE TANJAY

ROTORUA - Kogi was

born and raised in Hong

Kong and has been thriving

in New Zealand as a

migrant since 2015.

Kogi made history being

heralded as the first

migrant given the coveted

title Miss Rotorua (2021).

With her momentous win

she hopes to be a louder

representation of the

migrant community in the

country.

"I felt excited, but didn't

expect much. I just did my

best to inspire as many

migrants as I could during

the journey," she revealed.

Her win also speaks of

how multi-hyphenate

women are starting to

break stereotypes in the

pageantry scene.

Considering herself a

late bloomer, Miss Rotorua

is Kogi's first pageant at

the age of 37.

"My daughters were my

motivation to join the pageant,

as I want to be their

role model and to empower

women to inspire migrants

and the next generation."

Although competitions

A focus on

excellence and a

lot of hard work

has seen two

Avondale College

students top the

world in their

Cambridge exams.

Justin Yang

(Year 11) came

first in the world in

the IGCSE English

exam, with a raw

mark of 99%; and

Seivin Kim topped

the world in the

IGCSE Mathematics

exam, gaining

100% - while

only in Year 10.

It's an astonishing

achievement,

given that students

from 140 countries

and more than

4500 schools

around the world

take the Cambridge

International

qualification.

Each year there

are over 700,000

subject entries for

Cambridge IGCSE exams

alone.

Factor in the additional challenges

posed by Auckland's

extended lockdown last year,

and it becomes obvious that

these are two very remarkable

are evidently flocked to by outside beauty, but the

young, tall and lean true beauty of woman, for

women such as in Miss

Hong Kong, Kogi was

undeterred in making a

which there is no barrier

and no limits for age, size

of the body, nationality or

statement by her participation.

marital status," she

"It is not about the relayed.

Double Joy!

of

students indeed.

Seivin, who was also named

as Avondale College's Junior

Dux for 2021, says she had

done a lot of revision of past

papers in the lead up to the two

Mathematics exams, and she

First wahine

of Chinese

descent wears

the crown

came out

the

e x a m

rooms

feeling

quietly

confident.

"There

weren't

any questions that I felt I

had definitely got

wrong," she says.

However, she was still

surprised to get the news

that she had gained all

possible 200 marks,

along with the Top in the

World result.

Justin also came out of

his two English exams

feeling pleased with the

way they had gone, but

certainly didn't expect

he had done well enough

to take out the top position.

"It felt quite surreal

when I heard the news,"

he says.

Justin puts his success

down to lots of hard

work and revision, and

says he has been inspired

by Aristotle's famous

quotation about excellence:

"We are what we repeatedly

do. Excellence, then, is not an

act, but a habit."

It's a habit that both students

look forward to developing further

in their studies this year.

Top in the World in Cambridge

Mathematics and English Exams

Seivin Kim and Justin Yang of Avondale College

Photo supplied.

Koji So

Miss Rotorua 2021

"The thing that matters most in the world

is true beauty from inside your heart.

No matter where we are from, what we

look like, what our job is, what language

we speak, we all deserve to be loved

and respected." - such inspiring words

from the new face of a modern-day

Rotorua woman herself - Kogi So

Kogi also believes that in

these unprecedented times

pageants play an integral

role in hyping up the spirit

of the community. "I

believe that pageants are

still relevant in this pandemic

as it's all about

empowerment no matter

what's happening. The

mission and our spirit are

still there," she said.

"It is about bringing the

multicultural together in

society and especially

encouraging and empowering

migrants to participate

in the community -

sharing our love and

respect."

Following her crowning

Kogi looks forward to collaborating

with multicultural

communities to share

her advocacies on antiracism,

anti-bullying and

empowerment.

She is currently involved

with the Brave Charitable

Trust in raising awareness

against child sex abuse.

Avondale student not

just top of class but

top of world for English

Justin Yang is not just top of

New Zealand for English at his

year level – he's top of the

world.

The Avondale College Year

11 student blitzed the

Cambridge University International

English exam, scoring

99 per cent.

While he admits others

throughout the world may have

also scored 99 per cent, no one

got 100 per cent.

The exam, which took place

just a few days after Auckland

moved out of lockdown in

November last year, focused on

four essays.

One was on a poem he had read during

the year, another was on a novel and

two were about plays - Shakespeare's

Romeo and Juliet and Arthur Miller's

The Crucible.

Yang told Checkpoint he was surprised

when he saw his results.

"I'd written what I felt about the literature

and my opinion towards it, and I

thought that that would have been good,

but I wouldn't have actually expected to

score so well.

"I was very excited because I never

expected to get such a good score. I wasn't

really expecting top of New Zealand

Kogi So is currently involved

with the Brave Charitable

Trust in raising awareness

against child sex abuse.

Photo supplied.

Justin Yang is very thankful that all

the hard work he did paid off.

Photo / Supplied

or top of

the world."

Y a n g

said he was

very thankful

that all

the hard

work he

did paid

off.

"You aim

for the 100

but you

n e v e r

expect it,

but you

want to

work at it to get it and like, even if I

don't achieve a 100 like even in my

school career, I'm pretty satisfied with

that. Like if I get good grades."

He not only scored exceptionally high

for English but also scored 93 per cent

for math.

However, he said he's always been

more inclined towards social sciences

but didn't choose those subjects.

"I guess the word prowess is very suitable

here, like that kind of ability just

carried over to English and I really

enjoyed it a lot."

- RNZ (Reprinted with special permission).
---
w w w . m i g r a n t n e w s . n z I w w w . f a c e b o o k . c o m / w w w . m i g r a n t n e w s . n z I email: migrantnews@xtra.co.nz

P a g e 0 9

Sound the warning bell:

Lead, mercury found in

skin whitening products

By Staff Writer

Two years ago, Migrant

News reported that

worldwide people have

been urging beauty companies

to change and

remove skin whitening

(also known as lightening)

products (www.

migrantnews.nz/changein-beauty-industry).

And now there is more

bad news both for

importers of these products

and consumers.

Medsafe has issued a

warning that high levels

of mercury and lead have

been found in some skin

whitening creams.

According to the

Authority, a case of possible

mercury poisoning

was reported in the Upper

North Island recently.

"The sample of the product

used by the patient

was tested and found to

have 24900 parts of mercury

per million.

"Two other brands of

similar products that

were tested were also

found to contain high levels

of mercury and of

lead, as did a second sample

of the original product

tested.

"This is in breach of

international conventions

limiting mercury in cosmetic

products to 1 part

per million."

Subsequently, Medsafe

warned the public not to

use Goree Beauty Cream

with Lycopene, Goree

Day and Night Beauty

Cream Oil Free and

Golden Pearl Beauty

Cream.

"Medsafe cautions that

anyone purchasing similar

products either here

or from the internet

should take particular

care as the presence of

mercury is often not disclosed,

as is the case with

these products, but it is

often included as an

added ingredient."

Along with the public

warning, Medsafe has

seized a quantity of skin

whitening creams containing

mercury from a

trader in Auckland.

However, other traders

may also have imported

and sold these products

and individuals may also

have personally imported

the products.

The alert was published

on Medsafe's website to

inform those using the

products about the associated

health risks and to

inform traders of the

issue.

EXPLAINER:

What are the signs and

symptoms of mercury

poisoning?

Mercury is a dangerous

chemical and although

naturally present in the

environment, it is rare.

The signs and symptoms

of mercury poisoning

vary widely depending on

the route of absorption

and period of exposure

but include toxic effects

on the nervous, digestive

and immune systems, and

on the lungs, kidneys,

skin and eyes. It can also

affect the development of

unborn babies.

What are the signs and

symptoms of lead poisoning?

A variety of symptoms

can be attributed to lead

poisoning depending on

the level of exposure and

the age of the person

involved. Lead poisoning

may affect neurological

development in children,

and affect the gastrointestinal

and nervous systems

and have other

effects in adults.

What are the environmental

concerns?

The mercury in these

products may end up in

wastewater, from where it

can enter other waterways

and then the food

chain, through fish.

Editor - You can find

more information about

this topic at: https://www.

medsafe.govt.nz/safety/

Alerts/skin-whiteningcream.asp

We welcome your comments

relating to this article.

email: migrantnews

@xtra.co.nz

The Treaty and the History belong to us

By Priyanca

Radhakrishnan

Waitangi Day continues

to fascinate me as much

today as it did when I first

moved to Aotearoa New

Zealand and started learning

about this nation's history.

It is an opportunity to

reflect and take stock of

the Crown's relationship

with the Maori and think

about where we are headed

as a nation.

For me it is an opportunity

to reflect where

migrant and ethnic communities

fit into the social

fabric of our Nation.

In 2016 I had the privilege

of joining the Labour

Party team at Te Tii Marae

for the Political Day that

precedes Waitangi Day. It

was a special experience.

Waitangi, in the Bay of

Islands, is a beautiful

place.

Unfortunately, when we

were there for the Political

Day 2016 it was bucketing

down with rain. We stood

for about an hour in the

(above) Asian family during their first visit to

the Waitangi Treaty grounds

rain waiting to be welcomed

onto Te Tii Marae.

AMAZING VIBE

Waitangi has an especially

amazing vibe during

Waitangi Day celebrations.

The Treaty grounds are

taken over by about 150

stalls.

It was a convivial event

with music, laughter and

children playing.

I was pleasantly surprised,

because all the

media reports that I had

read about

Waitangi

focused on the

protests and the

sometimes hostile treatment

of politicians on the

Marae.

It was a surreal experience

to be in that place on

a day that holds such historical

and political significance

for New Zealand.

I feel very strongly that

we have a responsibility as

migrants to learn New

Zealand's history and

understand the place that

the tangata whenua occupies

in that history. For too

long now there has been a

struggle between biculturalism

and multiculturalism.

CONFLICTING IDEAS

Some people consider

biculturalism to be restrictive,

because it excludes

ethnic communities.

Others

consider

multiculturalism

to be a

threat to

the bicult

u r a l

framework

within which

New Zealand

operates.

They are concerned

about the effect of multiculturalism

on the status

accorded to the tangata

whenua, the people of the

land.

I believe that we need

both.

As popular Public

Lawyer Mai Chen said.

"We need to start talking

about multiculturalism on

a bicultural base."

THE TREATY

I learnt about Te Tiriti O

Waitangi relatively recently.

It was when I was studying

a paper that dealt with

the issue of race-relations

that I learnt about its two

different versions; the

original in Te Reo Maori

and the other translation

in English and the way that

it has shaped Pakeha-

Maori relations.

I learnt about the land

wars and confiscation; the

struggle that Maori went

through to preserve Te Reo

Maori and their culture.

It was then that I started

to understand the Treaty

settlement process and the

protests on Waitangi Day.

A public meeting that I

attended in Pt. England

highlighted the importance

of learning Maori history.

The meeting was called

to hear the views of residents

on a government Bill

that would enable the sale

of a third of the Pt.

England Reserve to Ngati

Paoa as part of their

Treaty settlement process.

There were various

views expressed, both for

and against the sale of the

land.

However, there were a

couple of questions that led

me to realise that there was

a need for more education

around the Treaty settlement

and negotiation

process – why it is happening

and what it entails.

As New Zealanders, we

are all in this together.

As migrants, Aotearoa's

history has become ours.

The onus is on us to find

out about the historical

injustices and to understand

the attempts being

made to address those

wrongs.

Naku te rourou nau te

rourou ka ora ai te iwi.

With your basket and my

basket the people will live.

Priyanca Radhakrishnan

is the Minister for Diversity,

Inclusion and Ethnic

Communities.

This article was first published

in 2017.
---
P a g e 1 0 w e b s i t e : w w w . m i g r a n t n e w s . n z I w w w . f a c e b o o k . c o m / w w w . m i g r a n t n e w s . n z I TWITTER : www.twittercom/migrantnews
---
MATAKANA – Here's a

side trip that should be at

the top of every Aucklander's

bucket list of travel

destinations, simply because

of its close proximity

to Auckland.

This popular day trip is

a mere hour's drive north

from the Auckland city

centre on a multilane

highway that weaves

through rolling countryside,

coastal views and

quaint townships and

offers one a slower pace of

life in peaceful surroundings

the further out you

venture.

Along the way discover

a string of delightful

jumping off points where

you can unwind and

explore at your leisure:

Puhoi. Warkworth. Matakana.

Leigh. Omaha

Beach. Snells Beach …

And for those who like a

tipple as a means of

escapism, the delightful

Coast Wine Country will

put you in the right spirit.

This region is too broad

a landscape to do justice

to in just one article, so

the focus here is the

delightful Matakana

township and surrounds

and its main attraction -

the rustic Matakana

Village Farmers Market

held every Saturday

morning from 9am to

1pm.

It is prudent

to leave

Auckland

before 9am to

ensure that

you arrive in

time to discover

the cornucopia

of

delights that

overflow

from the display

stalls at

the market.

The market

is a splendid

showcase for

local growers

and producers

and artisan foods.

Here they can flaunt

their super fresh fruit and

veges, organic produce,

preserves, pickles, olive

oils, breads, gourmet

spreads, chocolate, feijoa

wine, kombucha, locally

made cheeses, artisan hot

pastries, salted caramel

truffles, pizza, delicious

homemade nut butters

and jams, honey, specialty

meats, sausages, cooked

oysters and pau fritters.

Highly recommended

are the waffles topped

with bacon and banana,

the Russian fudge and the

moreish cheeses.

The markets are cute

permanent stalls with

wooden tables located on

the river's edge where you

can eat and listen to live

music.

Once you've had your

www.travelgalore.nz • melfernandez@xtra.co.nz

Matakana

Beckons.

Bucket List

Destination -

Just a Short

Hop Away.

fill of

the market it pays to wander

around the surrounding

Matakana Village.

Discover art galleries,

By Mel Fernandez

antiques, second-hand

shops, vineyards, wineries,

cafés and restaurants

that are sprinkled

throughout the area.

A premium tour over

here is the Matakana

River Cruise that unfolds

the history and shows the

tidal environment of mangroves,

native bush and

farmland. The trip takes

about an hour.

The area boasts rolling

countryside, picturesque

coastlines, beaches, hidden

coves and some walking

tracks. So much to do

if you have the time and

the inclination.

WINERIES: Sample

award-winning wines at

some of Matakana's boutique

vineyards. Indulge

in a leisurely lunch overlooking

the vines or join a

small group tour to several

properties.

Plan to visit three to five

wineries while you're in

Matakana - there are lots

more in the area.

The Matakana Coast

may be a relatively new

wine-growing region, and

over recent years the

region has produced several

award-winning wines

and the number of vineyards

in the area has

grown dramatically.

As a day tripper you

can fit in a couple more

side trips if you feel up to

it. We breezed through the

VIEW OUR TRAVEL VIDEO

@ www.travelgalore.nz/

matakana-beckons

following:

OMAHA BEACH

Omaha is only 7 km

away. The waters are

great for surfers and

swimmers as the waves

are moderate.

Nothing beats eating

fish and chips by the

water and then going for a

long walk along the sandy

beachfront.

GOAT ISLAND

MARINE RESERVE

Further

up the coast

near Leigh

is Goat

Island - New

Zealand's

first marine

reserve. If

time permits,

try

snorkelling or go on the

glass bottom boat.

On this day trip we got

to sample a little of everything

the Matakana

region offers. But it was

hectic.

Next time round we

would prefer to stay a

couple of days at Omaha

beach and enjoy more of

what the region has to

offer at a more leisurely

pace.

Hello there!

There is every

chance that

you will meet

mates from

Auckland

unwinding in

Matakana.

Check out

other exciting

travelogues

@ TRAVEL

GALORE

http://www.

travelgalore.

nz

TO ADVERTISE

YOUR TOURIST

BUSINESS:

027 4958477

Aotearoa's border to reopen in stages from 27 February

The New Zealand border

will reopen to vaccinated

Kiwis and other current eligible

travellers from

Australia at 11.59pm on 27

February and to the same

groups from the rest of the

world two weeks later on

13 March.

The Government's reconnecting

plan will see all

New Zealanders and key

visa holders able to start to

enter the country over the

coming three

months, assisting

with the economic

recovery and immediately

address

worker shortages.

"This is a very

carefully developed

plan that replaces

MIQ for the vast

majority of travellers

while ensuring

we maintain

ongoing measures to reduce

the spread of COVID-19 in

our community

from recent

arrivals,"

COVID-19

Response

Minister

Chris Hipkins

said.

"By the time

we start to

reopen our border,

we'll be

one of the most

vaccinated and most boosted

countries in the world

and the COVID-19 Protection

Framework will be

well established in helping

to manage COVID outbreaks.

"Our plan has built in

protections to help manage

risks such as future variants.

A phased approach to

reopening reduces the risk

of a surge of cases, while

prioritising the return of

New Zealanders and much

needed entry of skilled

workers.

"Having MIQ for every

traveller was a temporary

setting for when none of us

had protection. New

Zealanders need to reconnect

with one another.

Families and friends need

to reunite. Our businesses

need skills to grow.

Exporters need to travel to

make new connections,"

Chris Hipkins said.
---
FIRST ASIAN FOOD WEBSITE IN NZ Mob: 027 495 8477 : migrantnews@xtra.co.nz

'Street food like

back in Malaysia.'

By Mel Fernandez

AUCKLAND – Ask any

Malaysian what they miss

most about their mother

country and chances are

that street food comes out

top on their wish list.

In food-mad Malaysia

locals have a tendency to

partake in up to six small

meals a day, because they

are drawn to the ubiquitous

hawker stalls where

the food is cheap and

super tasty.

Robin Annadass and his

wife Amanda Annie, who

hail from Kedah in

Malaysia and who are

newcomers to our shores,

are a classic example.

The pair was craving

'mamak style' street food

(a delightful blend of

Malay and Indian dishes)

so much that they decided

Video interview with Robin

Annadass can be viewed at

www.halohalo.nz/kedaimamak

to replicate the food stall

concept with the opening

of 'Kedai Mamak' in

Three Kings, Auckland –

offering Malaysian prices

for their meals, an

authentic taste and a

rotating menu of musthave

comfort food.

"I reckon that we are

the only ones doing exactly

what 'kedai mamak'

stalls offer in Malaysia

and Singapore. So now

people don't have to travel

in order to get the same

quality, the same flavour

and the same food right

here in New Zealand," he

chuckled.

So what is the success

secret of this popular

eatery, which has customers

fighting to get

through the door for their

traditional breakfast,

lunch and dinner menu

offerings.

"Firstly, our prices are

so reasonable that most of

our customers dine in and

get takeaways as well,"

noted Annadass.

"Secondly, they love the

home style food." A good

indication that their food

is authentic is the fact that

Malaysians make up the

bulk of their customers.

According to Annadass,

the favourite dish on their

menu is Nasi Lemak,

unofficially the national

dish of Malaysia. The

basic version offered here

features coconut flavoured

rice, a dab of sambal, a

sliced-up hard-boiled egg,

cucumber, ikan bilis (deep

fried anchovies) and

toasted peanuts. You can

add fried chicken to the

set.

Then come the noodles

– Kway Teow Goreng

(fried flat rice noodles

with a generous helping of

sambal), which will make

you drool, followed by

Mee Hoon and Mee

Goreng.

A breakfast treat that

tends to run out quickly is

Check out more food reviews at the Asian Food Portal

http://www.halohalo.nz

TO ADVERTISE YOUR FOOD BUSINESS: 027 495 8477

the addictive Roti Canai

(pan-fried flatbread made

with flour, eggs, fats and

water), served with dhal

curry. And for the sweettoothed

there is kueh

lapis (a coconut layered

dessert) and

kueh seri muka

(which combines

glutinous rice,

coconut milk, sugar

and pandan leaves).

The Saturday lunchtime

treats are biriyani

or ghee rice and goat

curry.

Fish curry features on

Wednesdays and Fridays.

Chicken and lamb

curry, fish and quail eggs

sambal also pop up on the

rotating menu.*

And yes, 'Teh Tarik'

(the famous frothy 'pulled

tea' that combines black

tea and condensed milk)

is available here too, at a

very

reasonable

price of course.

Kedai Mamak,

540D Mt Albert Road,

Three Kings Plaza.

Tel: 09-624 0011.

*Please check their

Facebook page for daily

specials and opening

hours.

AUCKLAND – Filipino

food cart giant Potato

Corner officially opened its

first franchise operation in

New Zealand on 15

December 2021 at the

Botany Town Centre Night

Market.

"It's been long overdue

for Potato Corner to enter

New Zealand," said

Gaston Zubiri, director of

Spudsters NZ Limited.

"And now we are finally

here!"

Auckland's borders

reopened on the same day,

which was perfect timing

for the celebration as

patrons from nearby cities

were able to attend and

savour these famous

flavoured French Fries.

"It has been an honour

and a privilege to have

contributed to bringing a

leading Philippine-made

brand on the global scene

to New Zealand," added

Meryl Co Chiong, a coowner

and General

Manager of the operation.

Already at the soft

launch on 18 November at

the Henderson Night

Market, Filipinos and

locals were patiently lining

up to satisfy their cravings

for this world-famous

Philippine potato snack.

"We appreciate all your

FILIPINO POTATO SNACK GIANT

SET TO CORNER NZ MARKET

By Mel Fernandez

Food Editor

support and patience," Co

Chiong posted on Facebook.

"We would like to

apologize for the longer

than expected wait times as

we did not anticipate customers

ordering up to $100

worth of fries in one go."

The popular potato

snacks are now being

quickly snapped up at

Spudsters' weekly pop-up

carts at the Auckland

Night Markets in Mt.

Wellington, Botany Town

Centre, Henderson, Highbury

Shopping Centre,

Papatoetoe and Pakuranga.

Potato Corner is a global

Philippine food franchise

and has been a leading

brand in the food industry

for over 25 years.

In 1992 the first Potato

Corner store opened in SM

Megamall.

In a recent podcast, Asia

CEO, Potato Corner cofounder

and chief executive

officer Jose Magsaysay

Jr. said that the company is

in the process of ramping

up its expansion plans.

Potato Corner has

been serving spud

lovers in Australia

since 2016 and is continuously

expanding its

presence in the

Oceania region.

Currently Potato Corner

has over 1,400 stores

worldwide. The bulk of the

stores are located in the

Philippines, but more than

200 are overseas.

In five to 10 years

Magsaysay Jr. said that

Potato Corner is looking at

adding 1,000 more stores

to the local market and

10,000 stores internationally.

The majority, or 80 percent,

of Potato Corner's

stores are held by franchisees.
---
w w w . m i g r a n t n e w s . n z I w w w . f a c e b o o k . c o m / w w w . m i g r a n t n e w s . n z I email: migrantnews@xtra.co.nz

P a g e 1 3

"Had she been

vaccinated ...

... would it have given her a

fighting chance to survive?"

Dr Lira Lecias (right),

a GP at Waiuku Health

Centre in Auckland,

with her late mum

Lilia Gamboa

GP Lira Lecias wants to

encourage people to get

vaccinated and keep their

family and friends safe.

Dr Lecias has written an

open letter to all New

Zealanders in honour of her

beloved mother, the late

Lilia Gamboa, about her

family's experience with

COVID in the Philippines.

Dr Lira Lecias has

been nominated for

the Filipino-Kiwi Hero

of the Year Award 2022.

AUCKLAND - It is hard

and painful and I wouldn't

wish this to happen to you

and your families here in

New Zealand.

I want to share my family's

experience with

COVID in the Philippines.

By sharing my story

I hope that those of you

who have second thoughts,

doubts or hesitations about

getting the vaccine may

think about getting the jab

sooner rather than later.

Since the pandemic

started, part of my work as

a GP on the frontline has

been treating and swabbing

patients with respiratory

or viral illnesses in the

'red zone' of Waiuku

Health Centre.

Every time I put on my

PPE I would wish that

there was something in the

medicine cabinet that I

could take to protect me,

my family, my healthcare

team and my friends from

getting COVID.

I also experience

hesitancy

The vaccine became

available for us, frontliners,

in March of last year. I

also experienced hesitancy

regarding getting the vaccine.

Initially I had the same

questions you may also

have in your mind right

now. Will I have bad side

effects? Will I die? What

will be the effects of the

vaccine in the long term?

However, I also wondered:

If the vaccine is

there to help us protect

ourselves – why wouldn't I

take it?

So after weighing up the

benefits vs the risks and

after considering the available

evidence, I then decided

to get vaccinated.

Since then I have been

watching the numbers in

other countries, to find out

how much vaccination can

protect us. Although data

from other countries

showed the trend that vaccination

protects people

from developing severe

COVID, the numbers may

not necessarily mean anything

at a personal level.

Until COVID hits

home

Knowing the numbers

does not necessarily motivate

some of us to get vaccinated

urgently. Until

COVID hits home, only

then do you start to see for

yourself who survives and

who doesn't. This is why I

would like to share my

family's experience with

you.

Recently my family

(father, mother and two

nephews who live with

them) contracted COVID.

My father (75) has medical

comorbidities, including

hypertension and atrial

fibrillation. He developed

a cough, fever and shortness

of breath.

My sister brought him to

a public hospital where he

waited overnight for his

COVID test results in a

holding area in a tent outside

the hospital building.

The next day, 31 August,

we were fortunate to find a

private hospital for him.

My father needed oxygen

supplementation. He

improved and was discharged

14 days later.

Two days after my father

was admitted to the hospital,

my mother, who was

symptomatic and who had

also tested positive for

COVID, was also put on a

waiting list.

We had to purchase a

pulse oximeter and oxygen

tank to support her

breathing at home as her

oxygen saturation (O2sat)

was dropping.

When space became

available she was finally

admitted to the hospital

with her O2sat already at

around 84 percent.

My mother was 74 years

old and was taking oral

medications for hypertension

and diabetes. She

received all the treatments

for COVID, similar to

what would be given here

in New Zealand for moderate-severe

COVID.

Despite the available

treatments she continued

to deteriorate over the next

few days, requiring intubation

and ICU admission.

She eventually passed

away on 14 September.

Home oxygen supplementation

My nephews, a 27 year

old with scoliosis and a

mental health condition

and a 23 year old with a

history of asthma, were

both unvaccinated.

The local government

advised them to quarantine

at home with the rest

of the family. They were

managed at home by their

mother, my sister, who had

received a first dose of the

Sinovac vaccine. They both

needed oxygen supplementation

at home as their

O2sats also fell below 95

percent, with one of them

going as low as 89 percent.

The remaining four

members in the household

developed mild symptoms

(presumed to be COVID).

Two of them (17 year old

male and 24 year old male)

were unvaccinated. The

other two (41 year old male

and 20 year old female)

were vaccinated with a

first dose of Sinovac.

What were the outcomes

after two weeks? My

father, who had received a

dose of the vaccine, survived

moderate COVID.

My vaccinated sister

remained asymptomatic.

My vaccinated niece and

41 year old extended family

member also recovered

from mild COVID. While

the four unvaccinated family

members recovered,

two needed home oxygen

supplementation.

Unfortunately, in the

case of my mother, COVID

caught up with her before

she could get her vaccination

and she didn't survive.

My mother was vaccinehesitant

in the beginning,

because she feared that she

would get adverse effects.

When she finally decided

to go for her vaccination it

did not happen because the

centre ran out of vaccines.

Sadly she contracted

COVID before her next

appointment.

Luxury of low

cases

Since we lost our mother,

a couple of questions that

continue to play in my

mind are: Had she been

vaccinated, would it have

given her a fighting chance

to survive? Would it be a

different scenario if she

was here in New Zealand?

Not only do we have vaccines

available now, but we

also have the luxury of

time to get vaccinated

while our COVID cases are

still low.

An Auntie (68), has

myasthenia gravis, but has

received a dose of the

Moderna vaccine. She

nursed both my sick parents

at the hospital, but

didn't get COVID.

Another Auntie (63),

who has diabetes and who

had completed a course of

the Sinovac vaccine also

didn't get COVID after

meeting with a symptomatic,

unvaccinated dear

friend whose husband

unfortunately also died

from COVID.

I know of friends here in

Auckland whose family

members in the Philippines

were also recently

affected by COVID. A

friend's mum, who is 72

years old with rheumatoid

arthritis, completed two

doses of Astra Zeneca and

is now recovering from

COVID.

On the other hand,

another friend's father, 83

years old, passed away

from COVID on 4

October. He was unvaccinated.

Vaccination makes

a difference

Now I don't need to look

far away to see what's happening

in other countries.

Unfortunately, in my family's

and friends' cases, the

unvaccinated vulnerable

family members are the

ones we've lost. Our family

members who had at least

one dose, regardless of the

vaccine, were protected or

had better outcomes after

contracting COVID.

Unknown to many of

you, while New Zealand

was in lockdown since

mid-August, some of our

Filipino community members

here in New Zealand

have been mourning the

loss of loved ones back in

the Philippines due to

COVID.

It is hard and painful

and I wouldn't wish this to

happen to you and your

families here in New

Zealand.

Give yourselves and

your whanau a fighting

chance. Vaccines are within

our reach. Give our

healthcare system a fighting

chance to deal with

COVID by getting as many

eligible family members as

possible vaccinated.
---
P a g e 1 4 w e b s i t e : w w w . m i g r a n t n e w s . n z I w w w . f a c e b o o k . c o m / w w w . m i g r a n t n e w s . n z I TWITTER : www.twittercom/migrantnews

The arrival of the

Omicron variant of Covid-

19 into New Zealand has

meant the gap between the

second vaccine dose and

booster has been shortened

even further - originally six

months going to four months

in early January 2022, and

then reduced to three months

in early February.

The timing of the rollout

had previously caused some

confusion about when people

should go and how it all

works.

The government made its

latest decision on the interval

after advice from the

Vaccine Technical Advisory

Group. It meant more people

would be able eligible to get

their booster before

Omicron took hold in the

community.

There's also a difference

between booster doses and

third primary doses. (Note:

For most people, a primary

course is two doses, for

some people a primary

course could be three doses.)

RNZ is here to clear it all

up.

What is the booster

dose?

The Pfizer booster vaccine

dose is generally being

used in New Zealand, even

if you had a different vaccine

for your primary

course.

AstraZeneca boosters are

also available on prescription,

but only four months

after the second dose.

Prescriptions can be obtained

at the vaccinating

AstraZeneca clinic or before

the vaccine appointment

with a doctor. It is free to

visit the doctor for an

AstraZeneca booster prescription.

The booster is different to

the third primary dose recommended

for people who

are immunocompromised.

People eligible for a third

primary dose can access a

booster dose three months

after receiving their third

primary dose.

When can you get your

booster?

In early December, the

government announced it

would shorten the required

gap between the second dose

and booster, from six

months to four months. In

early February, the interval

was further reduced to three

months, or 93 days.

You can check when you

are due for a booster by visiting

mycovidrecord.nz or

your purple Covid-19

Vaccine appointment card if

you have one.

If you have already

E X P L A I N E R

Covid-19 vaccine booster dose:

What you need to know

booked your booster dose

with a four-month gap, you

can keep your original

appointment, or change it.

Although, the government

has advised people not to

delay getting it, to reduce the

risk of Omicron as it spreads

in the community.

The Ministry of Health

has said there are plenty of

booster doses available and

no one would miss out.

Where to go to get a

booster

You can find locations for

walk-in and drive-through

vaccination places by clicking

here.

Appointment slots have

been available from 17

January via Book My

Vaccine online.

If you cannot book online,

you can call the Covid-19

Vaccination Healthline on

0800 28 29 26 (8am to 8pm,

seven days a week).

Interpretation services,

and text, email and NZ

Relay options for deaf and

hearing impaired are available

if you need them via the

0800 number.

There is also a specialist

team for disabled people

(option 2 on the 0800 number).

You can also make an

appointment with your doctor

if they are providing

Covid-19 vaccines.

Who is eligible for the

Covid-19 vaccine booster?

Healthcare and border

workers have been the priority

for booster doses since

large numbers of people in

those industries had their

primary doses earlier than

the rest of the population.

When you arrive for your

booster, the date of your last

dose will be checked in the

booking system to ensure

you have gone through the

required interval period.

People aged five years and

older have been able to get

their primary Covid-19 vaccine

courses, but the booster

dose is currently only available

for those aged 18 years

and above.

Advice from the Covid

Vaccine Technical Advisory

Group is expected in mid-

February on when 12 to 17

year olds would be able to

get booster doses "if the scientific

advice supports

booster doses in some, or all,

of this age group", the government

said on its Covid-19

website.

The booster vaccine can

be given at any stage of

pregnancy, at least 3 months

after the primary course.

In a pamphlet from the

ministry early in December,

the ministry had recommended

that those who had

their full primary course

during pregnancy to wait

until after the baby is born to

get the booster dose.

However, in a statement to

RNZ on 7 January, the ministry

has clarified that advice

has changed for pregnant

women following review

from the College of

Obstetricians and guidance

issued by the Australian

Technical Advisory Group

on Immunisation.

"Pregnant people are at

high risk for severe outcomes

from Covid-19 infection,

and those who are

unvaccinated are more likely

to have complications during

pregnancy if they contract

Covid-19," the ministry

said in a media release.

The ministry advised that

pregnant women should discuss

the timing of their

booster with their midwife,

obstetrician or general practitioner.

If you had your Covid-19

vaccination overseas, you

can get still get the booster

for free once you have gone

through the required interval

from your last dose.

Potential side effects of

boosters

You may experience some

side effects with the booster

similar to the primary course

of the vaccine, according to

the Ministry of Health.

These include muscle

aches, pain at the injection

site, headaches, nausea, and

feeling tired or fatigued. For

most people, these tend to be

mild effects and don't last

long.

Some side effects are

more serious but very rare,

like a severe allergic reaction

or an inflammation of

the heart (myocarditis).

If you develop difficulty

breathing, a racing heart,

chest pain or feel faint

immediately or in the days

after the vaccine, you should

seek medical attention.

If you're unsure about

your symptoms or if they get

worse, call Healthline: 0800

358 5453.

If you have had a severe or

immediate allergic reaction

to any vaccine or injection in

the past, tell your vaccinator.

Serious allergic reactions do

happen but are extremely

rare.

An online reporting form

for adverse events following

immunisation with Covid-19

vaccines is now available.

Director-General of

Health Ashley Bloomfield

said New Zealand Covid-19

vaccination data so far was

similar to that overseas; we

had not seen an increase in

side effects, and overall

adverse events after each

additional vaccination had

declined.

Vaccine passes for boosters

You do not need to have a

booster to be certified as

'fully vaccinated' for My

Vaccine Pass or an International

Travel Vaccination

Certificate. Your My

Vaccine Pass will remain

valid, even if you do not get

a booster dose.

If you do get a booster

dose, it will be added to My

Covid Record and you can

create another pass.

Is it mandatory to have a

Covid-19 vaccine booster?

Early in December, the

government announced

Cabinet agreed in principle

that where workers are

required to be vaccinated,

this mandate will now

extend to booster doses.

The addition to the order

came into effect on 23

January 2022 and means

border and MIQ workforces,

health and disability workforces,

as well as those

involved with the border or

health or MIQ from

Corrections, police, defence,

and fire and emergency will

be required to have their

booster by 15 February,

2022, if eligible.

For police and fire and

emergency workforces who

are involved with education,

they are required to have the

booster by 1 March 2022.

The same date applies for

the education workforce.

For all these workers, a

booster dose is mandated six

months (183 days) from the

end of their primary vaccination

course. Although, as

with the rest of the eligible

population, they will also be

eligible for a booster three

months after their primary

vaccine course.

How effective is the

booster against Covid-19?

The Ministry of Health

said data from Pfizer

showed that a booster dose

was 95.6 percent effective

against the coronavirus,

including the Delta variant,

compared to those who did

not receive a booster.

The ministry said evidence

showed that after six

months of a full vaccination

course, protection against

Covid-19 was reduced and

so a 'top up' vaccine would

help boost immunity against

the virus.

"We already know that

booster vaccinations significantly

lift an individual's

immunity, reducing the

spread and the severity of

Covid-19.

"Data is emerging now

that booster doses of Pfizer

provide better protection

than two doses do when it

comes to the Omicron variant."

The UK Health Security

Agency (UKHSA) analysed

more than 600,000 confirmed

and suspected cases

of the Omicron variant up to

29 December in England

and found a booster vaccine

is 88 percent effective at preventing

people ending up in

hospital with Covid-19.

The data confirms that two

doses of the AstraZeneca,

Pfizer or Moderna vaccines

offers little protection

against being infected with

Omicron.

Why has the time

between the second dose

and booster been shortened?

Before the highly infectious

Omicron variant

arrived in the community,

Covid-19 Response Minister

Chris Hipkins had said it

was expected that every case

coming into New Zealand's

border would be of the variant.

The government hopes

having widespread administration

of the Covid-19 vaccine

booster will help

decrease the risk of transmission

and minimise the

impact on the healthcare

system.

"Don't think getting a

booster is just about keeping

yourself safe," said Prime

Minister Jacinda Ardern.

"It's about ensuring our hospital

and health system is not

overwhelmed so those you

love and everyone in our

community who needs our

hospitals can get the care

they need."

Hipkins said the change in

interval would give a chance

for people, especially Maori,

to receive a booster and

increase their protection

before Omicron took hold.

Ministry of Health Chief

Science Advisor Ian Town

said bringing it forward to

three months, which had

been done in the United

Kingdom and in many

Australian states, meant

New Zealand could get the

level of antibodies at a peak

before it was facing widespread

transmission of

Omicron.

There did not appear to be

any downside to reducing

the interval to three months,

he said.

Director-General of

Health Dr Ashley

Bloomfield said speeding up

the booster rollout was a key

part of the country's

response to Omicron.

- Published with special

permission from RNZ
---
w w w . m i g r a n t n e w s . n z I w w w . f a c e b o o k . c o m / w w w . m i g r a n t n e w s . n z I email: migrantnews@xtra.co.nz

P a g e 1 5

Do children receive a

smaller dose of the vaccine

than adults?

Yes. The child doses of the

Pfizer vaccine are smaller

than the ones used for

people over the age of 12 –

a child's dose is one third

of the adult dose.

And how far apart do they

receive their two doses?

Currently the

recommendation in New

Zealand is that the first

and second doses are

given 8 weeks apart. The

interval can be shortened

to a minimum of 21 days

if needed, for example if

your child is starting

significant immunosuppression

treatment.

How safe is the vaccine for

my child?

For children aged 5 to

11, clinical trial results

showed the Pfizer vaccine

was 90.7% effective

against getting COVID-19

symptoms, and no

participants developed

severe COVID-19.

In the United States,

more than 8 million doses

were administered in the 5

to 11 age group from

November to December

2021. The national public

health agency, Centres for

Disease Control and

Prevention, reports

serious adverse reactions

were rarely reported.

It says parents and

caregivers of children in

this age group should be

advised that local and

systemic reactions are

expected after receiving

the Pfizer vaccine but are

more common after the

second dose.

What if my child has food

allergies?

The vaccine has no

increased risk for those

tamariki with food, gelatin

or latex allergy as these

are not contained within

the Pfizer vaccine.

When and where can 5-

11's be vaccinated?

From 17 January,

parents or caregivers can

take their 5 to 11 year olds

to their GP or pharmacy

to be immunised against

COVID-19. Or, they can

walk in at most vaccination

centres.

A number of our community

partners are

continuing to set up

pop-up vaccination clinics

and events at churches,

sports clubs and in school

communities.

If you want to book for

more than 1 child or you

are unable to book online,

call the COVID

Vaccination Healthline

on 0800 28 29 26 (8am to

8pm, 7 days a week) and

we will make the booking

for you and answer any

questions. Interpreters are

Everything parents will want to know

about vaccinating their children

By Dr Hari Talreja

available.

How will the consent

process work? And can

parents be assured its

robust nation-wide?

Children in this age

group must have a parent,

caregiver or legal

guardian accompany them

to their appointment and

provide verbal consent for

them to be vaccinated.

At the appointment,

both the adult and child

can ask as many questions

as they like.

What are the side effects

for this age group?

Side effects of immunisation

in children are

similar to those seen in

adults. These side effects

are generally mild and

should only last 1 or 2

days.

The most common side

effects are:

• a sore arm from the

injection – you can put a

cold cloth or ice pack on it

to feel better

• a headache

• feeling tired

• feeling feverish or

sweaty

• nausea (feeling like you

need to vomit)

• aching muscles.

Why is it important that I

vaccinate my child?

Immunising 5 to 11-

year-old tamariki helps

protect them from getting

unwell from COVID-19.

The COVID-19 virus

can be unpredictable.

While COVID-19

generally has milder

effects in children, with

symptoms being similar to

a cold, some children

become severely ill and

require hospitalisation.

Tamariki can also have

rare complications such as

Multisystem Inflammatory

Syndrome (MIS-C)

that may require intensive

care. Tamariki can also

suffer long term effects

(known as long COVID),

even after mild cases of

COVID-19.

Will certain ethnic groups

be prioritised for the paediatric

vaccine rollout?

We have enough doses

of the paediatric

vaccination to ensure all

tamariki can be vaccinated.

Our priority is to

ensure an equitable

delivery model.

Maori and Pacific

people have and will

continue to be prioritised

in the roll-out, as they're

more likely to get

seriously ill from COVID-

19. We continue to work

with iwi, DHBs, local

providers, communities

and the Ministry of

Education to reach all

children in our

community. Some clinics

may also offer other

childhood immunisations.

Are specially trained vaccinators

needed?

Yes, updated training

has been provided for

paediatric group due to

some differences in the

drawing up and administration

of this vaccine.

What do you say to vaccine

hesitant parents?

How safe is the vaccine for

5-11s?

The Pfizer vaccine is

proven to be highly

effective in young people

after two doses are

administered. That means

if they do develop

COVID-19, they're far

less likely to fall seriously

ill and less likely to

transmit the virus to

others – including whanau

and friends who may be

more at risk from

COVID-19.

Will children be required

to have a My Vaccine Pass

to access non-essential

services?

Children will not need a

My Vaccine Pass and

children under 12 can't

get a My Vaccine Pass.

There is no requirement

(vaccine mandate) for

tamariki to be immunised.

It is completely up to the

parents or caregivers to

decide if they want their

children immunised.

With eight years' experience at Counties

Manukau Health and previous

international experience in Canada, Dr

Hari Talreja cares for patients with kidney

disease and renal transplantation – which

puts them at a higher risk of developing

complications from Covid-19.

He has been a strong advocate for his

patients to get vaccinated and is now

encouraging Auckland parents and

caregivers to immunise their children aged

5 to 11, who are eligible from January 17,

against COVID-19.

He has responded to questions below with

the support of the Northern Region Health

Co-ordination Centre (NRHCC), which is

running Auckland's vaccination

programme.

Photo credit: Dreamstime (Models featured)

Could this age group have

AstraZeneca instead of

Pfizer?

Medsafe has approved

the child version of the

Pfizer vaccine for children

aged 5-11 years old. The

AstraZeneca vaccine is

approved only for adults

aged 18 and older.

Will this age group need

boosters?

Children aged 5-11 are

not eligible for booster

doses. Medsafe has

provisionally approved a

booster dose of the Pfizer

vaccine for adults aged 18

and older.

Rental Property, Remuera

• Very spacious

• 180 m2.

• 4 brms (3 large and

1 small dbl)

• 1 with deck

• 2 bathrooms

• 3 car parks

• Very secure

• Good school zones

• Walk to bus &

Upland Road shops

4 brm house.

2 decks elevated

great views.

• Would be very suitable for Auckland

hospital medical staff or professionals.

• $950 wk. Water and garden included.

• Can inspect from: 15 March.

• Available approx 1st April.

• Phone owner: 027 453 9116
---
P a g e 1 6 w e b s i t e : w w w . m i g r a n t n e w s . n z I w w w . f a c e b o o k . c o m / w w w . m i g r a n t n e w s . n z I TWITTER : www.twittercom/migrantnews