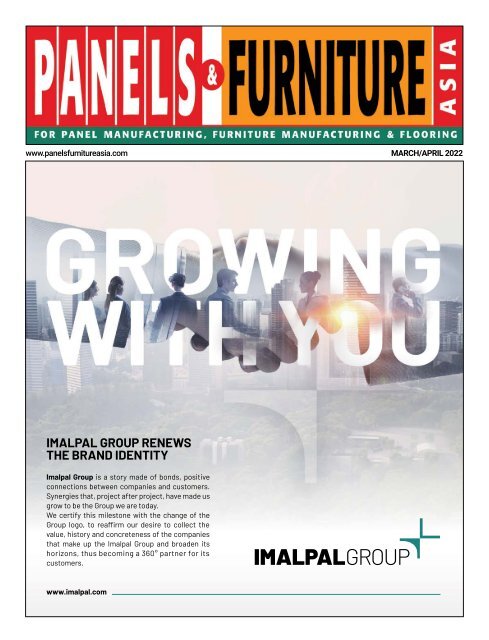 Panels & Furniture March/April 2022
Panels & Furniture Asia (PFA) is a leading regional trade magazine dedicated to the woodbased panel, furniture and flooring processing industry. Published bi-monthly since 2000, PFA delivers authentic journalism to cover the latest news, technology, machinery, projects, products and trade events throughout the sector. With a hardcopy and digital readership comprising manufacturers, designers and specifiers, among others, PFA is the platform of choice for connecting brands across the global woodworking landscape.
Panels & Furniture Asia (PFA) is a leading regional trade magazine dedicated to the woodbased panel, furniture and flooring processing industry. Published bi-monthly since 2000, PFA delivers authentic journalism to cover the latest news, technology, machinery, projects, products and trade events throughout the sector. With a hardcopy and digital readership comprising manufacturers, designers and specifiers, among others, PFA is the platform of choice for connecting brands across the global woodworking landscape.
SHOW MORE
SHOW LESS
You also want an ePaper? Increase the reach of your titles
YUMPU automatically turns print PDFs into web optimized ePapers that Google loves.
IMALPAL-P&F-cover-188x195-NEW.pdf 1 2/3/22 8:36 PM

www.panelsfurnitureasia.com

MARCH/APRIL 2022

M

Y

Y

Y

IMALPAL GROUP RENEWS

THE BRAND IDENTITY

Imalpal Group is a story made of bonds, positive

connections between companies and customers.

Synergies that, project after project, have made us

grow to be the Group we are today.

We certify this milestone with the change of the

value, history and concreteness of the companies

that make up the Imalpal Group and broaden its

horizons, thus becoming a 360° partner for its

customers.

IMALPALGROUP

www.imalpal.com
---
SINCE 50 YEARS,

GROWING EXCELLENCE

IN WOOD PROCESSING

MACHINERY

We supply complete systems for the production of PB, MDF,

OSB, insulation boards, pellets and pallet blocks worldwide.

From the high-quality construction to the use of advanced

process control software, Imalpal pursues excellence in every

aspect of product design.

The attention, care and experience of each company of the

Group made us grow and become a 360° partner for any business,

capable of providing complete and tailor-made projects.

www.imalpal.com
---
Y O U R S M A R T P L A N T

PRODUCE SMARTER

Using a holistic approach, CEBRO combines digitalization and advanced

plant engineering with operational excellence and sustainability solutions.

That makes your plant smart.

Watch the video at cebro.dieffenbacher.com to discover

what CEBRO can do for you.
---
CONTENTS

CONTENTS

PANELS & FURNITURE ASIA (ISSUE 2)

March / April 2022

08

Editor's Note

10

News

Market Report

18

Supply and demand of US hardwoods stepping up

after two years of struggle

Environmental Report

20

Adopting three pillars of sustainability for furniture

industry

In Person

24

Inheriting Taiwan's woodworking machinery heritage

28

"This is your story": Building a sustainability message

with Climate Positive Now

Product Highlight

30

Finishes to enhance wood substrates

32

Uniclic for faster and simpler furniture assembly

Panel Manufacturing

34

Better insights with EVORIS and CEBRO

38

Full range of machinery and complete OSB-PB-MDF

plant by IMAL PAL

42

Boosting manufacturing productivity with artificial

intelligence

44

GreCon 3D Particleview: Non-contact, threedimensional

wood particle measurement

45

Individual strengths combined to provide all-round

panel-sizing solutions

Furniture Manufacturing

46

New Industry 4.0: Integrated modular solutions for

production of whole-house customised furniture

48

A closer look: Boosting efficiency through digital

solutions

50

Choosing the right edgebanding technology in a

volatile furniture market

Materials

52

ACRE: Made with rice hulls, works like wood

Recycling

54

Wood recycling: From waste to resource

Flooring

58

Rethinking floor inspection with innovative camera

and lighting technology

Structural Elements

60

Clayton Community Centre

Columnists

64

Stability of adhesive force for veneer edgebanding

glue

67

Principal risks affecting the sustainability of the

timber industry

24

52

70

Calendar of Events

71

List of Advertisers

20

4 Panels & Furniture Asia | March / April 2022
---
QWEB_pub_HAWA_2019_2.qxp_Layout 1 19-10-02 14:32 Page 1

Find Find your your supplier here! here!

Find Find your your supplier

Quí vị đang tìm nhà cung cấp nguyên Find your here! here!

liệu? supplie

Quí Quí vị vị đang đang Quí tìm tìm vị nhà đang nhà cung cung tìm cấp nhà cấp nguyên cung cl

These companies can supply you with exceptional

hardwoods from Canada

These companies can supply you with exceptional hardwoods from Canada

Những công ty này These These có thể companies cung cấp can These nguồn can supply companies supply gỗ cứng you you with chất can with exceptional lượng supply cao you từ hardwoods with Canada

exceptio fro

Những Những công công ty này ty Những này có thể có công thể cung cung ty cấp này cấp nguồn có nguồn thể gỗ cung cứng gỗ cứng cấp chất nguồn chất lượng lượng gỗ cao cứ

r supplier here!

à cung cấp nguyên liệu?

QWEB_pub_HAWA_2019_2.qxp_Layout 1 19-10-02 1 19-10-02 14:32 14:32 Page 1Page 1

QWEB_pub_HAWA_2019_2.qxp_Layout 1 19-10-02 14:32 Page 1

with exceptional hardwoods from Canada

ấp nguồn gỗ cứng chất lượng cao từ Canada

commonwealthplywood.info

forexwoodgroup.com

primewood.com

rlumber.ca rlumber.ca

caspencer.com

rlumber.ca rlumber.ca

rlumber.ca

To know more about East Canadian Hardwood species,

To know more about Eastern Canadian hardwood species,

come visit To know us To at know VIFA, more more about stand about Eastern G630

you are invited to visit our website. To know Eastern Canadian more Canadian about hardwood Eastern hardwood species, Canadian species,

Để tìm hiểu thêm về các chủng loại gỗ cứng từ come vùng come visit bờ visit Đông us at us VIFA, Canada, at VIFA, come stand vui stand visit G630 lòng G630 us đến at VIFA, gặp stand

và trao đổi Để thêm tìm Để hiểu tìm với hiểu chúng thêm thêm về tôi các tại triển lãm VIFA, gian hàng G630

Để về chủng các tìm chủng hiểu loại thêm loại gỗ cứng về gỗ các cứng từ chủng vùng từ vùng bờ loại Đông bờ gỗ Đông cứng Canada, Canada, từ vùng vui lò bờ vu

và trao và trao đổi thêm đổi thêm với chúng với và chúng trao tôi đổi tại tôi thêm triển tại triển với lãm chúng lãm VIFA, VIFA, tôi gian tại gian hàng triển hàng G630 lãm GV

astern Canadian quebecwoodexport.com/en/products/hardwood-lumber/

species, www.quebecwoodexport.com

us at VIFA, stand G630

www.quebecwoodexport.com

www.quebecwoodexport

ỗ cứng từ vùng @QuebecWoodExport bờ Đông Canada, vui lòng @QuebecWoodExport đến gặp

Quebec Wood Export Bureau

tôi tại triển lãm VIFA, gian hàng G630

Partner:

Partner: Partner:

Partner:
---
here!

ấp liệu? nguyên liệu?

m nal from Canada hardwoods Canada from Canada

cao từ ng Canada chất từ Canada lượng cao từ Canada

Woodalize

your project

Distinguish

hardwood species,

G630

ng i Đông lòng đến đến gặp Canada, gặp vui lòng đến gặp

630 IFA, gian hàng G630

Canadian Hardmaple

.com
---
FROM THE EDITOR

Making

sustainability

a priority

Three months into the new year and recent

news about the environment have not been

optimistic. Deforestation in the Amazon

rainforest reached record levels in January;

research by NewClimate Institute and

Carbon Market Watch showed that a few

conglomerates such as IKEA and Amazon did

not meet their net-zero claims. It is easy to

feel discouraged with all the disheartening

news, so let us take comfort in the fact

that out there, at least in the wood and

woodworking industry, there are still firms

that are ramping up their sustainability

efforts.

Some woodworking companies have

begun to ensure that their processes are

sustainable. For instance, CEBRO and EVORIS

by Dieffenbacher are smart environmental

technologies that can support a plant's

sustainability while improving board quality,

increasing output and saving costs (p.34).

On sustainable forest management, Ken

Hickson cited examples of South East Asian

forestry firms and organisations that take

sustainability seriously, championing the

three pillars of sustainability — socially just,

ecologically sound, and economically viable

— in the furniture industry (p.20).

And if companies are looking for ways

to display their sustainability efforts and

champion climate positivity, Climate Positive

Now is a new framework that they can adopt.

In this era of social media and advertising,

"having a clear-cut, easily digestible way to

tell our sustainability story" is key, as Kenn

Busch, founder of Climate Positive Now

believes (p.28).

In this issue, we have a new column dedicated

to wood recycling. Jose Matas, segment

manager of Tomra Recycling, introduces the

ins-and-outs and benefits of waste wood

recycling — prolonging material circulation,

reducing the need for additional lumber,

saving cost and energy in recycling as opposed

to processing virgin wood (p.54). But recycling

is not the only means of reducing our reliance

on virgin wood. Coming up with a new material

can just be as effective, and that is what

Modern Mill has done (p.52). ACRE works, feels

and looks like a typical wood panel, but it is

made purely with discarded rice hulls, without

relying on trees for wood or wood fibres.

Whether such actions will bear fruit is still

unknown. But one thing is certain: the wood

and woodworking industry can still do much

more in mitigating climate change, and the

efforts outlined in this issue are only the

starting point.

YAP SHI QUAN | Assistant Editor

PANELS & FURNITURE ASIA

PABLO SINGAPORE

Publisher

William Pang • williampang@pabloasia.com

Senior Editor

Josephine Tan • josephine@pabloasia.com

Assistant Editor

Yap Shi Quan • shiquan@pabloasia.com

Business Development Manager

Pang YanJun • yanjun@pabloasia.com

Graphic Designer

Goh Meng Yong • mengyong@pabloasia.com

Circulation Manager

Shu Ai Ling • circulation@pabloasia.com

PABLO BEIJING

General Manager

Ellen Gao • pablobeijing@163.com

PABLO SHANGHAI

Editor

Kresly Shen • pabloshanghai@163.net

HEAD OFFICE

PABLO PUBLISHING & EXHIBITION PTE LTD

3 Ang Mo Kio Street 62, #01-23, Link@AMK,

Singapore 569139

Tel : +65 6266 5512

Email: info@pabloasia.com

www.panelsfurnitureasia.com

Company Registration No: 200001473N

Singapore MICA (P) No: 105/12/2021

REGIONAL OFFICES (CHINA)

PABLO BEIJING

Tel : +86 10 6509 7728

Email : pablobeijing@163.com

PABLO SHANGHAI

Tel : +86 21 5238 9737 / 36

Email : pabloshanghai@163.net

let's connect!

@panelsfurnitureasia

All rights reserved. Views of writers do not necessarily reflect the views of the

Publisher. No part of this publication may be reproduced in any form or by any

means, without prior permission in writing from the Publisher and copyright

owner. Whilst every care is taken to ensure accuracy of the information in

this publication, the Publisher accepts no liability for damages caused by

misinterpretation of information, expressed or implied, within the pages of

the magazine. All advertisements are accepted on the understanding that the

Advertiser is authorised to publish the contents of the advertisements, and in

this respect, the Advertiser shall indemnify the Publisher against all claims

or suits for libel, violation of right of privacy and copyright infringements.

Panels & Furniture Asia is a controlled-circulation magazine with two issues

a year. It is mailed free-of-charge to readers who meet a set of criteria. Paid

subscription is available to those who do not fit our terms of control. Please

refer to subscription form provided in the publication for more details.

Printed by Times Printers Pte Ltd

Scan to subscribe

to PFA's enewsletter

8 Panels & Furniture Asia | March / April 2022
---
Getting what you need can be complex. We make it feel easy.

Why do so many customers continue do business with us? Because we care. As we've seen,

the hardwoods industry can be difficult. When it is we are a rock-solid source

of service and support. We put in the time, make the extra call, do whatever we can

to solve our customers' problems and meet their needs.

We care, that's why they do business with us.

northwesthardwoods.com
---
NEWS

NEW DIGITAL JOB FOLDER BY HOMAG

BRINGS TRANSPARENCY TO WORKSHOPS

HOMAG has released a new web application

called productionManager, a digital job folder

that gives every operator in the workshop

access to information about each job. It

also makes the current status of individual

components transparent for everyone involved.

The productionManager is developed in

response to the overwhelming information

about jobs, parts lists, assembly information,

drawings and construction plans that

carpenters and joiners have to manage in a

woodworking shop. With the web application,

operators can bundle all the information about

a single job centrally and gather productionrelevant

data in one place, replacing numerous

paper documents in production.

According to HOMAG, any employee with a

laptop or tablet at hand can access the data:

items, assemblies and components, including

the relevant drawings and information. Changes

can be entered quickly and are available to all

users immediately. Drawings, images or further

supplements can also be added to any job.

Furthermore, users of the productionAssist

Feedback application can define individual

stations in the workshop at which feedback on

the current status of the individual component

or item should be given. Feedback can be

The productionManager

gives everyone access to

information about each

job (Image: HOMAG)

submitted to the application by scanning using

a hand-held scanner or tablet, or by clicking on

the application.

Within the application environment,

productionManager acts as a central application

in the background and ensures that the correct

information appears in the correct place in

the work preparation department and the

workshop.

For instance, users of the intelliDivide

optimisation software for cutting or nesting

can transfer the parts for cutting directly

to intelliDivide. Also, if the company

manages its panel and edge materials

in the materialManager web application,

productionManager uses this data. And if the

Cutting Production Set, Nesting Production Set

or Sorting Production Set are already used at

workstations, the user can transfer data to these

workstations, to the productionAssist application

used there. These production workstations

will report the processing progress directly to

productionManager.

The digital job folder can be integrated into any

existing workshop environment with minimal

adjustments necessary in the software landscape

or the machine pool. Cost-wise, the usage of the

web application can be billed monthly or annually,

and can also be cancelled within these cycles. P

VIETNAM WOOD AND FURNITURE EXPORTS

TO US EXPECTED TO HIT US$10 BILLION IN 2022

Exports of wood and furniture products from

Vietnam to the US are expected to reach US$10

billion in 2022, according to Vietnam Plus. The

prediction is based on the development trend

from 2021. Wood and furniture exports to the

US surged 22.4% in 2021 to $8.8bn, 87.6% of

which was from wooden furniture, according to

data from the General Department of Vietnam

Customs.

Experts have said that efforts from businesses

in maintaining production, with support from

the government amid COVID-19 challenges, are

what will propel this expansion trend into 2022.

Even so, challenges are still imminent, such as

trade remedies, shortages of containers, and

high logistics costs. As of now, the cost for each

container to be shipped to the US is on average

$20,000-30,000, which is four times that of the

previous years.

Bui Hui Son, Minister Counselor and Head

of Vietnam Trade Office in the US, has

advised businesses to continue innovating

and improving product quality to meet US

consumers' demand, while also ensuring the

environmental friendliness of their products. He

also stressed the need to digitalise and pivot to

e-commerce as a bulwark against competition

and trade measures. P

Source: Vietnam Plus

10 Panels & Furniture Asia | March / April 2022
---
NEWS

PAFC CONGO BASIN

REGIONAL CERTIFICATION

SYSTEM ATTAINS PEFC

ENDORSEMENT

The Pan African

Forest Certification

(PAFC) Congo Basin

regional system has

been endorsed by the

Programme for the

Endorsement of Forest

Certification (PEFC),

which it claims is the

"world's first" PEFC

endorsed regional forest

certification system.

Logo of the Pan African

Forest Certification (Image: PEFC)

The PAFC Congo Basin comprises PEFC-member countries Cameroon,

Congo, and Gabon, as their shared language and similar forestry

conditions enable them to share one system. Through this system, they

can maximise their impact and reach, share resources and knowledge, and

reduce the costs in developing and running a forest certification system.

"Being part of a regional scheme is a tremendous opportunity for PAFC

Cameroon. We are supported by the other PAFC members and help them

back in return, leading to more efficiency in our actions," said Reine

Edwige Anjembe, president of PAFC Cameroon.

"Having one system covering three countries means more significant

market access to operate. Furthermore, the training process is more

efficient and better value for certification bodies, as auditors only need

to be trained on one standard," said Brice Severin Pongui, president of

PAFC Congo. "In terms of accreditation, having one system simplifies the

process, as only one accreditation programme needs to be opened for the

sub-region."

Following the endorsement of the regional system, the three PAFC

organisations will work on its implementation and support companies

in their certification process. An auditor training will be organised in H1

2022, along with the promotion of the PAFC Congo Basin system to a

broader audience through company training and an open house day.

Another key element of the coming months will be to develop national

interpretation guidelines and a guide regarding carbon stock mapping

and greenhouse gases emissions. These activities will help companies

better understand the sustainable forest management standard and its

requirements.

The system development was led by the International Tropical Timber

Technical Association (ATIBT), in collaboration with PAFC Cameroon, PAFC

Congo, PAFC Gabon, and Olam, another PEFC international stakeholder

member. P

Panels & Furniture Asia | March / April 2022 11
---
NEWS

TOMRA RECYCLING

TEAM DEDICATED TO

STRENGTHENING

POSITION IN WOOD

RECYCLING SEGMENT

Tomra Recycling has been tapping into

new opportunities to maximise the use and

recycling of waste wood. Besides the launch of

a new deep learning-based sorting application

capable of separating wood by type, the

company has also established a team focused

on the wood segment.

Joining this team is Jose Matas, segment

manager of wood at Tomra Recycling, who

commented: "The current market development

offers an opportunity to wood-based panels

manufacturers. Using high-quality recycled

materials allows them to produce superior

quality wood-based panels, achieve higher

yields and outputs while profiting from

considerable cost reductions, preserving

natural resources, and decreasing CO2

emissions."

The primary use of recycled waste wood is

currently in particleboard manufacturing.

The wood-based panel industry, according to

Tomra Recycling, aims to meet market demand

and improve product quality by increasing

recycled content, resulting in a twofold benefit

for the manufacturer. The company added that

Tomra Recycling's

AUTOSORT technology

(Image: Tomra)

recycled wood is "up to 40% cheaper than

fresh wood" and generally dryer, which results

in a decrease in energy consumption during

the drying stage of the panel production.

For particleboard manufacturers, the

quest to increase recycled content and

promote sustainable wood management

requires optimised processes and advanced

technologies to recover pure material

fractions from a waste wood infeed stream.

The ideal solution that Tomra Recycling

suggested consists of two sorting systems

– a high-throughput unit for removing inert

material and metals, and an optical sensor

with an integrated deep learning technology

to separate waste wood into different material

grades.

As such, Tomra Recycling offers the X-TRACT

that allows recyclers and particleboard

manufacturers to remove impurities like

inert materials, metals, and glass with x-ray

transmission (XRT) technology. The company

has also developed GAIN, which is designed to

detect, analyse, and separate non-processed

wood and processed wood. Equipped with

AUTOSORT, GAIN identifies and separates

the medium-density fibreboard (MDF)

found in processed wood streams, therefore

producing individual wood fractions of the

highest possible quality for being used in the

production of particleboards and MDF boards.

Fabrizio Radice, vice-president and head of

global sales and marketing at Tomra Recycling,

concluded: "The team's expertise, combined

with our latest technologies, will help recyclers

and particleboard manufacturers meet

both market demands and exploit the full

potential of their operation while minimising

environmental impacts. In the following years,

we are going to invest a lot in this promising

segment and aim to see that the waste of one

company becomes a valuable resource for

another." P

POSITIVE OUTLOOK FOR MALAYSIAN

FURNITURE INDUSTRY

A report by Hong Leong Investment Bank (HLIB)

Research has provided a positive outlook for the

Malaysian furniture industry in 2022, although it

will continue to face some challenges.

The general outlook is due to several factors

that include the relaxation of movement

restrictions which allow furniture manufacturers

to resume operations and address their supply

chain issues. There is also robust demand

in North America driven by work from home

arrangements and the trade diversion from the

US-China trade dispute. However, challenges

such as rising raw material costs, persistent

labour shortage and concerns on labour

practices continue to cloud the outlook,

according to the HLIB Research.

Furthermore, due to severe flooding in parts

of Peninsular Malaysia in mid-December 2021,

rubberwood harvesting and transport are still

disrupted, so prices for logs and sawnwood are

likely to rise. The research unit noted that the

country's wooden furniture export earnings in

the first 10 months of 2021 declined by almost 3%

year-on-year to RM$8.15 billion, due to the lower

production from June to mid-September 2021 as

a result of movement restrictions.

The US continues to be the largest export market,

making up 62.8% of the total export value. Costs

of raw materials like rubberwood, glue, steel,

foam, leather and packing materials had been on

an increasing trend since Q4 2020. P

Source: ITTO

12 Panels & Furniture Asia | March / April 2022
---
NEWS

SIEMPELKAMP RECORDS

€855 MILLION ORDER

INTAKE IN FY2021

With its business units in machinery and

plants, casting technology, and nuclear

technology, the Siempelkamp Group

recorded an order intake of €855 million in

FY2021, exceeding its previous year's intake

of €552.7m.

"Our realignment in the area of sales, process

organisation, and global manufacturing

excellence, which was initiated in 2020, has

proven its worth in all areas and has borne

fruit in 2021," said Martin Stark, CEO of the

Siempelkamp Group.

Siempelkamp was also able to achieve

numerous sales successes in the competence

fields of metal forming presses and

composite presses. In total, 24 large-scale

plants were ordered across all areas.

Within the wood-based panel industry,

Siempelkamp continues to push forward the

realignment of board production. Climate

change and the scarcity of resources require

solutions for the use of alternative raw

materials. Depending on their local raw

material supplies and their market situation,

wood-based panel producers can resort

to new, resource-saving processes. The

company's innovation concept focuses on

the topics of environmental technology and

recycling.

In the area of digitalisation, the company

has provided a digital product portfolio

which increases the cost efficiency

of customers and optimises product

quality. Siempelkamp was also able to

initiate a digital turnaround in the casting

technology segment: The melting process

and the dismantling concept were optimised,

processes rethought.

In 2022, Siempelkamp will continue its

path of implementing new processes and

investing in its realignment.

"Our global production network with

locations in Germany, Italy, the Czech

Republic, and China is characterised by the

idea of efficiency as well as our commitment

to customer proximity and top quality,"

commented Samiron Mondal, managing

director of Siempelkamp. "Our concept

of global production management, which

we launched in 2020, is having a positive

impact here. On the one hand, in a diversified

market, we provide precisely the support

that is tailored to the raw material supplies

and the needs of our customers. On the other

hand, plant operators benefit from a holistic

concept which ensures quality and efficiency

in all areas from the use of resources to

logistics." P

Panels & Furniture Asia | March / April 2022 13
---
NEWS

ARGOS SOLUTIONS TO SUPPLY LAMINEX

WITH NEW GRADING SYSTEMS

Laminex, a producer of wood panels and

laminate products based in Australia, has

selected Argos Solutions' automatic grading

systems for their melamine production lines.

The Argos Grading System automates the

inspection of surface defects on decorative

surfaces. The optical inspection system checks

the surface for defects and monitors the

production process continuously.

"These systems will optimise our production

even further," said Graham Andrew, general

manager of operations at Laminex. "We know

that the Argos systems are fast and accurate, as

well as easy to install and operate. Being able to

trust advanced camera technology inspecting

our panels, as opposed to relying on the human

eye, will enable us to increase production speed,

reduce downgrades and enhance the quality. All

factors that will benefit both our production and

our customers."

The relationship between Argos and Laminex

goes back to 2005 when Laminex purchased their

first grading system. Over the years, the company

has grown and the need for high-quality

inspection systems has increased. The two new

systems will be an addition to their melamine

production and will be delivered in 2022.

"In Laminex, we say that 'Every Australian

deserves great quality design'," said Andrew.

"The systems from Argos will strongly contribute

to keeping that promise."

Terje Haltbakk, managing director of Argos

Solutions, concluded: "For Argos, it is a

confirmation of trust and satisfaction with our

systems and service that Laminex yet again

chooses Argos. We welcome this opportunity to

continue our relationship with one of the leading

producers to the Australian market and look

forward to still being a part of delivering quality

products to their customers." P

PROFILCUT Q: THE MULTIFUNCTIONAL PROFILE TOOL SYSTEM

Leitz has launched a multifunctional tool

system called ProfilCut Q, which comprises

ProfilCut Q, ProfilCut Q Premium, ProfilCut Q

PLUS, ProfilCut Q PLUS Premium and ProfilCut

Q Diamond. It is designed for the production of

windows, doors or furniture, for batch-size-one

productions as well as for the machining of high

quantities in profile machining.

The ProfilCut Q tool system consists of

disposable systems and re-sharpenable

constant systems, which enable economically

optimal solutions to be created to customer

requirements. The tool system's exchangeable

knives are made of carbide with Marathon highperformance

coatings, which increases tool life

and reduces unproductive machine downtime.

All models can be combined to achieve an

effective economic overall solution.

with the same number of teeth, resulting in

reduced machining times of up to 50%.

The ProfilCut Q PLUS tooling system was

developed for large production volumes

with high running metre outputs. Six tool lives

per profile knife enable a cost reduction of

up to 20%, with a cutting speed of 90m/sec.

ProfilCut Q PLUS also comes in another version,

ProfilCut Q PLUS Premium, with a cutting speed

of up to 120m/sec.

Using polycrystalline diamonds to machine

abrasive materials, ProfilCut Q Diamond

combines an aluminium tool body and

re-sharpenable, diameter and profile

constant diamond cutting edges. It can be

re-sharpened up to five times and ensures

that the diameter and profile of the

cutting edge remain unchanged even after

sharpening, with a tool life up to 20 times

longer than carbide systems. P

The ProfilCut Q can be deployed by wood and

wood-derived material processing companies

with table milling machines, angular systems,

conventional CNC and standard machines. The

basic model achieves cutting speeds of up to

90m/sec.

ProfilCut Q Diamond

With the ProfilCut Q Premium, Leitz has taken

into account applications where maximum

performance is the priority. Due to the clamping

system and with the help of a wear-resistant

coating of the tool body, cutting speeds of up to

120m/sec can be achieved. Due to the increased

cutting speed, larger feed rates are achieved

ProfilCut Q Premium

ProfilCut Q Plus

14 Panels & Furniture Asia | March / April 2022
---
NEWS

Panels & Furniture Asia | March / April 2022 15
---
NEWS

AKZONOBEL

LAUNCHES NEW

INTERPON W RANGE

FOR HEAT SENSITIVE

WOOD SUBSTRATES

AkzoNobel, a producer of paints and

performance coatings for various industries,

including the wood industry, has launched

Interpon W, a range of powder coating

solutions that can change how designers

and manufacturers work with heat sensitive

substrates (HSS) such as wood and plastic.

Interpon W was developed in AkzoNobel's

Global Competence Centre for powder on

HSS in Como, Italy. Bringing benefits beyond

physical attraction and with sustainability

as the standard, Interpon W includes the

Interpon W Core, Flex Pro, Fast, and Fast Pro.

According to the company, the range is designed

so that even challenging shapes and substrates

can be given a seamless, consistent finish and

all-around protection. They enable furniture,

kitchen and bathroom products or building

and construction materials to be protected and

enhanced in minutes.

The Interpon W range utilises various

innovations to achieve results, including

ultra-low bake technologies that deliver indoor

and outdoor products with optimal chemical,

scratch, liquid and heat resistance, and a lower

thermal curing process that offers higher

weatherability and gloss retention for the more

challenging applications. These innovations are

used for Interpon W Core and Interpon Flex Pro

respectively.

The technology behind the Interpon W Fast

and Interpon W Fast Pro powder coatings

takes advantage of AkzoNobel's capabilities in

UV curing. UV curing systems combine a low

temperature curing a range of 80-120°C with

a short curing time of 2-5 minutes to deliver

optimal efficiency, as reported by AkzoNobel.

The full range allows materials such as

medium-density fibreboard (MDF), high-density

fibreboard (HDF), plywood, oriented-strand

board (OSB), natural wood, and gypsum board

or plasterboard to benefit from a powder

coating that has reduced volatile organic

compounds (VOCs) and have high utilisation of

material of up to 99%, with any overspray able

to be recycled. And being a powder coating, all

sides can be coated at once, ensuring consistent

edge coverage and reduced reworking time. This

process also reduces the cost per unit.

Daniela Vlad, managing director of Powder

Coatings at AkzoNobel, said the company is

committed to continuous innovation: "Through

innovation and worldwide market development,

we are creating solutions that are transforming

the potential of low cure powder coatings,

and taking sustainable solutions and business

performance to new heights.

"In close cooperation with a global network

of powder coating line manufacturers, we will

help you from start to finish in creating and

implementing a fully-operational coating line.

This includes understanding the products and

processes required, and the financial benefits

you can expect. It also includes supporting

you with staff training and ensuring a smooth

integration between the powder and coating

line." P

STORA ENSO AND KOSKISEN PRODUCE

FULLY BIOBASED FURNITURE BOARD

Finnish plywood manufacturer Koskisen marks

the first company to start using the biobased

binder NeoLigno by Stora Enso in its new

sustainable product family. Koskisen and Stora

Enso's cooperation has resulted in a biobased

furniture board, called Zero Furniture Board.

NeoLigno is a binder made from lignin, a fully

biobased organic polymer that comes from wood.

According to Stora Enso, the company ensures

that the wood it uses comes from sustainably

managed, traceable forests with the Forest

Stewardship Council (FSC) or the Programme for

the Endorsement of Forest Certification (PEFC)

chain-of-custody and ISO 14001 certifications.

Koskisen uses the NeoLigno to replace

fossil-based resins used in furniture boards.

Both the furniture board raw material and

the binder are sourced from the production

process flows of both companies. This results

in all raw materials of the Zero board being

entirely biobased. Koskisen is also the first

company to utilise NeoLigno in industrial

production.

"Our new Zero product family meets the

rising demand for biobased solutions from

both domestic and export markets. These

new products allow furniture manufacturers

to offer alternatives with improved

sustainability and health security," said Timo

Linna, head of product management and R&D,

Koskisen.

Previously, as a byproduct of the pulp industry,

lignin has been typically utilised as bioenergy

in energy production. NeoLigno serves as an

example of how Stora Enso increases the value of

lignin without increasing the use of wood.

"Stora Enso has been refining lignin commercially

since 2015. NeoLigno is our first own binder

that replaces fossil-based adhesives," said Lauri

Lehtonen, head of innovation of Stora Enso's

biomaterials division.

The Zero Furniture Board will be commercially

available in Q3 2022. P

16 Panels & Furniture Asia | March / April 2022
---
NEWS

REORGANISATION

IN STRUCTURE

OF DEUTSCHE MESSE

Deutsche Messe has responded to the

ongoing challenges facing the trade fair

industry and has taken the past few months

for its reorganisation.

In the course of this reorganisation, the

organisational structure was divided into

four business units, including Trade Fair

and Product Management and Sales.

The overall management and strategic

orientation of the trade fair portfolio of

LIGNA, INTERSCHUTZ, parts2clean and

SurfaceTechnology GERMANY is now part of

Trade Fair and Product Management, and

will in future be within the responsibilities of

Hendrik Engelking.

Christian Pfeiffer, previously global

director of LIGNA and Woodworking

Shows, will be responsible for the sales

division as senior vice-president. This

business unit will be responsible for

customer acquisition for Deutsche Messe's

entire trade fair portfolio.

Stephanie Wagner, the new head of

LIGNA, will be responsible for the project

and thus for the content and operational

management. She has been with Deutsche

Messe for more than 10 years and was most

recently LIGNA project director. She has

taken up the position of head of LIGNA with

retroactive effect since December last year.

"We are delighted that Wagner is filling

this strategically important position,"

explained Engelking. "She is a familiar face

in the wood industry and will continue the

successful cooperation with our exhibitors,

partners and customers."

Wagner also commented: "After a long

period of an empty trade fair calendar and

online-only formats, we are looking forward

more than ever to finally being able to offer

Henrik Engelking (left) and Stephanie Wagner (right).

Image: LIGNA

presence platforms again with LIGNA 2023

and with the LIGNA.Conference this summer.

We all missed the personal exchange and

networking on site."

The next LIGNA will be held from 15-19 May

2023. Prior to this, the first Rosenheim LIGNA.

Conference will be held on 1 and 2 Jun 2022.

The event is being organised by Deutsche

Messe in conjunction with the Rosenheim

Technical University of Applied Sciences,

an educational institution for the new

generation of professionals in the fields of

wood technology. P

Panels & Furniture Asia | March / April 2022 17
---
MARKET REPORT

Supply and demand

of US hardwoods

stepping up after two

years of struggle

By Judd Johnson,

managing editor, Hardwood

Market Report Publications

Business for US hardwoods is not

unlike business for most other

industries. It is shaking off the effects

of holiday seasons when order flows

are typically slow. It is also shaking off

impacts on manufacturing and other

activities disrupted or even shuttered

by COVID-19 and its variants.

Importantly, there is a shifting

mindset about COVID-19, since

humans must learn to live

productively, but safely, in the

presence of this virus. There has

been progress on that front. Business

for US hardwoods is moving

forward. What that means is there

is a commitment by US hardwood

producers to manufacture and

process the sizes, qualities, species,

and volume of lumber required by the

marketplace.

last year as the second largest

market destination for US exports

of hardwood lumber. Volumes to

Vietnam were down approximately

22% to 412,748m 3 . However, Vietnam

might not stay at third place ranking

for very long. Manufacturing in this

country is rebounding, backlogged

raw material supplies are being

consumed, and new orders are being

booked for replacement inventory.

There is no way to know how US

exports of hardwood lumber will

end for the whole of 2022. But there

are strong evidence volumes will

increase to meet growing worldwide

demand for wood household fittings,

furnishings, and fixtures.

US exports of hardwood lumber

to China during 2021 totalled

1,116,428m 3 , a decline of 11%

from 2020. China certainly had its

share of workflow disruptions due

to COVID-19. China also endured

a typhoon that shut down activity

at one of the world's busiest ocean

ports. But the declining trend in

US exports of hardwood lumber

to China goes beyond COVID-19

and weather, alone. The trade war

has been impactful. Additionally,

The level of demand has grown,

overall. Consumption of US hardwood

lumber has increased markedly in

North America. Not surprisingly,

most of the growth is in the US, but

demand from Canada and Mexico

is higher. US exports of hardwood

lumber to Mexico in 2021 ramped up

36% over 2020 to 347,539m 3 . Exports

to Canada were 641,610m 3 last year,

which was 49% more than in 2020.

Between this increase to Canada and

shutdowns that derailed business in

Vietnam, Canada surpassed Vietnam

18 Panels & Furniture Asia | March / April 2022
---
MARKET REPORT

China's economy has slowed from

its torrid rate of growth, with the

real estate market contributing to

an imbalance. Industries allied to

China's residential construction

industry have seen that part of their

business cool off.

Figure 2

29,000,000

27,000,000

25,000,000

Consumption of Hardwood Lumber by Major US Markets

and Total Supply of Hardwood Lumber

Consumption

©2022 HMR

Total supply

While the outlook for world growth

in demand for US hardwood lumber

is generally positive, there is less

certainty among industry sources

about sharply increased business

with China in 2022. There are

reasons to think it might. China has

the largest consumer group in the

world, and providing furnishings for

newly formed households, alone,

is substantial in itself. China is also

the world's manufacturing hub for

wood products — even if the actual

manufacturing is outsourced to

other countries. Where reservations

come in about meaningful increases

in demand from China is the recent

track record of declining imports

from the US. Until this market

proves otherwise, US exporters

can only be hopeful for increased

business.

RESPONSE OF US HARDWOOD

MARKET SUPPLY TO DEMAND

Figure 1 shows a general decline

in production in 2019 from 2018,

a 7.2% that stemmed from the

US-China trade war. From there

the effects on sawmill operations

from COVID-19 are clear; output

from eastern US hardwood

sawmills dropped to a historic low

annualised rate of 10.2 million cubic

metres in May 2020.

Production has since rebounded

from that low point, though it has

not fully recovered. Notably, eastern

US hardwood sawmill output

slipped in September last year, and

then levelled off during the final

three months of 2021. This is the

exact time when the Delta variant

and subsequently the Omicron

variant of COVID-19 broke through

in the US.

Cubic Meters

23,000,000

21,000,000

19,000,000

17,000,000

15,000,000

13,000,000

But there are two key things to take

away from production rates at the

end of 2021. First, production over

the last five months of 2021 averaged

over 17 million cubic metres. Second,

the upward trend in US hardwood

sawmill production was only delayed.

Figure 2 is a snapshot of the supply

and demand relationship for each

year represented. What the image

misses is how business conditions are

developing at the end of the year. For

2021, the graph highlights the gap is

closing between supply and demand.

But by the end of last year, supply and

demand were trekking even closer

than what the data points for 2021

indicate.

The US hardwood lumber supply

system is working. The trajectory

for business is set. Recovering

economies worldwide and surging

demand for housing in the US and

Canada will fuel demand for building

components, interior fittings, and

furnishing. Growth could potentially

last for years.

How much of that demand will be

served by China, Vietnam, and other

2006 2007 2008 2009 2010 2011 2012 2013 2014 2015 2016 2017 2018 2019 2020 2021

South East Asian nations is uncertain.

How much of these manufactured

goods will come from Mexico,

Turkey, or other source countries?

How demand for wood household

building materials and furnishings

will increase in other parts of the

world this year is another unknown,

but there is great potential it will.

The opportunities for business

growth are alluring. The results will

begin to take shape and become

much clearer these next few months

and possibly elevate the demand for

US hardwood lumber to pre-COVID

levels. P

Hardwood Market Report (HMR)

is the leading source of pricing

and market information for

North American hardwoods. It

has provided reliable, expert

analysis of pricing and market

trends to hardwood companies

throughout the world since 1922.

Sample copies and subscription

services for HMR and all other

HMR publications are available

online at www.hmr.com.

Panels & Furniture Asia | March / April 2022 19
---
ENVIRONMENTAL REPORT

Adopting

three pillars of

sustainability

for furniture

SDG 12: Responsible consumption

and production. Achieving economic

growth and sustainable development

requires that we urgently reduce our

ecological footprint by changing the

way we produce and consume goods

and resources. The second is SDG

15: Life on land. Forests cover 30%

of the Earth's surface, provide vital

habitats for millions of species, and

are important sources for clean air

and water, as well as being crucial for

combating climate change.

industry

By Ken Hickson

It is worth reminding ourselves that

the furniture or furnishings industry

is the third-highest user of wood in

the world, behind the construction

and paper industries. This means

that demand for certified forestbased

materials such as paper and

timber is increasing.

This is where sustainable forest

management (SFM) comes in, and

why it is important for everyone in

the furniture supply chain.

SUSTAINABLE FOREST

MANAGEMENT

So exactly what do we mean by SFM?

Forests cover 30% of

the Earth's surface

and provide vital

habitats for millions

of species (Image:

Suryawan)

When you make and sell — or even

sit on — a wooden chair, do you take

time to think about where the wood

has come from? Which species? Which

forest? Who cut down the tree?

When you watch a television

commentator or a Zoom conference

attendee working from home, sitting

in front of an imposing bookcase, do

you wonder where the timber came

from to make that item of furniture

to house those titles?

There are at least two Sustainable

Development Goals (SDGs) by the

United Nations (UN) that should

be on the minds of all furniture

manufacturers, suppliers and

retailers over the world. The first is

Forest Europe, the Ministerial

Conference on the protection of

forests in Europe, came up with this

definition which has been adopted

by the UN Food and Agriculture

Organization (FAO): "The stewardship

and use of forests and forest lands in

a way, and at a rate, that maintains

their biodiversity, productivity,

regeneration capacity, vitality and

their potential to fulfil, now and

in the future, relevant ecological,

economic and social functions, at

local, national, and global levels, and

that does not cause damage to other

ecosystems."

For the Programme for the

Endorsement of Forest Certification

(PEFC), SFM is the benchmark

standard for national forest

certifications. It sets out the

requirements that national

20 Panels & Furniture Asia | March / April 2022
---
ENVIRONMENTAL REPORT

standards and their development

process must meet to achieve PEFC

endorsement, and must include the 15

responsibilities:

• Maintenance, conservation and

enhancement of ecosystem

biodiversity

• Protection of ecologically

important forest areas

• Prohibition of forest conversions

• Recognition of free, prior and

informed consent of indigenous

peoples

• Promotion of gender equality and

commitment to equal treatment of

workers

• Promotion of the health and wellbeing

of forest communities

• Respect for human rights in forest

operations

• Respect for the multiple functions

of forests to society

• Provisions for consultation with

local people, communities and

other stakeholders

• Respect for property and land

tenure rights as well as customary

and traditional rights

• Compliance with all fundamental

international labour organisation

(ILO) conventions for worker rights

• Working from minimum wage

towards living wage levels

• Prohibition of genetically modified

trees and most hazardous

chemicals

• Exclusion of certification of

plantations established by

conversions, including conversions

of ecologically important nonforest

lands, like peatlands

• Climate positive practices such

as reduction of GHG emissions in

forest operations

national regulations, manage risk, as

well as meet at least two of the SDGs.

PEFC positively contributes to achieving

the SDGs as it works towards the full

potential of forests for a sustainable

world.

CONSUMER DEMAND FOR

SUSTAINABLE PRODUCTS

It is also clear that consumers now

demand sustainable products and are

willing to rethink their buying habits to

incorporate environmental and social

product benefits into their buying

decisions. This places added pressure

on furniture supply chains, including

those in authority who set the standards

and police the rules and laws.

Many companies are finding that forest

certification is a tool that can ensure

global market access for timber and

improve the livelihoods of the people

that depend on the forest.

Wikkie Netten, South East Asia private

sector regional manager of PEFC

Asia-Pacific, who is responsible for

driving awareness and working with

forestry supply chain stakeholders in

the region, posed this big question:

While the demand for certified products

is growing and timber trade rules are

tightening, should we wait for consumer

demand to kick in, or do we all take a

lead in protecting our forests and our

future?

"By working together, we can

continue to expand the areas under

SFM, and at the same time keep the

timber trade alive," insisted Wikkie,

reminding us that globally only 13% of

forests are currently certified, leaving

87% vulnerable for land grabbing,

deforestation and land conversion.

She believes furniture manufacturers,

suppliers and retailers can all play a

critical role to improve their trade and

be the voice for all people that depend

on the forest for their livelihood.

Consistent with the SDGs, PEFC

reinforces that given the importance

of forests to the planet, sustainable

management is essential to ensure

society's demands do not compromise

the resource. SFM offers a holistic

approach to ensure forest activities

deliver social, environmental and

economic benefits, balance competing

needs and maintain and enhance

forest functions now and in the future.

Forest certification is the tool to prove

this and to connect the consumer

with the sustainable origins of their

products.

We can see that SFM creates outcomes

that are socially just, ecologically sound

and economically viable – the three

pillars of sustainability.

Surely that is important for everyone

involved in the timber trade and the

furniture industry? It is no longer a

"feel-good" consideration but an

alternative for a business to meet

Image: Yoshihiro Kazumoto

Panels & Furniture Asia | March / April 2022 21
---
ENVIRONMENTAL REPORT

1 2

We have an example from South East

Asia, where a company in the forestry

business takes SFM very seriously

to meet or even go beyond the

requirements of certification.

FIRE MANAGEMENT

For APP Sinar Mas Group, a supplier of

timber, pulp and paper in the region

and an advocate of PEFC certification,

it takes its role in fire management

very seriously and highlighted in its

statement: "Fires harm the economy,

the environment and most importantly

people's lives. This is never acceptable.

Forest fire poses a serious threat

for APP. As a company reliant on

supplies of pulpwood, it makes no

commercial sense for APP suppliers

to start fires to clear land. Forest fires

destroy plantation wood, and we

have already suffered major losses

through damage to plantation wood.

Together with our suppliers, we have

been working to implement forest

fire prevention measures across our

suppliers' concession areas before the

dry season."

Saleh Husin, managing director of

Sinar Mas, stressed the importance of

integrated fire management, which

comprises four main strategies,

namely prevention, preparation,

early detection and rapid response.

As he said in their Integrated Fire

Management MAFZ Booklet: "We hope

that with better preparation and solid

collaboration between the private

sector, the government, the police

force and the National Armed Forces,

as well as the local communities, we

will be able to protect Indonesia's

forests from wildfire disasters."

SUSTAINABILITY ROADMAP FOR

FURNITURE

Besides this example of a plantation

company meeting UN, FAO as well

as PEFC standards for SFM, there are

also significant moves to get furniture

companies in Singapore and South

East Asia to adopt sustainable practices

and processes.

The ASEAN Furniture Industry Council

(AFIC) has embarked on a four-year

roadmap with PEFC to improve

sustainability outcomes throughout

the furniture supply chain in the

region.

As was said at the time of the

announced partnership in July 2021,

consumers worldwide demand

sustainable products across a variety

of fields, and every industry must

adapt to satisfy their requests.

Furniture customers are no different,

and sustainable furniture is a highly

sought-after product. Furniture supply

chain sustainability and responsible

procurement are critical to ensuring

that we all benefit from the many

products that forests provide now

while ensuring these forests will be

around for generations to come.

PEFC Asia-Pacific's Netten explained

that while procurement policies might

not be common in the region yet,

this is the first step to developing a

sustainable furniture supply chain:

"Procurement policies enable

countries and companies to cast their

voice and set goals, which with help

from PEFC can assist in a stepped

approach to reach higher sustainability

standards together."

As the Singapore Furniture Industry

Council takes over the chairmanship

of AFIC, we are already seeing

progress towards the key goals of

the partnership, which are to raise

awareness on the importance of

sustainably sourced forest and treebased

materials which subsequently

boost demand for certified materials;

build capacity in the wood-based

supply chain to facilitate members

and companies to reach sustainability

goals; support companies who want

to demonstrate legal and sustainable

sourcing with PEFC certification;

improve knowledge sharing between

PEFC and AIFC members; and build

visibility for AFIC and PEFC.

It all goes to show that the furniture

industry in Asia is getting ready to

adopt practices that are good for

business as they also meet the triple

bottom line – People, Planet and

Profit. Not surprisingly, these are

consistent with the principles of SFM,

which is to create outcomes that are

socially just, ecologically sound and

economically viable: the three pillars of

sustainability. P

Legend

1 SFM requires the

free, prior and

informed consent

of indigenous

peoples (Image:

I Wayan Sumatika)

2 Globally, only

13% of forests

are currently

certified, leaving

87% vulnerable

for land grabbing,

deforestation and

land conversion

(Image: Rico

Yuliyanto)

22 Panels & Furniture Asia | March / April 2022
---
IN PERSON

The newly elected directors and supervisors of Taiwan Woodworking Machinery Association

Inheriting

Taiwan's

woodworking

machinery

heritage

With plans to strengthen Taiwan's

woodworking machinery

industry, including digitalisation

and boosting media presence,

Joe Chang, the newly elected

chairman of the Taiwan

Woodworking Machinery

Association, has much in store to

expand the industry domestically

and internationally.

By Yap Shi Quan

24 Panels & Furniture Asia | March / April 2022
---
IN PERSON

"A RICH HERITAGE"

The Taiwan Woodworking Machinery

Association (TWMA) has been representing

Taiwanese woodworking machinery

manufacturers since 1986. As its new

chairman, Joe Chang, who was elected in

February this year, is about to shoulder

over 40 years of Taiwan's woodworking

machinery legacy with the responsibility of

bringing it to greater heights.

But Chang is no stranger to the

woodworking machinery scene in Taiwan,

having been in it for more than 34 years:

"I inherited my father's company, Kuang

Yung Machinery, which was established in

1960. I belong to the second generation,

and my son has also joined in as the

third-generation successor. I am very clear

with the current industry environment

and future challenges. The woodworking

machinery in Taiwan has a rich heritage;

some companies that have been running

longer even have their fourth-generation

successors joining in."

Chang described briefly to Panels &

Furniture Asia the history of TWMA,

explaining that the association was

initially called the Taiwan Association of

Machinery Industry (TAMI). TAMI held its

first woodworking machinery exhibition

in Songshan Airport in Taipei, Taiwan,

which had earned them more than NT$1

million (US$37,000).

Back in 1981, Taiwan's export value of

woodworking machinery was about

$1.3 billion (US$48 million). Currently,

the export reached an all-time high

of $25bn (US$910 million) in 2021,

and Taiwan is ranked fourth in the

global woodworking machinery export

rankings, behind Germany, China and

Italy. Chang explained that such a high

ranking is credited to the first generation,

who has created a good foundation for

the second and third generations to build

upon. The ranking can also be attributed

to how the second- and third-generation

successors are earnest at studying,

MAGENTIFY

YOUR

CUT

PANEL SIZING SAW BLADES

TC tipped

LEUCO U-Cut: for Universal use

LEUCO Q-Cut: for Quality cuts

whether single panels or stacks

DP tipped – for extra long edge lives

DP tipped & coated teeth –

for extra ordinary long edge

lives > innovation only with

LEUCO!

Image: Newwin Media

"I can envision Taiwan's woodworking

machinery still having a place in the

world for the next five years."

Joe Chang

Chairman of Taiwan Woodworking Machinery Association and CEO

of Kuang Yung Machinery

LEUCO offers perfect sets of

main and scoring saw blades

CONTACT LEUCO:

MALAYSIA

Melaka: LEUCO Malaysia Sdn. Bhd

T +60 (0) 6 336 1268, leucomy@leuco.com.my

THAILAND

Bangkok: LEUCO Tooling (Thailand) Co., Ltd.

T +66 (0) 2 749 5569-70, inquiry@leuco.co.th

VIETNAM

Long An Province: LEUCO Vietnam Co., Ltd

T +84 272 3715838, leucovn@leuco.com

INDONESIA

Jakarta: P.T. Indotooling Sejati

T +62 (0) 21 6508743, maria_indotooling@yahoo.co.id

Sidoarjo: P.T. Akses Kita Utama

T +62 (0) 318916941, marketing@indotooling-abadi.com

Medan: CV. Kimplas Makmur Sejati

T +62 (0) 614 15 8338, cv.kms@outlook.com

PHILIPPINES

Quezon City: Orgaline Innovative Products Inc.

T +63 2 8932 7651 / +63 2 8932 5401

marketing@orgaline.com.ph

www.leuco.com

Panels & Furniture Asia | March / April 2022 25

2022-02_Plattenaufteilsaegen-02_60x234.indd 1 25.02.2022 11:51:15
---
IN PERSON

developing innovated products,

and expanding Taiwan's market

globally.

"I can envision Taiwan's

woodworking machinery still

having a place in the world for the

next five years. The new second-,

third- and fourth-generation

successors will continue developing

their companies," said Chang.

STRATEGIES GOING FORWARD

Chang observed that the Taiwan

woodworking machinery industry

is currently facing a few challenges.

First, the rapid growth of China's

woodworking machinery scene is

threatening Taiwan, and traditional,

low-end machines made in Taiwan

are being replaced by China's

machines. Second, Taiwan's

machineries are mainly in a single

unit and lack smart elements —

the industry has not caught up to

Industry 4.0 standards. And lastly,

the industry is having trouble

recruiting talented people.

and use the government's resources

in helping member vendors adapt

to future digital needs sooner."

Beyond domestic strategies,

Chang is also hoping to strengthen

TWMA's media presence to reach

untapped global audiences with a

365-day, 24-hour virtual showroom

platform: "For people who are

looking for Taiwan woodworking

machinery products or require

Taiwan woodworking machinery

production services, they can find

the products and solutions through

this platform."

He has also identified key countries

for market expansion, and

concluded: "The first country [we

are hoping to strengthen relations

with] is Vietnam. Since 2021, the

exports of Taiwan woodworking

machinery into Vietnam ranked

fourth, with the figures declining by

10% compared to 2020. China has

become the first place in importing

[our machinery], and Germany is

second. Australia, Japan, India,

Russia and the UK rank fifth to

tenth respectively, all of whom

are growing substantially and are

markets for Taiwan to strengthen

relations with. Of course, the

growing industries of central and

southern America, Europe, and

North Africa are also big markets we

have to take note of." P

To address these issues, TWMA

will help its member vendors to

improve product competitiveness,

adopt smart machine elements,

cultivate talent by using

government and school resources

and liaise with research institutes.

In fact, TWMA has already begun

digitalising the industry in 2020,

joining forces with Taiwan Smart

Manufacturing to pivot into

automation.

"Digitalisation is an unstoppable

trend in the future," Chang

elaborated. "The woodworking

machinery industry has to

introduce it since it can replace

veterans and provide remote and

virtual marketing and after-service

solutions.

"What the association needs to do

is to share the knowledge with the

members. We also need to provide

a sharing platform for everyone,

Joe Chang, the new

chairman of TWMA

26 Panels & Furniture Asia | March / April 2022
---
FROM SAWN TIMBER TO FINISHED PRODUCT

No matter what product you have to produce, we have the wood for you. Global Timber

can deliver many different species from Europe, North- & South America, and Africa.

Contact us for a good offer.

Dù bạn sản xuất bất kỳ sản phẩm nào, chúng tôi cũng có gỗ cho bạn. Global Timber có thể cung

cấp nhiều loại gỗ khác nhau từ Châu Âu, Châu Mỹ và Châu Phi. Vui lòng liên hệ với chúng tôi để

biết thêm thông tin chi tiết.

Per Friis Knudsen

pfk@globaltimber.dk +60 111 429 7073

www.asia.globaltimber.net
---
IN PERSON

"This is your story": Building

a sustainability message

with Climate Positive Now

As end consumers increasingly

demand firms to be sustainable,

the value of crafting an appealing,

engaging sustainability story

increases. What if there is a

framework which businesses can

use to display their commitment

to sustainability? Climate Positive

Now is one such framework,

and its founder Kenn Busch tells

Panels & Furniture Asia all about it.

By Yap Shi Quan

What exactly is Climate Positive Now?

Kenn Busch: Climate Positive Now describes

a category of products and their impact on our

world, as we have always produced them. It is

a movement towards toward a more liveable

planet created by wiser choices in furniture

and construction materials, and the best

sustainability story any building product can

tell that will resonate especially with younger

consumers.

Climate positive is a term being promoted by

furniture brand IKEA and a growing number

of global brands, and currently, it is used by

North American composite wood-panel and

decorative surface suppliers to describe their

products. It began as a more understandable

way to say carbon negative, describing any

process or product that stores more CO2 out of

the atmosphere than is released, which can be

confusing to consumers. The great thing about

climate positive is it also takes the conversation

beyond carbon to include other benefits of a

product, company or industry. IKEA plans to be

climate positive as a company by 2030. Others

are shooting for 2040, 2050, and beyond. It is

a huge effort to become climate positive as a

company, especially a global retailer.

To be clear, Climate Positive Now is not a

certification. Rather, it is a framework within

which we can tell a science-based story about

the inherent advantages of working with wood.

It is also a fresh way to take the conversation

beyond, "Is it recycled and can I recycle it".

When designers and consumers think about

new office furniture, a new kitchen, closet or

residential furniture, we want them to think

very hard before deciding how much high

carbon-footprint materials like glass, metal,

concrete or solid surface they want to use.

Currently, there are eight companies backing

the movement, with more coming onboard.

How will they contribute to the initiative,

and more pertinently, to becoming climate

positive?

Busch: Any company that contributes to

increased specification and longer use of

composite wood panels is part of the story —

all stakeholders, if you will. So, if you produce

formaldehyde resins for composite wood,

this is your story; same if you make panels

or laminates, value-added components, or

furniture with these materials. If you design

with these products, this is also your story.

It is important to note that the Climate Positive

Now story applies to our products now, without

having to change anything about the way

the manufacture or use these materials. Our

sponsors are contributing by helping to spread

the word, and teaching their own sales and

marketing teams how to lead with this message

any time they're talking to industry colleagues

and customers. With every company that joins,

28 Panels & Furniture Asia | March / April 2022
---
Kenn Busch offering perspectives on

sustainability to North America's furniture

manufacturers at the Executive Briefing

Conference in Denver, Colorado

IN PERSON

Asia and South East Asia panel industry, but I

do know that composite wood panel plants are

quite modern, and that producers are working

to do right by their global customers. As with

any product, shipping can be a large part of

its carbon footprint, so that measure might

impact the carbon benefits of wood products.

Conversely, shipping pre-sized parts reduces the

carbon footprint not just by saving weight and

space, but by reducing handling, manufacturing

and packing in destination markets.

I will work with them to create a deep-dive story

that's specific to their role in the Climate Positive

Now movement.

Why are aspects of storytelling, branding and

education crucial to Climate Positive Now?

Busch: Designers and consumers are usually

confused by the alphabet soup of green

certifications and labels, to the point that it is

actually detrimental to making real progress.

The decorative panel industry has a long

history of making our products and their

makeup confusing to designers and consumers.

For example, melamine faced chipboards

(MFC), melamine boards, low-pressure

laminate, direct-pressure laminate, modified

polytetrafluoroethylene (TFM) and thermally

fused melamine (TFM) are all the same exact

material.

Having a clear-cut, easily digestible way to

tell our sustainability story is therefore key.

Education and promotion are what it is all about

— Climate Positive Now is the online home for

the universal version of the story, and it is our

chance to finally all be singing the same song,

one that our industry can, and should, own.

Two of the phrases that I use often in talking

about climate positive are "Waste wood

made good" and "Celebrating materials that

go beyond sustainable". Wood by its very

nature is climate positive, so unless there are

inefficiencies in your process, this story applies

to you, especially in your regional markets.

Trees regenerate and grow largely on their

own, produce oxygen along the way, and

create healthy forest ecosystems that support

countless species. Manmade decorative surfaces

like laminates replace rare and fragile veneers

where better performance is needed. The carbon

sequestered remains stored by these panels —

40lb or approximately 18.1kg in a 4x8 sheet of

particleboard, 45lb or approximately 20.4kg in

medium-density fibreboard (MDF) — until they

are burned or allowed to decompose. Because

of their density, these composite wood products

store about twice as much carbon as the same

volume of solid wood. If we are able to invent or

even discover a new technology with all of these

advantages, it would be earth-shattering news!

Our only challenge is to be able to tell this story

at every level of our value chain. A big part of this

is helping designers and consumers understand

the context — that we are talking about products

that are Climate Positive Now, not companies or

industries. Not yet, anyway.

In your experience, how would you rate the

performance of composite wood panels in

Asia and South East Asia?

Busch: I am not intimately familiar with the

"Climate Positive Now

is the online home for

the universal version of

the story, and it is our

chance to finally all be

singing the same song,

one that our industry

can, and should, own."

Kenn Busch

Founder of Climate Positive Now

What do you hope to achieve with this

movement?

Busch: We plan to get more surface and board

suppliers to endorse this message of "We build

with materials that are Climate Positive NOW",

because several furniture and cabinet producers

in North America want to include it in their own

marketing. They tell me they want to see enough

of their suppliers getting behind this message.

Already, some companies are using the logo and

messaging on their own websites and in their

communications.

Ultimately, when you see a newly remodelled

hotel lobby, we would love to have a Climate

Positive Now plaque hanging near the check-in

desk, or having the logo on every box of flat-pack

furniture that is shipped, hanging it on display

furniture in retail stores, and on the vans used by

custom-closets installation crews — this is what I

would love to see happen in the next five years.

Fun fact: When I had our logo designed, I

suggested something that would look good as

a plaque in a hotel lobby, a retail furniture hang

tag, or a tattoo. The designer went with the

tattoo idea. In fact, I'm getting mine next month!

Who's with me? P

Panels & Furniture Asia | March / April 2022 29
---
PRODUCT HIGHLIGHT

Finishes to enhance

wood substrates

Wood is a versatile material with various

functions, and wood finish is equally diverse.

Wood finishing refers to the application

of a protective layer to the bare wood

substrate to protect it from different natural

and manmade factors, and make it easier

to clean or sanitise. It also gives wooden

surfaces a desirable appearance, capable of

creating wooden designs to make them look

attractive, perform well for a longer time and

enhance their durability.

Teknos believes that selecting the

right materials and finishes can make

substrates easier to maintain with

additional protection. The selection

of appropriate coating materials must

take into consideration the following

aspects as well: characteristics of the

wood materials; functionality of the final

product; performance properties such as

adhesiveness to a substrate, to be protected

from abrasion, chemicals or stains, moisture,

UV radiation, and others; requirements

to health, safety and environment; and

specifications and production processes

related to application conditions, equipment

and personnel.

By far the most common material used for

kitchen cabinets is wood. Kitchen cabinets

are fundamental parts of all modern kitchen

layouts. There is a selection of substrates

ranging from solid wood and wood-like

materials, such as melamine, mediumdensity

fibreboard (MDF) and veneer that

are used for the manufacturing of kitchen

cabinets, providing end users with choices to

complement the interior of their new home or

renovation project. Depending on the types

of wood used, it will change the look and cost

of the kitchen design.

Melamine starts with a compressed wood

particle core. It is then covered with a resin

and paper finish that can be manufactured

to embody various styles and colours.

Engineered products using melamine

are less expensive, such as high-pressure

laminate (HPL) or thermally fused laminate

(TFL) that are melamine fused with MDF, or

particleboard, which are made from wood

chips.

MDF is made from recycled fibres, wax, and

resin pressed together and sealed through a

high-pressure system.

Solid wood is a material from a natural

source that comes in various species and

hardnesses including, oak. birch, maple,

walnut, among others.

Wood veneer is a thin layer of solid

hardwood stripped from a log. Veneers

could come in various thicknesses from

0.1-5mm which are typically pressed and

glued to fibreboard or particleboard to

create flat panels.

30 Panels & Furniture Asia | March / April 2022
---
PRODUCT HIGHLIGHT

Pros

Cons

Melamine MDF Solid Wood Wood Veneer

• Low-cost option

• A variety of design versatility

• Low physical resistance

• Prone to water damage

• Durable and strong

• Smooth surface with no knots

or grain

• Prone to scratches and chips

• Unable to support too much

weight

Table 1: Comparing the pros and cons between melamine, MDF, solid wood and wood veneer

• Range of natural colour

• Strong and long-lasting

• Expensive

• Reacts to humidity, causing it

to crack or warp

• Mimics the look and feel of natural

wood

• Costs less than solid natural wood

• Prone to water damage

• Prone to formation of cracks

ADVANTAGES AND DISADVANTAGES OF

SUBSTRATES

Besides getting the kitchen design

components to flow together,

understanding the properties of the

substrates upon selection can help

ensure ideal results in design and

practicality (Table 1).

ENHANCE THE LONGEVITY OF YOUR

SUBSTRATE

Teknos's paints and coatings are

made in light to provide an optimal

aesthetic look together with practical

effectiveness when applied to kitchen

cabinets. The company has formulated

solutions to overcome the drawback

properties of substrates:

1. UV and Hydro UV Systems on MDF

board

Teknos's solutions on the MDF

board work to bring out an

aesthetic finishing suitable for a

stylish kitchen. These products

are designed in Teknos Malaysia

with two different applications

methods which are roller and spray

applications, to provide high-quality

scratch resistance. MDF boards are

typically prone to scratches.

The application guidelines for

Teknos UV pigmented white roller

system are: 30-35g/m² with UV Filler

611, two layers of 23-30g/m 2

with Uvilux Sealer 661, and

10-12g/m² with UV Topcoat 651. The

application guidelines for Teknos

Hydro UV pigmented white spray

system are: two layers of 150g/m²

with the Waterborne Spray

Primer 274 and Waterborne

Spray Topcoat 454.

Advantages of Teknos UV and Hydro

UV pigmented white solutions

include: flexibility in design, colour

and functionality; toughness and

high-quality protection against

scratches, with a pencil hardness

test that recorded H-2H and >3H;

good surface resistance against

water; instant curing, as reported

by Teknos, which improves product

capacity with increased production

line speeds; and good adhesion to

various wood substrates.

2. UV Clear System on Solid Wood

Teknos UV Clear System coated on

solid wood brings forth its natural

wood colour without sacrificing any

properties. This product enhances

and protects solid wood from reacting

to humidity which would cause it to

crack and warp over time.

The application guidelines for the UV

Clear System are: 30-35g/m² with UV

Filler 611, two layers of 20-25g/m²

with Uvilux Sealer 248, and 60-80g/m²

with UV Spray Topcoat 654.

According to Teknos, all the above buildup

recommendations passed "all the

quality performance standards", such

as ASTM D3359B Adhesion cross-hatch

removal, DIN 68861 Part 1B Chemical

Resistance, ASTM 1211 Cold Cycle and ISO

15184 Pencil Hardness – Gardco. P

Hydro UV pigmented white spray

system on MDF board with profile

UV Pigmented white roller system

on flat MDF board

UV Clear spray system on solid wood

Panels & Furniture Asia | March / April 2022 31
---
PRODUCT HIGHLIGHT

Uniclic for

faster and simpler

furniture assembly

Ease of installation, intuitive assembly

methods, and fewer fittings in building

furniture are in demand with end users

now, as people are spending more time

at home after the COVID-19 outbreak

and investing more in home furnishing,

fitting-outs, and fixing and replacing of

old furniture.

Uniclic for furniture, a click system that

makes assembly work more intuitive,

is said to offer the above. It reduces

preparation and assembly times, and

less damage or mistakes will occur

during assembly.

Developed by Unilin Technologies,

Uniclic for furniture is a tongue-andgroove

technology for connecting

two furniture panels at a 90° angle.

The tongue-and-groove profiles allow

furniture panels to be assembled

by either angling or snapping them

together without the need for tools,

fittings, screws or glue. Furthermore, the

tongue-and-groove profiles are milled

directly into the material itself, which

ensures a sturdy connection.

The click technology

is designed for

different kinds of

furniture, such as

drawers and cabinets

(Image: Reform)

The Uniclic connection is designed

for materials that can be machined

with a profile, such as particleboard,

medium-density fibreboard (MDF), highdensity

fibreboard (HDF), solid wood,

engineered wood and plywood. It can

be used for various kinds of furniture,

such as storage, wardrobe, drawers,

kitchen, bathroom, office, and others.

THE CONCEPT

The assembly of two furniture panels

containing a click connection is, as

32 Panels & Furniture Asia | March / April 2022
---
PRODUCT HIGHLIGHT

Uniclic works by connecting two

furniture panels at a 90° angle

Unilin claimed, "as fast as counting to three", and installing can happen

in three steps: insert, angle inwards, and angle back to vertical.

The company further pointed out that the Uniclic connection is stronger

than a traditional assembly system because the joints interlock

along the entire assembly length instead of only on two fixing points.

Additionally, since the connections are milled into the material itself, no

connection or fixation points are visible, giving the furniture a higherend

look.

CIRCULAR TECHNOLOGY

For Unilin, creating a sustainable society means focusing on prolonging

the lifecycle of product, as well as limiting the use of non-renewable

materials. With the Uniclic system, de-installation and re-installation

of furniture becomes simpler while minimising damage. This ensures

the reuse of furniture that will facilitate the transition from a singleuse

product economy to a reuse product economy, maximising the

furniture item's lifespan.

Since the click connection is milled into the wood itself, this also

ensures minimal need for non-renewable raw materials such as plastic

connections, metal screws and nails, or glues. This not only keeps the

ecological footprint of the furniture to a minimum, but also maximises

the recycling possibilities at its end-of-life stage.

REFORM CABINETS WITH MODULAR VERSATILITY

Unilin Technologies has licensed this technology to manufacturers

and furniture companies. For instance, Reform, a design company

specialising in kitchen solutions, uses panels with the Uniclic for

furniture technology for their cabinets and kitchen modules, making

the assembly intuitive and time-effective for a quick and uncomplicated

user experience.

According to a spokesperson from Reform, people who have never

built cabinets before would be able to assemble the cabinets as fast as

professionals and carpenters: "In the end, you will pay less for a hired

installer or save money by doing it yourself." P

Panels & Furniture Asia | March / April 2022 33
---
PANEL MANUFACTURING

Better insights with

EVORIS and CEBRO

The CEBRO smart plant concept and EVORIS digital platform

by Dieffenbacher are poised to help wood-based panel

manufacturers better understand and control their plants.

standardised interfaces that collect

and process sensor and actuator

data — including camera footage —

EVORIS gives manufacturers more

insight into their production and

processes. Artificial intelligence

(AI)-supported analysis of live data

is just one way that EVORIS helps

plant operators better understand

and control their plants and make

important decisions more quickly.

EVORIS is a browser-based,

open system. With its modular

application structure design, EVORIS

is extendable and updateable.

All applications use an intuitive

interface and can be securely

EVORIS Start Center

With an aim to improve plant

management for wood-based panel

makers, Dieffenbacher introduced

the CEBRO smart plant concept that

combines digitalisation and advanced

plant engineering with operational

excellence and sustainability solutions.

CEBRO's advanced plant engineering

solutions include intelligent heat

recovery concepts such as reusing

heat from the press and dryer exhaust

air elsewhere in the production

process, to reduce energy costs and

emissions and increase profit. To help

manufacturers achieve operational

excellence, CEBRO uses optimised

processes and technologies that

improve board quality, increase

output, save costs and support a

plant's sustainability. With wood

recycling solutions and new energygeneration

and smart environmental

technologies, CEBRO also helps

manufacturers find the balance

between economic and sustainability

goals to build a better future for

business and the environment.

Complementing the aforementioned

solutions is the new digitalisation

platform EVORIS. Based on

34 Panels & Furniture Asia | March / April 2022
---
PANEL MANUFACTURING

operated from any mobile or desktop

device within a plant's network. EVORIS

is built on three pillars — Connectivity

and Transparency, Analysis and

Condition Monitoring, and Prediction and

Optimisation — and a Services and Support

package.

The first step to digitalisation is creating

connectivity and transparency. The EVORIS

platform combines the manufacturerindependent,

open iba system and the

EVORIS Start Center. In the iba system, all

plant data is collected and processed at a

central point. Applications are fed data to

give insights into the production processes

via trending tools and various reporting

possibilities.

Detection. It uses AI to detect deviations

from automatically defined target values

for plant parameters. This enables plant

operators to react to anomalies and

prevent potential errors before they occur,

thereby maximising plant availability.

The third pillar is about prediction

and optimisation. One key application

is Quality Prediction — an AI-based

self-learning system that supports

manufacturers in reaching the ideal board

150x210mm--CORRECTED-MARAPR.pdf 1 18/2/22 11:21 PM

quality. It predicts specific board quality

parameters during production to help

operators spot irregularities and take

countermeasures to reduce rejects, save

resources, and increase productivity.

The Services and Support package,

which is complimentary according to

Dieffenbacher, simplifies getting started

with EVORIS and maximises its benefits.

Dieffenbacher designs and implements

EVORIS jointly with customers based

The second pillar consists of various

analysis and condition monitoring

tools for better understanding, faster

troubleshooting and higher plant

availability. For example, manufacturers

can use the Curve Analysis application to

see complex relationships in the production

process. Another application is Anomaly

Forming station of Swiss Krono's particleboard line

in Menznau, Switzerland. Swiss Krono Group was the

C

first wood-based panel producer to use EVORIS

M

Y

CM

MY

CY

CMY

K

Panels & Furniture Asia | March / April 2022 35
---
PANEL MANUFACTURING

on their requirements and needs,

provides initial training and offers

ongoing support and consulting.

New applications will enhance

the EVORIS experience; functional

developments for existing

applications and security updates

are also part of the Services and

Support package.

Swiss Krono Group was the first

wood-based panel producer to use

EVORIS. Thomas Folchmann, head

of manufacturing execution system

(MES) at Swiss Krono, elaborated:

"The first presentation of EVORIS

from Dieffenbacher almost

sounded like a view into the future

to me. There was discussion about

self-learning systems, anomaly

detection, new types of sensors

and much more.

"So far, we are using the iba system

and the quality prediction and

anomaly detection applications.

Through automated laboratory

data imports and model retraining,

quality prediction becomes better

and better. Anomaly detection

also learns automatically and

informs us in case of deviations,

identifies possible reasons, and

often warns minutes or hours

before production downtimes

occur, giving us the chance to

avoid them. We see great potential

in EVORIS to improve the efficiency

of our production."

EVORIS will be expanded with

analysis and condition monitoring

applications like Zeroing Check

and Pressure Insulation to detect

potential machinery defects of

the continuous press. Plant-wide

condition monitoring will power

up preventive maintenance

measures, while the Actual

Value application will enable

users to scan the equipment

identifying symbol (EIS) number

of a component directly at the

machine and view all the live

values usually viewable only

in the control room. Another

application under development

is Particle Size. Particle size has

an influence on board quality and

can indicate machinery defects or

wear, such as for screens, chippers

and flakers. The application will

make particle size and distribution

measurements available online in

real time, avoiding a delay of hours

with laboratory measurements.

Dieffenbacher reported that EVORIS

is available for any wood-based

panel plant regardless of the

equipment manufacturer, panel

type, and whether it is a new or

existing plant. P

From above: Anomaly

Detection application;

Quality Prediction

application

36 Panels & Furniture Asia | March / April 2022
---
IN VIETNAM'S

FURNITURE

CLUSTER

www.bifawoodvietnam.com

NEW DATE: 8-11 AUGUST 2022

NEW

VENUE

WTC Binh Duong New City Expo

Lot A19, Hung Vuong Street, Hoa Phu Ward,

Thu Dau Mot City, Binh Duong Province, Vietnam

Google Map

QR code

Exhibition Site

WOOD & WOODWORKING MACHINERY EXHIBITION

Enquiries For International Exhibitors

Pablo Publishing & Exhibition Pte Ltd

3 Ang Mo Kio Street 62

#01-23 Link@AMK,

Singapore 569139

Tel: (65) 6266 5512

Email: williampang@pabloasia.com

info@pabloasia.com

WeChat

Jointly organised by

• BINH DUONG FURNITURE ASSOCIATION (BIFA) • PANELS & FURNITURE Group

BINH DUONG FURNITURE ASSOCIATION

Photo: elena rouame, helena lopes, guzman barquin/unsplash
---
PANEL MANUFACTURING

Full range of machinery

and complete OSB-PB-MDF

plant by IMAL PAL

PAL technical departments to ensure

a complete design of the engineering

projects. All of the automation parts are

supplied by IMAL, and are designed in

three electrical departments: the first

designs the motor control centre (MCC)

electrical cabinets, the second designs

the programmable logic controller (PLC)

software, and the third designs the

supervisory control and data acquisition

(SCADA) software or human-machine

interface (HMI) computer visualisation.

For the production of LSB panels, IMAL

supplies a complete production plant at

the IPAN facility in Italy and has a system

inside the OSB formers to distribute the

resined material over the two surfaces

of the board. According to the company,

the LSB panel may be regarded as a

"top-quality" particleboard or even an

OSB board that may be laminated, as it is

an OSB board where the two surfaces are

coated with fine material.

From above: IMAL PAL Group's technical engineering department; IMAL PAL Group's PLC & SCADA department

The IMAL PAL Group, consisting of IMAL,

PAL and GLOBUS, supplies orientedstrand

board (OSB) or particleboard

production lines that can manufacture

and supply all the equipment — not

only from the debarker through to the

after-press area, including the dryer,

but also the electronic online quality

controls and the laboratory equipment.

For example, in the case of a complete

OSB or light-strand board (LSB) plant,

PAL manufactures the debarker,

screening equipment, and the forming

line; GLOBUS manufactures the flaker

Disk Strander; and IMAL manufactures

the belt dryer, gluing system and

equality and measurement controls,

in addition to the continuous press

and handling system. The IMAL

continuous press is manufactured in

Italy and equipped with parts that are

of European origin. Around a hundred

engineers are engaged in the IMAL and

IMAL also produces a belt dryer with

energy recovery that ensures a moisture

content of 2% at outfeed. This particular

dryer runs at low temperatures, and as

such, the electrofilter is not required,

and with a maximum dust emission level

of 5mg/m 3 , volatile organic compounds

(VOCs) are below the maximum

level requirements with a working

temperature of less than 100°C. To date,

30 belt dryers have been supplied in

Europe and one in Asia.

The screening area where the PALpatented

Quadradyn screens are

installed is used in over 90% of the OSB

lines in Europe. The IMAL resination for

OSB production distinguishes itself from

the old American system as it does not

require spinning heads or glue sprayers

driven by rotating motors, but applies

a high-pressure system to spray the

resin. This means that electric motors

38 Panels & Furniture Asia | March / April 2022
---
PANEL MANUFACTURING

From left: IMAL Belt

Dryer; GLOBUS OSB

Strander

do not have to be installed inside

dusty environments like that of the

glue blender. Hence, the gluing area

may be certified as ATEX 22, where an

explosive atmosphere from a mixture of

combustible dust in the air is not likely

to occur.

In addition to the mat weighing scale

and moisture meters, an x-ray operated

system is installed on the forming line,

called PSD 400 or Power Scan Device. It

controls the weight per area of the mat

utilising x-rays, and detects any foreign

contaminants potentially inside the mat,

thus protecting the steel press belts

from damage.

At the infeed to the press, the

Dynasteam system is fitted to inject

steam into the mat to reduce the

press factor and achieve a better

distribution of the heat. In the case of

LSB production, a second Dynasteam

is installed to "iron" the strands, so

that small particles may be applied to

the top surface. A double diagonal saw

produced by IMAL cuts the master panel

to the size required after it has been

pressed.

A board weighing scale with

thickness gauge and blister detector

manufactured by IMAL is installed in the

after-press area. The company declared

that it has installed approximately

CONTI-SCALE X

Non-contact Panel Scale

Measurement of area weight

GERMAN TECHNOLOGY

Calculation of panel weight

Required space for installation

only 335mm [13.2"]

WIDE RANGE OF MEASURING SYSTEMS

FOR ENGINEERED WOOD PRODUCTION

www.electronic-wood-systems.com

Panels & Furniture Asia | March / April 2022 39
---
PANEL MANUFACTURING

1

2

3

4

870 thickness gauges worldwide with over 7,000

measuring heads. The IMAL Delamination Board

control, also called Full Blister Control, monitors

the surface of the board with "100-plus ultrasonic

controls" to cover the entire surface.

5

IMAL also offers a full range of laboratory

equipment, including the IBX800, a laboratory

workbench for testing the physical properties of

a board in accordance with European standards.

The company can offer any kind of laboratory unit,

including a laboratory press and laboratory former.

The laboratory former has been designed to form

particleboard or medium-density fibreboard (MDF)

mats of a suitable size, which are then pressed in

the laboratory press. Another unit prepares board

samples for conducting laboratory tests. This

machine automatically cuts, sands and marks the

samples with a QR code for a safe preparation with

minimised error preparation, to reduce accidents

where operators cut samples by hand for testing

purposes. P

Legend

1 OSB Screen Quadradyn

2 OSB Blender

3 OSB Forming line

4 OSB Continuous press

5 Dynasteam Mat Steam

40 Panels & Furniture Asia | March / April 2022
---
Canadian

Hardwoods

quebecwoodexport.com/discover-quebec-hardwood/
---
PANEL MANUFACTURING

Boosting

manufacturing

productivity

with artificial

intelligence

A production

plant's workflow

with Smartech's

Autonomous

MaNEWfacturing

Suite

Smartech is a global technology

company that set its footprint in

the panel-board manufacturing

industry more than 10 years ago with

its SmartWax technology. Since the

first installation it showed success as

demand for cost-saving and resourcefriendly

equipment increased with the

scarcity of raw material and supply

chain difficulties.

Most industries and businesses

around the world are talking about

digitalisation or Industry 4.0, and there

are efforts being made towards the

implementation of technologies into

the modern world of business. This

trend has already started several years

ago, but since COVID-19 appeared, it

has been accelerating as technology is

required more than ever to maintain

governments, industries and businesses,

as travelling restrictions and shutdowns

inhibit people's movement in engaging

operations.

Beyond Industry 4.0, Smartech with

its new technology is talking about a

solution to improve manufacturing

productivity — it is a development

into the full automation of artificial

intelligence (AI) and big data in the

wood-panel industry.

Manufacturers today face varied

operational, personnel and competitive

challenges that limit the value they can

extract from their production facilities.

Inconsistent quality of raw materials,

poor operational stability, product quality

defects, bottlenecks, an ageing workforce,

shortages of skilled workers, and other

critical issues are common.

Smartech's Autonomous MaNEWfacturing

Suite for production plants can alleviate

the aforementioned issues, enabling

manufacturers to get more out of their

existing production lines.

42 Panels & Furniture Asia | March / April 2022
---
PANEL MANUFACTURING

Upgraded Performance Levels

SmartPress continuously updates its machine learning

algorithms to bring performance levels that match and

surpass outcomes from proficient production teams.

Differences between shifts fade and new operators can

reach the performance levels of experienced associates.

Extensive production experience is assimilated into the

SmartPress package, obtaining higher productivity and

stabler operation.

acquisition (SCADA) levels, while

correlating the operators' decision–

making on production process

segments. This step can operate on

historical data or initiate logging of

current production processes.

Next is to train the Ultimate Operator

AI engine on the plant data. The

Ultimate Operator combines machine

learning and reinforcement learning

algorithms to assimilate huge amounts

of data, to tune the AI models for

rollout specifically to the site.

Capacity [sqm/min]

AFTER- AUTONOMOUS OPERATION

BEFORE- MANUAL OPERATION

Time

The SmartPress package, part

of Smartech's Autonomous

MaNEWfacturing Suite, exploits deep

learning and reinforcement learning

algorithms to leverage process

historian, knowledge management,

and plant-wide control data to

improve plant performance. Following

a short implementation period,

SmartPress delivers decision-support

guidelines for operators to improve

productivity in real time. Then, with

operator authorisation, SmartPress

autonomously and directly controls

critical production processes.

Implementation of autonomous

control leads to increased

productivity, enhanced quality, and a

stabilised production line, delivering

increased value to manufacturers.

With the Autonomous MaNEWfacturing

Suite, the implementation occurs via

three steps:

First, Smartech quantifies baseline

performance by collecting and

analysing production data from the

programmable logic controllers (PLC)

and supervisory control and data

Third, the Ultimate Operator provides

recommendations as decision

support to operators and then directly

controls the process setpoints, with

no disruption to the operators'

workflow. The Ultimate Operator

optimises performance according to

the business goals set by management,

such as minimising production costs

and maximising throughput and

quality. In parallel, it brings stability

to the production process, ultimately

improving the financial performance of

the site.

In conclusion, the Autonomous

MaNEWfacturing Suite drives a cycle

where data from critical production

processes is continuously transformed

to value. P

"At Smartech, we are far beyond Industry 4.0.

We are writing the next chapter of the

industrial revolution with our latest

development, where we use AI and Big

Data to improve dramatically the quality

profitability and efficiency at the plant.

The SmartPress package operates

on-premise and communicates

with the existing plant control and

monitoring systems. Utilising AI

algorithms, SmartPress consistently

self-updates, continuously improving

the performance of critical production

processes.

With our Autonomous MaNEWfacturing

System and the Ultimate Operator,

we are opening a new era in the

panelboard industry."

Hansjoerg Prettner,

Vice President Europe and Asia-Pacific, Smartech

Panels & Furniture Asia | March / April 2022 43
---
PANEL MANUFACTURING

GreCon 3D Particleview:

Non-contact,

three-dimensional wood

particle measurement

Users of the 3D Particleview appreciate

that the proportion of particles that

are too thick can be determined

because these endanger the panel

quality. With this information, the

customer can initiate countermeasures

to ensure product quality. Also,

the ratio of surface area to volume

allows the amount of glue used to be

optimised.

The 3D Particleview

can determine

chip geometry

automatically and

without contact

With the help of the 3D Particleview

measuring device developed by

Fagus-GreCon, a German manufacturer

of measuring equipment and fire

protection systems, chip geometry can

be determined automatically and

without contact.

This parameter for both product

quality and process control had to be

measured manually in the laboratory

at the expense of time. Based on the

measured values, the customer can

optimise the production of chips and

the resulting chipboards.

The 3D Particleview has already been

in used in numerous wood-based

panel plants and also in research

facilities. According to Torben

Marhenke, team leader of R&D in the

measurement technology business

unit at Fagus-GreCon, the customer

feedback they received had been

positive.

"INNOVATION OF THE YEAR" AWARD

The 3D Particleview received the

"Innovation of the Year" award from

the US Engineered Wood Technology

Association (EWTA), the trade

association for suppliers to the North

American wood-based products

industry. With the "Innovation of

the Year" award, EWTA recognises

innovations from companies that help

reduce production costs, increase

productivity and improve product

quality. The 3D Particleview was

selected as the winner by votes from

plant managers whose companies are

members of the American Plywood

Association (APA), the North American

association of engineered wood

manufacturers.

"We are honoured that the EWTA and

the plant managers from the APA,

who voted for us, recognised the

3D Particleview as the product

innovation of the year," concluded

Eric Peterson, CEO of Fagus GreCon.

"This confirms the focus we have

taken towards improving production

optimisation and quality for our

customers worldwide." P

44 Panels & Furniture Asia | March / April 2022
---
PANEL MANUFACTURING

Individual strengths

combined to provide

all-round panel-sizing

solutions

Anthon and Anthon Handling Systems

(AHS) have been operating jointly on the

market for two years. Anthon specialises

in machines, systems and complete

production lines, including software

solutions for the panel processing

industry, ready for the Industry 4.0

era. The company established AHS at

the Hemmoor site in Lower Saxony,

Germany, which resulted from the

takeover of assets in January 2020 of the

insolvent J.B. Anlagen.

Headed by Klaus and Ove Lange,

Anthon's development and production

are based in Flensburg, Schleswig-

Holstein, Germany, and its products are

sold globally. At its headquarters, the

company employs a total of around 180

people, and in Hemmoor, 68 employees

work for the company.

Today, Anthon is a partner to various

industries, including panel production,

the furniture industry, wood-based

materials industry, and building

materials industry. The focus of the

product portfolio continues to be

panel-sizing technology; in particular,

panel saws with a cutting height of

180-320mm, through-feed saws with

several sawing units, and batch-size-one

systems. AHS complements the product

portfolio with its feeding and stacking,

conveying and sorting, as well as

packaging and strapping competencies.

Development, design and software

programming are also available in-house.

The merger has enabled the individual

strengths to be combined, and as a

result, they now see themselves in a

position to present an all-round package

to a variety of customers. P

Panels & Furniture Asia | March / April 2022 45
---
FURNITURE MANUFACTURING

New Industry 4.0: Integrated

modular solutions for

production of whole-house

customised furniture

The two-powered-by-one nesting workstation

The China International Furniture Machinery

& Furniture Raw Materials Fair (CIFM) /

interzum guangzhou will be held on 18 Mar

2022 at the Pazhou Canton Fair Complex in

Guangzhou, bringing manufacturers from

all corners of the world to show the industry

how they will move forward in the global

furniture manufacturing industry chain amid

global challenges and uncertainties.

Woodworking machinery manufacturer

Nanxing Machinery will display its

workstation solutions consisting of sizing,

edgebanding, drilling and sorting tailored for

whole-house custom furniture production,

adopting new approaches to break down

Industry 4.0 software and hardware into

several extensible unit workstations

according to working procedures and

functions. Customers can flexibly choose

the required units as needed, or link up

different workstations to form a complete

Industrial 4.0 smart production line. This

module-based solution is cost-effective,

stable and efficient, and is practicable and

easy to implement, thereby enhancing the

manufacturing strength and competitiveness

of furniture manufacturers.

TWO-POWERED-BY-ONE NESTING

WORKSTATION

The two-powered-by-one nesting workstation is

a cutting solution for the production of wholehouse

custom furniture under batch-size-one

production mode. Consisting of two NCG2812L

machining centres and an outfeed robot, it is

flexible, easy to implement, space-saving and

cost-effective. The raw material sheets are

stacked on a set of lifting platforms in front,

and the supervisor receives the order data flow

of advanced planning and scheduling (APS) to

automatically call the processing programme.

After performing auto-alignment and autolabelling,

the plate is automatically distributed

and fed to the waiting area through the roller

according to the real-time production situation,

and the feeding suction cup of the NCG2812L

machining centre pulls the plate to the working

area for top drilling, grooving, and cutting.

Then, the plate is discharged to the unloading

table, waiting to be sorted by the robot, before

being transported to the next process through

the conveying table.

The entire station is organised through the

automatic control system Supervisor to

perform cooperative labelling, sizing and

unloading and discharging. The supervisor

control interfaces with the manufacturing

execution system (MES) to exchange the

board processing data and receives real-time

scheduling data from APS for calculations, to

adjust and match the production capacity in

time. A single shift can process 200-300 large

boards, saving space, labour, and cost, and is

easy to implement. Moreover, in the processing

aspect, the cutting-by-milling tool can save the

subsequent squaring process, featured by high

processing quality, stability, and lower error

rate. The software optimisation also improves

board utilisation rate while saving costs.

EDGEBANDING WORKSTATION AND LASER

EDGEBANDING

For the cabinet body edgebanding process

under batch-size-one production mode,

Nanxing will exhibit a left and right

edgebanding connection composed of

two PC-controlled smart edgebanding

machines NB7PCGM-PC. It can complete

the edgebanding of two sides for boards of

different sizes at one time, and automatically

adjust the thickness of the edgeband by

scanning the code. The colour of the sideband

can be switched flexibly and the real-time

feedback of the machine status to the

supervisor control can also be enabled.

46 Panels & Furniture Asia | March / April 2022
---
FURNITURE MANUFACTURING

Left and right edgebanding connection

composed of two NB7PCGM-PC

Nanxing's NB-Laser 10

as XML, MPR, BAN, among others, thus

optimising the coordination of various

agencies. According to Nanxing, the average

efficiency of the drilling workstation can

reach more than six pieces per minute, and

more than four pieces per minute for slotting

and drilling. Such speed is 2.5 times faster

than the traditional stand-alone machine,

and the whole machine is more compact with

a smaller floor space.

The NCB612DPL for auto-labelling and sorting

NB-laser 10, Nanxing's PC-controlled

automatic laser edgebanding machine for

the edgebanding requirements of cabinet

doors of high-end custom furniture, will also

make its debut at CIFM. Laser edge sealing

technology uses a laser edgebanding adhesive

layer composed of special polymers as an

alternative to hot melt adhesive. Nanxing

reported that the laser instantly melts the

reaction layer of the edgeband, without the

glue application process or glue line, which is

waterproof, heat-resistant, and eye-pleasing.

The machine is also equipped with a set

of polyurethane reactive (PUR) devices,

which enables the rapid switch between

laser and PUR to meet the needs of different

edgebanding processing.

DRILLING AND SORTING WORKSTATION

The drilling process of whole-house custom

furniture production requires flexibility and

processing accuracy in the equipment. To

answer that requirement, Nanxing Machinery

has customised the double-station six-sided

computerised numerical control (CNC) drilling

machine NCB612DPL for batch-size-one

production, and the machine is connected to

the sorting workstation.

The corresponding processing data is

retrieved by automatically scanning the QR

code or barcode on the plate. Subsequently,

the plate is allocated to the corresponding

waiting area for processing, according to the

processing situation of the station. Both the

left and right stations have two drill blocks

and one spindle at the top, one drill block

and one spindle at the bottom. Hence the

whole machine has four upper and two lower

drill blocks, and four spindles working at

the same time. Moreover, powered by the

artificial intelligence (AI)-algorithm of the

third-generation smart operating system,

it can recognise various file formats such

After drilling, the plates are transported into

the sorting workstation. For sorting, a robot

and a double-layer conveying platform are

used, and after the plate is automatically

scanned to retrieve the order information, the

robot will sort it to the corresponding shelf

from the lower conveying platform. After the

order is complete, the complete stack of plates

will be discharged to the upper conveying

table, to be transported to the packaging

process. The double-layer conveying table has

one entry and one exit to ensure that the fed

and discharged plates do not interfere with

each other, improving the transport efficiency

without manual intervention.

In 2022, home furnishing manufacturing will

usher in an era with advanced software and

hardware to enhance manufacturing strength

and competitiveness. The workstation

solutions for whole-house custom furniture

production breaks down Industry 4.0 into

scalable modular smart workstation according

to working procedures and functions. Nanxing

Machinery is committed to providing these

solutions and will present the modular

application of Industry 4.0 in interzum

guangzhou 2022. P

Panels & Furniture Asia | March / April 2022 47
---
FURNITURE MANUFACTURING

A closer look:

Boosting efficiency

through digital

solutions

HOMAG, with its suite of management software applications

and digital tools that debuted in Asia in 2021, aims to partner

with its manufacturing customers in adopting the Industry 4.0

model. Two customers have integrated HOMAG's tools into their

workflow to optimise and streamline factory processes.

between Japan and Vietnam impossible. With

MMR Mobile, Oda has been able to check the

performance of the machinery from anywhere in

the world, at any time.

With clearly arranged graphics and a userfriendly

interface, the MMR Mobile application

was easy to use and the team at Hoso required

little to no training. As Oda commented: "Once

the HOMAG Vietnam team connected the

machinery to tapio – the cloud system hosting

the application – I could see all the real-time

data on my phone right away."

MMR MOBILE

The MMR Mobile application provides

manufacturers with an overview of their

machinery's performance without being

physically present at the factory. Using a

smartphone or tablet, users can remotely view

key performance metrics such as the main

utilisation level, parts performance, as well as

the condition of the machines.

Hoso Sangyo is a Japanese manufacturer of

wooden interior products such as cabinets,

tabletops, kitchens and wardrobes. Before

their trial of MMR Mobile, the operating rate

of their factory could only be evaluated based

on estimations and intuition. According to

Hoso's president Ryuji Oda, having reliable

data on the machinery operation rates has

been useful in increasing overall production

efficiency.

With its factory operating in Vietnam, Hoso's

ability to have a detailed remote overview of

their machine operations proved essential

especially during the COVID-19 pandemic,

when border restrictions made travel

MMR Mobile can be connected to "tapio-ready"

HOMAG machinery with a powerControl V2

control system. The tapio cloud system serves

as the digital backbone of HOMAG's digital

platforms and tools. As an open digital ecosystem

that powers the woodworking industry, tapio

can connect machinery and applications across

different manufacturers and brands.

Besides providing an overview of the machines

in operation, MMR Mobile also allows users

to select different evaluation periods for the

identification of performance trends and

potential areas of improvement, to continually

maximise machine capabilities. This, according

to Oda, provides Hoso with a competitive

advantage.

48 Panels & Furniture Asia | March / April 2022
---
FURNITURE MANUFACTURING

"The operating status of the equipment can

be tracked clearly on an hourly, two-week,

three-month or yearly basis," said Oda. "From a

sales point of view, this data will be an indicator

of capital investment, and a weapon for the

company's growth."

SORTING PRODUCTION SET

HOMAG's sorting assistant, the Sorting

Production Set, aims to help manufacturers

reduce the time-consuming process of

searching for the right parts for assembly,

packaging or further processing. Using

a barcode-scanning system, the Sorting

Production Set can automatically sort

workshop components into respective racks

and compartments and, via a tablet, provide

operators with an overview of the components

needed for each order.

At Simfur Design, an end-to-end woodworking

solution provider based in Malaysia, the

digitalisation of this process benefitted their

factory operations in multiple ways. Previously,

the sorting of parts was done manually on

the floor by workers. This not only utilised

a significant amount of floor space of their

1,500sqm factory and made it difficult for

workers to identify missing parts, but it also

increased the chance of damage to panels due

to excessive handling. Especially when multiple

batch-size-one orders run concurrently, their

workers found it difficult to keep track of all the

parts and tell each order apart.

By integrating the Sorting Production Set

into their workflow, they achieved a smart,

standardised sorting method that minimised

prolonged assembly time and any delayed

fulfilment of orders.

"A sorting task that used to take two workers

an hour to complete now takes one worker

just 20 minutes, as less time is needed to find

missing parts and match the correct batchsize-one

parts," said Jason Sim, project and

factory manager at Simfur. "The Sorting

Production Set also completely removes

the chance of human error in the workflow,

as workers now sort the parts based on a

barcode scan instead of manually reading

the barcodes and figuring out which panel

belongs to which compartment."

The digital assistant and digital job folder

ProductionManager were connected to

Simfur's existing HOMAG iX 3D design

and production software and were fully

operational by the workers within a week.

Upon implementation, workers had an

overview of ongoing orders, the bill of

materials of each order, the sorting progress,

as well as where each component had been

sorted to at all times.

Legend

1 The MMR Mobile

application

2 The Sorting

Production Set aims

to reduce the timeconsuming

process of

searching for the right

parts

3 Using a barcodescanning

system, the

Sorting Production

Set can automatically

sort workshop

components into

respective racks and

compartments

2

3

"The Sorting Production Set is an extension of

HOMAG iX's integration in our production, and

provides our assembly team with the additional

help to perform their job accurately and

efficiently," concluded Sim.

LEVERAGING TECHNOLOGY FOR GROWTH

Amid this era of digital transformation, the

combination of engineering expertise, service

and software will be key to accelerating how

data is harnessed to make the manufacturing

process faster and more reliable than before.

The digitalisation of manufacturing processes

and the application of the Internet of Things

(IoT) can translate to better operational

stability, the ability to scale and adapt to

industry demands, as well as ensure consistent

product quality. By positioning themselves to

take advantage of the latest developments and

leveraging the expertise of technology partners

with integrated solutions, woodworking

companies will be able to reap various benefits

and open up new growth opportunities. P

1

Panels & Furniture Asia | March / April 2022 49
---
FURNITURE MANUFACTURING

Choosing the right

edgebanding technology

in a volatile furniture market

By Dun Deng, senior technical engineer manager, Henkel China

Photo: Henkel

In every manufacturing process, there is the

potential to improve and refine processes in

pursuit of greater efficiencies or better product

qualities. New technology will emerge that

promises to deliver these gains, but early

adopters often end up paying the premium for

investing before solutions are economically

available at scale. Often, the high costs of

being early to invest means that first movers

fail to profit from moving first. And this is

precisely the challenge facing furniture makers

when considering the rapid evolution of

edgebanding.

For an industry heavily reliant on conventional

hot melt adhesive edgebanding, technology

changes pose questions as to whether to adopt

new methods and where to invest. On one

hand, technology advances with polyurethane

reactive (PUR) hot melt adhesives are making

conventional approaches even better and

more cost-effective. On the other, the industry

has seen alternative methods emerge like laser

edgebanding, which uses specialist laser banding

machines to melt adhesives on special edging.

The advantage of laser edgebanding is its

ability to create fine joins, which in some cases

can provide a visual impression of higher

quality. While manufacturers may present

their customers with promises as to the quality

of their materials and the longevity and,

increasingly, the sustainability of their products,

these first impressions can have a major impact

on consumers. Does this perceived quality

advantage mean that manufacturers should

invest in laser edgebanding instead? Perhaps

not — especially as the costs of being an early

adopter can be prohibitive.

Today, the high capital expenditure required

to invest in laser banding machinery means

that for most manufacturers, there may be a

risk in investing in different technology. The

advantages of being first to market must be

weighed against the high cost and whether any

capex spend can be recovered through better

sales or premium product pricing. It is also a

risk to assume that any investment in expensive

plant machinery will not be superseded by

superior solutions that make a return on

investment less likely. In the highly competitive

and volatile market for furniture manufacturing,

these are tough decisions to ponder.

EVOLVING TRADITIONAL EDGEBANDING

These questions of cost and risk explain why

more conventional edgebanding with hot melt

adhesive still dominates the market. However,

a major reason is that there has been exciting

progress in this area too. Thanks to continuous

progress in edgebanding processes, equipment

precision, adhesives and edging materials,

50 Panels & Furniture Asia | March / April 2022
---
FURNITURE MANUFACTURING

Reaction Principle

Edgebanding with

EVA hot melt adhesive

Thermoplastic, physical reaction,

reversible

Edgebanding with

PUR hot melt adhesive

Reactive polyurethane, crosslinking

chemical reaction, irreversible

Equipment Ordinary edgebander PUR glue melting system + ordinary

edgebander

Equipment Investment Low Relatively low Very high

Laser edgebanding

Thermoplastic, physical reaction,

reversible

Laser generator + high-configuration

edgebander

Working Temperature 180-210°C (open type) 130-150°C (semi-open type) 500-800°C (enclosed type)

Price of Edging Tape 0.5-1.8 yuan/m 0.5-1.8 yuan/m Small batch > 4 yuan/m (imported

brand)

Price of Glue 10-30 yuan/kg 55-75 yuan/kg 0

Glue Consumption 200-300g/m 2 70-150g/m 2 0

Quality of Edgebanding Poor Good Best

Bonding Strength Low (60-100N) High (>140N, final) Medium (100-130N)

VOC Emission 100-200g/litre
---
MATERIALS

ACRE: Made with rice

hulls, works like wood

Kitchen cabinets made

with ACRE panels

Wood has been gaining attention in

recent years for its sustainable and

renewable properties as a material, but

just as important is how forestlands

need to be protected. Deforestation,

illegal logging and unsustainable timber

harvesting can put a huge strain on

forests, leading to depletion of resources

over years.

To lessen the strain, some firms have

taken on the challenge to develop

alternative, sustainable building

materials without relying on wood

or wood fibres. And Modern Mill is

one of them. Enter ACRE, a substitute

material made with upcycled rice hulls,

while offering "all the conveniences

of composites with the performance,

warmth and durability of wood", declared

Kim Guimond, CMO of Modern Mill.

ACRE by Modern Mill looks, feels

and works like a wood panel, but

with a catch — it is produced

entirely with rice hulls, making

it a sustainable

alternative to

engineered

or solid wood

panels.

By Yap Shi Quan

What sets ACRE further apart from

engineered wood products is that its

manufacturing process is free of phenol,

formaldehyde and adhesives, or any

wood fibres, according to Modern Mill.

Instead, it uses a polymer blend that

provides ACRE with its strength, while

the rice hulls provide weather-, waterand

pest-resistant qualities — qualities

that engineered or solid wood do not

normally possess on their own.

Speaking with Panels & Furniture Asia,

Guimond explained: "ACRE is also

ensured not to splinter, rot or crack.

Because of its specific manufacturing

process and ingredients, ACRE products

offer a homogeneous edge crosssection,

meaning that the edges do not

require special treatment and do not

need to be sealed or laminated."

Garden chair made

with ACRE panels

WORKING WITH ACRE

ACRE has a uniform texture, and with

regular woodworking tools, can be cut,

52 Panels & Furniture Asia | March / April 2022
---
MATERIALS

sanded, fastened or nailed, glued, and

stained or painted just like wood. It

comes in sheets or panels, trim, decking

and siding, and can be used in most

applications similar to wood, such as

for flooring, cabinets, fencing, furniture,

among others. It is also recyclable.

Another point to note is that ACRE

products are meant for finishing

applications, and are not suitable

for load-bearing or construction

purposes. Guimond stressed and further

recommend building professionals to

observe local building codes before

using ACRE in any building projects.

When sanding, Guimond suggested

that a face mask and eye gear should

be worn. More importantly, because

different applications require different

specifications of ACRE, builders and

designers should consult Modern

Mill before beginning a project, as

she elaborated: "We recommend

that builders and designers read our

technical information prior to building

with ACRE and follow our guidelines on

proper storage, packaging, and disposal.

"ACRE's technical specifications and a

manufacturer safety data sheet are also

available on the Modern Mill website. It's

important to consult these resources to

ensure ACRE is fit for purpose."

"EVERY BOARD KEEPS A TREE

STANDING"

Modern Mill sources their rice hulls

from local rice farmers in Fernwood,

Mississippi, US. By working with them,

the company aims not just to bring

innovation to the building products

industry, but also to divert waste and

create an additional revenue source

by using the farmers' discarded rice

hulls, thus being sustainable while also

bringing jobs to the local community.

and other terrestrial ecosystems and

accelerate their restoration, and to halt

forest loss and land degradation by

2030. According to Guimond, a majority

of private working forests in North

America are committed to meeting the

2030 challenge, to a sustainable future

by properly managing their forests.

"From the locally sourced discarded

rice hulls to our zero-waste

manufacturing facility, we are charged

with lessening the demand for wood

products. By doing so, products like

ACRE lessen the strain on trees and

forests, and help to ensure that wood

should be sourced from sustainably

harvested forests," said Guimond.

"Every board keeps a tree standing."

AVAILABILITY

ACRE, with its low-maintenance and

longevity qualities, is utilised among

building and design professionals,

as elaborated by Guimond: "With the

current fluctuations in wood prices,

coupled with supply chain issues, we

see this as an excellent opportunity

for building, design, and specifier

professionals to make alternative

and sustainable choices without

compromise."

ACRE is currently available globally.

Guimond is confident that the varied

climate market like Asia-Pacific – arid,

semiarid and temperate – can allow

ACRE to deliver "a stable woodalternative

product that will last". P

References:

1. UN Climate Change Conference UK 2021. Glasgow

Leaders' Declaration on Forests and Land Use.

Decking installation using ACRE

And by entirely using discarded rice

hulls, the company manages to avoid

cutting down and using trees in their

production. This is in line with the

recent deforestation goals outlined by

COP26, which is to conserve forests

Vertical siding

using ACRE

Panels & Furniture Asia | March / April 2022 53
---
RECYCLING

Wood recycling:

From waste to resource

A 360° perspective

on wood recycling

With over 15 years of experience

in wood-based solutions and

production, Jose Matas joined

Tomra Recycling as segment

manager in 2021 to advance

the material recycling and

circularity of waste wood for

the panelboard industry. His

international experience with some

of the world's largest wood-based

producers offers a unique insight

into the challenges and future of

the industry.

WOOD IS OMNIPRESENT

Have you ever asked yourself how

many everyday items are made of

wood? It is probably much more

than you think, and for good reason:

wood is a highly versatile resource,

used to create a variety of industrial

and consumer products, ranging

from furniture, panels, construction

materials, paper-cardboard, and

others. One of its main applications

lies in particleboard manufacturing,

an industry that is very promising and

experiencing high demand but is facing

challenges at the same time.

With today's skyrocketing prices

for fresh wood and raw material

bottlenecks, money is no longer

growing on trees but can be found

in recovered lumber and recycled

wood content. Given the current

virgin material prices in the wood

segment and increasing environmental

concerns, we need to turn to wood

waste as a resource and gateway

to new, sustainable business

opportunities. Waste wood comes in

huge quantities around the world and

holds potential as a secondary raw

material source for the wood industry.

As particleboard manufacturers

strive to secure profits, they look to

companies like Tomra Recycling for

processing expertise and technology

that help them change their approach

and use recycled waste wood for

production.

NO LONGER A WASTED RESOURCE

Today, most waste wood is used for

fuel, with only a small portion recycled.

But the trends are starting to shift.

Wood recycling rates greatly vary from

country to country and depend on the

respective markets and infrastructures.

54 Panels & Furniture Asia | March / April 2022
---
RECYCLING

Most waste wood

is used for fuel with

only a small portion

recycled, but trends

are starting to

shift today

In the UK, 4 million tonnes of waste

wood are generated per year, of which

only 1.3 million tonnes are recycled,

2.5 million tonnes turned into biomass

and the rest exported. We see a similar

scenario in southern Europe: Italy

collects about two million tonnes of

wood per year and recycles 63% of this

amount into panels. This results in two

million tonnes of CO2 savings and less

wood waste being landfilled. In the US,

on the other hand, approximately 18.1

million tonnes of wood waste have been

generated, and only 17% of the amount

was recycled in 2018.

The discrepancy across countries is

significant and leaves opportunities

untapped. Particleboard manufacturers

who have tapped into this potential

by integrating waste wood sorting

solutions in their plants or supply chain

have benefitted from tremendous cost

savings and a constant source of input

material.

WOOD IS GOOD, RECYCLED WOOD IS

BETTER

High-purity recovered wood chips offer

the panelboard industry undeniable

advantages. First and foremost, recycled

wood is up to 40% cheaper than fresh

wood and generally dryer, leading to

energy savings during the drying stage

of the particleboard manufacturing

process. Moreover, recycling waste

wood prolongs material circulation

and reduces the need for additional

lumbering. While higher grades of wood

chips can be used for material recycling,

lower-grade waste wood can replace

conventional fossil energy sources. If we

keep recycled wood in continuous reuse,

we can close the loop in particleboard

production, therefore supporting the

transition from a linear to a circular way

of waste wood management.

MEETING FUTURE DEMAND

The benefits outlined previously

are no stranger to the industry.

WASTE WOOD GRADES

In the UK, recovered lumber is

classified into the following four

categories defined by the Waste

Wood Ordinance:

Grade A: Non-processed wood and

the cleanest among the

wood classes.

Grade B: Processed wood and

composite material.

Grade C: Contaminated wood used

as biomass for energy

production.

Grade D: Hazardous waste that

has to be disposed of and

treated separately.

Grades A and B materials are usually

found in waste wood and can be

used to produce industrial and

consumer products. Materials of

grades C and D on the other hand are

only suitable for energy recovery.

Panels & Furniture Asia | March / April 2022 55
---
RECYCLING

Wood-based panel manufacturers

are on the quest to increase recycled

content in their production processes

to ensure economic viability and

reduce their dependency on virgin

material. At the same time, they are

looking to maximise output and keep,

or even extend, their margins that have

gotten increasingly thin because of

the historic-high prices for fresh wood.

Consequently, they are asked to expand

their production volumes to cover their

costs and operate profitably.

Unfortunately, this is easier said

than done. The lack of infrastructure

in some countries, combined with

material shortages, makes it hard

for producers to access material

and drive up production. While the

waste wood collection, sorting, and

recycling in central Europe are more

developed, there is still a lot of room

for improvement. Countries outside of

Europe can use these best practices as

a beacon to develop and invest in waste

wood recycling. Establishing a wellfunctioning

and smooth supply chain

that includes waste wood recycling

is vital to the future of wood-based

products and the circular economy.

GET IT SORTED

Having worked in the wood-based

panel industry for 15 years,

I experienced firsthand that

particleboard manufacturers aim

to increase recycled content. What

sounds like a hard-to-achieve goal

is feasible when the right processes

and sorting technology are in place.

Unlike conventional methods, it takes

a leap of faith to upgrade processing

capability. Since joining Tomra, I have

experienced the potential our sorting

machines offer the industry. I like to

call them "recovery drivers" because

they are an indispensable component

of any recycling or manufacturing

plant. Equipped with the latest

technologies, they allow for the

recovery of high-purity fractions from

waste wood after it has been collected

and chipped. Recovery is fine, but only

high-precision, sensor-based sorting

of non-processed wood provides the

necessary secondary raw materials

for the manufacturing of high-quality

particleboards. Therefore, removing

all contaminants and separating the

stream by wood grade is decisive.

GRADE A PERFORMANCE

Wood-based panel manufacturers

looking to manufacture high-quality

particleboards target a clean Wood A

fraction in the sorting process because

it is the only material class that delivers

the necessary purity and features.

Tomra's x-ray transmission and nearinfrared

(NIR) technology remove

contaminants such as inert materials

and metals, and its newly developed

wood chip application has enabled

the accurate separation of Wood A and

Wood B. With trained neural networks,

sorting software based on deep learning

can detect, analyse, and separate wood

grades, and even recover mediumdensity

fibreboard (MDF) fractions from

the processed waste wood stream. But

the neural network does not stop there:

its collective knowledge grows with

every object it has scanned and sorted.

The pool of information constantly

grows and enables the system to

perform tasks more effectively over

time — even with constantly changing

material compositions.

Deep learning technology advances

sensor-based sorting and offers a futureproof

solution. Unleashing its power will

enable us to find solutions for current

difficult-to-sort materials and support us

in bringing recycling to the next level.

FROM 360ᵒ TO 420

As the first part in a column series, we

have highlighted the benefits recycled

waste wood has to offer the wood-based

panel industry. In the following editions,

we will dive deeper into the points

outlined here, explore the technologies

used, reveal the power artificial

intelligence (AI) and deep learning holds

for wood recycling, and explore the

differences in the global marketplace.

Don't forget: Wood is good, recycled

wood is better. P

References:

1. Wood Recyclers Association.

2. Rosewood 4.0. Rilegno: National Wood Collection and

Recycling Network.

Recycled wood is

generally dryer than

fresh wood, thus

saving energy during

the drying stage

of manufacturing

particleboard

56 Panels & Furniture Asia | March / April 2022
---
Try Canadian Wood

Hãy Dùng Thử Gỗ Canada

www.canadianwood.com.vn
---
FLOORING

Rethinking floor inspection

with innovative camera

and lighting technology

ColourBrain Flooring 4.0

by Baumer Inspection

The inspection of laminate flooring planks

has been part of Baumer Inspection's

portfolio since 2003, which comprises

inspection systems for process control

and defect detection of furniture panels,

decorative papers, floorboards and surfaces

or edges of furniture parts worldwide.

With the further development of the

ColourBrain Flooring system, the change

and trend in laminate flooring production

towards structured surfaces with the natural

appearance of a wood structure were taken

into account.

Therefore, in the further development of the

ColourBrain Flooring 4.0 system, Baumer

Inspection has focused on the following

goals, which have been implemented:

DEFECT DETECTION

The focus of the system revision is on

defect detection even on highly structured

surfaces. Milling defects, such as "mousing

teeth" or edge chipping, are a defect

category in the profiling area. Both lead

to a downgrading of the planks and are

additionally alarmed so that the machine

operator can minimise the cause of the

defective milling.

In addition, the use of UV LED lights enhances

the contrast between transparent and milky,

as well as missing overlay layers so that

weaker and smaller defects in the overlay can

be detected.

ASSIGNMENT OF DEFECTS TO PROCESSES

A new feature of ColourBrain Flooring 4.0 is

the assignment of defects to processes in

which they primarily arise. Among others, a

58 Panels & Furniture Asia | March / April 2022
---
FLOORING

A poorly milled edge

with "mouse teeth"

on the left and two

edges chipping on

the right

distinction is made between: profiling

defects, such as defects on the edges

and profiles; coating defects, such as

pressed decor particles, contamination,

as well as overlay defects and paper

misalignment; and handling defects,

such as damage or scratches.

Display of defects

with detailed

information that

occurred in the set

period

While the cause of profiling defects

can be at least partially eliminated,

thus reducing costs, the flooring

manufacturer usually does not

influence the development of coating

defects. However, all detected defective

planks are rejected regardless of

their cause. The various defects are

automatically assigned to defect groups

by the inspection system. Quality

matrices are used to set the tolerances

for each defect group.

USER INTERFACE

The Flooring 4.0 system features

a new, intuitive graphical touch

user interface. The Baumer Cockpit

provides an overview of the current

production. The inspection results

with the plank qualities, defect logs

and the production statistics are

displayed scalable over different

periods — from a single view of

the plank up to a period of several

minutes or hours.

SIMPLIFICATION OF PRODUCT DATA

MANAGEMENT

By using templates, Baumer Inspection

brings order and clarity to product data

management. Similar structured planks

are grouped so that there is minimal

need to find suitable inspection settings

for hundreds or thousands of different

flooring items, but only for a handful of

templates.

SMART GRADING

Smart grading with tolerating harmless

events, such as loose particles and loose

milling residues, leads to an increase in

the first-choice rate. Harmless incidents

such as loose or fluttering particles

are detected by the inspection system

independently, classified and tolerated,

so that the plates are not degraded in

these cases.

SYSTEMATIC COMPARISON OF SYSTEMS

Consistent data management enables

systematic comparison of several

Flooring 4.0 systems in a plant or group,

thus ensuring that the same article

is assessed with the same criteria in

different lines or locations.

COMMISSIONING AND MAINTENANCE

TIMES

The Flooring 4.0 is calibrated and preset

in a standardised manner at Baumer

so that commissioning can be carried

out quickly, and with the shortest

possible line downtime, according to

the company.

SELF-MONITORING FOR

OPERATIONAL SAFETY

Due to the self-monitoring functions

and the reporting of changes such

as temperature rise, lighting drop,

failure of computers, cameras, lights

or deposits on lights or mirrors, a high

level of operational reliability can be

achieved.

Baumer recommends that the function

is optimally complemented with the

systems ColourBrain V-Shape 4.0 for

checking the bevel coating of the bevel

after coating application in the profiling

line, and with ColourBrain Clip for

checking the correct clip insertion after

clip assembly. P

Panels & Furniture Asia | March / April 2022 59
---
STRUCTURAL ELEMENTS

Clayton

Community

Centre

Clayton Community Centre is the first Passive

House-certified community centre in North

America and the largest non-residentialcertified

project in Canada, designed by

architecture and design firm, hcma.

Location: Surrey,

British Columbia, Canada

Client: City of Surrey

Architecture and

design firm: hcma

Project architect: Aiden Callison

Partner-in-charge: Melissa Higgs

Building area: 7,000m 2

Structural timber supplier:

Western Archrib

Structural Wood Systems

Timber supplier:

Seagate Mass Timber

Text: hcma

Designed around people, the

Clayton Community Centre

combines four aspects of the City

of Surrey's community services

— recreation, library, arts and

parks — in an integrated facility.

The social fabric of the culturally

diverse and rapidly growing

Clayton Heights neighbourhood

led to a design that focuses on

providing gathering spaces to

Image: Andrew Doran

60 Panels & Furniture Asia | March / April 2022
---
STRUCTURAL ELEMENTS

support community connections.

The mix of spaces, imagined and

developed in close engagement

with the community, combines

arts and culture programming

including performing and visual

arts spaces with recreational

activities such as a gymnasium,

fitness centre and a branch library.

These services are supported

by shared social spaces, as well

as spaces for community-led

programming — for instance, a

community kitchen and garden, a

workshop, a café, child-minding,

preschool, and childcare spaces.

Previously operating through

different funding and staffing

models, the four key services now

work collaboratively in the new

centre under a new governance

structure, facilitated as part of the

design process.

SITE AND SYMBIOSIS

Clayton Community Centre situates

itself as an extension of the forest on

the site and draws on these qualities

for its design. The roof and building

envelope mimic the tree canopy to

unify the four traditionally siloed civic

services underneath, with a leaf-like

heavy timber structure that spans

across the interior. The interlocking

members of its pinwheel components

metaphorically and structurally gain

strength by all components being

interconnected.

Beneath the canopy is a space for

discovery and learning that physically

responds and evolves with changing

activities. The centre also champions

social inclusivity, offering universal

washrooms, universal change rooms,

and best practices in wayfinding and

signage. The facility is pursuing the Rick

Hansen Foundation Accessibility Gold

Certification, a programme that focuses

on improving accessibility in the built

environment of Canada.

BUILDING PERFORMANCE

hcma, the architecture and design firm

that designed the centre, expressed

that pursuing Passive House was a

huge ambition. It is, according to

Passive House Canada, the "most

rigorous energy-based standard in

the design and construction industry".

As a relatively new standard in North

America, most existing Passive House

projects are residential, so designing a

76,000sqft community centre to these

standards was charting new territory

— especially without compromising

design excellence or operational

efficiency.

To achieve Passive House Certification,

maximising energy efficiency was

critical.

The roof and building envelope are designed with a leaf-like

heavy timber structure (Image: Ema Peter)

Panels & Furniture Asia | March / April 2022 61
---
STRUCTURAL ELEMENTS

The building's compact form benefits

both the programmatic aspects of the

building and Passive House targets by

minimising the surface area of the floor,

walls, and roof relative to the volume

of the building that needs to be heated

and cooled. Spaces on site were placed

according to both their programmatic

usage and natural light requirements,

respecting their corresponding internal

heat gains and required solar heat

gain. Careful design of shading was

necessary while being balanced

against other key drivers for spatial

arrangement and glazing.

All of these needs influenced the

orientation of the building and the

location of the programme elements

within. P

All images are credited to doublespace photography

unless otherwise stated. This article was first published

on hcma's website and is reproduced here with

permission.

3

1

4

2

Legend

1 Clayton Community Centre is the first Passive House-certified

community centre in North America

2 The centre situates itself as an extension of the forest on site

3 The centre champions social inclusivity, offering universal

washrooms and changerooms (Image: hcma)

4 Four aspects of community services — recreation, library, arts and

parks — are combined in an integrated facility

62 Panels & Furniture Asia | March / April 2022
---
21 - 24 September 2022

JIEXPO Kemayoran Jakarta ▪ Indonesia

ifmac.net

BOOK

YOUR SPACE

NOW!
---
WOOD CLINIC

Hello Mr Shim,

I am working for a company supplying adhesives, and am

responsible for sales of woodworking adhesives. Recently, a wood

factory produced small round tables with 20mm-thick mediumdensity

fibreboard (MDF) with mahogany veneer facade and edged

with mahogany veneer, adopting our ethylene-vinyl acetate (EVA)

hot melt adhesive. However, we have received complaints that the

adhesive force is unstable, and poor local adhesive force is found

after painting, while the same problem was not found when other

customers use the same batch of hot melt adhesive. I hope you can

tell us some factors that affect the stability of veneer edgebanding

glue and some suggestions for improvement. Thank you!

Sincerely,

Mr Chen

Stability of adhesive force

for veneer edgebanding glue

Shim Yee Shin is a specialist consultant

in the woodworking and panel industry,

with more than four decades of experience

in the field. He graduated from Taiwan's

National Chun-Hsing University with a

major in forestry in 1973, and has since

accumulated a wealth of experience

through his work in various countries

across South East Asia and Greater China.

Mr Shim now runs his own consultancy

firm providing ad-hoc consultancy services

and bespoke training workshops. Prior

to this, he was Henkel's Woodworking

Adhesives technical service director for

the Asia-Pacific region.

Mr Chen, thank you for your letter. Factors

causing the unstable bonding force of the

veneer edgebanding glue are briefly described

as follows, according to the information you

provided:

UNSTABLE SUBSTRATE PROCESSING

QUALITY

If the precision of producing round tables with

20mm-thick MDF and the trimming of edges

with a single-axis planer is not well-controlled,

there will be the following defects. When

edging with the veneer, if the adhesive force

is not strong enough, it will risk foaming and

degumming in local areas.

Coarse mark: If the operator rotates and

trims the round table at an uneven speed,

it will cause coarse marks and lead to

unstable adhesive force (Figure 1). If there

are such orders for a long period of time, it is

recommended to use an automatic planer,

which can improve the quality and output of

the round table trimming.

Knife jumping marks: When trimming the

edge using a single-axis planer, the template

must be kept stable and close to the collar

of the planer. If there is a gap between

the template and the collar, there will be

jumping marks, which causes poor edging

adhesive force. A fixed and skilled operator

is recommended to operate the planer to

improve the quality of the trimming.

Hit-and-miss: If the setting of the band saw

or the single-axis planer is not in place, and

hit-and-miss occurs during edge trimming,

it will result in poor adhesion of partial edge

sealing. It is recommended to check the

template regularly to ensure that there is no

damage and to check the set accuracy.

Non-right angle: If there are residual wood

chips on the template, or the round table

board is not flat enough on the template,

these cause the edges to be trimmed at a

non-right angle, leading to poor adhesion of

the edgebanding glue.

UNSTABLE QUALITY OF THIN VENEER

If the veneer has the following quality

problems, it will cause poor adhesion force

when edging with the veneer, leading to

local foaming and degumming:

Moisture content: Excessively high moisture

content of the veneer edgeband will lead

to poor adhesion force of edgebanding.

It is recommended to check the moisture

content of the veneer edgeband before use,

and a scope of 8-10% is recommended.

Unstable thickness: When the thickness

of the veneer is uneven or the tolerance

of different batch numbers differs greatly,

if the edgebander uses the edgebanding

tape to apply glue, the amount of glue

applied will be uneven, causing partial poor

64 Panels & Furniture Asia | March / April 2022
---
WOOD CLINIC

Figure 1: Knife

jumping and coarse

marks after MDF

trimming. Failure

to rotate the round

table close to the

gluing roller and keep

it stable when gluing

will result in uneven

glue application

adhesion force. It is recommended

to check the thickness of the veneer

edgeband before use.

Veneer extracts: The use of species

with high resin or rich in extractive

as veneers or substrates will result in

poor adhesion. It is recommended to

test when using this type of veneer,

two weeks after edge sealing and

painting are confirmed. If the glue

force does not change, quantitative

production can start.

Fleece backed: Veneer edgebanding

tape with paper or non-woven

backing has the following

shortcomings that will lead to

insufficient adhesive force, resulting

in local foaming and degumming:

Poor control in the backing process

of veneer, such as the insufficient

amount of glue applied and

Figure 2: If the veneer backing is not resistant to water or solvent, the

paper backing can be peeled off when in contact with water or solvent.

insufficient pressure-holding time,

among other reasons, will result in

poor adhesion of veneer backing. It is

recommended to check the adhesive

force on the back before use.

The adhesive used for the back of

the veneer edgebanding tape is not

resistant to water and solvent, thus

causing foaming and degumming

when spraying solvent-based paint

(Figure 2). It is recommended to

check and confirm that the water

and solvent-resistance of the back

of the tape meet basic requirements

before use. It is ideal if it can meet

the European D3 grade for the

classification of wood glues in nonstructural

applications.

PRECAUTIONS FOR OPERATION OF

MANUAL EDGEBANDER

Setting of tank temperature:

Check the set temperature of the

tank and the thermometer. After

confirming that it is correct, set

the heating temperature according

to the supplier's regulations, and

check regularly to ensure that the

temperature of the hot melt adhesive

is normal.

Setting of glue amount: Generally,

the amount of glue applied to

MDF is about 170-180g/m 2 , and

the amount of glue applied to

chipboard is about 200-250g/m 2 . It

is necessary to adjust the amount of

glue according to the site situation.

The operating staff must be stable

and be close to the knurled roller

when rotating the round table

to complete the glue application

and ensure that the glue is evenly

applied (Figure 1).

Knurl Roller: Ensure that the heating

temperature of the entire knurl roller

is normal, and there is no sawdust

stuck on it, which will cause uneven

application if there is.

Nip roller: Check that the nip roller

is not damaged to ensure normal

operation. The operator must be

stable and close to the knurled roller

when rotating the round table to

complete the edging.

Contour line: Adjust the height of

the collar on the nip roller to reach

the width of the edgebanding.

Speed control: The operator of the

manual edgebander must be skilled,

and the glue application and the

fitting edge must be closely matched.

The veneer edgebanding process

must be completed in between the

liquid film and plasticity stages. If the

process is slow and the adhesive film

solidifies when edging, it will cause

false bonding (Figure 3).

IMPROPER USE OF HOT MELT

ADHESIVES

The failure to follow the supplier's

datasheet when using hot melt

adhesive will lead to the following

shortcomings:

Irregular temperature control:

Arbitrary setting of glue tank

temperature, damaged glue tank

heater, and excessively high local

temperature of hot melt adhesive

will cause problems such as smoke,

strong odour or discolouration

of the adhesive, resulting in poor

edge sealing force (Figure 4). It is

recommended to check the glue

tank heater and the temperature

of the hot melt adhesives regularly

to ensure they are normal. Set the

heating temperature according to the

supplier's regulations.

Failure to add glue: In the scenario

where the operator forgets to add

glue and the glue tank is already

lower than the minimum storage

glue, adding too much glue and

increasing the heating temperature

to accelerate the process will cause

the hot melt adhesive to coke and

carbonise. This affects the adhesive

force (Figure 4).

Mixing different types of hot-melt

adhesives: The arbitrary mixing

Panels & Furniture Asia | March / April 2022 65
---
WOOD CLINIC

Figure 3: Temperature of hot melt adhesive drops immediately after

gluing, and the edgebanding process must be completed within the

interval from the liquid to plasticity stage since the film solidifies

immediately

Figure 4: The carbonisation and discolouration of the hot melt adhesive

when the temperature of the hot melt adhesive tank is set too high

of two different types of hot melt

adhesives will cause the adhesive to

deteriorate, discolour or weaken. It is

not recommended to mix different types

of hot melt adhesives unless approved

by the supplier's technical department.

Poor maintenance of glue tank: If

the carbonised hot melt adhesive is

not cleaned and not removed from

the surrounding of the glue tank,

this will cause discolouration or poor

adhesion of the hot melt adhesive. It is

recommended to thoroughly remove

the carbonised hot melt adhesive and

sawdust in the glue tank regularly, and

check the glue temperature in the glue

tank and the set temperature of the

thermometer to ensure that they are

normal.

Unstable workshop temperature:

When the workshop is lower than

15°C, the film will become brittle.

Additionally, during hot weather, if

the operator uses a cold fan to blow

the knurled roller of the edgebander

forcefully during operation, it will

shorten the opening time of the hot

melt adhesive film. Consequently, the

solidification of the liquid adhesive

film will accelerate, shortening the

time of plasticity, thus causing false

bonding of the veneer edging and

resulting in poor adhesive force

(Figure 3).

Influence of paint on adhesive force:

EVA hot melt adhesive has low solvent

resistance, so it is necessary to pay

close attention to each link during

edgebanding to ensure the ideal

quality. Appropriately reducing the

amount of paint when spraying primer

can improve the anti-solvent effect

of EVA hot melt adhesive, or hot melt

adhesive with stronger anti-solvent can

be used.

Table 1

Refer to Table 1 for a list of pros and cons

of reactive hot melt, polyurethane (PUR)

hot melt, amorphous polyolefin (APAO)

hot melt, and EVA hot melt.

I hope you will find helpful the above

knowledge about thin veneer edgebanding,

based on the information you provide. P

Sincerely,

Shim Yee Shin

Hot melt adhesive PUR hot melt APAO hot melt

adhesive

Glue cost

Strength of

bonding

Heat and cold

resistance

High cost, special

equipment with high

mileage required

Excellent. Suitable for a

variety of substrates and

edge bands

The cost is about 1.5

times higher than that

of EVA

Very good. Suitable for

some oily veneers

Excellent, from -20-150°C Good, from -10-130°C Poor

EVA hot melt

adhesive

Low cost, suitable

for common

edgebanding

Moderate

Anti-solvent Excellent Good Moderate

Operation

temperature

Viscosity value/CPS

at 30°C

110-120°C

High temperature not

suitable for thin plastic

skin edgebanding

Low to medium

temperature

15,000 60,000 5,000 or more

Environment Harmless Harmless Harmless

Specific Gravity

(S.G)

Softening point

temperature (T°C)

Nil

Higher specific gravity

of added filler

Higher specific gravity

of added filler

Poor High Low to medium

66 Panels & Furniture Asia | March / April 2022
---
SUSTAINABILITY

Principal risks

affecting the

sustainability

of the timber

industry

Inspiring the next "material

revolution" by creating sustainable

and high-performance materials

from oil palm waste, Peter Fitch

together with IOI have set up IOI

Palm Wood to commercialise this

untapped potential.

Sometimes it helps to try and think

strategically and to try to identify the

key trends that impact businesses,

stakeholders and markets over the

short, medium and long term. This is

often referred to as "risk management".

RESPONSIBLE AND SUSTAINABLE

FORESTRY PRACTICES

Climate change, the loss of biodiversity

and environmental degradation present

significant risks to the global economy

and the business environment.

Companies are expected to increase

their positive impacts on the

economy, social development and

the environment. In addition to

this the timber sector is expected

to practise sustainable forestry as a

carbon sink, to reduce air pollution,

and to protect biodiversity, water and

soil.

The demand for sustainable products

that have been reliably certified

is increasing. The development of

supply chain certification systems such

as the Forest Stewardship Council (FSC),

the Programme for the Endorsement

of Forest Certification (PEFC) and

the Malaysian Timber Certification

Council (MTCC) will require uptake

from product manufacturers and this

will be driven by customer demand.

The adoption of strict ESG standards

by many multinational companies

such as Unilever, IKEA, Mars, Nestle,

among others, will require due diligence

from the supply chain and product

Panels & Furniture Asia | March / April 2022 67
---
SUSTAINABILITY

Figure 1: Timber

is still the most

environmentally

friendly material for

furniture production

manufacturers. The complexity of these

chain of custody and downstream

processes will lead to increased costs

but should be viewed as necessary to

ensure transparency and to build longterm

customer loyalty and trust.

The good news for our industry is

that the climate footprint of timber

is much smaller than other materials

commonly used in the production

of furniture (Figure 1). For example,

in a recent study timber makes up

approximately 70% of the volume

in a typical furniture item, yet only

contributes 25% of the climate

footprint of that furniture item. Other

materials which represent a lower

volume and include metals, plastic,

and fabric contribute a relatively

higher climate footprint of 30%, 25%

and 20% respectively.

Companies large and small are

increasingly required to report on

their sustainability. This can be for

regulatory requirements, stakeholders

disclosure or simply because it is

the right thing to do. Taking a closer

look at the sustainability report from

IKEA, a benchmark global leader in

terms of ESG reporting, we see in

Figure 2 that materials, production

and transportation are unsurprising

significant contributors to greenhouse

gas emissions (GHG). What is probably

more surprising is that the consumer

usage and end-of-life contribution

is also very high. By 2030, the global

population is expected to reach nearly

8.6 billion. This means that more and

more people will look for a chance for

a better life. In a world that already

uses resources requiring more than

one planet's worth, billions of new

consumers will put an even greater

pressure on the planet. In many parts

of the world, consumption is growing

at an unsustainable rate. And while

many people are escaping poverty,

many also lack access to affordable

housing. Unsustainable consumption

and wastefulness will be one of our

biggest challenges: How can we

continue to grow and enable more

people to live better everyday lives

within the boundaries of the resources

available on our planet?

MANUAL LABOUR AND HUMAN

CAPITAL

The timber sector, including furniture

manufacturing in Malaysia, is heavily

reliant on manual labour, which makes

the industry vulnerable to shortages of

workers. The risk of labour shortages

not only causes lost revenue but

also limits future growth. Risks will

increase going forward due to growing

international regulations and customer

interest in ethical labour practices.

These issues have already been raised

in the plantation, glove, and electronics

sectors. These are the higher

profile industries which are being

highlighted at the moment, however

the timber and furniture industry

will not be spared future scrutiny. All

manufacturers should be expected to

comply with audits on ethical labour

practices, including fair wages, freedom

of association, acceptable working

conditions and human rights.

One of the ways to mitigate the

over-reliance on low-cost labour is

through digitisation and the embracing

of the Fourth Industrial Revolution

(IR4.0). Alongside Malaysia's pledge to

transform into a high-income nation

by 2030 through socioeconomic

transformation via the use of

technology, it has become an urgent

priority that we prepare ourselves for

this radical change. We should strive to

create a better working environment

which is less labour-intensive, yet

futuristic whilst dispelling the 3D

— dirty, dangerous and demeaning

— misconception in order to attract

local workers. Our workforce needs to

be equipped with the aptitude for the

changing nature of work.

THE NEED FOR BUSINESS RESILIENCE

The timber industry needs to remain

resilient in the wake of challenges from

supply chains, pandemics, anti-tropical

timber lobbies, regulatory compliance,

global competition, alternative

materials, and others.

Volume in Typical Volume Furniture in Typical Item Furniture Item

Material Climate Material Footprint Climate Footprint

5%

15%

5%

15%

20%

25% 20%

25%

10%

10%

70%

70%

30%

25% 30%

25%

Timber based Timber Plasticbased Metals PlasticFabric

Metals Fabric

Timber based Timber Plasticbased Metals PlasticFabric

Metals Fabric

re 1.0

st ber environmentally is still the most friendly environmentally material for friendly furniture material production. for furniture production.

68 Panels & Furniture Asia | March / April 2022
---
IKEA Climate Footprint 2020

SUSTAINABILITY

Materials 40%

Production

15%

Transport

12%

Retail Operations

Home Use +

Product End of Life

3%

30%

Figure 2: IKEA

calculated its

total GHG to be

25 million tonnes.

CO2 equivalent

percentages have

been rounded

Probably the best way to mitigate these risks

to our business is to remain engaged with our

stakeholders. Some examples on how we can

leverage this relationship is by listening and

taking note from our:

Customers: Our business growth depends on

customers who support our products.

Employees: Human capital is one of our

biggest assets and we need to invest and

develop this asset to ensure business success

and a transformation to IR4.0.

Communities: Our business should provide

measurable support and benefits to the

communities where we operate.

Suppliers: Our suppliers should ensure

ethical and sustainable production and

procurement processes, together with good

health and safety practices. They provide

critical inputs for our business to function.

Regulators/Industry Associations:

By engaging with government, nongovernment

and industry associations,

we can position the industry to catalyse

common interests in order to create

effective policies and best practices within

the industry.

Shareholders: Business strategies should

be geared towards creating sustained value

for both shareholders and investors, done

through strategic investments, thus ensuring

business continuity and growth.

There are many challenges within our

industry but by mitigating the risks and

engaging with our stakeholders, we find that

the future also has many opportunities. P

Panels & Furniture Asia | March / April 2022 69
---
EVENTS CALENDAR

Events Calendar 2022–2023

Dubai WoodShow

Dubai, United

Arab Emirates

2022

MARCH, 15 – 17

MARCH, 18 – 21

China International Furniture

Fair (Guangzhou) 2022, Phase 1

Guangzhou, China

MARCH, 28 – 31

China International Furniture

Fair (Guangzhou) 2022, Phase 2

Guangzhou, China

Photo:Wael Hneini / Unsplash

India Wood

Bangalore, India

Malaysia International Furniture Fair 2022

Kuala Lumpur, Malaysia

Holz-Handwerk 2022

Nuremberg, Germany

JUNE, 02 – 06

JULY, 06 – 09

JULY, 12 – 15

AUGUST, 08 – 11

Photo: Ashkay Nanavati / Unsplash

IFMAC & WOODMAC 2022

Jakarta, Indonesia

Xylexpo

Milan, Italy

SEPTEMBER, 21 – 24

OCTOBER, 12 – 15

OCTOBER, 18 – 21

VietnamWood 2022

Ho Chi Minh, Vietnam

NOVEMBER, 20 – 22

Photo: Warren Gold Swain / Unsplash

MARCH, 28 – 31

Interzum Guangzhou

Guangzhou, China

WOOD TAIWAN 2022

Taipei, Taiwan

APRIL, 28 – MAY, 12

MAY, 19 – 22

Qingdao International Furniture Fair

Qingdao, China

MAY, 25 – 27

DOMOTEX Asia / CHINAFLOOR 2022

Shanghai, China

JUNE, 01 – 03

Carrefour International du Bois

Nantes, France

Photo: Thomas Tucker / Unsplash

BIFA Wood Vietnam 2022

Binh Duong, Vietnam

Indonesia International Furniture Expo

Jakarta, Indonesia

AUGUST, 25 – 28

Korea International Furniture & Interior Fair

(KOFURN)

Korea

FMC China 2022

Shanghai, China

AUGUST, 18 – 21

SEPTEMBER, 13 – 17

SEPTEMBER, 21 – 23

125th NHLA Annual

Convention & Exhibit Showcase

Ohio, United States

Photo: The Shestarters Guide / Unsplash

Malaysian Wood Expo 2022

Kuala Lumpur, Malaysia

Hanoi Wood Vietnam

Hanoi, Vietnam

2023

JANUARY, 16 – 21

imm Cologne 2022

Cologne, Germany

FEBRUARY, 09 – 11

MARCH, 02 – 05

DelhiWood

New Delhi, India

MAY, 09 – 12

interzum Cologne

Cologne, Germany

MAY, 15 – 19

LIGNA

Hannover, Germany

Photo: Azlan Baharudin / Unsplash

70 Panels & Furniture Asia | March / April 2022
---
INDEX OF ADVERTISERS

PANELS & FURNITURE ASIA • March / April 2022

COMPANY PAGE COMPANY PAGE

Anthon GmbH 33

Baillie Lumber 11

BAUMER Inspection GmbH 69

BIFA Wood Vietnam 37

Cabinet Vision South East Asia 17

CMC - Carpenterie Metalliche Colzate Srl 13

LEUCO Ledermann GmbH & Co KG 25

Nanxing Machinery Co., Ltd 2-3

Northwest Hardwoods 9

PEFC 61

Quebec Wood Export Bureau (QWEB) 6-7, 41

Shanghai Wood-based Panel Machinery Co., Ltd 15

DIEFFENBACHER Industriemarketing GmbH 1

Electronic Wood Systems GmbH 39

Technik Associates, Inc

Teknos (M) Sdn Bhd

IBC

OBC

Forestry Innovation Investment Ltd. 57

Global Timber Asia Sdn Bhd 27

IFMAC & WOODMAC Indonesia 63

TOMRA Sorting GmbH 72

Union Brother (China) Ltd 23

Yalian Machinery Co., Ltd 5

IMAL SRL

FC, IFC

IMEAS spa 71

Kuang Yung Machinery Co., Ltd 35

ai161597024816_EN_PFA_IMEAS_202105.pdf 1 17/03/21 09:37

Scan to download eBook

PFA March/April 2022

The new EvoL sanding machines from Imeas are the result of more than 50

years of know-how and evolution and offer State-of-the-Art technologies

for sanding of wood-based panels such as MDF and ParticleBoard. EvoL

sanders feature Minimal Costs, Excellent Calibration, High Speed,

Flexibility, Superior Quality, and Full Automation.

C

M

Y

CM

MY

CY

CMY

K

IMEAS S.p.A. via Pacinotti, 36 - 20020 VILLA CORTESE (MI) ITALY | Tel. +39.0331.463011 | Fax +39.0331.432311 | imeas@imeas.it | www.imeas.it

Panels & Furniture Asia | March / April 2022 71
---
THE BEST GRADE IN

WOOD SORTING

GAIN your competitive edge with pure wood A and MDF fractions

Pioneering the use of deep learning technology, AUTOSORT and

GAIN combine the most advanced technologies for recovering

wood A, wood B and MDF from waste wood. Count on TOMRA

technology to deliver profitable results!

EXPLORE WHAT

YOU CAN GAIN!
---
TECHNIK ASSOCIATES, INC.

HIPOINT ASSIST CREATING PARAGON FURNITURE

APPROVED/

E-CLASS

DET-2000-E6

DOUBLE END TENONER

H-CLASS

DET-26-3200H

DOUBLE END TENONER

L-CLASS

DET-1300-L12MS

DOUBLE SIDED PROFILE

MOULDING &

SANDING MACHINE

SD-550P

AUTOMATIC EDGE BANDING MACHINE FOR SOLID WOOD

最 大 厚 度 : 25 mm 厚

HIPOINT ASSIST CREATING PARAGON FURNITURE

TECHNIK ASSOCIATES, INC.

NO. 288-3, Sec. 1, Dafong Rd., Tantzu Dist., Taichung 42756, Taiwan

Tel.: +886-4-2568-85552534-9000 Fax: +886-4-2534-9160

http://www.hipoint.com.tw

E-mail: hipointmachinery@gmail.com / hptmac@gmail.com