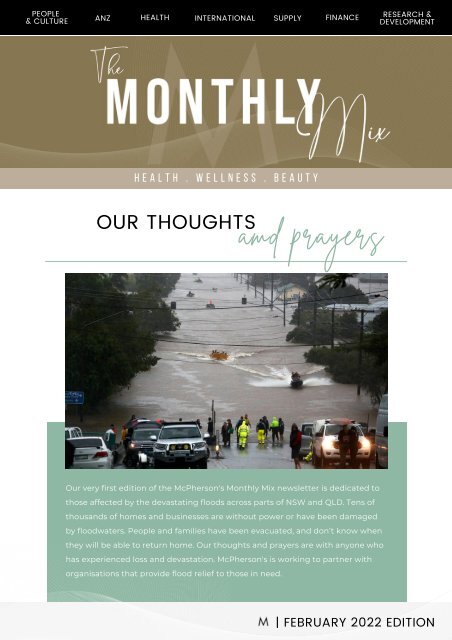 FEBRUARY 2022 EDITION MCP Monthly Mix Newsletter
FEBRUARY 2022 EDITION MCP Monthly Mix Newsletter
FEBRUARY 2022 EDITION MCP Monthly Mix Newsletter
SHOW MORE
SHOW LESS
You also want an ePaper? Increase the reach of your titles
YUMPU automatically turns print PDFs into web optimized ePapers that Google loves.
PEOPLE

& CULTURE ANZ HEALTH INTERNATIONAL SUPPLY

FINANCE

RESEARCH &

DEVELOPMENT

H E A L T H . W E L L N E S S . B E A U T Y

OUR THOUGHTS

amd prayers

Our very first edition of the McPherson's Monthly Mix newsletter is dedicated to

those affected by the devastating floods across parts of NSW and QLD. Tens of

thousands of homes and businesses are without power or have been damaged

by floodwaters. People and families have been evacuated, and don't know when

they will be able to return home. Our thoughts and prayers are with anyone who

has experienced loss and devastation. McPherson's is working to partner with

organisations that provide flood relief to those in need.

| FEBRUARY 2022 EDITION
---
PEOPLE & CULTURE

We celebrated this Valentine's Day on

14th February by "Spreading the Love".

Thank you to all who contributed a

personal representation of what brings

them joy! Stay tuned for our next internal

campaign...

VIEW THE CAMPAIGN NOW

RETURN TO OFFICE UPDATE

The opening up of restrictions across Australia has supported us being able to have

more employees visiting the Sydney, Melbourne and Byron Bay Offices. Auckland,

Hong Kong and Singapore still have levels of restrictions they are working within, so

are only attending office when necessary.

The Sydney, Melbourne and Byron Bay offices are seeing more teams enjoying face

to face meetings to collaborate. We encourage people to attend the Sydney,

Melbourne, and Byron Bay offices 1 to 2 days per week for the month of March. This

will support routines being established as we plan to return to the office and allow

us time to coordinate with IT on requirements for retuning.

We will continue to monitor the number of cases to ensure the safety of our people

which is our top priority. Please talk to your manager in relation to your attendance

to coordinate with your team. Under the current restrictions, masks are optional

inside our facilities.

In April, we will bring people back into the office 2 to 3 days per week as we

encourage collaboration, coming together and meeting face to face again. The

Leadership Team will work together in the coming weeks to support team rostering

and days in the office.

READ THE FULL UPDATE HERE
---
PEOPLE & CULTURE

Don't forget to access the LMS

Dr. LeWinn's

CHINA RESELLERS TRAINING A SUCCESS

Live Webinar attracts 100 attendee's globally

"Firstly, thank you to Kerrie Moore for

your support. We received a very positive

FB for today's products training and the

participants also over our expectation.

We previously limited the number of

registrations up to 50 people, but after

the activity was announced, the

distributors expressed their interest and

willingness to come and listen. Finally,

the number of participants nearly

doubled than registration" - Pheobe

Access China

The webinar received countless

feedback from our distributors and can

be seen below.

Featuring:

Dr.LeWinn's Brand Story

Brand overview & different ranges

Hero Product Training Including:

Ultra R4 Collagen Surge

Plumping Gel

LSC Triple Action Defence

LSC High Potency Mask

LSC Caviar Eye Serum

Skin concerns & how to sell

Very good training and practical presentation!

Hope there will have offline events in Tokyo.

Thank you. Great training! The girl demonstrating

today has very nice skin, this is persuasive.

Very practical contents from today's training,

thanks the trainer and working staff!
---
ANZ

SUGARBABY

Launches in

Sunday 20th February saw the launch of

Sugarbaby Beauty into selected Myer

Department Stores! This opportunity

sees ranging of 18 Sugarbaby skus into

45 Myer stores, plus Myers own online

portal.

A very special thanks goes out to

Tatum Murphy and all of the

associated integral departments.

Pictured: Myer Charleston

It was through their tireless efforts and

support that all had a hand in making

Pictured: Myer Melbourne

This is a fantastic opportunity for

McPherson's and reignites our

partnership once again with Myer.

this opportunity come to life.

Well done Team!

ACCESS MYER STORE HERE
---
ANZ

Manicare leads and outperforms the market. Manicare value

growth in 2021 of +4.6% outstrips total Beauty Tools market

growth of 3.5% sees Manicare grow market share by 30bps to

29.1% - whilst delivering 37.8% of total category value growth.

No. 1 bath NPD

launched in

2021

No. 1 BTA NPD

launched in 2021

No. 1 Hand & nail NPD

launched in 2021

OUT OF STOCK OUT OF STOCK OUT OF STOCK

VIEW REPORT

NEW ZEALAND

PROVEN WINNER

We have a winner! Trialled and tested by 30 Beauty Review

members, our Dr. LeWinn's Ultra R4 Collagen Surge

Overnight Sleep Mask has been awarded with a top-rated

badge! Scoring a 4.5/5, reviewers raved about the lux look and

feel of the product, and the visible difference they had noticed

to their skin. With many of the reviewers new to the Dr.

LeWinn's brand, it was also great to see comments of future

intent to purchase, to recommend to others, and to trial other

products from the Ultra R4 range.

ACCESS BEAUTY REVIEW NOW!
---
ANZ

NEW ZEALAND UPDATES

LADY JAYNE X CANTEEN

LIMITED EDITION

Lady Jayne has teamed up with CanTeen on a

limited edition sku, a Scarf & Scrunchie set which

can be worn a multitude of ways; in your hair or as a

fashion accessory!

100% of proceeds will be donated to CanTeen,

supporting young people across Aotearoa affected

by cancer whether its their own diagnosis or that of

an immediate family member. CanTeen's mission is

to make sure they don't have to face cancer alone.

Lady Jayne will be raising awareness of the cause

through digital, social media and PR release.

Launching March into Chemist Warehouse and

selected New World and Pak n Save stores at RRP

$9.99.

SERVICE AWARDS

Congratulations!

RACHEL BAKER

15 years of service

AMELIA FONOTOE

10 years of service
---
HEALTH

FEBRUARY WEBINARS

The Health Business Unit delivers monthly 'bite-sized trainings' via webinar to

instore staff and February's topic was "All About Magnesium". This month, 72

attendees participated in the training across two sessions, with 64% rating

40

the webinar a 10/10.

Great Webinar

30

20

I think the bite-size trainings

are great.

Keep them coming!

10

0

Rating out of 10

It was succinct and informative

IMMUNITY & STRESS

New Fusion Immunity & Stress is

finally here! The newest addition to

the Fusion range, Immunity & Stress,

is almost here and combines

ashwagandha to help the body

adapt to stress, with astragalus to

improve immunity, based on its

traditional use in Chinese medicine.

Plus, zinc and vitamins C and D to

support healthy immune system

function.

DISCOVER MORE
---
QUERCETIN ADVANCED

Quercetin Advanced is coming!

Customers will be Q-ing up for

Quercetin Advanced because it's

one of the hottest ingredients in

town. In new Quercetin Advanced,

we've teamed it with vitamin C,

vitamin D and zinc to support

immune system health. Discover

more about the new product

coming to Fusion below

DISCOVER MORE

Mindfulness

FOR BEGINNERS

This free, effective and easy exercise could be the difference between

being a human stress-ball and the best version of you. What are you

waiting for? Check out our Fusion brand's latest blog post to learn more

about mindfulness.

READ MORE
---
BRAND FEATURE

Manicare

with Cherie Lau

My favourite product at the moment is the new Manicare Contour Roller

Set. I'm a mum with 2 little children, finding time to look after myself is the

key. The Contour Roller is super easy to use, it just glides on my face with

skincare products. I like to use it in the morning together with my serums

and eye creams, not only it help reduce puffiness and enhances the

absorption of skincare actives.

VIEW THE MANICARE

CONTOUR ROLLER SET DETAILS HERE
---
INTERNATIONAL

IN CHINA, CELEBRATING

International Women's Day

Dr. LeWinn's and A'kin China have

taken the opportunity to celebrate

International Women's Day with

millions of women in China through

social media and online stores. For

DRL, we have introduced our hero

Line Smoothing range for women

who are looking for anti-aging

solutions, as well as providing great

value GWP. The artwork is designed in

our signature lilac with elegancy. A'kin

has celebrated with A'kin Tmall store

discounts throughout 4th-8th March

and also encouraged followers to

interact under a WeChat post to win

store vouchers.
---
FINANCE

1 2 2 R E S U L T S A R E O U T ! H 1 2 2 R E S U L T S A R E O

$108.8M

TOTAL SALES REVENUE

1H21: $101.7M

11%

ORGANIC GROWTH

DOMESTIC OWNED BRANDS

$7.2M

UNDERLYING* EBIT

1H21: $7.5M

48%

CASH CONVERSION

1H21: 67%

7.3%

1H22 SUMMARY:

GEARING

NET DEBT: $8.8M

Organic domestic growth with owned brand sales

up 11% driven by Manicare, Lady Jayne and Swisspers,

despite COVID-19 related challenges

Underlying* PBT of $6.7m and statutory LBT of

($3.0)m in line with stated guidance

Strong balance sheet with low net debt and gearing

Finalised $9.4m provision for Dr. LeWinn's Inventory

Broader channel and portfolio strategy to be initiated for Dr. LeWinn's in China

Continued progress on initiatives resulting from operational review

Unchanged FY22 guidance, subject to no unforeseen circumstances

3.0 CPS

INTERIM DIVIDEND

FULLY RANKED

KEEP UP TO DATE WITH MCP ASX

ANNOUNCEMENTS HERE

*Excluding material non-recurring items. Refer to the reconciliation of underlying to statutory results contained in the appendix of the ASX Results

Release dates 23 February 2022
---
RESEARCH &

DEVELOPMENT

MEET OUR

SUSTAINABILITY MANAGER

Anthony has a Masters of Environmental Management from UNSW and over the past

15 years has worked in IT, Not For Profit, FMCG and infrastructure in the environment

and sustainability space. Some career highlights include incorporating more natural

play spaces into child care centres, and switching to an ethical, environmentally

beneficial approach to managing 40 Tonnes of eWaste p.a. for a Tier One IT outsource

provider. He has also completed the Centre for Sustainability Leadership course and

the Al Gore Climate Reality Training.

He remains optimistic that economies, and the businesses that drive them, can

change to a circular, regenerative model and is excited to be a part of McPherson's

growth and journey towards that future. Having said that, this is the decade for action,

time is running out and we all (individuals, businesses, industry bodies and

governments) need to ramp up our efforts in this space.

One of his favourite saying's is "Every dollar you spend is a vote for the type of society

you want to be a part of". Raised in regional NSW he now calls Sydney's Northern

Beaches home and enjoys getting out on the water when he can in his inflatable

'dinghy', powered by an electric motor of course.

Anthony

Ogilvie
---
we are...

health

wellness

beauty

Got News? We would love to hear from you.

Please submit all news stories to

communications@mcpher.com.au