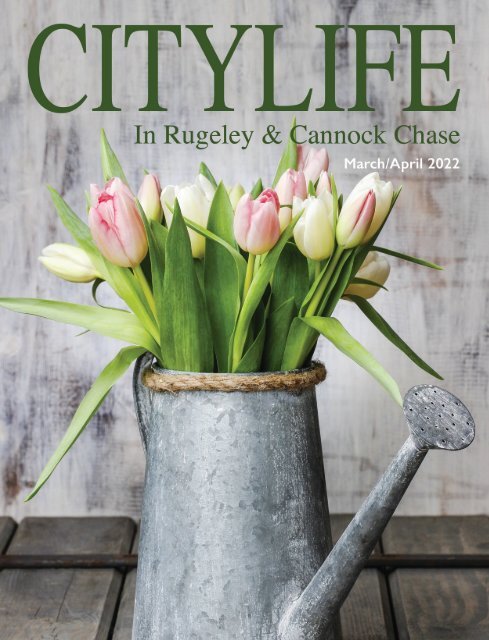 Citylife in Rugeley and Cannock Chase March and April 2022
Spring is definitely in the air with our Rugeley and Cannock Chase March and April magazine! We've got some great ideas for where you can eat out this Spring with some tempting tasty options featured in our dining reviews, as well as our usual mix of recipes, competitions, local news, history and heritage features. Enjoy reading with your favourite tipple, or while relaxing in a local cafe or pub - and then enjoy a walk in the wonderful Staffordshire countryside this Spring!
Spring is definitely in the air with our Rugeley and Cannock Chase March and April magazine!
We've got some great ideas for where you can eat out this Spring with some tempting tasty options featured in our dining reviews, as well as our usual mix of recipes, competitions, local news, history and heritage features. Enjoy reading with your favourite tipple, or while relaxing in a local cafe or pub - and then enjoy a walk in the wonderful Staffordshire countryside this Spring!
SHOW MORE
SHOW LESS
You also want an ePaper? Increase the reach of your titles
YUMPU automatically turns print PDFs into web optimized ePapers that Google loves.
3
---
Welcome to

CITYLIFE

Welcome to CITYLIFE in Rugeley & Cannock Chase, a

monthly magazine bringing you our pick of the area's news,

events and stories. Each month CITYLIFE in Rugeley &

Cannock Chase is delivered to businesses and homes in

Rugeley, Cannock Chase, Heath Hayes, Ravenhill,

Etchinghill, Slitting Mill, Armitage, Handsacre, Colton,

Hamstall Ridware, completely free of charge; bringing

you the best that the area has to offer.

Each issue features heritage stories exploring the rich

history of our area, plus competitions, interviews and the

latest in fashion and style.

Got a story or charity event you want to share with our

readership? Think you've snapped an image that captures

the spirit of the region? We want to hear from you!

CITYLIFE Contacts

Editor - Kristen Lackajis 07885 380632

kristencitylife@gmail.com

Features - Jono Oates 07785 757201 jonocitylife@gmail.com

Advertising -

Steve Brown 07740 166497 stevebrowncitylife@gmail.com

Rebecca Hill 07970 513144 rebeccahillcitylife@gmail.com

Inside...

6 Local News

What's been happening in the area

.............................

12 It's Coming Home!

Charlotte Benton finds out more as the

region prepares to host the

Commonwealth Games

.............................

26 Gift Guide

Pick up the perfect pressie for Mum!

.............................

31 Dining Out

We review two of the area's restaurants

Production -

Helen Smith 07967 154187 helencitylife@gmail.com

Citylife In Lichfield Ltd

PO Box 7126 LICHFIELD WS14 4JS

CITYLIFE in Lichfield and CITYLIFE in Rugeley and Cannock

Chase magazines are not connected to any other publication or

publisher, and are wholly owned by CITYLIFE in Lichfield Ltd.

Citylife In Lichfield

@citylifelichfield

@lichfieldcity

www.citylifeinlichfieldltd.co.uk

Citylife in Lichfield Ltd does not endorse any business or organisation

appearing in these pages, and the publication of any advertisement,

editorial, event listing or advertising editorial does not constitute an

endorsement by Citylife in Lichfield Ltd.

Your Local Magazine

Latest Winners!

Congratulations to E Powell who is the winner of a granite

chopping board from Just Granite, and I Parker who receives

two starters and a bottle of wine at Infinitii in Abbots

Bromley! Well done!
---
Opportunity

for a Sales

Executive

Citylife in Lichfield

Ltd is expanding!

We currently have an opportunity

for a Sales Executive to work on our

two magazines – Citylife in Lichfield

and Citylife in Rugeley & Cannock

Chase. You must be self-motivated

and comfortable speaking to clients

on the phone as well as face-to-face.

The post is commission only and a

car is essential.

For further information and a full

job description, please email

helencitylife@gmail.com

5
---
LOCAL NEWS

Stafford Grammar

Named Top in County

Stafford Grammar School is a co-educational

independent school for ages 3 to 18, and is

celebrating being named the top performing

independent school in Staffordshire, according

to The Times.

It is now preparing for its first in-person Open

Week from 23rd to 25th March after two years

of disruption from Covid.

Head, Mr Thomas, explains: "We have been

delighted to have been named as the top school

in Staffordshire by The Times, but here at

Stafford Grammar life continues as normal.

"Our academic success speaks for itself, but it's

the atmosphere at the heart of the school that

means so much. This term we see our whole

school musical 'Guys and Dolls' take place, with

pupils from Year 7 to Upper Sixth getting

involved not only on stage, but also with

costume, make-up, set design, lighting and

sound. That's the true measure of SGS.

"We have just over 400 pupils from Reception

to Upper Sixth, which makes the pupils'

involvement in drama productions, music

performances and sports teams so much more

important. Creating rounded individuals who

get involved and are a pleasure to be around is

our true success."

For further information, visit

www.staffordgrammar.co.uk

.......................................................................................

Environmentally

Friendly War Memorial

Hednesford Lions with Cllr Fitzgerald

Year 1 students from South Staffordshire

College studying Countryside and

Conservation supported two projects at

Hednesford War Memorial in December last

year.

This followed funding from Southern

Staffordshire Community Energy Fund to install

a water supply pipe up to the top of

Hednesford War Memorial which will provide

the area with permanent water for irrigating

the plants. The funding for this was secured by

Hednesford Lions.

6

The volunteer students back filled the trench

containing the completed pipework and planted

lavender plants in the formal beds.

Through funding from Hednesford Town

Council Community Fund, given to The Friends

of Hednesford Park, they purchased plug plants

at the beginning of the year and various

volunteer groups have helped to nurture the

plugs into mature plants.

.......................................................................................

Improved Park

in Full Swing!

Cllr Fitzgerald, Kathryn Sharratt, Cllr Smith,

Cllr Preece, & Sheila Harding

Works to the park and play area at the Cema -

Chapel Street Park in Norton Canes have now

been completed. An official opening ceremony,

which took place on 3rd February, saw the

Chairman of Cannock Chase Council and the

Chairman of Norton Canes Parish Council

declared the park 'open' with a ribbon cutting.

The community of Norton Canes can now

enjoy their new green space and make the most

of the newly installed circular pathway with

green gym equipment as well as a new play area

for children and families.

A small woodland area has also been created in

collaboration with the Forest of Mercia which

included the planting of a total of 488 native

trees and shrubs thanks to a donation of

£12,000.

Visit www.cannockchasedc,gov.uk/thecema for

more details.

.......................................................................................

Epic Cycle Challenge

for Hospice

An intrepid Staffordshire fundraiser will take on

the ultimate challenge this spring by cycling

around the entire coastline of England, Scotland

and Wales to support St Giles Hospice.

Retired Steve Munro (61) will be taking on his

epic 14-week journey – which will see him ride

5,266 miles – to fulfil a dream and thank

hospice staff for caring for his brother-in-law at

the end of his life in 2020.

Steve plans to raise funds in memory of Tim by

cycling between 50-70 miles each day, six days a

week, starting from his home in Uttoxeter. He

will ride until he reaches the sea in north Wales

before travelling anticlockwise around the

coastline until he returns to where he started.

Visit www.justgiving.com/fundraising/stephenmunro6

to support Steve's journey.

.......................................................................................

Alcohol Restriction

Zones

Cllr Bryan Jones and PC Courtney Hill

Cannock Chase Council has implemented a

Public Spaces Protection Order (Alcohol

Restriction Zones) across the district.

The new PSPO came into force on 1st February

2022 and will last for up to three years. It

covers the following areas: Cannock Town

Centre and Cannock Park; Hednesford Town

Centre and Hednesford Park; Rugeley Town

Centre; Fernwood area; and Ravenhill Park.

The PSPO will enable Police Officers and Police

Community Support Officers to request a

person stops drinking alcohol and/or

surrenders their drink if they are causing, or are

likely to cause, alcohol related anti-social

behaviour or disorder. It is not a total ban on

drinking alcohol within these areas and the

powers are not intended to disrupt peaceful

activities.

A person who fails without reasonable excuse

to comply with a requirement imposed and

commits an offence, can be issued with a fixed

penalty of £100.
---
Advertising Feature

Does Your Garden

Need Some Love?

Billy's Borders is

run by Debbie, a lady

gardener who offers

fully insured garden

services and is

certified by the Royal

Horticultural Society.

Her services include

weeding, pruning and

planting - but that's

not all! You can also have your garden designed and planned

out to suit your needs and requirements by Debbie,

whether it's redesigning a new garden, having a revamp, or

trying to find ways to attract more wildlife.

Debbie is a local self-employed gardener with a passion

for all things horticultural and can assist in making your

shrubs shapely, your borders beautiful and your lawn feel

loved again. Available as a regular service, or one-off tidying

and planting job, Debbie's reasonable rates have something

to suit all budgets.

So if your garden is in need of a little TLC this year, give

Debbie a call on 07760 296192 or visit Billy's Border

Control on Facebook and see how Debbie can help you!

7
---
LOCAL NEWS

New Health App

is Live

Chris Derbyshire with Cllrs Adrienne Fitzgerald &

Valerie Jones copy

Local residents are being encouraged to find

their way to wellbeing by downloading the new

'Cannock Chase Can app.'

Cannock Chase Council in partnership with

Inspiring Healthy Lifestyles (IHL) has been

working closely with local partner organisations

and community groups over the last 12 months

to develop the Cannock Chase Can

programme, which aims to help people live

happier and healthier lives.

The new app, which is available from Google

Play or the App Store, provides information

about healthy eating, physical activity, healthier

lifestyle choices as well as how to budget, sleep

and manage emotional wellbeing.

It hosts a variety of wellness challenges which

can be undertaken as an individual, group or

family and celebrates success with trophies and

instant rewards provided by local businesses.

The Council is also continuing to call on

inidividuals, community groups, businesses and

organisations to submit challenges and rewards.

Visit www.cannockchasecan.co.uk for more

information.

.......................................................................................

Youth Speaks Debating

Competition

The winning team

The Rotary public speaking and debating

competition 'Youth Speaks' was held at

Cannock Chase High School on Tuesday 18th

January.

This year due to ongoing Covid restrictions the

number of entries was lower than previous

years, however the quality of the debating skills

of the students was first class.

The competition was judged by an independent

panel chaired by Martin Thornley the chief

executive of the Stafford and Cannock League

of Hospital Friends, Lisa Bramwell, Senior

Lecturer in Teacher Training, Wolverhampton

University and Elizabeth Partington

This year winning team was from Cannock

Chase High School, debating the challenging

topic of Euthanasia were Mollie Stevenson,

Vivienne Palmer Vipua Mbai

This year the Rotary Club of Cannock

introduced a new award for the best speaker at

the competition the 'Maurice Partington Cup'

plus a monetary prize going to the school they

attend. Maurice Partington was a highly

respected and long serving Rotarian who sadly

passed away last year and the award is

sponsored by his widow Elizabeth in memory of

her husband who had supported the 'Youth

Speaks' event for many years.

The first ever winner of the Maurice Partington

Cup was Vivienne Palmer.

.......................................................................................

LHCRT's New

Company Secretary

Lichfield and Hatherton Canals Restoration

Trust (LHCRT) has

announced the

appointment of a

new company

secretary.

Colin Booker

spent his working

life with HMRC,

formerly HM

Customs and

Excise. He is a

q u a l i f i e d

Colin Booker

management

accountant and worked in the Criminal

Investigations Division of Customs and HMRC.

He was employed as a forensic accountant,

directly involved in analysing and presenting

primarily financial evidence in support of

prosecution cases.

He is now retired from full time paid

employment but is keen to assist LHCRT where

he can. Though not a boater himself, he would

love to see a canal in water passing through

Lichfield with all the benefits that that brings.

New WI Group

Forming

There has been

m u c h

excitement in

Armitage with

Handsacre over

the past few

weeks about the

proposed formation of a new Women's

Institute. Meetings have been held, discussions

have been had and lots of ideas have been

exchanged. Finally on Wednesday 2nd March a

WI taster evening was held so that the ladies of

Armitage with Handsacre could get a feel of

what the Women's Institute is all about.

The first official meeting will be held at

Armitage with Handsacre Village Hall,

Shropshire Brook Road, Armitage WS15 4UZ

on Wednesday 6th April 2022 at 8pm. At this

meeting the new WI will be given a name and a

committee will be elected amidst lots of tea and

cake!

.......................................................................................

New Recycling

Measures in May

The new waste and recycling calendars are on

their way to residents in Cannock Chase. These

new calendars will provide collection dates

from April to November due to the impending

start of the new dual stream recycling service in

May this year.

The calendar not only gives you important

collection dates, it also gives extensive

information that residents need to know about

the dual stream recycling service.

The calendars will be distributed to every

household in the district. They can also be

downloaded from www.cannockchasedc.gov.uk

and replacement calendars printed out.

8
---
Texas to

Appear at

Cannock

Chase

Sharleen Spiteri - Texas

Renowned band, Texas has announced it will

appear as part of Forest Live, the summer

concert series presented by Forestry England,

playing Cannock Chase Forest on 9th June.

Formed in Glasgow by singer Sharleen Spiteri and

bassist Johnny McElhone, their debut single, 'I Don't Want

A Lover', brought Texas to the world's attention with a

global hit in 1989 beginning the Scottish band's illustrious

career. Texas became mainstays of the UK charts with a

raft of hits such as 'Say What You Want', 'Halo', 'Black Eyed

Boy', 'In Our Lifetime', 'Summer Son', 'In Demand', 'Inner

Smile', 'Getaway' and 'Sleep'. Classic albums such as

'Southside', 'White On Blonde' and 'The Hush' ensured

their presence among multi-million-selling artists and the

journey continues with the 2021 release of their top

three album 'Hi'.

Forest Live is a major outdoor live music series that

introduces forests to new audiences in unique, natural

woodland arenas around the country. Over 1.9 million

people have attended a Forest Live gig in the last twenty

years, enjoying great music and supporting the nation's

forests when buying a ticket. Going to a concert helps

Forestry England create beautiful places for people to

enjoy, run important conservation projects and keep

growing trees. Every year they plant some 8 million trees

sustainably, caring for the nation's 1,500 woods and

forests and welcoming 296 million visits annually.

Texas joins an already sterling line-up of acts, many of

which were due to appear last year however the

concerts were cancelled due to the Covid-19 pandemic,

including:

Thursday 9th June: Texas

Friday 10th June: Rag 'n' Bone Man

Saturday 11th June: Kean

Sunday 12th June: Noel Gallagher's High Flying

Birds

Visit www.forestryengland.uk/music to find out

more or to purchase tickets for Cannock Chase

Forest Live.

9
---
Win Three

Months

Membership at

Gymophobics!

If you think all gyms are the same, with rooms full of mirrors,

bulging muscles and perfectly toned bodies and pressure to

perform, and this put you off from joining, then stepping through

the doors of Gymophobics Rugeley will make you think again!

Located on Market Street, Gymophobics is an award-winning ladies

only health and wellness centre where women of all ages, fitness levels

and abilities are welcome.

Since 2011 the centre, which is part of a highly successful nationwide

franchise, has provided Rugeley ladies with a fun, friendly and extremely

supportive environment, in which to lose weight and inches, get fitter and

healthier, and boost self-esteem.

It's quite easy to see why Gymophobics have adopted the slogan "Hate

gyms? Love Gymophobics!" as there really isn't anything not to love

about a gym that focuses on empowering women to be stronger, more

confident and to have fun in doing so!

We've teamed up with Gymophobics to offer three

months' worth of membership for four ladies to win!

To be in with a chance of winning, simply correctly

answer the following question and send it along with

your details:

Where is Gymophobics Rugeley located?

A) Anson Street

B) Horsefair

C) Market Street

To enter, send your name, contact details & answer to Gymophobics Rugeley

at competitioncitylife@gmail.com or to Citylife in Lichfield Ltd, PO Box 7126,

Lichfield WS14 4JS by closing date of 25th April 2022. New members only -

competition excludes existing members. One entry per household. Multiple

entries disqualified. No cash equivalent. Entrants 18 or over. All information in

line with GDPR Data Protection Regulations & Privacy Policy (available at

citylifeinlichfieldltd.co.uk). Full t&cs on page 34.

Trisentona the

River Goddess

By Dr Mark Knight, Transforming the Trent Valley

The prehistoric peoples of

Britain believed that rivers

were a representation of the

feminine divine and that each river

had its own goddess, or more

correctly, that the river was a

manifestation of the goddess herself.

The pre-Christian people of Britain

believed in genius loci or the spirit of place. Trees, springs,

mountains and rivers - were represented by a spirit or a god or

goddess. This caused me to consider our RiverTrent. Work by

linguists over the years reveals that the name of the goddess was

Trisentona, shortened over the millennia to Trent. Previous

understanding of the meaning of this name resulted in translations

such as 'Trespasser' 'Flooding One', or more tortuously, 'the Great

Feminine Thoroughfare'.

More recently, Professor Andrew Breeze of the University of Navarra

has identified a new derivation of the name meaning. Whilst

acknowledging the river as a manifestation of the goddess, he offers a

different conclusion. He breaks the word into three parts: Tri, meaning

'very' or 'great', then 'suant', meaning 'desire', and the third part 'ona'

modifying the 'suant' to 'suantona', meaning 'beloved'. This results in

Trisentona meaning something like 'the goddess of great desire', or

perhaps better still 'greatly beloved'.

I think we can get closer still. An archaeological team led by Professor

Henry Chapman of the University of Birmingham unearthed an incredible

series of finds at Catholme, near to Alrewas. A ritual landscape based

around a series of ceremonial monuments focussed on the confluence of

three rivers, The Trent, Tame and Mease, was discovered to have existed

between about 3,000 BCE and 1,500-1,000 BCE. The importance and

sanctity of this unusual triple confluence was of utmost significance to our

forebears. Starting in the late Neolithic, these monuments may have stood

in the landscape for well over 1,500 years and influenced the building and

placement of later Bronze Age burial mounds and other landscape

features. This ceremonial complex was of very great importance and

national significance, despite there being nothing visible above ground now.

The picture shows the confluence of the three rivers. To the right is the

River Trent, the centre is the River Tame, and the River Mease is out of

shot to the left.

The belief in a triple goddess is a pan-European one, representing the

three aspects of the feminine divine. Consider here the three fates of

Greek myth, the three norns of Germanic and Scandinavian myth, or the

Irish and Welsh triple goddess figures. The number three was of great

significance, and in prehistory the three rivers were probably understood

to have given birth to the triple goddess. The ritual landscape and

ceremonial complex that stood for so very long acknowledged this, and

importantly, may have been recognised and celebrated by our ancient

ancestors as the symbolic birthplace of the goddess herself. The prefix or

word-forming tri is of proto-Indo-European origin, meaning (of course)

three. This means that a small revision to Professor Breeze's derivation of

Tri, would remain with the usual meaning of 'three'. The goddess

Trisentona's name would then mean 'thrice-beloved', and this would also

recognise the 'three-ness' of the triple goddess and the importance of the

confluence where three rivers meet.

Bringing these aspects together, these three rivers, the Mease, Tame and

Trent gave birth to the triple goddess, with the creation of the Catholme

Ceremonial Complex as the celebration of that birthplace. The river then

becomes a manifestation of the goddess, and the goddess a representation

of the river. Almost lost to us on the cusp of forgetfulness, she was called

Trisentona the thrice beloved, shortened over the years to Trent.

10
---
11
---
It's Coming Home!

By Charlotte Benton

The Commonwealth Games, and hopefully a multitude of

medal-winning performances, are coming to Birmingham this

year.

First held in 1930, the Commonwealth Games unites members of the

Commonwealth of nations every four years in an exuberant celebration

of sport and human performance. From its humble beginnings, originally

comprising 11 countries and 400 athletes, today the games are a global

spectacle bringing together 6,600 sports men and women from 72

nations and territories.

This summer, between Thursday 28th July and Monday 8th August, the

Commonwealth Games will be on our home turf as Birmingham

becomes the heart of the games.

In fact, the games are taking place at venues all across the West

Midlands and further afield, including venues such as our very own

outstanding beauty spot - Cannock Chase!

So, there is no time to waste, in just a few short months our local

community will host athletes from across the Commonwealth in this

international sporting extravaganza.

Showcasing exactly what our region has to offer, The Games'

mountain biking event will take place around the trails and tracks of

Cannock Chase. This off-road event is on Wednesday 3rd August and will

see athletes exhibit their athleticism, balance and bravery as they

navigate the paths of our local forestry in a quest for gold!

Spectators will be able to look on from the sidelines of the race as

the athletes climb the tortuous hills of our terrain, displaying their

greatest feats of effort and endurance before beginning an exhilarating

descent to the finish line.

But it is not only Cannock Chase that will be home to such inspiring

and invigorating displays of talent. Sutton Park will play host to the

Virtual Deer

Protection Expanded

Deer are at their

most active

during dawn and

dusk, so their activity

coincides with times

when the roads are at

their busiest, through

the morning and

evening rush hours.

Cemex (Rugeley) has

recently funded an

expansion to the Cannock

Chase Deer Safety

Project. This latest

technology of virtual road

fencing also works to deter deer away from the roads.

It's believed there's a deer population in the UK of more than two

million and recent research shows around 75,000 are involved in vehicle

collisions each year, with 10,000 being killed instantly. Deer collisions on

12

multifaceted event that is triathlon and para triathlon, where athletes

will swim, bike and run in the vicinity of the 2,400-acre nature reserve

and its roads. Meanwhile, a brand-new aquatics facility has been built in

Sandwell to host both the swimming and diving events throughout the

games.

A total of 19 sports and eight para sports will take place during the

games, across a host of venues including the Alexander Stadium, the

NEC complex and Arena Birmingham, as well as numerous other

locations across the West Midlands and beyond, inclusive of Lee Valley

Velopark, the indoor cycling centre, which was purpose-built for the

London Olympics in 2012.

There is no denying that this is our chance to experience a sporting

show with a long-lasting legacy right on our doorstep! Previous games

have seen historical sporting events such as the 'Miracle Mile' as Sir

Roger Bannister and John Landy became the first people to break the

four-minute mile in Vancouver at the 1954 games, meanwhile our very

own Nicola Adams became the first gold medal winner in the flyweight

division of women's boxing during Glasgow's 2014 Games.

So, what are you waiting for? Visit www.birmingham2022.com to find

out how to get involved with this sporting spectacle, to purchase event

tickets or simply to learn more about it!

Cannock Chase and surrounding areas range between 140 and 160

annually.

Rob Taylor, Chase Ranger who runs the Cannock Chase Deer Safety

Project, said: "We have seen some positive results from the deer

deterrent trials but warn drives to still to take extra care by sticking

to the advisory 40mph speed limit whilst travelling across the Chase."

Temporary deer warning signs have been put up and signage alerting

drivers of potential black spots for deer collisions, but deer can jump

out onto the road at any time of the day and anywhere, so stay vigilant.
---
Here at Just Granite Ltd, we pride ourselves on being the experts for any worktop needs you may have.

Be it a beautiful bespoke and unique kitchen worktop, a bar, bathroom or even a barbecue area, we have

an extensive in-house range ready to be chosen by you! We stock a varied range, in a variety of materials,

such as our own competitively priced quartz, granite, marble and porcelain, as well as all the top brands

from around the world.

There really is no reason to go anywhere else!

Win a Granite Chopping Board

If you require our services please do not hesitate

to call us on 01785 711096 or email your quote

request to stef@justgranite.ltd.uk

With the largest variety of natural stones in the Midlands, the

solid slabs are kept on-site and are available for a virtual viewing

from 9am-5pm on Monday to Friday. Located at The Stone

Works, Pillaton Hall Farm, Penkridge, ST19 5RZ.

We've got a bespoke Chopping Board (in the

colour of your choice) to give away! To be in

with a chance of winning this magnificent prize,

simply answer the following question correctly:

Where does the supply

of granite come from?

a) Spain

b) Italy

c) Germany

To enter, just send your name, contact details and answer to Just

Granite Competition at competitioncitylife@gmail.com or post your

entry to Citylife in Lichfield Ltd, PO Box 7126, Lichfield WS14 4JS by

the closing date of 22nd April 2022. One entry per household.

Multiple entries will be disqualified. No cash equivalent. Please note

you must be 18 or over to enter. All entrants' information is

processed in line with GDPR Data Protection Regulations and our

Privacy Policy (available at citylifeinlichfieldltd.co.uk).

Full t&cs on page 34.

13
---
Etchinghill WI

By Kathy Baxter

Our January Zoom welcomed guest speaker Ken

Robertshaw who gave a talk entitled '6 Dogs, A

Sledge and Me!'

Retired police officer Ken developed a passion for exploration

of the Antarctic from an early age and jumped at the opportunity

when he was invited to drive a sled team across the Antarctic.

This meant working with half wild huskies pulling a sledge across

bleak but beautiful landscapes starting from Tromso and travelling

across north of Sweden in temperatures down to minus 35

degrees.

For our February Zoom meeting, we welcomed Mark Lewis

whose talk was 'Tying the Knot: The Lore of English Marriage.' In

his talk Mark explained how many of our present wedding

customs originate from traditions going back to medieval times.

Superstitions played a big part in how these traditions started.

Overall, this was a remarkably interesting talk giving us an insight

into how superstitions are reflected in modern ceremonies.

A minute's silence was held for former WI president Heather

Williams who sadly passed away recently.

To commemorate the Queen's Jubilee, we will be holding a

function at the village hall, full details will be decided at future

meetings.

New members to the group are always welcome. If you are

interested in joining us, please email

etchinghillwistaffs@gmail.com.

SI Cannock

& District

By Trish Mellor

Jackie Prince

& Lesley Smith

Cannock & District Soroptimists celebrated 67 years as a club in

February with a dinner held at Brocton Hall Golf Club.

President Jackie Prince's theme for the year ahead is 'It's what you do that

counts' which was used by the first Soroptimist club 100 years ago. The room

was decorated with a woodland theme to celebrate the local area of

outstanding natural beauty that is Cannock Chase.

Club members attended with family and friends along with fellow

Soroptimists from most of the other clubs in the Region and including Midland

Chase Region President Judith Carder.

President Jackie introduced the guest speaker, Lesley Smith, who was there

as herself rather than in costume as one of the historical women she often

portrays. Lesley has been a supporter of the Soroptimist clubs in the area for

many years.

Lesley, who is an author, historian, presenter, and curator of Tutbury Castle,

was as entertaining and charismatic as she always is as she told the story of

how and why she became curator of the Castle.

Cannock Soroptimist Lynne Tuckley thanked Lesley on behalf of everyone

there for all she has done over many years to entertain and help them raise

funds but particularly on this occasion for sharing so much of herself with

them all.

Visit www.sigbi.org/cannock-and-district or Facebook at

www.facebook.com/SICannock for more information.

14
---
15
---
A Window on the Past

Brereton Road

Brereton Road was part of the main route from London to the

north-west - the 'King's Highway.' As such it was a coaching

route. In 1818 there were coaches daily to and from London,

Liverpool and Manchester.

Before the Cannock Mineral railway line was built the northern part

of Brereton Road was considered to be part of Horse Fair and it is

often referred to as 'The City' or 'Marl Pits.'

For many years the most imposing building was the Cottage Hospital,

which stood on the site of Briar House.

1. A 1920s postcard showing the old Britannia Inn on far left and

The Beehive, a little general store on the corner of Wharf Road kept, at

the time of this photo, by William Sharratt.

1

2. This is a little nearer to Lichfield and was taken around 1905.

The two women on the right are outside the Nelson Inn, originally

called the Lord Nelson.

3. Thatched cottage near the modern entrance to Newman

Grove. According to George Key in his history of congregationalism it

was built on waste land by Samuel Sleigh, a manufacturer of fur (or

beaver) hats in the late 18th century. He was a dissenter and the first

dissenting service in Rugeley was held in this cottage about 1794. These

dissenters were to later build the Congregational Church in Elmore

Lane.

4. An early 19th century milestone rediscovered during the

widening of the A51. The roughcast stone with a cast iron faceplate was

refurbished and placed near its original position opposite Briar House

and eventually listed.

5. The Laurels, a private house that later became a children's

home known as Castle Haven. It first appears in directories as The

Laurels in 1892 when it was the residence of Thomas Smith. By 1912 H

Cecil Gardner lived there. From around 1916 until it was demolished, a

doctor lived there, at first Dr Paton, followed in the mid-thirties by Dr

BA Abbot.

2

The Landor (local history) Society is a focus for those who wish to

learn more about the history of Rugeley and its surrounding parishes. It

was founded in 1953 and was named in honour of Walter Noble

Landor, local and county historian, who became the Society's first

President. More information is available at

www.landorsocietyrugeley.uk

3

4 5

16
---
Future of Pye Green

Community Centre

Cabinet members at Cannock Chase

Council have listened to concerns made

by residents about the plans of

Hednesford Town Council to transfer the lease

of the Pye Green Community Centre to the 1st

Hednesford Scouts.

At its meeting in March, Cabinet decided against

allowing the town council to transfer the lease.

They believe the lease should remain with the town Councillor Phil Hewitt

council so the popular centre continues to provide

benefit to the wider community.

Hednesford Town Council has two lease arrangements with Cannock

Chase Council which allows it to run the community centre on payment

of a peppercorn rent. The current leases have 105 years remaining.

The lease arrangements require the town council to formally obtain

the permission of Cannock Chase Council where any major change to

the building or its letting is planned.

The Cabinet was making its decision in the light of significant public

concern that several community groups currently using and hiring the

community centre would be directly affected by the scouts taking on the

lease.

At a Cannock Chase Council meeting on 16 February a petition with

1,453 signatures was presented to councillors, opposing Hednesford

Town Council's plans. The petition was accepted by the Portfolio Holder

for Innovation and High Streets, Councillor Phil Hewitt, who gave a

commitment to review residents' concerns and said a decision on the

lease plans would be made at its next Cabinet meeting.

Explaining the reason for Cabinet's decision, Councillor Hewitt said:

"We have been advised that the scouts are looking to use the

community centre for five nights a week and for 14 weekends during the

year. Buit unfortunately this will mean that five current hirers of the

building - from the local community - would no longer be able to use the

centre and would be displaced. One of these groups has 60 participants.

"The scouts do a fantastic job in Hednesford but when a change in the

leasing arrangements could have such an impact on residents' use of a

facility designed for wide community use, we do have a duty to listen and

act as we see fit."

My Month in

Parliament

By Amanda Milling MP

The ongoing situation in Ukraine is one we all watch with worry

and concern.

The Prime Minister, the Foreign Secretary and the Defence Secretary

have already taken action against Russia. We have made crystal clear our

commitment to Ukraine's territorial integrity and sovereignty.

We will continue to work with our allies and partners to uphold the

rules-based international system in relation to Ukraine and the

To Advertise your business

please contact our sales team on

07970 513144

07740 166497

institutions that underpin it.

The Prime Minister has spoken to President Zelensky on a number of

occasions to reiterate the UK's support.

As a Foreign Office Minister, I am echoing this support both in the

House and as I hold calls with counterparts around the globe calling for

solidarity with Ukraine.

Our support for Ukraine, alongside our allies, is unwavering. Similarly,

we must be clear to Russia that any further incursion into Ukraine will

come at a serious cost.

Many constituents have contacted me asking for ways to support the

brave people of Ukraine.

The best way to help is by supporting the Disasters Emergency

Committee's Ukraine Humanitarian Appeal.

The Government is also matching pound-for-pound the public's

donations up to the first £20 million.

If you would like to help those in need visit

https://donation.dec.org.uk/ukraine-humanitarian-appeal where you can

make a donation.

17
---
In With The Old!

By Richard Winterton

An all-time

classic - this

1960s G Plan

model 6250

wingback

armchair sold

for £150.

This mid-C20th

Beautility teak

sideboard makes a

stylish statement in

the home today.

As well as being a smart way of securing something unique,

auctions are also an environmentally savvy choice.

Furniture is a great example.

A friend's daughter was getting ready to start at university last year and

needed to furnish her digs.

But brand-new flatpacks were immediately ruled out – the only option

for her was good quality, second-hand teak furniture.

Why? Because something made from scratch inevitably has more of an

environmental impact that simply reusing what's already in existence.

As the auction world revolves around recycling in one way or another,

so buying and selling under the hammer is the original eco-friendly option.

But it's not just about carbon footprint.

Mid-20th century teak is once again bang on trend and you can secure

originals in great condition at auction.

From Victorian dressers to designer dining suites, modern light oak to

mahogany, vintage vinyl sofas and leather Chesterfields to 18th century

stools, marble-topped tables to metalwork chairs, the quality and quantity

never ceases to amaze us.

Anything from antique to quality modern reproductions can be found in

the saleroom alongside other practical equipment such as desks, office

chairs and filing cabinets and more unusual vintage items.

There's also plenty of scope for upcycling too, reusing resources and

breathing new life into distressed items through restoration and

renovation.

It's an interior designer's dream – and you can sleep soundly knowing

you've done your bit for the planet, too!

Watches and jewellery are commonly recycled – whether as heirlooms,

vintage accessories or even for scrap value – but the green principle

applies equally to everything we handle.

We don't cherry-pick. Our estate clearance specialists check everything

inside and outside a property, including all outbuildings and sheds as well

as cellars and attics. That's why you can access a fantastic range of tools,

garden items and household electricals at our auctions alongside the

antiques and collectables.

We sell white goods of all shapes and sizes, often in superb condition,

including fridges, freezers, tumble driers and washing machines, and other

electricals such as televisions, gaming stations, record players and hi-fi

systems, vacuum cleaners and pressure washers.

Everything's PAT tested, too.

You could bag a nearly new Samsung, LG or Sony TV for just £100 at

auction – that's an environmentally friendly bonus worth switching on to!

To book an appointment for a free valuation of anything from jewellery and

watches to pictures, furniture and all types of antiques and collectables, contact

The Lichfield Auction Centre, Wood End Lane, Fradley Park, on 01543 251081

or email to office@richardwinterton.co.uk. Visit www.richardwinterton.co.uk.
---
During the lockdown, Cannock & District

Men's Probus introduced weekly Zoom

meetings. These proved a resounding success

in maintaining member contact and in attracting new

members and have given the club a unique quality.

When life returned to normal we resumed our

fortnightly live meetings in the Cannock Conservative

Club however, due to popular demand, we have

continued our Zoom meetings on alternate Mondays.

These Zoom meetings have acquired a life of their own

and have given us the freedom to study and discuss a

wide range of interesting, controversial, and sometimes

taboo subjects!

If you would like to join us at our next Live or Zoom

Meeting, please contact Barry Dowell on 01543 503320

or bg.dowell@icloud.com.

20

Cannock & District

Men's Probus

By Peter Arnold

Cannock & District

Ladies Probus

By Alison Cardy

Since the 2021 AGM,

the world has

changed but despite

a pandemic, our Club has

survived and even grown,

with membership

increasing.

Anne and Sheila

During her term of office Anne Bumford, as Chairman,

had to find new skills as she together with her committee,

got to grips with Zoom. As not all members were

comfortable with the technology enforced by lockdown, we

also had to establish new ways to communicate, to ensure

all members were included.

There was much hilarity as fingers learnt to dance either

on keyboards or tablets but we persevered and the early

days of ensuring the camera was not pointed skywards and

learning to mute when we welcomed a Speaker, now seems

a distant memory.

Sheila Burrows, the new incumbent Chairman, presented

Anne with a Thank you Card and Gift of appreciation from

the Club. Handing over, Anne thanked her Committee and,

as she has done following each meeting shared a thought for

the day – "Life's like a Camera. Focus on what's important.

Capture the good times. Develop from the negatives and if

things don't work out. Take another shot!"

Retired or semi-retired, professional or business ladies

meet on the first Thursday of each month at The Chase Golf

Club at 12 noon, where they share a meal and fellowship

with Speakers on interesting topics. New members are

welcome. Contact Barbara on 01889 882166 or Sheila on

07814 102767.

Rugeley WI

By Margaret Bennett

Rugeley WI had a good turnout for its January

meeting. The speaker for the evening was Jean

Morris giving a talk on 'Stafford Street

Pastors'.

Jean told members how in 2009 the churches in

Stafford came together to provide Street Pastors to go

out to care for the community; working together with

the local police and the local authority to make Stafford

a safer place.

There are approximately 250 Pastor Groups working

in towns and cities all across the UK. A team of three

Street Pastors can be found in the towns between

10:30pm and 4:00am, usually on a Friday and Saturday night, but this can alter to

include Bank Holidays and special events. They are non-judgemental and care for the

vulnerable who may have had too much to drink or just need help.

The group gives out flip flops for tired feet, water, lollies, space blankets for

warmth and sick bags to enable those who would otherwise be refused transport

to go home safely by taxi.

WI members thoroughly enjoyed Jean's talk and a vote of thanks was given by

Barbara Johnson. A raffle and quiz was held during the evening and refreshments

served.

Rugeley WI meets every last Wednesday in the month at St. Paul's Community

Hall in Rugeley at 7:30p.m. If you would like to join please call Barbara Johnson on

01889 586855 or Barbara Coppard on 01889 804889.

Advertising Feature

Paul Martyn Furniture

Paul Martyn and Company was

founded in 1987 in converted Georgian

farm buildings at the award-winning

Heart of the Country Shopping Village

at Swinfen, near Lichfield.

The unique room settings are the

perfect backdrop for the many ranges of

furniture that it designs and produces and

customers really appreciate the bespoke

service, which includes having individual

pieces of furniture designed in a chosen

style, size and colour.

Paul Martyn's selection of real woods include oak, pine and rustic and reclaimed

timbers, with all of the furniture being made by skilled craftsmen using traditional

methods, and can be hand waxed, lacquered or painted in a selection of colours.

The extensive showrooms feature many different and unusual ranges of home

furnishings to complement the beautiful furniture. These include lighting and

mirrors, kitchenware and clocks, stylish ceramics and decorative accessories all to

enrich and embellish the home. There is also an excellent ever-changing selection

of unique and quirky gift ideas.

The Heart of the Country Shopping Village offers a blend of 20 individual shops

and restaurants, with ample free parking, a popular fairy trail and woodland walk.

It's the perfect location for relaxed shopping and dining away from the hustle and

bustle of the High Street.

Tel: 01543 481592, email info@paulmartynfurniture.co.uk, or visit

www.paulmartynfurniture.co.uk or www.paulmartyninteriors.co.uk.
---
Hanson's

Auctioneers

Hanson's Auctioneers has launched new

valuation events at its Bishton Hall

Staffordshire premises. Every Tuesday 10am-

3pm Melissa is conducting Jewellery, Gold and Silver

Valuations, and every Saturday 9am-1pm is Antiques,

Toys, Railwayana and Retro.

Mark Holder, Bishton Hall Manager, said: "We are proud

to reopen following a dreadful pandemic last year, now

restrictions are over we feel the time is right to open our

doors and see what wonderful items can be entered into

sale.

"We hold monthly auctions here at Bishton Hall, with

over 900 lots of Antiques, Collectables, Toys, Jewellery and

Fine Art. You never know what will walk through the door,

it's a different item each day!"

Hanson's Auctioneers is also conducting FREE home

visits Monday to Friday for those larger items and bigger

collections – covering all surrounding areas of Staffordshire.

Charles Hanson, together with his team of specialist

valuers, will value on site at your home, or you can visit

Mark Holder at Bishton Hall Monday to Saturday.

Email Mark at mholder@hansonsauctioneers.co.uk or

call 01889 882397.

21
---
Search for the Bower Queen!

There's still time to apply to become

the next Lichfield Greenhill Bower

Queen!

If you think you've got what it takes, simply

send your name, age*, postal address, email

address, and contact telephone number to

vicky.smith613@gmail.com by the closing date

of 20th March 2022.

The Bower Queen selection process will be

held at The George Hotel on Sunday 3rd April

2022.

*over 18s only

Over the years there have been many themes for the Bower Day children, from

Frozen, Superheroes, Star Wars, Harry Potter and World Book Day.

This year, the area is celebrating the Commonwealth Games as Birmingham is hosting it

for 2022, so the Bower has chosen Commonwealth Games as its Prince and Princess

theme, along with Mardi Gras (because everyone deserves a party!)

Children between the ages of 5-15 will join the Greenhill Bower Queen on the official

float this year, passing through the streets of Lichfield in this age-old traditional carnival.

The selection for the Bower Prince and Princess 2022 will take place at The Guildhall

in Lichfield on Sunday 10th April and Bower Day is Saturday 4th June. To apply please

contact Perdy via e mail at per-lawton@hotmail.co.uk or text 07704949722 with your

child's name, date of birth and contact details.

22

Bower Prince & Princess Theme:

Commonwealth Games & Mardi Gras

Boswell Bear is also looking for sponsorship this year -

can any local businesses help?
---
J HOWELL &

DAUGHTERS

FUNERAL DIRECTORS LICHFIELD

LICHFIELD'S LONGEST ESTABLISHED INDEPENDENT,

FAMILY RUN FUNERAL DIRECTORS.

SECOND GENERATION BUSINESS HERE TO ASSIST YOU

AND YOUR FAMILY.

24 hours a day

We are proud to be Lichfield's longest established family run funeral directors offering a wide range of

choices to suit all requirements. Horse drawn hearse, non religious ceremonies, floral tributes and

memorials are but a few of the services we offer.

Pre-paid funeral plans are also available.

For a truly personal service please call

01543 255776

Private Chapel of Rest 116 Netherstowe,

Lichfield, Staffs. WS13 6TS

23
---
Lower Brook Street Rugeley 1900s

George Key promotional

postcard

Keys' Motor Clothing 1921

Rugeley's King of

the Donkey Jacket!

The Donkey Jacket is, today, perhaps more of a fashion item

but its history and heritage dates back to the hard-working

navvies on the ship canals and the miners on the coalfields in

the 1890s, and was the invention of well-known Rugeley tailor,

George Key. Our feature writer, Jono Oates, explains how the Key

family name became synonymous with hard-wearing clothes and

garments and how George's invention became famous across the

country, and the world.

George Key was the elder son of John Robert Key, a tailor, who lived

at 6 Lower Brook Street, Rugeley. His father started the business in the

late 1880s and George and his brother, John Key Junior, both worked in

the family business.

George Key opened up a separate mail-order business on the upper

floor of his father's shop after realising that he could post out durable

clothing, such as corduroy and moleskin trousers, to the workers on the

canals network that was quickly spreading across the country, especially

in South Wales and in Manchester.

In 1889 George designed, and produced, a hard-wearing, but loosely

fitting, jacket for the workers on the Manchester Ship Canal. George

came up with the idea of a jacket that was not tied to the waist, but had

two wax cotton shoulder panels, which kept the lower part of the jacket

stable, so it did not flap around and get caught up as they were digging

and laying bricks etc. There are several reasons as to how the jacket

received its name, but most sources suggest it was called a Donkey

Jacket after the donkey-engine, a steam-powered engine which was used

in the mining and maritime industries.

Key used to advertise his garments in local newspapers where the

men were at work and in December 1893 was advertising his corduroy

and moleskin trousers in the South Wales Star newspaper, with the

trousers costing eight shillings and six pence (43p in today's money) and

which came with patterns and a free measurement form.

He was also an innovator and in 1897 he patented the 'Vydo-Measure',

an expandable measuring device which would precisely calculate the

exact space to be left between each button hole on a jacket, waistcoat

or coat, so that they were all uniform. By the early 1900s Key had setup

a clothes' manufacturing warehouse, called the Keystone Works,

where they produced both men's and women's clothing. The works

operated until the mid-1980s, and there is now a small housing

development on the original site, called Keystone Mews.

George Key was heavily involved in the commercial, and community,

life of Rugeley and served as a councillor on the Rugeley Urban District

Council from 1897 to 1900, and was a Justice pf the Peace from 1912.

He was closely connected to the Heron Court Congregational Church

and regularly attended the Sunday School services.

In February 1921 Keys were advertising in the Staffordshire Advertiser,

promoting their range of garments for the rapidly growing motoring

trade: leather motor coats; raincoats; helmets and gloves for the motor

car or motor cycle, and for both men and women.

By the following year, however, tragedy struck when George Key died

in January 1922, aged just 57. George had been in ill-health for several

years having suffered several heart failures. He had been taken ill while

out driving his car in December 1921 and on Saturday 14 January 1922

he was so ill that his family had asked a nurse to attend to him overnight.

In the early hours of Sunday morning, he was struggling to breath and

the nurse went down to the kitchen to fetch him a glass of milk. As she

was pouring the milk, she heard a crash from the bedroom and when she

rushed upstairs, she found the bedroom window wide open and that

George had fallen out of the window and was lying dead on the ground

underneath. At the coroner's inquest a verdict of accidental death was

reached, the doctor's report suggesting that George had gone to the

window to try and get some fresh air, had suffered another heart failure,

and had then tumbled out of the window to the ground below.

The Key name continued for many years, with a management team

operating the Keystone Works, the shop on Brook Street, and George's

younger brother, John, running the menswear shop on Market Street,

which then moved to Tamworth Street, in Lichfield.

The Donkey Jacket has now become a fashionable item to wear, and

can be bought on the internet and on the high street, but originally it was

worn by men carrying out hard, often brutal, labour on the canals, mines

and shipyards of late Victorian, Industrial Britain. The 100-year success of

this basic working man's jacket was down to one man from Rugeley –

George Key, the King of the Donkey Jacket.

Sources: The British Newspaper Archive

24
---
How Does Your

Garden Grow?

By Piper Nurseries

Spring is very much in the air. With frequent sunny days

appearing by mid-March and daffodils in abundance, it's time to

start increasing the range of tasks in your garden.

There's much to be done at this time, from preparing seed beds and

sowing seeds, to cutting back winter shrubs and generally having a tidy

up in and around the garden. It's also time for your first lawn mow of the

year!

Plenty of hardy annuals, sweet peas and wildflower mixes can be sown

in March, along with veggie crops, such broad beans, chillies, chard,

potatoes and tomatoes, whilst bulbs can be planted too in pots.

As well as the usual spring flowers peeping through the soil, you may

have notice that weeds have been doing their best to flourish too and it's

worth starting to get rid of them early in the year in order to keep on

top. Digging with a hand fork is best as it ensures you can get right to the

root.

As the temperature creeps up, the amount of slugs and snails making

an appearance in your garden will increase too as they find lush new

growth simply irresistible! Take control with organic slug pellets and keep

those pesky blighters at bay!

Regarding your first grass cut, it's usually a tough one as grass is long,

often damp and can make for hard work. Give your mower a little TLC

before you use it by scraping any old grass trimmings off the underside

and blade, this will make it lighter to push and also extend its lifespan.

Regular mower maintenance is also a must so put it on your list for this

coming year!

Despite the sunshine, and a bit of warmth on our faces, March and

April can be deceptive months, with sudden cold snaps and windy

weather scuppering our outdoor plans. To this end, make sure you have

plant coverings to hand in case of an unexpected frost.

Above all, get out there, enjoy the greenery that's starting to flourish

and take in the fresh air!

Piper Nurseries is situated on Watling Street (A5) at Gailey, near

Penkridge, ST19 5PR.

25
---
At The Cedars

At the Cedars has an extensive range of Suzie

Blue Jewellery and many other gifts, both online

and in-store, to make sure that your Mum

enjoys and remembers her special day! Visit

www.atthecedars.co.uk for further details.

Jewellery with Life

Emily Jane is passionate about creating her pieces

as much by hand as possible; making each piece

truly unique, just like you. These silver hoop

earrings are beautiful, delicate and the perfect gift

for Mum this year! Priced at £20 and available

from www.jewellerywithlife.co.uk or join the

Instagram community at @emilyjanedesigner

Erase UK

Buy someone the perfect gift with a Radio

Frequency Skin Rejuvenation treatment. This lovely,

relaxing facial is designed to stimulate the collagen

production for a more toned and contoured

appearance. Buy gift vouchers now for that someone

special at £39 per facial or buy a course of three for

£99. To purchase, visit Erase UK, 1 Tudor Row, Wade

Street, Lichfield, WS13 6HH. Tel: 01543 419516.

Vouchers can be posted.

Treat Mum to something extra-special

this year to let her know how much

you care. We've got some beautiful,

bespoke gifts from local craftspeople

and retailers... take a look!

MB Designs

These gorgeous local mugs by artist Mandy

Billington incorporate the beautiful buildings of

the city, including Lichfield Cathedral,

Dr Johnson's Birthplace and the old clock.

Priced at £12 each and available from MB

Designs at

www.etsy.com/uk/shop/MBDesignsEngland.

Tel: 07841 108207,

Email: m.b.designs@hotmail.com.

Lichfield Piano Centre

Make beautiful music together with a romantic

gift, such as this new beautiful white piano, which

comes with a five-year guarantee. Available from

Lichfield Piano Centre, Curborough Hall Farm,

Watery Lane, Lichfield, WS13 8ES.

Tel: 01543 419550 and Mobile: 07956 411701

Instaprint

A special gift for Mother's Day. You supply the

photo and we can print a picture of Mum onto a

mug, bespoke t-shirt, or even embroider a print

onto a pillowcase or tablecloth. Contact

Instaprint at 21-23 Albion Street, Rugeley.

Tel: 01889 583482.

Mercia Spirit Lab

Treat your Mum to the perfect G&T this

Mother's Day! Gift sets include gin glass, a locally

crafted gin of your choice and aromatic mixers!

Priced at £39.99 and available from Mercia Spirit

Lab, Bishton Hall, Bellamour Lane, Rugeley.

Tel: 01889 529291. www.merciawhisky.co

26
---
New Ownership

Secures Shopping

Centre's Future

January 2022 saw exciting times at Brewery Street

Shopping Centre, home to many of Rugeley's independent

small traders, with the building being sold to new owner

Tim Hawkins and his wife Paula.

On purchasing Brewery Street, Tim commented: "I am a local

resident and, having grown up in Rugeley, see the value to the

community to keep Brewery Street Shopping Centre as it is.

Brewery Street has always been a great place to nurture local

talent and would be a huge loss to the community if this was just

sold off to an investor with no real interest in the local people.

This influenced our decision to purchase the property. We truly

believe in Brewery Street Shopping Centre and the community it

serves."

Although the centre is under new ownership, Mike Brazier is

still at the helm, assisted by Dave Allen, and following a facelift on

its interior during lockdown last year, they are looking forward to

continuing improvements to make people's shopping experience

more enjoyable

Changes have also been made at The Arcade Cafe, an integral

part of Brewery Street Shopping Centre, with Jane Leadbeater

becoming the new cafe manager. Jane has introduced new

homemade dishes to the menu, including cottage pie, chilli, chicken

curry and cheese and potato pie. There are also daily specials

coming to the new-look menu, as well as plenty of the old

favourites.

Extended opening hours now see the cafe open till 4:30pm and

a return to Wednesday opening till 2pm. Dogs are also welcome

in an allocated dog friendly seating area. For full details, and to

make enquiries, visit The Arcade Café's Facebook page

@BreweryStreetCafe.

Units are available to in the Centre let for those interested in

starting their own business. If this is something which might be of

interest, please contact Mike on 07966 453338 or Dave on 07526

682920.

27
---
Rogationtide

By Harry Thornton, The Landor (local history) Society

Rogation Sunday, which many people will know falls on the

Sunday before Ascension Day, is still observed by some

country churches in the once traditional way with a

procession from the church out into a nearby field for the blessing

of crops and prayers for a good harvest. In town churches prayers

are also sometimes said for the success of local businesses.

Rogationtide, which includes the three weekdays before Ascension Day,

was introduced by Bishop Mamertus of Vienne in south east France in the

fifth century, and the word comes from the Latin verb rogare meaning 'to

ask,' because the Gospel reading for the previous Sunday included the

words "ask and ye shall receive." In this country rogation days were

apparently anciently called 'gang days' from the Anglo Saxon 'gangen'

meaning 'to go' of 'walk', and the milkwort was once made into garlands

and carried in procession on these days.

A common feature of rogation days in former times was the ceremony

of 'beating the bounds' in which a procession of parishioners led by the

minister and churchwardens would proceed around the parish boundary

to pray for its protection over the coming year. A more secular

secondary purpose also became established which was to ensure that

knowledge of the parish boundary was annually fixed in the minds of each

generation, and it is said that sometimes boys were even beaten at

28

Cannock WI

By Jill Gooch

February saw the resuming of our

monthly meetings and, after

welcoming members, President

Meena gave a presentation about the

traditions of Hindu weddings.

Hindu weddings follow culture rich

festivities over a few days, binding not

only the couple, but the families too.

Photographs of Meena's family weddings

showed the wonderful traditional

clothes: vibrant red and gold, and heavily

embroidered sarees for women and long-sleeved tunics and pants for men.

Mehndi ceremony takes place a couple of days before the wedding when

henna is used for decorative art on the bride's hands and feet: with hidden

initials of the groom that he has to find. The ceremony itself takes place under

a Mandap, a wedding altar of an elevated decorated platform: prayers are

offered to Ganesha the God of beginnings, good fortune and the remover of

obstacles.

Floral jai mala garlands are exchanged between the newlyweds, corners of

their garments are tied together, and couples make promises as they go round

a holy fire. The groom places a Mangala Sutra (black wedding bead necklace)

around his bride's neck and Sindoor (red powder) bindi on her hair parting

to signify she is now a married woman. Wedding guests give monetary

presents and pay forfeits with money during much laughter and joyousness.

Cannock WI meets on the second Thursday of the month at 10.30am at St

Luke's Church Centre and welcomes visitors at a cost of £4. Updates and

details are on Facebook at www.facebook.com/oakleafstlukes.

significant points to make them more aware of the boundary. Apparently,

the Catholic Church no longer observes rogation days but their

observance by Anglicans is optional and there are special collects and

lessons.

Until at least the 1960s, children of the old St. Michael's School at

Brereton marked rogationtide by a procession out into nearby fields for

prayers with their teachers and vicar. The photo shows Brereton children

returning past the Springs farmyard from a rogation service with the

Reverend Peter Clarke, in May 1964. Note children crossing the brook

on a plank bridge.

What's on

Tuesday 22nd March

Rugeley & District Lions Club

A presentation of Anne Boleyn by Lesley Smith. Lesley is the

Curator of Tutbury Castle and is well known for her portrayal of

historical figures. She has previously joined us on three occasions

as Queen Elizabeth 1, Nell Gwynn and Mary Queen of Scots and

these have been exceptionally well attended.

Venue: St. Augustine's Church

Time: 7pm

Price: £10, to include a glass of wine or soft drink.

Tickets available Instaprint at 21-23 Albion Street, Rugeley WS15

2BY. Over 18s only.

6th- 9th April

The Prince of Poisoners

A musical tale of the Rugeley poisoner,

written by Dan Smith and Claire

Hughes.

Venue: The Rugeley Rose Theatre

Tickets can be booked at

www.ticketsource.co.uk/rugeleymusicaltheatrecompany or 0333

666 3366.

Every Tuesday

Rugeley Library Chess Club

A fun and friendly drop-in chess club for all ages and abilities. Free

to attend.

Venue: Rugeley Library, Anson Street

Time: 3.45pm-4.45pm
---
What Is a Mum?

By Jo Howell

Ihave never been blessed with having my

own children; not that it was a path I

particularly chose but one that just didn't

go my way. I go through periods in my life

where it deeply saddens me and other times

where I am perfectly happy in my own

company with no one else to worry about.

But often I do think that just because I do not

have any offspring, my maternal instincts did not

switch themselves off either – so maybe, I am a

Mum in other ways than the obvious.

I'm a Dog Mum….

Jo & her fur baby,

Harley

Harley the Labrador has been in my life for nine years and we've been

through toilet training, the terrible twos, the sulky teenager, and the

times she's turned her nose up at food – although in all fairness, this is

few and far between! I've pulled thorns from her paws, ticks from her

ears and wiped her eyes and nose on more than one occasion. I've held

her paw when she was poorly and cried my eyes out when I left her at

the vets after she had a chunk of her ear bit off – and yes, I also sit in the

dark when it's thundering, or the fireworks are going off, so she doesn't

feel scared. Like any 'child' her needs come way before mine and I would

always do anything to protect her.

I'm a Godmother…

I am very blessed to be Godmother to three wonderful boys and two

gorgeous girls… and whilst we live miles away from each other, they all

have a very special place in my heart. I have seen them grow in their

Mummies tummies; welcomed them to the world and celebrated every

birthday, Christmas, and every holiday possible with gifts, treats and

sweets – much to their parents' delight!! We have funny conversations,

pull silly faces, and talk about school, boys, girls and always, without fail,

say I love you.

I'm the Work Mum…

I started a new job six months ago as a 'Senior Manager' and promptly

inherited a team of 10 lovely colleagues. They range from 25 (over half of

my age!) to mid-40s and have different personalities, quirks, and ways of

working - we're like a very functional Walton's family! And of course, at

the head of every family is the one person who cares, nurtures,

empowers, motivates, admonishes, protects, and fights for her brood. We

may not have worked together for very long but like any 'Mother Swan',

God help anyone who attacks my cygnets!

So being a Mum isn't just about bringing a child into the world – it is

that and so much more. And as Mother s Day approaches on the 27th of

March, remember that your role as a Mum stretches past the Hallmark

cards, chocolates, and flowers – it's 24/7 love, attention and care for

someone who needs your hand to hold, your shoulder to cry on, or your

calm voice of reason.

Not flesh of my flesh,

nor bone of my bone,

but still miraculously my own.

Never forget for a single minute,

you didn't grow under my heart

but in it.

- Fleur Conkling Heyliger

Read more of Jo's work at www.justanaveragejo.blog.

As whisky matures and develops its complex and

satisfying flavours, some of the liquid disappears,

seemingly mysteriously, but in reality, through

evaporation. Distillers romantically call the missing

whisky 'the angels' share'.

Jeremy 'Jez' Roney and Paul 'Oz' Horrocks are

interested in angels' shares of a more tangible

nature. With a passion for bourbon, the American

rye whiskey, they are on a journey to create their

own English version and they are offering a unique

investment

opportunity.

Under the banner

of Mercia Whisky,

located at Bishton

Hall in Rugeley,

Jez and Oz have

already launched

the limited-edition

Mercia Rye, which they say embodies the Anglo

Saxon spirit and builds on the growing English

interest in rye whisky. Now they are forging plans

to build their own distillery, expected to be

operational by 2023.

What's the deal?

Creating a whisky is a love affair, and you must be

in it for the long term to make it work. That's why

Jez and Oz have worked out a winning

partnership.

You have the opportunity to buy one or more 50l

casks of whisky which are held in bond as they

mature. In three years' time, when the whisky is

ready for bottling, Mercia buy it back from you at

8% p.a. compound interest. This means you have

a Great ROI and you are on the launch team of a

fine and rare English whisky.

Your funds will help

the whisky

entrepreneurs build a

new distillery at a site

within the Midlands.

And, in addition to

your return on

investment, you will

be presented with your own bottle of the new

whisky.

Ready to be an angel and take your share in

this exciting venture? You can find out more at

www.merciawhisky.co or you can pick up with

Jez and Oz at the Mercia Spirit Lab in Rugeley.

Drop Jez an email on jez@merciawhisky.co or

call 01889 52 92 91. Make a day of it and book

onto a Whisky or Gin Tasting Experience,

which are open to everyone.

29
---
Haywoods Blinds

Roller blinds are a stylish and practical window

shade that can be a real focal point in the home.

This summery Willow pattern in Dusky Rose is

available from Haywoods Blinds, 3 Cannock Road,

Chase Terrace, Burntwood. Visit

www.haywoodsblinds.co.uk for more information.

Rugeley Fireplaces

Electric vs High efficiency Gas?

1.8kw electric fire costs 41p/hour* – more than

twice the running cost of this gas stove at 19p/hour*

3.1kw heat costs just 31p/hour* - or 10p per

kilowatt per hour*

High Efficiency Gas Stove £1195

www.RugeleyFireplaces.com

*Emmas' Standard EDF Tariff at home: 7.37p/kwh

gas, 23p/kwh Electric

Golden Oldies

Dresser by Nigel Griffiths of Derbyshire from

the Monastic Range. Available from family-run

business, Golden Oldies Antique and

Reproduction Furniture, Crown Bridge,

Penkridge, ST19 5AA. Tel: 01785 714722. Open

7 days a week. Local delivery available.

www.goldenoldiesfurniture.co.uk

Spring

Interiors

Tippers

The Radford is an opulent double-ended roll-top

freestanding bath with elegant rim detailing, offering

classic symmetry. A true statement piece to enhance

the look of even the most discerning bathrooms!

Available from Tippers. www.Tippers.com

Spring is most definitely on its way so

now is the perfect time to get the duster

out, open the windows wide, and give

your house some much needed TLC! Our

interior guide is filled with some of our

favourite local retailers and stylists, to

bring you some fabulous inspiration for

your home.

Just Granite

Just Granite is a well-established family run

business, we specialise in Granite, Quartz and

Solid surface worktops, vanity tops.

www.justgranite.ltd.uk

Tel: 01785 711096

30

Paul Martyn Furniture

Holker Chair available in Harris Tweed and

leather. Large selection of other chairs available

across five showrooms, along with a range of

interior accessories and made to measure

services. Available from Paul Martyn Furniture,

Heart of the Country Shopping Village, Swinfen,

WS14 9QR. Tel: 01543 481592.

www.paulmartynfurniture.co.uk

Haywoods Blinds

Vision blinds are an innovative window furnishing

that feature two layers of translucent and opaque

horizontal striped fabric that combine to create a

striking modern feel. Seen here in Verona Pewter,

these beautiful blinds are available from

Haywoods Blinds, 3 Cannock Road, Chase

Terrace, Burntwood. Visit

www.haywoodsblinds.co.uk for more information.

Just Bathrooms & Panels

Loving this modern classic design.

With stylish matt tap, and wall hung unit it would

be perfect in an ensuite shower room.

Just Bathrooms & Panels are an independent

Suppliers of Bathroom Suites, Showers, flooring

and decorative Panels. Local deliveries are free of

charge. www.justpanels.co.uk Tel: 01889 576669
---
31
---
Raising the Steaks!

By Kristen Lackajis

.......................

I'm not going to lie… I'm a carnivore

and proud! Nothing makes me

happier than a lovely juicy slab of

meat on my plate, so when I was

invited to try the food at eminent

steakhouse, Miller & Carter in

Cannock, I willingly obliged!

With several restaurants across the

region, Miller & Carter opened its doors

in the new Cannock premises merely a few months ago, however business is

booming!

Previously the Mill Farm pub, the interior has been decorated opulently in

typical Miller & Carter style, including muted neutral tones, leather

furnishings and highly polished glassware to boot.

On being greeted, seated and served with a delicious cocktail (an espresso

martini, of course!) we perused the incredible and varied menu which boasts

a plethora of steaks, and features practically every cut you can think of!

Starters of Sticky Chipotle Chicken and Pan-Seared Scallops set the tone

for what was to be a fantastic meal… with tasty, sweet bites of chicken

teasing the tastebuds, and scallops adorned with a white wine sauce, crispy

pancetta and straw fries hinting that was so much more to come.

Being a bit of a steak connoisseur, I really do know what I like… and it's a

fillet done blue! There's not many places that you can order this dish and

know it will come out perfectly cooked, but Miller & Carter did not fail to

The Stag's Leap

.......................

The Stag's Leap just outside

Rugeley town centre is a

popular community pub with a

wide range of food and drinks, so we

sent Jono Oates along to sample

some of its tasty delights!

As it is part of Marston's Generous

George chain, the menu is filled with

traditional pub classics, steaks and grills,

pizza and more, so has lots of choices

for all tastes. I chose the Vegetable and Lentil Chilli for my main course,

followed by the Rocky Road Sundae, while my partner opted for the 8oz

Rump Steak and the Bramley Apple Pie for dessert.

Once ordered the food arrived very quickly and we did not need any

encouragement to tuck into these hearty dishes just as quickly! My chilli

dish was made with vegetables, beans, red lentils and soya mince, with a

spicy tomato and chilli sauce. It came with a good helping of pilau rice

and two slices of garlic bread. A very warming and comforting dish.

My partner said that his rump steak was delicious, he had asked for it

to be cooked medium and it was spot-on, with a pink inner centre and

not over-cooked on the outside. It was served with a colourful selection

of tomatoes and garden peas, with onion rings and 'proper' chips, with a

swirl of peppercorn sauce.

The Rocky Road sundae was deliciously-naughty - all chocolate,

marshmallows and ice cream and went down a treat, while my partner's

apple pie was filled with chunky pieces of Bramley apple with a

satisfyingly-deep crust and he chose vegan ice cream to go with it.

Dining Out

impress! My Angus Filet Mignon was delicate and tender, with a beautiful

buttery texture that literally melted in the mouth. The meat had merely

kissed the pan (just as I like it!) and was beautifully pink once cut. My

partner chose a sirloin, medium rare, and was similarly delighted with

how it was cooked and marvelled at the flavour. Served with the famous

onion loaf, a balsamic tomato and the refreshing lettuce wedge salad

with a stilton dressing, the meal portions were more than substantial

and we barely had any room for dessert… although we bravely

soldiered on and ordered a Crème Brulee and an Espresso Tiramisu –

the perfect sweet treats to round off an exemplary meal!

Find out more about Miller & Carter Cannock, or book a table, at

www.millerandcarter.co.uk or call 01543 466770.

The Stag's Leap is the ideal place to pop in for some traditional pub

grub, whether for a lunchtime, an evening meal or for a Sunday roast, and

will certainly leave you feeling satisfied and well-fed!

The Stag's Leap, Wolseley Road, Rugeley WS15 2ET. Tel: 01889 584587.

www.stagsleappub.co.uk
---
Tastes of the Season

By Simon Smith

Cook for Mum on

Mother's Day!

This time it's to show our appreciation to our mothers who have

nurtured us through our formative years and sacrificed their sanity to

bring us up.

Whilst it's nice to push the

boat out and take them to a

restaurant, it's just as nice to

cook for them personally and

show the love. It doesn't need

to be complicated but a gesture

goes a very long way. I

remember my father cooking

for my mother once on this

occasion. He put a frozen pie,

some frozen chips and some

frozen peas in a frying pan,

covered it all with oil and

brought it to the boil - disaster!

One of the reasons I became a

chef was obviously self-preservation!

This time of year, spring lamb is always beautifully sweet and tender,

and also reassuringly expensive, but worth every penny. Keep an eye

out too for Jersey Royals and the first shoots of apple mint which all

combine beautifully for the perfect seasonal meal. When you have

prime ingredients such as these it's a shame to do too much to them

but rather cook perfectly and savour the flavour.

I'm doing a rack of lamb for this month with dauphinoise potatoes

for a touch of decadence and courgettes with lime. A simple meal that

can be attempted by anyone and the potatoes are very forgiving!

On 30th April I am collaborating with Julie from Eat Well to be Well

and doing a healthy eating day at The Nook in Longdon. There will be

two cookery demos, a buffet lunch, a walk on the Chase, as well as

dietary advice from a nutritionist. We will be covering easy recipes for a

busy lifestyle focused on health and cost awareness. Email Julie at

eatwelltobewell21@gmail.com to book.

Rack of Lamb

4 x 3 bone rack of lamb

1 x pint beef stock

1 x jar redcurrant jelly

1 x jar Coleman's mint sauce

1 x teaspoon cornflour mixed with cold water

1 x peeled sliced onion

Method

Preheat the oven to 180°. Put the beef stock on to boil and add ½

jar redcurrant jelly and 1 x tbsp mint sauce. Stir in and leave to simmer

for 10 minutes. Stir in some cornflour mixed with water and whisk

together. Add little by little

until you have the

consistency of sauce you

prefer. Put the sliced onion

on the bottom of a

roasting tray and place the

lamb on top. Put in the

oven to cook for 10-15

minutes depending on how

you like your lamb cooked.

At this time of year the

eye of the meat is generally

quite small so be careful

not to overcook it.

Dauphinoise

Potatoes

4 x large Maris piper

4ozs emmental cheese, grated

1 x clove garlic

1 x sprig rosemary

1 x fresh bay leaf (or dried)

¾ pint double cream

Salt and pepper

Method

Preheat the oven to 160° degrees. Take a baking dish and grease the

inside. Put the double cream in a saucepan with the rosemary, bay leaf,

salt and pepper and the crushed garlic clove and bring to a simmer.

Meanwhile peel and finely slice the potatoes and place one layer on the

bottom of the dish. Sprinkle with some emmental. Repeat the process

until you have four layers of potatoes but don't put emmental on the

top layer. Sieve and pour the double cream over the top and cover with

some tin foil. Put into a water bath and pop in the oven for 1 -2 hours

depending on how thick you have sliced the potatoes. Test with a knife

to see if they are cooked. Take out and sprinkle the top layer with the

emmental and leave to melt naturally.

Fresh Raspberry

Syllabub

2 x punnets raspberries

1 x pt double cream

2ozs caster sugar

1 x vanilla pod or similar

vanilla product

1 shot Chambord liqueur

or another favourite

Method

Put ¾ of the raspberries

in a pan with the sugar and

Chambord add a dash of

water and bring to the

simmer stirring constantly.

Allow to cool. Whip the

double cream to a stiff

peak and fold in the cold raspberry mixture. Serve in a glass decorated

with the remaining fresh raspberries

Simon Smith runs a catering business from his production kitchen in Lichfield,

providing bespoke private dinners plus wedding, corporate and event catering.

Simon also undertakes cookery demonstrations around the country and with

local businesses such as Arthur Price and Tippers. During the summer months

Simon works for private clients both on superyachts and in villas in St Tropez

and Europe. If you are looking for catering or a day of cookery skills go to

www.simonsmithchef.com

Dining Out
---
DO HAVE

LEAFLETS THAT

NEED

DELIVERING?

Call REBECCA

07970 513144

Competition and Prize Draw - Terms and Conditions

1.Entrant's details will be held and processed in line with Citylife in Lichfield Ltd's Privacy Policy, which in turn adheres

to GDPR Data Protection legislation. For a copy of our Privacy Policy please email kristencitylife@gmail.com

2.By entering the prize draw/competition, you agree to the terms and conditions stated.

3.The closing date is stated on each individual prize draw or competition.

4.Entrants' details will be securely held by Citylife in Lichfield Ltd in accordance with our Privacy Policy. Details will be

held only until the closing date of the competition. After this date entrants' details will be securely destroyed/deleted.

Winners' contact details will be securely stored only until the winner has been informed of their win/prize. After this

details will be securely deleted/destroyed.

5.Entrants' details will never be shared with any third party. The only exception to this is the name (and if the prize is to

be posted) address of Competition/Prize Draw winners that will be communicated to the competition partner to allow

winners to securely claim their prize, after which all details will be securely destroyed. The initial and surname of

winners will be printed in our magazines – no other details will be published.

6.By entering the competition/prize draw, entrants agree to Citylife in Lichfield Ltd using or publishing materials provided

by the entrants (but not address or contact details apart from initial and surname) in any of their publications and online.

7.Citylife in Lichfield Ltd accepts no responsibility for any breach of copyright or breach of any other legislation entailed

by entrants in their creation or submission of materials.

8.Only one entry per prize draw/competition, per reader.

9.Except in the case of cash prizes, no cash equivalent will be offered and the prize is non-transferable.

10.All prizes are subject to availability and the prize suppliers' terms and conditions.

11.No purchase necessary.

12.Prize draws and competitions are only open to UK residents aged 18 years or over (unless otherwise stated).

13.Competitions and prize draws may not be entered by any employee of individual associated with any employee,

agent or third party of Citylife in Lichfield Ltd.

34

14.Winners will be selected at random in the case of applicable prize draws and competitions, or by an independent

judge in the case of photographic/art competitions from all entries received.

15.Winners will be notified by Citylife in Lichfield up to 28 days after the closing date of the competition/prize draw by

the contact details provided by the entrant. Winners have 28 days to respond if contact cannot be made initially. If no

response is forthcoming after 28 days, Citylife in Lichfield reserves the right to redraw the competition and select a new

winner.

16.A list of the surnames and county of residence of the winners will be available by writing to Citylife in Lichfield Ltd no

earlier than six weeks after the competition closing date.

17.When the prize draw/competition winner has been selected, this decision is final and no correspondence will be

entered into.

18.Citylife in Lichfield Ltd accepts no responsibility for the prize being lost, damaged or delayed in transit. When the

prize is provided by a third party, Citylife in Lichfield Ltd accepts no responsibility for any change to the prize, or for the

quality of the prize provided.

19.Competitions may be amended or withdrawn at any time.

20.By entering the competition or prize draw, you agree to having your name, (photograph, where stated) and city or

county of residence published in any of Citylife in Lichfield's publications and online.

21.Unless otherwise stated, the promoter is Citylife in Lichfield Ltd, PO Box 7126, Lichfield, WS14 4JS.

22. Citylife in Lichfield Ltd do not express any warranty or endorsement of any competition prize, information, service or

product provided in connection with a competition by printing or otherwise publicising any competition.

23.To the full extent of the law, Citylife in Lichfield Ltd shall not be liable for any loss, claim, punitive, indirect, incidental

or consequential damages of any kind incurred as a result of entering this prize draw or competition.

24.By submitting photos, text or artworks as part of competition/prize draw entries you agree that you own these photos

text or artworks, that it is your original work to which you own all rights to distribute, and that your entry is accurate,

moral and legal.
---
35